By the time we got back to Alila Ubud from our Batik Class, it was almost 18:00. I felt like we had an extremely long day since we started our day at 07:30 and had been running around one activity after another. But instead of finally taking a rest after coming back from our batik class, we had to get ready for dinner. The resort had kindly arranged a Bale Bengong dining experience for us; so while I was exhausted, I was very much looking forward to our romantic dinner.
One of the "Top Ten Most Romantic Dining Locations", our dinner took place in the resort's secluded bale bengong. (Bale bengong is the name of a Balinese architecture. It's somewhat similar to an open-air cabana, with a traditional straw hut.) We were supposed to have our dinner at 18:00, but because our batik class ran late, we ended up pushing back our dinner.
I wanted to freshen up before going for dinner; hence I was the one suggesting pushing our dinner to 19:00. What I failed to realise then is that the sky would have turned dark. It was not until we reached the bale bengong that I realised how nice it would be if we have come earlier when the sky is still bright. Then, we could admire the natural beauty that surrounds us and perhaps gets a glimpse of Ayung River.
It was almost completely dark by the time we reached, and we could hardly see much of the surrounding.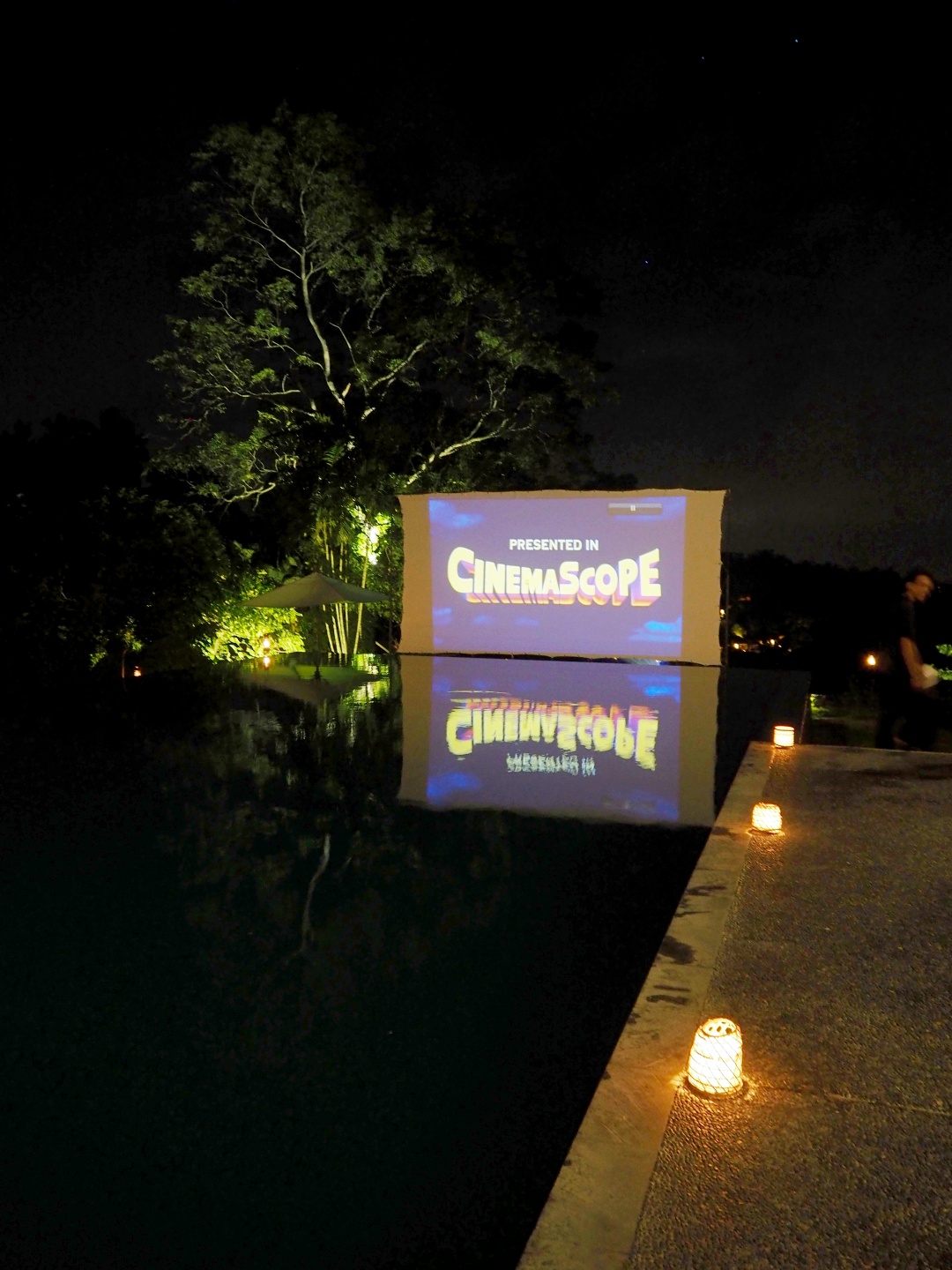 The bale bengong is located right below the resort's pool and while walking there, we passed by the pool and noticed a big screen at the end. It turns out; they were doing "Starlight Cinema". A Saturday night event where they set up a big screen and plays a movie. (Free admission) It was "La La Land" that was screening that day and I would have joined if it didn't coincide with our dinner. How nice to just chill at the cabana lounge/day bed and catch a movie under a blanket of stars!
Bale Bengong | Top Ten Most Romantic Dining Locations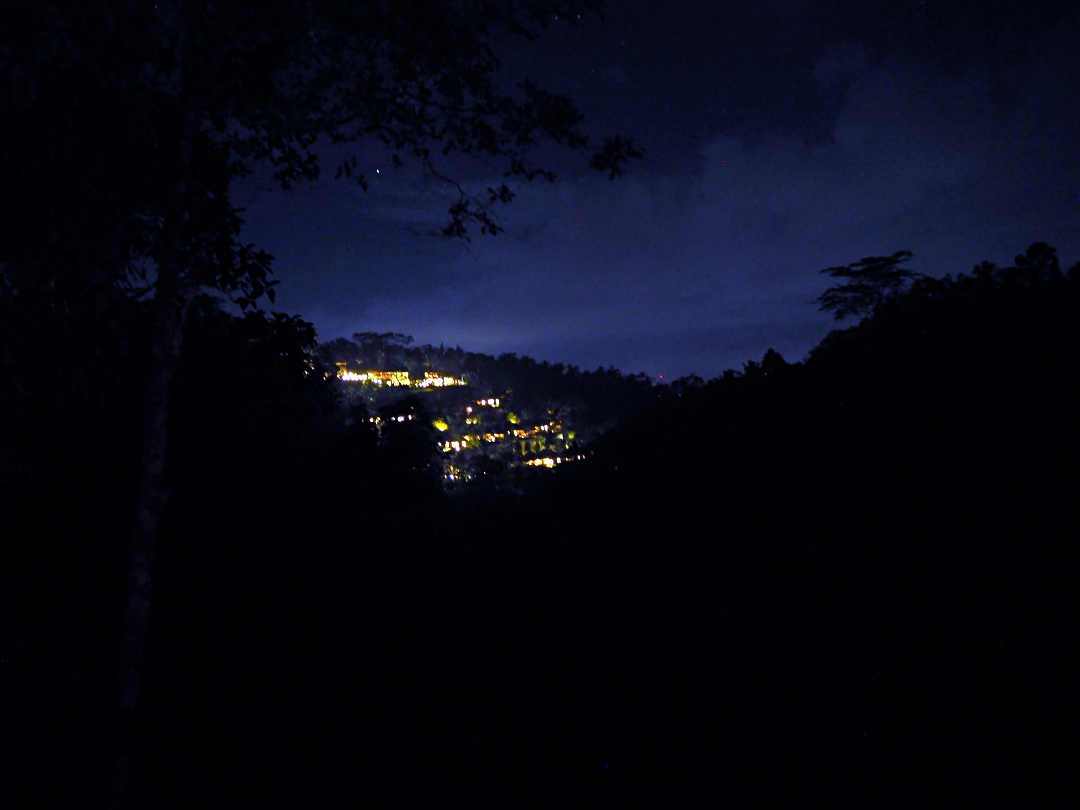 Our view for dinner. Felt like we were in the heart of a jungle, surrounded by lots of greens.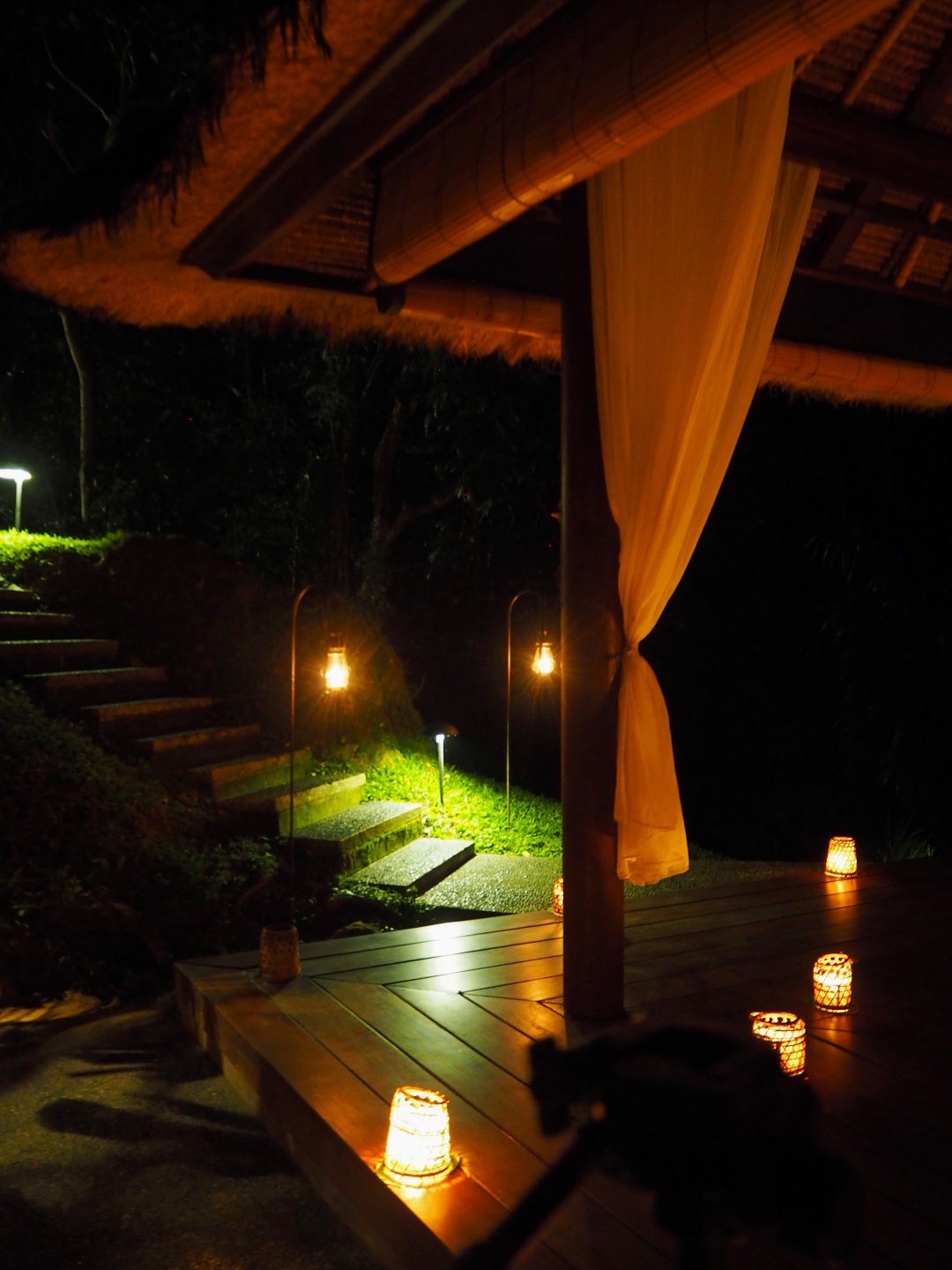 The steps where we came down from.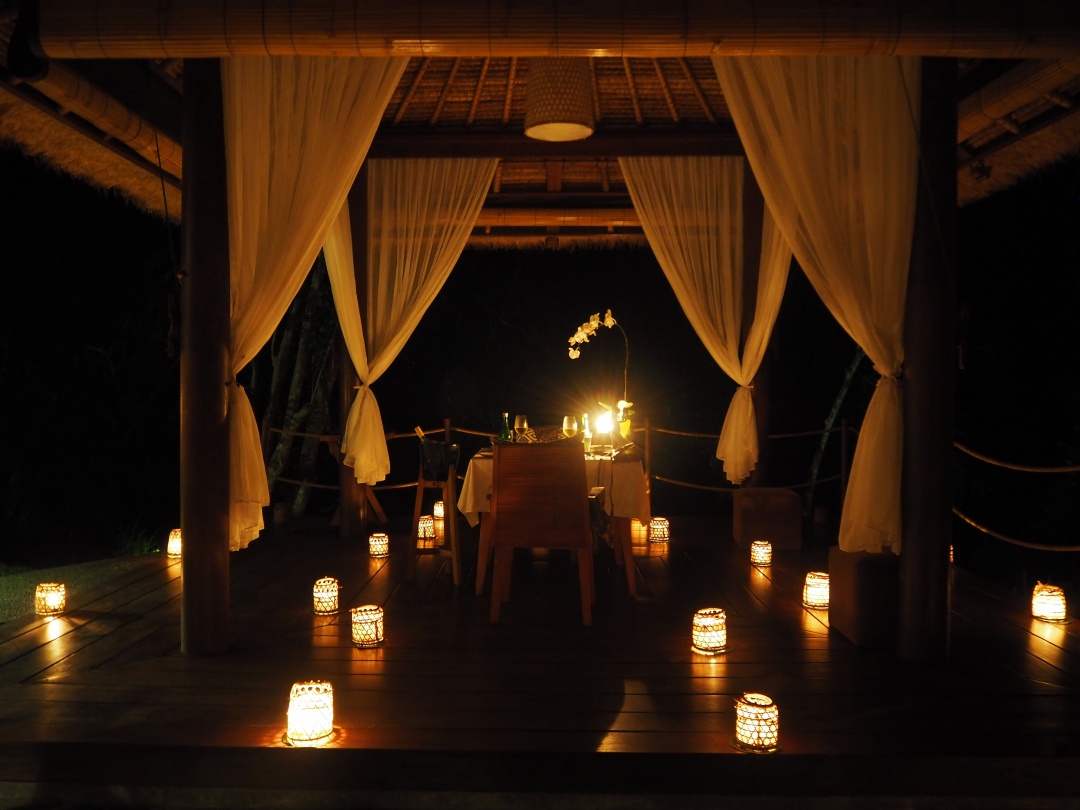 And here's the set-up for our dinner. Many small lanterns lighting up the entire place; setting up the perfect atmosphere for a romantic dinner.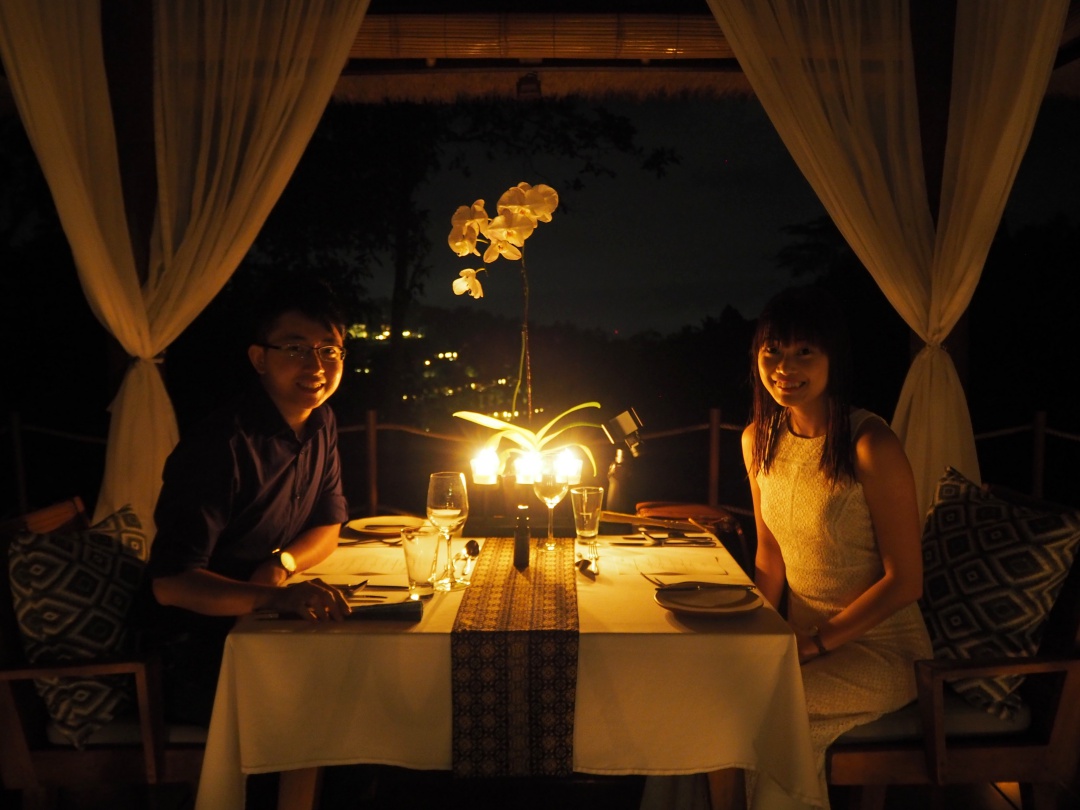 The lighting wasn't ideal for photography, but I still insist on setting up the tripod so that we can snap some pictures for memory.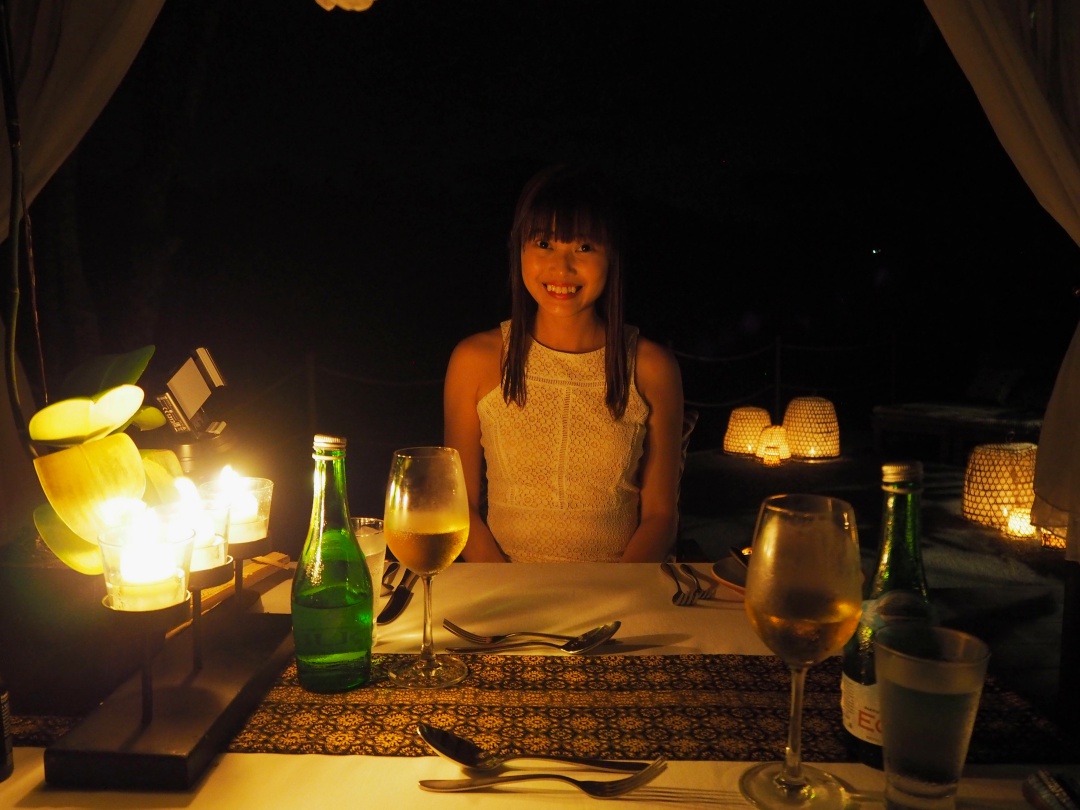 Eventually, we realised there is a lamp above our table and asked our butler if we could get it switch on. After fidgeting around for the switch, he finally got it turned on. Though still not the best lighting, it was instantly much brighter.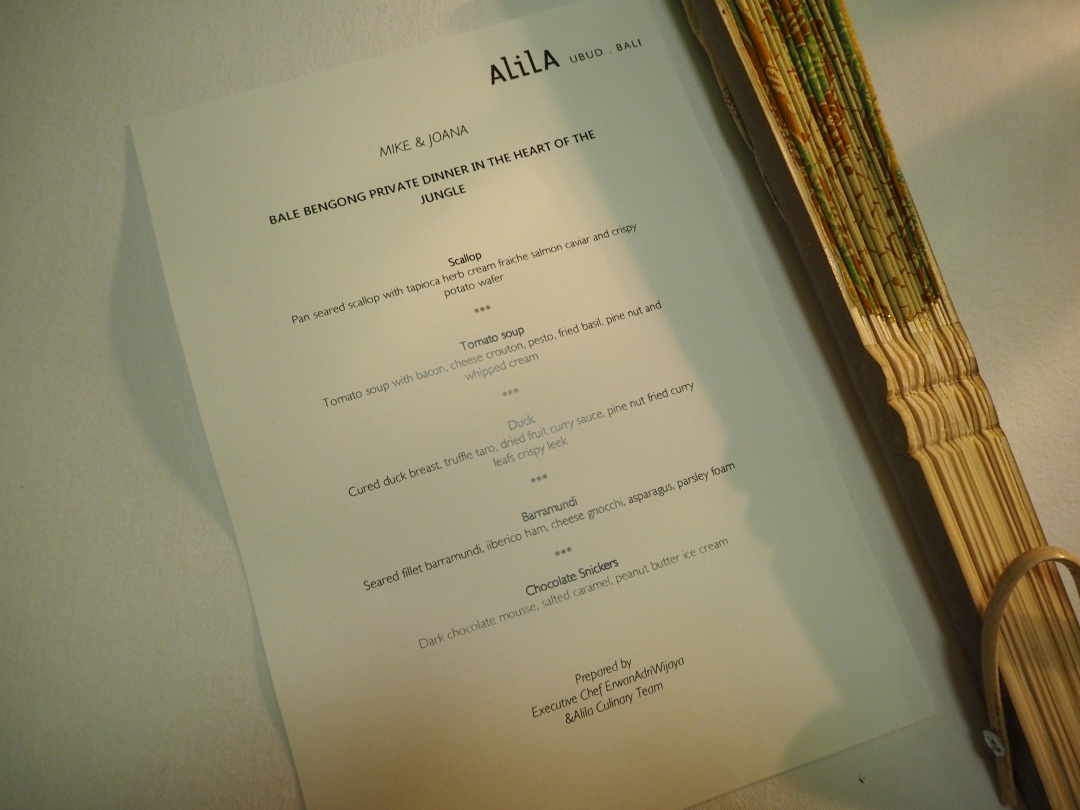 Here's a look at our menu. The Fiancé and I had the same dishes, except I was having Barramundi while he had beef.
Dinner felt exceptionally special for us as it was specially tailored based on our liking. During our earlier cooking class, Chef Oka gets to know that we were going for the Bale Bengong Private Dinner; so he took the chance to ask us about our preference, and specially tailored our dinner based on what we like.
The Fiancé told him I am a big fan of Barramundi; hence there it appears on my menu.
I love beef too! But whenever I come to Bali, and there is Barramundi on the menu, there is a high chance I would order that. My love for Barramundi started from the time I first tried it at Alila Seminyak.
Anyway, the chef totally nailed it. Every dish I had that night was well-made and delicious! I loved everything on the table. From the starter to the main and the dessert. Even the plating was beautiful!
Scallop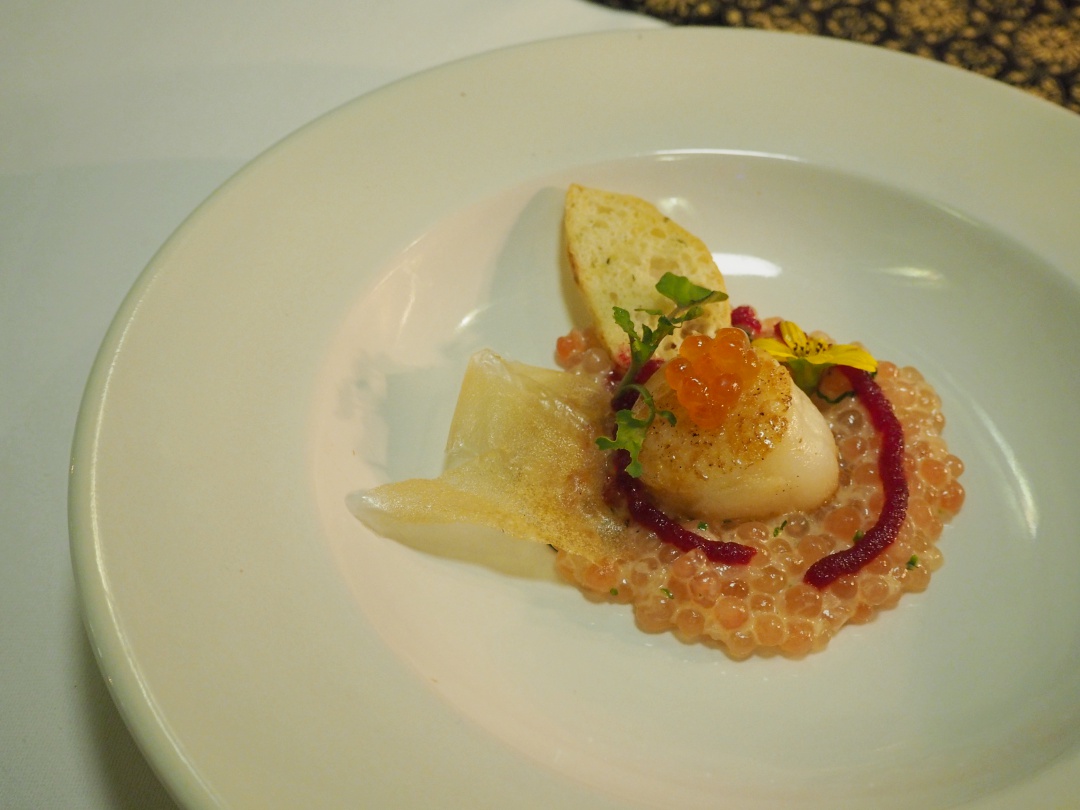 Pan seared scallop with tapioca herb cream fraiche salmon caviar and crispy potato wafer.
The cream fraiche salmon caviar was delicious!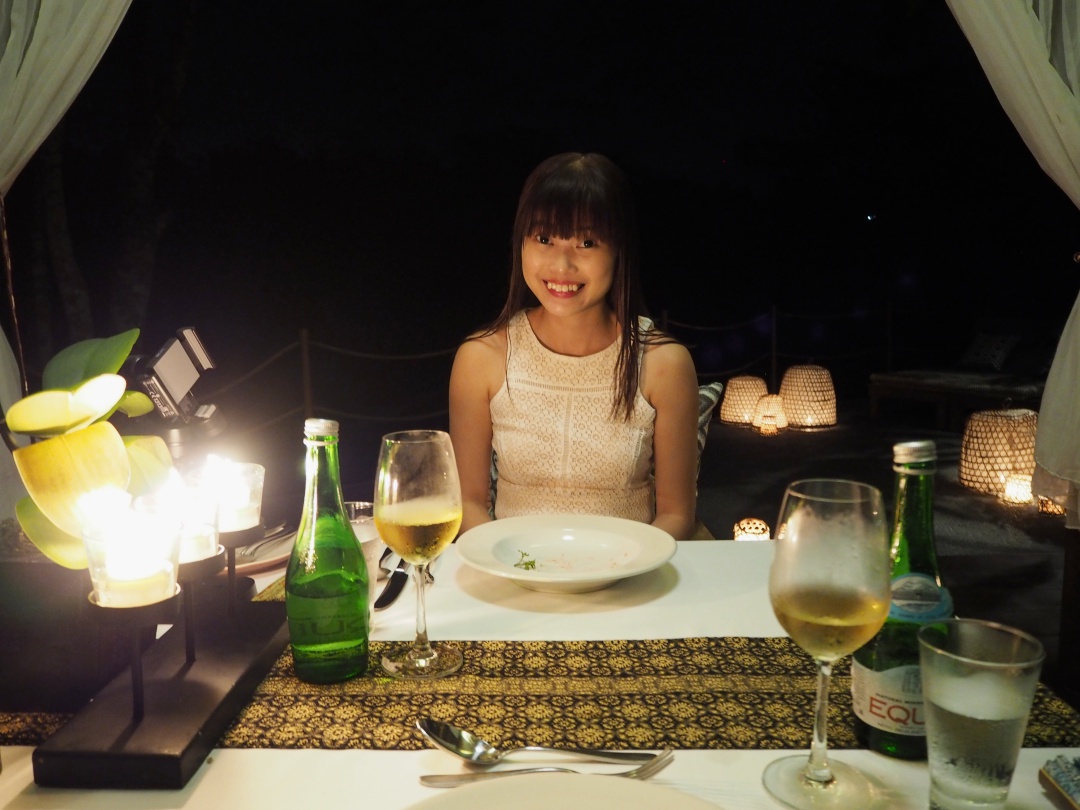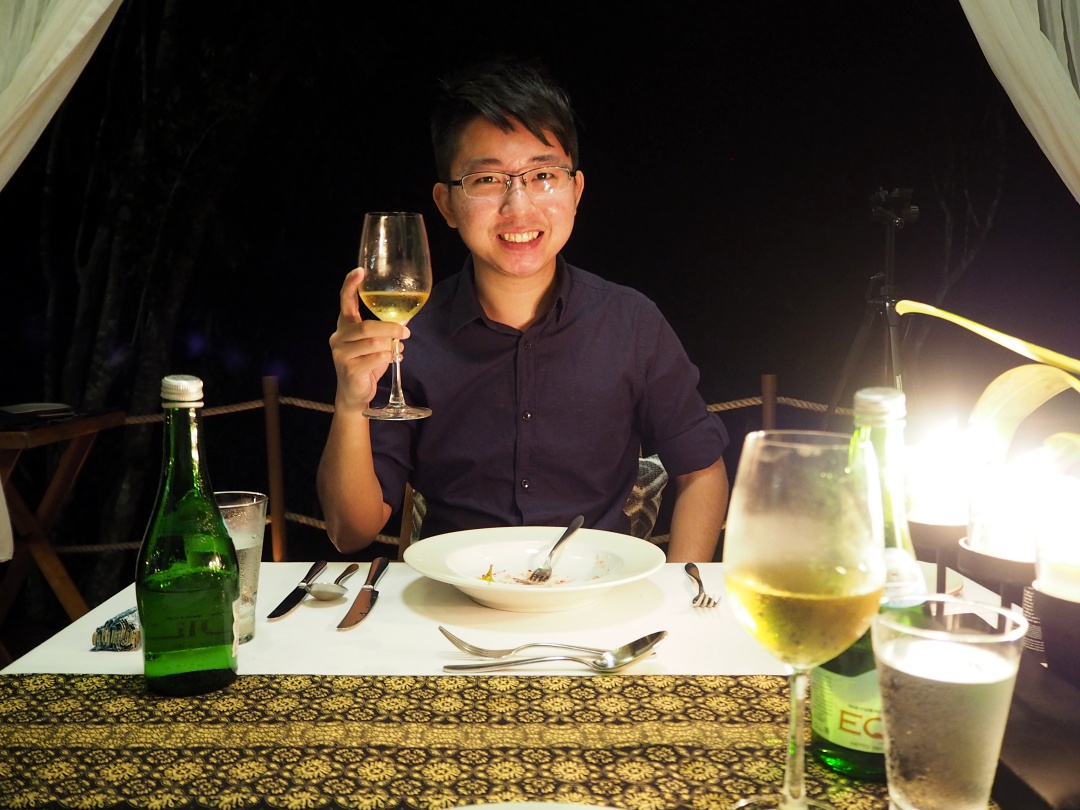 Tomato Soup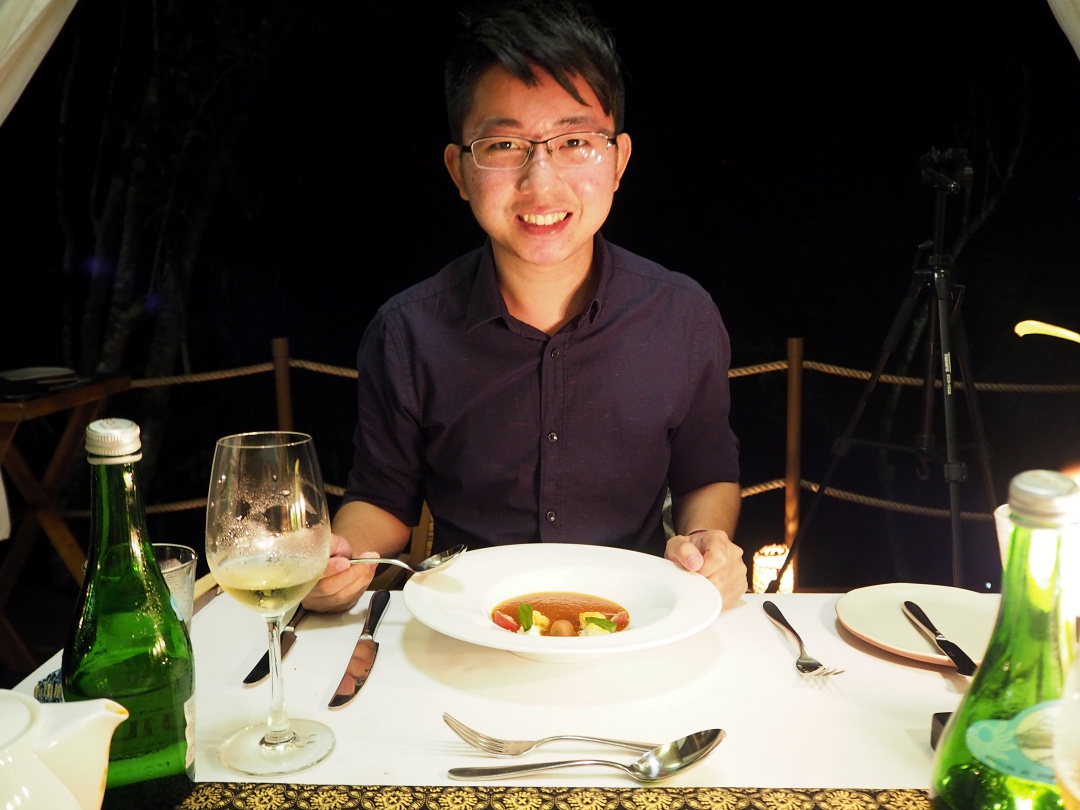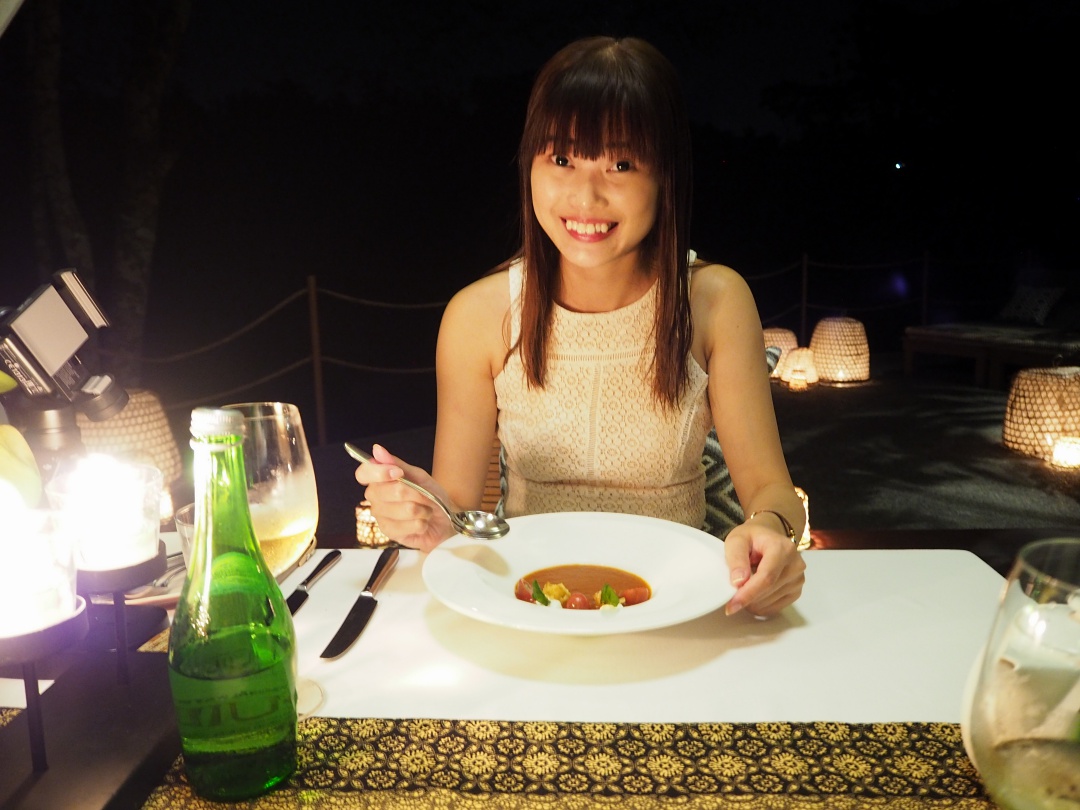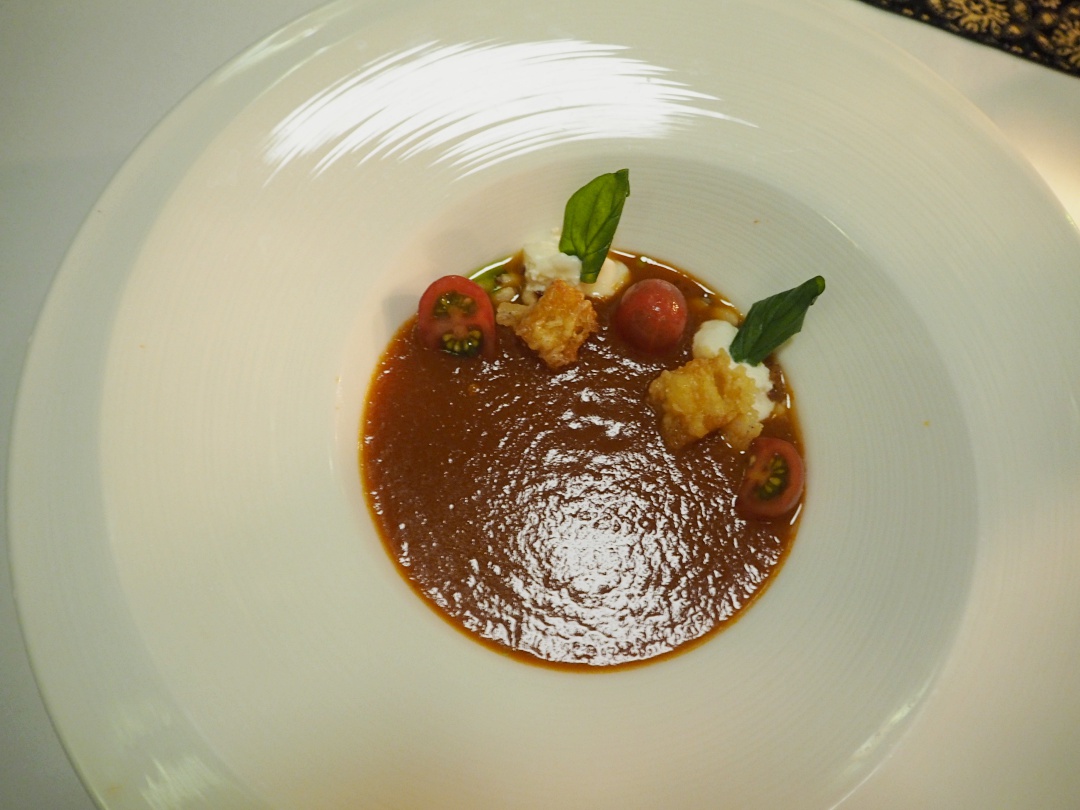 Tomato soup with bacon, cheese crouton, pesto, fried basil, pine nut and whipped cream.
The tomato soup came in a tea pot, so we each have slightly more than a serving.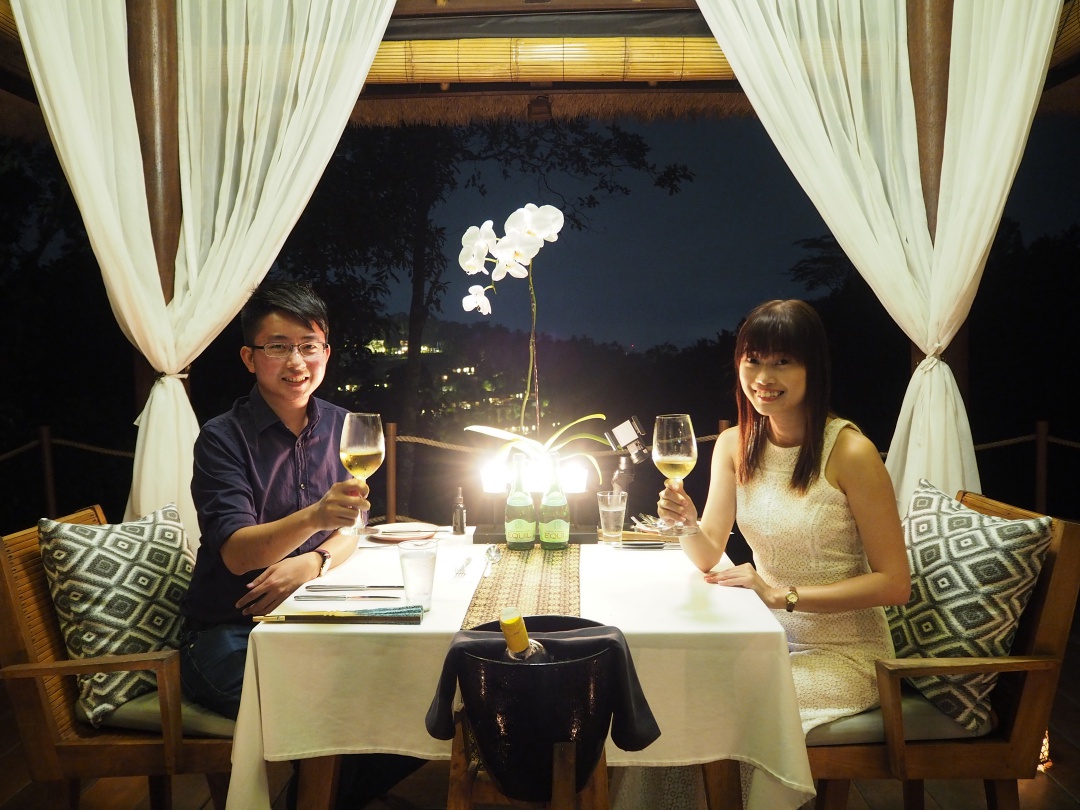 A picture of the white wine that we had that night. I don't usually love wine, but I like this enough to snap a picture.
Duck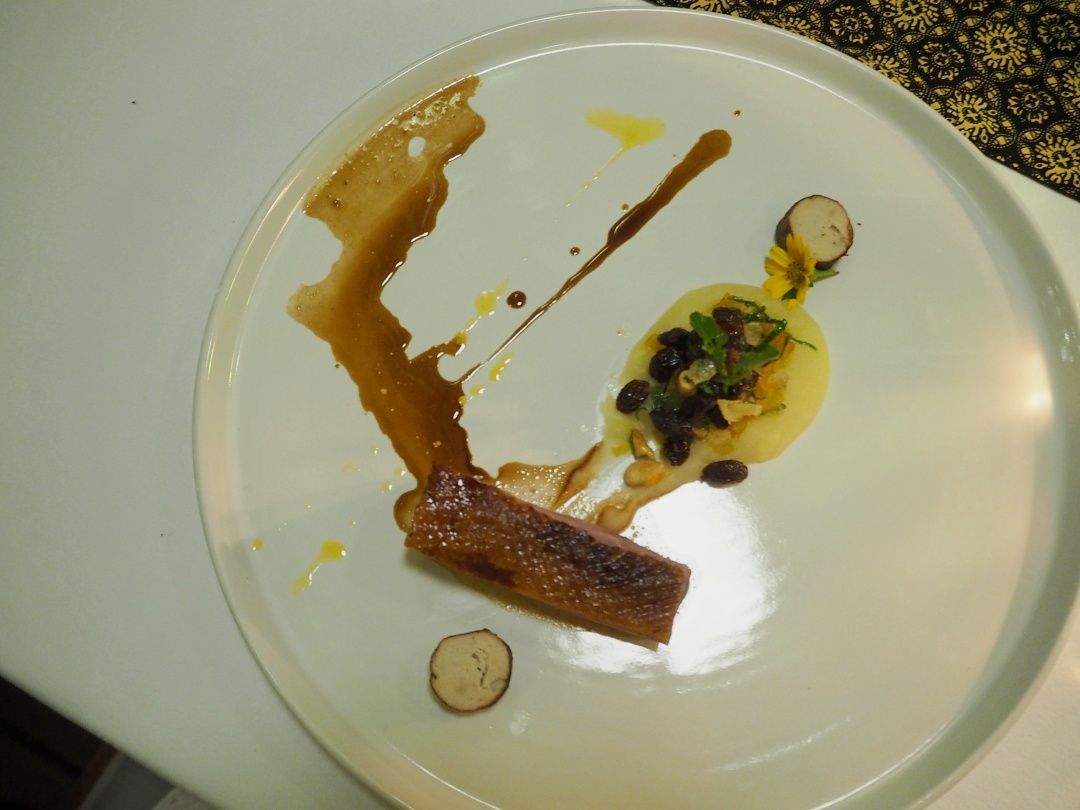 Cured duck breast, truffle taro, dried fruit curry sauce, pine nut fried curry leafs crispy leek.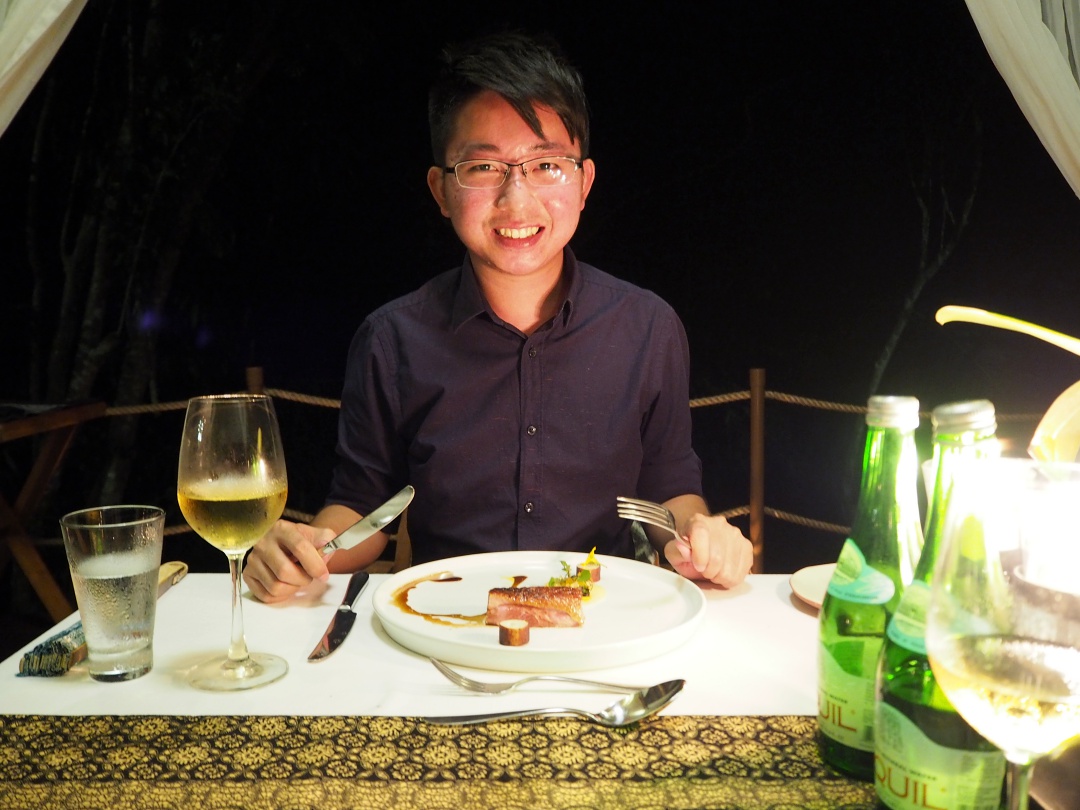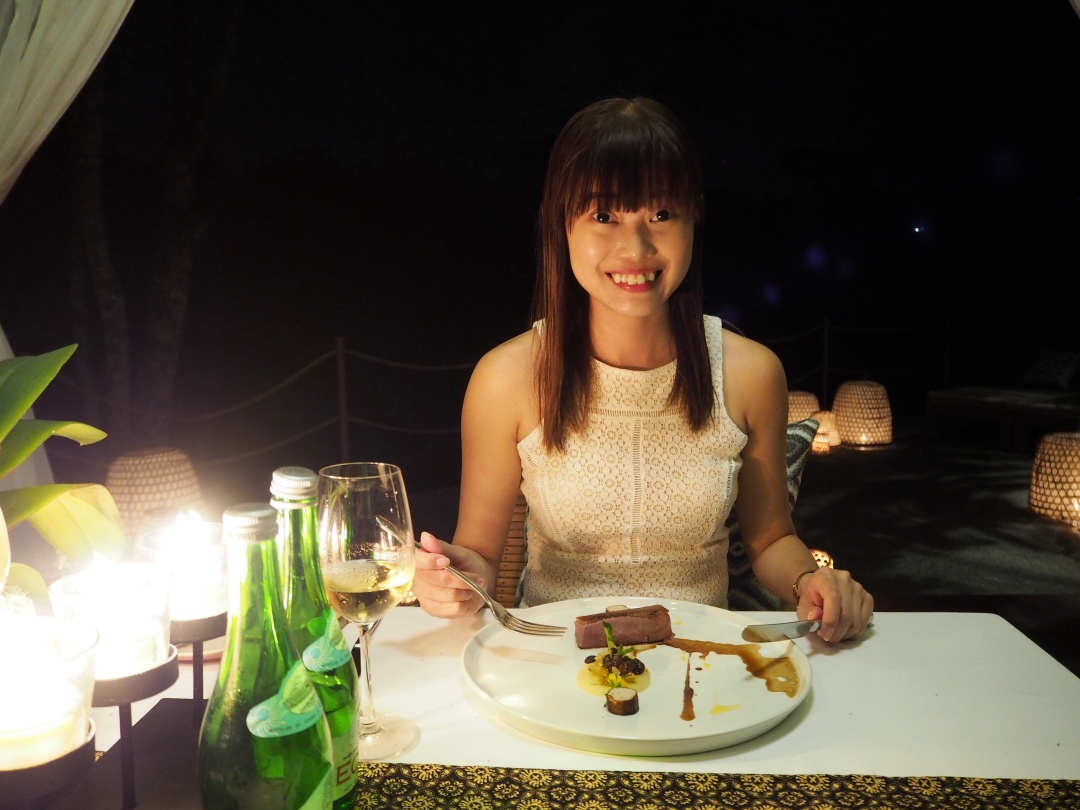 Barramundi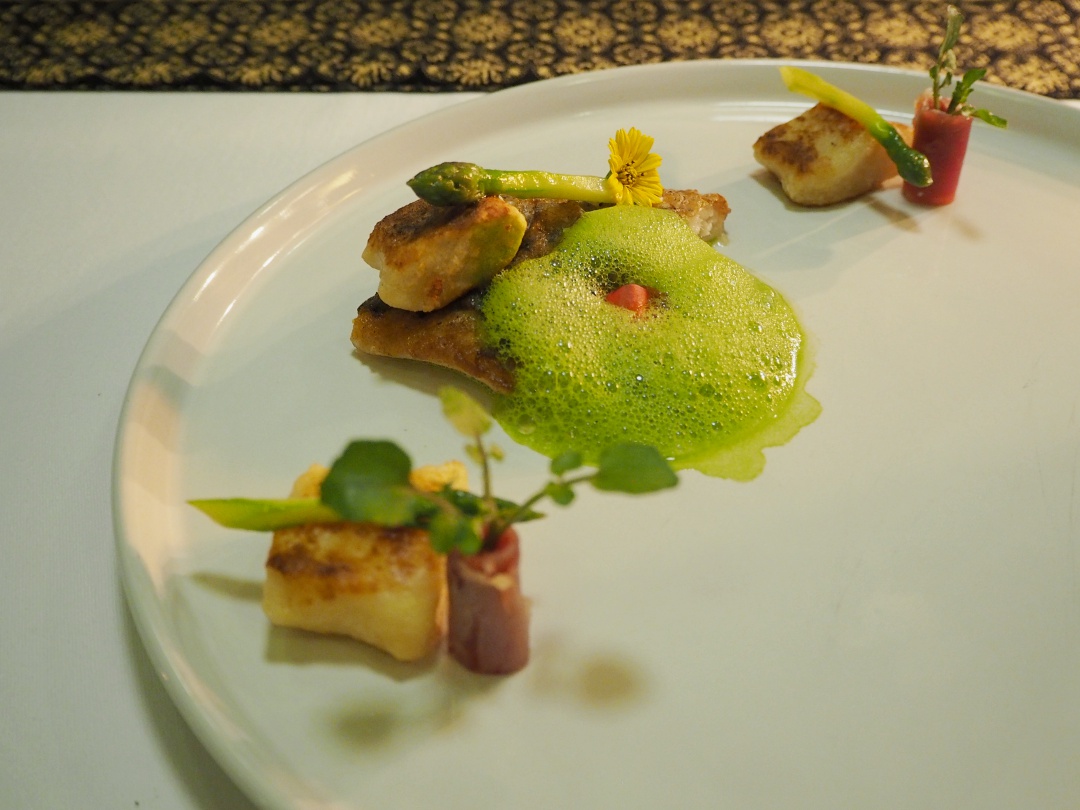 Seared fillet barramundi, iiberico ham, cheese gnocchi, asparagus, parsley foam.
Beef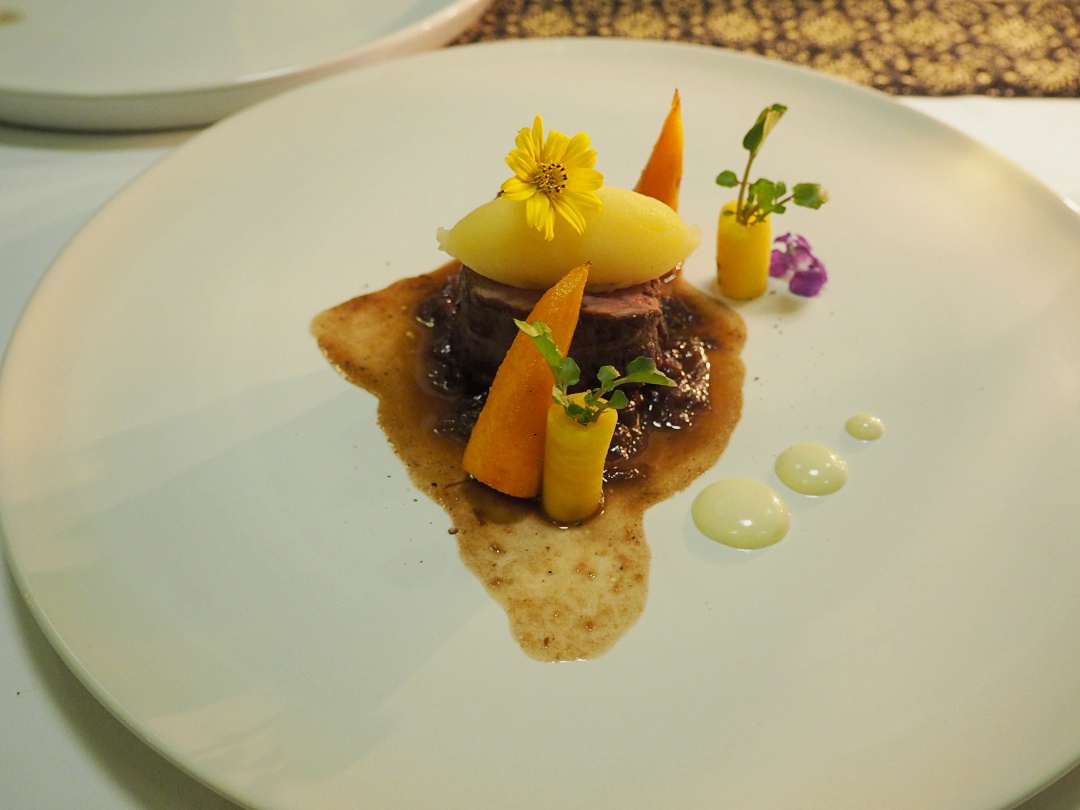 Pan roasted Black Angus beef tenderloin served with mashed potatoes drizzled with caramelised onion sauce, wasabi mayonnaise, roasted turnip.
Chocolate Snickers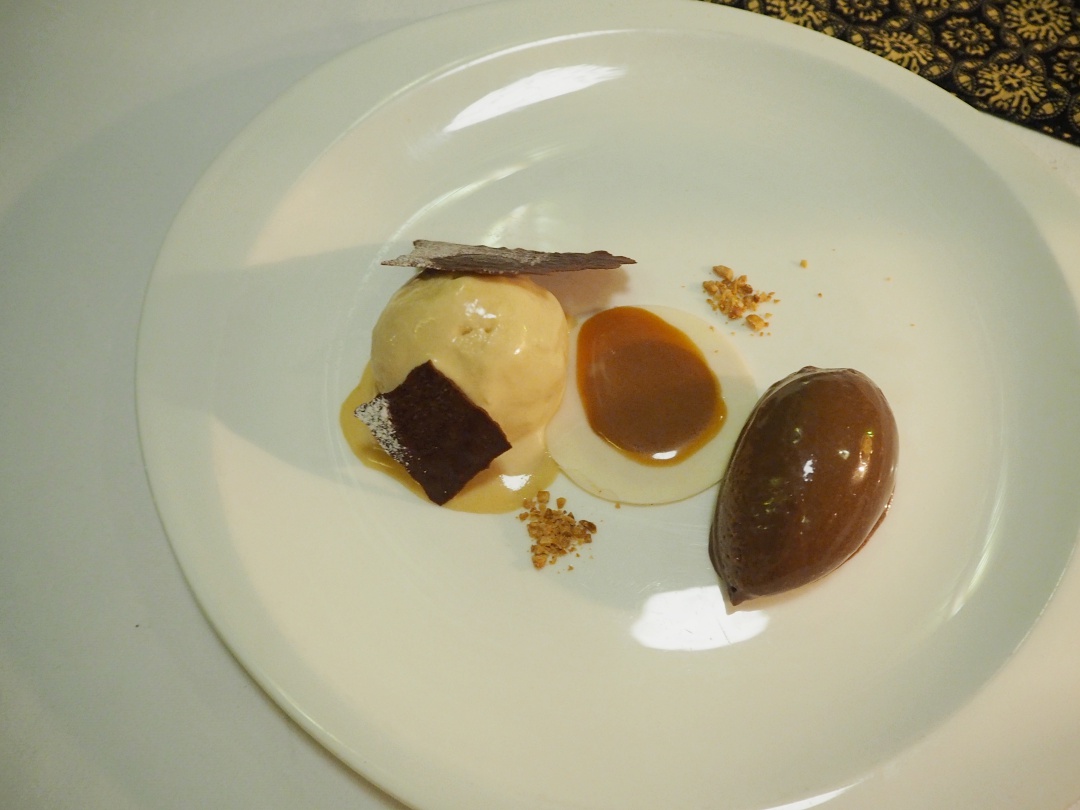 Dark chocolate mousse, salted caramel, peanut butter ice cream.
Everything, down to the dessert, was perfect!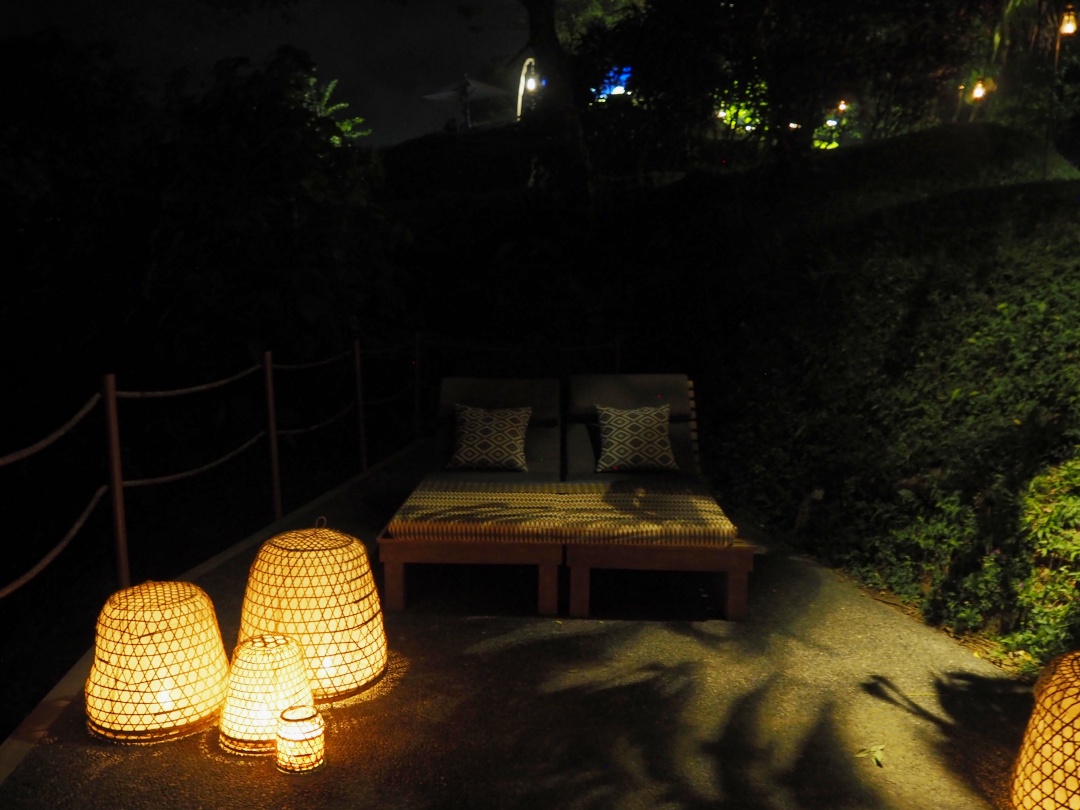 Next to the bale bengong, there was a lounge area; meant to provide a relaxing spot for guest to stargaze after the dinner. However, we had a really long day and was too exhausted to stay any longer; hence we didn't get the chance to use that.
---
Overall, dinner was great! It was fairly romantic, since most of the time, it was just the two of us. We had a personal butler who would come down to serve us our dish, then left to let us enjoy our meal, before returning to collect the plates. This happened for every single dish that we had that night.
Because the bale bengong is situated right below the main resort area, you won't have guest walking past while you had your meal. So in a way, you do get a decent amount of privacy.
While the price for this romantic dinner is on the pricier side, I still think it's worth the splurge, especially if it's for a special occasion like birthday or anniversary celebration. Plus, the food was incredible!
Prices start from:
IDR 1,700,000++ per couple
IDR 2,100,000++ per couple (including a bottle of "Plaga" white, red or rose wine)
You can find out more details here.
SaveSave