Following a trip to Payangan Market and breakfast at the Plantation Restaurant, it was time for our cooking class. The cooking class forms the second part of our Alila Experience: "Introduction to Balinese Cuisine". Class starts at 10:30; the Fiancé and I promptly made our way to the front desk after our breakfast. At the lobby, we met up with our chef, Chef Oka. Together with us that day were Chef Oka and his assistant (which we later got to meet at the Organic Garden).
Most people probably wouldn't know that Alila Ubud has an Organic Garden in the resort. Hidden at a corner, I wouldn't have known where it was if Chef Oka didn't lead the way.
Over at the Organic Garden, Chef Oka brought us around and shared with us some of the plants they were planting, including tomato, spring onion, curry leaves, etc. It was quite an unusual sight; certainly not something we see in our day to day lives. The garden was also much bigger than what I have pictured.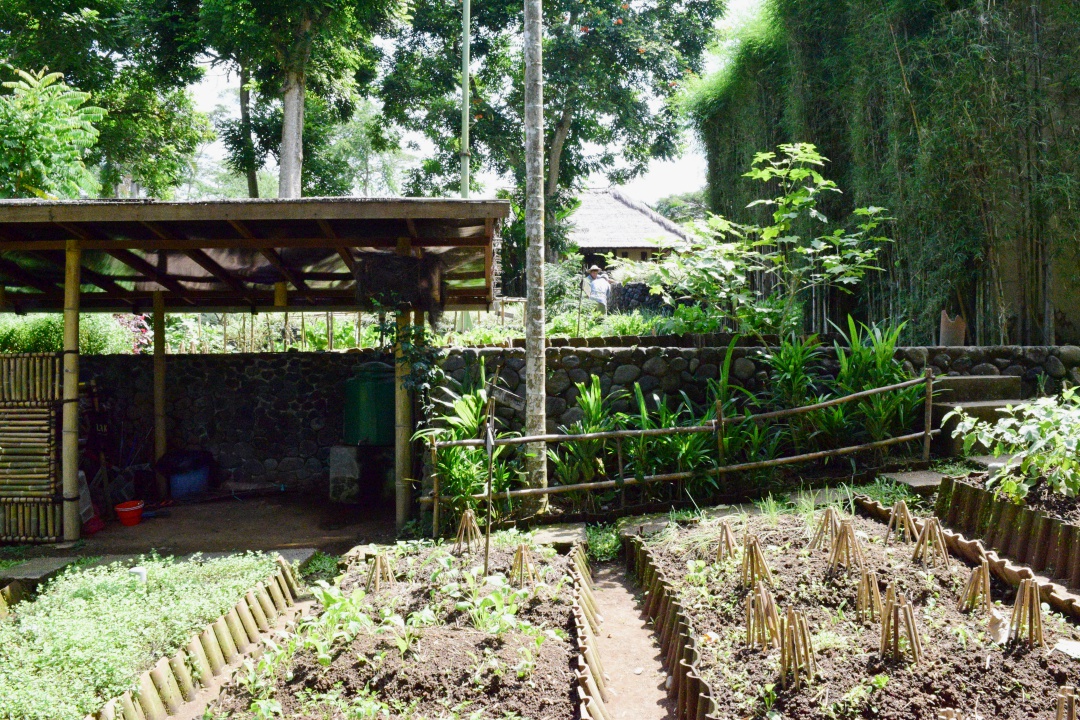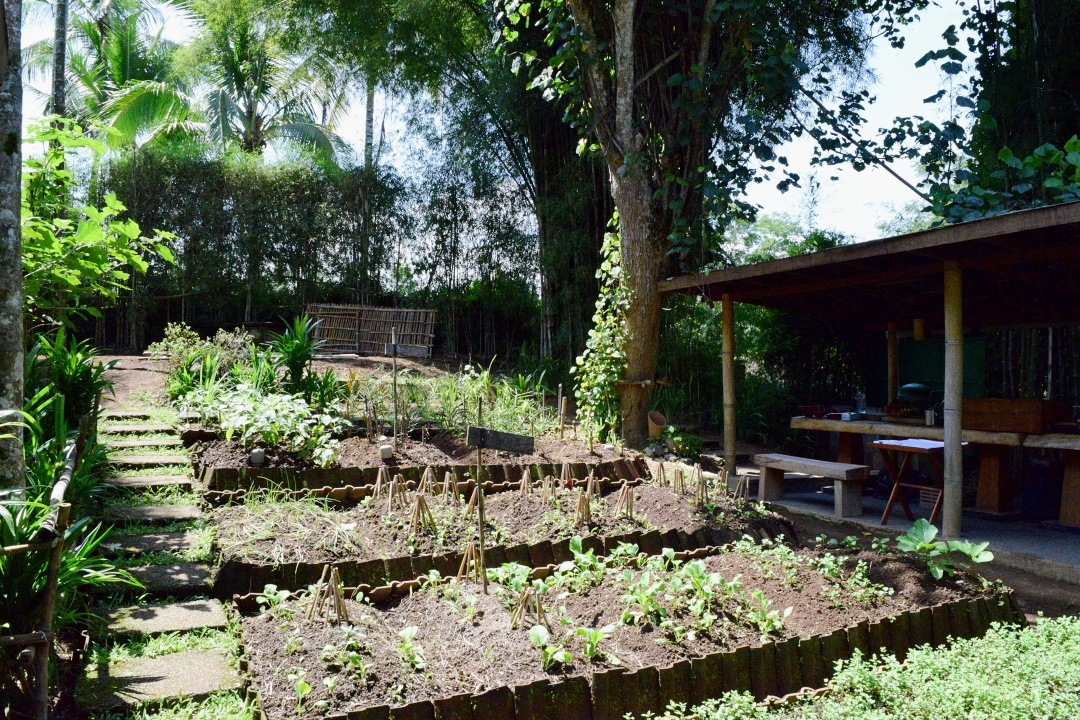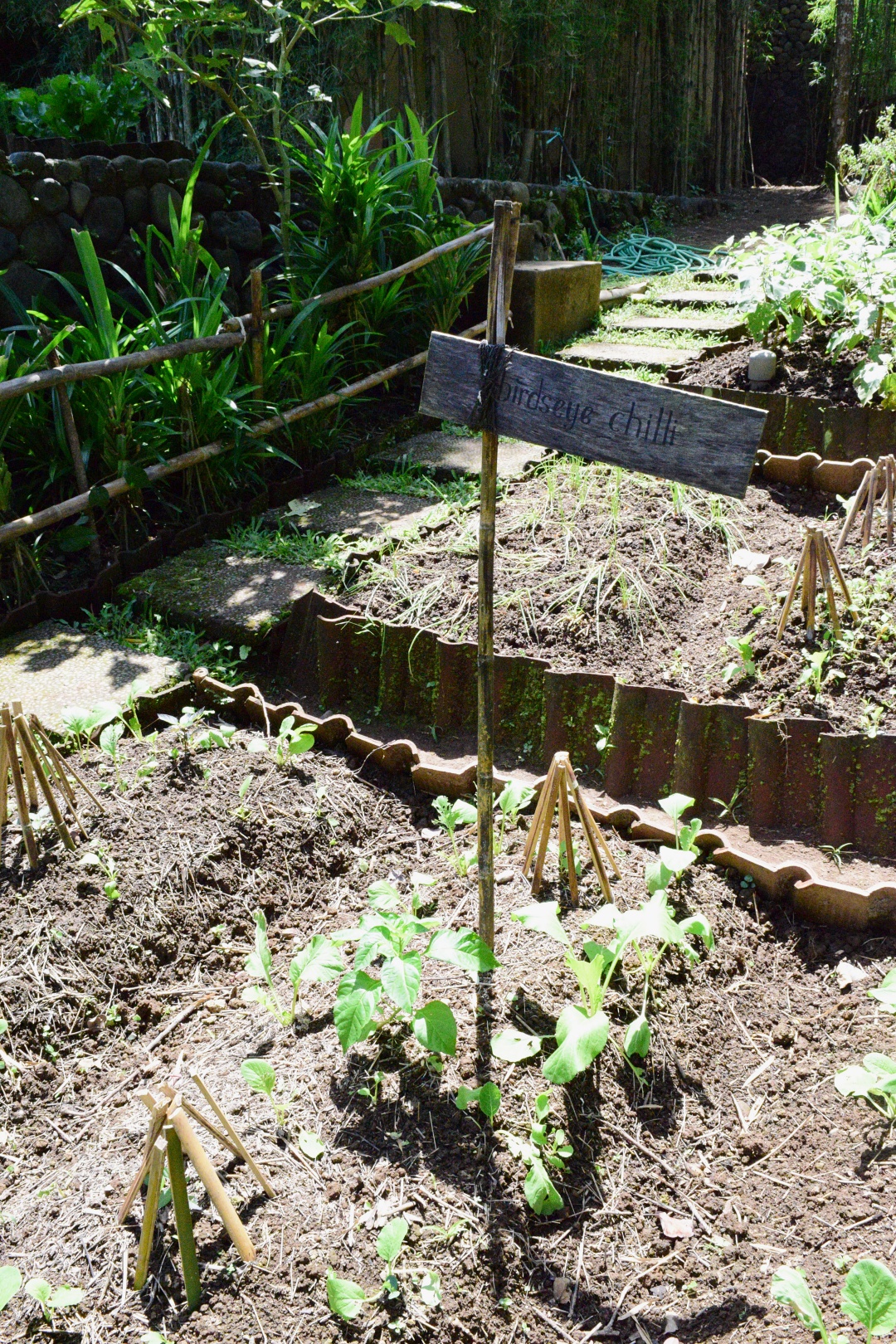 Before we start with the actual cooking, we were provided with cold towels, water, young coconut and our very own personal apron. It was very thoughtful of them to gift us an apron. Donning the apron really does makes me feel like I am there to cook!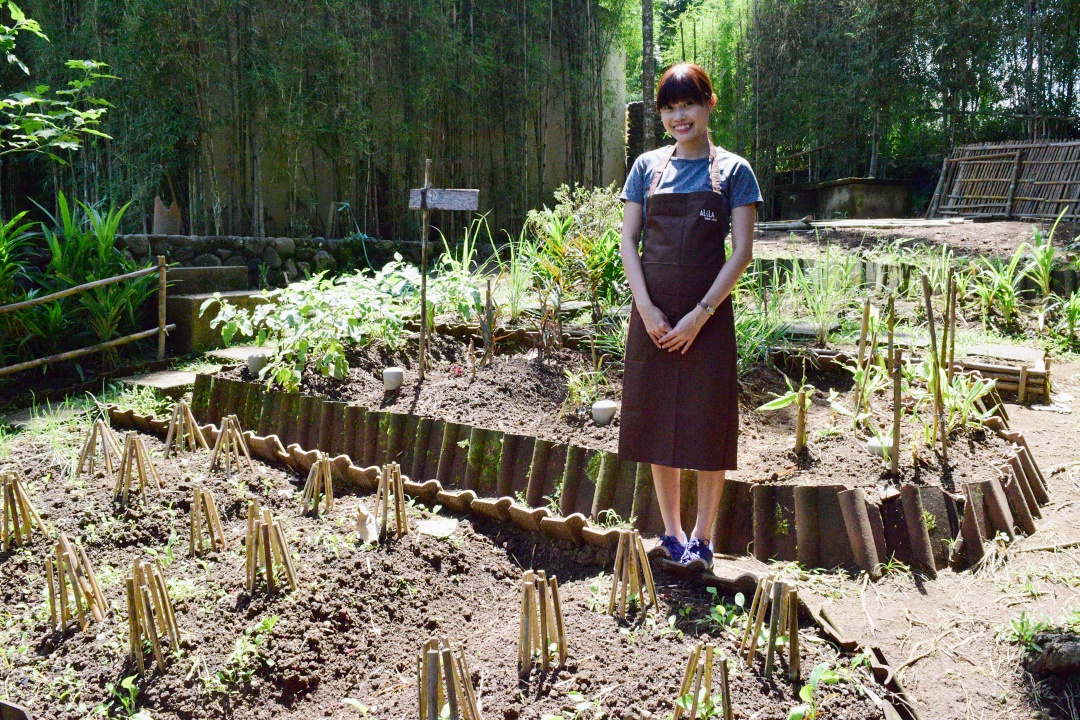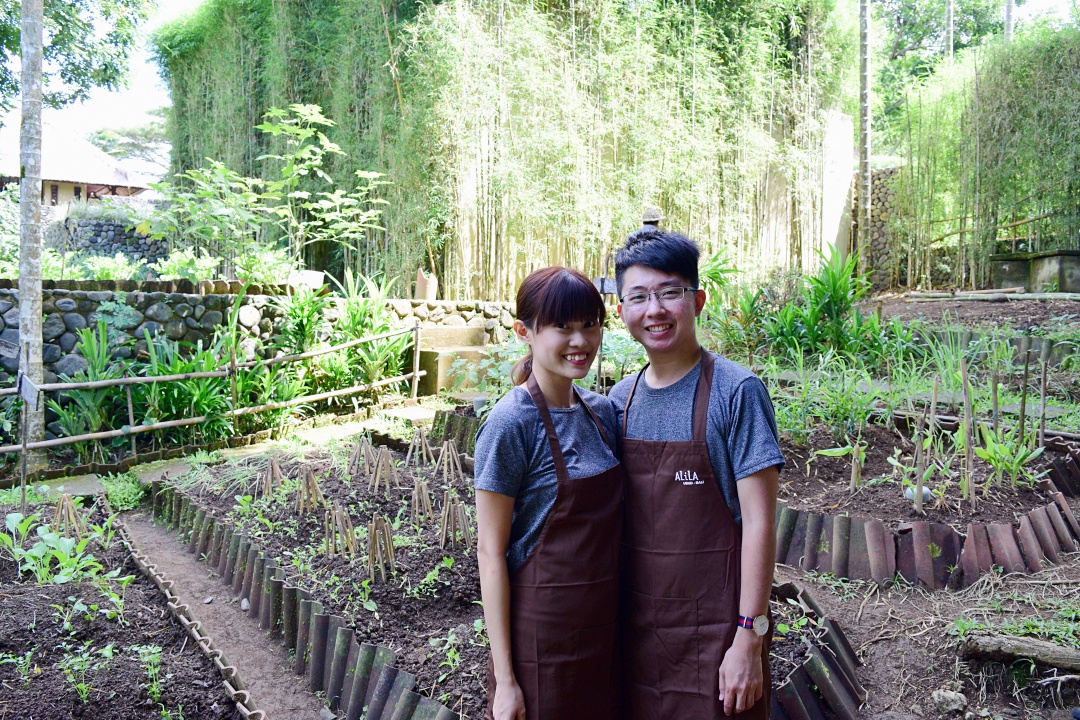 Introduction to Balinese Cuisine
Like the title suggest, the primary objective of this Alila Experience is to expose ourselves to Balinese cuisine and also to learn how to prepare authentic Ubud food. We were earlier told that we would be making 7 – 8 dishes and I honestly thought that was quite a lot to learn for a cooking class.
All the ingredients needed for our cooking were all pre-prepared and laid out nicely on the table. Chef Oka briefly went through the ingredients with us and showed us the ingredients needed to prepare our first item, "Bumbu Bali".
Bumbu Bali
From what I understand, bumbu is an essential ingredients/staples in most Balinese cuisine. It is made into a paste using a selection of spices and herbs, normally by using an ulekan. Some of the ingredients needed to create bumbu include shallots, kencur root, ginger root, turmeric, candle nut and coriander seed. All these forms the base of bumbu, hence the taste will be different if you take away one/some of the ingredients.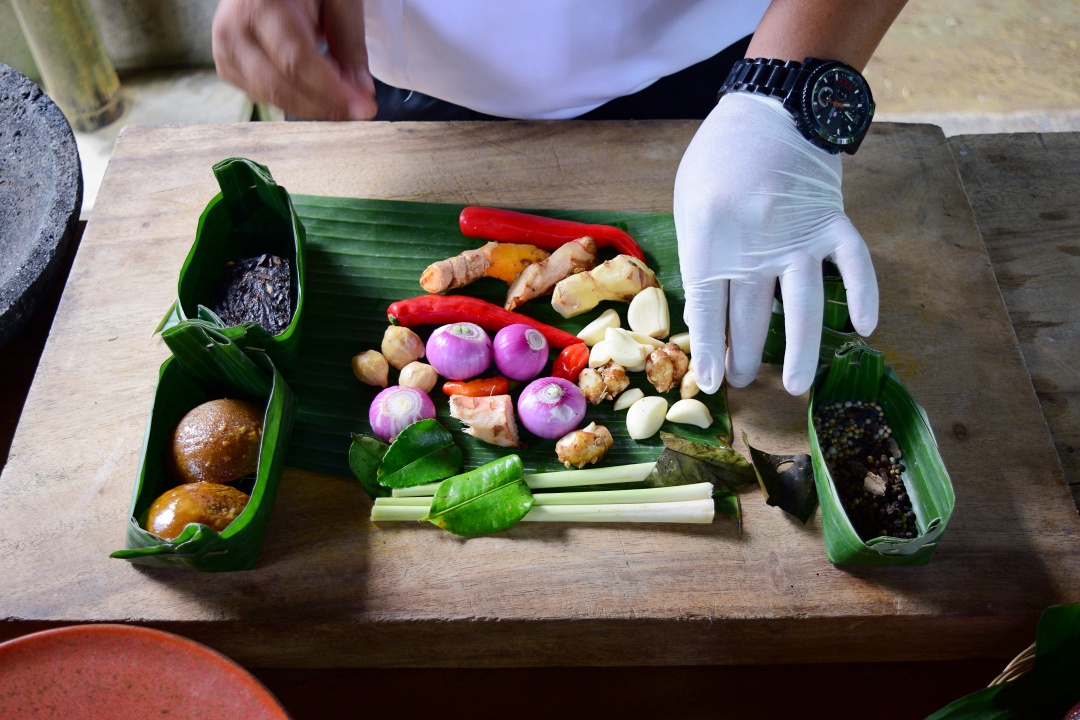 Here's what needed to create our own Bumbu Bali.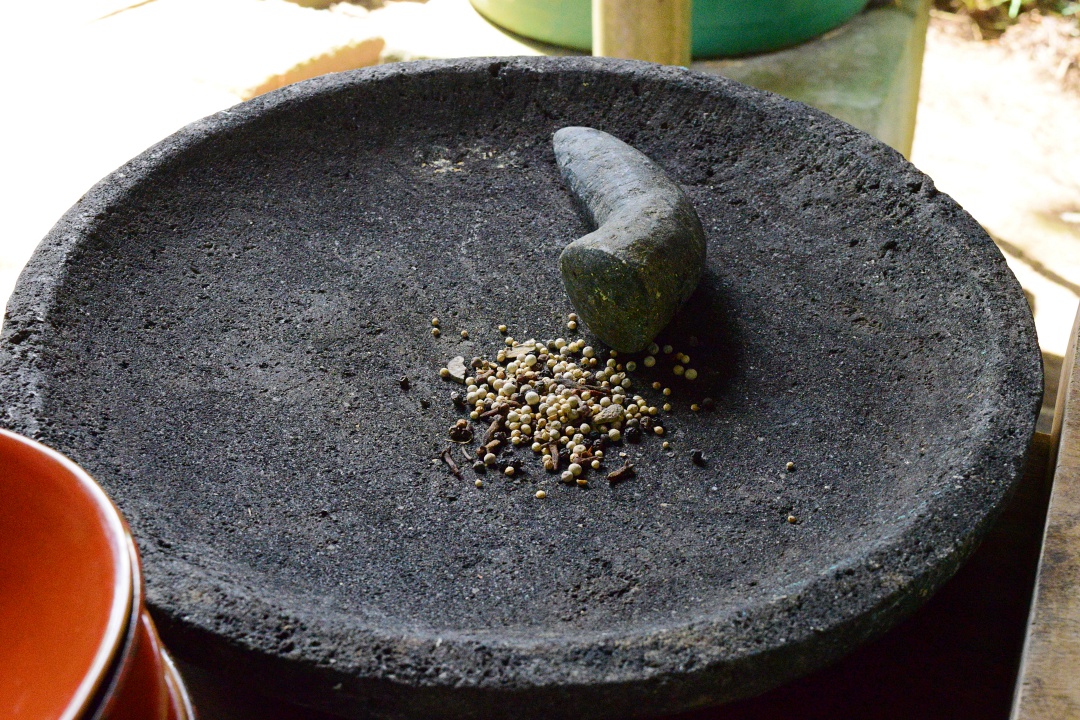 Black pepper.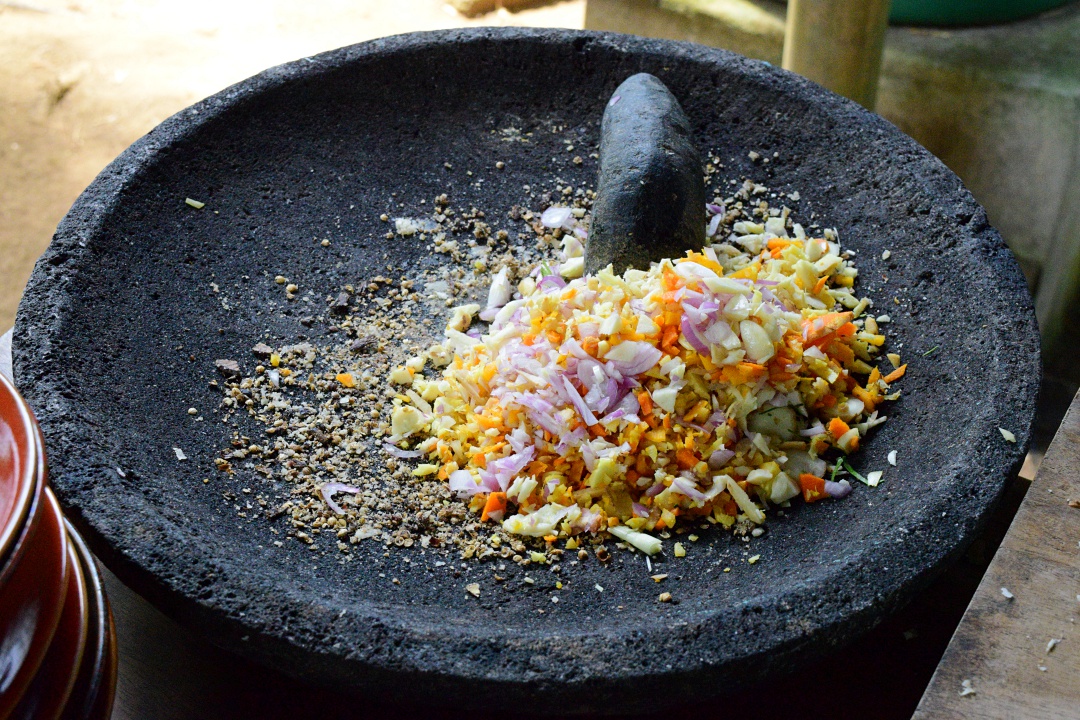 Black pepper, candle nut, coriander seed, shallots, kencur root, ginger root, etc.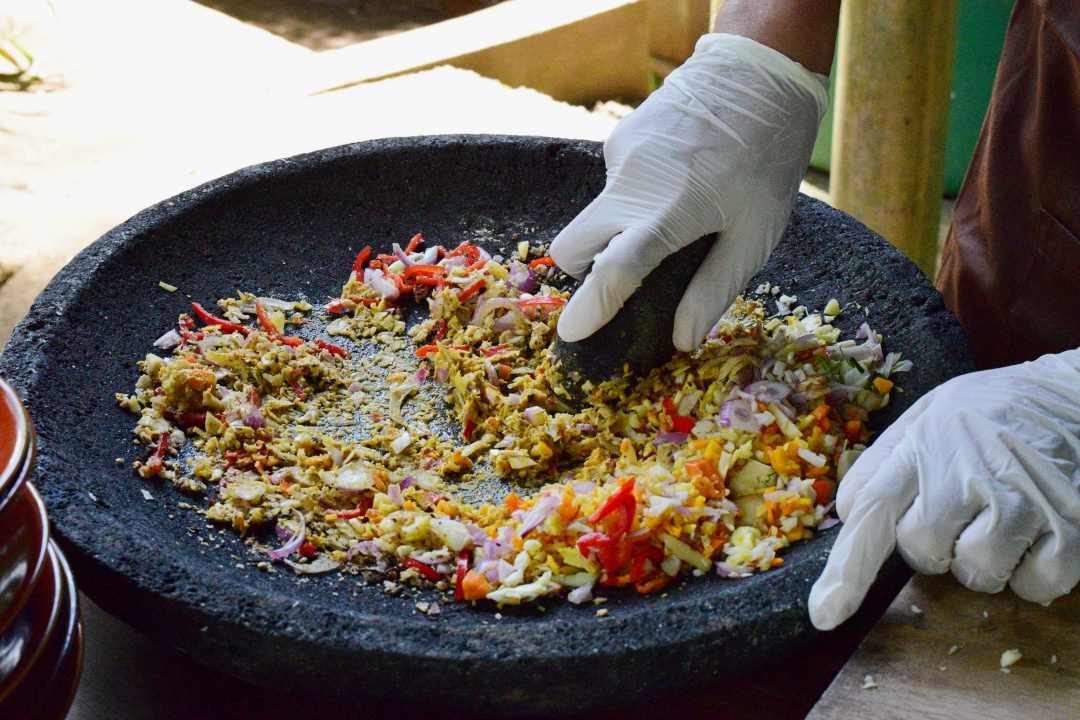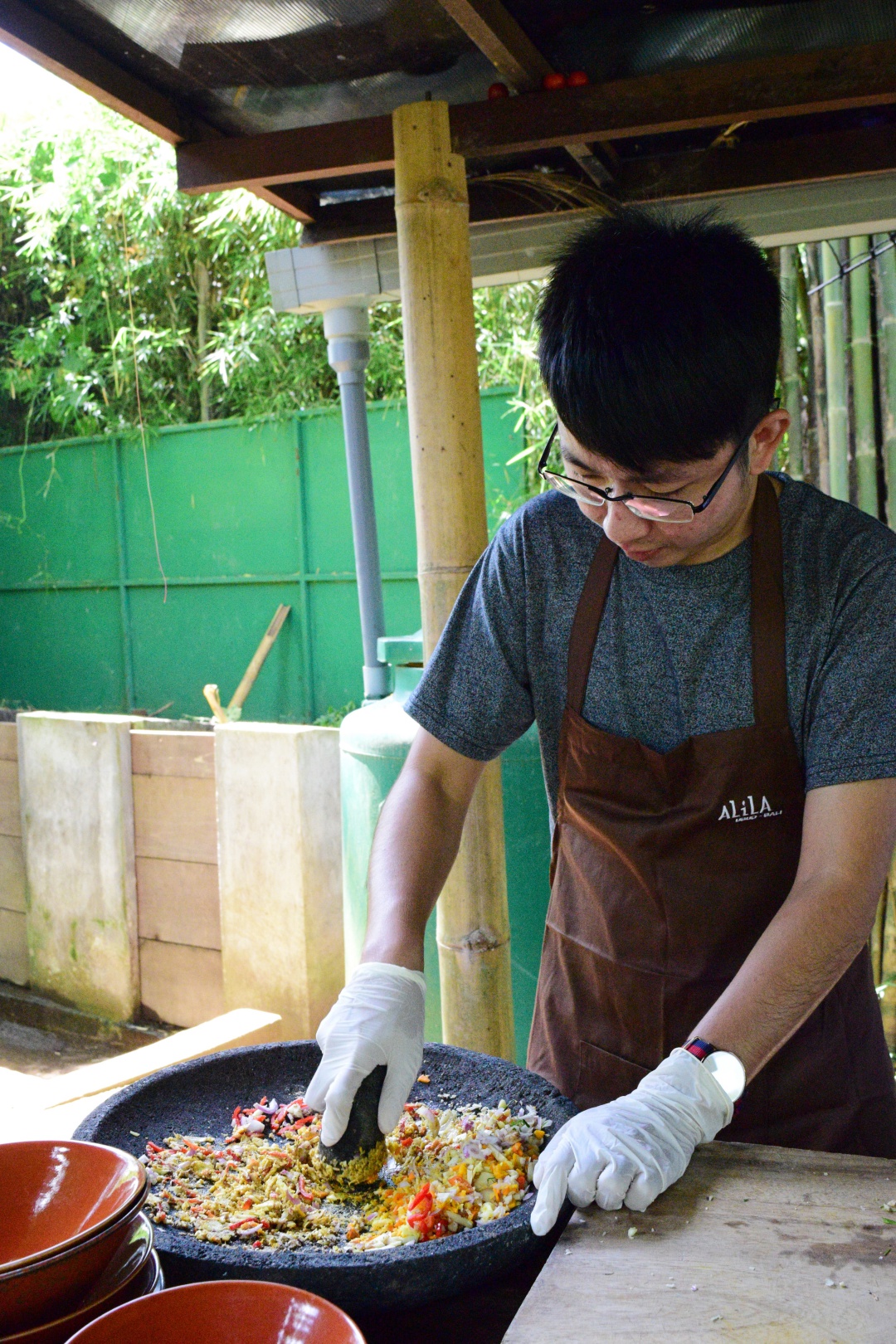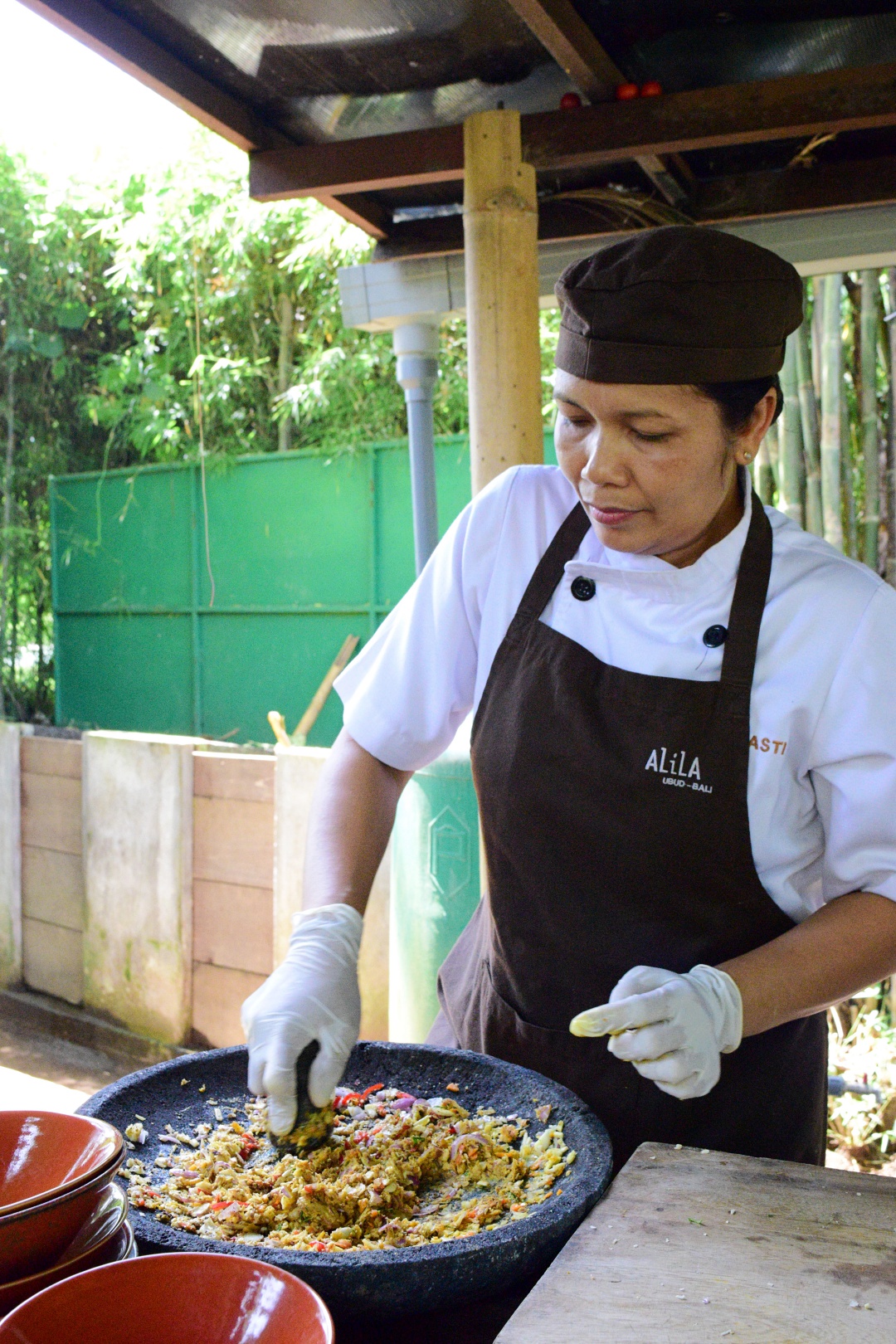 Grind until a smooth paste.
This may seem easy, but in actual fact, it requires a lot of strength.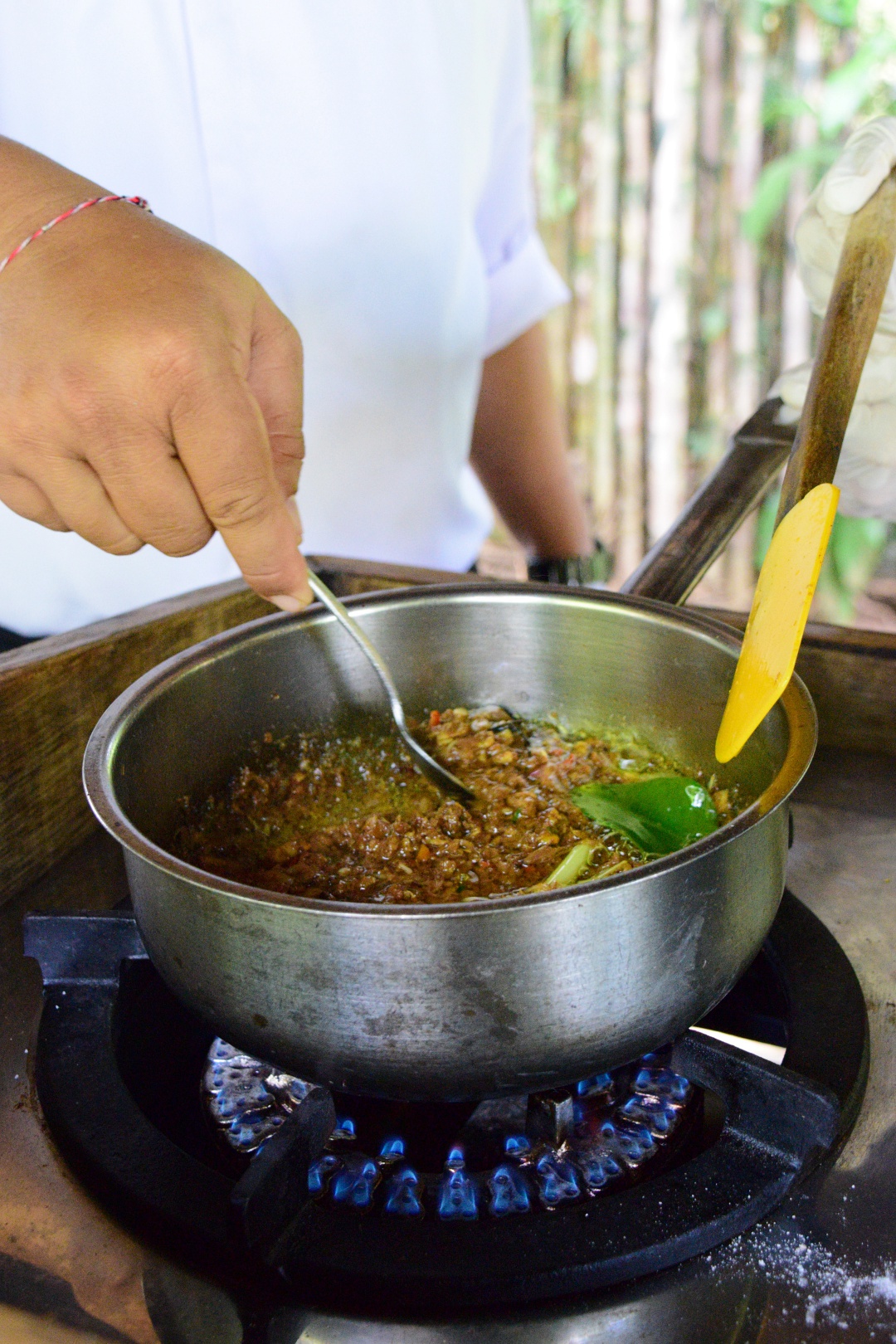 Transferred the paste into a small pan/pot, add a little bit of vegetable oil and cook over medium heat for two minutes. Then, add in 100ml of water and cook for another five minutes.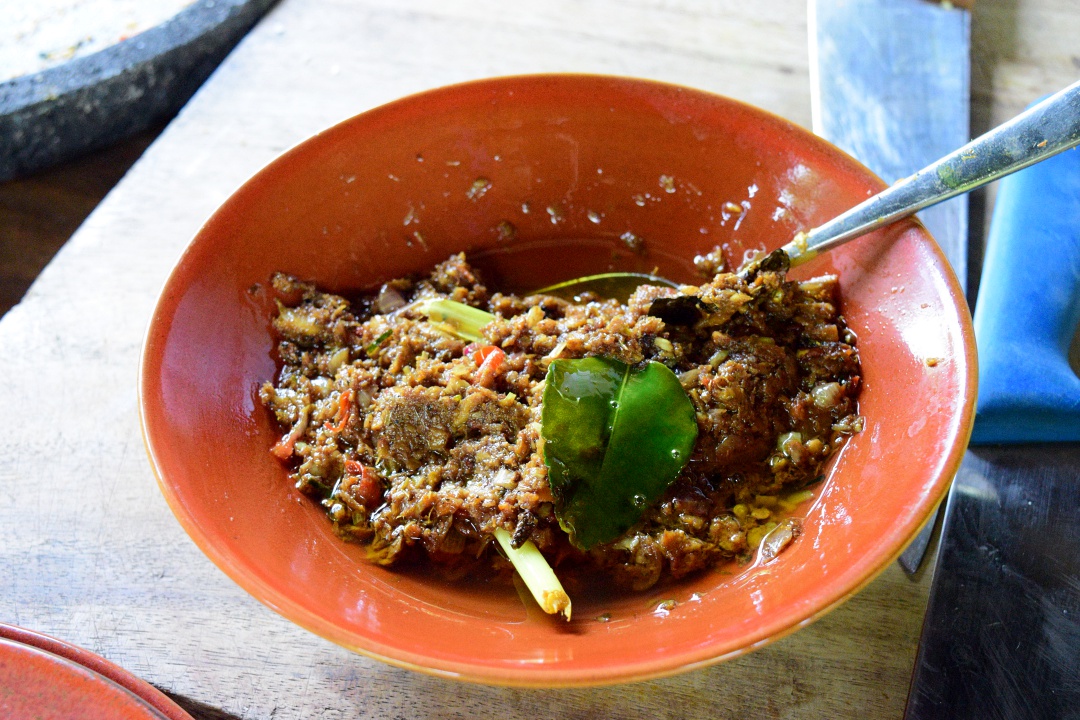 There, we have the completed Bumbu Bali.
After cooling down, you can store it in the fridge and it's good for up to two weeks. We just left ours on the table, since we will be using it for the subsequent dishes.
Next, we moved on to the second item – Perkedel Jagung.
Perkedel Jagung (sweet corn fritters)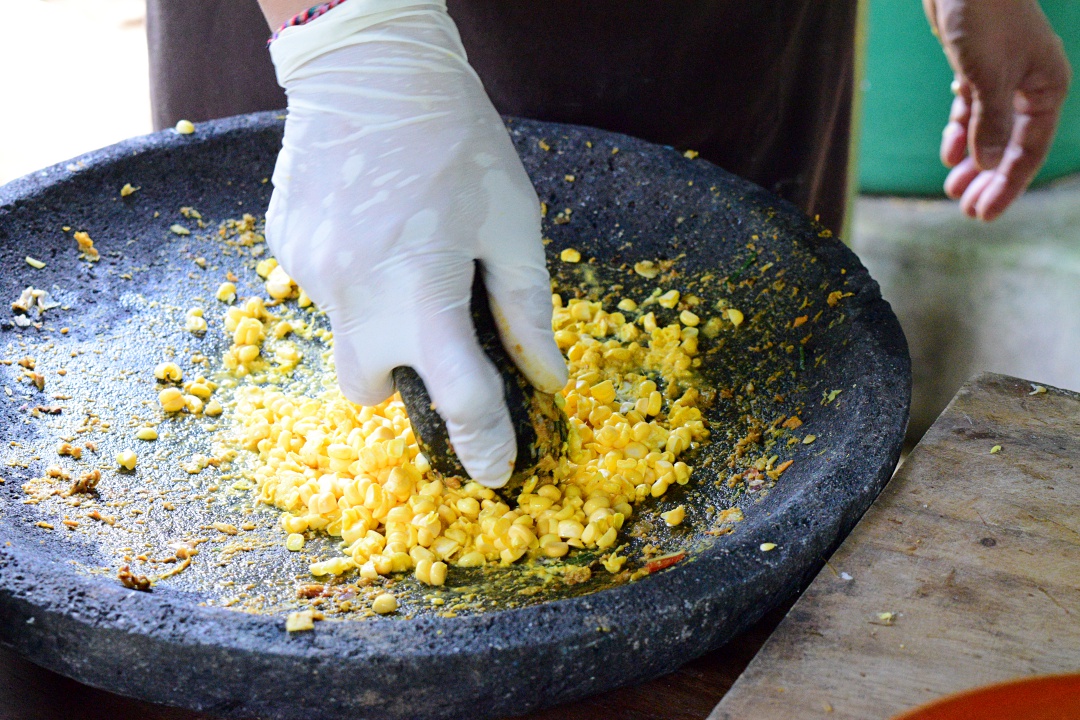 Cut the sweet corn kernels of the cobs and put in the blender. Since we didn't have a blender, we used an ulekan instead. Mash/grind until you have a paste.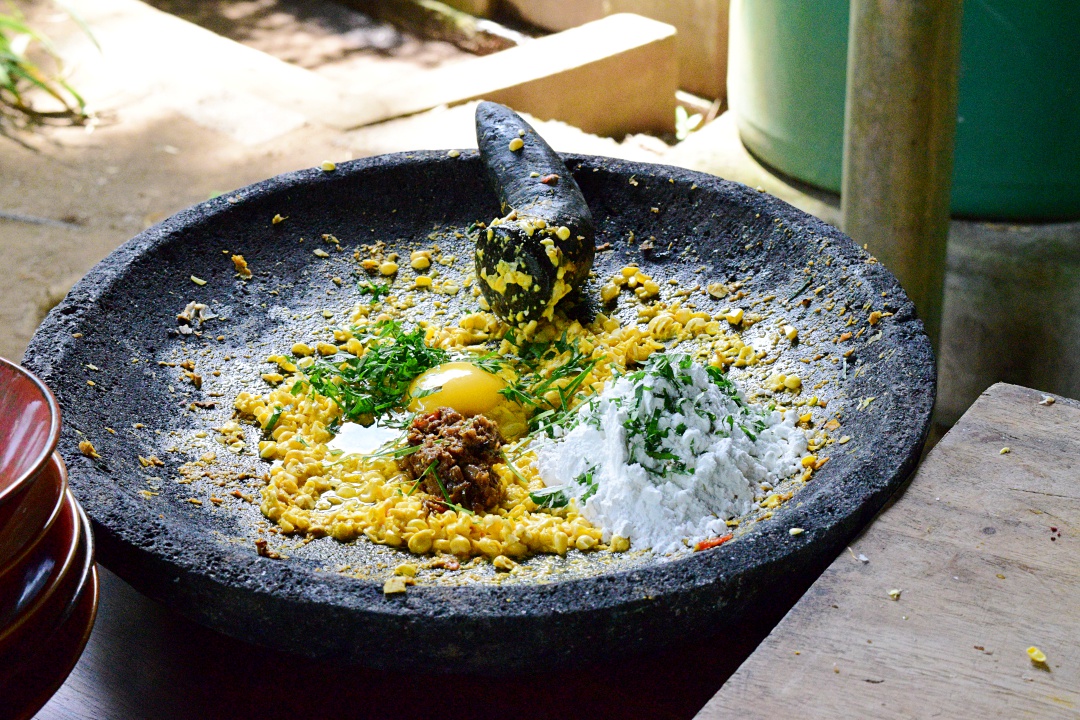 Then, add in 10g of Bumbu Bali, sliced lime leafs, egg and maizena and season with salt and pepper.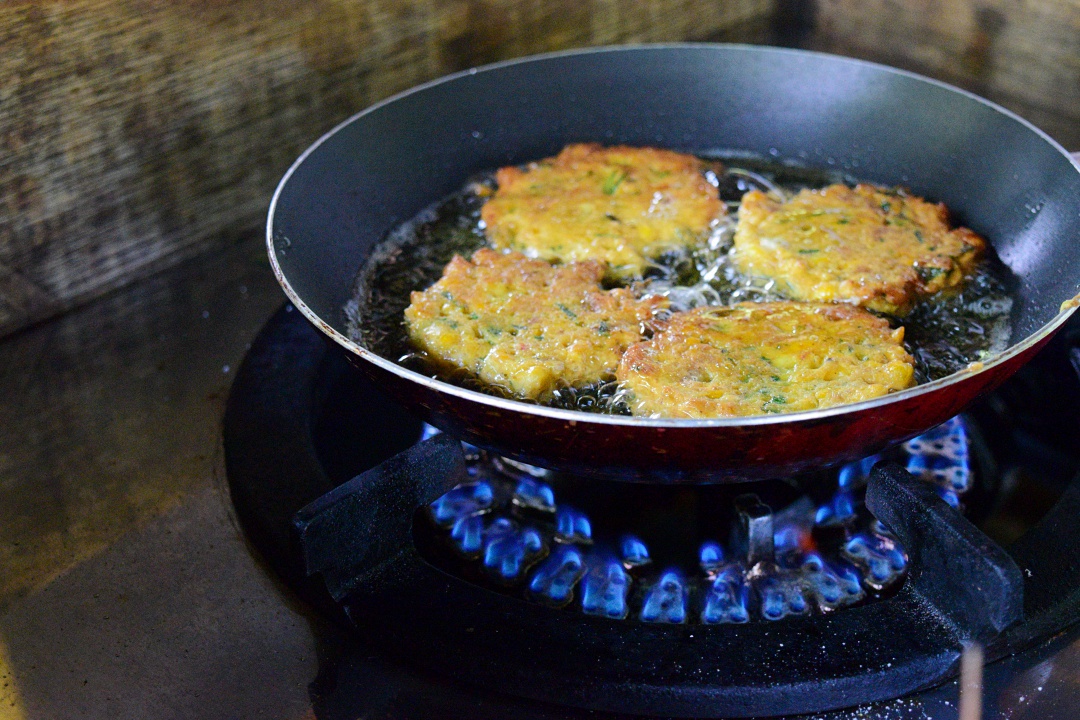 In a pan, heat up the vegetable oil and scoop in little balls of the sweet corn mixture. Fry over medium heat until golden brown. When it's done, take it out from the pan and put on kitchen towel to remove excess oil. Suggest to serve straight away with prickles and sweet & sour chili sauce on the side.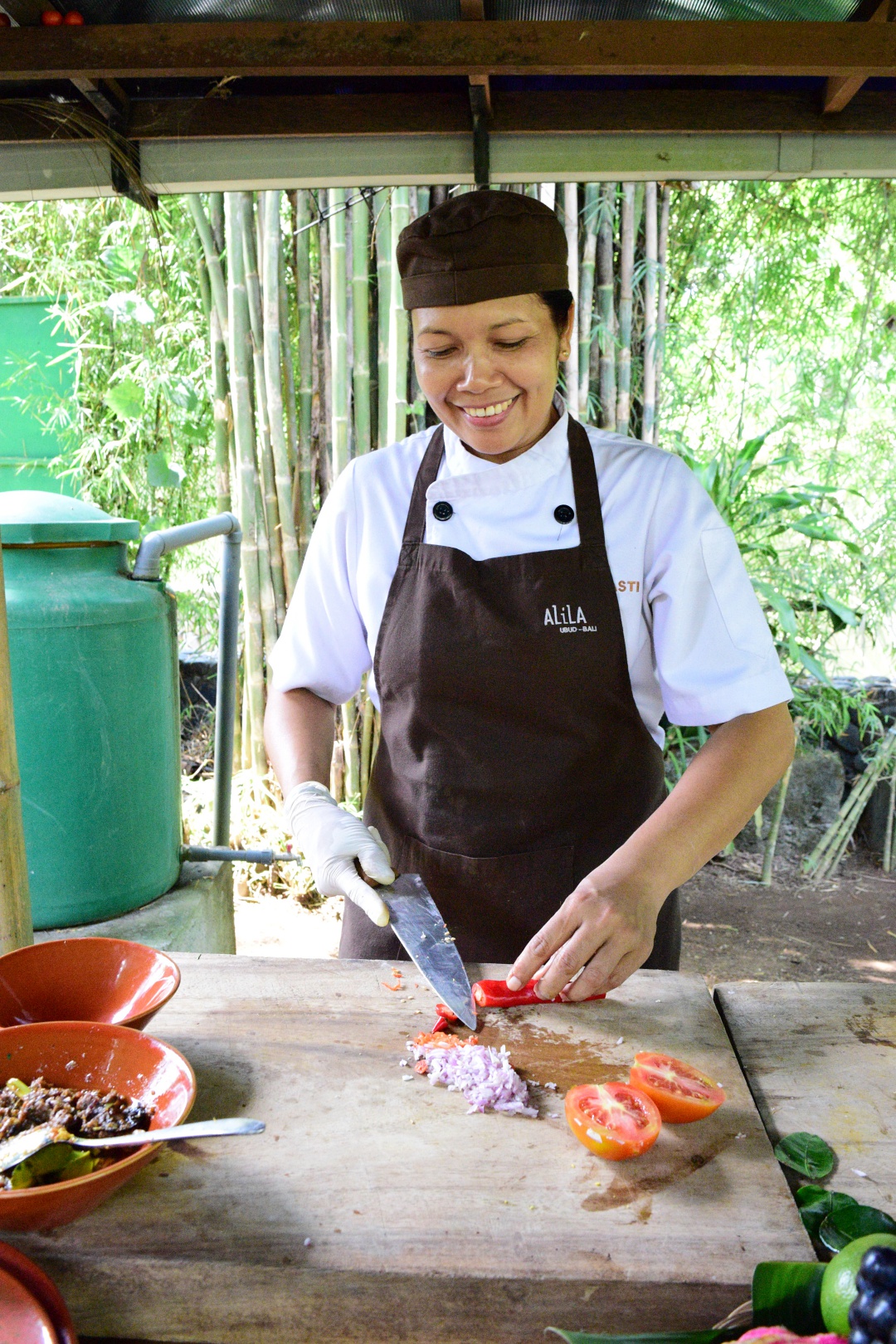 Here's our chef preparing the sauce for us.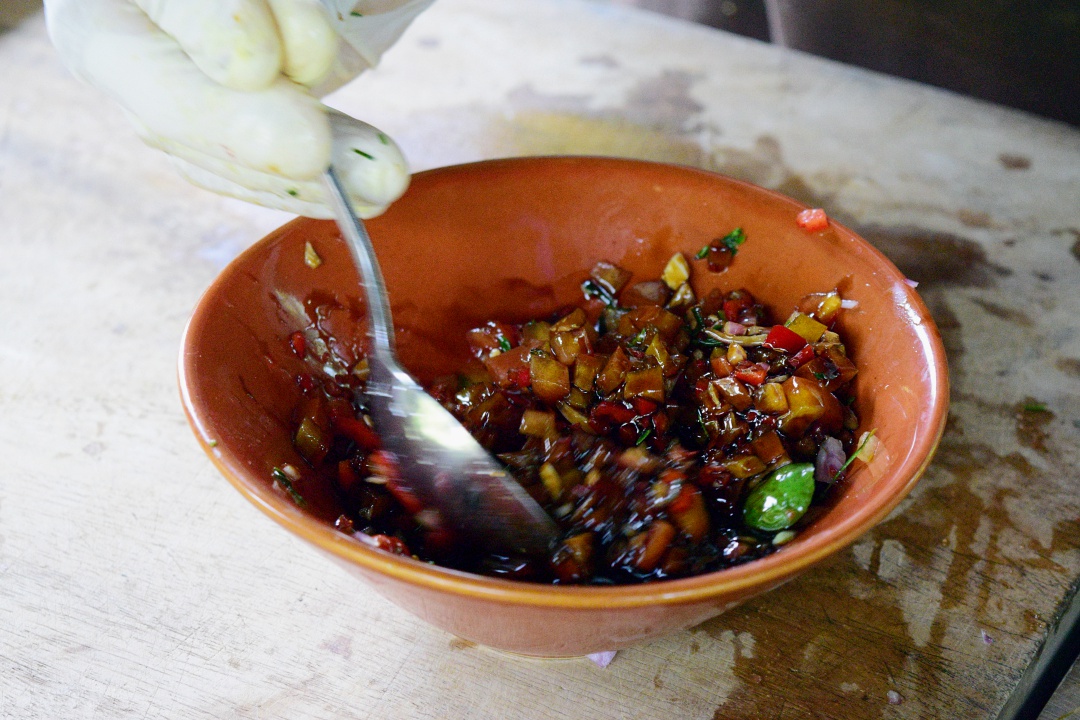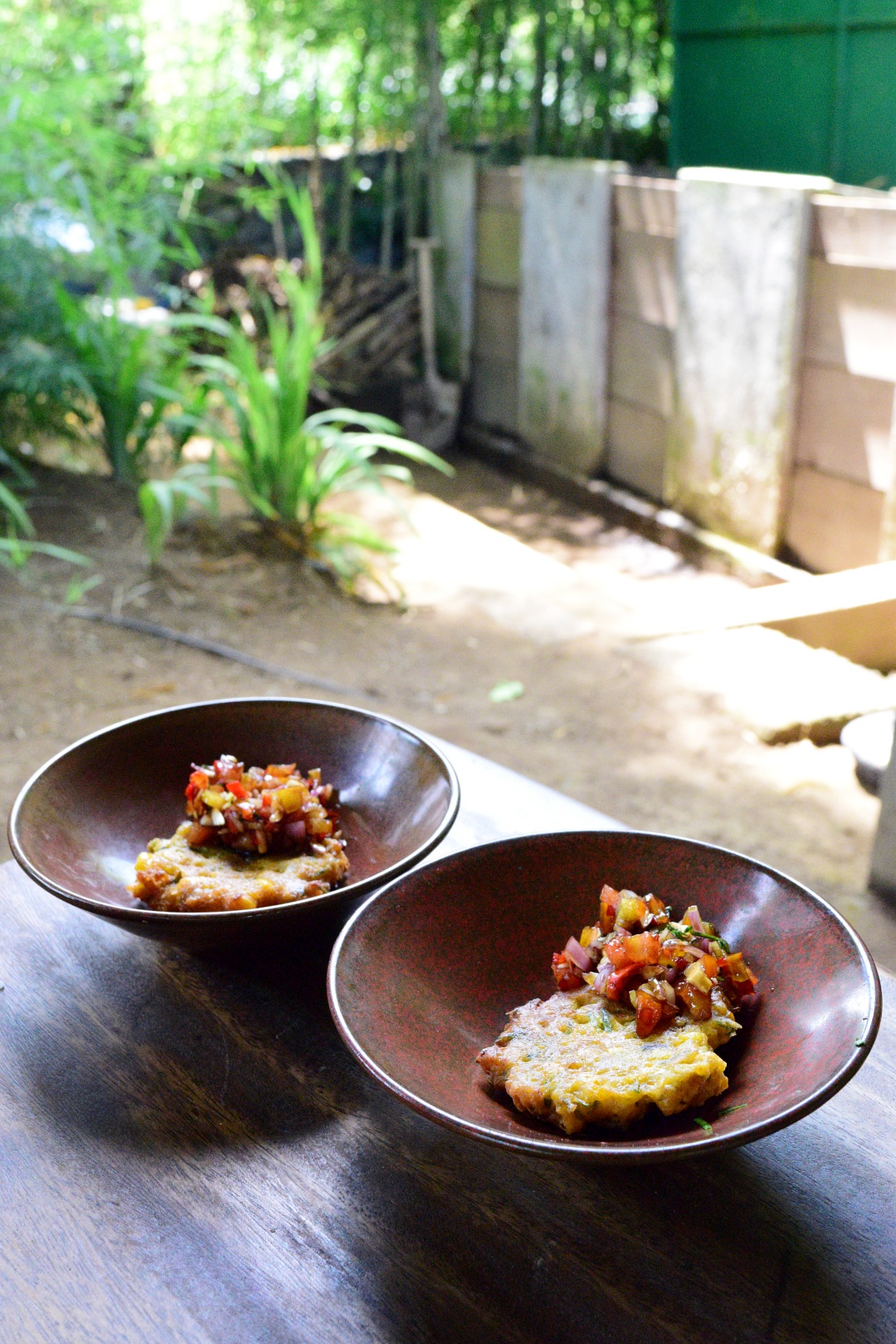 The result! I love sweet corn, so this corn fritter get a thumb up from me!
Saus Kacang (peanut sauce)
Next up, we have Saus Kacang, which is peanut sauce. This is meant to pair with the Tum Ayam and Sate Lilit Ikan that we will be making.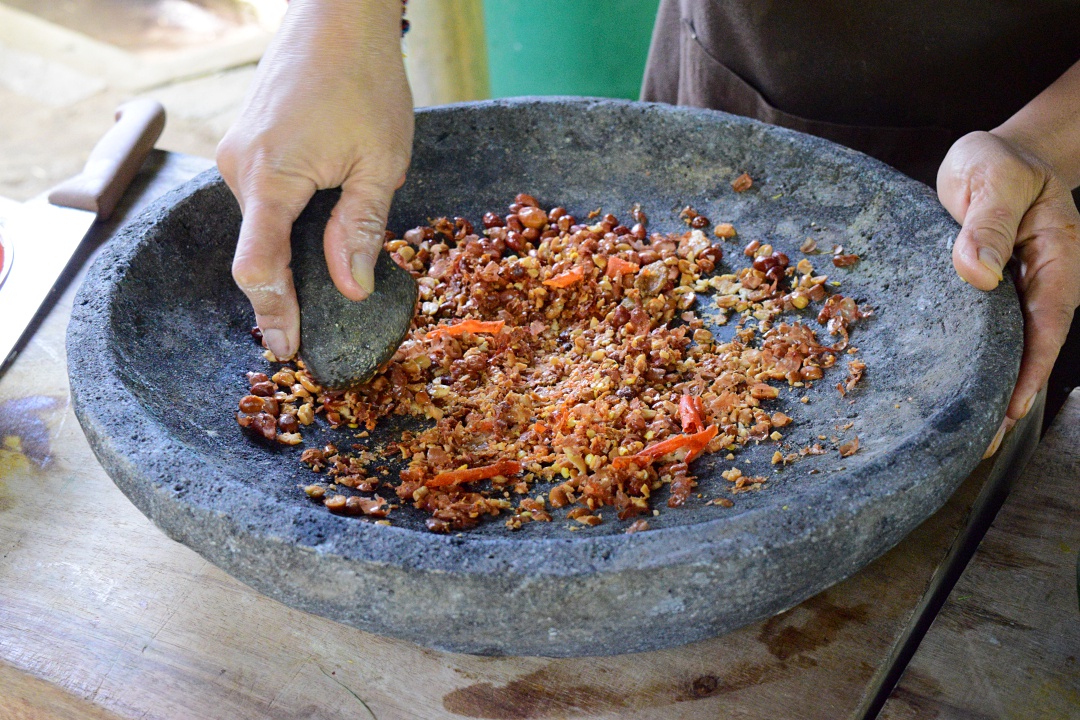 I love peanut sauce! It is a must have for me whenever I have sate (satay).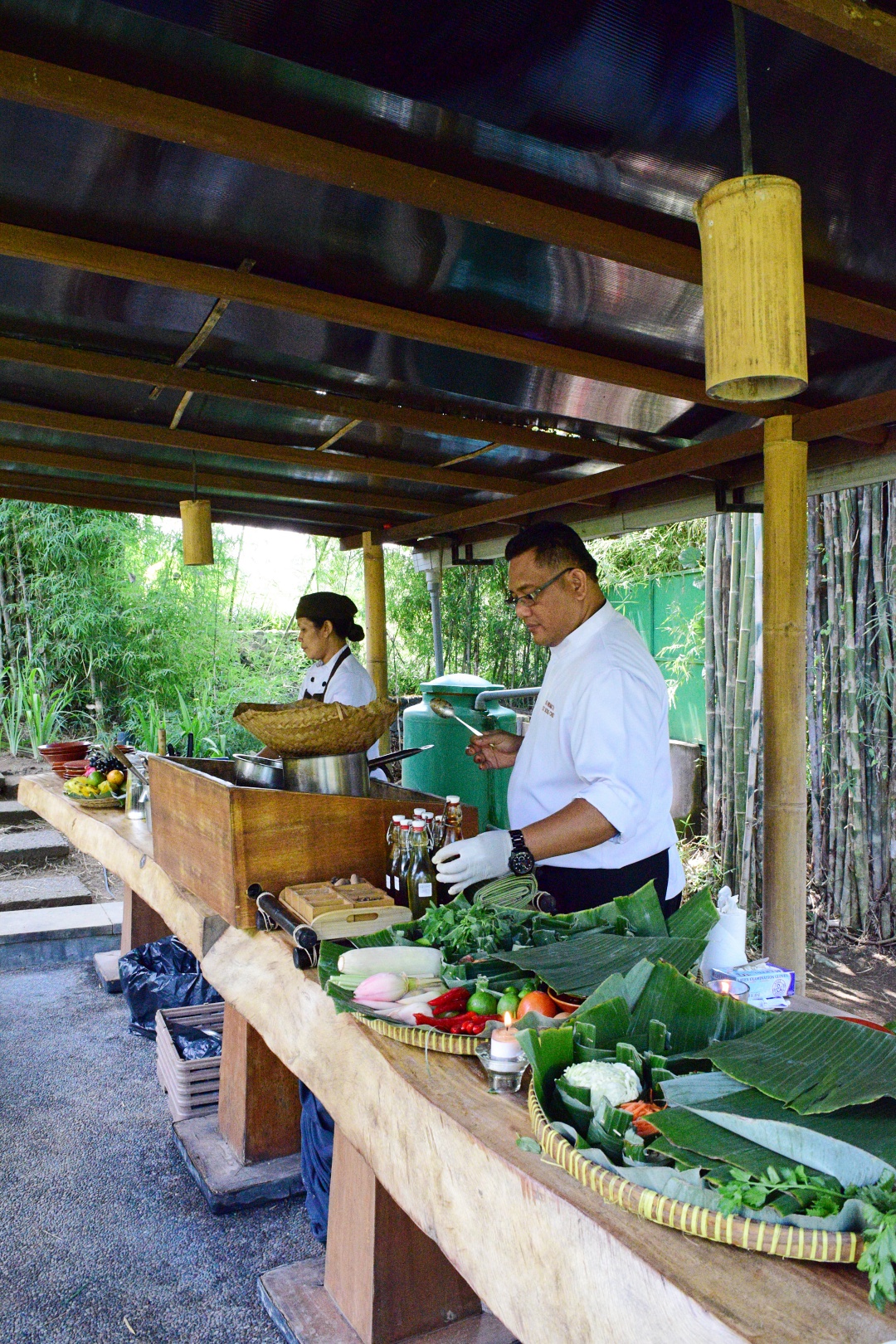 To be honest, most of the time, the Fiancé and I were just standing there and watching how the dishes are being prepared/cooked. Occasionally, the Fiancé will lend a hand, but that usually happened after the chef insist we gave it a try.
Be Pasih Sambal Matah (tuna in shallot & lemongrass dressing)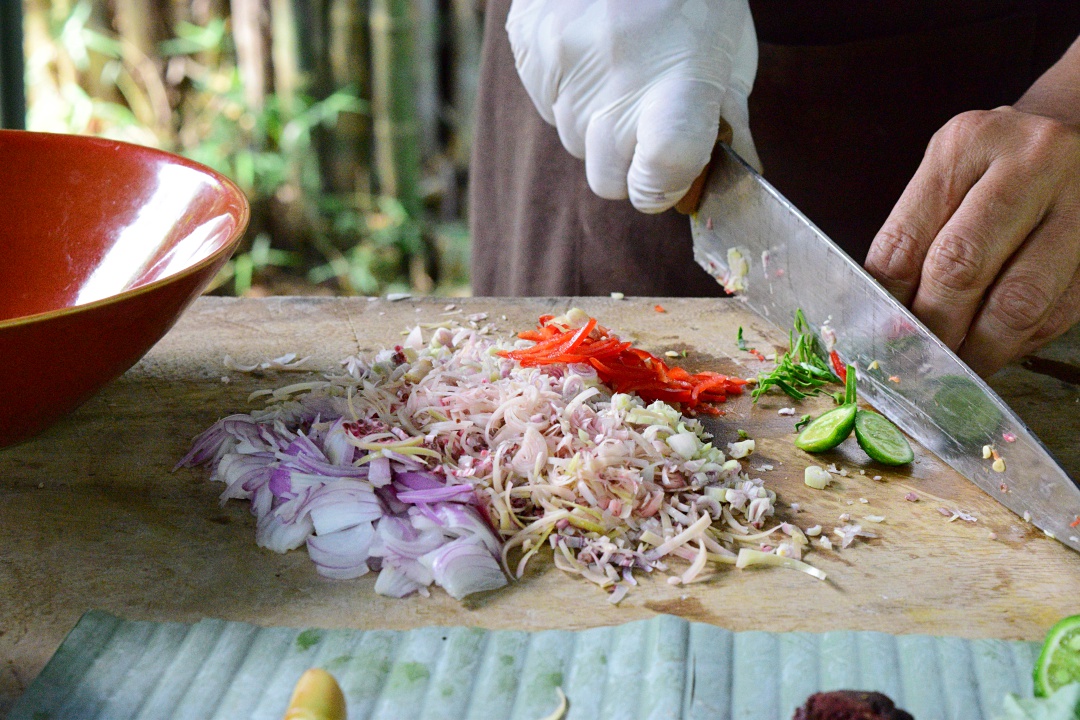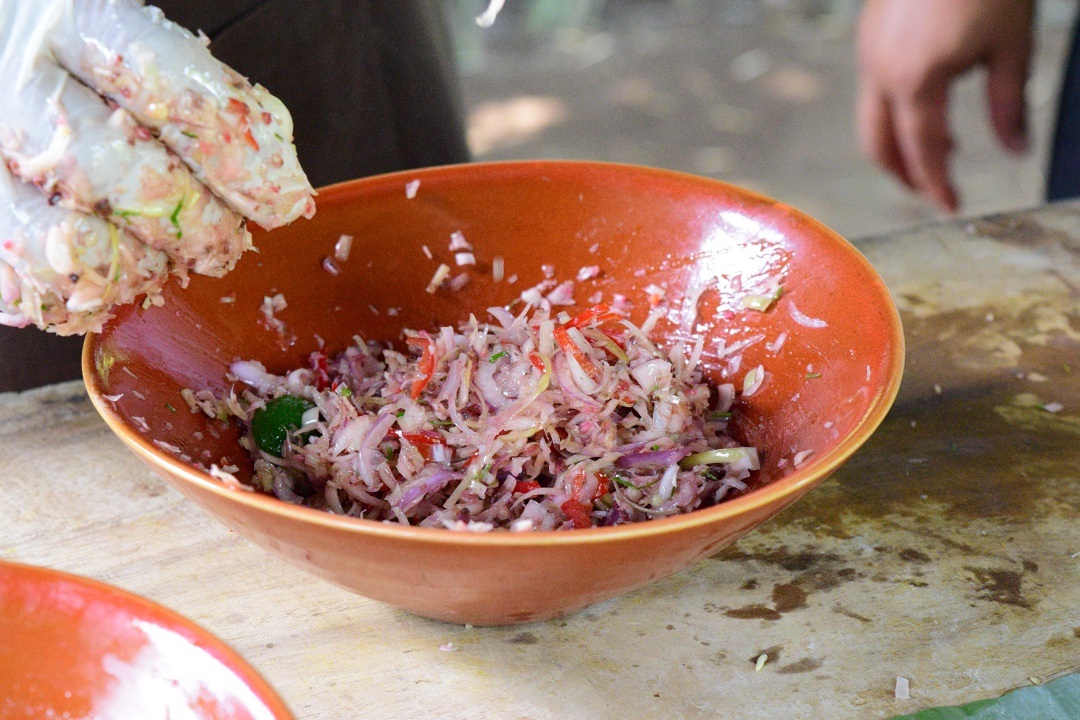 This is Be Pasih Sambal Matah, which is tuna in shallot & lemongrass dressing.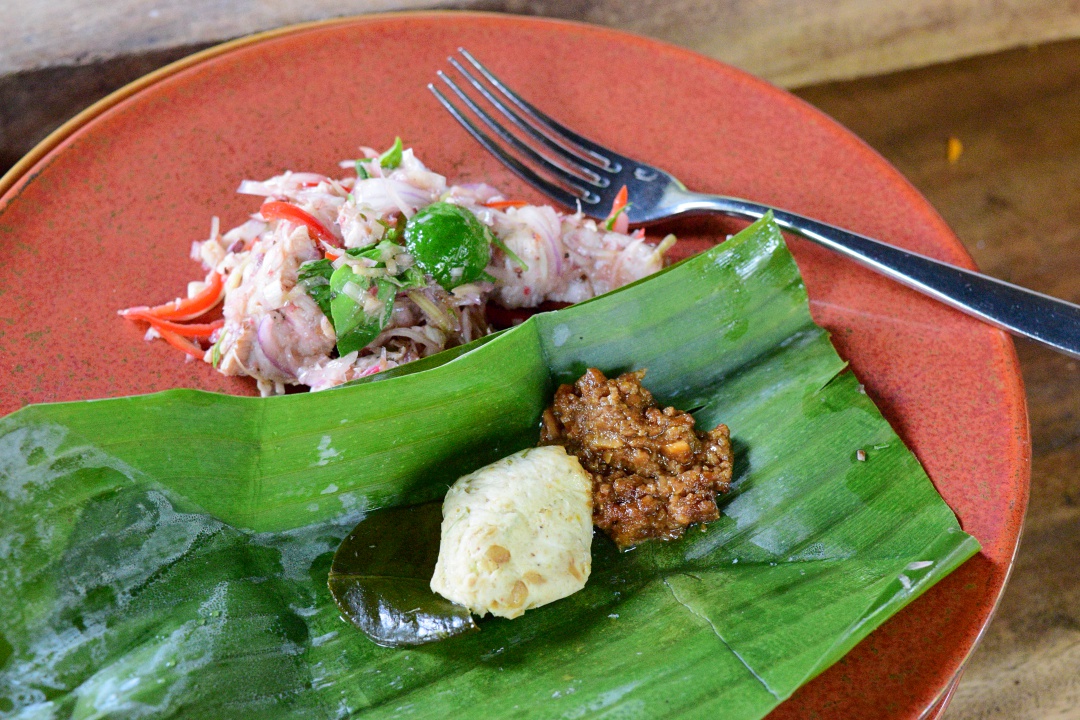 There, we have Be Pasih Sambal Matah and Tum Ayam (steamed chicken in banana leafs) paired with Saus Kacang (peanut sauce).
Sate Lilit Ikan
Next up is Sate Lilit Ikan, which is minced fish sate.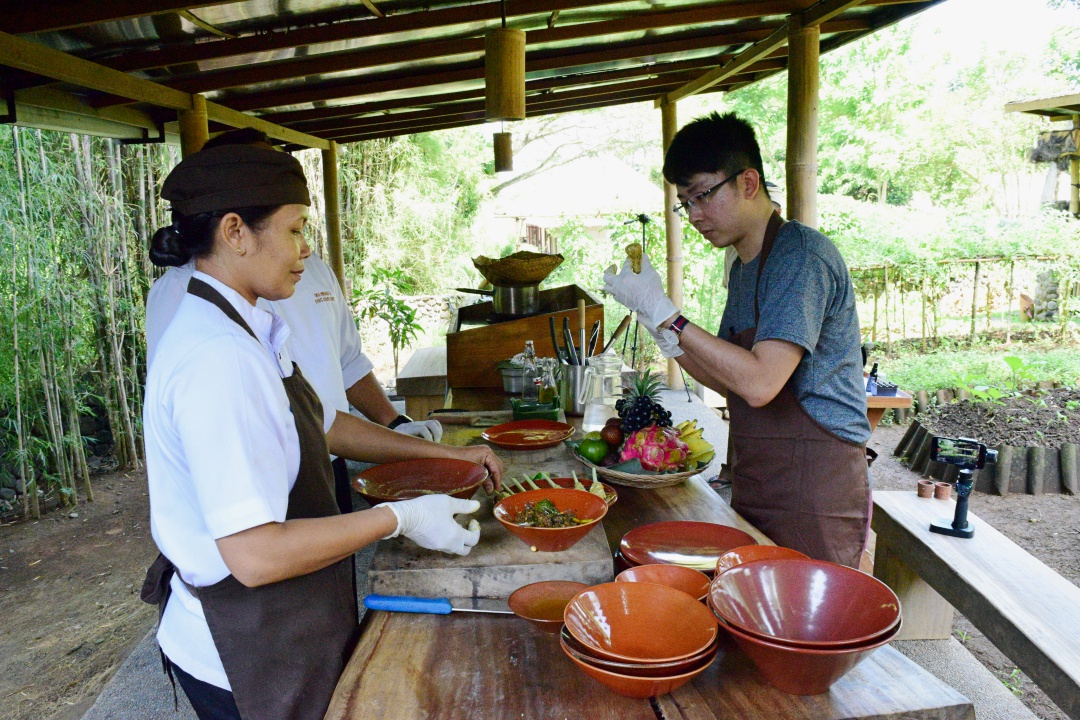 After making the fish mixture (combination of tuna filet, white snapper, Bumbu Bali and lime leafs), it's time to wrap the paste around the lemongrass.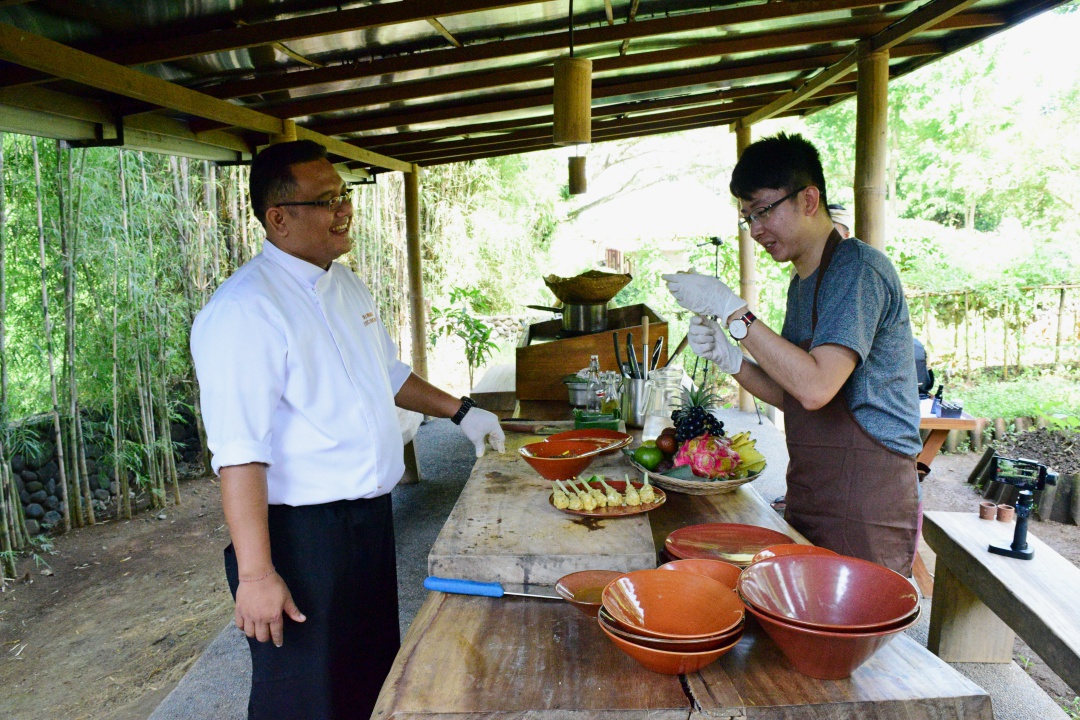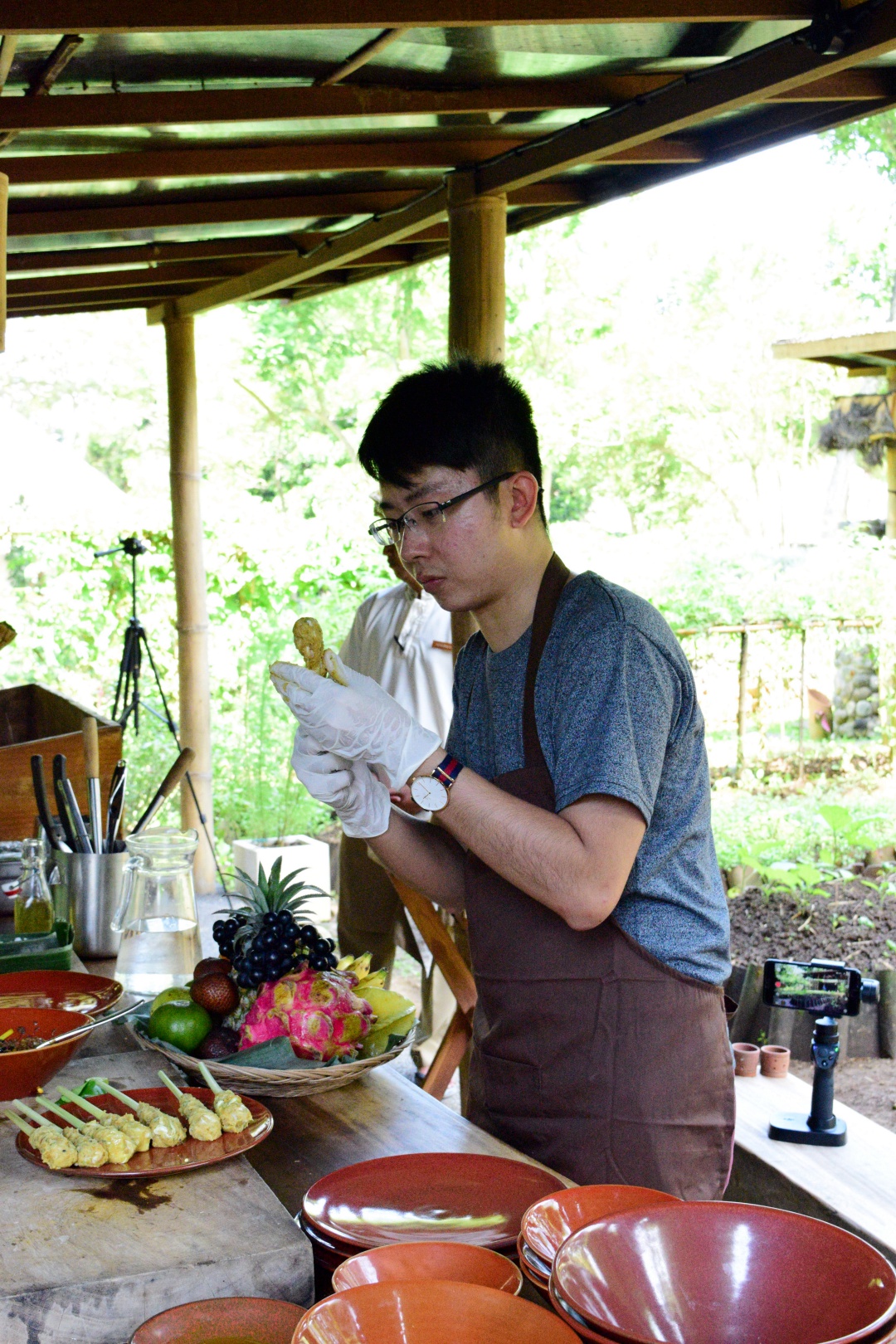 I didn't try it but look at how focus the Fiancé is. He tried, and we had a good laugh after comparing his and the one done by the chef.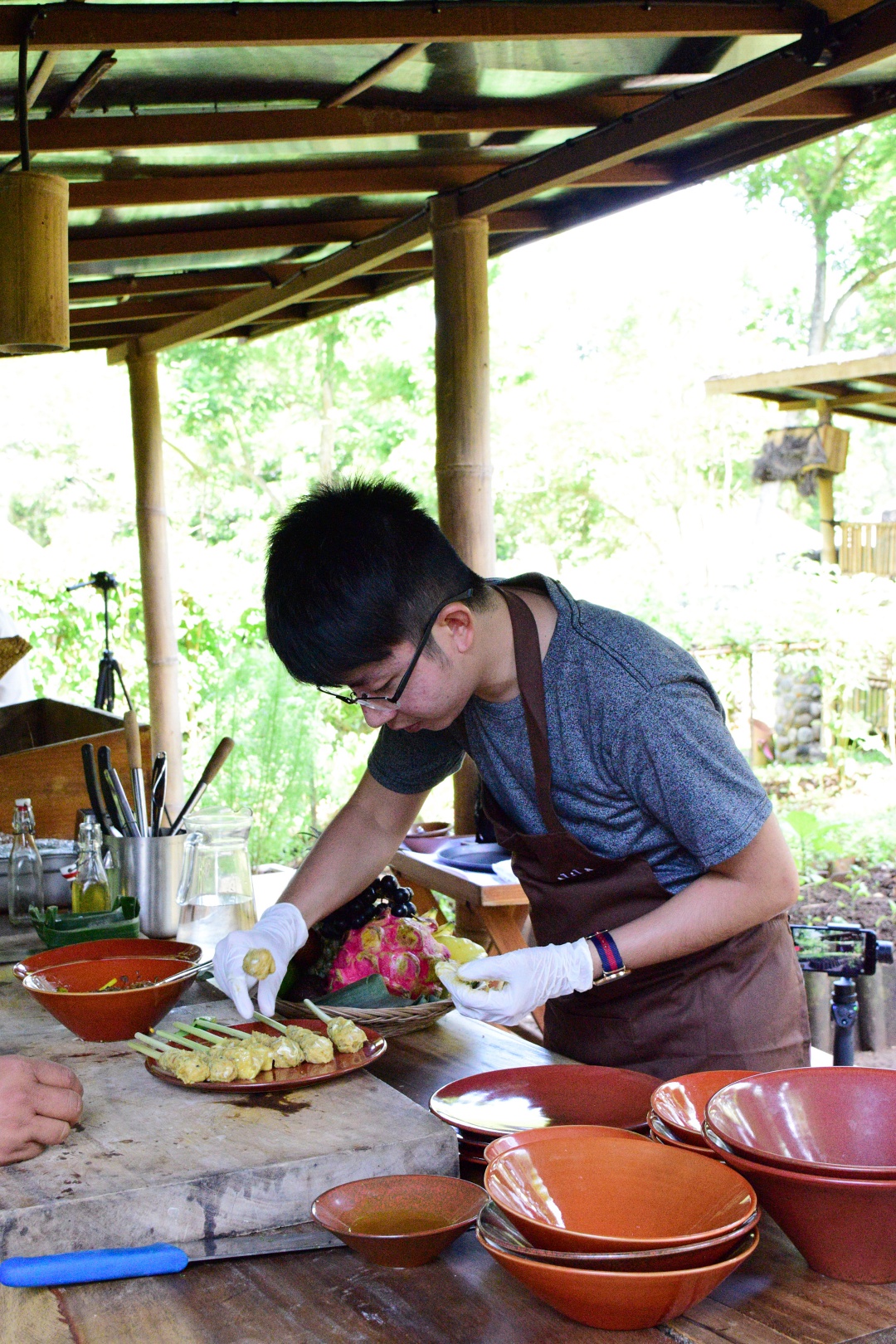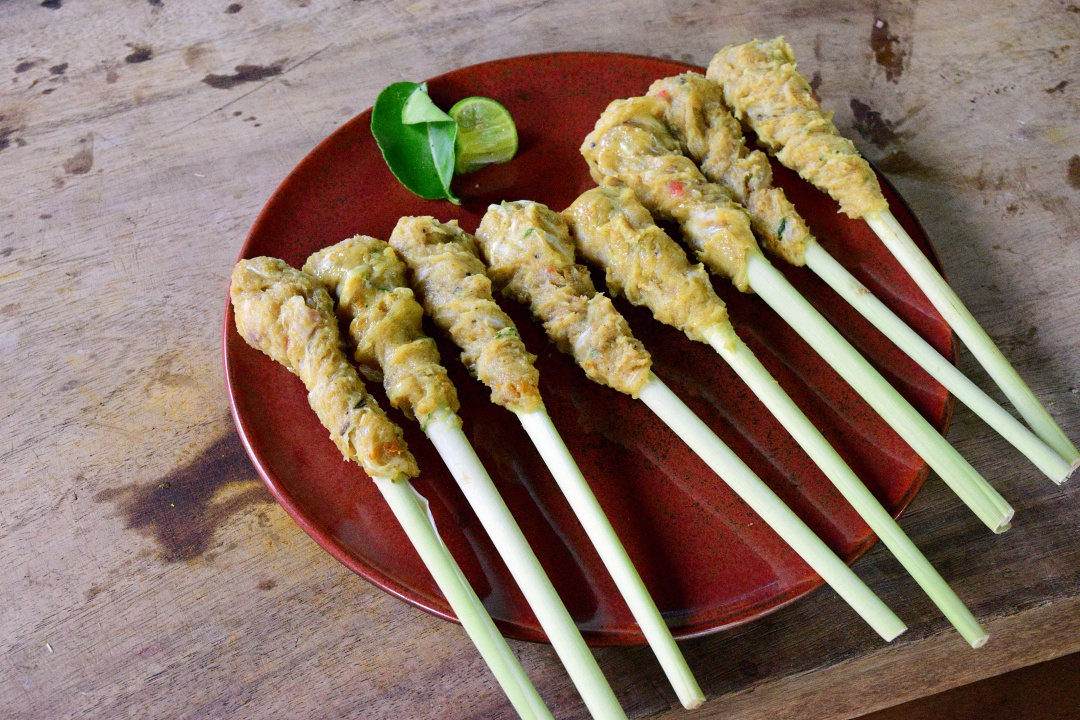 Instead of just putting a lump of paste around the lemongrass, the right way of doing it is to create a swirl (second from left).
Sayur Urap (Balinese vegetables salad)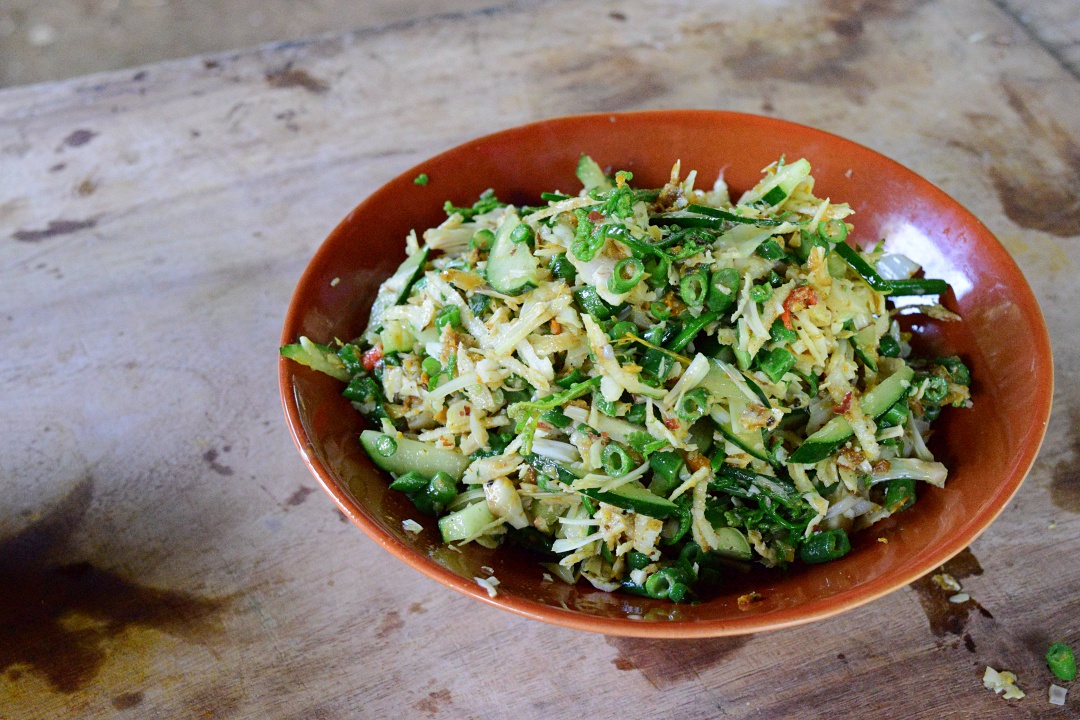 Sayur Urap is a light and easy Balinese vegetable salad seen in most Balinese homes. The slightly sweet and sour taste combined with the crunch of fried shallots makes it an excellent salad for whetting the appetite.
To be honest, I'm not a big vegetable eater. In fact, I only eat selected vegetables. But through this cooking class, I got the opportunity to expose myself to many new dishes, and that certainly gave me the reason to try dishes that I otherwise wouldn't normally eat.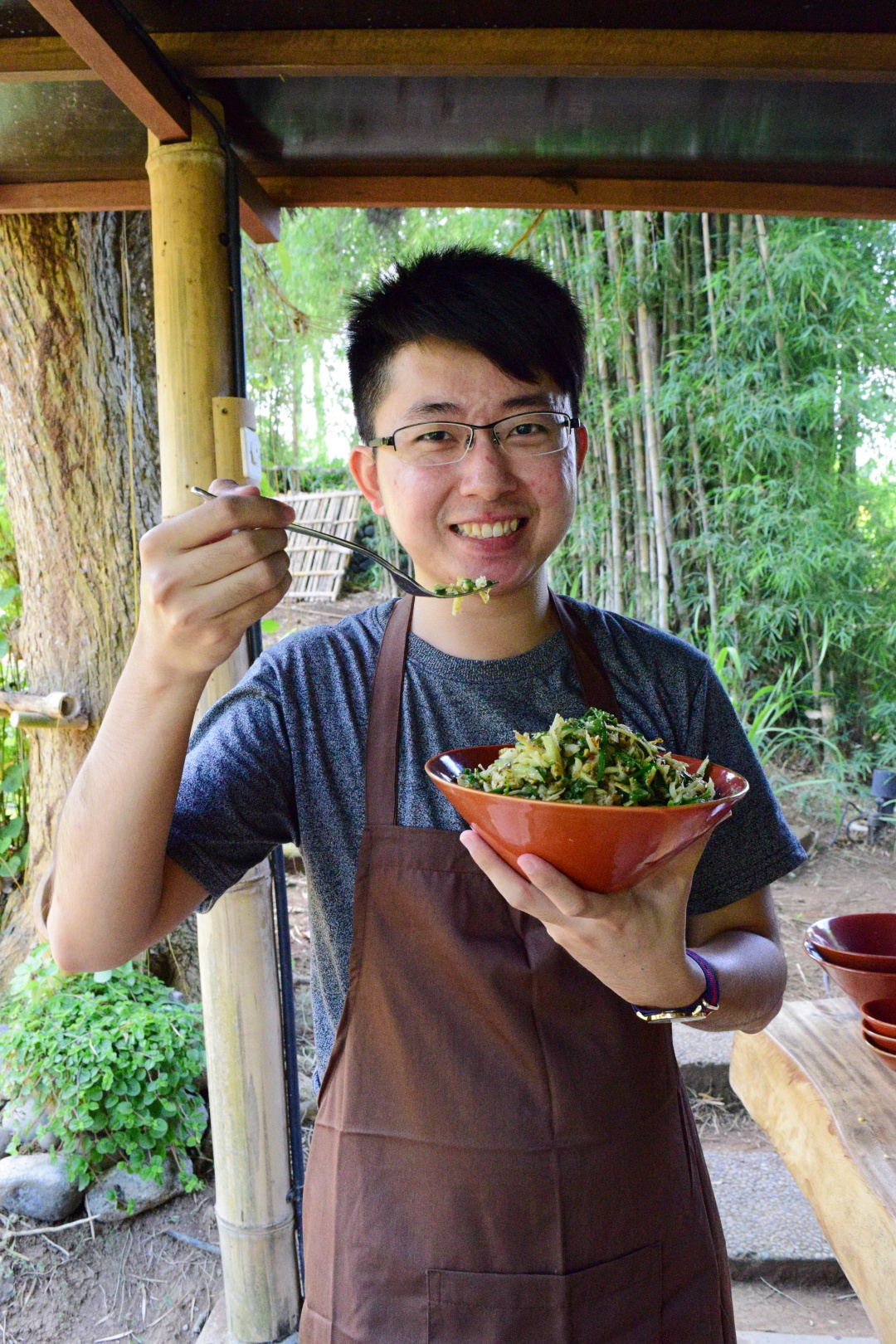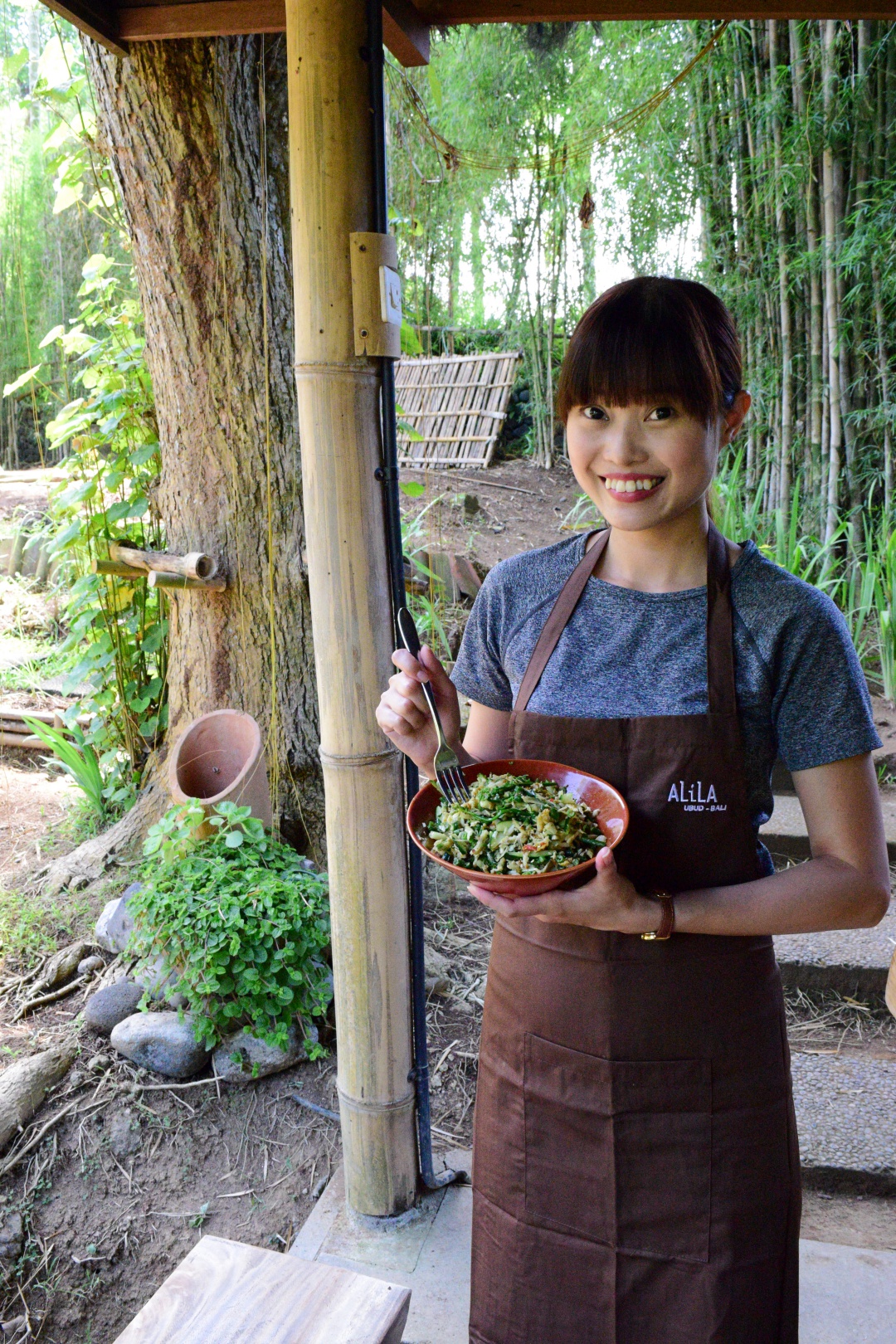 Left most of the cooking to the two chefs, while we just pose in front of the camera with the food. Okay, truth is; the Fiancé did get his hands dirty, while I mostly just stay behind the camera.
Still, it was an eye opening experience to see how Balinese cuisine is being prepared! There aren't fanciful ingredients or equipment. In fact, most of the ingredients are readily available in their home or at the market. They also use basic tools like an ulekan, knife and chopping board.
Aside from all the dishes above, we also cooked Nasi Goreng Ayam and Mee Goreng. Check out the video below to see more.
With the guidance of our two chefs, I'm glad to say our cooking class is a success!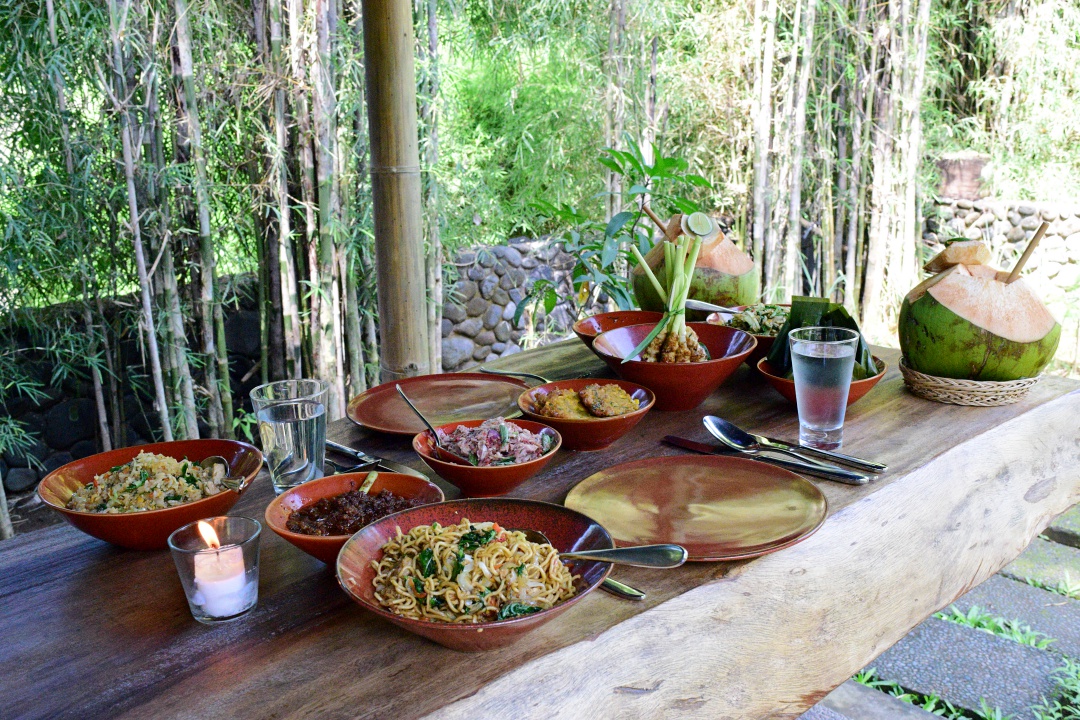 Here's a picture to commemorate all the hard work we the chefs put in.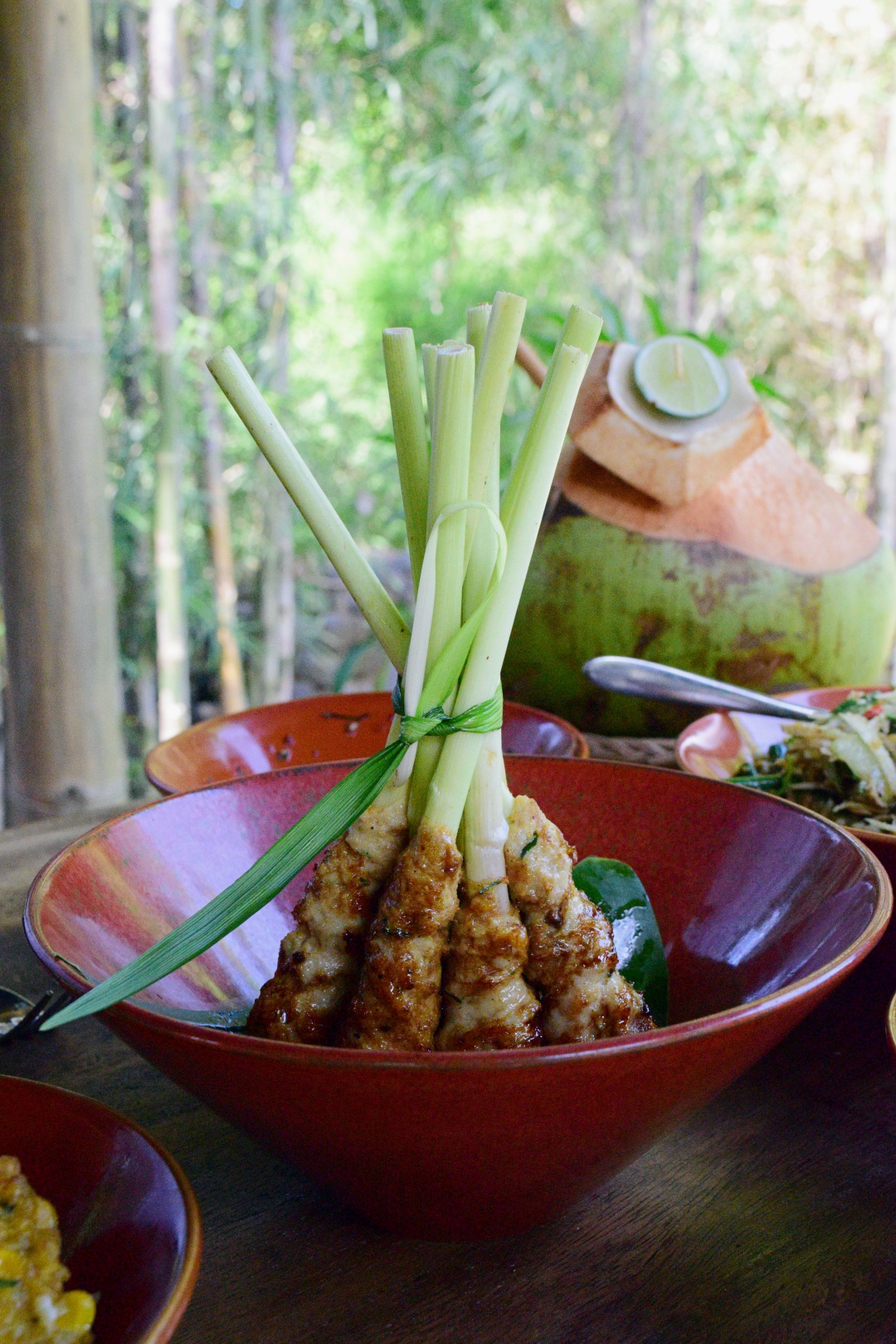 Close up shot of our Sate Lilit Ikan just because they look damn good like this.
After all the cooking, we were left alone to enjoy our food in the Organic Garden. It was quite peaceful to sit in the outdoor and enjoy our lunch. No noise, no distraction. Just us sitting there finishing up our meal. Knowing what ingredients go into our dishes also makes me appreciate the food more.
I honestly think this is a very wonderful experience and certainly worth giving it a try if you're visiting Alila Ubud. Price of this Alila Experience is USD90++ per couple, and they allow a maximum of four people for one class. It includes a guided trip to Payangan Market, cooking class and lunch at Organic Garden, and a complimentary booklet of recipes. We also left home with our own personal apron. A gift from the chef.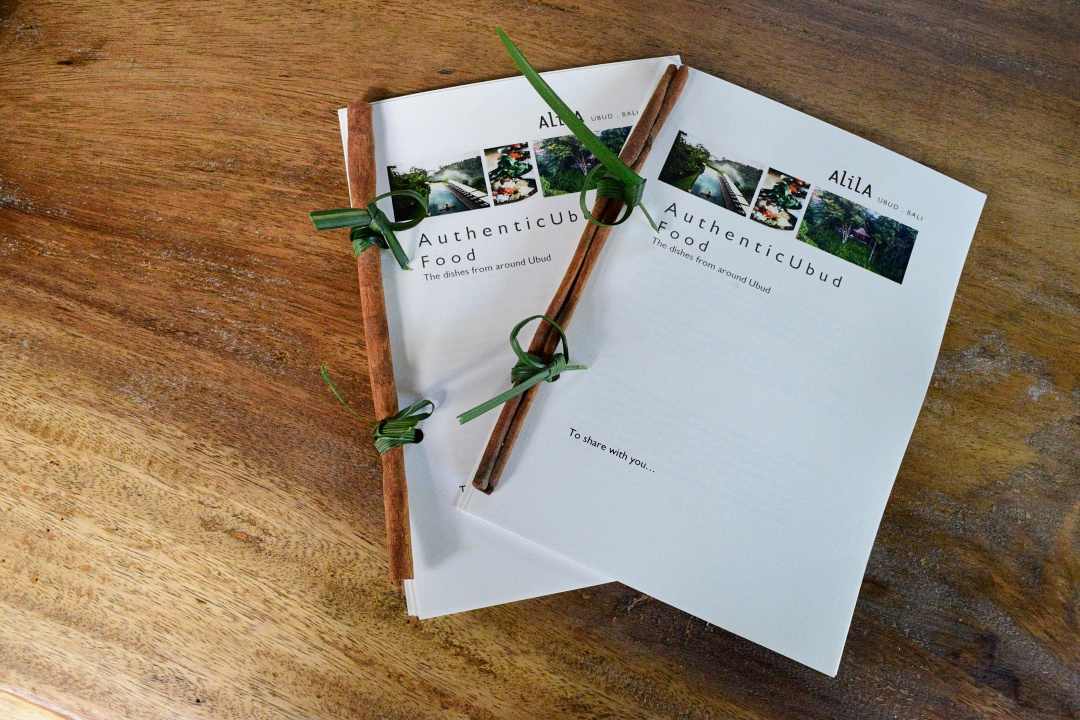 The booklet of recipes contain all the ingredients and steps needed to recreate the dishes that we have learnt in our class. I'm looking forward to recreating some of the dishes in the future after we moved into our house.
For those who are interested to find out more about this Alila Experience, do check out their website. Highly recommend you to give it a try, especially if you're passionate about cooking/Balinese cuisine, or want to learn how to cook. Plus, you also get to bring home this wonderful experience with you and get to share the recipe with your family and friends.
Ice Table
After our cooking class, we made our way up to the Plantation Restaurant as we were told there were ice creams prepared for us. It turns out; it was Ice Table.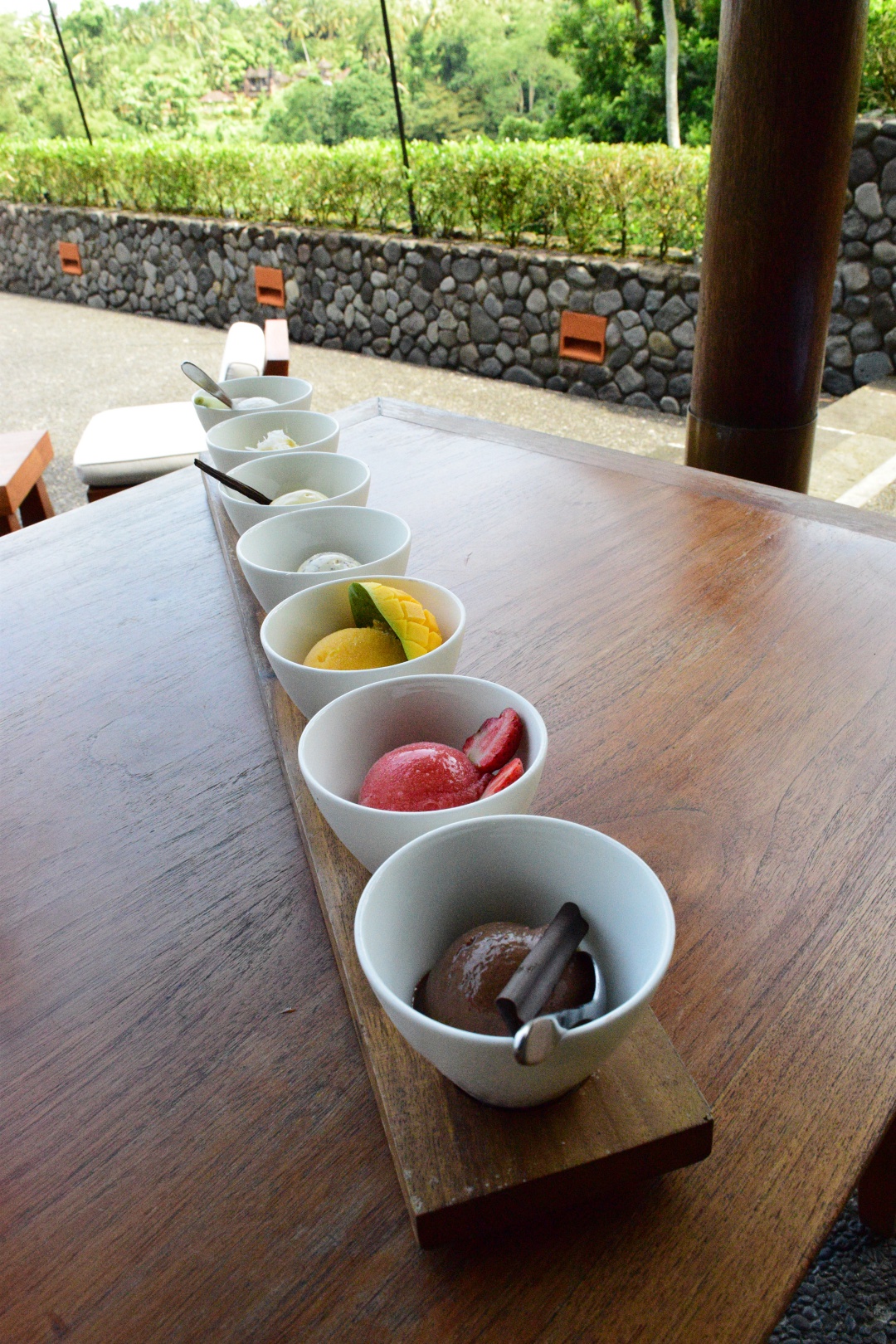 Seven scoops of Alila Ubud's homemade ice cream in contemporary and classic flavours, including Lemongrass, Coconut, Vanilla, Ginger & Stracciatella, Mango, Strawberry, and Chocolate. We certainly love some of the flavours more than the others; but overall, they were great!
After having our own ice-cream tasting session, it was almost time for our next activity. We travelled out of Alila Ubud and went for our first ever batik making class!