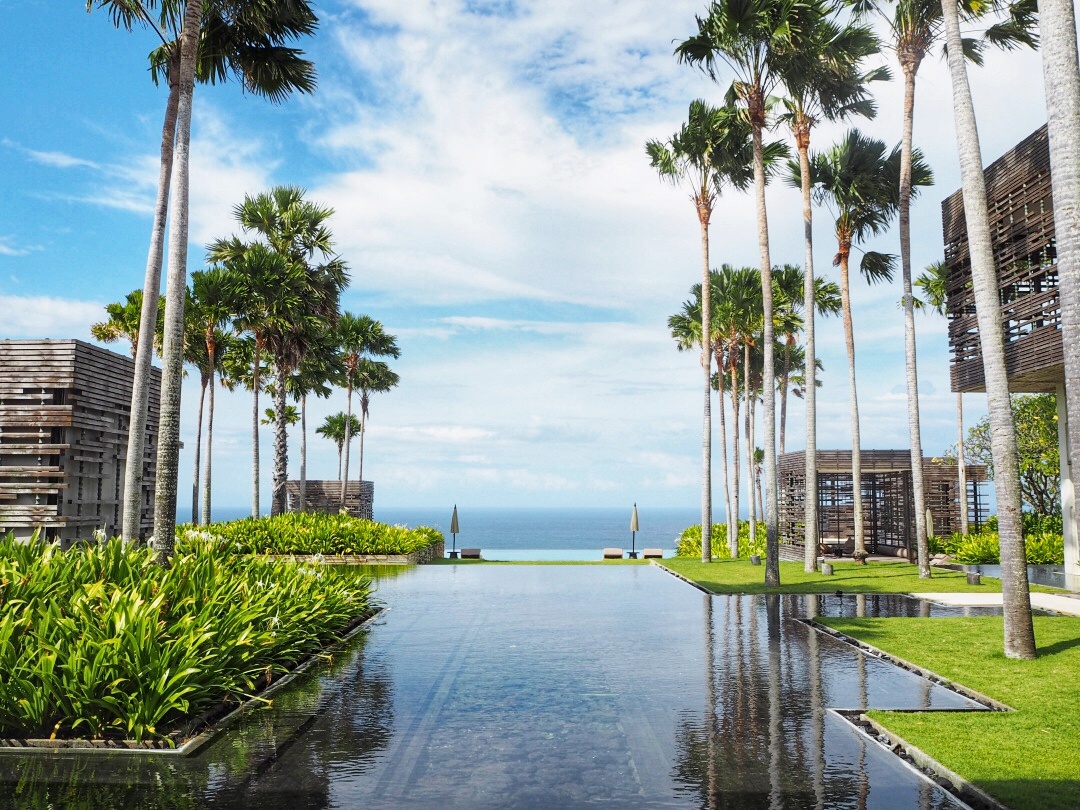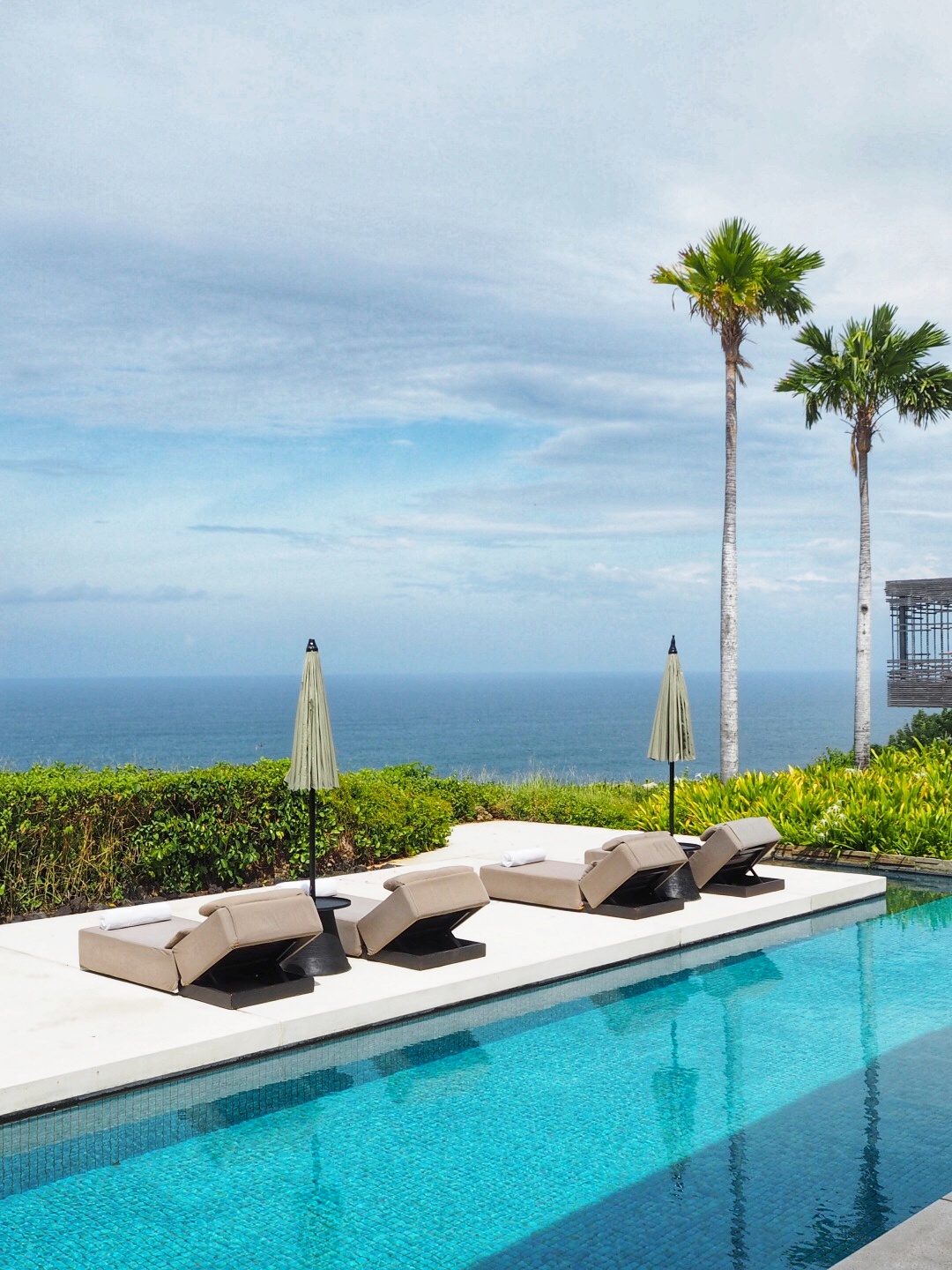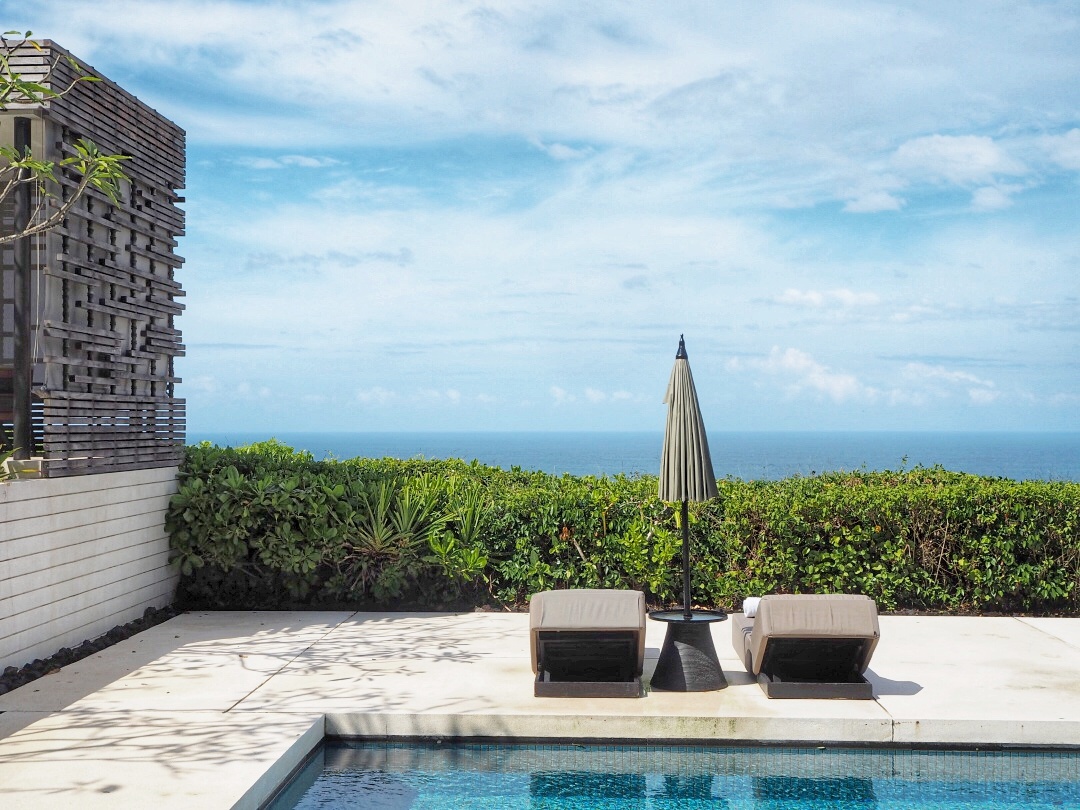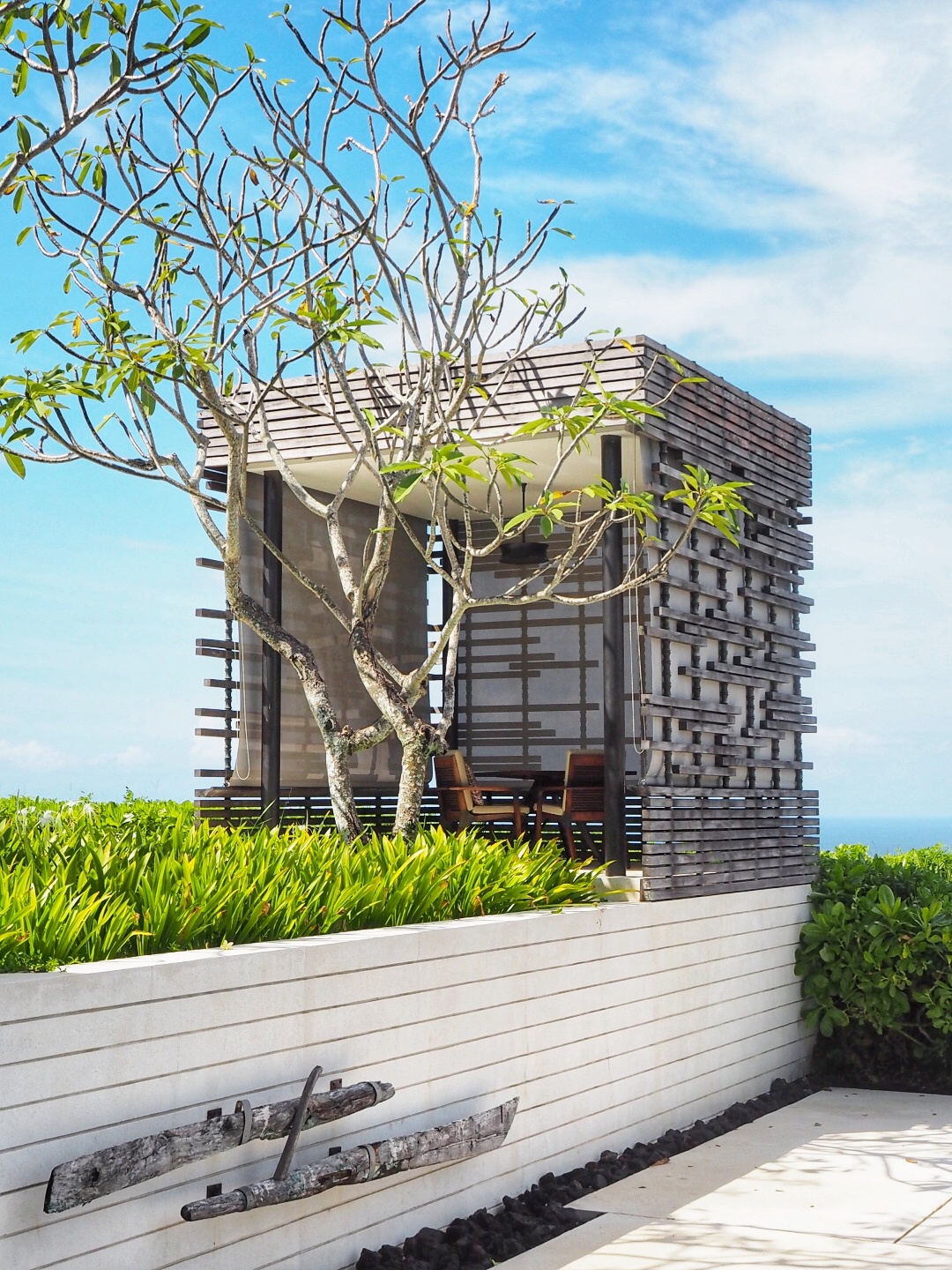 Breakfast | Cire Restaurant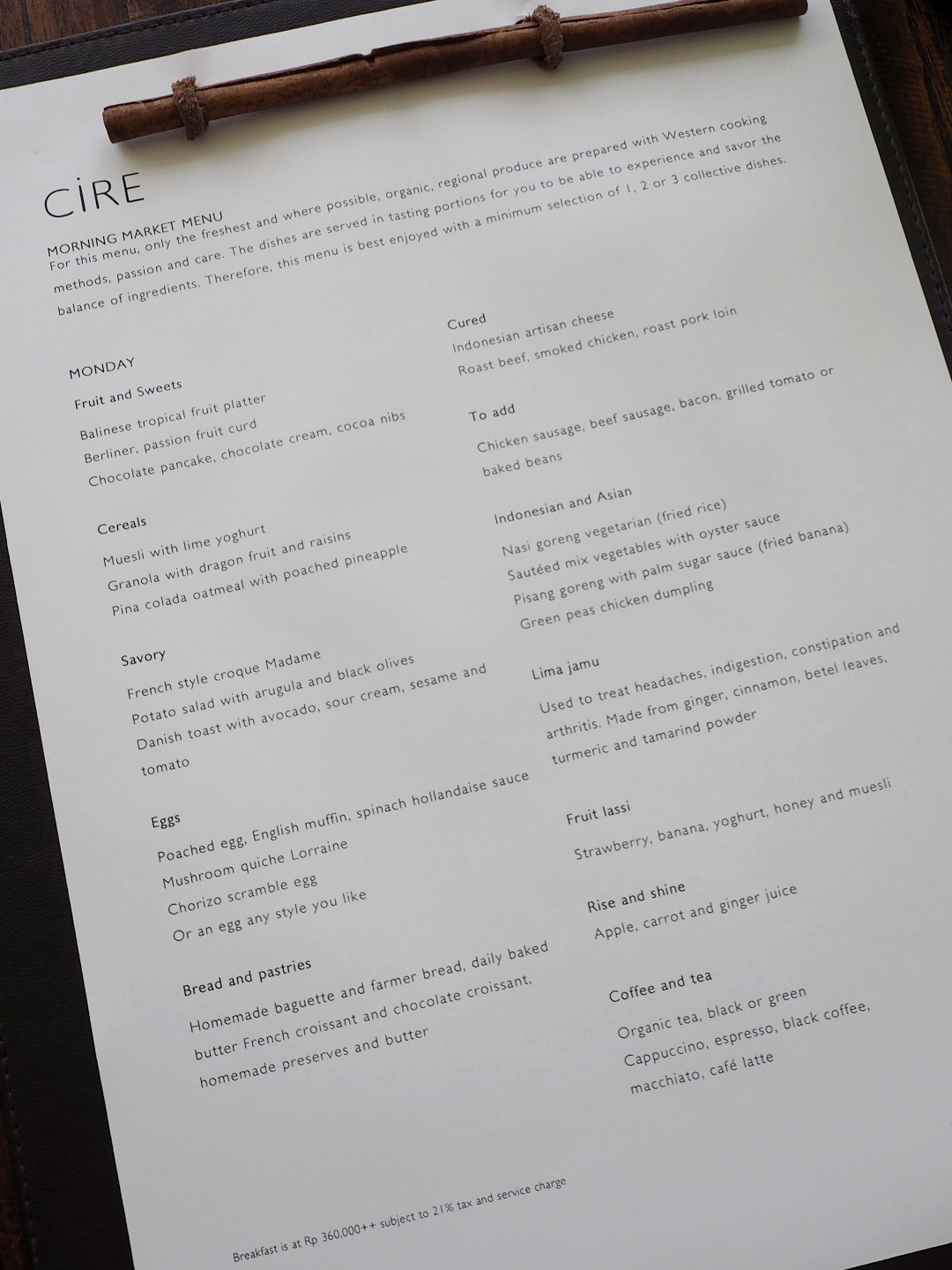 Breakfast at Cire Restaurant, Alila Villas Uluwatu.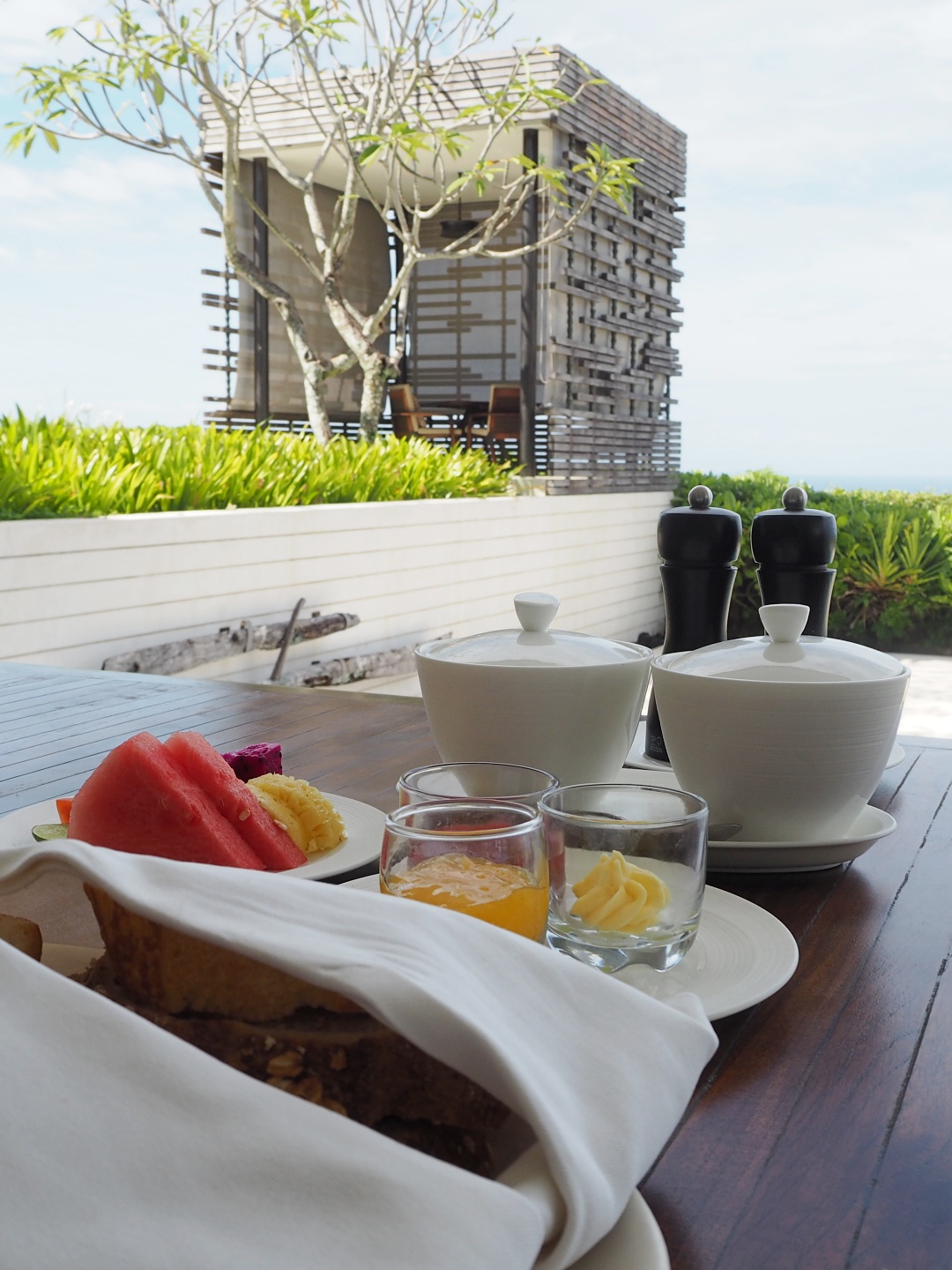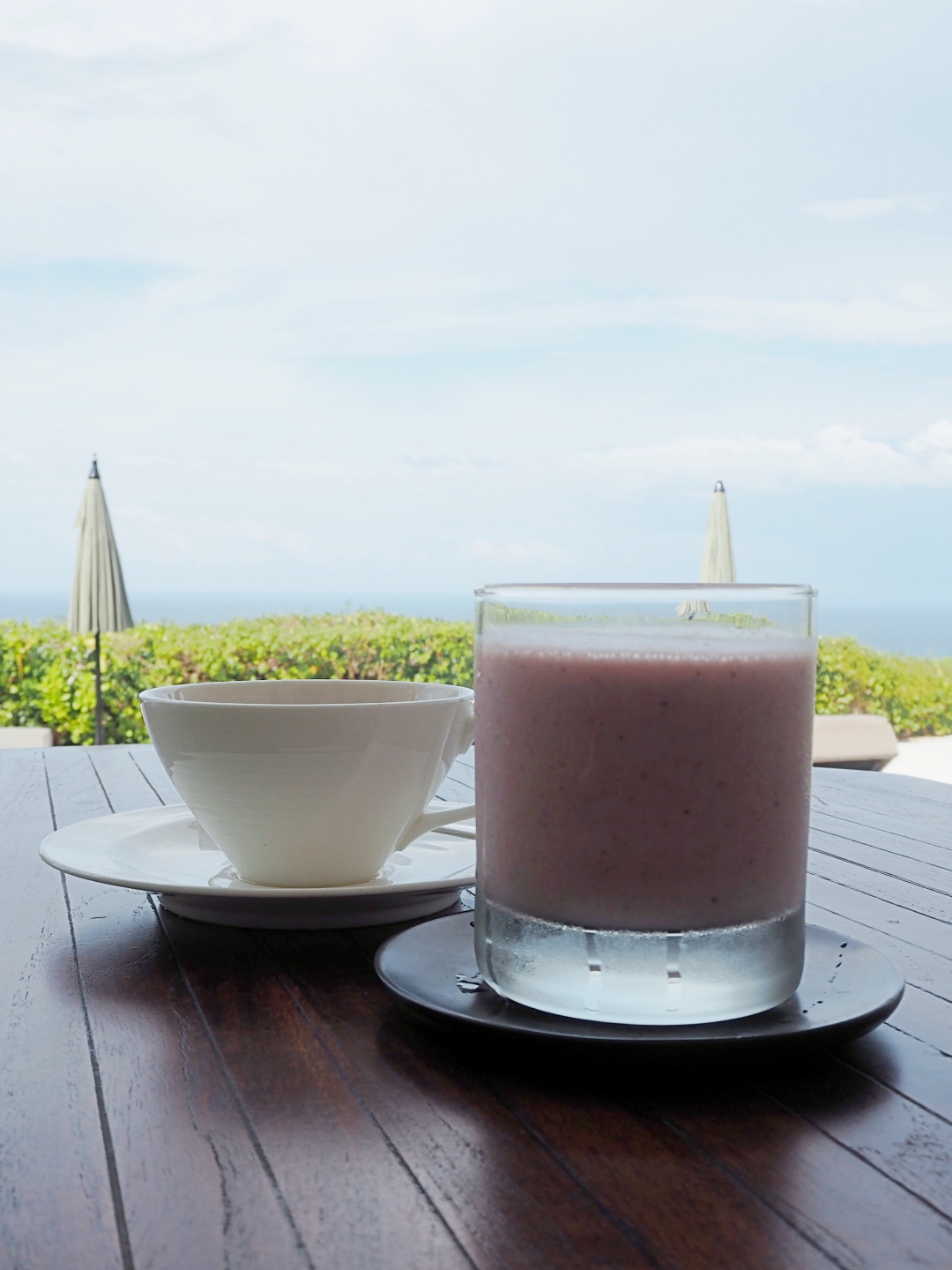 Love the Fruit Lassi, which is a smoothie made with strawberry, banana, yogurt, honey and muesli.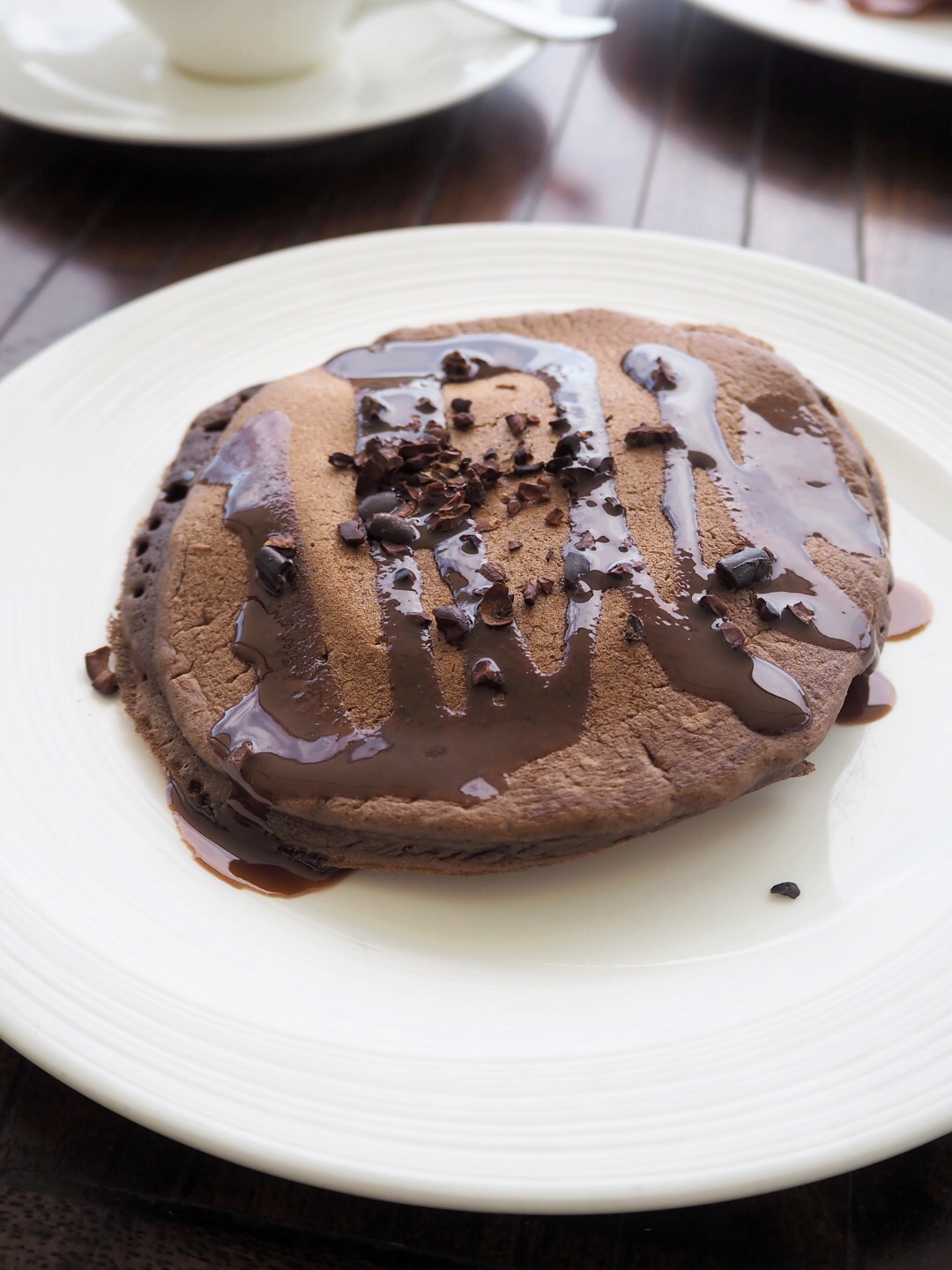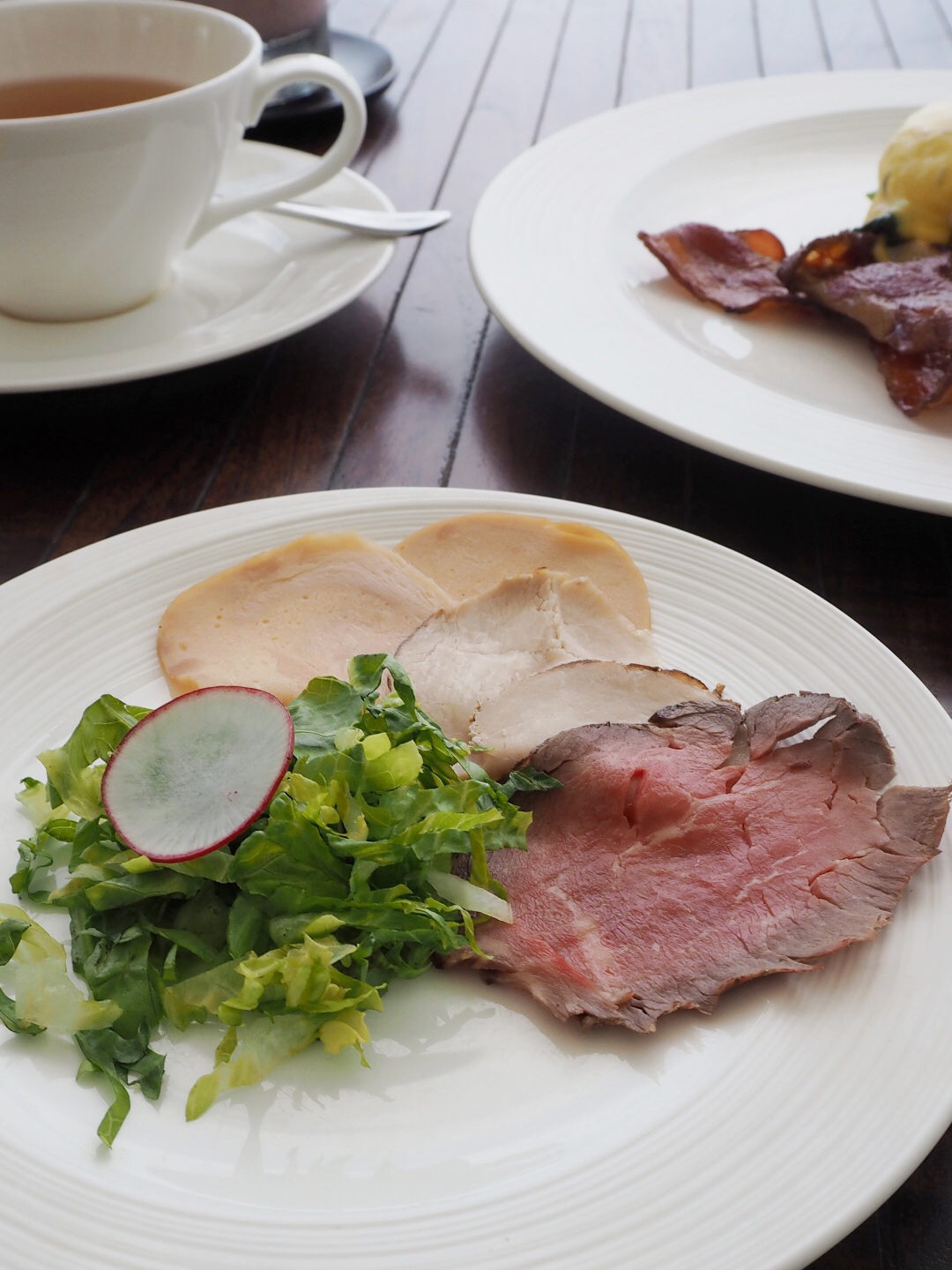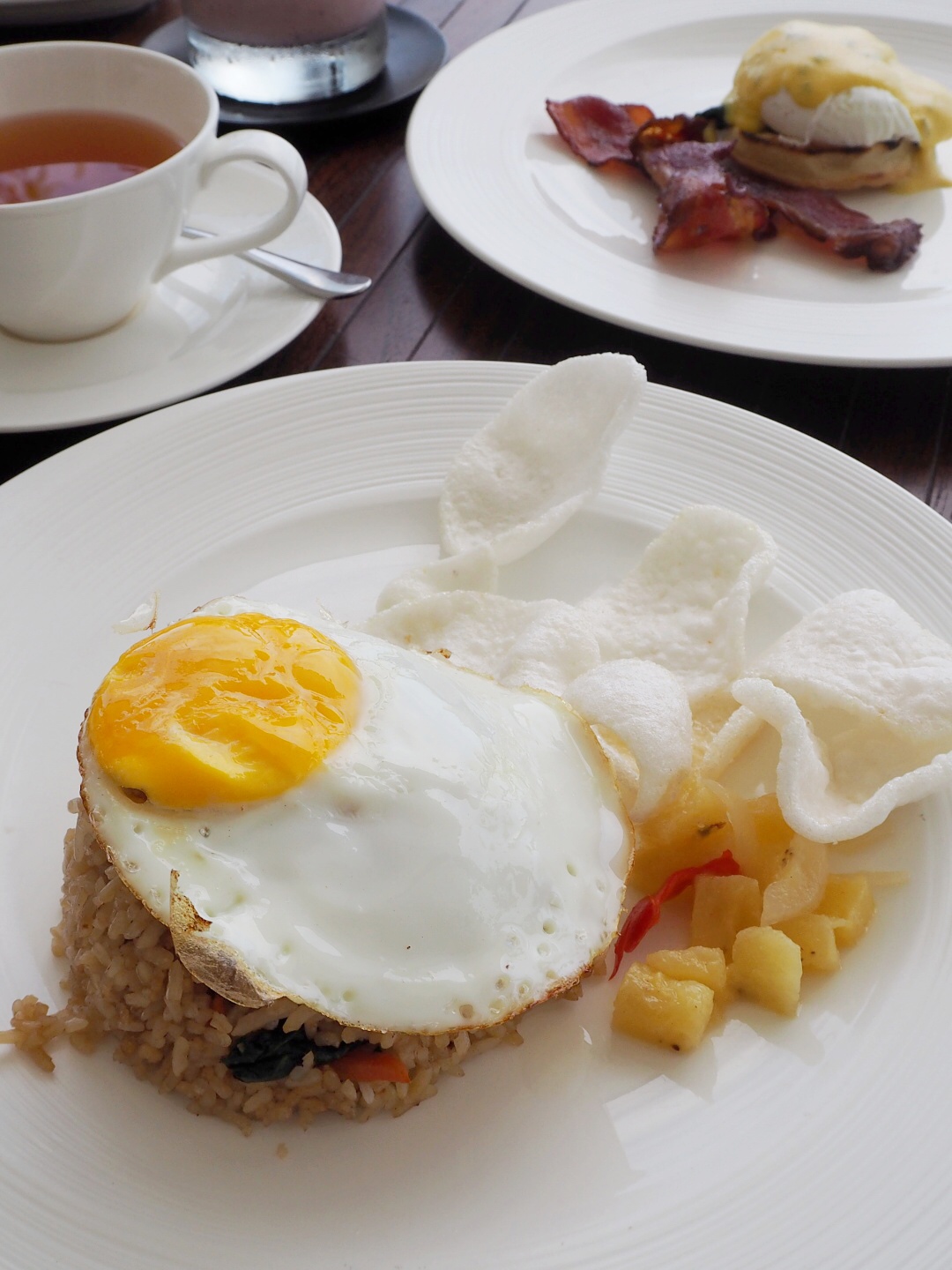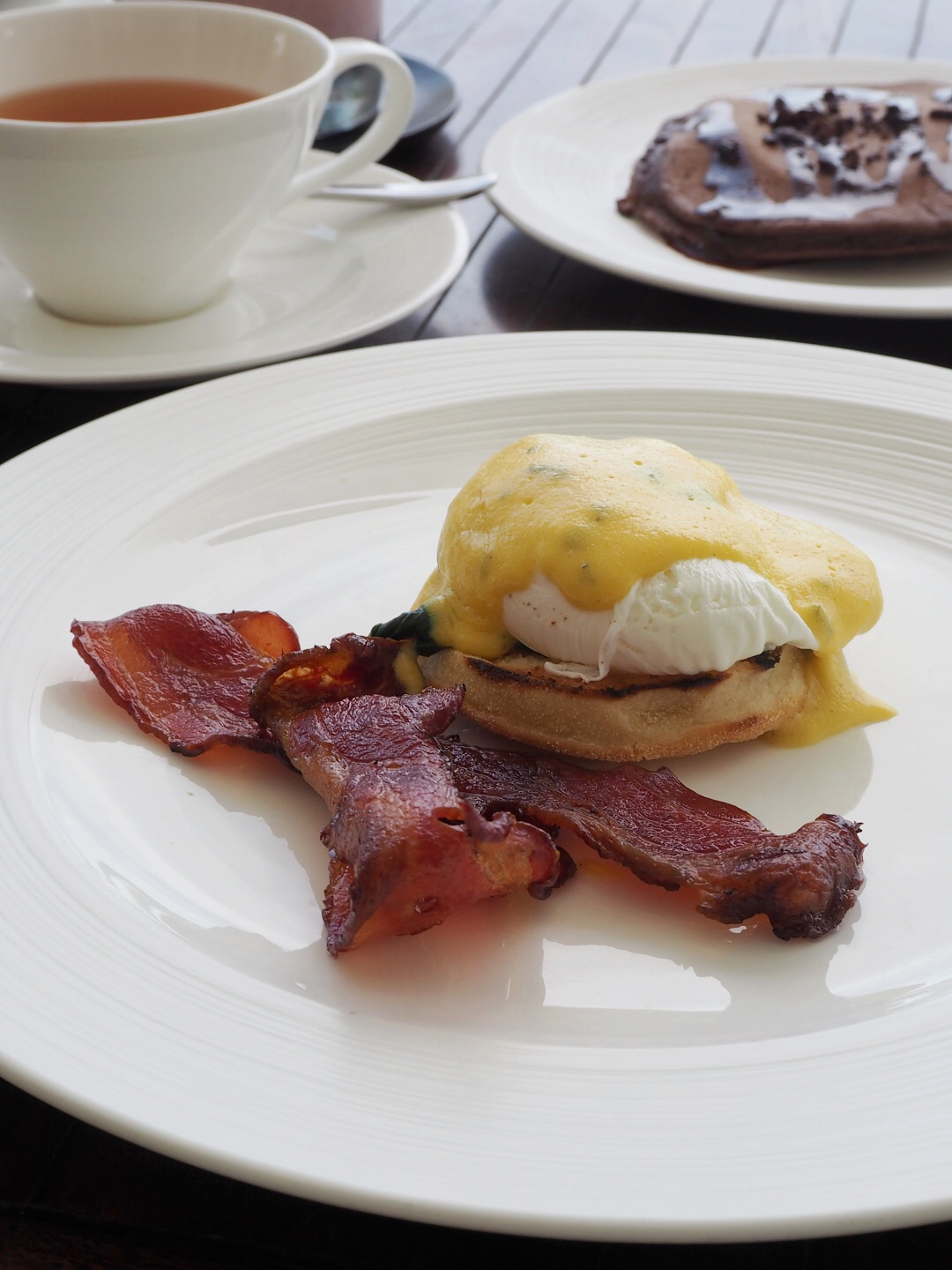 On the table, we have chocolate pancakes, cured meats, nasi goreng and egg benedict.
Since we ordered all the items off the menu, they all came nicely plated. I wouldn't say the food was great, but it does keep our tummy happy and full.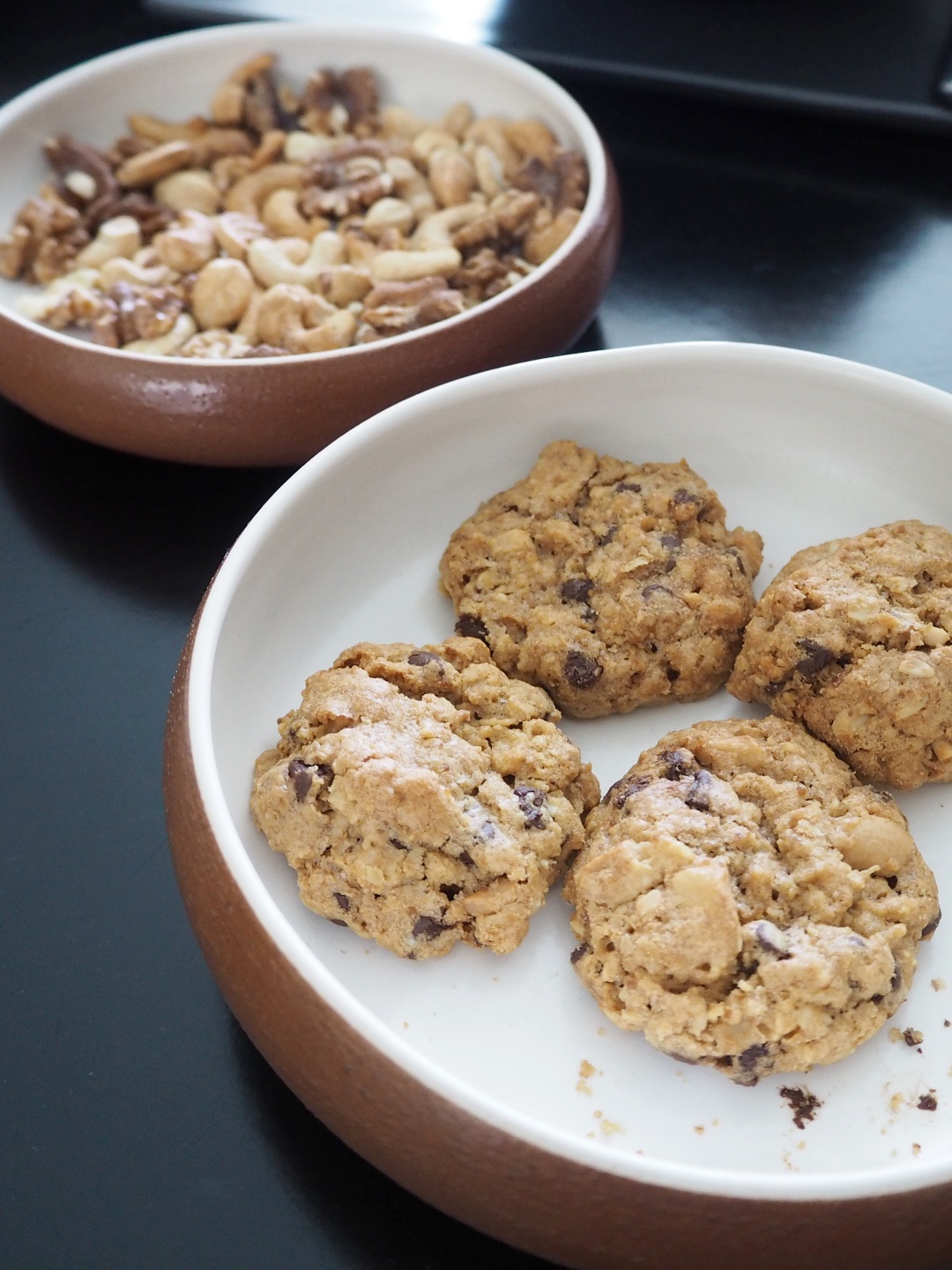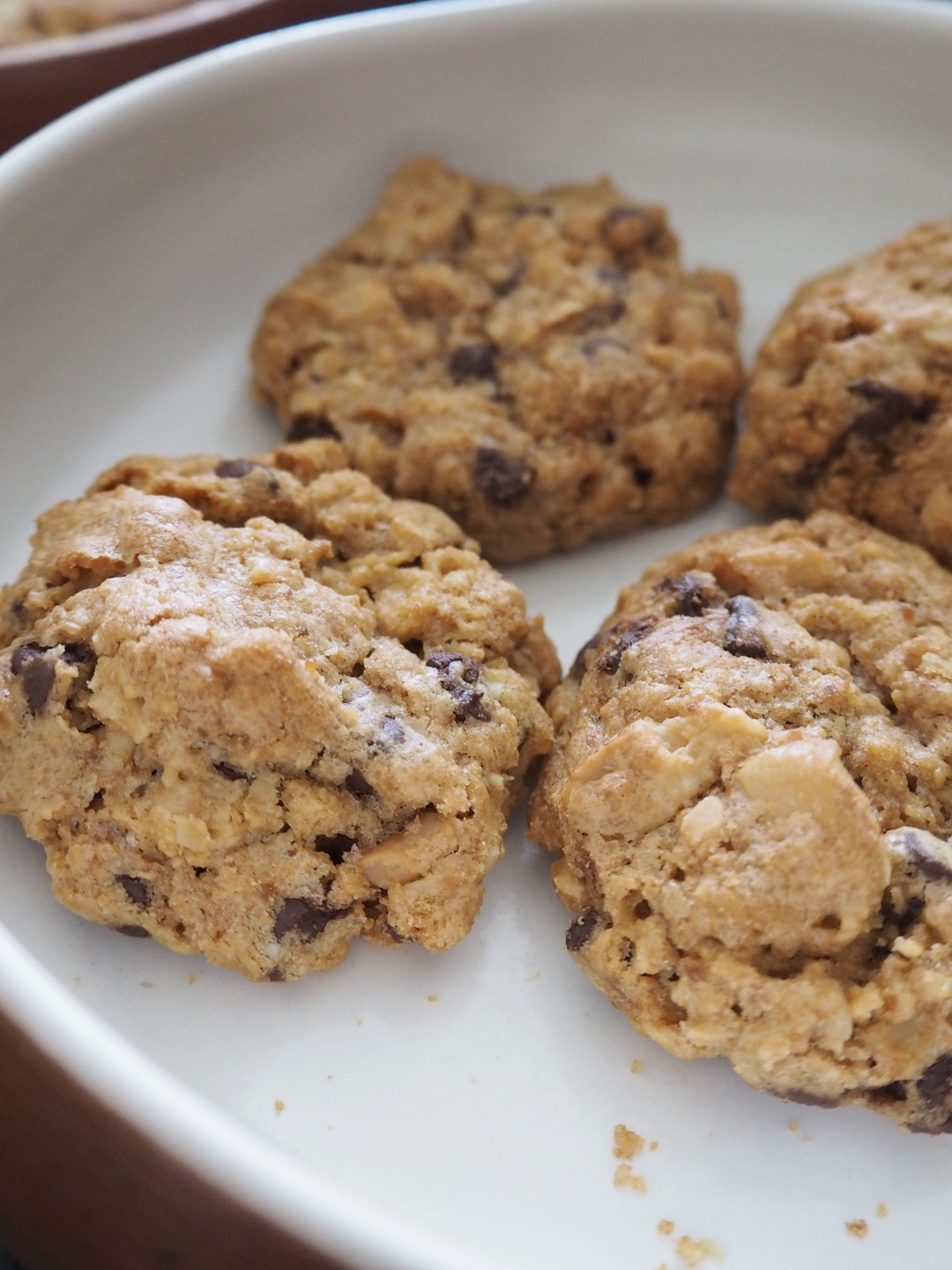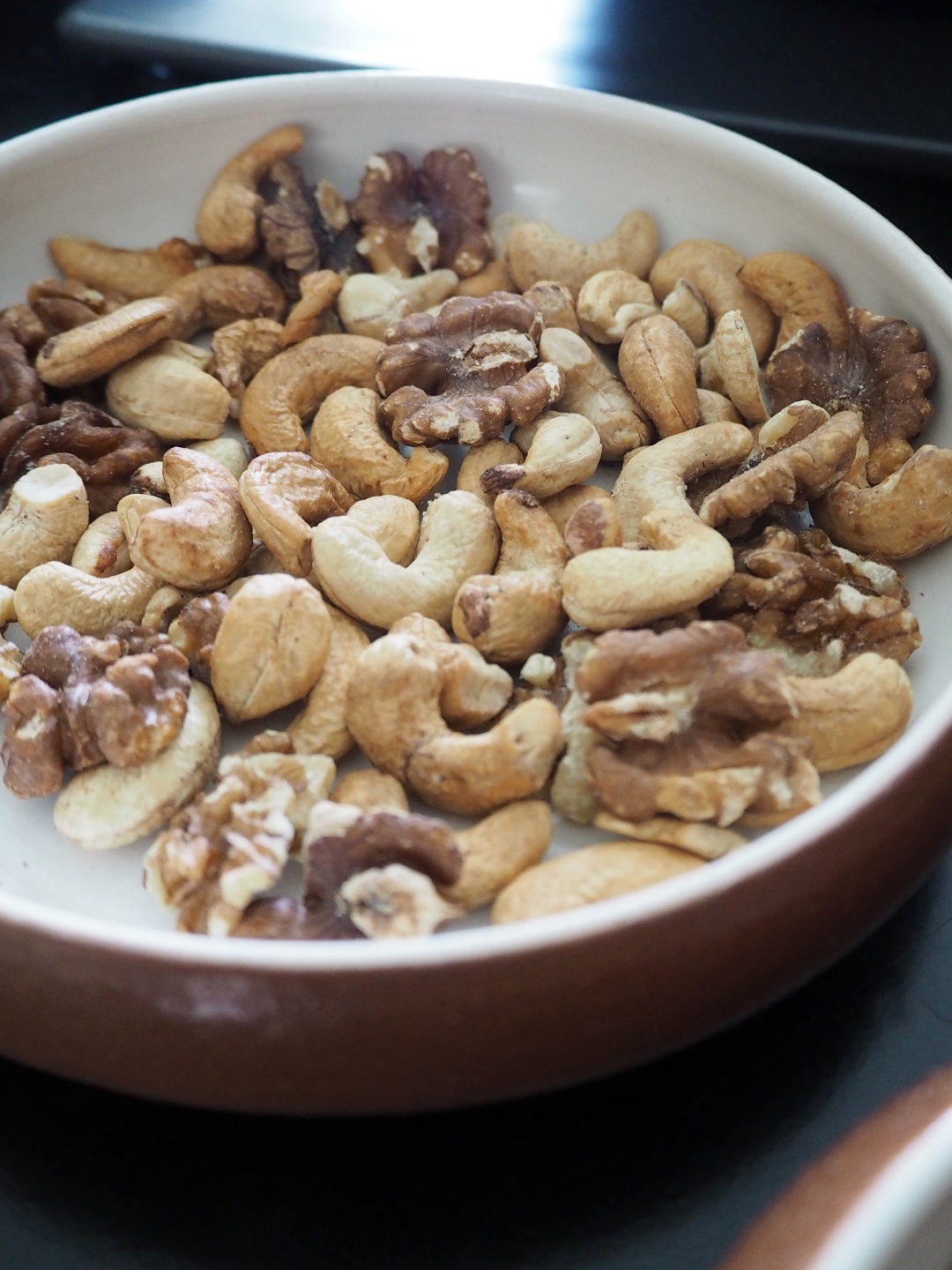 Came back to our room after breakfast and found some complimentary snacks on the table. I vaguely recall the resort asking what kind of snacks we like in the questionnaire that we filled up before our trip. I must have picked cookies and nuts!
Alila Experience | Journey to the Southern Beaches
After breakfast and settling some work, we headed out at about 15:00 for our first Alila Experience, 'Journey to the Southern Beaches'!
Looking at our itinerary for this entire Bali trip, I would say this is probably one of the Alila Experience that I was most looking forward to! This beach-hopping journey allows us to cruise along eight of the most famous beaches in Bali while witnessing sunset at the end of the journey.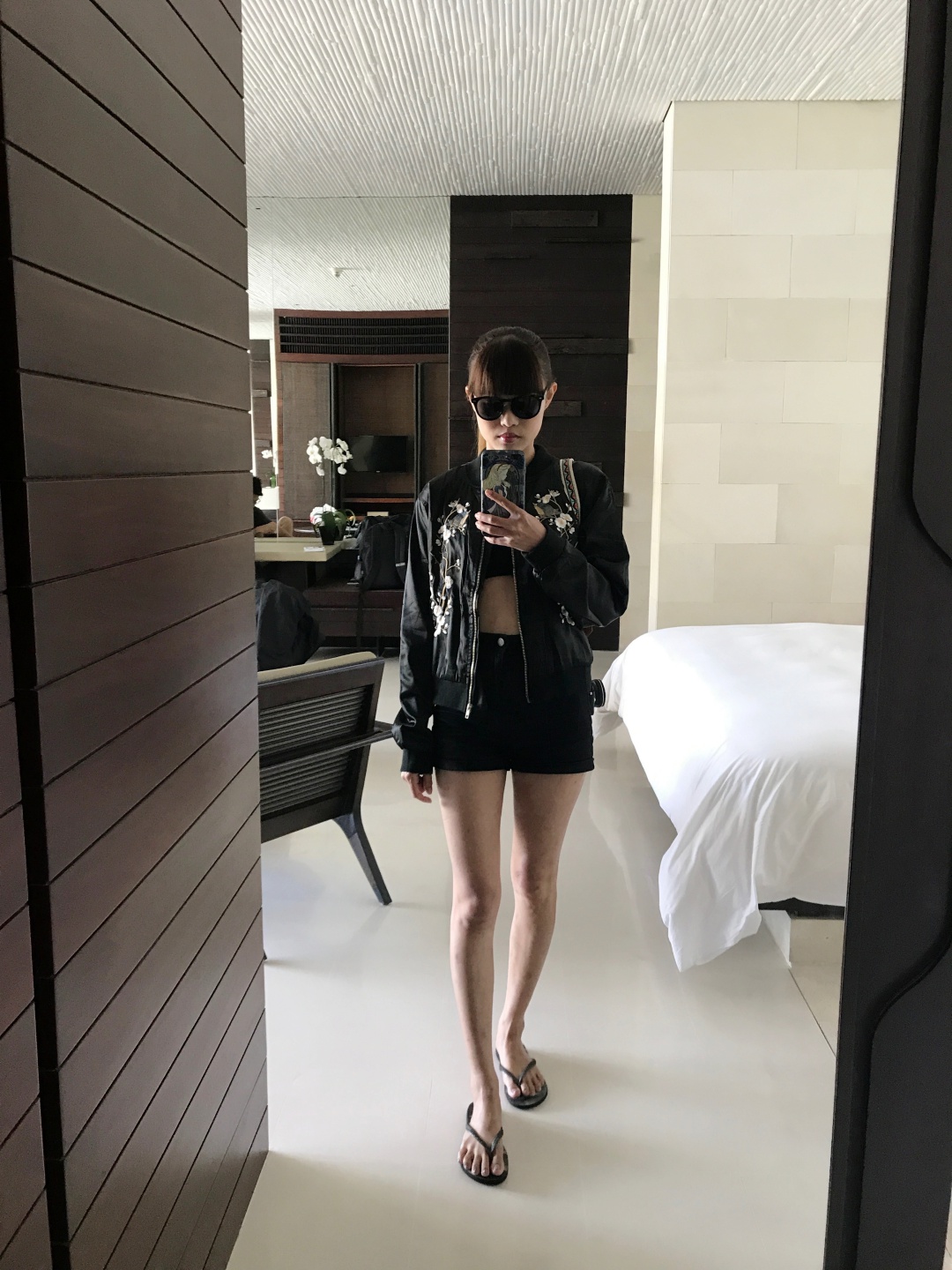 Outfit of the day! There might be a chance to jump into the water; so I decided to go in my swimwear. Also decided to bring along a jacket to shield myself from the sun and in case it got chilly during the boat ride.
Other things to bring along include sunglasses, hats, camera, mobile phone and selfie-stick? You can choose to bring along water, snacks and sunscreen, but those will also be provided by the resort.
We reached the lobby at exactly 15:00; however, it took a while before the car arrived. By the time we got to Jimbaran Beach, it was close to 16:00. Quickly piled on sunscreen (from head to toe) before hopping on the boat. To be frank, I wasn't planning on putting on the sunscreen. But I saw the crew were all slapping on sunscreen like crazy, so I thought I better follow suit. Past experience teaches me that sunburnt is not fun.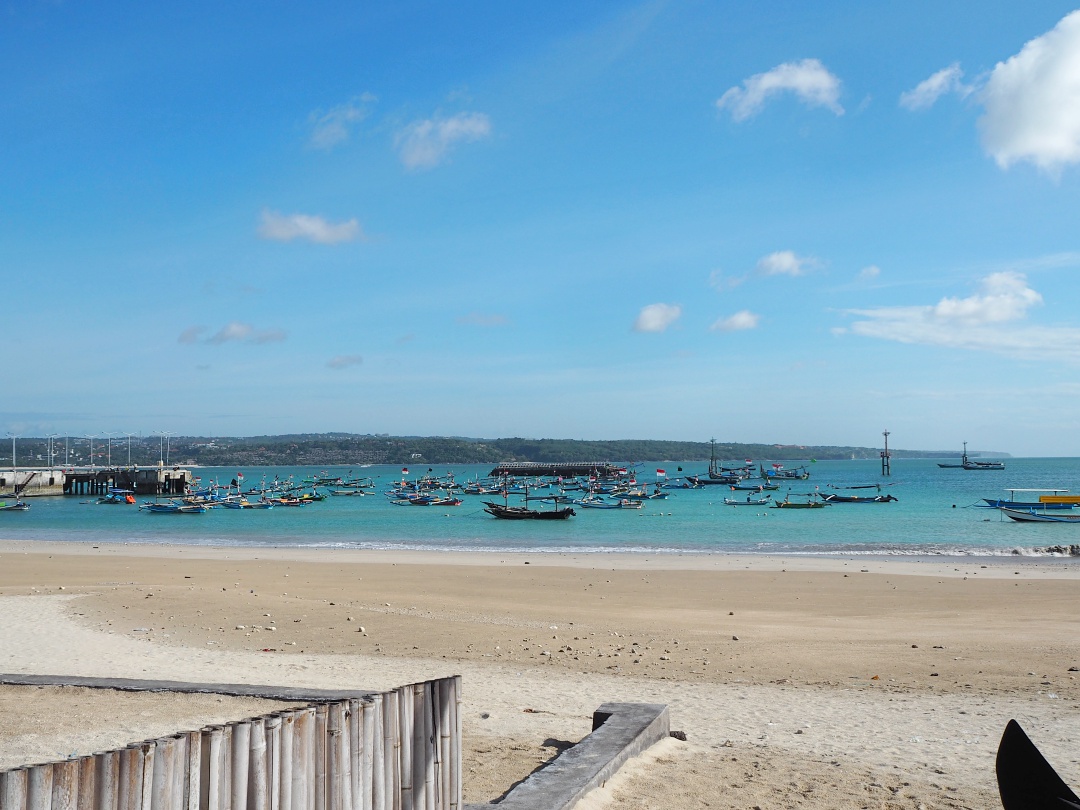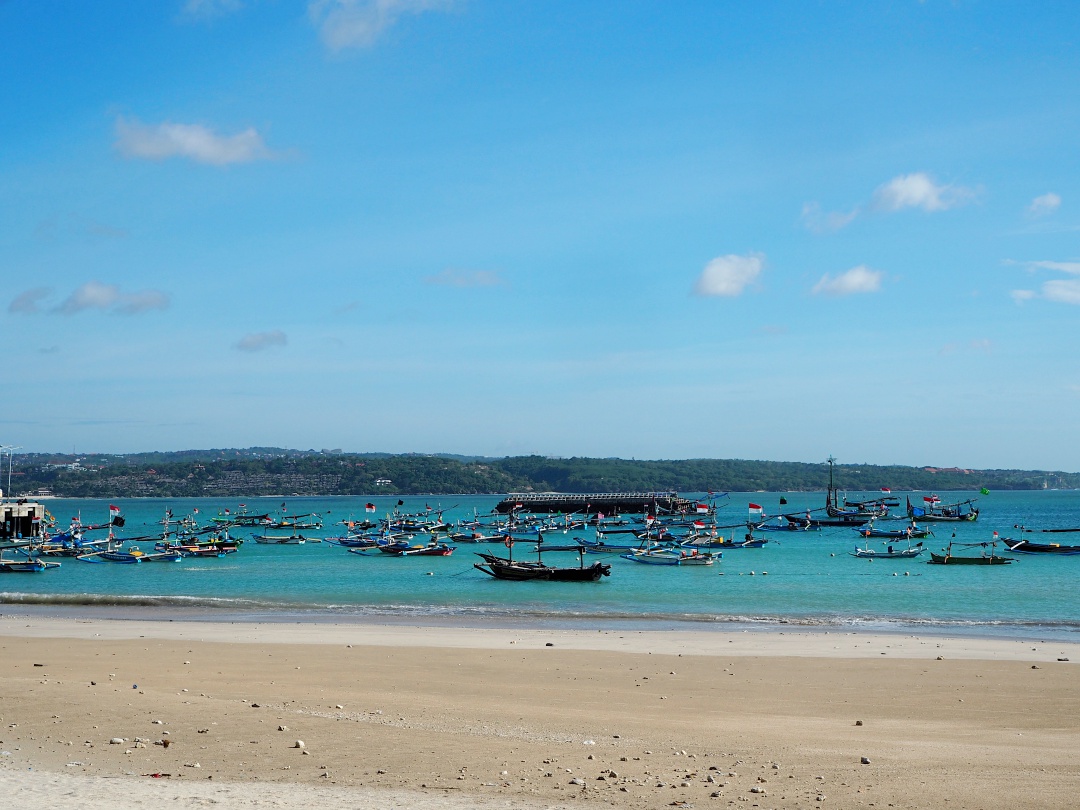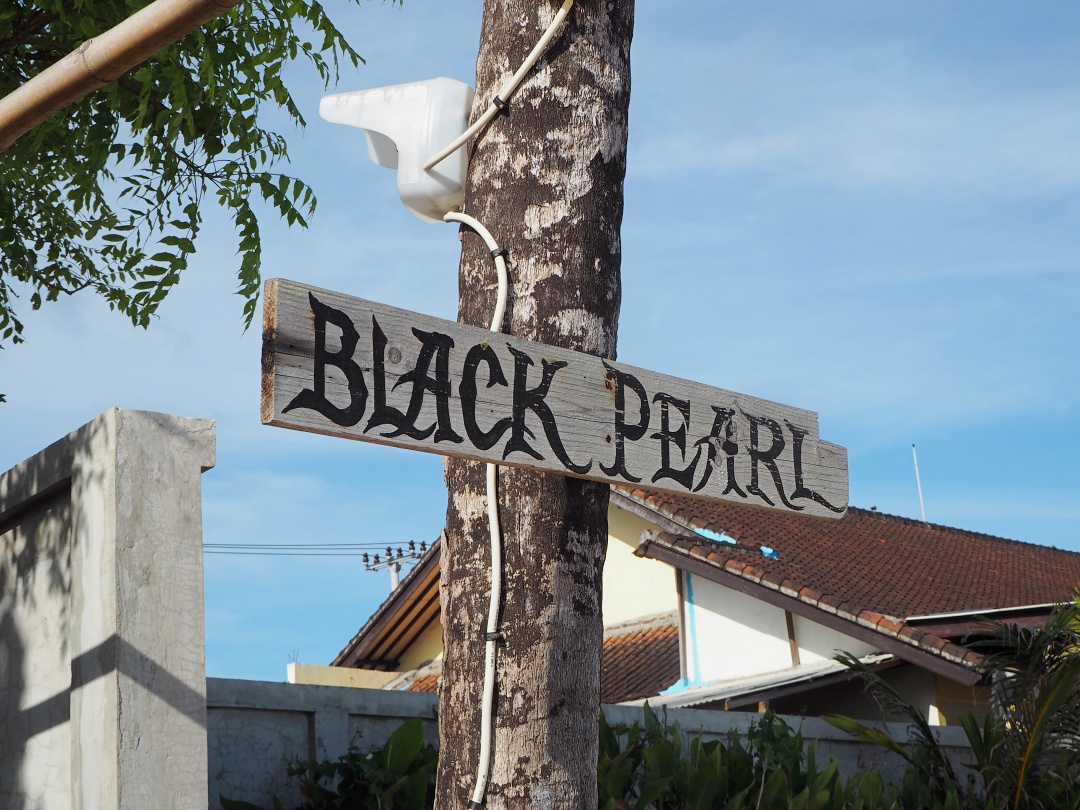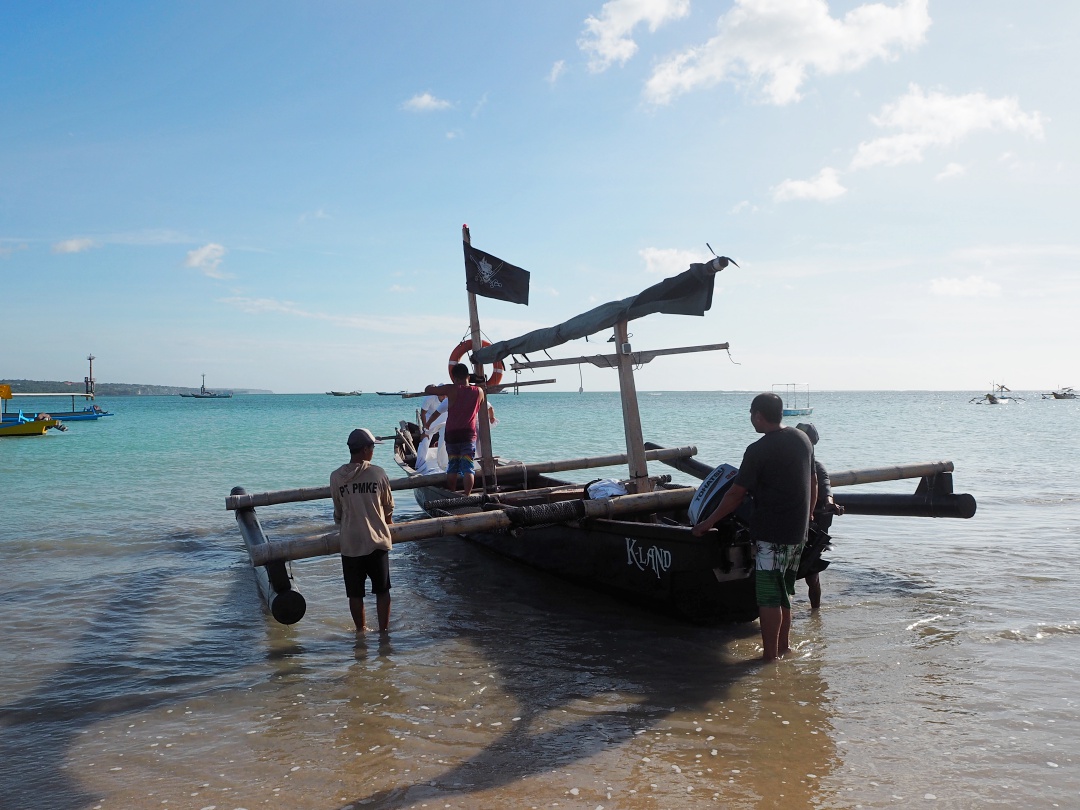 This is the boat that we went on.
The journey started from Jimbaran Beach, and it slowly starts to cruise along the southern coast.
We even passed by the Rock Bar. To think that I was just there last year for a meeting, I almost couldn't believe that this time around I get to cruise along the coastline and get to see Rock Bar from afar. It almost seems unreal to me.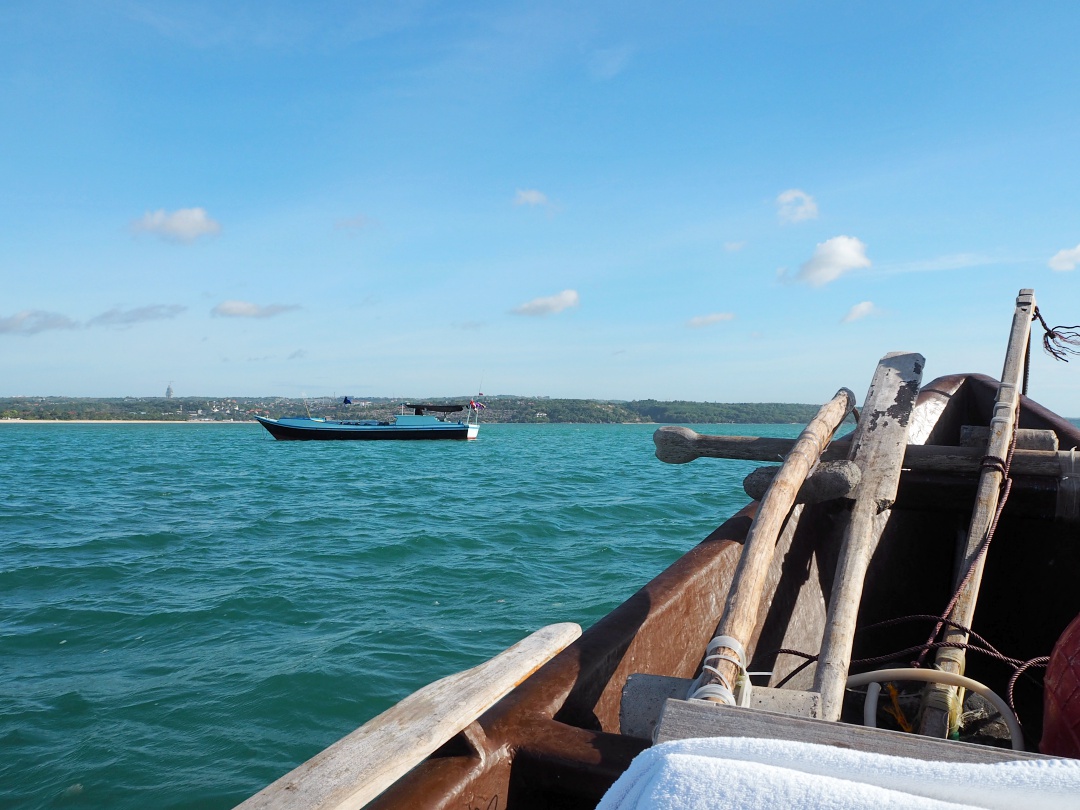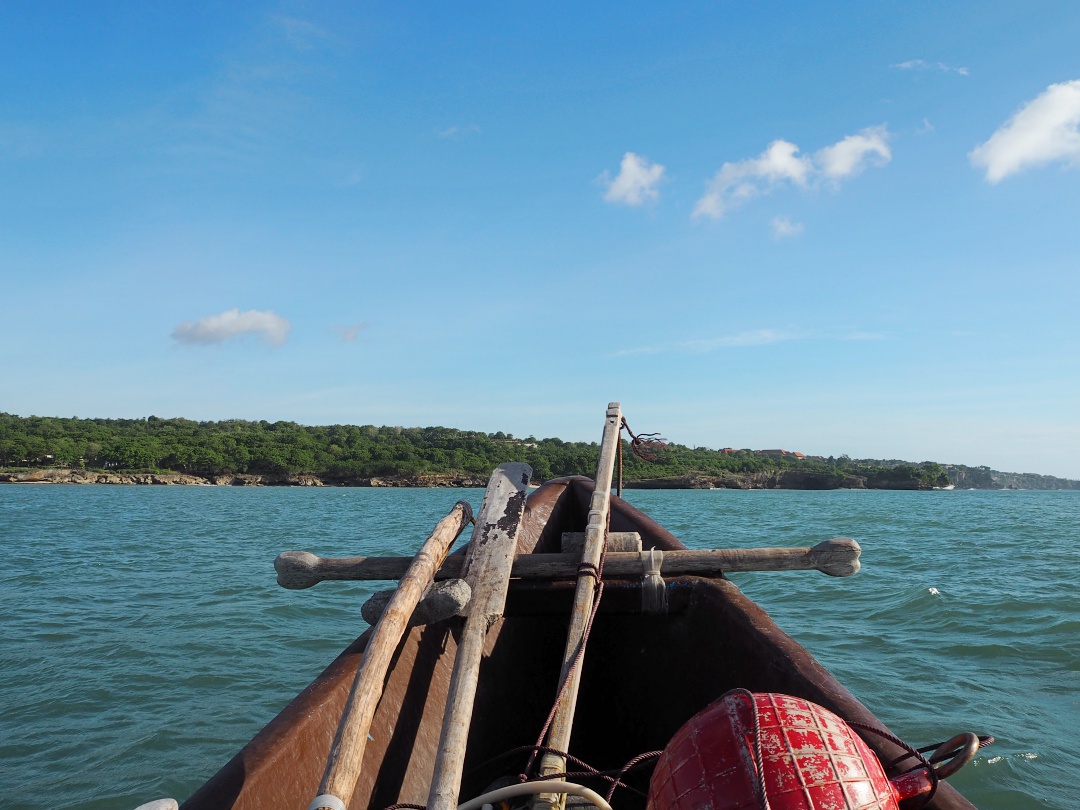 I've to post edit and straighten some of the pictures. The boat was moving a little too fast, so all my pictures turn out to be a little off grid and the OCD in me can't stand it! So I have to manually straighten the photos.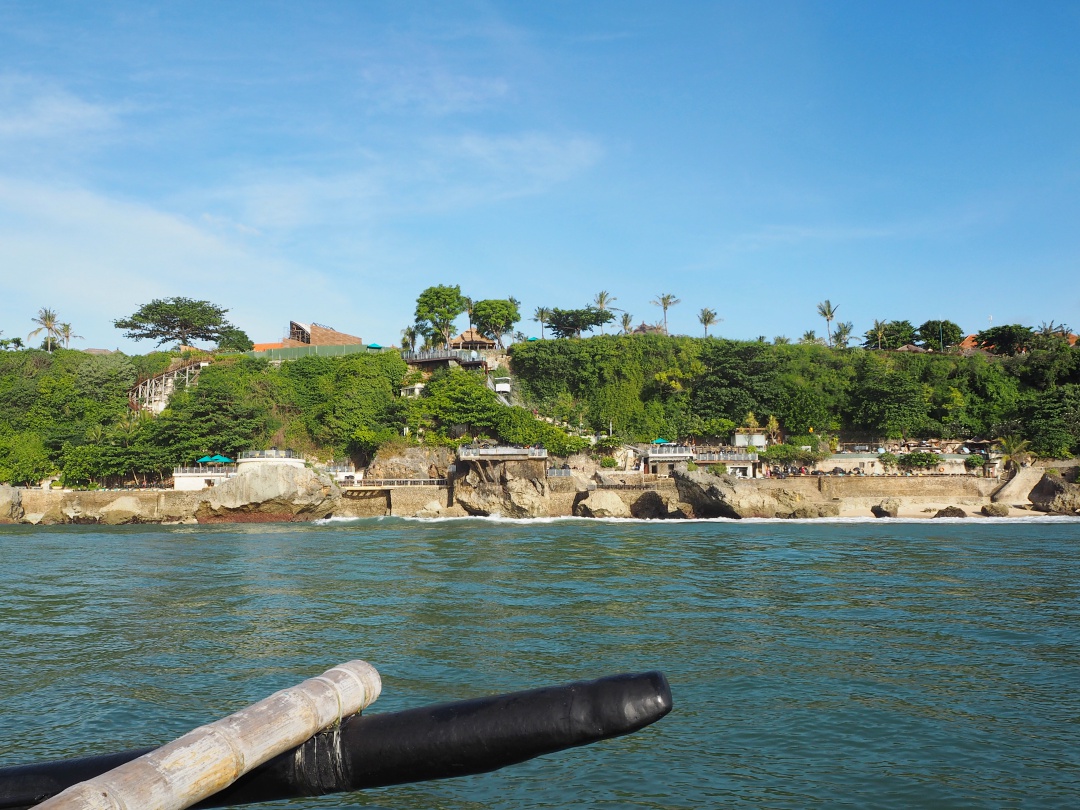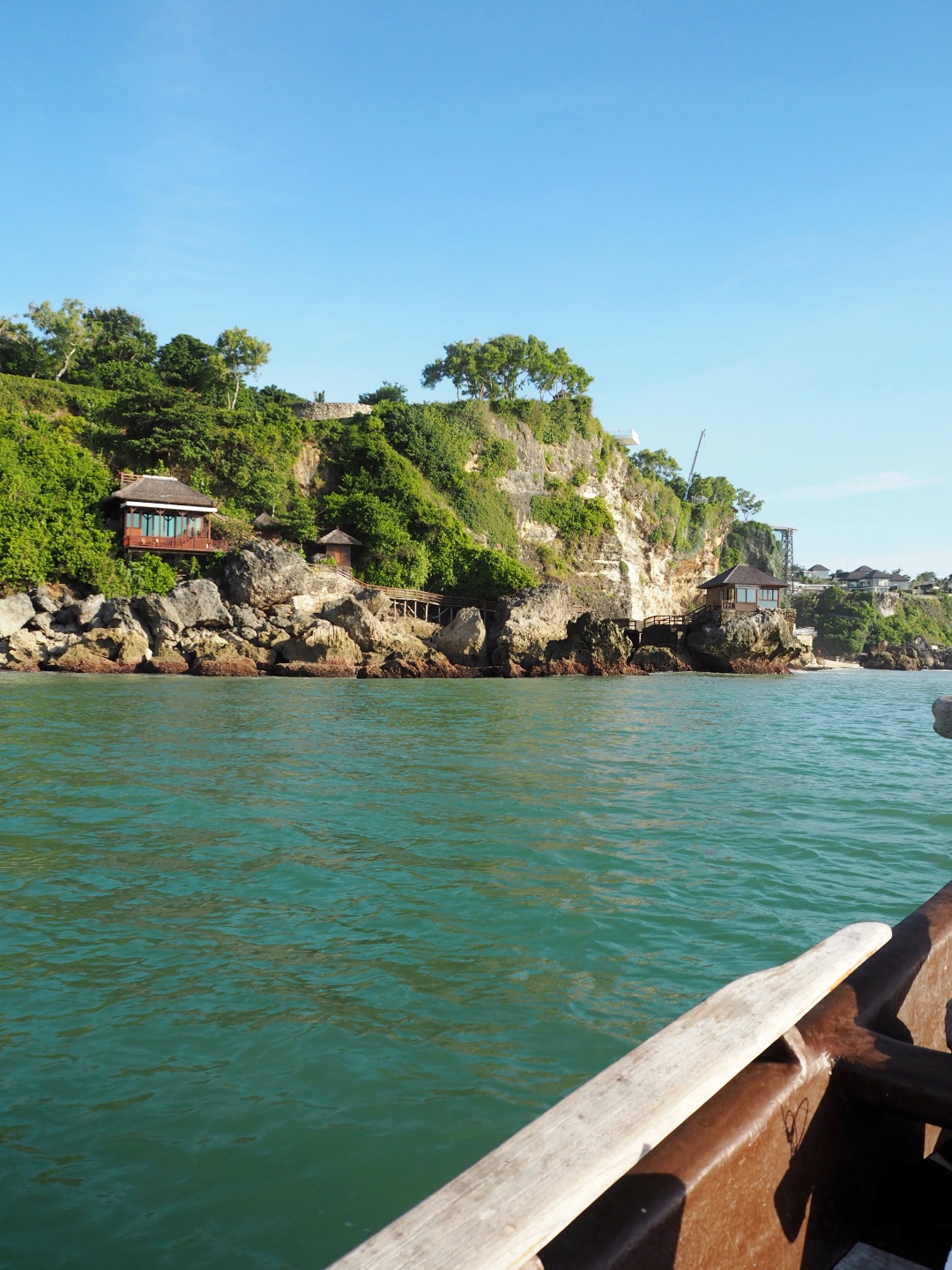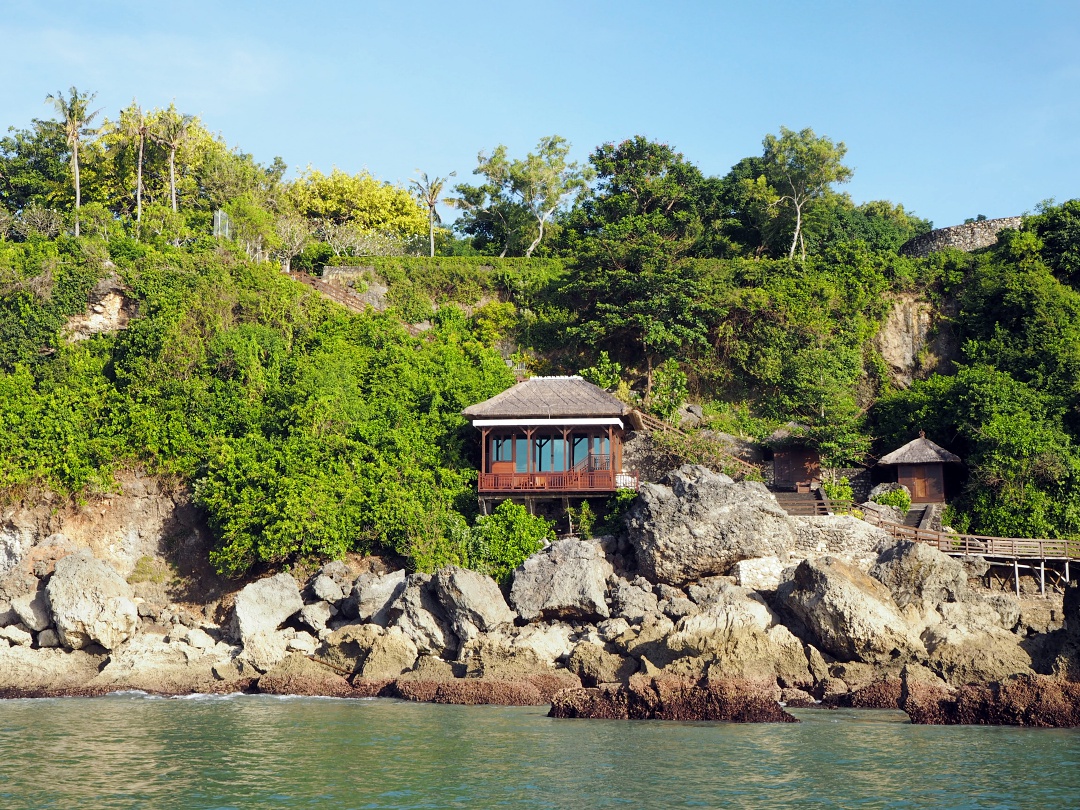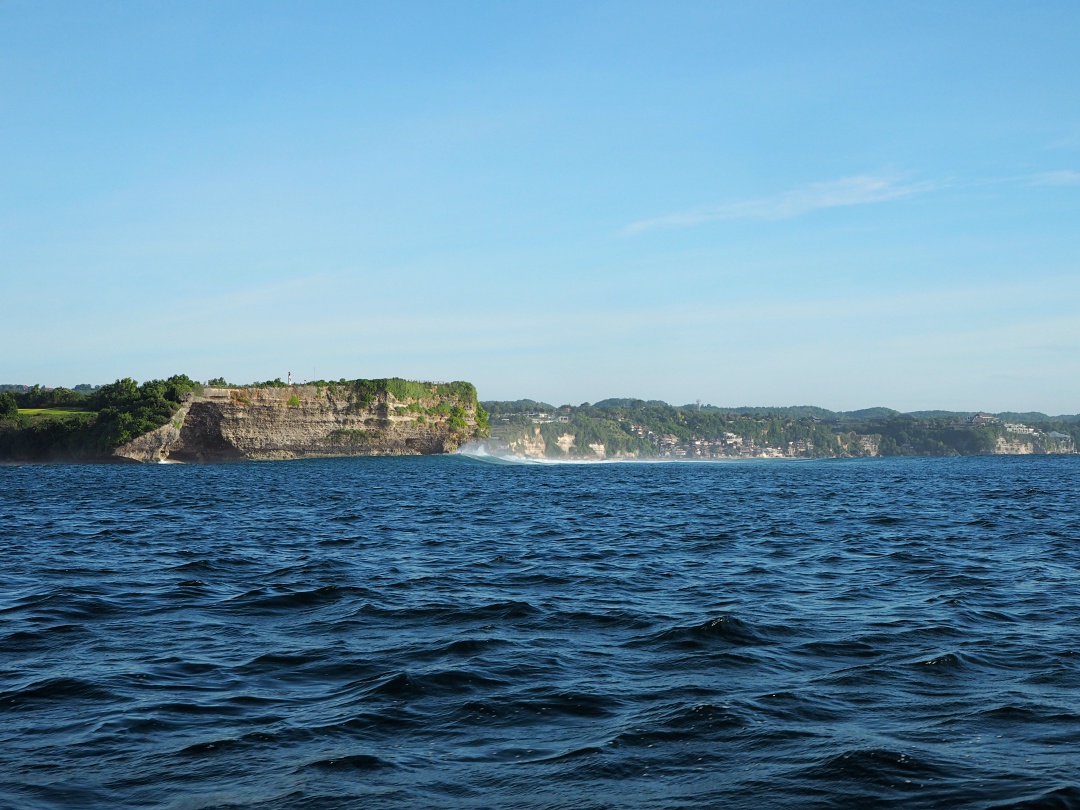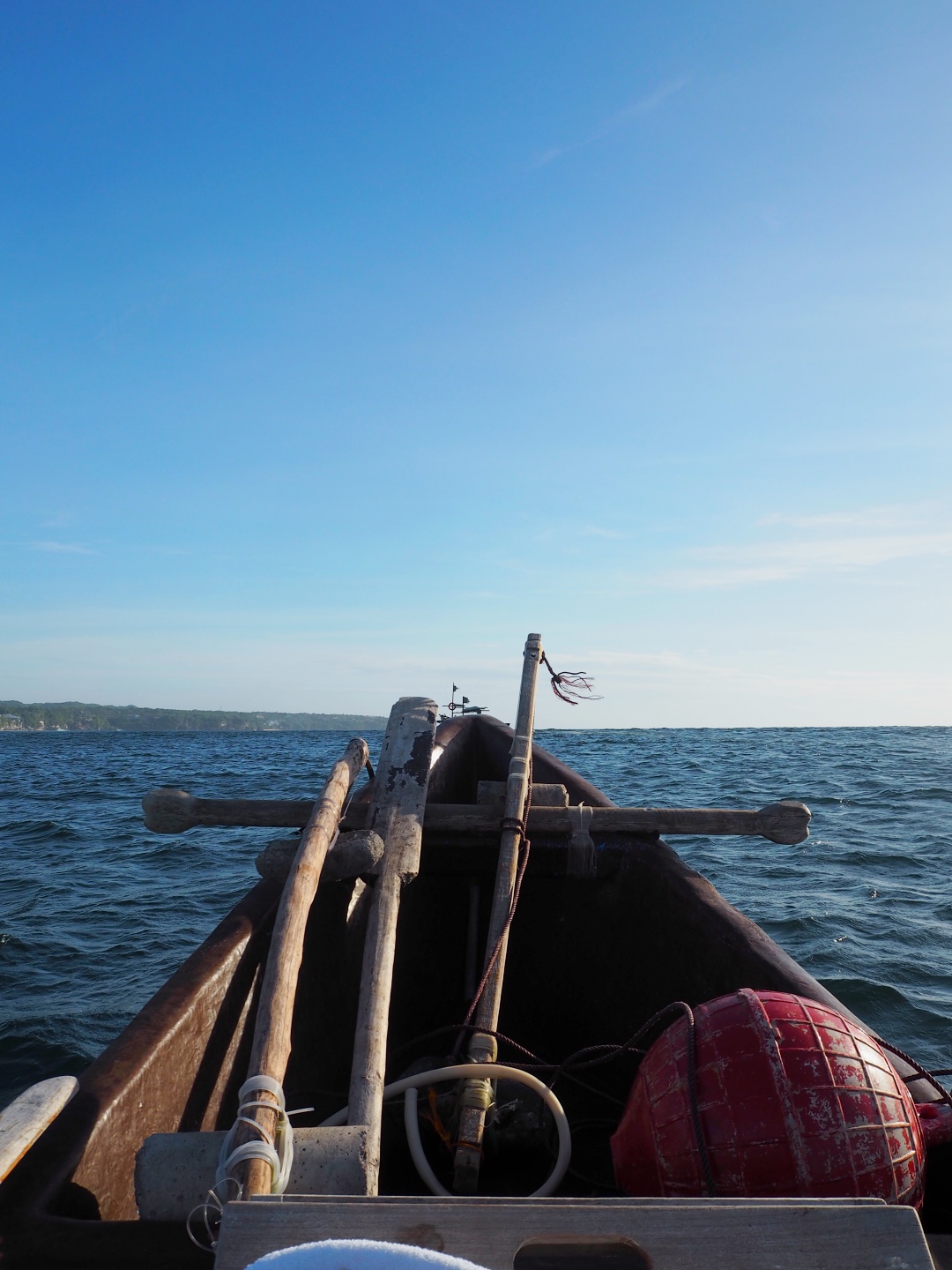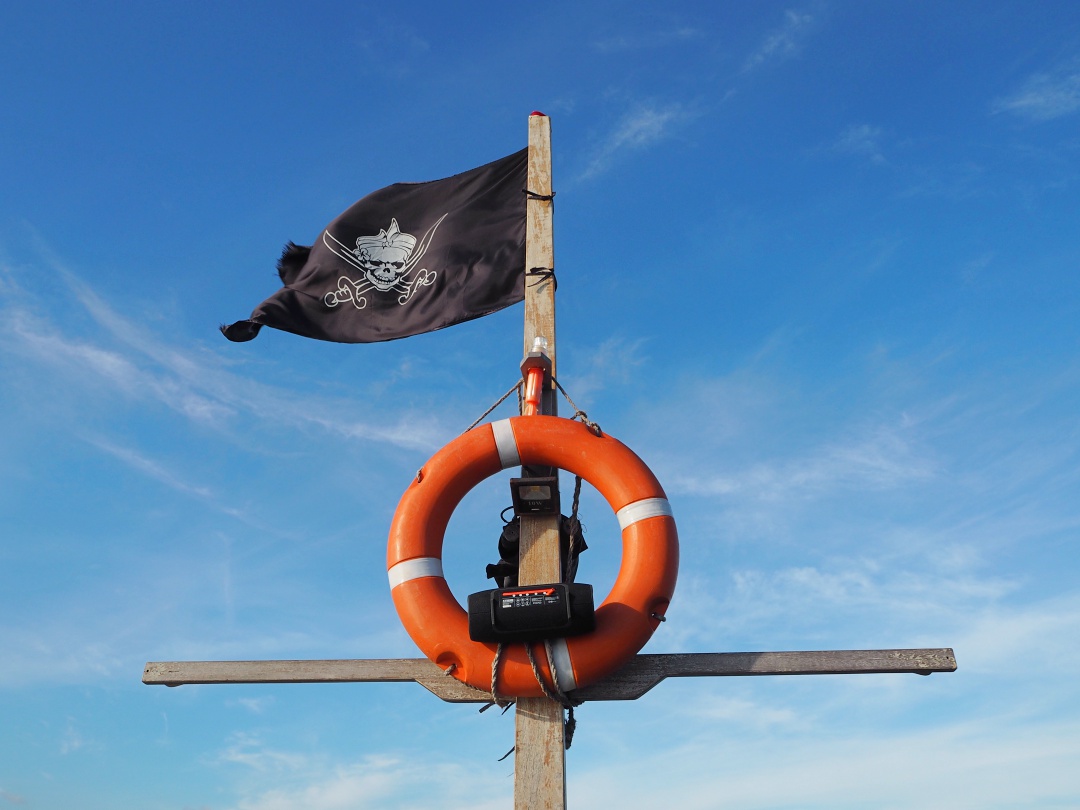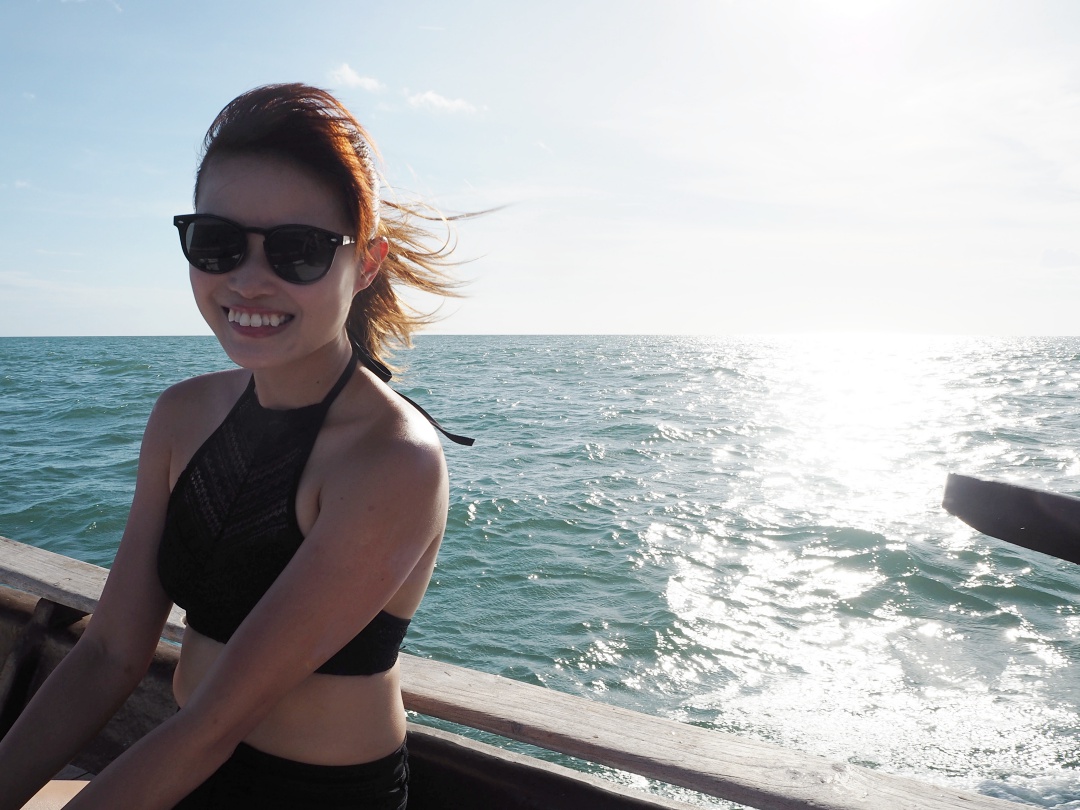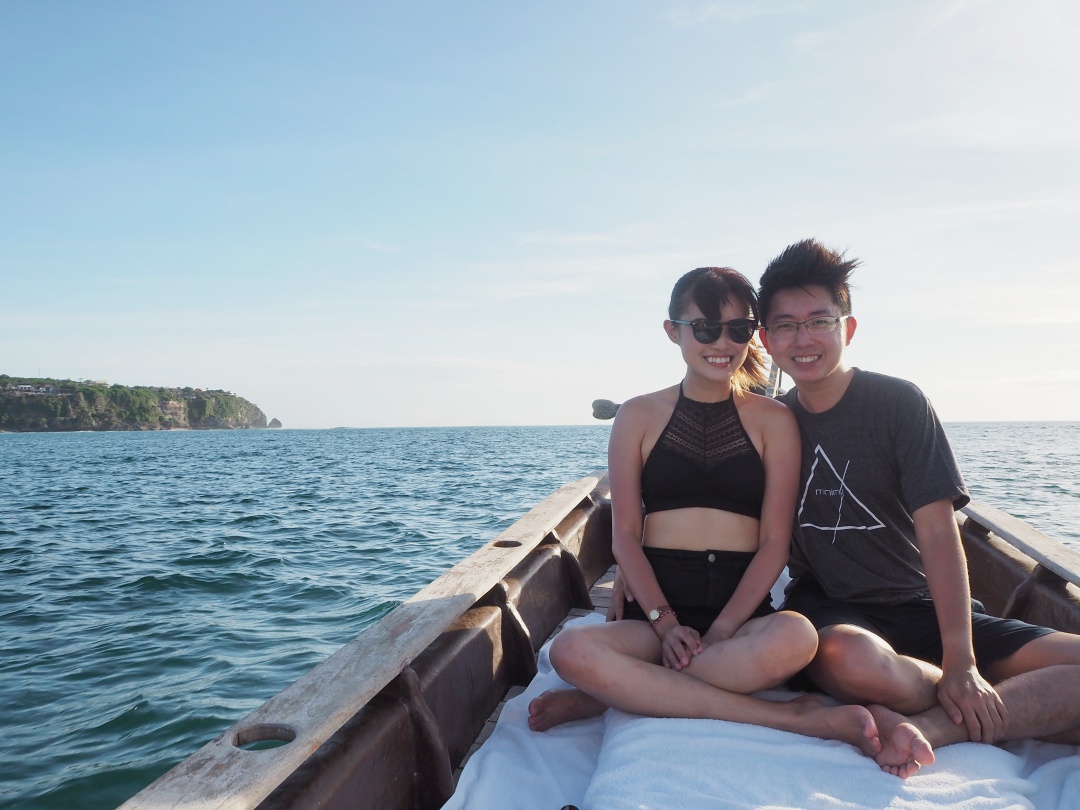 My hair was in a mess but there is really nothing much I can do since the wind was so strong.
I honestly can't remember how many beach we past by or saw. There are simply too many names to remember. But based on the itinerary, the journey is supposed to bring us from Jimbaran Bay to Hidden Beach, Honeymoon Bay, Balangan Beach, Bingin Beach, Impossible Beach, Padang-Padang Beach and Uluwatu, before cruising back to Jimbaran Beach.
Instead of focusing on what beach we past by or saw, our focus is mainly on enjoying the whole experience of cruising down the coastline and witnessing it from afar. Past visits to places like Ayana Resort and Spa, Villa Tirtha, Uluwatu Temple gave us the opportunity to see things from the top – down. But this time around we got to see it from any perspective.
The entire ride was very relaxing and the staff even have music blasting.
We didn't get to alight from the boat to go down to the beach, but I think that is better? We just went along the coastline and eventually ended up near to Uluwatu Temple where we were invited to get into the water.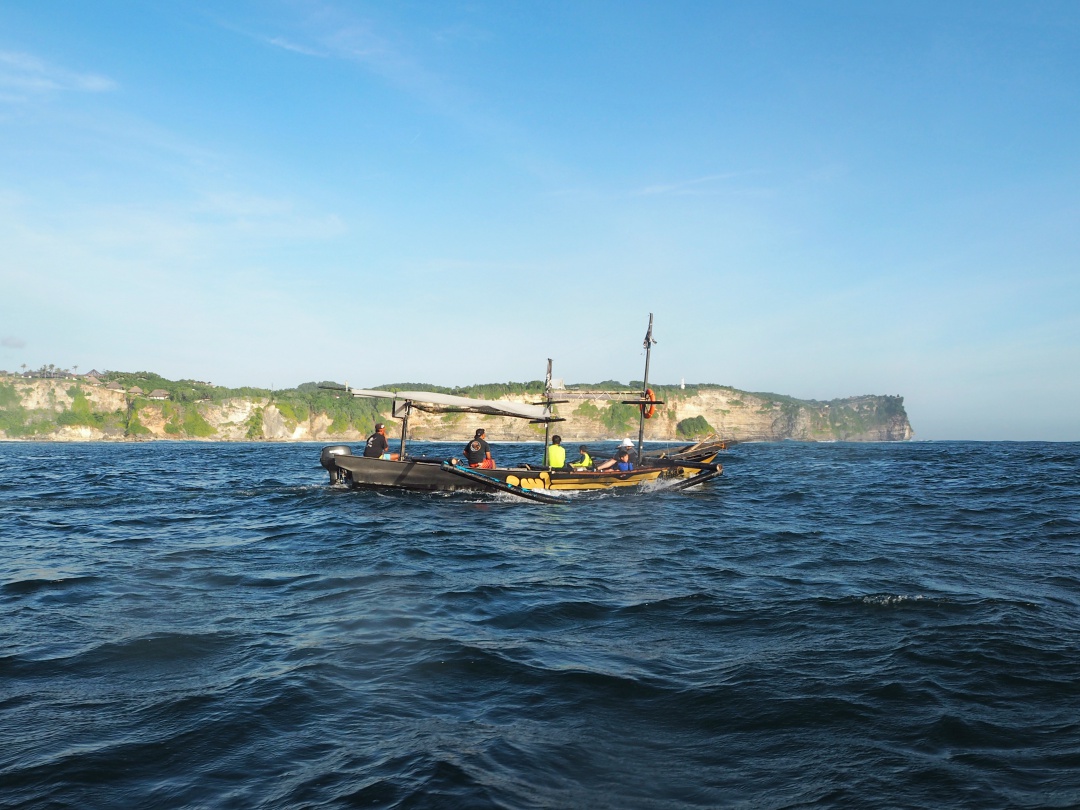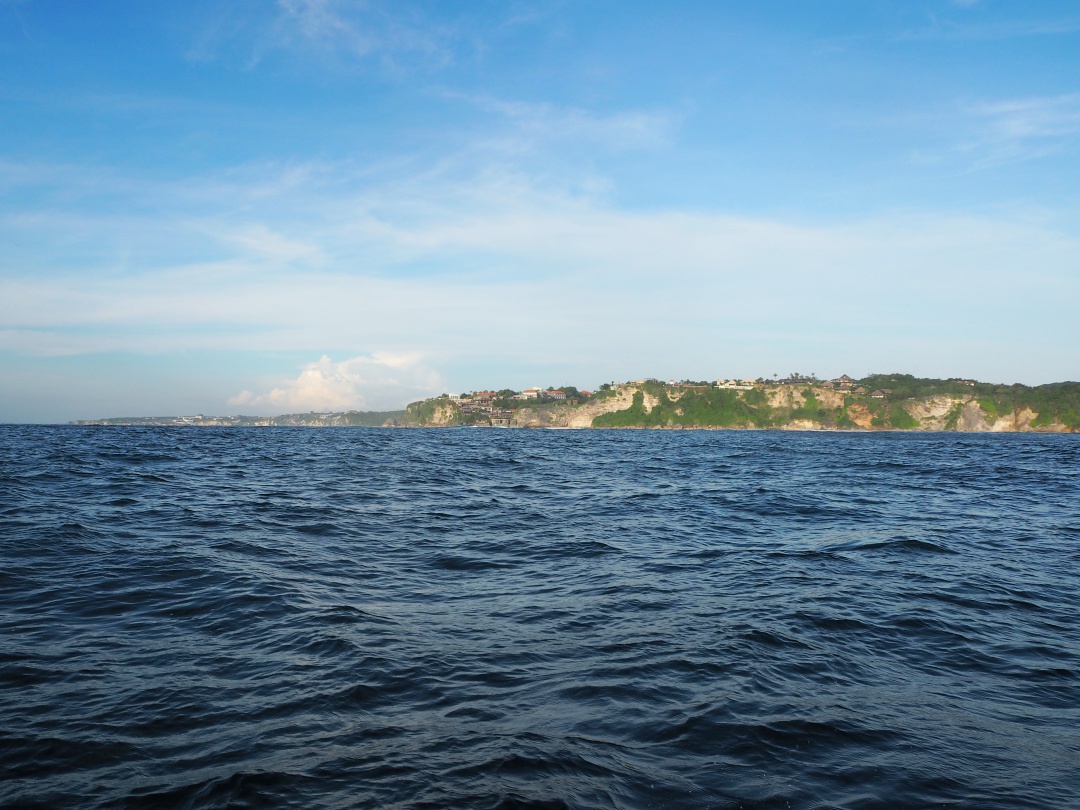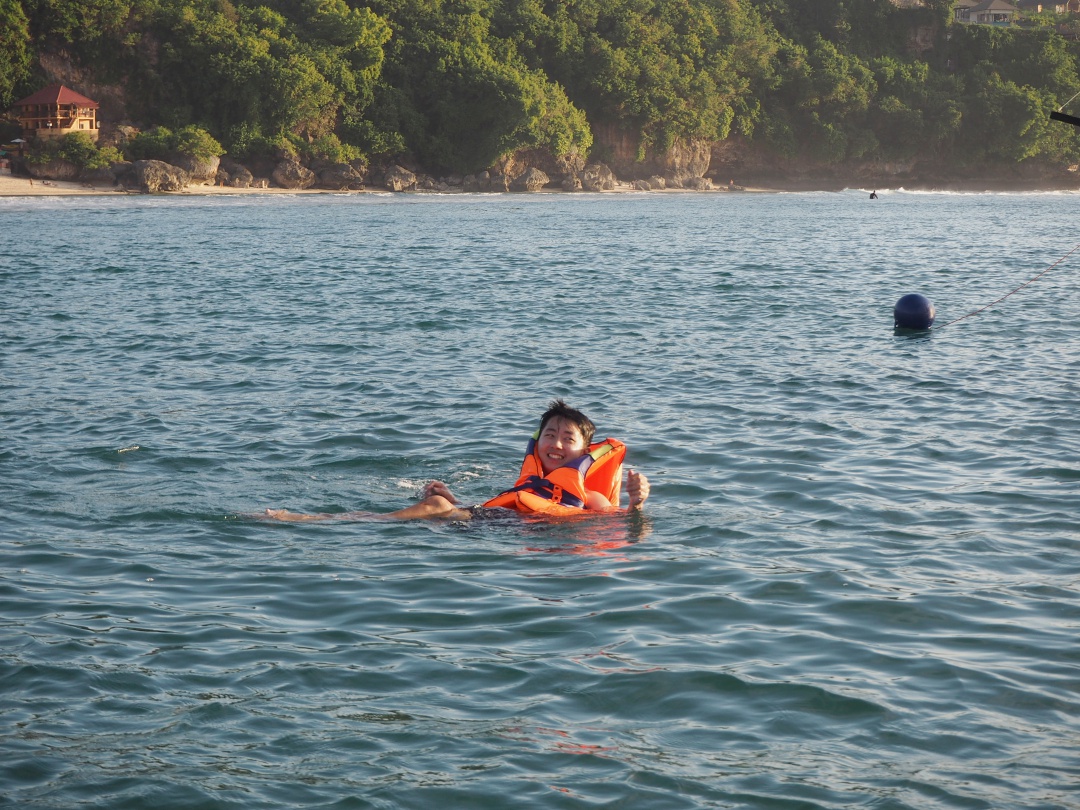 Since we both couldn't swim, the staff make sure we put on life vests before jumping into the ocean.
Using the excuse of helping him to snap pictures, I got the Fiancé to jump into the water first.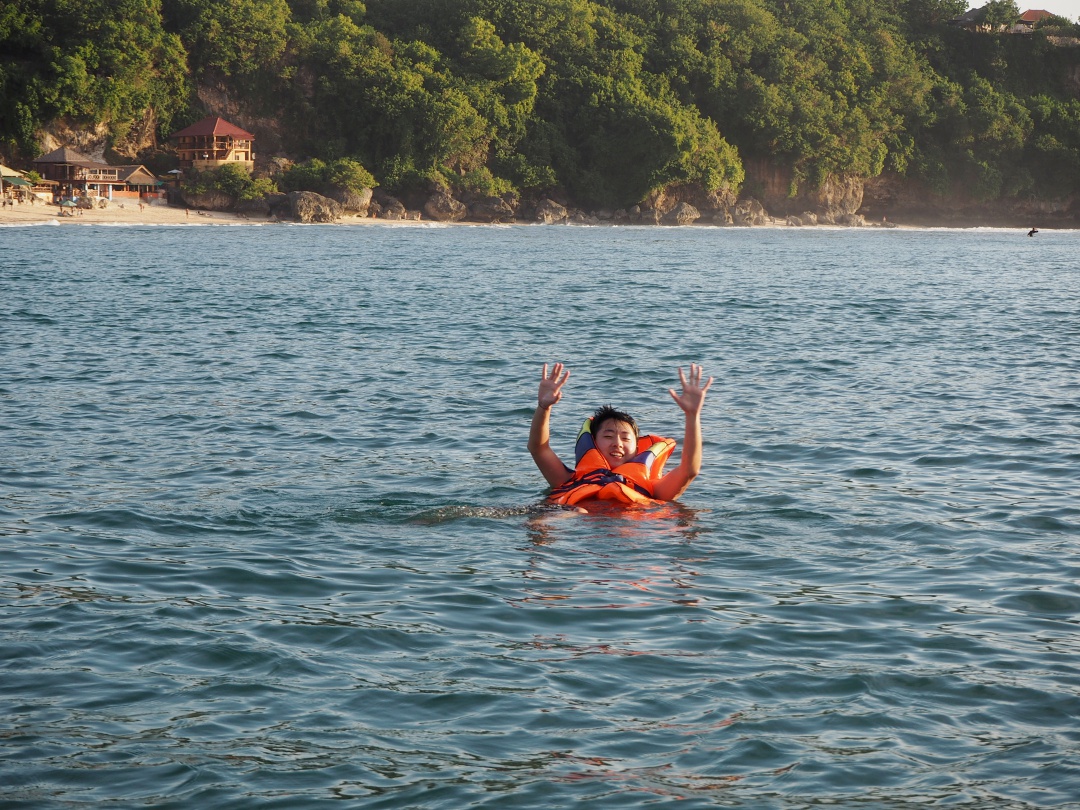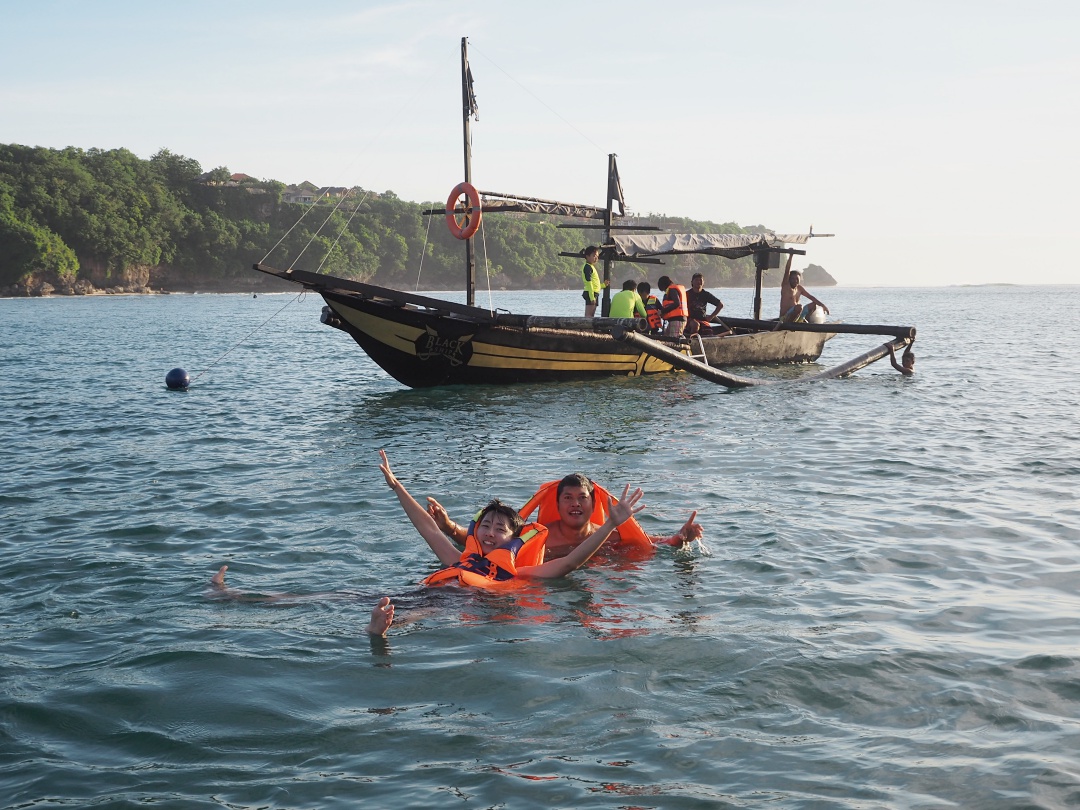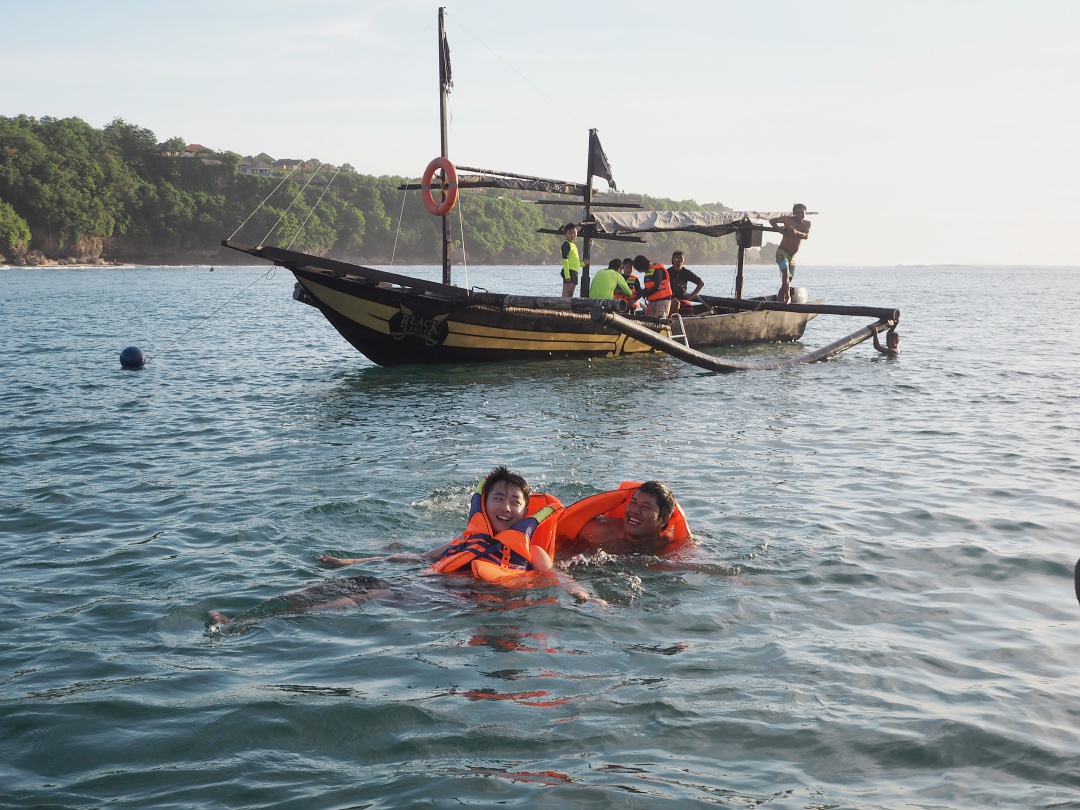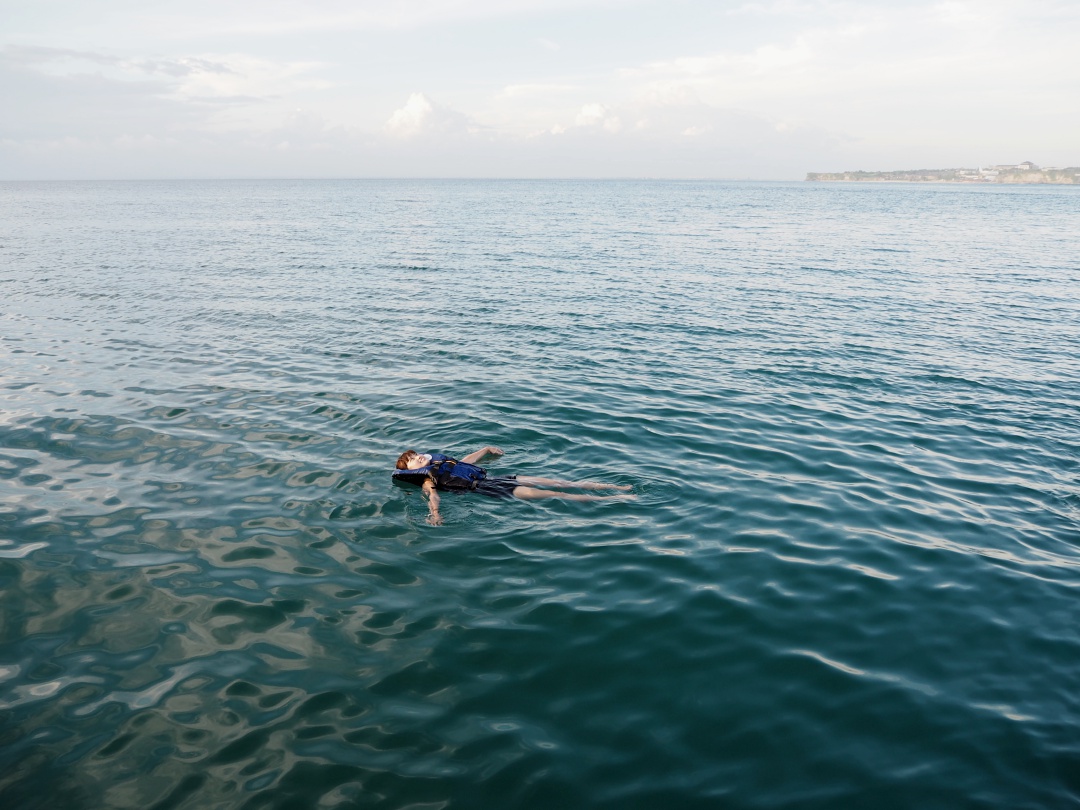 That's me floating alone in the vast ocean.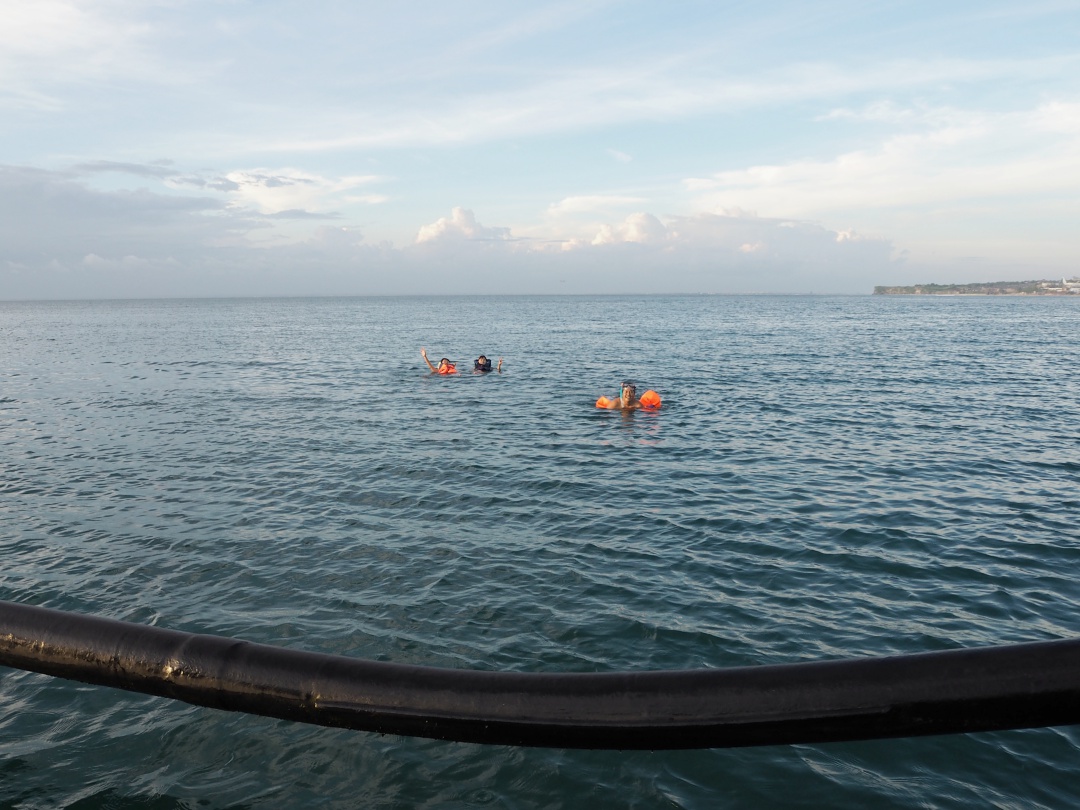 It was so much fun! I can't believe I get to do that.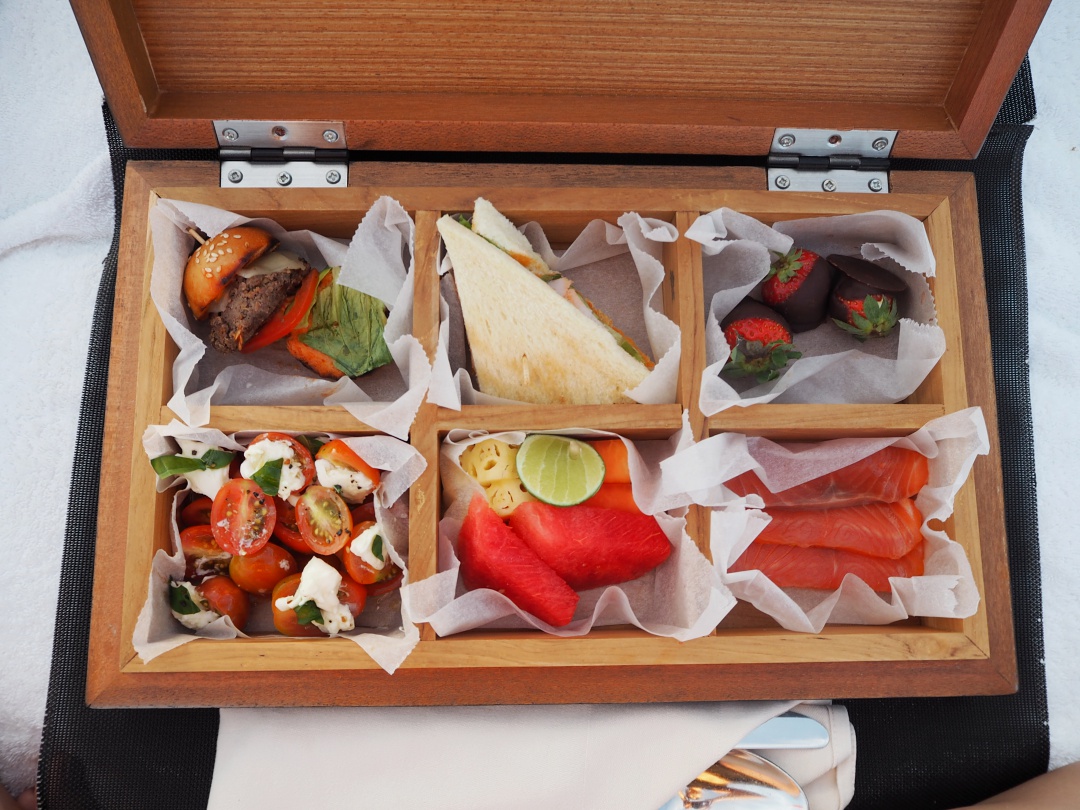 By the time we got back up to the boat, the crew had already laid out our food for us. We got to have a mini picnic session while on the boat catching the beautiful sunset!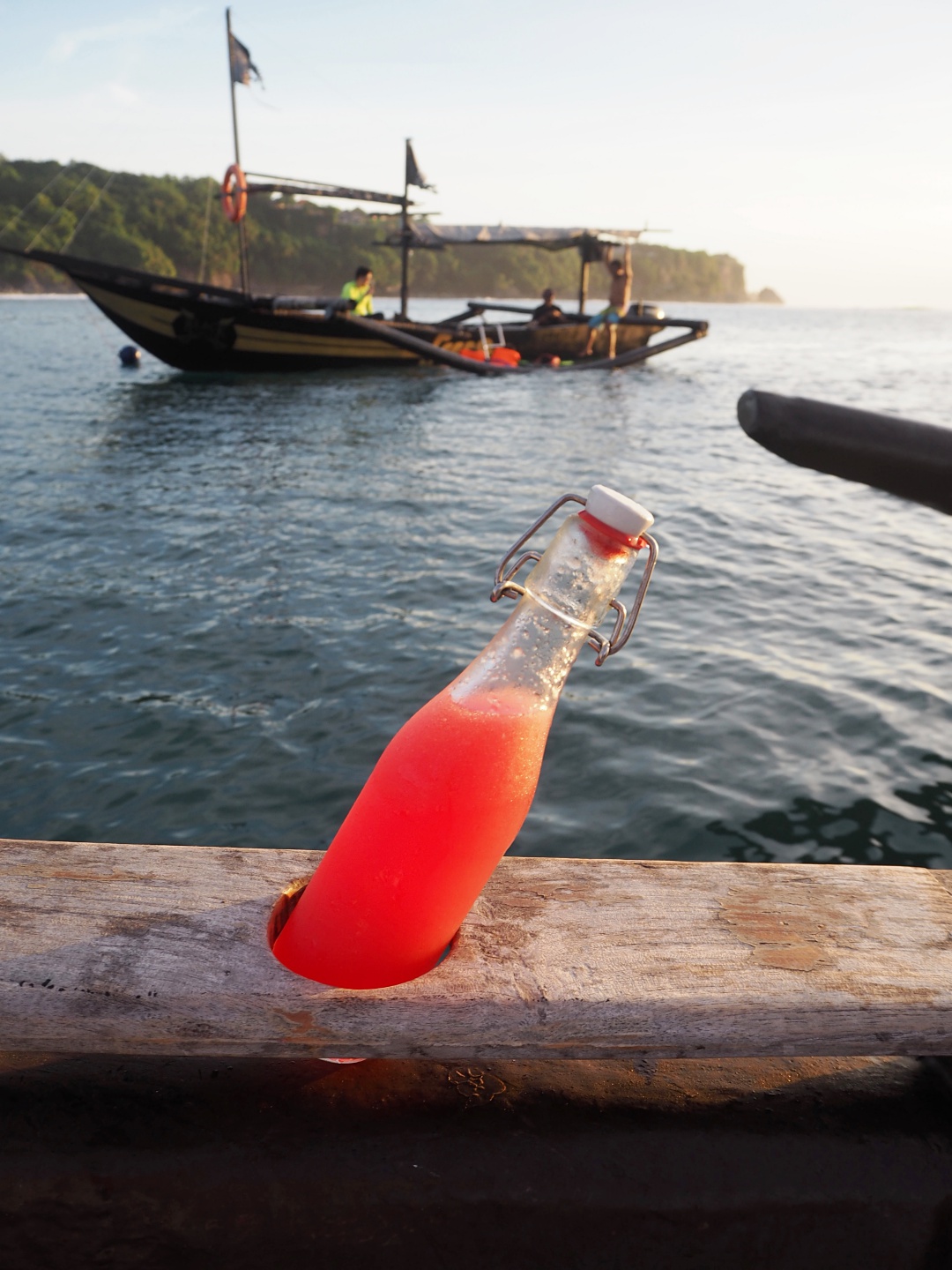 Complete with a watermelon juice! The staff offered us beer, but too bad we don't drink!
Sunset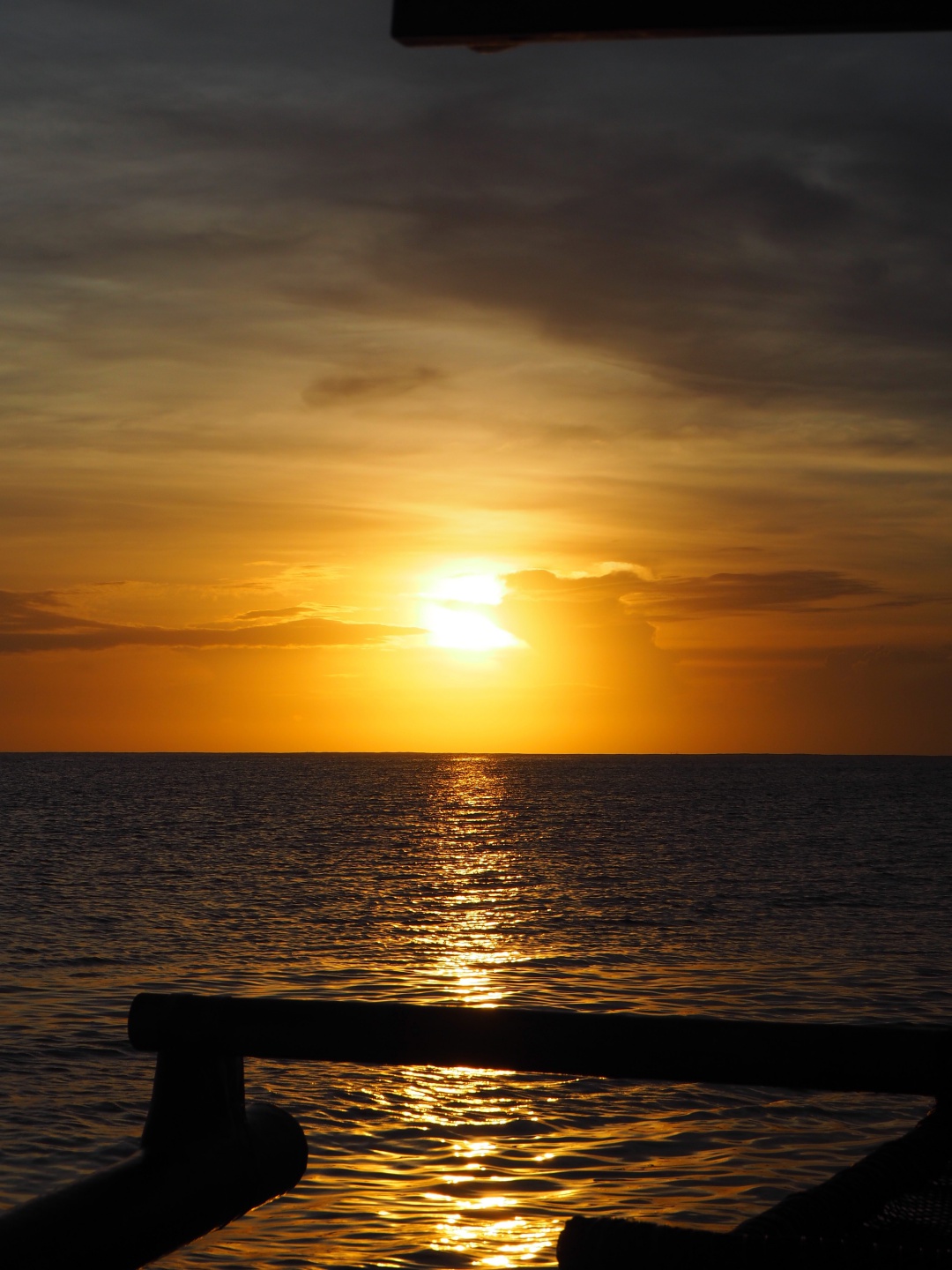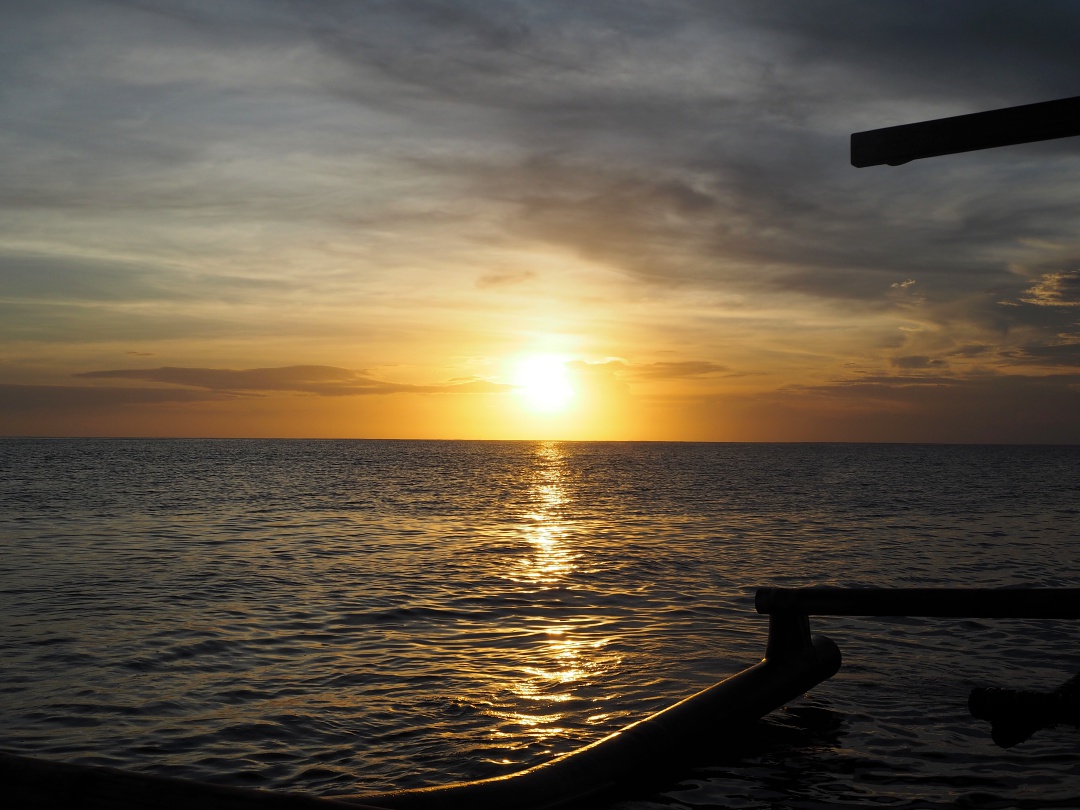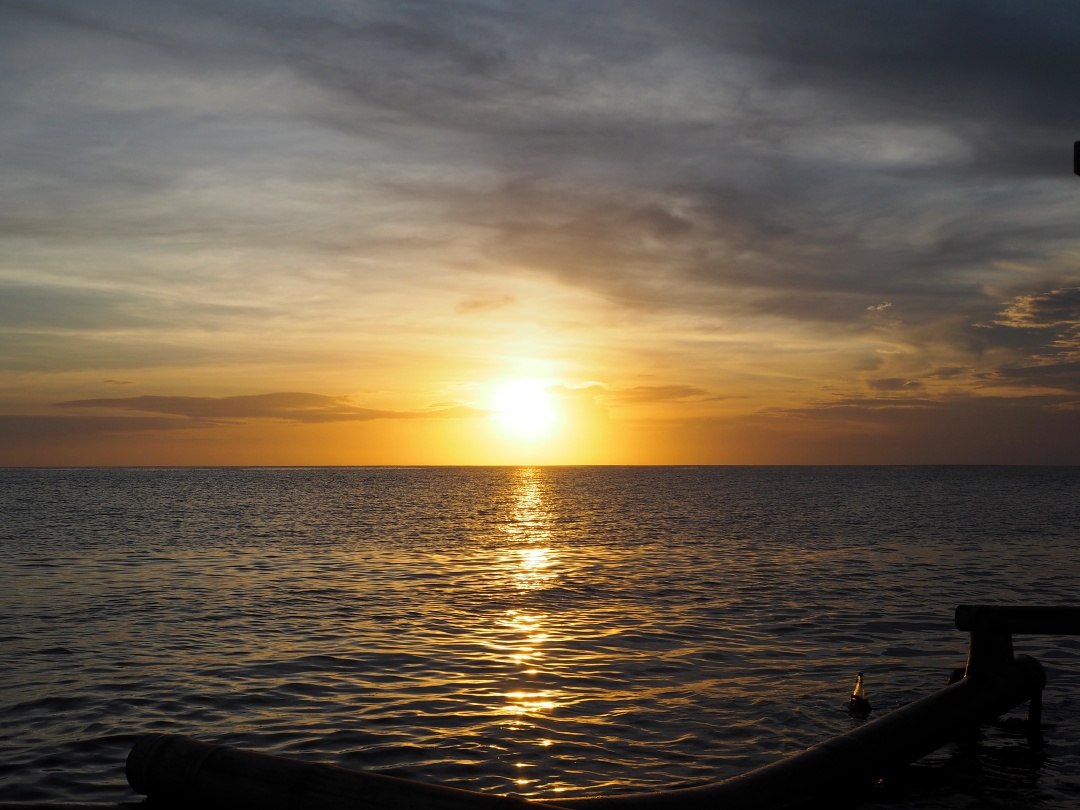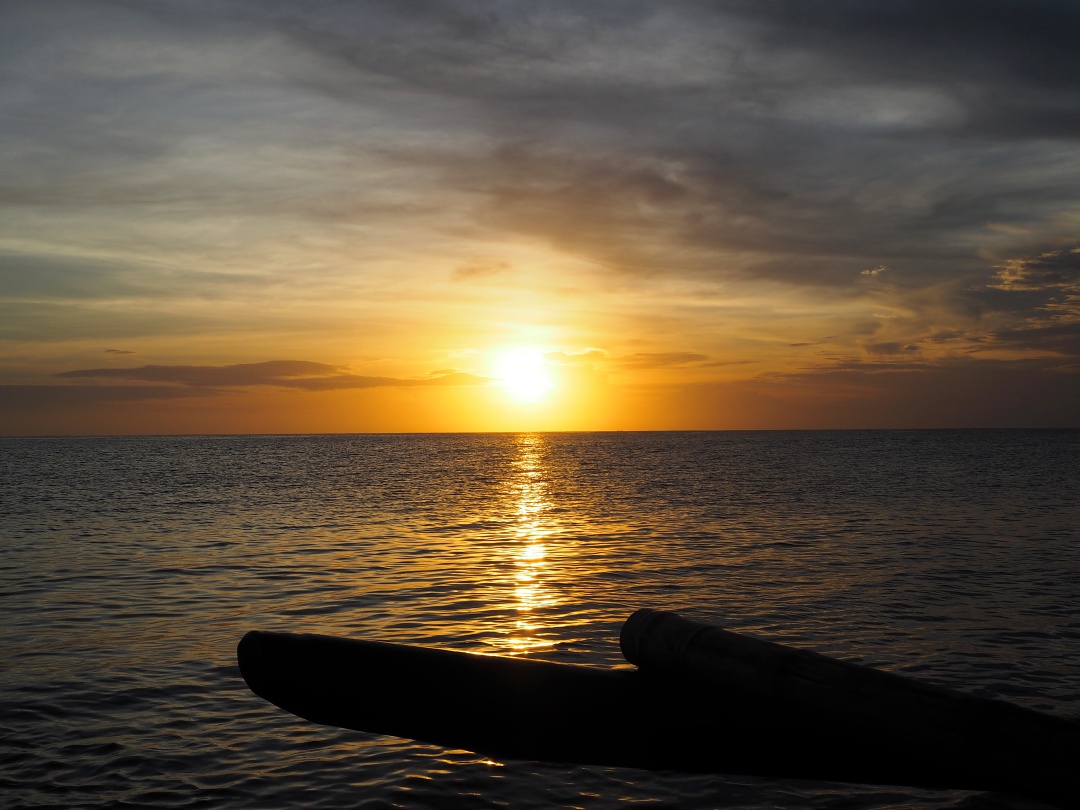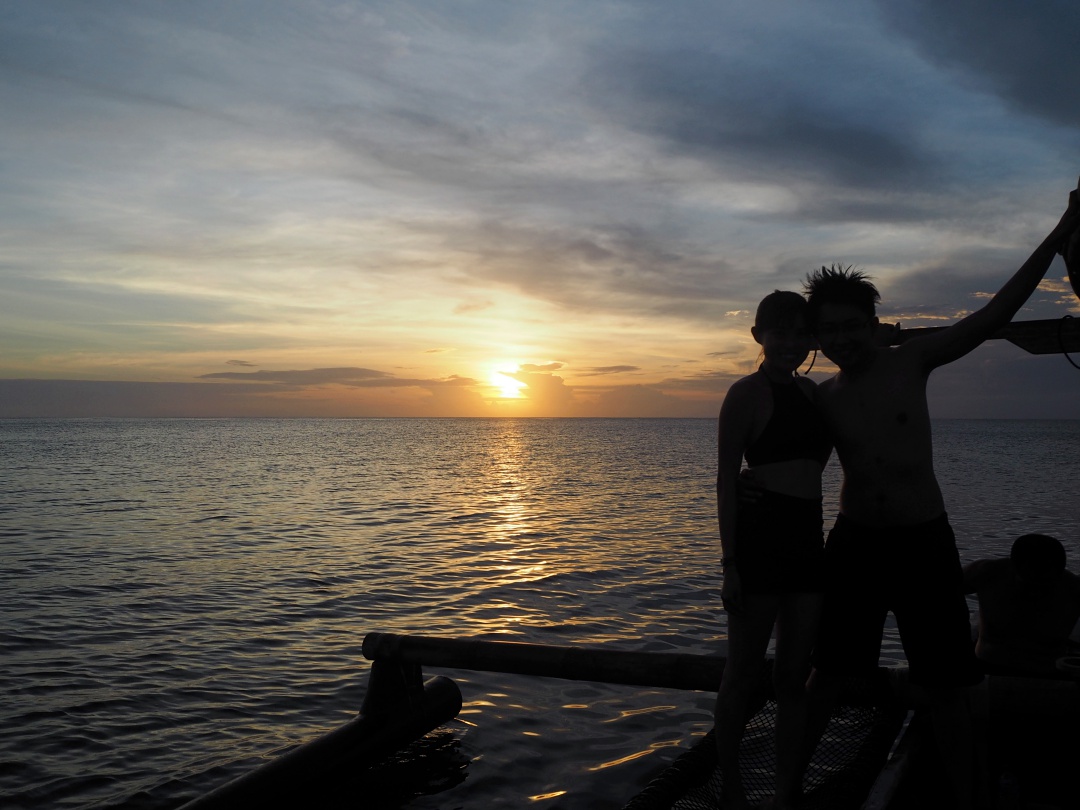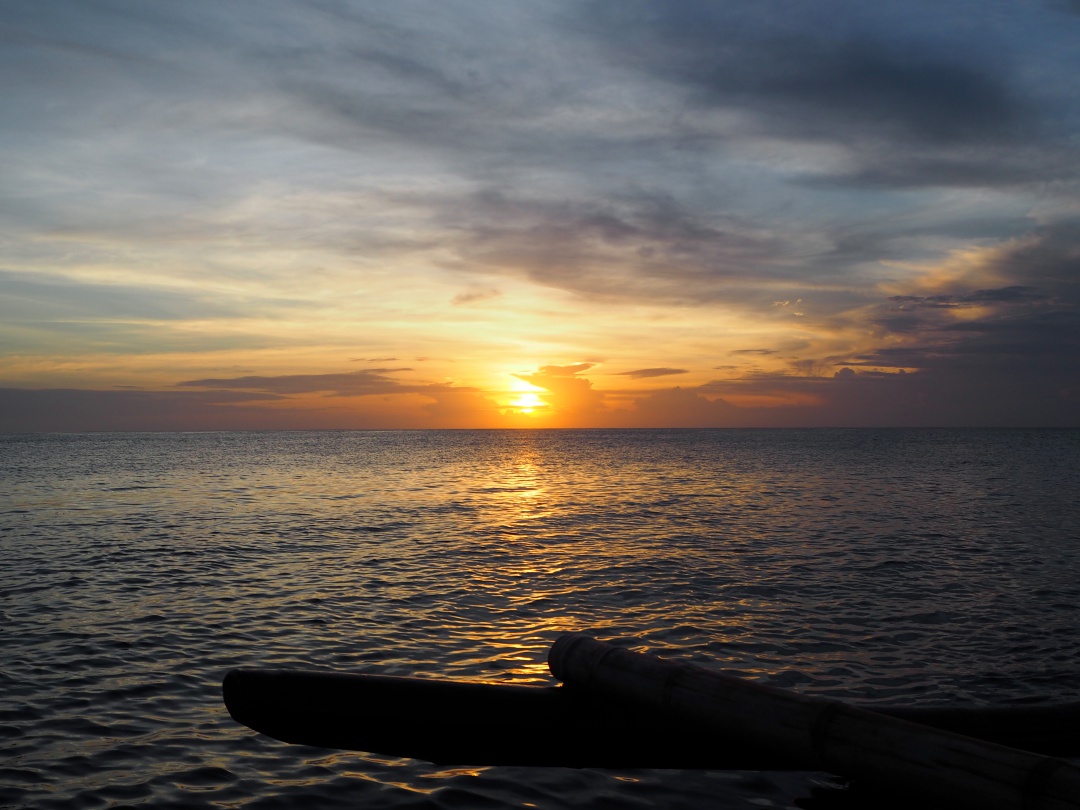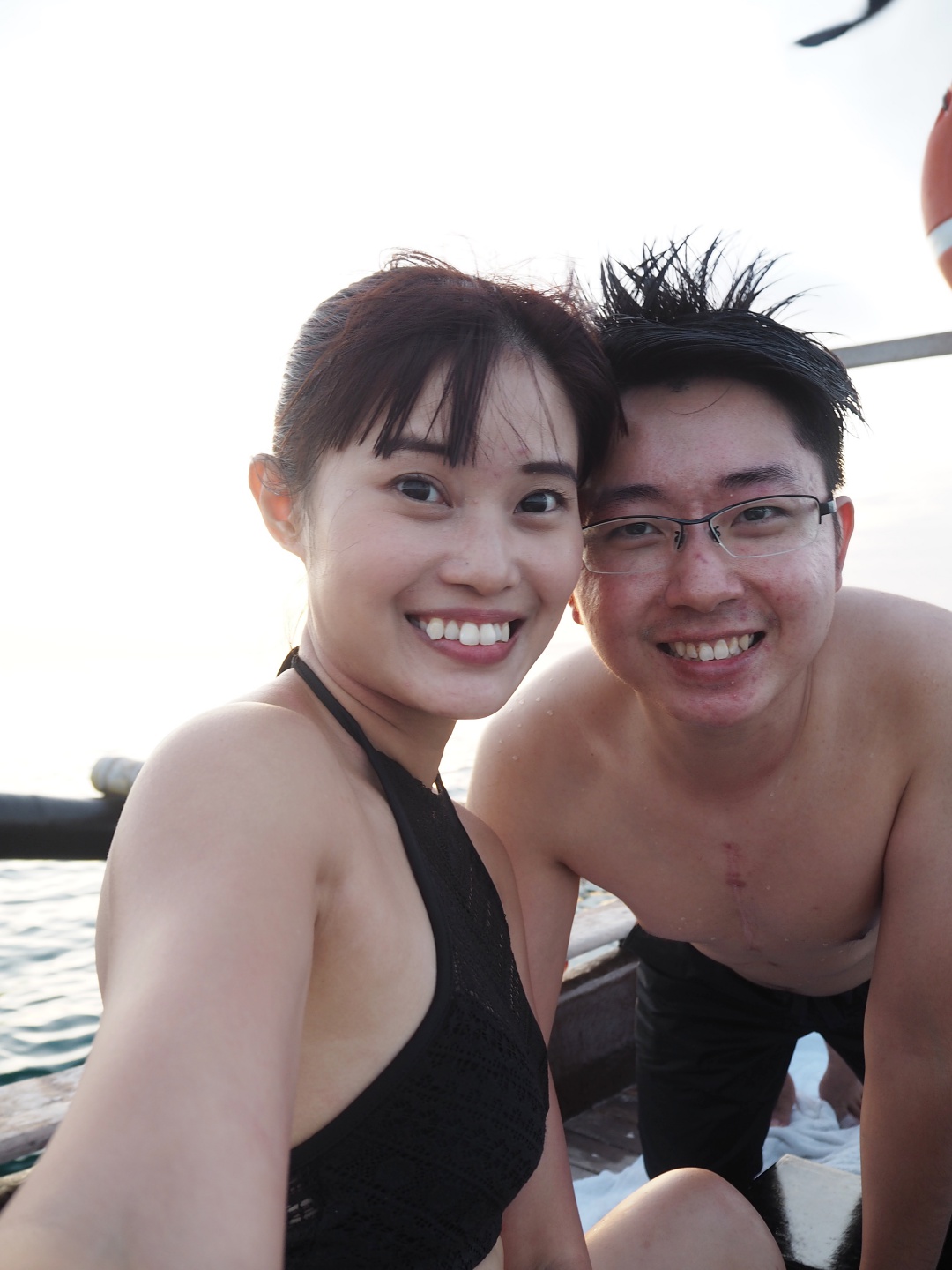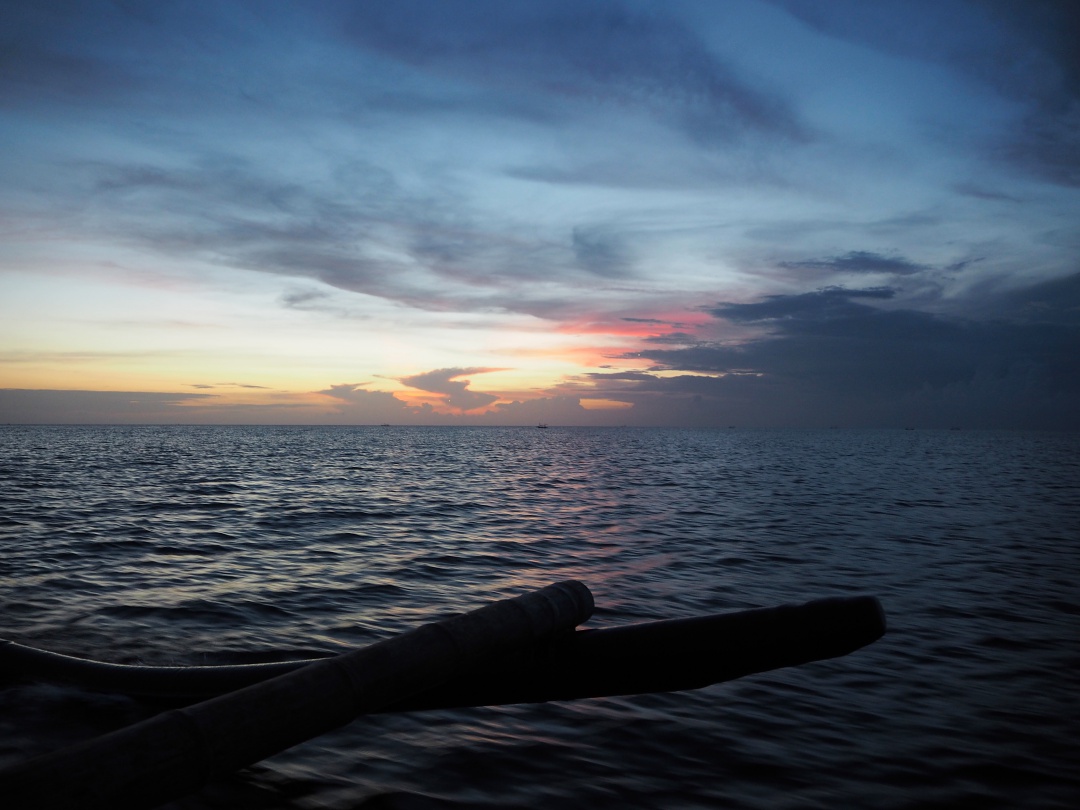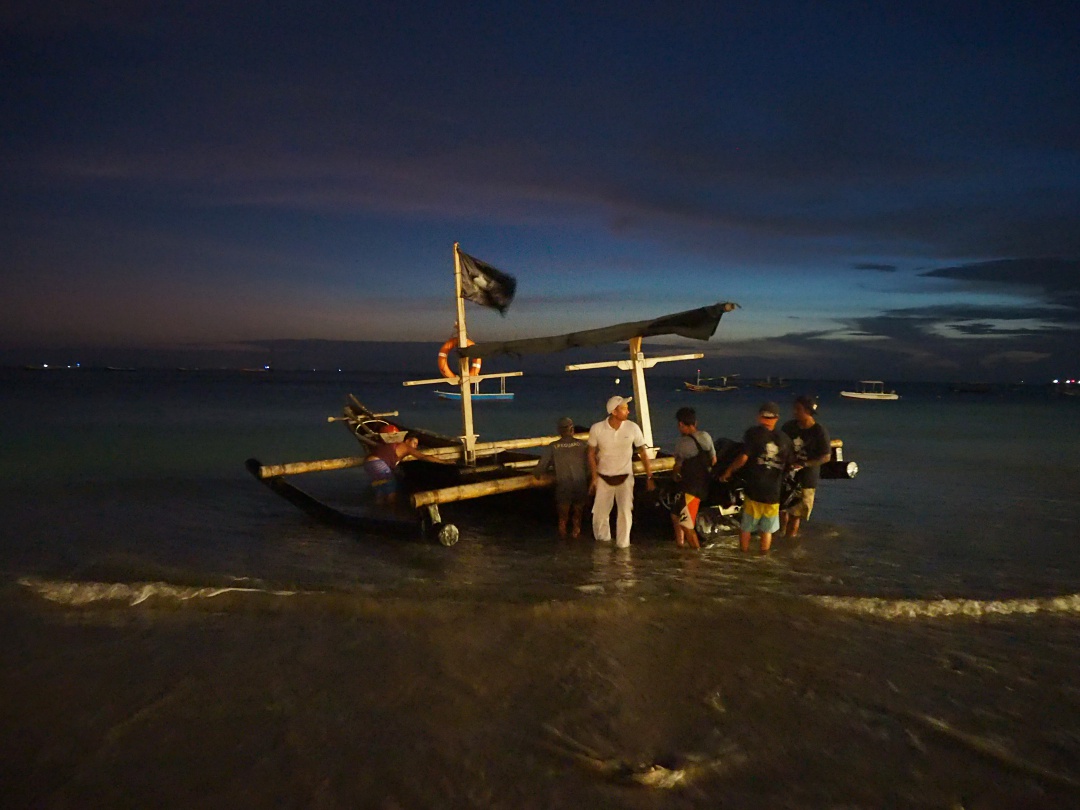 The sun sets at around 18:00; and by the time we got back up to the shore, it was already 18:45.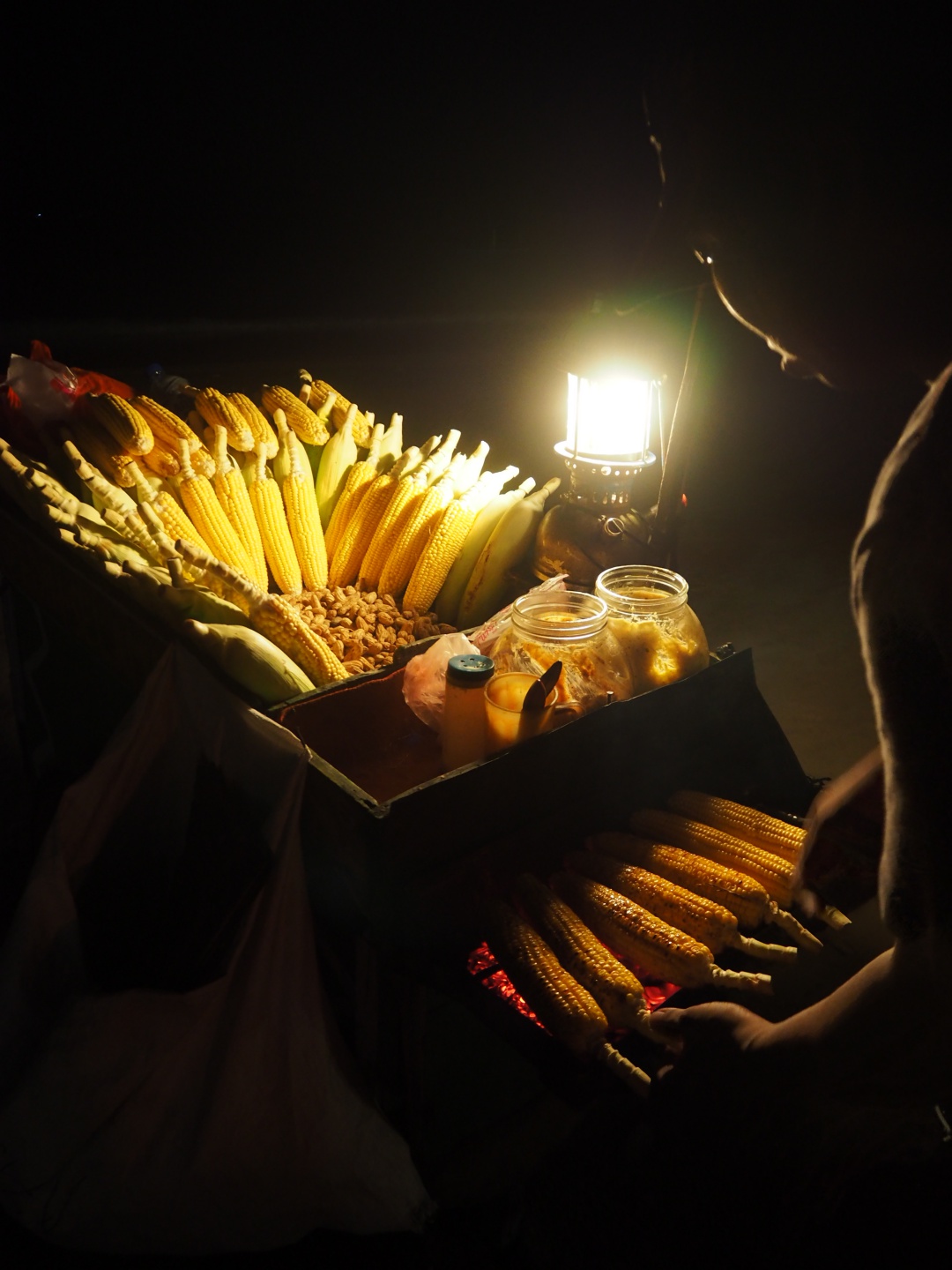 Saw a cart selling grilled sweet corn on the beach and we couldn't pass up the offer. So we bought two back to the villa.
---
Overall, 'Journey to the Southern Beaches' was a truely amazing experience. It turns out to be a lot better and far more enjoyable than I've expected. For IDR1,900,000++ per person, I think it was money well spent. We didn't have to pay for the experience, but I honestly would gladly pay for it because I do think it's worth it. It was such an exhilarating experience and I honestly urge everyone to give it a try if you're coming to Bali. The experience was fun and relaxing, yet slightly romantic. Romantic in the sense whereby you get to catch sunset with your loved ones in the middle of the ocean. I'm sure it will be even more fun for those who loves the water and know how to swim. We couldn't swim, but we did have our moment just by soaking in the water and float around with a life vest.
After my previous boat ride at Alila Manggis, I was hoping that I would survive the journey without having any seasick. Thankfully, I managed to do well!
---
Dinner | In-room Dining
After returning to our villa, we took our showers and by then, we were too exhausted to head down to the restaurant for our dinner. In the end, we decided to just call for room service.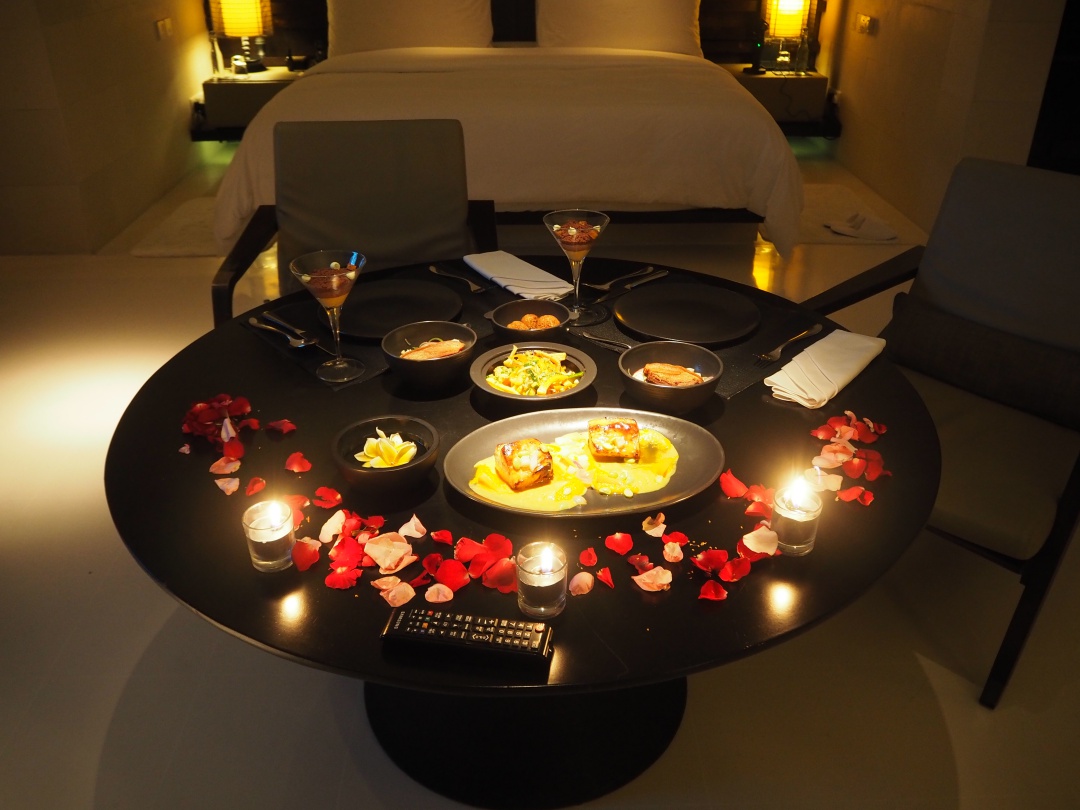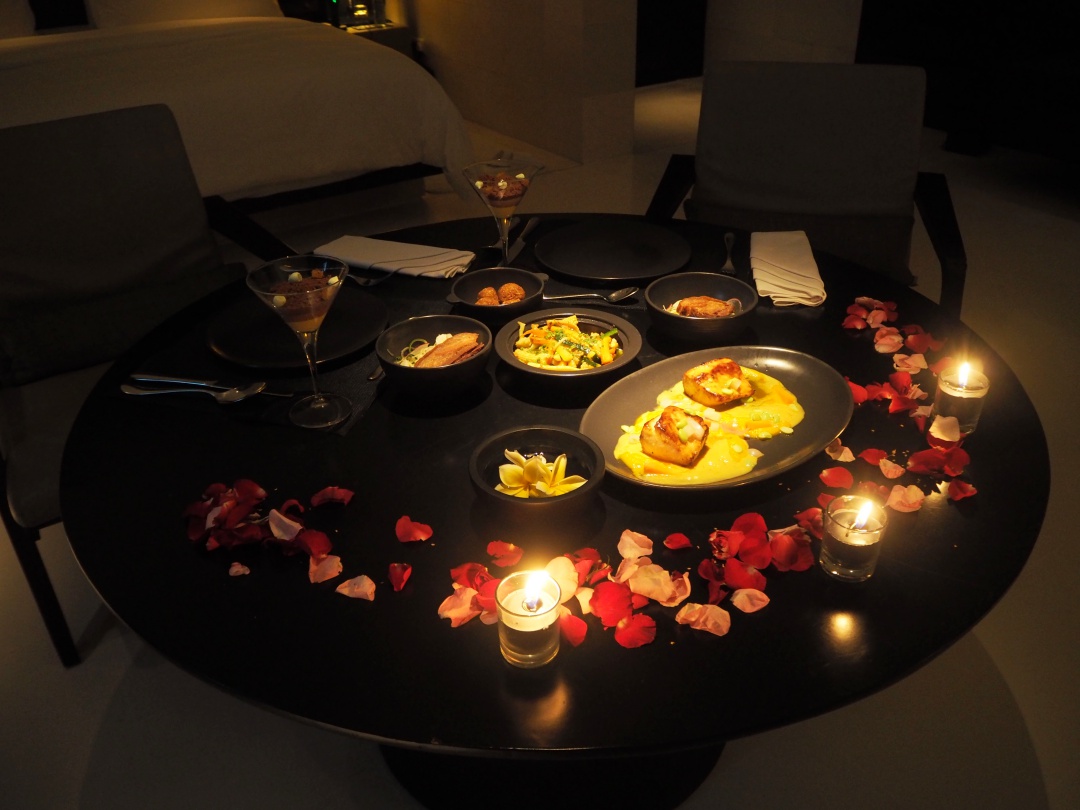 The staff came shortly after to set up our dinner in our room. I honestly wasn't expecting such a romantic set up with rose petals! Food was great, though we kind of wish that we went to the restaurant, just so we could have the same dishes we had the night before.
---
Such a fun yet exhausting day out with Alila Villas Uluwatu! Having done so many different Alila Experience at the various Alila resorts, 'Journey to the Southern Beaches' by Alila Villas Uluwatu definitely sits at the top of our list of must-try.
The Stand Up Paddleboard yoga that we did subsequently at Alila Villas Uluwatu was really fun and exciting too. But I will keep that to my next entry.
When we first stayed here, I have the thought that aside from the great view and private in-villa pool, there is not much we can do on the property. But this trip shows me that there are so many activities that one can actually sign up for. If your primary intention is to have a relaxing trip, you probably would want to spend your time in the pool or villa. But if you're looking for more, I'm sure Alila Villas Uluwatu will not disappoint.