Last morning at Alila Seminyak before we move on to Alila Manggis. By then, it has been more than two weeks since we arrived in Bali and we've moved and stayed in seven different accommodations. Leaving Alila Seminyak, we had two nights at Alila Manggis, followed by three nights at Alila Villas Uluwatu and two nights at Eden Hotel Kuta Bali.
The guys were away for a meeting that morning, so it was just my copywriter and me. I didn't want to spend the morning inside the room, so I ended up going around snapping pictures and videos.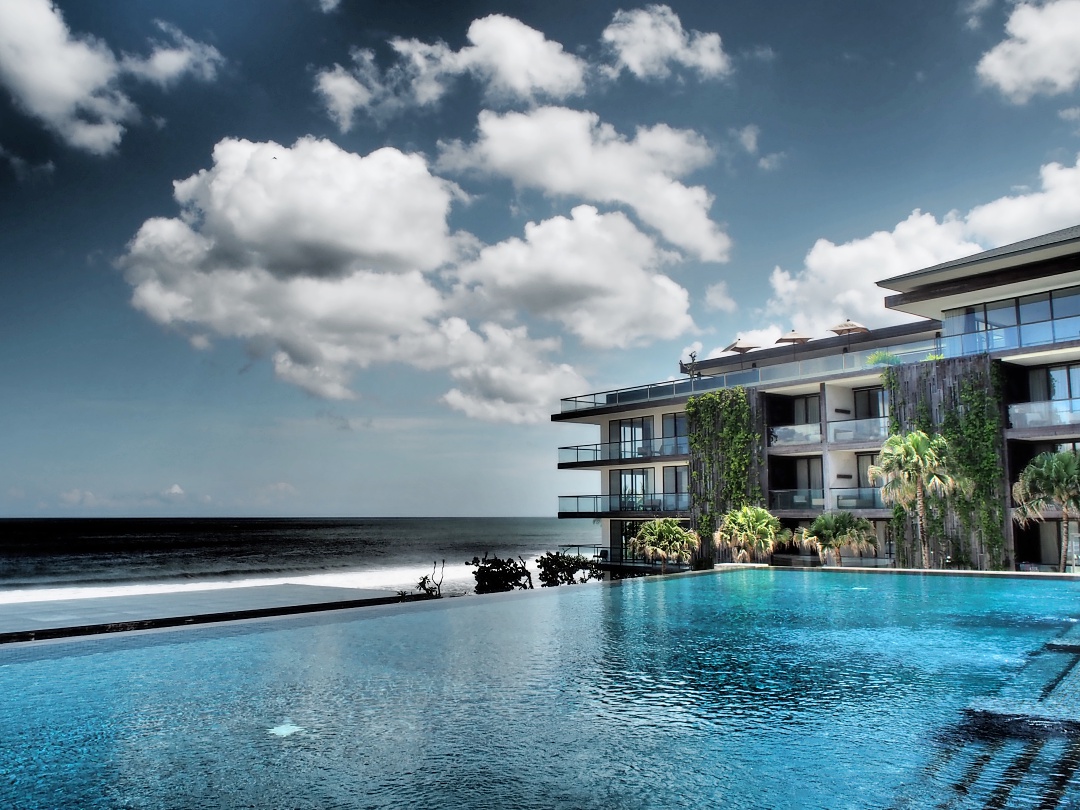 Really love this picture, even though it was taken with a filter. I was lucky that the Family Pool was empty when I was there at noon. You probably can't help from the picture, but the sun was a killer that day, and I turned a shade darker just by being under the sun for fifteen minutes.
The weather was incredibly hot, so I ended up heading back to the room while waiting for our business director's wife to reach. She was flying in from Singapore that morning and will be joining our stay at Alila Manggis. After she arrived, I was planning on bringing my copywriter and her out for lunch. It was their first visit to Bali, so I thought it would be nice to show them around, instead of staying in the resort. However, they didn't appear to be keen to head outside, so we ended up having lunch at the resort after we checked out.
Seasalt Seminyak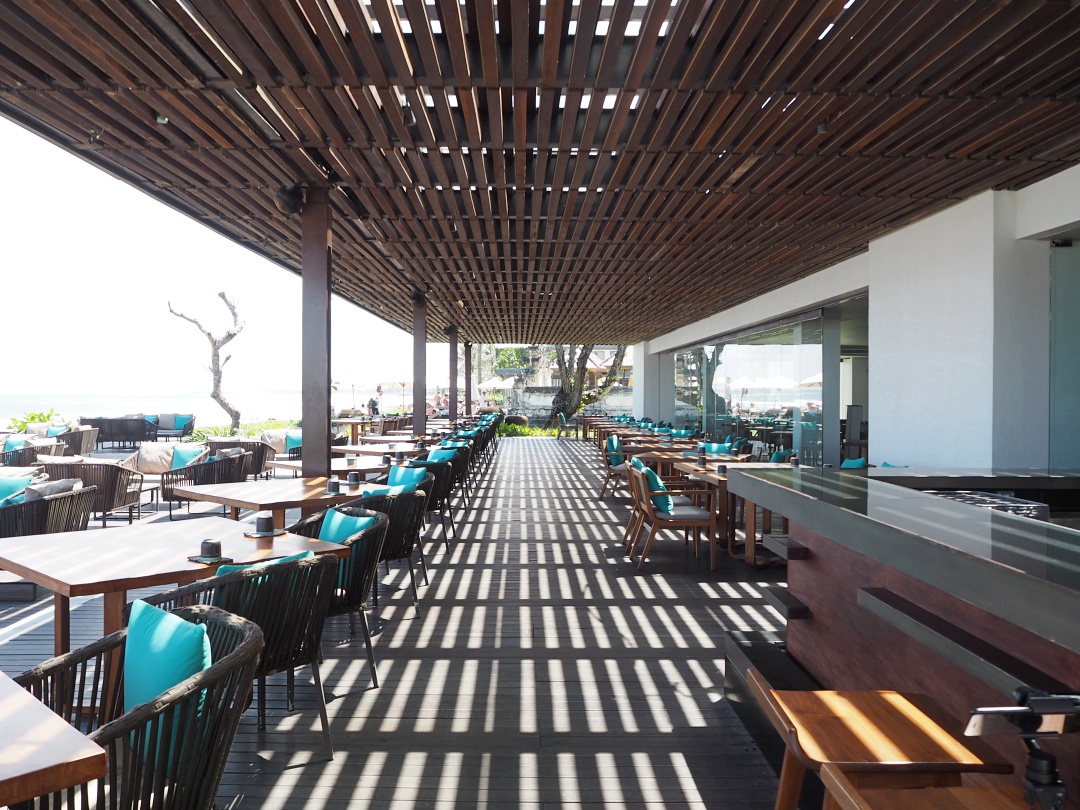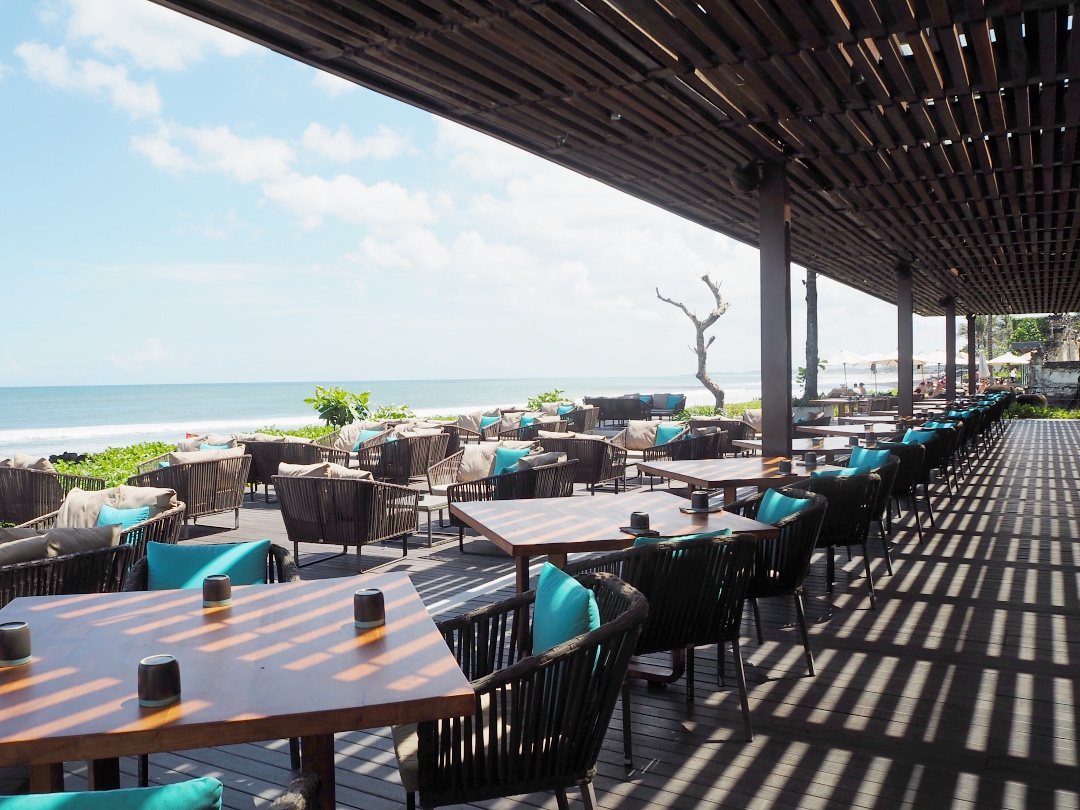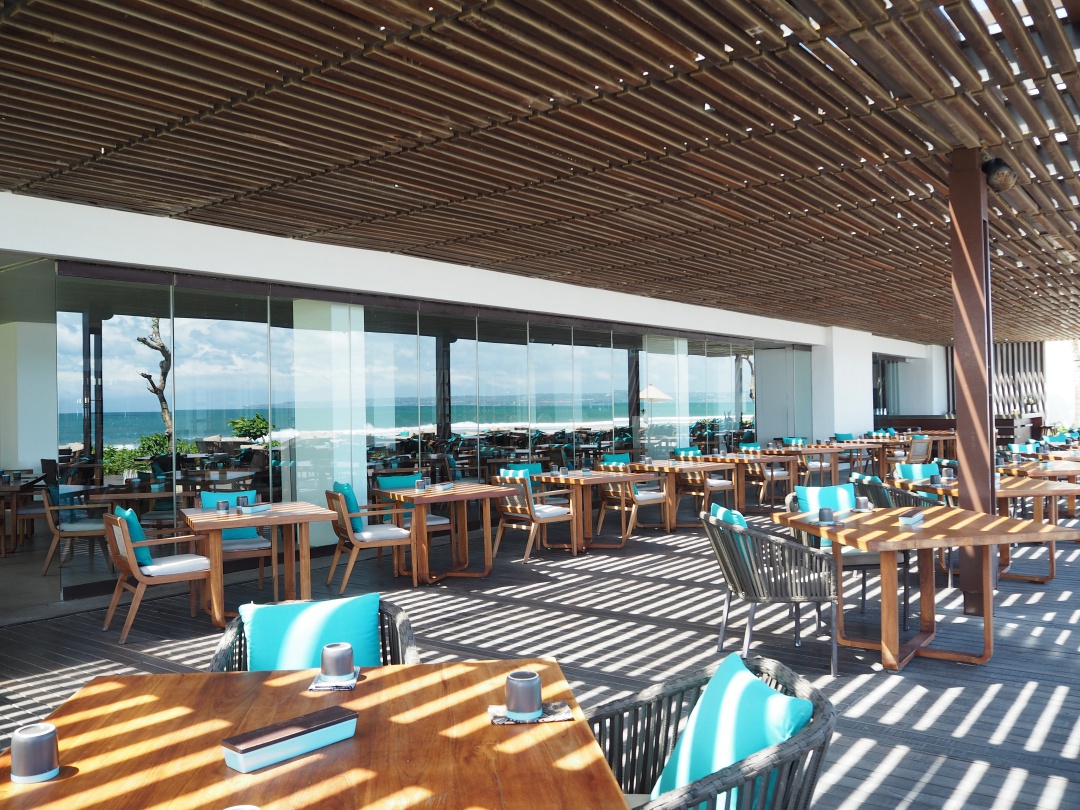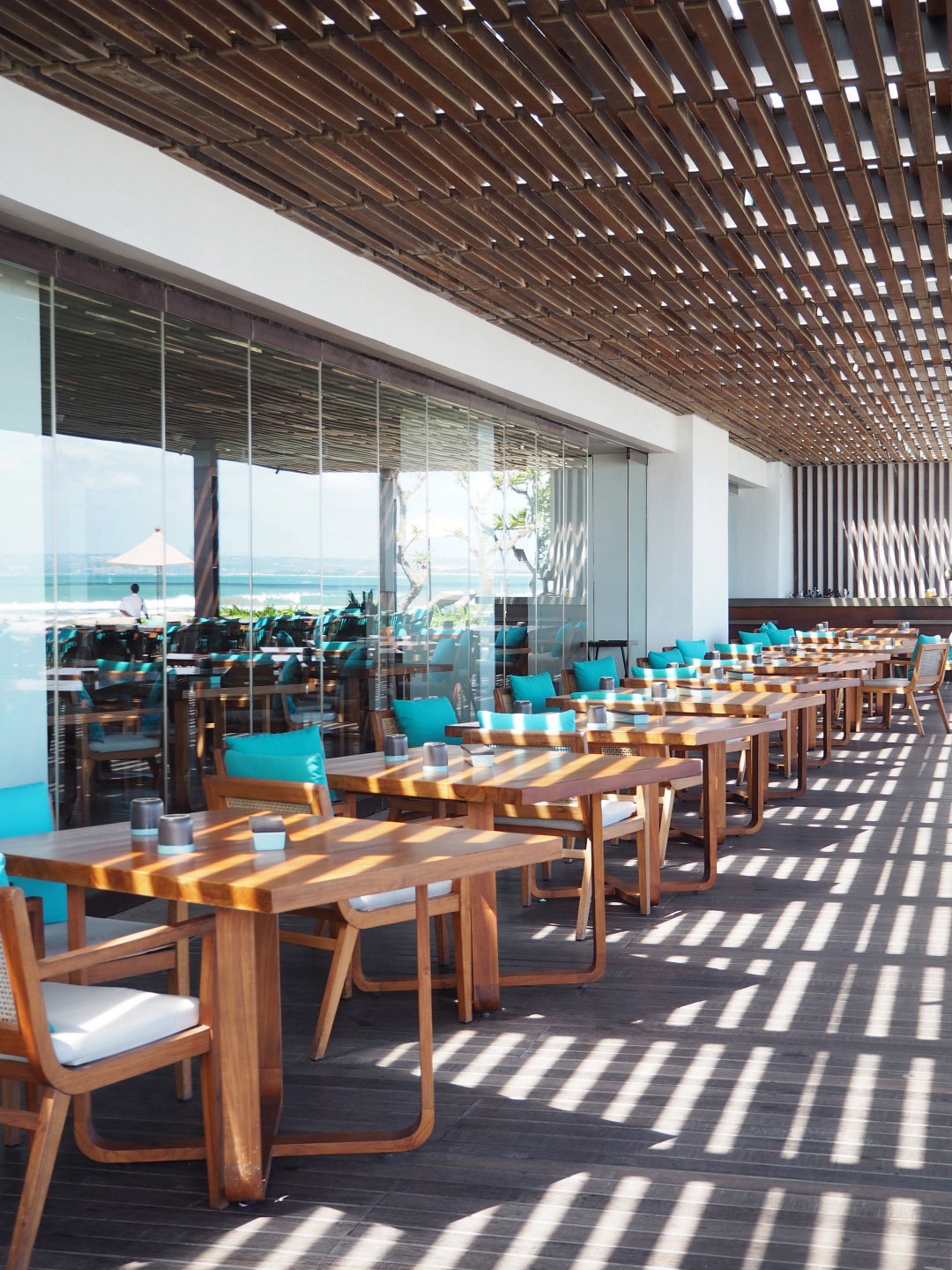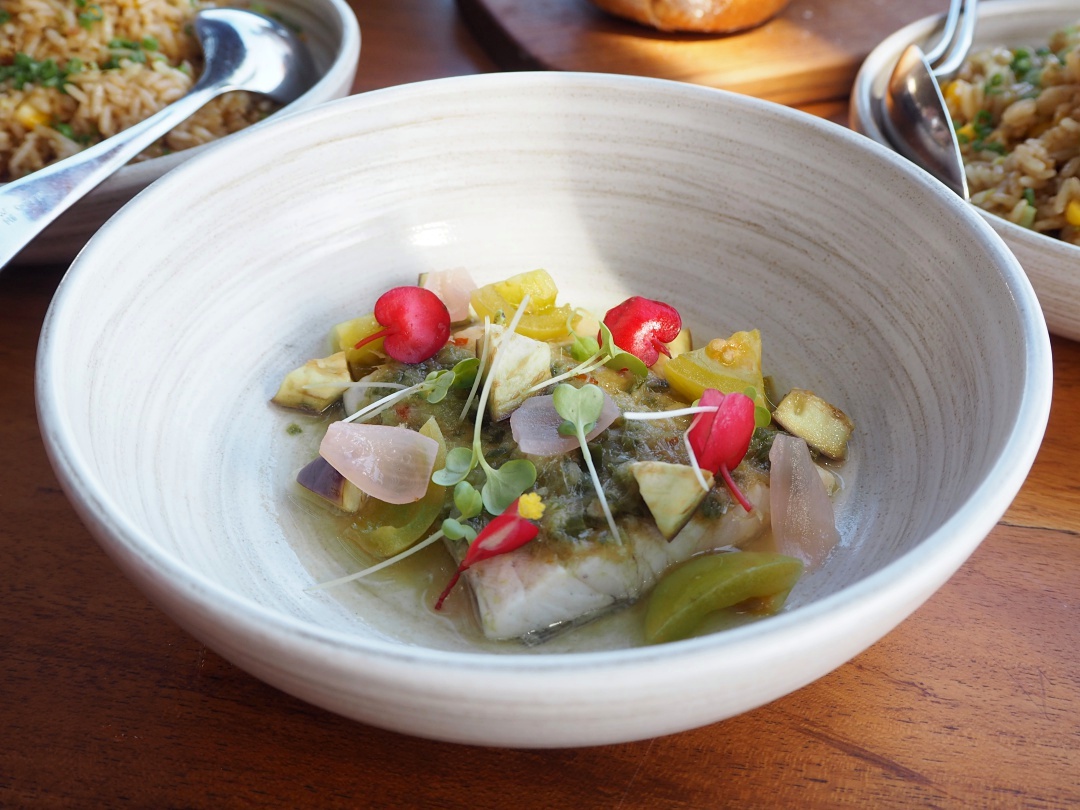 Barramundi, IDR145,000 – Steamed, grated ginger, green tomato.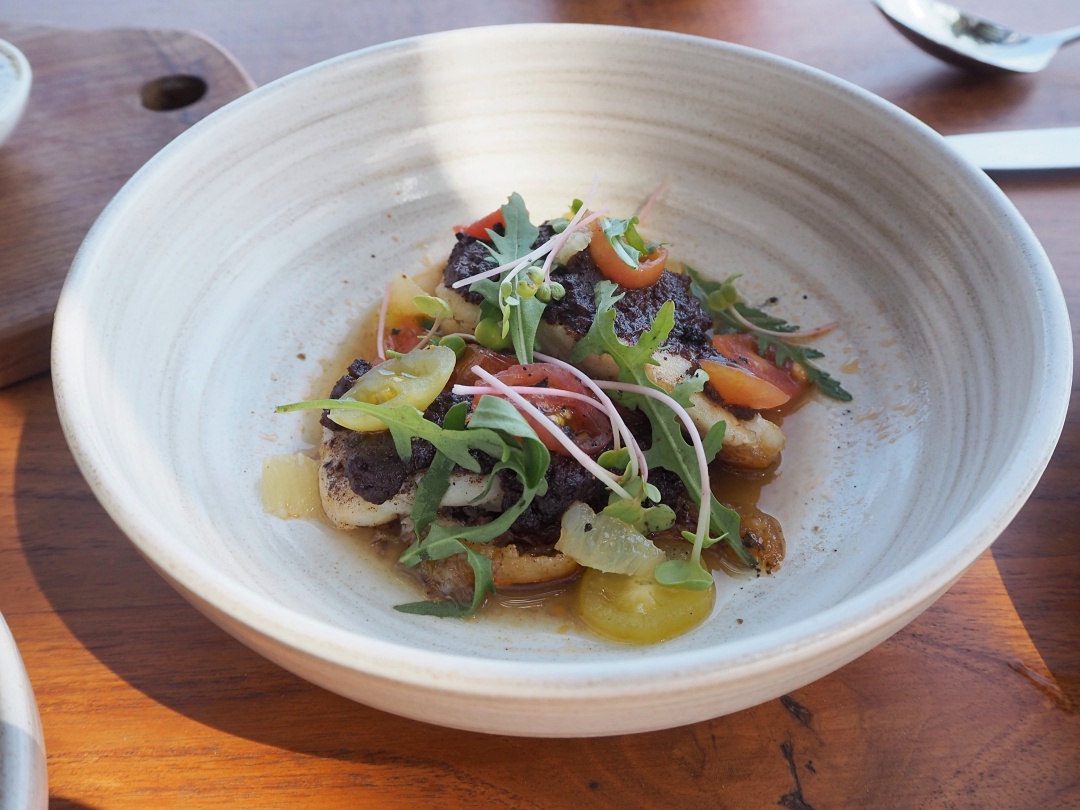 Red Snapper, IDR125,000 – Momotaro tomato, black olive, 2 year old black miso.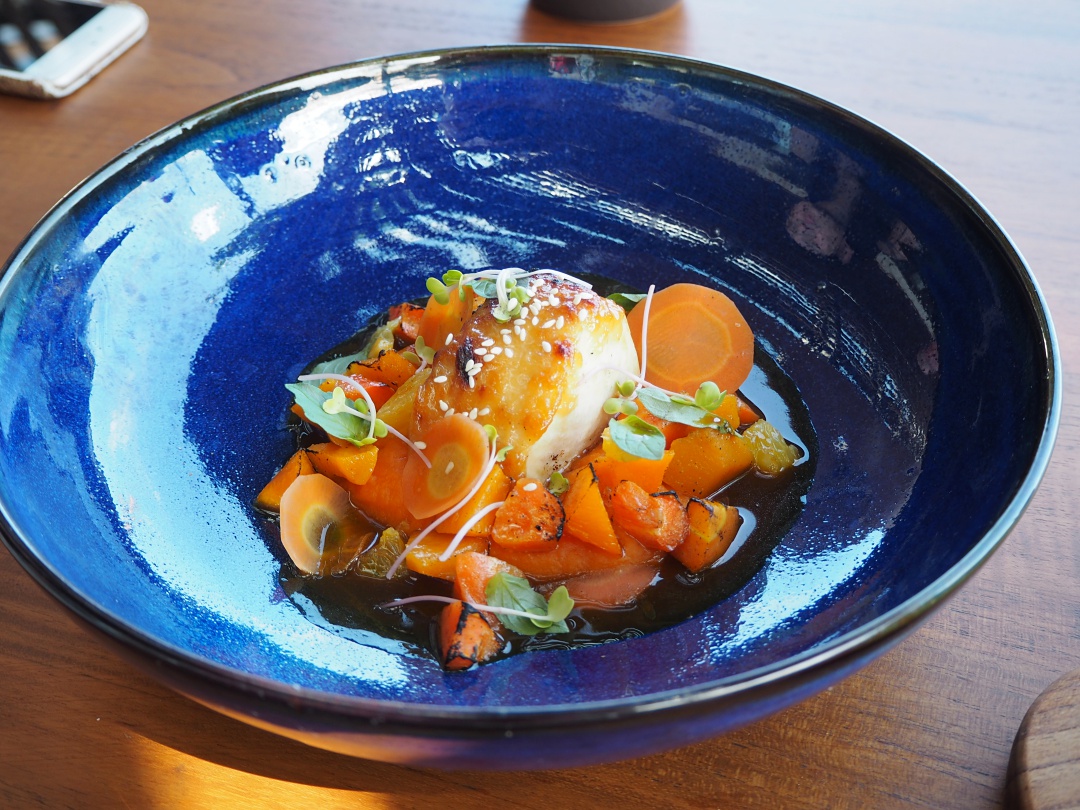 Butterfish, IDR125,000 – Miso-honey roasted, carrot puree, pickled carrot, citrus reduction.
For lunch, we ordered a dish each and shared two fried rice. The dishes offered were pretty limited. (I believe they have since added more items to their menu. Now, they even have Poke Bowl!) I wanted to try the Mahi Mahi, but it wasn't available that day; so I ended up ordering the Red Snapper. I tried all three dishes, and I thought they were equally lovely? The fish in Bali are always so unbelievably fresh!
Seasalt
Alila Seminyak. Jl. Taman Ganesha no. 9, Petitenget, Bali – Indonesia
Opening Hours: Daily, 1200 – 2300
Tel: +62 361 3021 889
Website: https://seasaltseminyak.com/
---
By the time we were done with lunch, the guys were back from their meeting. Initially, I thought we would have to split into two cars since there were five of us. But it turns out; they have prepared a bigger car that is spacious to fit all of us and our luggage comfortably.
The journey from Alila Seminyak to Alila Manggis took us nearly two hours. By the time we reached Manggis, it was almost 18:00. The last time I came to Alila Manggis was back in January 2016. From what I see, nothing much has changed since then. We were told to wait in the lobby while they got us our room; and while the others were walking around snapping pictures, all I did was chilling at the lobby.
Alila Manggis Deluxe Room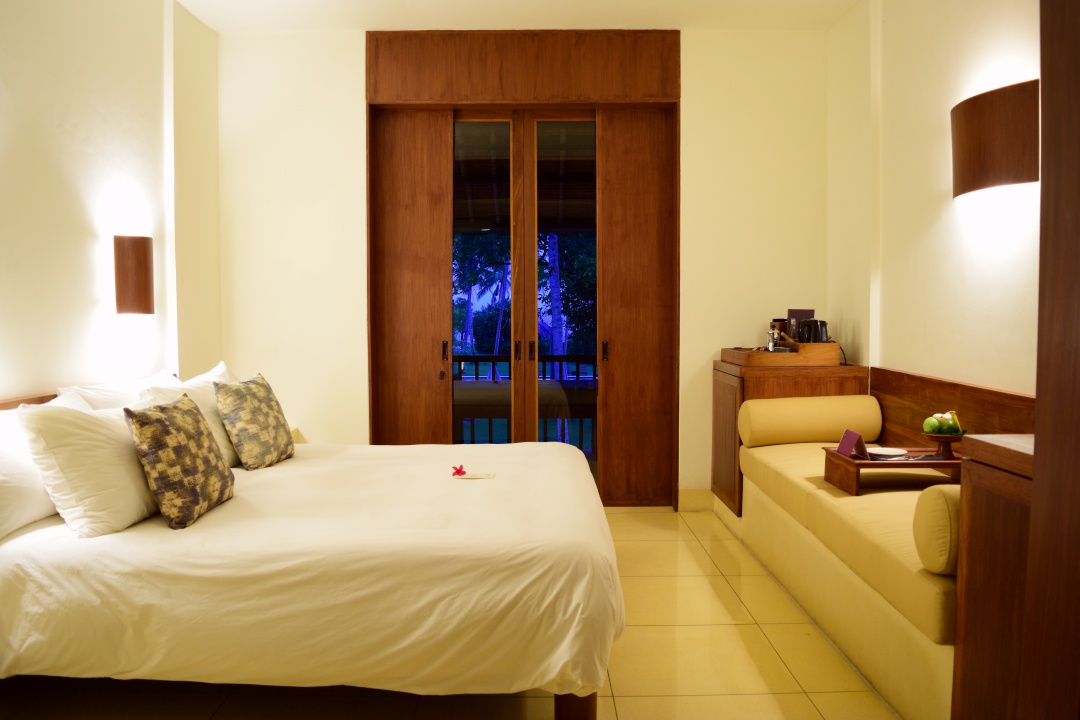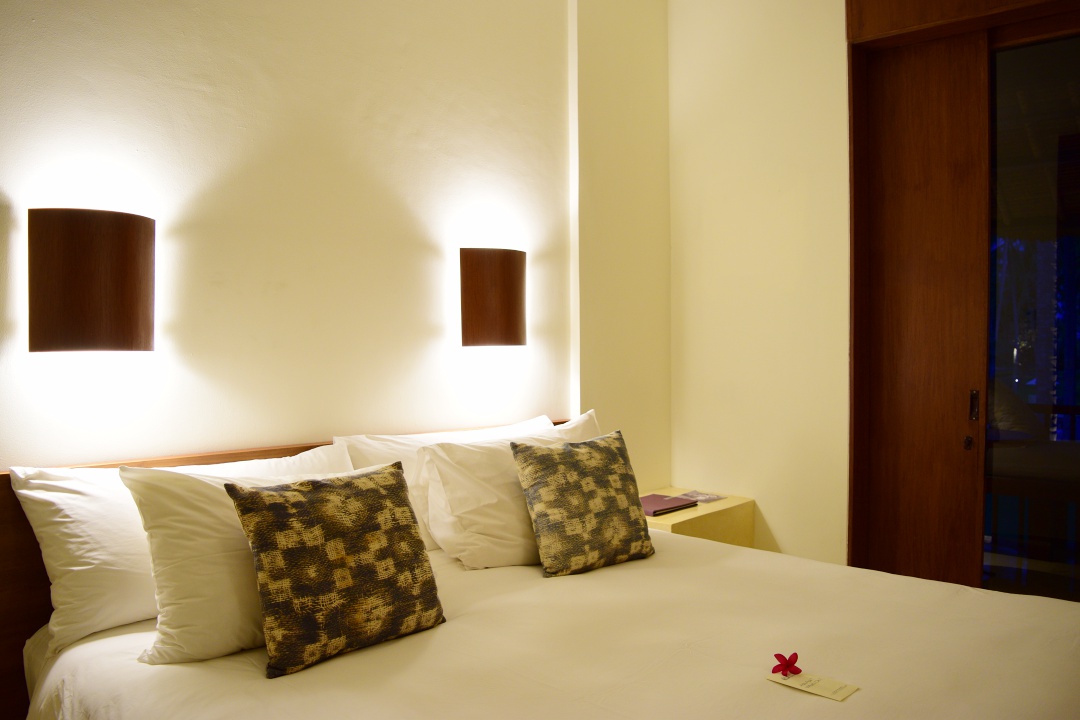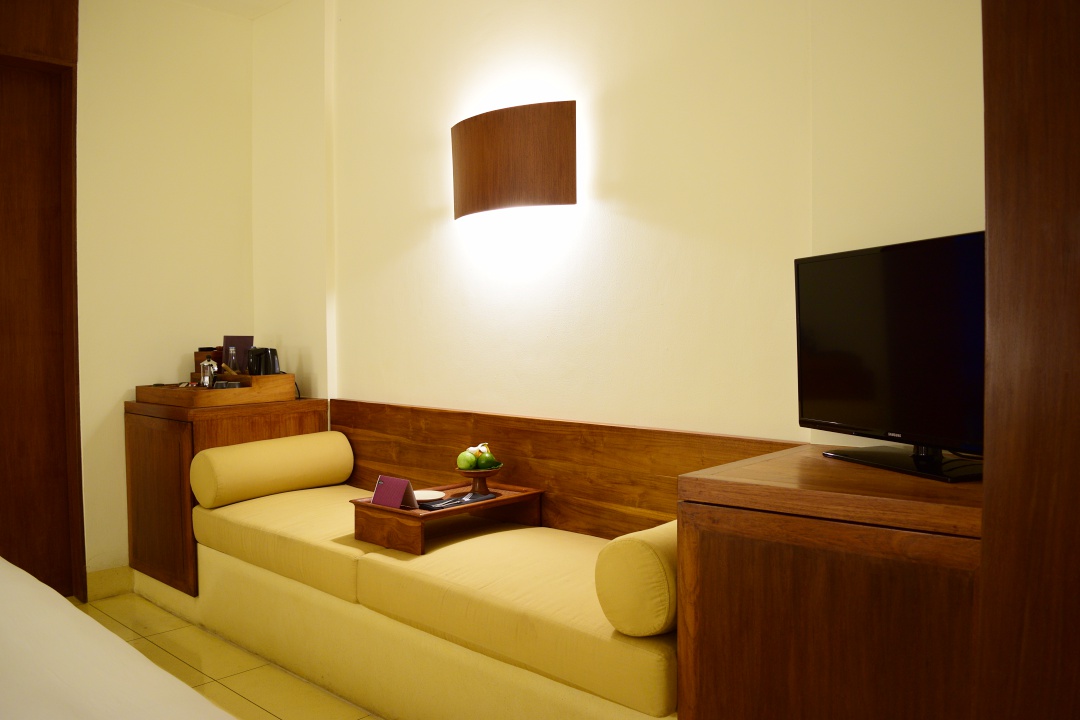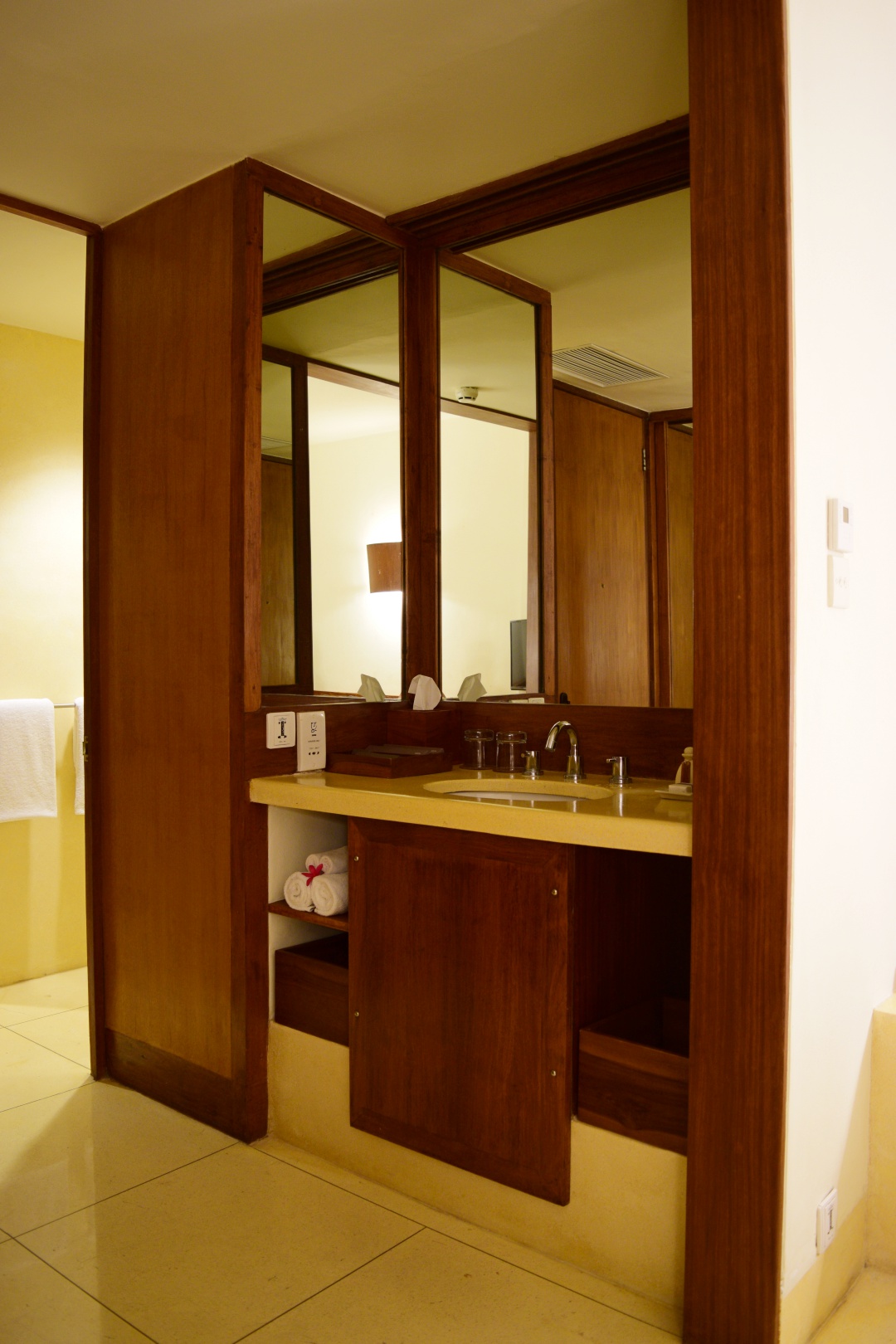 Though not the same unit, the room was nearly identical to the one we stayed in the previous time. Once again, we got a room on the upper level. All Deluxe Rooms are housed on the upper floor, while the Superior Rooms are located on the ground floor. Both the Deluxe and Superior Room are of the same size, at 34 m2, and comes with a private balcony/terrace.
Personally, I prefer the room on the second floor as there's more privacy as compared to staying on the ground floor. While this is just my personal preference, I'm sure some guests would prefer to stay on the ground floor since it's merely a few steps away from the swimming pool.
Barong Dance
Before we head to the restaurant for dinner, we were invited to join them for their special dance performance. The performance was supposed to be held outdoor, but due to the sudden rain, they ended up shifting it inside. They even left out beanbags so that guest can just lay down comfortably to enjoy the show. They were showing three traditional dances that night. Can't recalled what were the names of the first two dance, but the last one was barong dance.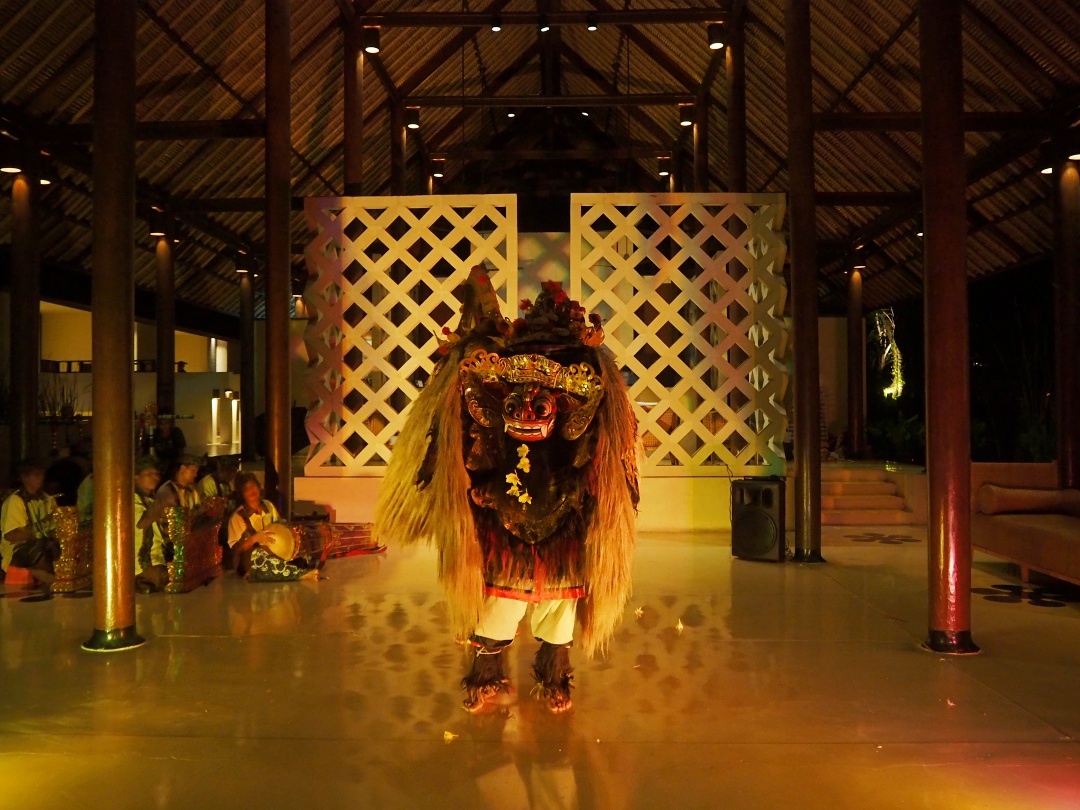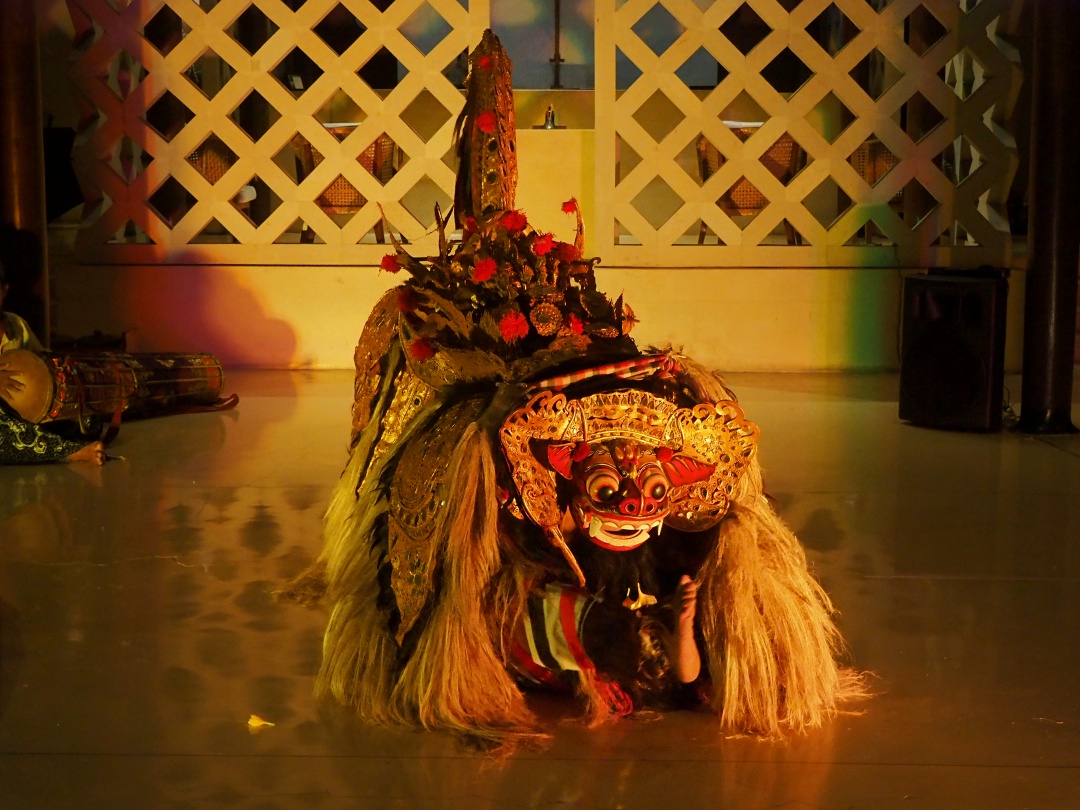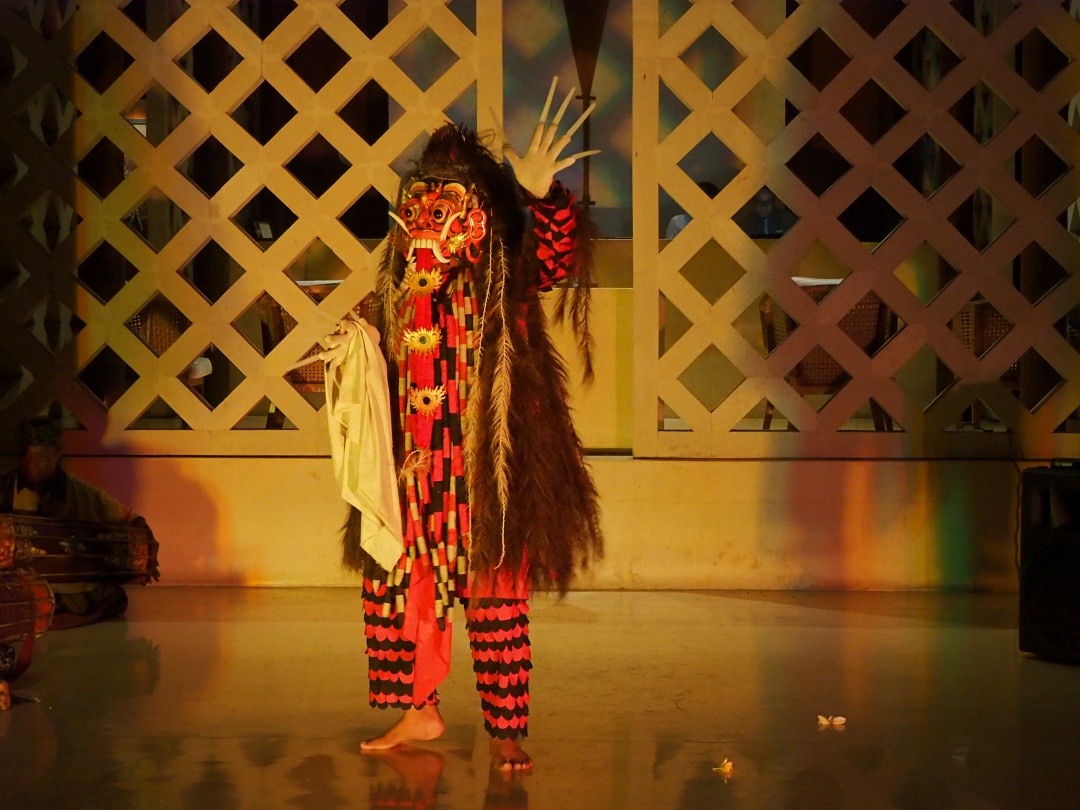 The entire performance took approximately 45 minutes and is free for all.
Then, it was time for dinner.
Babi Guling Dinner
Since we were on half-board, we were presented with two preset menus. One of which is 'A Taste of Bali' and the other being 'Asian Inspirations'. The restaurant was also doing a special themed dinner that night known as the 'Babi Guling Dinner' and after much consideration, four of us decided to opt for the special dinner, while one went for the preset menu.
Aside from the highlighted dish, Babi Guling (suckling pig), there are also other dishes like Sate Lilit Ayam, Lawar Nangka, Tumis Kangkung, Jagung Bakar, etc. There is also a separate dessert station with items like Bubur Injin and Jaja Lak Lak.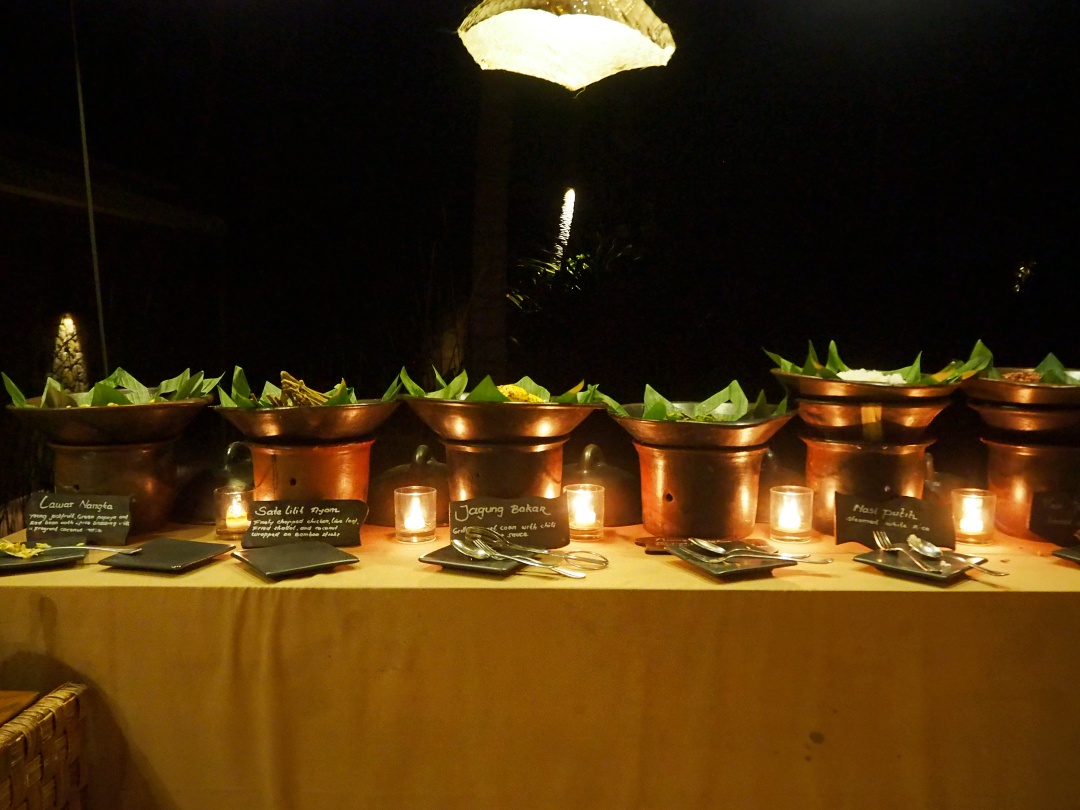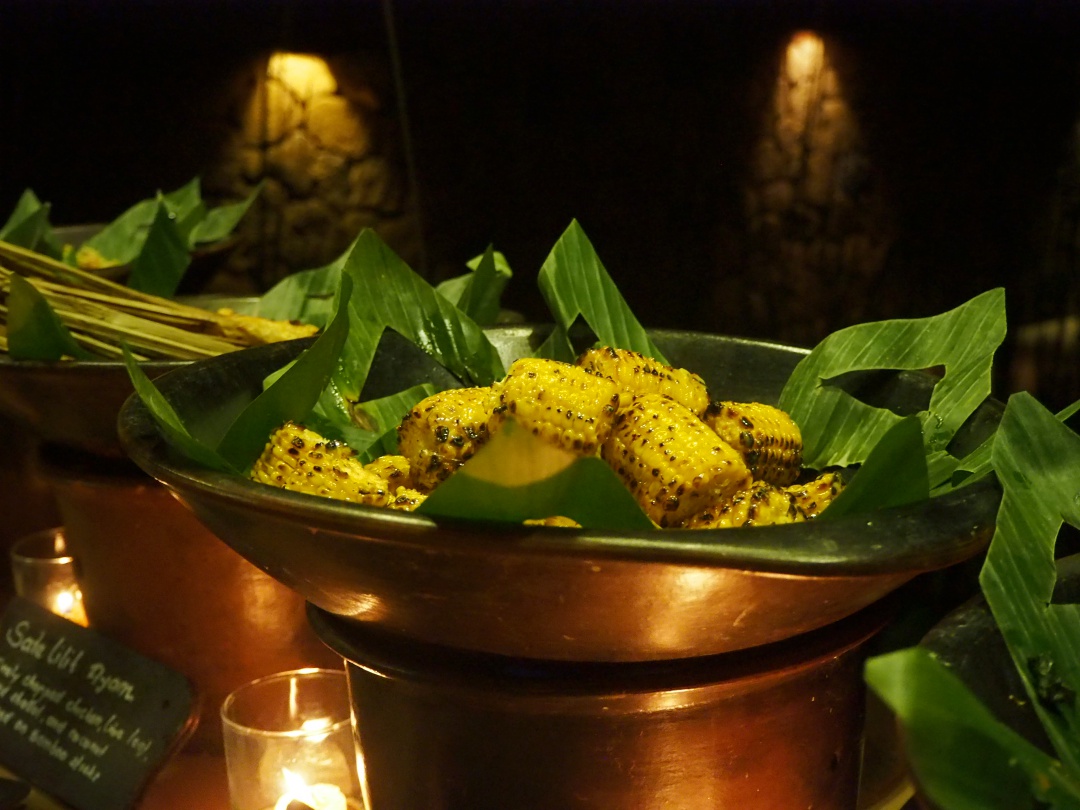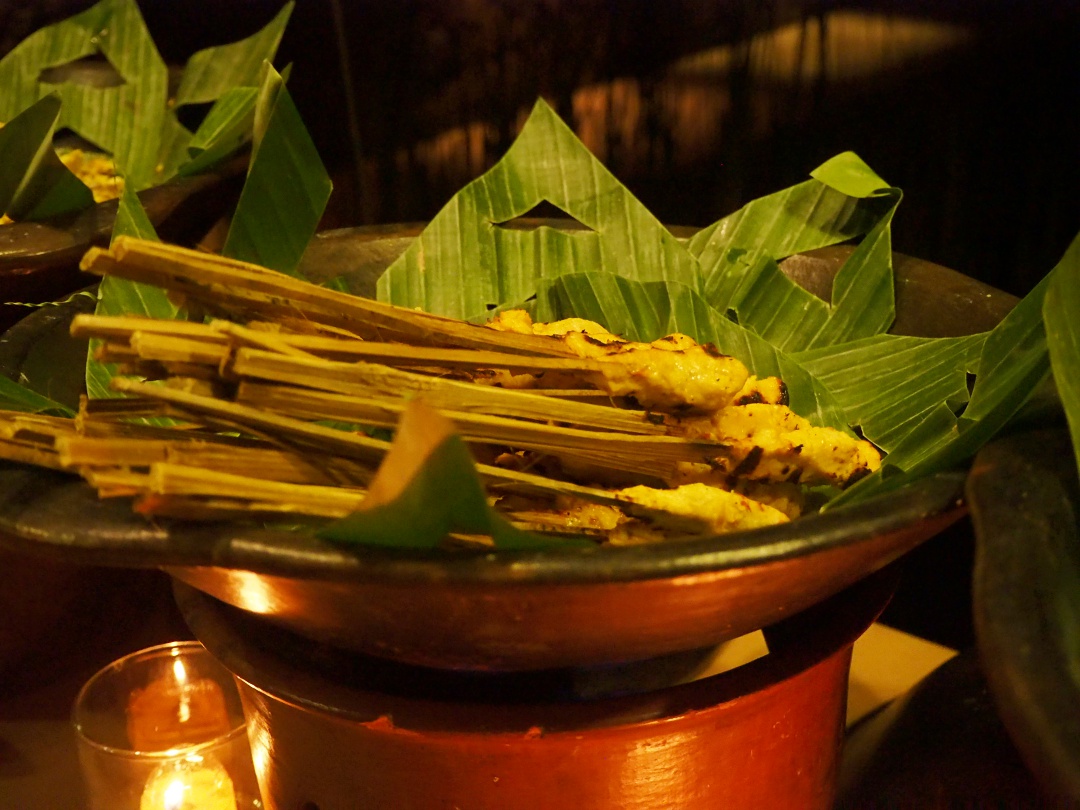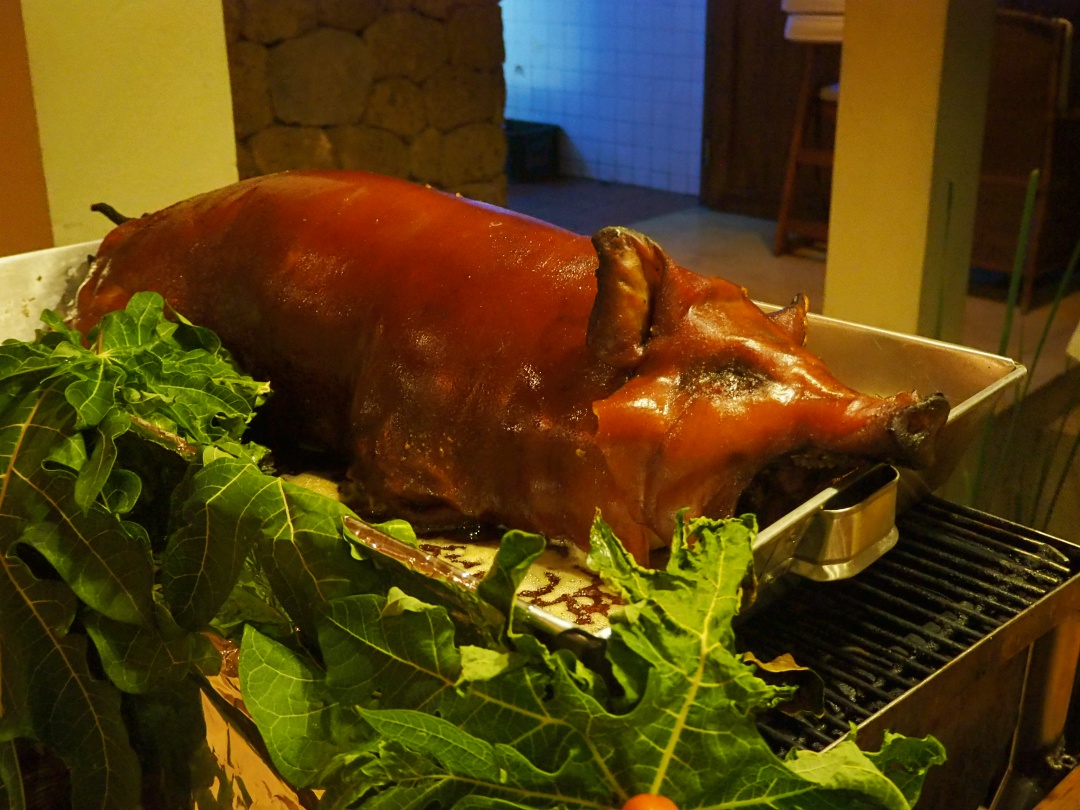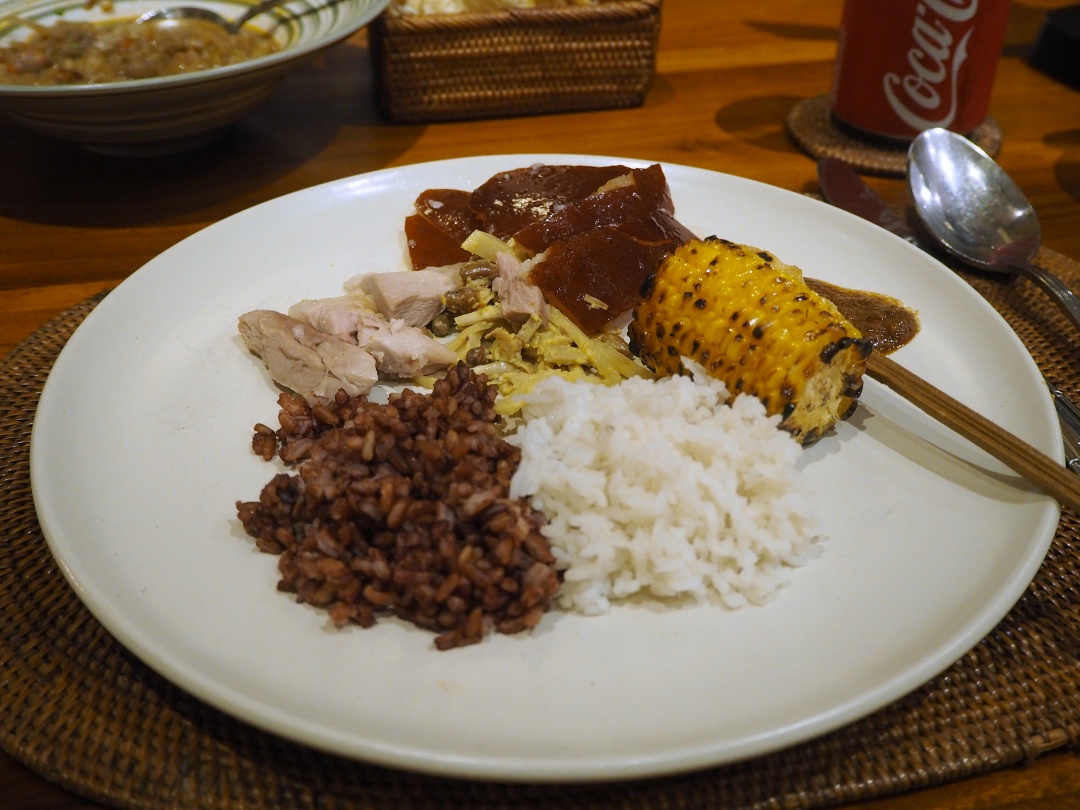 Aside from the main courses that we have to pick up at the counter, they also served us the soup of the day – Ares Be Bebek. Made from fragrant braised duck, lime leaf, galangal, turmeric and banana stem.
Overall, food was okay. However, at the price of IDR375,000 per person, I think they could offer a better variety of dishes. Aside from the Babi Guling, nothing really stood out to me. Comparing this to the dinner we had on the first night in Alila Ubud; I would rather pay more and have that instead. At the very least, they offer barbecued meats and seafood.
After dinner, we had an early night in as we have to wake up at 04:00 the following morning for our first activity. It was a torture to wake up that early, but the reward for that is so worthwhile.
SaveSave