After checking out of Jimbaran Bay Beach Resort & Spa, we moved on to our 4th accommodation for this trip; that is, bvilla Seminyak.
bvilla Seminyak
Located in the hustle and bustle of Seminyak, bvilla offers a selection of one to five-bedroom villas. There is a total of three separate properties under bvilla, namely bvilla+spa, bvilla+seaside and bvilla+pool. Each located merely a short distance away from one another. All villas come with a generous sized private swimming pool, a spacious living area, daily in-villa breakfast and butler services.
We got ourselves three nights stay in the one-bedroom villa at bvilla+spa; but while we were there, we managed to have a peek of the other two properties.
There are seriously way too many pictures, hence in this post, I will focus just on our stay at bvilla+spa (1-bedroom).
Will touch on bvilla+spa (2 & 3-bedroom), bvilla+seaside and bvilla+pool in my next entry.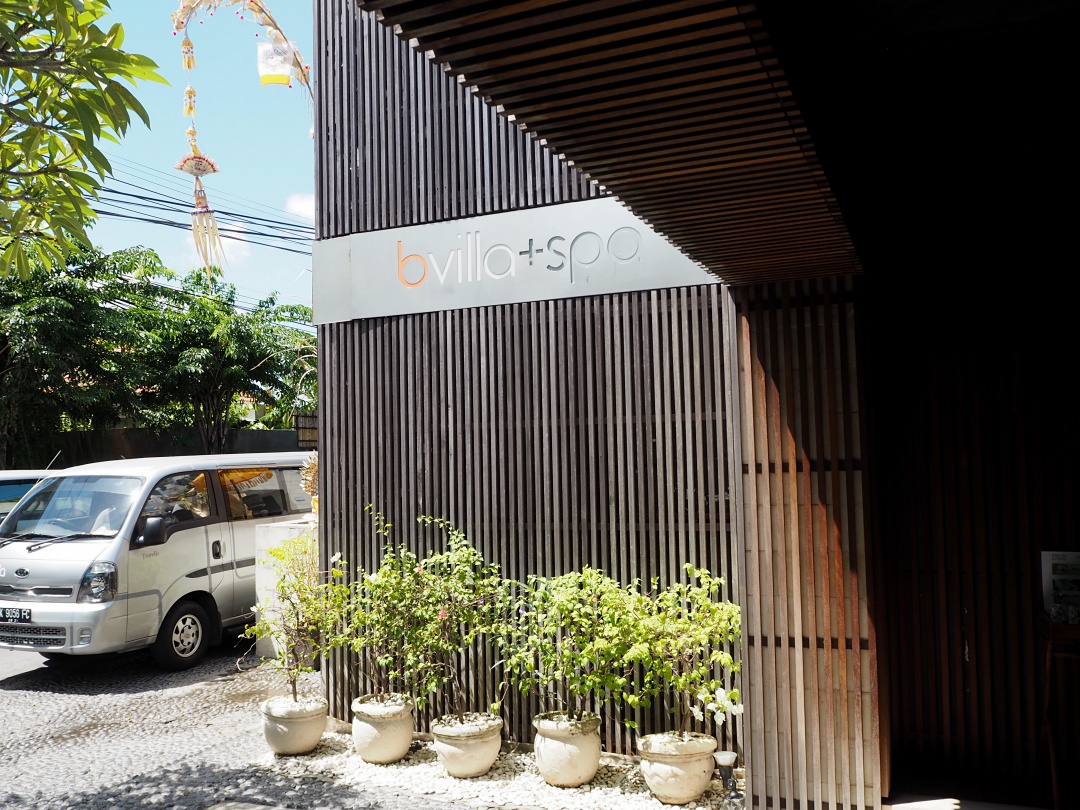 We left Jimbaran at noon and reached Seminyak at about 1pm. After processing our check-in, we were being led to our villa by our butler.
bvilla+spa | 1-bedroom villa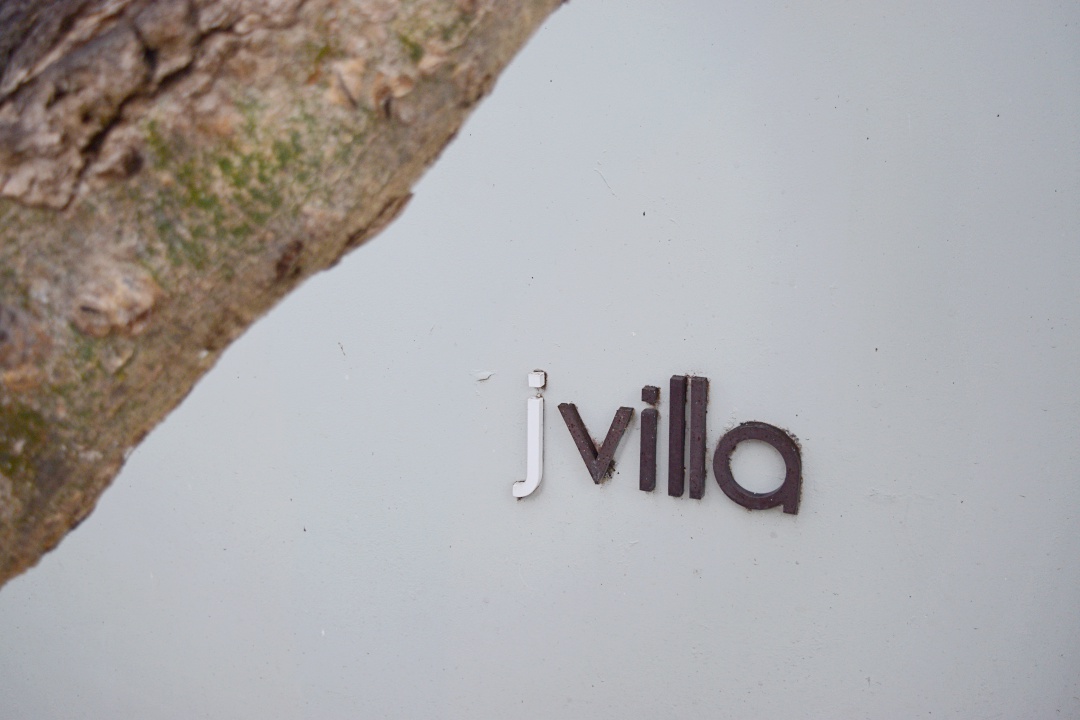 All villas were named after an alphabet, and ours was Villa J.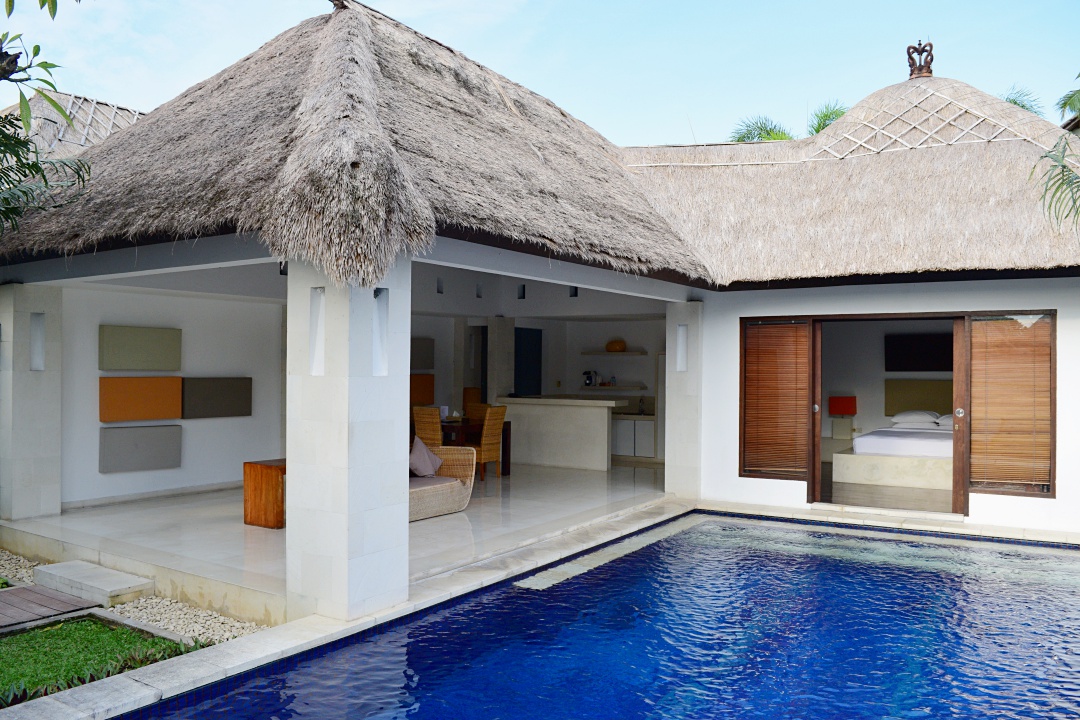 First impression: It reminds me of the very first villa the Fiancé and I stayed in during our first trip to Bali. Not like they look similar or have the same vibe; it been a while since we stayed in a villa and somehow this just brings back memories of the first villa we stayed in.
But this villa is, of course, much more spacious.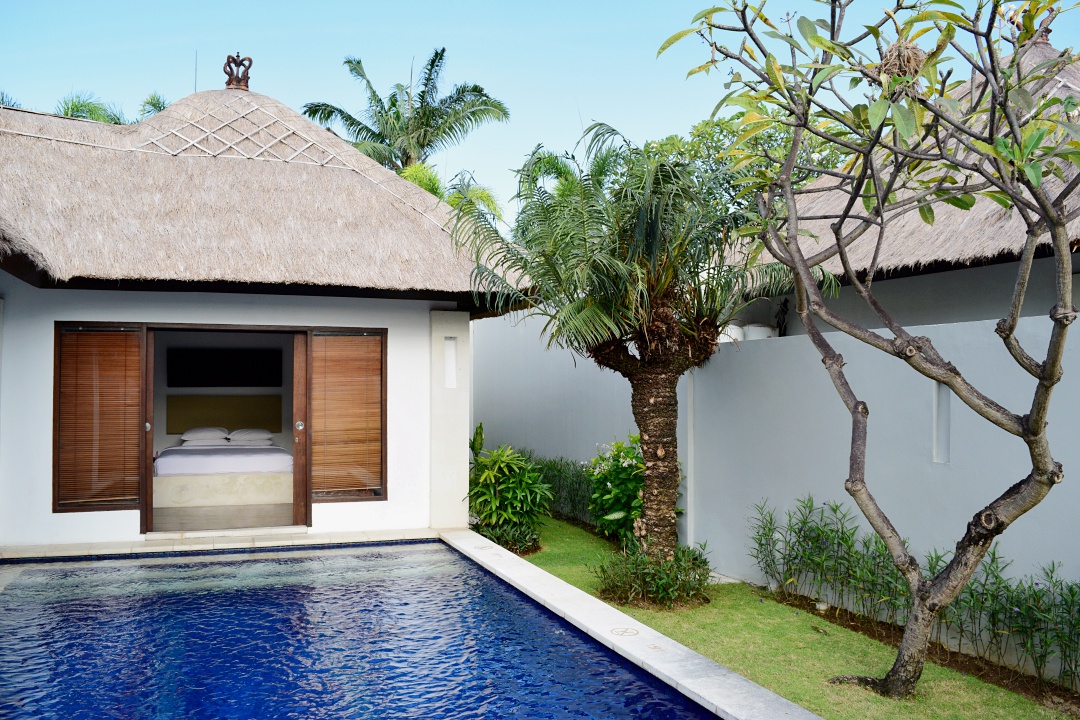 The first thing that caught my attention upon walking in was none other than the sizable swimming pool. It's a pity that we can't swim. The water sure looks very inviting.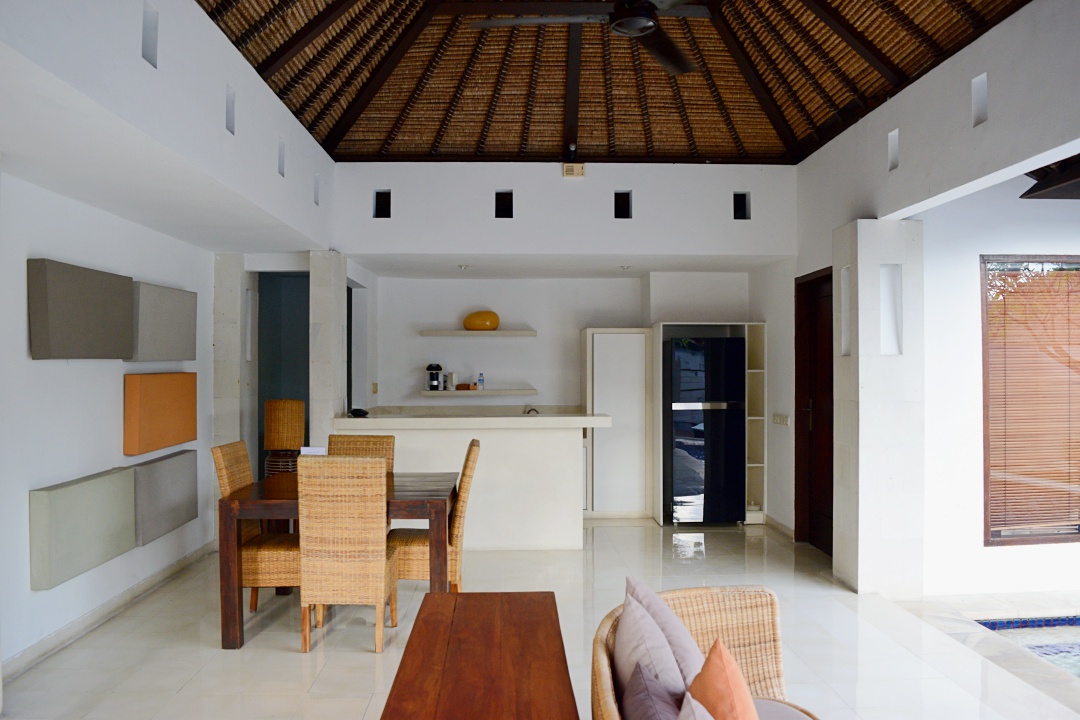 Next to the pool is a spacious living area that comes with a couch, dining table (sits four), and a fully functioned kitchen. We were told that breakfast is prepared and cook daily in our villa, hence having a fully equipped kitchen is a must. There are a stove, sink, coffee maker, fridge; and in the cardboard are all the pots, plates, utensils and table mats.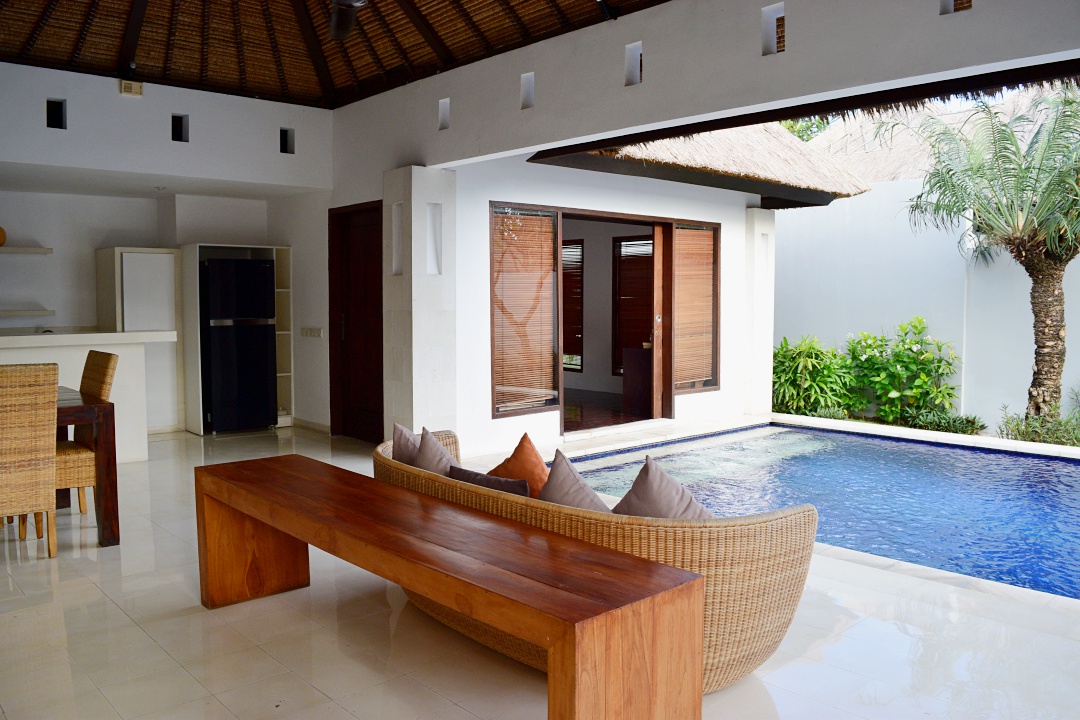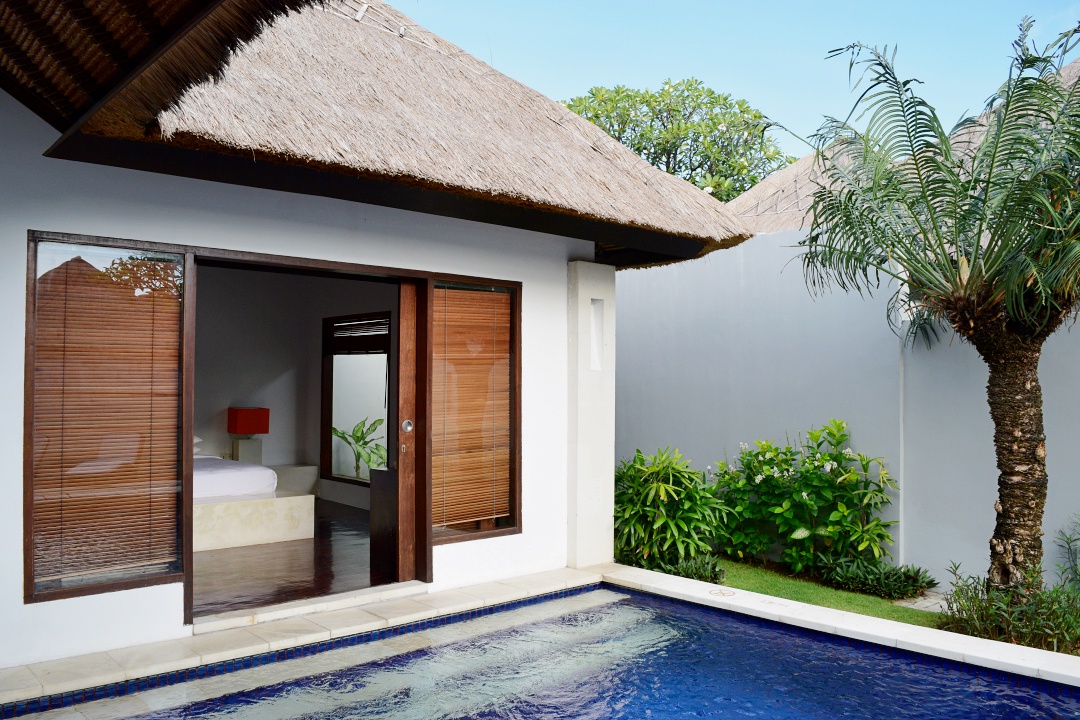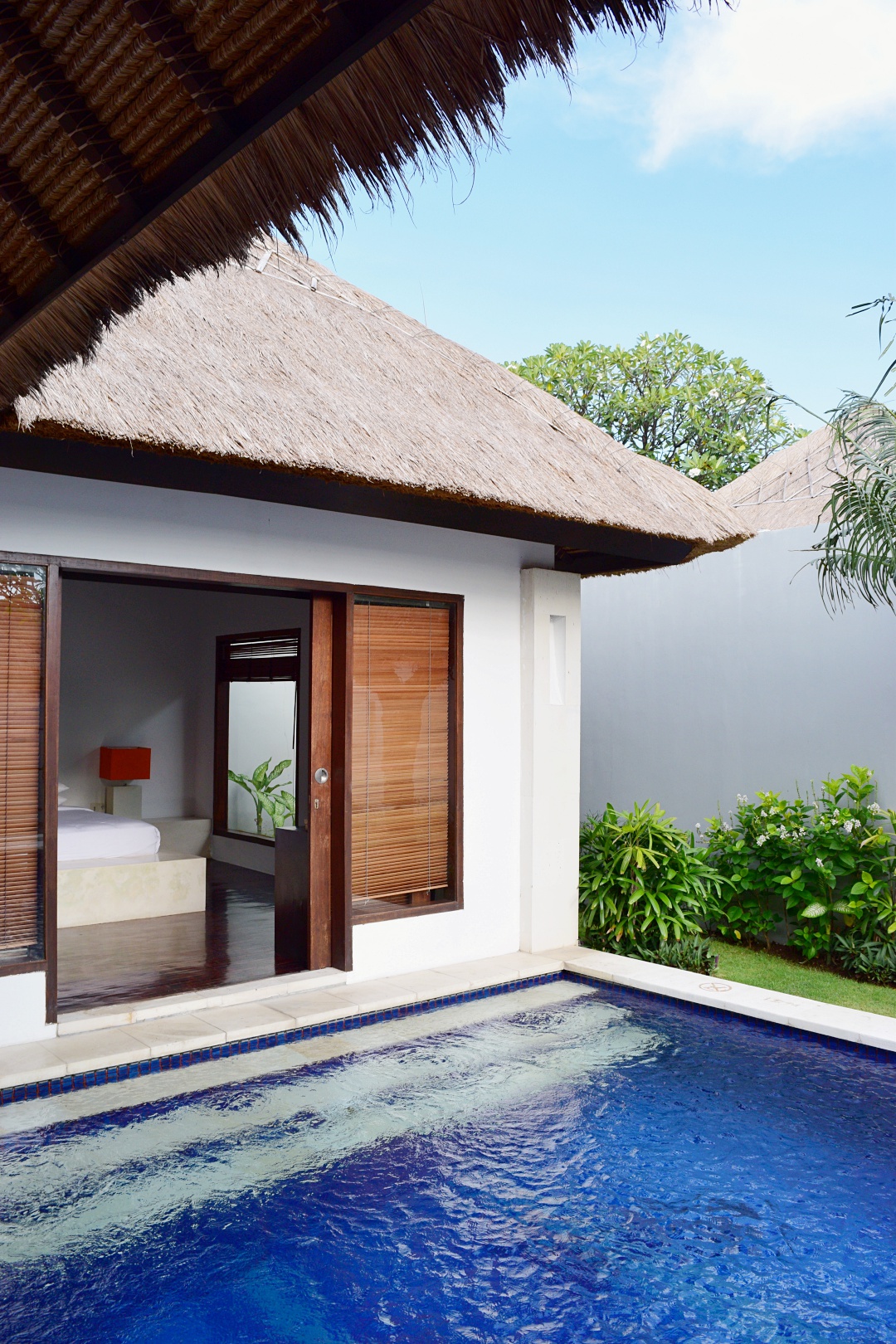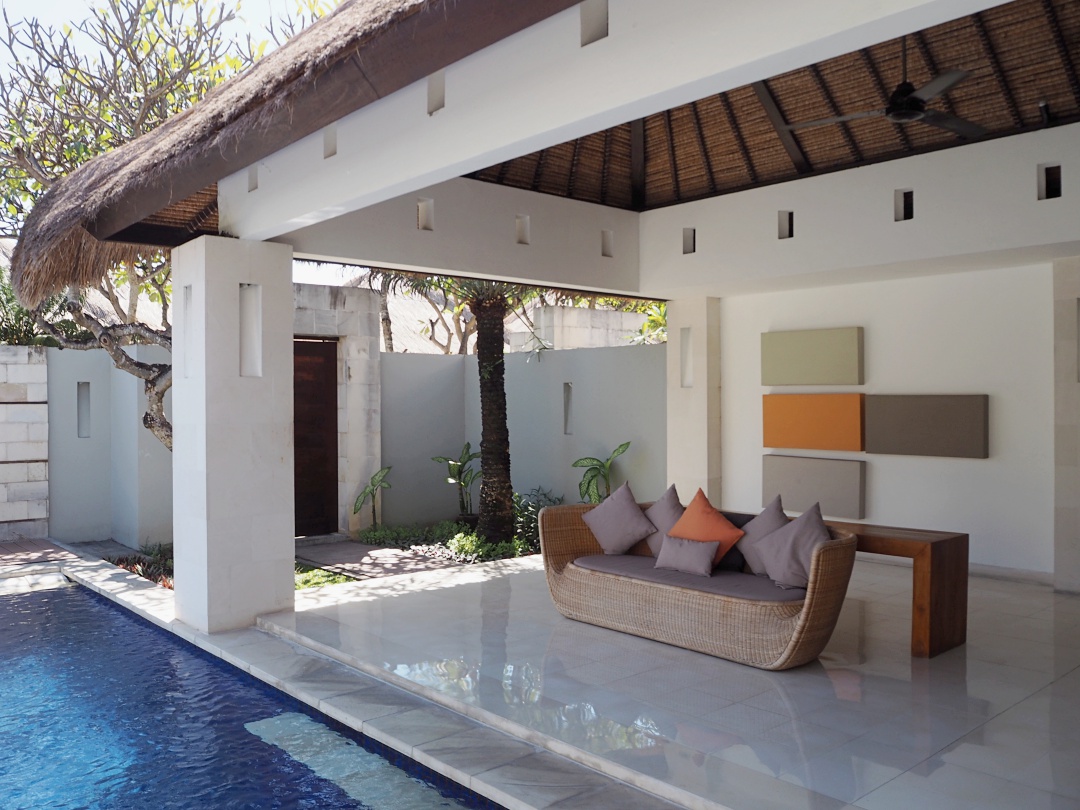 Moving on to the bedroom…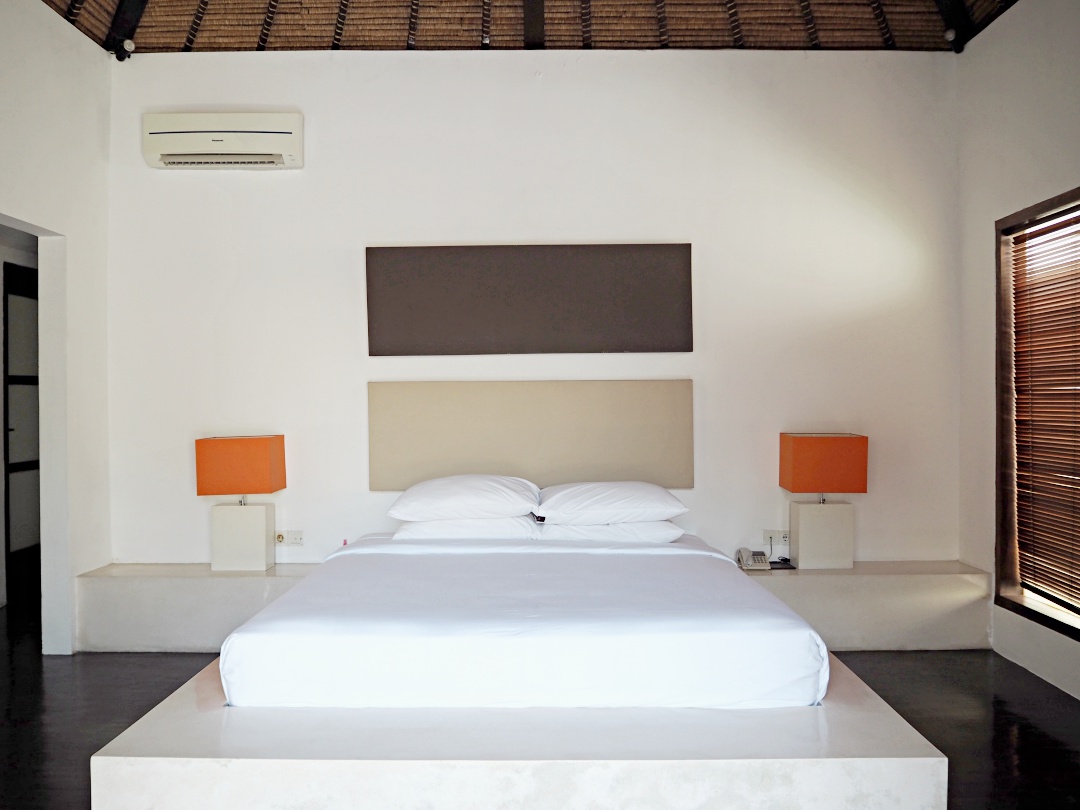 In the bedroom, we have a queen size bed, mini bar, safety deposit boxes and an en-suite bathroom.
Can't believe I actually forgot to snap pictures of the bathroom. The bathroom was huge! Definitely a lot bigger than what I was expecting. There is a bathtub with rain shower, double sink and basic bathroom amenities.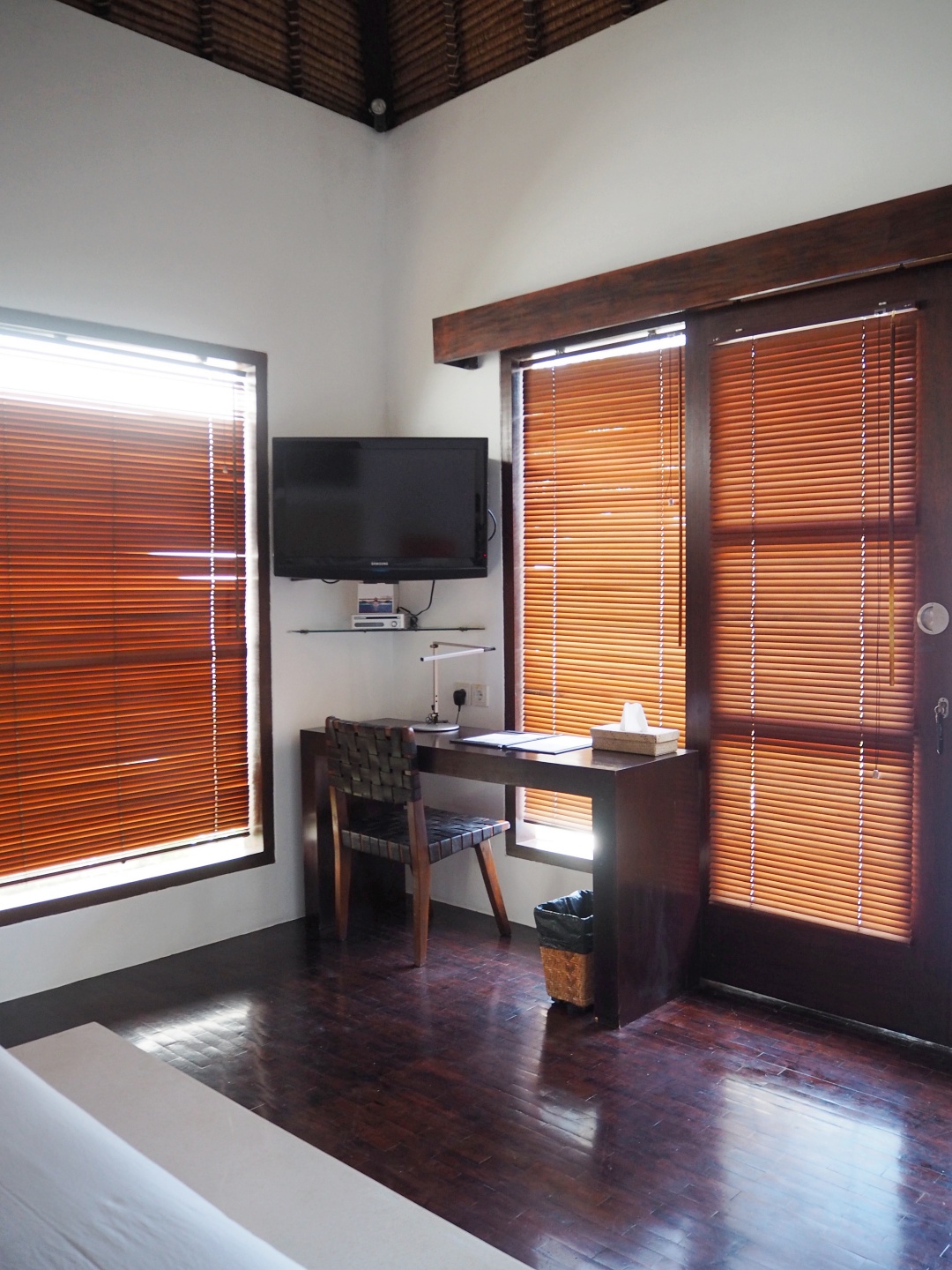 Other amenities in the room include cable TV, DVD player, and a working desk.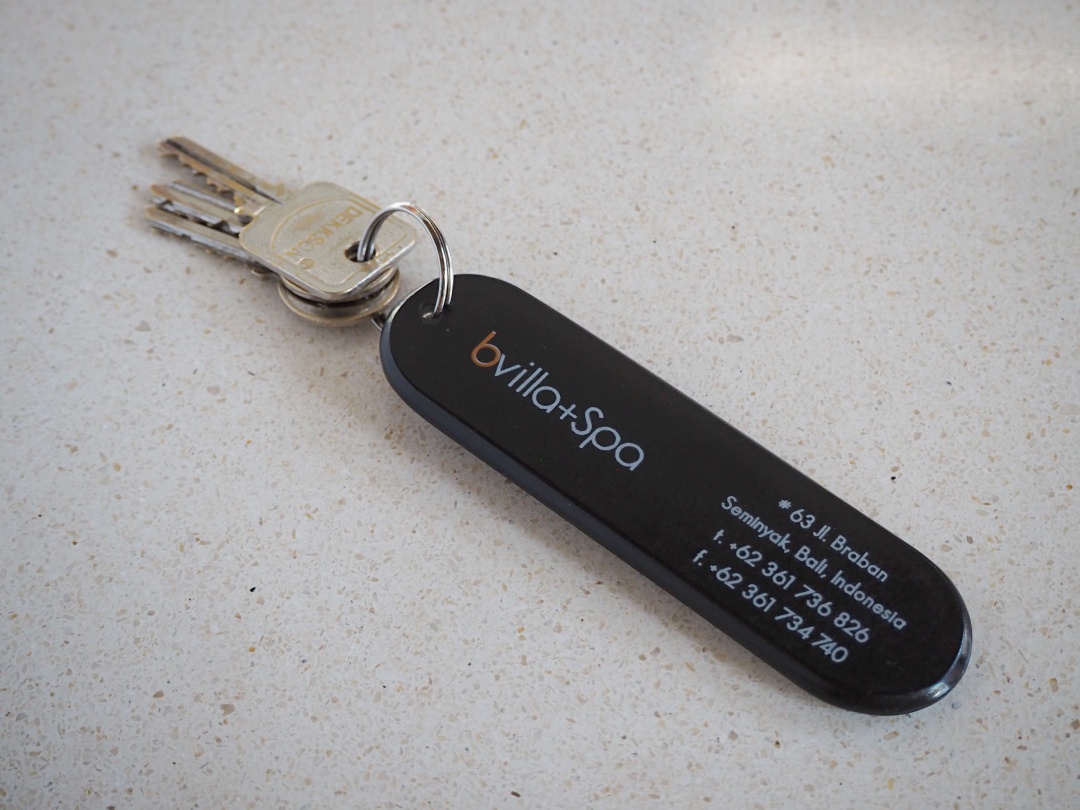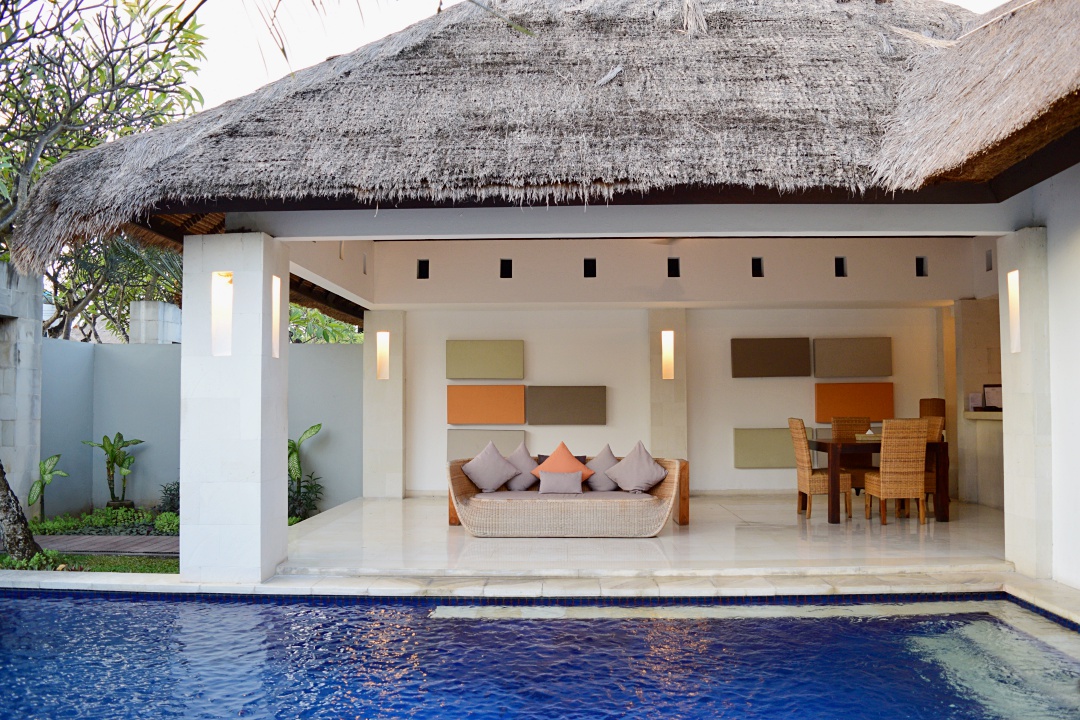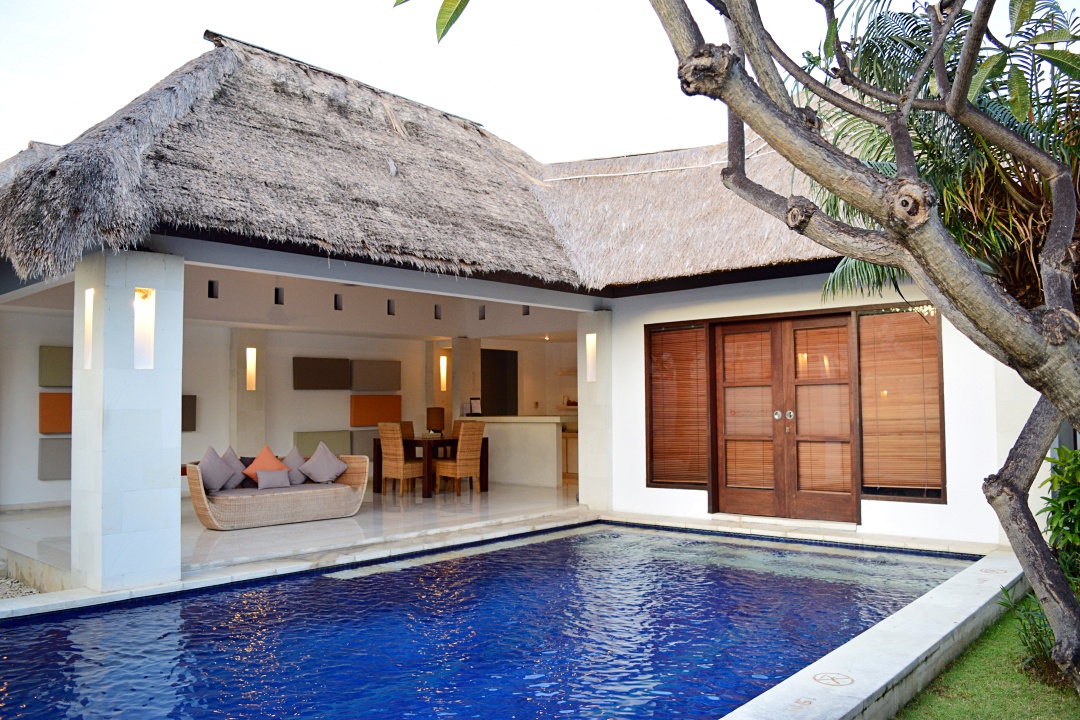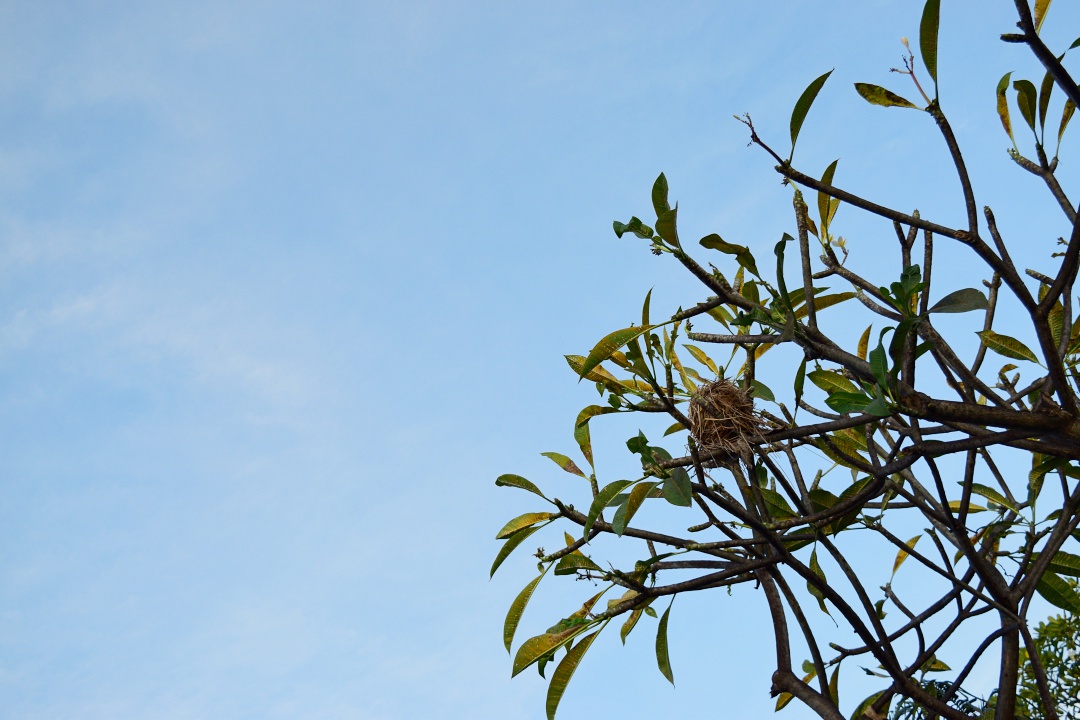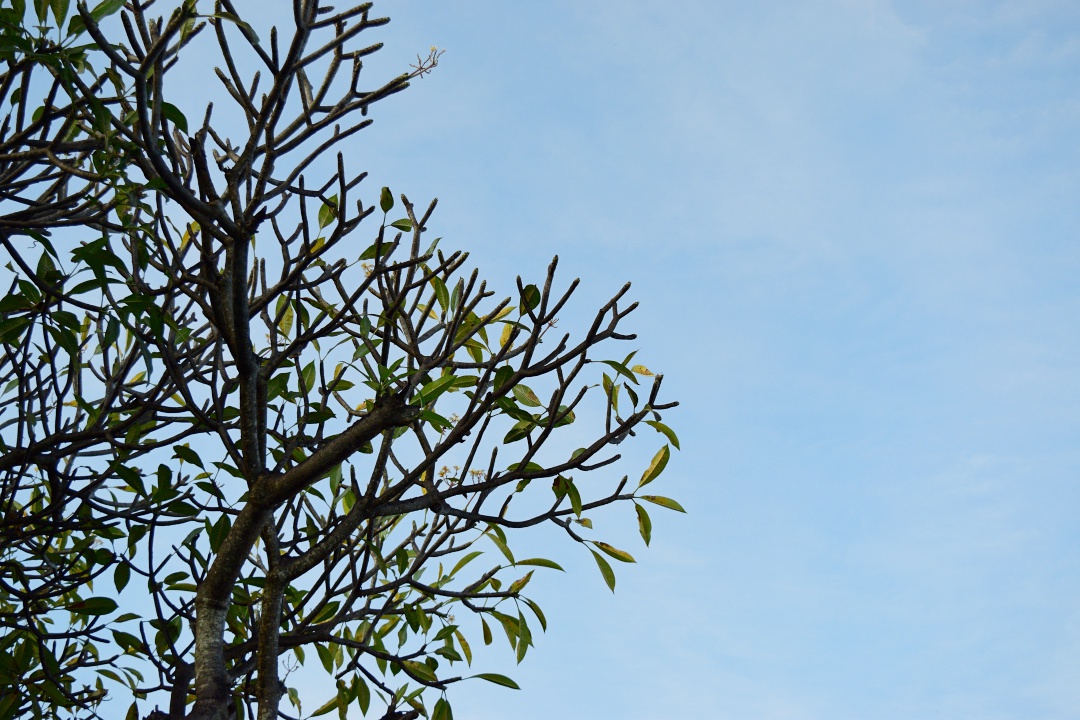 Pool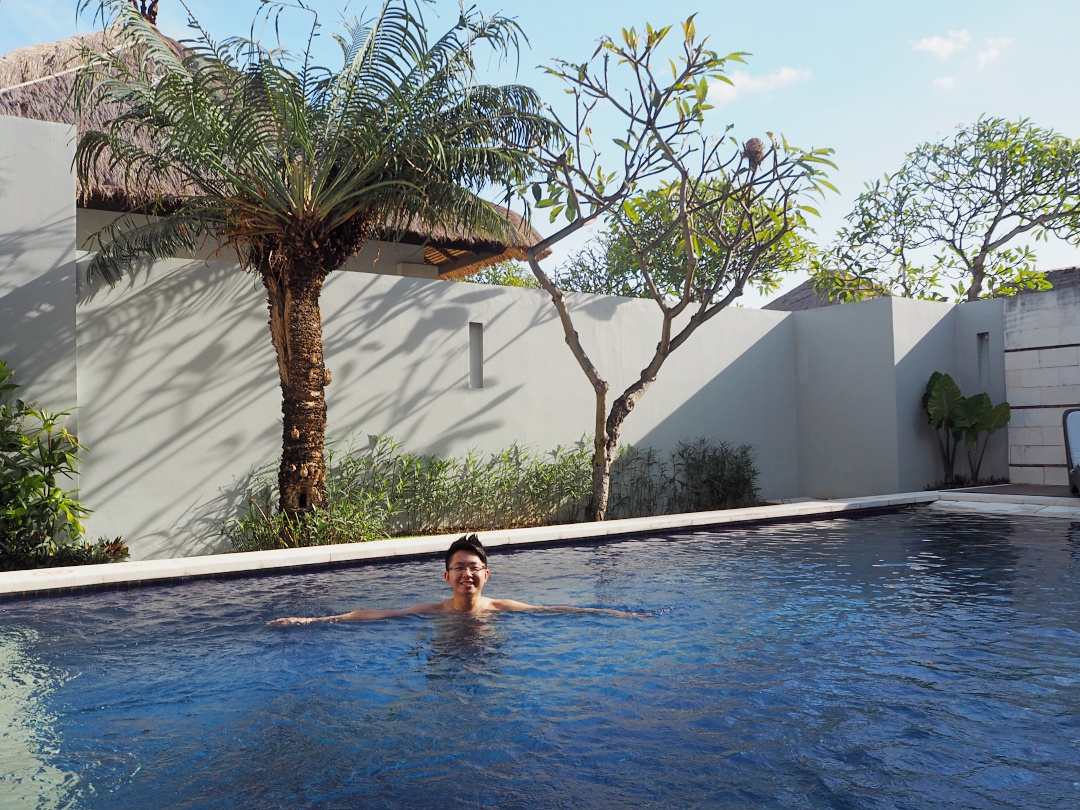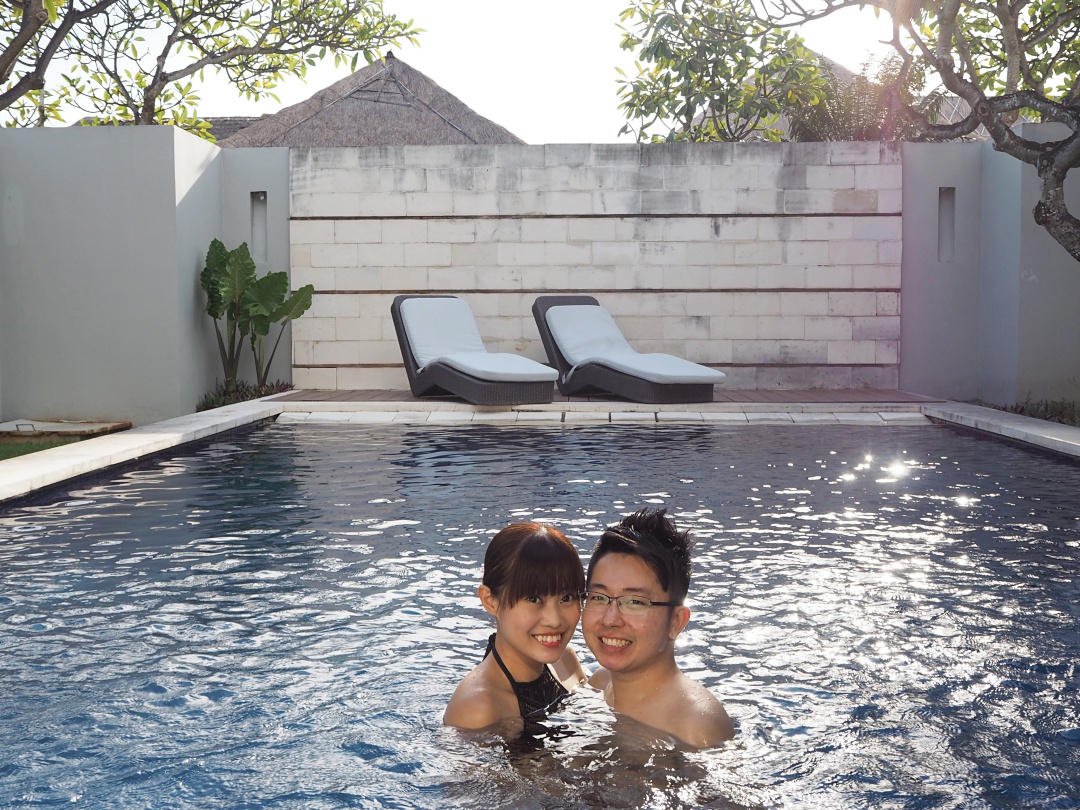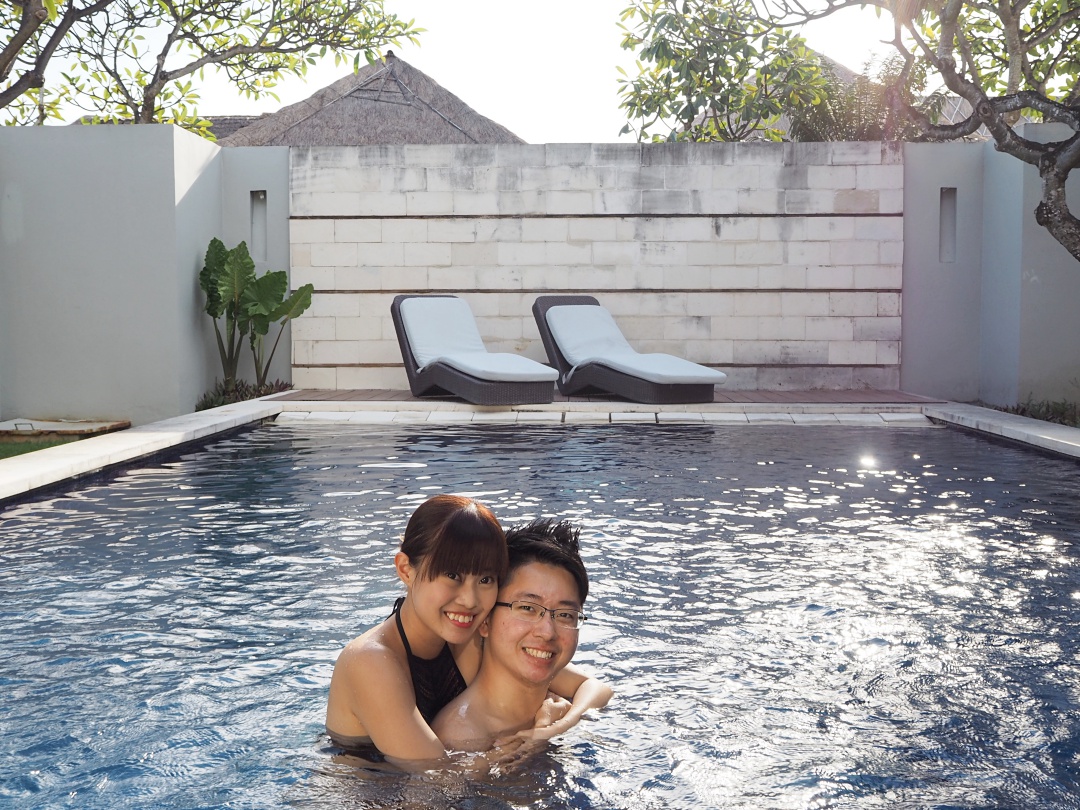 Despite not knowing how to swim, it didn't stop us from jumping into the pool on one of the afternoons. I can't remember what is the exact depth of the water, but seeing that I can walk in the pool, I'm thinking maybe 1.2 or 1.4m?
Once again, we managed to snap some pictures by using our trusty tripod!
Breakfast
Like I've mentioned, breakfast is prepared and served daily in the villa. On the day of our arrival, we were told to inform the front desk (daily) what we would like for breakfast for the following morning, together with our preferred timing for breakfast. I can't recall what time we requested for breakfast on the morning after we checked-in; it's probably 7am or 8am, because I was up by 6:30am! As we locked our main door the night before, the staff had to ring our door bell for us to open the door for them to come inside to prepare our meal.
Before you think breakfast is just simple bread and butter, we actually had fried noodles/eggs for our breakfast, together with a bread basket, cereals, coffee, juice and cut fruits.
Every morning, we have two staff coming over to prepare our breakfast. Ingredients were all pre-prepared to help shorten the time needed to cook. It was strange, to say the least, having someone to cook and prepare our meal right in front of us.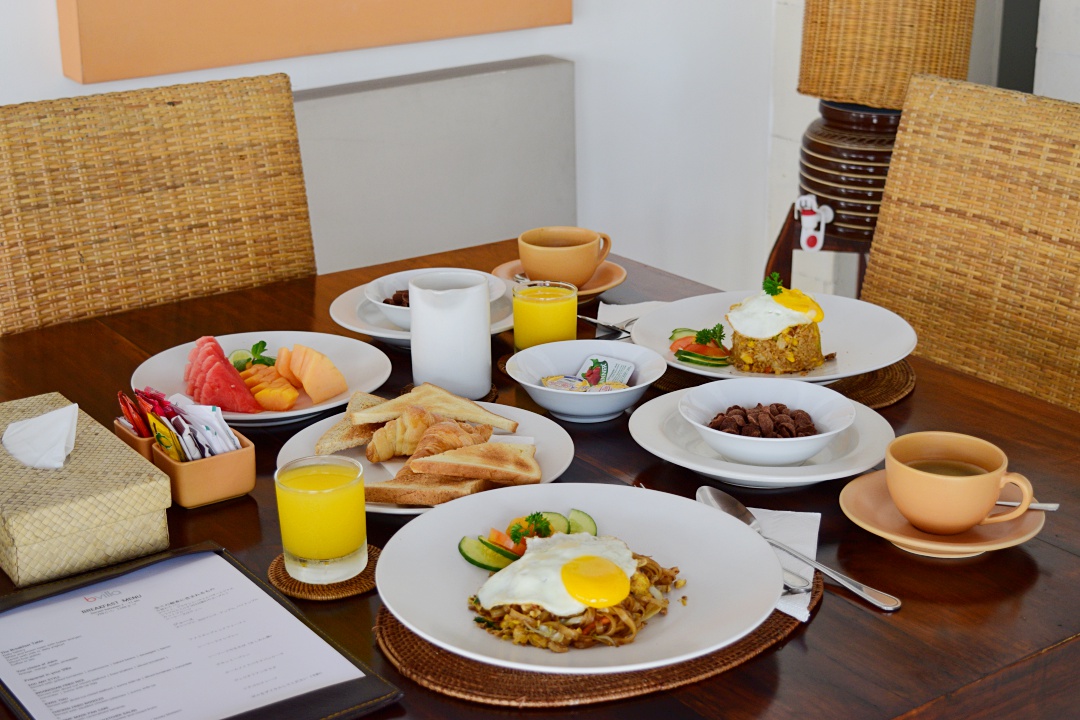 Here's our breakfast spread for the first morning. So much effort put into cooking and presentation of the food. Because of that, it's only justifiable for me to take more/nicer pictures. I don't even dare to tell you how much time I spent on taking the pictures. Let's just say I explored as many angles as possible; top-down shots, side table shots, macro shots, etc.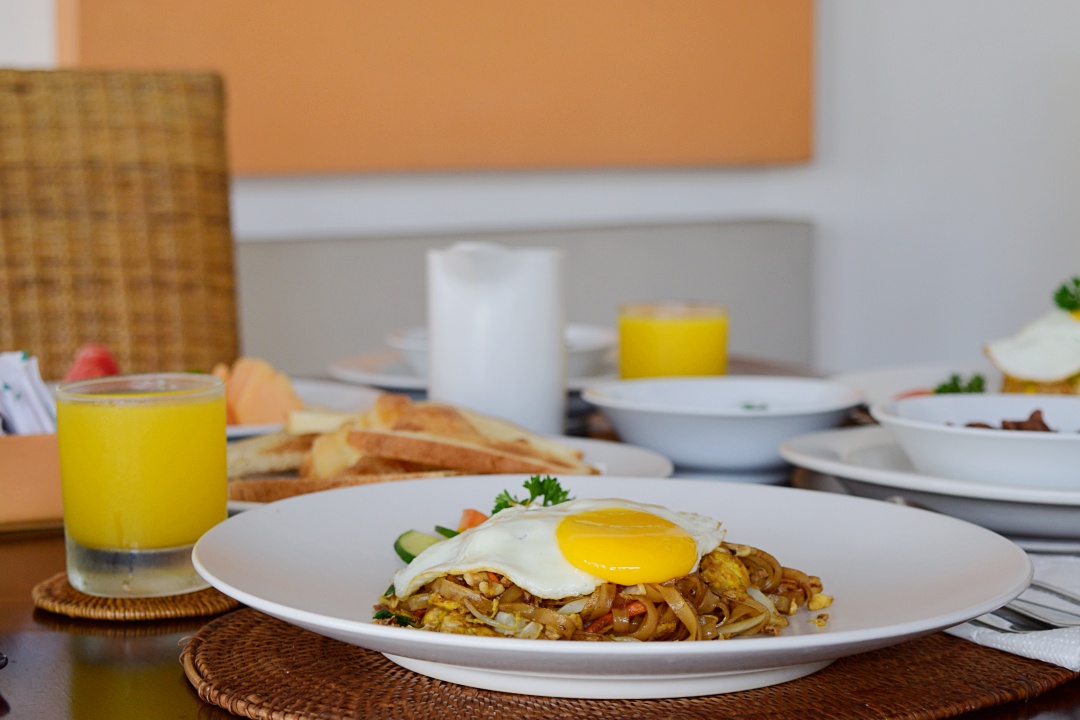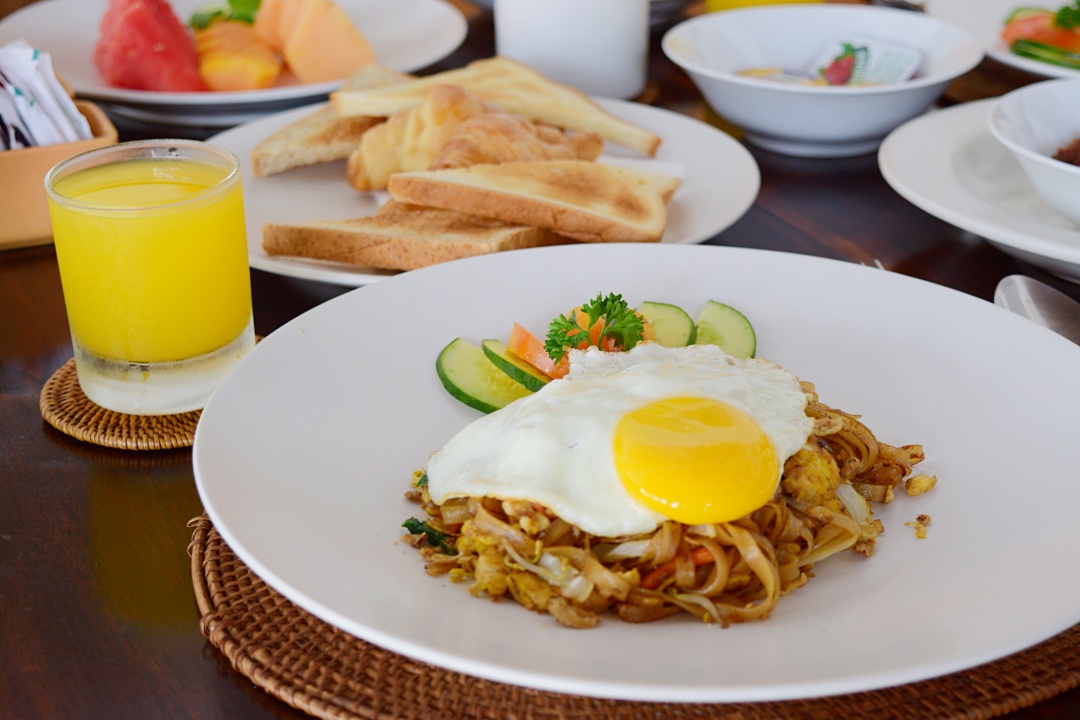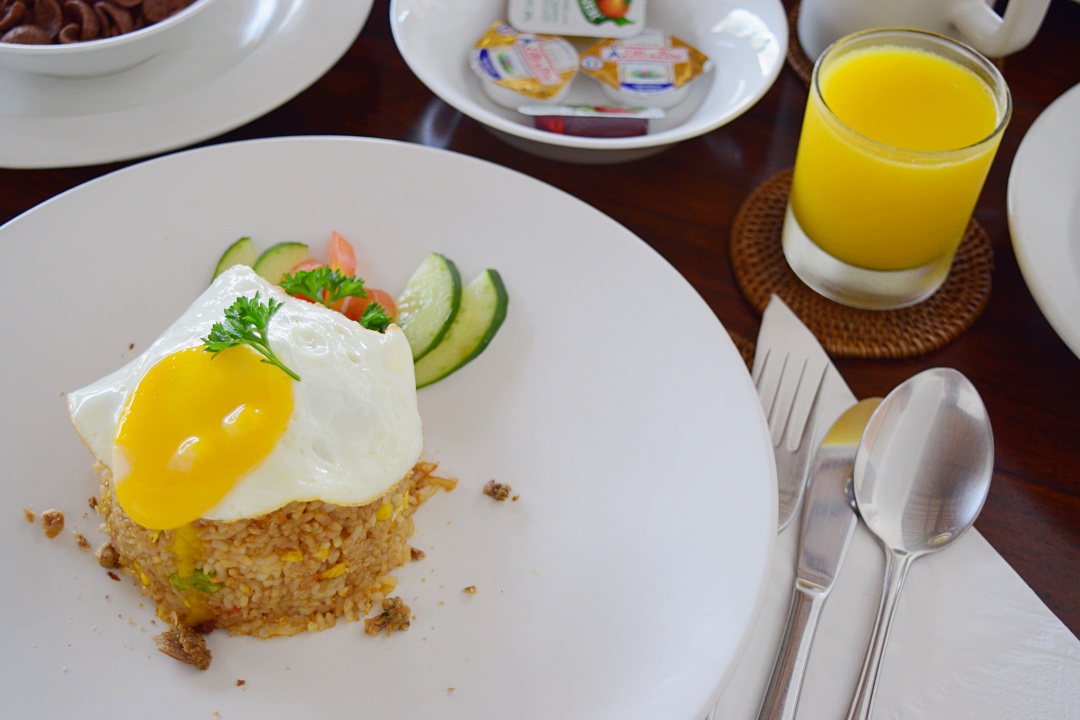 Chicken fried noodles/Indonesian fried rice as our mains, together with toast, croissant, cereals, cut fruits, coffee and fruit juice.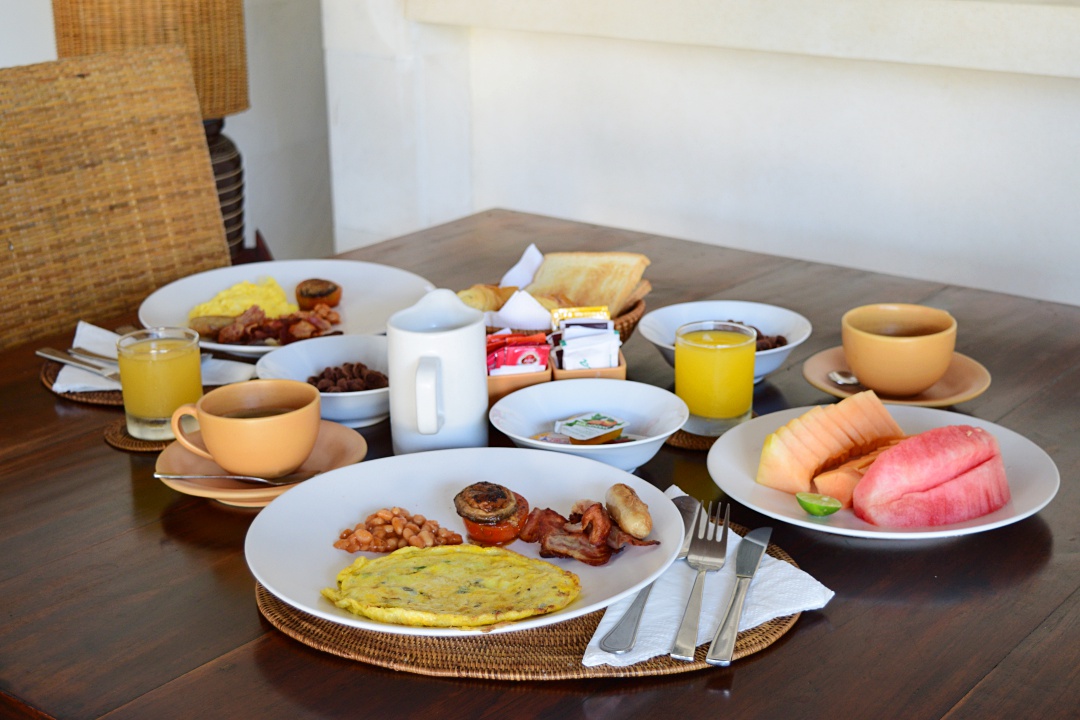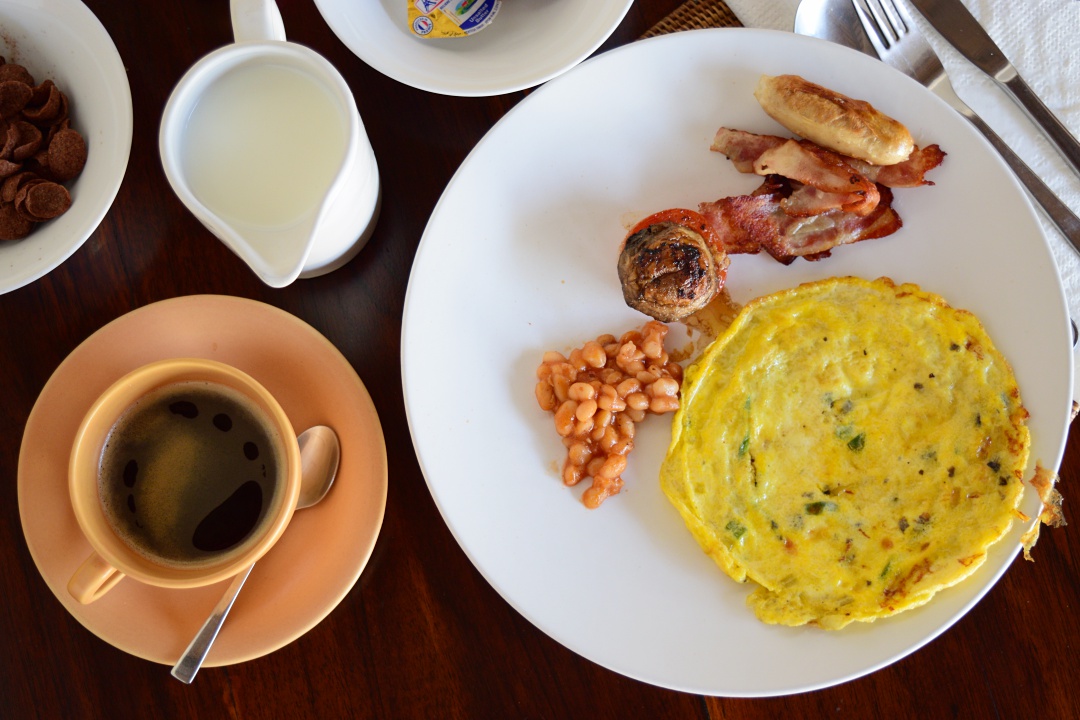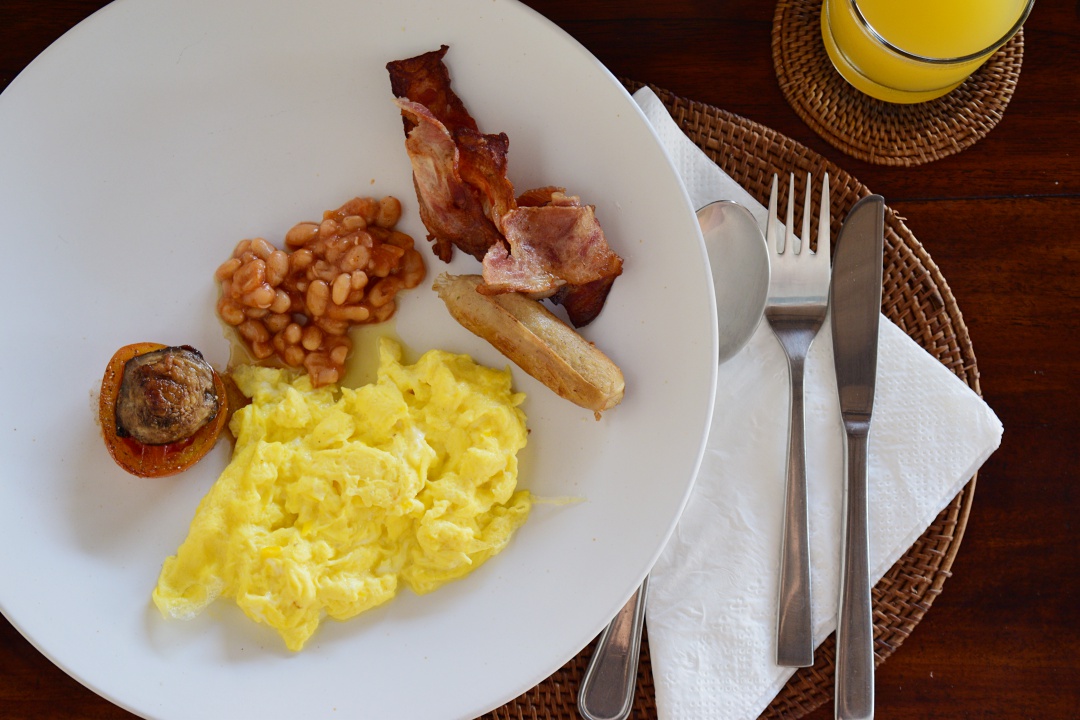 The day after, we requested to have eggs for breakfast. Omelette/scrambled eggs paired with grilled tomatoes, mushrooms, crispy bacon, sausage and baked beans.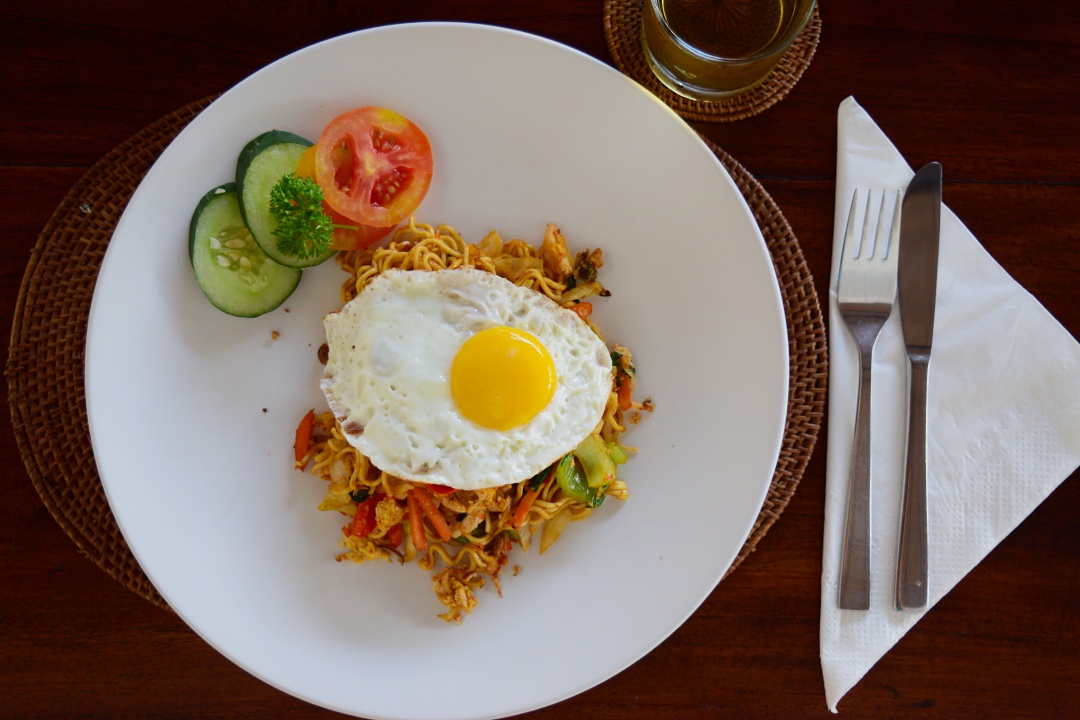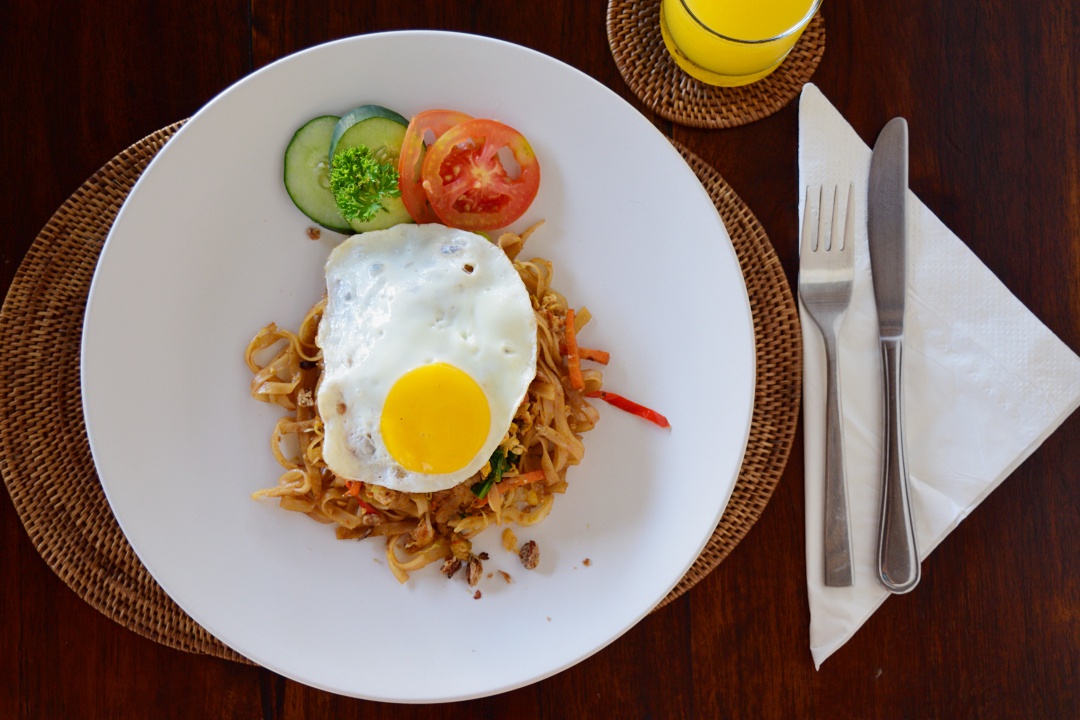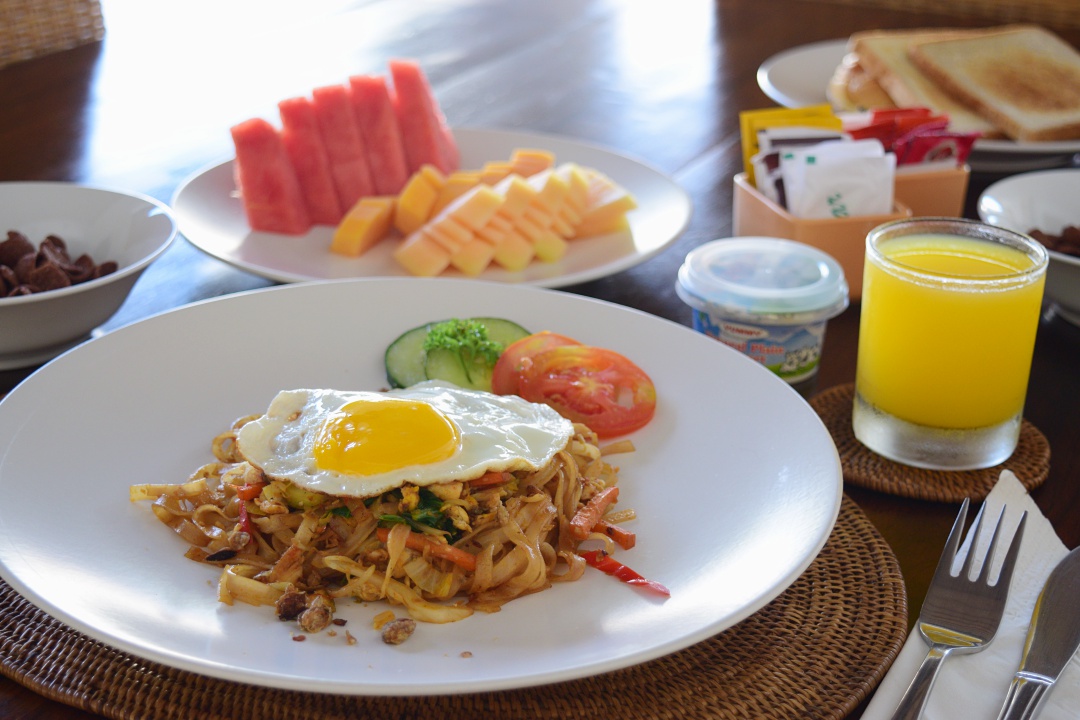 On our last day, we went back to having chicken fried noodles with sunny side-up for our breakfast!
Dinner
Our stay also comes inclusive of dinner. We actually missed dinner on the first night, as we went out to Seminyak Village and had our meal there. But for the subsequent two nights, we chose to stay in, and hence had dinner served in our villa.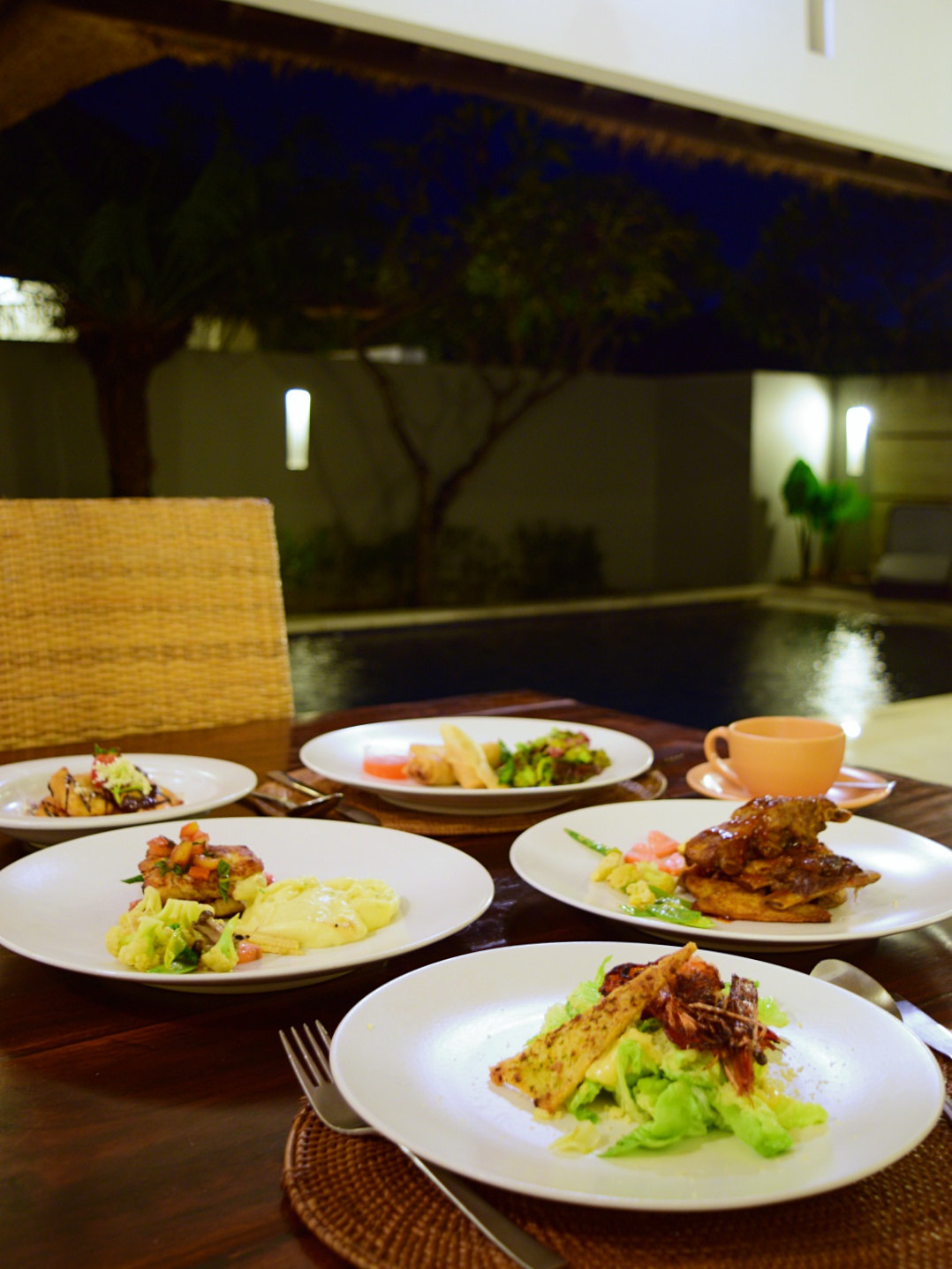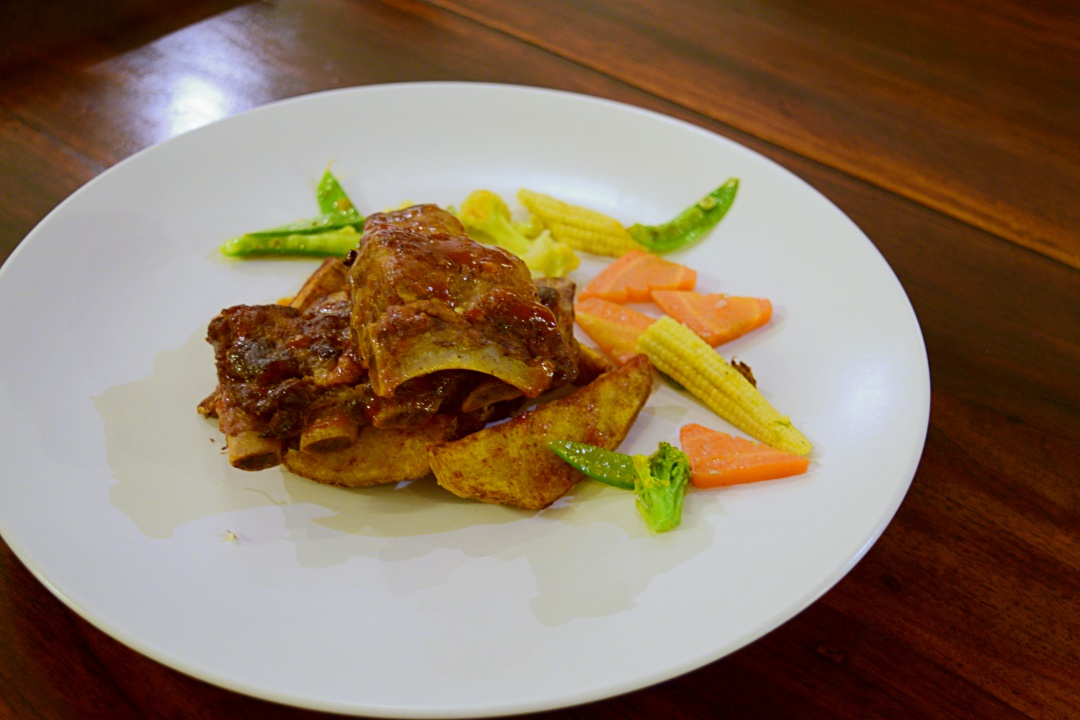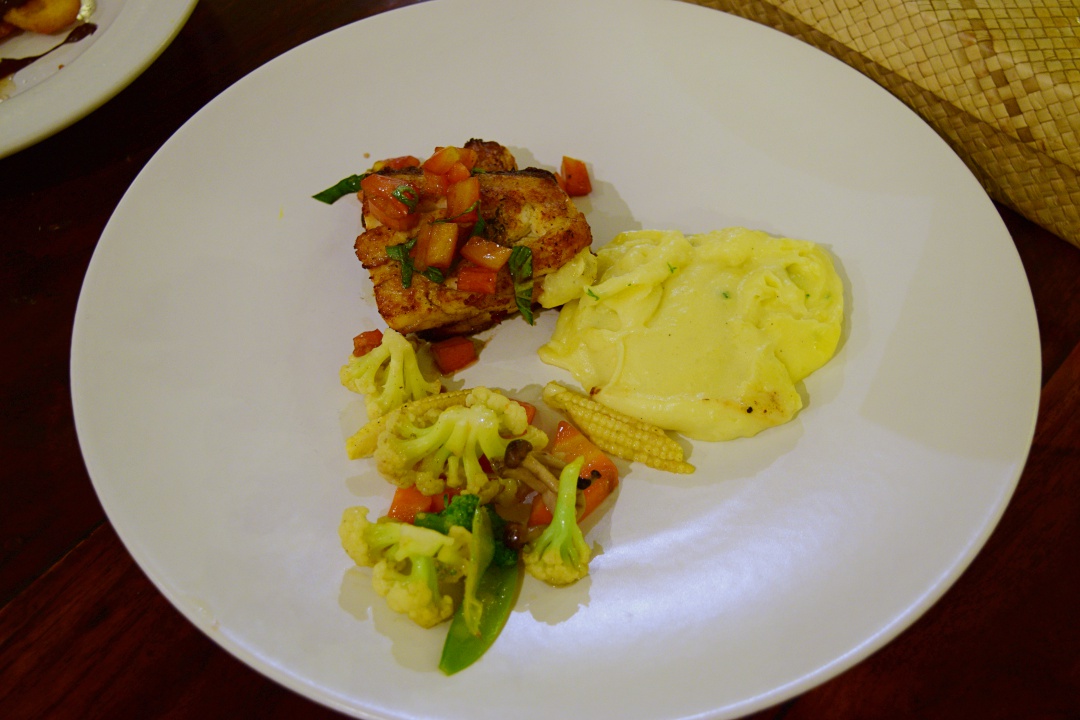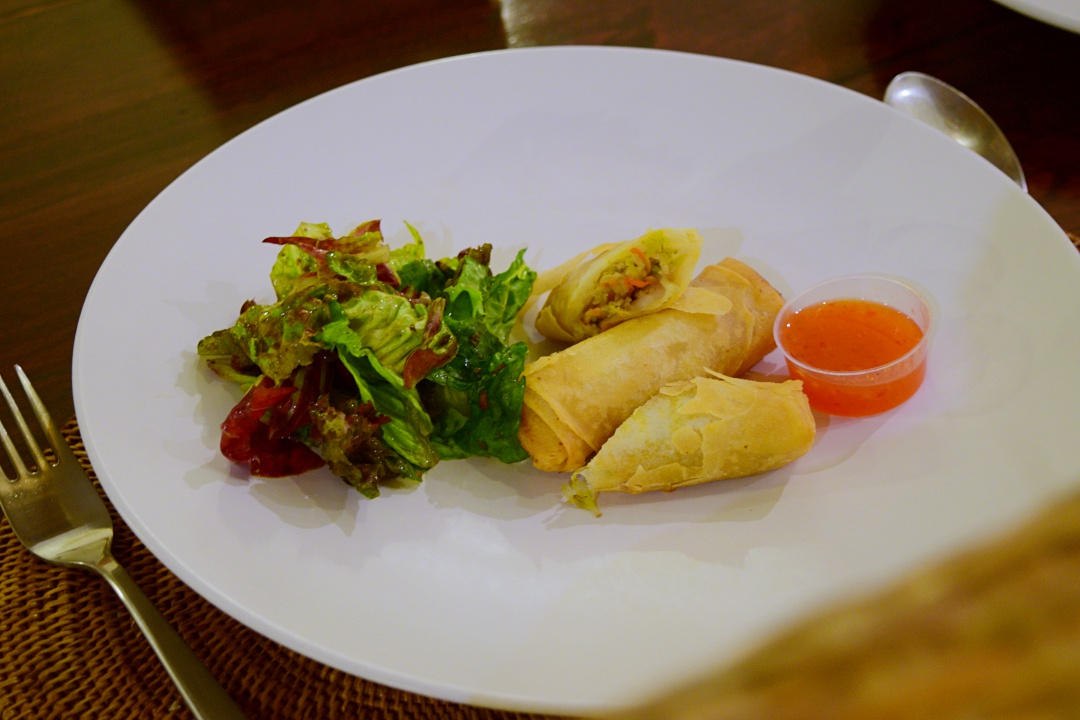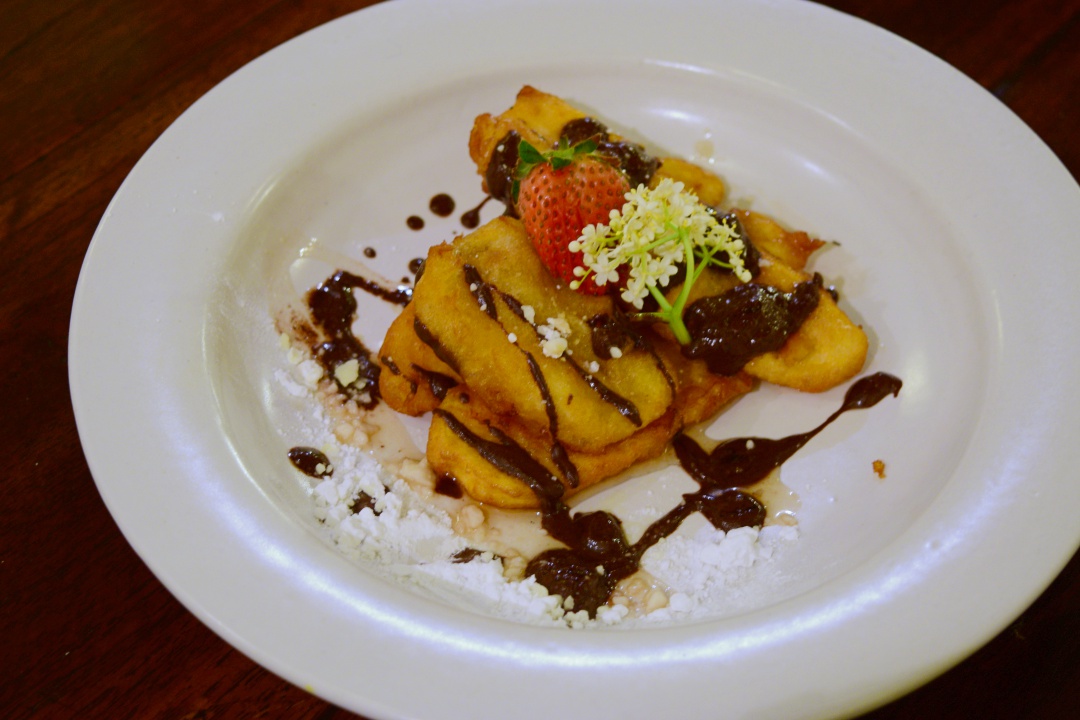 The dinner was honestly quite good; comparable to dining out. We each got a 3-course meal. It comes with an appetiser (salad/spring rolls), a main (duck/fish/pasta) and a dessert (fried bananas drizzled with chocolate sauce/pulut hitam).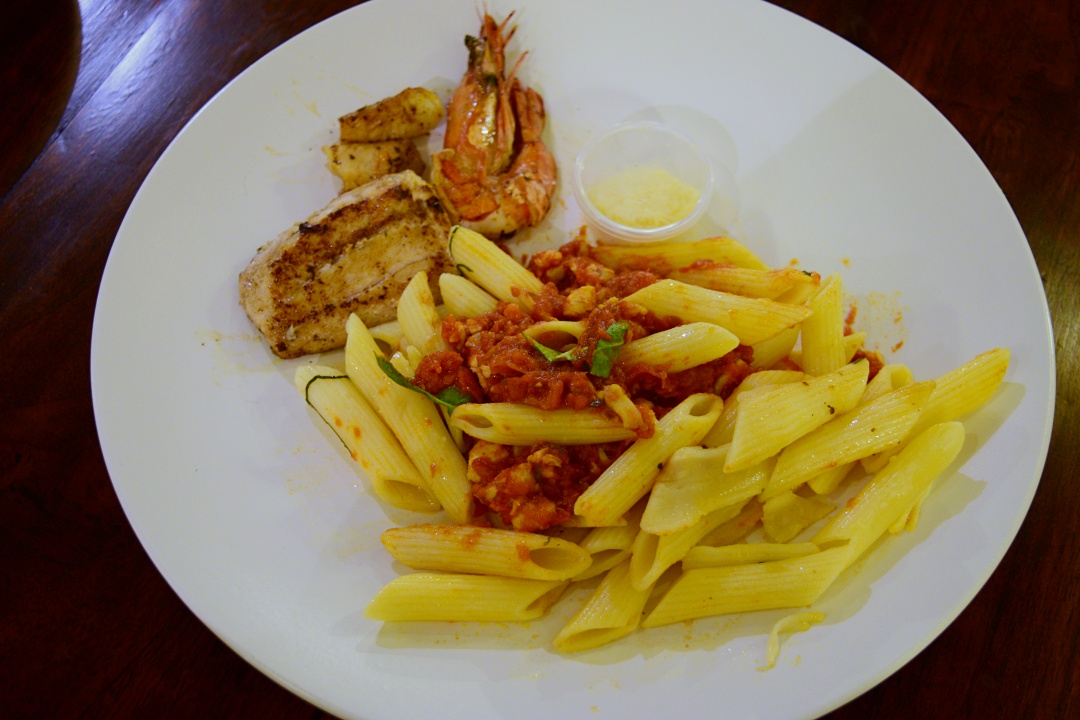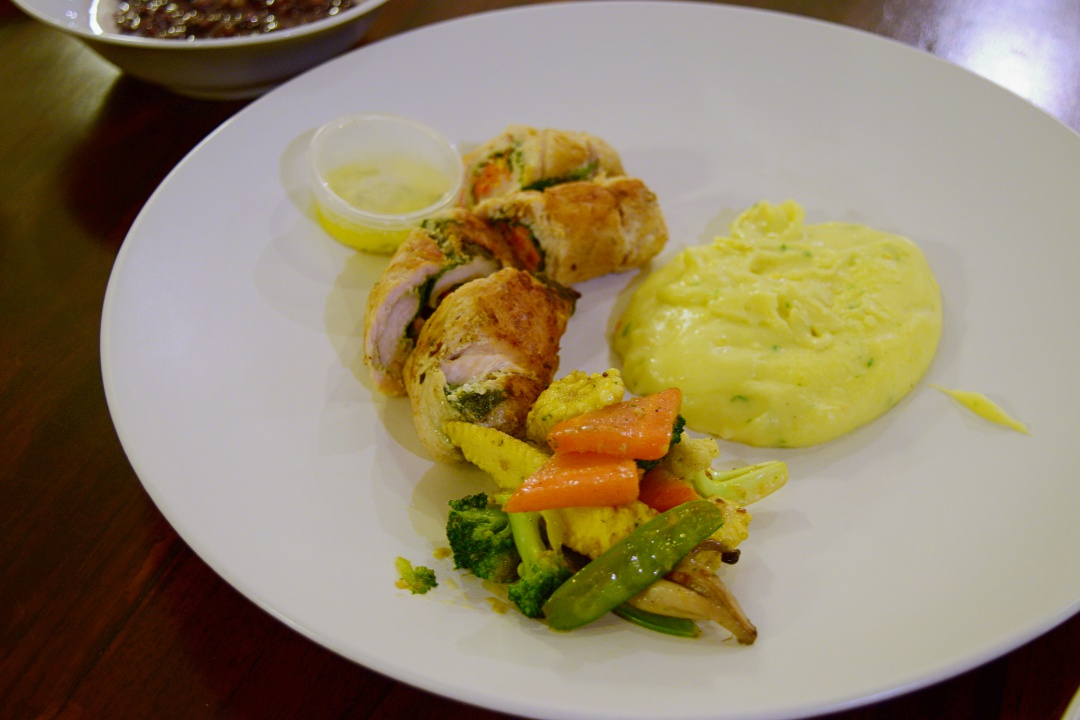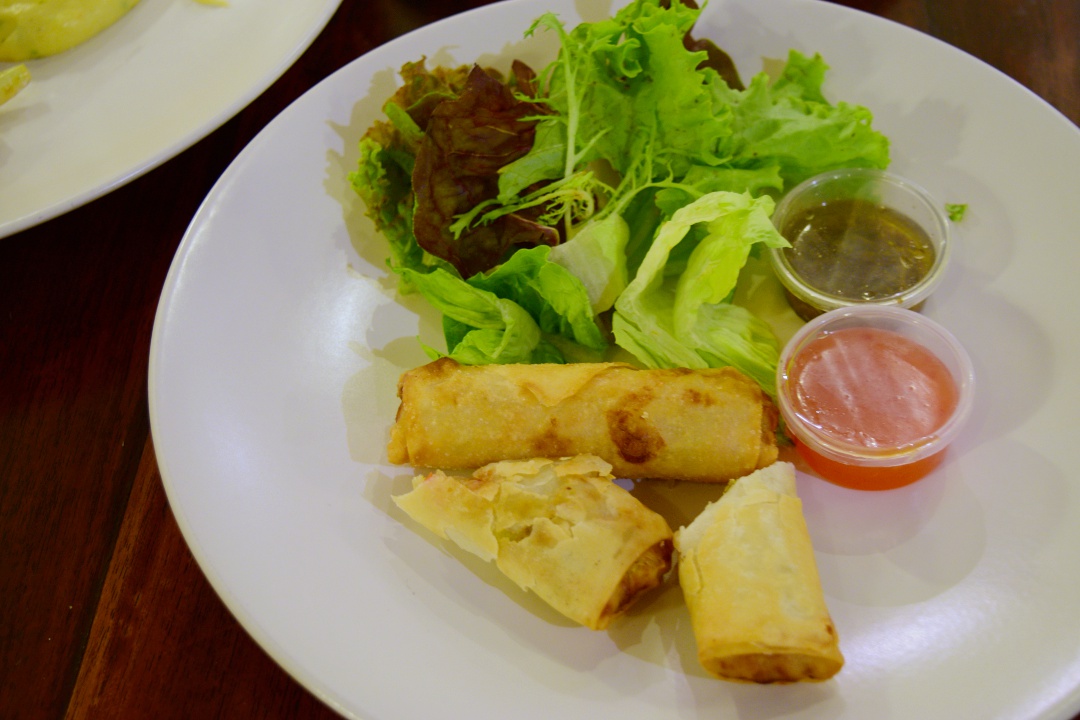 ---
Price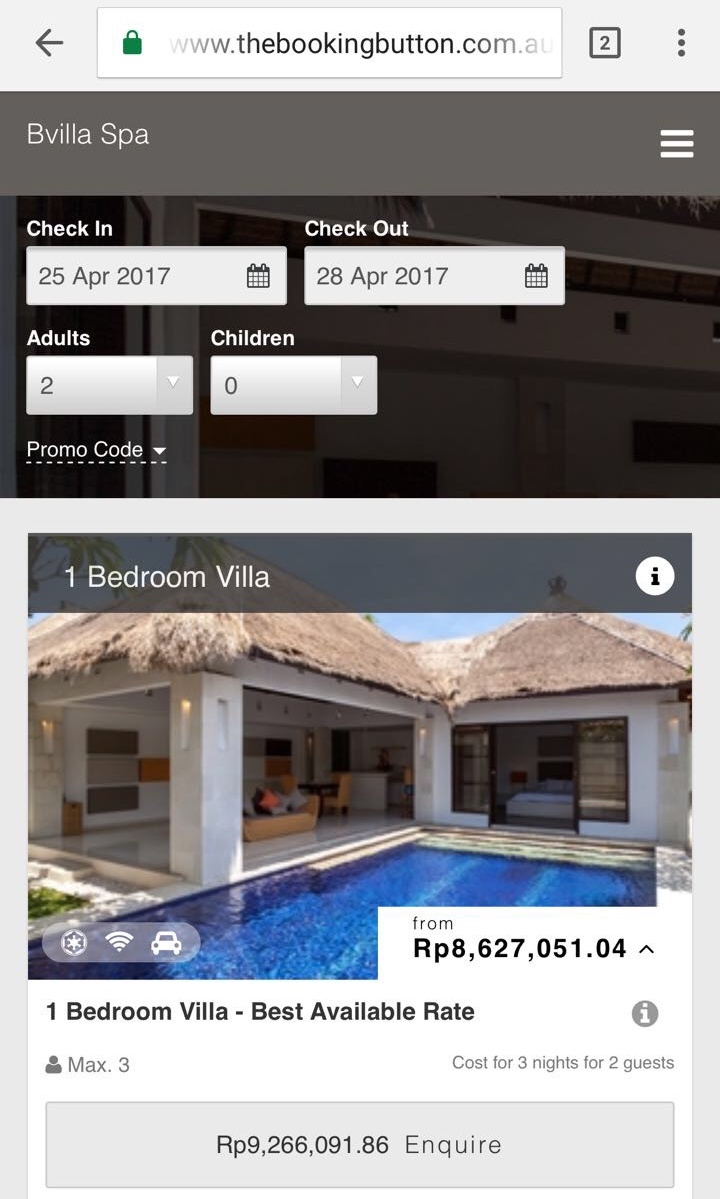 This was the starting price for a 3-night stay for two at the time of our stay. IDR8,627,051, which is approx SGD882 (based on current exchange rate).
---
Overall, I think our stay at bvilla+spa was okay. It wasn't exceptional, but I find it acceptable for the price. After all, we did get to stay in a relatively big property with a spacious living room, bedroom and bathroom.
The location of bvilla+spa is near to the street (but there's still privacy in our villa since our villa wasn't directly facing the street). That's a massage parlour and convenient store near by and is also within walking distance to Seminyak Square/Village. As such, it isn't hard to find eateries if you plan to have your meals outside. There's even one night where we went out to look for ice cream!
I do, however, have one complaint. And that is the number of mosquito in our room during night time. It was a struggle every night trying to kill all the mosquito. The Fiancé and I ended up with so many bites! Because of the mosquito, we could hardly get a good night sleep. We can literally hear the mosquito flying around us. Of the three nights we stayed in bvilla, mosquito repellant was our best friend. Come to think of it; it's funny how we each have to arm with a bottle of mosquito repellant next to us every night. We basically sprayed more mosquito repellant than we have ever sprayed in normal circumstances.
I believe the resort knows about the mosquito because they actually provide mosquito repellant in our room. I do think that is the best they can do for us. There's honestly not much they can do to help to improve the situation.
So because of the mosquito, we didn't get to enjoy our stay as much as we would like.