During our 4D3N stay at Alila Villas Uluwatu, the Fiancé and I had the chance to experience Stand Up Paddle Board Yoga for the first time.
Introduced in March 2017, Alila launched a series of yoga in a variety of unique styles across all Alila resorts in Bali. There's Laughter Yoga at Alila Ubud, Underwater Yoga at Alila Manggis, Nauli Yoga at Alila Seminyak, and Aerial Yoga and Paddle Board Yoga at Alila Villas Uluwatu. We've previously done Laughter Yoga during our stay at Alila Ubud, and while that was interesting, I wouldn't say I love it? Stand Up Paddleboard Yoga, on the other hand, was surprisingly fun. I ended up enjoying it more than I thought.
The resort had arranged for us to do our yoga on the morning of Day 3 and Day 4 of our stay. Initially, I was puzzled as to why they arranged it for two consecutive days. But I later found out it was so that we can do our yoga separately.
Alila Experience | Stand Up Paddle Board Yoga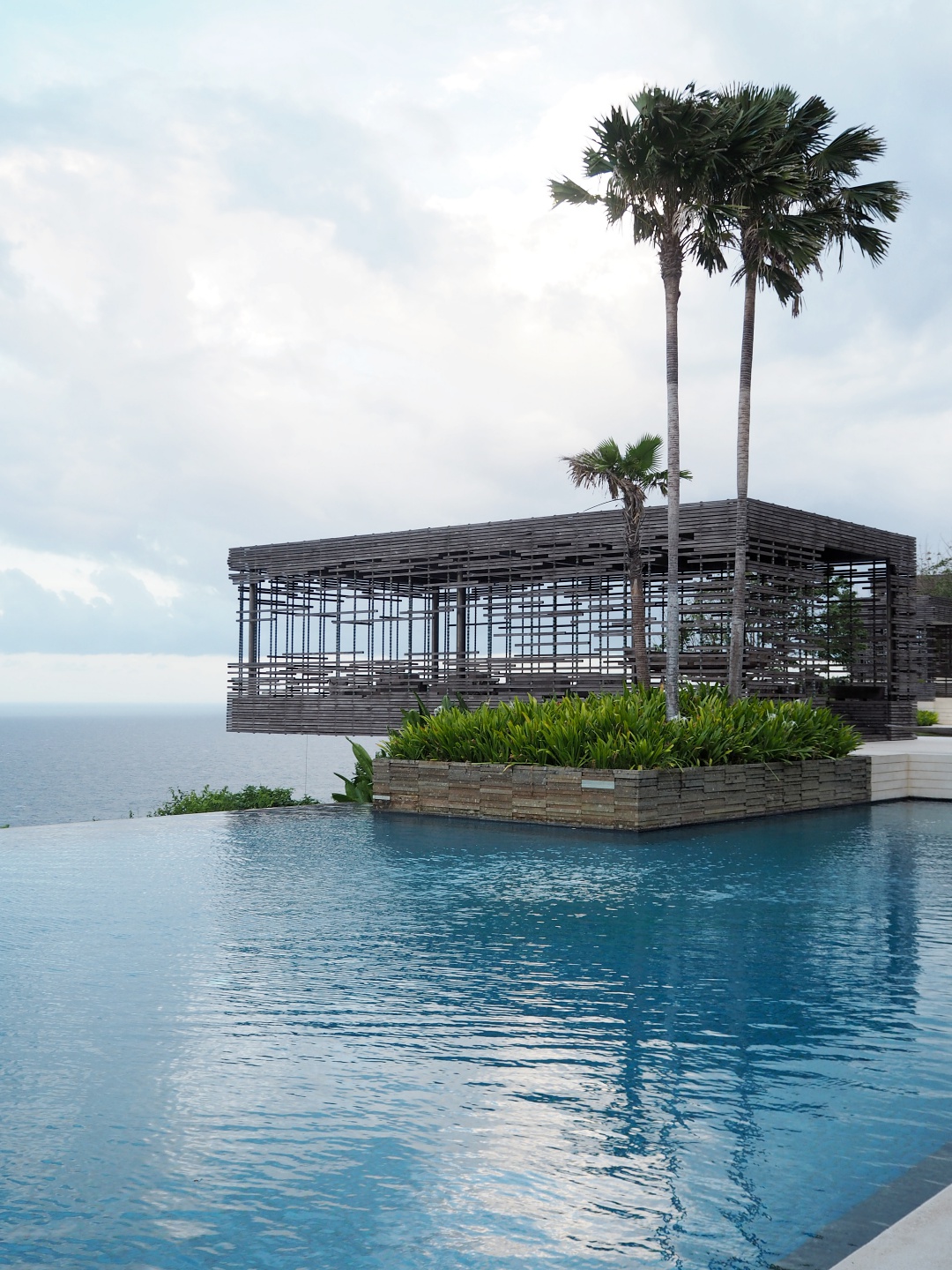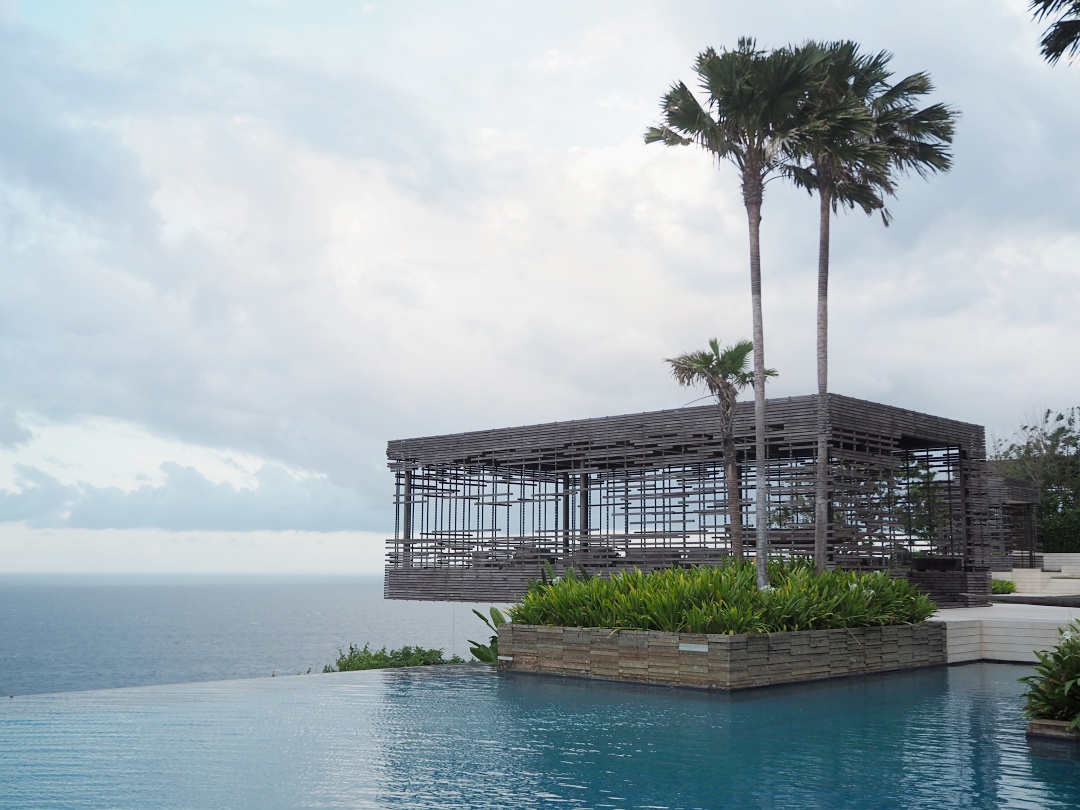 Throwback to the morning of Day 3. The scheduled time to meet our instructor was at 07:00; honestly, it was a little too early than what I would prefer. I literally had to drag my feet to the resort's pool. I recalled whining to the Fiancé that I didn't want to go.
Met up with our instructor at the pool, and that was when we realised we were supposed to do our yoga separately. Seeing that I wasn't keen to try, the Fiancé volunteered to go first.
The Fiancé's Attempt
It started with some light stretching before going on to the paddleboard. Since I wasn't joining them to do the yoga, I was able to stay on the ground and snap some pictures. Come to think of it; I'm really glad that we did our yoga separately. We could help each other to take pictures, which otherwise wouldn't be possible if we were both doing the yoga together.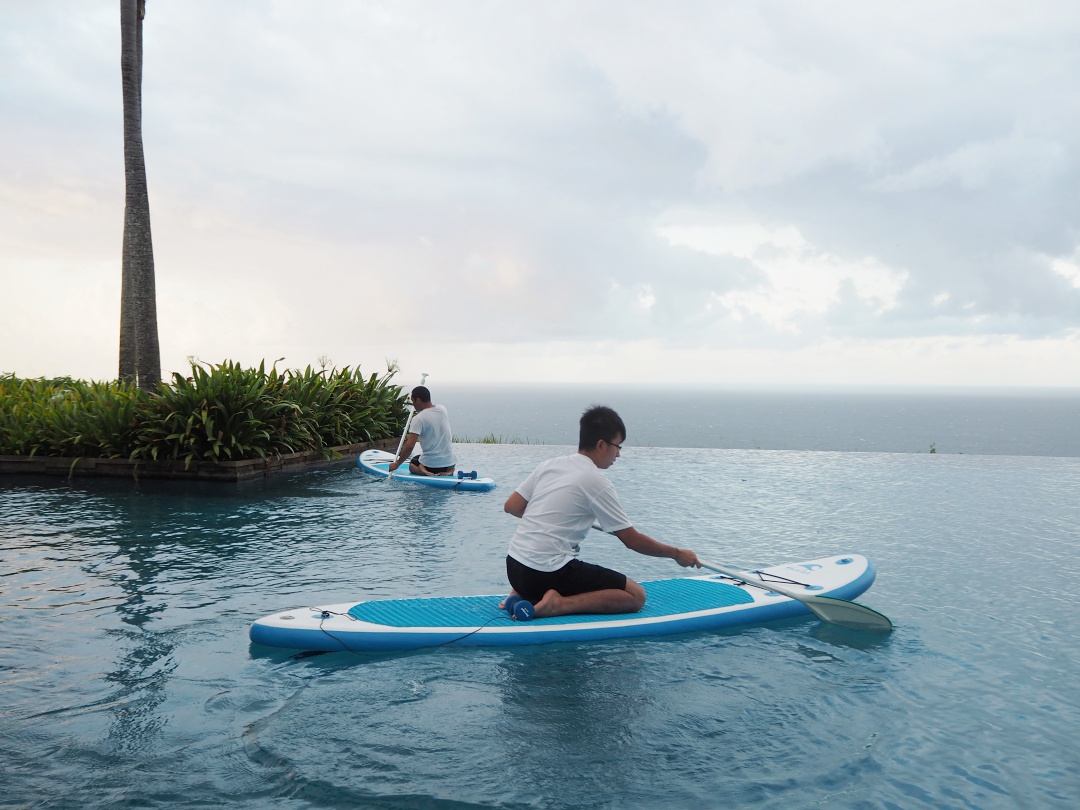 After successfully getting on top of the paddleboard, the next step is to row till the middle/edge of the pool. Once you're in position, the instructor will then ask you to drop the dumbbell and paddle into the water. The weight of the dumbbell helps to prevent the paddleboard from moving.
Following that is the start of doing the actual yoga pose. Because it's a one-to-one session, the instructor can really focus on you and guide you along with the posture.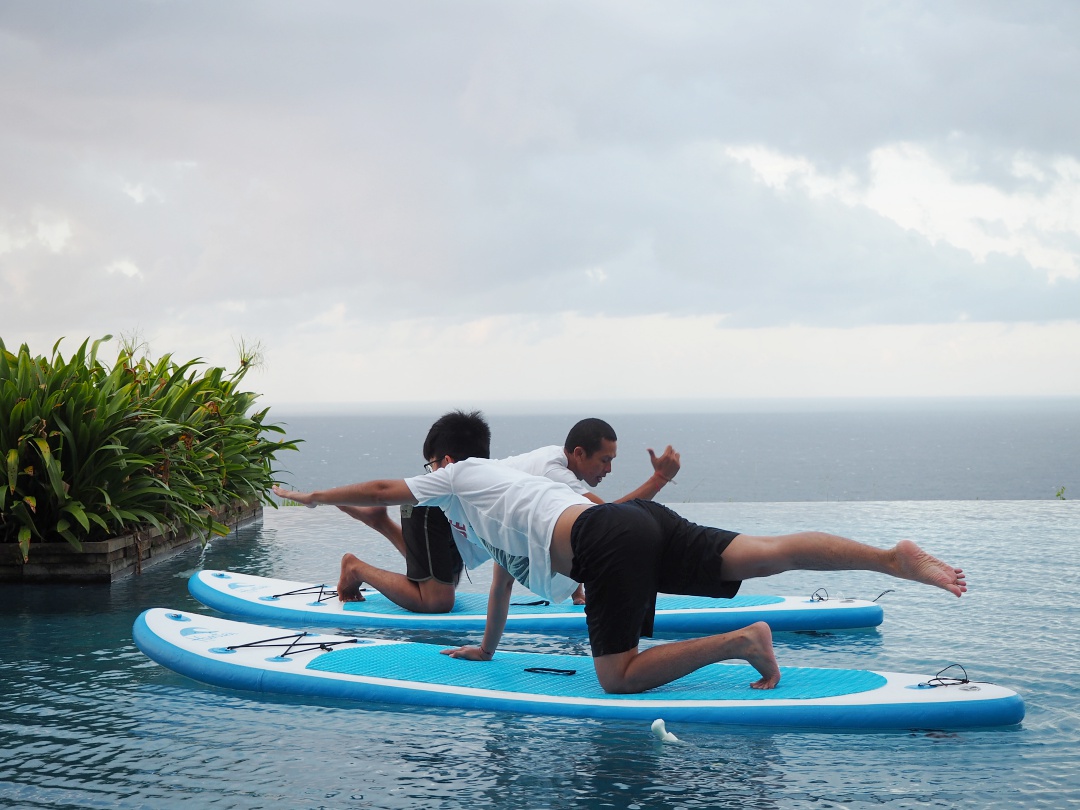 When he first started, I could see him struggling to balance on the paddleboard. But as time goes, he seems to get better at balancing.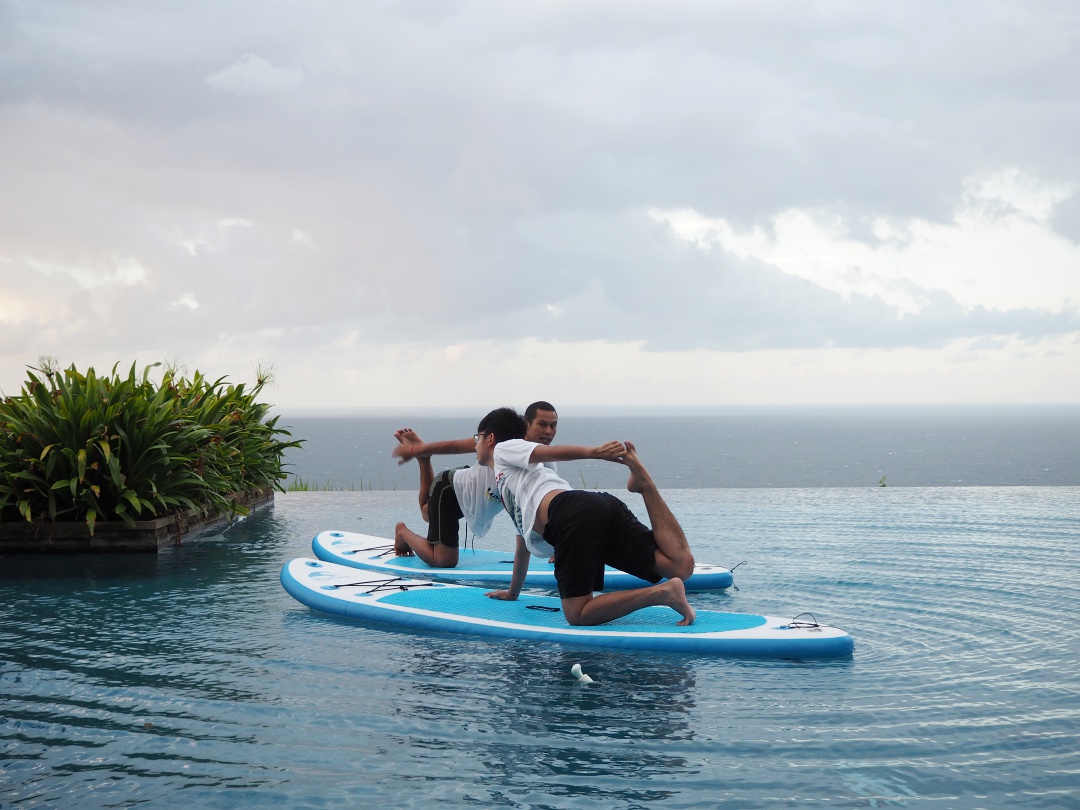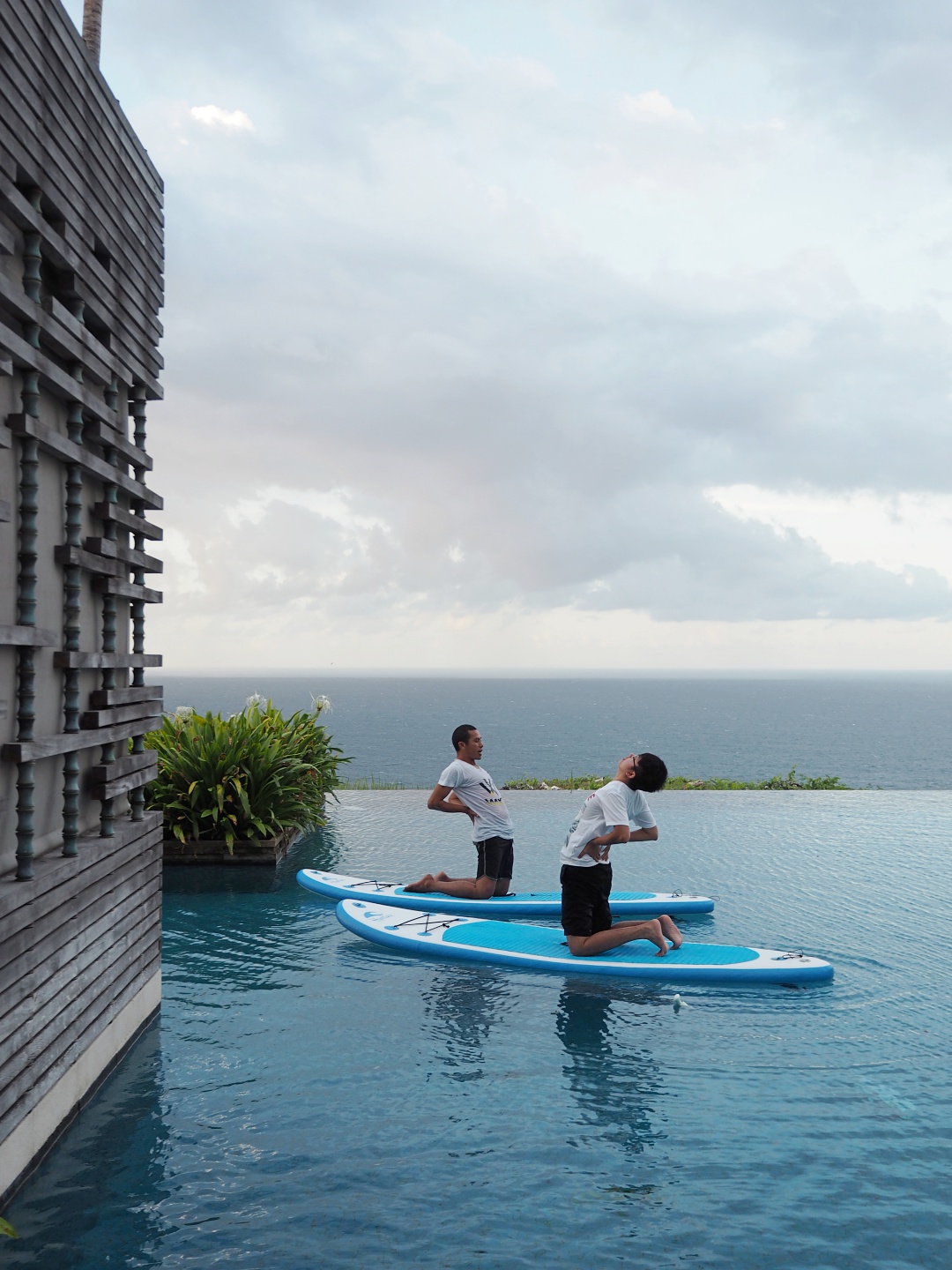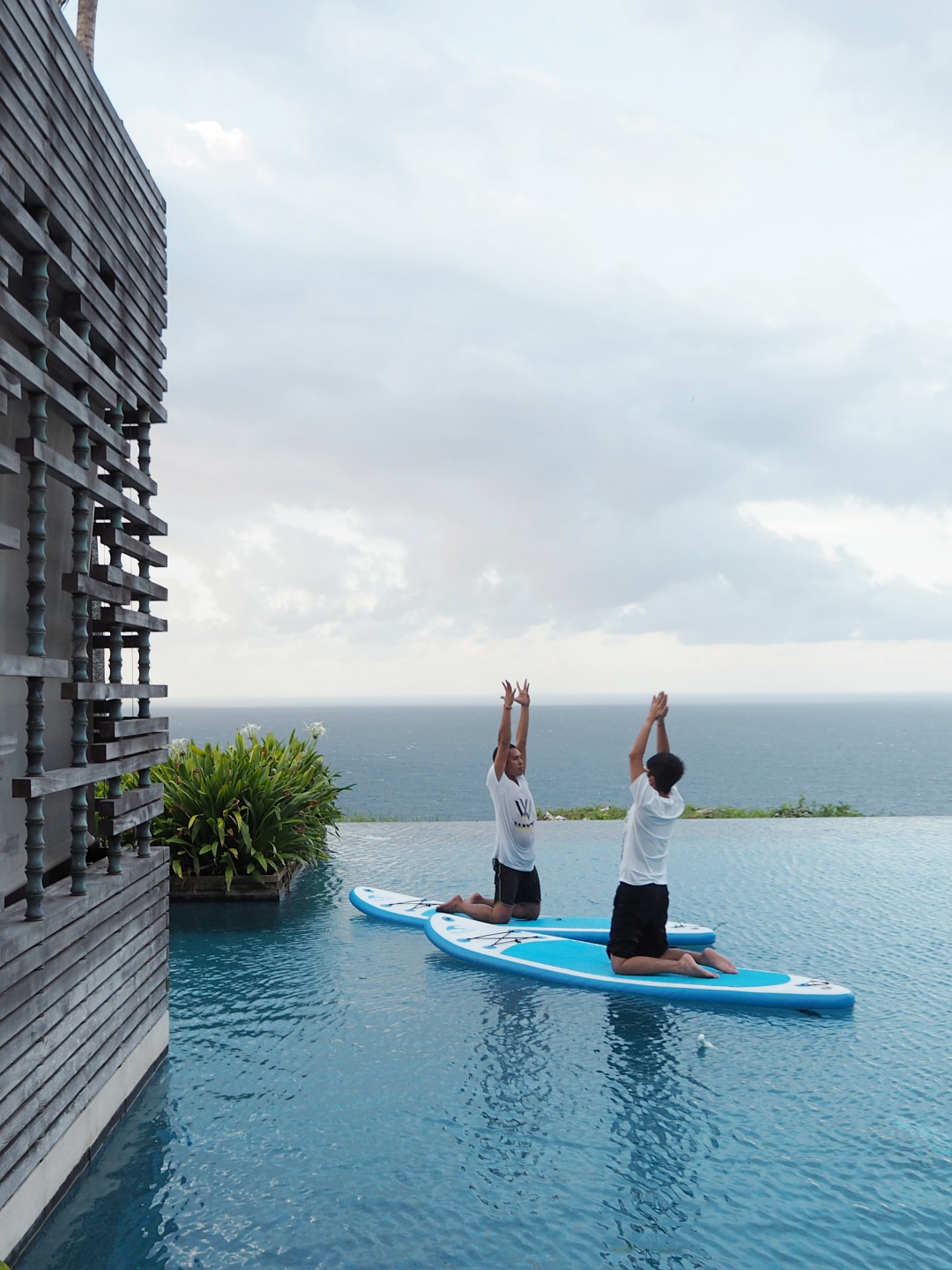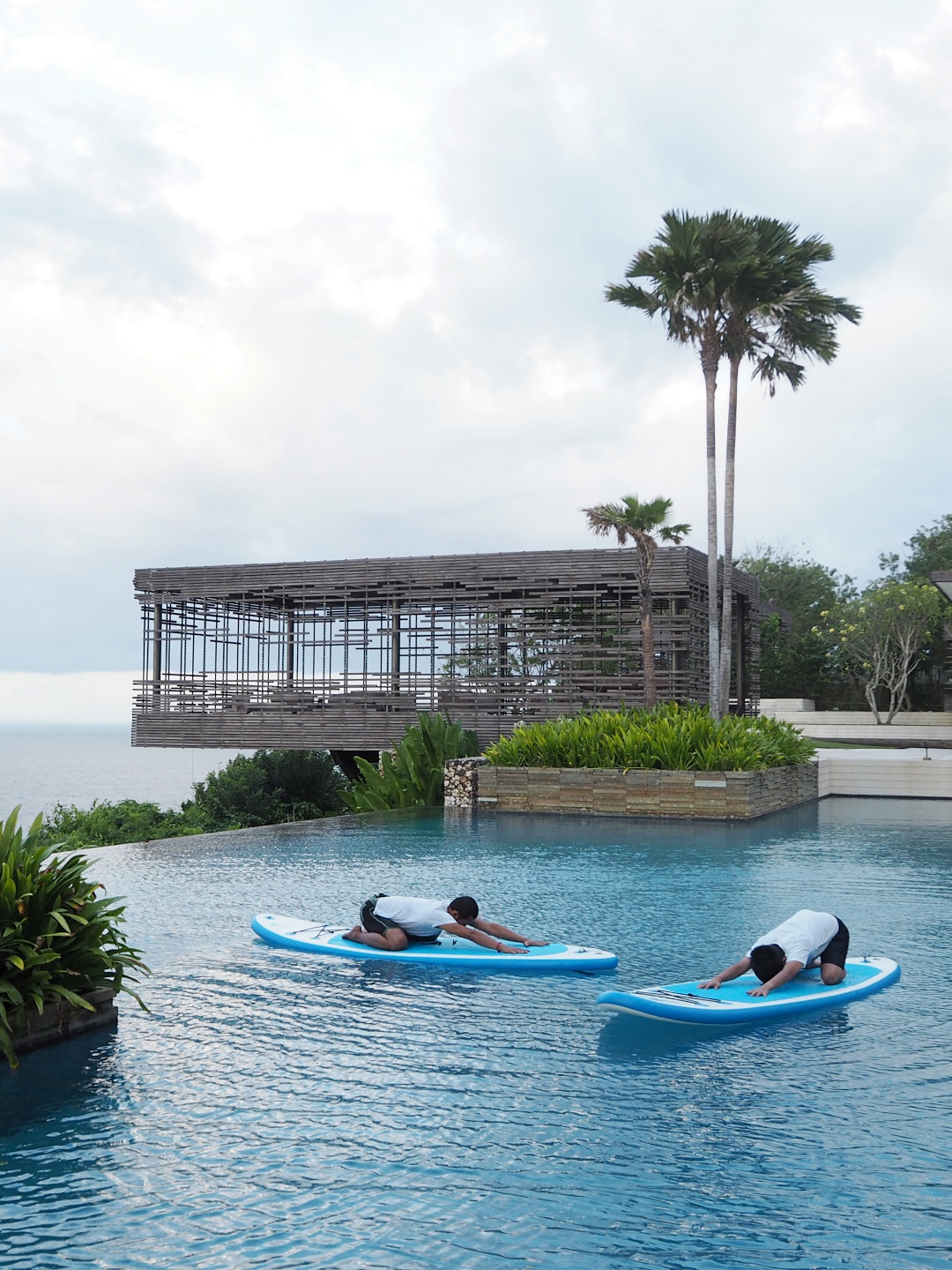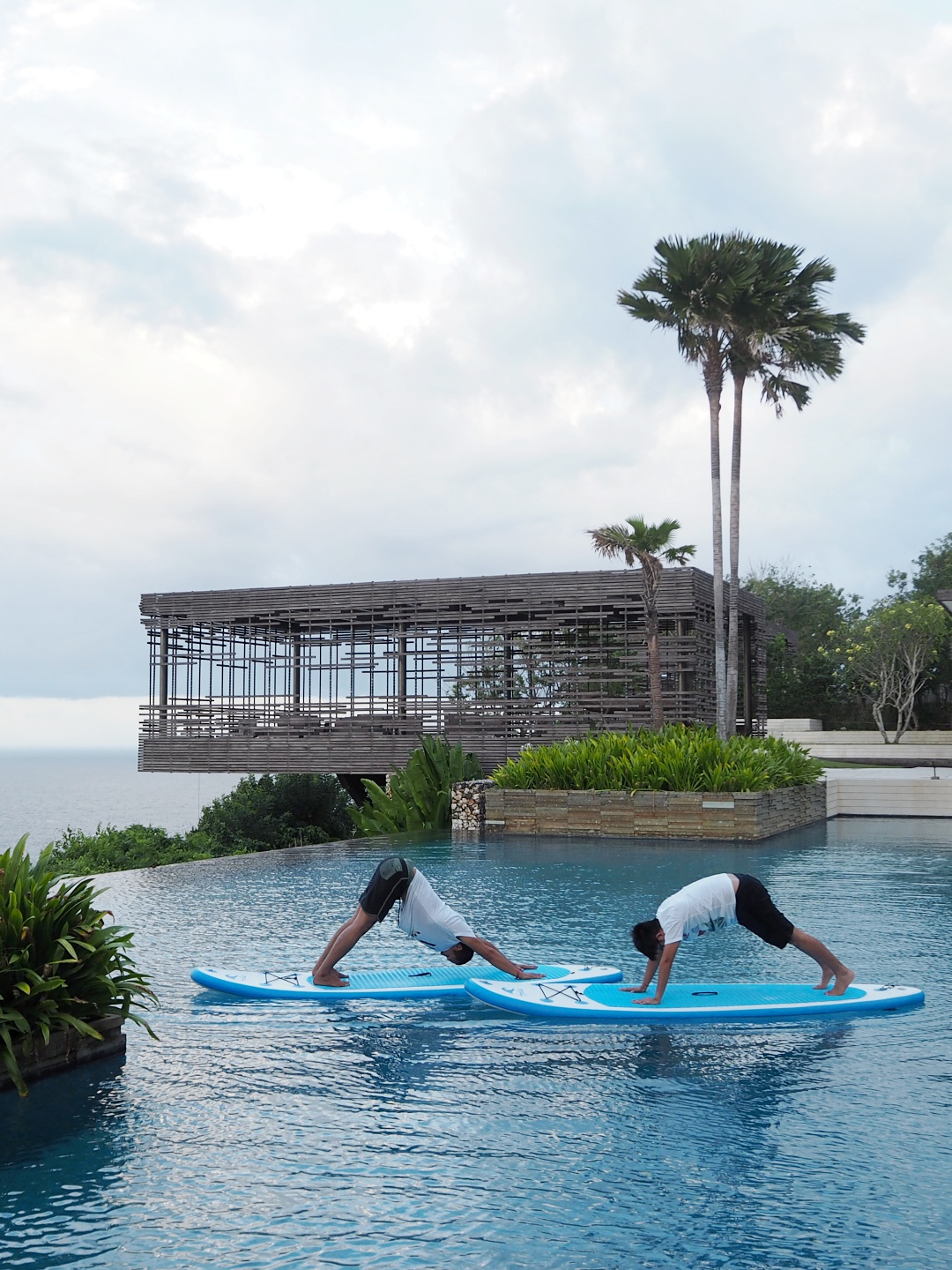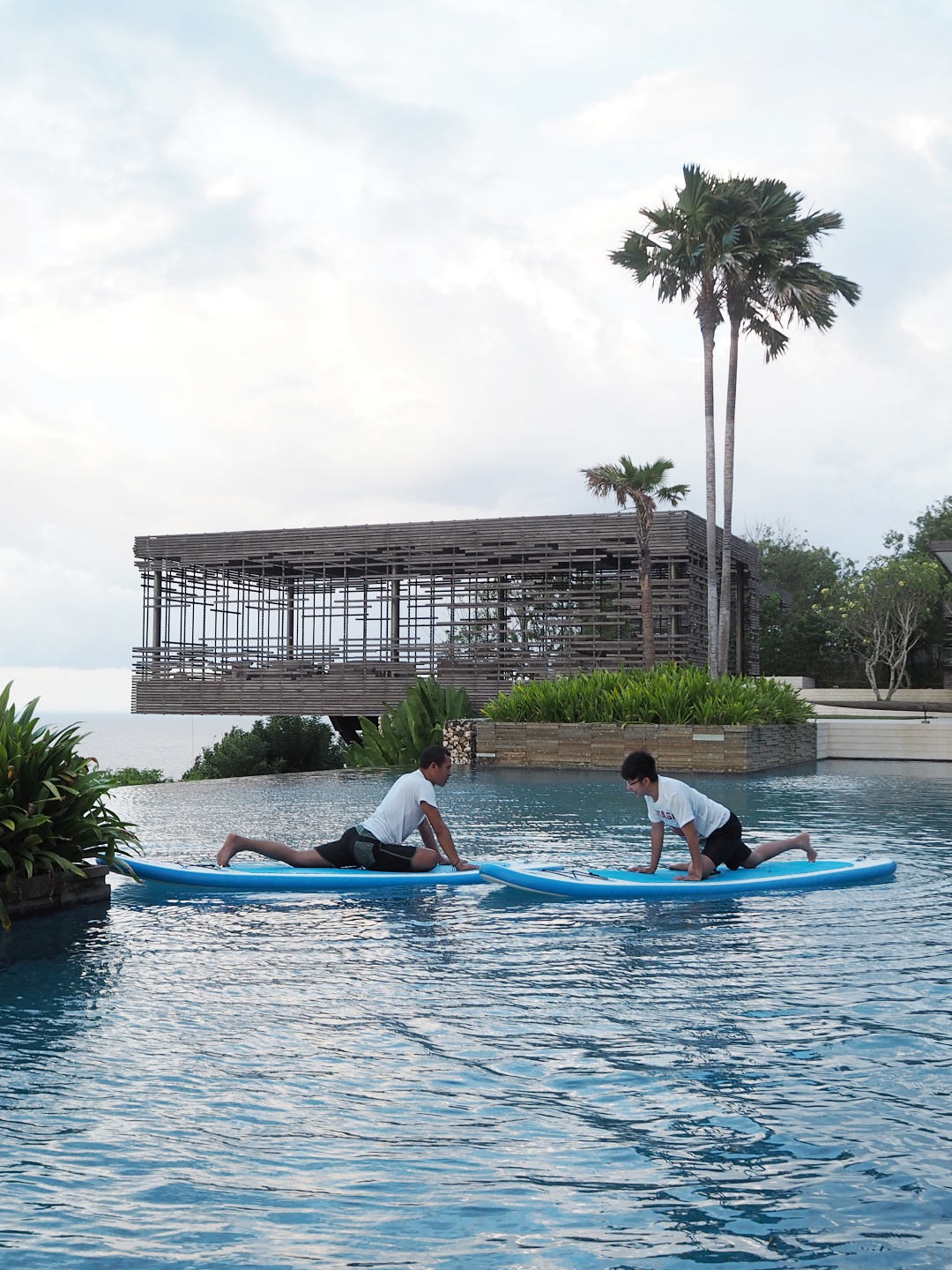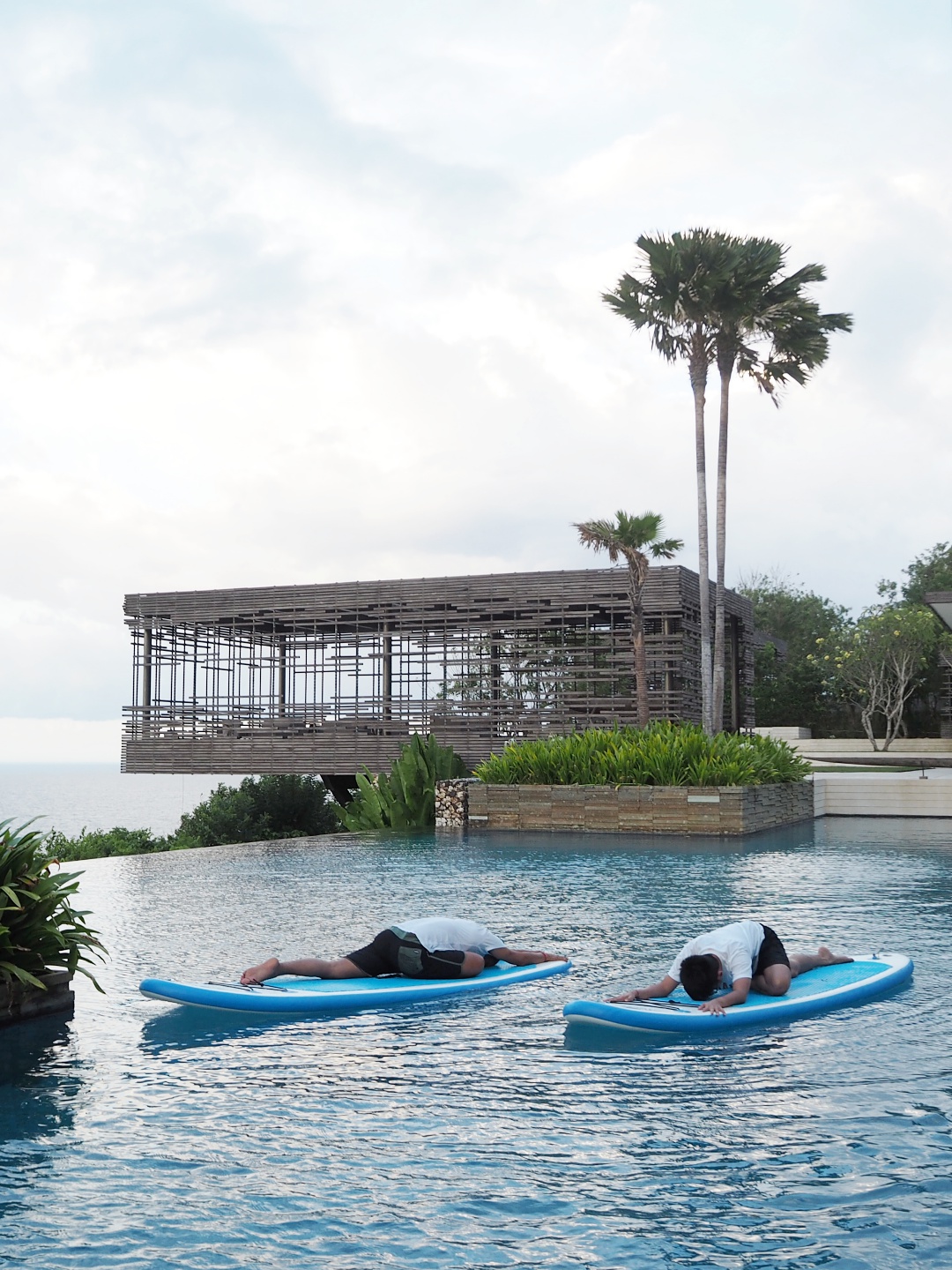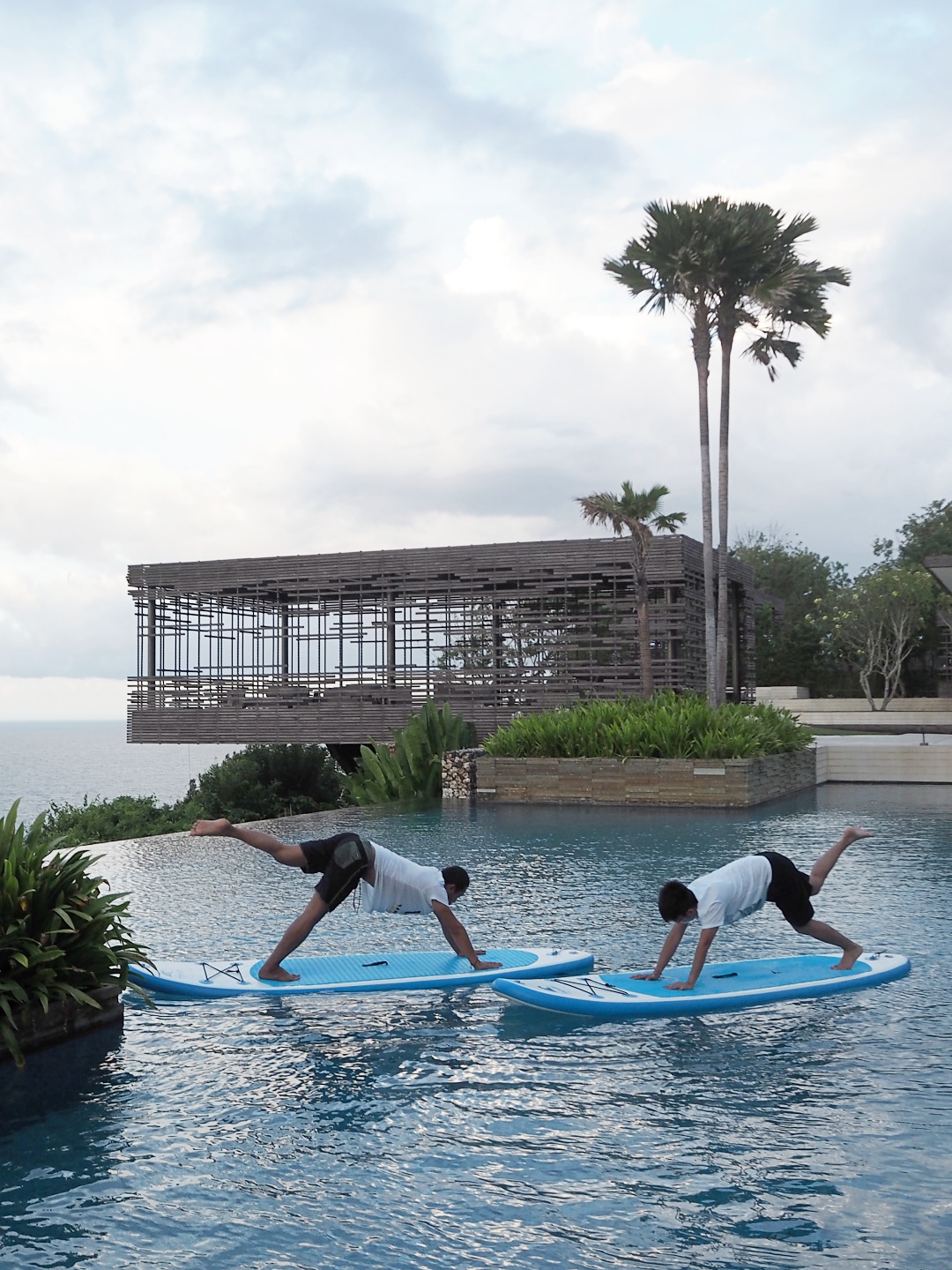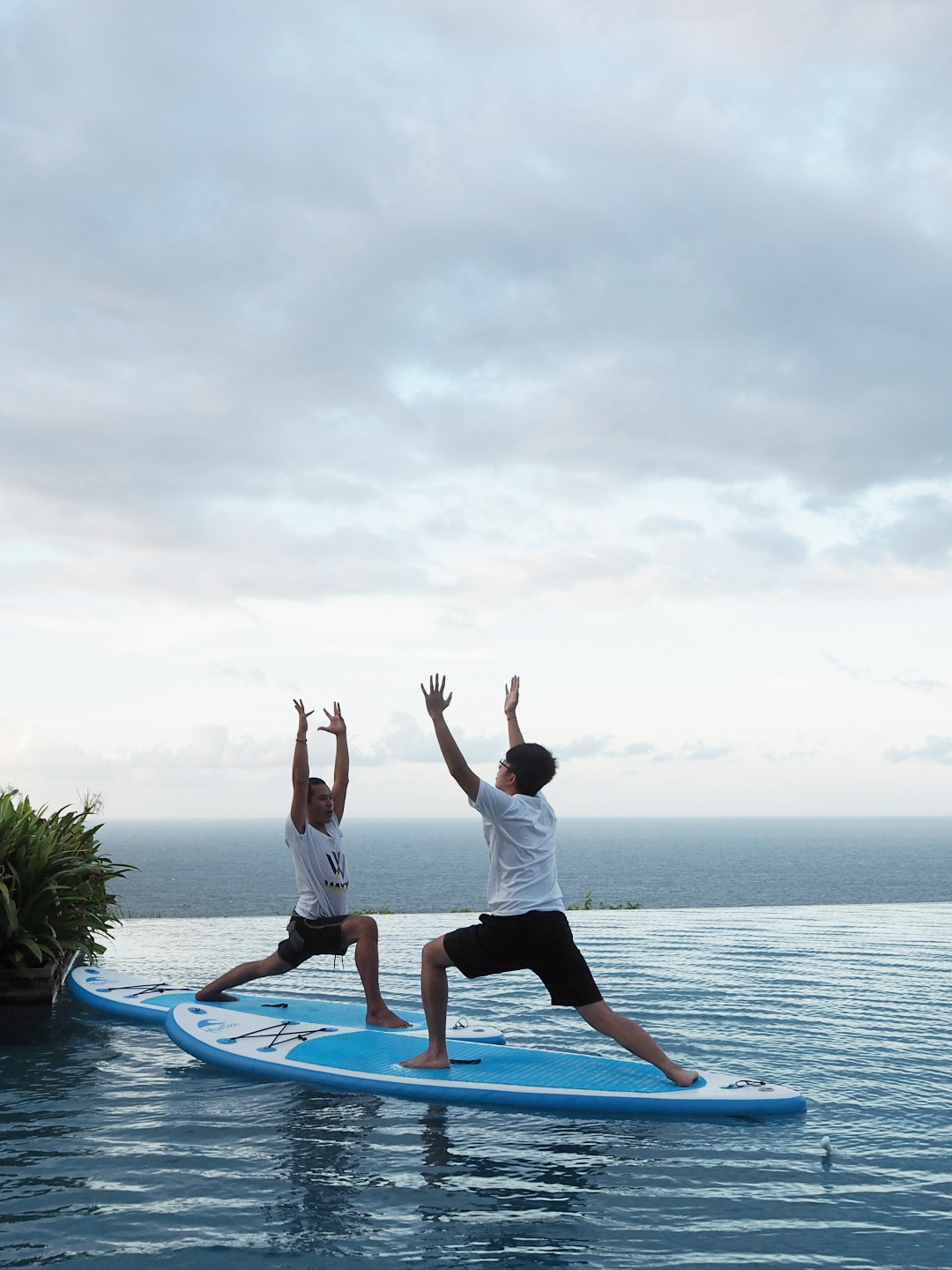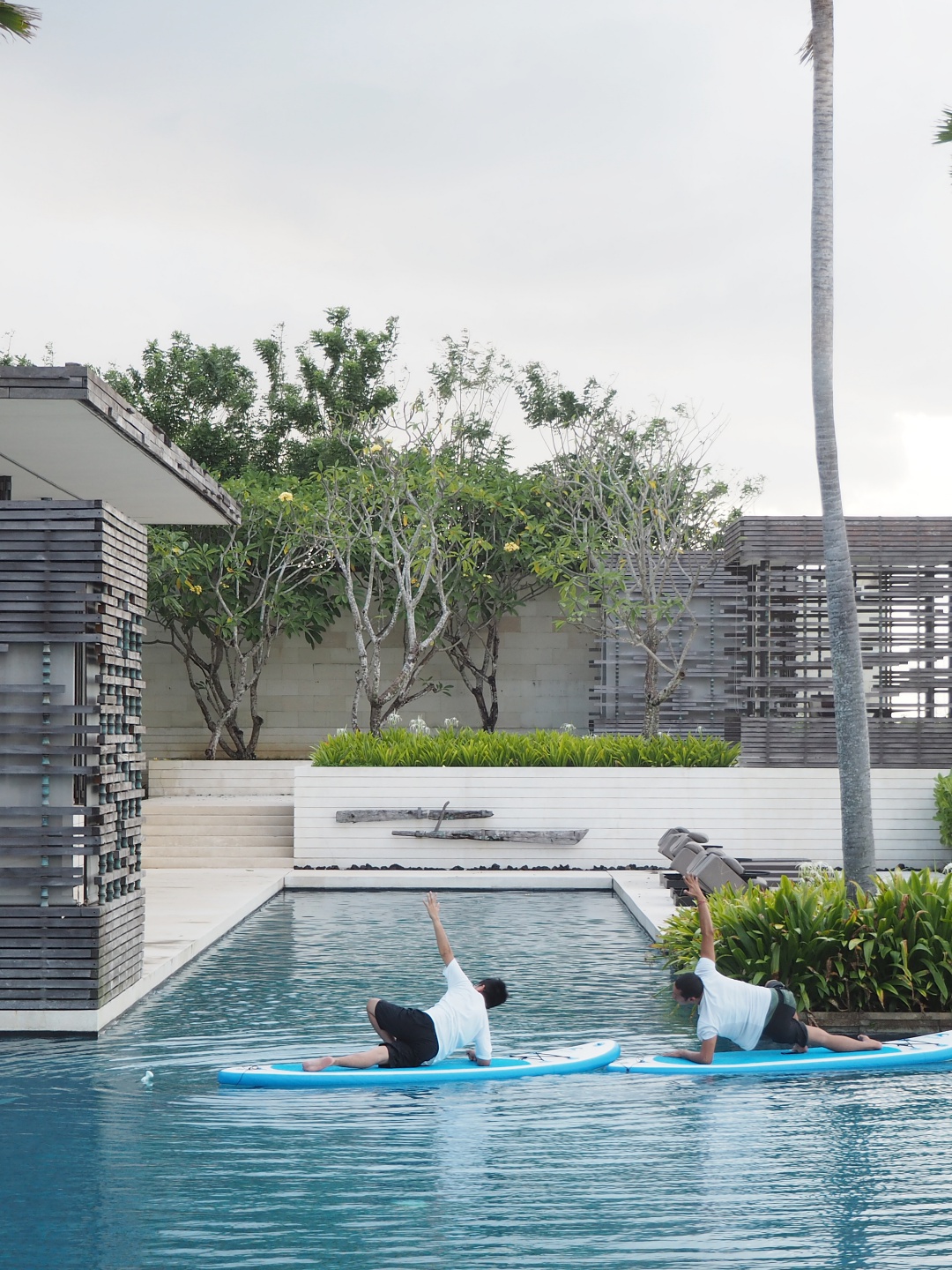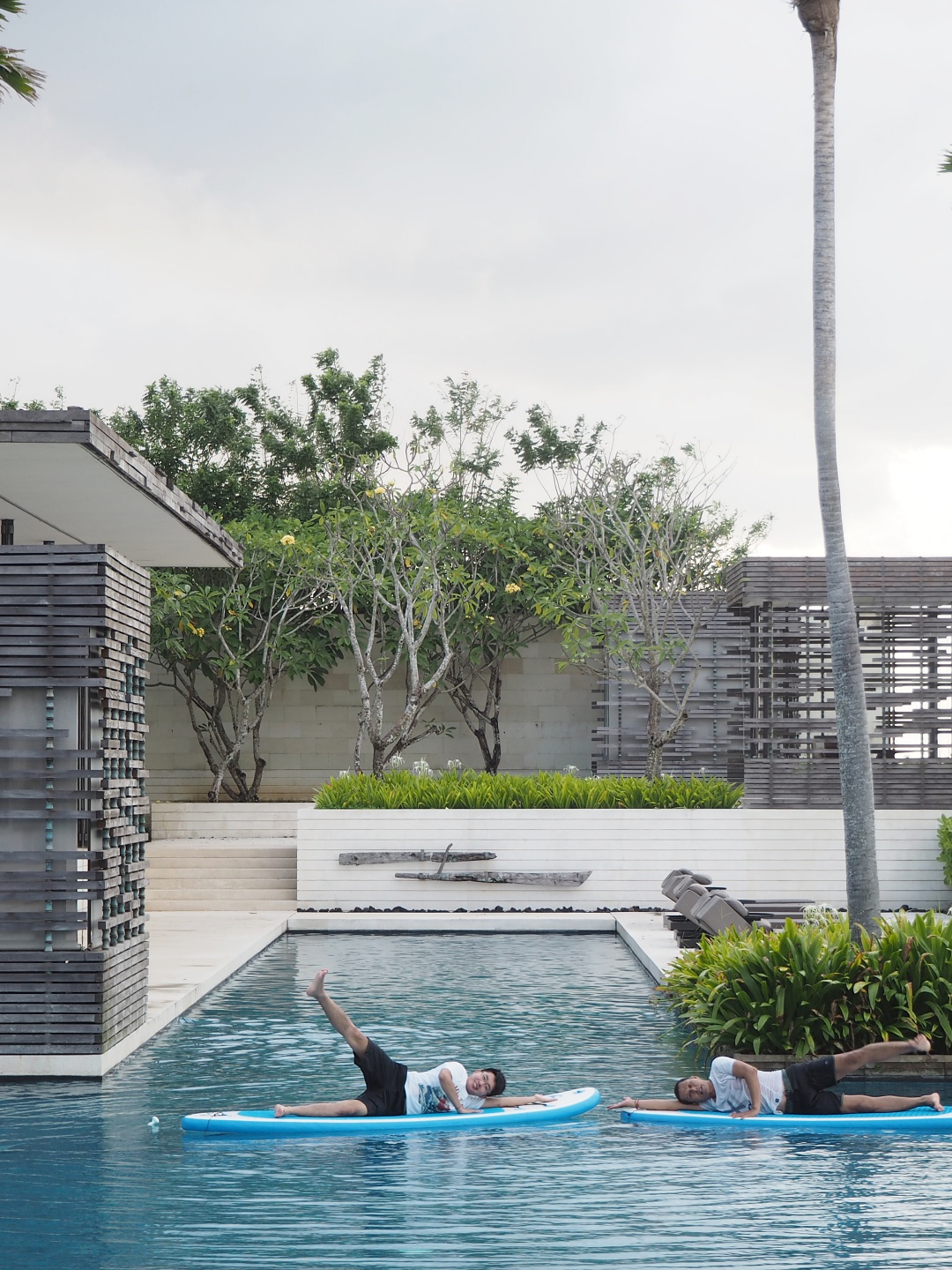 Smile for the camera.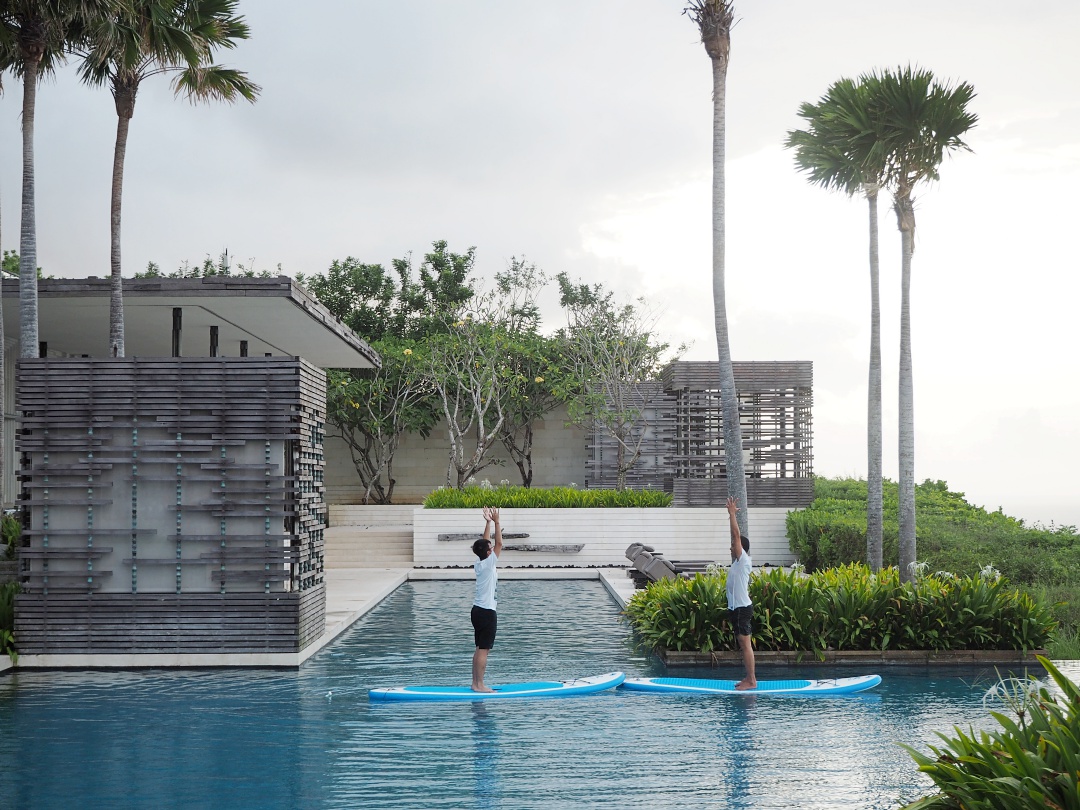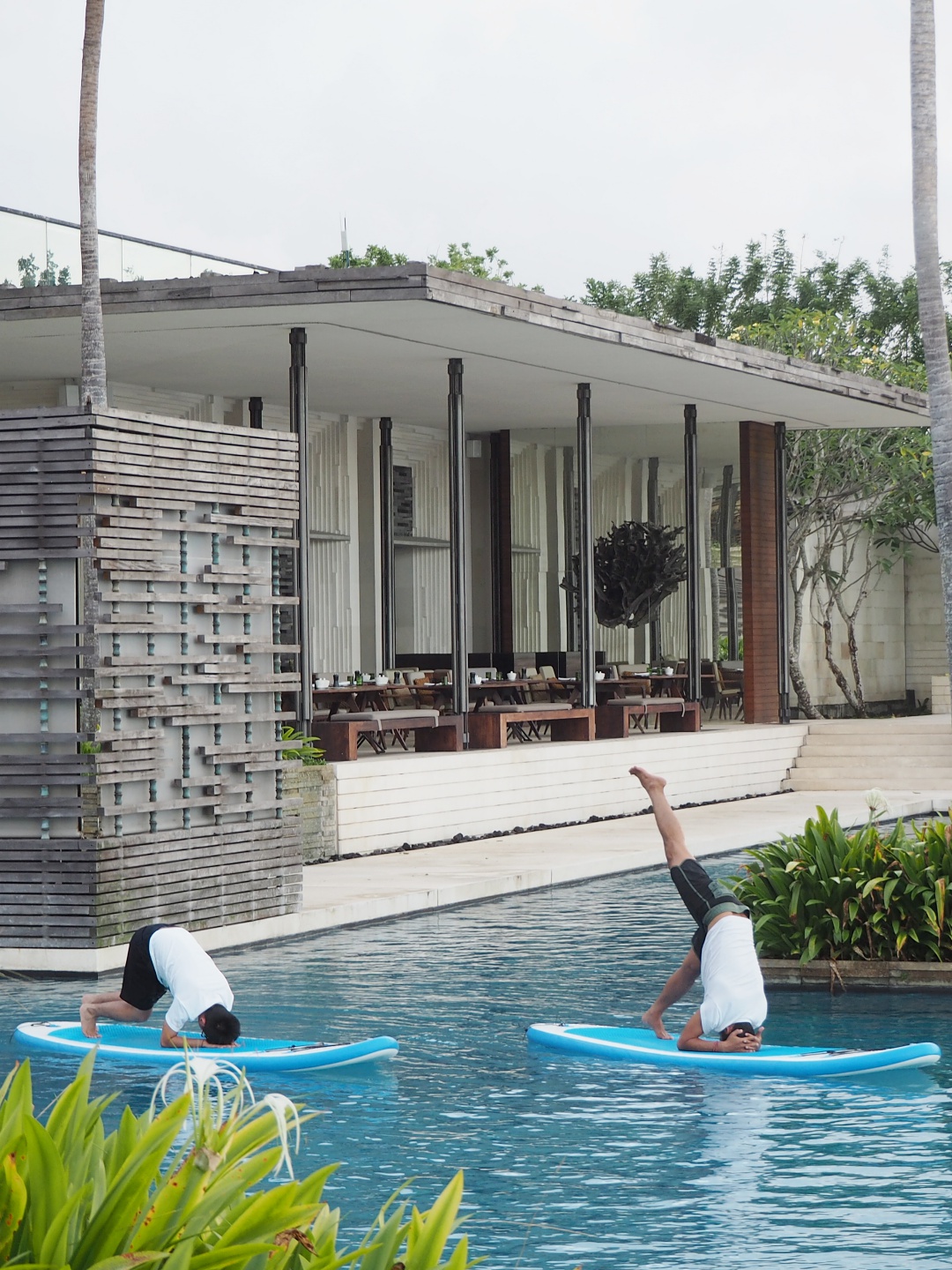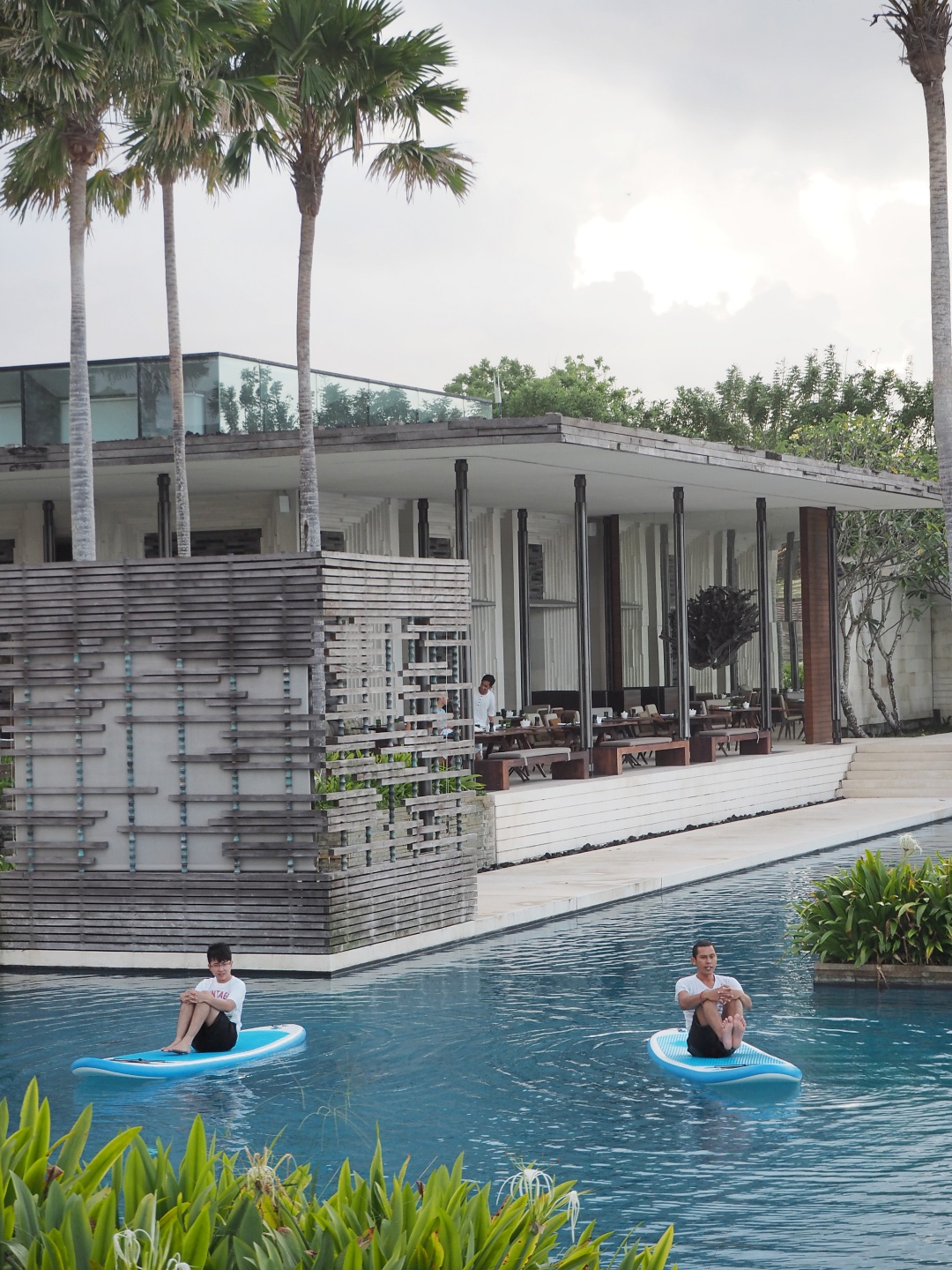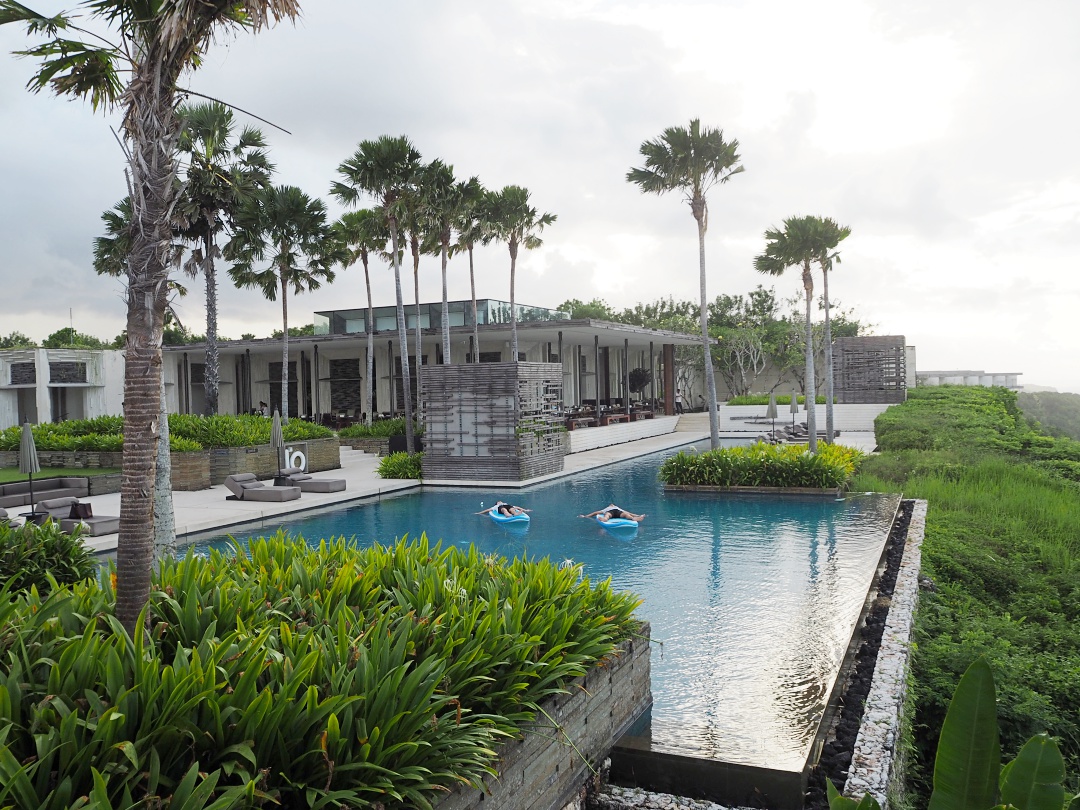 Because it's early in the morning, they basically had the entire pool to themselves.
The recommended time for Stand Up Paddle Board Yoga is 06:30. I personally think 07:00 is a good time? At 07:00, the sky is considerably bright, and you can enjoy the peacefulness of the surrounding before the guests start streaming to the nearby restaurant for breakfast.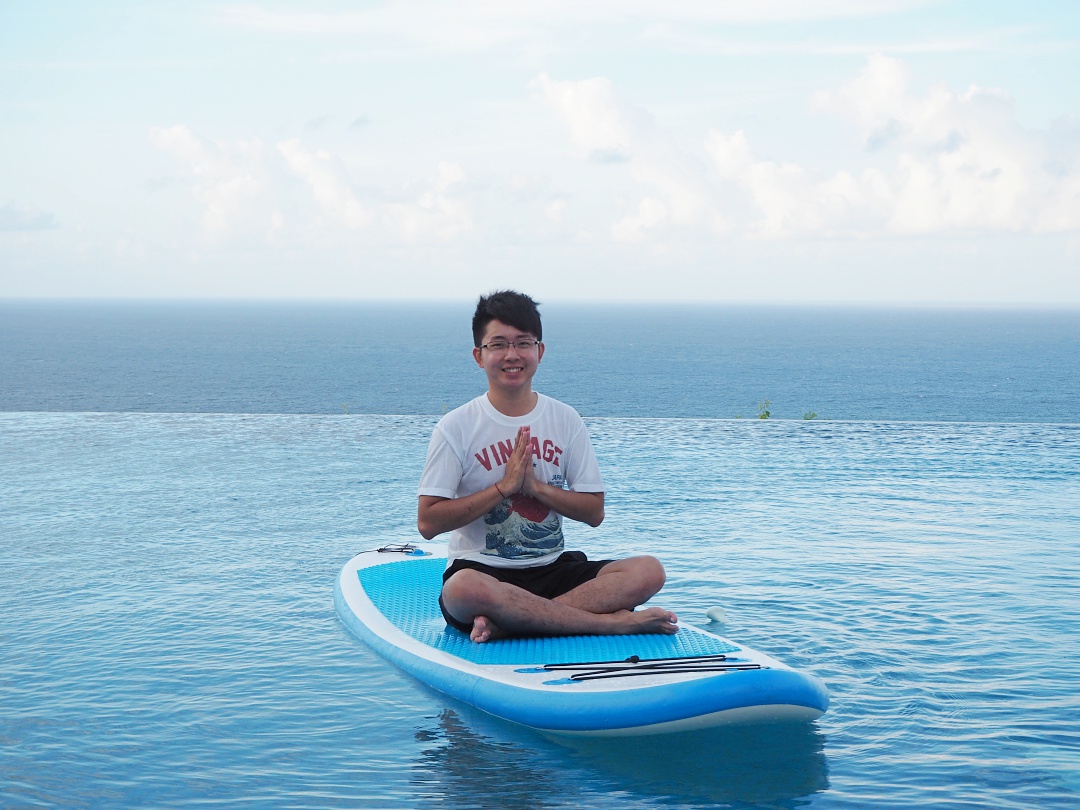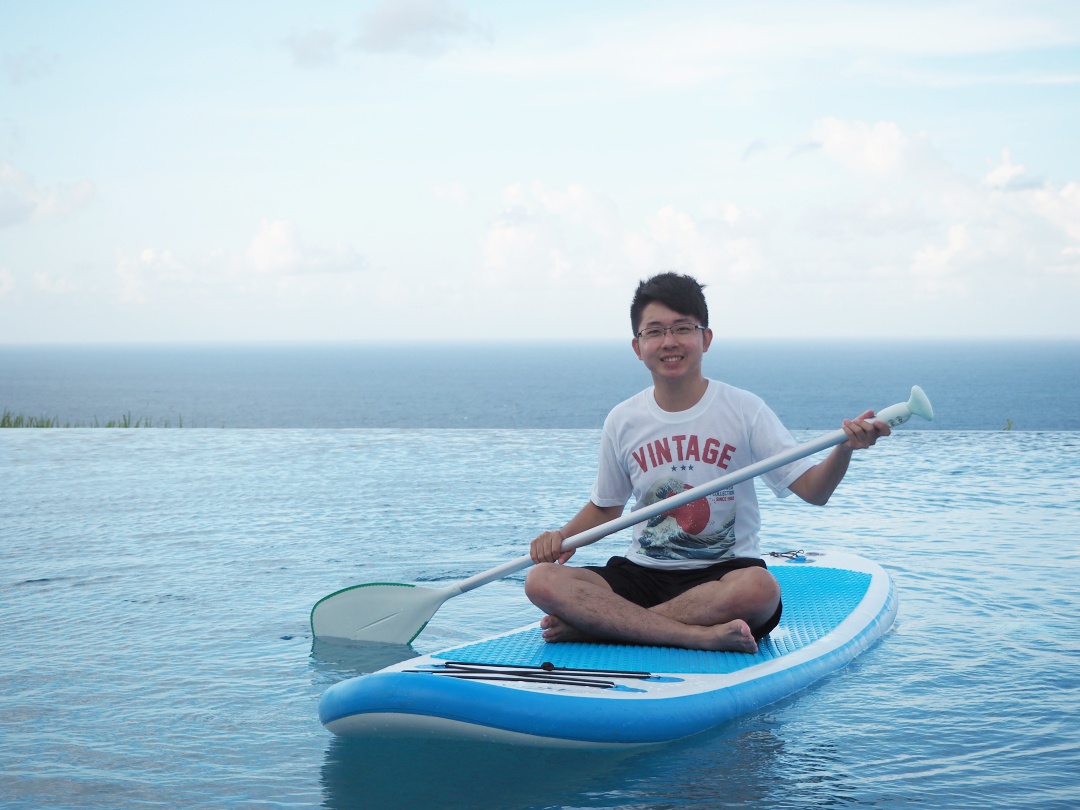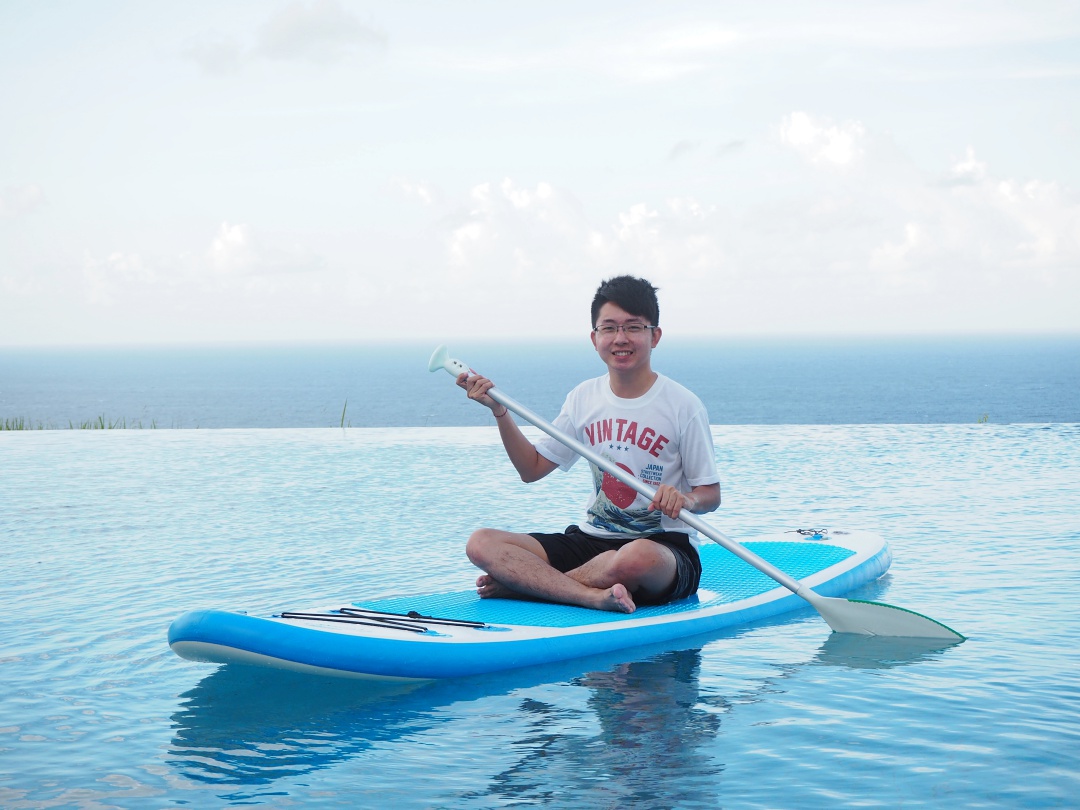 My Attempt
Moving on to the morning of Day 4, it was time for my attempt at Stand Up Paddle Board Yoga! Seeing the Fiancé do it the day before, it reassured me that it is doable and not as difficult as what I've pictured in my mind. So instead of dragging my way to the pool like what I did the day before, I was quite excited and looking forward to trying it out for myself.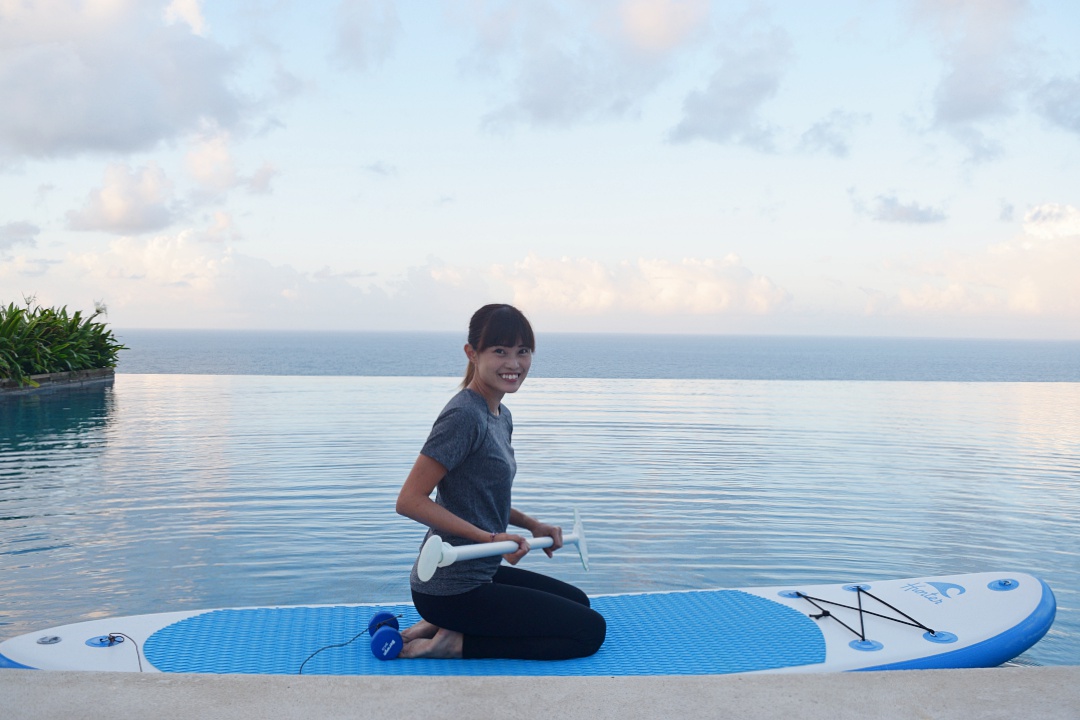 All ready to conquer the challenge ahead of me!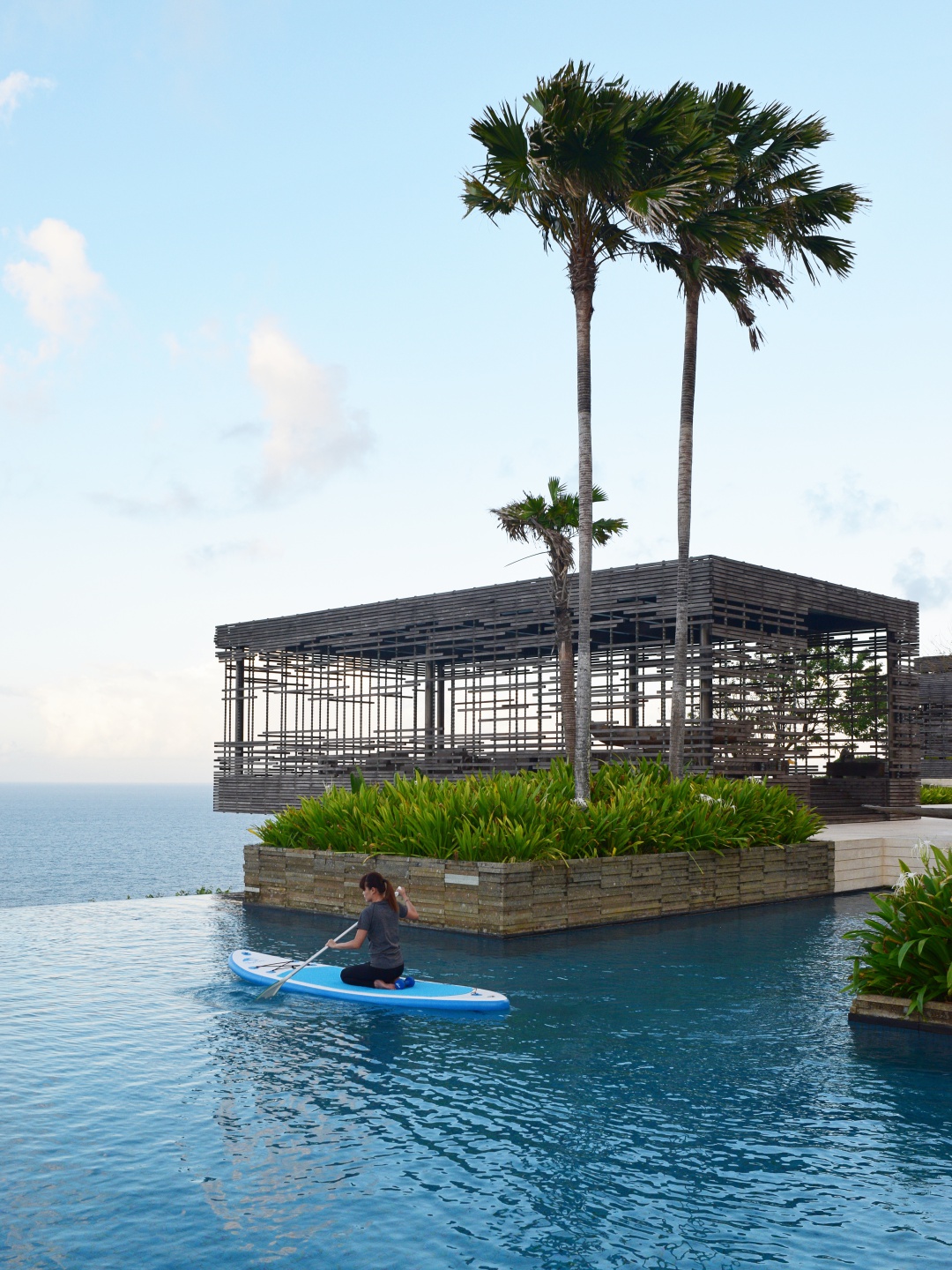 The truth is, I struggled to even paddle my way to the middle/edge of the pool. And when I finally reached the edge, I thought it was pretty scary? I wouldn't mind falling into the water; I'm more afraid of falling off the pool.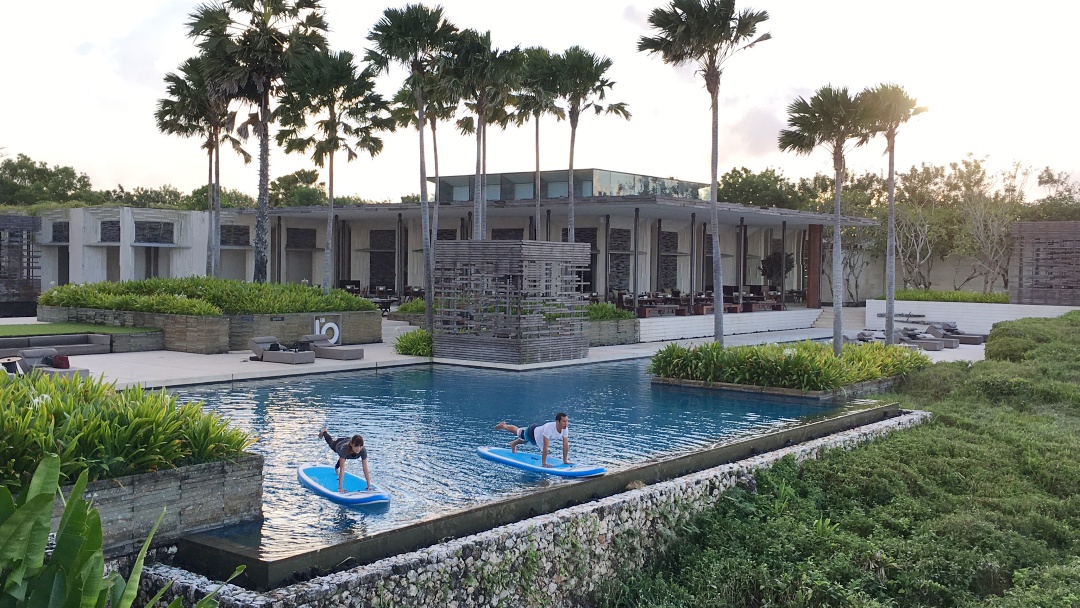 Conquered my fear and did it!
How should I describe it? I supposed it felt both relaxing and exhilarating at the same time? I tried not to focus on how near I was to the edge of the pool, and instead focus on the view ahead of me. It was a moment of liberating when staring at the calming ocean/horizon.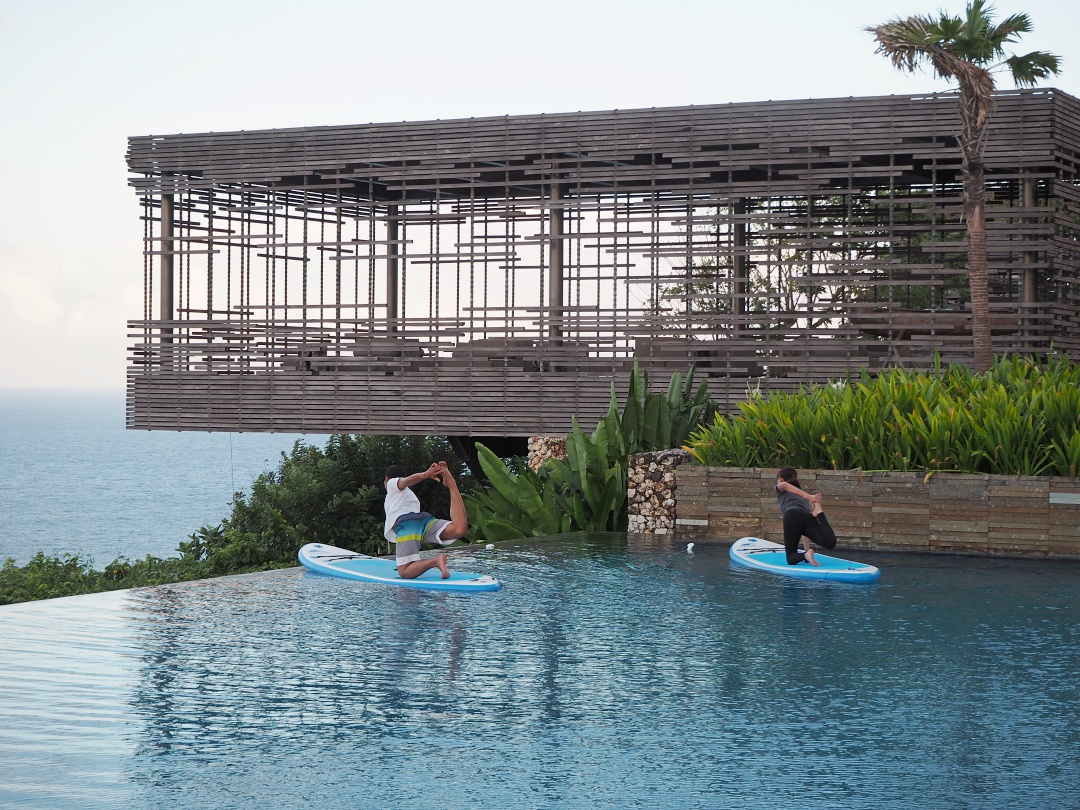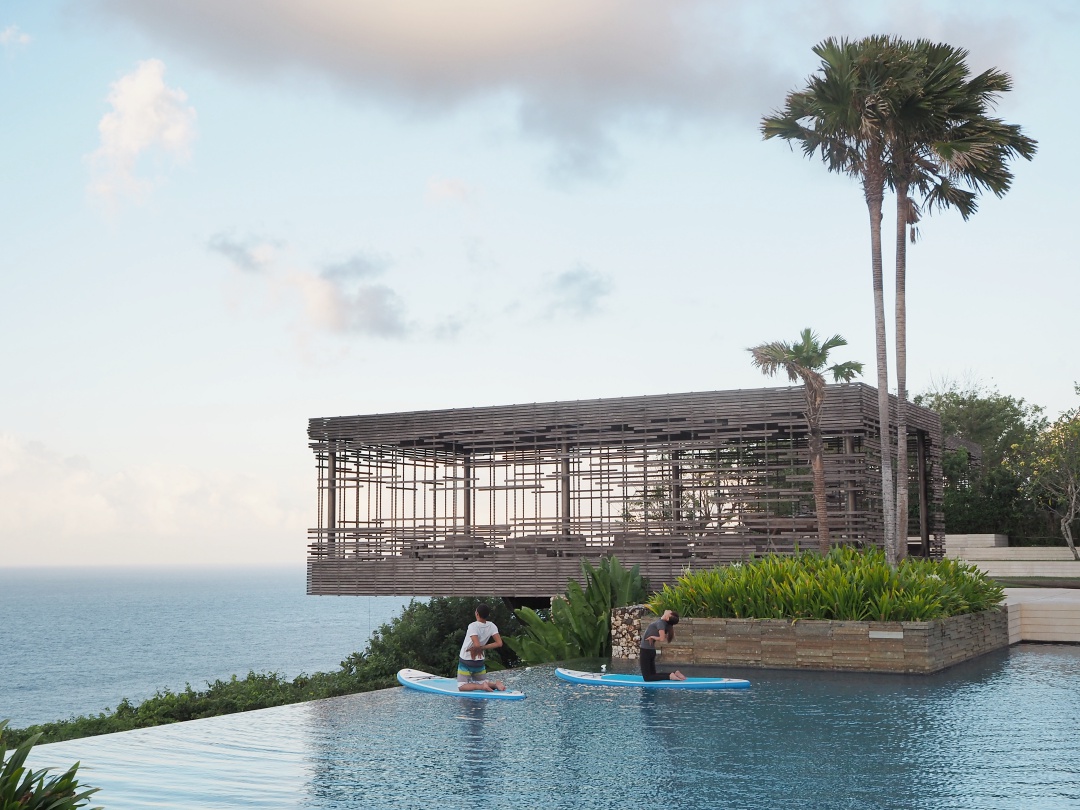 Comparing the way the Fiancé and I balance on the paddle board, I do think that my balancing skill is better. Balancing wasn't something that is on my mind. In fact, once I could find my balance on the paddleboard, I just kind of forget about it and focus on doing the yoga pose. The trick is to let go of your inner fear and focus on the task at hand.
I wish I could apply this to everything I do in life. But let's just say what I felt then, wasn't what I usually felt in my day to day life. I was just lucky that I was having fun that day.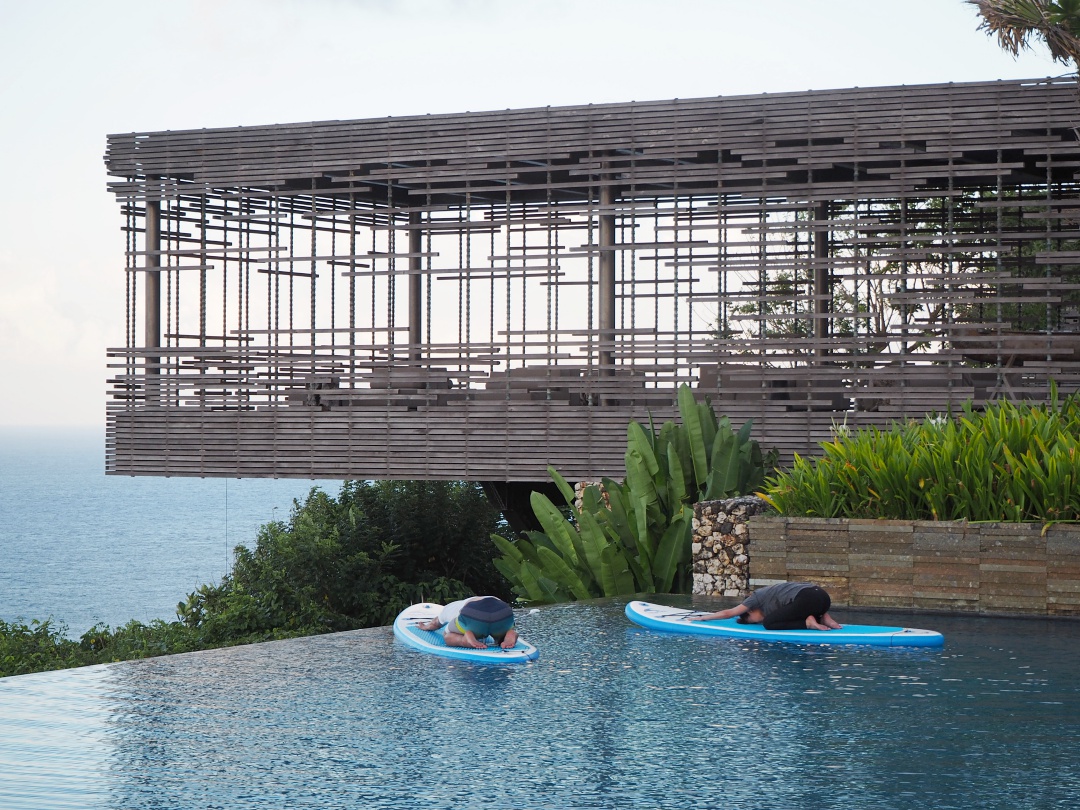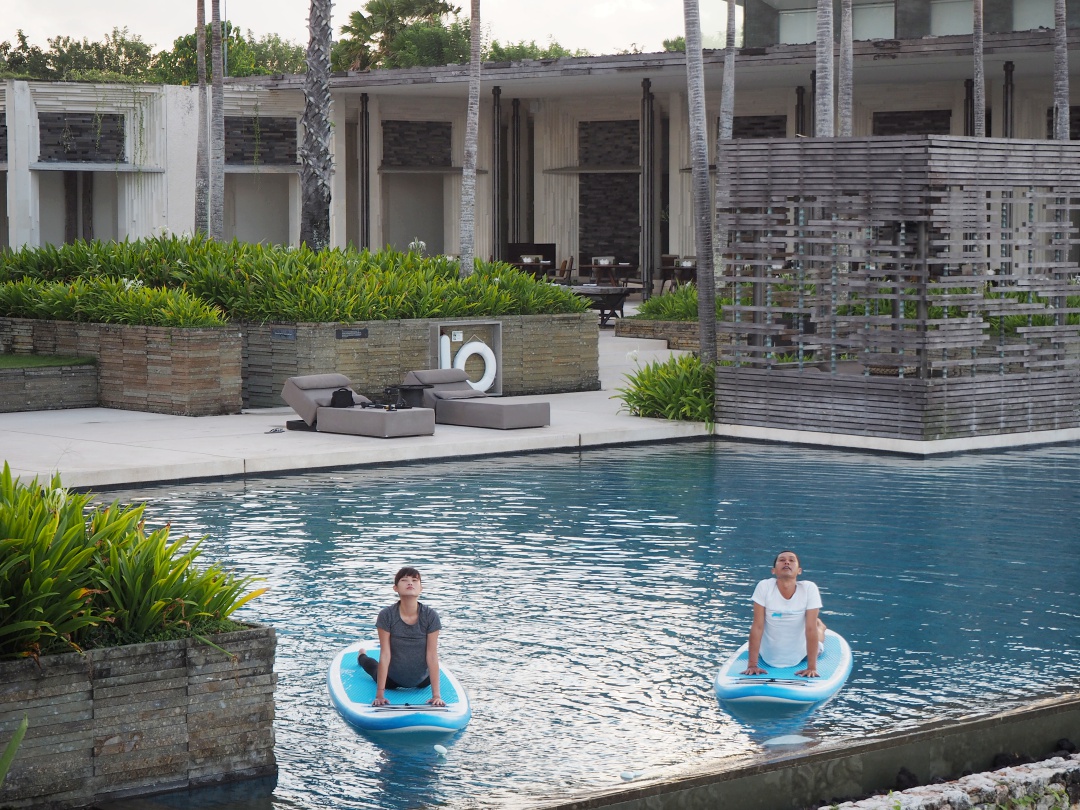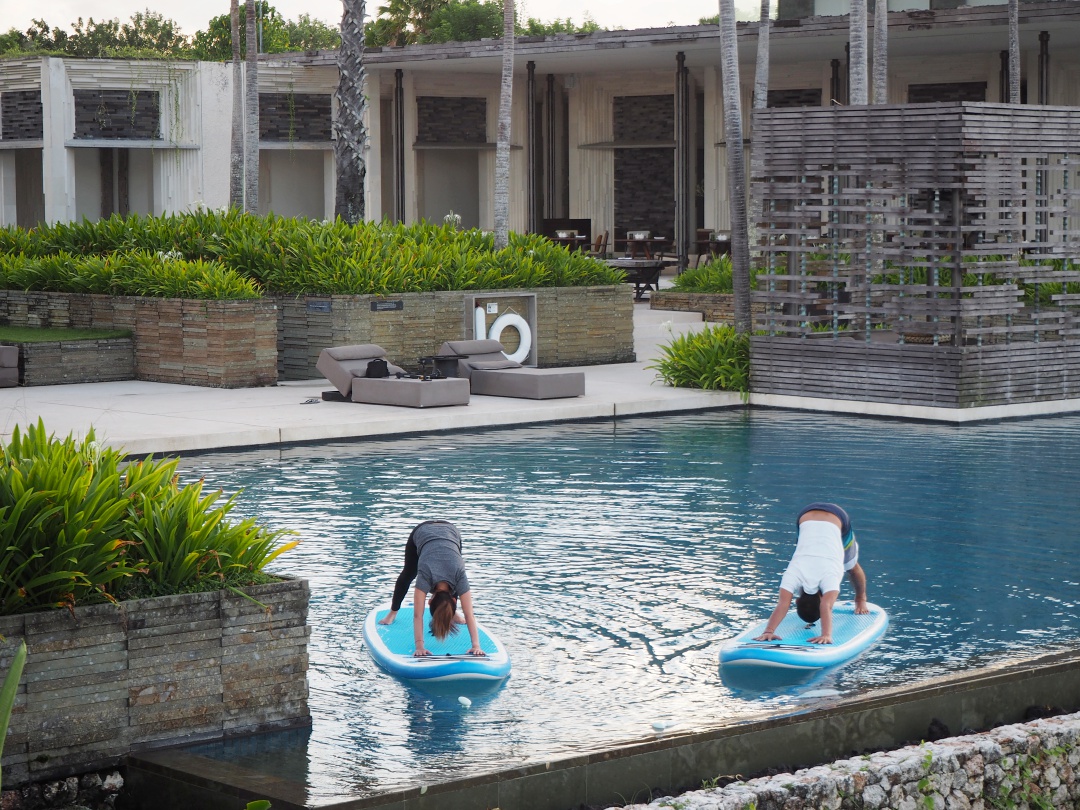 My posture wasn't perfect, but I'm so thankful for these pictures. I know the Fiancé had a hard time running around trying to catch me at different angles.
Instead of some nice smiling shots taken at the iconic swimming pool of Alila Villas Uluwatu, I'm glad I have these pictures to look back to. They are really precious to me as it shows how I conquer my fear and did something out of my comfort zone. I was totally having fun and enjoying myself.
Aside from this being really cool and the nice view that I got in front of me, I think what makes this Alila Experience really enjoyable is that I have an excellent instructor. He never once pushed me to do a pose. At times when I can't reach my toes or bend my body to a certain angle, he will encourage me to try it in a positive way.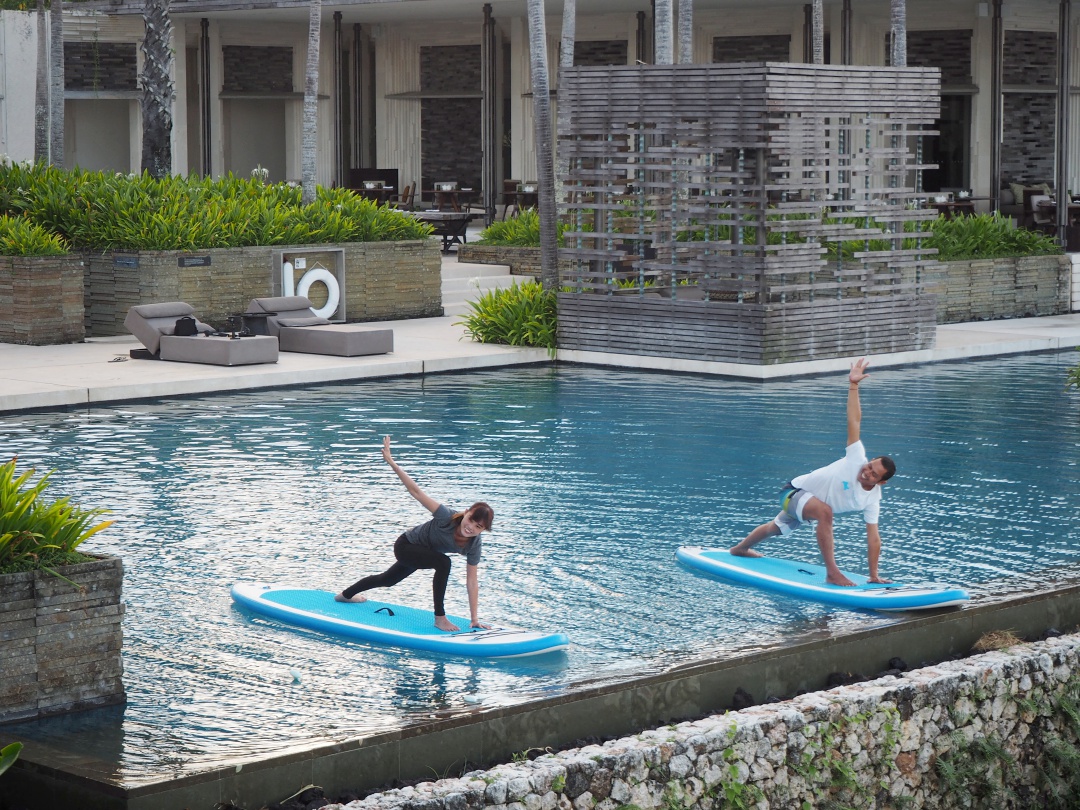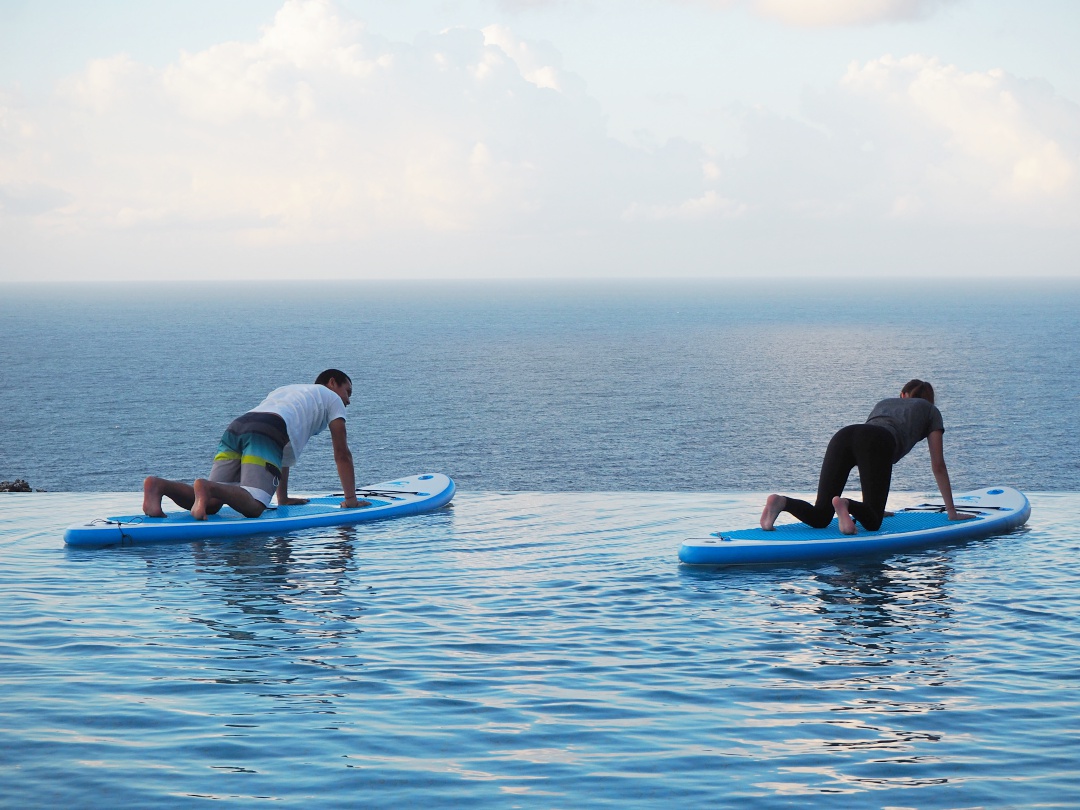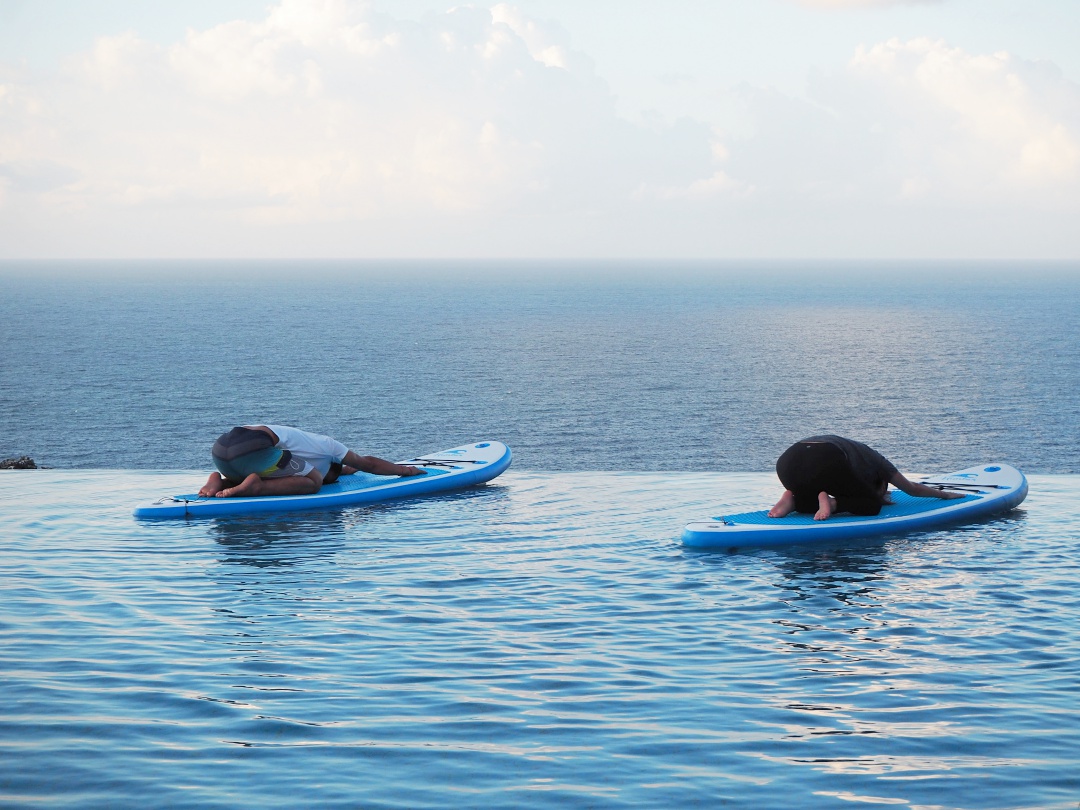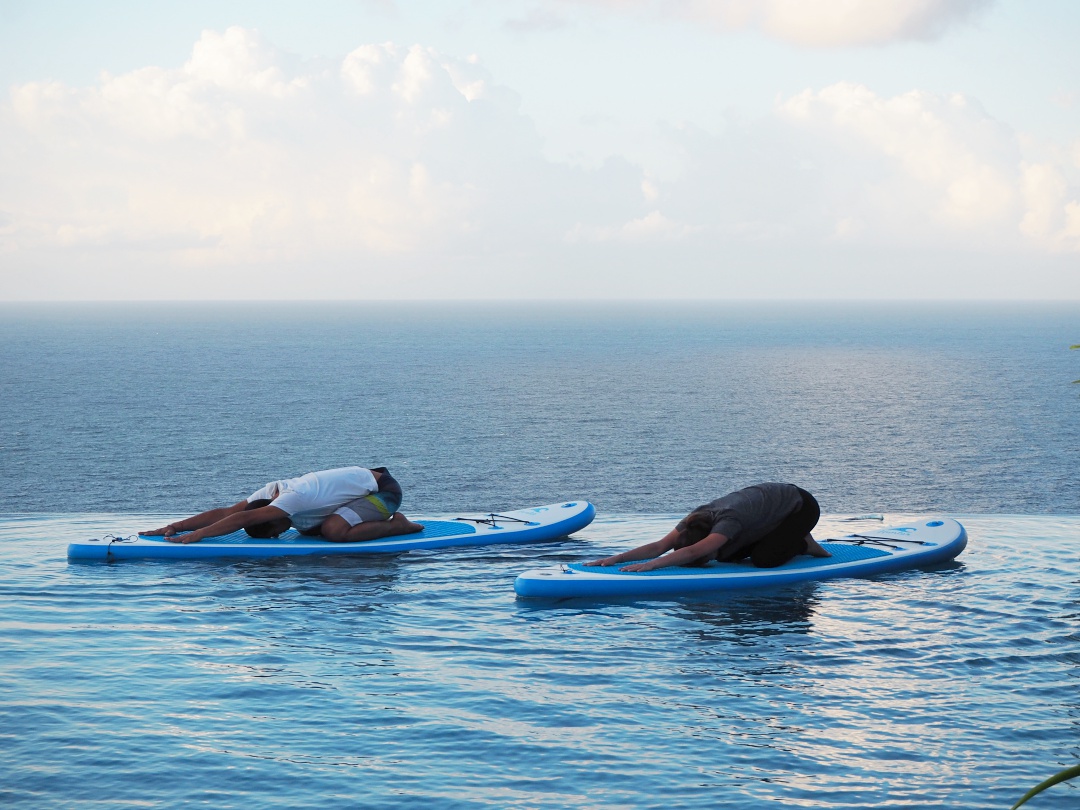 Turning from one direction to the other can be a challenge.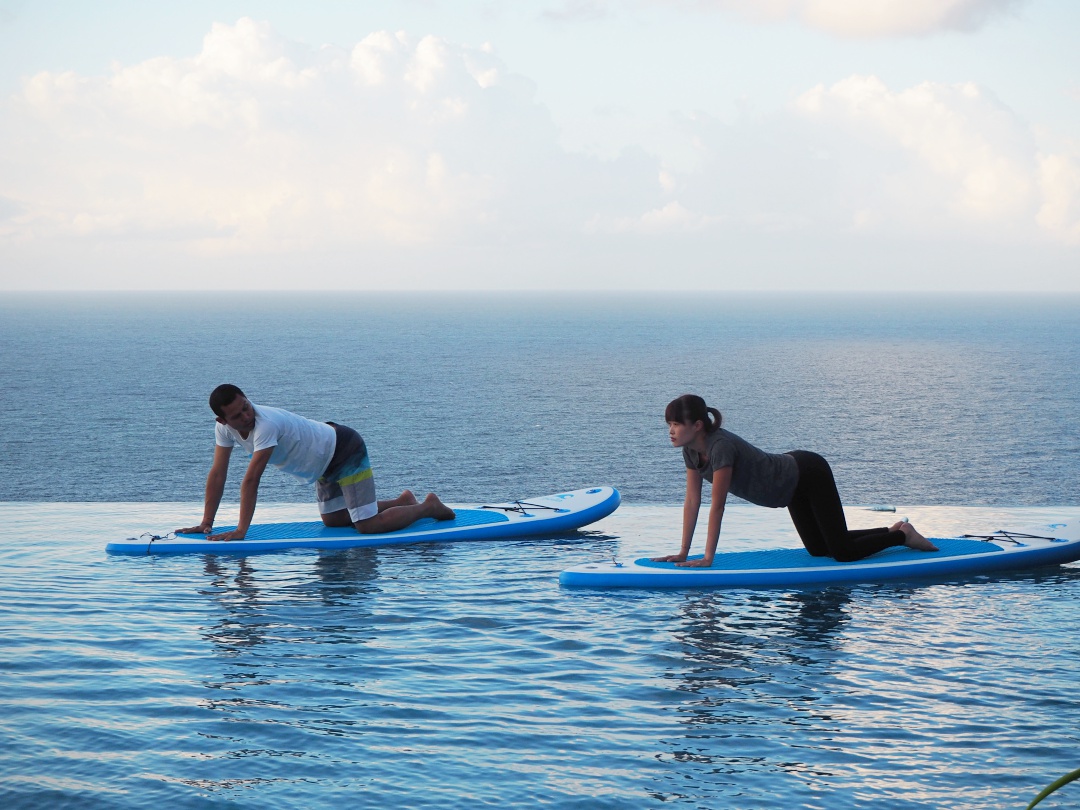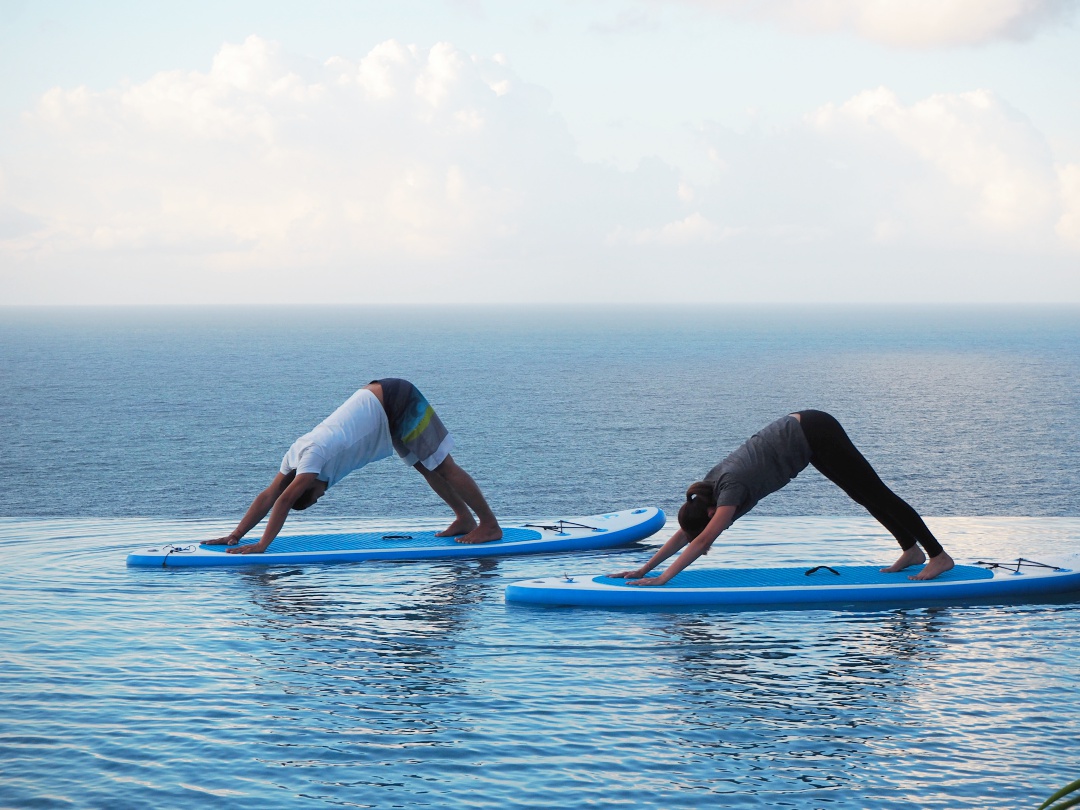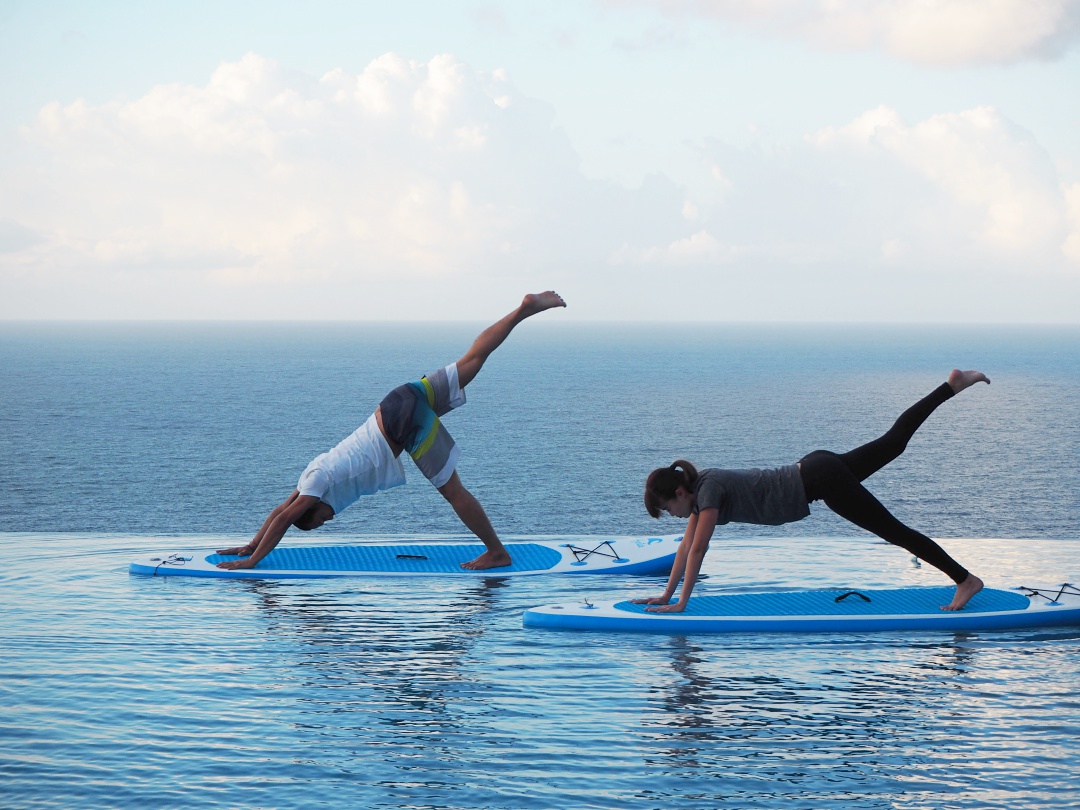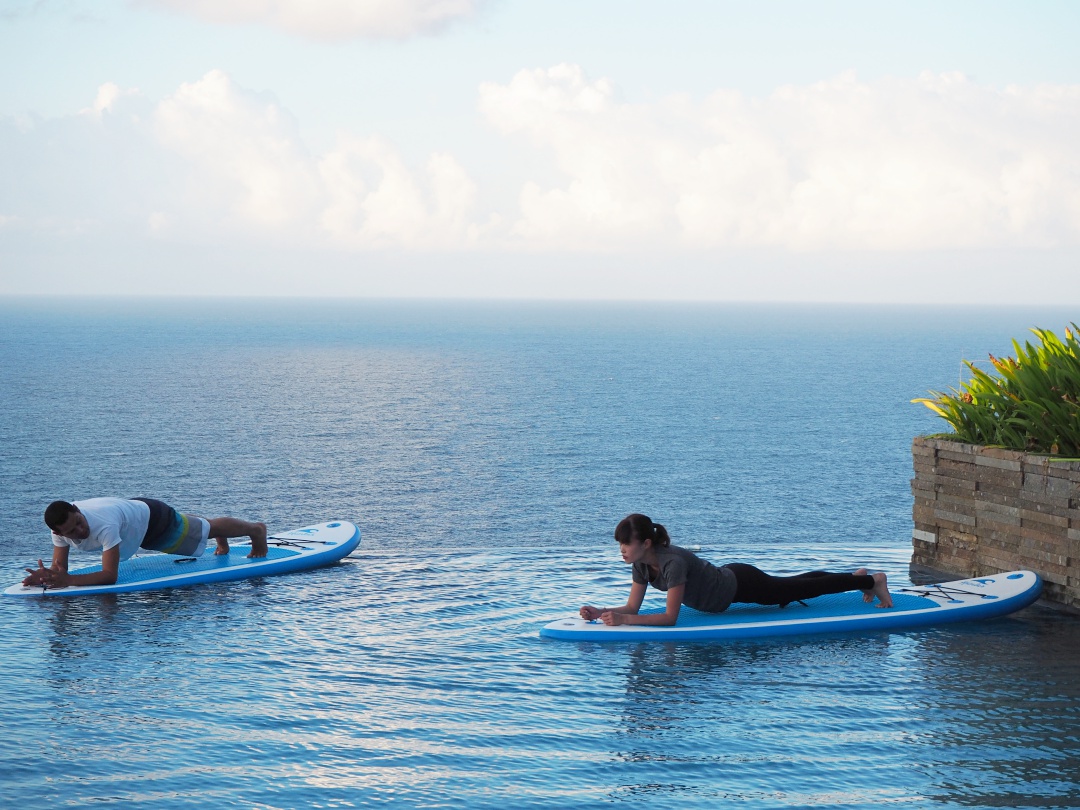 Was told to push my body up.
Can't believe I did plank on a paddleboard in a swimming pool!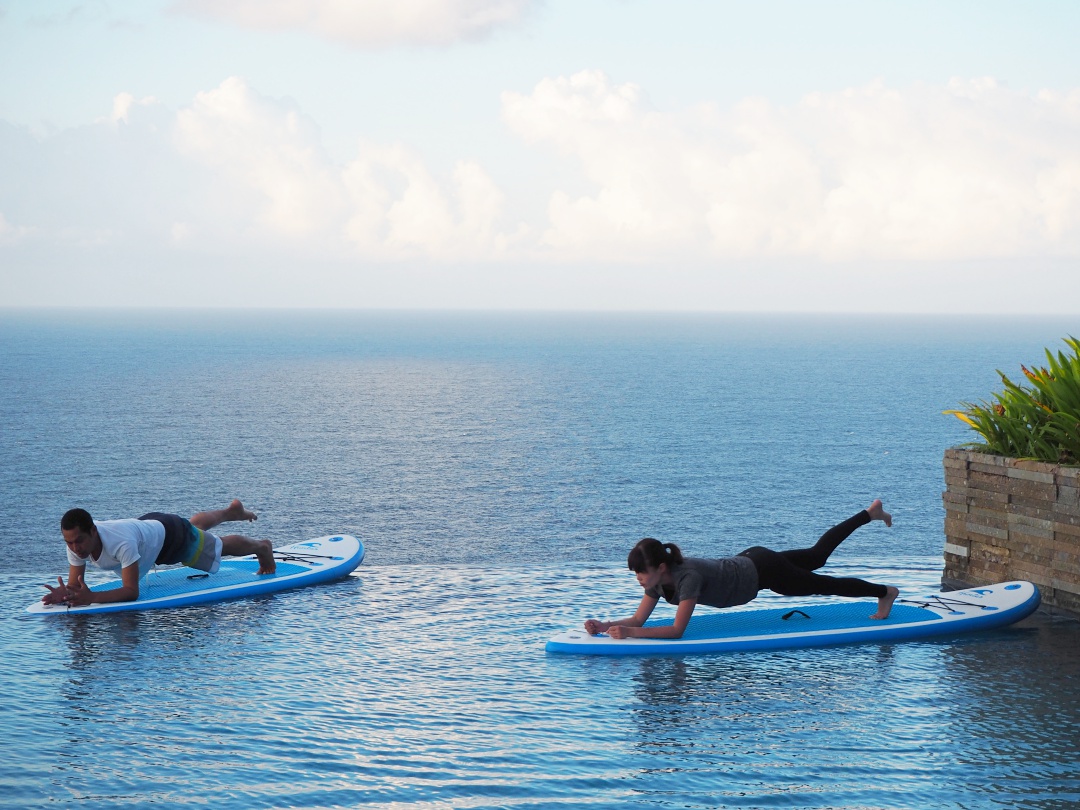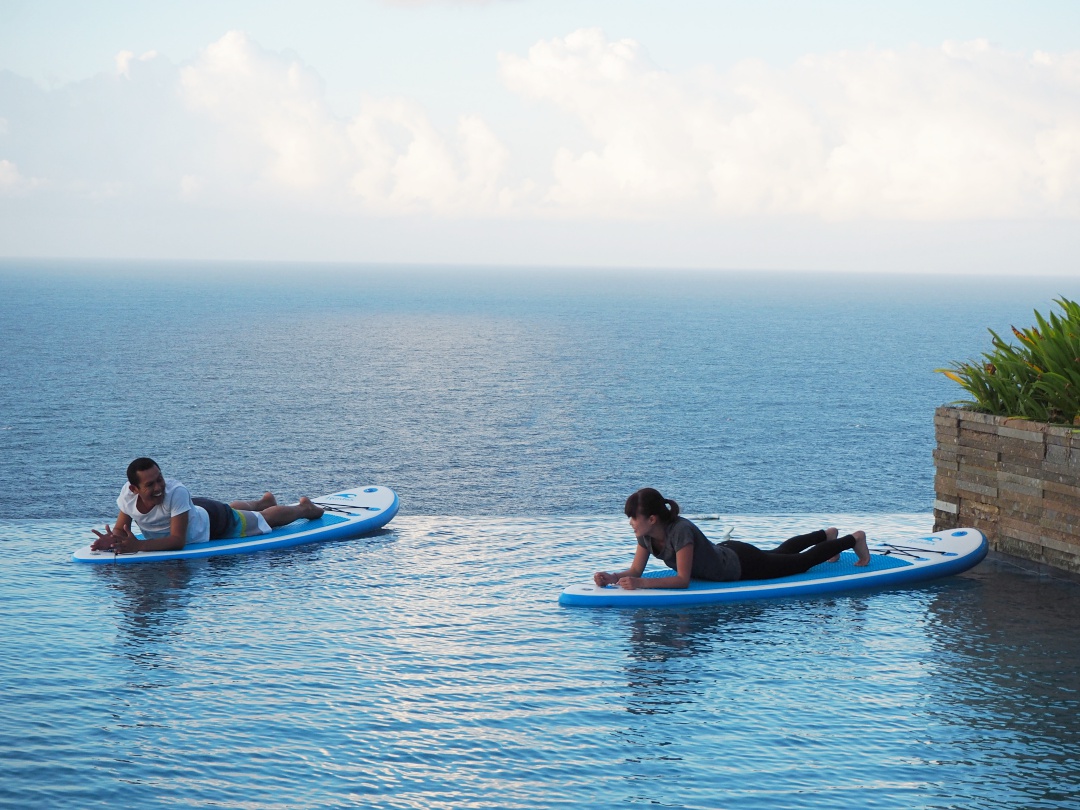 Exhausted!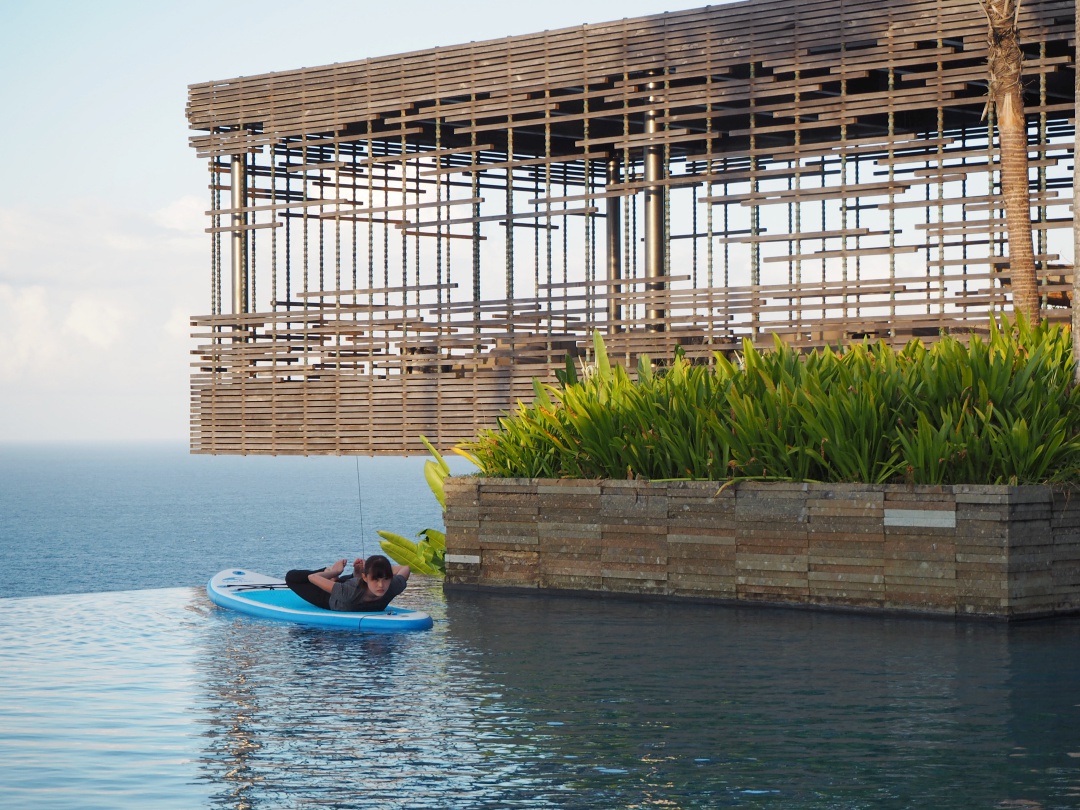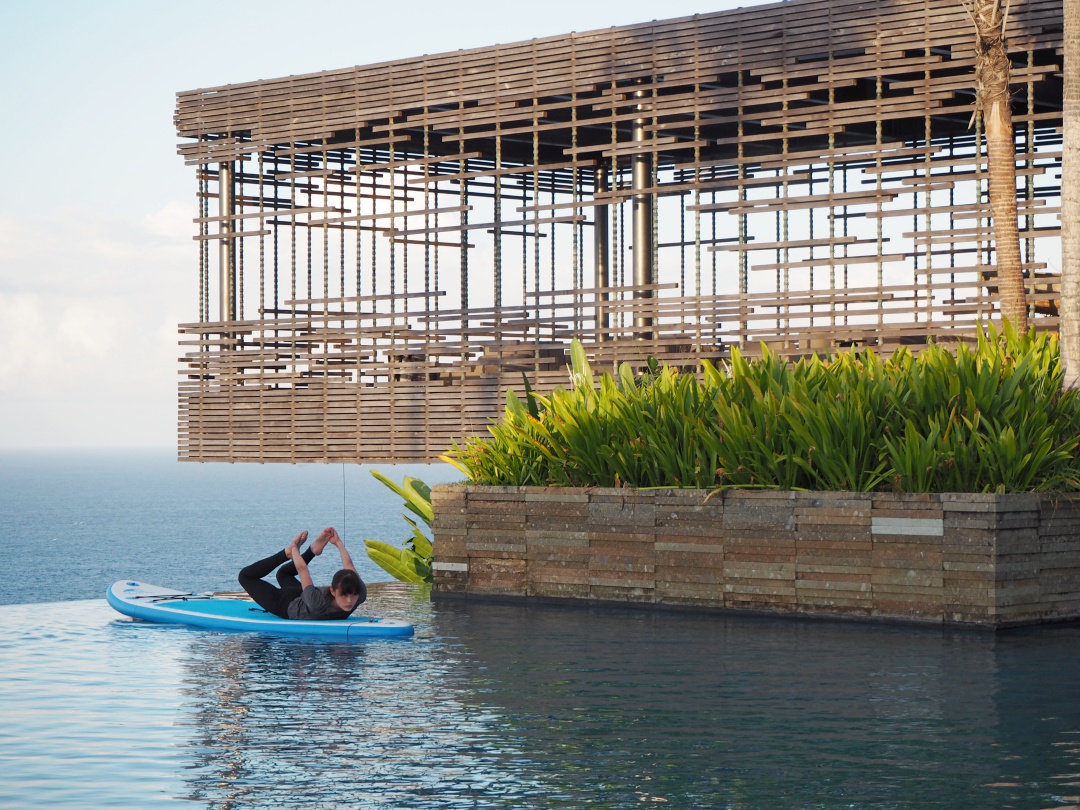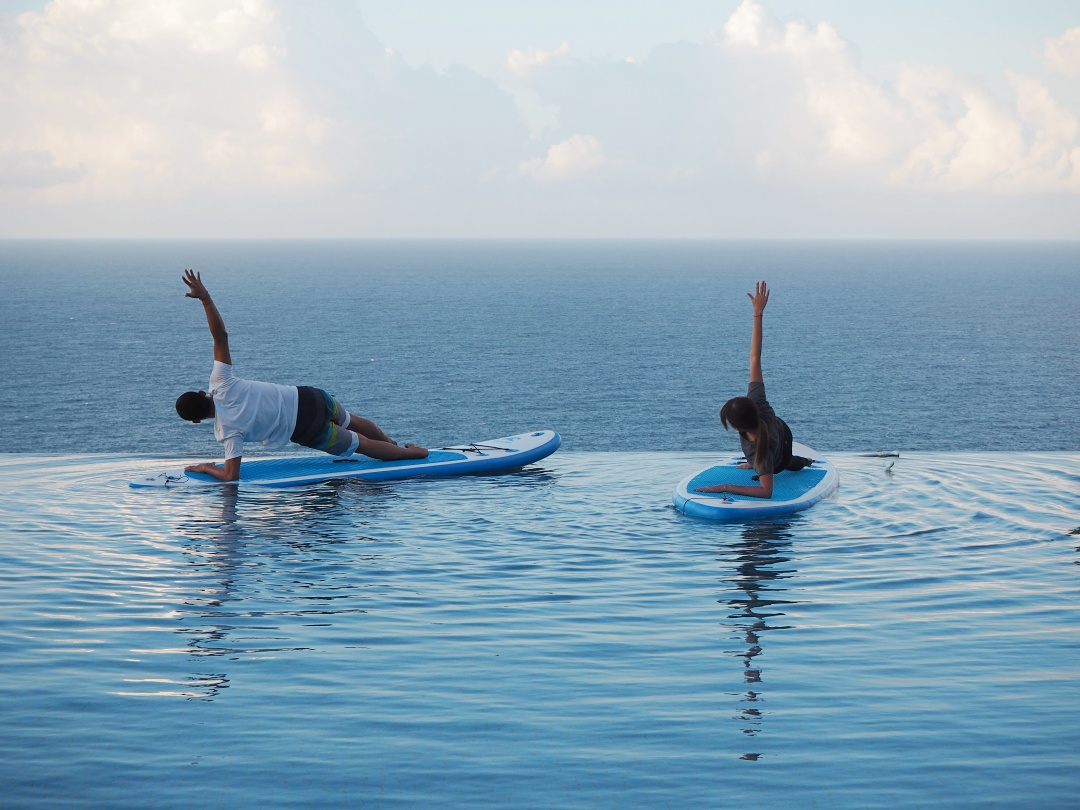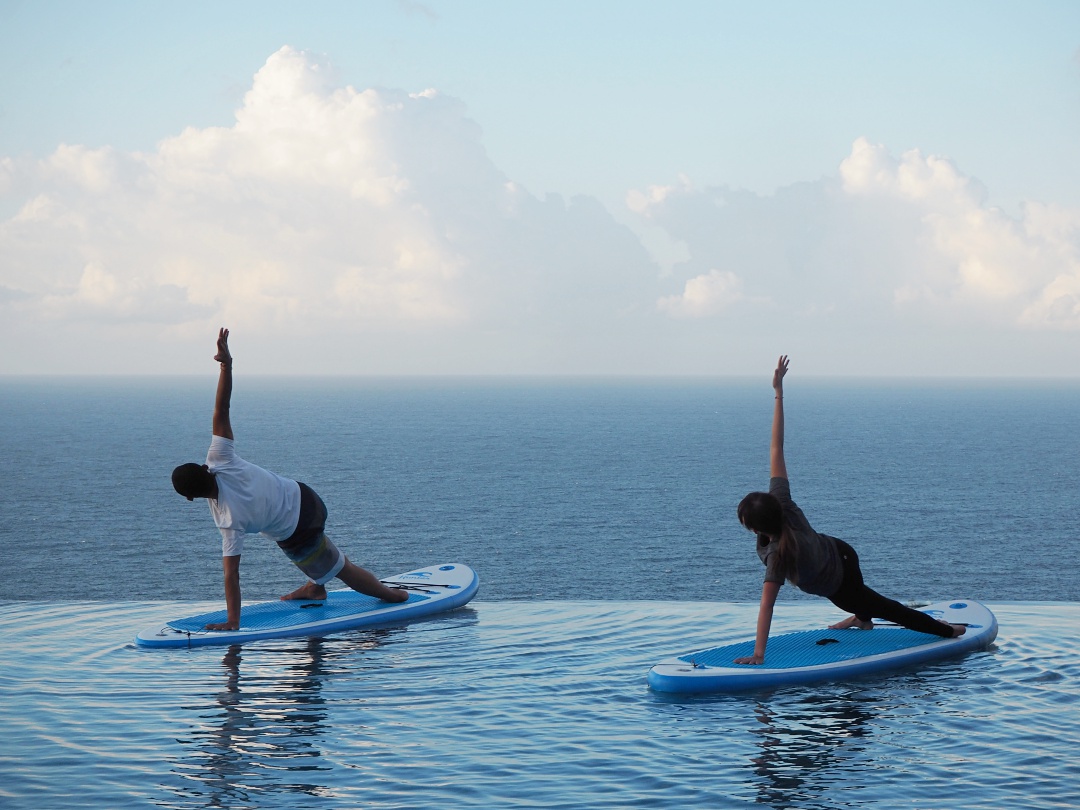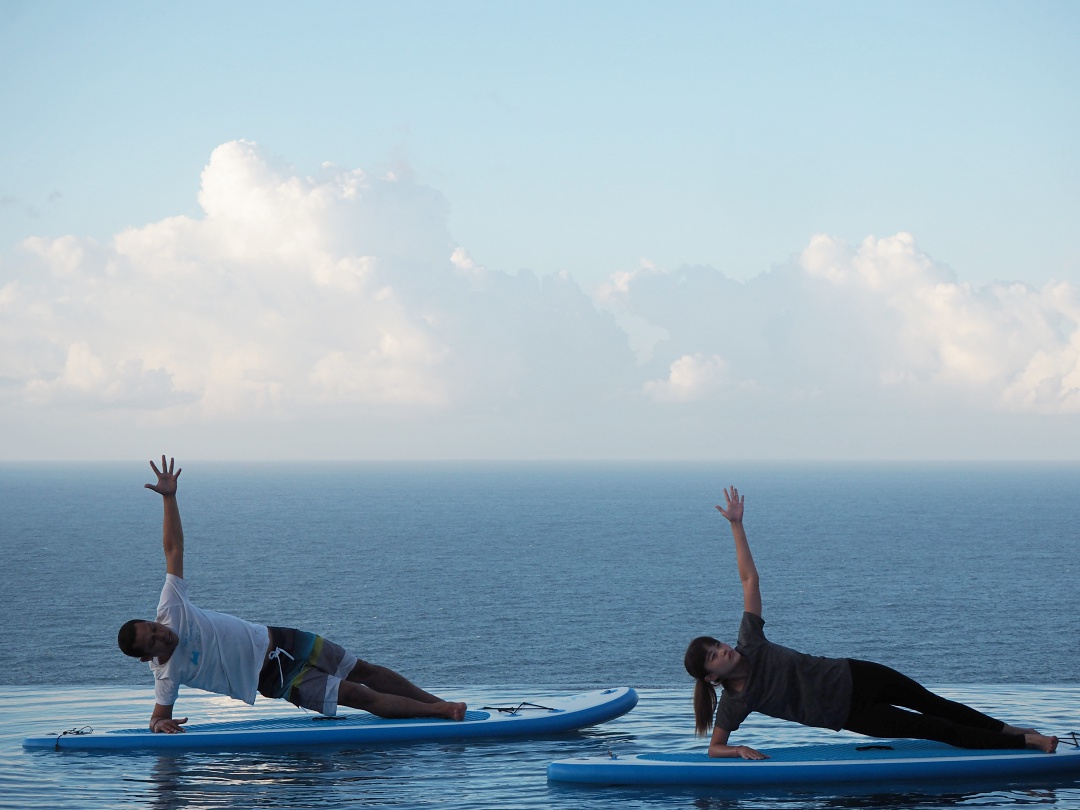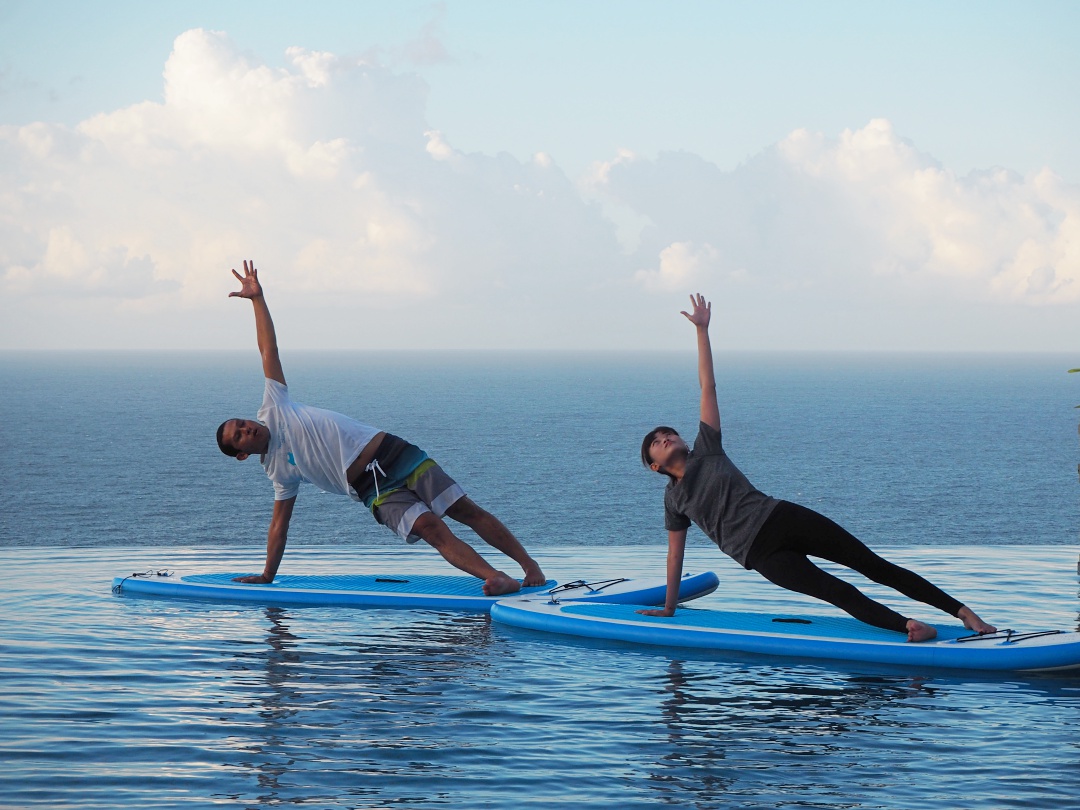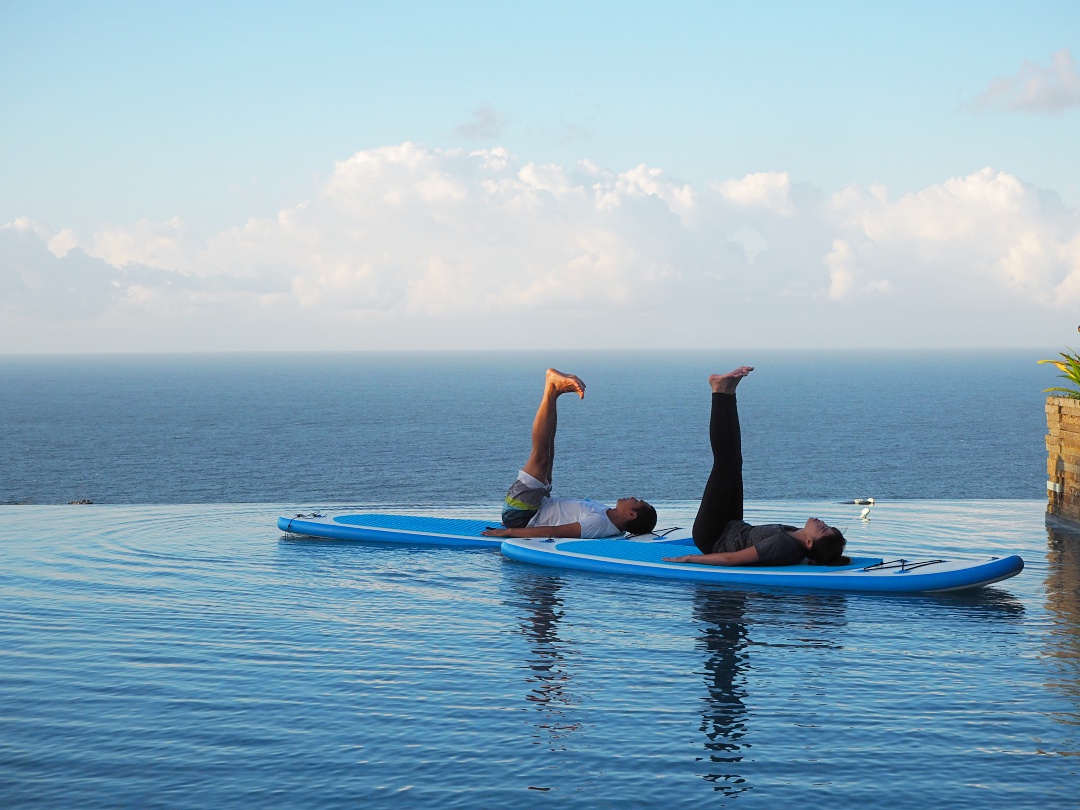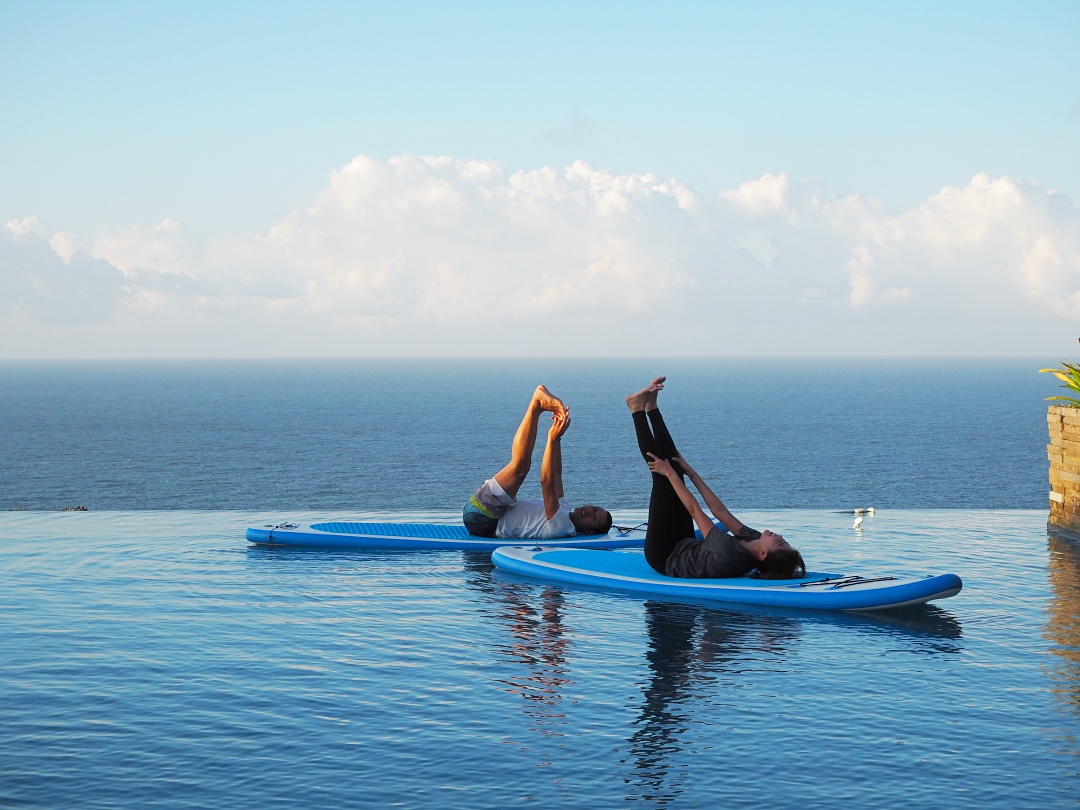 This is the part where I struggled to touch my toes. When the instructor saw that I was struggling, he told me it's okay to just touch my knees.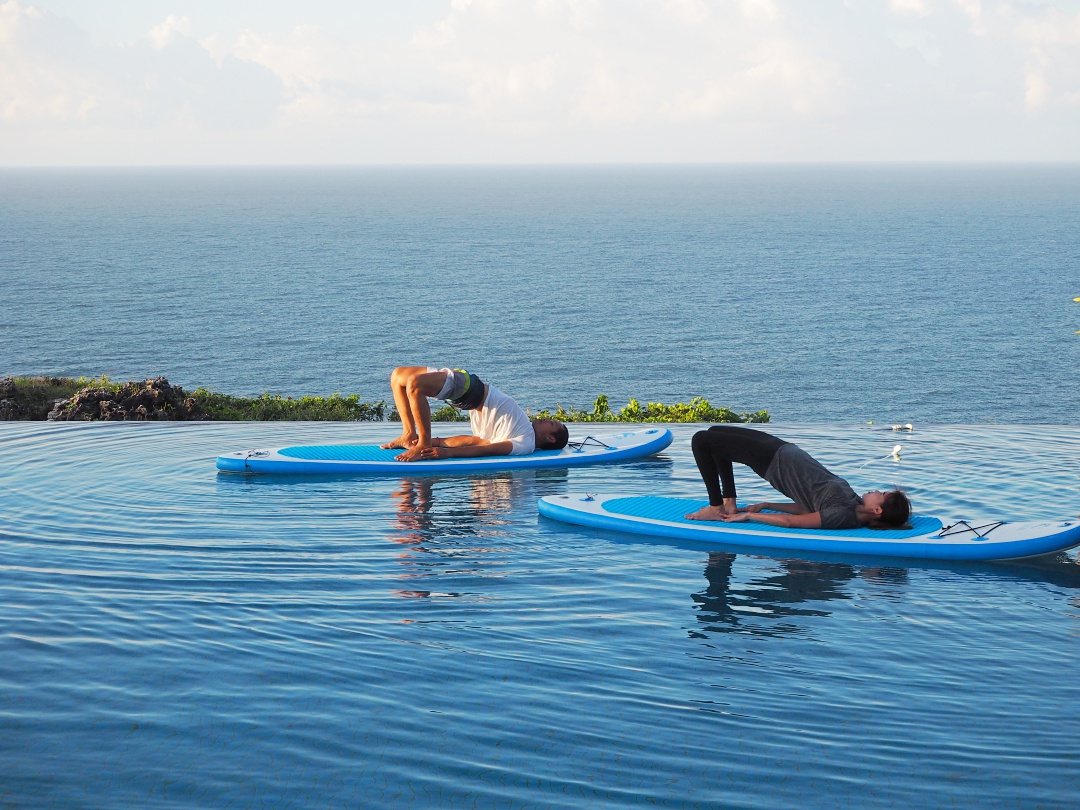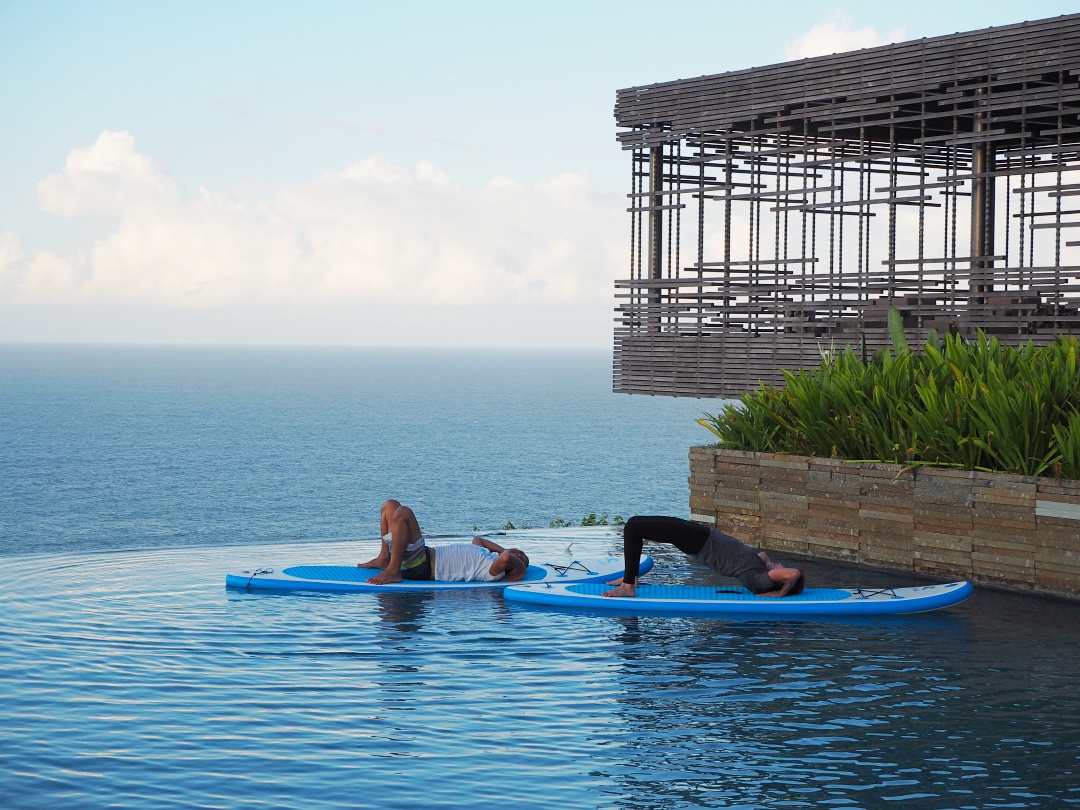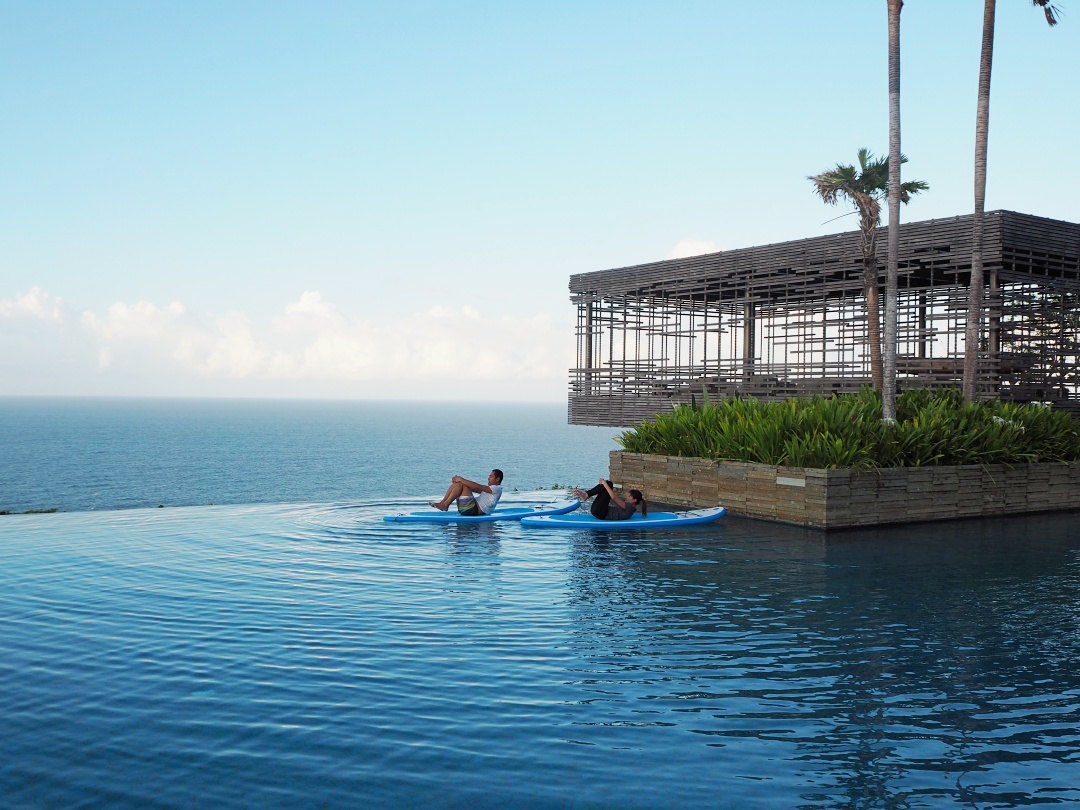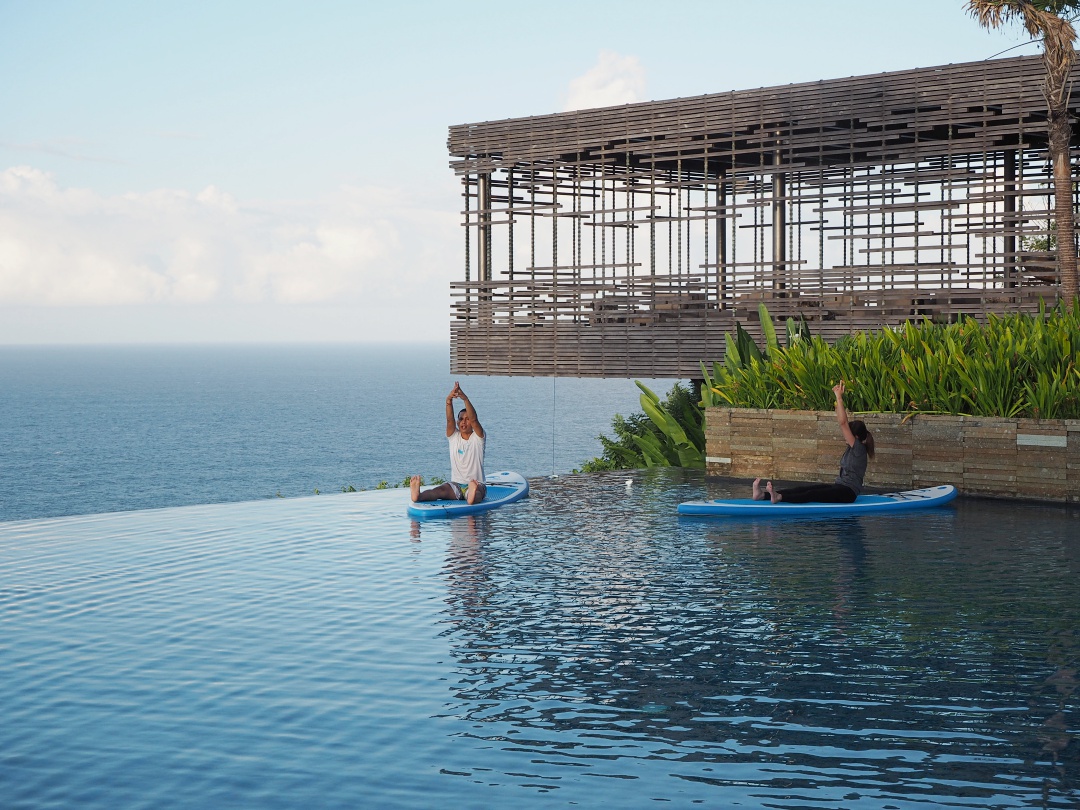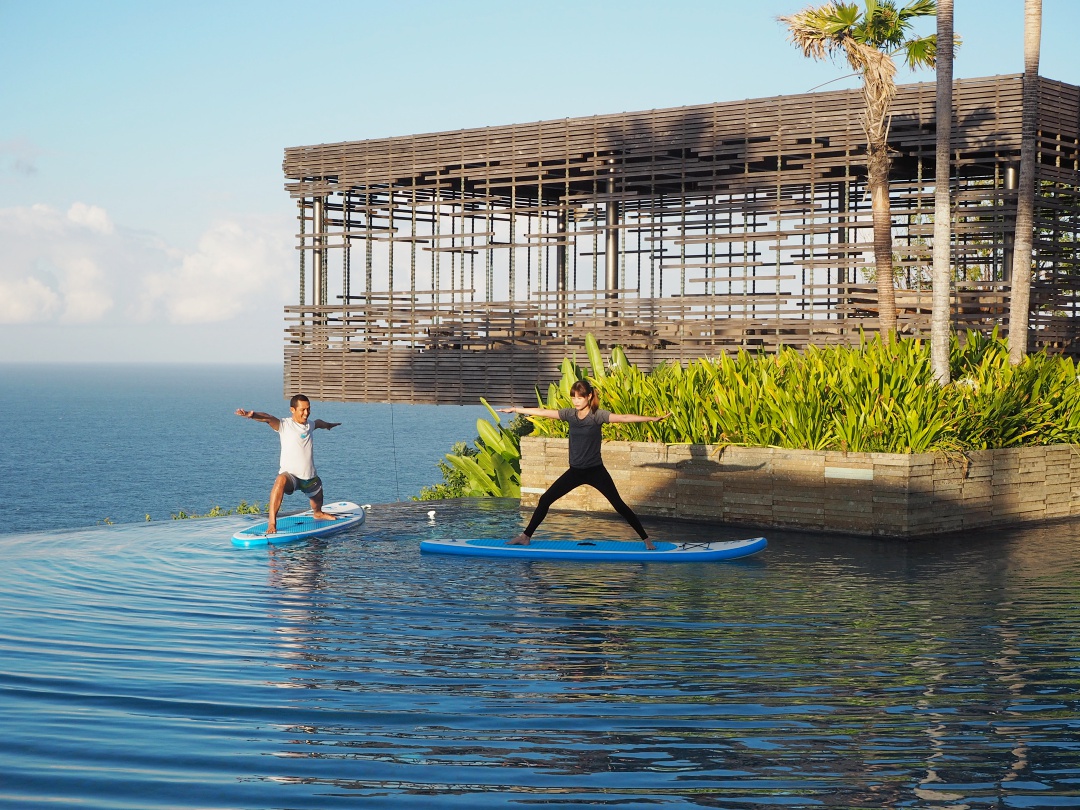 After you get comfortable with kneeling and sitting on the paddleboard, it takes a while to learn how to stand up.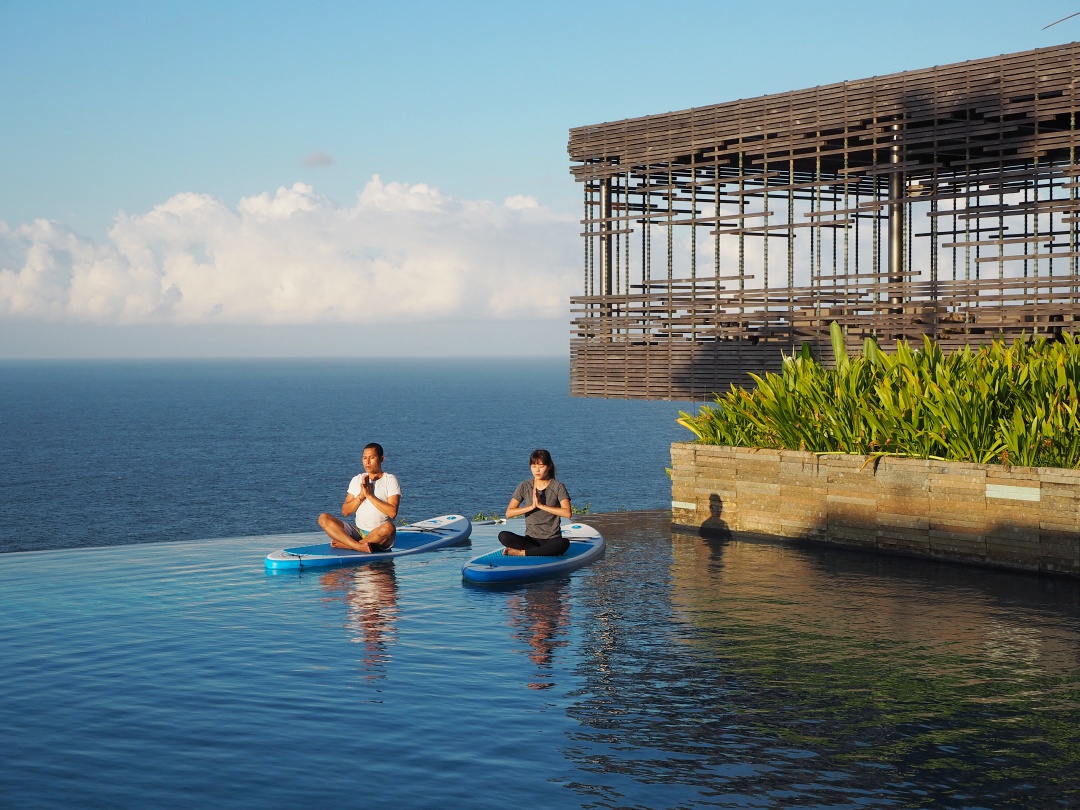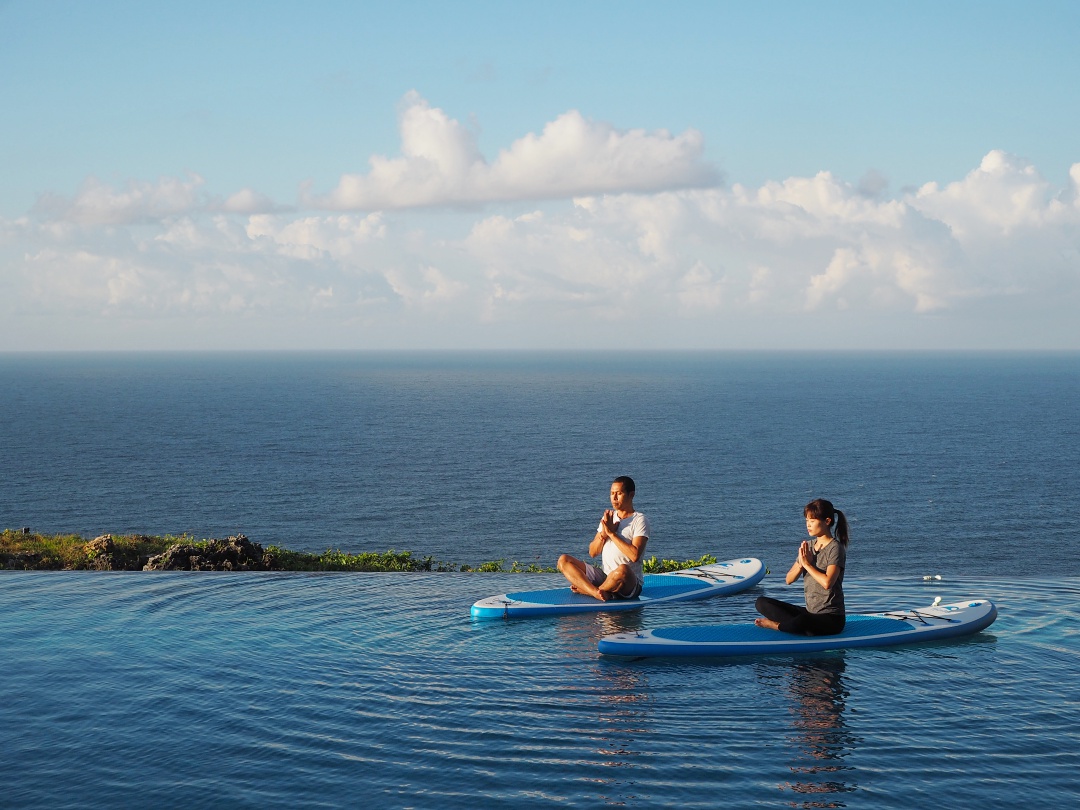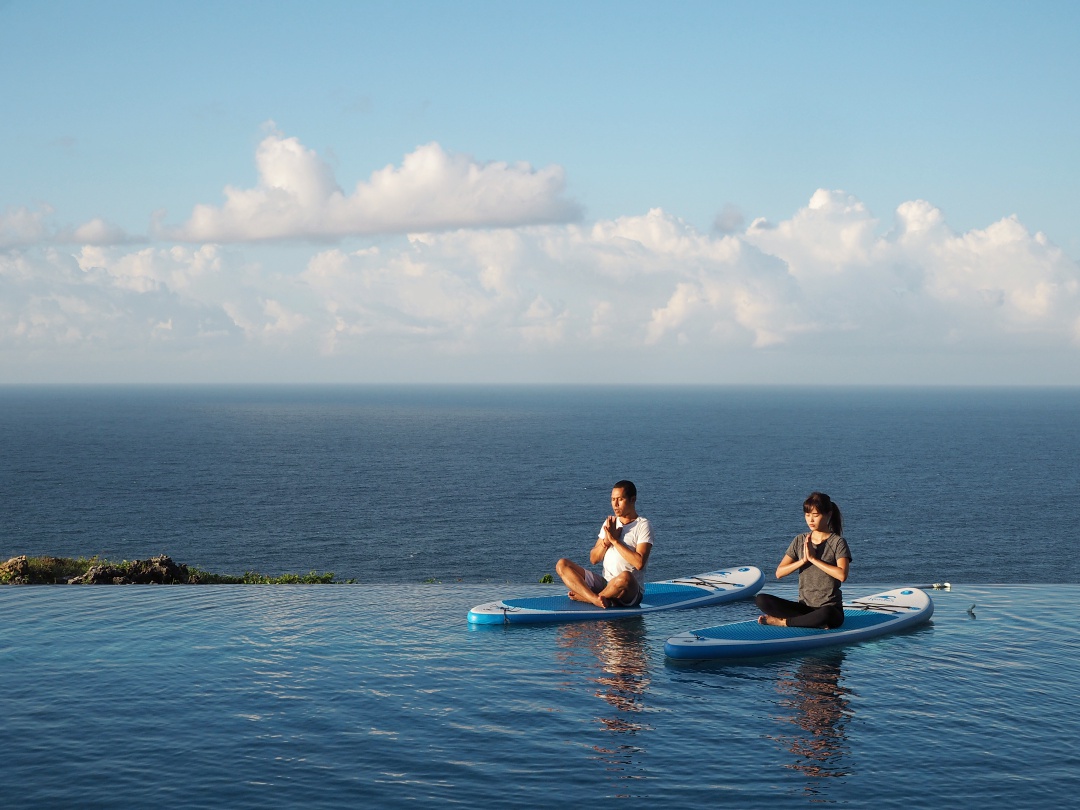 To end off our session, we did a short meditation.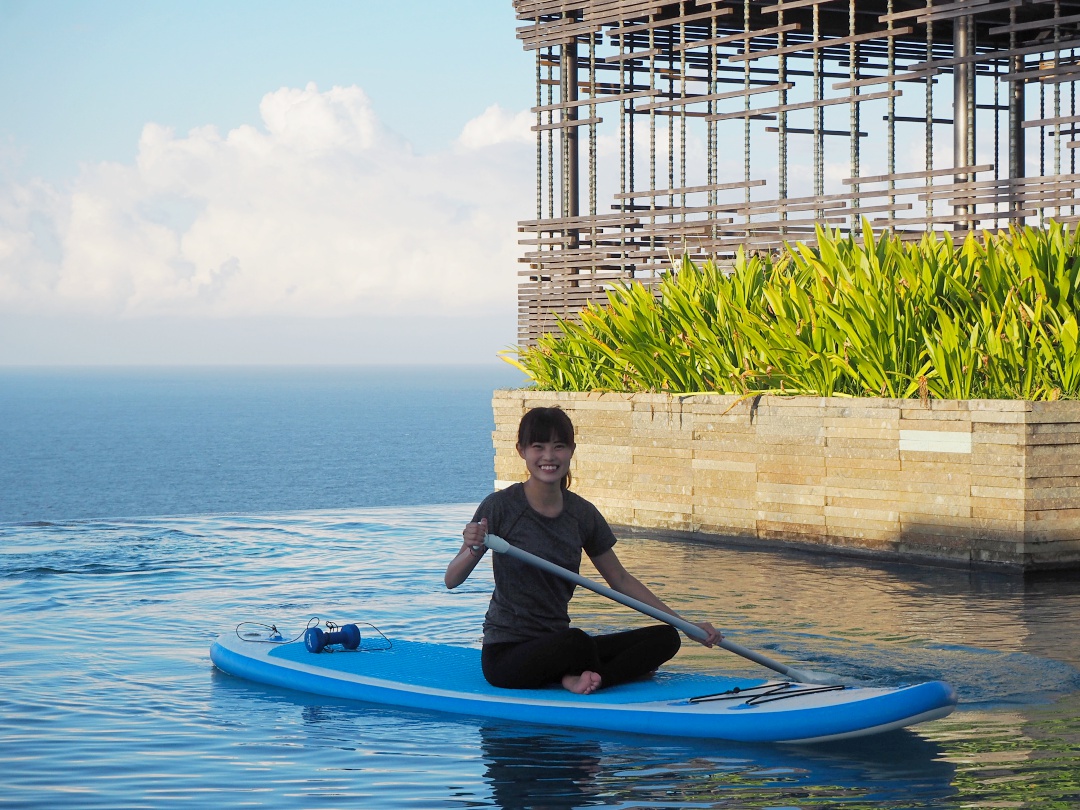 All smiley after my first attempt at Stand Up Paddle Board Yoga.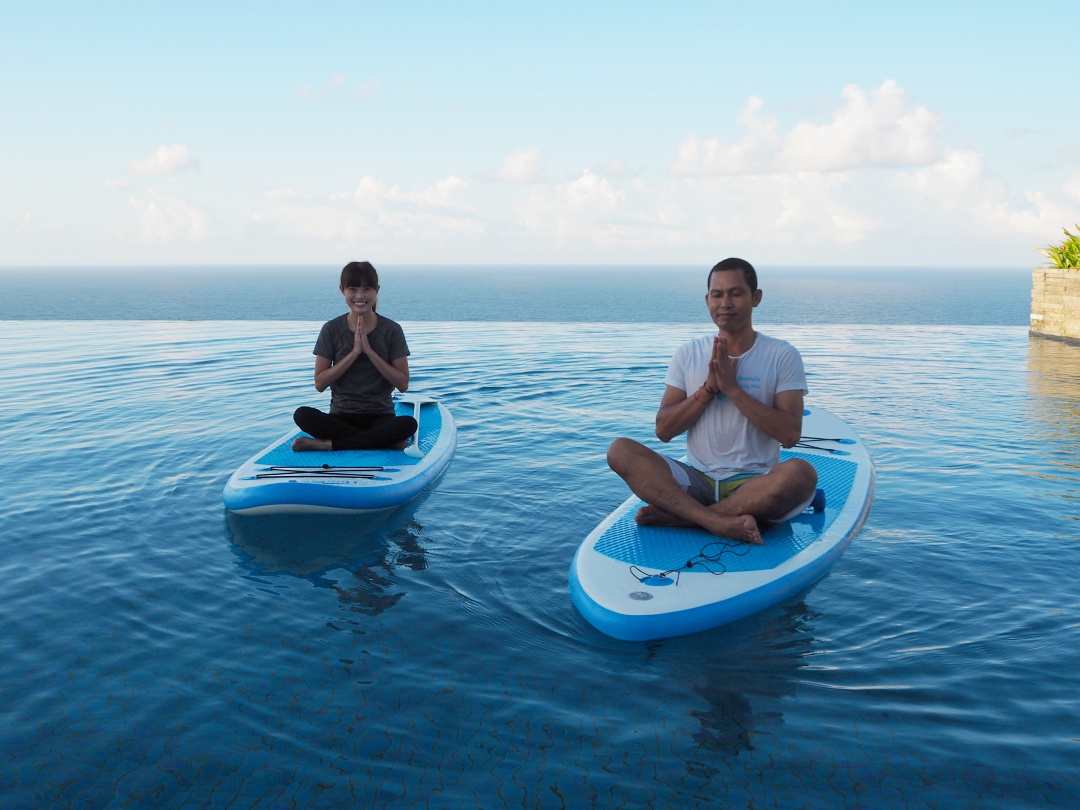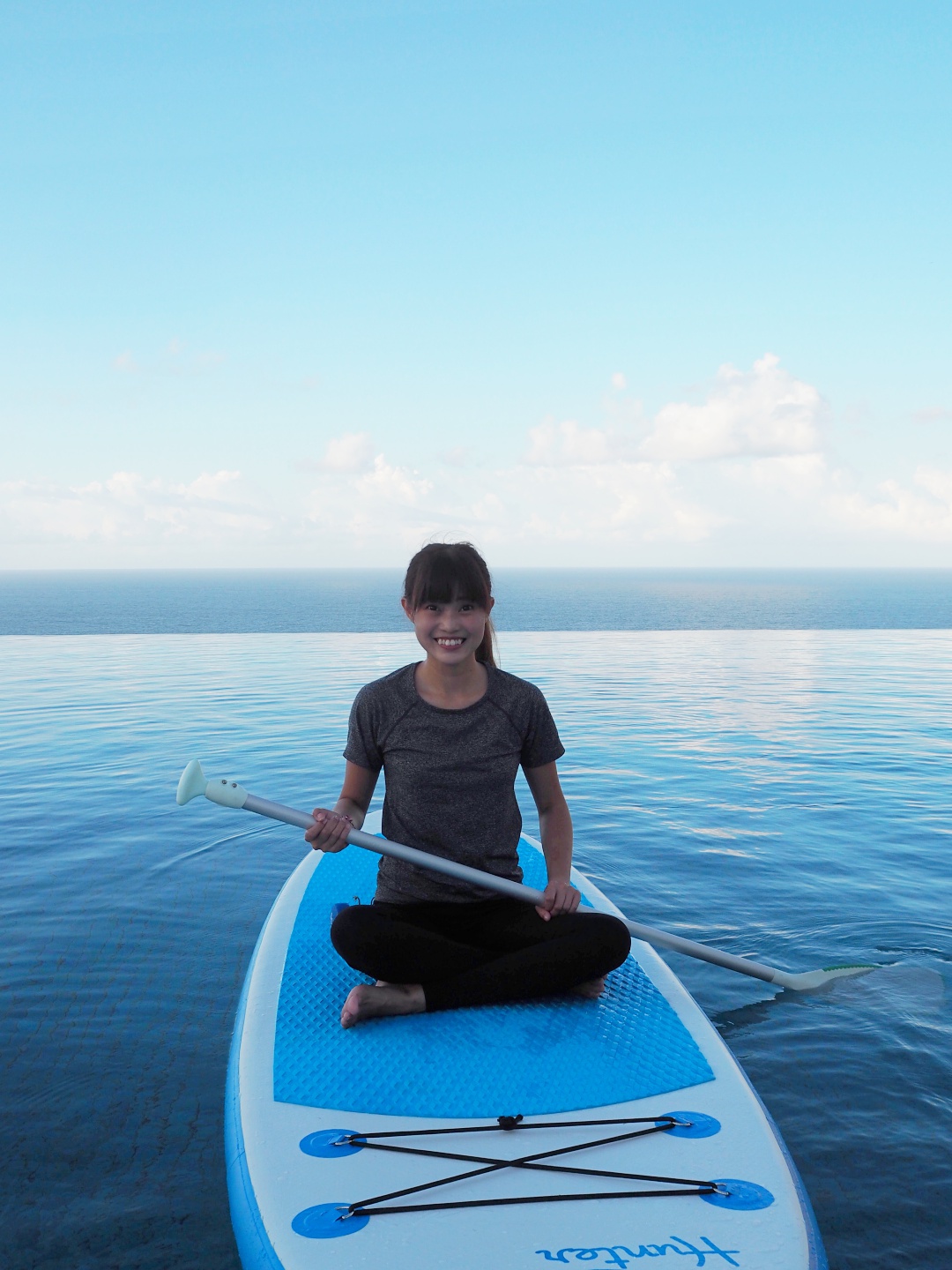 Hard to believe I did it! By the time I came up from the water, I was exhausted. However, it was so much fun, and I wouldn't mind doing it again if I had the opportunity. This is definitely my most favourite yoga thus far, and I can't recommend it enough. Please try it if you had the chance!
For those visiting Alila Villas Uluwatu and would like to try Stand Up Paddle Board Yoga, the price is IDR 1,250,000++ for two persons for a 45 minutes session.
Yoga Class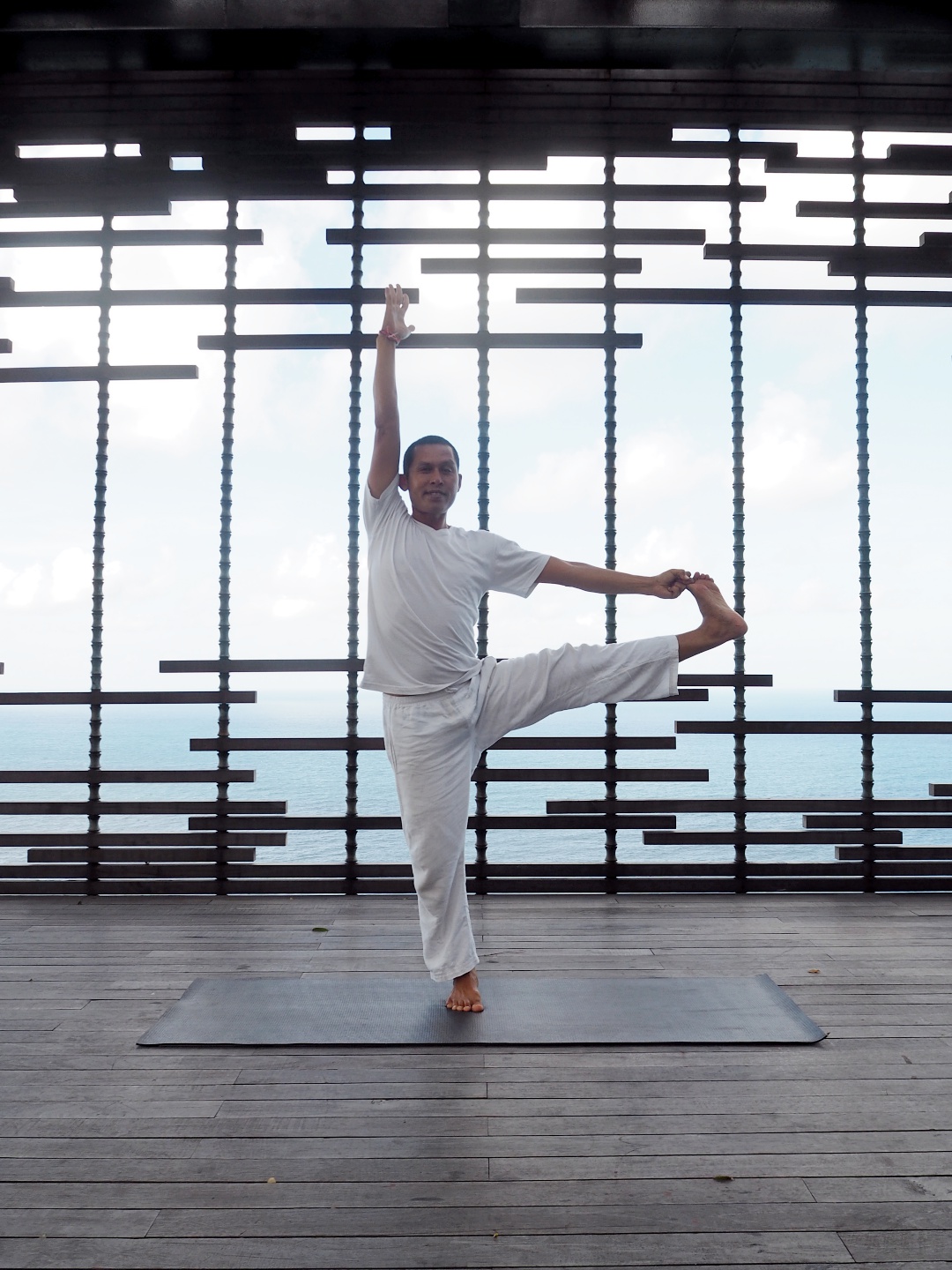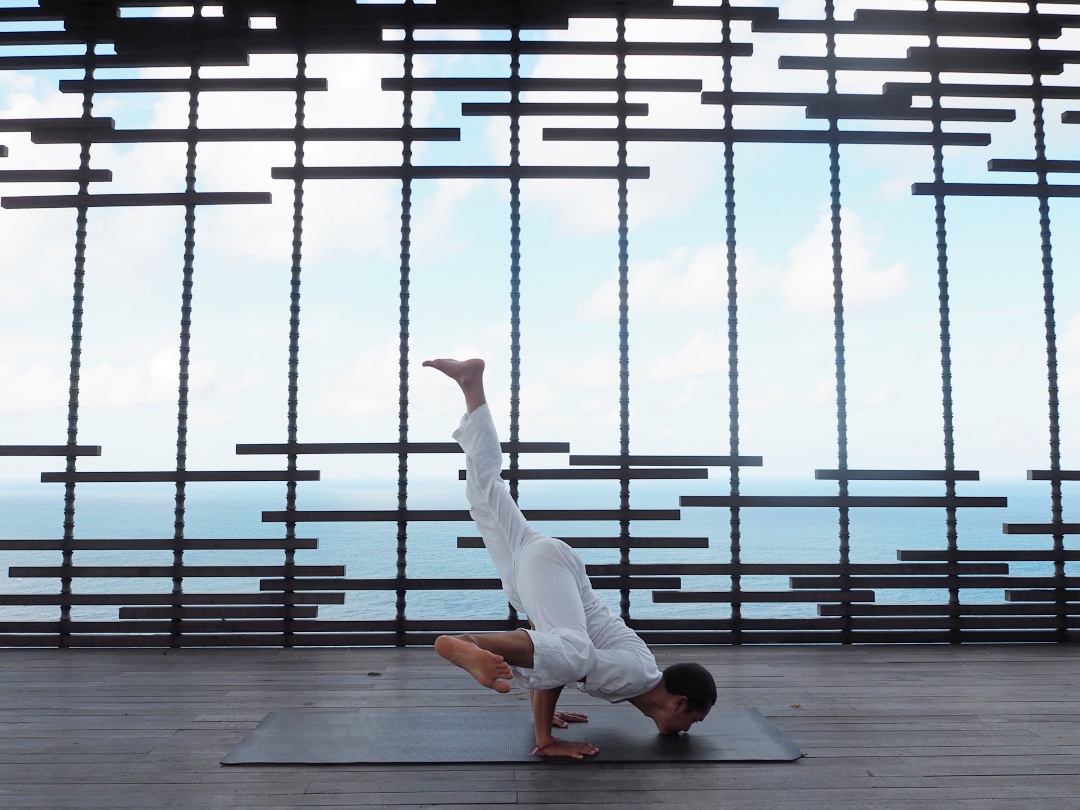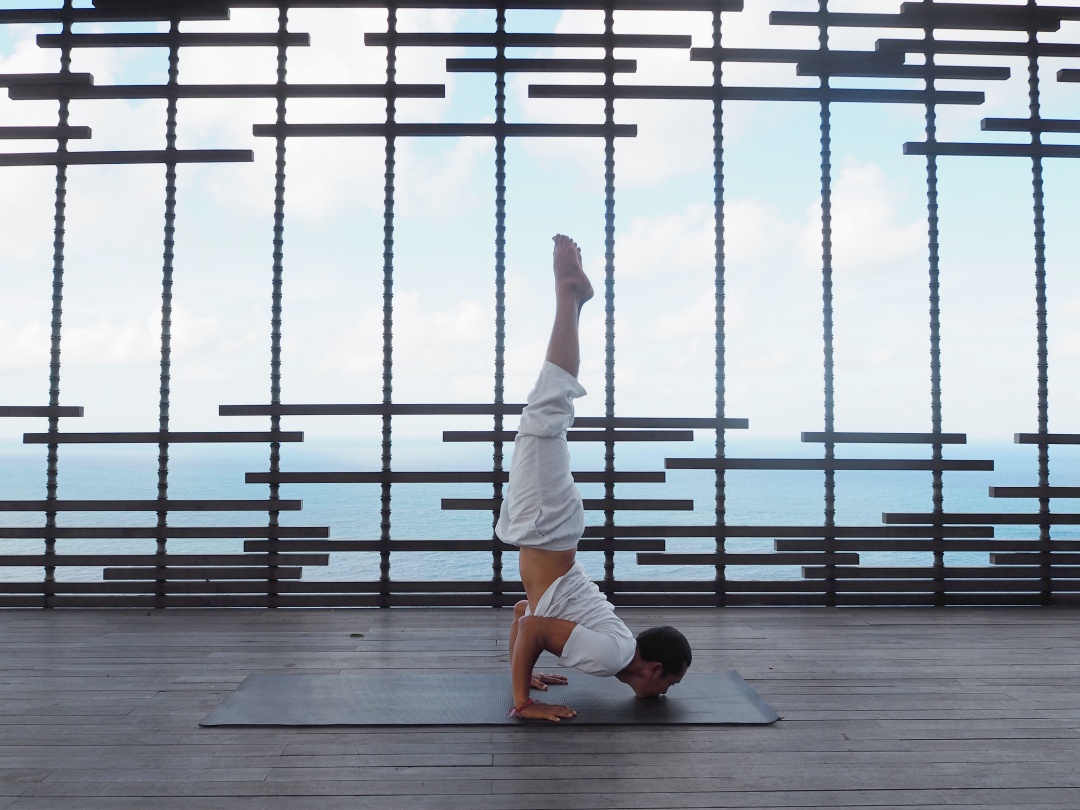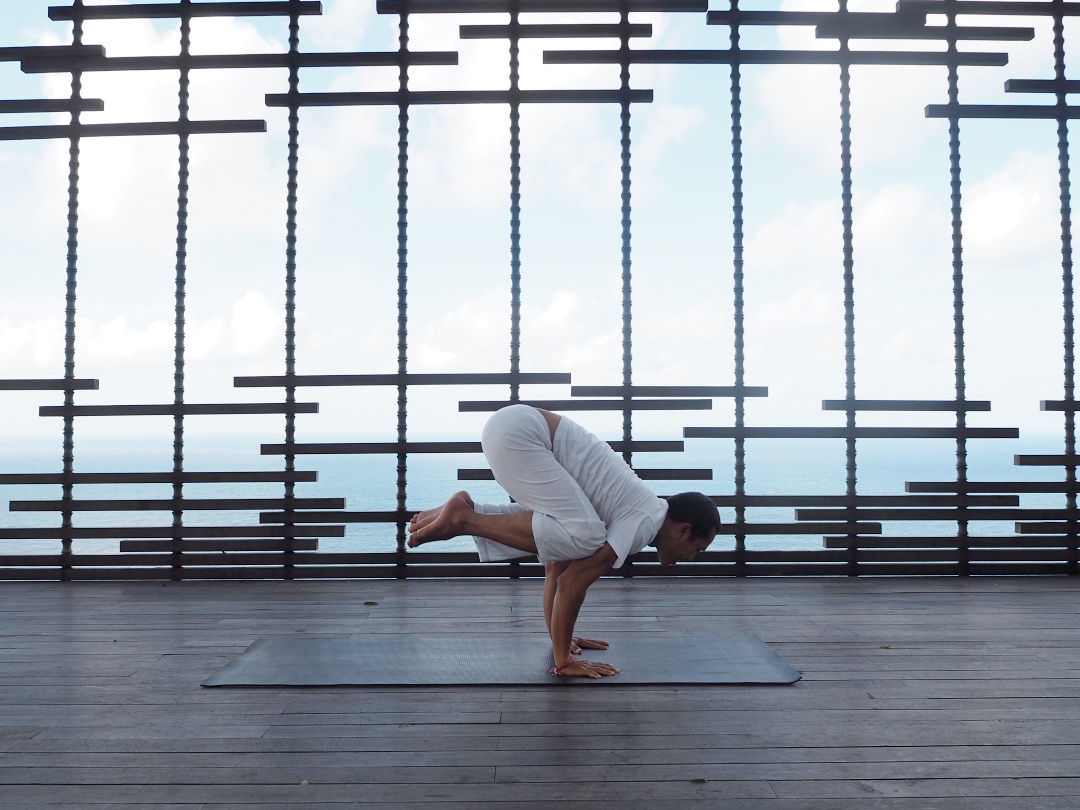 On Day 3, after the Fiancé finished his Stand Up Paddle Board Yoga, we spontaneously decided to join our instructor for the yoga class held at the cliff-edge cabana. If I'm not mistaken, the yoga class is complimentary for all staying guests at the resort.
I was surprised when I saw that there were quite a number of people who went to the class. From what I can tell, some were reasonably good at yoga, while a handful was like us who struggle to do the pose.
Aerial Yoga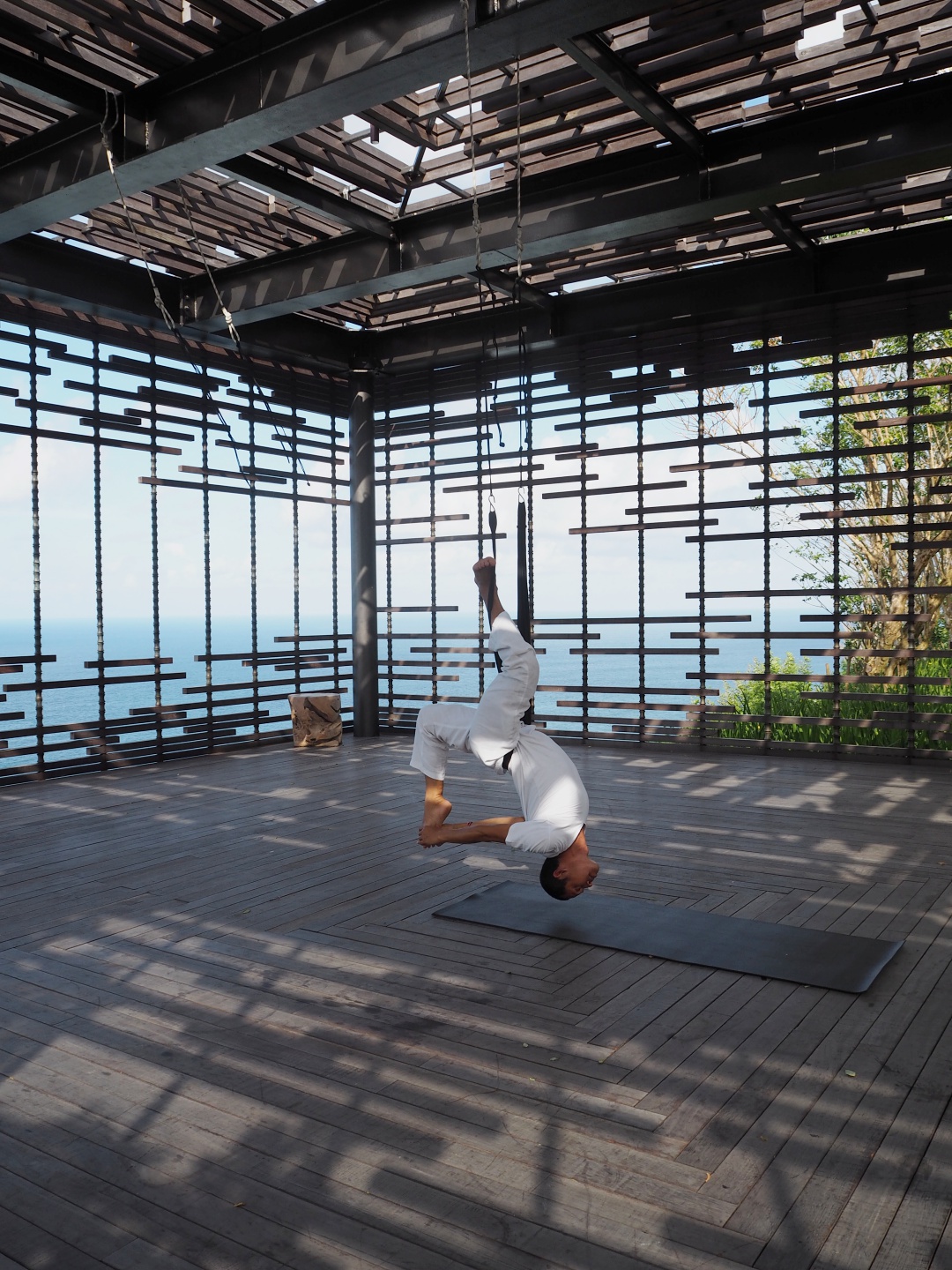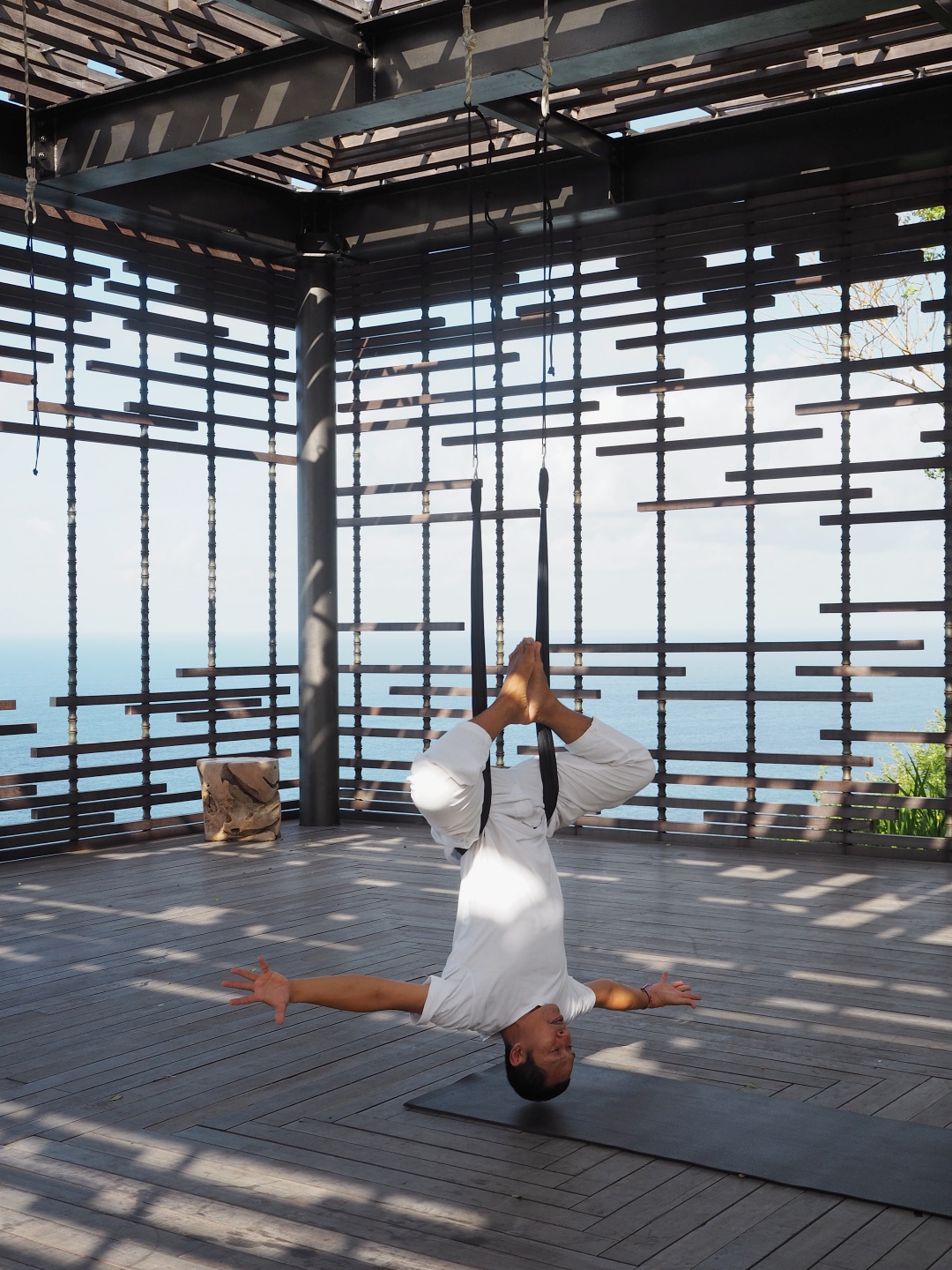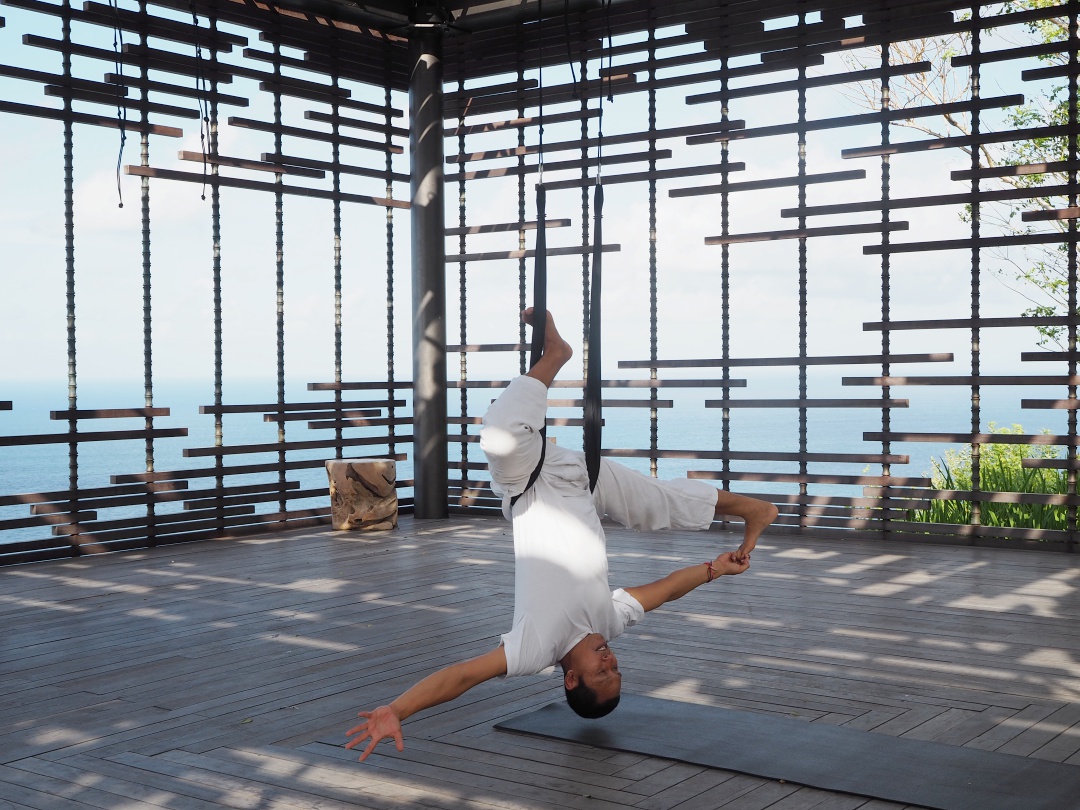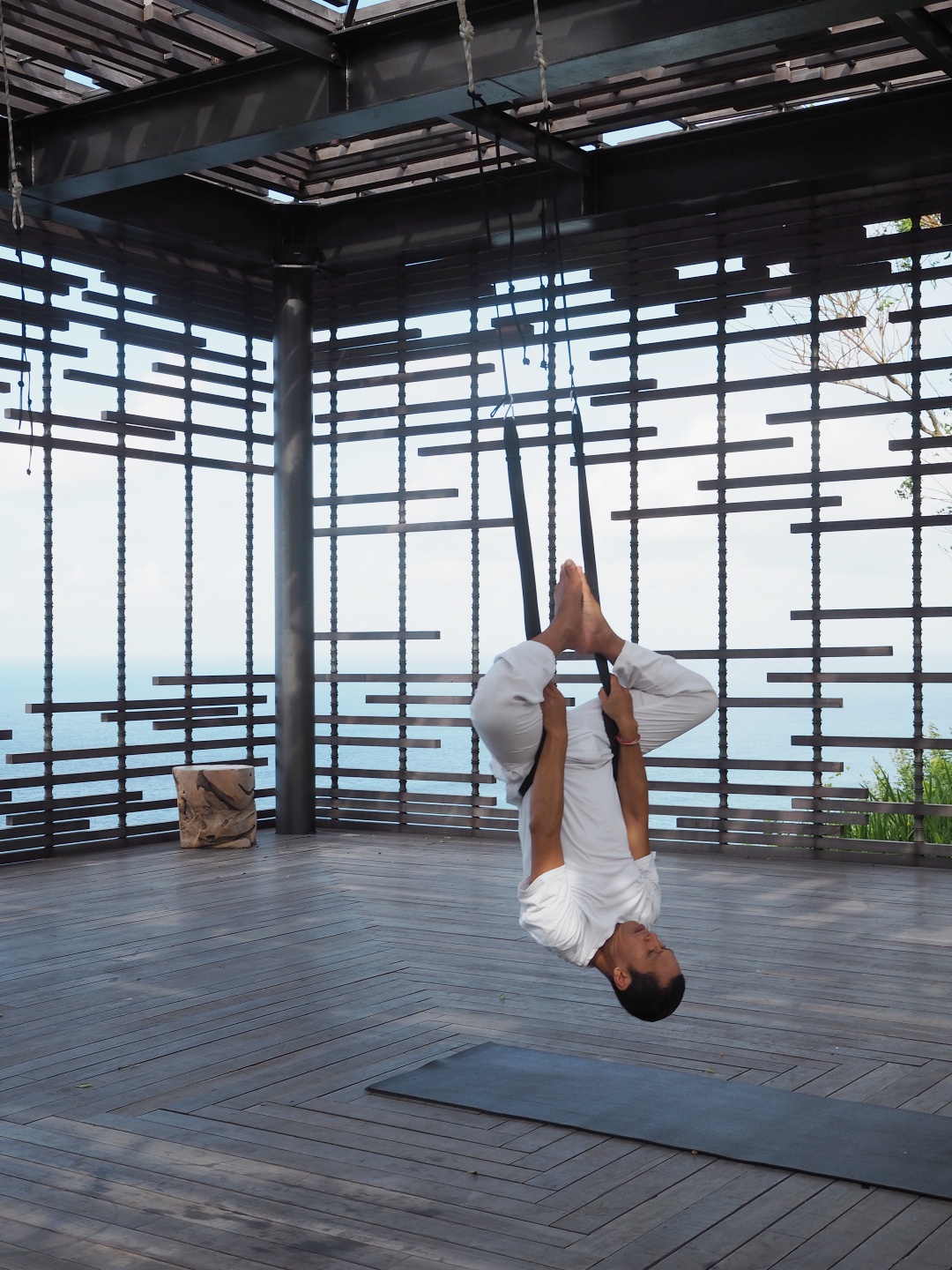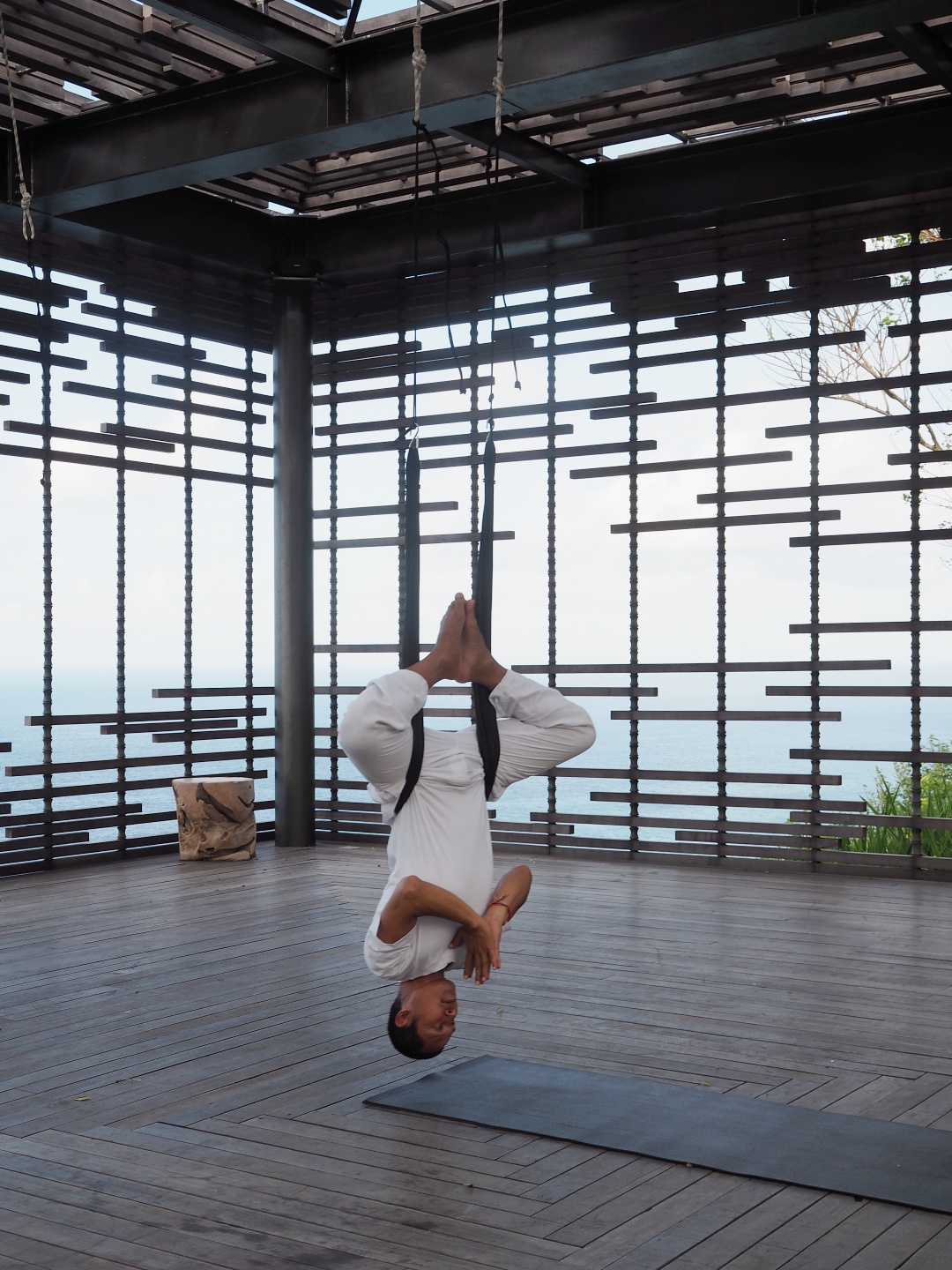 Aside from Stand Up Paddle Board Yoga and the usual yoga class, Alila Villas Uluwatu also offers Aerial Yoga. Supported by a fabric hammock suspended about a meter above the ground, Aerial Yoga is probably not meant for newbies. We managed to catch our instructor doing some of the poses. To master it, I think it requires a lot of strength and muscle.
I can't picture myself hanging upside down, so Aerial Yoga is probably not for me. Guess I shall just keep to the Stand Up Paddle Board Yoga.