Thrilled to start blogging about Bali! While the Fiancé and I were in Bali four times last year, so far we've only been back to Bali once in 2017. I supposed we made it up by extending our trip to nearly one month long. It wasn't meant to be that long. But due to our pre-wedding shoot, we ended up had to be in Bali earlier than expected.
At the moment, we have no plans on going back to Bali, but I expect we should be back again very soon.
To kick start my first Bali's travelogue of 2017, I'm going to share with you the first accommodation that we stayed at after we arrived in Bali – Tirtha Bridal.
While this post will be a recount of my trip, I thought I would count this as my review for Villa Tirtha. I'll also be doing a separate post on Tirtha Uluwatu and the Glass House.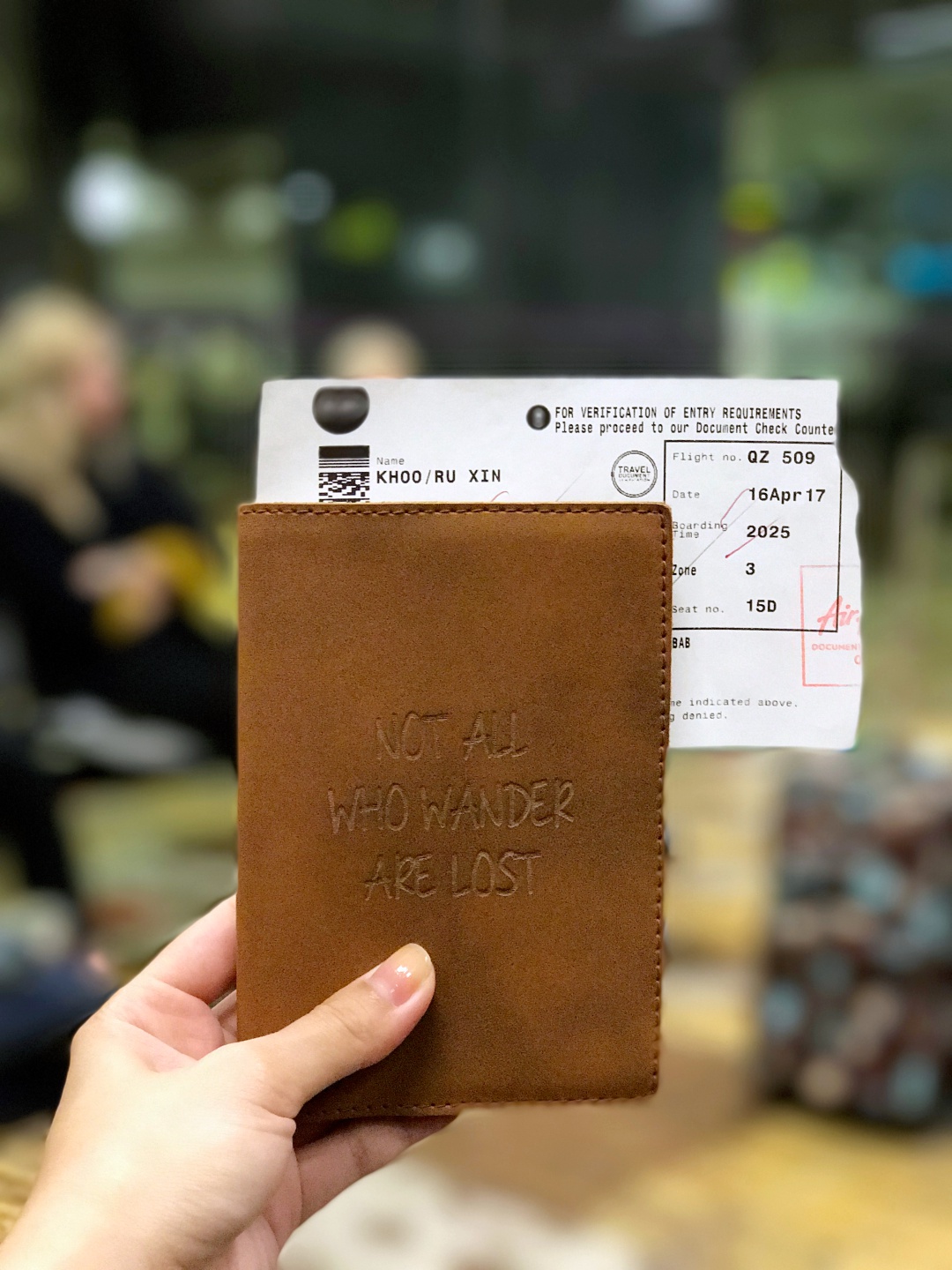 I can't remember what makes us take a night flight. But we took a flight out at 20:30 and arrived in Bali on 17 April at close to midnight. Even at midnight, the airport was busy and buzzing with people. Other than passengers, they were mainly taxi drivers, hotels staff and private transportation. Like always, upon stepping out of the arrival hall, we were swamped with drivers offering us a ride to our accommodation. But we promptly reject their offer and went up to the departure hall to wait for our Grab car.
The road was mostly clear and the journey was smooth, but it still took us quite a long drive from the airport to Uluwatu. As we got nearer to our destination, the roads got darker and seemingly deserted. If I'm not mistaken, I believed we arrived at our accommodation at close to 02:00.
Tirtha Bridal | Villa Tirtha
Upon alighting from the car, we were welcomed by three/four staff who helped us with our luggage. Apparently, there is no lobby, and no need for us to process our check-in. The staff already knew our names and promptly brought us to our room.
Initially I thought it was due to the time of our arrival that the entire villa was quiet. But I later found out that no one was staying in the compound except us. There were a total of 14 bedrooms (2 ocean suite, 4 family room and 8 guest room) and we were the only two that's staying.
The room we were given was one of the eight guest room.
Guest Room (Ground Floor)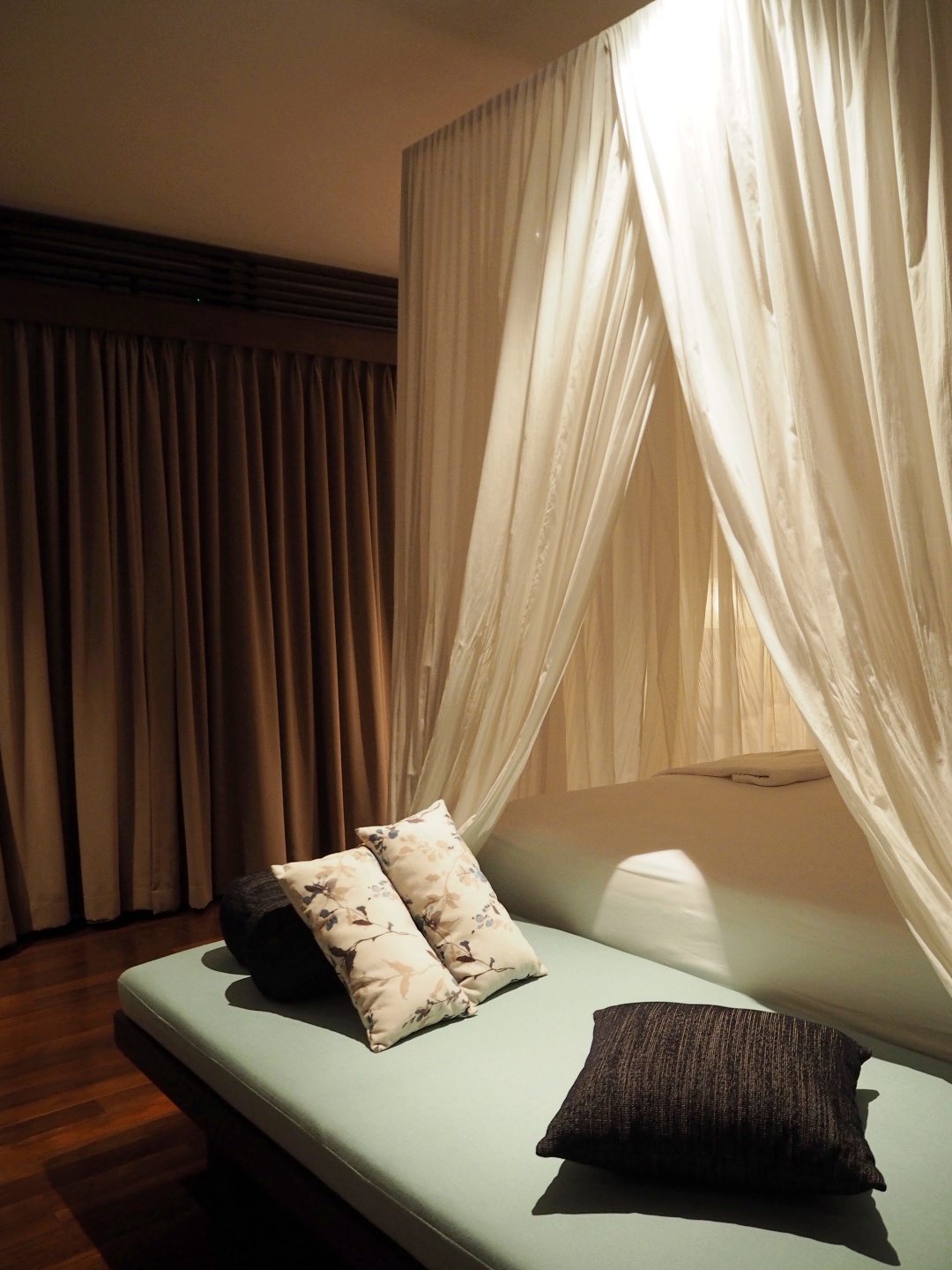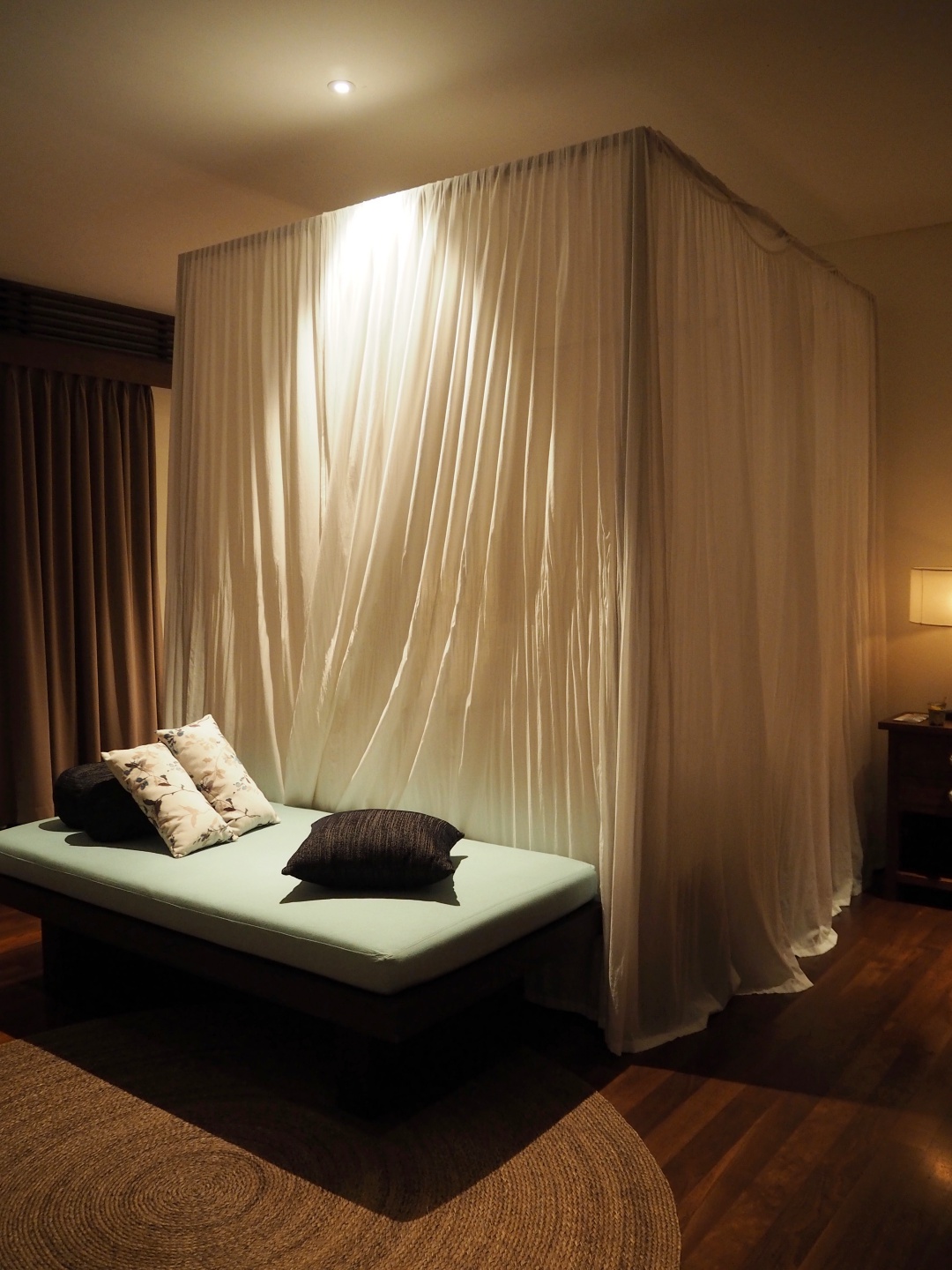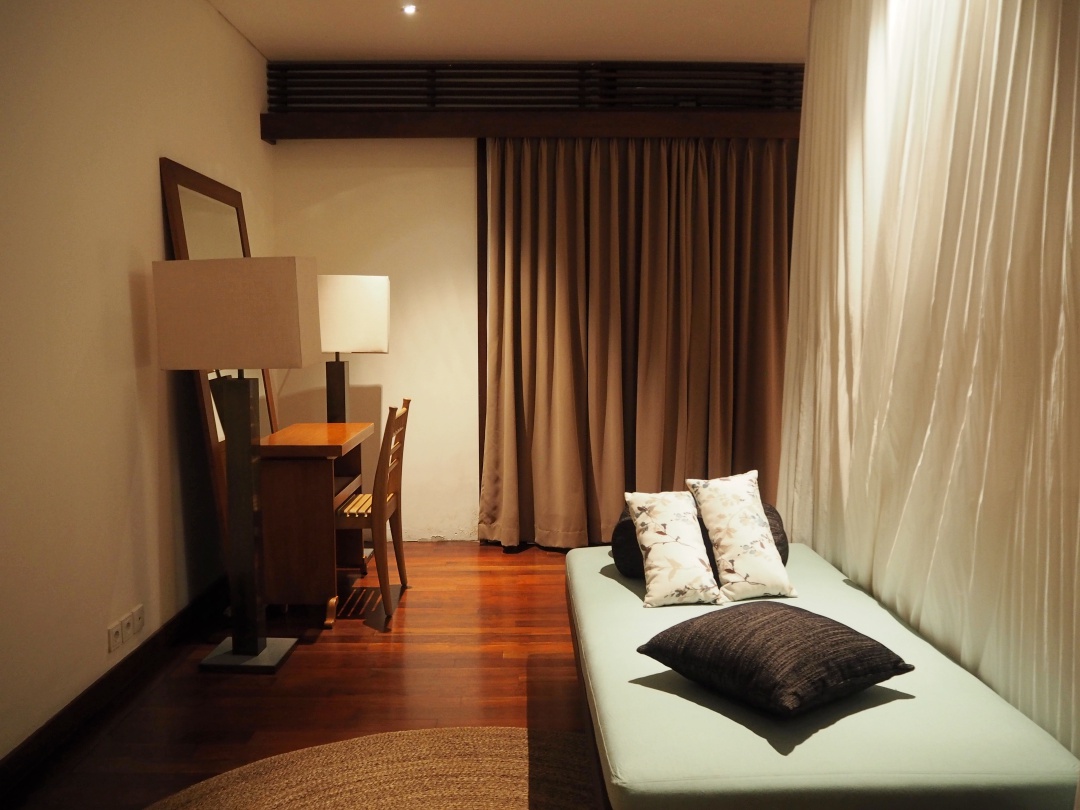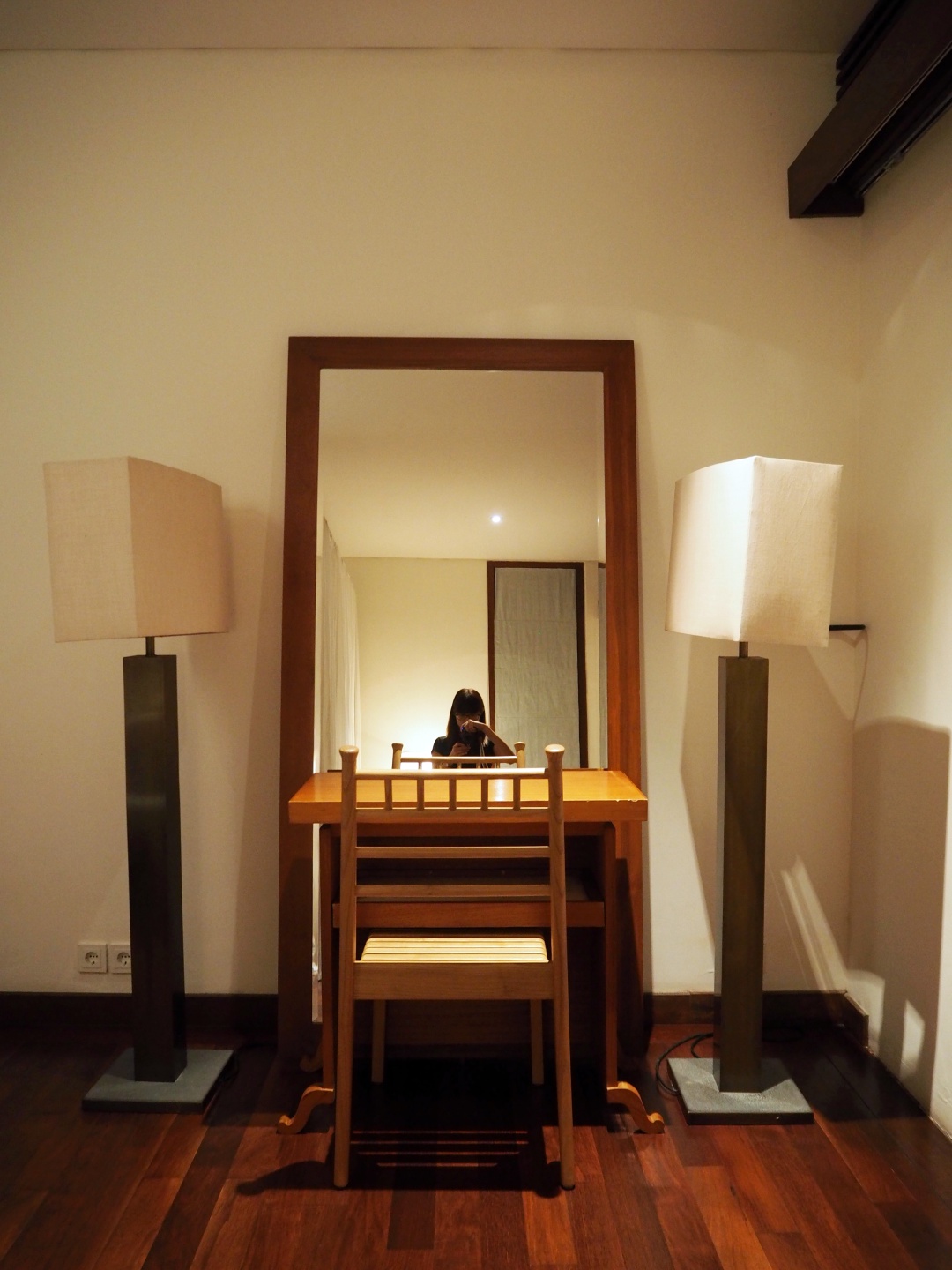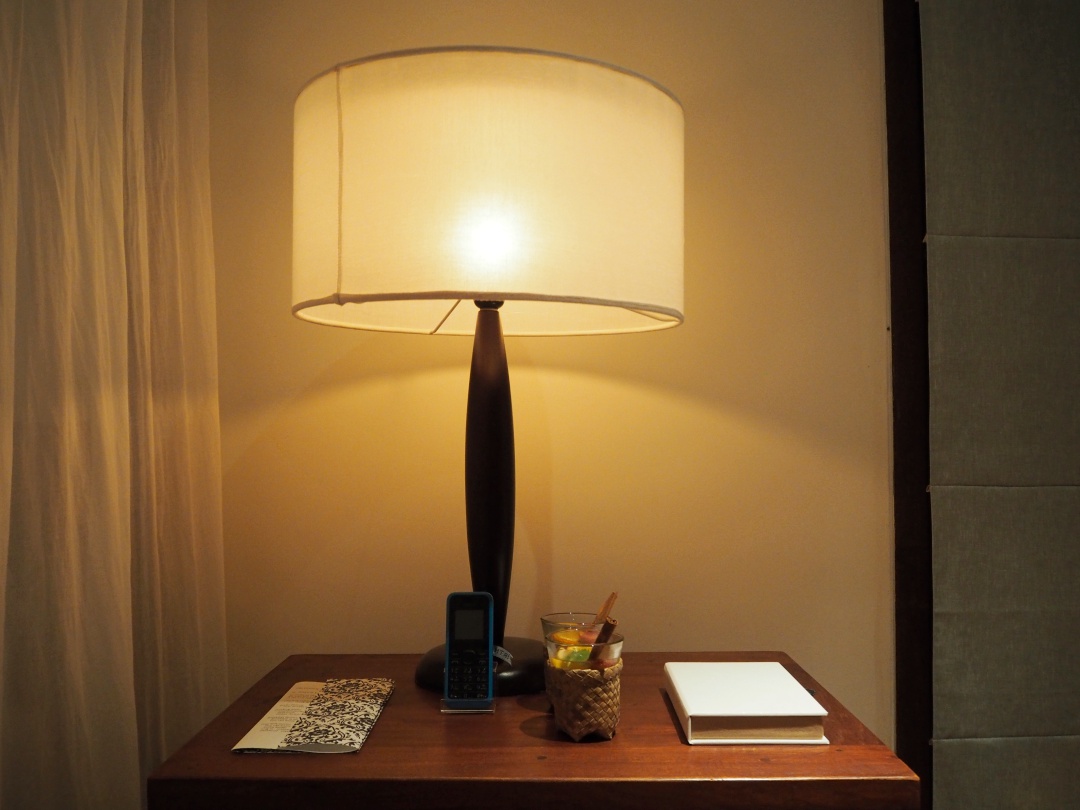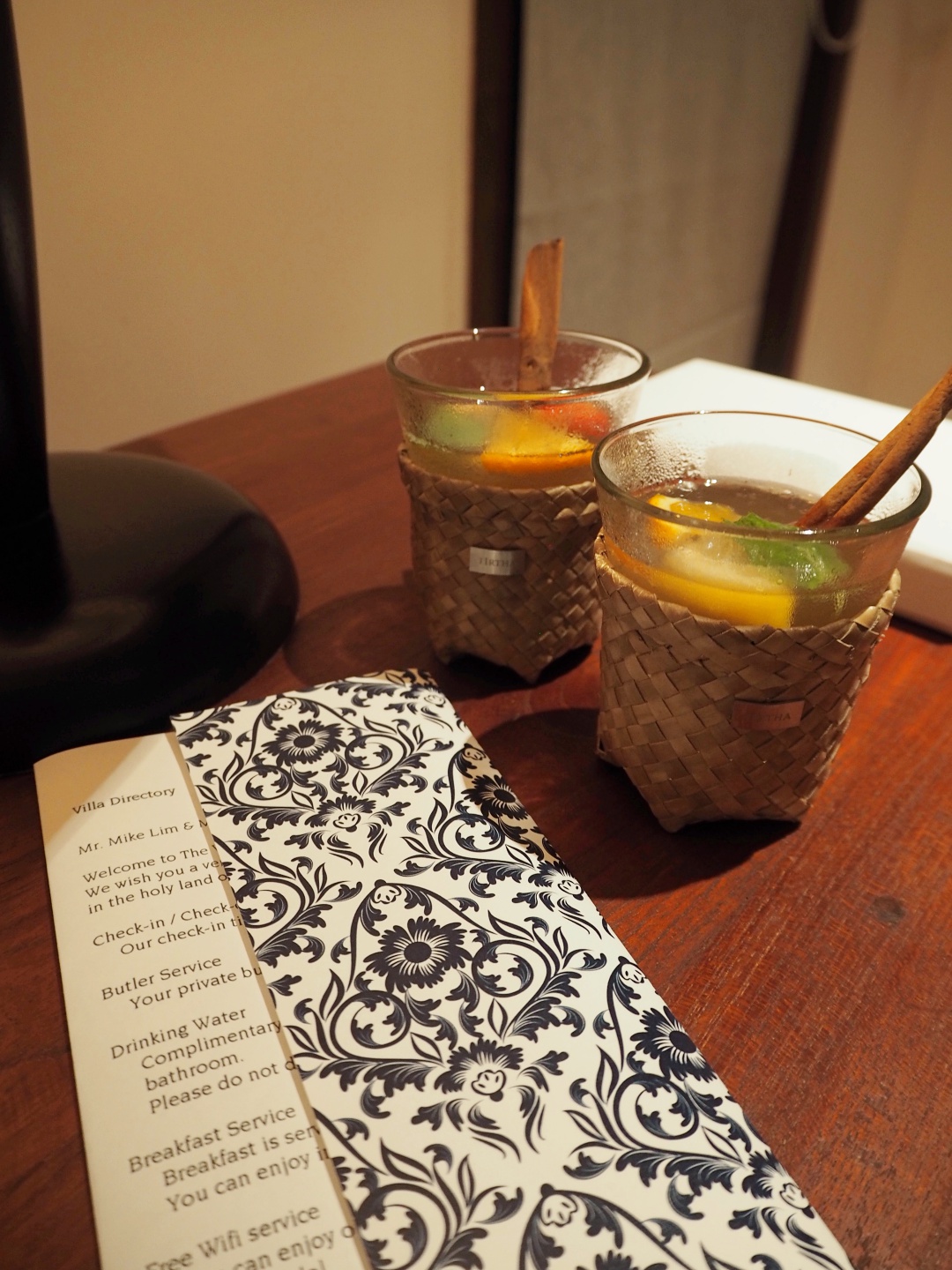 Welcome drinks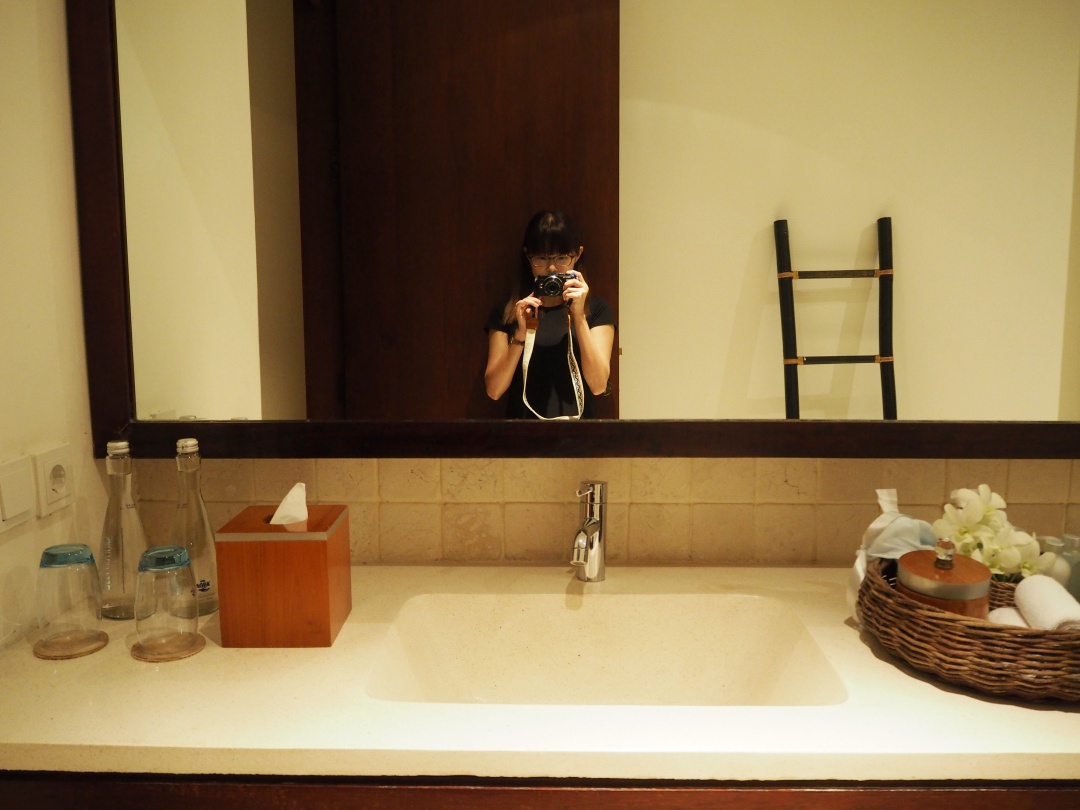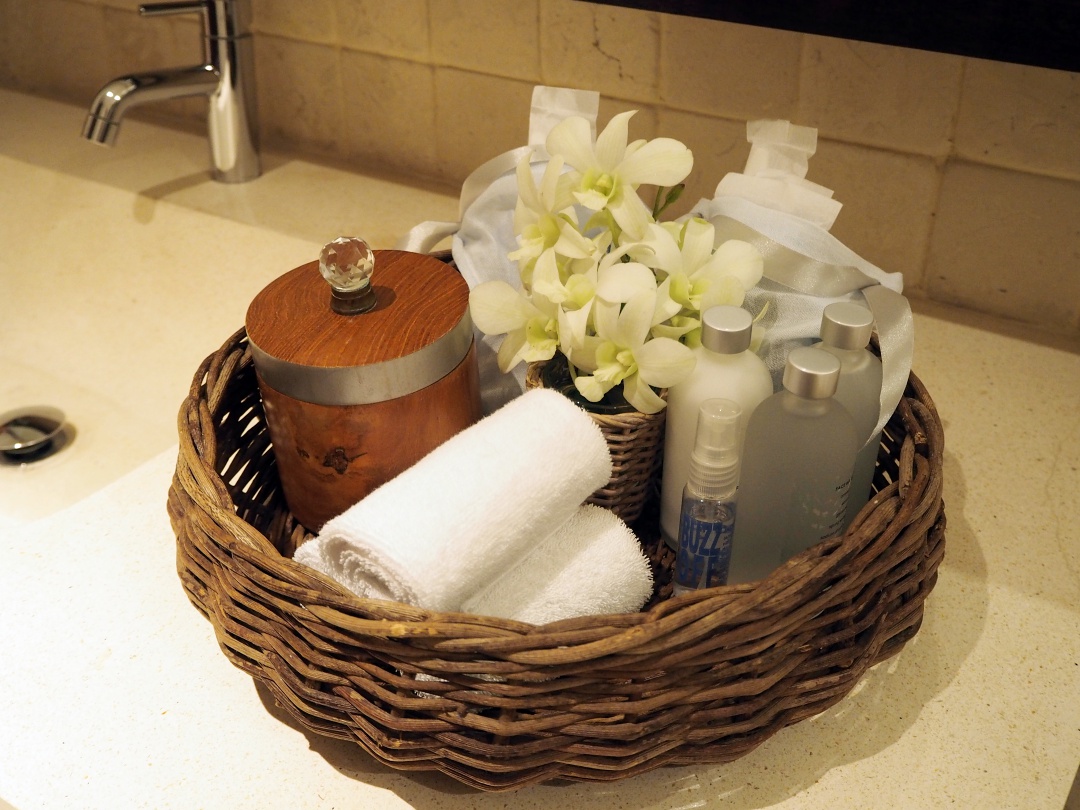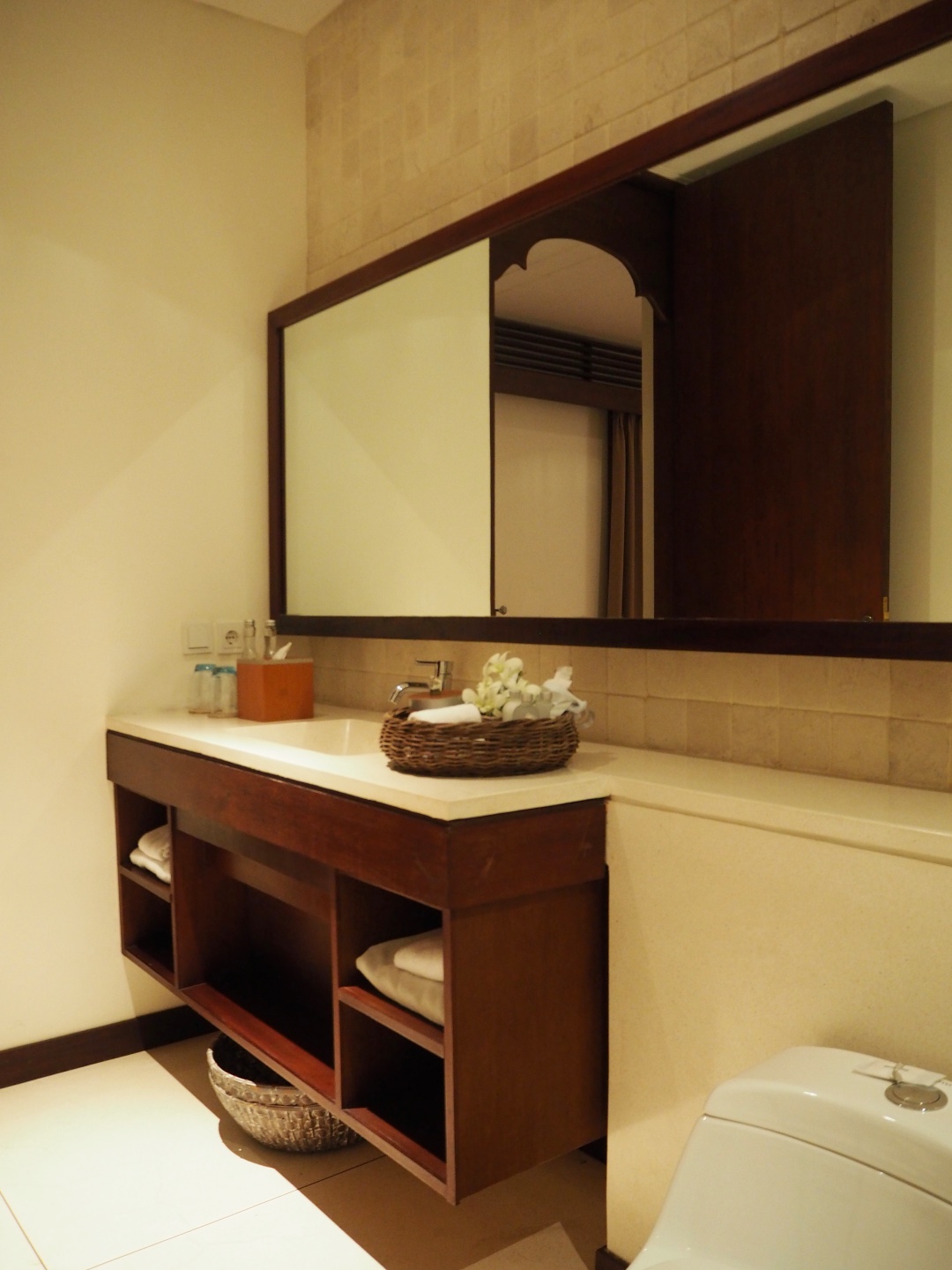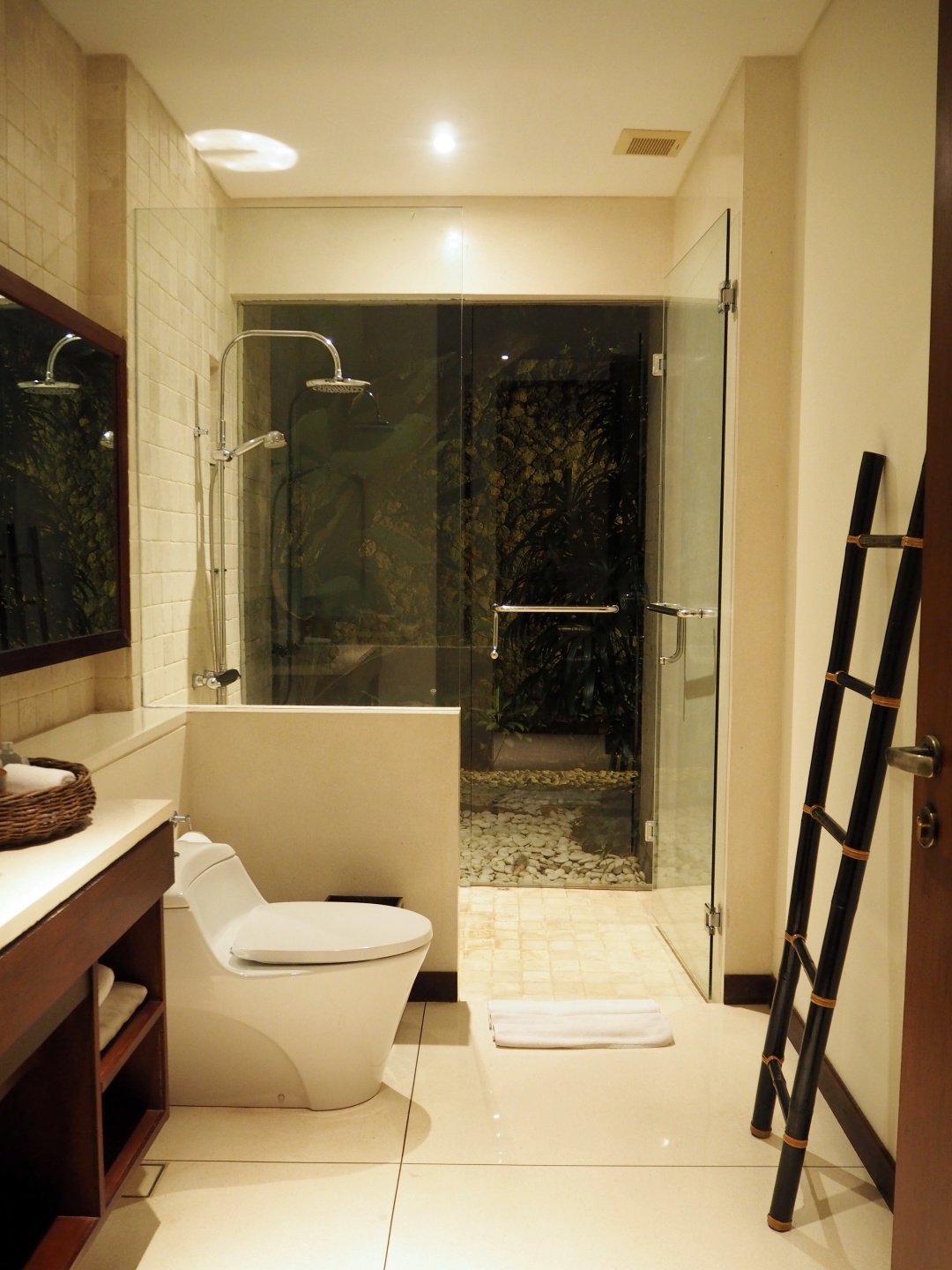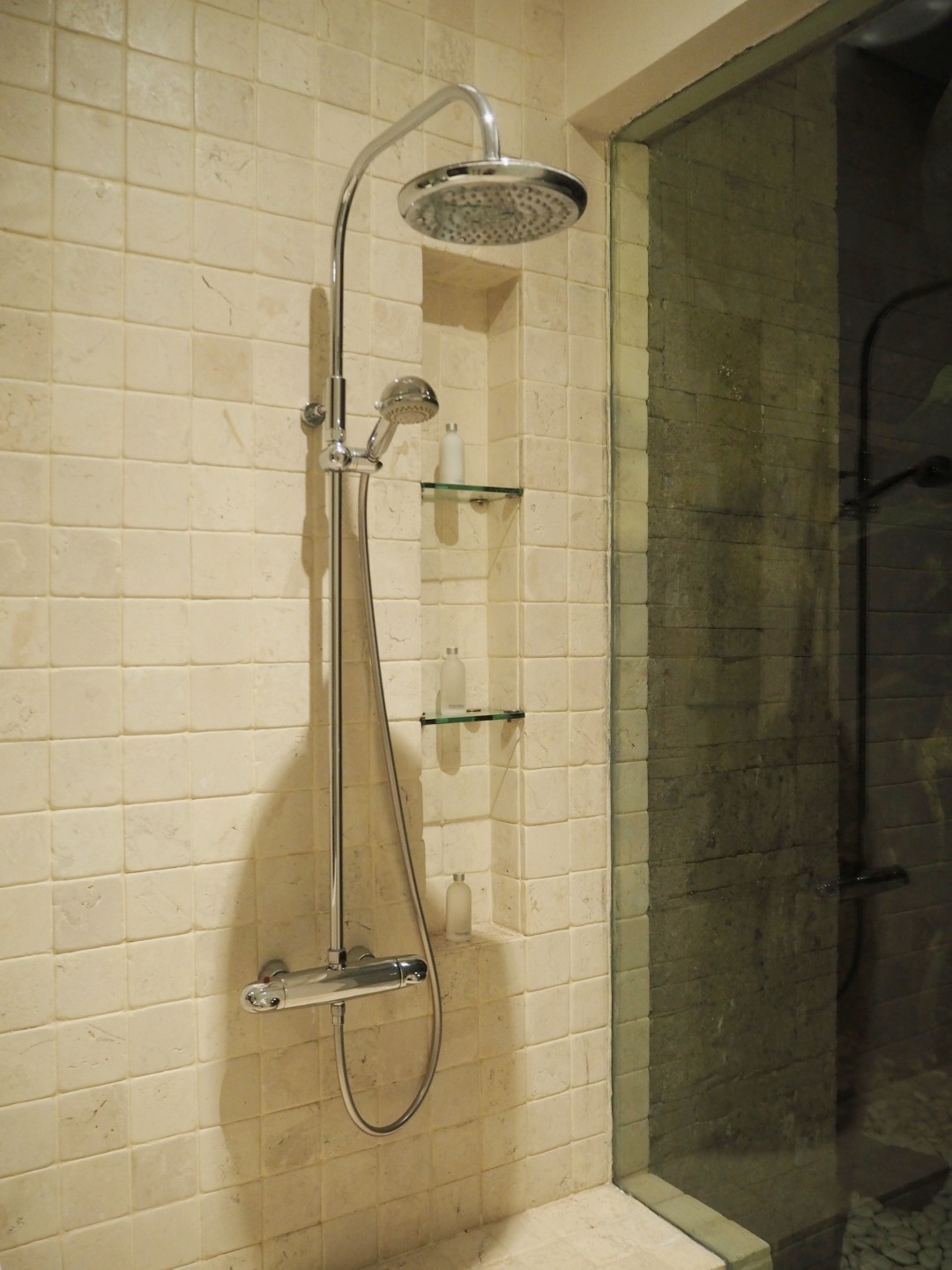 Despite being a guest room, there were more than sufficient space for the two of us. I love the look of our room and I especially love the bed. I believe this was my first time having a canopy bed and I love it! Technically speaking, I don't think I'll ever have a canopy bed in my house. So the only time I could live in one is when I travel.
The bathroom was huge! While the shower head is indoor, there is a door that you can open that lead you outside. Not quite sure what is the use of that because it doesn't have anything out there. The Fiancé and I were not a fan of the glass door as we thought it lack privacy, The outdoor area can actually be accessed by anyone who walk around the building. There's no door where we could lock to prevent people from coming in.
Also, having such a layout means the possibility of having insects in the bathroom. We were deadly afraid of flying insects so really, we were not a fan of the bathroom.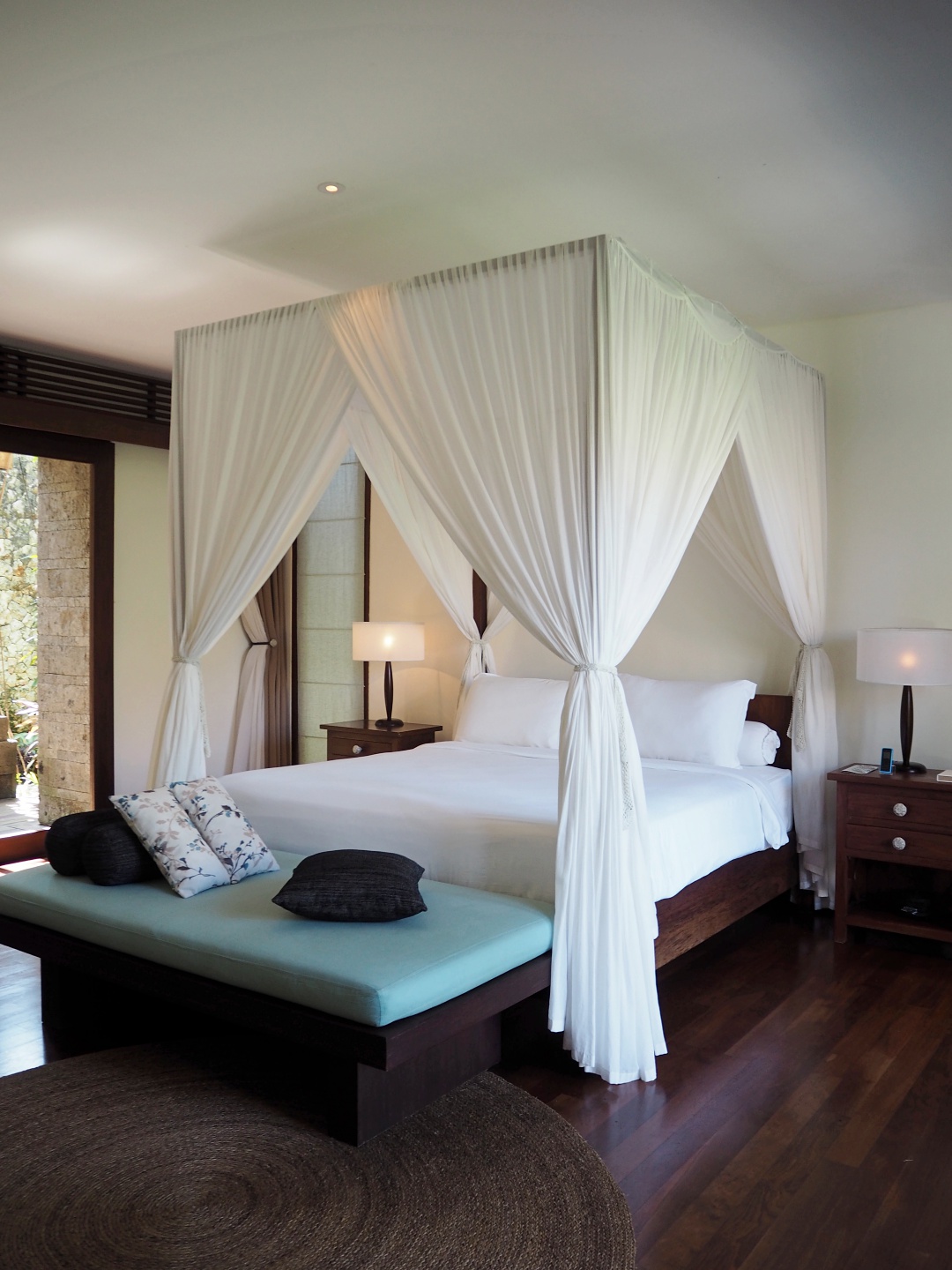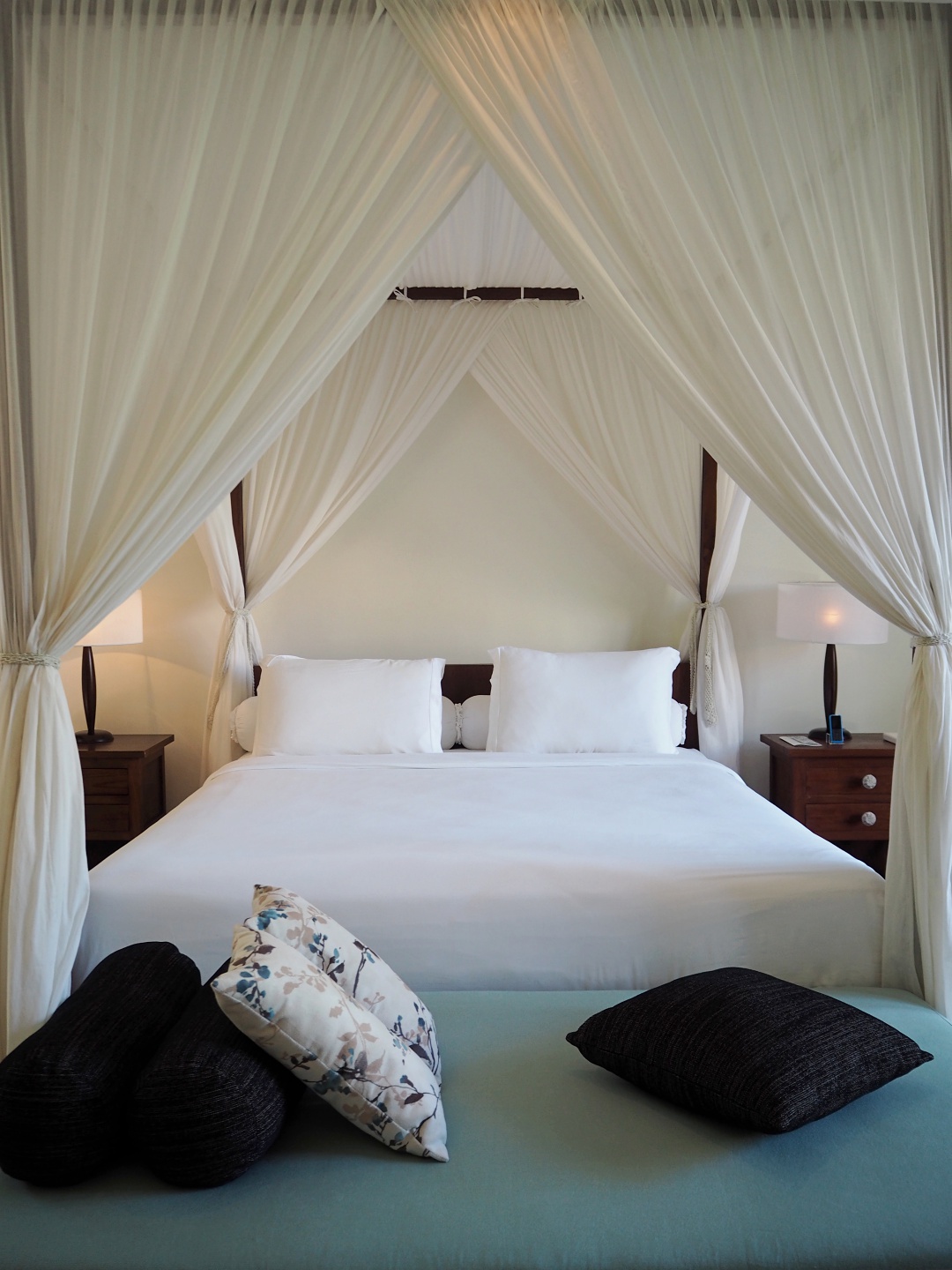 How our room looks like the following morning, after being tidy up by housekeeping.
Guest Room (Upper Floor)
We were staying at Villa Tirtha for three nights. After staying on the ground floor for two nights, we requested to have our room change to one that is on the upper level. Mostly because we wanted to see if there is any difference between the two rooms.
So the staff came and helped us to shift to one of the room on the upper level. The eight guest rooms are divided in such a way whereby there are four rooms on the left and four on the right. Out of the four, you have two on the ground floor and two on the second floor.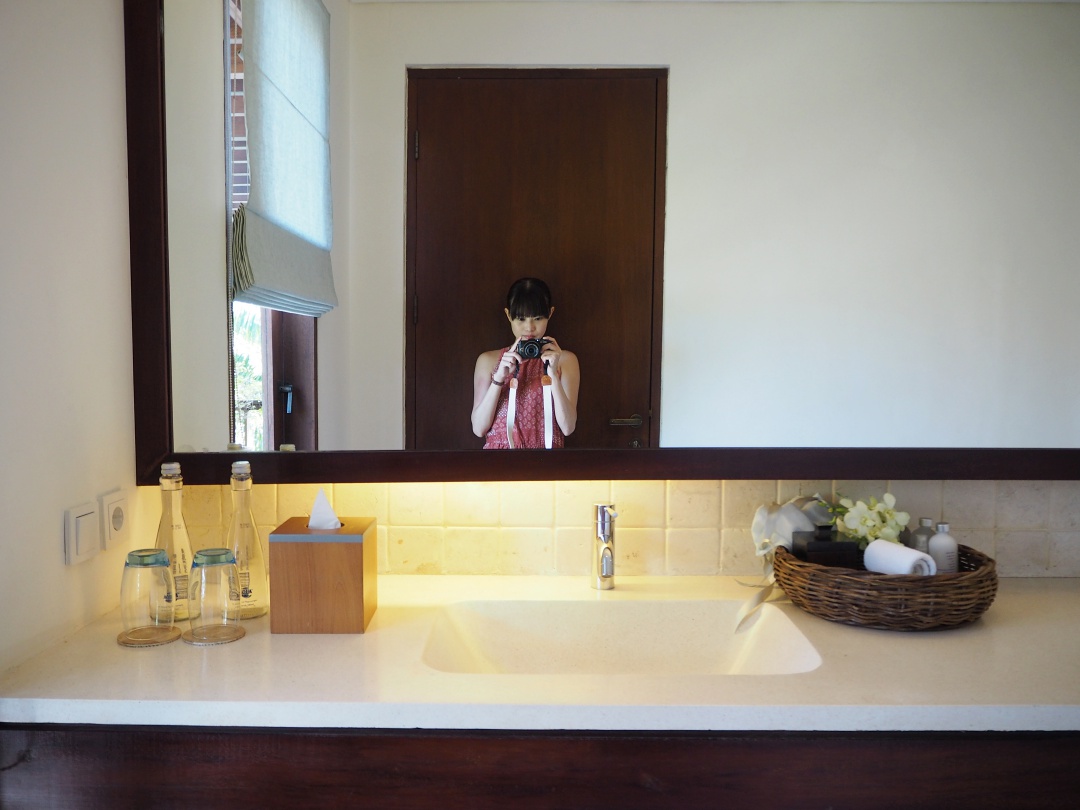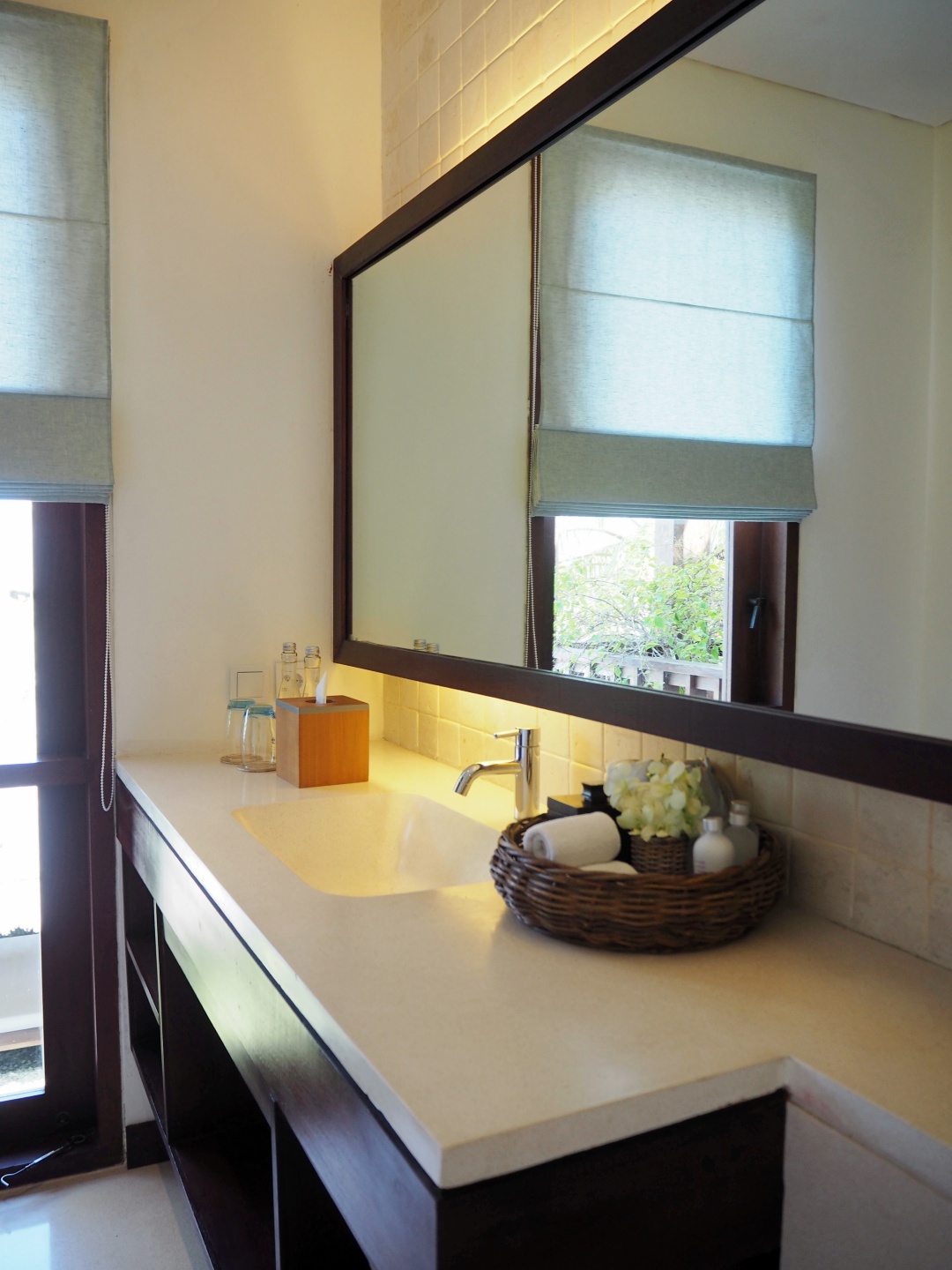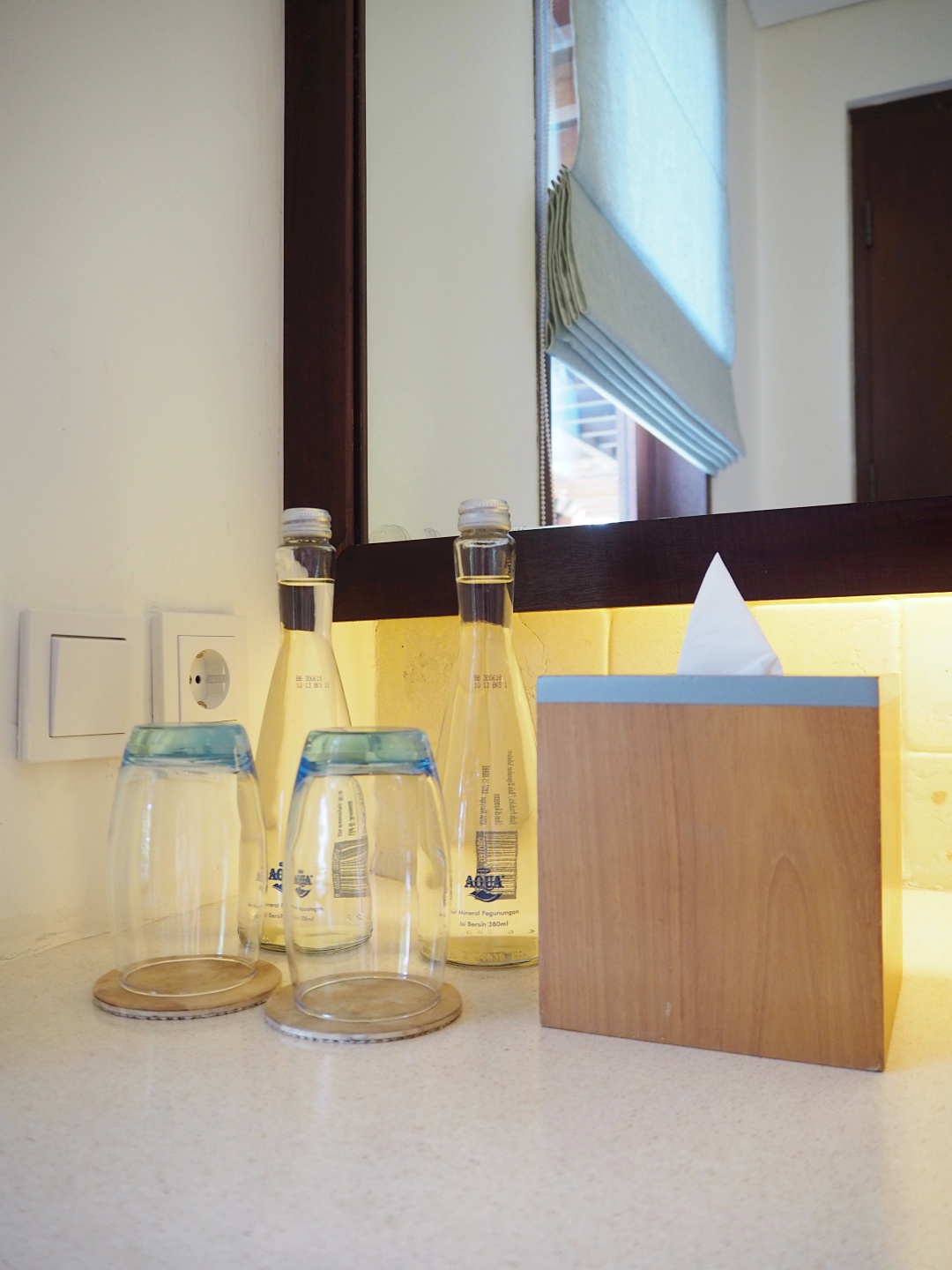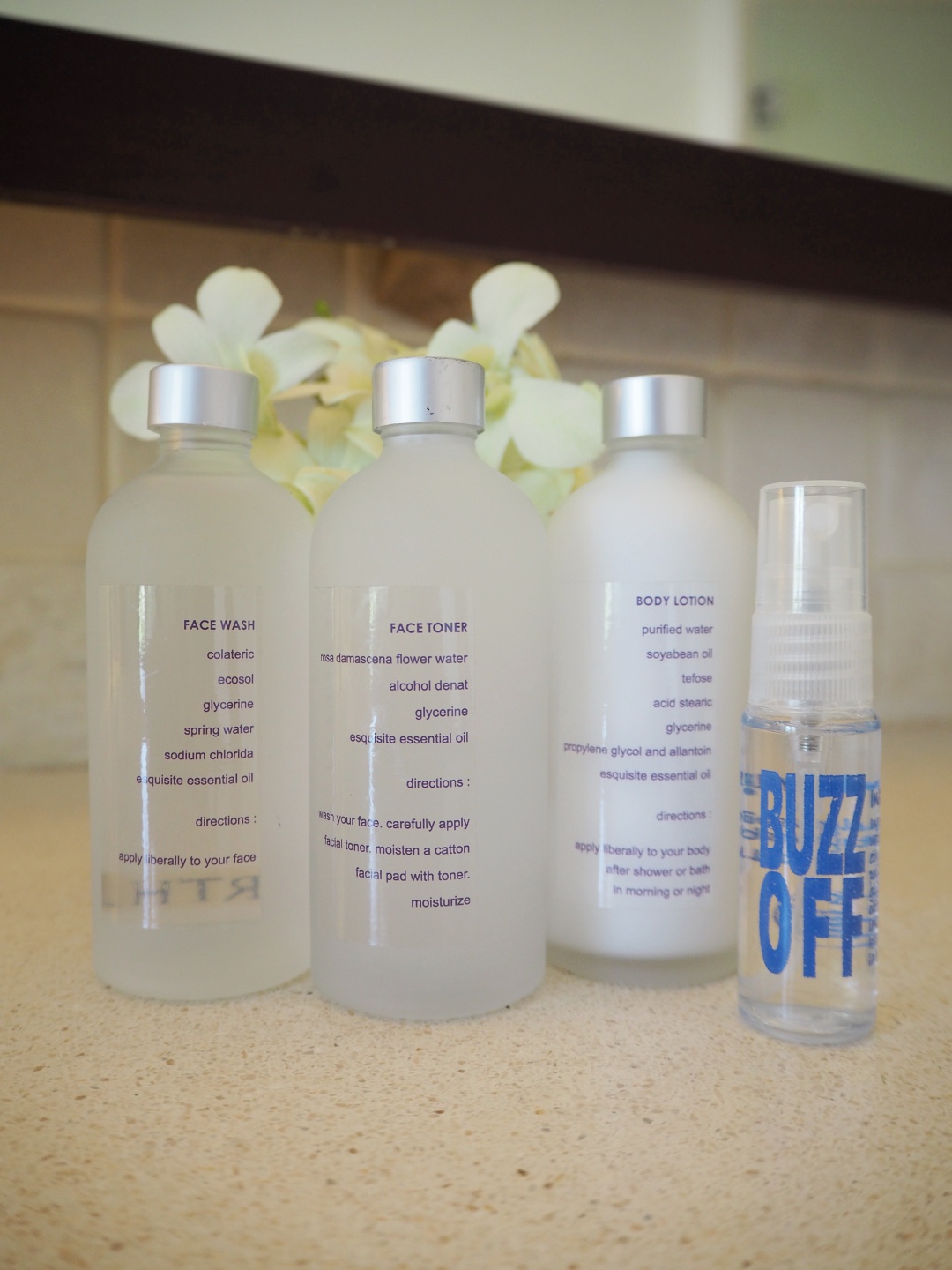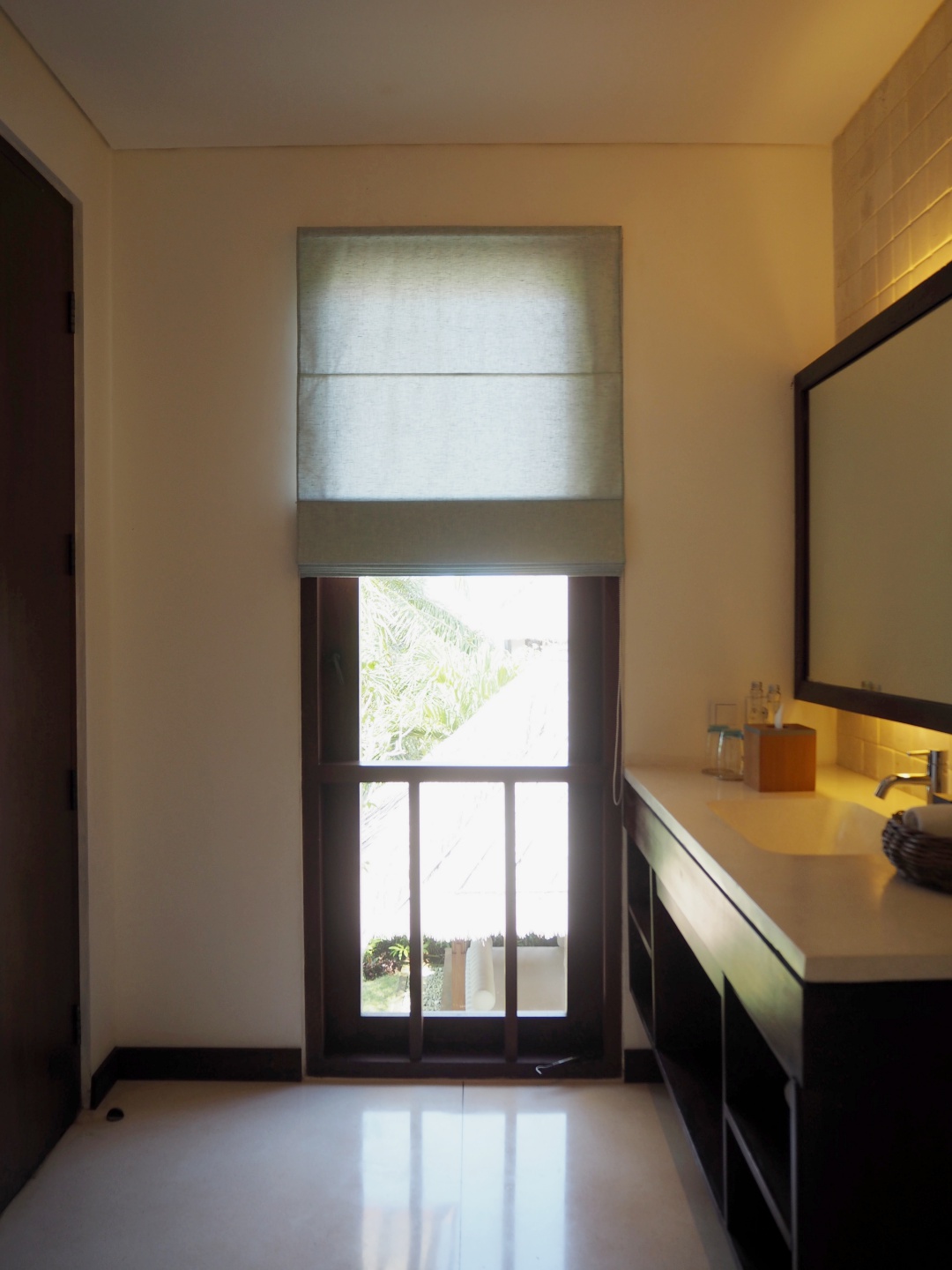 This time round, no more flying insects as long as we don't open the window.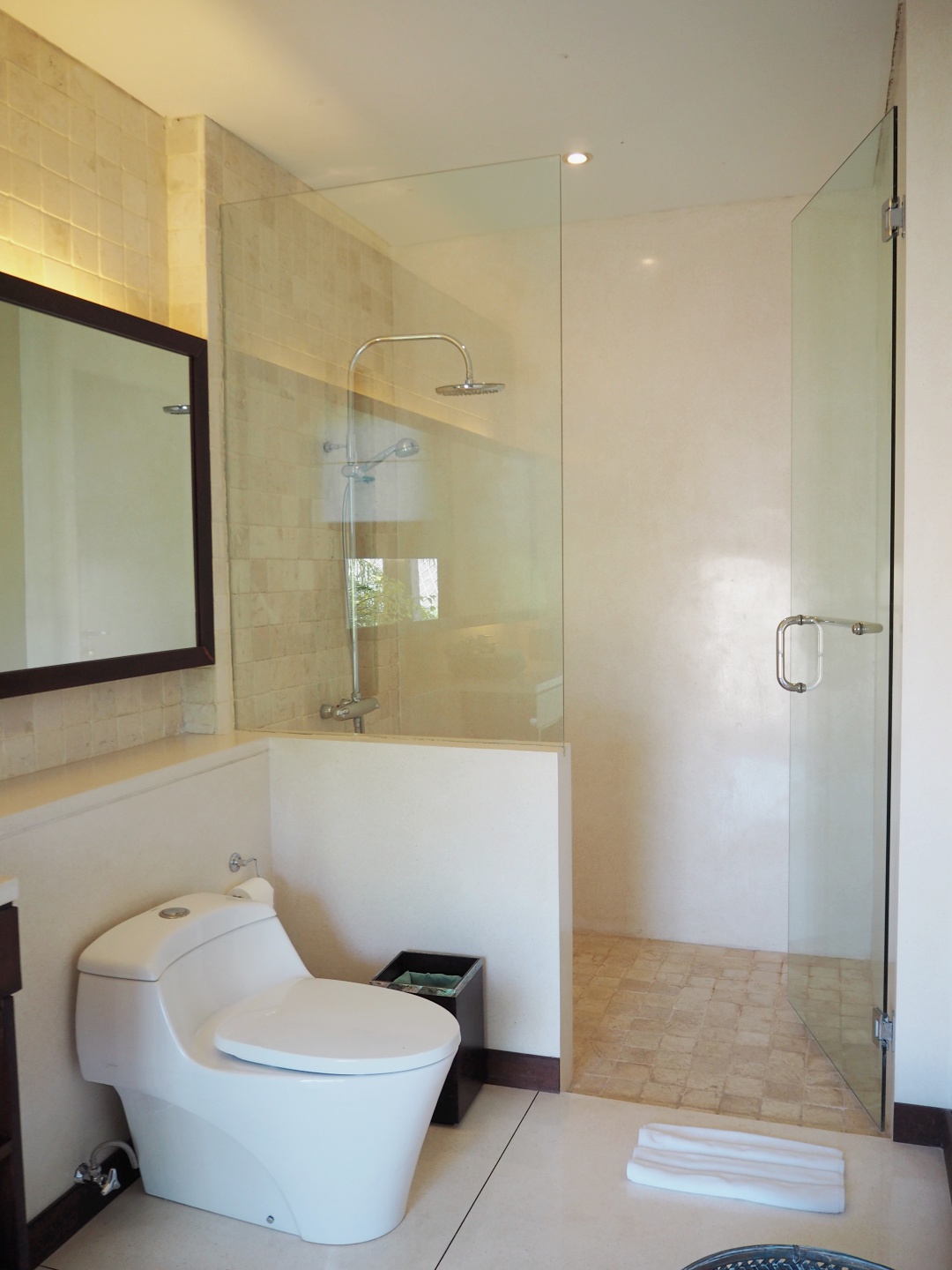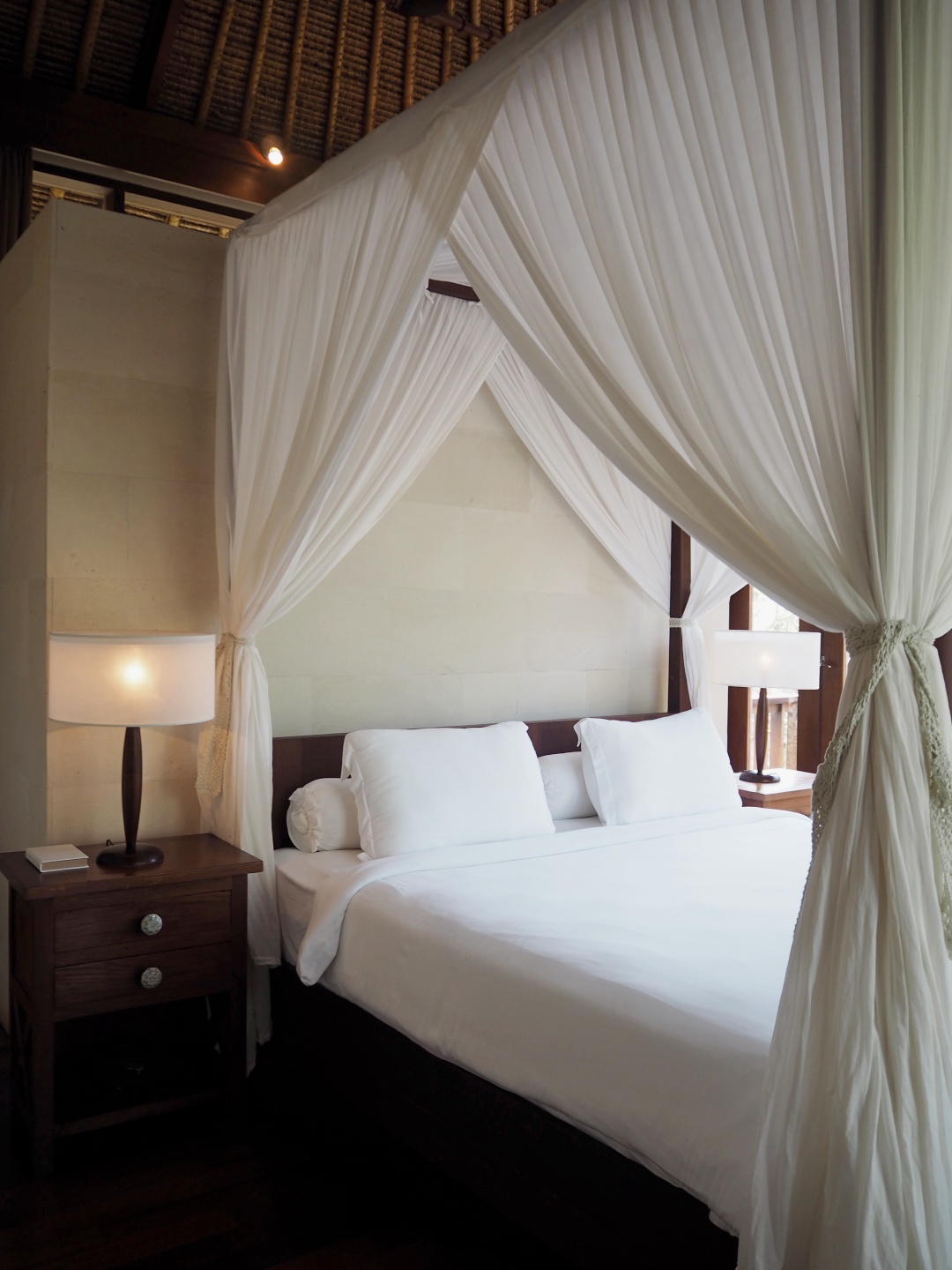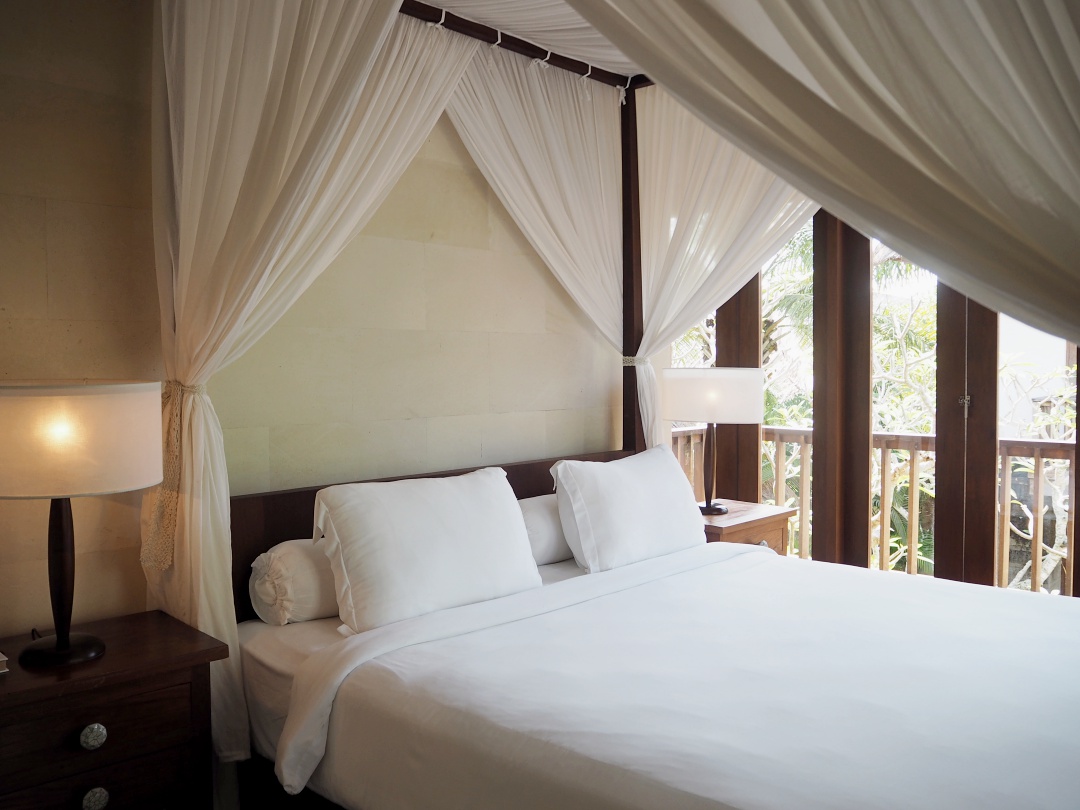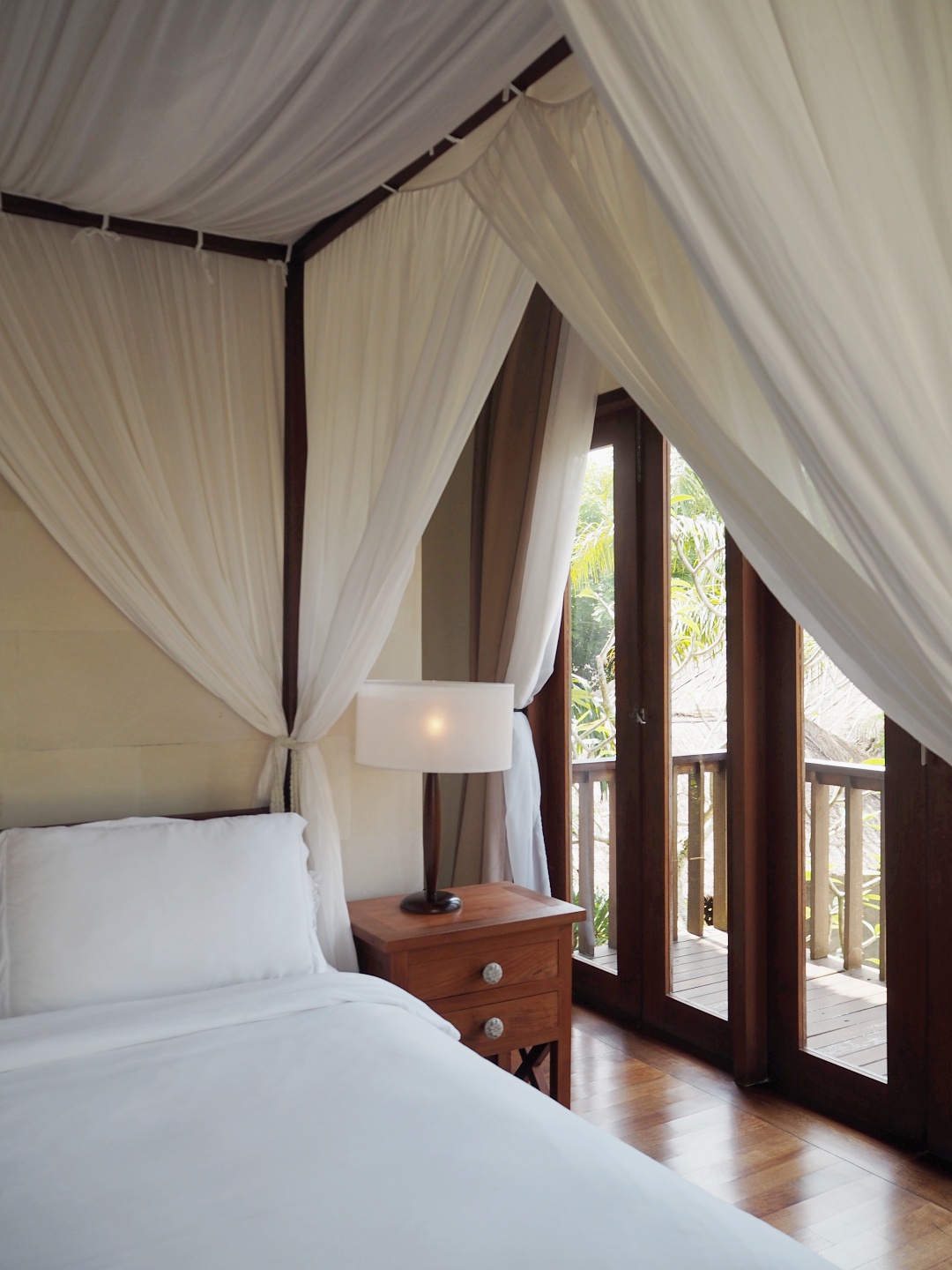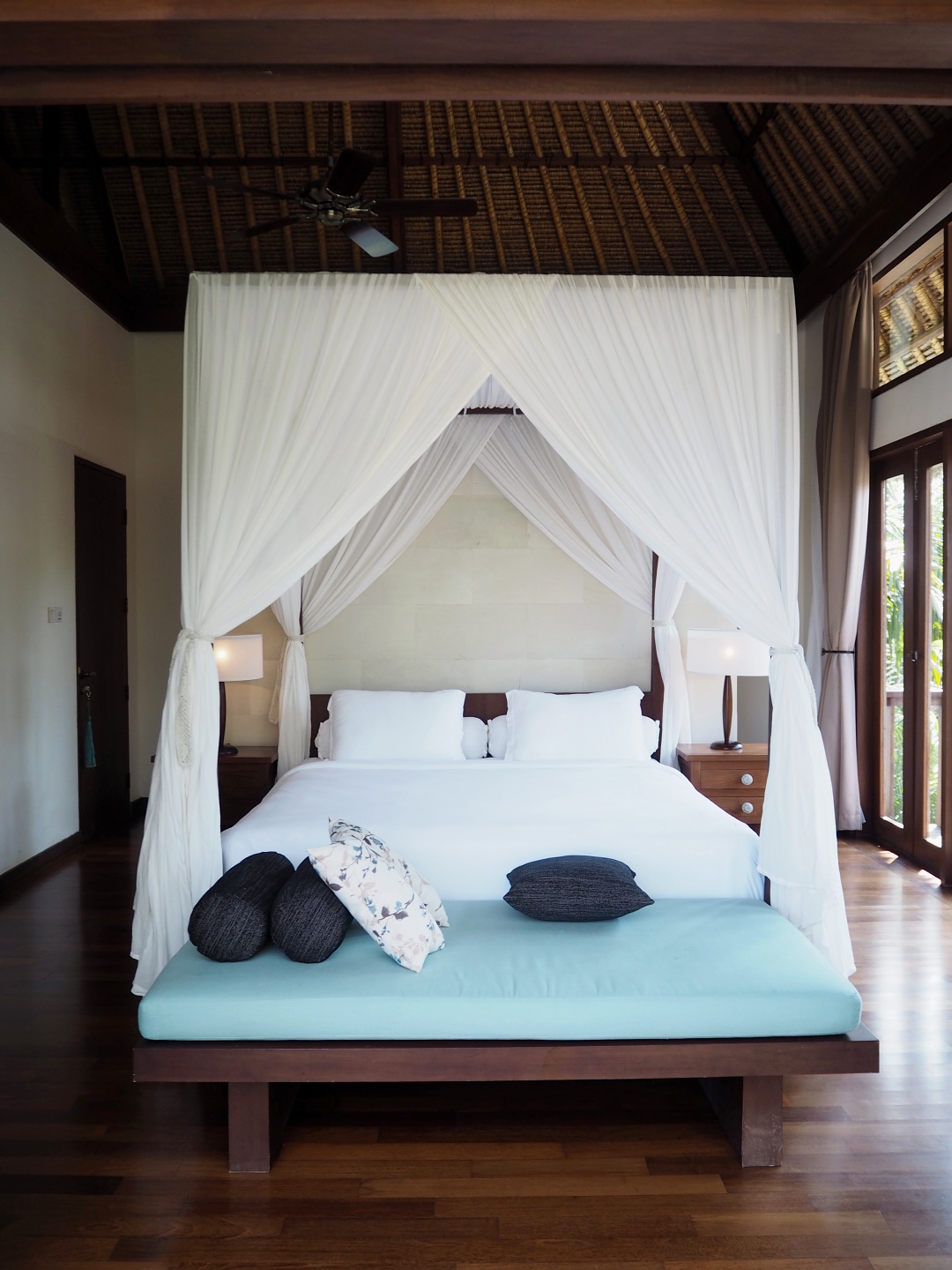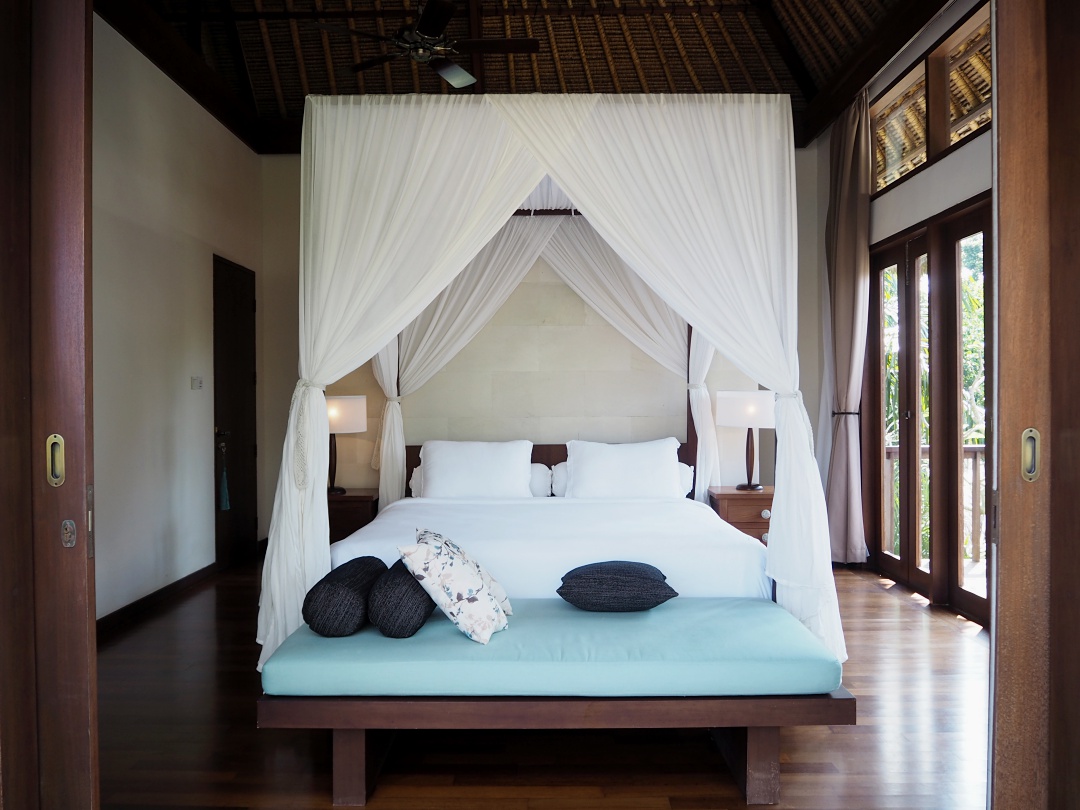 In term of room size, I don't think there is a big difference between the two? Unlike our previous room, there is no dressing table in this room. Also, not shown in the picture is a big wardrobe situated behind the wall/bed.
Aside from having more privacy in this room, what I love about the room is the balcony. The balcony is beautiful and we can even get a glimps of the ocean from there.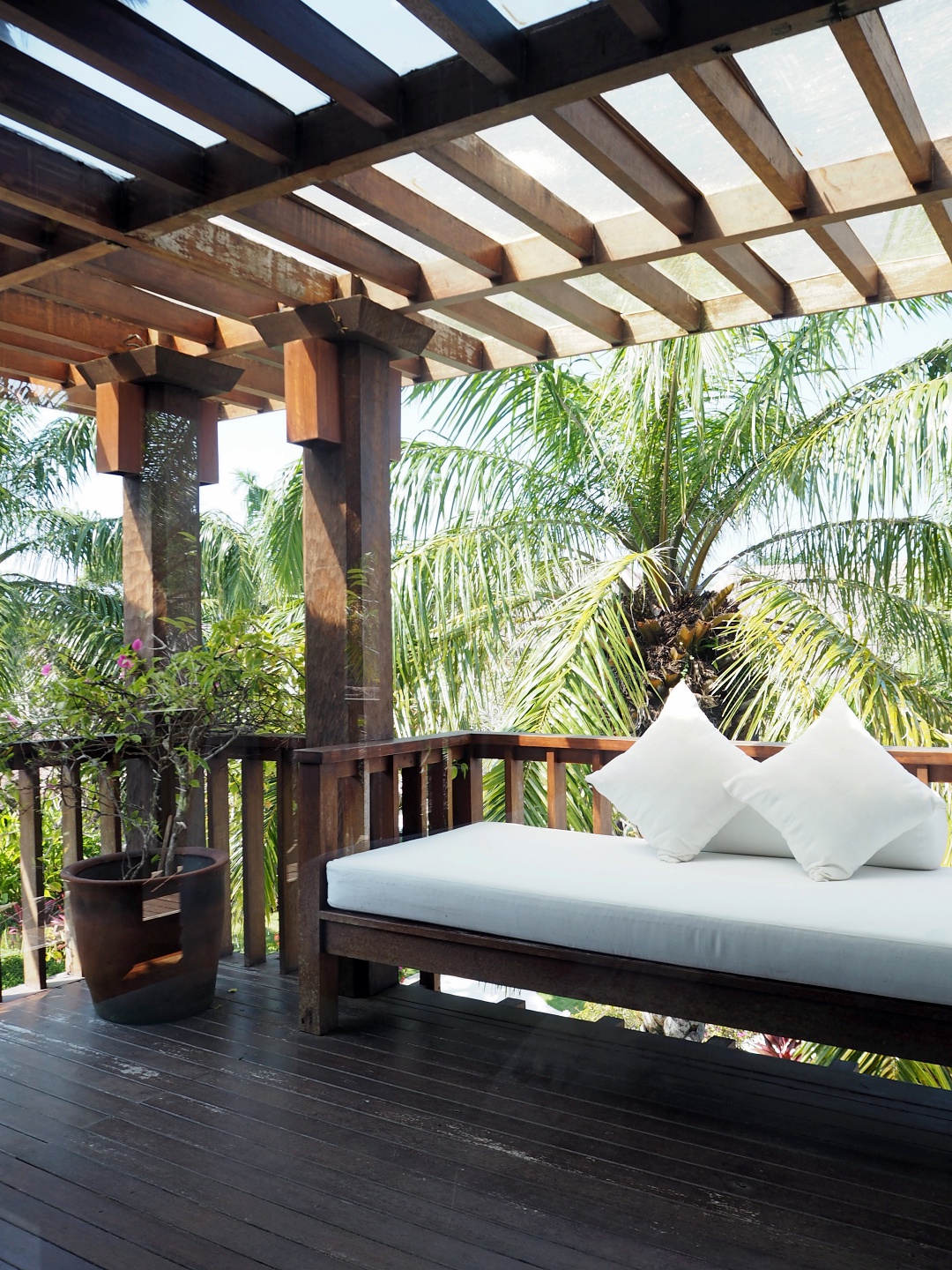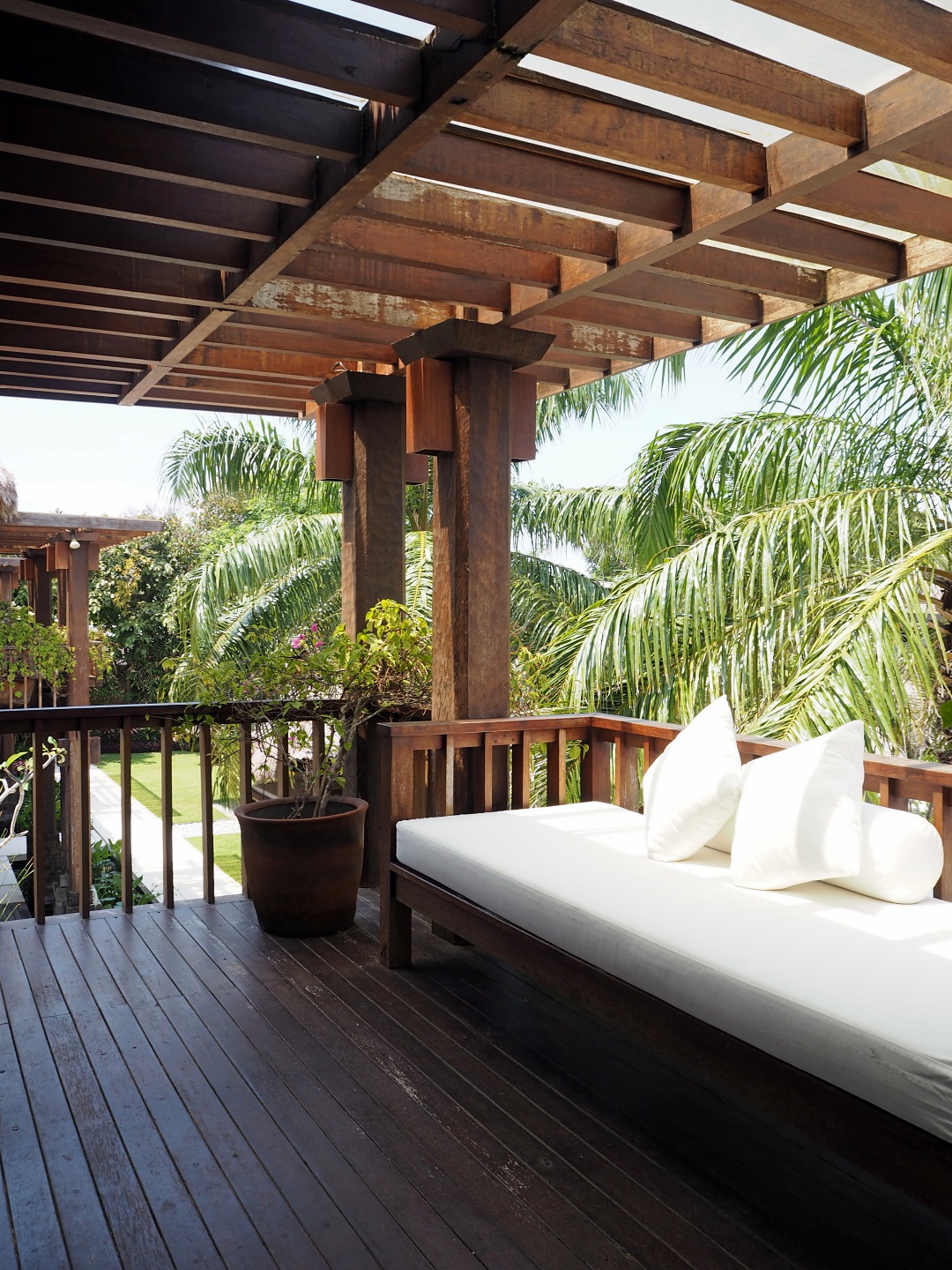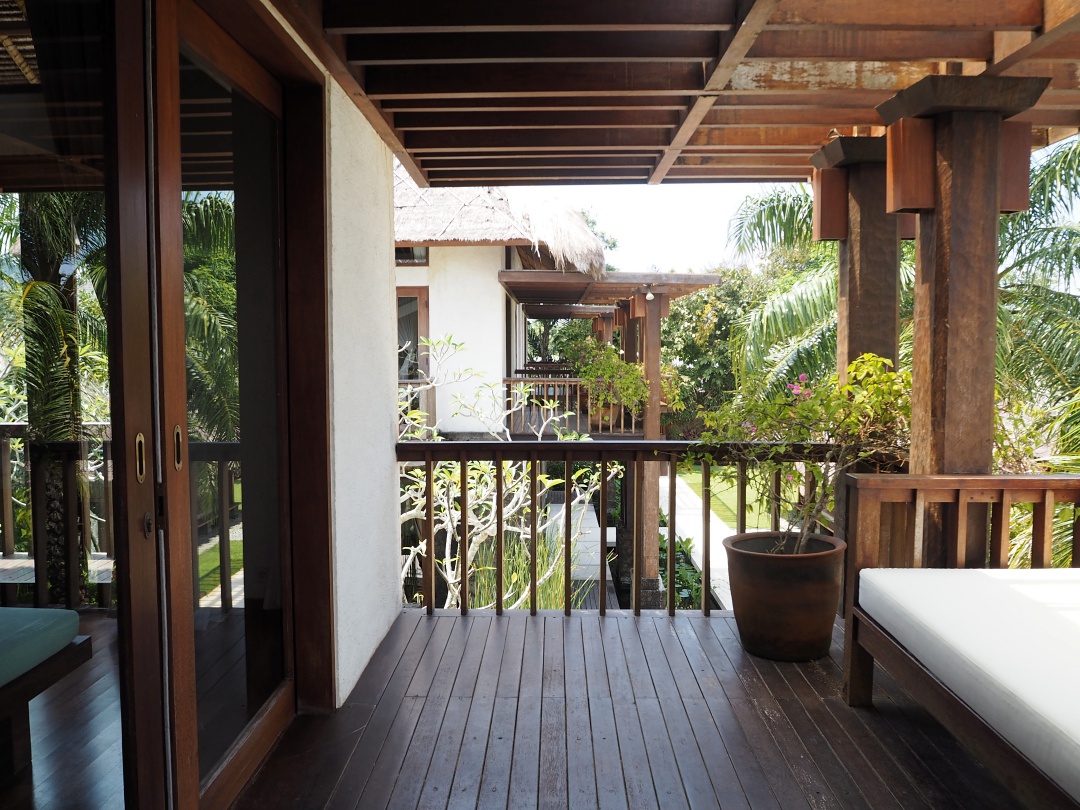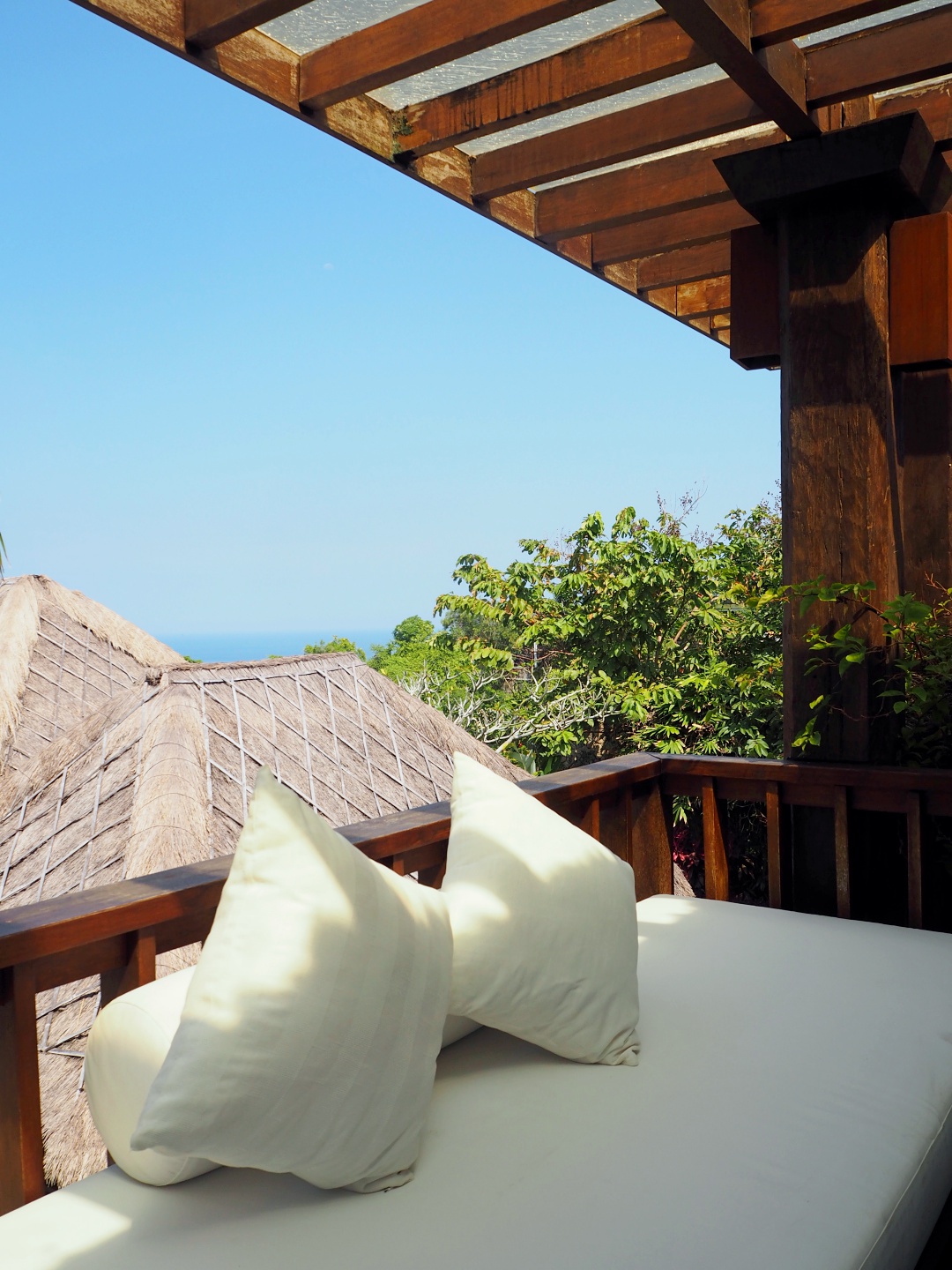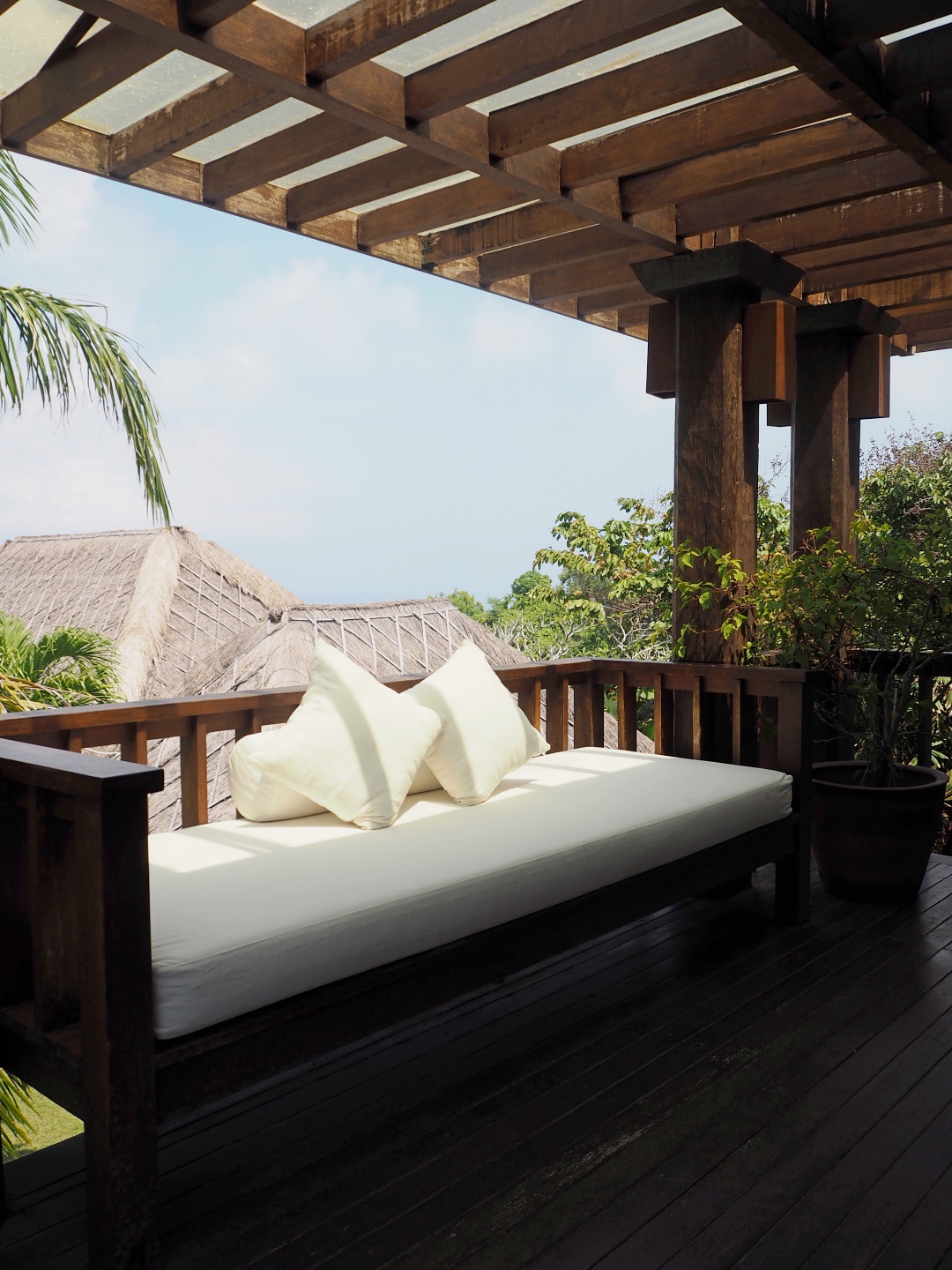 While both rooms are guest rooms, comparing the two, we both prefer the room on the upper floor.
Outdoor / Dining Area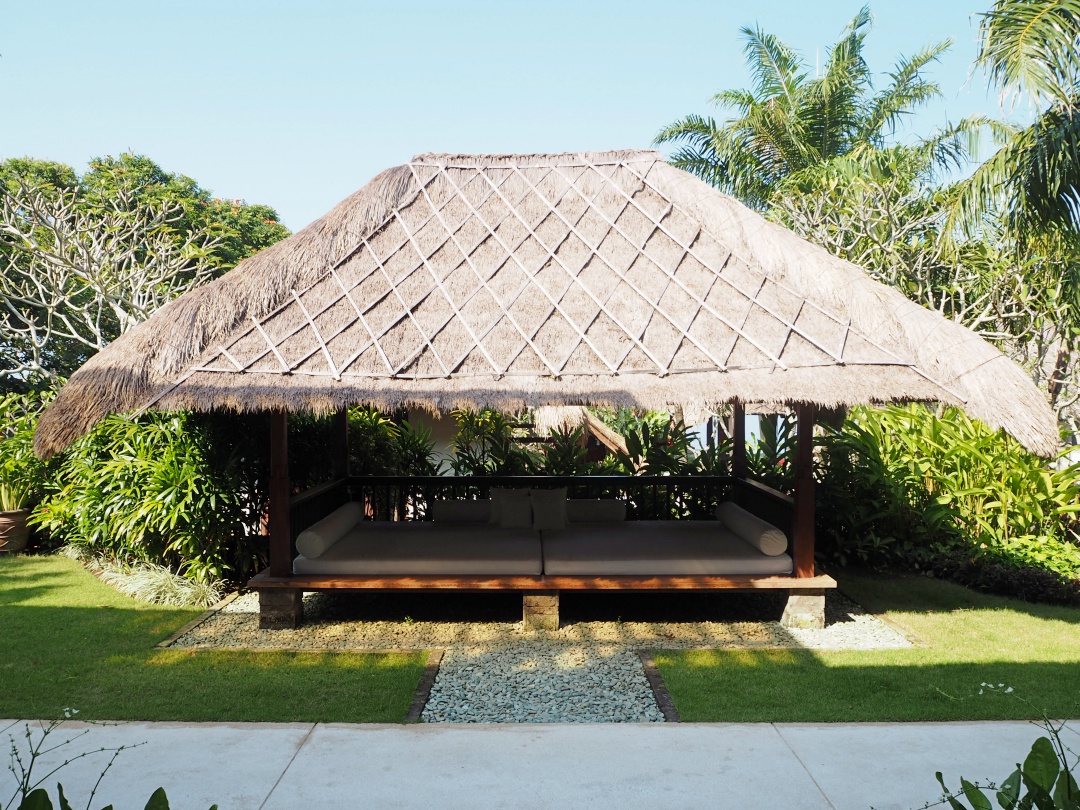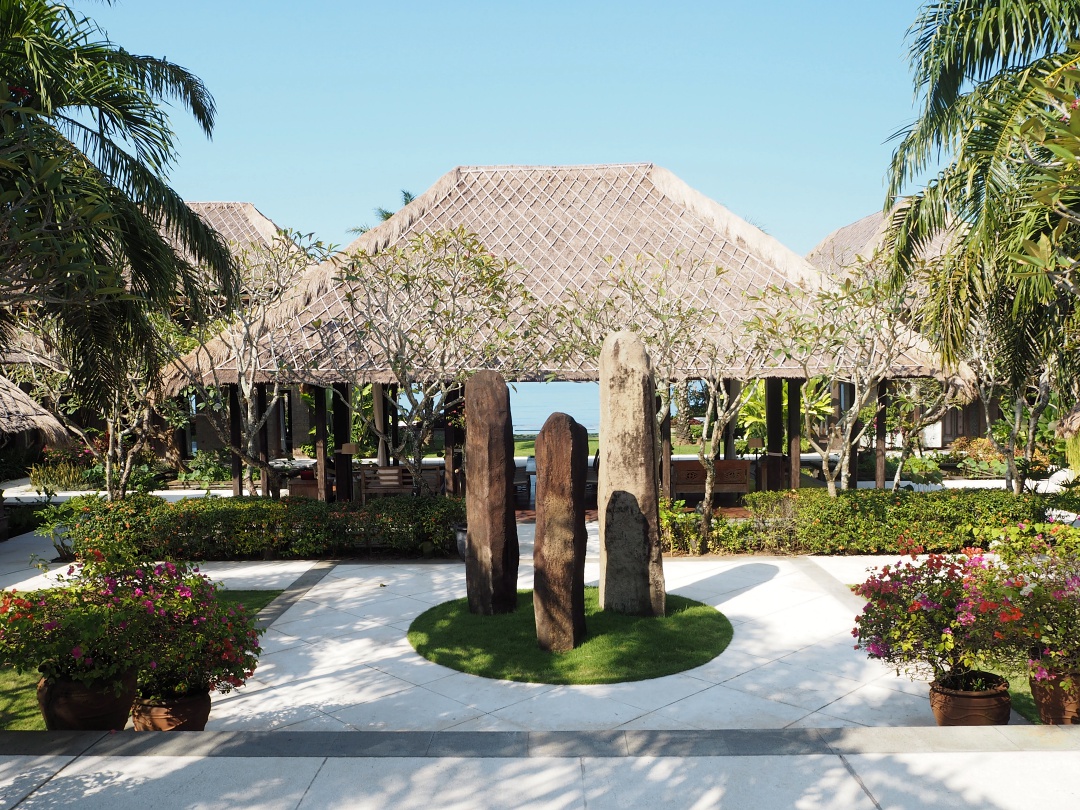 If you find this picture familar, that's because we took quite a few shots here during our pre-wedding shoot.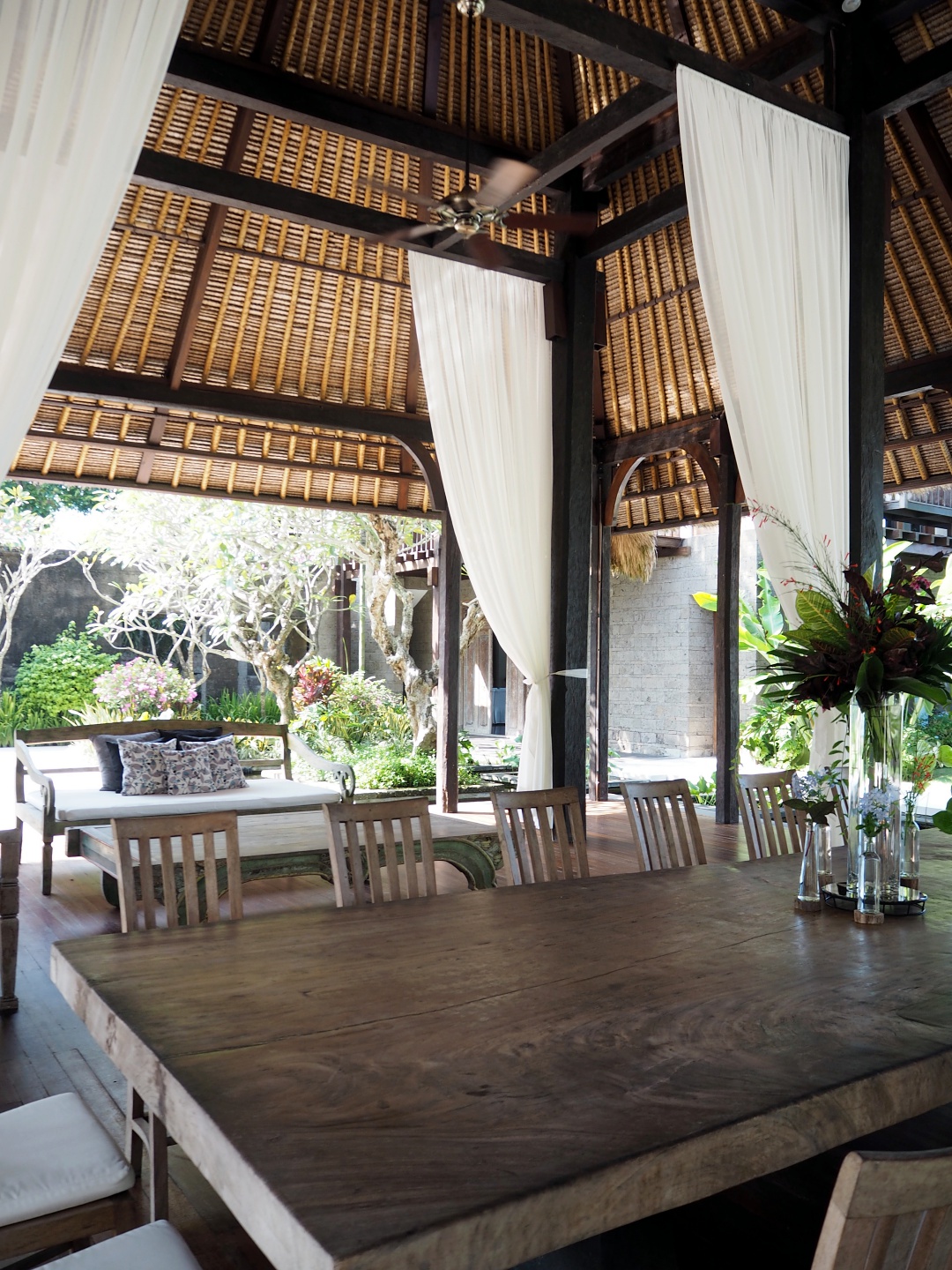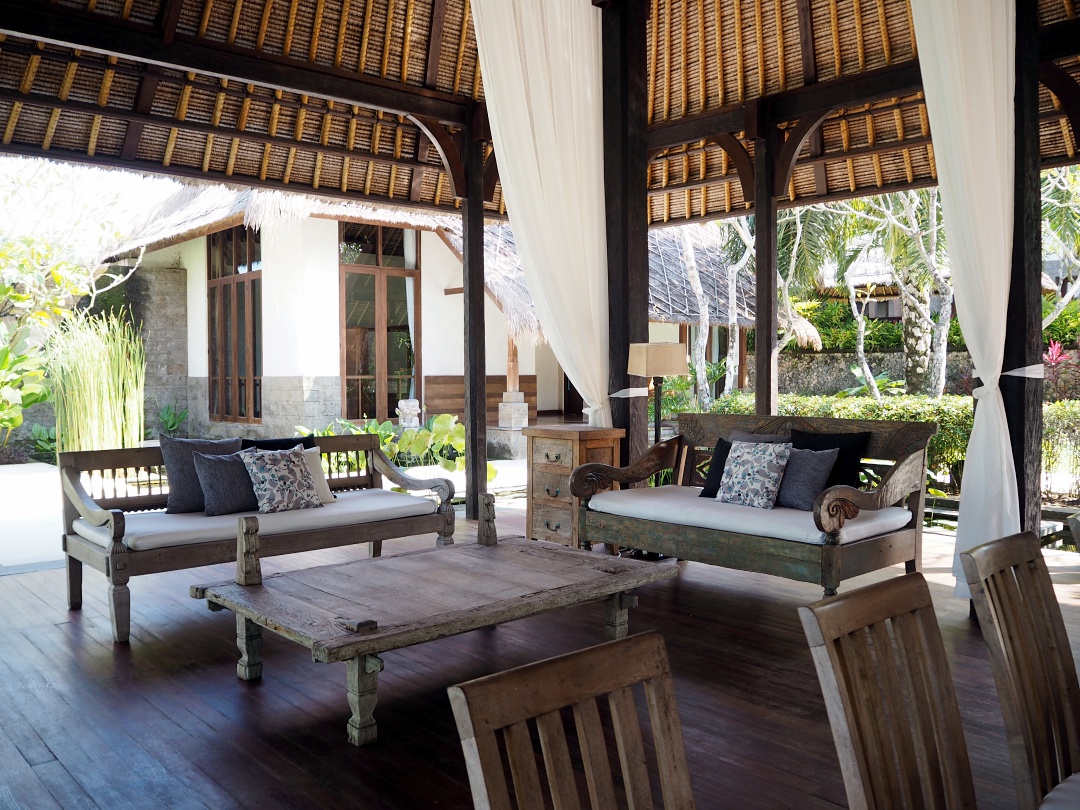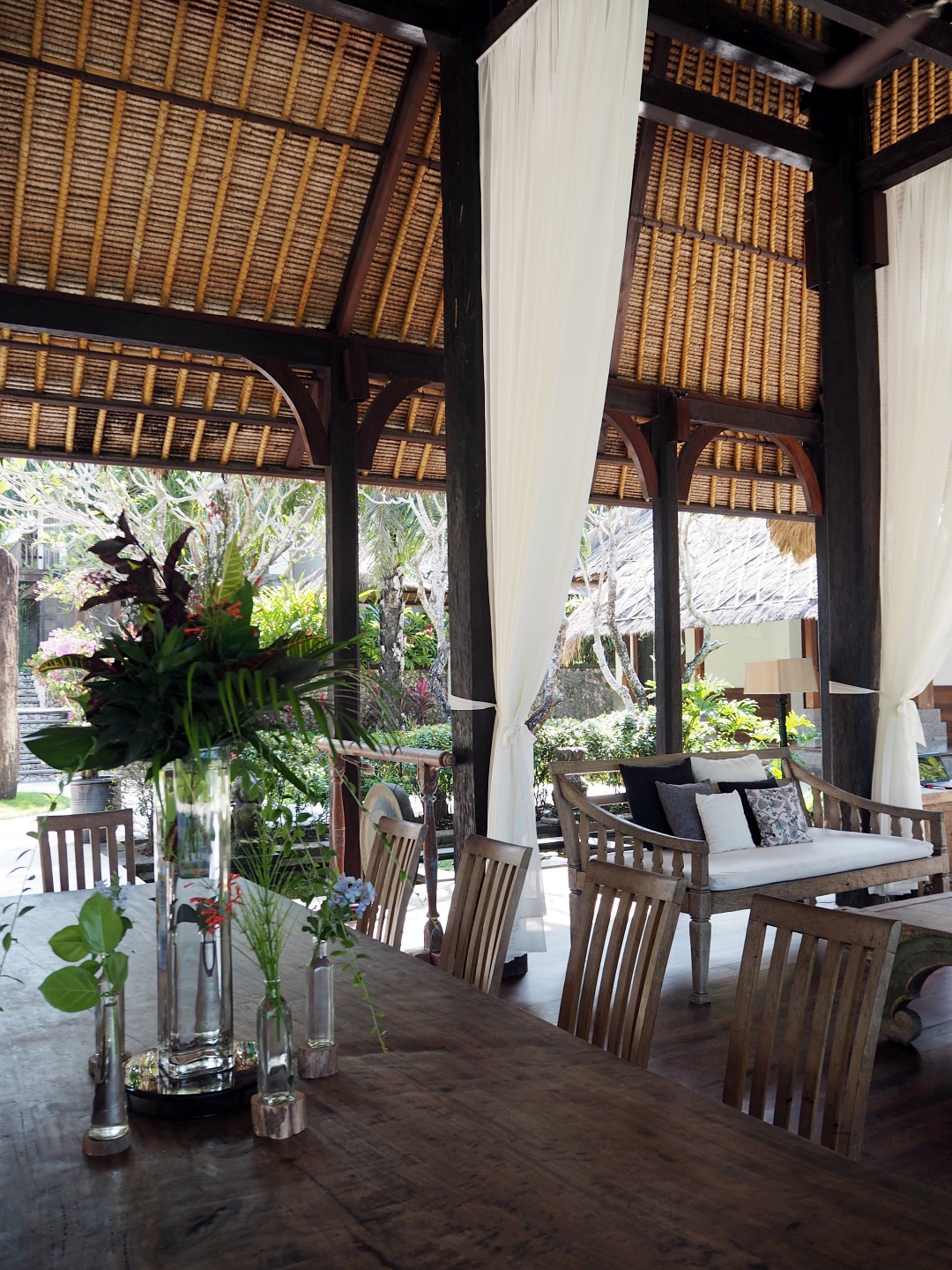 Villa Tirtha is not your typical hotel/resort/villa. In fact, it was nothing like what I've came across. The brand "Tirtha Bridal" is known to be a one-stop wedding planner/venue/accomodation in Bali that people can book for their wedding. You can check out their website to learn more.
They're not a full-service villa; that means they don't have service staff walking around all the time. If you happened to get hungry at night, you can't call for room-service because there is basically no one in the kitchen. They do provide a phone for you to call if you need housekeeping, technician or security. But aside from that, you are literally on your own.
I was told that we were in fact the first or the first few who stayed in Villa Tirtha. Supposedly, couples can book Villa Tirtha as a wedding venue and the package will comes with accomodation for them and their guests. So in a way, Villa Tirtha is not set out to be a resort/villa that travellers book when they're looking for accommodation in Bali? However, I believe they are planning to (or already) open up the rooms for booking for those who purely just want to stay in the property.
Anyway, because of that, there is no restaurant in the property. The above is where we sit for our daily breakfast and lunch. It's a huge table smack right in the middle of the property. I honestly got a shock the first day I went down to have my breakfast because that was not what I had in mind.
Breakfast / Lunch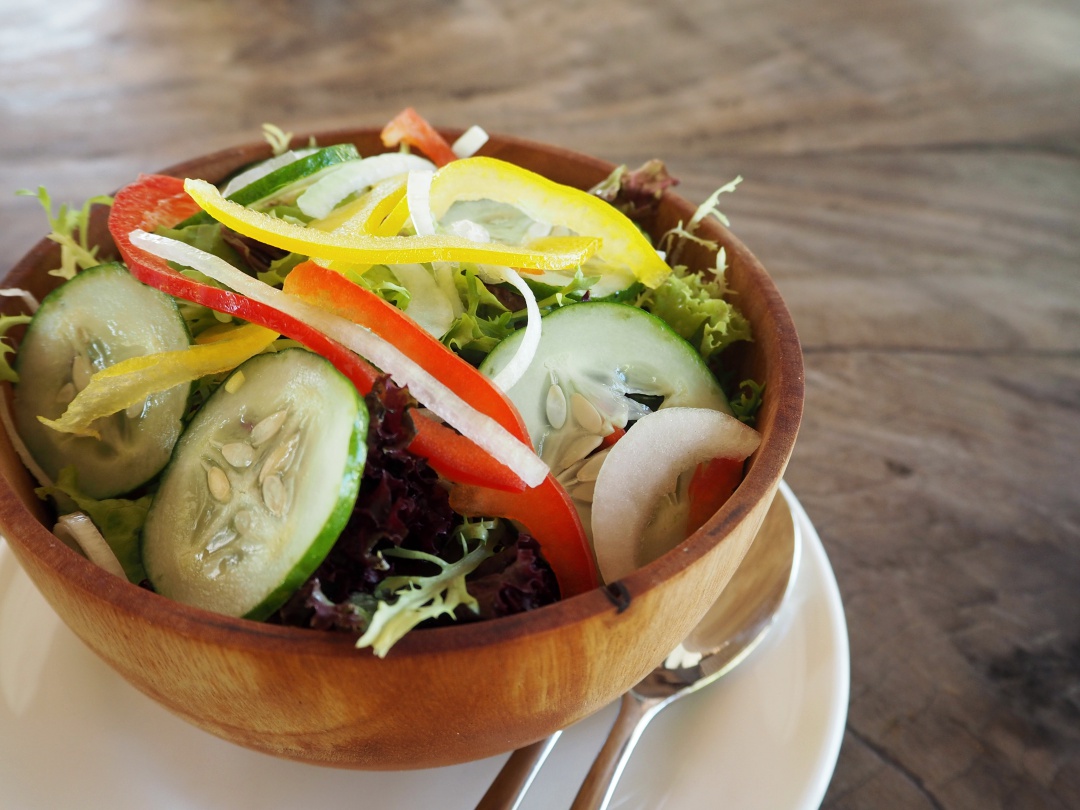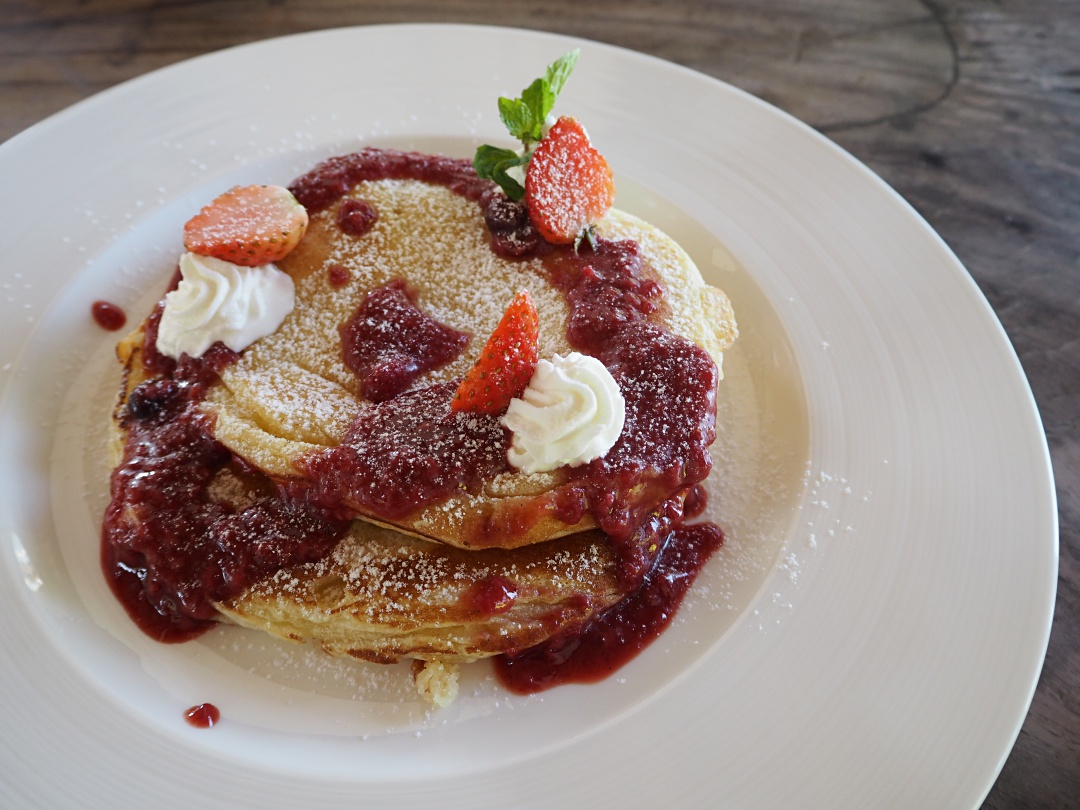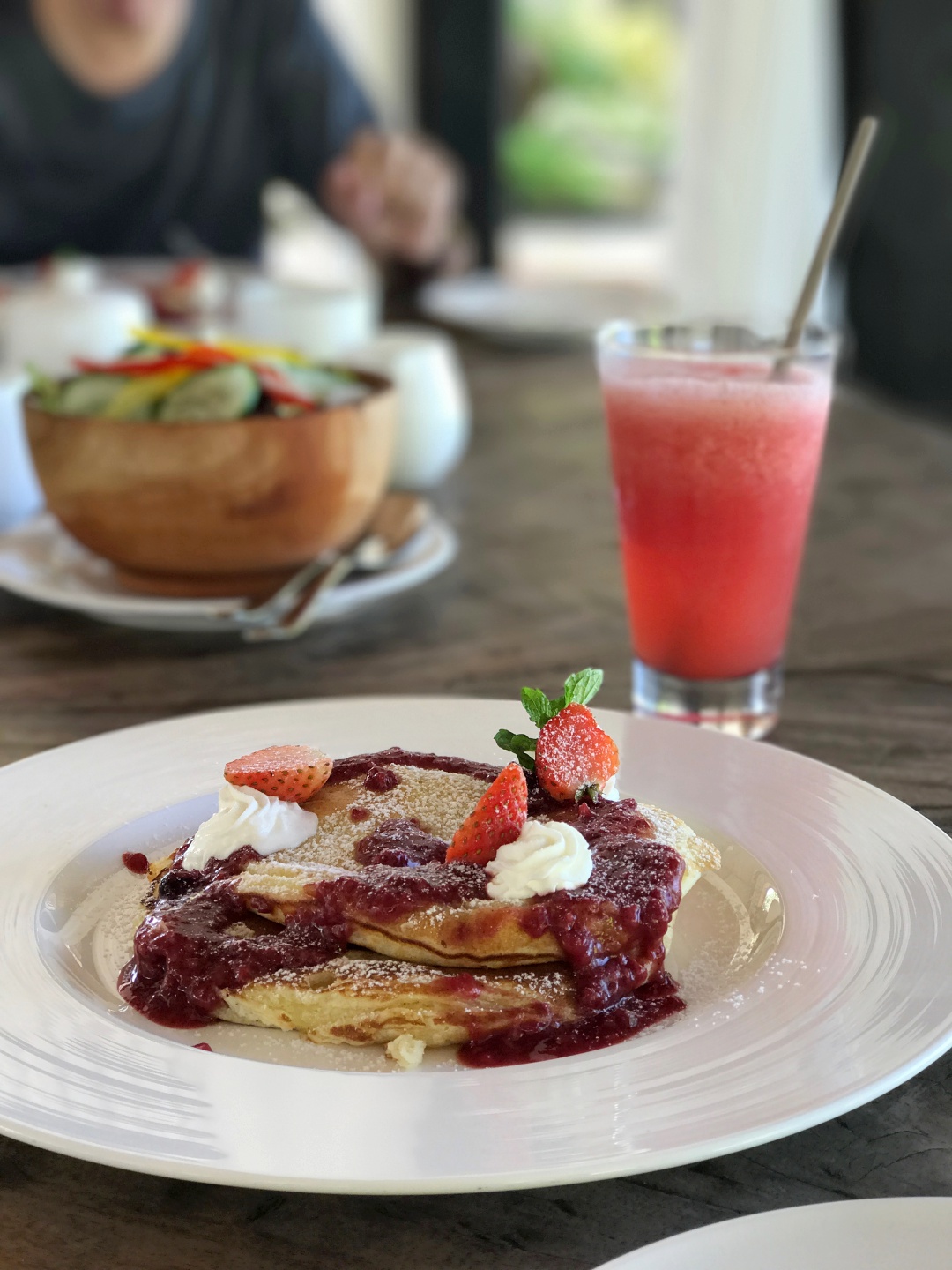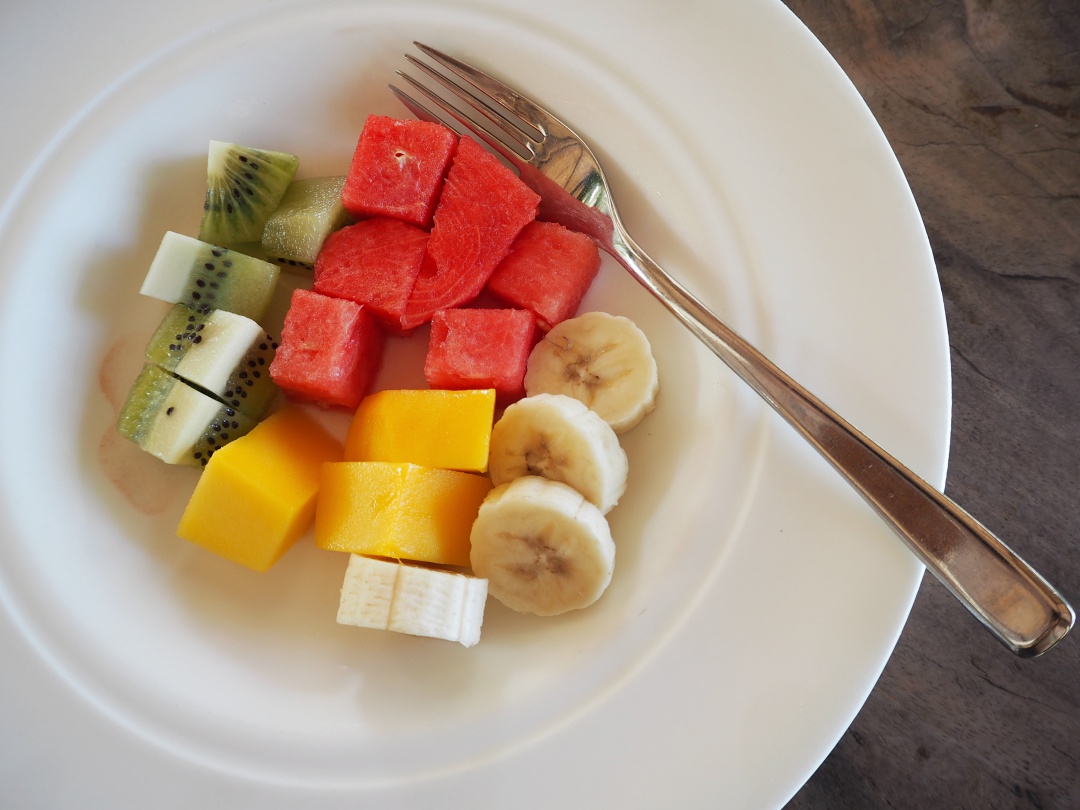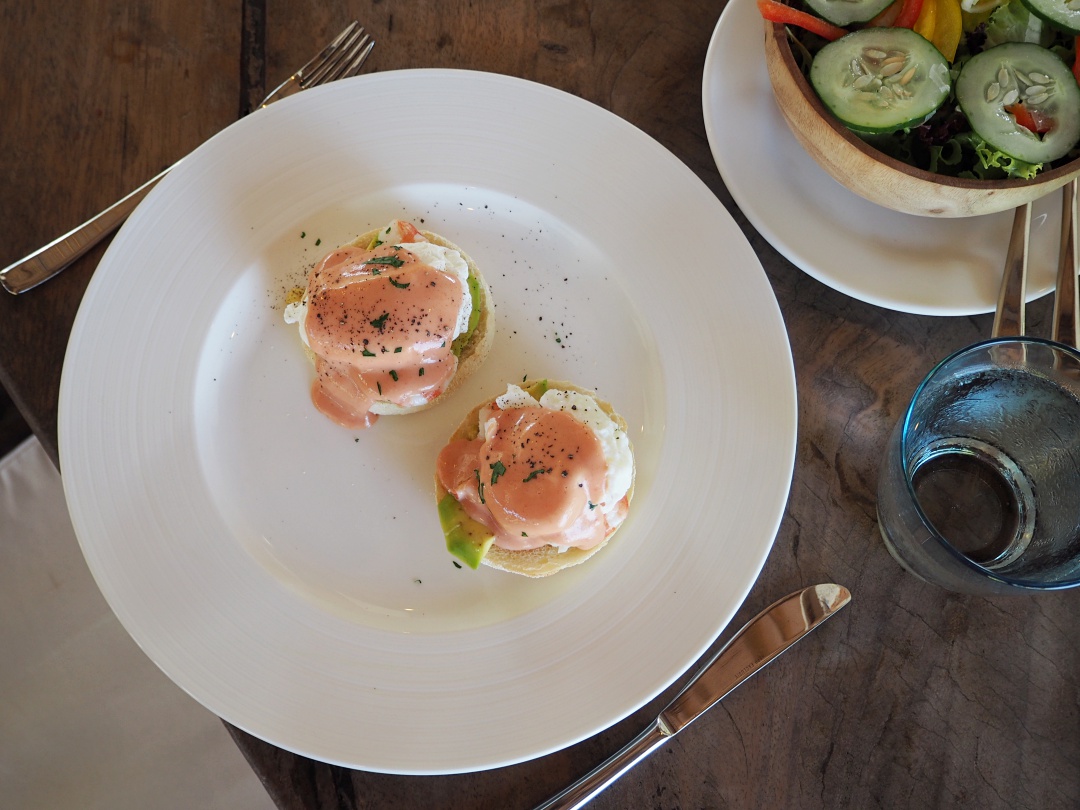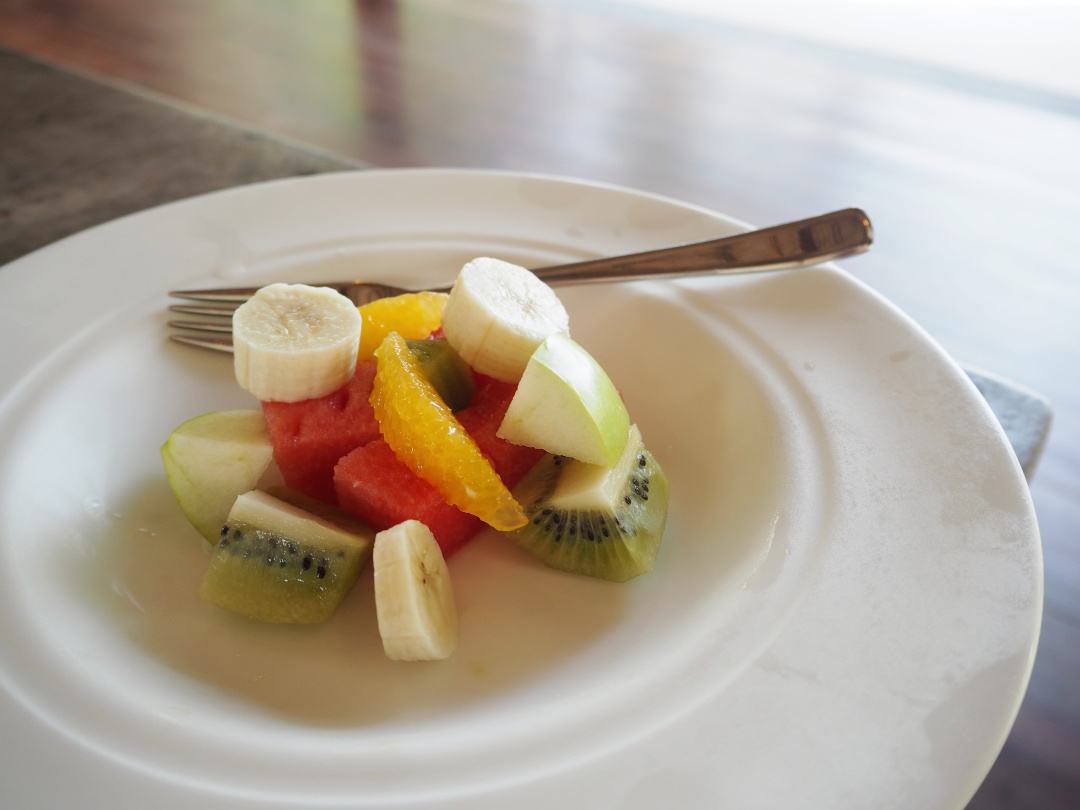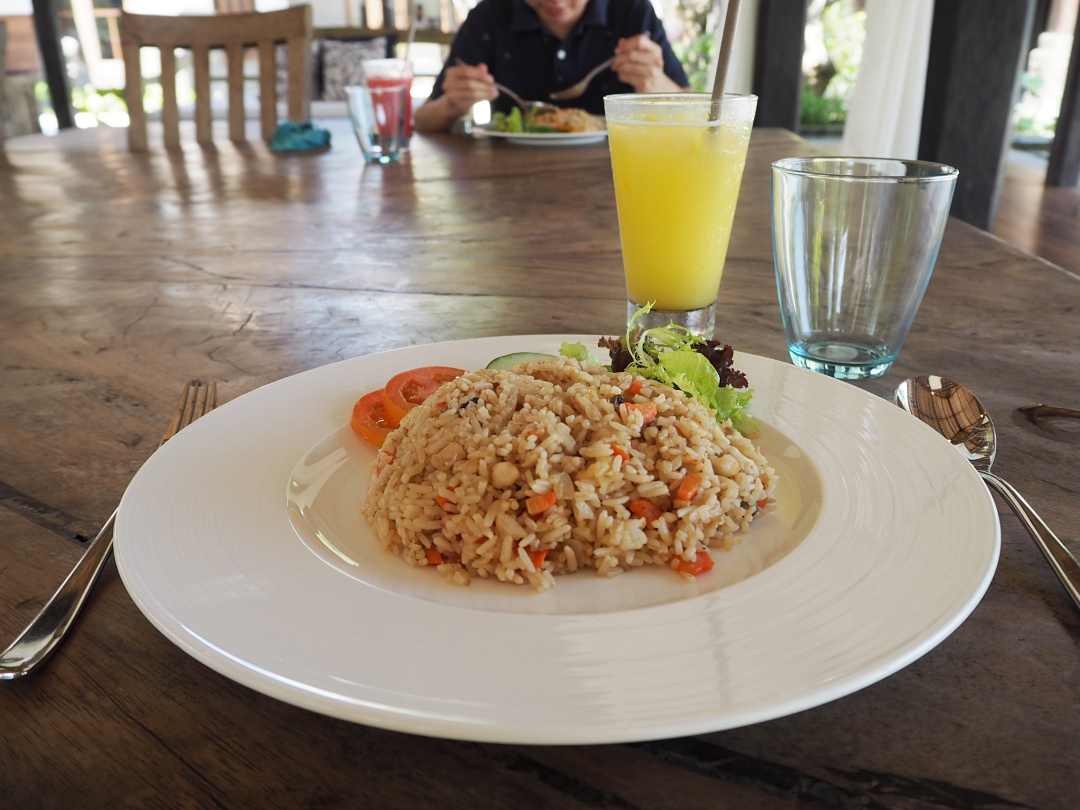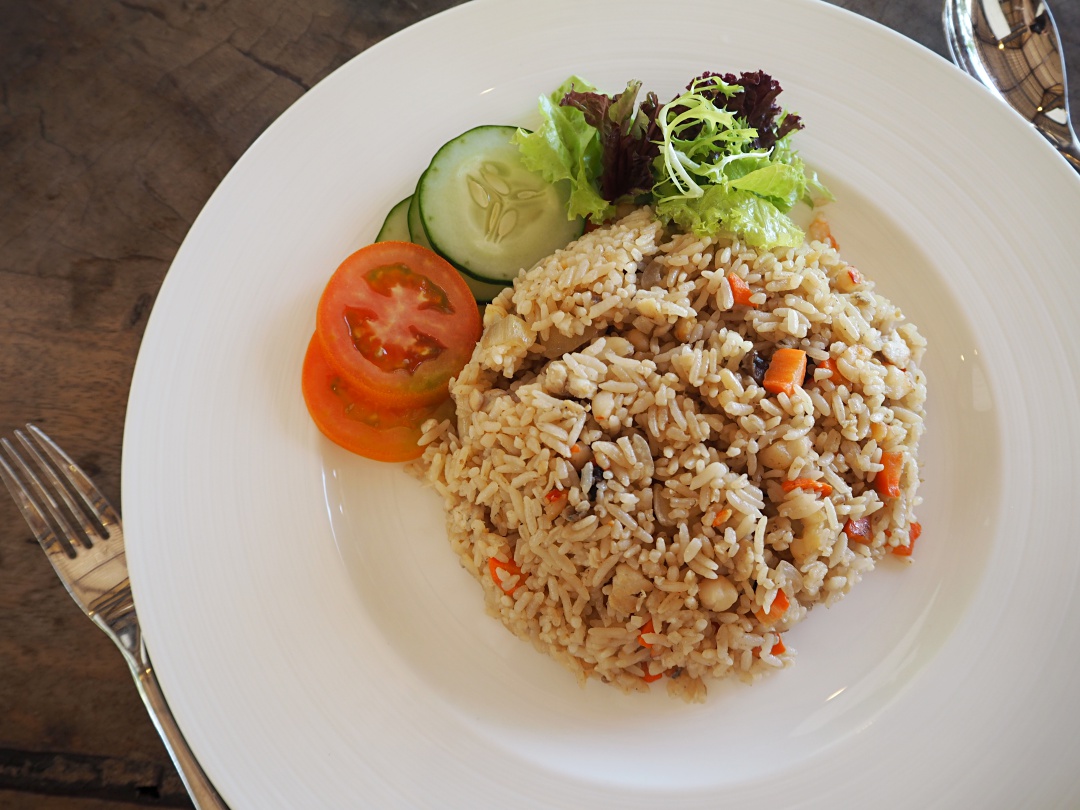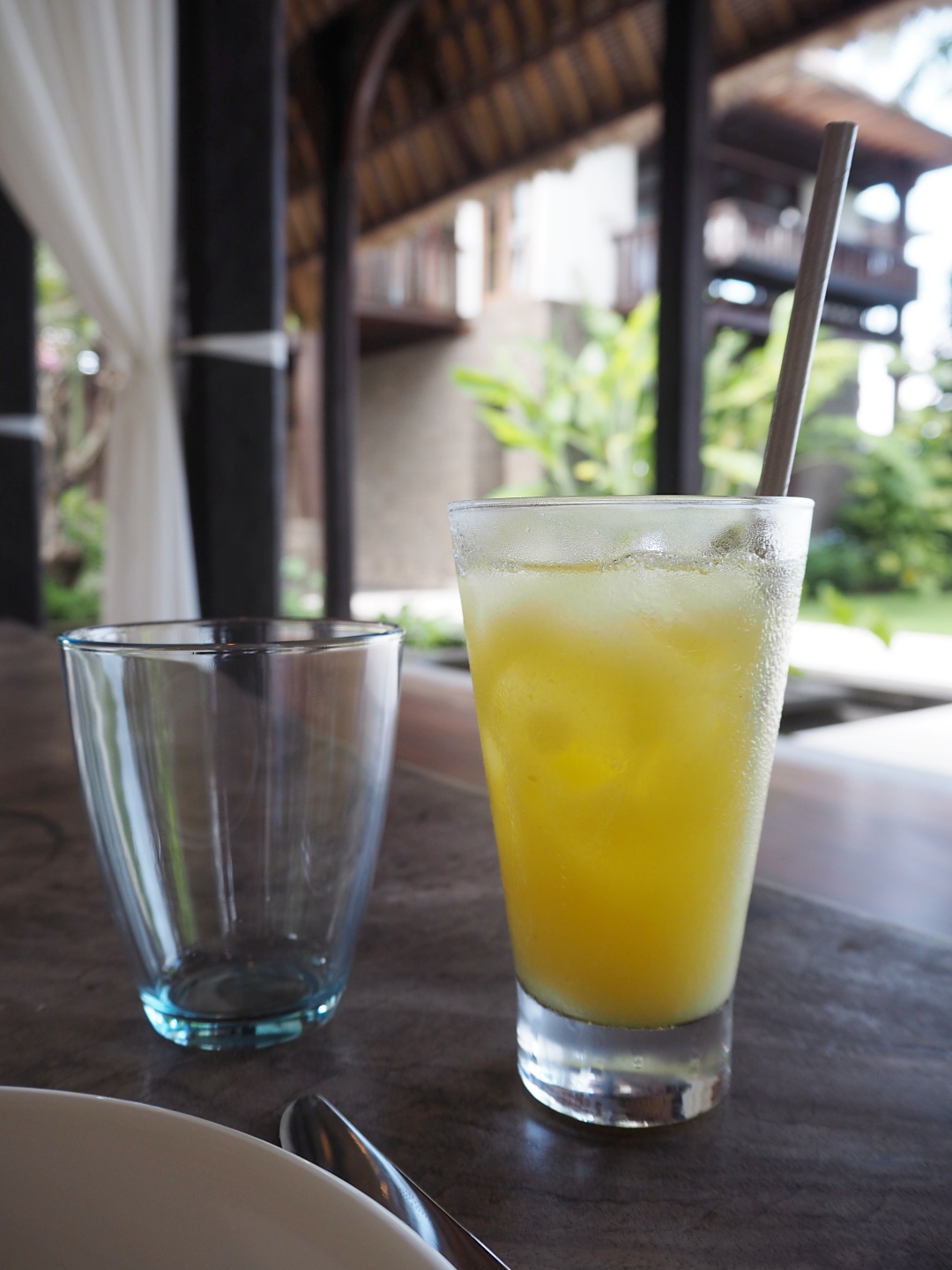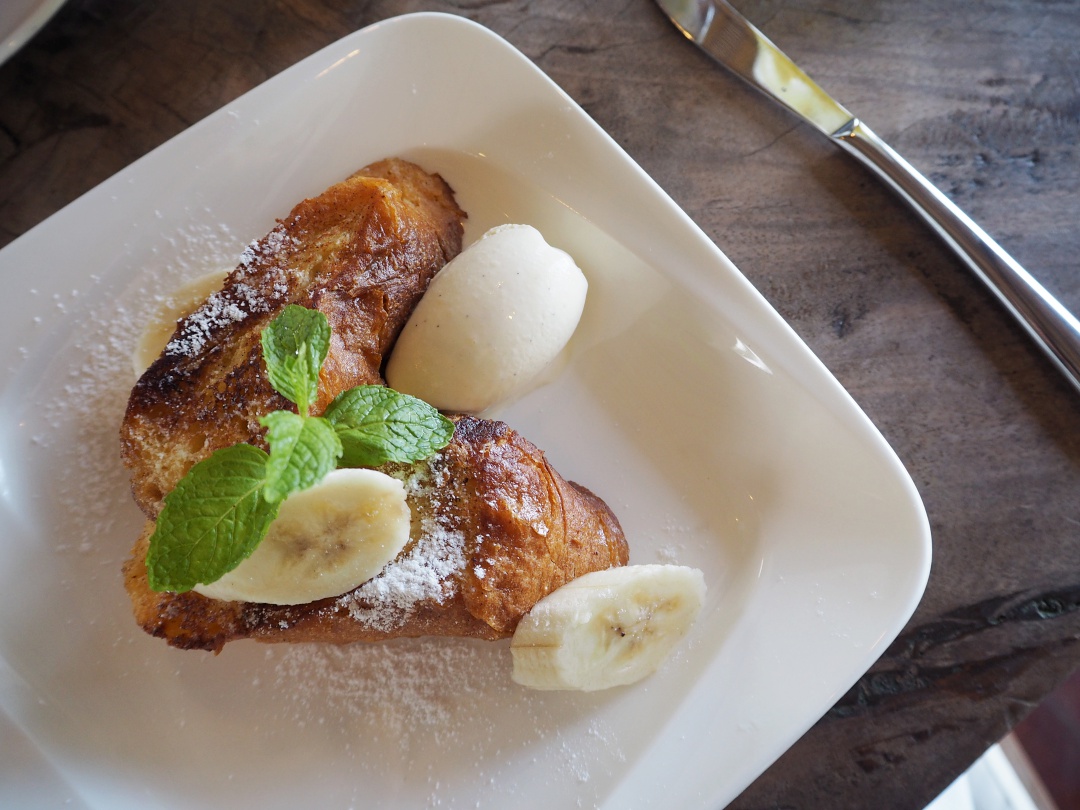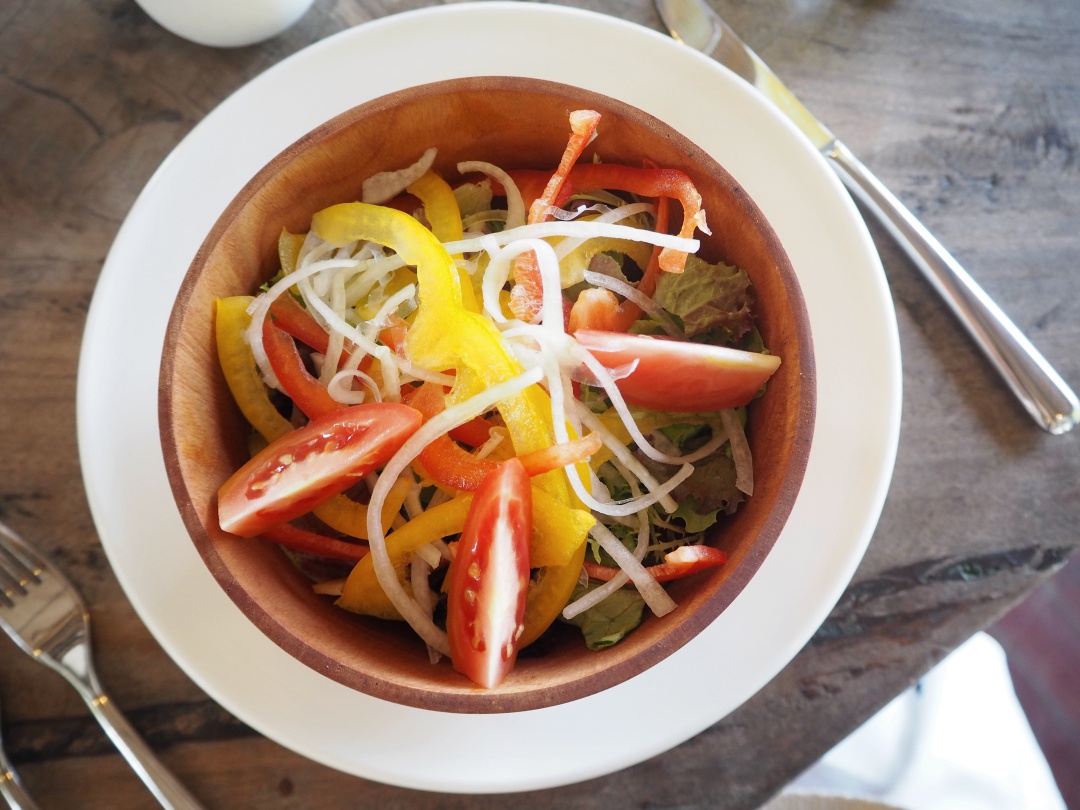 A typical meal for us consists of a fruit juice, salad (a big bowl for sharing), a main and fruits. The table is always nicely set up for us before we arrived.
Our stay comes inclusive of breakfast and lunch. The breakfast was good! We had pancakes for Day 1, egg benedict for Day 2 and French toast with ice cream for Day 3. Lunch was okay I supposed? I think we had fried rice for two afternoons.
Food aside, the one thing that worth raving about is the view we get while sitting there.
Ocean View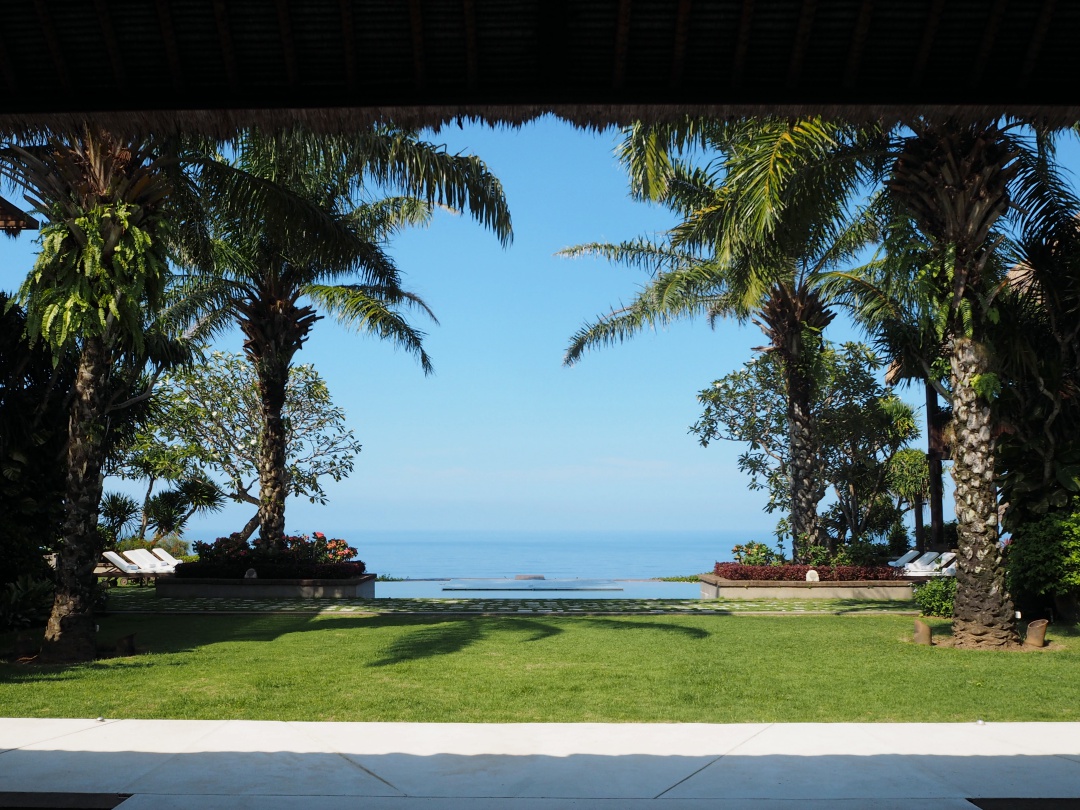 I mean just look at this view! Ocean view with the occasion monkeys running around the cliff.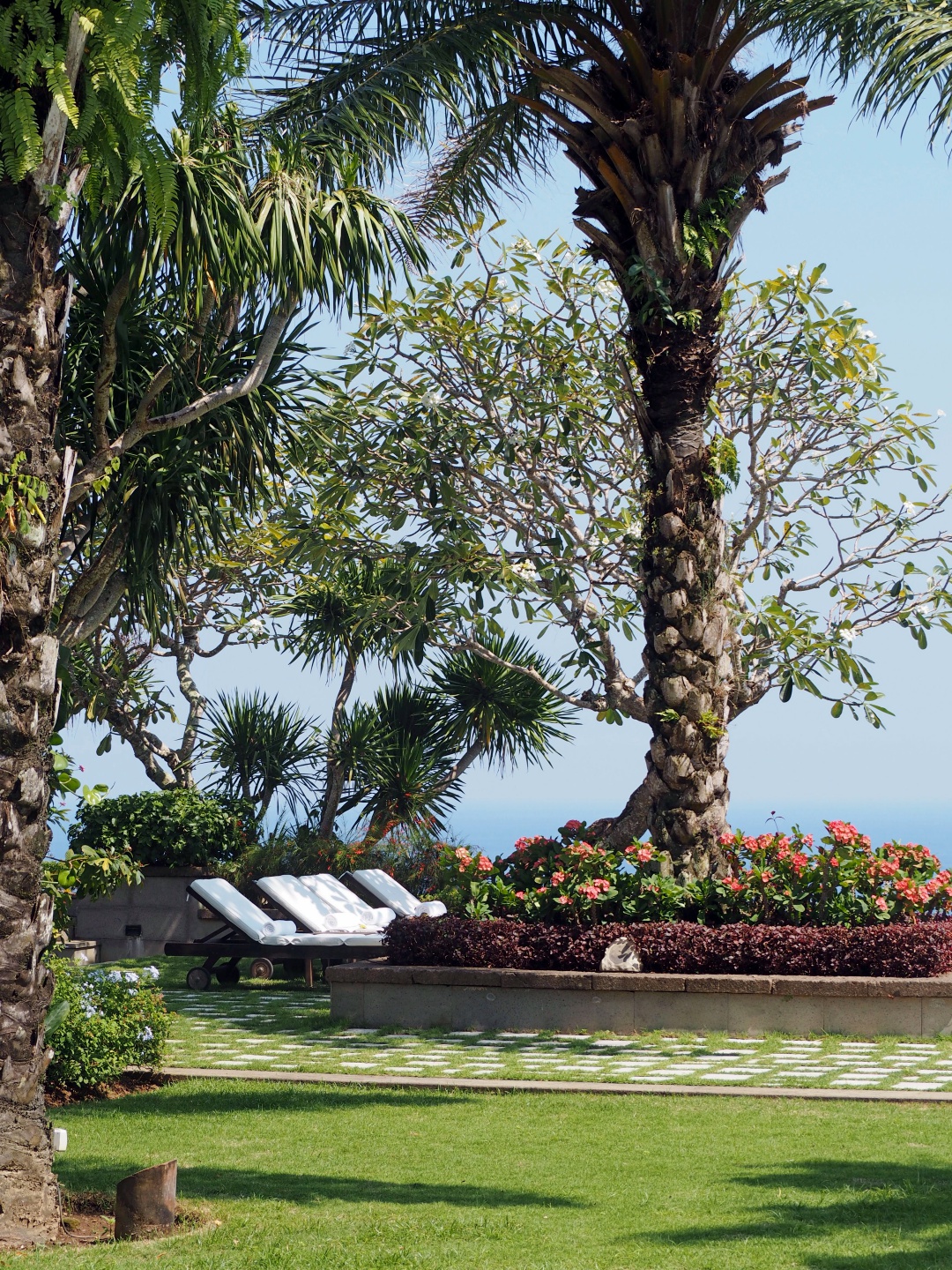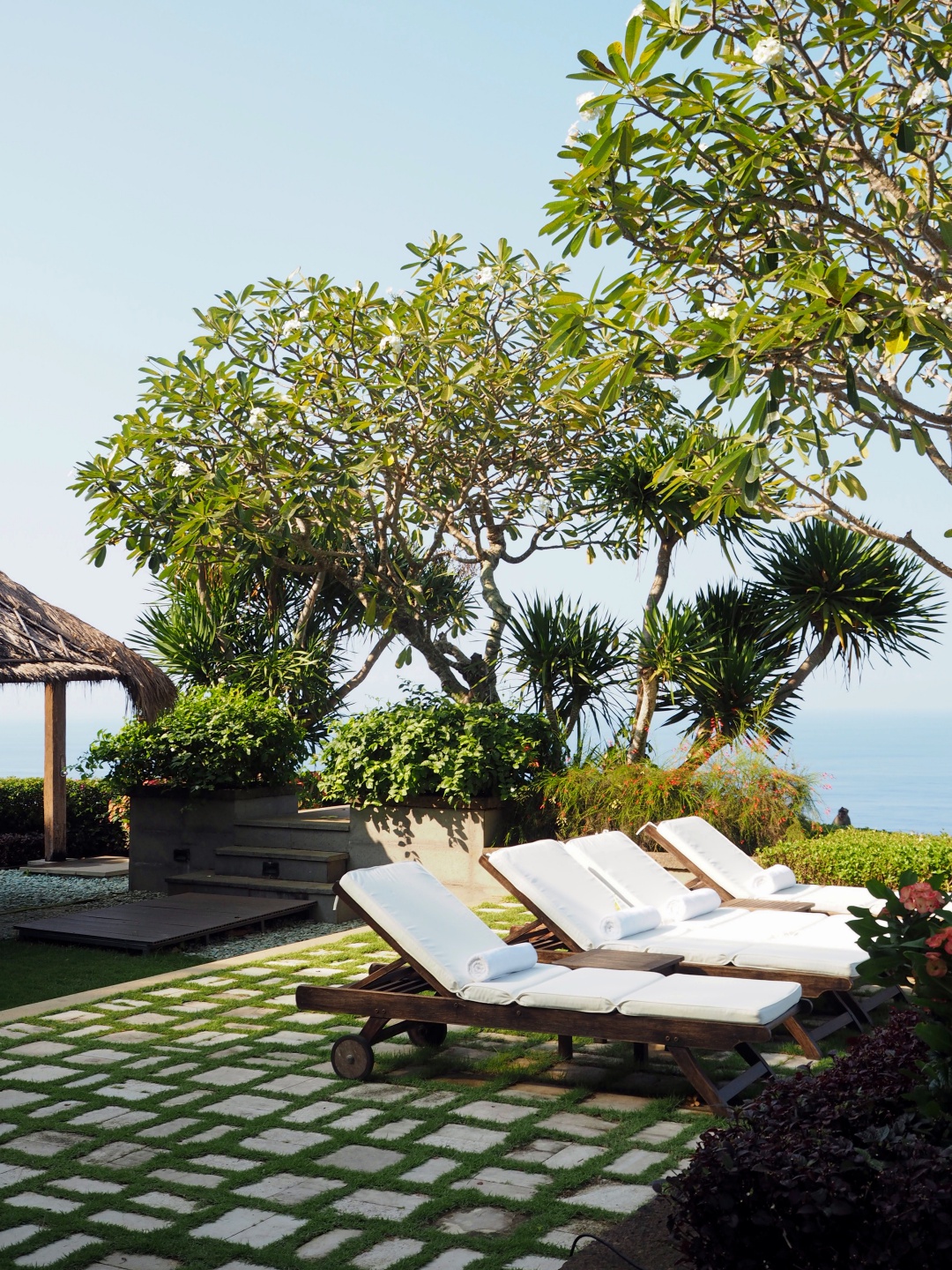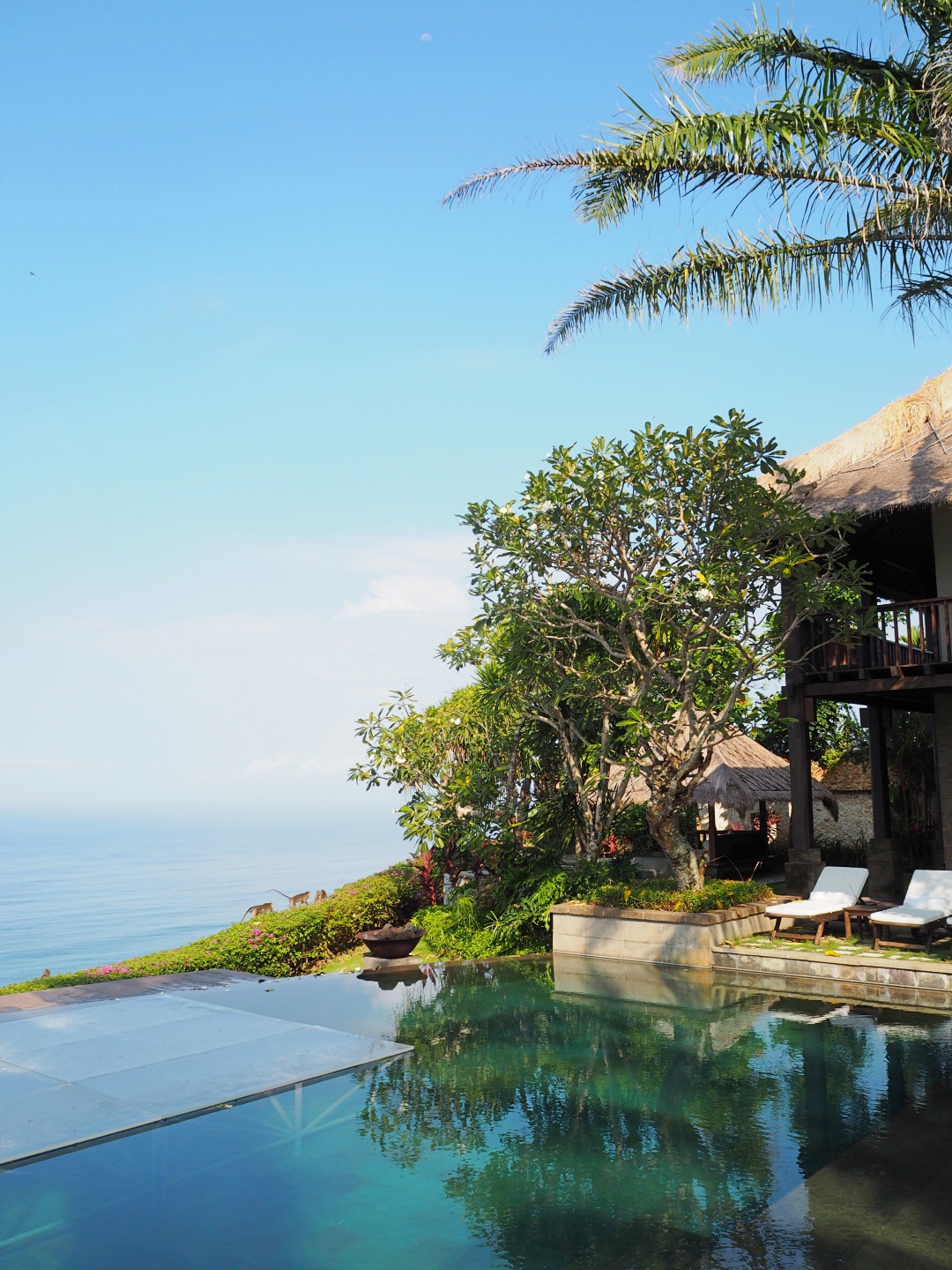 Spot the monkeys! I supposed monkeys are inevitable especially in Ulutawu area.
That morning, I easily saw a group of more than ten monkeys. I learnt that we were not suppose to smile at the monkey. Apparently by showing our teeth, the monkey may think that we are aggressive.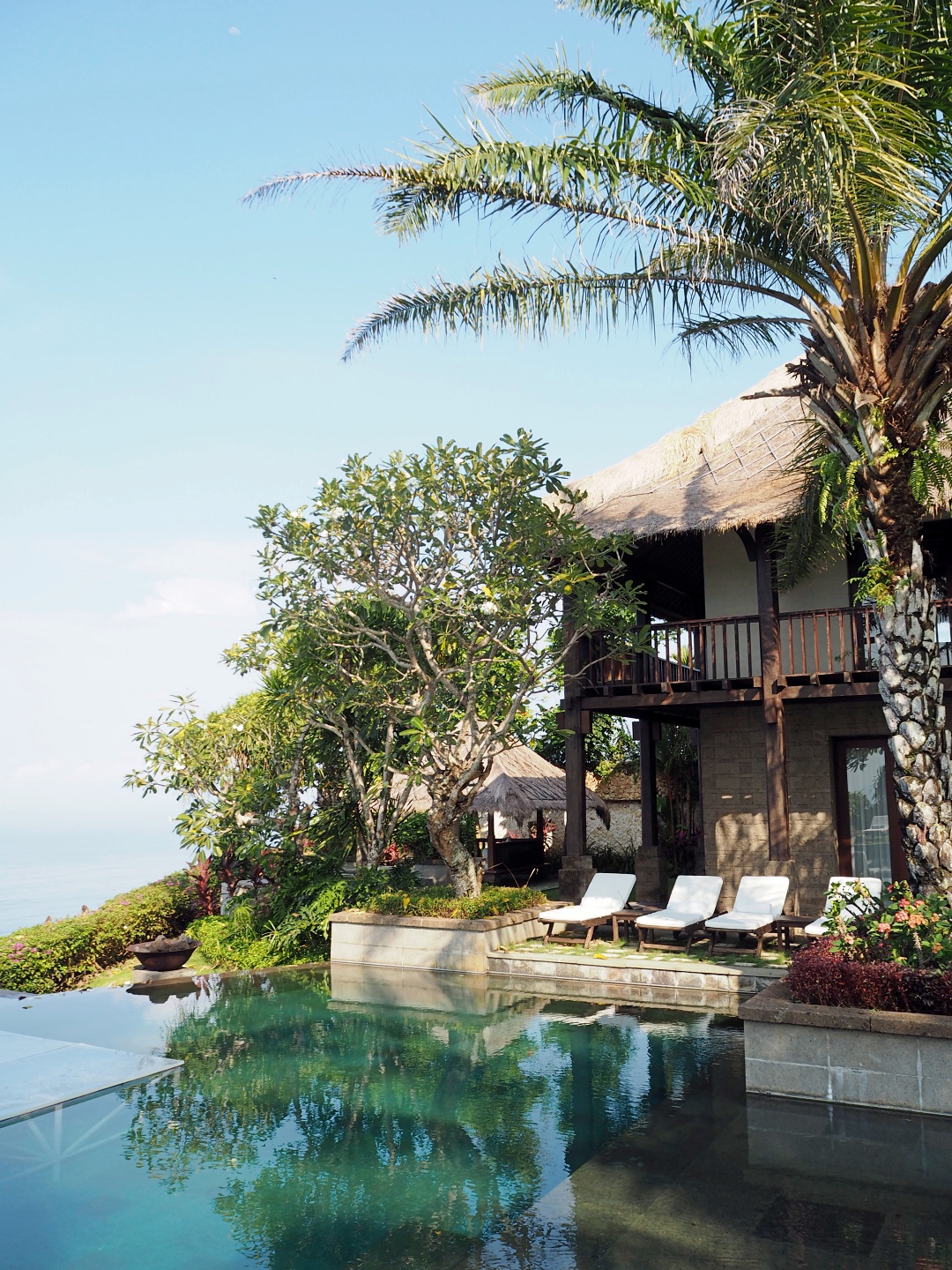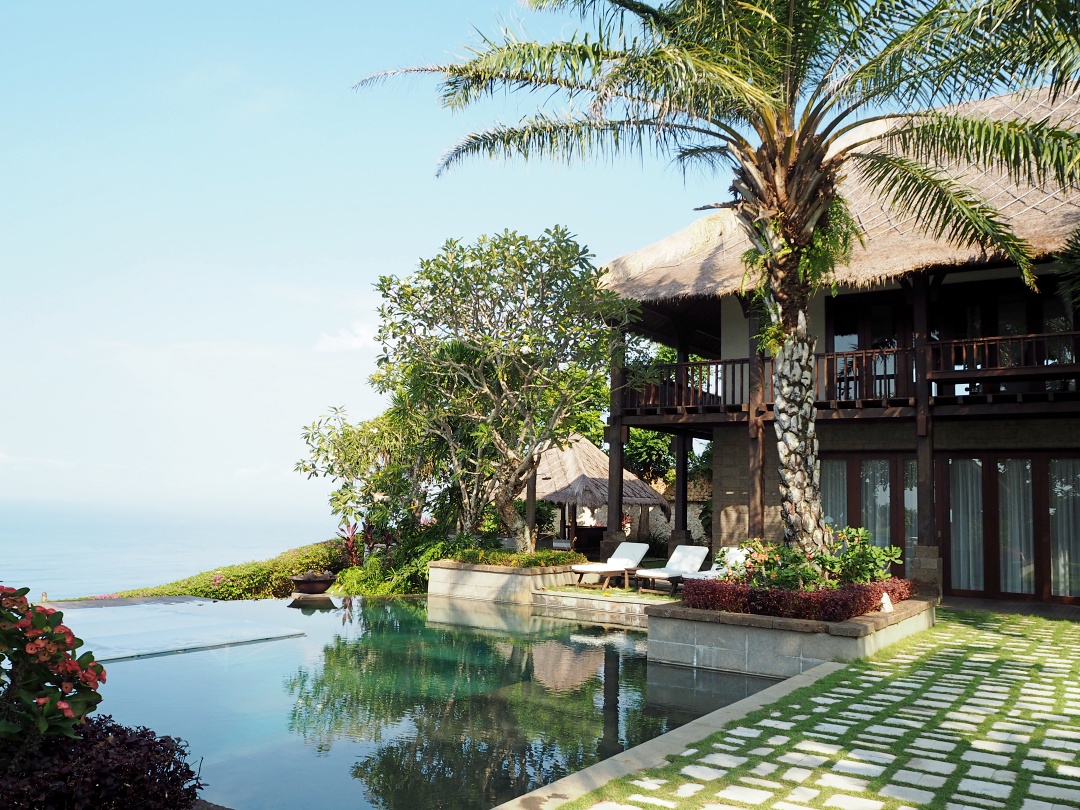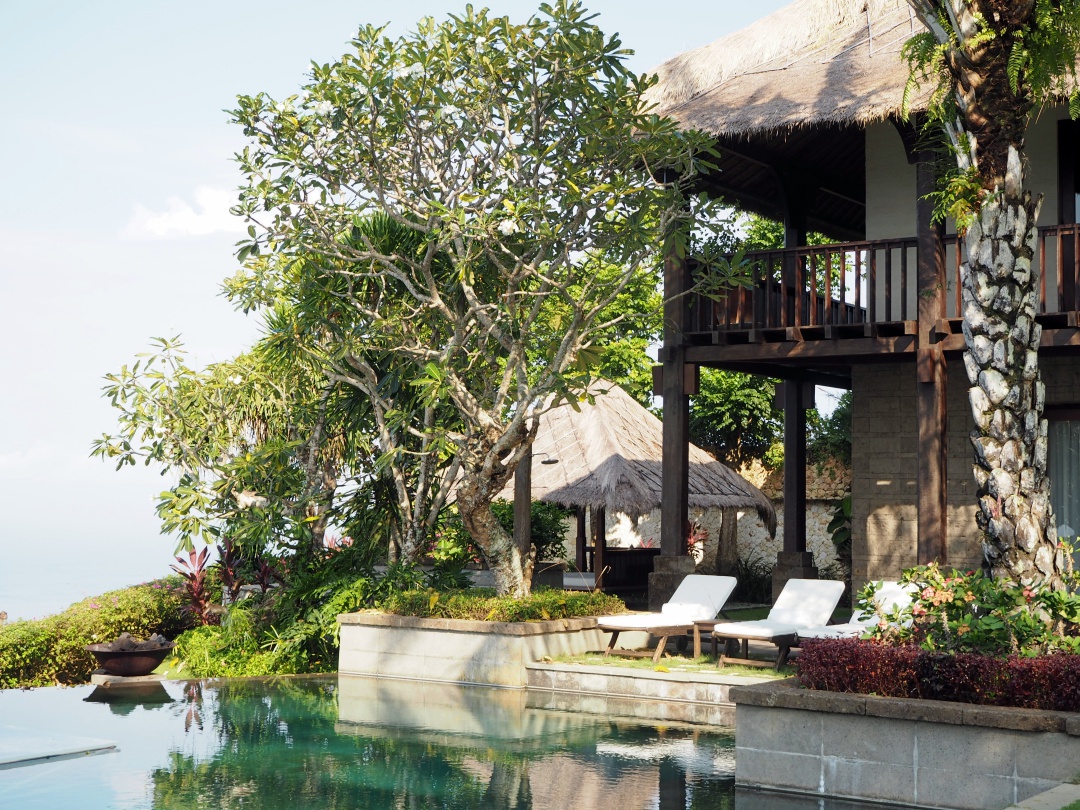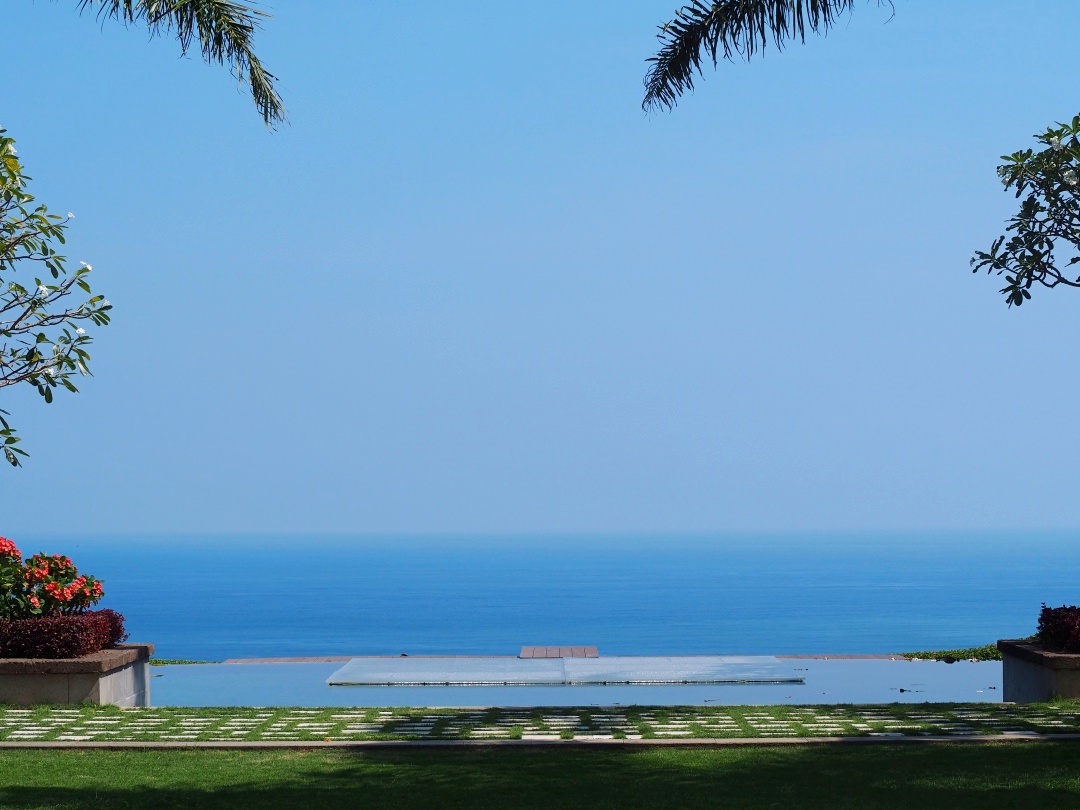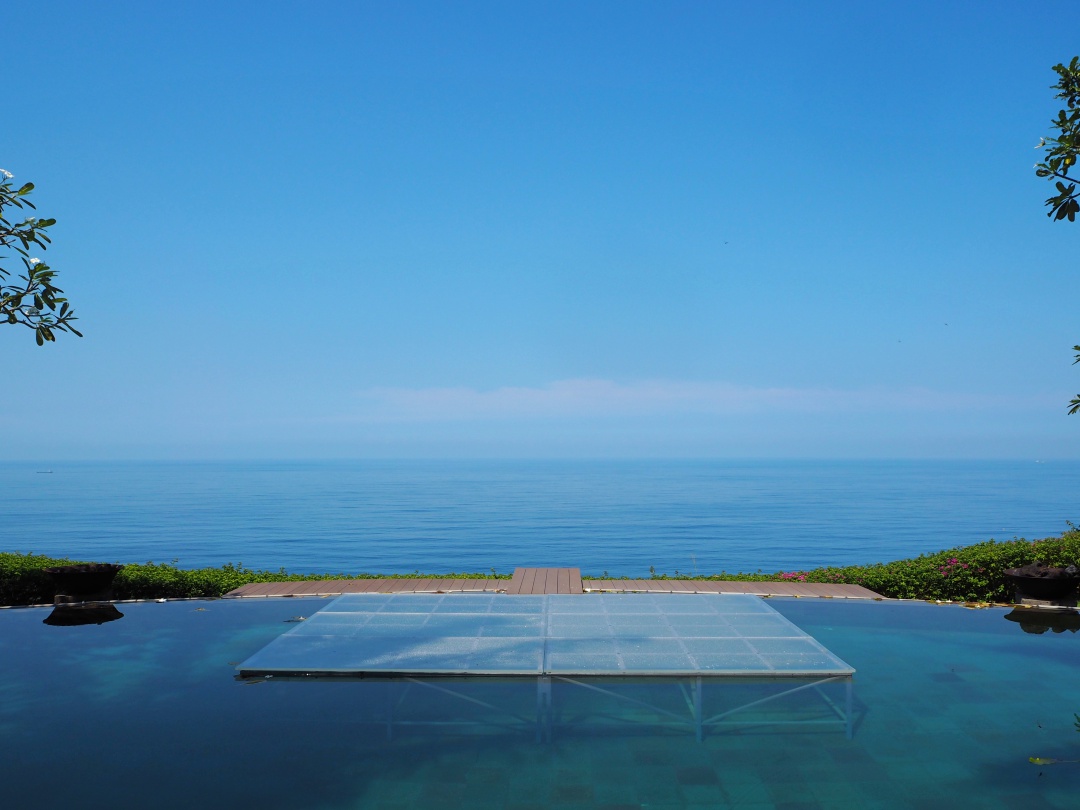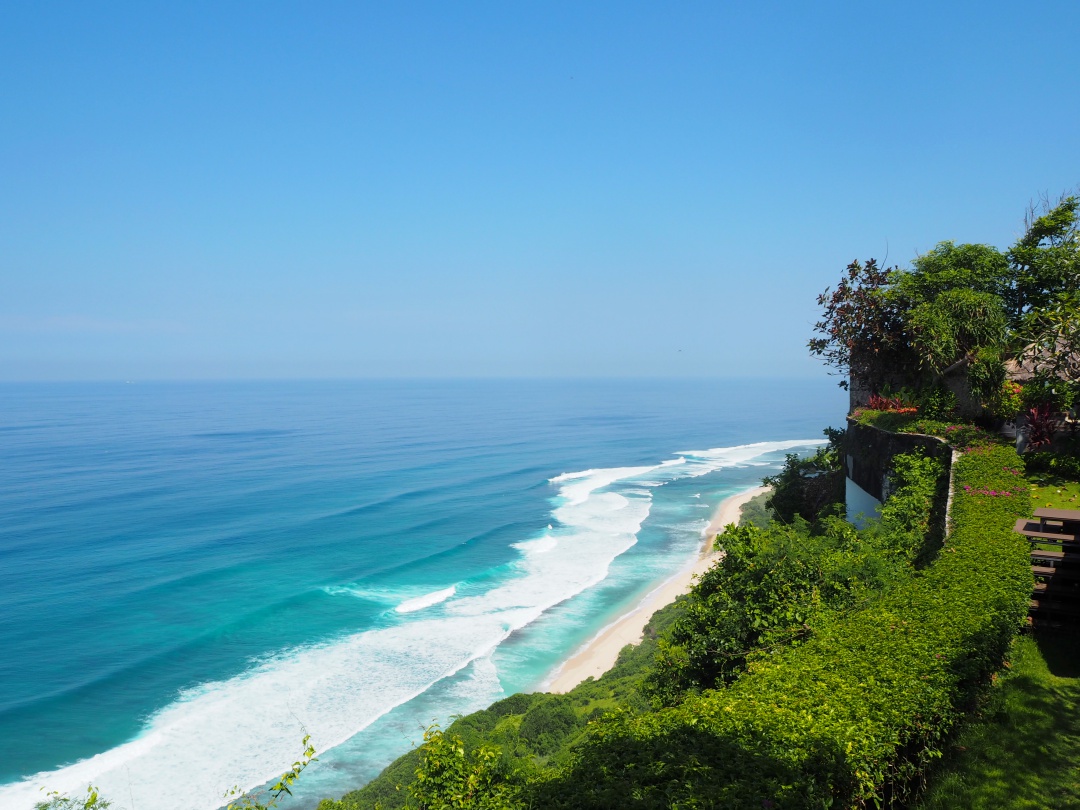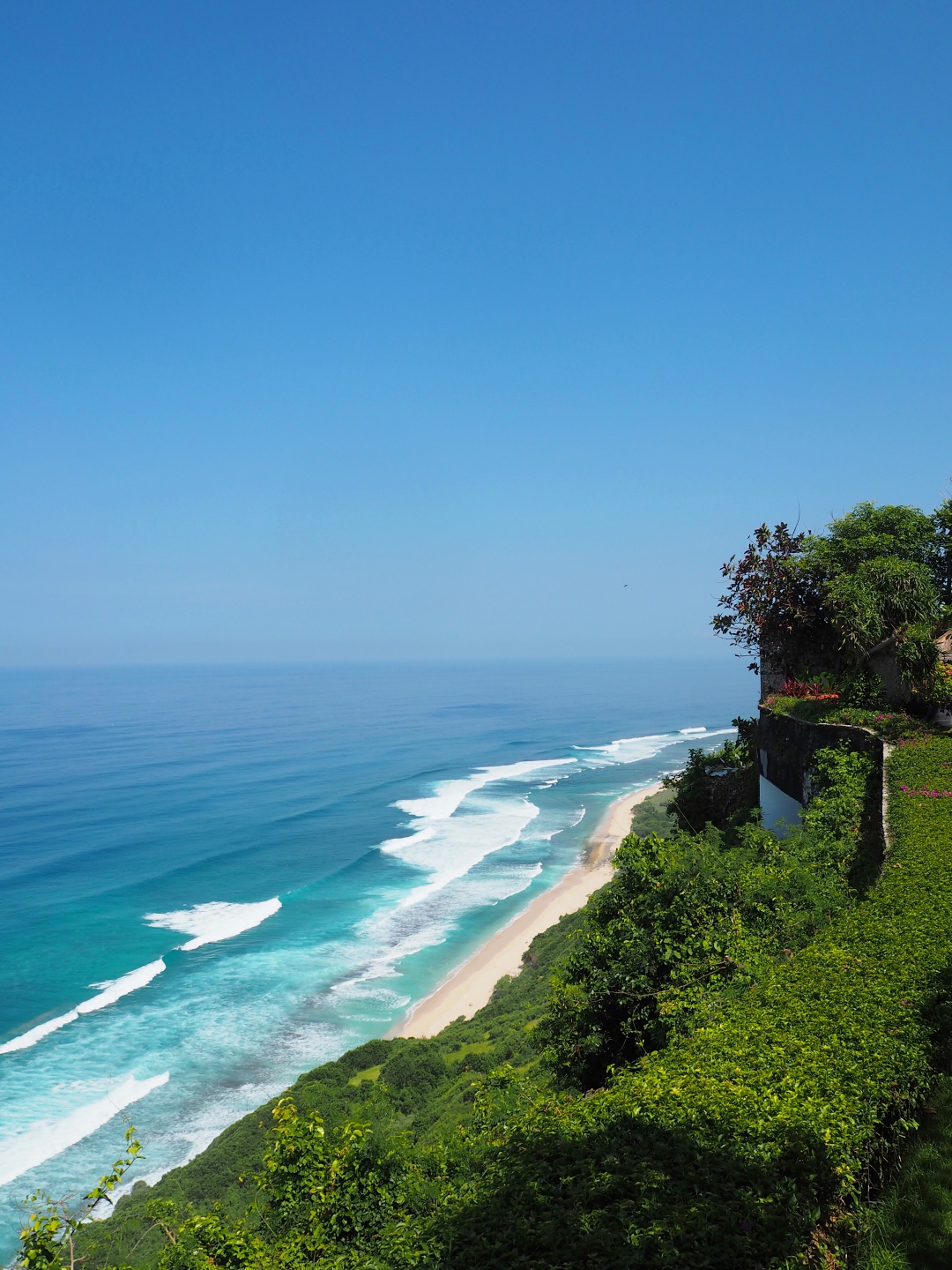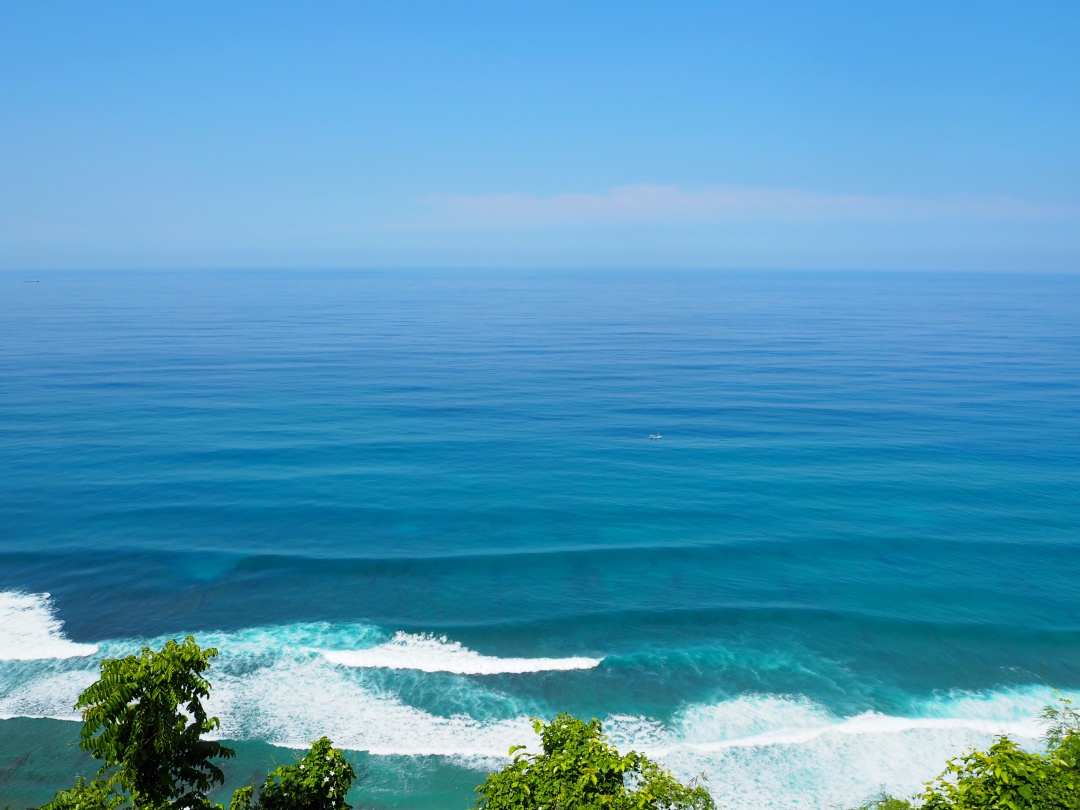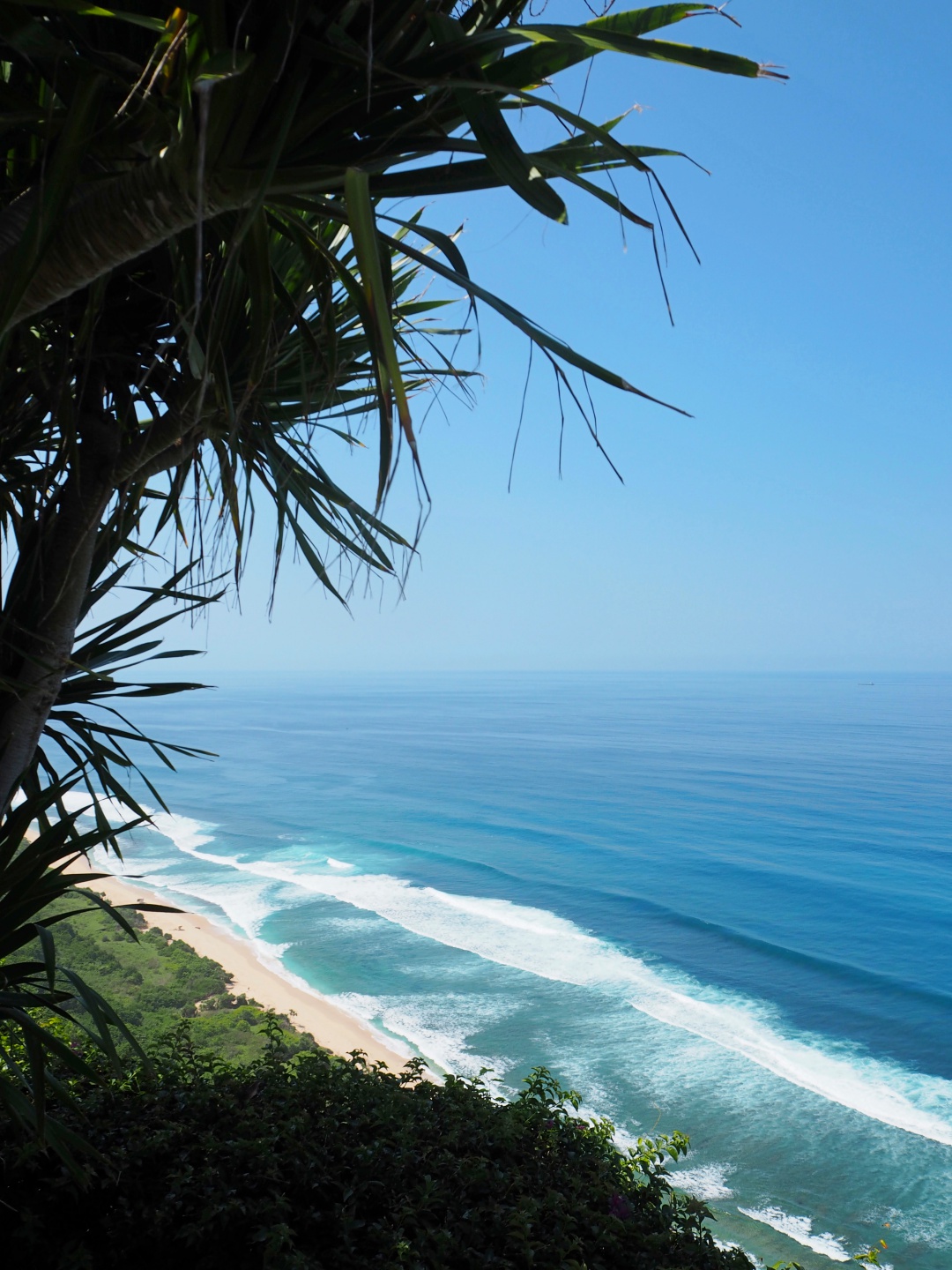 The view was stunning! I mean I've expected nothing less since it was Uluwatu. But really. Just look at the beach and the turquoise blue water. It really does make a beautiful backdrop for wedding photos.
I plan to do a separate entry for my pre-wedding shoot at Tirtha Bridal so keep your eyes peel for the pictures.
---
Overall, our stay at Villa Tirtha was pretty comfortable. The property itself is beautiful and the ocean view is amazing. Because we have the entire property to ourselves, our stay was also rather peaceful. The staff do blast music in the afternoon, but it can hardly be heard from our room.
Like I mentioned, we much prefer the room on the upper floor. Our room doesn't come with tv, fridge and there is no bathtub in the bathroom. It would be nice if they have them, but our stay was perfectly fine without them. I heard if you like, they can actually have the television set up in your room. Bathroom amenities are all provided, including insect repellant. Personally, I don't really love their shampoo and shower gel. However, the insect repellant is good and works great at keeping off the mosquitoes.
One thing that I think can greatly improve is the wifi! The wifi is almost non-exsistent in the property. The signal did improve slightly after we moved up to our room on the second floor. But most of the time, it was still rather weak. It was pretty frustrating when we couldn't get stable connection as we do need it for work. For those who intend to relax and unwind, I think the wifi shouldn't be too big of an issue? But it will be great if they do something to improve the signal strength.
Aside from that, I think the only other problem we faced when staying at Villa Tirtha is the ease of travelling in and out. Due to the location, it was almost impossible to get Grab or Uber (or meter taxis). There were times when we wanted to go out to get better wifi service and/or to get dinner, but we couldn't get a car. Drivers would pick up our request, but refuse to go by the price stated in the app.
I understand this has nothing to do with the property/Villa Tirtha. But for anyone who intend to stay in a secluded part of Uluwatu, this may be a potential issue. I guess is either you stay in the compound, or you pay more for transportation. (Partly because we had the mindset that transportation is cheap in Bali, that we find it expensive and unwilling to pay when quoted two/four times the stated fare.) Again, if you're willing to pay more, then this shouldn't be an issue.