It has been a while since I last did a beauty related post. While I haven't been talking or sharing about them as much as I used to in the past, the truth is, I've never really stopped buying and trying out new products. In fact, with all the recent sales, I've been going a little crazy with my purchase. Acquired quite a few items from Sephora, ColourPop, CNP Laboratory, etc.
So, today, I thought it would be fun to share with you what I've got from Sephora. I did a rough calculation, and I believe the amount added up to be over SGD1,000! It's going to be a massive Sephora haul and a very lengthy blog post!
A little disclaimer – Items are accumulated through multiple purchases, both online and at the physical store. Some of the items are bought during the sales period, so I did enjoy 15% / 20% off when I bought them. While I do purchase most of the products myself, some items are gifted by the Husband.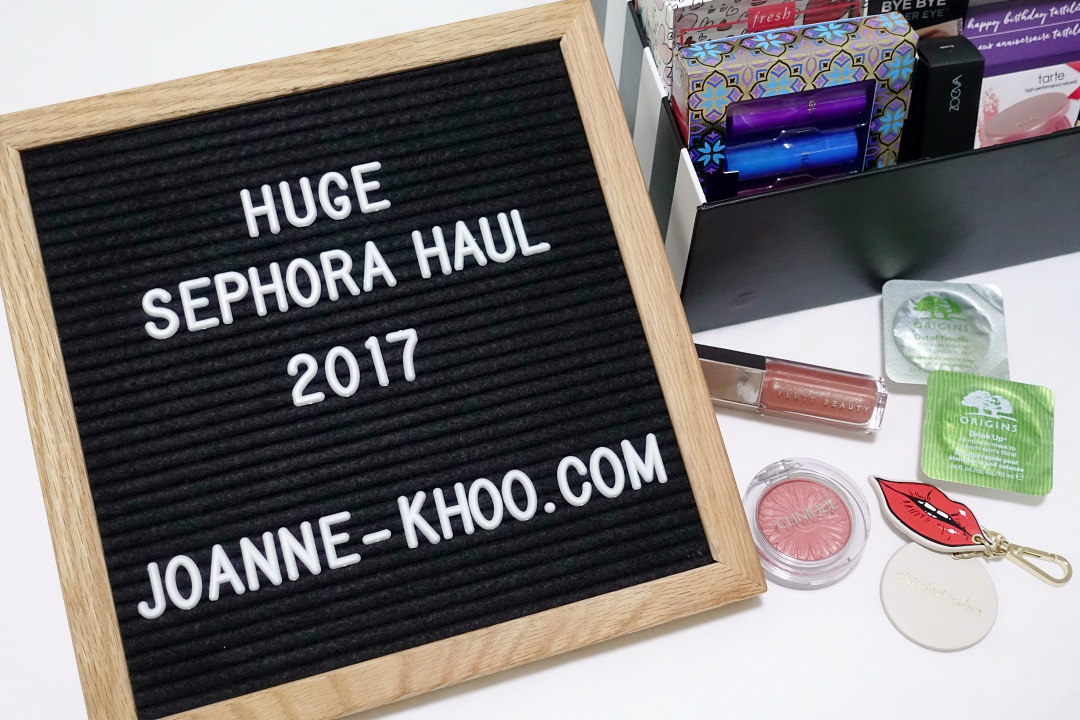 Upon deciding to do this blog post, I was wondering what the best way to do it is. Should I list them base on the time of purchase, or should I group them base on brands or categories? Eventually, I decided it will be easier to go through them based on category – Primer, Foundation, Powder, Blushes, Lipstick, Skincare, etc. This way, it will also be easier for me to look back and keep track how much I've been buying.
I will also list down the price of the items, in case anyone is interested in getting any of them. I do think some of the products make a great gift for this holiday season!
Sephora Haul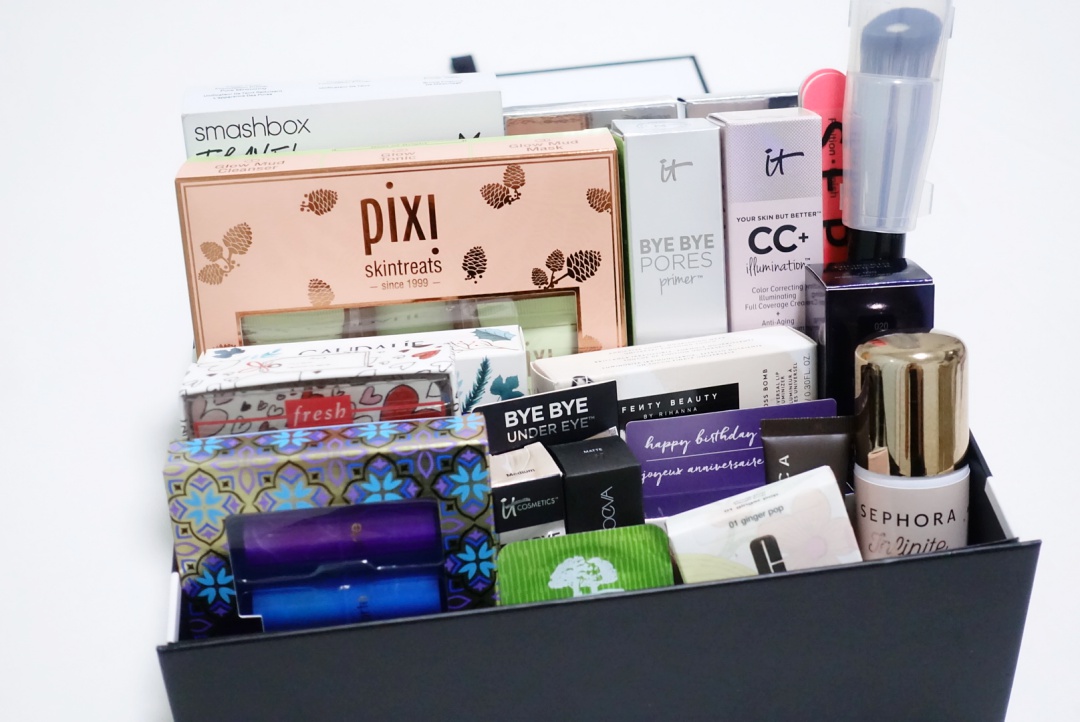 Primer
First, let's start with primer!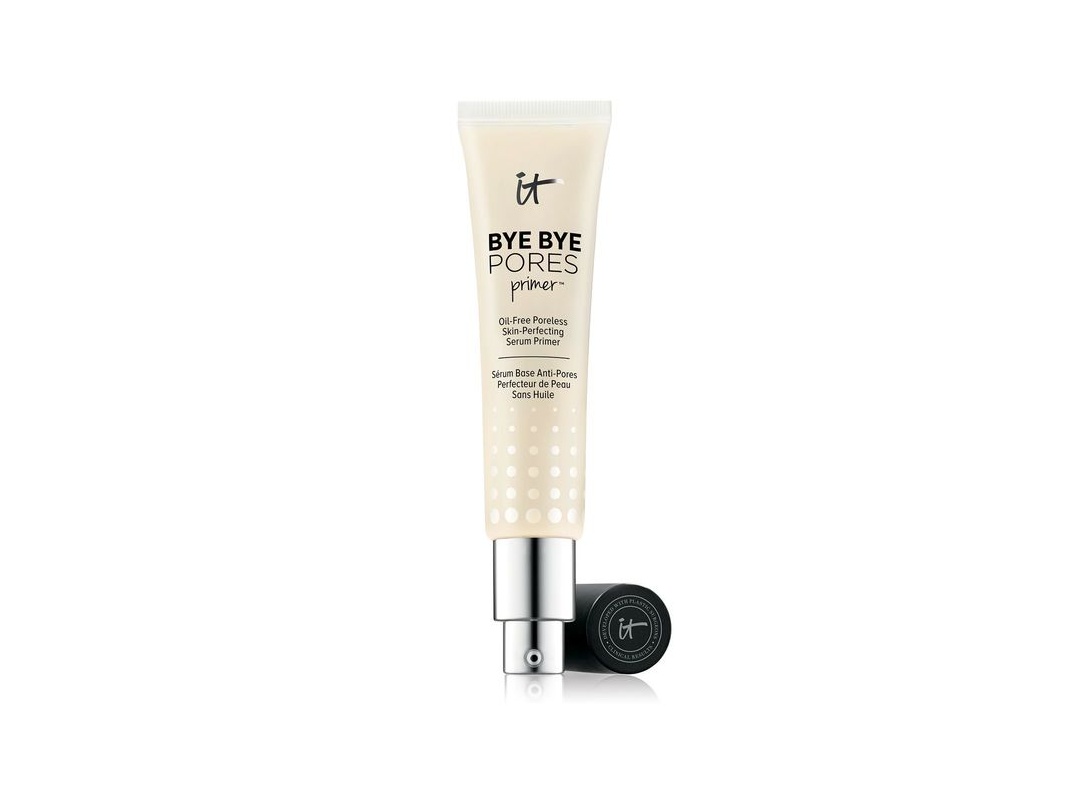 IT Cosmetics Bye Bye Pores Primer, SGD62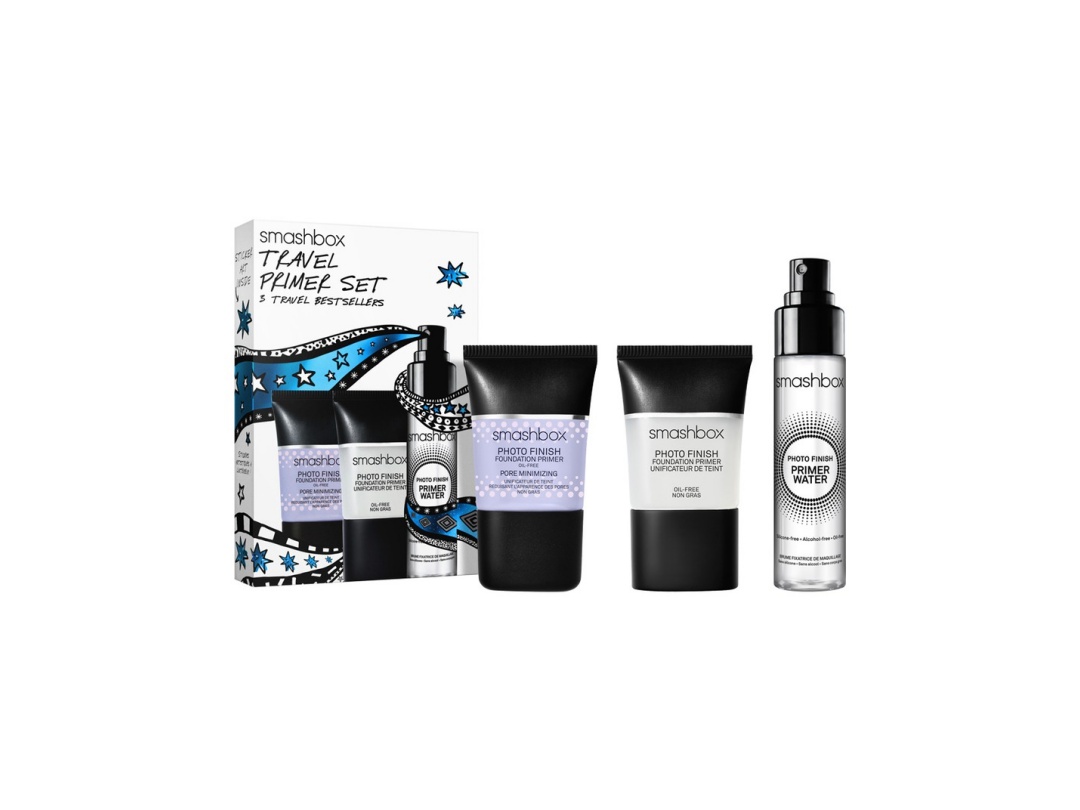 Smashbox Travel Primer Set (Limited Edition), SGD38
To be honest, I'm never really one that uses a primer before applying my foundation. Never see a need for them, until recently, when I realised my liquid foundation hasn't been staying well. So, I thought perhaps it's time to invest in a good primer to help my foundation to stay on better, longer and prevent separation.
I started to look for one with a texture that I like. Having oily skin, I would prefer something that is non-greasy and with a light texture. I was considering a few recommended ones – IT Cosmetics, Hourglass, Too Face, Smashbox, etc. Eventually, I decided to go with IT Cosmetics. I like that it comes in a tube and with a pump, making it easy to dispense the product. When I tried it in store, I was instantly won over by the cream light texture and how easy it spread out.
While the name suggests it aids in minimising the appearance of pores, I don't think it helps to cover pores one hundred percent. It does help a little, but it certainly didn't make my pores disappear. Overall, I do quite like it and am happy with the purchase. As a primer, I do think it works well when paired with my liquid foundation. It helps to prevent my foundation from separating at the end of the day, and my foundation does seem to last better.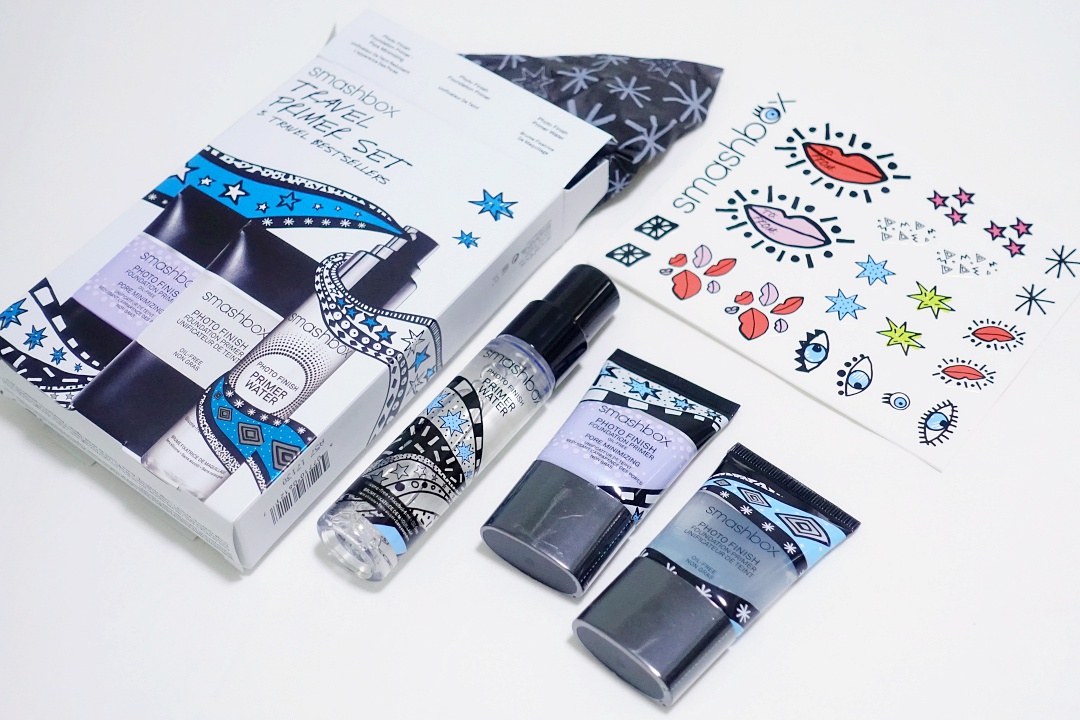 The Smashbox Travel Primer Set is a somewhat recent purchase.
For SGD38, the set comes with a 15ml Photo Finish Foundation Primer, a 15ml Photo Finish Pore Minimizing Foundation Primer, a 30ml Photo Finish Primer Water and an Ana Strumpf-designed sticker sheet. Considering one travel size primer is SGD25, and a full-size primer is SGD68, I do think it's very value for money to get this travel set. You get to try out two different primers and the popular Primer Water. I've heard great reviews about the Primer Water, so I'm excited to try it out.
Smashbox primer tends to have a more silicone-feel to it so it should be quite different from the IT Cosmetics Bye Bye Pores Primer. I've yet to try it, but I'm looking forward to testing it out and see how it performs.
Foundation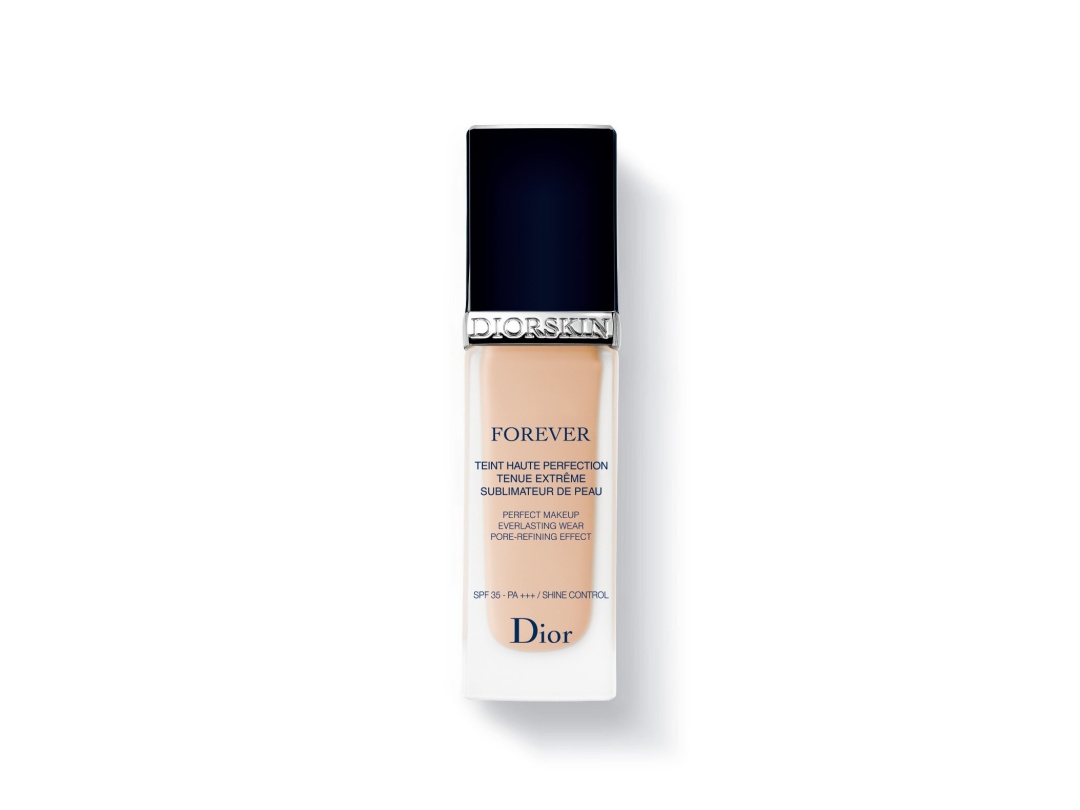 Diorskin Forever, SGD82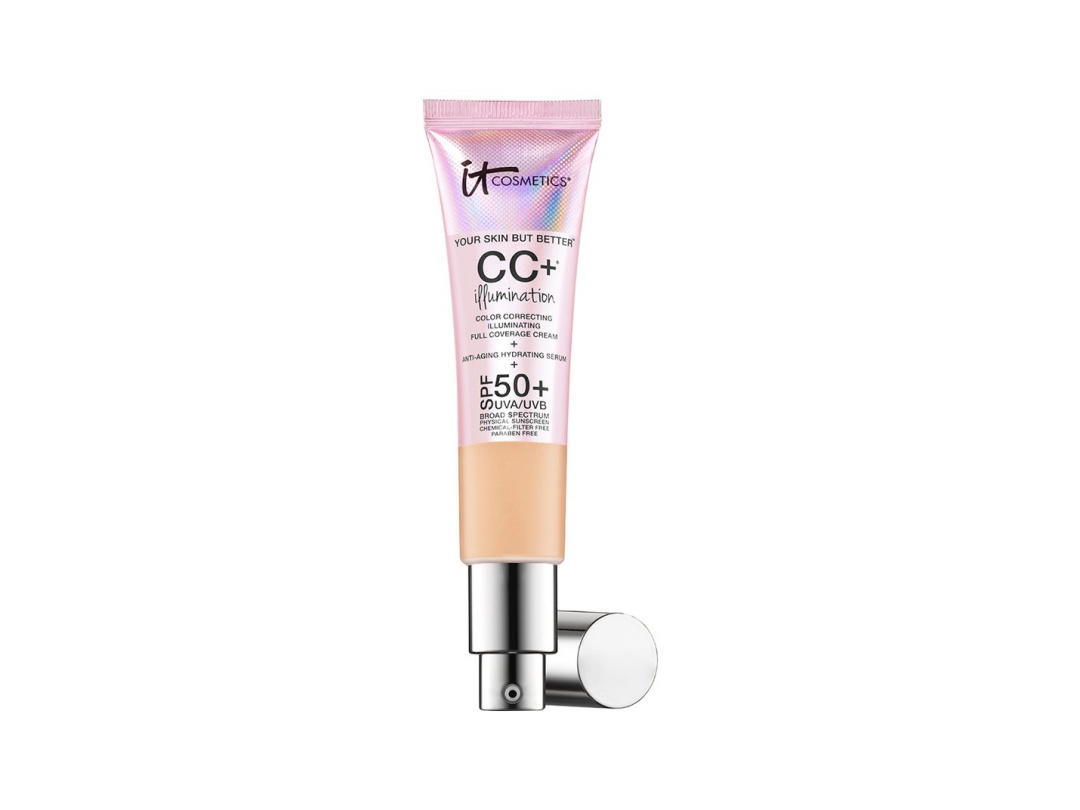 IT Cosmetics CC+ Cream Illumination SPF 50+, SGD62
For foundation, I was mainly looking at Fenty Beauty Pro Filt'r Soft Matte Longwear Foundation and Diorskin Forever.
I've heard great things about the staying power of Fenty Beauty foundation and how well it works on oily skin. I was all set to get my hands on it; but to my horror, after doing a swatch at Sephora, I found that it oxidises quite badly on me. By oxidise, I meant it turn a shade darker and with a slightly greenish tint? I suspect it might have been due to the foundation that I was already wearing. Perhaps it's the reaction between the foundation I'm wearing and the Fenty Beauty foundation that causes it to oxidise? I am not sure.
However, I did come across other sharing that the foundation will oxidise for at least one shade darker. After some serious considering, I finally decided to get it and give it a shot. But unfortunately, by then my shade was fully sold out at various Sephora outlet.
In the end, I decided to try out Diorskin Forever. Once again, it's a foundation that I heard many raving about. So, even with a hefty price tag of SGD82, I figured it's worth to give it a try.
I got mine in the shade 020 – Light Beige, and so far I've been enjoying it. I find it to be of medium coverage. Though not sufficient to cover my acne scars, I like that it didn't feel heavy on my skin, offer a matte finish and is non-greasy. With proper primer and setting powder, I typically only gets oily on my nose at the end of the day.
I don't think this is my perfect foundation yet. But for the time being, it's good enough.
As for IT Cosmetics CC+ Cream Illumination, sad to say, I didn't like it. I was curious to try out other products from IT Cosmetics after trying and loving their Bye Bye Pores Primer; hence I decided to get the CC+ Cream Illumination. There is an original version and an illumination one; and usually, I would go for the original version, since illumination usually doesn't sit well with oily skin. Guess I wanted to try my luck for once, so I ended up getting the CC+ Cream Illumination.
Big Mistake. What I failed to realise is that it contains glitter. A lot of glitters.
The first time I tried it, I got a shock at how glittery it was. The glitters were way too noticeable on my face and made me felt like a disco ball. So disappointed.
For the moment, it shall stay hidden in my drawer, until I'm adventurous enough to give it another try.
Concealer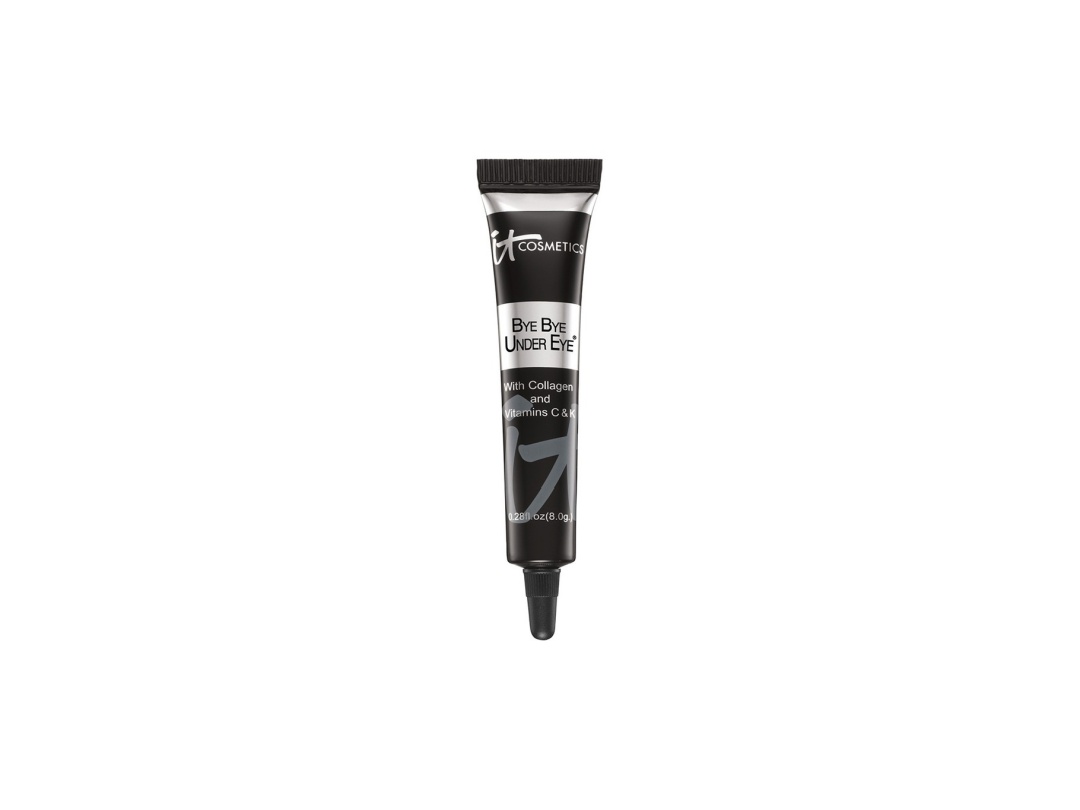 IT Cosmetics Bye Bye Under Eye Anti-Aging Concealer (deluxe size), SGD18
Came across this while I was getting the Bye Bye Pores Primer. I was drawn to the description and the photos shown on the display/packaging. States to be highly pigmented, won't crease or crack and is clinically shown to make skin look younger. Since I don't own a concealer that is meant for the under eye area, I decided to give it a try.
I almost got the regular size (at SGD42 for 0.28 fl.oz), but thankfully, came across the deluxe size (0.11 fl.oz) at the check-out lane.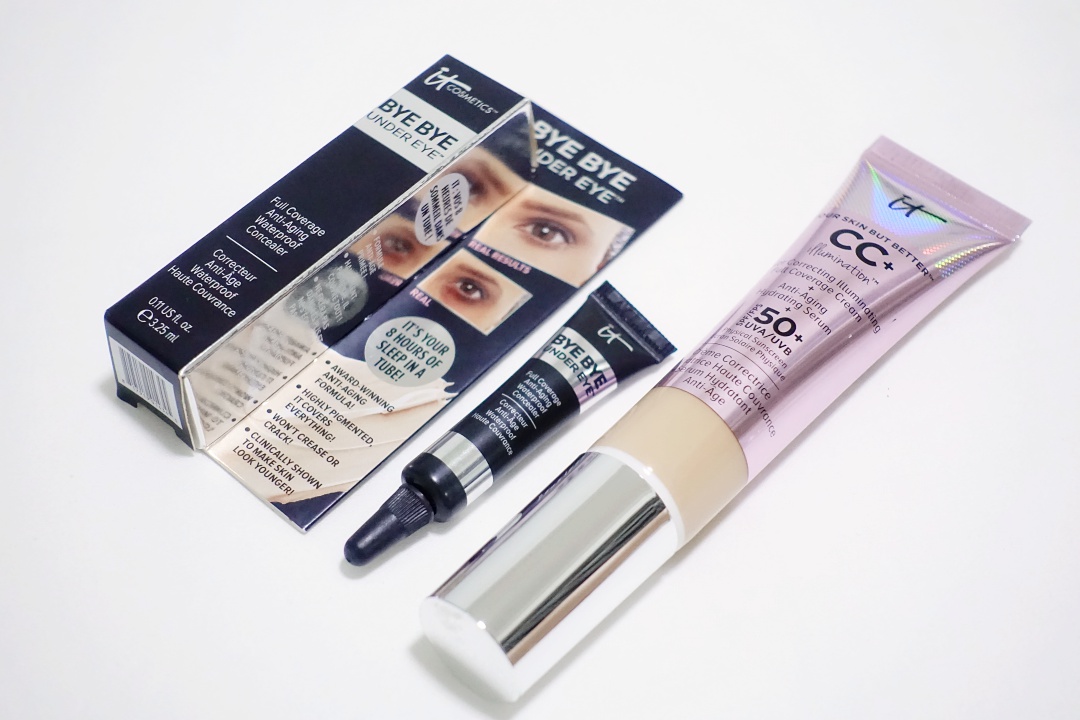 Look at how tiny it is next to the CC+ Cream.
A little goes a long way for this concealer. So even though I got it in a deluxe size, this is definitely going to last me awhile.
I got mine in the shade Medium. It has a salmony undertone, and I find that it works well in brightening the undereye area. The texture is slightly on the thicker/stickier side and can be a little tricky to spread. I typically use a tiny bit of product, spread it using my finger or a concealer brush, followed by dusting a light layer of powder over it (currently I'm using Make Up For Ever HD powder). Surprisingly, it doesn't crease on me. I'm impressed!
Zoeva Matte Eyeshadow Fix, SGD13
Going to park this under concealer, though technically this is an eyelid/eyeshadow primer.
A repurchase for me. I bought one a while ago and really enjoy using it. However, I've to toss it away when the product became dry and difficult to squeeze out. Subsequently, I went online and bought the Pearl version of the same product, but after using it, I still find myself preferring the Matte version. As such, I decided to pick up one during the sale.
Now I own both the Pearl and Matte version. I find that both work well to keep my eyelid relatively matte and helps my eyeshadow stay on better. Considering the quality of the product, I do think it's comparable to other high-end brands, and this is so much more affordable.
Powder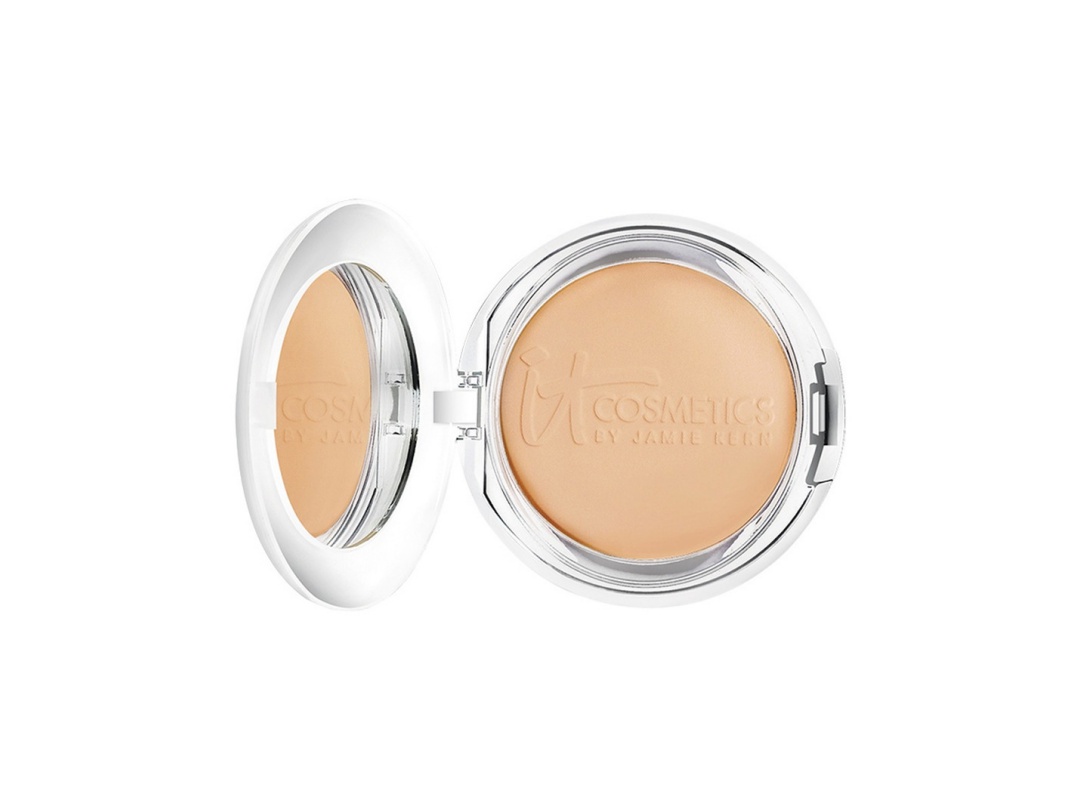 IT Cosmetics Celebration Foundation Illumination, SGD60
1. I need a powder foundation to replace my old one.
2. I was tempted to try out more products from IT Cosmetics.
Again, I got mine in the shade medium. Instead of a puff/sponge, I like that this comes with a tiny brush. While a brush may not provide as high coverage as compared to using a sponge, I feel that using a brush tend to be more hygienic. If possible, I would choose to use a brush instead of using my hands to touch the puff/sponge whenever I want to do touch up.
Similar to the liquid foundation, this comes in both original and illumination, and I ended up going with the latter. Thankfully, the powder doesn't contain glitters.
Personally, I think this works like any regular powder foundation? There isn't any visible sheen, so I'm not entirely sure why they state it as illuminating. I typically use this as a touch-up powder, but I once tried it as a base foundation and didn't quite like it. At SGD60, I was hoping for more than just a regular compact. I didn't find this to be exceptional, so I probably wouldn't repurchase it after I finish with my current one.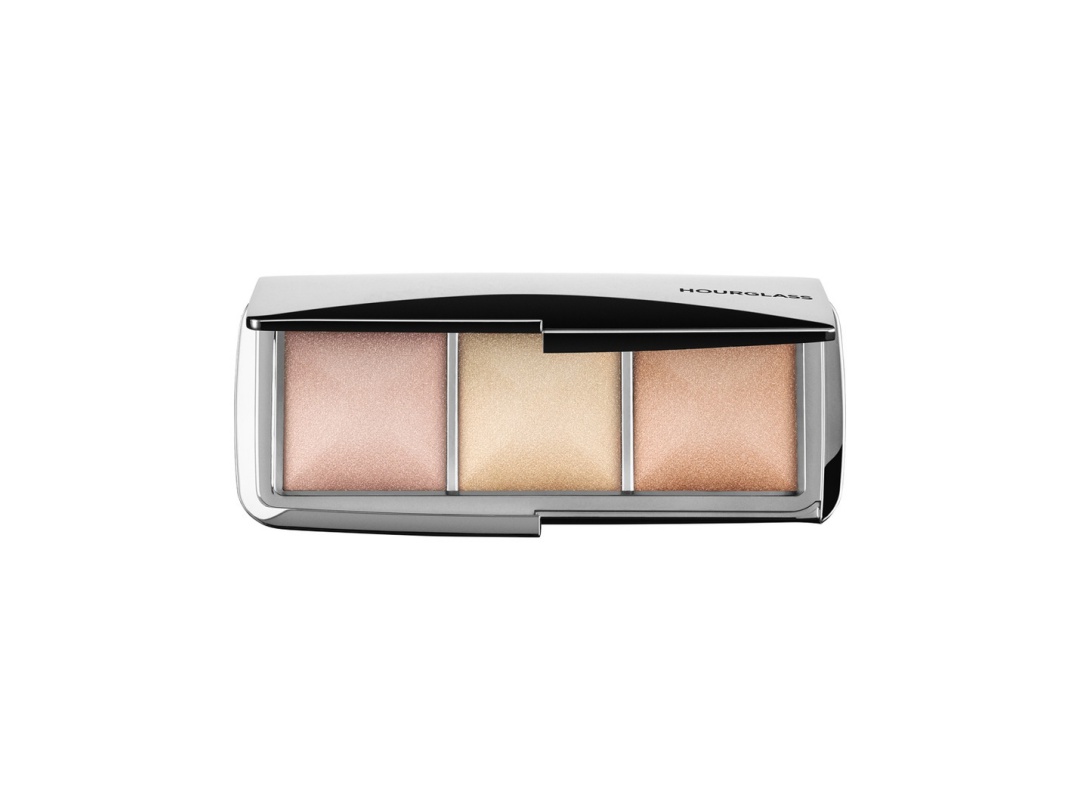 Hourglass Ambient Metallic Strobe Lighting Palette (Limited Edition), SGD105
Seeing this in person, I probably couldn't justify paying so much for three highlighting powder.
The truth is, I didn't purchase this myself. Instead, this is a gift from the Husband. He was in Bangkok in early November and surprised me with a Sephora order while he was away. This is one of the items that came in that order.
Not long after I received it, I accidentally drop it on the floor, and all the three powder broke into pieces. I was stunned and incredibly heartbroken. Heartbroken because
– it was almost brand new (I only used it once or twice before it broke),
– at SGD105, it was expensive
– it was a gift from the husband, so it holds much more value than any regular powder.
I was so sad when I have clean up the powder on the floor. I was contemplating getting a new one, but I really can't bring myself to spend another hundred on it. It was limited edition, and the last time I checked, it was sold out online. I couldn't even get a replacement even if I want to.
Subsequently, the Husband and I went shopping at Sephora ION, and we happened to see this palette in store. He probably knew how upset I was when the palette broke, so he insists on buying a new one for me. So now I have two. Even with a new one, I still can't bear to throw away the broken one.
While I do like this palette, I'm not crazy in love with it. It's nice to have, but not a must-have for me.
Blushes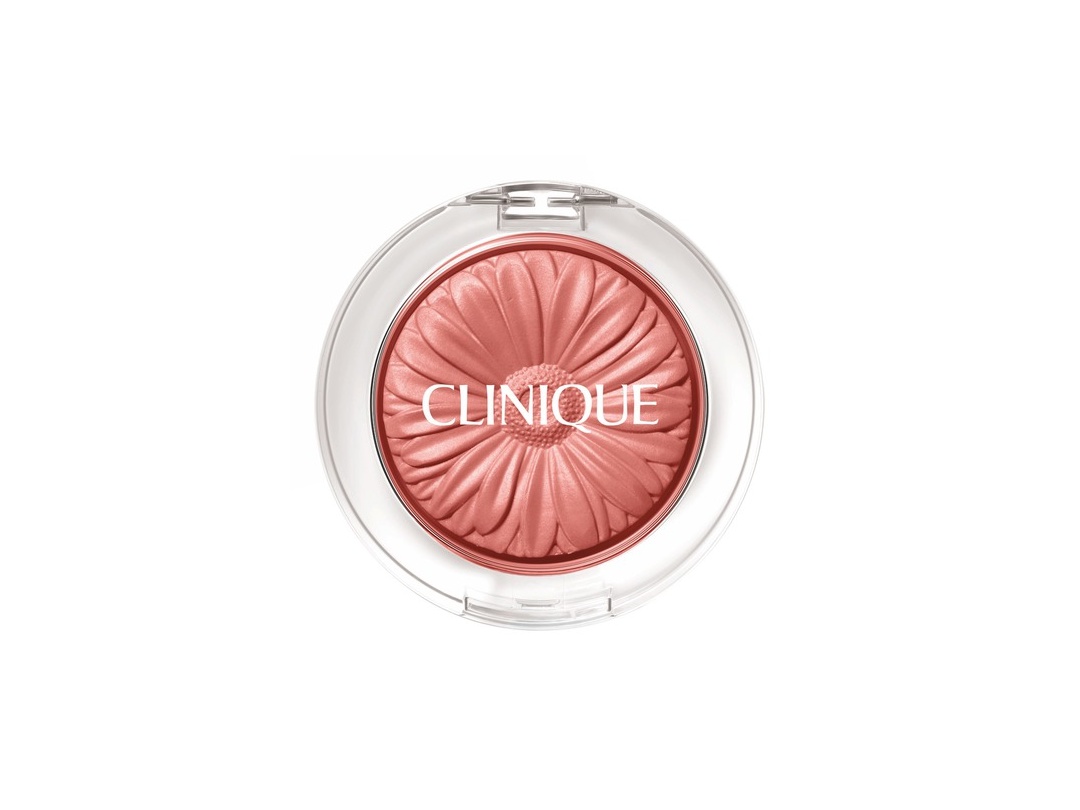 Clinique Cheek Pop Blush Pop, SGD39
It may seem ridiculous to spend SGD39 on a blush, but I do really enjoy using this. Got this during the previous Sephora sale because I remember hearing Catie (Hello Catie on YouTube) recommending it in one of her videos. Who can resist such a cute packaging? The flower is so pretty. And of course, I have to get mine in Ginger Pop, one of the most popular shades in the collection. If I'm not wrong, they recently came out with some new shades? Saw them in store and the colours look really pretty.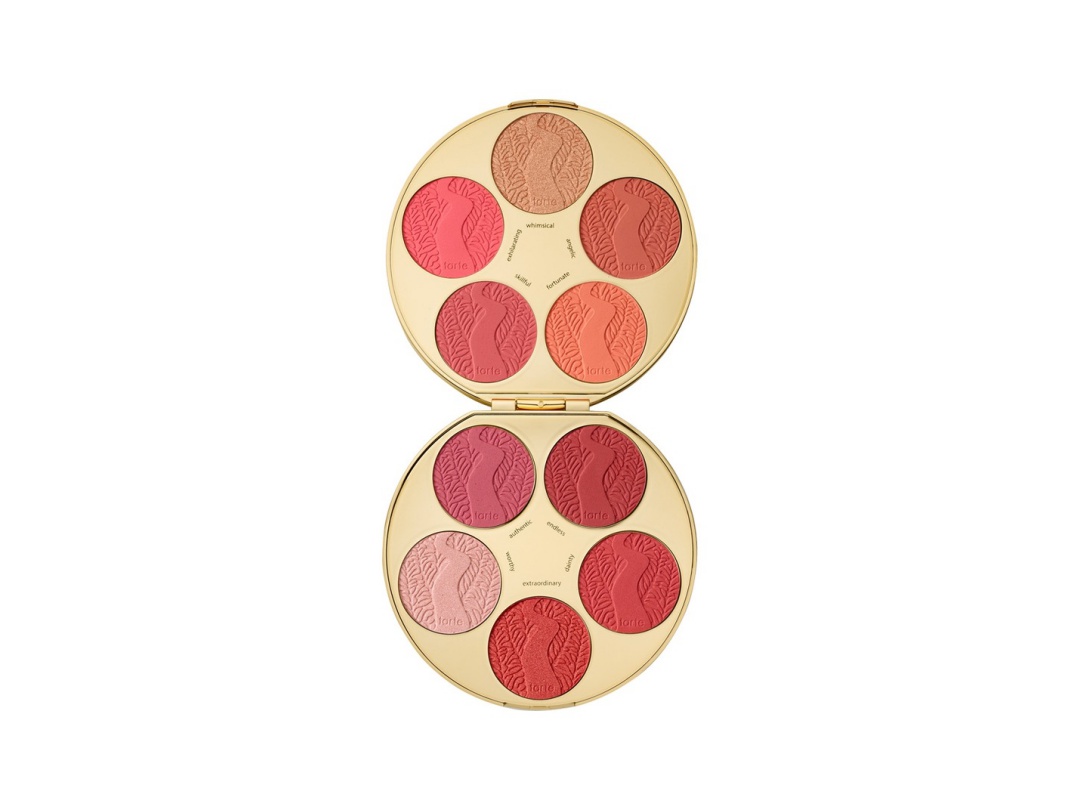 Tarte Blush Bazaar Palette (Limited Edition), SGD65
Let's take a moment to appreciate the packaging. It's so pretty!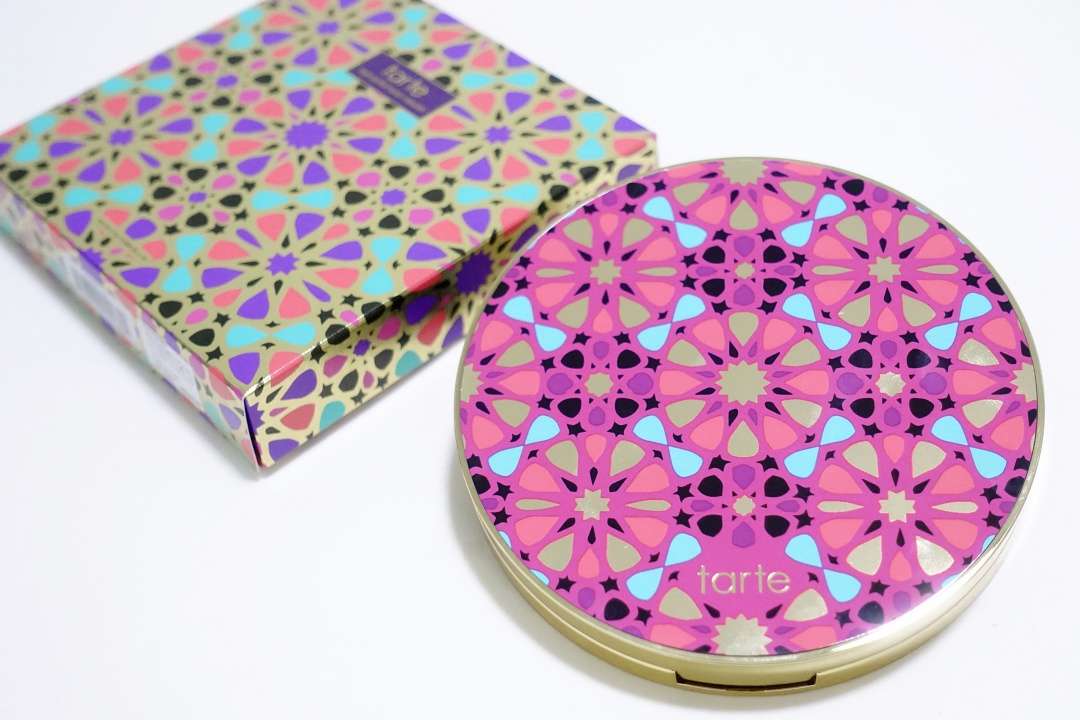 A double-sided palette with ten deluxe blush and highlight shades. How to resist? It works out to be just SGD6.50 per shade, so this is definitely a steal! I have been a fan of Tarte Amazonian Clay 12-Hour Blush, so it is a no-brainer for me to get this holiday set. Tarte's blushes tend to be pigmented and long-lasting, so I'm confident I'm going to get a lot of usage from this palette.
*Sephora Beauty Pass – Sephora Black Birthday Gift (Tarte)
Just a quick mention of this adorable set that I got for free. Redeemed this as one of the perks of being Sephora Black card member. I think last year or the year before, they were giving out makeup from Sephora brand? This Tarte set is so much better.
The set consists of a deluxe size Amazonian Clay 12-Hour Blush in the shade "paaarty" and Tarteist Creamy Matte Lip Paint in "Birthday Suit".
I actually got two sets – One from my online order and one from my purchase in store. Probably will give one away. Anyone interested?
Lipbalm / Lipstick / Lipgloss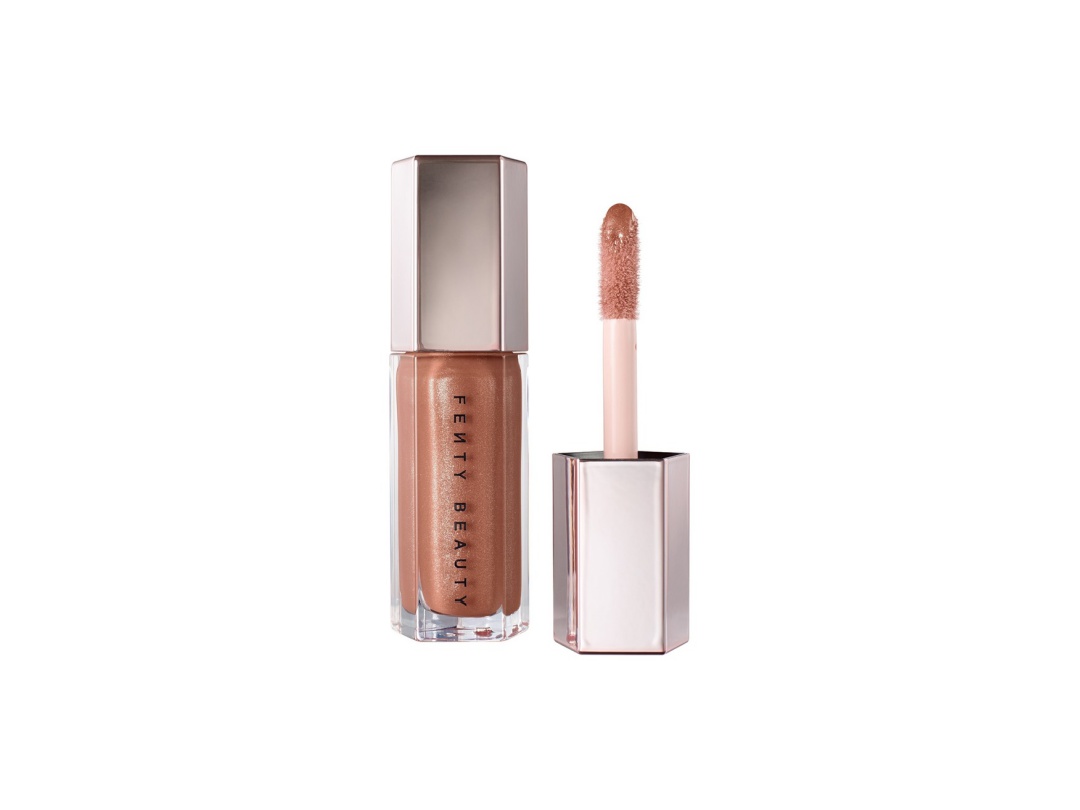 Fenty Beauty Gloss Bomb Universal Lip Luminizer – Fenty Glow, SGD31
With all the hype surrounding Fenty Beauty, of course, I got suck into buying the Gloss Bomb Universal Lip Luminizer. While the packaging looks pretty, I do wish it was sleeker and less bulky. The product comes in a nude rose shade, which state to compliment every skin tone. The consistency of the gloss is quite thick, but surprisingly, it isn't overly sticky. Comes with a nice peach-vanilla scent.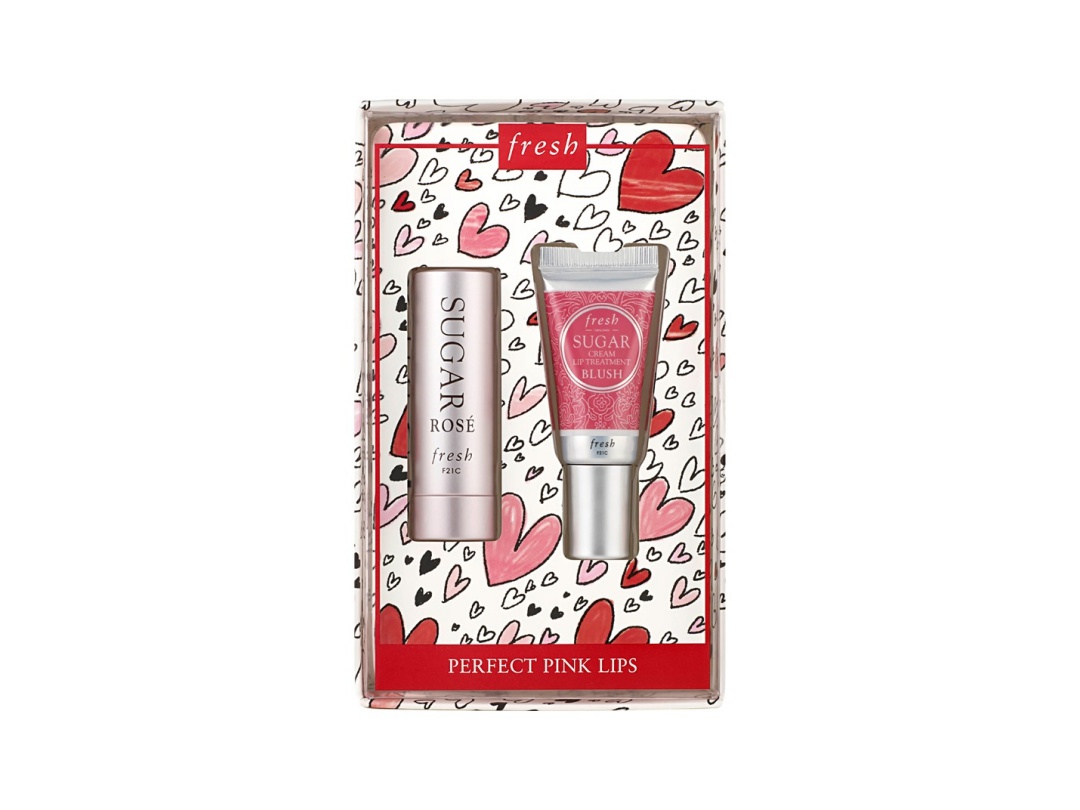 FRESH Perfect Pink Lips Set, SGD29
It times to go back to FRESH sugar lip balm. Loved by many, but honestly, I never understand the hype for the lip balm. I bought it once and didn't find it to be extremely moisturising like what many claims. Decided to give it a second chance. The cherry on top is the Sugar Cream Lip Treatment that comes with it in this set.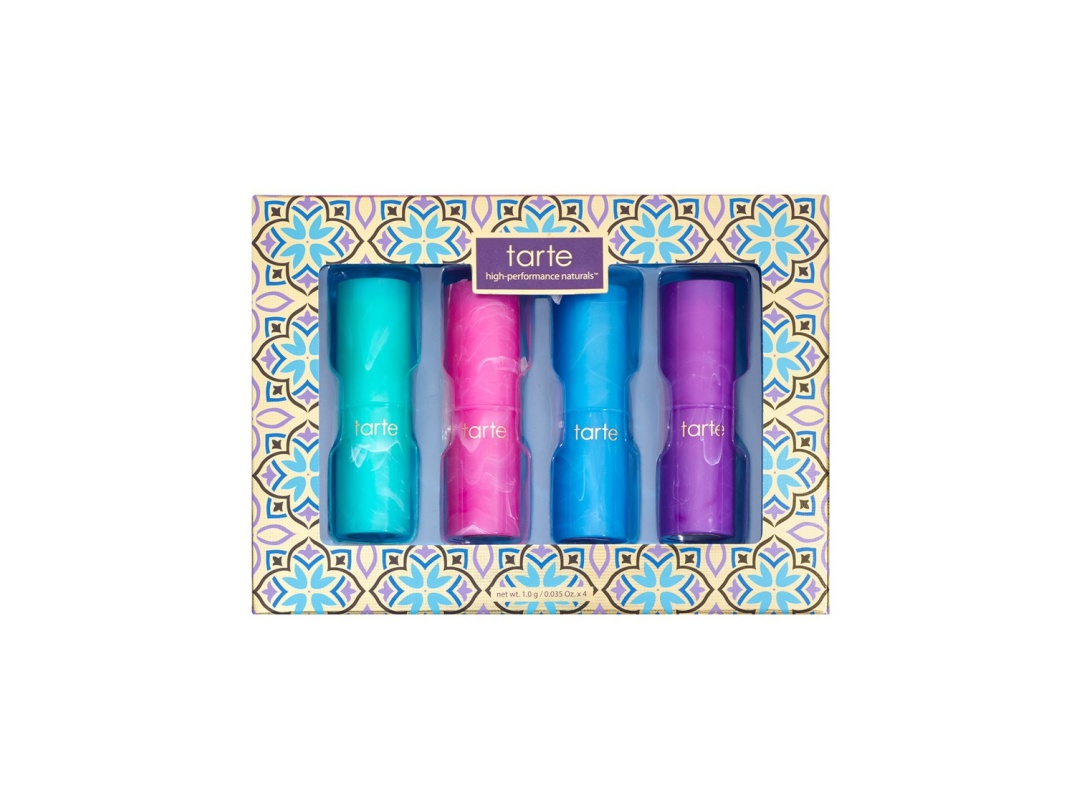 Tarte Mermaid Kisses Lip Set (Limited Edition), SGD37
Before you think I'm the one who got suck in by the name or the packaging, I did not. The Husband did. This is another surprise item he got for me via Sephora's website.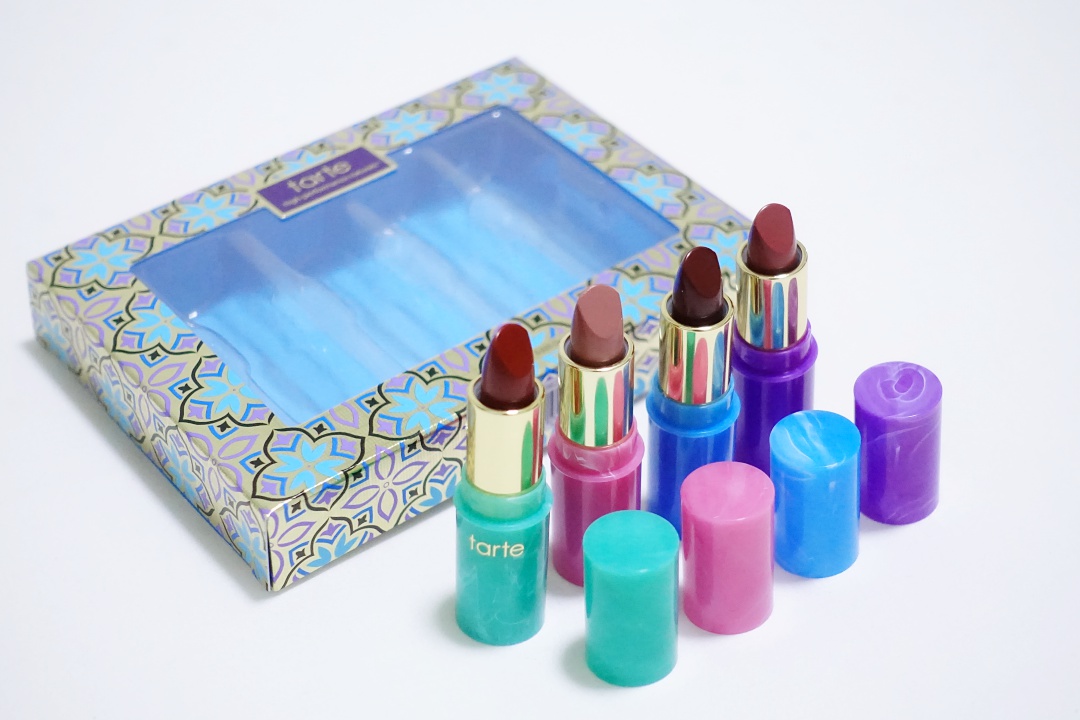 Comes in a set of four mini lipsticks. We have 'Sandals' (green), 'Margs' (pink), 'Jetset' (blue) and 'Soaked' (purple). Not sure if I'll use the reds, but I'm definitely going to use the dusty rose. The lipsticks are tiny. You only get 1.0g / 0.035 oz per colour.
I've yet to try them on the lips, but I know I'm going to like them based on all my previous Tarte purchase. I do wish they come in a better packaging though. While the colour looks pretty and cute, the plastic packaging makes it seems cheap.
Skincare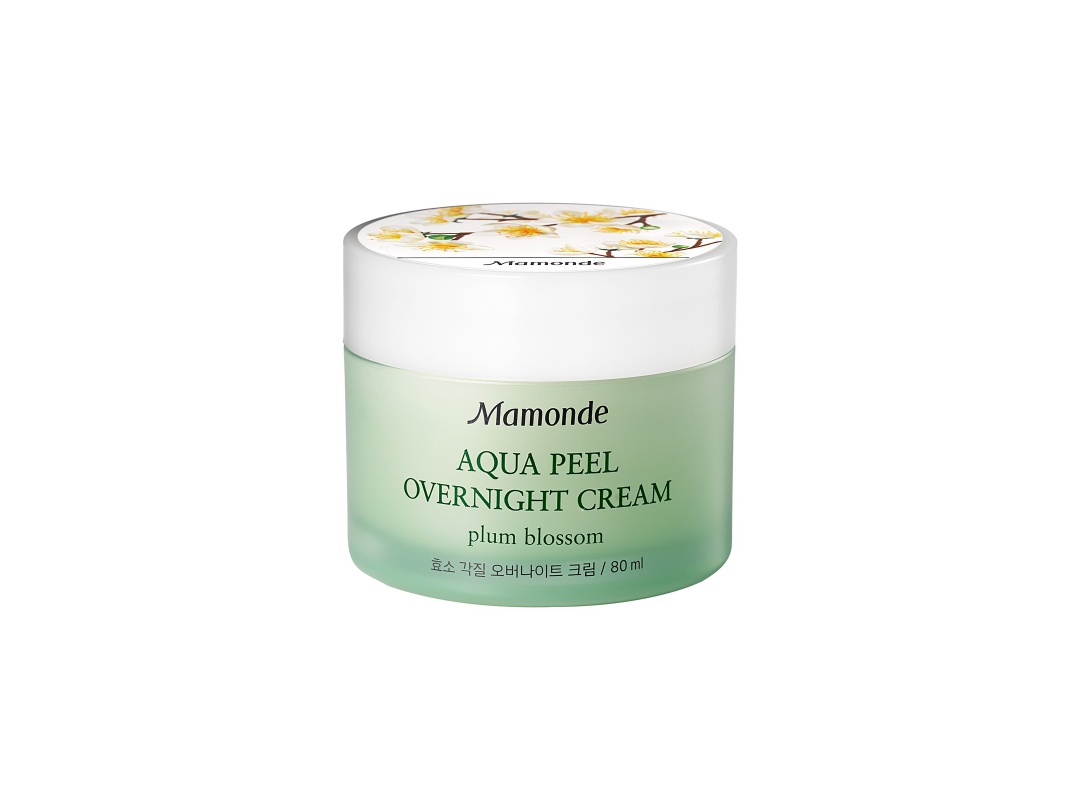 Mamonde Aqua Peel Overnight Cream, SGD28
Saw the name of the product and knew I have to try it. I can't say no to peel.
I've yet to try, so I can't comment much. Will recommend it if it turns out to be good.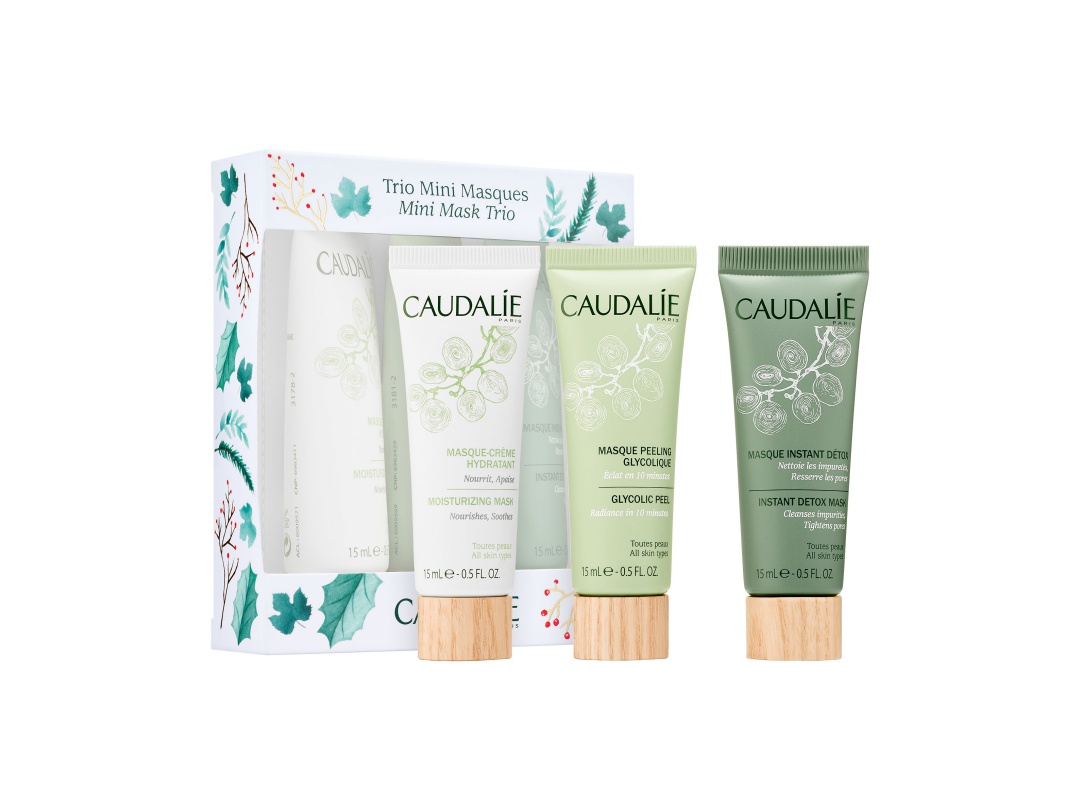 Caudalie Mini Mask Trio, SGD28
The set consists of a Moisturizing Mask, a Glycolic Peel and an Instant Detox Mask. Again, I got attracted because of the (Glycolic) Peel. Caudalie is a well-known skincare brand, so I'm having high hopes for all three products. I'm excited to try it out, but I've decided to keep it aside for now until I finish some of my other masks.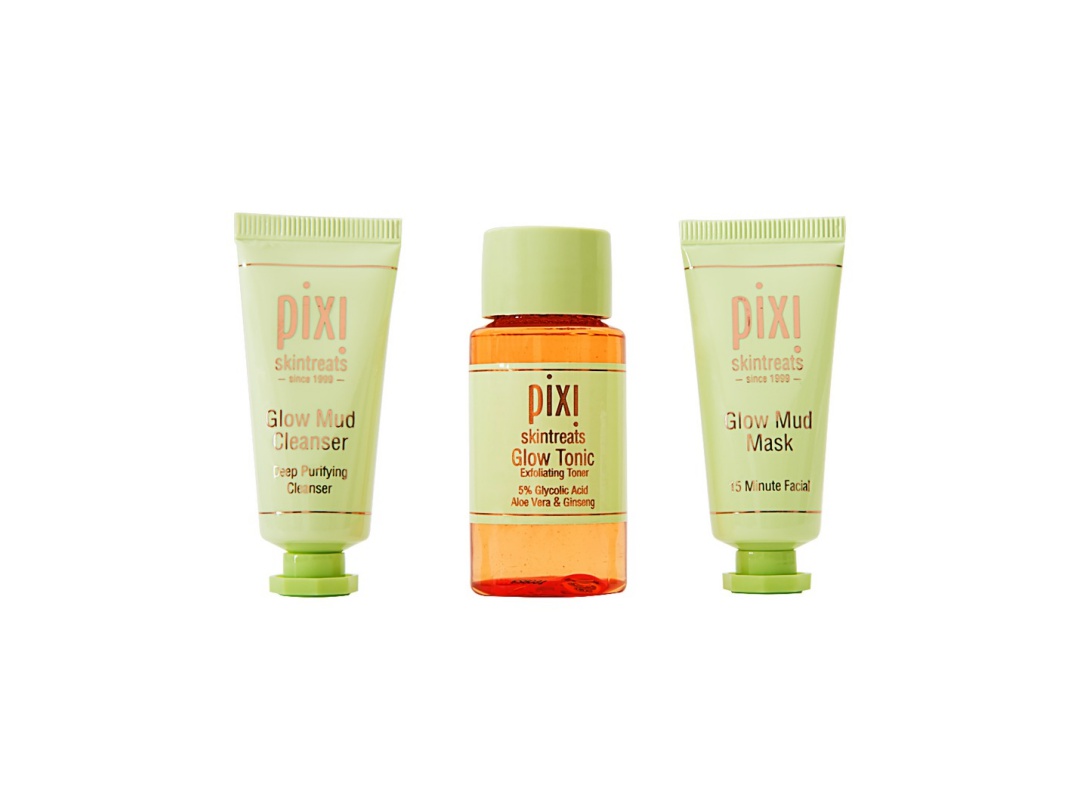 Pixi Best of Bright Kit, SGD35
Another gift from the Husband. Apparently, he wanted to get me the Peel & Reveal Set, but accidentally cart out the Best of Bright Kit instead.
This set comes with a Glow Mud Cleanser (15ml), a Glow Tonic (40ml) and a Glow Mud Mask (15ml). So many people raved about the Glow Tonic. I previously bought two bottles of the Glow Tonic online. Tried one bottle, didn't quite enjoy it, so I sold the second bottle away.
Now that I have this set on hand, I probably will give it another go and see if I feel any difference. Among the three items, I'm most excited to try the Glow Mud Mask.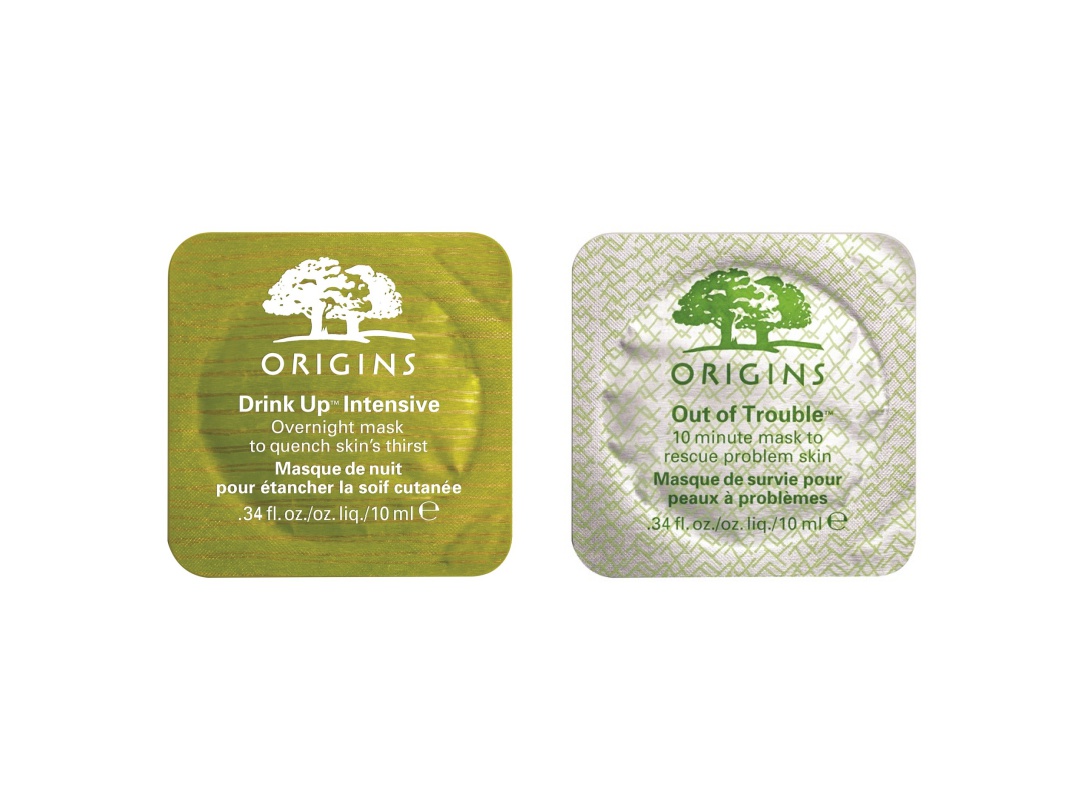 Origins Drink Up™ Intensive Overnight Mask and Origins Out of Trouble Mask, SGD5 each
The Husband got me these two to try. Little did he know I've tried them before and didn't quite like them. Fortunately, he got me the single pod instead of the full-size tube.
I wouldn't say I hate them; it's just that I tried, and didn't find them to be anything special. I don't love them, but they are okay to use.
Leaders Insolution Vita Bright Skin Renewal Mask, SGD4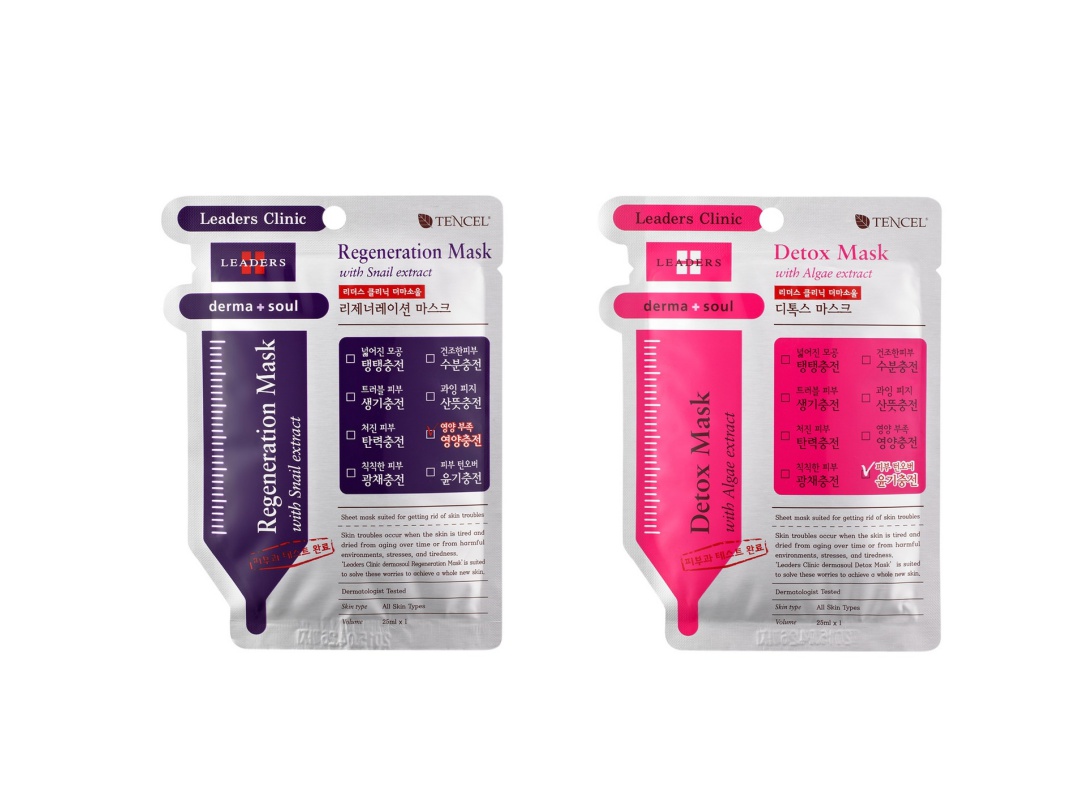 Leaders Insolution Derma Soul Regeneration Mask, SGD3
Leaders Insolution Derma Soul Detox Mask, SGD3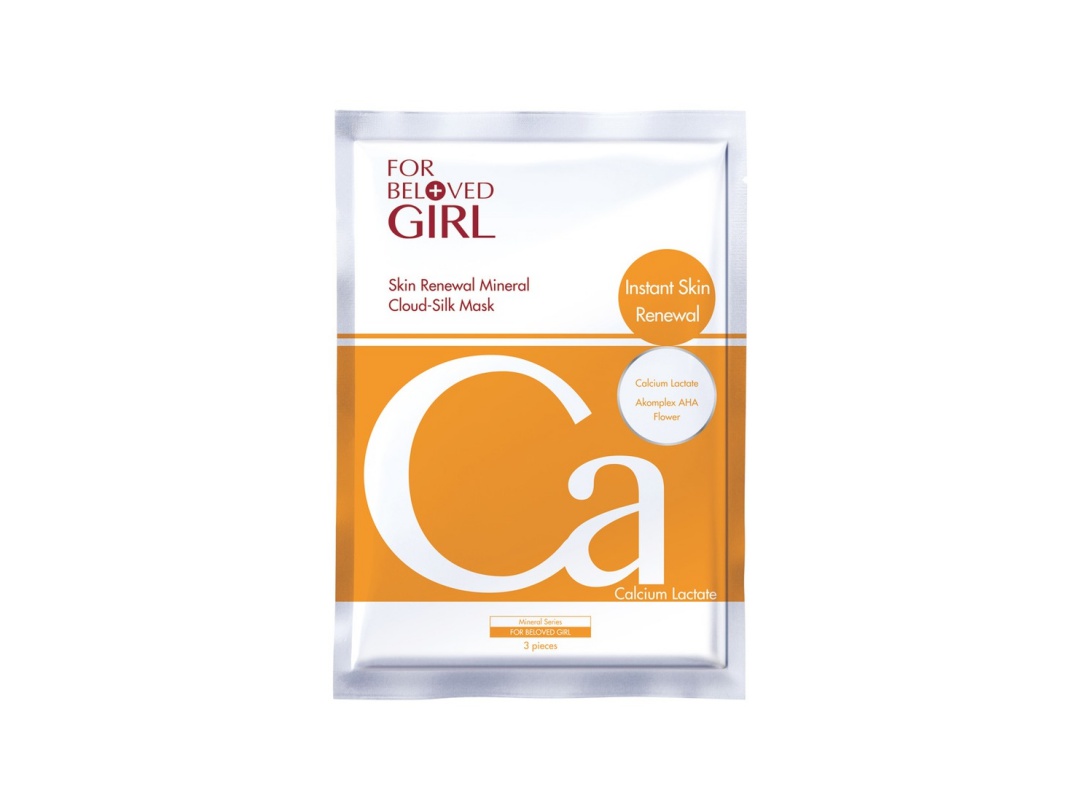 For Beloved Girl Skin Renewal Mineral Cloud-Silk Mask, SGD6
Some of the sheet masks that I got. The truth is, I only got them because I wanted to qualify for free shipping. When I've nothing else to add to my order, I typically just throw in a few sheet masks to bump my total purchase amount to SGD40 to get free shipping.
So far, I've only used the Leaders Insolution Derma Soul Regeneration Mask and Derma Soul Detox Mask. I quite like them. The mask is of a nice thickness and soaked in essence. Helps to calm my skin and didn't cause me to breakout.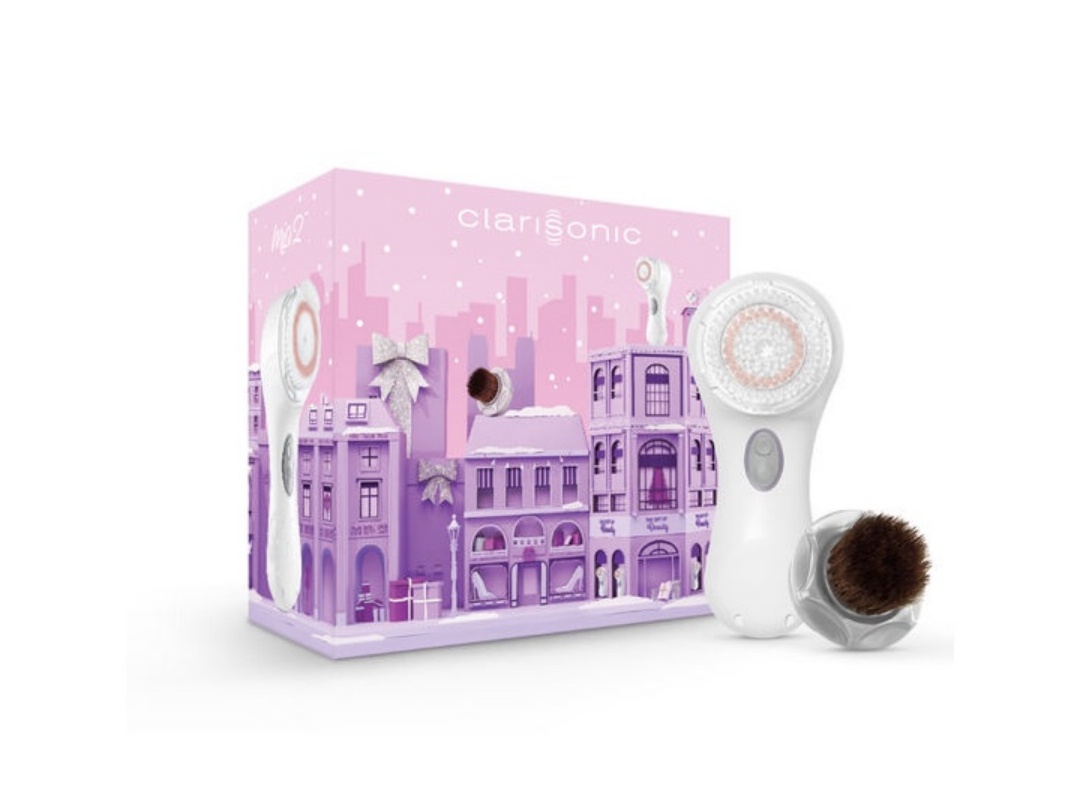 Clarisonic Mia 2 Holiday Set, SGD260
The most expensive item out of this entire haul is none other than this cleaning device!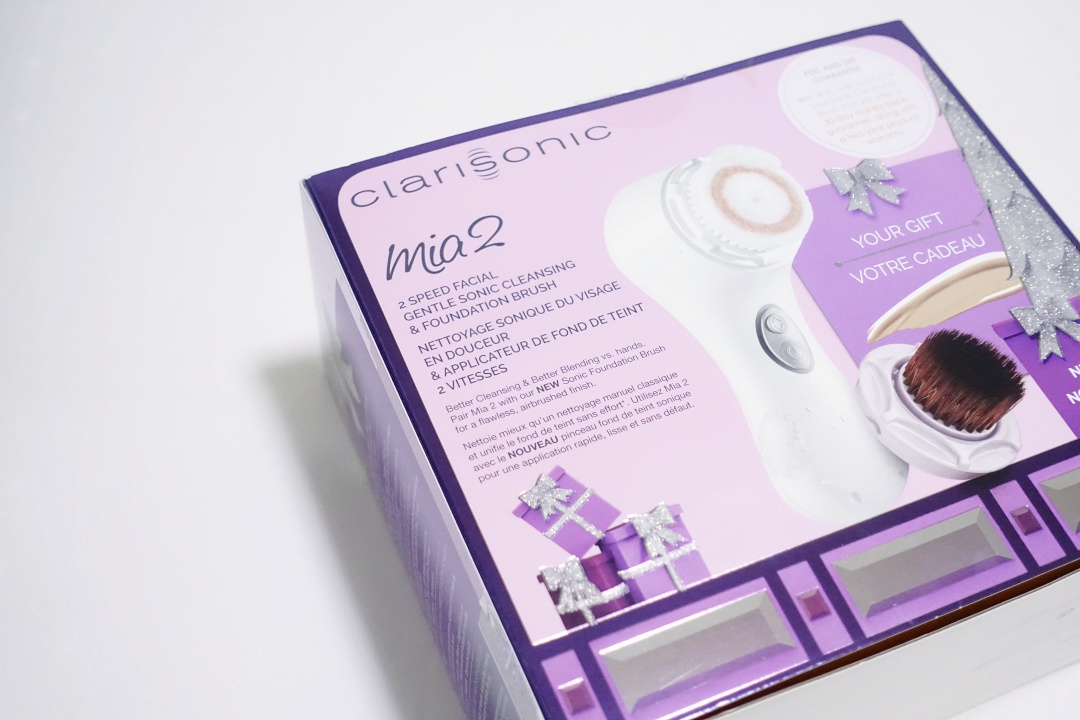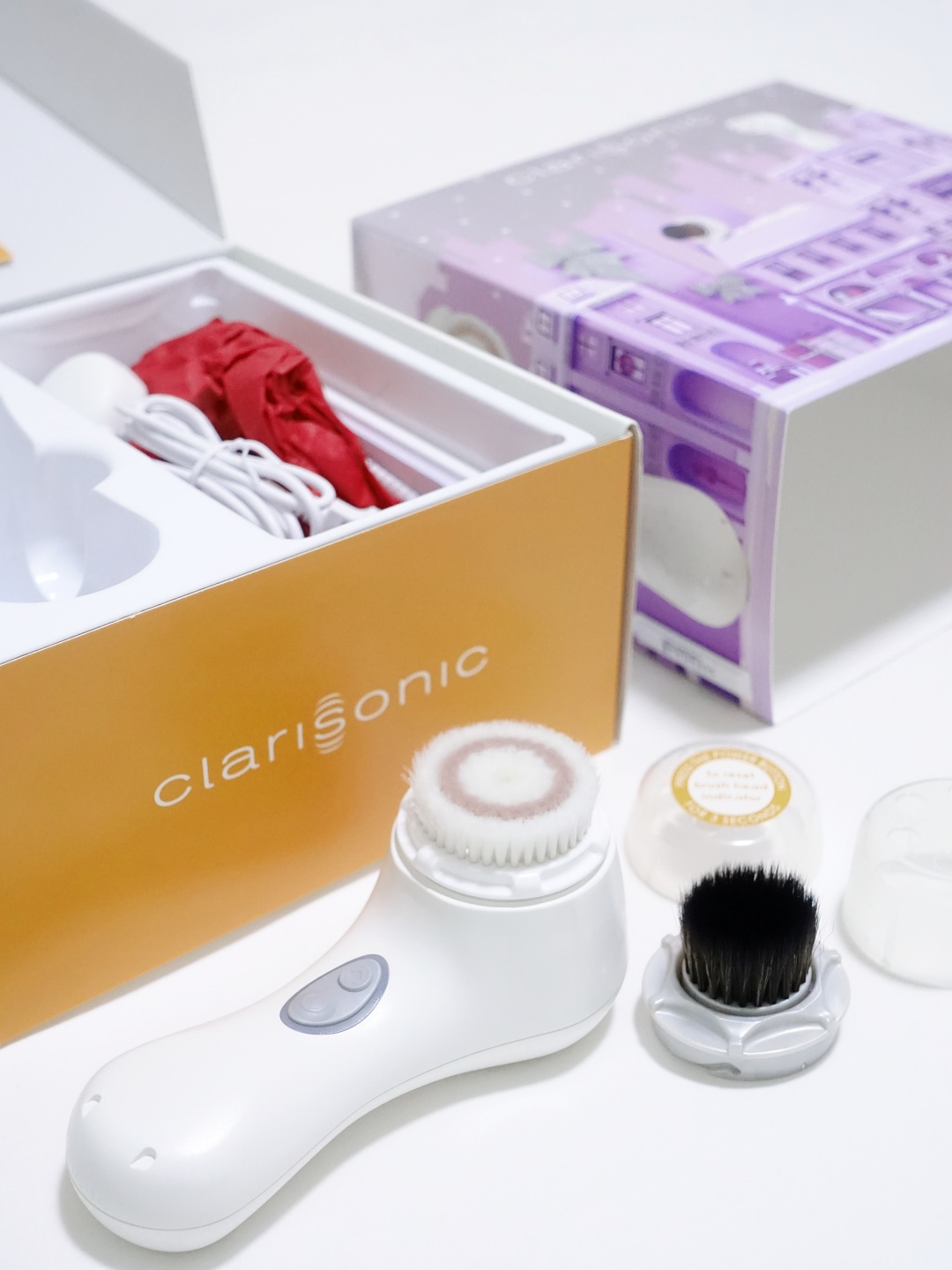 Ever since the hype for Foreo, I have never heard anyone talking about Clarisonic? They used to be really popular a few years back.
Having read so many positive reviews about Foreo, I must admit I was considering getting one. But when I saw this Clarisonic Mia 2 Holiday Set, I knew I have to get it because of the Sonic Foundation Makeup Brush. I first heard Tati (Tati on YouTube) raves about it, and since then, I've been curious about the brush. It seems like a fantastic idea to use a brush to bluff in your foundation.
I checked in store, and apparently, Sephora does not carry the individual brush head. The only way to try out the Sonic Foundation Brush is by getting the Holiday Set. I used to own a Clarisonic, so I already knew how it works. Since I misplaced my Clarisonic, I decided to splurge and get the Holiday Set.
I've yet to try it, but I'm looking forward to trying it and see if it works.
Tools / Others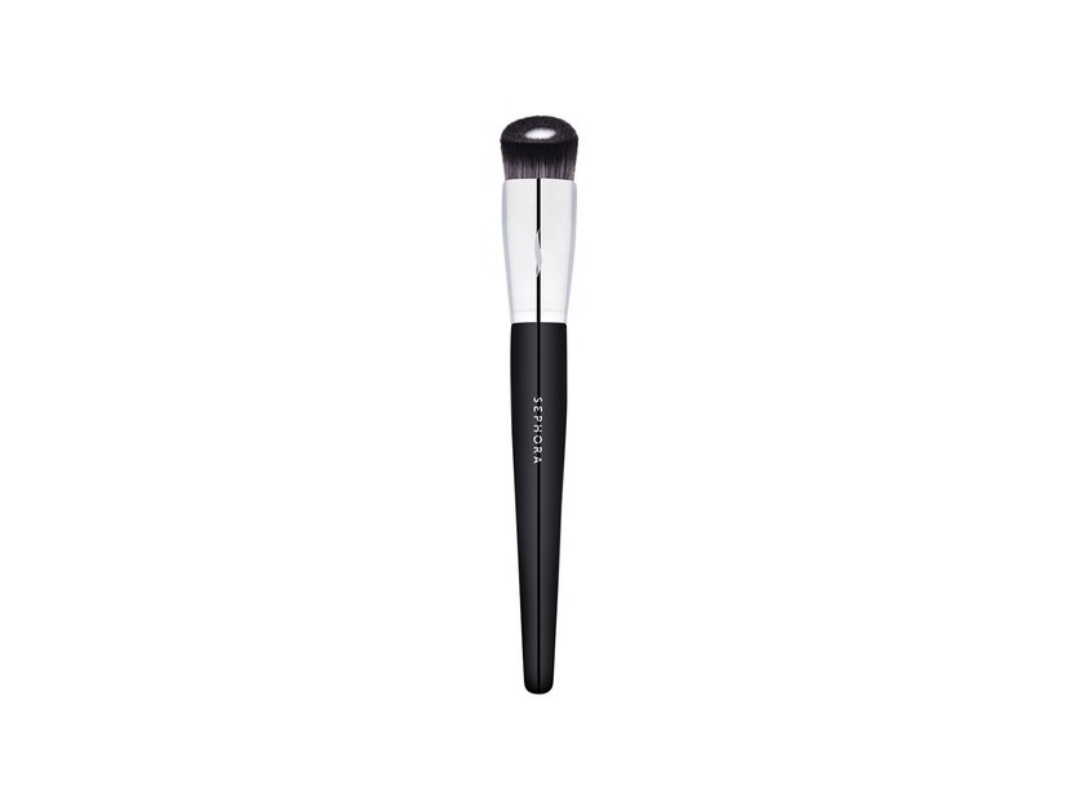 Sephora Collection Ultra Liquid Foundation #83, SGD49
Decide to try out a new foundation brush as I haven't been enjoying using my Sigma F80 as much as I did in the past. I've been mostly using brushes from Sigma and Zoeva, and never own a brush from Sephora Collection. Thought it will be nice to pick up one during the sale and I chose this as I really like the size, shape and the way it feels. I like that it comes with a flat top and the bristles are dense and soft.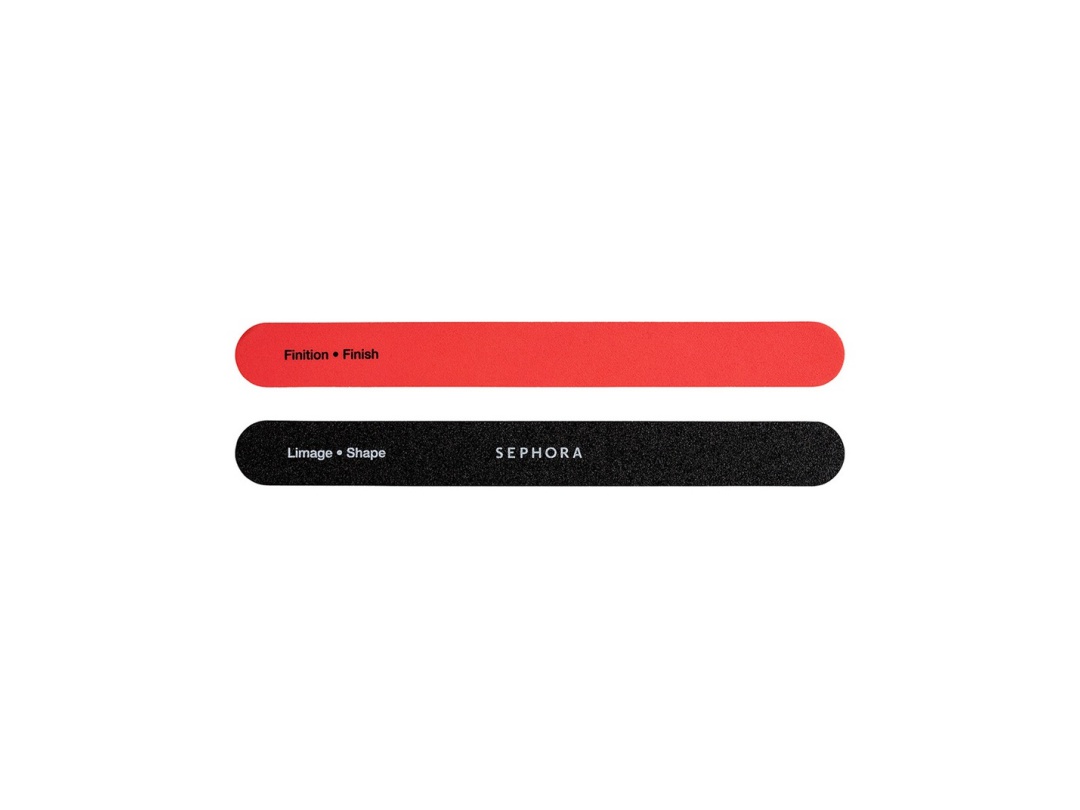 Sephora Collection Nail Files, SGD8
Just two nail files. Pretty self-explanatory, ya? It may seem expensive to pay SGD4 for one nail file, but I feel that the quality of this is really better than the cheaper ones.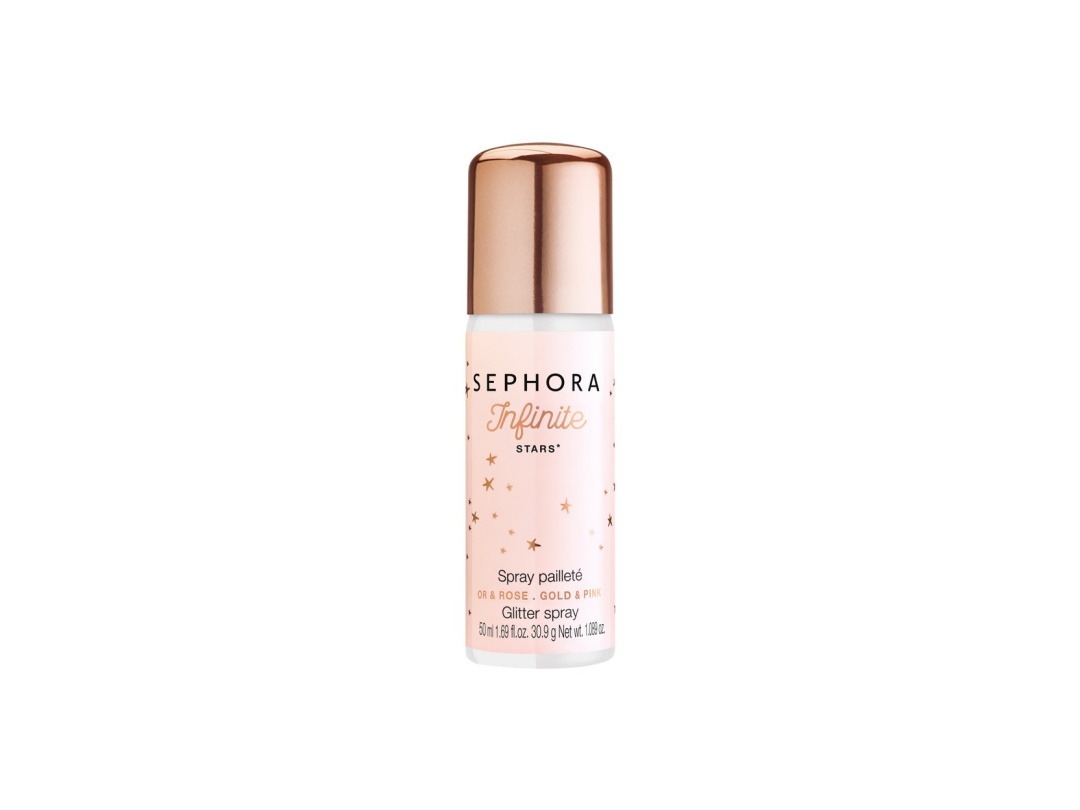 Sephora Collection Infinite Stars – Glitter Spray (Limited Edition 2017), SGD12
I've no idea why I would ever need a bottle of rose gold micro-glitter spray. The Husband got it for me. I swear he always got pull into buying things that are limited edition. According to him, this is something that is fun to have?
---
So those are everything I got from Sephora. I hope I didn't miss out anything. It was fun consolidating all the items I got and do a blog post about them. I hope you enjoy reading it!
To be honest, I didn't realise I was spending so much until I did the calculation. My beauty addiction does come and goes. There will be times when I stop buying cosmetics for months, and then there will be times when I go out and buy multiple products at one go. Aside from funding my own purchase, I'm lucky to have someone who indulges me and bought me presents from time to time.
Having said that, I really need to stop hauling and stop stepping foot into Sephora!
I still have a number of new items I got from ColourPop, CNP Laboratory and the drugstores. Perhaps I will share my haul again if I've time.
SaveSave