Advertorial
Sharing with you one piece of good news I received over the weekend; and that is – my flat is finally due for key collection!
It has been 3.5 years since the Husband and I submitted our application for a BTO (Build-to-Order) and we're finally going to collect our keys next week! Our Probable Completion Date was at the end of May, but somehow it got delayed until now. Truth be told, between getting married and getting a flat of our own, I'm actually more excited about the latter. While I have no knowledge on how to go about designing a home, I'm thrill to start on this home renovation journey. After all, nothing is closer to the heart than the place we call home.
But unlike other home-owners-to-be, we have yet to plan on home renovation. Neither did we look for an interior designer for quotation nor go for furniture shopping. The only thing we did do is heading down to a recent event host by Steigen to learn more about their automatic laundry system.
About Steigen
Started in 2013, Steigen focus on resolving Singapore's laundry woes by incorporating the best of German technology to raise the standards in quality, efficiency and design for automated laundry systems. Since the launch of their automatic laundry system, over 10,000 products have been sold in three countries, over more than twenty retailers.
The first time I heard about Steigen was through an SGAG video that was circulating on Facebook. It was through that video that I learn about their automatic drying rack. So, when I later received an invite to visit Steigen Flagship Store, I was curious to go down to have a look at their products. I could bring a plus one, so naturally, I asked the Husband along. Ever since staying in the Airbnb in Tokyo, he was intrigued by the way clothes are being dried indoor.
Japanese Way of Drying Clothes
In Japan, clothes dryers are pretty rare, and the cost of electricity to run it could be expensive. Hence, people tend to use the conventional way of drying their clothes outdoor. However, clothes simply won't dry in the colder and rainy season. As such, to dry their clothes, the Japanese make use of the "dryer" in their bathroom. They have metal bars installed in their bathroom and after removing the clothes from the washing machine, they will hang them up on the bars, shut their bathroom door and push the button to start the dryer. The dryer helps to release hot air into the bathroom, heating up both the bathroom and the clothes. It only takes a few hours to fully dry the clothes.
While I do love the idea of having a dryer in my bathroom, I don't think it's practical to have one. (Imagine all the wiring and electricity bill). The Husband and I had agreed on not getting a dryer; as we didn't want to have it take up space in our somewhat small service yard. In our case, an automatic drying rack seems to be a perfect alternative.
Steigen x Sample Store Influencers Event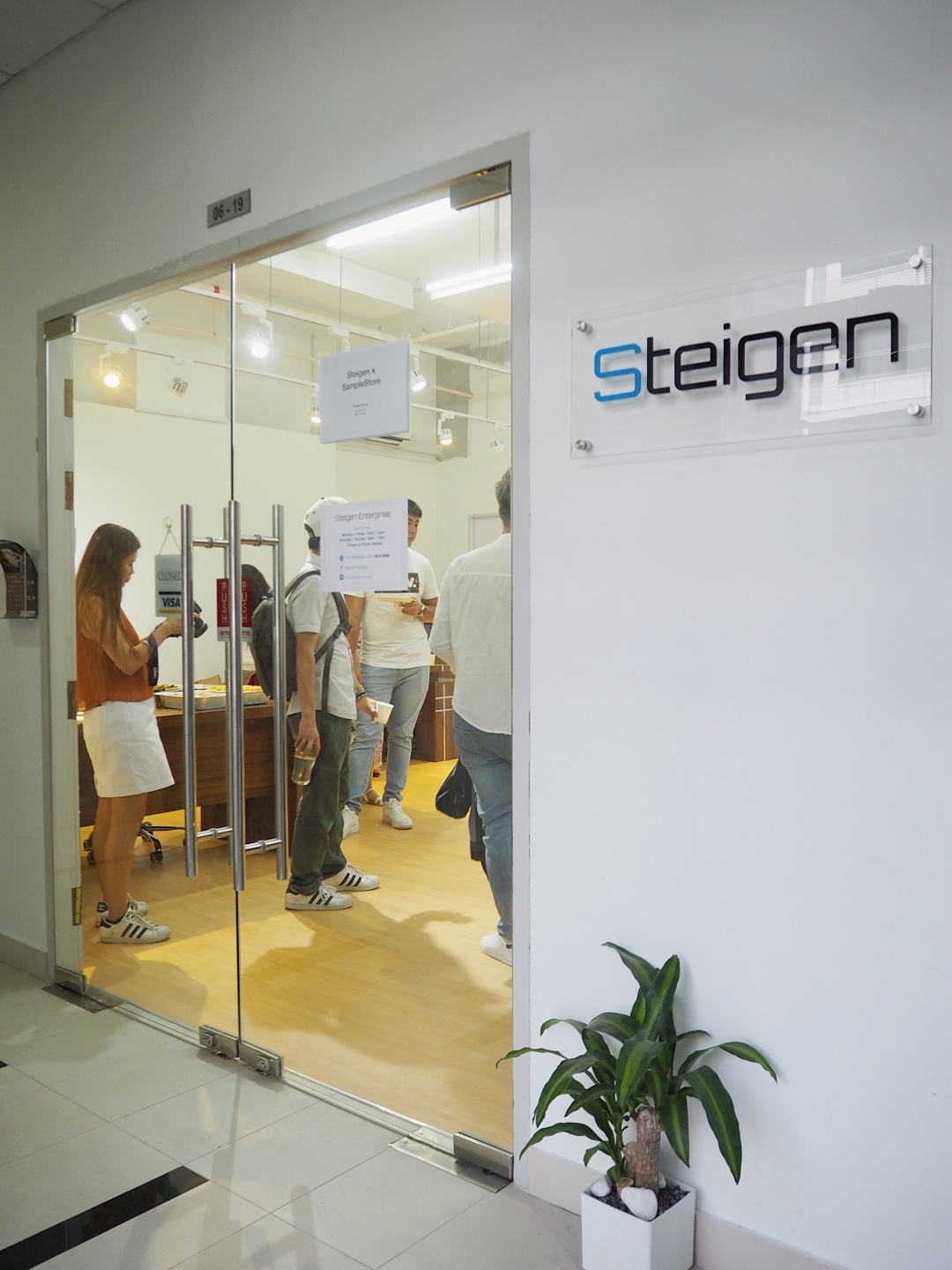 Held on a Saturday at Steigen Flagship Store located at AZ@Paya Lebar.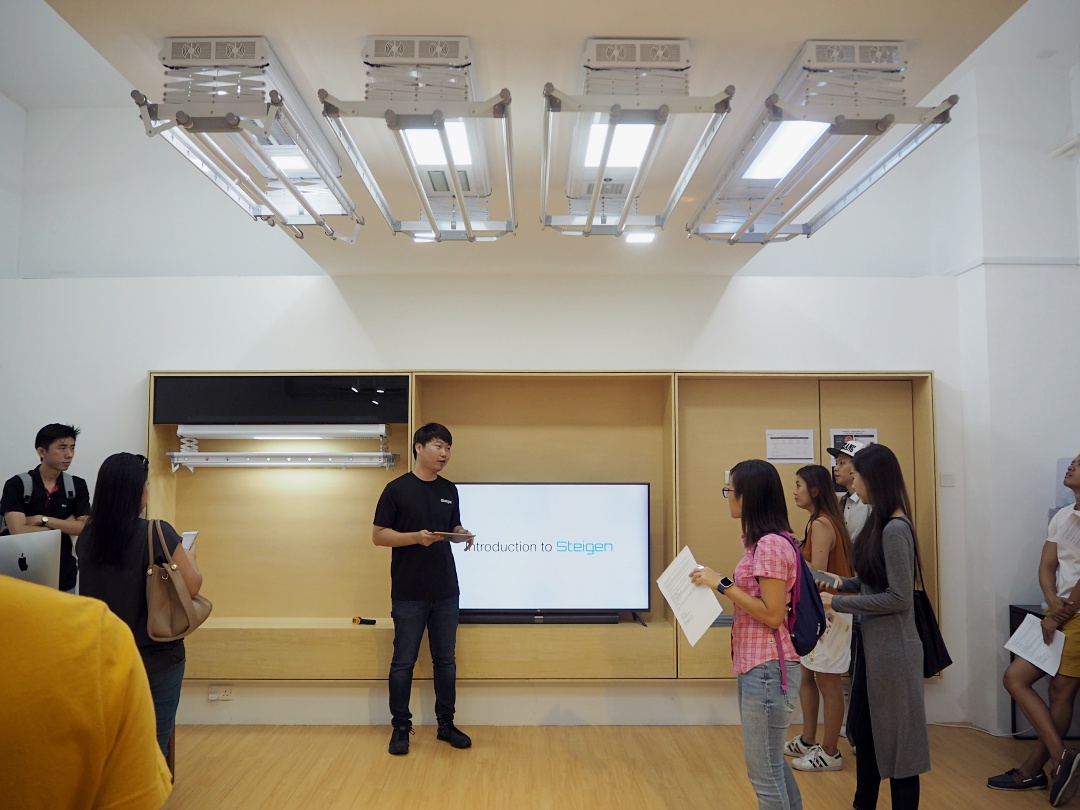 The event started with an introduction to the brand and its products. While I've seen the SGAG video prior to the event, I didn't know Steigen actually has four models for their laundry system. All four models come in two sizes – Standard and Lite (shorter in length/width).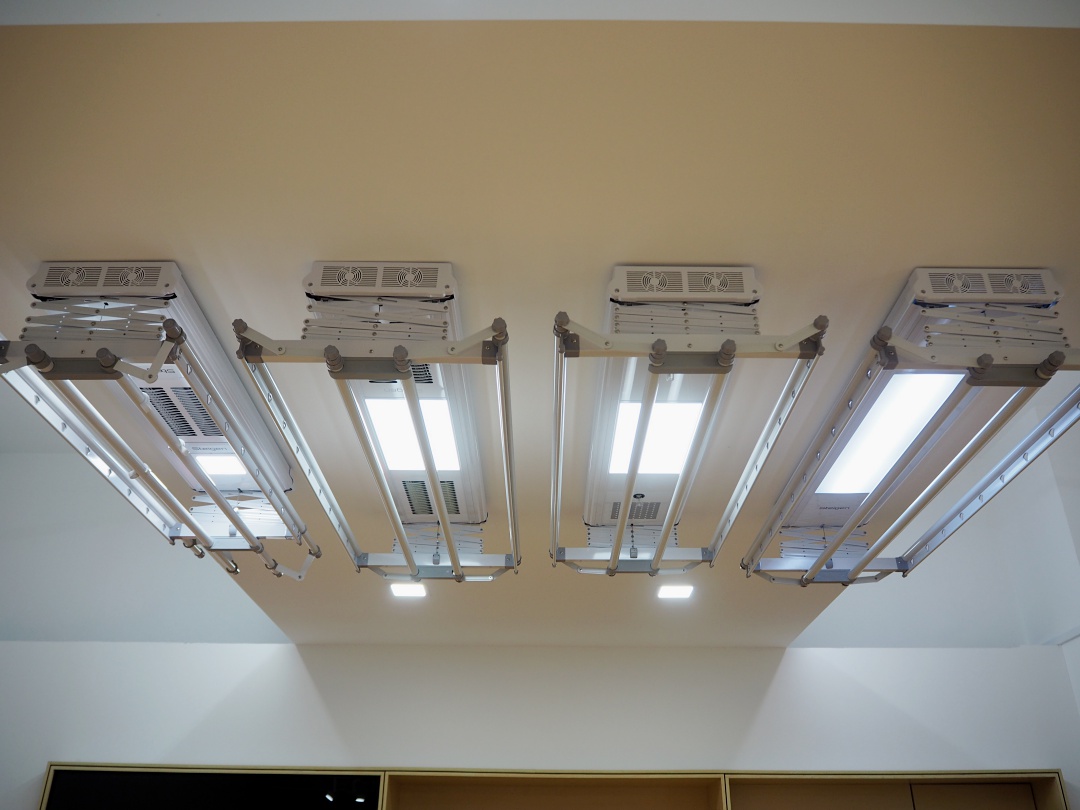 (L-R): Exalt+ Solar S | Exalt+ Solar | Exalt+ UV | Exalt+ Flexi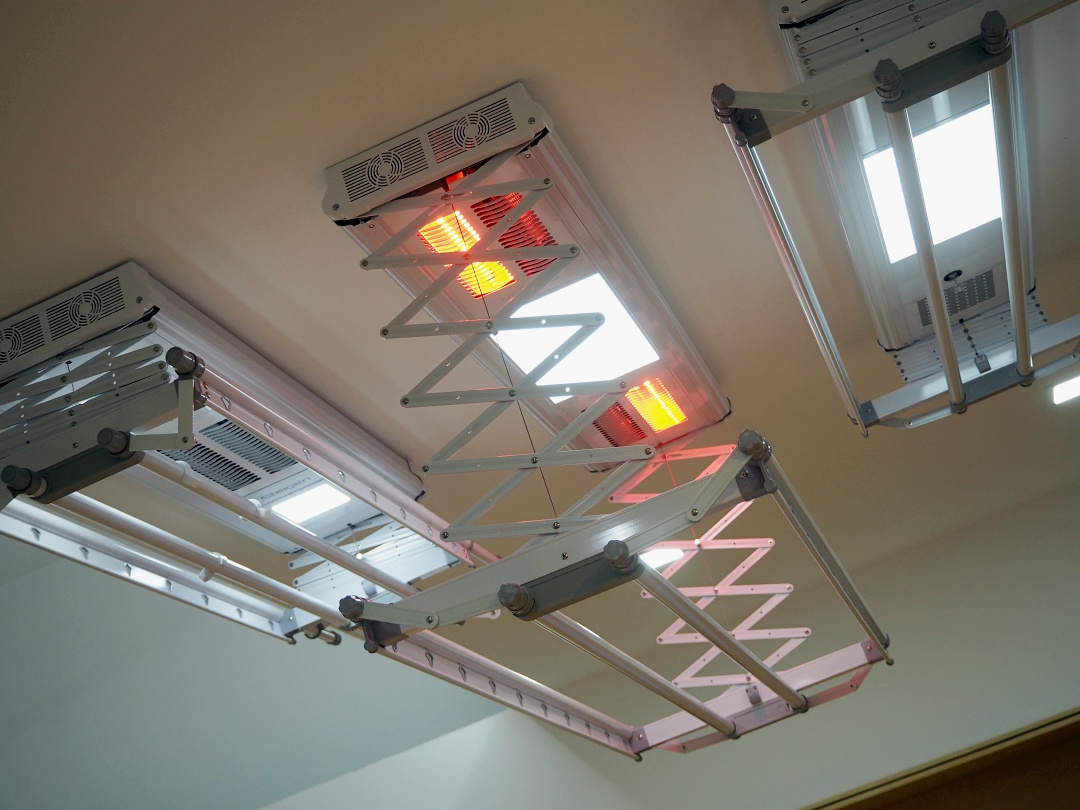 Seeing how the laundry system works.
The rack has a dropping distance of 1.2m and will automatically pause if it touches someone/something when lowering. Making it safe for the family.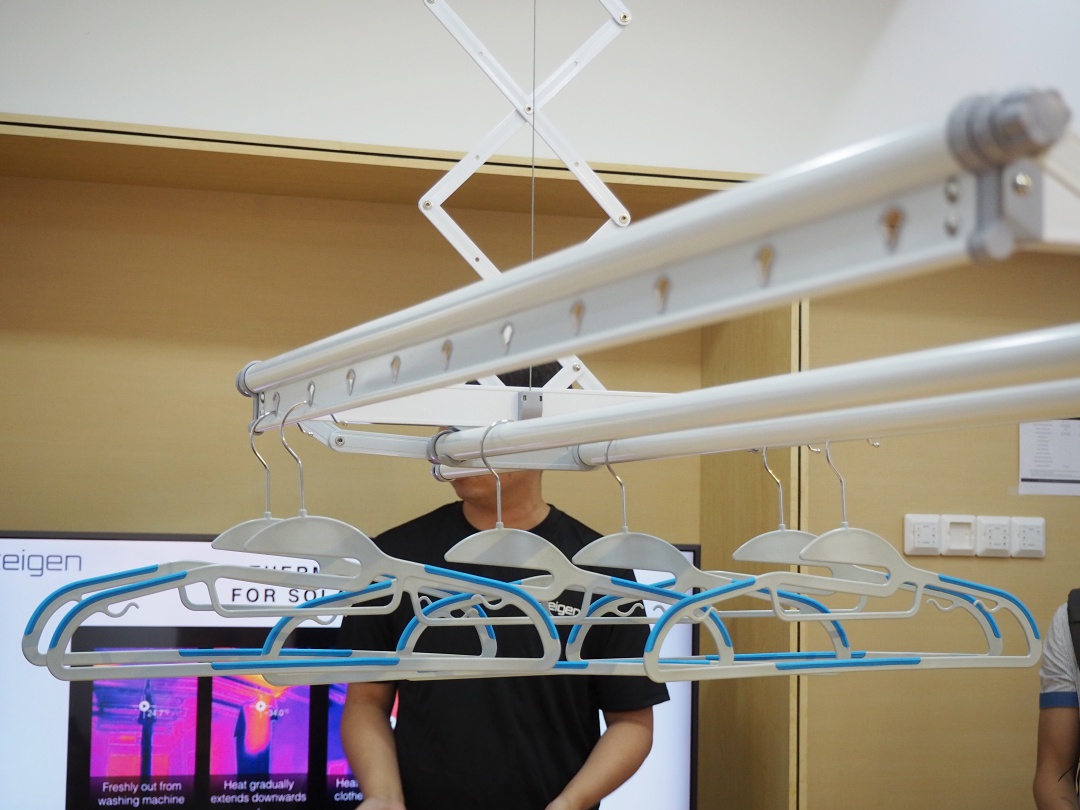 Choose to hang your clothes over the poles or hang them individually on hangers. Either way, it certainly trumps putting your clothes in the machine to tumble dry (which tends to cause your clothes to stretch and crumpled).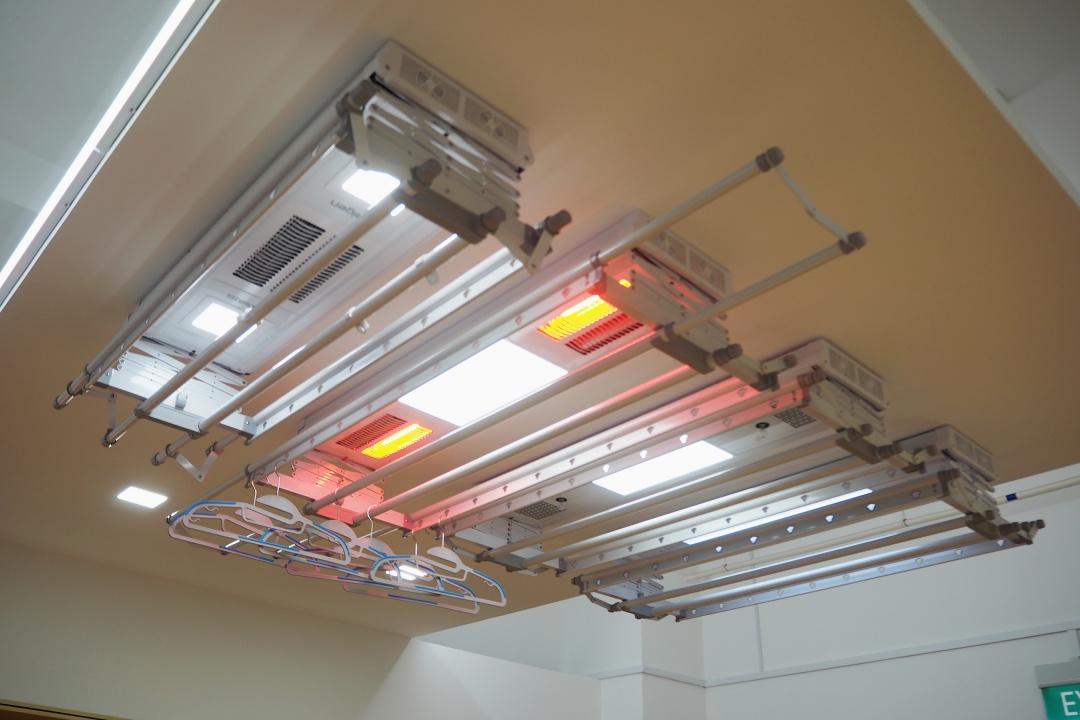 Forget about having to lift up heavy bamboo poles. Each unit can lift up to 35kg of heavy laundry (equivalent to two full loads of a large capacity washing machine). The automatic drying rack also makes it much safer and easier for the elderly and people with physical limitations.
The retractable rods can be easily extended when needed for drying of larger textiles such as bed linen. Simply twist the rods to lock them in their position.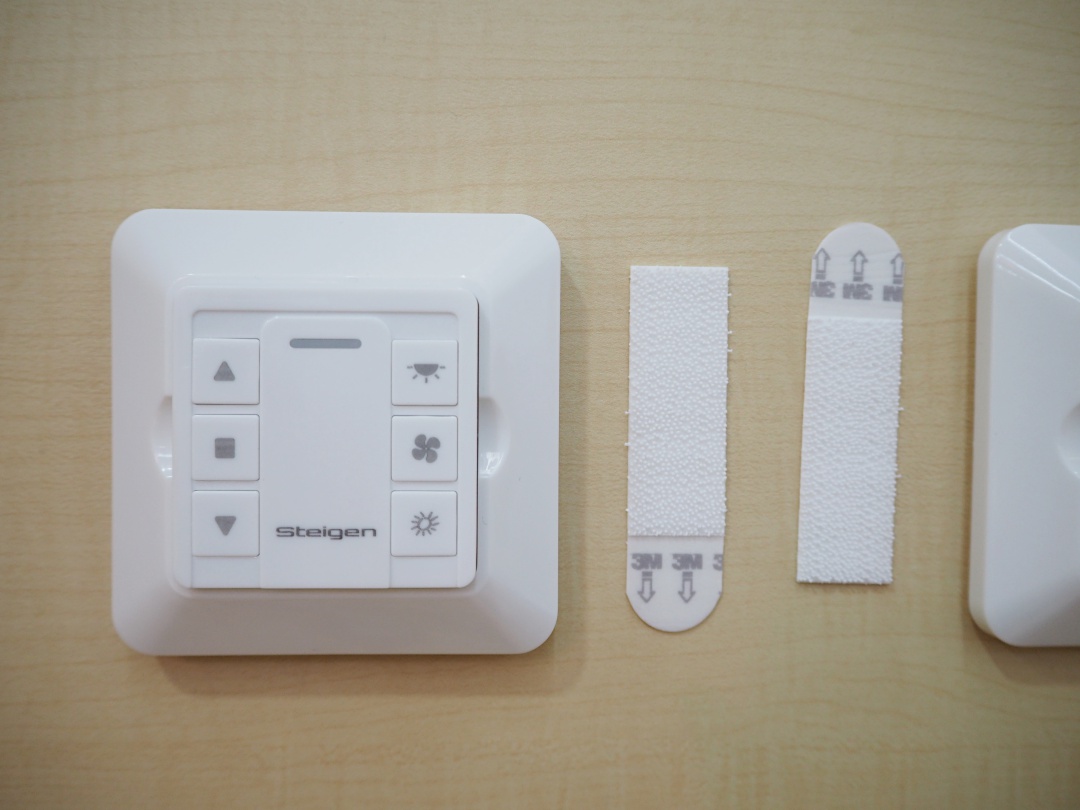 The handheld remote makes it easy to operate and can be mounted conveniently using 3M tapes. The large symbols also make it simple to understand.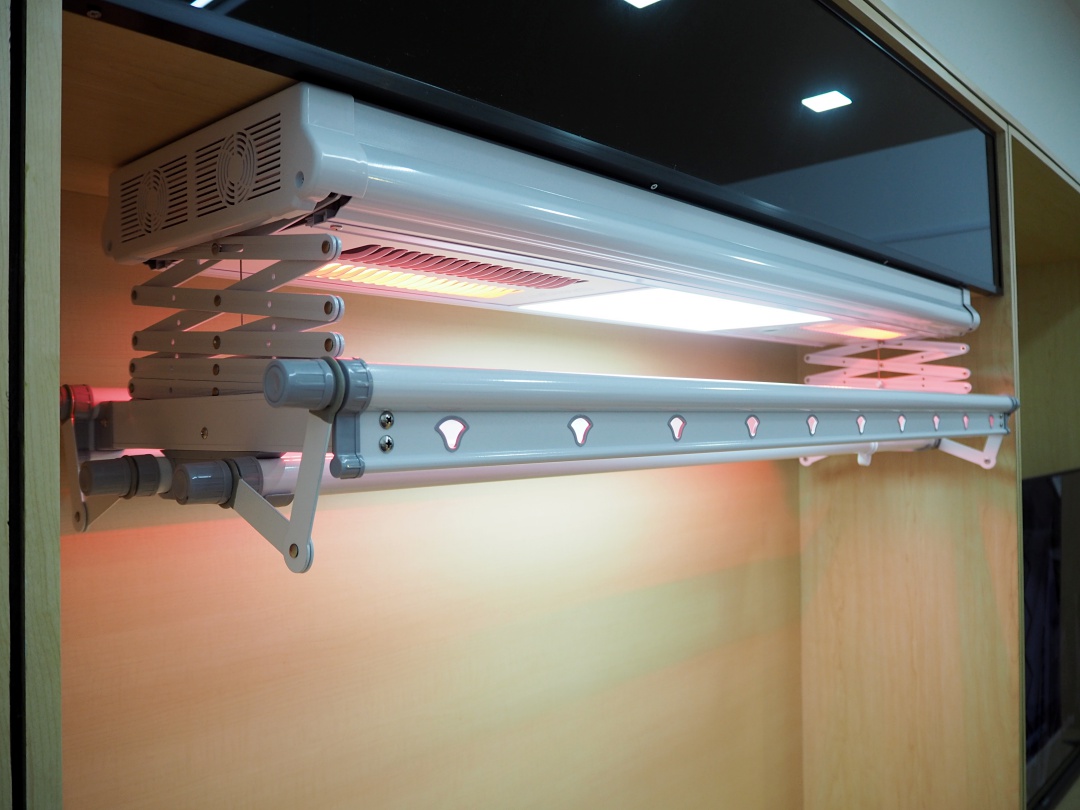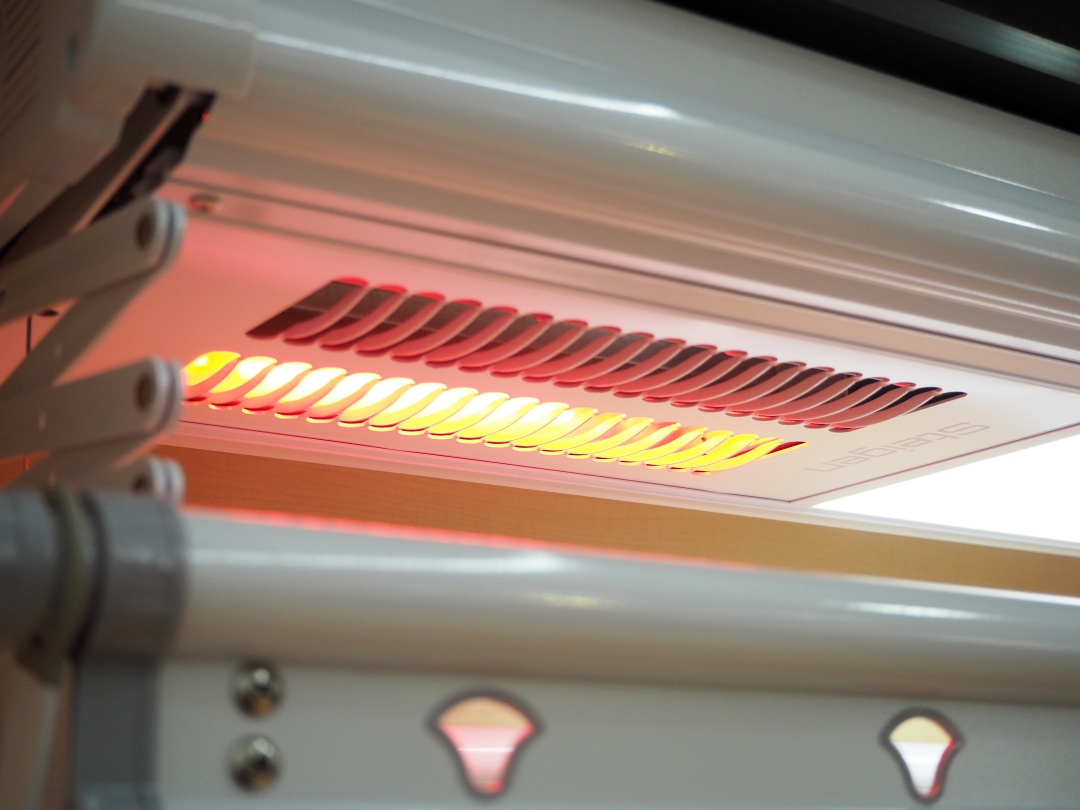 Looking at the position of the service yard in newer BTO, we can hardly get much ventilation, let alone ample sunlight. As such, conventional laundry drying methods may not longer be efficient to get our clothes dry. By using solar, clothes can be dry quickly in any weather.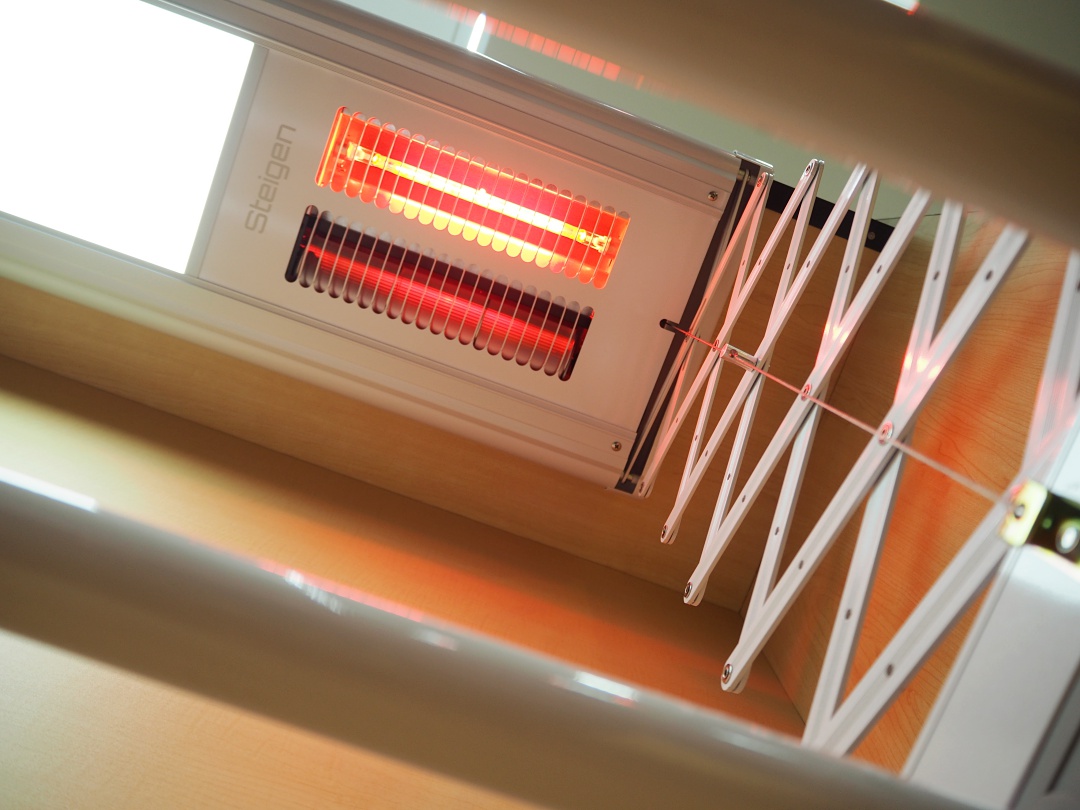 All units come with quiet motor operation making it suitable to use at any time of the day.
Automatic Laundry System
Differences of the Four Models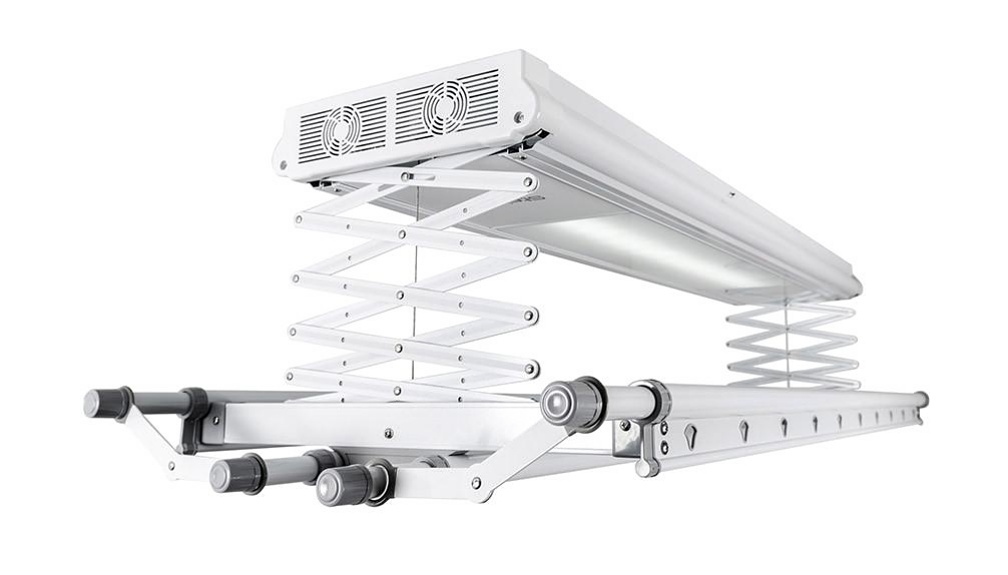 Exalt+ Flexi: (First model introduced.) A basic model that fulfils the primary needs of automated lifting and lowering. Ideal for laundry yard with sufficient sunlight and wind. Average drying duration: 8 – 9 hours.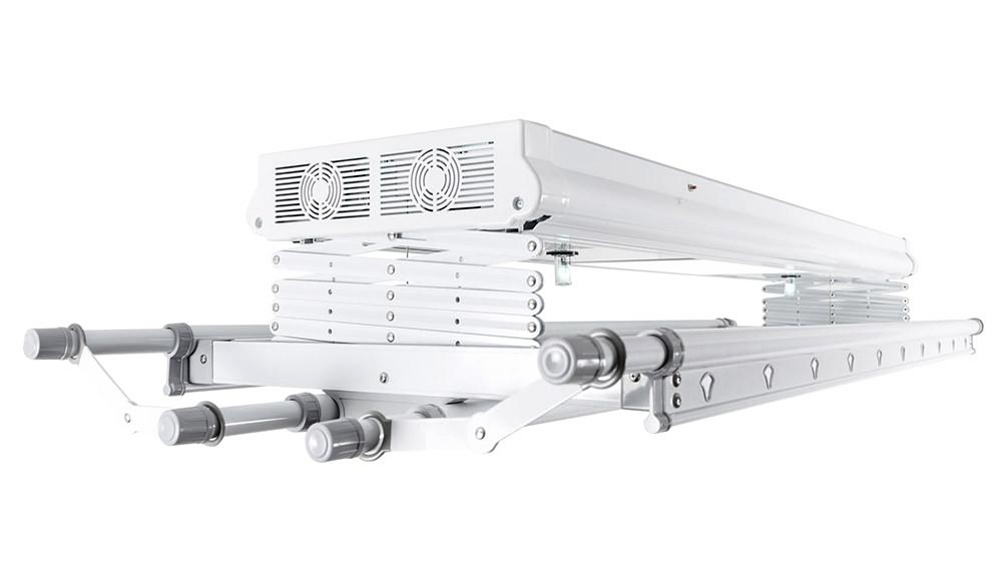 Exalt+ UV: Comes with two ultraviolet lamps for disinfection purpose and two single-directional fans to speed up drying. Average drying duration: 7 – 8 hours.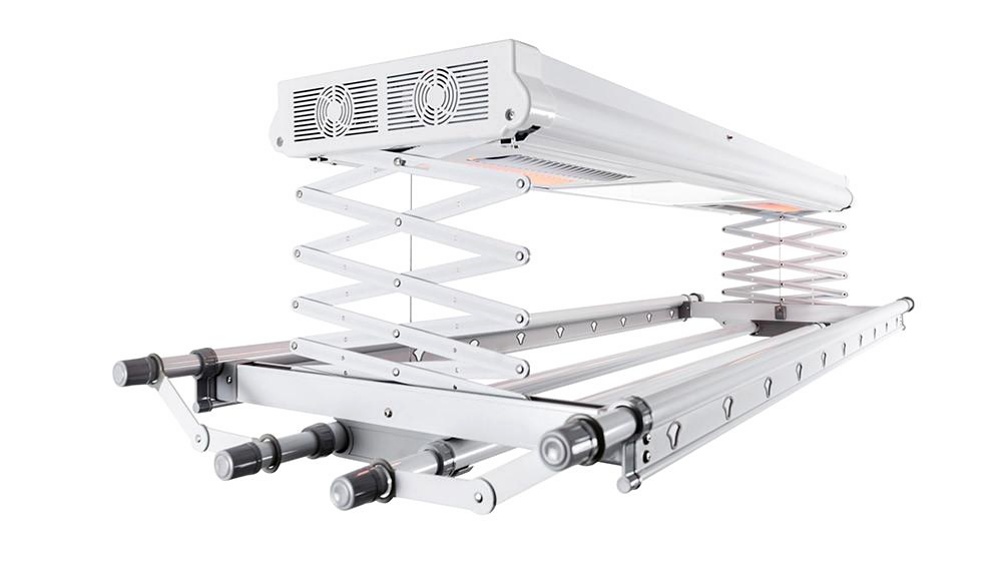 Exalt+ Solar: Comes with two solar tubes to simulate sun drying effect and two air circulators to increase drying speed. Built-in heating technology to drive heat throughout laundry to allow clothes to dry evenly. (Heat is distributed uniformly around the clothes, 
and does not heat up the rest of the room.) Operates with only 0.9 kWh of energy, making it more energy efficient. Eliminates 99.9% of bacteria and prevents musty odour. Average drying duration: 1 – 2 hours.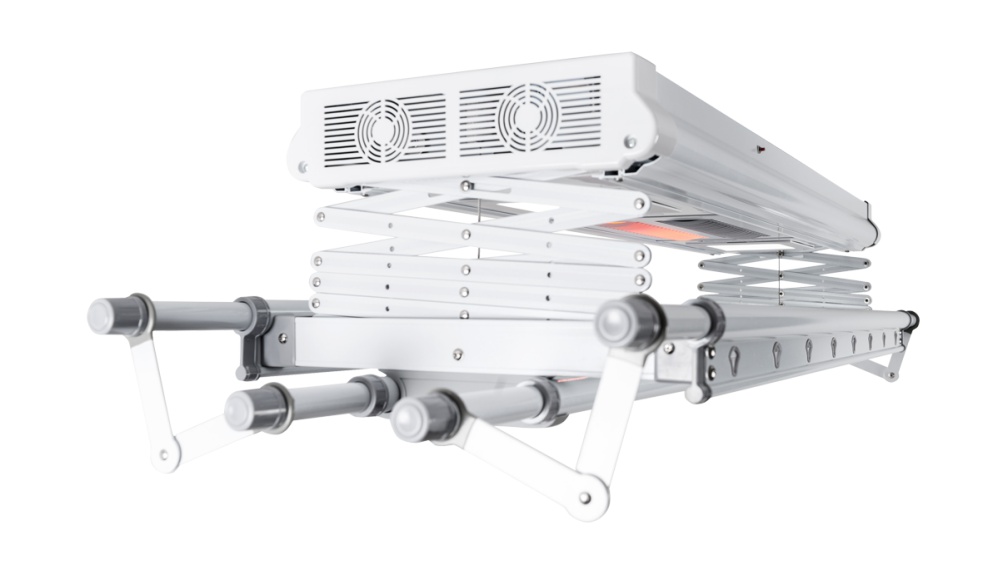 Exalt+ Solar S: Slimmer unit with same heating technology. Comes with one solar tube and one air circulator. Ideal for condominium and small laundry yards. Average drying duration: 2 – 3 hours.
---
Similarities of the Four Models
Safe and Effortless: Using a battery-operated remote control, the system can lift up to 35kg of clothes by a touch of a button. (35kg is equivalent to two full loads of a large capacity washing machine. One load is approximately 8kg or 12kg when wet.) The obstacle detection safety measure ensures that the device will automatically pause when it touches someone/something when lowering.
Energy Saving: A single lighting point is all it needs to power the entire unit. It dramatically reduces the energy consumption as compared to electric dryers and has an energy saving function that automatically switches off the solar tubes and fans after two hours. The LED lamp also double up as the service yard lighting; saving the need to buy an additional ceiling light for the laundry area.
Design: White powder coated finish make it a sleek and beautiful addition to your house; while the aviation-grade aluminium body ensures it is strong and rust-resistant.
Suitable for All Types of Homes: HDB BTO, HDB Resale, condo balcony, condo laundry area with false ceiling, etc.
---
Among the four models, my pick would be the Exalt+ Solar.
Exalt+ Solar
Aside from needing the least amount of time for drying, here are the reasons for choosing the signature solar series.
The solar uses a unique air circulator design to ensure warmth of the sun is deliver to all clothes hanging on the rack. It will dry your clothes at a range of 34 to 35-degree Celsius, which is equivalent to the temperature of the sun at noon time. Making it safe even for delicate clothing.
Mimic the gentle warmth of the sun; solar helps to dry your laundry delicately to bring out the natural fluffiness of your clothes. (Something that you can't get from normal tumble dryer.) The difference between solar and the sun is that it contains no ultra-violet which is the usual cause for clothing to fade.
The warmth of the solar helps to eliminate 99.9% of bacteria and prevents musty odour. This is extremely important if you want your clothes to smell fresh when hanging them indoor.
---
Price
The Exalt automated laundry system line range from S$799 – S$999 and come with a two-year warranty.
For those who are keen in getting the Exalt+ Solar, Steigen has very kindly offered a special promo code. Simply enter the code "STEIGEN50" at check out to receive S$50 off.
For those who prefer to see a live demo or know more about the products, you can do so by visiting one of the retailers.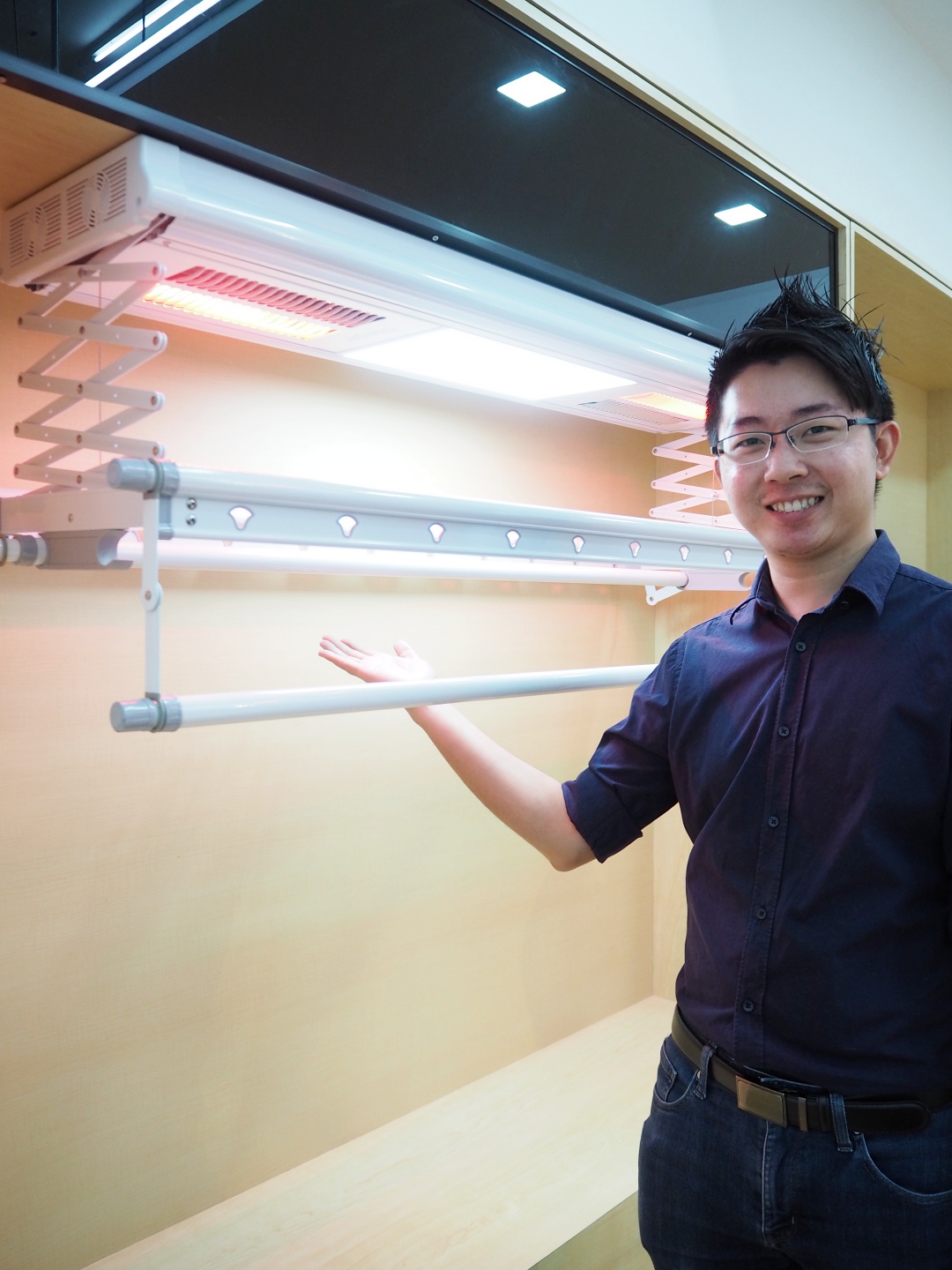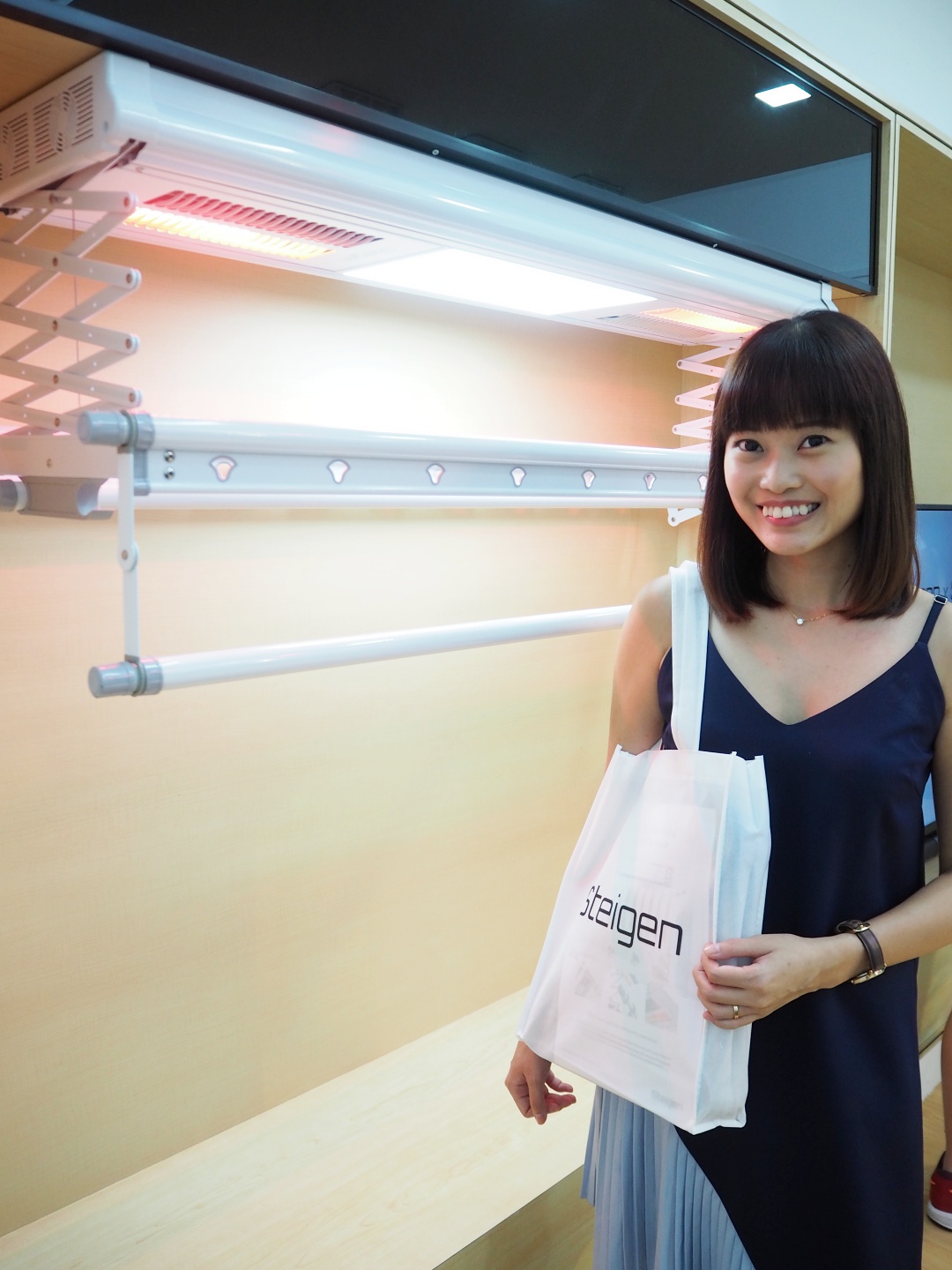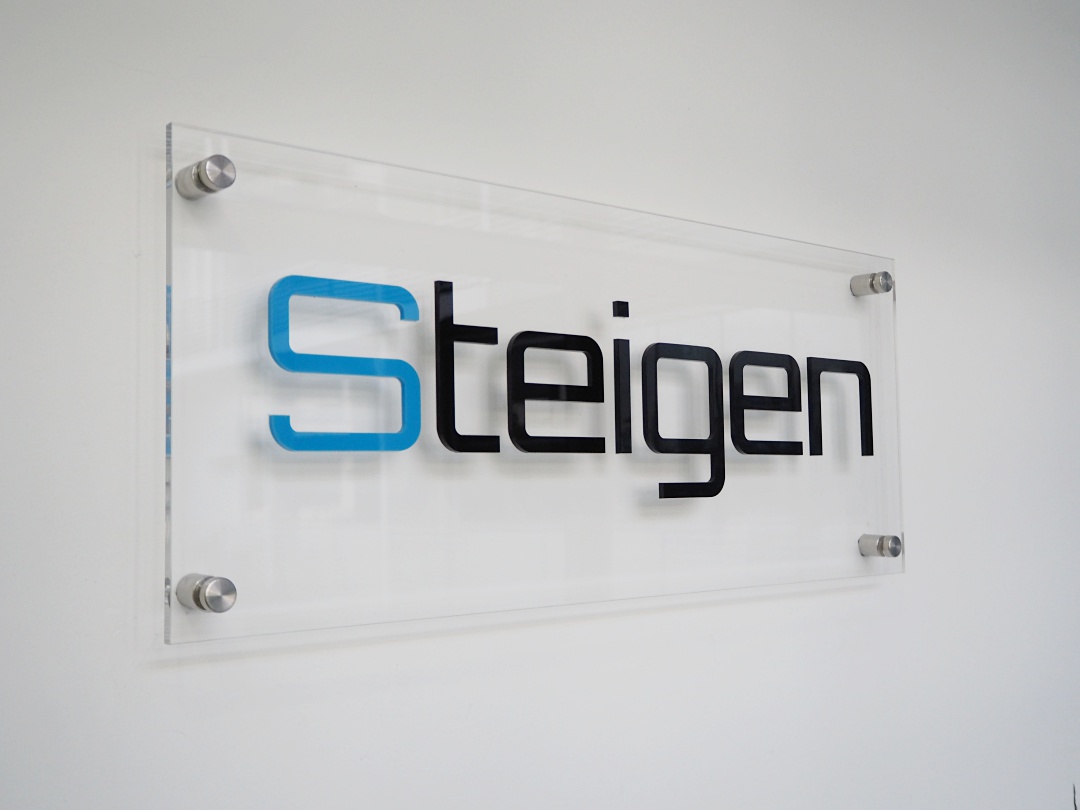 Steigen
Website: https://www.steigen.com.sg/
Facebook: https://www.facebook.com/SteigenSingapore/
Tel: +65 8818 6588
Email: sales@steigen.com.sg