Has it been five months since I got married? Seriously, the time has been moving so fast this year; I hardly had time to catch a breather, and we're almost at the end of 2017!
Ever since I got married in early-July, I've meant to write about everything; from selecting our wedding bands, to our photoshoot in Bali, to planning for the ROM, etc. Unfortunately, I haven't been able to find the time to do so. This post on my 'wedding band' in particular, had been half written and sitting in my draft folder for months now and somehow, I just didn't get to complete it. So today, I thought I would write it out properly in chronological order. Please pardon the lengthy blog post as I'm summing up all my experience into one entry. Picking the wedding band is not something to be taken lightly, so you can imagine how many stores I went to and how many trips I made before I finally decide on the one.
Whatever written below came from my personal experience, and I sincerely hope no one gets offended by my words/opinion. While I know this post is going to be very lengthy, I really want to go as in-depth as I can, instead of cutting out all the details.
If you're keen to find out how I go about selecting my wedding band, my opinion on what I like and dislike, then do read on! I will share some of the designs the Husband and me have shortlisted before I share the final ring that we got.
---
The hunting of our wedding bands started back in early-March. At that time, we have already somewhat decided to have our ROM in July. Logically speaking, we shouldn't be in a hurry to get our wedding bands, since the ROM was still months away. However, it was sometime before that when we knew that there might be an opportunity for us to do a pre-wedding shoot in Bali. So I thought it would be nice if we could get the rings settled before our trip. That way, we could bring it with us during the photo shoot and perhaps get the photographer to snap a few pictures.
Where to Get Wedding Bands
When it comes to where to get wedding bands, the first place we thought of was the Jewellery Street at ION Orchard. We've walked past there countless time, and we always knew we would be going there when the time comes to get our wedding bands.
One advantage of going to town to shop for wedding bands is that there are so many brands available! Aside from the Jewellery Street at ION Orchard, they are many other bands in ION and Ngee Ann City. I believe we actually went to most of them.
Apart from town, we also went to the neighbourhood mall. We were honestly quite surprised as to how many jewellers we found at Causeway point.
Knowing What You Want
To me, this is the part where it gets the most difficult. Knowing what I want.
For the longest time, I have no clue on what design I want. Whether should I go for a simple band, a half eternity or an eternity ring. What about diamond? No diamond at all, one diamond, or a few? Then, what about colour and material?
Initially, I have my heart set on getting a gold wedding band. But when I tried one in store, I realised my skin tone actually suits rose gold more.
Other than gold and rose gold, what about silver or platinum? Or perhaps a mixture of two colour?
There is honestly so much to consider when it comes to finding the ideal wedding band. It's great if you already know what you want or have a direction on what you prefer. But for me, I honestly didn't have any clue and have to slowly figured my way as we go along.
The Search for Our Wedding Bands
You might notice a repetitive of brands below. That's because we have visited different outlets on different days. I thought it would be easier to understand if I just split them up base on my time of visits; rather than grouping them base on the brand.
Goldheart
One of the first or first few stores we went to was Goldheart at Centerpoint.
After looking through their display, I've my eyes set on a rose gold wedding band with a single diamond. I can't remember what the material of the band is, but I believe the diamond belongs to 'Celestial' The Star Diamond.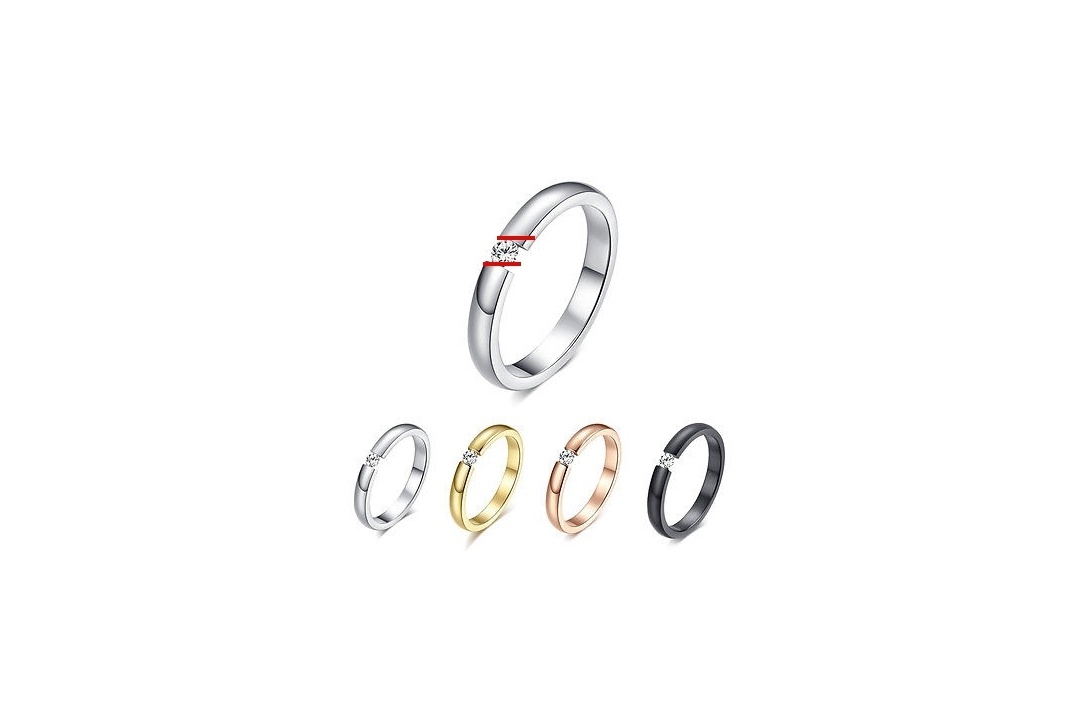 I don't have an image of the ring, but it looks something like the above image only that instead of having two || to hold on to the diamond, it was two \\ instead. Not sure if you will understand what I meant. But, anyway, I really like the simplicity of the design.
Finishing of the ring is in shiny rose gold.
Price wise, the ring is around SGD600+; so, as a pair (suppose the Husband went with a plain rose gold band with no diamond) it should be below SGD1500.
I later found out from their website that Goldheart also offer customised wedding band. However, that service is exclusively available at ION Orchard. Hence, I made a mental note to make a trip down to ION soon.
---
Continued our search the following day, and this time round it was at Causeway Point. Despite being a neighbourhood mall, there is actually quite a handful of jeweller there. We went to Tian Po, Goldheart, Lee Hwa Jewellery, Po Heng and SK Jewellery.
Tian Po
Striking out Tian Po after our brief visit as we didn't spot anything we like from the Causeway Point store. They carry 22K and 18K gold. And their 18K gold have solid gold and those that are not gold filled? I can't remember what exactly we were told but bottom line, we didn't find anything we like.
Goldheart
Didn't spot the design we saw the night before at Centerpoint and none other design caught our eyes.
Lee Hwa Jewellery
Lee Hwa Jewellery offers customised wedding bands under 'NIESSING', a German jeweller with over 140 years of heritage. To design your ring, you need to go through six steps – form, width, colour, texture, diamond and engraving.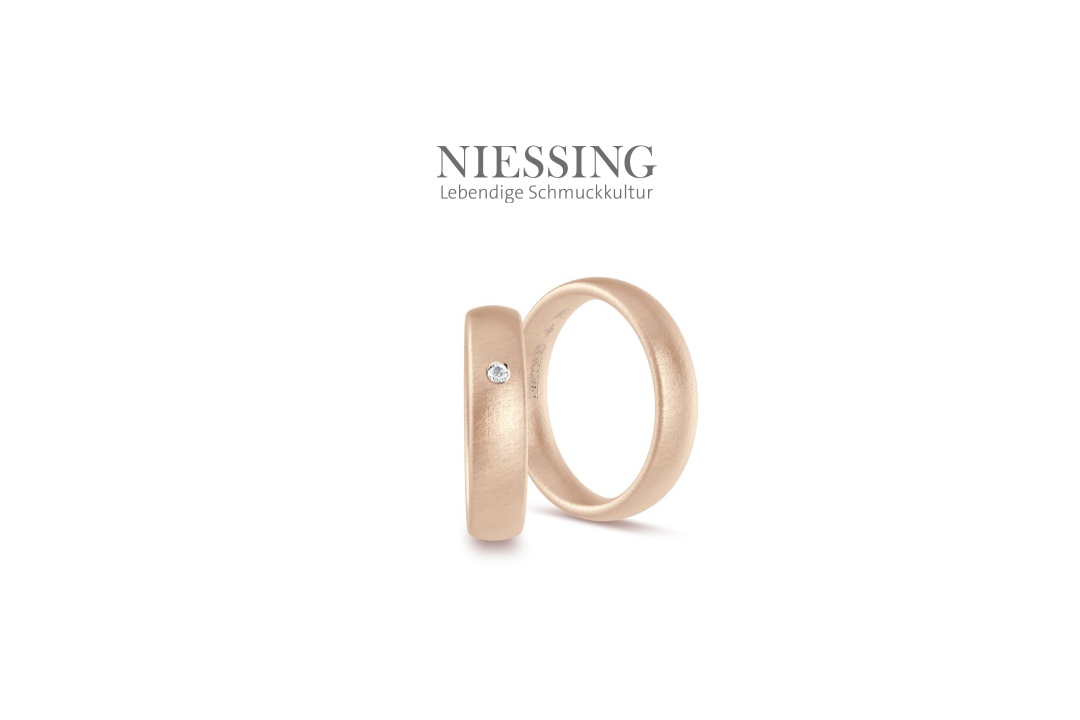 What stood out to me is that they offer up to twelve colours for their ring. They have hues like Platinum, Fine Gray, Sand Gray, Rose Wood, Warm Yellow, Ivory, etc. Customisation usually takes around three weeks.
Other than the customised range, they also carry a good selection of rings in store. We spotted one 14K rose gold eternity/infinity ring (a rose gold ring with a continuous line of identically cut diamonds). Can't exactly remember if the diamonds go around the entire ring or just half of the ring, but price wise, it was SGD616 after discount. For a moment, I thought the Husband had his eyes lock on that design.
Poh Heng
Before I went in, I already knew that we most likely wouldn't find the ring we like. Poh Heng, to me, is more of the place to go for gold/四点金 (Si Dian Jin) instead of wedding bands.
Aside from the usual 22K gold rings, Poh Heng has a range of wedding bands (in rose gold and white gold) that is made of 90% content of gold. That belongs to their signature wedding band series and can frequently be seen on their window display. So far, this was the highest content of gold we have came across for rose gold wedding bands. Most rose gold wedding bands we saw are 18K gold, which is equivalent to 75% content of gold. The usual 22K gold ring we saw is made up of 91.6% of gold.
The Husband doesn't seem to understand why it matters (to me) with regards to the percentage of the gold content. But I find that for something that is going to withstand time and worn daily, I wanted the best material for it, so of course, the higher percentage of gold the better. Having said that, I wouldn't want a 24K gold ring as the material would make the ring too soft. But if I get to pay slightly more to get it in 22K, I would rather get 22K than 18K. (Though the sale person we came across say 18K is good enough or ideal for wedding bands?)
Anyway, while I was okay to put it into consideration, but the Husband doesn't seem to fancy the rings.
We then moved on to look at their 四点金 (Si Dian Jin). And the first set the lady took out (which consist of just a necklace and bracelet) was right up my alley. Simple yet shiny. Even the Husband think they look nice. The set cost about SGD2500+, whereby SGD330 + SGD180 went to the workmanship. We also took the chance to look at their ring and earrings and briefly work out the total price. Since the set doesn't come with a matching ring and earrings, we could/would have to pick our own matching set.
Anyway, we weren't planning on buying 四点金 back then so we were mostly just looking around and seeing what was out there.
SK Jewellery
The last place we went to at Causeway Point was SK Jewellery.
Took a quick look at SK Jewellery even though we knew they are more well known for their 四点金 (Si Dian Jin) instead of wedding bands. Their wedding bands selection at Causeway Point was quite limited, and as such, we didn't try on any of their rings.
---
A few days later, we made a trip down to the Jewellery Street at ION Orchard.
SK Jewellery
Our first stop was to SK Jewellery since that was the first store we saw when we entered. However, we weren't looking for wedding bands. Instead, we wanted to take a quick look at their 四点金 selection.
My impression of SK Jewellery's Si Dian Jin is that they all appear to be very big/bulky with very intricate designs like 龙 and 凤, which was not what I was looking for. I wanted something more simple and wearable. Though I don't plan to wear them daily, I would prefer to have something that is simple enough to wear on special occasions like a wedding or Chinese New Year.
I already have a feeling that I won't find anything I like from their showcase. Plus, I don't have the patience to look through all their pieces to put together four to make up for my Si Dian Jin. As such, we only had a quick look around, before leaving the store.
The takeaway from that visit was to find out from the salesperson that Si Dian Jin should ideally be in 24K gold instead of 22K gold since 24K gold = 999 and 9 represent everlasting?
I didn't know that there is a meaning behind it, so previously I've been looking for 22K gold Si Dian Jin at Poh Heng.
Goldheart
Spotted the same rose gold ring that we saw previously at Goldheart Centrepoint. Asked about the material, and was told that it's 18K rose gold. Now that I've seen it for a second time, I felt that the design may be too simple/original. Also, I'm not sure if I love the shiny surface.
Aside from over the counter rings, we also took the opportunity to check out their custom design wedding bands from Il Regalo, which is exclusively available at Goldheart ION Orchard.
When we saw their engraving, we were sold! It was the only shop that we came across that have wording engraved on the outer ring edge.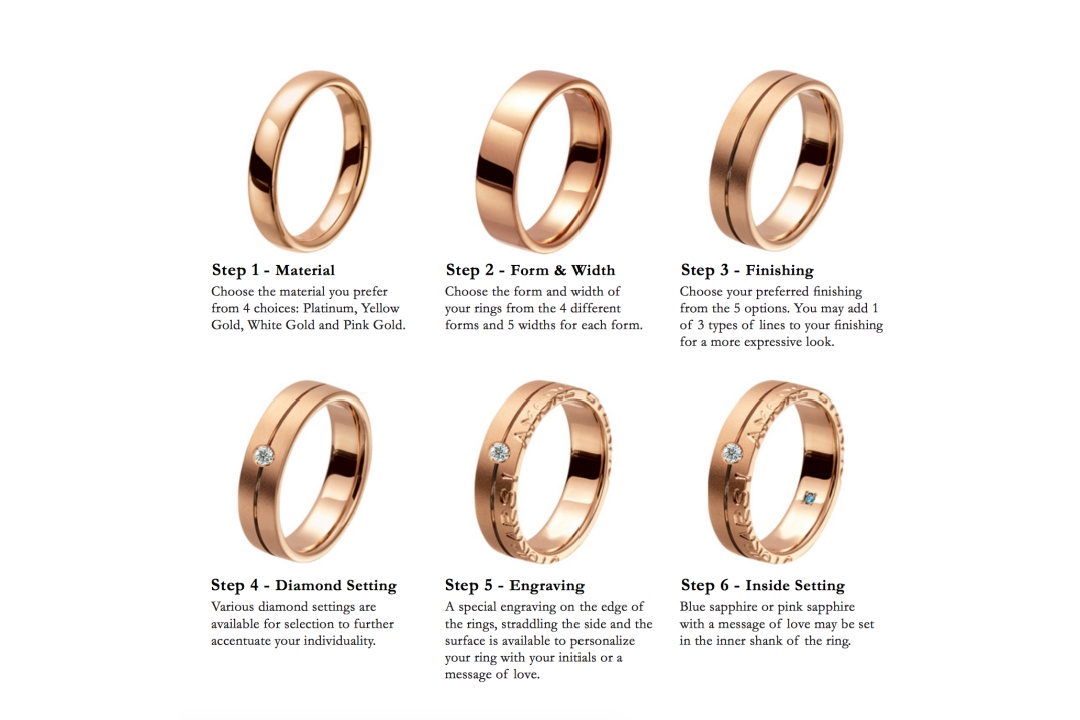 To customise our rings, we would have to go through six steps and make our selection.
Step 1 – Material: Pink Gold
Step 2 – Form & Width: Quadrato / 3.5mm (hers) & 5.0mm (his)
Step 3 – Finishing: Satinato
Step 4 – Diamond Setting: Surface Setting / 1-point / Round Brilliant Cut
Step 5 – Engraving: We were thinking of putting "KAI XIN"
Step 6 – Inside Setting: Nil
We probably wouldn't put the diamond in the middle of the two names, so we asked if it is possible to place the diamond on the other side. According to the staff, they would have to check, but most likely it should be fine to have it made that way.
Lee Hwa Jewellery
We went in mainly because we wanted to have a second look at their 'NIESSING' range of customised wedding bands. However, as the counter was busy, we went to check out the over-the-counter wedding bands, and there were only one or two pairs that caught my eyes. The first design I saw was one that comes with a plain band with a diamond in the middle. Another design I saw was a similar one, but with a row of diamonds at the top. As such, when the ring is placed flat on the table, the diamonds are visible when you view it from the top down.
The staff that attended to us didn't appear to be very interested or helpful, so we left right after checking out their customised wedding bands.
The only reason why we even consider their 'NIESSING' range was because they offer a more extensive range of colour. Aside from there, the design itself wasn't anything special or unique.
Soo Kee
Nothing much caught our eyes at the ION outlet. They also don't offer customised rings.
Chow Tai Fook Jewellery
Similar to SK Jewellery, the only reason that made us went in was to look for 四点金 (Si Dian Jin). While SK Jewellery and most jewellery stores offer 999 gold, Chow Tai Fook offers 999.9 gold. On the day we went, the gold price was SGD72 per gm.
The staff who served us, David, is a very approachable guy. We shortlisted a few pieces, and he was very kind to write down everything for us, including the weight and price of each pieces.
If we do get my Si Dian Jin from there, I will most likely be getting a necklace, ring, earrings and bracelet. Chose bracelet instead of bangle because it's hard to find a beautiful bangle that suits my tiny wrist. If we're getting a pendant for the necklace, then we will probably remove either the ring or earrings.
Tiffany & Co.
Moving away from the Jewellery Street at ION Orchard, we then went to the Tiffany & Co. store at Ngee Ann City. The Husband picked out the Tiffany Classic wedding band ring, while I picked out the Tiffany Harmony ring in 18K rose gold.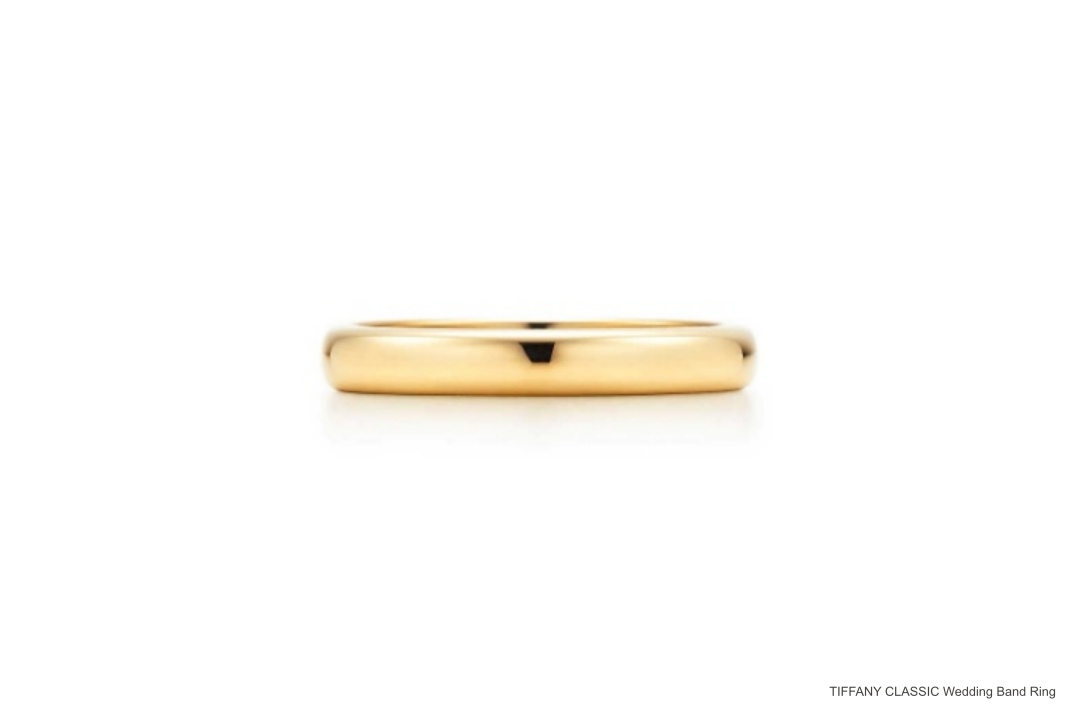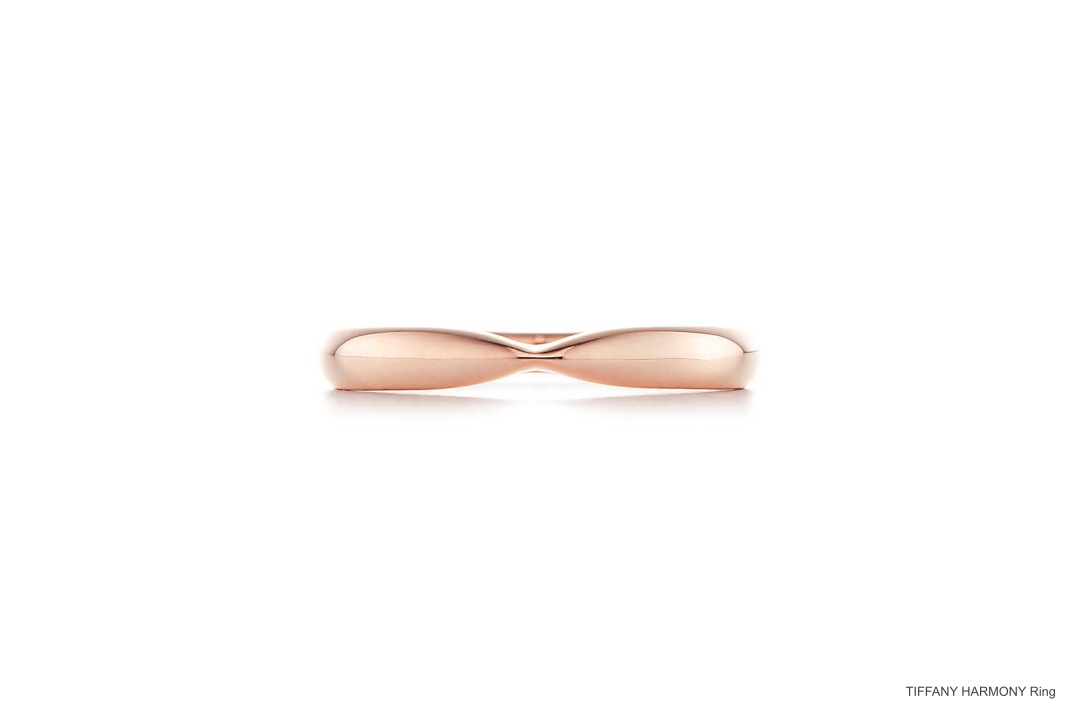 Price wise, I believe it was around SGD2000 for a pair. I supposed SGD2000 is considered quite expensive especially if it's just a pair of plain 18K gold/rose gold ring without any design or diamond. We're literally paying a premium because of the brand. As such, we agreed that we wouldn't get our wedding bands from Tiffany & Co. unless we are looking for a ring with diamond.
Cartier
Decided to went into Cartier even though I knew their designs wouldn't appeal to me. We saw both their Love wedding band and Trinity wedding band, and true enough, both didn't appeal to us. We didn't ask for the price, but I believed we saw some prices stated on the pieces and they didn't appear to be too crazily expensive.
Bvlgari
The most expensive wedding bands we had shortlisted were certainly the ones from Bvlgari. Decided to drop by Bvlgari since it was close to Tiffany & Co. and Cartier at Ngee Ann City. Plus, the Husband saw their designs online and wanted to show them to me to see if I like them. The first one we saw was the B.zero1 ring, and I instantly knew it would be too bulky for me.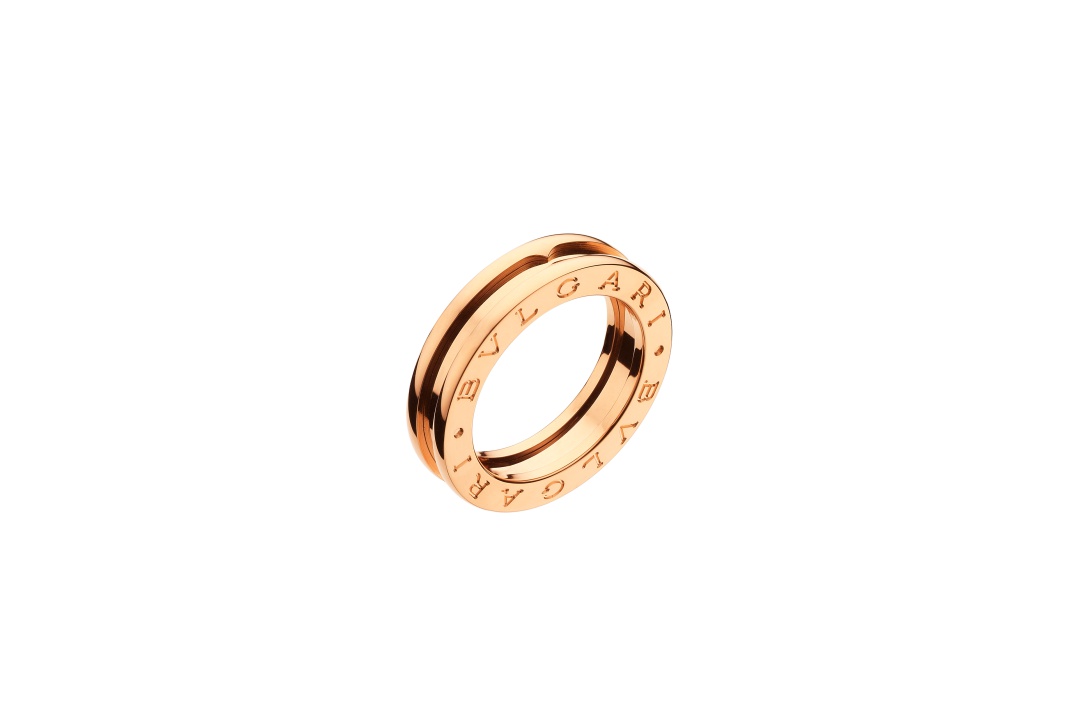 Though the design itself is beautiful, it just didn't look good when worn on my finger.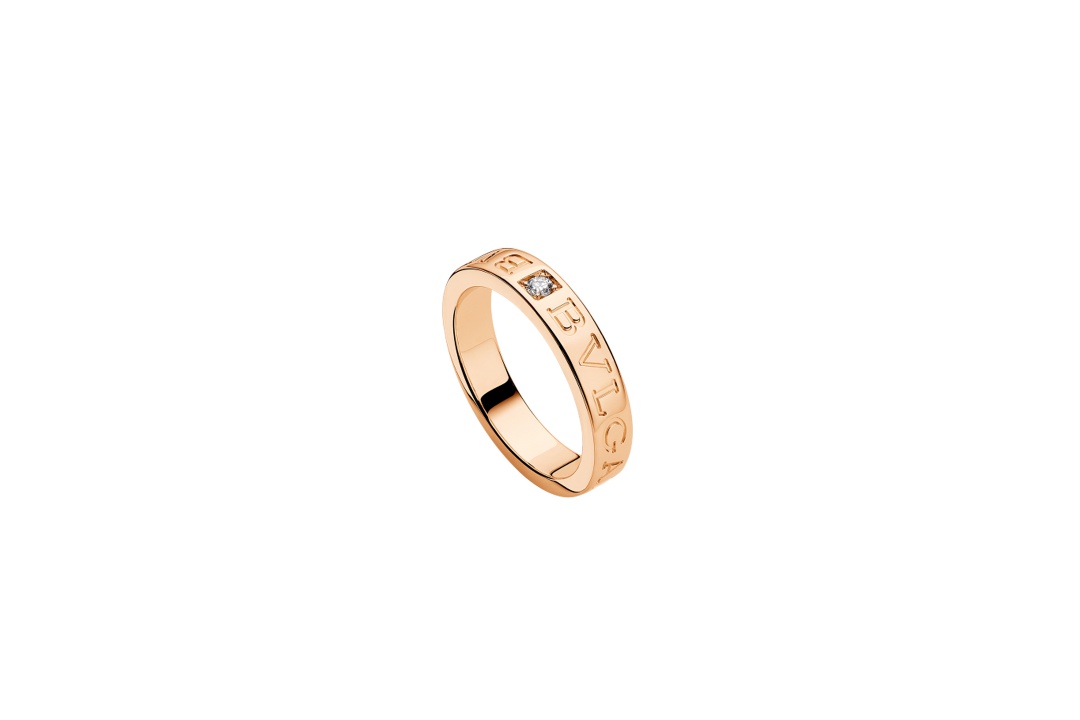 The Husband then picked out the BVLGARI BVLGARI ring, which was the other design he shortlisted. While it was significantly less bulky then the B.zero1, I didn't quite like the wording on the outer rim of the ring. While some prefer to have the name of the brand visible on the ring, I would prefer not to. (I later ate back my words when I got my wedding band.)
As I mentioned, Bvlgari rings were the most expansive rings we had come across. It was around SGD5000 for a pair. We didn't set a budget when it comes to wedding bands, but so far the ones we saw were mainly between SGD2000 – SGD3000 (a pair).
We both agree we would pay more if we happened to find one that we like since wedding band is supposed to last us for a lifetime. However, I personally couldn't justify paying so much for the brand especially when the material is the same (mostly 18K rose gold).
Larry Jewelry
We were at Paragon while the Husband was researching on where else to go when he found Larry Jewelry.
Went into the store and told them that we were looking for wedding bands. Immediately, they brought out a case filled with wedding bands for us to choose. To be honest, the designs didn't particularly stand out to us. I think the staff can tell by the look on us because he started to ask what kind of designs we were looking for.
We then told him we didn't have anything in mind; which was also why we decided to check out Larry, hoping we would spot something special.
He then started to ask which stores we been to previously and started to name places like Tiffany & Co. and Cartier. Perhaps I'm sensitive; I have a feeling that he's sounding us and trying to find out what kind of price range we were looking at.
So we told him that we have been to both and are still on the lookout for other brands/designs. He then mentioned that if we spotted any design from elsewhere, we could show them the design and they could recreate it for us.
This, I couldn't understand. Say if I have spotted a design I like at Tiffany & Co., why would I go to Larry (and get them to recreate the design for me) when I could have just got it from Tiffany? Because of this, I think I can safely say Larry Jewelry is a no for me.
Tian Po
Went to the store at Centrepoint and were served by the Assistant Branch Manager. The service we received from her was exceptional. She was really nice and friendly and took time to show us around and make suggestions/recommendations.
We spotted two designs from there, and even though the designs on display were not in full rose gold, she told us that they could have the colour changed for us if that's what we prefer, since each piece is crafted upon order.
She's also the only one who suggests and allow us to take a picture of the rings. Most of the shops we went to didn't let us take photos.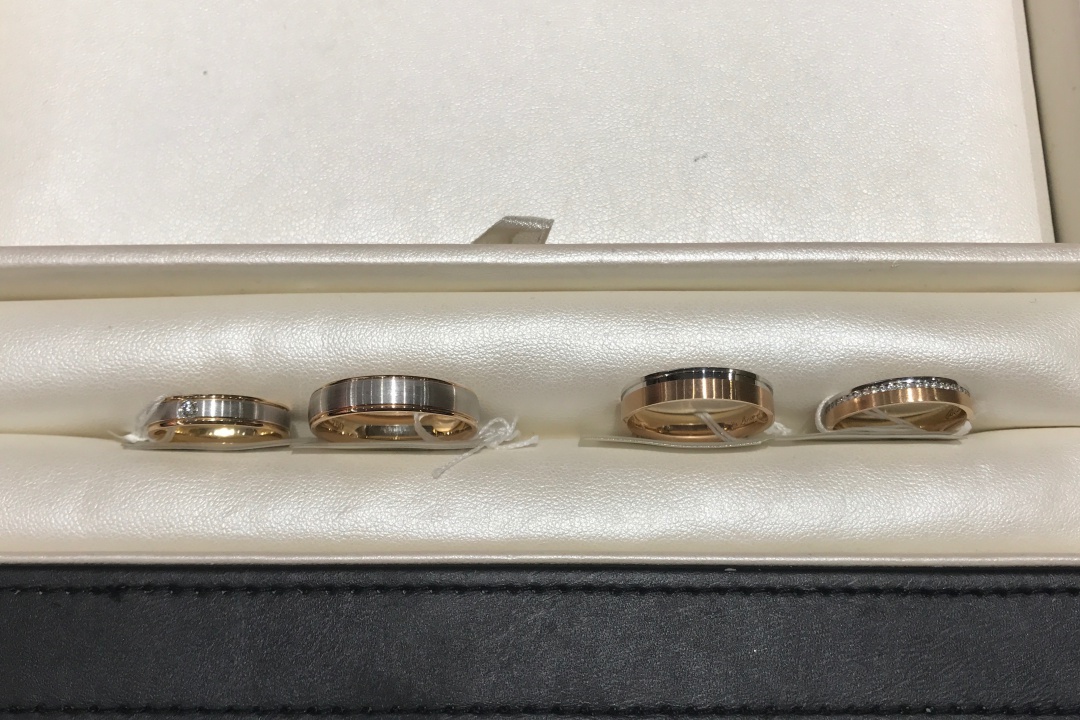 We were looking at a combination of shiny and matte 18K rose gold for the pair on the left, and full matte 18K rose gold for the pair on the right. Mine would, of course, comes with diamond(s) while his ring will come without.
Love & Co
It came as no surprise that Love & Co have a pretty extensive selection of wedding bands! After all, they are the specialist in engagement rings, couple bands and love jewellery.
We went to the store at Plaza Singapura, and the lady who served us was Miki. A very knowledgeable lady who took the time to show us around, letting us try on various rings and explaining to us the story behind the designs. She's also very approachable. One who tries to understand what we were looking for, yet wasn't afraid to share with us her opinion. If a certain ring doesn't match with my solitaire, she would frankly point it out to me. Thankfully, we shared the same view almost all the time. In a way, I appreciate her honesty and felt her sincerity.
The first ring I spotted was a thin rose gold eternity ring. It looks nice on it own but doesn't go perfectly well when stacked with my solitaire. As the design is very simple (universal), she mentions that we could almost match this with any design for the guy's ring.
After looking around, we eventually landed on what they call the "Lvcpromise". The one that caught my eyes was the one in full 18K rose gold, with a single diamond in the middle. The ring comes in comfort fit and felt very "solid", yet didn't appear bulky on my finger. For the Husband, we picked the same design, but without the diamond. If I'm not mistaken, both were 3.5mm or 4mm in width.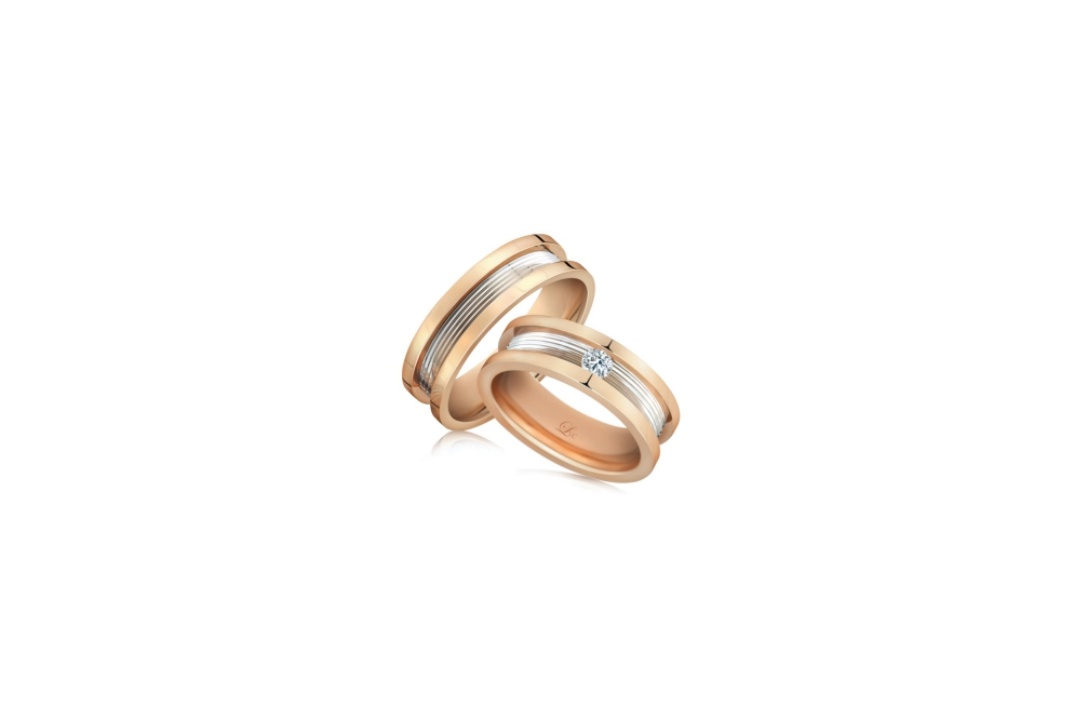 Instead of two-tone (rose gold + white gold), picture this in solid 18K rose gold.
"The five grooves on the band signify the elements of an everlasting relationship – love, bonds, devotion, commitment and togetherness."
When placed together on the table, I somehow get the feeling that this finally looks like a pair of wedding bands to me. In a way, I felt that it looks "solid" enough and can easily be identified as a wedding band. When I subsequently went back to take a second look at the first ring I shortlisted (the eternity ring), somehow it just didn't look like a wedding band to me.
While eternity ring usually looks nice when paired with a solitaire, the Husband and I agreed that eternity ring doesn't have the quality, or rather, the look, as a wedding band. The design is so universal that anyone can wear it on their finger, be it as a wedding band or not.
Aside from two-tone and solid rose gold, we also took a look at solid white gold and solid yellow gold. Solid white gold didn't appeal to me, and personally, I think I'm okay with either yellow gold or rose gold for this particular design. However, for him, he preferred rose gold more than yellow gold.
Price wise, this pair would set us back at SGD2800, but as they were having a promotion, there would be SGD300 off if we got both rings together. So final price would be about SGD2500.
---
Tiffany & Co.
Back to Tiffany & Co. again, but this time around at the Marina Bay Sands store. I spotted other Tiffany & Co's wedding bands on their website; designs which we didn't see at Ngee Ann City, so I suggest visiting another store.
Went to the one at MBS, and true enough, we saw more designs. Not sure if these designs weren't available at the Ngee Ann City store, or we might have overlooked it; hence we didn't spot it the day before. Either way, the design I was looking for happened to be available in store. It's a very simple rose gold band enclosed with a tiny diamond in the middle.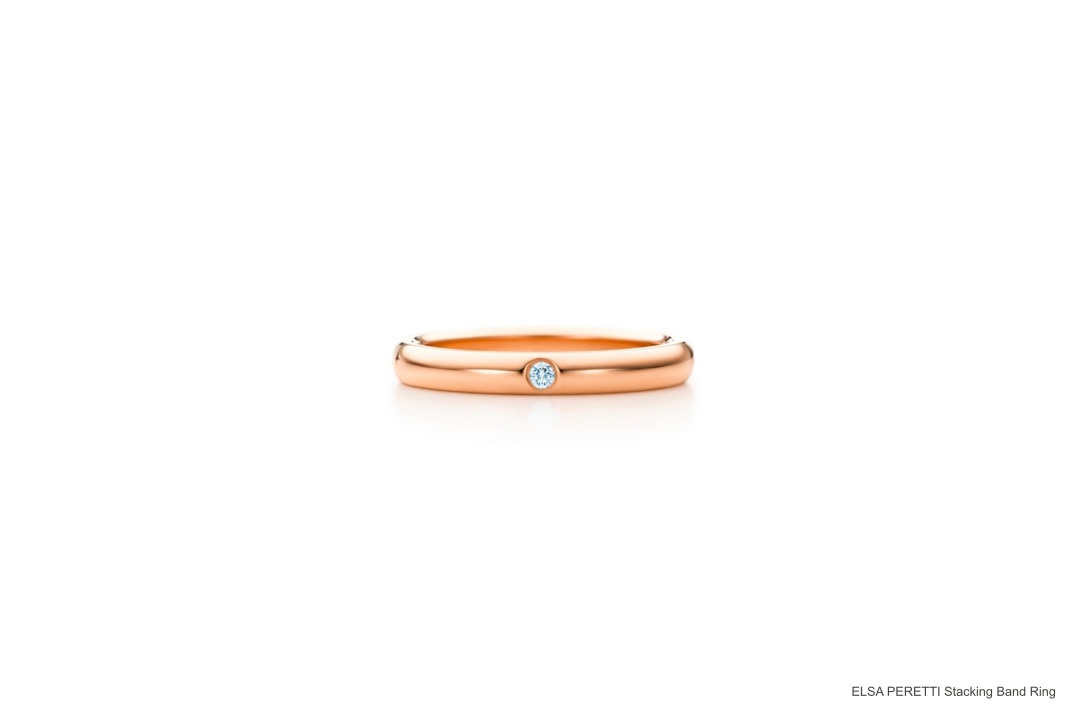 To be honest, this design can easily be found at most jewellers, so I guess the only reason that makes us pay a premium and buy from Tiffany & Co. is that of the quality of the diamond.
Unfortunately, I must admit this design doesn't look nice when paired with my solitaire. It looks fine if I am wearing just the wedding band but if I'm planning to wear my wedding band + solitaire daily, it honestly doesn't look good together. I read online that while most people choose to wear their solitaire on their left hand, some choose to transfer their solitaire to their right hand once they got married. This way, they would only have their wedding band on the left hand.
Don't even have to worry about the crash in different colour. Sadly, my solitaire fits only my left hand and not my right hand. Hence I didn't have the choice to wear my wedding band on one hand and my engagement ring on the other.
Remember I mentioned that the reason why I love the one from Love & Co. is because of how "solid" it looks? To me, a wedding band should look like a wedding band. There's something about it that makes people know from one glance that it's a wedding band. It should be easily distinguished and stood out from the rest of your jewellery. This is also why I wasn't looking for an eternity ring or anything that is too plain or simple. However, after trying the ring from Tiffany & Co. the Husband somehow find that a wedding band should be thin and simple instead.
Suddenly I'm confused.
Should I get something that is thicker / more solid or should I go with the minimalist approach and get something that is clean and simple? I don't think there is a standard look for wedding bands?
We told the staff we would need to consider and will return if we decided to get it.
And one more thing, the smallest size available for the wedding band is in size 4. (My current engagement ring from Tiffany & Co. was resized to a size 3.5) Unlike solitaire, they actually don't recommend to do resizing for the wedding band. So if I'm getting this ring, I would have to wear a size 4 instead. (Size 6 fits the Husband perfectly.) Though it's half a size bigger than my solitaire, it doesn't seem to slip out from my finger when I tried it.
Price wise, this pair comes just right below SGD3000. Which is almost the same price range as most of the rings we saw at other jewellers. Of course, with this amount, we could have possibly got a more prominent diamond at other places. The diamond on the above Tiffany & Co. ring is merely 0.02 carat.
---
At this point, we had checked out most of the jewellers that we're interested in, and our top three picks were:
1. Customised ring from Il Regalo (Goldheart)
2. Lvcpromise (Love & Co)
3. Elsa Peretti Stacking Band Ring (Tiffany & Co)
We decided to check out the above three brands again, hoping we would get a better idea of what we want.
Love & Co
Went to the store at ION Orchard to take a second look at the "Lvcpromise" wedding band. If I'm not mistaken, we were served by a guy named Louis.
He let us try on the "Lvcpromise" in full 18K rose gold / 4mm, and at the same time brought out some matching pieces for us to try. Mainly because the Husband had his eyes on the "Lvcpromise" (the one with a single diamond) and I think he secretly prefers not to have the same design as me? Hence the guy ended up showing me two more designs that would go well when paired with the "Lvcpromise".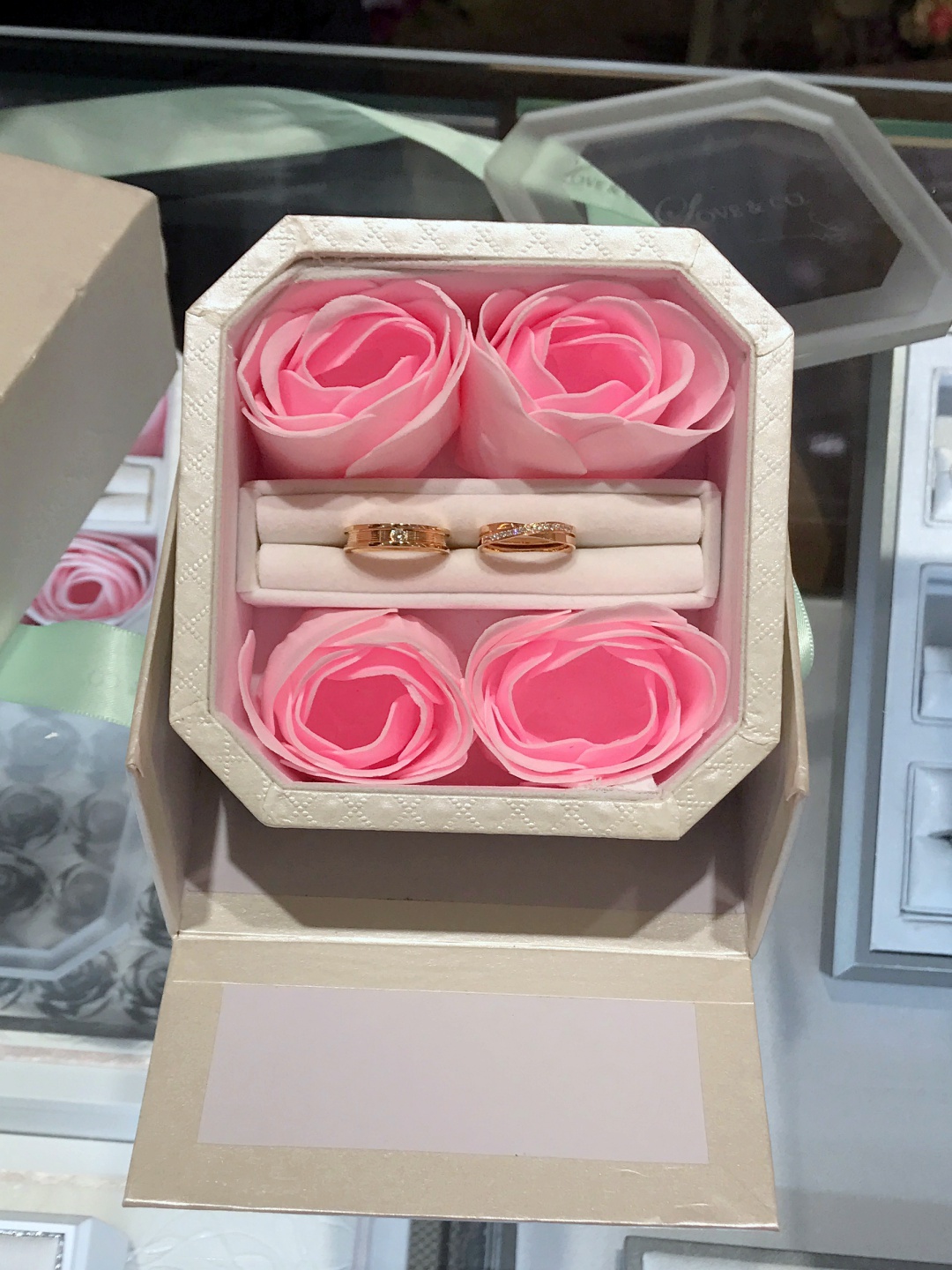 Both designs that he showed me were eternity rings (in 2mm), which I wasn't a big fan of. While they (a row of diamonds) does look nice when stacked with my solitaire, I find them to be too fanciful and striking for daily wear. (Not to mention they still doesn't resemble like a wedding band to me.)
So eventually, we decided to stick to our initial choice of getting two "Lvcpromise" in full rose gold, just that both will come with a single diamond. Due to the size that the he wears, the price for the ring would be the same with or without the diamond. Hence I thought it makes more (economic) sense to go with the one with the diamond. Anyway, it's just a single diamond in the middle, and he can always wear it the other way if he didn't want the diamond to be visible.
We also double checked on the price, and it was SGD1399 for one, with SGD300 off if we get a pair under the same "Lvcpromise" range. If we get a "Lvcpromise" paired with an eternity ring, it would be SGD200 off instead. The price of the eternity rings that we saw were SGD1099 (the one shown in the picture) and SGD1599, depending on the design I chose.
We eventually told the guy that we need to think about it again and left without getting.
To be honest, I wasn't feeling it after trying it on for the second time. Surprisingly for a 4mm ring, I do think that this is considered one of the designs that didn't appear to be too bulky on my finger. The design is not exactly unique as we did see similar ones elsewhere. Not sure about other brands, but according to Love & Co, there's a special meaning behind this design.
Goldheart
Since we were at ION Orchard, we decided to drop by Goldheart for one last time to determine if we like their customised ring. We tried but couldn't get the ring simulation software to work online. So, the only way to find out if we like the ring is to head down to the store and ask them to show us a ring simulation. (They have the computer in store and can show you a ring simulation based on your selection. This way, you have an idea how the rings would look like before you order.)
Somehow I already knew it wouldn't look nice as we only plan to put six characters on the ring. And having seen the ring simulation on the screen, it reconfirmed that I was right. This design will certainly look better if there were more characters around the rim. I supposed we could engrave our English name on it, but that's not really what I want. I still prefer to stick to our actual name, which is why we only intend to put "KAI XIN".
Be it with or without the diamond, it still looks odd and reminds me of those engraving rings from Couple Labs. As such, it was safe to say that the Goldheart customised ring was a no-go for us.
The price was SGD1470 for the ring with a diamond and would come up to slightly below SGD3000 for a pair.
Tiffany & Co.
Last but not least, we went into Tiffany & Co. at ION Orchard. The guy who served us happened to be the same guy who helped me with my first resizing of my engagement ring.
Having been to Tiffany & Co. twice, and changed my mind on the ring twice, I did it again when I visited the store at ION Orchard.
While I'm still okay with the Elsa Peretti Stacking Band Ring (with a diamond in 18K rose gold, 2.7mm wide), my heart leans more towards the Tiffany & Co. Band Ring (in 18K rose gold with diamonds, 3mm wide) when I went into the store that day.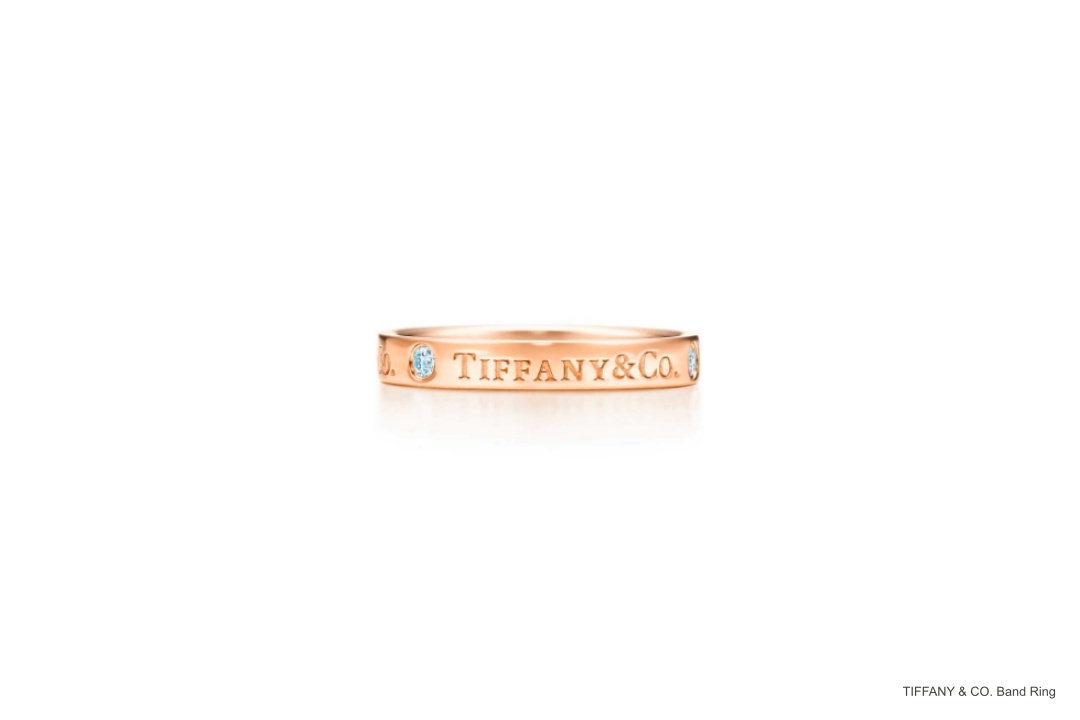 Remember I mentioned that I would prefer not to have the name of the brand visible on the ring? I found myself thinking otherwise when I saw the Tiffany & Co. Band Ring.
As much as I like the simplicity of the Elsa Peretti Stacking Band Ring, one problem I have with it was that the design could be easily found in other brands or easily duplicated. After all, it's just a shiny rose gold band with a single diamond in the middle. I know we are paying more for the quality of the diamond, but are we really going to pay a premium for a design we can easily find elsewhere?
The Tiffany & Co. Band Ring, on the other hand, stood out to me because while the wording is there, the band is only 3mm wide, hence the wording isn't really that big. The ring also comes with three tiny diamonds (carat total weight .07) instead of just one diamond. On top of that, this ring also comes with a flat surface which I preferred. (The Elsa Peretti Stacking Band Ring has a round surface. Usually, I would say no to that because round surface tends to make the ring look bulky when worn on my finger, but because the ring was only 2.7mm wide, I think it still looks okay.)
Lastly, size 4 for this design seems to fit perfectly on my left hand; as compared to the Elsa Peretti Stacking Band Ring which appears to be a teeny tiny big for me. Even the Husband had to go down half a size for this design.
The smallest size for the Elsa Peretti Stacking Band Ring is size 4; hence that's the one I would have to take if I go for that design. The Tiffany & Co. Brand Ring do come in size 3.5, but for this design, size 4 fits me perfectly so 3.5 will undoubtedly be too tight. I also requested to try size 4.5, but it appears to be slightly loose for me.
As for the Husband, I find that the Tiffany & Co. Band Ring looks better on him as compared to the Elsa Peretti Stacking Band Ring. However, I do think he suits the one with 4mm width instead. 3mm width looks a little too thin for him, and I think guys in general suit something that is bulkier than the ladies.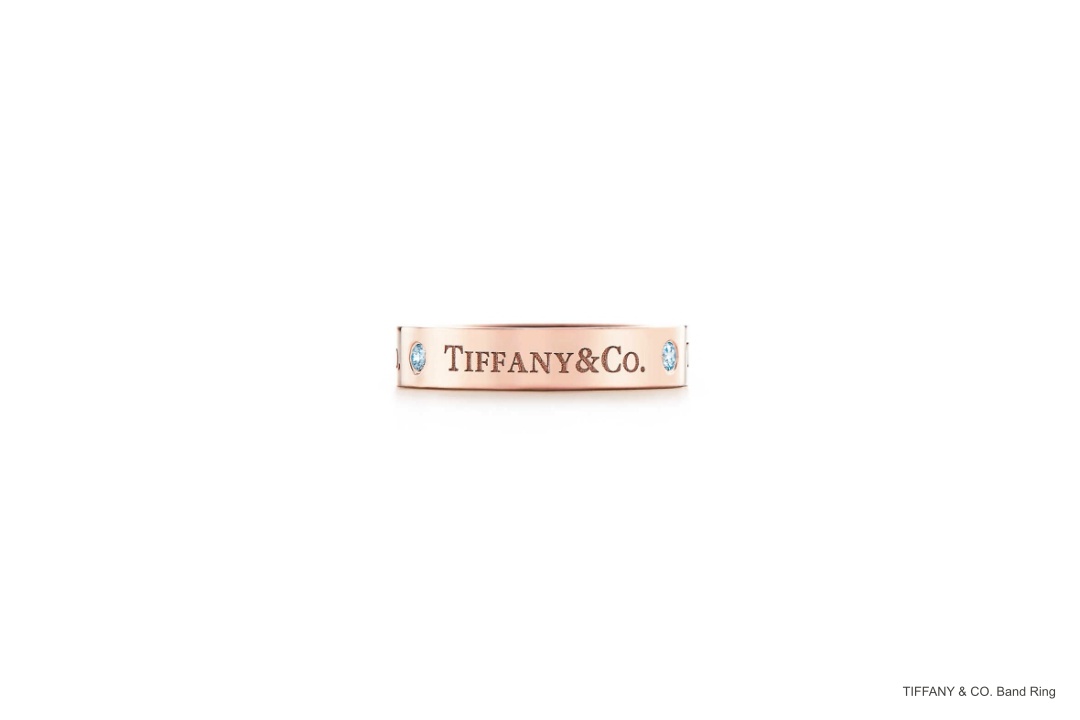 For the Tiffany & Co. Band Ring, a size 5.5 would be the perfect fit for him. Really don't suggest he take size 6 even though there's a high possibility that he will gain weight in the future. This should be a good reminder for him not to gain any more weight!
Tiffany offers complimentary engraving services for English characters. But suppose if we want to engrave Chinese characters, each wording would be an additional SGD10. I supposed SGD10 really wouldn't make much difference when you're already paying more than three thousands for a pair of rings.
---
Having been to the three stores, we have out eyes set on Tiffany & Co.
While the engraving ring from Goldheart may look nice at the moment (not for the wording we picked but for those with longer characters), I have a gut feeling that tells me I would soon regret my choice. Engraving (on the outer rim of the ring) may result in the ring looking funky? Not sure if that's what we want in our wedding bands.
---
Our Wedding Bands
Having spent one to two weeks looking at wedding bands from the various brands, we finally bite the bullet and got the Tiffany & Co. Band Ring.
We were going back and fore between the Love & Co "Lvcpromise" and Tiffany & Co. Band Ring. When I finally decided to go with the latter, the Husband asked if I would like to reconsider the Bvlgari ring; since now I've no issue with having the brand name visible on the ring.
In the end, we still decided to go with the Tiffany & Co. since
1. My engagement ring is from Tiffany & Co. and
2. The brand is well associated with engagement and wedding, so we somehow feel that it seems more appropriate and suitable to get our wedding bands from them.
We were prepared to head down to the store at ION Orchard to get our wedding bands when the Husband did some research and found out that it would be better if we make our purchase at MBS, as we get to enjoy 3% rebate using the Sands Lifestyle Card. So eventually, we decided to head down to MBS instead.
While on our way to the Tiffany & Co. store, we walked past Bvlgari and I suggest going in to have a final look before making our purchase. I'm glad we did that because after trying on the Bvlgari Bvlgari ring again, we both agree that it was too bulky for us. The ring appears to be slightly thicker, which I thought may not be ideal for daily wear.
So with that, we finally went over to the next door and got our wedding bands from Tiffany & Co.
We already had our eyes on the Tiffany & Co. Band Ring but when we went in, we spotted yet another design.
It looks similar to the Tiffany & Co. Band Ring, except that it comes with no diamond and there is only the word "TIFFANY&CO" stamped on the front. The Tiffany & Co. Band Ring, on the other hand, had 3 x "TIFFANY&CO" + 3 diamonds spread around the rim.
I'm actually fine without the diamond, but I got reminded by the Husband again that the reason why we decided to get our rings from Tiffany & Co. is precisely because of the diamond.
So we ended up sticking to our initial decision.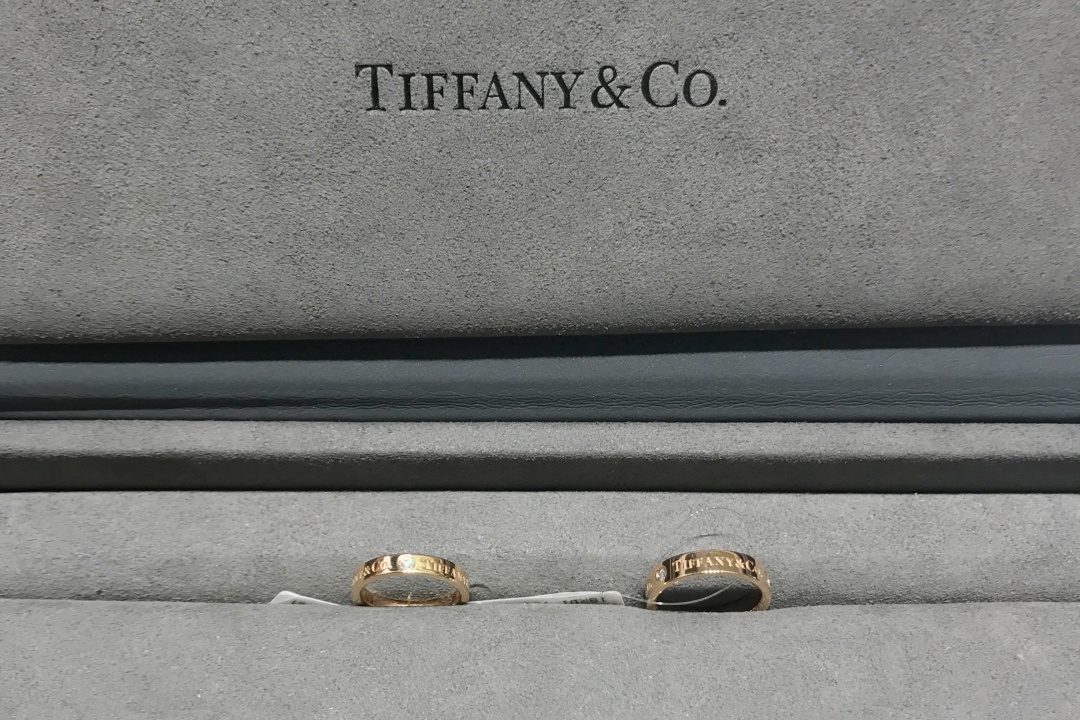 Then when it comes to the choosing of the ring size, he had a hard time deciding between size 5.5 and size 6. Eventually, we decided to stick with size 5.5.
So aside from design and size of our rings, we also confirmed on the engraving. Decided to stick to KAI and XIN since that has always been what we wanted.
Was told that engraving might take up to three weeks. (The guy from ION Orchard told us it would only take a week for engraving so I'm not sure why there was a difference here. Fortunately, even if we had to wait three weeks to collect our rings, we would still make it before our photoshoot.
For those who need the wedding bands in a hurry, they could consider getting the ring first and come back anytime within six months to request for the engraving. I just thought we should save the trouble and do everything in one go.
While confirming our order, I also took the opportunity to ask on certificate and packaging of the rings. Was told that unlike engagement ring, wedding bands like these do not come with certification. They do still provide lifetime international cleaning at any Tiffany & Co. store, but for cases whereby there's a scratch on the ring, and we wanted to send it in for servicing/polishing, there would be an additional charge.
Packaging wise, we could either choose to have the rings packed separately in two boxes (similar packaging as the engagement ring), or we could get a bigger box that would fit both rings in it. Eventually, we decided to go with a single box.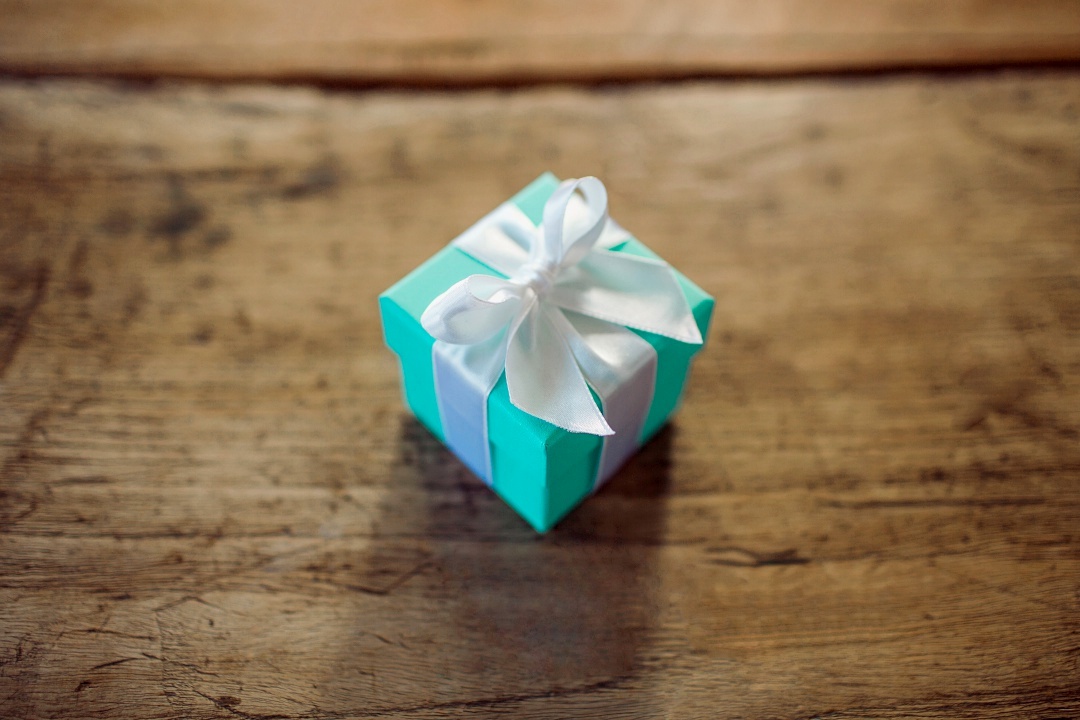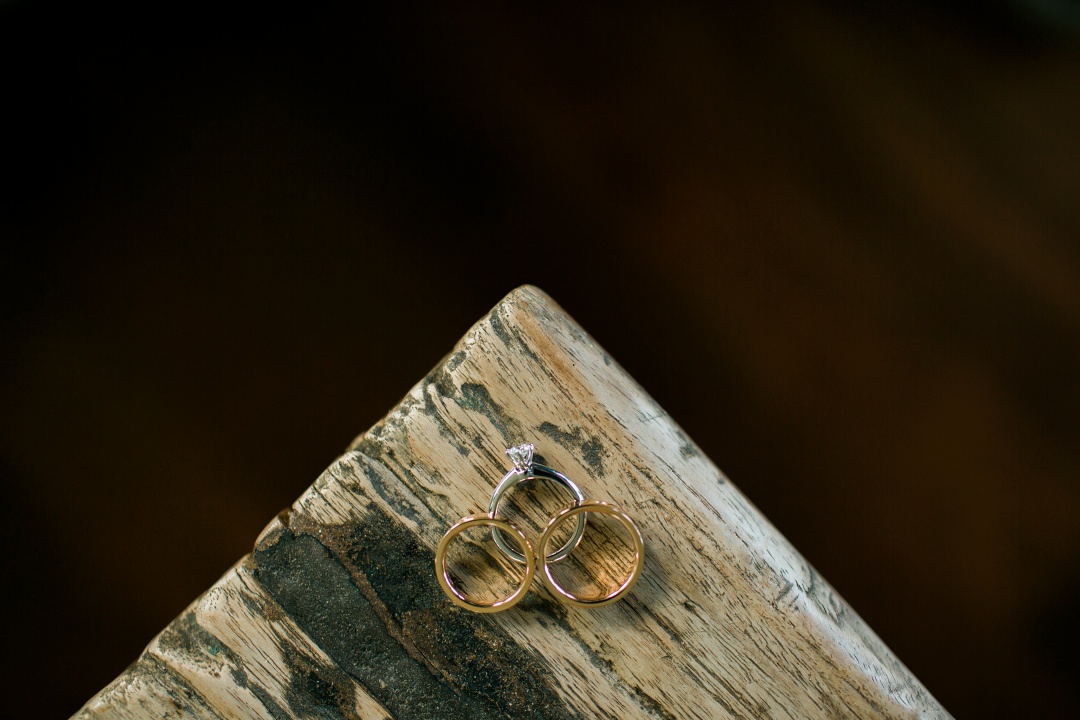 So that is my journey of choosing my wedding band! I believe it took us approximately two weeks to find and confirm the design.
I do still very much love my wedding band, and try to wear them whenever I go out. I don't have the practice of wearing it 24/7, so there are times when I forgot about it. I have also noticed some scratches on the surface of my ring from daily wear, but I guess that is unavoidable.
Anyway, I hope you enjoyed reading this post and hopefully, this post is helpful for those looking at purchasing their wedding bands.
They are so many brands out there and if you're not in a hurry, do take time to research and look through before deciding on the one that appeals to you the most. The journey of finding the right one can be tedious, but it will be worth it.
SaveSave
SaveSave
SaveSaveSaveSave