Hello, there! I'm back. From my short vacation to the land of smiles.
While I'm very tempted to start blogging about Bangkok, I figured I better start clearing my long overdue travelogue on Bali first. Better do it before the next trip roll over.
Took a two weeks' work trip to Indonesia, Bali back in September 2017. I don't think I took that many videos, but I did take a ton of photos of the place we stayed. This time around, we had the privilege to stay at Sofitel Bali Nusa Dua Beach Resort for six nights.
To be honest, I wasn't particularly excited when the Husband first brought up the idea of heading back to Bali. The previous time we went to Bali was in April 2017, and that trip was nearly a month long. While I do enjoy Bali, work trip is not something I look forward to. Still, with what we are doing now, occasional trips to Bali is unavoidable.
For some reasons, the Husband had to be in Jakarta, and he actually flew over a few days prior. The plan was for us to fly into Bali on the same night and meet directly at Bali's airport.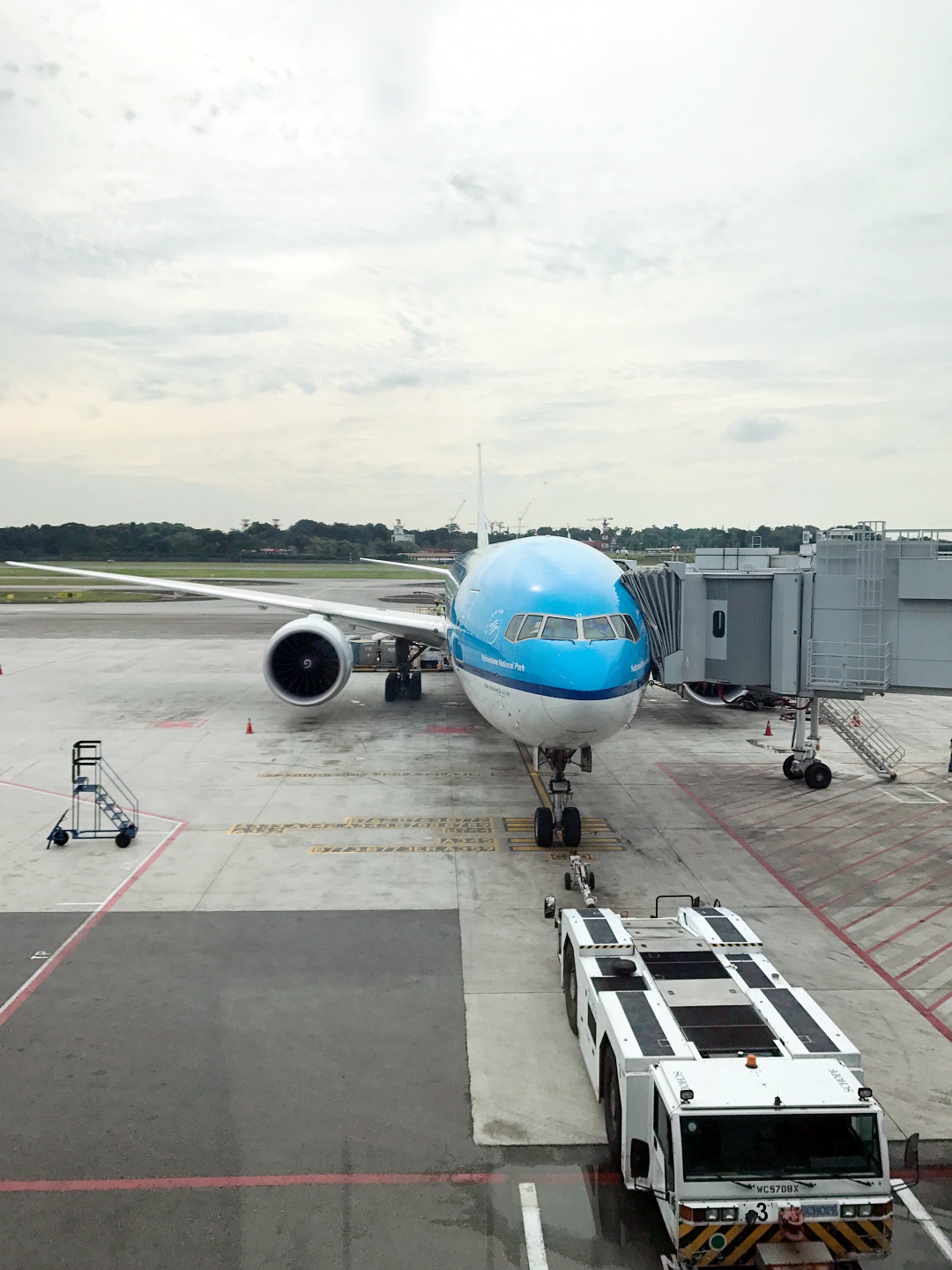 I believe this was the second time I'm flying alone? His flight was supposed to arrive before mine did but turns out his plane got delayed for an hour, and we reached Bali at around the same time. We thought we would meet at the baggage claim area, but we forgot the fact that I was arriving at the International Arrival, while he was at Domestic. In the end, he offered to walk over to the International Terminal since that was where we were going to board the hotel's transport to the resort. Fortunately, it only took ten minutes to walk from one terminal to the other, and he was already waiting for me at the arrival hall when I came out.
Quickly locate the staff and got in the car to head to Sofitel Bali Nusa Dua Beach Resort.
Sofitel Bali Nusa Dua Beach Resort
Located at the westernmost end of the Lesser Sunda Islands, with Java to its west and Lombok to its east; Sofitel Bali Nusa Dua Beach Resort has a total of 415 rooms, including 22 Suites and 17 private pool villas. The hotel has 12 function rooms, a wedding chapel, a kids club, 2 restaurants, 3 bars, a Club Millésime lounge, as well as a state-of-the-art fitness centre and a spa.
Upon arriving at the hotel, our first thought was to head to the reception to process our check-in like the rest of the arriving hotel guests. But to our surprise, we were quickly escorted to the Club Millésime lounge.
Club Millésime is an exclusive VIP lounge offered by Sofitel chain. Benefits for Club Millésime include seamless private check-in, dedicated personalised service, delicious gourmet breakfast and decadent evening Apéro Chic cocktails. Access to the Club Millésime lounge is complimentary for guests staying at Luxury Room Pool Access, Suites and Villas. For guests staying in the Luxury Room (like we did), they can choose to purchase the access to Club Millésime at an additional cost.
Our check-in was processed swiftly at Club Millésime before we were brought to our room. For this trip, we were assigned in a Luxury Room with two single size beds. (Unfortunately, they have run out of rooms with king bed at the time of our check-in.)
Luxury Room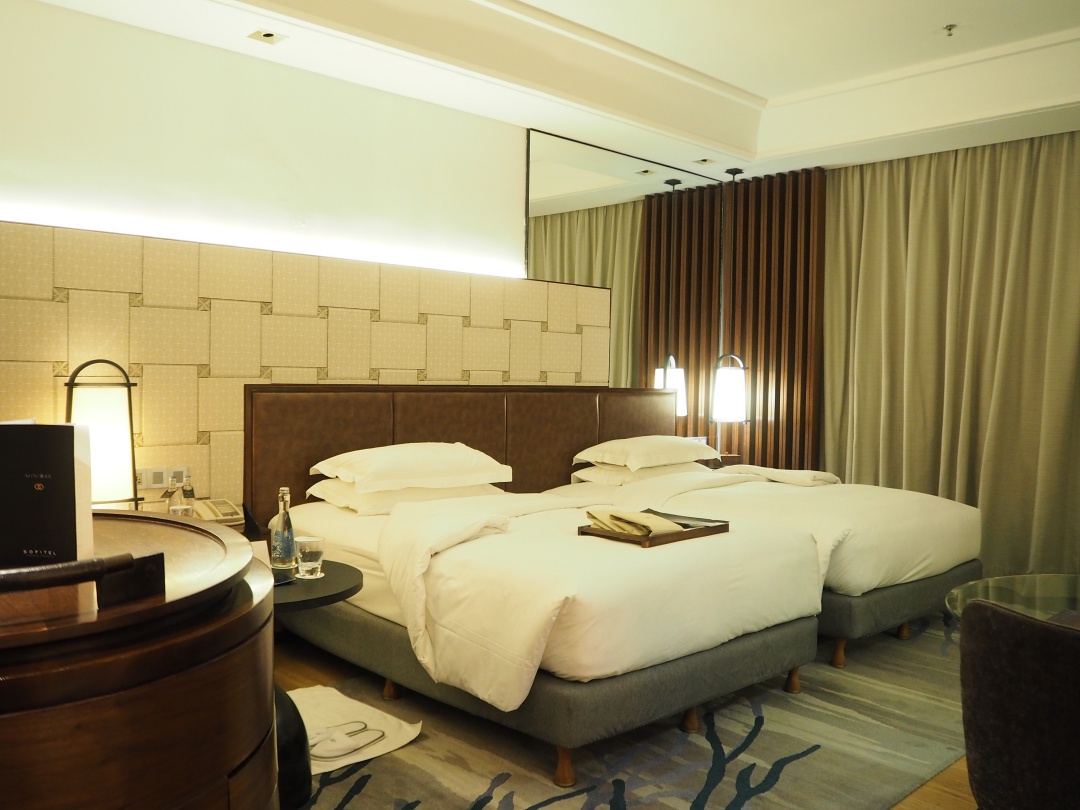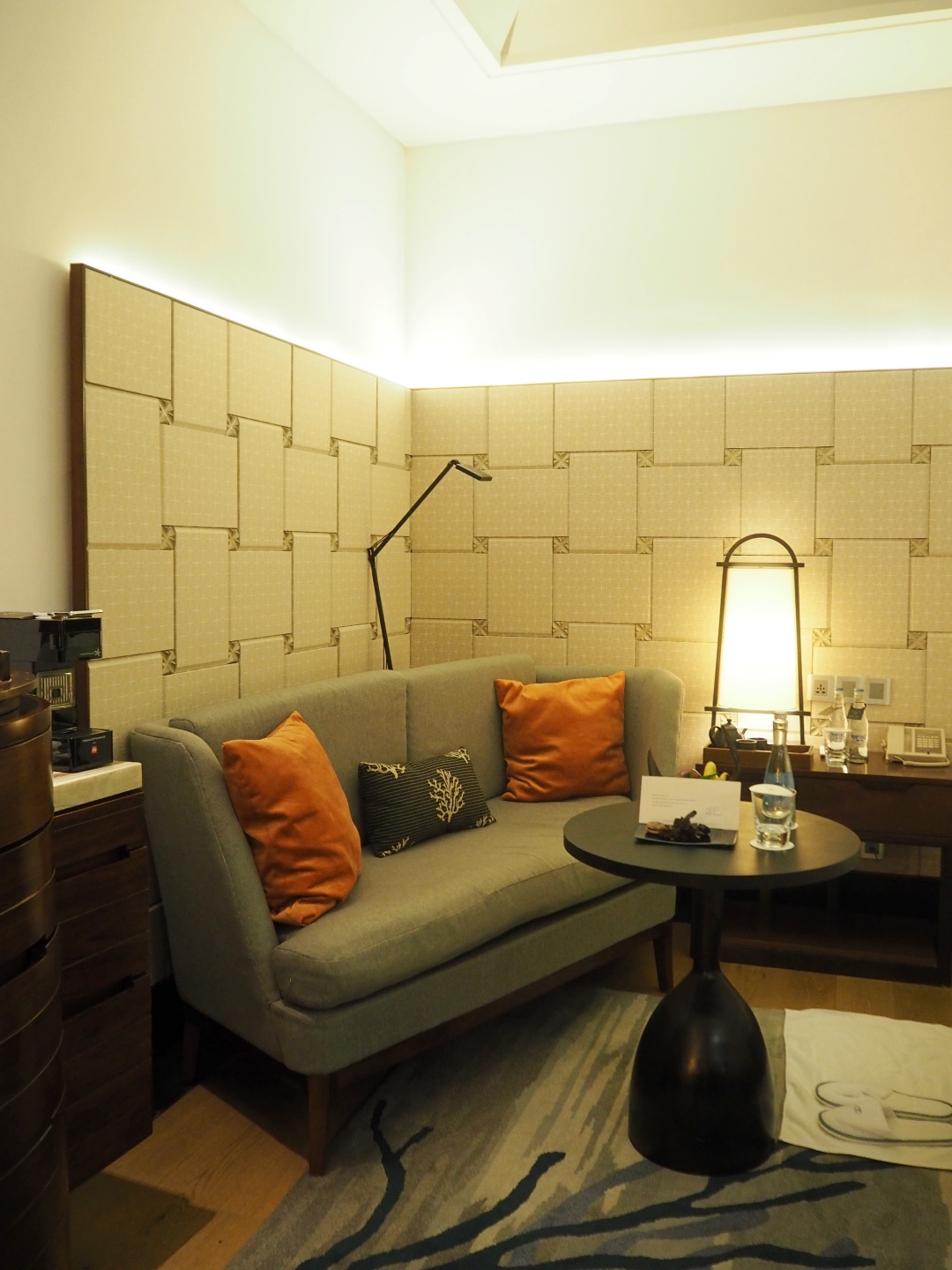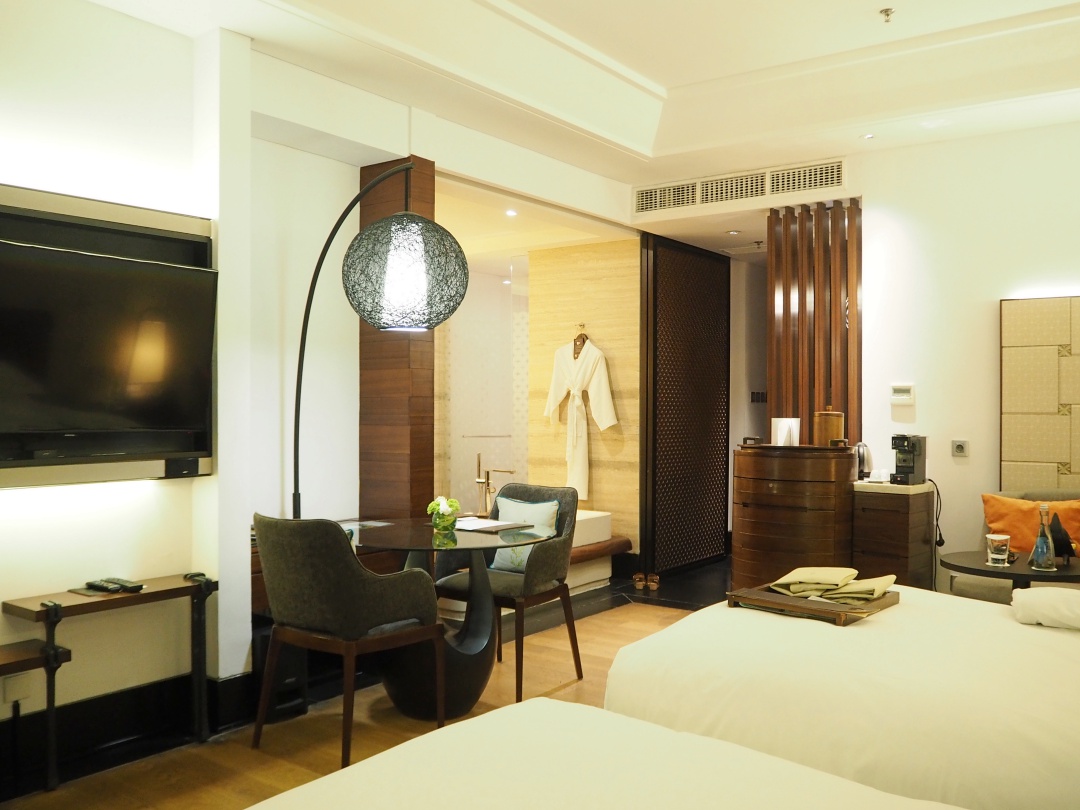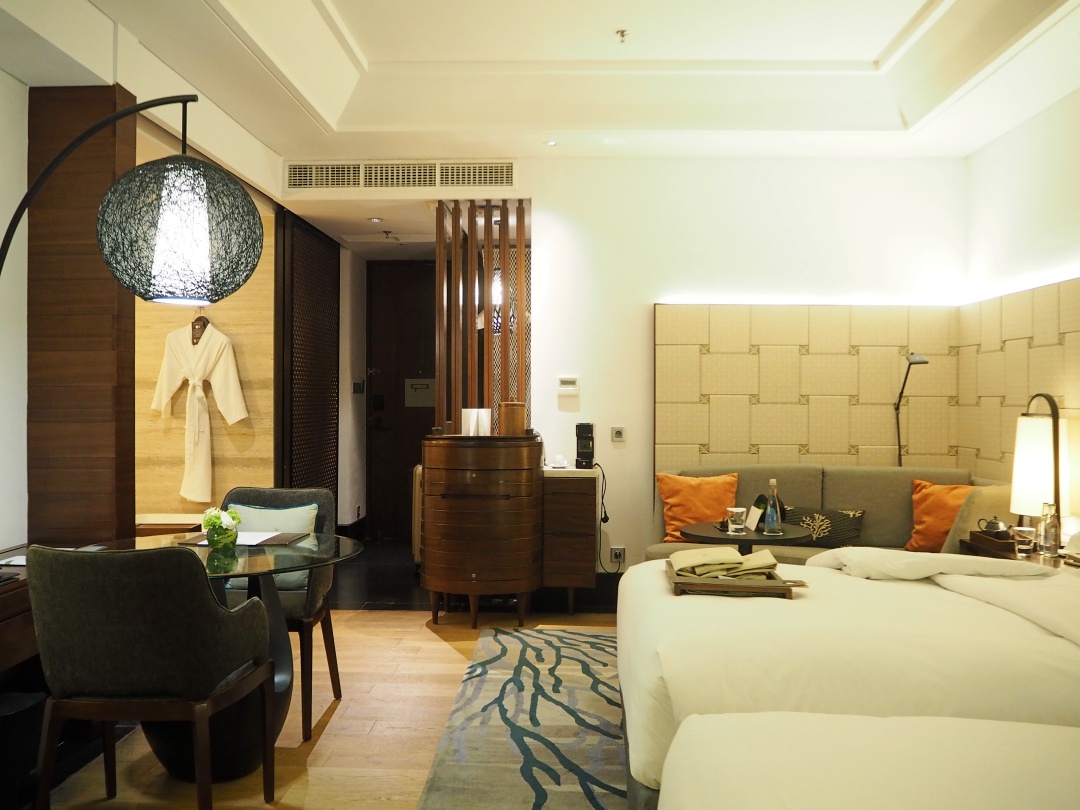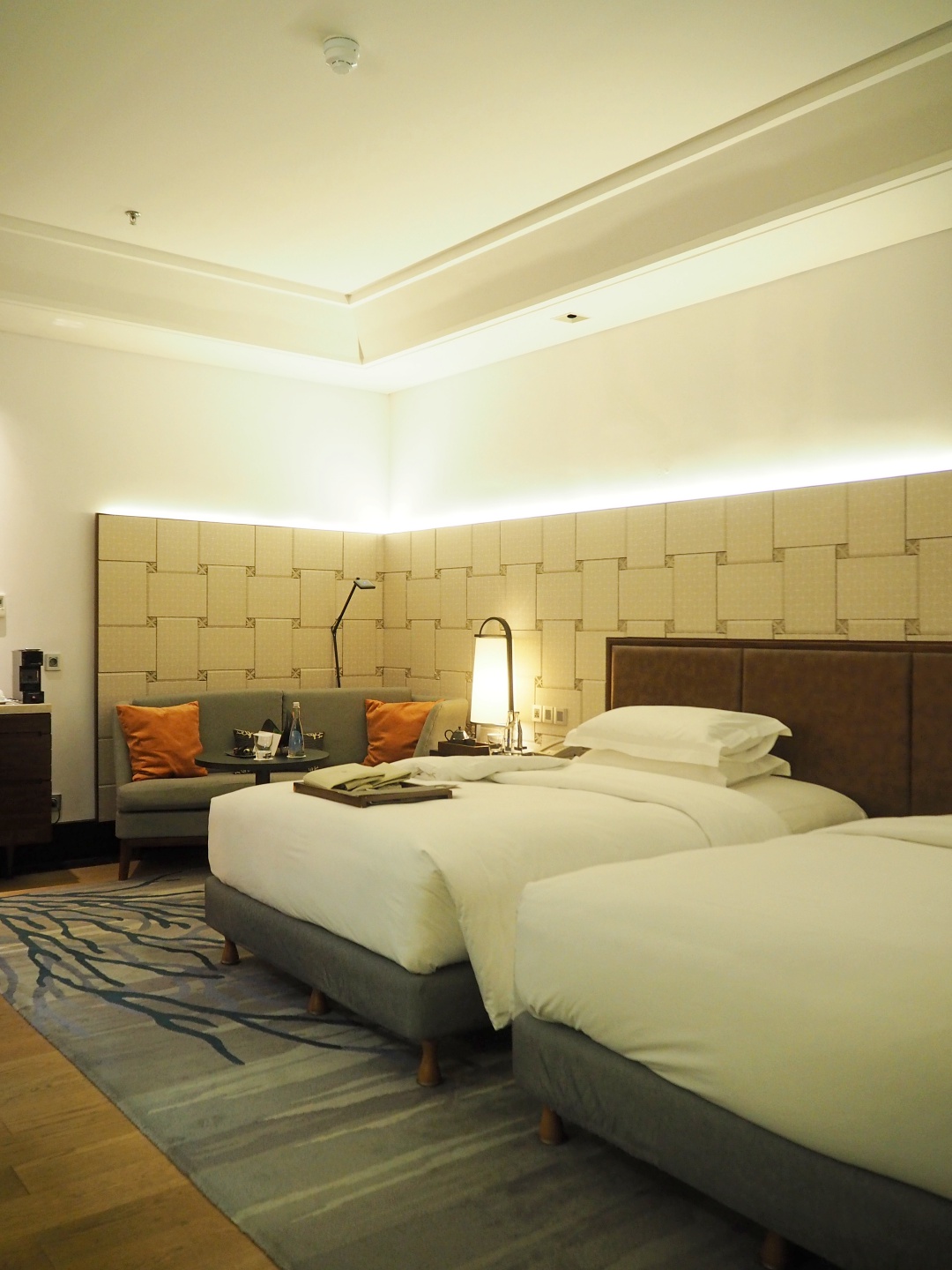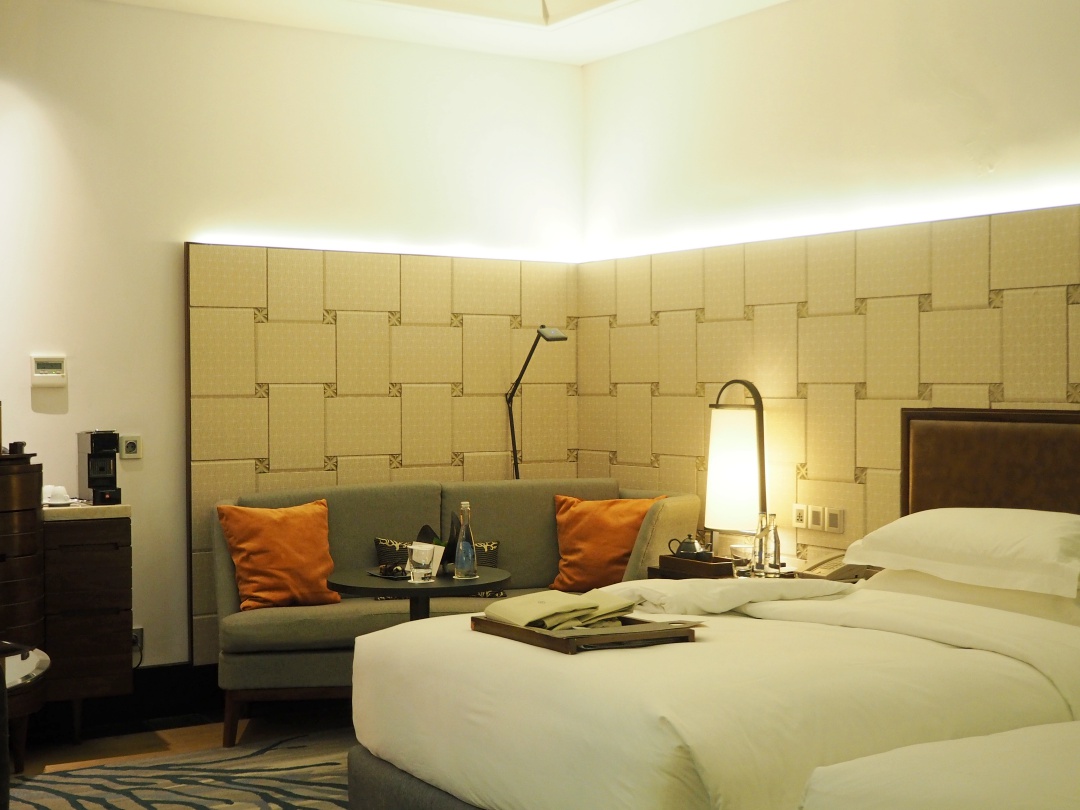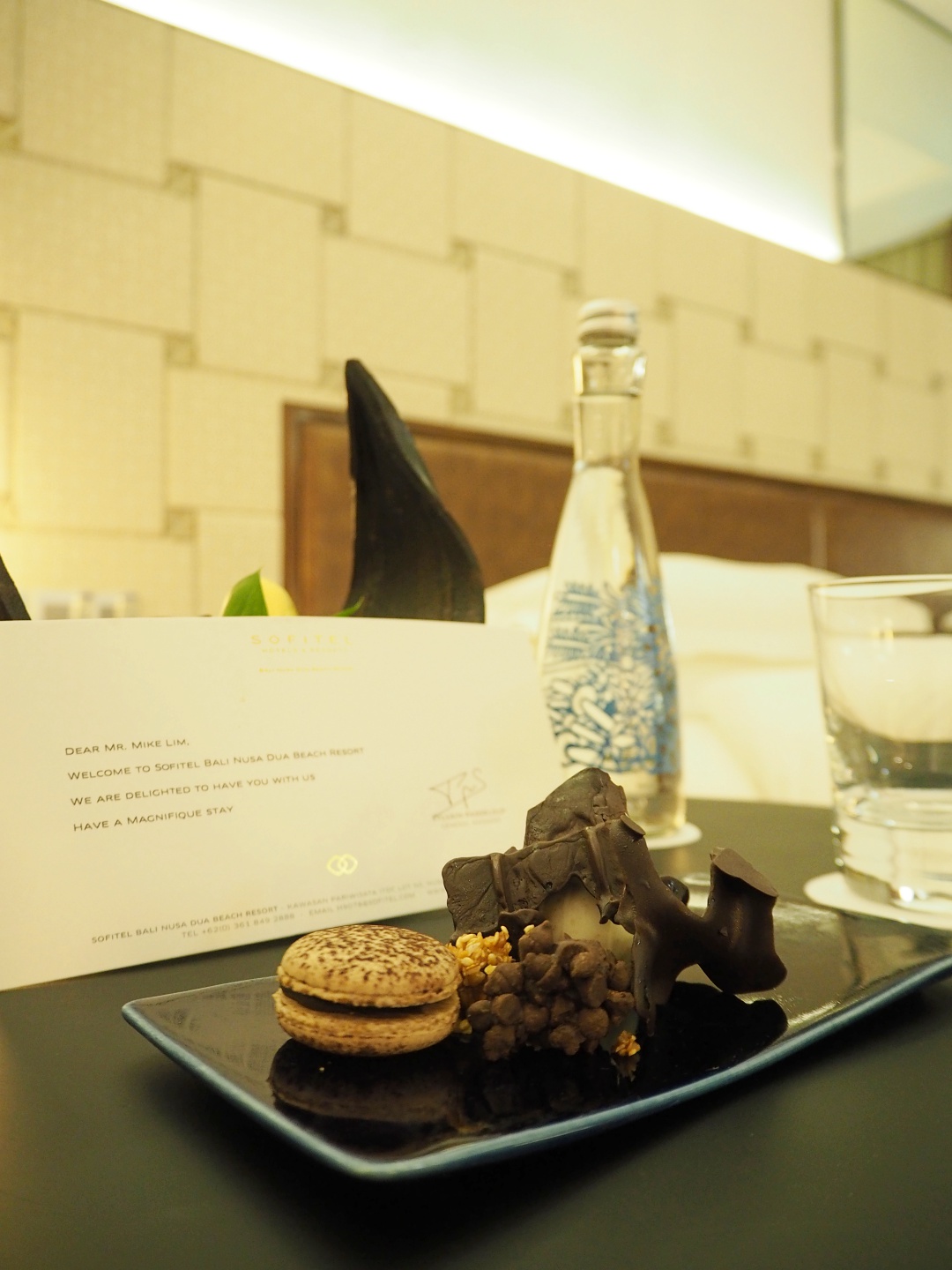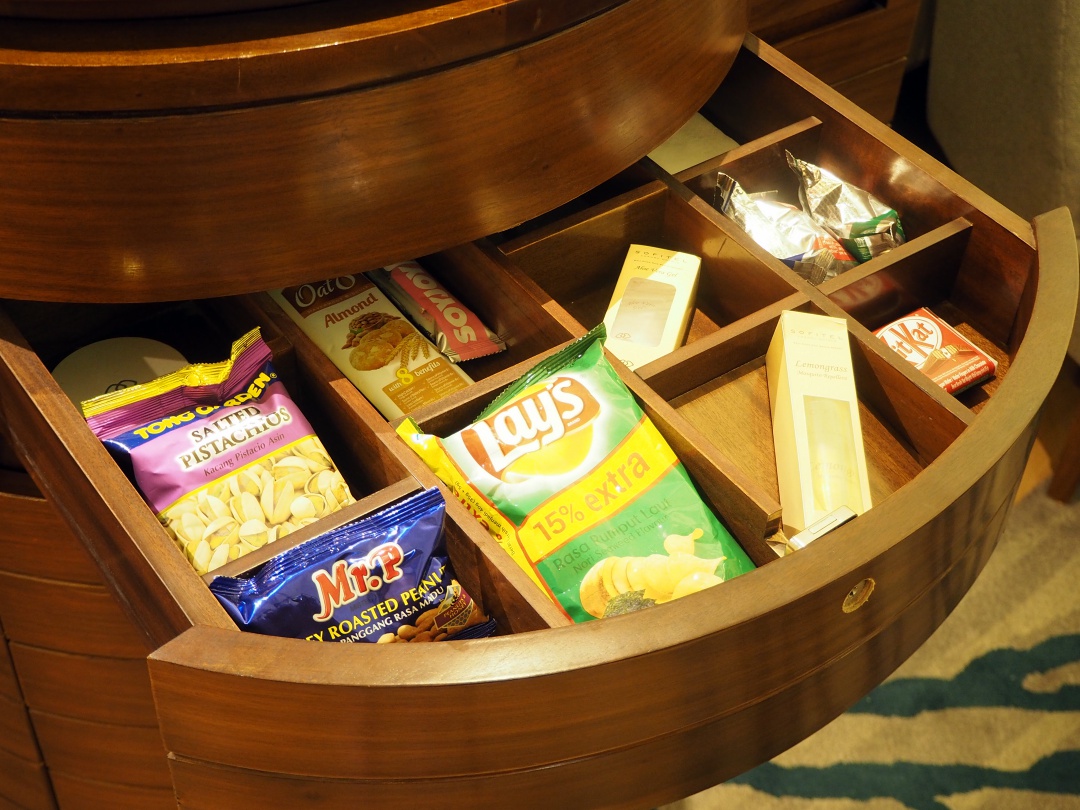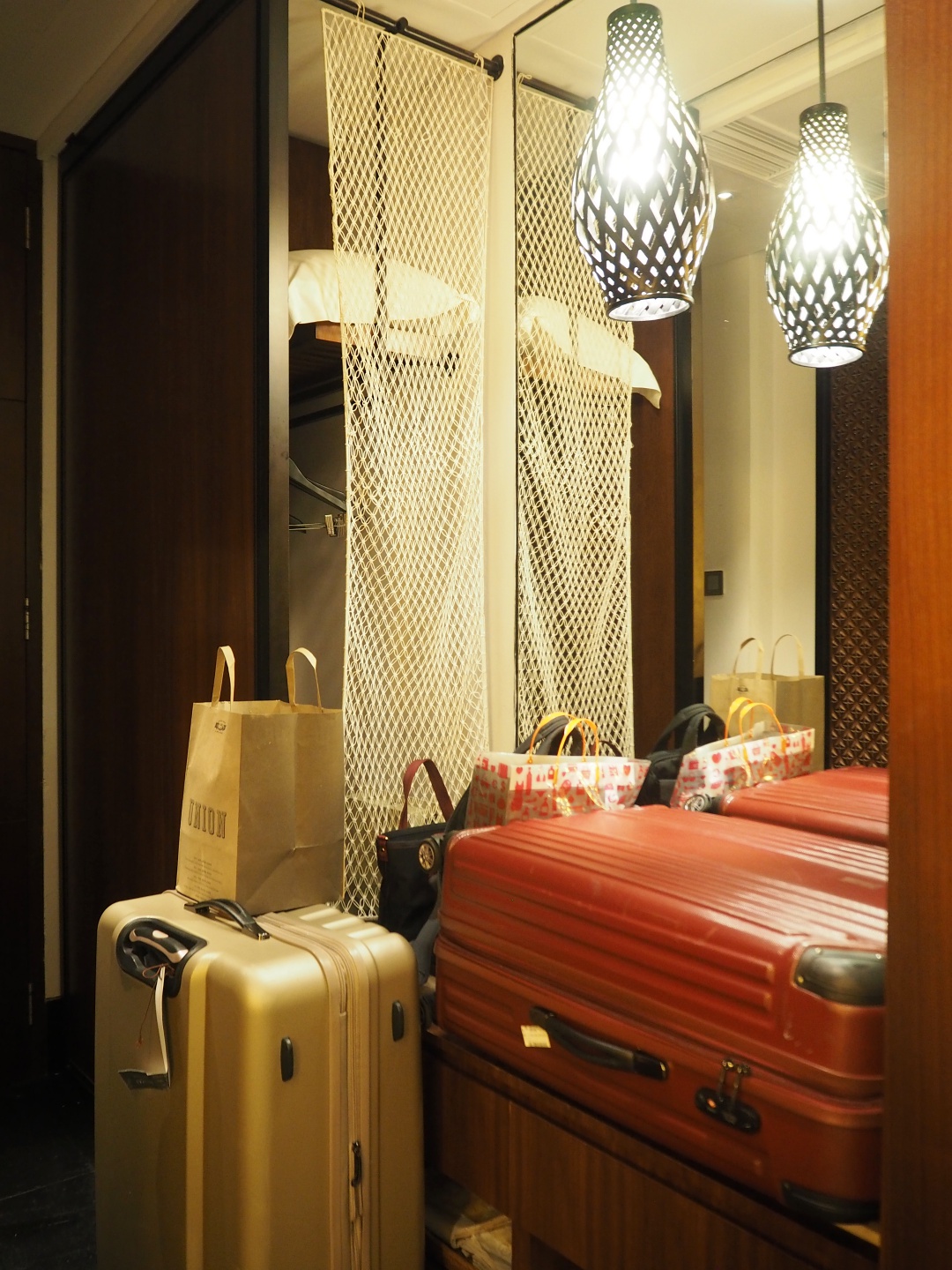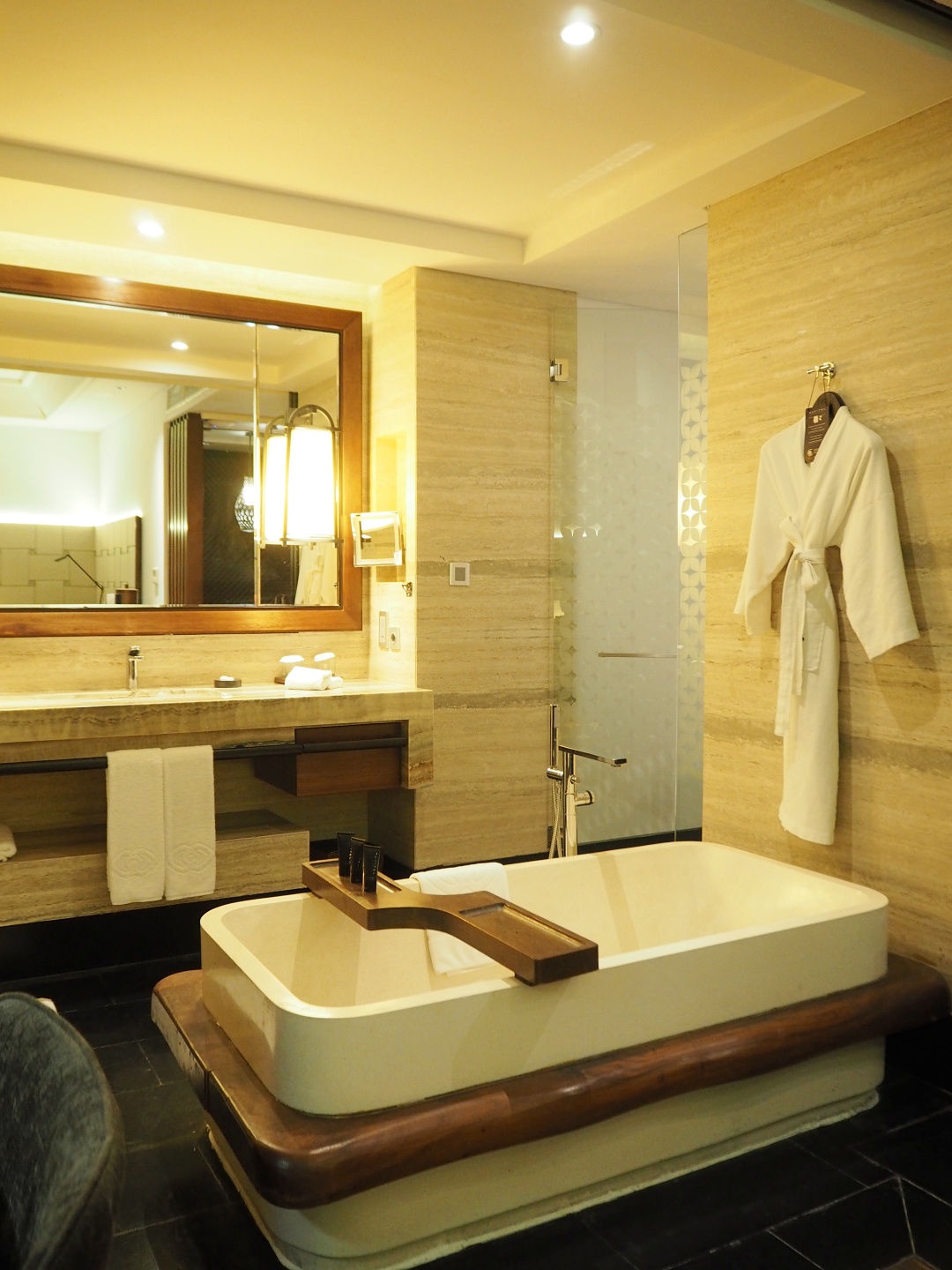 The Luxury Room comes with 48 m2 of living space, inclusive of a decent-sized private balcony that looks out to the garden. Next to the beds was a comfortable sofa and a small coffee table with a welcome note and snacks. (We got some chocolates and macaron.)
There is also a fully stocked mini bar with a couple of cold beverages and chips. The wardrobe was of a decent size, with space for us to lay down a big luggage. Other amenities in the room include an LCD TV, work desk and complimentary WIFI.
As for the bathroom, it comes with a separate tub, rain shower and toilet. Don't be alarmed when you see the open concept bathroom because there is a sliding door that you can draw for privacy.
To be honest, I'm not particularly fond of the room. While there was ample space for two people, I don't really fancy the layout and furniture. Somehow the room just seems and feel too cluttered.
---
Having spent the last few hours travelling, I was exhausted by the time I'm done taking pictures and sink on to the couch. Was planning on calling for room service, but since the restaurant was open, we figured we would head down for dinner instead. We were on full board, and that means all our meals were inclusive in our stay.
Kwee Zeen | Dinner
Made our way down to the ground floor and settled down at Kwee Zeen restaurant, located right in the centre of the resort's main structure. Open for 24 hours, Kwee Zeen is an all-day dining restaurant that offers Pan Asian cuisine in a relaxed atmosphere.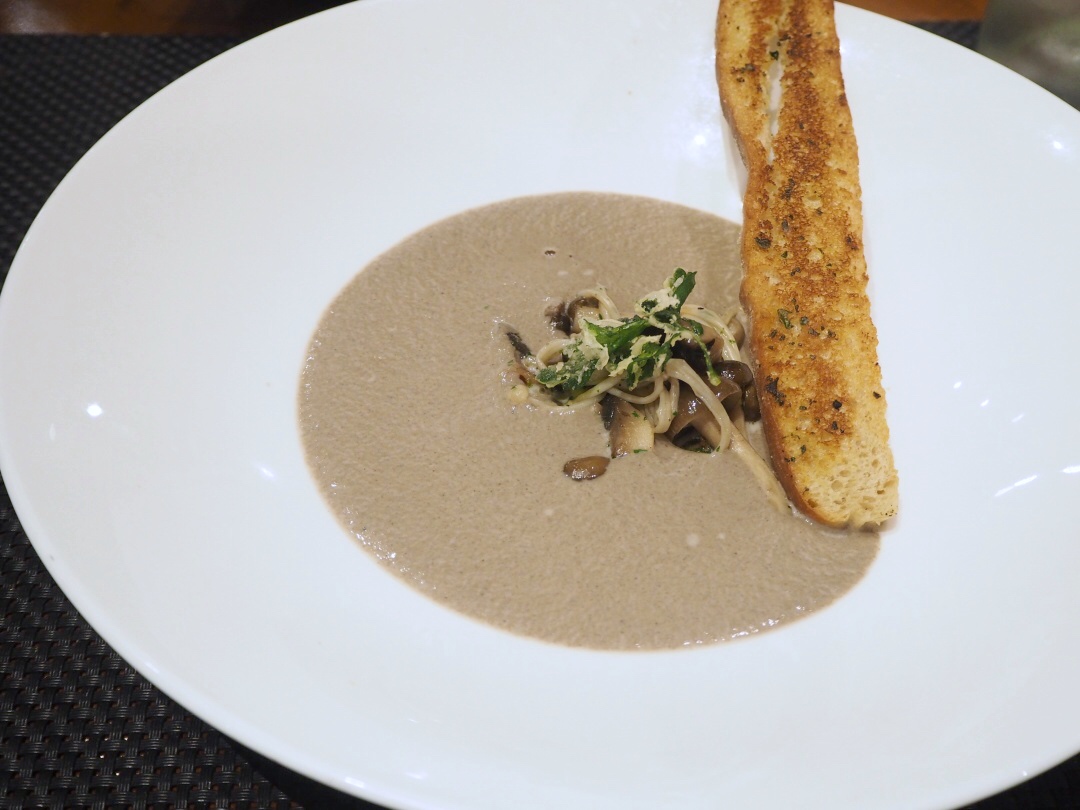 For starter, we each got a delicious mushroom soup. The soup came in a generous serving with a slice of garlic bread.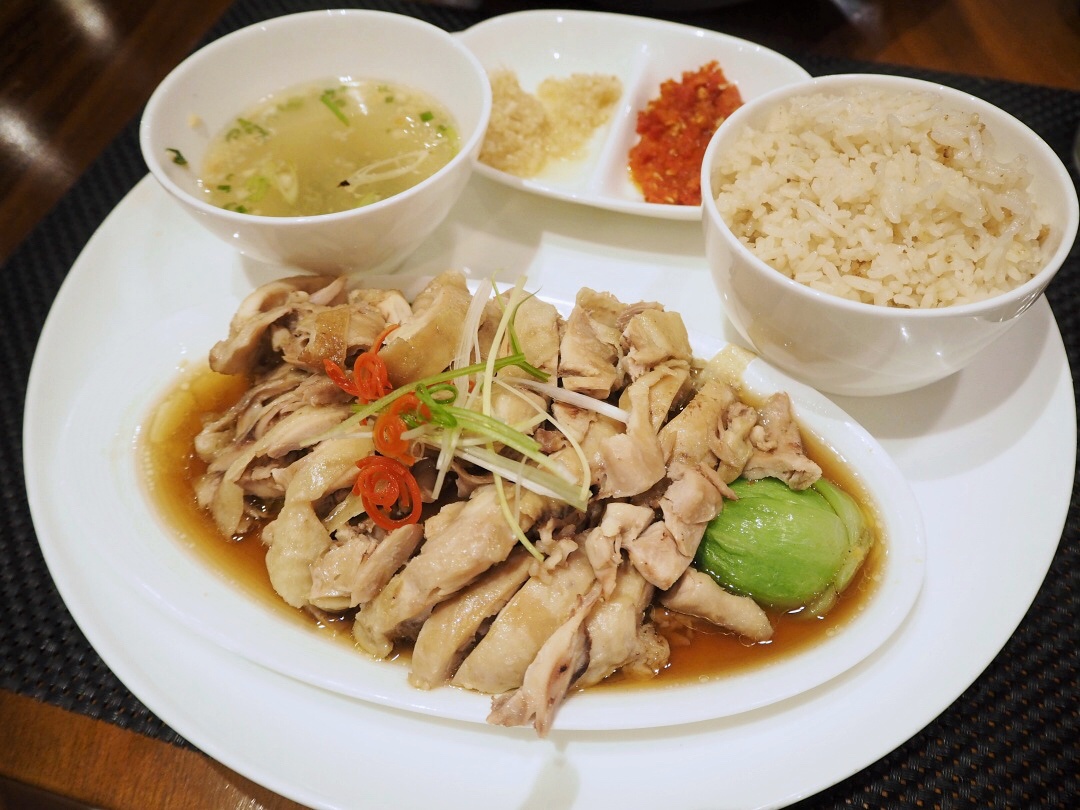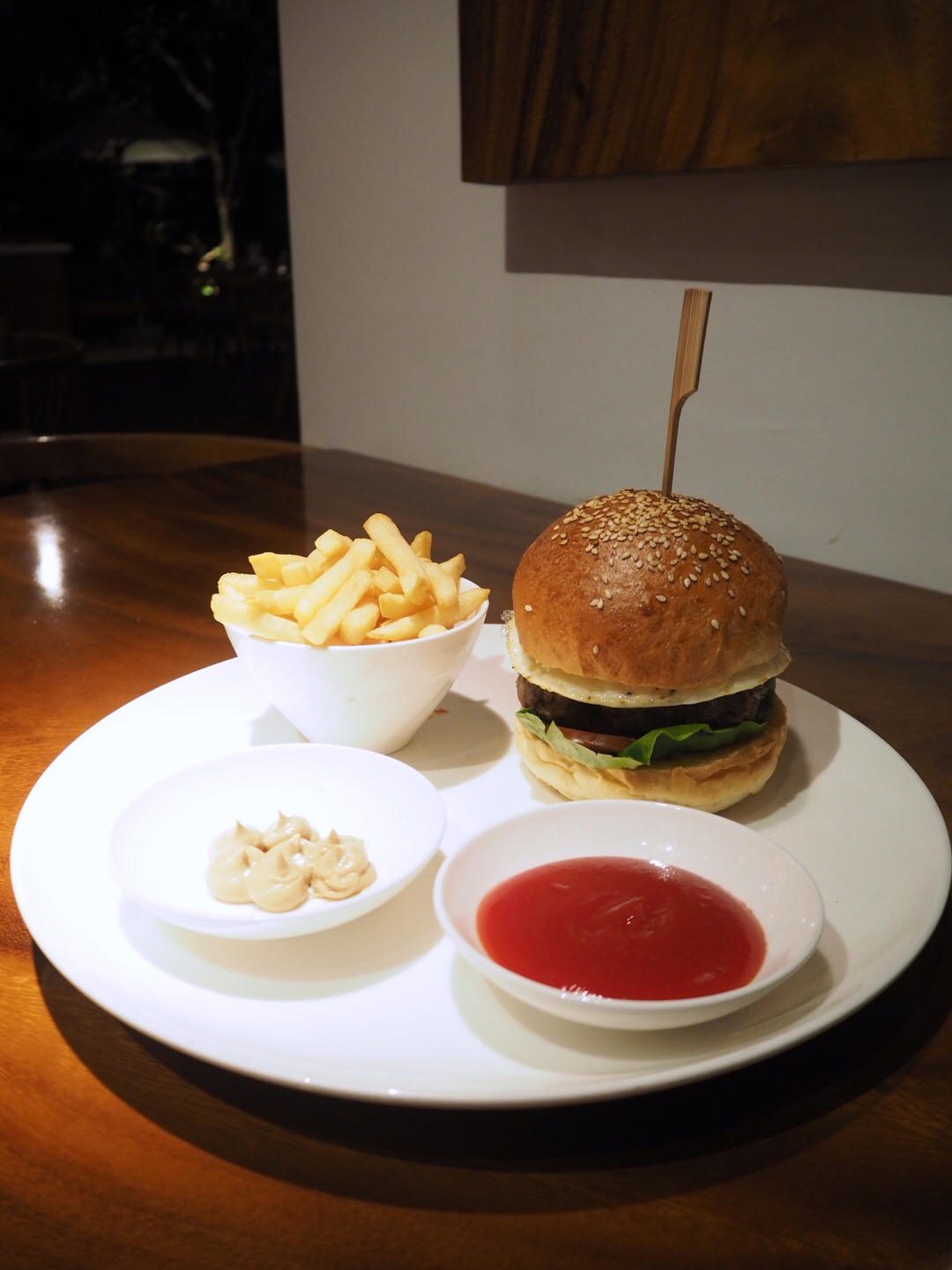 For our main course, I decided to go with the chicken rice, while the Husband had a burger with fries.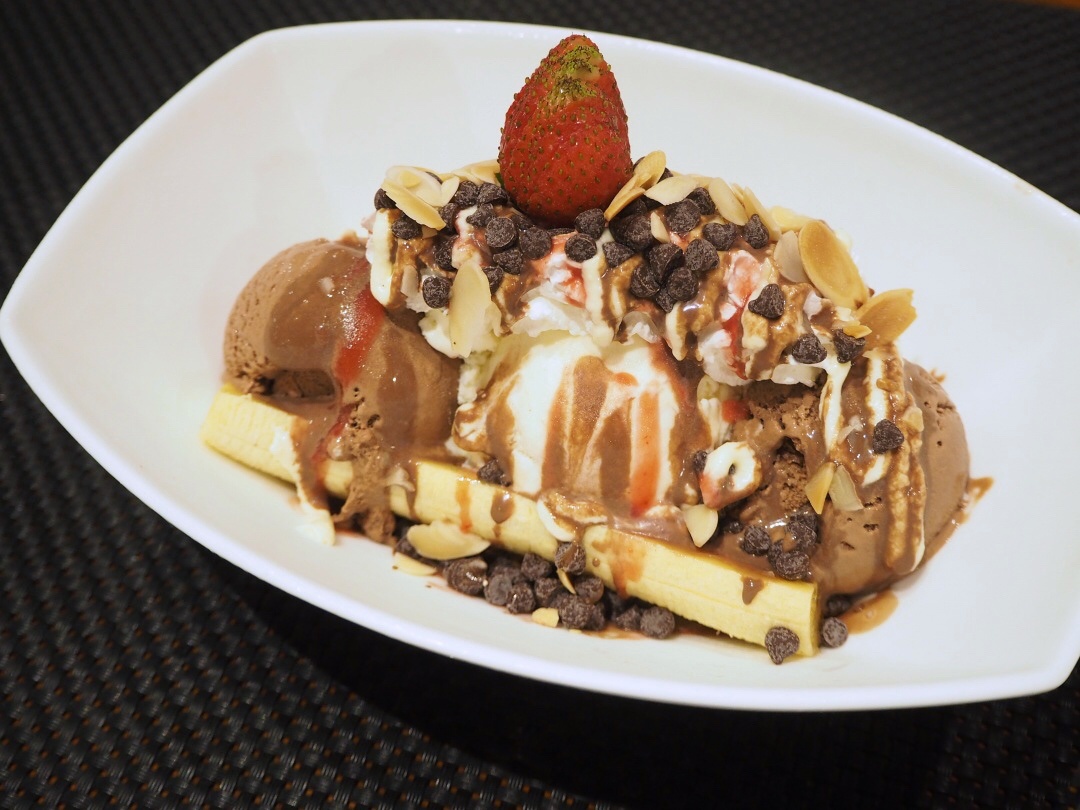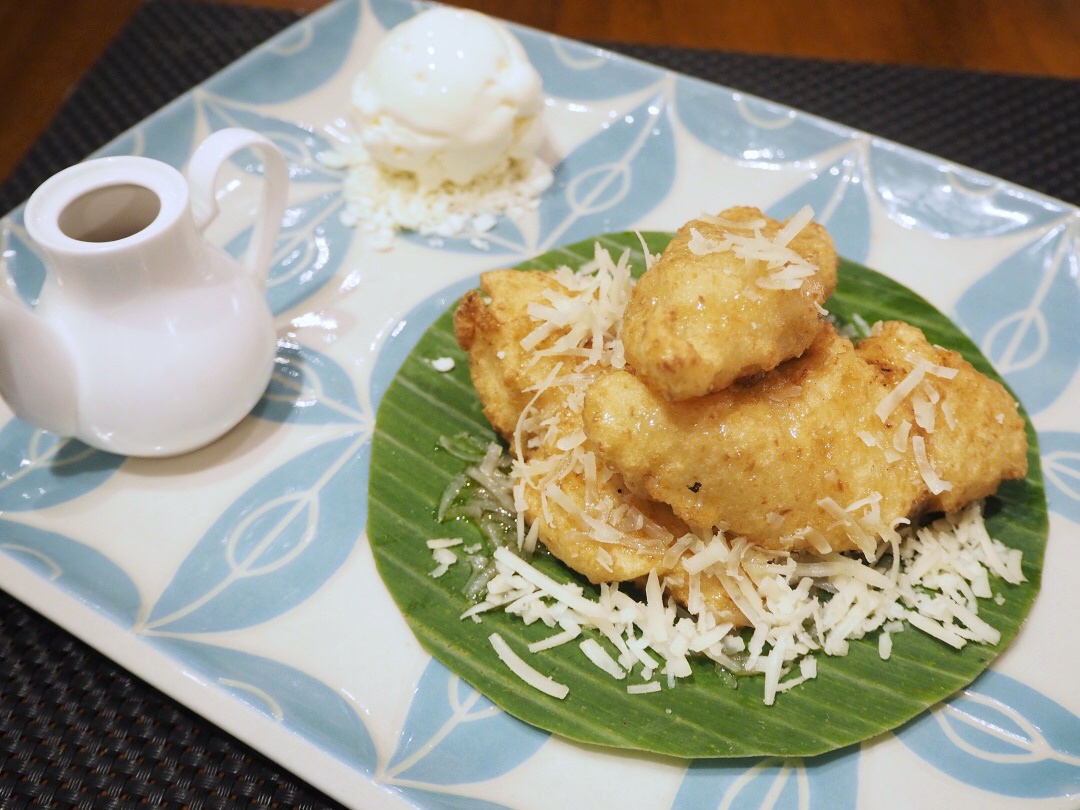 Lastly, we finished off our meal with both cold and warm dessert. A couple scoops of ice cream and pisang goreng. The food turns out to be too much for us to finish.
Having done with our dinner, we retreated to our room and decided to call it a day. The following few days were filled with activities and meetings to attend. And while I wasn't enthusiastic about the amount of work I had to do, I was looking forward to spending time at the resort and seeing what they have to offer.