Looking at my overdue blog posts, I was contemplating if I should start on my Taiwan's travelogue. Unknowingly, it has been five months since we came back from Taiwan. Perhaps because a lot of things had happened in the last few months; it seems like the trip was very distant, despite it being just five months ago.
This two weeks trip to Taiwan was probably one of the best holidays we had in the recent months. If you've read my blog for a while, you would know that the Husband and I travel occasionally to Bali for work. (We had since space out our trips and didn't go back as often as we did before.) While I'm very grateful that we get to travel, work trip is just different from going on a vacation. And that is perhaps why I value this trip so much. While it's inevitable that we still have to work when we're overseas, I knew that this trip would mostly be for leisure. And just having that thought is enough to make me feel excited before going on the trip.
My first/last visit to Taiwan, Taipei was with my family in March 2017. Like me, the Husband had also previously taken a trip to Taiwan with his family. We both really enjoyed our time in Taiwan, and we knew that it would be wonderful if we could go on a trip together.
Come to think of it; I can't recall where did the idea of going to Taiwan pop up. But somehow it did, and we just went ahead to book our tickets. I've only been to Taipei, and I knew I wanted to explore the other parts of Taiwan. So went the Husband suggests going for two weeks, I was totally up for it! The only problem was, I was tasked to do all the planning for the trip. Being someone who has only been to Taipei, it was tough to do the planning. Not only do I have to research on the places to go, but I also have to research on transport and accommodation.
Now that we're back from the trip, I must say, I was pretty happy with my choice of accommodation. We also didn't have much issue when it comes to travelling from one place to the other.
For this two weeks of vacation, we managed to visit Taichung (台中), Tainan (台南), Kaohsiung (高雄), Hualien (花蓮) and Taipei (台北)! I decided to stay slightly longer in Taipei (5 nights), else we probably could have squeeze in one more location. I was all about the shopping (not so much of the sightseeing, even though we did go to a few places) so I really didn't want to sacrifice and cut short my time in Taipei.
It was so confusing trying to figure out where to go, and I can't even tell you how many times I have stared at the map, wondering where is the best place to start/end our trip. In the end, I decided to start from Taichung and go anti-clockwise down to Kaohsiung, then up to Hualien and Taipei. It was a no-brainer to end our trip in Taipei because I knew that's where I would do the majority of my shopping so it would be wise to keep my luggage light till the end of my trip.
Arrival | Taoyuan International Airport 台灣桃園國際機場
Our flight to Taiwan was with Scoot in the early morning of 28 December. The flight was supposed to be taking off at 00:55, but there was some delay at Changi Airport. Thankfully, I didn't book tickets for the High Speed Rail (台灣高鐵); else we could have missed our train. (More on that later.)
After an uneventful flight, we arrived safely at Taiwan Taoyuan International Airport (台灣桃園國際機場) at around 06:00. Initially, we wanted to purchase our data SIM from the counters before immigration. (That's what I did on my previous visit.) However, the counters weren't opened, so we thought we would get them at the arrival hall instead.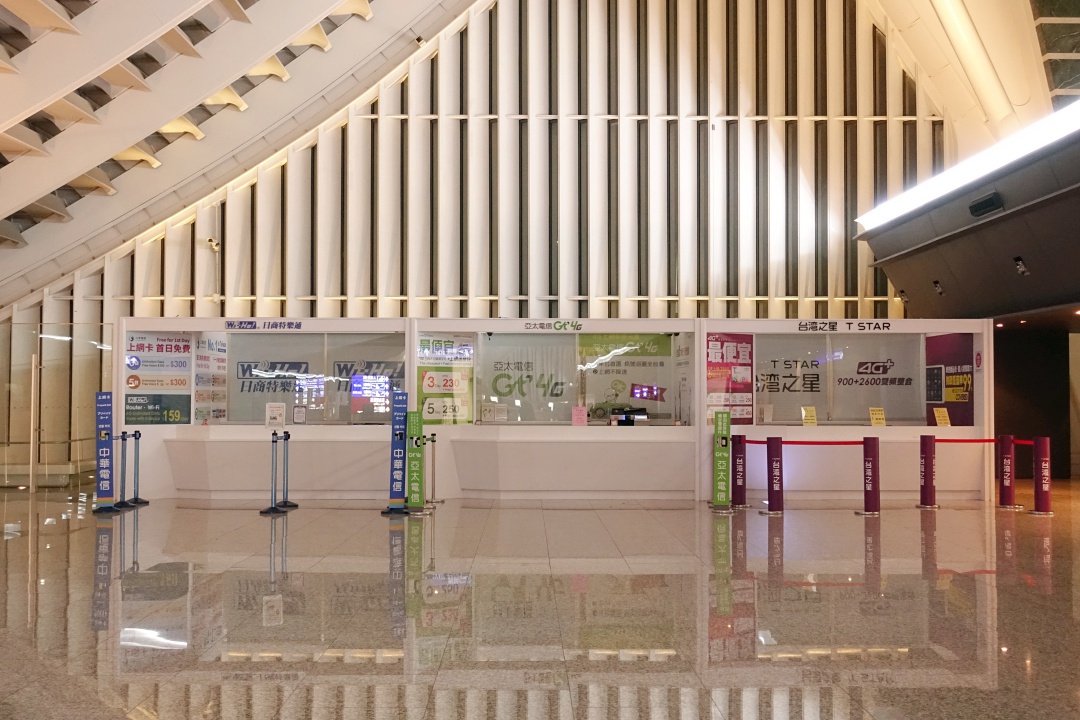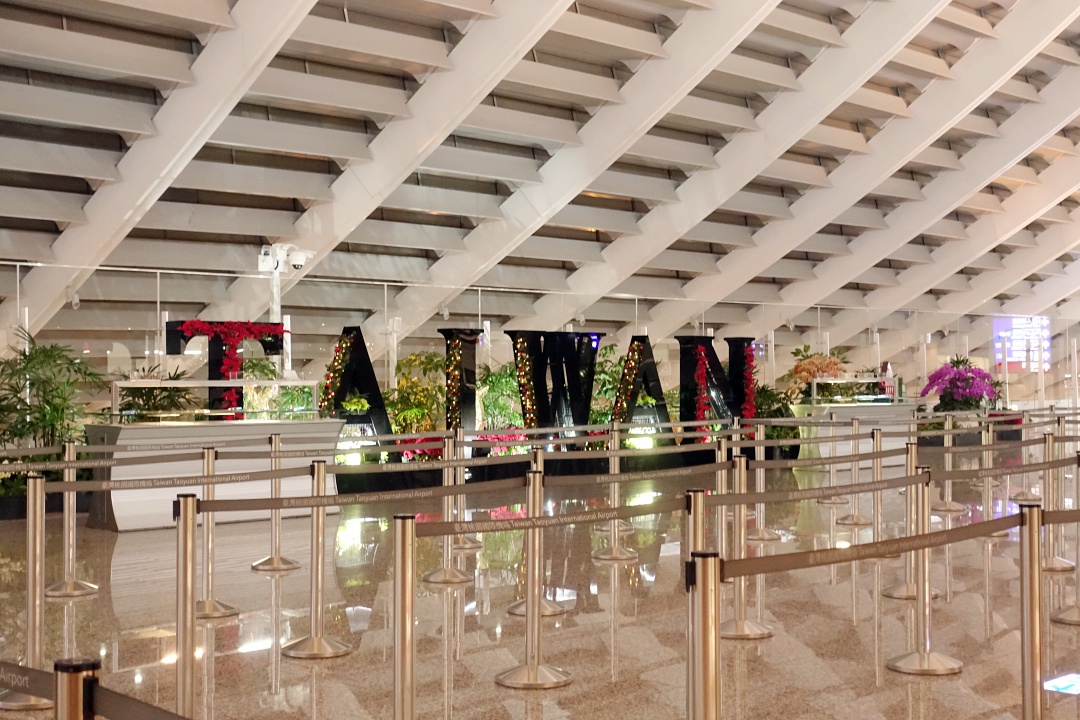 After clearing immigration and collected our luggage, we came out to the arrival hall wanting to purchase our data SIM card. Unfortunately, we realised that the counters weren't open until 07:00. So while waiting, we decided to head to the convenient store to grab some food.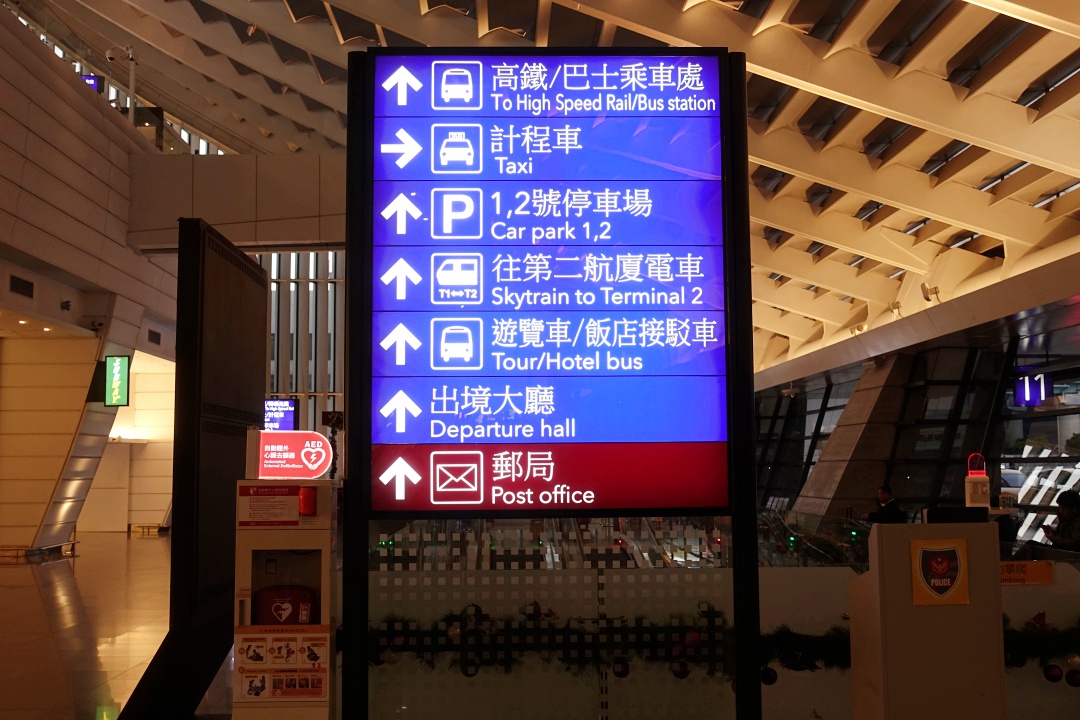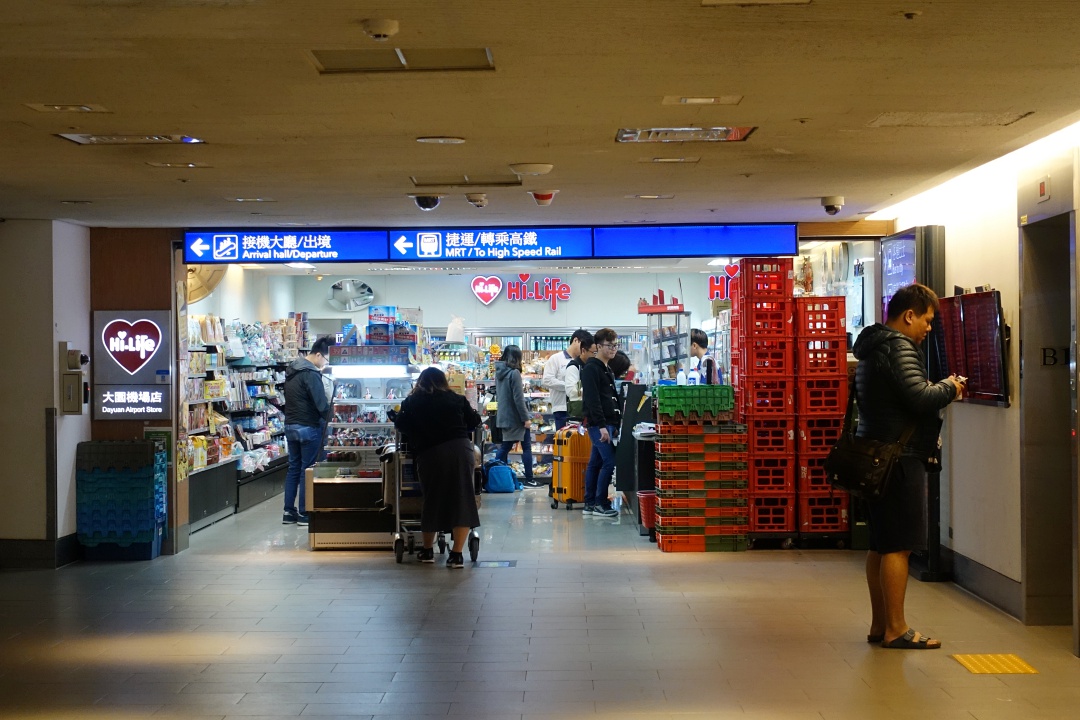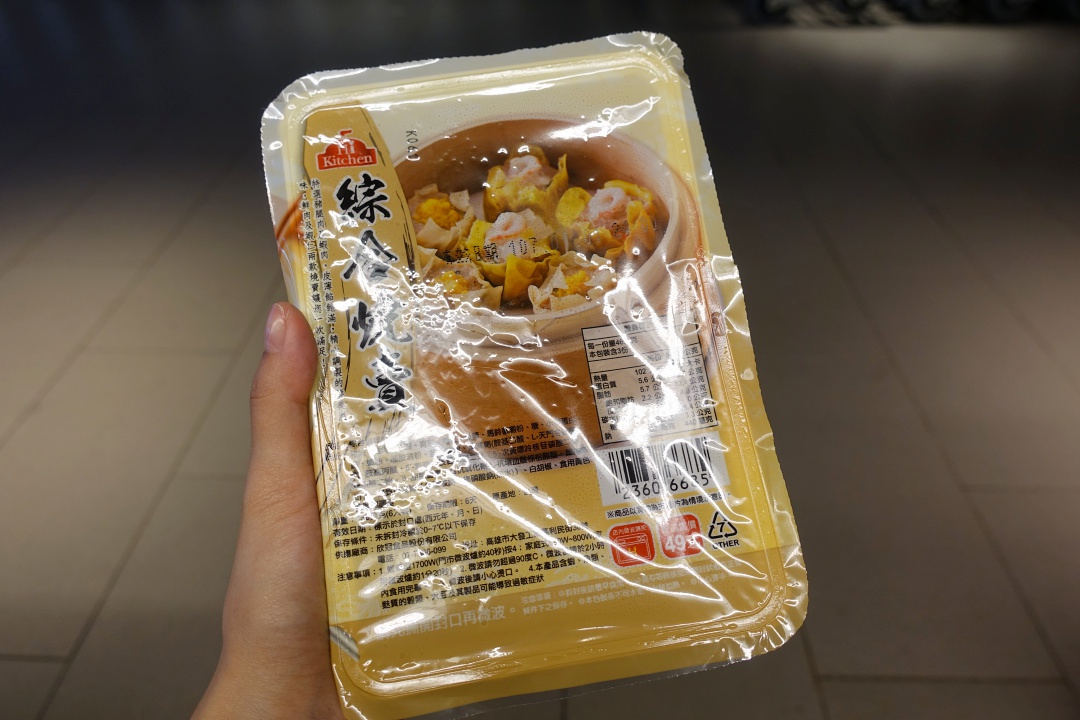 At 07:00, we went up to the telecommunication counters to purchase our data SIM card. There were a few companies available, and we eventually decided to go with Chunghwa Telecom (中華電信). Since we were in Taiwan for two weeks, we got the 15 days pass at TWD700. It comes with unlimited data + TWD100 worth of airtime. Passport is required at the time of purchase, so just give your passport and phone to the staff behind the counter, and they will help you to install and set up your SIM.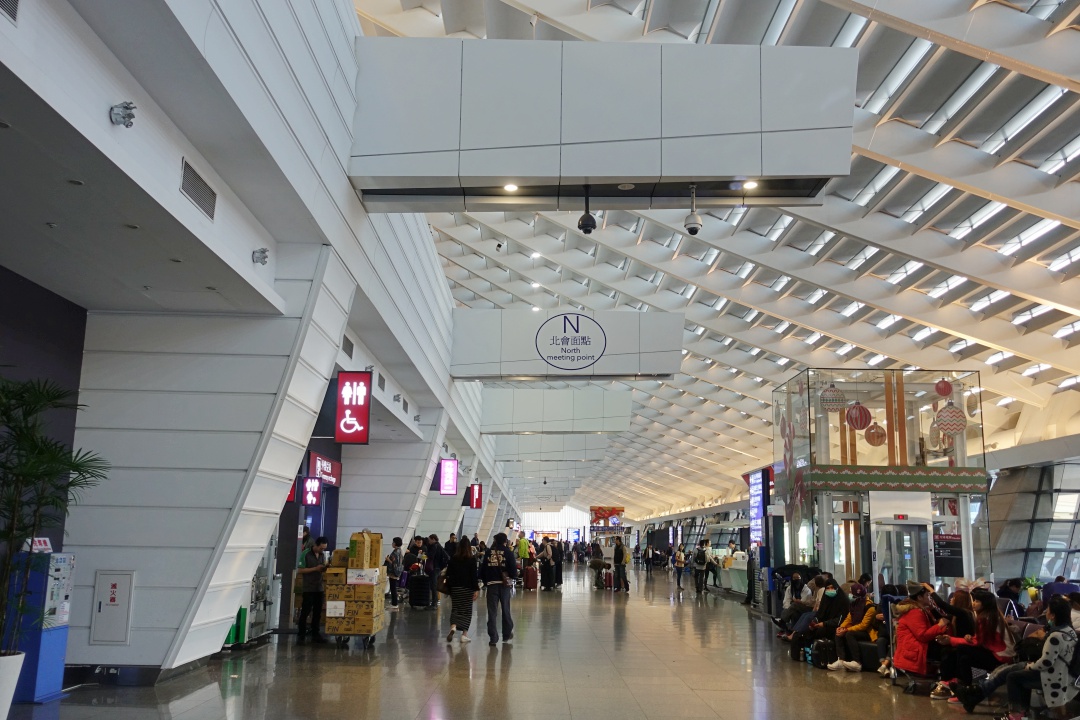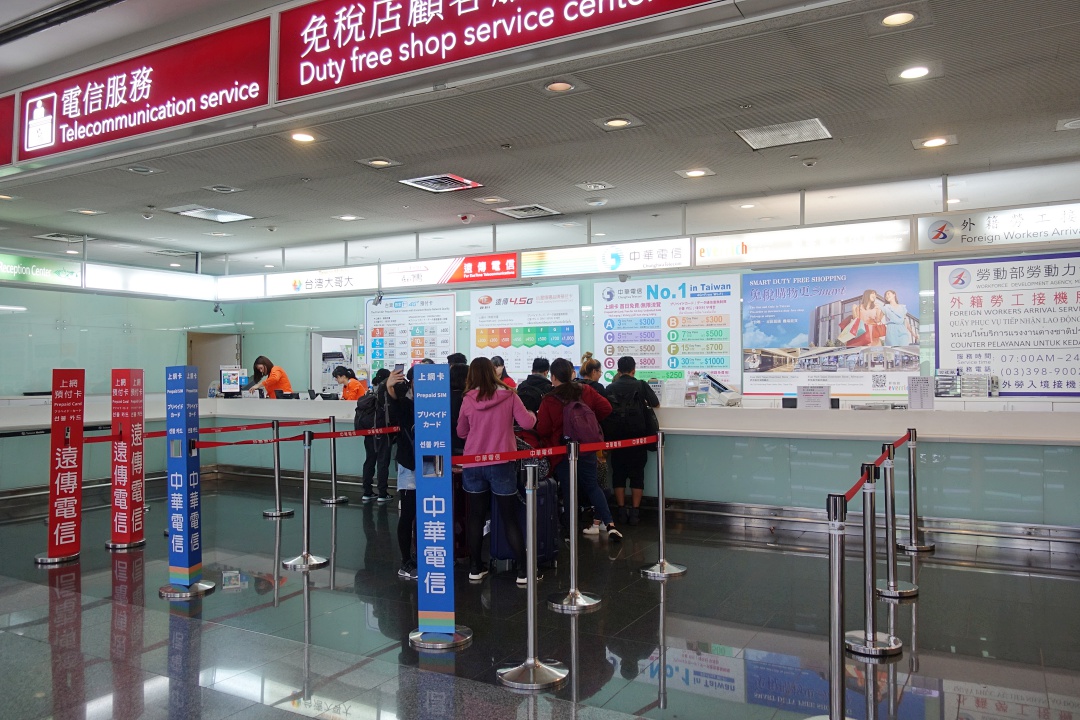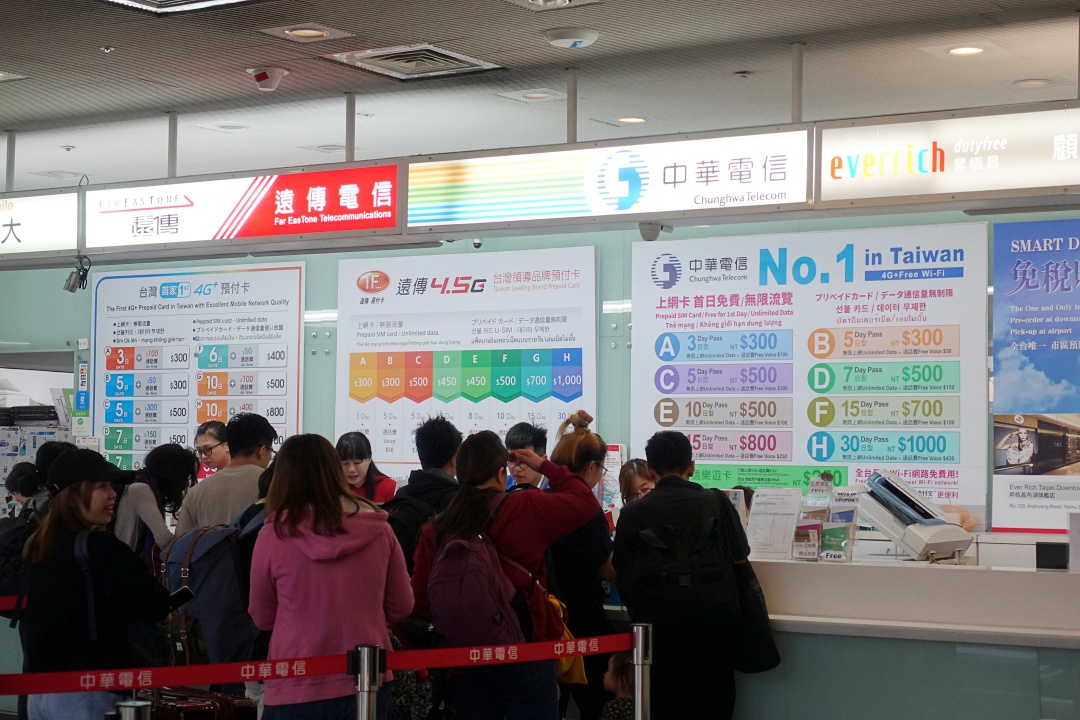 Having gotten our SIM card, we went down to the basement to catch the shuttle bus to Taoyuan High Speed Rail Station, where we will be boarding the train to Taichung (台中).
Getting to Taoyuan HSR Station
There was a machine at the bus station where we used to purchase our EASYCARD (悠遊卡). The card cost TWD100 and comes without any store value. You can choose the amount you like to top up (via the same machine). The maximum store value in the card at any time is TWD10,000.
The shuttle bus service from Taoyuan International Airport to Taoyuan HSR Station takes around 25 minutes. Bus fare is TWD30 each. There is no need to pre-purchase your tickets. Instead, you pay directly on the bus. You can choose to either pay by cash or card. In our case, we used the newly bought EASYCARD to pay for our bus fare. If you're paying by cash, you will need to have the exact amount. (You can exchange for smaller change at the counter.) If you're paying by card like us, you have to tap your card once when you board and once when you alight. (It works just like our local EZ-link card.)
Read: Shuttle bus to THSR Taoyuan Station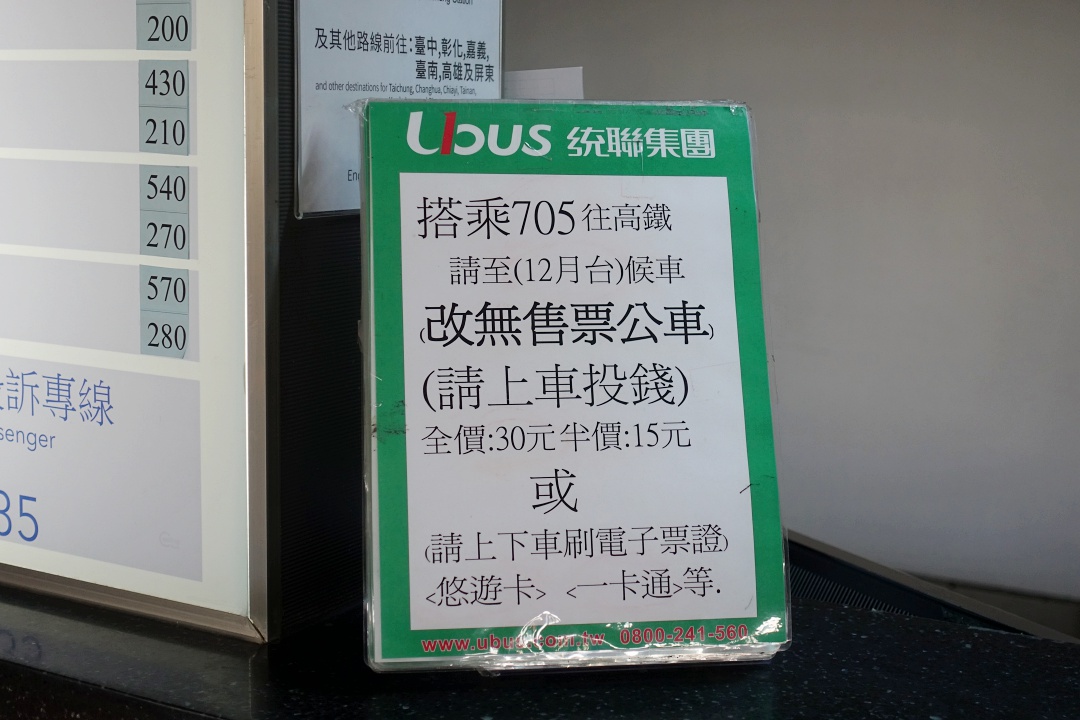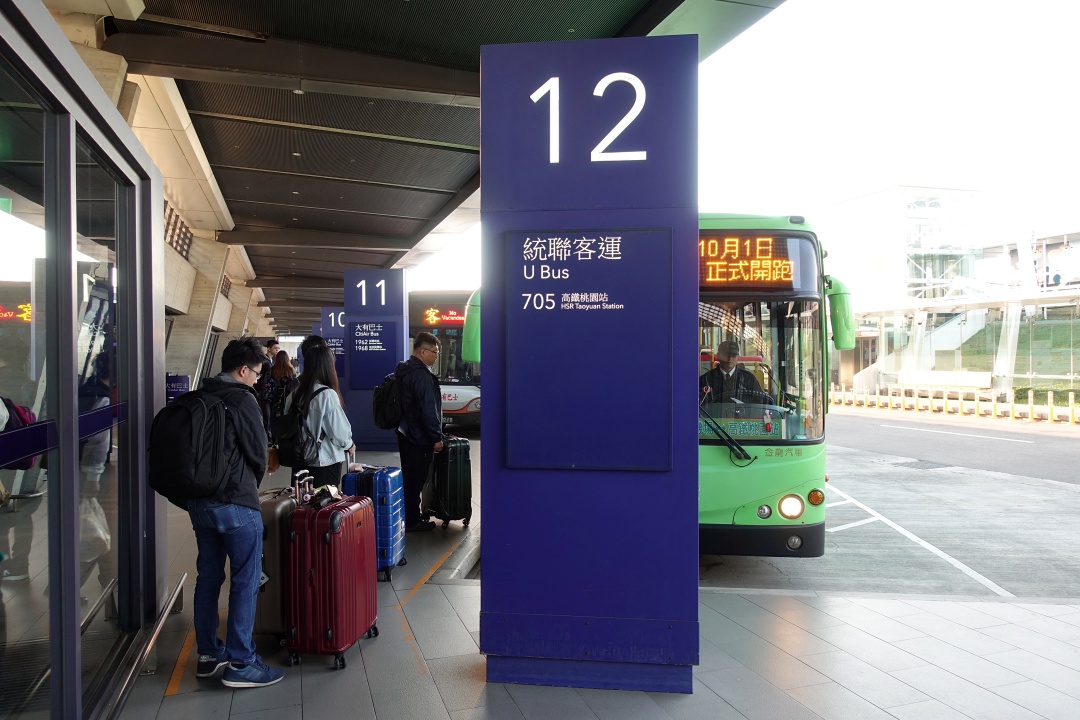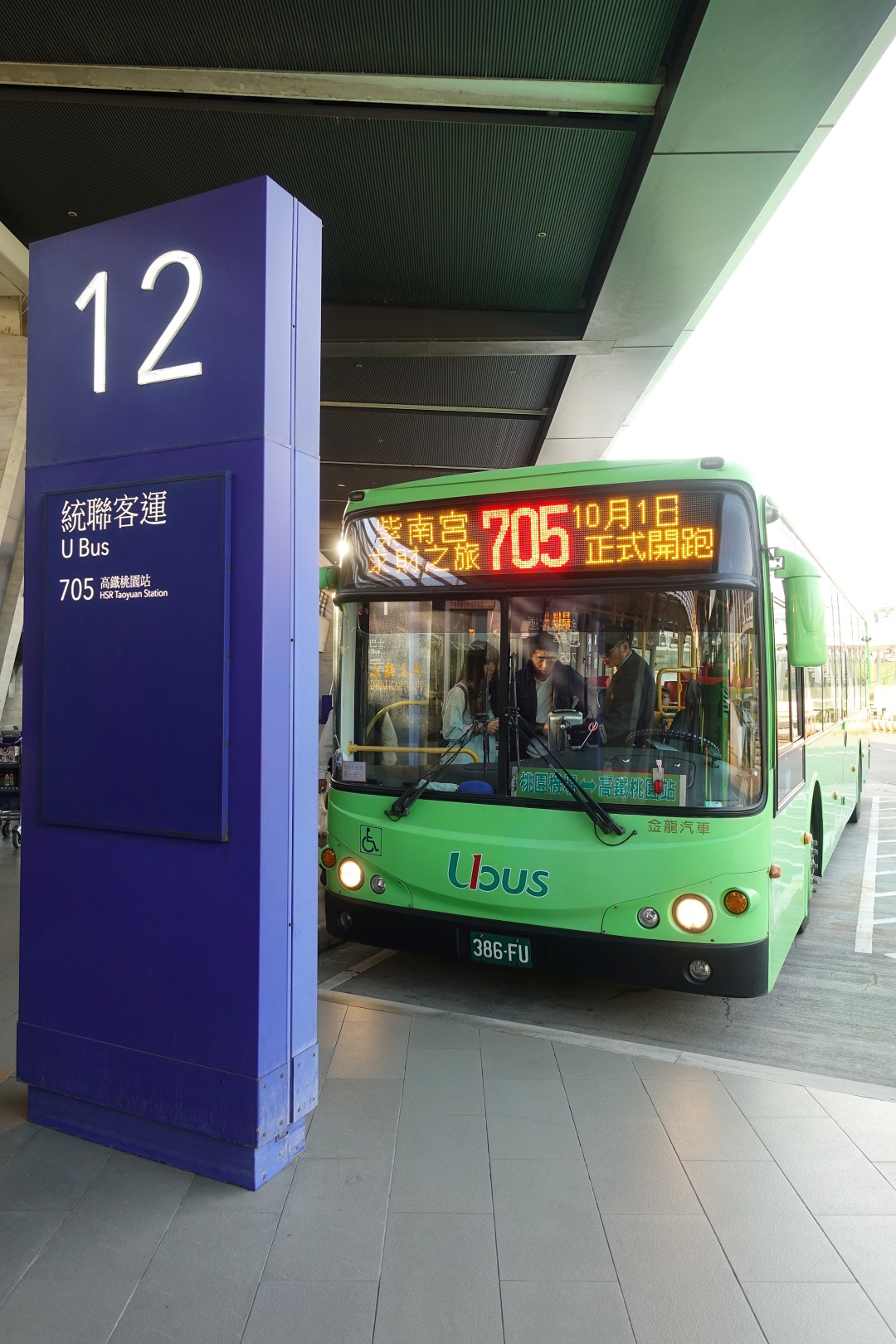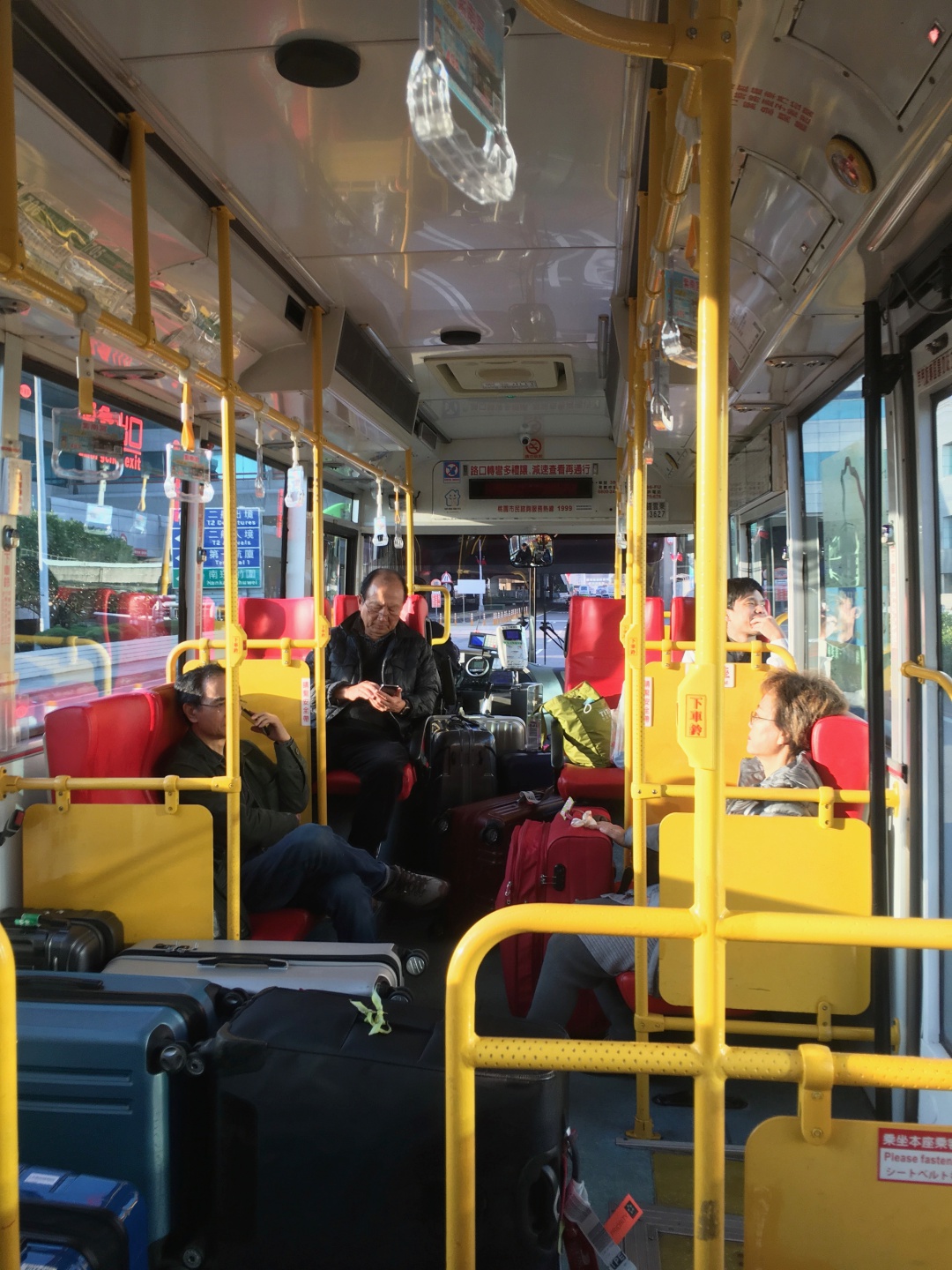 Taoyuan HSR Station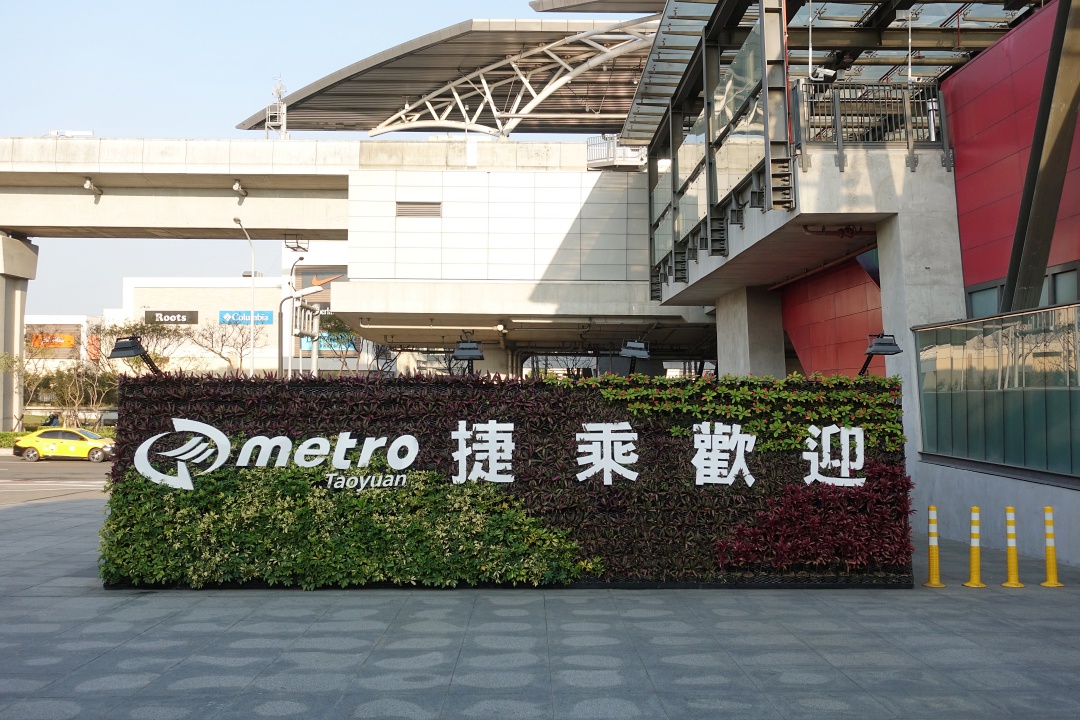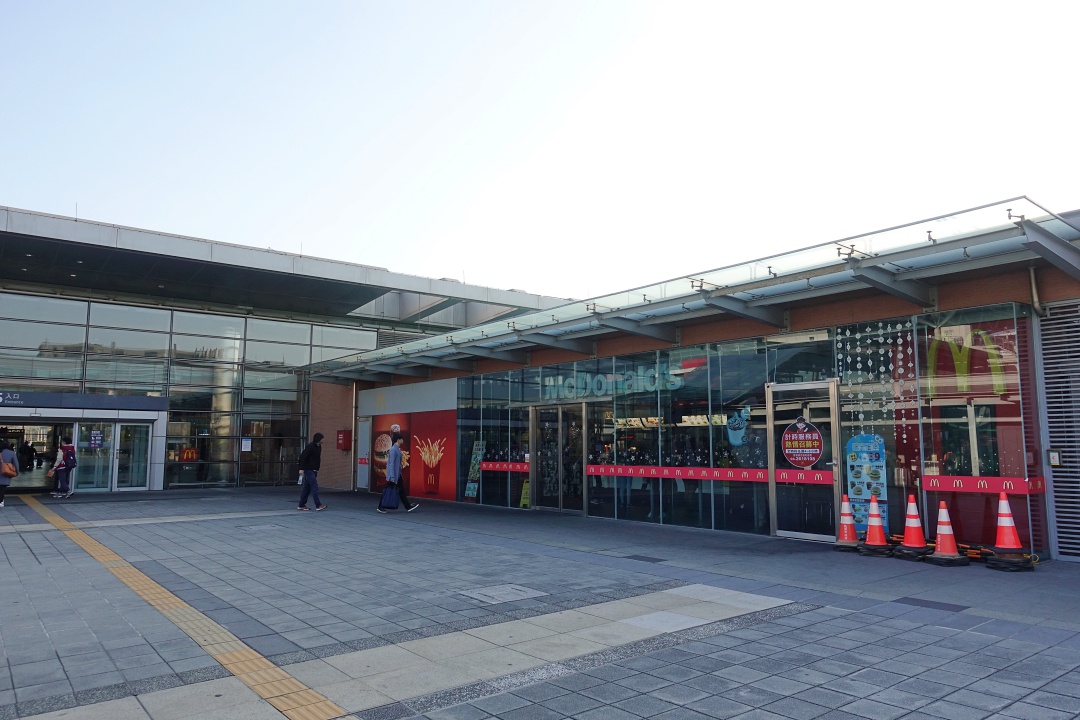 The bus dropped us off right outside Taoyuan HSR Station. (FYI: There's a McDonald's right outside the HSR station, and there's also a MOS Burger inside the station.)
Over at Taoyuan HSR Station, we have to purchase our high speed rail tickets to Taichung. I was considering buying our tickets in advance, but I wasn't sure how long it would take me to clear immigration at Taoyuan Airport and board the bus to Taoyuan HSR Station. As such, I decided not to risk it and purchase my tickets directly at the counters at Taoyuan HSR Station. (Thankfully I didn't buy my tickets in advance. Else I might have missed my train seeing that my plane got delayed in Singapore.)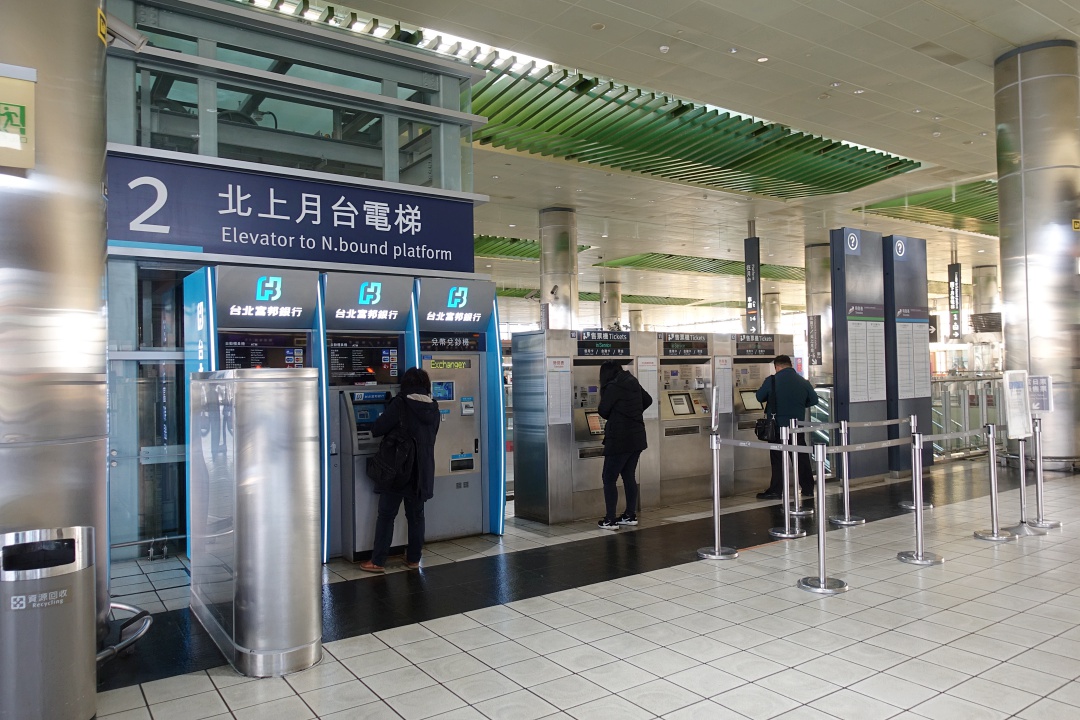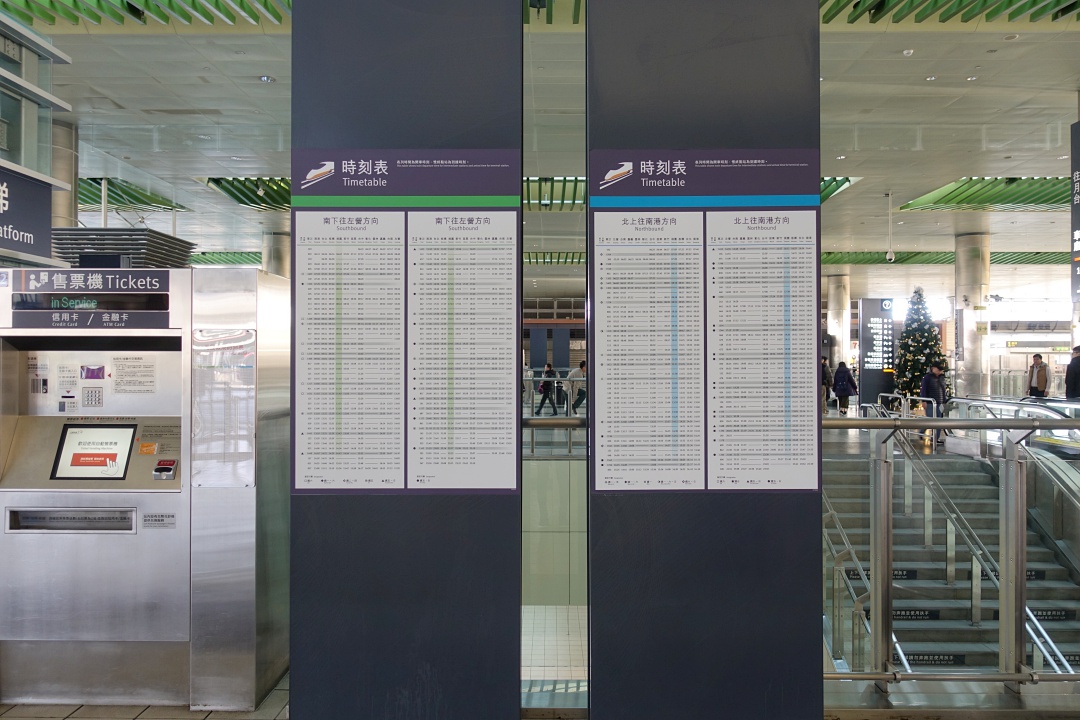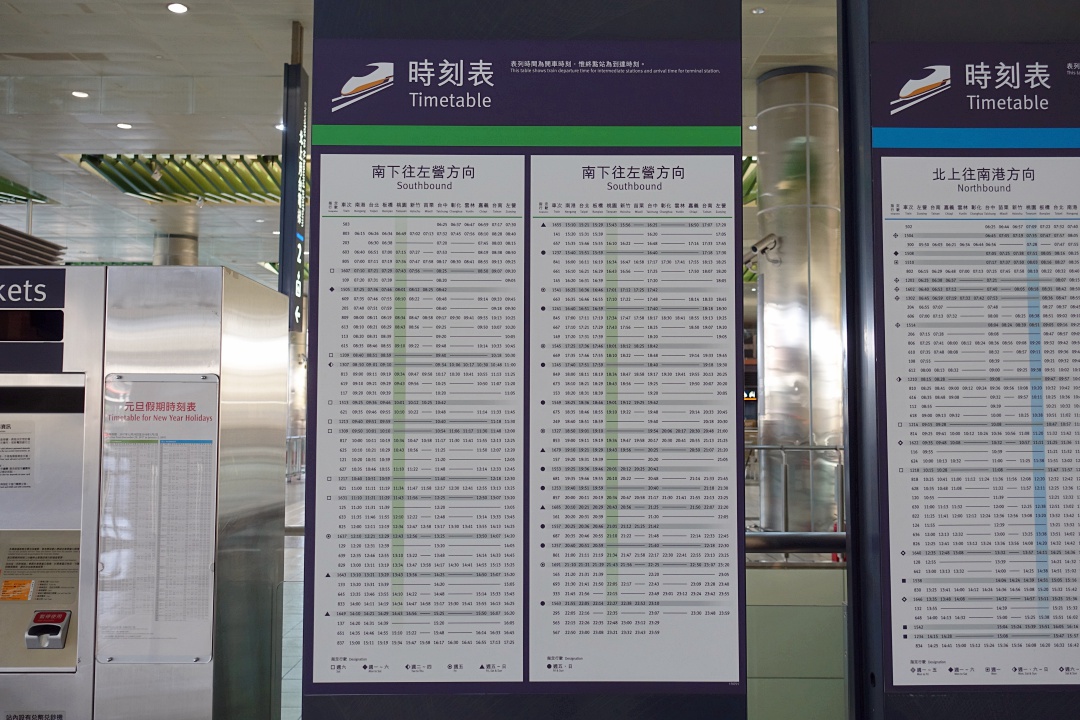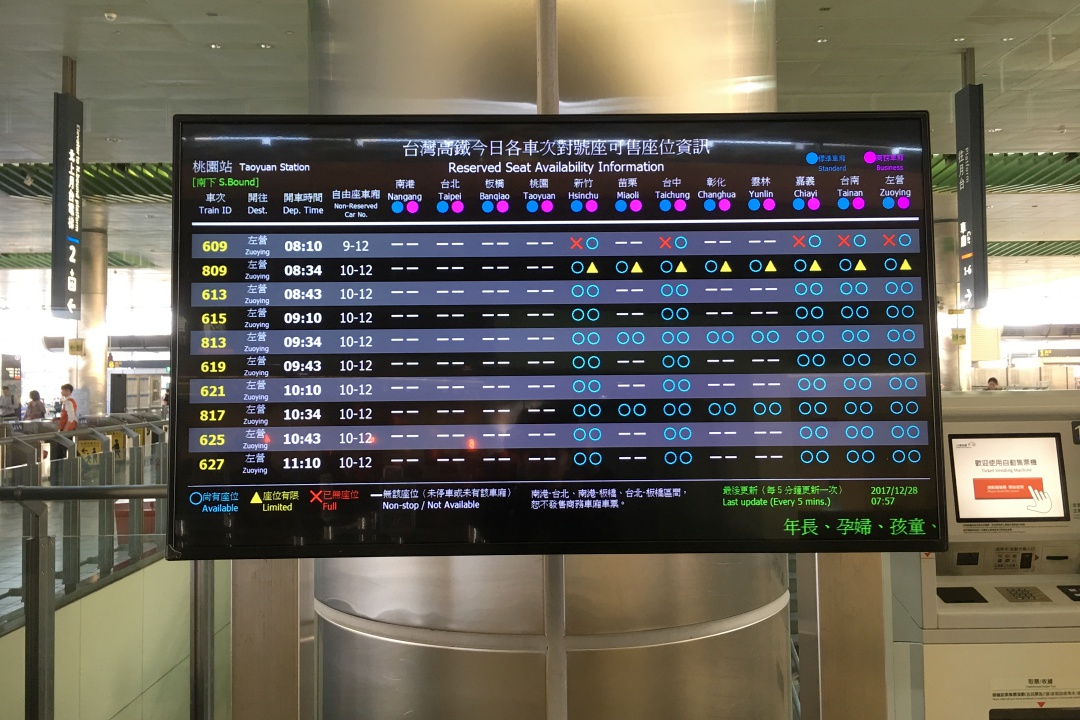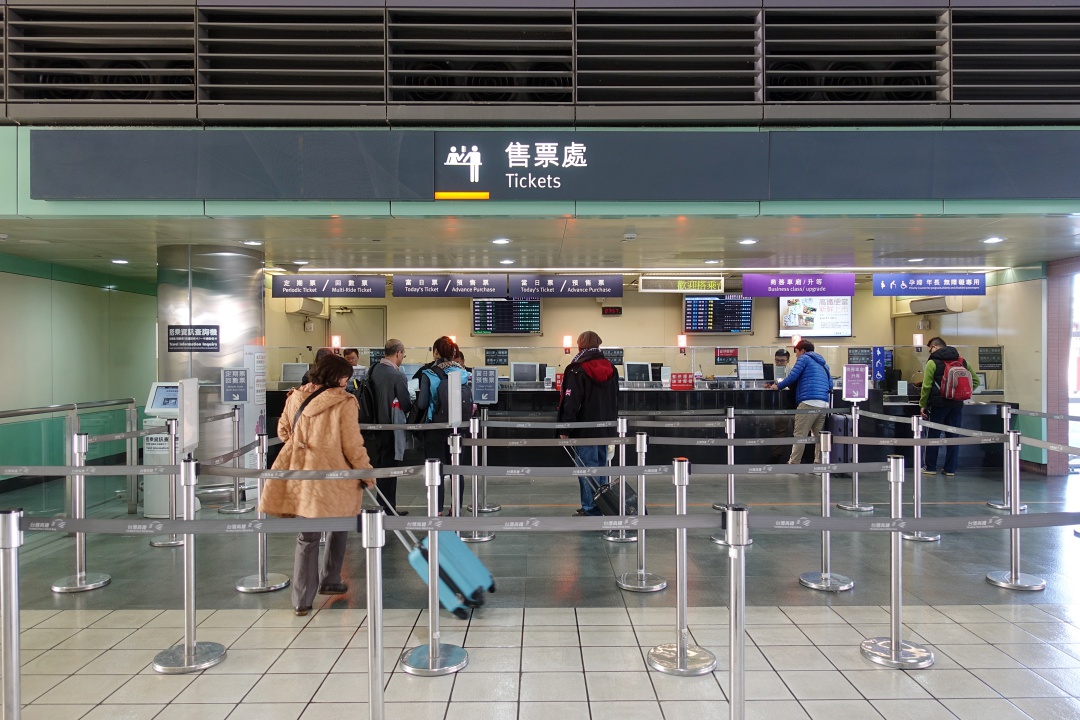 Of course, there is an advantage when it comes to pre-purchasing your tickets online. It guarantees that you would get your seats/tickets. In our case, we have to check out what is the next available train to our destination when we arrived at Taoyuan HSR Station. Fortunately, the next train to Taichung wasn't that far away from the time we bought our tickets. (In the unfortunate event that the tickets to Taichung are sold out, we would have to wait at the station.)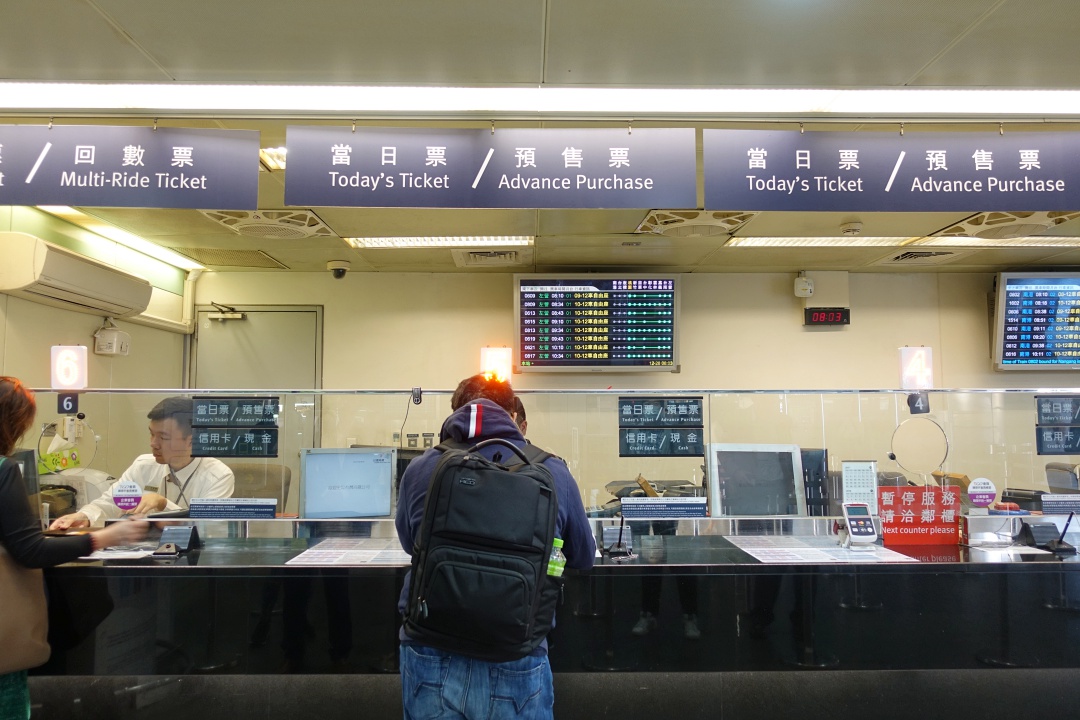 However, while we managed to get our tickets, the staff behind the counter told me that they didn't have seats next to each other. Which means the Husband and I would have to sit separately. It wasn't a big deal to me since the journey was only around 40 minutes from Taoyuan to Taichung. Plus, if it happens that the seat next to either one of us was empty, we could potentially occupy that seat till the passenger came over to claim the place. Luckily for us, the seat next to me turns out to be empty throughout our journey to Taichung, so I eventually still get to sit next to the Husband.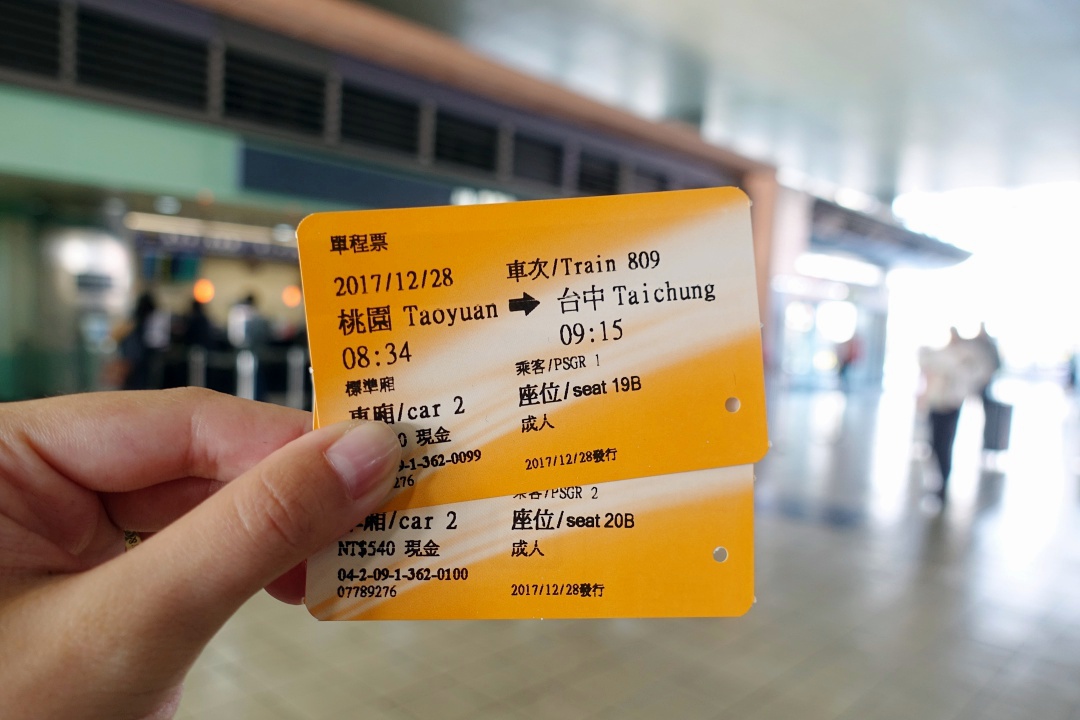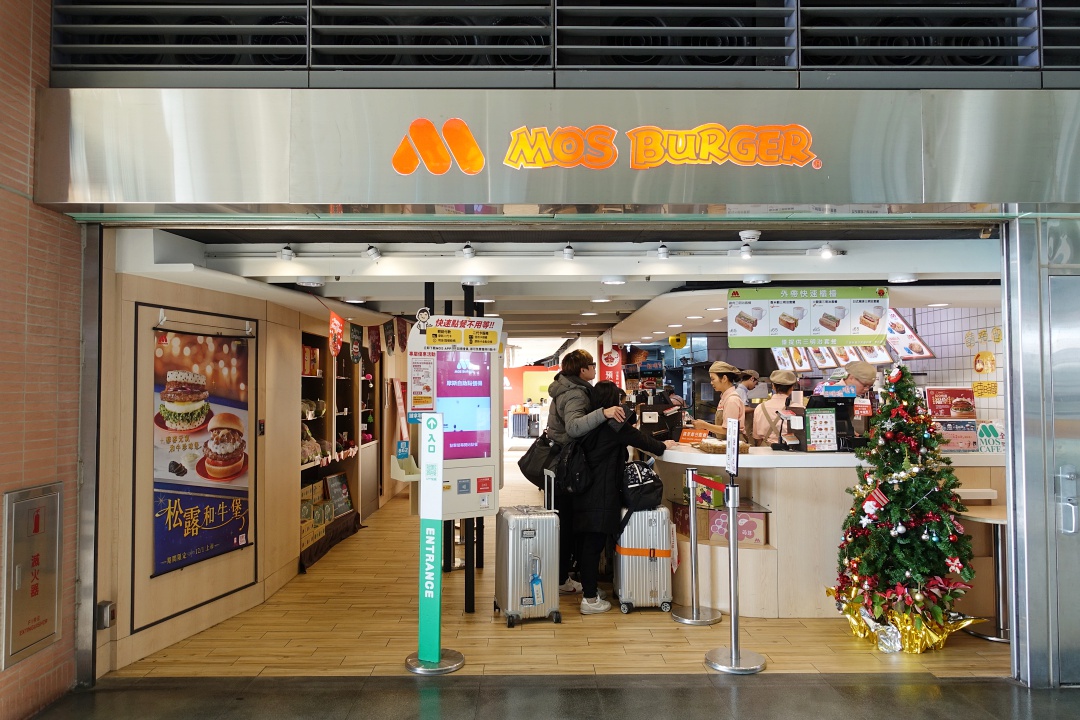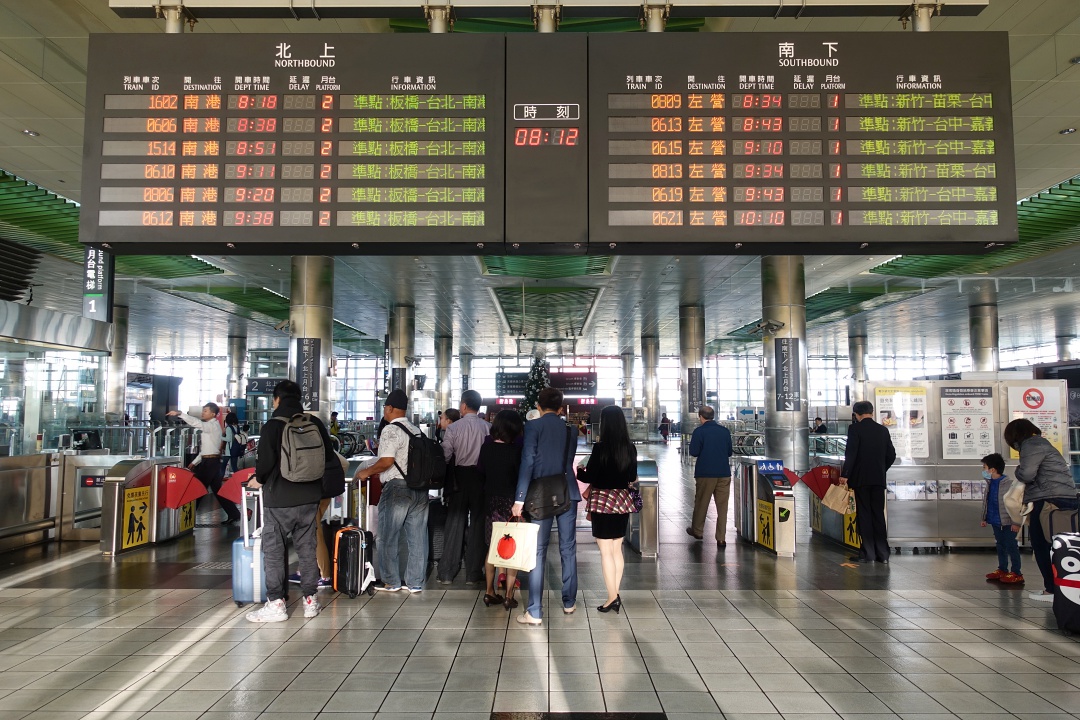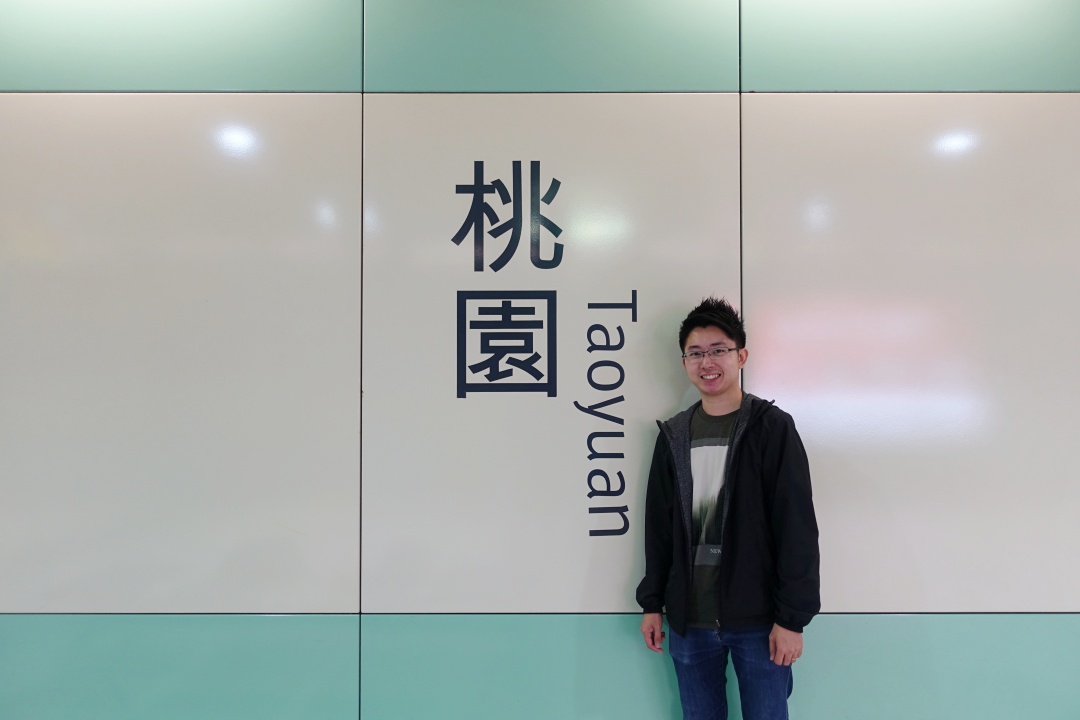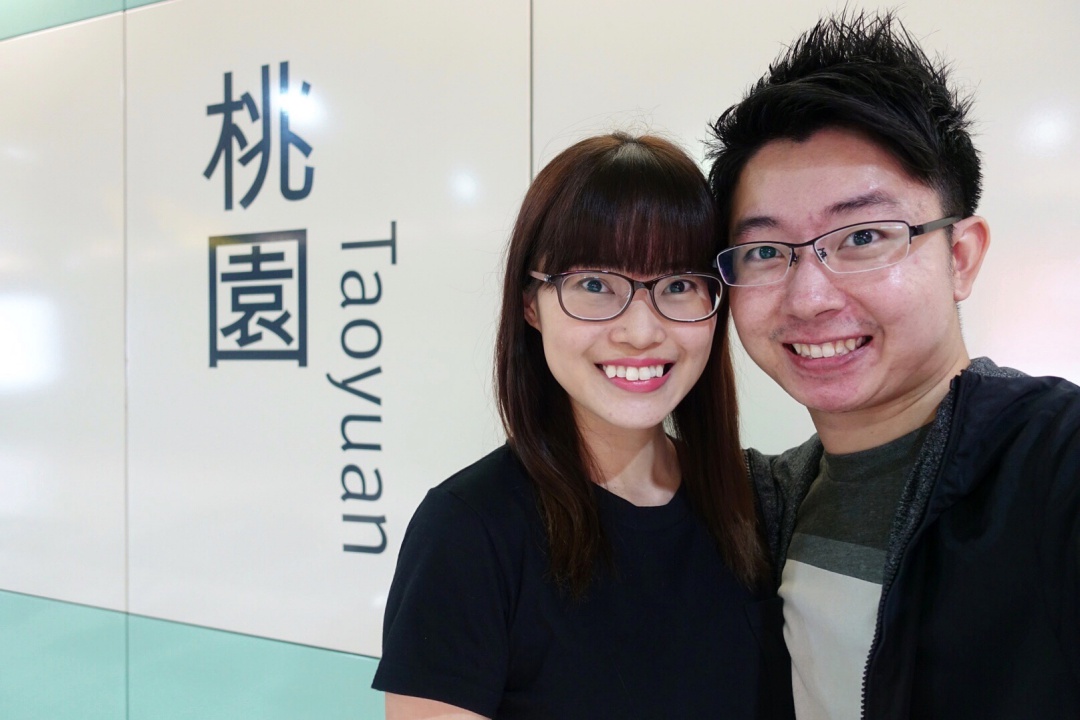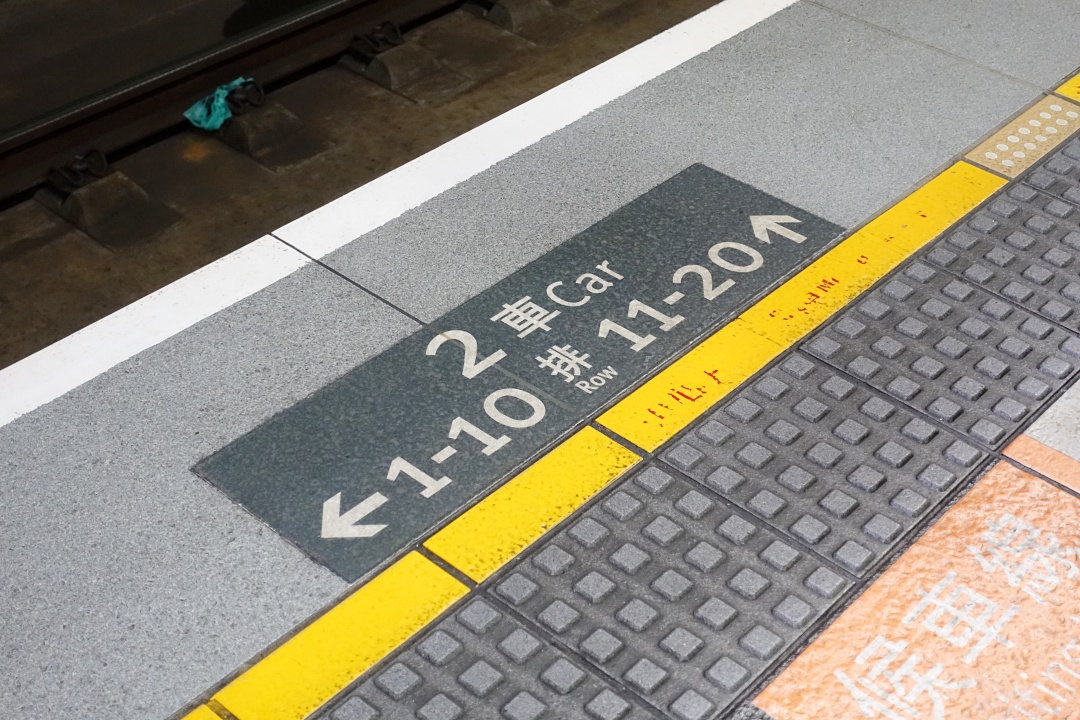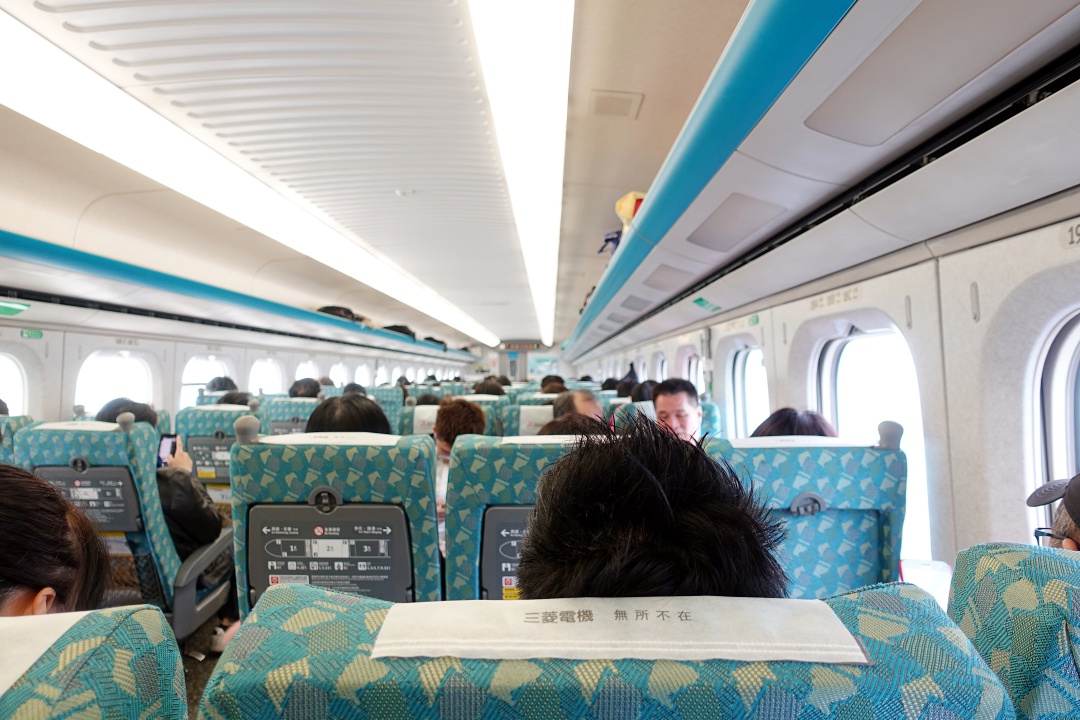 It was my first time taking the high speed rail, and to my surprise, the seats were pretty spacious, comfortable and clean.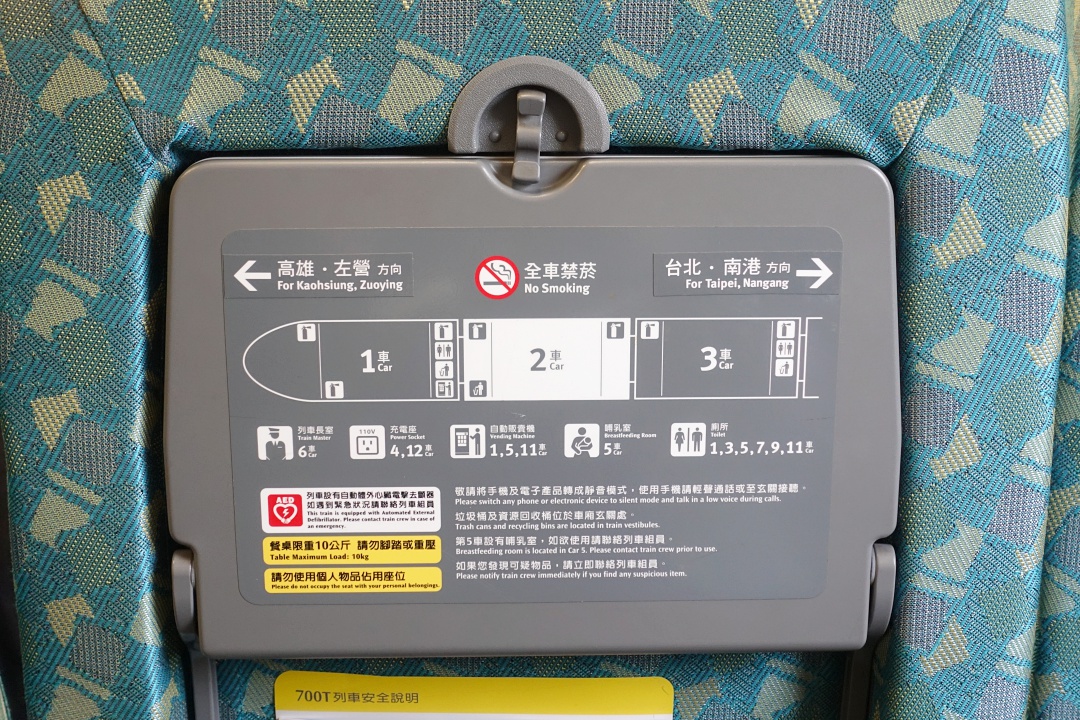 In front of each seat is a foldable table and on it is a diagram providing info on where you can locate the power socket, vending machine, breastfeeding room, toilet, etc.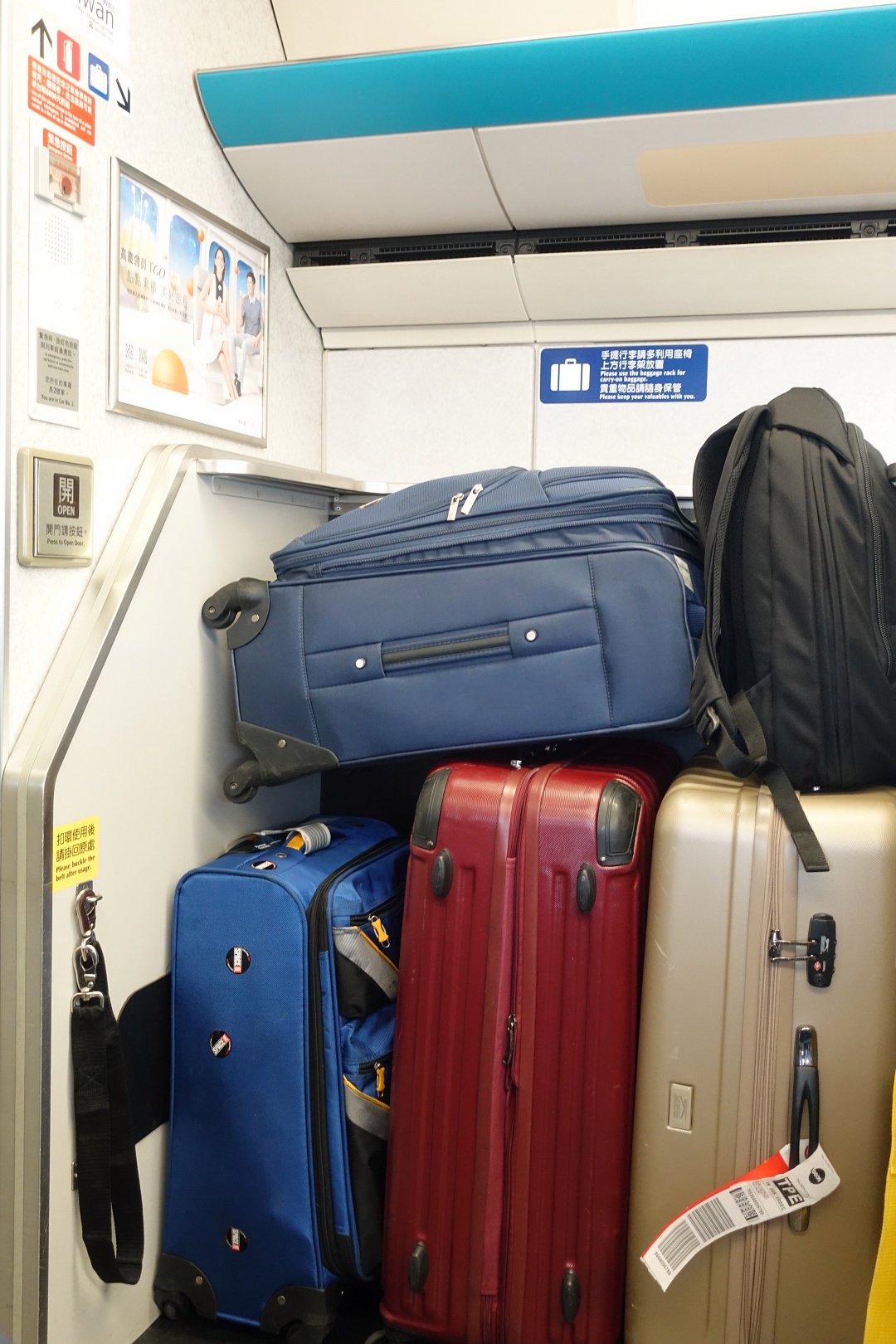 Within each cabin there is a designated spot for us to leave our luggage, so we didn't have to place them in front of our seats.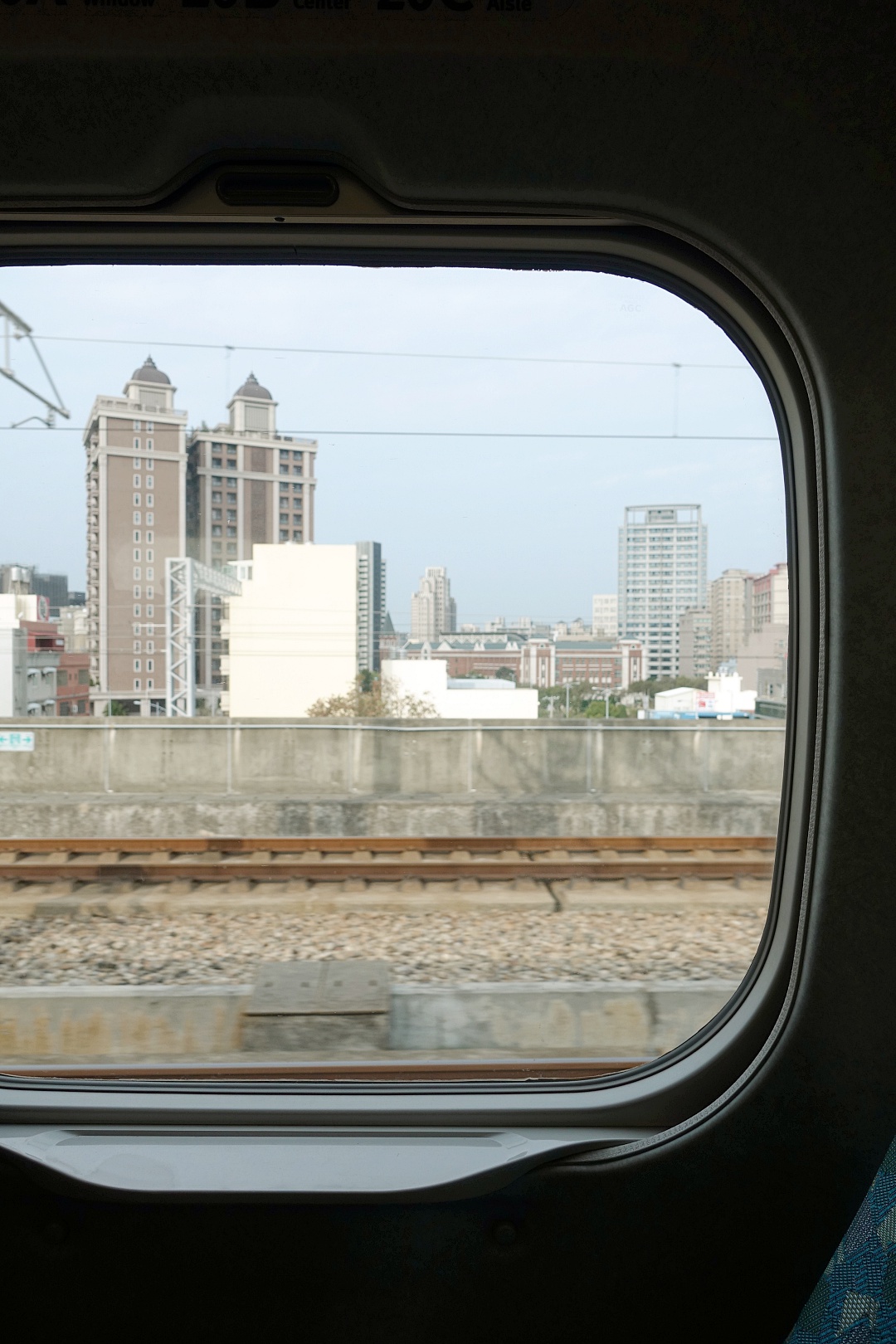 Forget to mention; it cost us TWD540, which works out to around SGD24/ticket, to travel from Taoyuan to Taichung.
Arrival | Taichung 
台中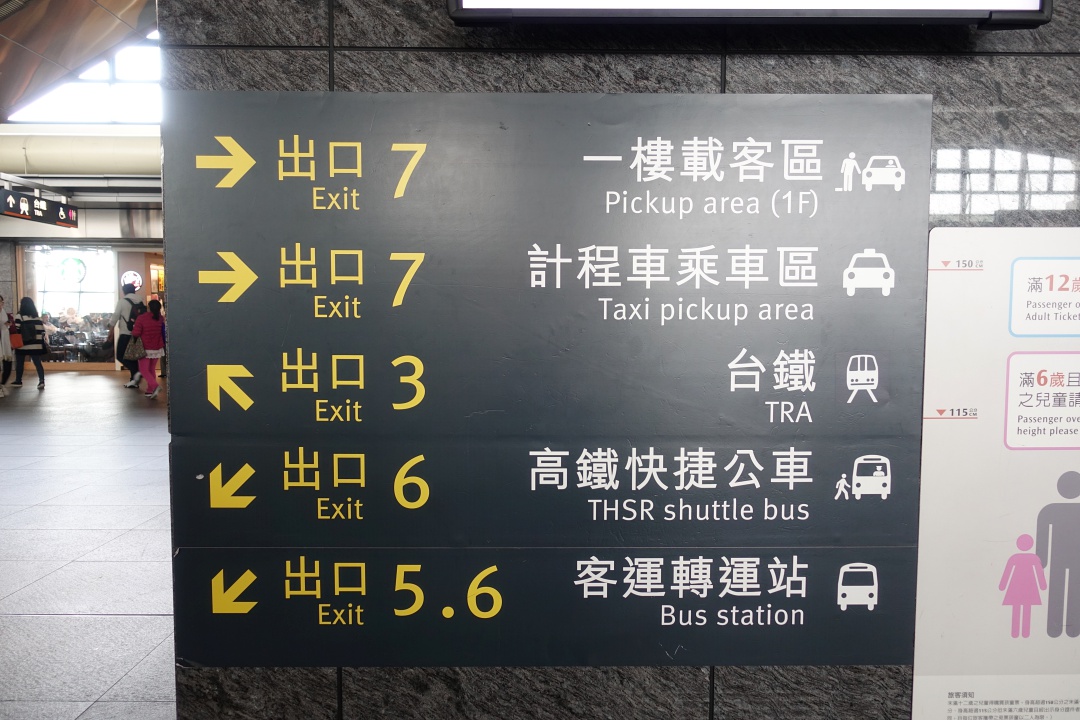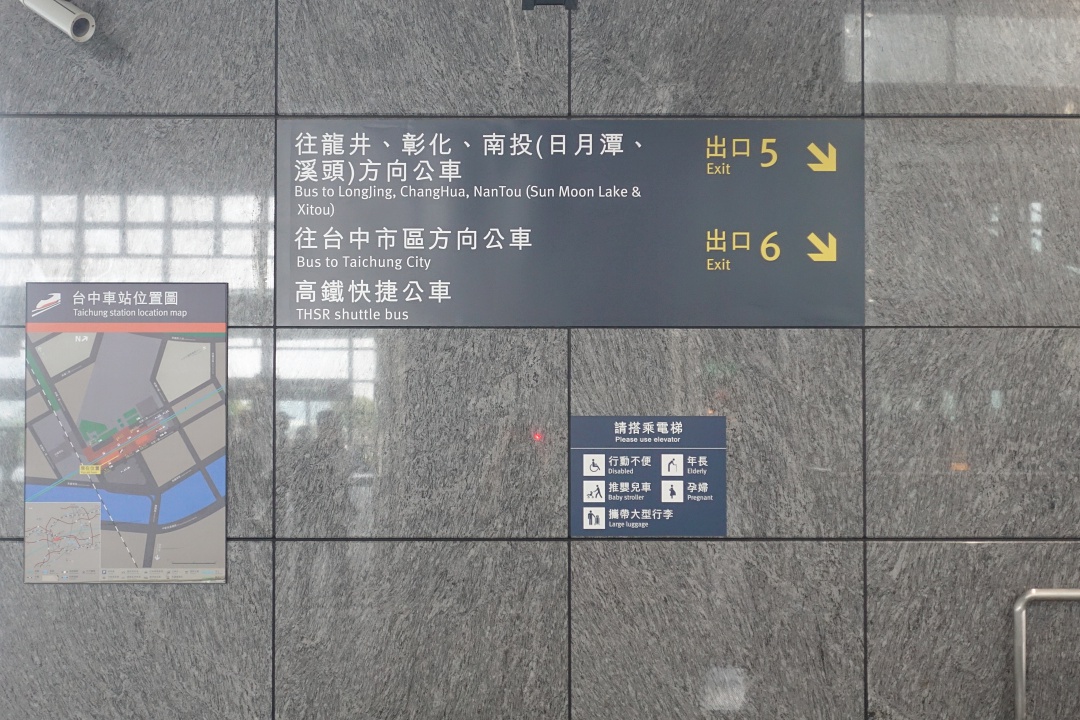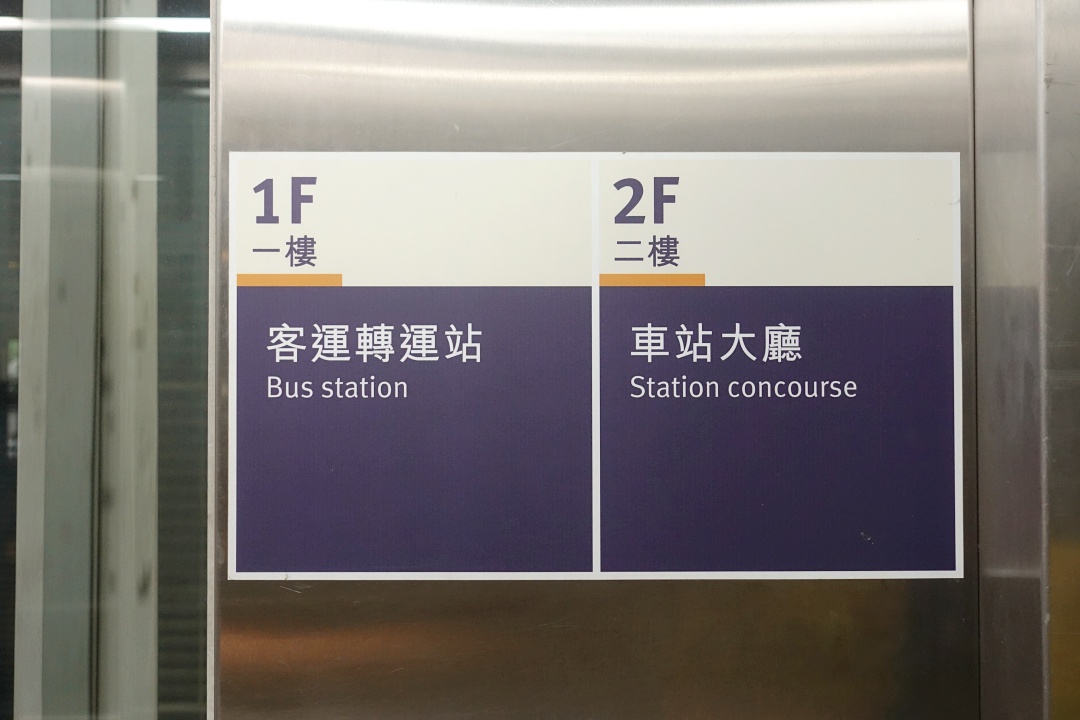 Arrived at Taichung HSR Station, we went down to the bus station to board our bus to our hotel (near Feng Chia Night Market). My research online state that there's a free shuttle service, but we later realised that they had ceased the free shuttle service starting from 1 Sep 2017.
The bus service is still available, just that we now have to pay for the bus fare.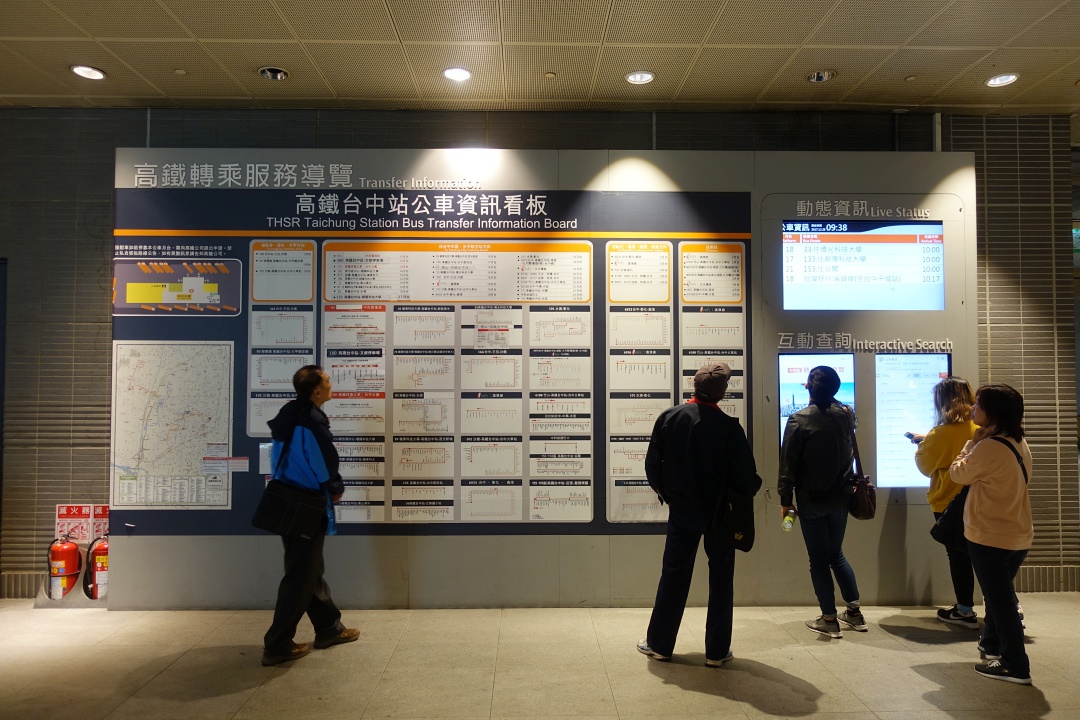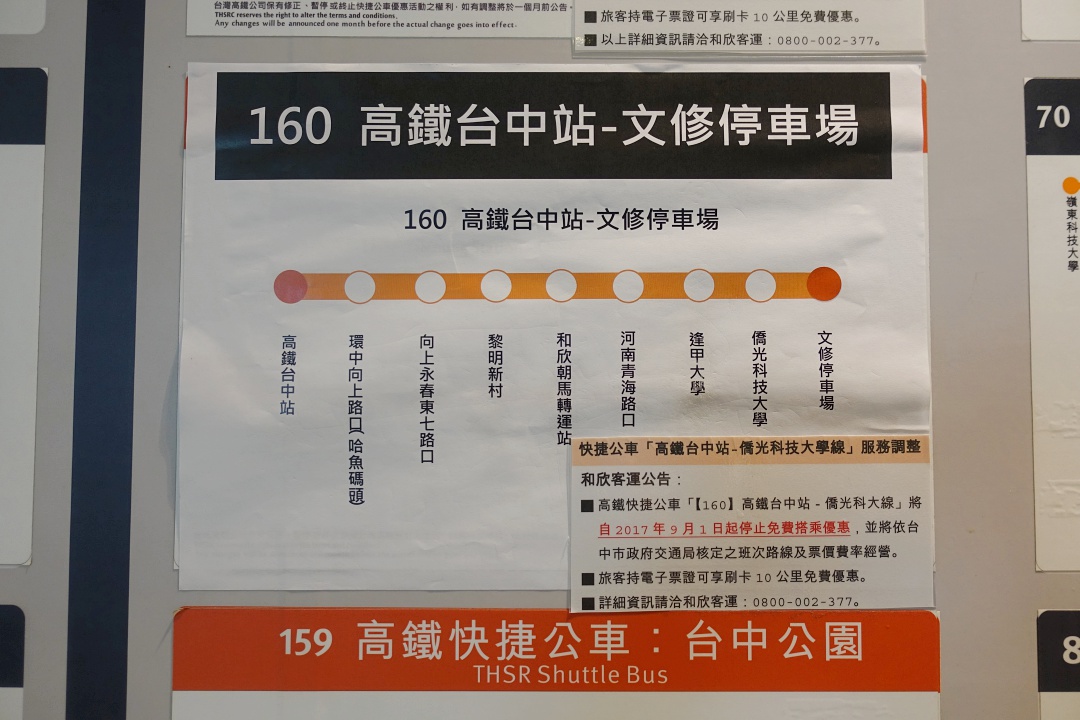 All the info you need is on this large "THSR Taichung Station Bus Transfer Information Board". It states all the available buses and their respective routes. However, as you can see, everything is in Chinese. Knowing how to read Chinese certainly helps.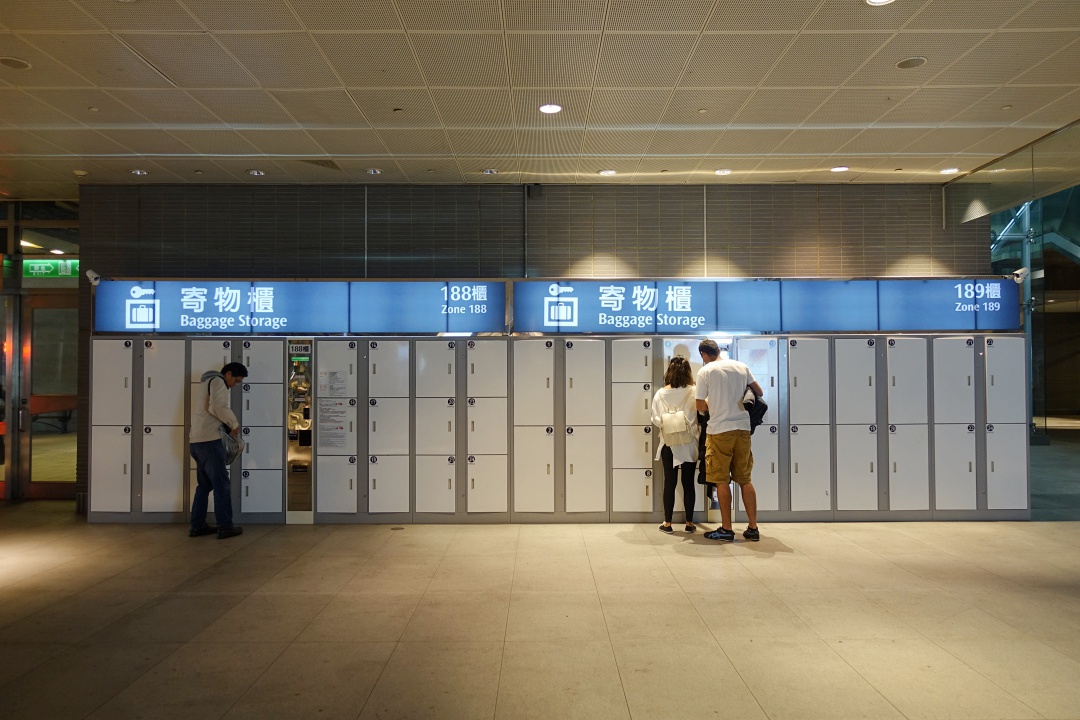 Over at the bus station, we also came across this row of lockers available for rent. The largest ones (the one on the far right) cost TWD50/3 hours. We didn't need it since we're heading straight to our hotel, but I supposed it would be very useful for travellers who are stopping in Taichung for a few hours.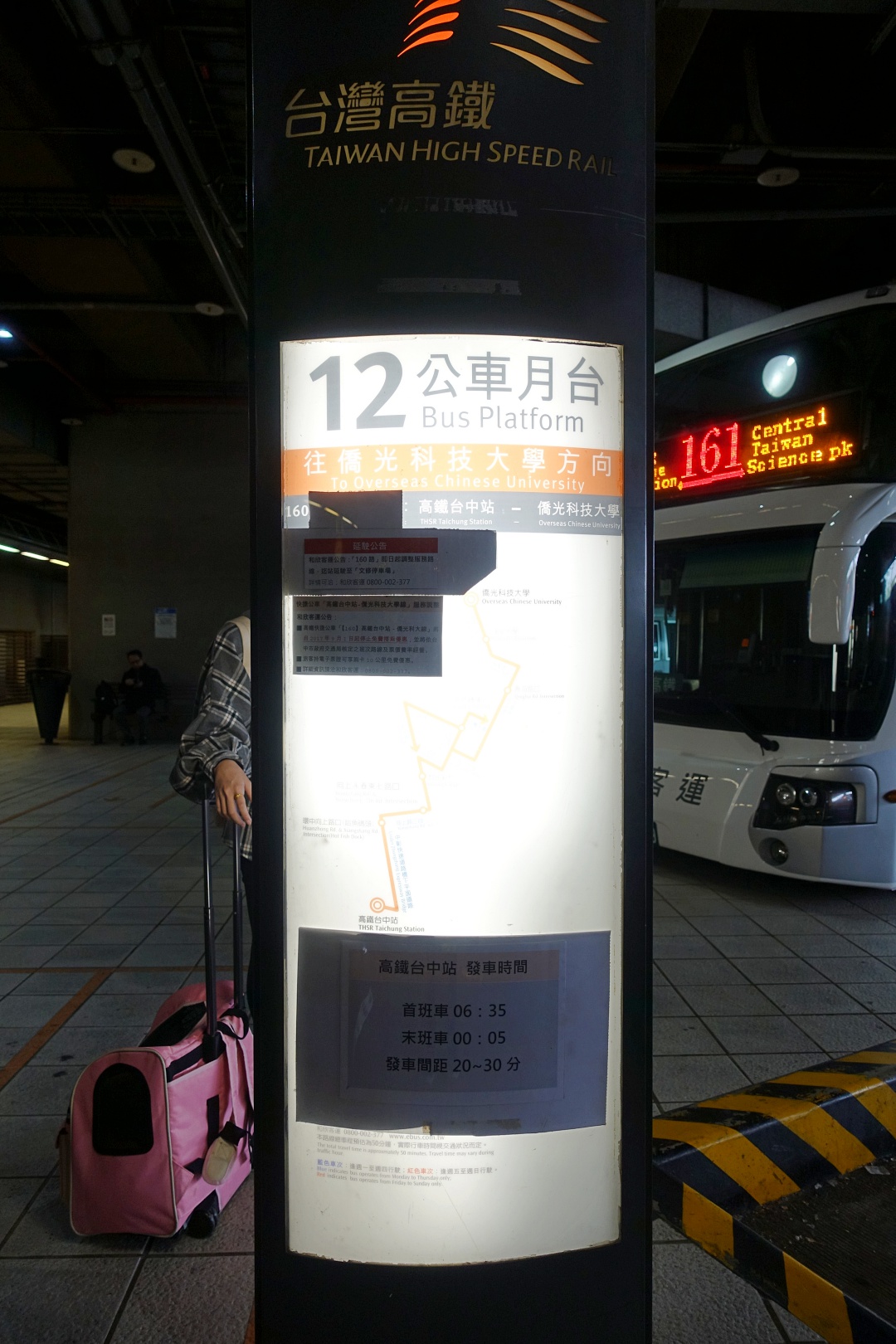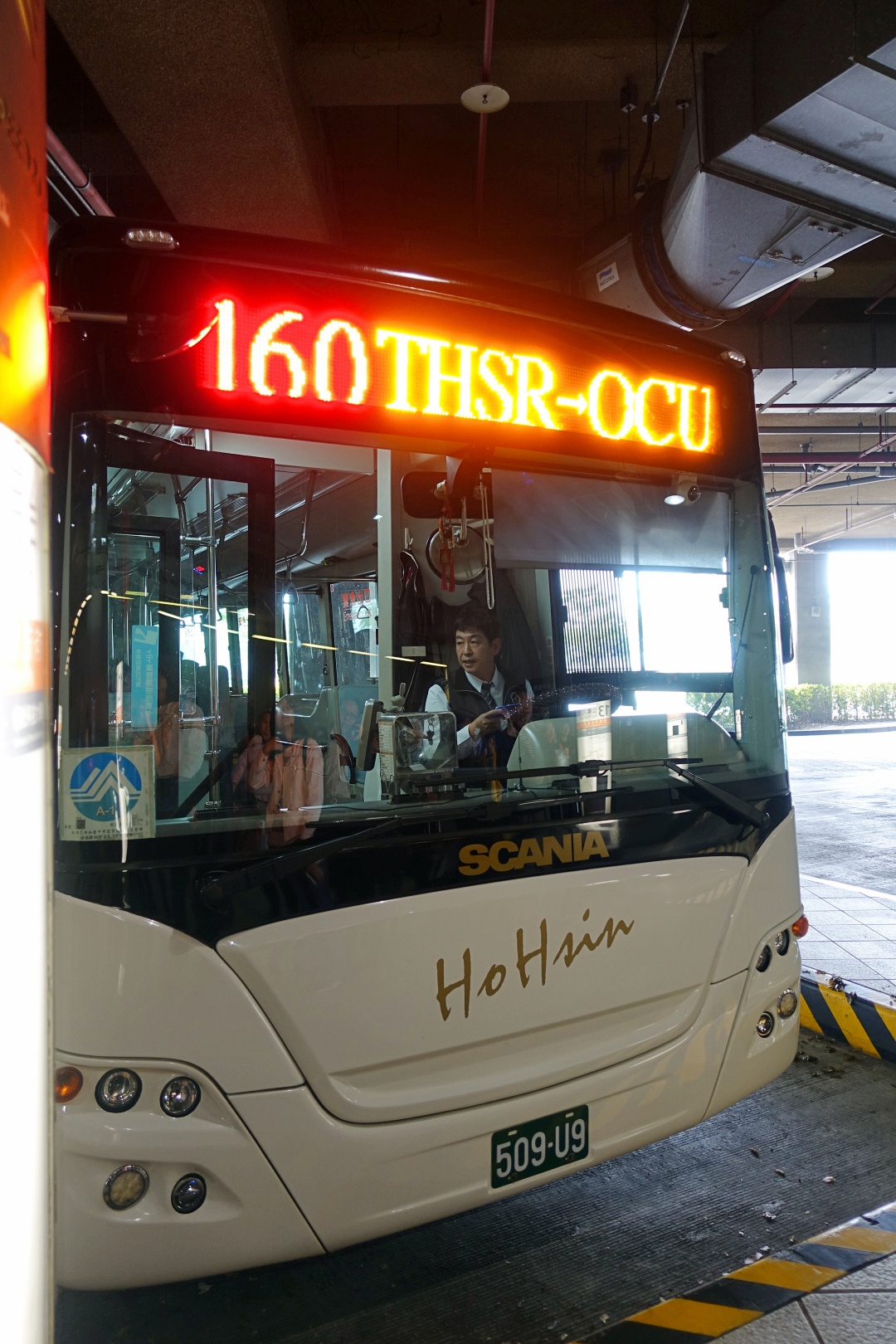 Went to platform 12 to board bus number 160 to Feng Chia University (Feng Chia Night Market / Beacon Hotel Taichung). I was worried that we might miss the stop, so what I did was to turn on my Google Map to make sure that we alight somewhere near to our hotel. That works out well for us because we managed to alight at the correct bus stop.
From the bus stop, it only took us about five minutes to reach our hotel.
It was around 10:45 when we arrived at the hotel. As the check-in time was at 15:00, we decided to leave our luggage at the hotel and head out to explore the neighbourhood. Some of the shops below our hotels were just about to open. There was a Watsons and a Miniso right at the counter of our hotel; so we went in to have a quick look before venturing to the other nearby streets.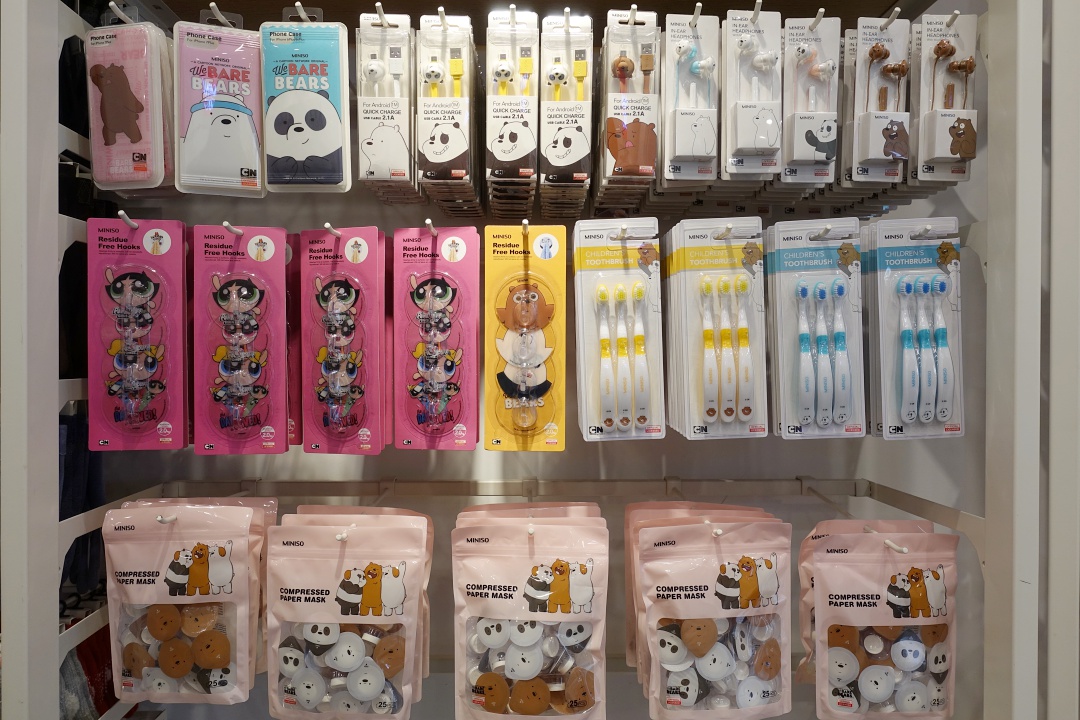 We then came across a handful of shops with claw machines and knowing us; we got attracted to playing a couple of games. After some failed attempts, the Husband managed to catch me a Duffy look-a-like.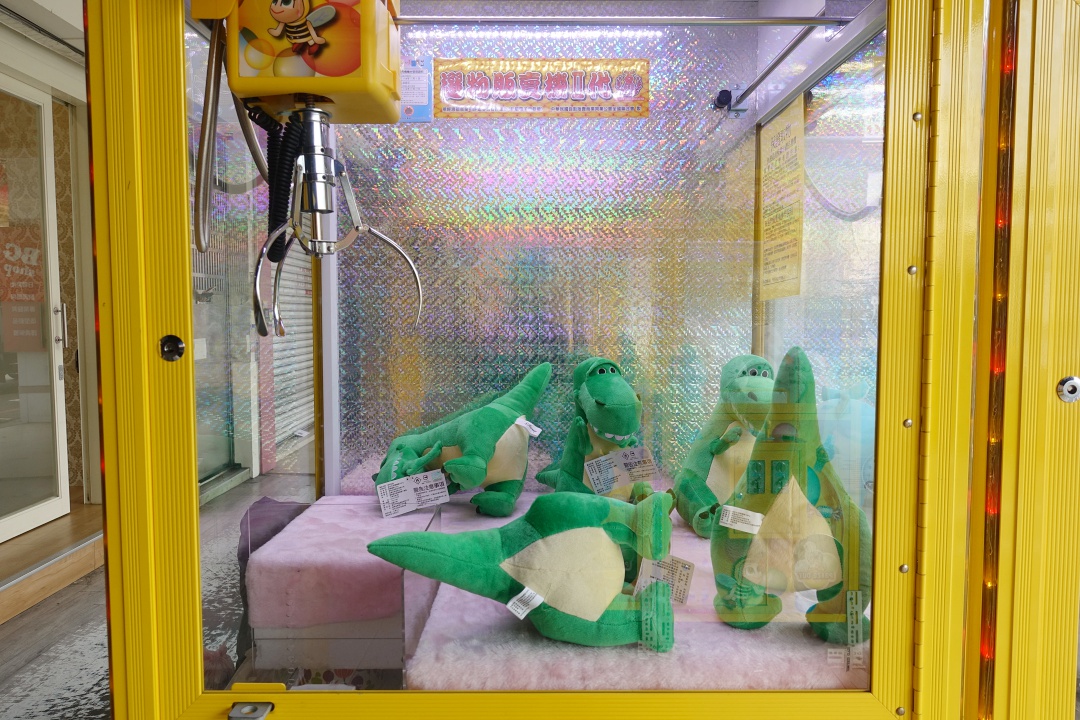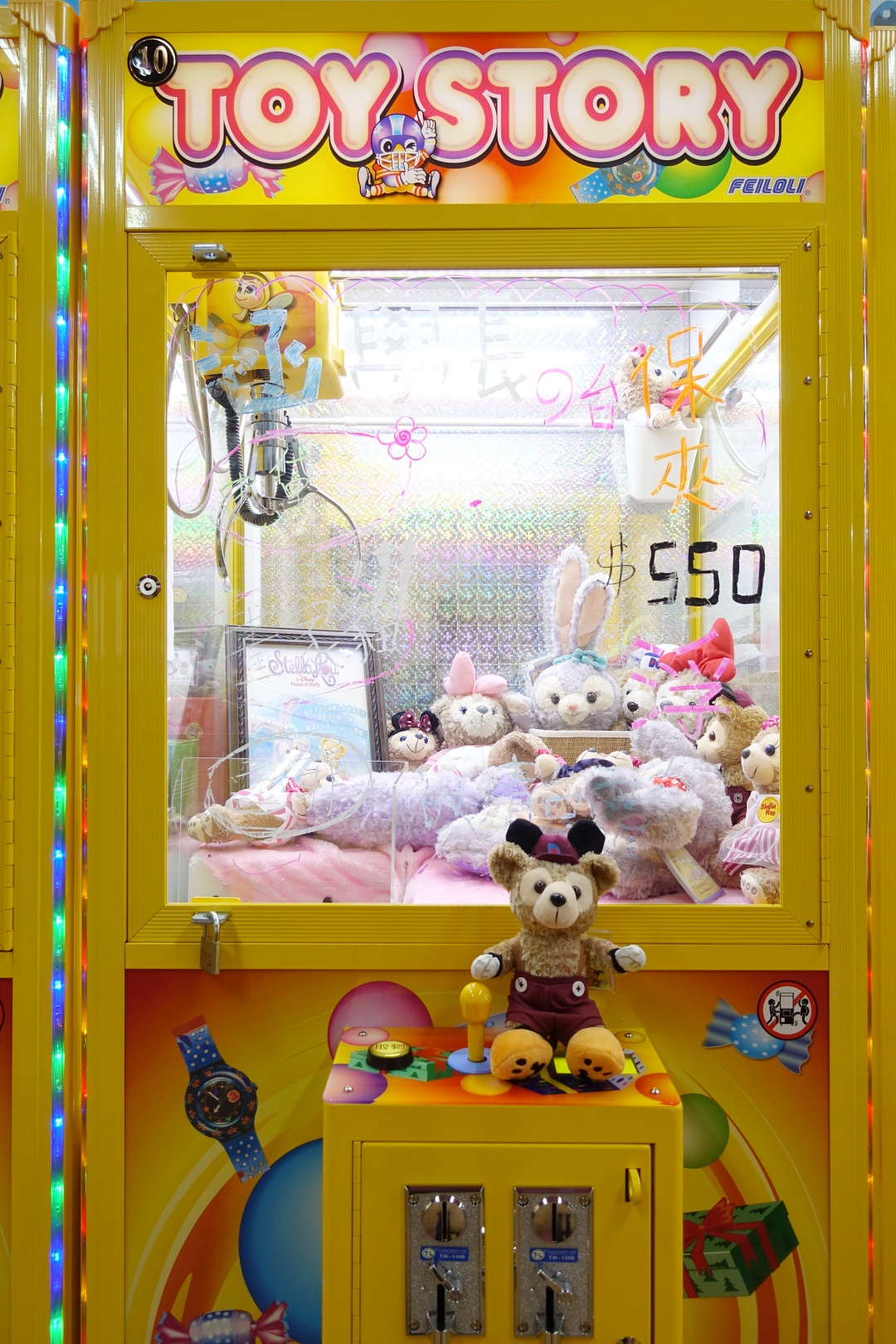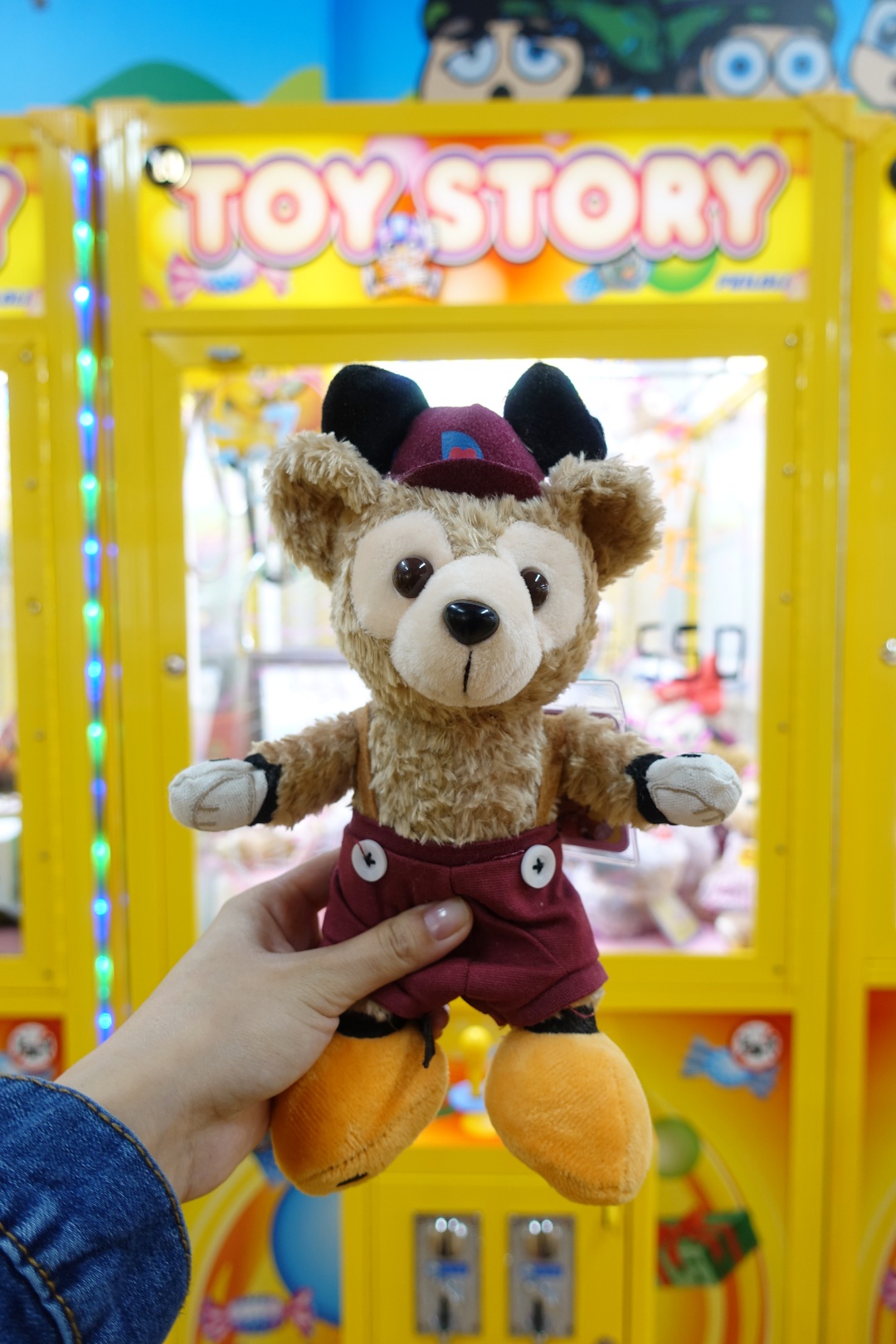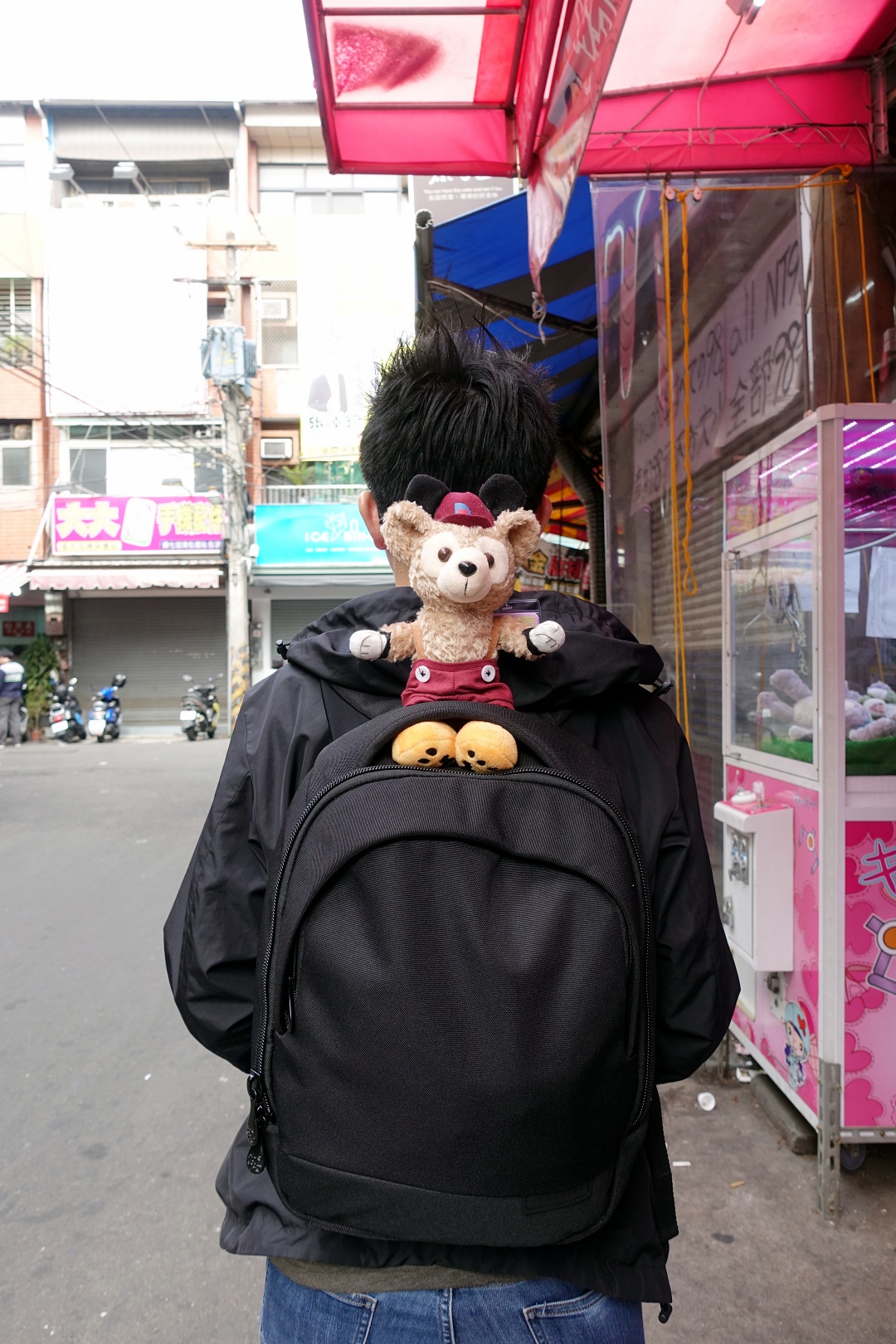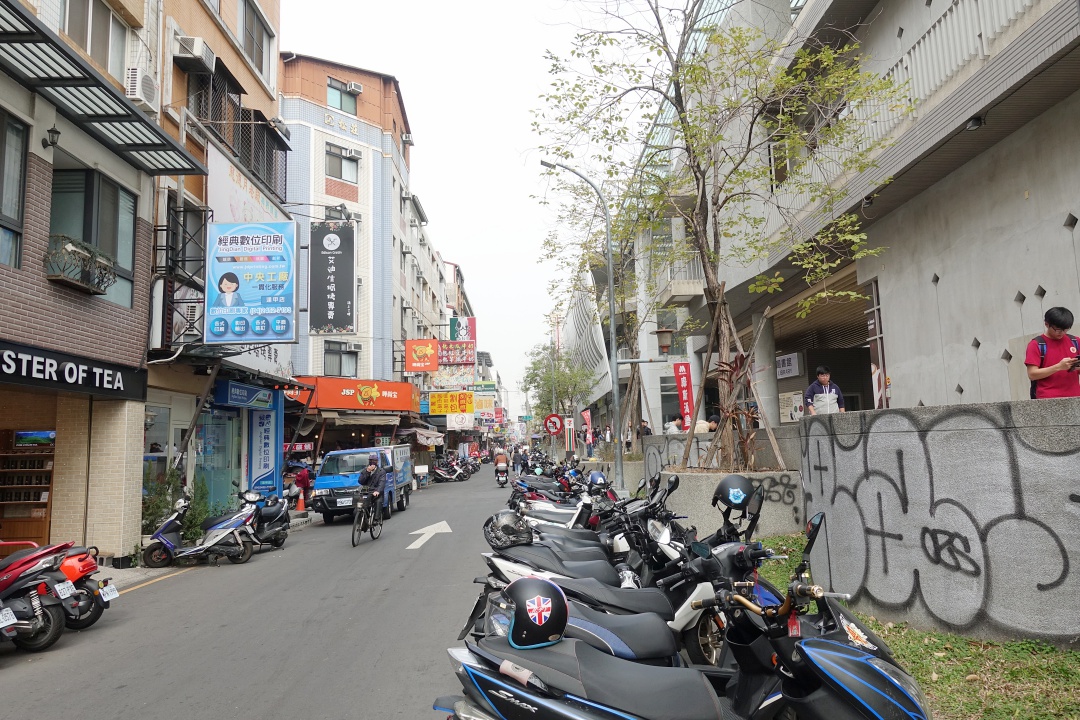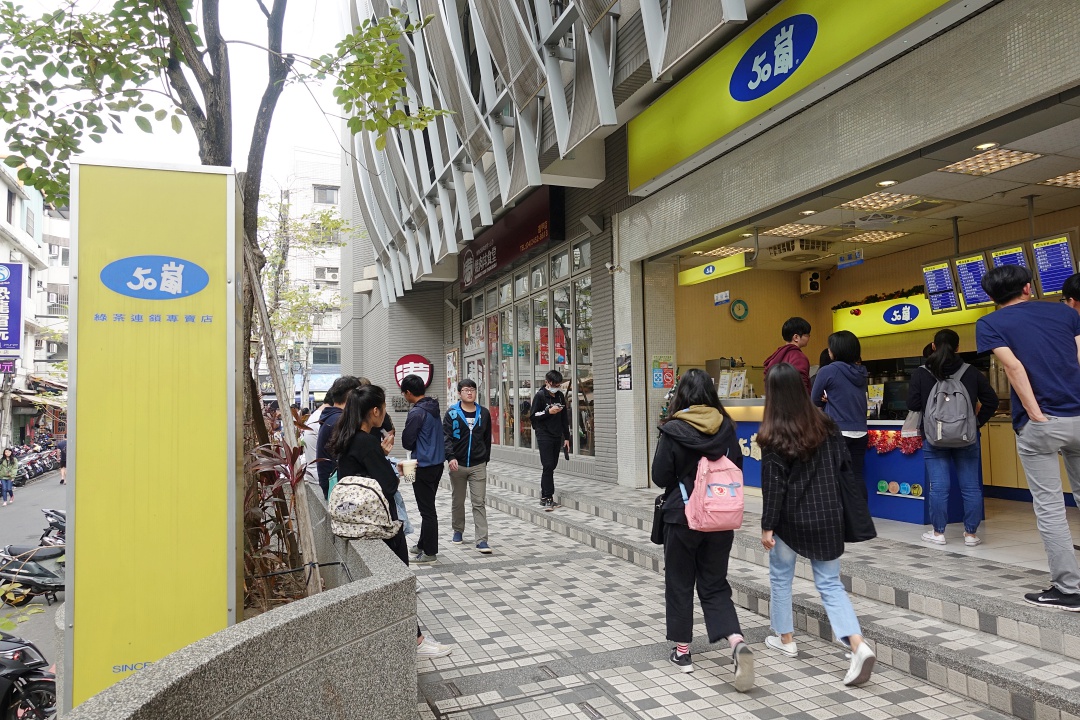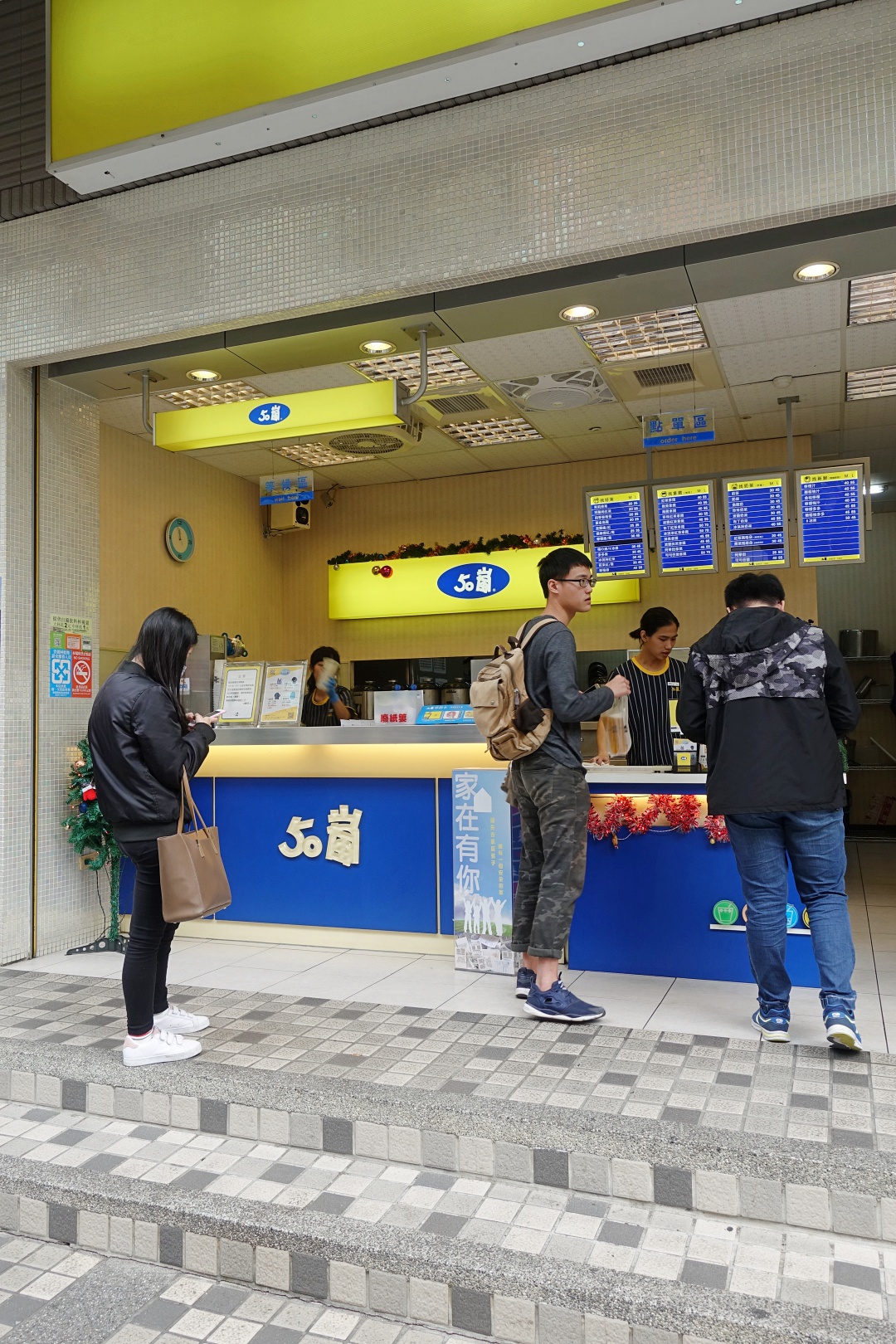 We then came across 50 Lan (50嵐), which is basically the brand behind KOI. So of course, we have to get a milk tea. Afterall, what's Taiwan without the authentic bubble tea!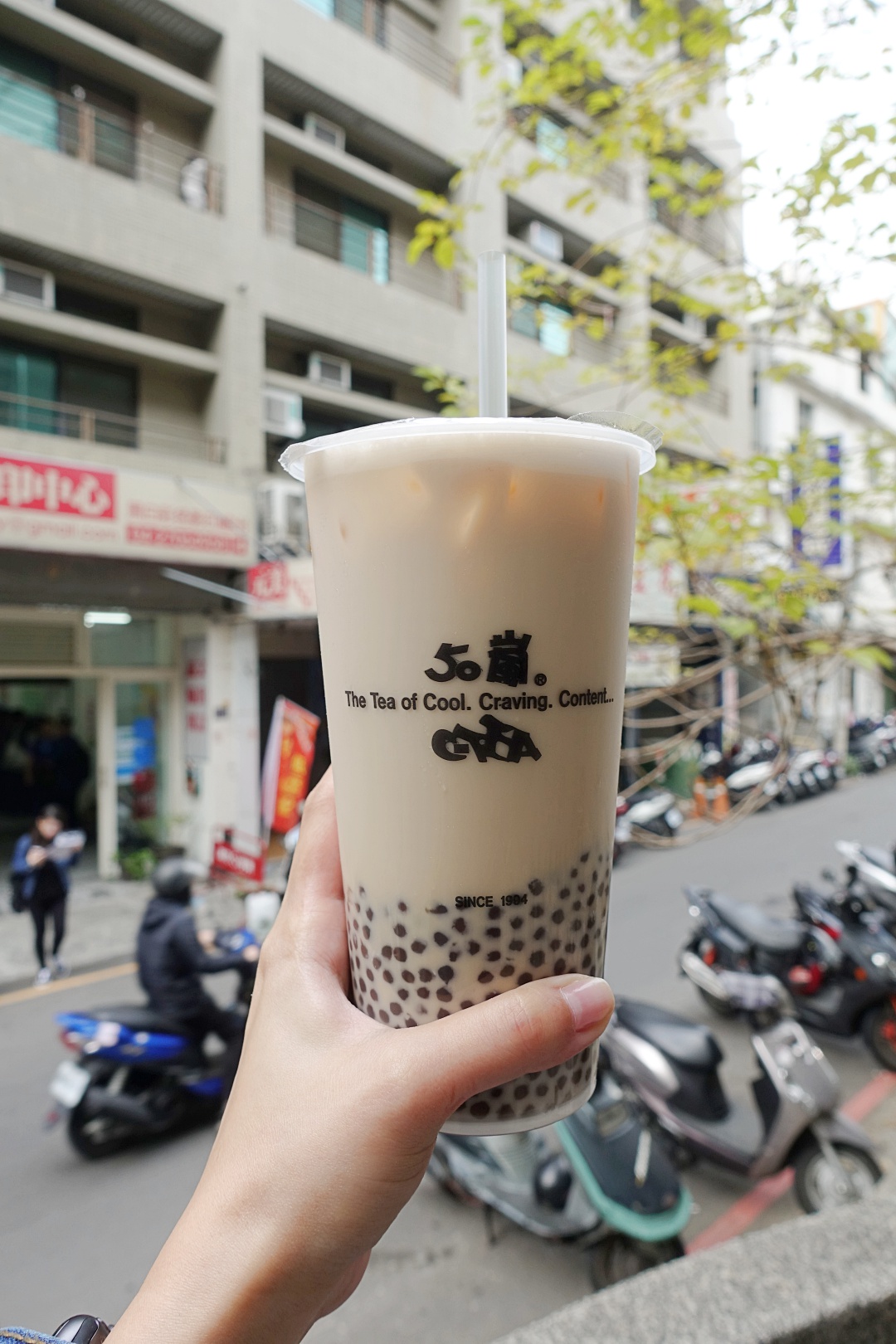 Compared to Singapore, bubble tea is so much more affordable in Taiwan. It only costs TWD45 (SGD2) for a large bubble milk tea in Taiwan; whereas in Singapore, it cost SGD4.90 for a large golden bubble milk tea.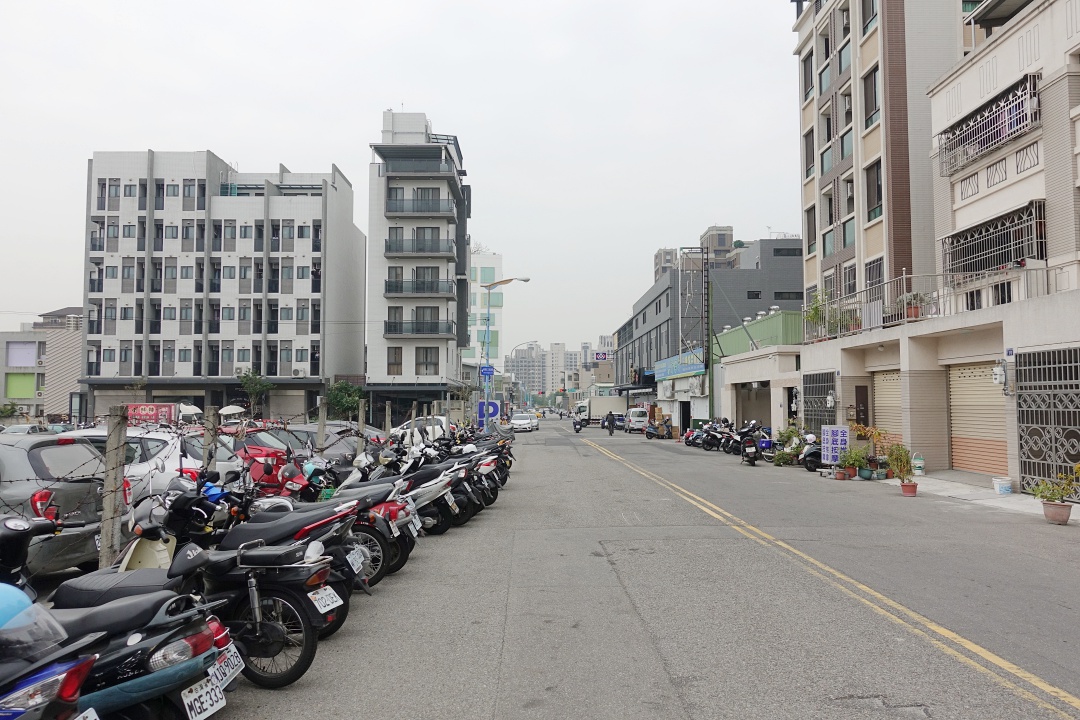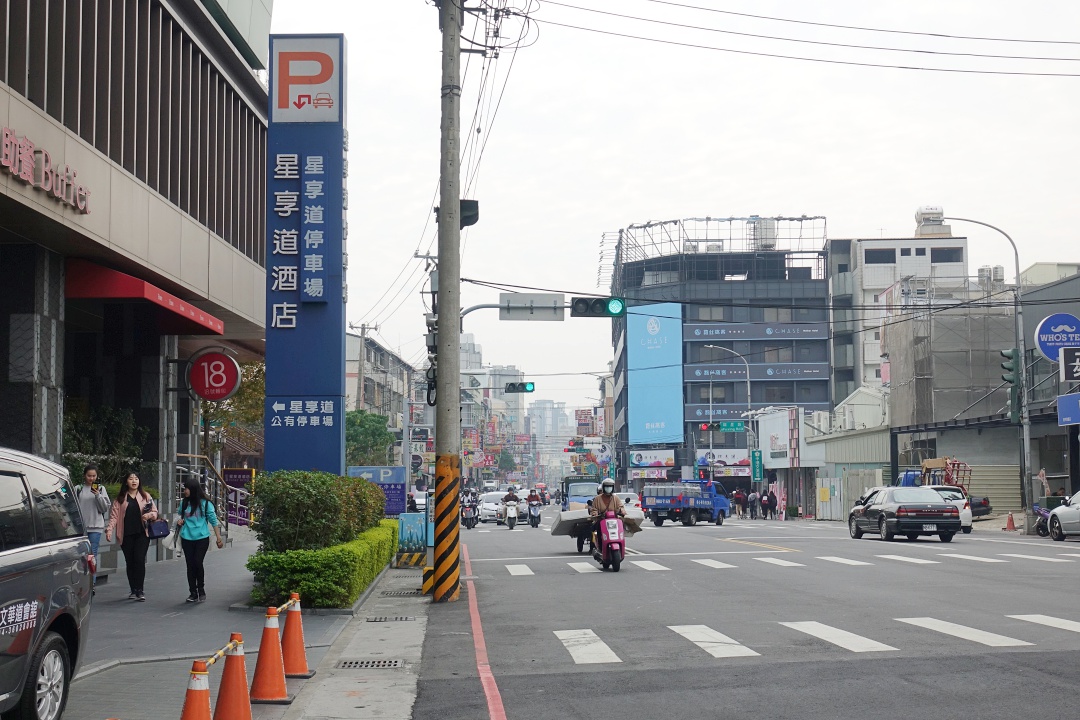 We managed to walk around the vicinity, play a couple more claw machine before we finally decided to head back to the McDonald's below our hotel. It was around 14:00 then and we decided to settle down for lunch. I ordered a crispy chicken burger, and it tastes really good! The Husband ordered two fried chickens, and together with a medium fries and a large coke, we paid TWD206 (SGD9.20).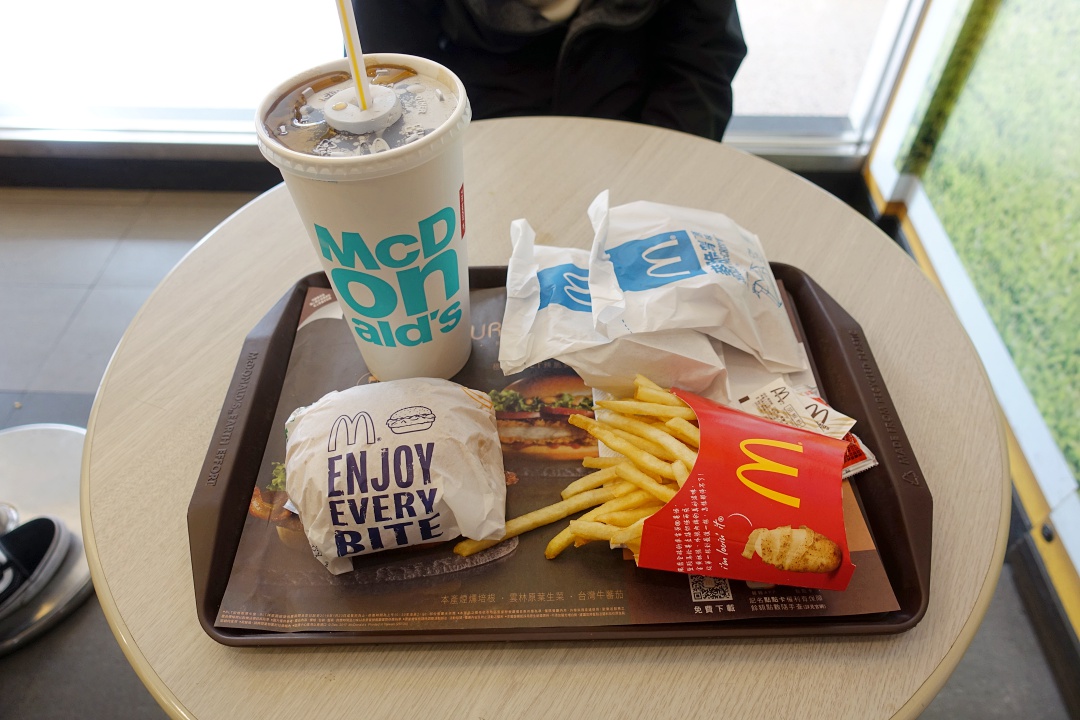 After having our lunch, we went back to the hotel and managed to check in at 14:30.
Beacon Hotel Taichung 碧根行館
7-9F, No. 427 Fu Hsing Rd., Taichung, Taiwan
Tel: +886424515828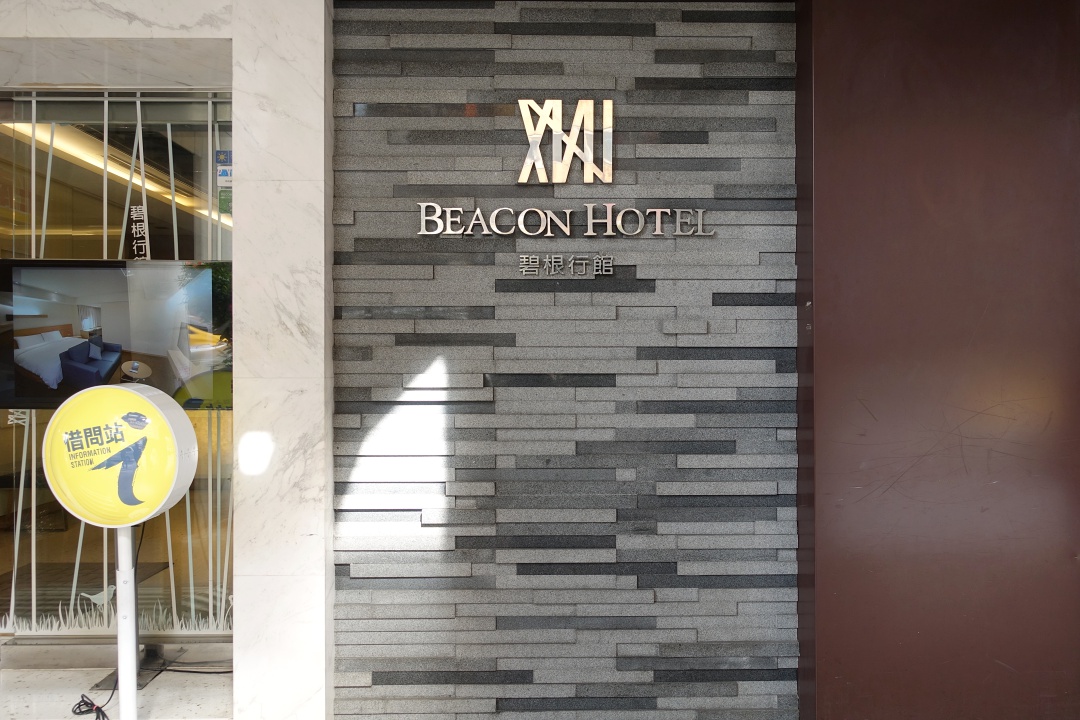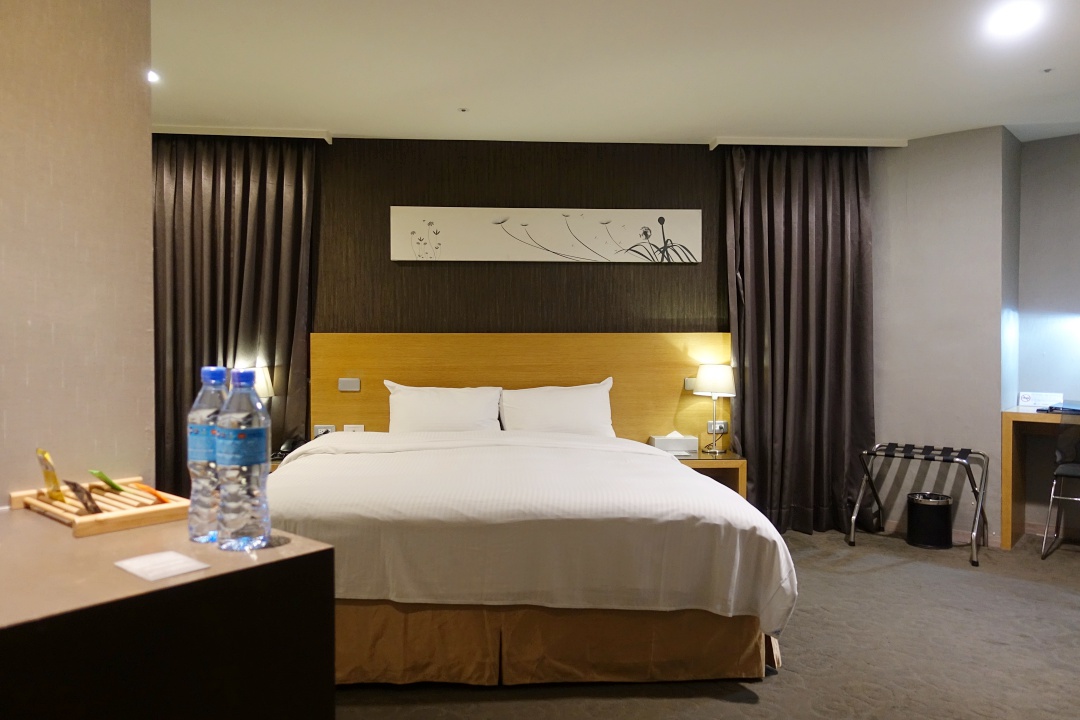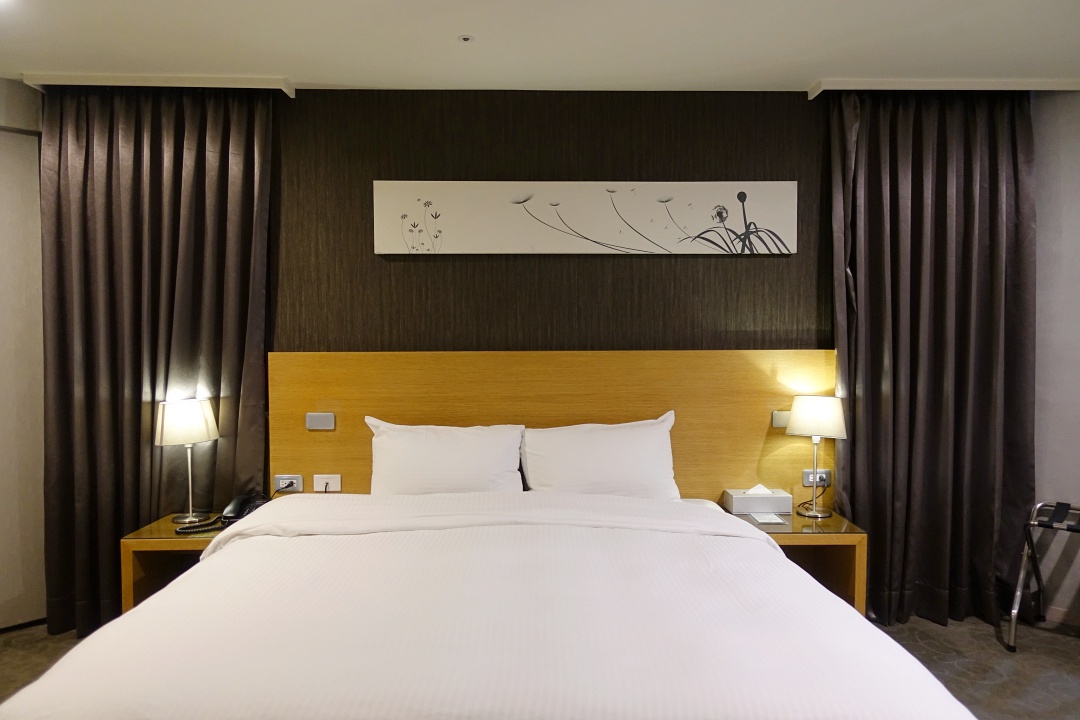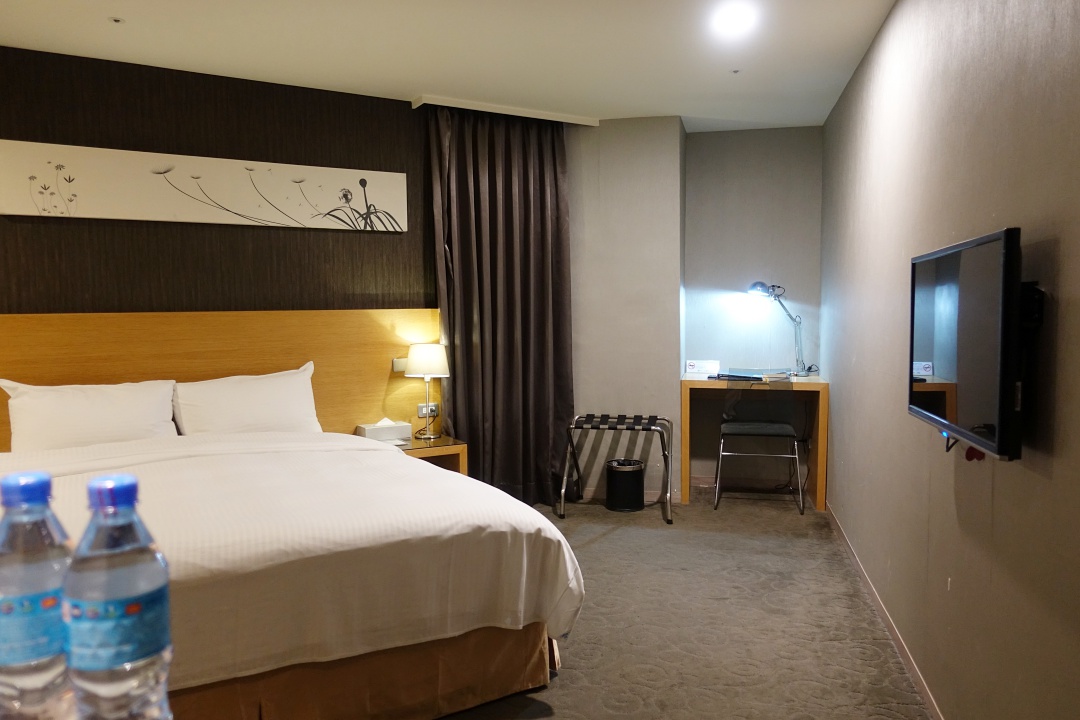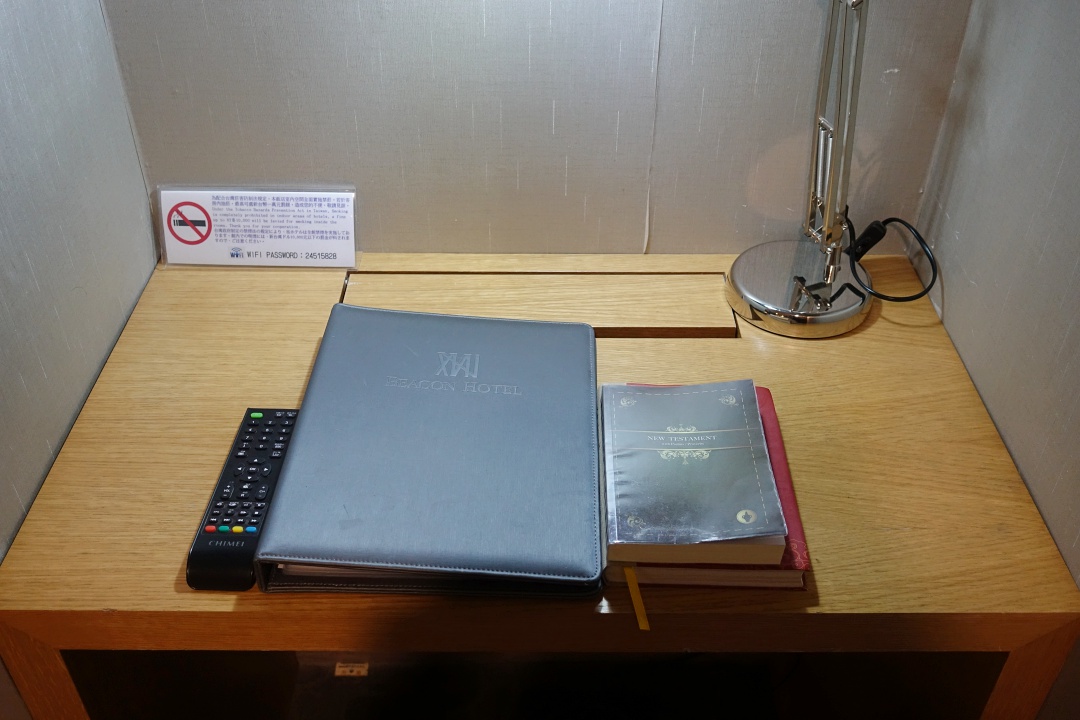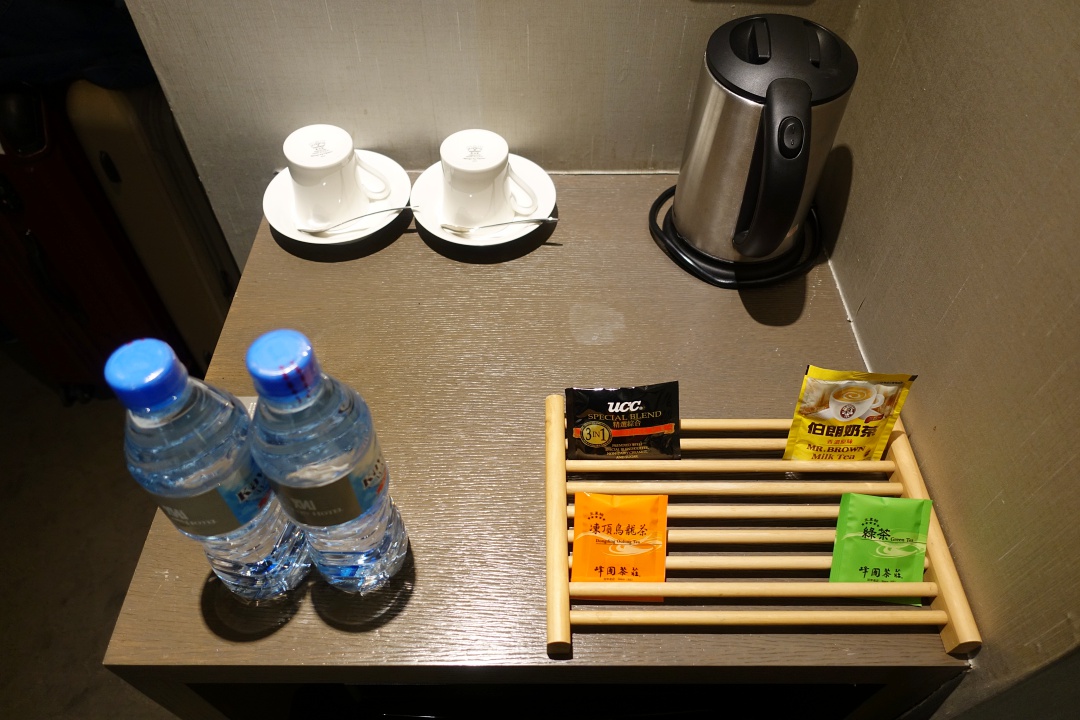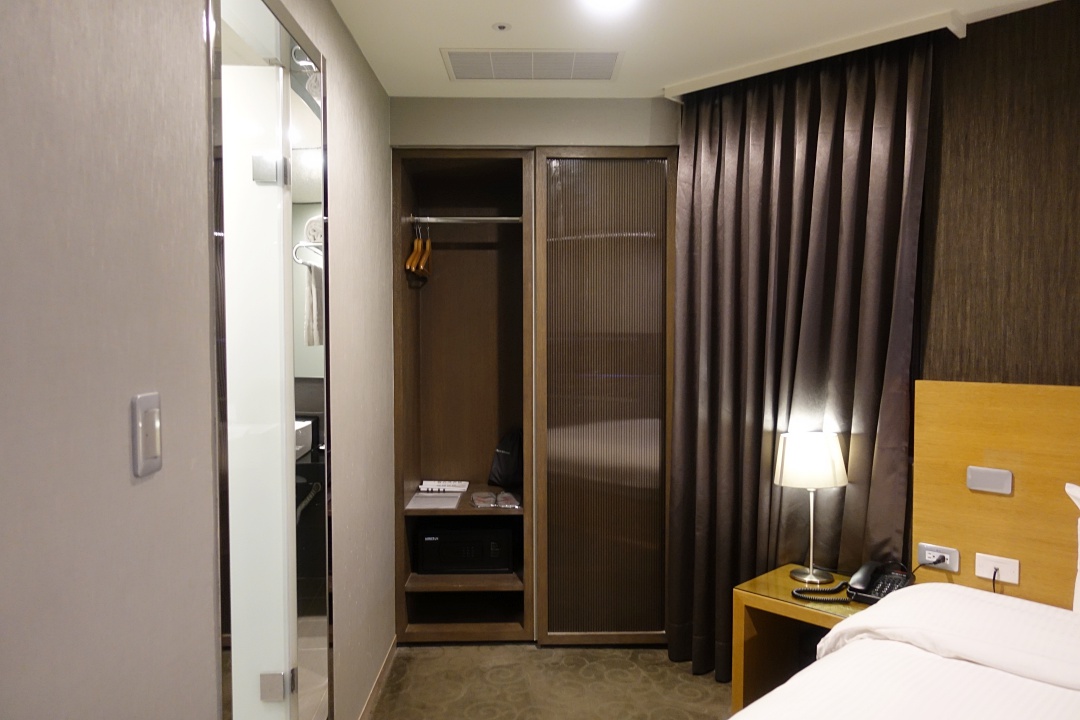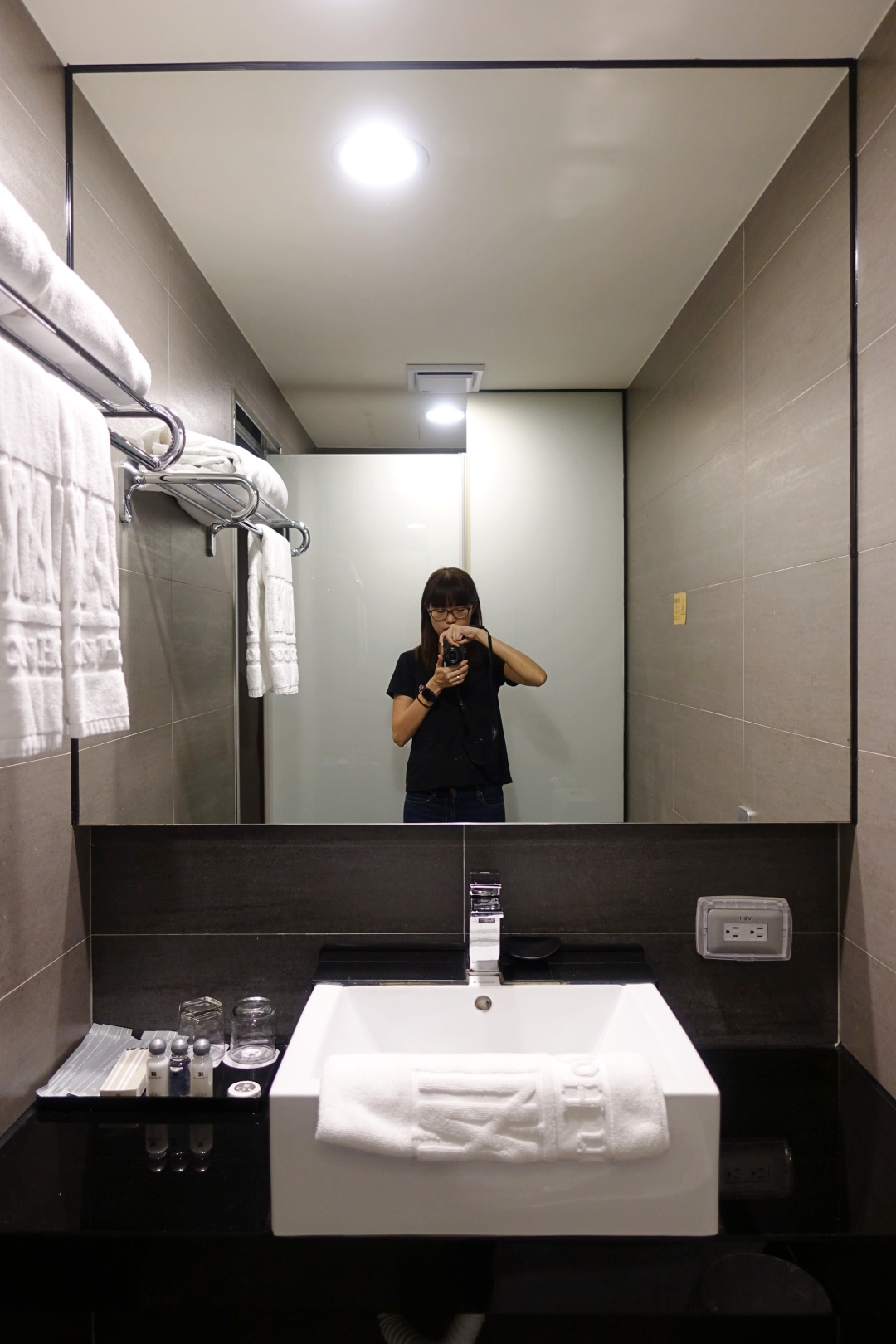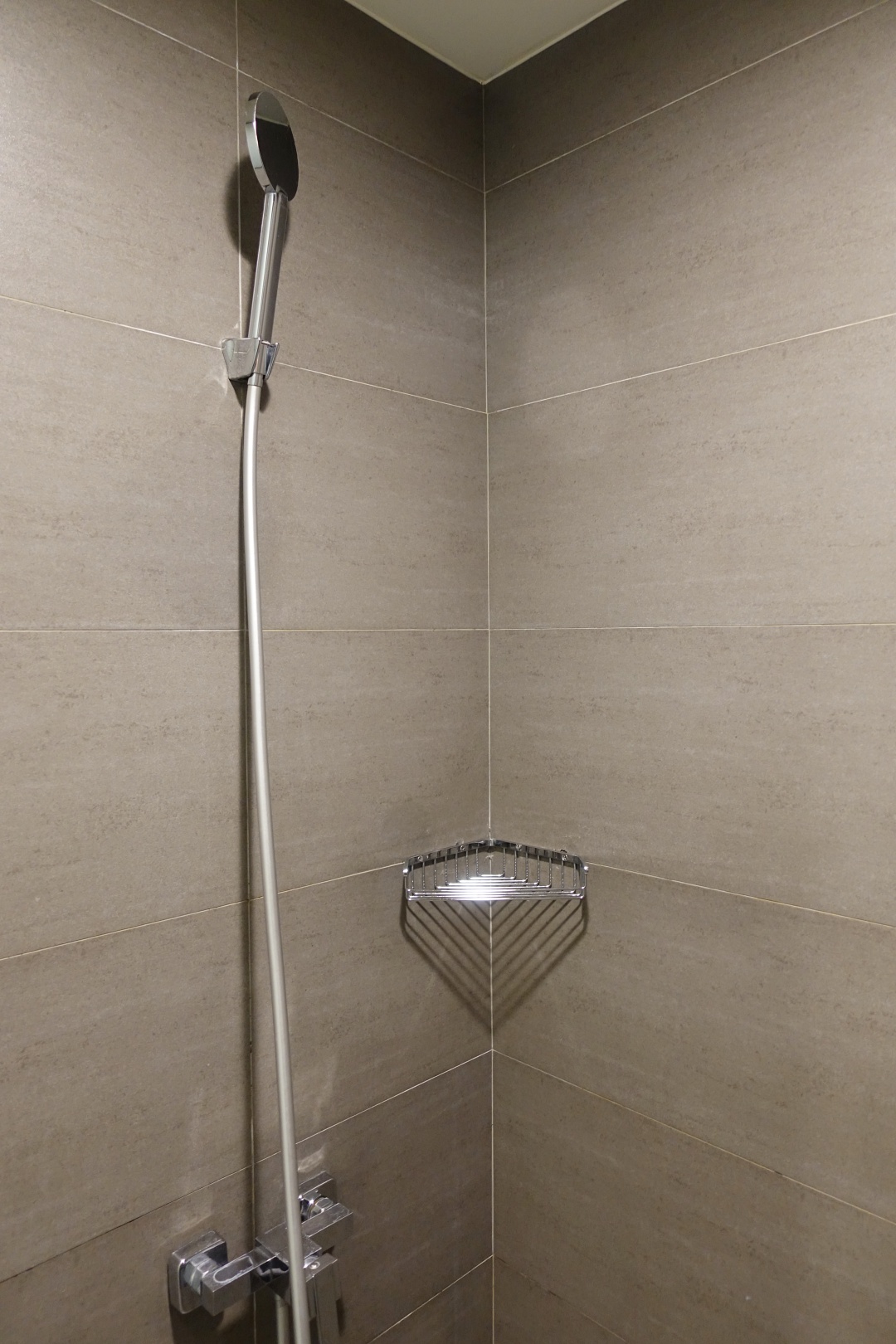 The room I booked was the Standard Double Room that comes with a queen bed. The only thing I dislike about the room is that there isn't a clear window that looks out to the street. Aside from that, the room was okay I guess. It was spacious for two; comes with a queen bed, a desk, television and standing shower.
I booked two nights, and together with tax, we paid SGD194.22. The room comes inclusive of the breakfast buffet. But I can't tell you anything about their food because we totally skipped breakfast for both mornings.
Anyway, after checking-in to our room, we immediately fell asleep on the bed and ended up taking a 3.5 hours nap. The nap was very much needed considering we didn't sleep a wink on the flight.
Later that night, we went out at around 20:00 to Feng Chia Night Market (逢甲夜市). Did a check via the weather app on my phone and it forecasted to be raining. We already went out of the door but decided to return to pick up an umbrella. Thankfully we did because it was drizzling.
One thing that makes me pick this hotel is that we could start shopping the moment we come downstairs. Not only were there shops below our hotel, but there were also food stalls around the corner. Feng Chia Night Market was only a short walk away.
Feng Chia Night Market 逢甲夜市
Said to be one of the largest night markets in Taiwan, covering an area up to 1km around Feng Chia University, Feng Chia Night Market is where you could find all the authentic Taiwan 小吃 and lots of cool shops.
I was so excited to finally visit this famous night market!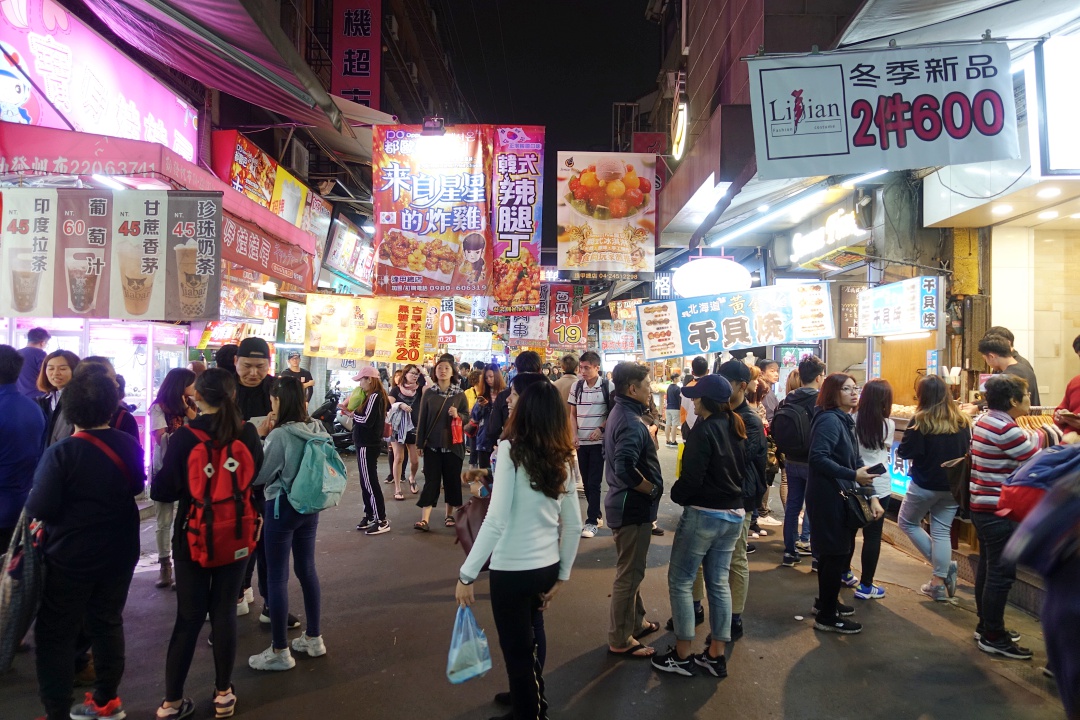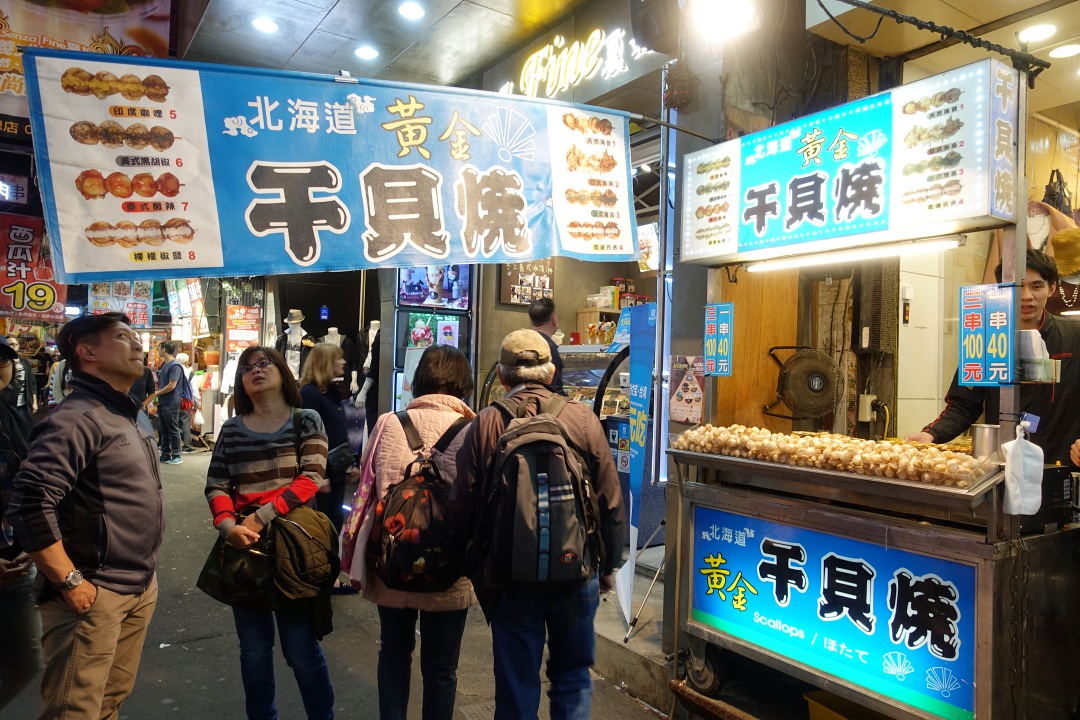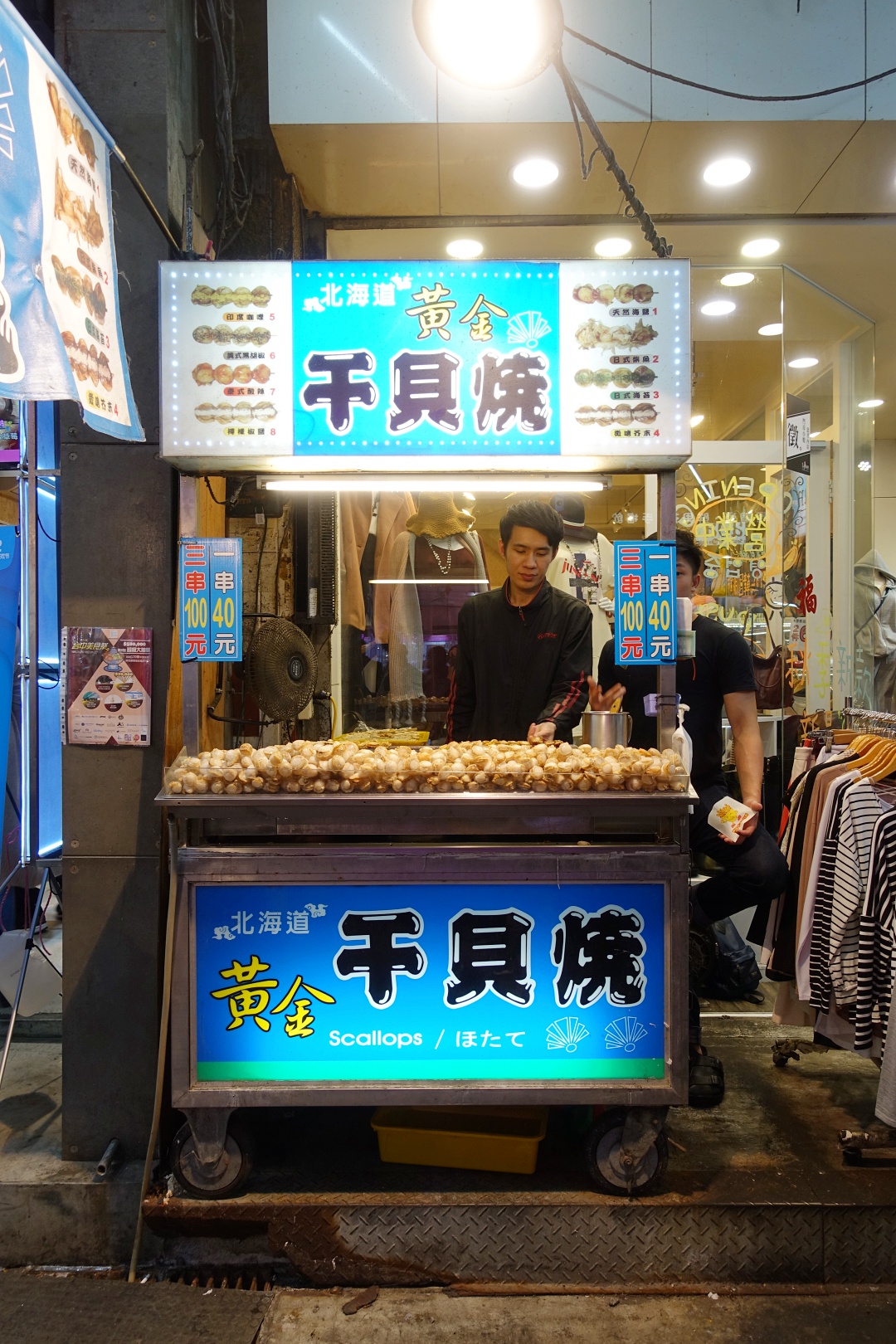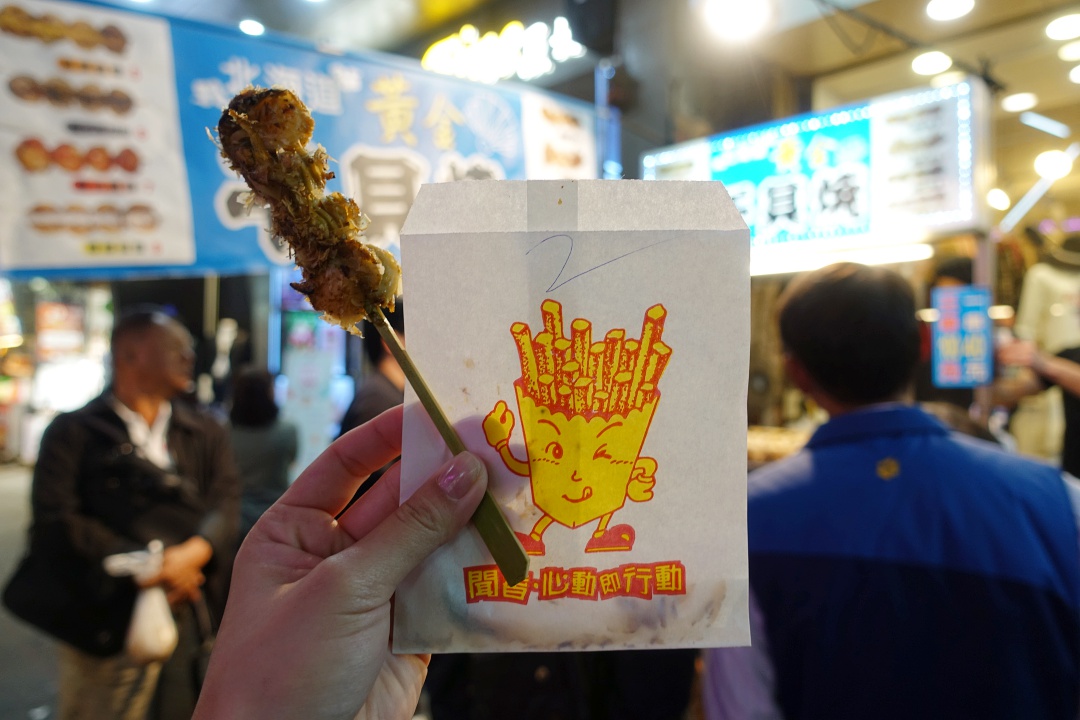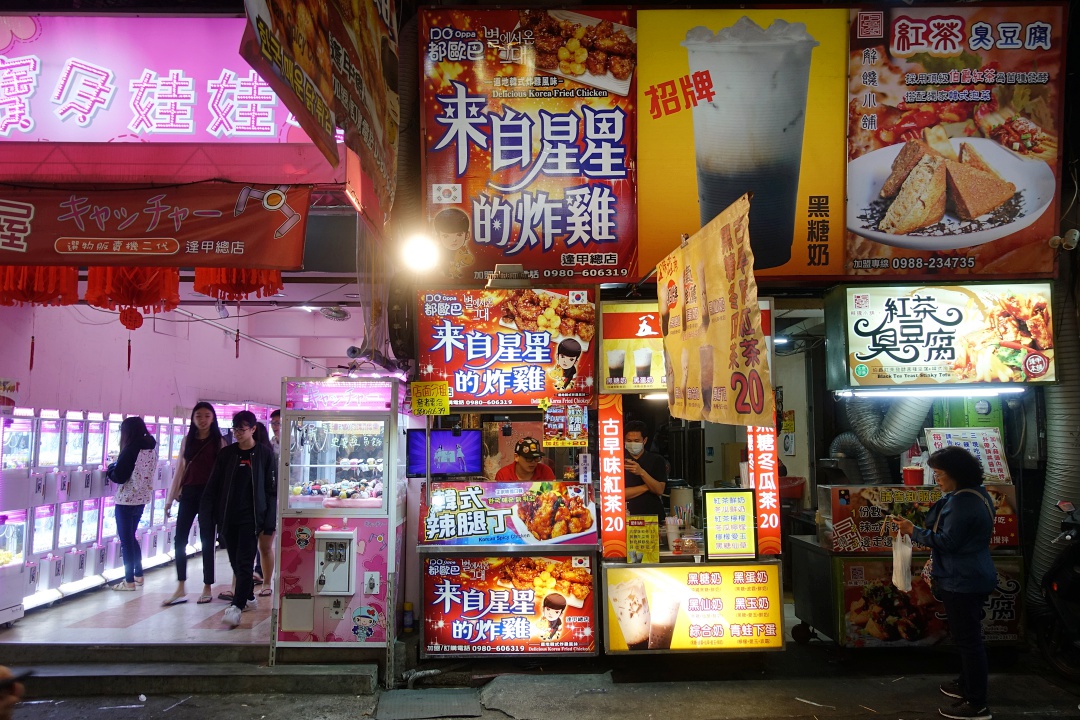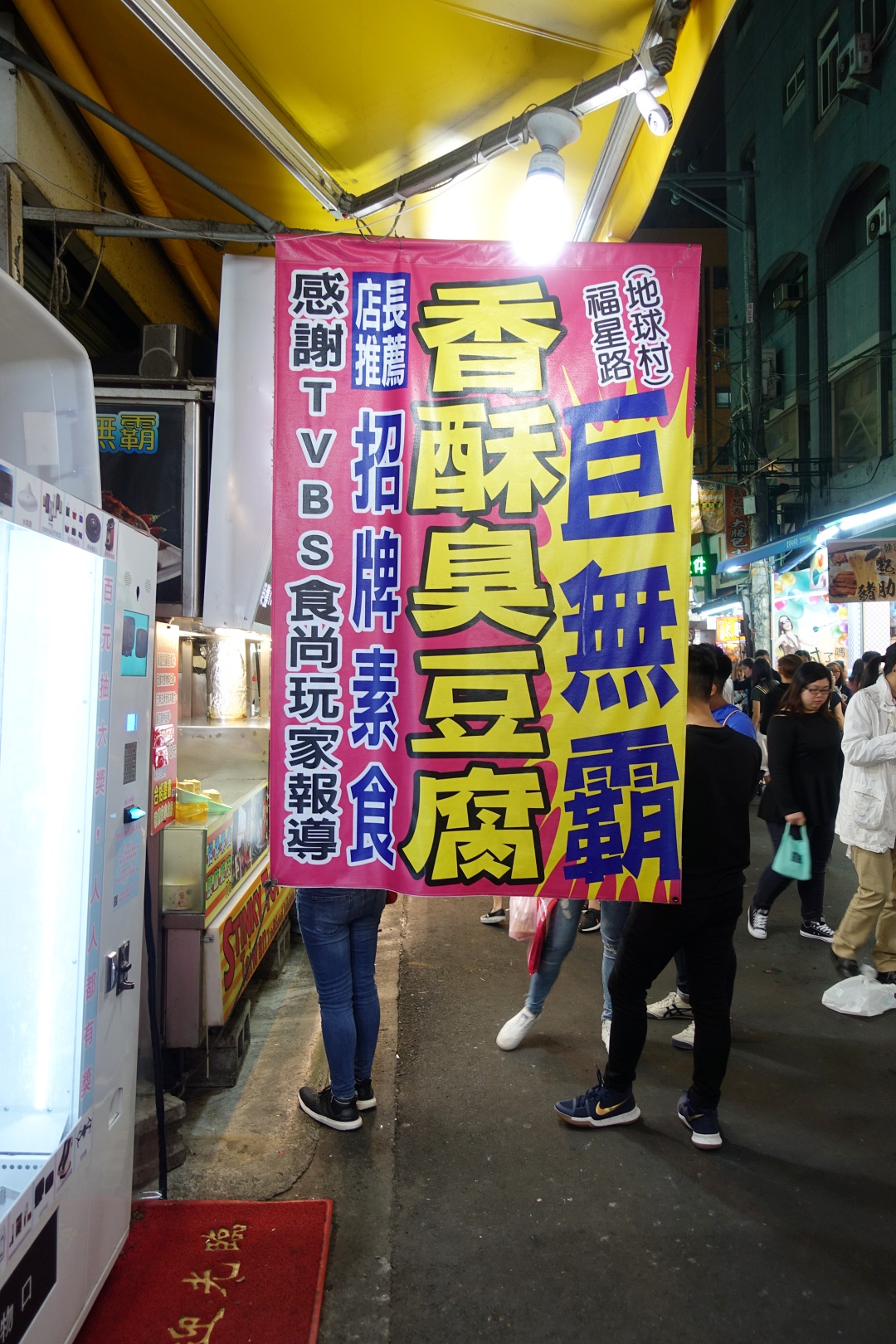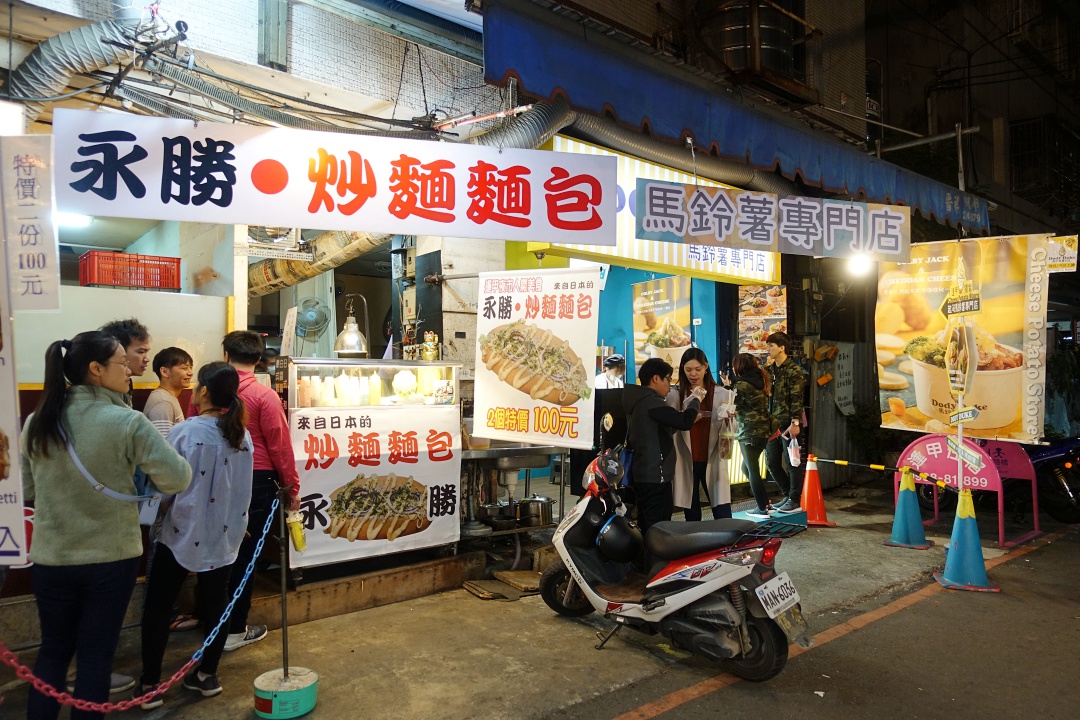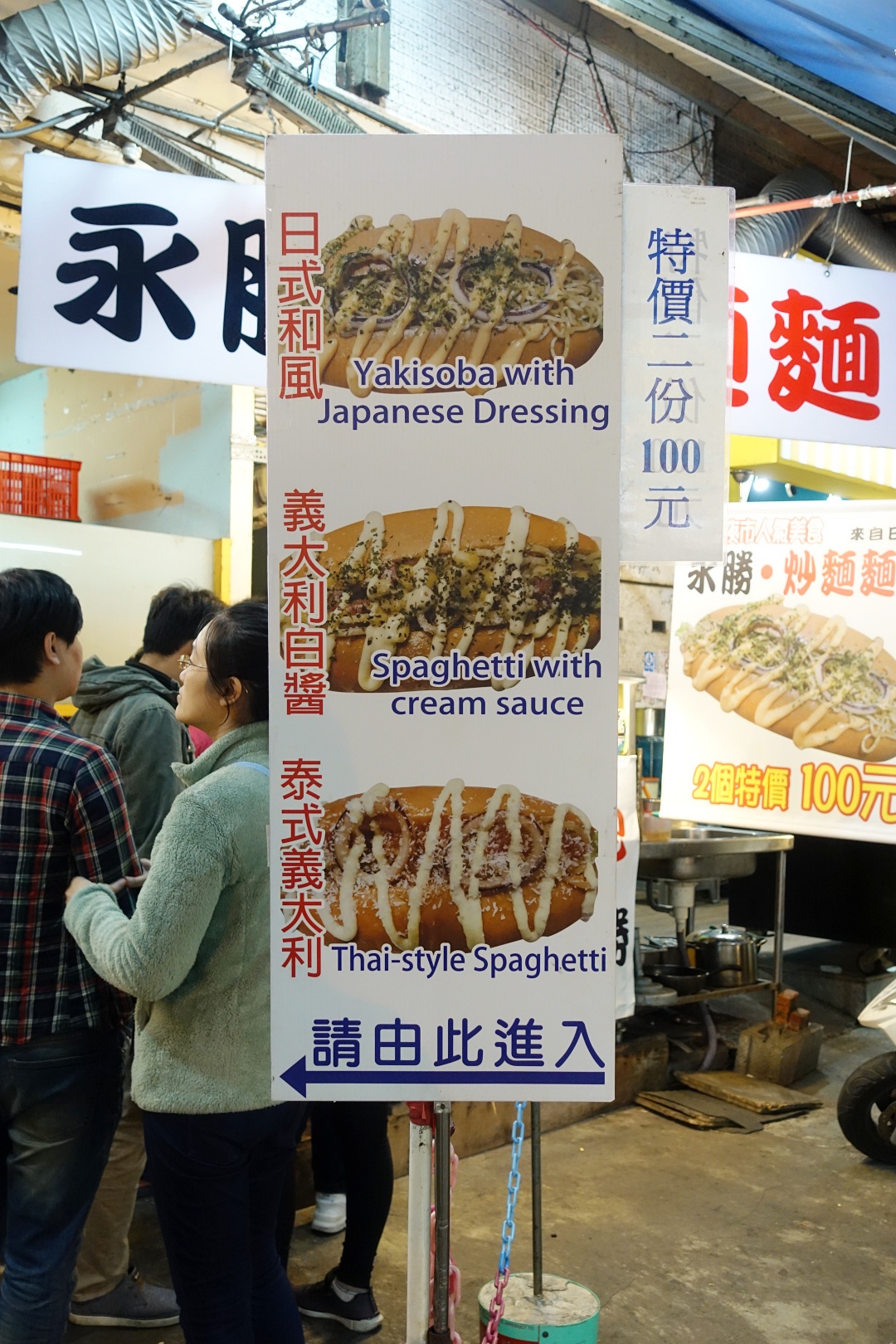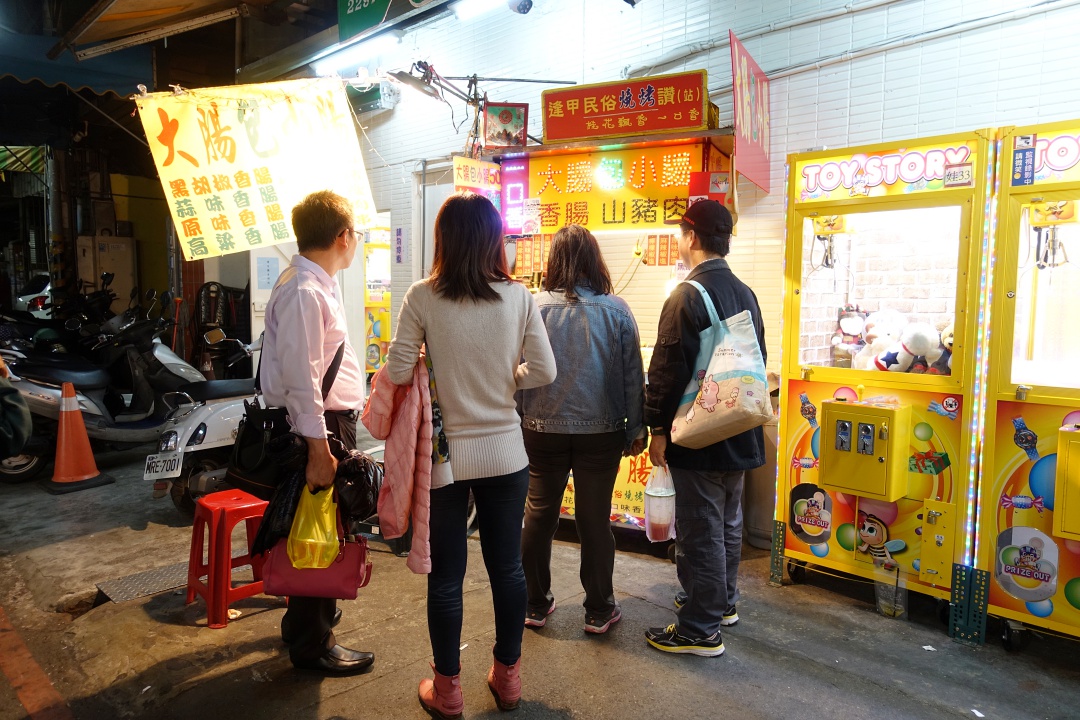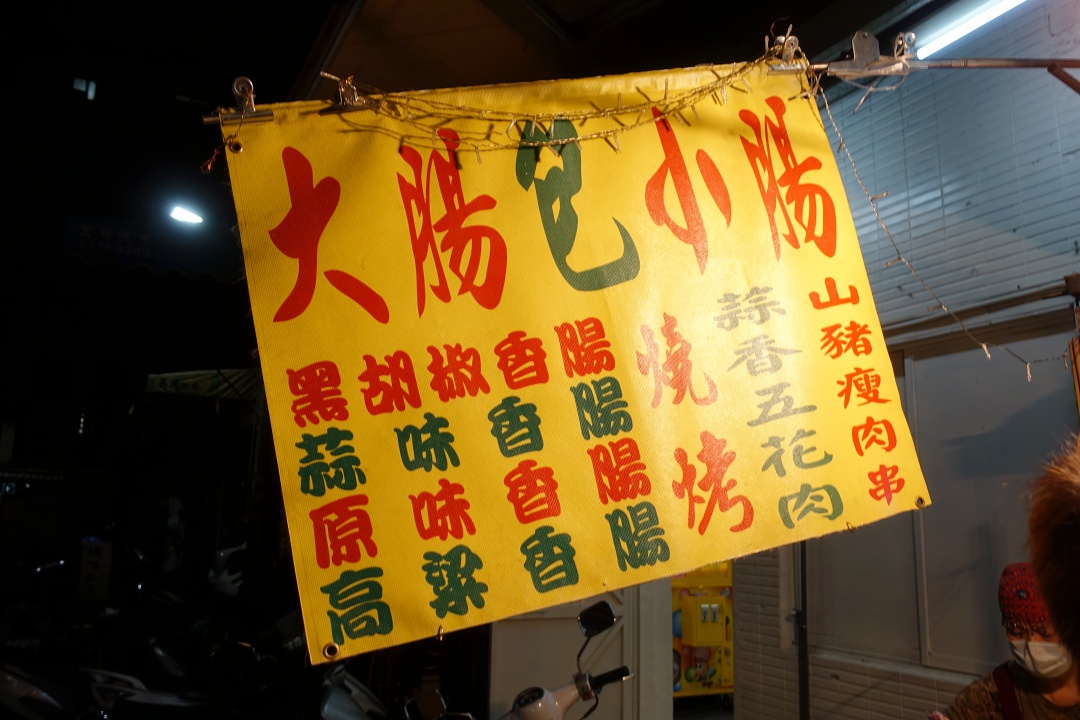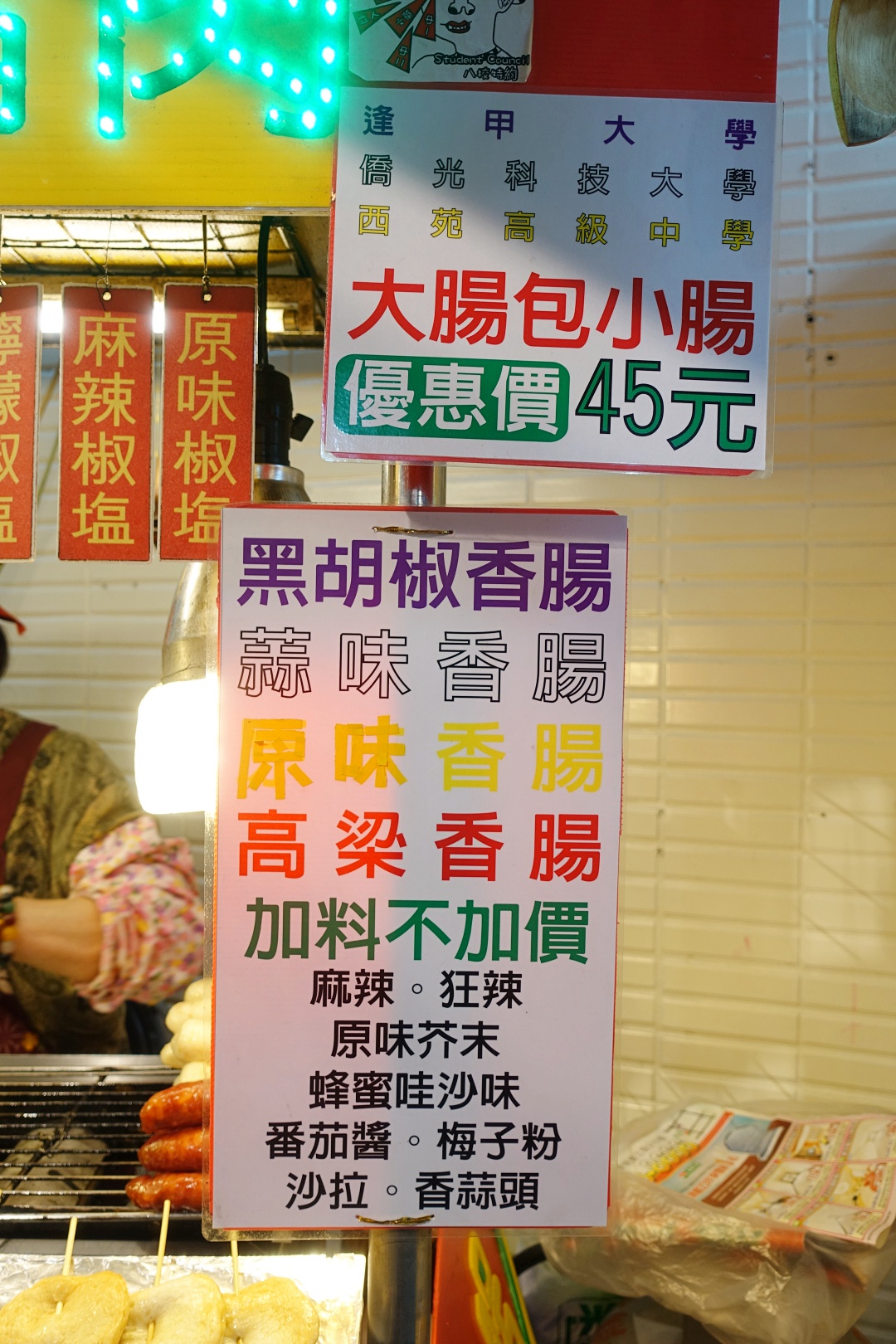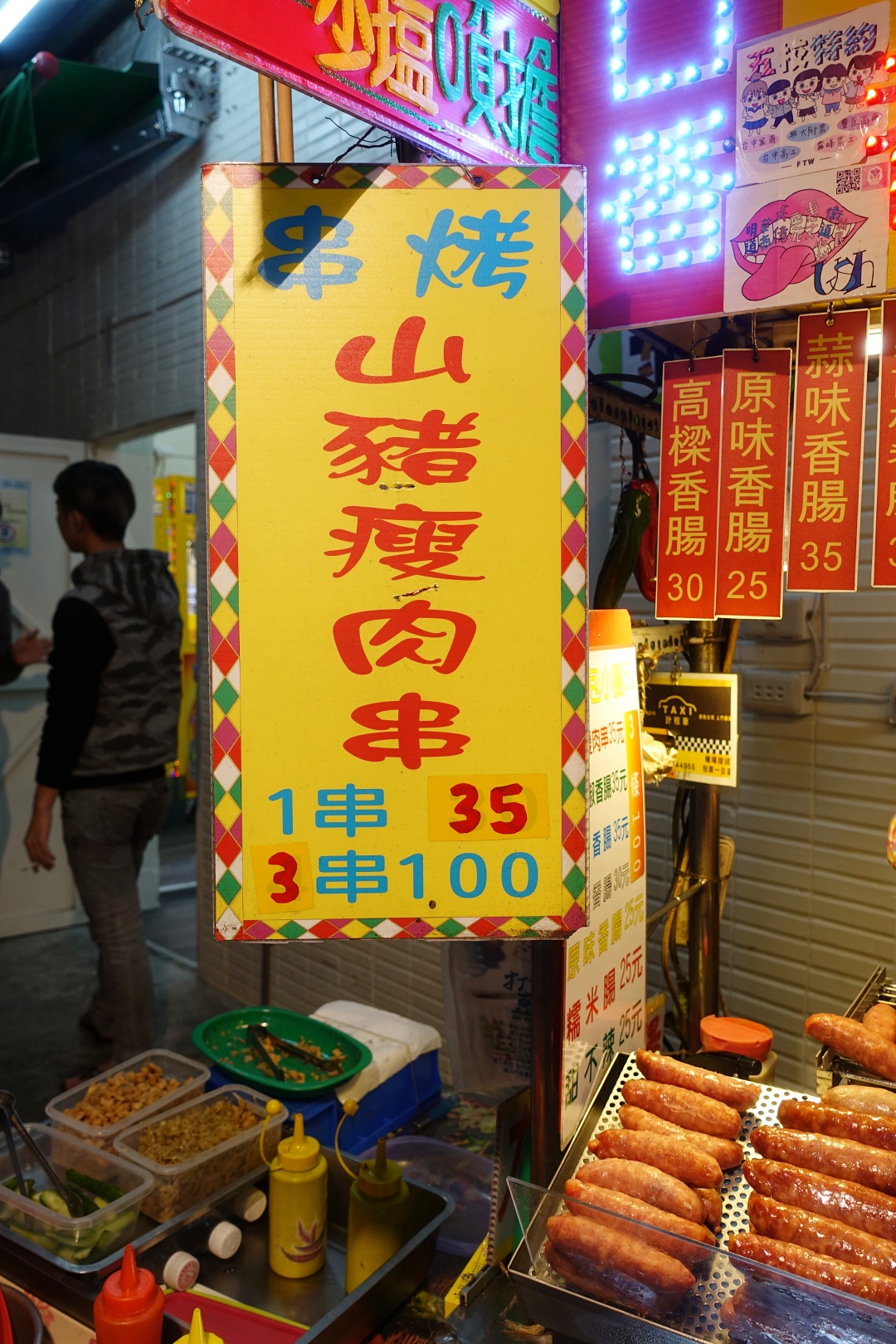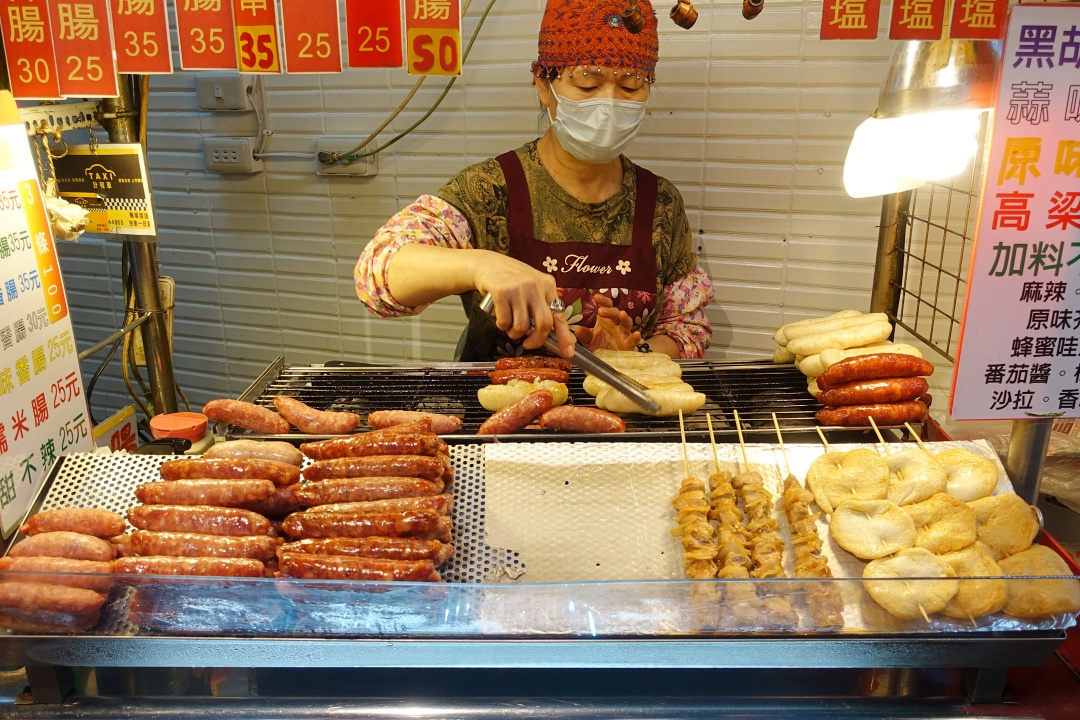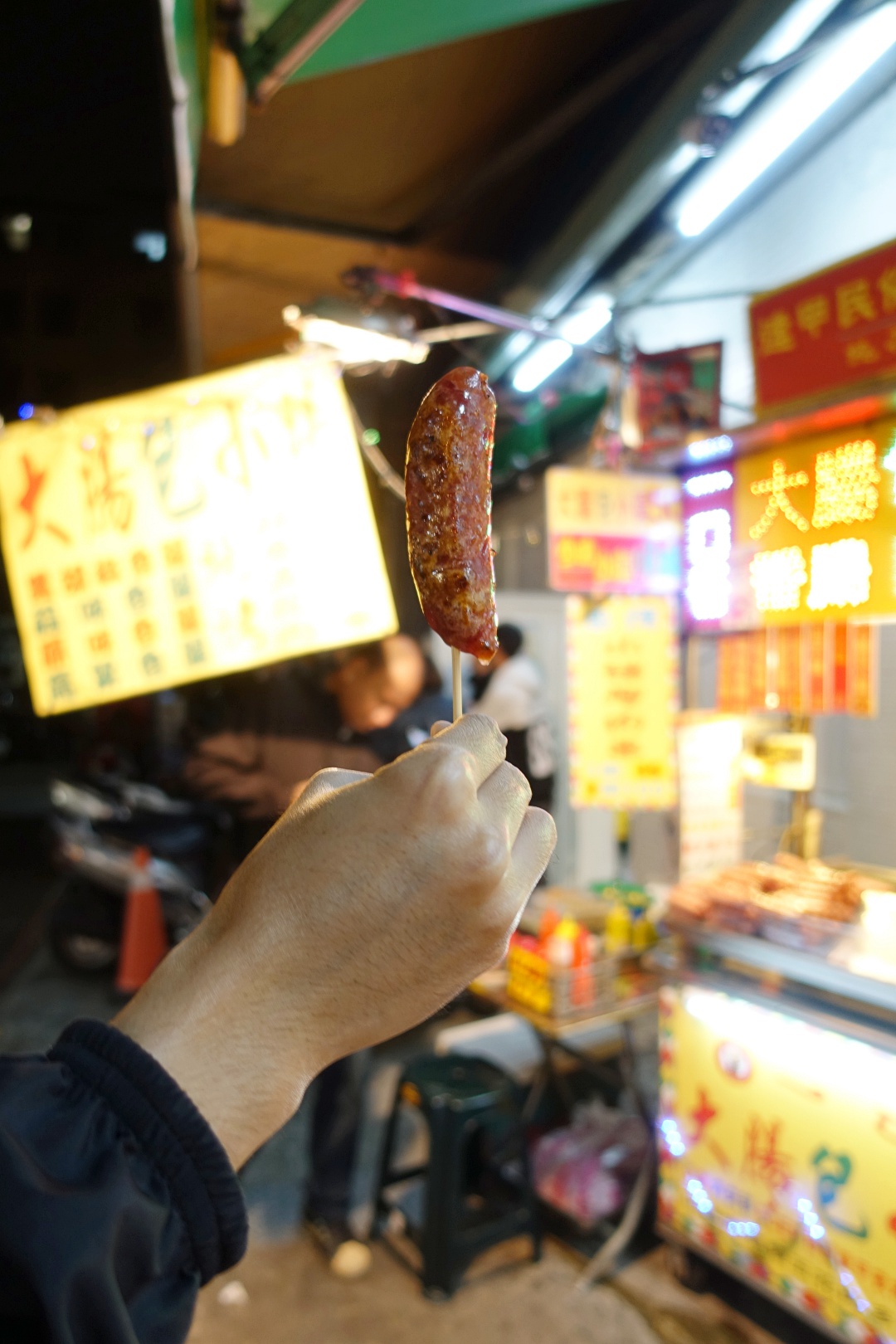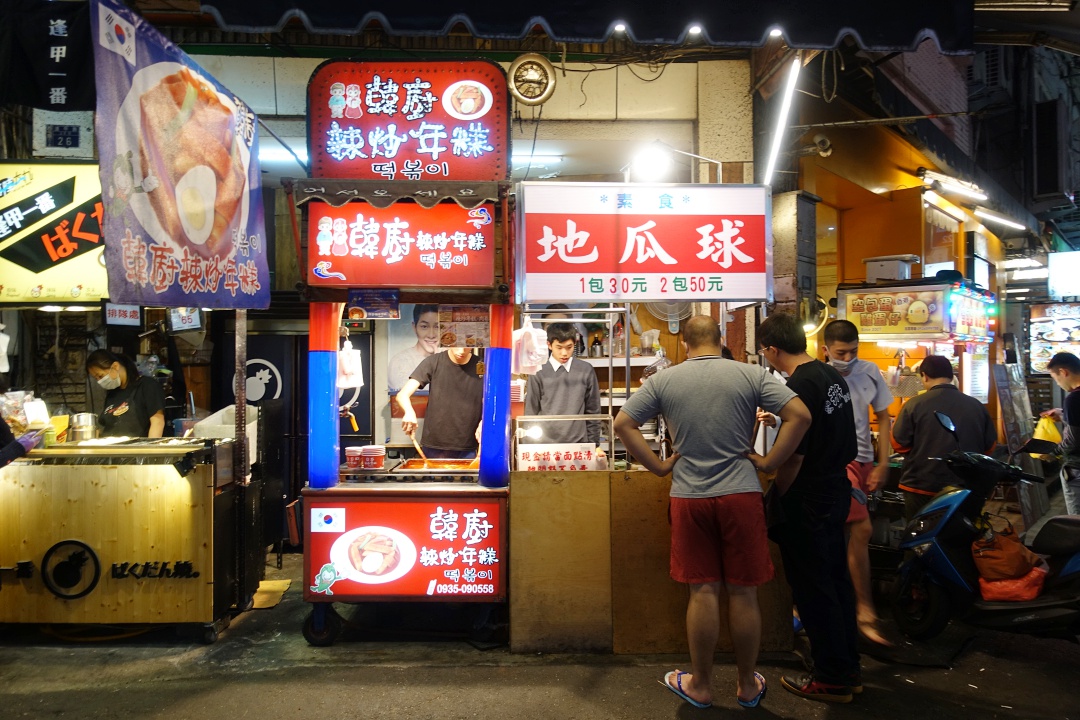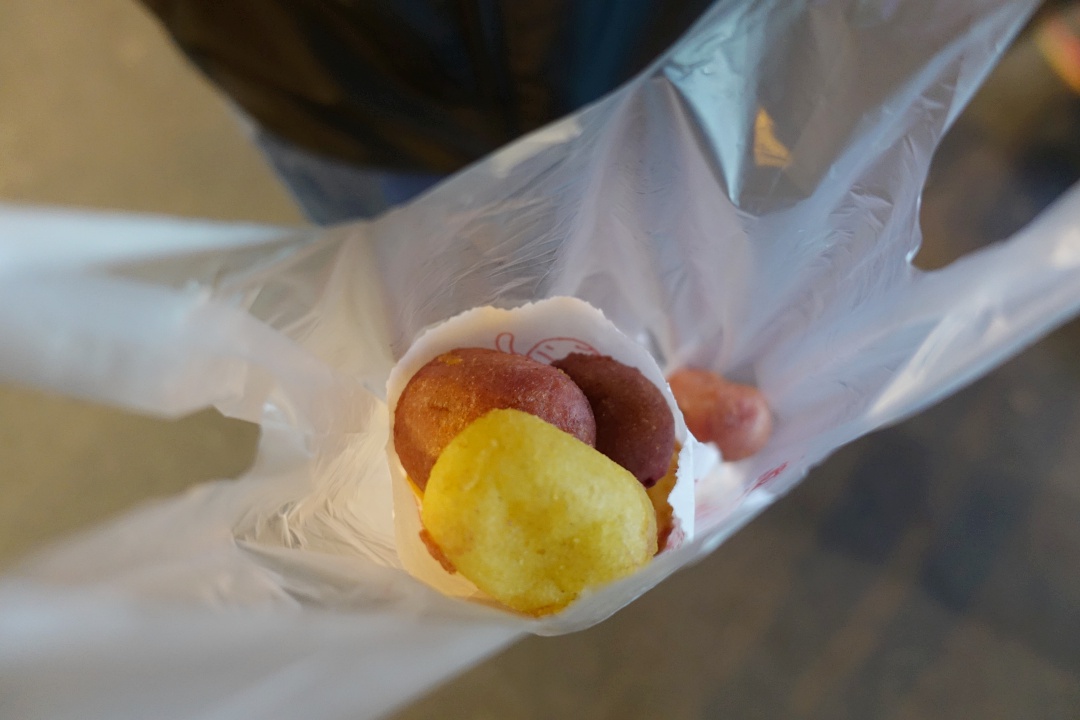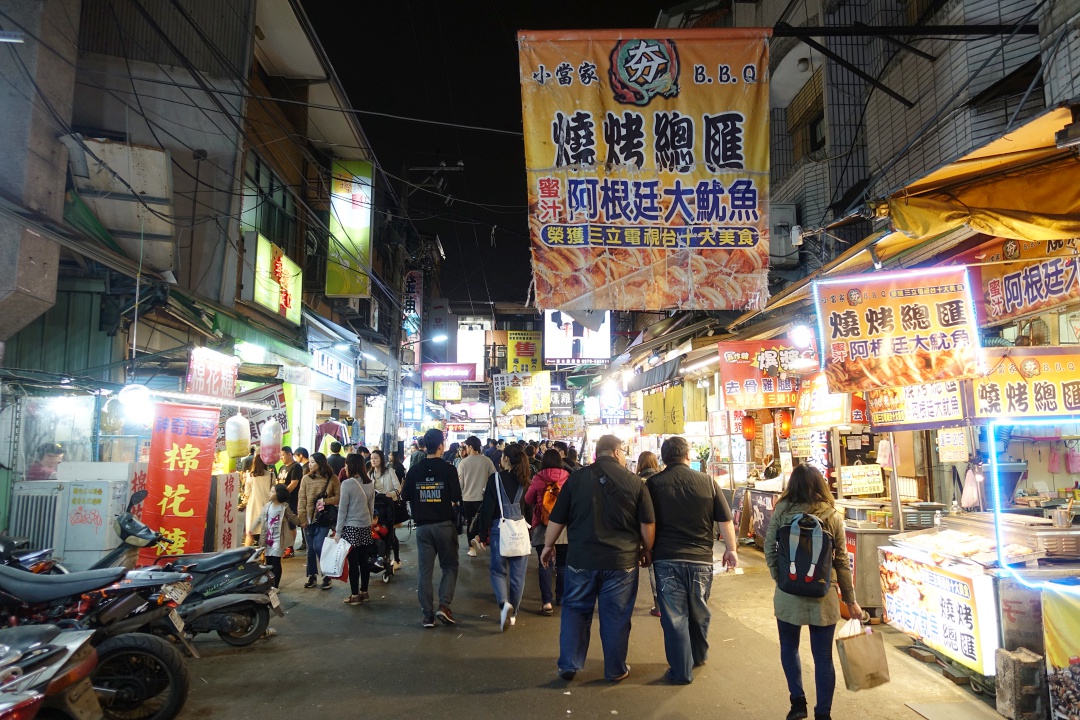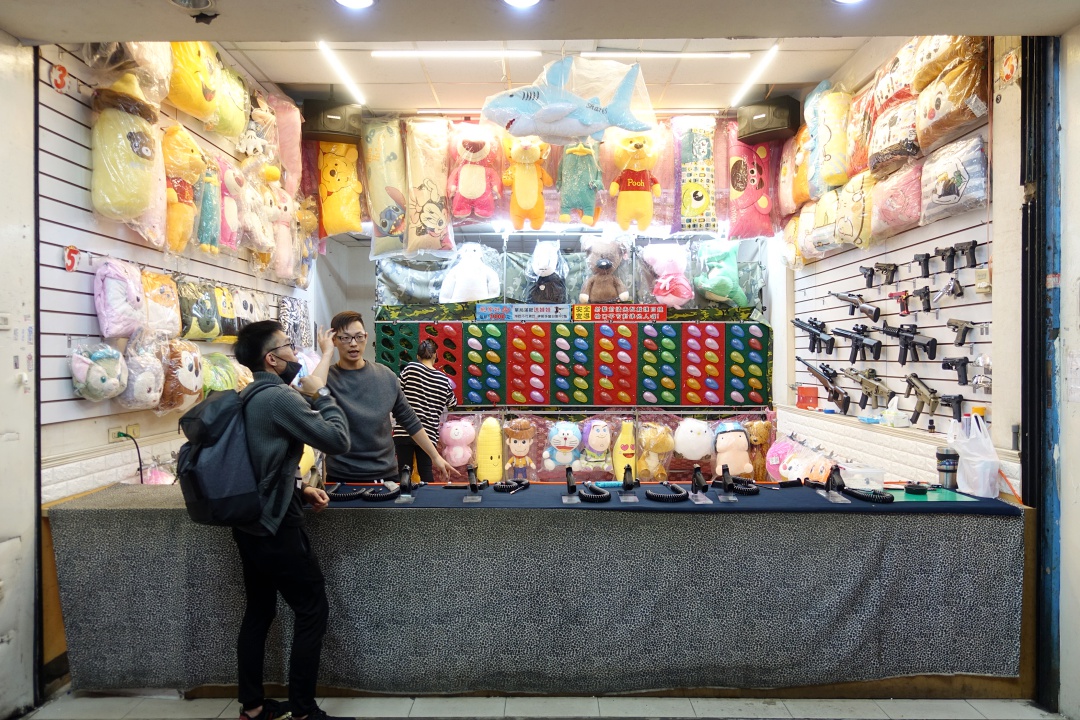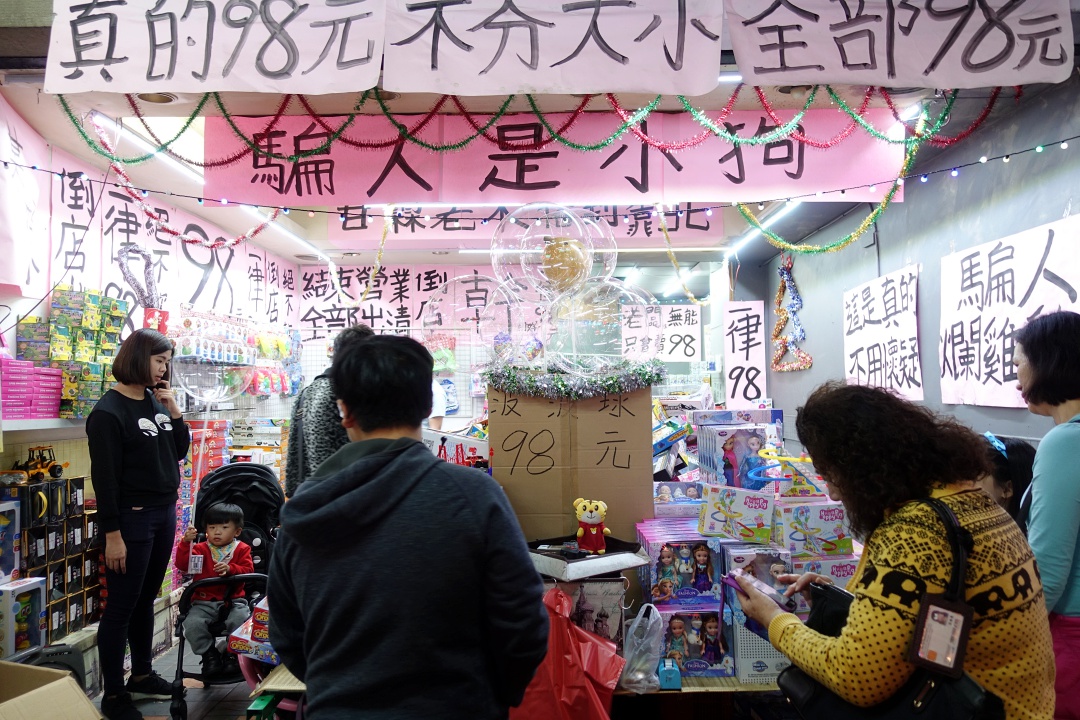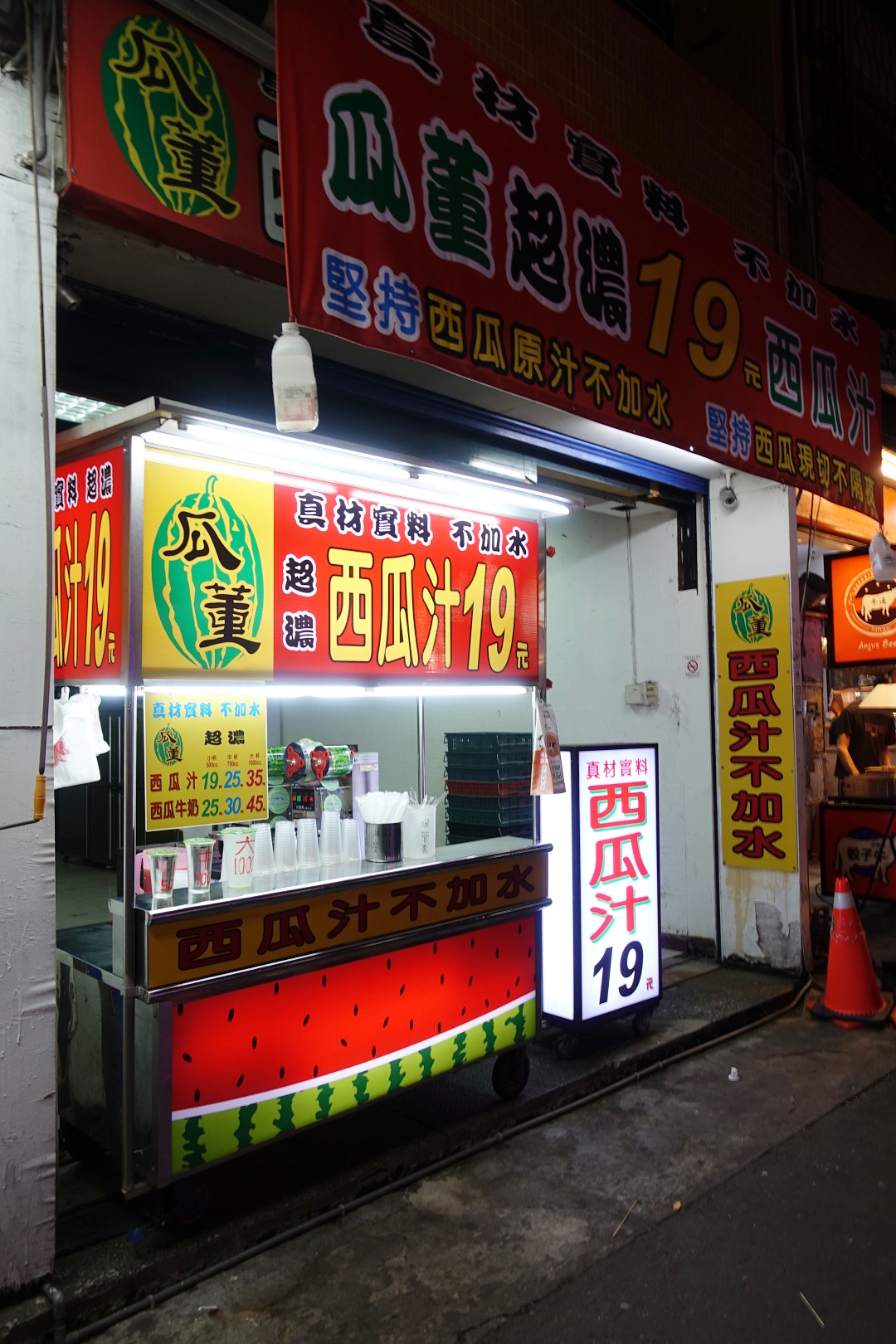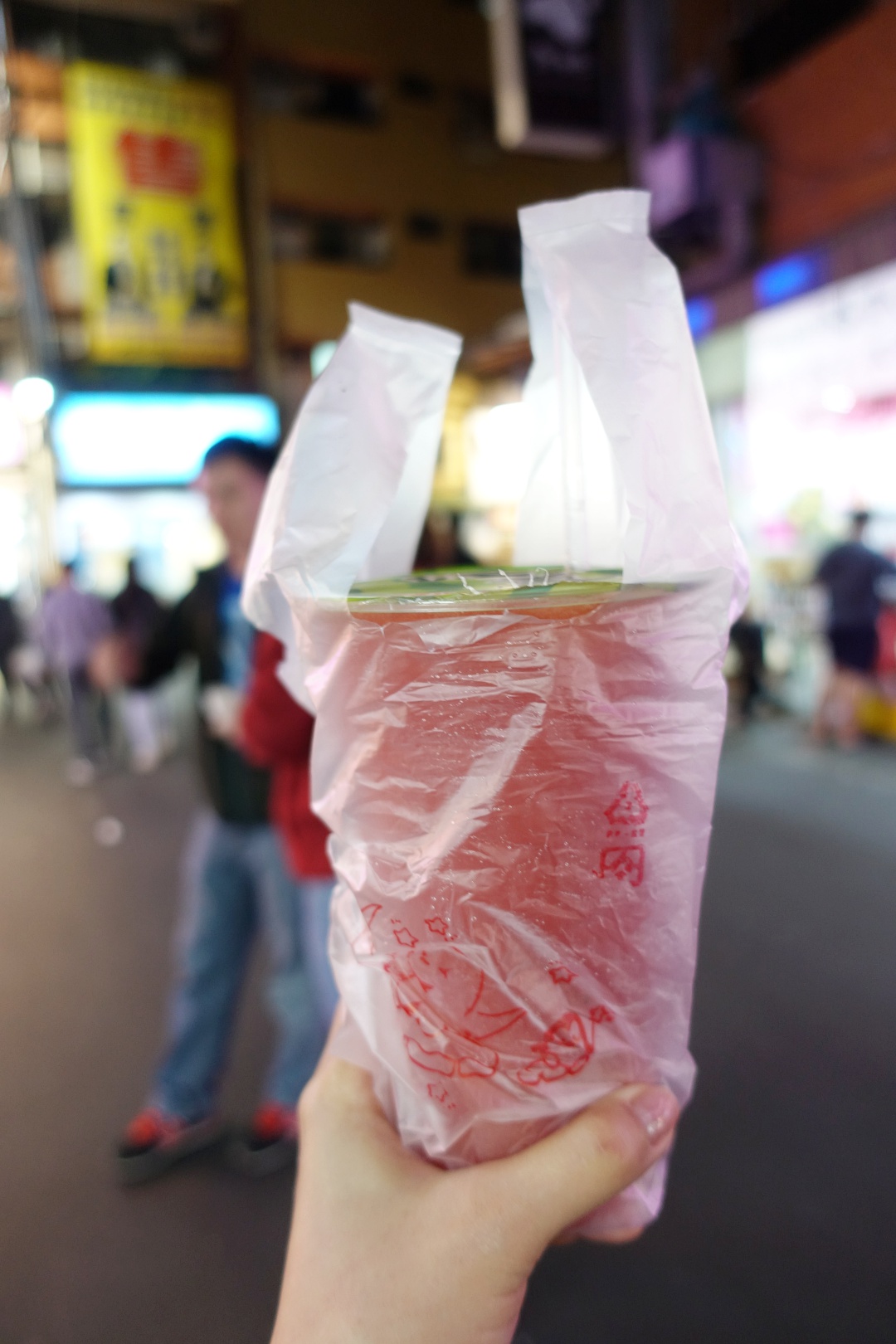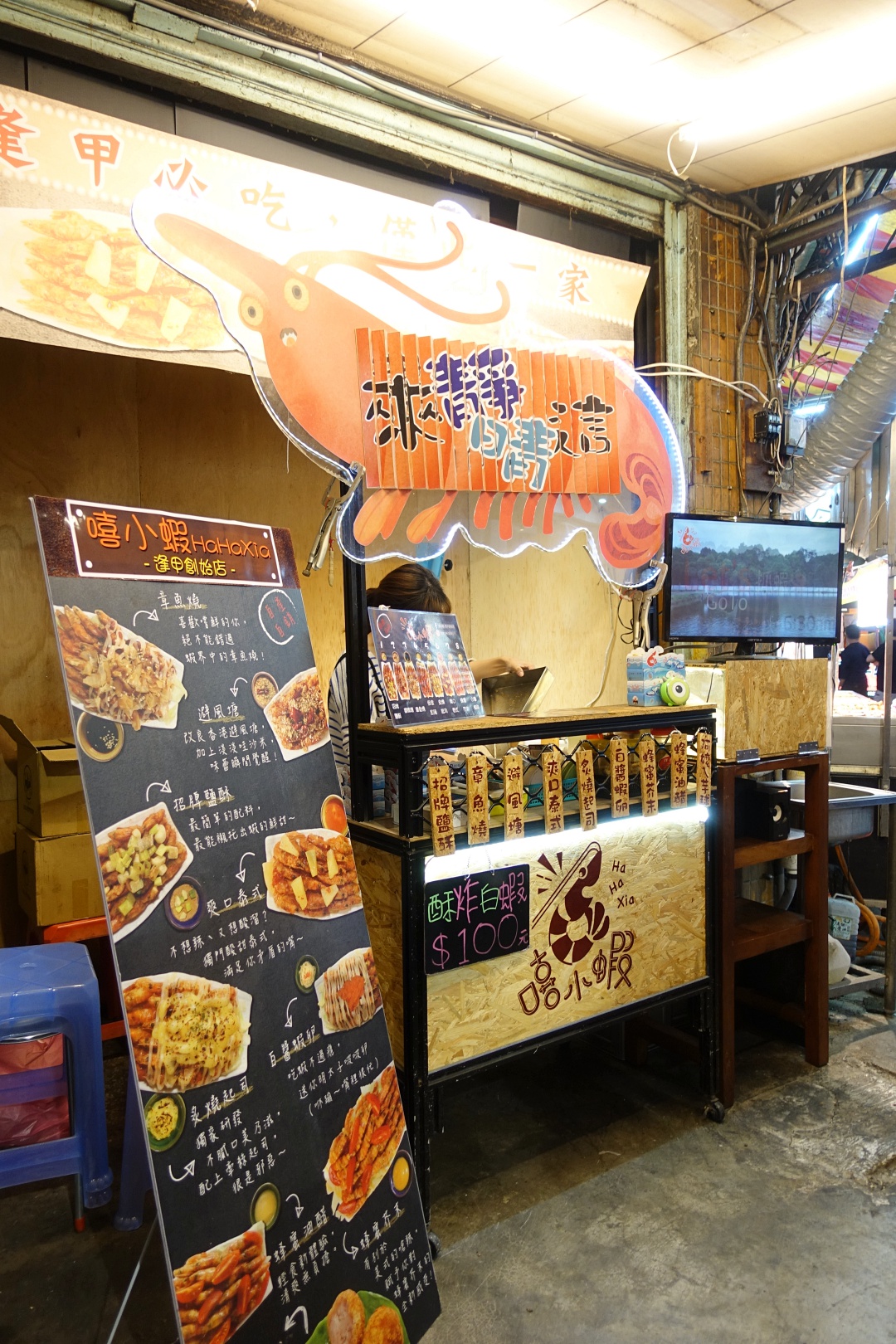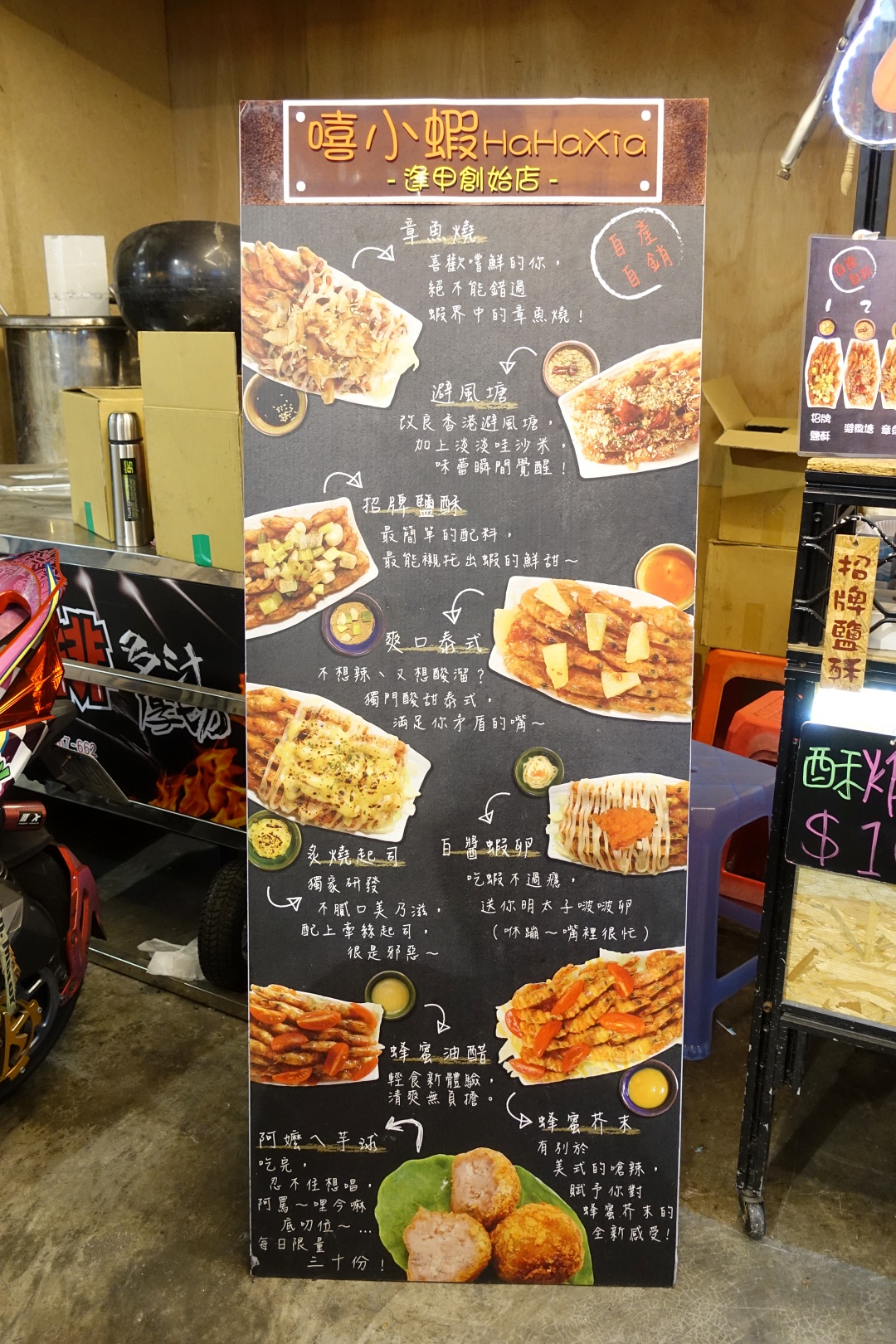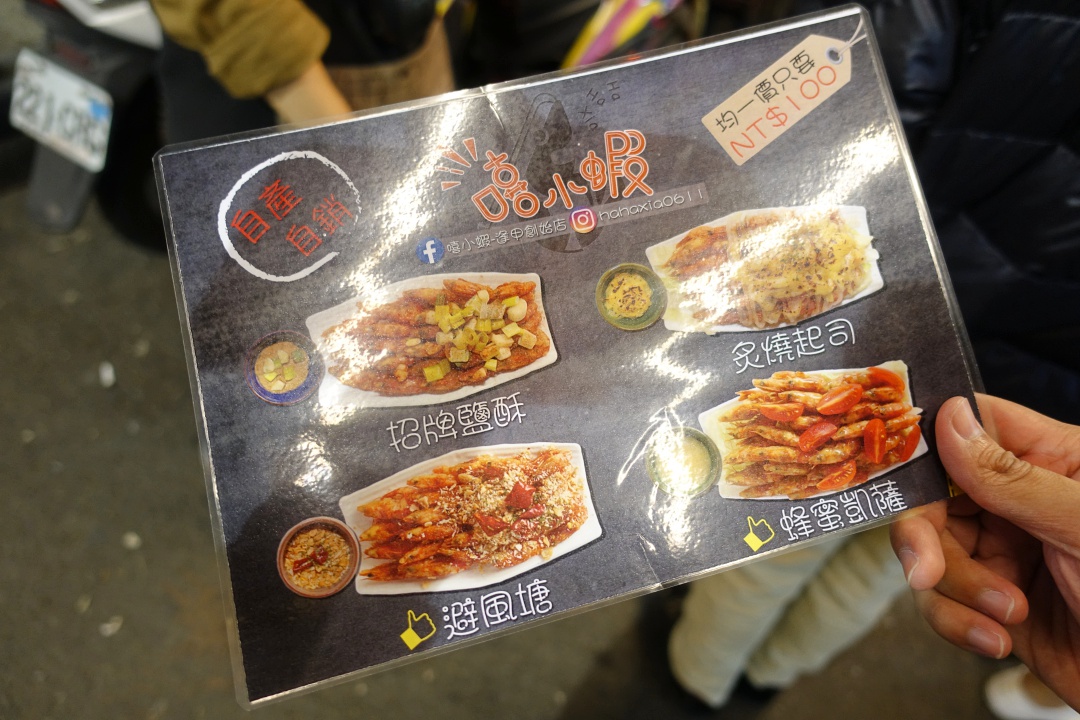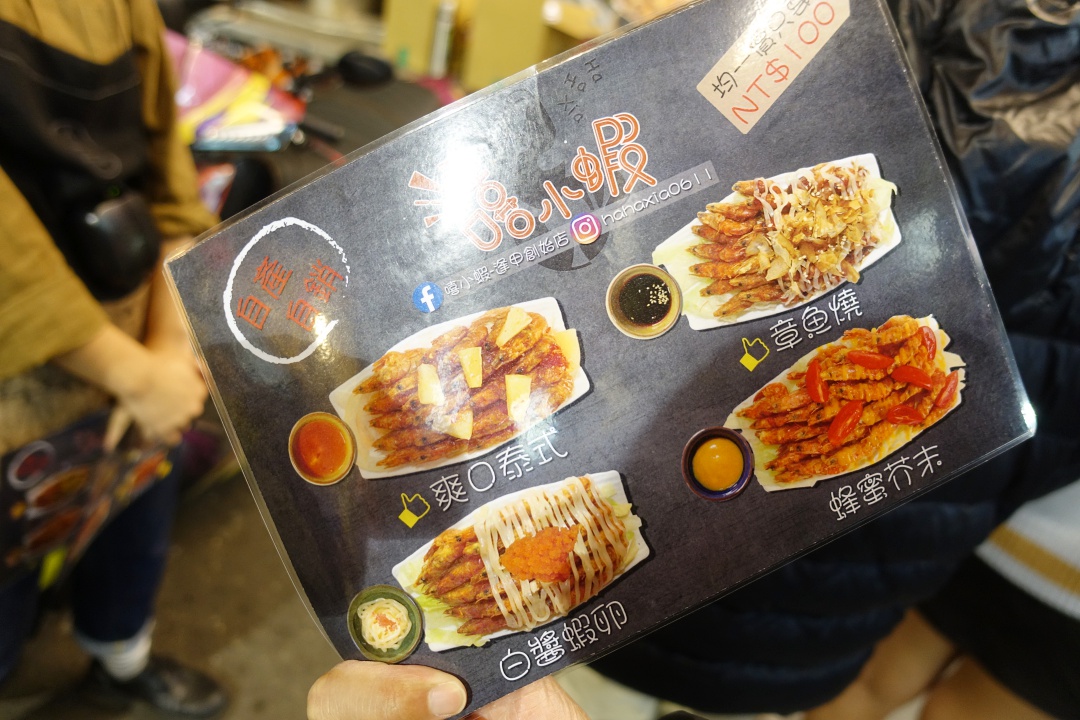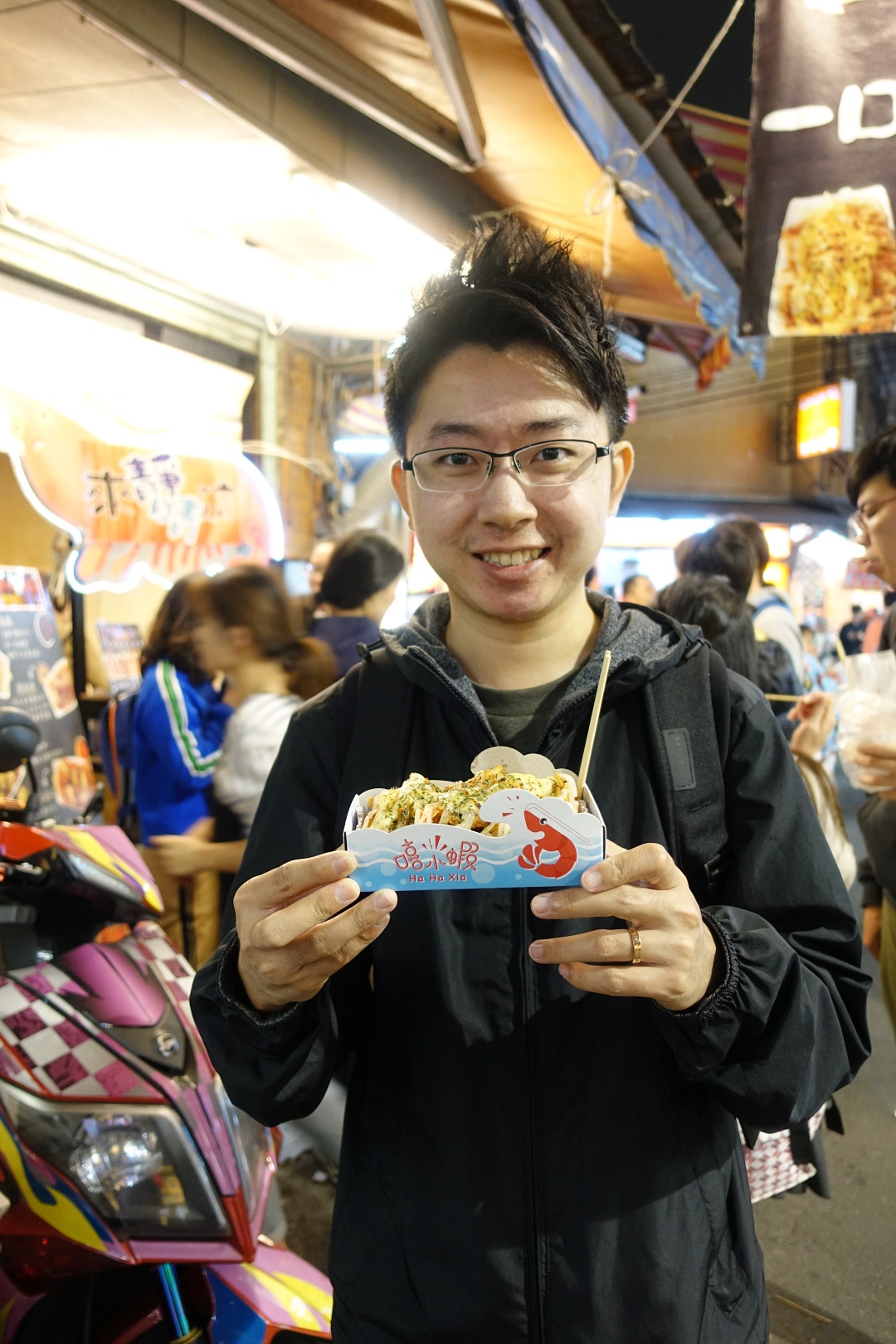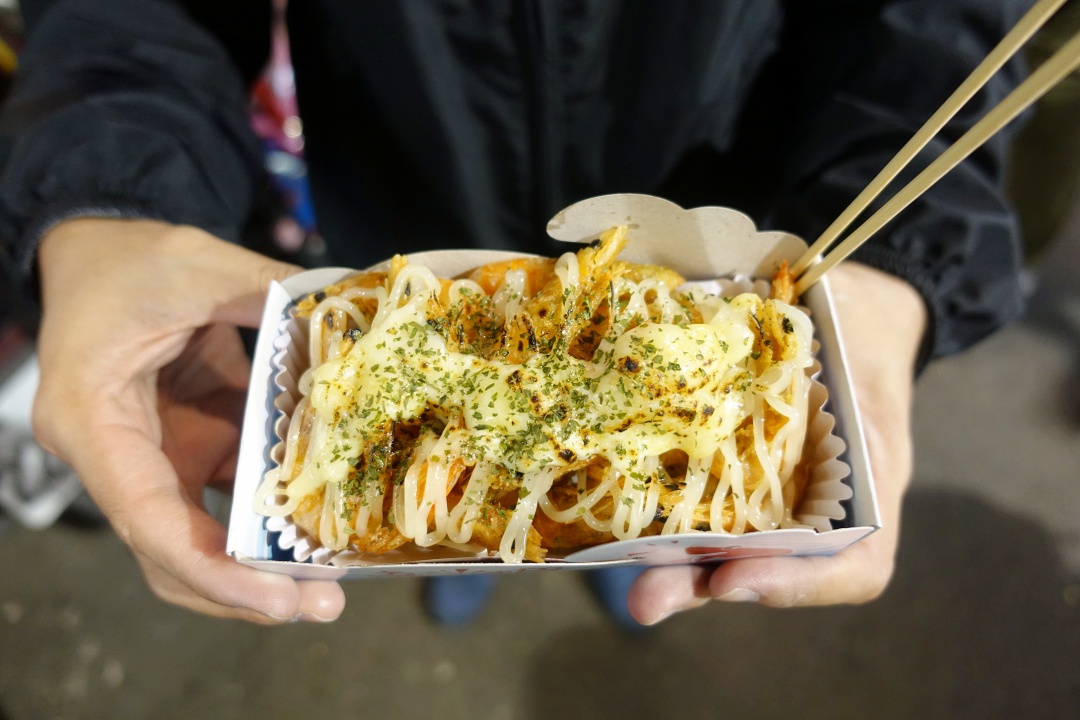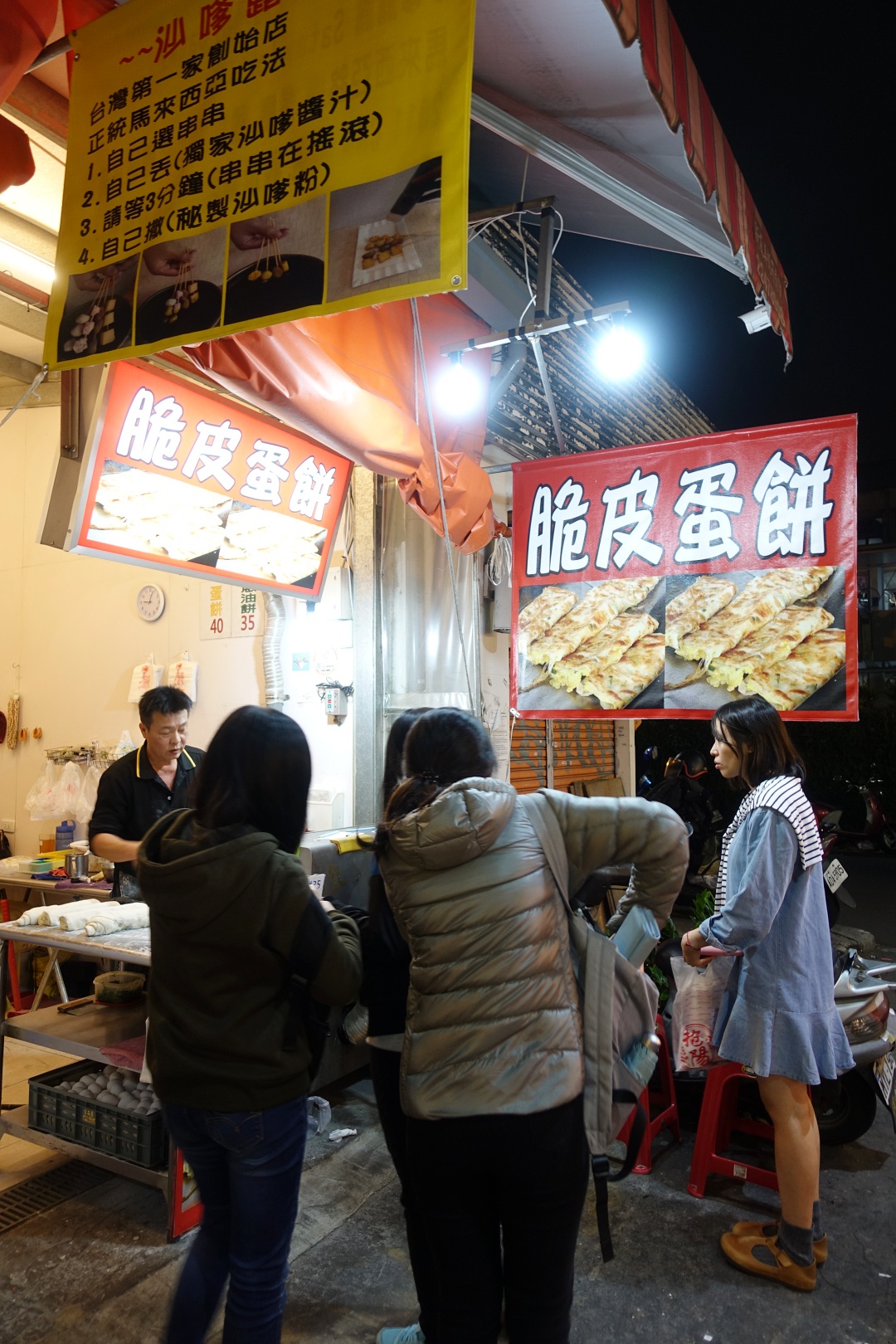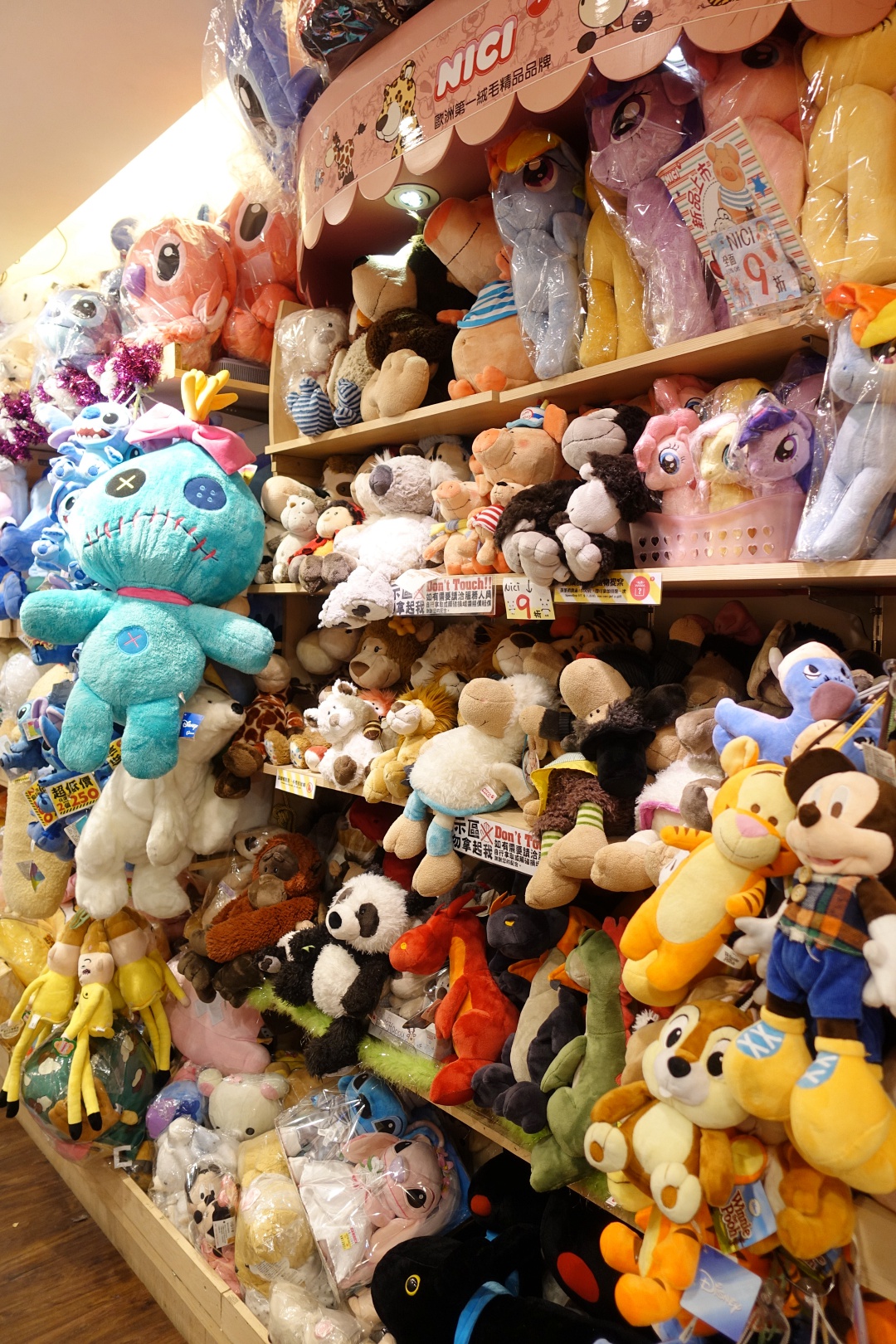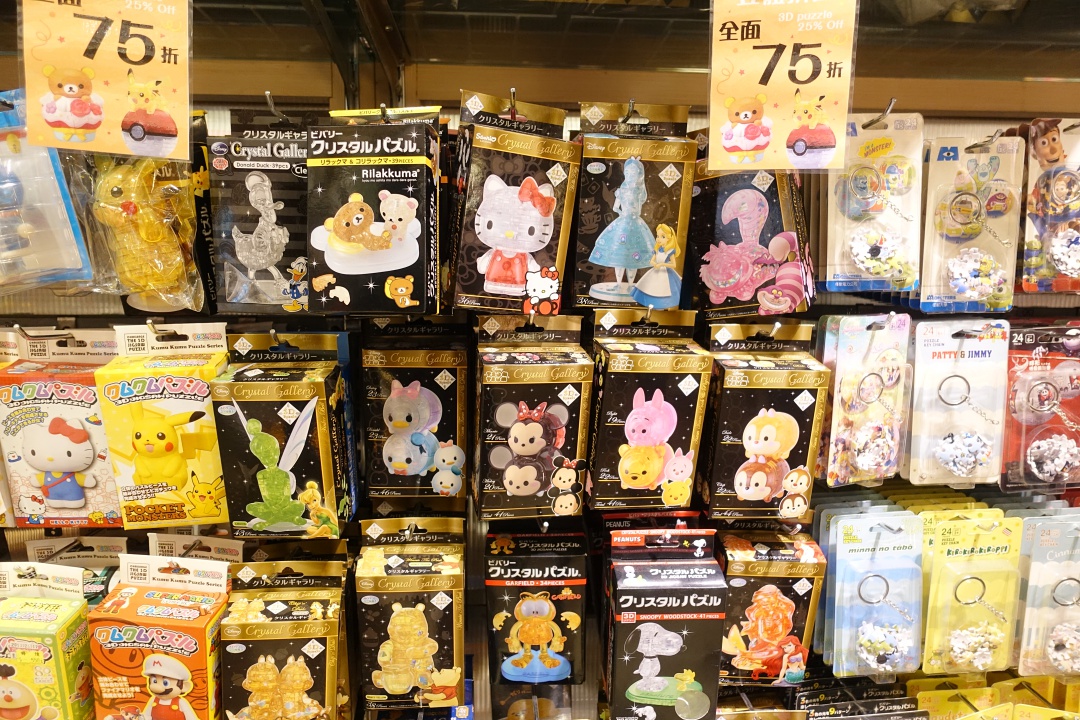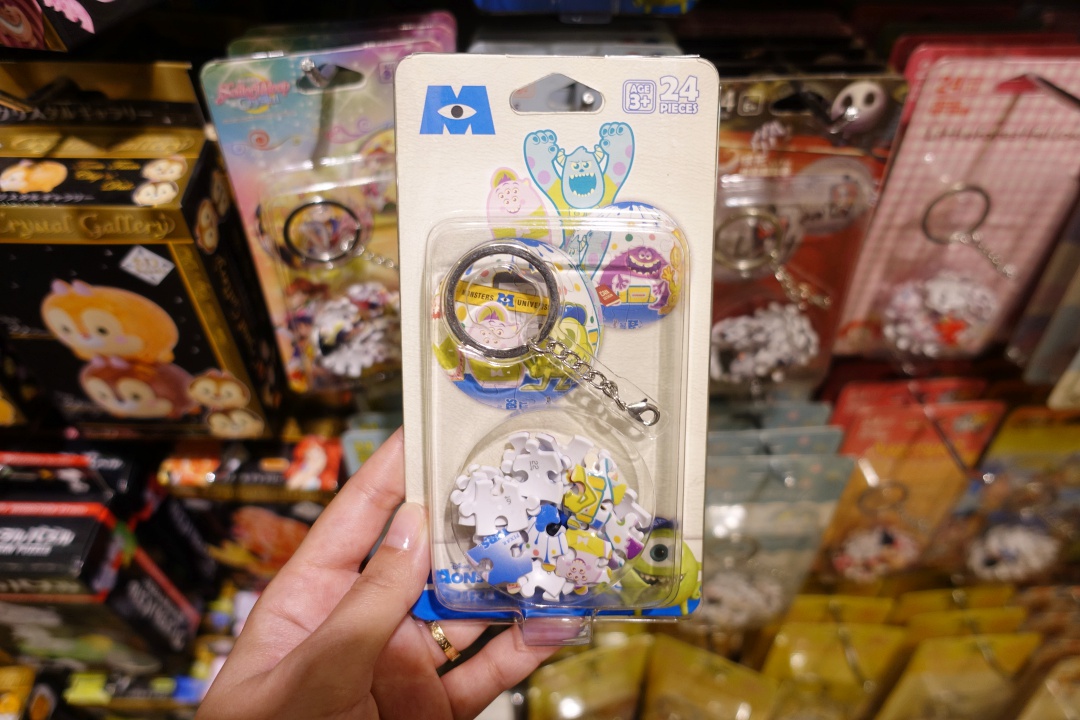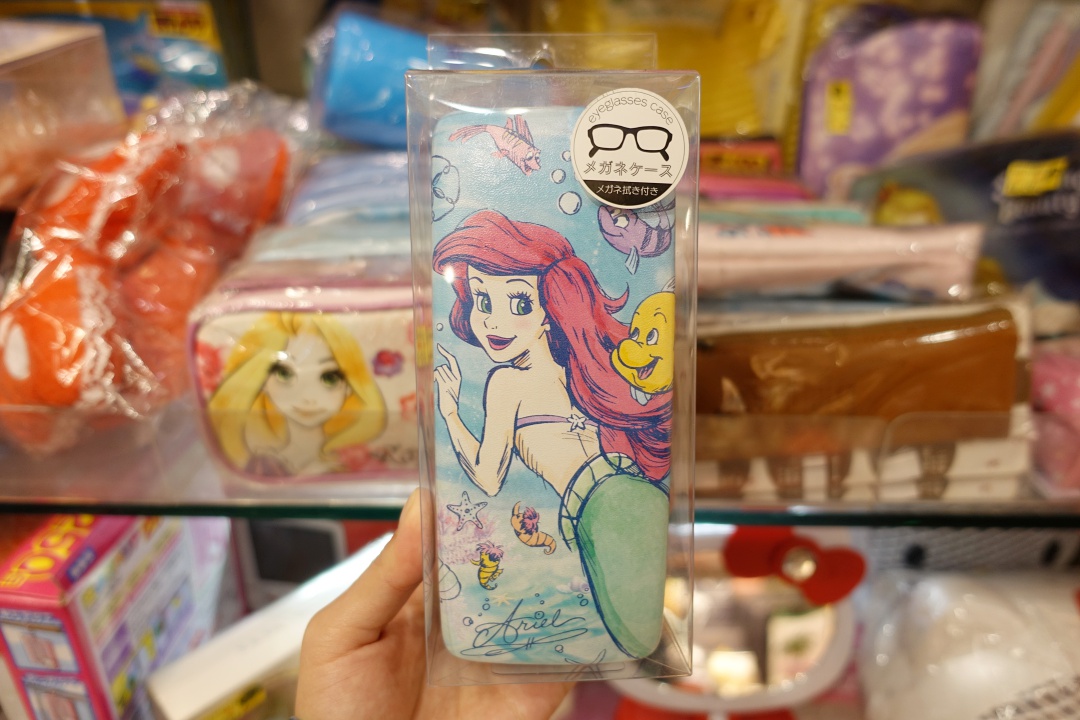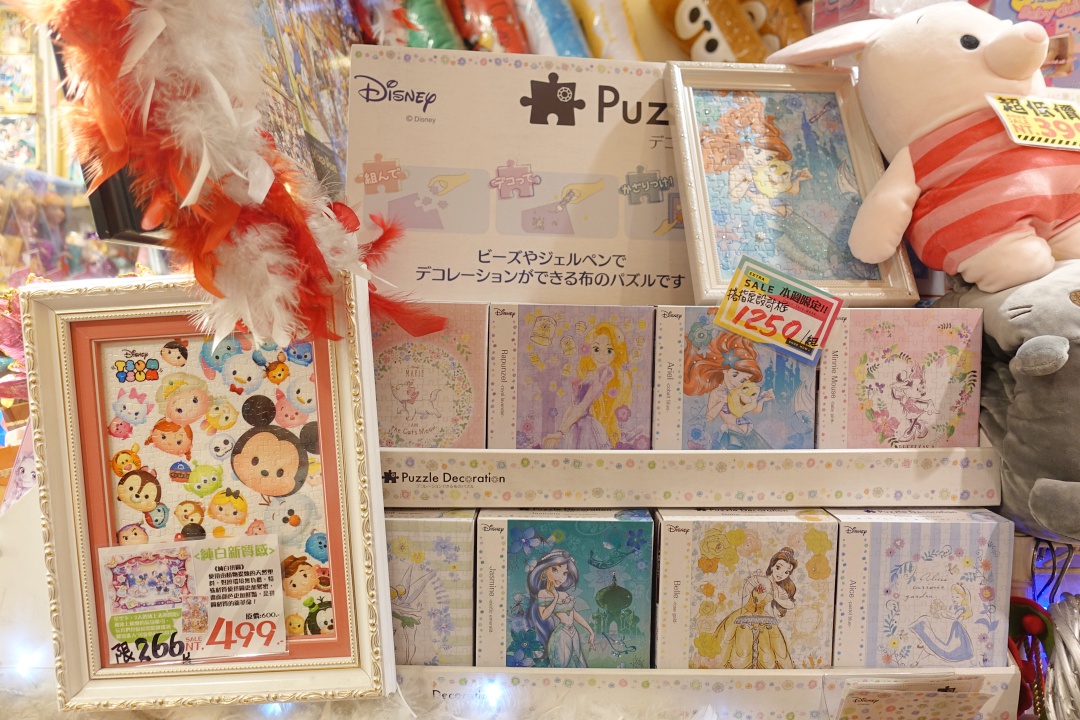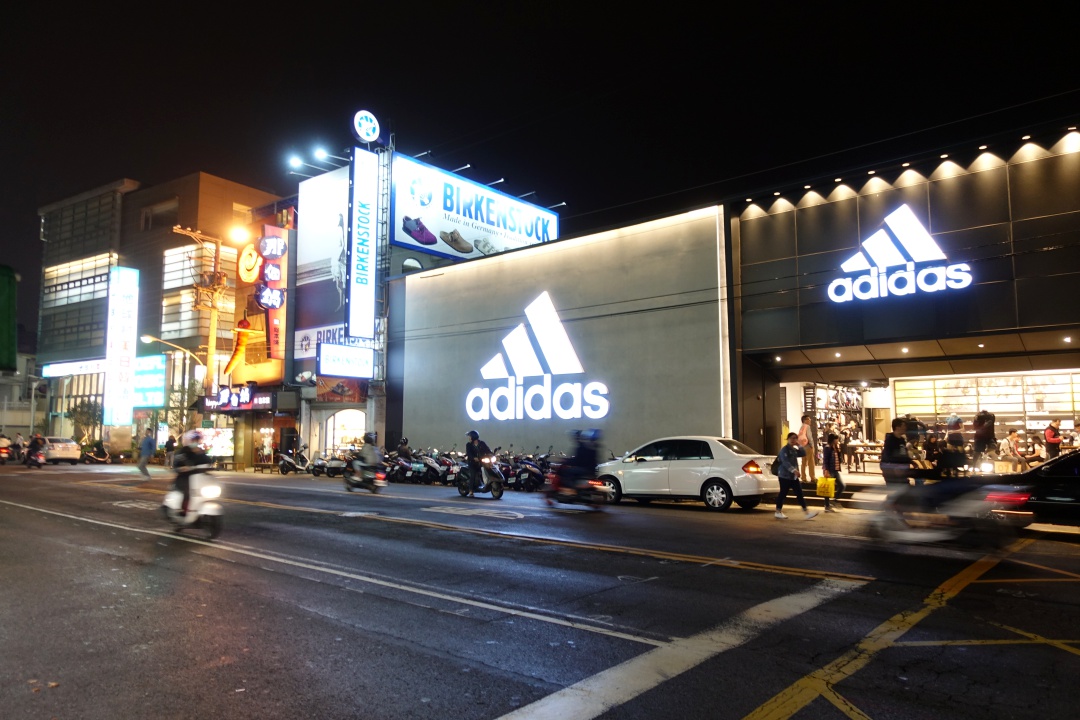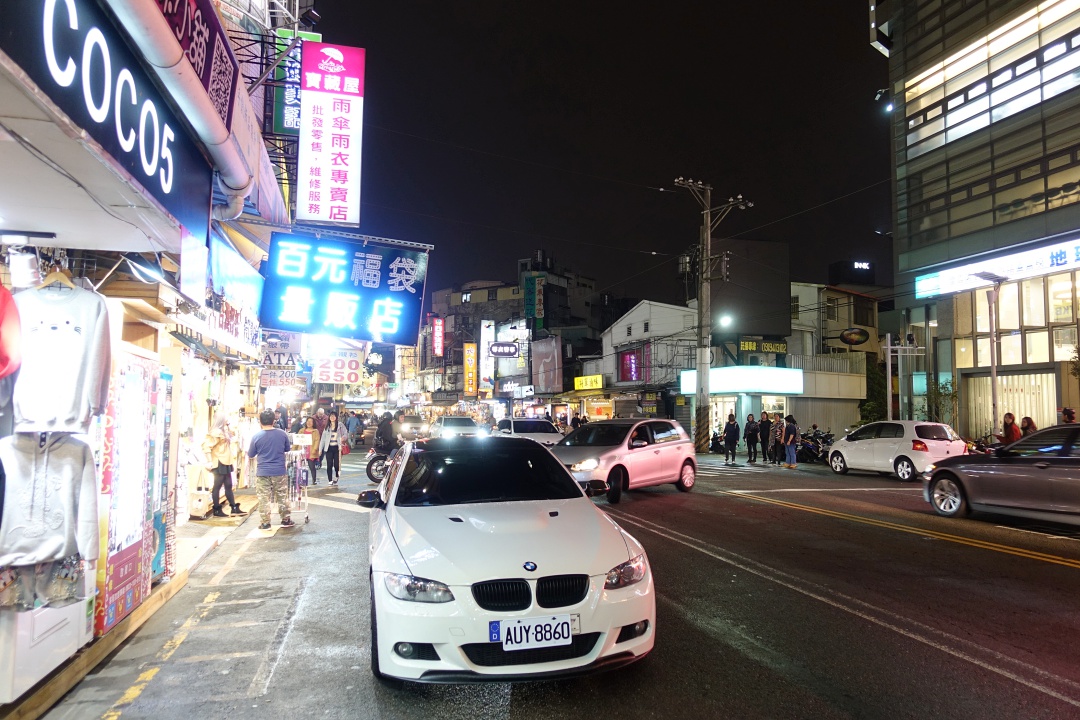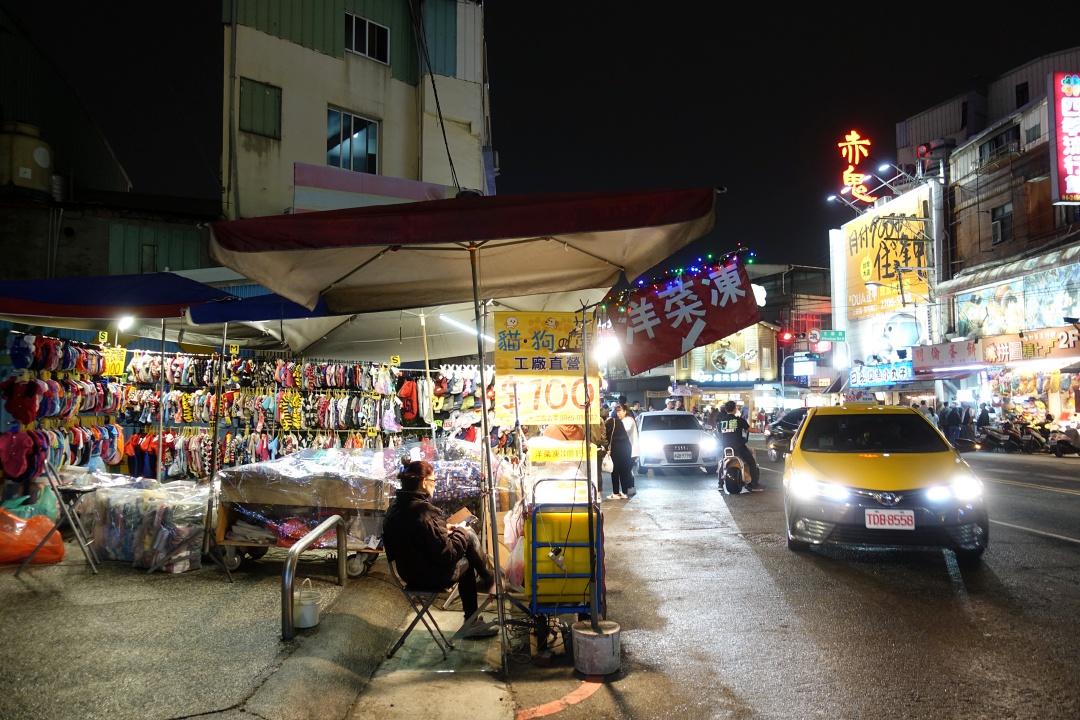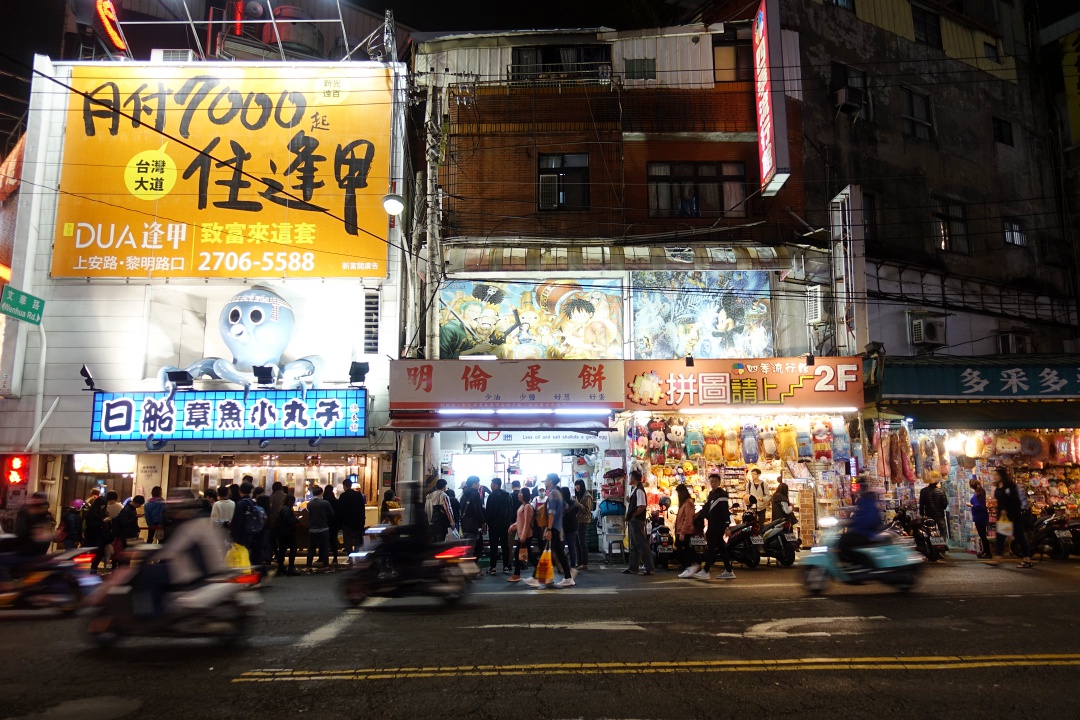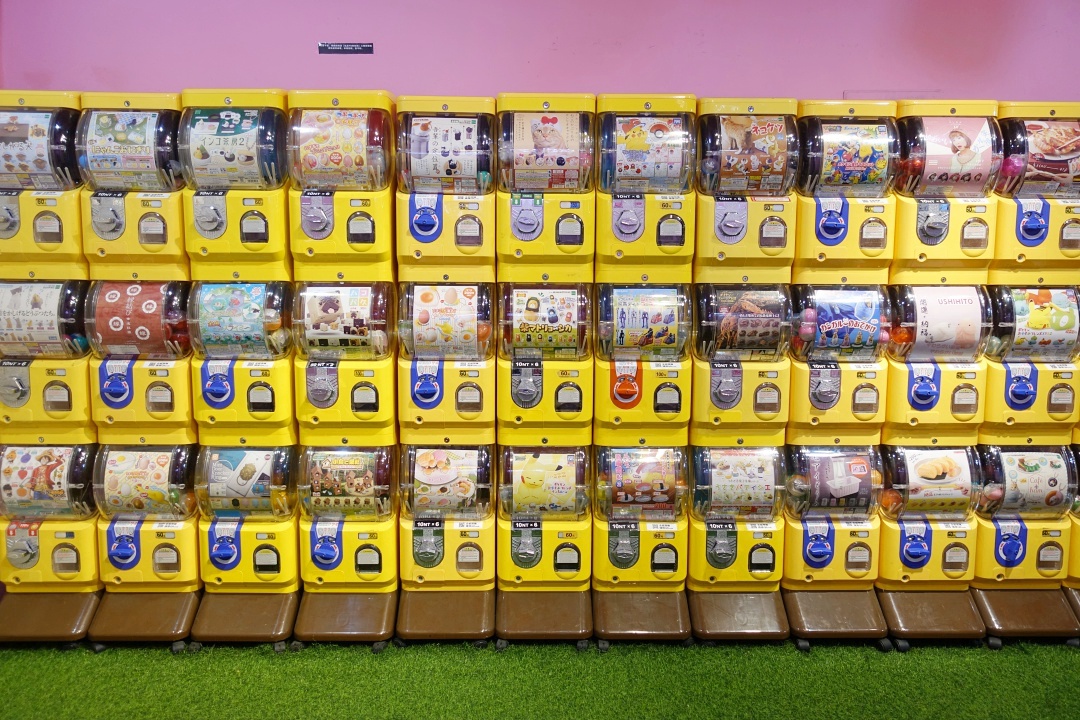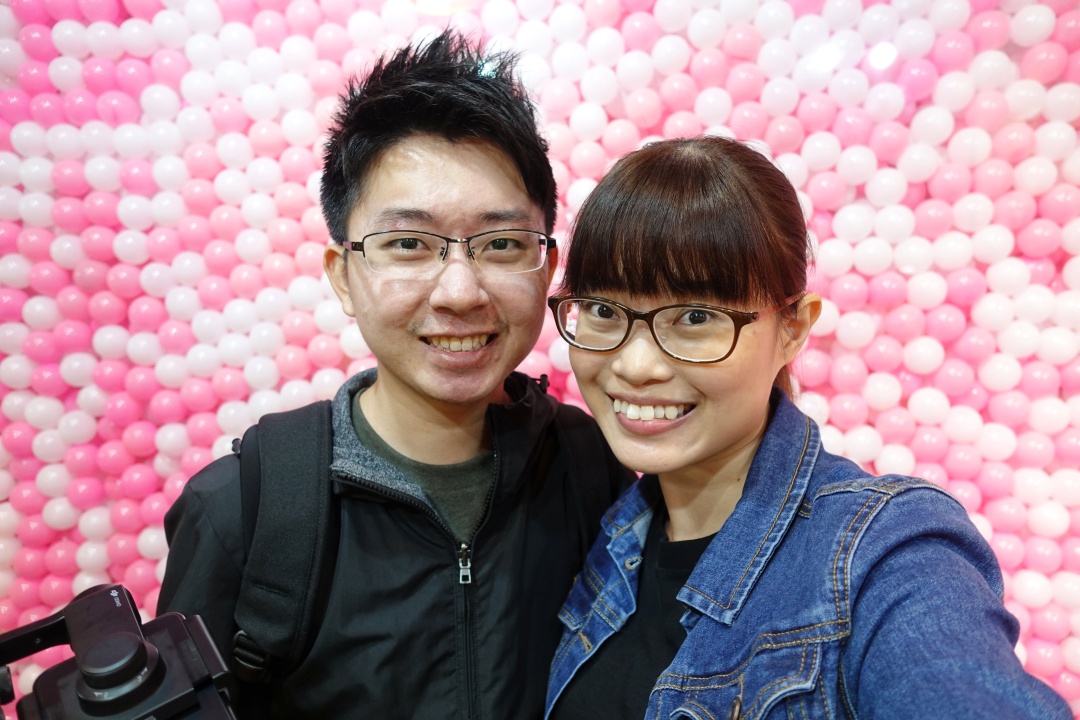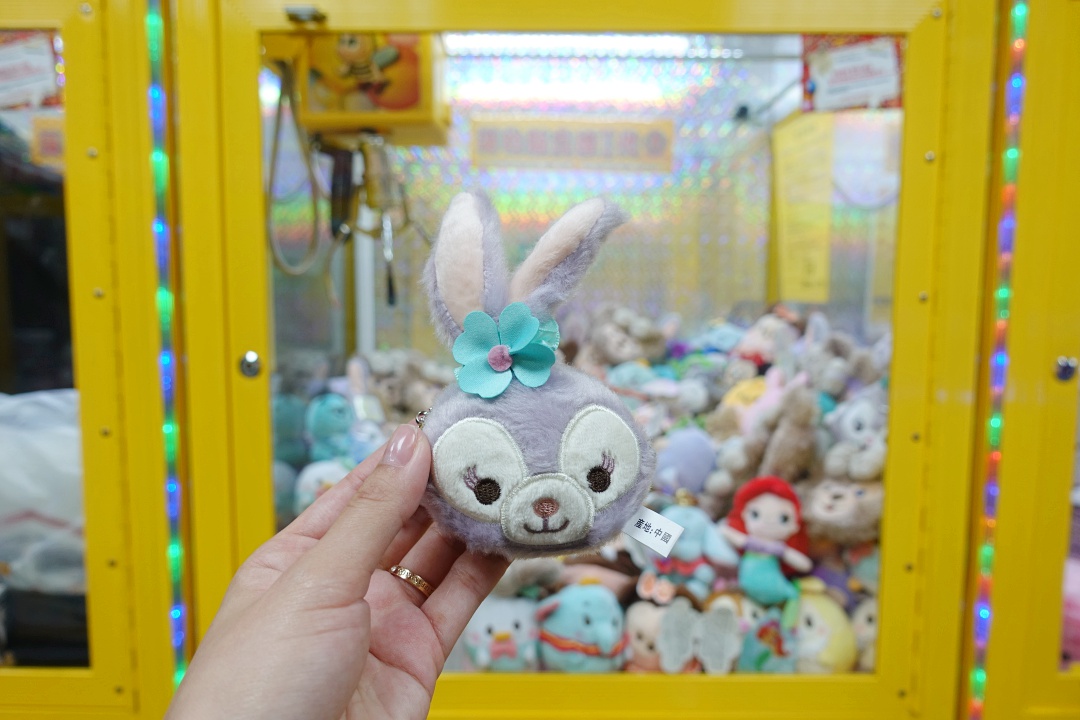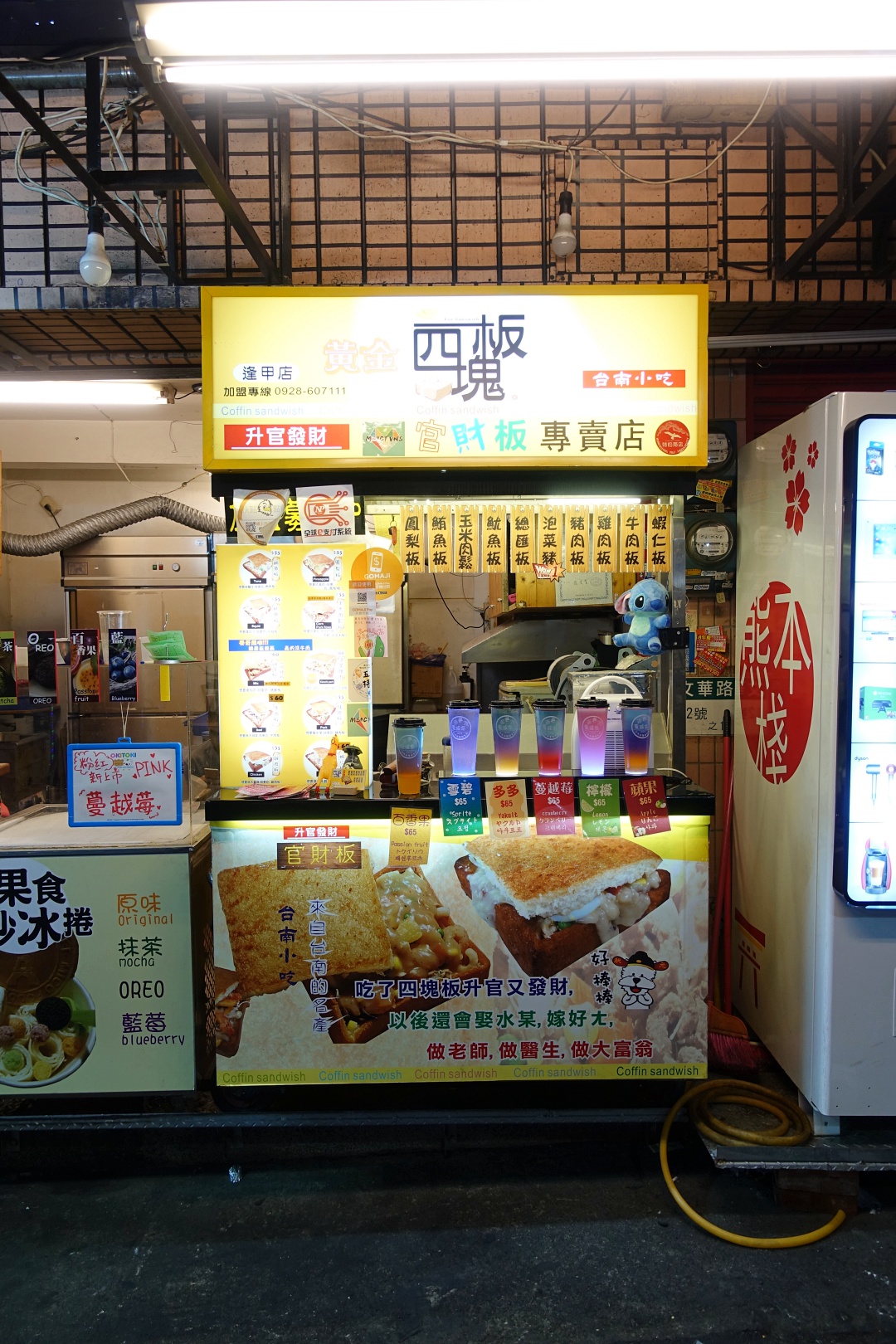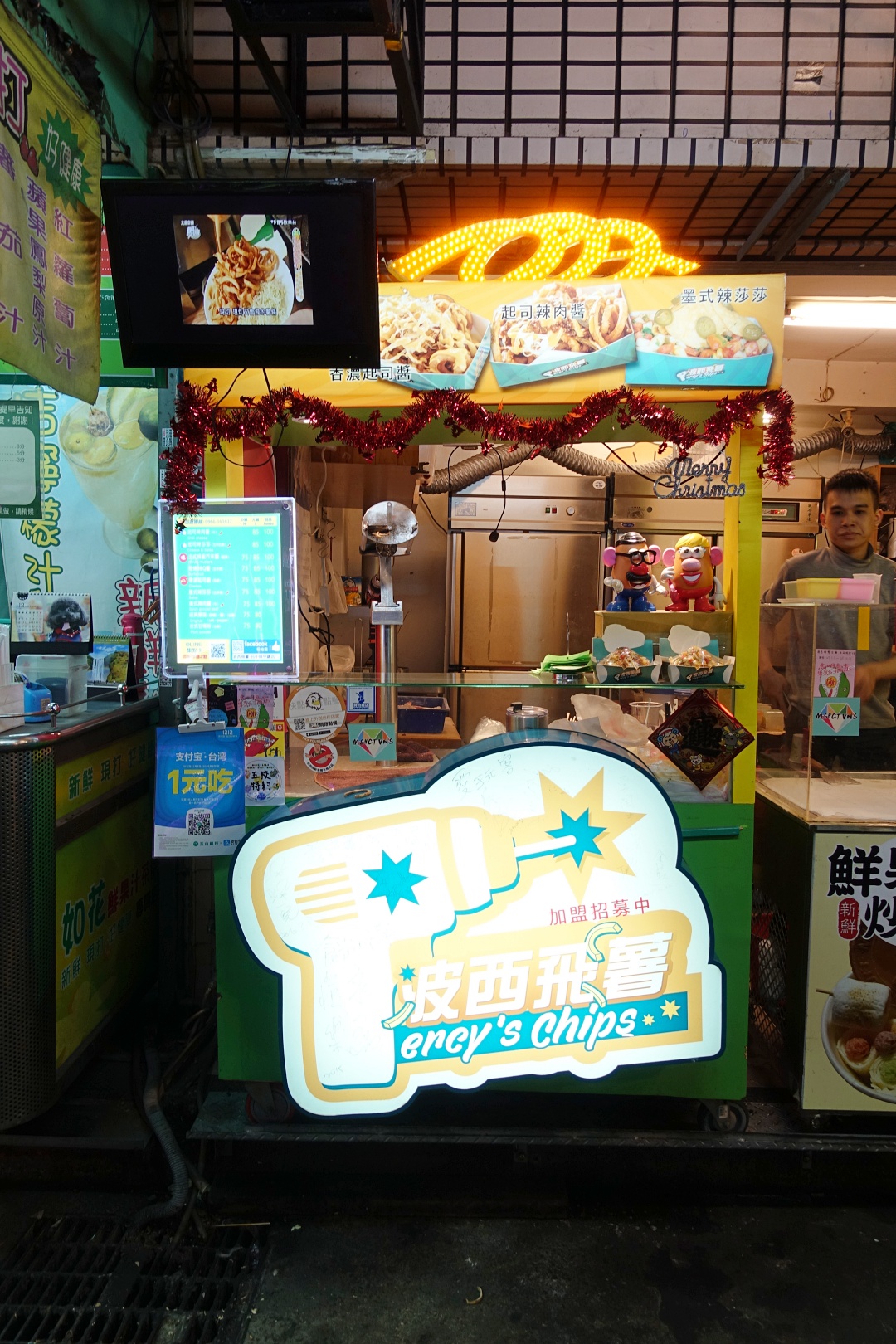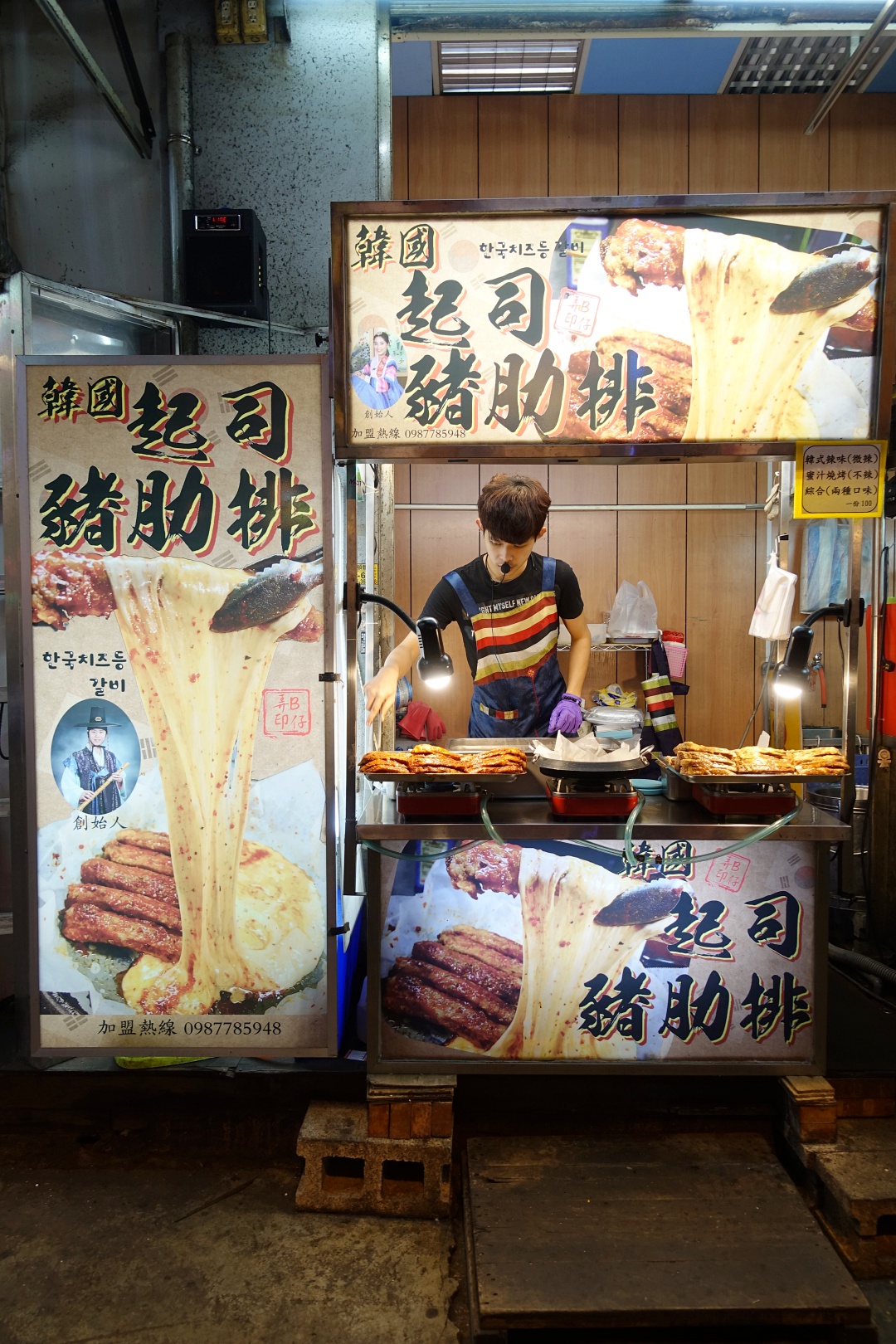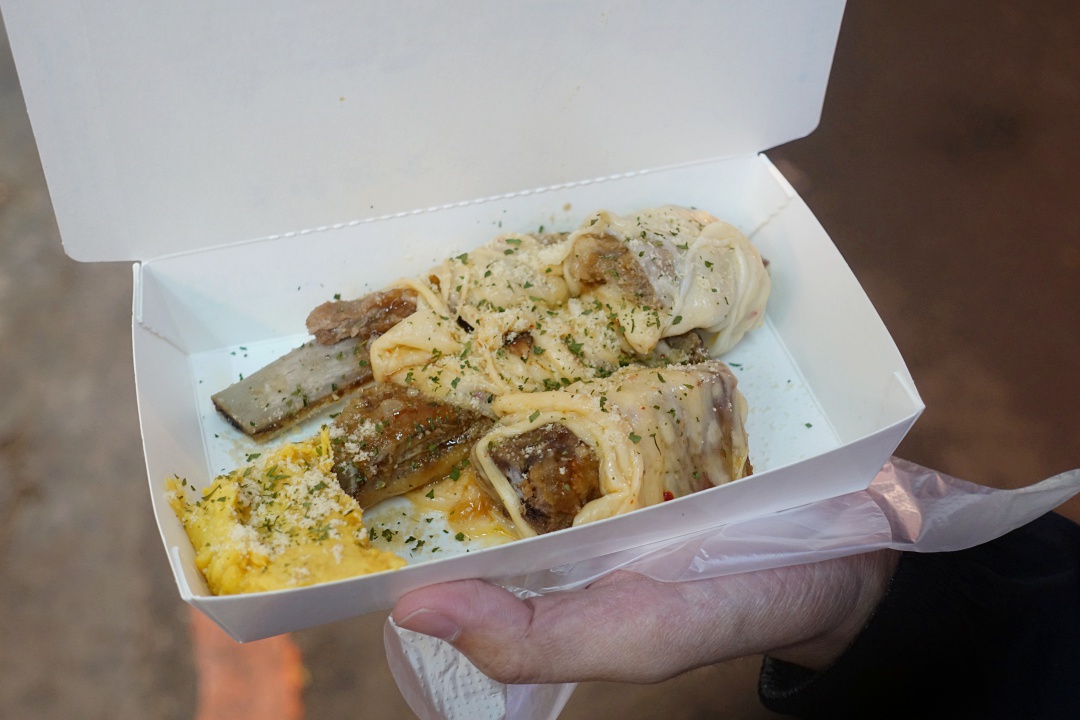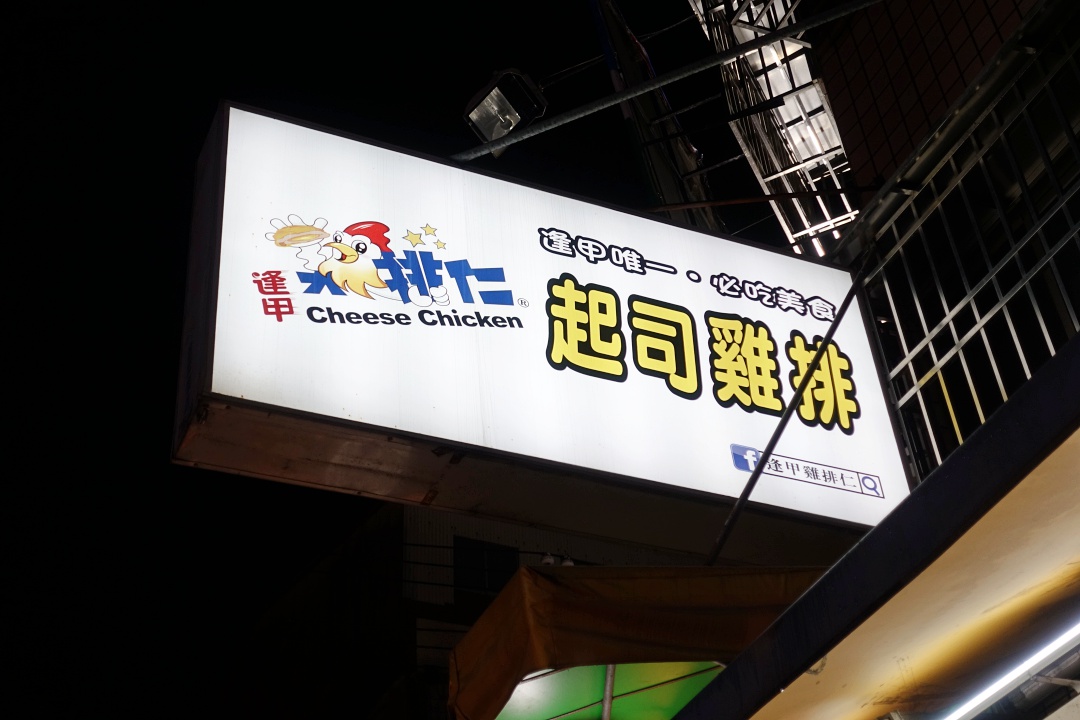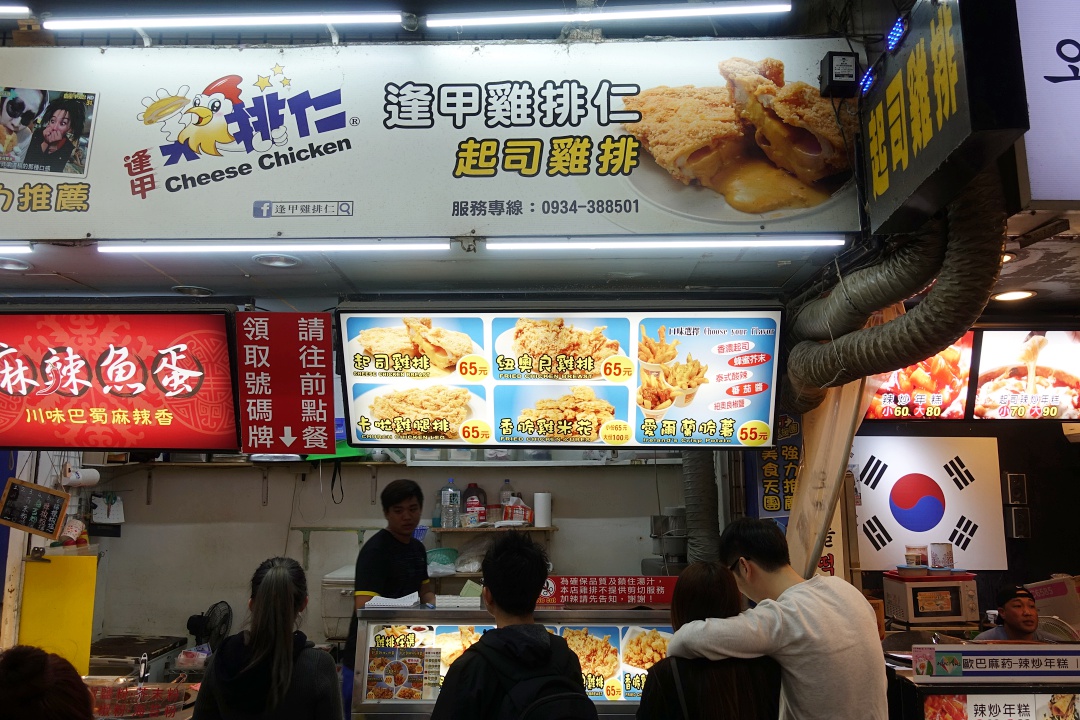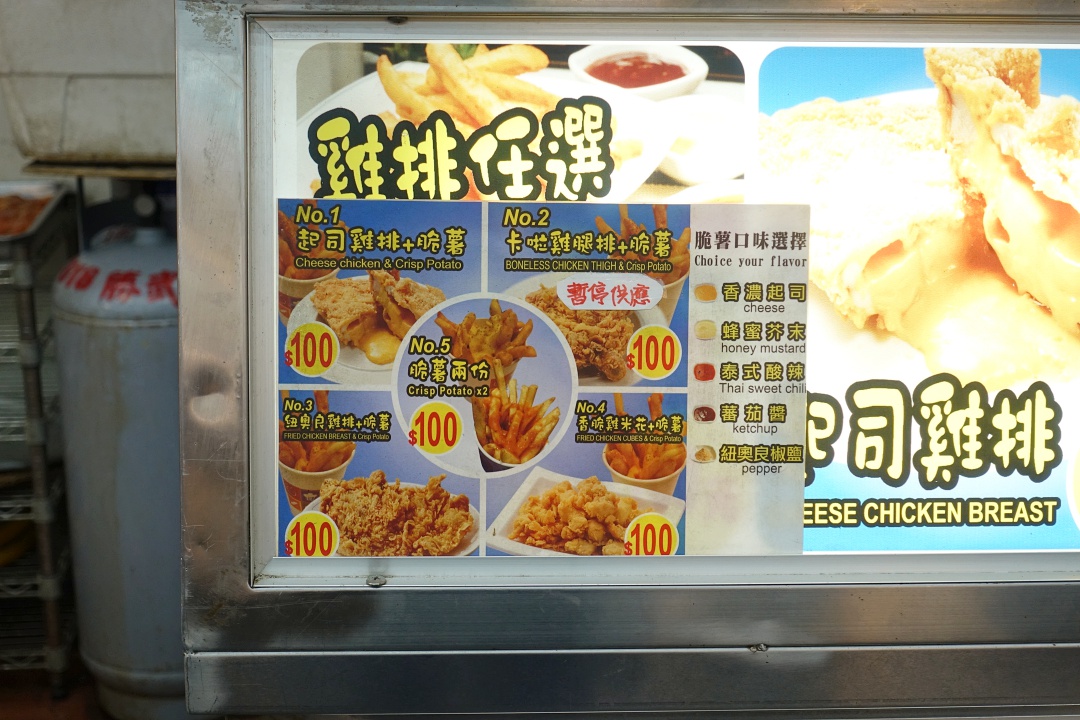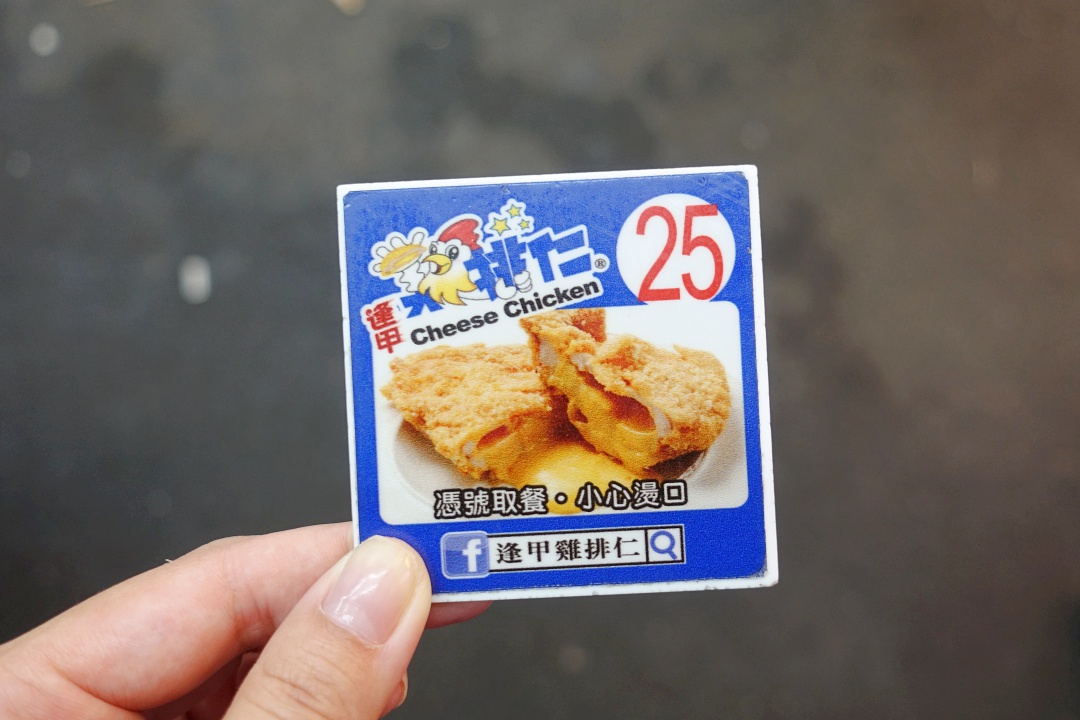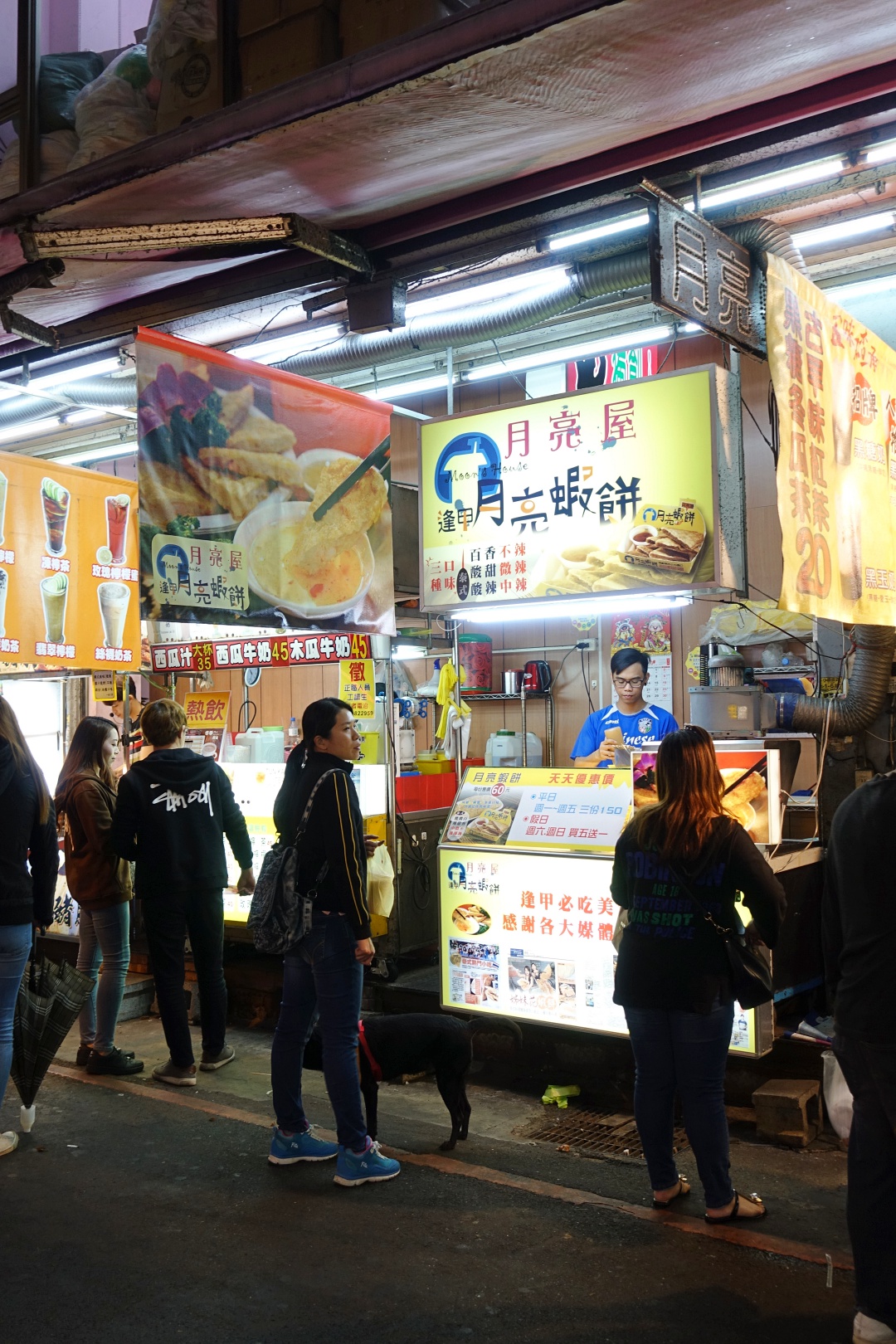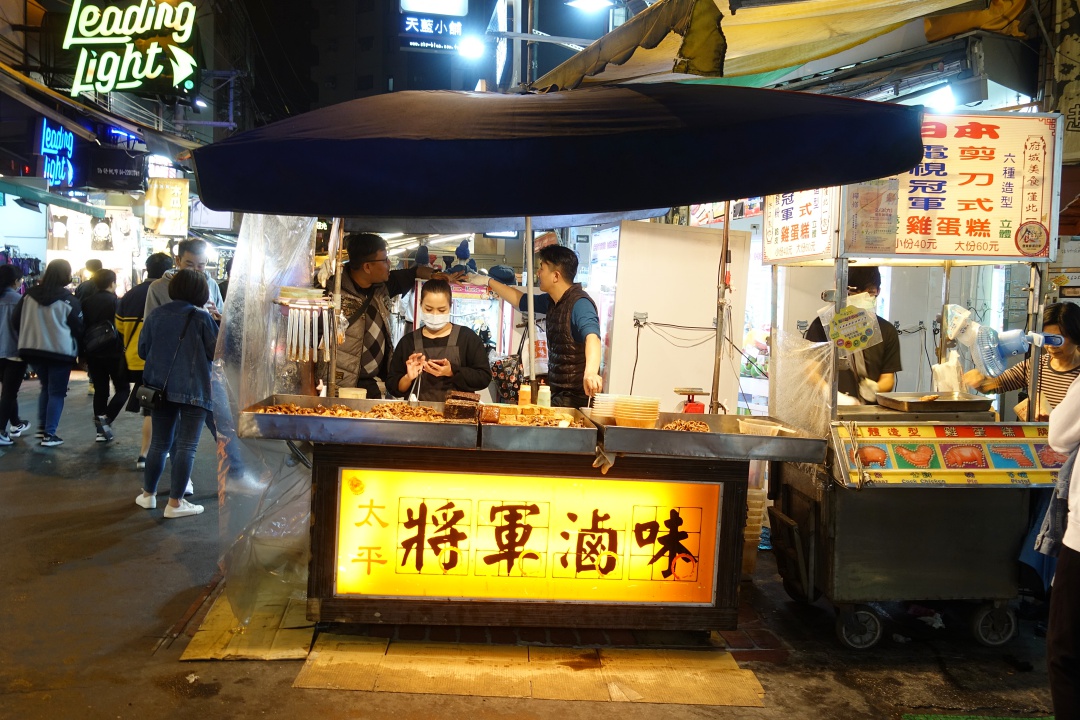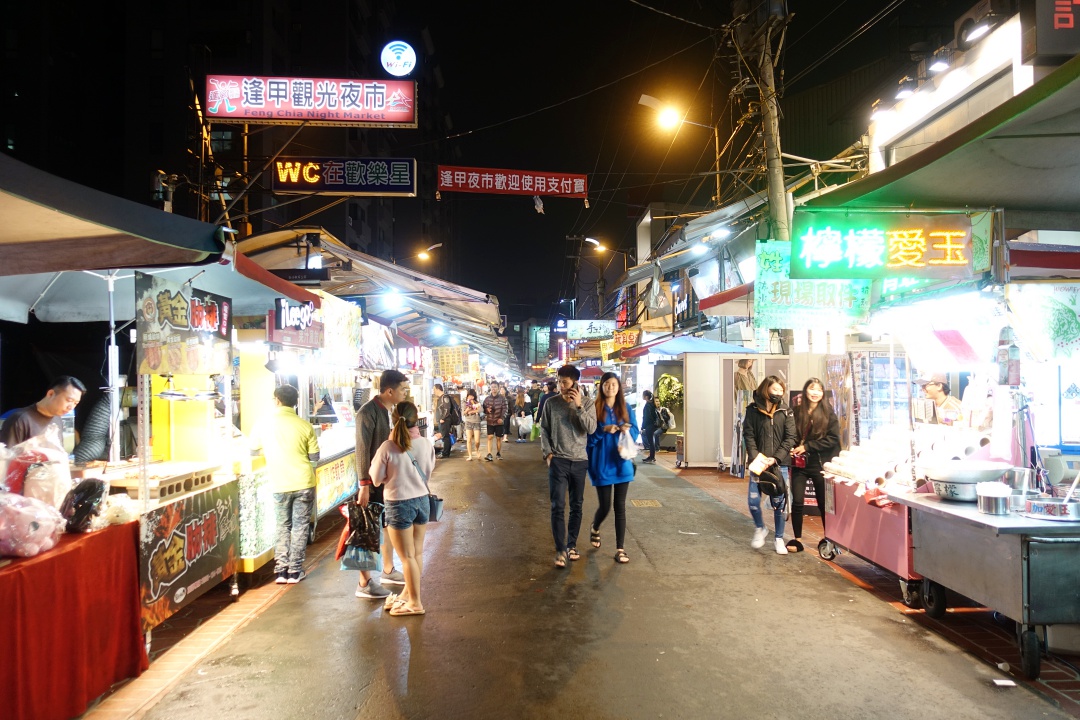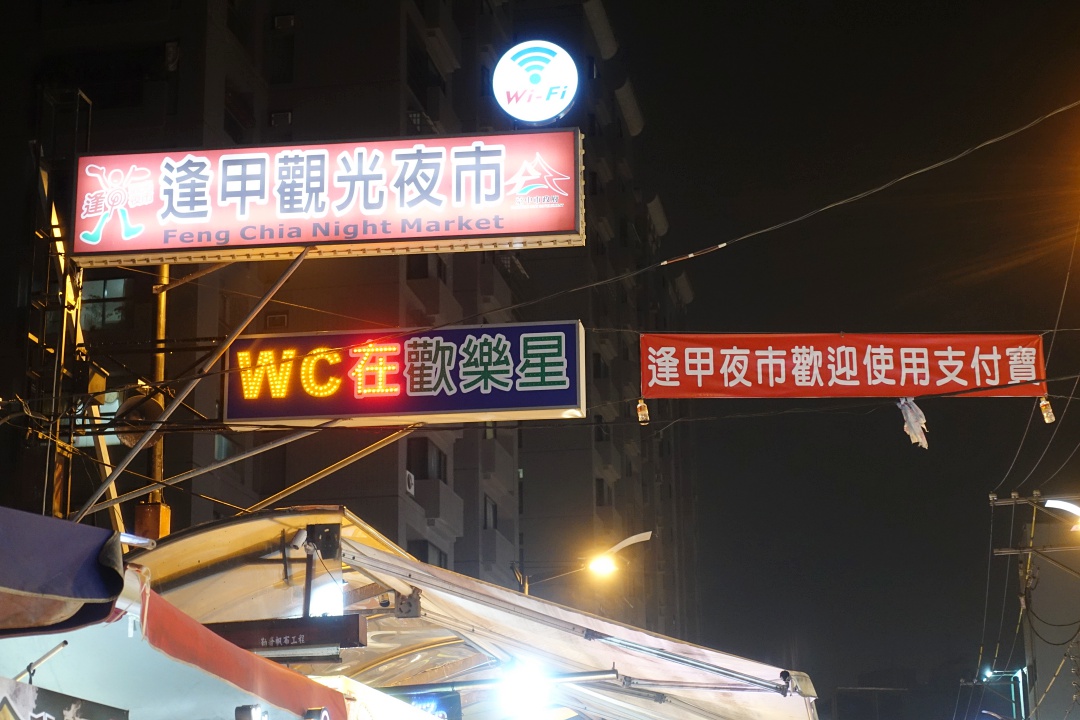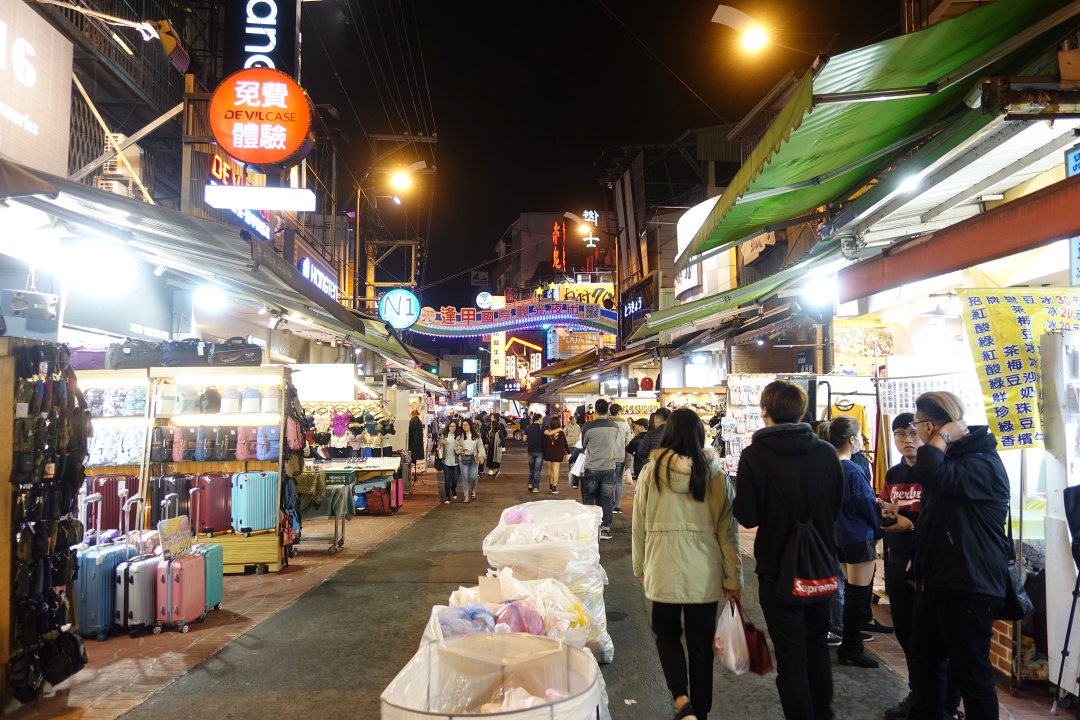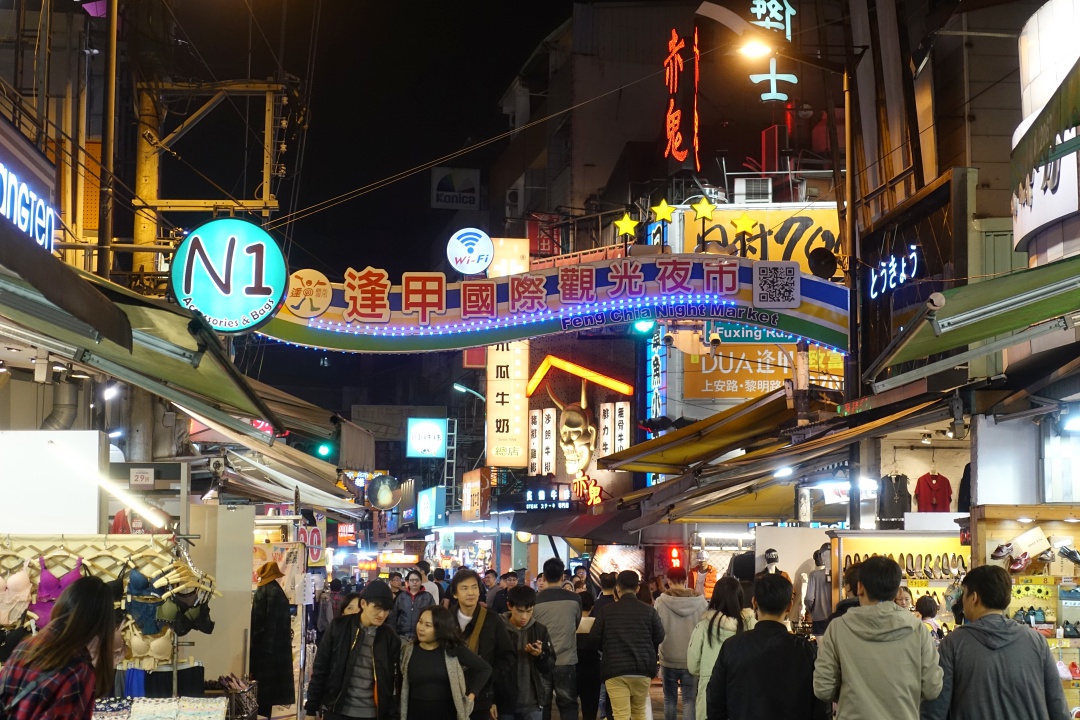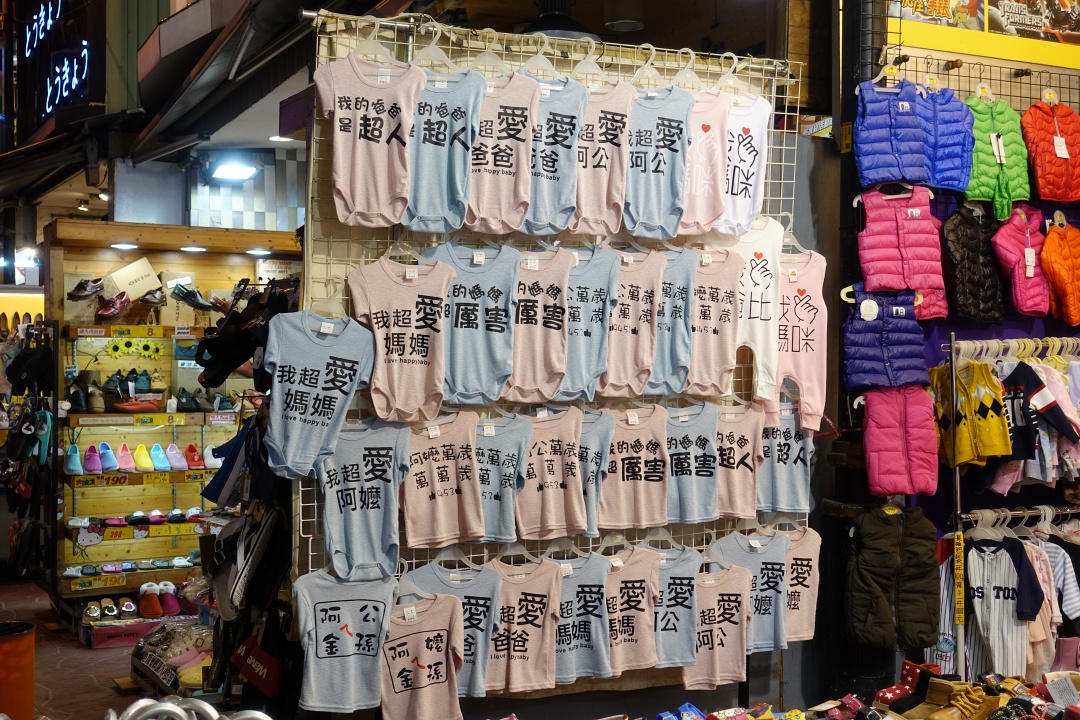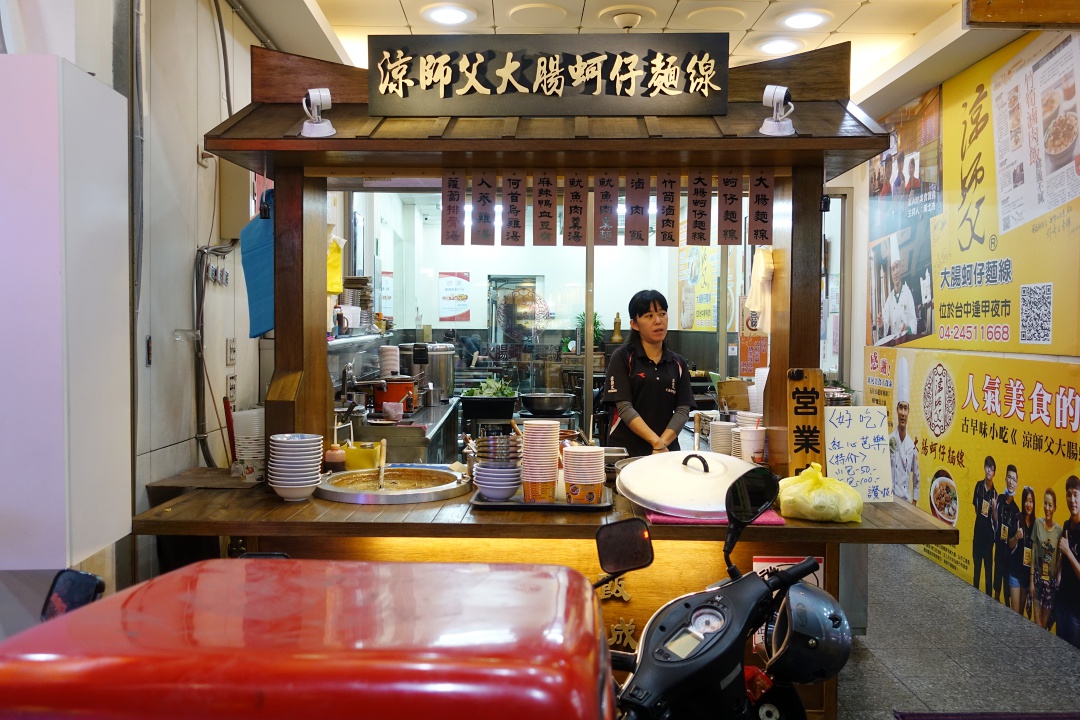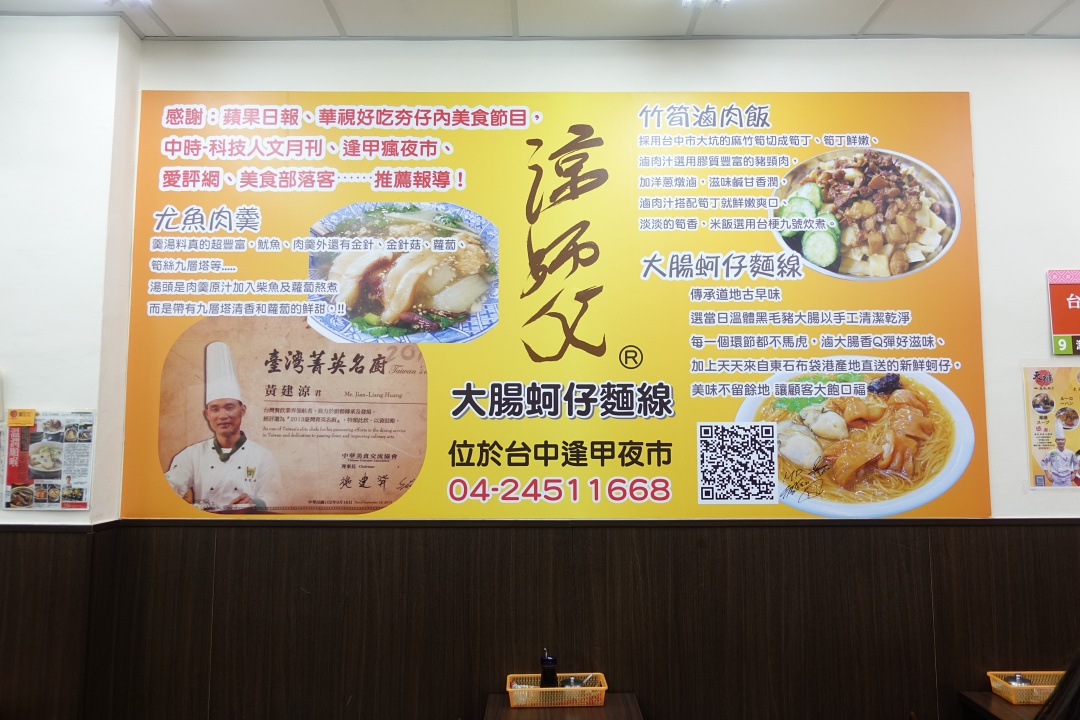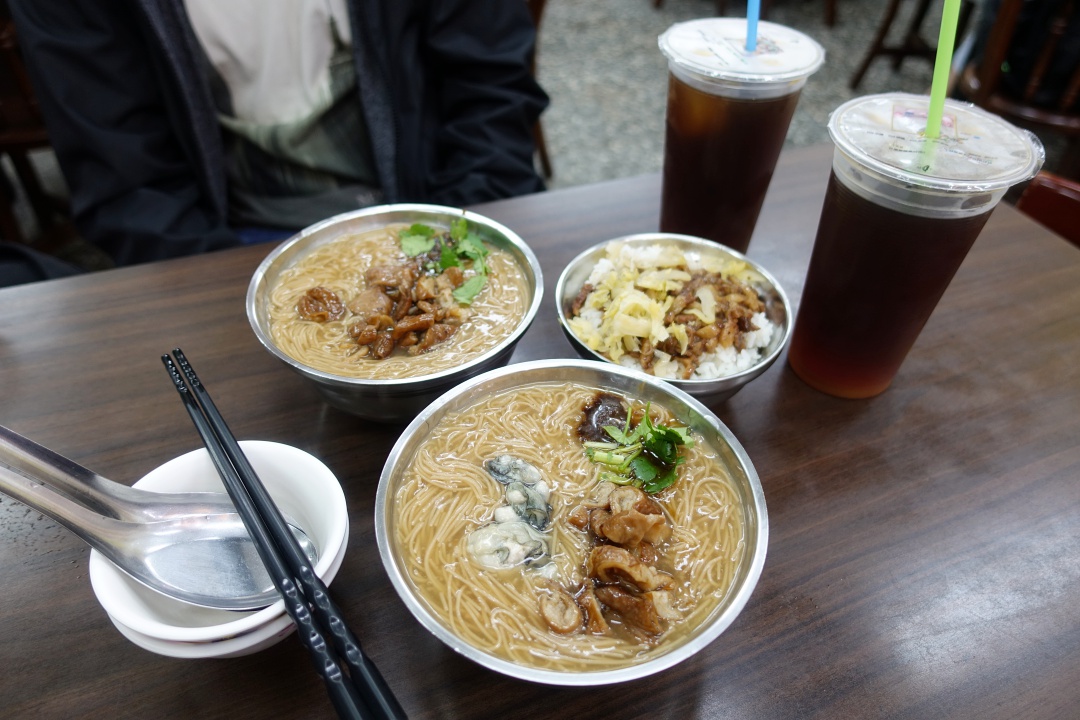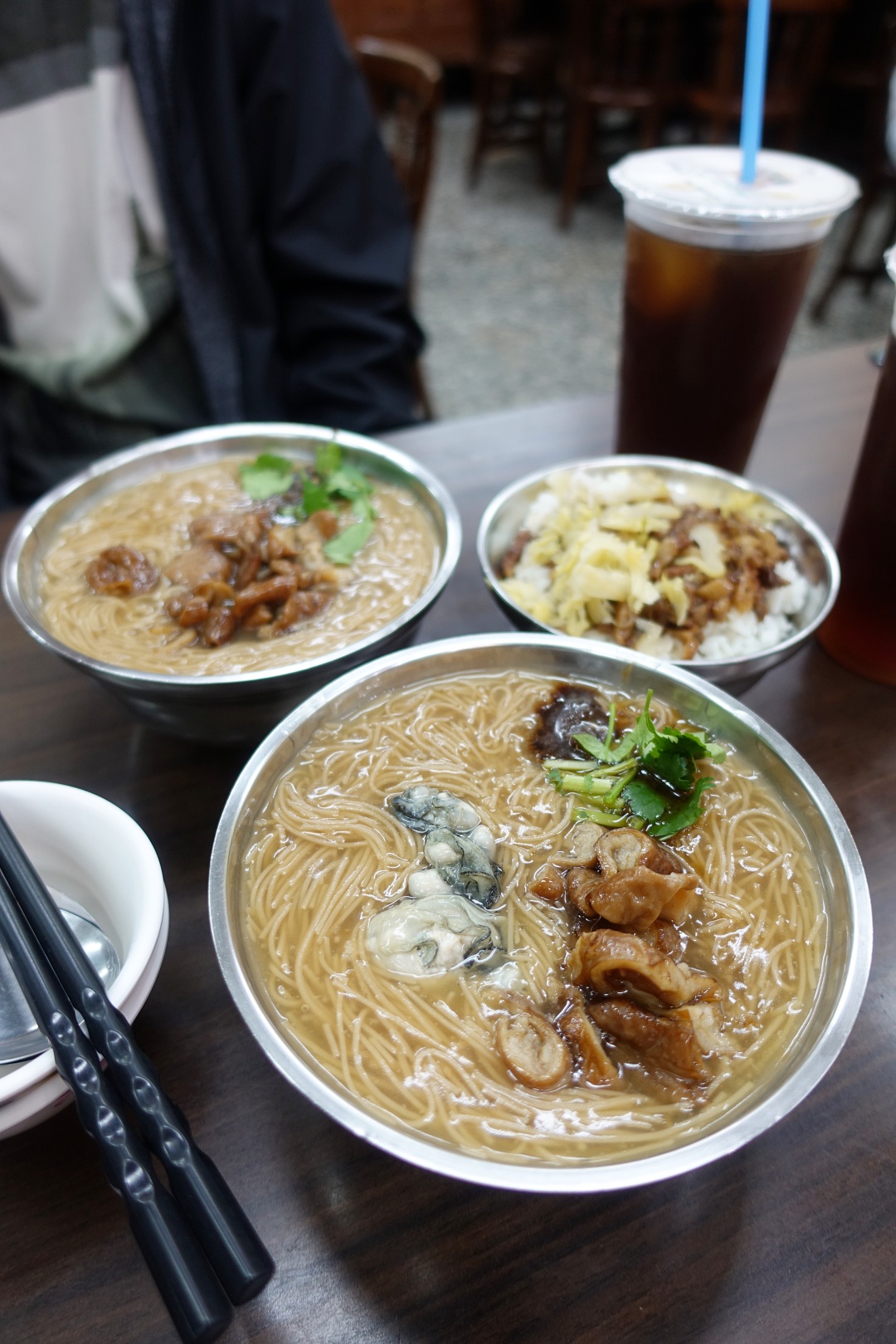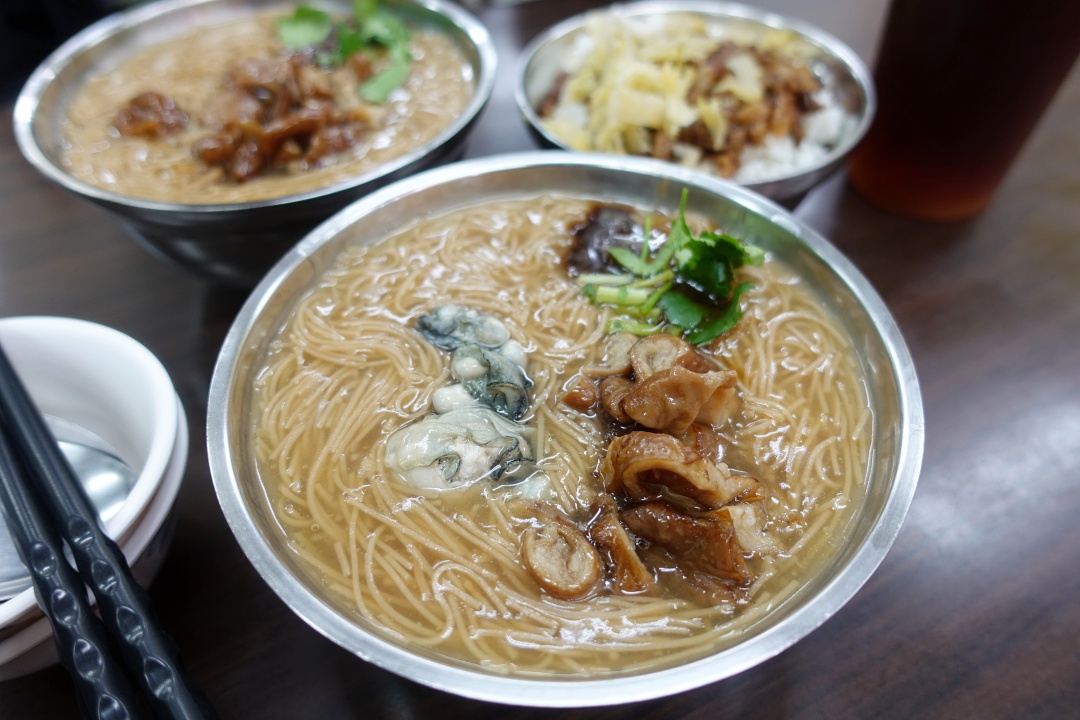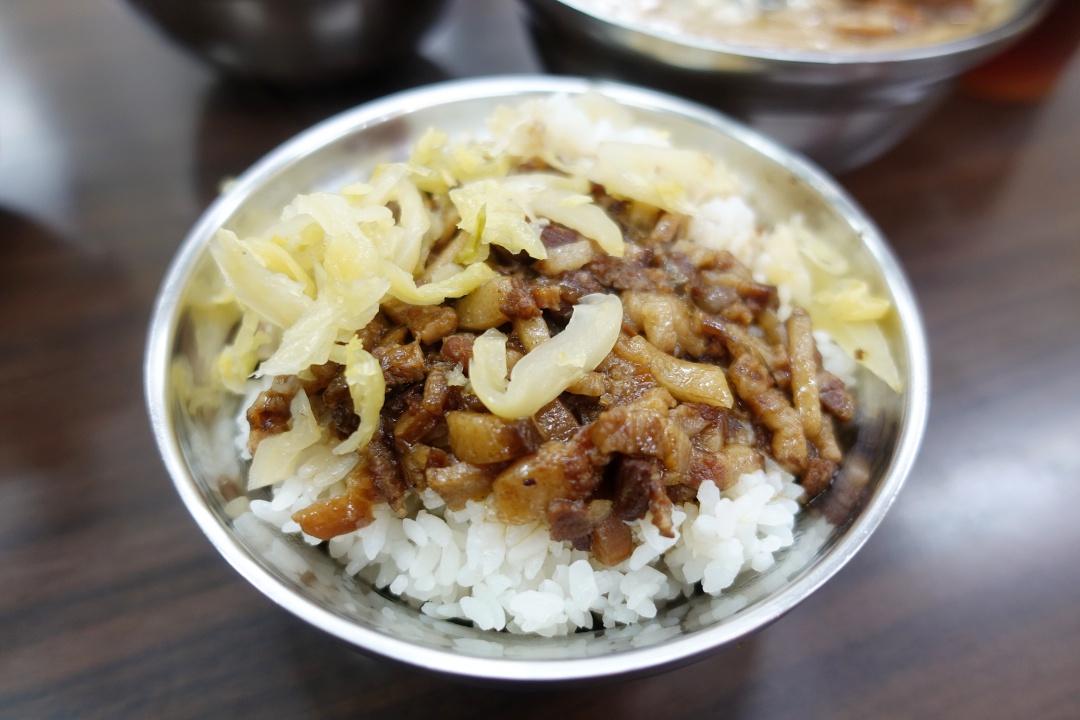 The stalls at Feng Chia Night Market are mainly food stalls selling all sort of 小吃. But there are also a good mix of fashion stores and game booths spotted at the night market. We even came across a store with an extensive number of gachapon machines! That was so cool!
We ate so much food at Feng Chia Night Market that night. We had grilled scallop, Taiwan sausage, fried sweet potato balls, 懒人虾, watermelon juice, pork ribs with cheese and fried chicken with cheese. And those were just snacks. In the end, we even have 大肠面线, 卤肉饭 and 冬瓜茶 for dinner! That meal was only TWD190, which was approximately SGD8.50!
Despite the rain, we really had a good time eating and shopping at Feng Chia Night Market! It's no doubt a must-visit place when coming to Taichung!