There is no more overseas trip planned till mid-October. So technically, I've 1.5 months to clear three travelogues. Two of which is on Bangkok and another one is on Bali! So, I'm starting with the 4D3N trip I took earlier this March with the Husband and my two sisters!
It was a rather impromptu trip. I think it started with my sister saying how much she wanted to visit Bangkok again. (Our last trip to Bangkok was in early 2017.) Then I was kind of being affected by her enthusiasm, so I decided to check with the Husband if we could get off for a short getaway. I wasn't expecting him to say yes because usually, he schedules are crazily packed and it's almost impossible for him to have 4 continuous days off that he didn't have any meeting planned. I guess we lucked out, because to my surprise, he actually said okay. Before I knew it, he was researching for flights and accommodation.
Because it was such a last minute trip, I don't think we got the best deal for air tickets and hotels. However, it was still within an acceptable price range, so we decided to go ahead and book it. We took Scoot and I believed it works out to around SGD230 per pax? Hotel wise, my mum strongly recommended us to stay at The Berkeley Hotel Pratunam again, so we went ahead to book that.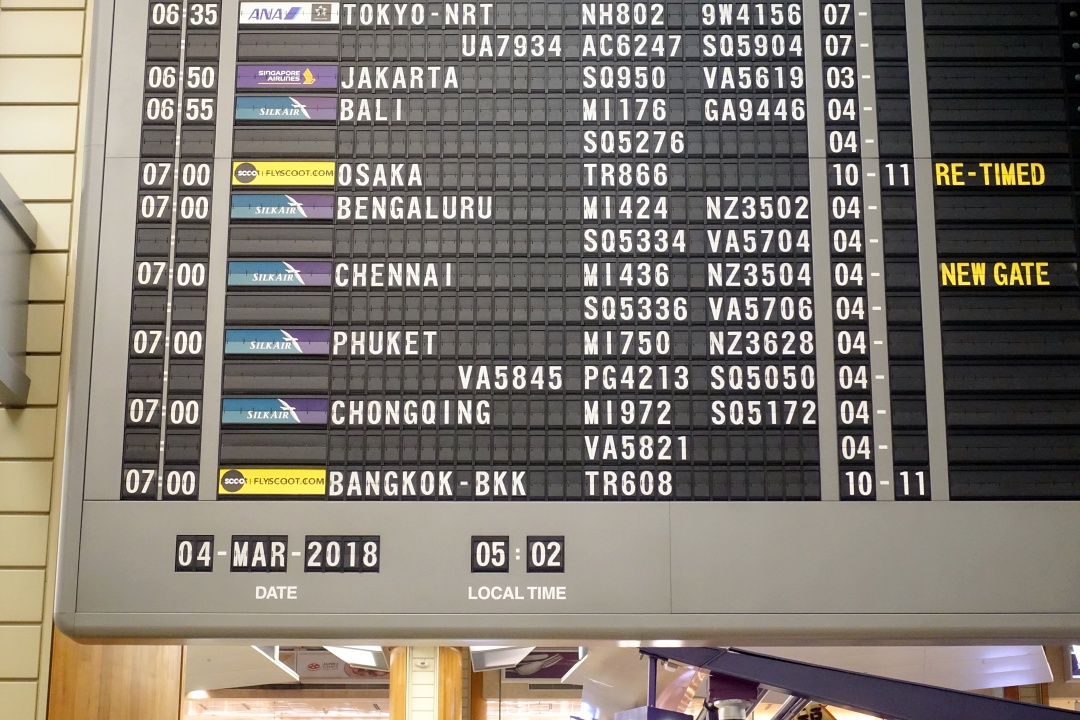 Our flight out was at 07:00, which means we had to reach the hotel at 05:00. Maximising our time in Bangkok is the key for this trip so we decided to take an early flight out and a late night flight back to Singapore.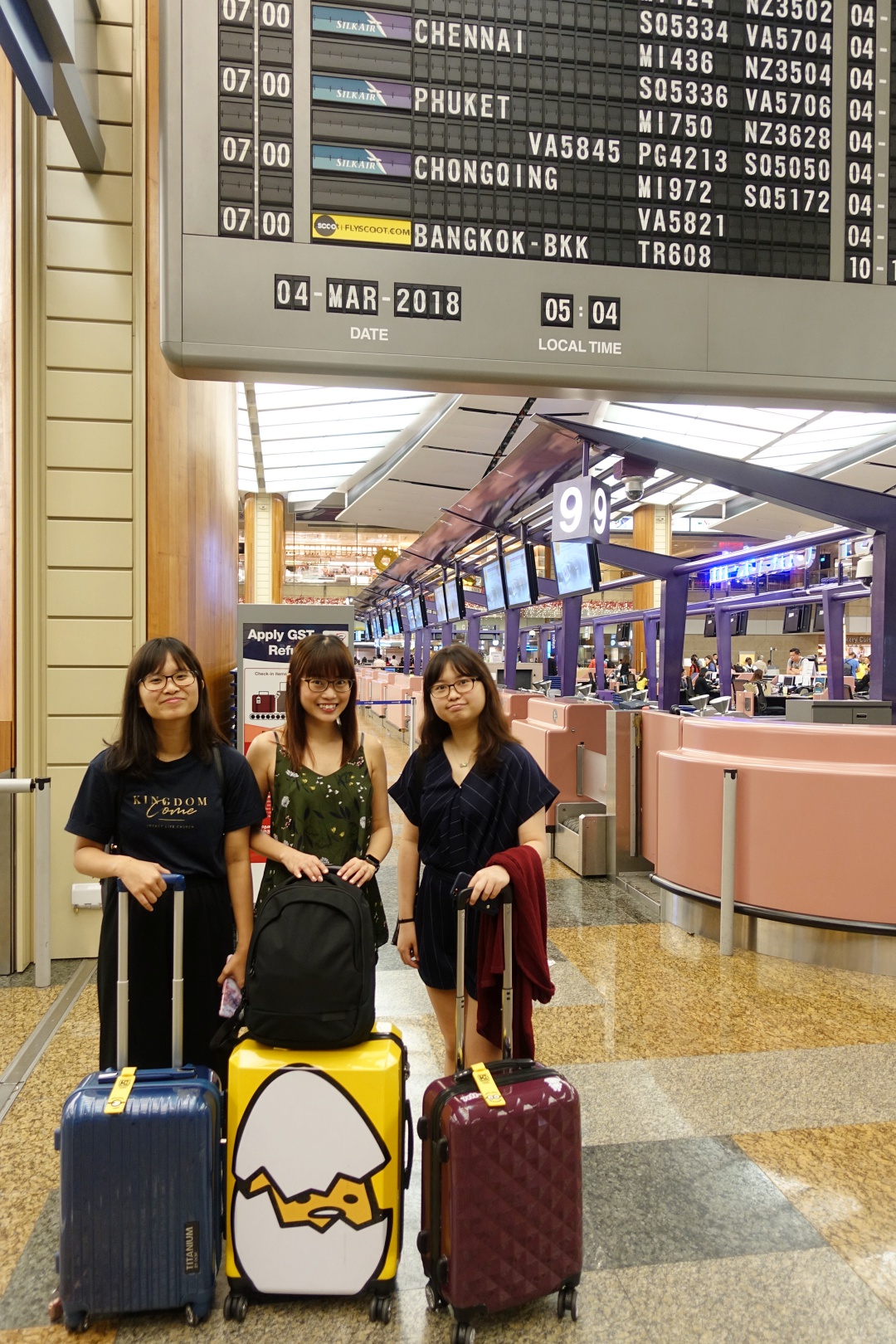 It was the first time the four of us travel together and I was kind of nervous how it would turn out? Plus, agreeing to bring my sisters there means we had a huge responsibility to take care of their safety and all.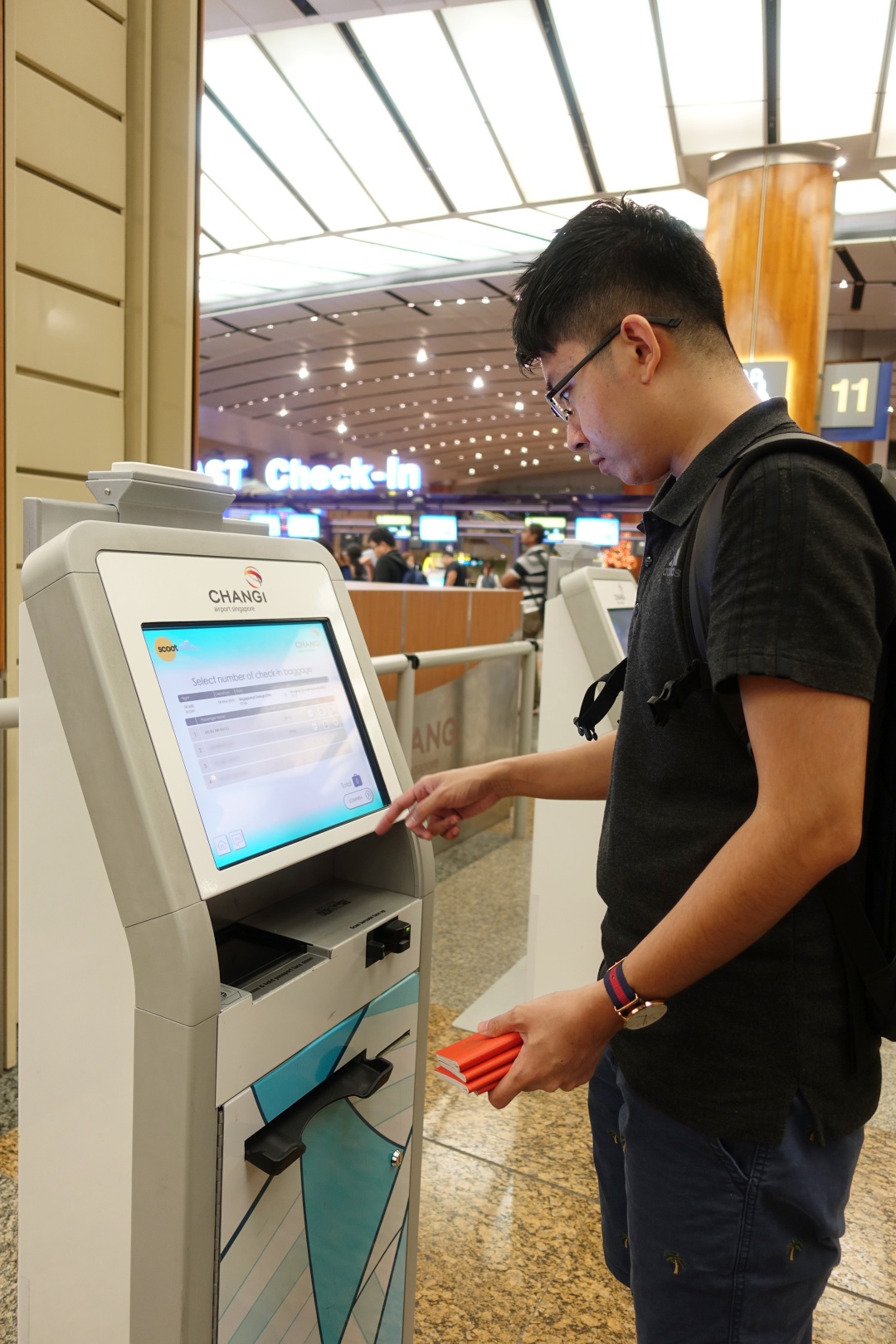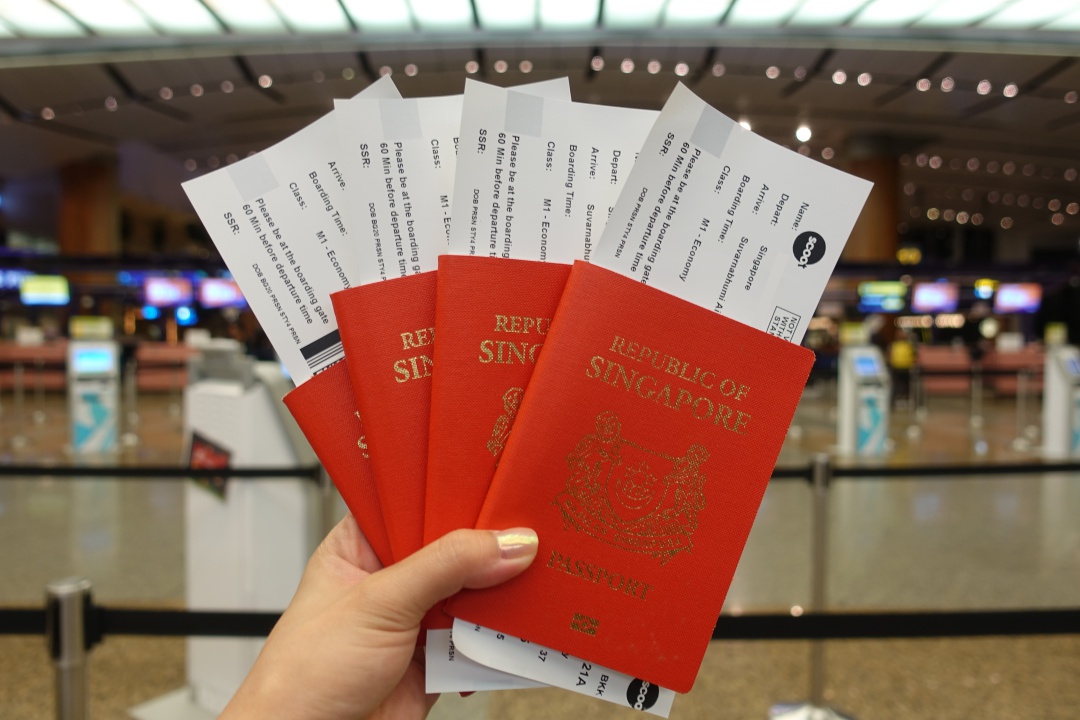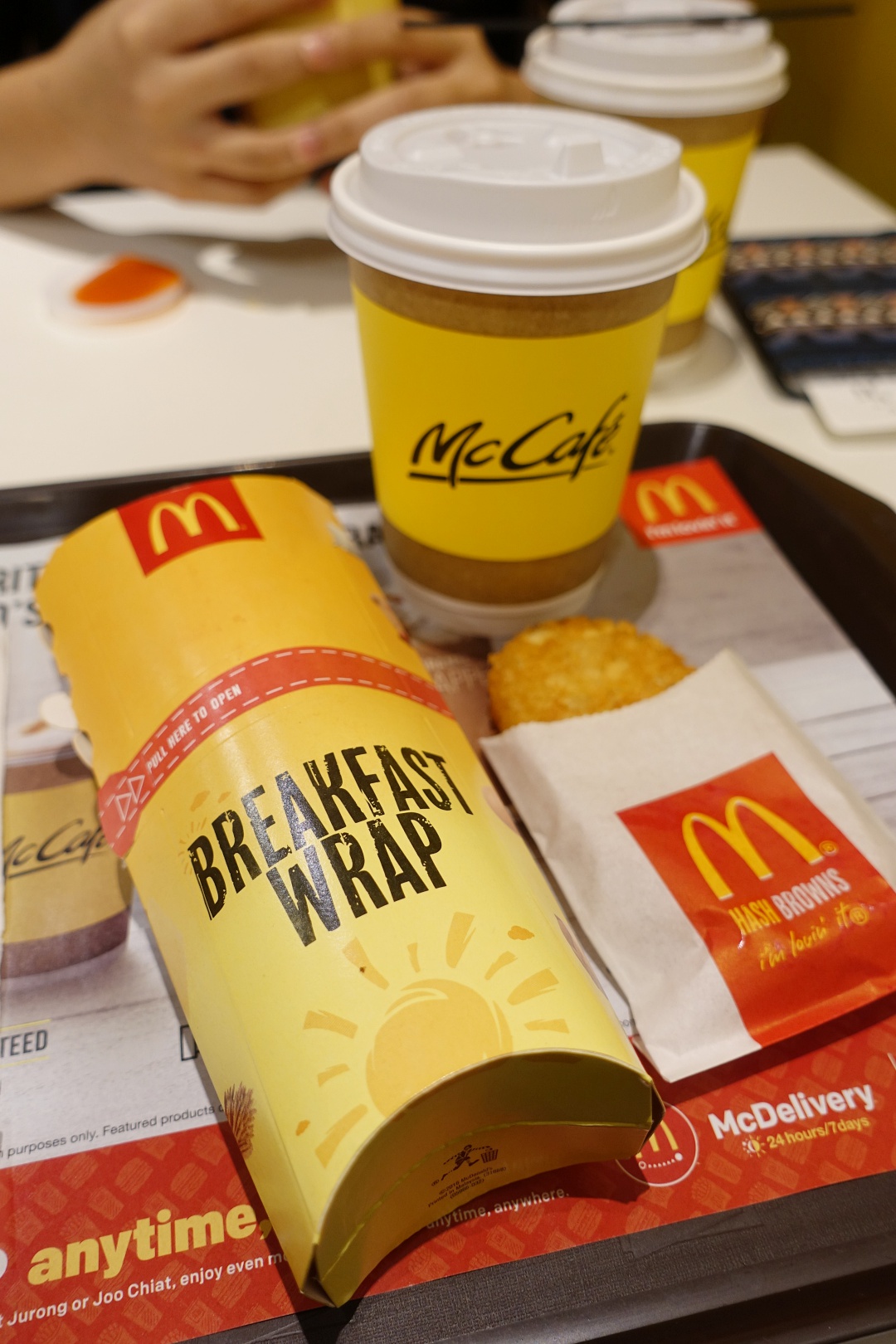 We actually managed to squeeze in a quick breakfast at McDonald's before our flight.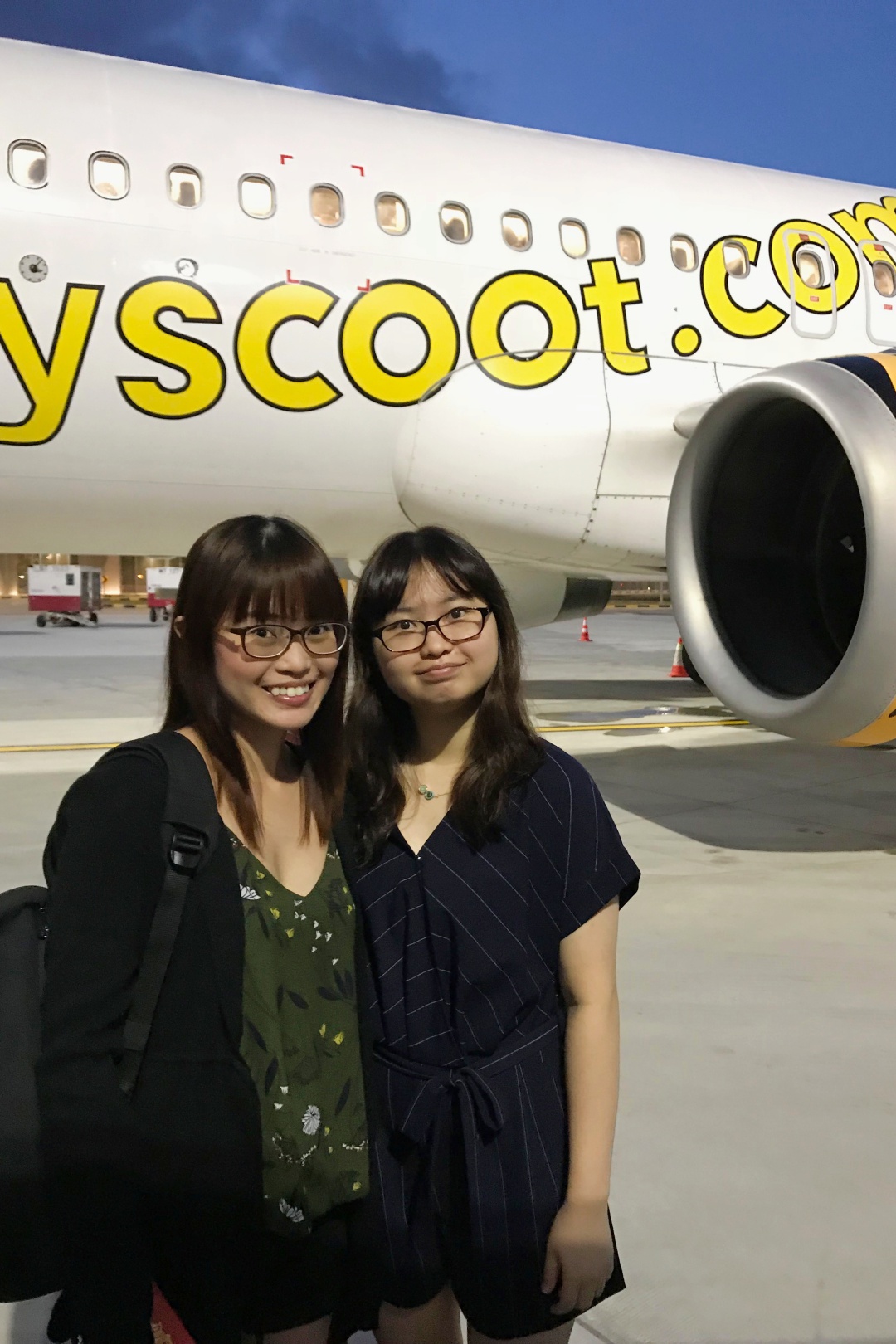 Arrival | Suvarnabhumi Airport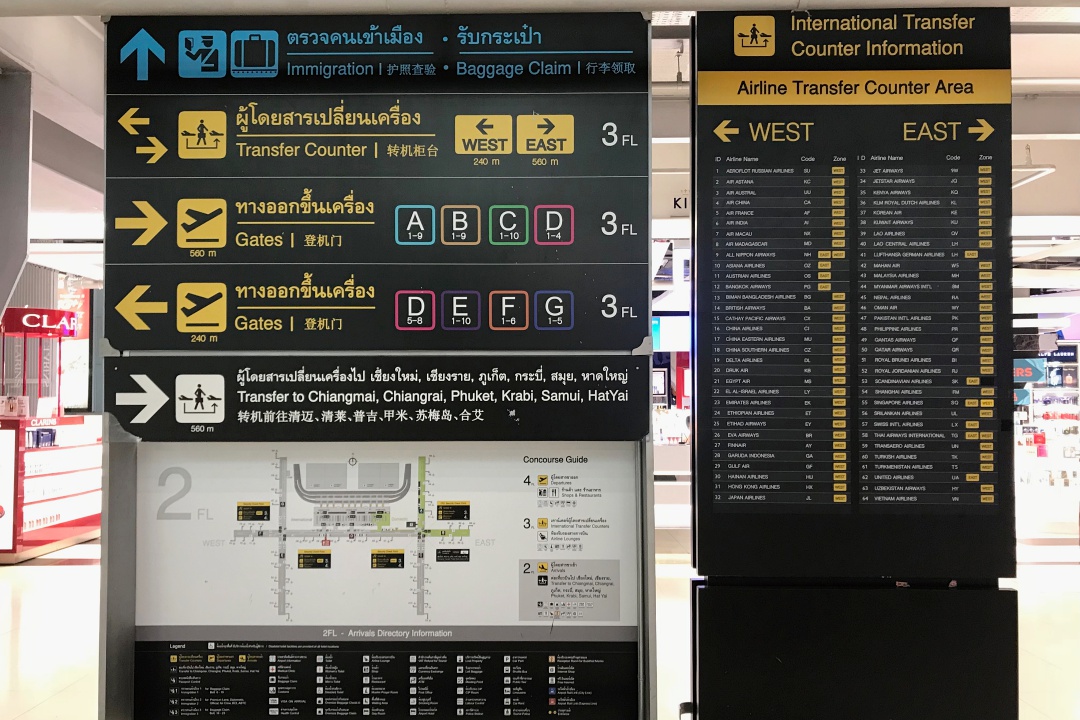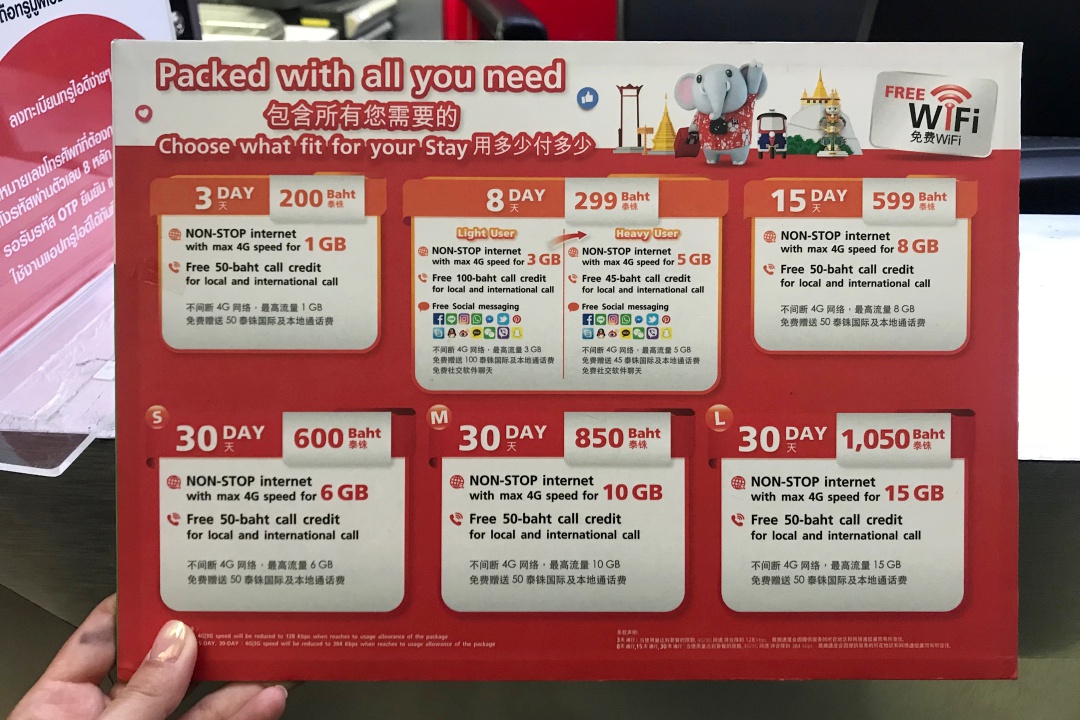 Arrived at Bangkok's Suvarnabhumi Airport at slightly past 08:00. First order of business was to get our data SIM card from the booth in the arrival hall. I'm not very particular about the brand, so I usually just went for the booth I first saw or the one with a shorter queue. This time around, we decided to go for truemove. We were there for 4 days and decided to get the 8-day package since it was a better deal.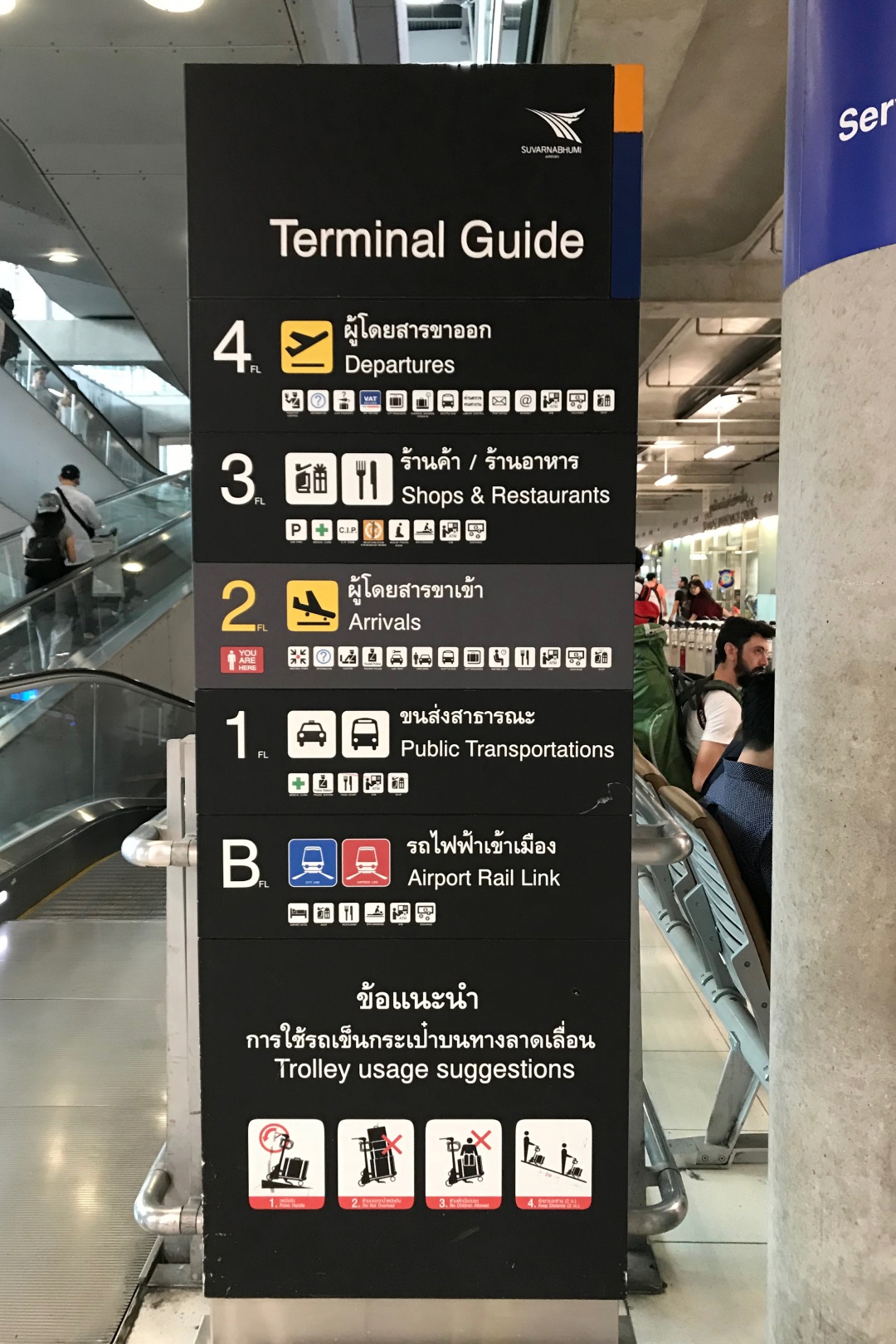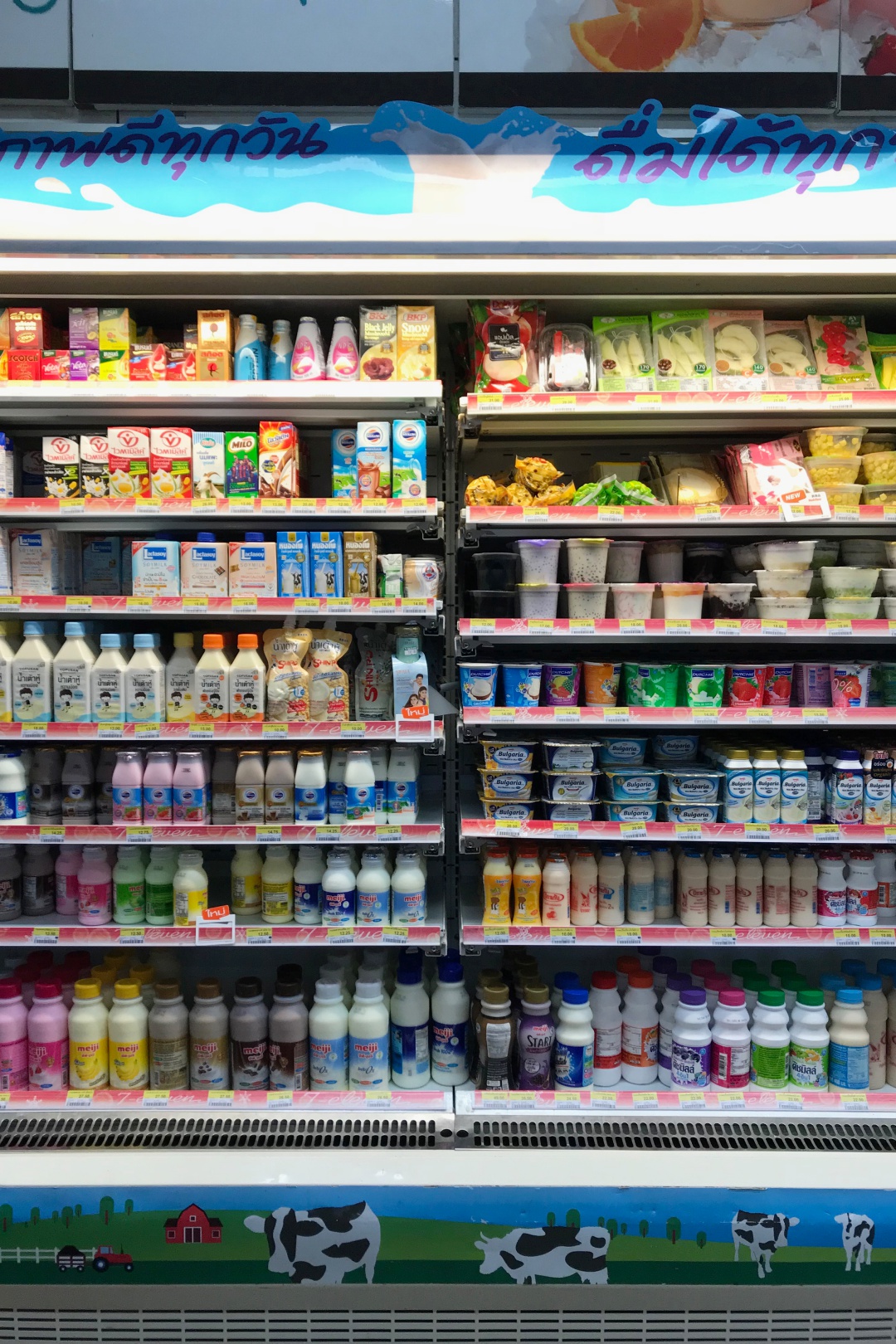 After settling our SIM card, we made a quick stop to the convenience store, before going down to level 1 to table a taxi.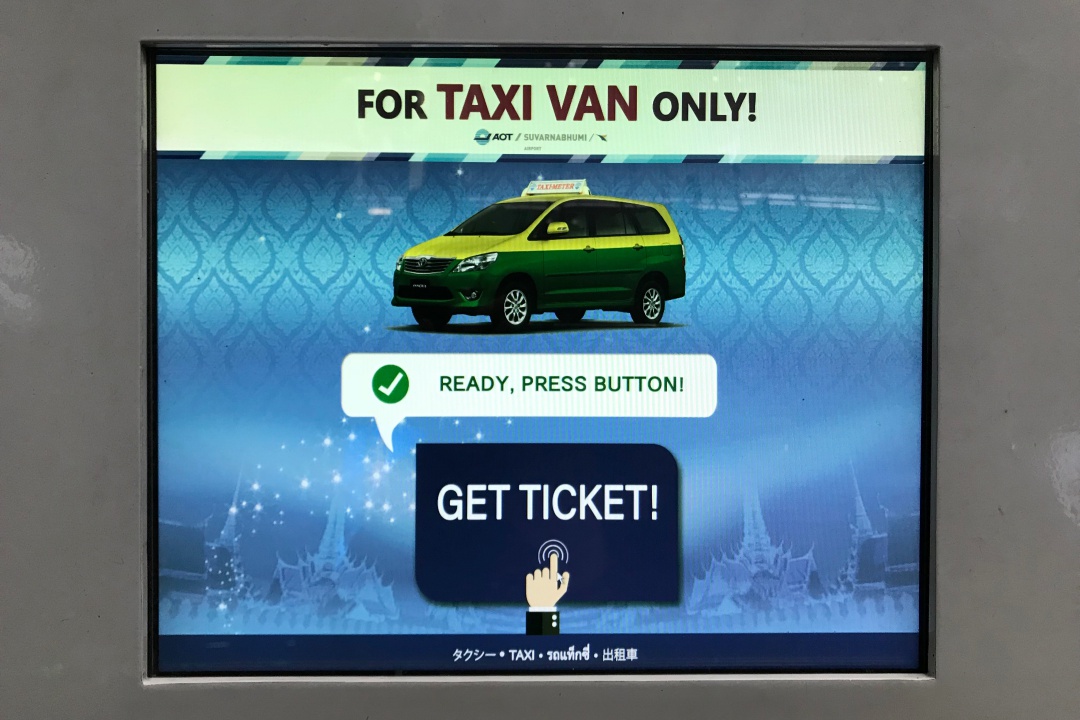 If I'm not mistaken, we paid slightly more to take the Taxi Van instead of a normal taxi. There were four of us with four luggage, so we figured we needed the extra room for our luggage.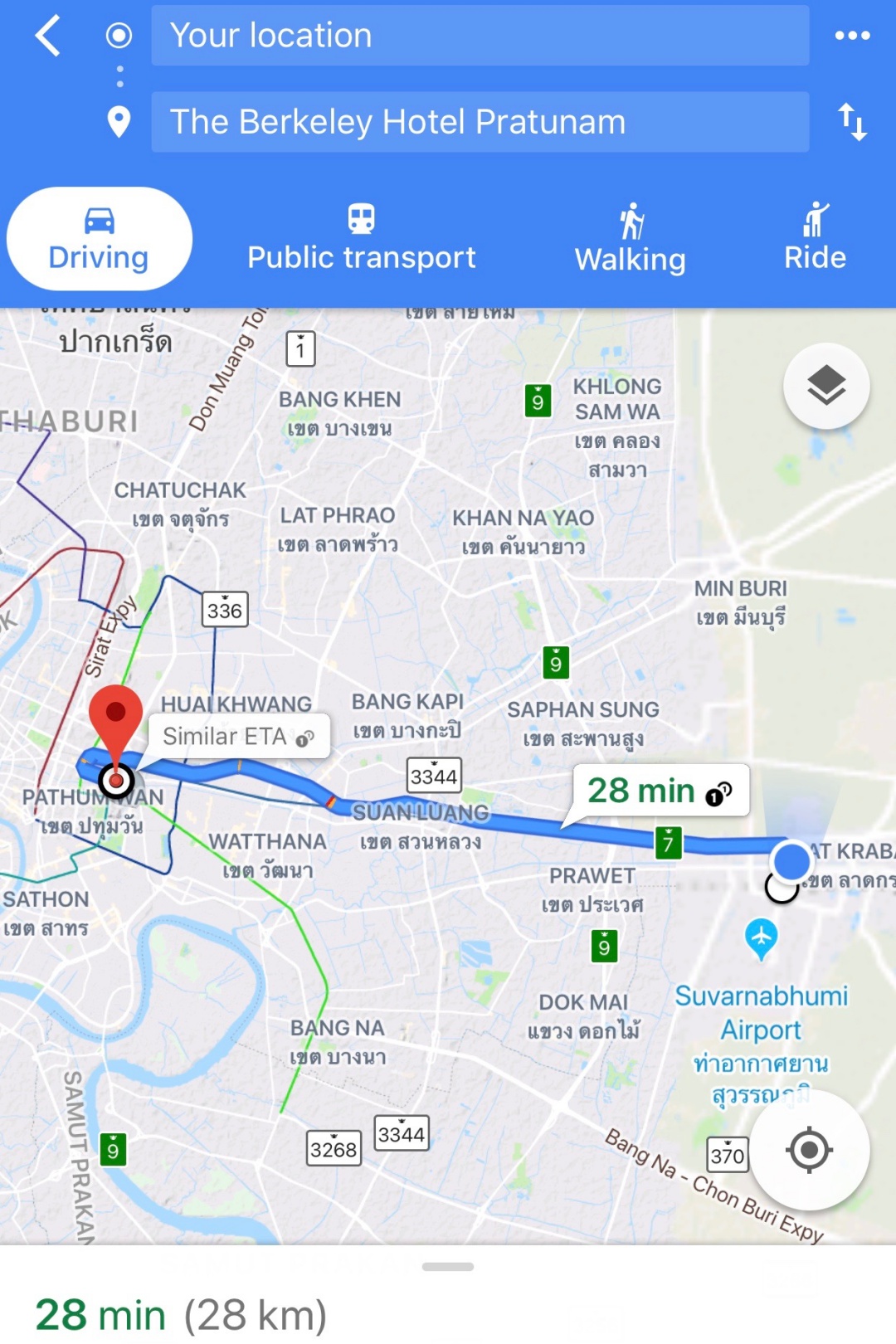 The journey from Suvarnabhumi Airport to The Berkeley Hotel Pratunam took roughly half an hour? Everyone was falling asleep in the car.
Including the fee for taking the highway, we paid THB550 for the ride. It was slightly more than what we usually paid for.
The Berkeley Hotel Pratunam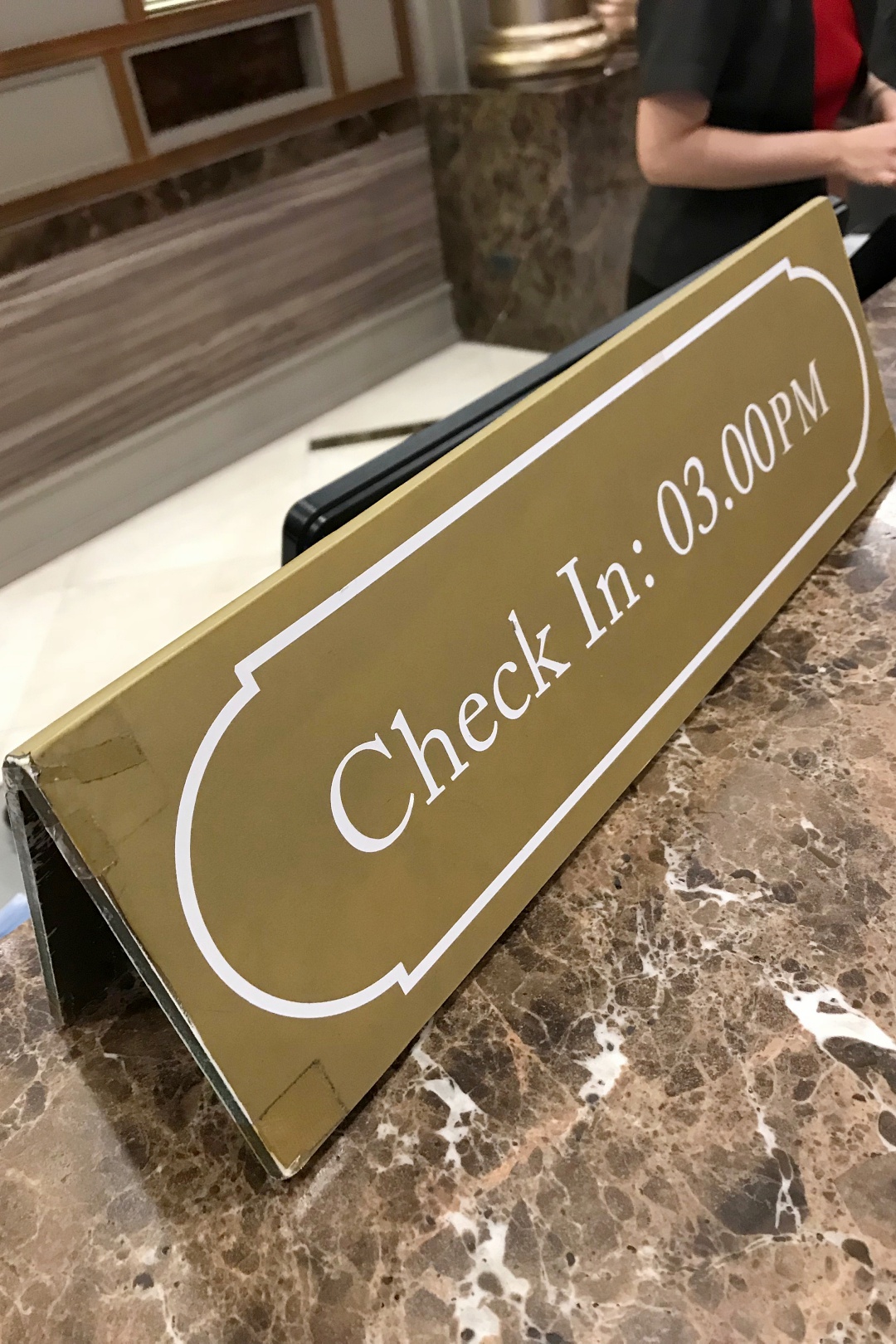 It was around 10:00 when we reached The Berkeley Hotel Pratunam. I wasn't expecting our rooms to be ready then since their usual check-in time is at 15:00. But surprisingly, they actually have rooms for us so we got to check-in immediately.
Even though we had already pre-paid for our rooms, we were told to place a deposit of THB5,000. They don't accept debit card even if it's Master or Visa so deposit must either be paid by credit card or cash.
Luxury Room (Main Tower)
We got two rooms under the Luxury Room category at the Main Tower. The Berkeley Hotel Pratunam have two towers for their rooms; the Main Tower and the North Tower. The hotel entrance, lobby and lifts are all located at the Main Tower. For guests staying at the North Tower, they would need to take the lift from the Main Tower, then transfer to another lift on the 11th floor to get to the North Tower.
I believed this is my fourth time staying at The Berkeley Hotel Pratunam and I've never stayed at the North Tower. The reason for picking the Main Tower is mainly for convenience and so far, I've been satisfied with my room, so I just continued to book the Luxury Room whenever I returned to The Berkeley Hotel Pratunam. I believe the price is slightly cheaper if you're to book the Premier Room at the North Tower.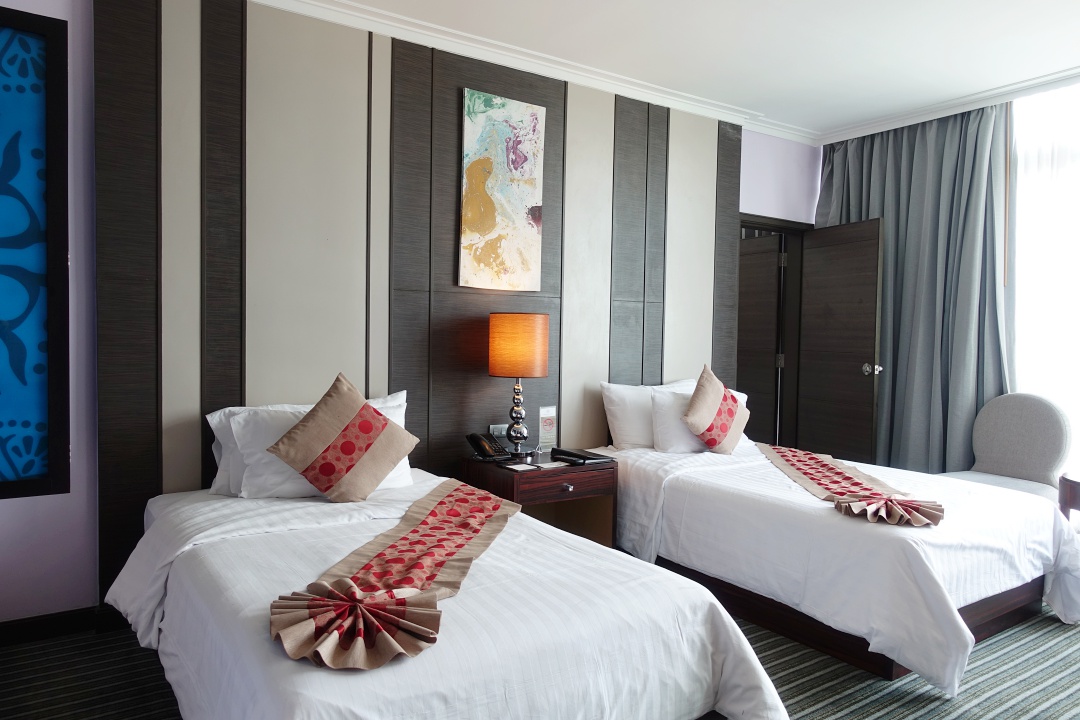 Here's the room for my sisters with two single beds. We specifically asked for connecting rooms, and the door on the right connects directly to the door of our room. There is a door on both sides. So if the door is shut, people from the other side won't be able to open and enter this room.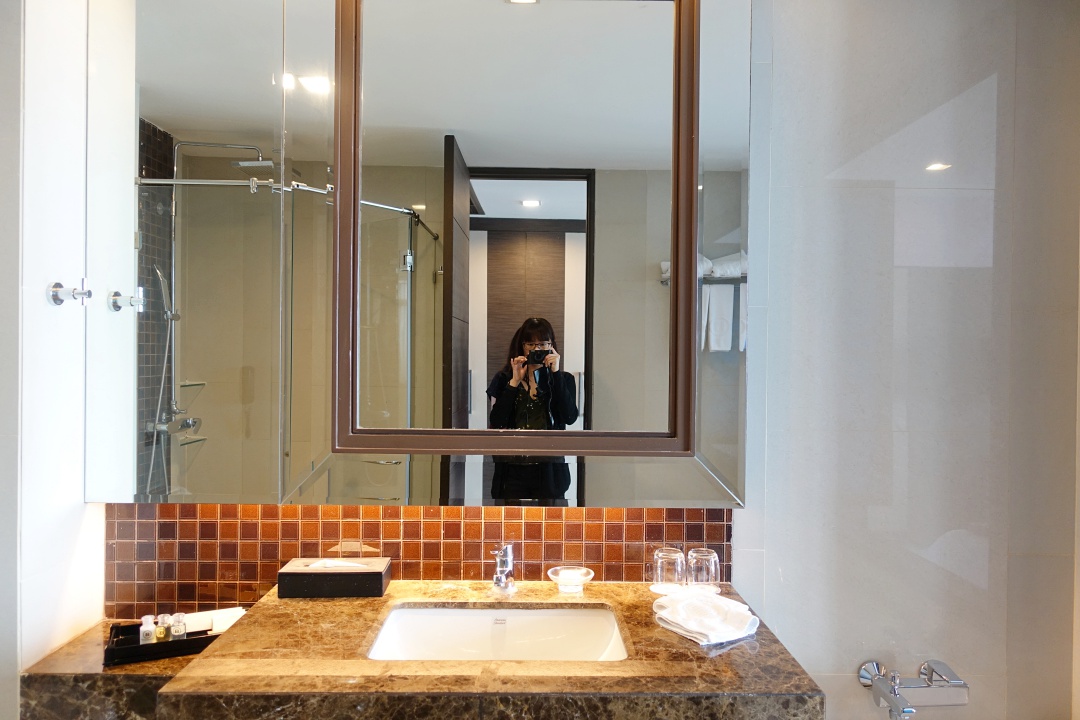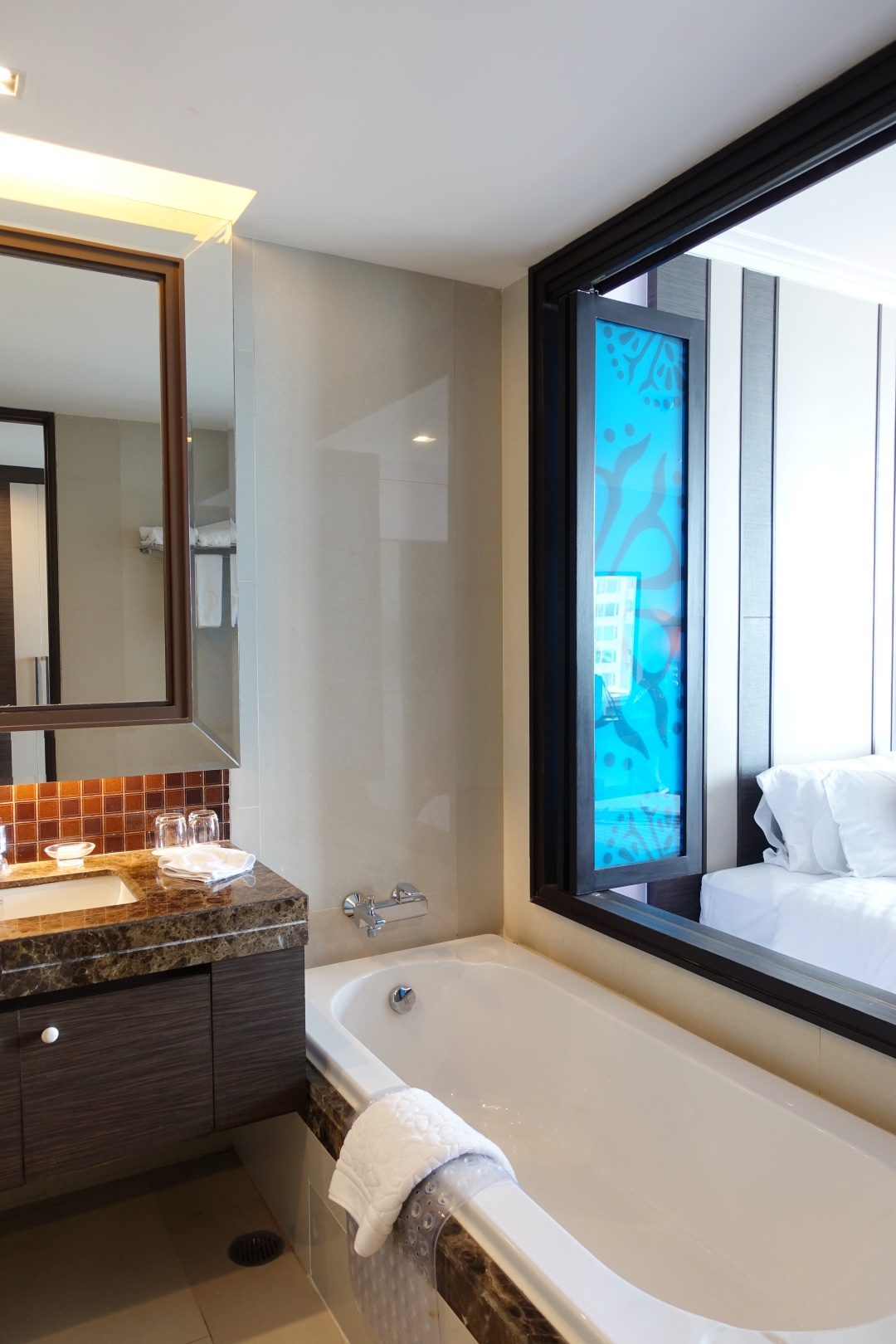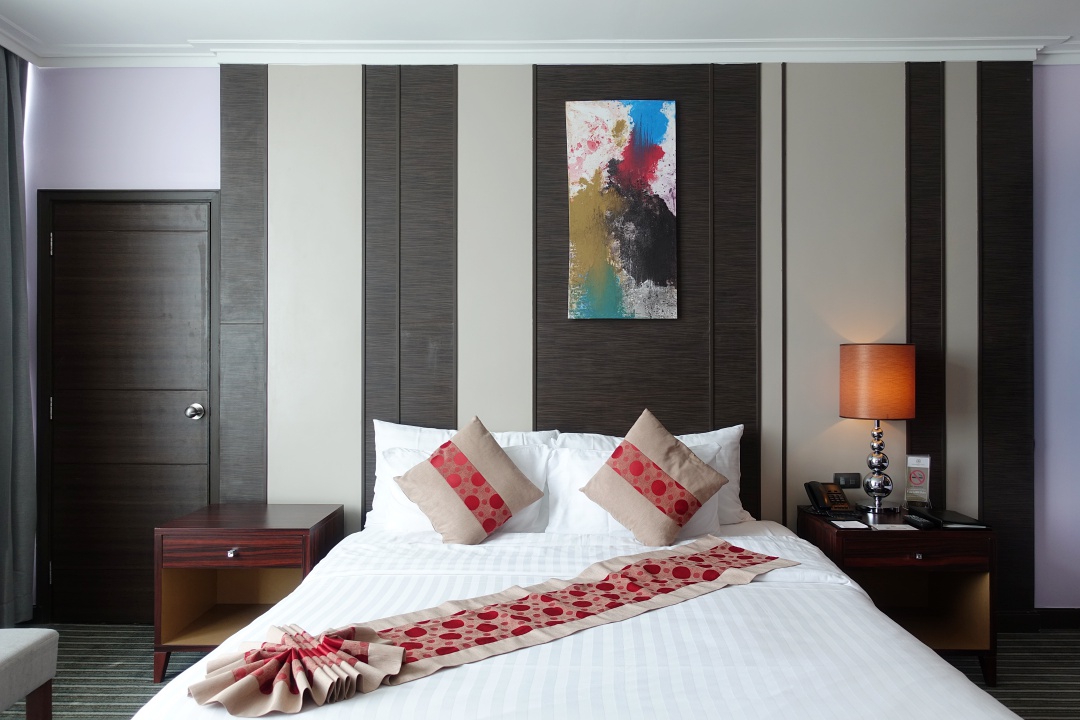 And here's our room with one double bed.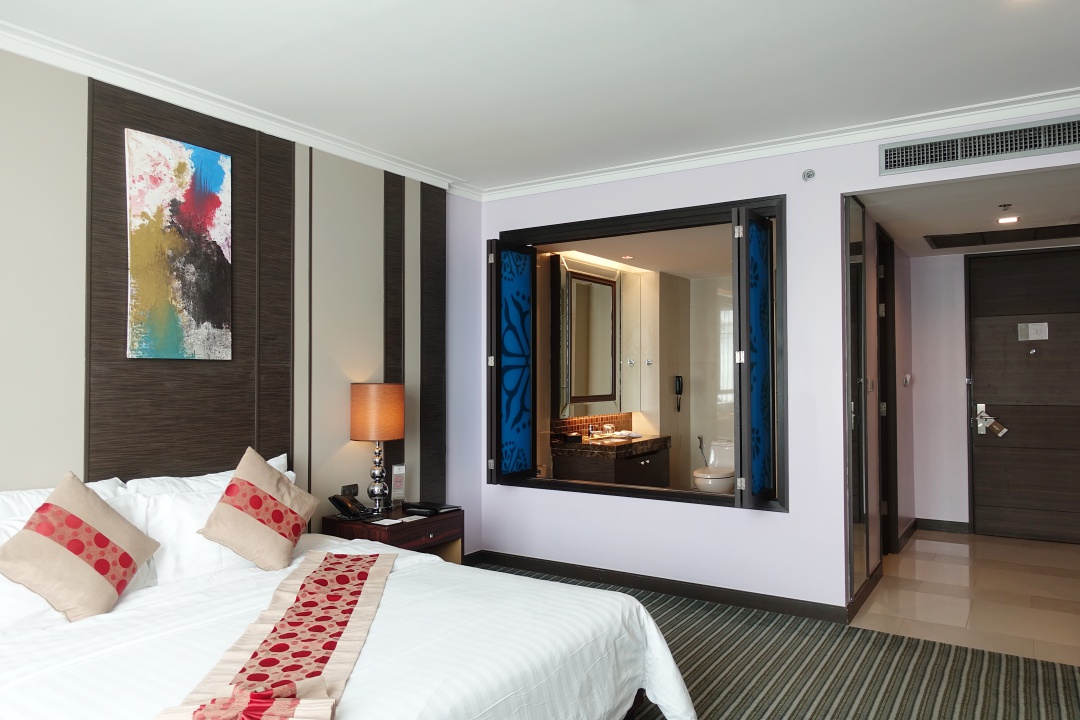 One thing I love about the Luxury Room at The Berkeley Hotel Pratunam is their full height windows. It allows plenty of sunlight to stream into the room. If you look out of the window, you will see Talad NEON Night Market right below.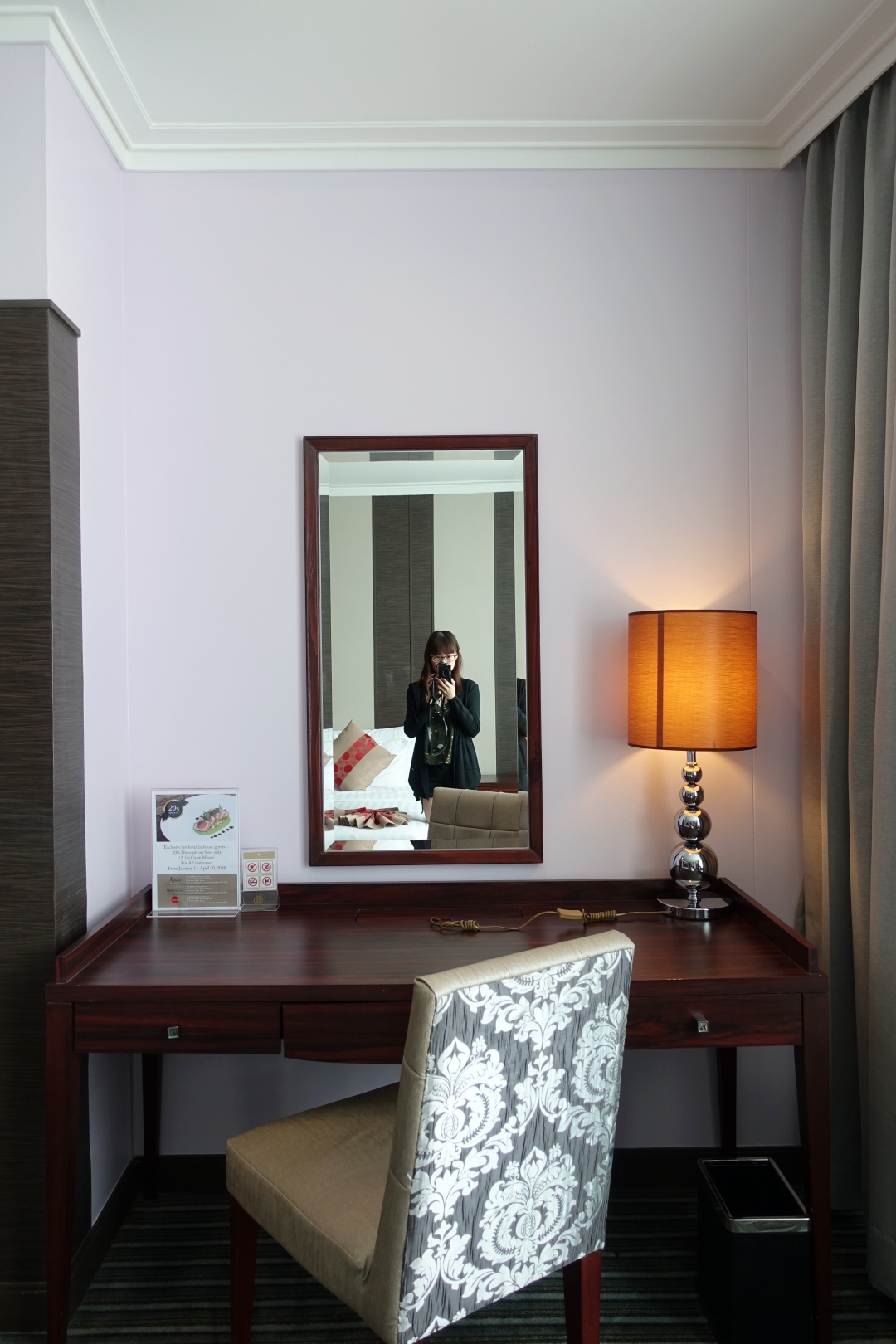 Vanity Area.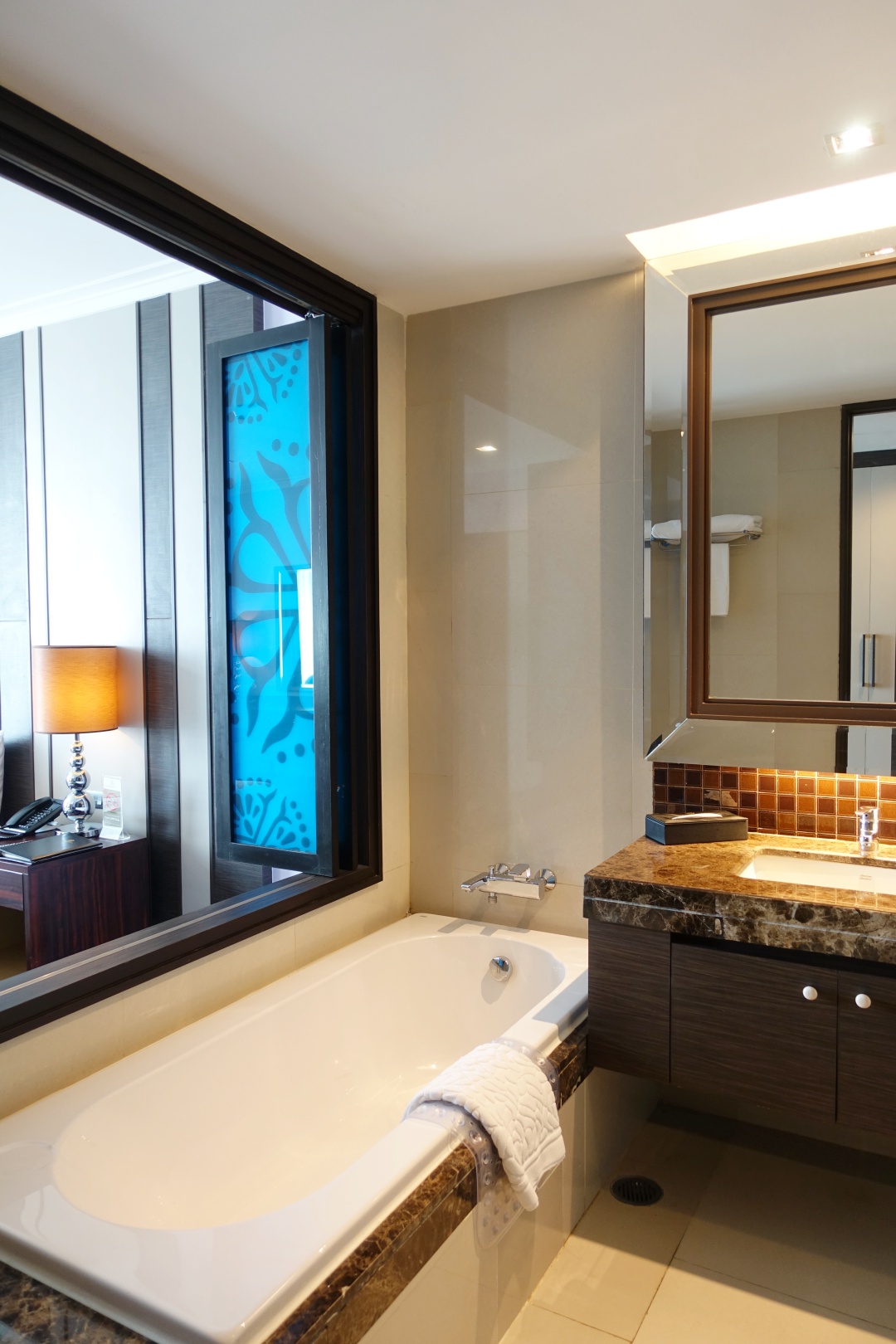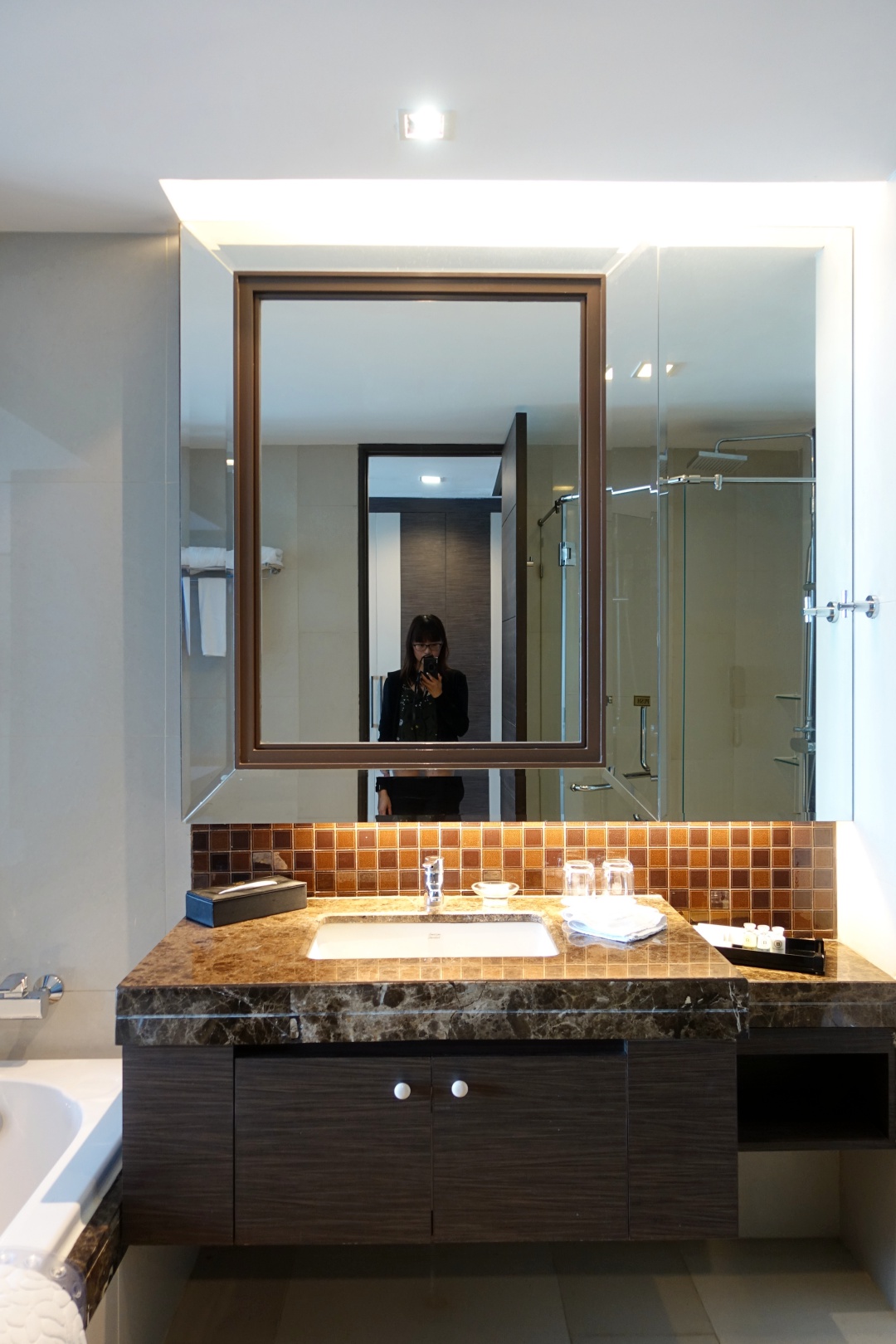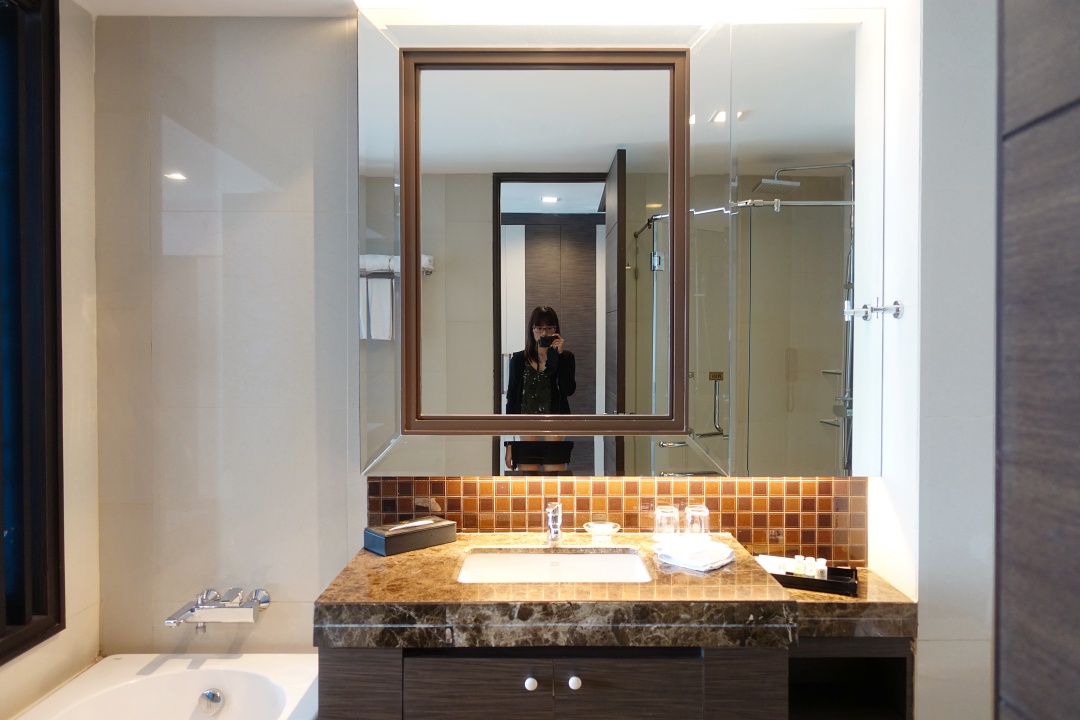 The bathroom comes with a bathtub and a separate standing shower.
Kuang Heng Chicken Rice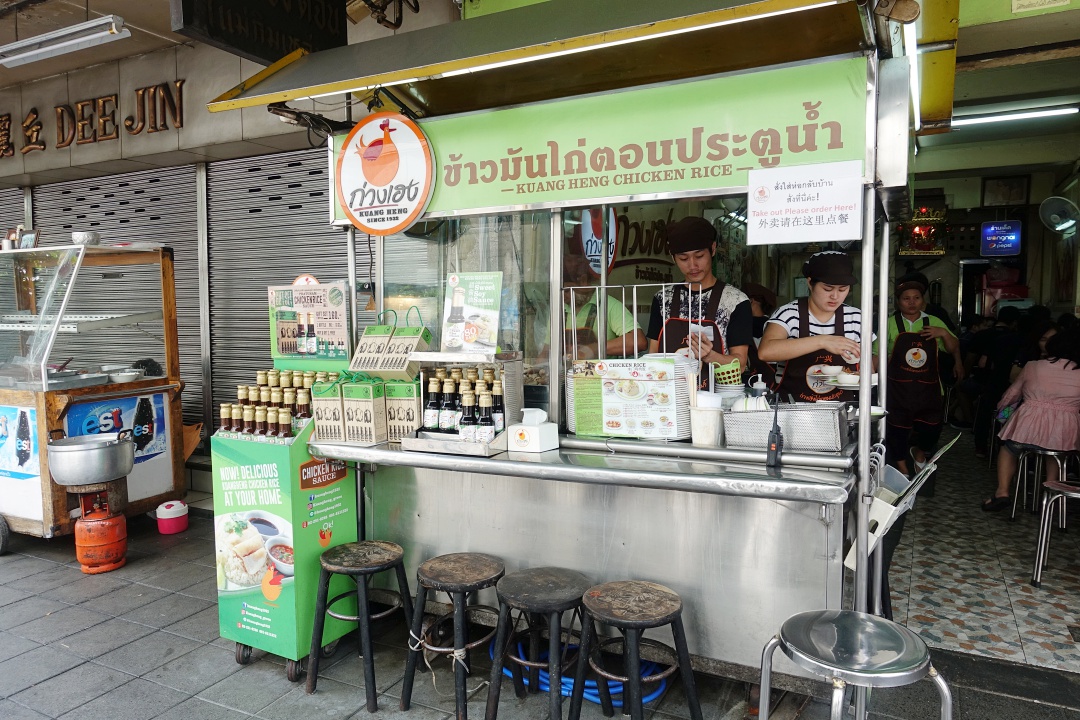 We left the hotel at 11:30 and went across the road to have my favourite chicken rice from Kuang Heng Chicken Rice stall.
It's located right across the road from The Berkeley Hotel Pratunam / Palladium Mall so is fairly easy to find if you're in this area. There are two chicken rice stalls located on the same stretch; I've tried both and I prefer Kuang Heng Chicken Rice more than the other.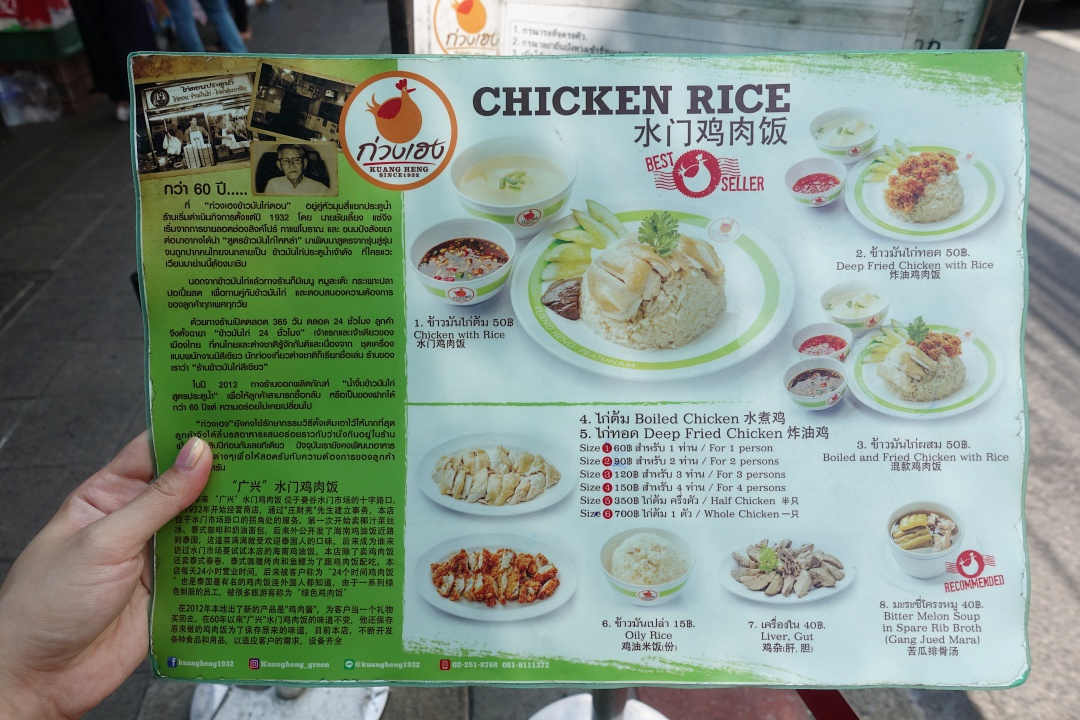 Only THB50 for one plate of chicken rice! You can choose boiled chicken, fried chicken or a mixture of both for your rice.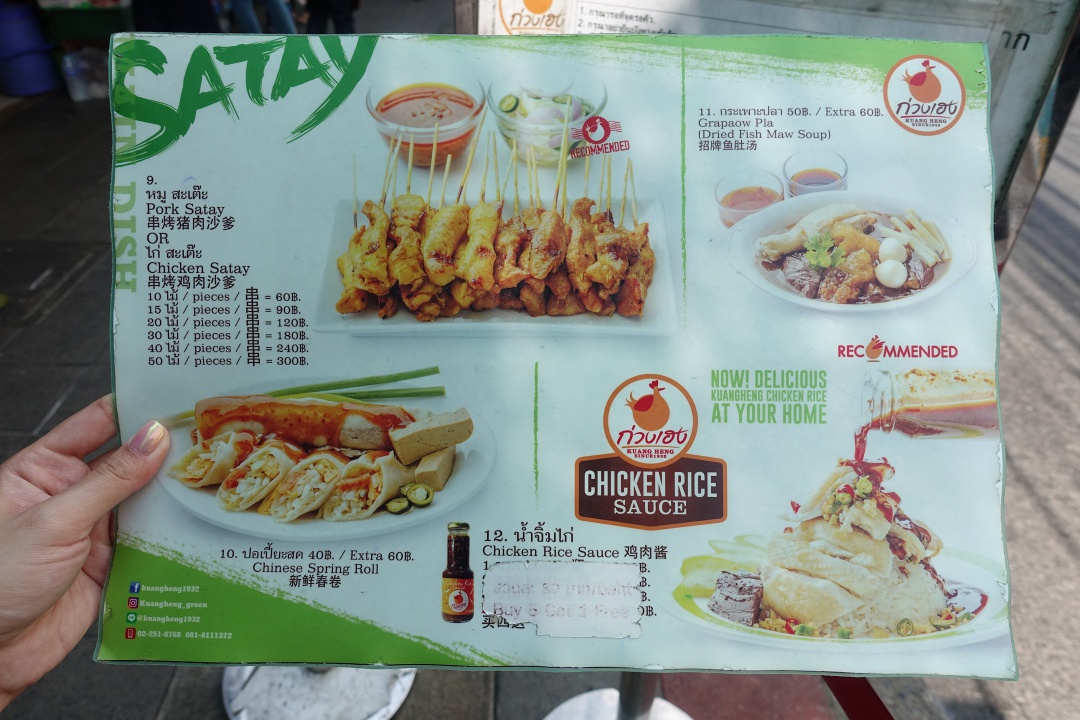 Aside from chicken rice, they also sell satays!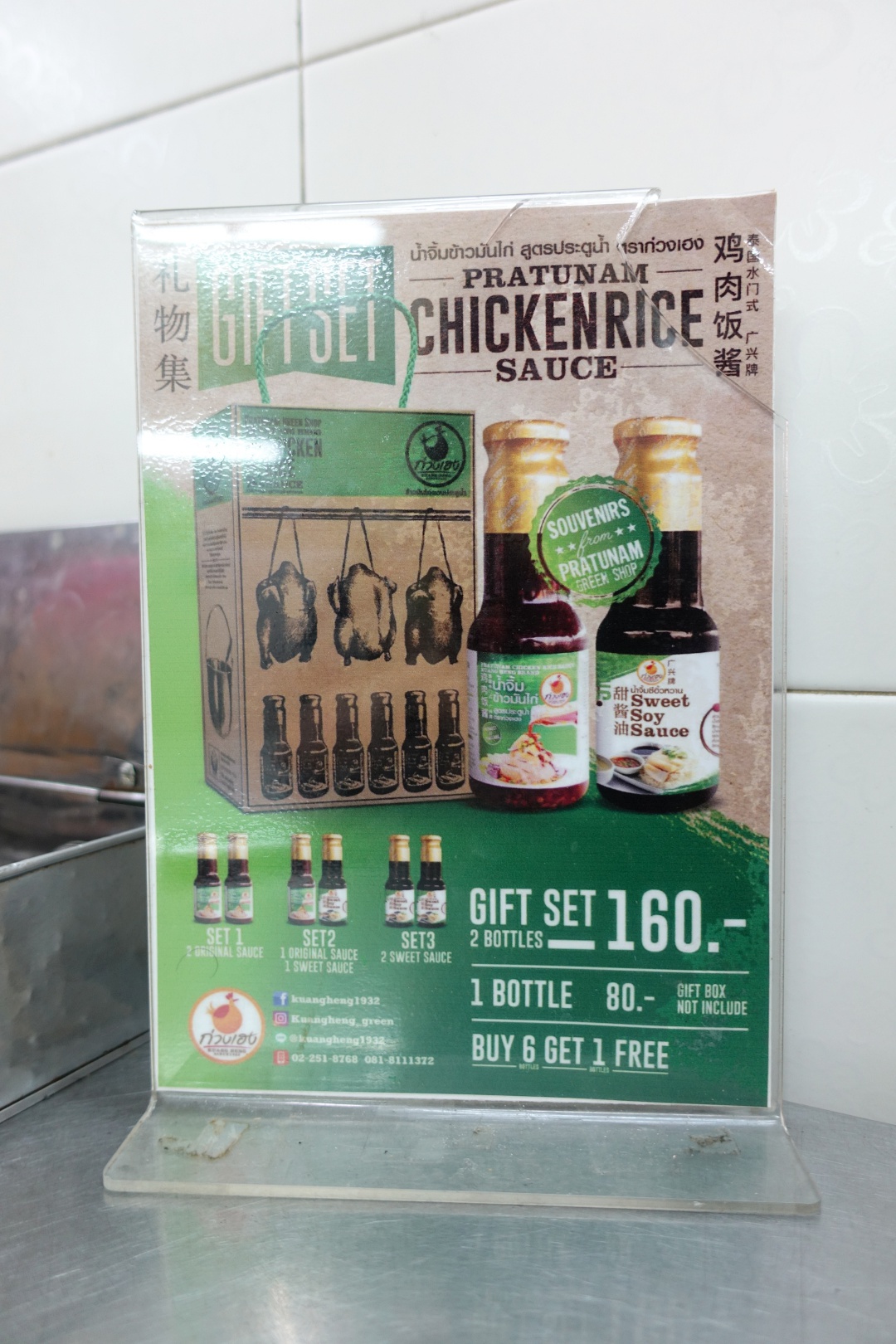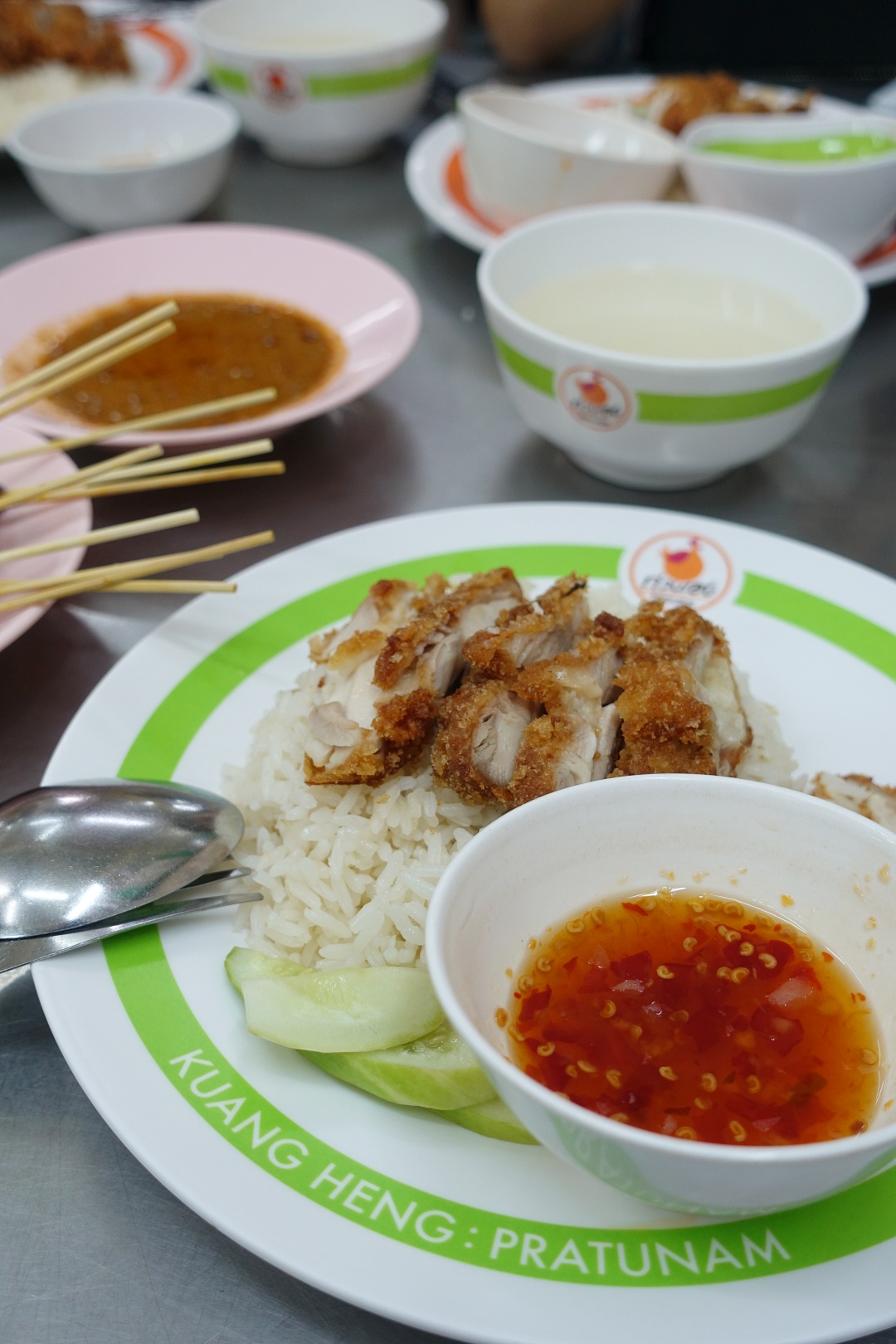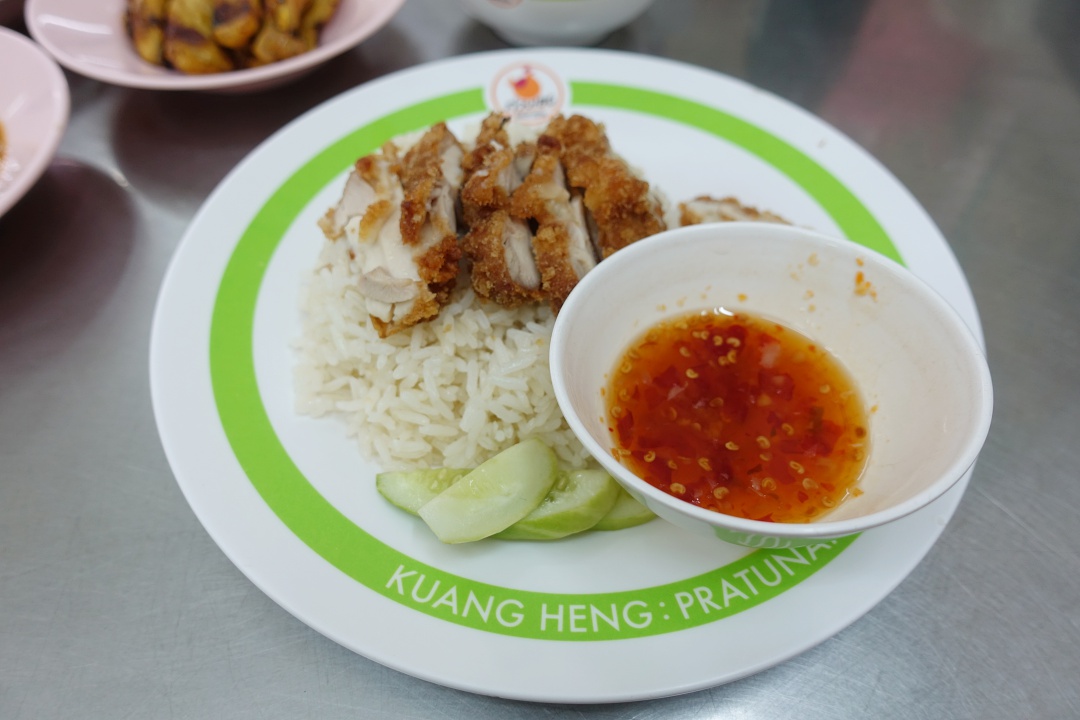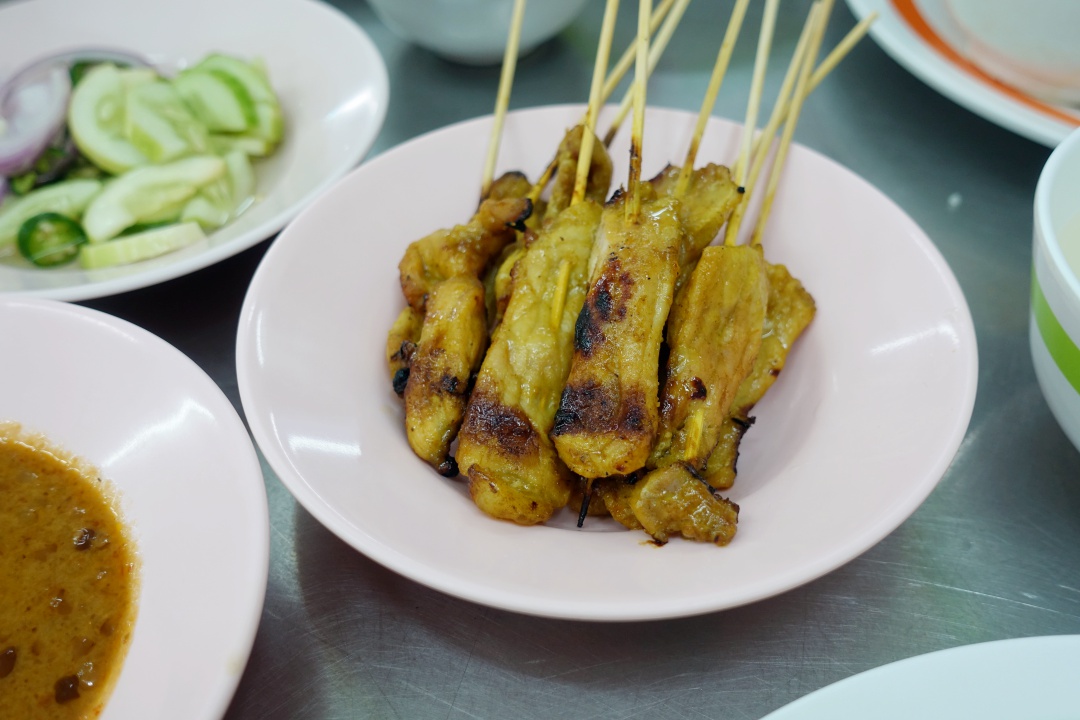 Somehow, we all decided to go for the fried chicken rice.
I've never tried their satays, so we went ahead to order ten sticks for sharing. I think they were okay? They weren't bad, but they weren't particularly nice either.
Chatuchak Weekend Market
After lunch, we then walked over to the nearest BTS Station, Chit Lom Station to take the train to Mo Chit Station for Chatuchak Weekend Market. Price is THB44 / ticket.
Whenever I'm going to Bangkok, I make sure to have my trip falls on the weekend so that I can go to Chatuchak Weekend Market and other weekend night market (i.e. Talad Rod Fai Night Market). Since our trip was from Sunday to Wednesday, that was the only day we could visit Chatuchak.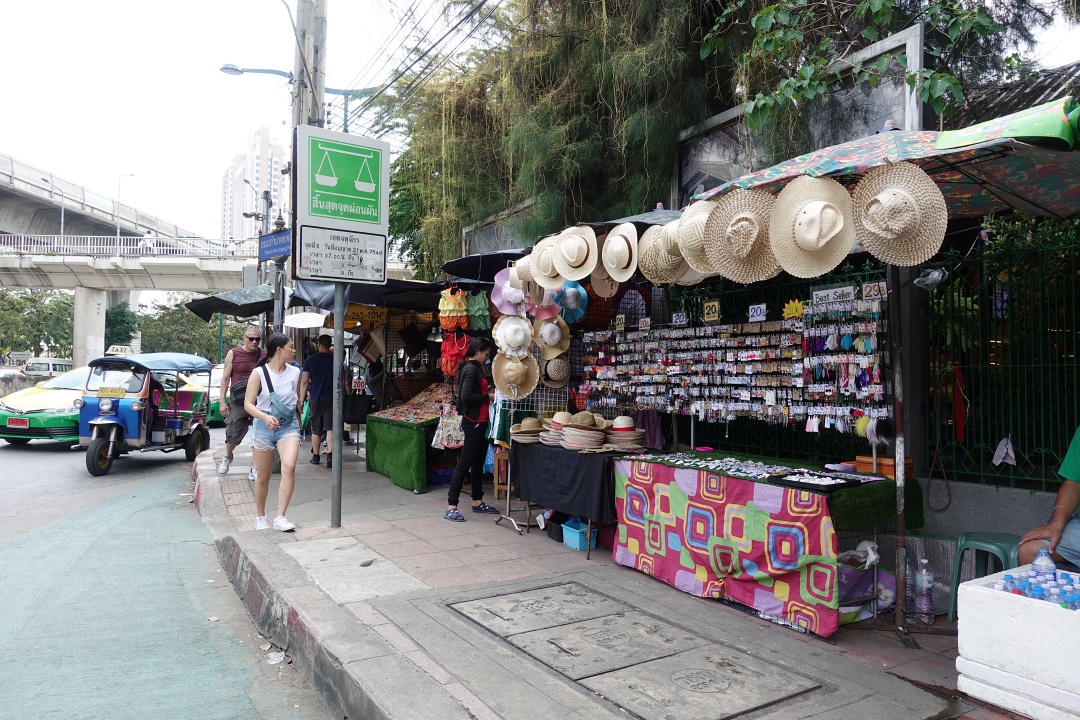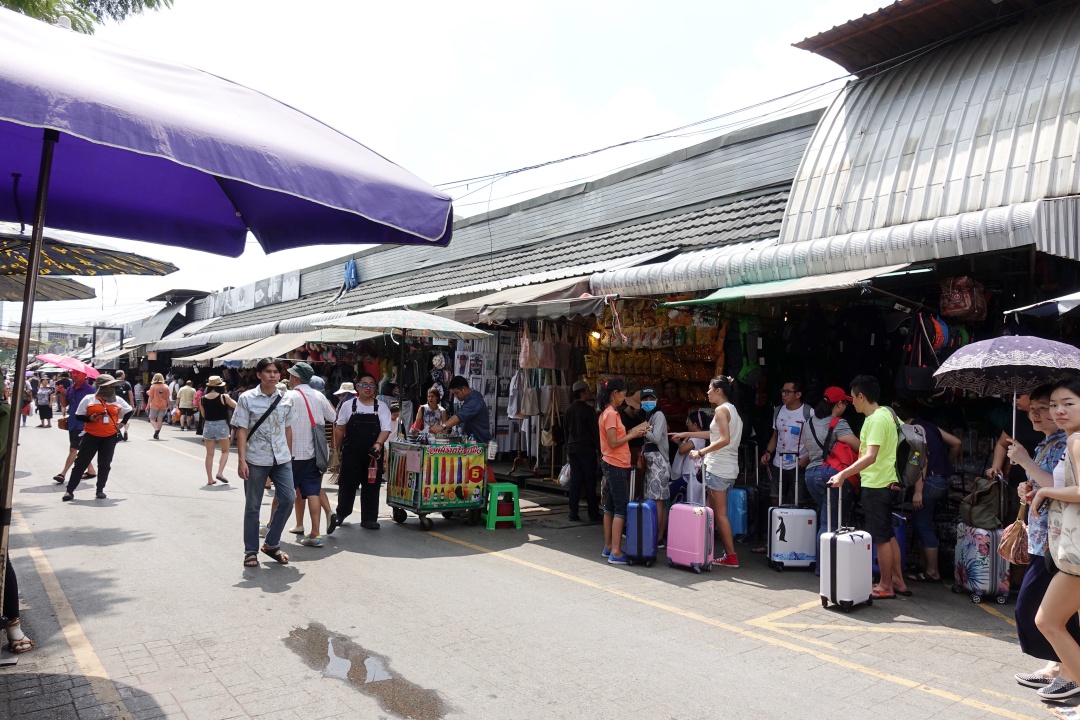 Things to buy at Chatuchak Weekend Market: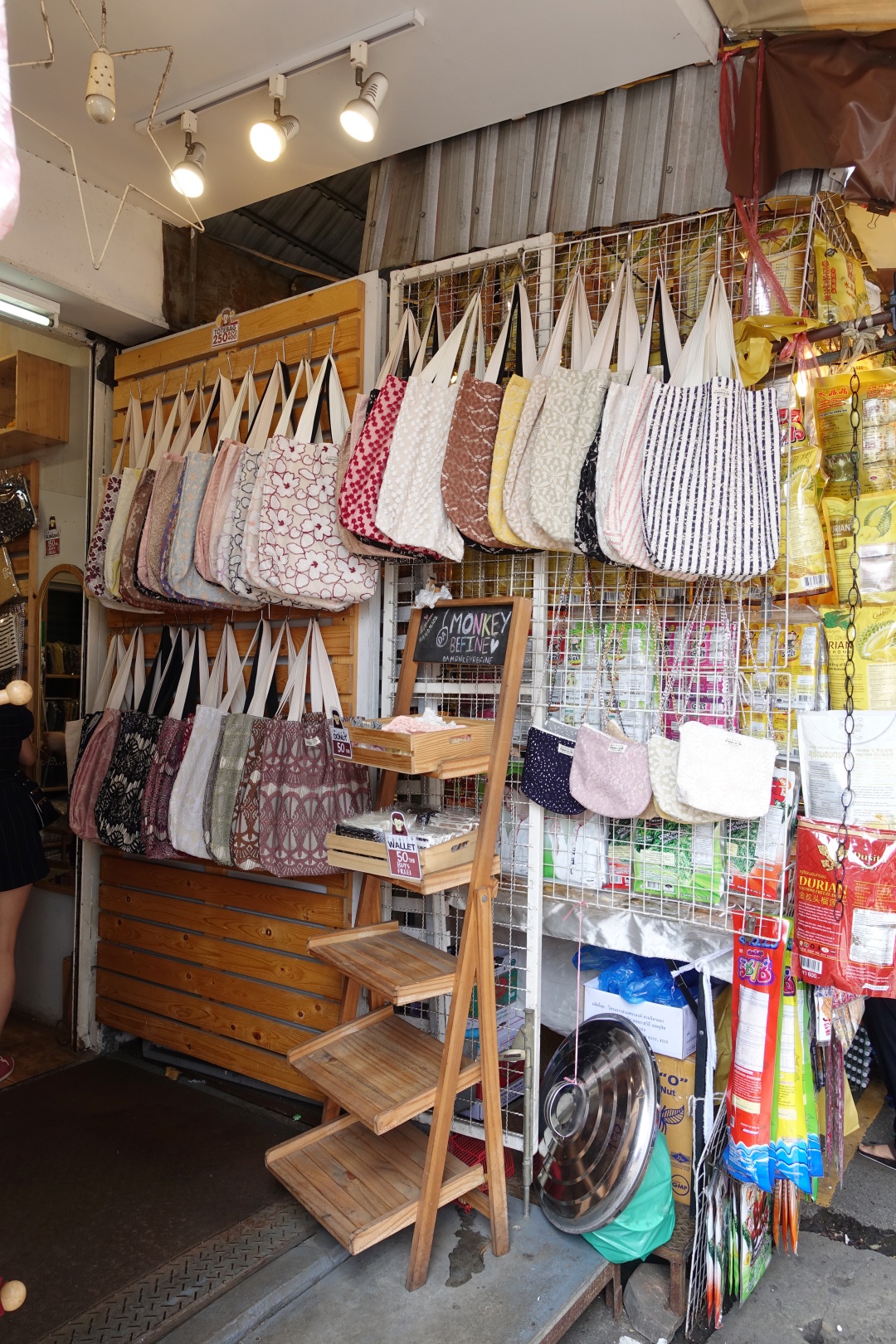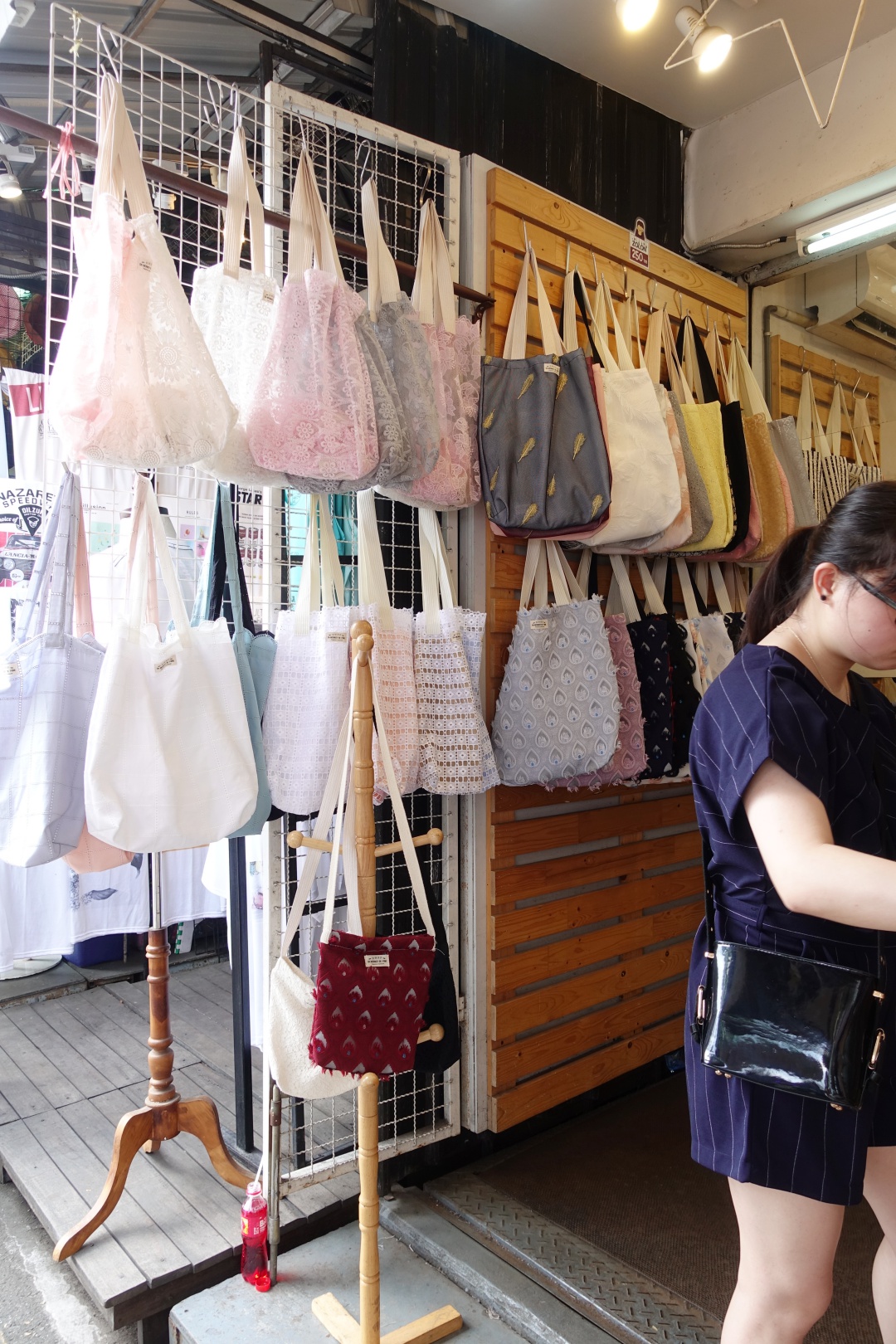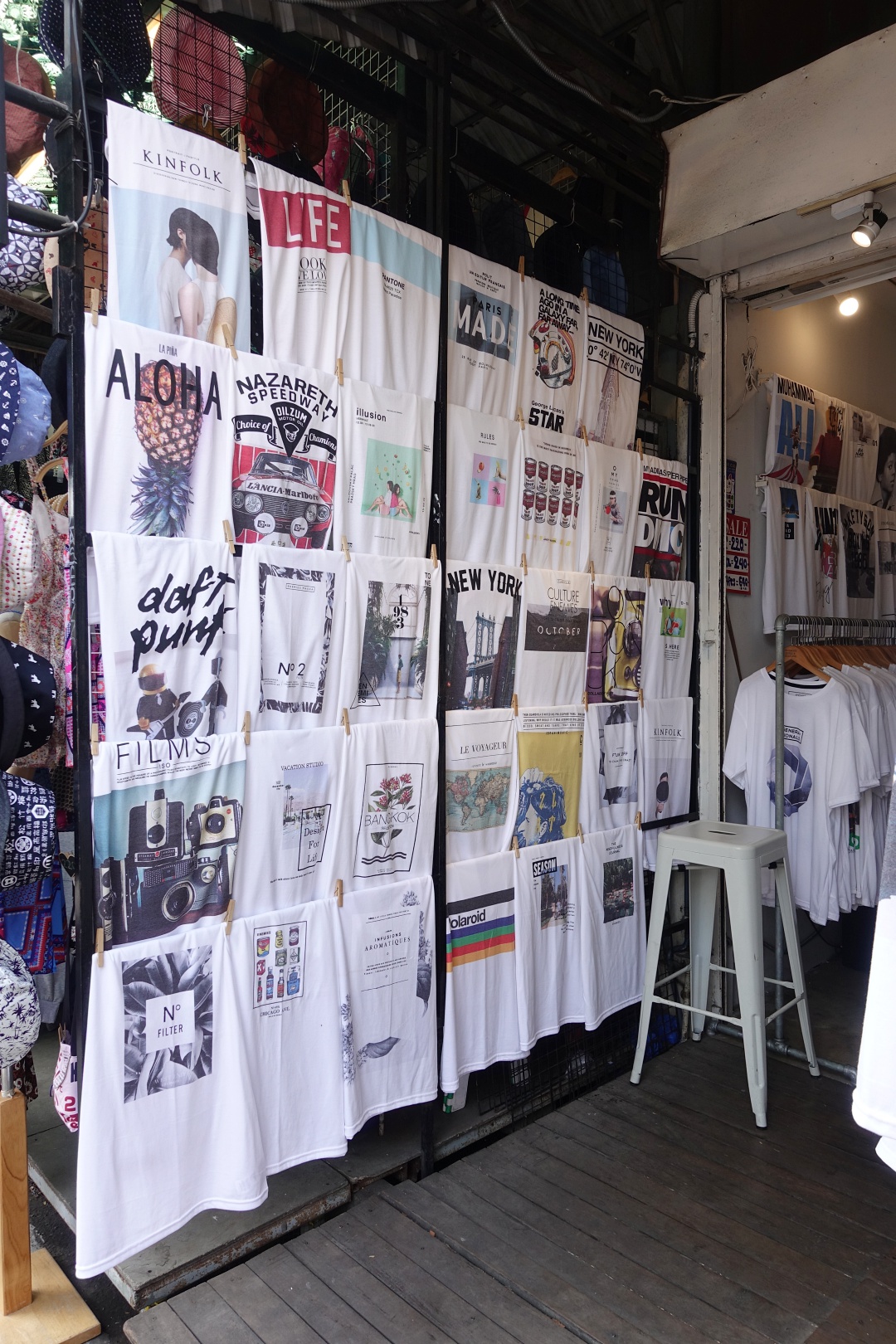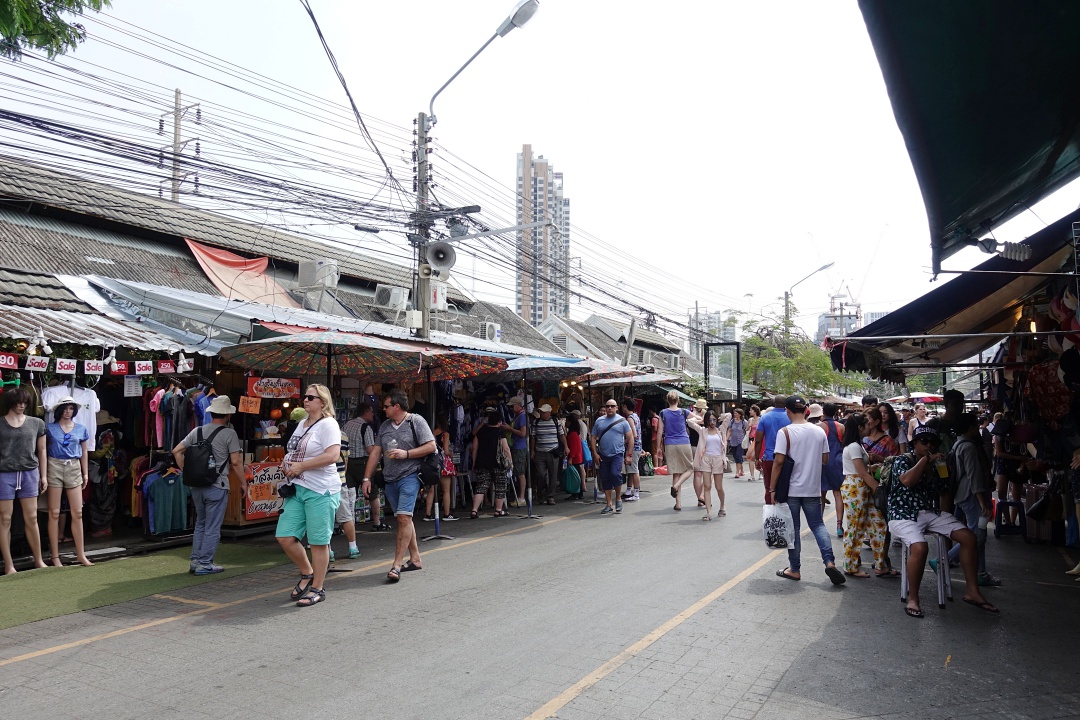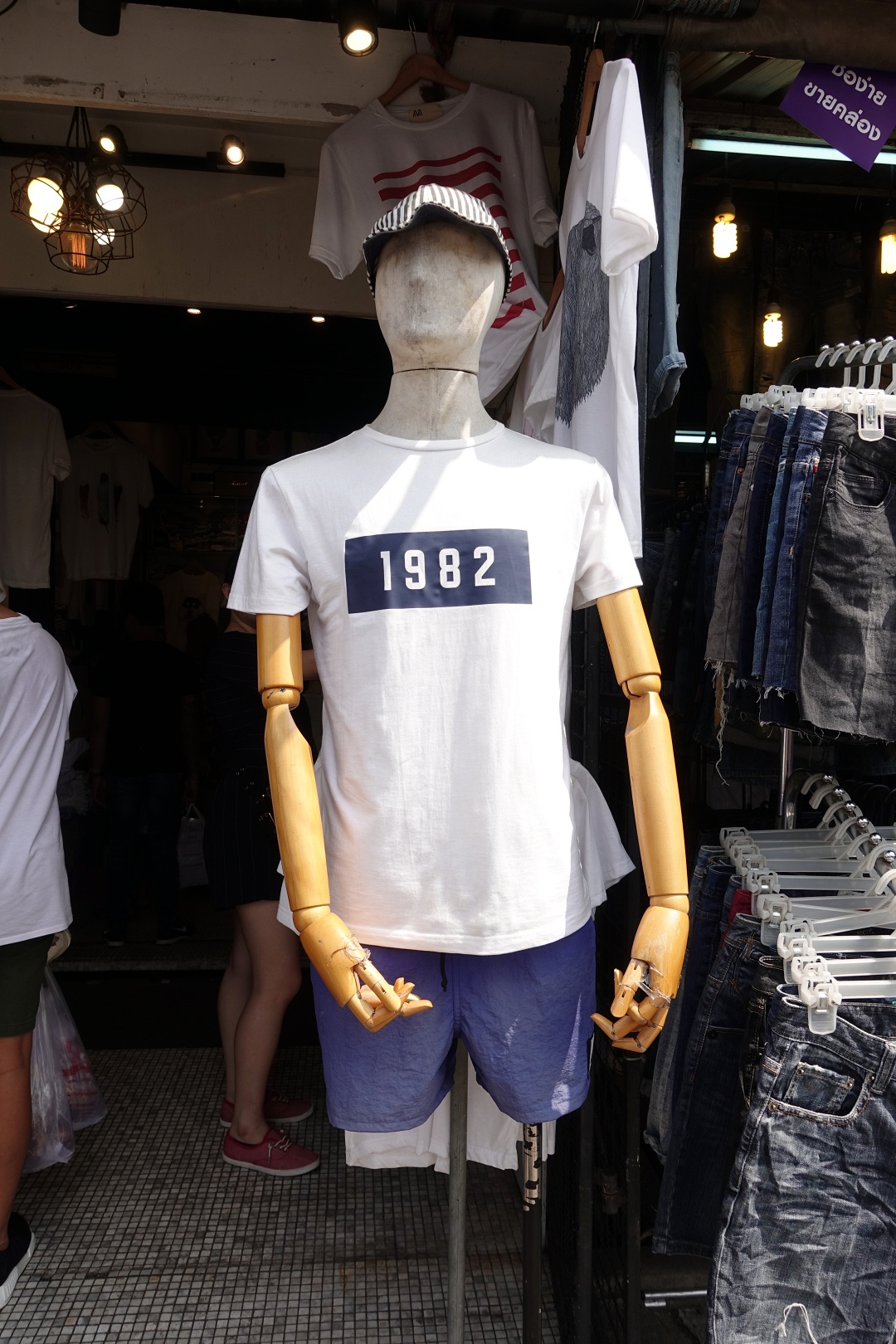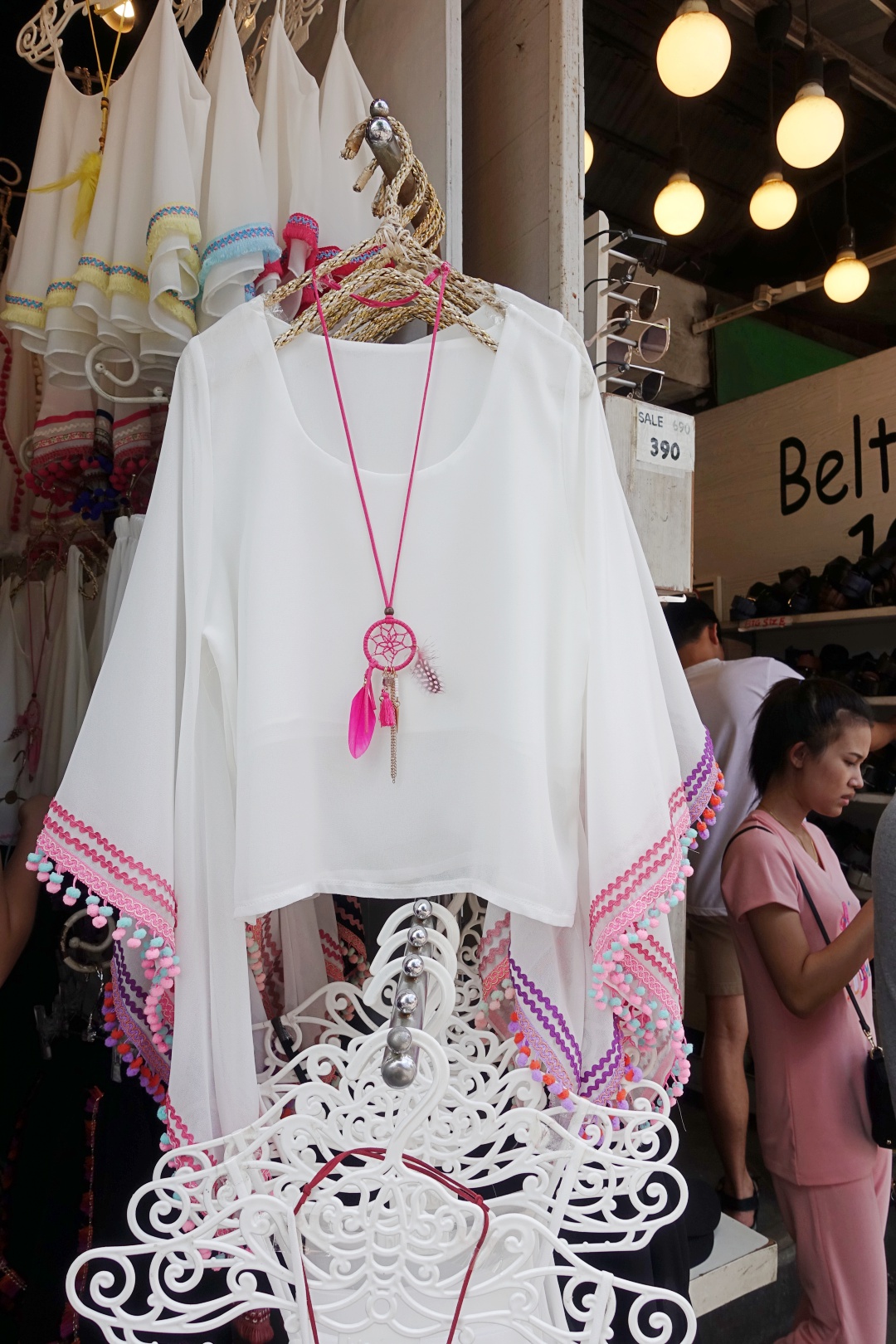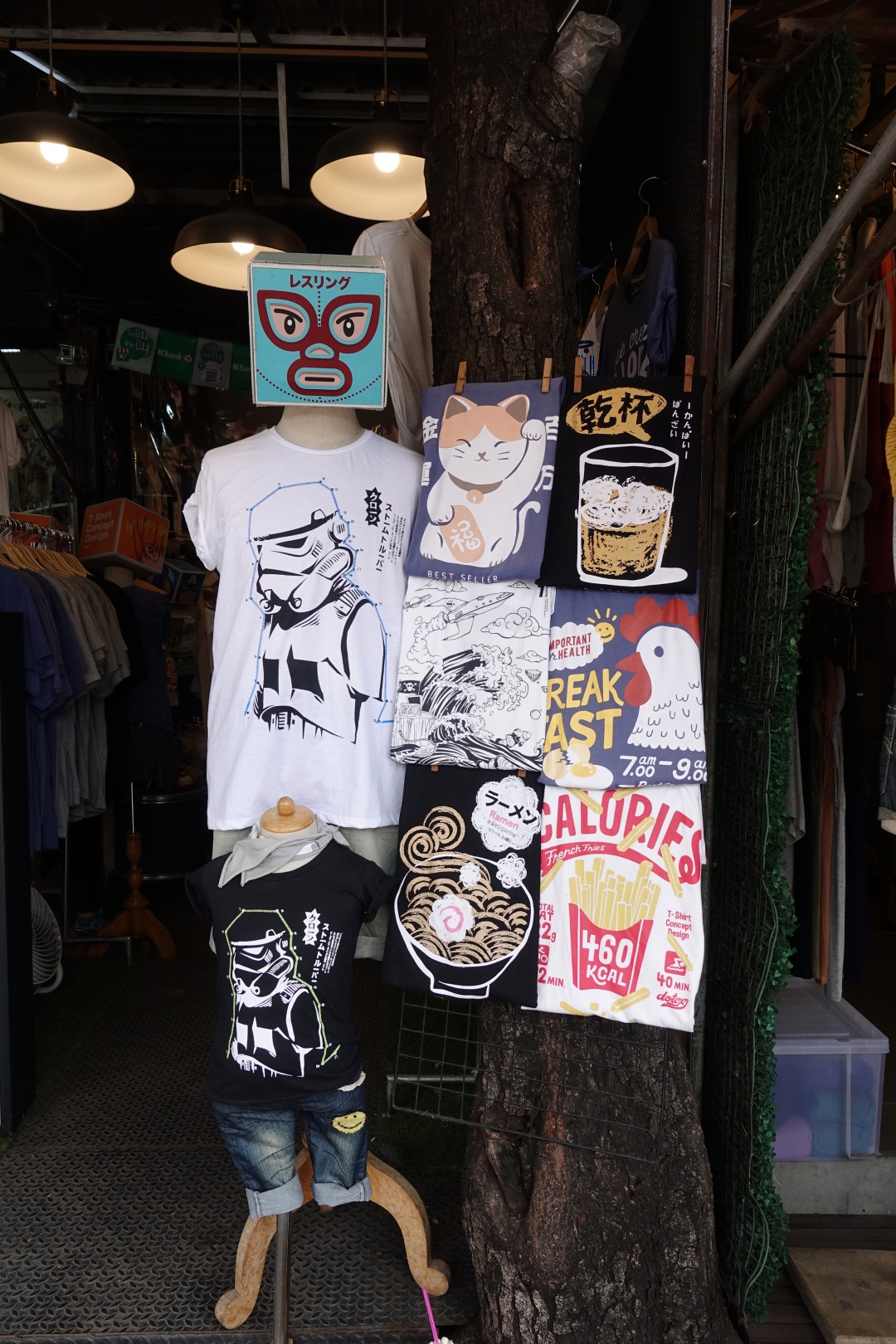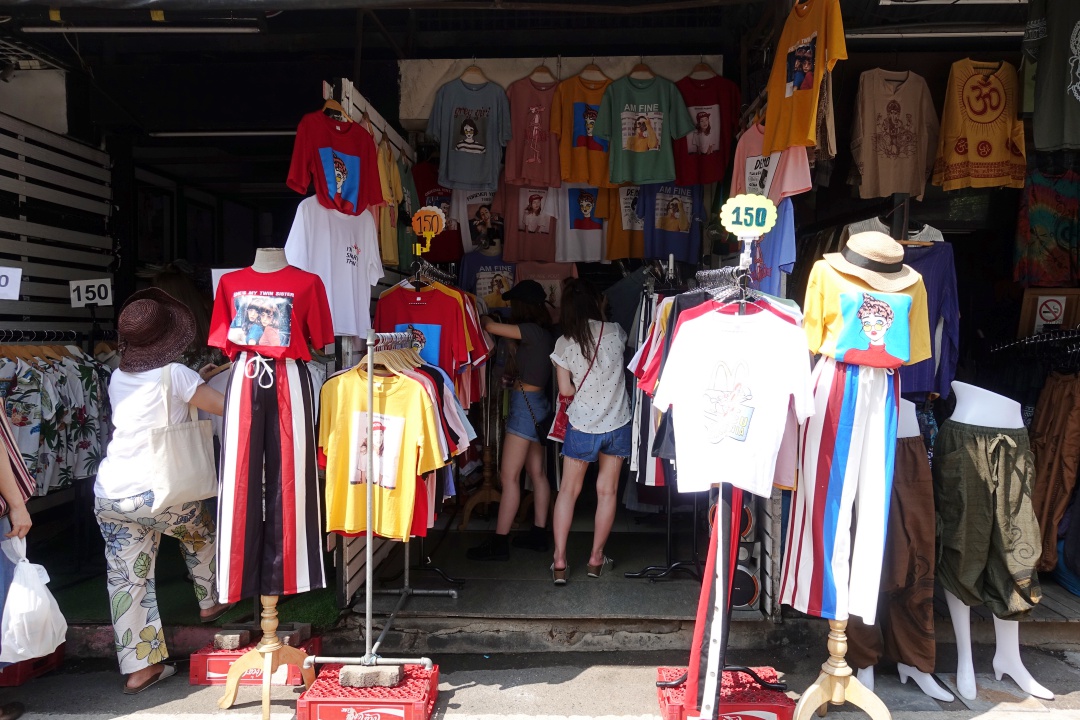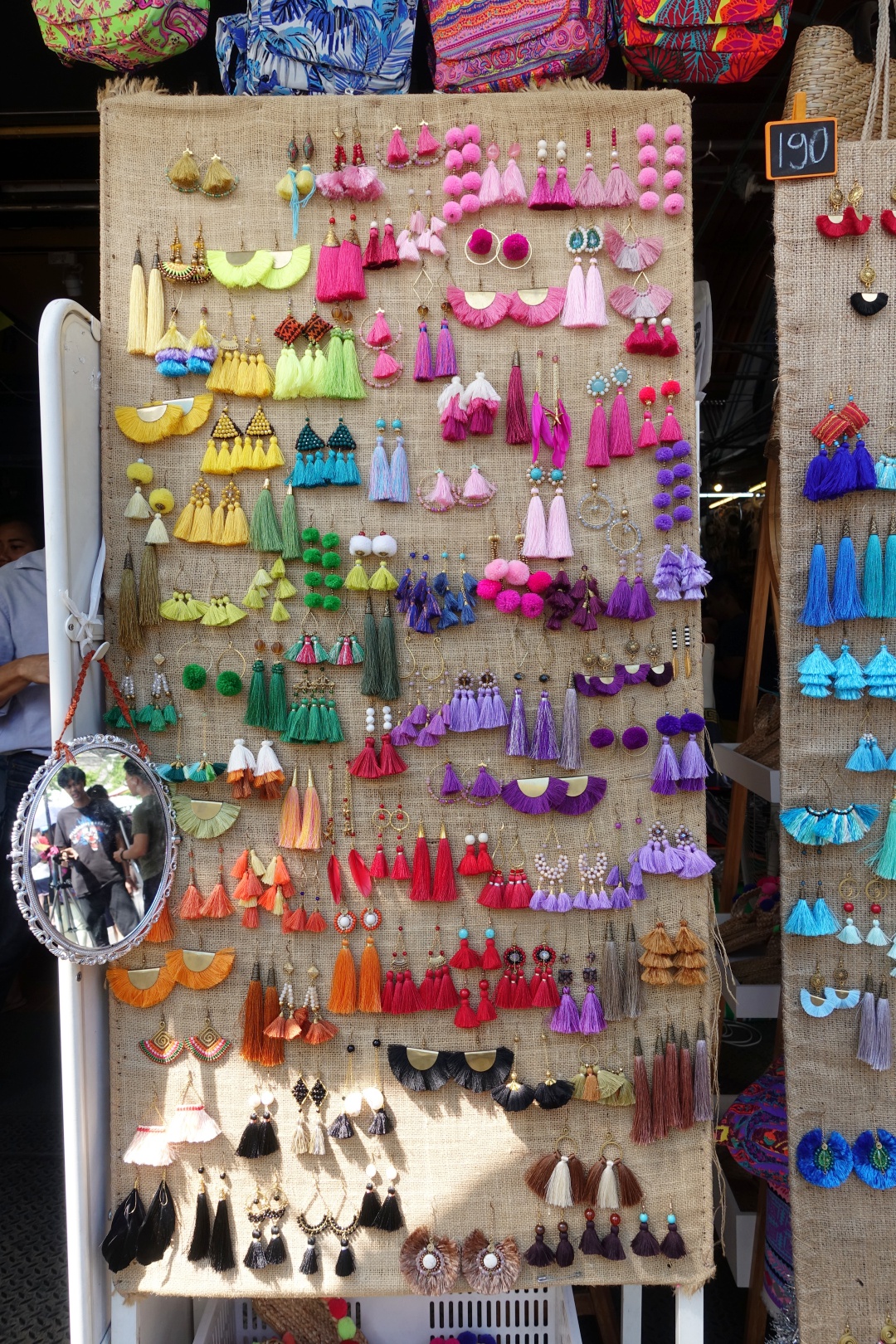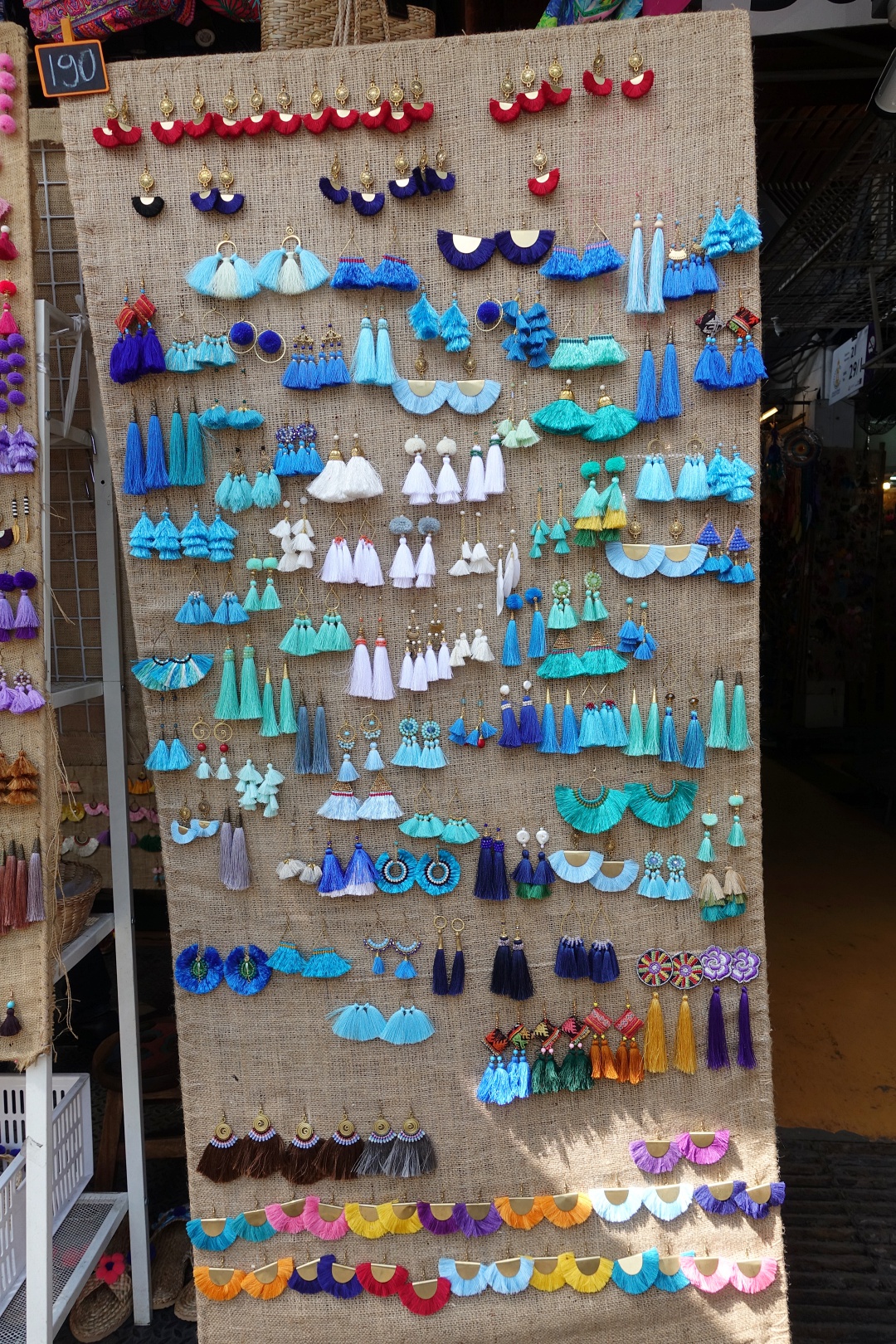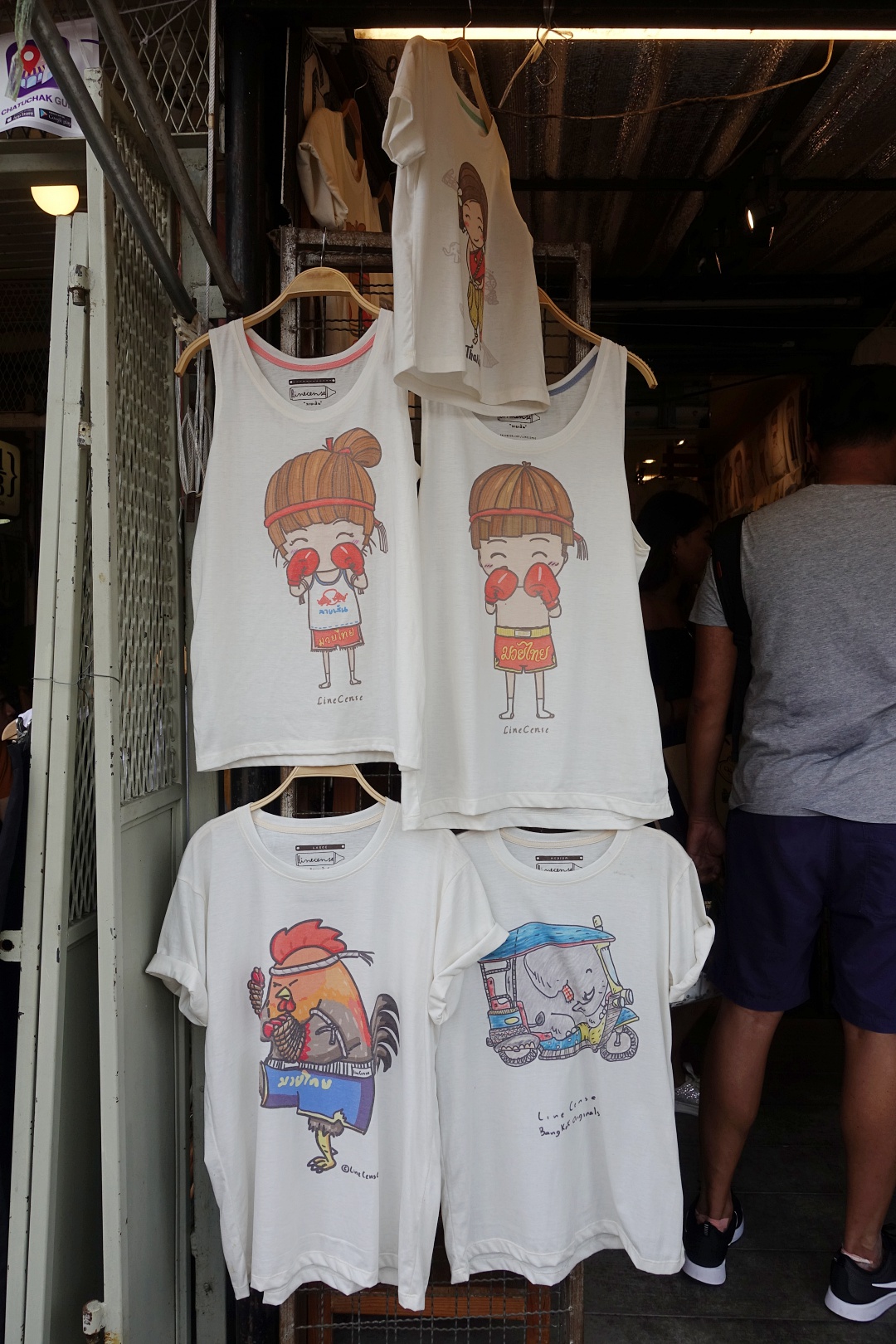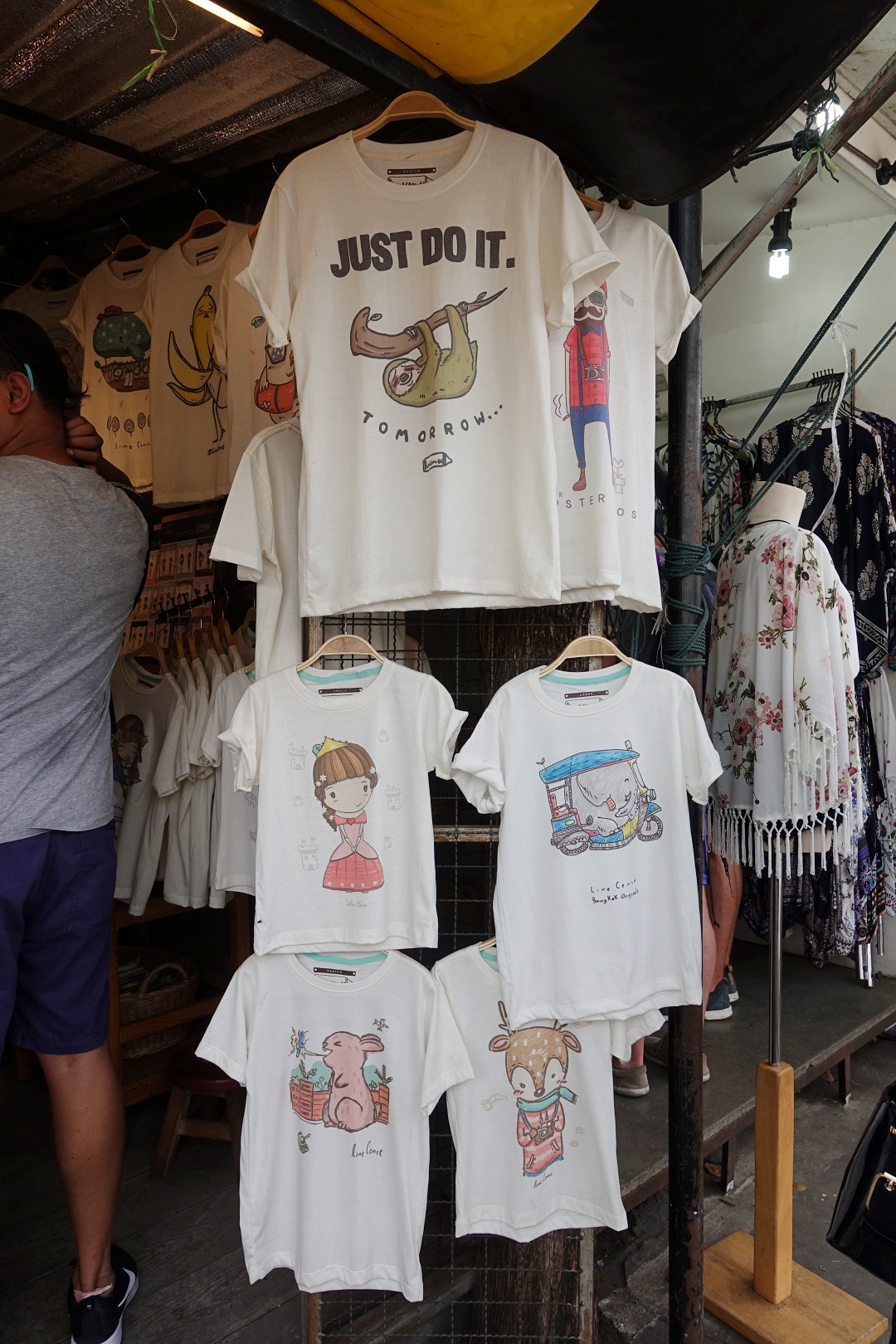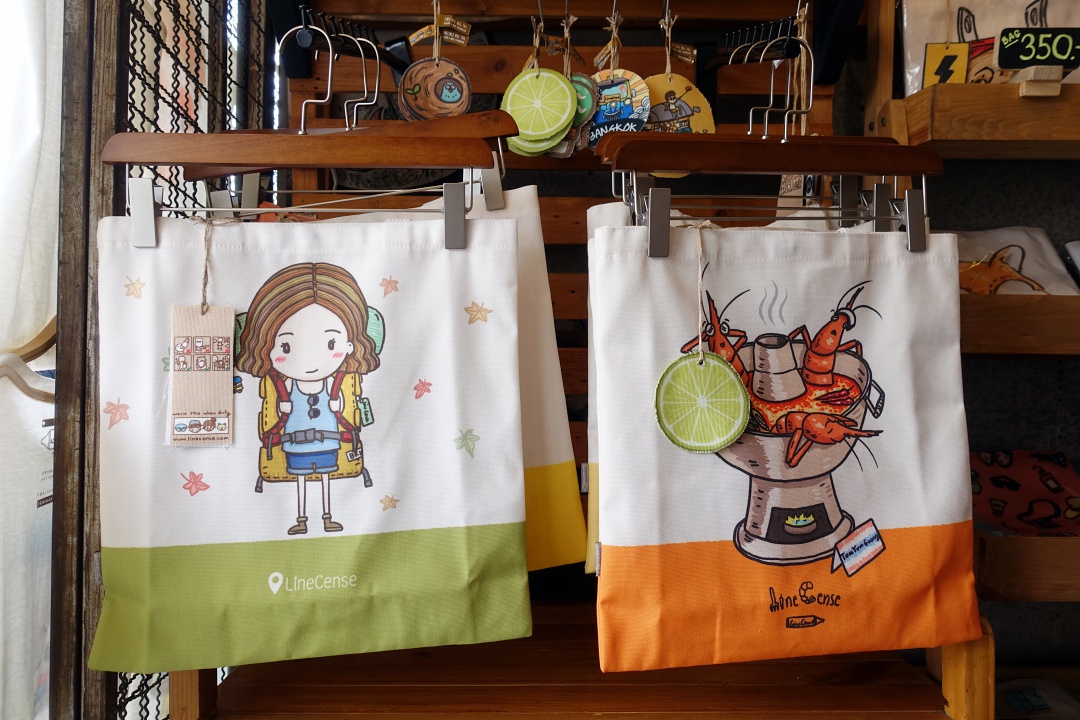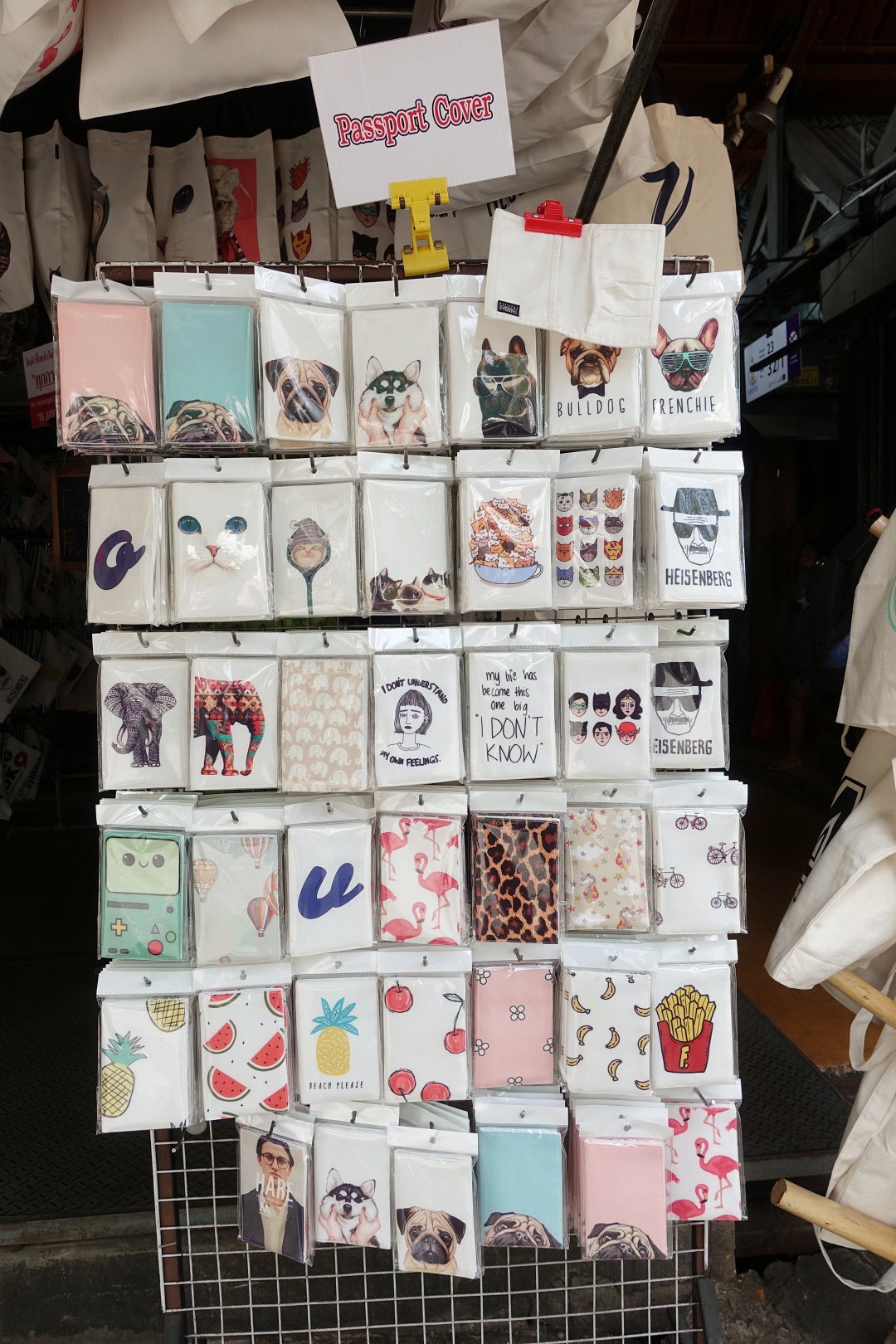 Passport cover at THB150.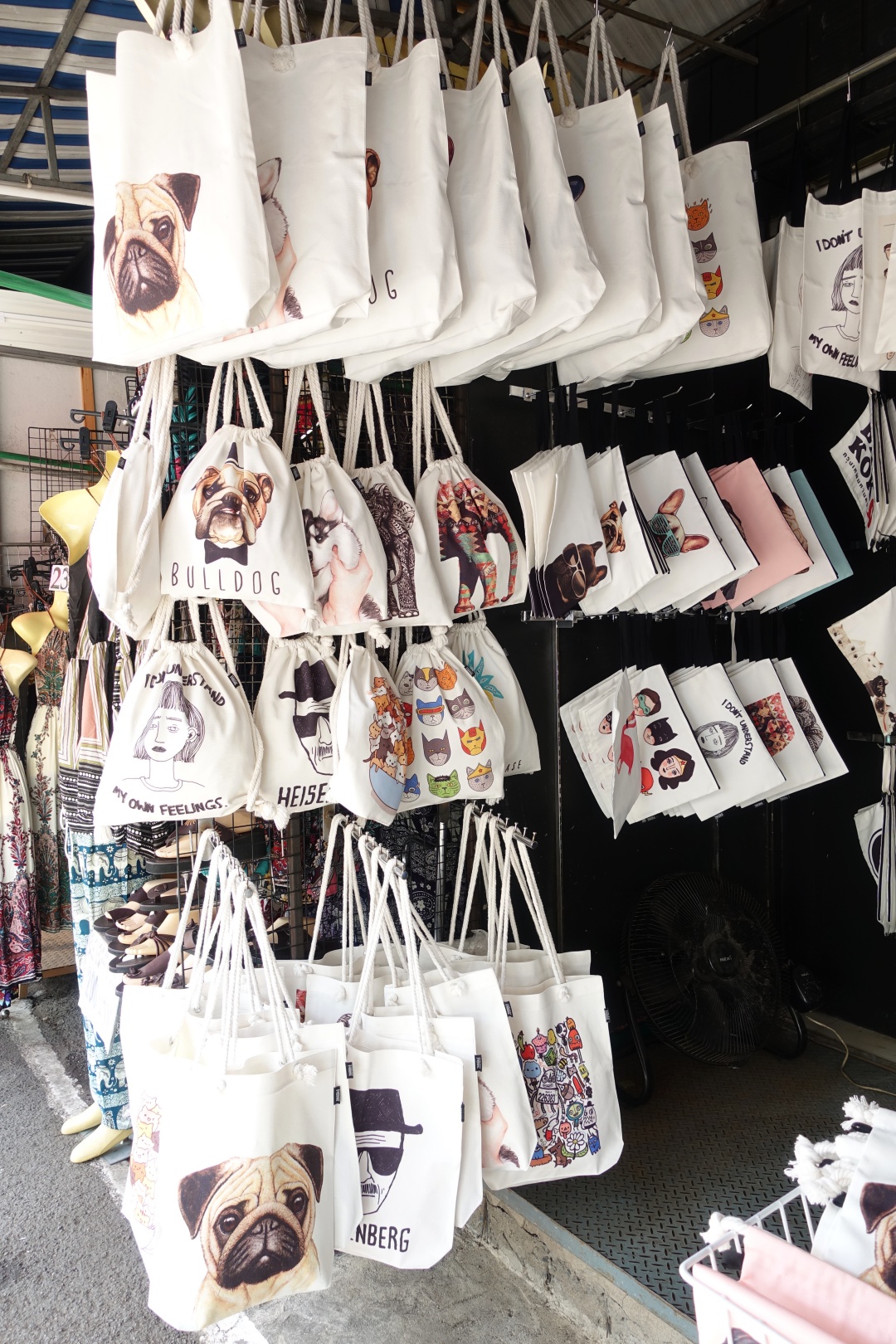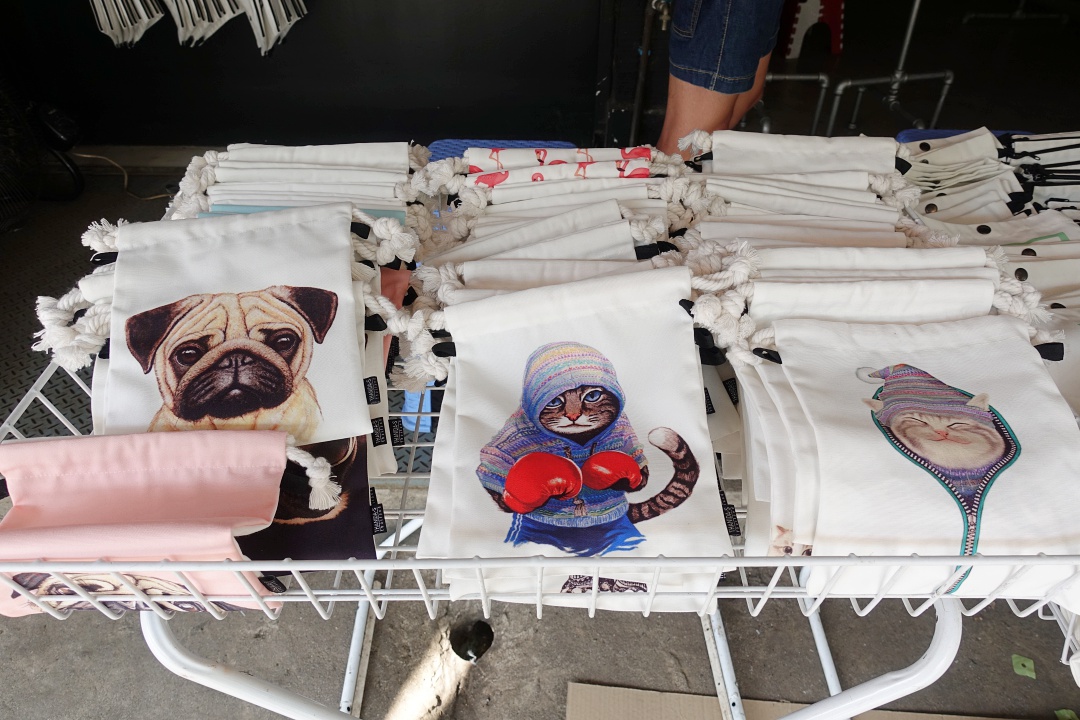 All these pictures (above) are taken from the main road. It gets harder to film or take pictures once we got into the lanes as they are generally more narrow and packed (like below).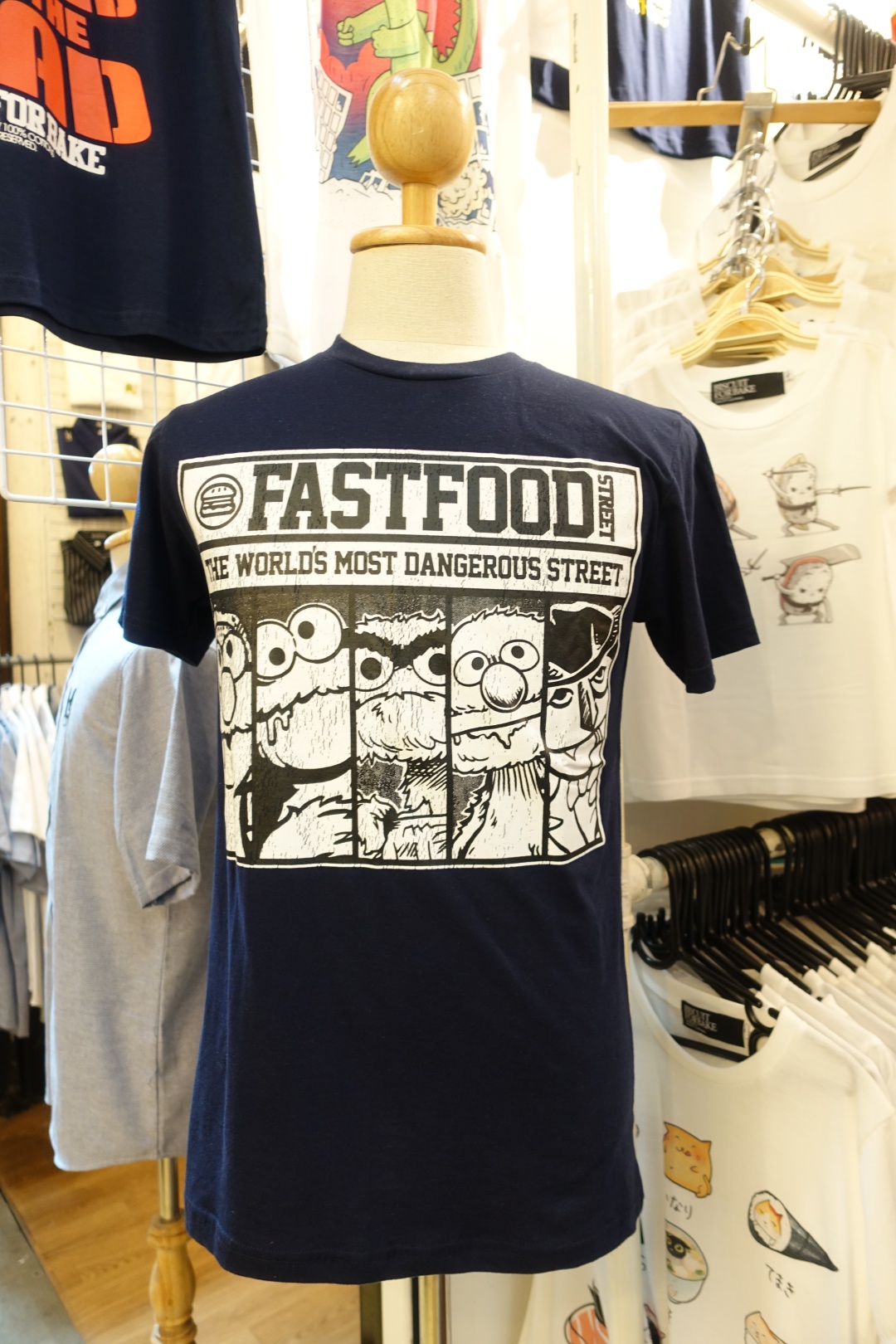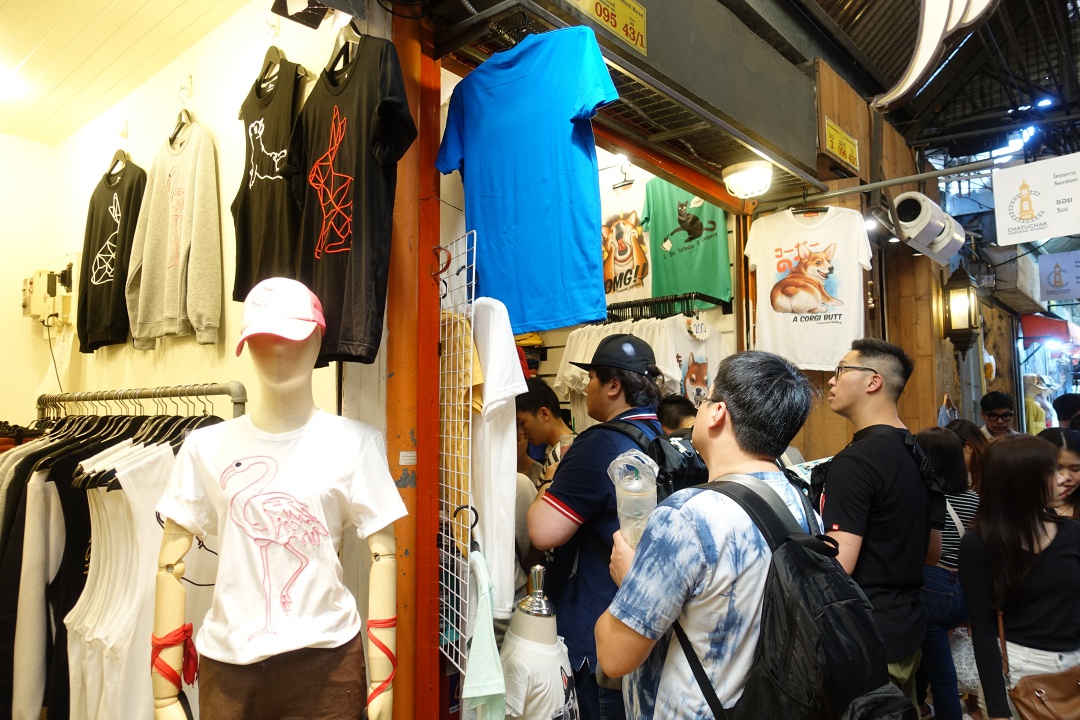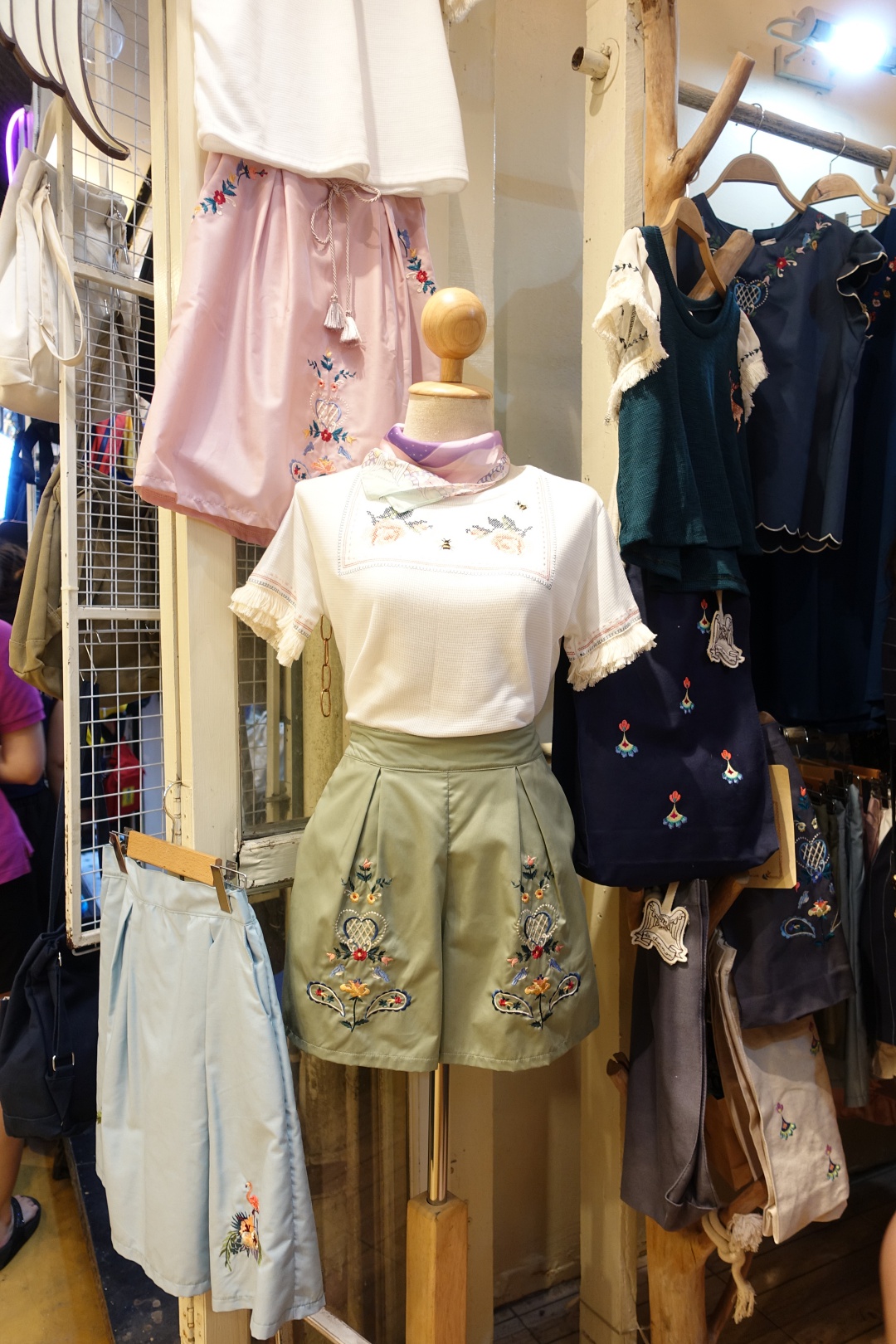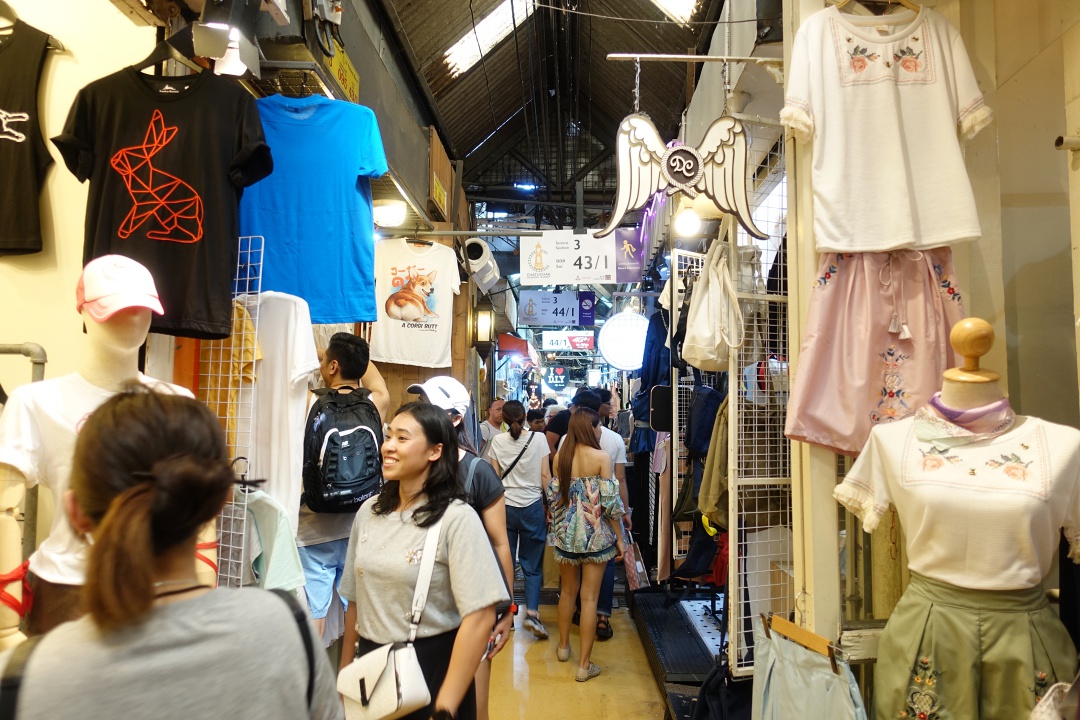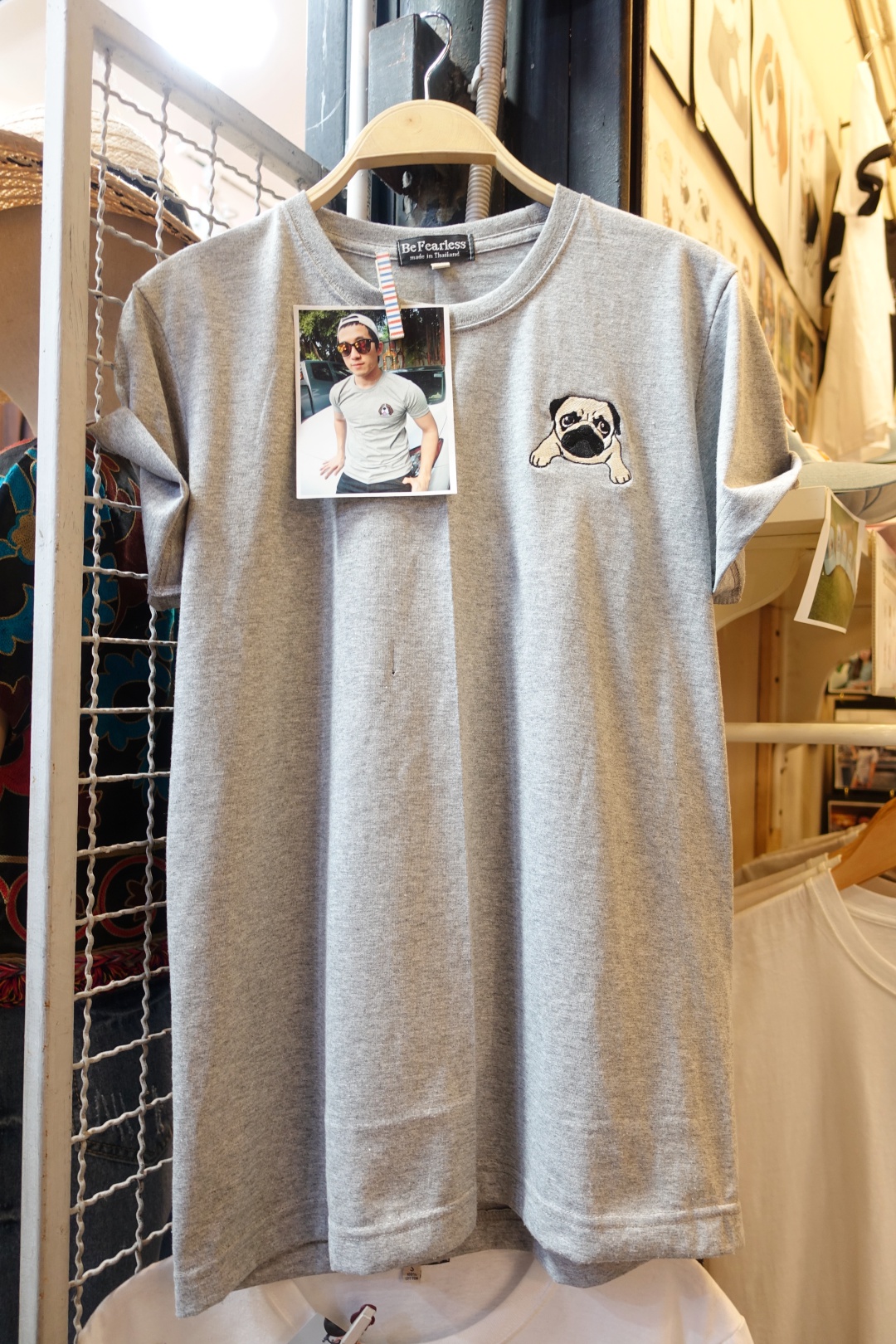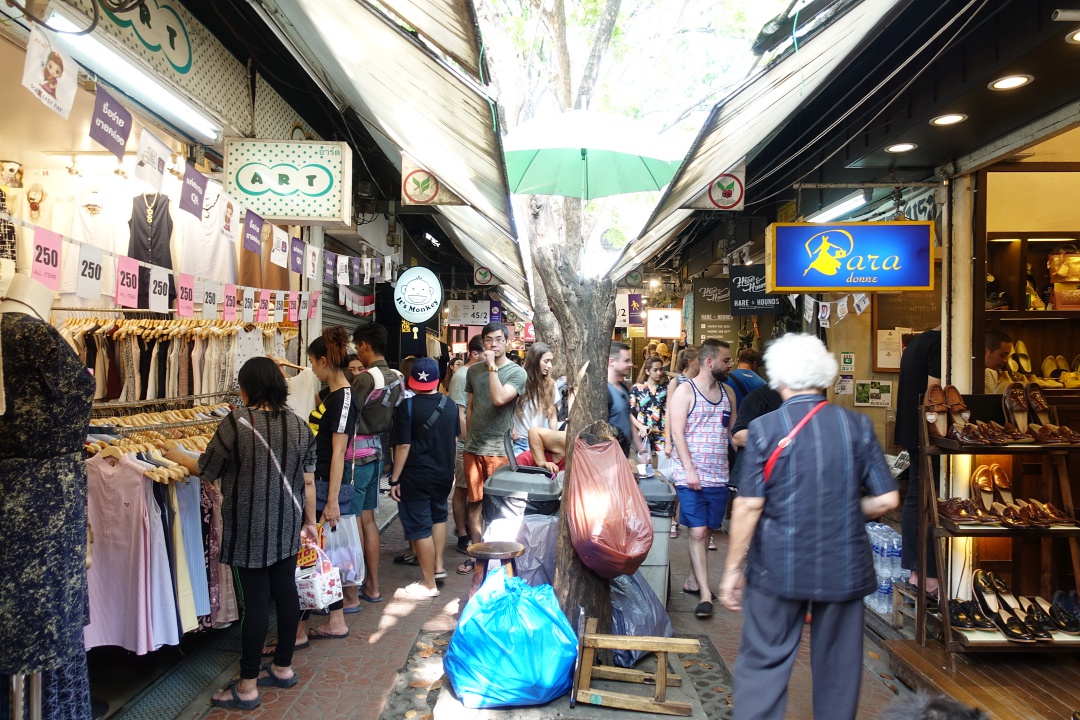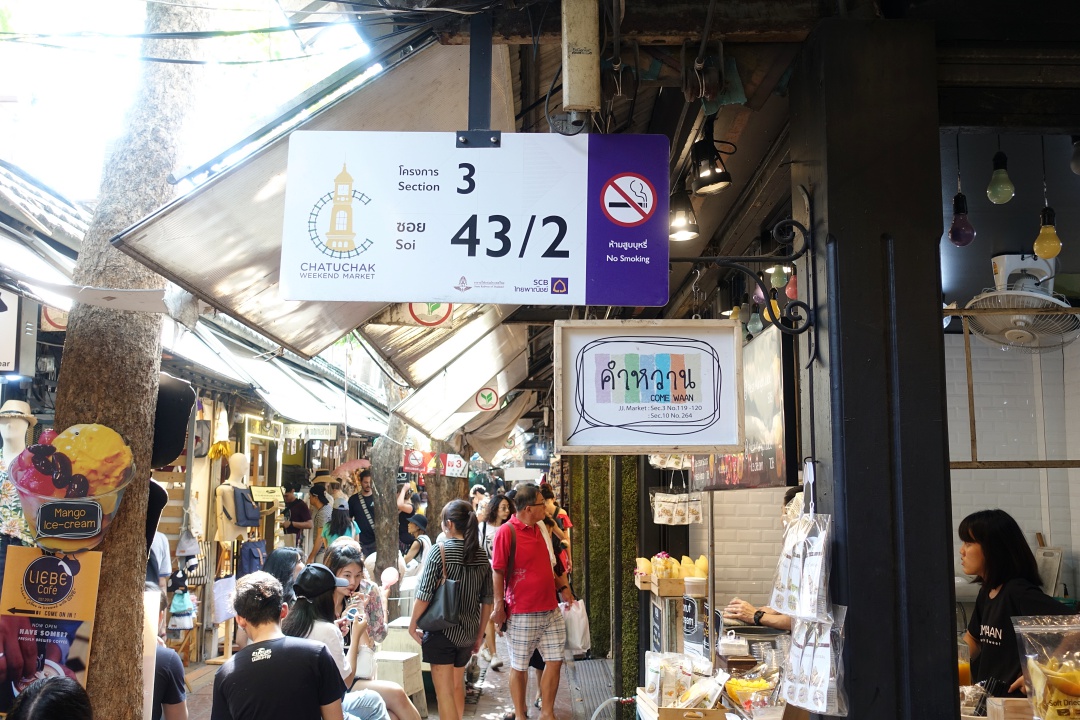 Brought my sister to try my favourite coconut ice cream from Chatuchak! While others prefer the one from the main road (the one with the green umbrella), I much prefer the coconut ice cream from this stall (Section 3, Soi 43/2).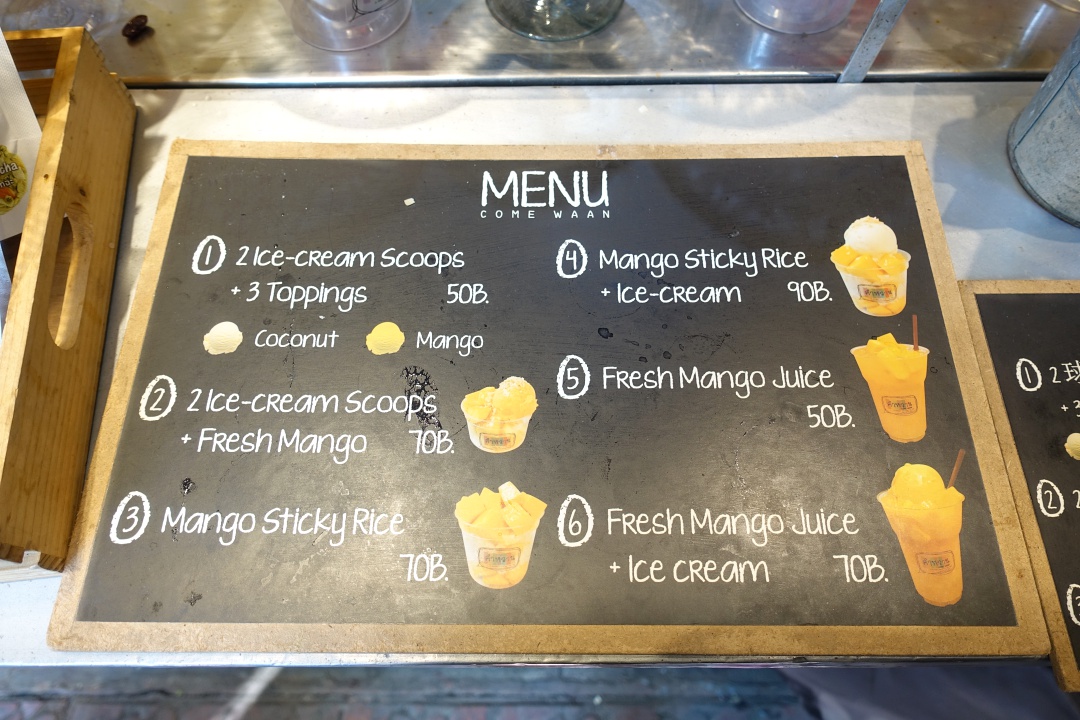 I've tried both their mango and coconut ice cream and I prefer the latter.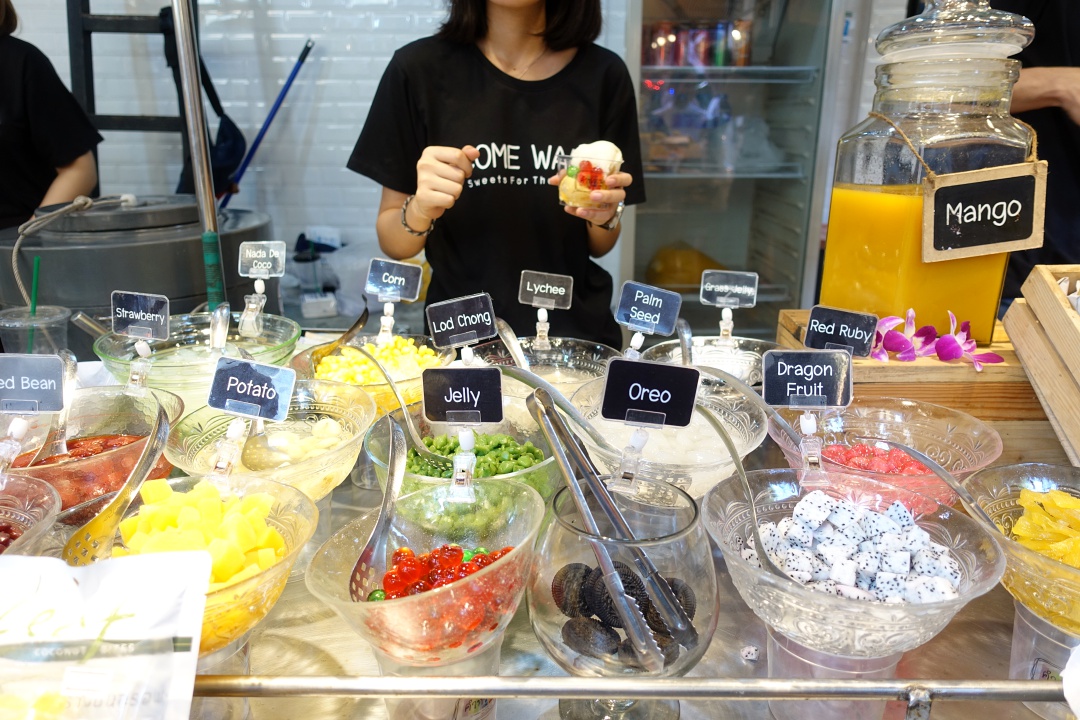 Price is THB50 for one cup and you can choose three toppings.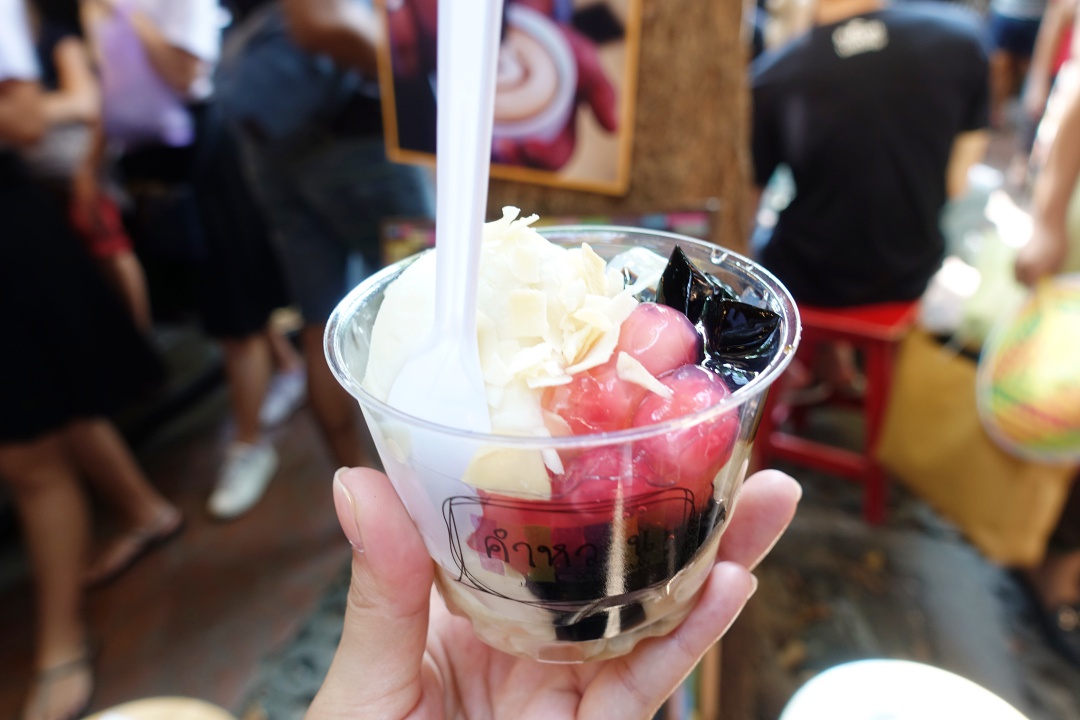 Granted, you don't get to have the ice cream in a coconut husk. But I feel that their coconut ice cream tastes better.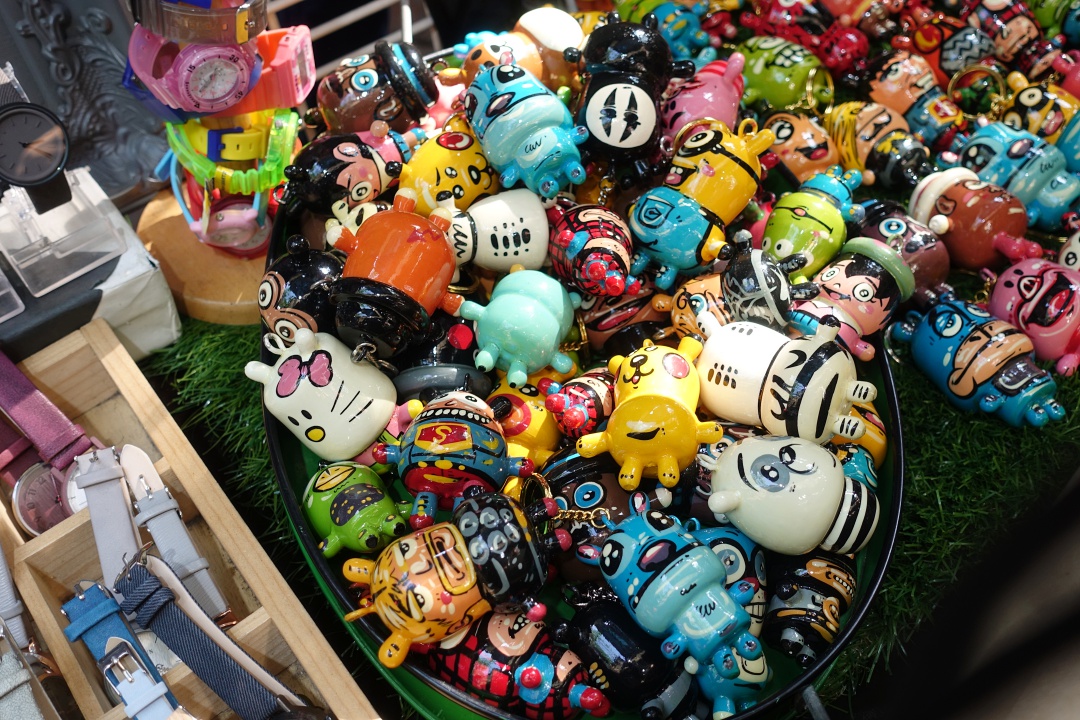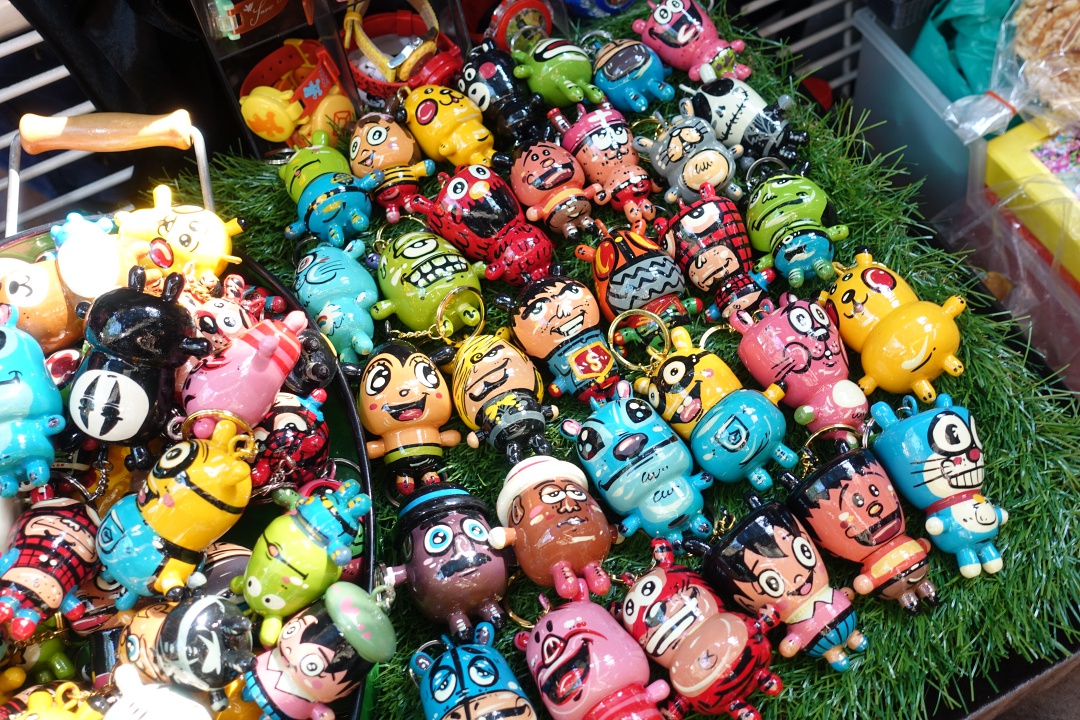 Spotted these cute keychains. Bought one for THB70.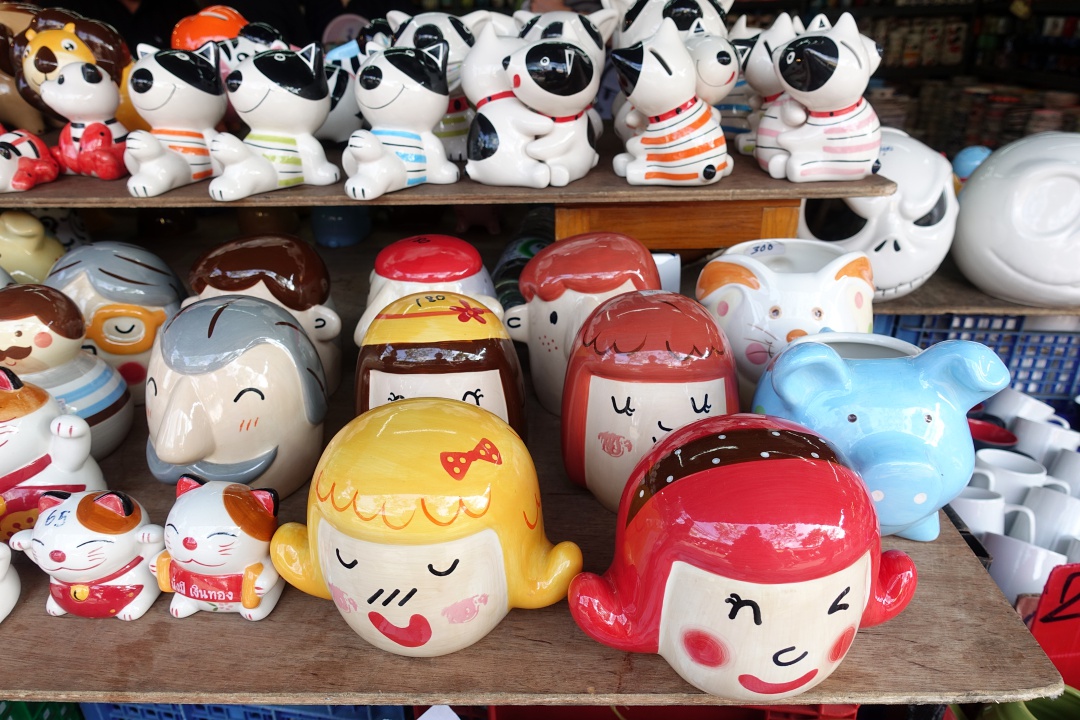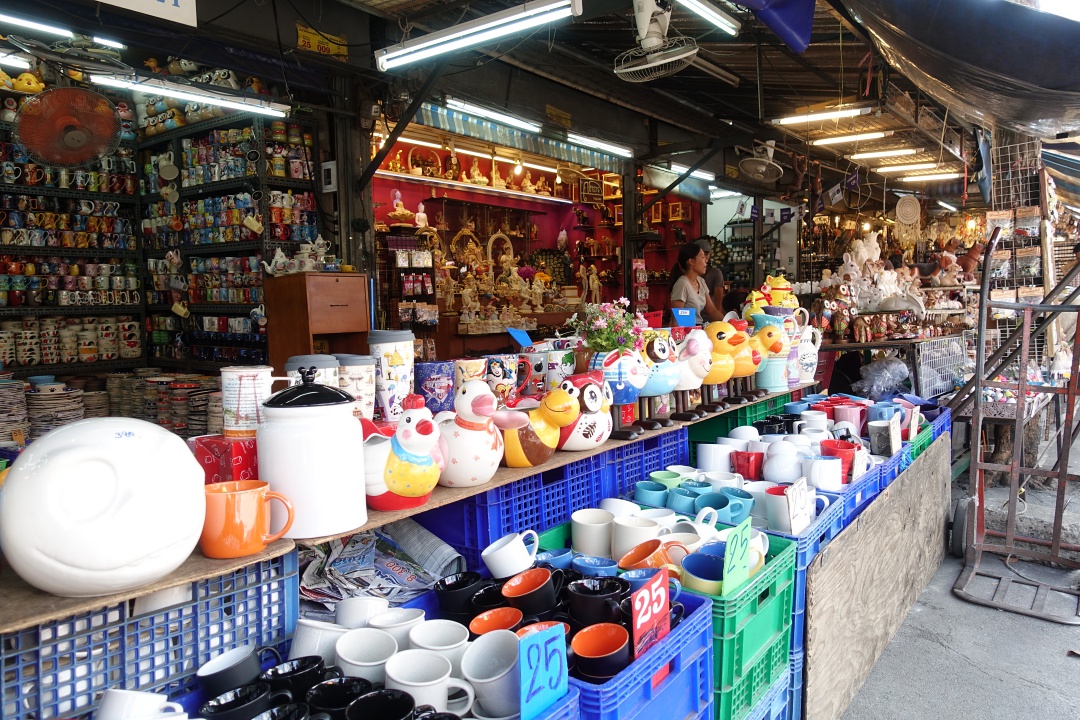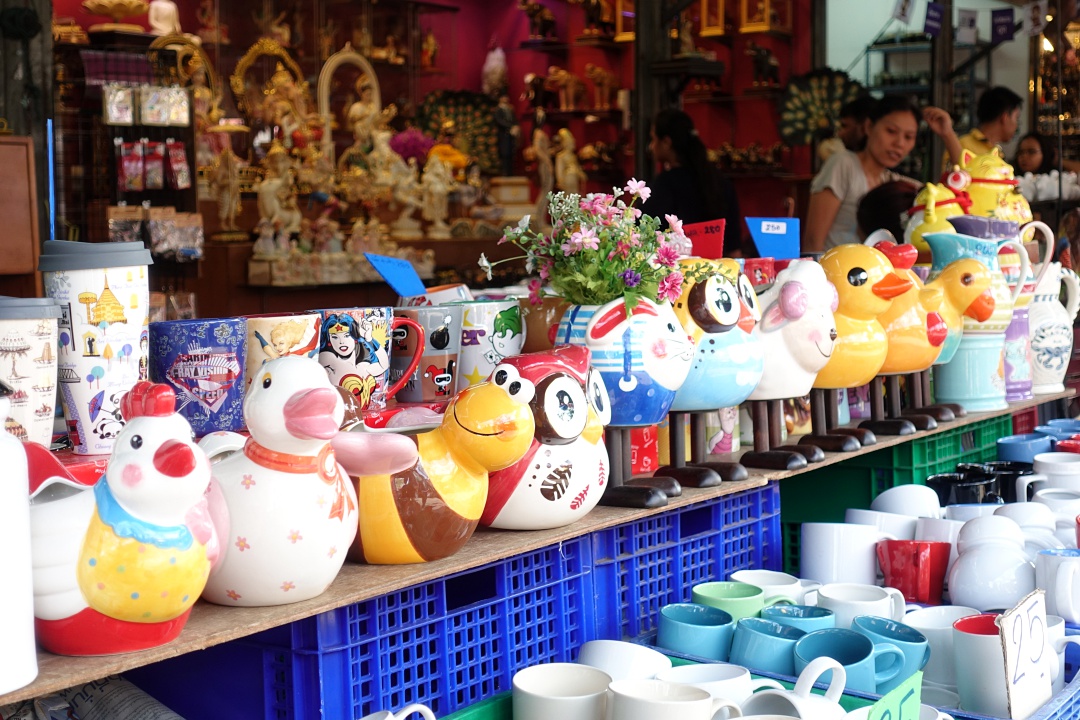 Braised Chicken Noodles
Before we left, I bought my sister to have the famous chicken soup noodle in Chatuchak. The stall is facing the main road, so I usually just walk along the main road to find the stall.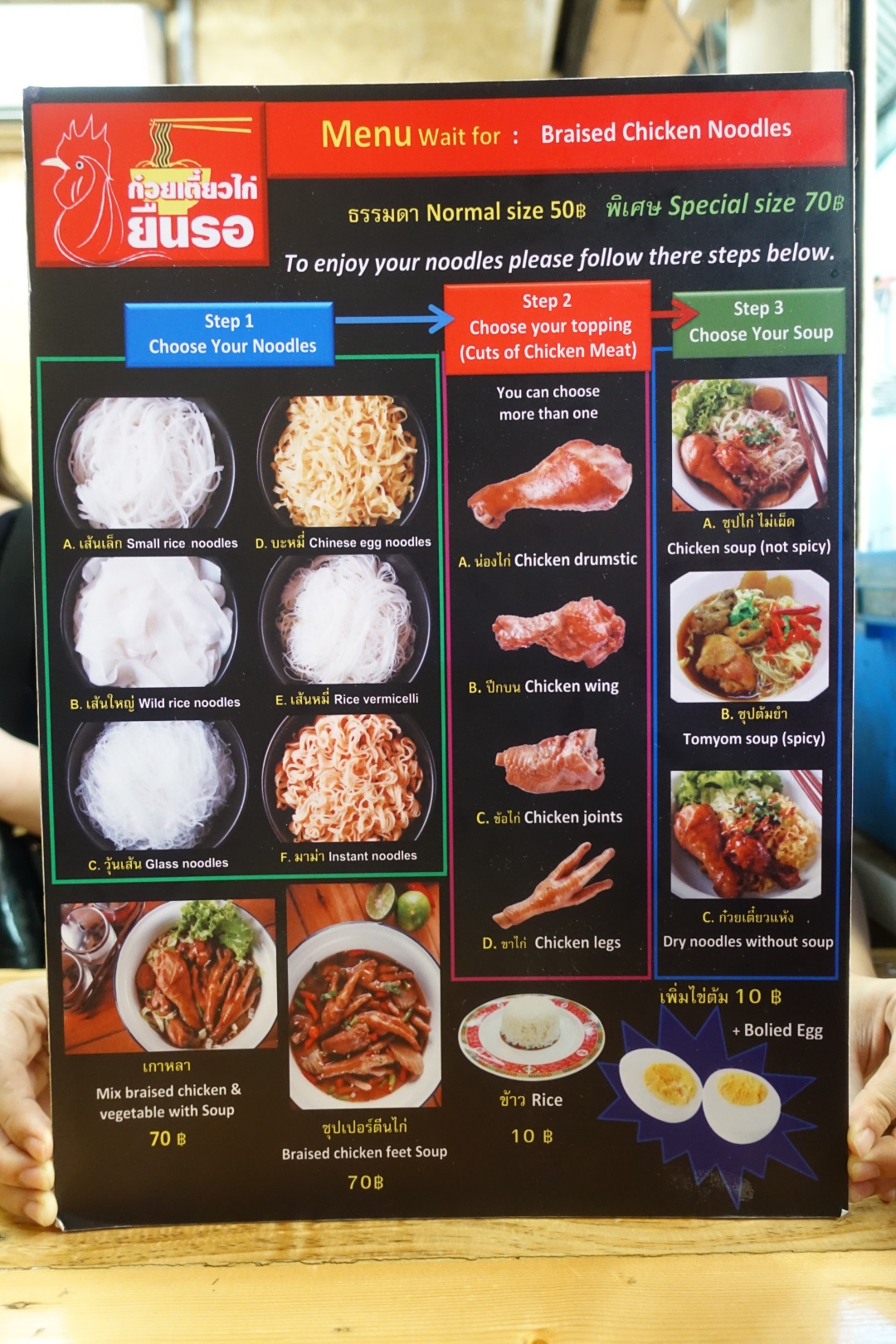 I still remember raving about their chicken noodle the first time I tried it. But I realised I don't have the appetite whenever I'm at Chatuchak. Likewise for this trip, I basically just sat there and look at the three of them enjoying their noodle. Don't get me wrong because the noodle still tastes great. I've brought my dad and my sisters there, and all of them enjoyed it. Perhaps is due to the weather, I just don't feel like eating noodles after all the shopping.
But if you're up for it, then do give it a try. The soup was flavourful, the chicken was extremely soft and best of all, it only costs THB50 for a bowl!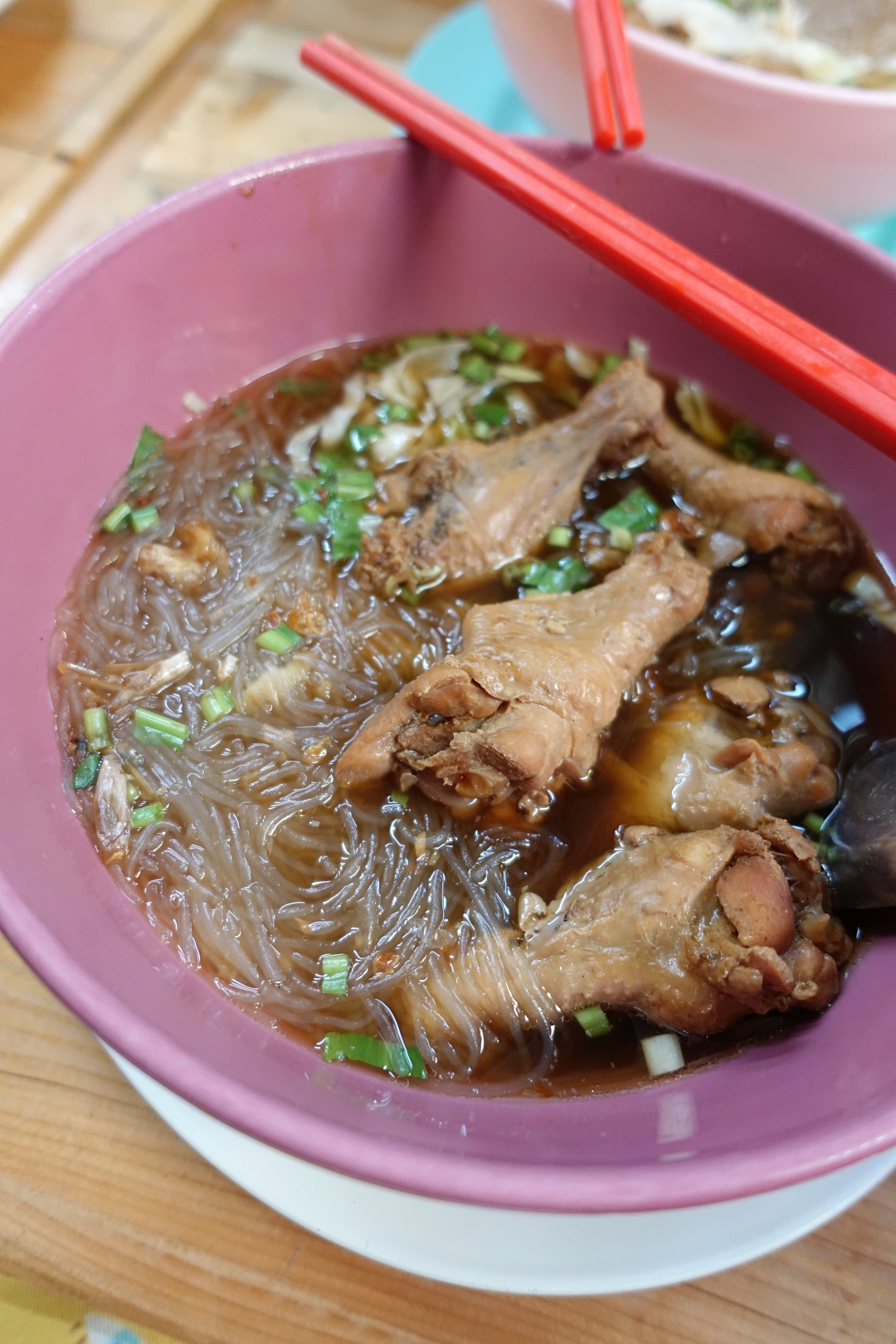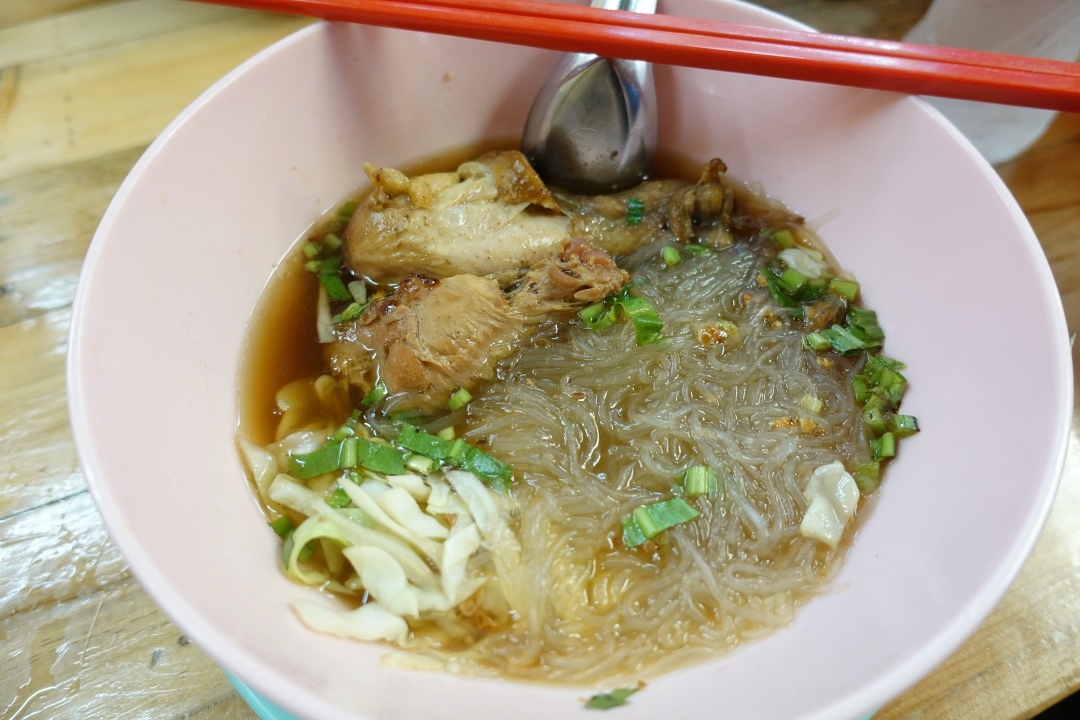 Palladium Night Market
Located right below The Berkeley Hotel Pratunam, we went down to Palladium Night Market that night. Personally, I'm not a huge fan of this night market but my sisters seem to like it. Here, you can find many stalls selling customised items, like keychains, passport holders, laptop covers, bags, etc. My sisters really enjoy doing customised items for her friends as souvenirs. Aside from customised items, there are also a handful of stalls selling clothing. Price for the clothing is probably not as cheap as compared to Pratunam Market, but at least you're not required to buy in bulk.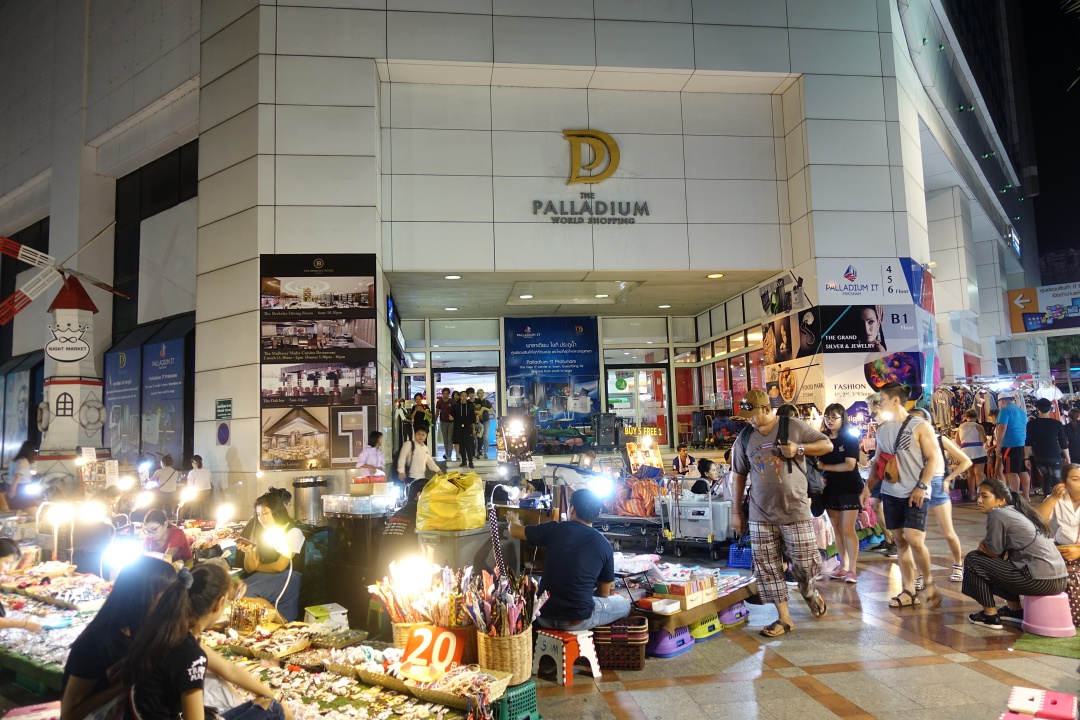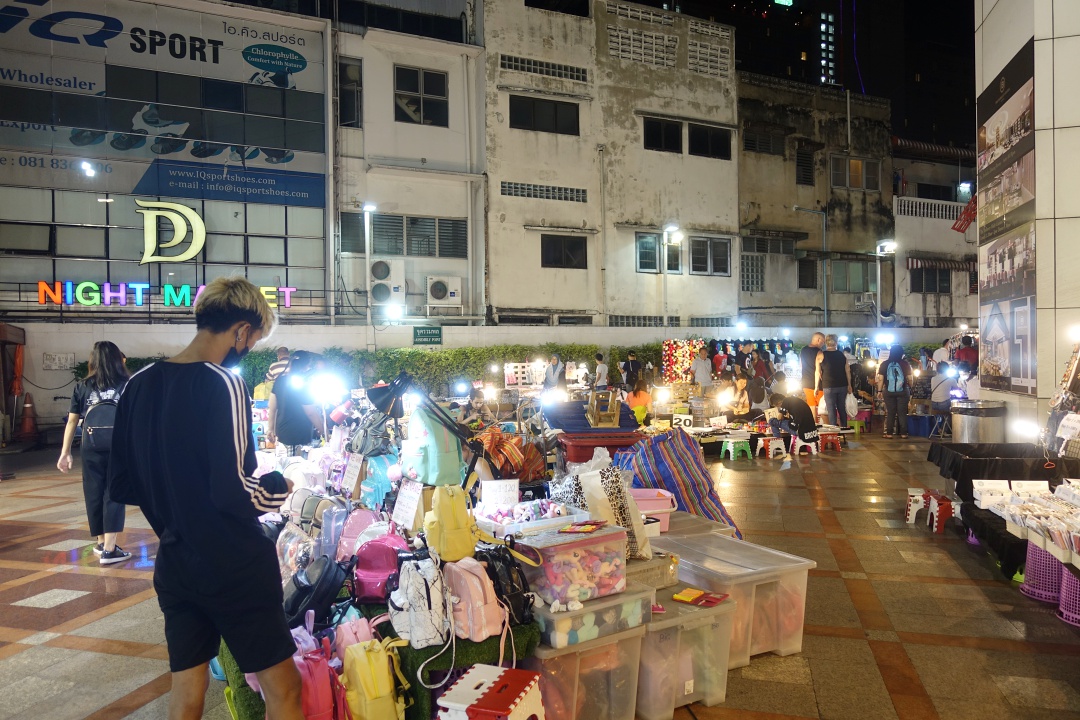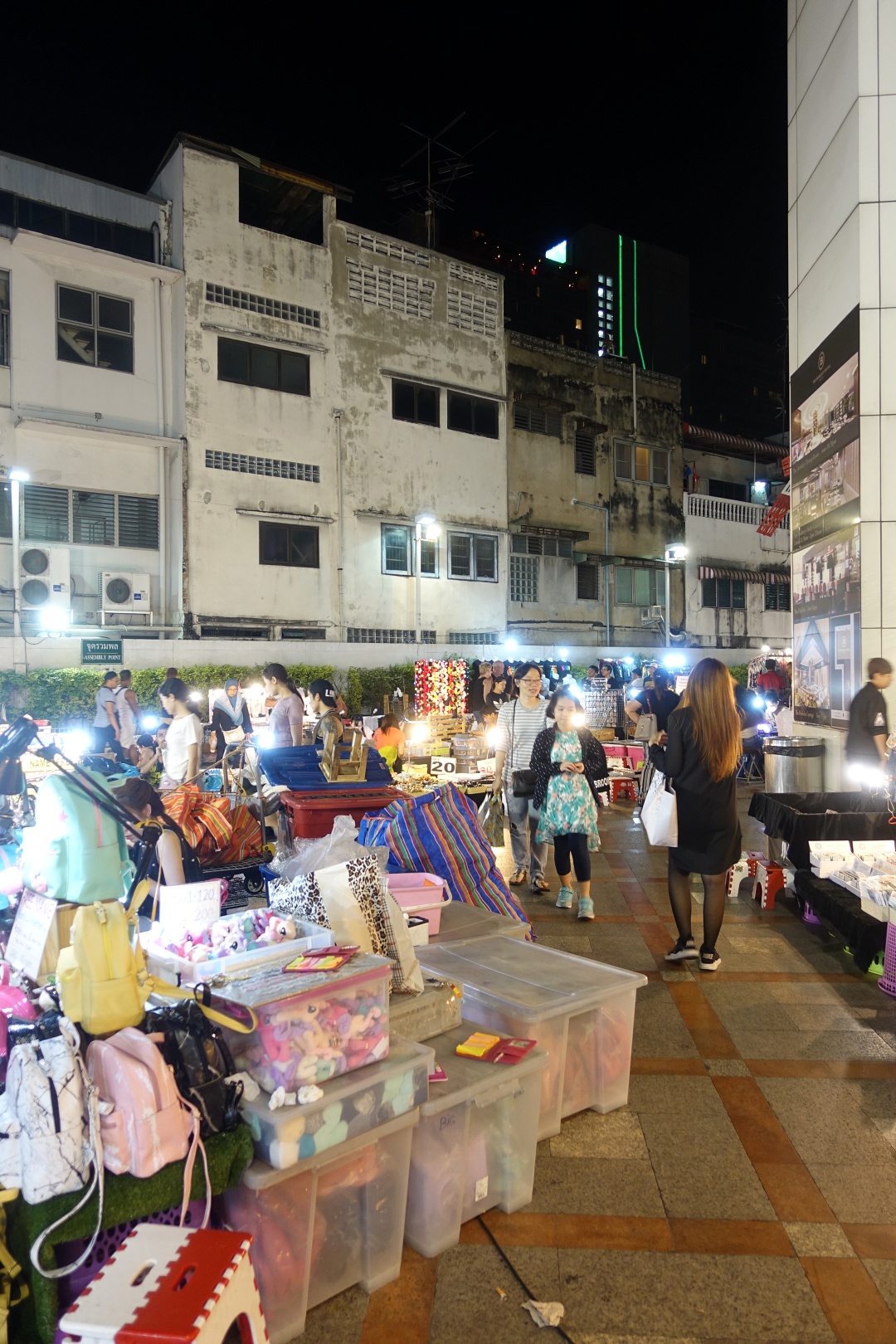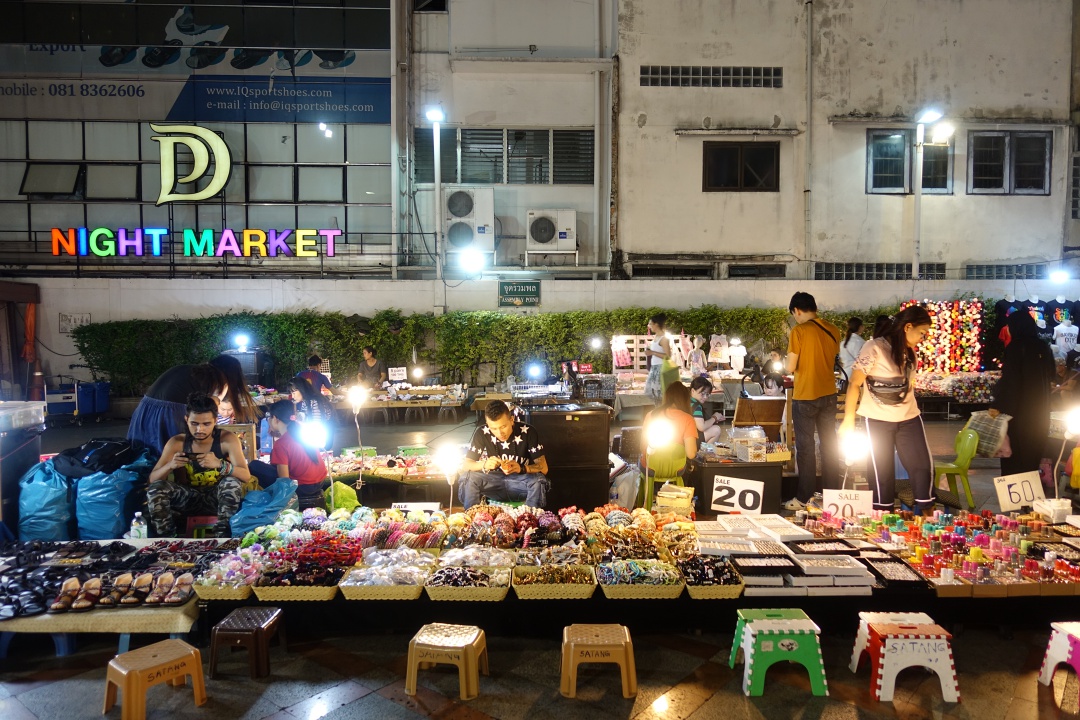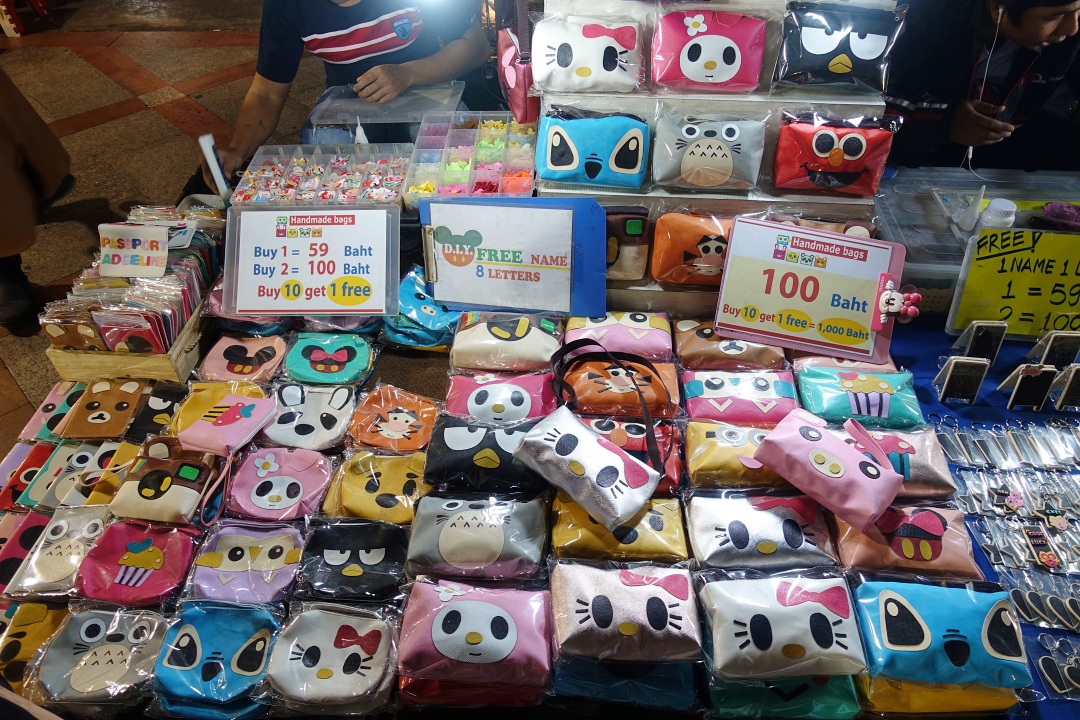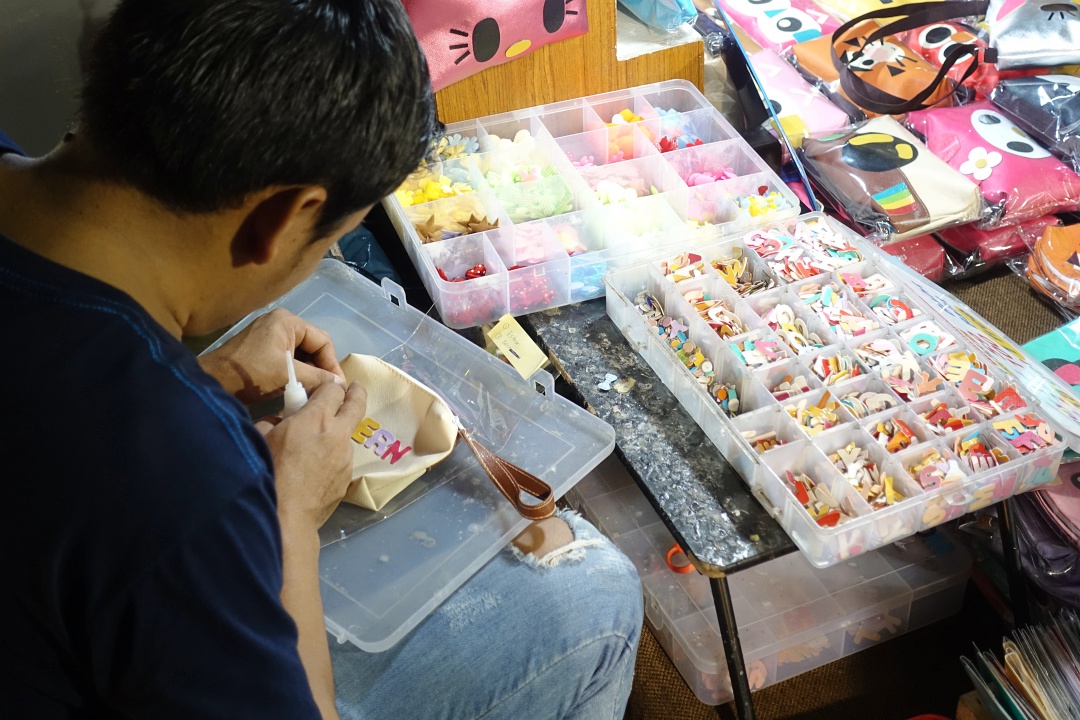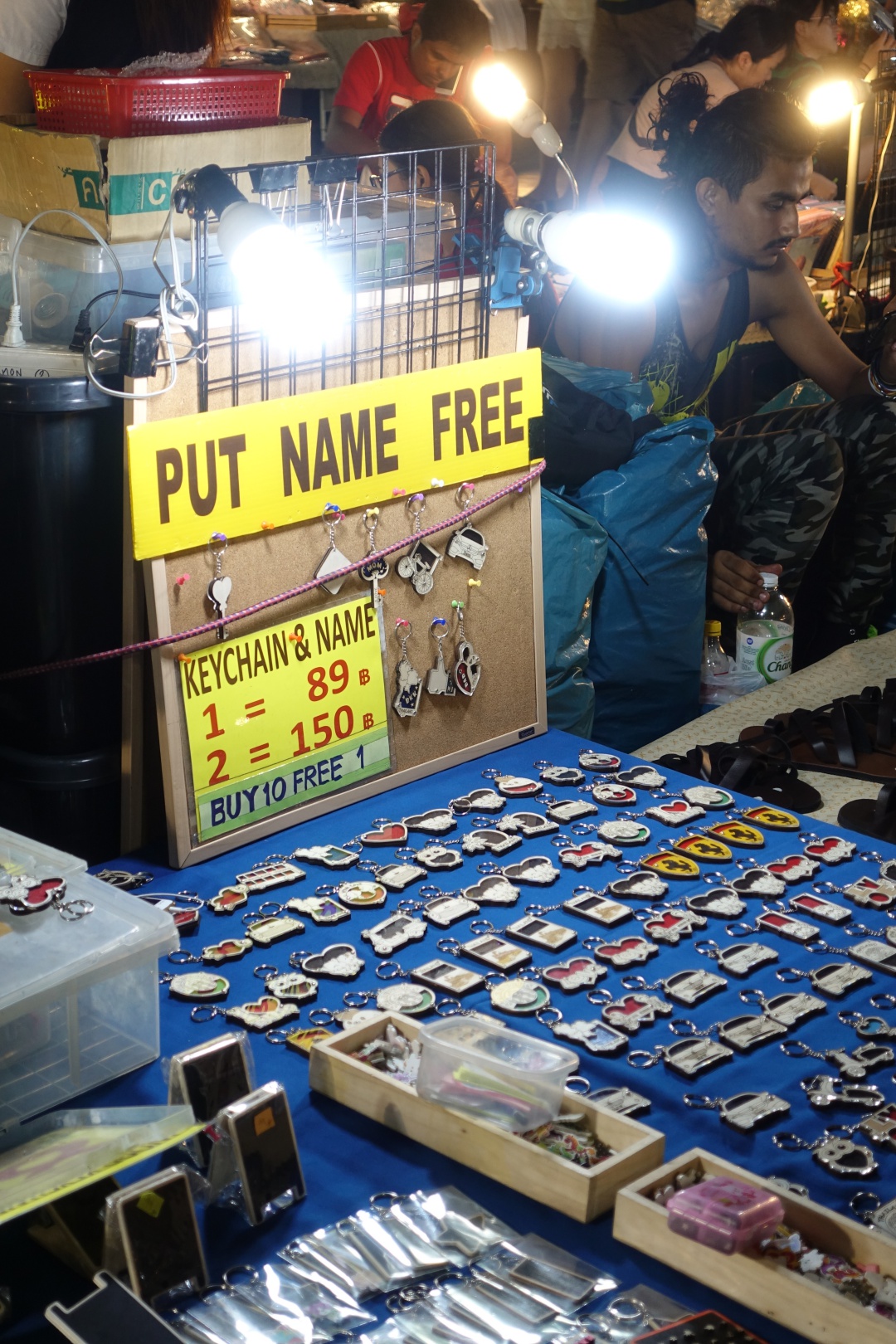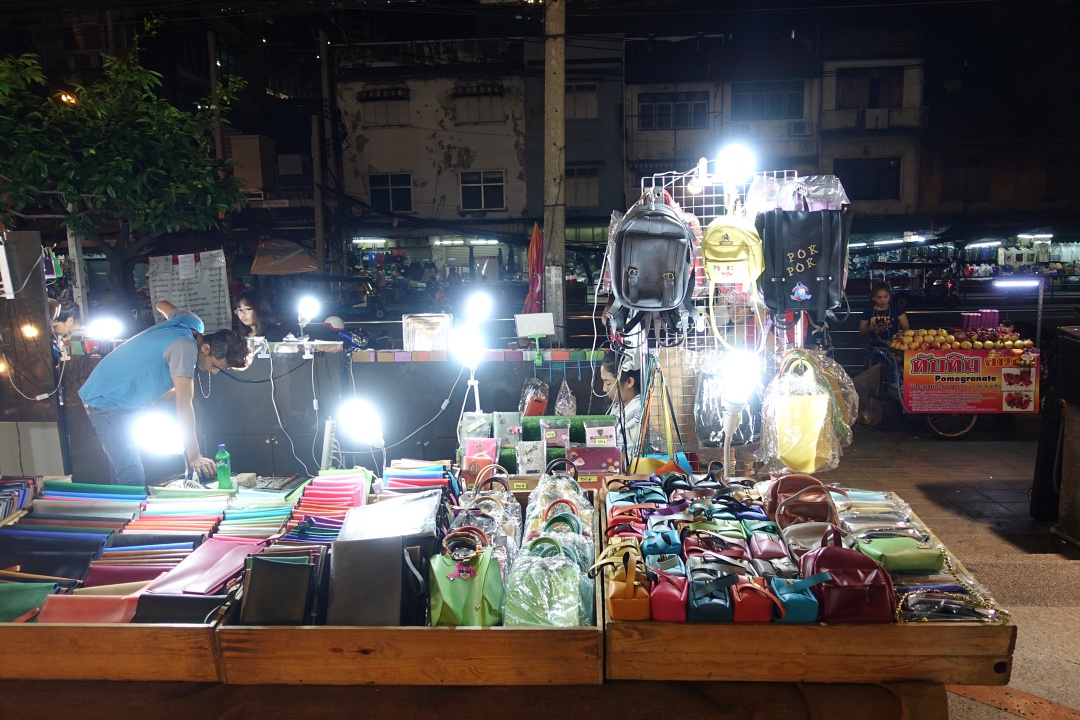 Assorted bags and pouch. You can pick the one you like and get the staff to stamp your name on it. The price here is also quite competitive compared to other night markets.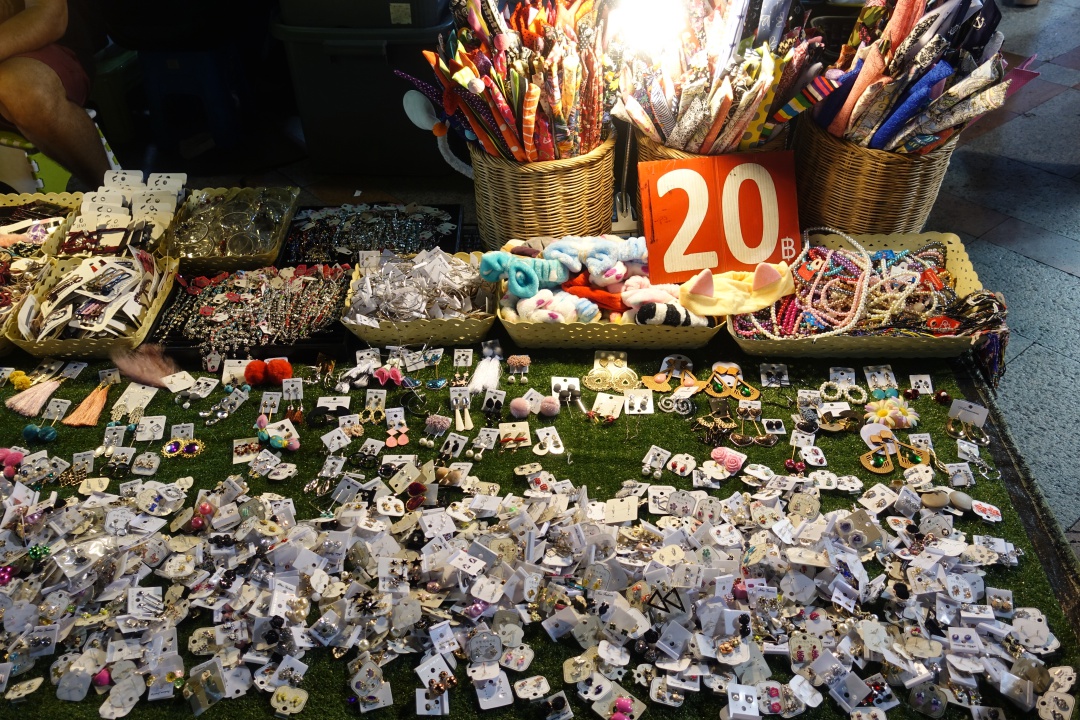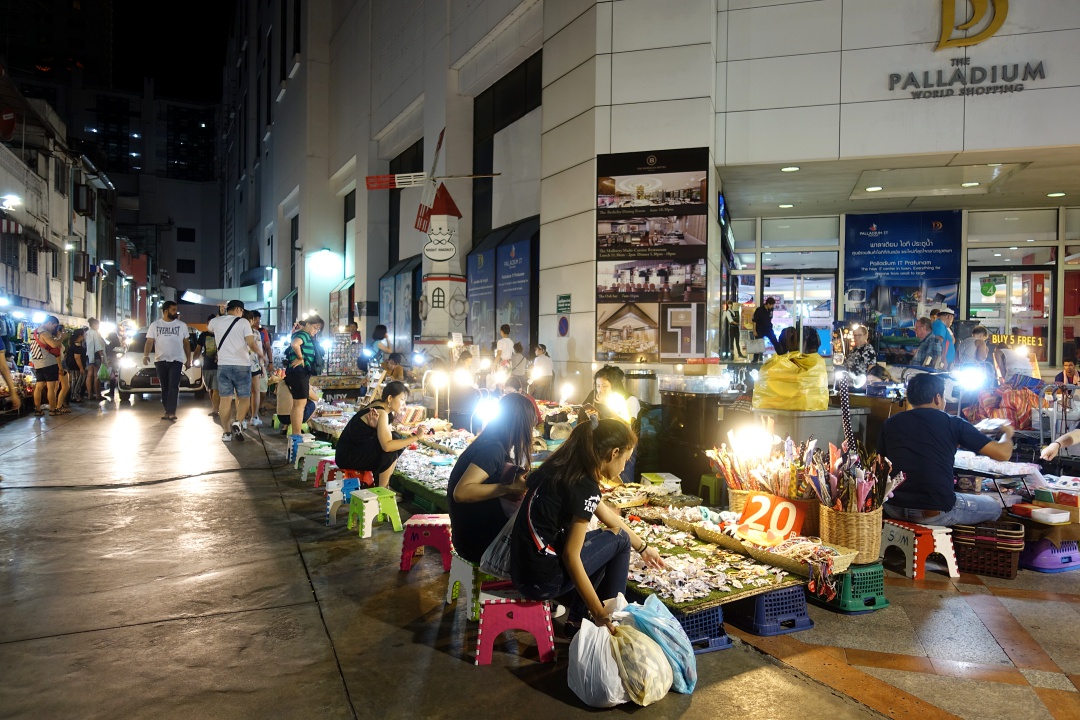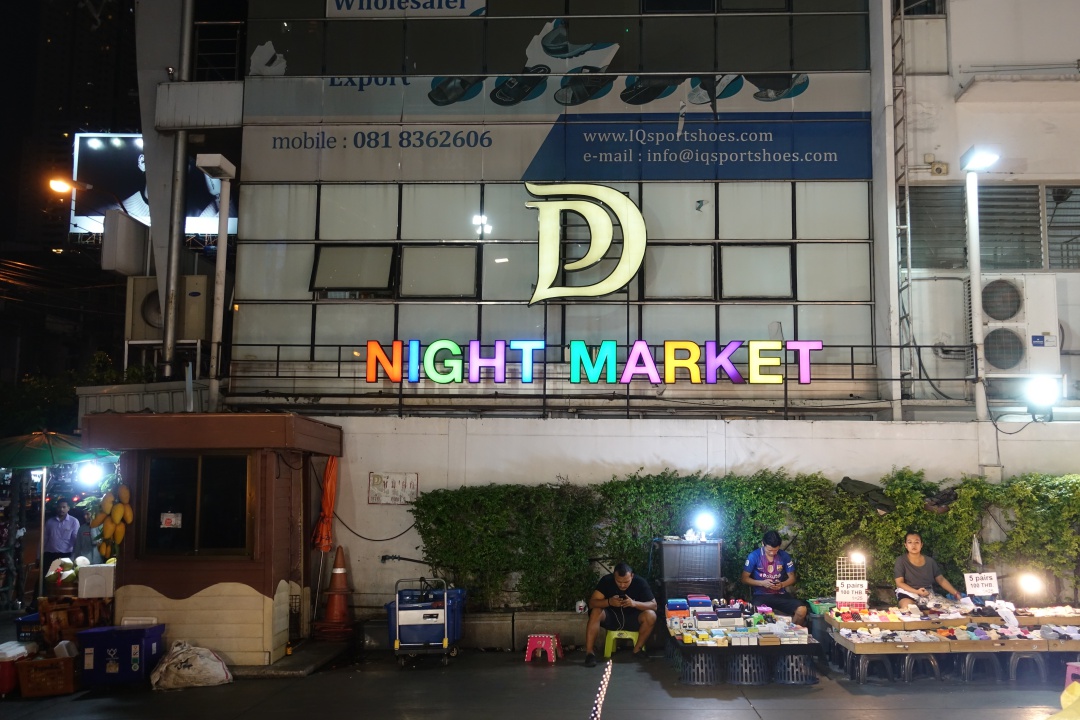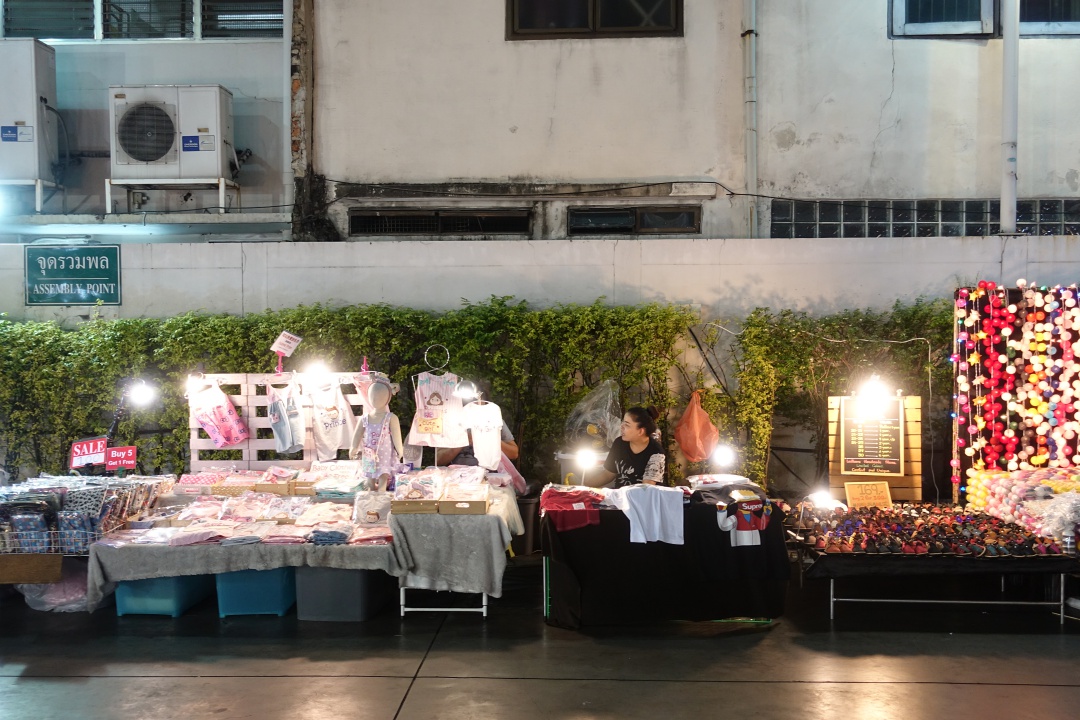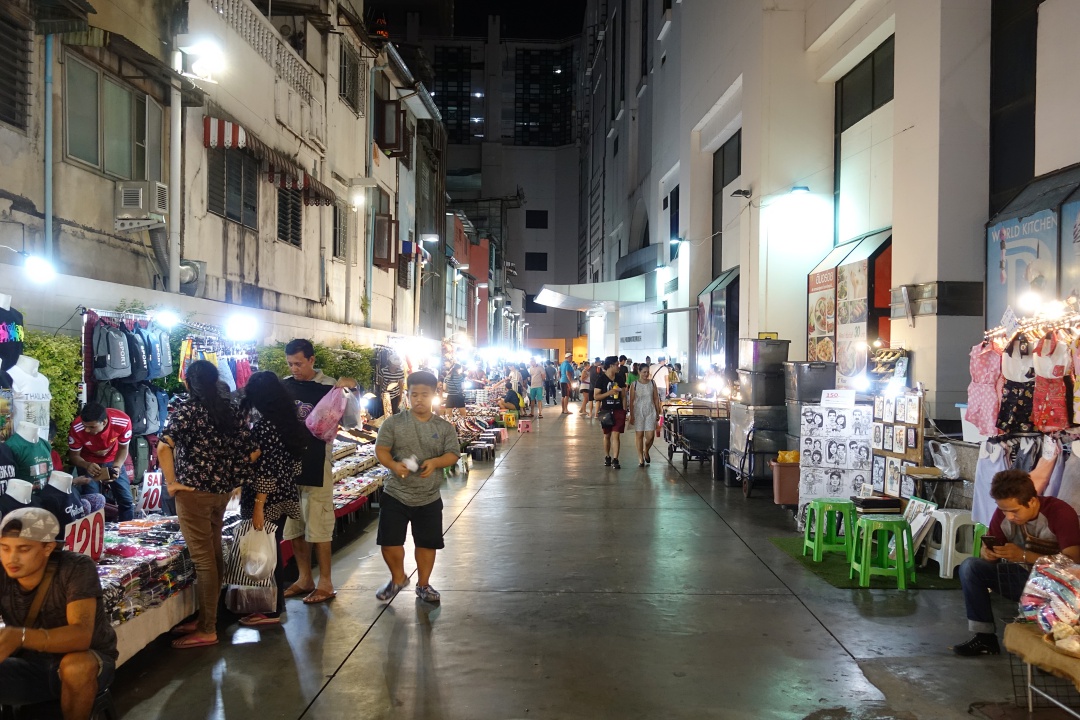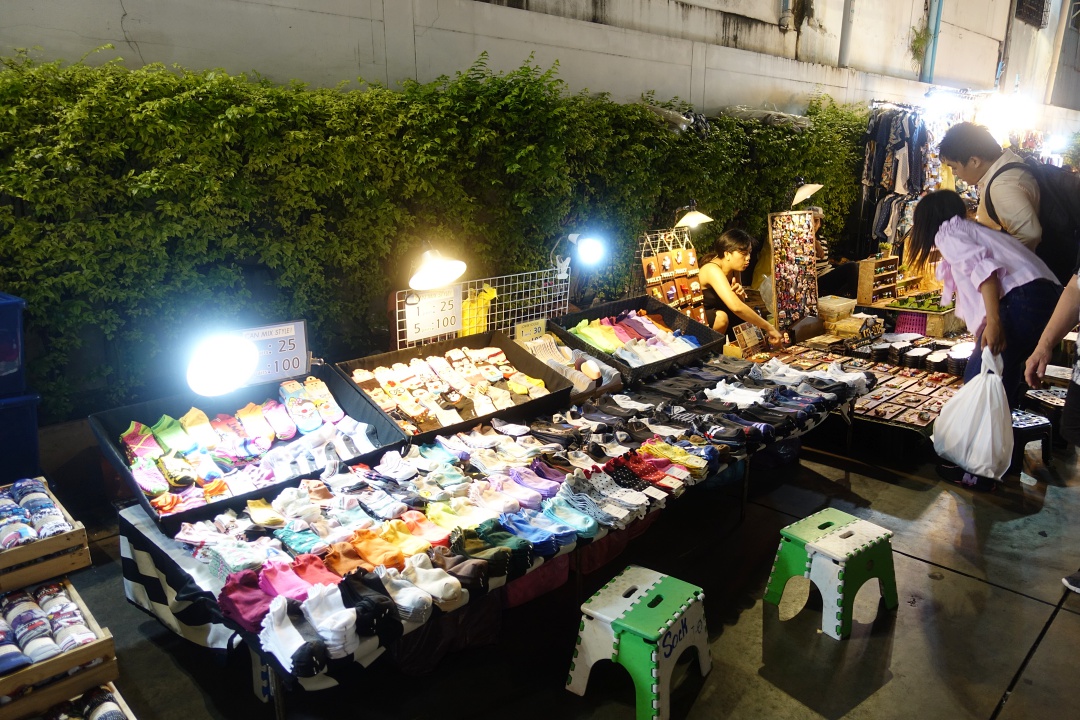 Socks at 5 for THB100.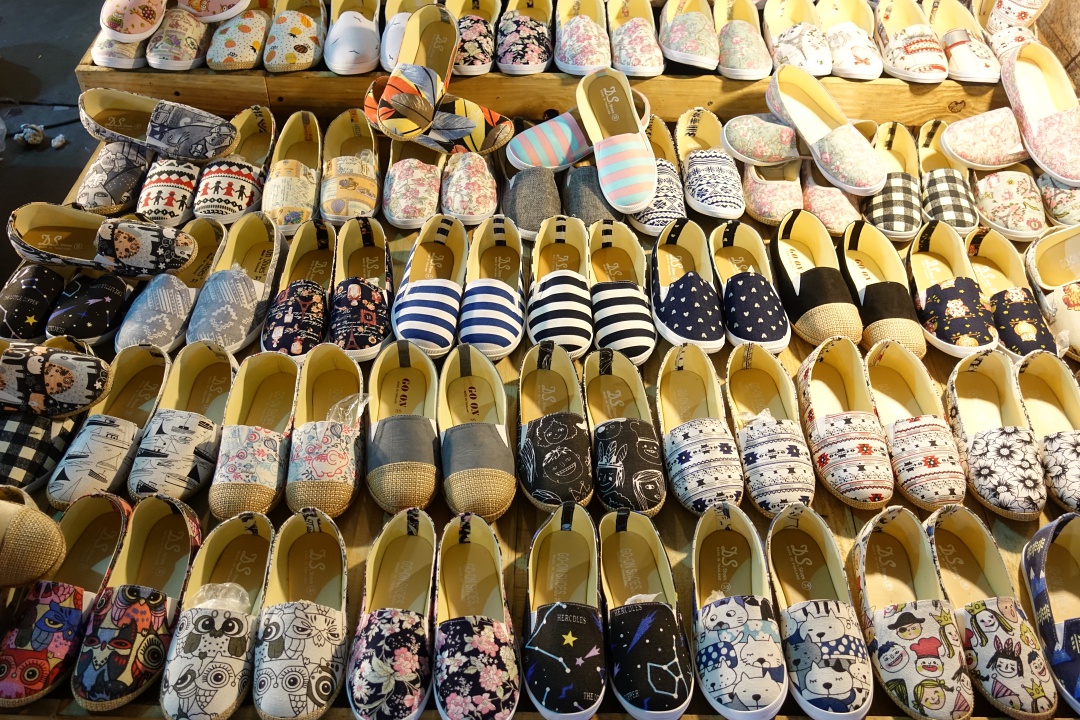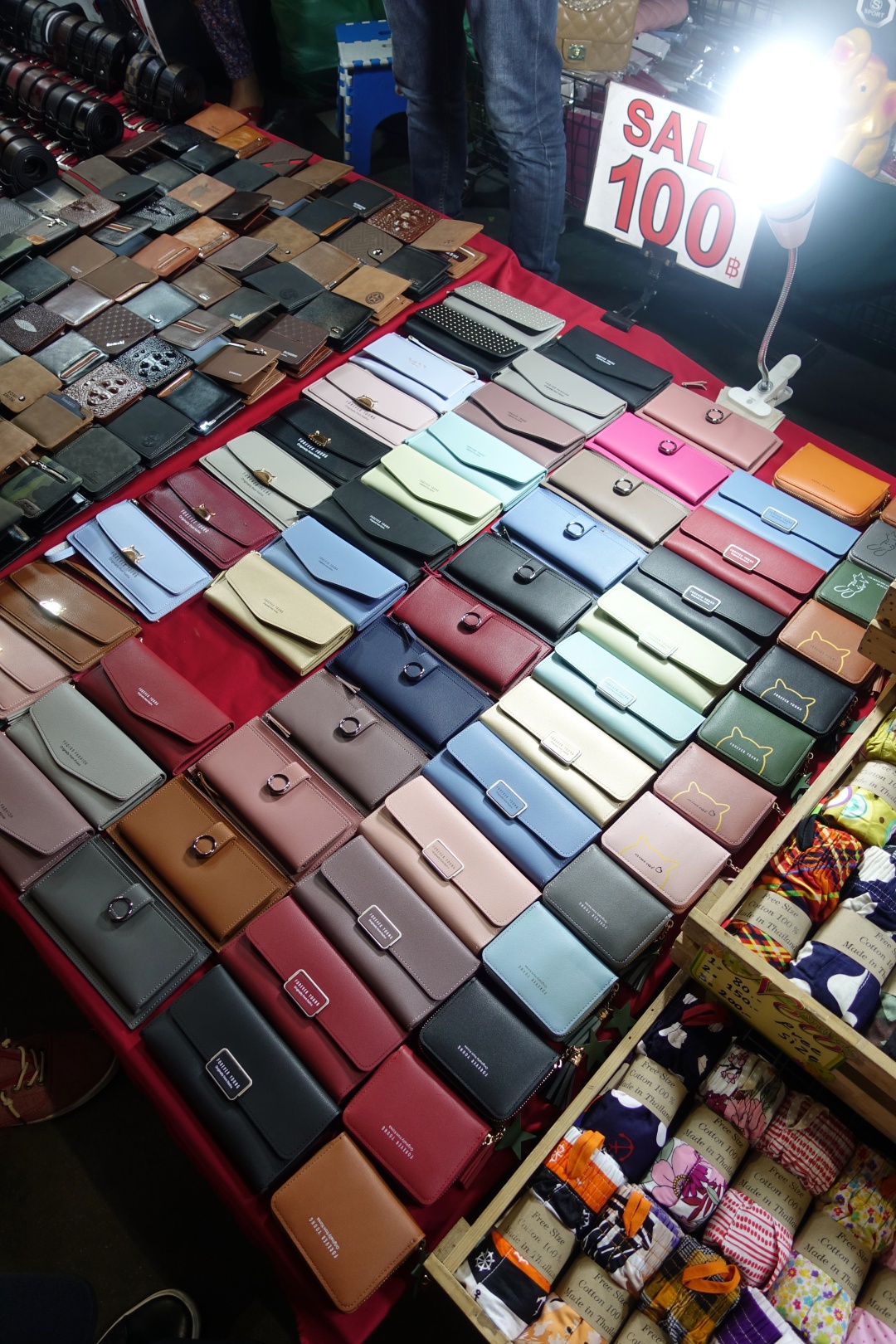 Wallets at THB100 each.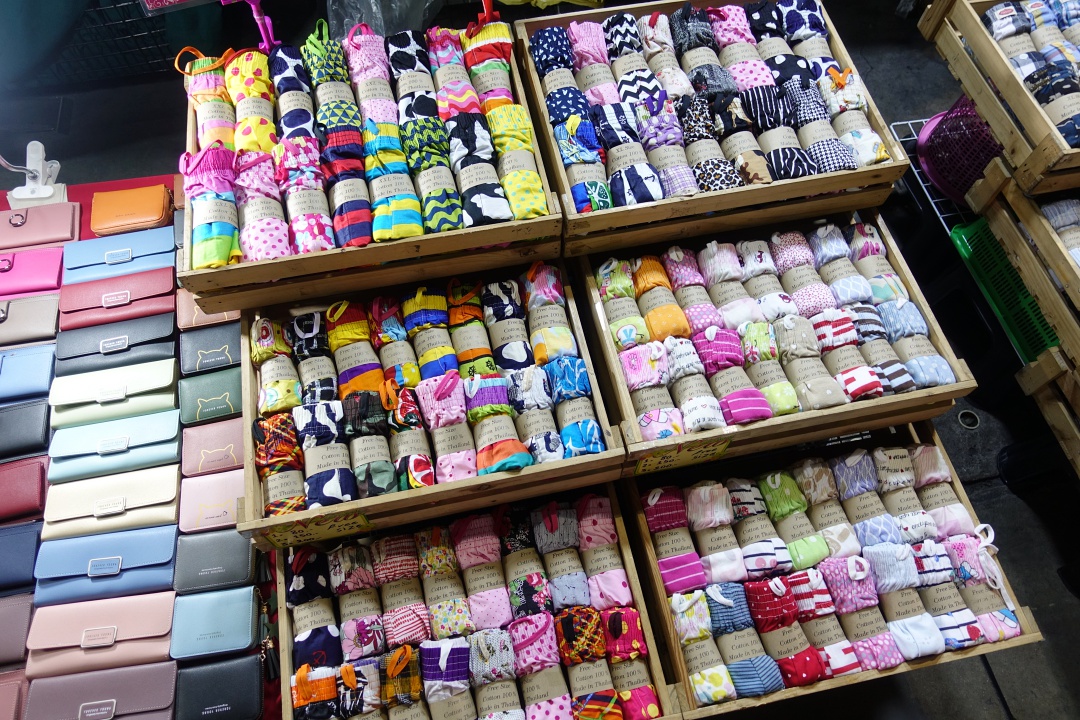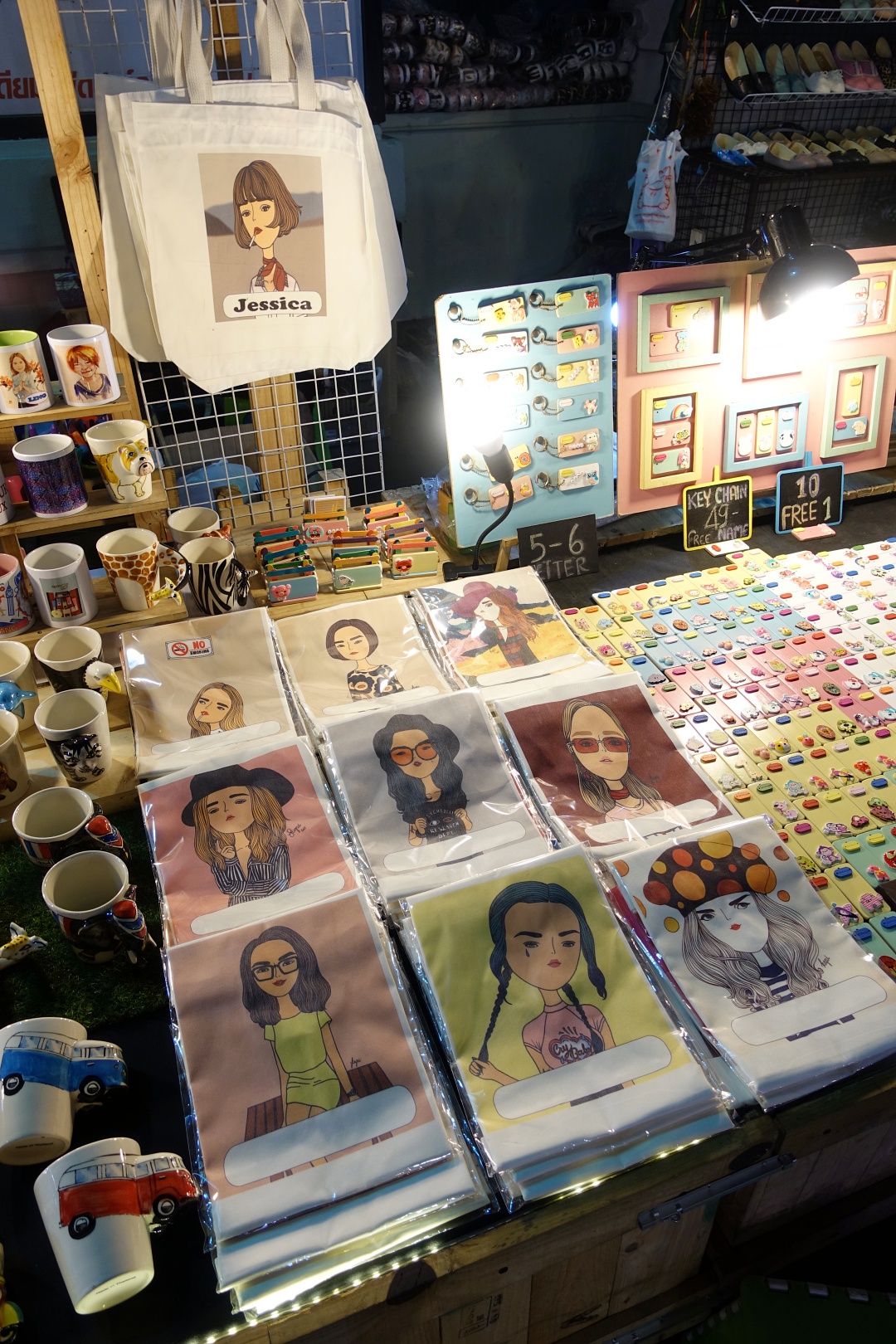 Customised tote bags.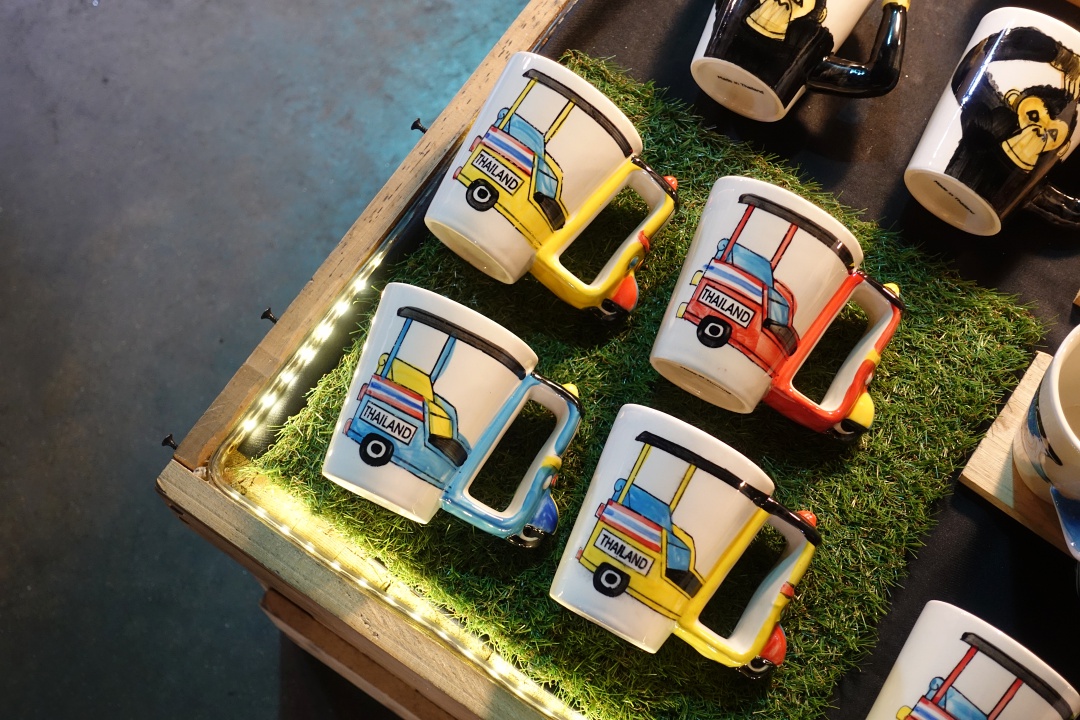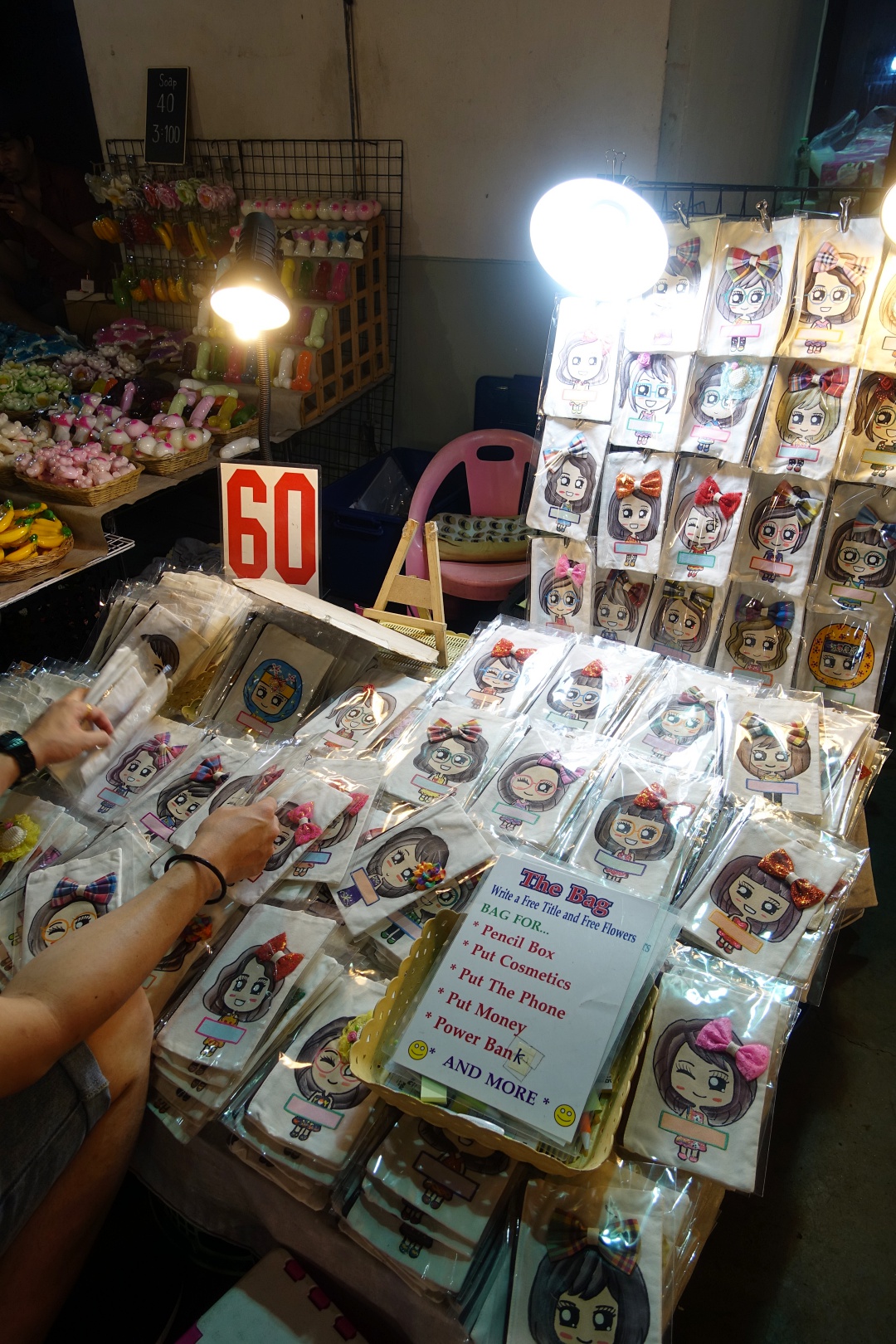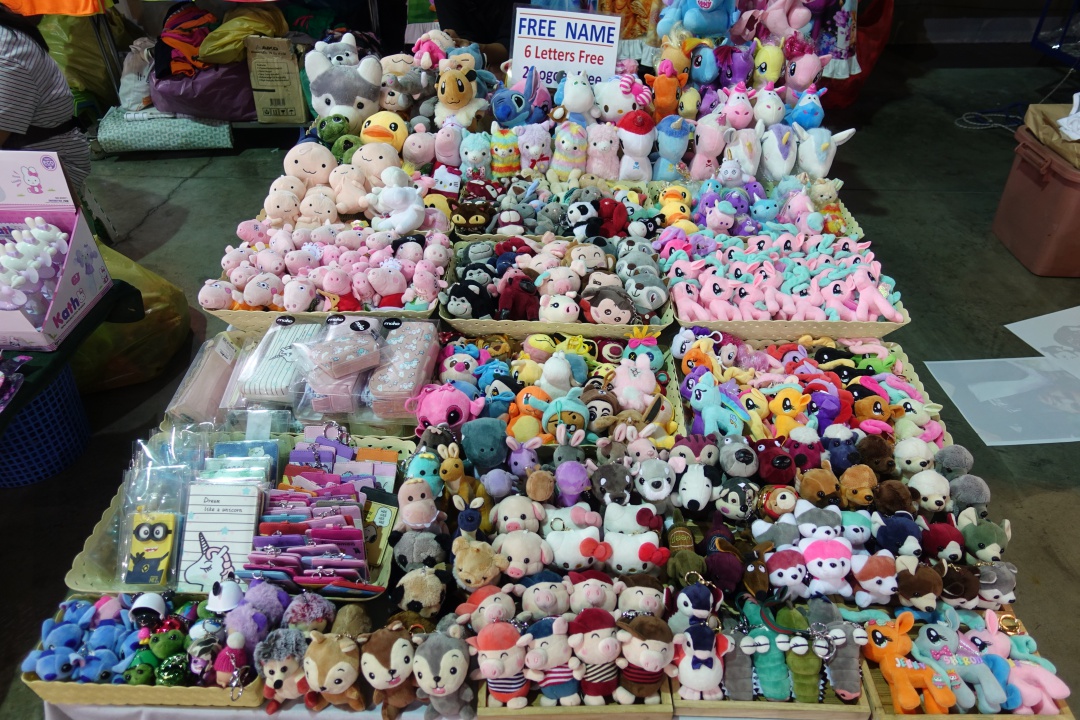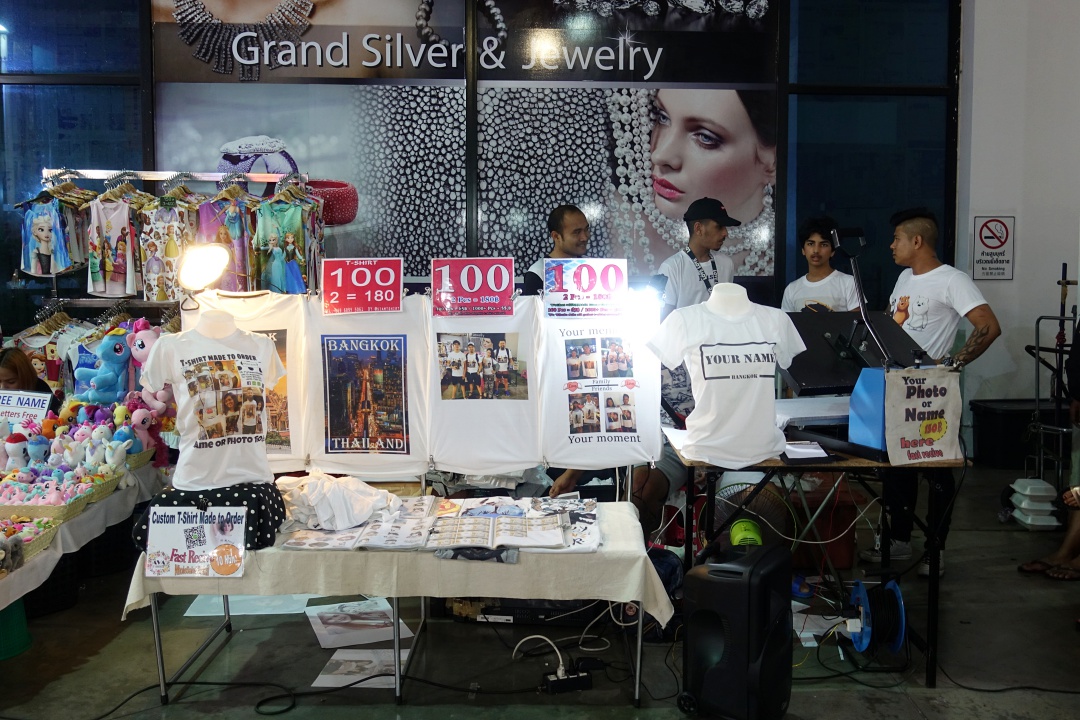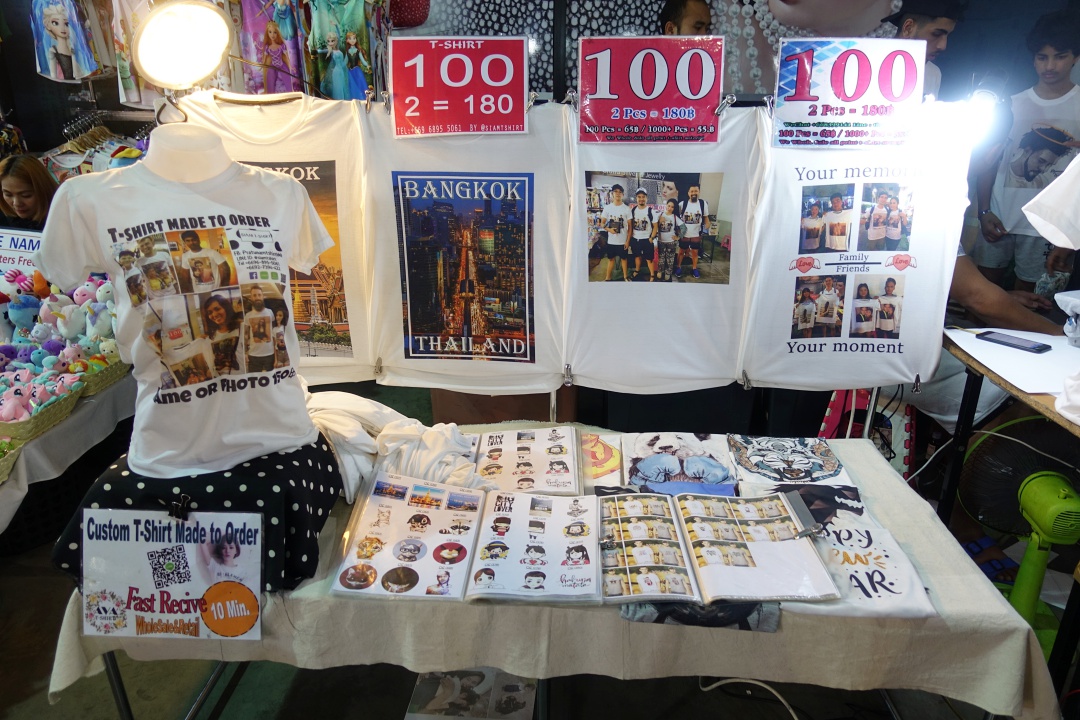 Custom t-shirt at THB100 for one and THB180 for two.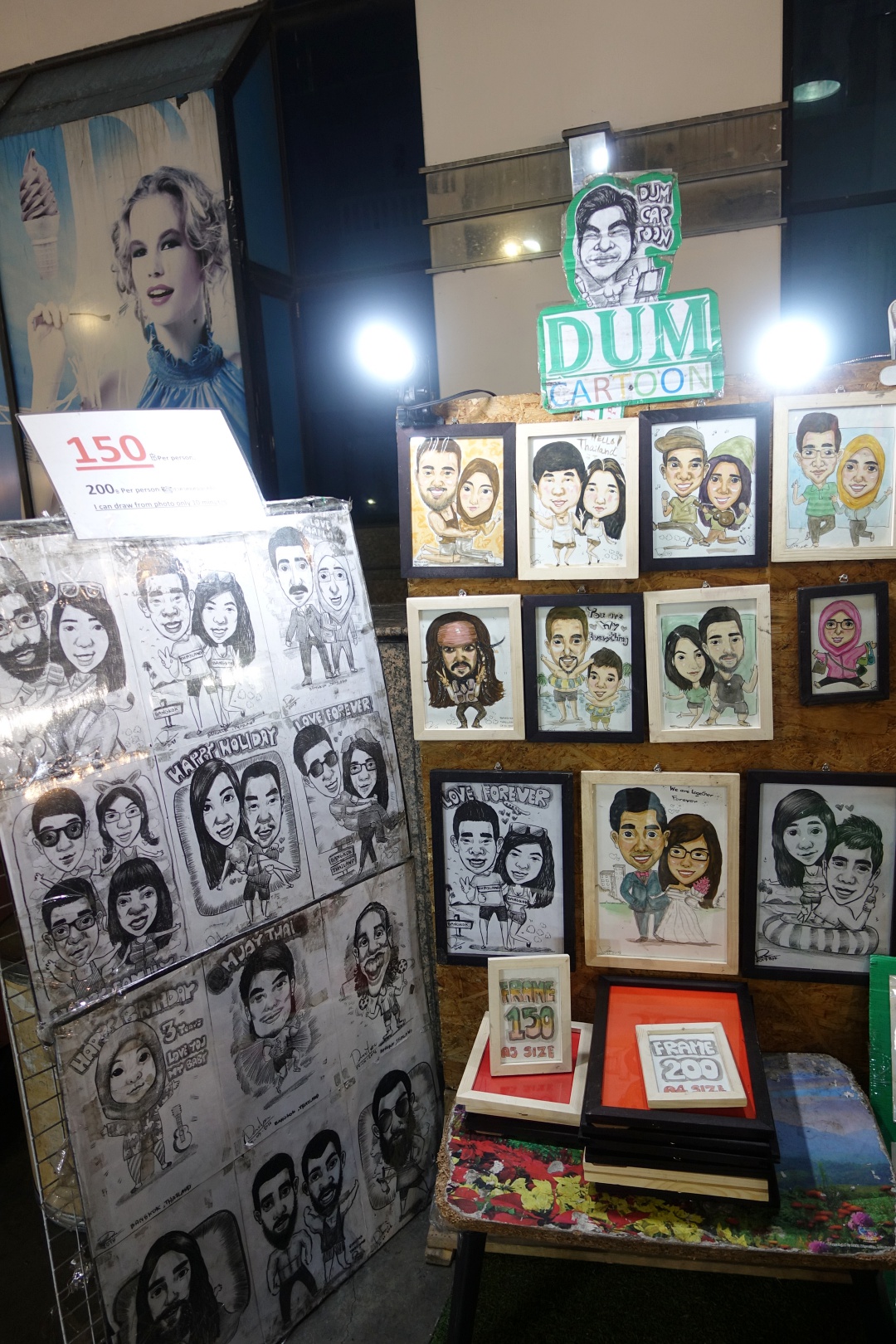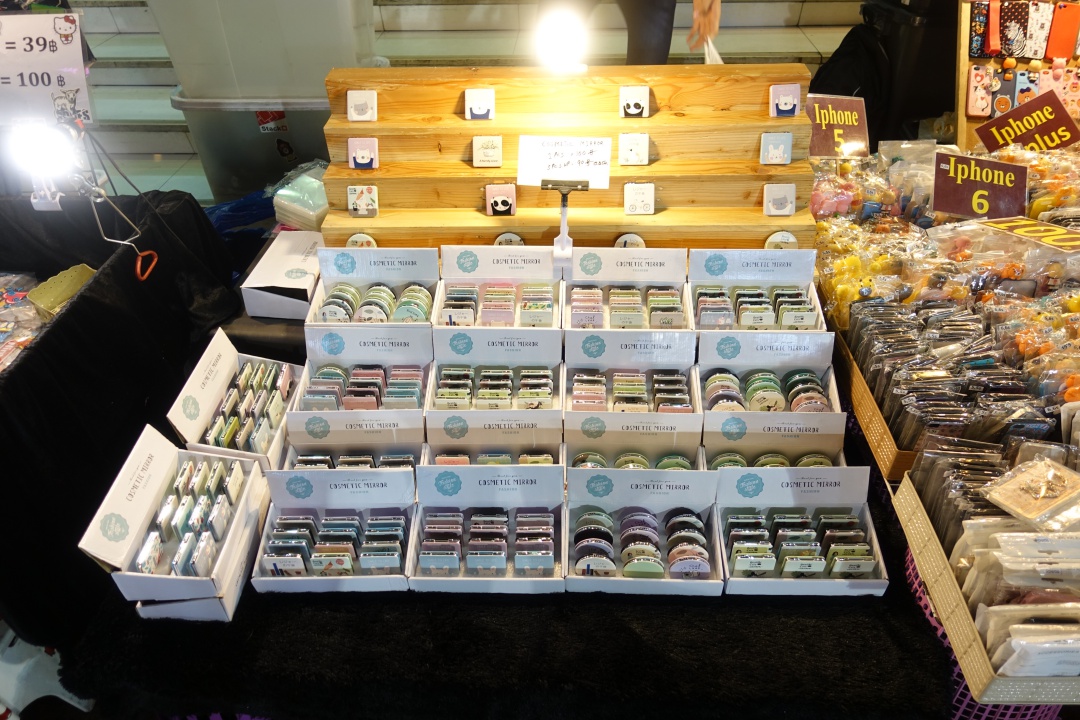 Personally, there isn't much for me to buy here so I can be done with my shopping quite quickly. However, if you plan to do customised items, then you definitely need to cater more time because often you'll have to wait in the queue.
The night market is open till around midnight so if you're shopping in the malls around this area, you can consider dropping by Palladium Night Market and Talad NEON Night Market right after.
---
Done with shopping at Palladium Night Market, we then called for an Uber to get to Rod Fai Night Market Ratchada (THB143). Located behind Esplanade Mall, Rod Fai Night Market II is much nearer to where our hotel was as compared to the original Talad Rod Fai Night Market (behind Seacon Square). However, the scale for Talad Rod Fai Night Market is way bigger so if time is not a concern, then I would recommend going to Talad Rod Fai Night Market.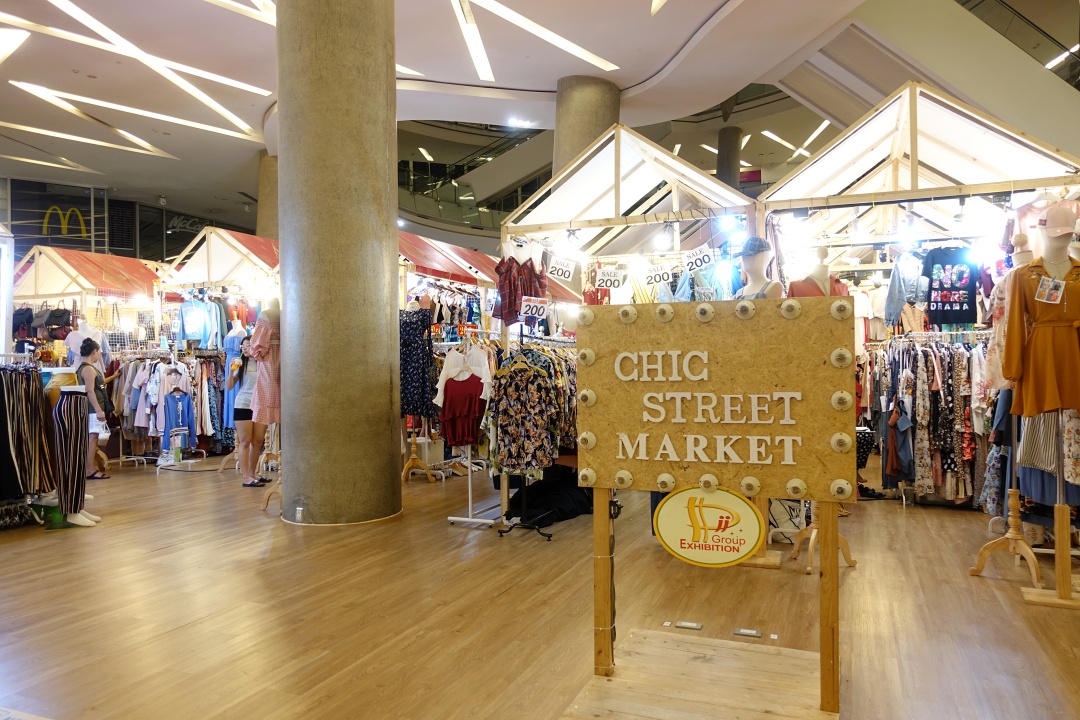 Went into Esplanade Mall and saw they have this Chic Street Market set up on the ground floor. Most of them were selling clothes and mobile phone accessories.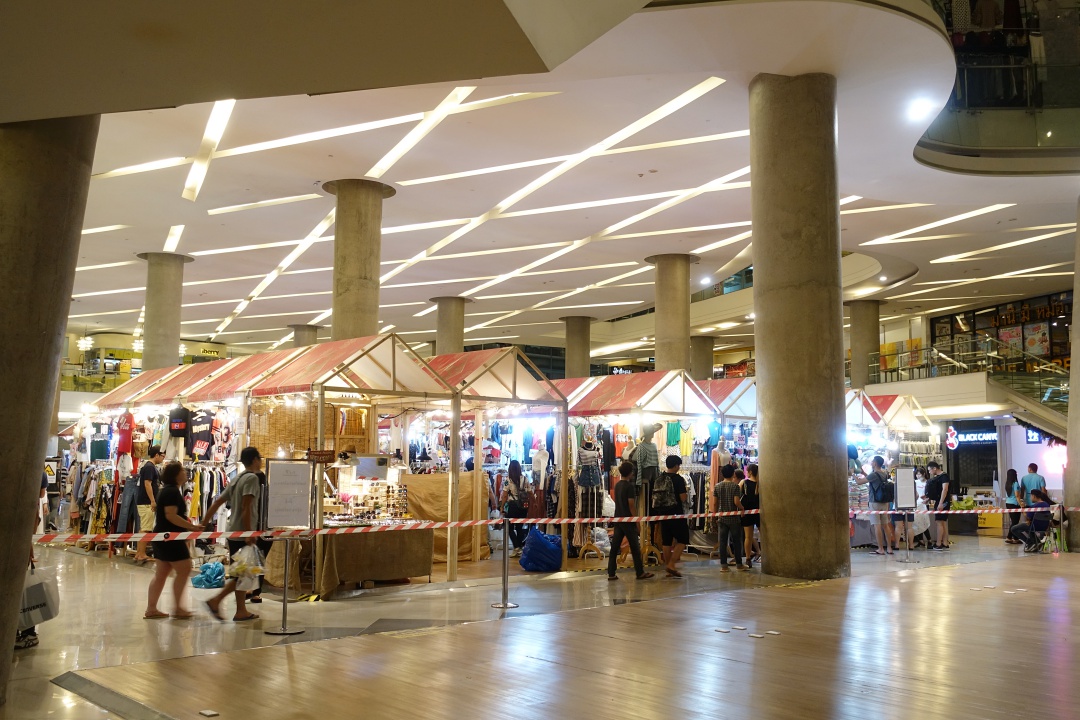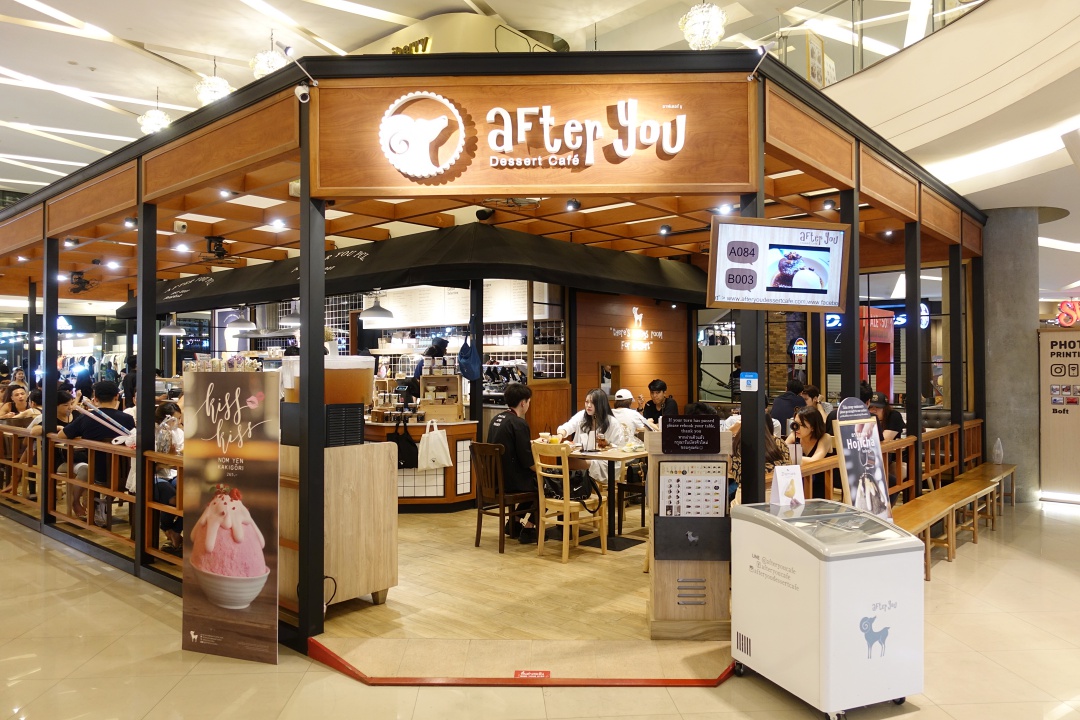 Spotted: After You Dessert Cafe.
Rod Fai Night Market Ratchada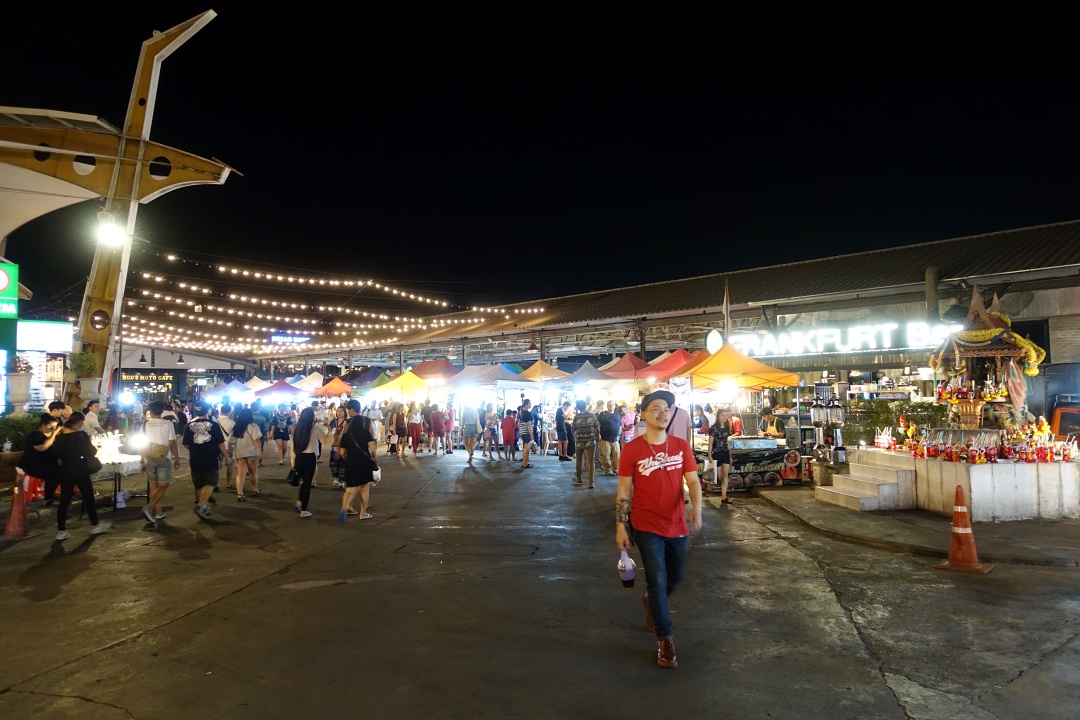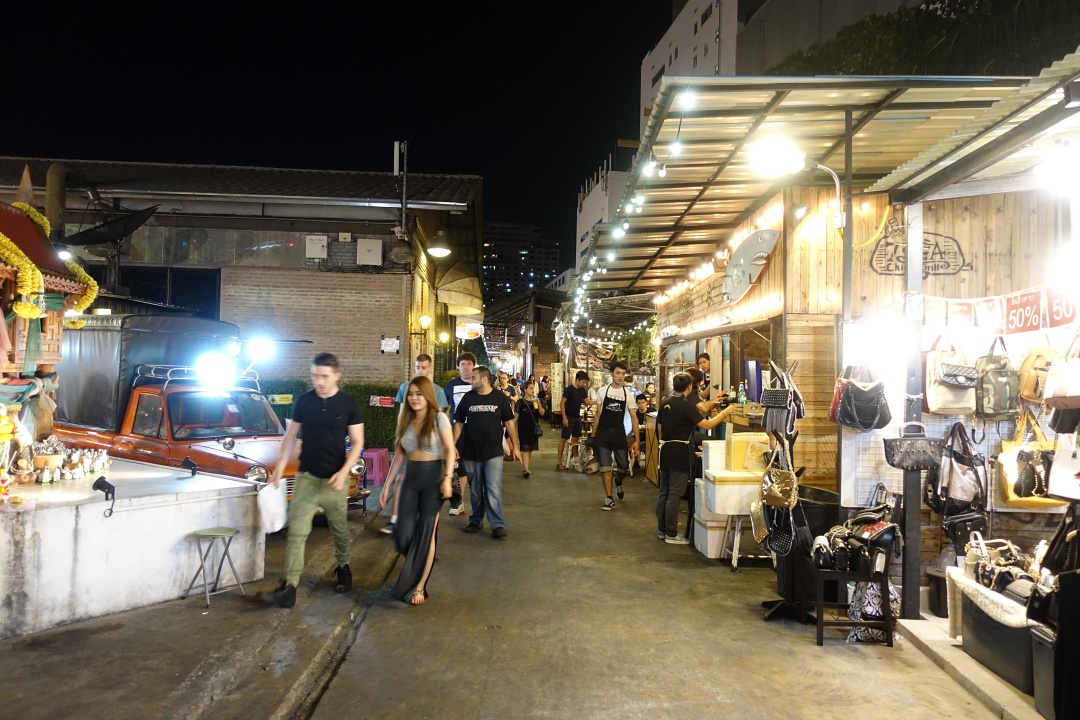 We started with the food lanes on the right of the night market, before making our way to the actual shopping on the left.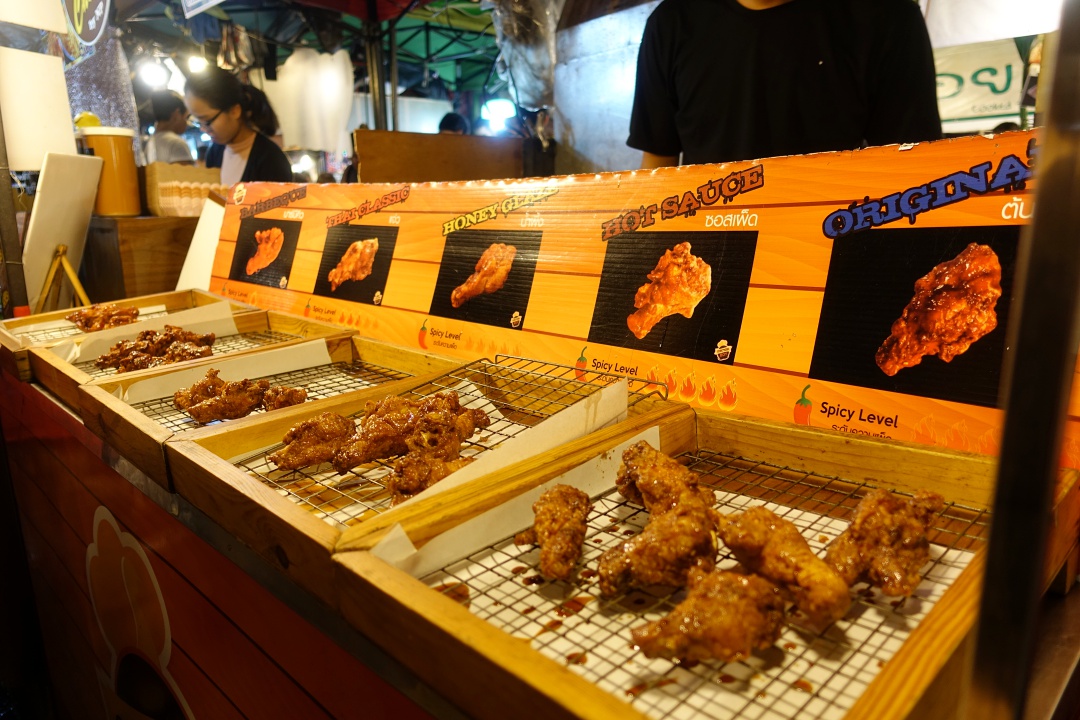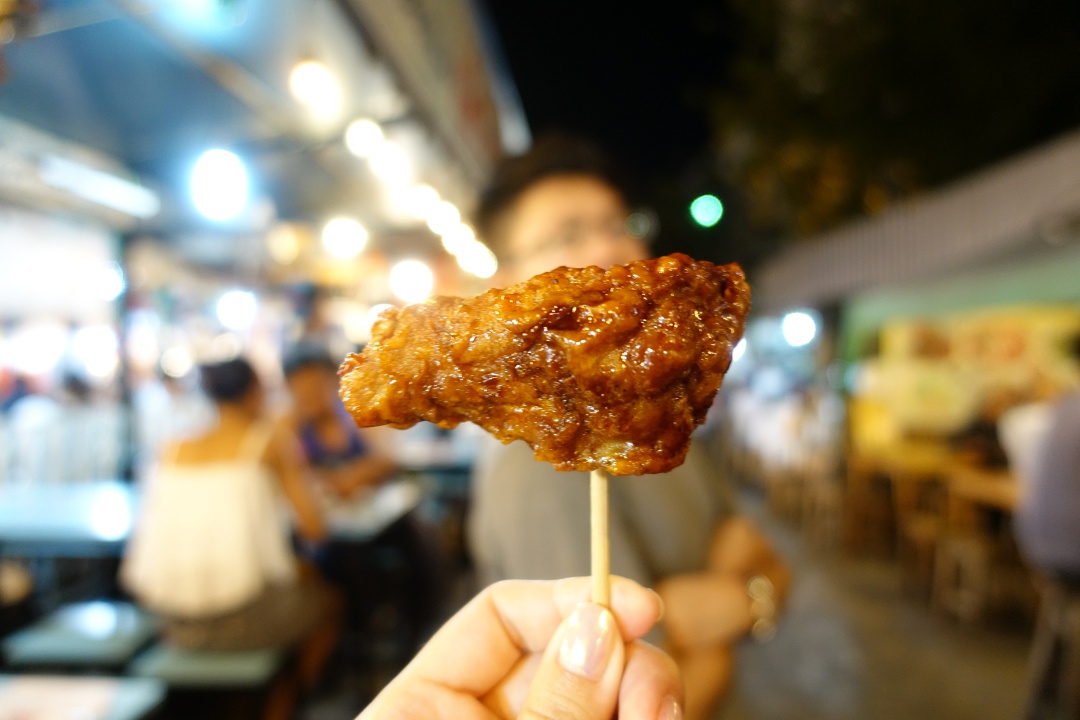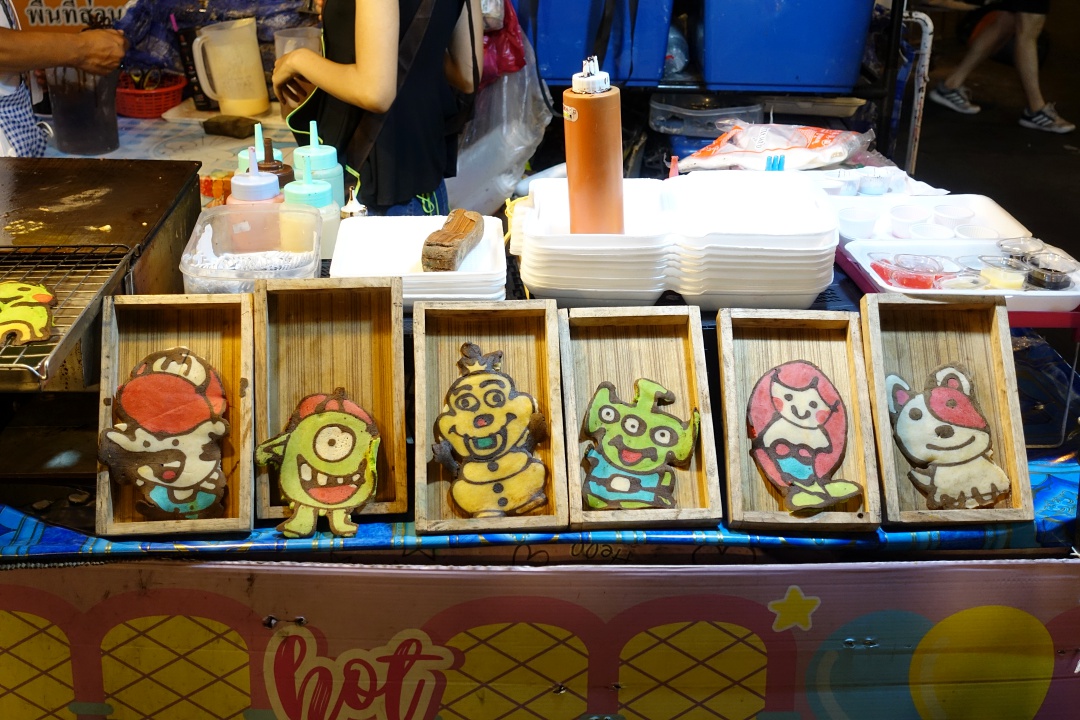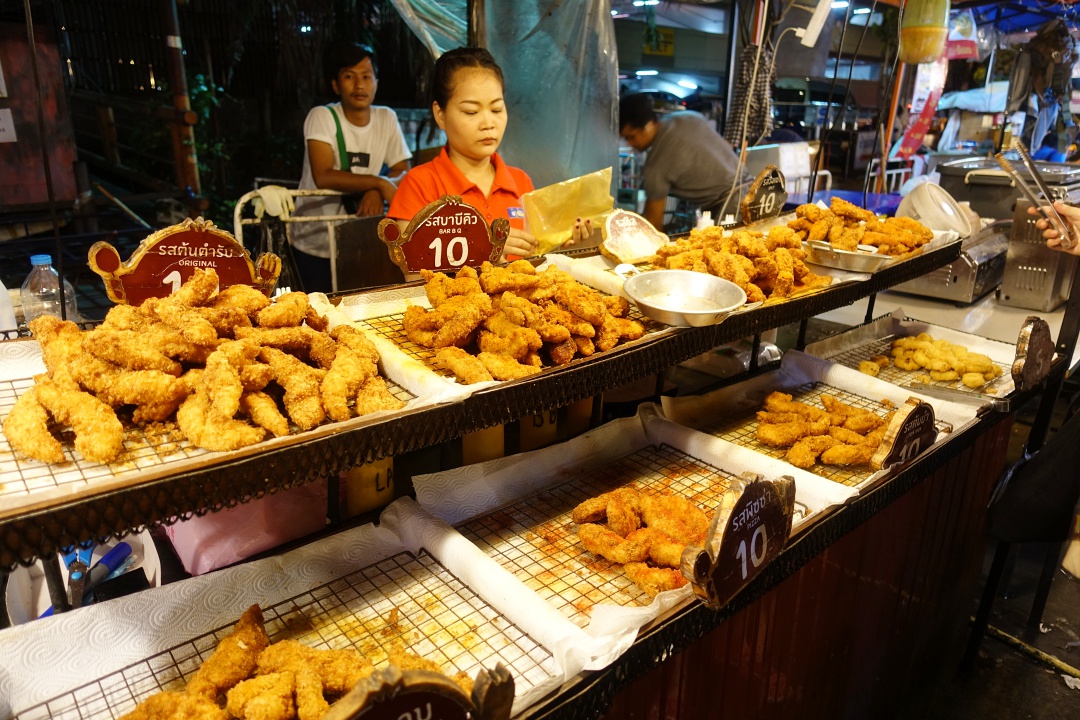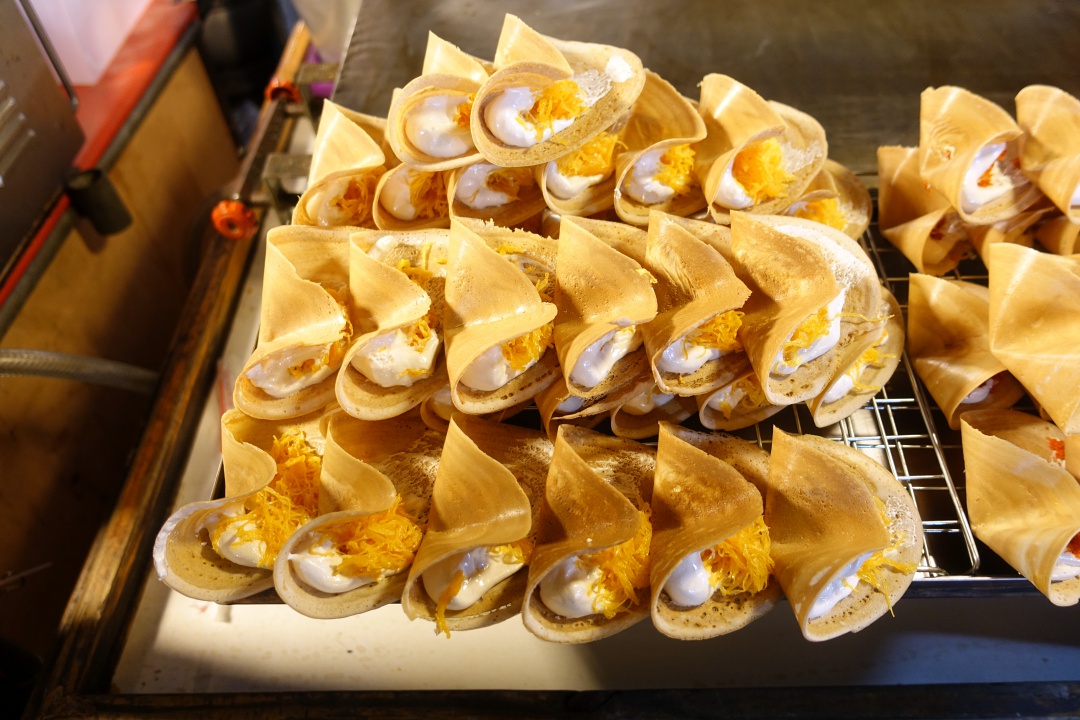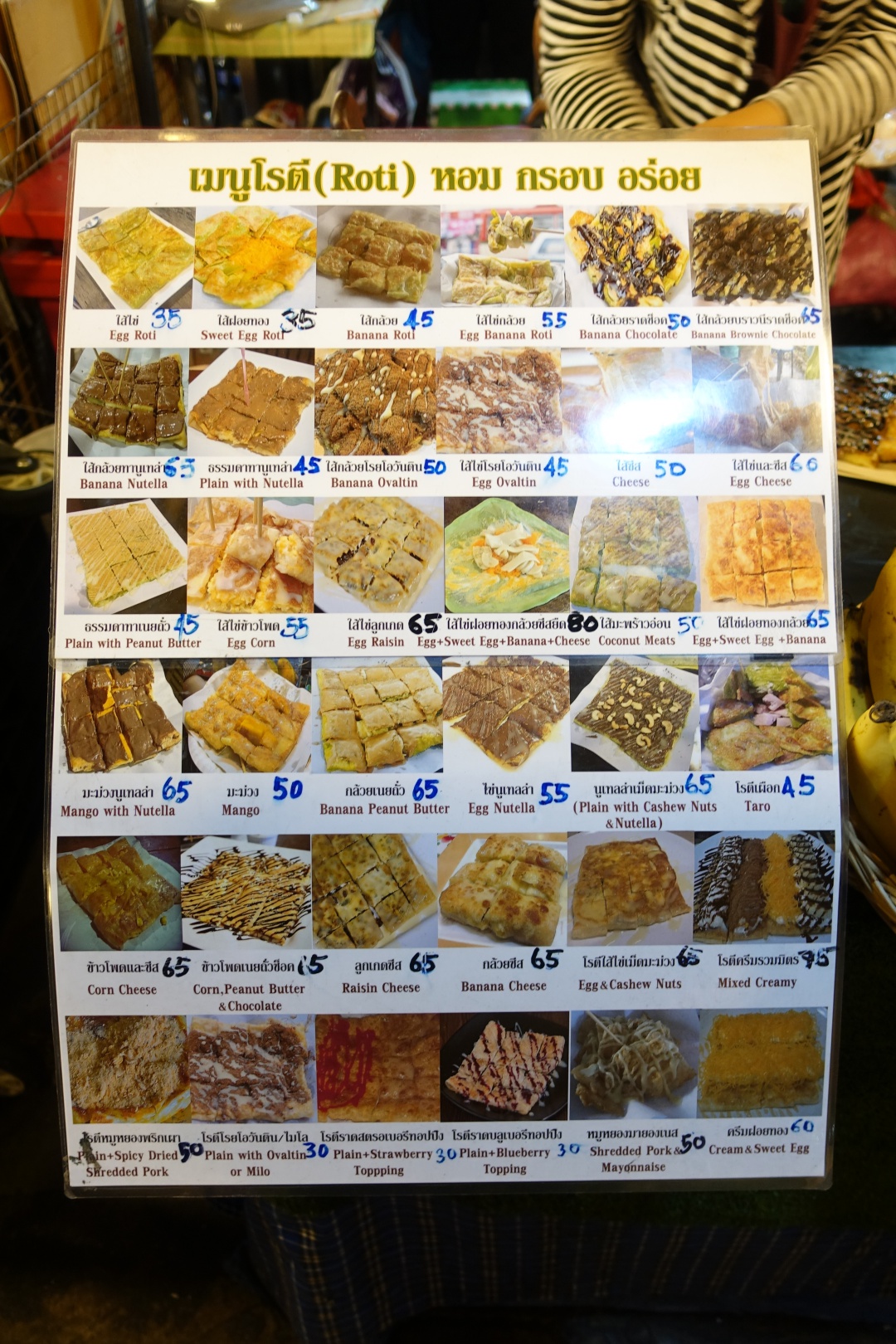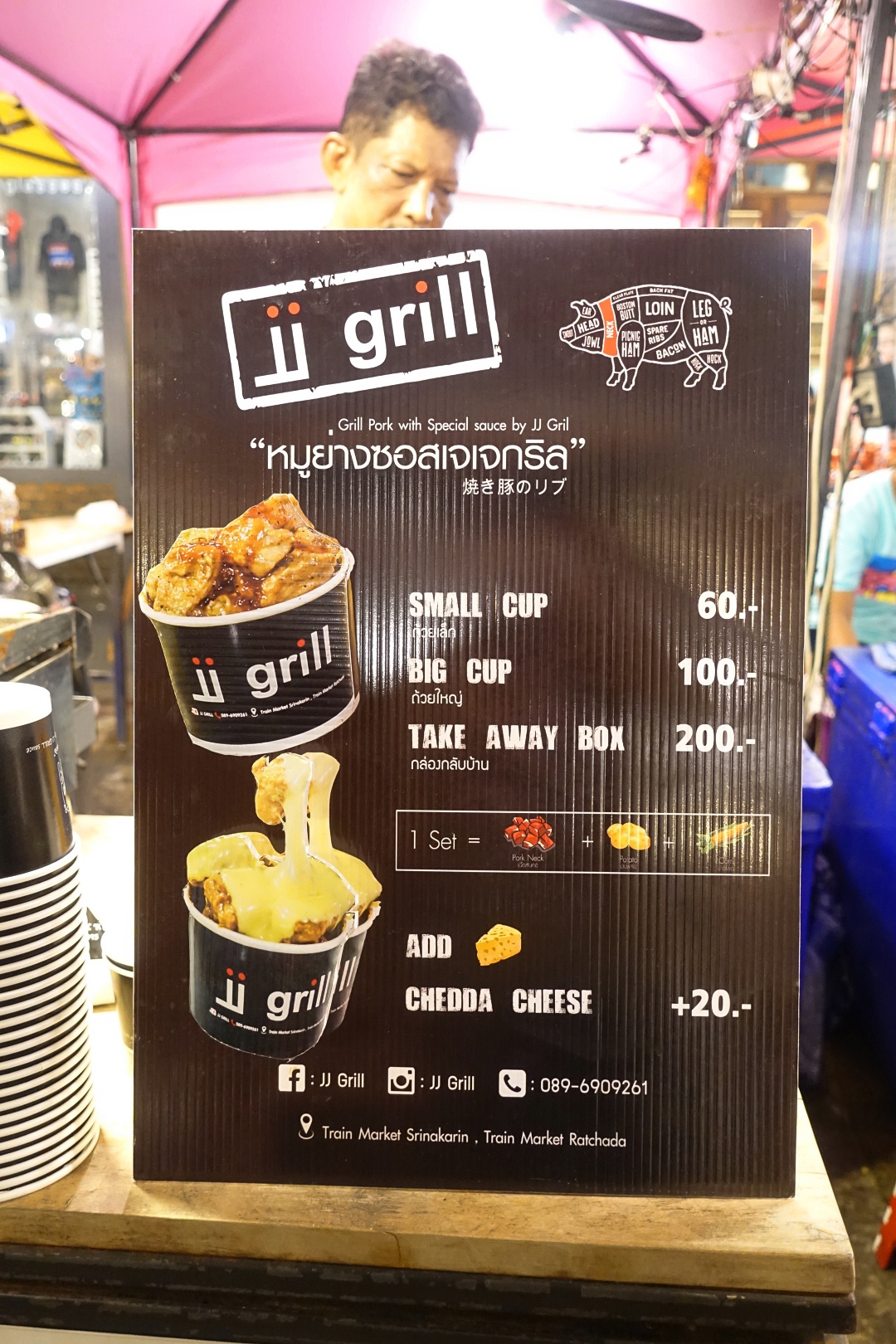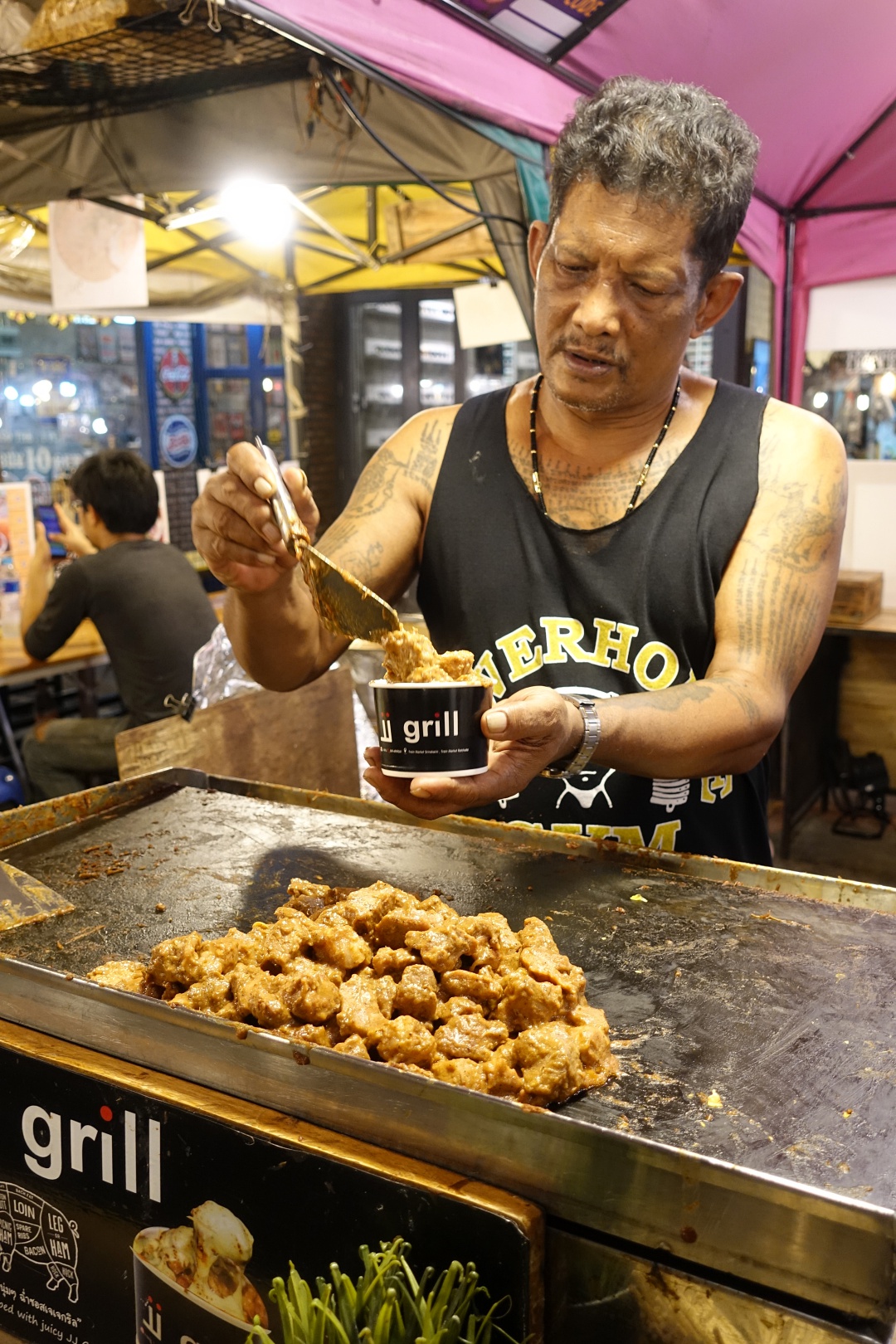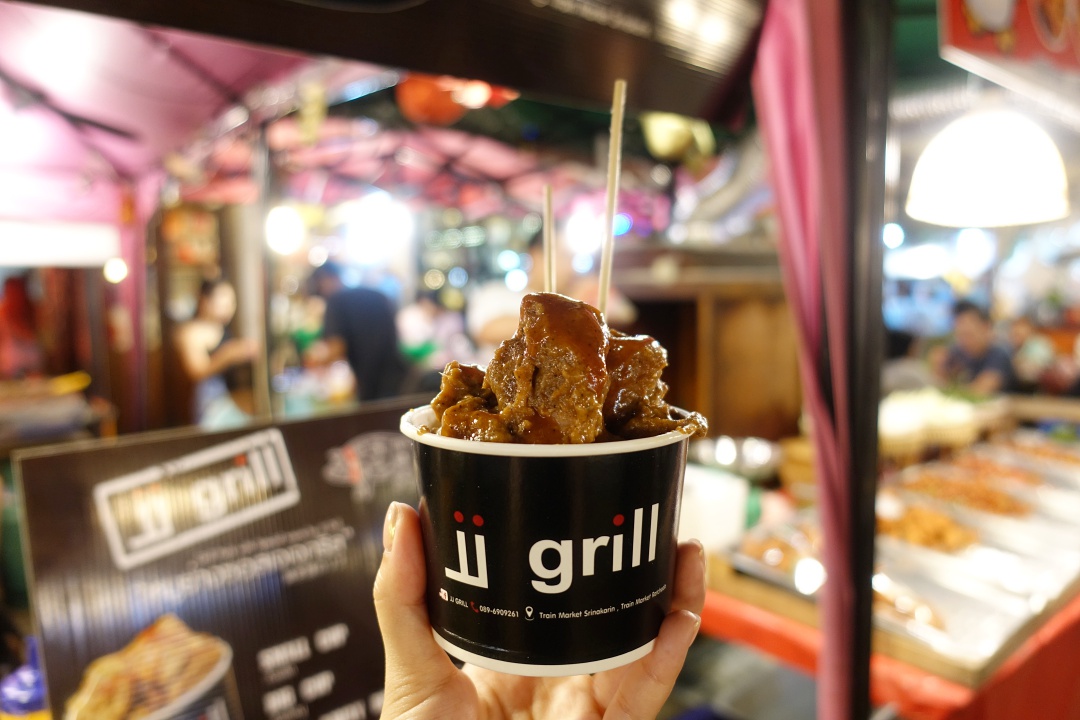 Tried this Grill Pork with Special Sauce. It was not too bad but definitely meant for sharing as the sauce does get a little heavy after awhile.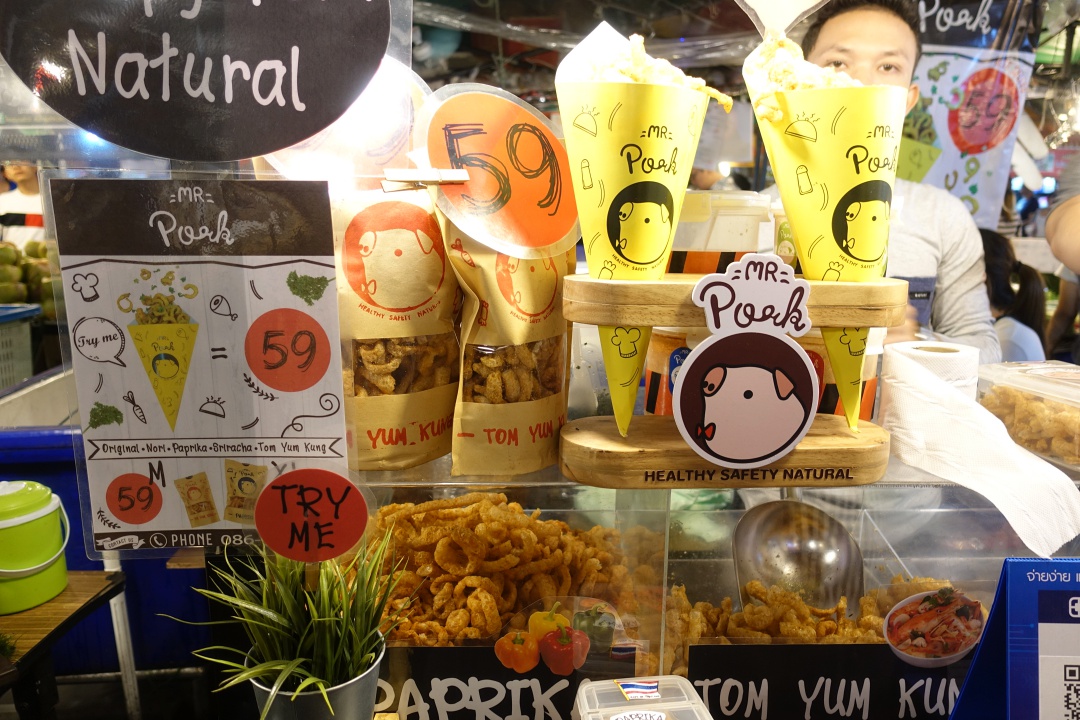 Moving on to actual shopping…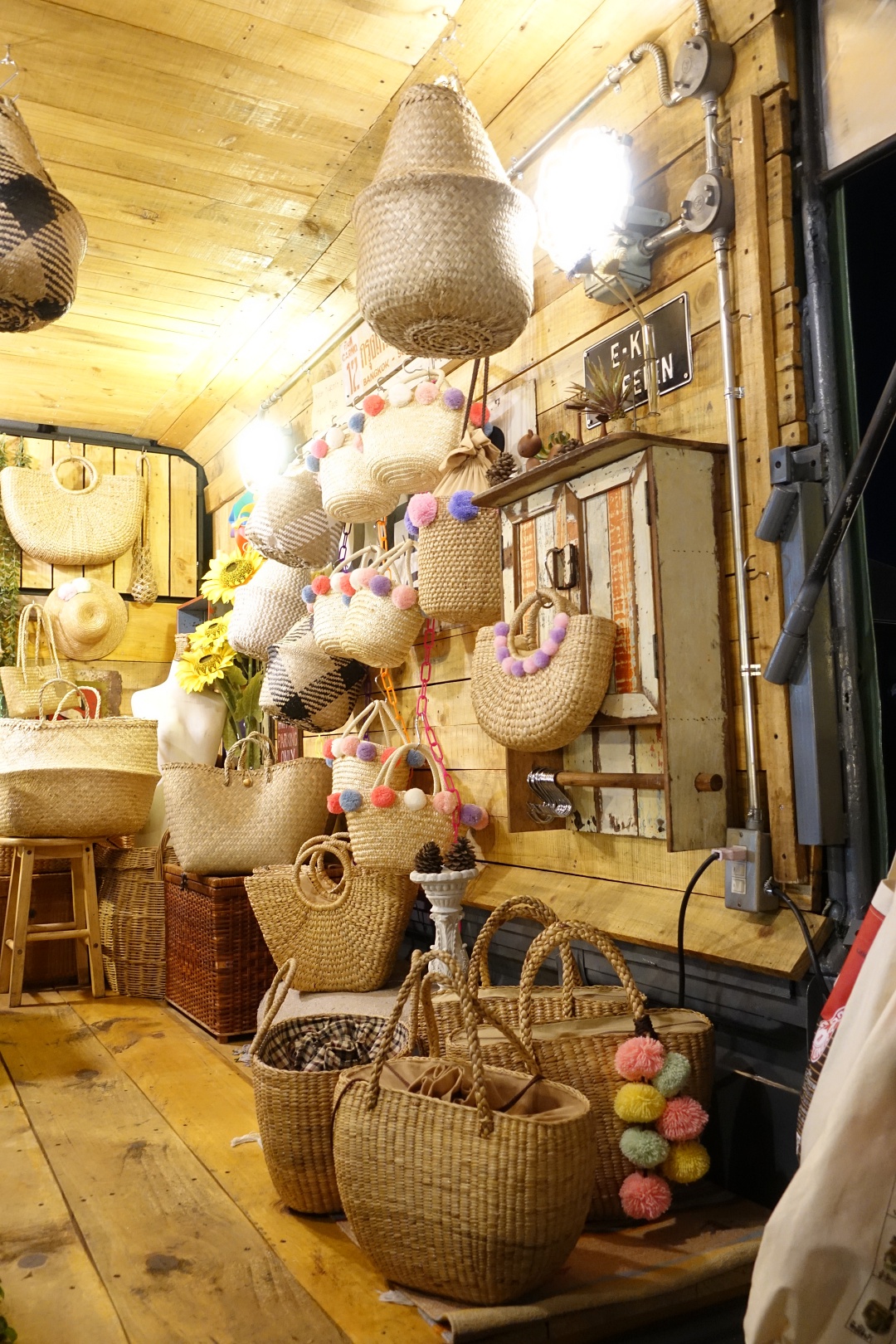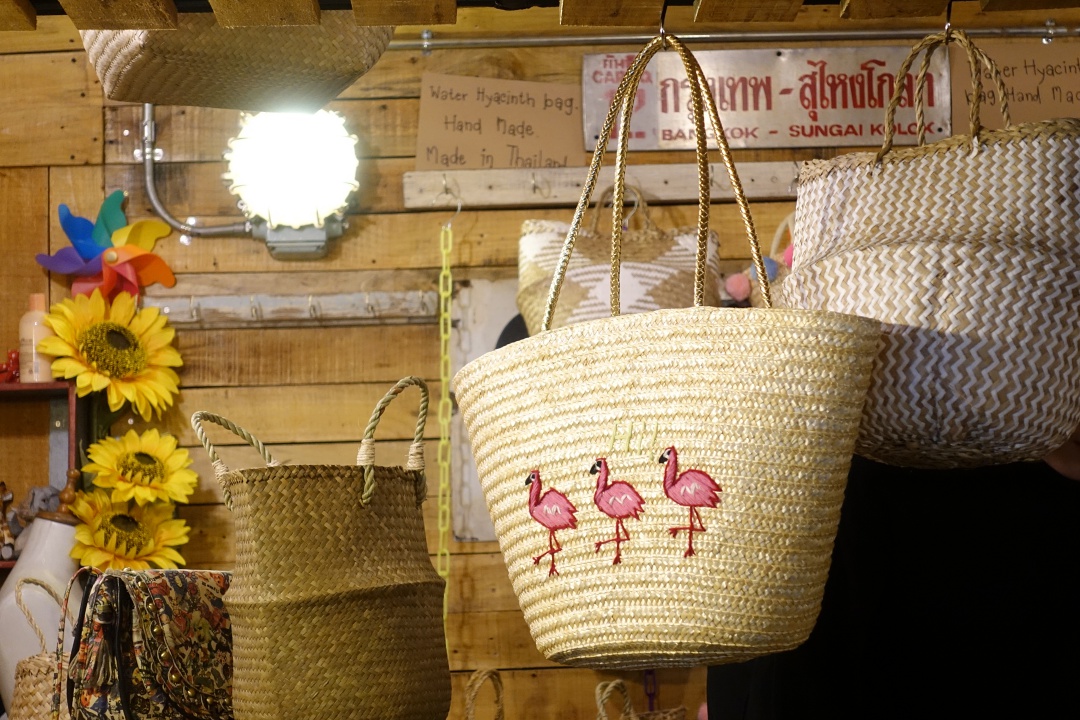 Spotted these pretty flamingo tote bag and sunhat. Can't remember how much I was quoted for the hat, but I subsequently managed to find it at a lower price in Bangkok's Chinatown.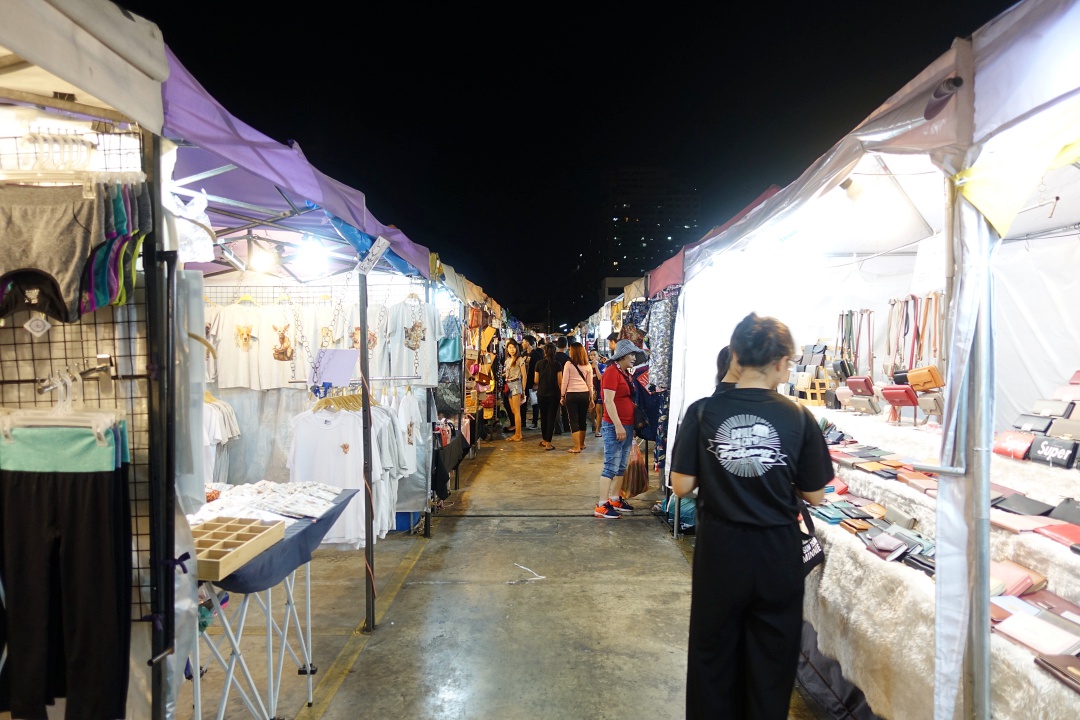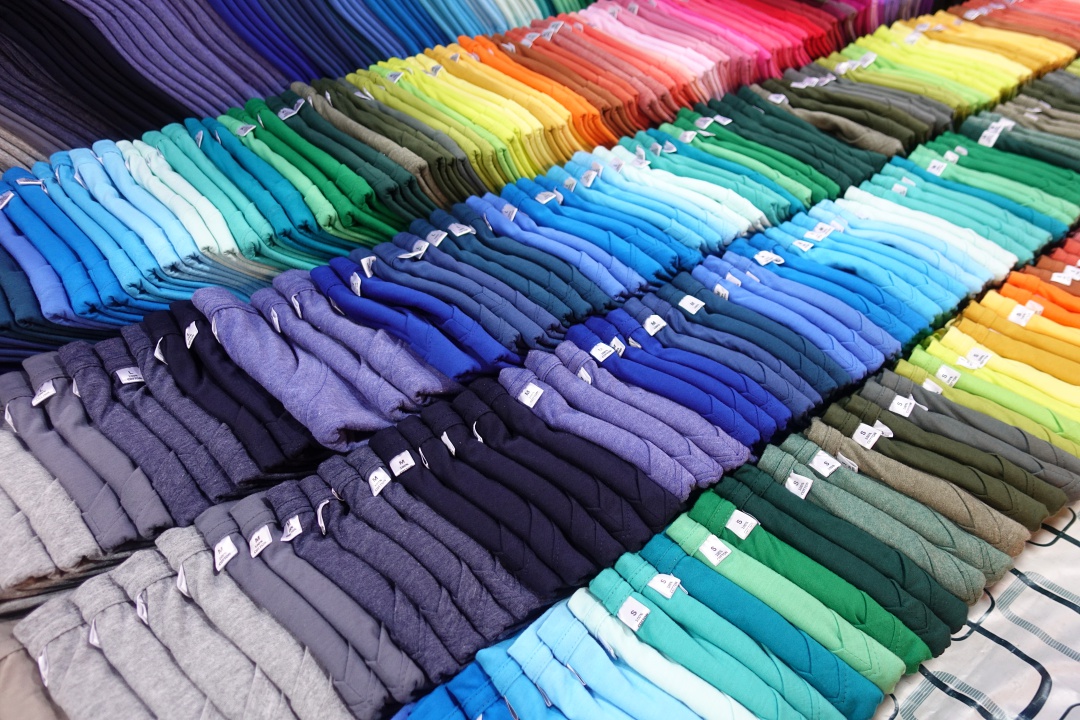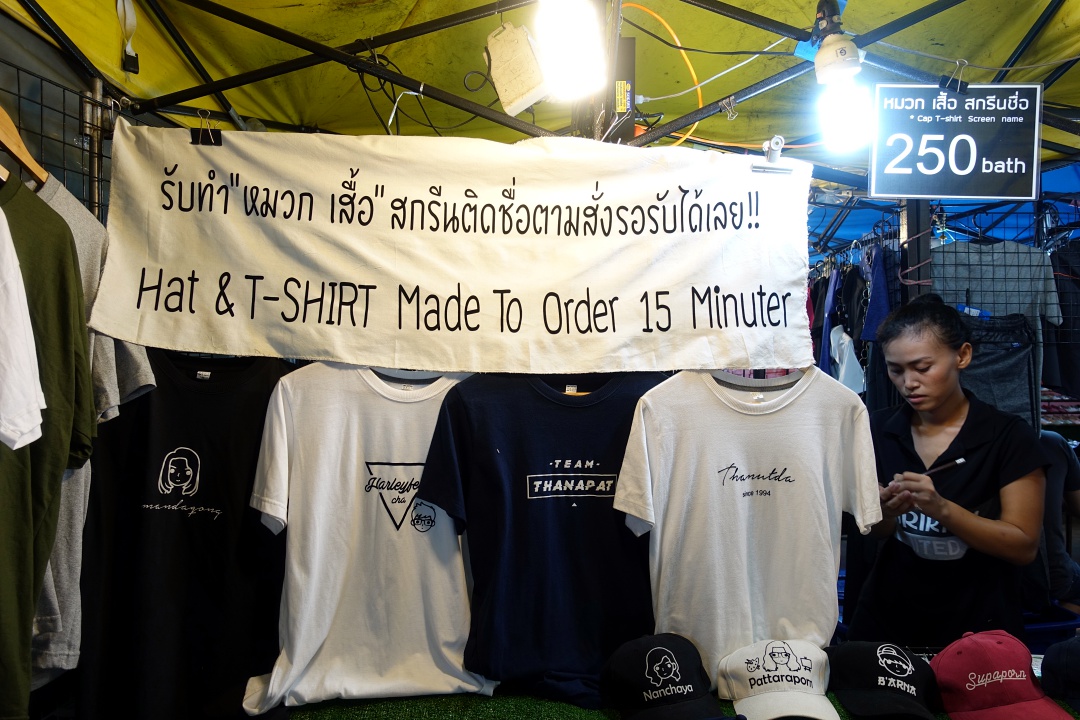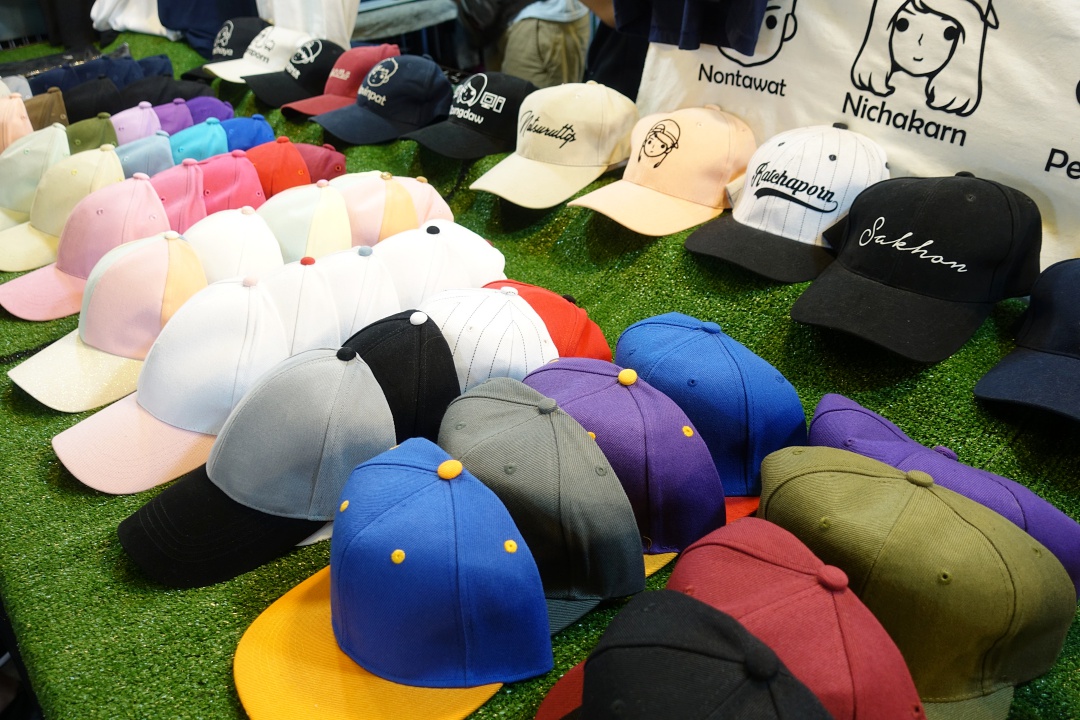 Custom t-shirts and caps for THB250.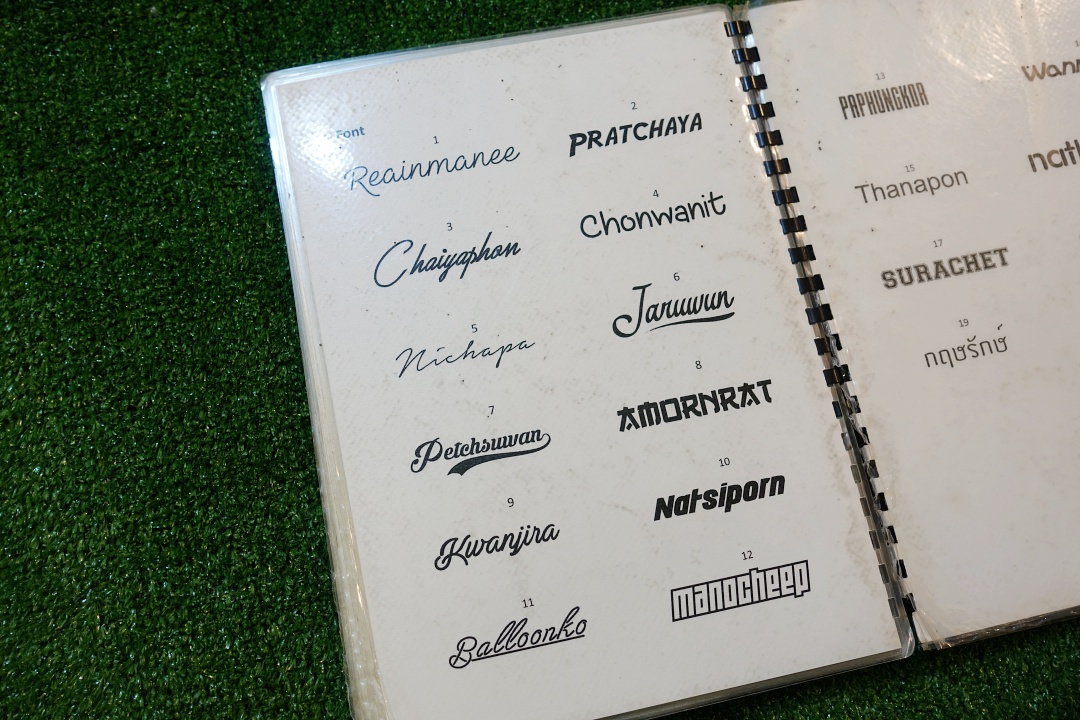 With your choice of font.
Saw the Husband making one, and I ended up doing one too.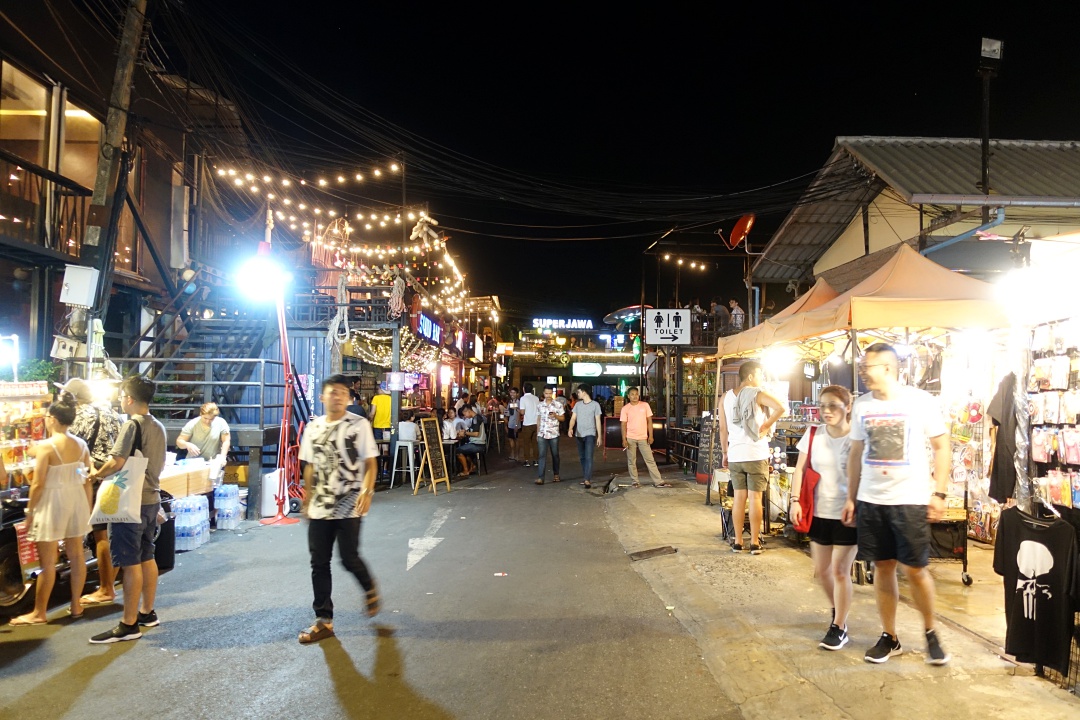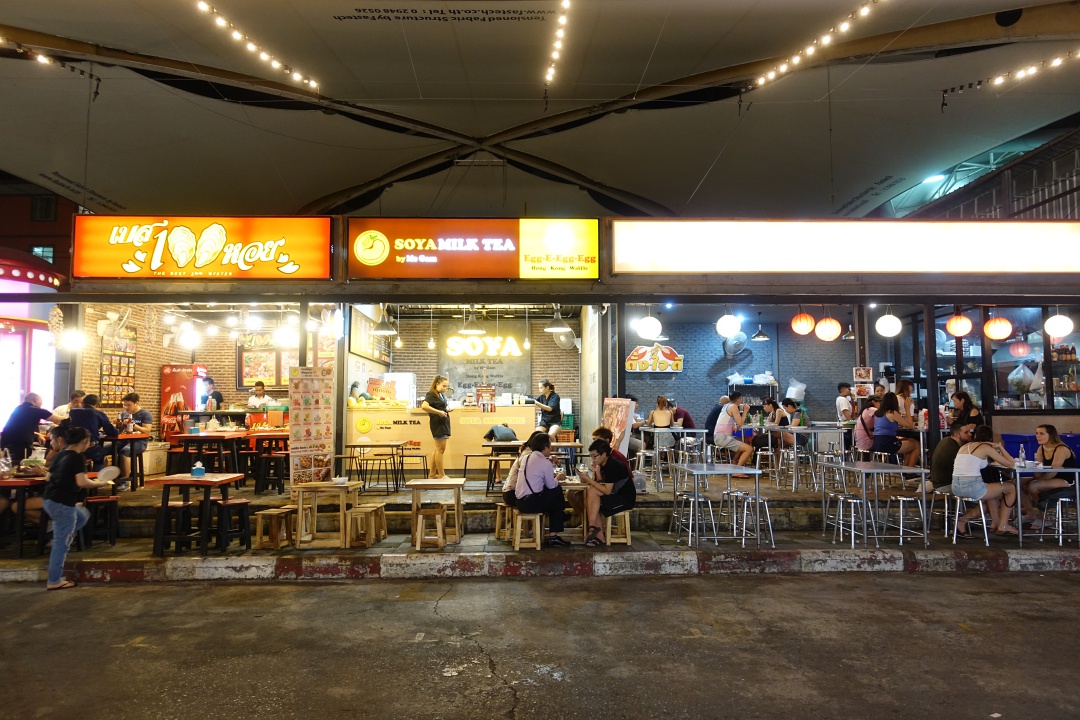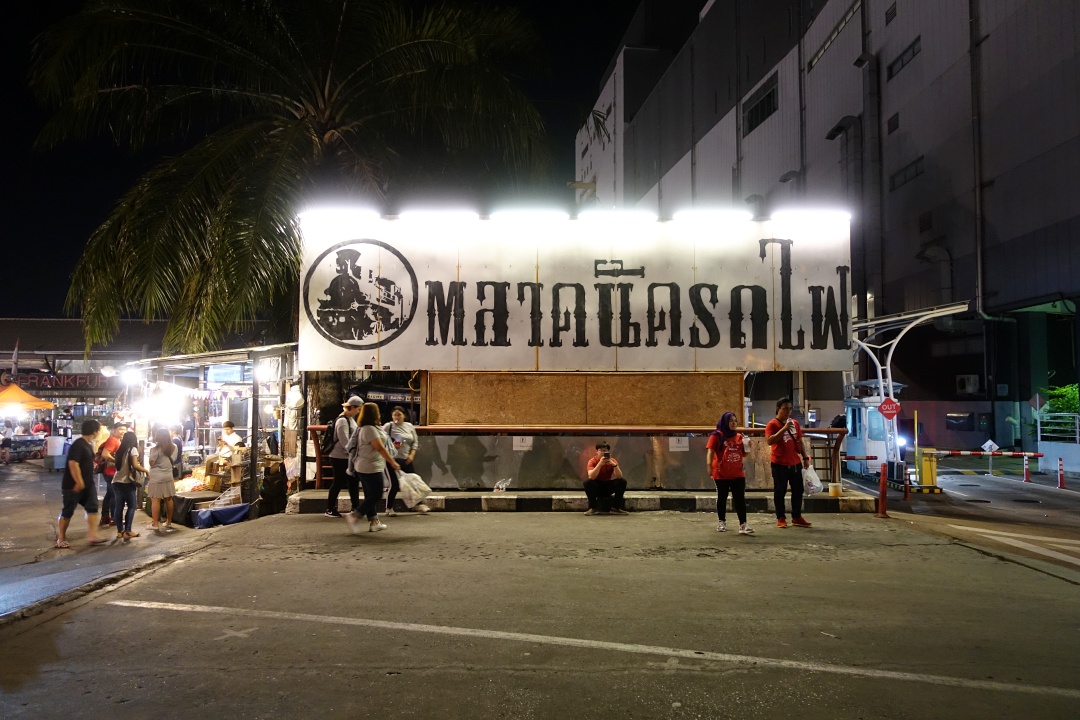 ---
And that's it for Day 1 in Bangkok! Considering I'm not one that preplans my itinerary when it comes to Bangkok, I think we did well for Day 1! Having my sisters with us on this trip, I tried to pack in as much shopping as possible, especially since we were only there for four days. Being able to cover three places was quite an achievement I feel.
The following day saw us going to After You Dessert Cafe in Central World, Siam and Talad NEON Night Bazaar.