Starting Day 3 in Bangkok with breakfast, followed by a trip to Yaowarat Road, which is also known as the Chinatown of Bangkok! We took a taxi there this time around, and it costs only THB155. I vaguely remembered paying THB200 or THB250 in the past.
Yaowarat Road | Chinatown
While most tourists visit Chinatown at night for the affordable seafood, shark fins and bird nests, I prefer to go there in the morning or early afternoon for the shopping. I love Bangkok's Chinatown so much that I always tried to visit it at least once whenever I came to Bangkok. There are so many things to shop there and often those are things that you won't find elsewhere/at the night markets.
You get to shop like a local and things over there are generally much cheaper. Some of the things you can find in Bangkok's Chinatown include hair accessories, costume jewellery, party supplies, soft toys (and kids items), fabrics, and household products.
For items like hair accessories, they are mostly sold in a pack of six, tens (hair clips) or hundred (hair ties). You won't be able to buy loose pieces, like one or two. However, prices are so affordable that it just makes more economic sense to buy it wholesale instead of buying the same thing from the mall.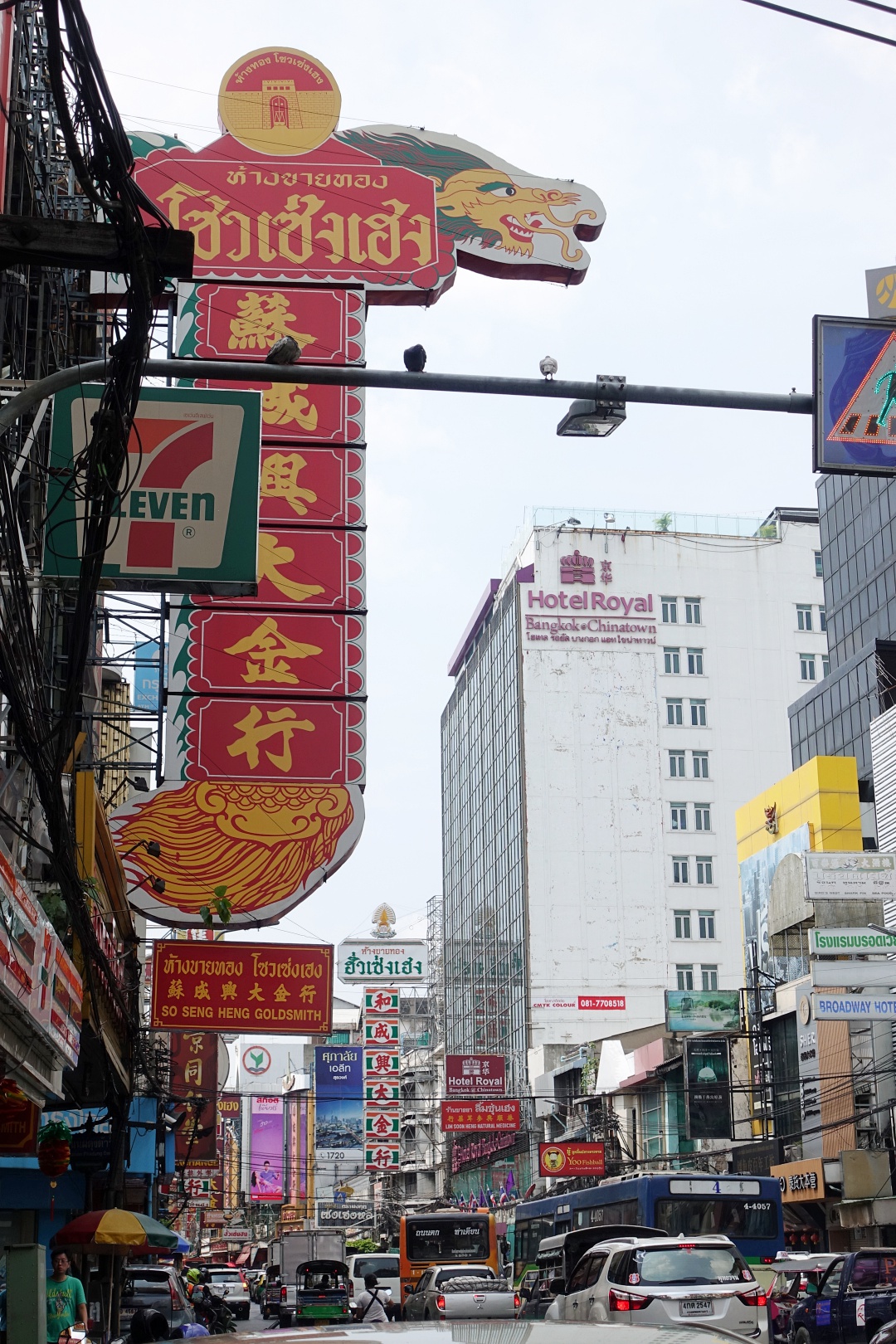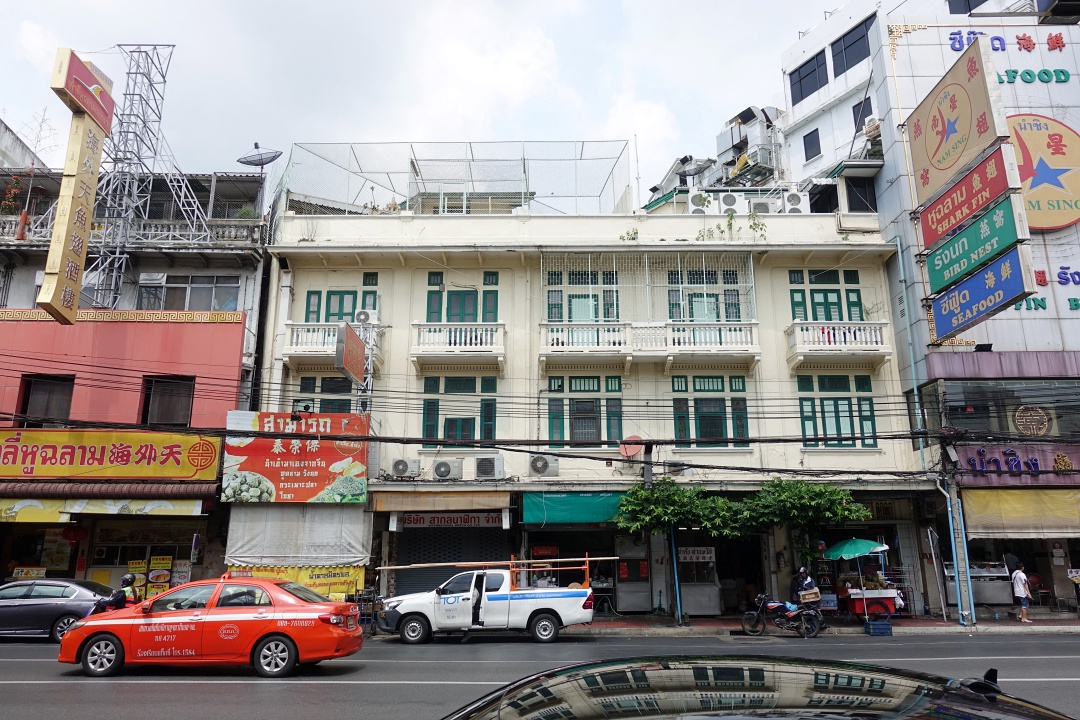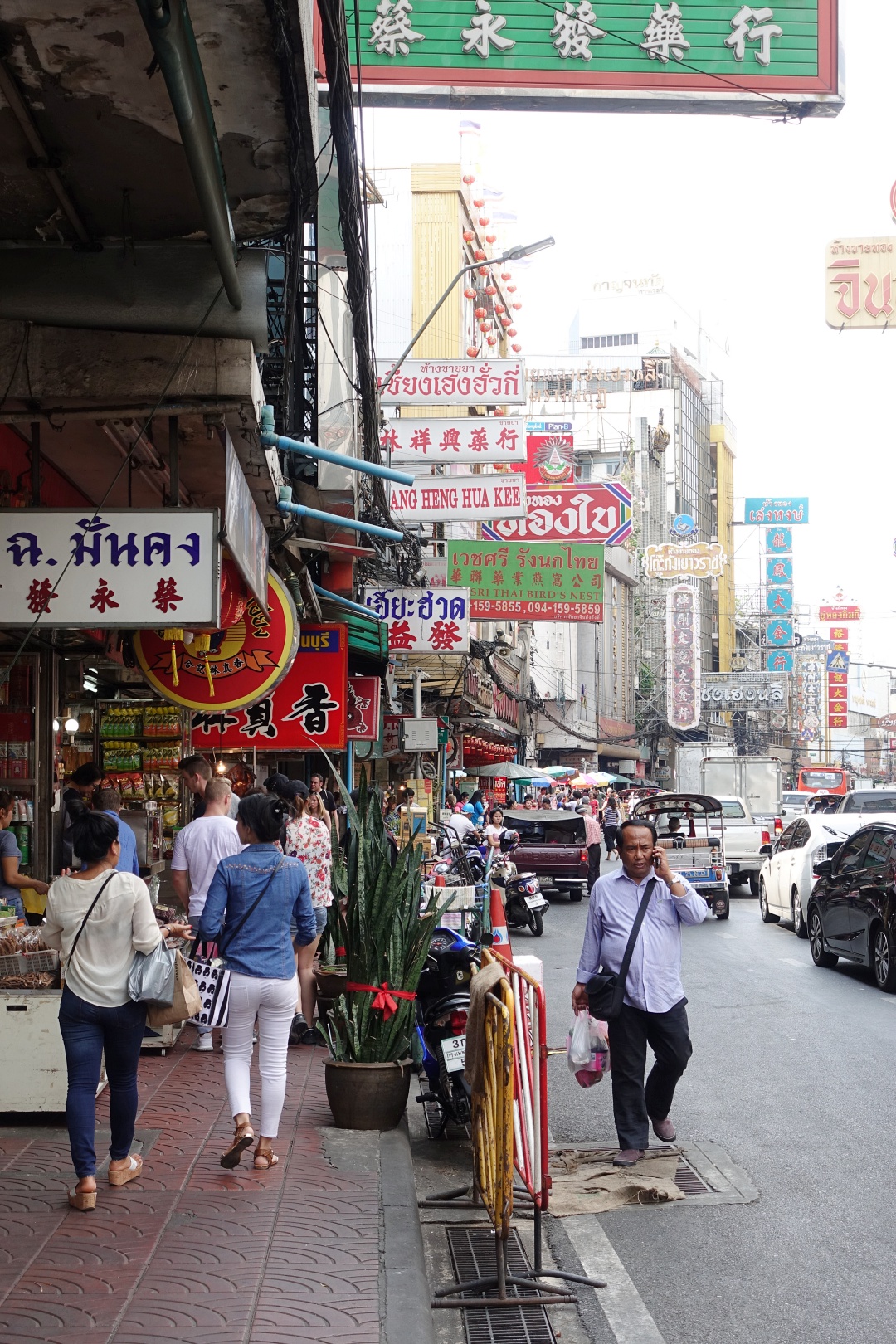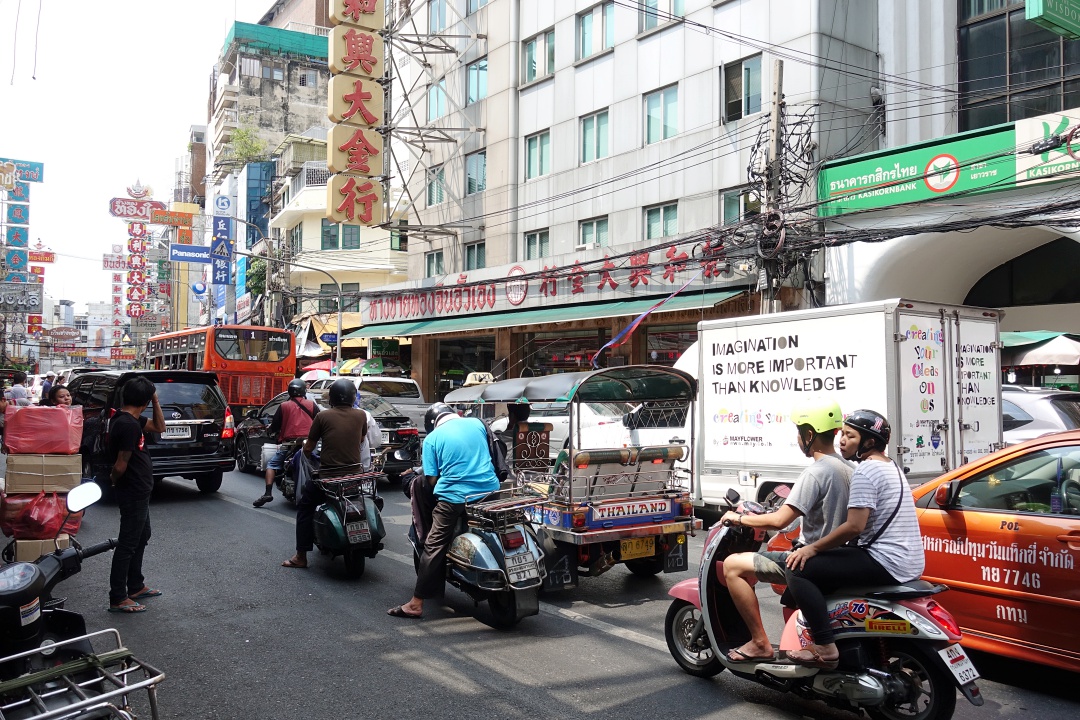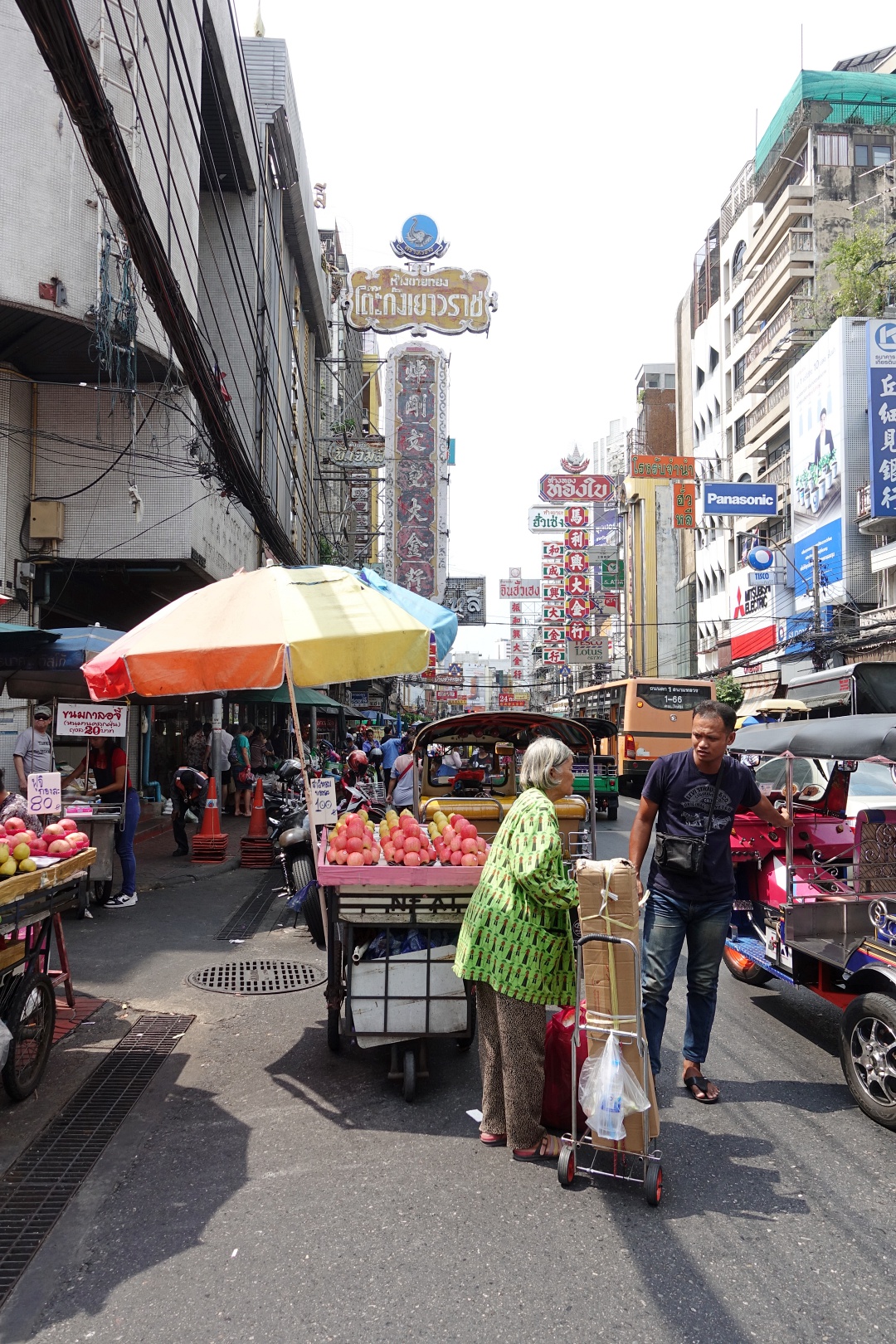 For those visiting Bangkok's Chinatown for the first time, it's hard not to notice a dense concentration of gold shops along the road. Very likely you will come across traditional medical halls, restaurant, shop houses selling dried goods and makeshift stalls selling fresh fruits and juices while walking down the main road. However, there is actually so much more you can find in Chinatown once you walk a little further into the market.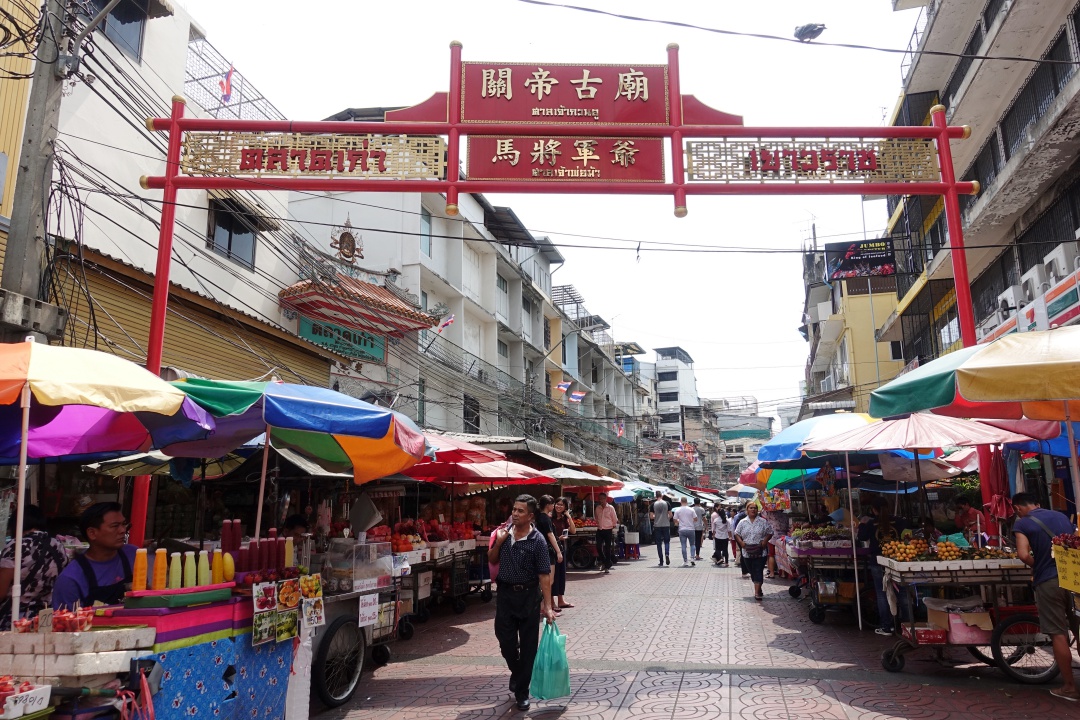 This is where I will usually enter and starts my shopping. Having come here a couple of times, I was kind of able to remember my way there. However, a good reference point is to drop off at Hotel Royal Bangkok Chinatown, then cross the street and turn right. You should be able to easily spot this entrance.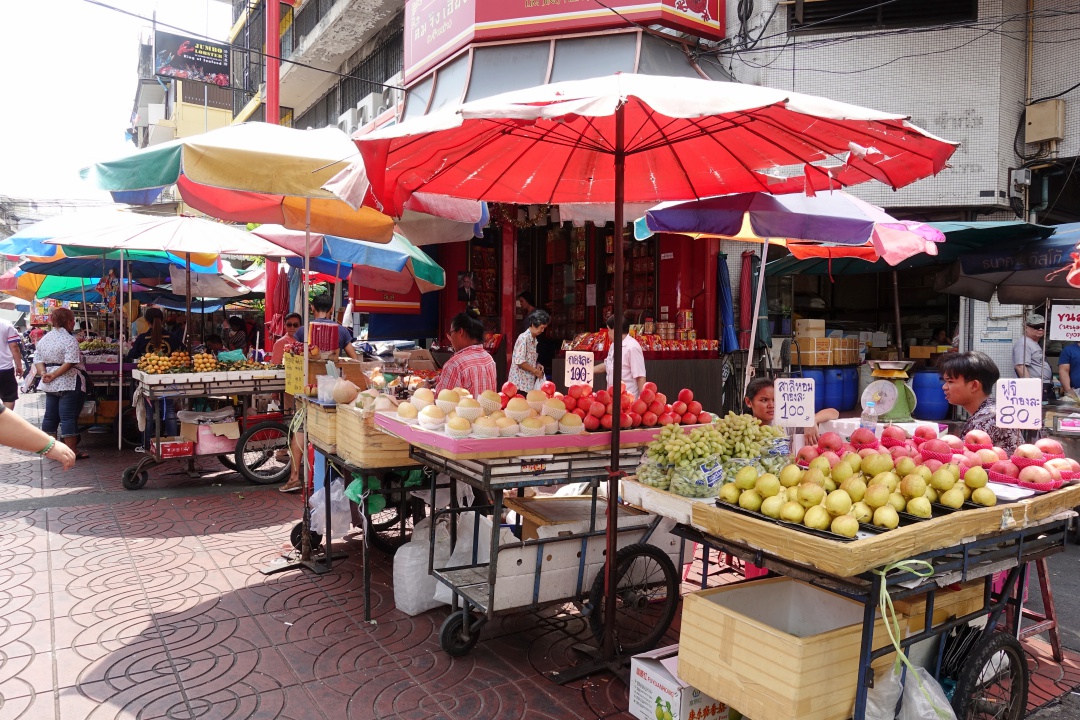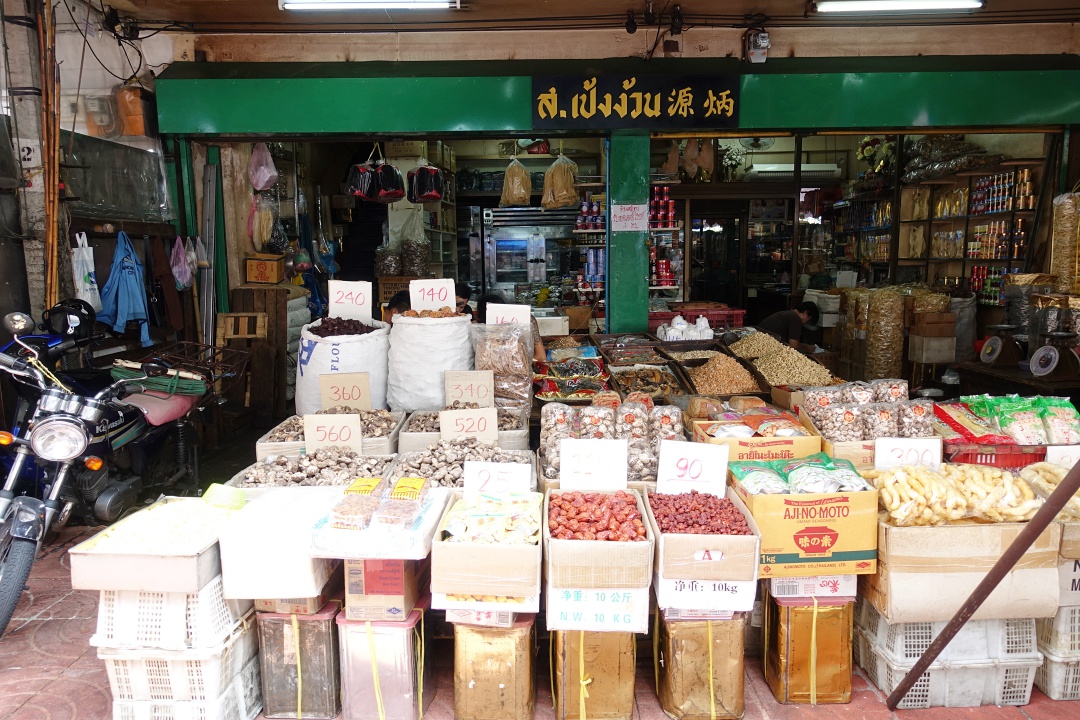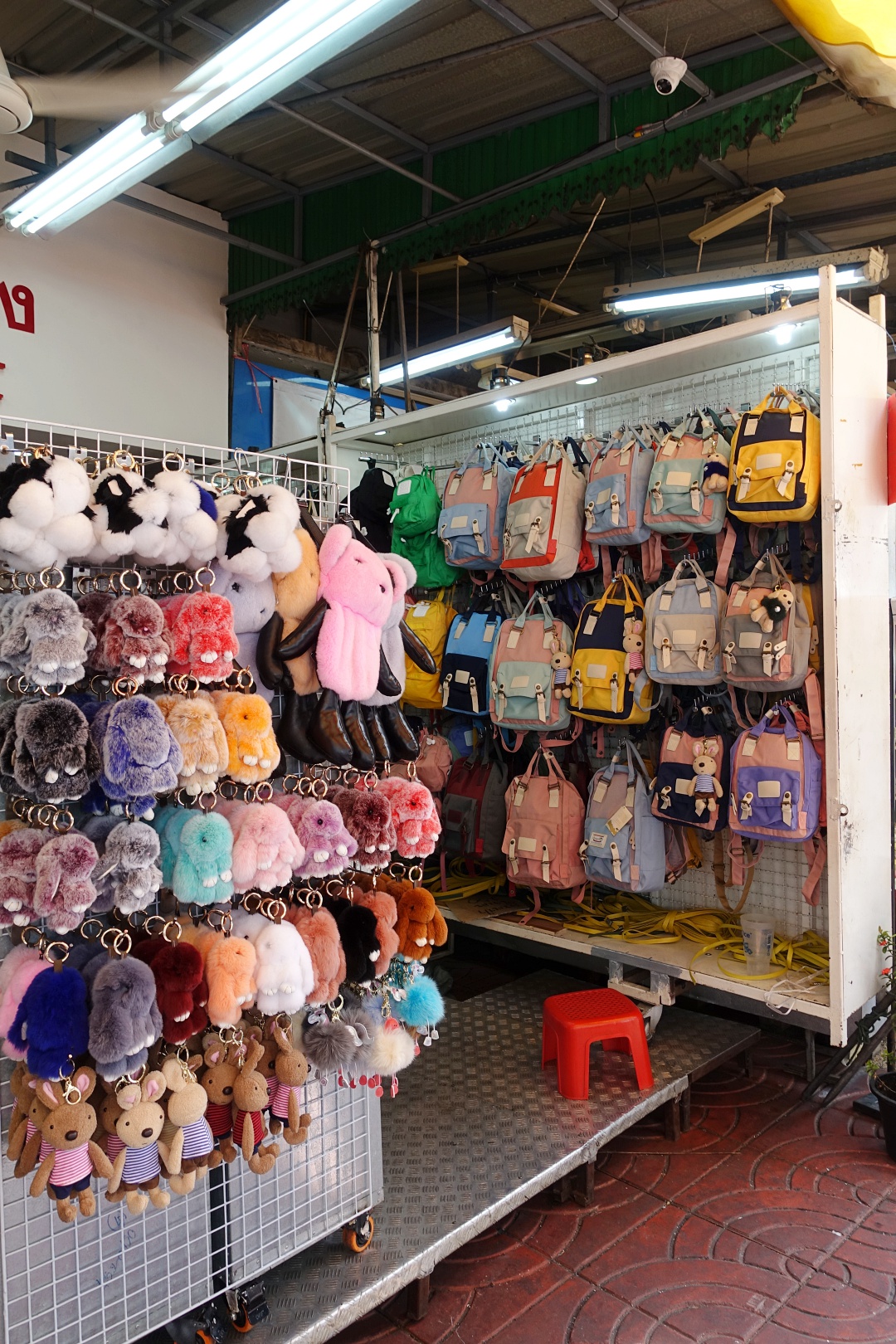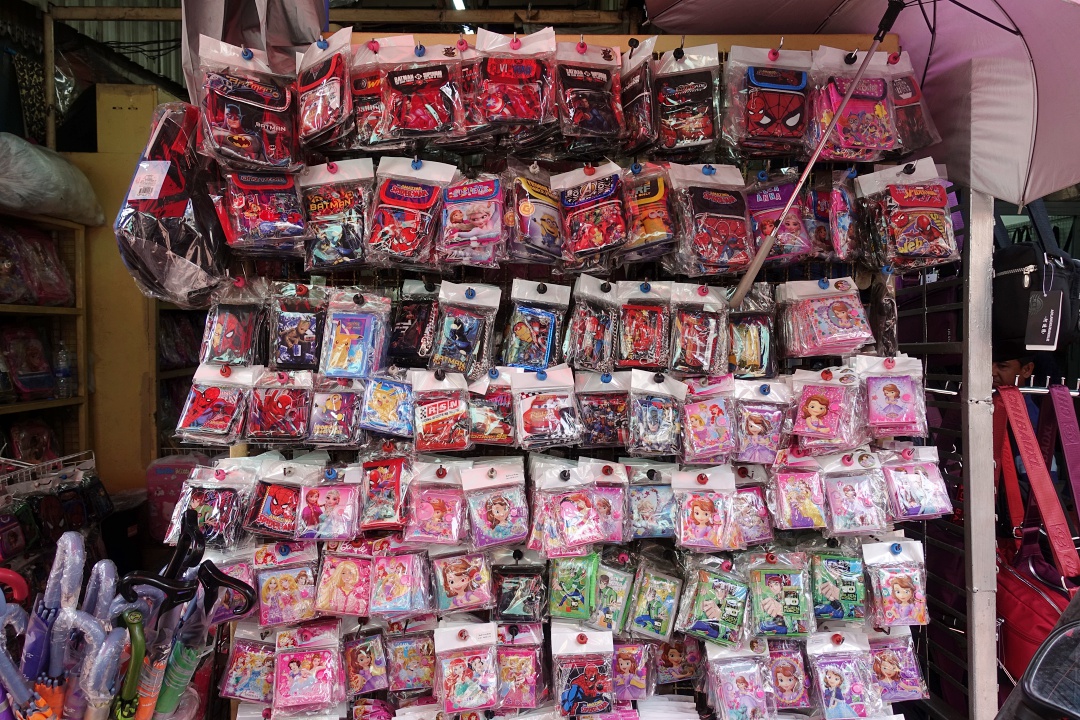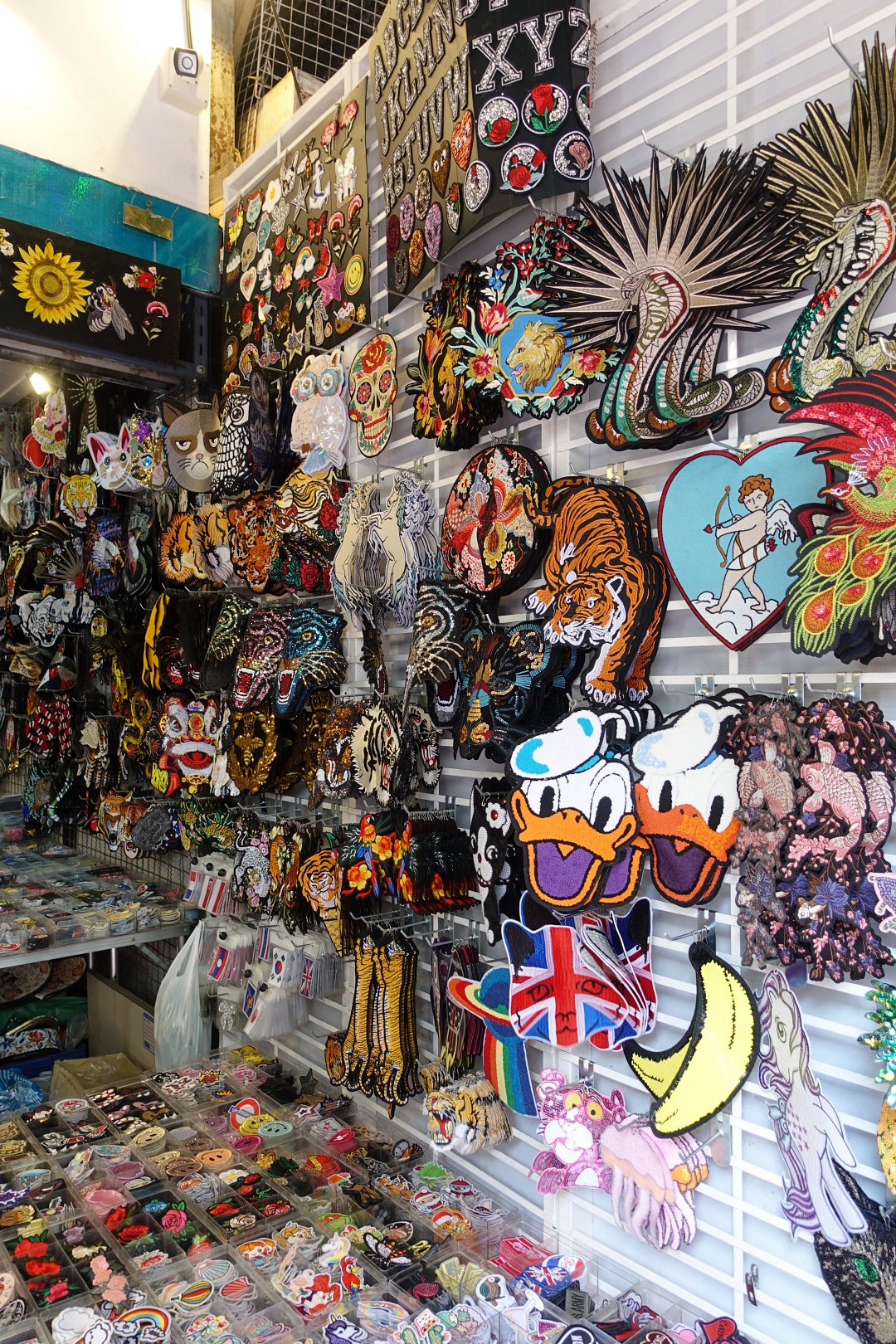 One of the shops I frequently visit is this shop that sells iron-on patches. They carry a huge selection of designs and the smaller ones are five for THB100.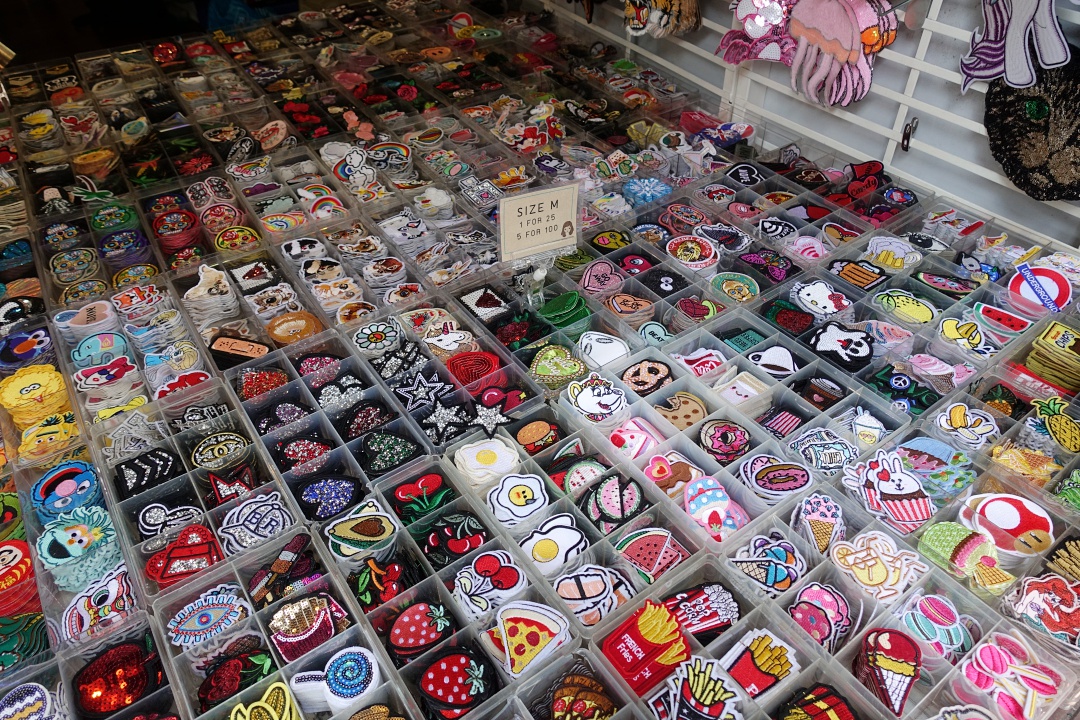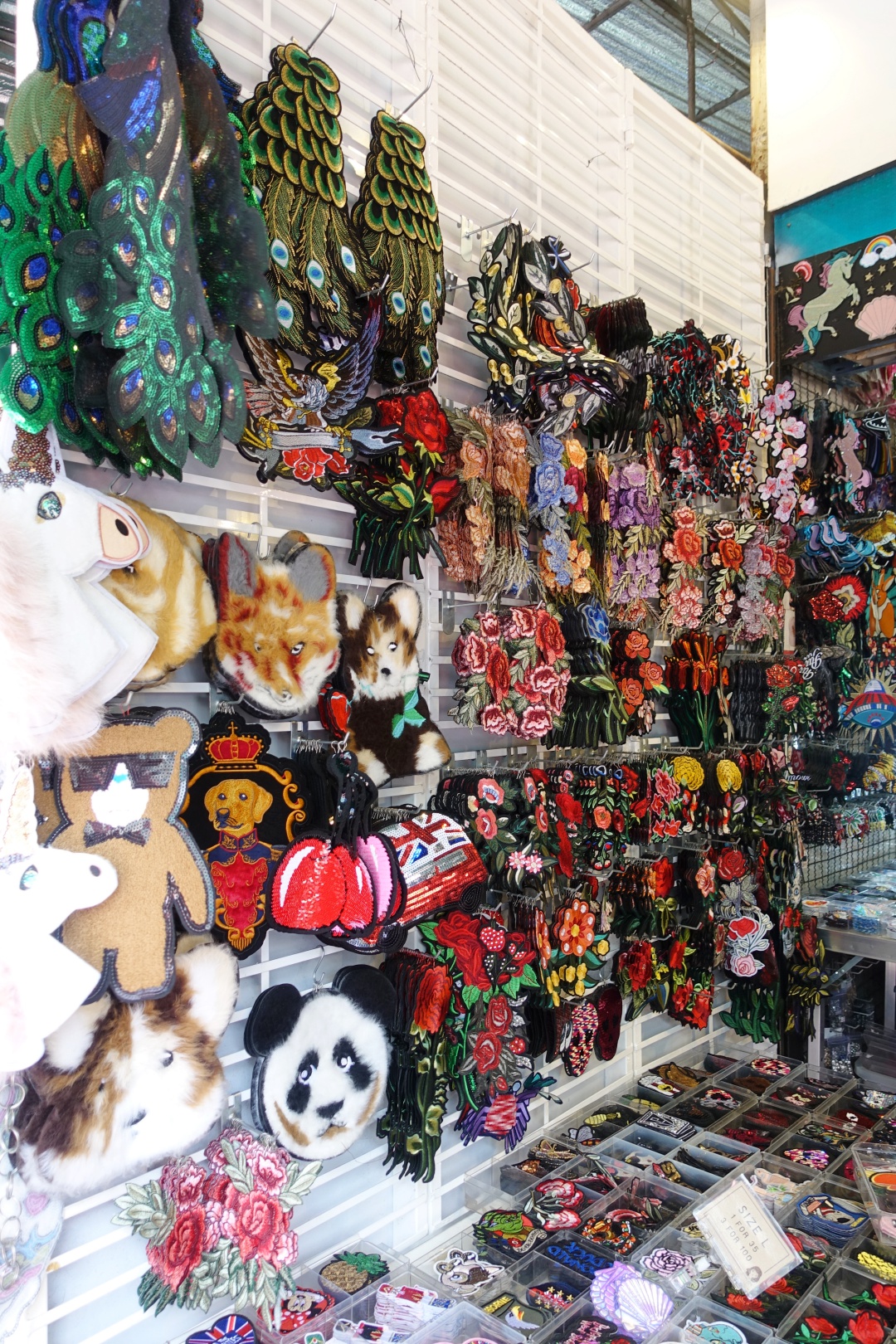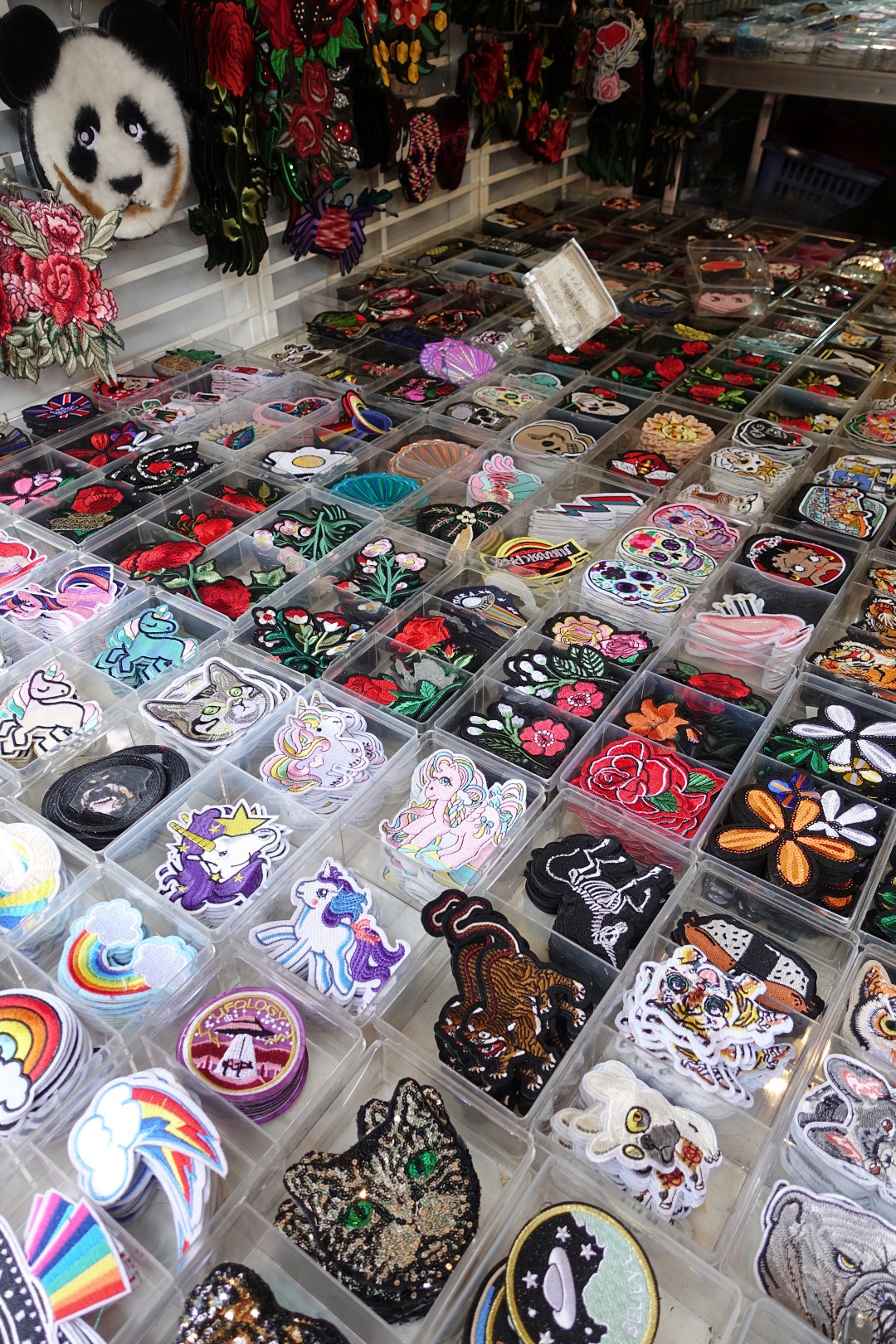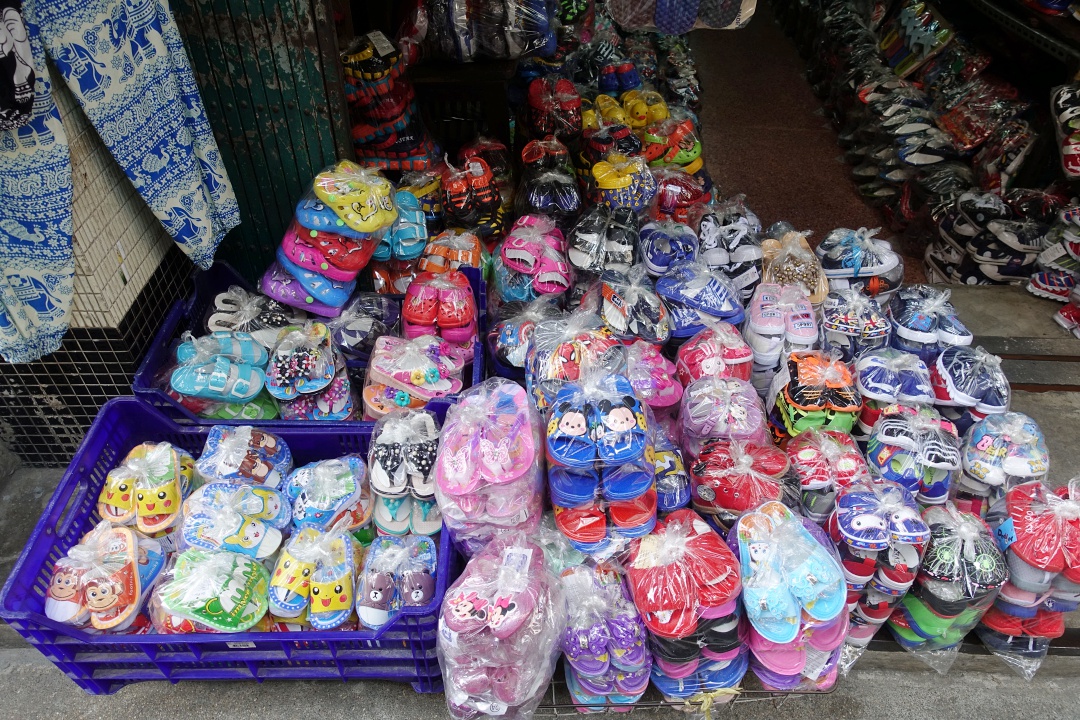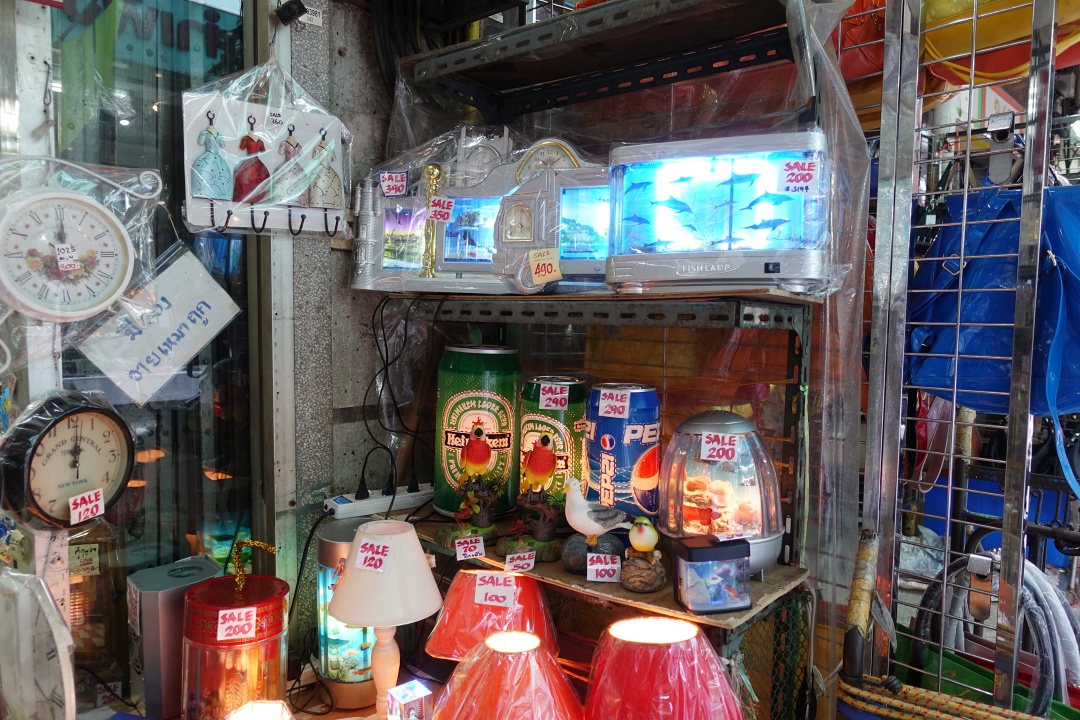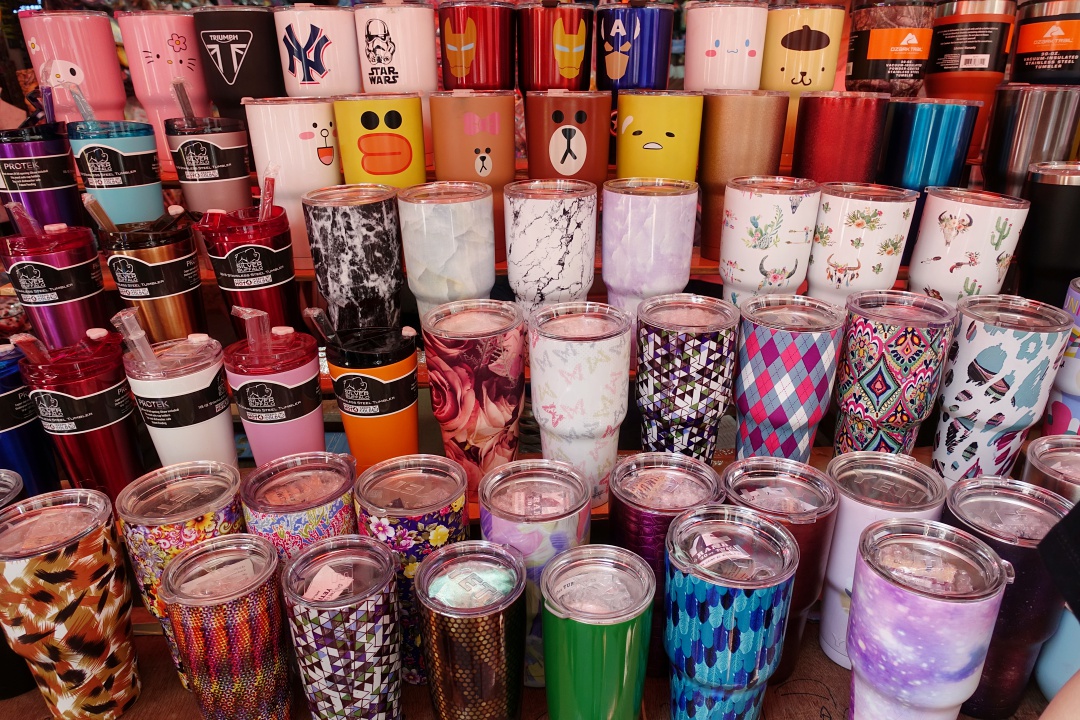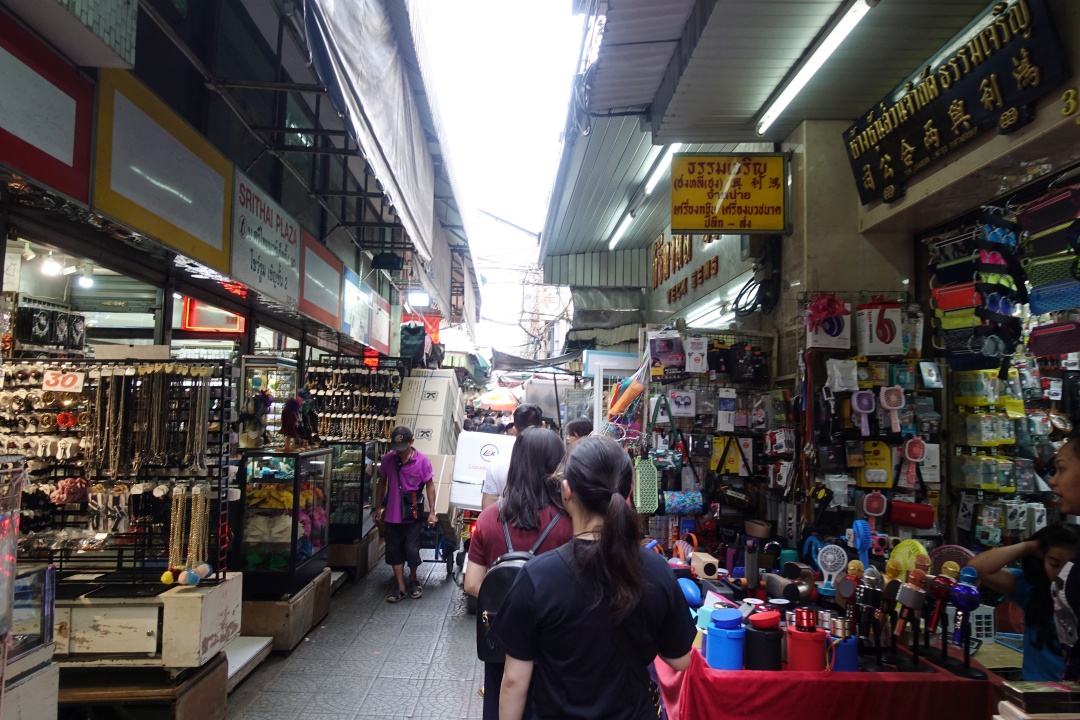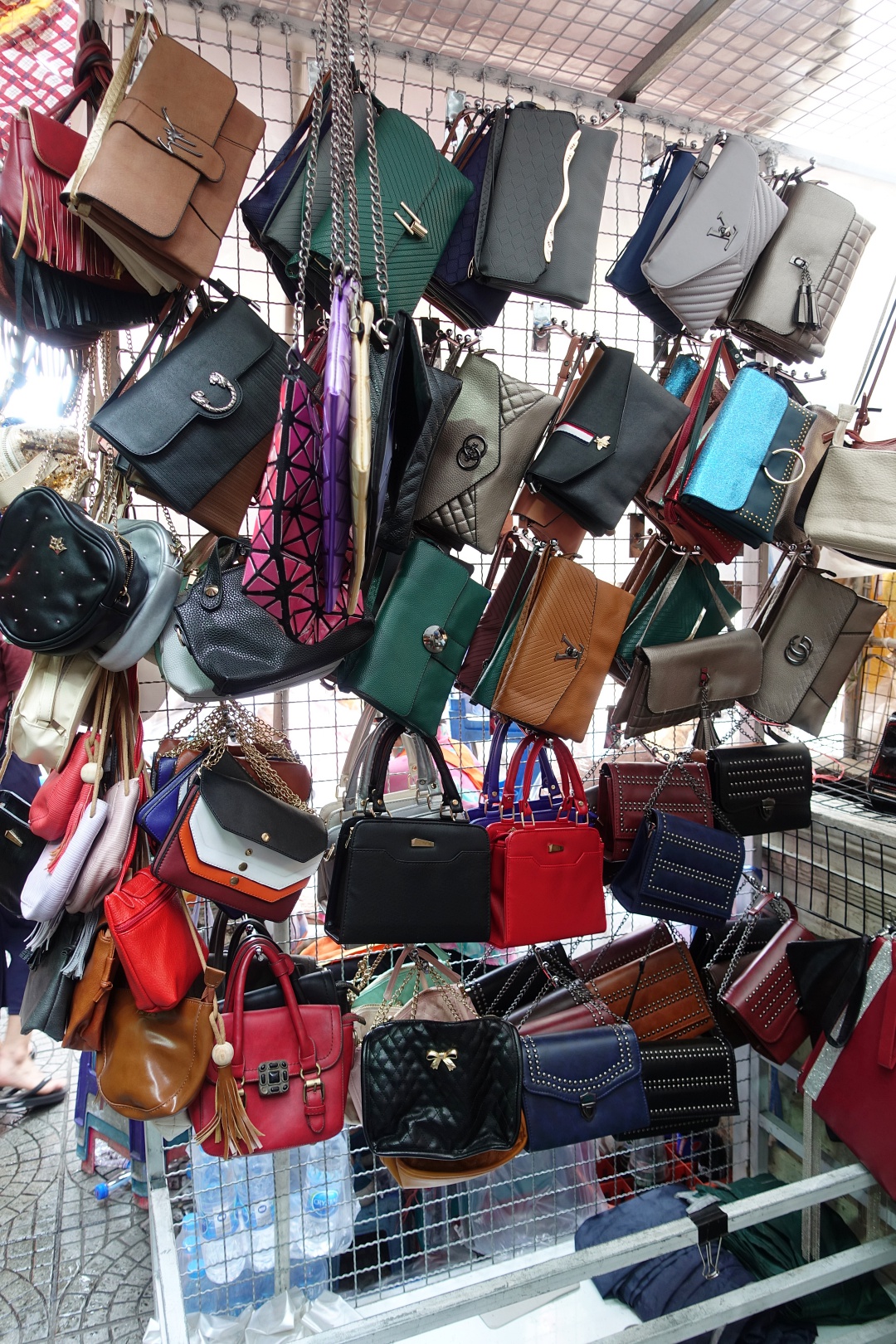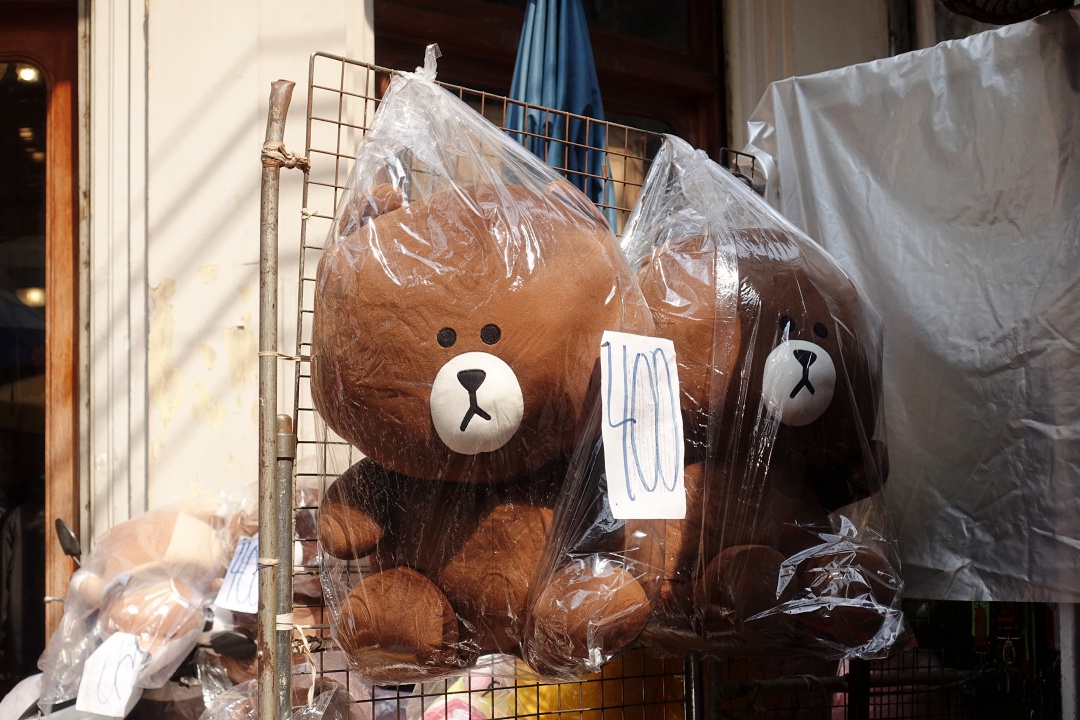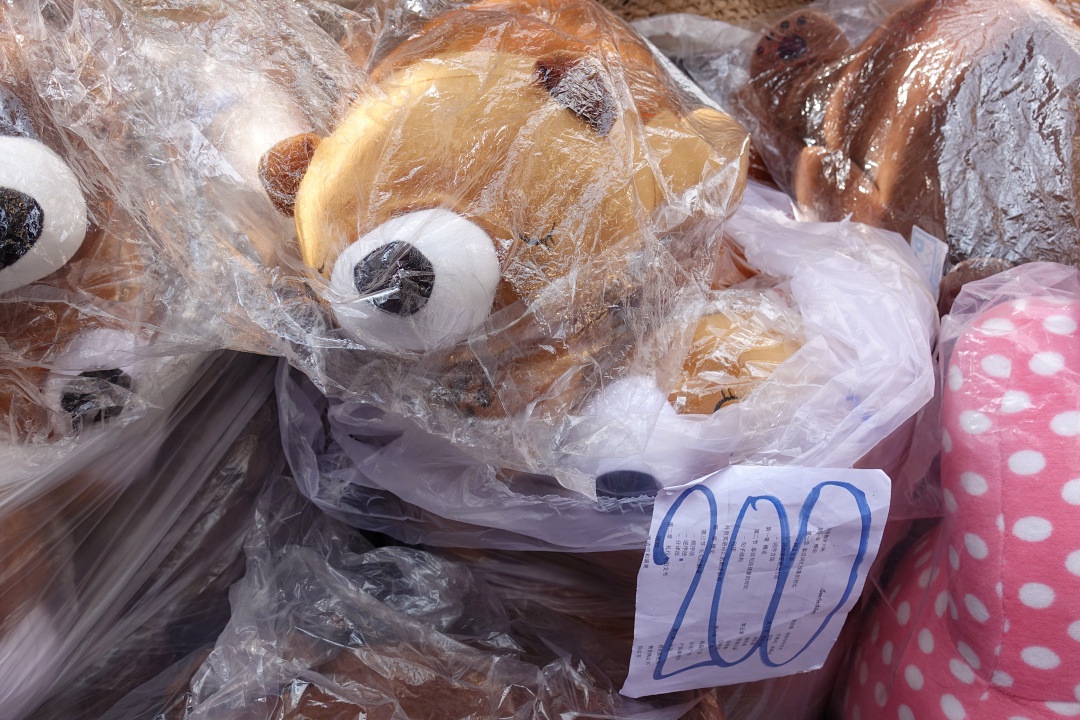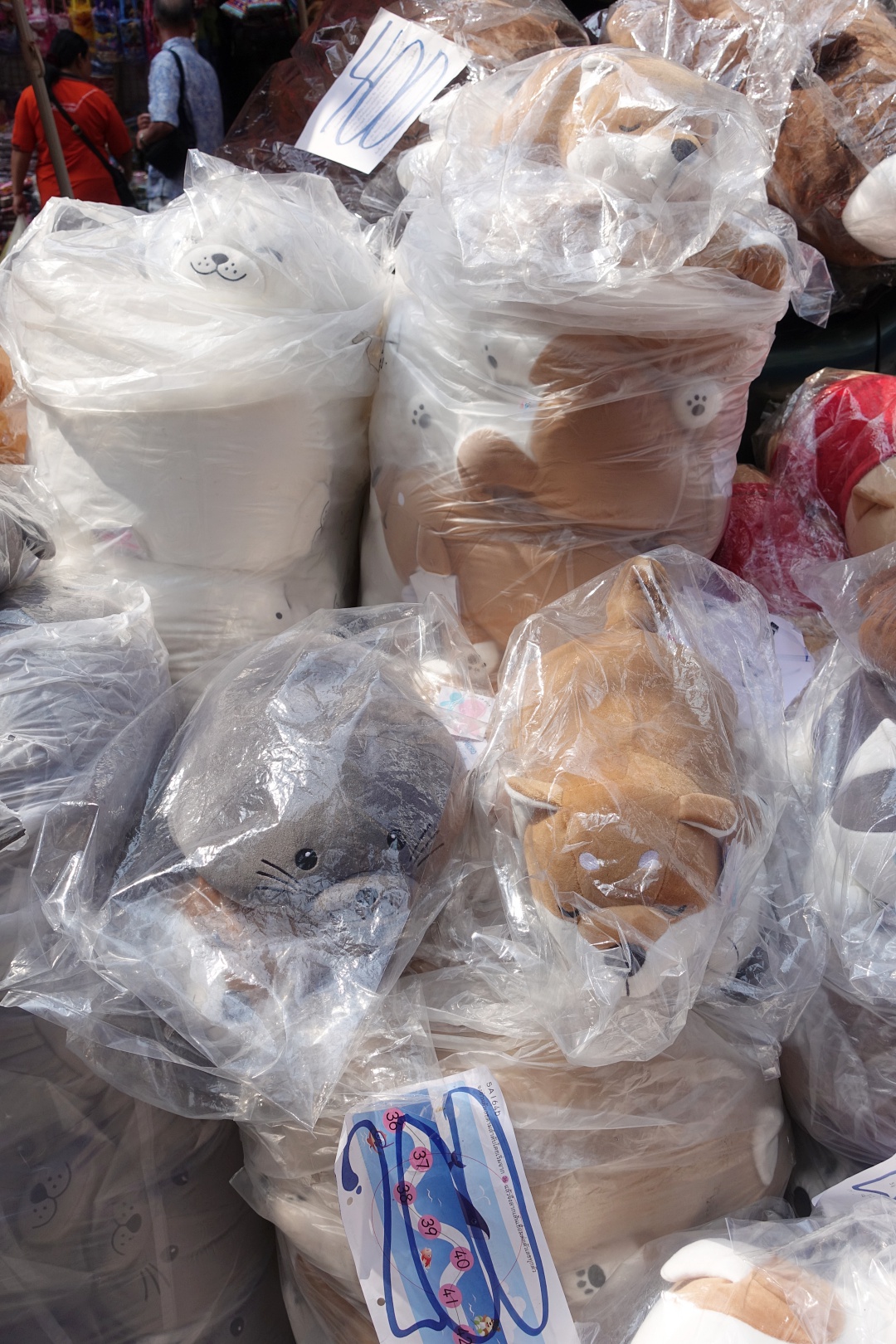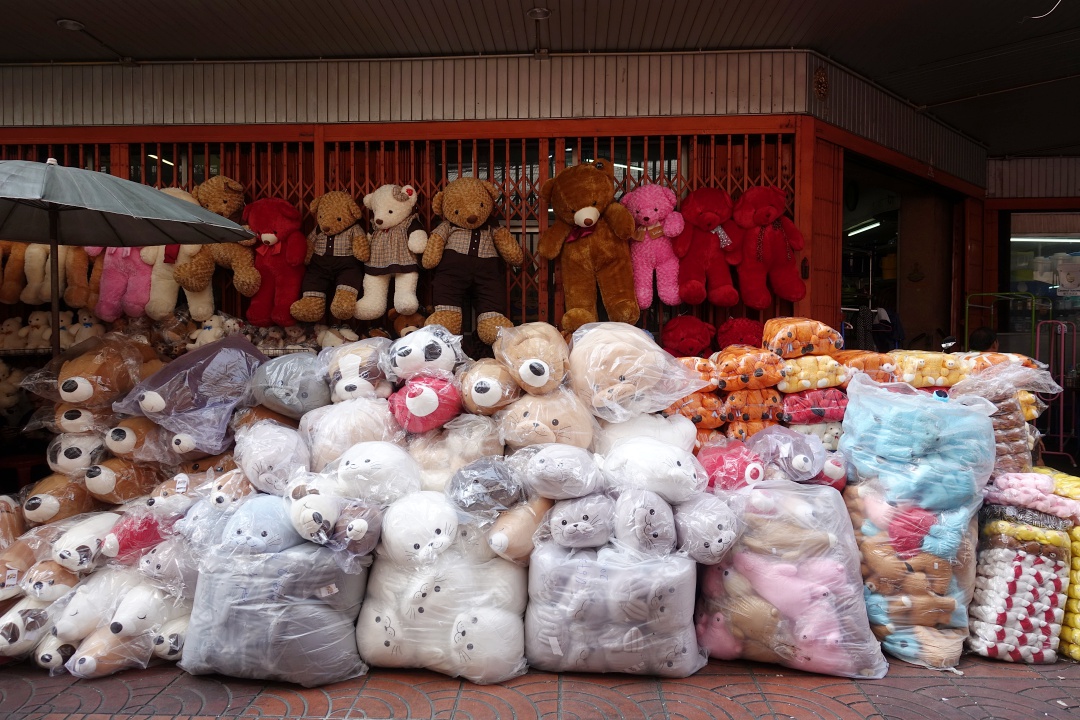 So tempted to get one of these soft plushes, especially when they are only THB200 each.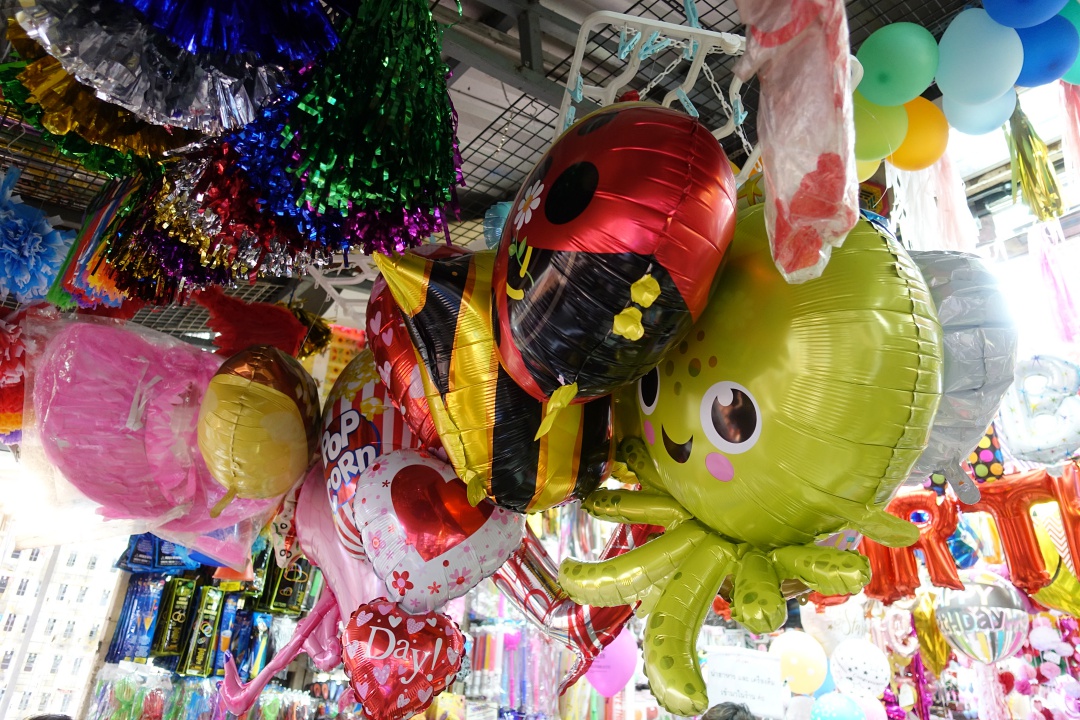 One helium balloon in Singapore is about SGD12 – SGD20? I managed to get one for just THB70 (SGD3) in Chinatown.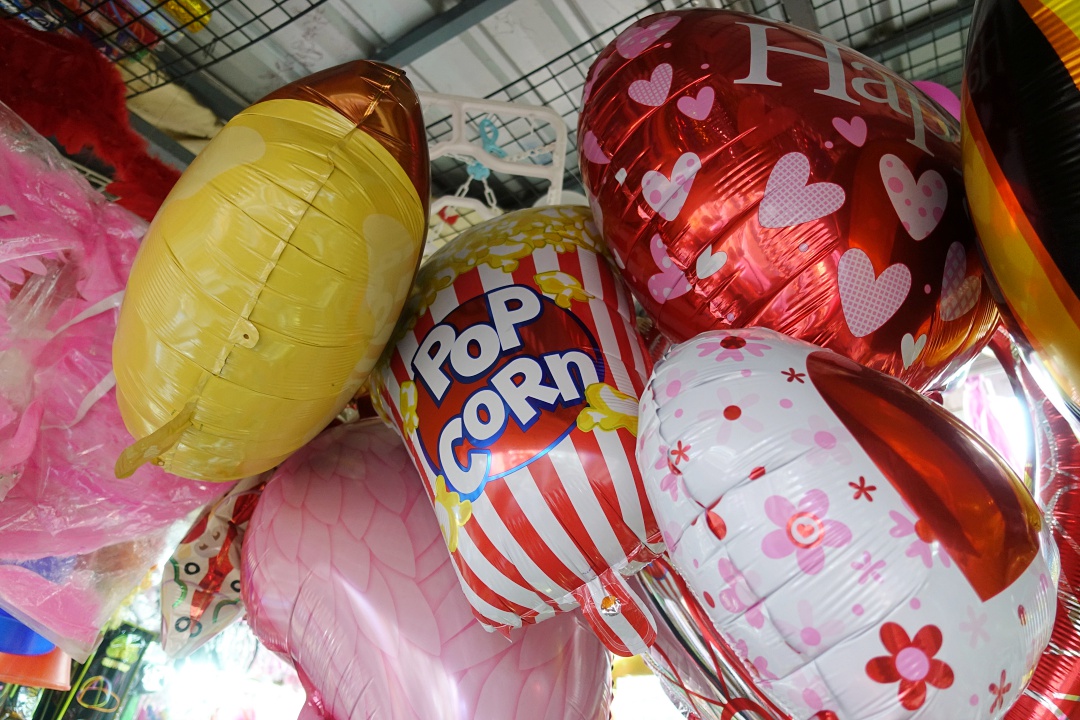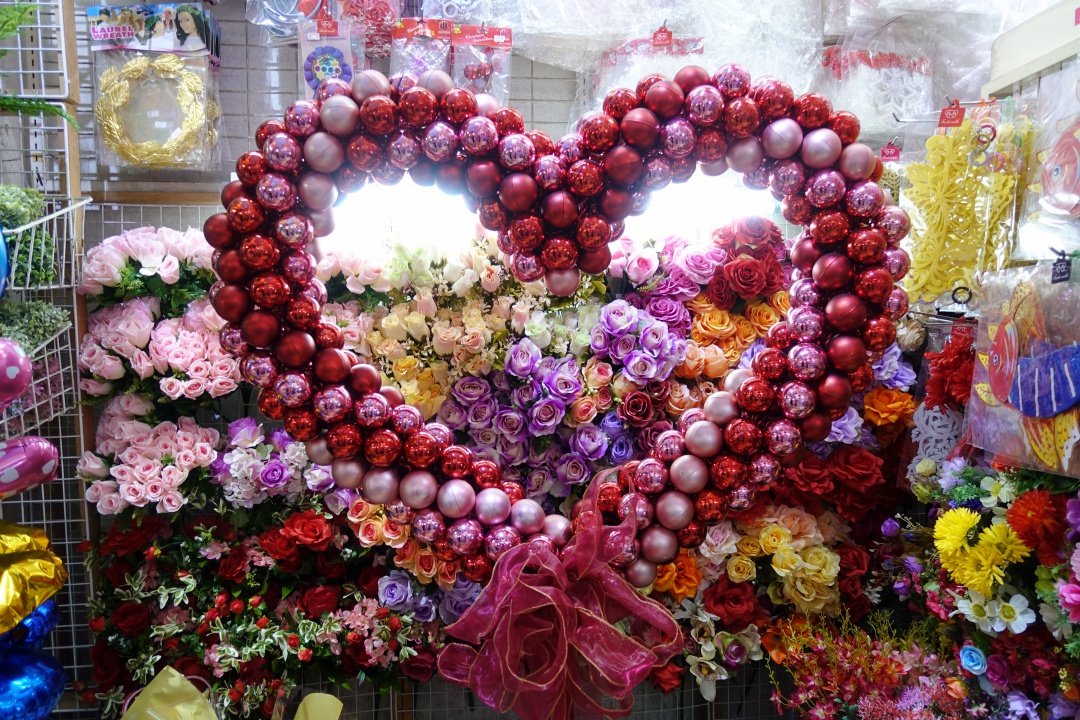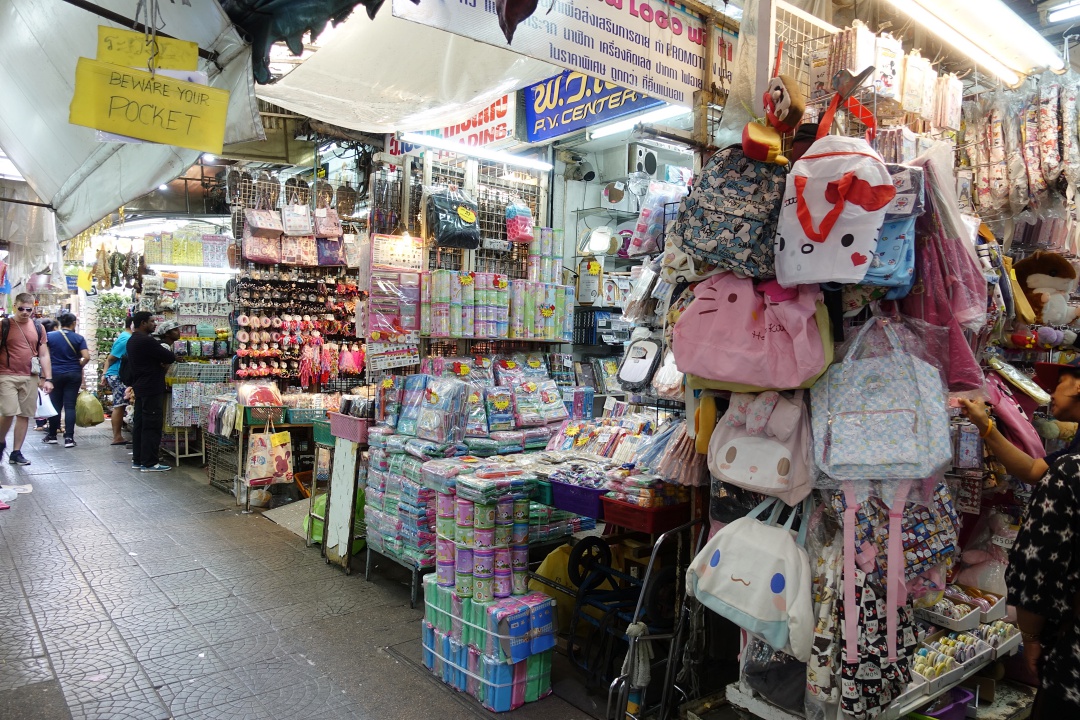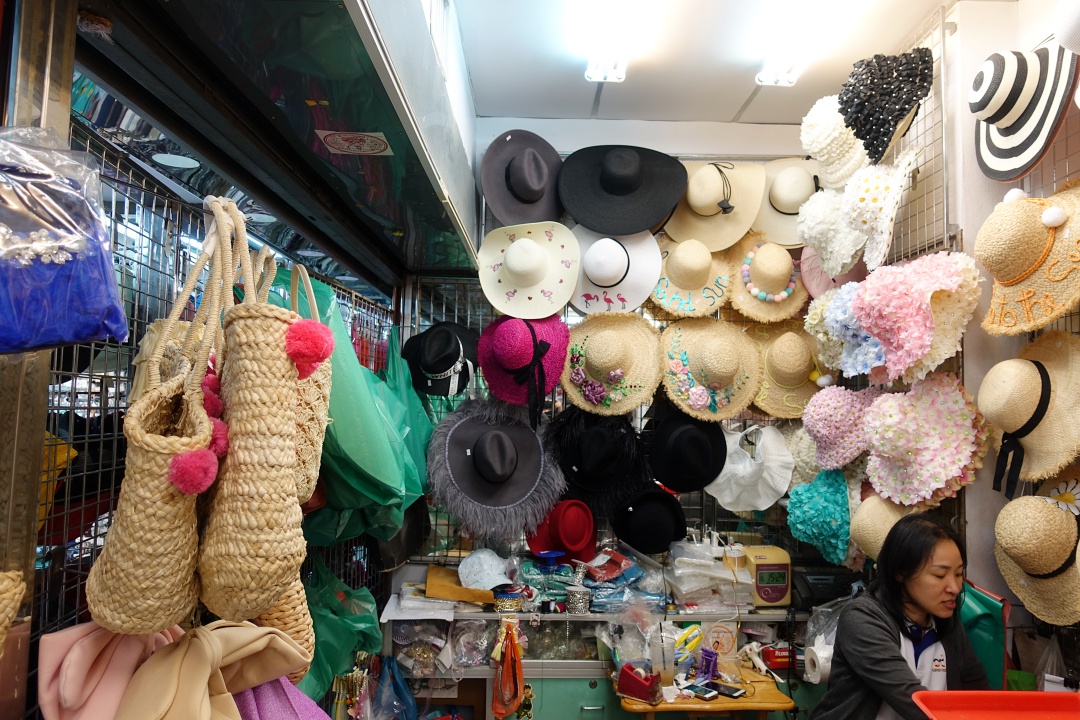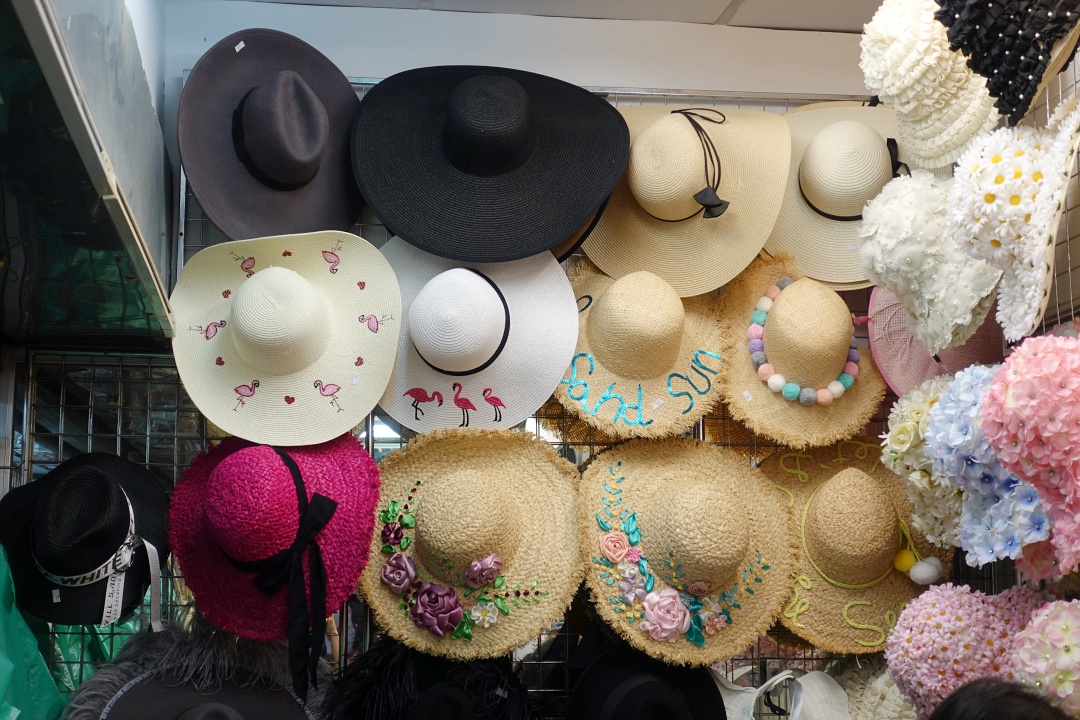 Found the same flamingo hat that I saw in Rod Fai Night Market Ratchada for only THB160. The same one will easily cost double the price at the night market.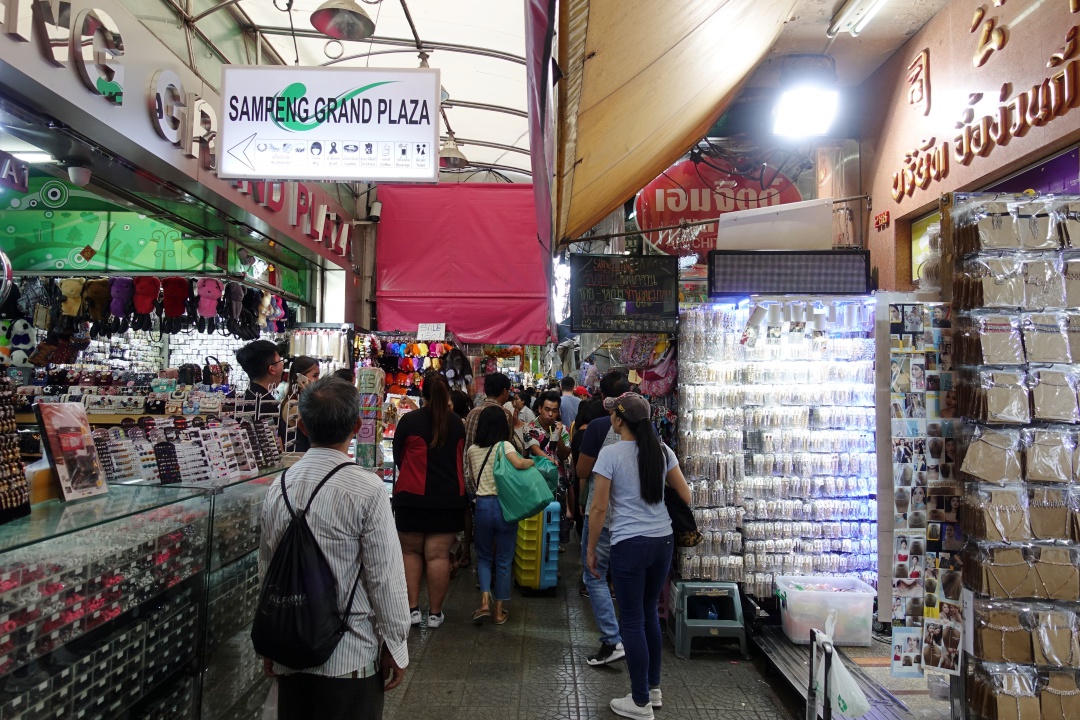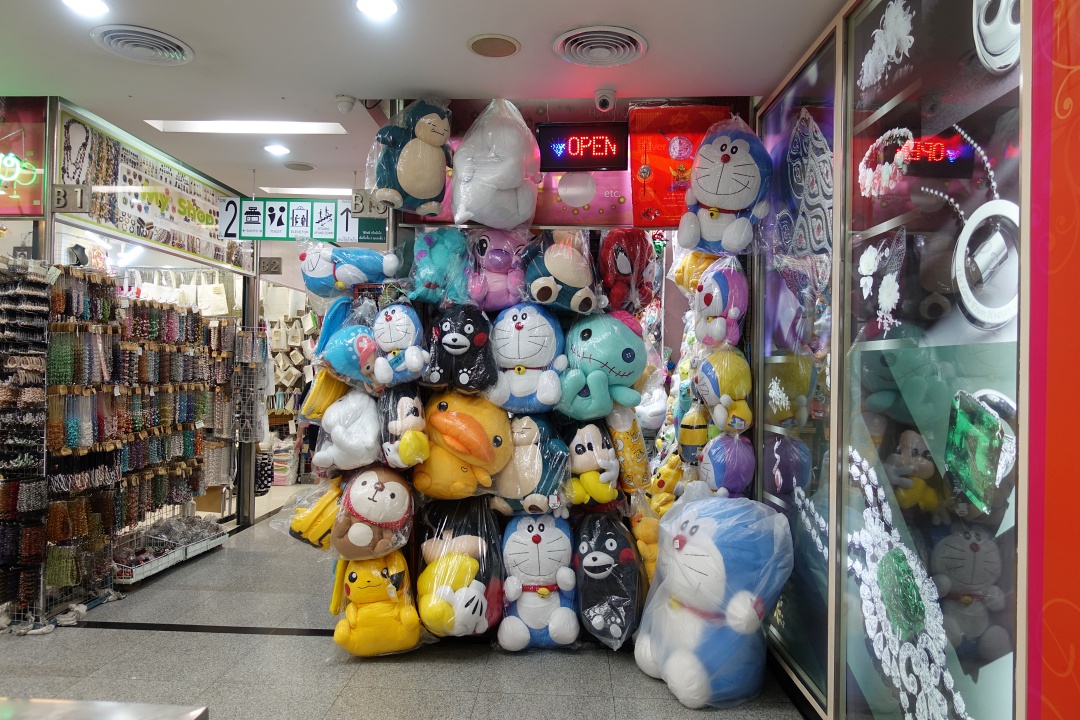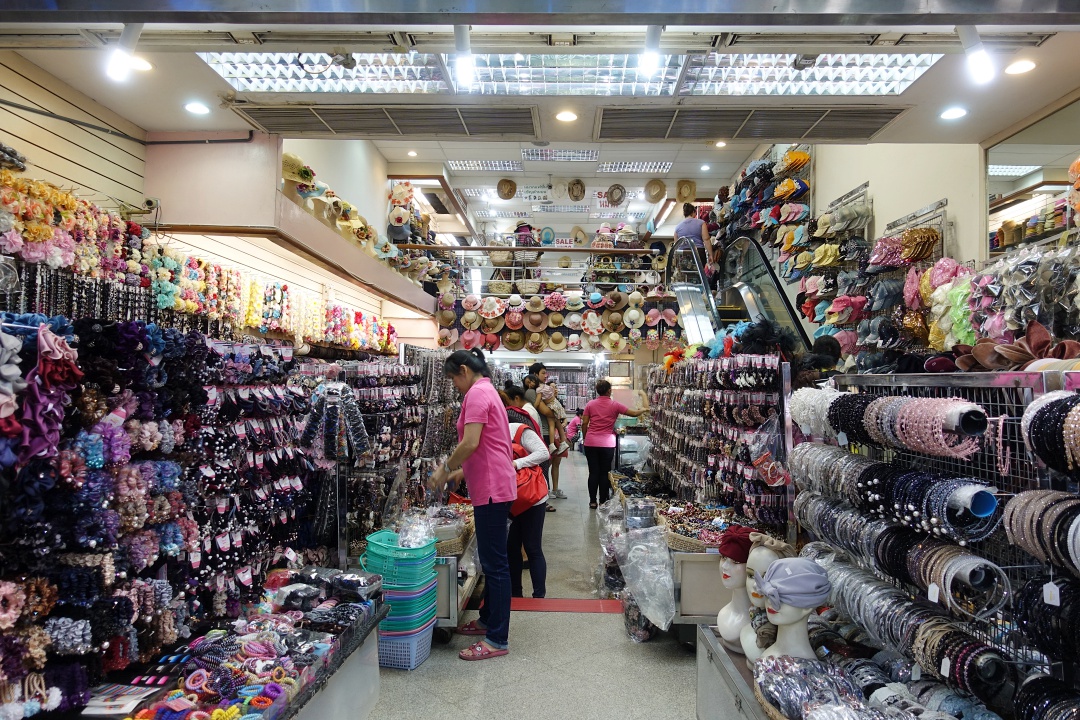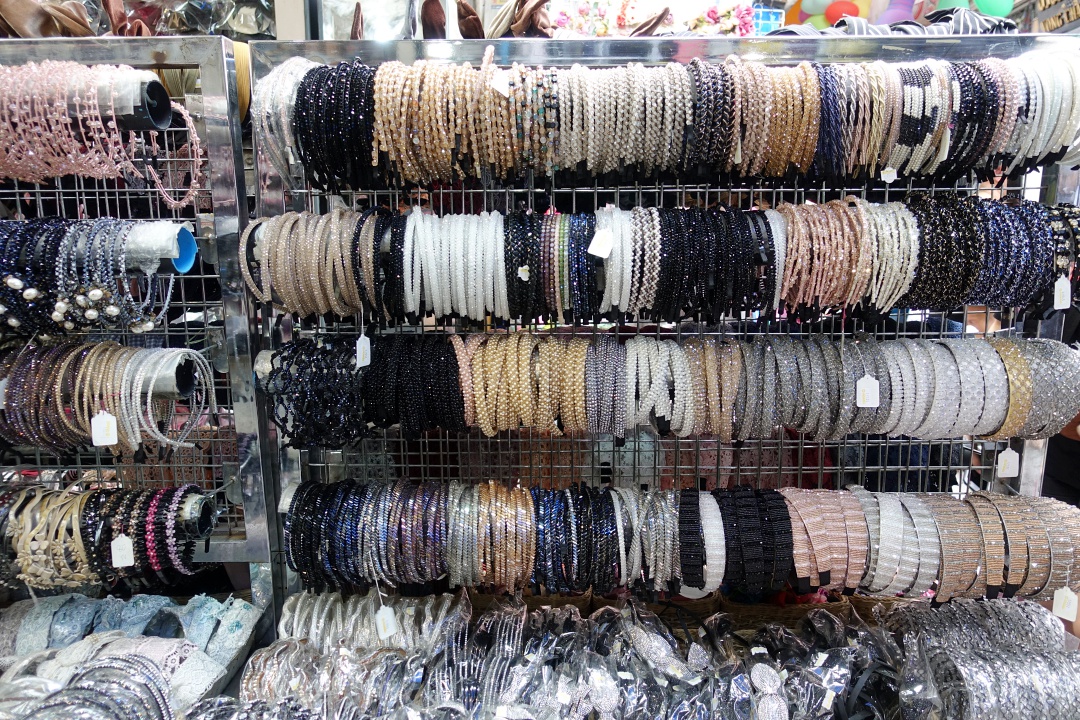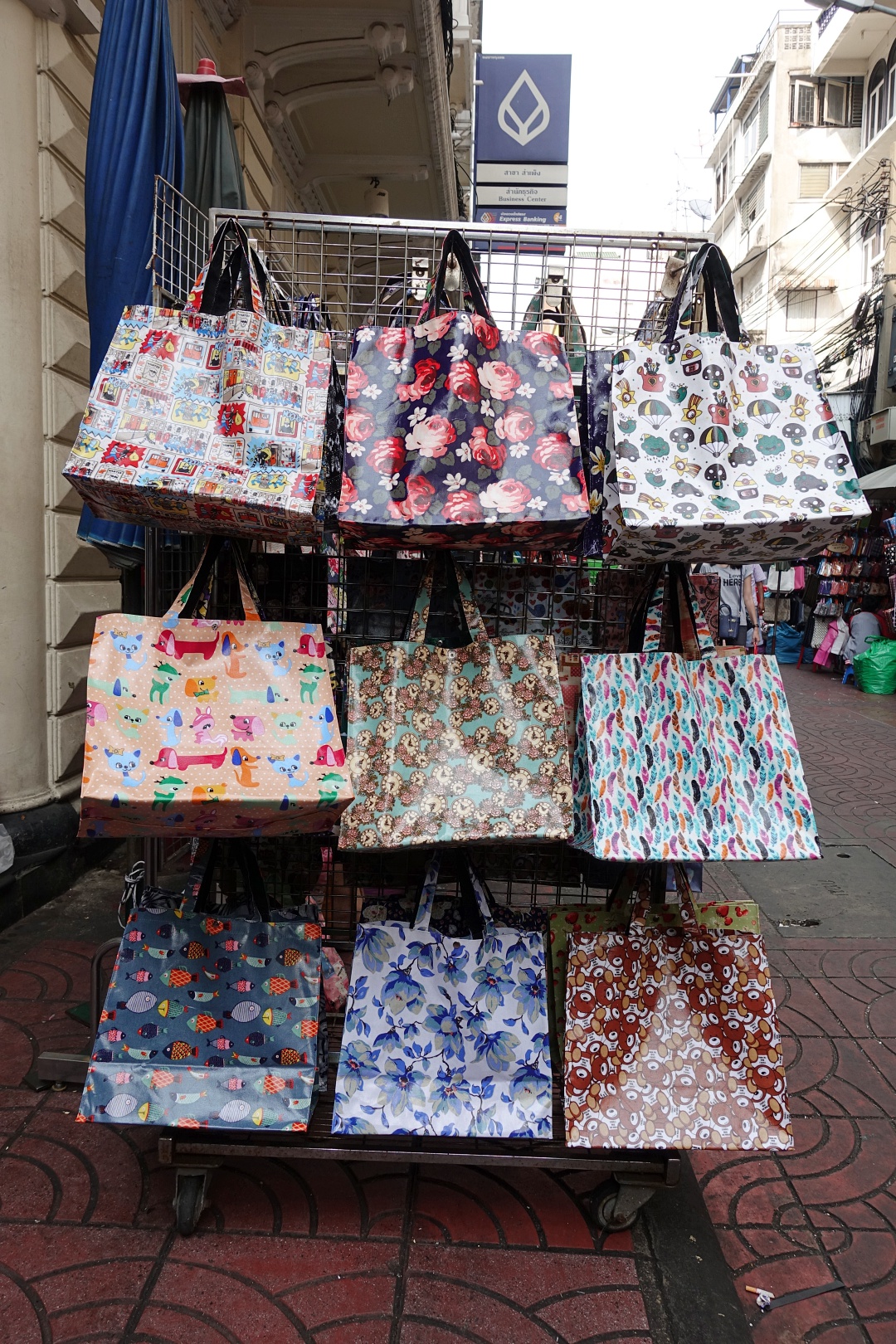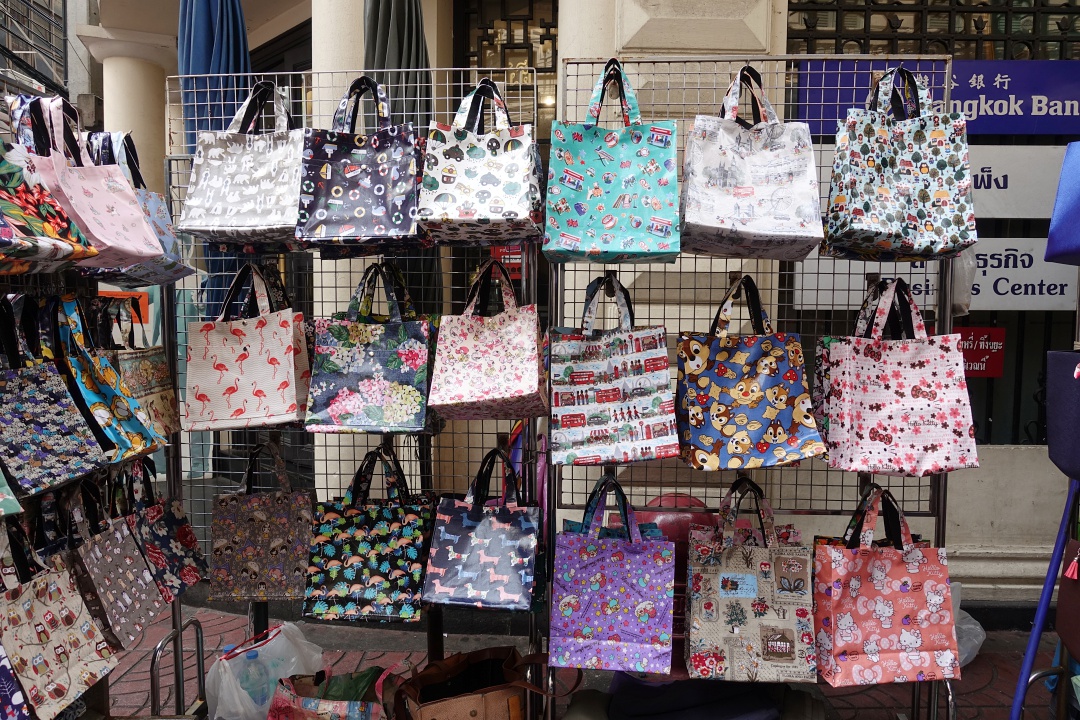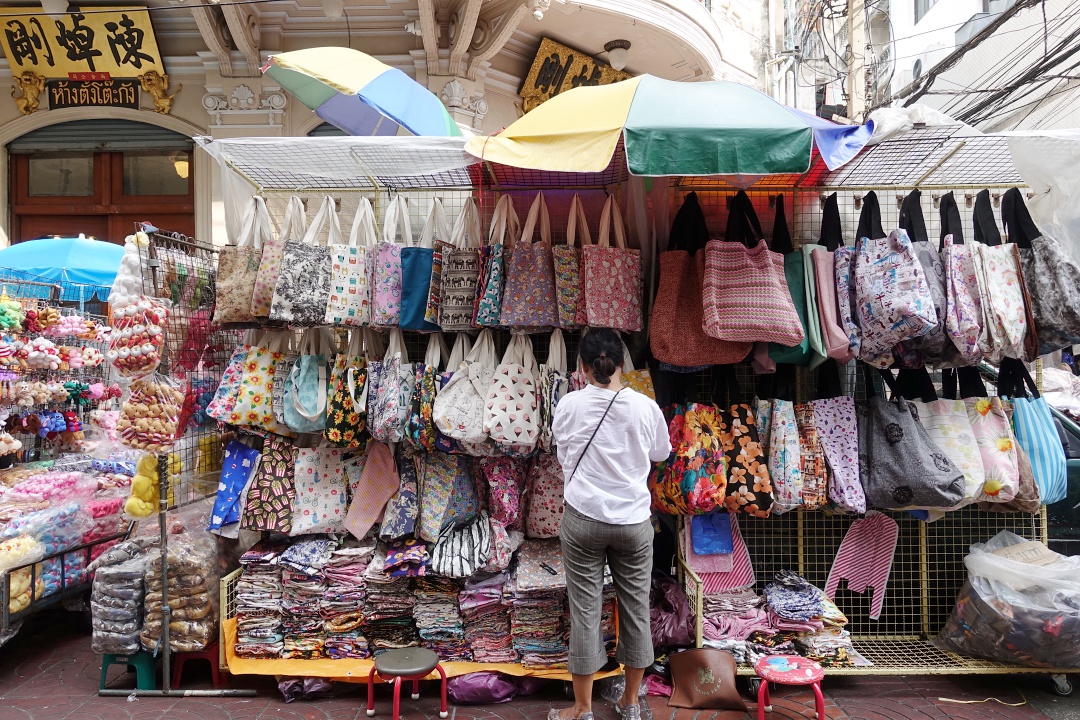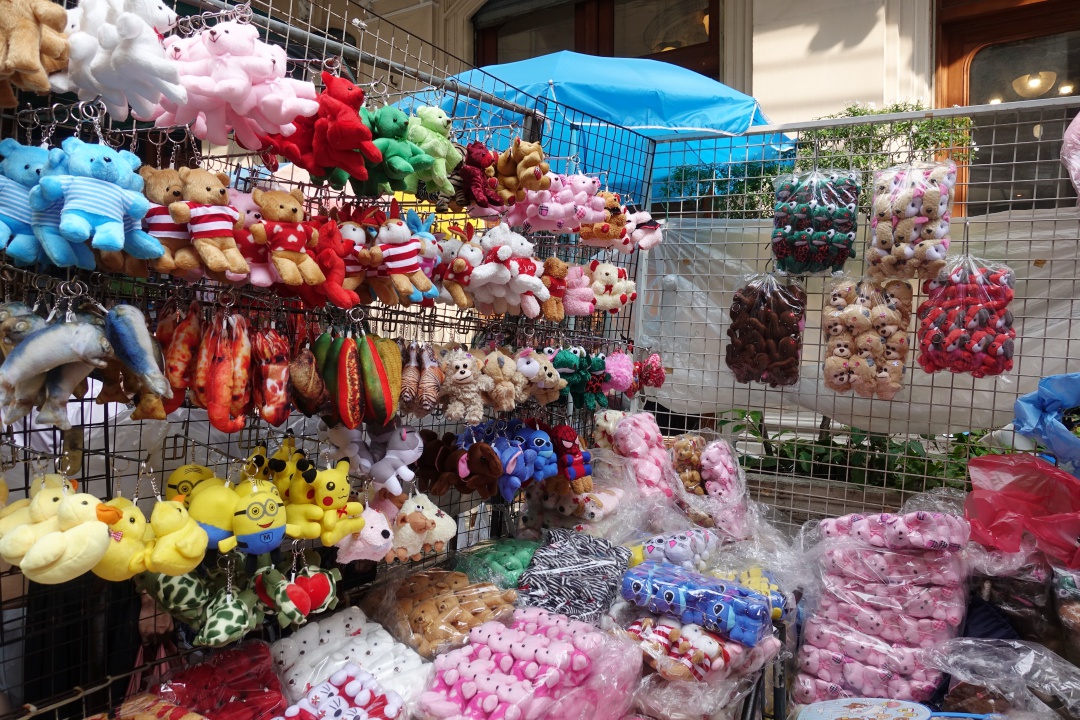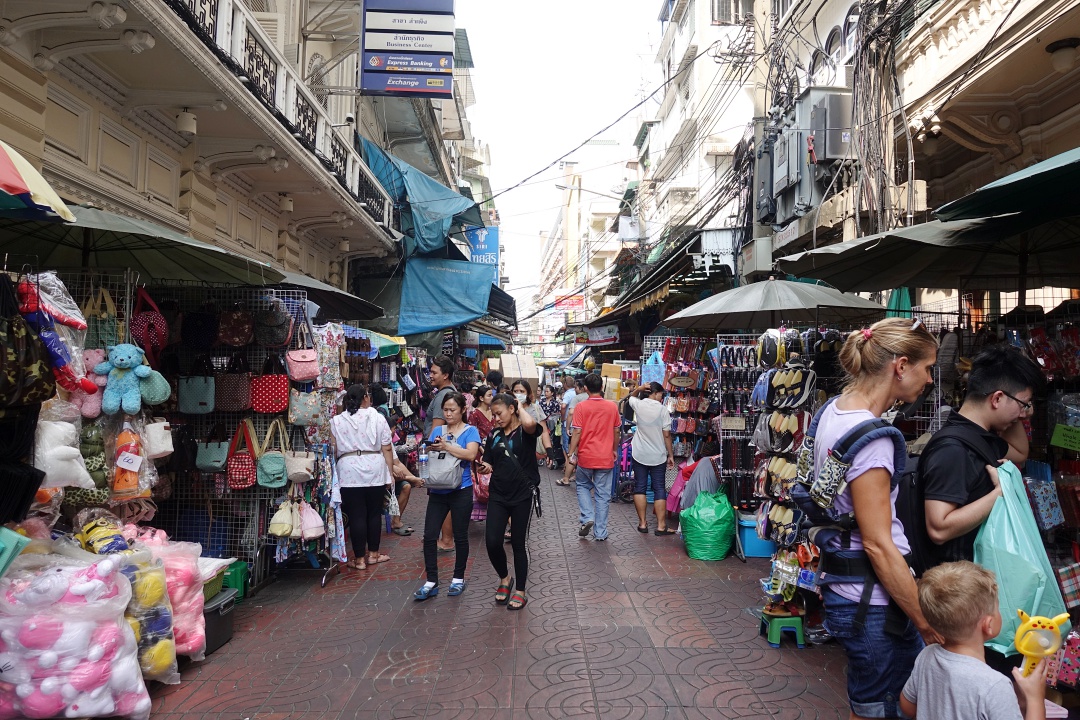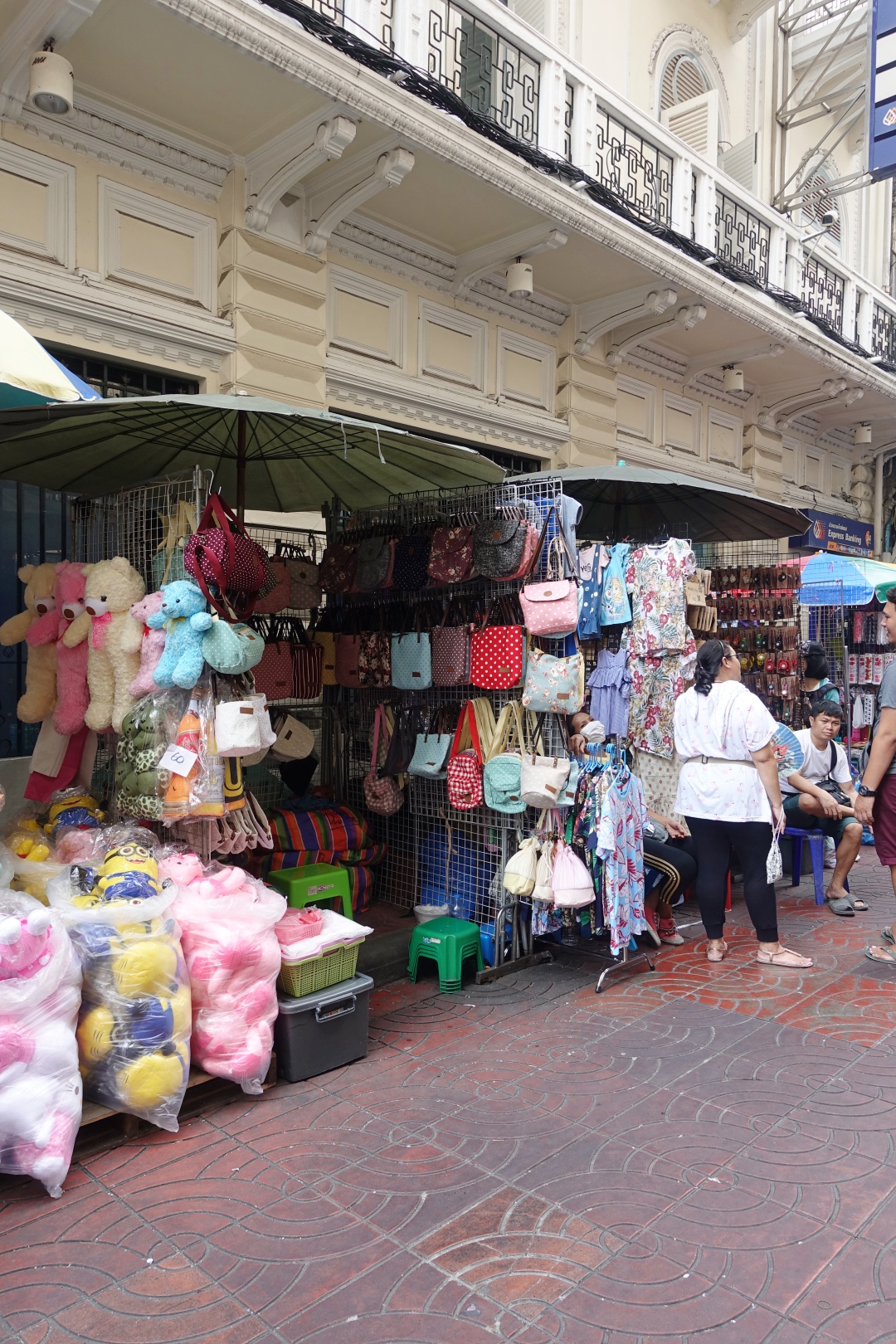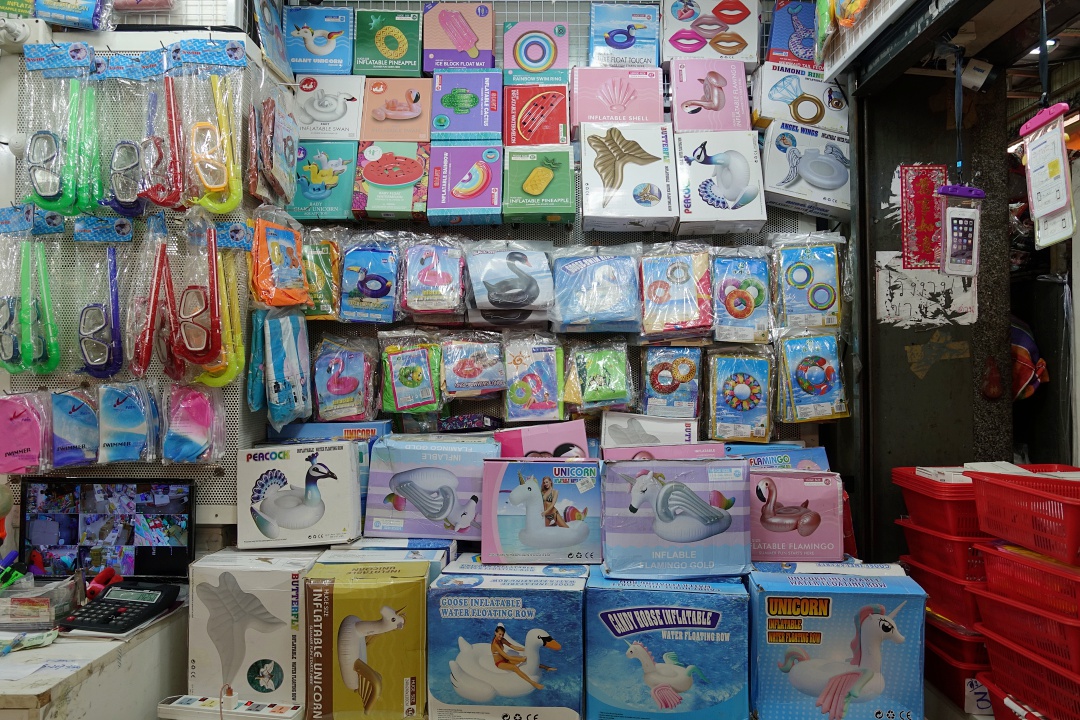 Bought a huge seashell float from this shop at THB600! They also sell those smaller floats meant for drinks or cups for THB25 / THB50.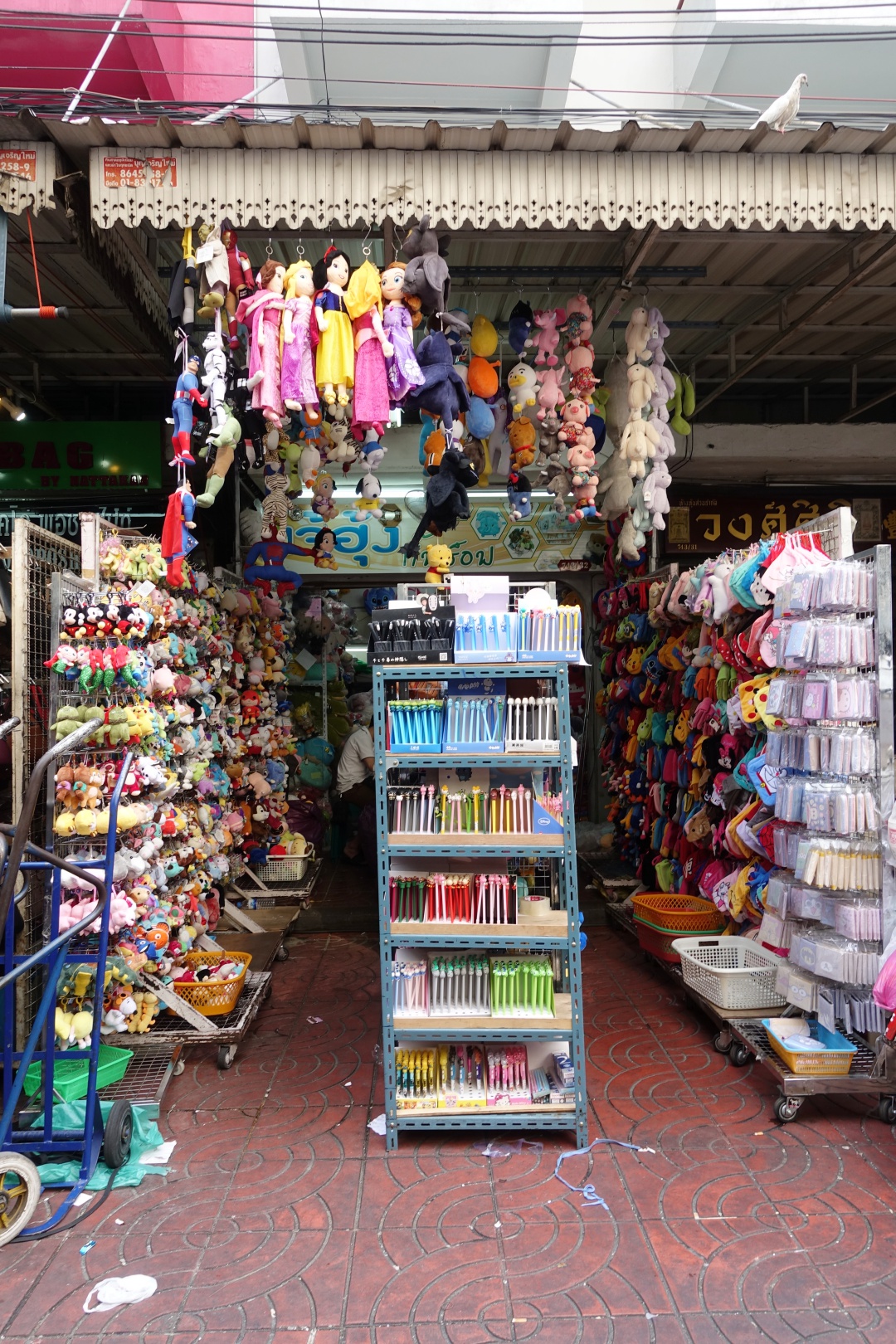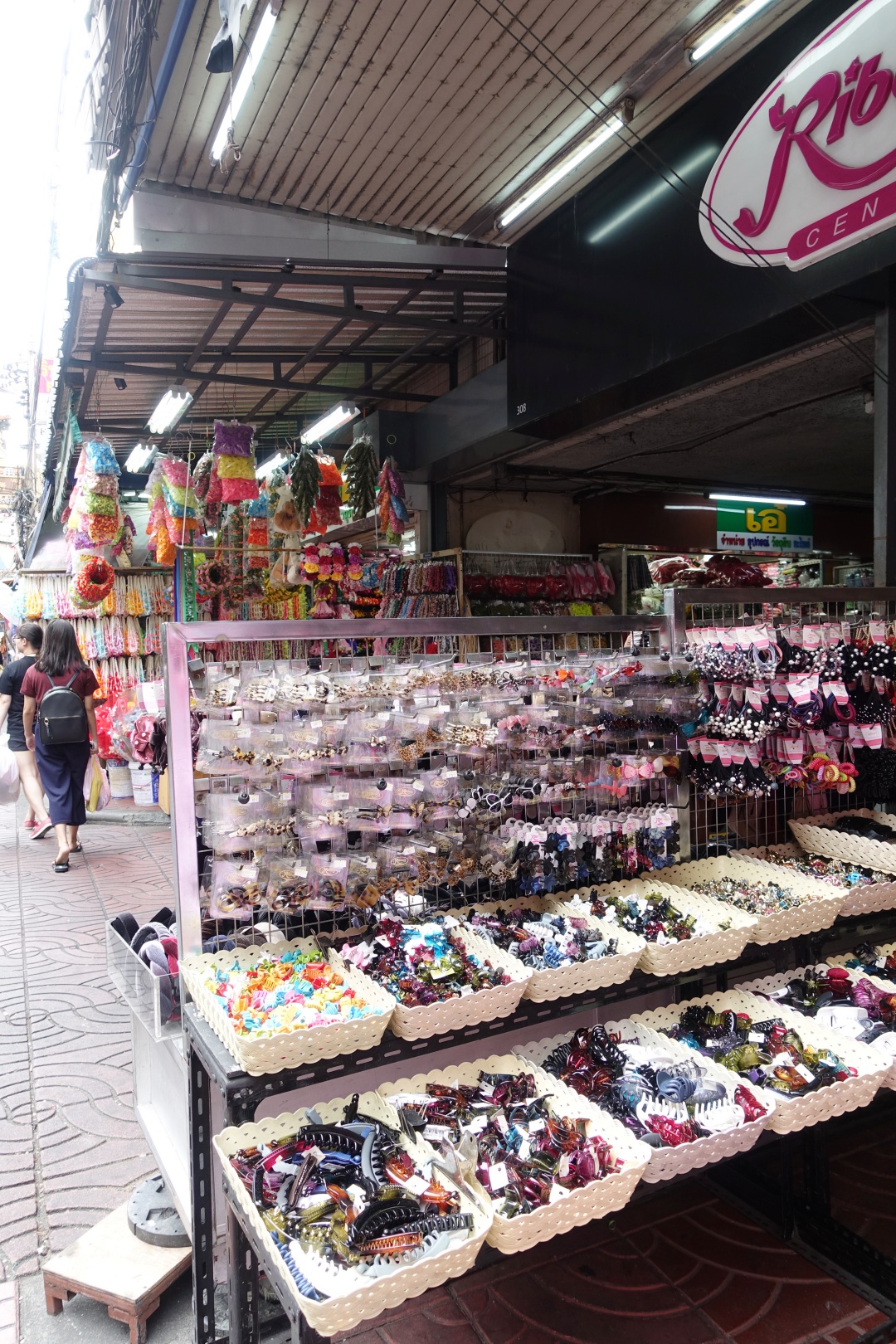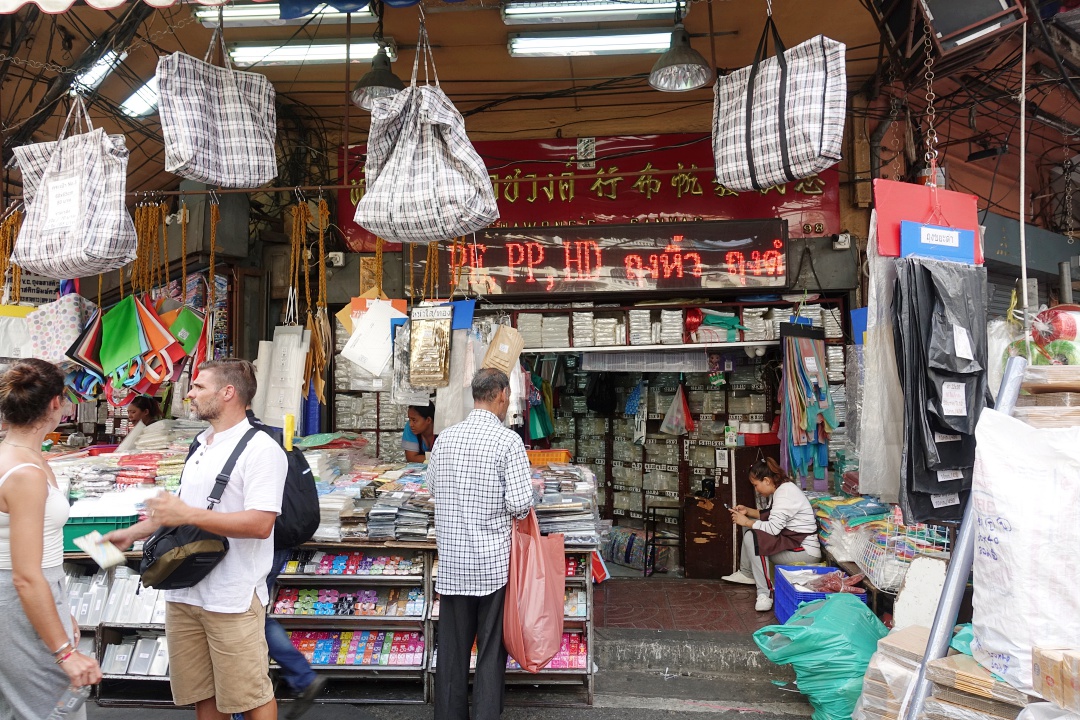 Packing supplies. You can get all kinds of plastic bags, ziplock bags and small boxes of various sizes from here. Probably seem odd to buy these in Bangkok, but the item did turns up useful when we need it.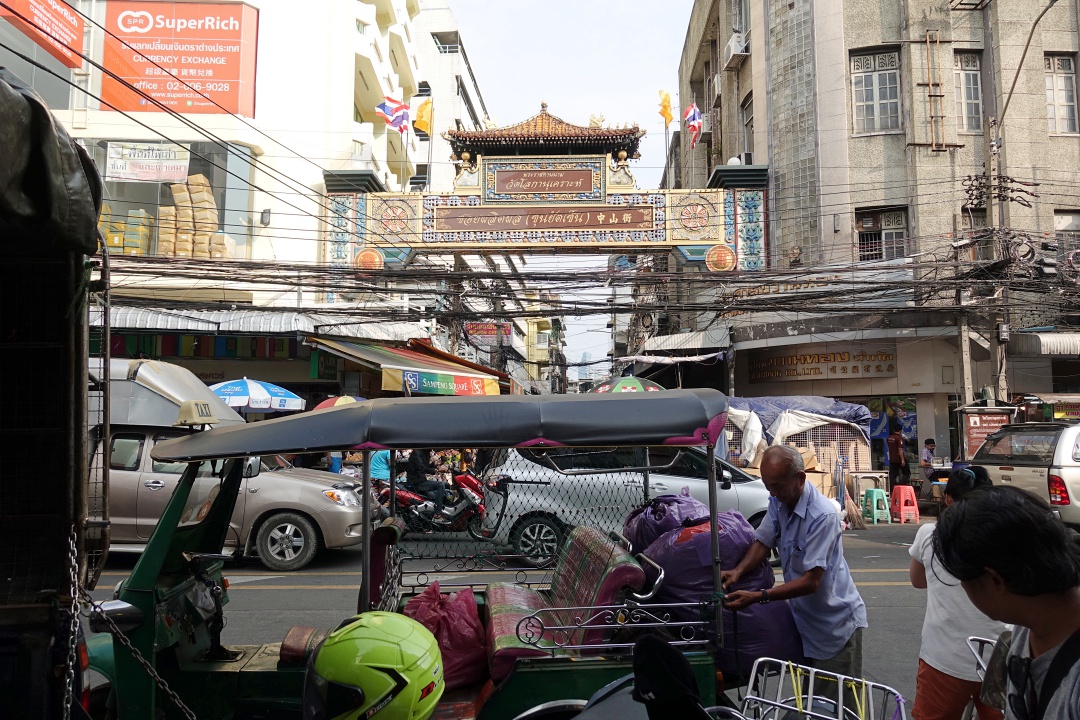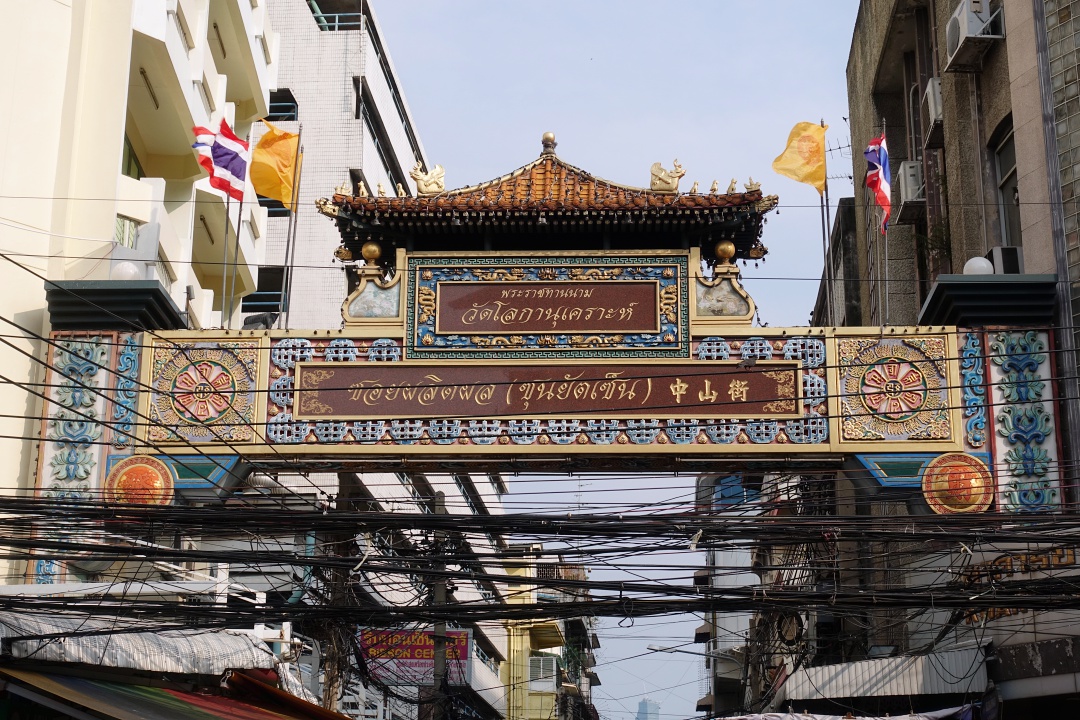 I didn't get to shoot a video this time. However, you can check out the previous video I took at Chinatown to have a better idea of what you can find over there.
MBK Center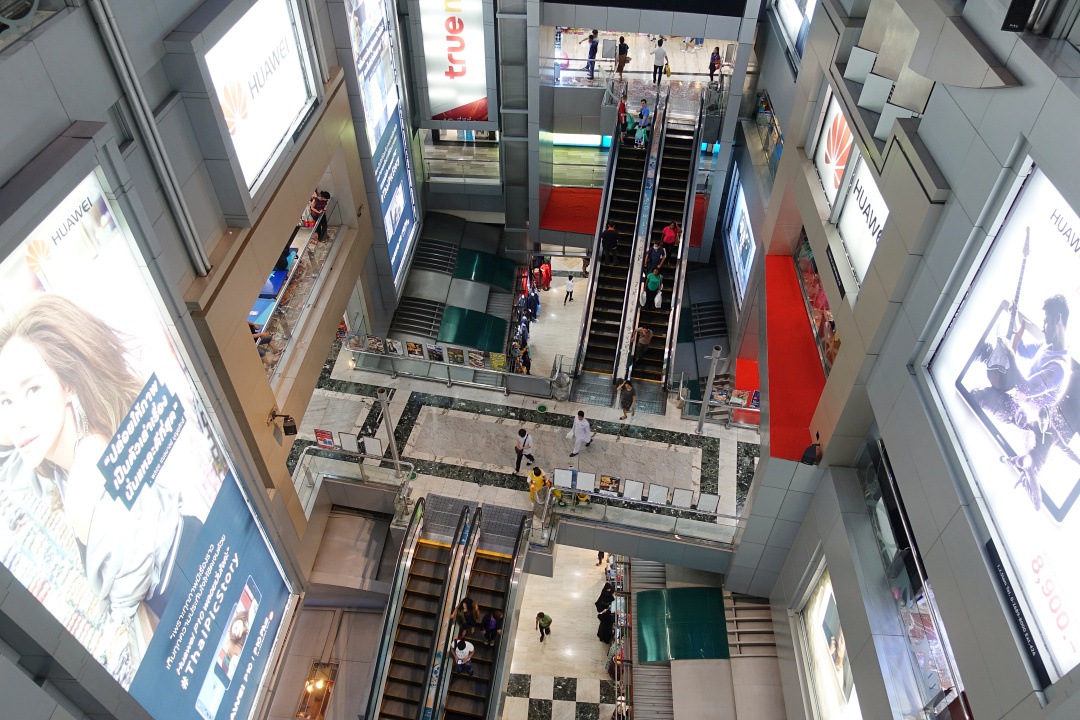 After spending an entire afternoon in Chinatown, we went out again at night to MBK Center to have dinner. Took an Uber there from our hotel and paid THB120 for the ride.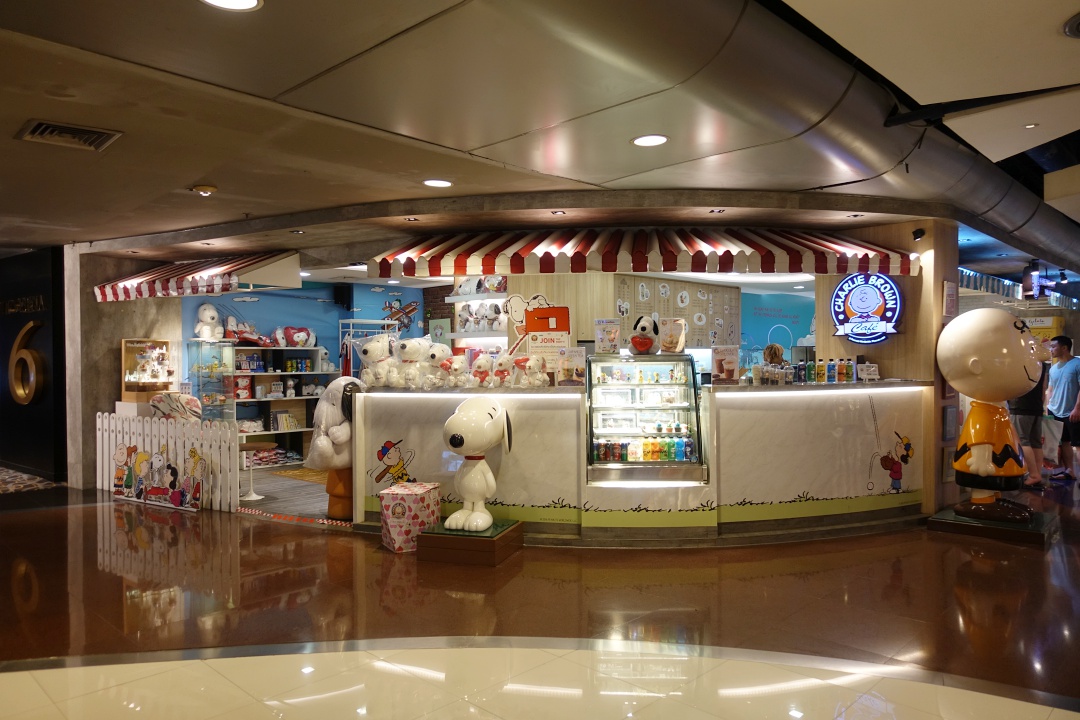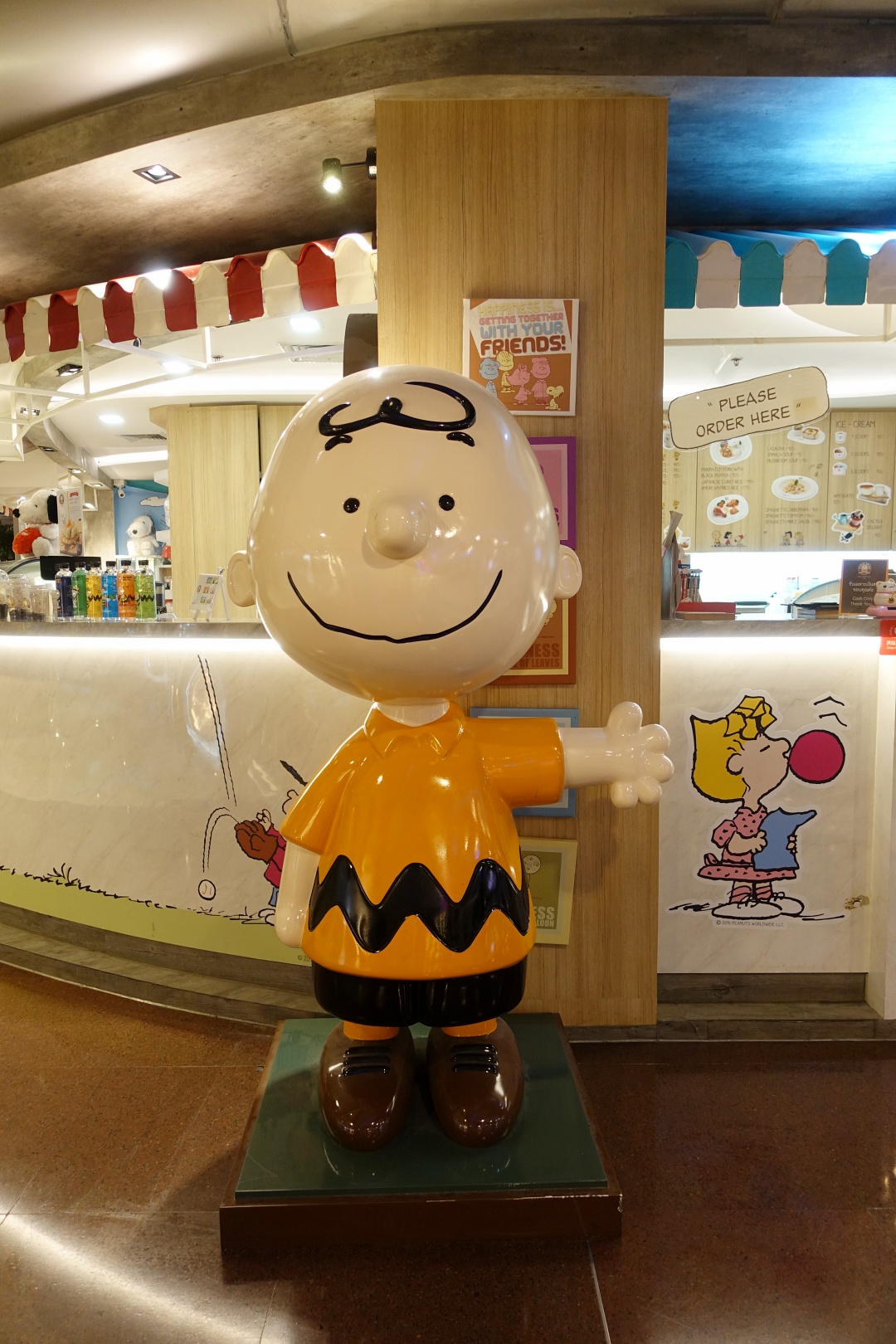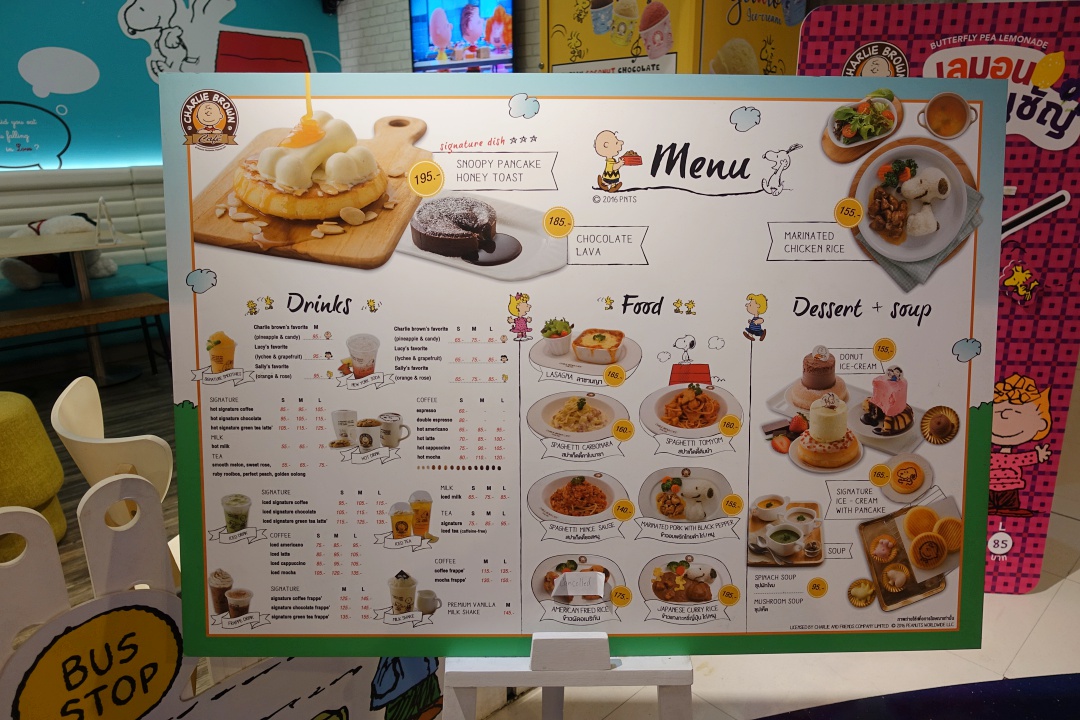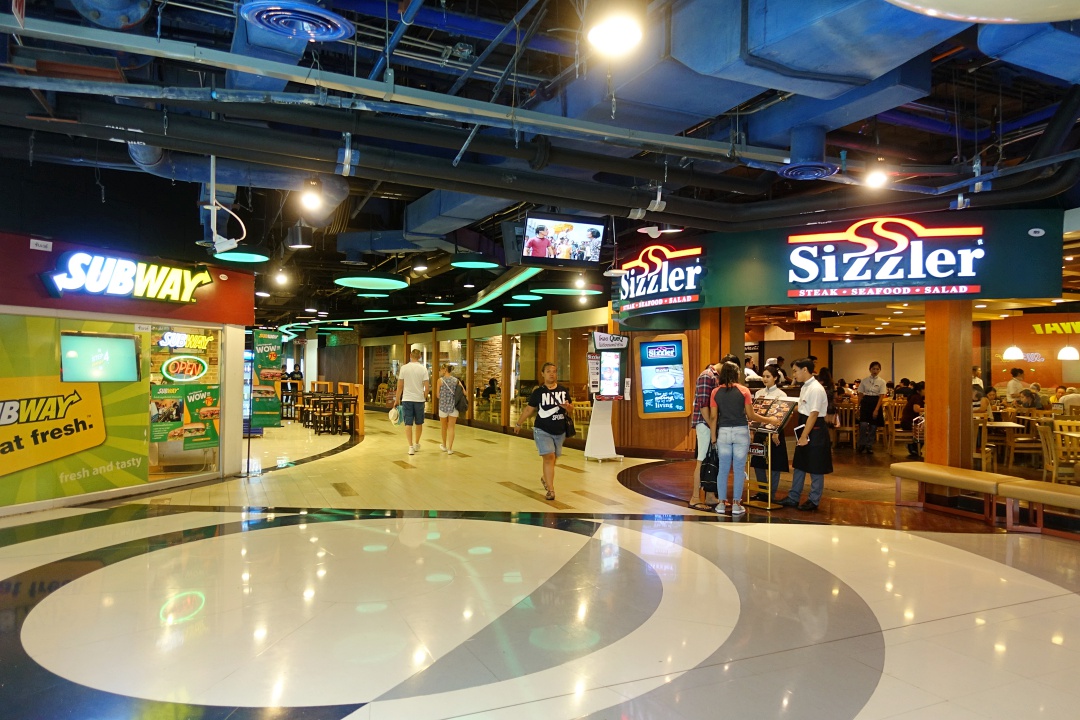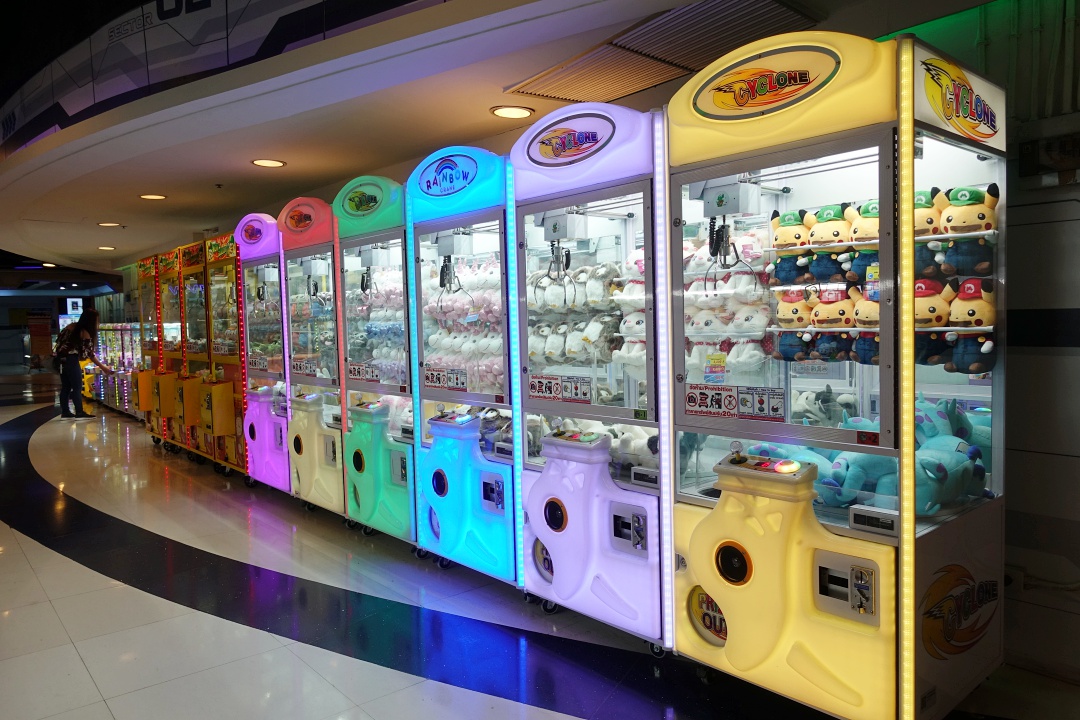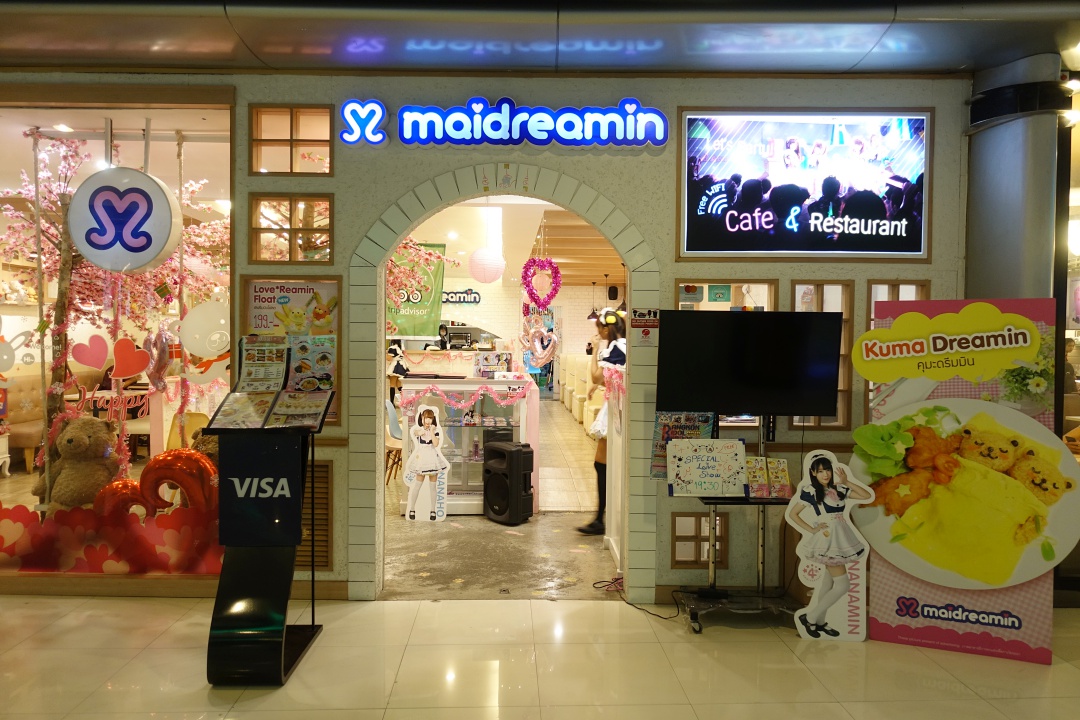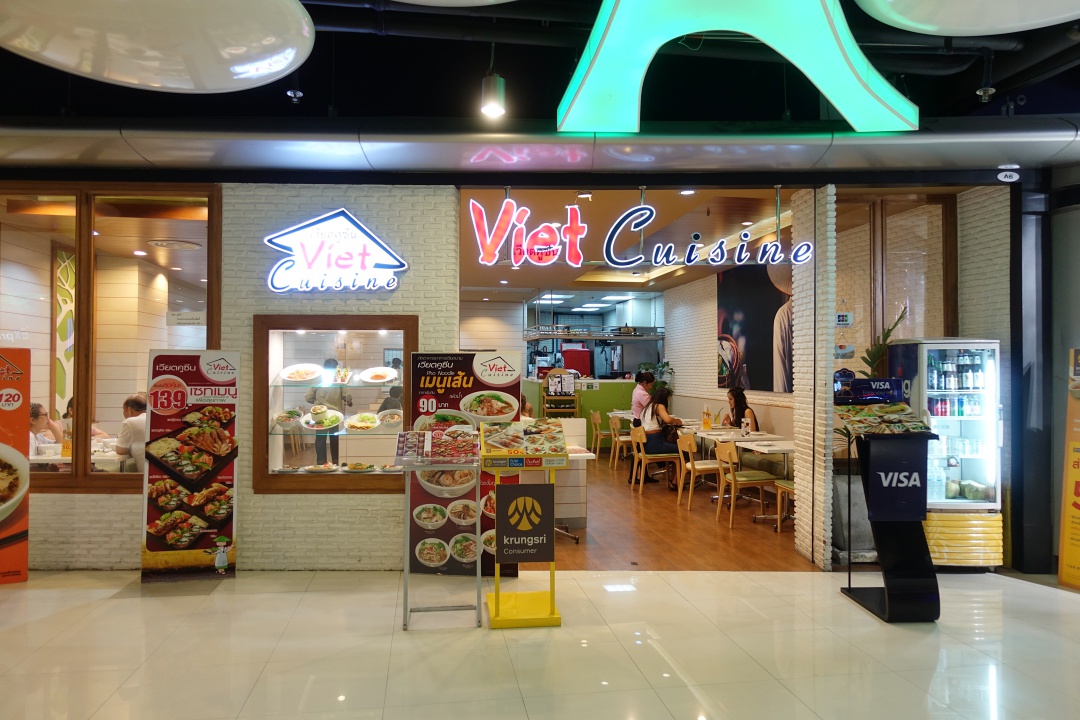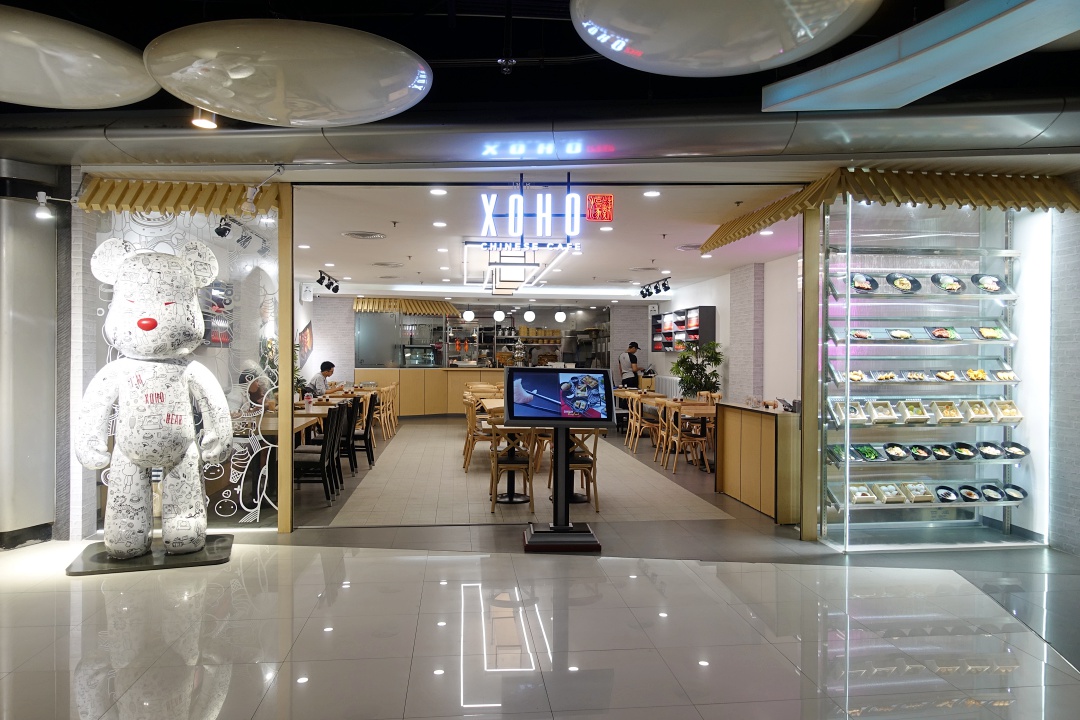 There was quite a selection of restaurants located on the top storey (level 7); eventually, we decided to have steamboat at MK Restaurant.
MK Restaurant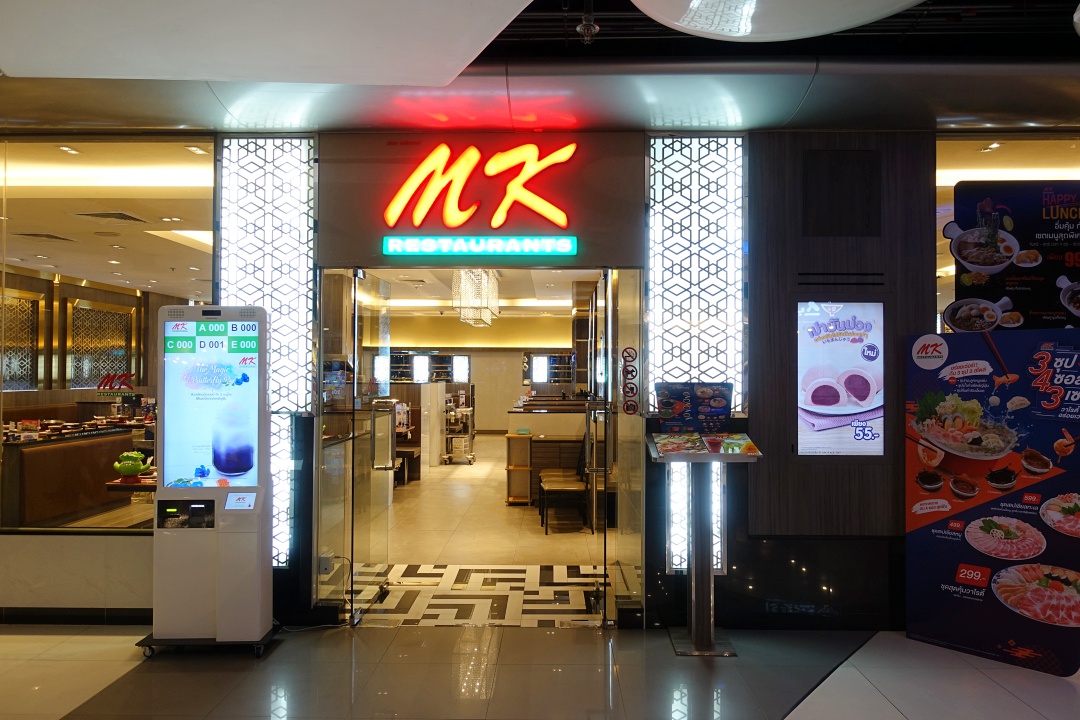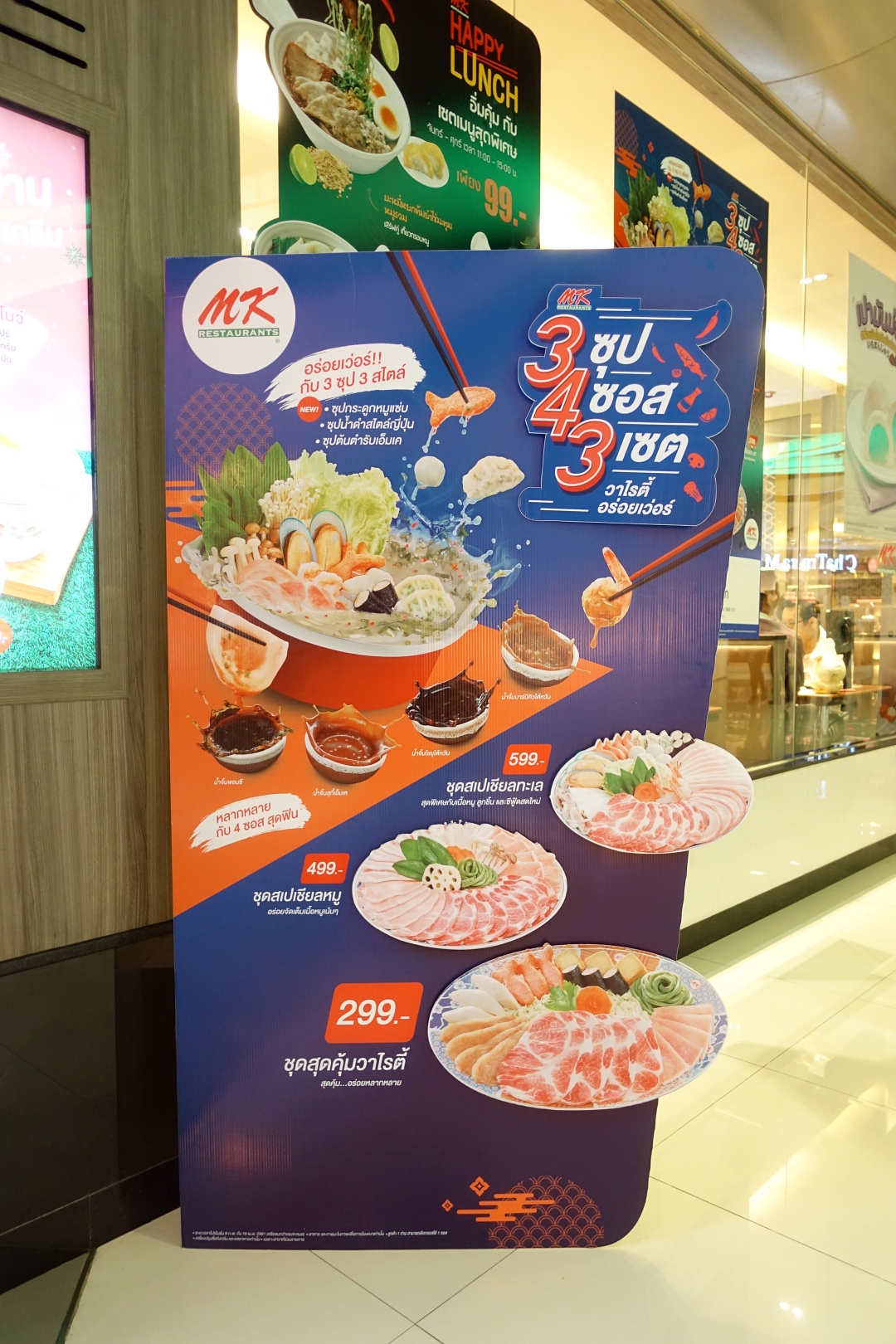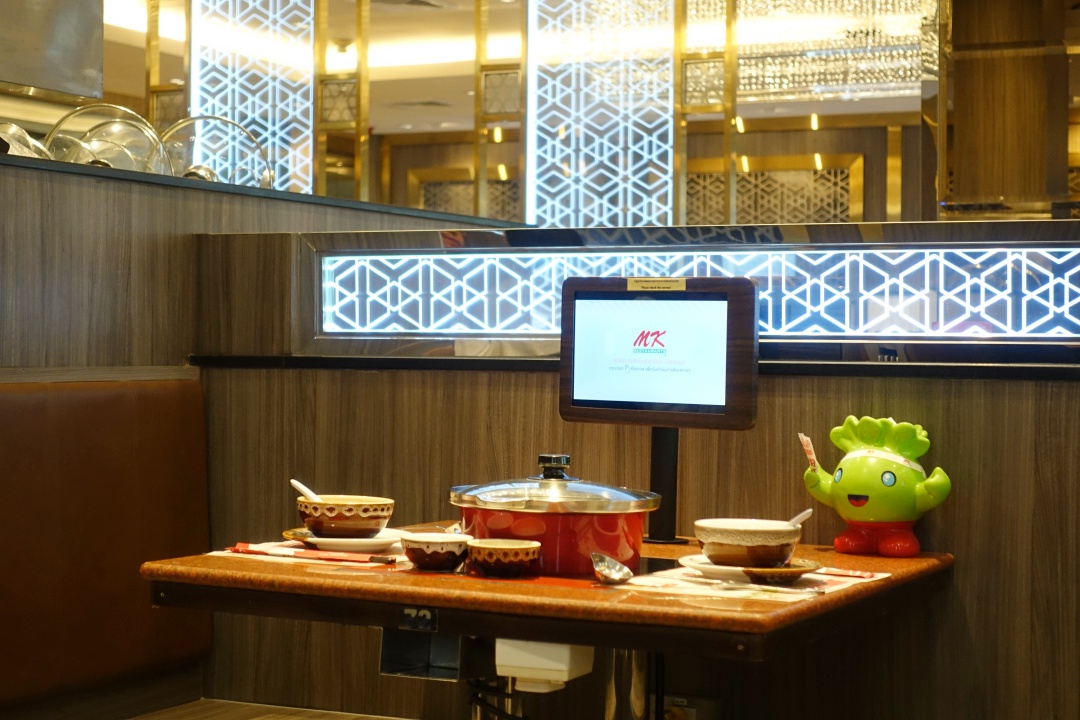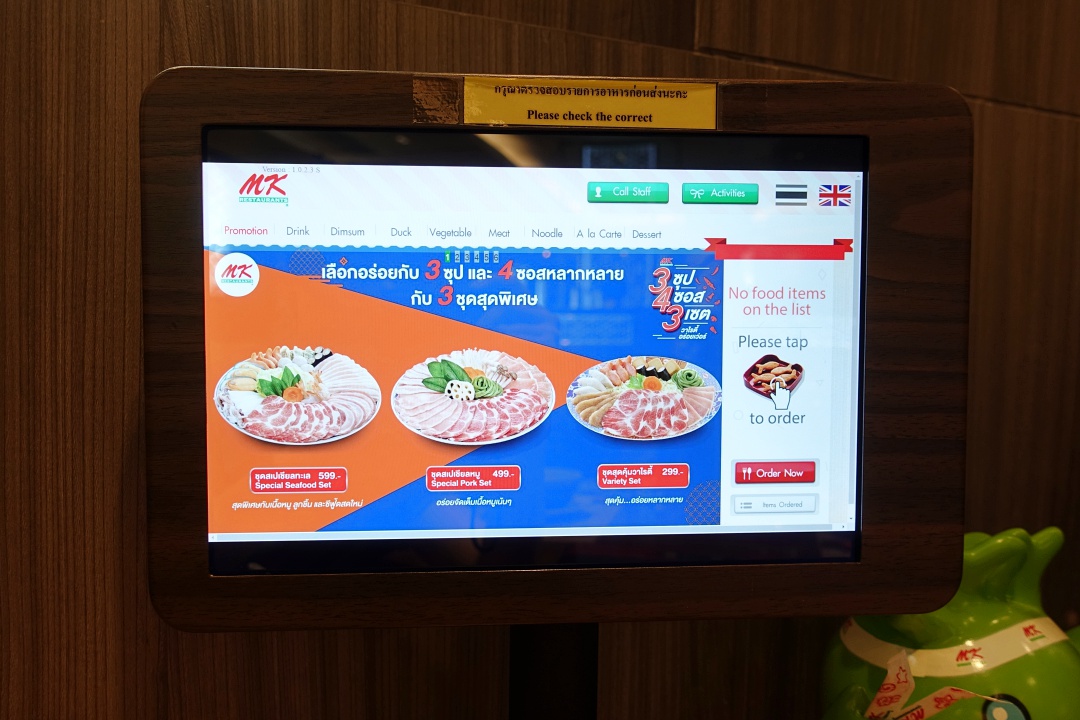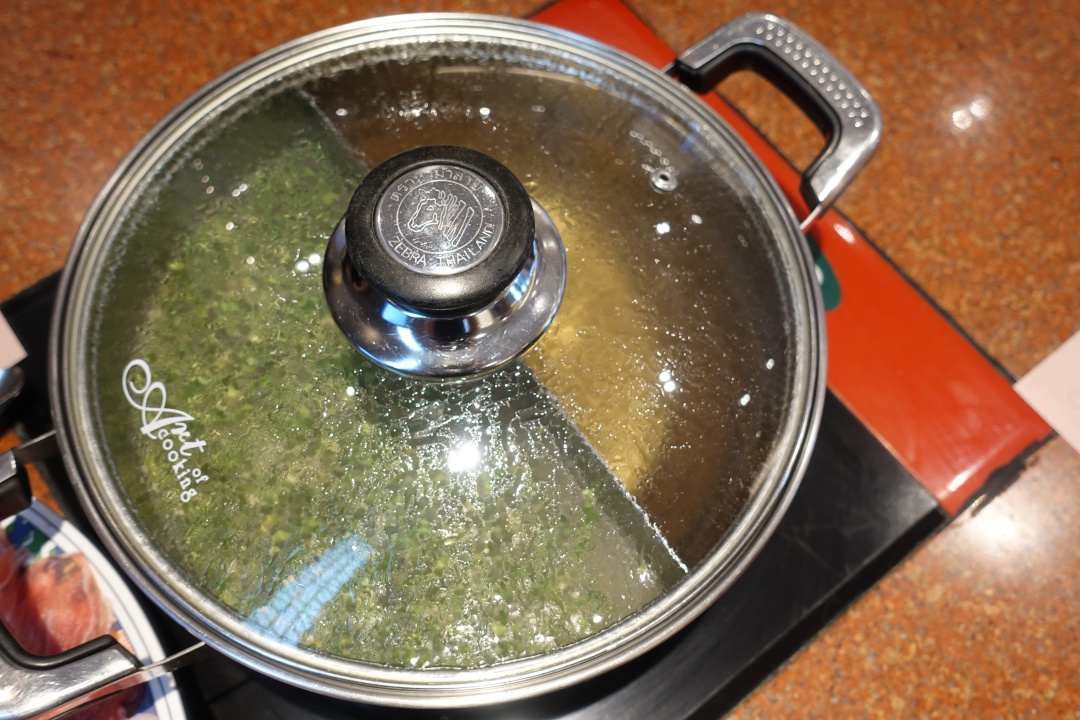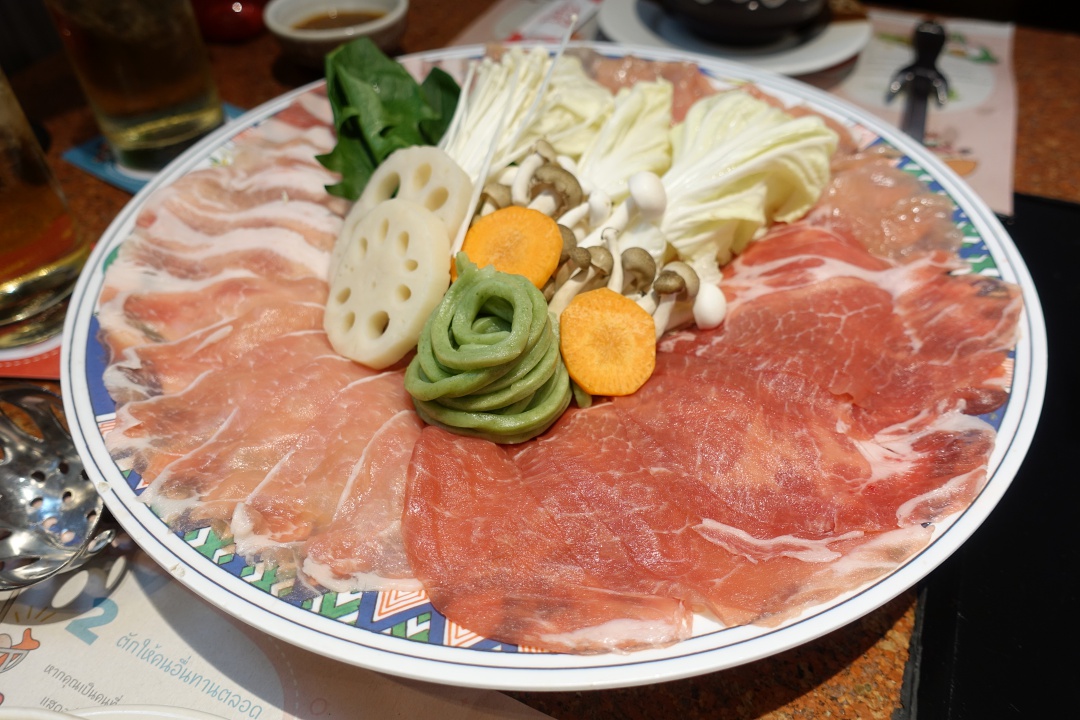 Special Pork Set.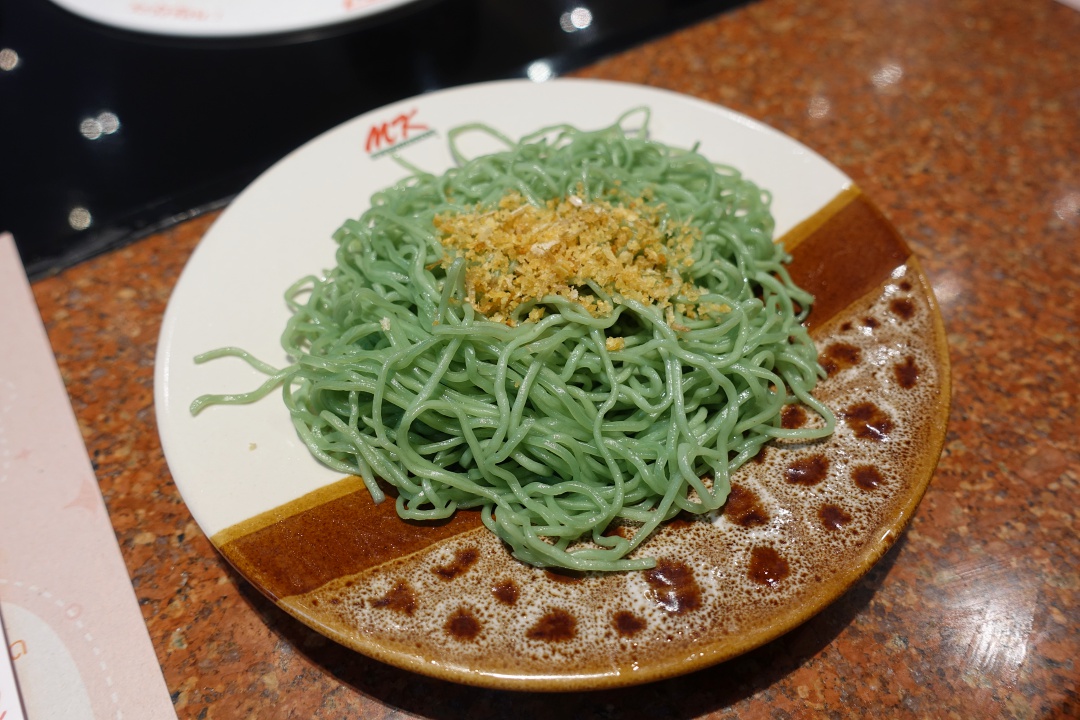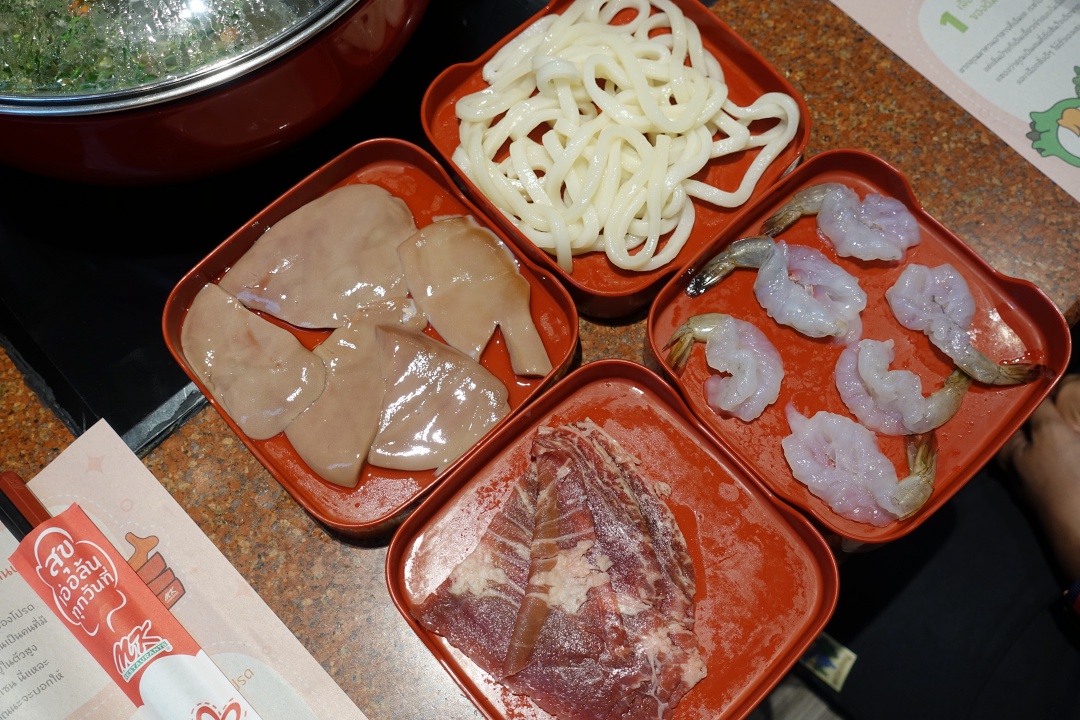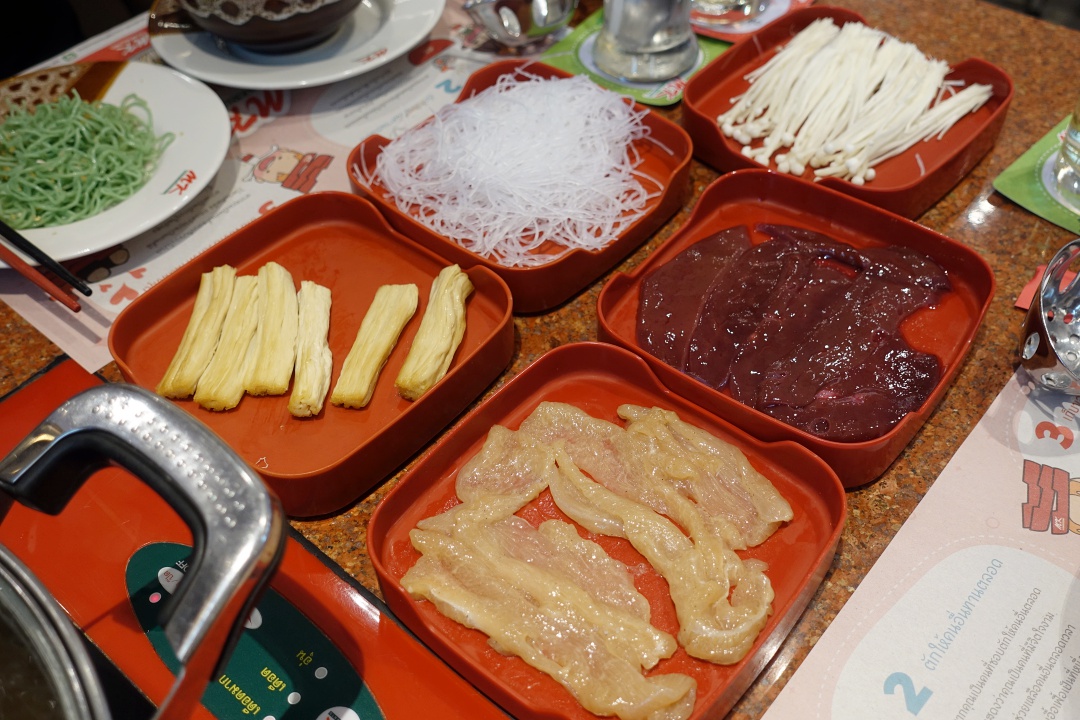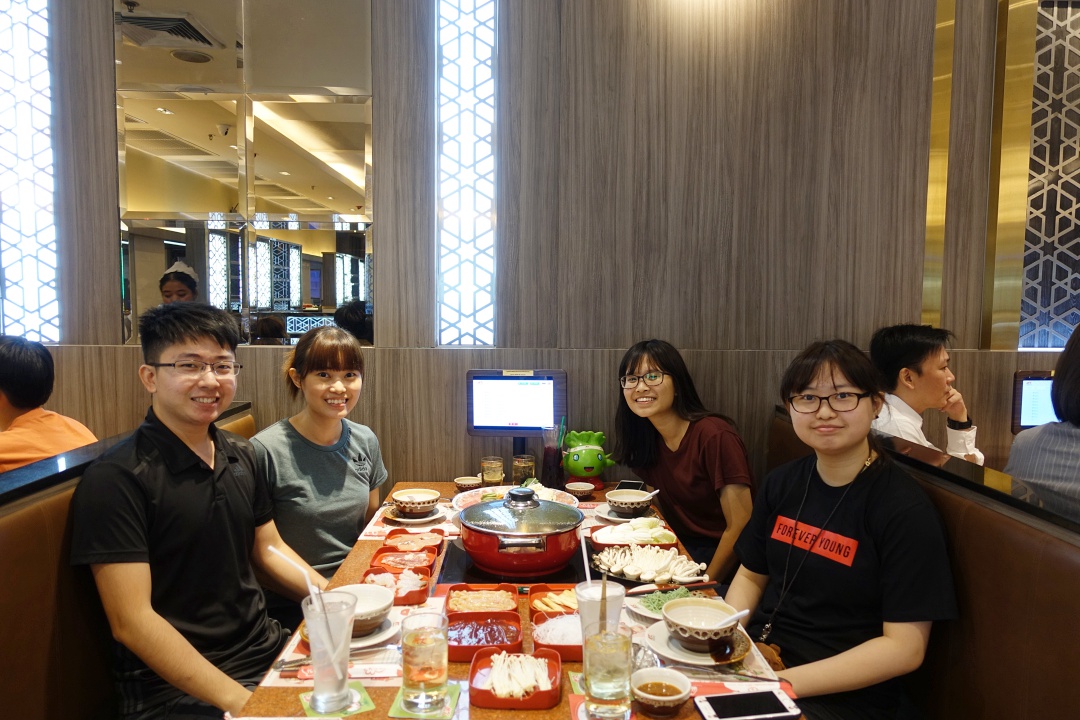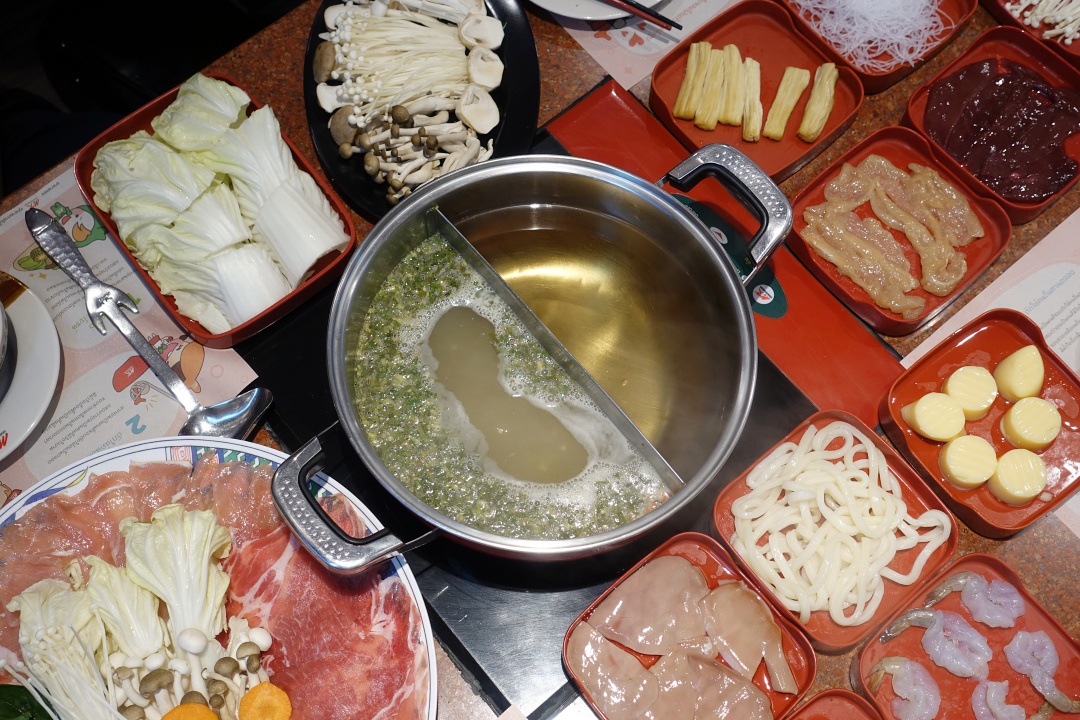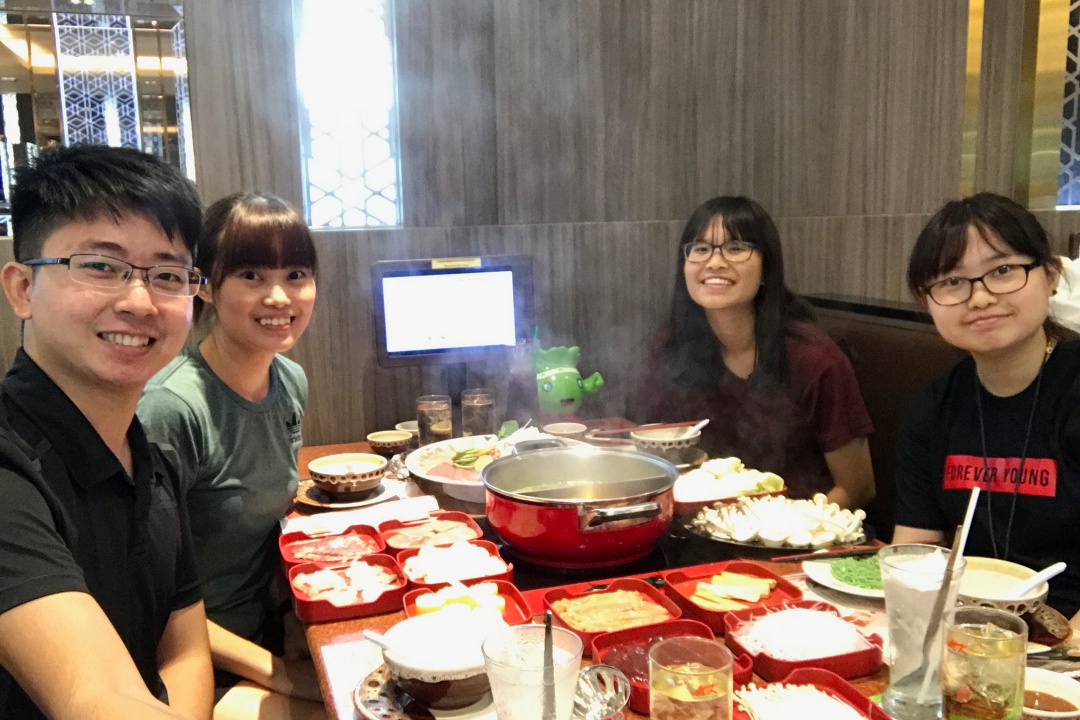 Paid THB1,596 (less than SGD70) for the meal; which I thought was really value for money considering the amount of food we ordered! I really love coming to Bangkok for all the mookata and steamboat because I could order a table full of dishes, but yet the bill is never overly expensive.
---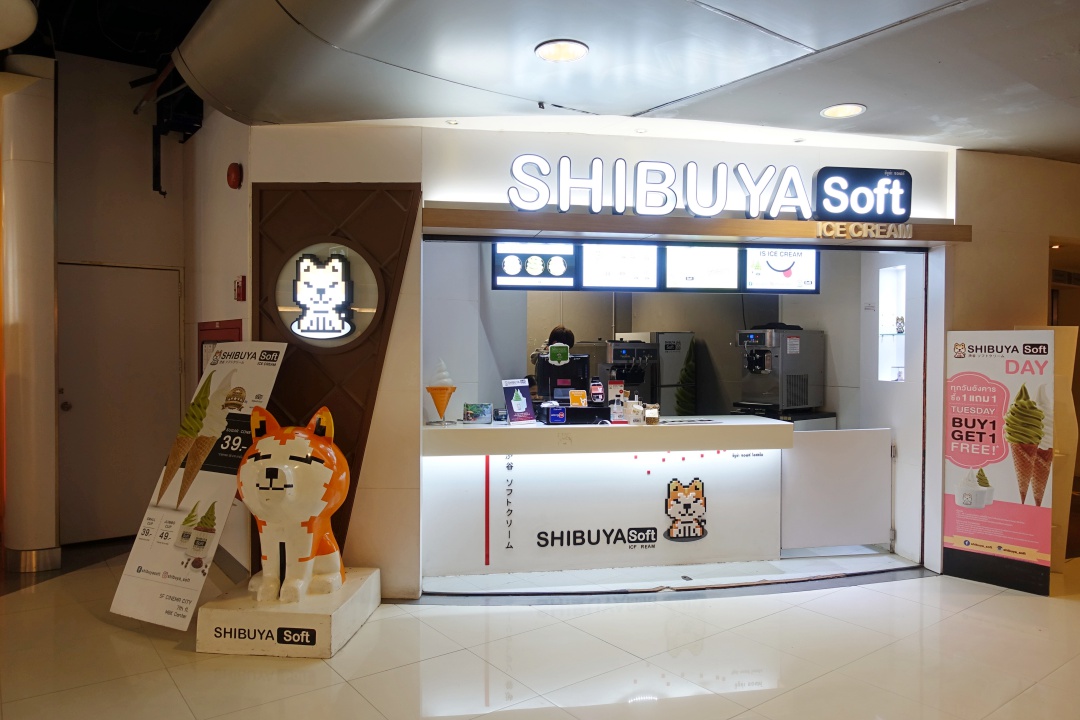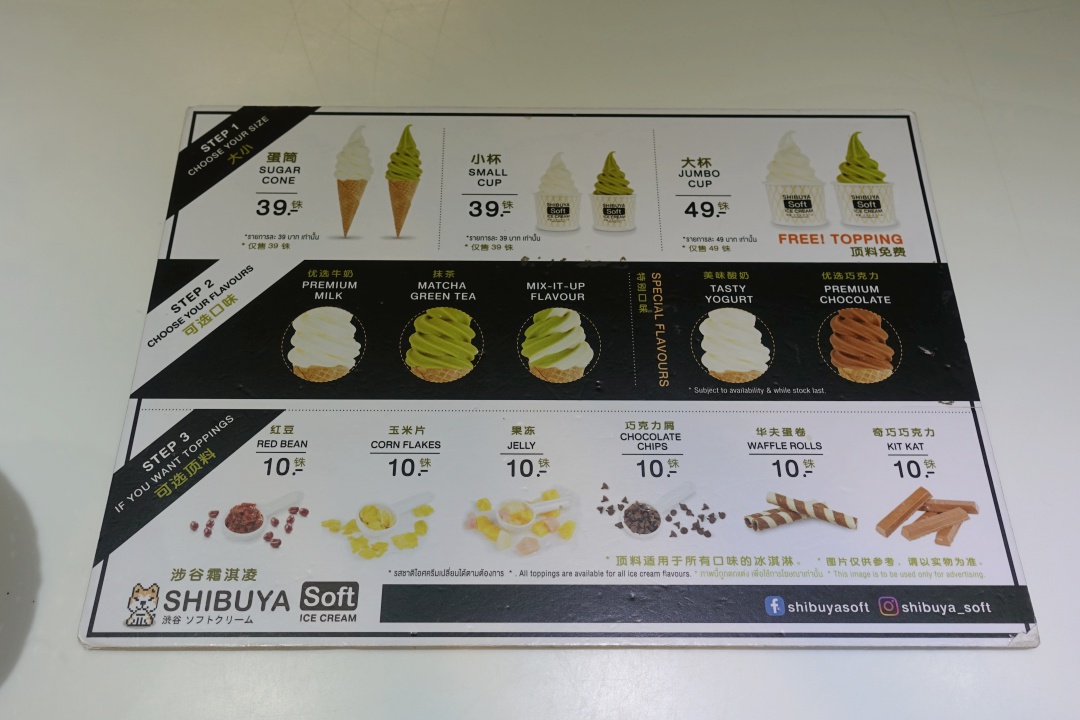 After dinner, we went to get dessert from Shibuya Soft Ice Cream. They were having buy one get one free for the ice cream, so we got two of the matcha sugar cone for sharing. I initially wanted the premium milk flavour, but it wasn't available. Fortunately, the matcha one was good!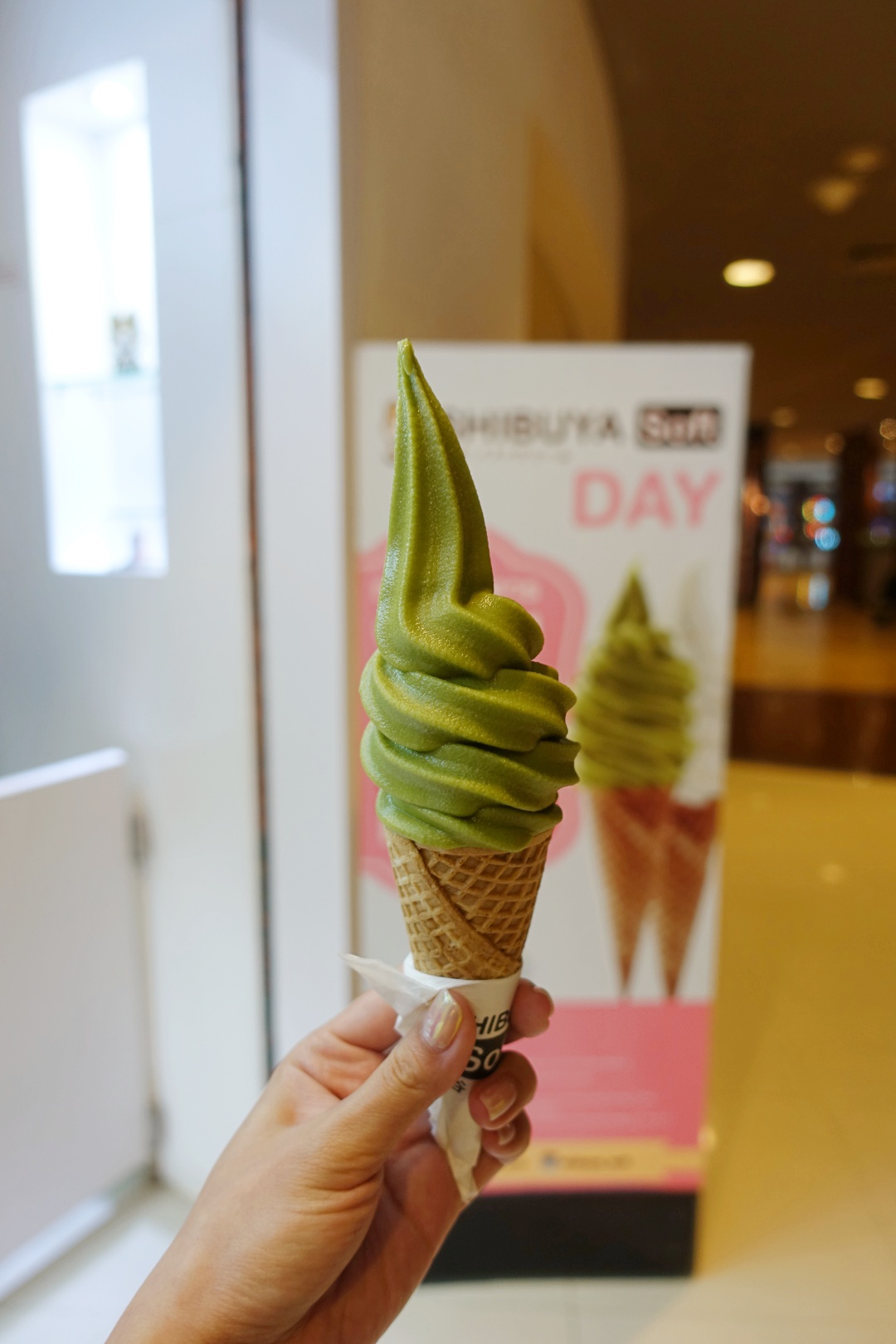 ---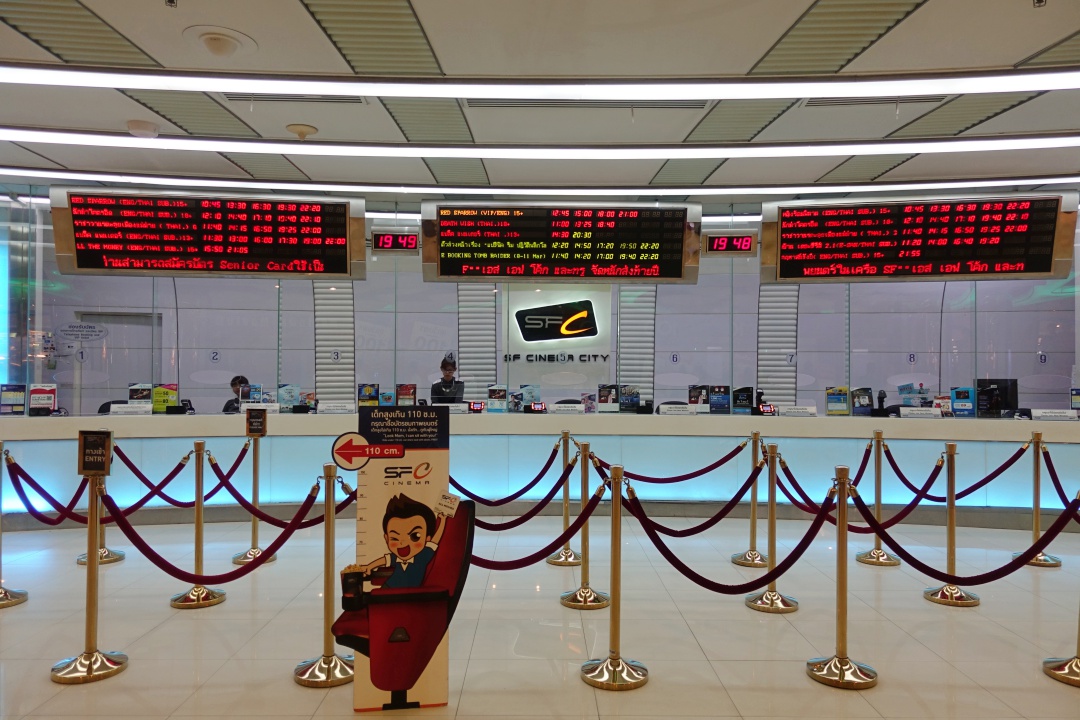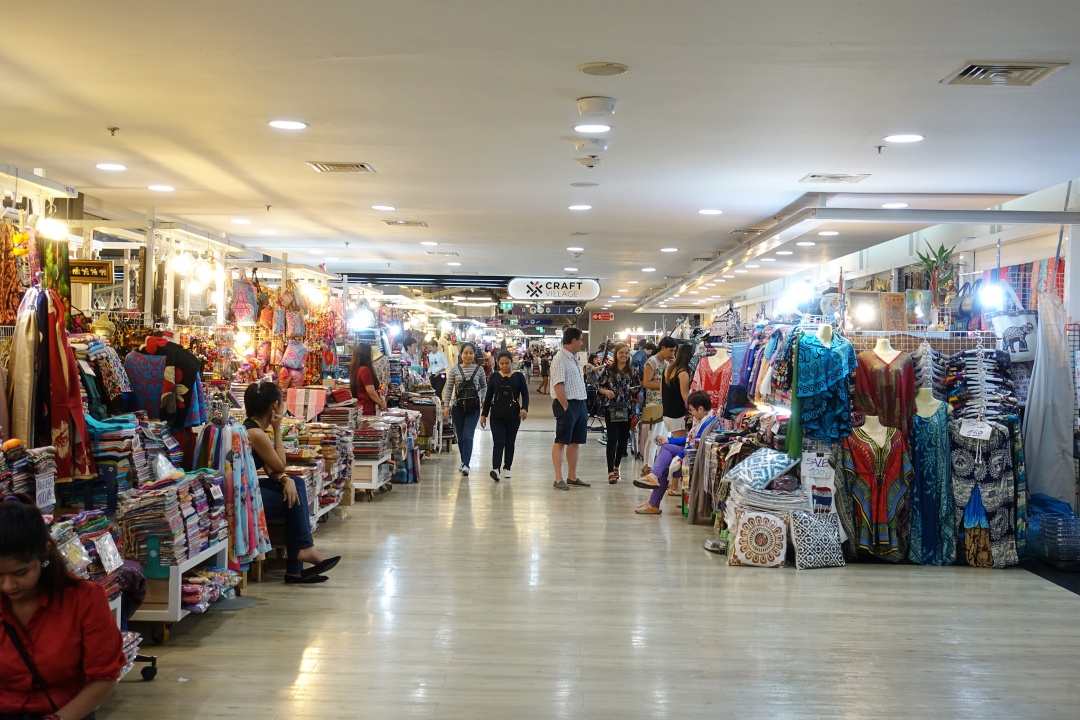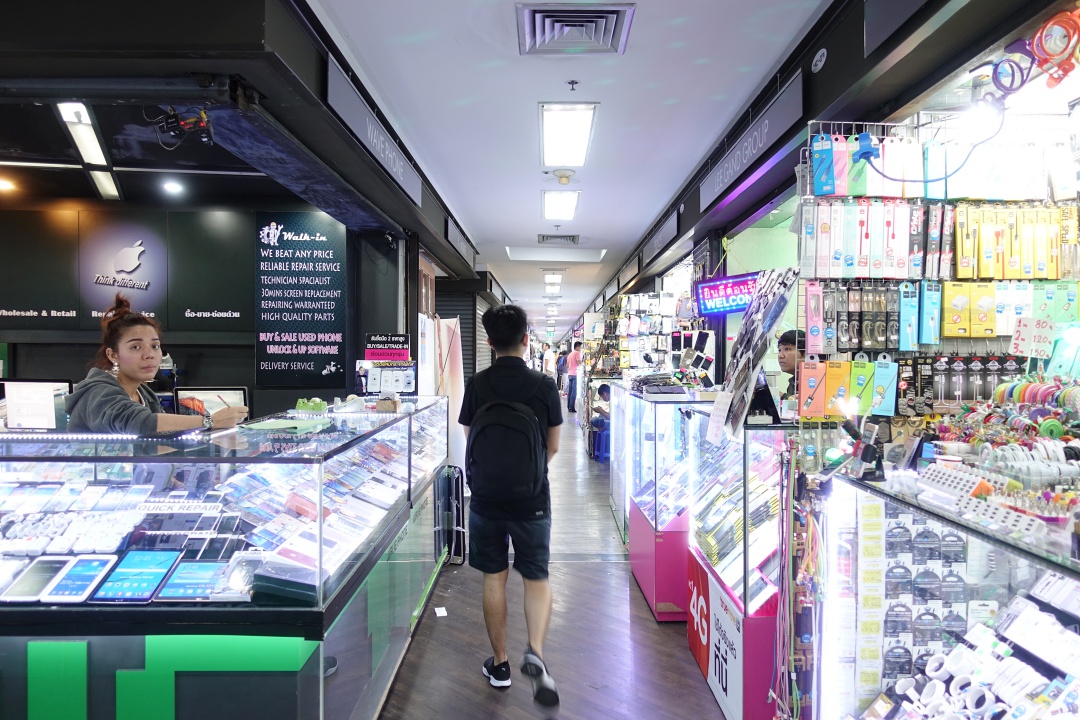 Had a quick look at the electronics / mobile phones section on level 4. Can't remember what the Husband was looking for, but he didn't manage to get anything in the end.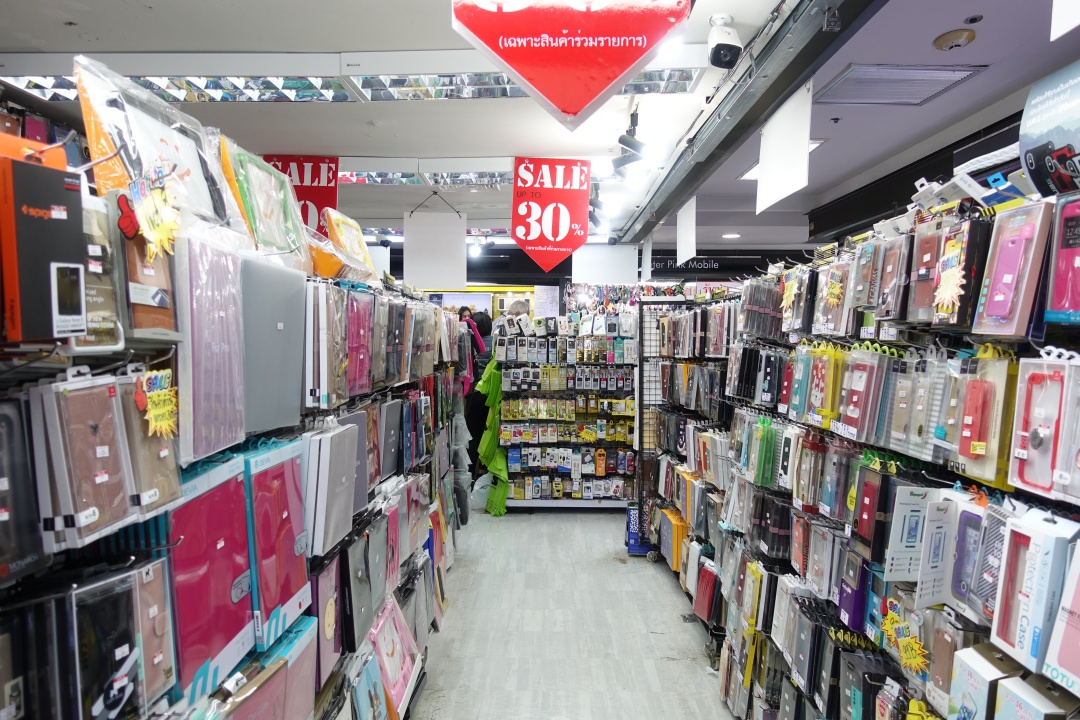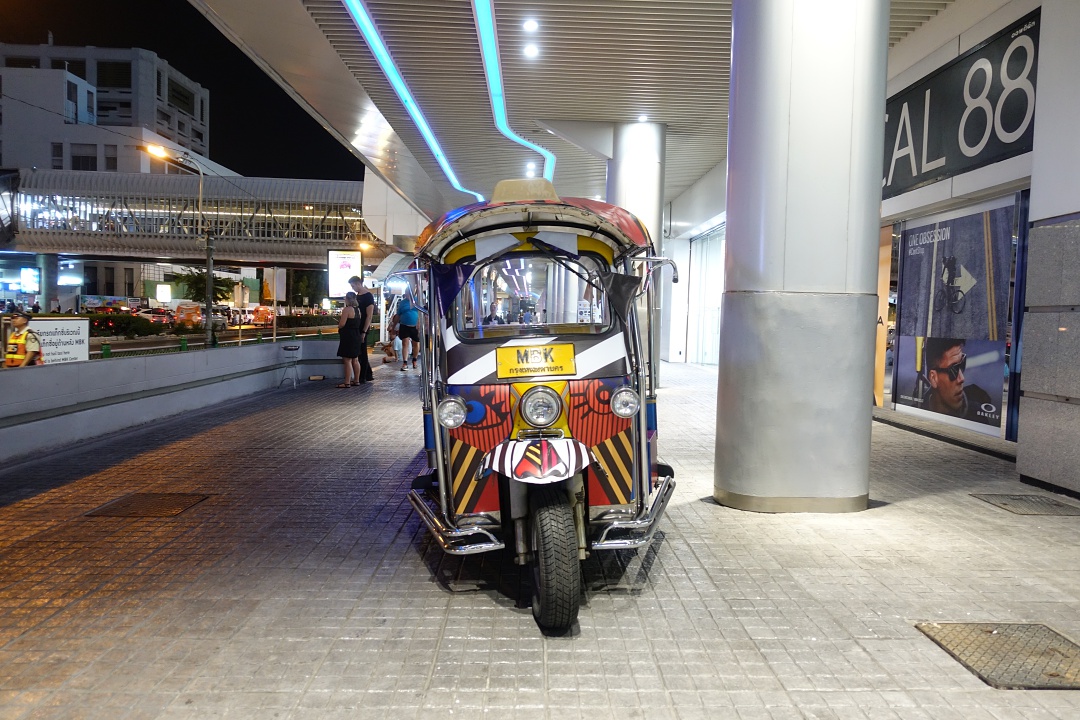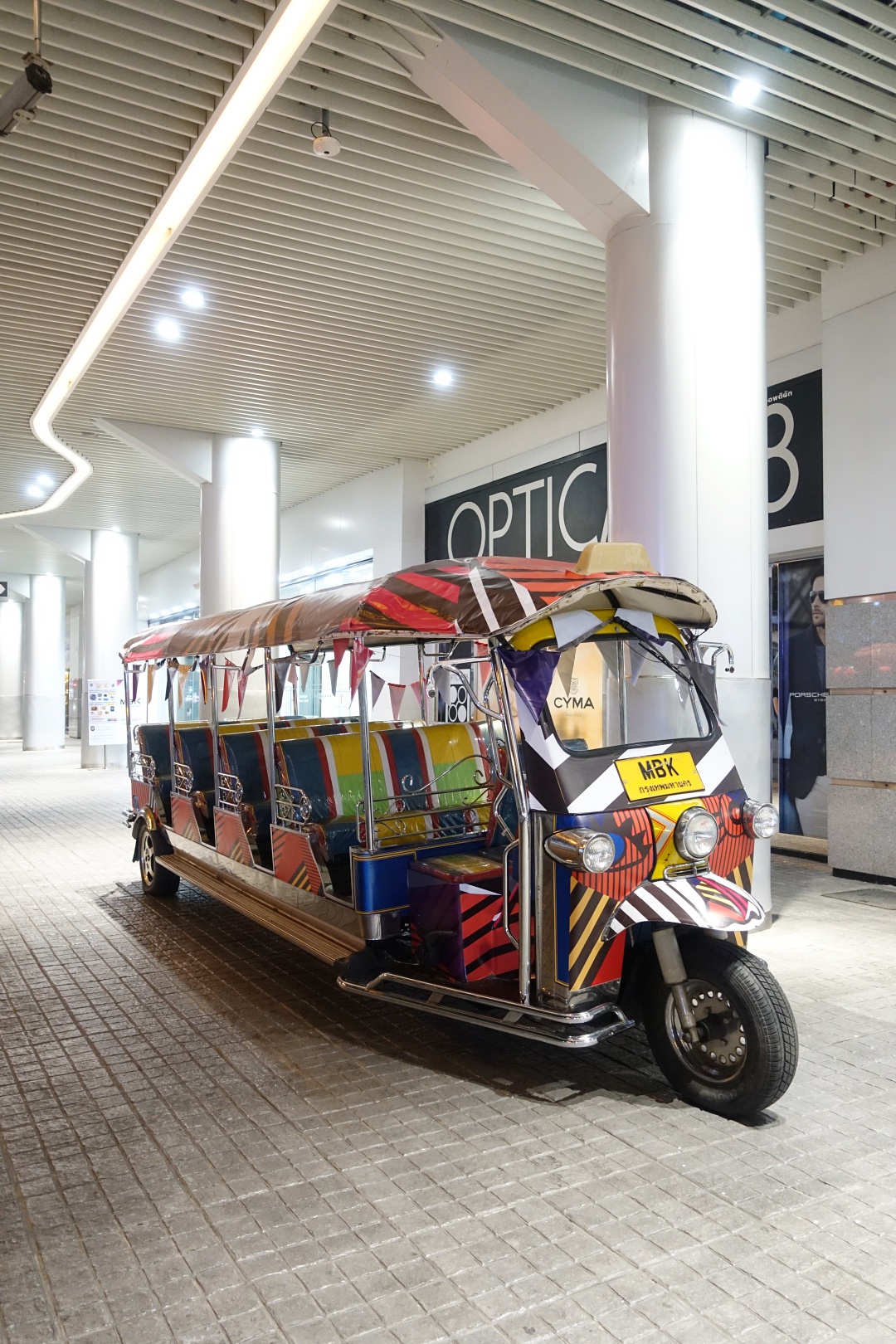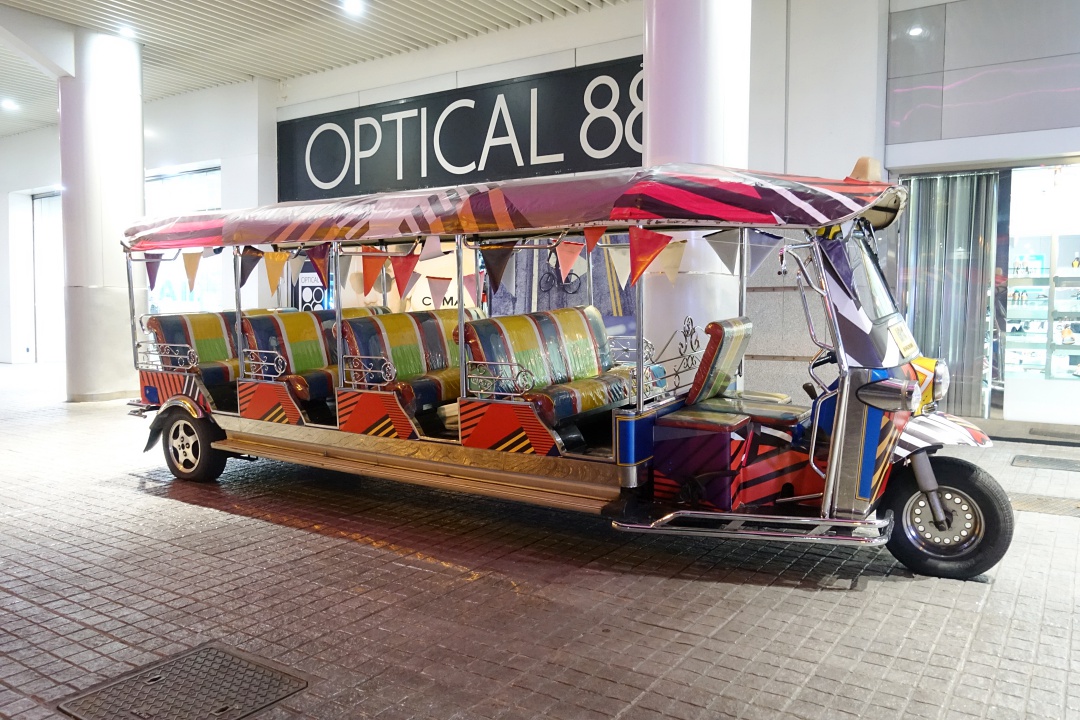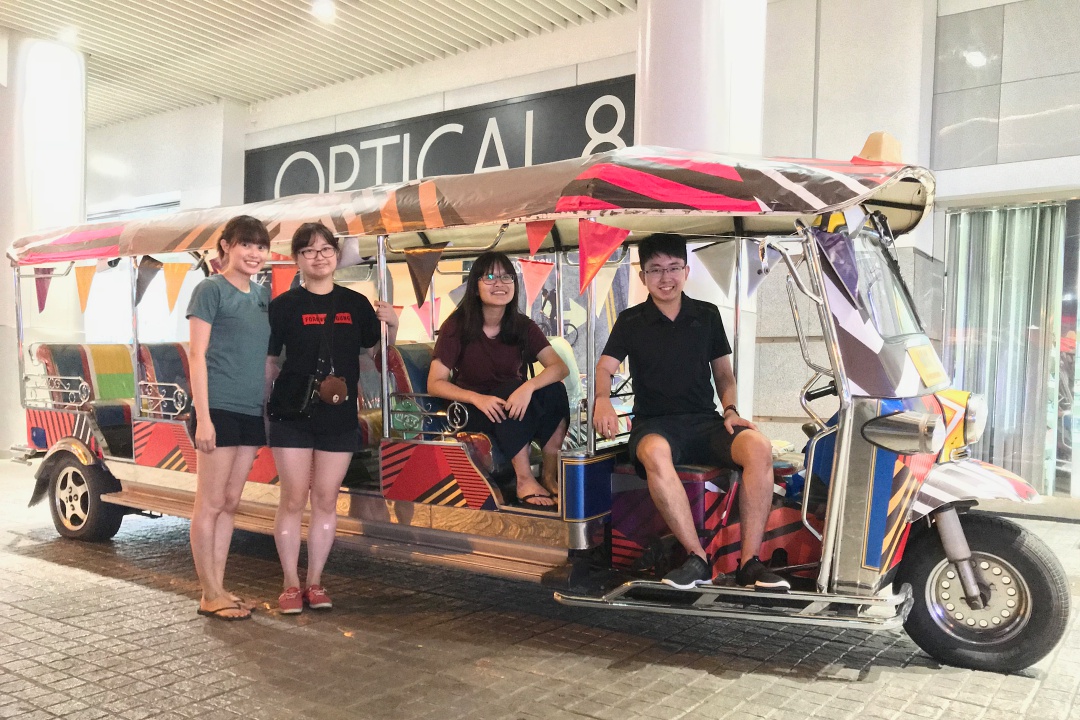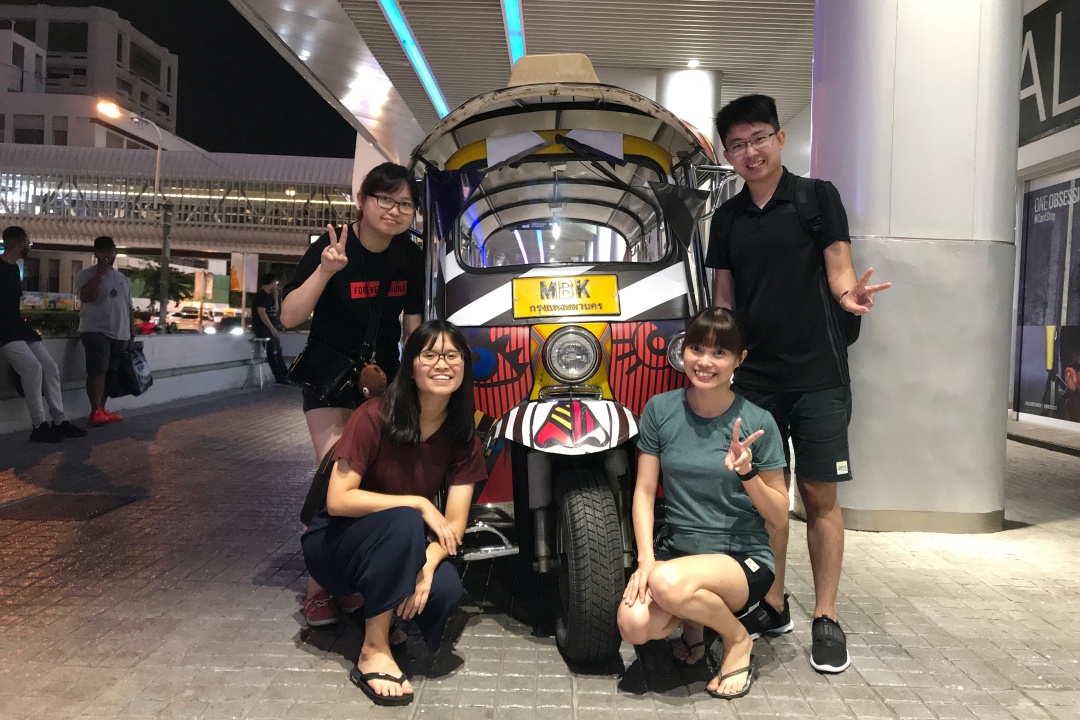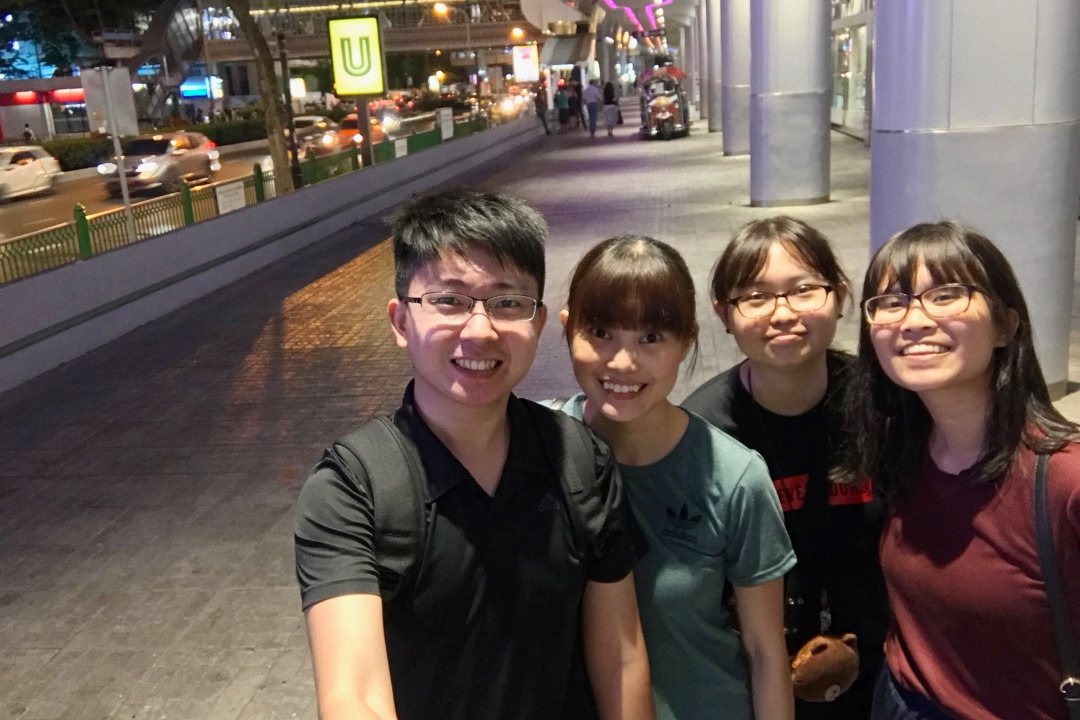 MBK Center | Yellow Mellow
Came across a small night market outside MBK Center known as Yellow Mellow.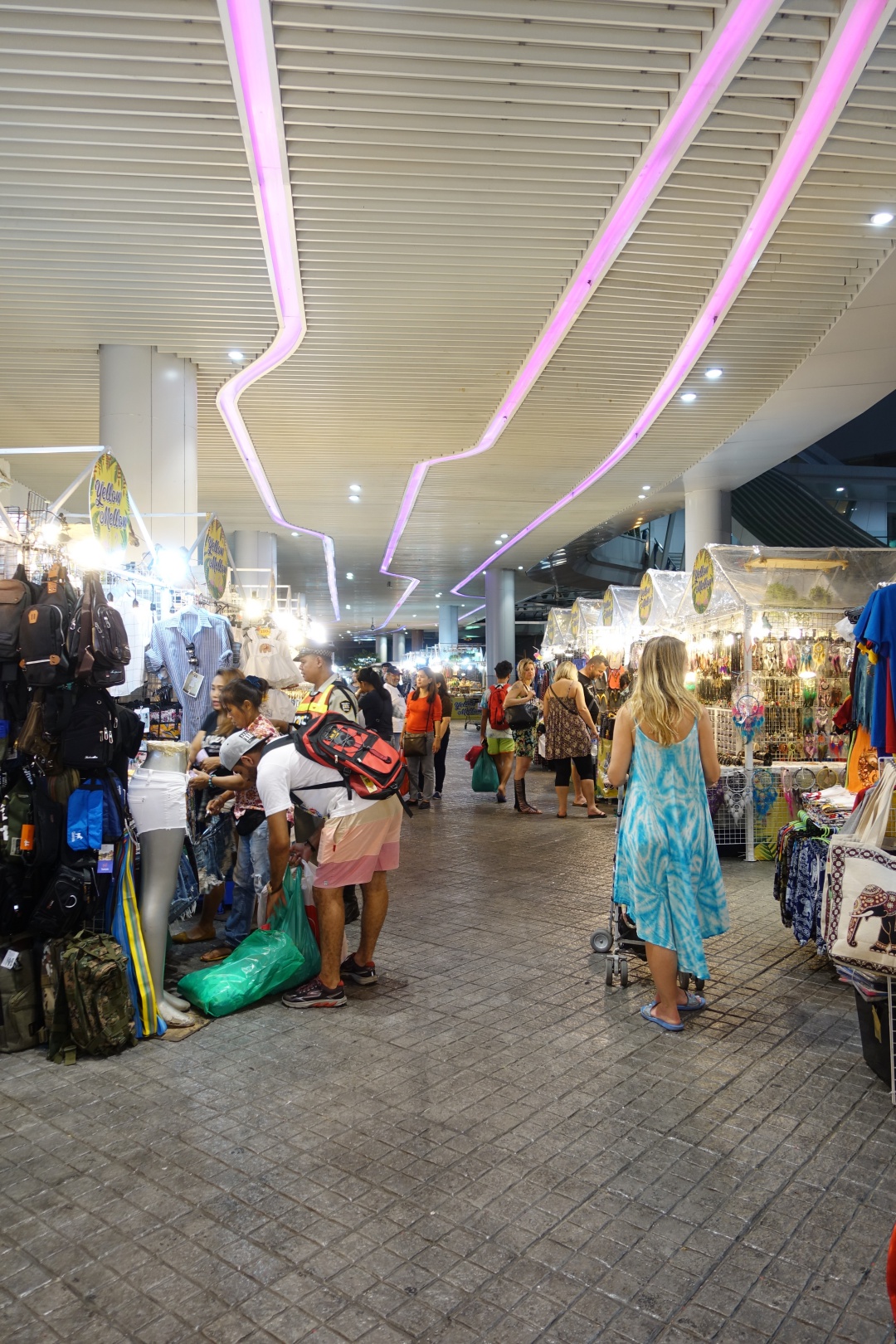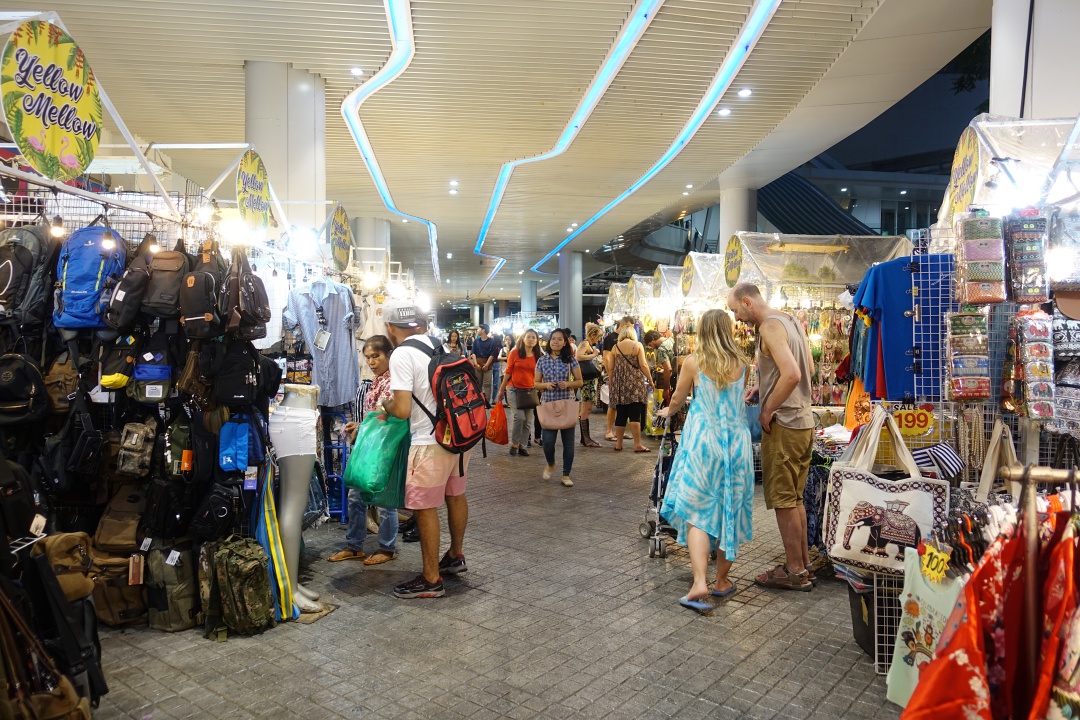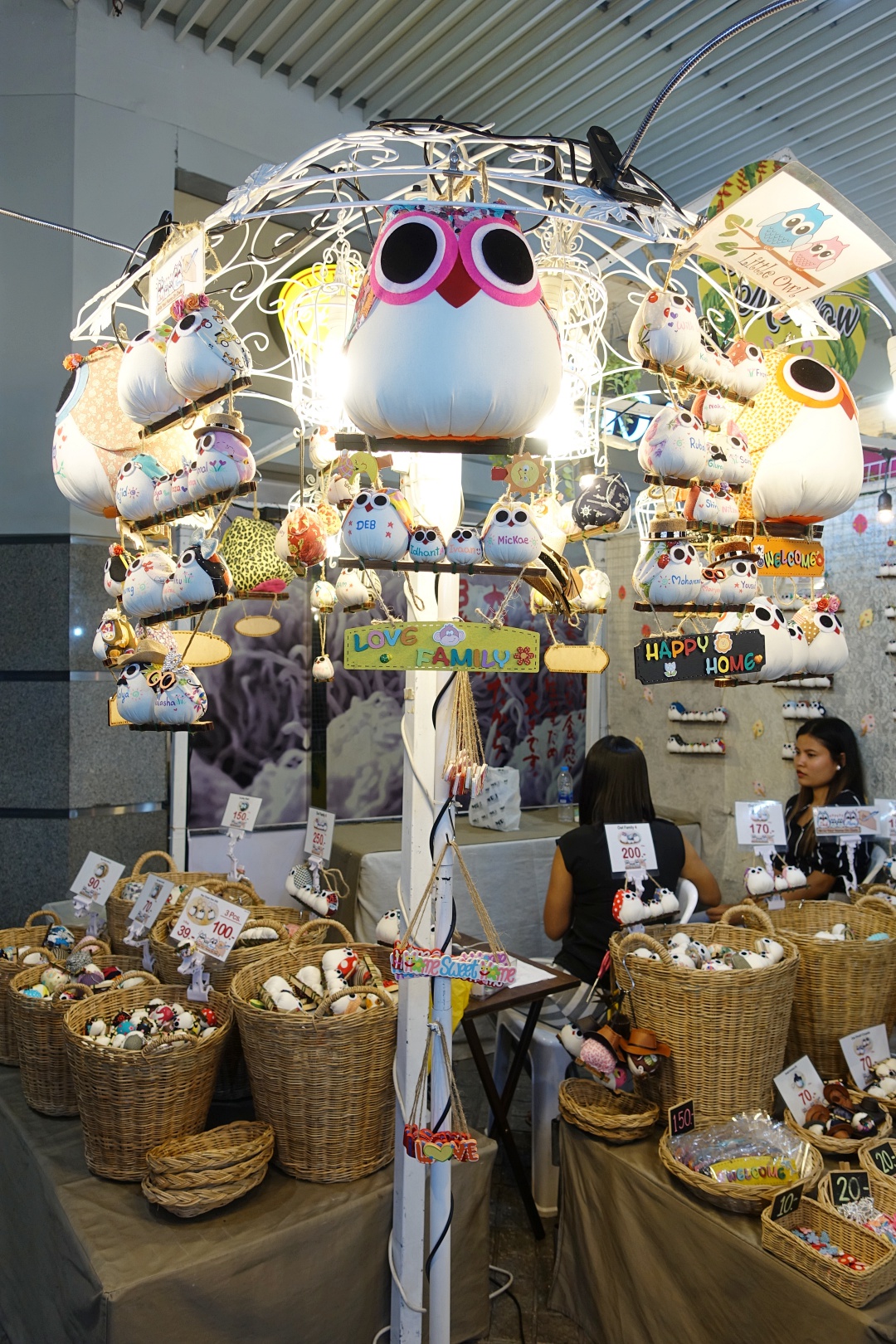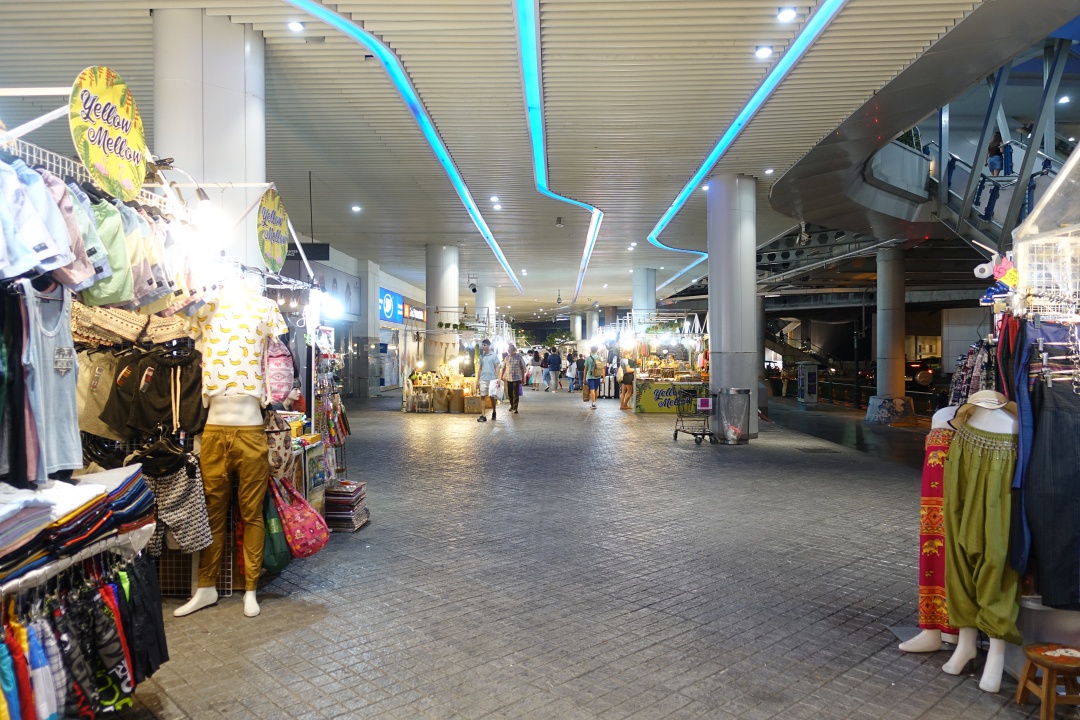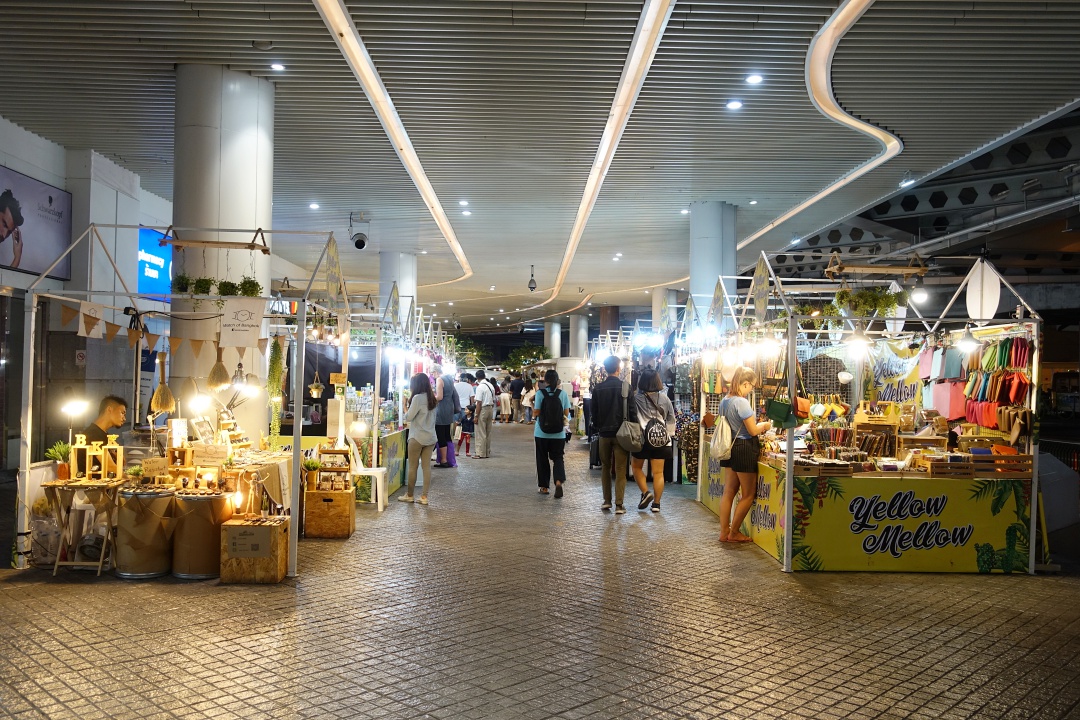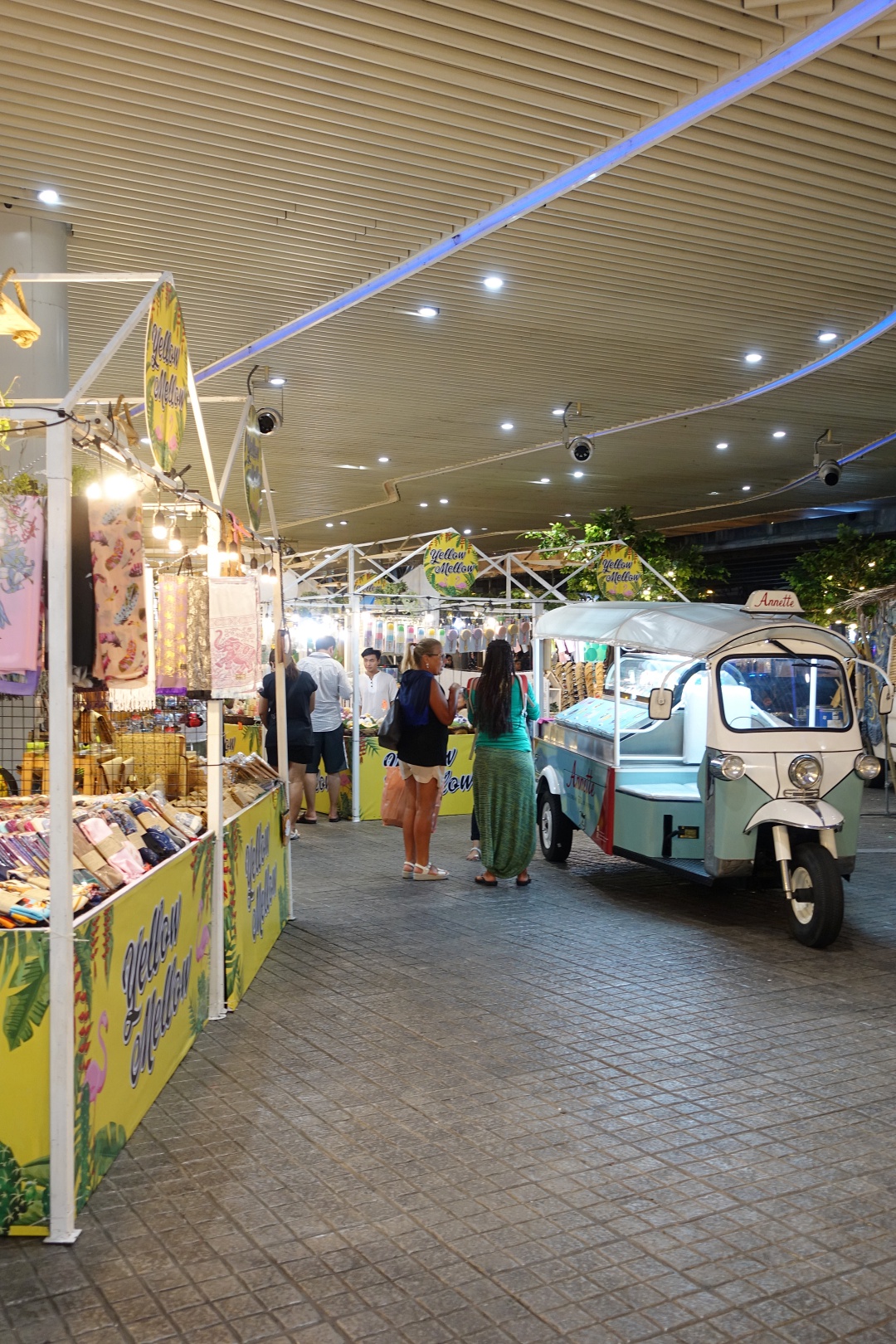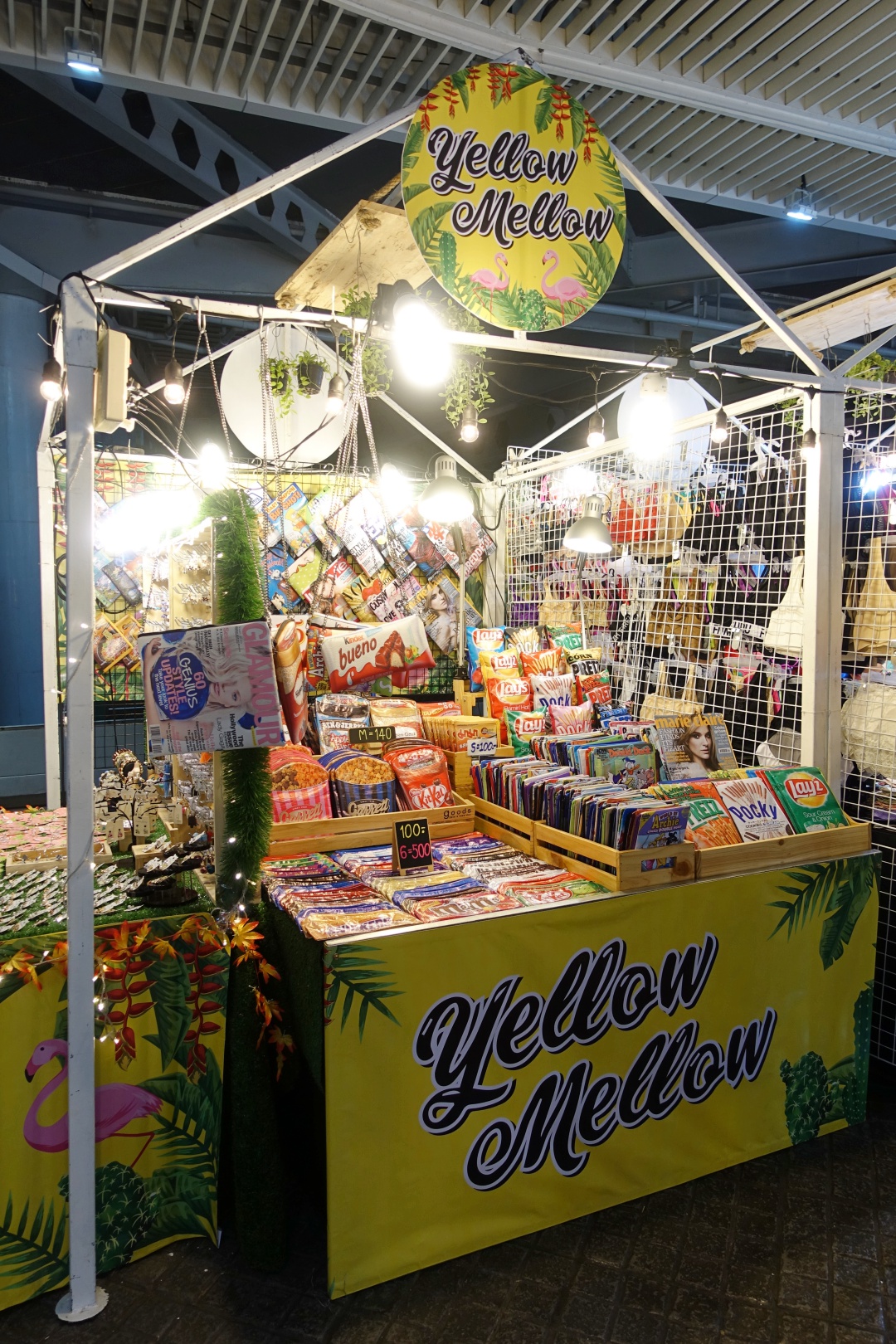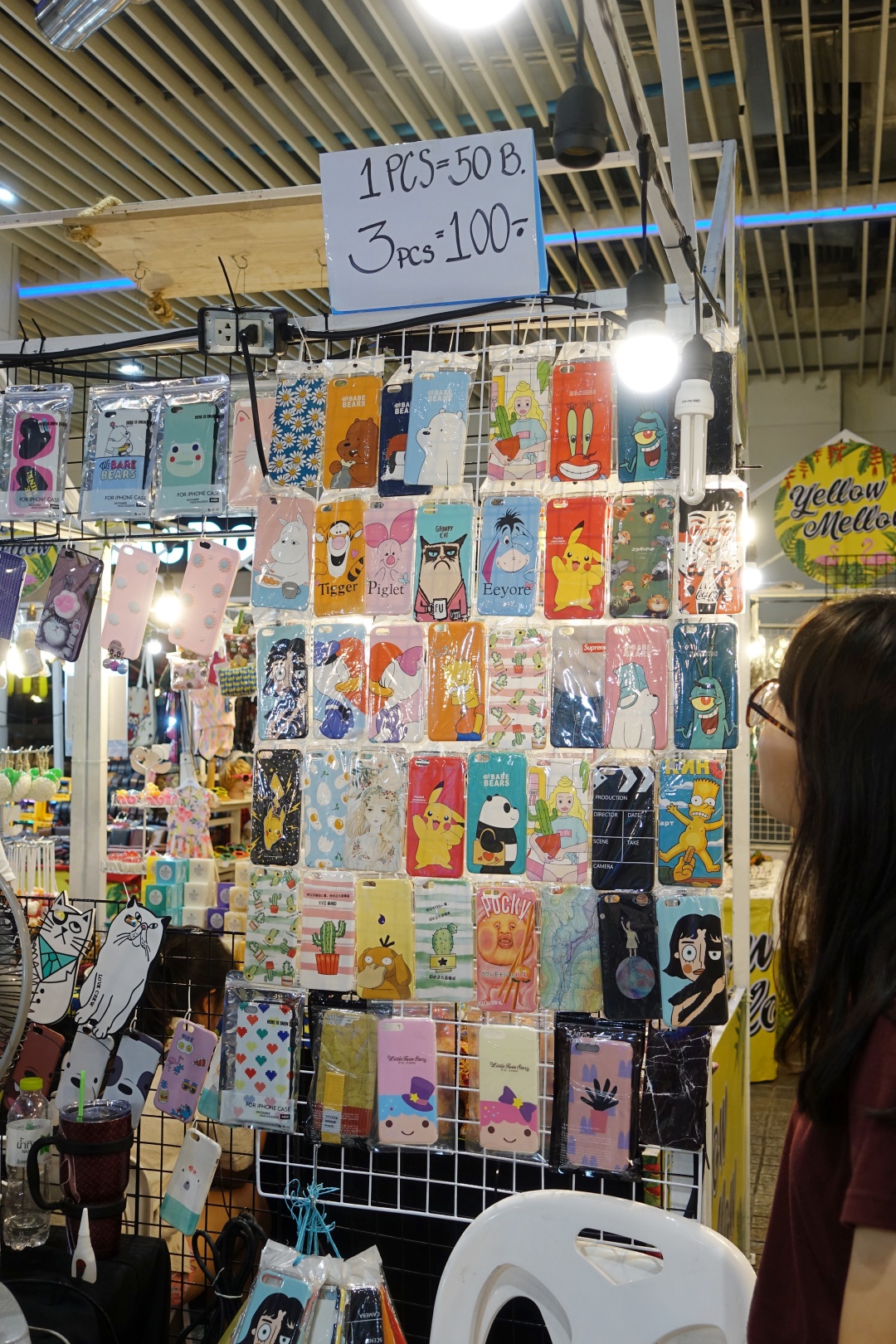 I didn't get anything, but my sisters managed to get some affordable iPhone cases at three for THB100.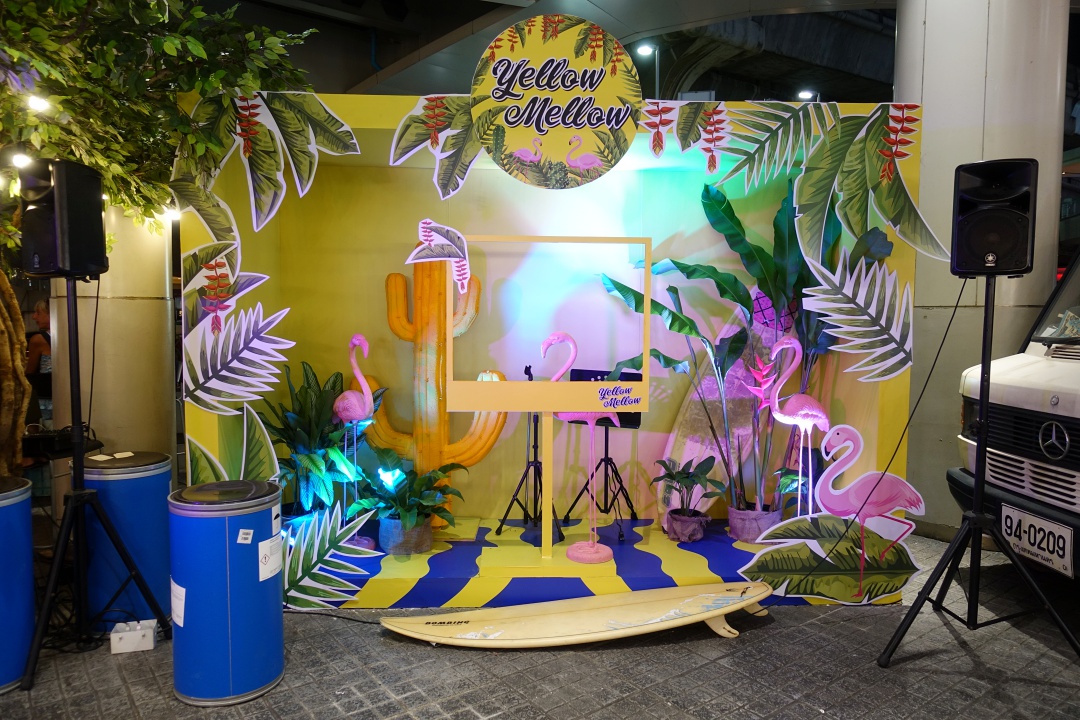 Victory Monument
From MBK Center, we then took the BTS to Victory Monument. It has been quite some time since I last came over to Victory Monument.
Aside from shopping, the primary purpose of going there was to bring my sisters to try the famous Thai Boat Noodles (Kway Teow Rua). The Husband and I had it once in one of our previous trips, and I thought it would be nice to let my sister try the authentic boat noodles in Bangkok.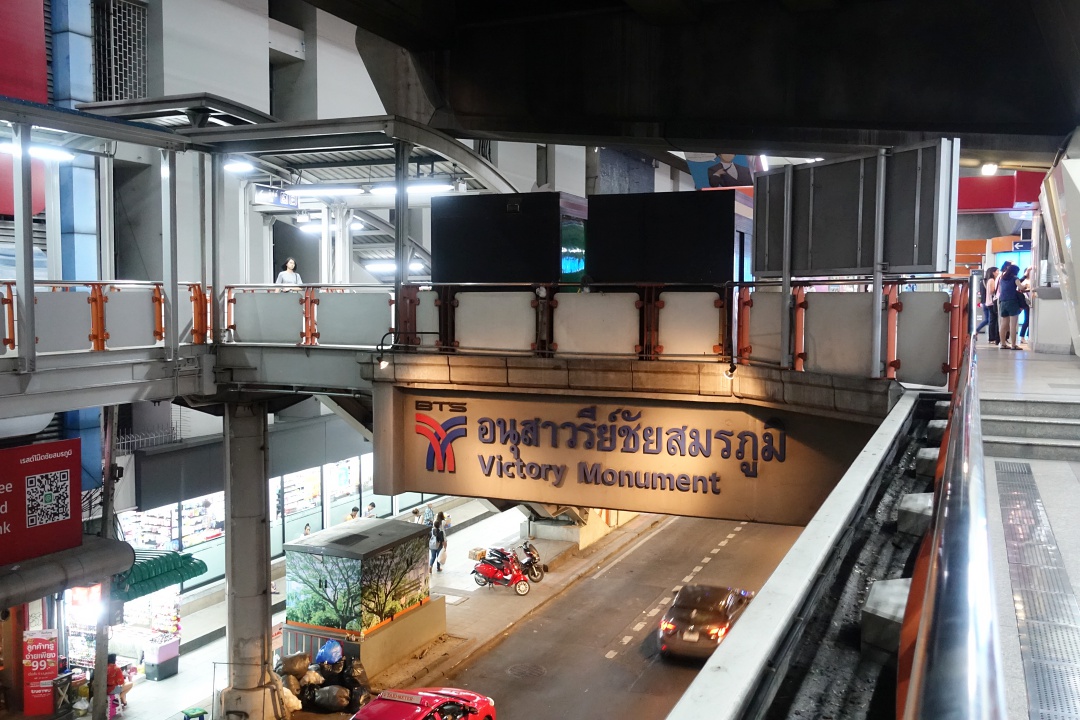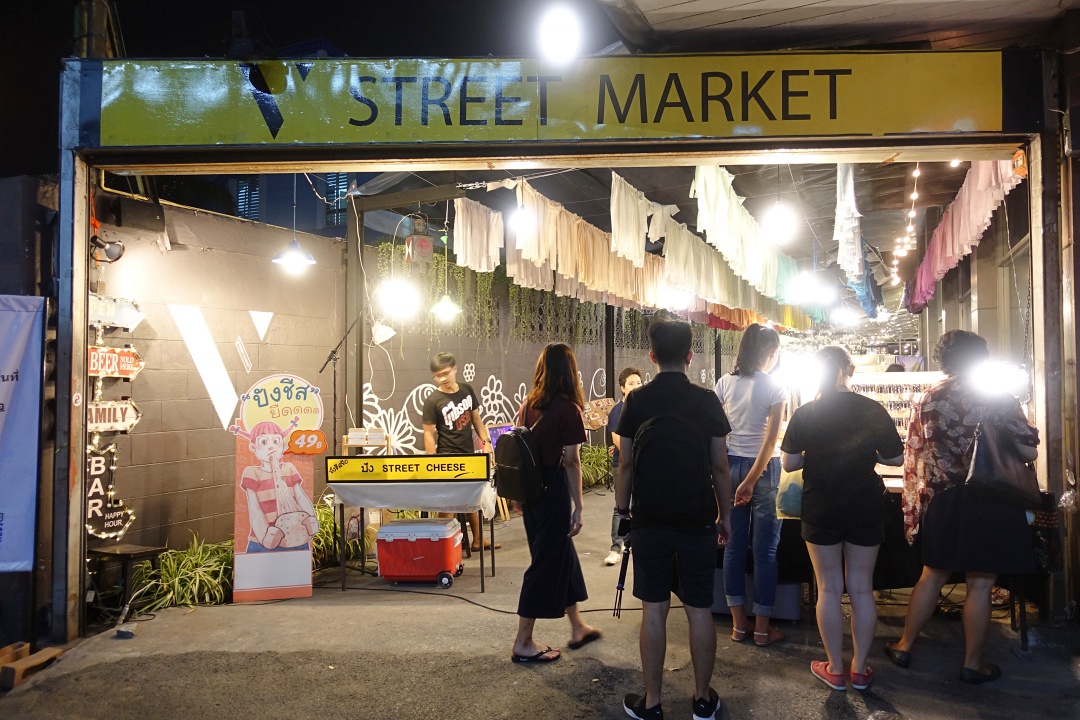 Stumbled upon another small and rather empty night market while we were making our way to get the Thai Boat Noodles.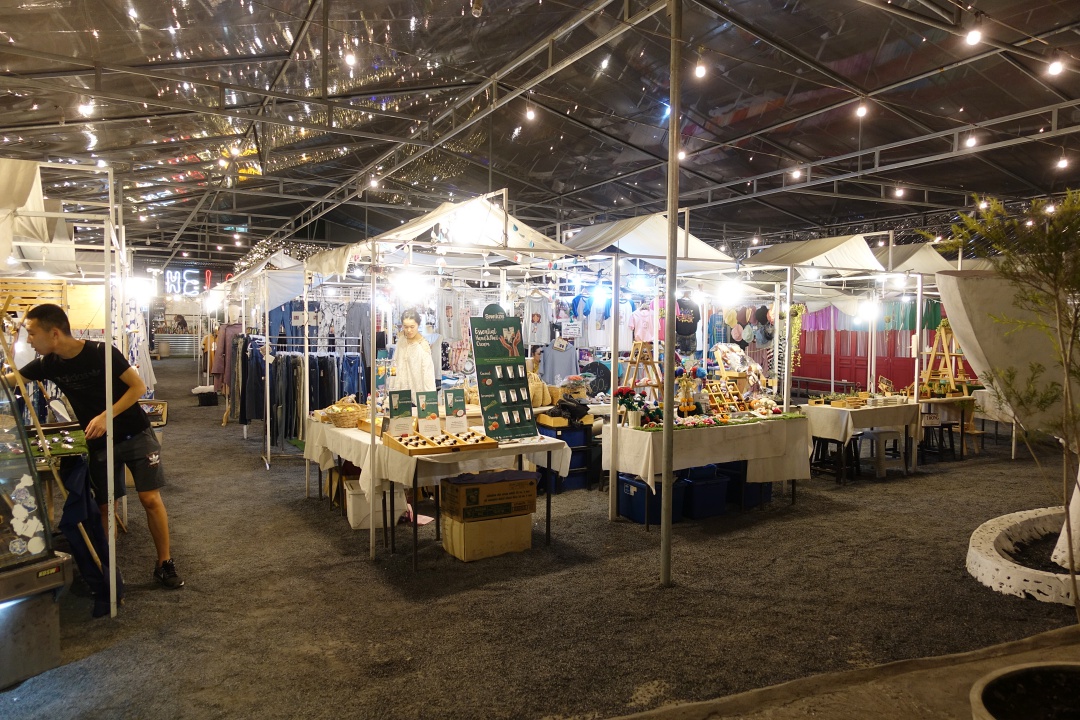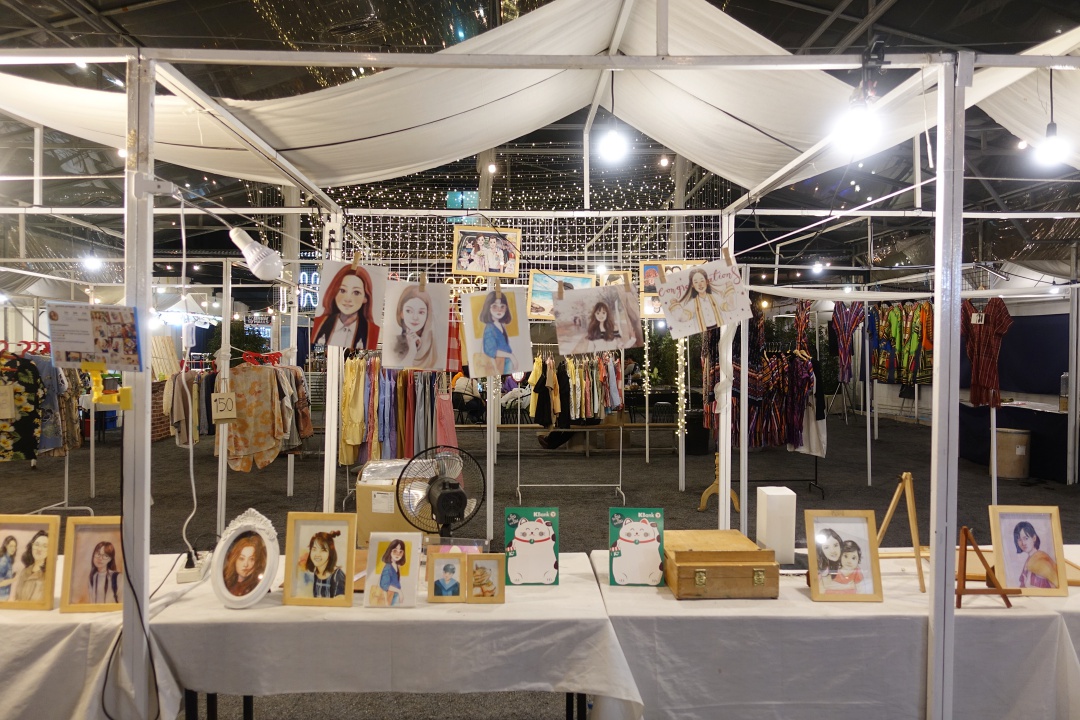 We later realised the shop for the Thai Boat Noodles was closed that day. It was such a bummer to me since I was the one who suggested it. Thankfully, we came here after having our dinner at MBK, so we weren't famished per se. Since there ain't any other food we want aside from the boat noodles, we dived straight into shopping.
It was pretty late by then, so the shops in the mall were either closed or almost closing. We could only shop around the outdoor areas under the bridge.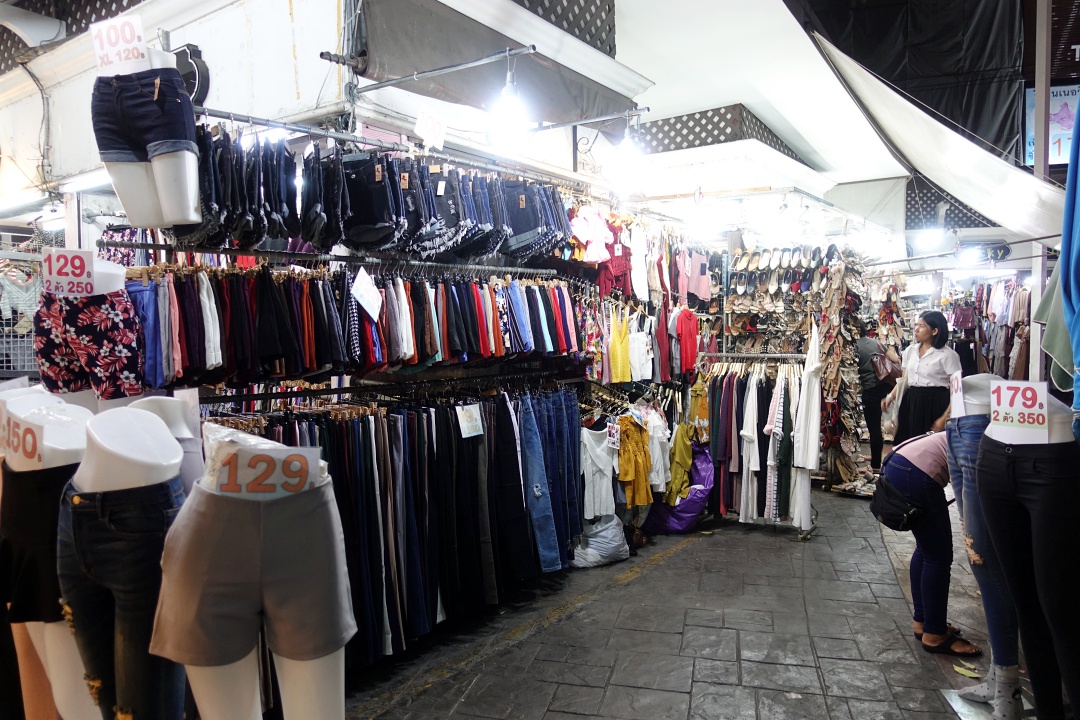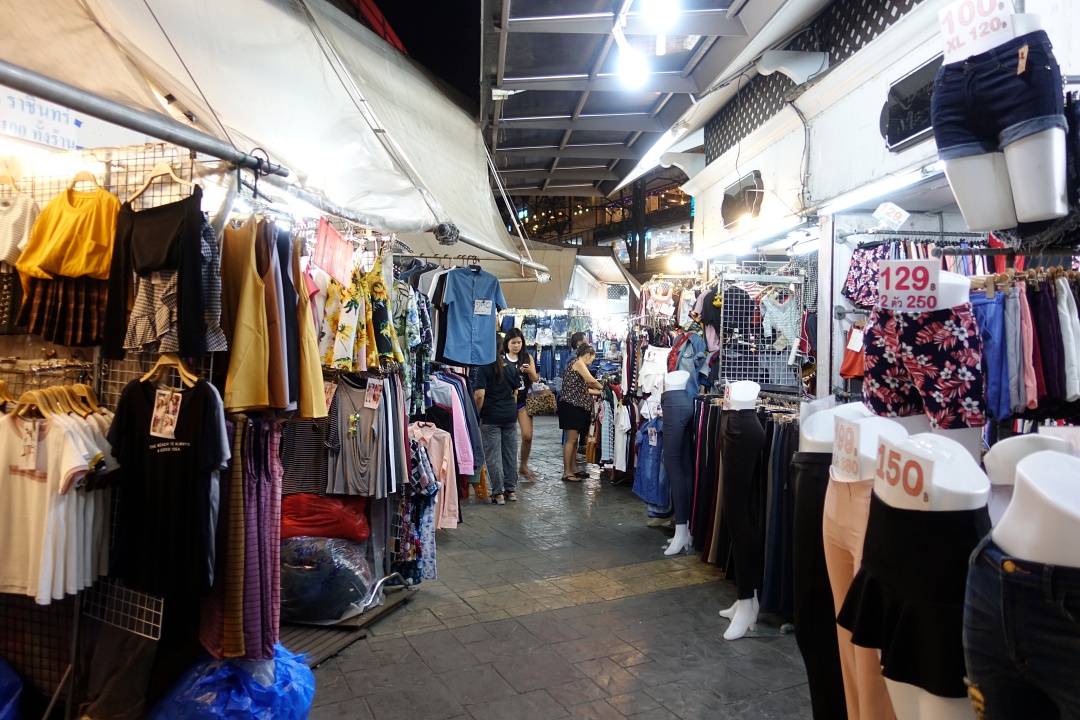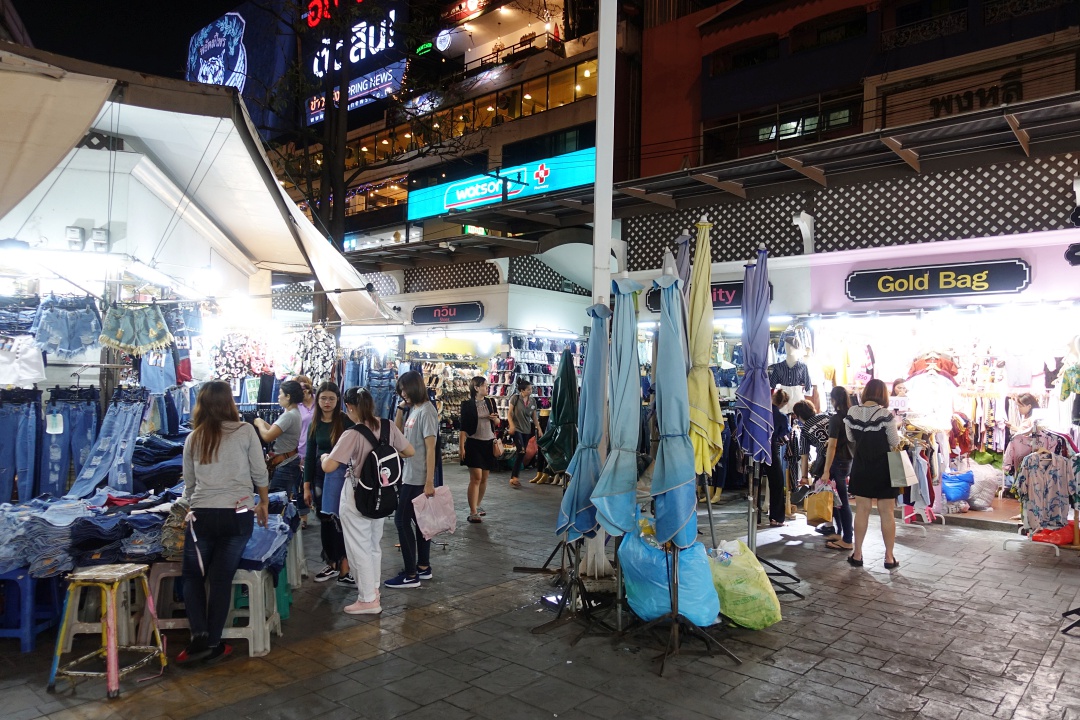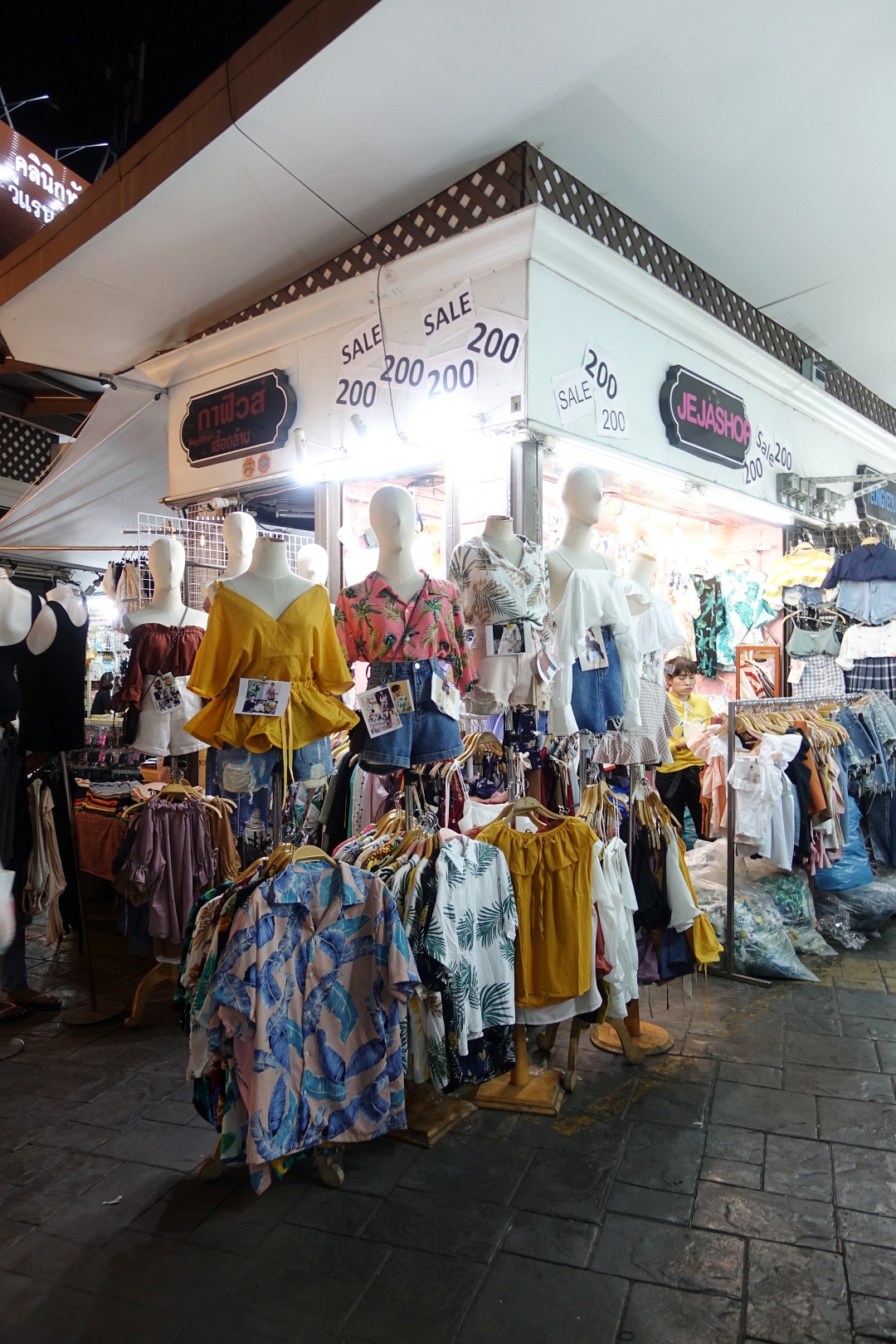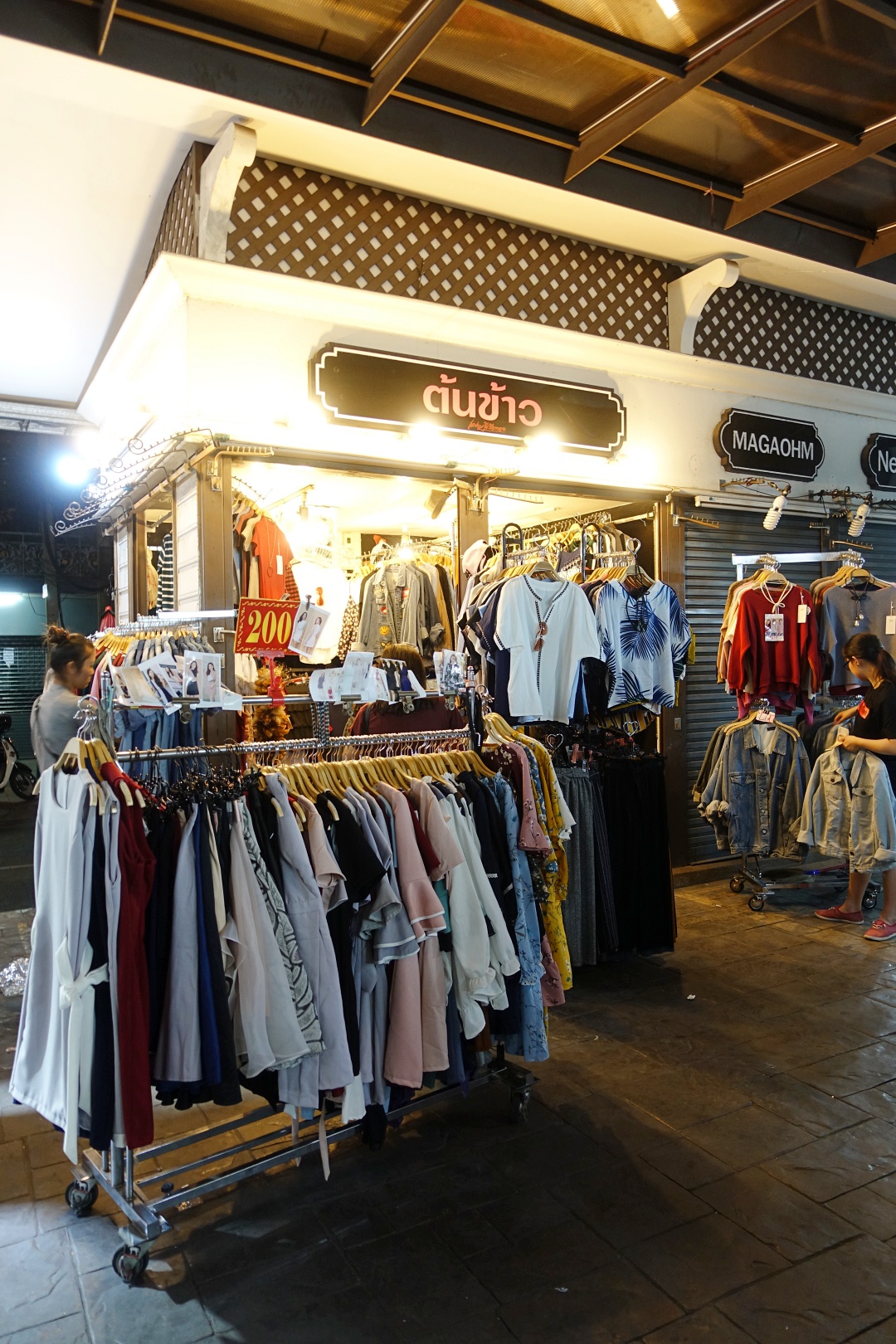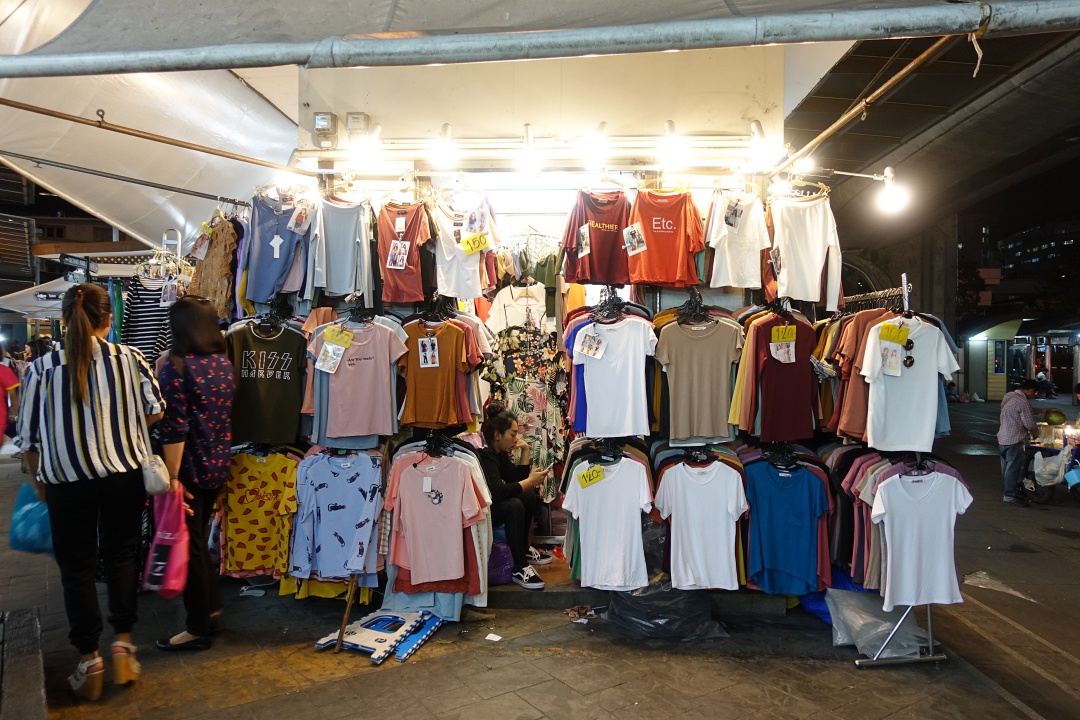 Over at Victory Monument, one can find lots of affordable options for apparels and shoes. I would suggests coming in the evening if the focus is on shopping. That way you can start with the malls, then proceed to the outdoor night market.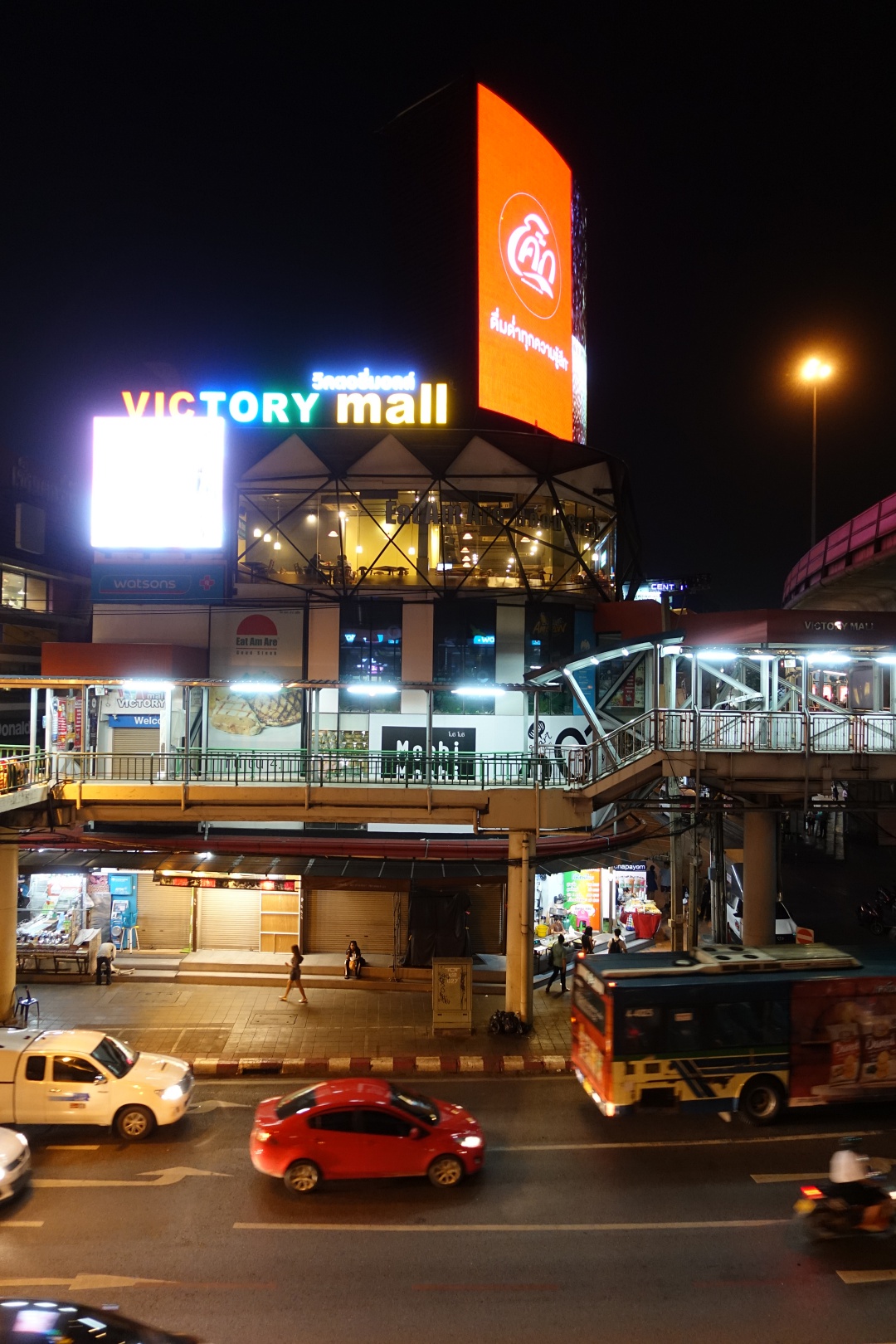 The Platinum Fashion Mall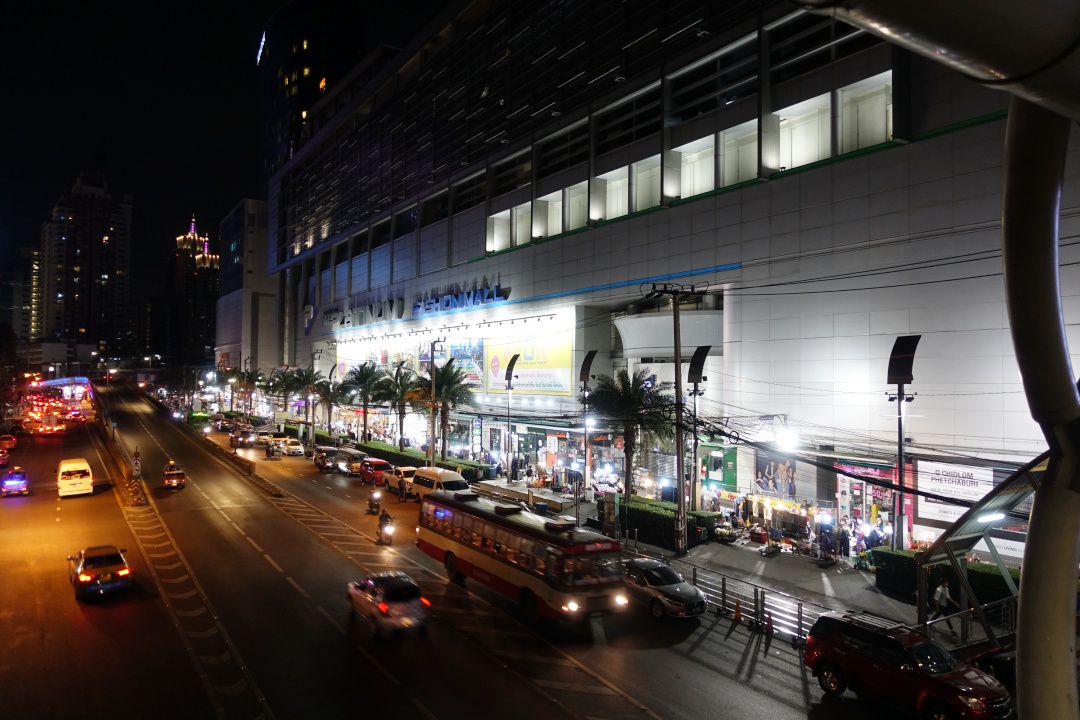 Stop by The Platinum Fashion Mall as we saw the night market was still on despite it being after 22:00.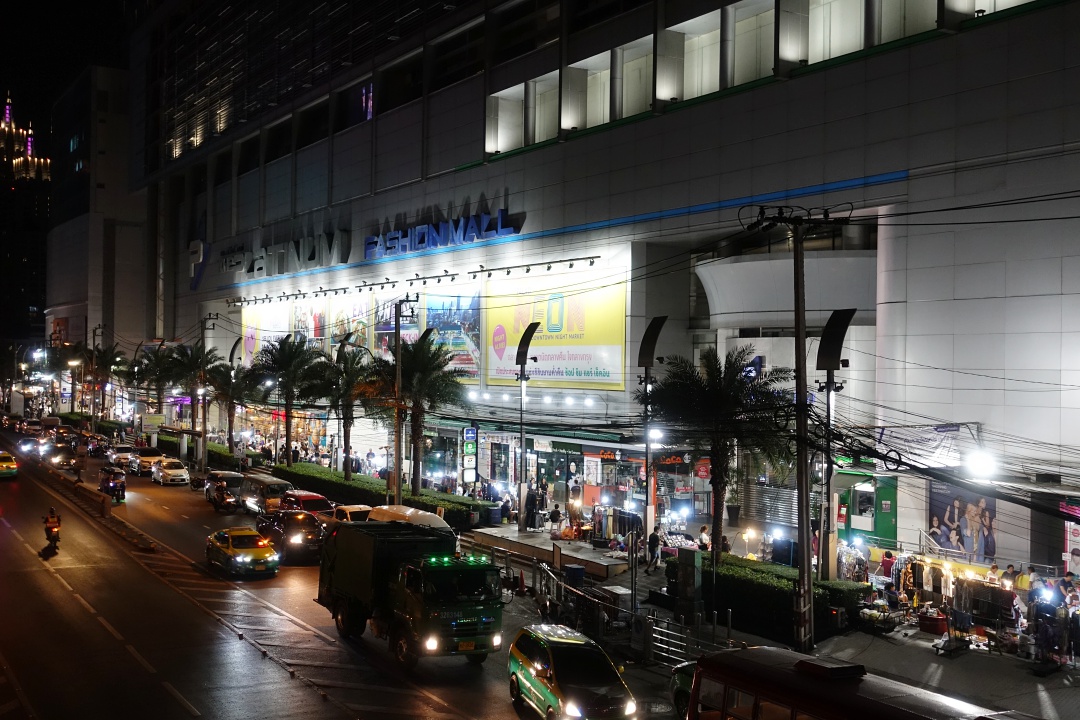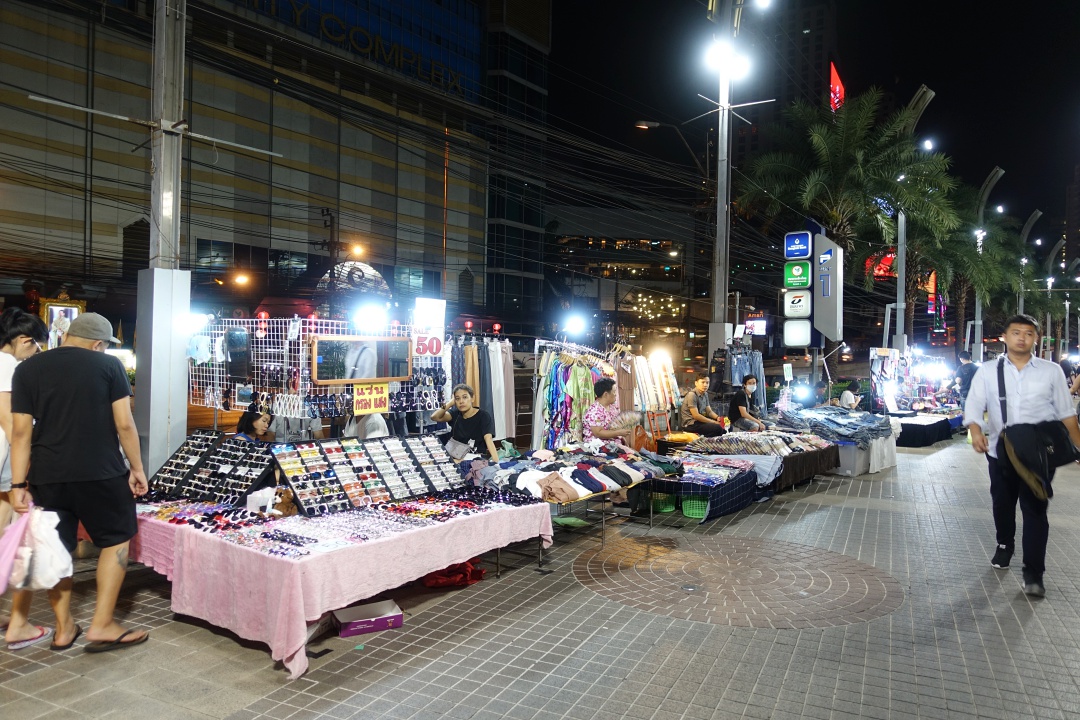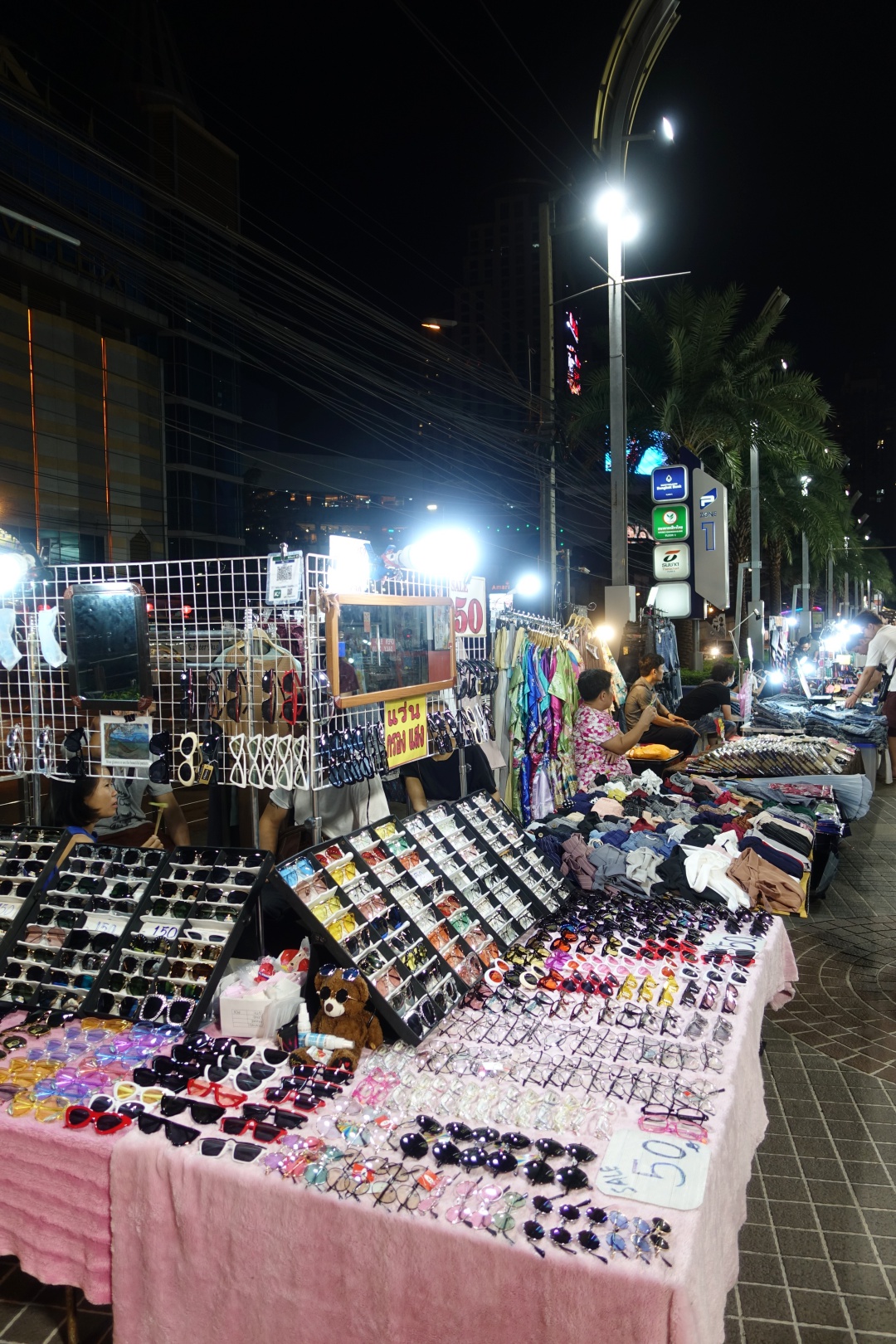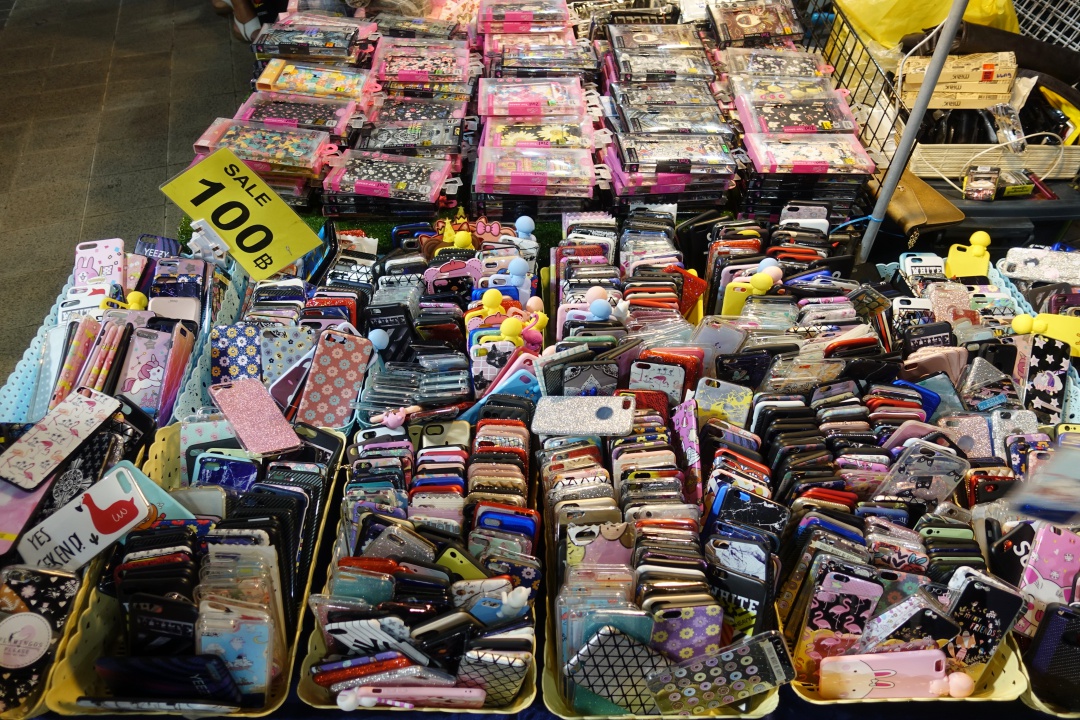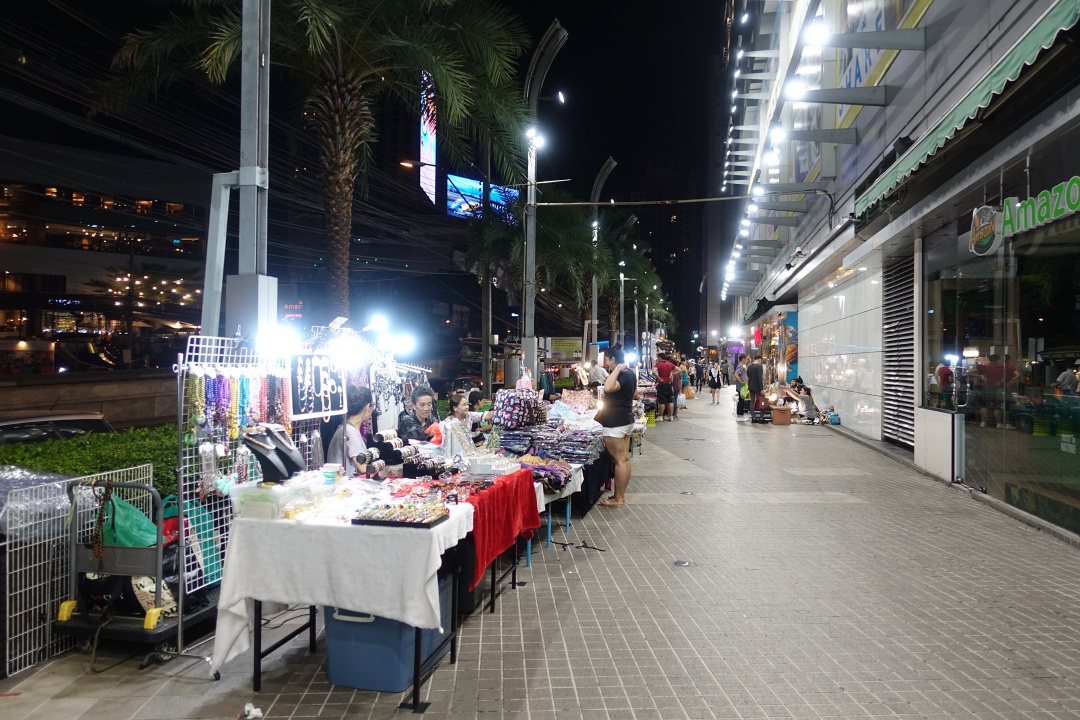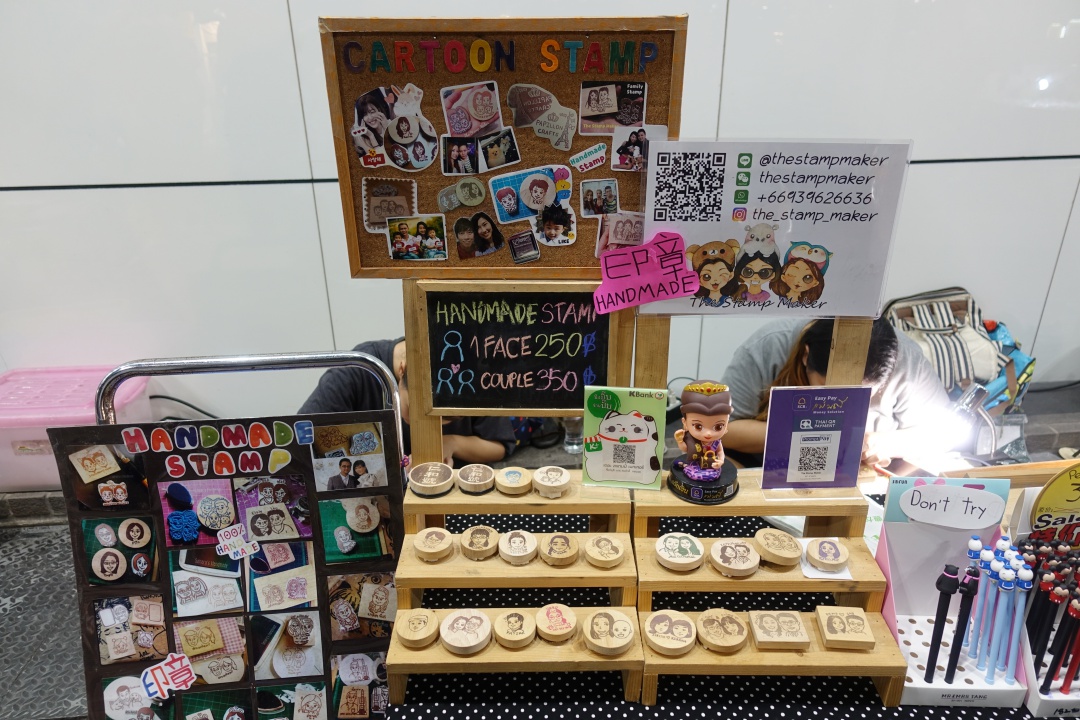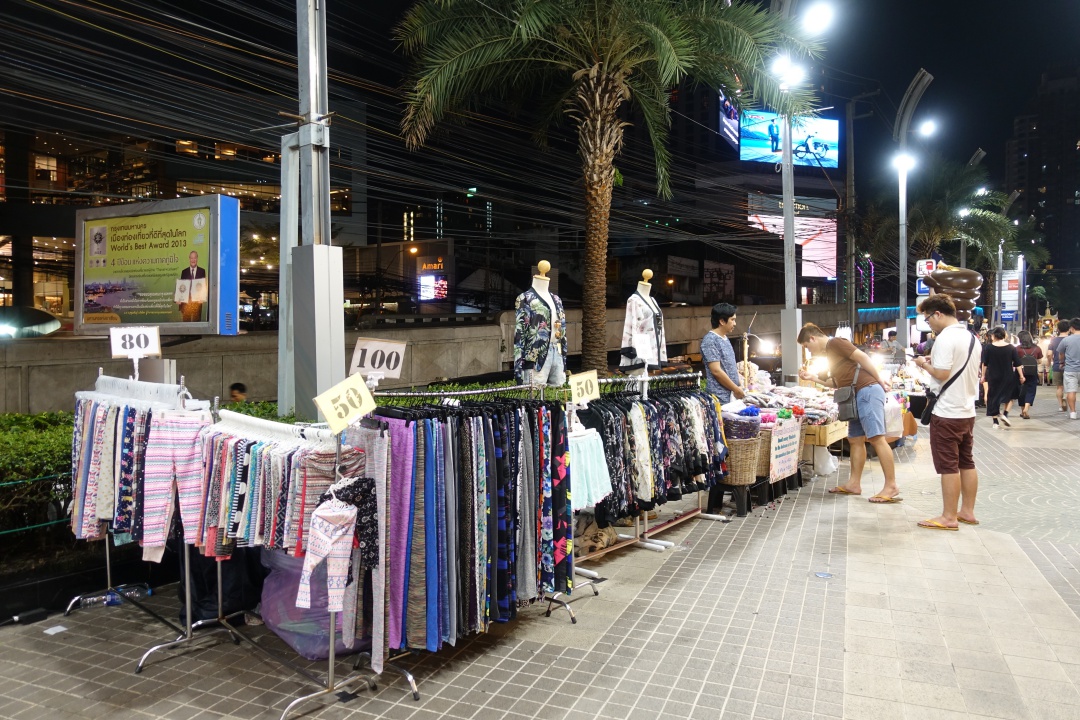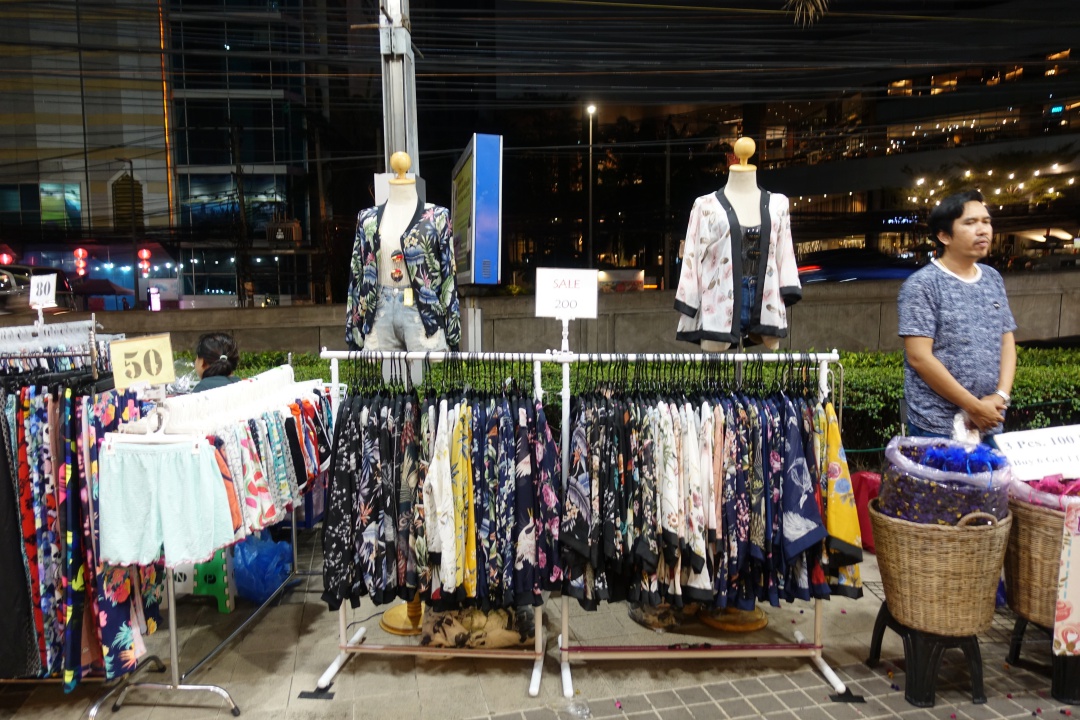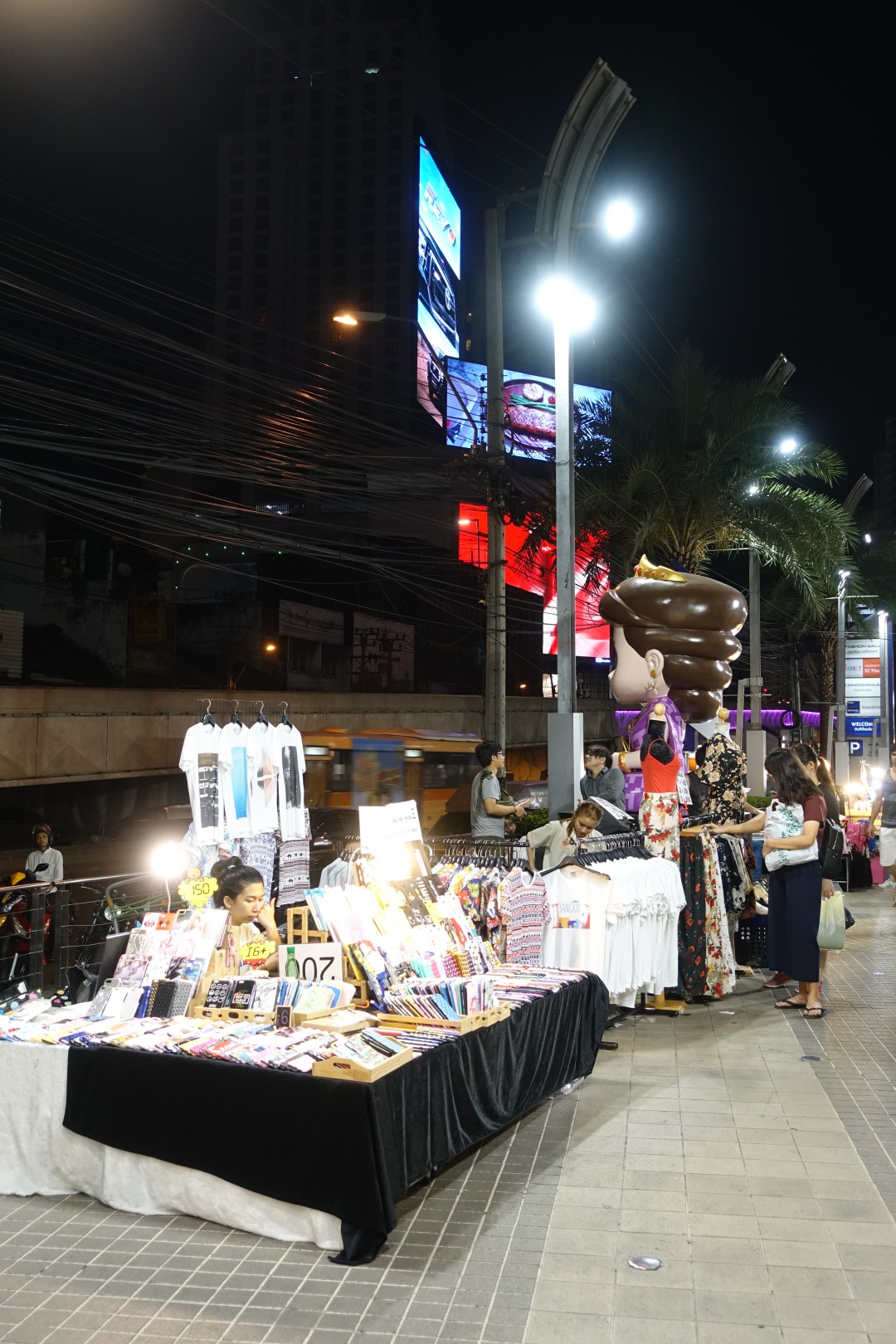 Among all the stalls, the only one that caught our attention was this particular stall that specialised in cats and dogs drawing. The products range from t-shirts, caps, hats, pouch, tote bag to cushion covers.
I ended up getting a hat, although I knew I probably wouldn't wear it in Singapore. But who knows, I might bring it with me to Bali in the future. Even if I don't wear it, at the very least, it makes a nice prop for a flat lay.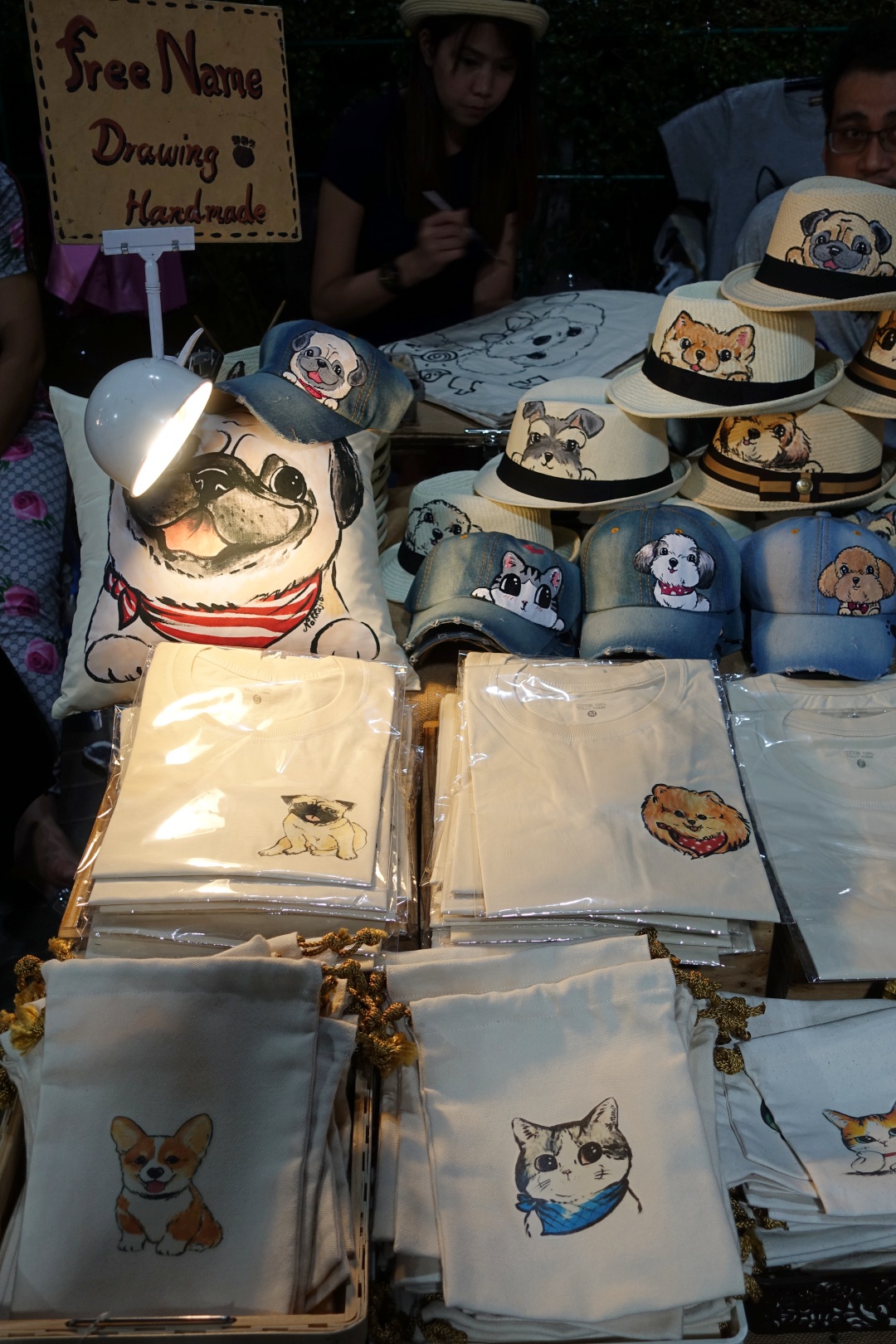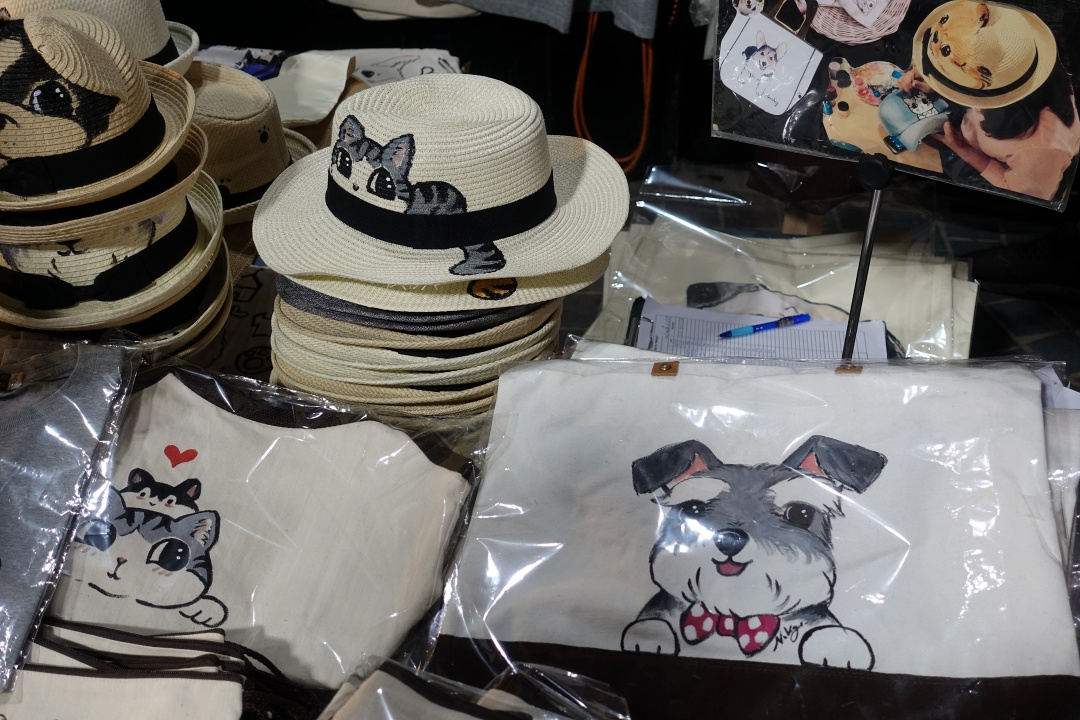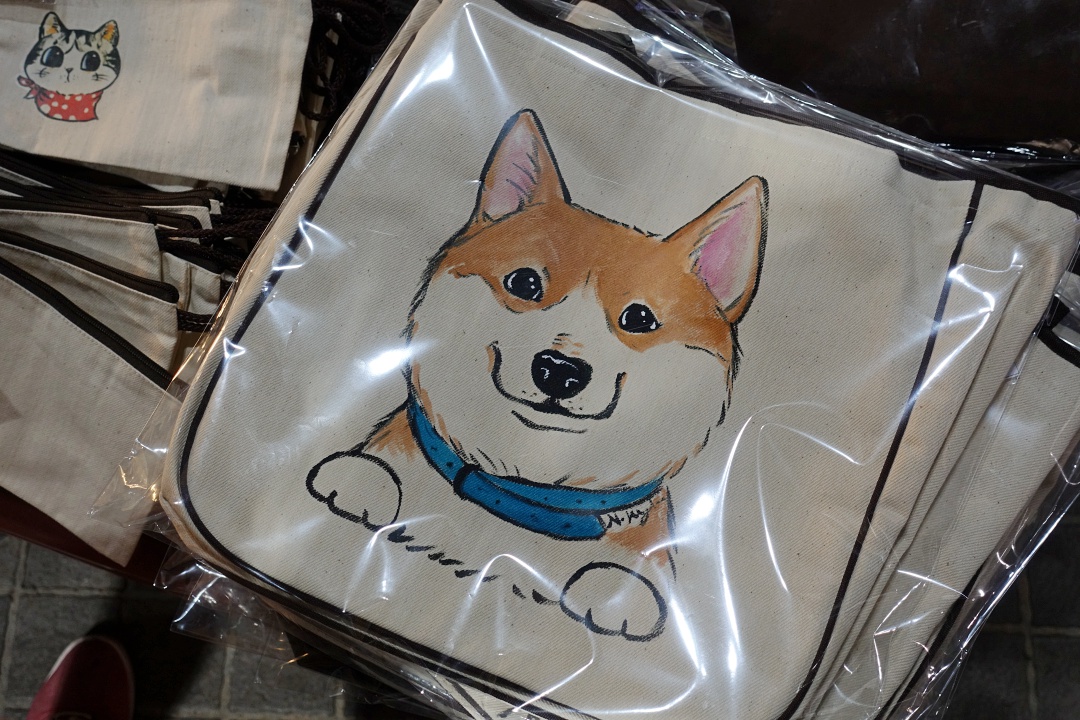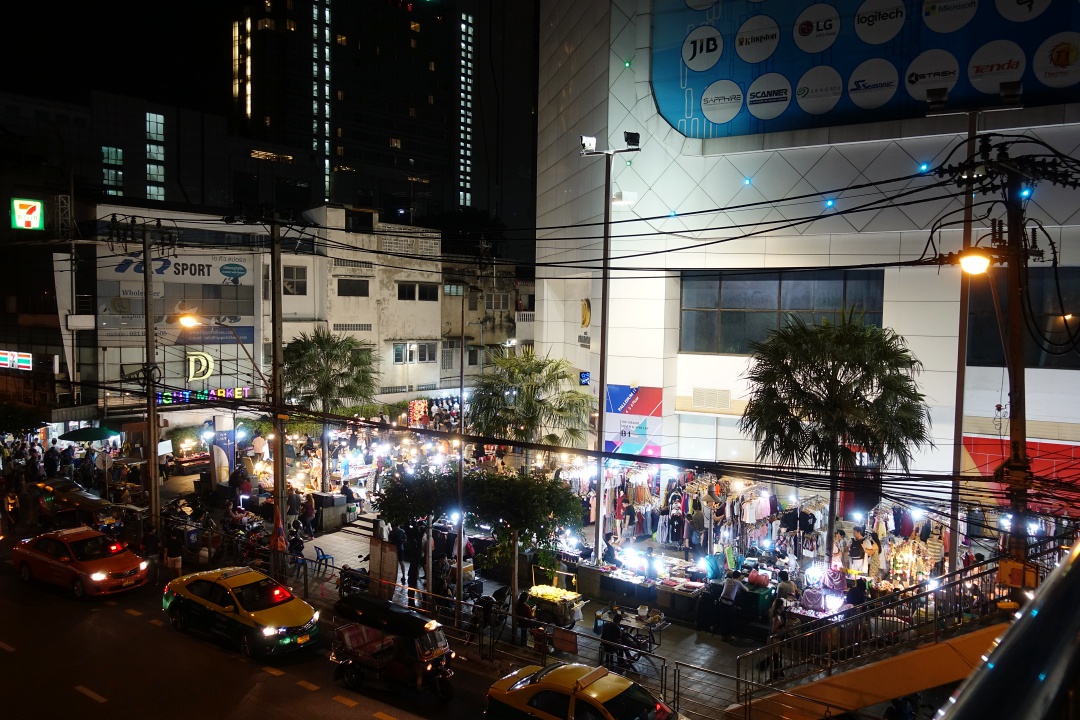 Talad NEON Night Bazaar
Leaving The Platinum Fashion Mall, we crossed over to Palladium Night Market, before walking over to Talad NEON Night Bazaar. The Husband needed to finish up some work, so I told him to go ahead and return to the hotel, while my sisters and I head to Talad NEON Night Bazaar.
They wanted to make some keychains for their friends, while I wanted to do a cartoon postcard. The last time I did a caricature sketching was back in 2013 in Bali. Back then, I thought the artist did a good job on sketching the Husband. However, I don't really like the way I looked.
So when I came across a stall in Talad NEON Night Bazaar doing cartoon postcard, I wanted to give it a shot. Price was THB240 for a drawing of two pax.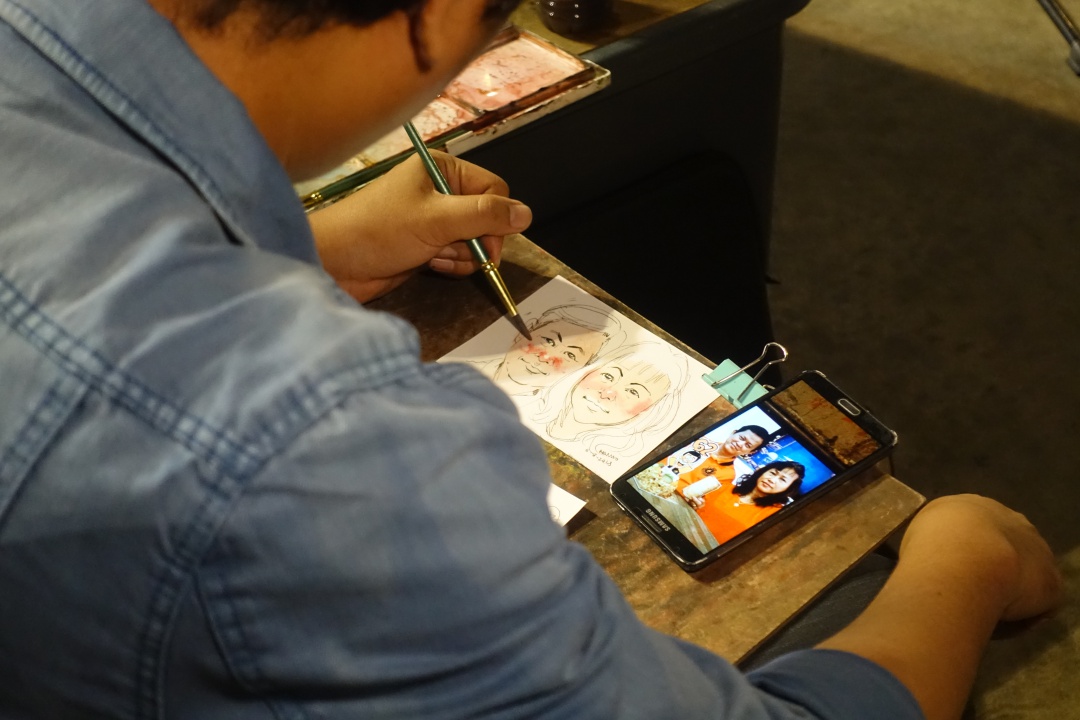 Aside from doing one for the Husband and me, I also did one for my parents.
I had the two pictures saved on my phone. So, what the artist did was to snap a picture of my phone. There's no need to email him the photos or pass him your phone.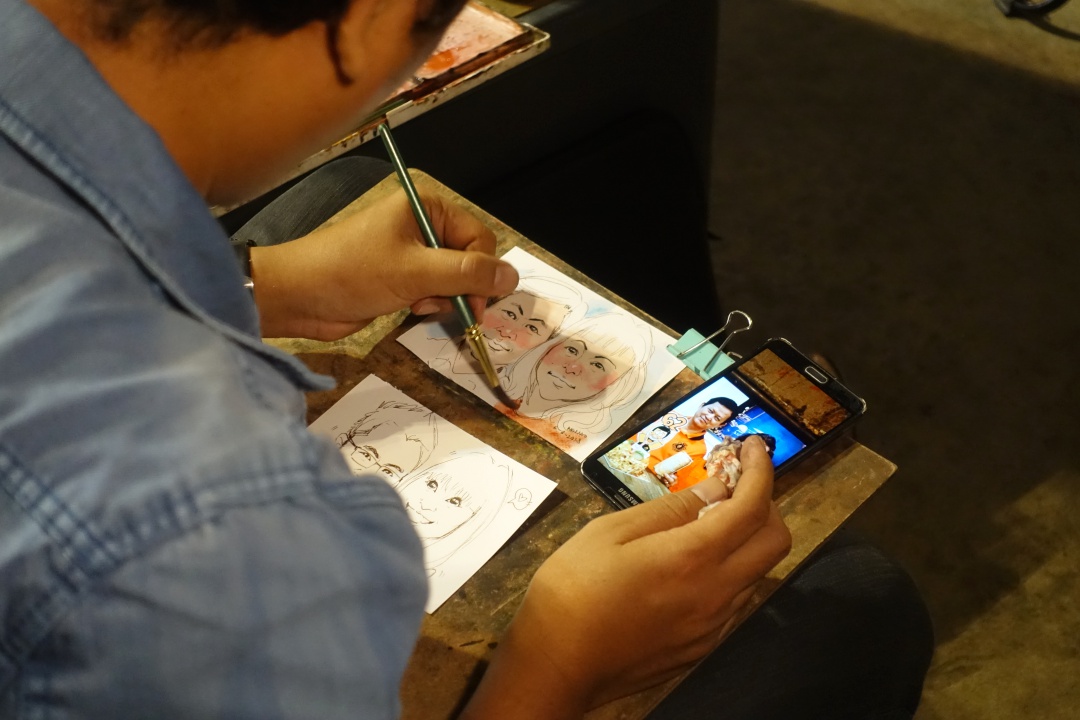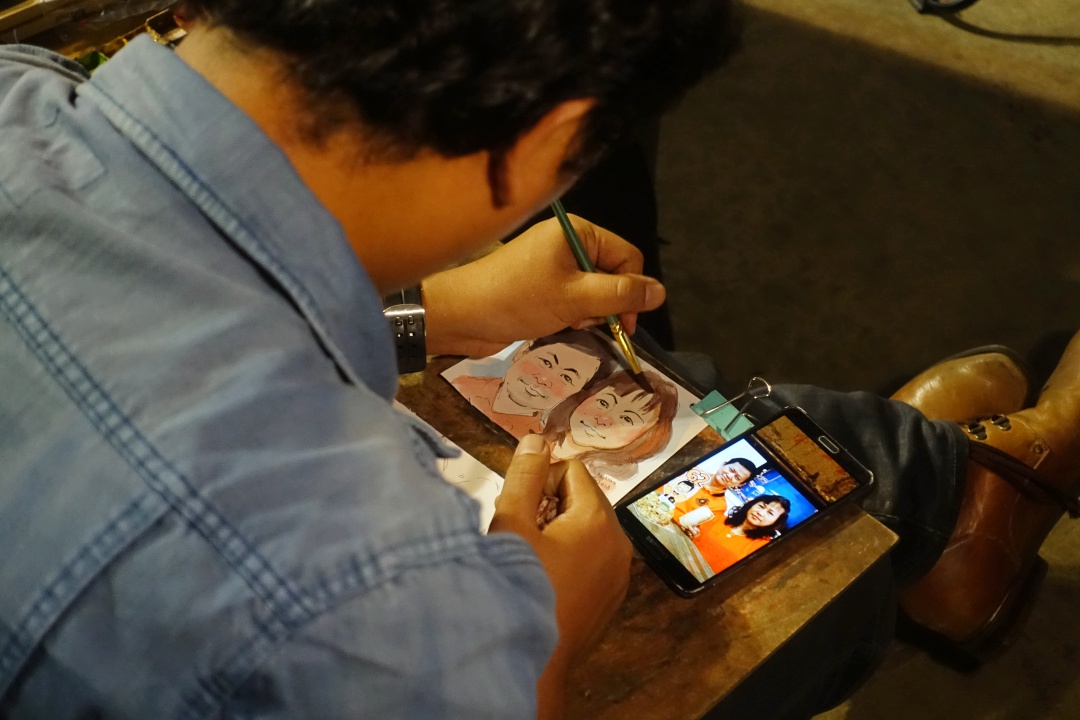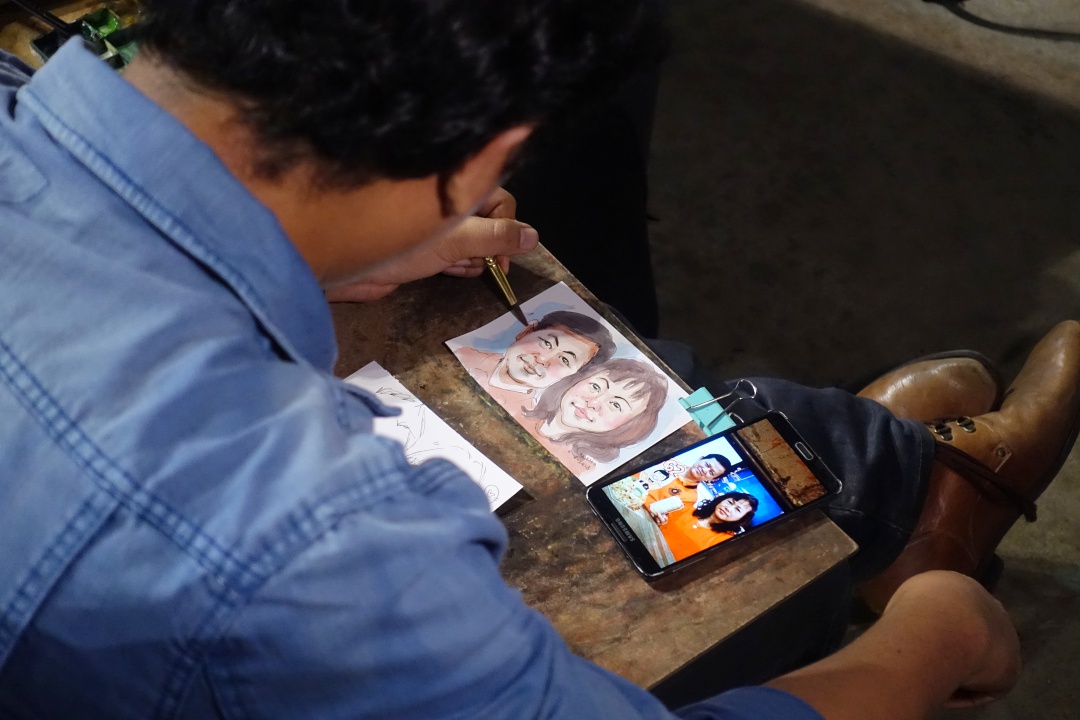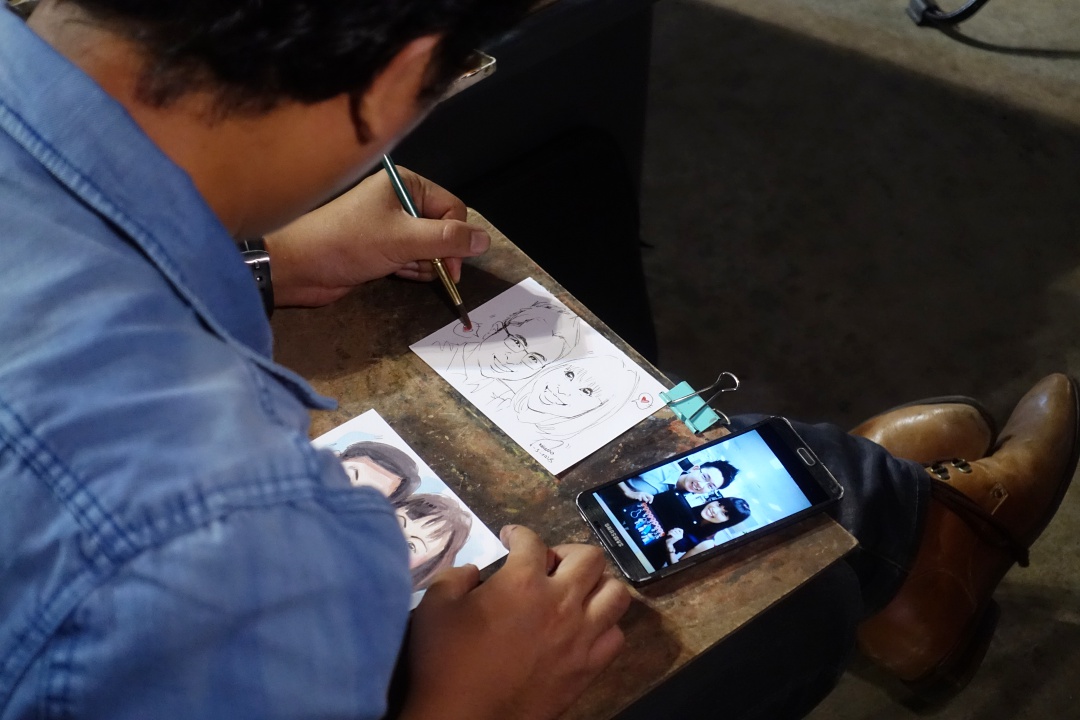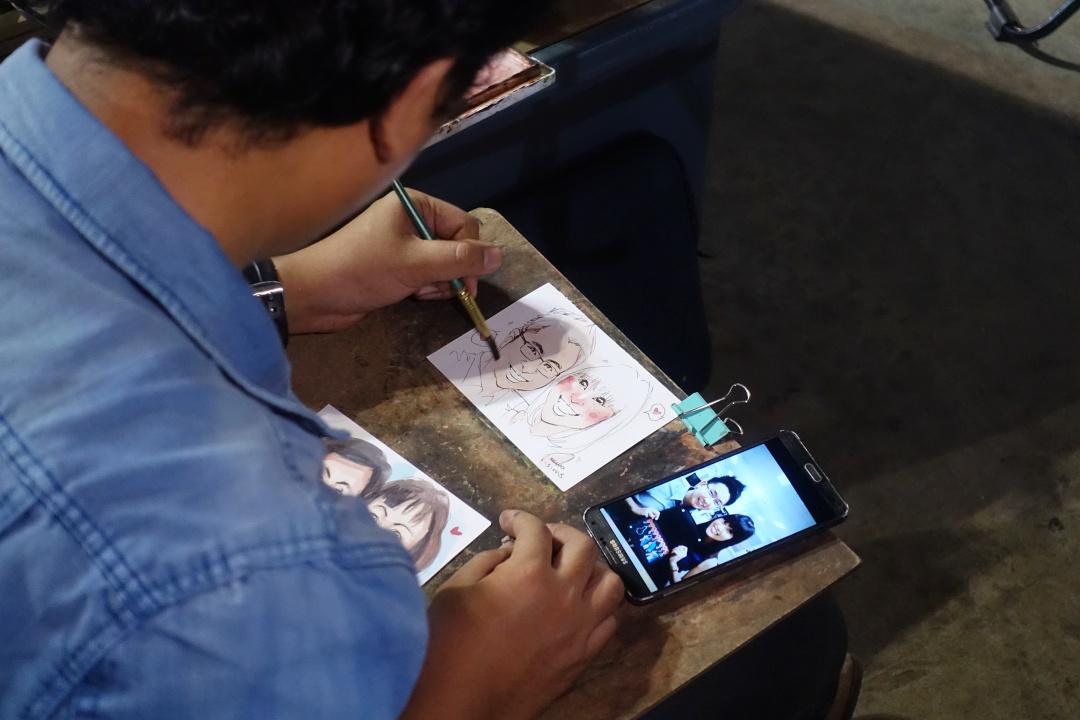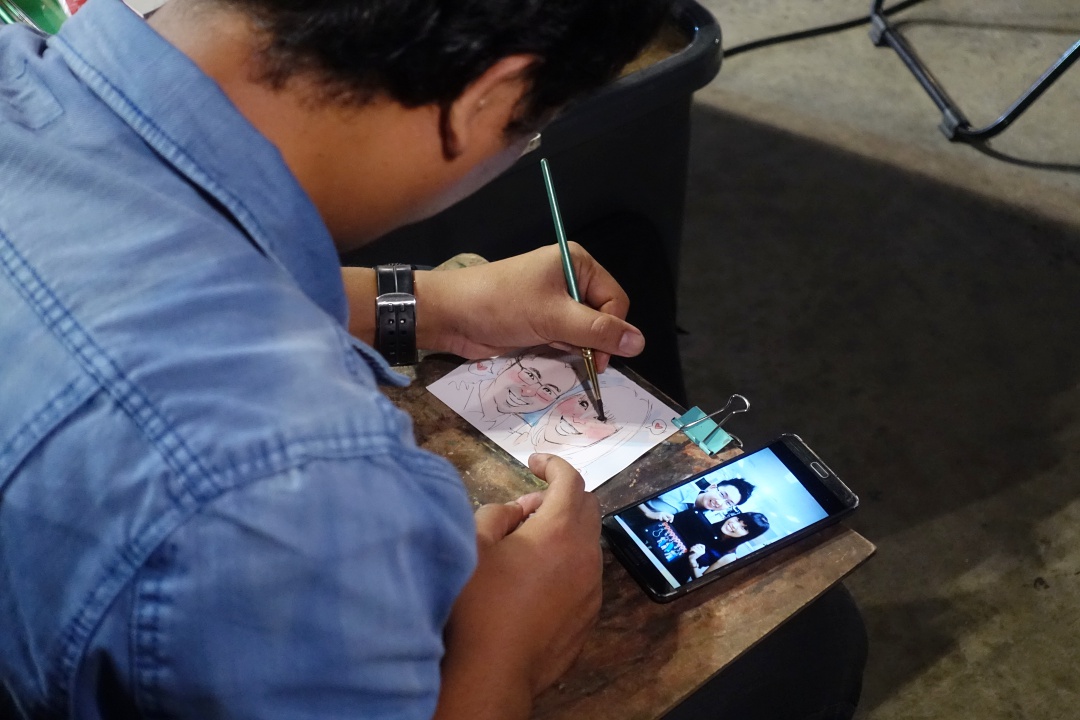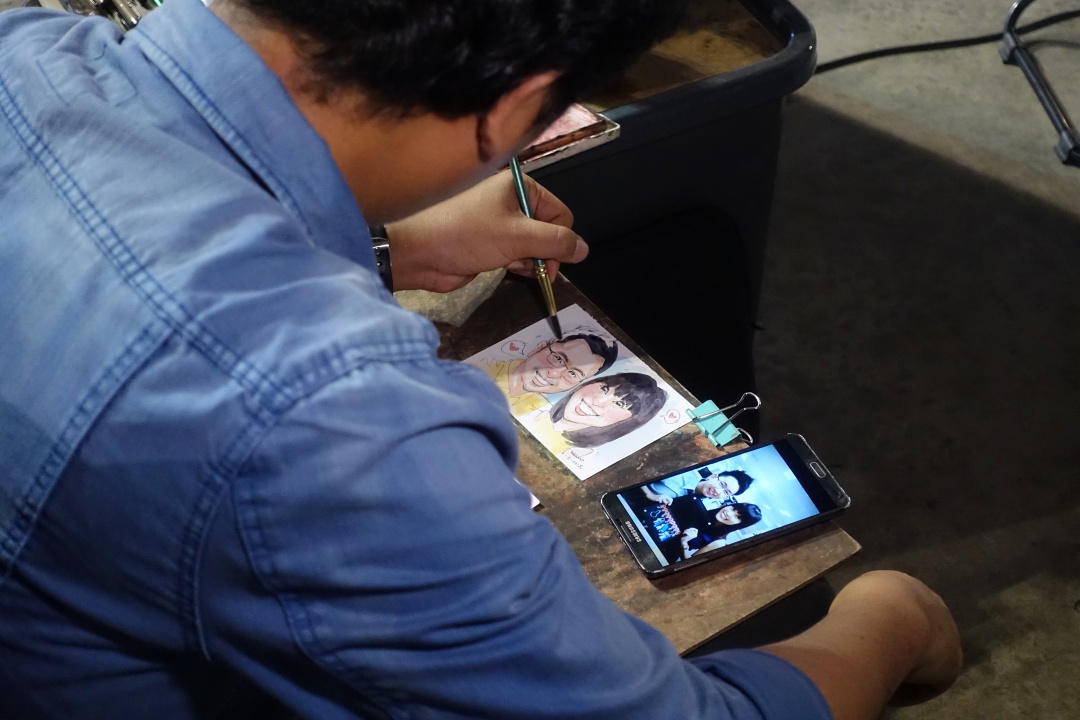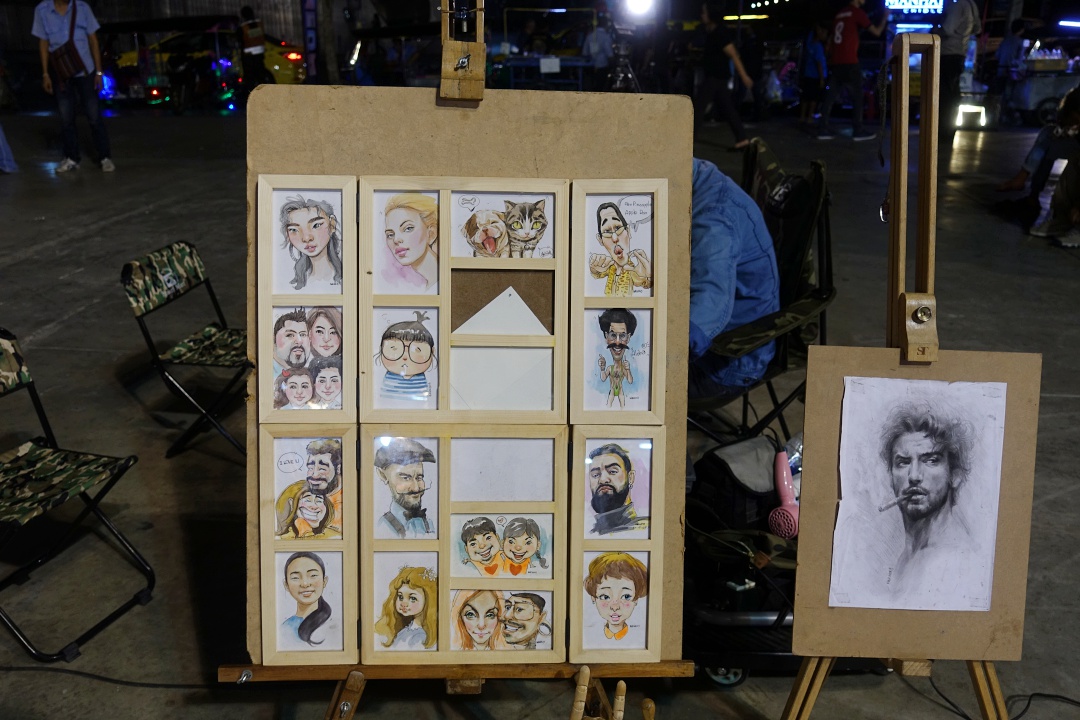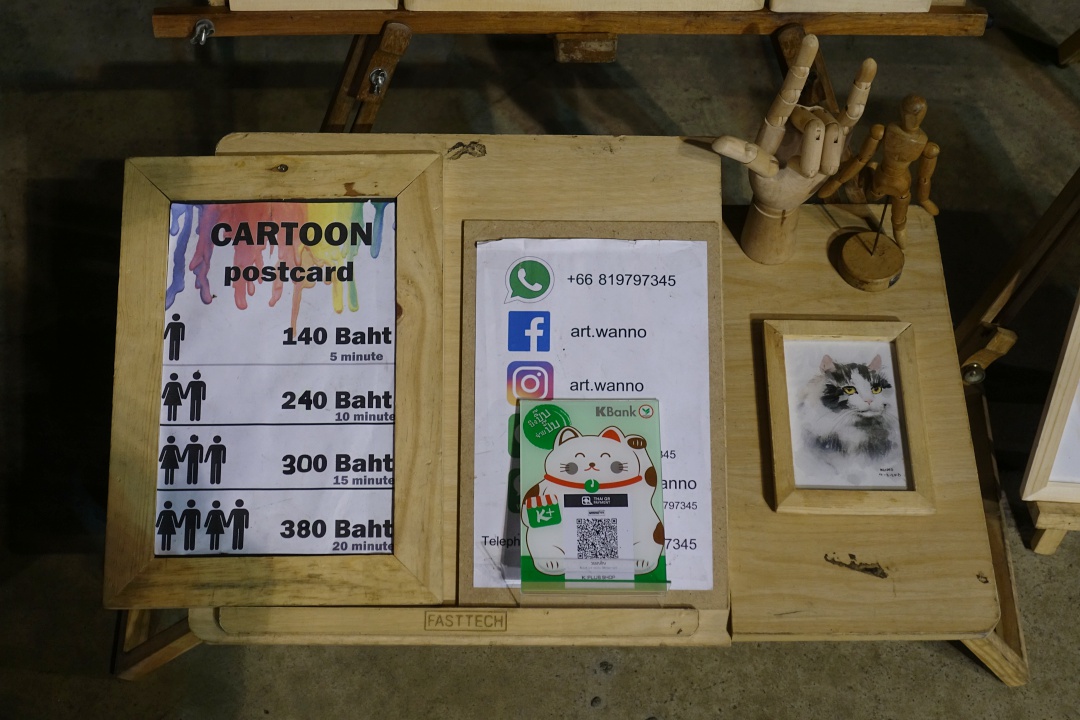 Price list for those who are interested.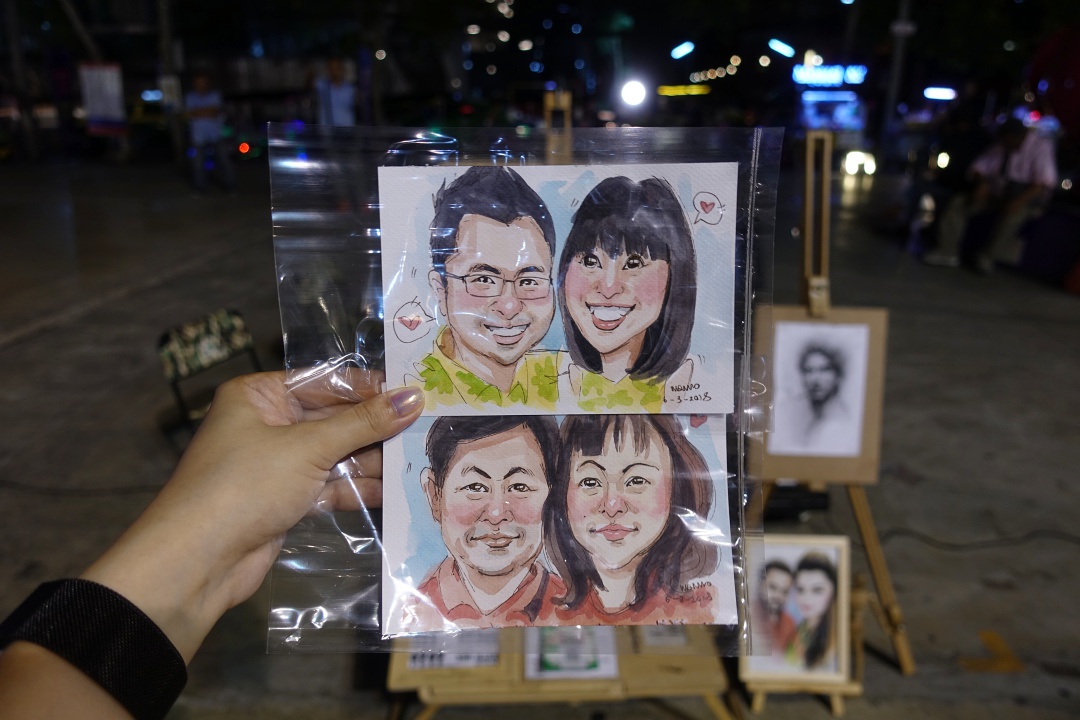 The final result.
To be completely honest, in terms of similarity between actual picture and drawing, I still think the one we got in Bali was better. However, I do think I look prettier in this drawing as compared to the last one.
Guessed the only way to look pretty is when the drawing doesn't resemble me.