Now that work is mostly out of the way, I figured I could finally resume blogging. My last post was about my journey on choosing my wedding band, and I think its only fitting to move on to blog about my pre-wedding shoot. Afterall, the only reasons we got our ring then was because of the pre-wedding shoot we planned on doing in Bali.
I did a calculation, and apparently, the shoot happened almost ten months ago. Goodness! I didn't realise time is moving so fast!
Not sure if I've mentioned this, but if it helps, here's a little background story on my pre-wedding shoot…
We got the shoot done last April when we were travelling around Bali. The shoot was done with Tirtha Bridal Bali, and we managed to complete the shoot in a day, covering three of their properties – Villa Tirtha, Tirtha Uluwatu and The Glasshouse by Tirtha. (You can read my reviews on my stay at Villa Tirtha here, and my overall thought on Tirtha Uluwatu and The Glasshouse by Tirtha here.)
Before going on the trip, the Husband and I briefly work out with our wedding assistant on the date for the shoot; she also has us send her our measurements beforehand so that she could set aside some dresses/suits for us for our fitting. If I'm not mistaken, the initial plan was to have our fitting done close to the date of our shoot. But I was apprehensive about how that might turn out. (In cases when the dress doesn't fit, we need an alteration, etc.) So in the end, I suggest heading to Bali a week earlier than plan. It would give us some buffer between the time of the fitting and the photoshoot.
It works out perfectly. We arrived in Bali on 17th April, did our fitting on the same day, and had our shoot done precisely a week later on 24th April. Thankfully, Villa Tirtha happened to be the first accommodation we were staying at after we arrived in Bali, so we managed to have our fitting done swiftly.
Fitting for our Gown and Suit
We had arranged for a meeting at the Bridal Consultation Room situated within Tirtha Uluwatu. There, we met up with our wedding assistants, who presented us with a folder filled with photos of the available wedding gowns and suits. We were told to pick a few that we like, and they will them fetched for us to do the try-on.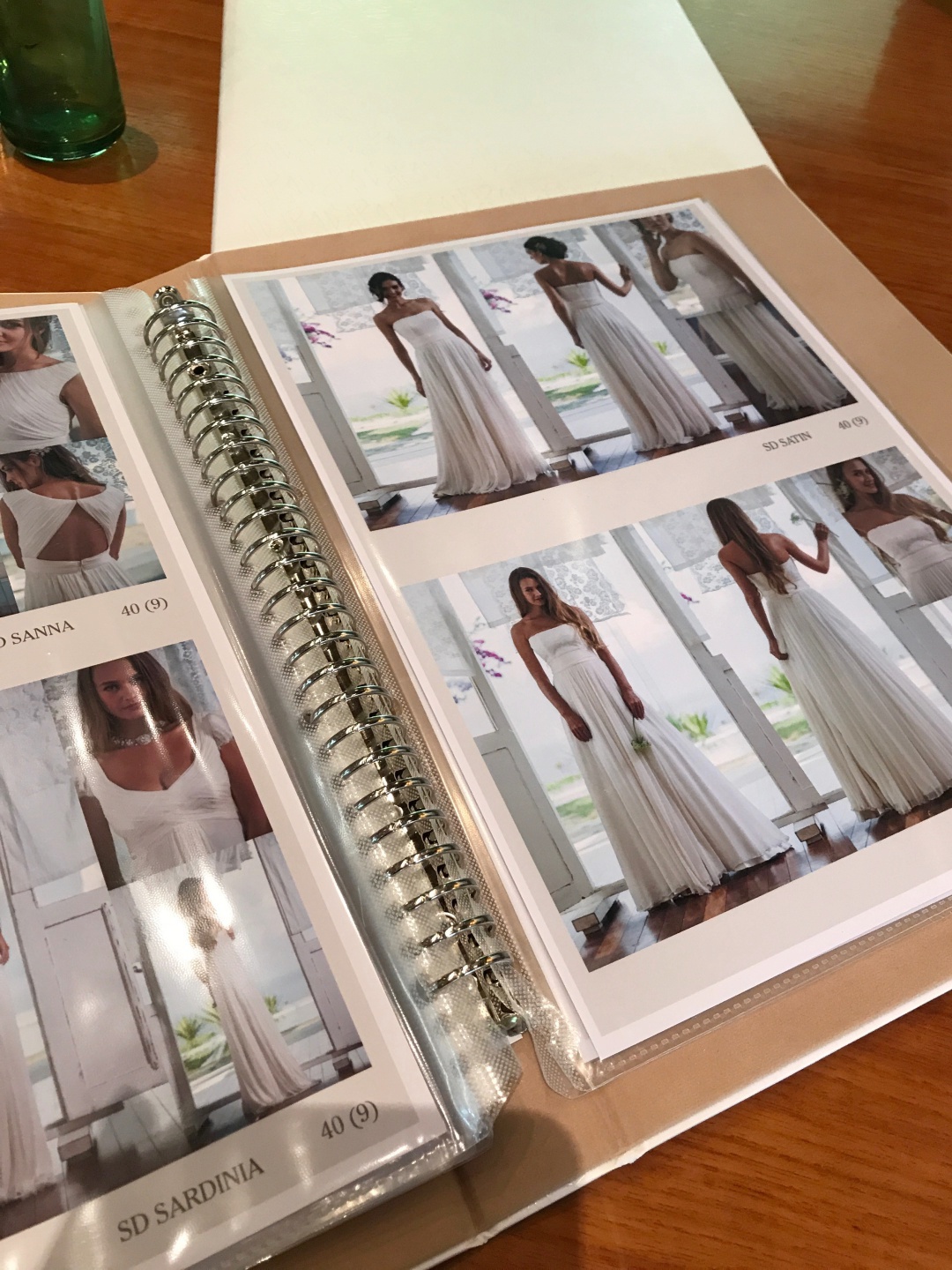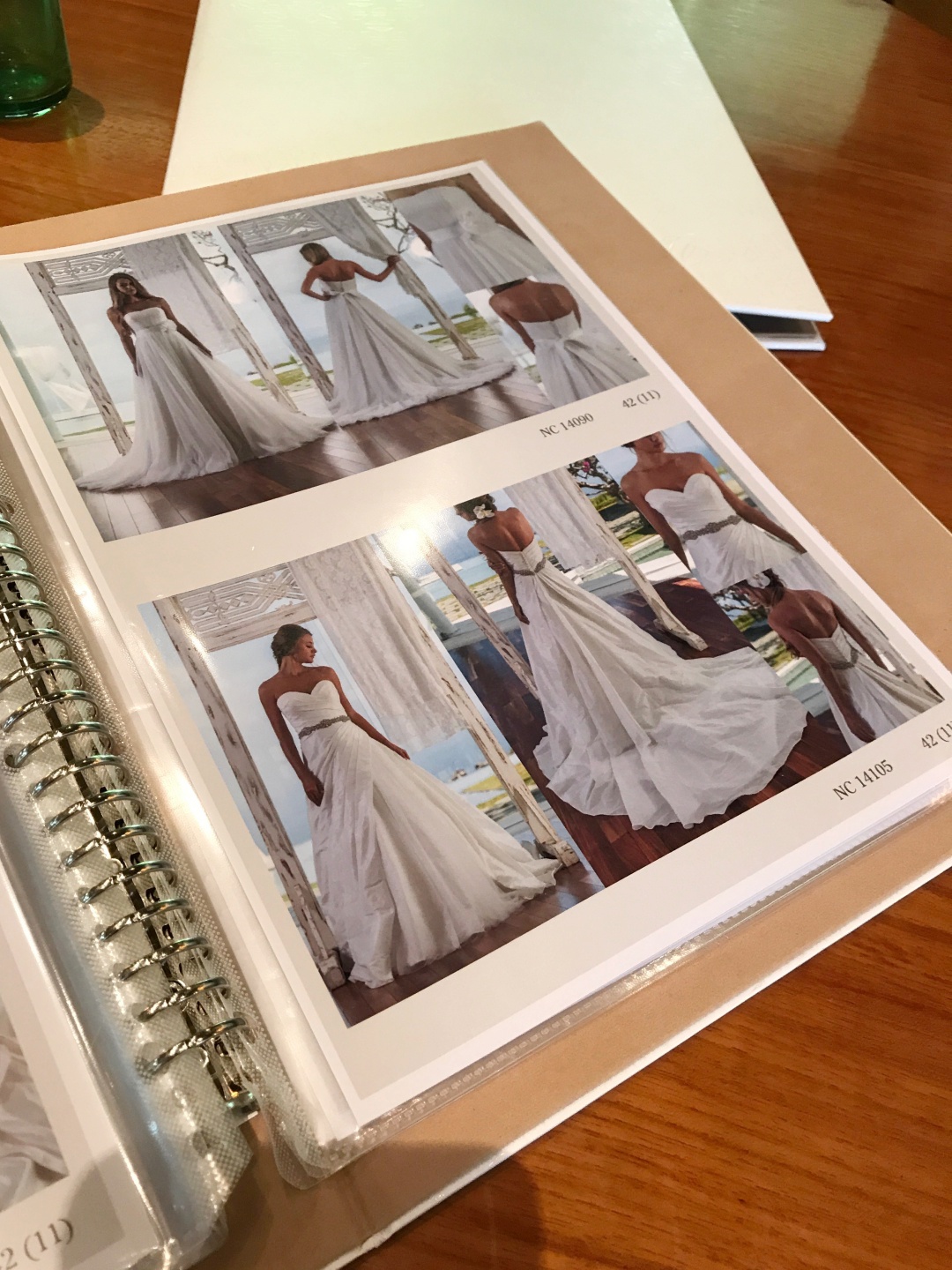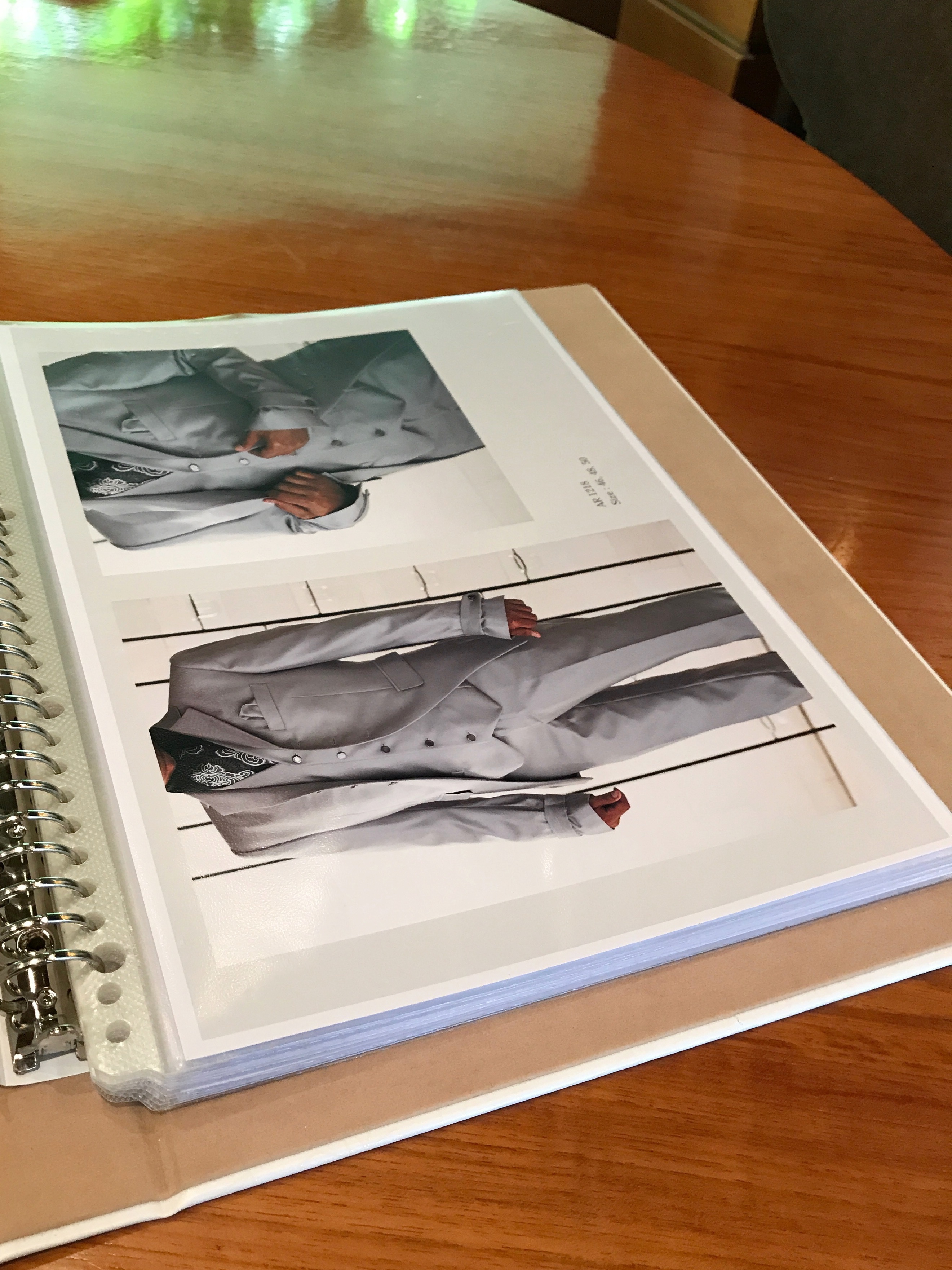 To be honest, the selection wasn't that great, and I was kind of disappointed. Few of the designs that I picked up were also unavailable in my size. They have the size of the gown listed below the photograph, but I hadn't noticed that until later. I thought the wedding assistants should have highlighted to me beforehand so that I wouldn't pick a dress only to have them tell me it wasn't available in my size.
After flipping through the folder a couple of times, I finally narrowed it down to three gowns. Out of the three that I've shortlisted, I have to pick one for the shoot.
Prior to our trip, I already knew that our package only includes one gown/suit for the photo shoot. I was hoping to get different looks since we would be shooting at three locations. As such, I brought along an additional dress and planned to switch between the two during the shoot.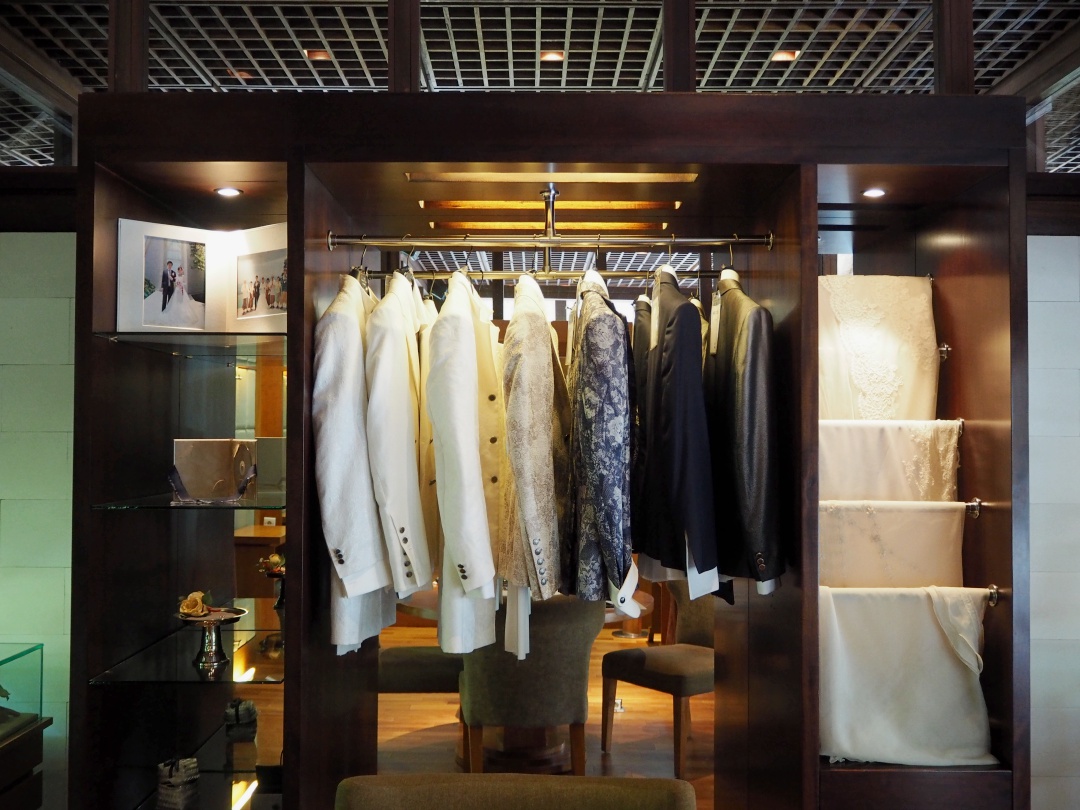 Even though the Husband also has to pick out his suit, he had it easier, since there was only a handful available. Eventually, we picked out two.
Here are the gowns that I've picked.
Somehow it felt surreal standing there, knowing that I would be trying my first wedding gown. I can't help but feel fuzzy inside. I briefly recalled the time when I accompanied my sister to try on her wedding gown, and I still remember how touched I was when I saw her in her dress. Can't believe years later, it's now my turn to go for gown fitting. Though it's not exactly the same setting, since mine is on a smaller scale and the gown wasn't exactly as grand as I was hoping, still, the feeling I felt then was special.
We didn't tell anyone about our pre-wedding shoot. No one. Not even my family. We were mostly worried about how the photos might turn out and not quite sure if we would like the photographs. So we thought it would be better to keep quiet about it till we saw the pictures. In the end, we kept it as a surprise and they only got to see the photos on our wedding day.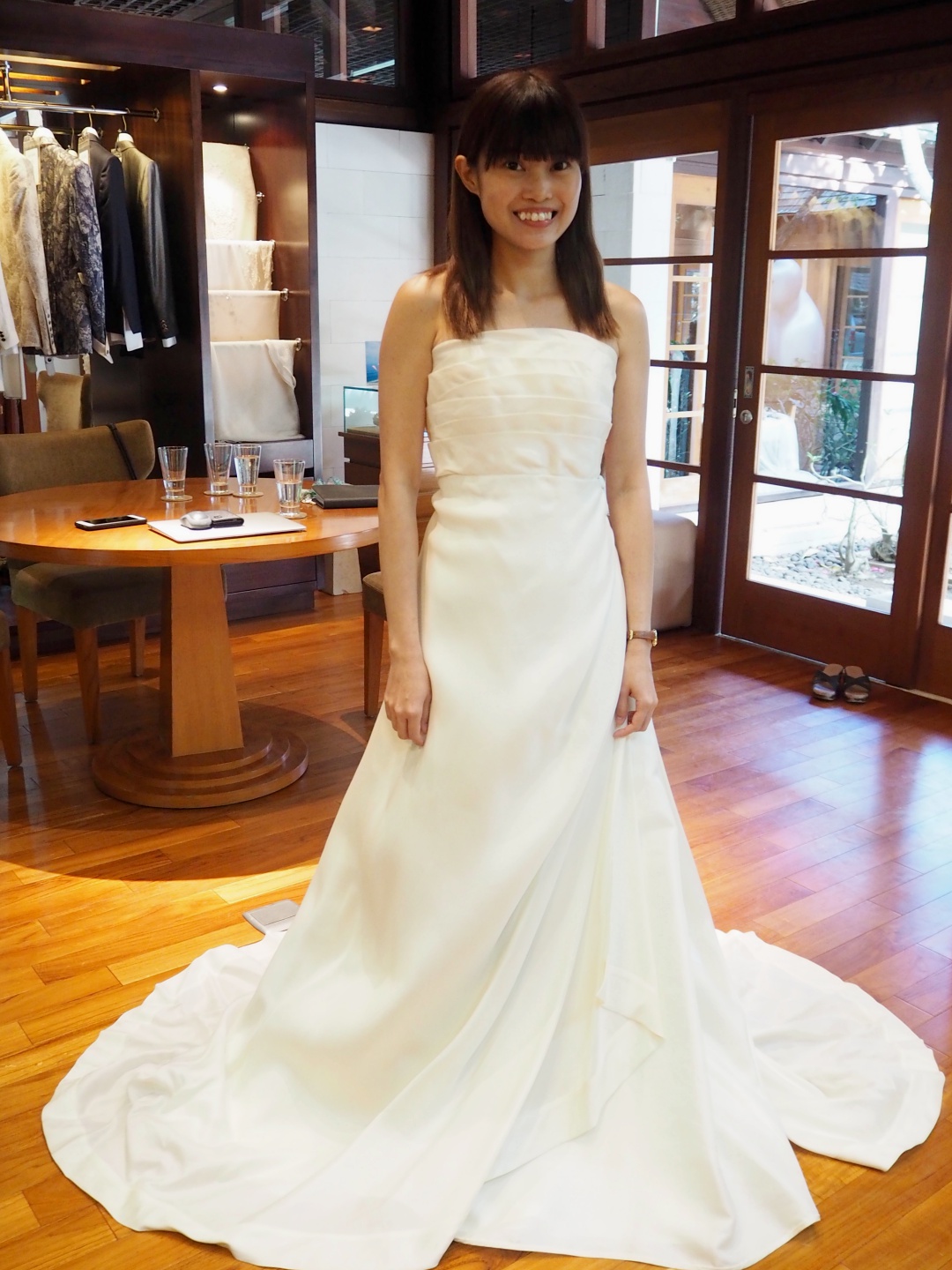 The first gown I tried on.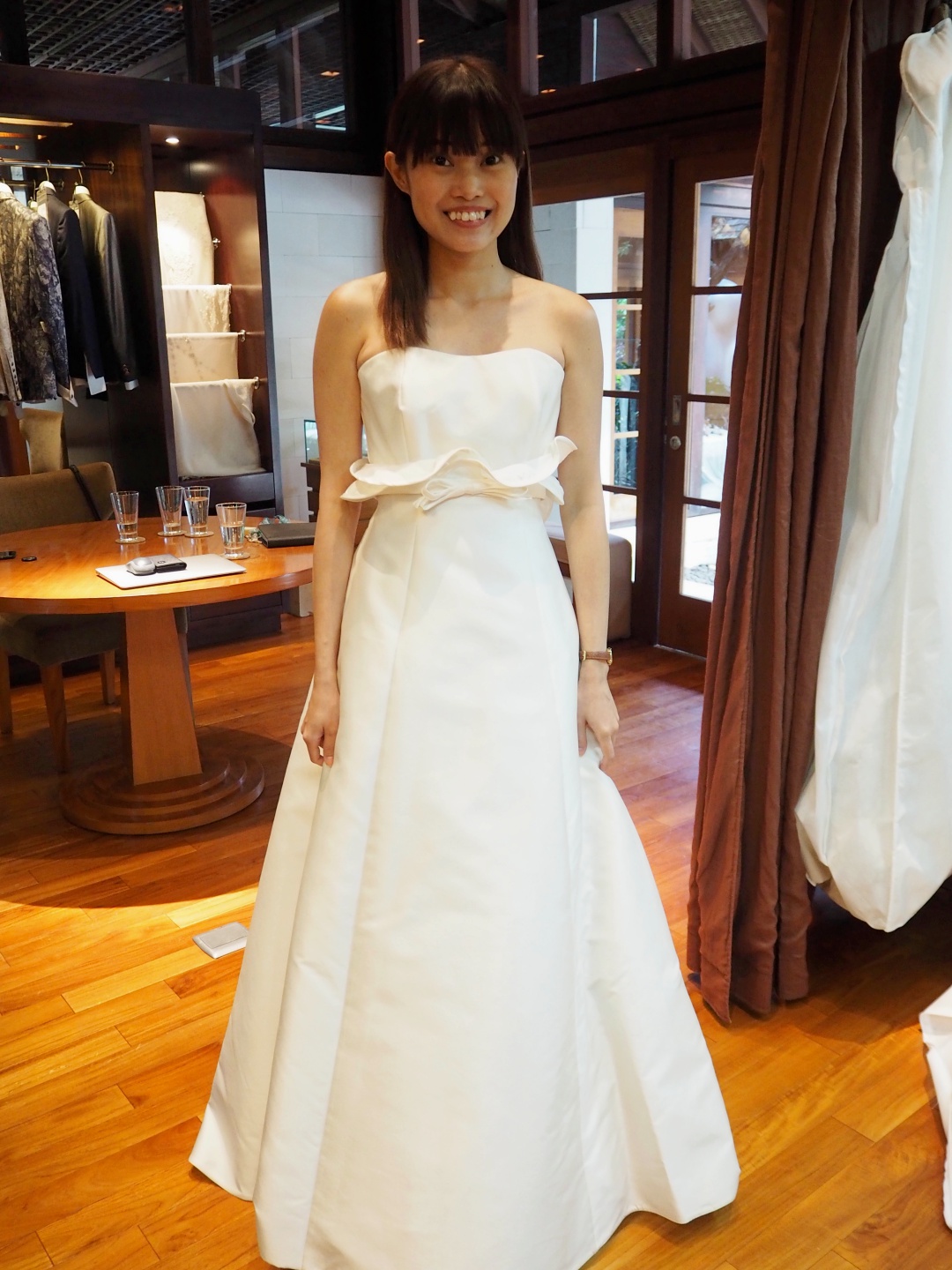 The second one.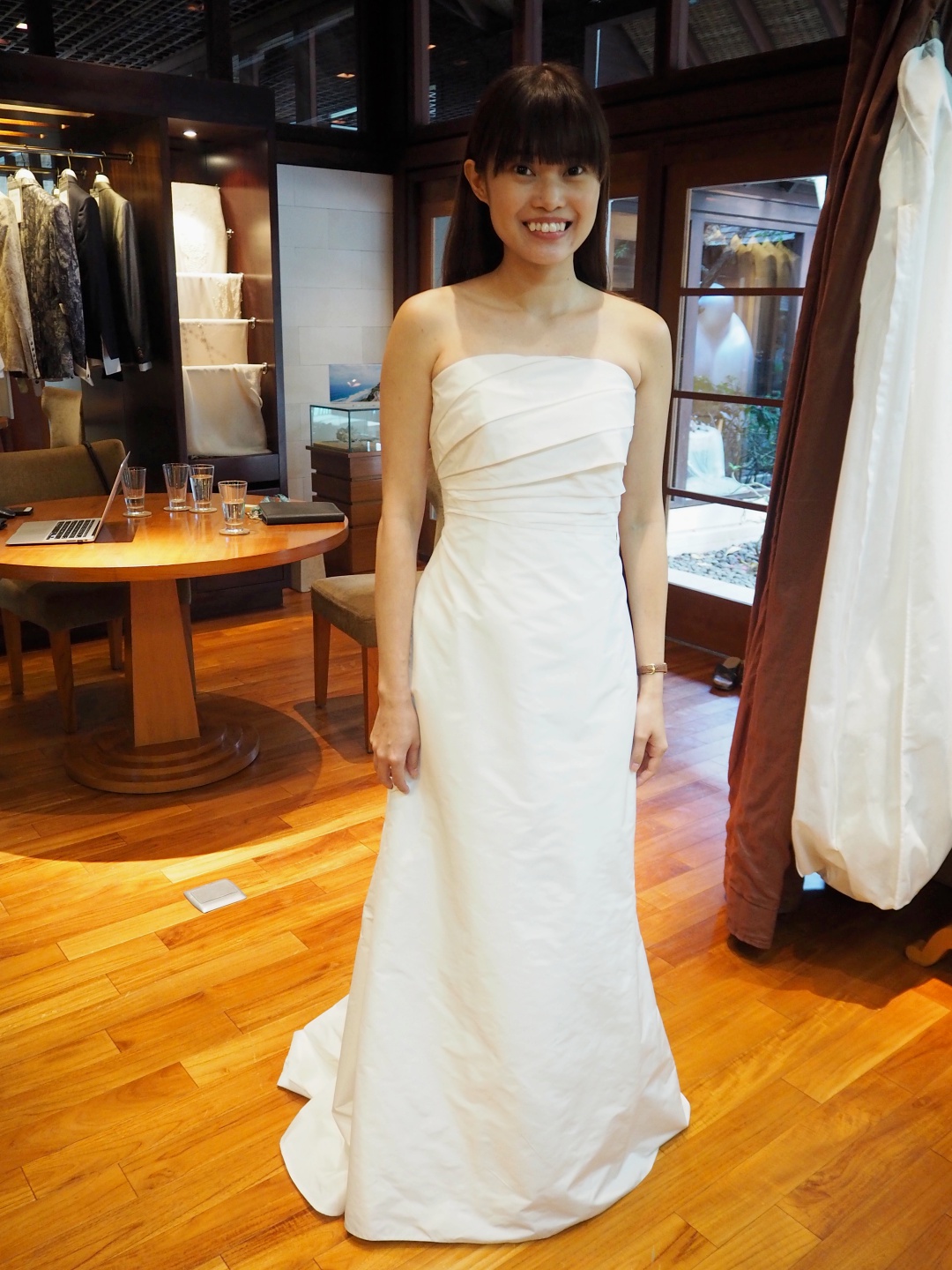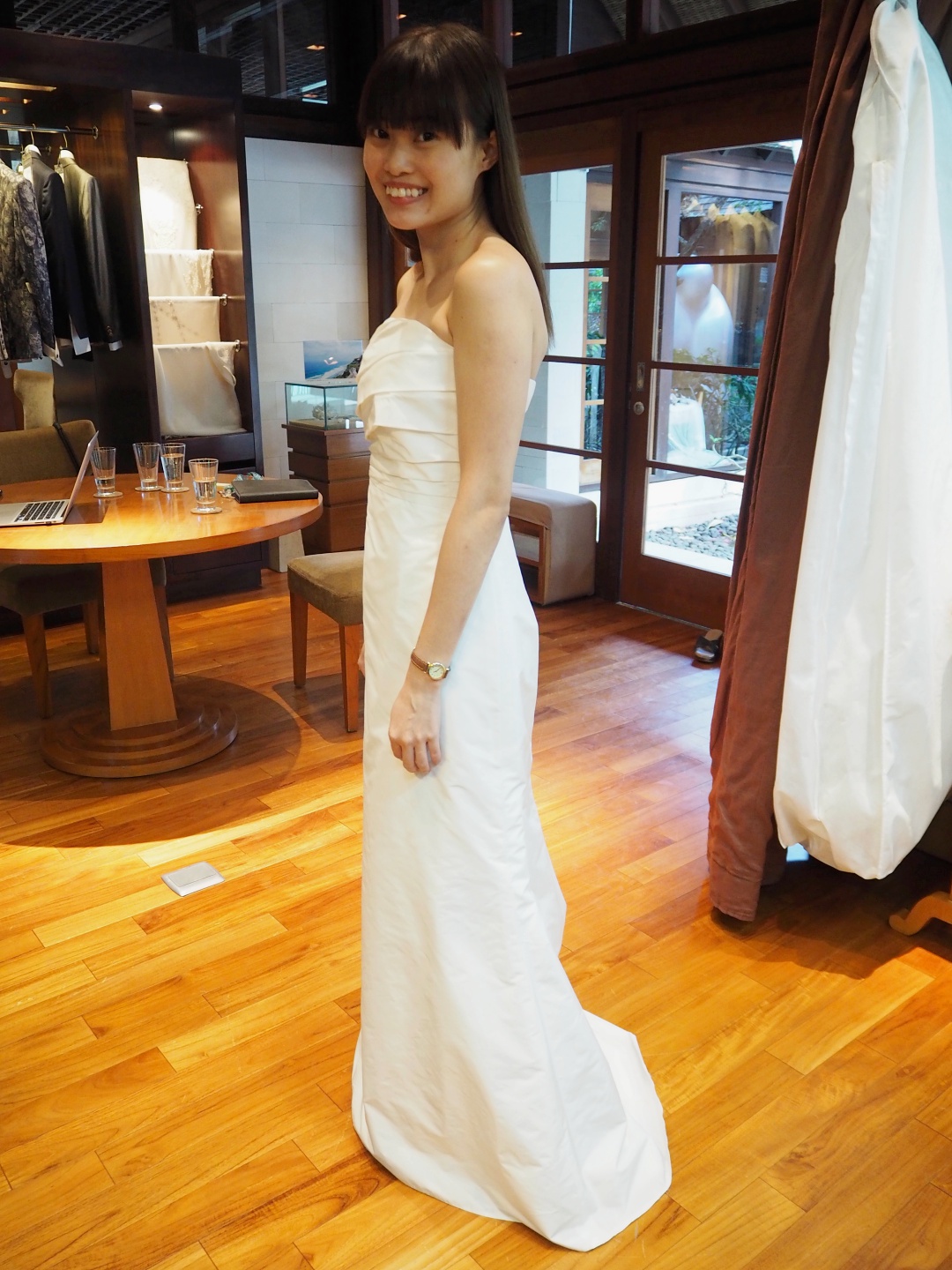 And the third one.
As you can tell, all the gowns I picked were of minimal design with no embellishment.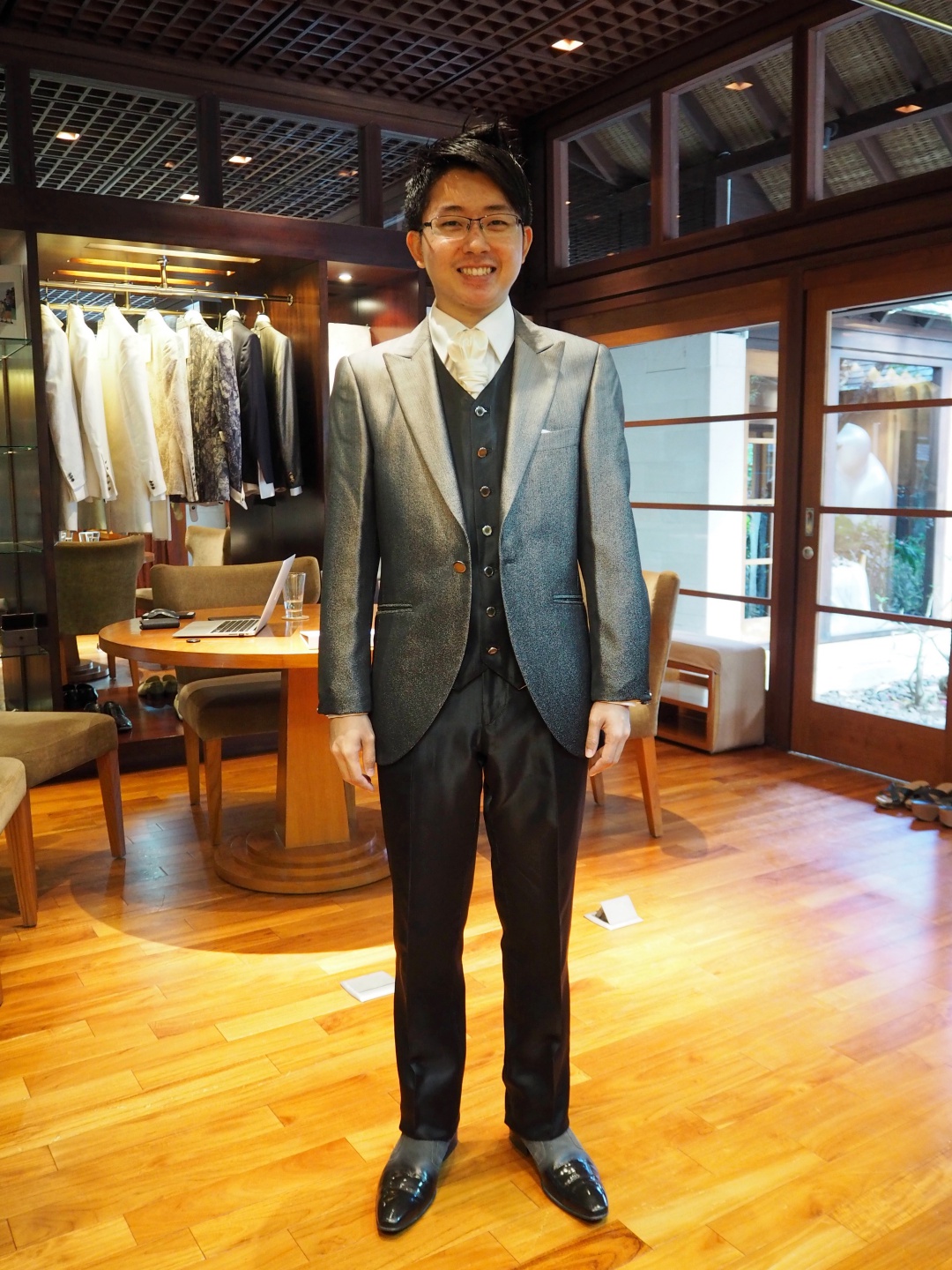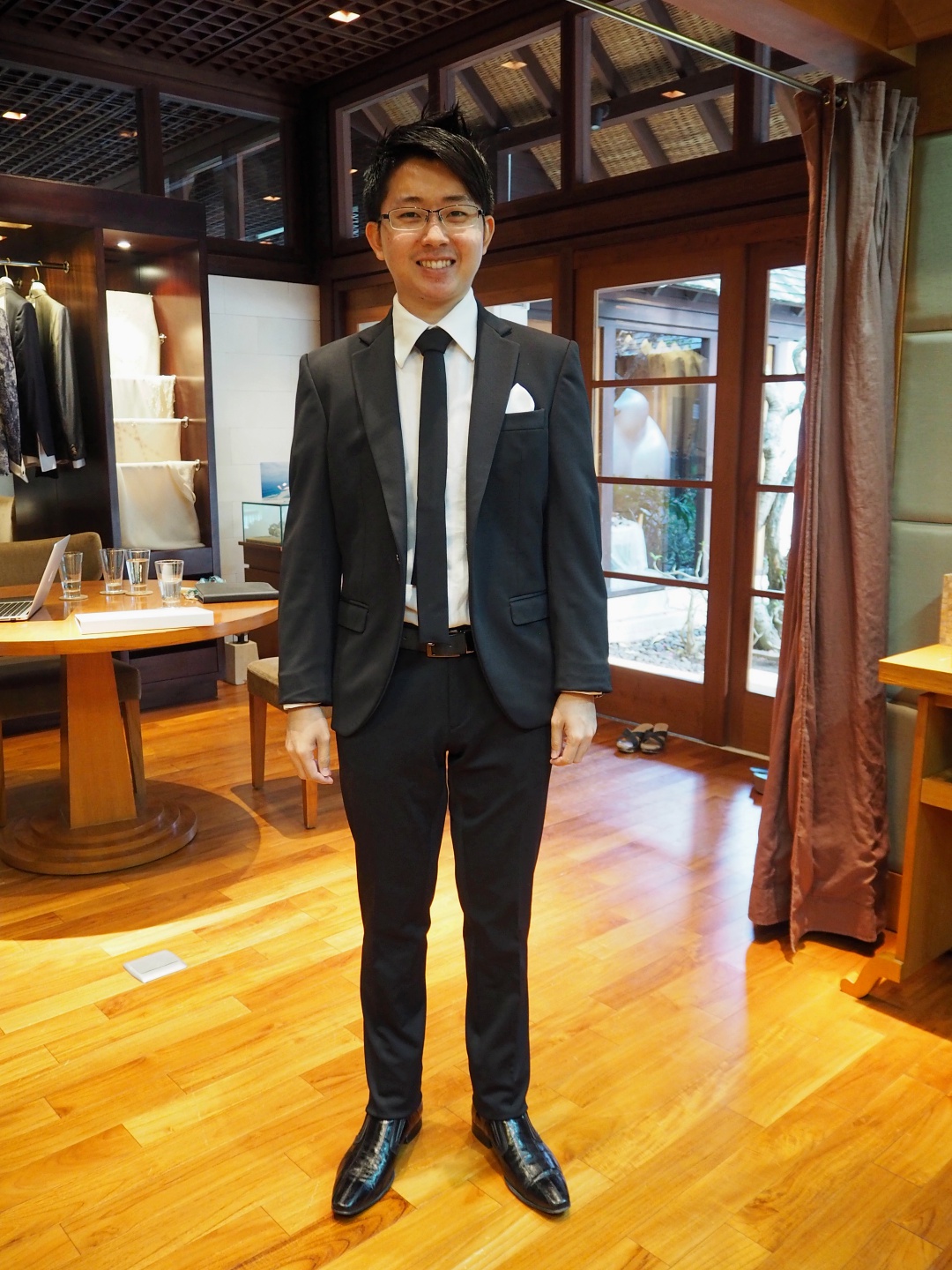 The Husband only tried on two suits; I have always preferred guys in black suit, so that's what I suggest he go for. If I get to choose, I will always prefer him in a dark suit (think black, navy or dark grey) than one in a lighter colour (white is an outright no for me).
As for me, I can't remember which gown I picked, but I eventually changed my mind and ended up choosing the second gown that I tried on. Now looking back at these pictures, I've no idea why that wasn't my first pick.
Overall, it was a really pleasant experience. With the help of the two wedding assistants, we managed to get our fitting done within an hour. Even though the package includes everything; gown, innerwear and heels for me; shirt, pants, blazer, tie, shoes for the Husband, we didn't end up taking everything they provided. For one, I feel more comfortable wearing my own heels.
---
Pre-wedding Shoot
Fast forward to a week later; we went back to Tirtha Bridal for our pre-wedding photo shoot. We were supposed to meet at 09:00, but due to traffic congestion, we were late for almost an hour. By the time we reached our suite at Tirtha Uluwatu, our wedding assistants and make-up artists were already there waiting. Our photographers have also arrived and been waiting for us outside.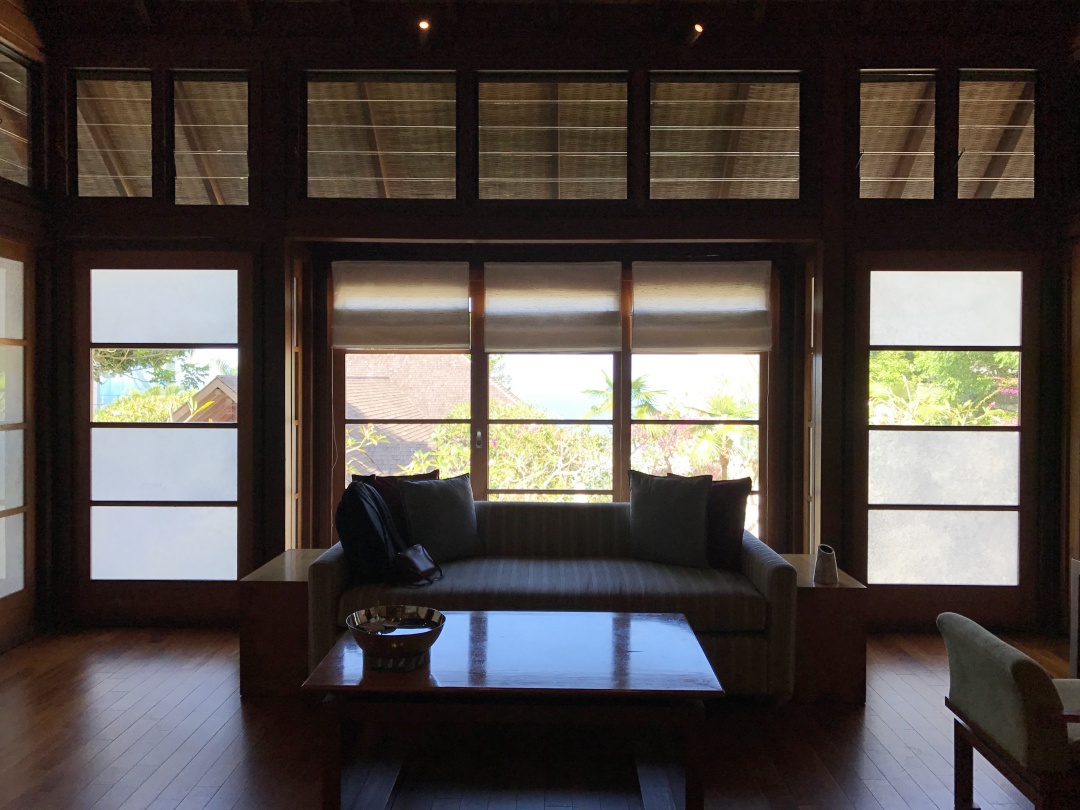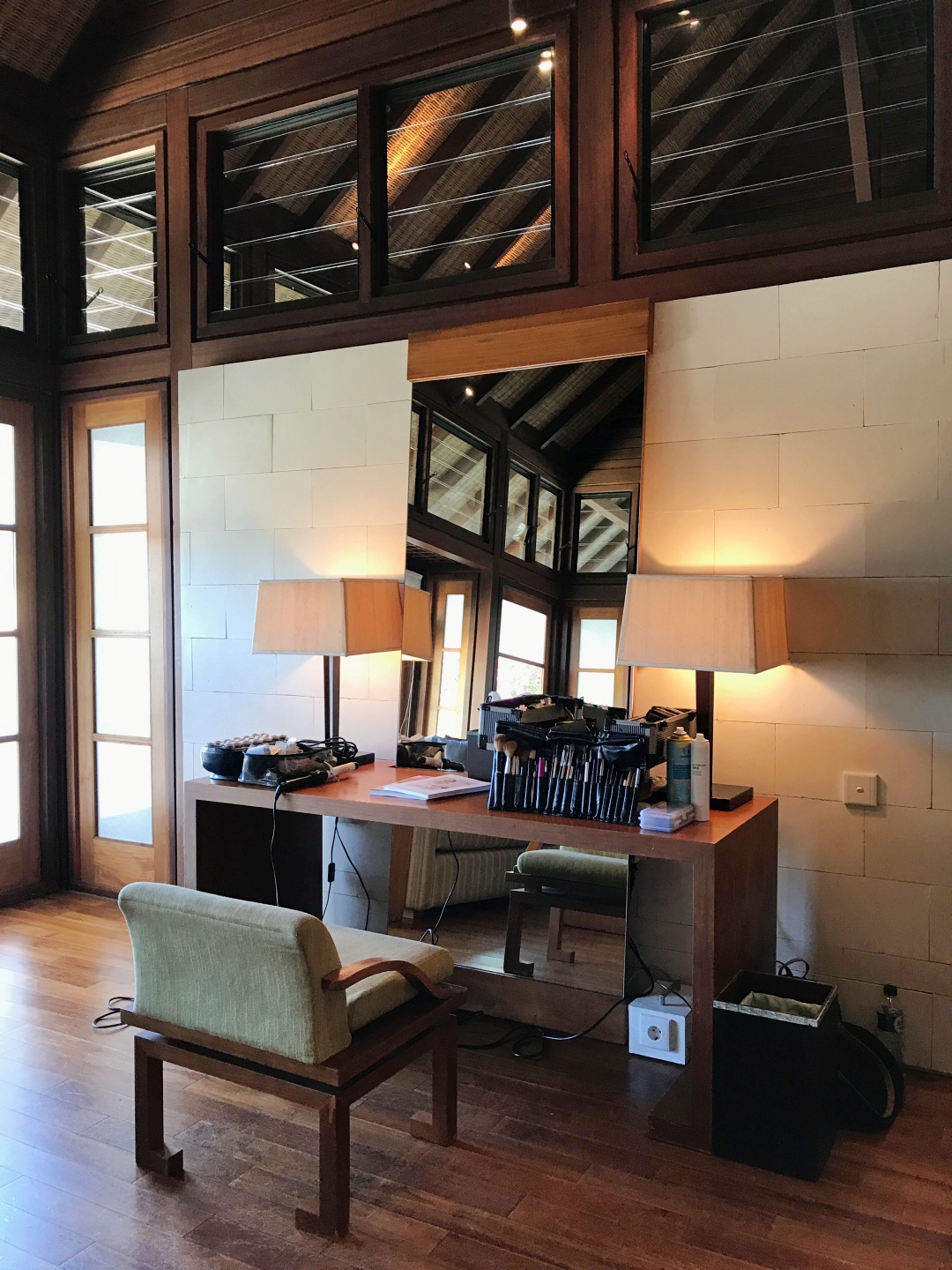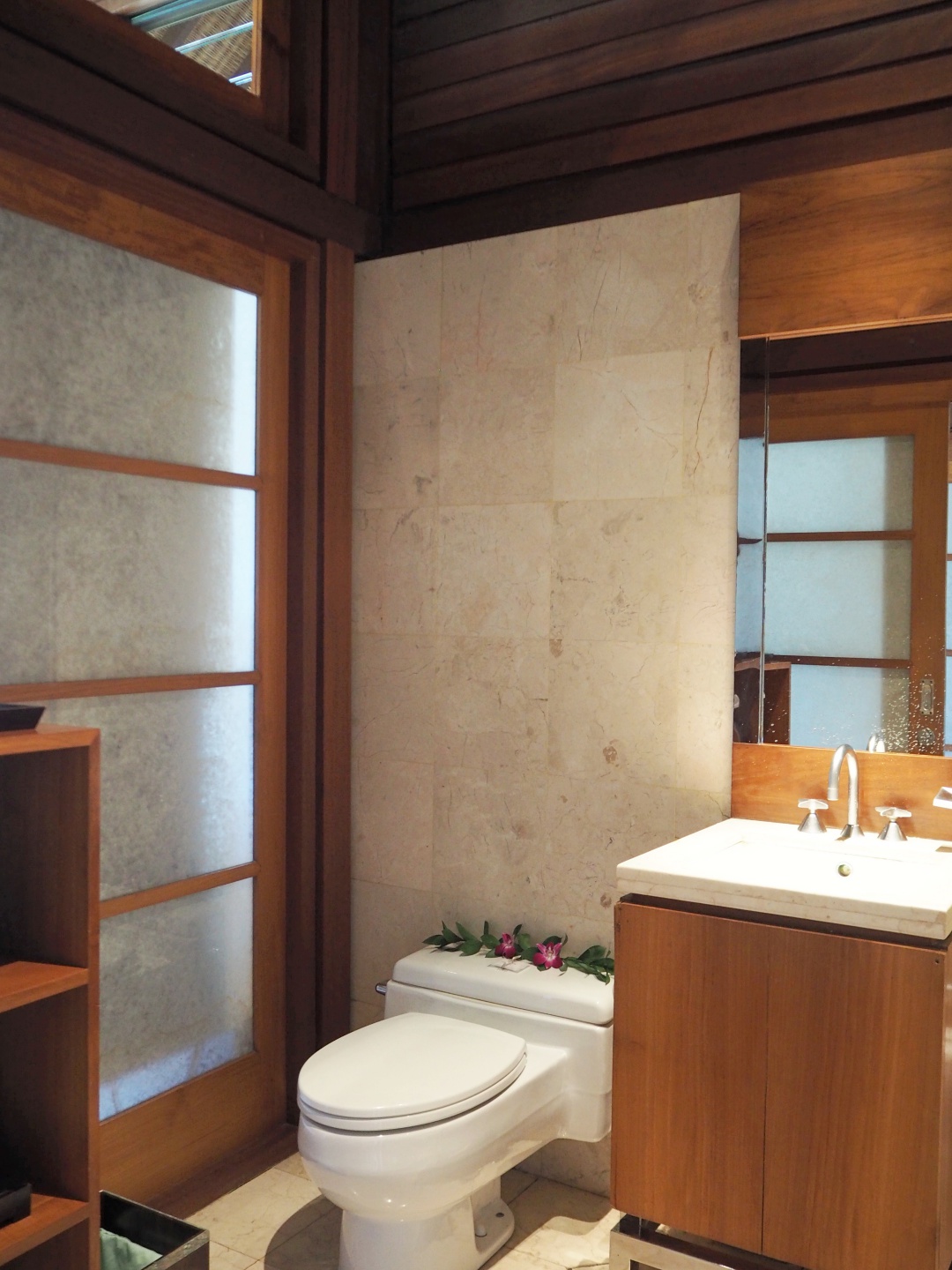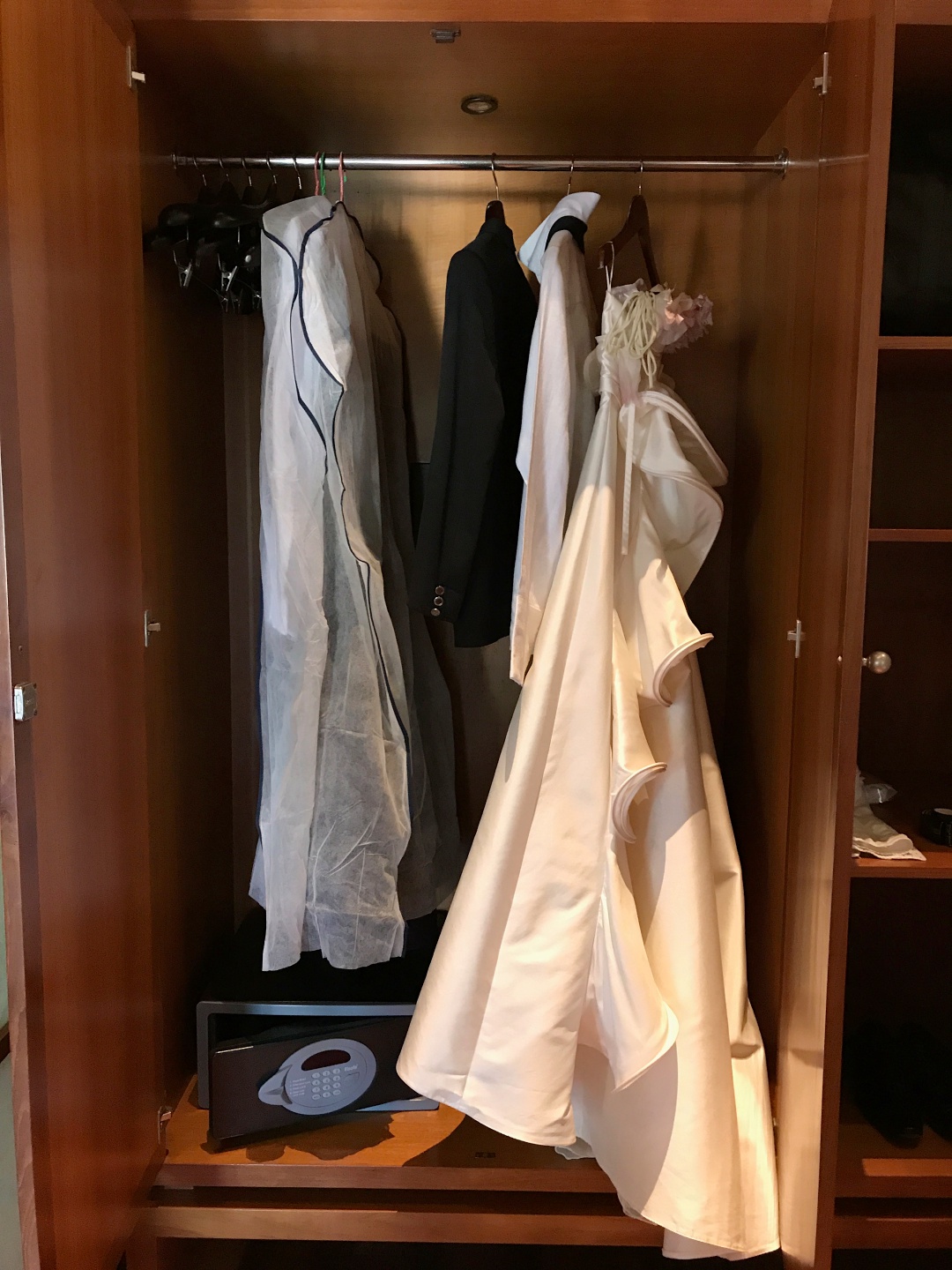 I'm really pleased with the Uluwatu Day Suite (Room) that was assigned to us. Situated within Tirtha Uluwatu, there are five of such rooms available. Each suite features a walk-in wardrobe, an electronic safe, a toilet and a spacious living area with a sofa, vanity table and full-length mirror.
With no further time to waste, we immediately got down to work. The first thing I did was to change out of my clothes into the robe that was provided, before starting on my makeup and hairdo, and ultimately changing into my dress and heels.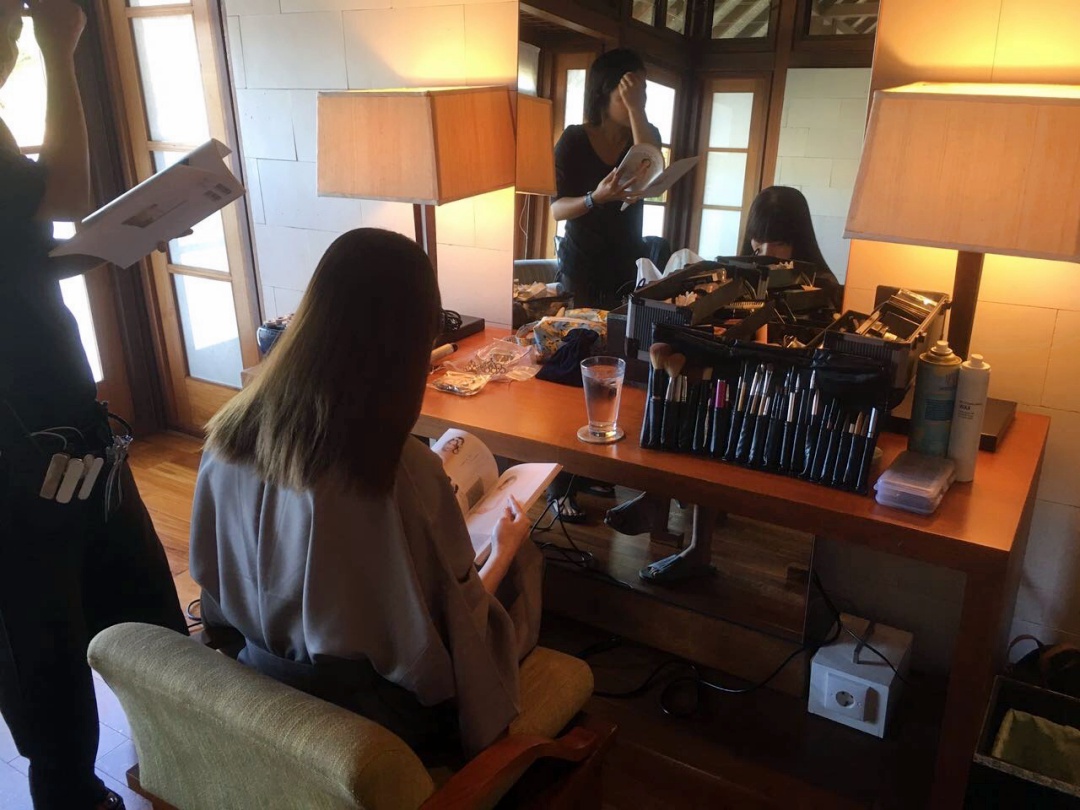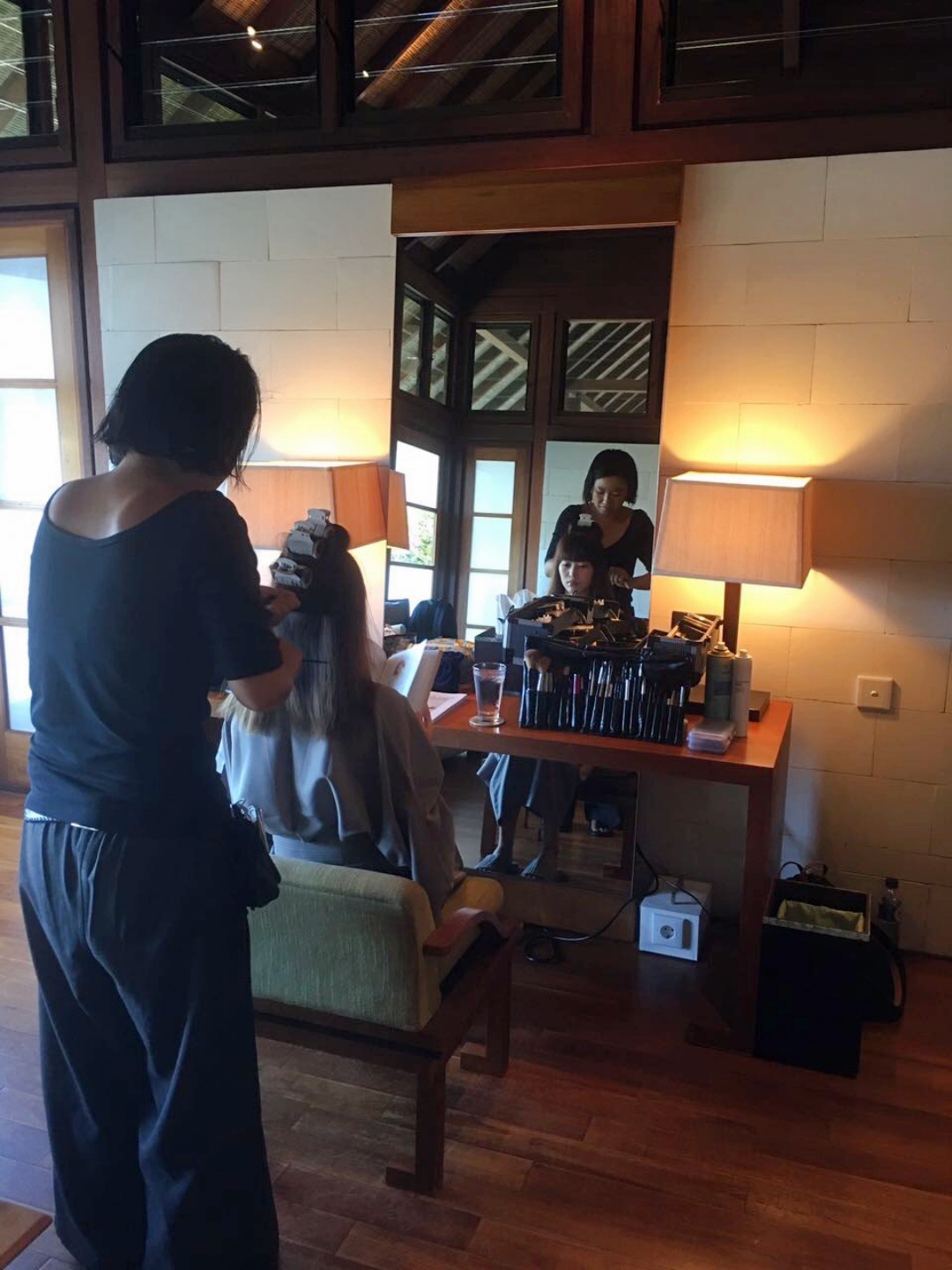 I honestly have no idea what kind of look I'm looking for, so I just show my make-up artist my dress and let her work her magic.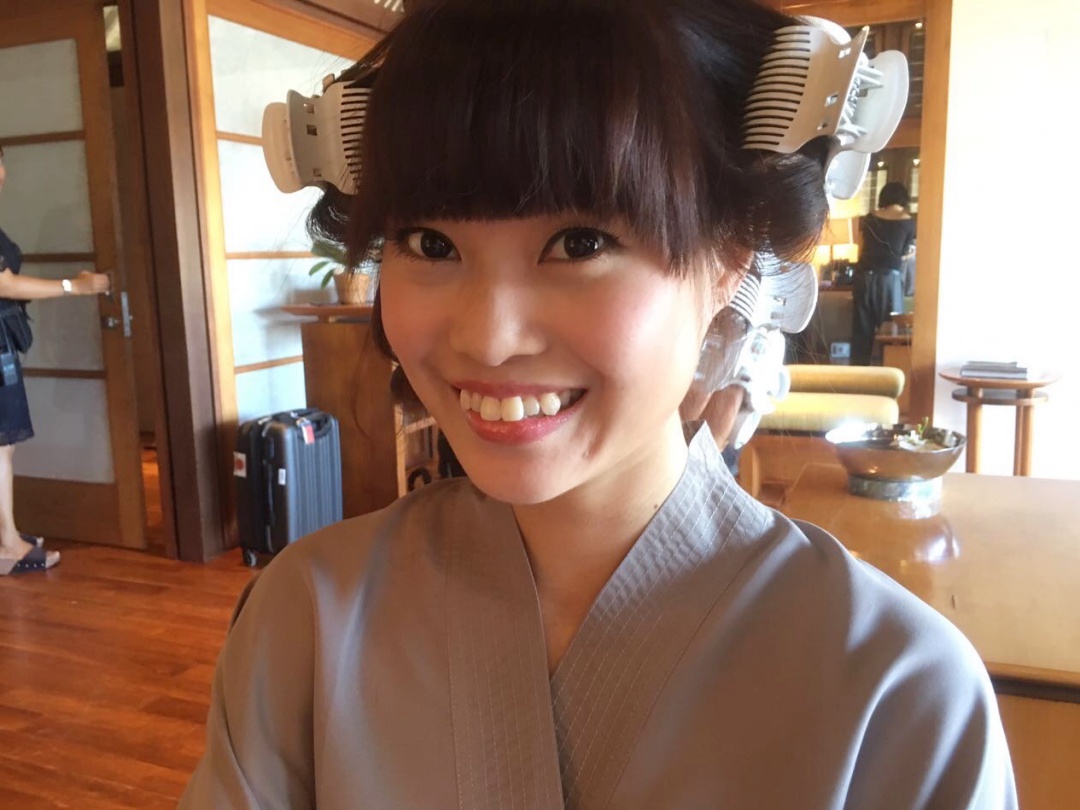 Almost done. I really love the makeup she did for me.
I brought along a dress, two pairs of heels, together with a couple of costume jewellery. The Husband consults the photographers, and they thought it would be better to wear my navy dress for the first half of the shoot and kept the white gown for later. I promptly changed into my dress and slippers, then carried my heels and props with me to the first location – The Glasshouse by Tirtha. The Glasshouse by Tirtha was a short drive away from Tirtha Uluwatu.
Aside from the two photographers that were assigned to do our shoot, with us that day were two wedding assistants and my make-up artist. I'm really glad to have the three ladies with me for the entire shoot. My make-up artist was constantly helping me with my touch-up and arranging my hair whenever we took a break, and the wedding assistants were always there to help me rearrange my dress so that they look perfect in pictures.
Having done with our first shoot location, we took the car back to Villa Tirtha where I changed into my white gown and continued to shoot for a little longer, before taking a break for lunch.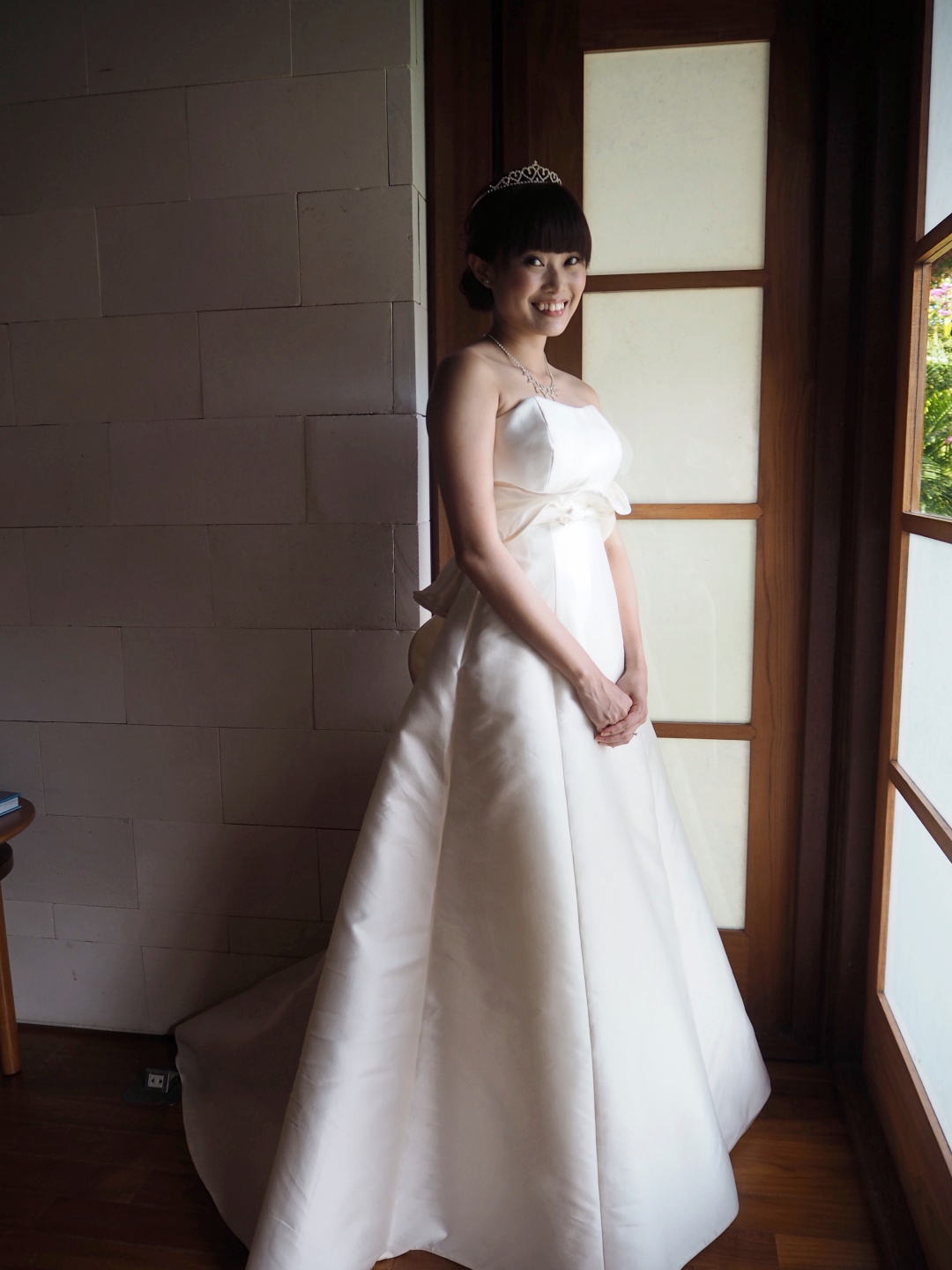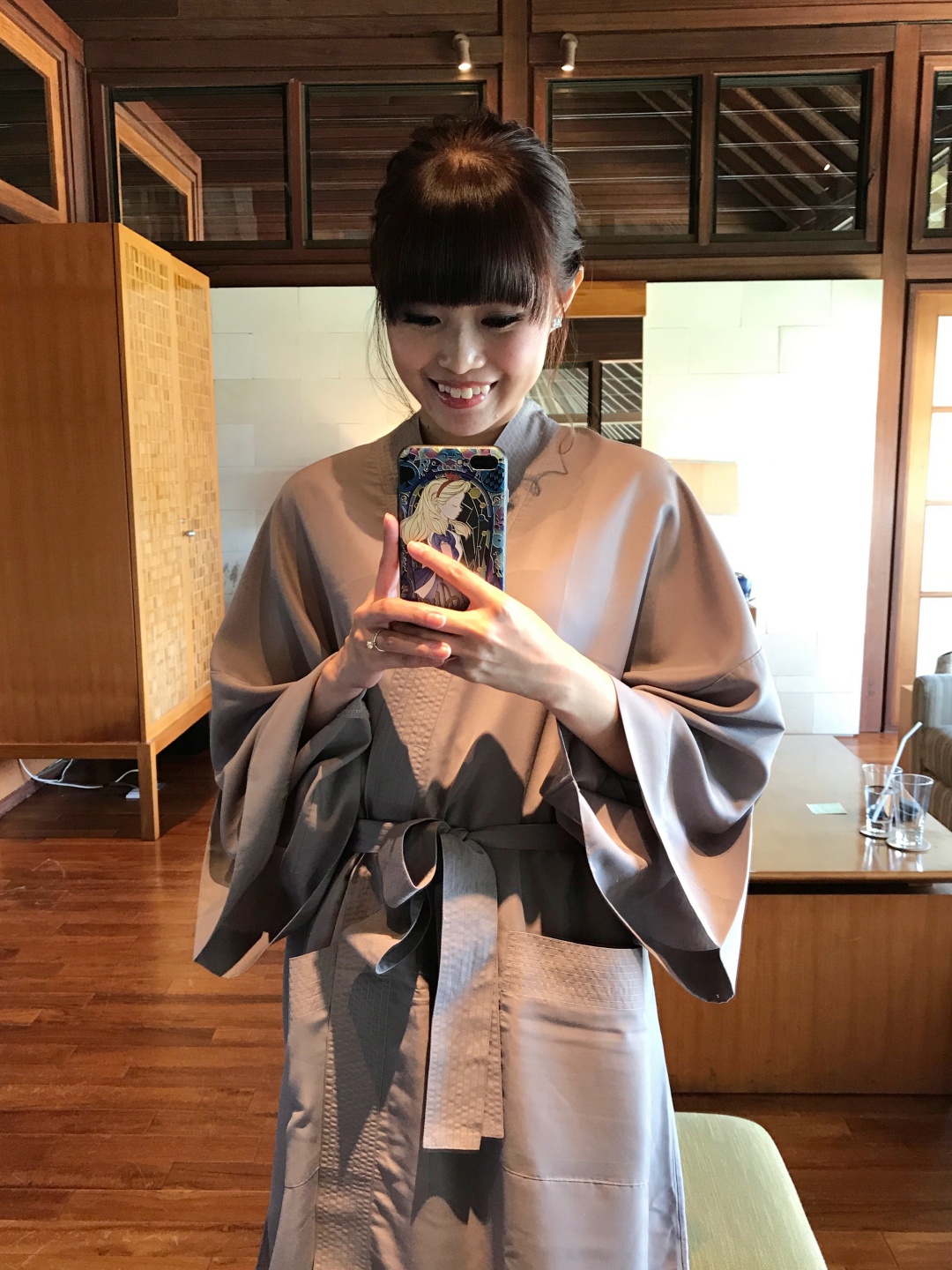 Back to our suite to change out of my dress and at the same time to call for Go-Jek to deliver our lunch. While waiting for our food delivery, what's better to do than taking mirror selfie!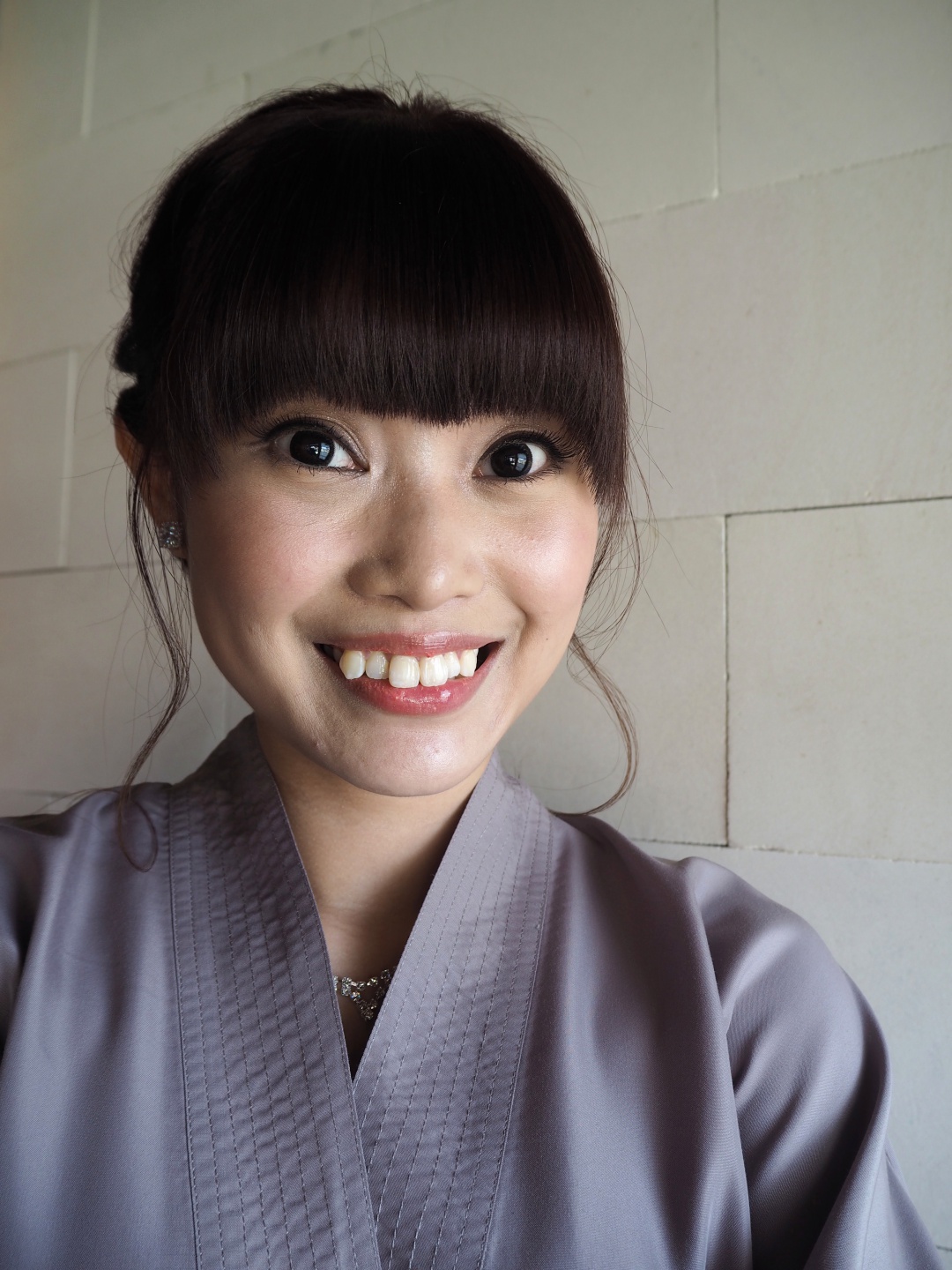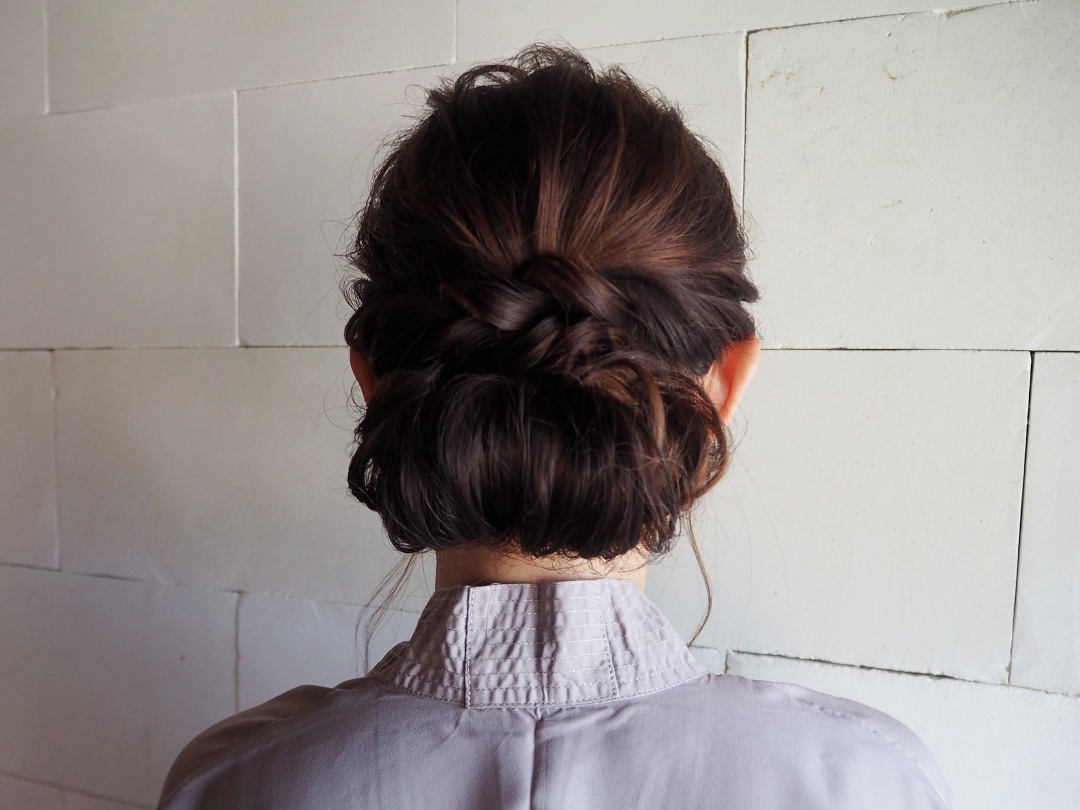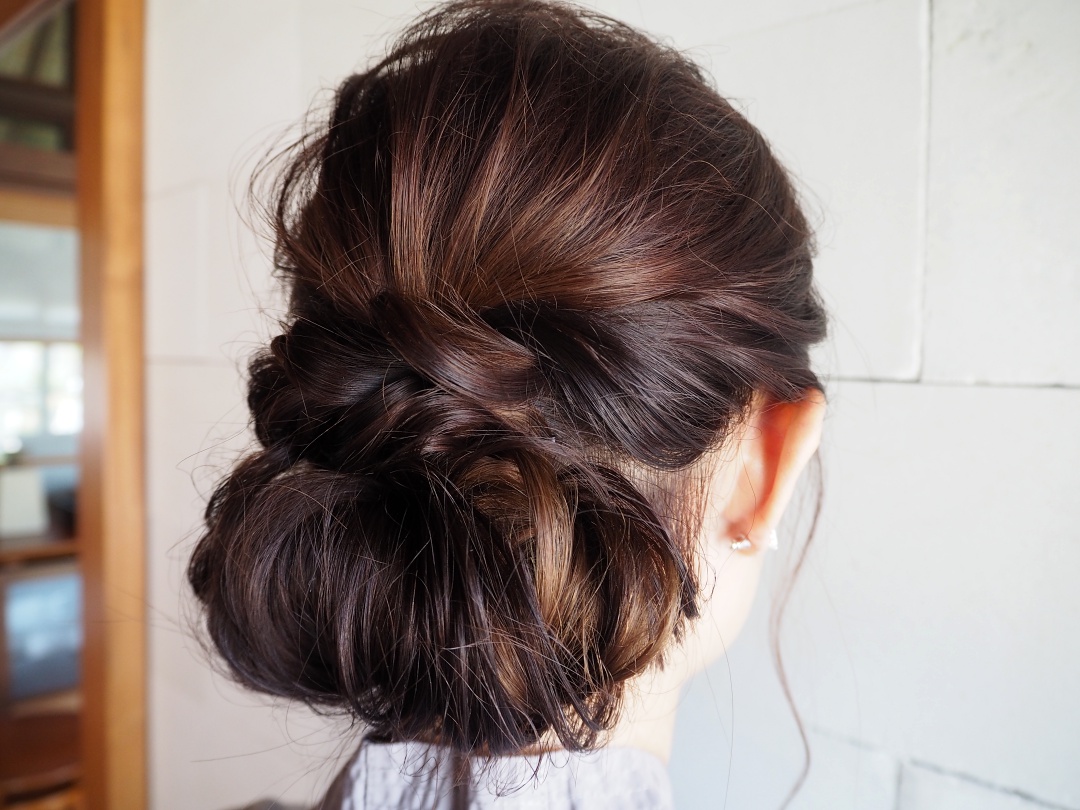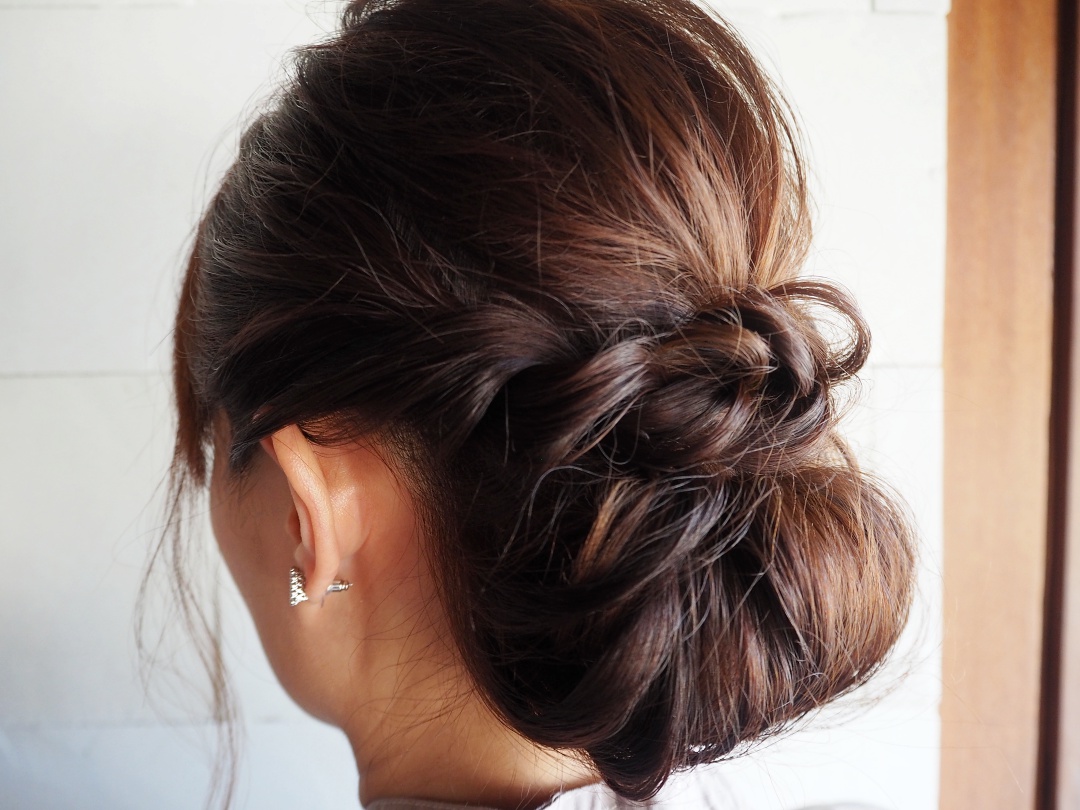 Really happy with the hair and makeup.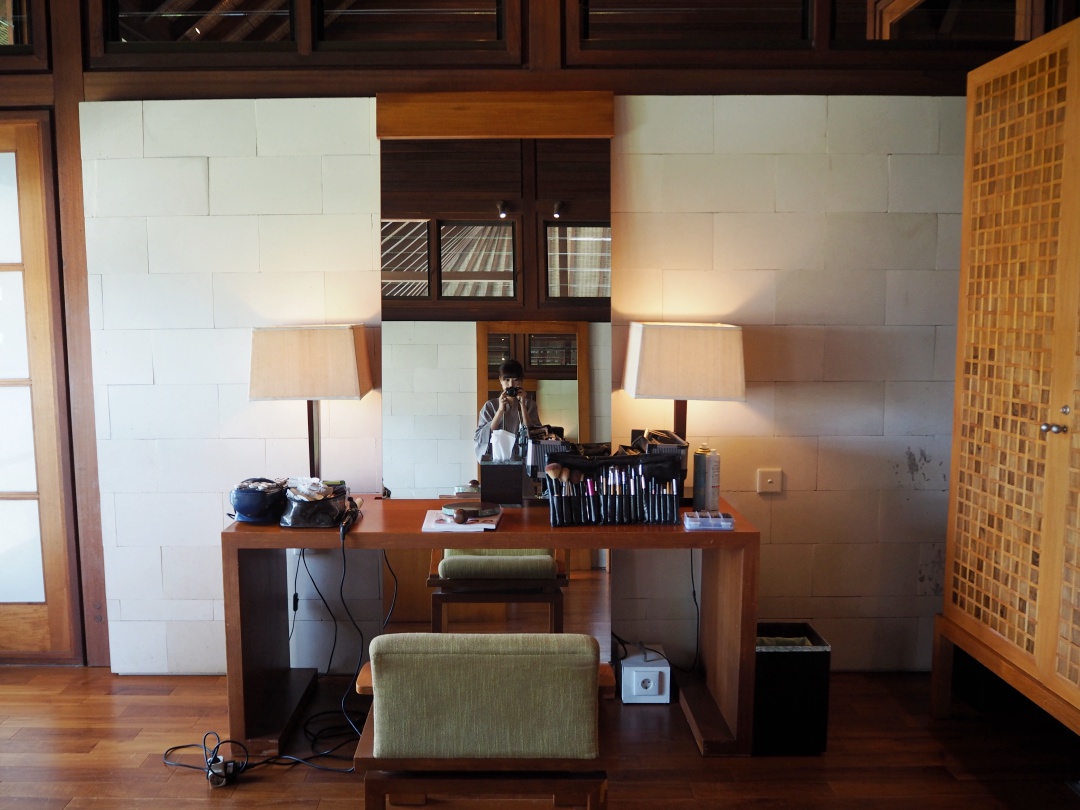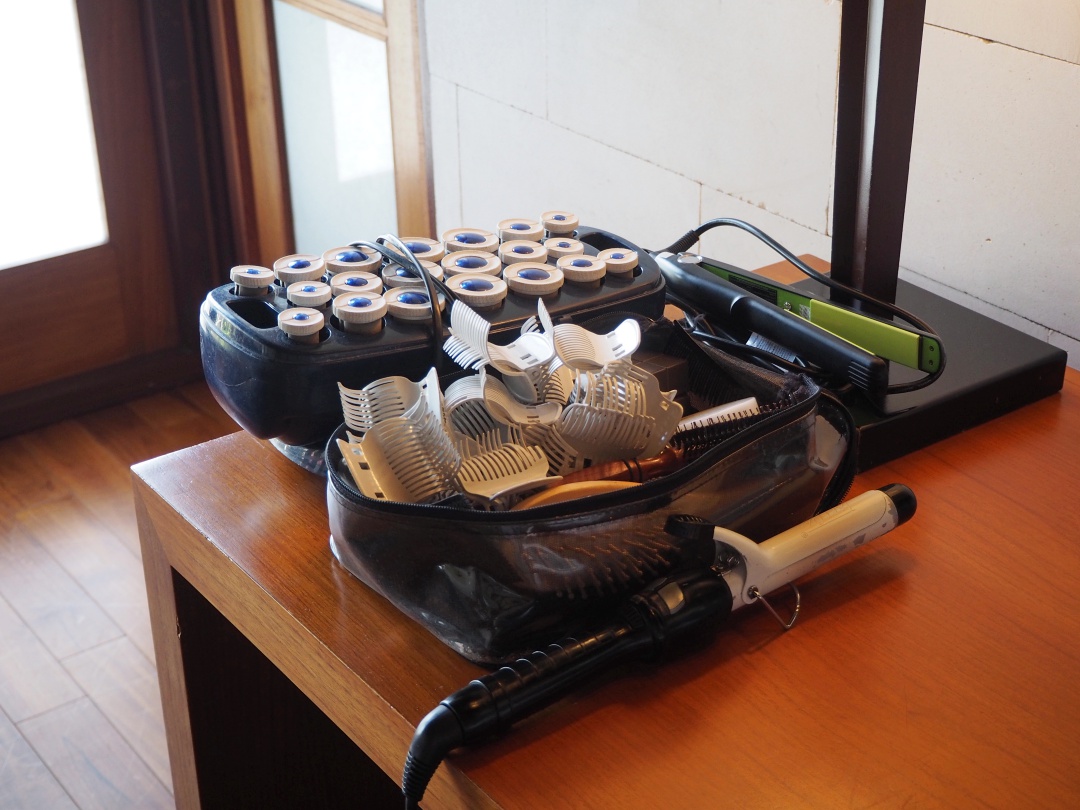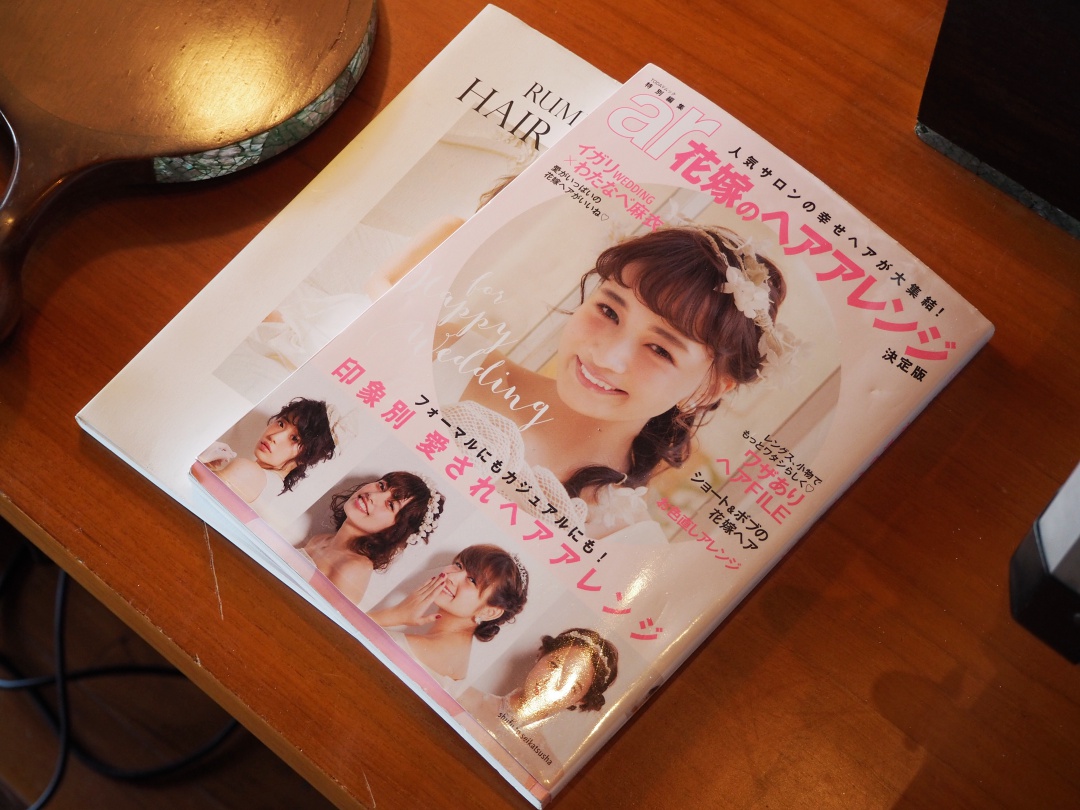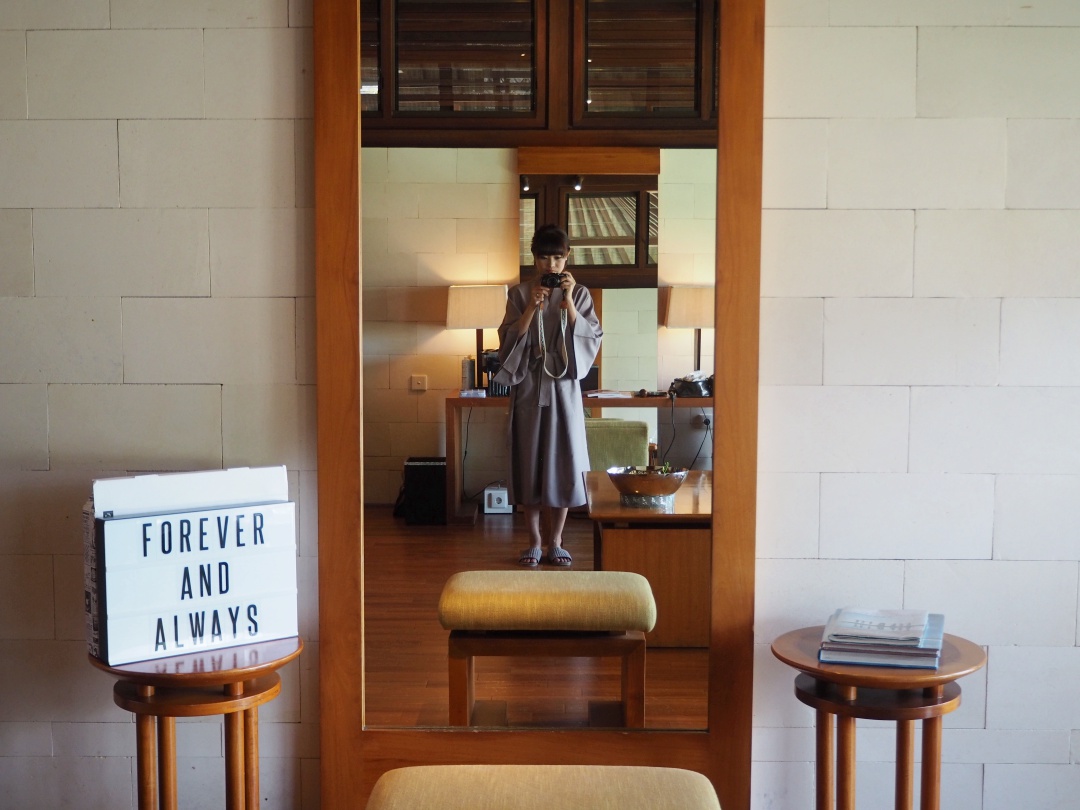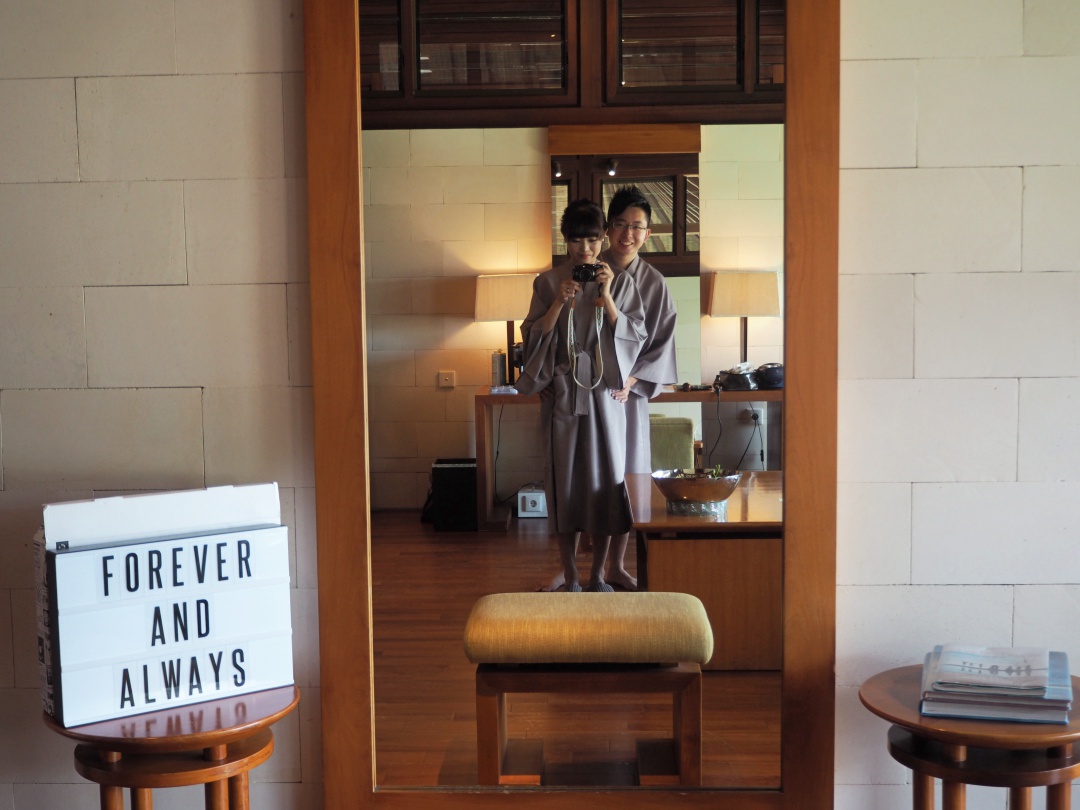 By the time we were done with lunch, I believe it was almost 14:00 or 14:30. Immediately got down to work again.
Changed into my white gown, and my make-up artist offered to switch up my hairdo; when I later decided not to wear the necklace for my third look, she skillfully weaved the chain into my hairstyle.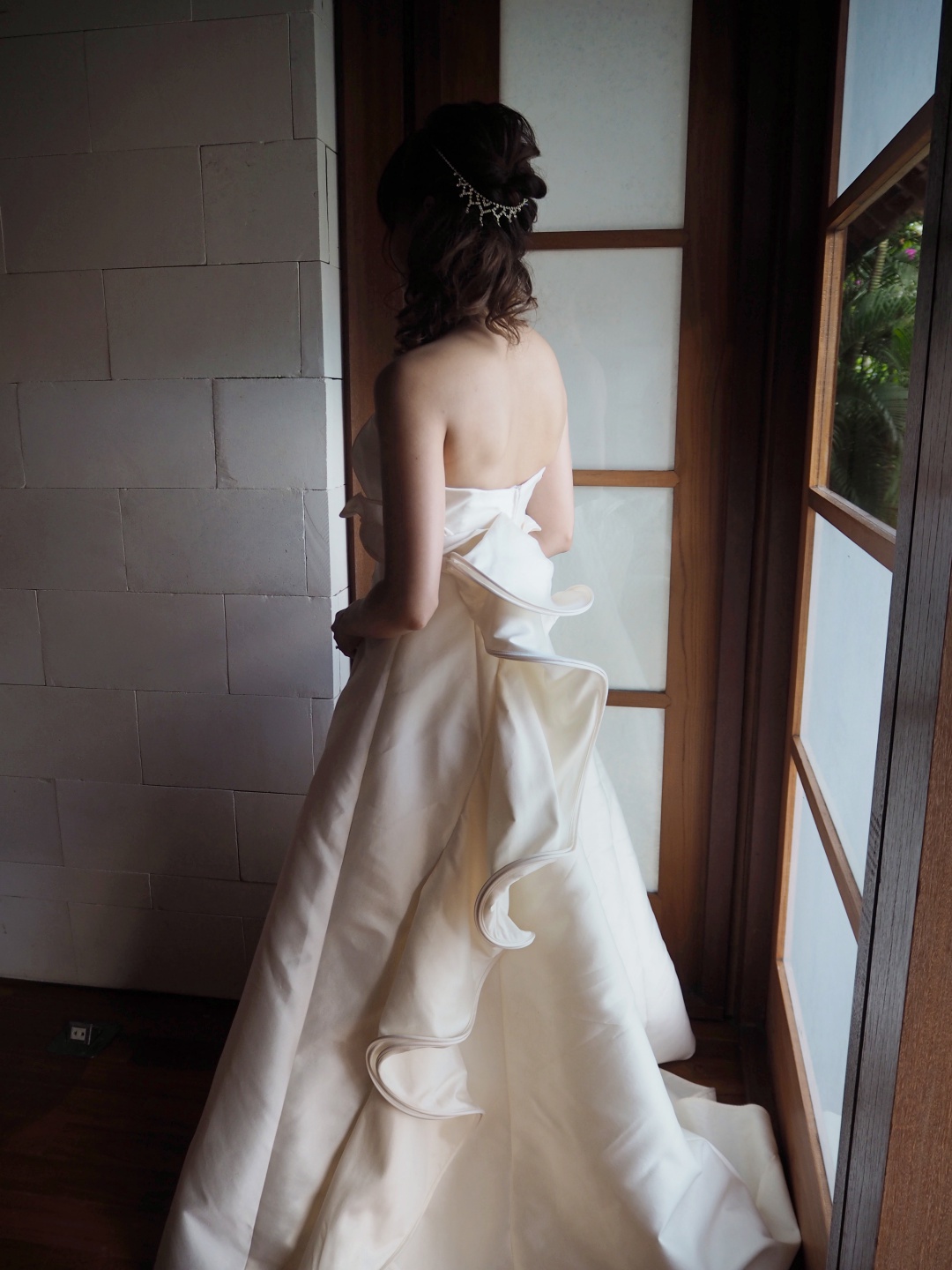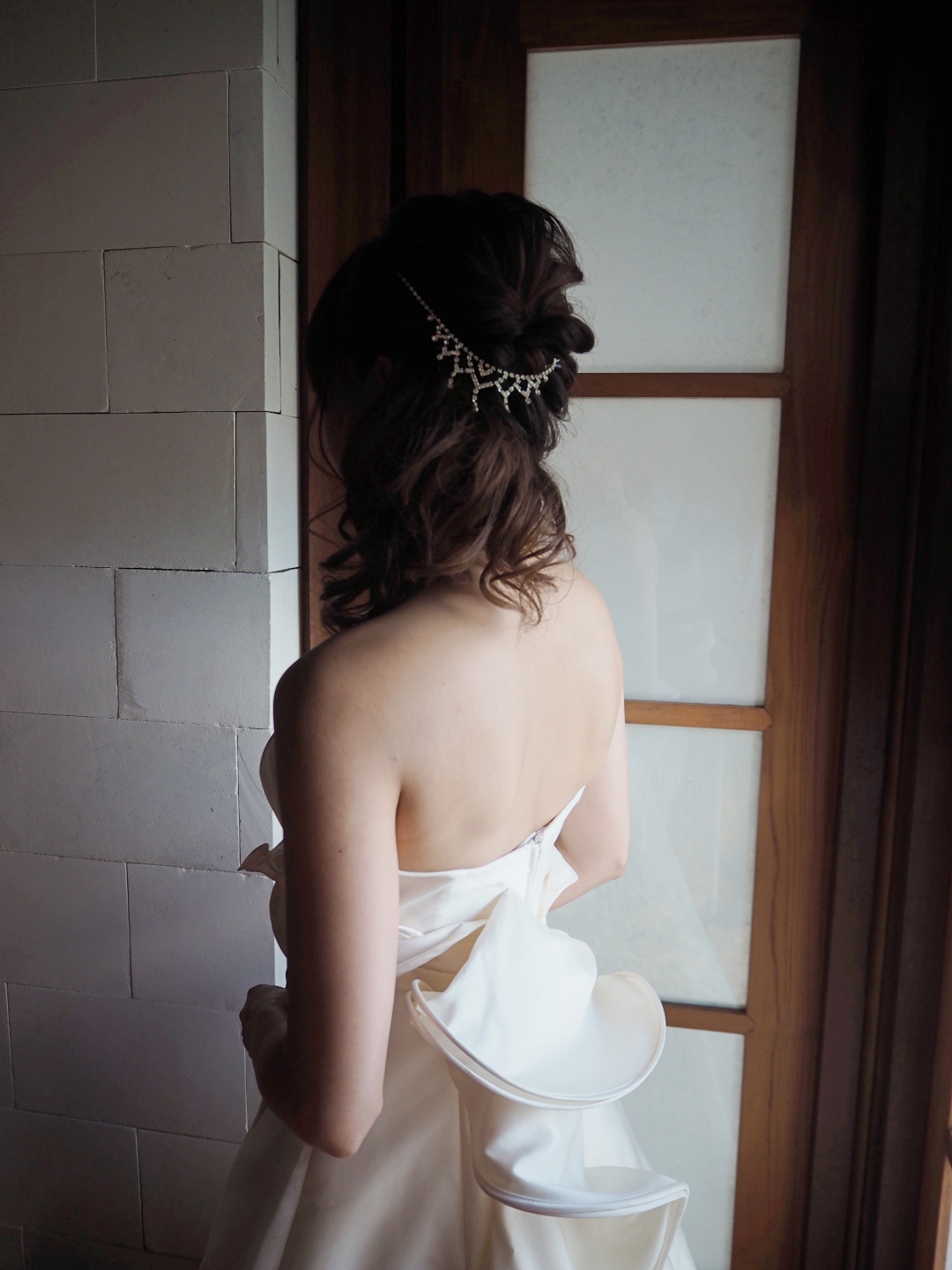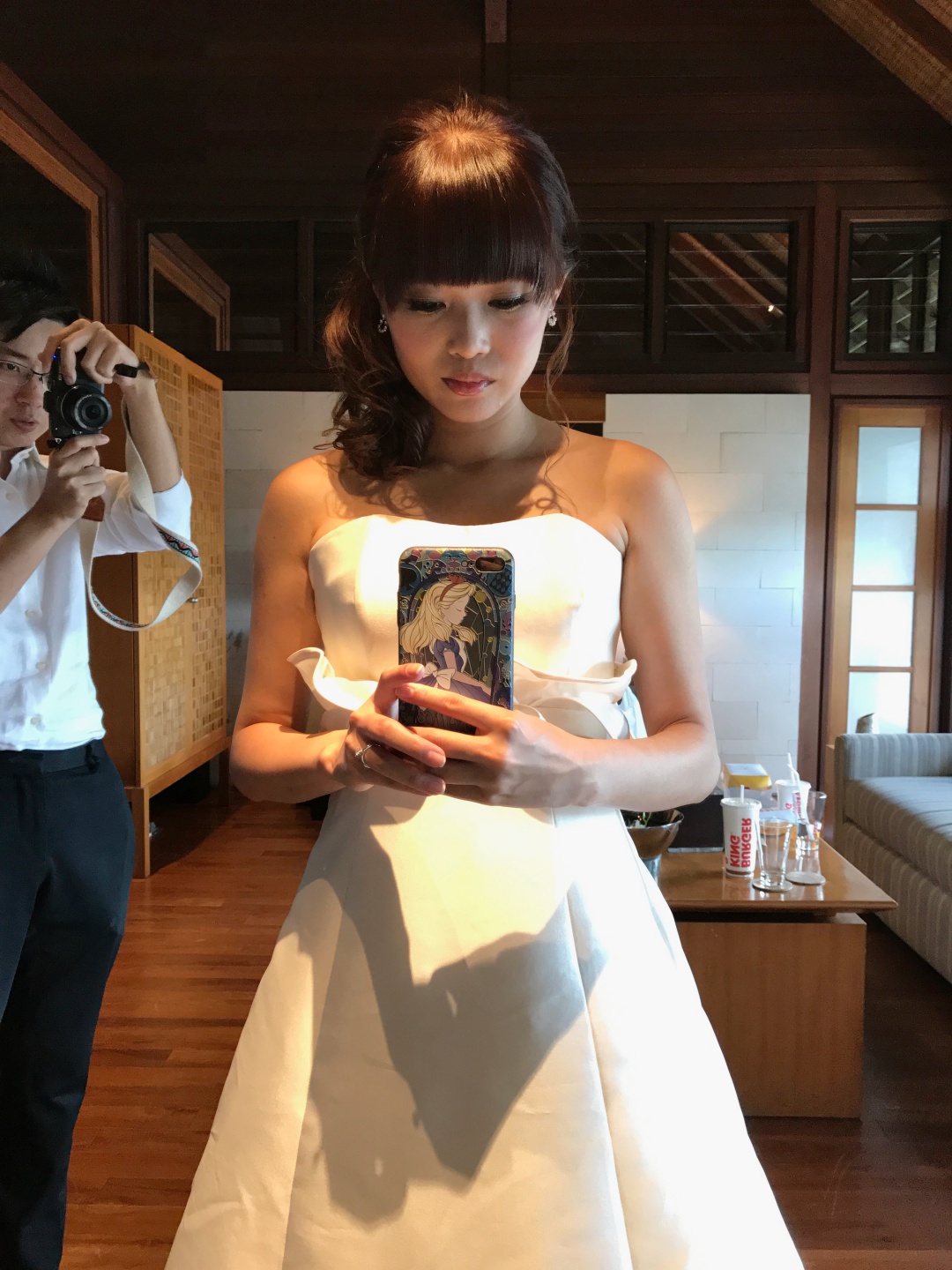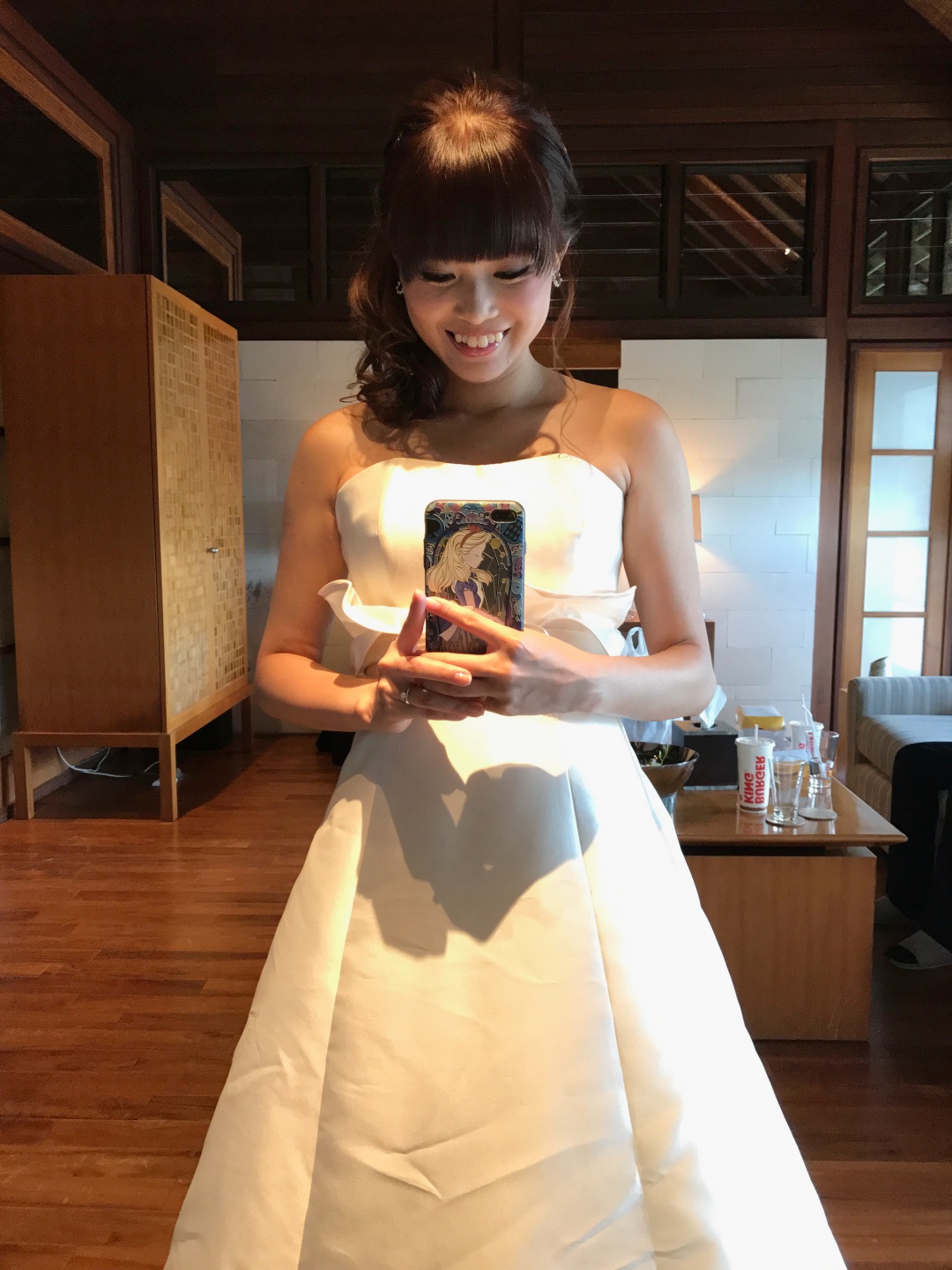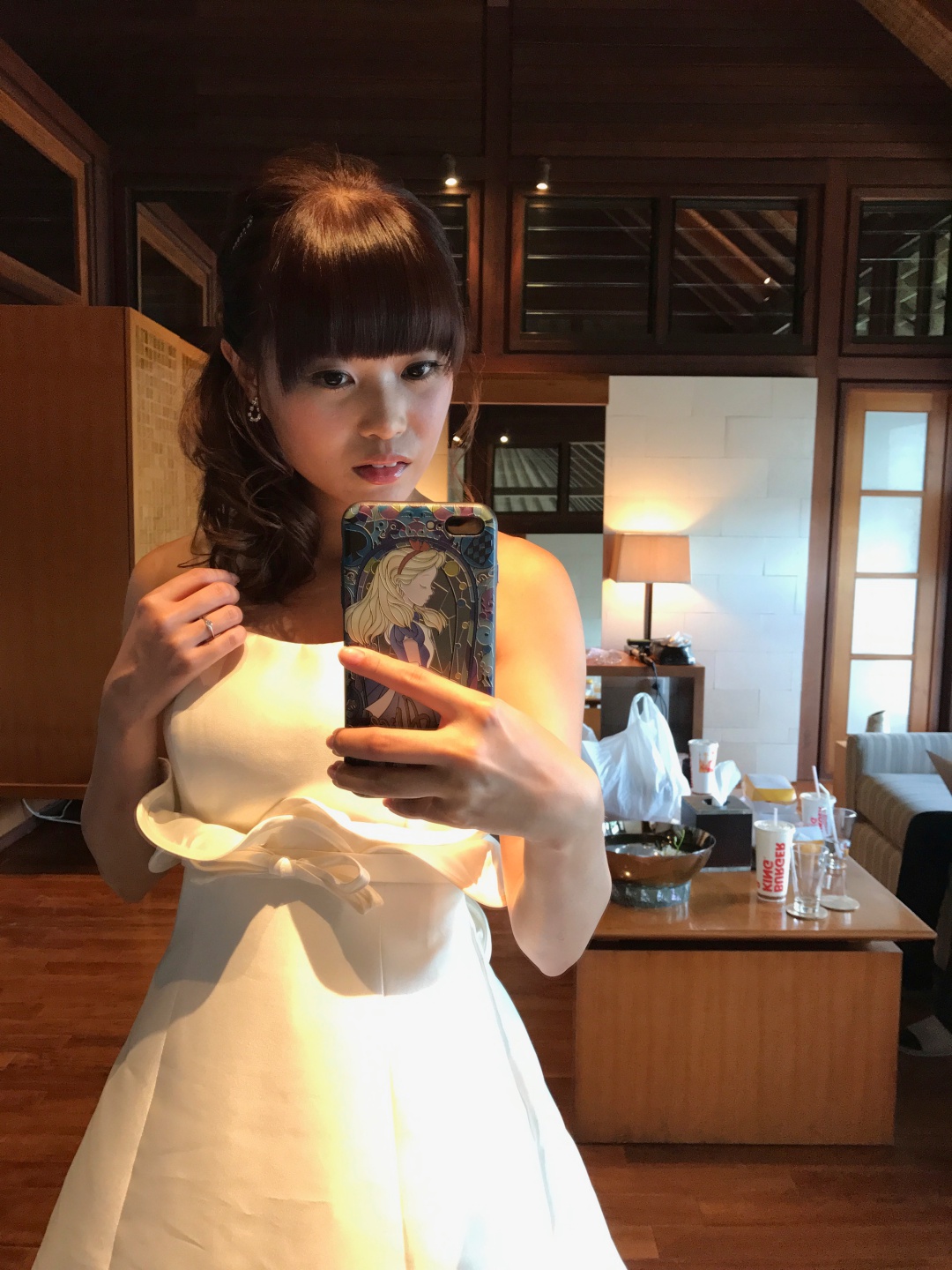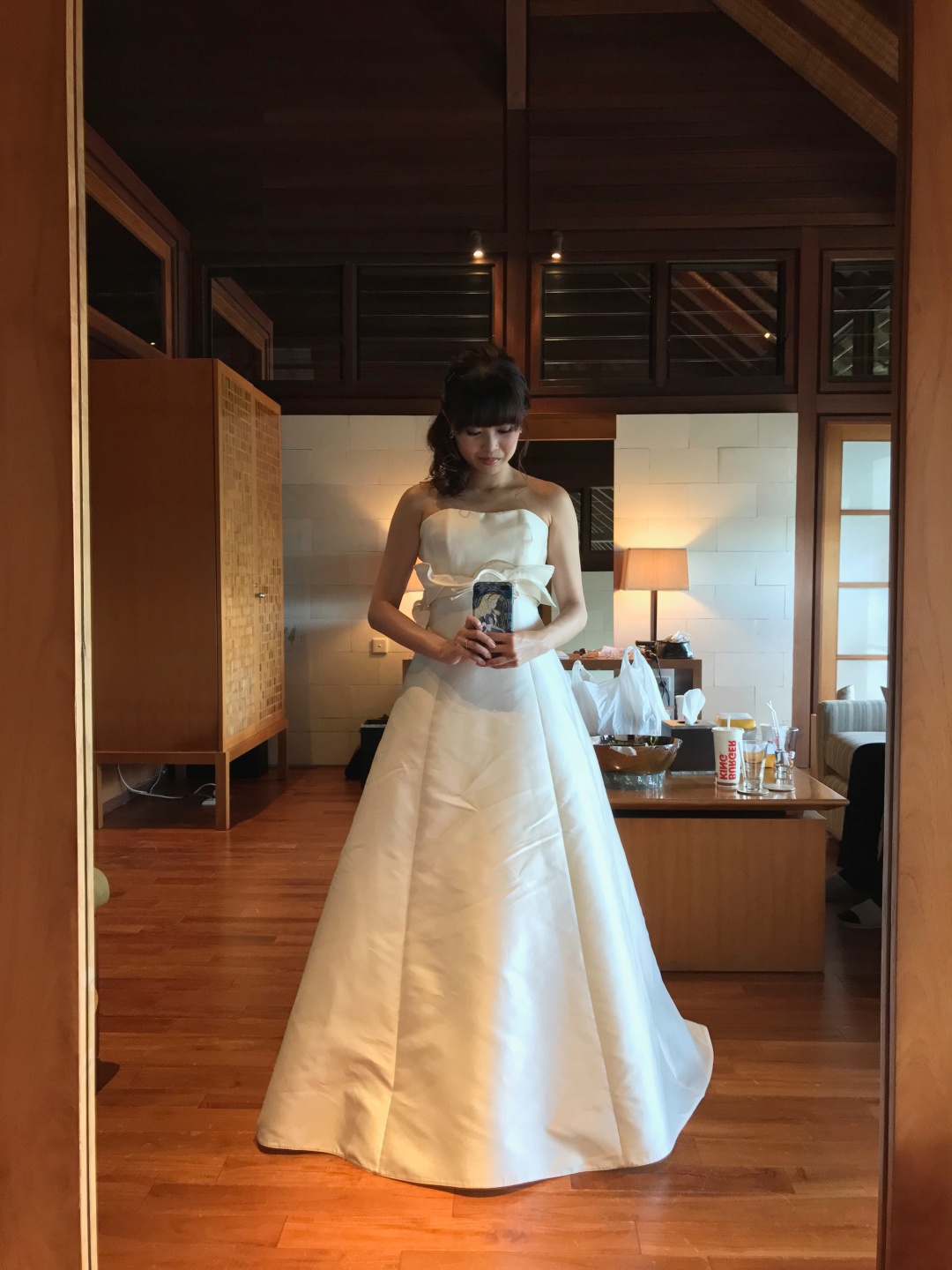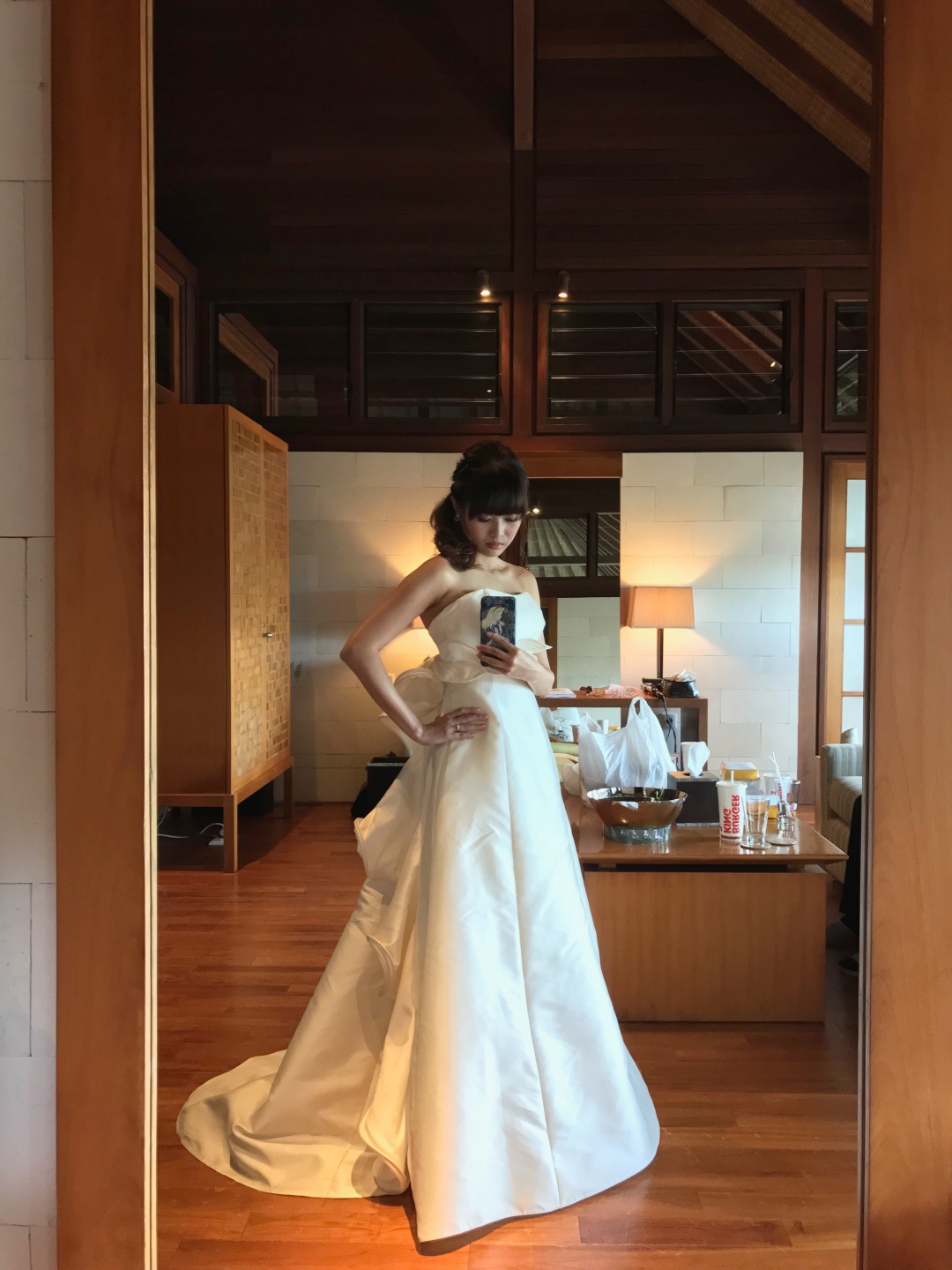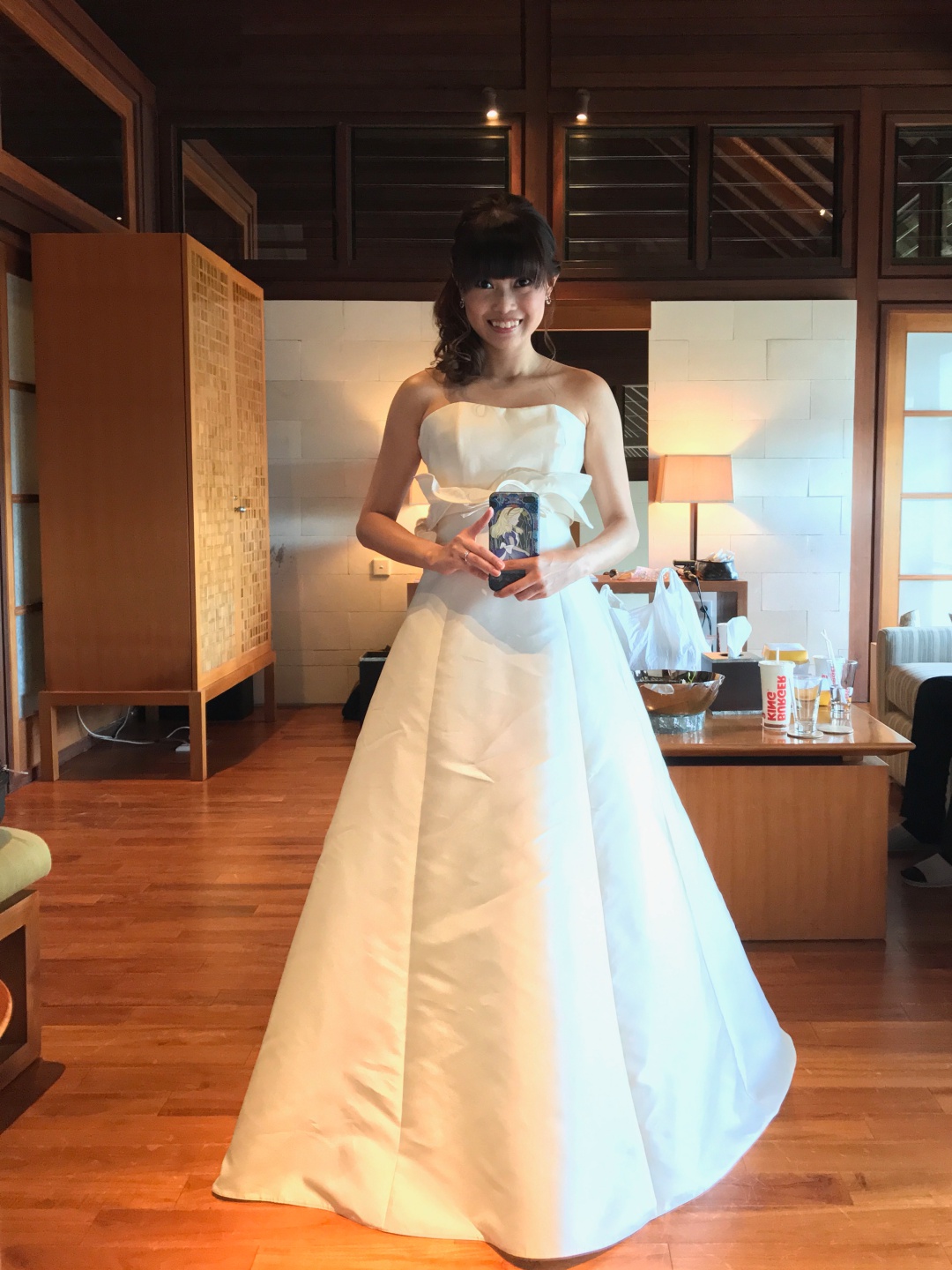 While taking these photos, I noticed the crease on my dress. In the end, I've to undress and got the wedding assistants to steam it for me, before changing into it again for the shoot.
Satisfied with my third look, we went down to complete the second half of our shoot. We didn't have to travel far since the last location of the shoot was right where we were – Tirtha Uluwatu. We took some pictures around the chapel, before moving further to the cliff edge so that we could snap some photos of the ocean.
It was almost sunset by the time we completed our shoot and called it a day.
I'm so thankful that everything went on smoothly that day. Thankful for the kind weather. Thankful to the beautiful hair and makeup done by my Japanese make-up artist (I'm hoping that the Husband still keeps her contact so that we can look for her if we ever require a make-up artist in Bali!). Thankful for the wedding assistants that followed us the entire day and attending to our needs. And lastly, thankful to the photographers from Evermotion Photography who helped us with all the shots.
It was truly an amazing experience! I'm so glad we chose to do our pre-wedding shoot in Bali. The setting and the view is certainly not something we could get in Singapore. We've since gotten back our photographs and I'm looking forward to share them over here. Probably doing a separate post for that since this post is getting a little too long.
Until then!