I'm finally getting down to blog about my wedding/solemnisation! So excited to pen down all the details and share them (with you) on my blog. It has been years since I started blogging and in the recent years, I've always tried to blog as frequently as I can, sharing all the bits and bobs of my life. Is unbelievable that I have come to the stage where I get to share about my wedding. Even though it is just the solemnisation and not the full-fledged customary wedding, the excitement to write them all down is real.
Has it really been seven months since I got married to my Boyfriend of ten years?
I'm glad that we managed to tie the knot on our ten years' anniversary. It has been a remarkable journey for the past decade. From seeing us graduate from Polytechnic to him going to the army, me getting my first job, him going for his heart surgery, us working together in Universal Studios Singapore; to burning our weekends doing flea market together, him completing his university and stepping out to the workforce, to us working together now. We have been through so much together!
We were very fortunate to have been to quite a number of places together, from Indonesia to Thailand, Hong Kong, Korea, Greece, Italy, Japan and Taiwan. Reminiscing and looking back at the photos we took during our trip can easily be one of my favourite past time! It's probably going to take me days to list down all the major highlights we have been through in the past decade. I'm glad that I have written most of it down on my blog.
We finally got married on 7th July 2017. Ten years since we got together and one year since he proposed to me in Santorini.
We started our day by checking in to The Fullerton Hotel Singapore. Figured it would be much more convenient if we were to just book a room nearby to our solemnisation venue.
We checked in at around 13:30, and spent the afternoon getting ready for the ceremony that was set to take place at 17:30. In between, I went down to collect my bouquet from MC and went to have my hair styled, which as you know, didn't turn out the way I like, so I ended up putting it up into a ponytail.
I didn't engage anyone to do my makeup, so I have to do it myself. Looking back at the photos, I wish I have piled on more blushes and lipstick. I thought I look kind of pale in the pictures.
At around 17:00, we called for a car to go over to OUE Tower / Tóng Lè Private Dining, where we will be holding our solemnisation.
I was so afraid that our families will be late because Dr Phua, our solemnizer, made it clear to us that there will be no delay and no waiting, and we would start the ceremony at 17:30 sharp. My worry was seemingly unnecessary because when we got up to the restaurant, most of our families, including Dr Phua, were already there. Alex, the photographer who we engaged also arrived shortly after us. The only ones that were not there were my elder sister, brother-in-law and my uncle. The three of them were coming together, and somehow, they got caught up in traffic and was slightly late.
Being apologetic, I told Dr Phua its okay to just proceed with the ceremony because I don't want to take up his time, more than necessary. However, Dr Phua was very kind and told us to wait a little longer. Thankfully, they arrived shortly later, and we got to the solemnisation right away.
Solemnisation at Tóng Lè Private Dining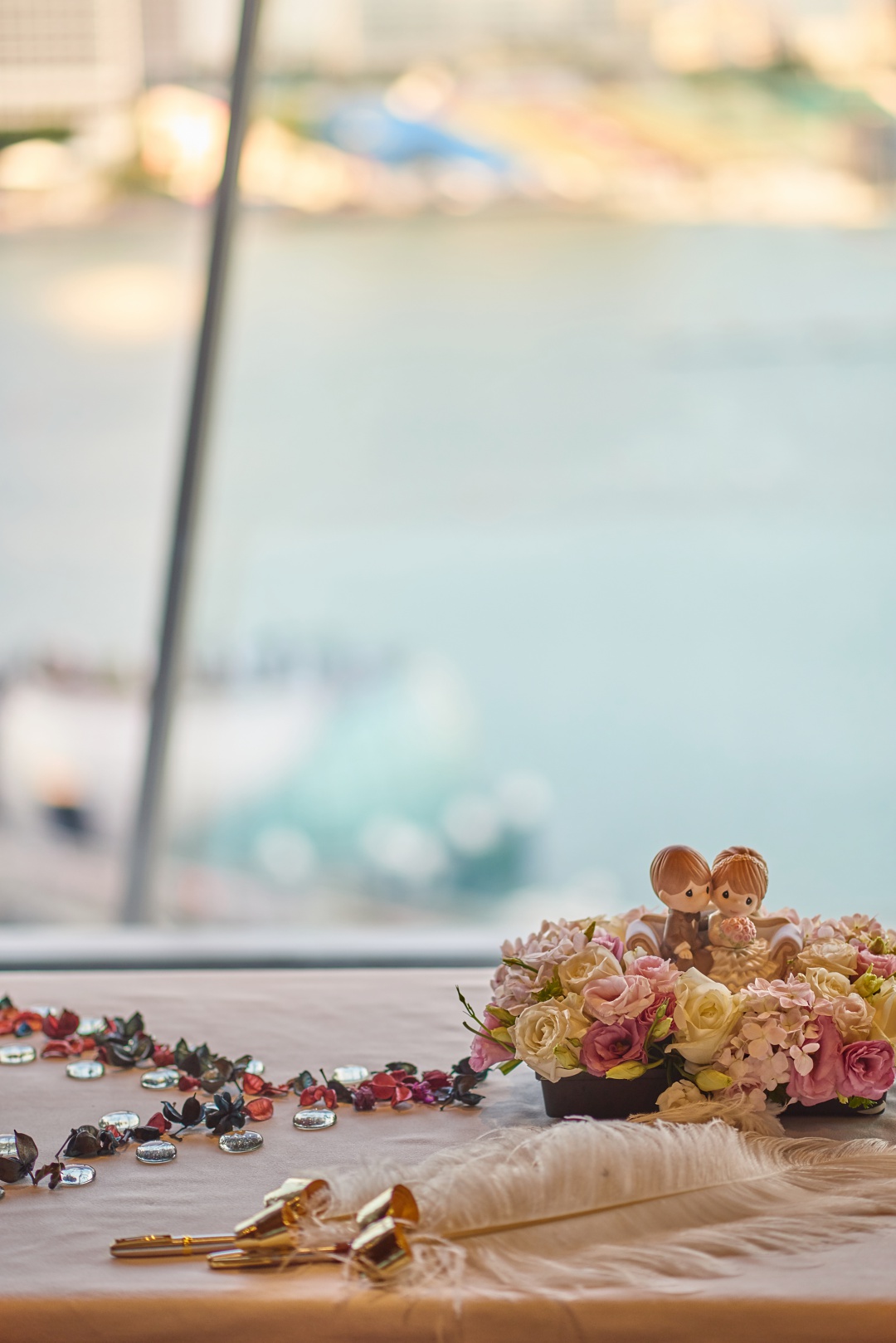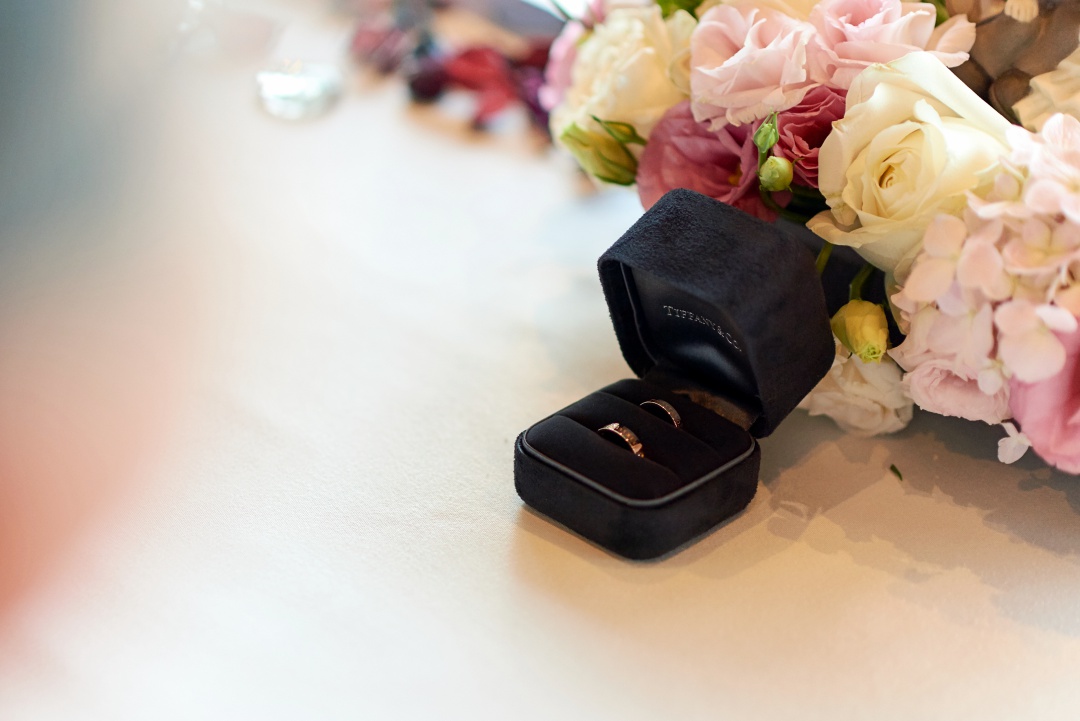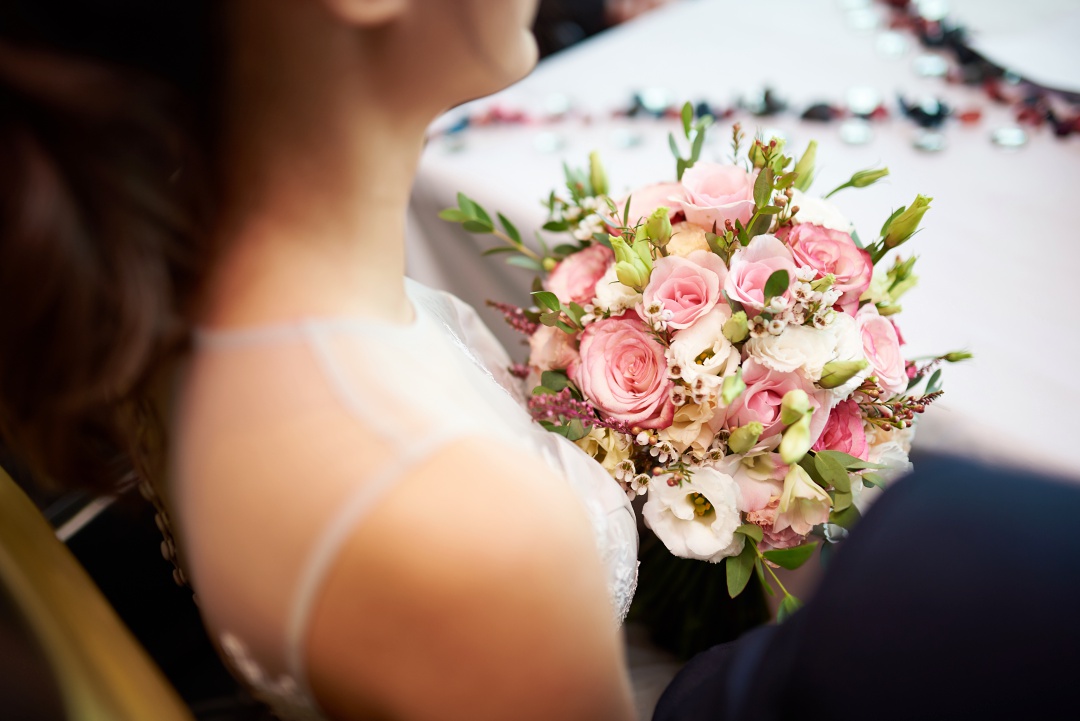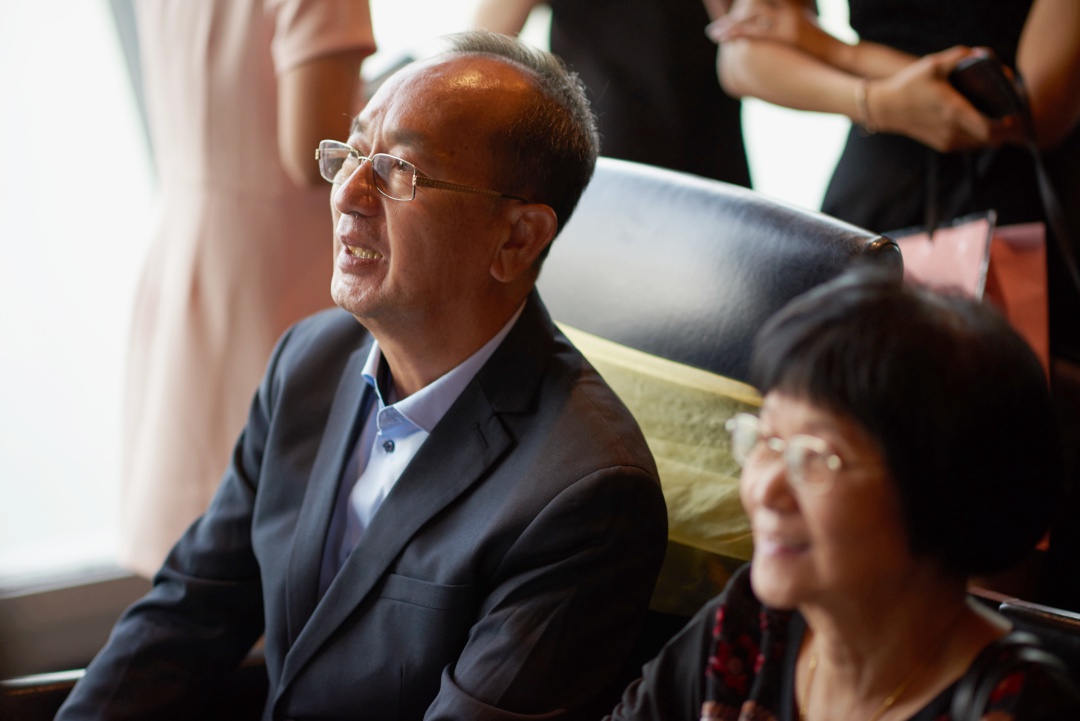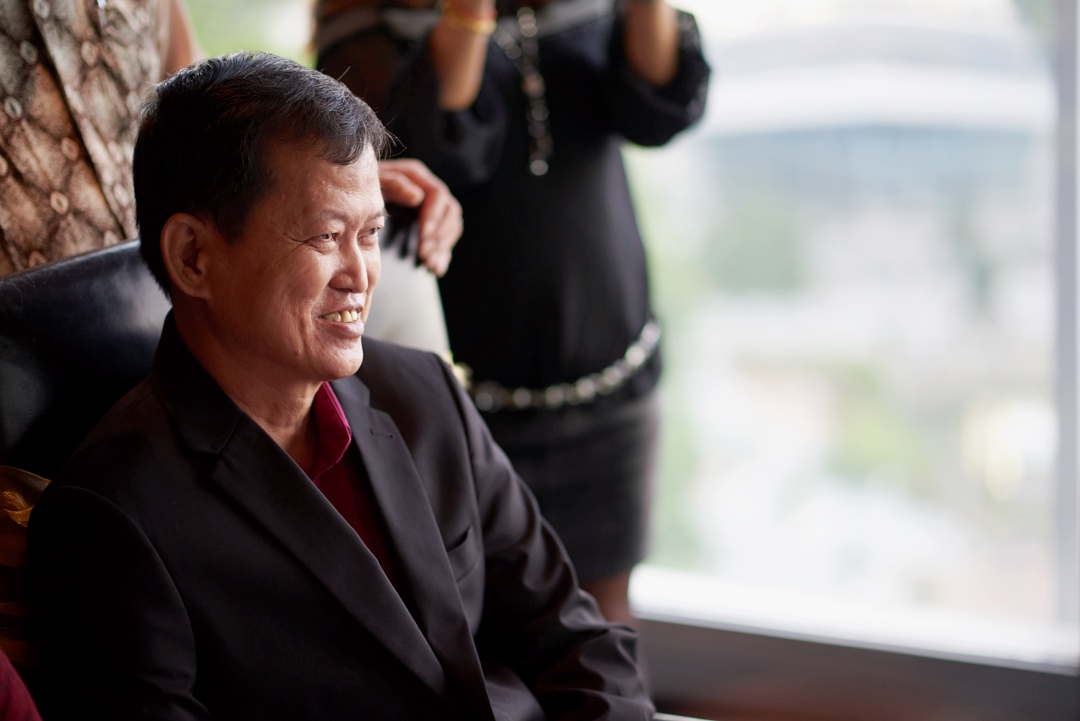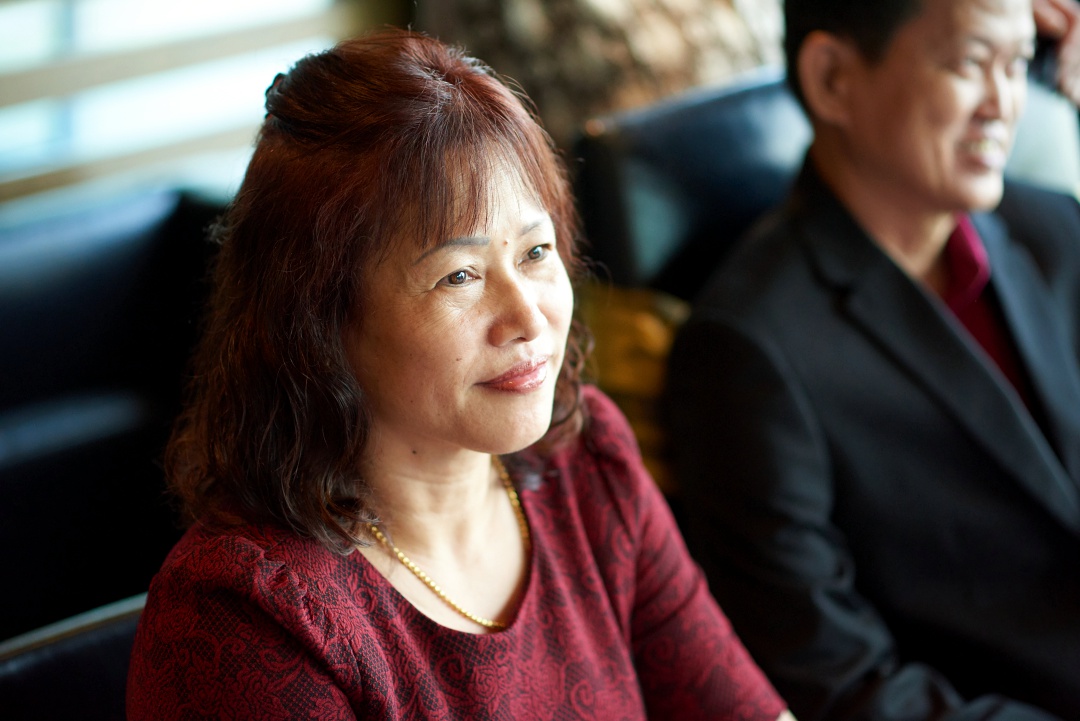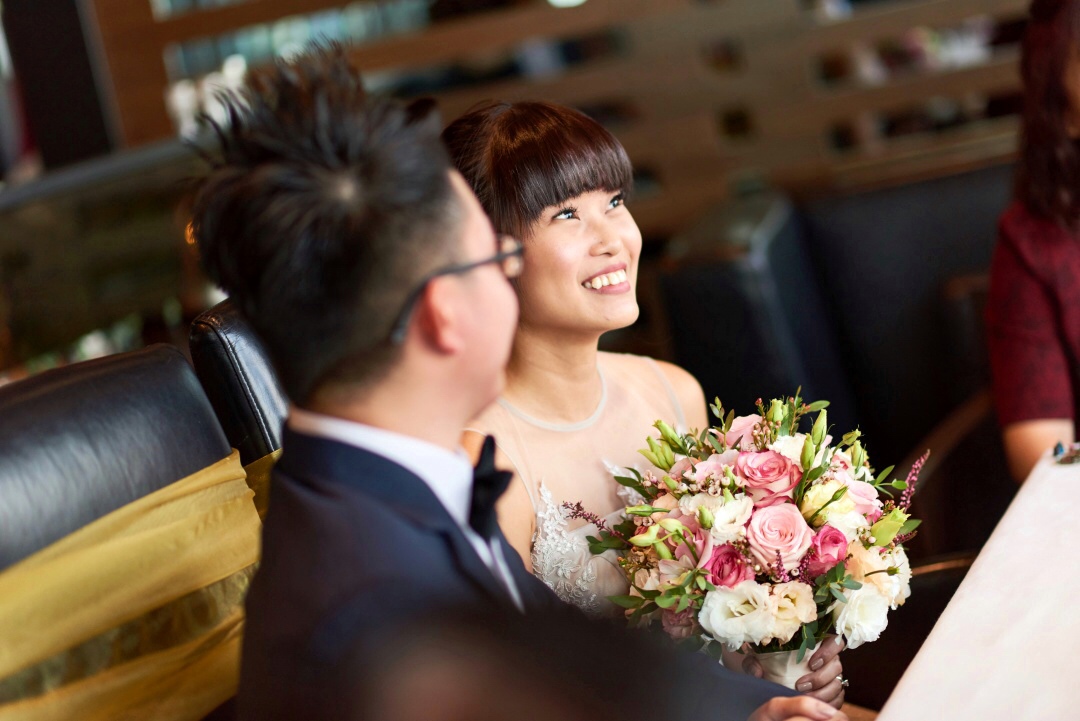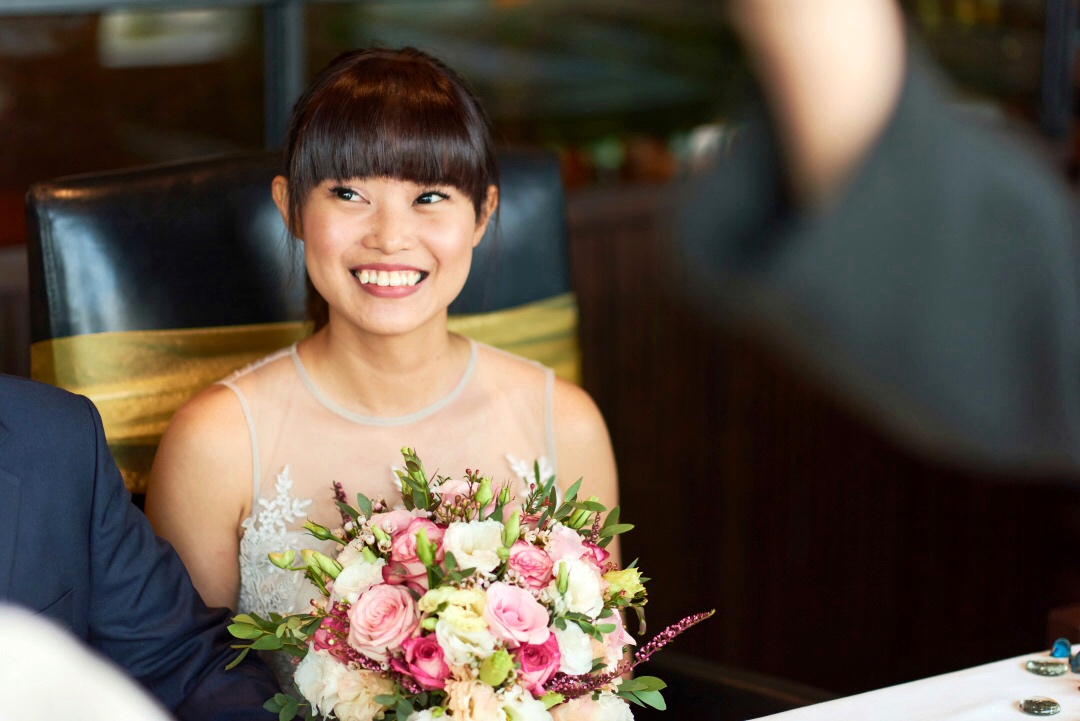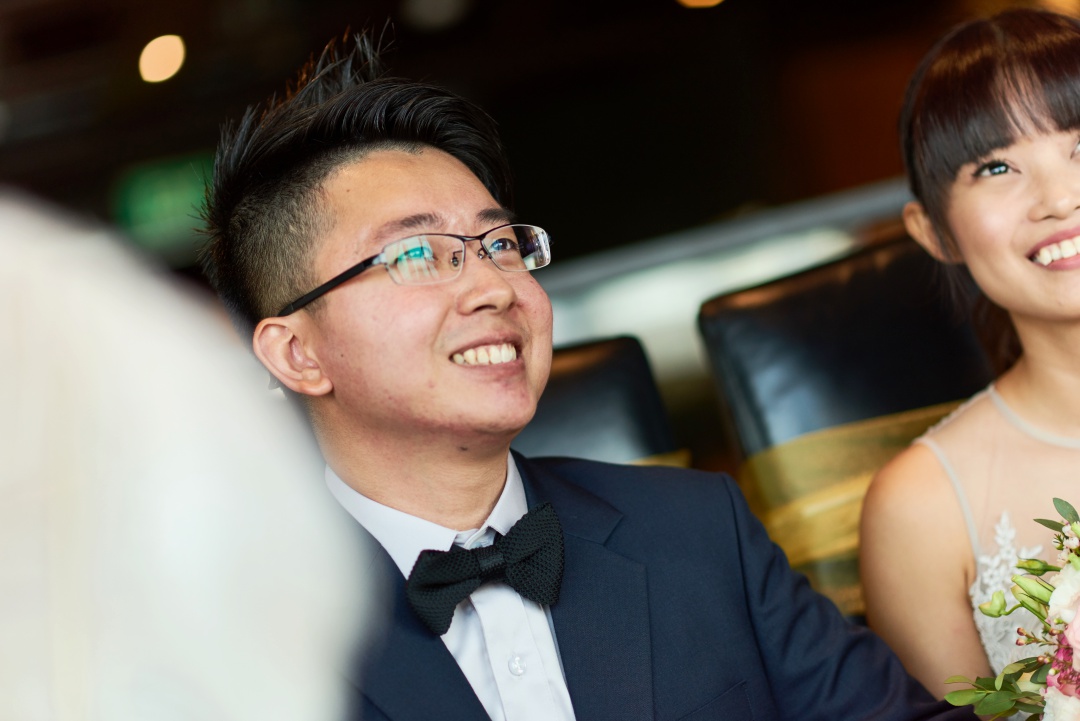 To be honest, everything happened so fast and in such a blur. All I could remember was that Dr Phua was doing most of the talking; in a combination of English and Mandarin, no less. When he asked us the questions, we then reply with either "I Do" or "I Will". At some points, what he said really resonate with me, so I can't help but be a little teary.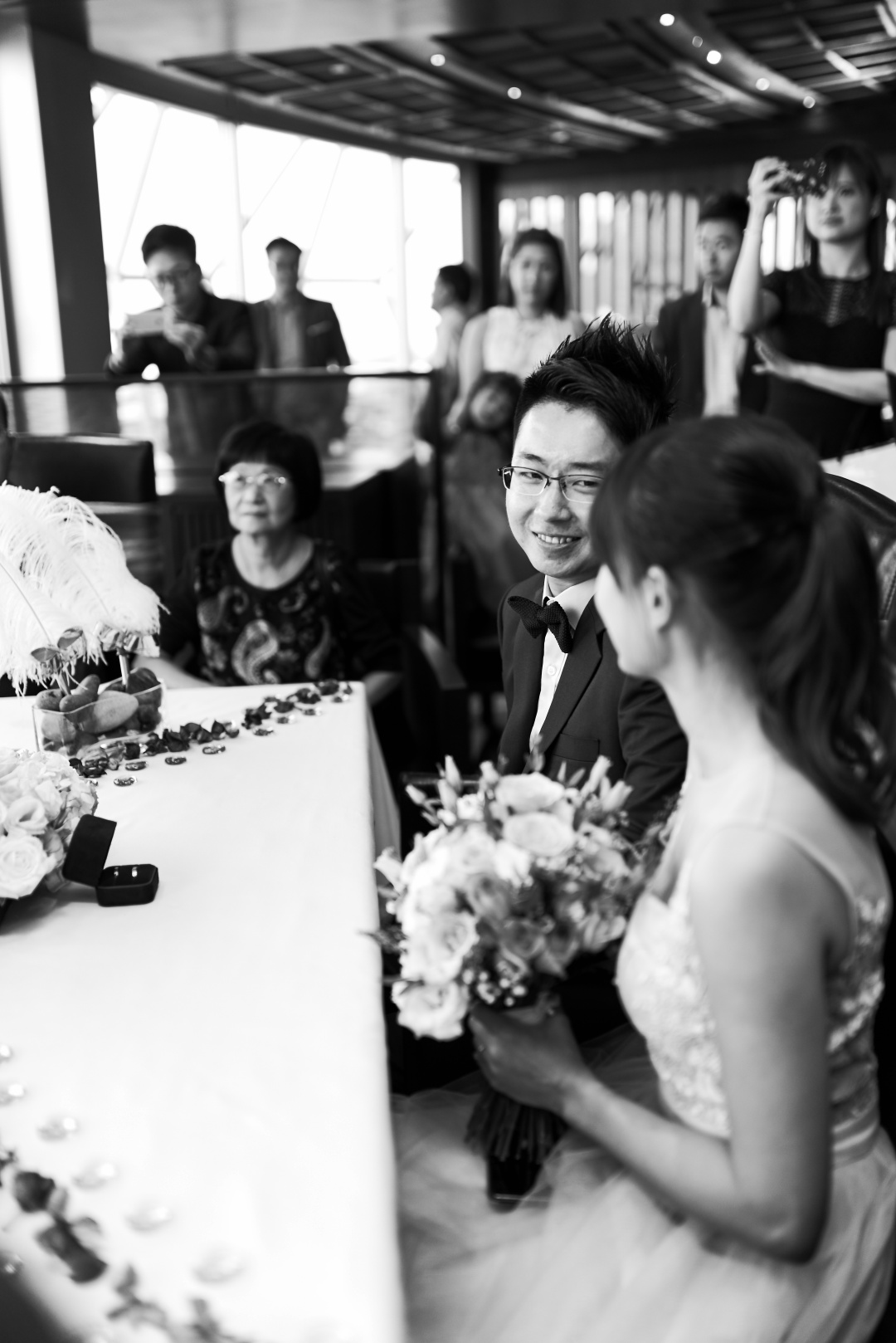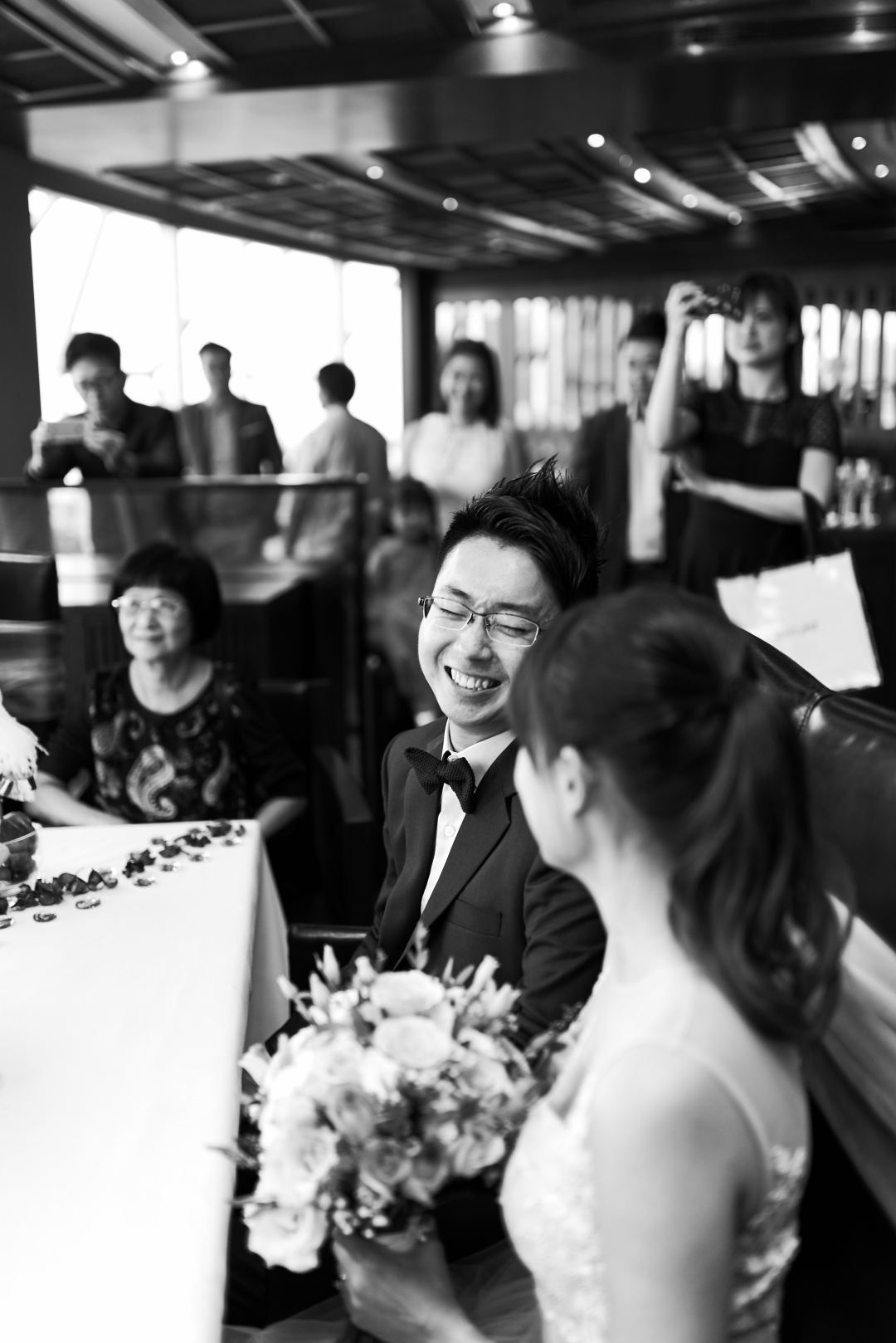 I think this is the part where the Husband got confused and kept replying the wrong words. At the time when he was supposed to say "I Will", he said, "I do"; and when he should say "I Will", he said, "I Do".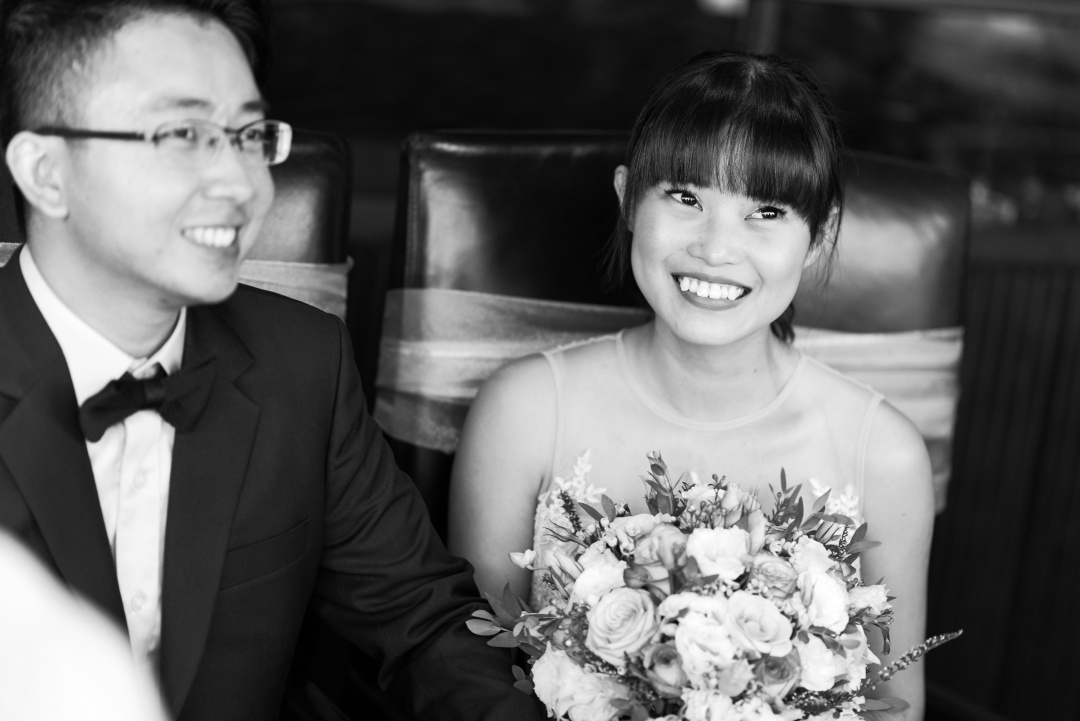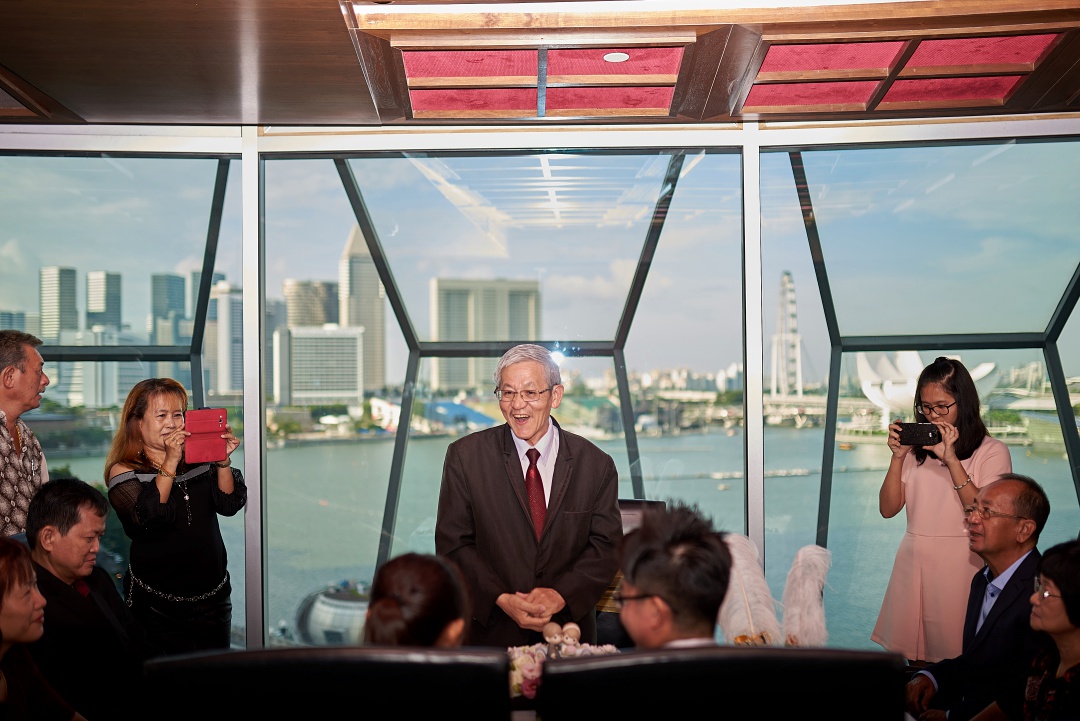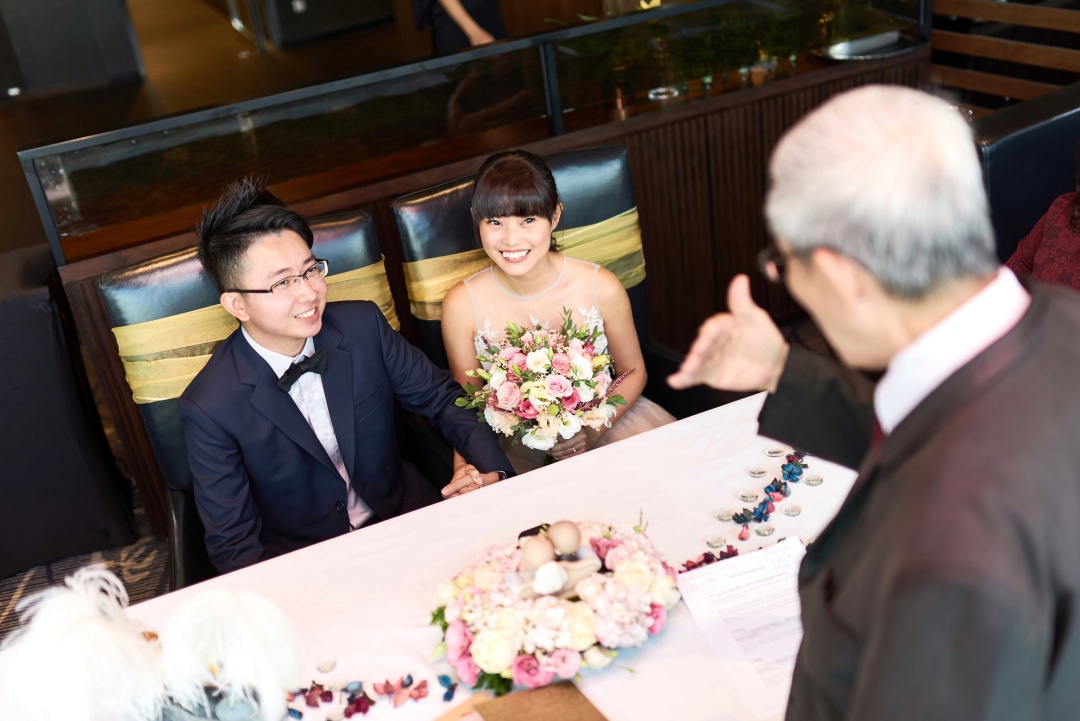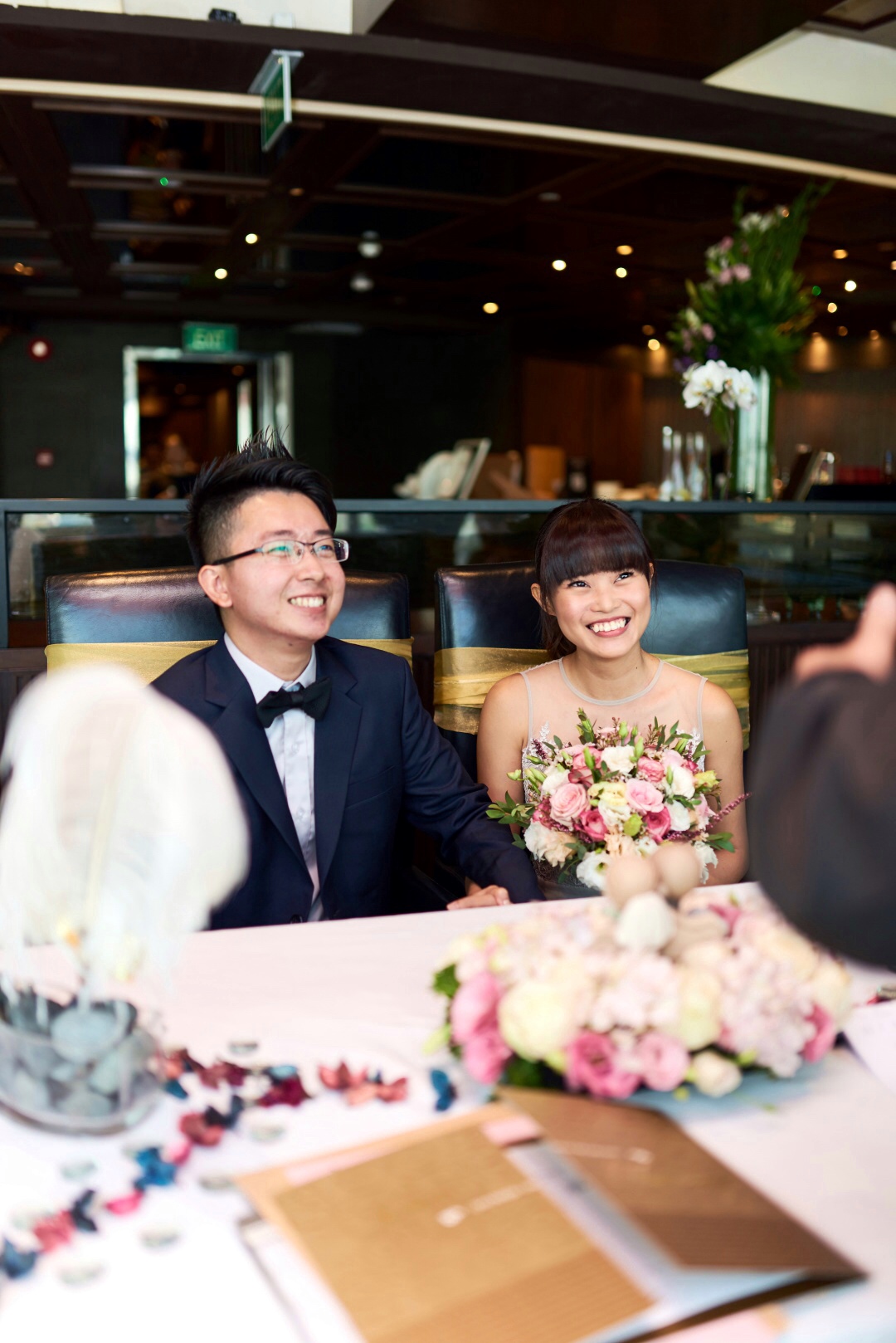 Exchanging of the Wedding Rings
Then it comes to the exchanging of the wedding rings. We didn't use the ring pillow provided by the restaurant, so we just house our rings in the box that came with it.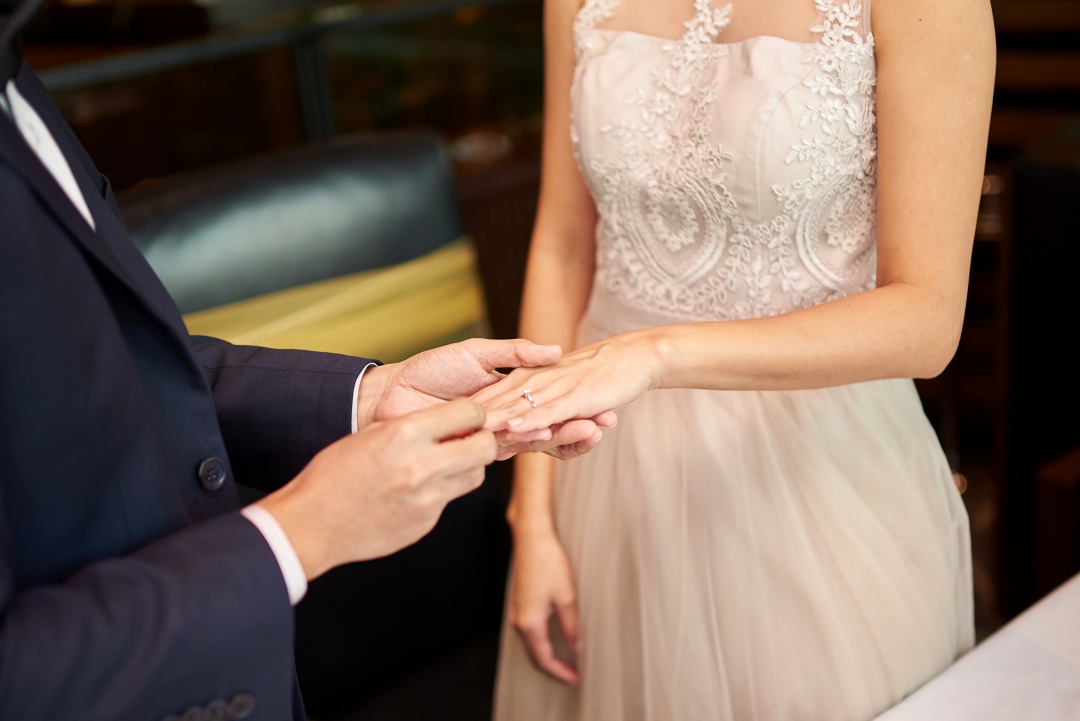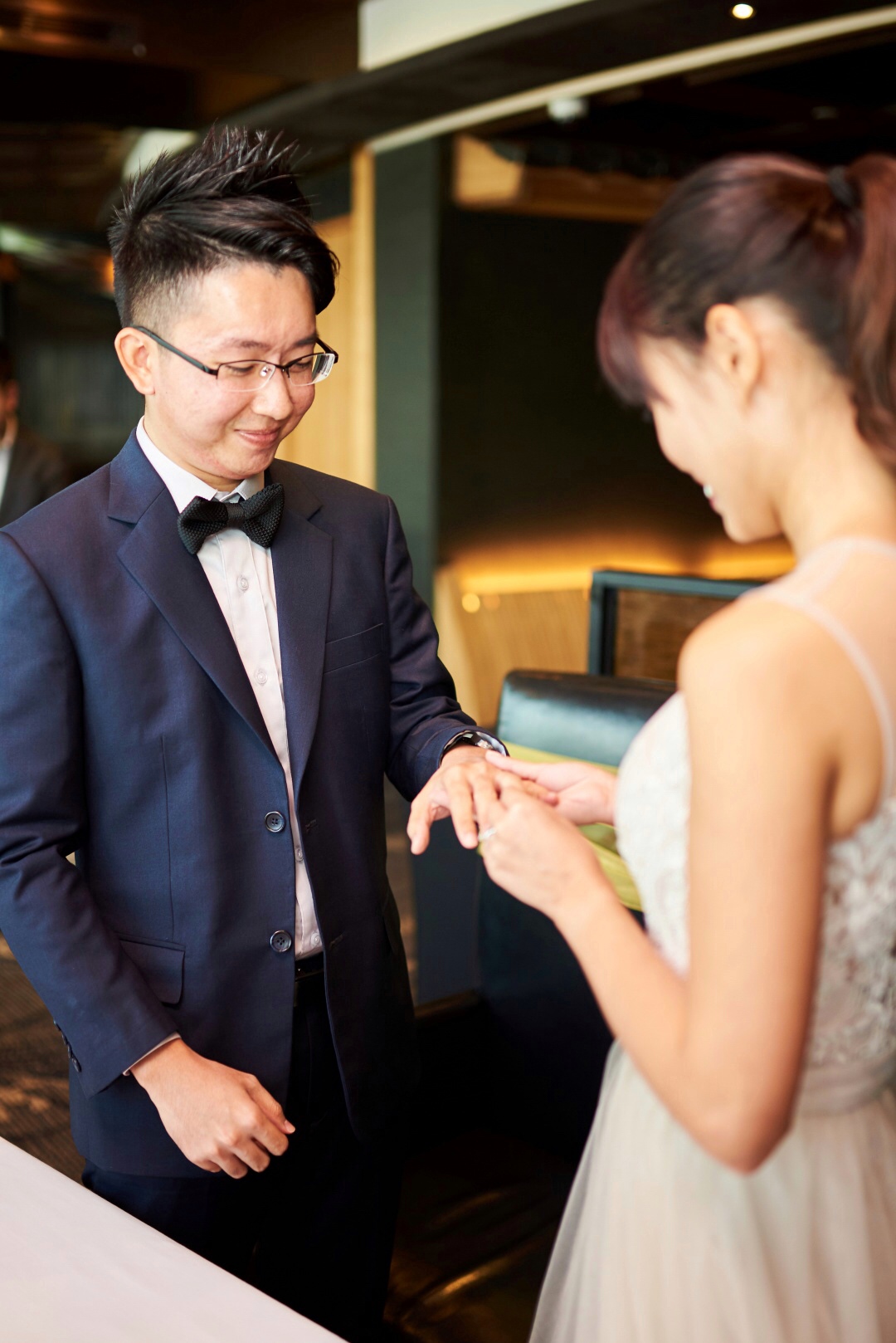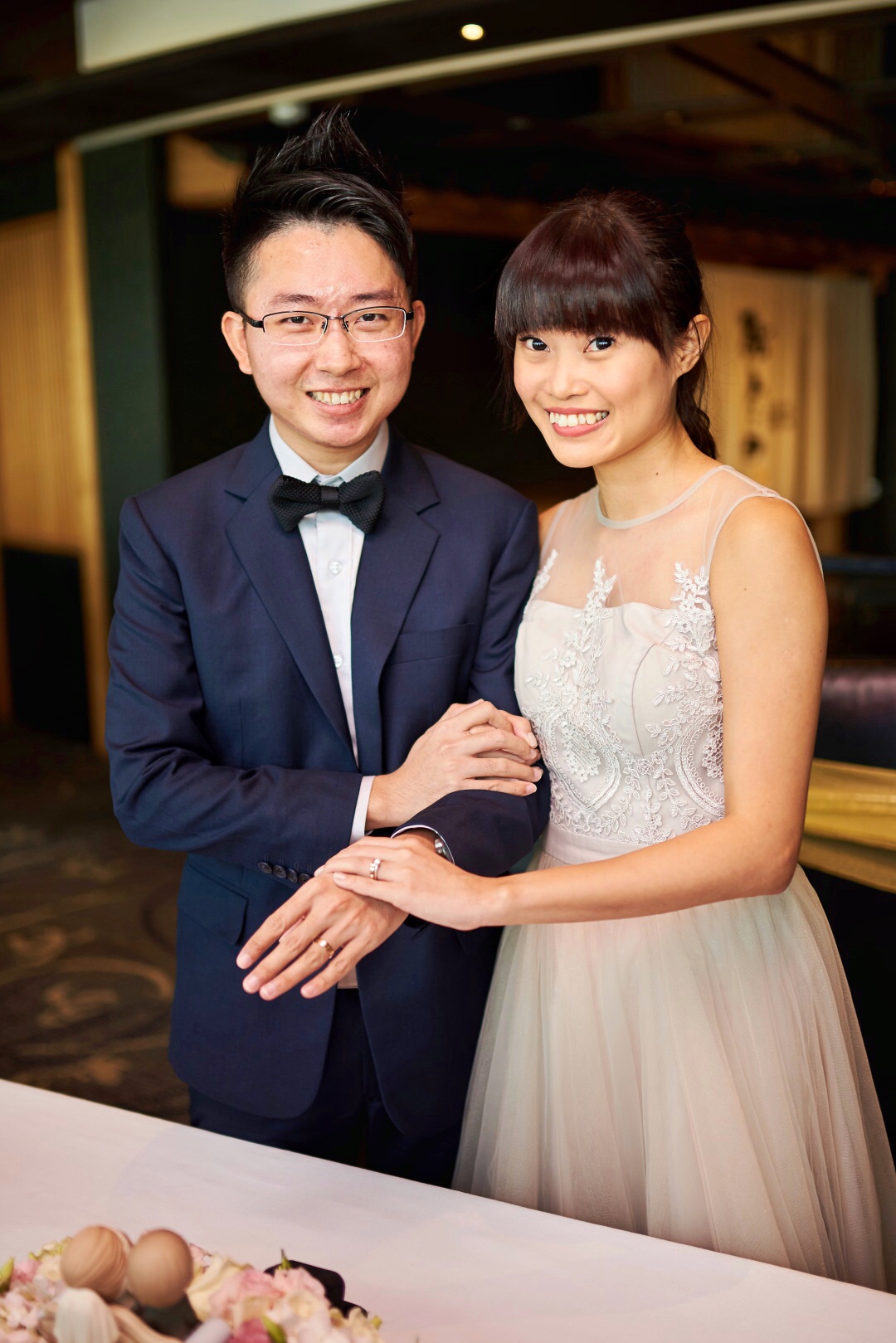 Reciting of Wedding Vows
After the exchange of the rings, it was time to recite our wedding vows.
Before the solemnisation, Dr Phua did email me the standard wedding vows (both English and Chinese version). We have the choice to either follow that or comes up with our own wedding vows. There was no need to memorise the vows.
If anyone is interested, here are the standard vows:
Vows in English for Solemnisation
(Hold on to each other's hand with the ring)
Option 1
In token and pledge,
of our constant faith, and abiding love,
with this ring, I marry you.
Option 2
I vow to always keep my love, as pure as it is today.
In your laughter, and your tears, in your sickness, and your health.
In your comfort, and your fears, in your poverty and your wealth.
I promise to be true to you, I promise to cherish you.
I give this ring, as a token, I now marry you.
Option 3
In sickness, I will nurse you to health.
In health, I will nurture you.
In sadness, I will bring you joy.
In happiness, I will share it with you.
In poverty, I will make our love rich.
In wealth, our love will not grow poor.
When you need encouragement, it will be from me.
When you need a helping hand, it will be mine.
With this ring as a token, I now marry you.
Vows in Chinese for Solemnisation
(Hold on to each other's hand with the ring)
在今天来到这里的众位见证人面前,
我 XX 愿意娶你(嫁给你),作为我的合法妻子(丈夫)。
从今时直到永远,无论是顺境或是逆境、富裕或贫穷、健康或疾病、
快乐或忧愁,我将爱护你、尊敬你、相信你、珍惜你和照顾你。
我将与你分享我的一生,直到永远。
我保证永远爱你,永远珍惜你,
为了象征我俩对彼此永远忠心,爱情永恒,我谨送你这枚戒指与你结婚,
幸福的共度一生,以此戒指为证,娶你为妻 / 嫁你为妻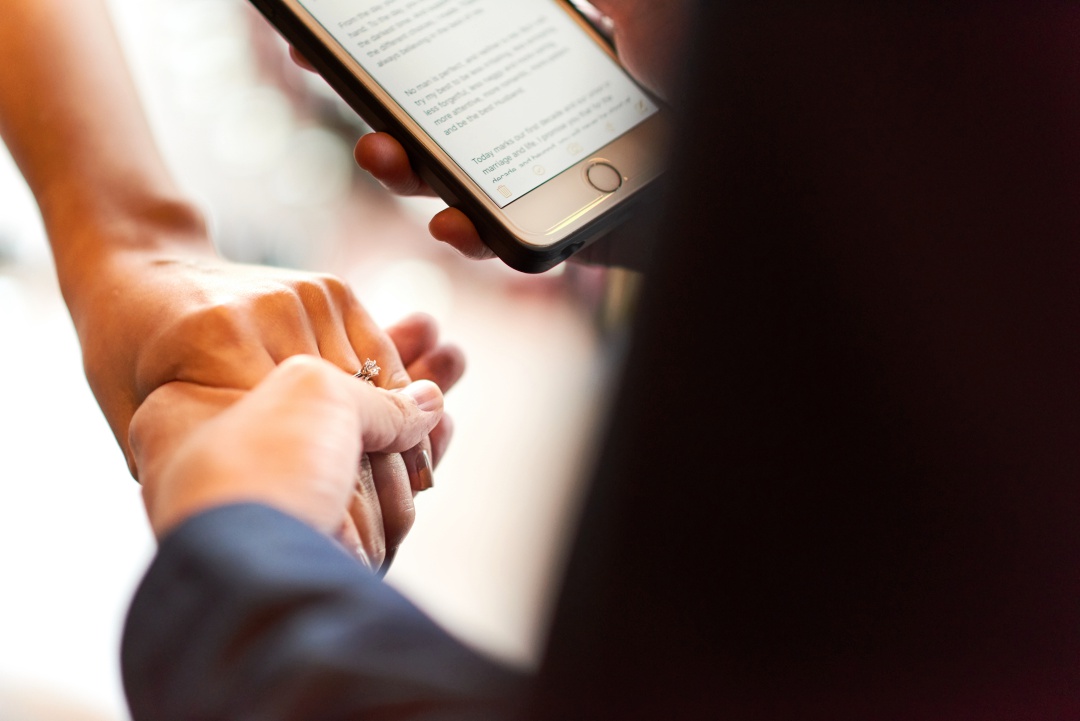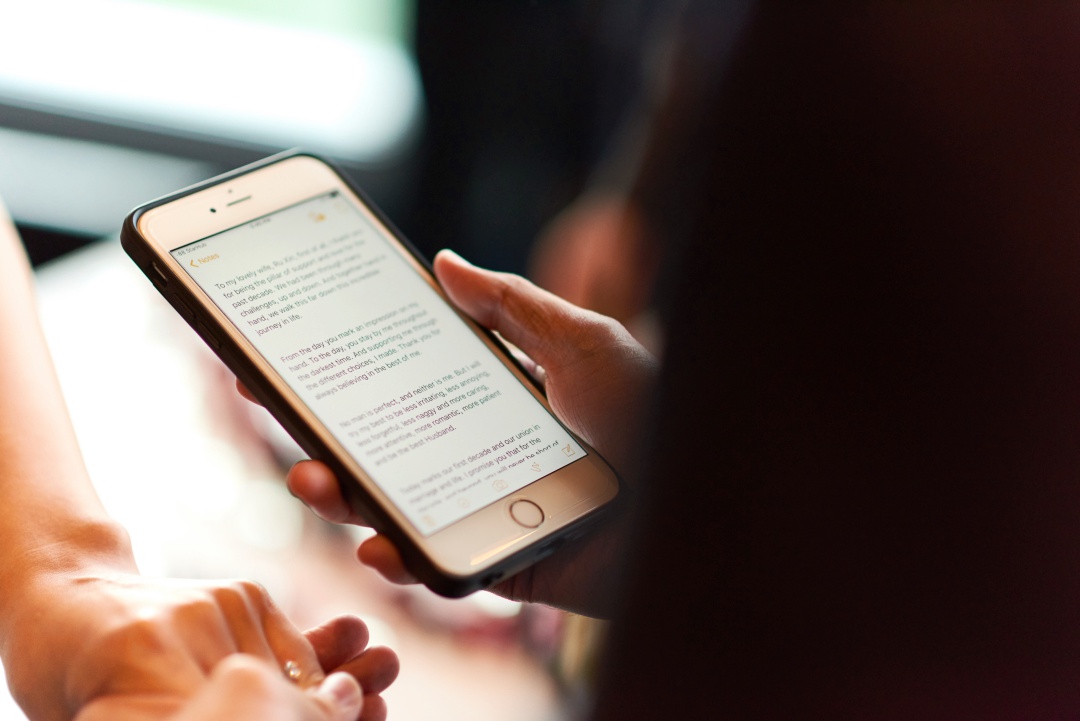 While I knew, I wanted to write my own vows; I wasn't confident if I am up for it.
Eventually, I managed to come up with something the night before. And likewise, for the Husband.
To make it more meaningful, we agree to keep our vows to ten lines. Ten lines to represent the past ten years. We also agree that we would use the same ending line, which was "I vow to make my life forever yours, and with this ring, I now marry you!".
I was literally tearing the entire time when he read me his vow. We have our vows saved in our phone, so we didn't have to memorise. Is better this way, especially for the Husband, seeing how he totally forgot what he intended to say back when he was proposing. I wish he had kept a note back then!
Anyway, I must say I was really touched and impressed with his wedding vow! This guy can really make me cry with his words. I already knew that many years ago, back when he used to write me pages of handwritten letters. (Those days!)
The Husband, on the other hand, didn't shed a tear, even though his eyes were apparently red.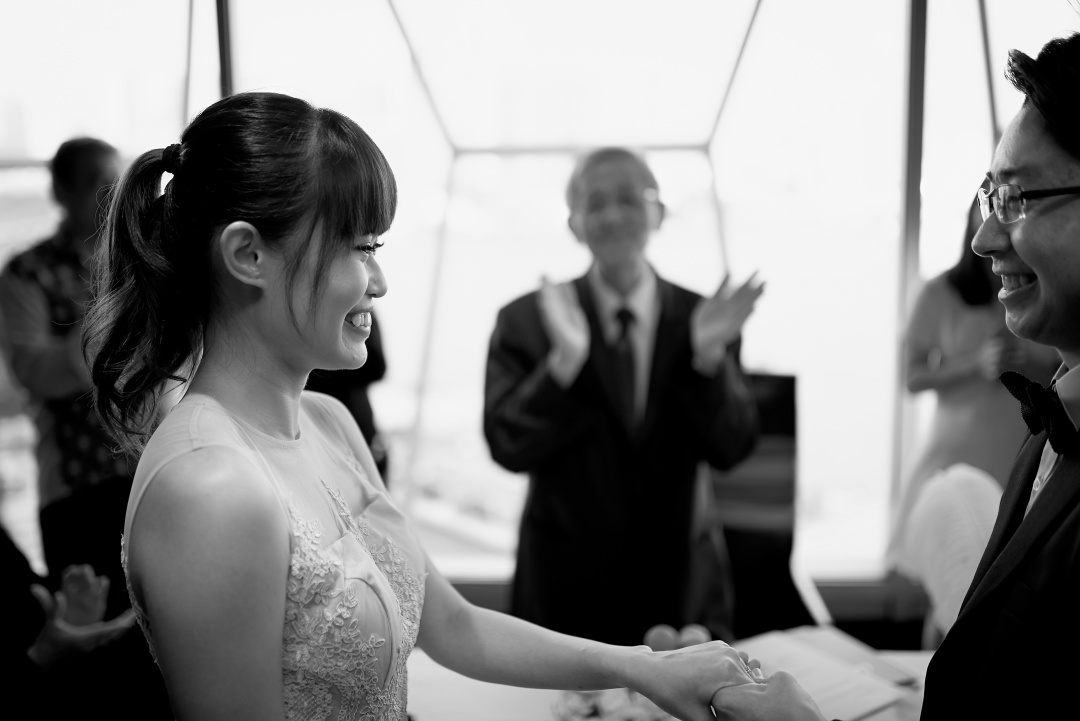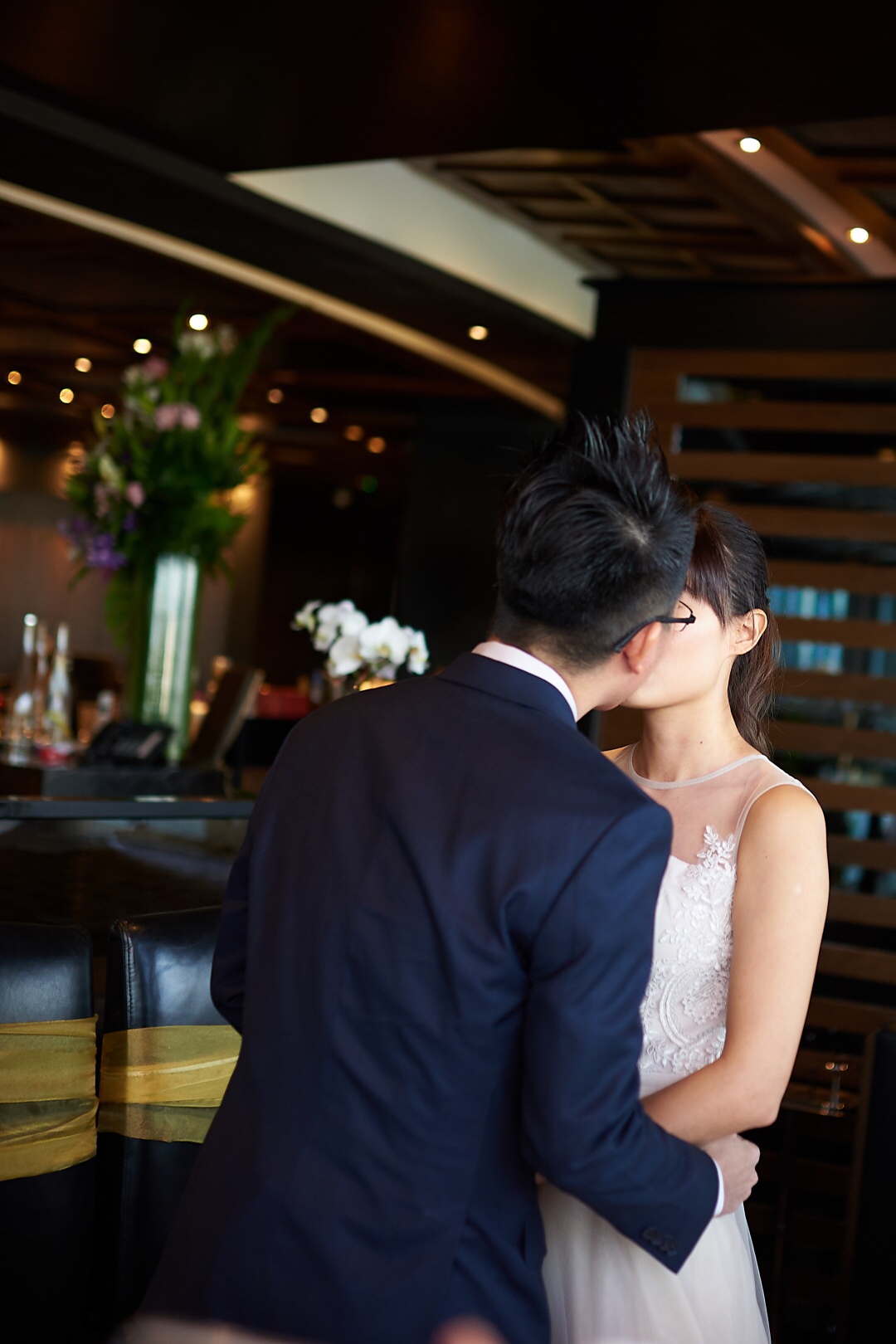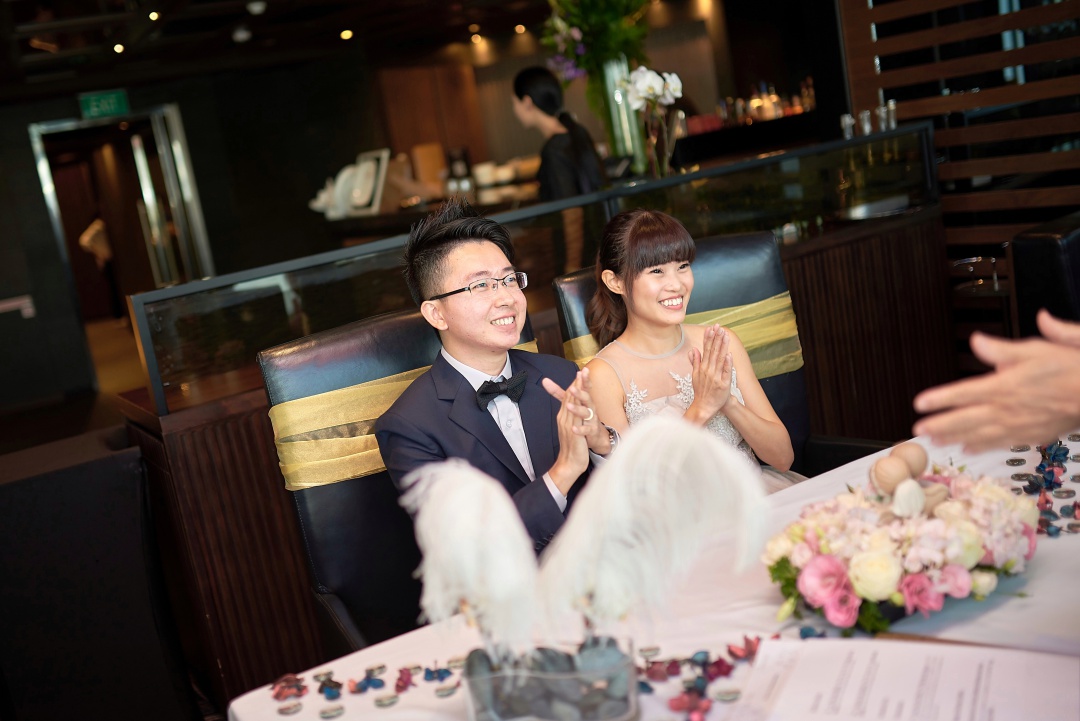 Signing the Marriage Certificate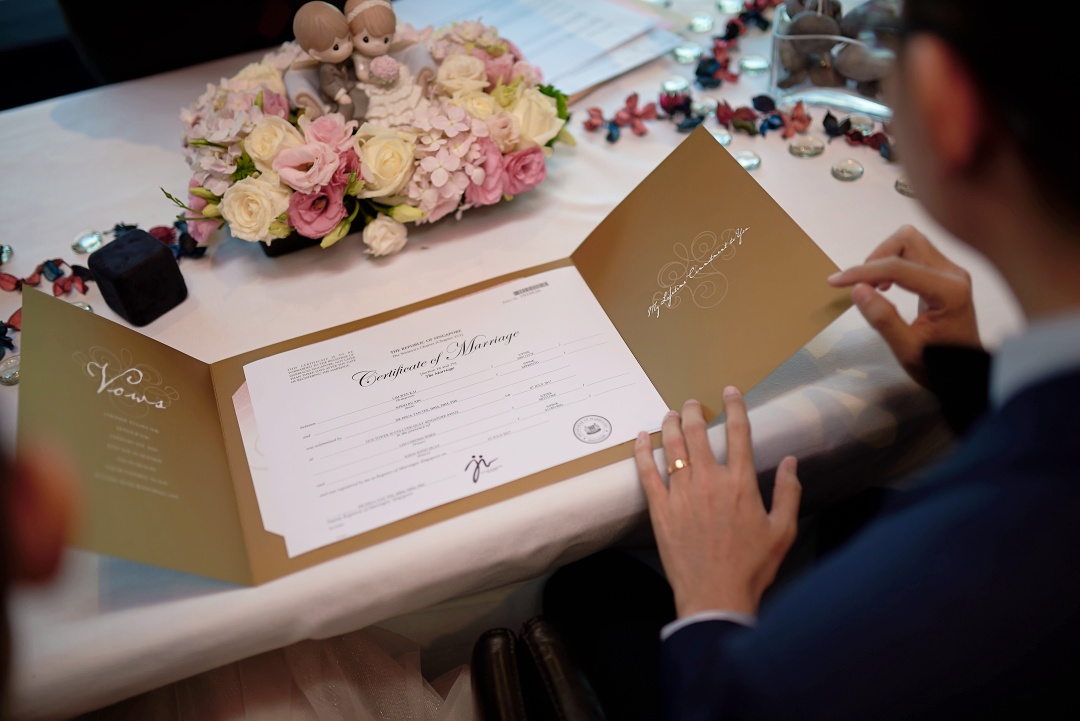 Having said our vows, Dr Phua then declared us as Husband and Wife. We proceed to sign the marriage certificate, followed by the two witnesses (our dads).
We went shopping something ago, and each got a pen for our dad with their name engraved on it. The idea was to give it to them moments before the ceremony so that they could use it for the signing. It was just a small gift, but it was our way of saying thank you to them.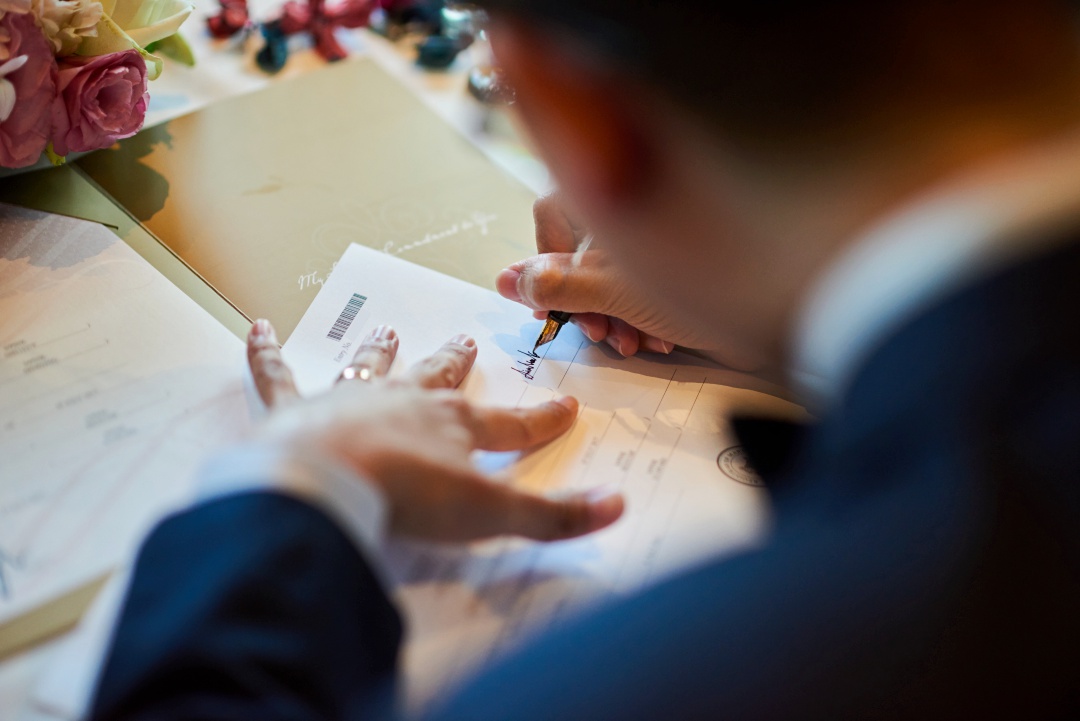 The Husband and I were fairly worried how our signatures will look and I have been practising my signature beforehand. It turns out; we only have to sign on the white copy and not on the original copy of the marriage certificate. The only signature found on the original marriage certificate is from Dr Phua. Thank goodness because I think our signature will ruin it.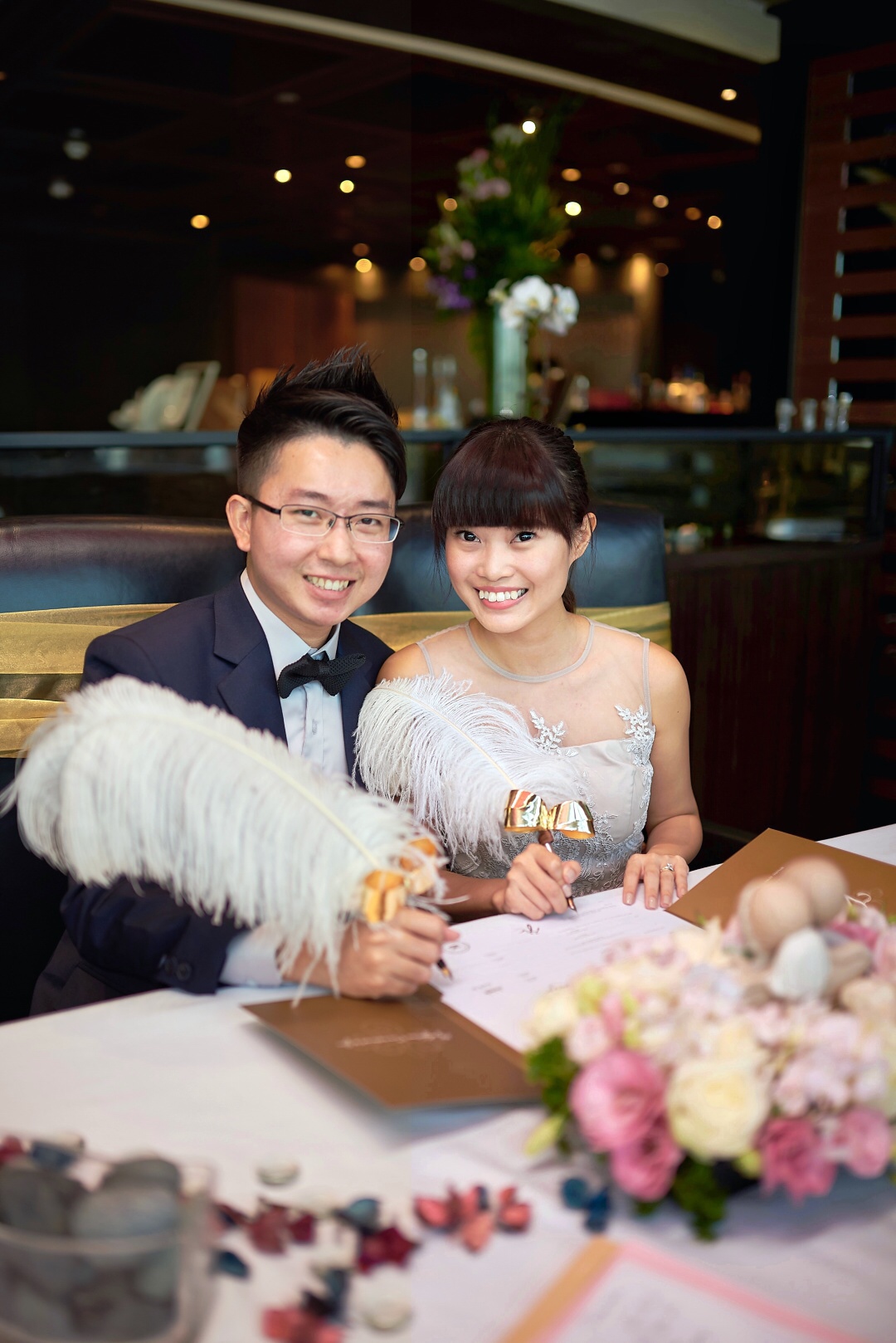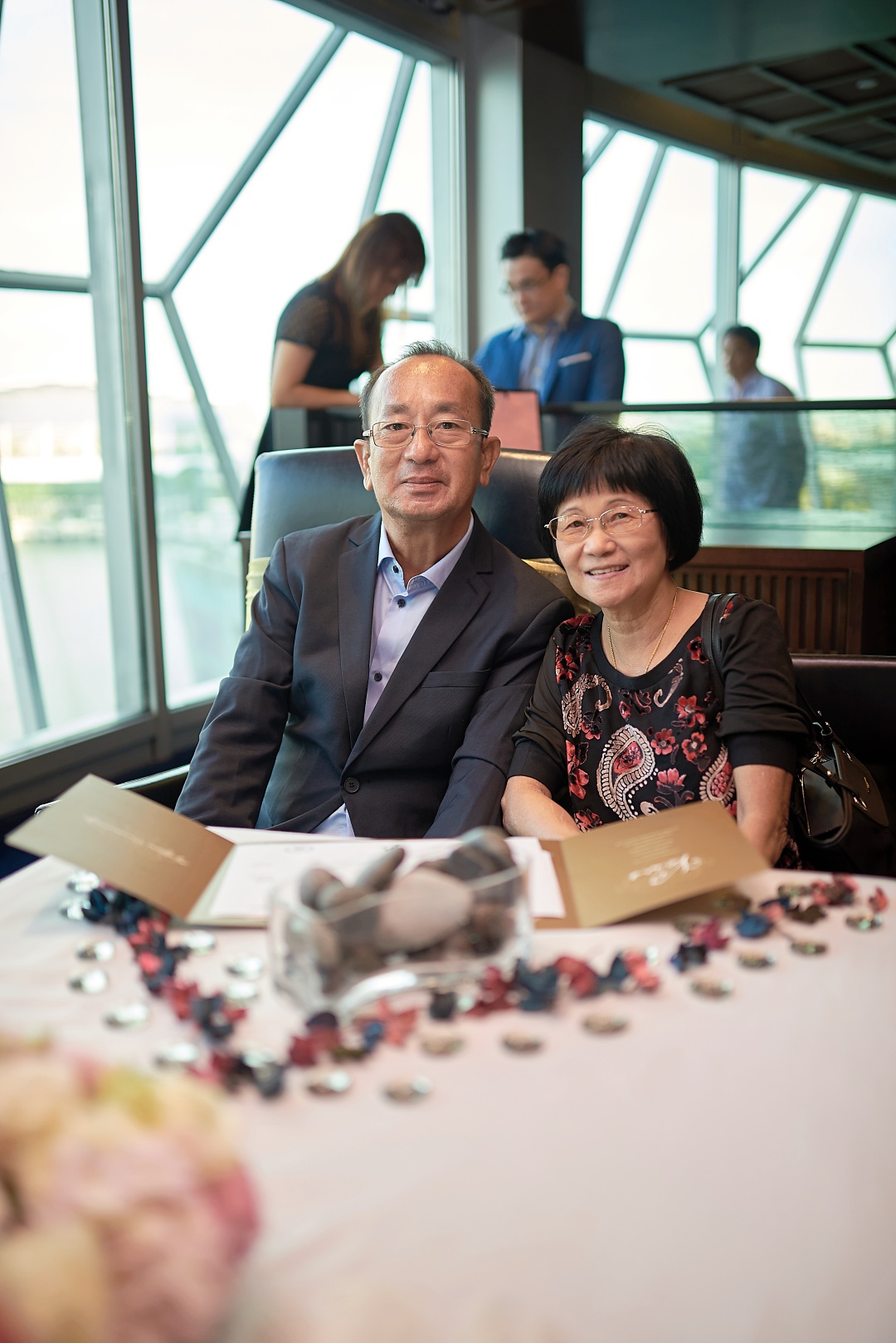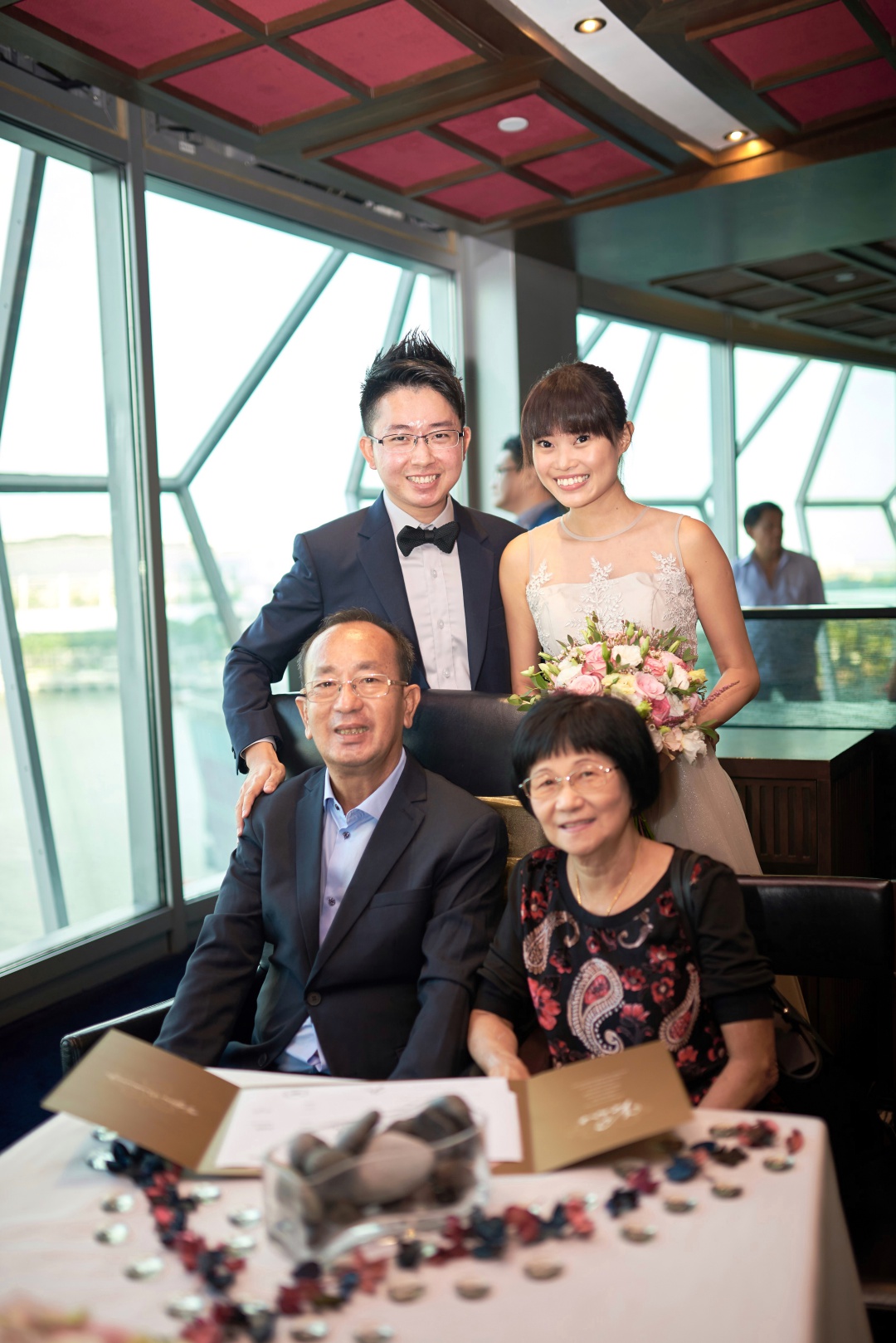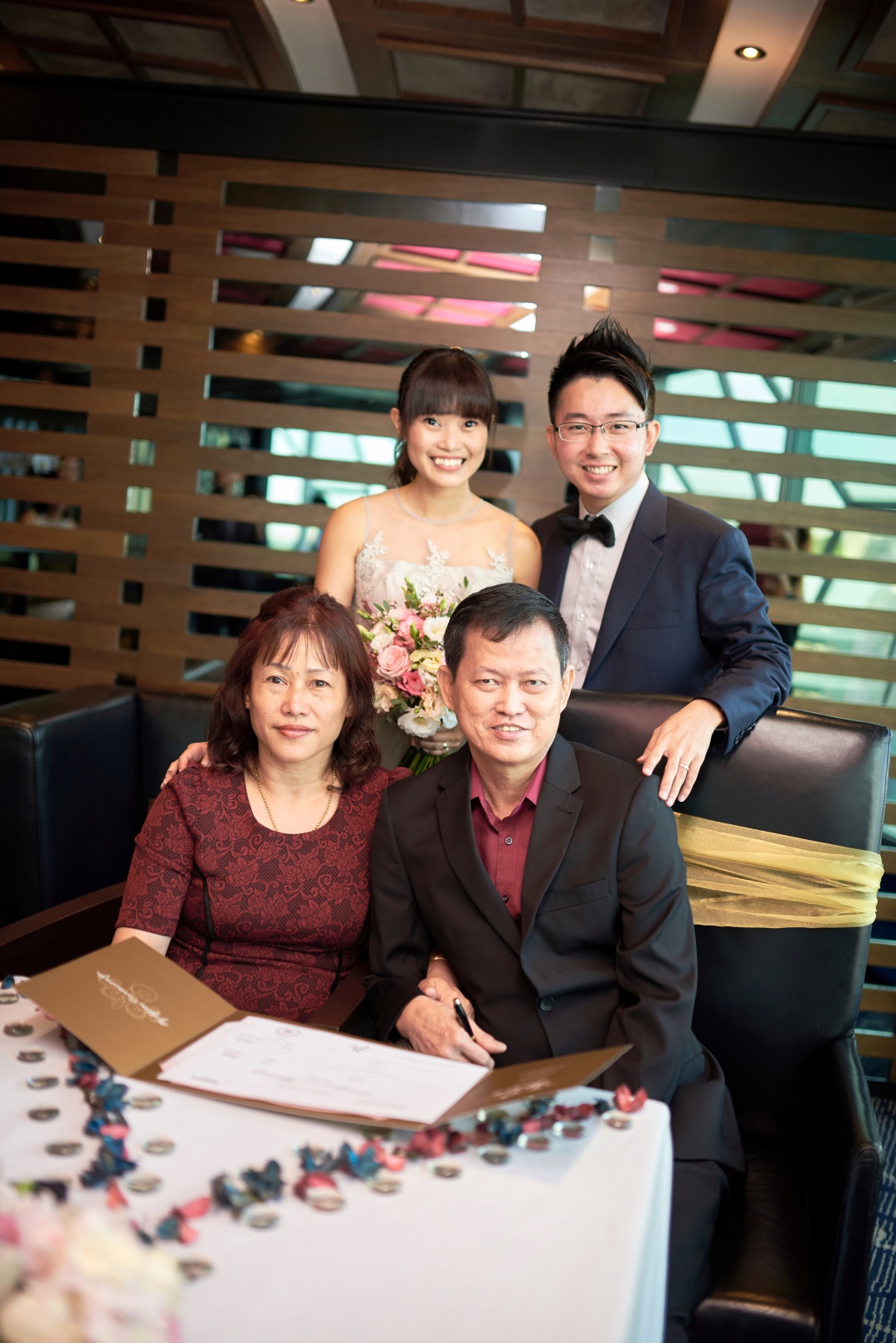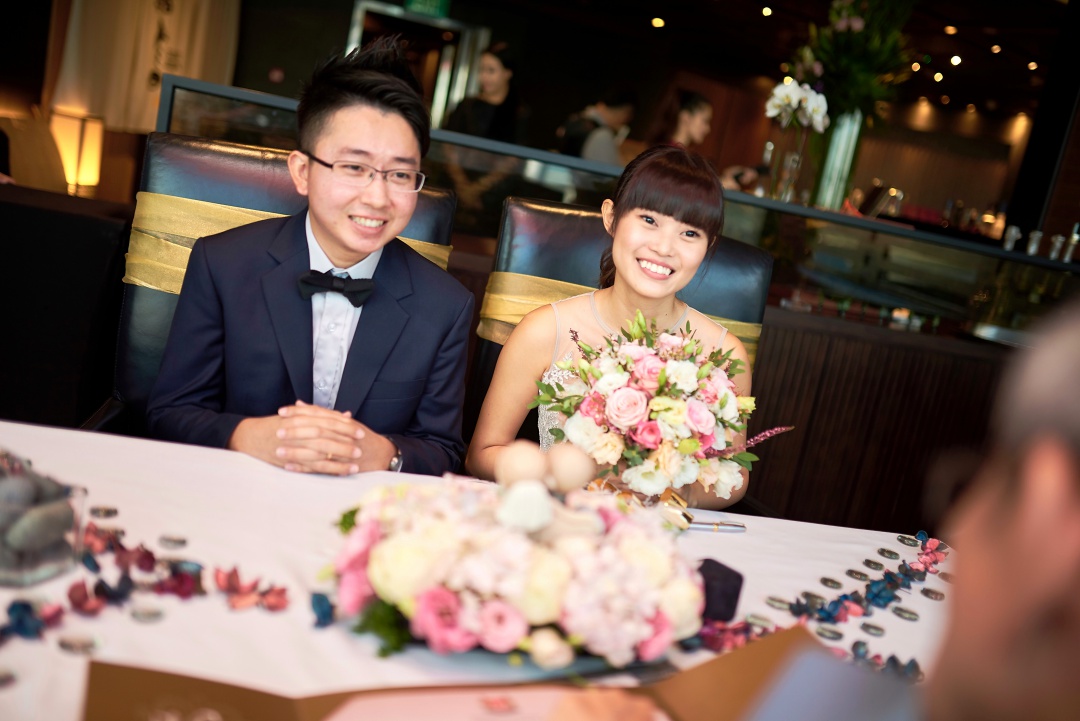 Once everything is duly signed, Dr Phua then presents us the original marriage certificate. With that, we concluded the entire solemnisation ceremony. We wrapped it up with a round of photo taking with Dr Phua and our families.
We were told to keep the original marriage certificate, while Dr Phua took the white copy and will be sending it back to the ROM office. Before he left, we made sure to give him a red packet as a token of appreciation for taking his time out to help us to solemnise our marriage.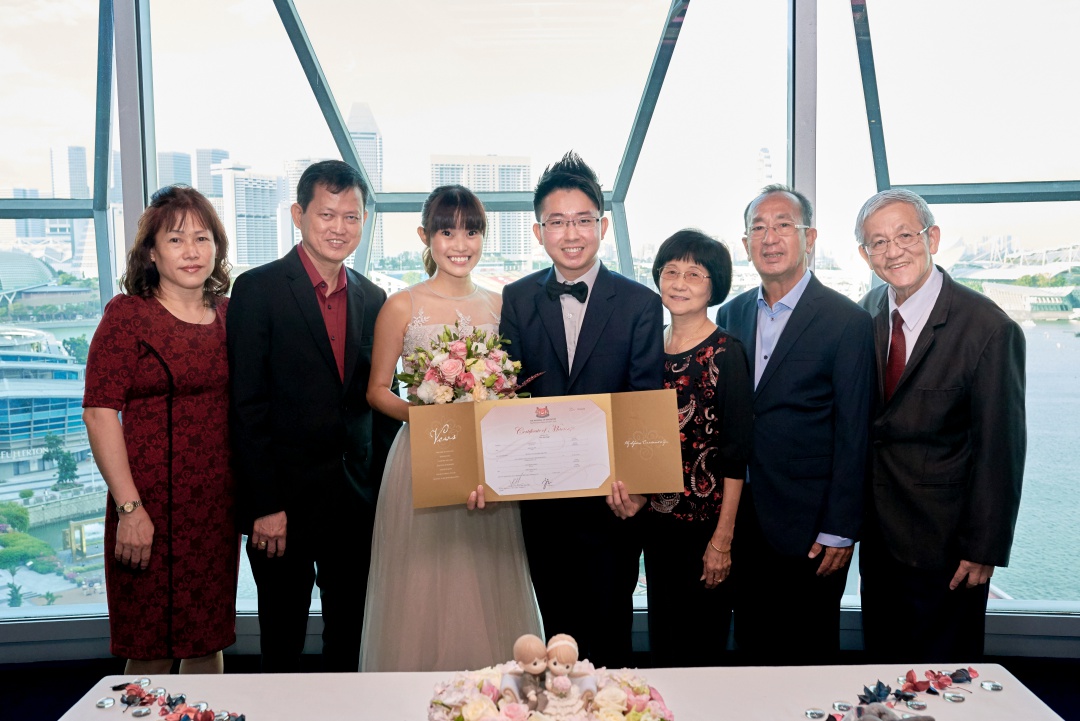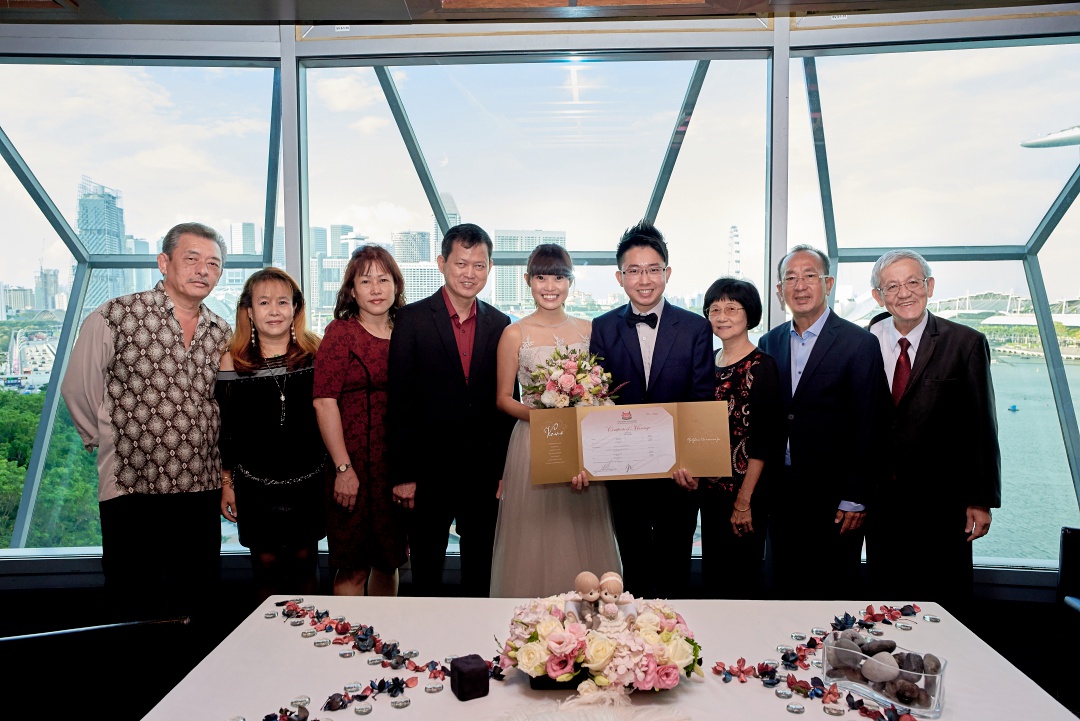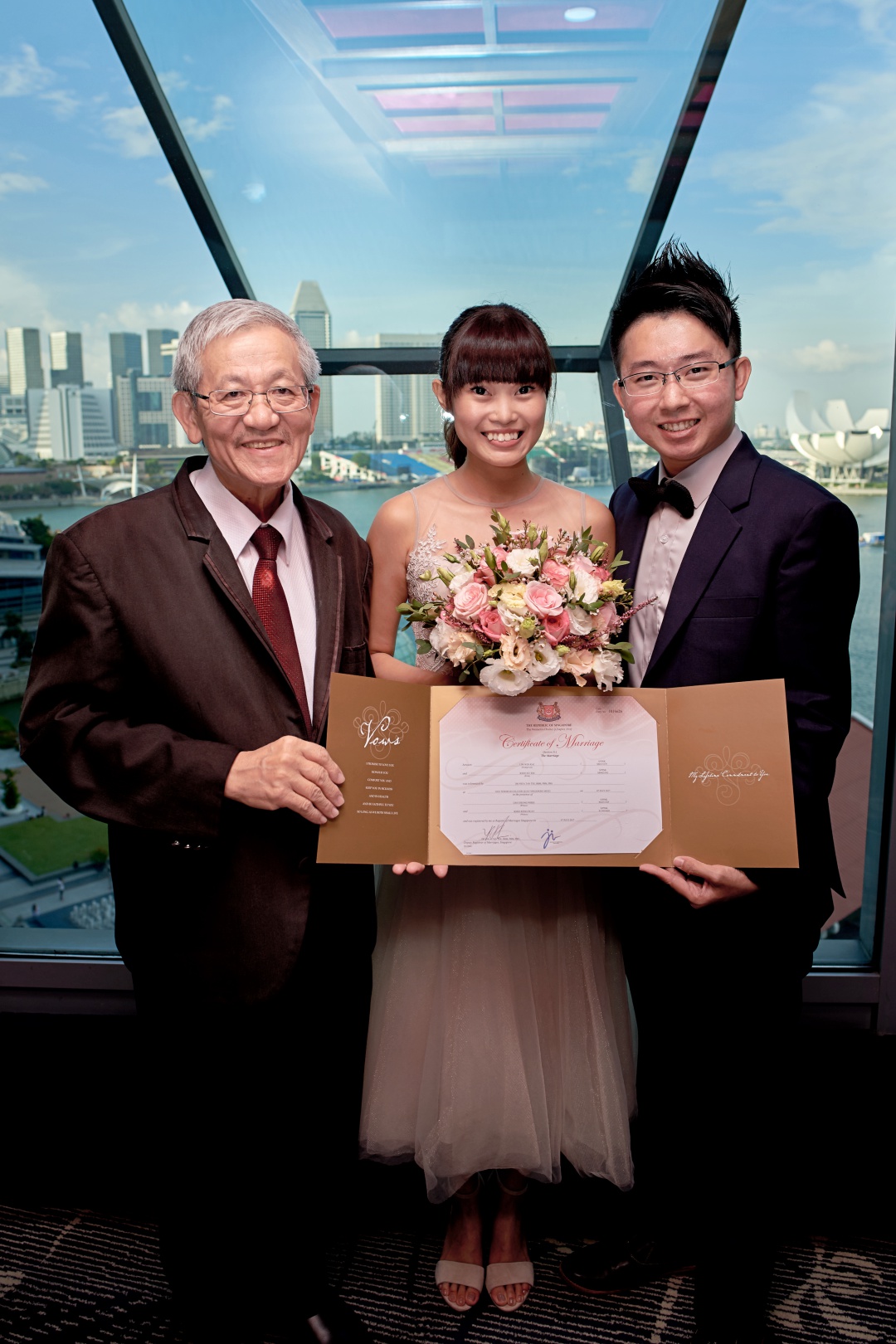 A photo with Dr Phua.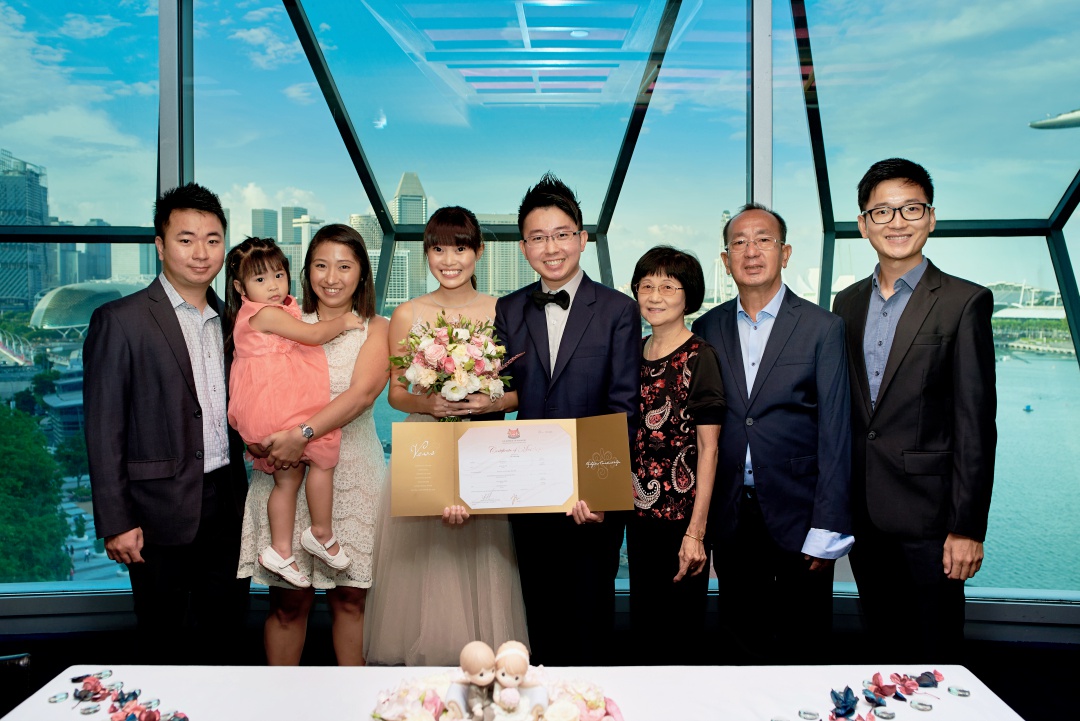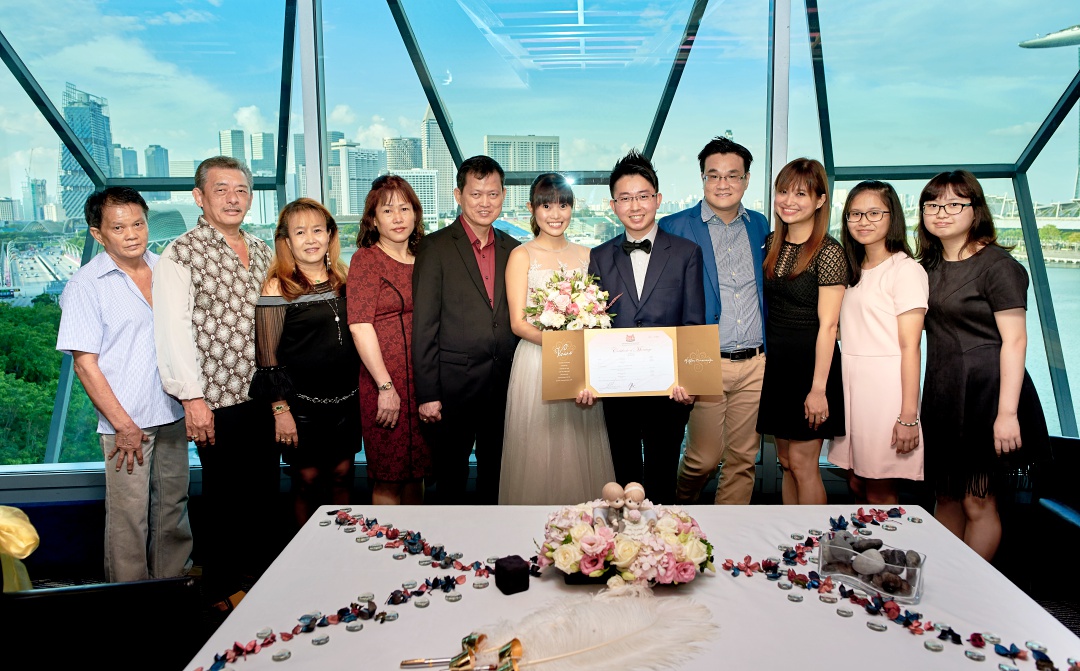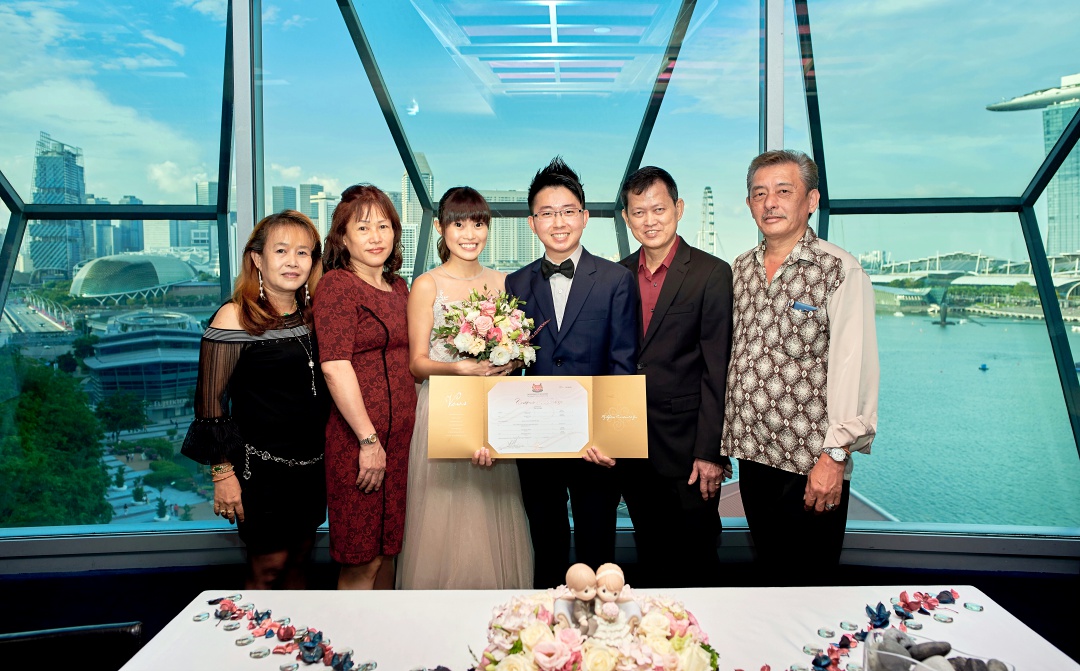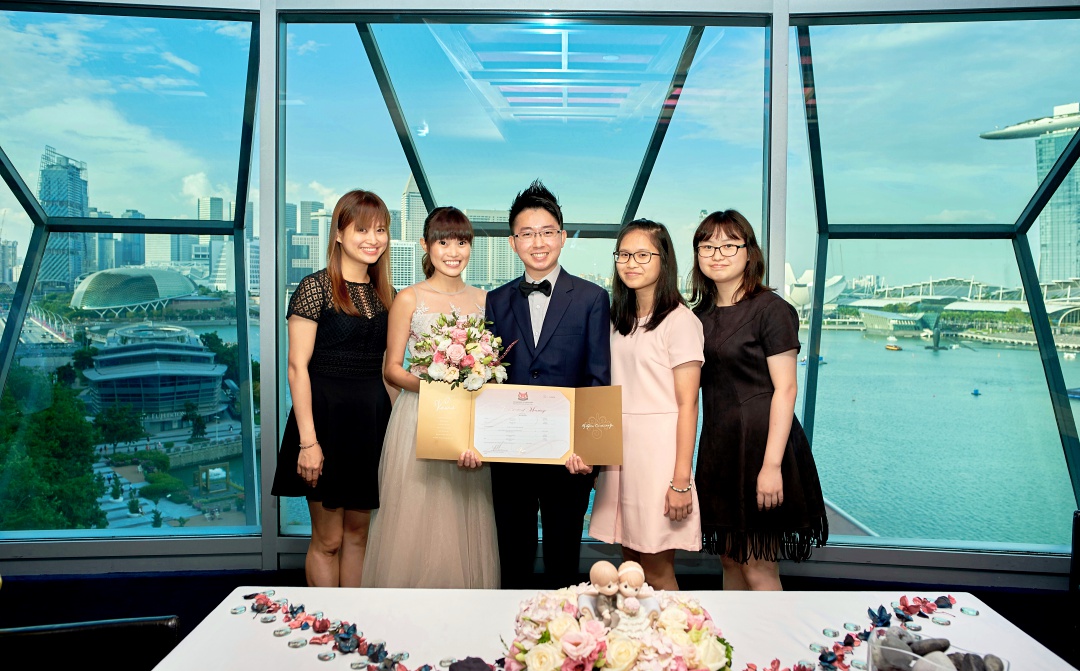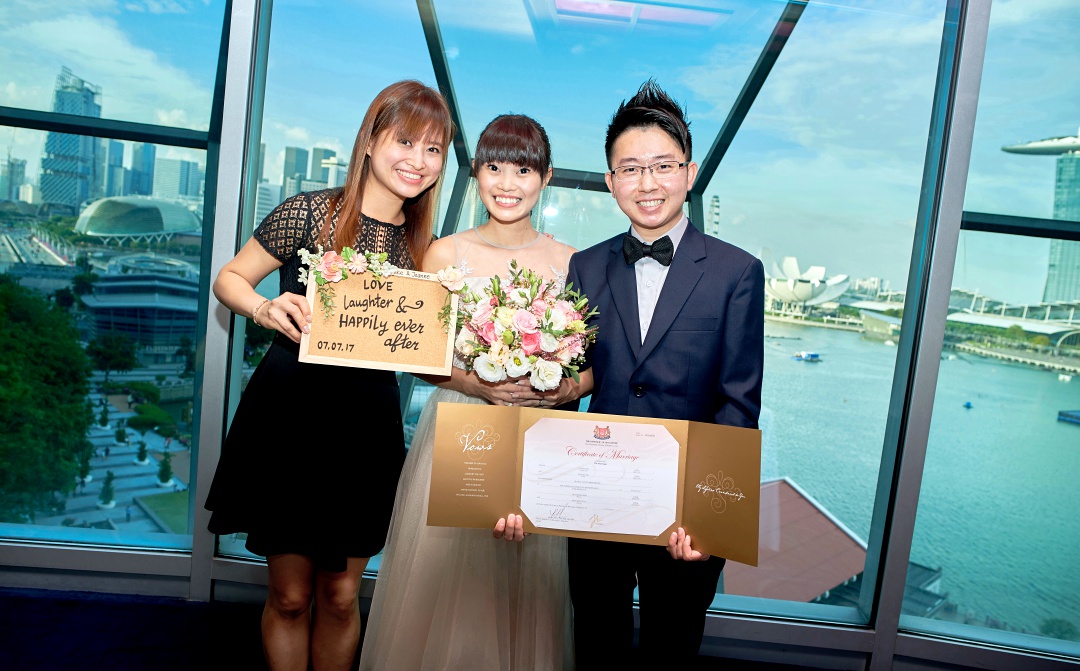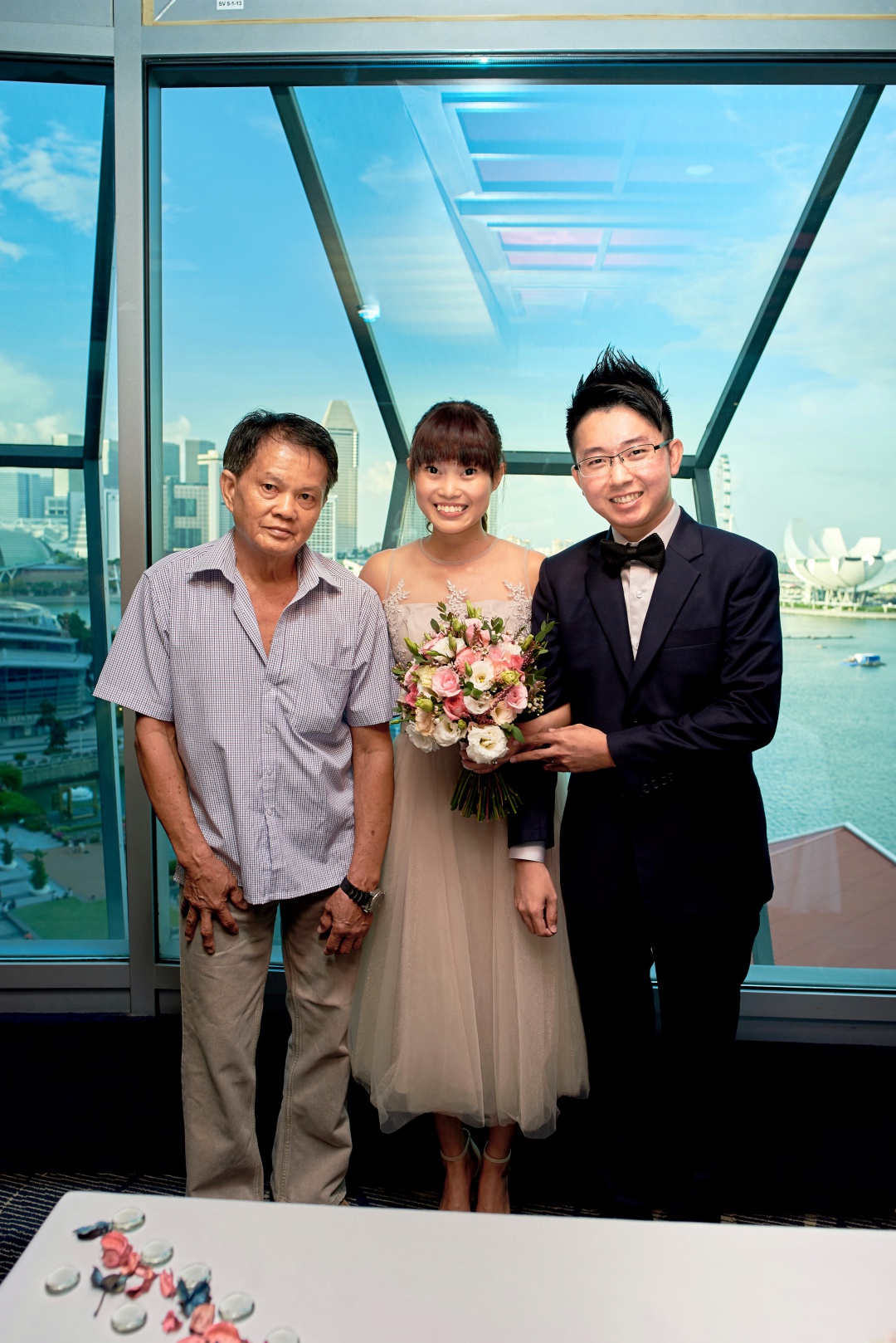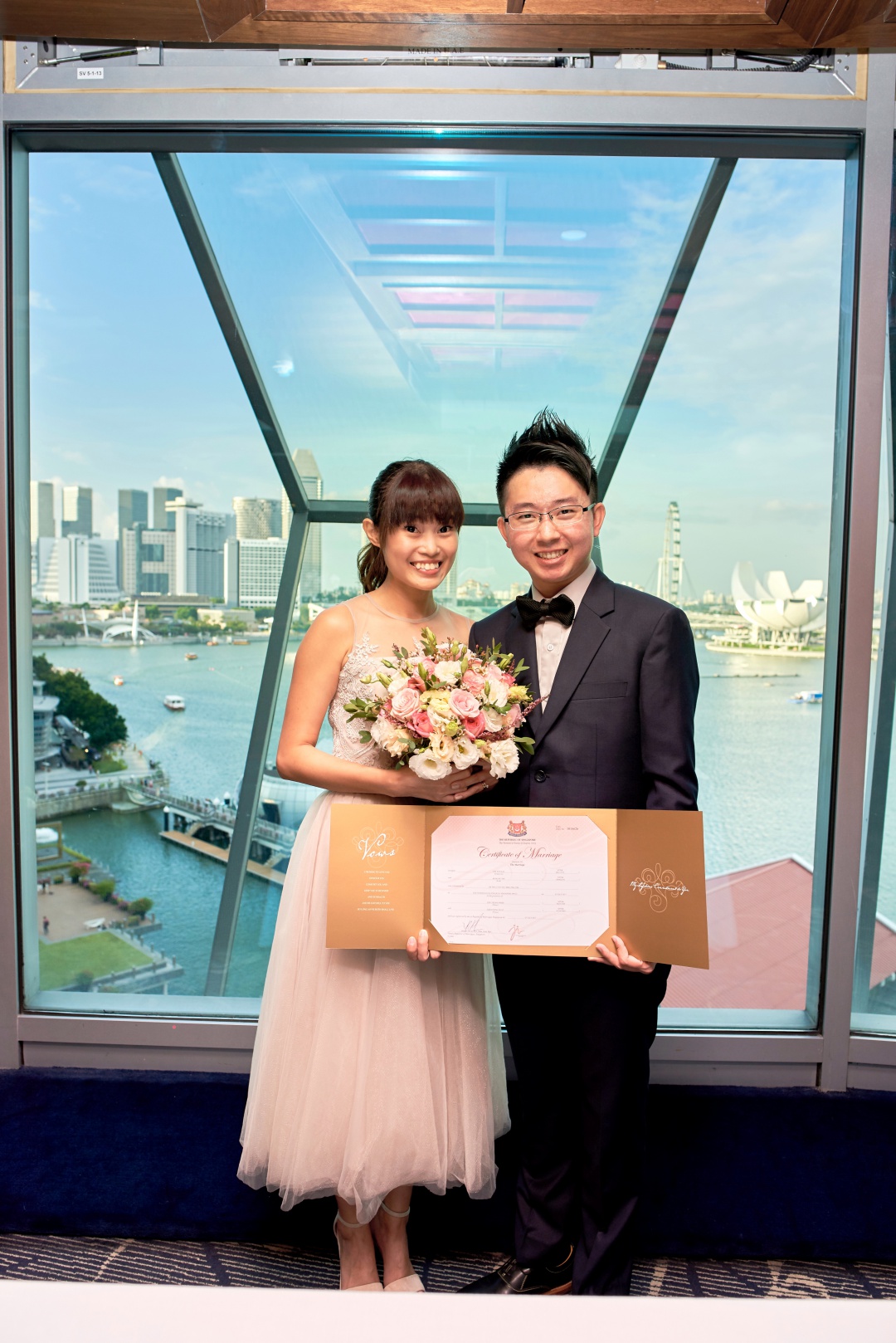 Done with the first round of photo taking, our guests help themselves to the champagne and canapes, while the Husband and I followed Alex down to take more pictures.
We walked around the vicinity, looking for spots to take pictures to commemorate this special day.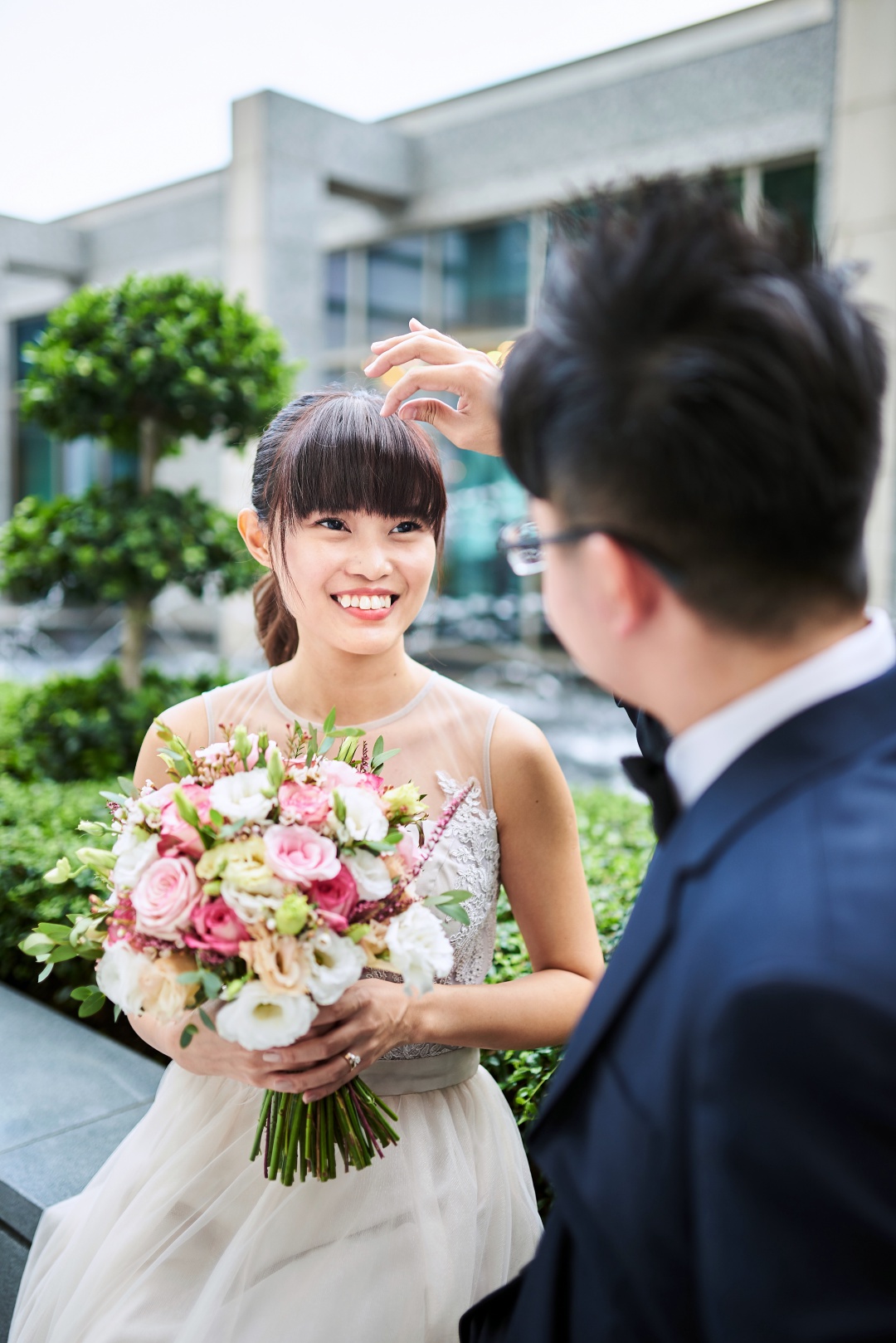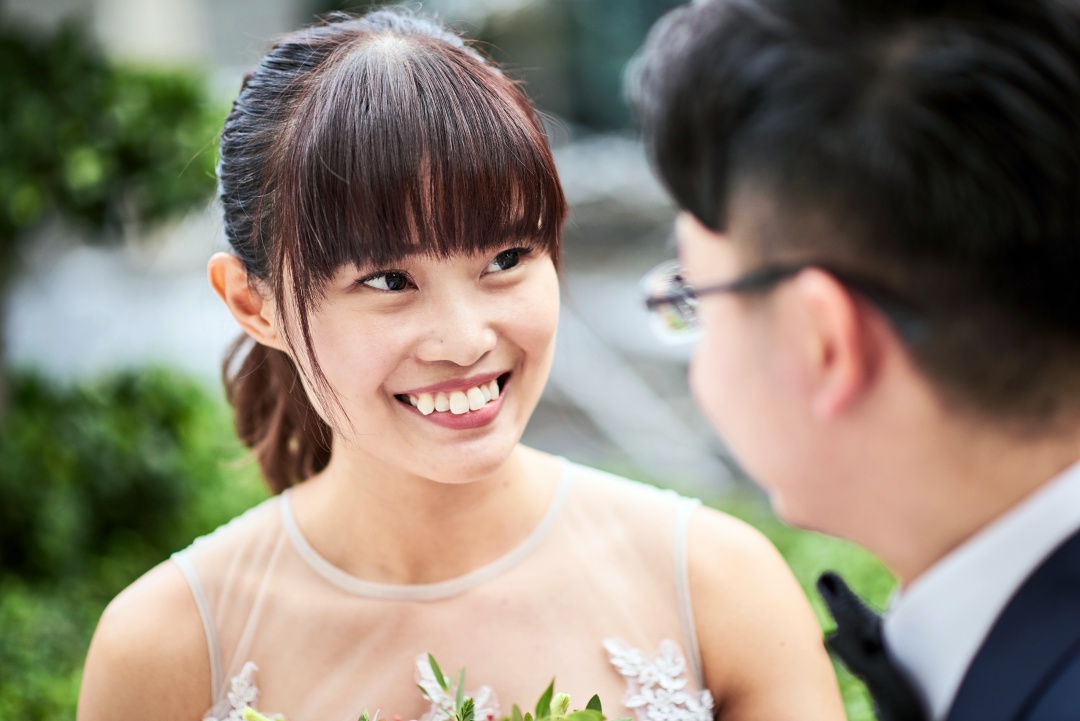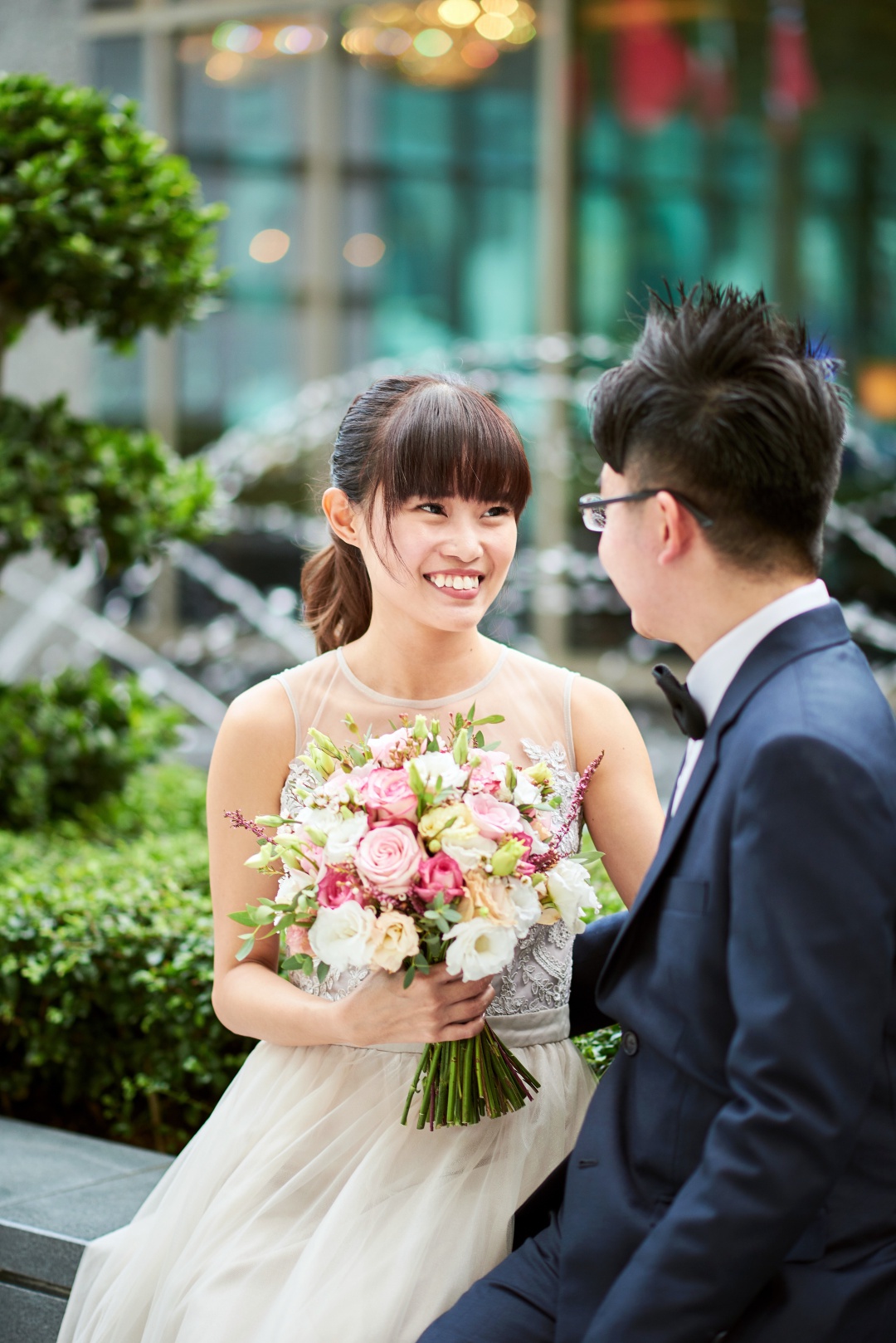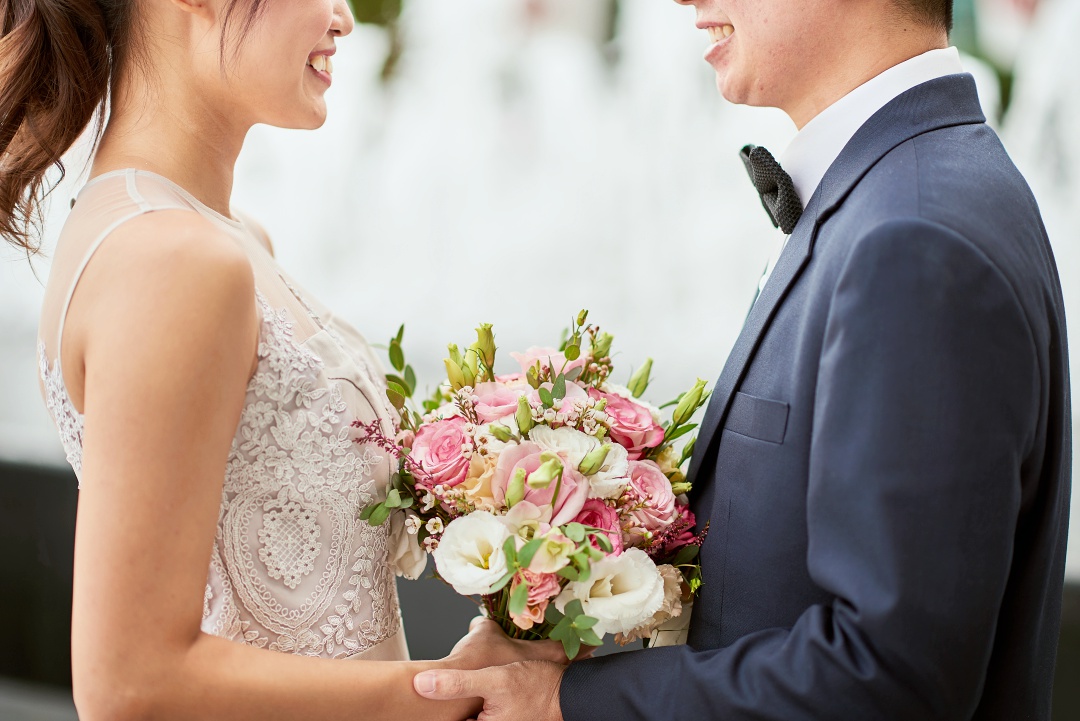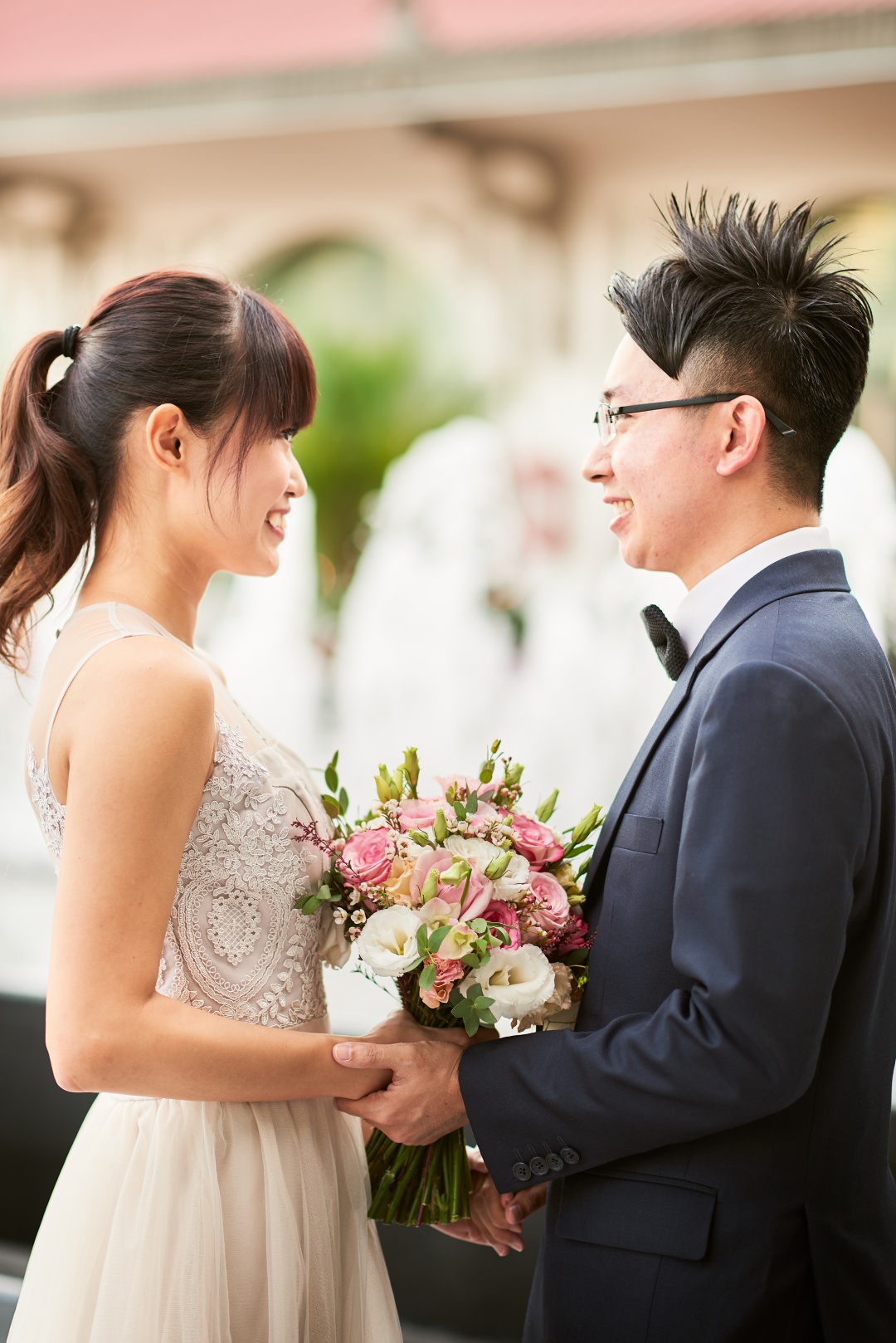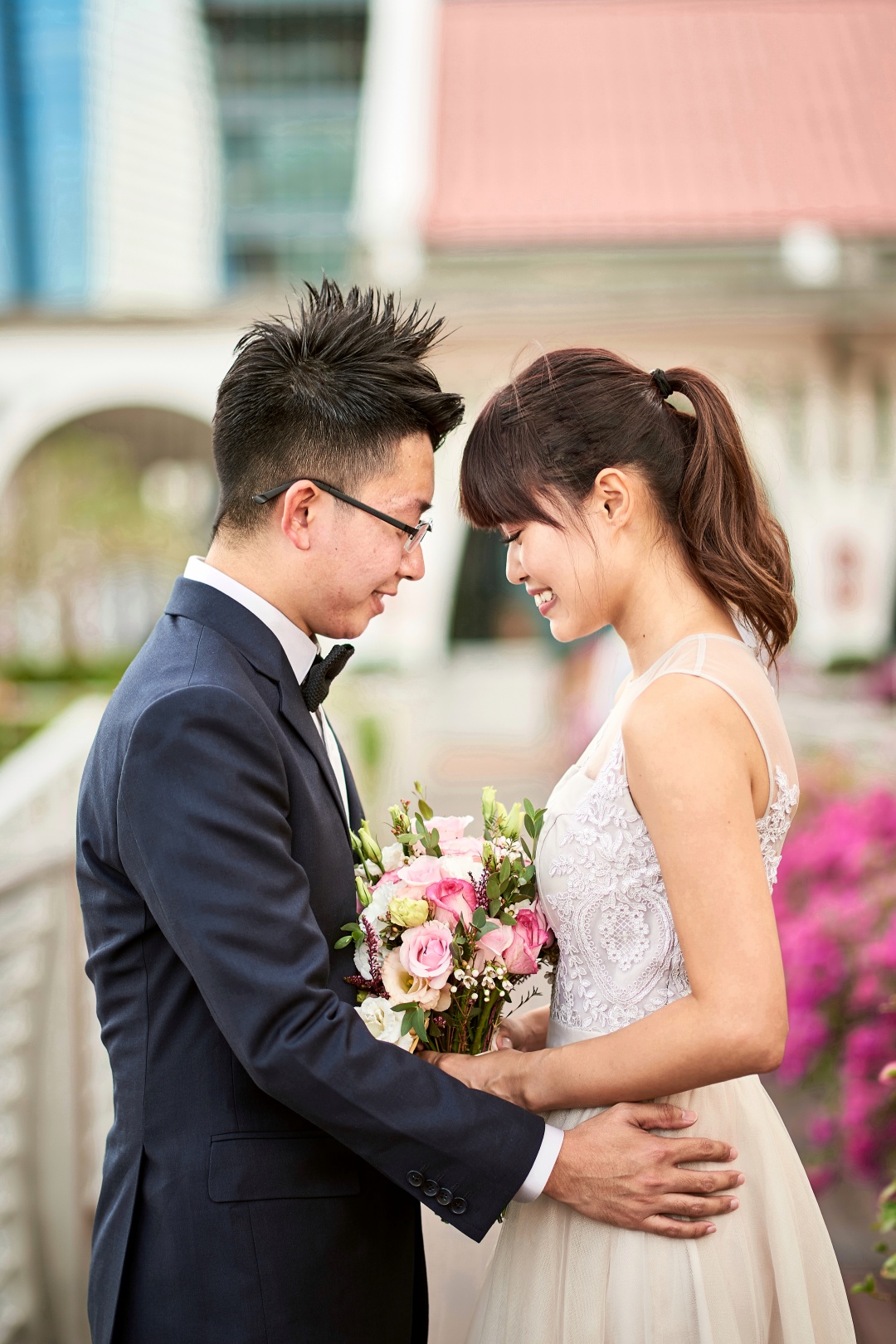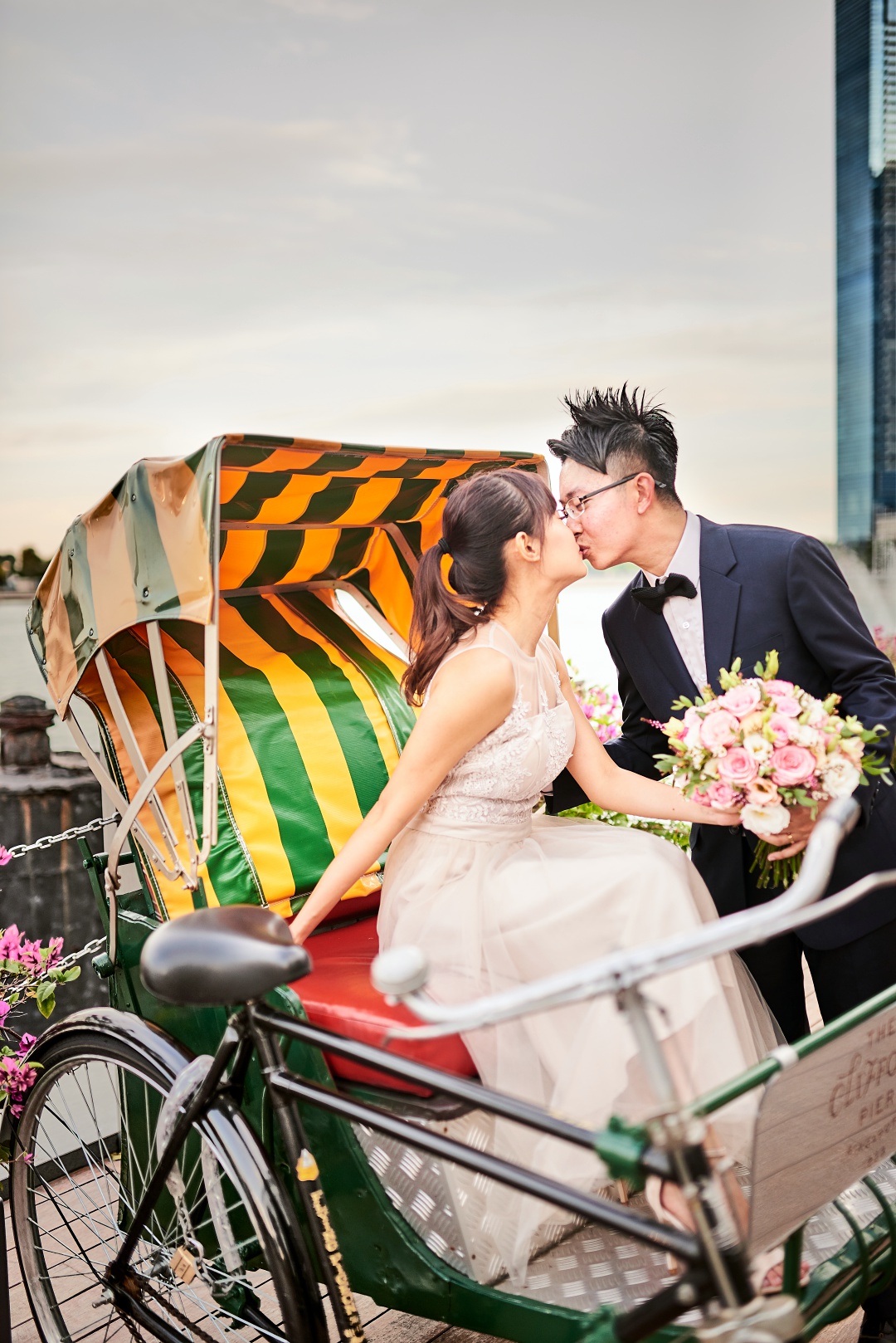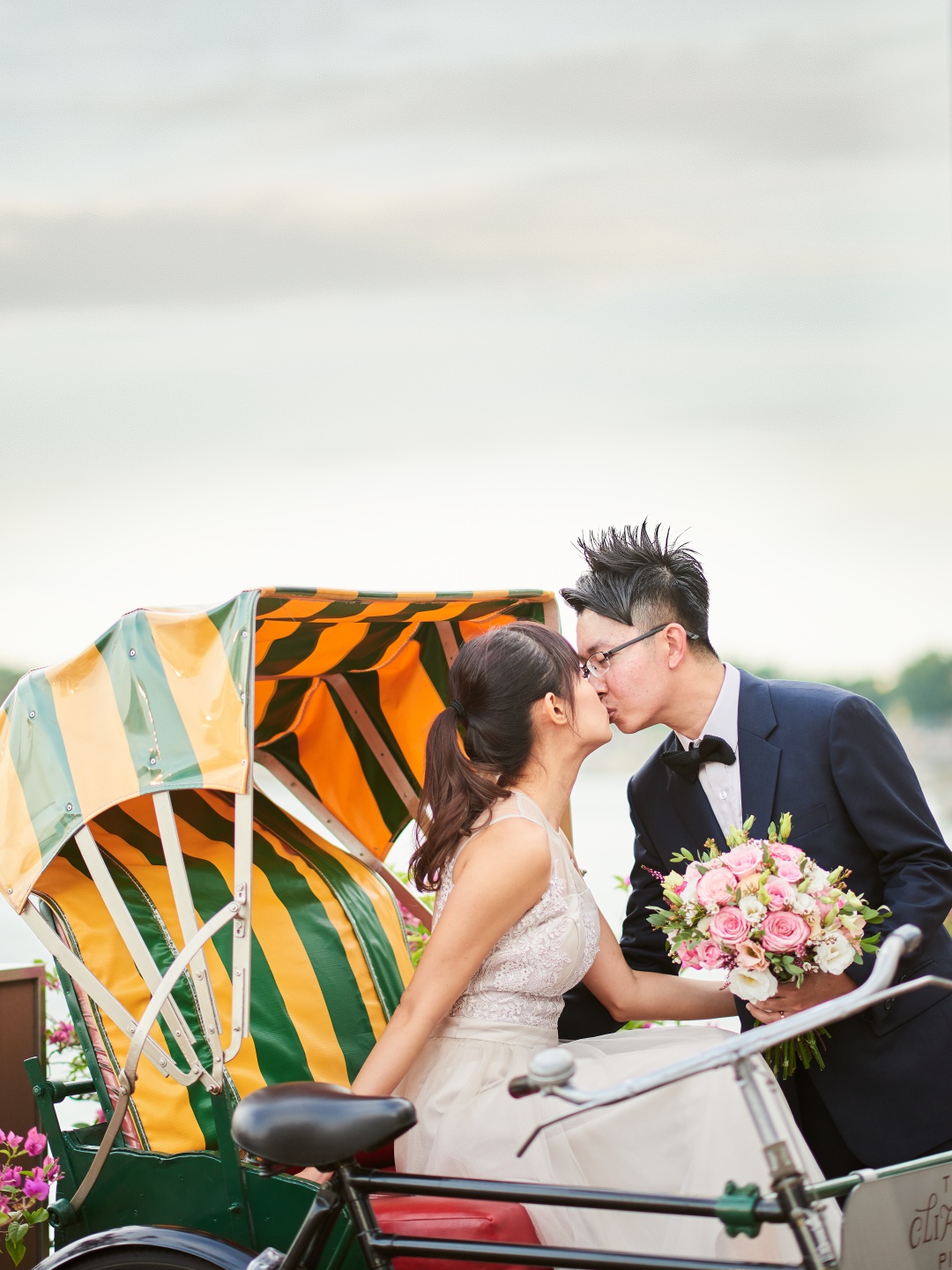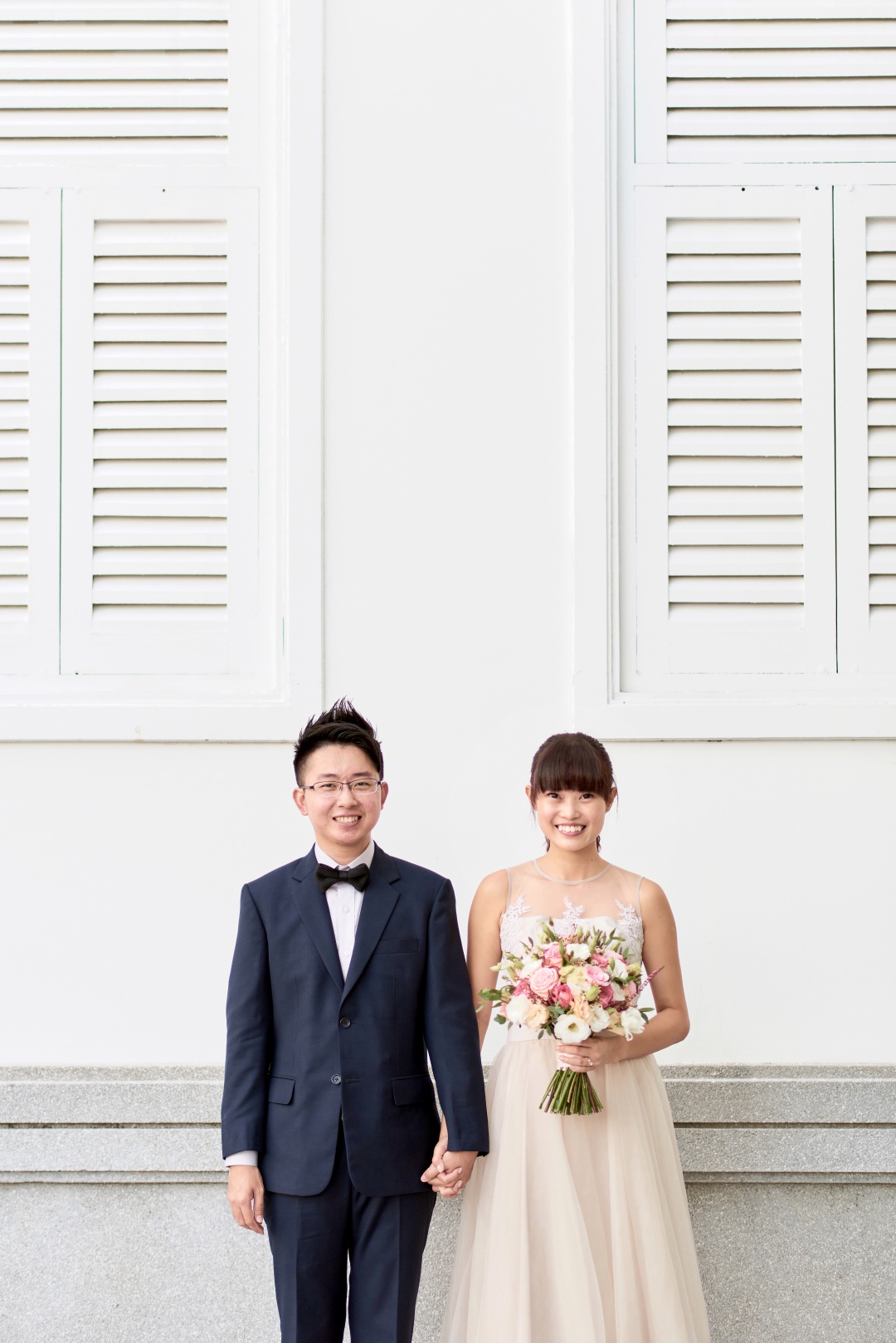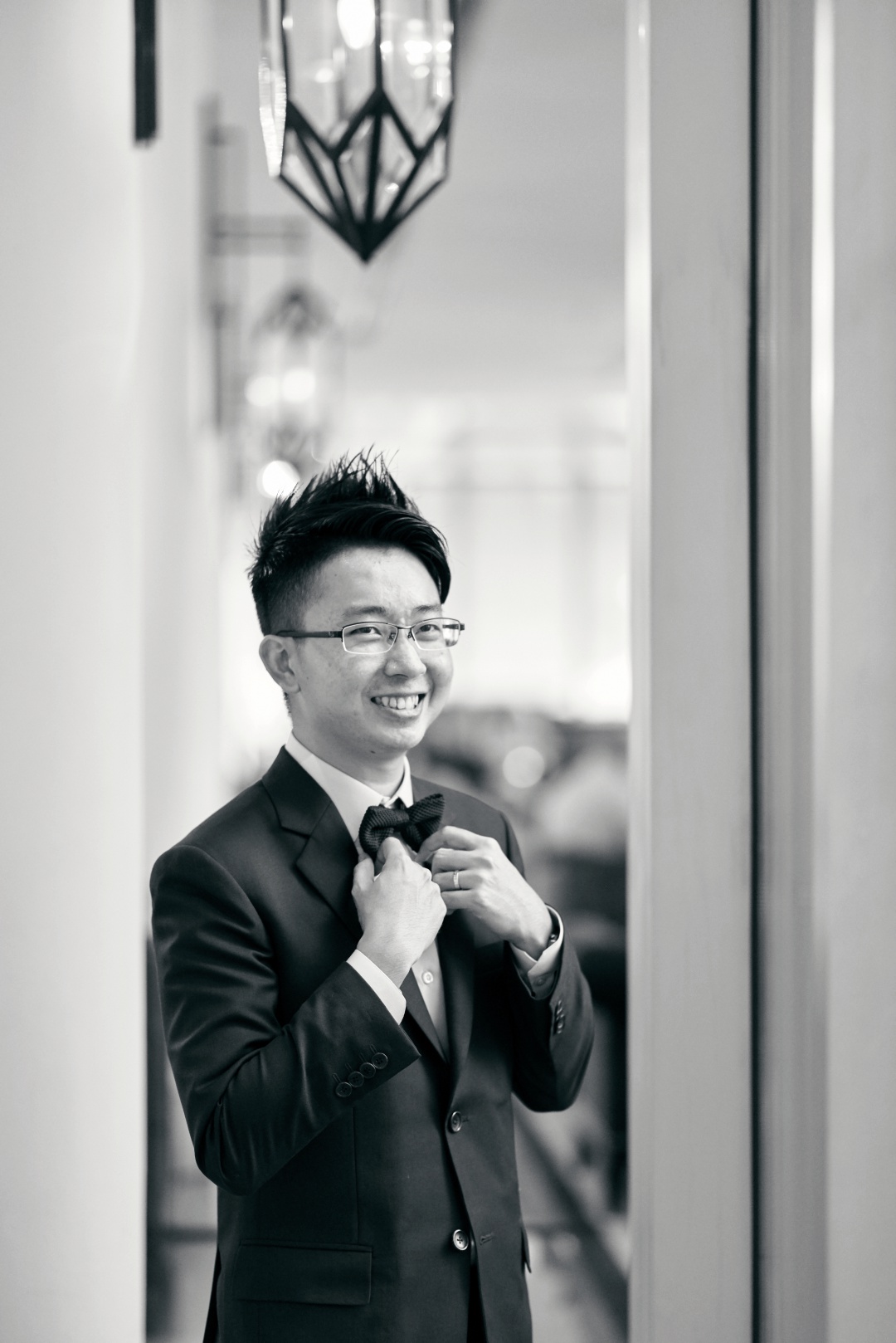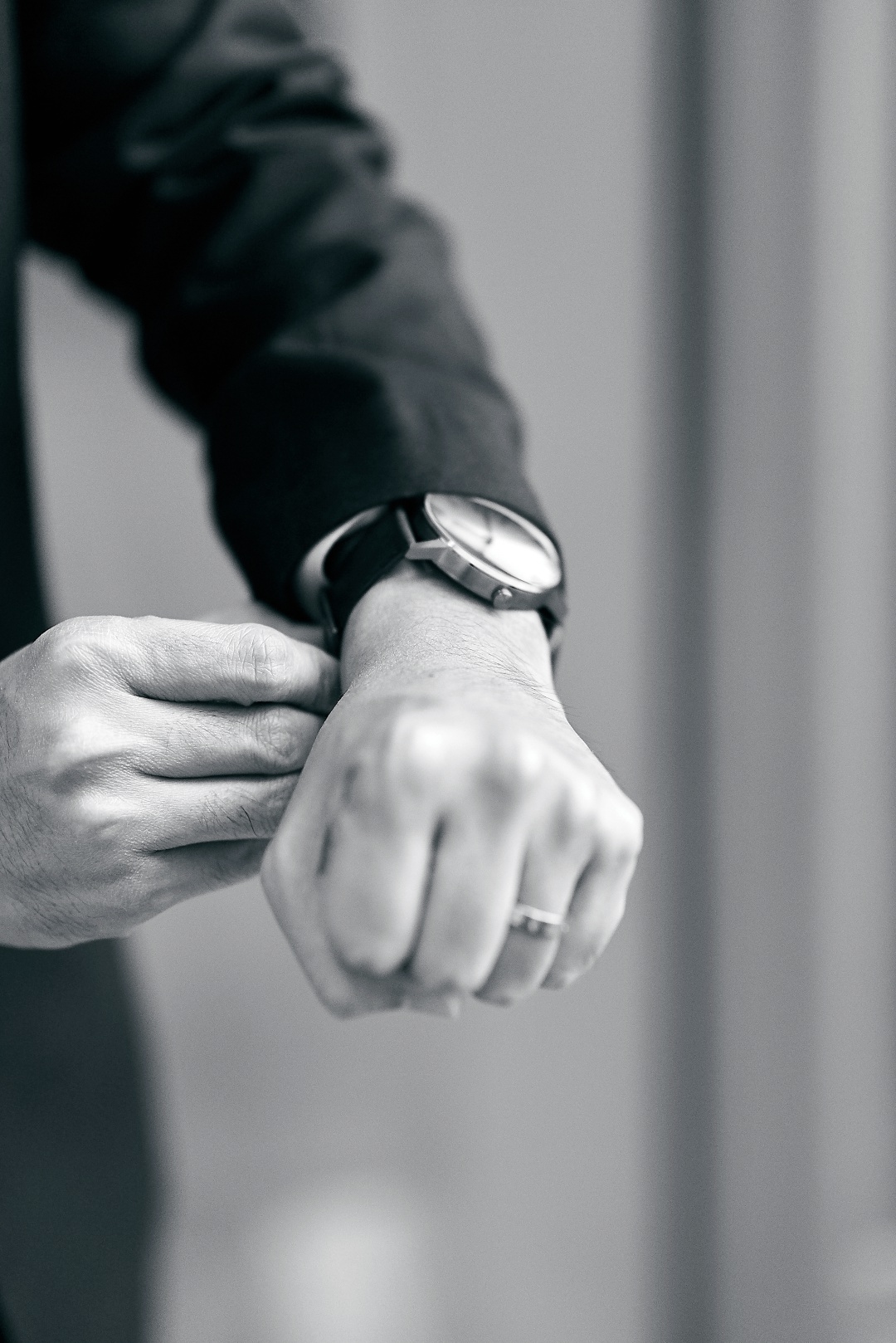 Him with the watch that I gave him earlier that afternoon.
On the back of the watch is the wordings "KAIXIN 7 JULY 2017". I got the watch in advance, but I only decided to get it engraved a day or two before the wedding.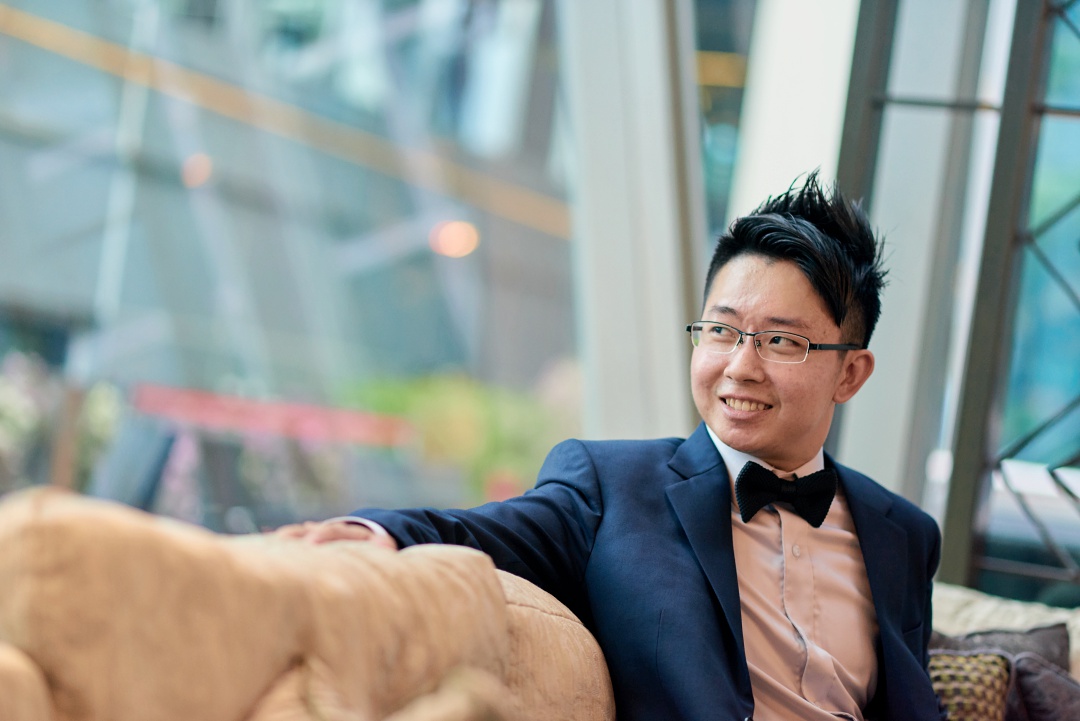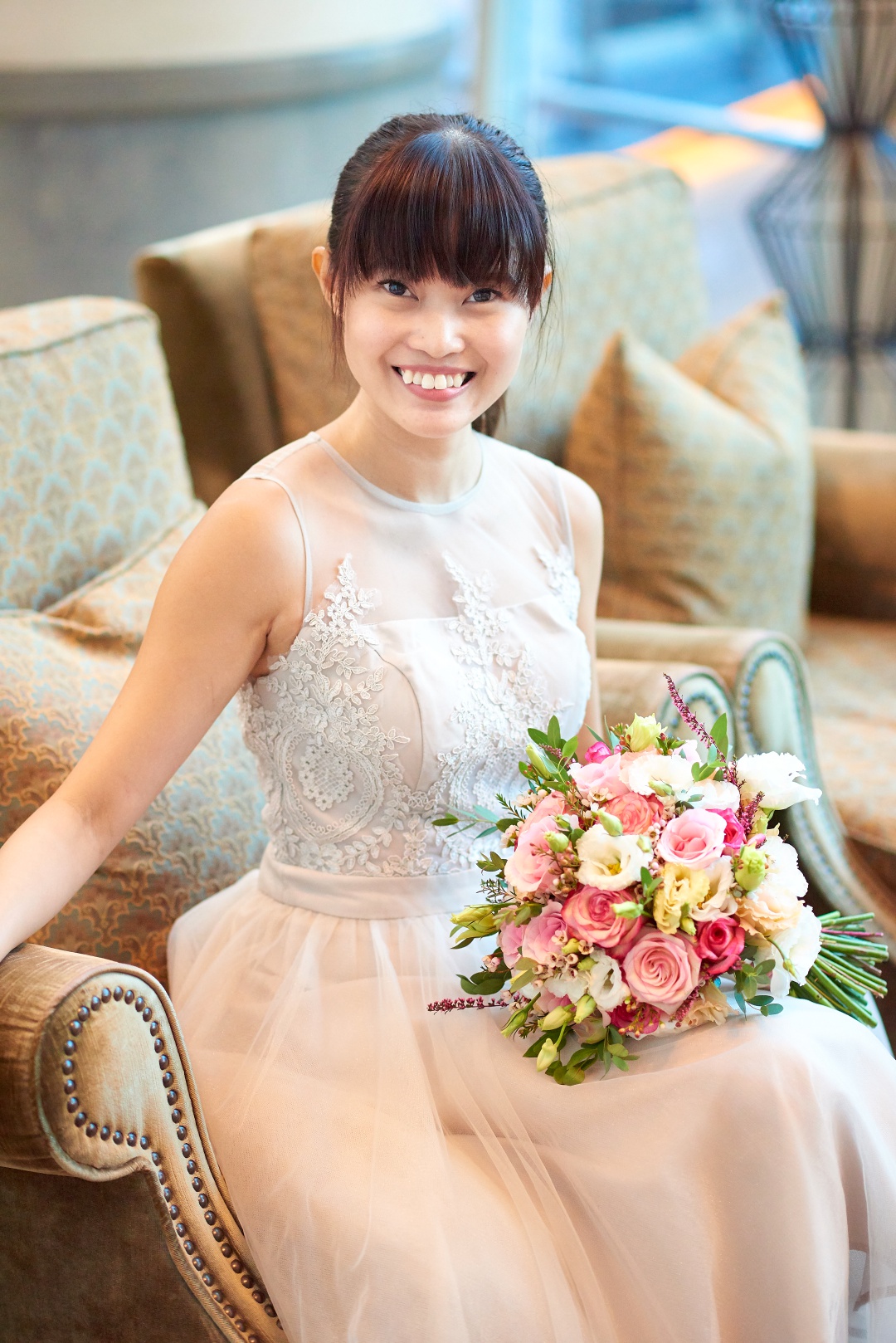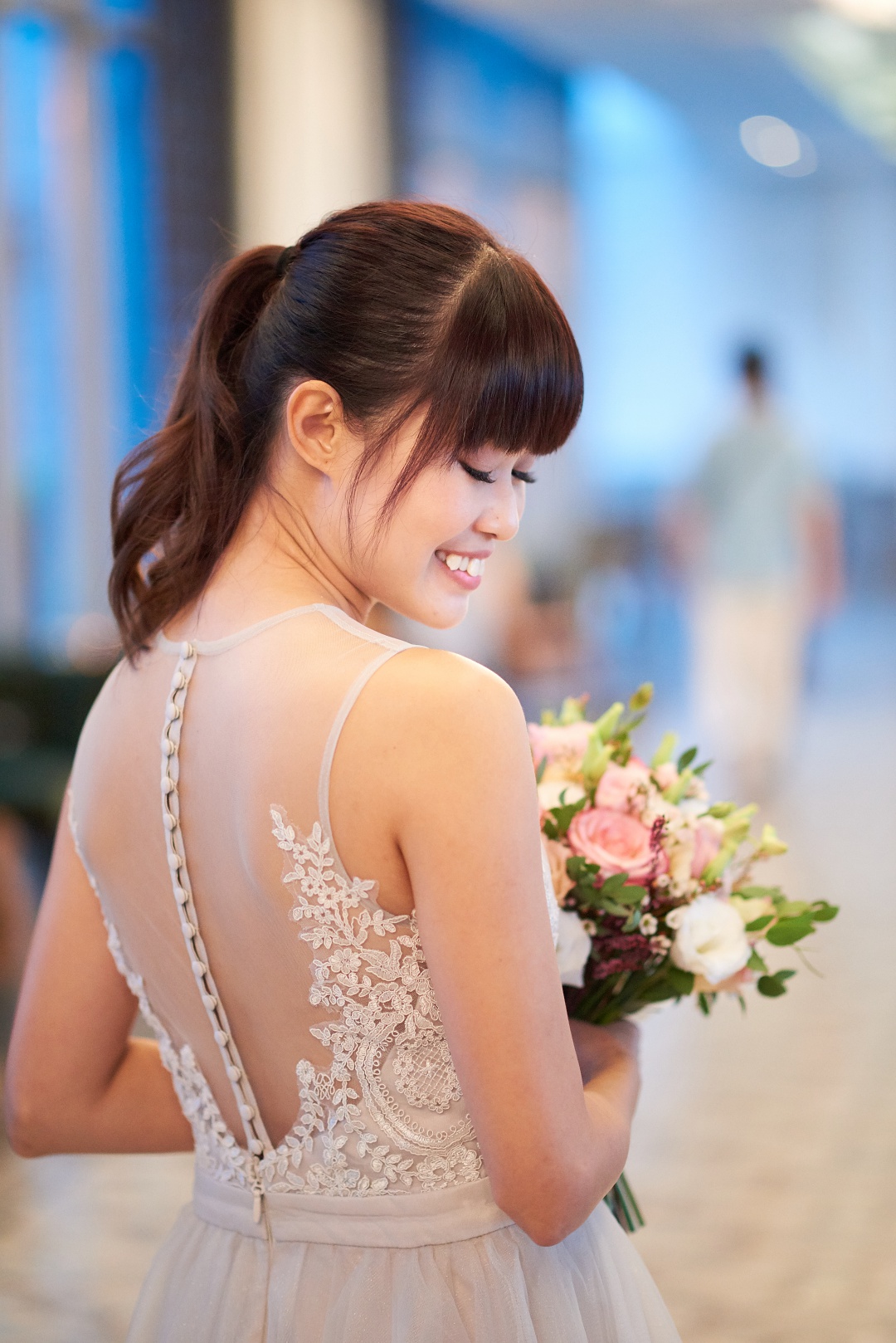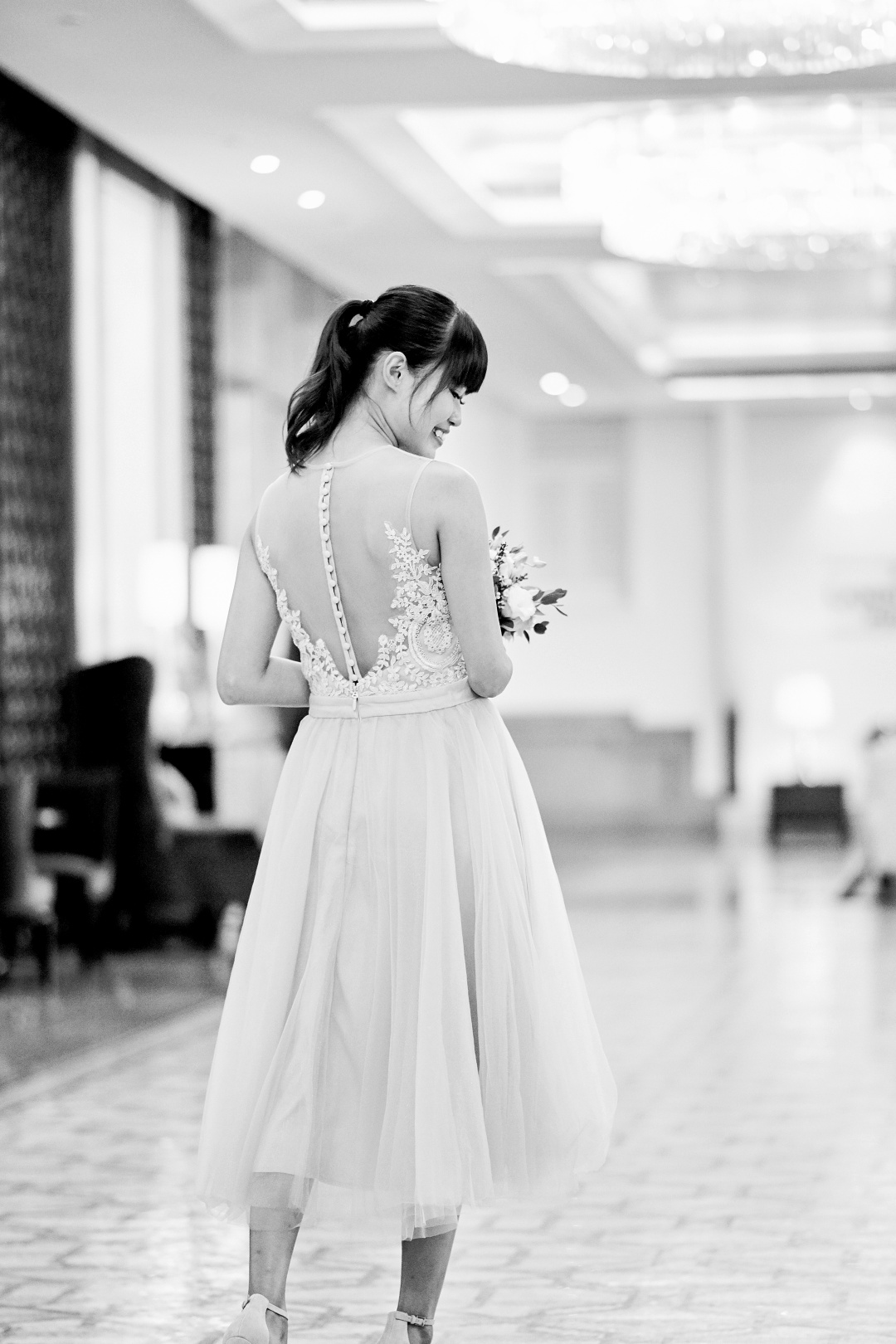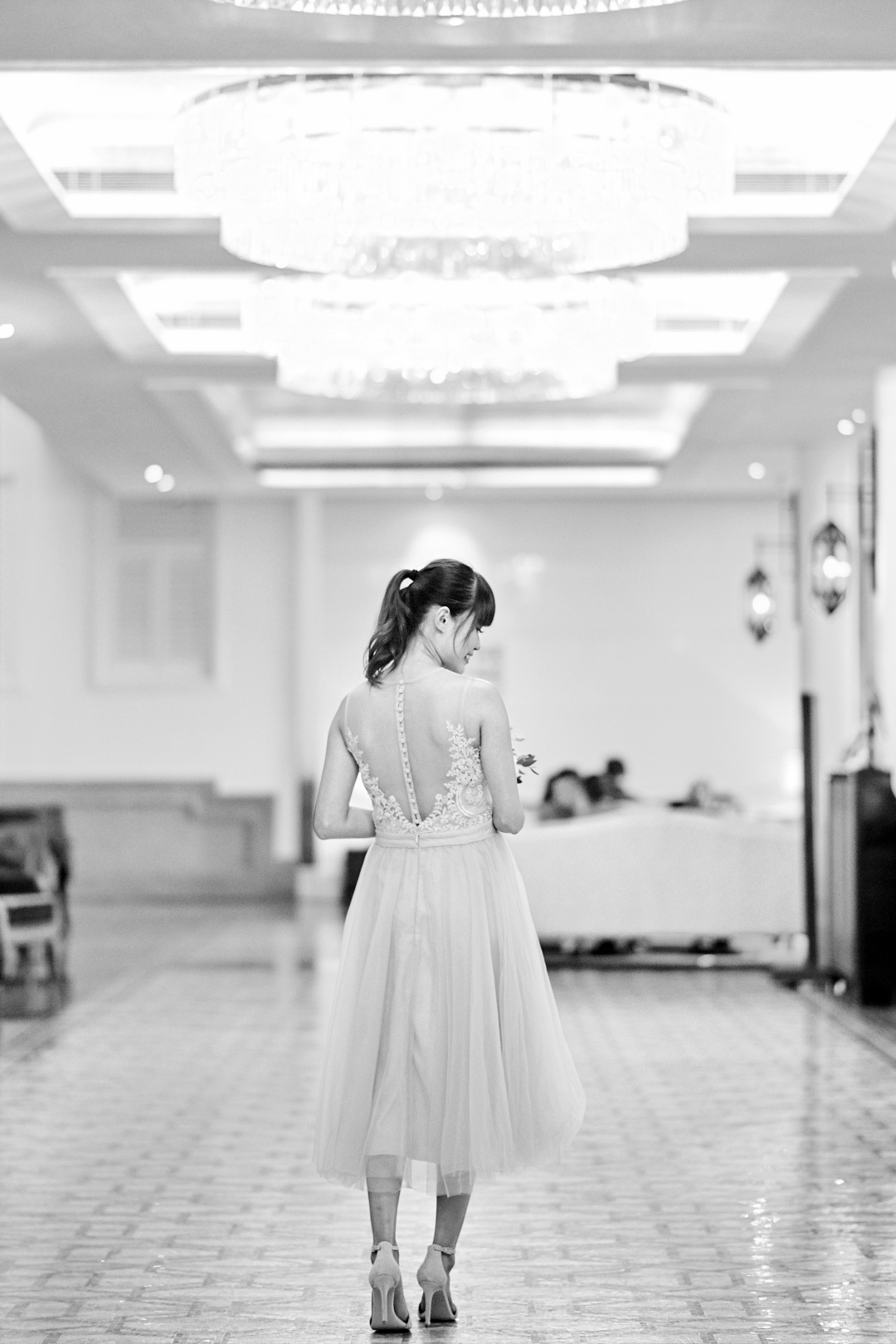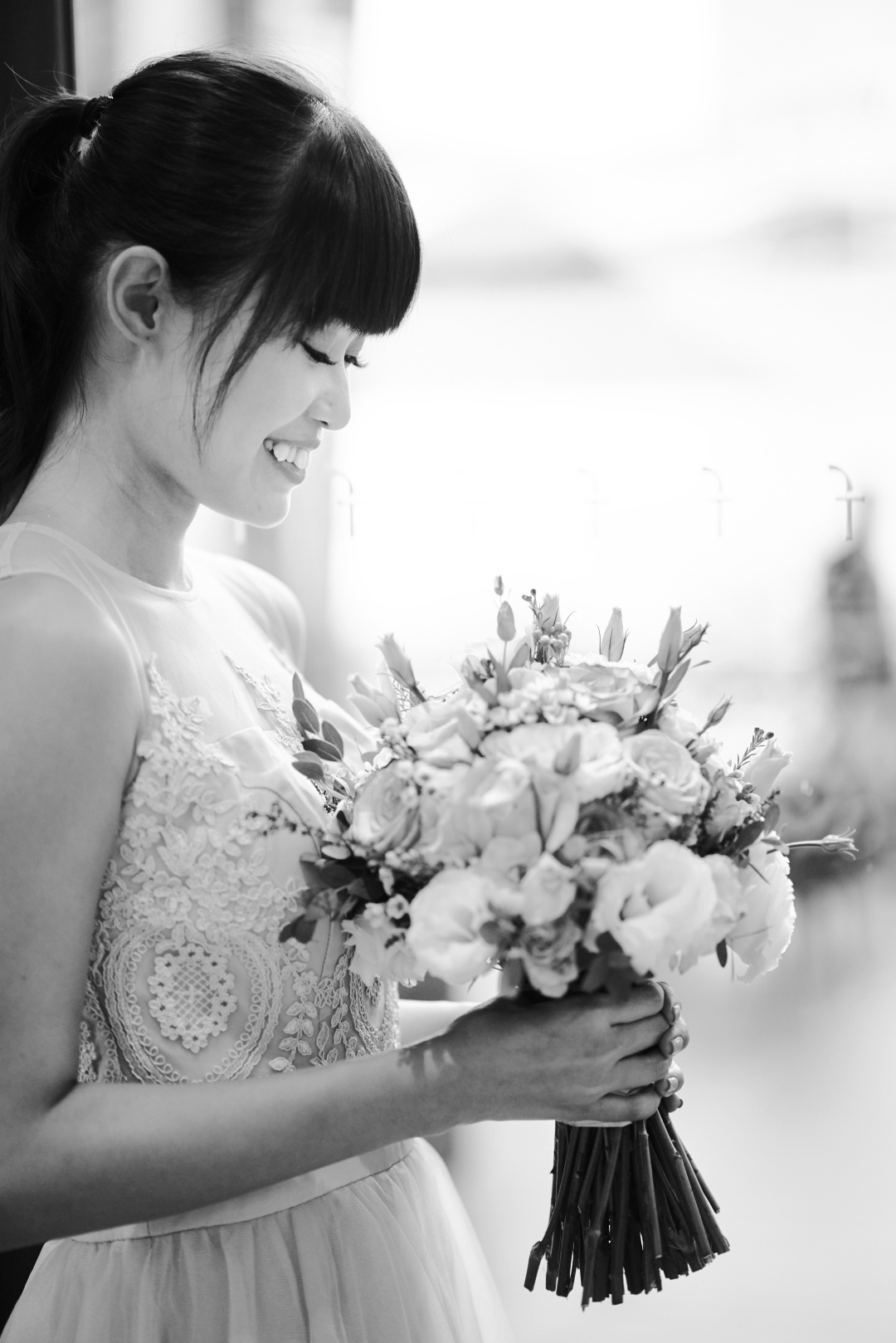 Before we went up to Level 10, we made a quick stop at Level 8 and took some pictures at the balcony.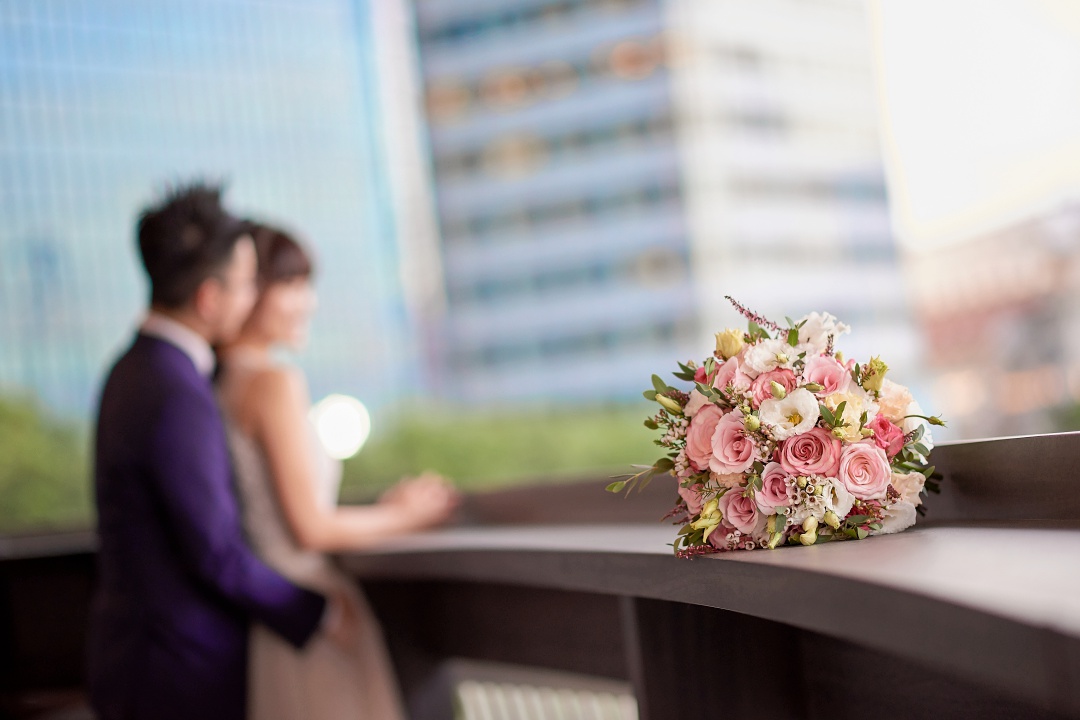 Bouquet from floralsbymc.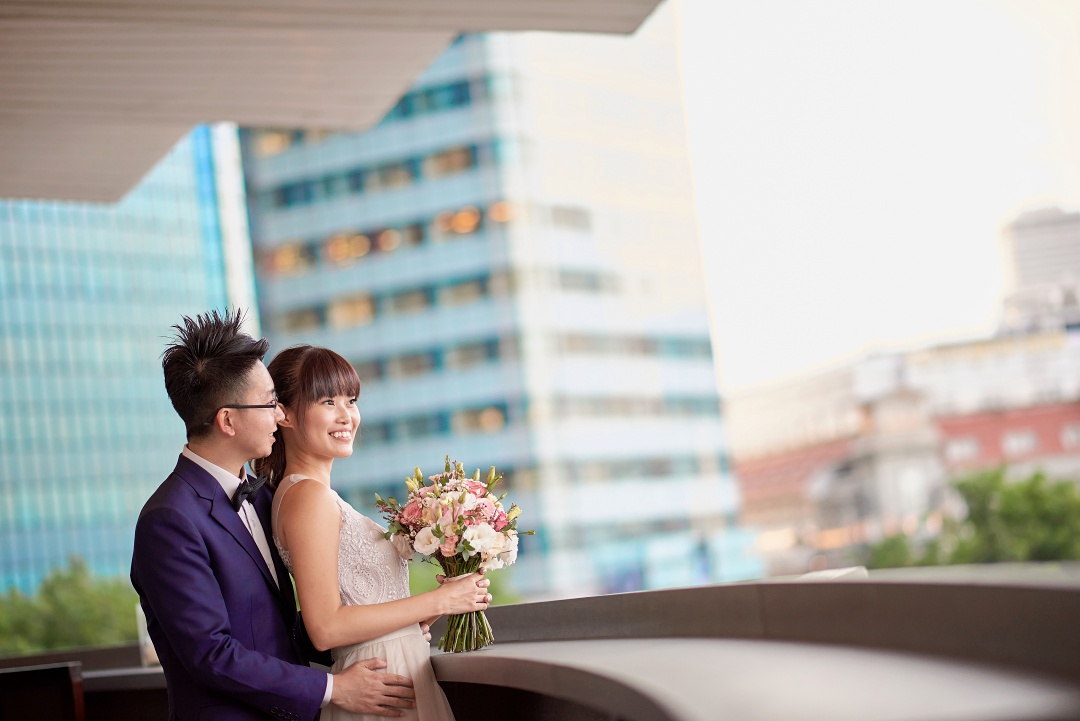 We must have gone for quite some time because everyone was asking for us and wondering where we went after we went back to join them for dinner. I passed my phone to my sister right before I went down and she happened to see my lock screen and saw our pre-wedding photograph.
I had some of them printed in a photobook (I use Photobook Singapore) and passed it around during dinner. I was so excited to finally share the pictures! No one saw the photos until that very day.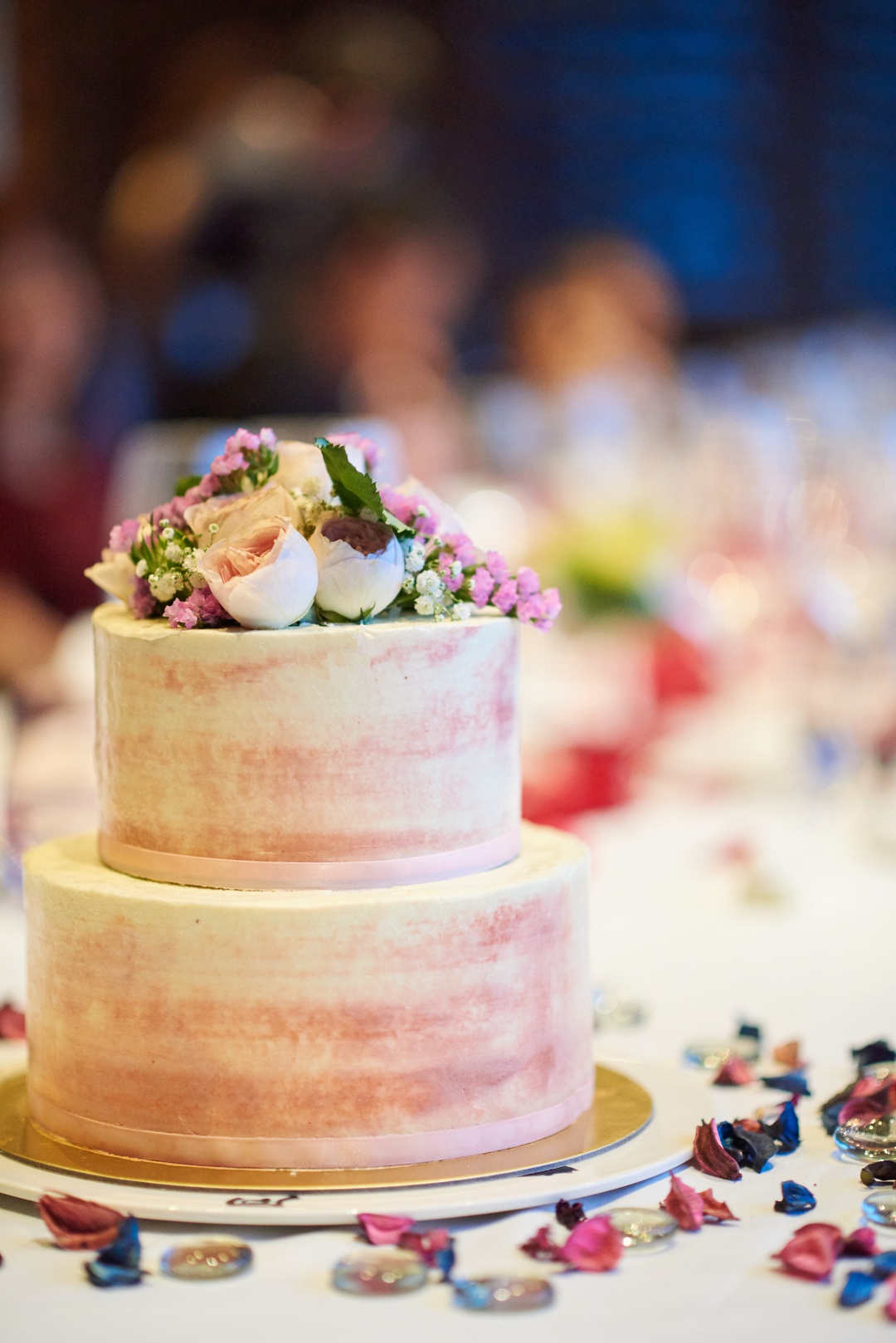 Watercolour cake from Yume Patisserie.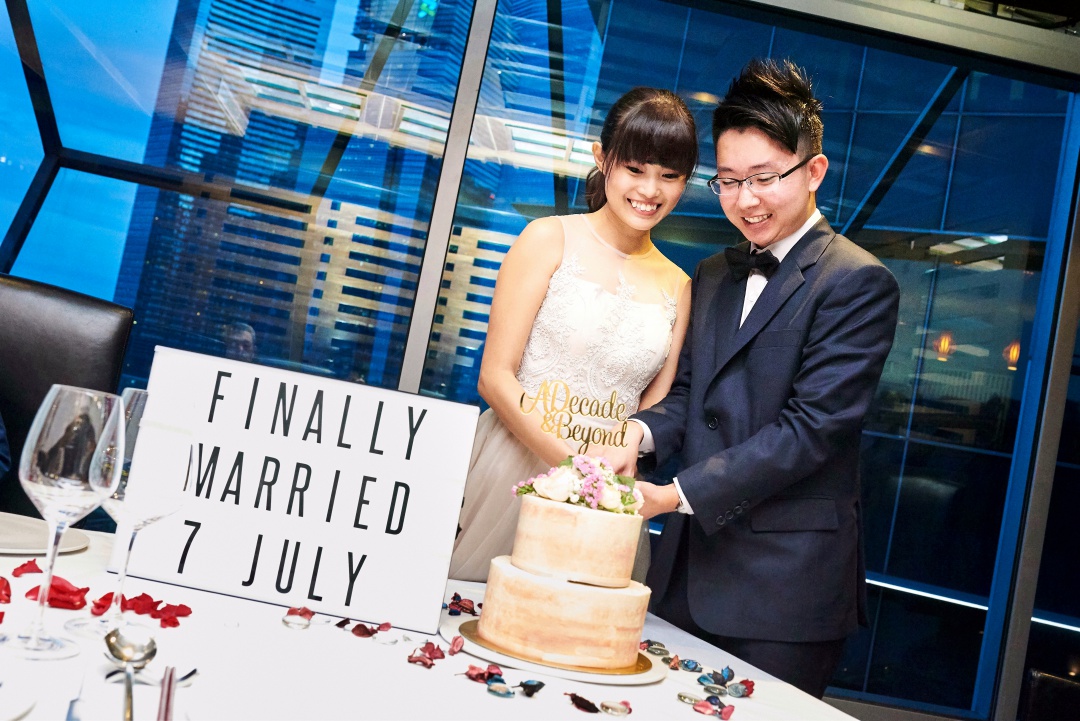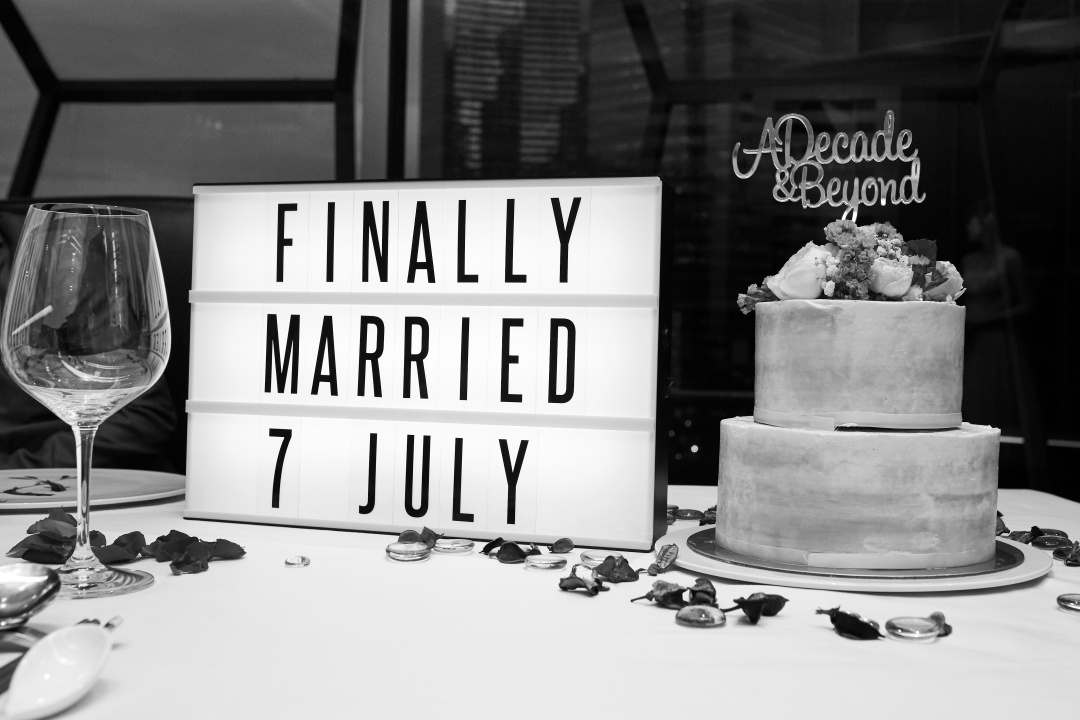 Alex managed to help us snap a couple more pictures in the private dining room before he took off. We only engaged him for 1.5 hours, but eventually, we took up almost 2 hours of his time.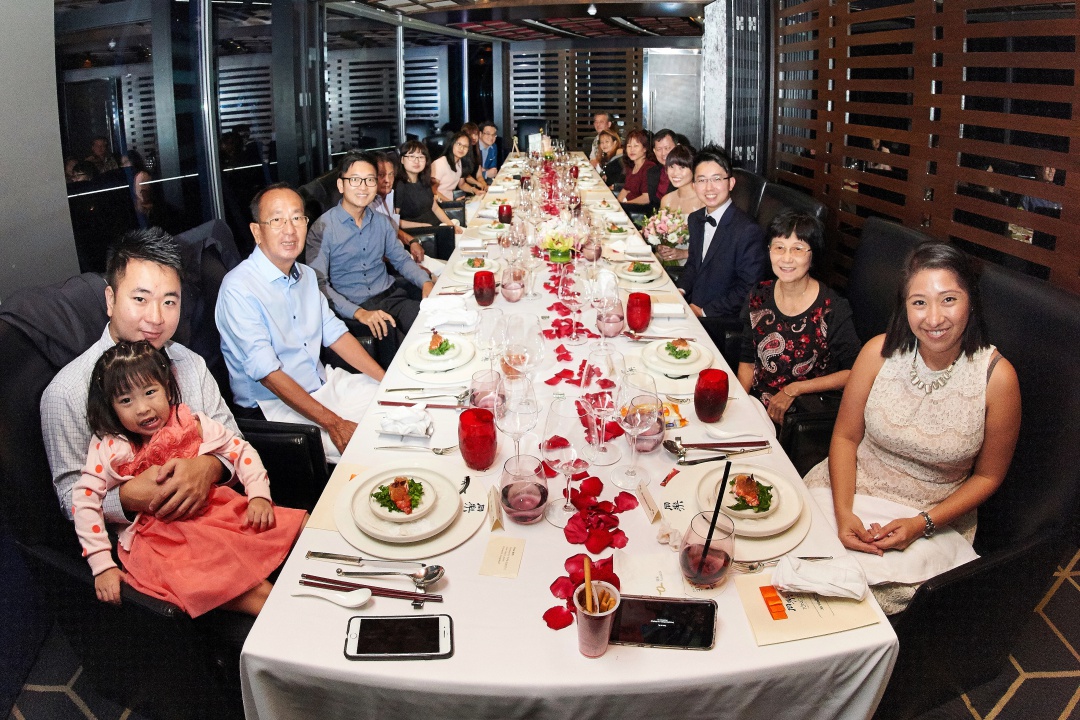 This was the setup for our table of seventeen (including my niece). Pretty spacious and comfortable I feel. We flushed the seats to one end and left the other end of the table empty for my cake.
I remember feeling exhausted the moment I was in my seat; thinking to myself how fast the day had gone, and how the entire solemnisation ceremony is over and we are now legally married.
Considered I didn't have my lunch, I should be famished by then. However, the adrenaline rush had made it hard for me to stomach the food. I was just too excited to sit still and properly enjoy my food. Nevertheless, the food was great!
7-course Dinner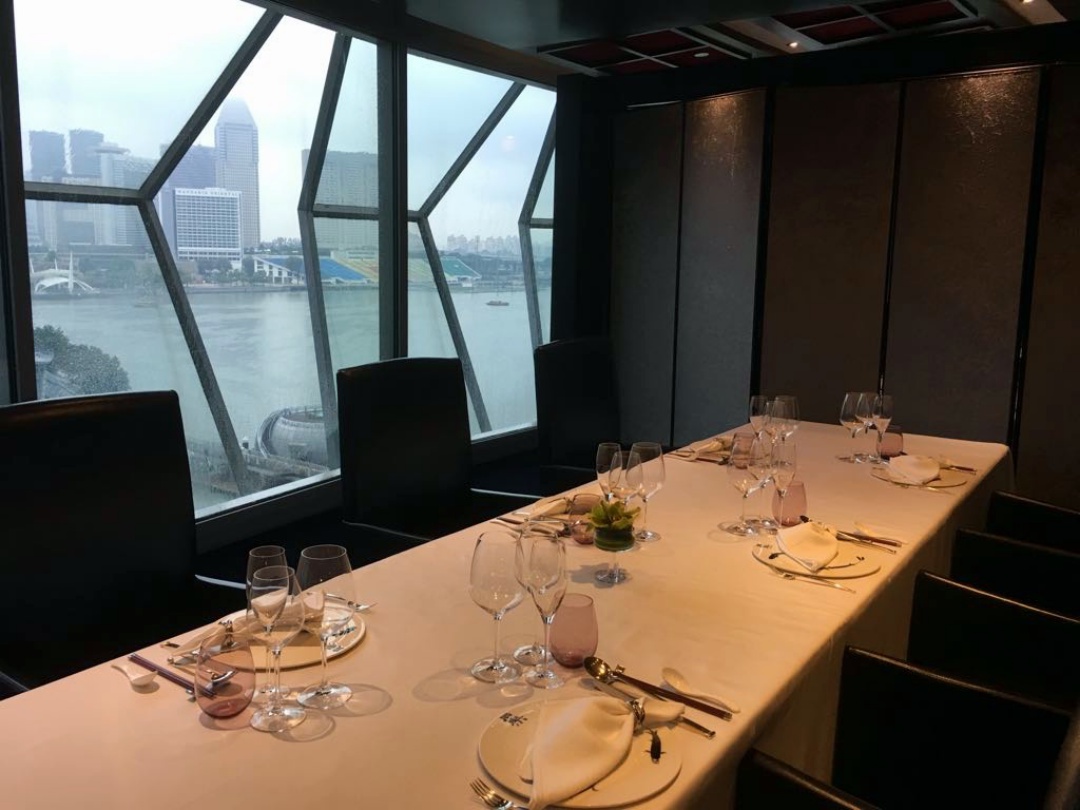 Every one of our guests got their personalised menu card and name tag on the table. I actually sent the sitting arrangement to Tóng Lè in advance, so that they could place the tag accordingly on the table.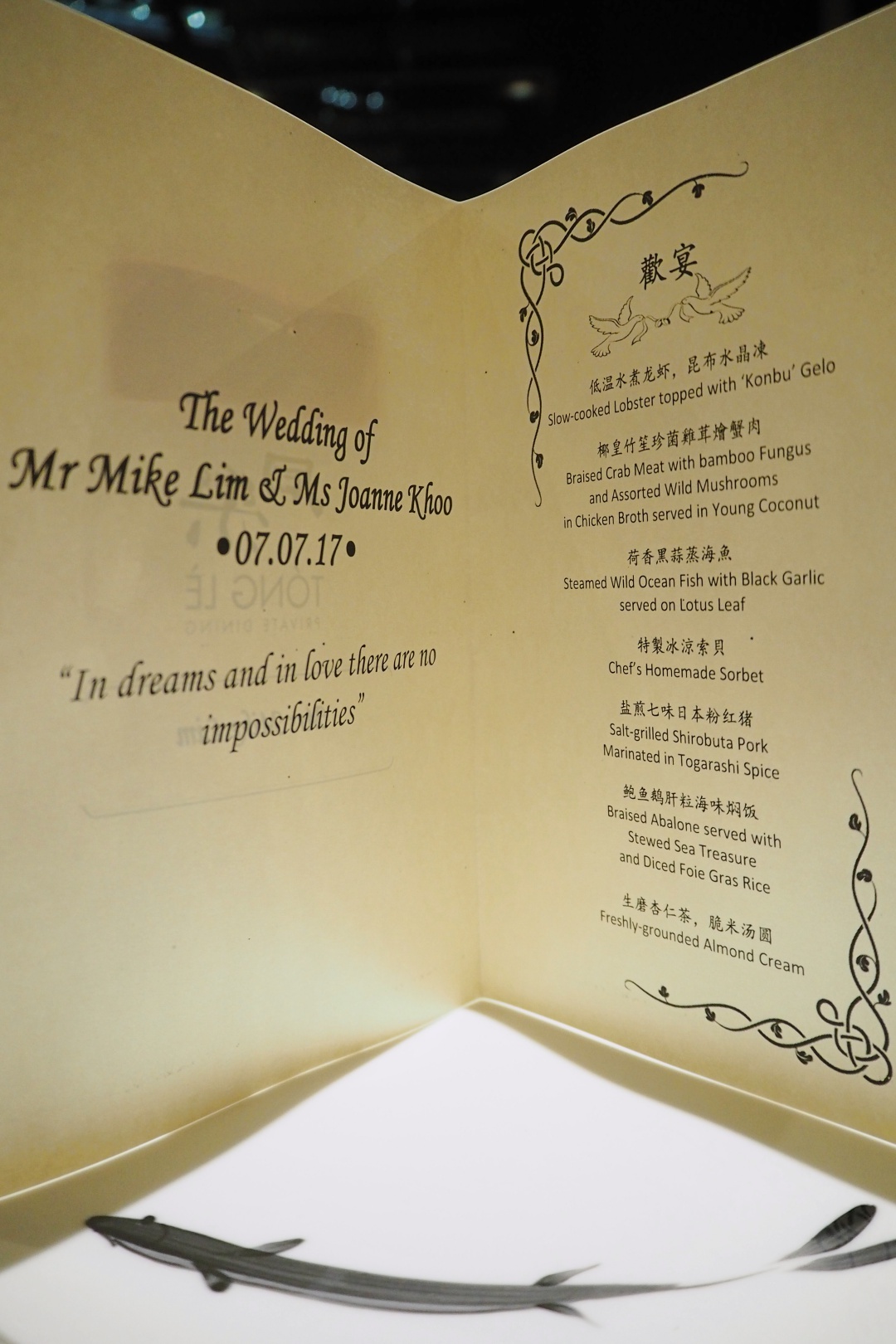 The Menu for the night:
Slow-Cooked Lobster Topped with 'Konbu' Gelo
低温水煮龙虾,昆布水晶冻
Braised Crab Meat with Bamboo Fungus and Assorted Wild Mushrooms in Chicken Broth Served in Young Coconut
椰皇竹笙珍菌雞茸燴蟹肉
Steamed Wild Fish with Black Garlic Served on Lotus Leaf
荷香黑蒜蒸野生鱼
Chef's Homemade Sorbet
特制冰冻索貝
Salt-Grilled Shirobuta Pork Marinated in Togarashi Spice
盐煎七味日本粉红猪
Braised Abalone Served with Stewed Sea Treasure and Diced Foie Gras Rice
鲍鱼鹅肝粒海味焖饭
Freshly-grounded Almond Cream with Tang Yuan Coated in Crispy Rice
生磨杏仁茶,脆皮汤圆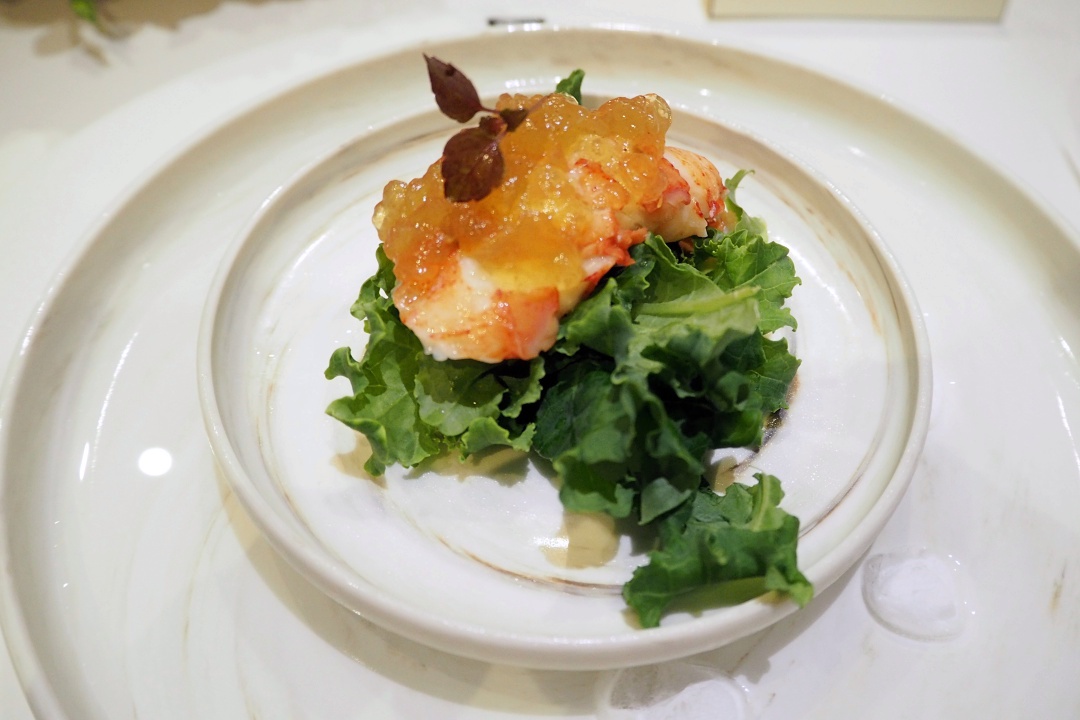 Slow-Cooked Lobster Topped with 'Konbu' Gelo | 低温水煮龙虾,昆布水晶冻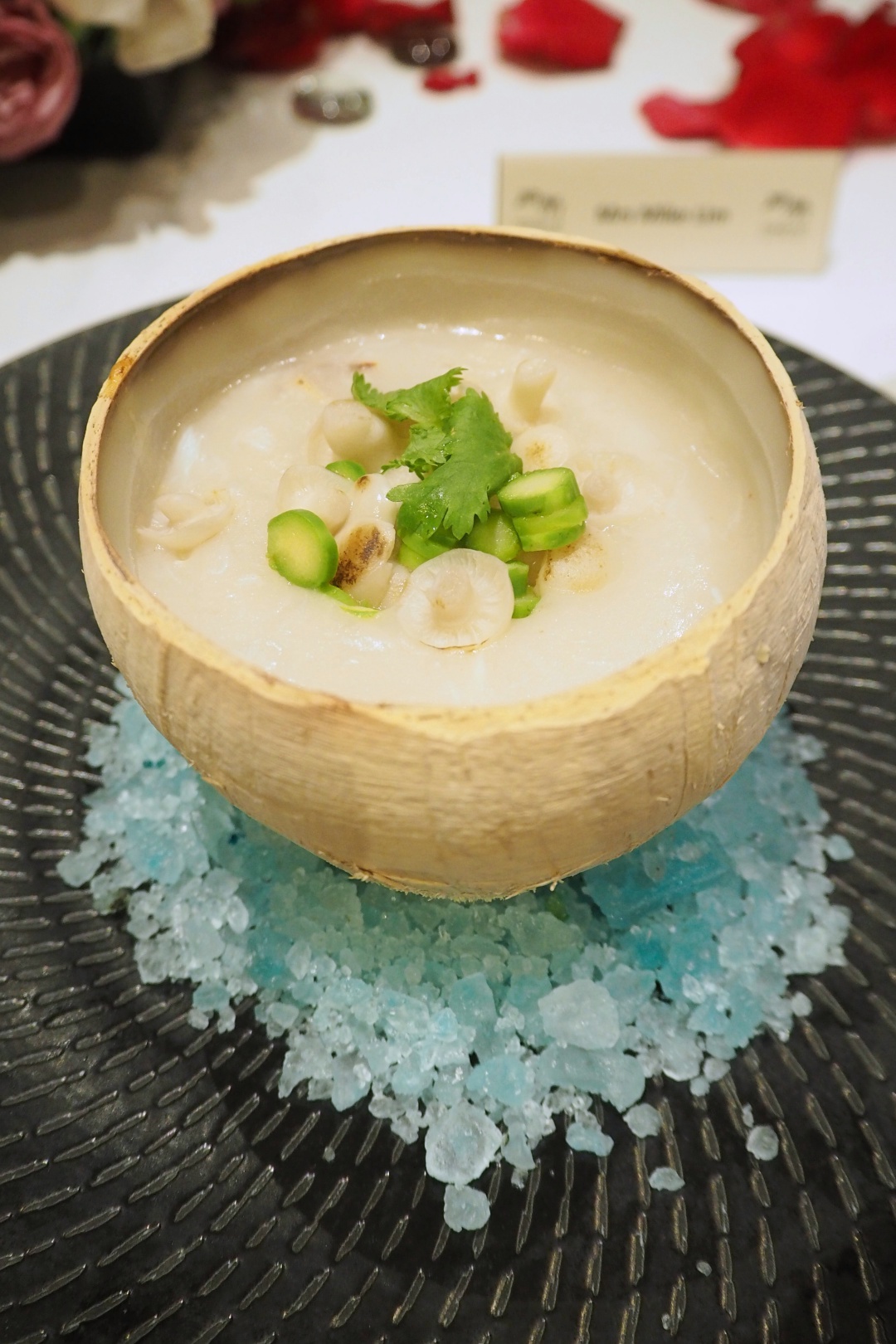 Braised Crab Meat with Bamboo Fungus and Assorted Wild Mushrooms in Chicken Broth Served in Young Coconut | 椰皇竹笙珍菌雞茸燴蟹肉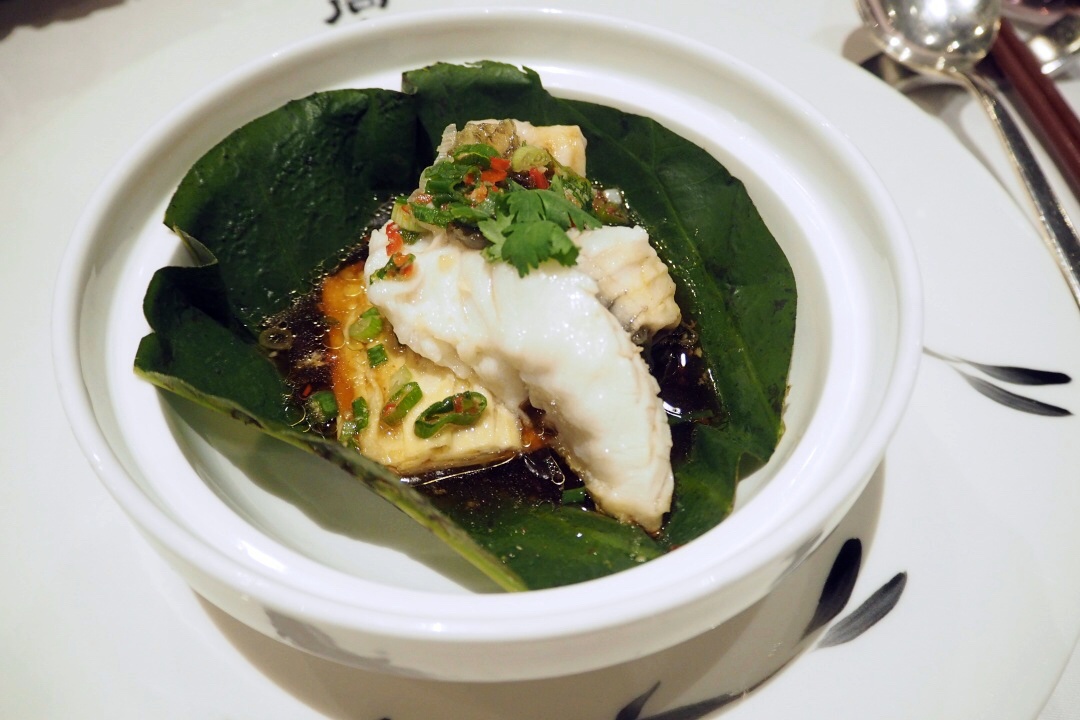 Steamed Wild Fish with Black Garlic Served on Lotus Leaf | 荷香黑蒜蒸野生鱼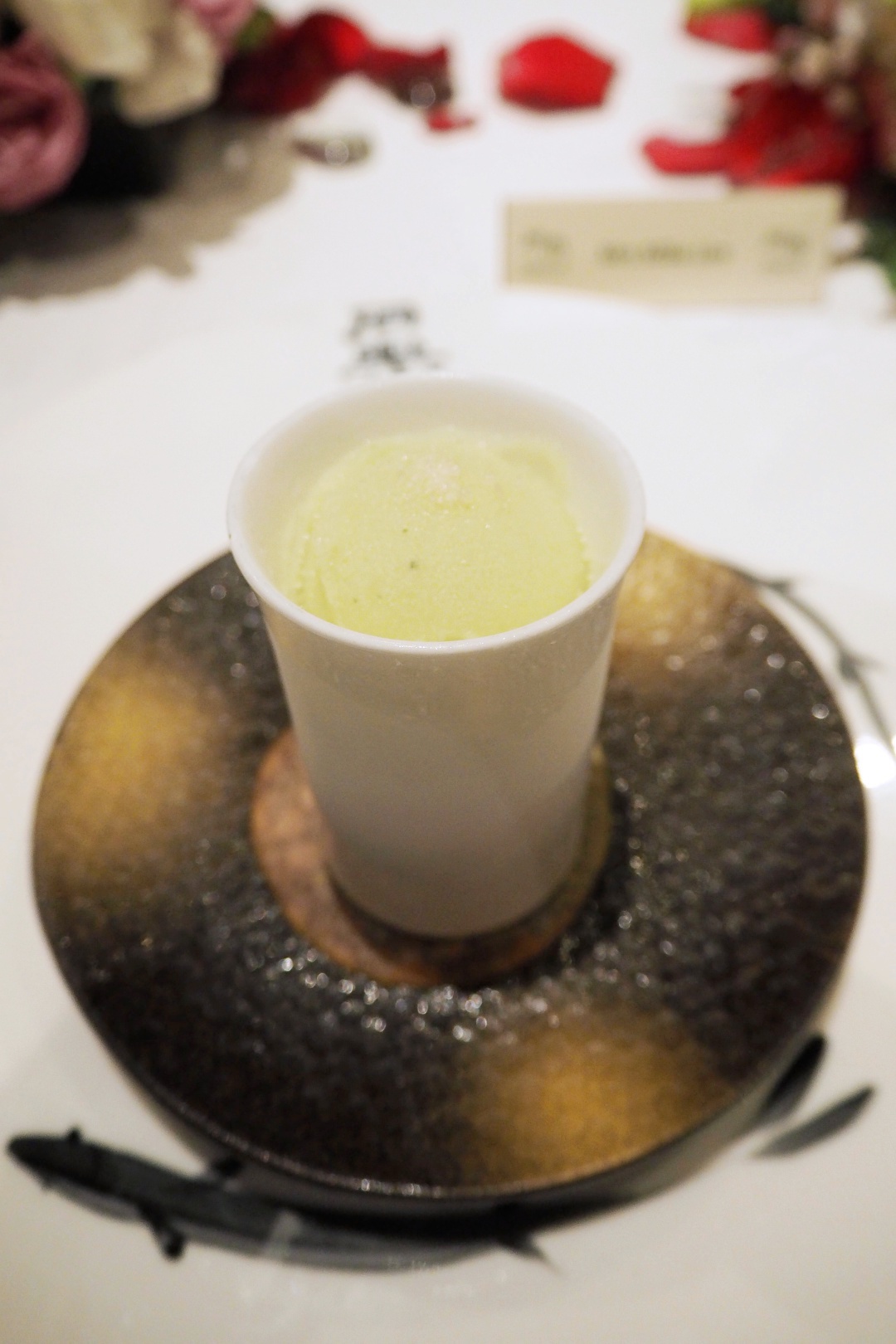 Chef's Homemade Sorbet | 特制冰冻索貝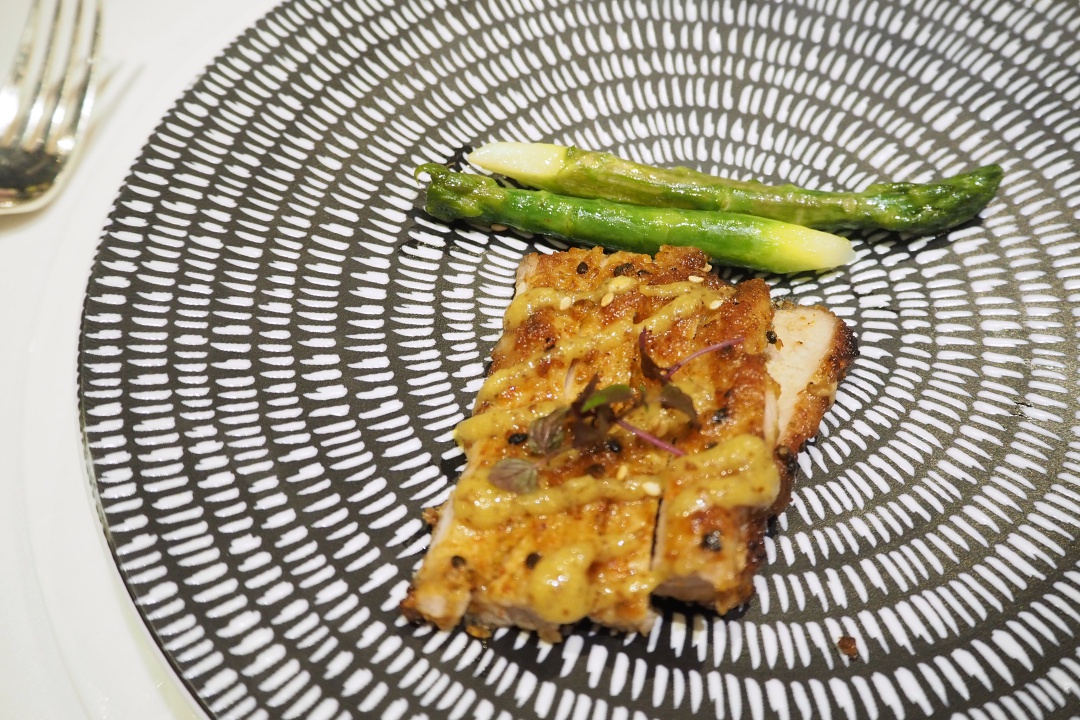 Salt-Grilled Shirobuta Pork Marinated in Togarashi Spice | 盐煎七味日本粉红猪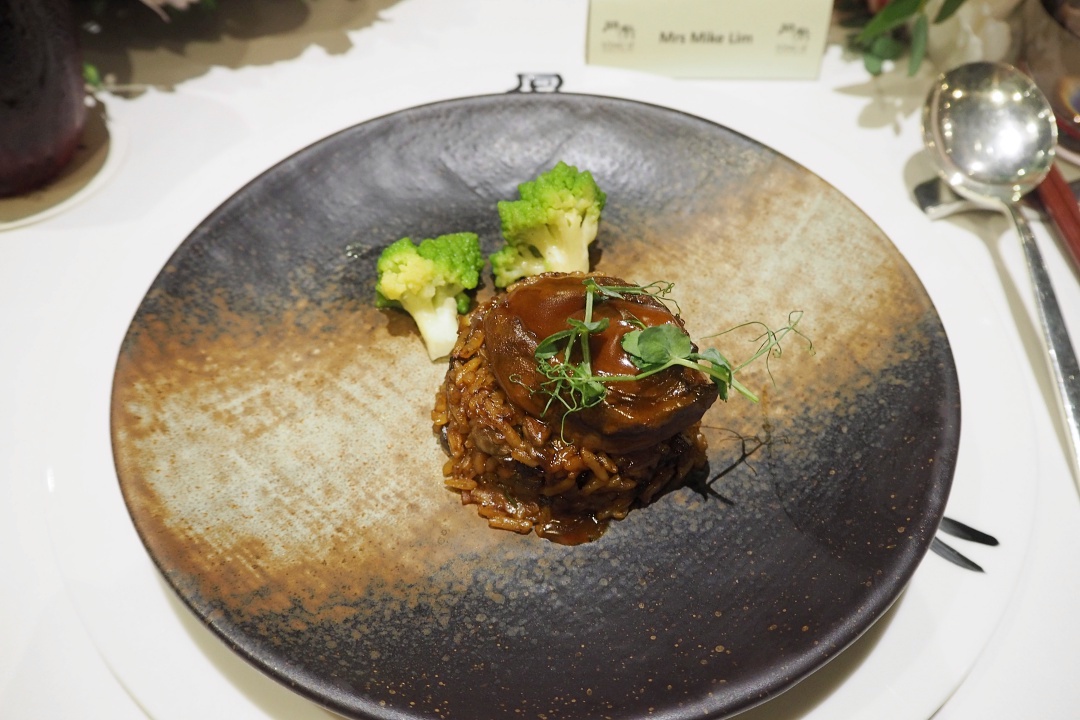 Braised Abalone Served with Stewed Sea Treasure and Diced Foie Gras Rice | 鲍鱼鹅肝粒海味焖饭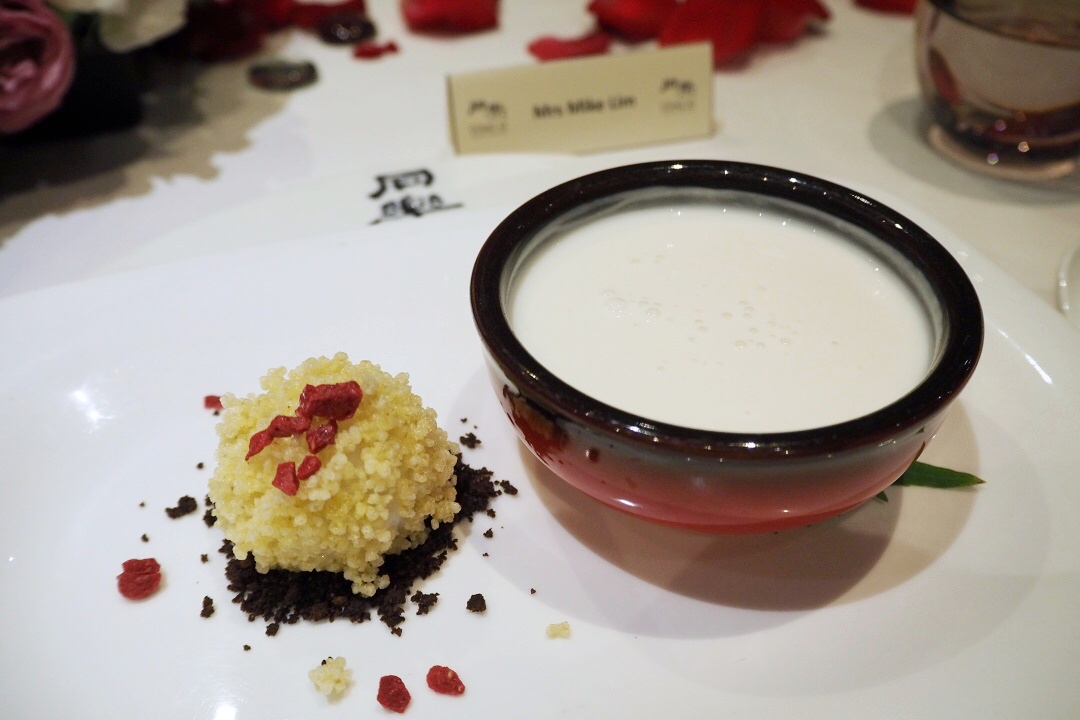 Freshly-grounded Almond Cream with Tang Yuan Coated in Crispy Rice | 生磨杏仁茶,脆皮汤圆
---
Every dish served was delicious and our guests were full of praises for the food. I honestly can't be more relieved to hear that. Food is really the way to the heart. To ensure your guests are happy, make sure the food is tasty.
Before they left, the Husband and I quickly went to slice up the cake and distribute them to all our guests. As expected, a 3kg cake was a tad too much, especially after a 7-course dinner. Fortunately, I purchased some clear containers in the morning so that they could at least bring the cake home.
Even though I find the 'earl grey' flavour lacking, I received praises for the cake. Really pleased that the cake wasn't overly sweet or hard.
To be honest, the cake didn't turn up as nice as I was hoping for. I thought the colour combination could be better; perhaps more vibrant? Also, the cake was missing the gold foil, that was shown in the original picture that I took reference from.
The same goes for my hand bouquet. I was honestly quite disappointed when I received it. Not that the flowers were unlovely, but they just didn't appear quite the same like the picture I sent and took reference from. The Husband also agrees that the bouquet I received doesn't resemble the one shown in the photo when I showed it to him and told him that was the bouquet I wanted. I asked my sister what she thinks of the flowers, and she thought they look alright. I'm glad that at least they appeared quite beautiful in pictures.
I suppose I was undoubtedly having a very high expectation for the cake and flowers. Especially after seeing how beautiful they look in pictures. However, I still stand by what I said in my email to Amber and MC that I trust them to come up with something beautiful. I still would like to say a big thank you to the two of them. It certainly wasn't easy to do what they do, and I have so much respect for them. I just hope that I would receive something I love the next time!
The last few who stayed back after the dinner was my family. My dad, mum, three sisters and brother-in-law. We ended up taking a ton of pictures and boomerang together. It was so much fun and such a nice ending to our night.
After they left, we settled the bill and received a teapot and teacups set from Tóng Lè as a wedding gift. We didn't know they would give us a present, so that was a surprise.
A big thank you to Ms Jun Shim for liaising with us for our solemnisation. She had been very polite, approachable and fast in response to our email. We are so glad to have chosen Tóng Lè Private Dining as the venue for our ROM ceremony and treating our guests to the delectable 7-course dinner. The food was indeed wonderful, and I'm looking forward to returning on our wedding anniversary. Honestly can't wait to dine there again!
Knowing how much I enjoyed the food, the Husband almost brought me there for my birthday last year. But I told him I would rather we return on our wedding anniversary instead. Let's hope we will revisit the restaurant in coming July!
For those looking for a venue to host their solemnisation, I highly recommend you consider Tóng Lè Private Dining, located at OUE Tower. The private room can accommodate 10 – 24 pax. The special ROM package is available with a minimum of 14 pax. You can drop me a message if you have any questions for me, or simply contact Tóng Lè directly! I'm sure they will be happy to assist you in planning for your celebration!
---
I'm glad that the entire ceremony went on smoothly and all our guests are satisfied with the food. The reason for inviting them is because they all meant a lot to us and we were so happy that they could make it and share our happiness. We kept the solemnisation to just our immediate family members, and we will be hosting a bigger banquet for our upcoming Chinese customary wedding. We already have the date fixed and only just confirmed the booking with the hotel. I can't wait to share more in time to come.
---
Venue: Tóng Lè Private Dining. OUE Tower Level 8 & 10, 60 Collyer Quay, Singapore 049322
Solemnizer: Dr Phua Tan Tee
Official Photographer: Alexcheous Cheng from Whitebear Wedding