Excited to be blogging about Bangkok! Till date, Bangkok remains as one of my favourite cities to visit for a short (or long) trip. I love the vibrant street life and how everyone is always seen hustling and working hard to earn a living. There is something beautiful about it, and it just pulls me in every single time. Of course, food and shopping are always great, and that makes me love the city even more.
After the Husband and I came back from our Bali trip at the end of April, I didn't plan on travelling overseas; especially since we were supposed to focus on renovating the house, and planning for our wedding. But we eventually managed to squeeze in an impromptu trip in August, just two months before the wedding.
The Husband was yearning to go on holiday. I was too, though not as much as he did. We were considering between Japan and Bangkok, and we eventually decided on Bangkok, as we figured he could use the opportunity to tailor-make suits for the wedding. Looking at how close it was to our wedding, I certainly didn't want a long holiday. But considering the time needed for fitting and making of the suits, we eventually decided on a ten days trip.
We decided to head there on 10th August, right after National Day. We had only just started our renovation right about then so it was quite a risk to leave everything to our contractor and went on a trip. But we decided to put our trust in the contractor, seeing how he had worked on both my parents and my sister homes.
---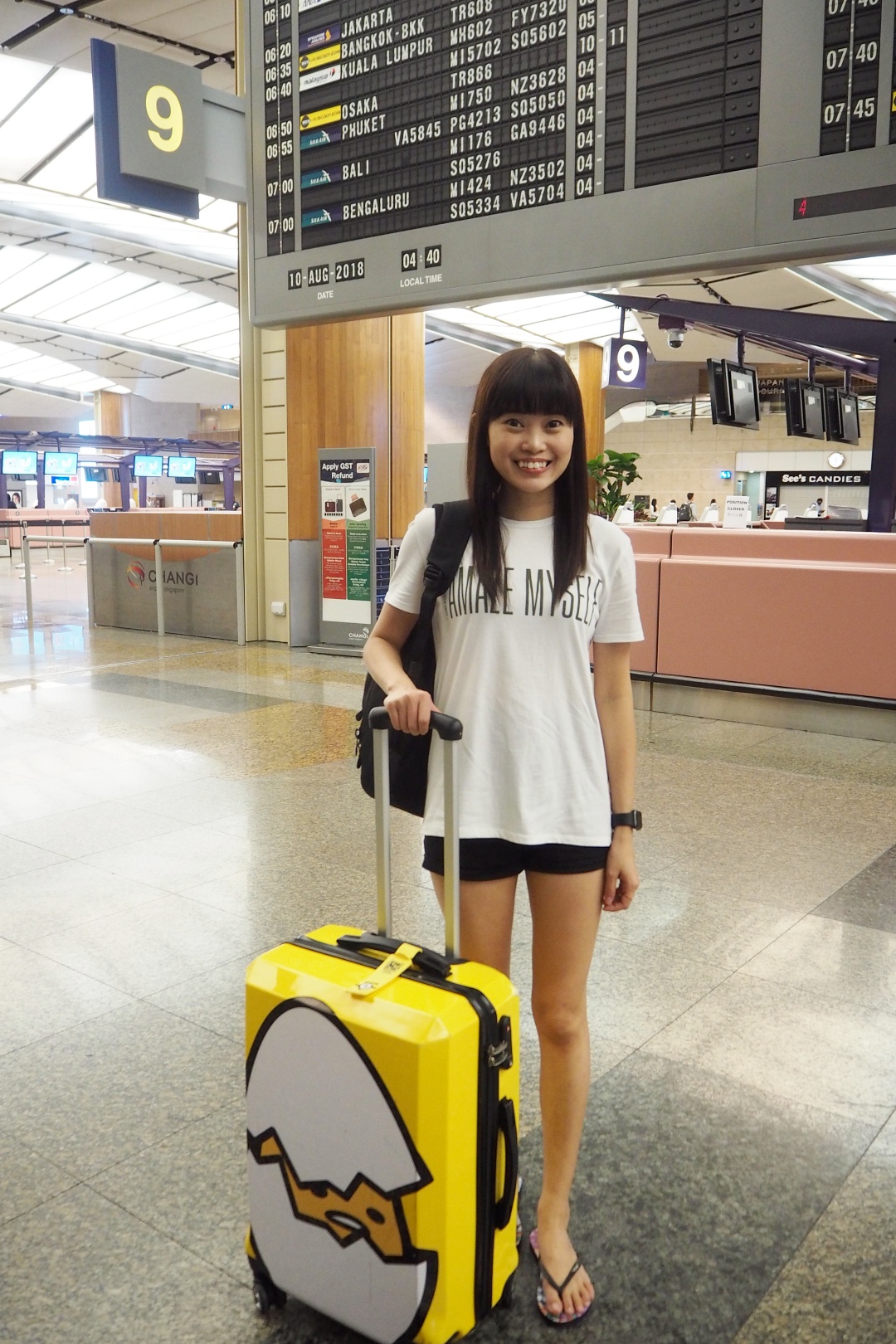 All ready and excited for our flight to Bangkok with my Gudetama suitcase!
Our flight was at 08:25 and we were expected to reach Bangkok at 09:50.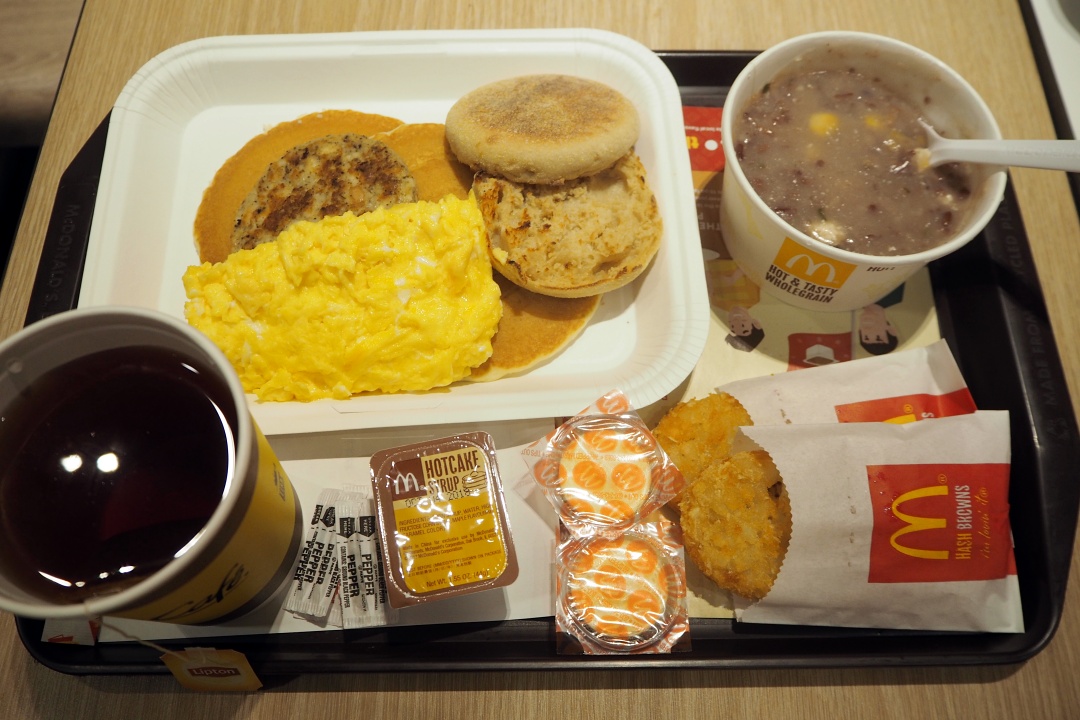 Seeing that we were taking Scoot this time and there won't be any meal served on board, we decided to go for breakfast at McDonald's before boarding.
---
Don Mueang International Airport
Can't remember if it was the first or second time we've landed at Don Mueang International Airport. Most of the time, we would arrive at Suvarnabhumi Airport instead.
First thing first, to get our 4G data SIM card from the airport upon arrival. This is always our top priority, as it allows us to text and work on the go, and booking of Grab rides when needed.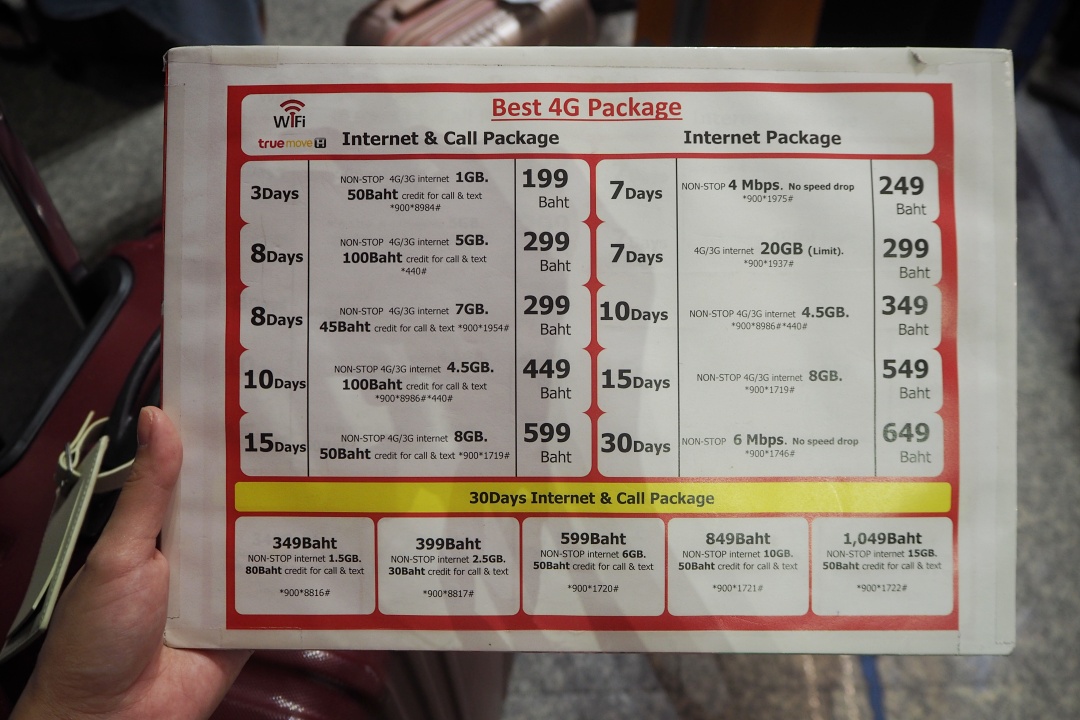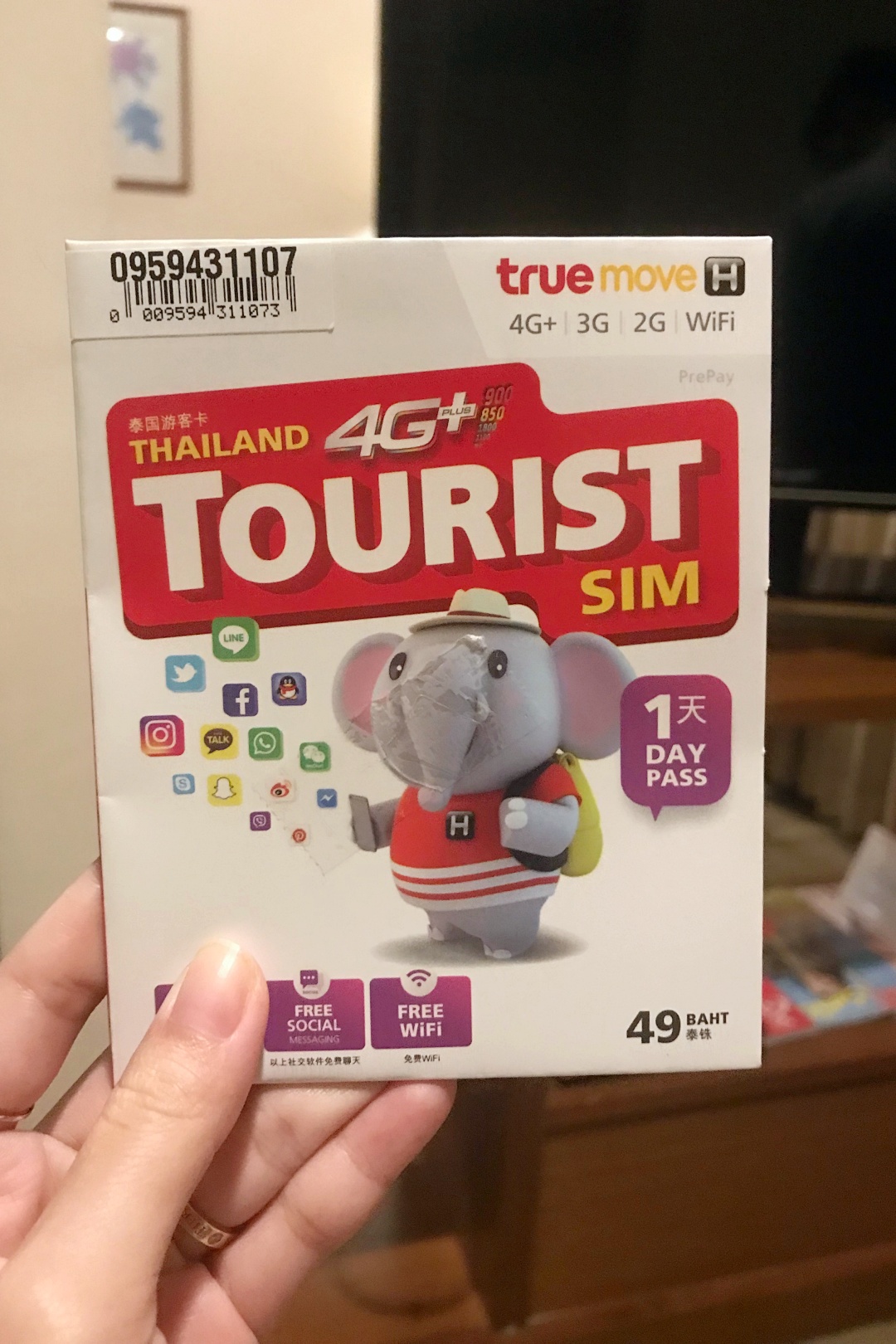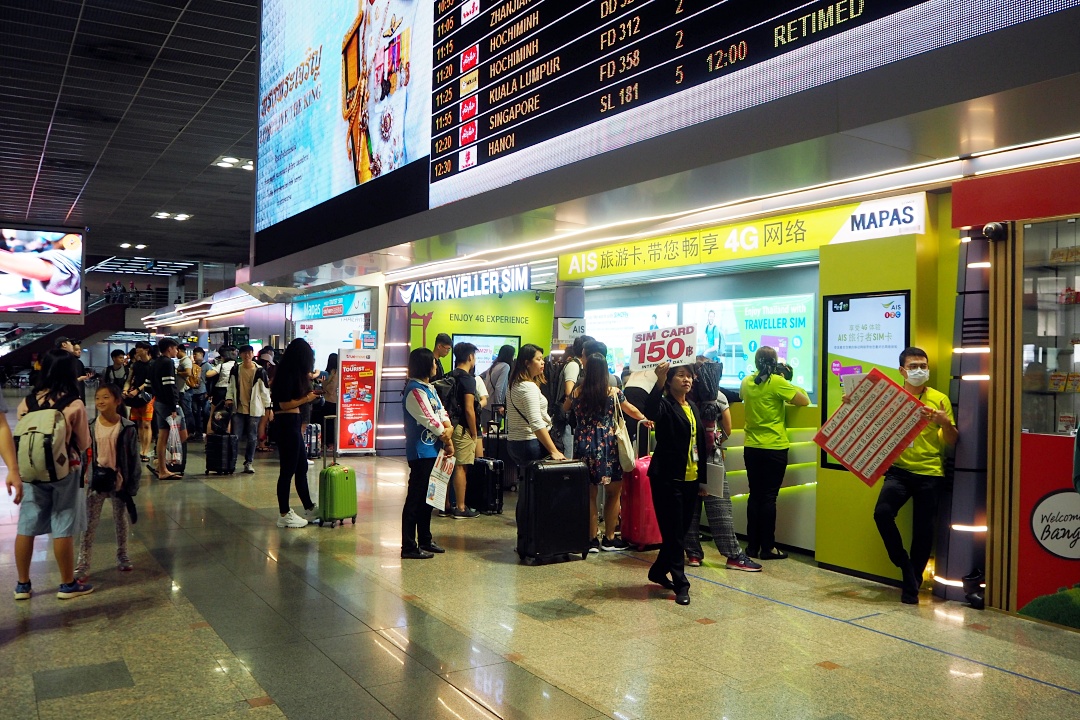 Aside from True Move, there were also many other telco brands that offer 4G data plan. I believe prices were either the same or comparable.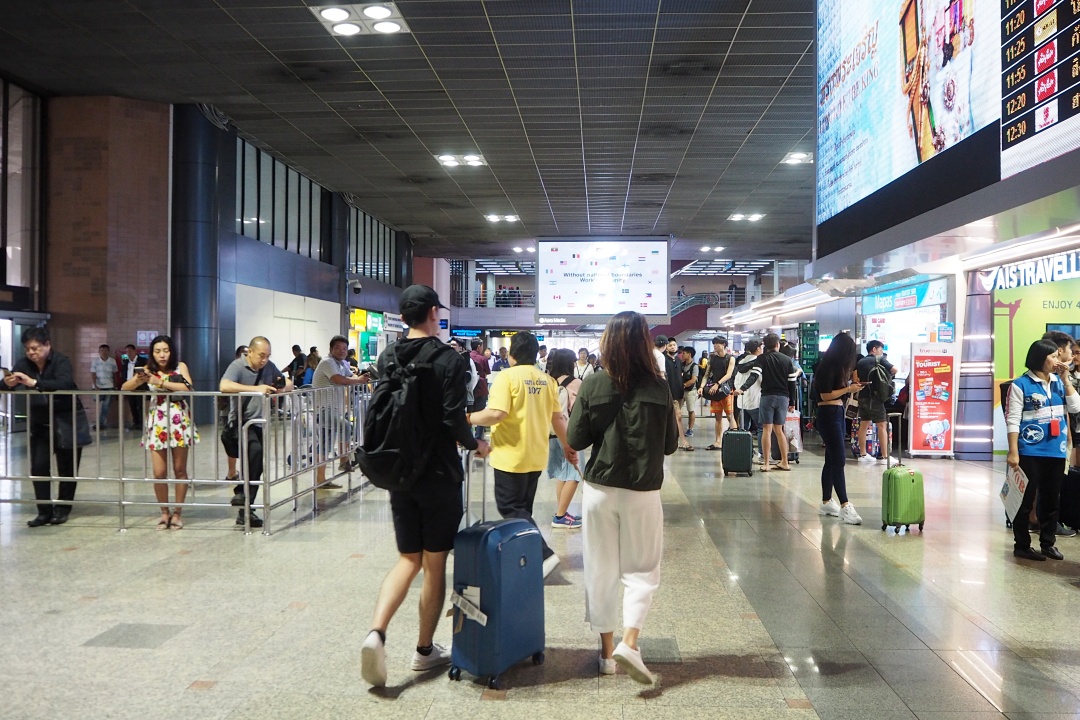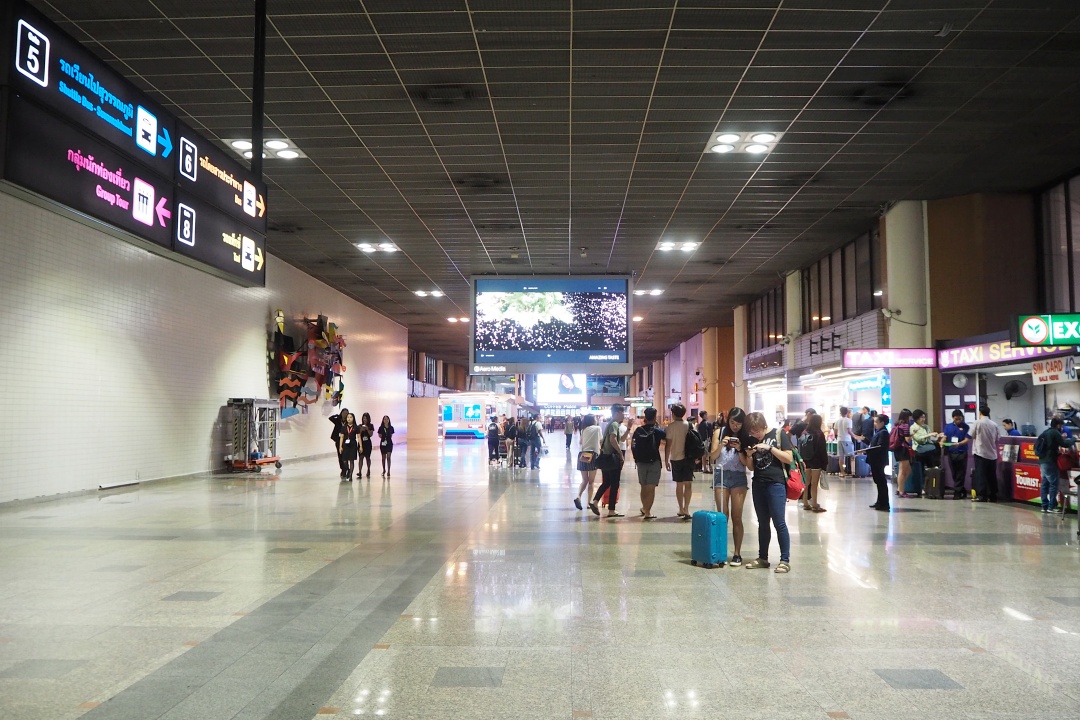 Went over to 7-11 to check out the food…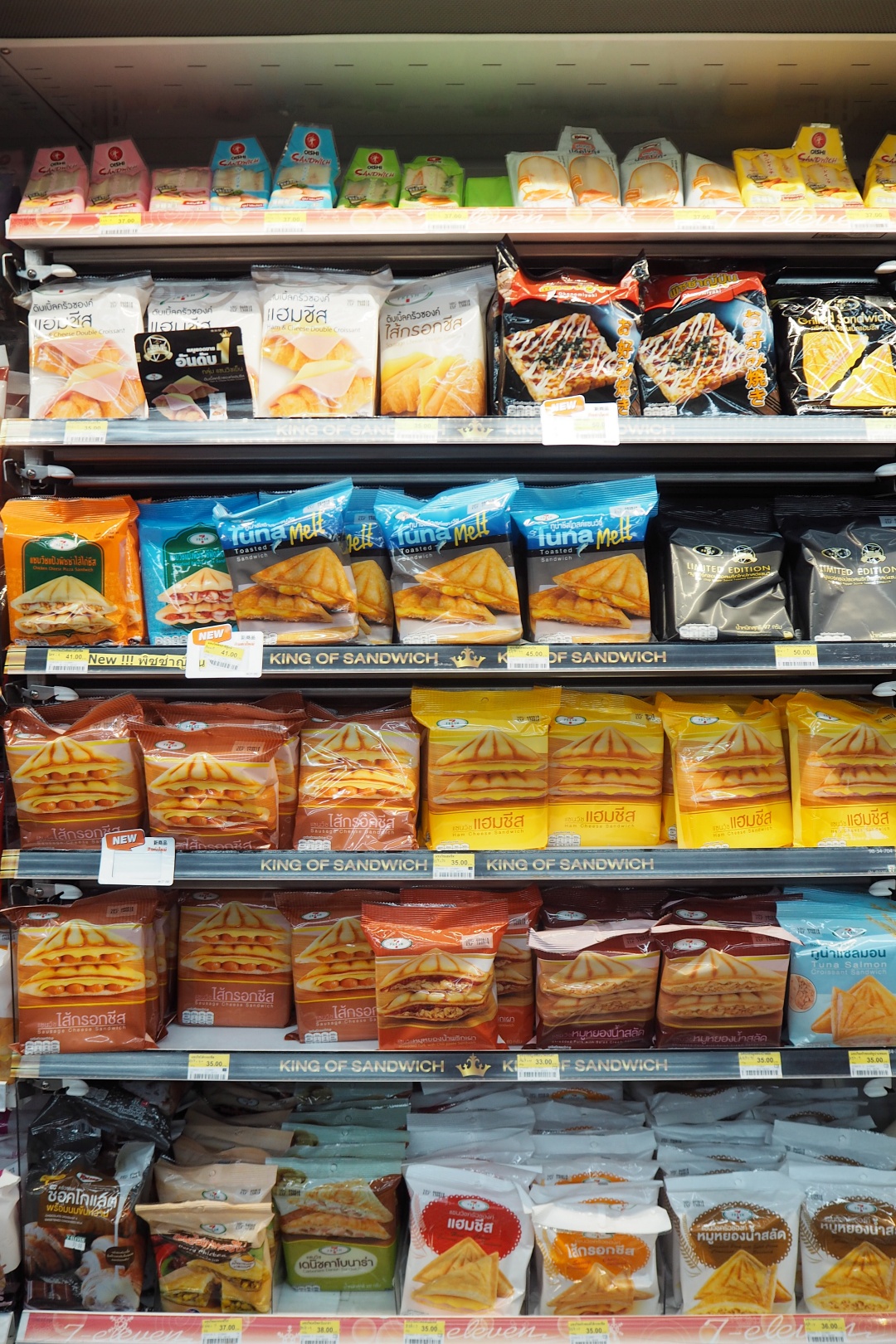 Always a pleasant sight to see all these microwaveable sandwiches.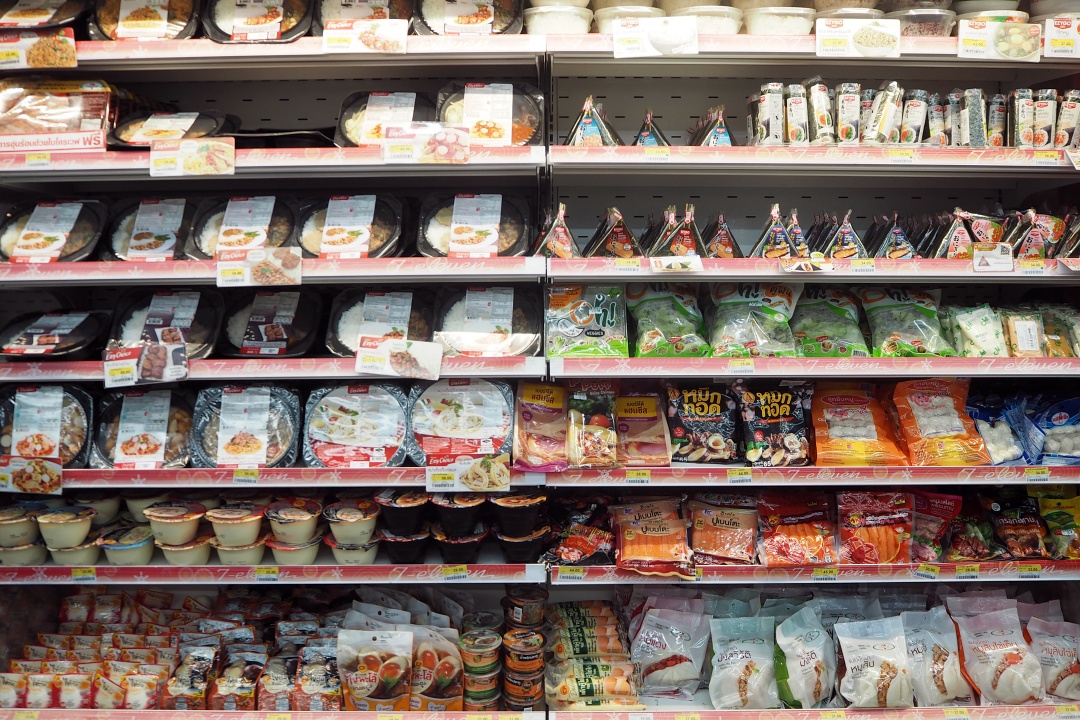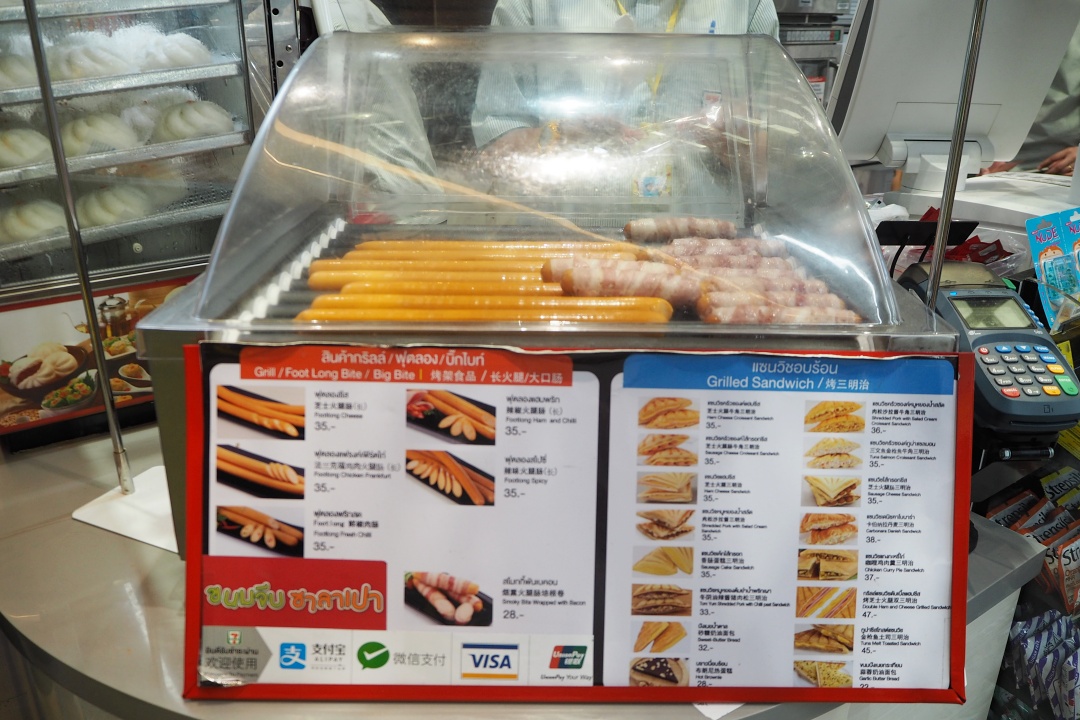 Got some cheese sausages to munch on, before we went out to board our Grab to the hotel. For this trip, we stayed at two hotels – first at Centara Grand at CentralWorld, before moving over to Grand Diamond Suites Hotel.
Located right above CentralWorld shopping mall, Centara Grand at Centralworld was a fairly popular accommodation for those looking at staying near the Pratunam area. We've known this hotel for quite a while but had never considered staying there up until this trip.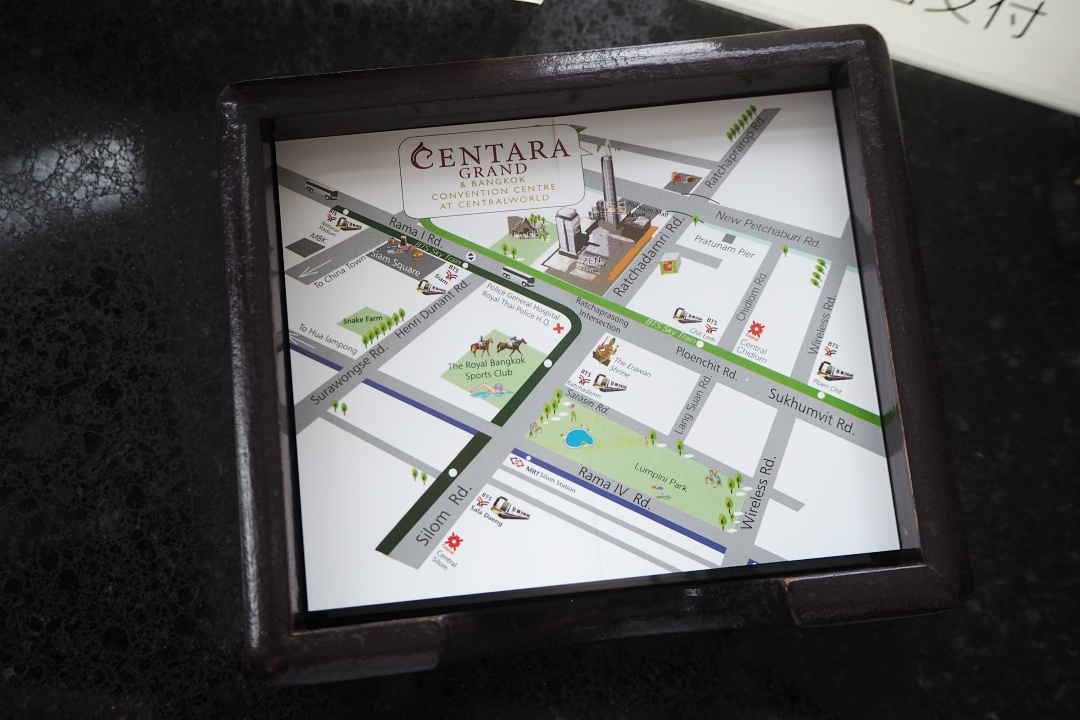 We reached the hotel at 11:00 despite knowing that the official check-in time was after 15:00. And as expected, we weren't able to check in to our room yet, so we decided to leave our luggage with them and head over to CentralWorld.
One of the main advantages of staying at Centara Grand at CentralWorld is the proximity to the shopping mall. There are direct lifts that take us from the Bangkok Convention Centre (situated next to the hotel lobby) to level 7 of CentralWorld.
CentralWorld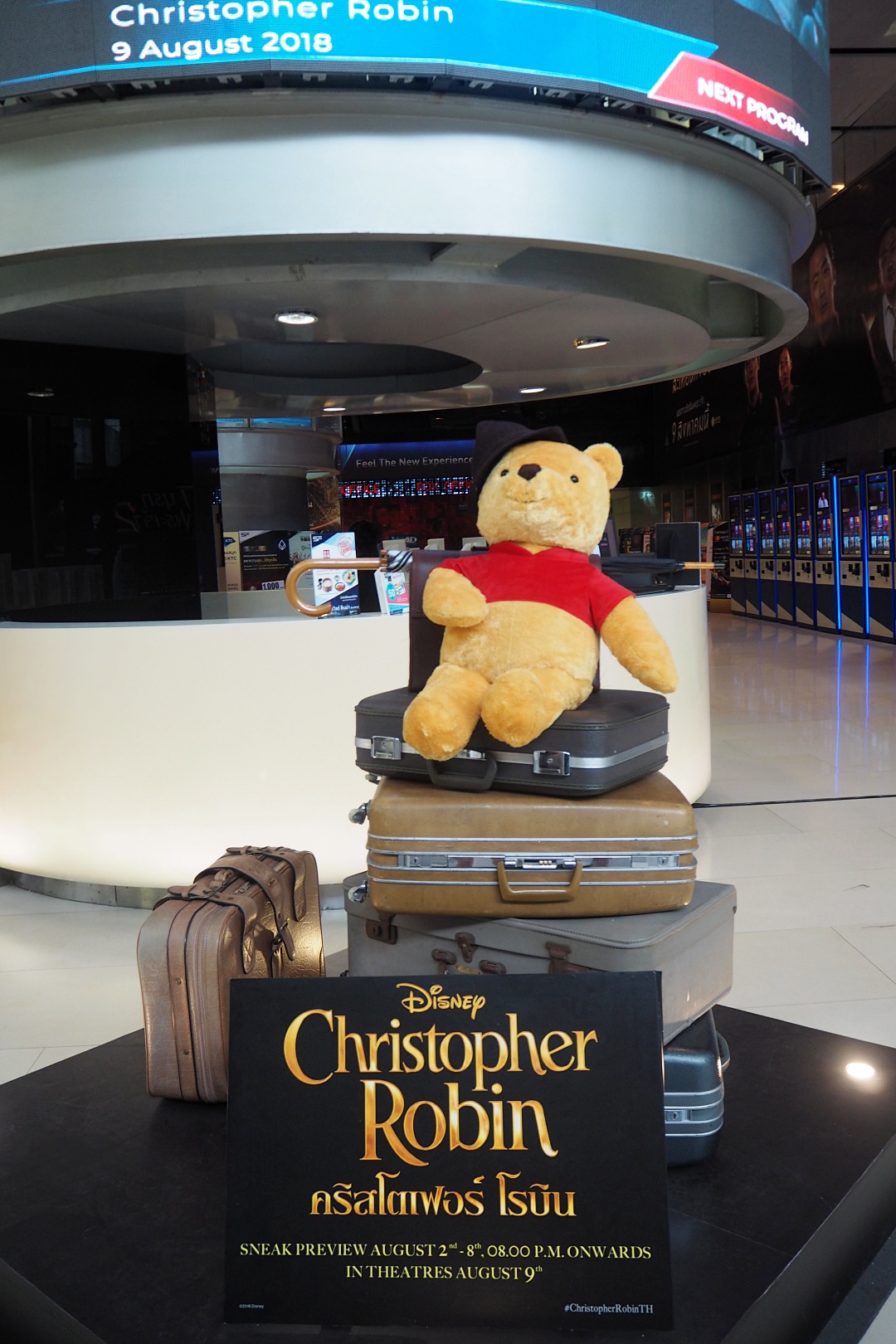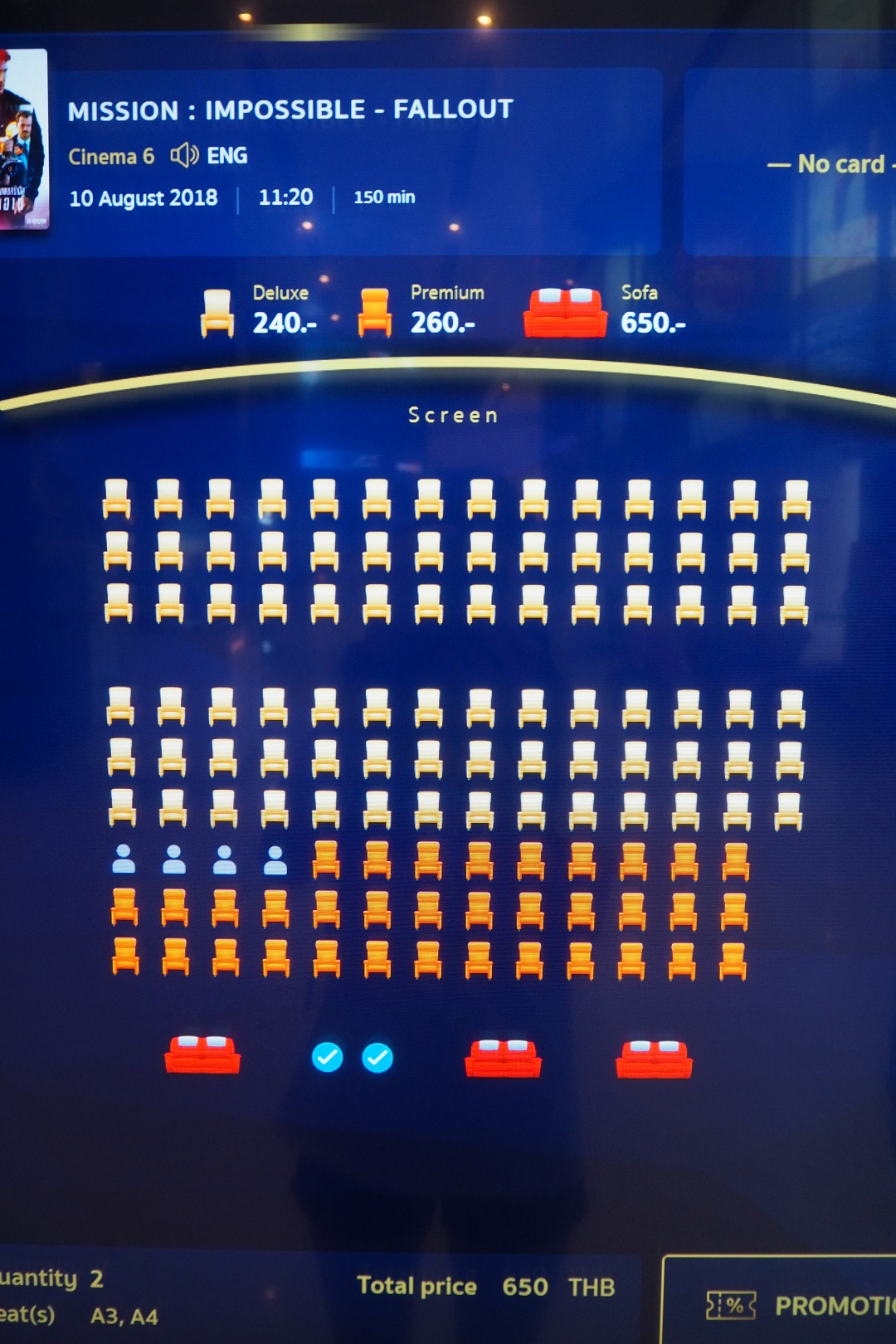 Went to check out the on-going films that were showing at the cinema. Ticket price seem comparable to Singapore. But we eventually decided to give it a miss and just hang around the mall until it was time to head up to our hotel room. Guess we overestimated the time needed to walk through the mall because by 13:00, we were way to bore and tired to continue walking.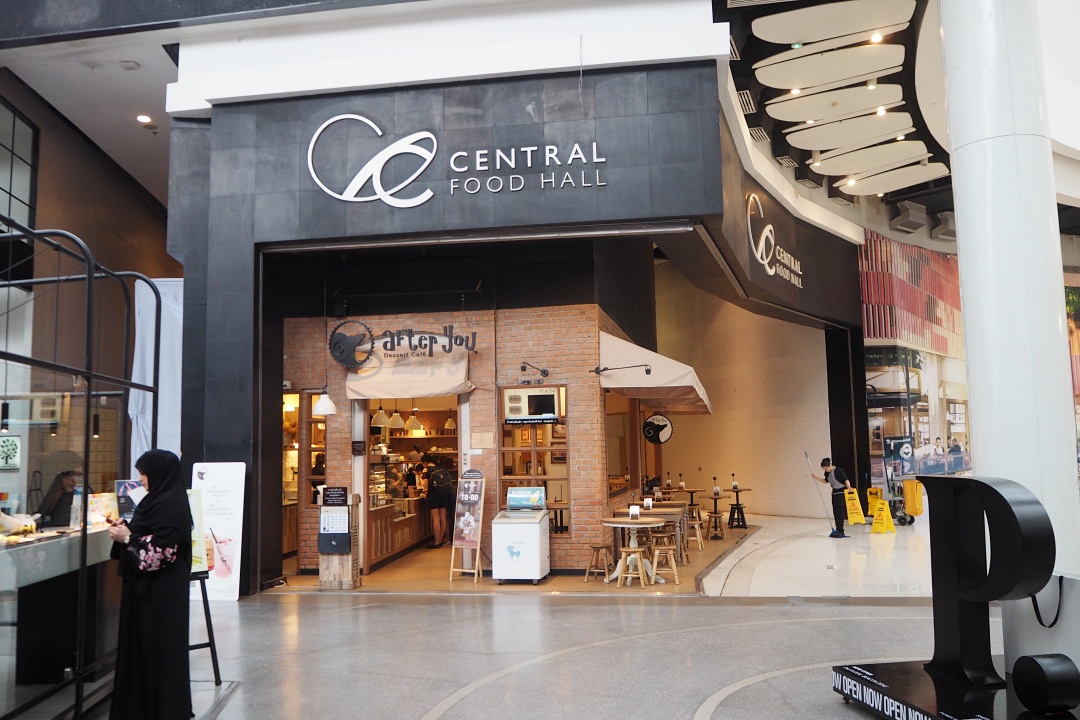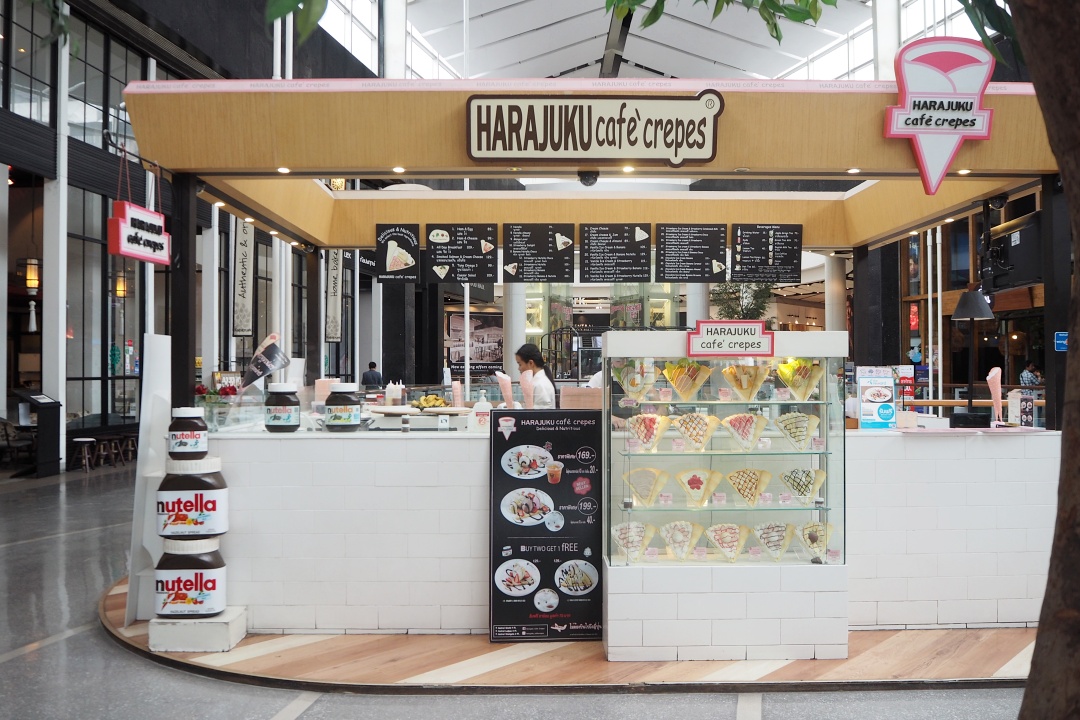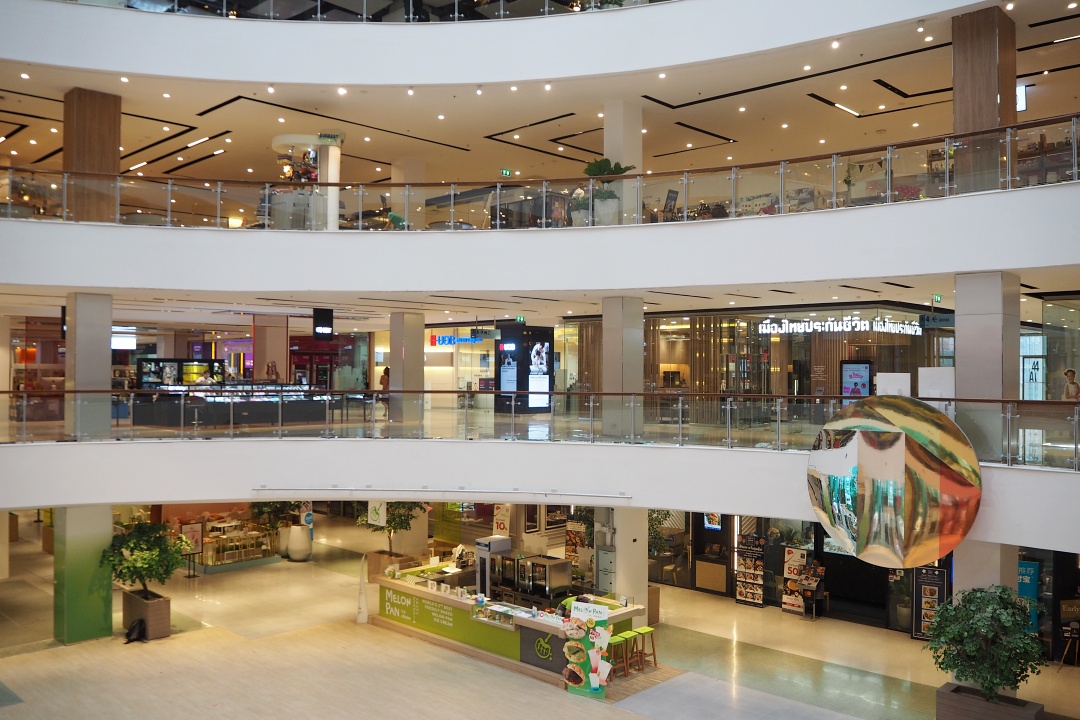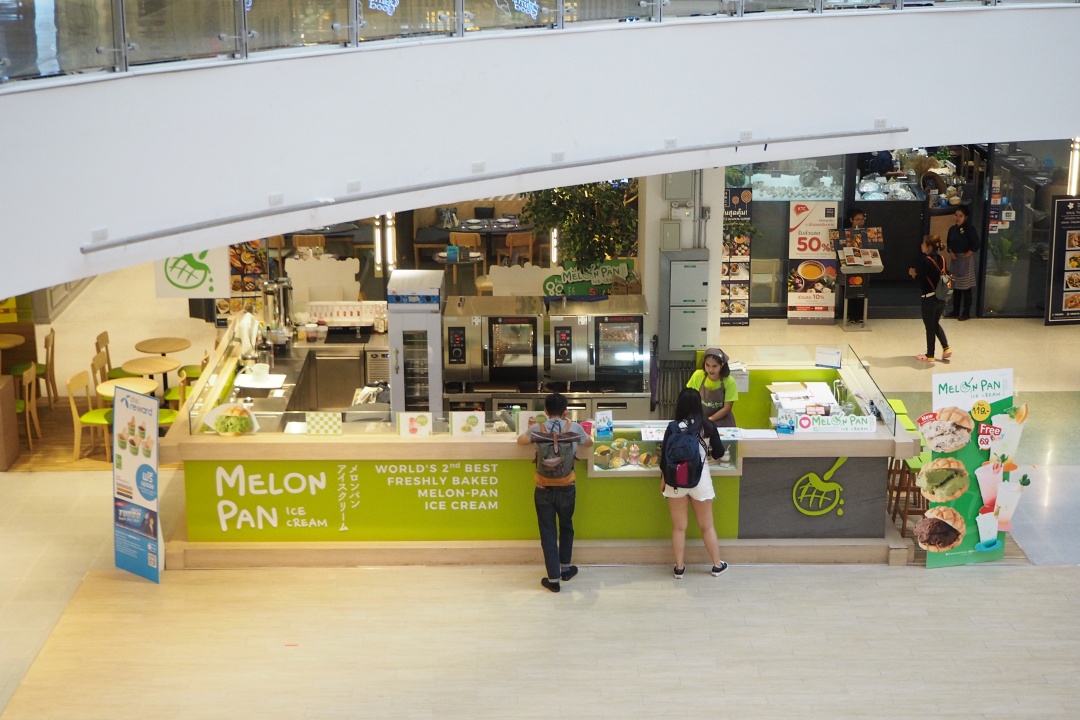 Have to say, there was quite a good selection of cafes for coffee and desserts at CentralWorld.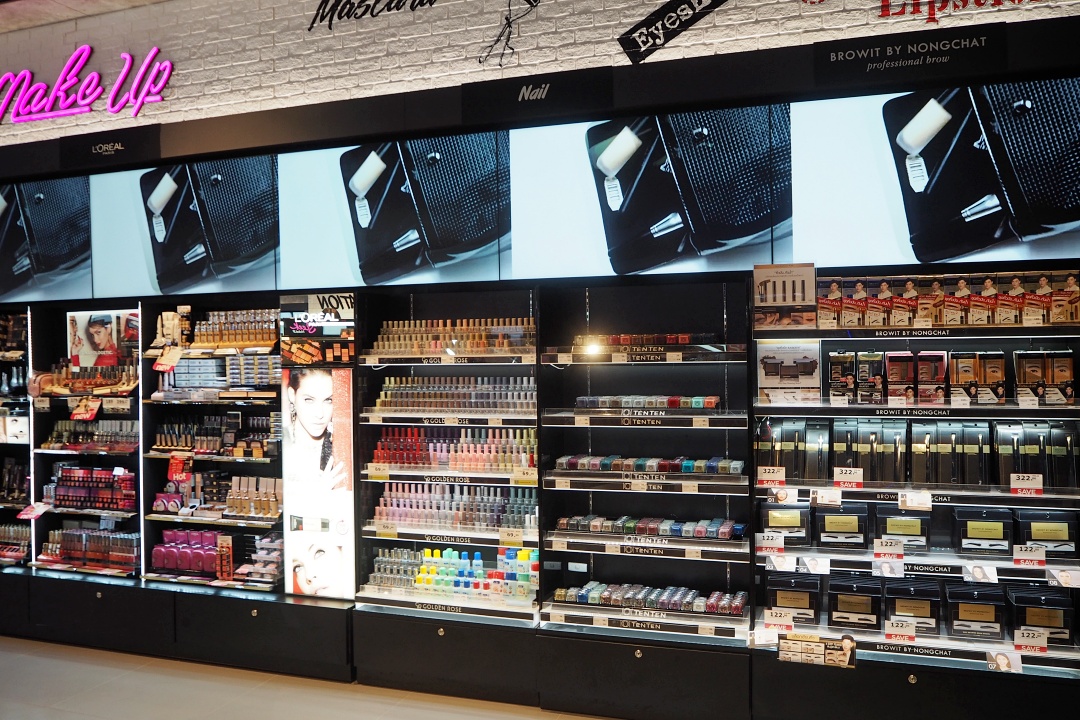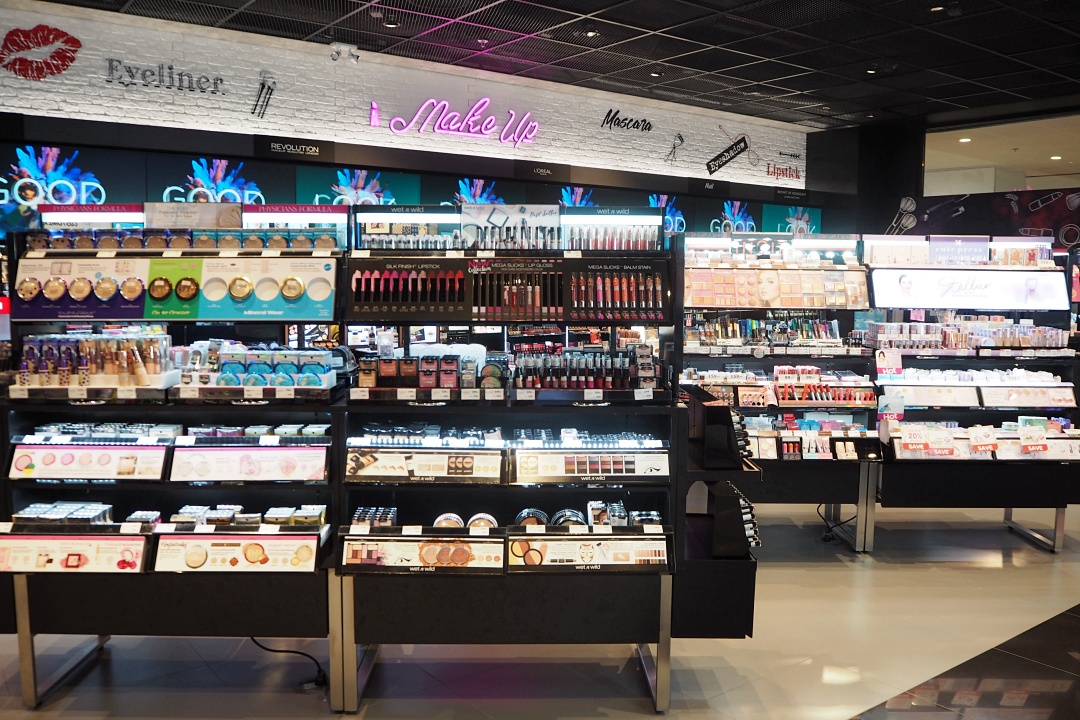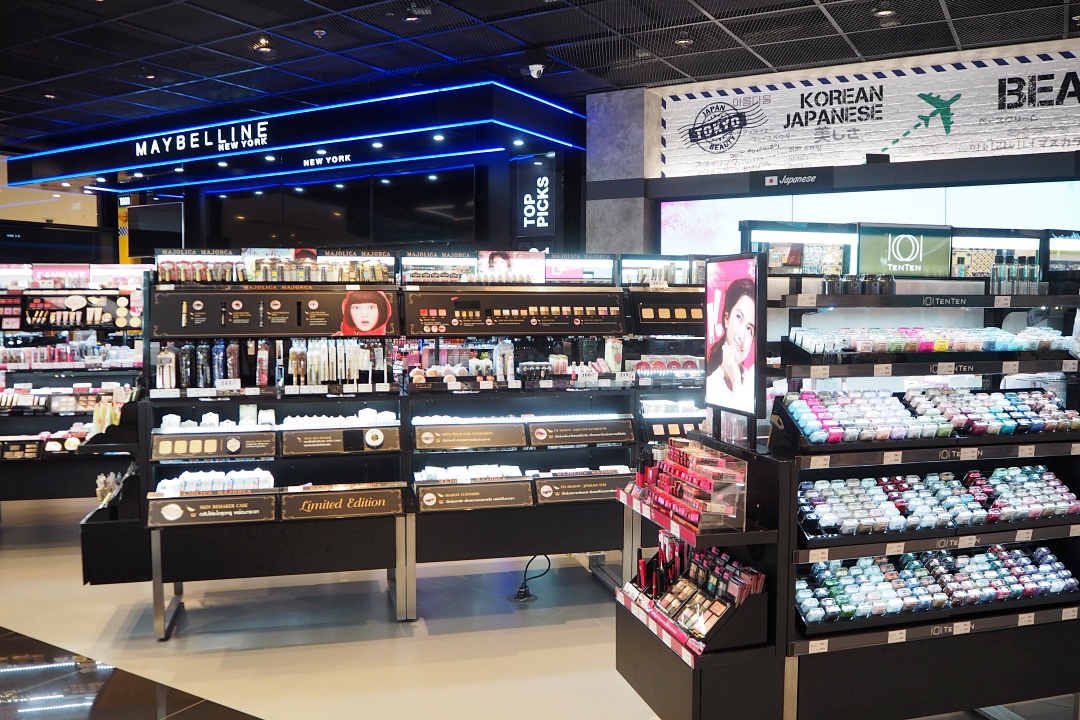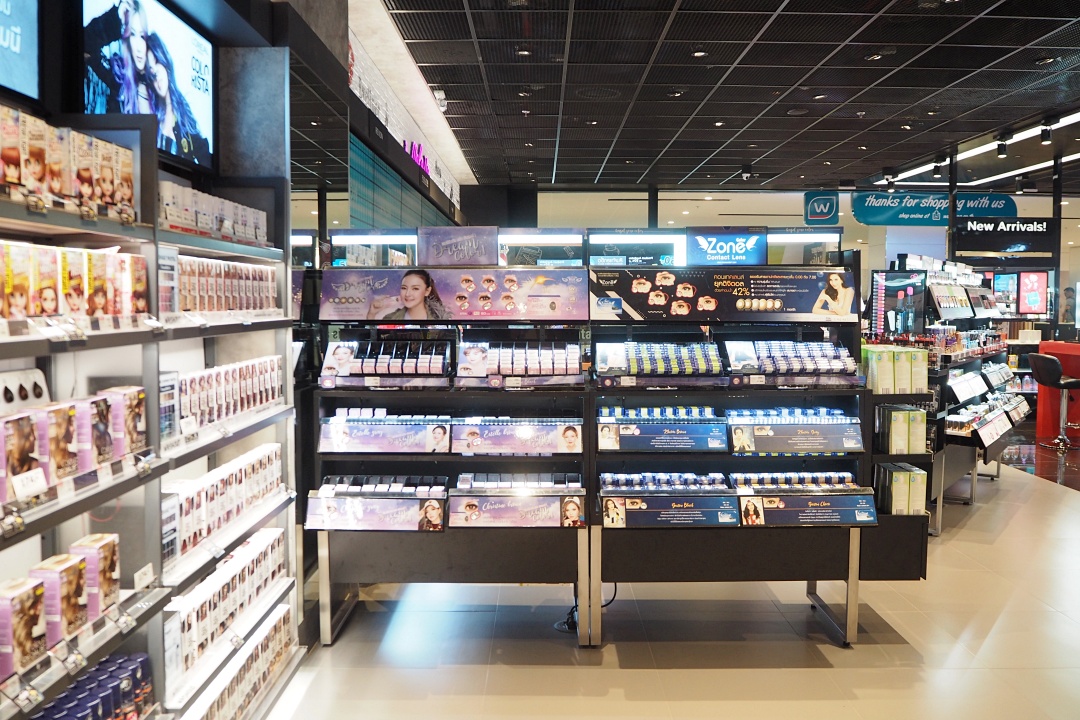 There was a sizable Watsons at CentralWorld, and it was chock-full of make-up and beauty products.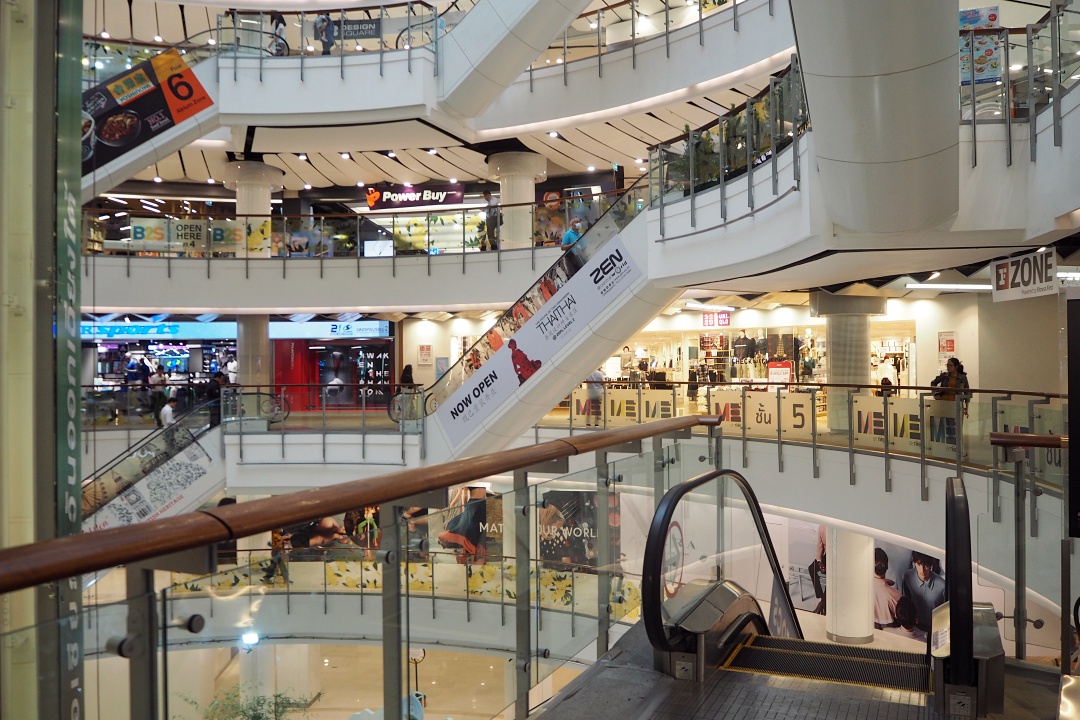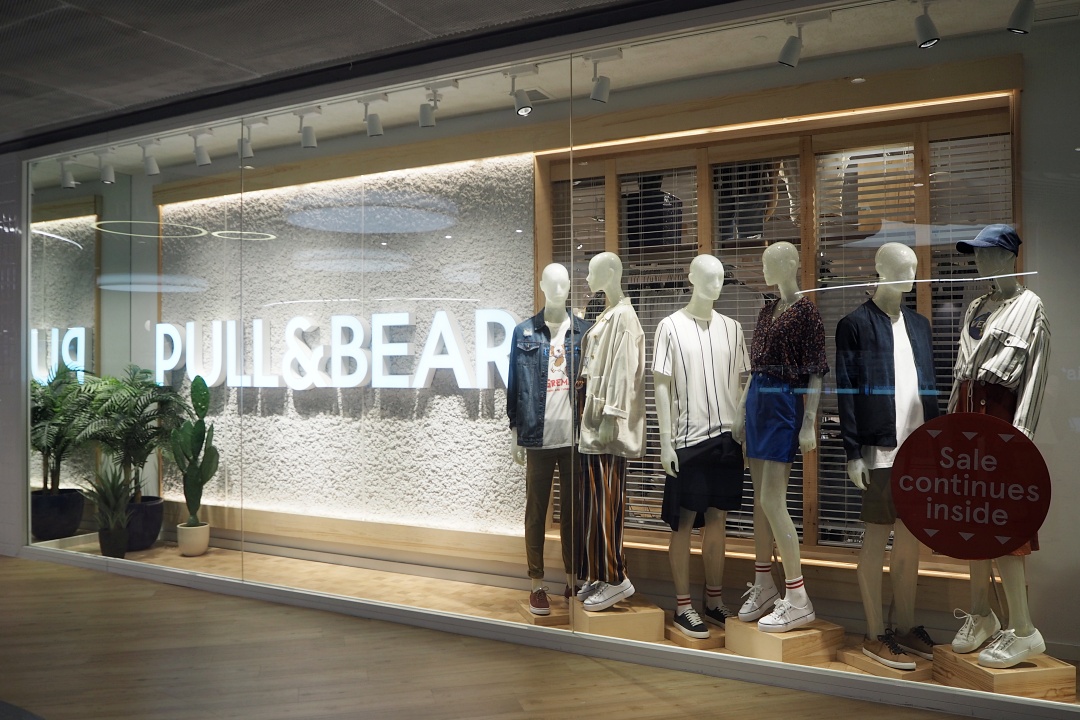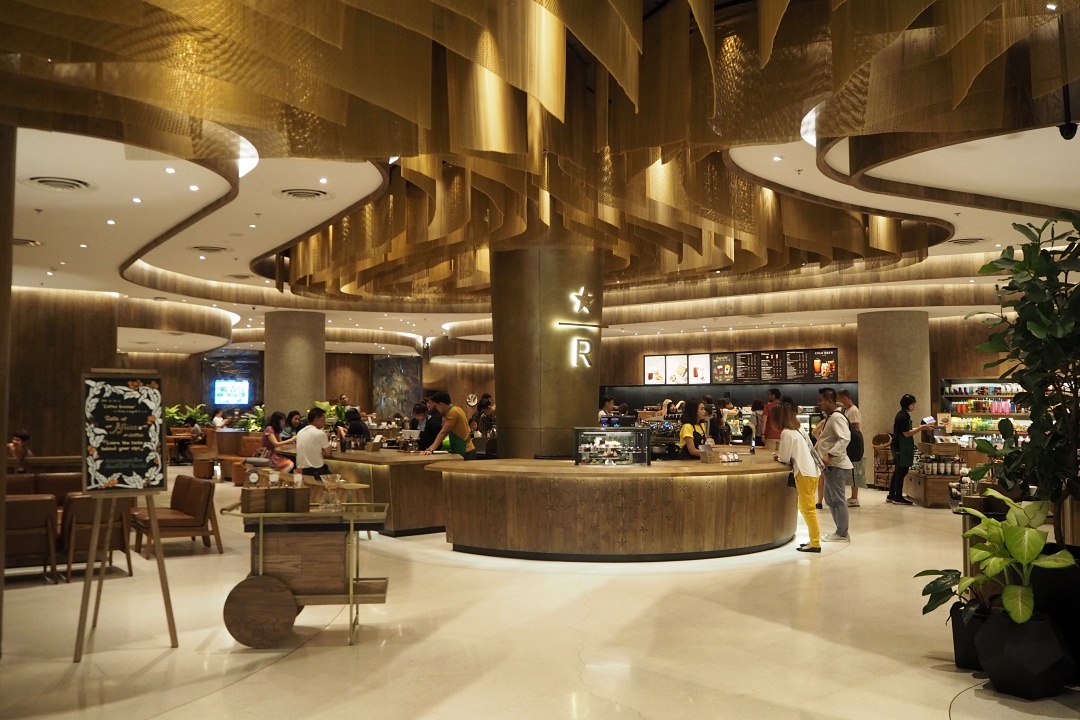 Spotted a beautiful Starbucks.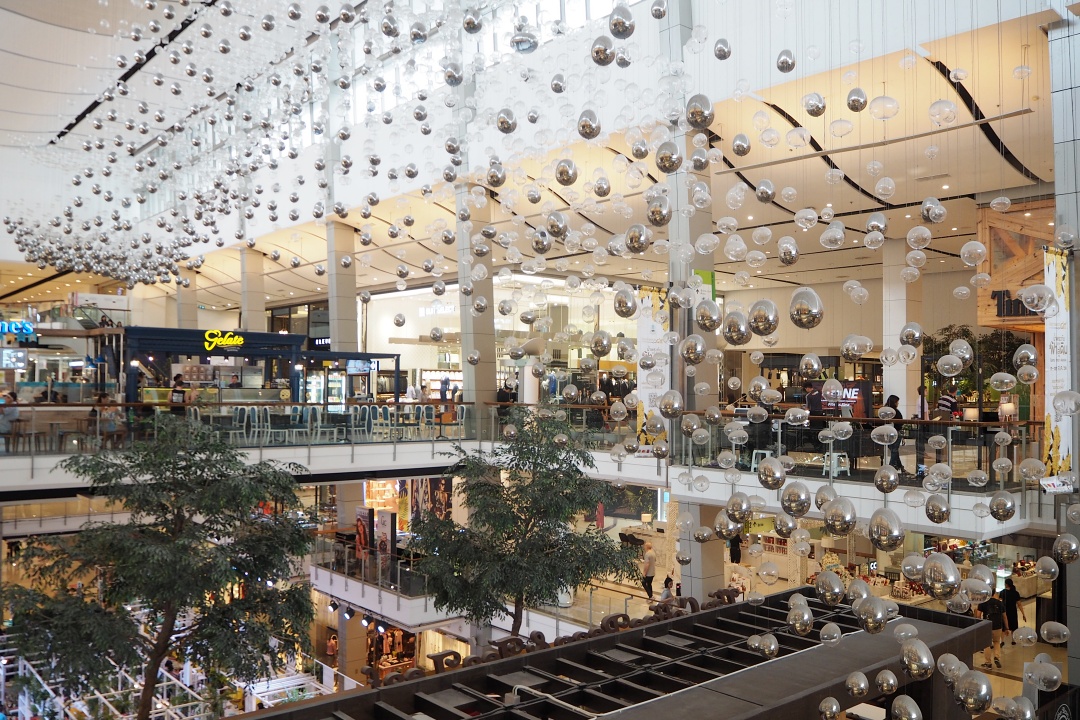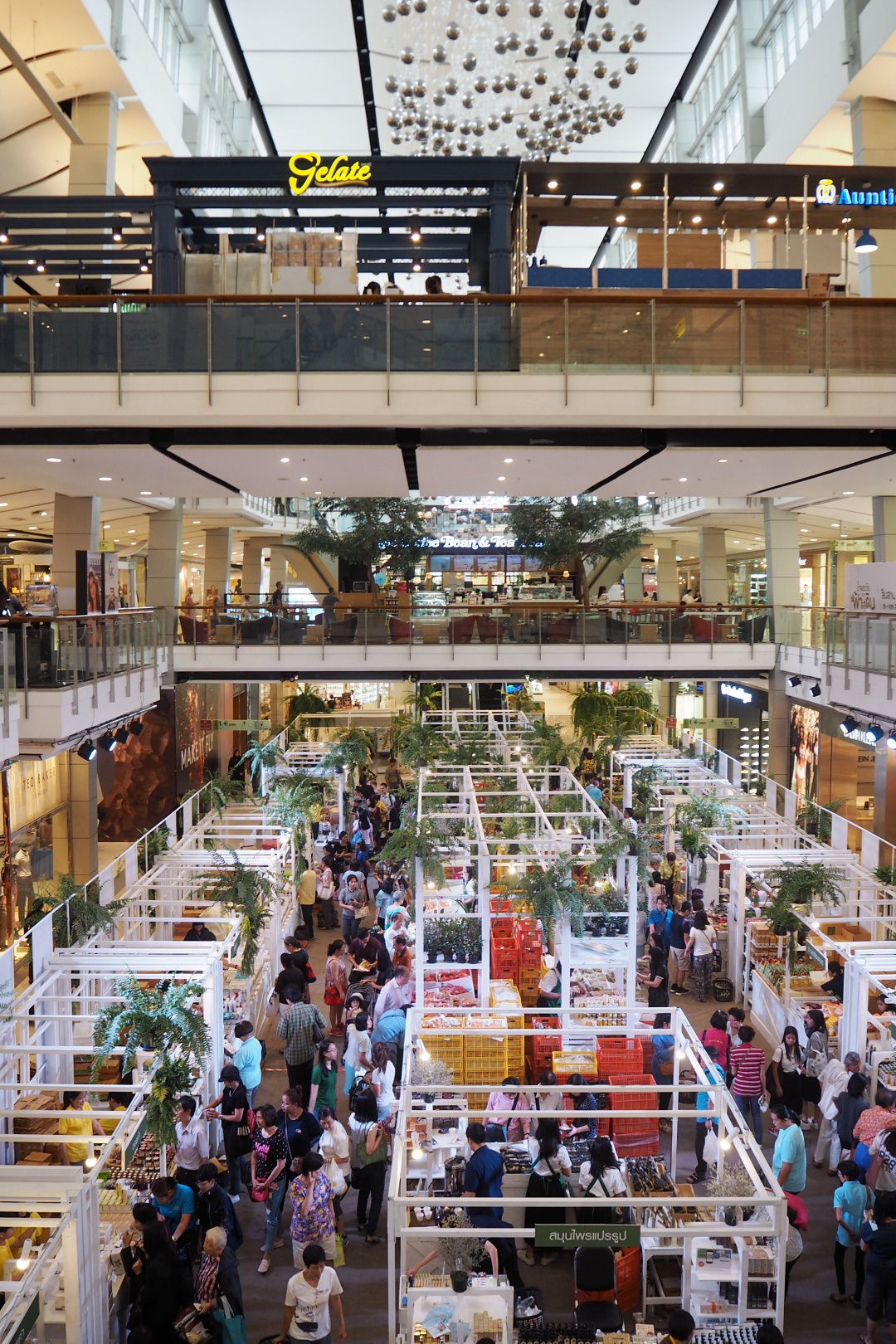 By 13:15, all we wanted was to sit down and rest, so I suggest we went to YenlyYours Dessert to get drinks.
I've passed by the stall a couple of times, and their mango desserts had always tempted me. Finally got the chance to try it that day and it was as good as I've imagined.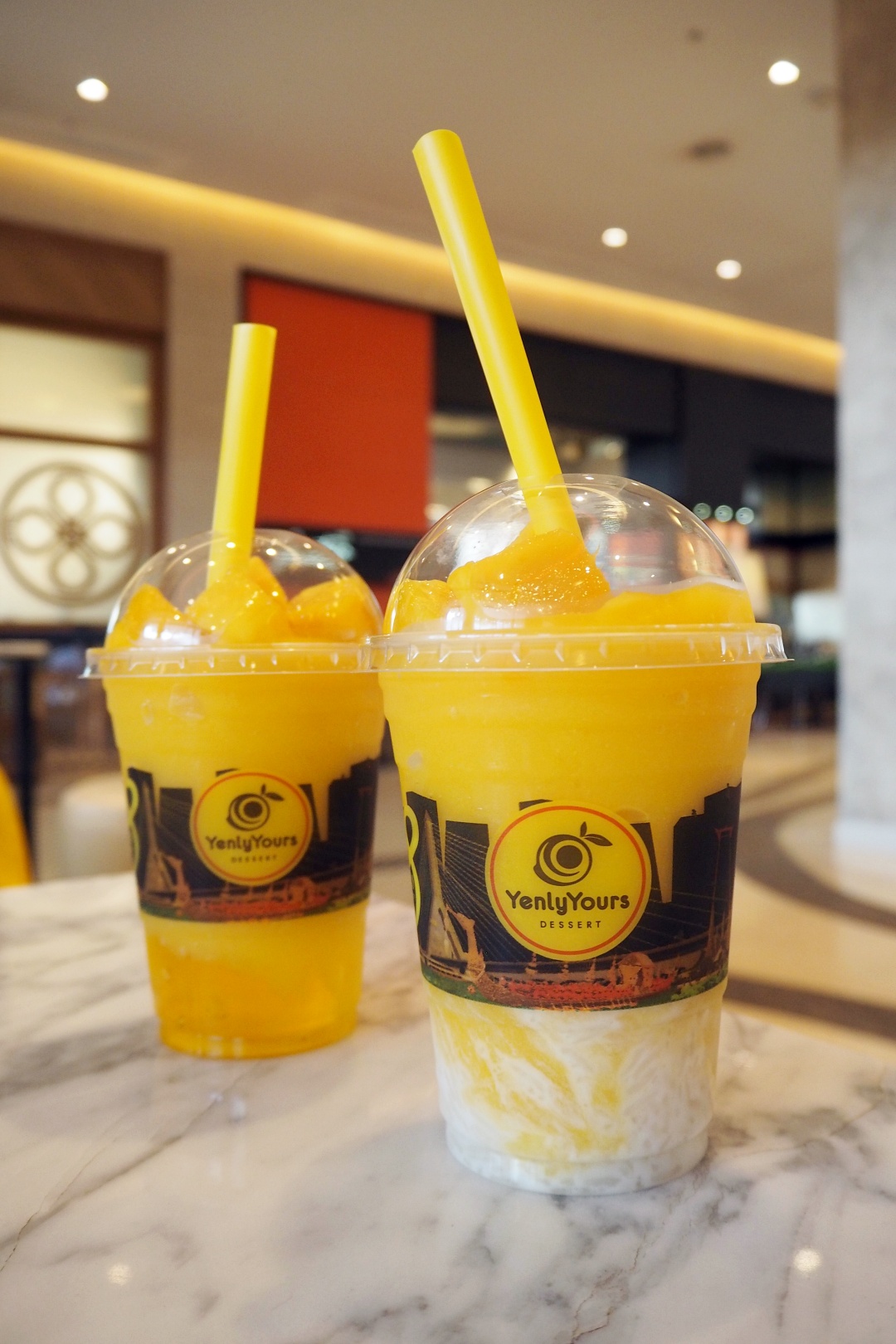 I ordered the one with sticky rice as it appears to be the most interesting choice for me. It was exactly like having mango sticky rice except now it comes in a drink form. So good!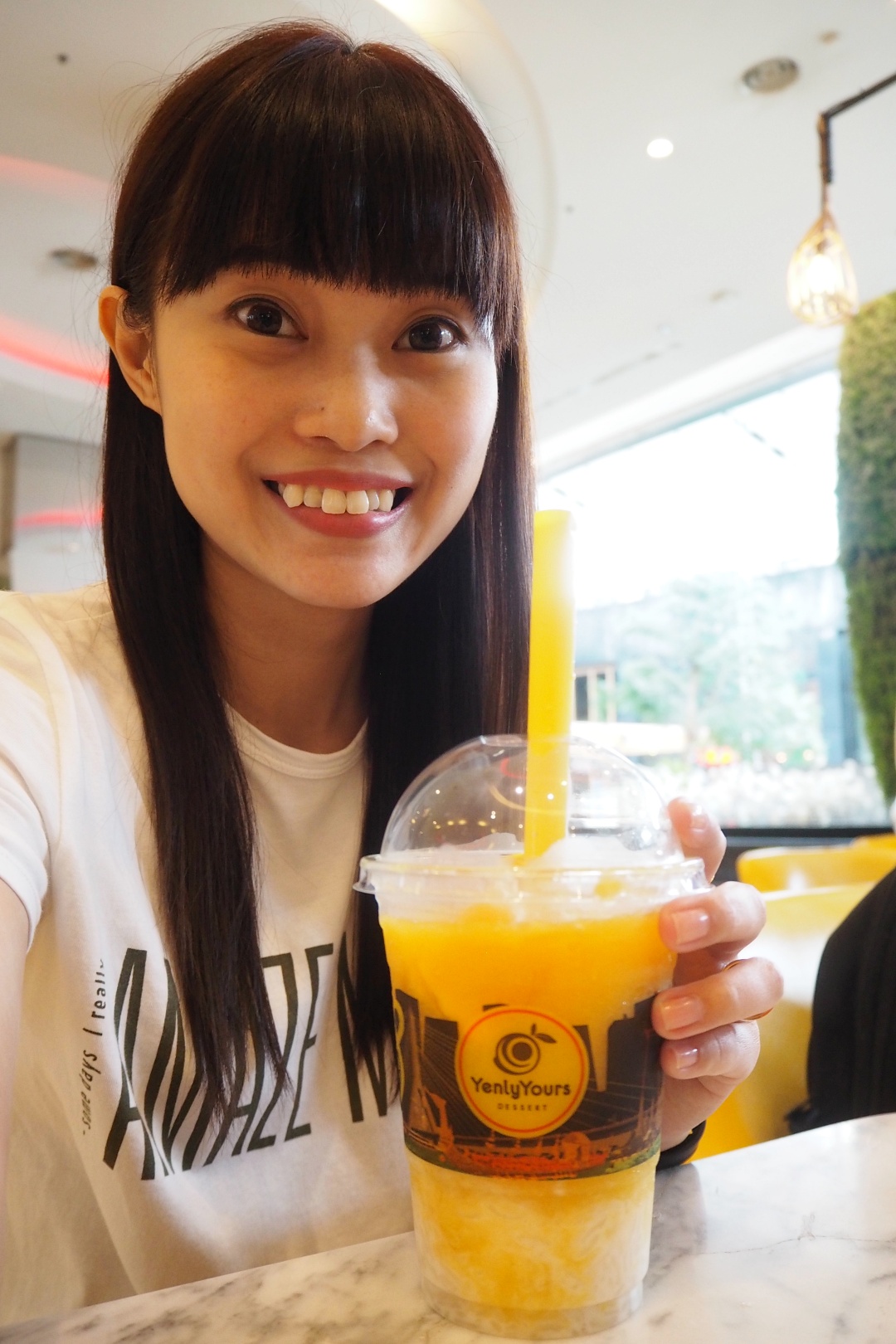 By 14:00, we really couldn't take it and decided to head up to the lobby and try our luck to see if our room was ready. It was. Got our room card and immediately headed upstairs.
Centara Grand at CentralWorld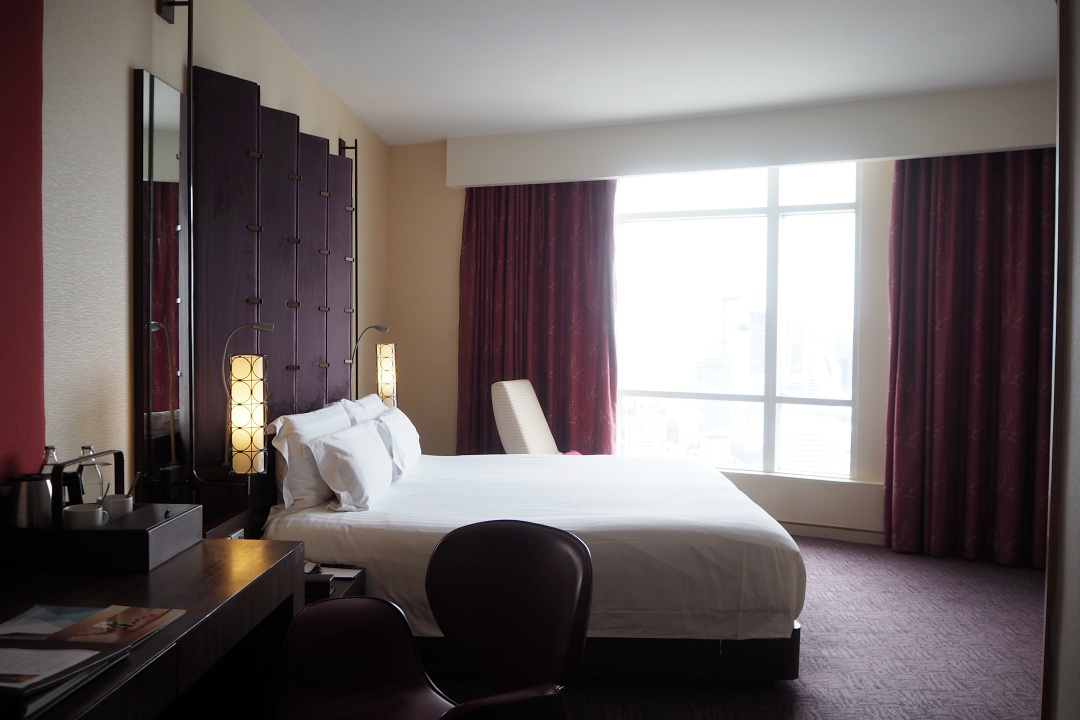 The room we got was the Deluxe World with King Bed.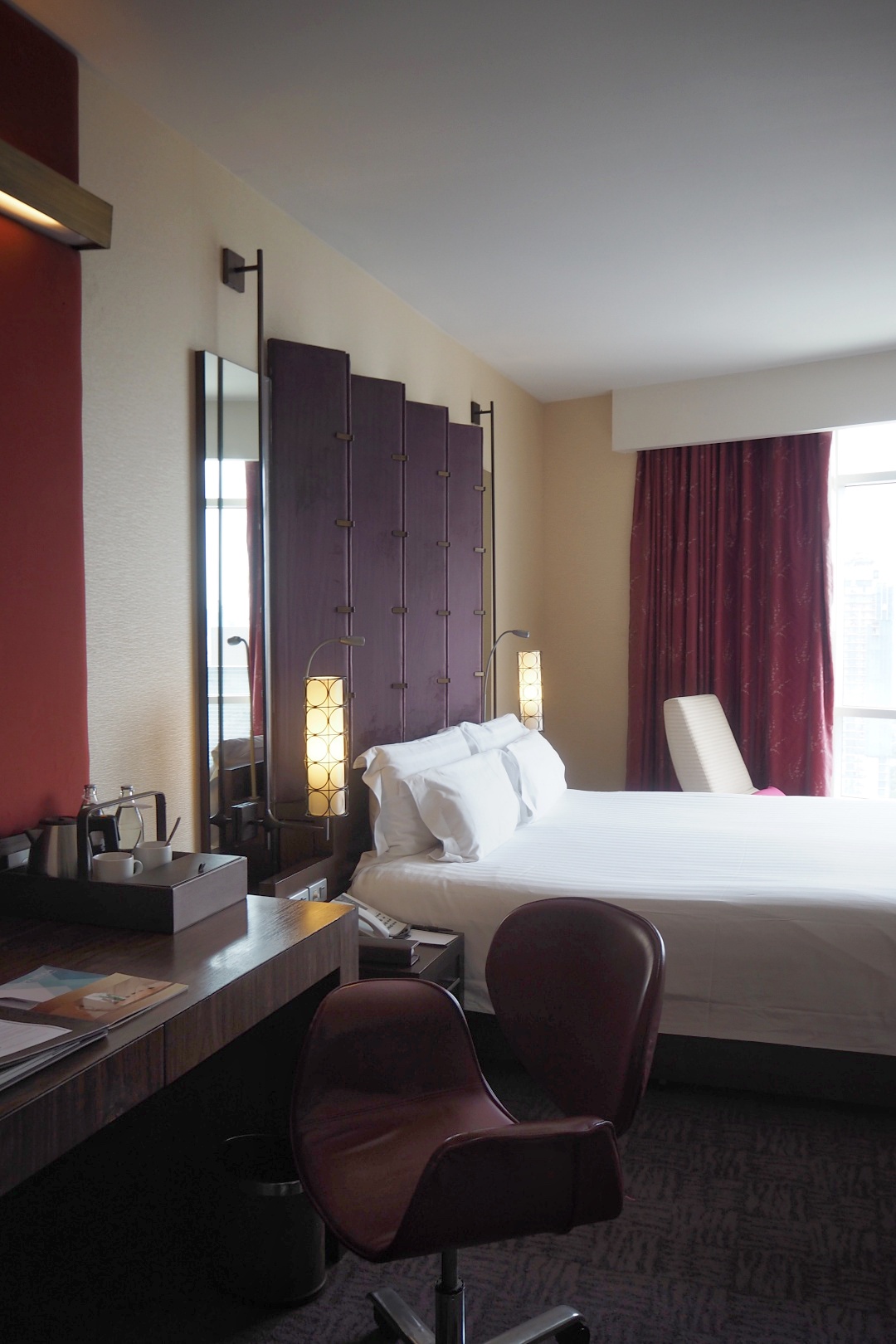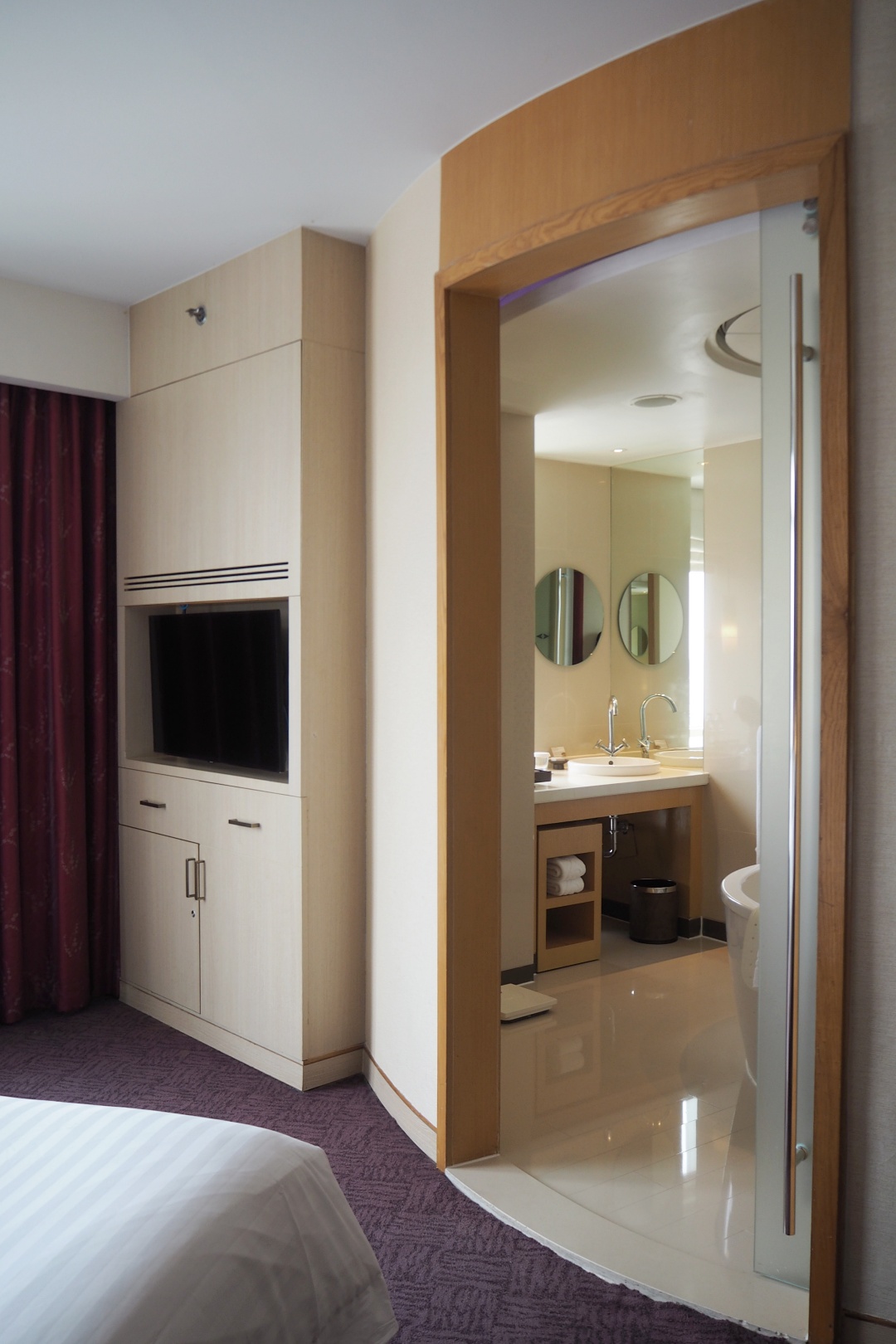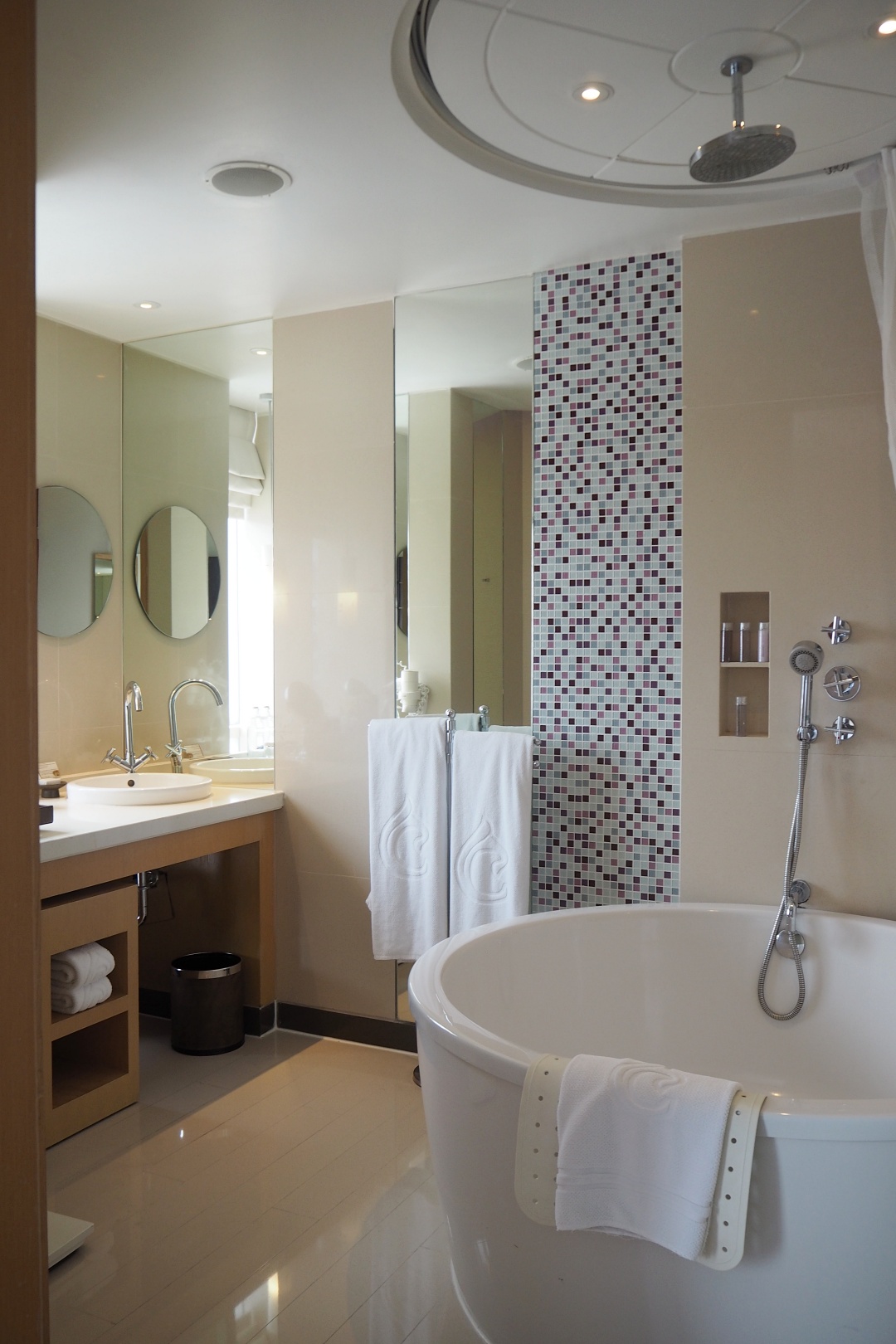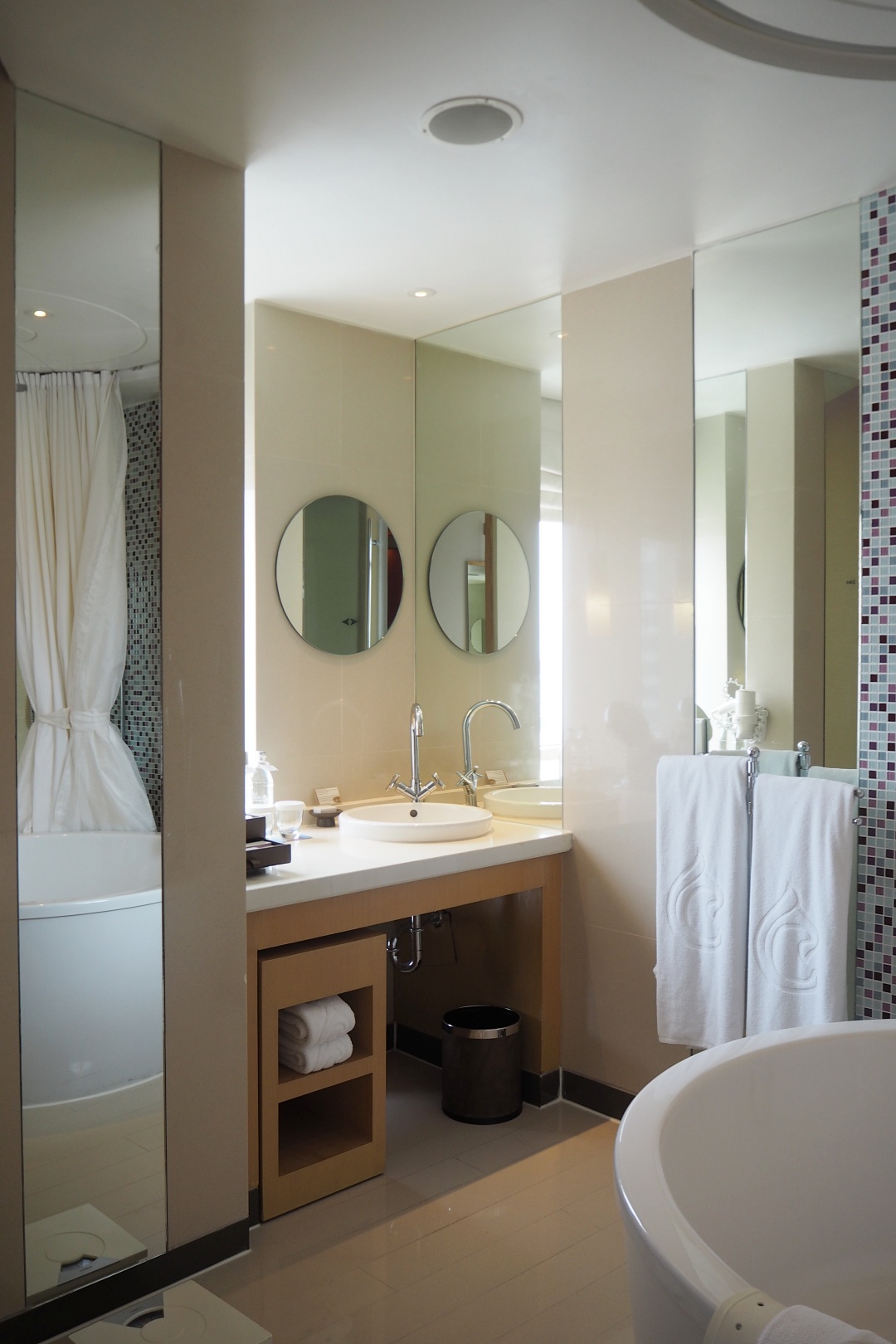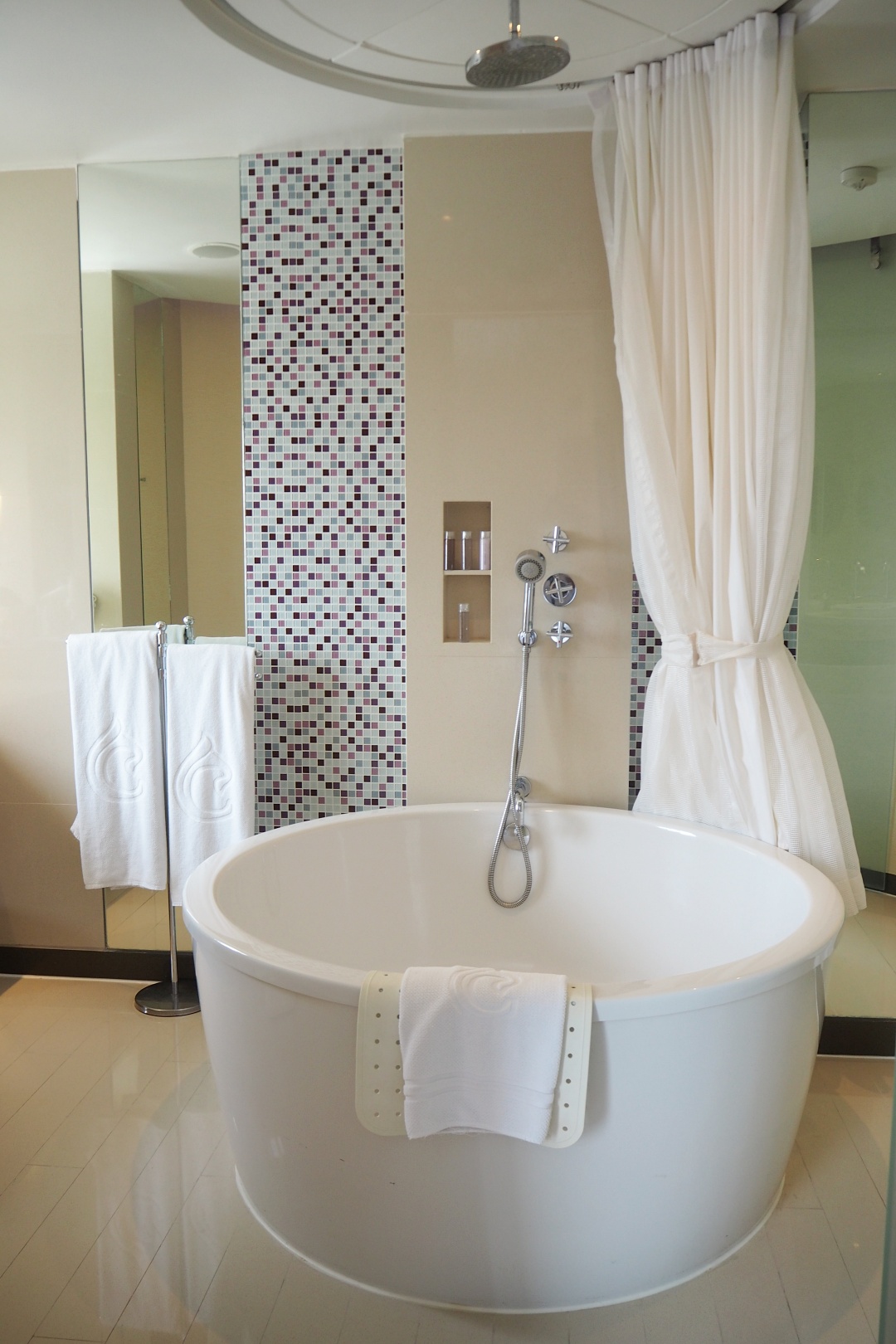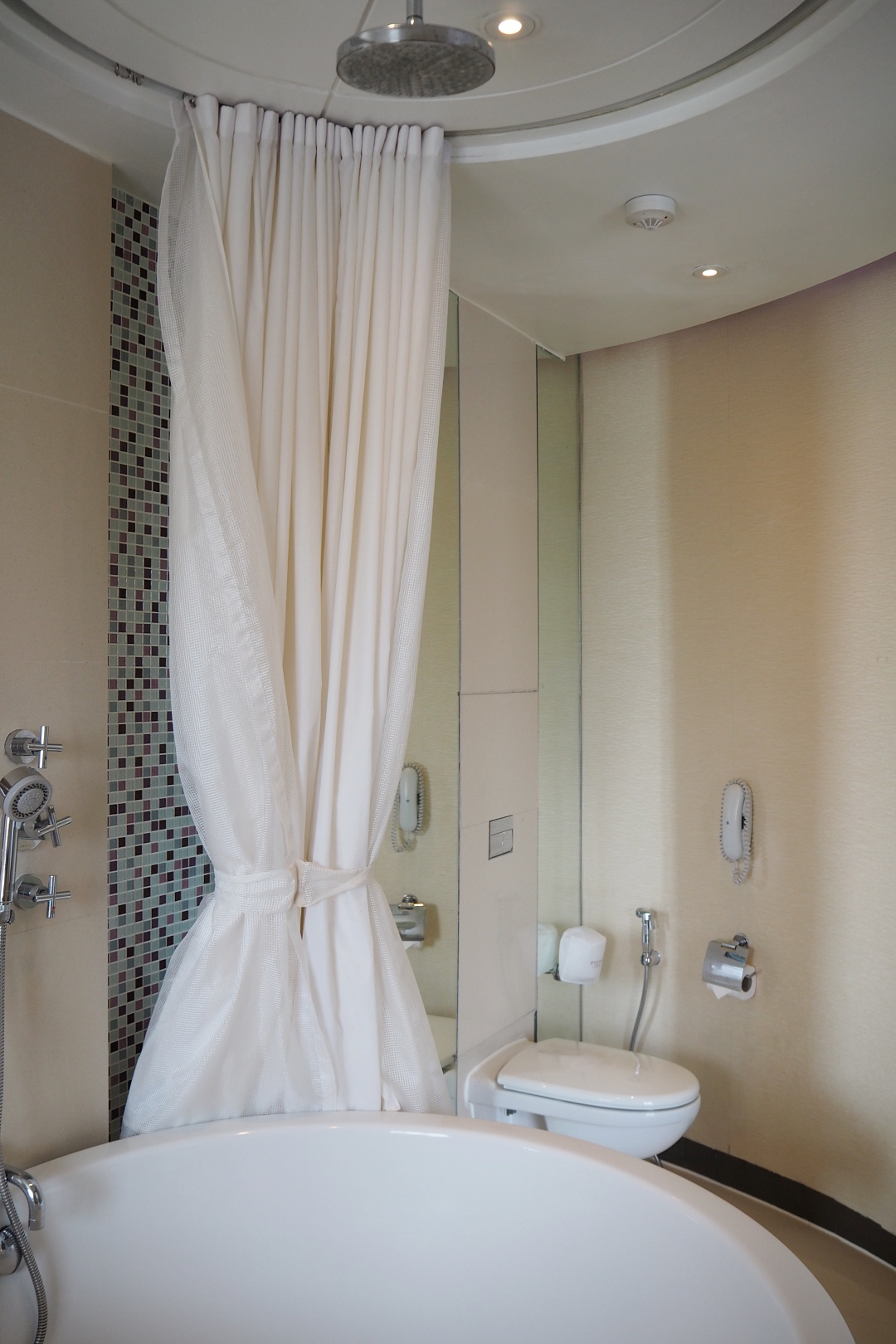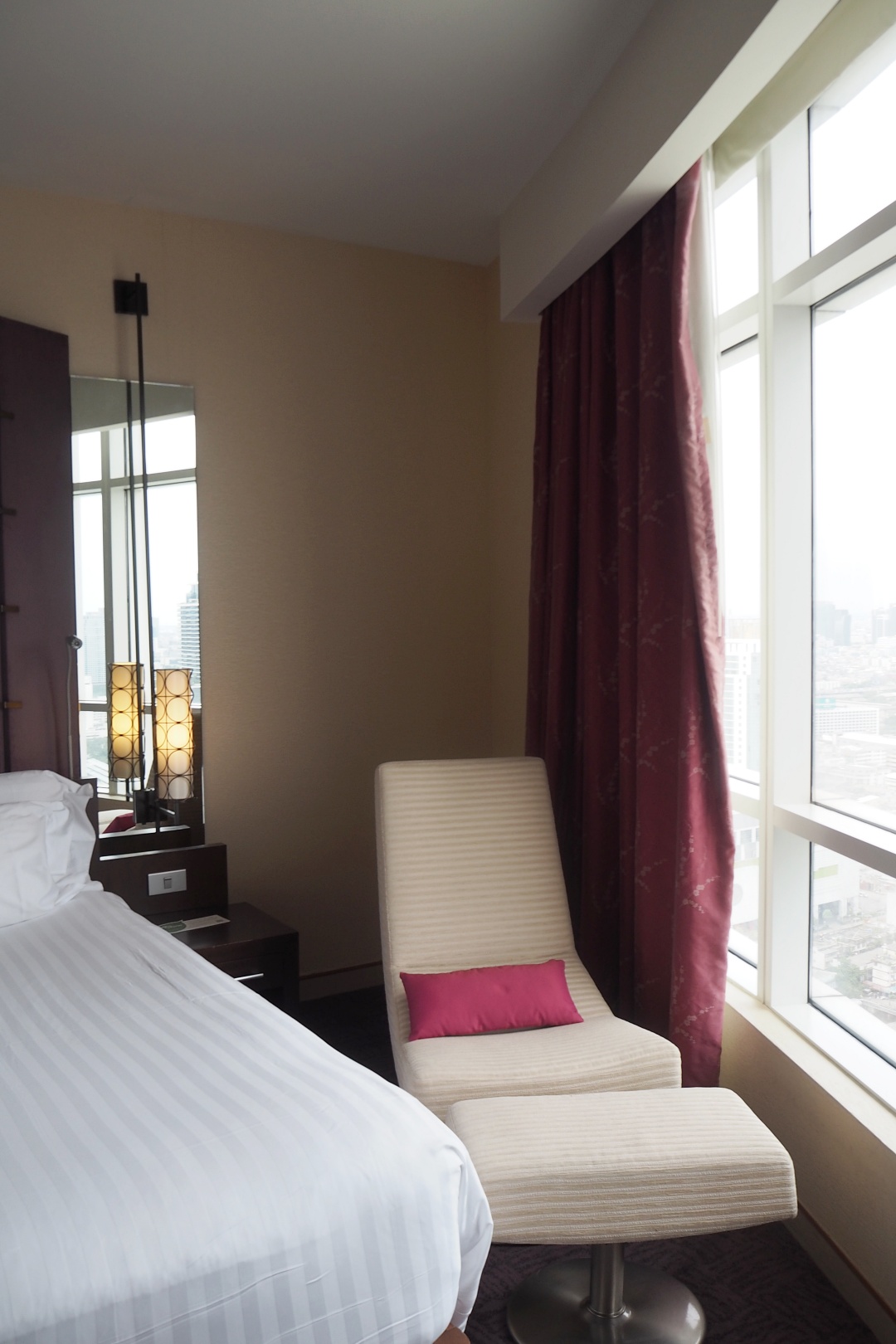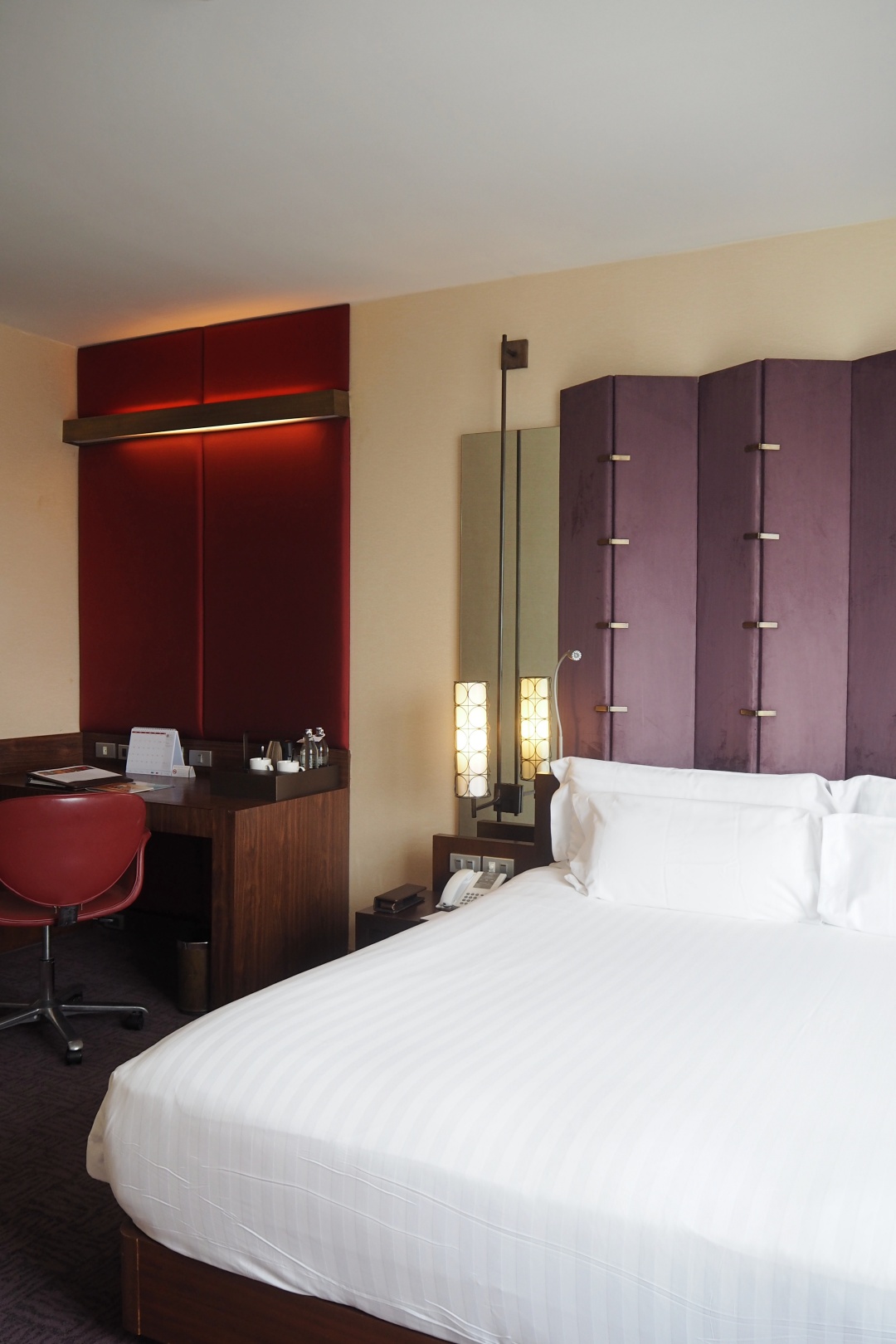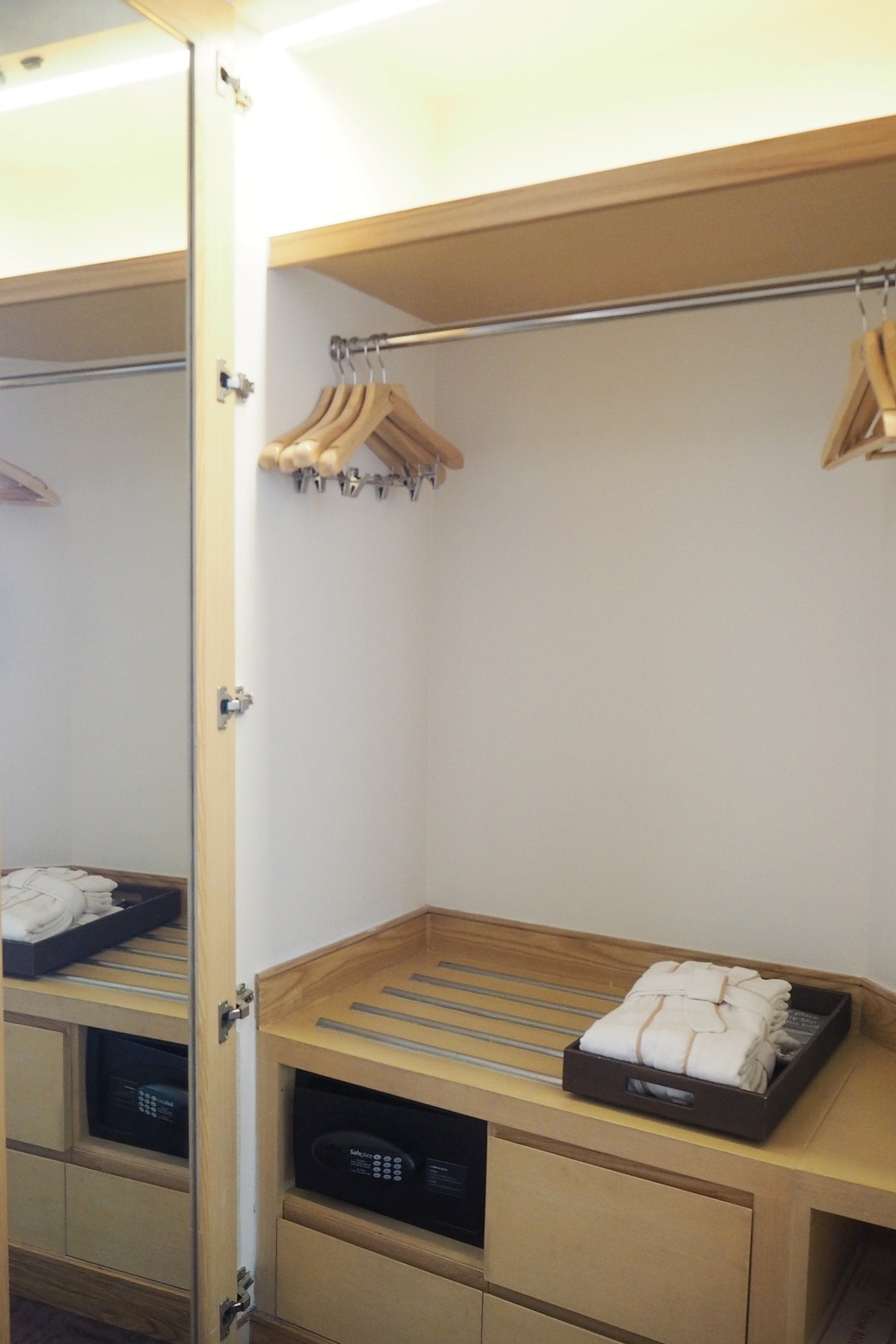 To be honest, the room felt a little underwhelming for me. The only thing that stood out was the bathroom where there was a circular bathtub located right in the centre. But even that was nothing that screams wow.
I supposed we were really paying extra for the convenience of the location, instead of the room/facilities. We were considering between Novotel Bangkok Platinum Pratunam and Centara Grand at CentralWorld at the time of our booking and eventually decided to go with the latter as there was an on-going promotion whereby we get a free stay for the third night. With the promo, we paid SGD 436 for our three-night stay. Considering we usually paid around SGD 100/night for hotels in Bangkok, I don't think it was a bang for the buck. Aside from locating above CentralWorld, the location wasn't extremely great. In fact, I thought it was a little troublesome that we have to pass by CentralWorld each time we had to go to the hotel. (If you're taking a car, the drop off point was somewhere behind the mall.)
This is just my thoughts on whether it's worthwhile paying extra to stay at Centara Grand at CentralWorld, compared to the past hotels we stayed at like The Berkeley Hotel Pratunam and Arnoma Grand Bangkok.
---
Having taken a nap in the afternoon, we woke up in the evening and decided it was time to head out for dinner. Headed back to CentralWorld, and after some exploring, we eventually settled for steamboat at MK Restaurants.
MK Restaurants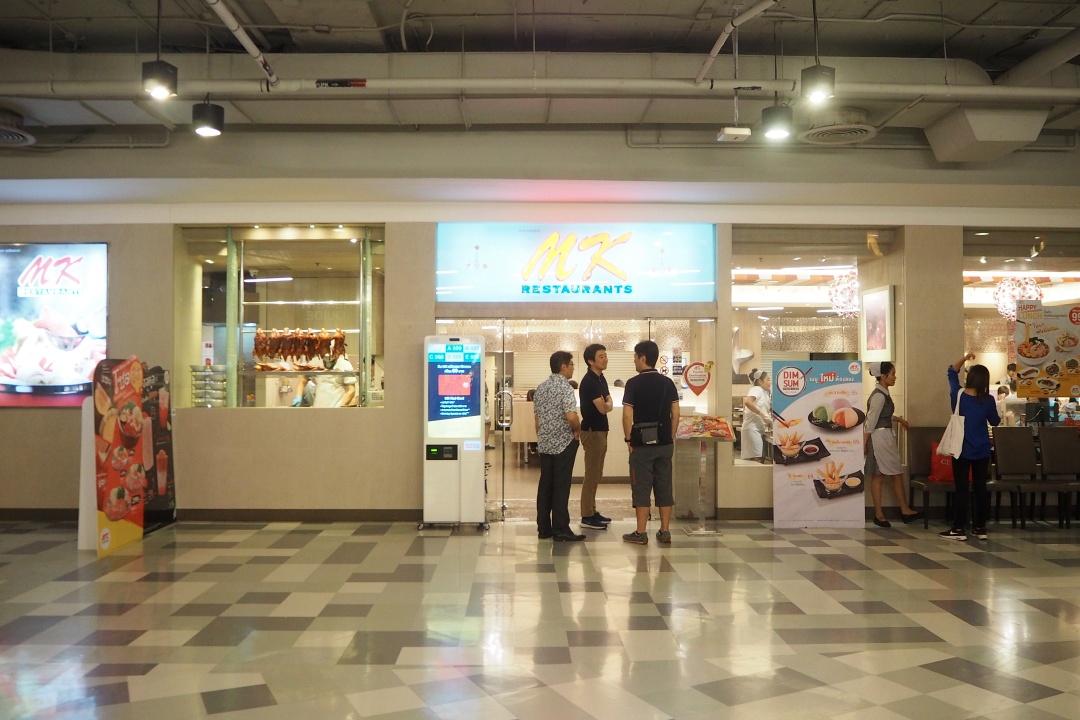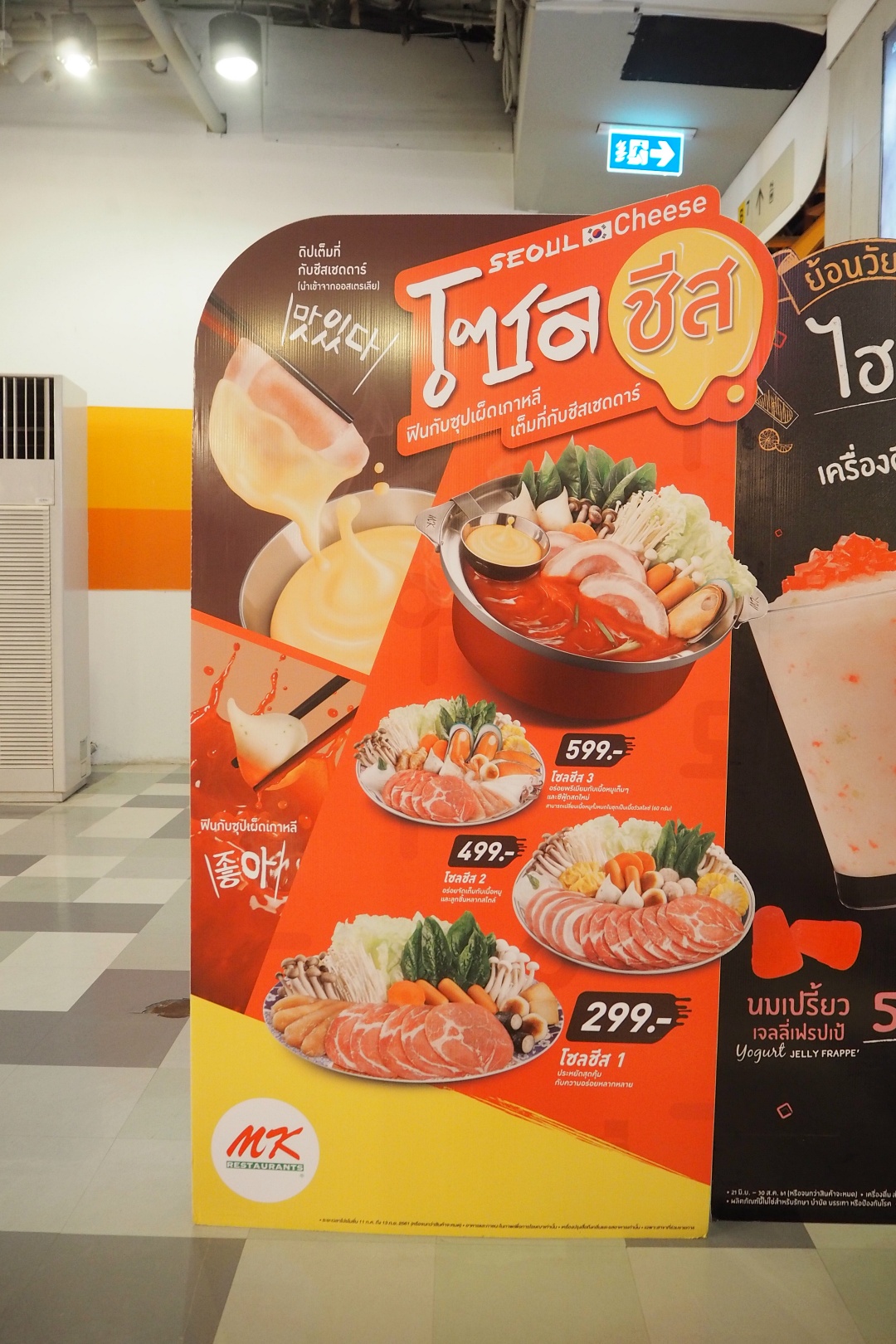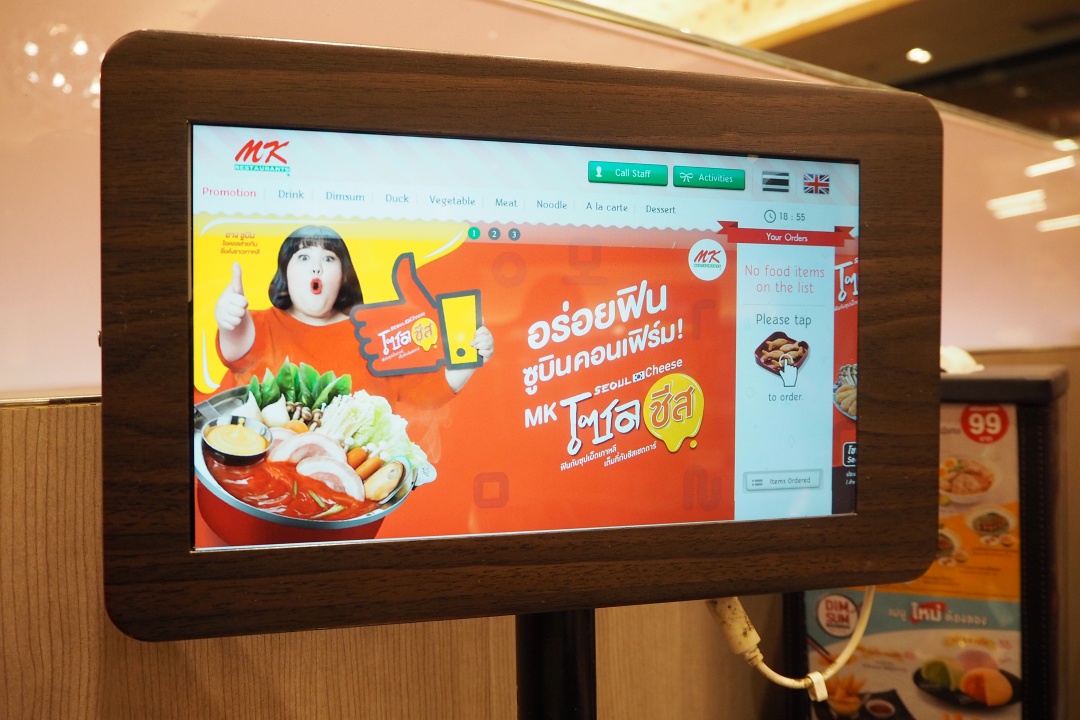 We ordered the food via the tablet provided at every table, and it was easy peasy.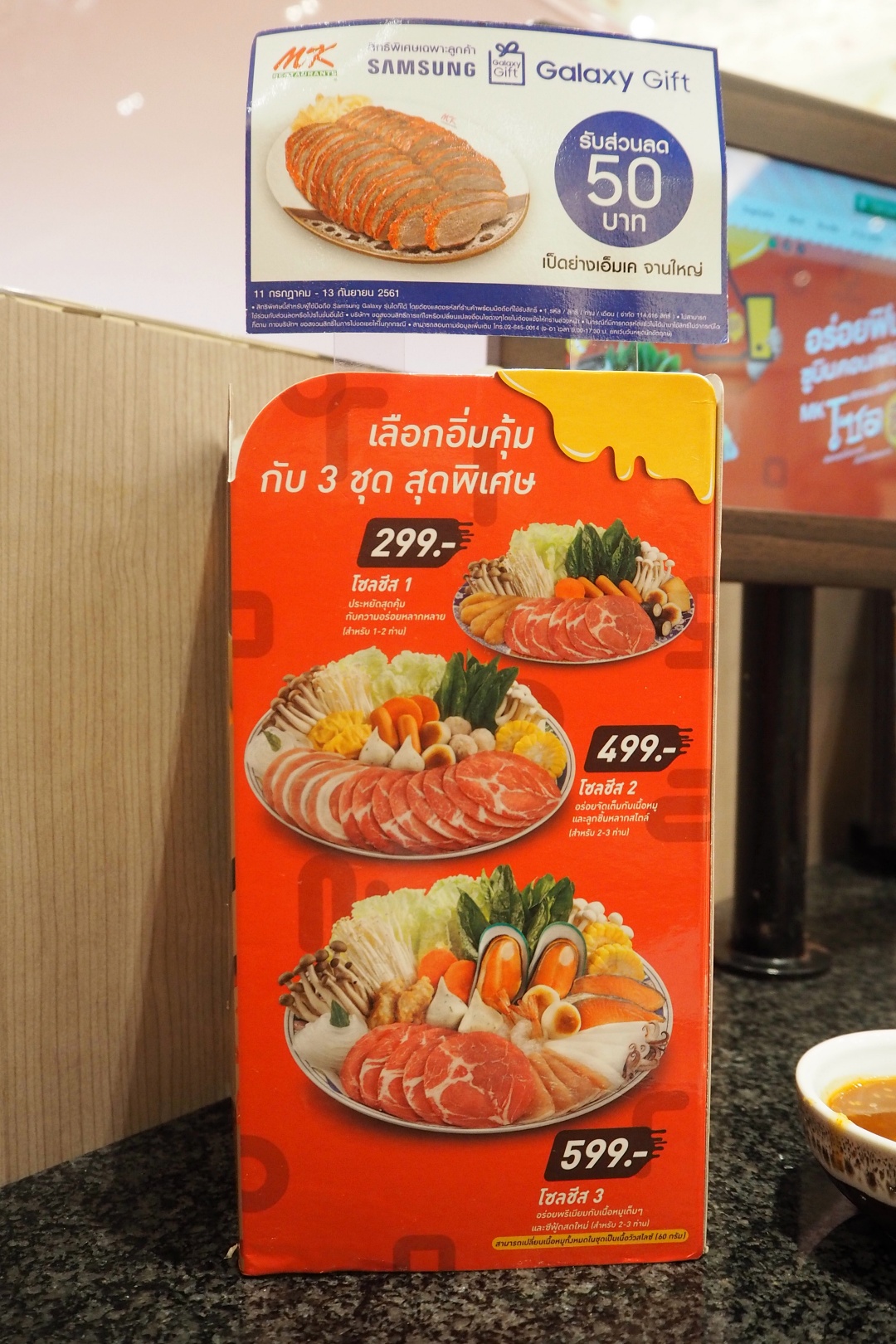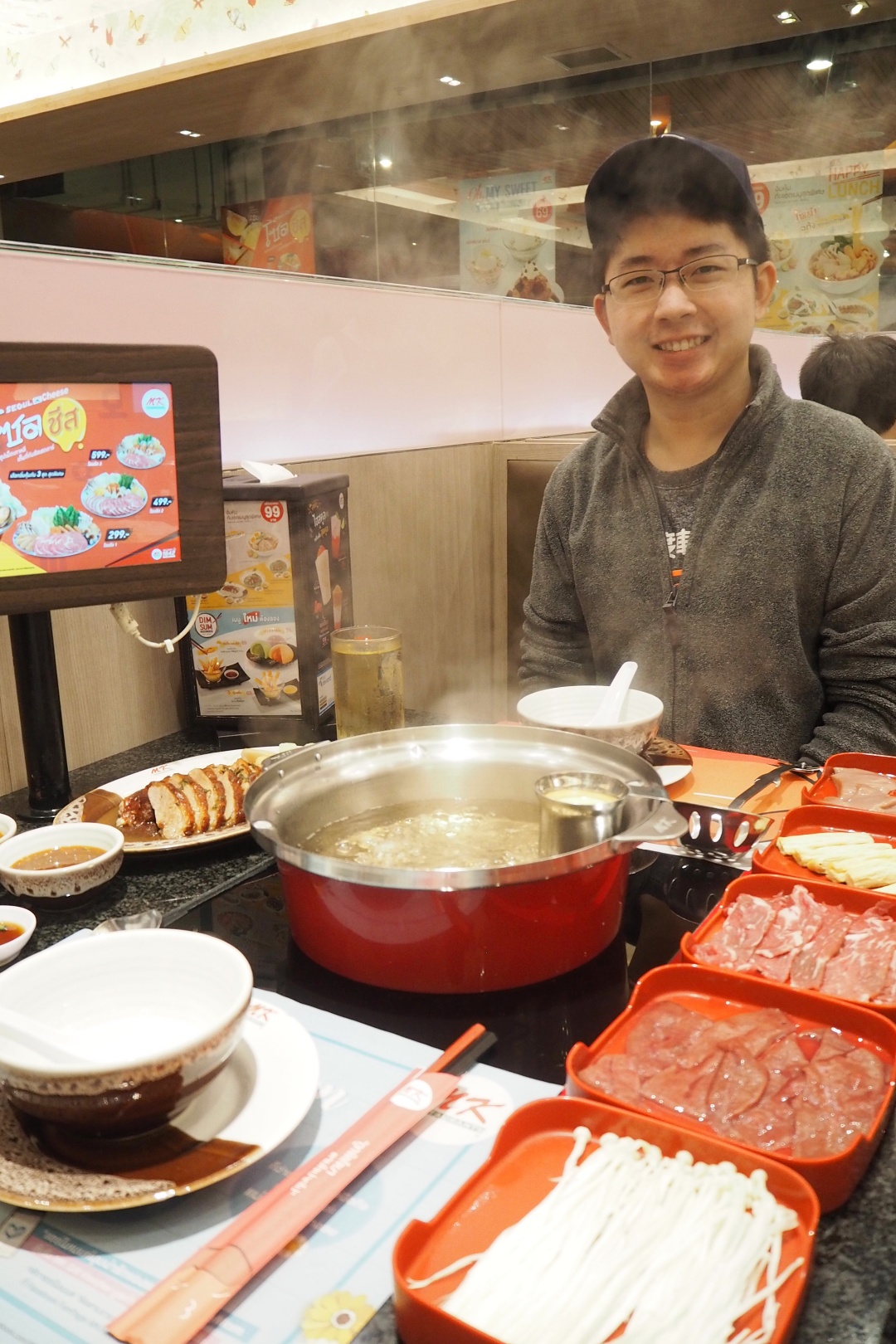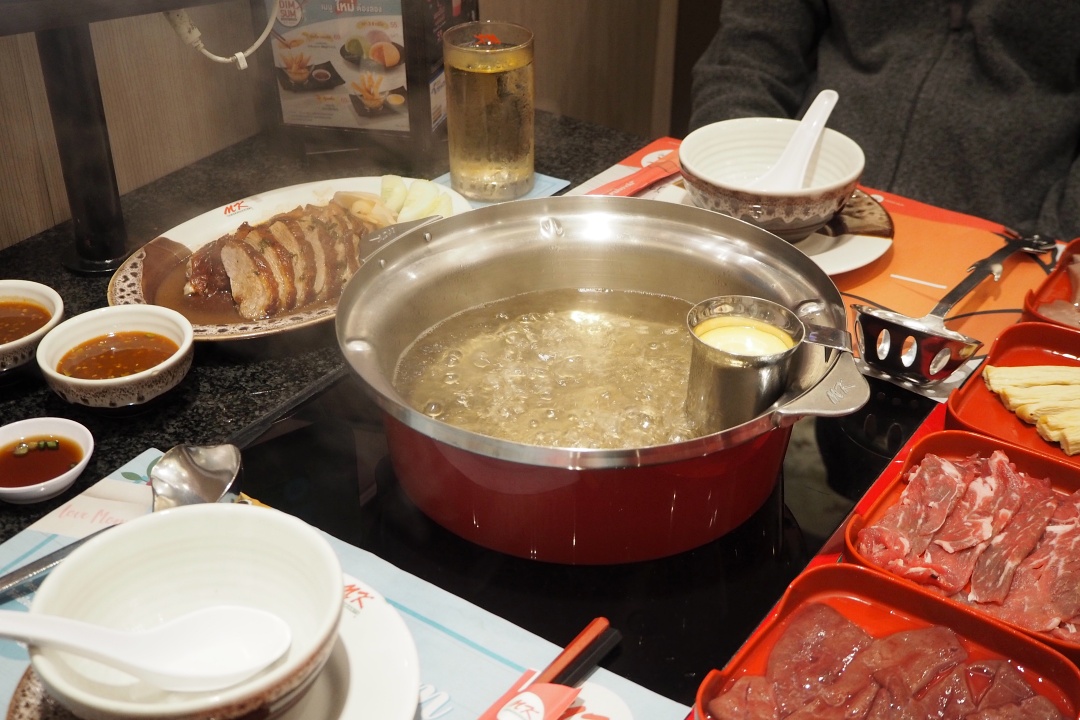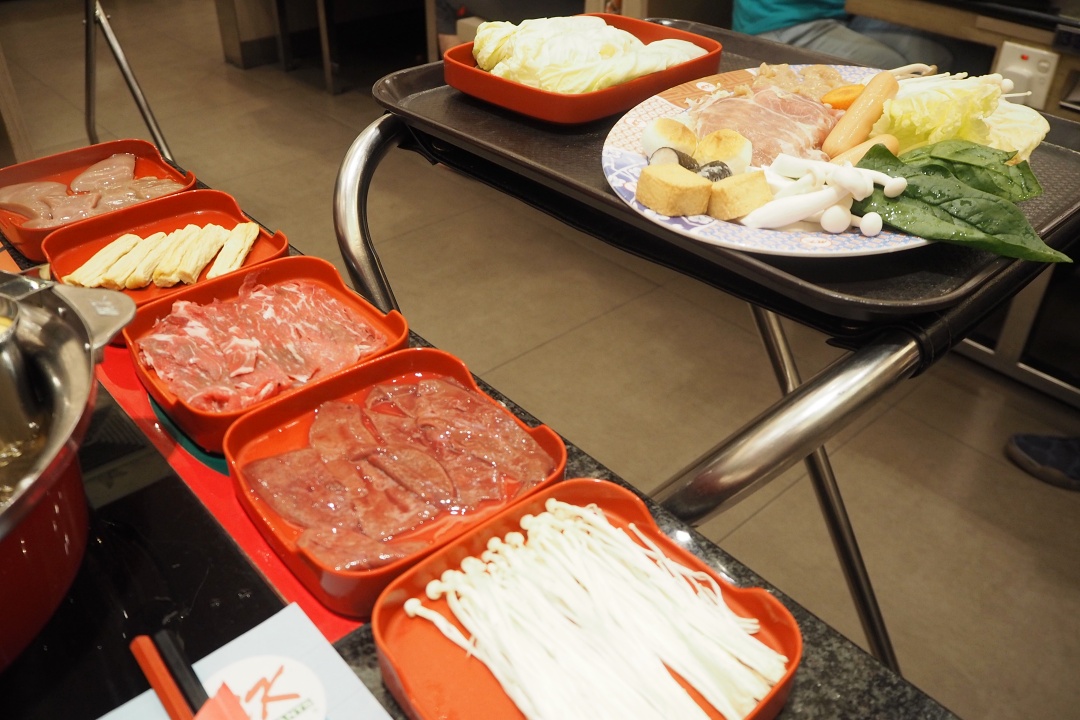 Went ahead and ordered one of the smaller platters (that came with chicken, pork, veg and mushrooms), and then separately add on some other dishes.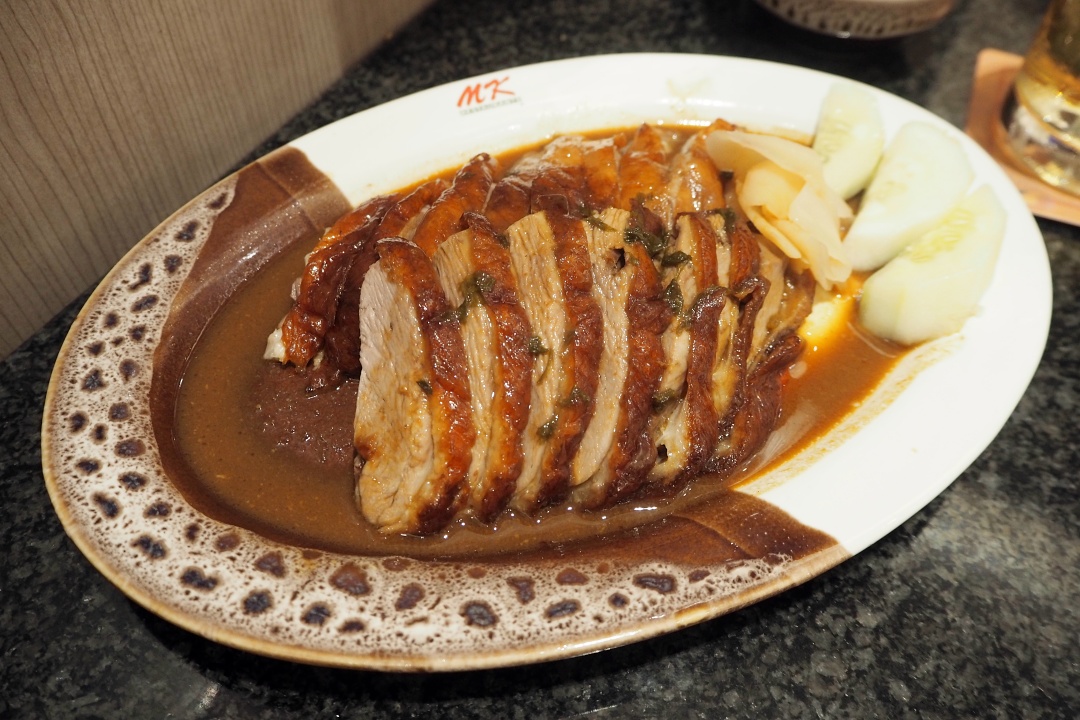 We also got a small serving of their famous roast duck.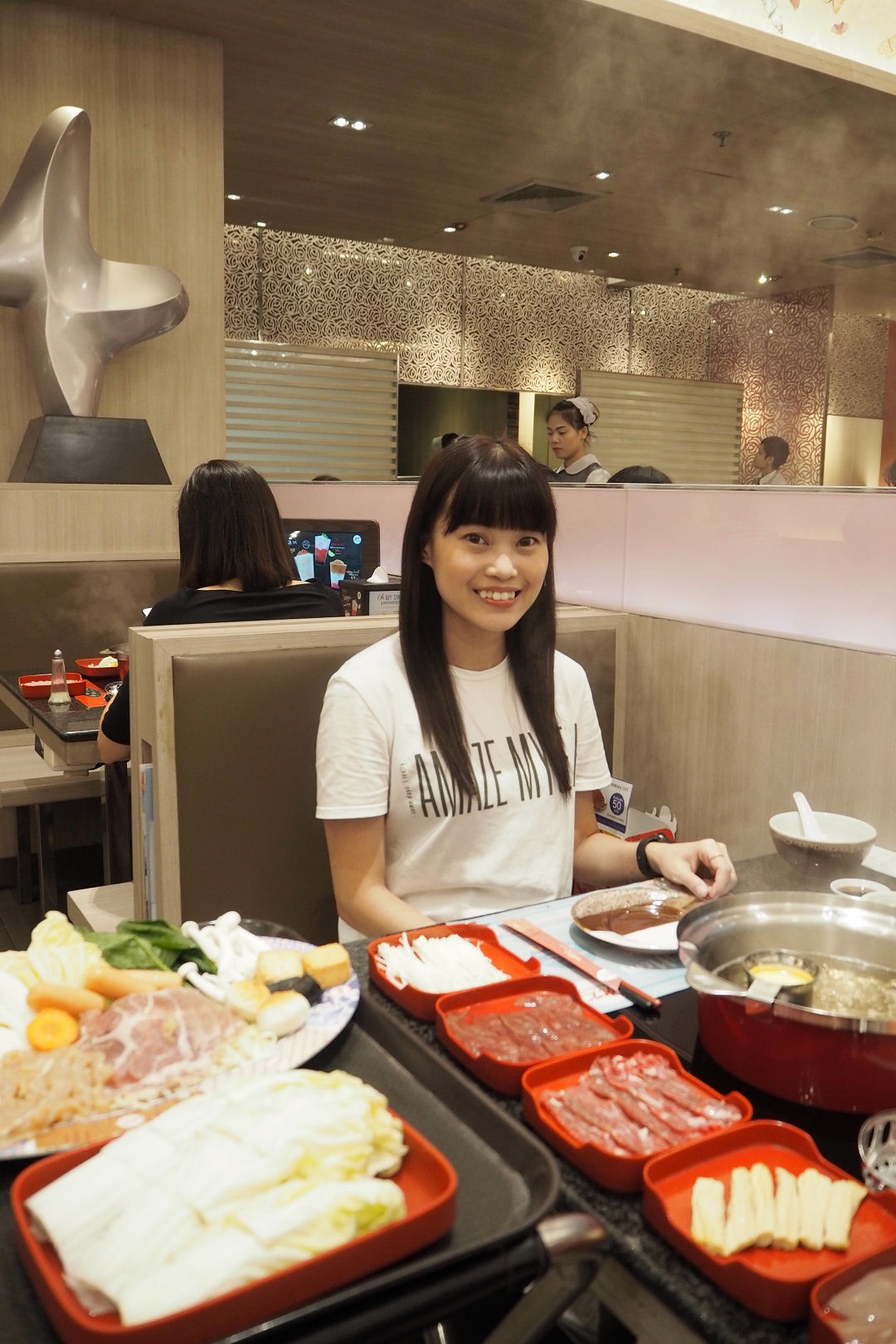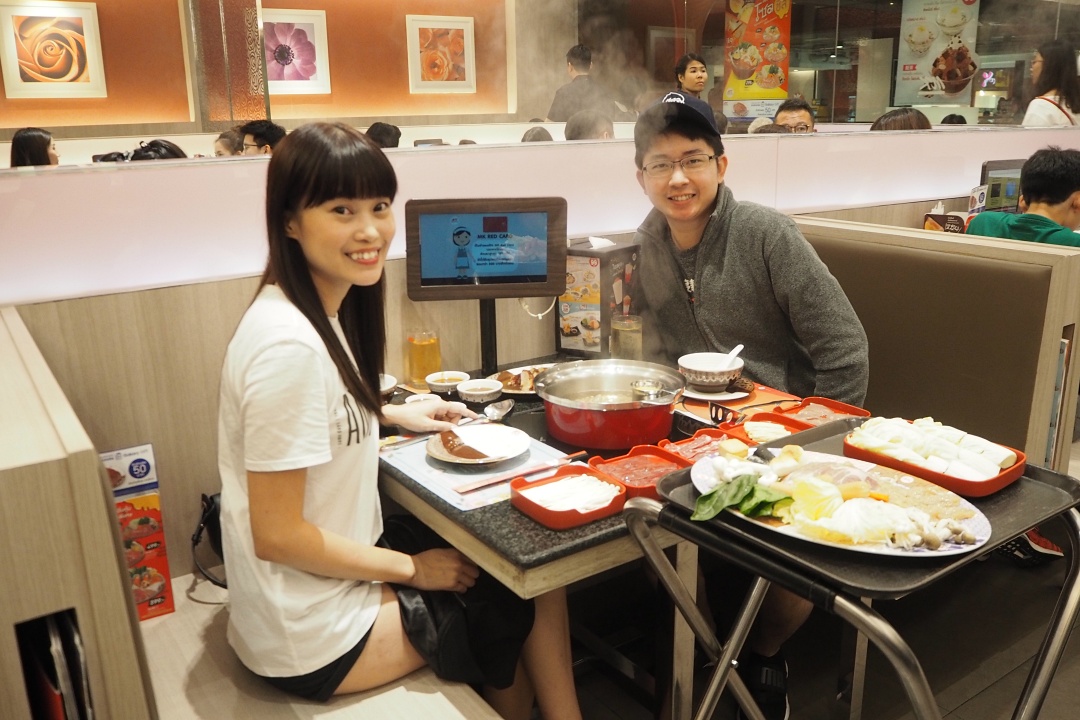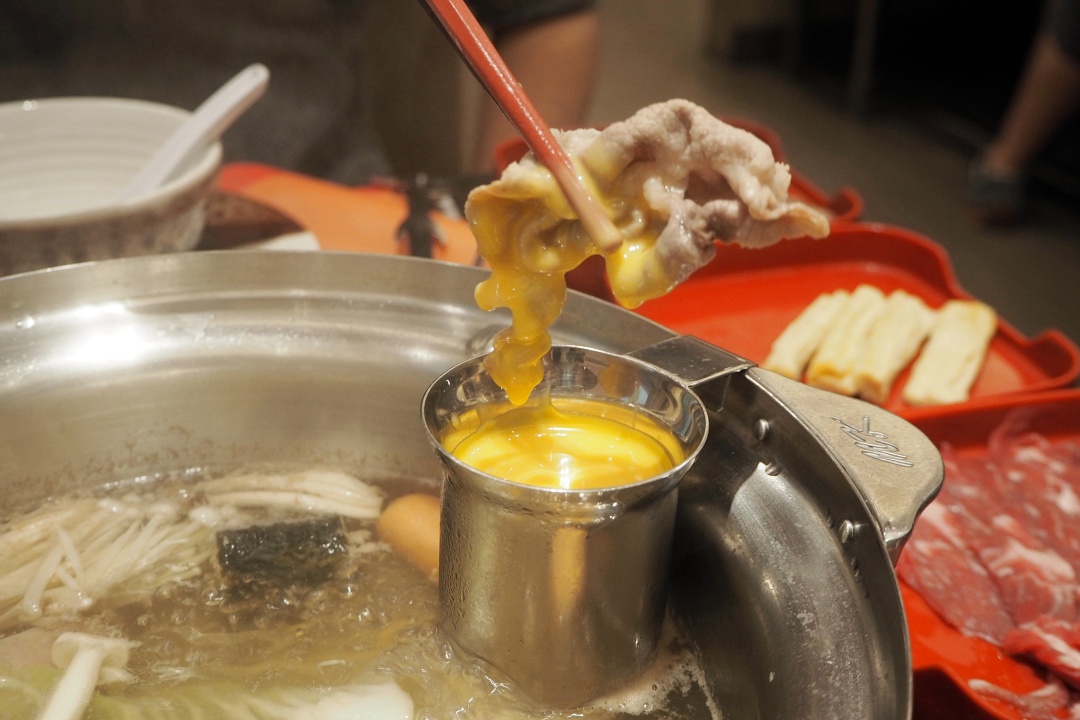 Then there was the cheese dips that I believed came together with the meat platter.
Overall, it was a really satisfying meal. Not my first time having steamboat at MK Restaurants, and so far, it never disappoints. For steamboats in Bangkok, my go-to had to be MK Restaurants, and for mookata, it would be Bar B Q Plaza!
---
After dinner, we went for a quick round at the food bazaar located outside of CentralWorld, before making our way over to Talad NEON Night Bazaar. Not my favourite night market, but it was one of the closest one we got around the area.
Well, there was also Palladium Night Market, but since these two were located right beside each other, we would essentially pass by it on our way to Talad NEON Night Bazaar. I would say the majority of the stalls at Palladium Night Market sells clothing, which was not something I was drawn to.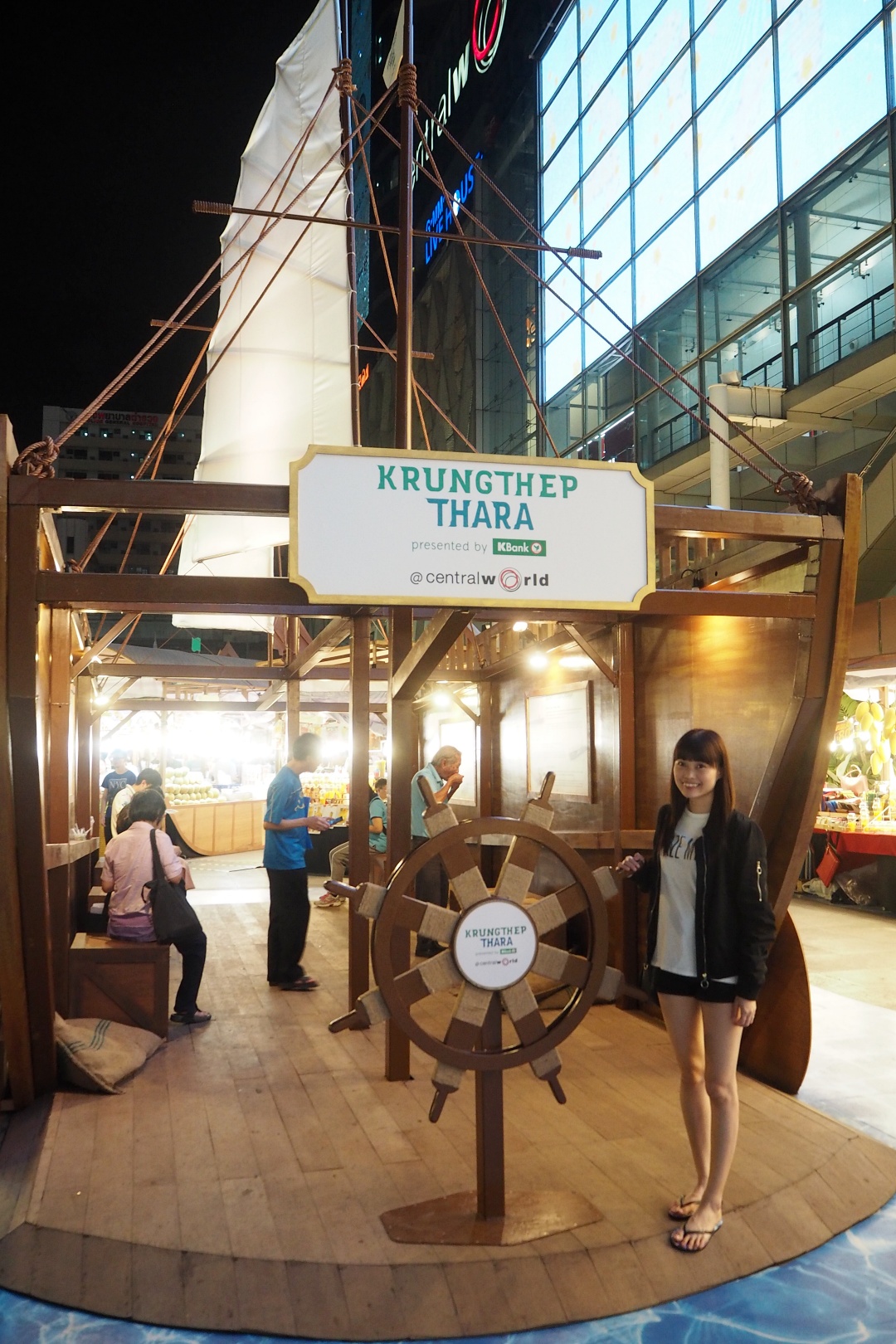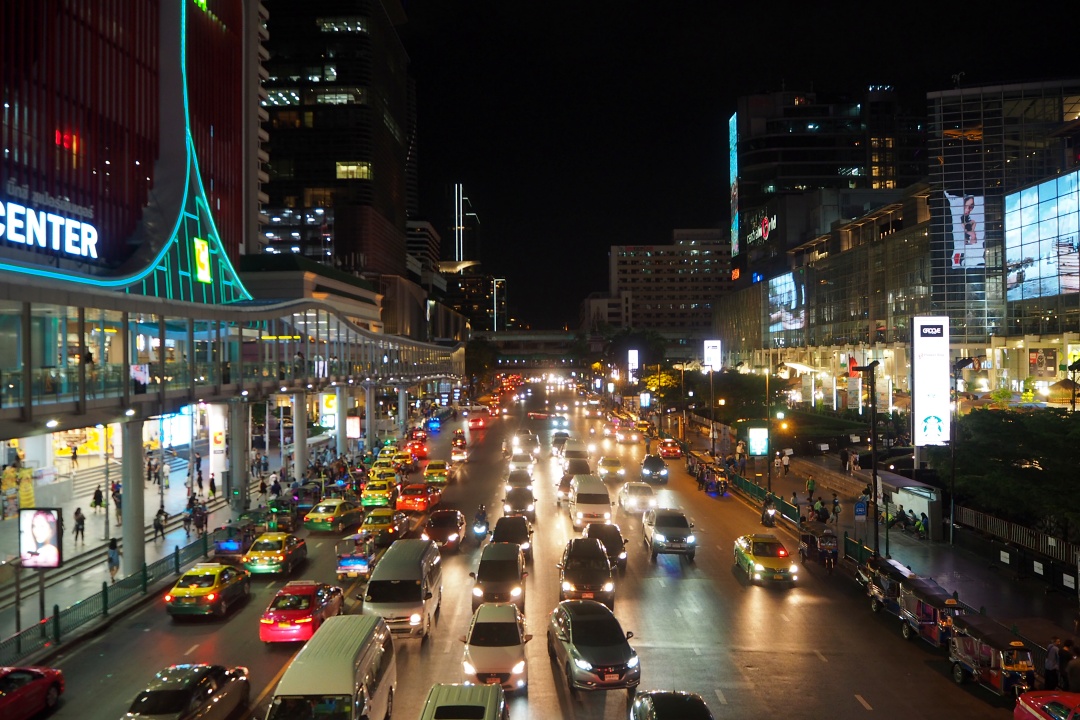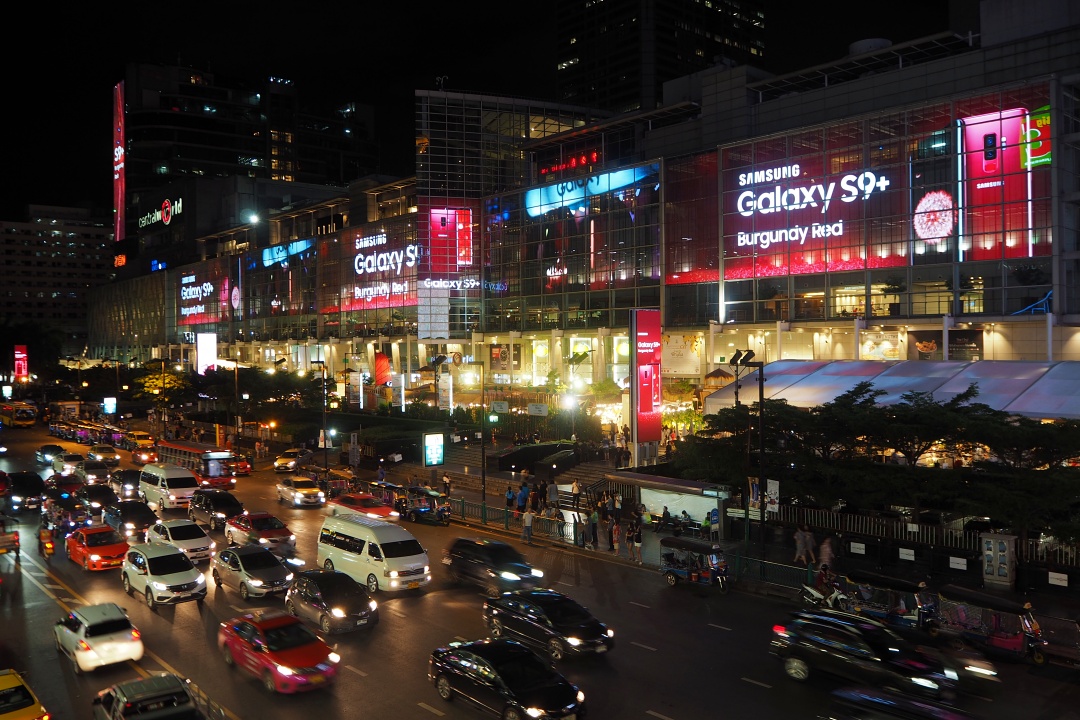 Talad NEON Night Bazaar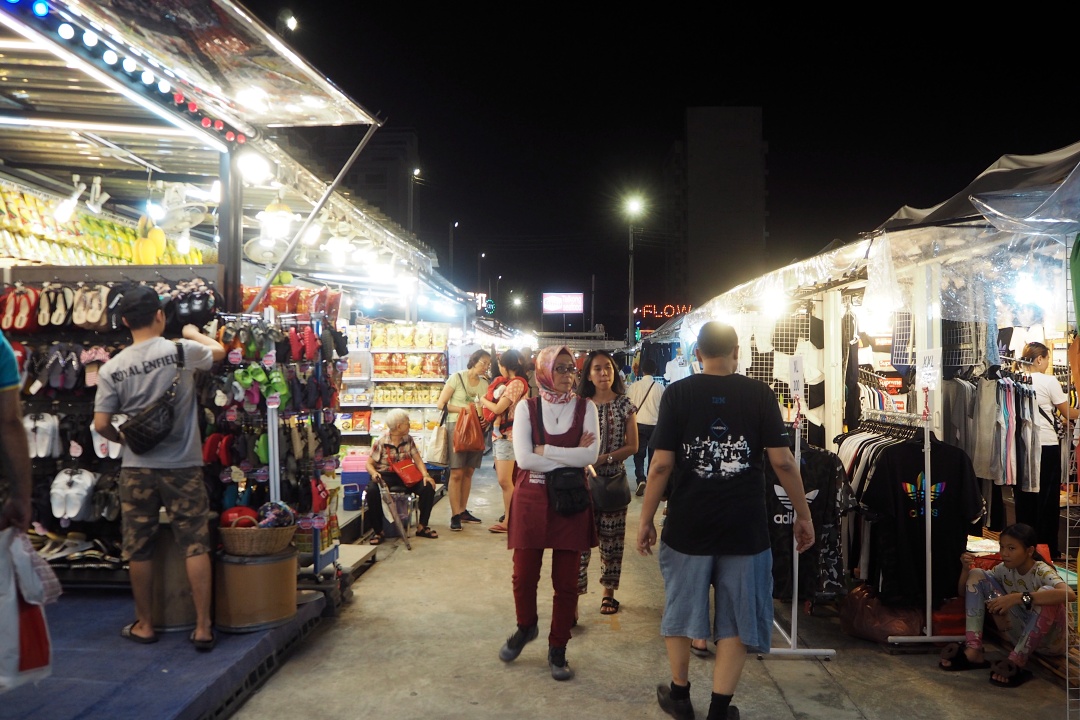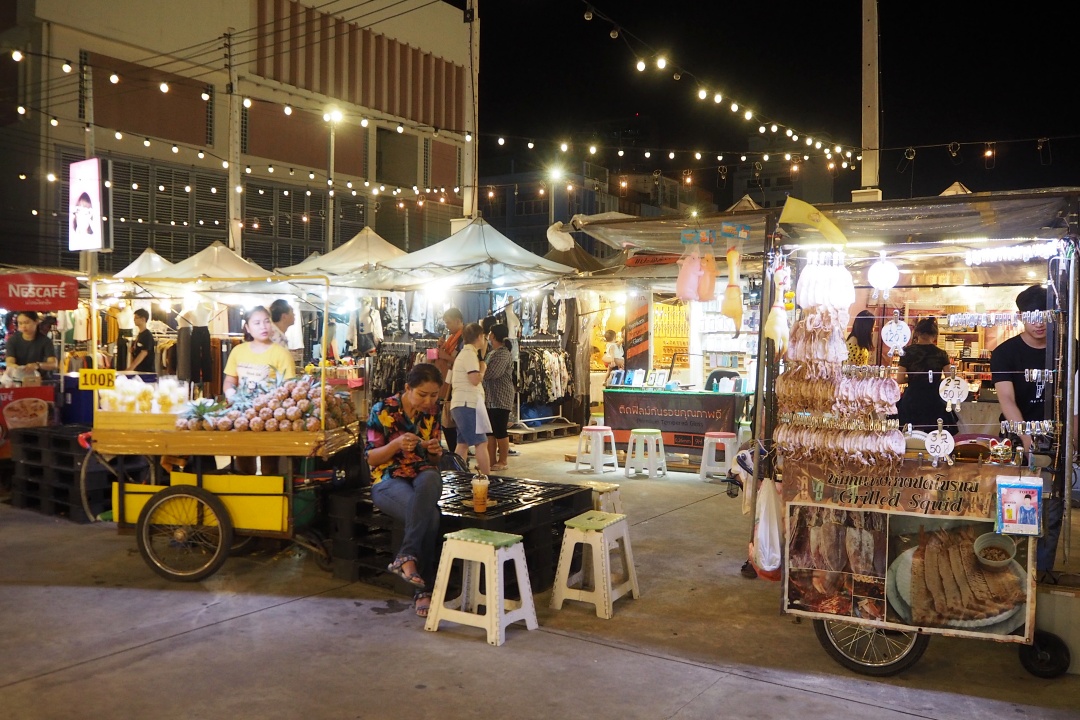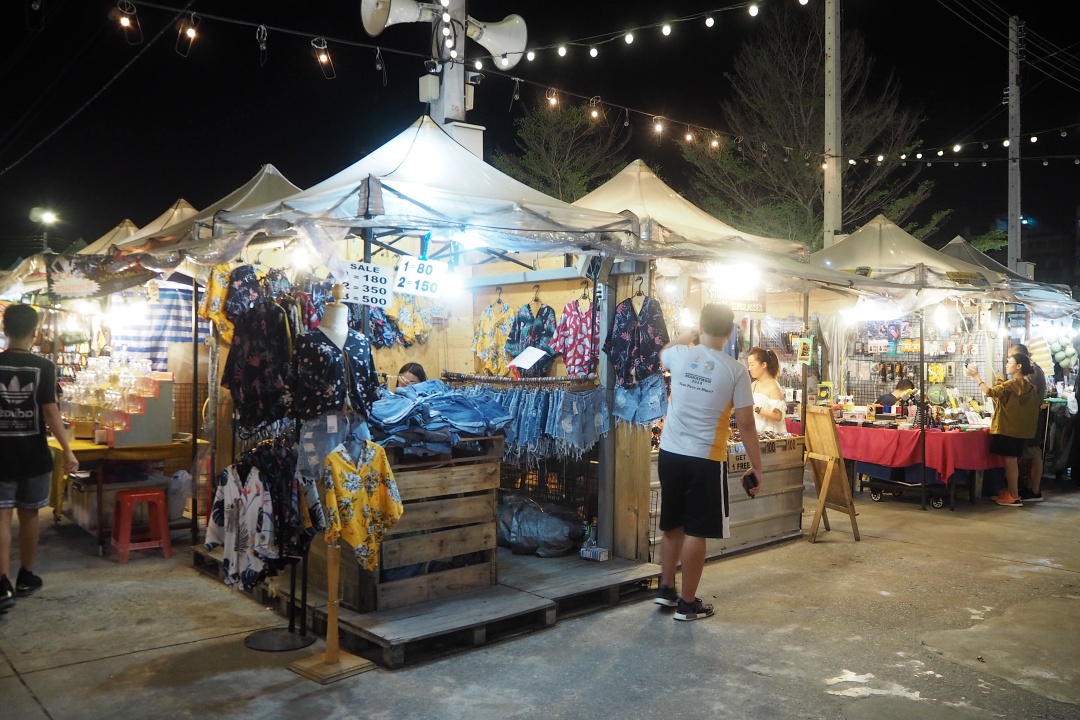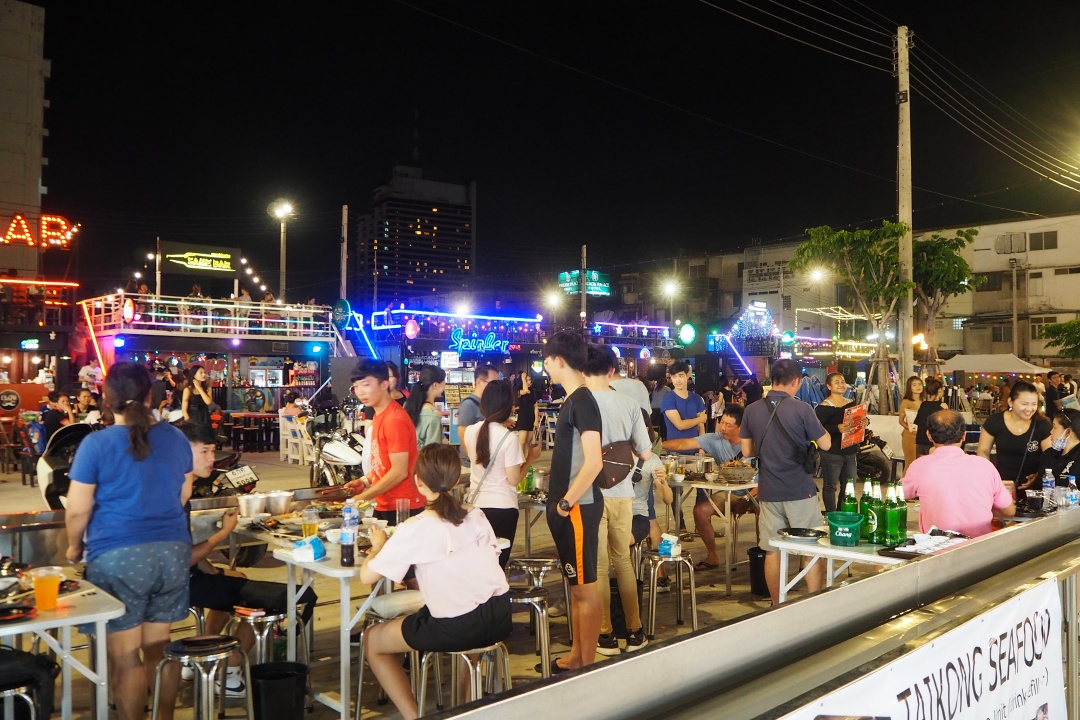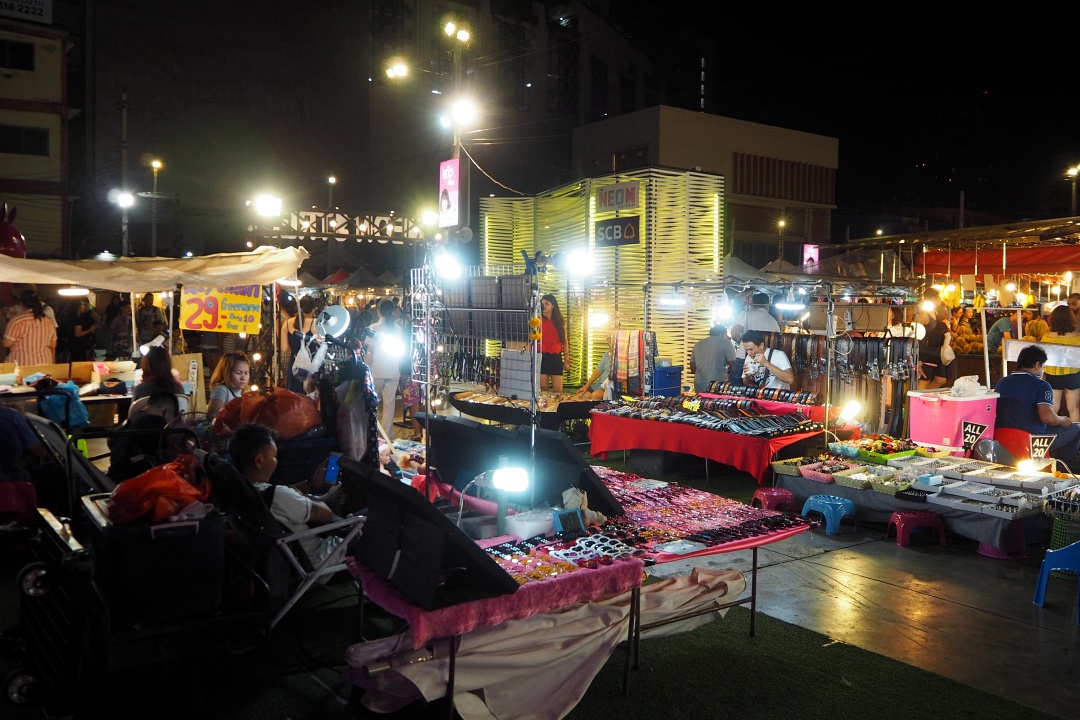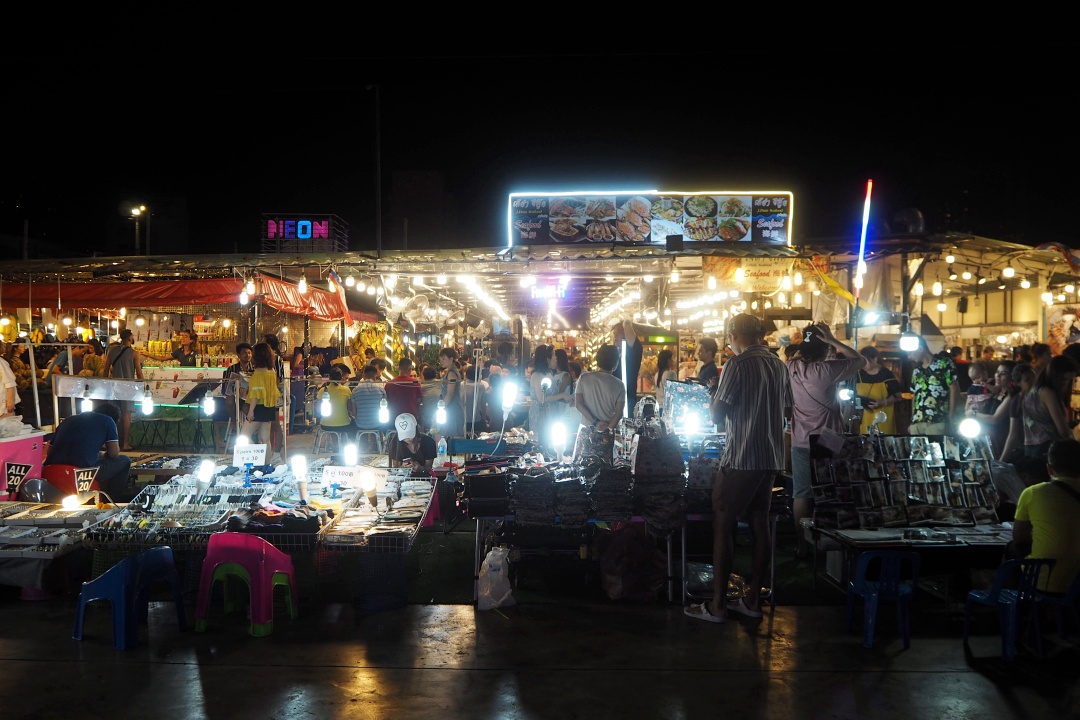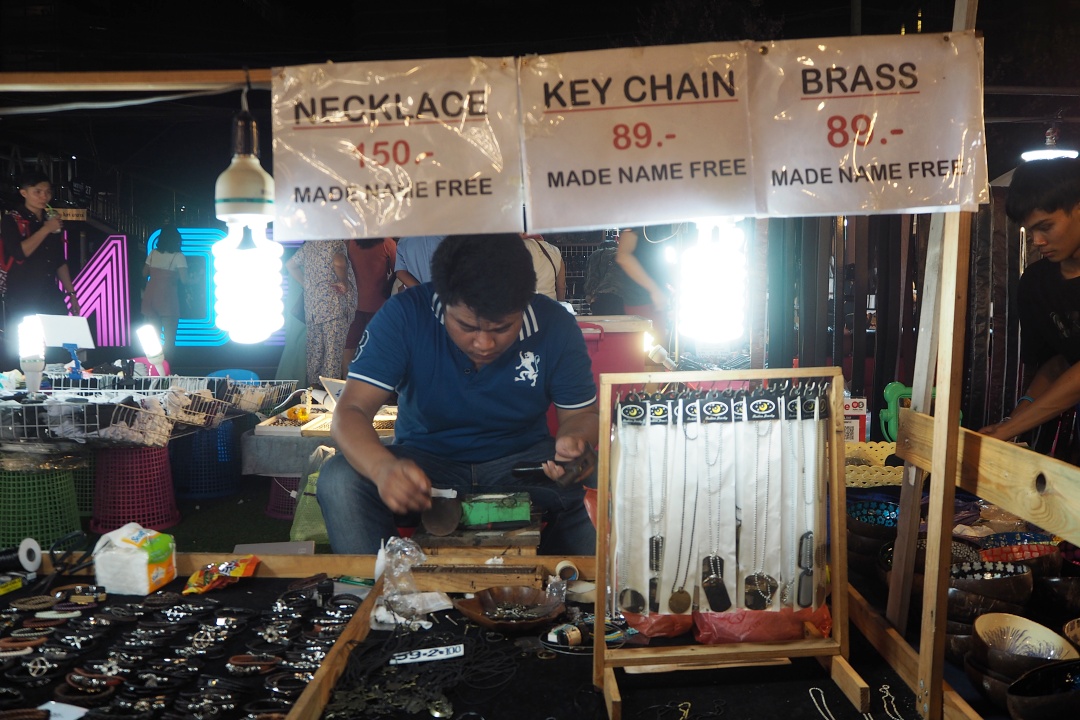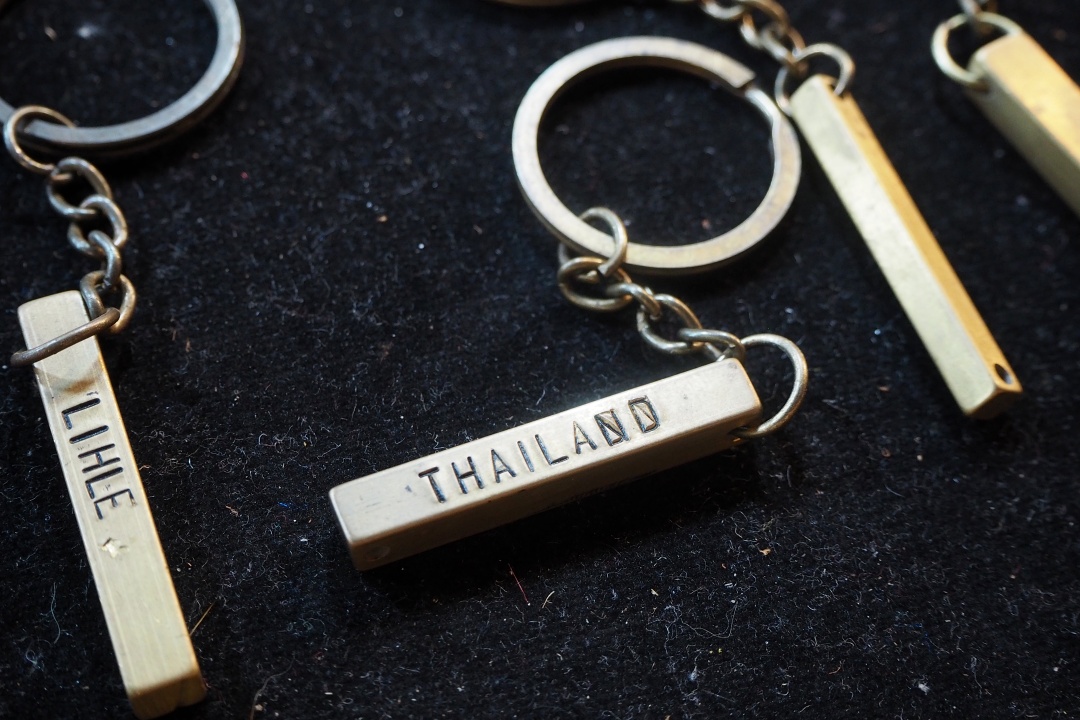 Overall, I felt like nothing much had changed since our last visit. The night bazaar was still as insipid as before. We went there anyway because that's what we do in Bangkok — finding and going to night markets every night. It was more of a walk-and-see experience, so we were not necessarily looking at shopping. Even though there was always this hope that we may stumble across something new or interesting.
Anyway, I believed all I got that night was some customised keychains. They were selling for THB 89 each, and I decided to make two with the word "KAIXINNEST". Figured I could use some keychains for my house keys.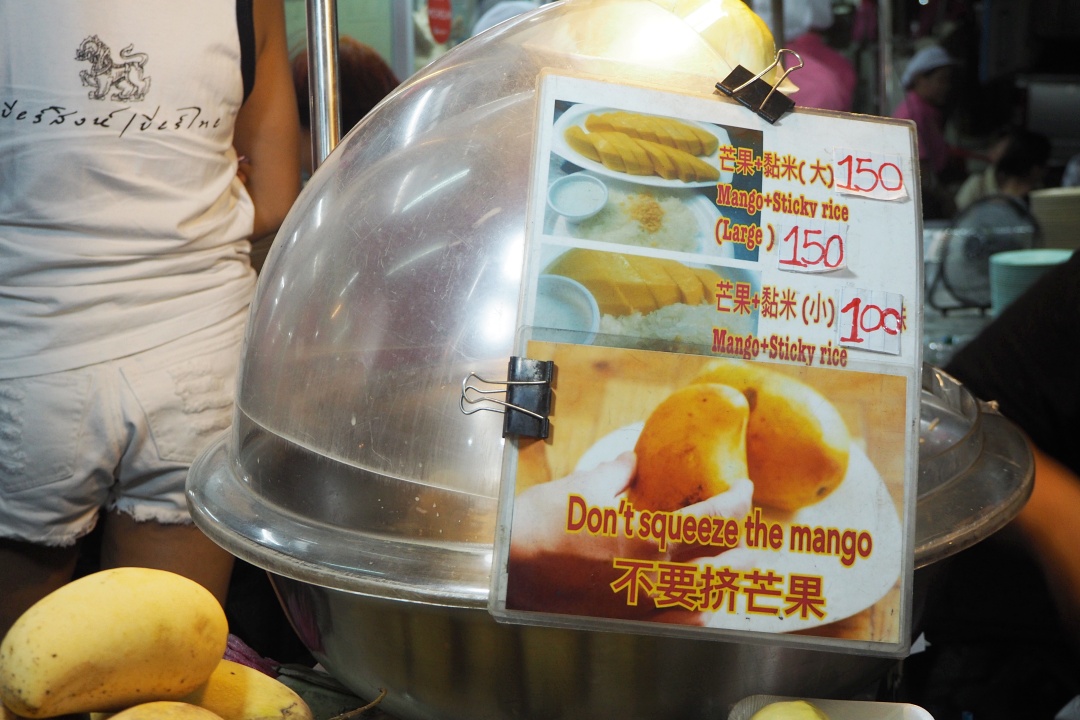 Leaving Talad NEON Night Bazaar, we crossed the street to get some mango sticky rice, before walking over to Big C Supercenter.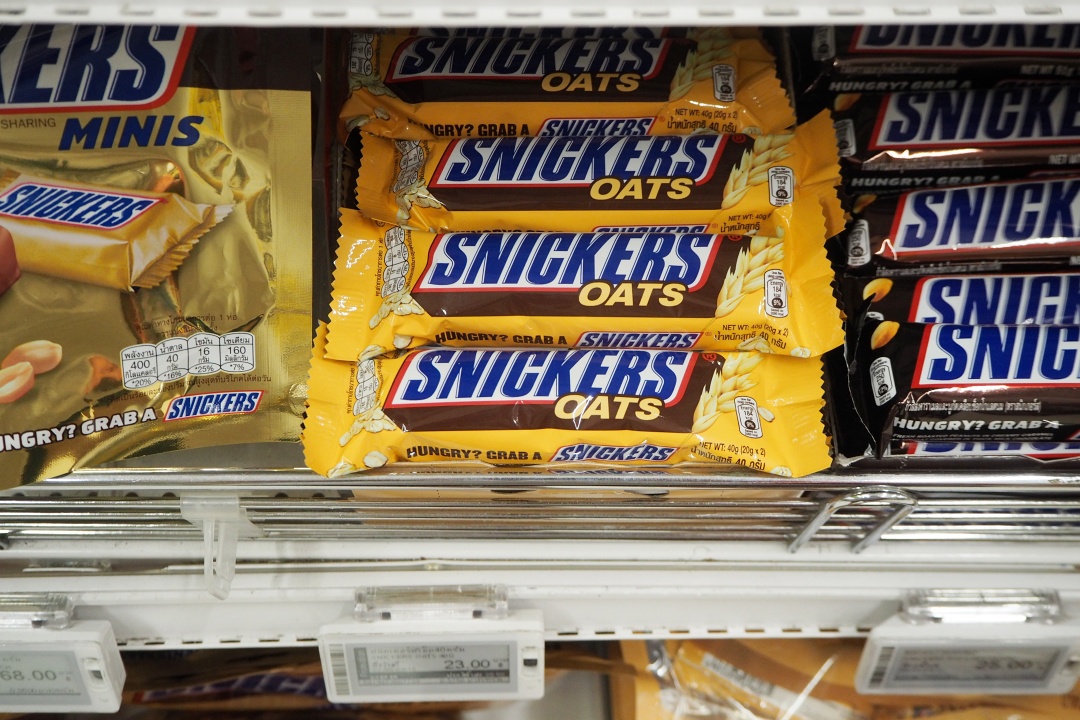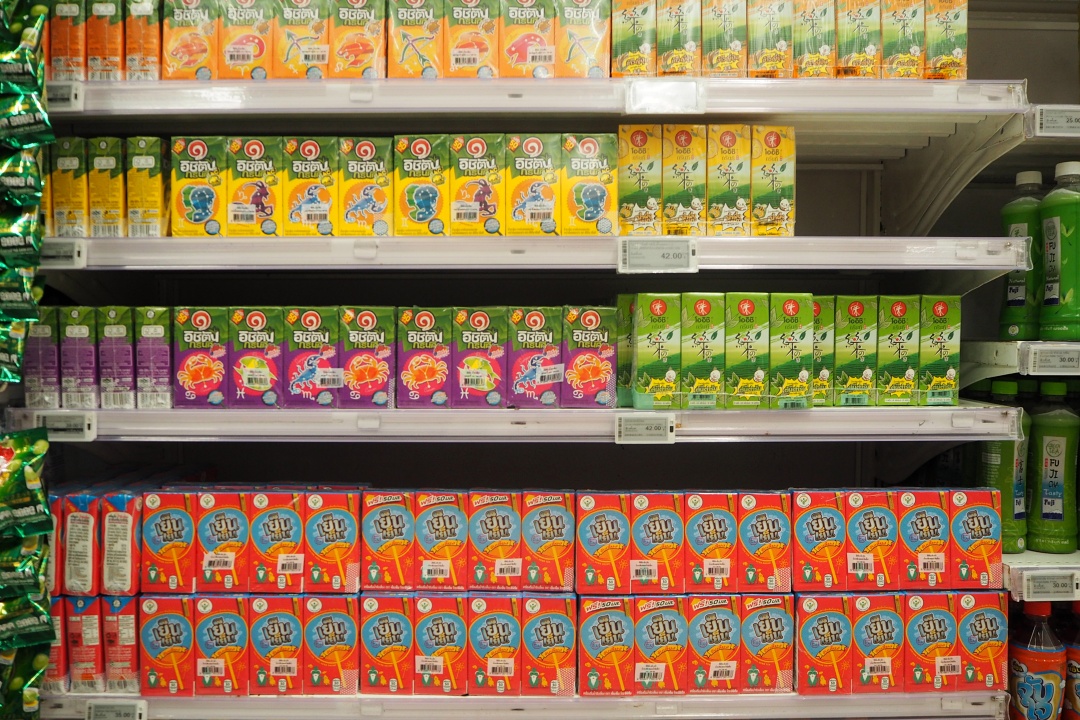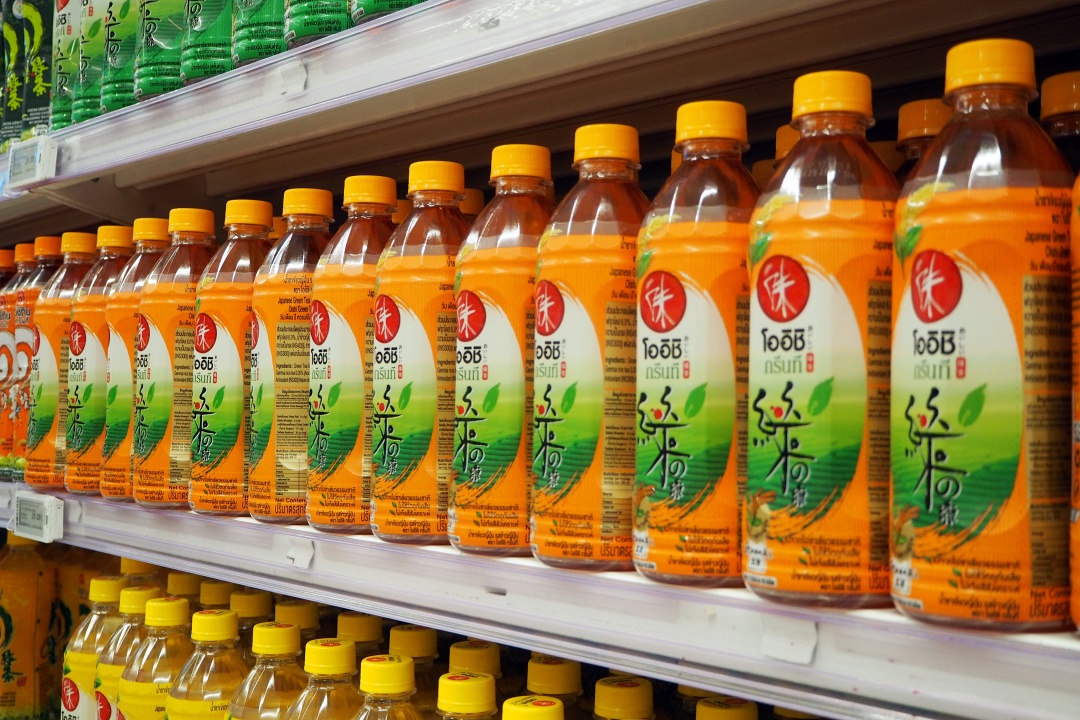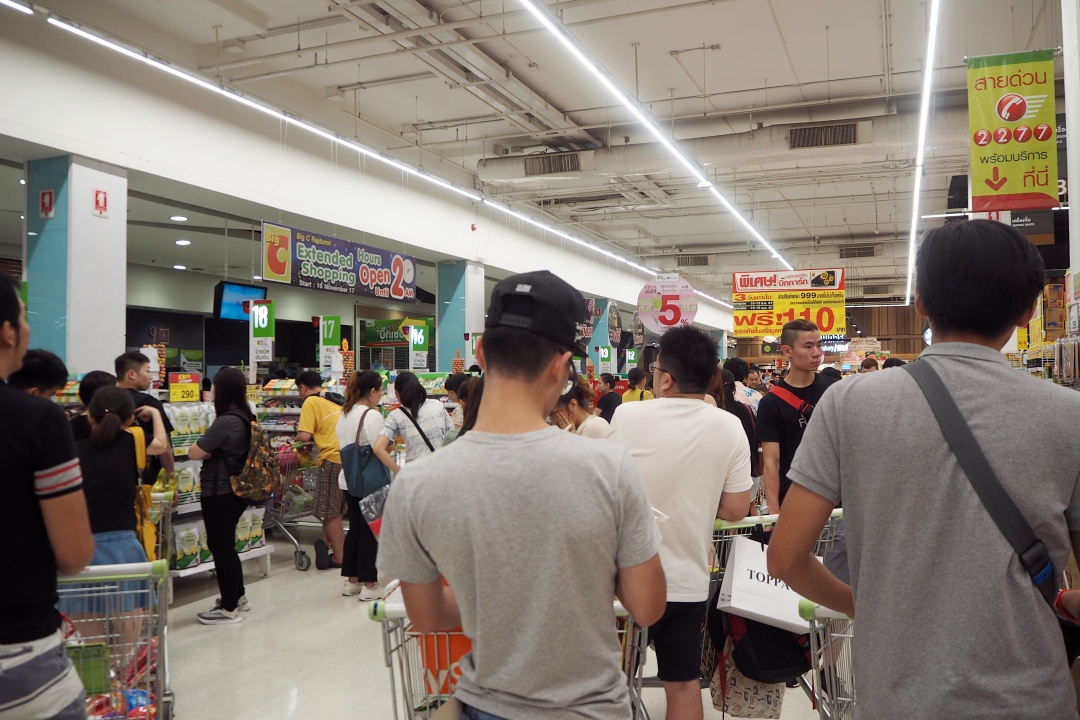 At 23:00, there were still snaking queues at the cashiers.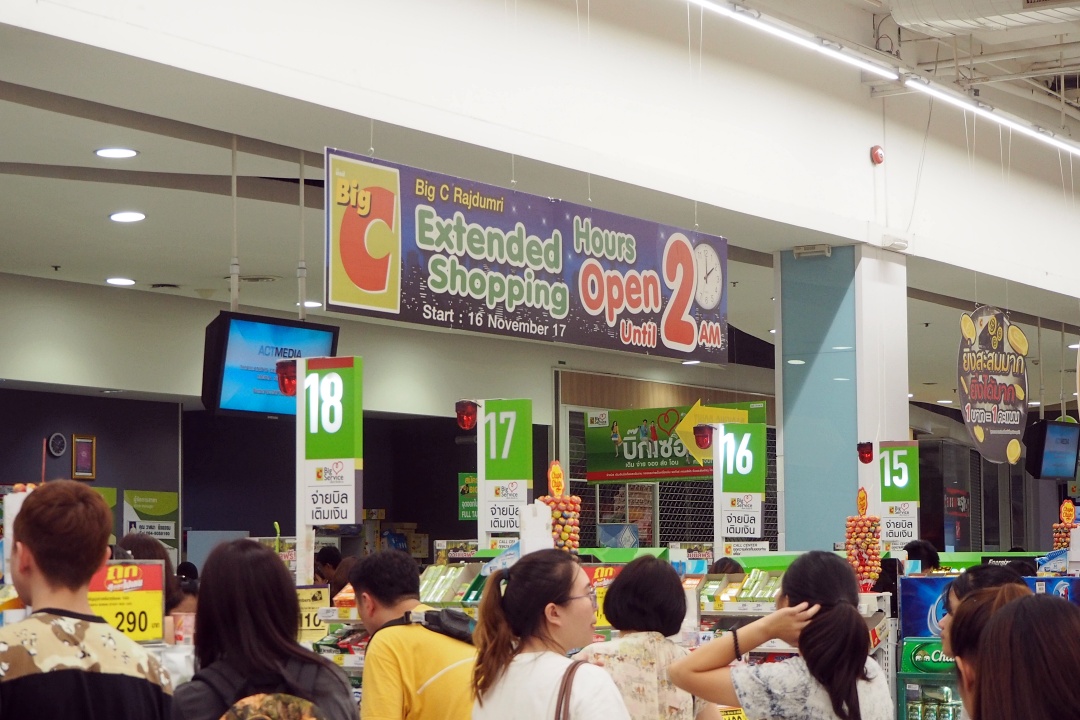 The shopping hours were extended till 02:00, so that was nice!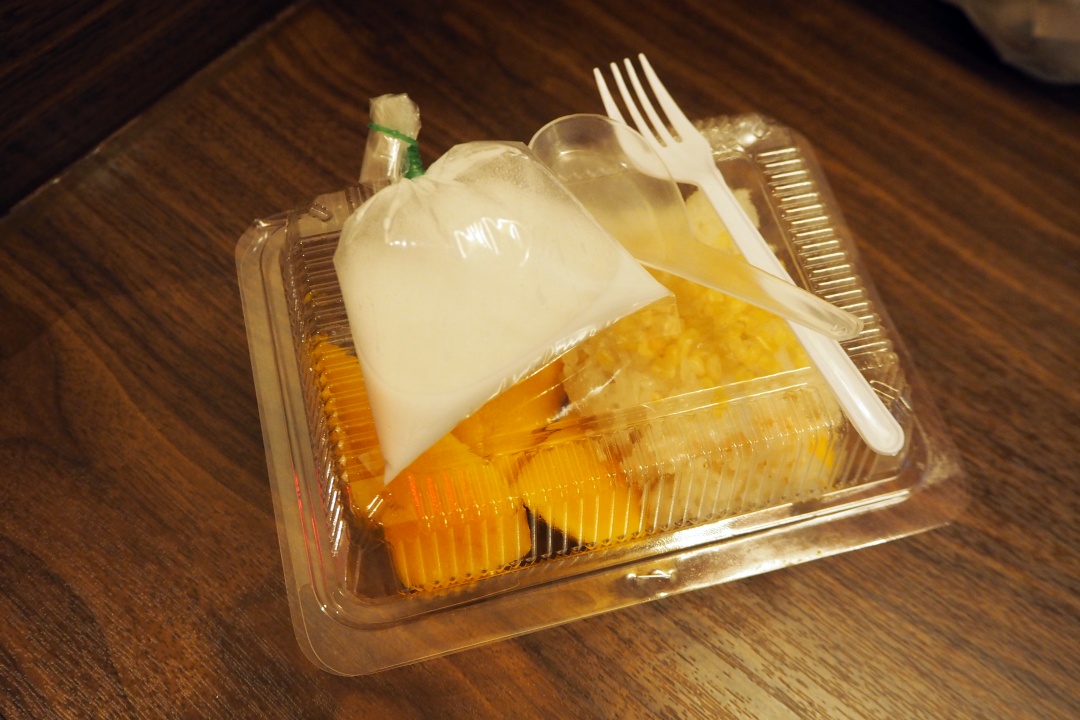 And that was pretty much it for day 1 in Bangkok. Ending this post with a picture of the THB 100 mango sticky rice that I got earlier. I usually went to get mine from the stall located opposite The Berkeley Hotel Pratunam, as it opens till quite late, like midnight or 01:00. Else I would get them from Big C, the food bazaar outside CentralWorld, or the food court at Platinum Mall.