Day 2 in Kyoto, we woke up early because we had planned to rent kimono and visit the Arashiyama Bamboo Forest! I'm very excited to be wearing kimono for the first time!
Did a quick search online and decided to rent our kimono via Wargo. It happens that there is a shop nearby at the Kyoto Tower, so we decided to head to that shop.
Wargo Kyoto Kimono Rental – Kyoto Tower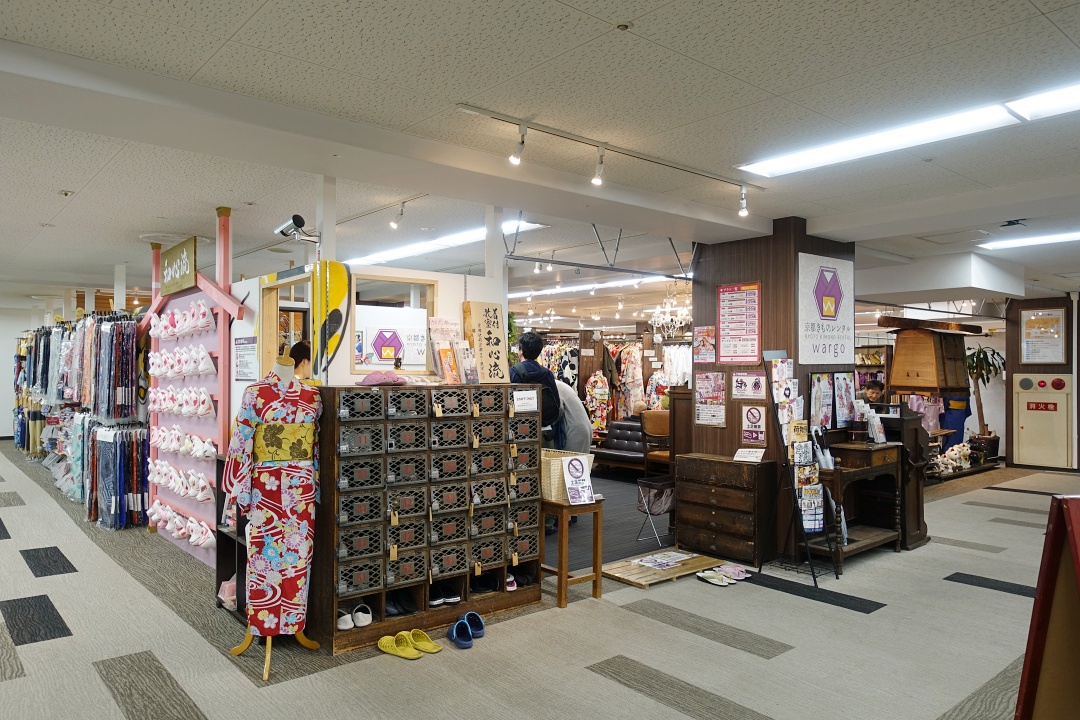 📍Wargo Kyoto Kimono Rental – Kyoto Tower
Reached the shop at around 10:00 and was told that there's a waiting line. I can't remember exactly, but I believe it was at least a 1.5-hour wait.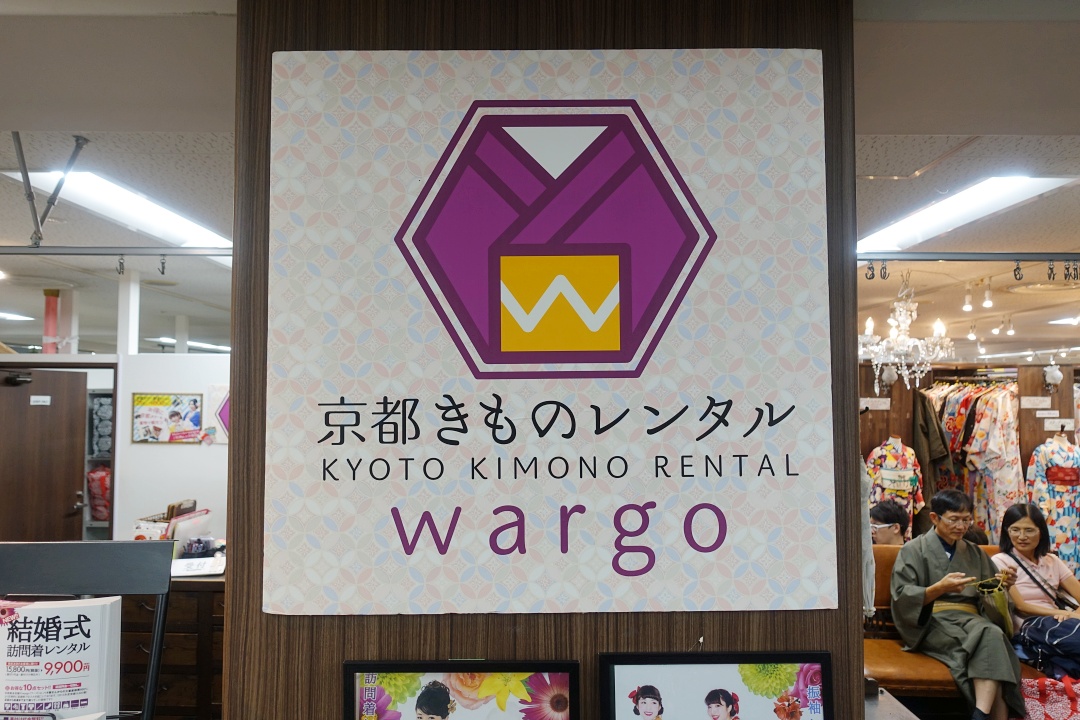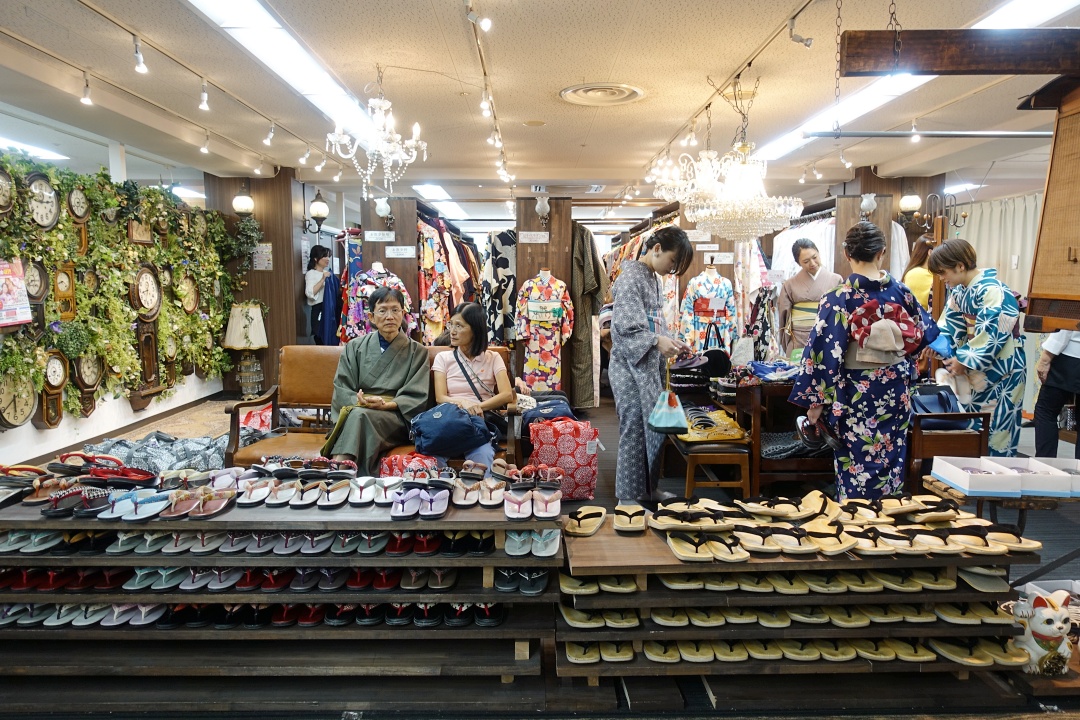 Instead of waiting at the shop, we figured we might as well spend the time travelling to another outlet, one that is near to the Arashiyama Bamboo Forest. The staff also suggest we make a reservation online so that we didn't have to wait any further when we arrive. That works out well for us because we managed to get a slot at around the same time we arrived. (Plus, it was also cheaper to book and pay online, instead of walking in.)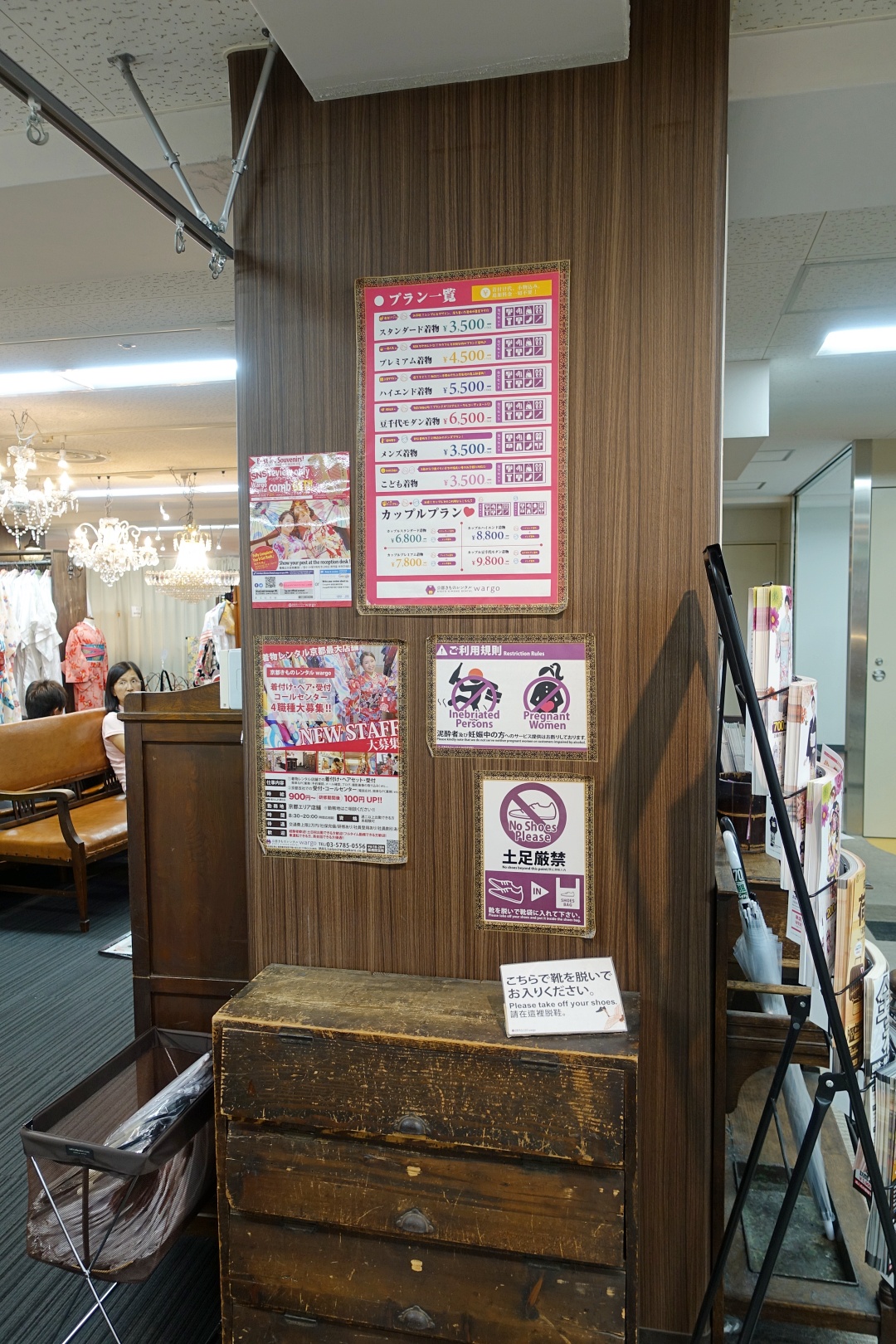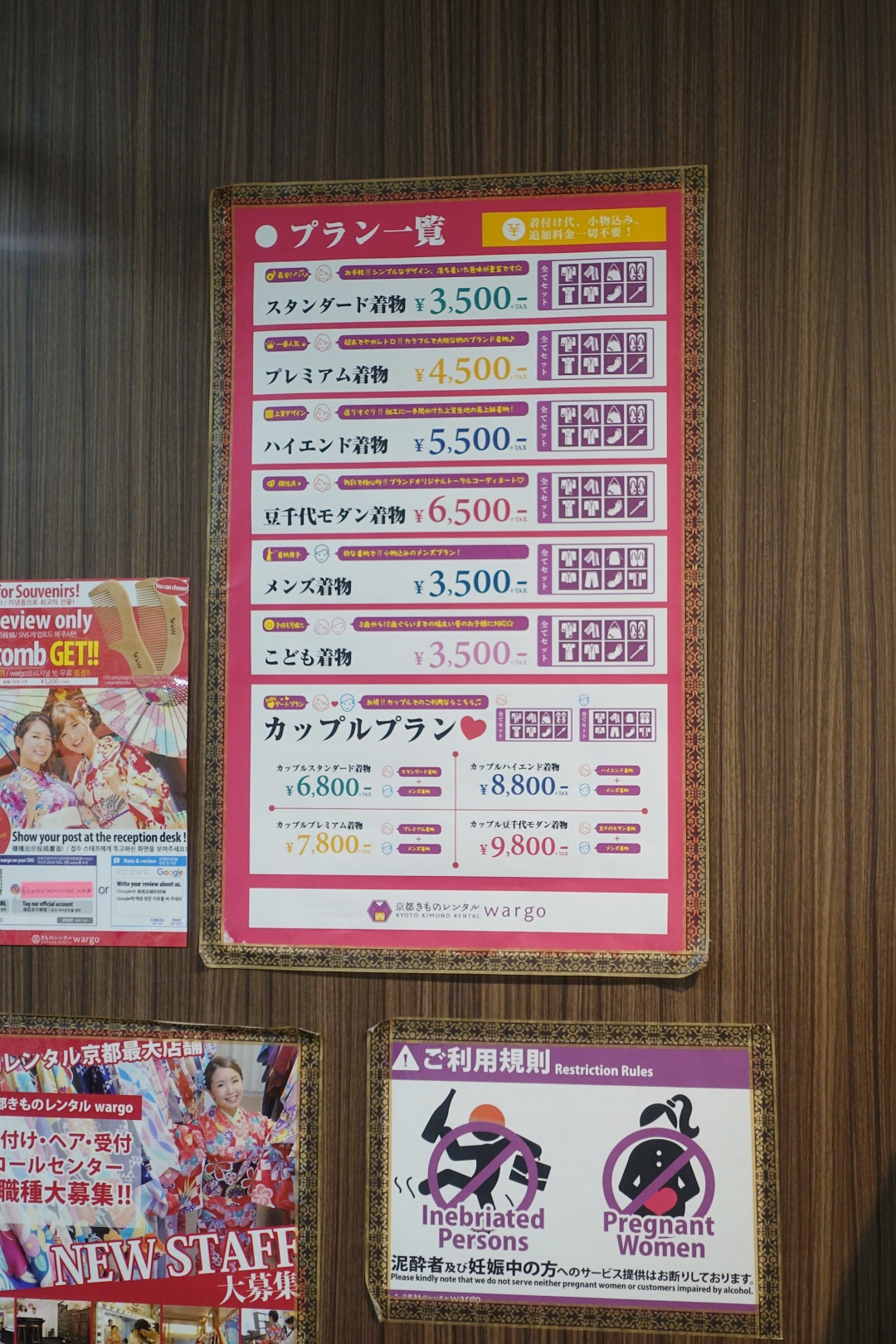 ---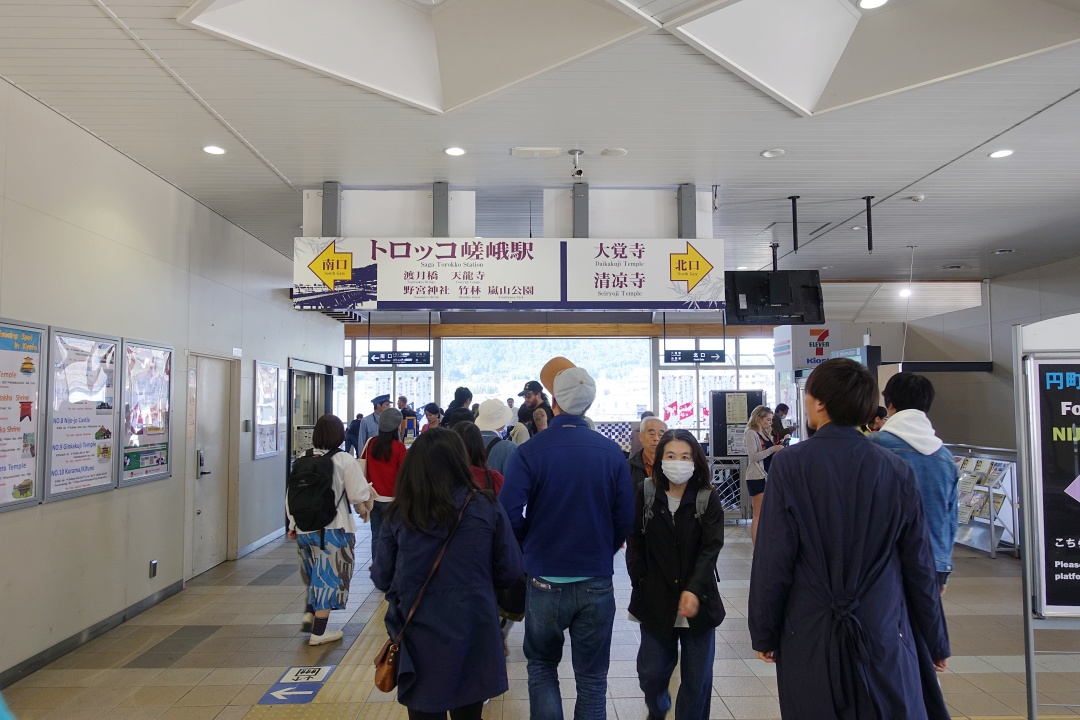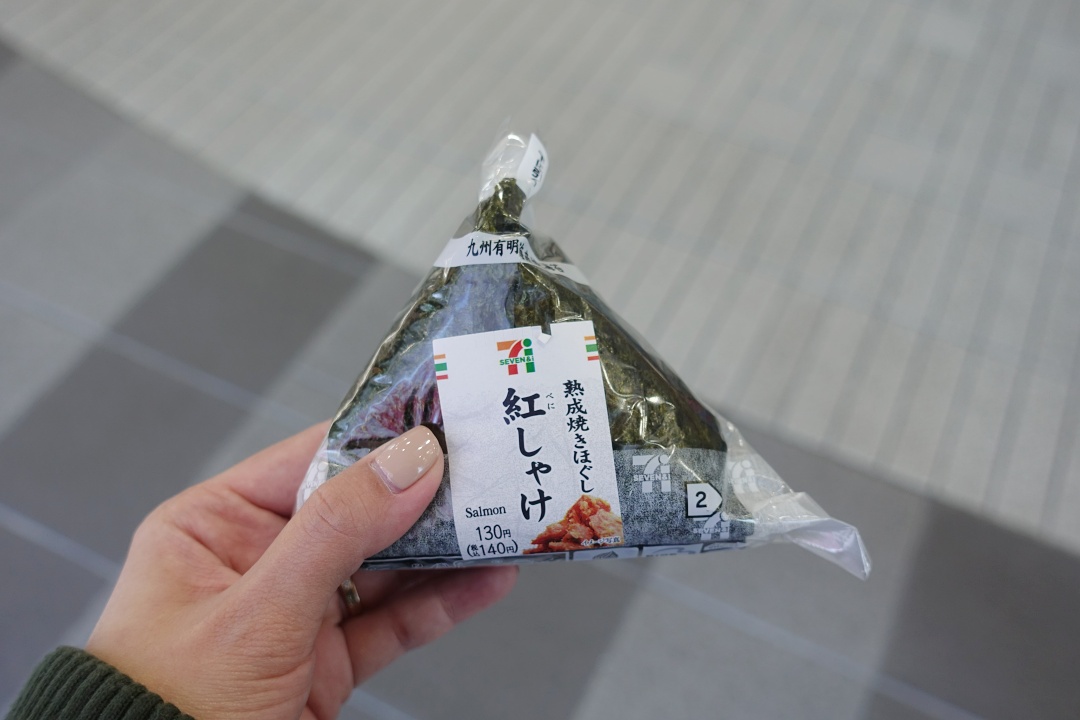 I was getting hungry by the time we reached Saga-Arashiyama Station, so I promptly got myself an onigiri from 7-Eleven.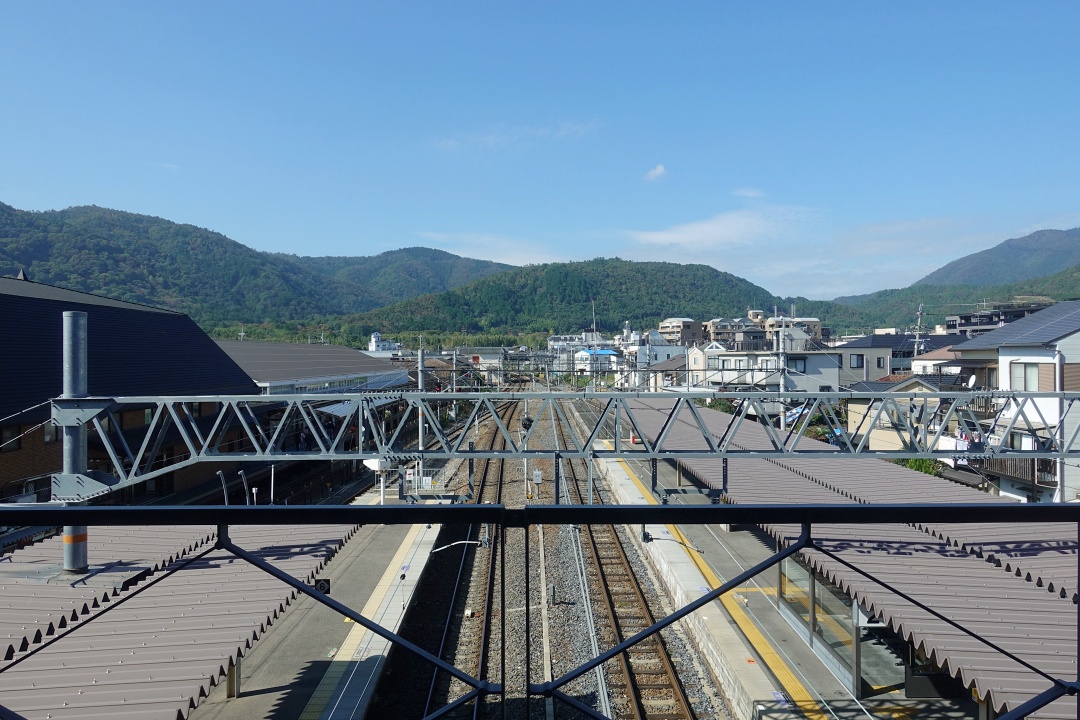 Thankful for such beautiful weather.
Wargo Kyoto Kimono Rental – Arashiyama Store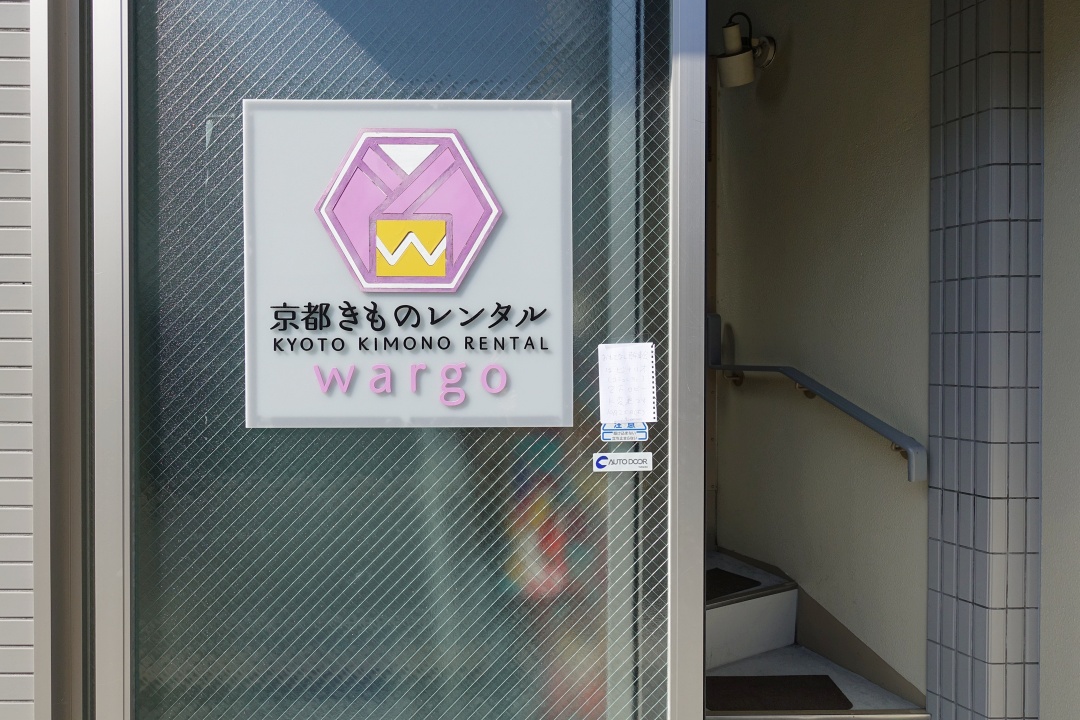 There were a couple of Wargo Kyoto Kimono Rental shops in Kyoto, and we booked ours with the Arashiyama Store, mainly because of its location.
From JR Kyoto Station, we took the JR Sagano Line to Saga-Arashiyama Station, and from there it's just a 1-minute walk to Wargo Arashiyama Store. (Cross the round-about and go straight forward, the shop is located on the 2nd floor of the building on the right.)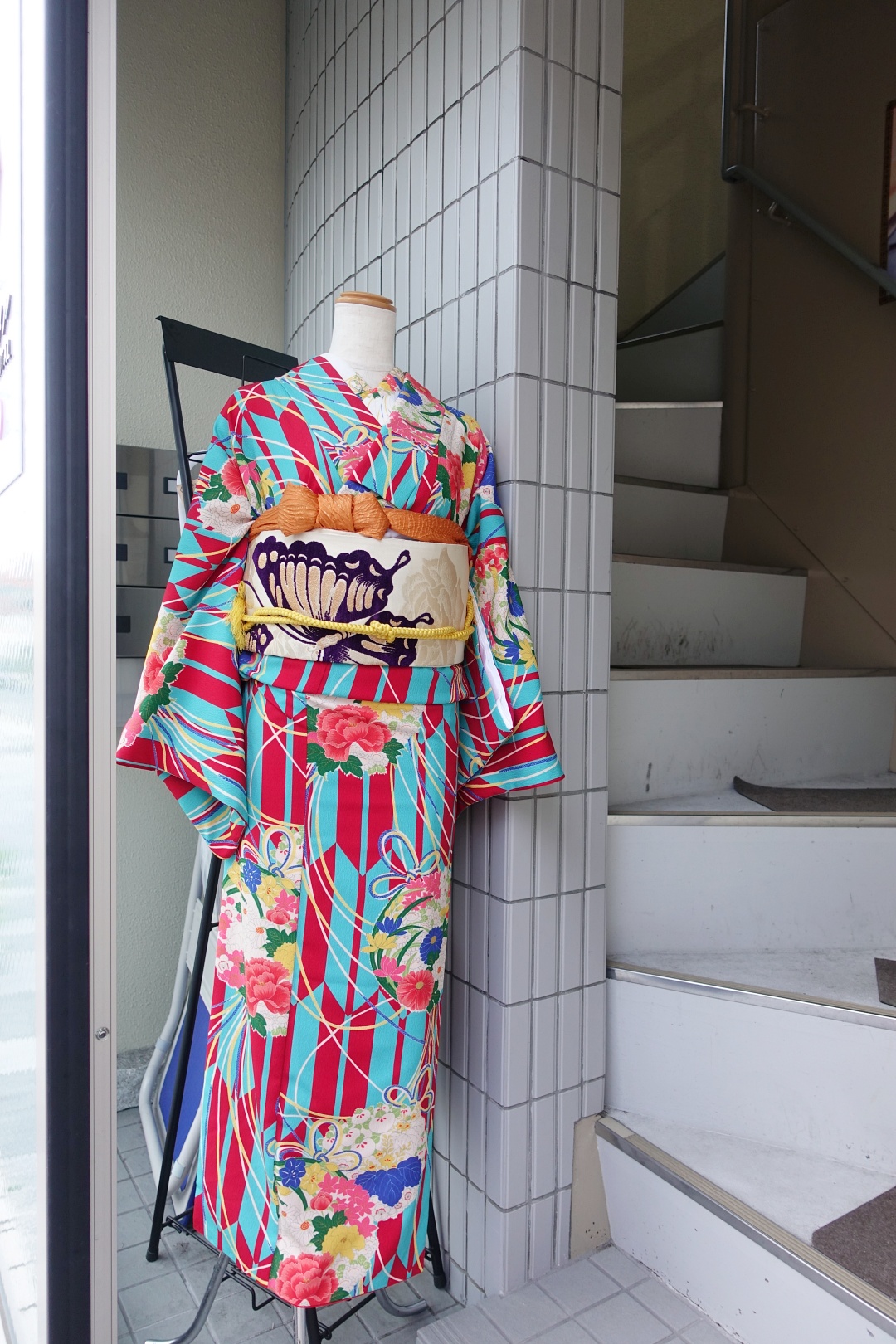 Headed up to the second level for the reception.
After verifying our booking, the staff led us into one of the rooms where we could start picking out our kimono. Not sure if it's a good or bad thing, but we were left alone to do the choosing. There were a couple of racks and because we booked the "Highend Kimono Plan for Couples", we could very well pick up any kimono we like from the stand.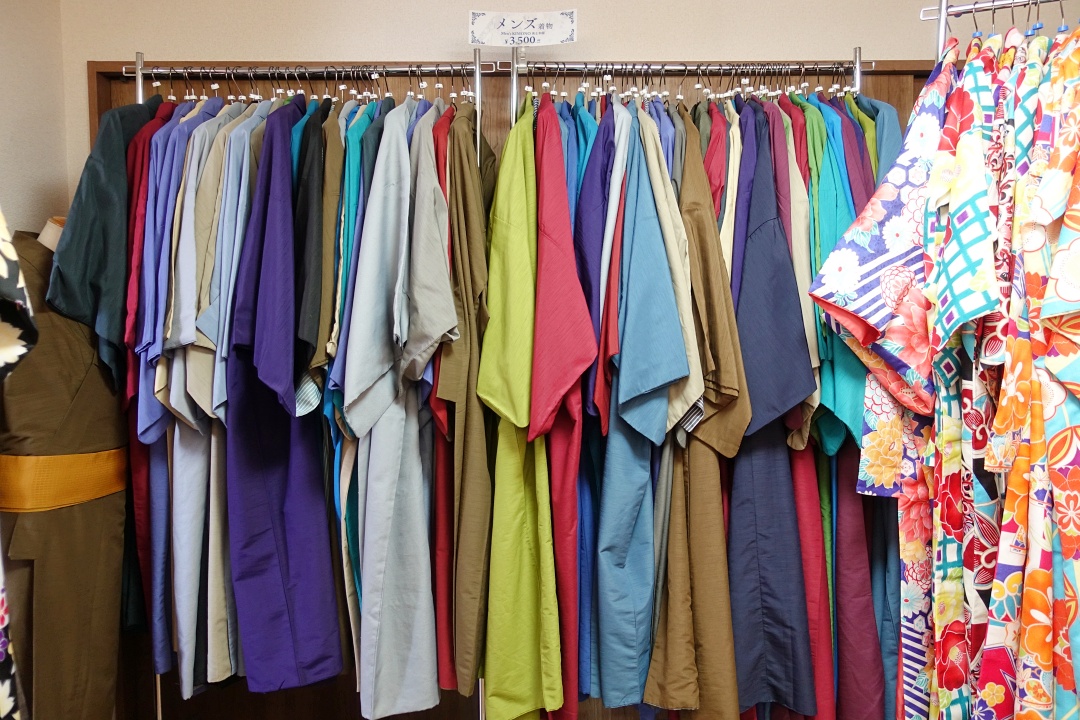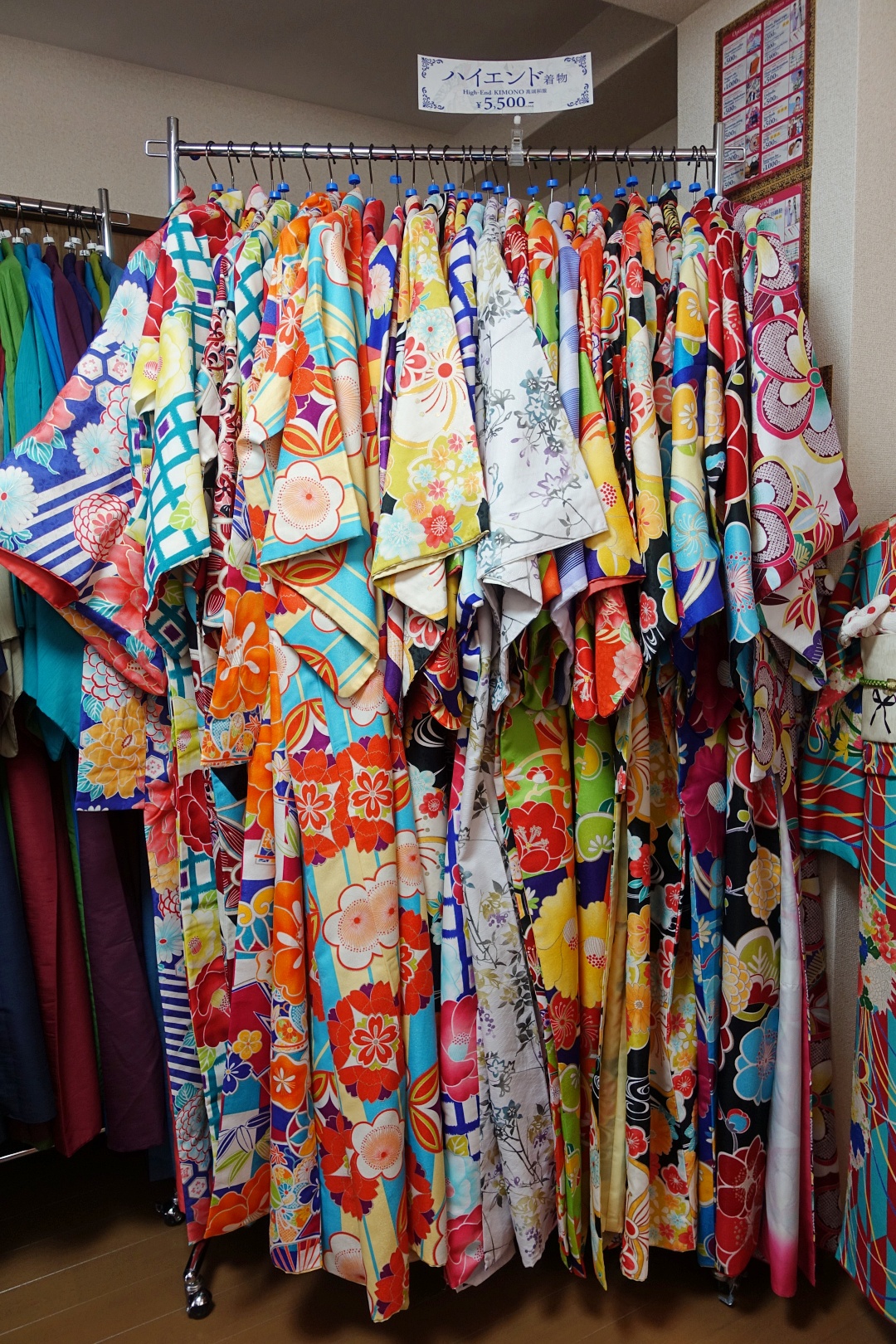 Most of their kimonos are leaning towards the colourful/fanciful side.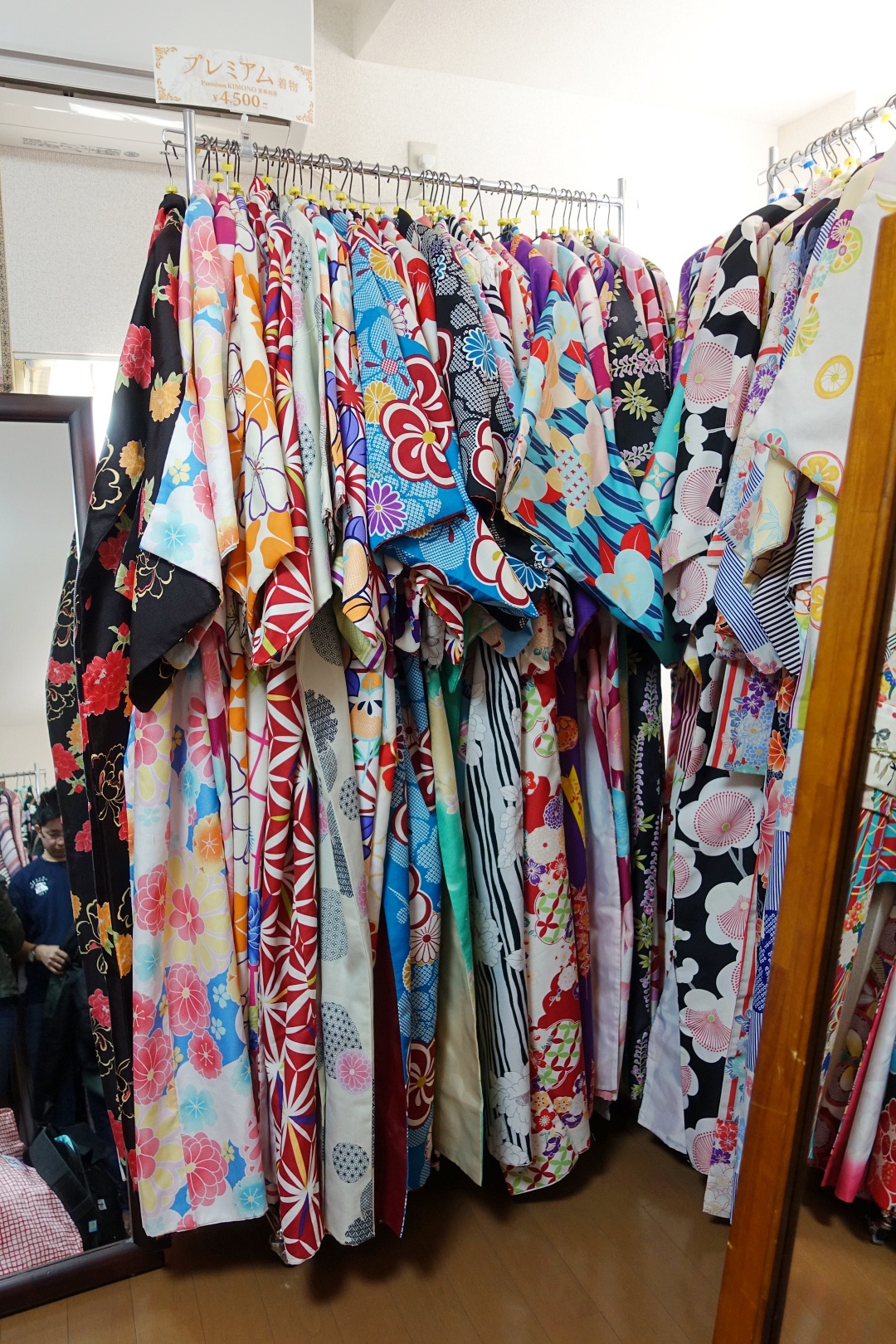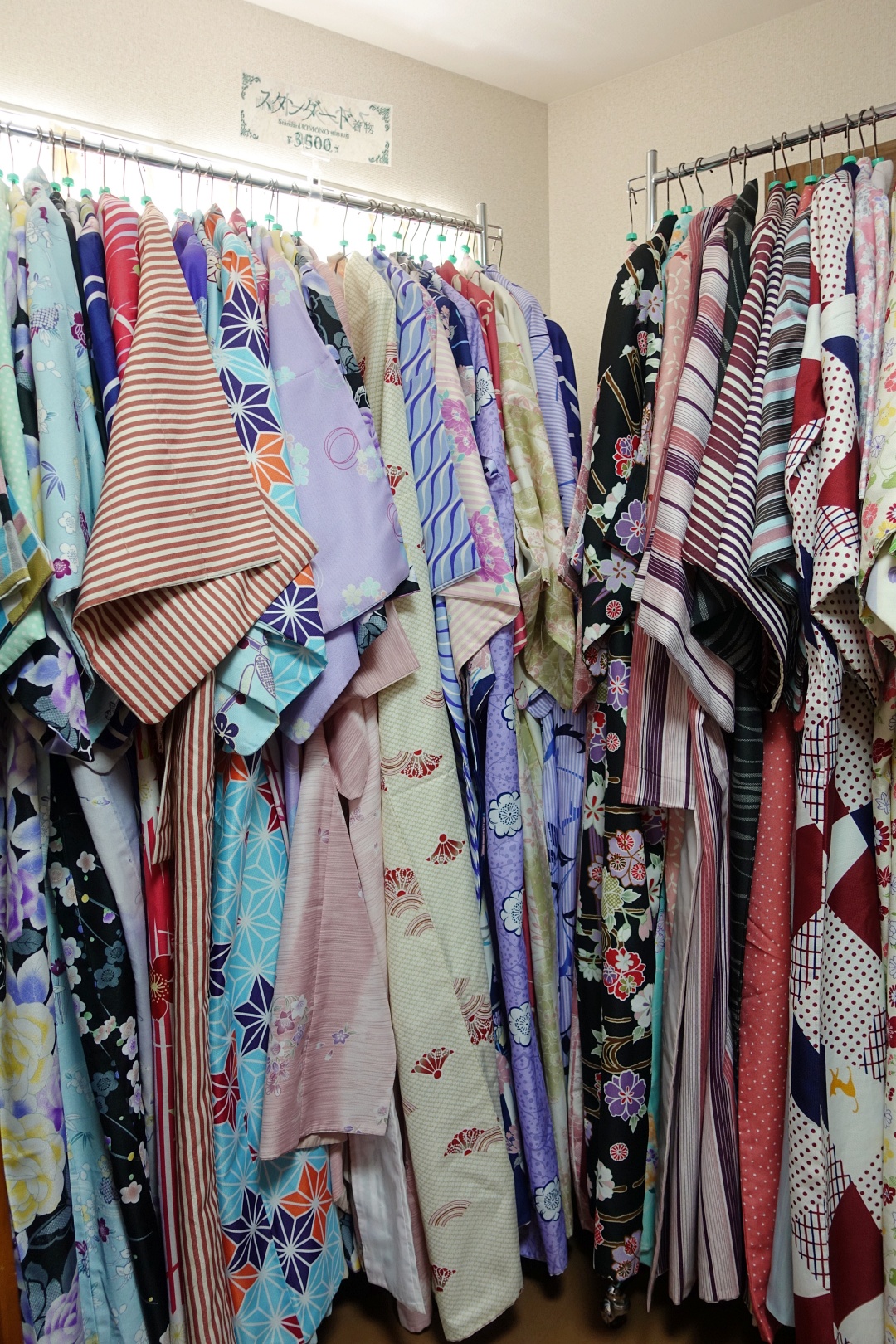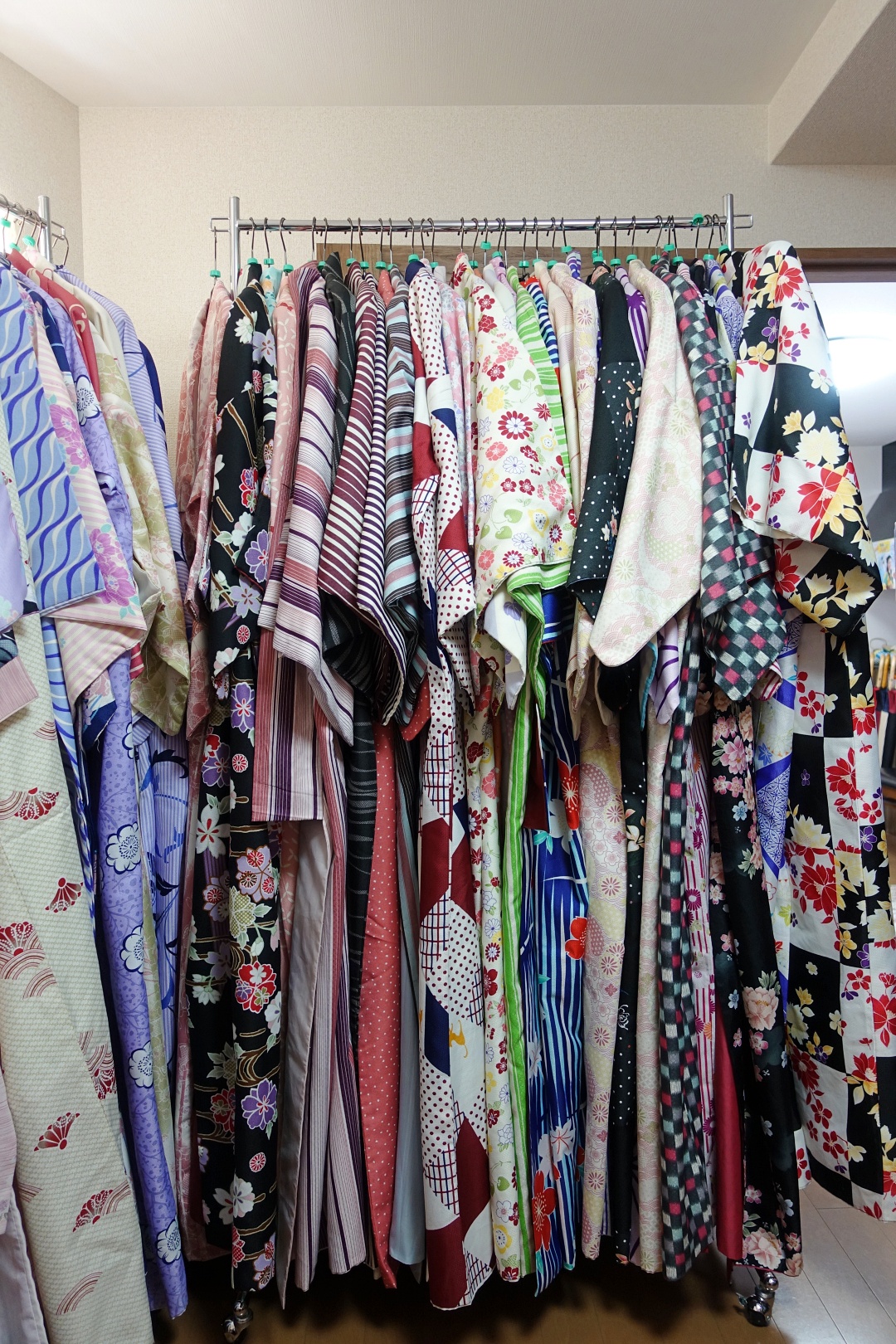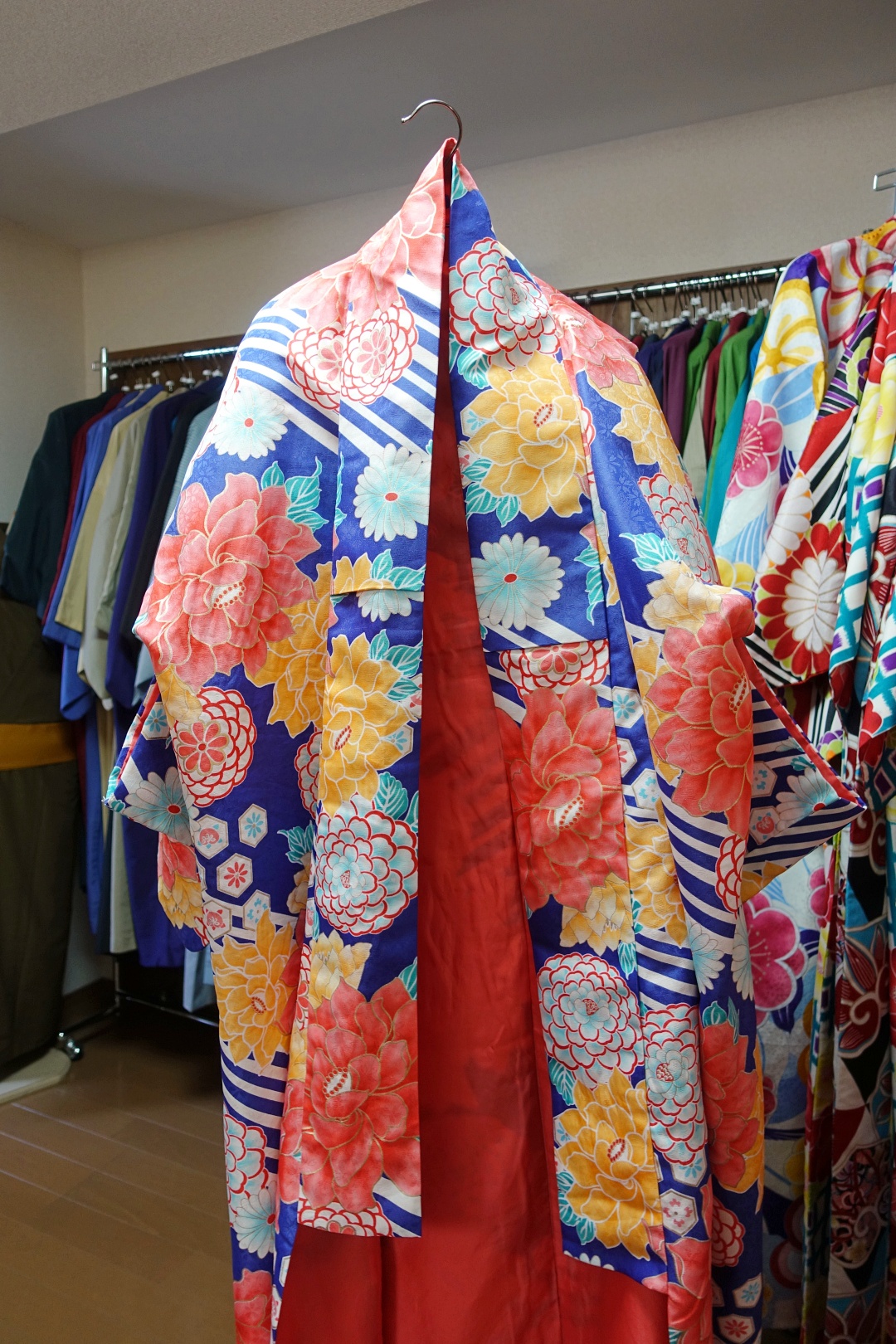 The Husband had it easy since he just had to pick a solid colour. I, on the other hand, had such a hard time choosing mine since there were so many prints and colours available. In the end, I decided to go with this indigo blue one above.
After having chosen our kimonos, it was time to start the dressing process. Parted way with the Husband and I went on to get dressed in a room with other ladies. The staff began by covering me efficiently with the hadagi (kimono underwears), before dressing me up in my chosen kimono and tying up the obi. (I only got to select the obi belt and accessories before we started the dressing process.)
I think the entire session took around 30 minutes? You can read more about the dressing up process here.
After I'm done, I made my way out of the room and went to pick up a bag to go with my outfit.
I didn't book for any hair service when we made the reservation online. But I was very tempted to get my hair styled to complete the look after donning on my kimono. Hence, I asked the staff if it's possible to get my hair done. Thankfully, there were able to help me with that, and I ended up getting my hair makeover. (Additional charge applies for the hair makeover.)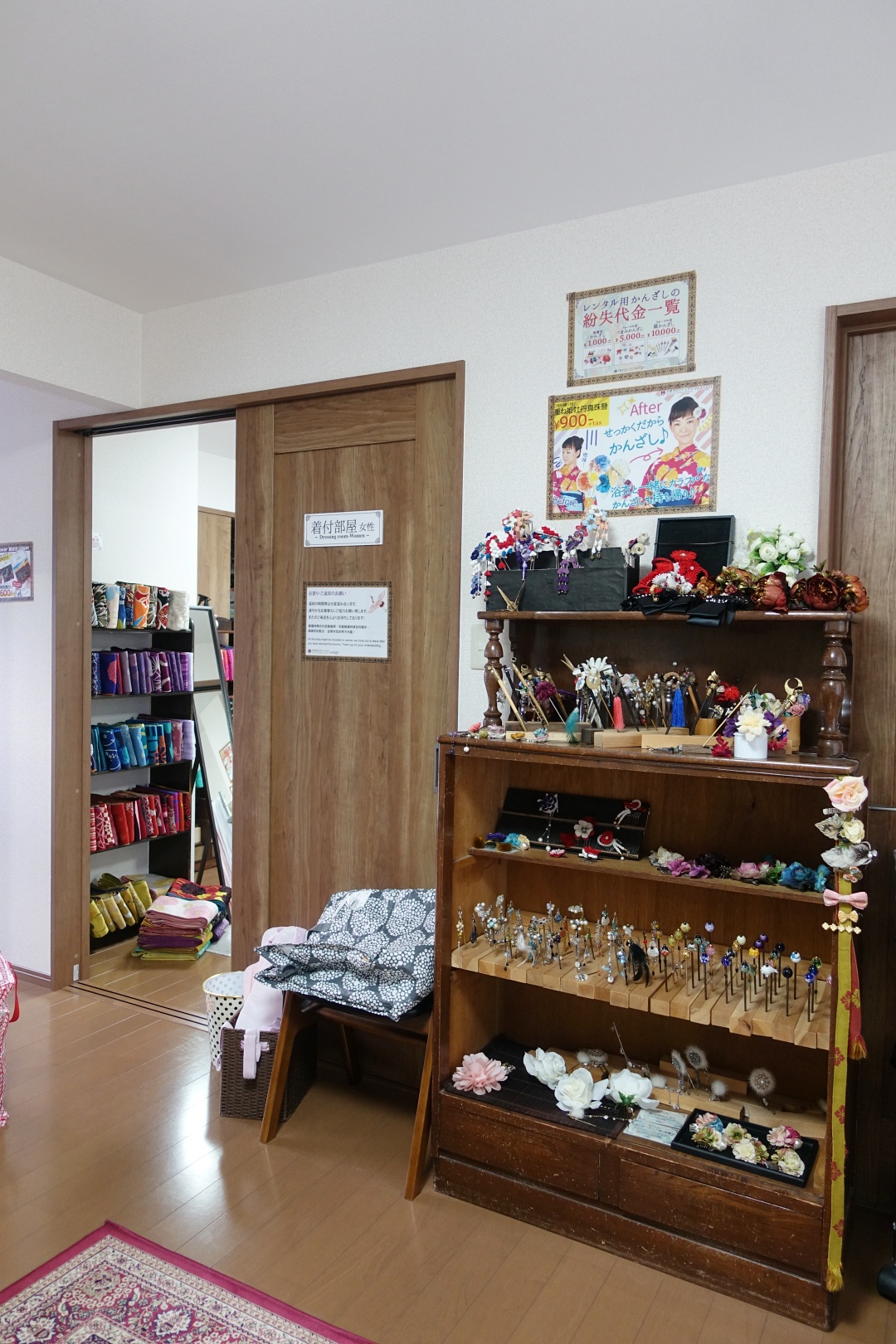 Before we began, the staff checked with me on the hairstyle I prefer, and I requested for an up-do. I also got to pick out a kanzashi (hair ornaments) from the shelf to go with my hairdo.
Picked out our sandals before we left the shop.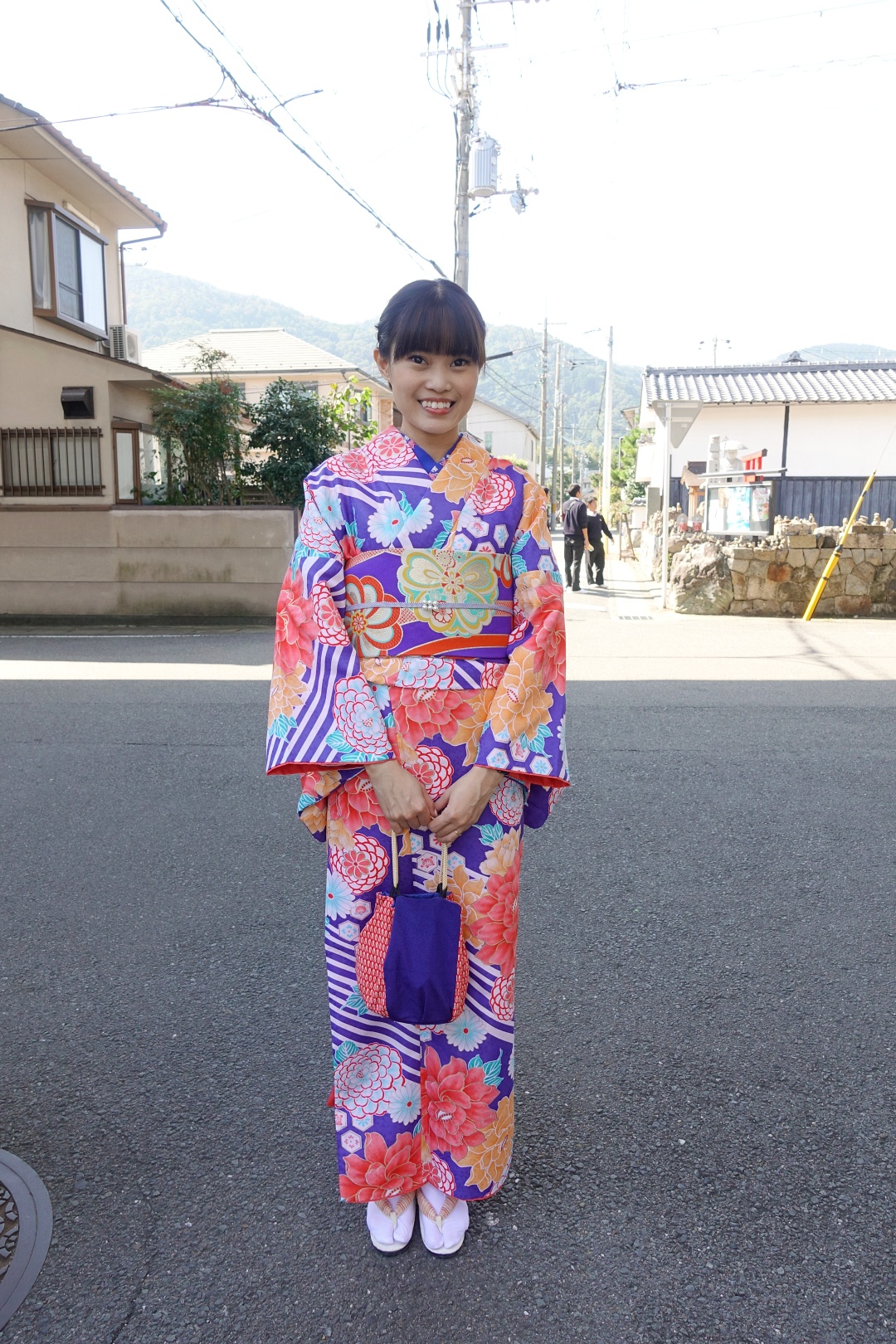 All dressed up and ready to explore the Arashiyama Bamboo Forest in our kimono!
I must say, the kimono and sandals do hinder the way I walk. What supposed to be a short distance to the bamboo forest ended up taking us so much time. I had to take small steps and amble to ensure I won't trip and fall.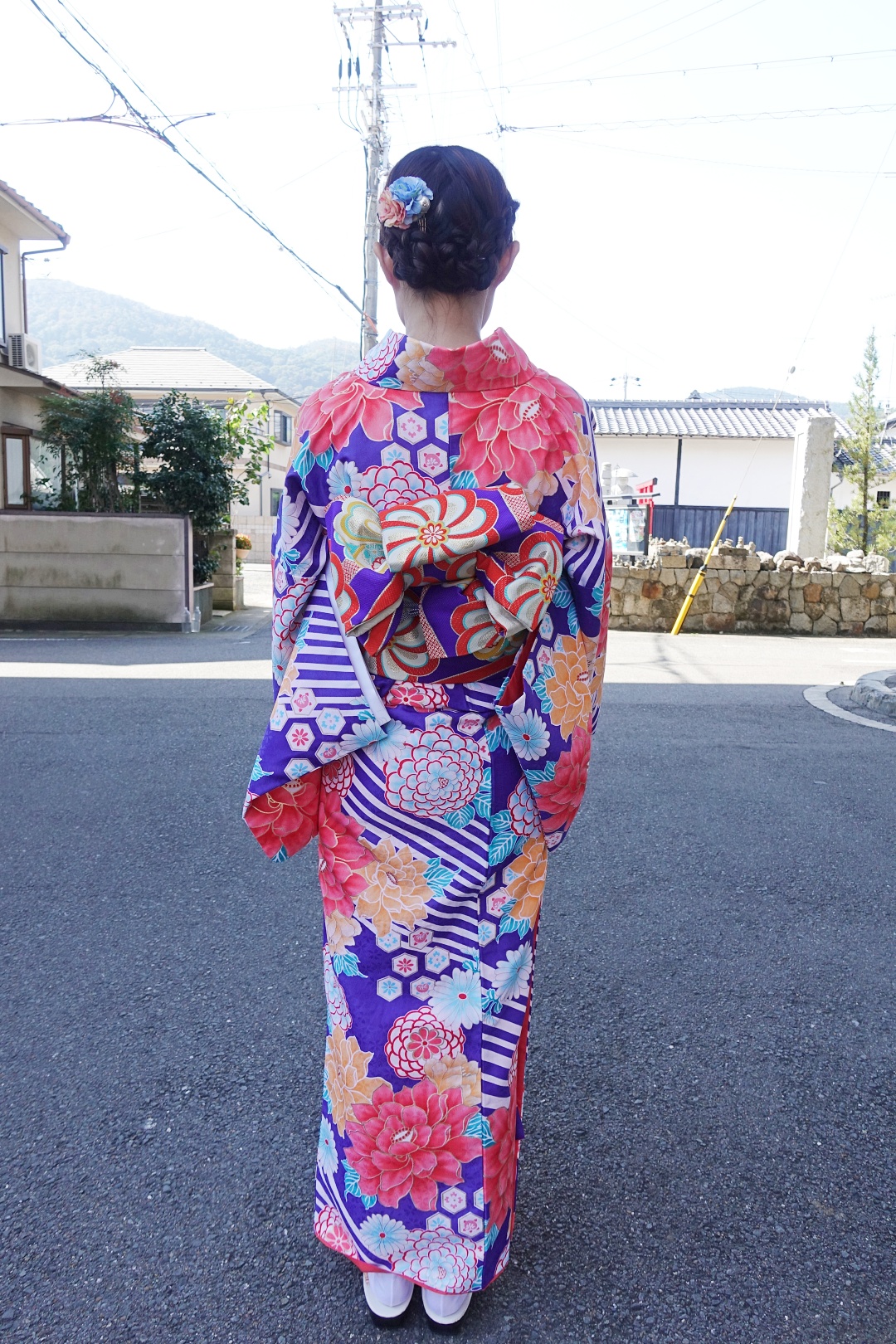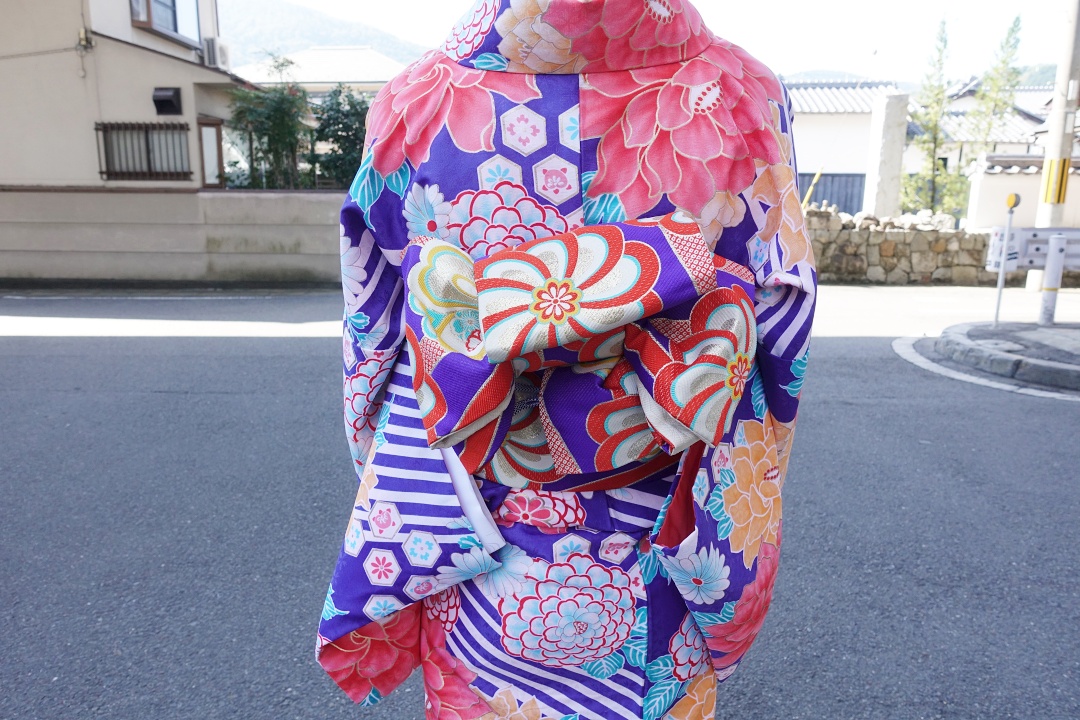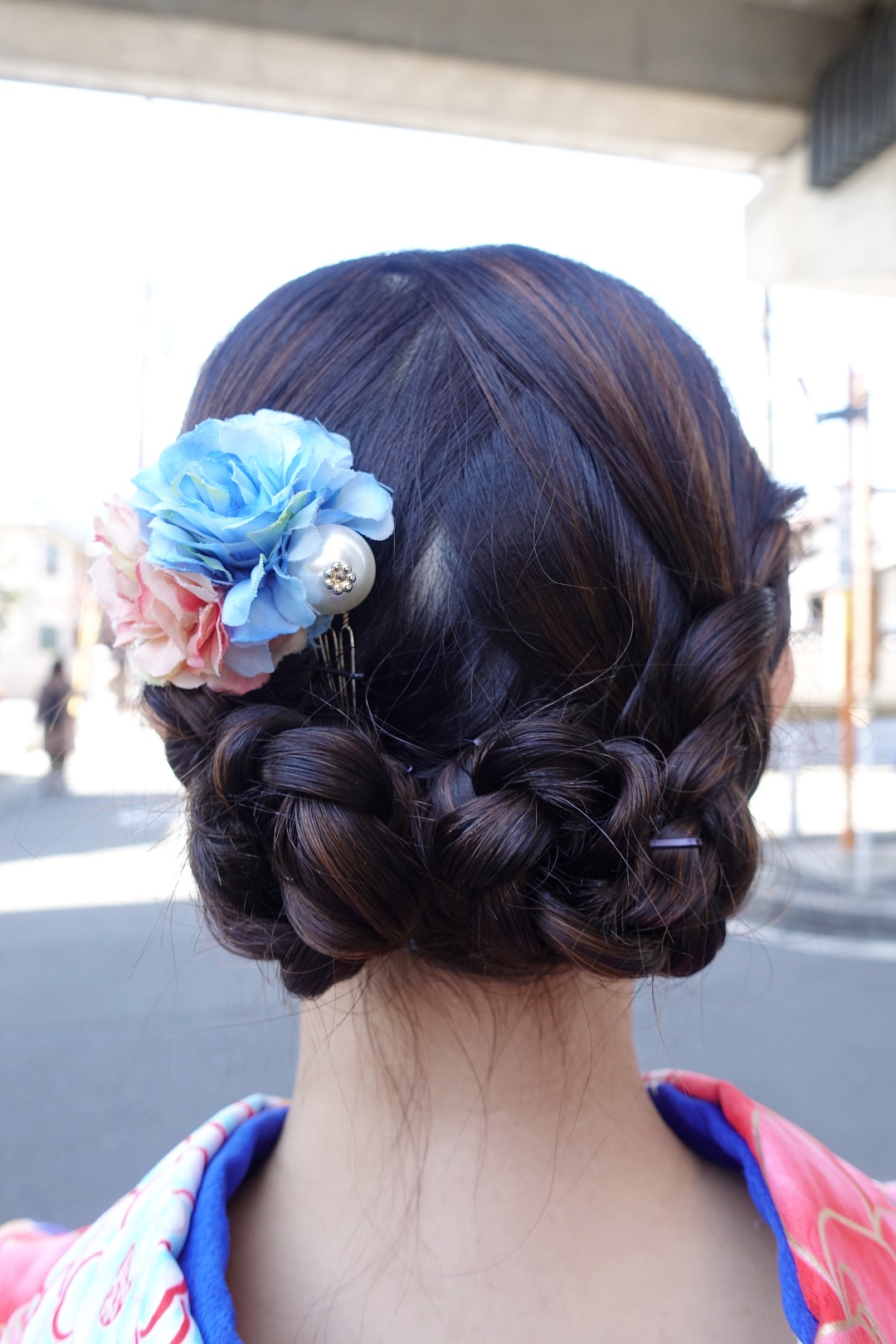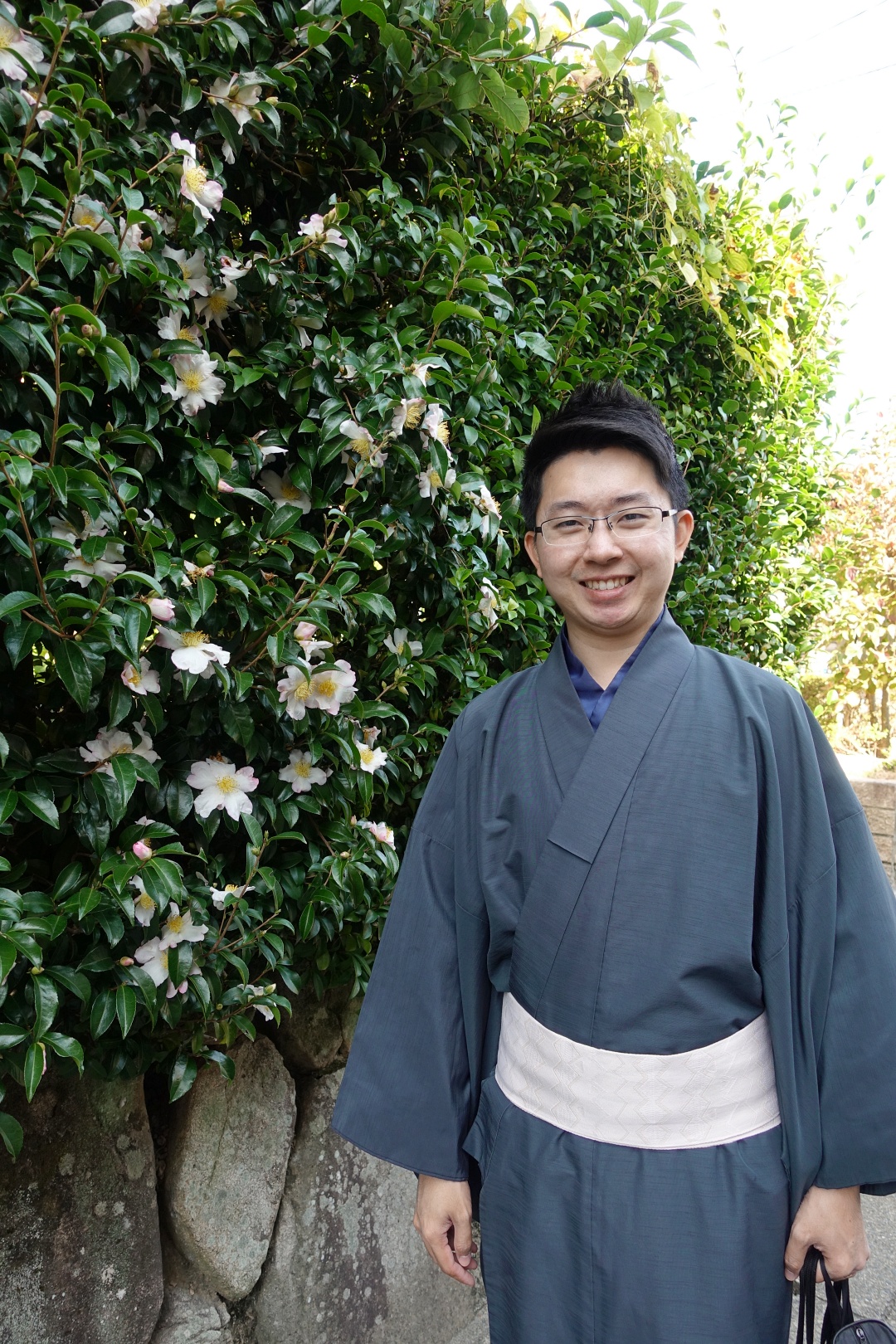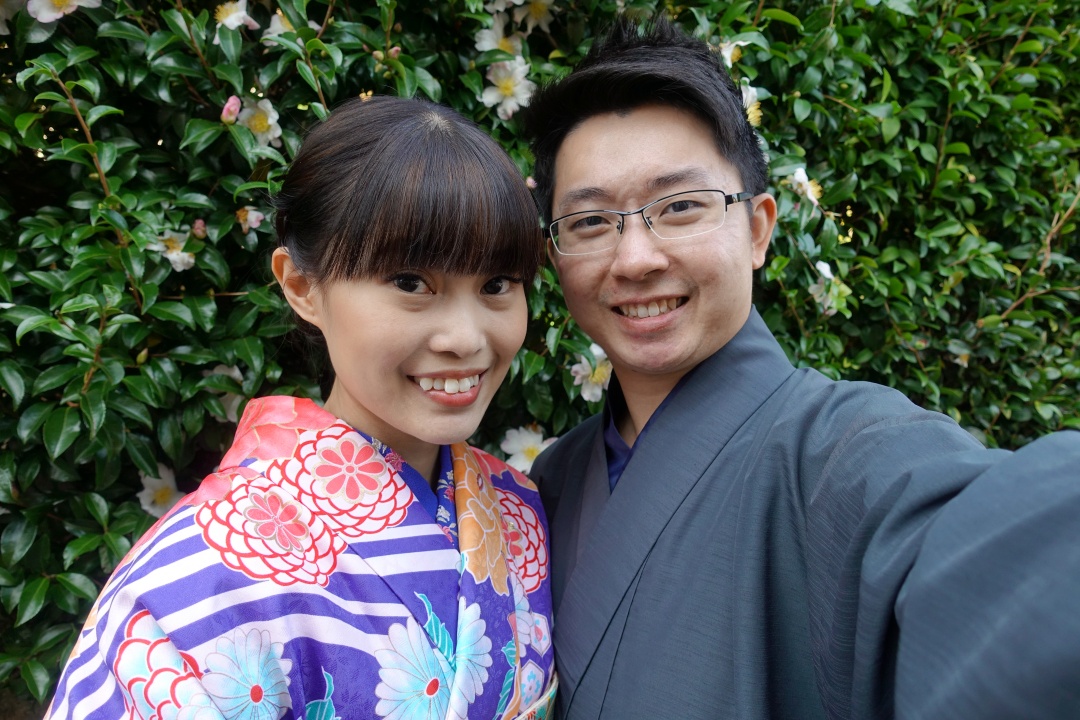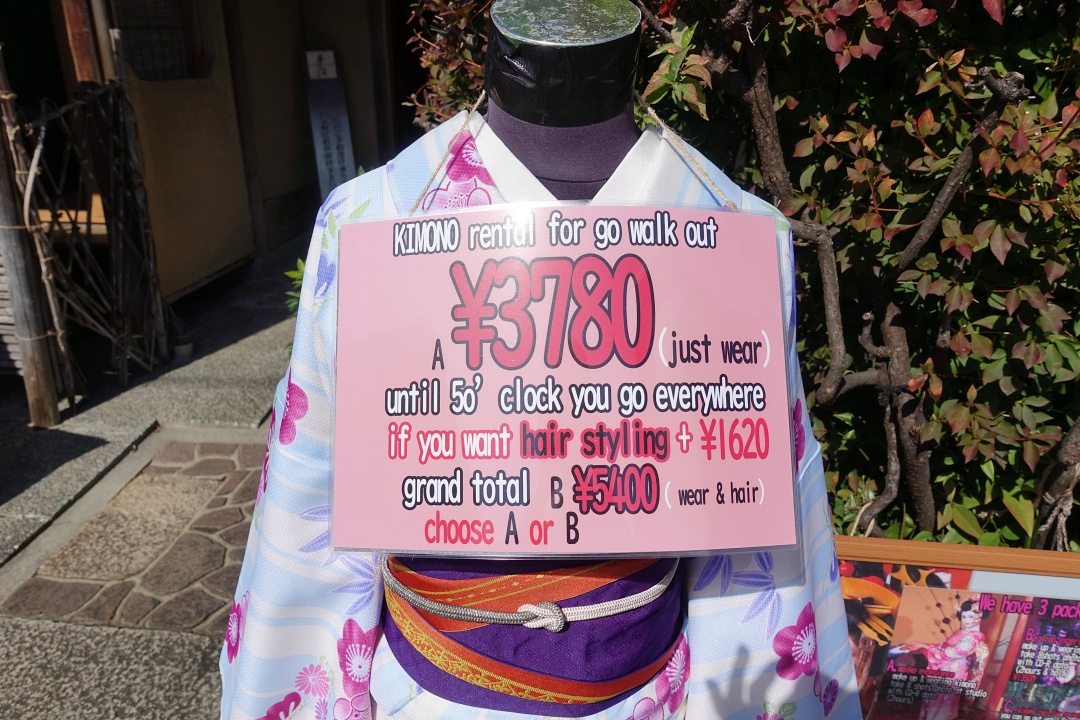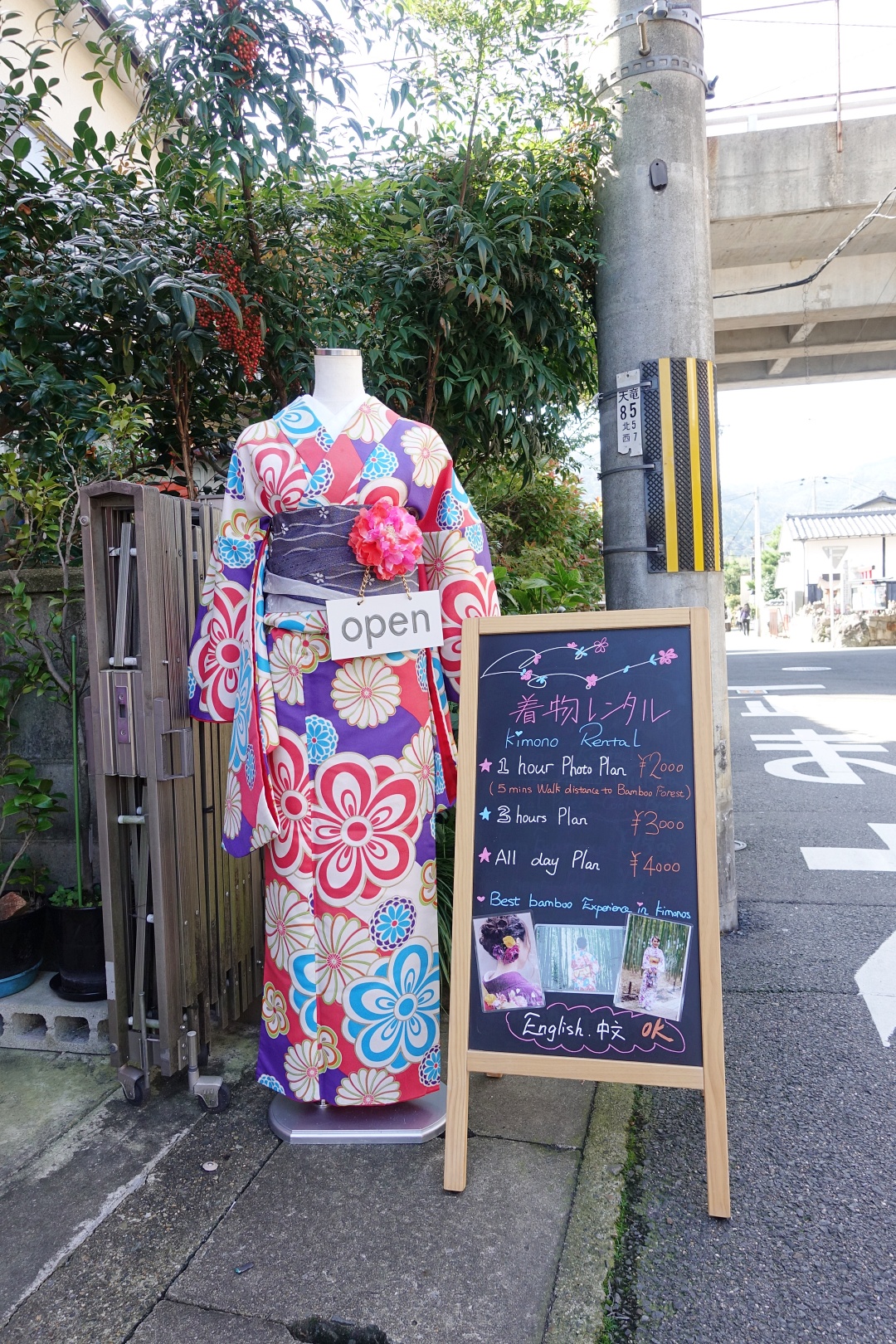 While on our way to the Arashiyama Bamboo Forest, we came across a few other kimono rental shops. Most of them had their price displayed at the entrance and the price for one-day kimono rental is roughly around JPY 4,000?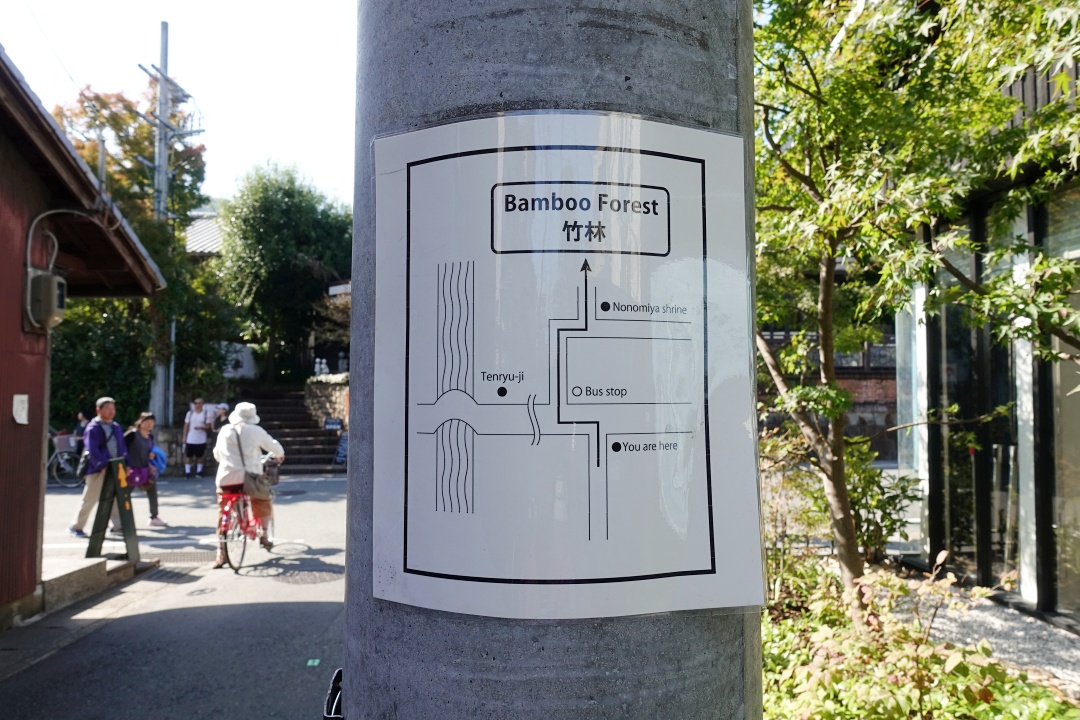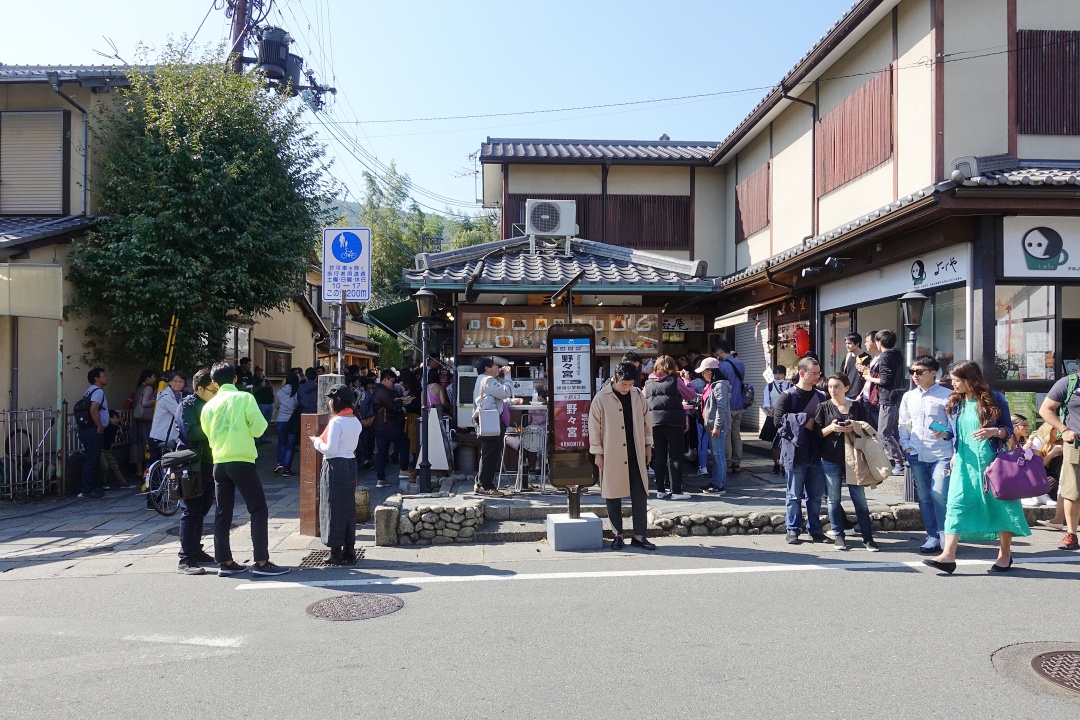 Arashiyama Bamboo Forest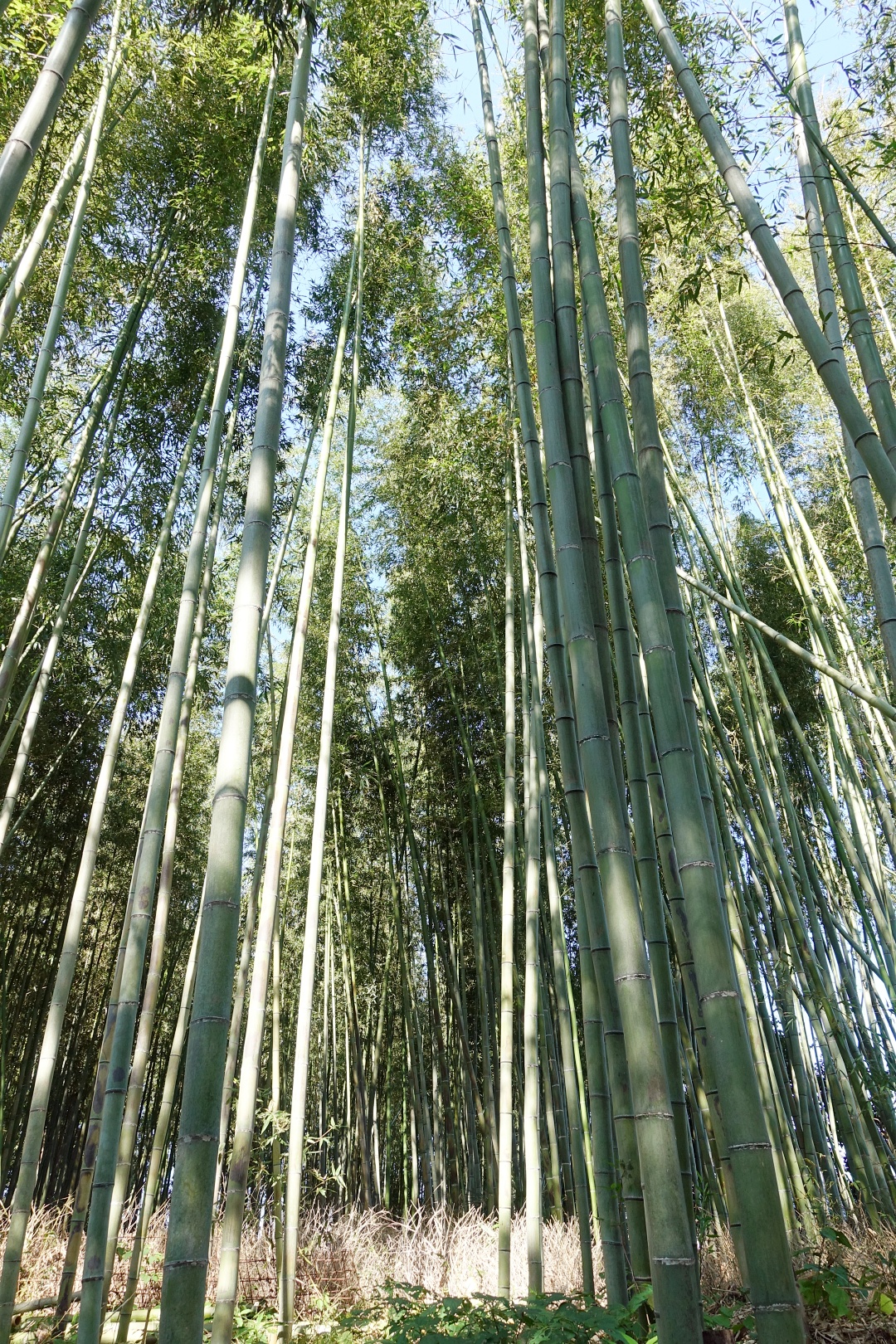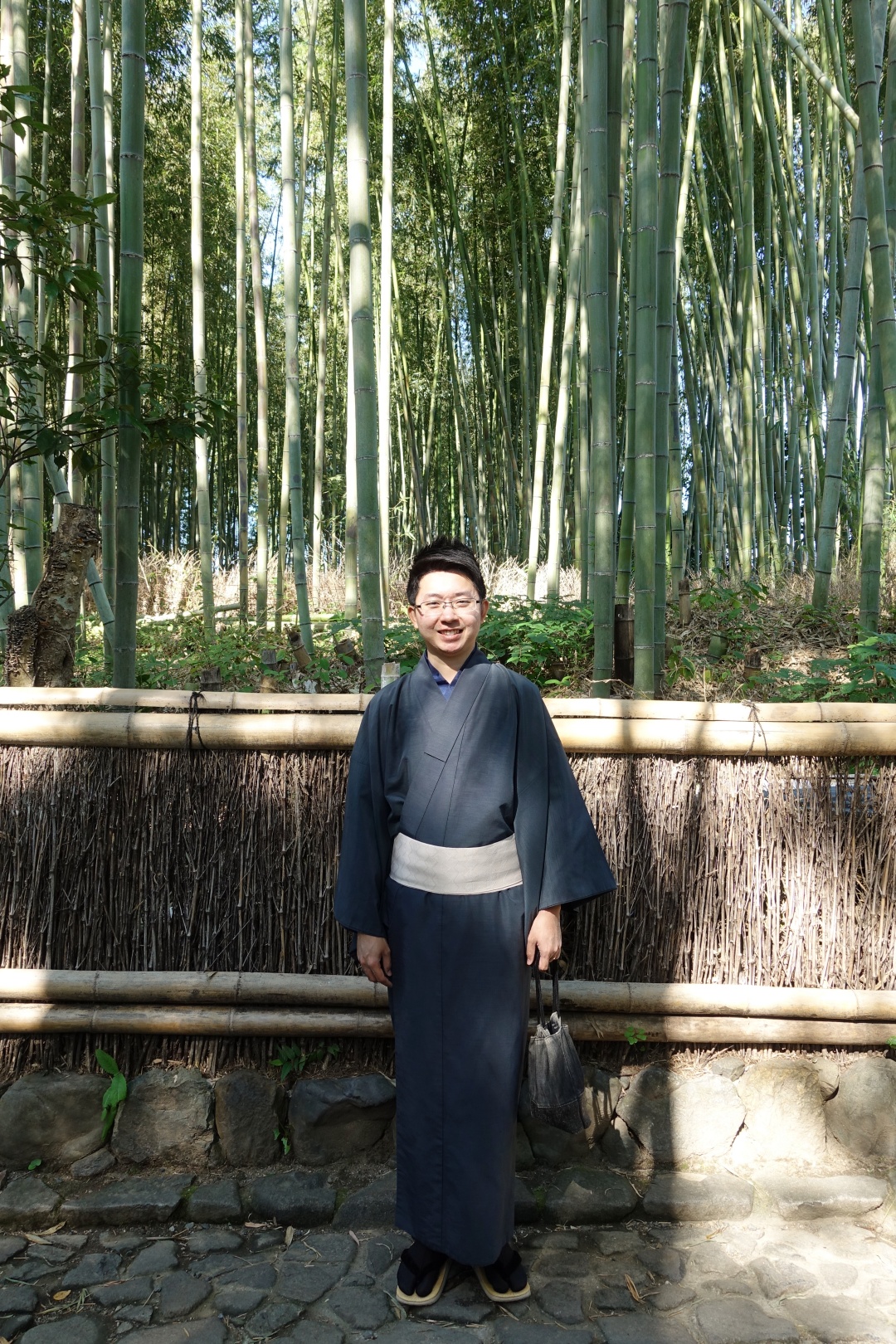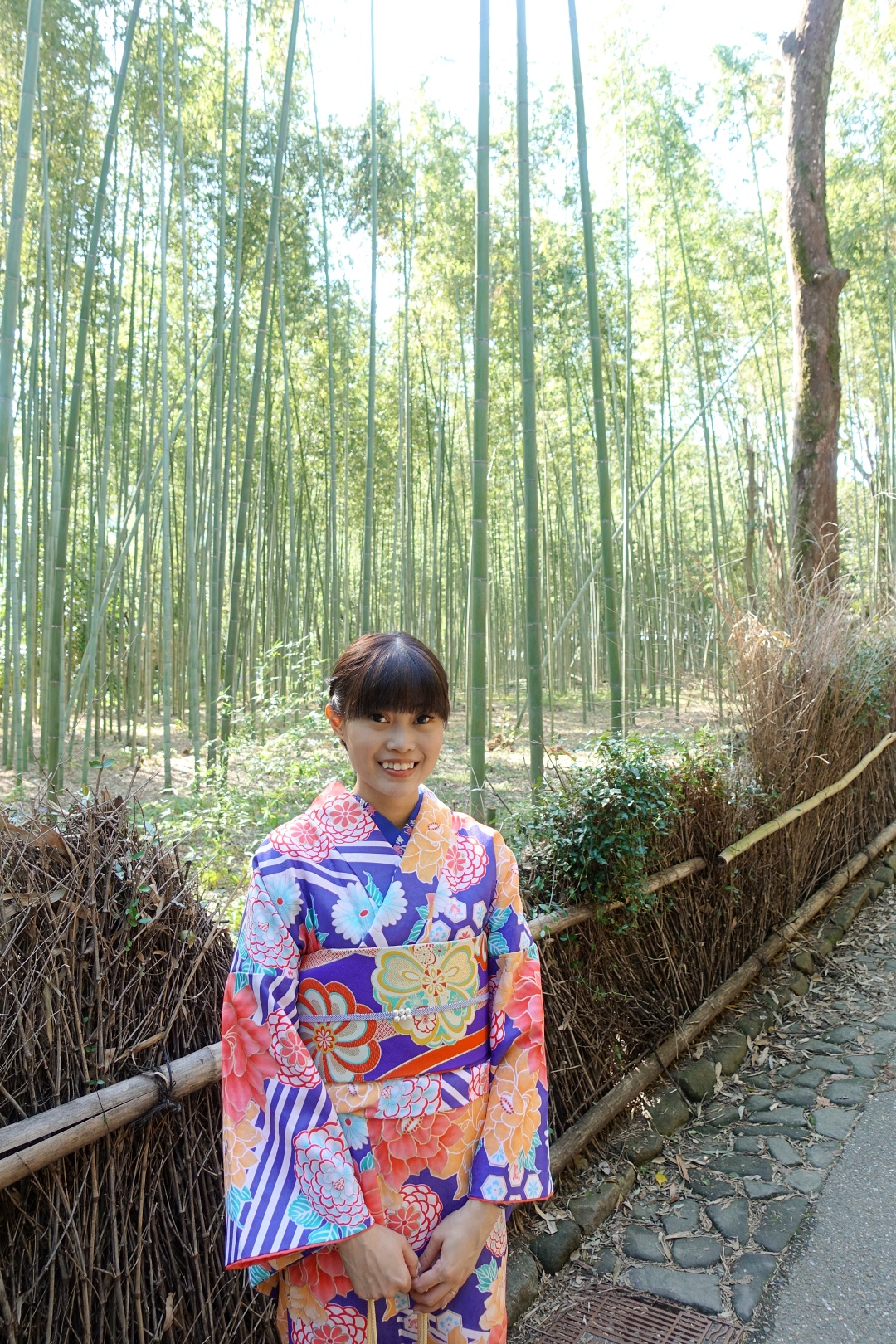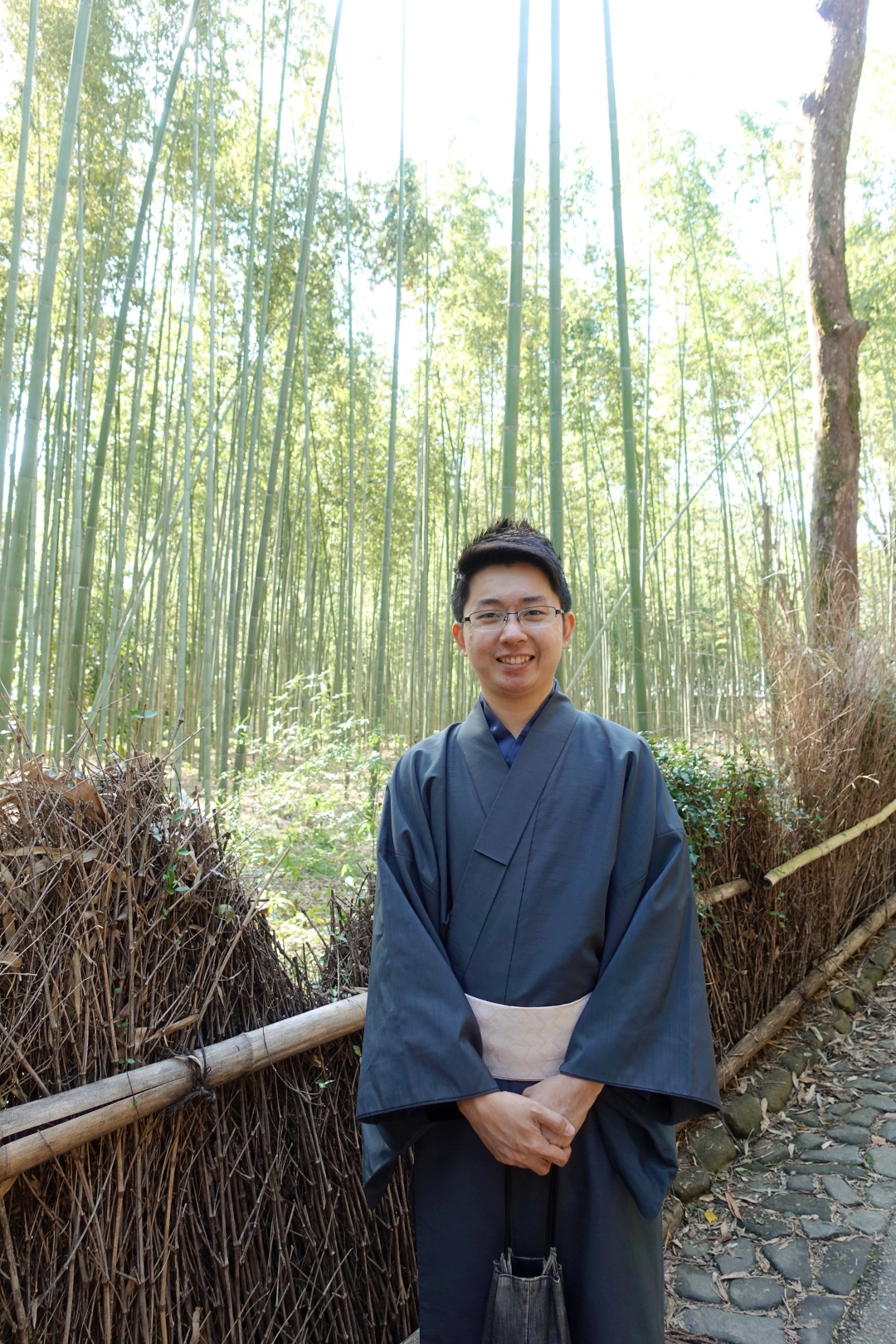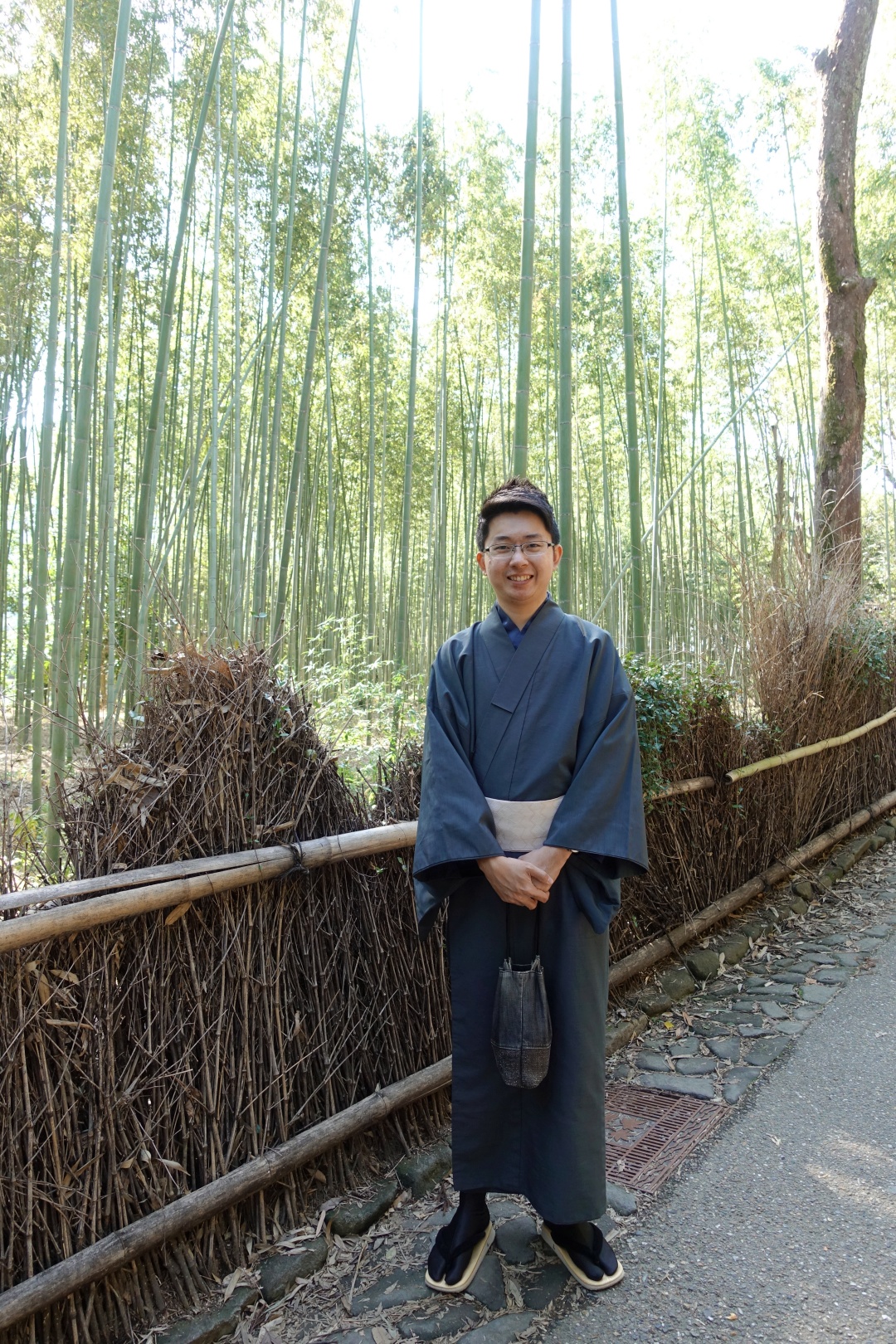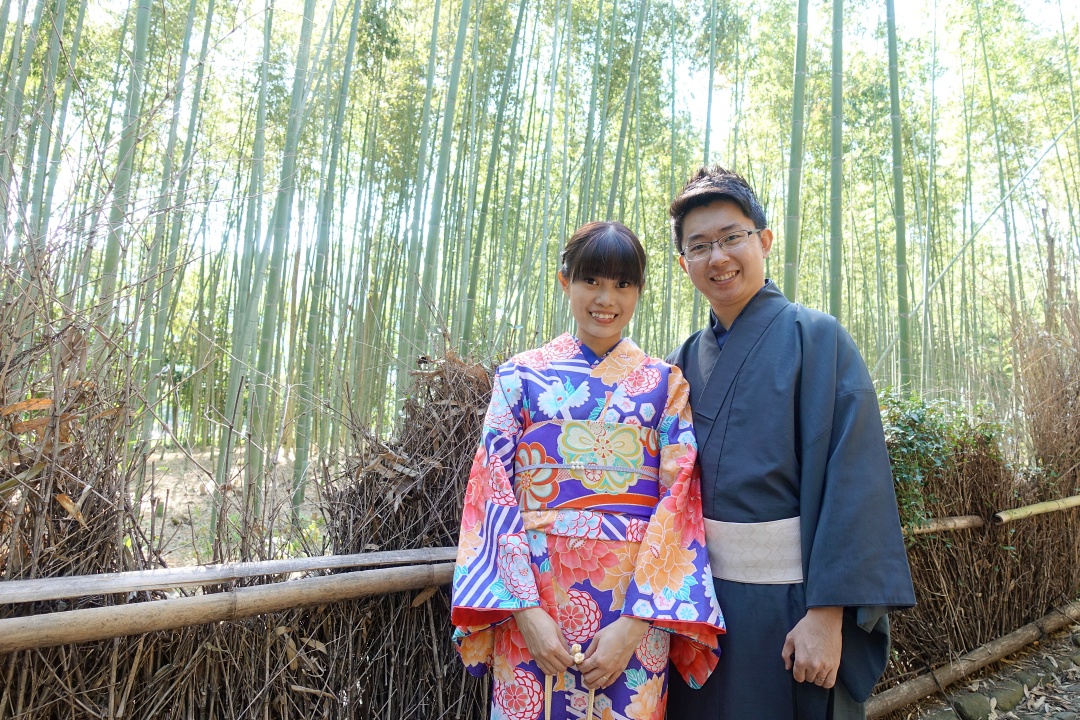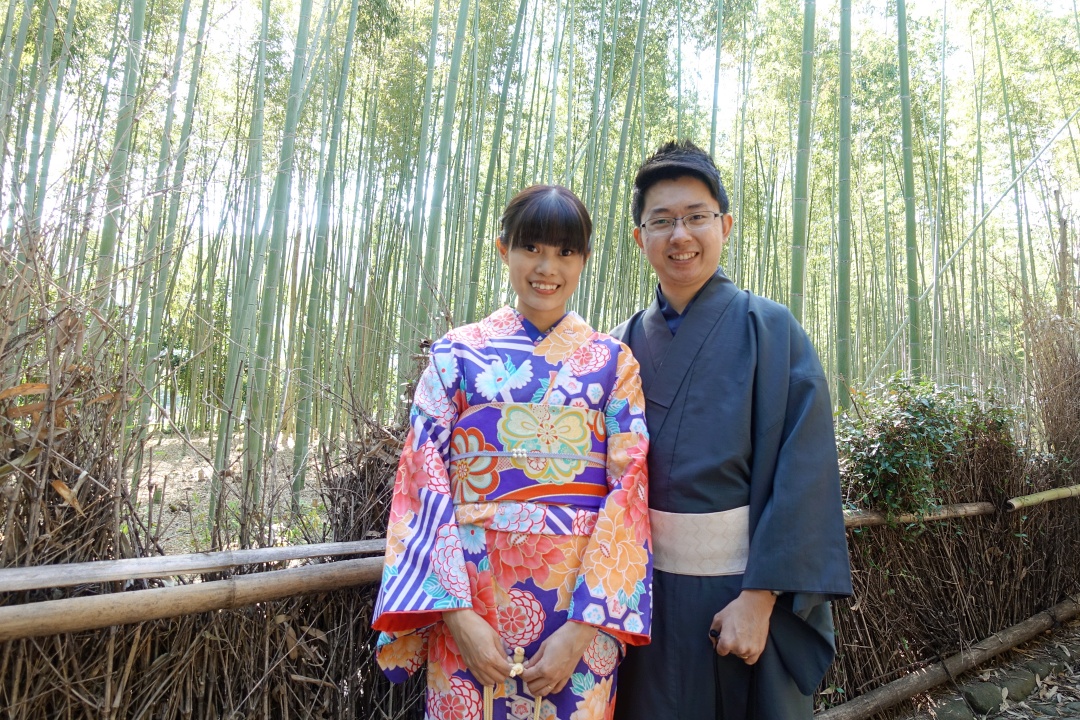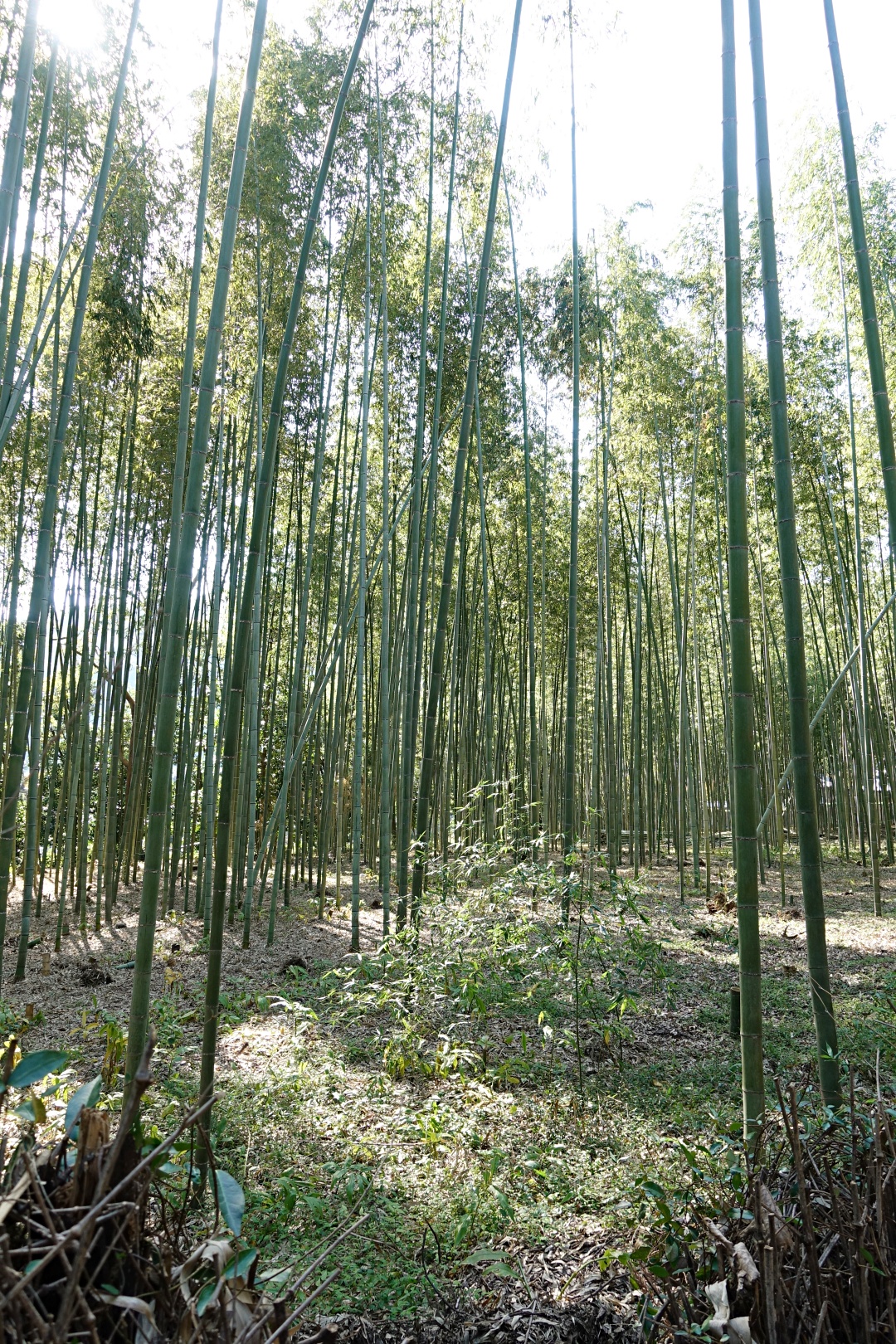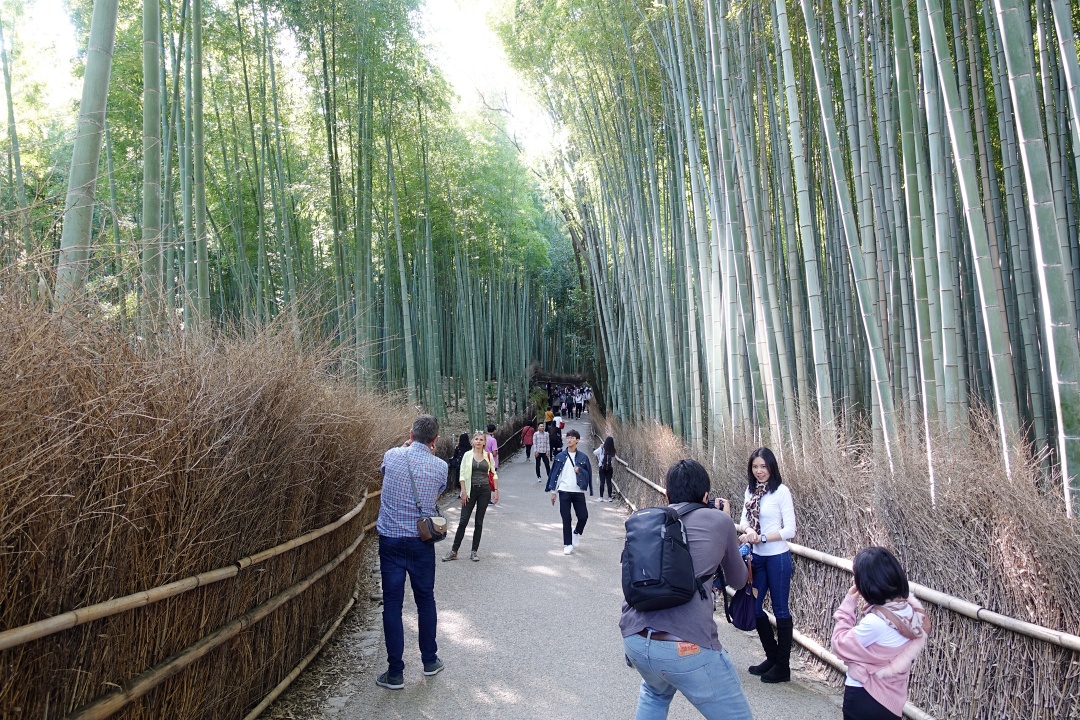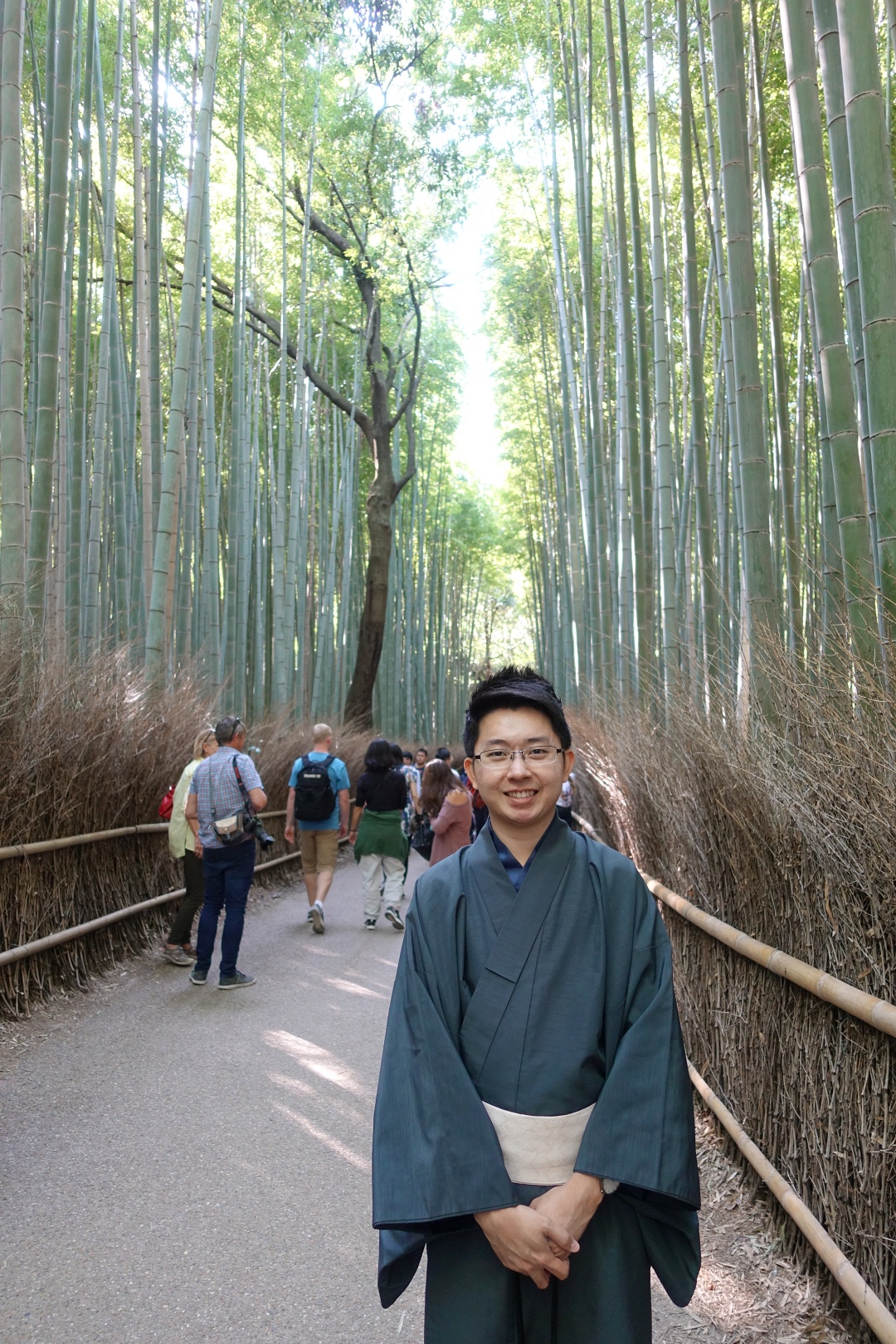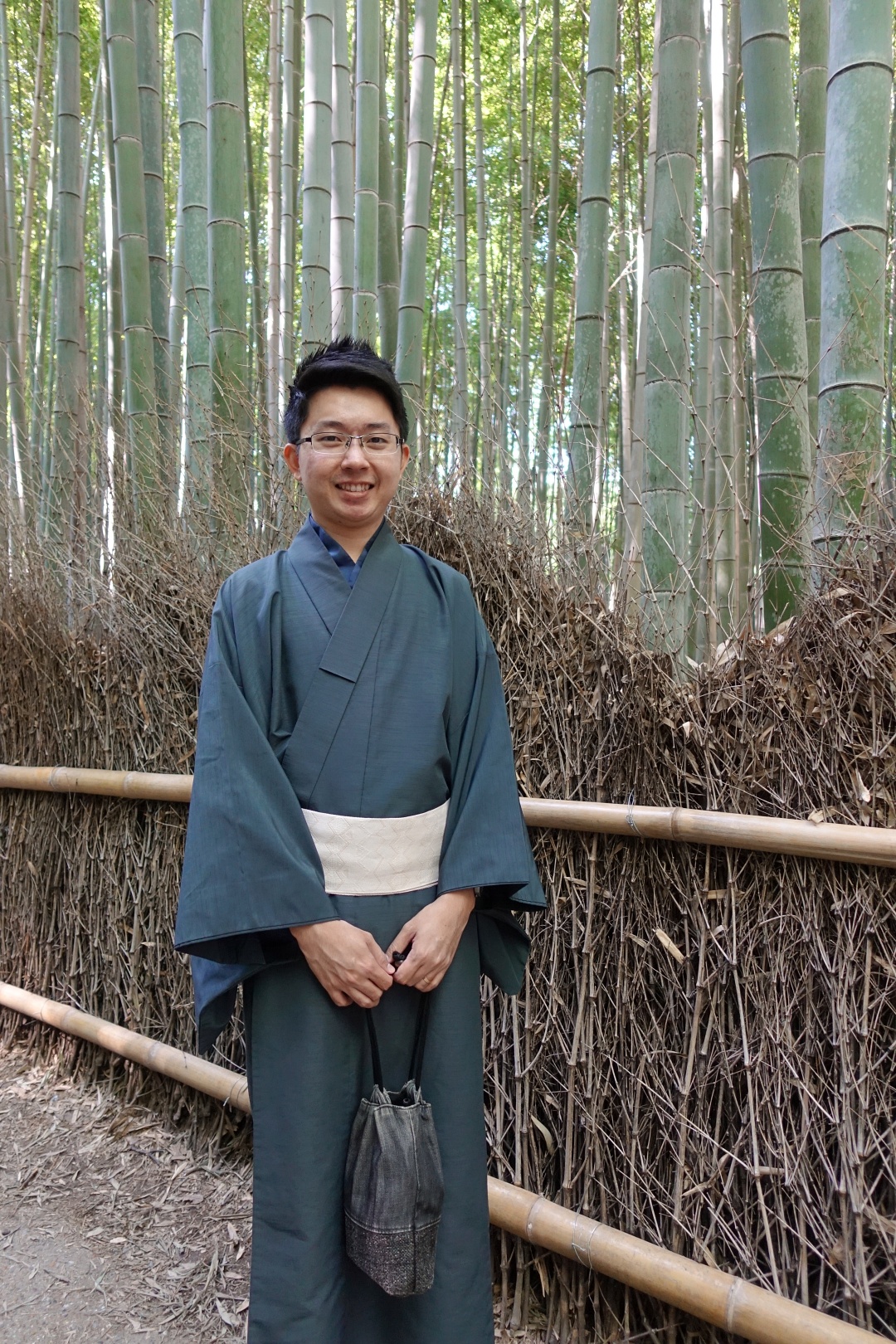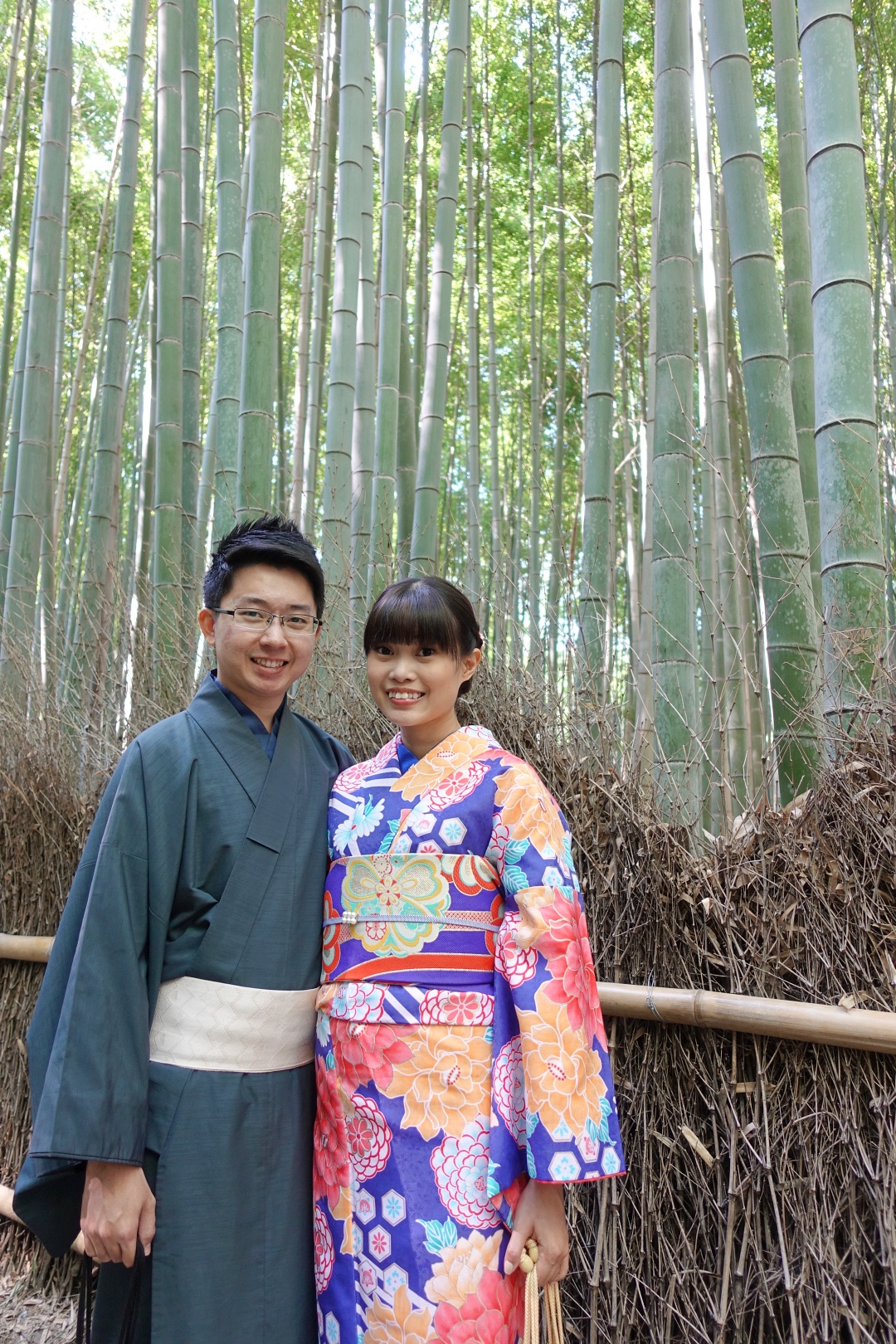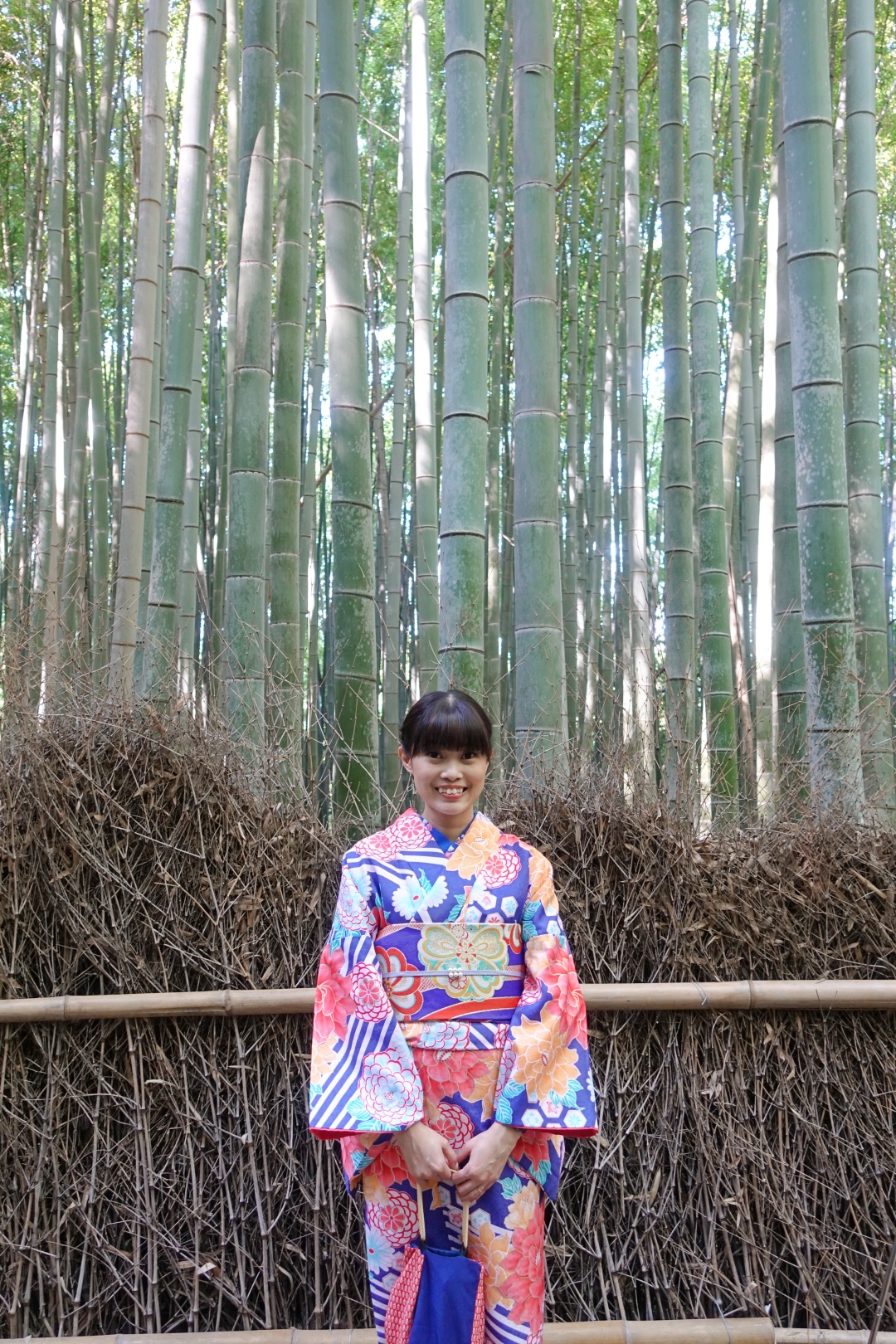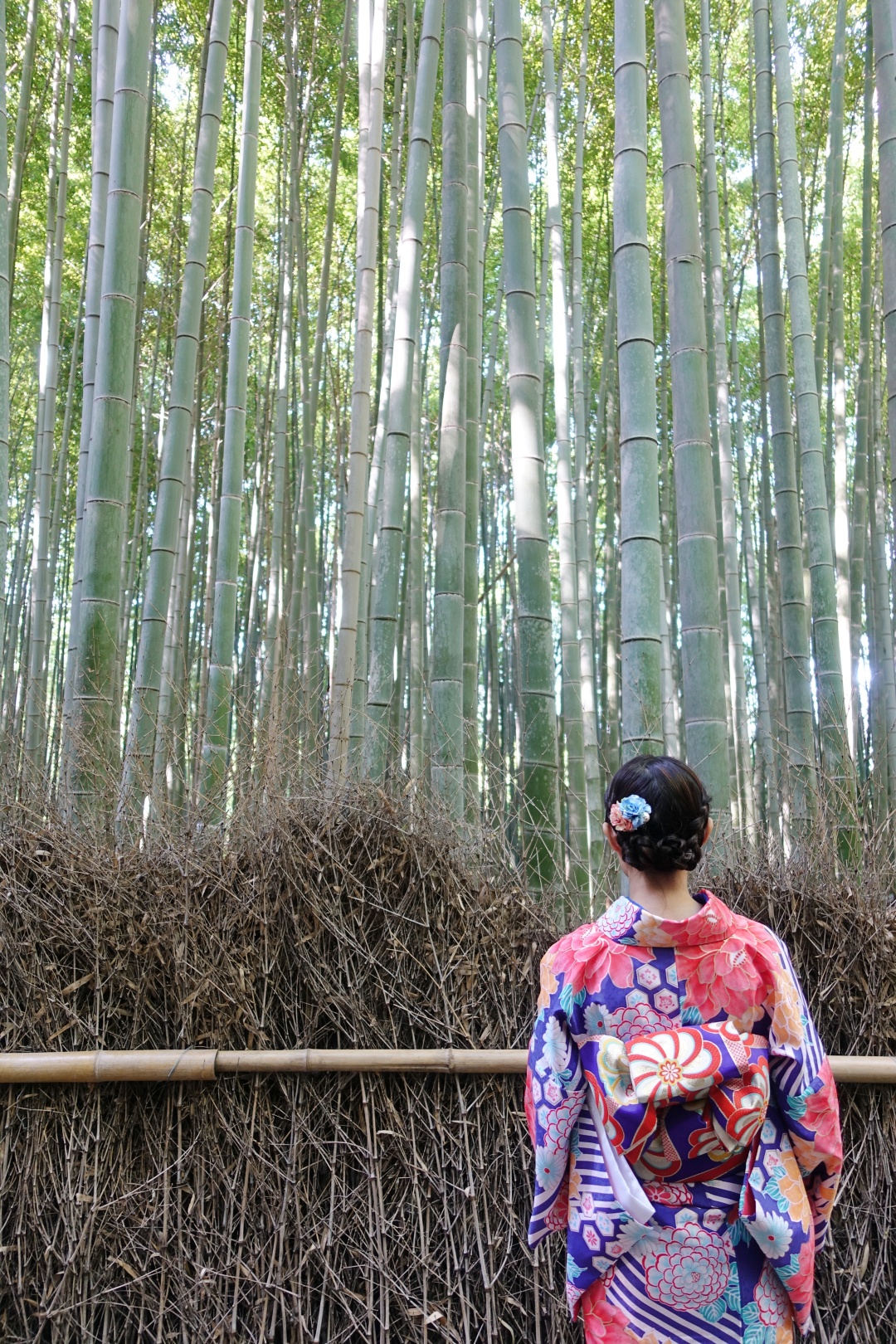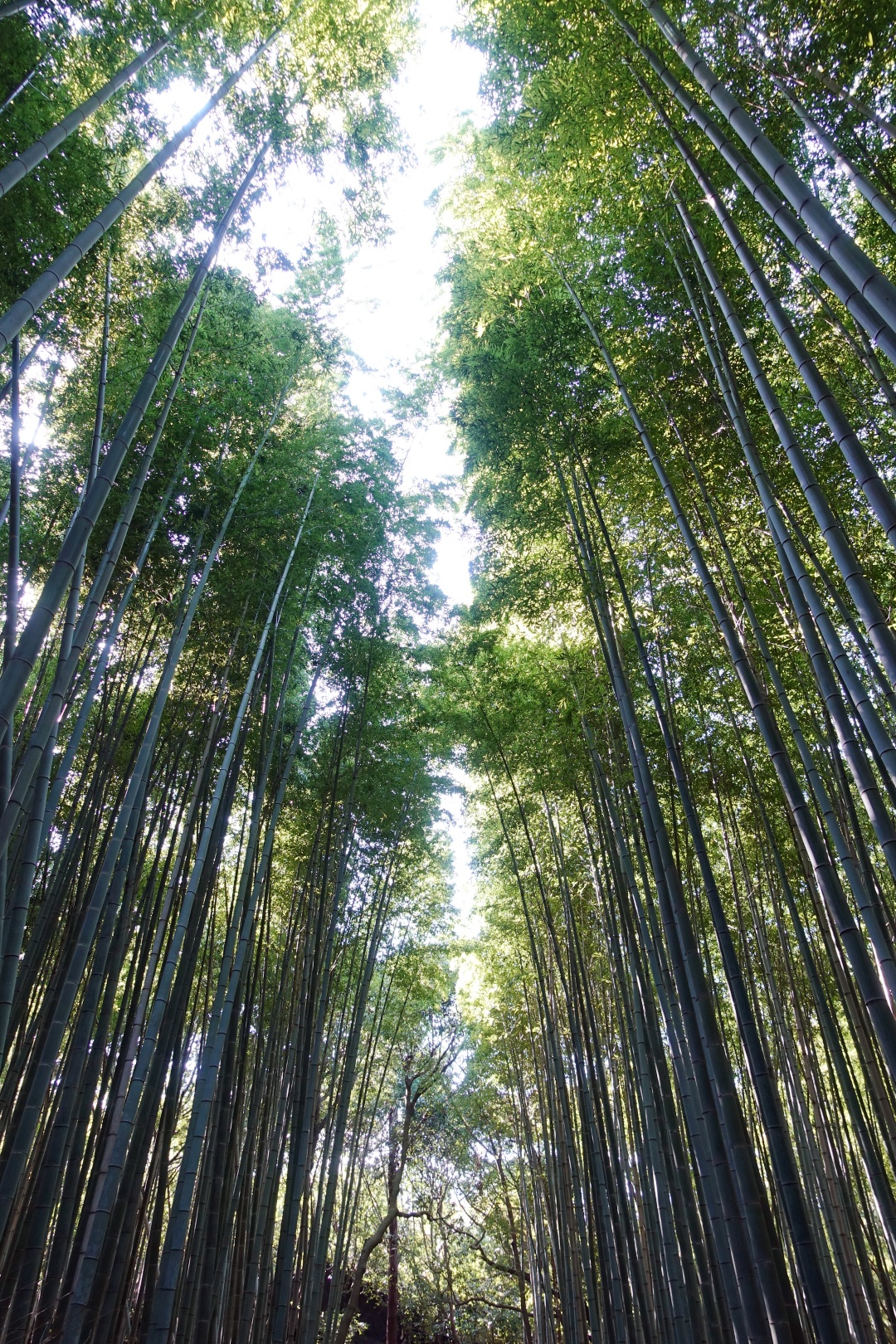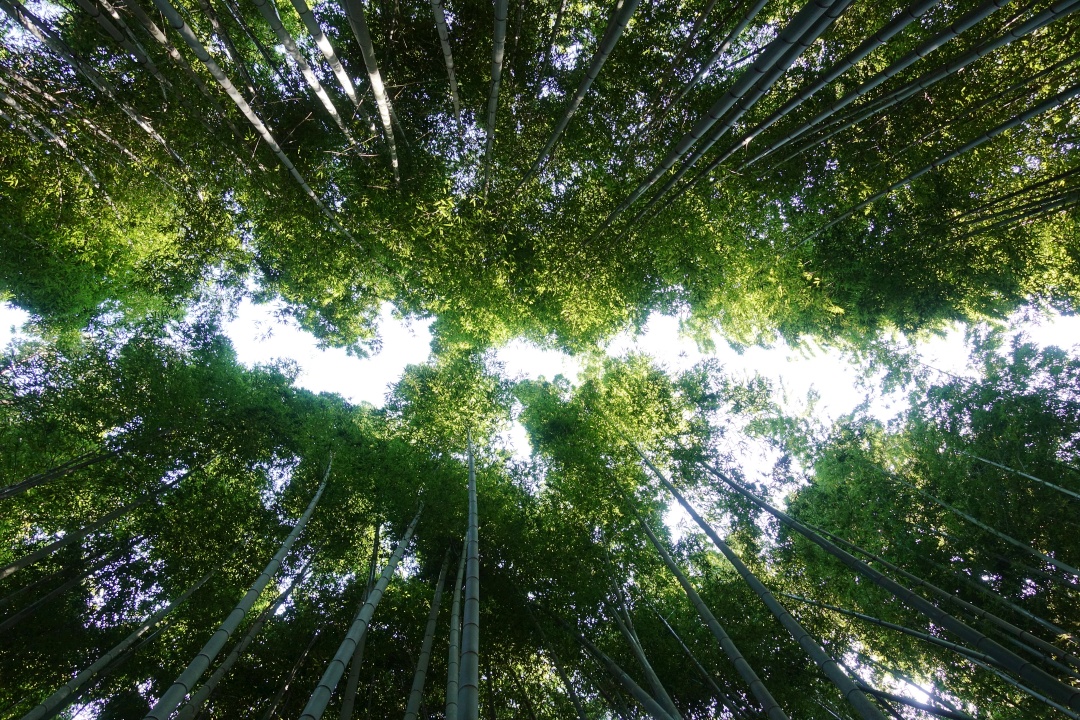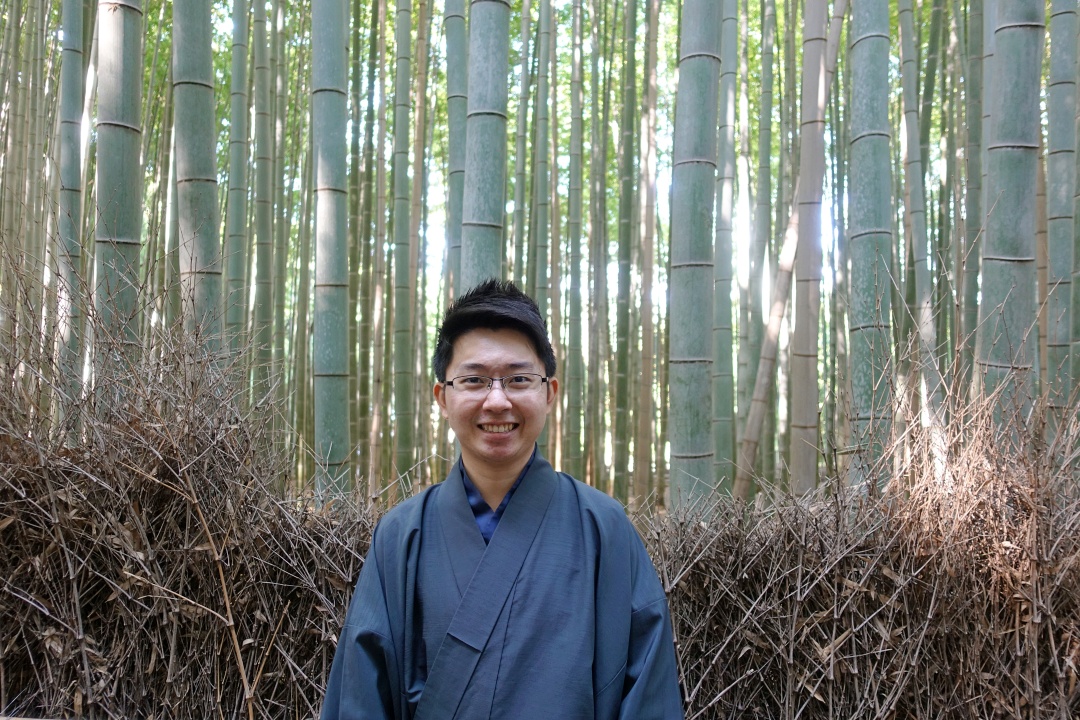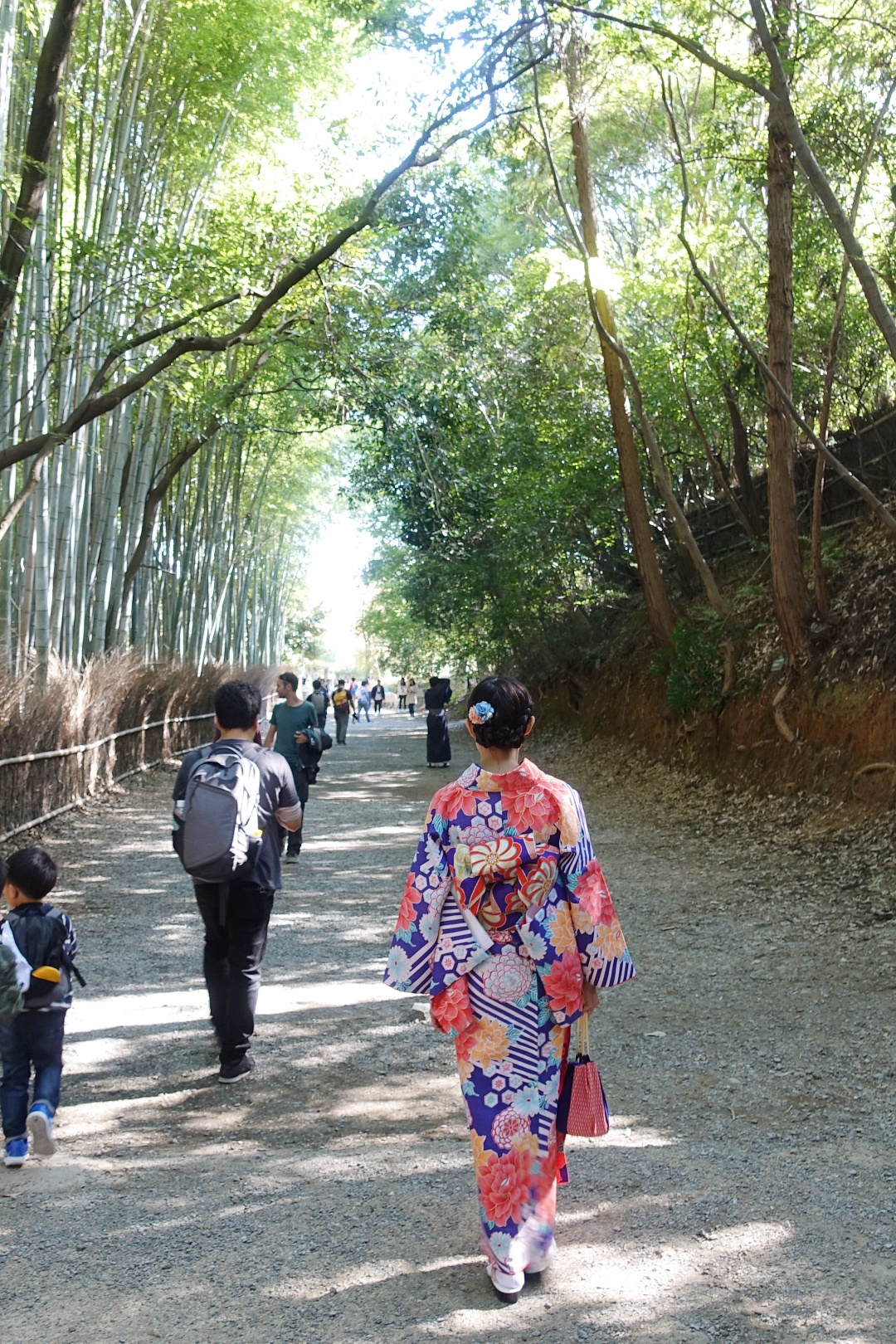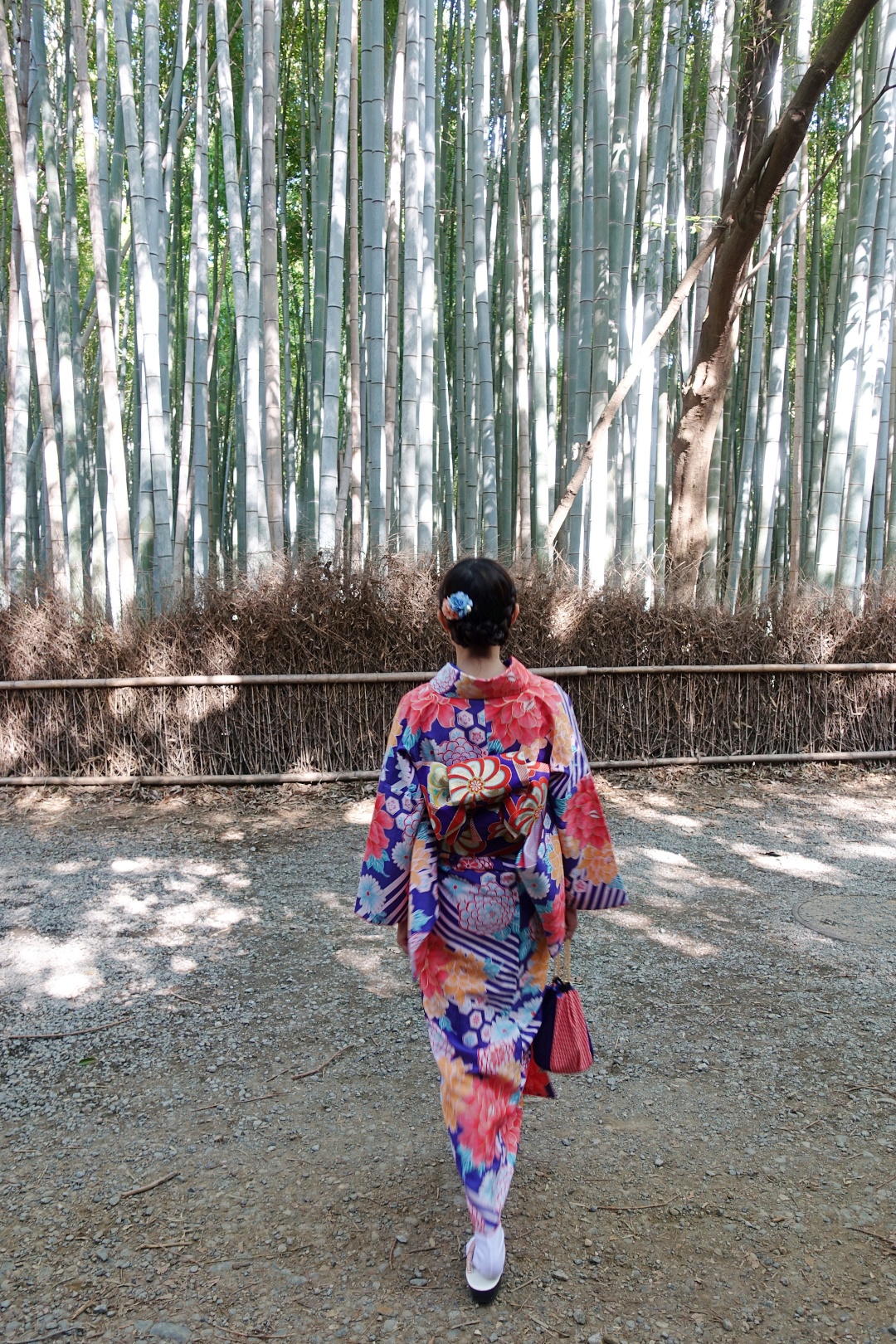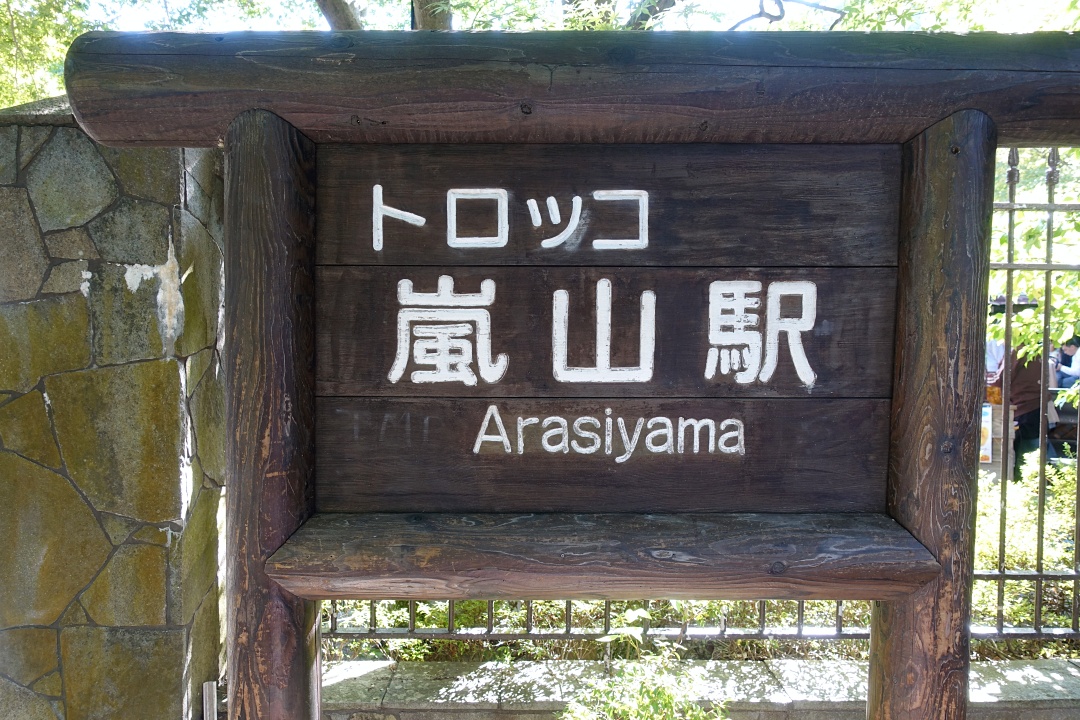 We took several shots with our tripod and then proceeded to make our way out of the bamboo forest. There were too many people around, so it was quite a challenge to get a nice picture without being photobombed. Also, it does get quite tiring after a while since I was very much restricted with my movement due to the attire.
While making our way out, we were approached by a family asking for direction to the train station. At first, we thought they were asking to get to Saga-Arashiyama Station. But they also mentioned something about some "small trains" which got us really confused.
I got intrigued by what they said, so I got the Husband to google about it, and it turns out, there is this Romantic Train that we can board from Torokko Saga Station. The Torokko Saga Station is situated right next to Saga-Arashiyama Station, and we totally missed it when we arrived earlier in the morning.
Torokko Saga Station
Sagano Romantic Train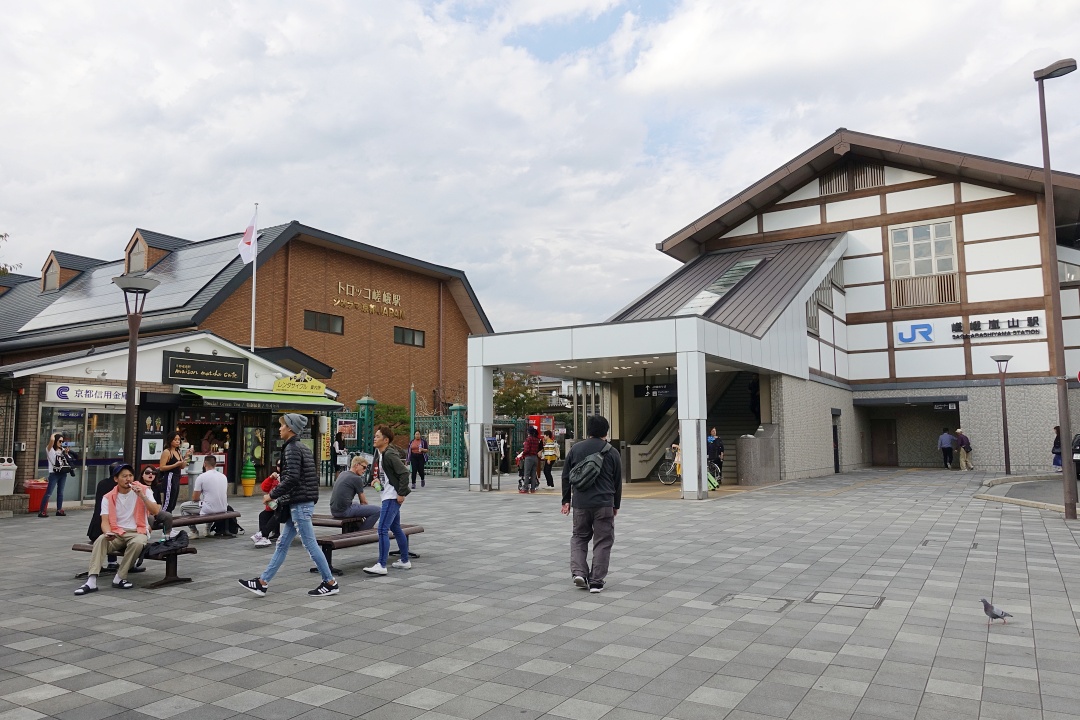 Head towards the brick building on the left of Saga-Arashiyma Station.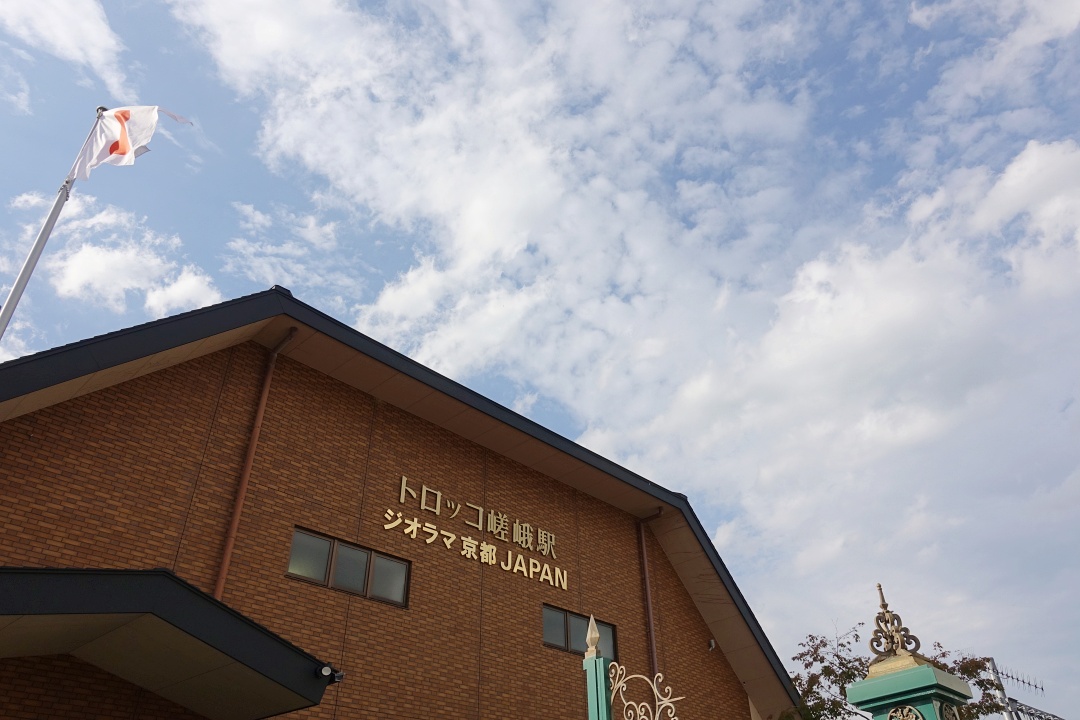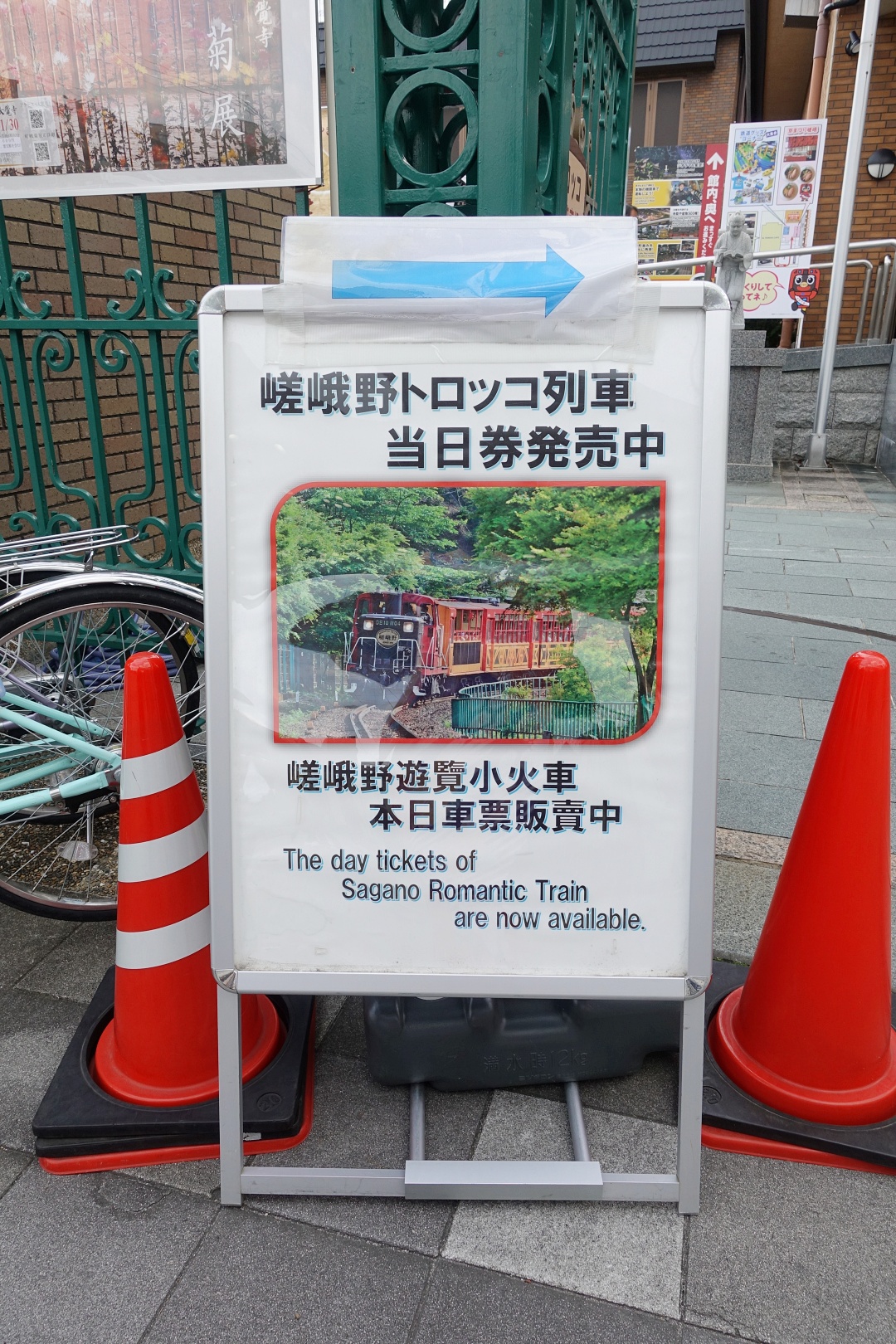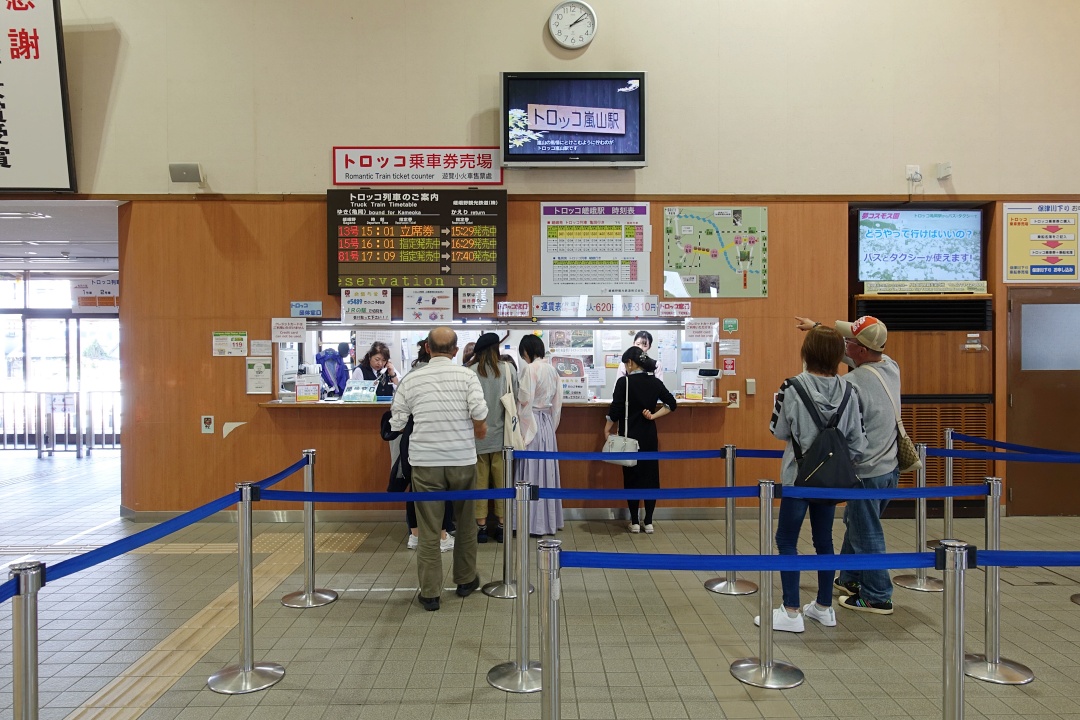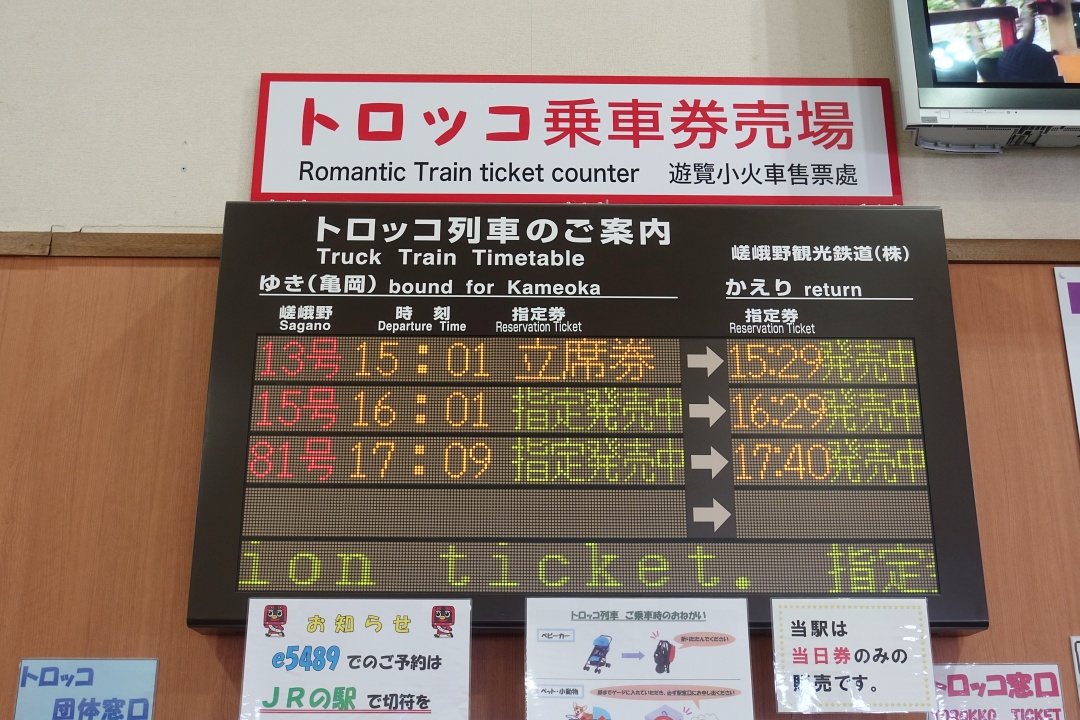 Adult tickets are priced at JPY 620 for one-way and JPY 1,240 for a round-trip.
Since we had nowhere else in mind to go, and only had to return our kimono in a few hours time, we decided to go on a ride on the Sagano Romantic Train.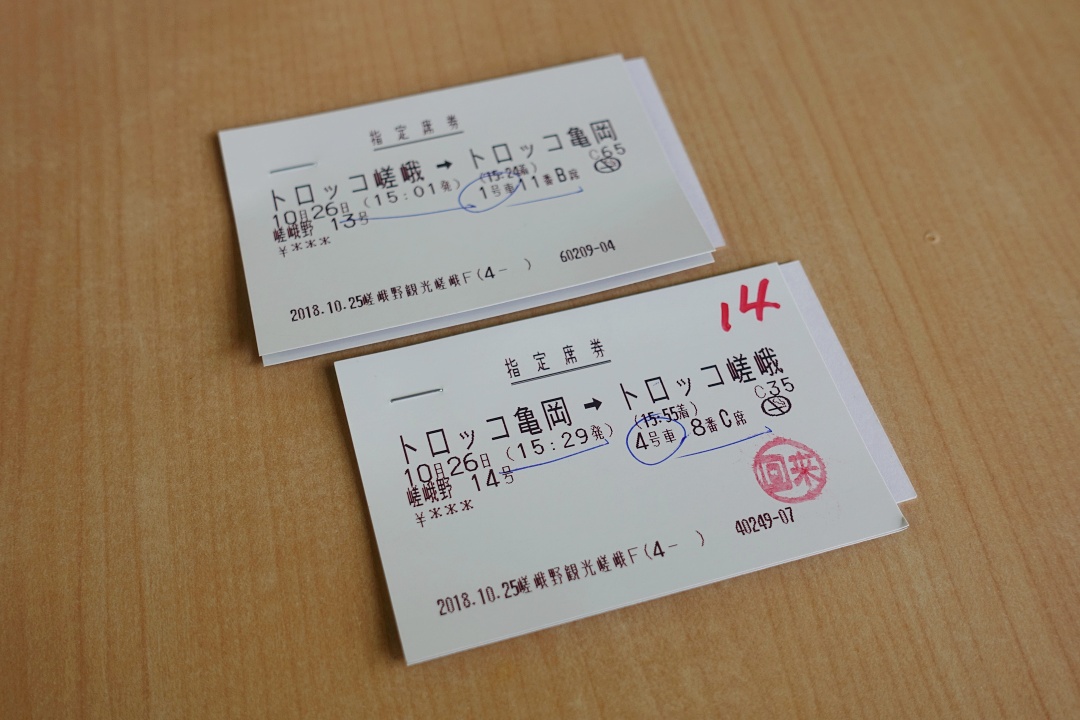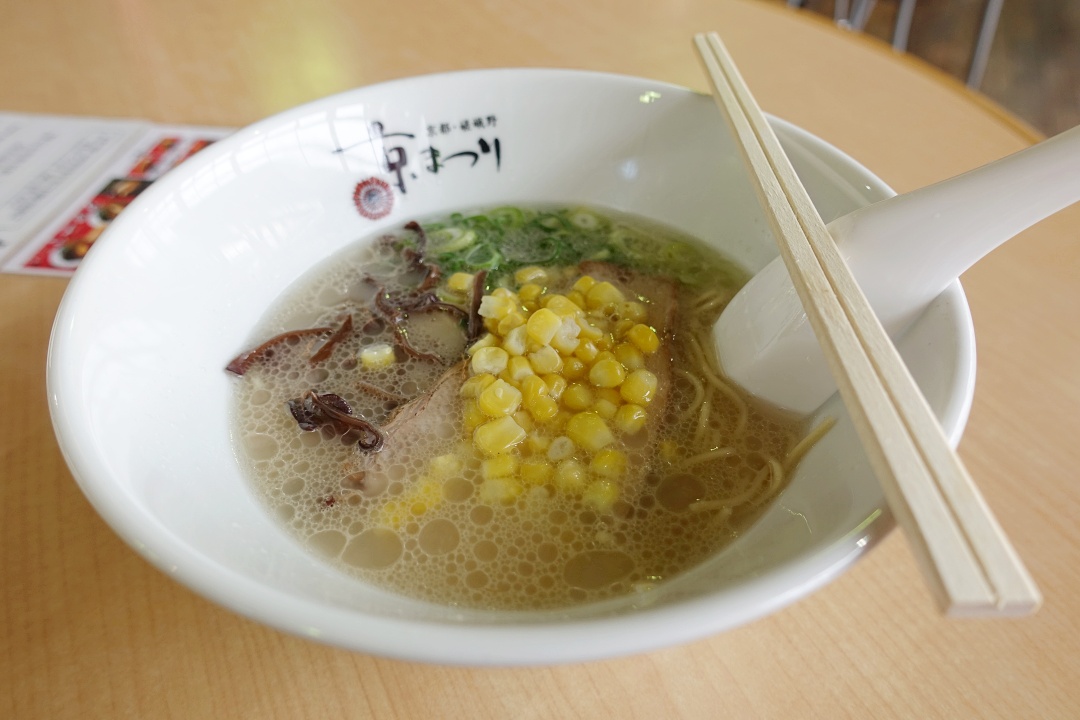 Had about 45 minutes before the arrival of the train, so we settled down for a quick bowl of ramen at the station.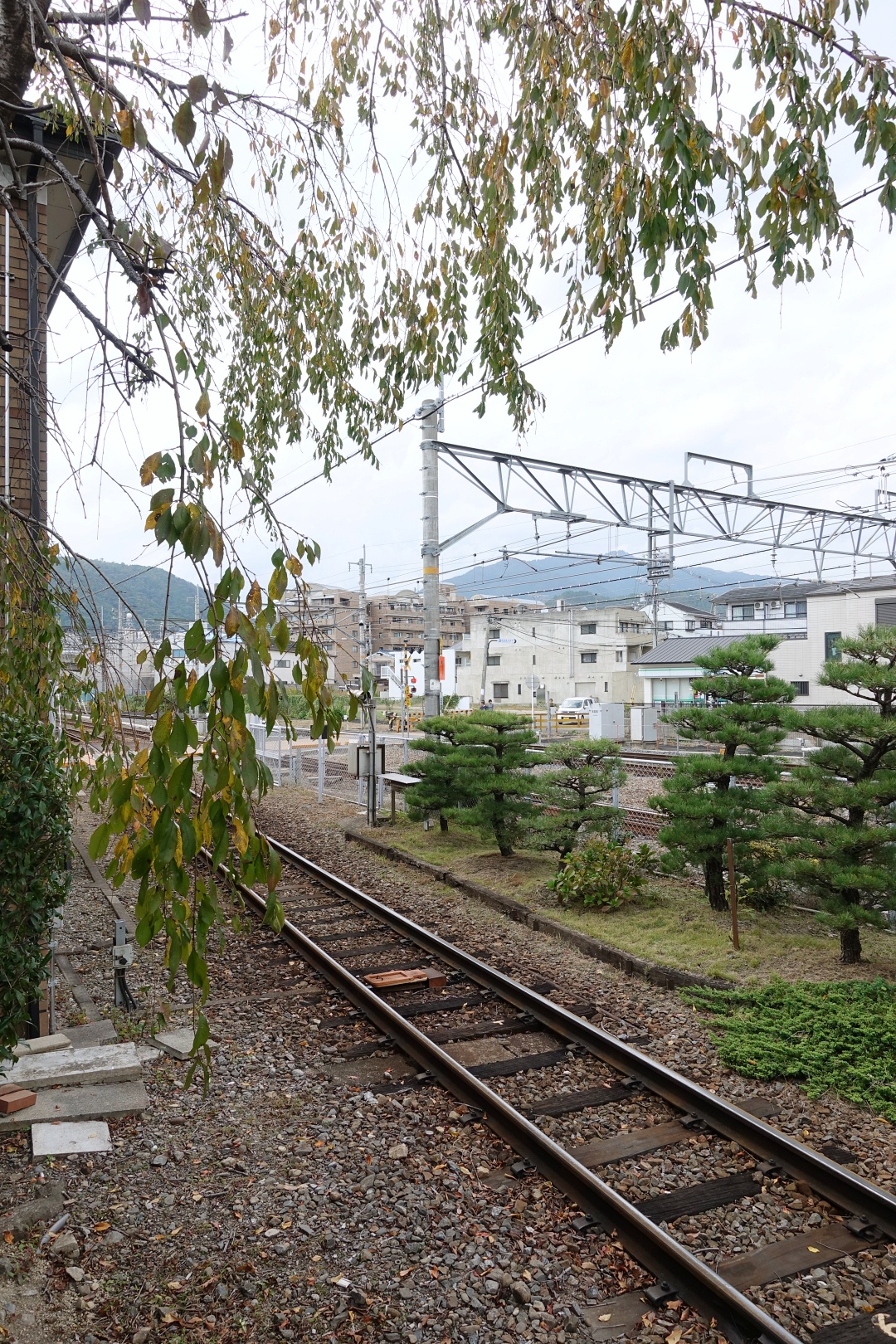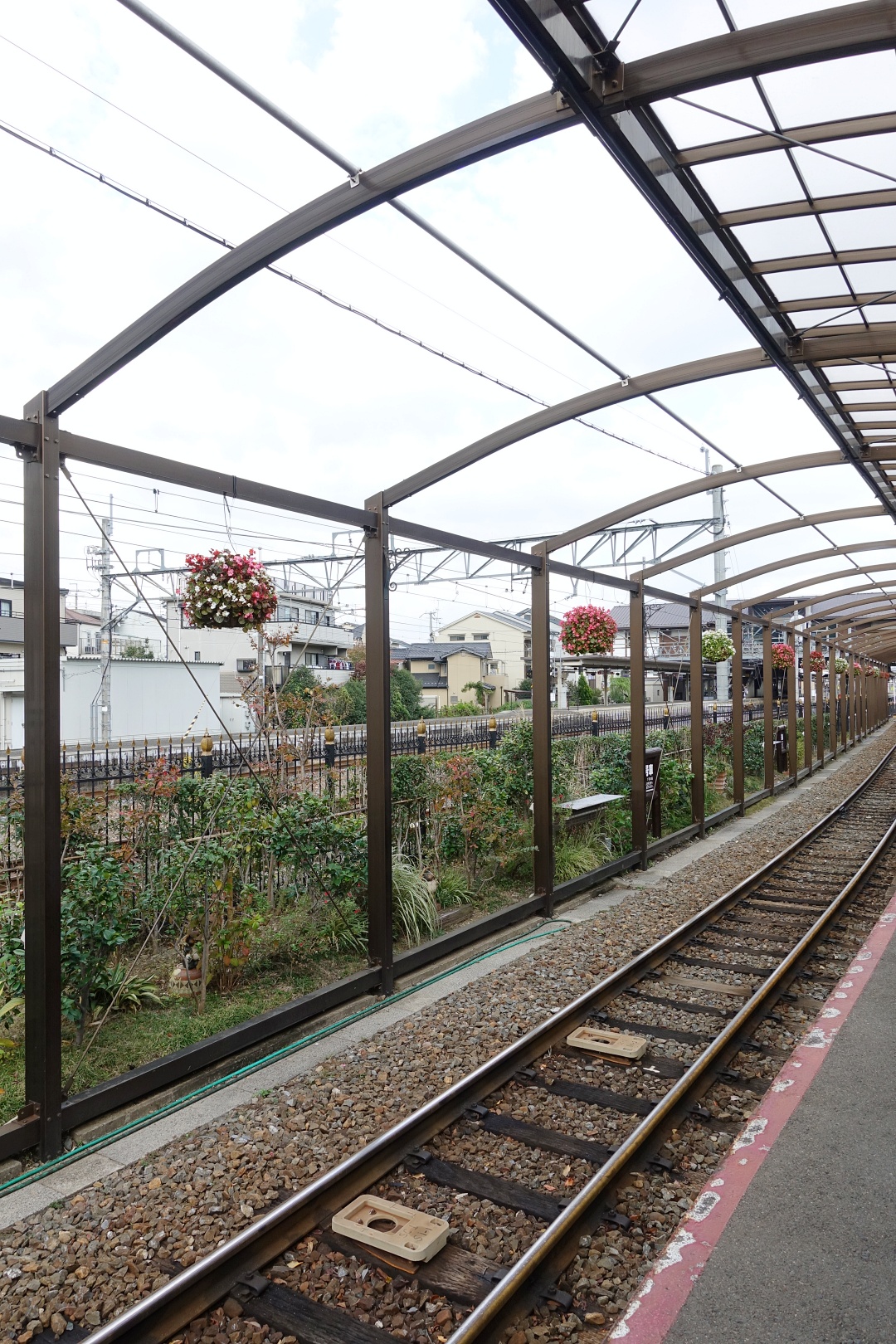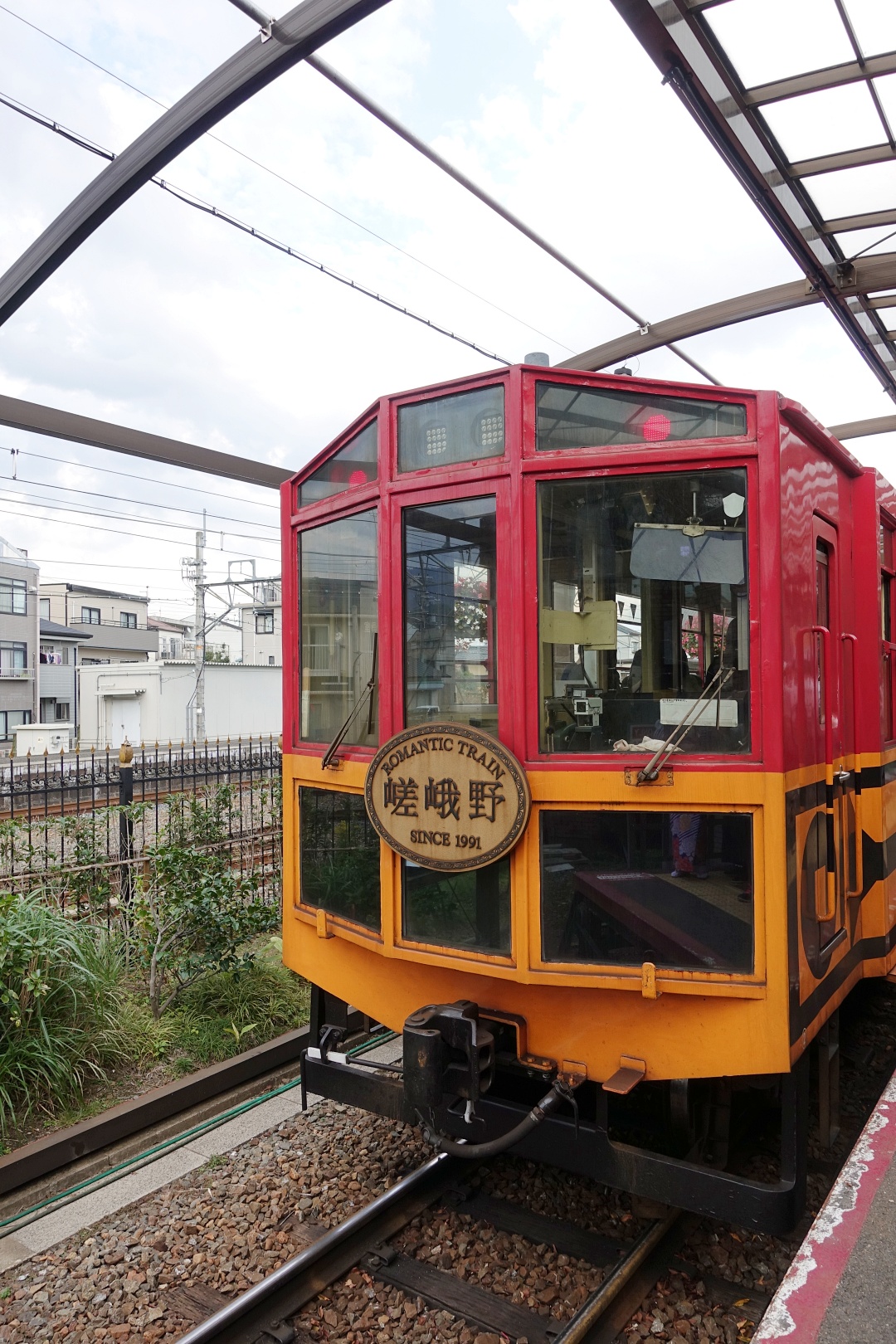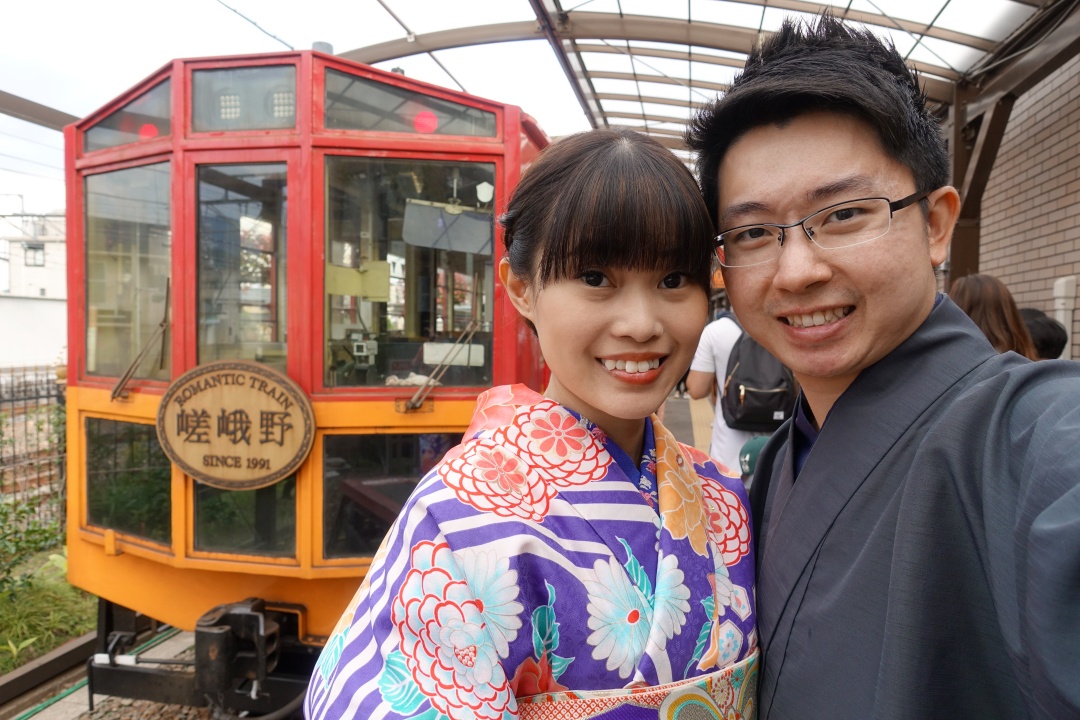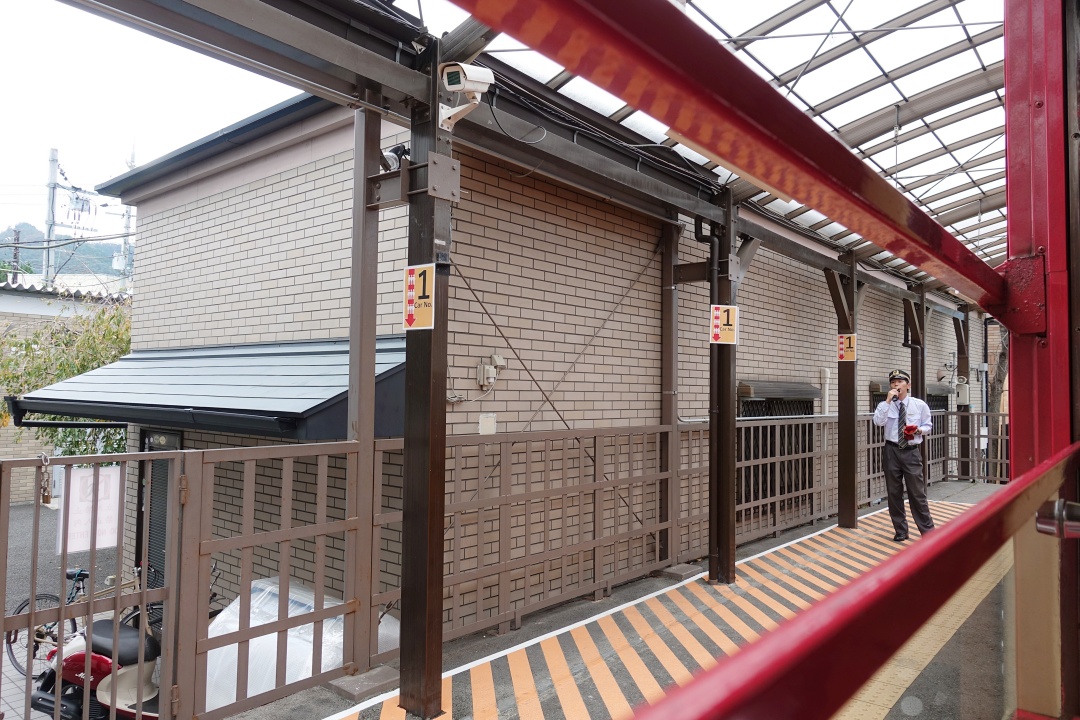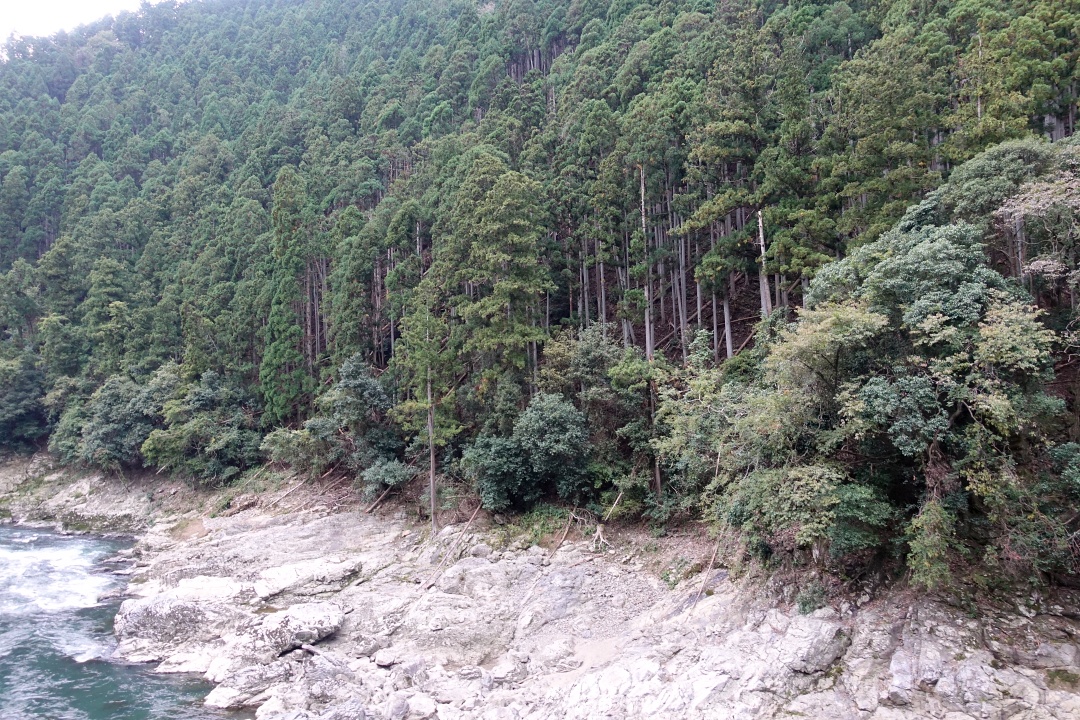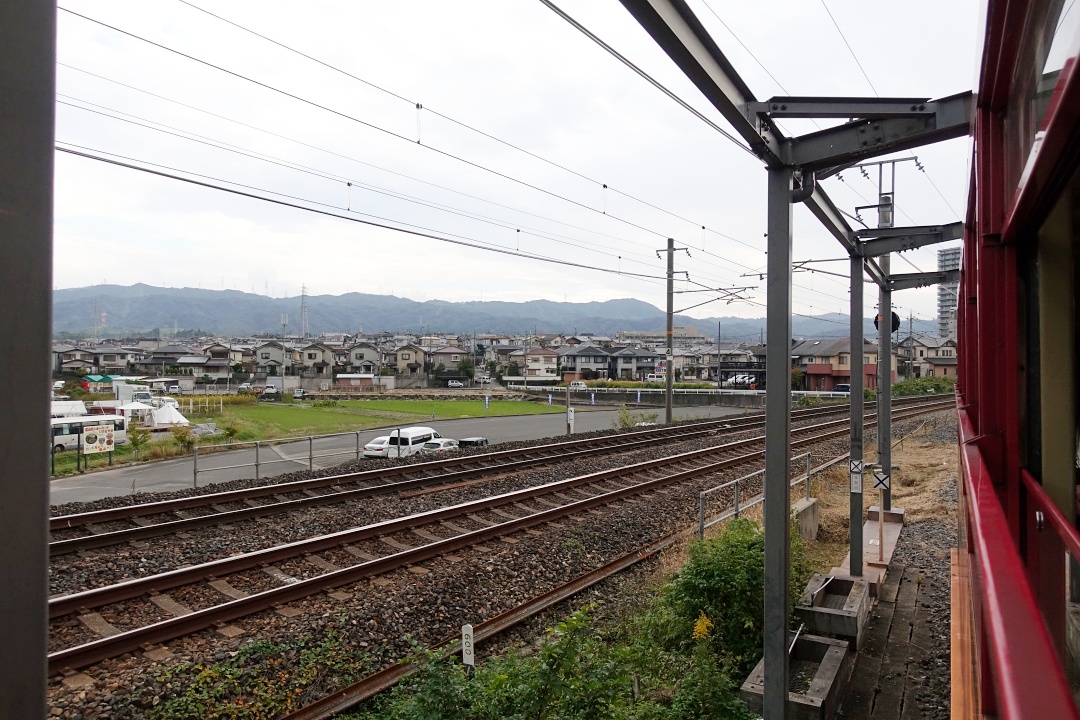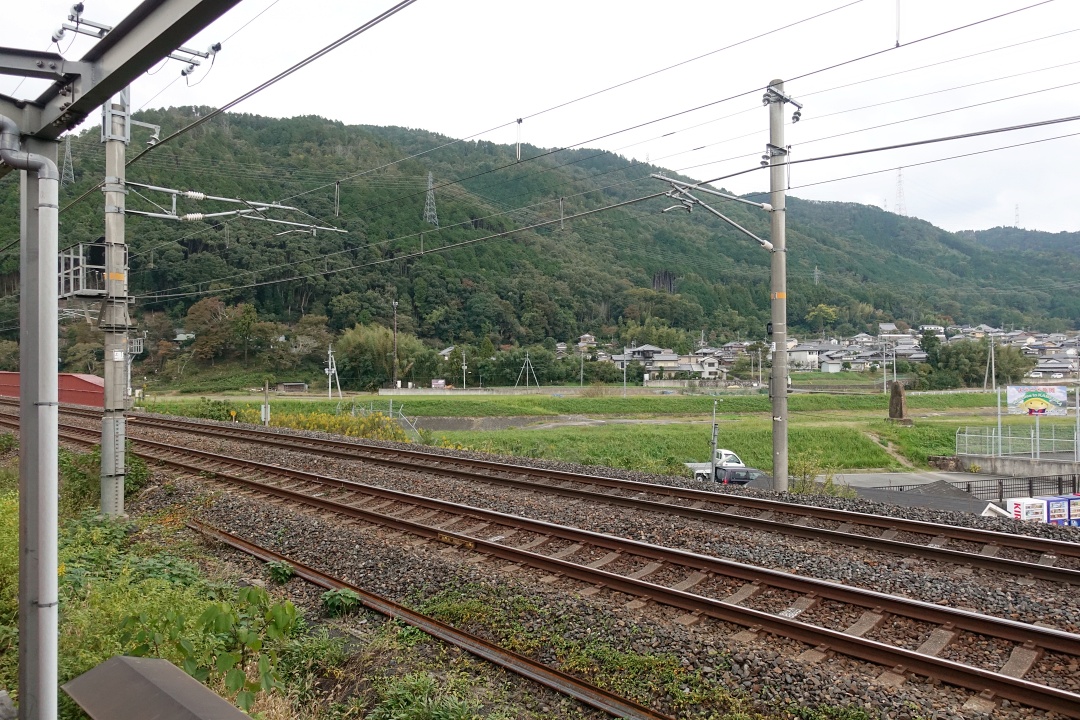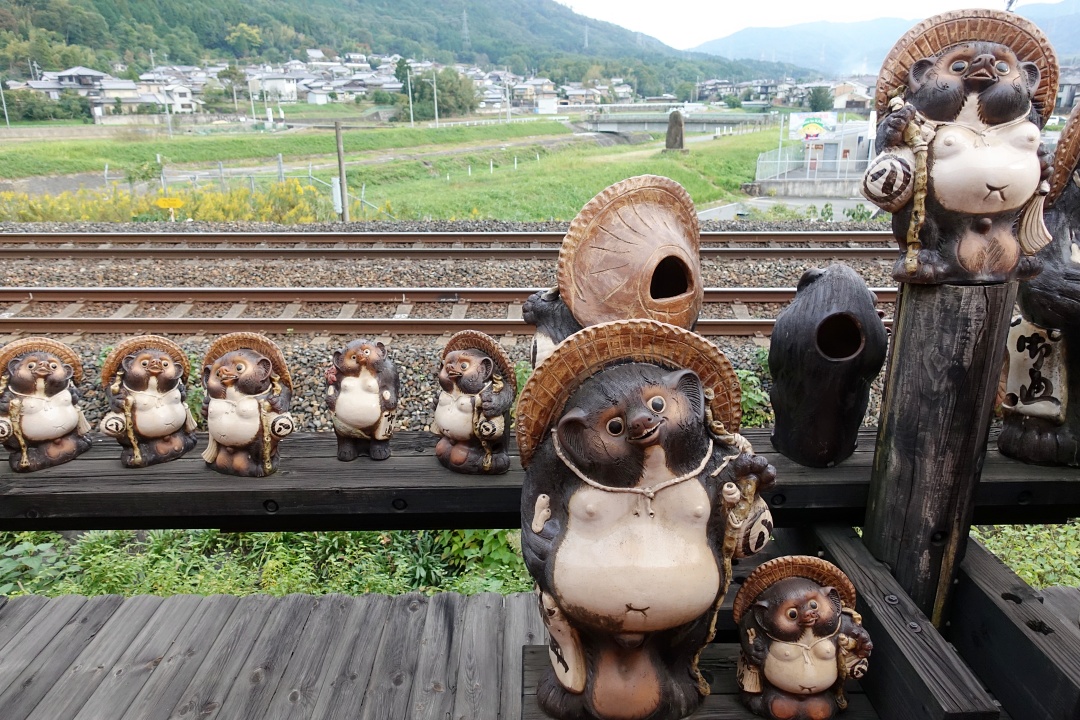 It was quite a scenic ride. Saw a lot of people trying to film the scenery but it was honestly quite difficult to do so on a moving train.
A lot of people alighted at the station. We planned to do a round trip without alighting since we had already been to the bamboo forest. As such, upon reaching the destination, we just stayed on the train and moved over to our new seats.
The entire round trip journey took us about an hour. To be honest, I would only recommend going on the Sagano Romantic Train if you've extra time on hand. Else, the ride wasn't anything unique or spectacular. The entire round trip journey took us about an hour.
Made it back to Torokko Saga Station at around 16:00; since we only had to return our kimono before 17:30, we decided to find a place and take more pictures. Eventually found a quiet spot nearby and set up our tripod to take a few shots.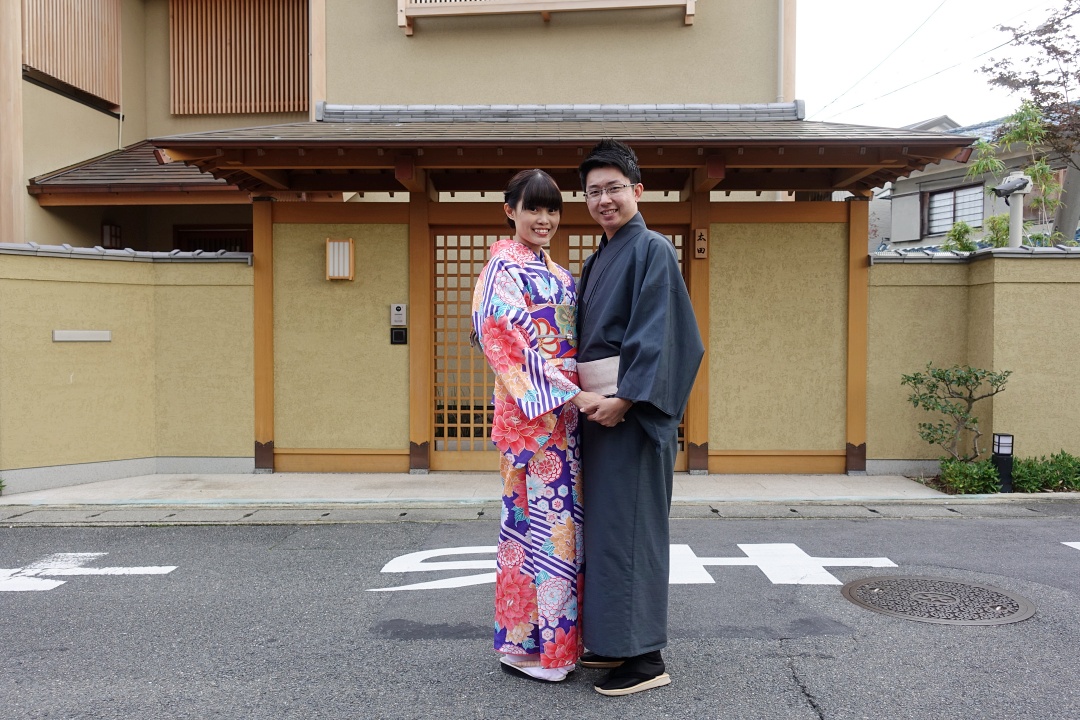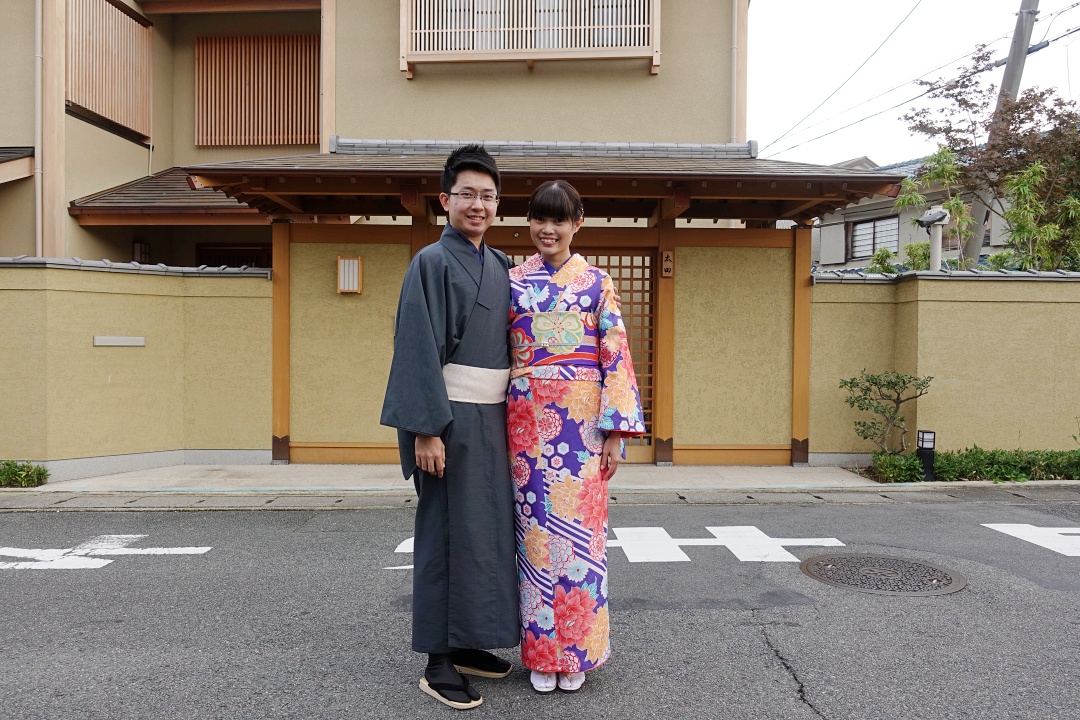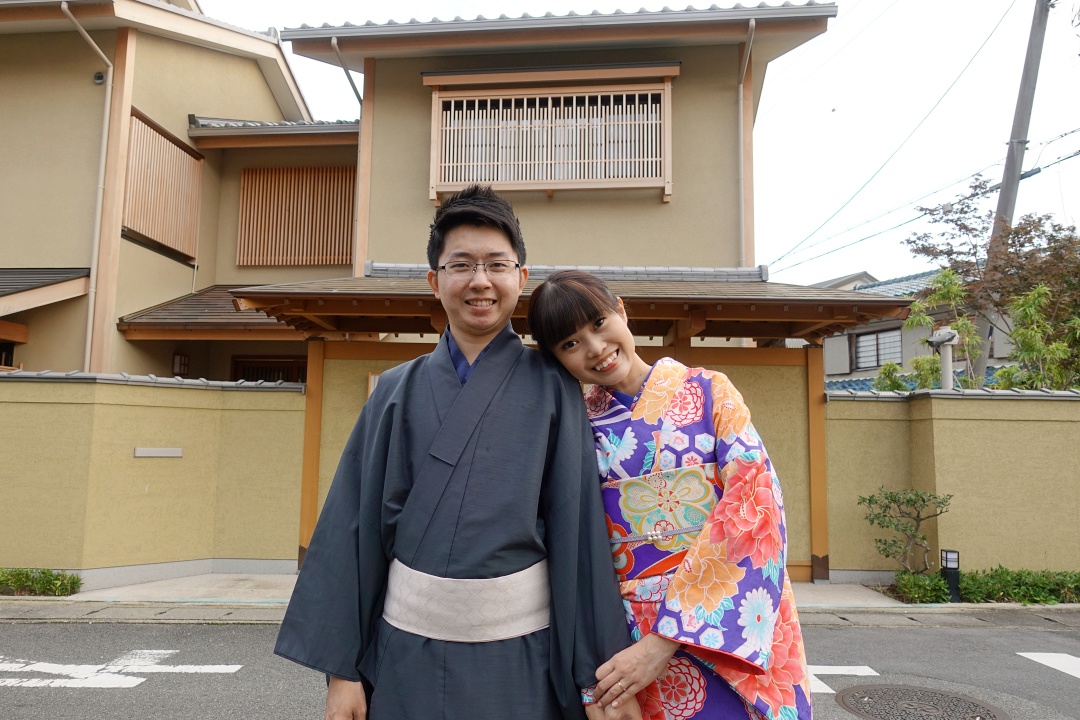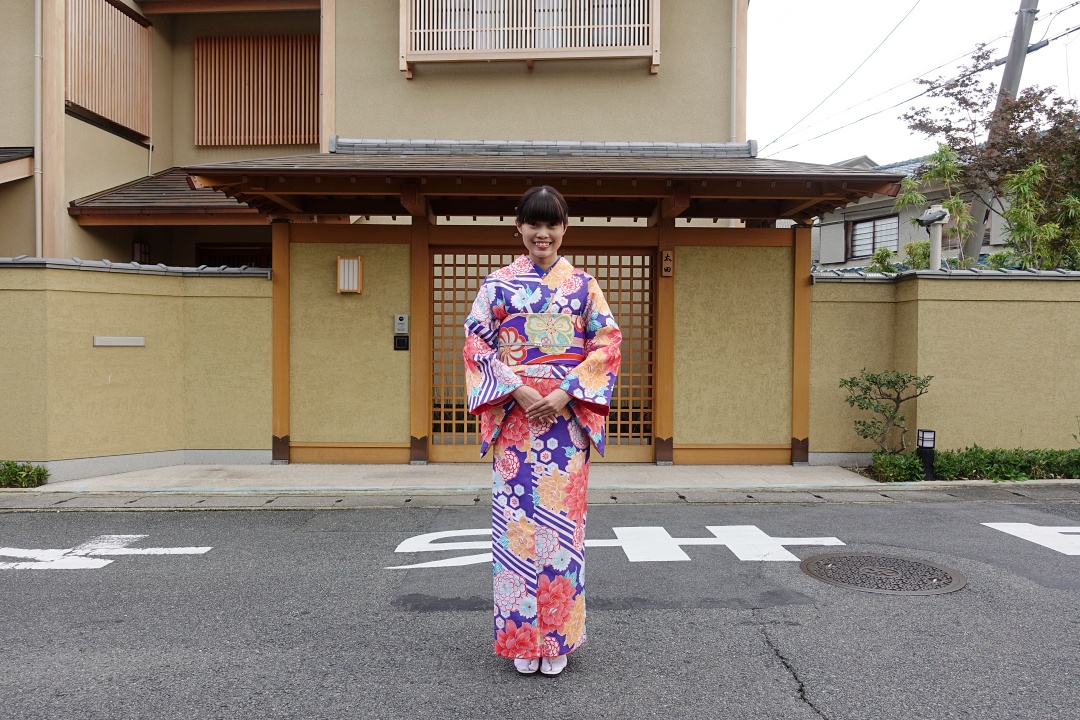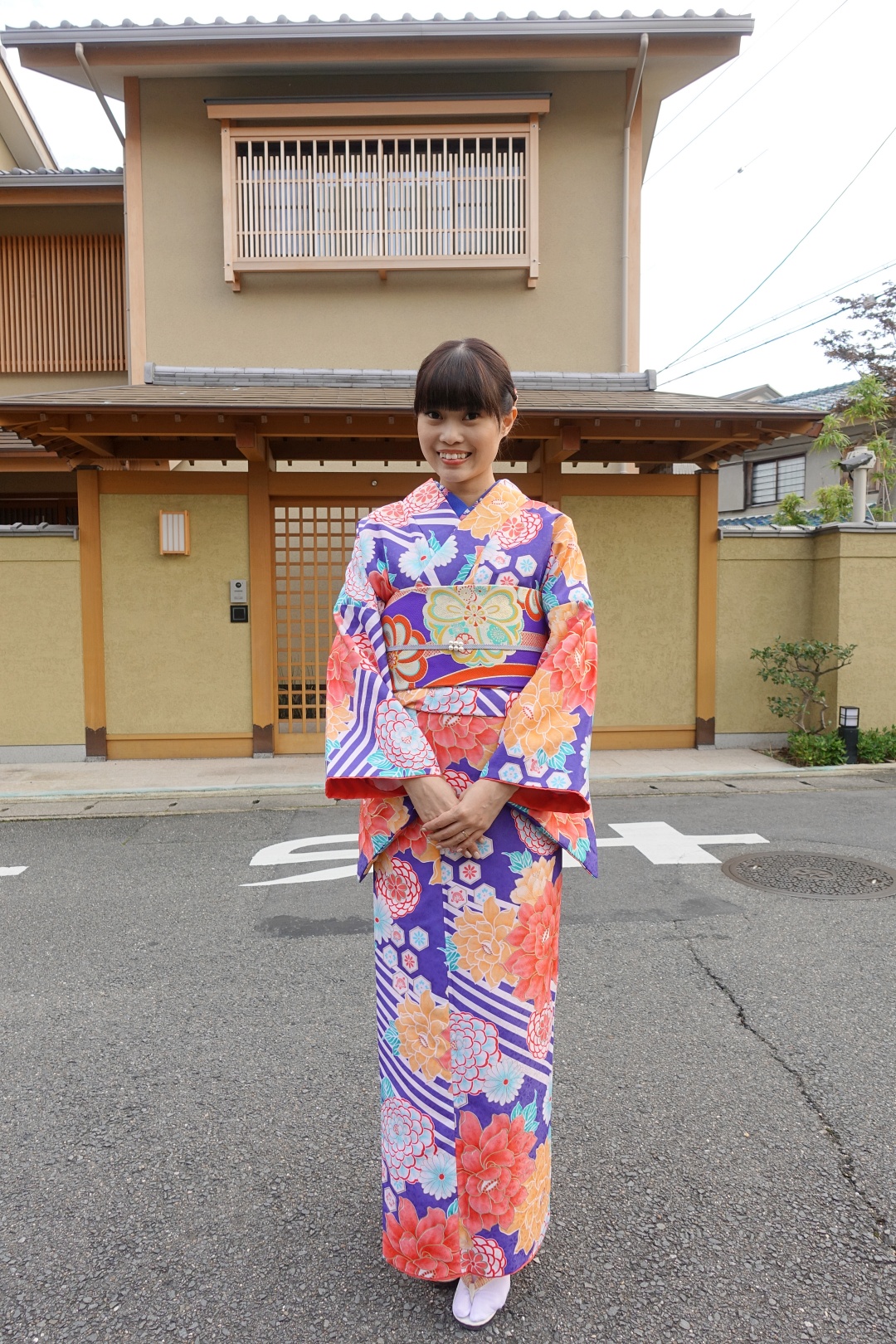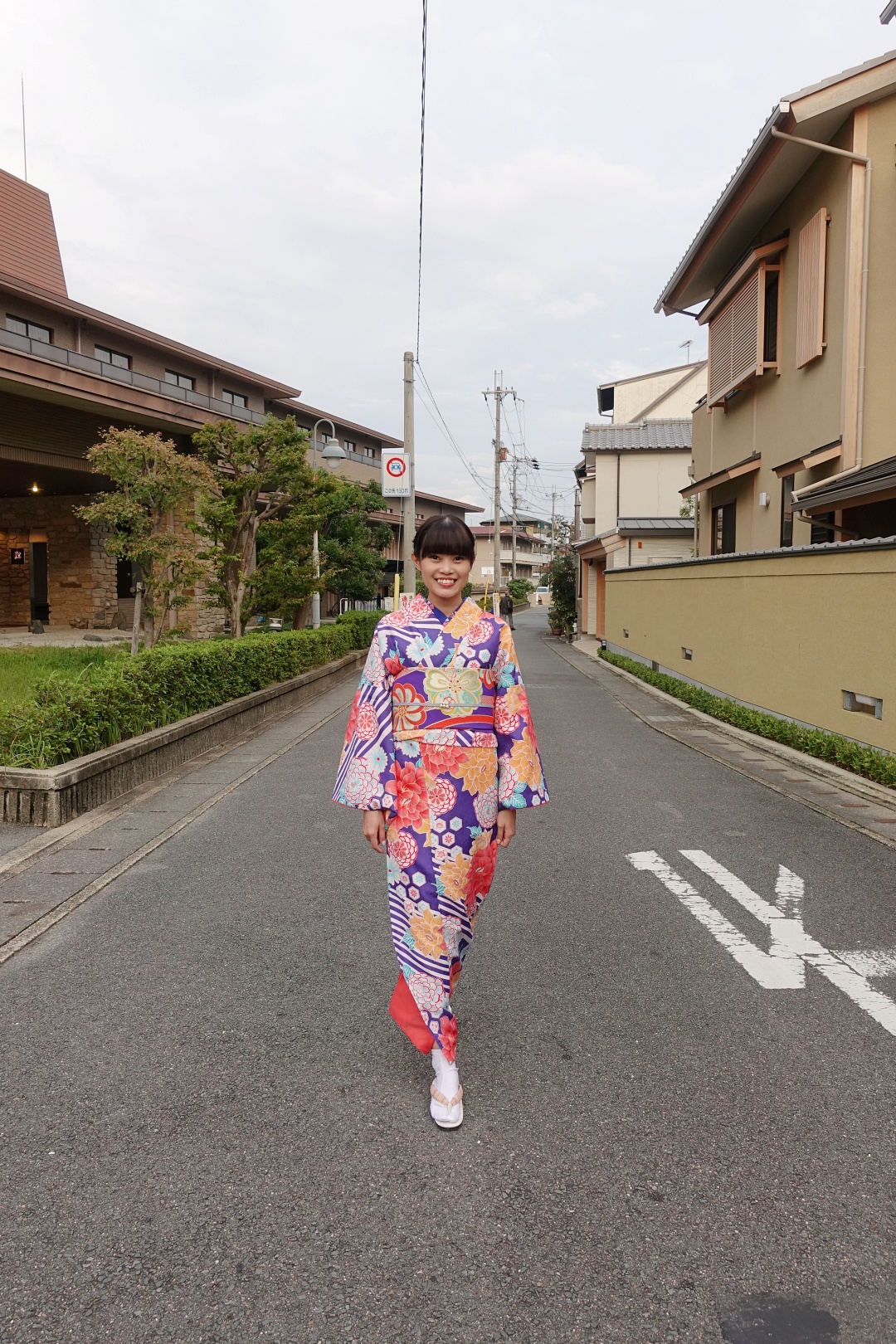 We also started to do a lot of walking shots whereby one of us would walk, and another will repeatedly hit the camera shuttle. These series of photos turn out looking quite funny, especially when you turn them into a gif or video.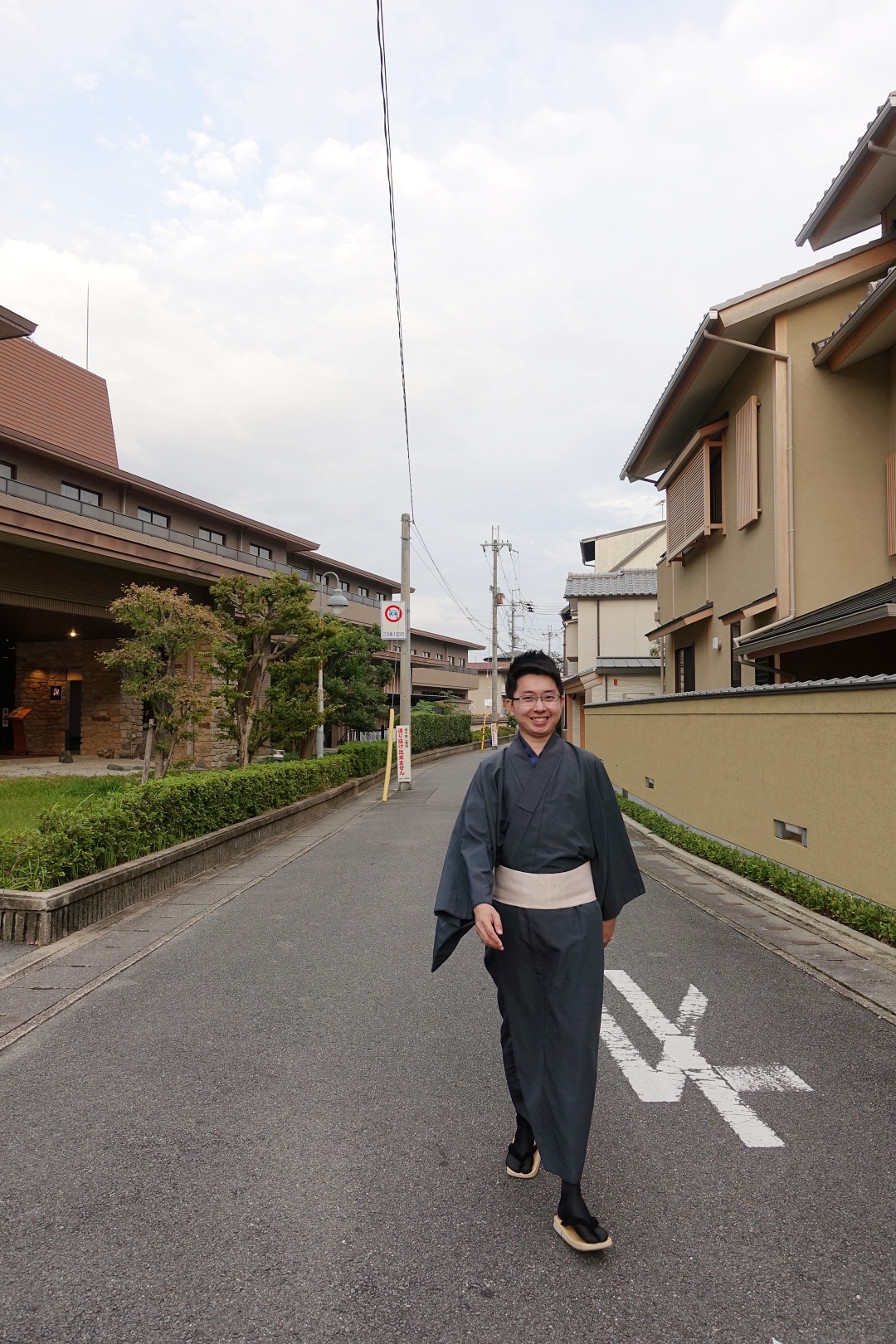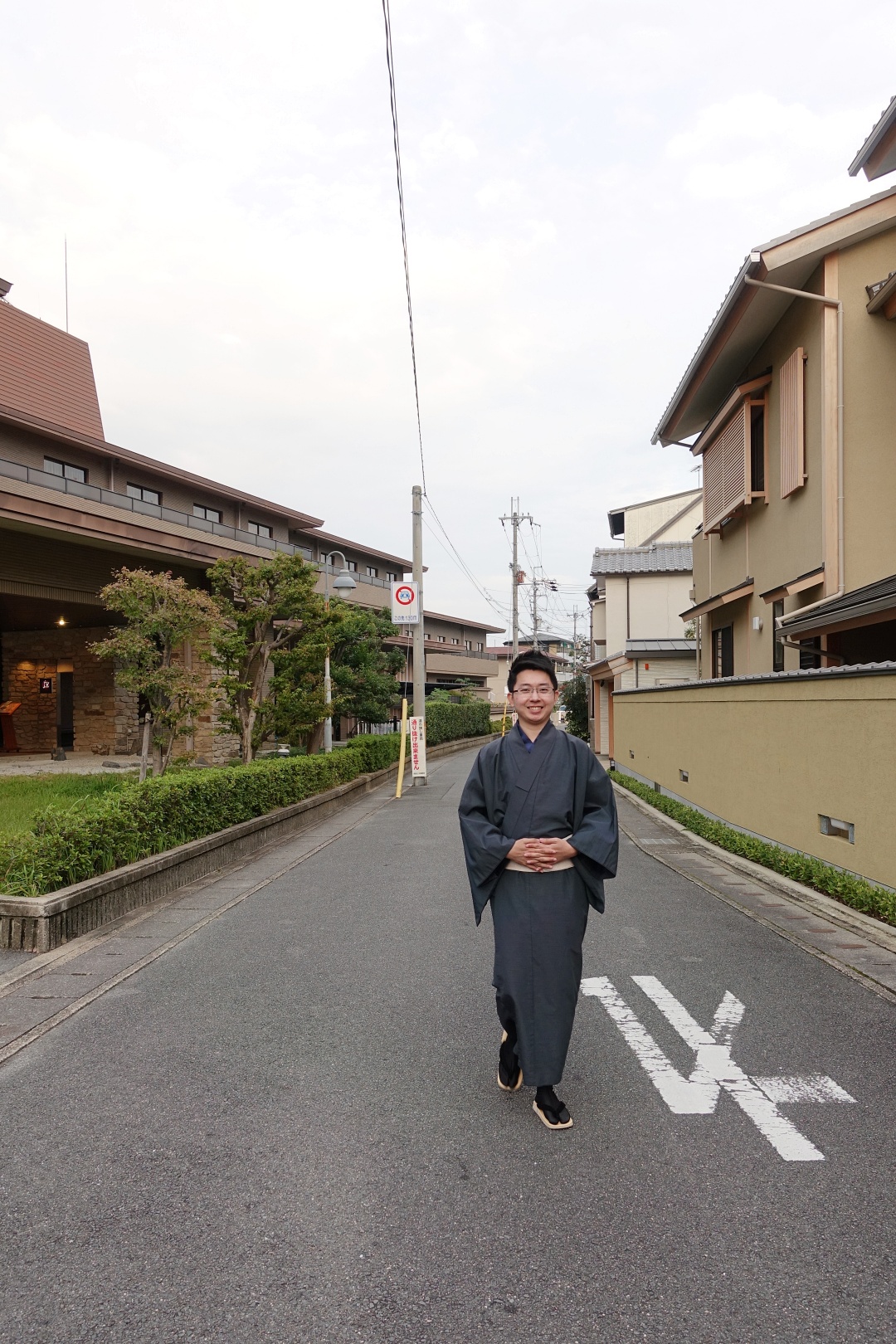 Luckily, the street was rather quiet, with not many cars or passerby.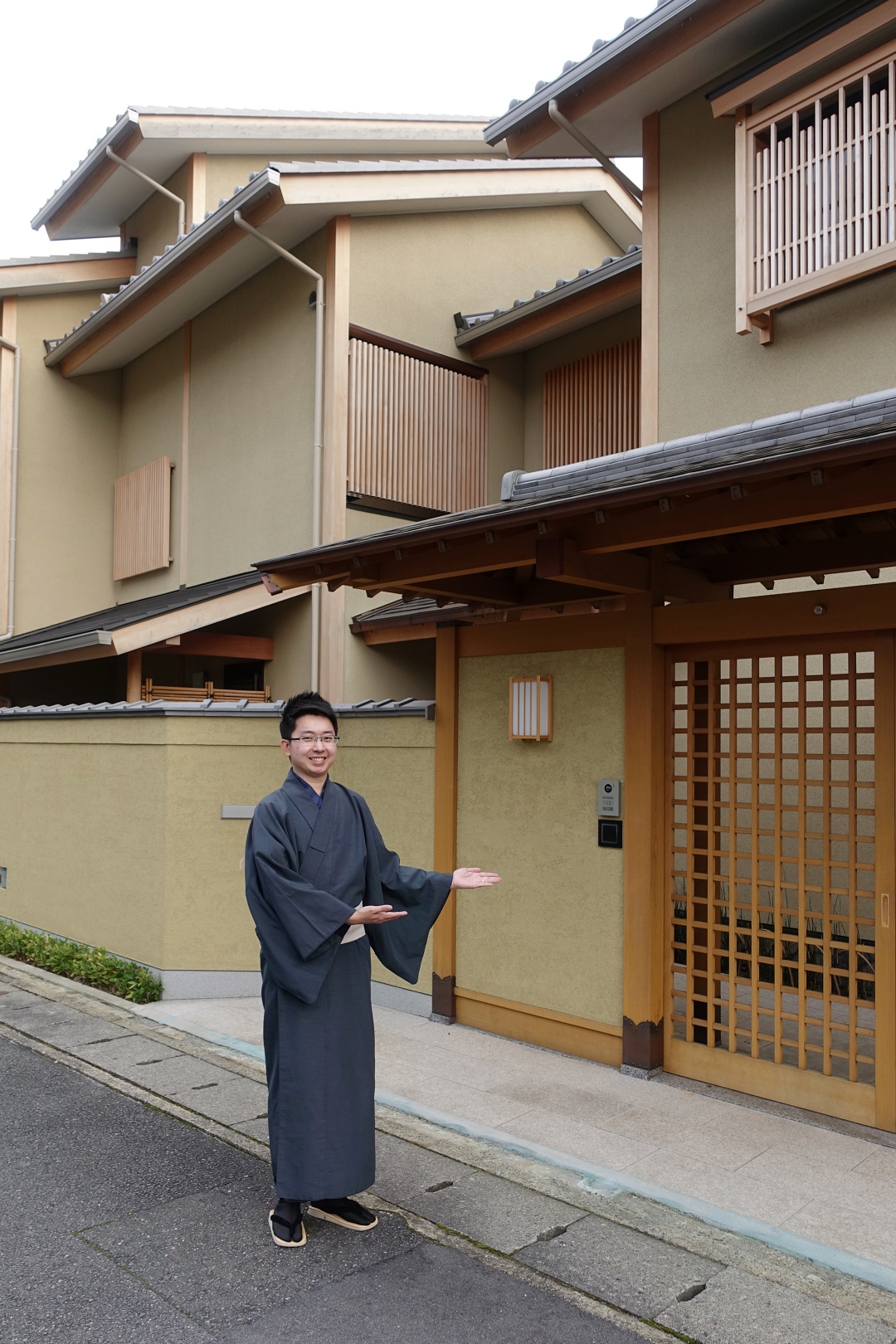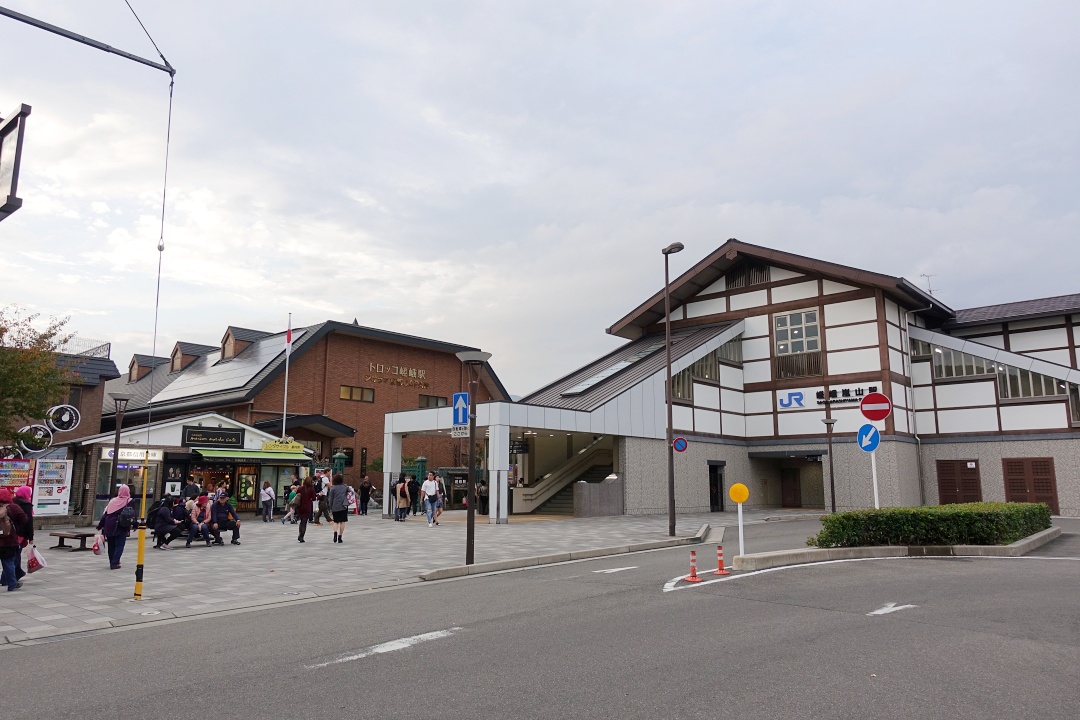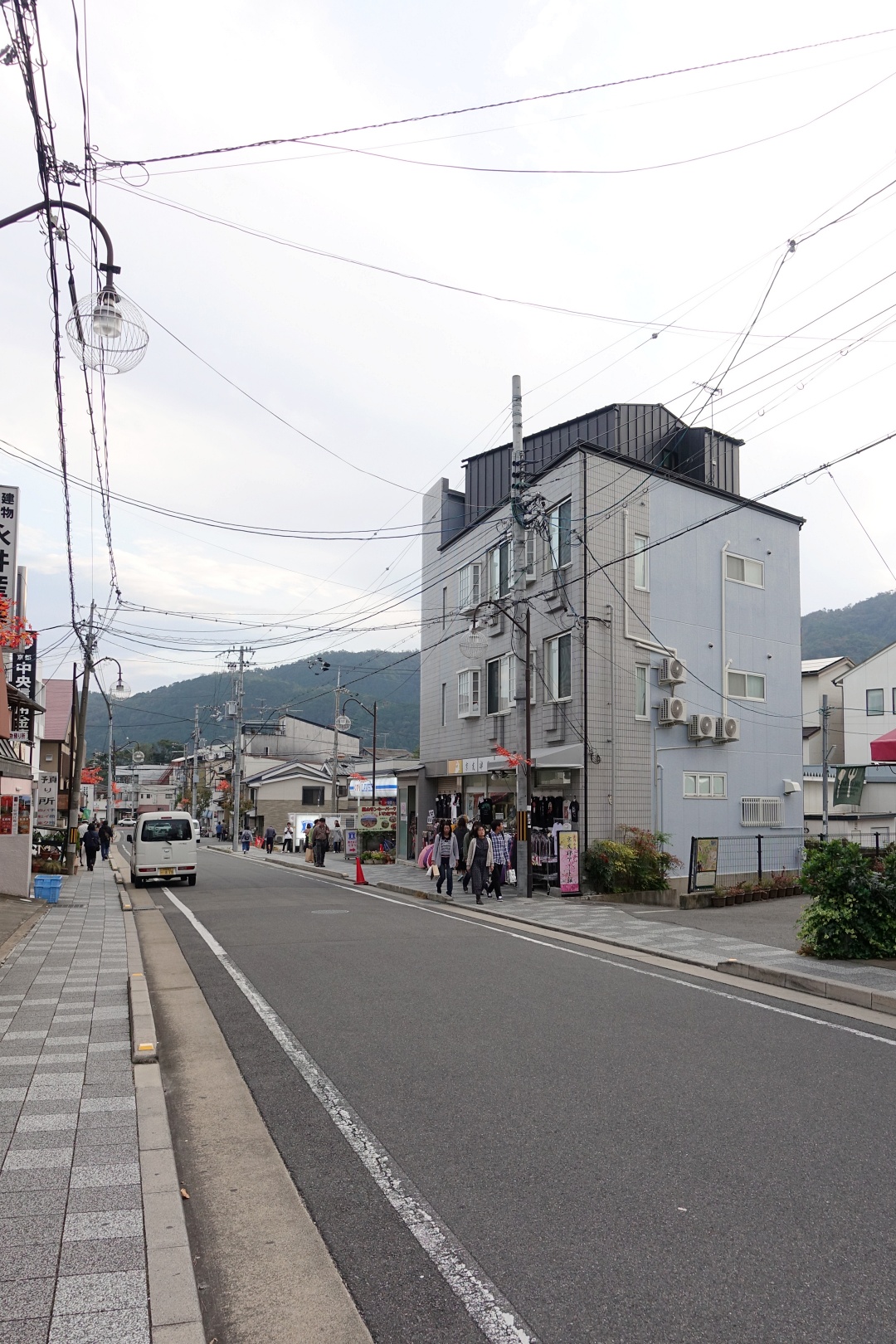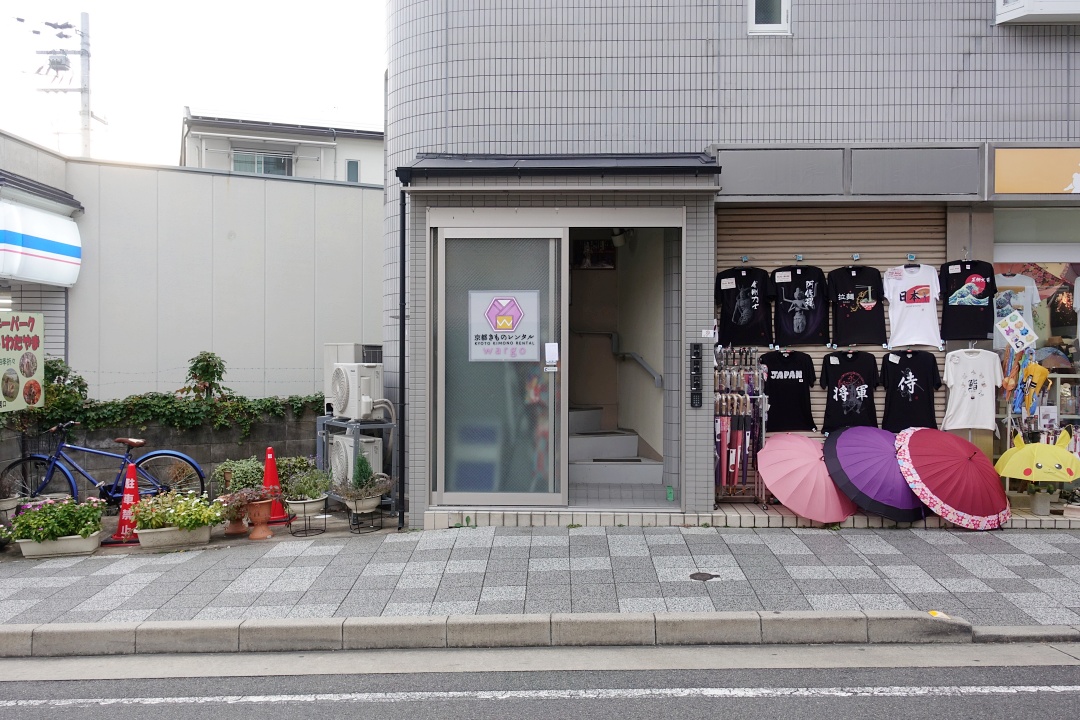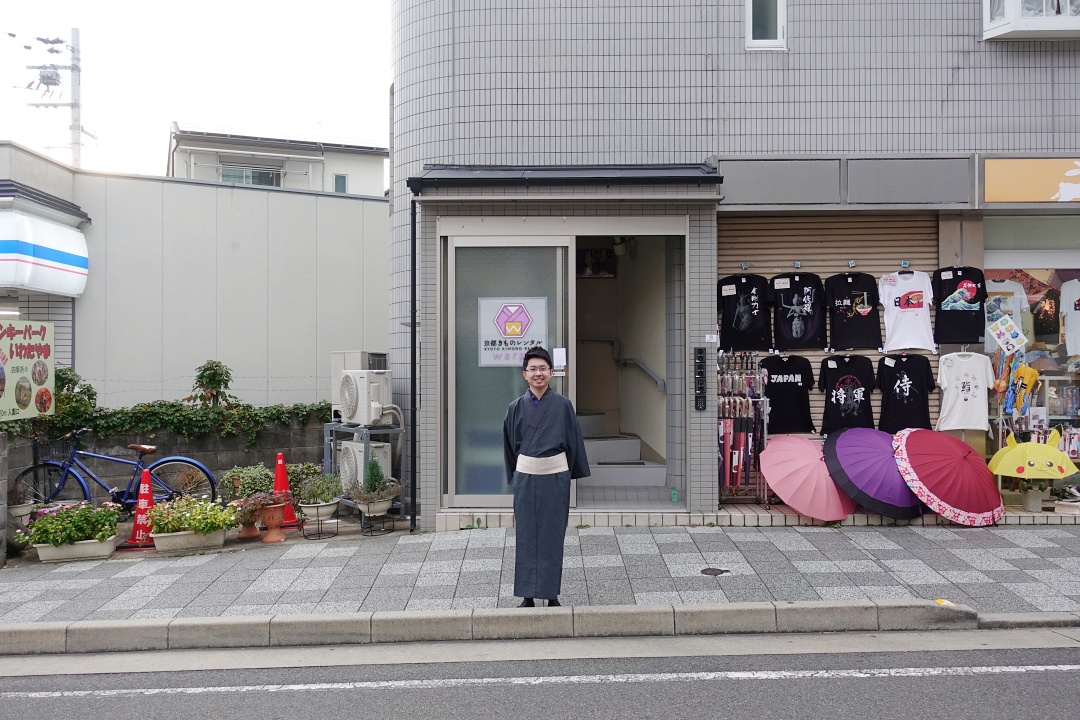 Eventually made our way back to Wargo and returned our kimono at 16:45. Even though we could return the kimono anytime before 17:30, we thought we would return it earlier. This way, we could continue with the rest of our day; instead of hanging around the area with not much to do.
Overall, it was an enjoyable experience renting our kimono from Wargo Kyoto Kimono Rental. The staff I met was lovely and polite. It was a pleasant experience to get help in dressing the kimono, and I truly enjoyed the process.
If there's one thing I would change, that would be to choose a contrasting obi belt. I thought it would look nicer to pick one that matches my selected kimono. But looking back at the photos we took, I think it might have looked better if there's some contrast. If I were to rent a kimono again, I would go with a solid colour for the obi.
FAQ:
Price for the Couples Kimono Rental starts from JPY 5,760 + tax when booked online.
The shop opens at 09:00, and there's an early morning fee for an appointment before 10:00.
Time varies depending on shops for the return of the kimono. (For the Arashiyama Store that we went to, we had to return the kimono before 17:30.)
As a general rule, the return of the kimono is on the same day. However, you can extend the rental period till noon of the following day or have the option to return the kimono at other stores for a surcharge.
We rented the Couples Highend Kimono Plan and paid JPY 8,100 (JPY 8,748 inclusive of tax).
Wargo Kyoto Kimono Rental
Address: Various outlets in Kyoto, Osaka, Tokyo, Okinawa, etc.
Opening Hours: From 09:00. Closing time varies depending on stores.
Website: http://bit.ly/398bIBm
Disney Store Kyoto Kawaramachi
Leaving Arashiyama, we made our way back to the Disney Store at Kawaramachi. This time around, we remembered to have our passport with us, so we went ahead and got all the items we planned to purchase the day before and enjoyed tax-free on our shopping.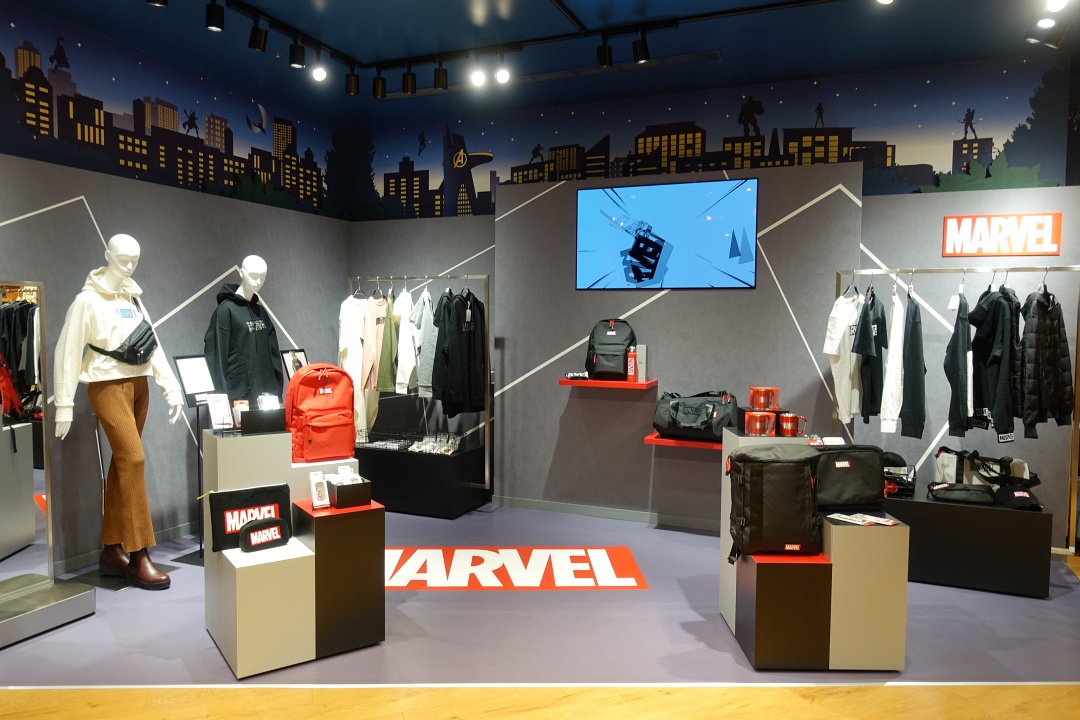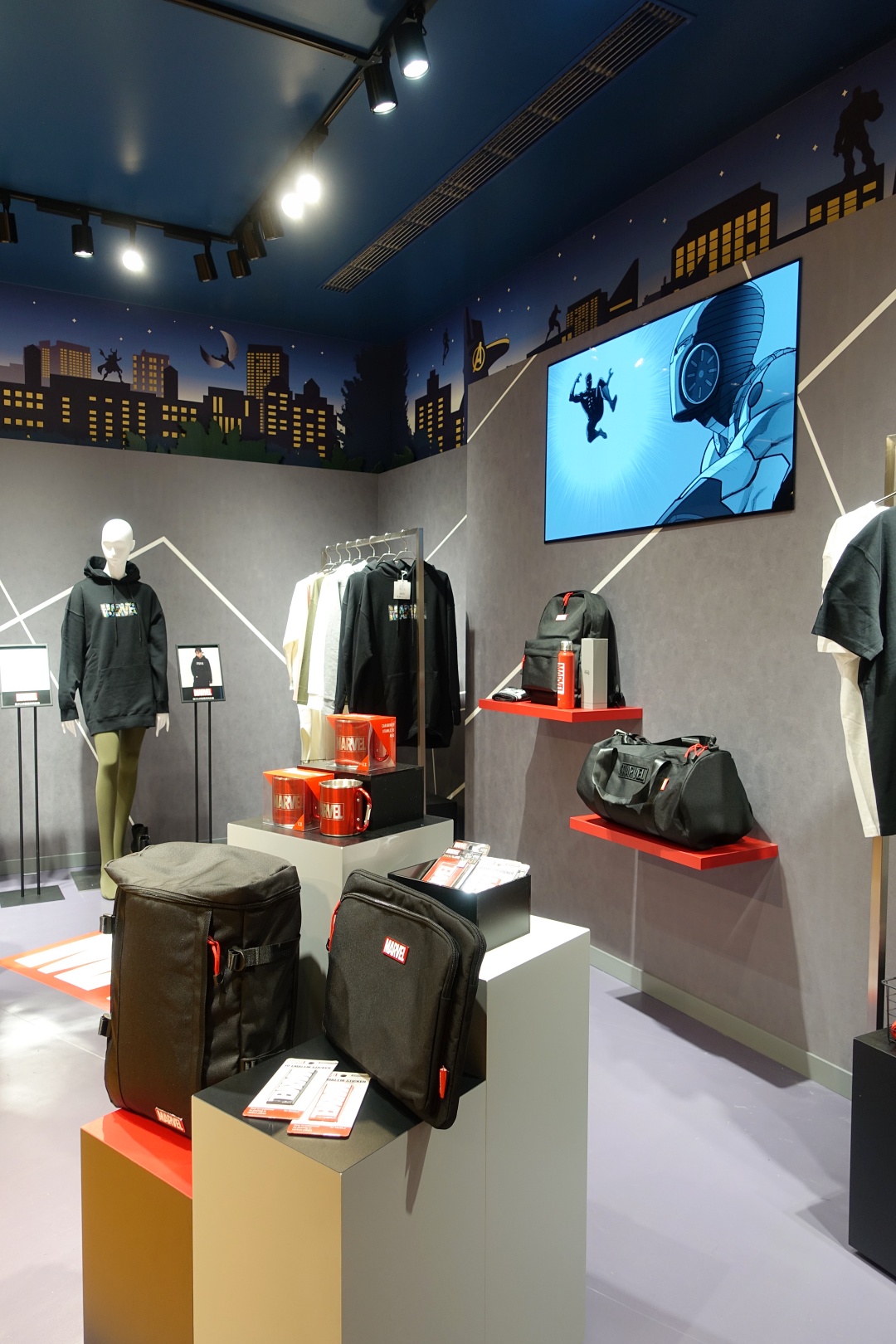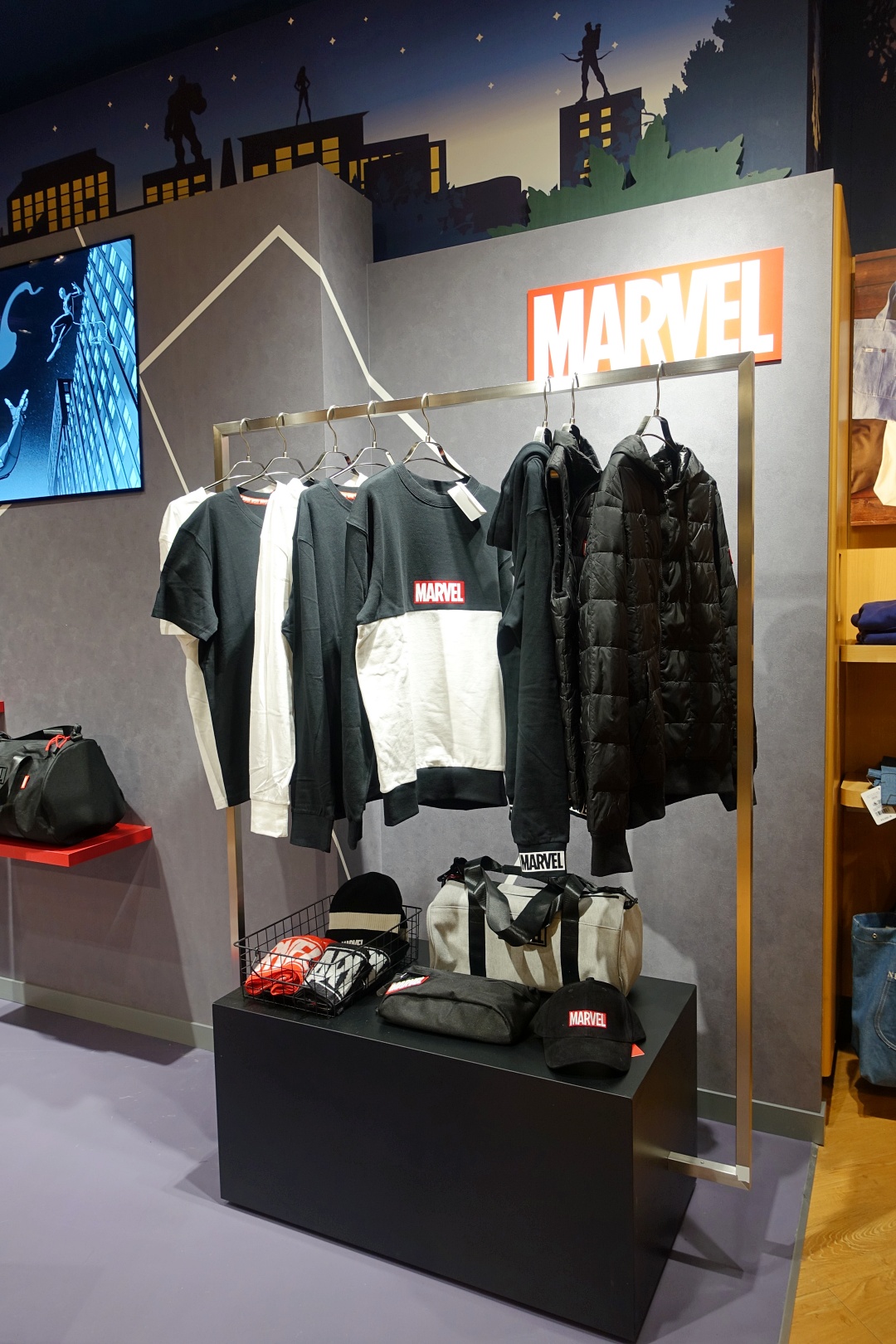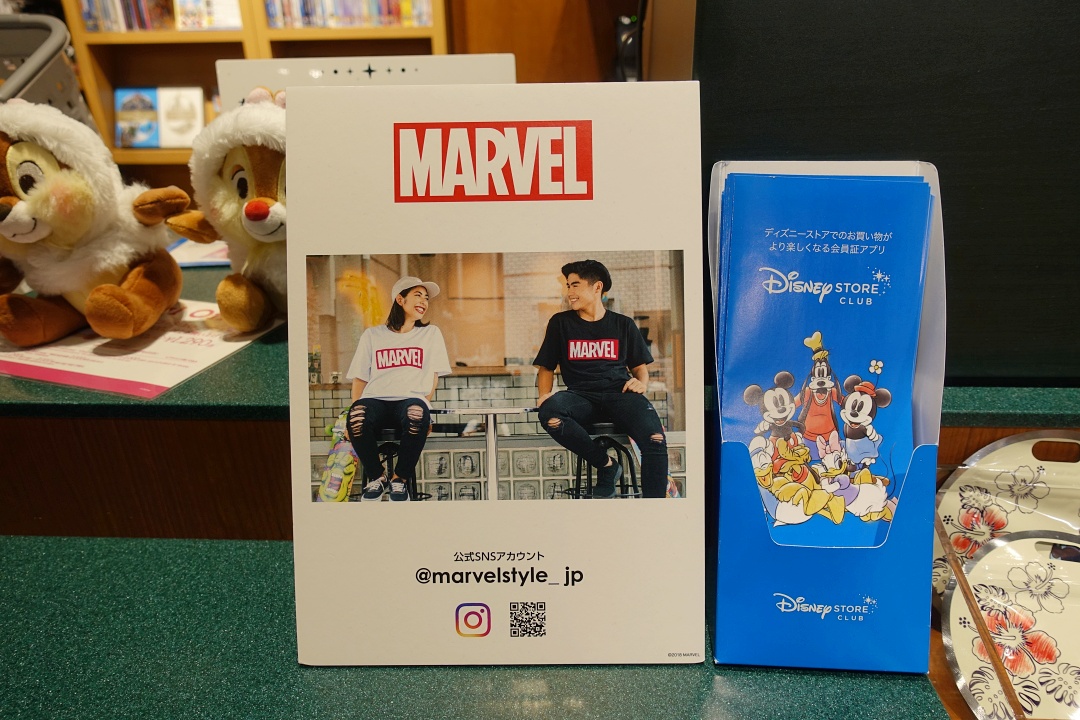 New Marvel display at level 1 of the Disney Store Kyoto Kawaramachi!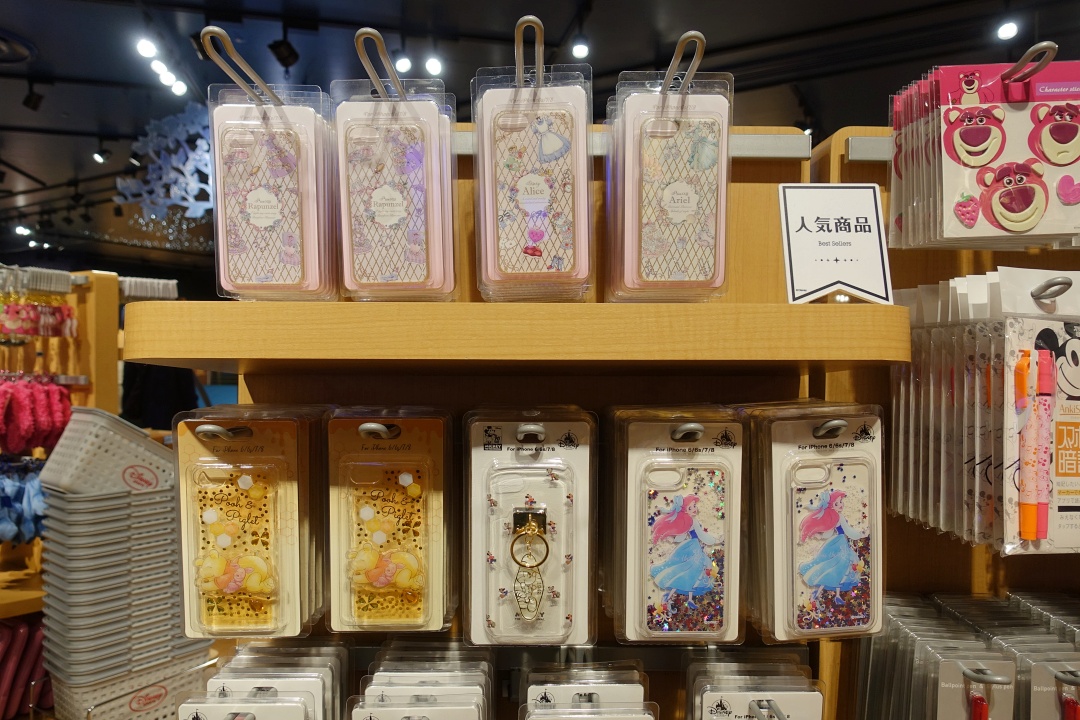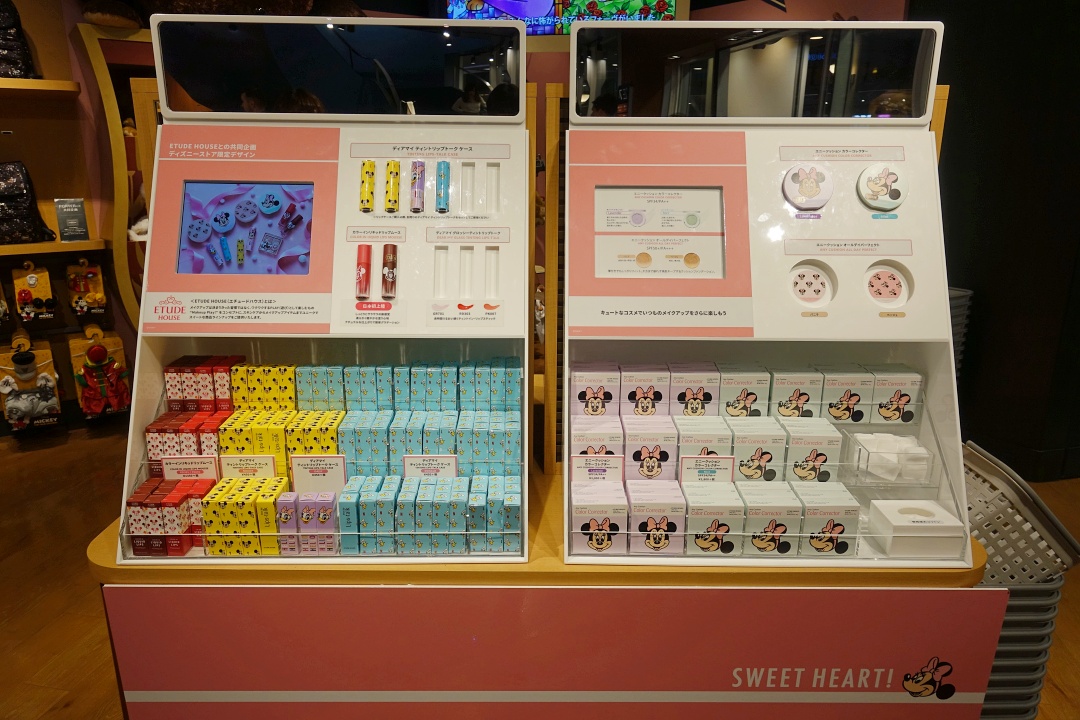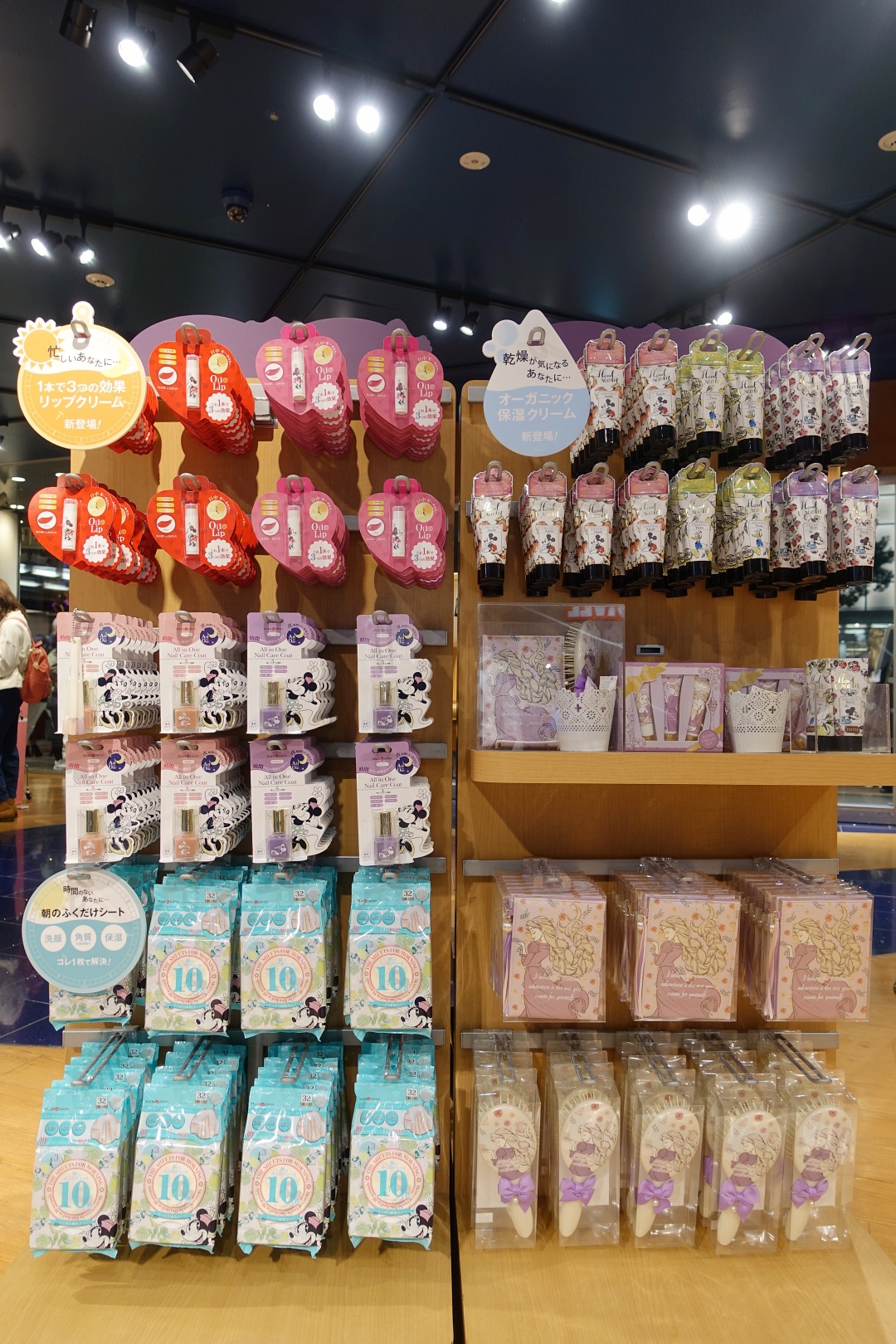 Didn't take that many photos at the Disney Store since we were just there the day before. The only new-in was the Marvel merchandise on level 1?
I was contemplating to get some of the items that I was eyeing, and the best thing that happened was hearing the Husband telling me it's okay to buy because we're on our honeymoon.
Though this trip was our minimoon, somehow I didn't really think of it as that nor remind myself that we were on our honeymoon. I guess I pretty much treat it as our usual overseas holiday.
I literally smiled when the Husband reminded me that we are on our honeymoon. And just like that, I magically won't feel that guilty for going all out on my shopping.
Flying Tiger Copenhagen
After leaving Disney Store, we continued making our way down the streets, where I happened to spot a Flying Tiger Copenhagen store!
The first time I went to a Flying Tiger store was in Italy, and I remembered getting a pineapple coin bank from there. Unfortunately, I accidentally knocked on it one day, and it broke. I was hoping I could get another one but, of course, I could no longer find it.
Well, at least I managed to get something that day. Left the store with a cake cutter that has the phrase "happiness is a piece of cake" printed on it. I thought it was cute since it's a cake cutter. And it was only JPY 300!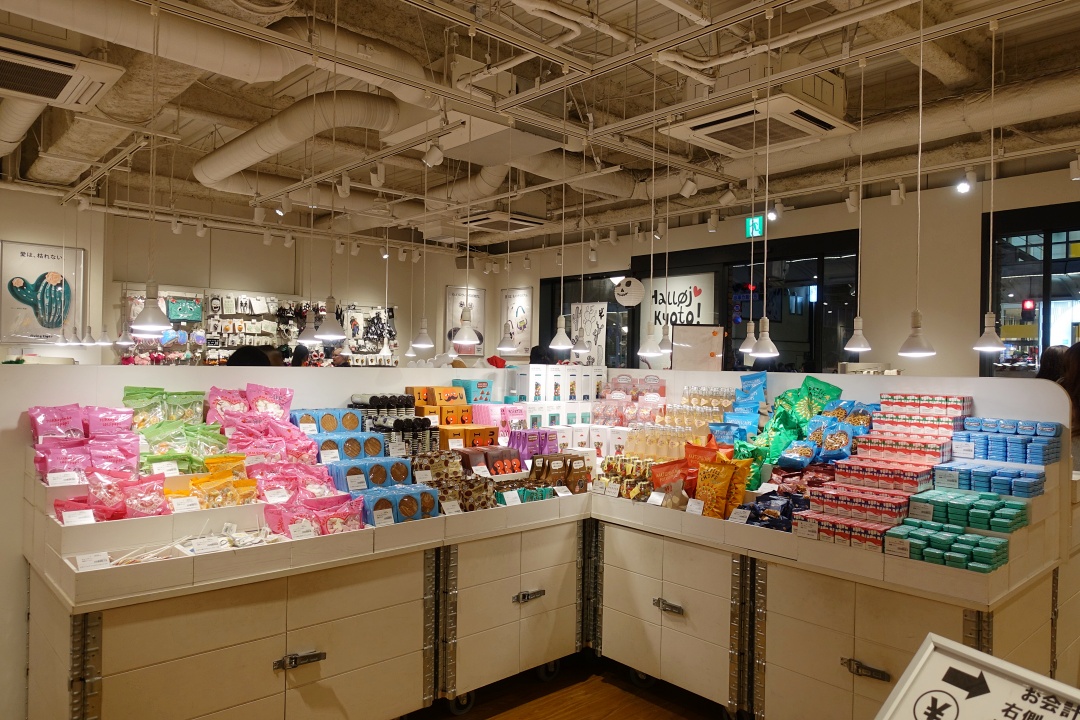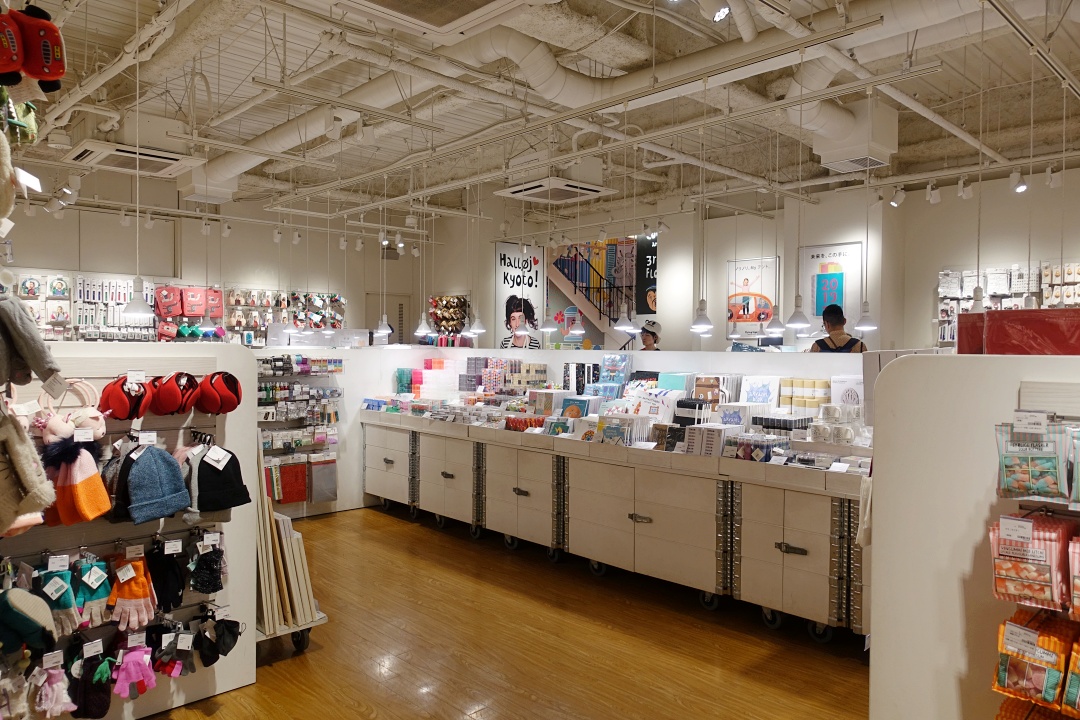 It was fun going around the store where everything just looks so cute and colourful; though the majority of them were novelty items and didn't seem to serve many purposes.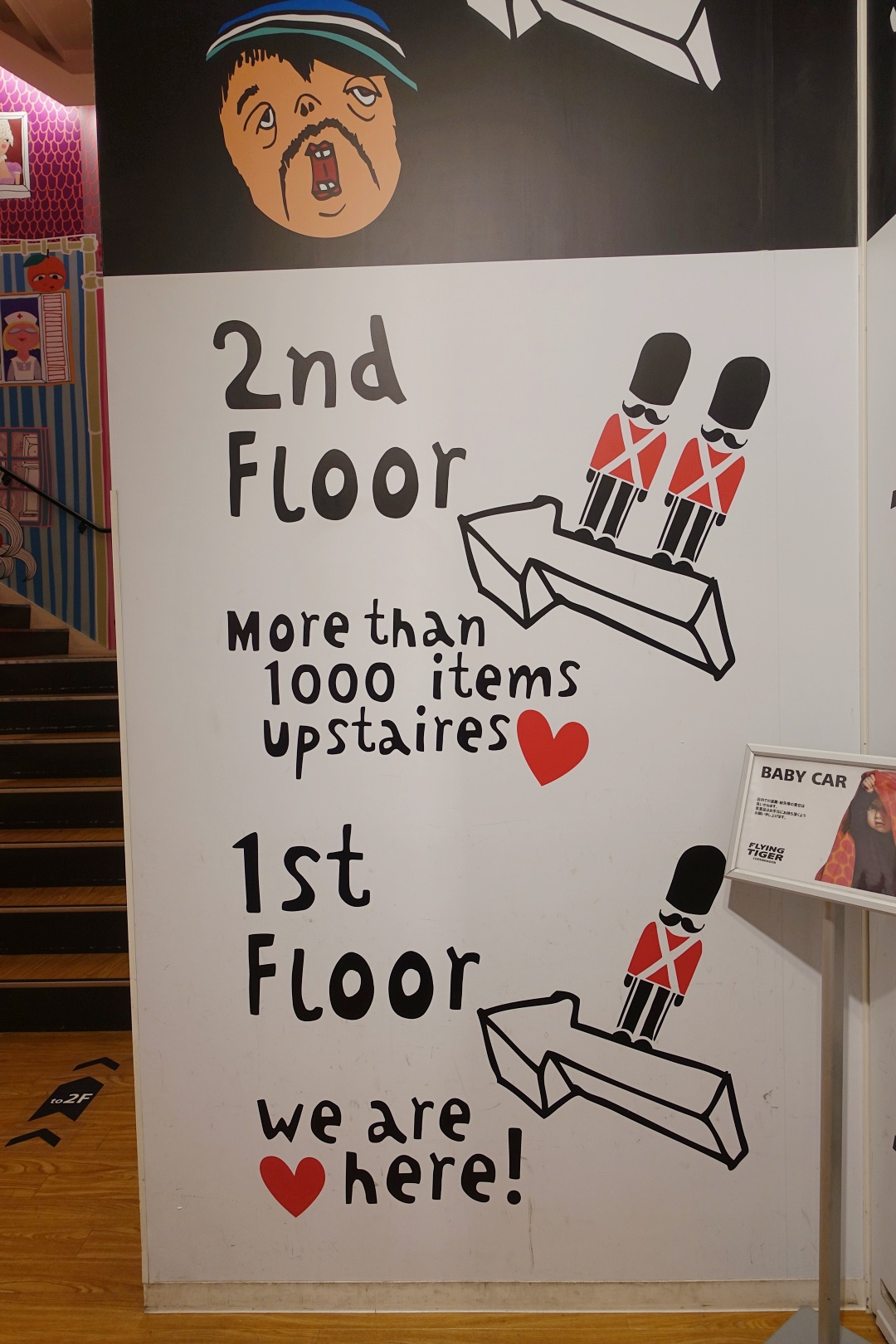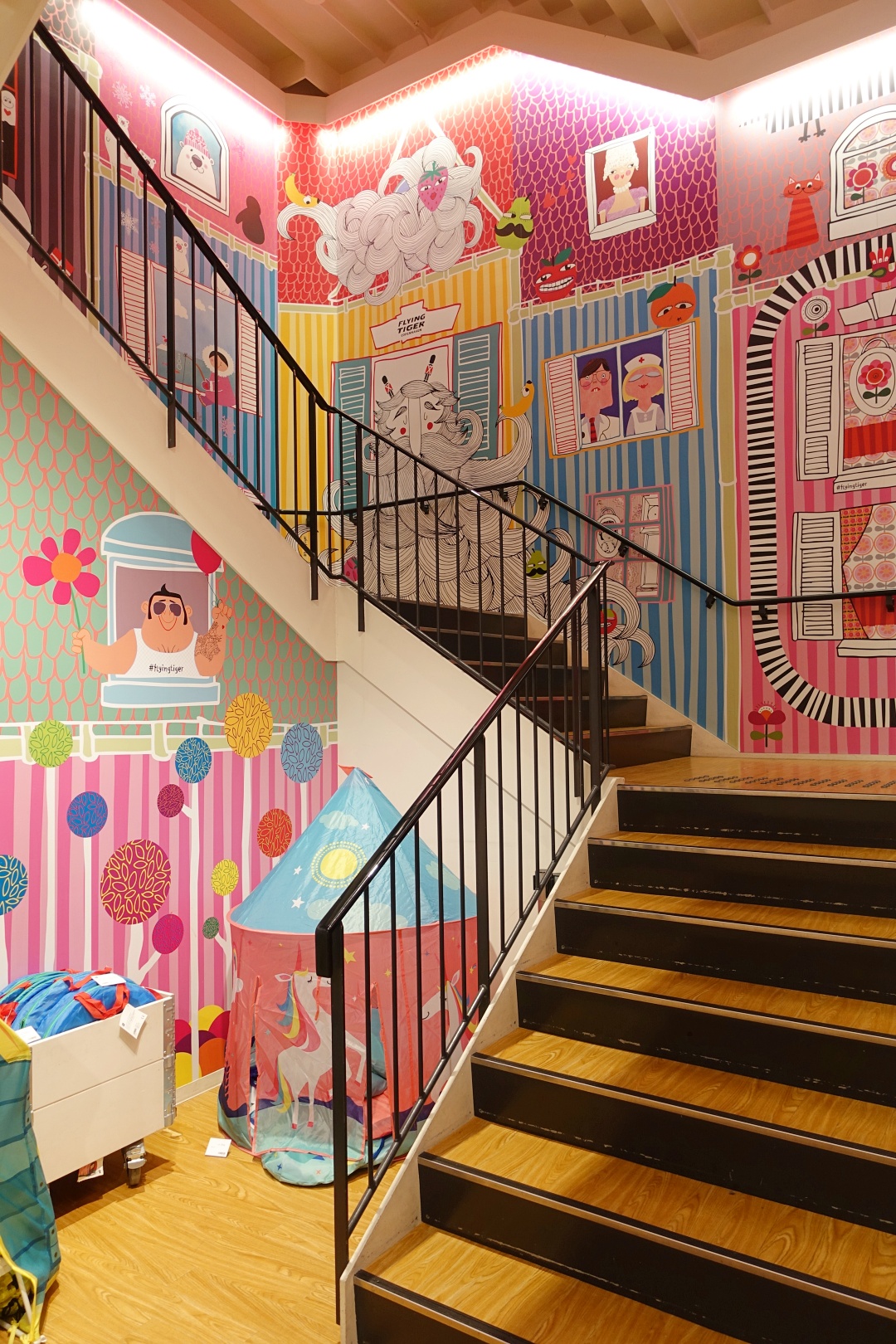 In addition to the merchandise, even the store was nicely decorated with the adorable wallpaper. Don't you agree it just instantly put one into a good mood just by walking in the store?
Kyoto Sushi Zanmai
Dinner for that night was at Sushi Zanmai, a famous sushi restaurant chain in Japan. We happened to walk past it while looking for a place for dinner and thought we would give it a try.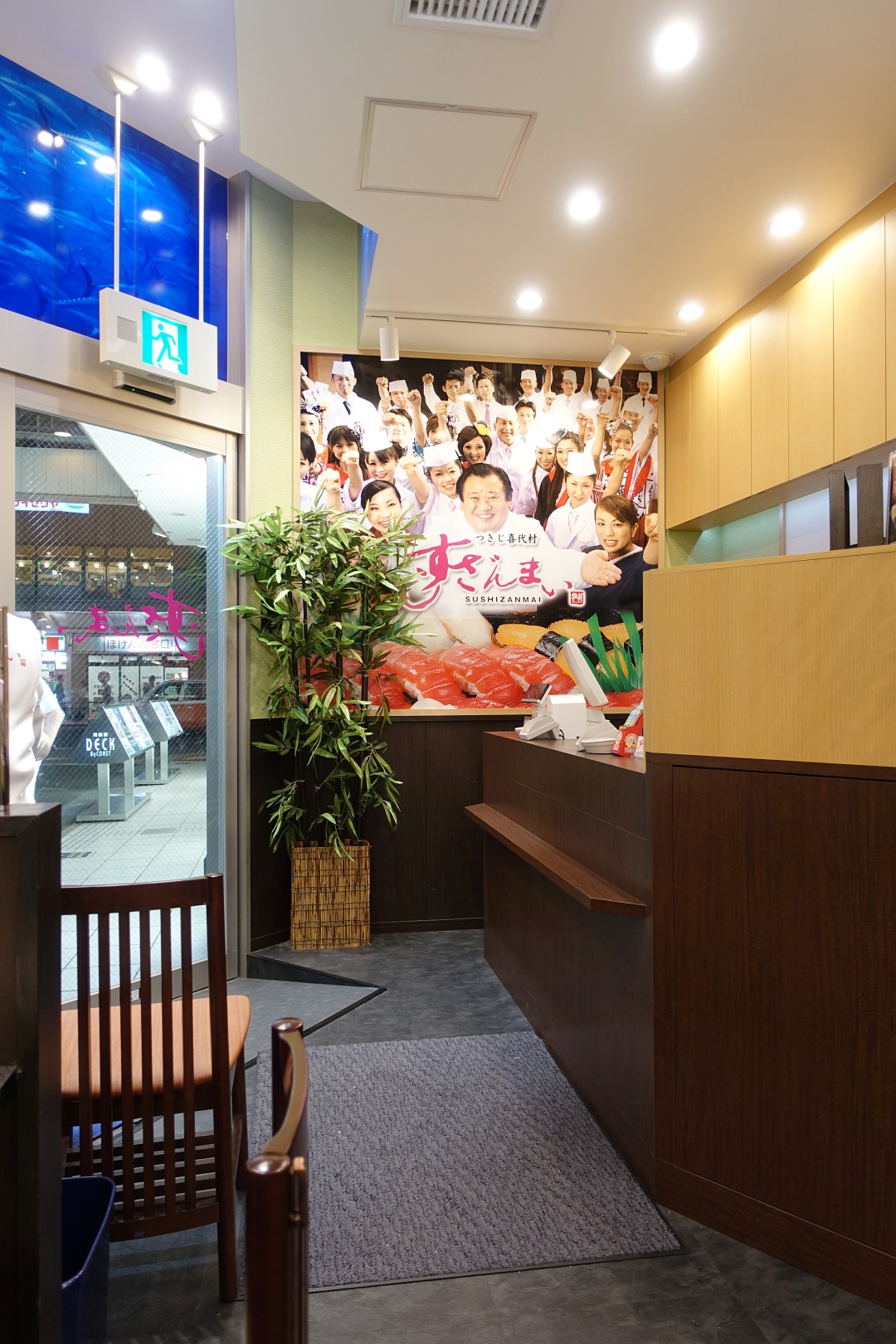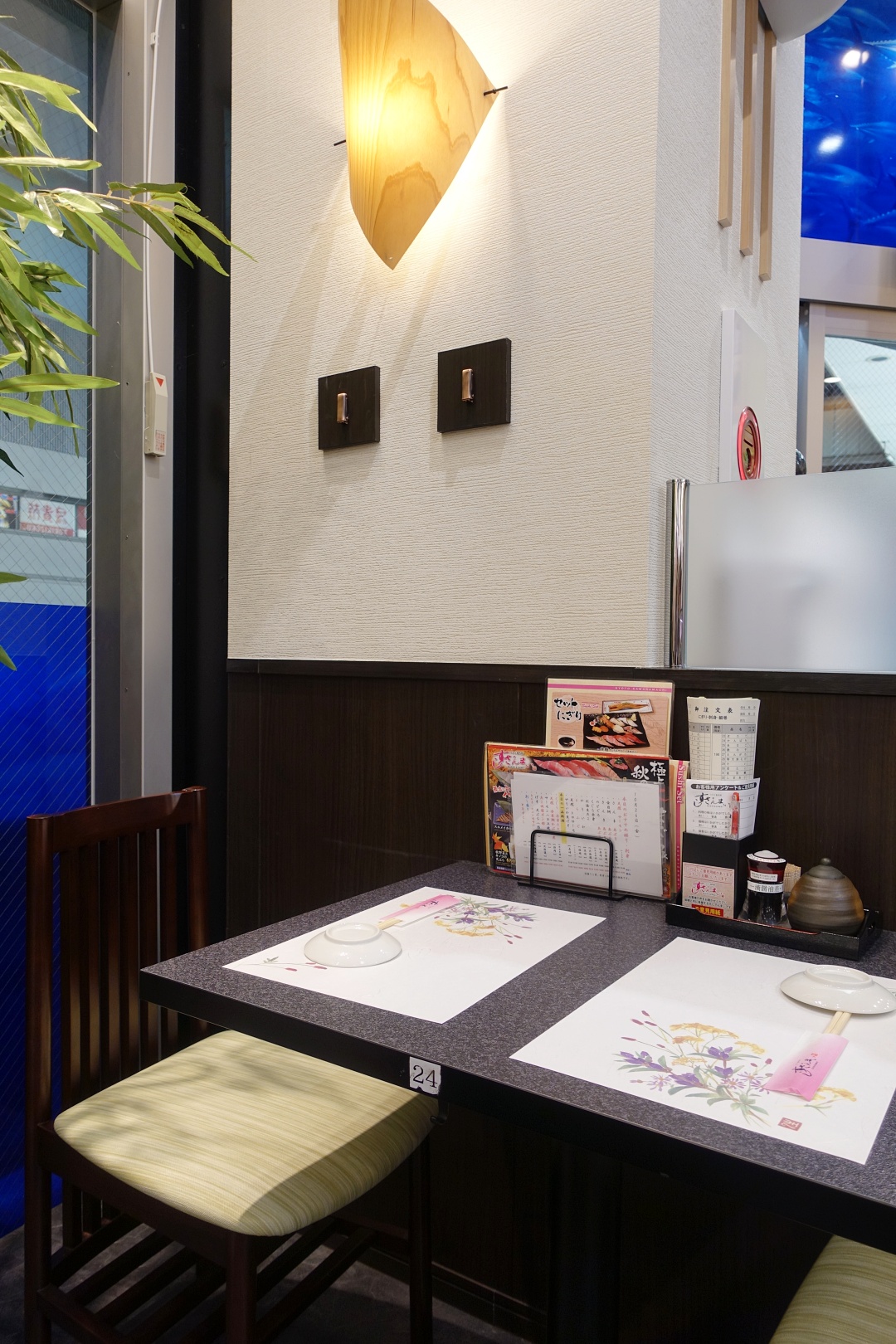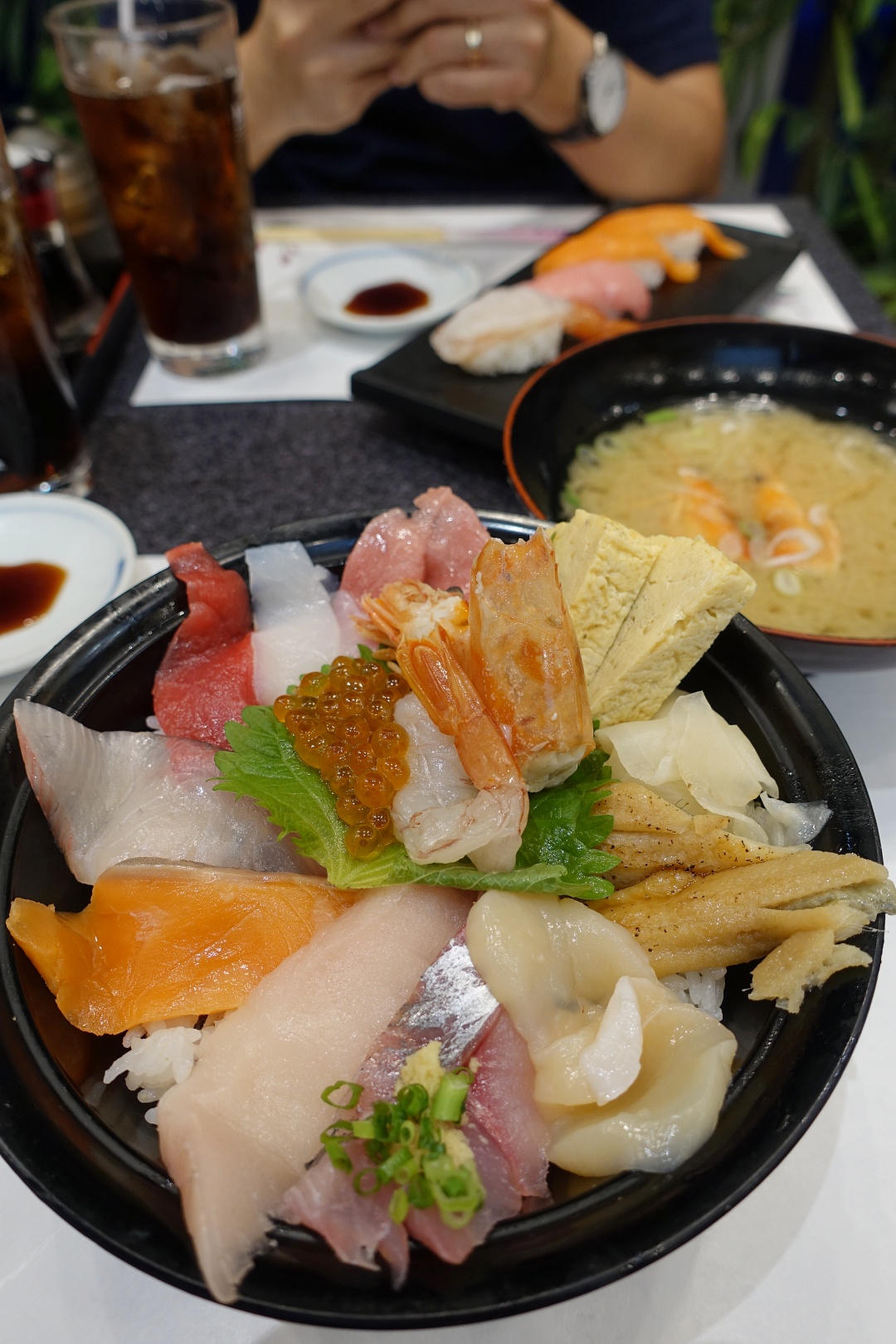 I went with a Kaisen Don (JPY 1,500).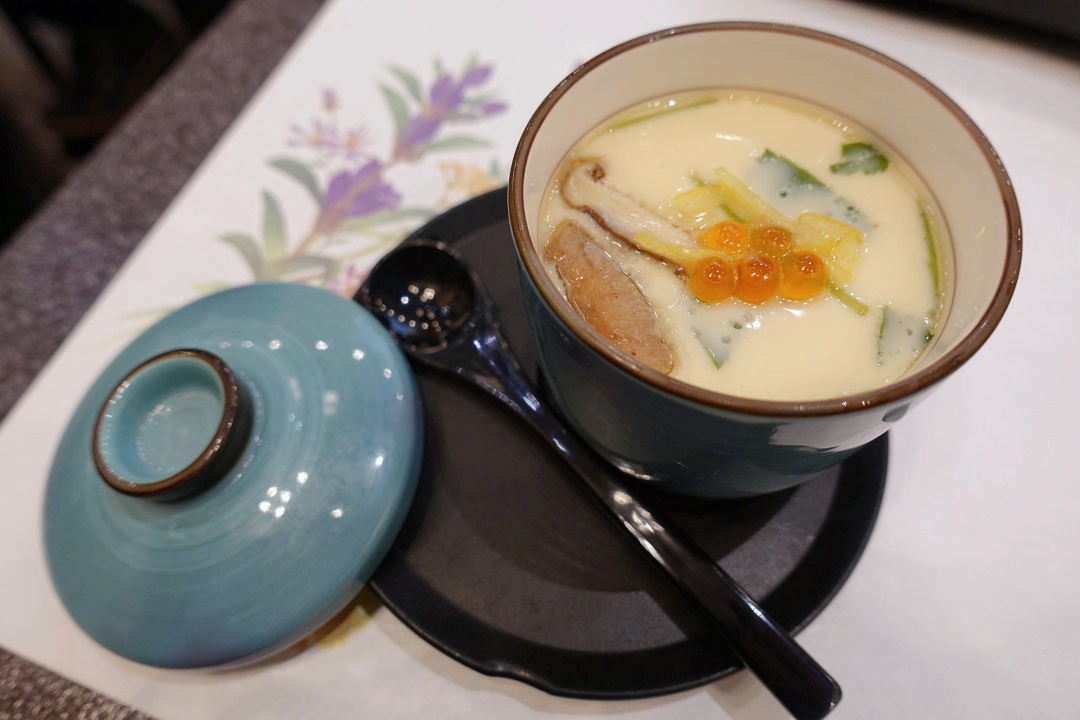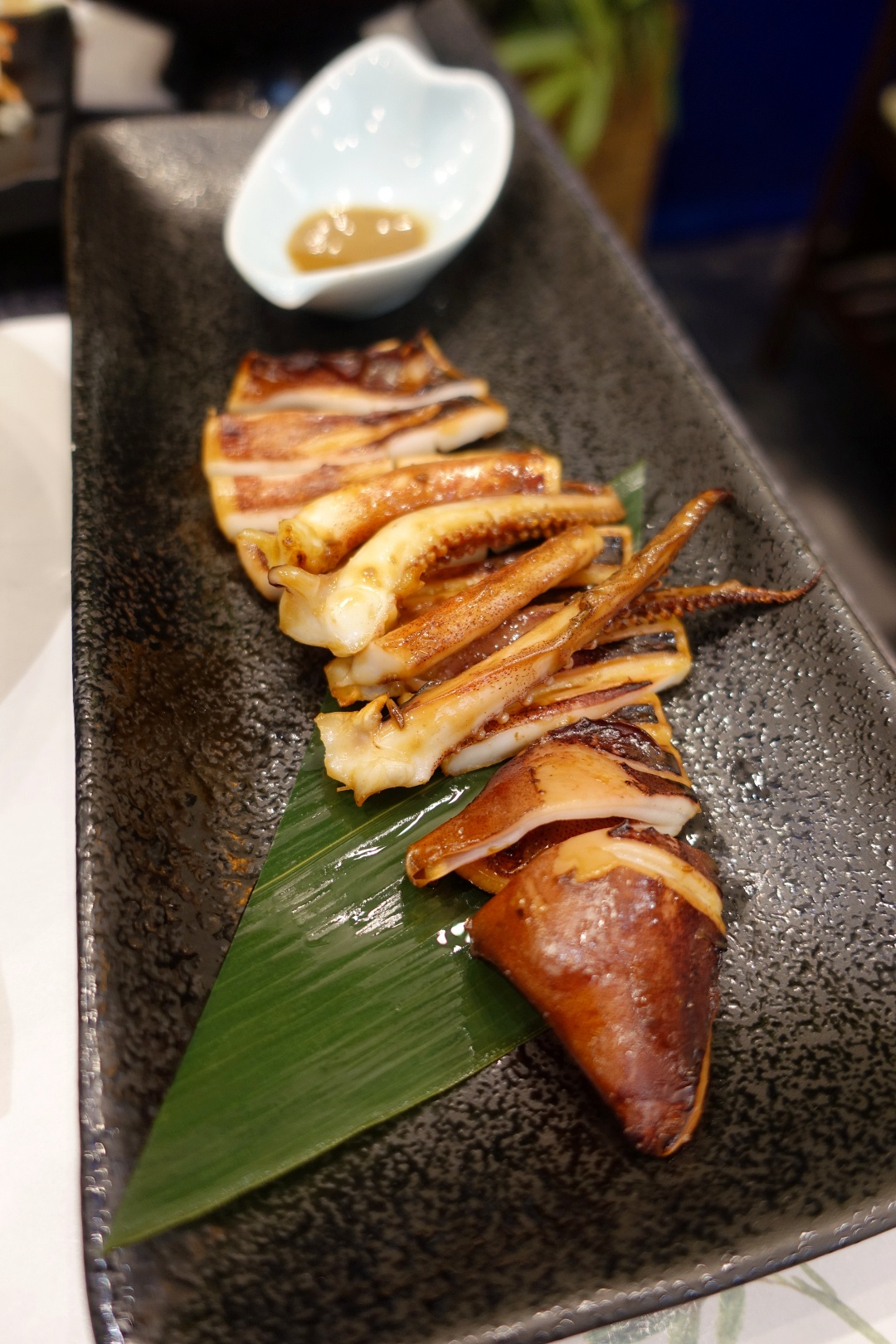 The Husband also got a Kaisen Don, together with some sushi and side dishes.
I don't remember much of our dinner that night, so I supposed the food didn't leave a lasting impression.
---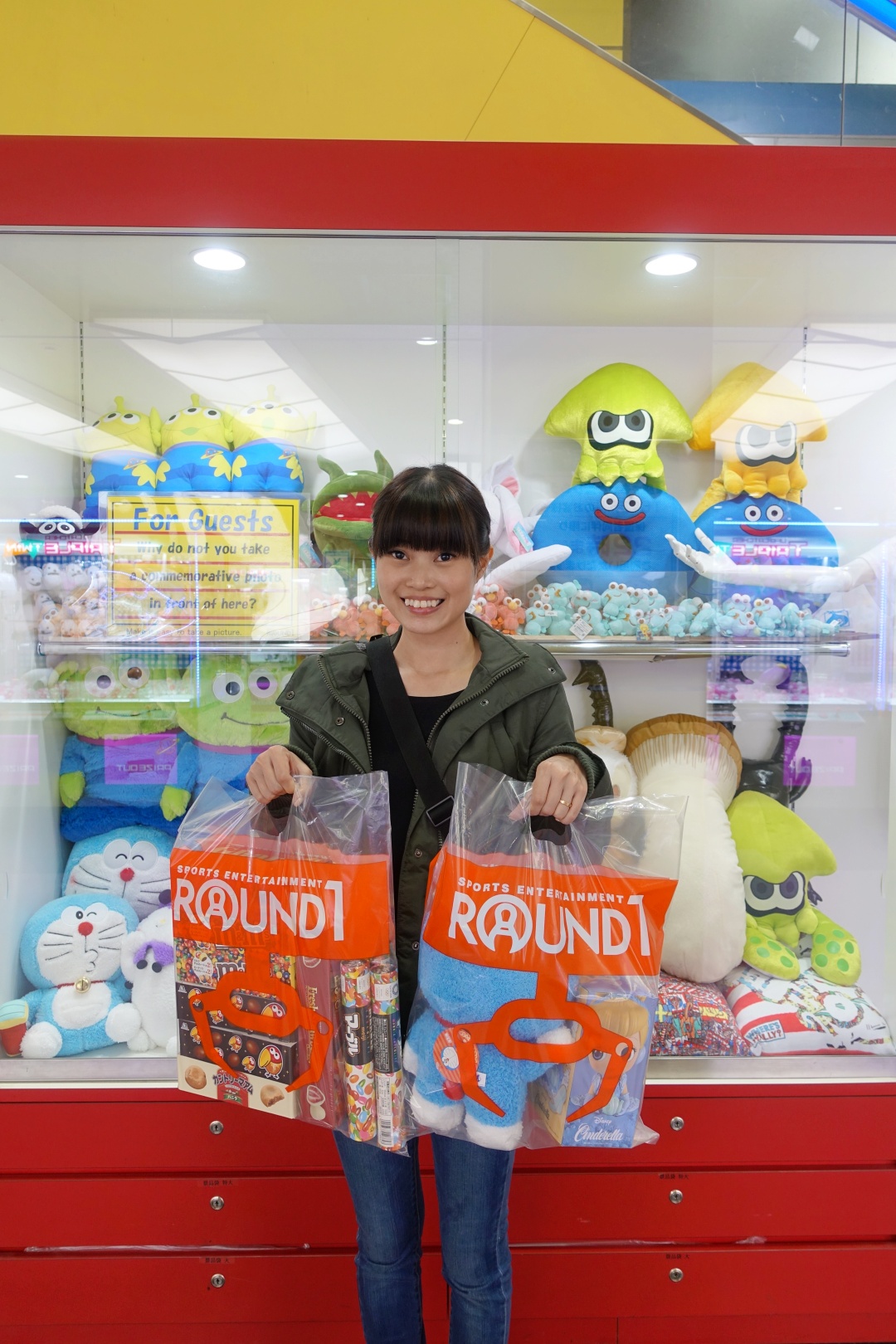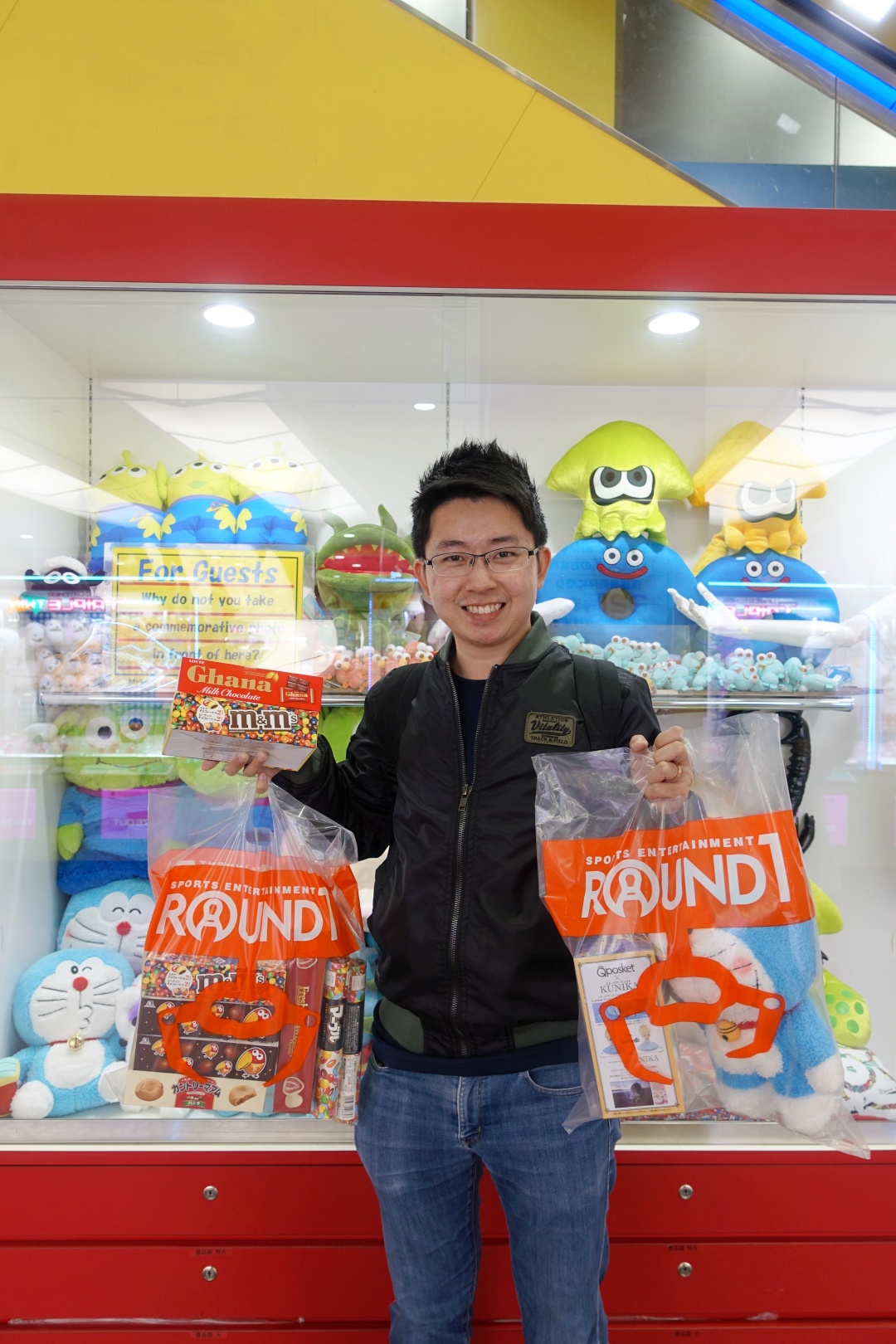 Ended our night at Round 1 after having our dinner where we managed to win a handful of items.
Not every arcade adventure is a successful one, so we were always thankful and happy whenever we managed to leave with something. Sometimes it's just boxes of chocolates, other times it's a plushie or two. Even till today, we continue to spend/waste so much money playing the claw machines.