I am finally getting down to write about my trip to Osaka, Japan, which took place a year ago. Oops! Too many backlogs to clear, and there were some posts I wanted to put up before I start on this travelogue; hence, I wasn't able to draft this post sooner.
The Husband and I took an eight-day trip to Osaka (and Kyoto) as our mini-moon, right after we held our wedding in late-October 2018.
Seeing that he did all the planning and booking of accommodation, I can't seem to recall much about the trip. I was so overwhelmed with the wedding and renovation that I decided to take a backseat and leave all the planning to him. Because of that, I felt like I didn't have much recollection on where we went or what we did during our time in Osaka.
I'm not confident that my subsequent posts would be as informative as I hope. But by looking back at the pictures we took during the trip, I hope it will trigger my memories, so I get to share more in details.
---
Our flight out from Singapore was on 22 October 2018 (Monday) at 01:25, and we were scheduled to arrive at Osaka, Kansai International Airport at 09:05. (Flying time: 6hrs 40mins.) The Husband has always wanted to visit Osaka after our first trip to Tokyo in 2016. So it was an easy decision to decide on Osaka for our mini-moon.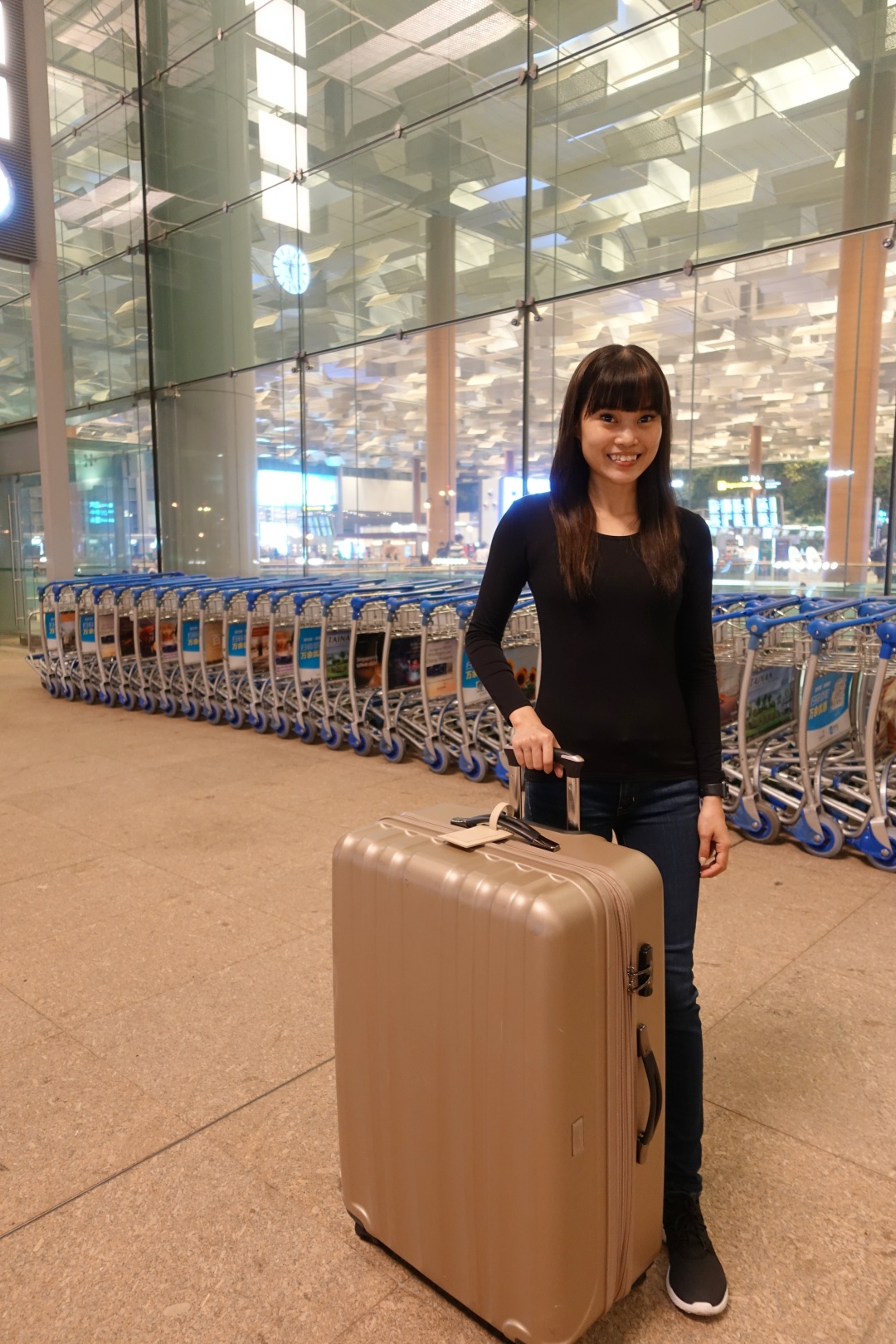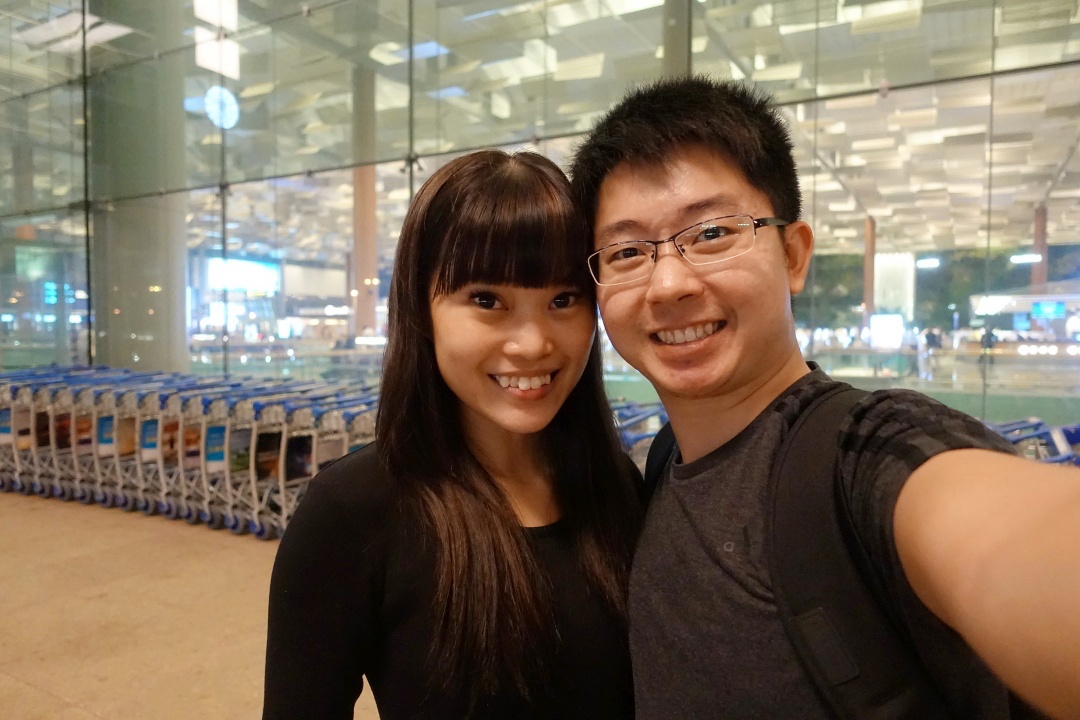 We arrived at Changi Airport Terminal 3 at around 23:30 on Sunday.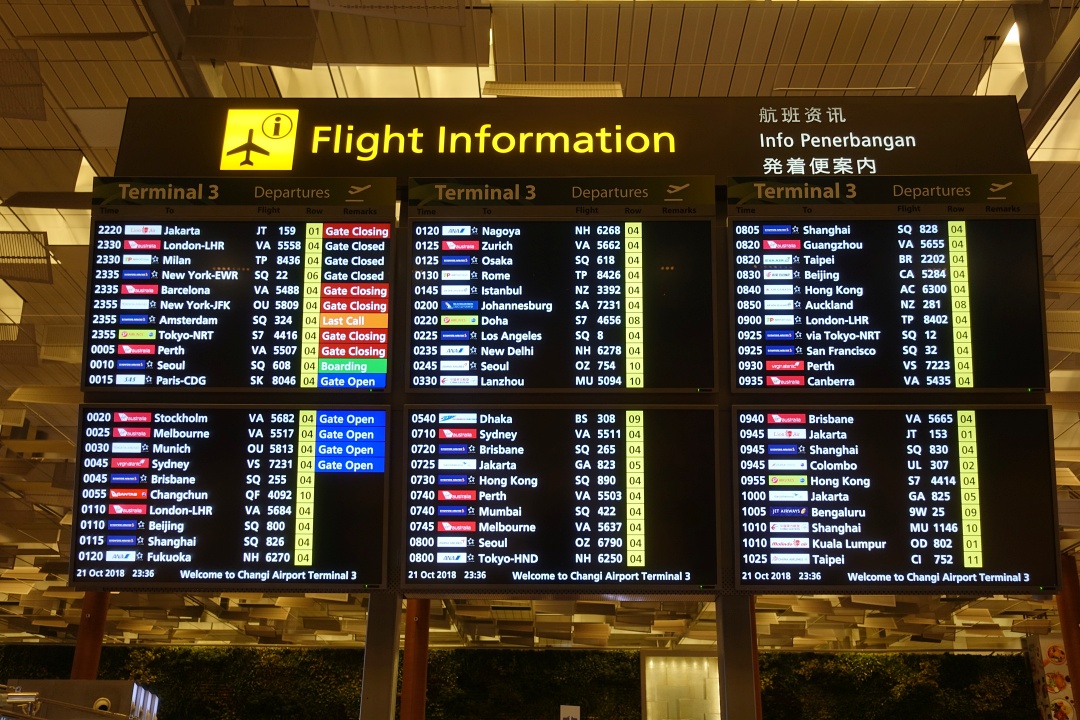 For this trip, the Husband managed to redeem our flights using his KrisFlyer miles; hence, we got to fly with Singapore Airlines. For reference, it takes 50,000 miles to redeem a return Economy Saver Award Ticket. After redeeming 100,000 miles (for two return tickets), we only had to pay for the airport taxes, fees, etc.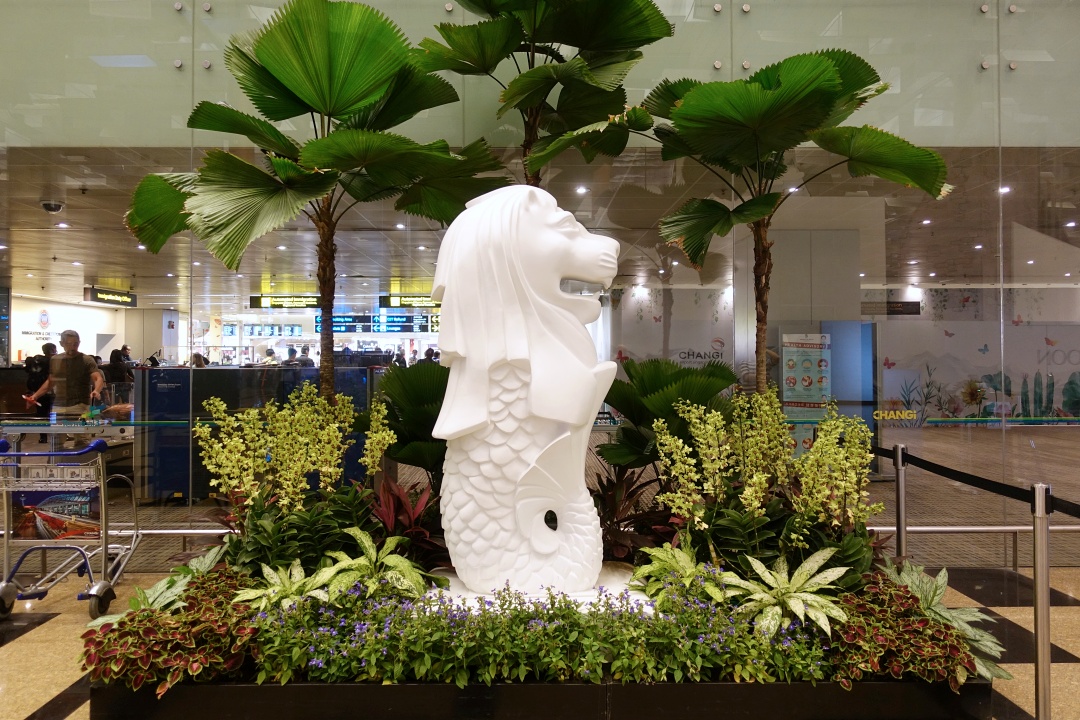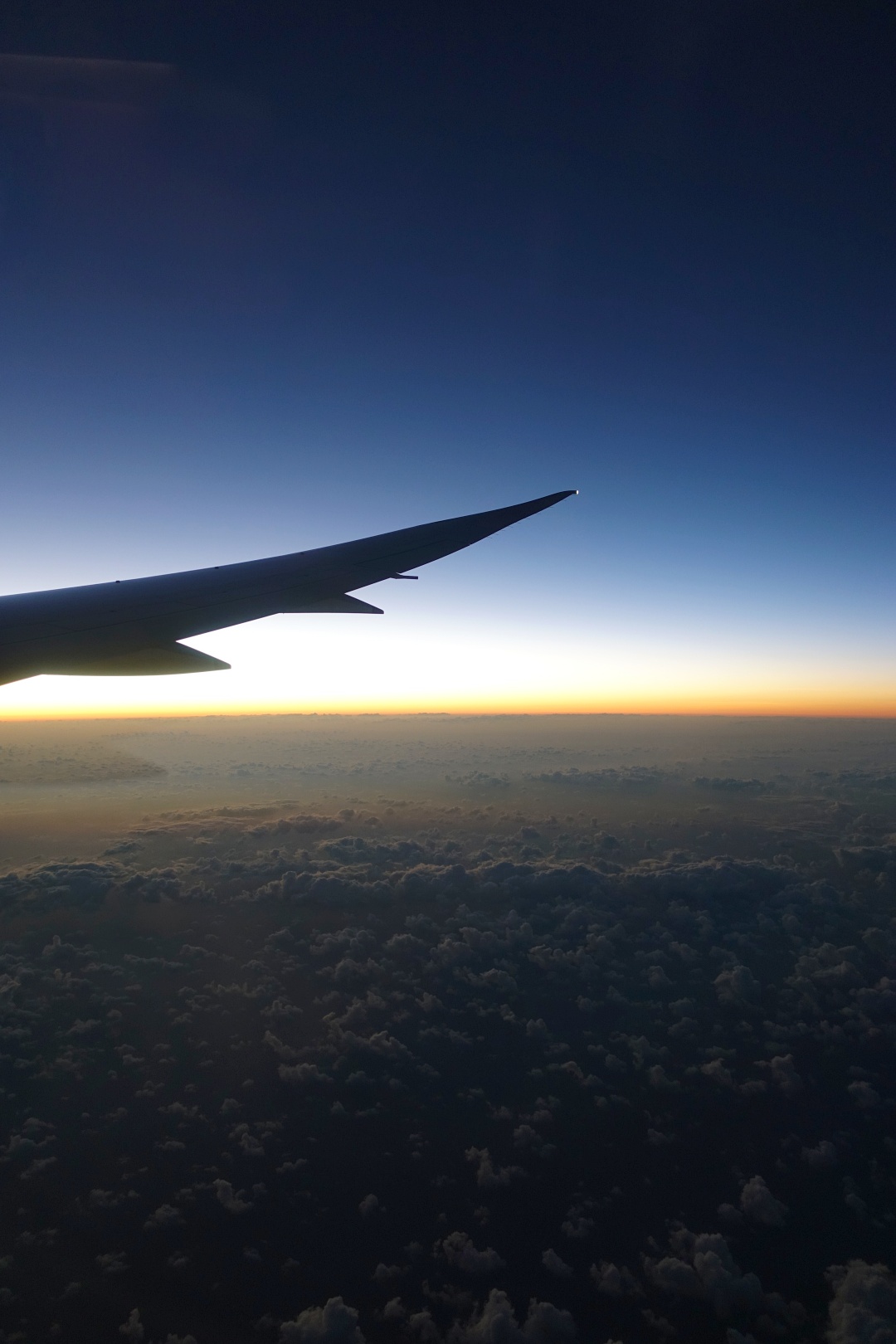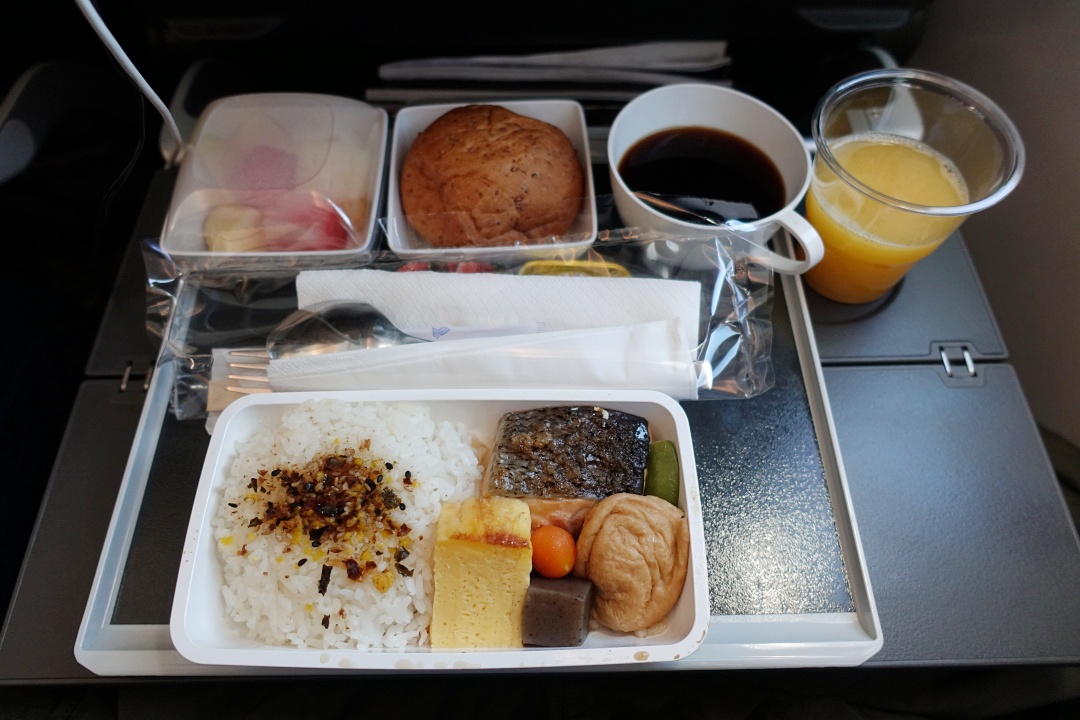 There were two options for breakfast on our flight to Osaka. We could either have the Herb Omelette or the Shio Sake Yaki. I decided to go with the latter, which consist of salted salmon served with tamagoyaki, vegetables and seasoned rice.
After an uneventful flight, we finally arrived at Osaka, Kansai International Airport Terminal 1.
Kansai International Airport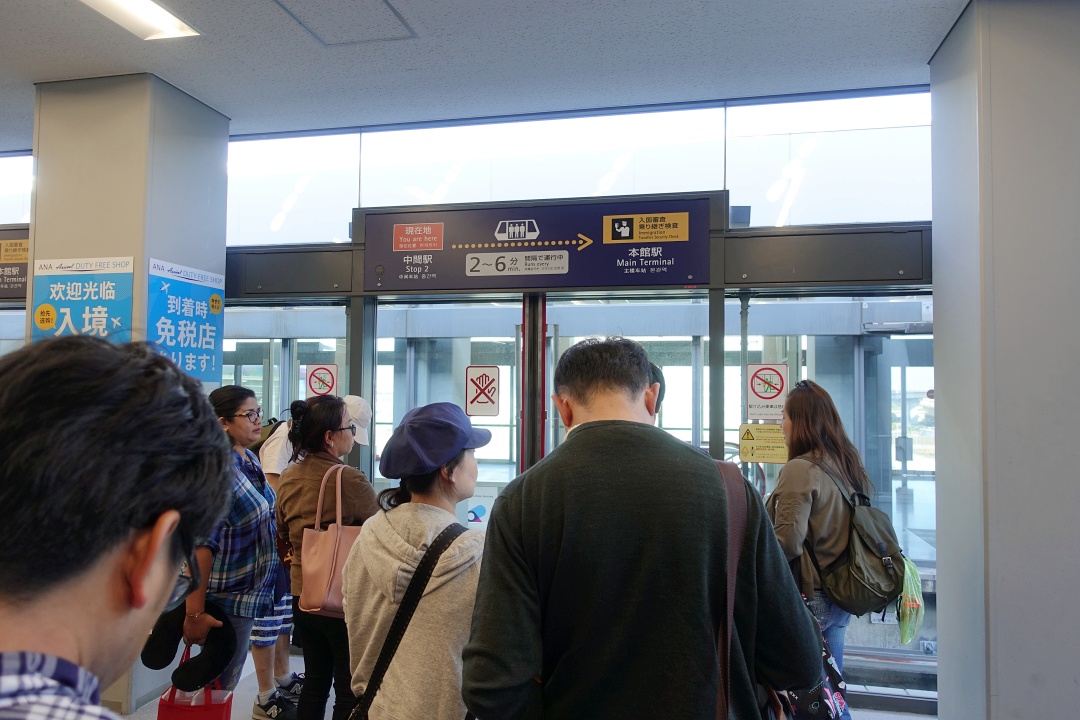 Upon alighting from the flight, we had to take a train to get to the immigration.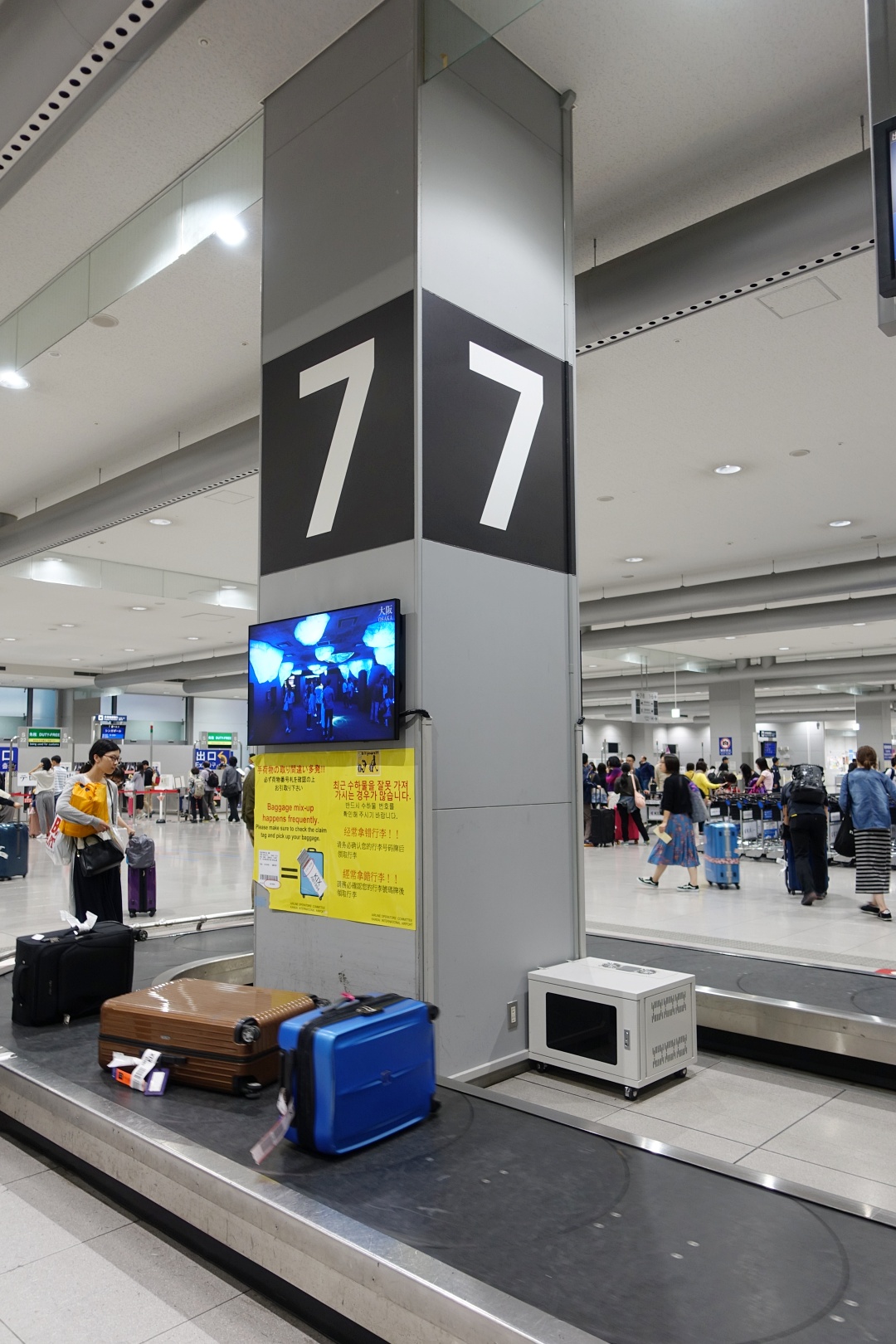 Having collected our baggage, we came out to the arrival hall to decide where to go next. While the Husband was setting up our data roaming and figuring out which direction to go, I made my way over to the nearby Starbucks.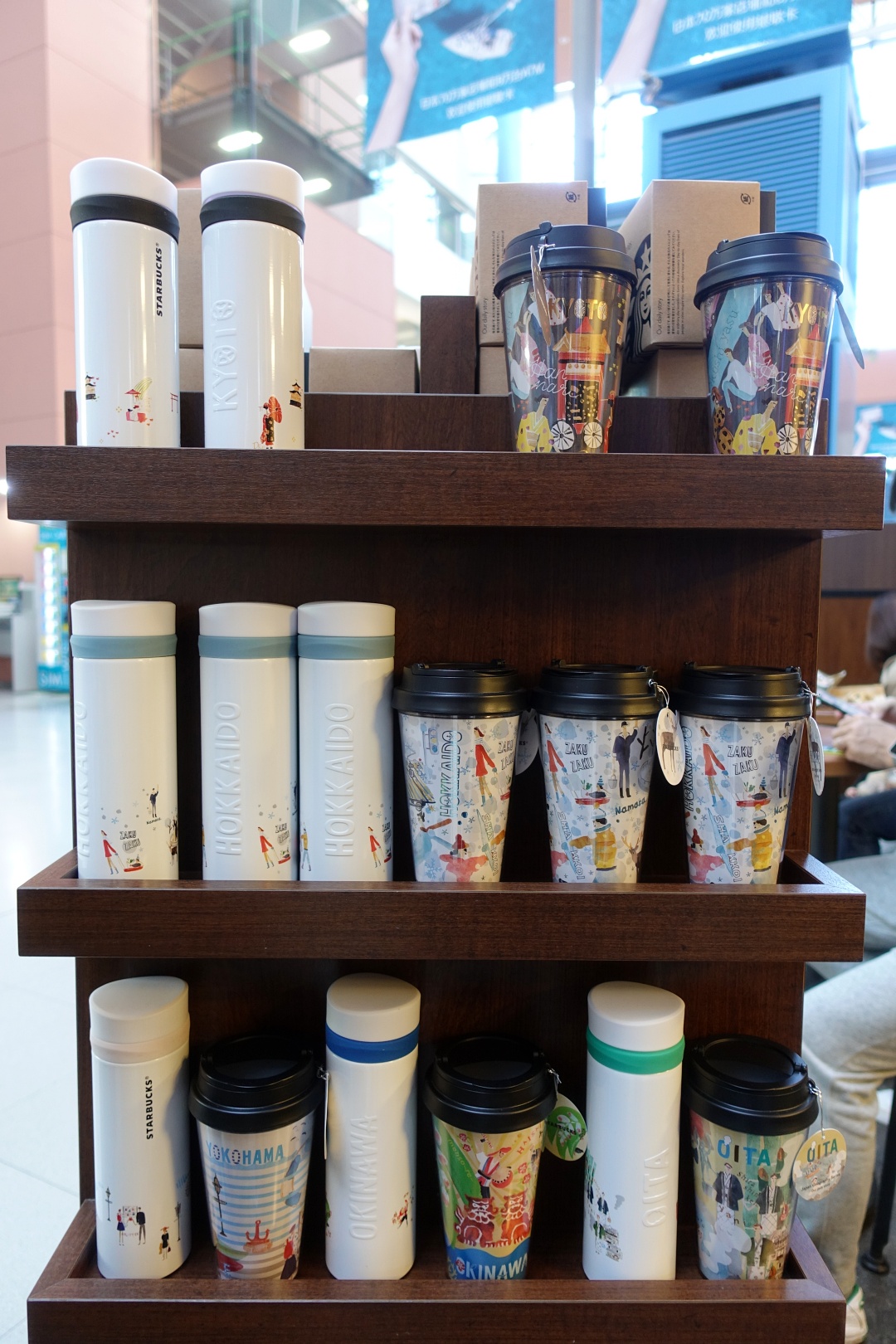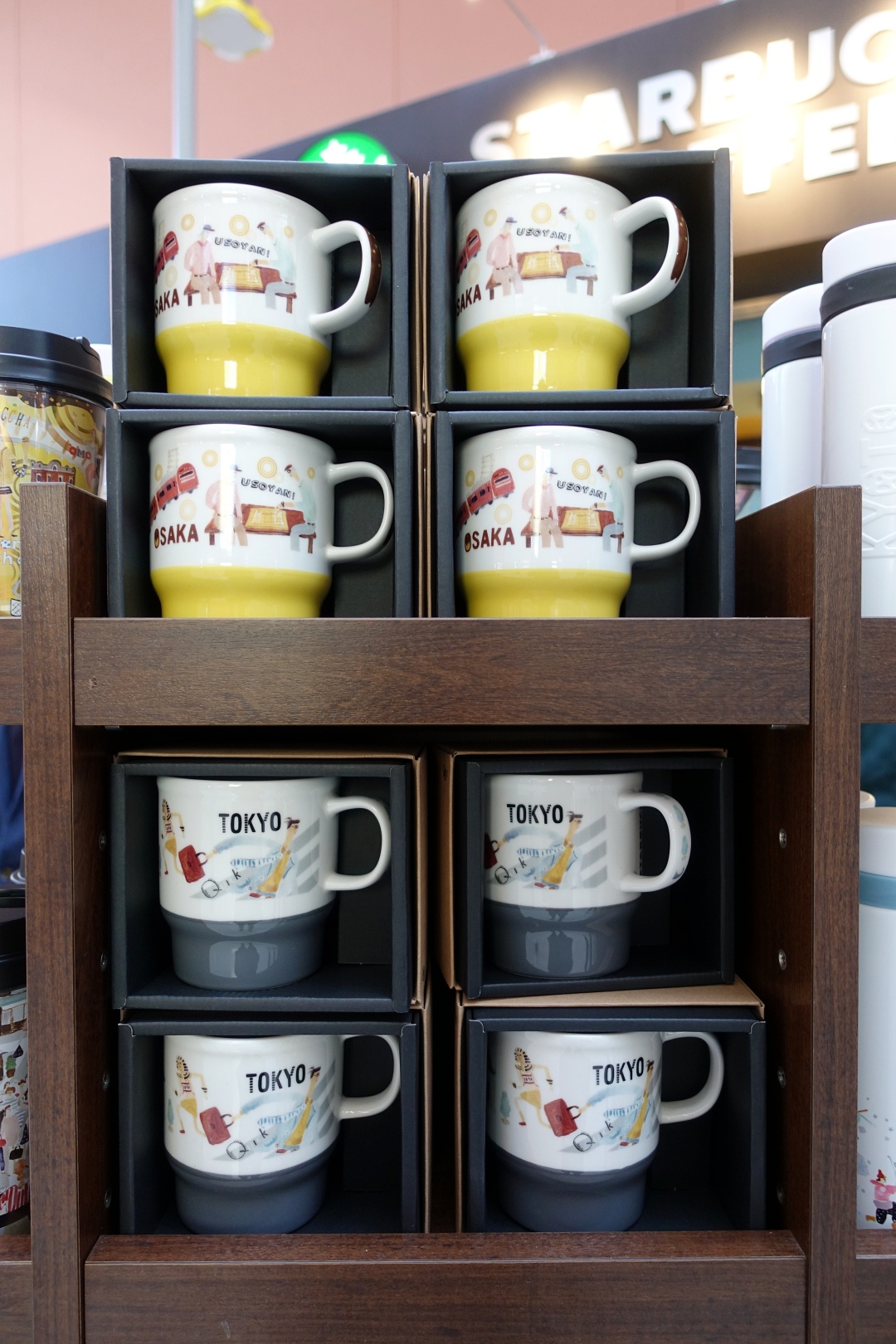 I love the designs of their tumbles and mugs, but as it wasn't a collection I was collecting, I gave it a miss. These would make sure an excellent souvenir for those who love Japan.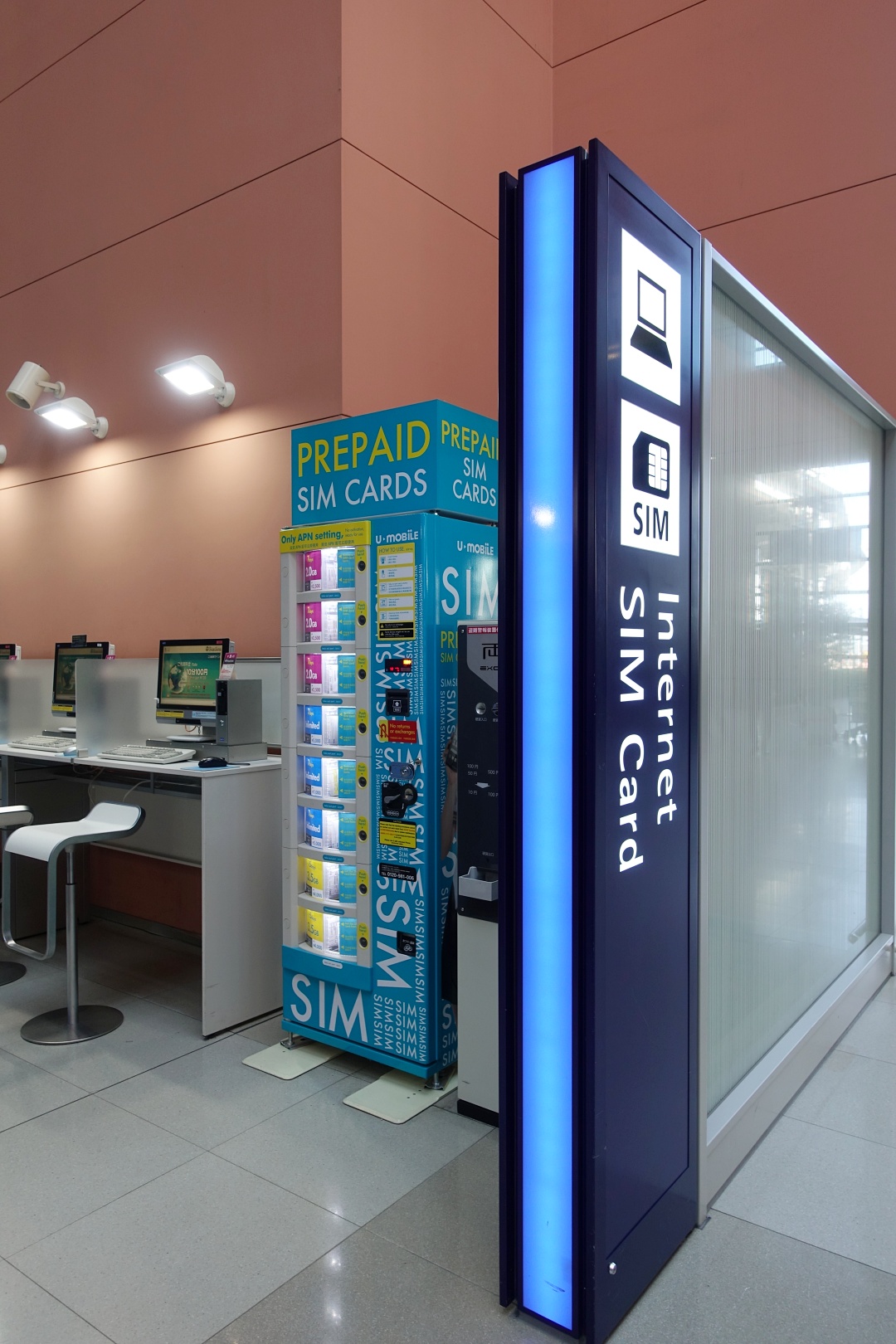 Came across a few of these Pre-paid SIM Card vending machines. Prices weren't exactly cheap. Plus I previously saw a YouTube video reviewing one of the pre-paid SIM cards, and it doesn't seem that easy to set up.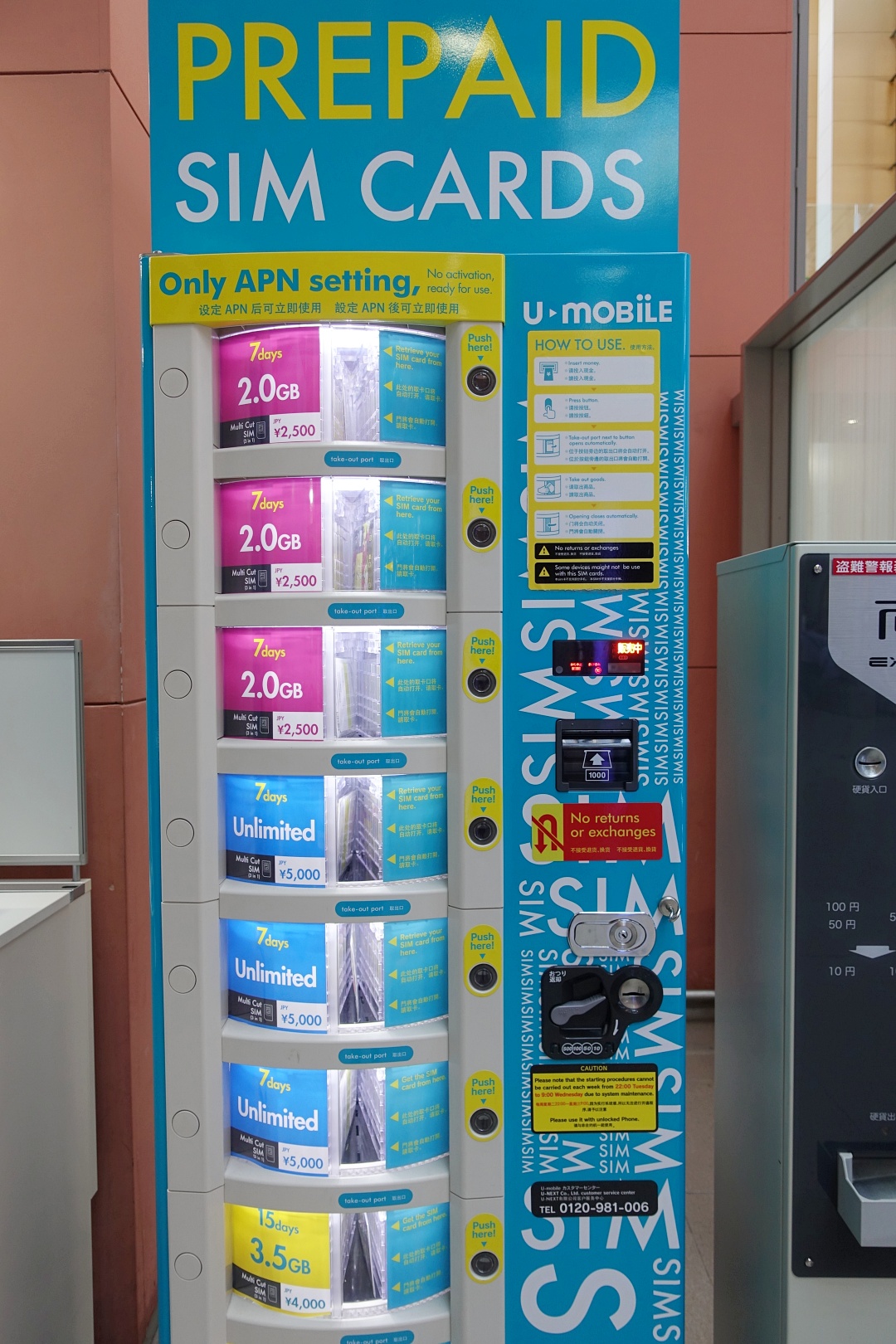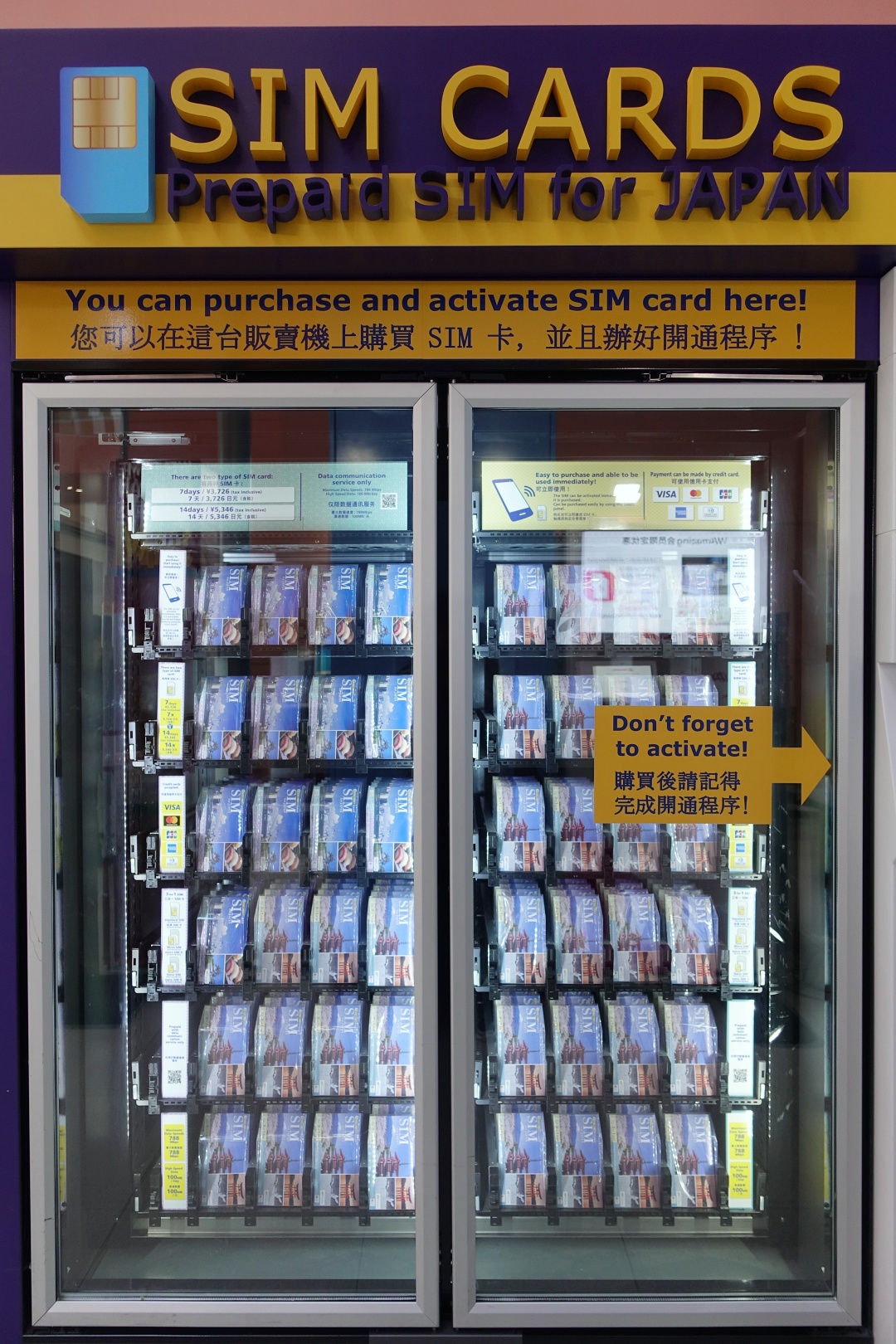 Ever since we started using the DataTravel plan from Starhub, we had not gone back to buying pre-paid SIM card when we travel. It's just much more convenient not having to switch out our local SIM card each time we travel overseas. Plus we could always top up for more data on the go through the DataTravel plan. Even though we usually only got 1GB or 3GB of data, it was more than sufficient to last us through our trip.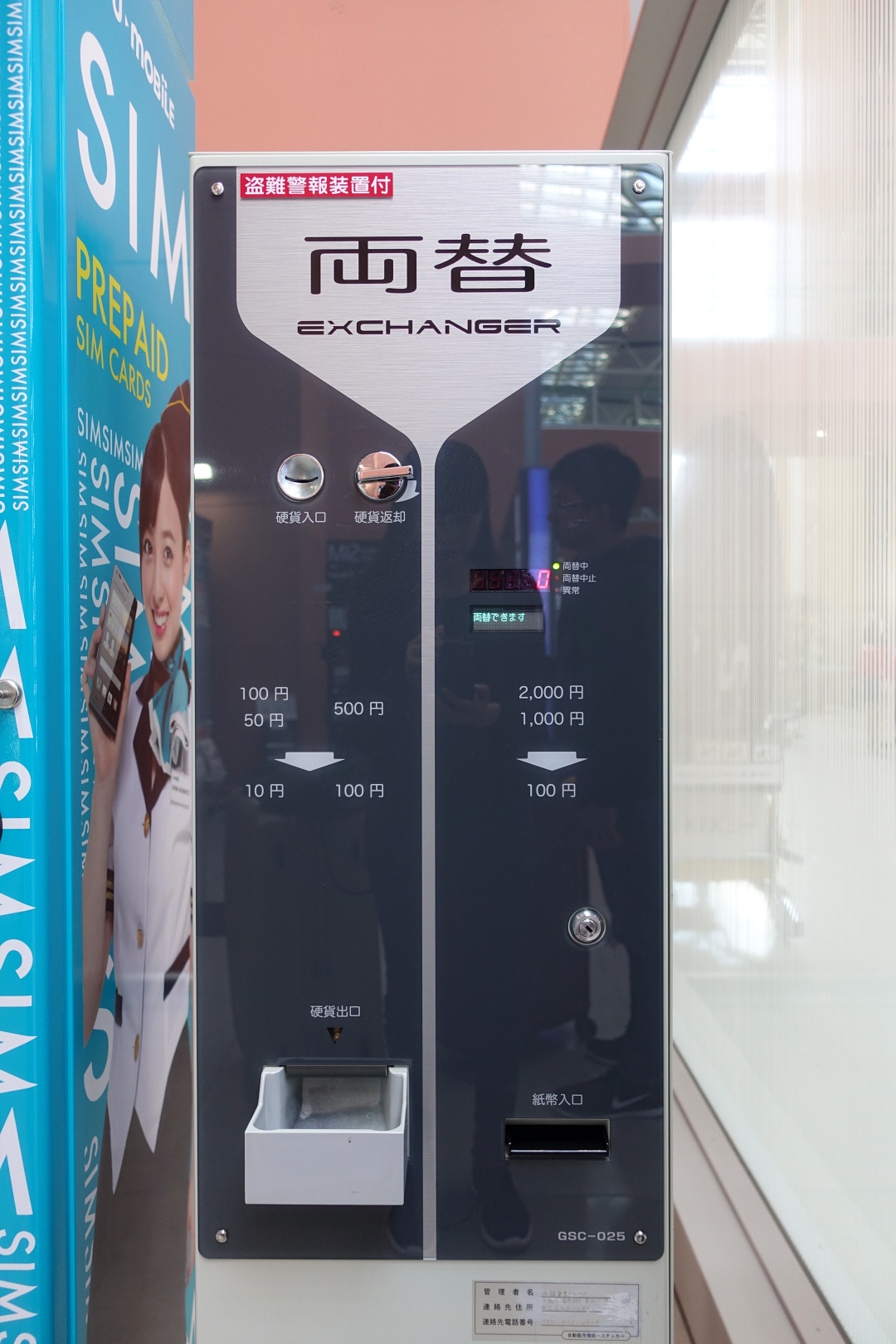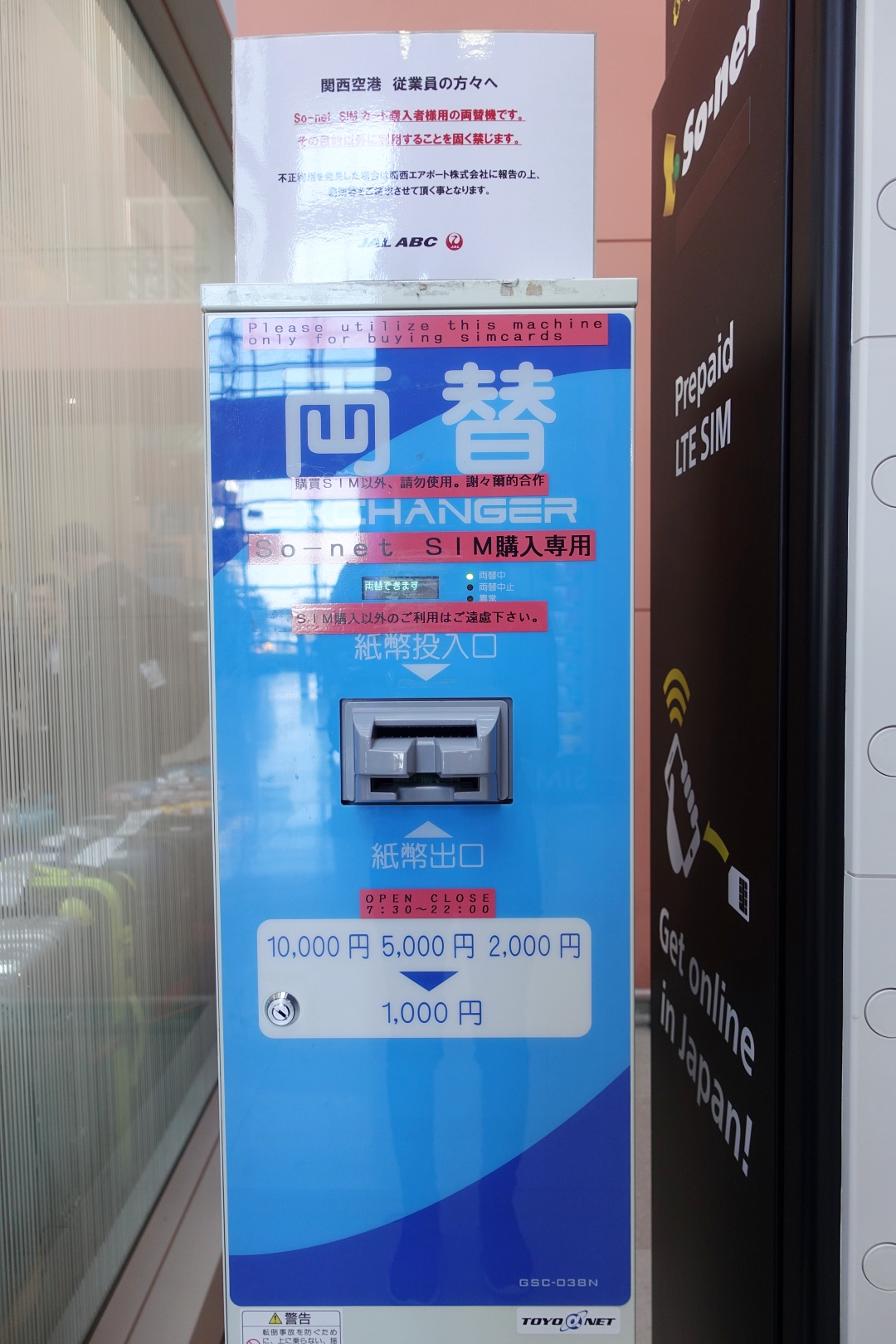 Next to those vending machines, we discovered these note changing machines. These machines are meant for travellers to turn their bigger bills into smaller ones (to use for buying the SIM cards). And although we weren't planning on buying any, we did sheepishly use the machine to change our JPY 10,000 bills into JPY 1,000 notes.
*Another good place to break down your bigger bills is at the arcades in Japan. You could find machines that change JPY 10,000 bills into JPY 1,000 notes, and JPY 1,000 into ten ¥100 coins.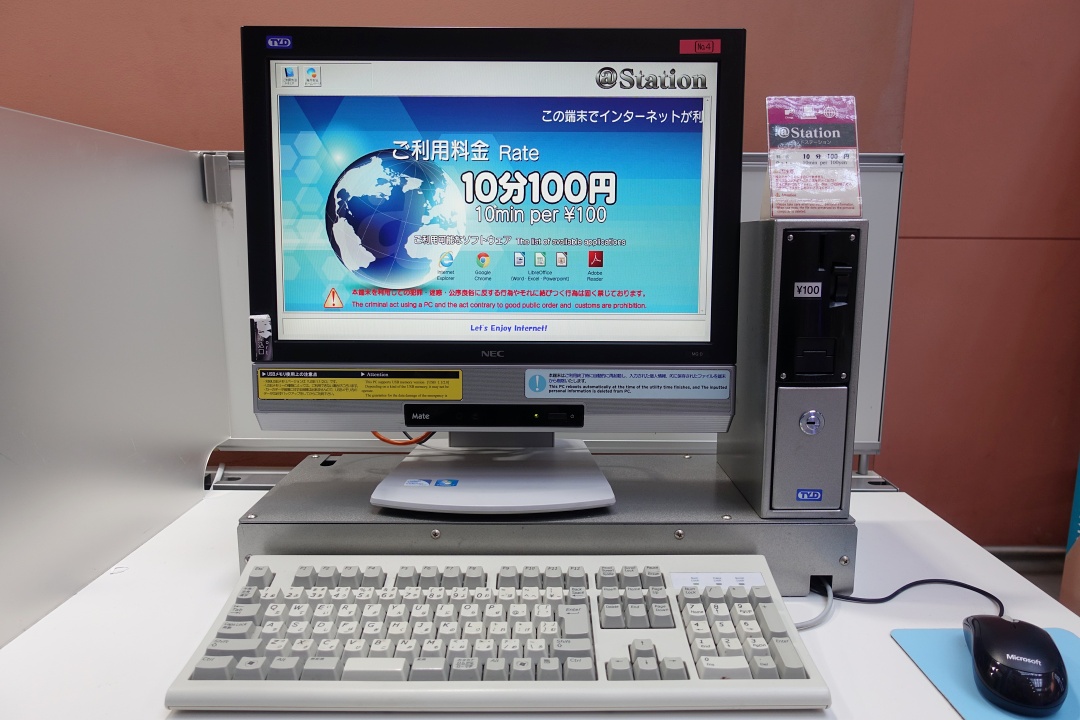 For those who don't have access to the internet, there were computers available at the airport where you can use to surf the web for a minimal fee.
Unknowingly spent quite a while at the airport discovering all these vending machines/facilities available.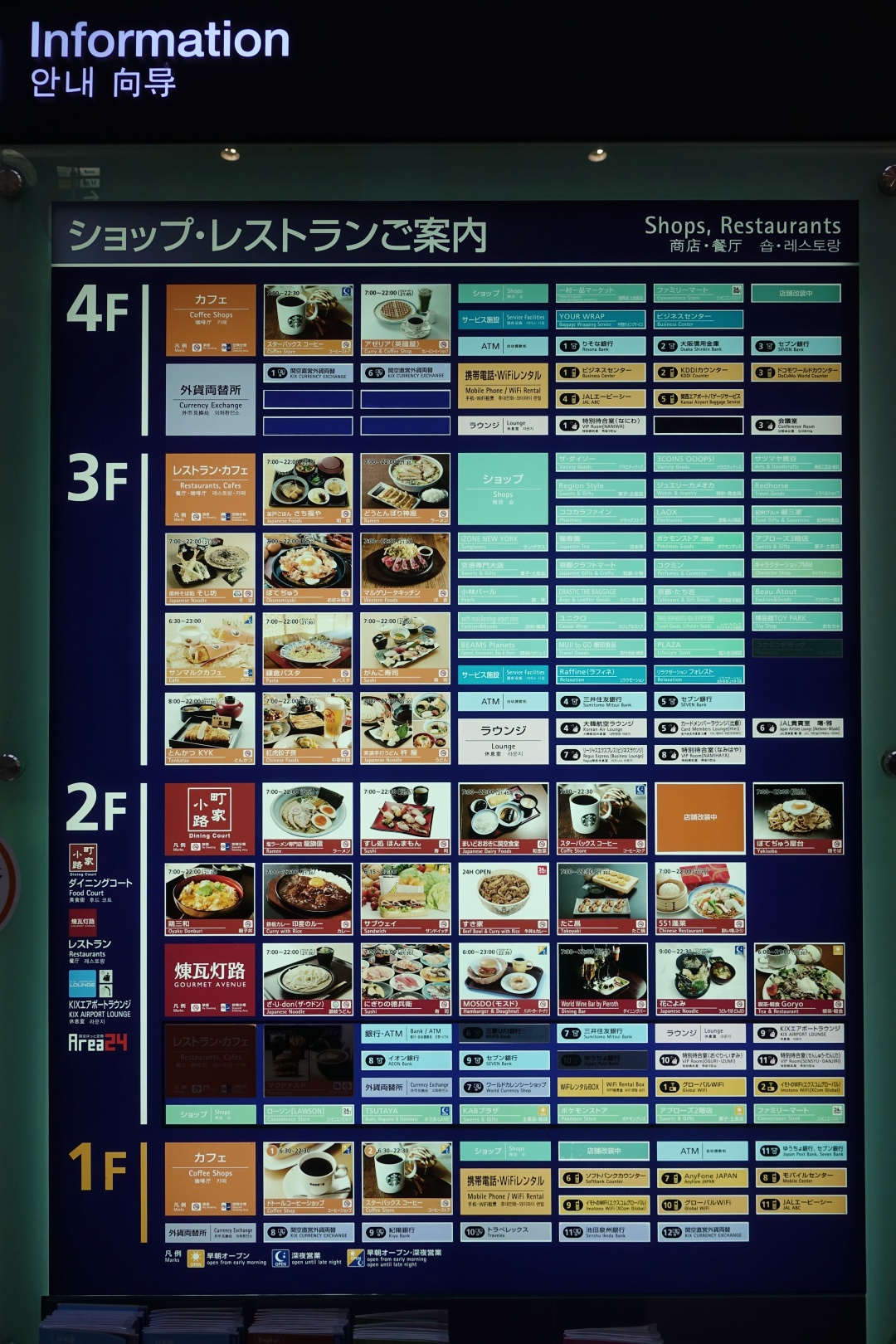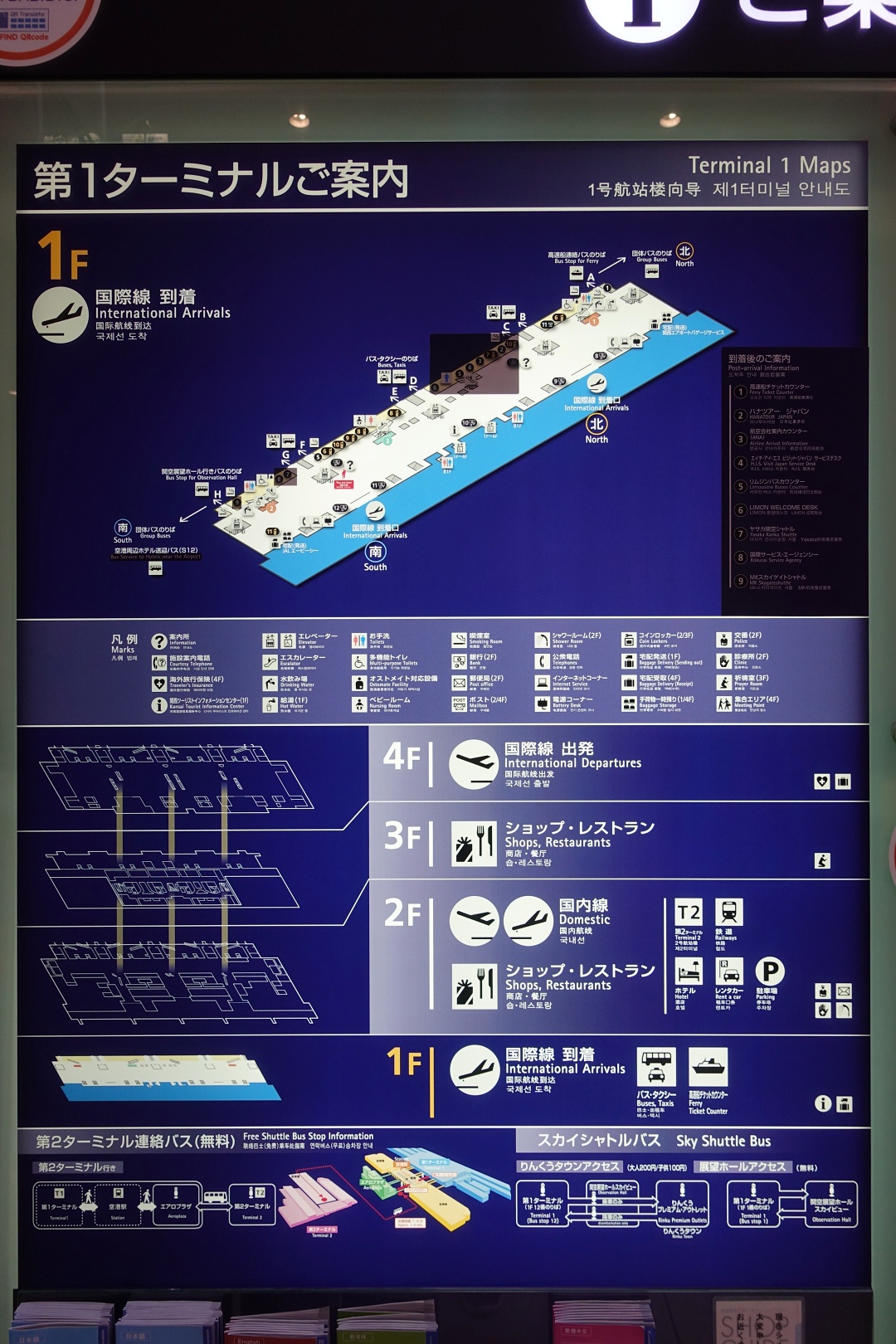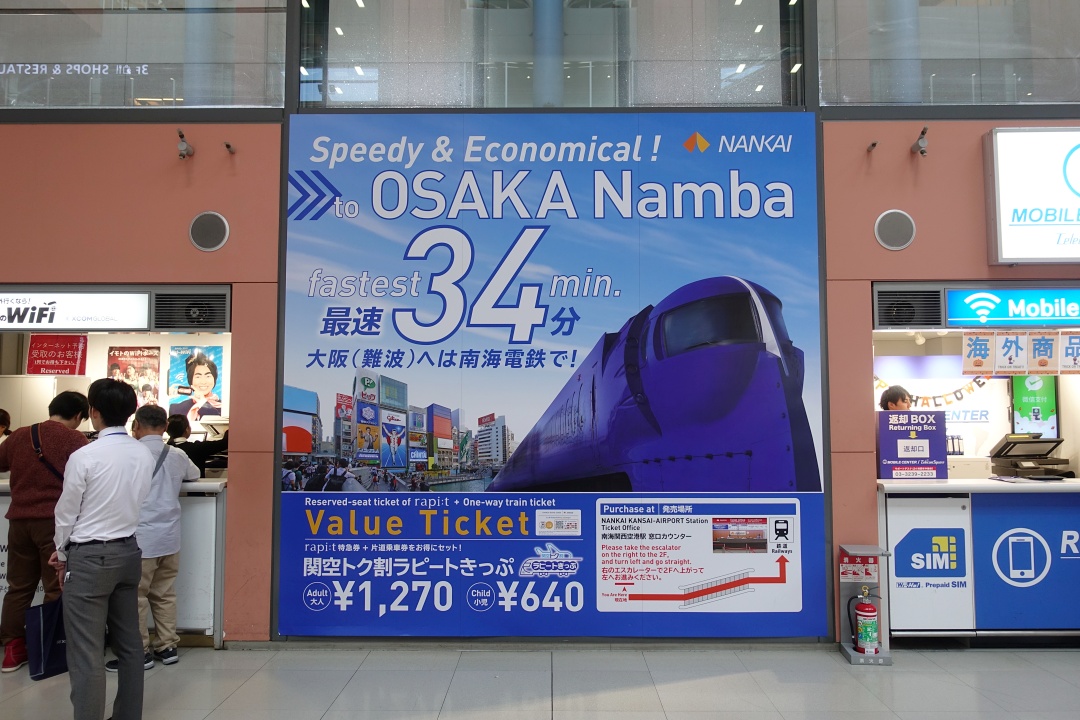 I thought we were finally making progress by making our way to the train station.
That was before I got slow down by the beautiful Pokemon display and gachapon machines.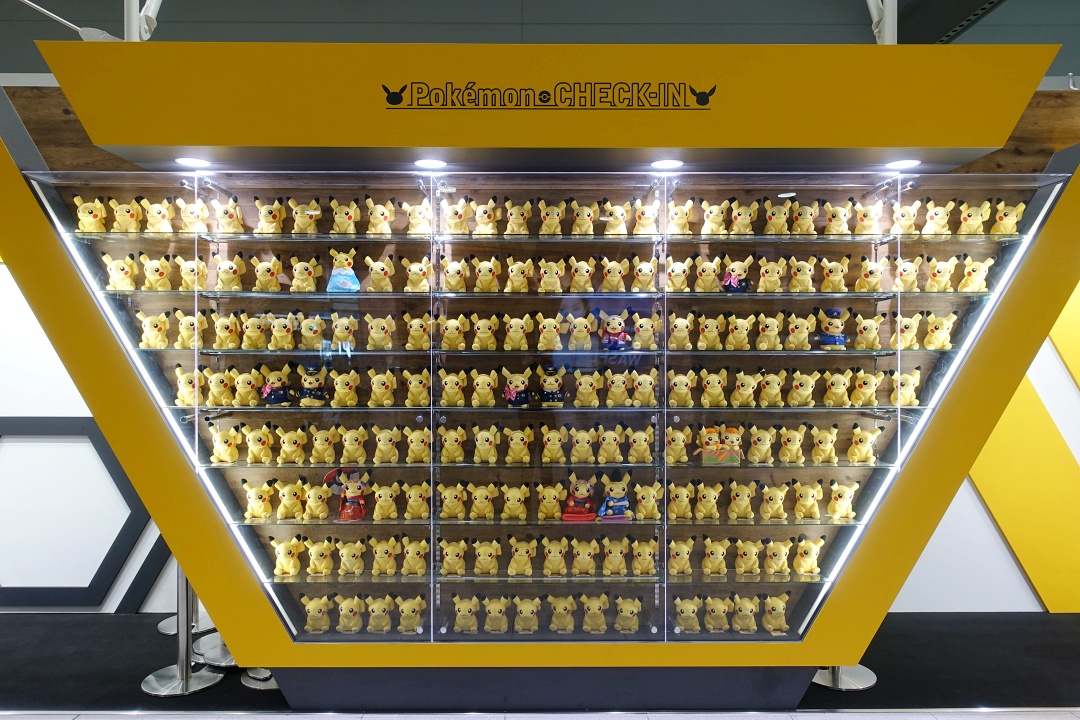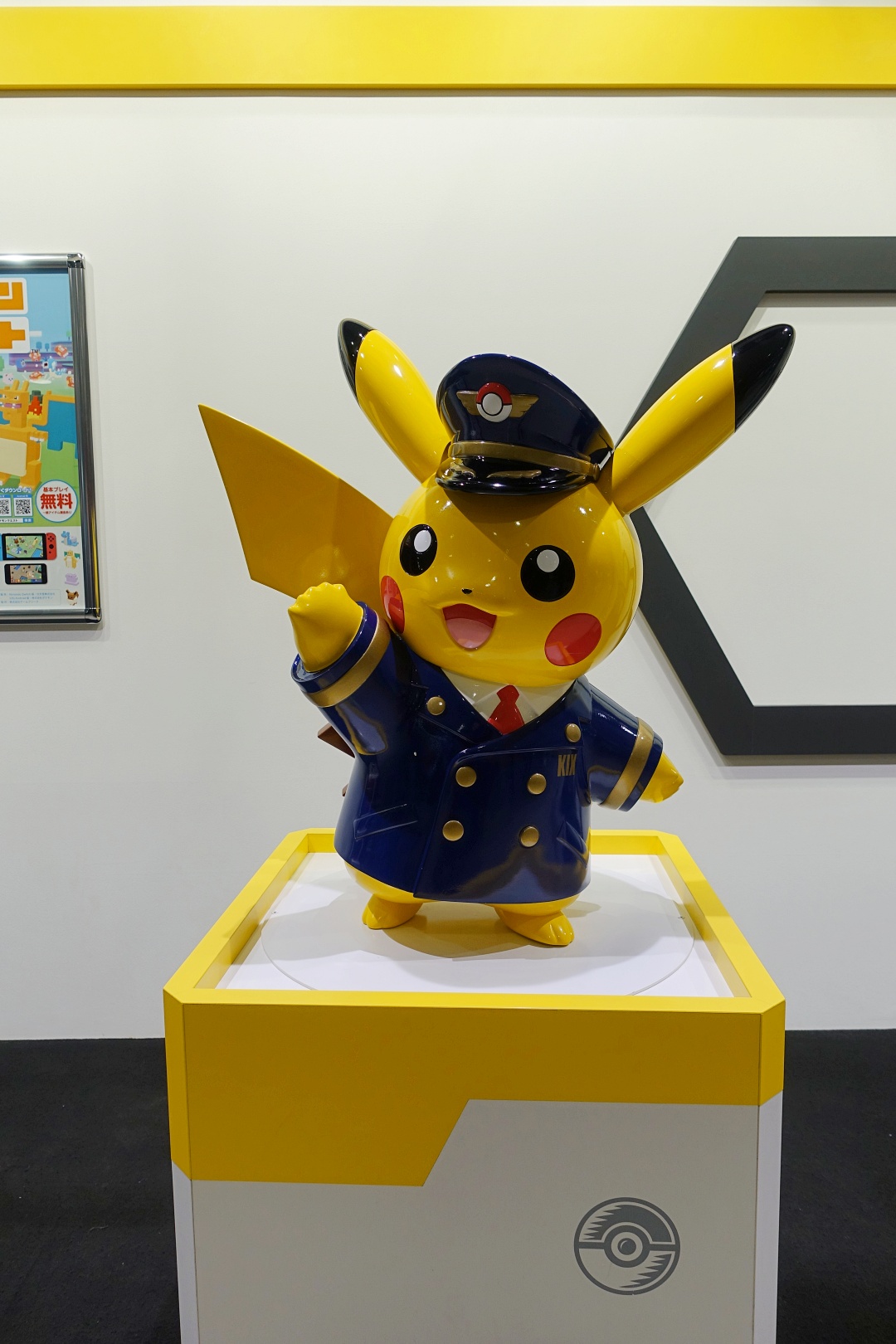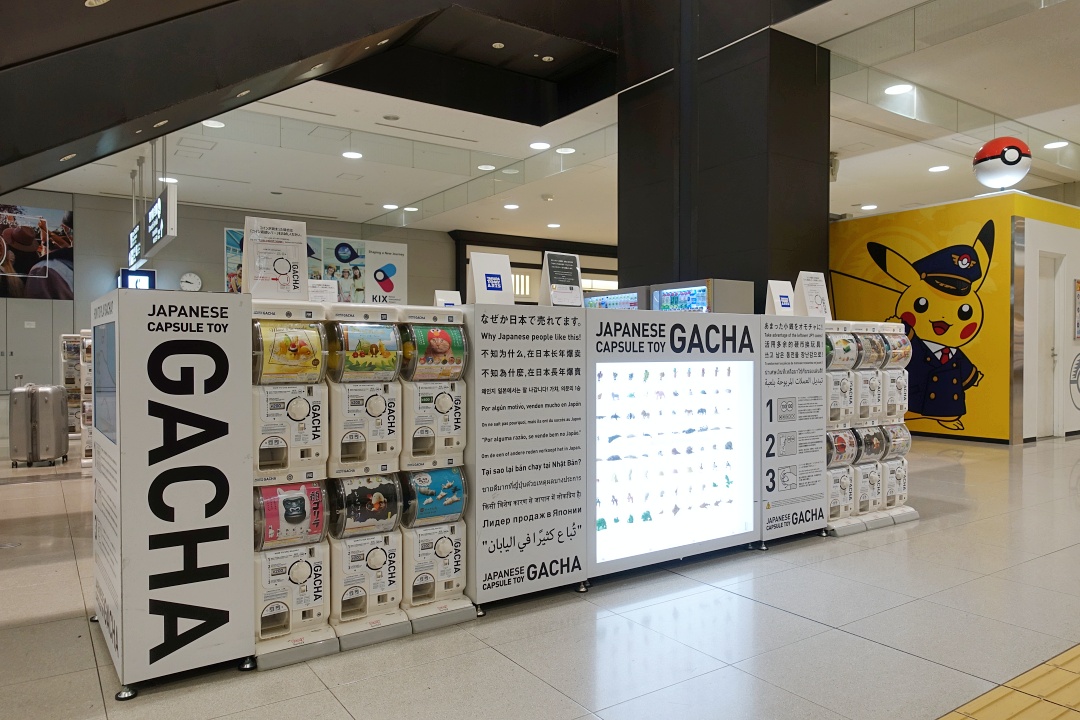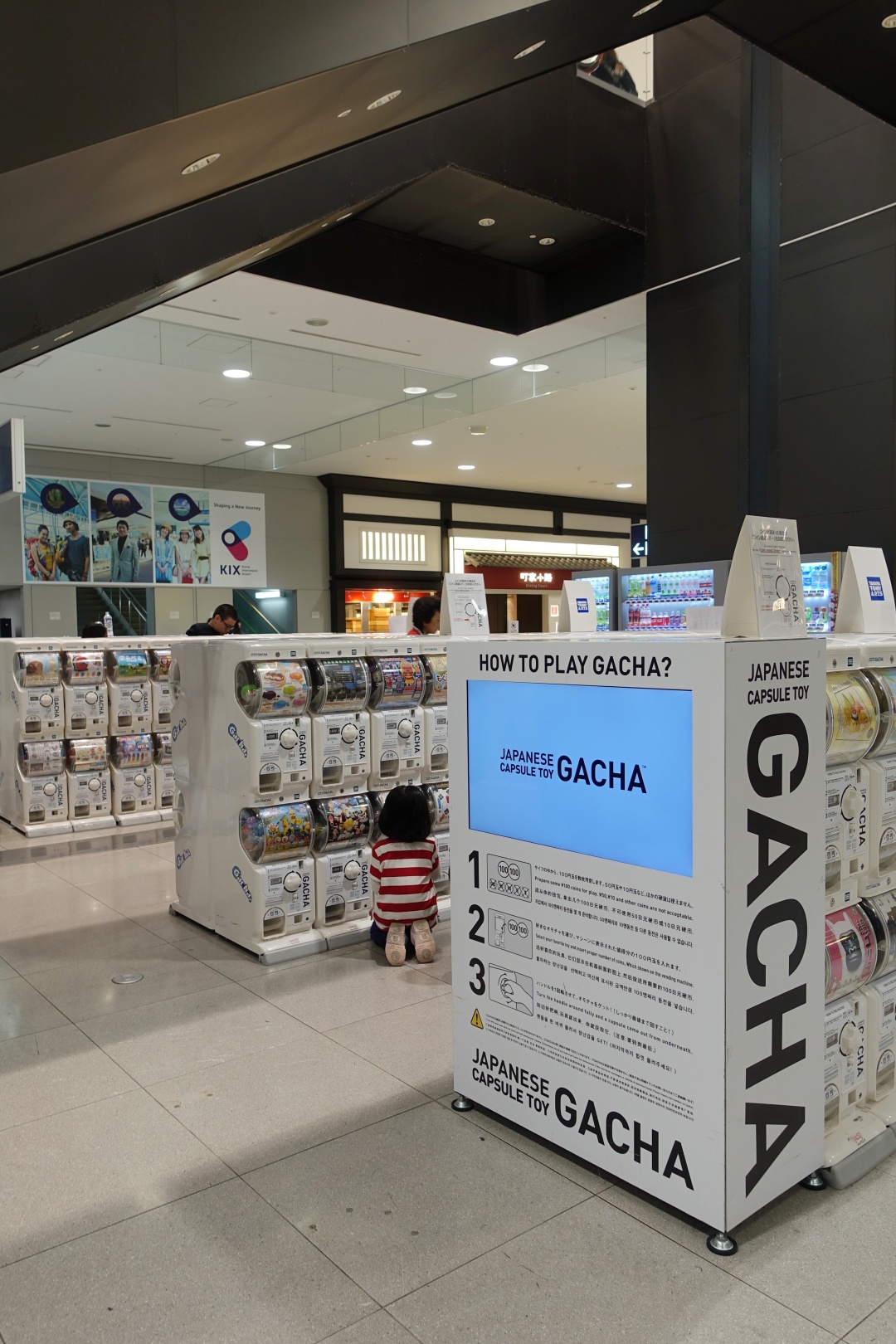 HAD. TO. PLAY.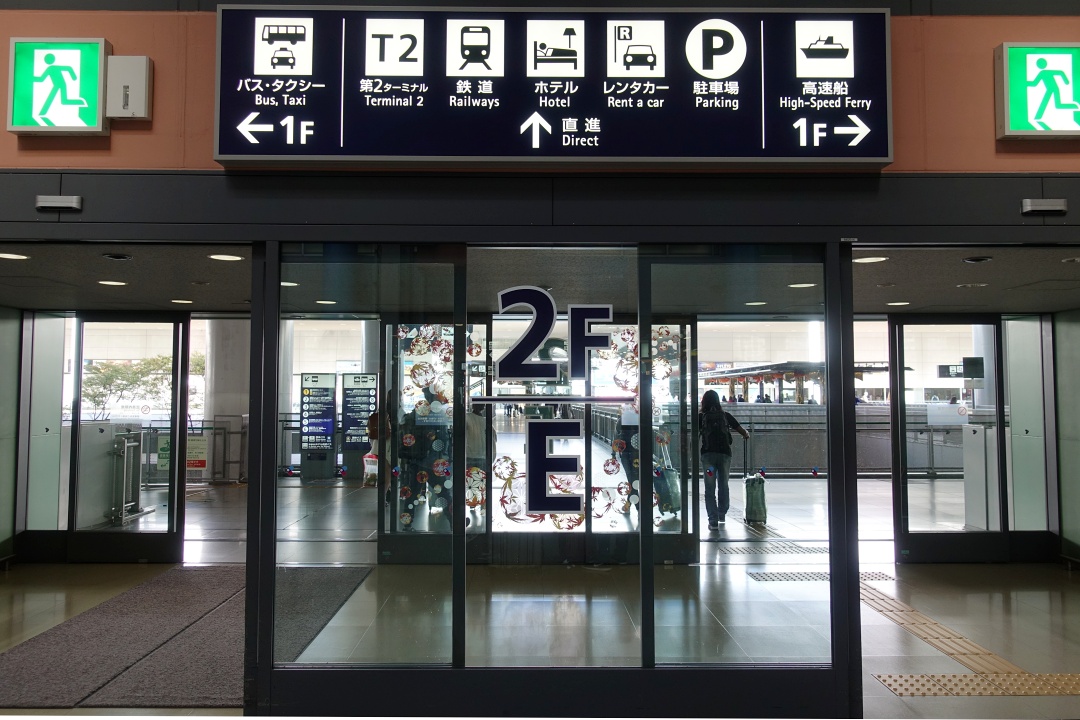 Went out from this exit to the train terminal.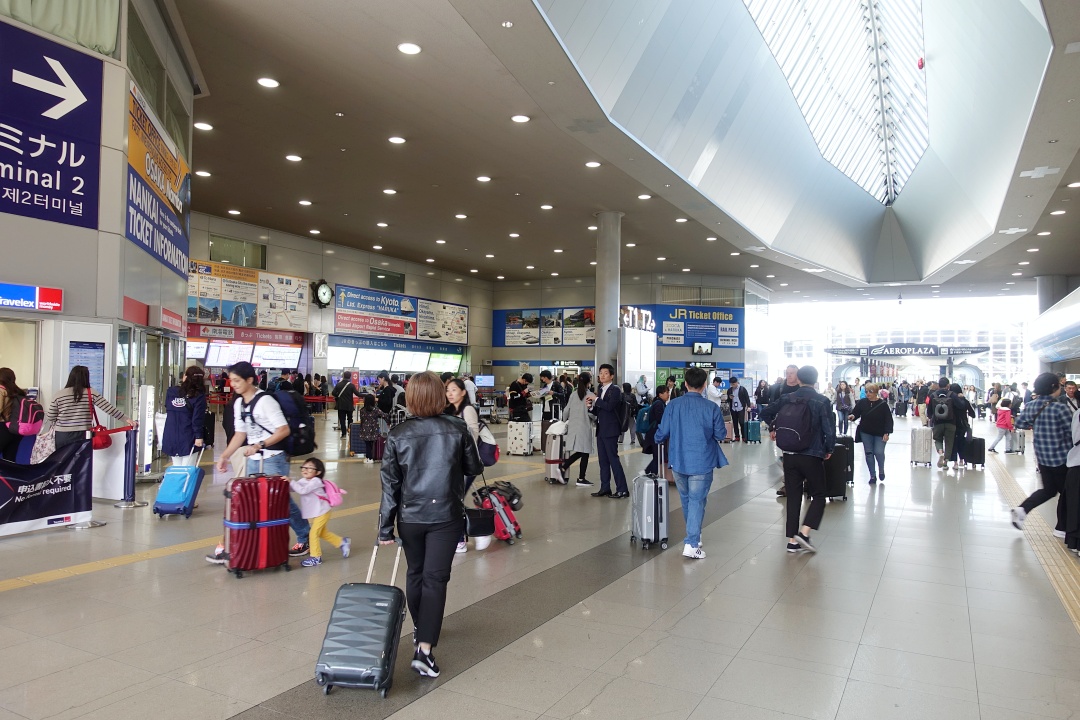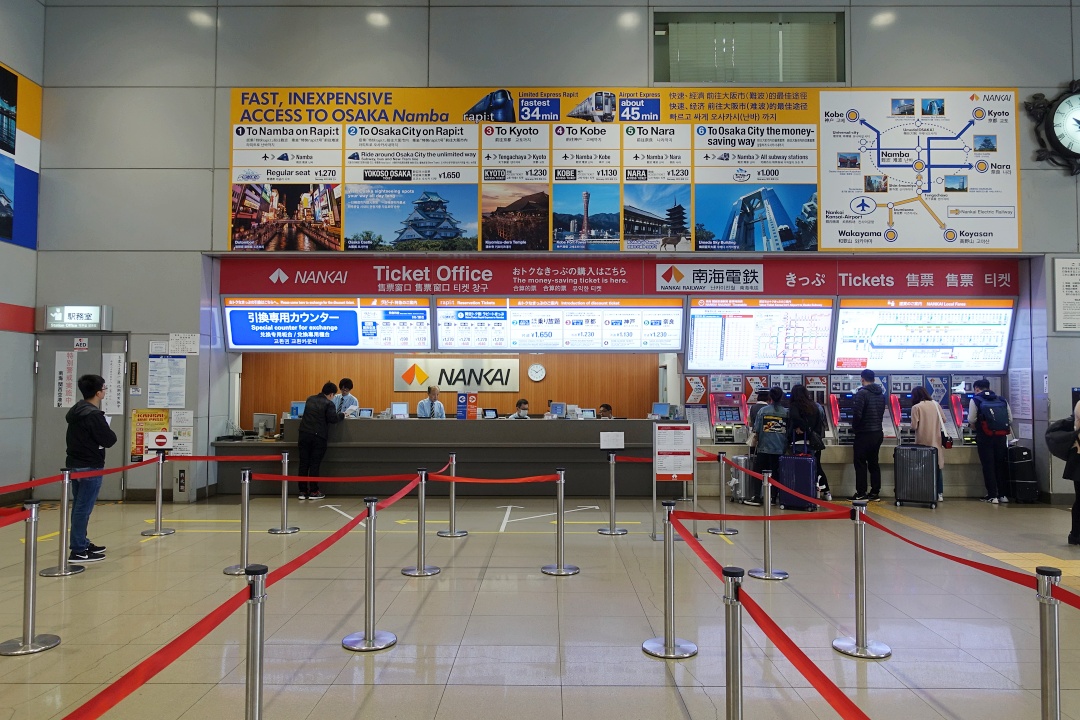 It did take us a while to figure out where we like to go and how to purchase the tickets. As we already got our SUICA card on our last trip to Japan, we just had to load our card and use that to pay for the ride to Namba.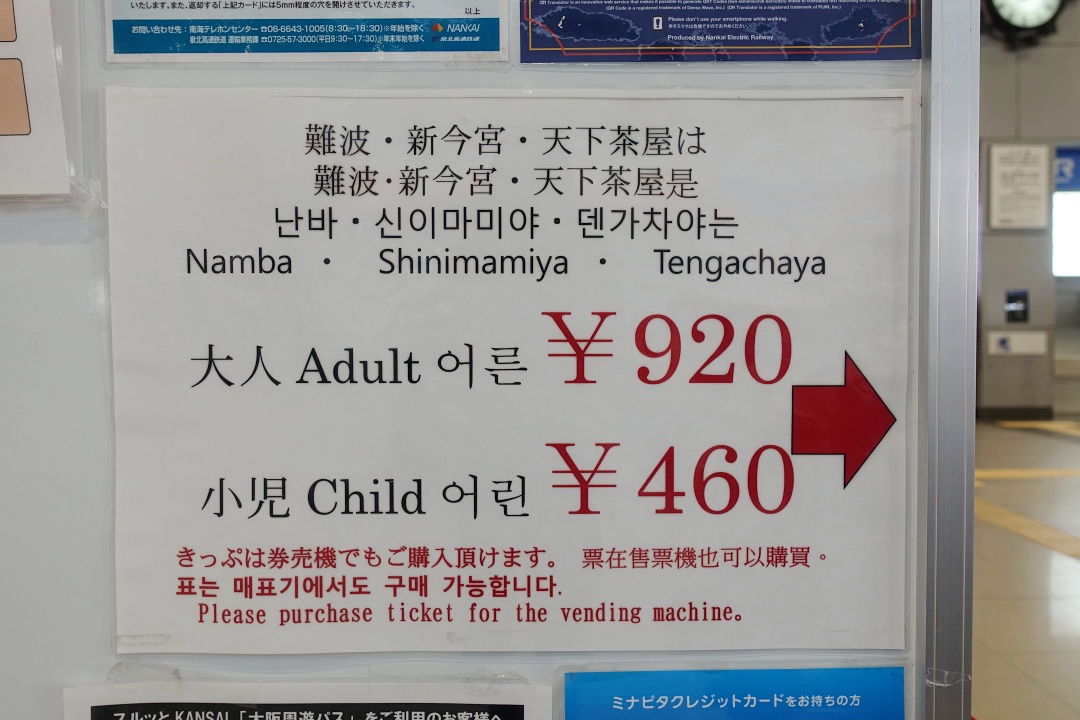 It costs JPY 920 to get to Namba Station.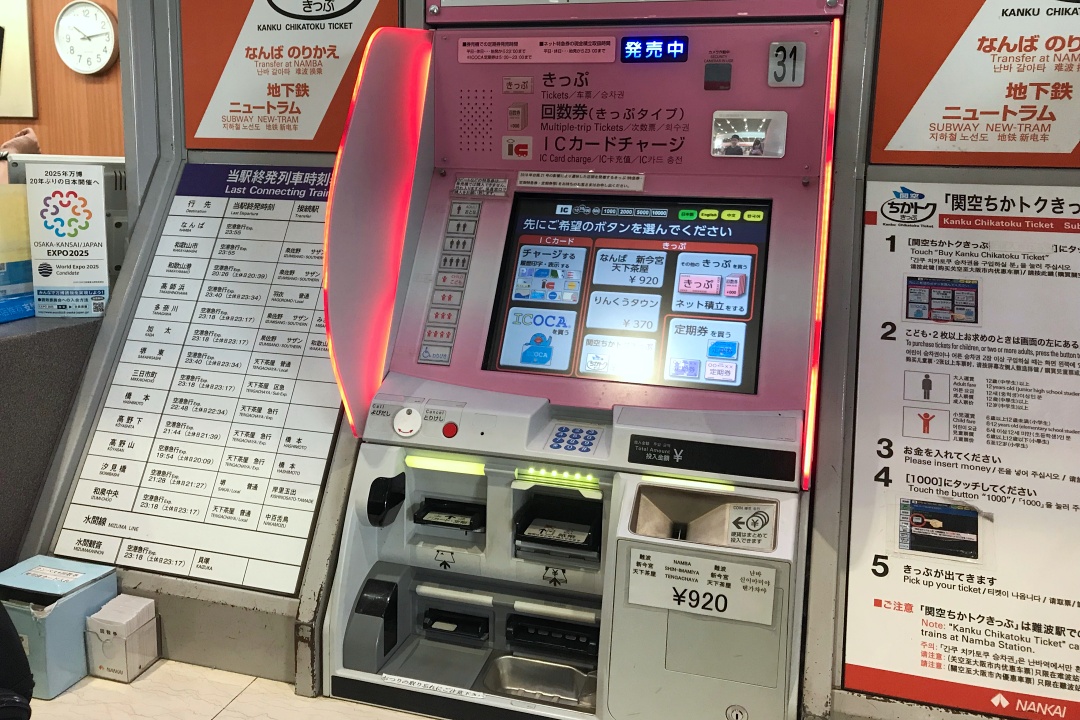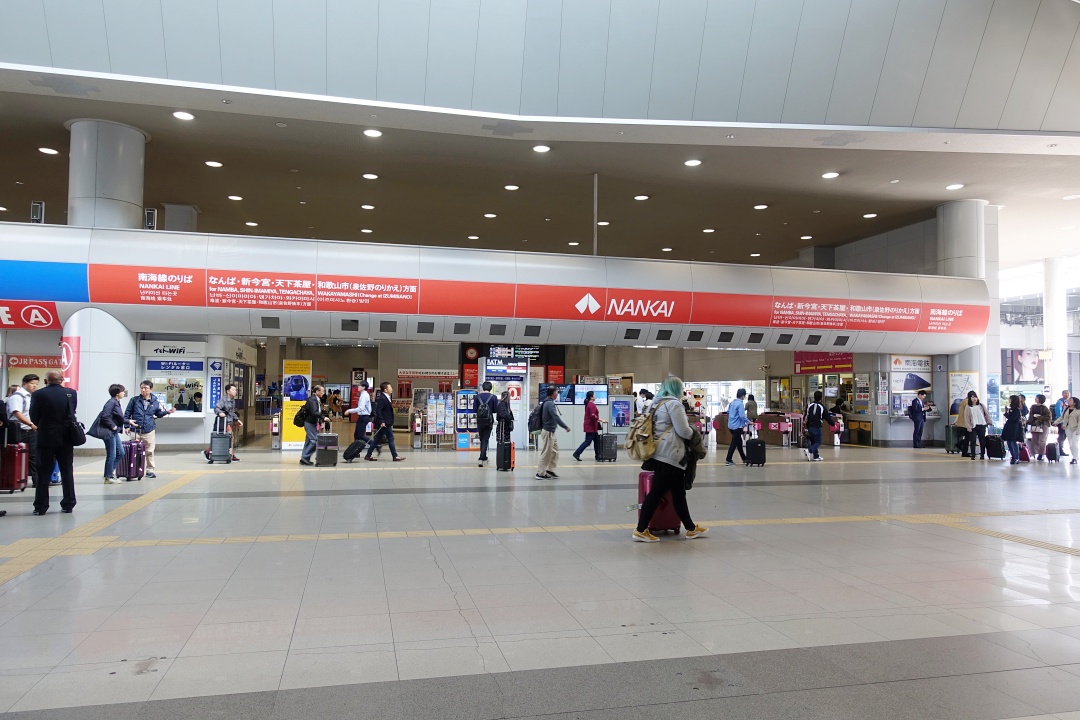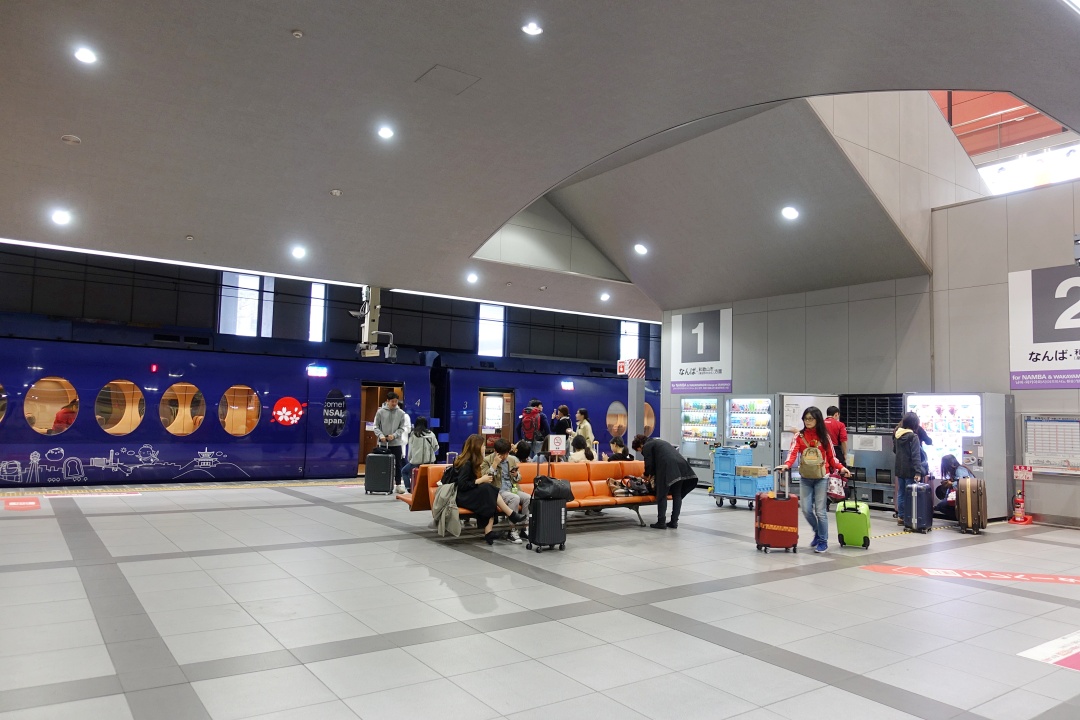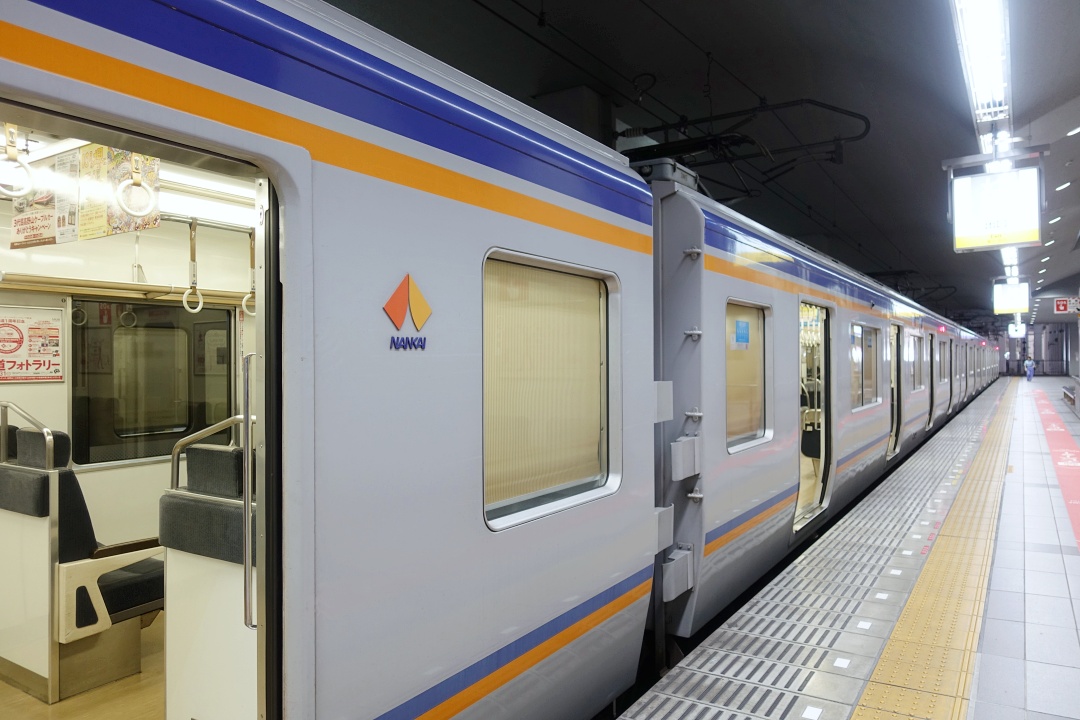 It didn't take long before the train arrives at the terminal.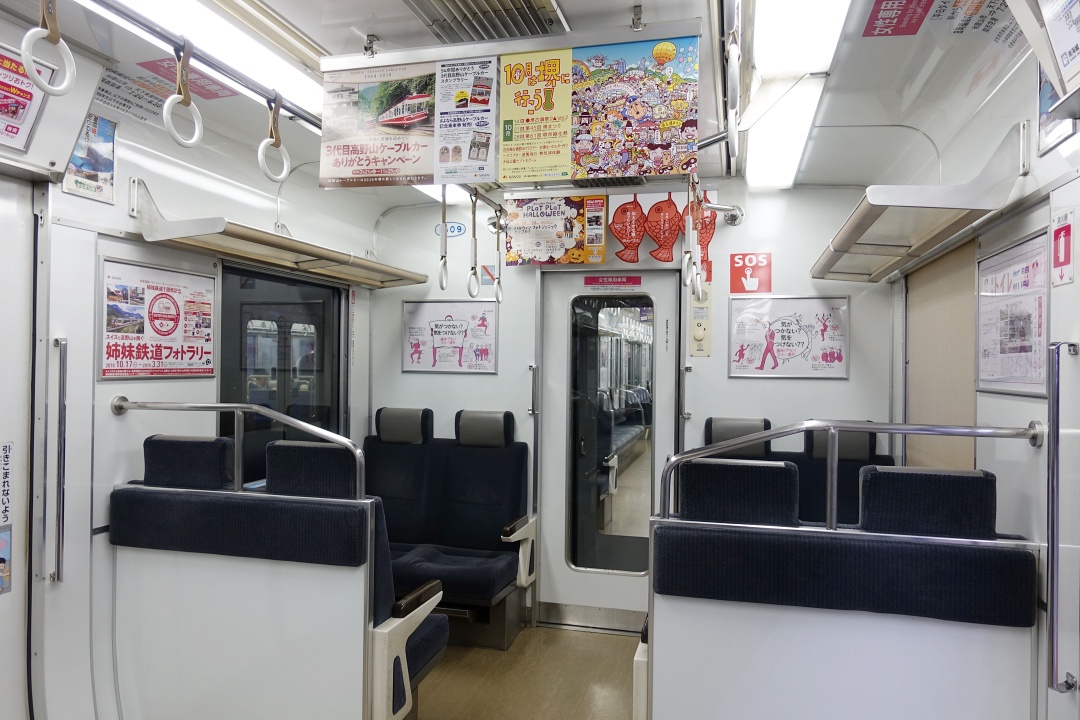 Trains in Japan are always comfortable and clean.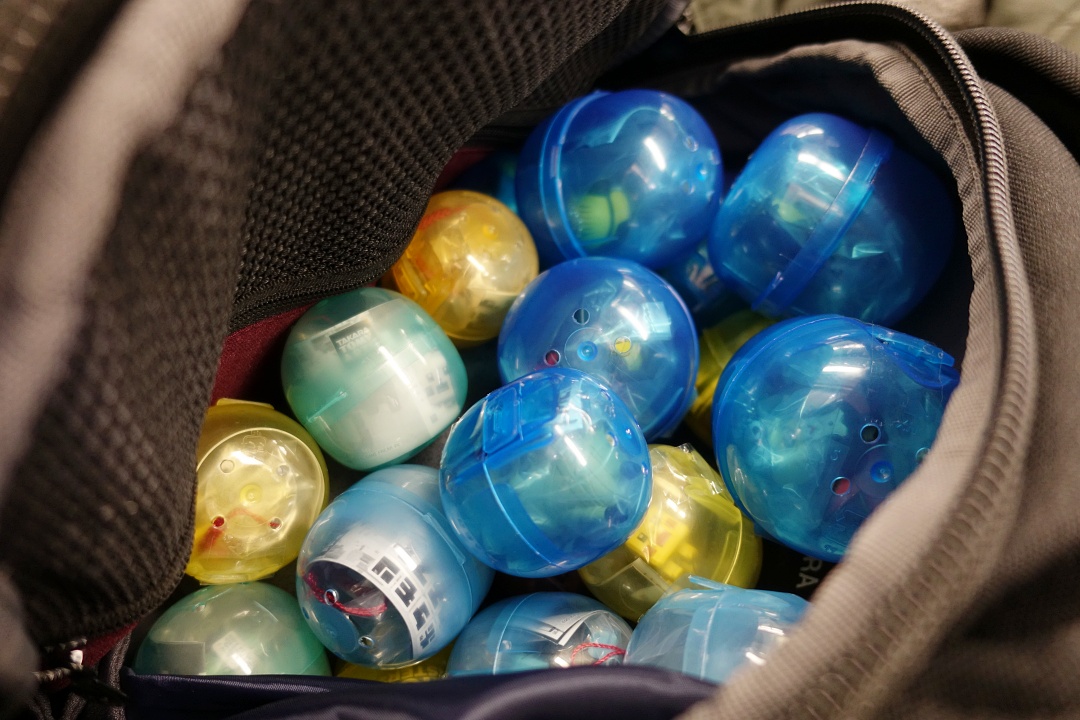 Look at the bag of gachapons we got from Kansai International Airport!
For those who didn't know, I'm an avid collector of gacha toys since ten years ago. Till now, I had built up a small collection, and ever since I moved into my current place, I was able to dedicate a space to display them.
Namba Station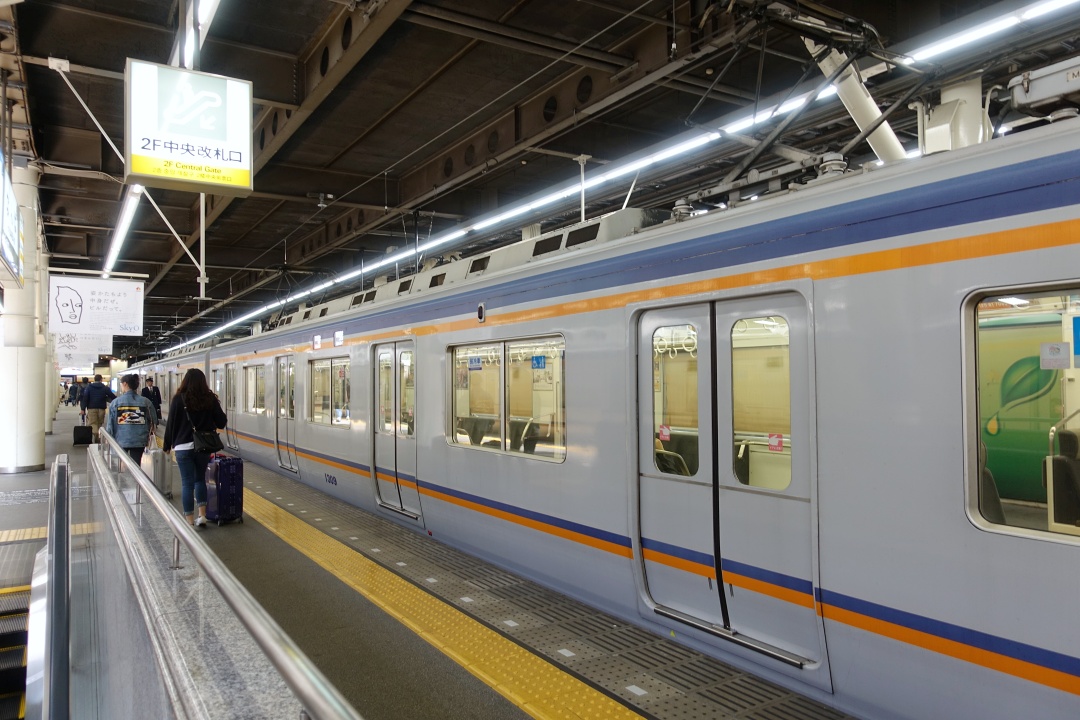 Finally arrived at Namba!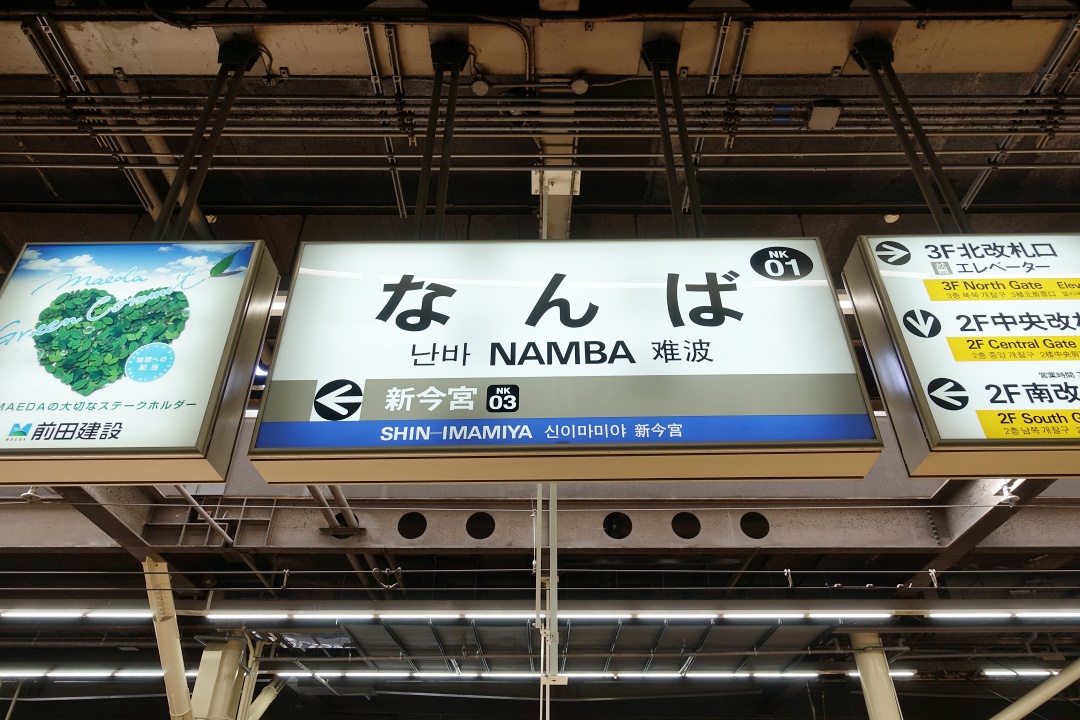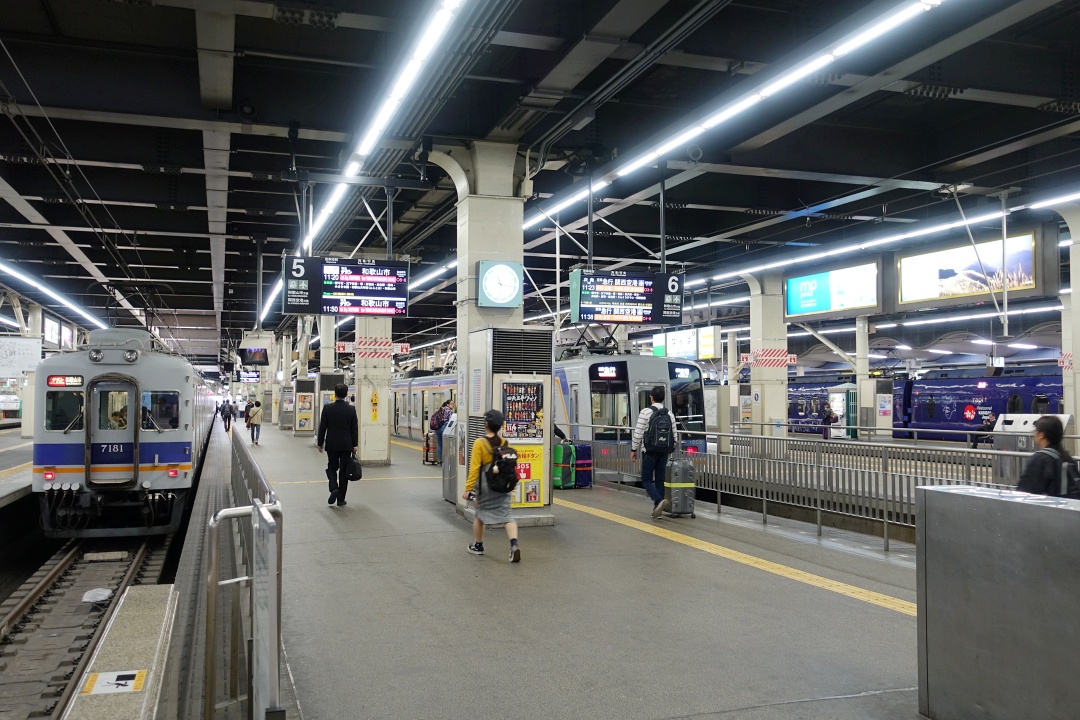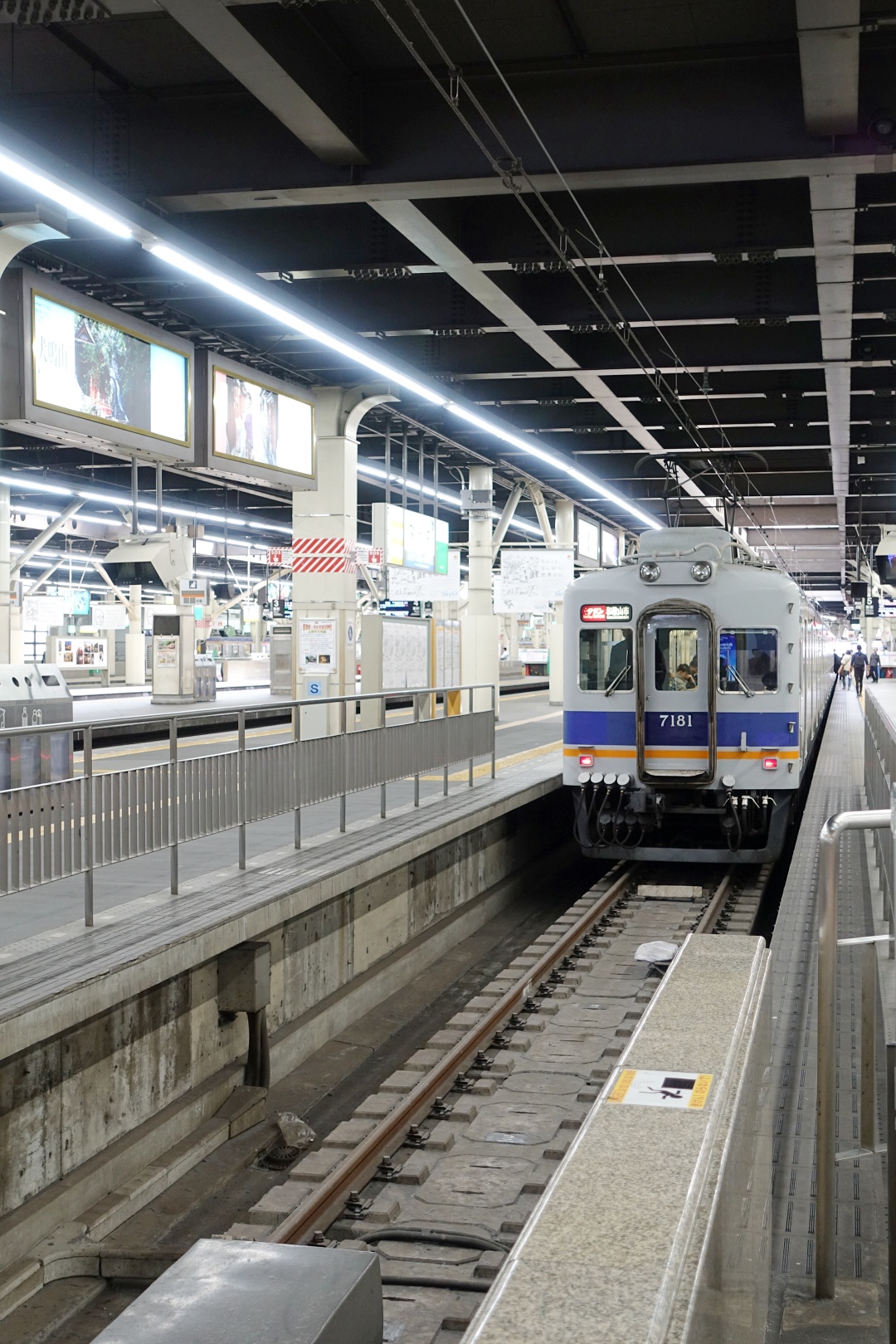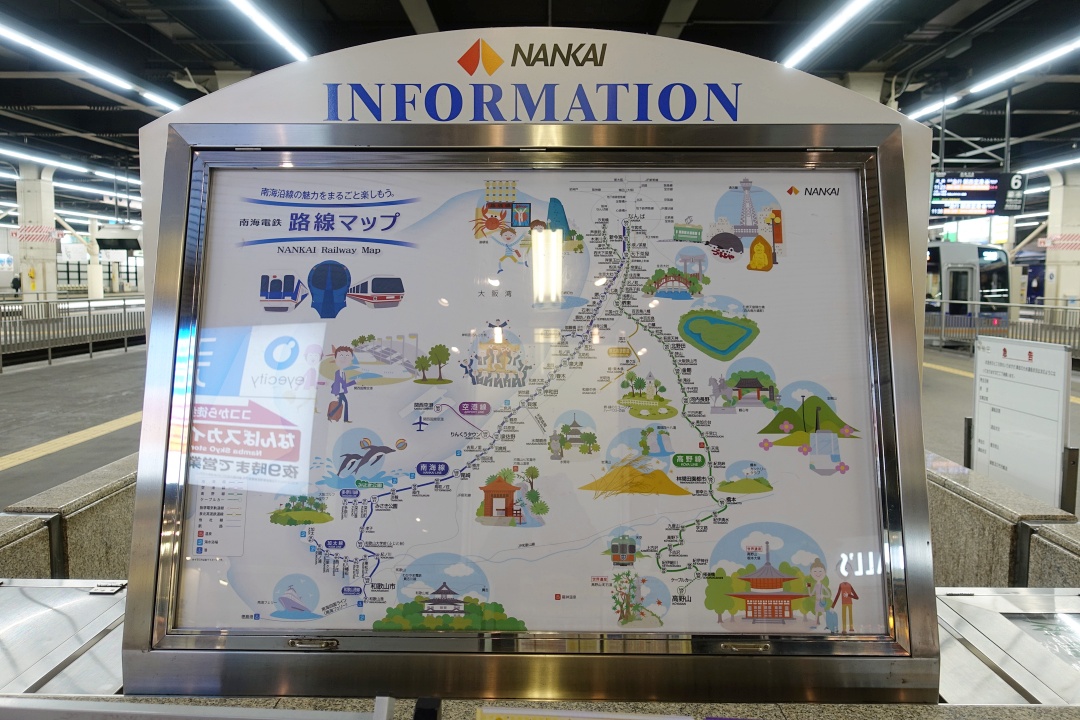 First impression – While it appears to be quite a massive station, it wasn't as crowded as compared to stations like Shinjuku and Ikebukuro in Tokyo. Our challenge came after we exit the station while trying to figure out which direction is our hotel.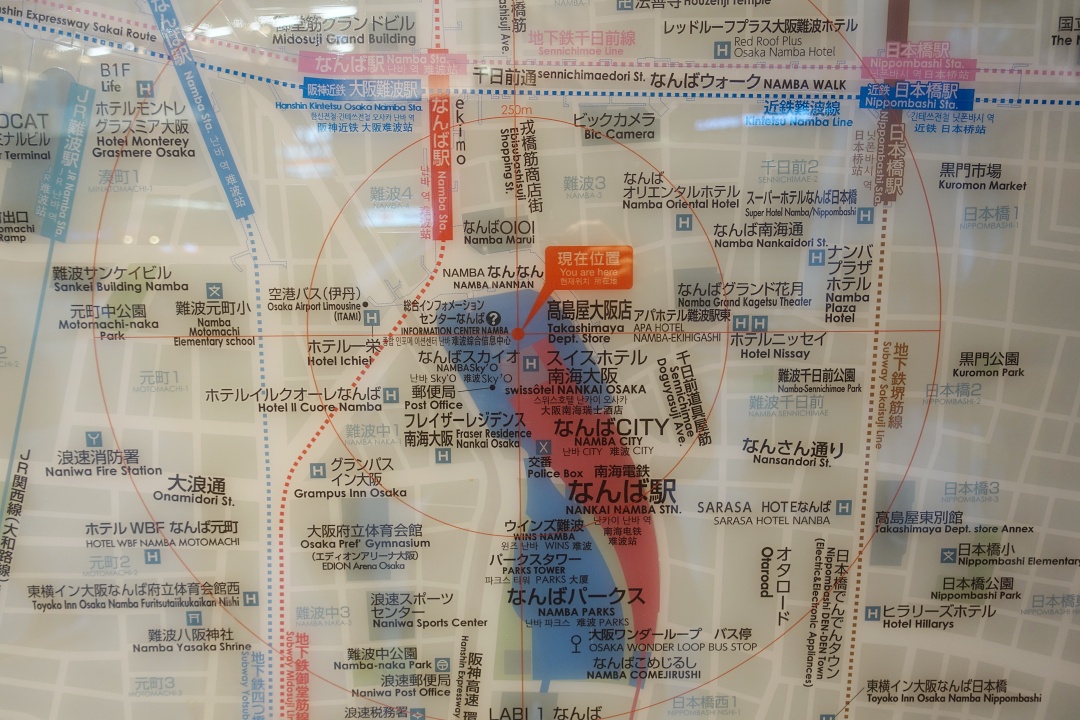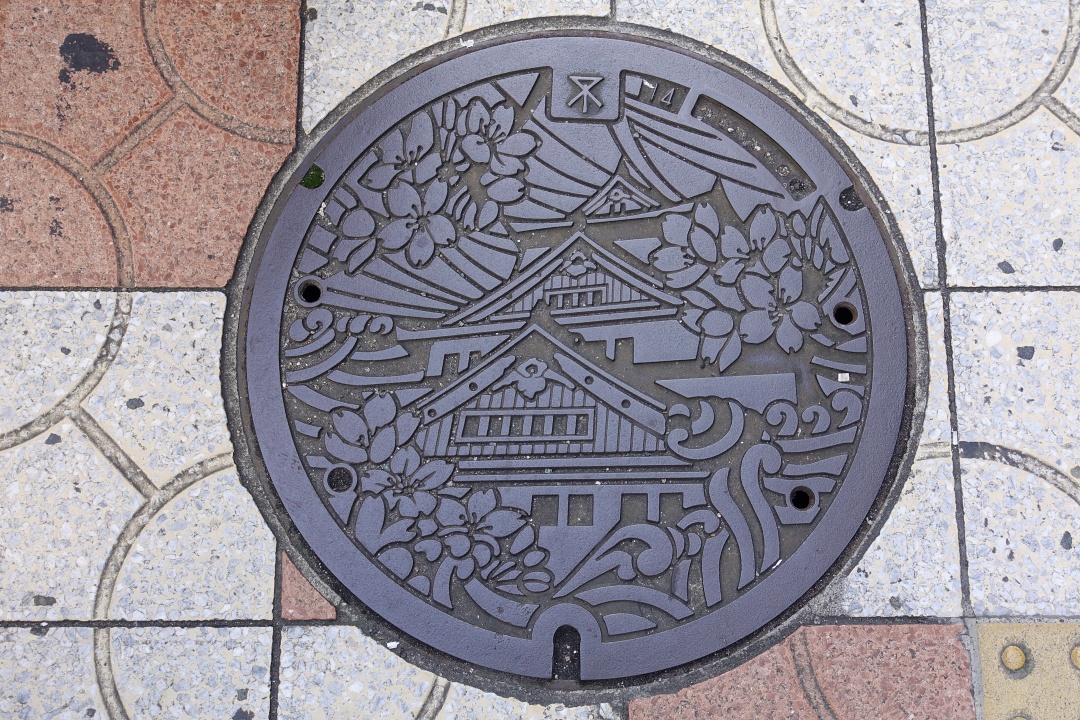 ---
We eventually made it to the hotel with the help from Google Map!
As we were way too early for check-in (check-in is after 15:00), we left our luggage at the hotel and venture out to the neighbourhood.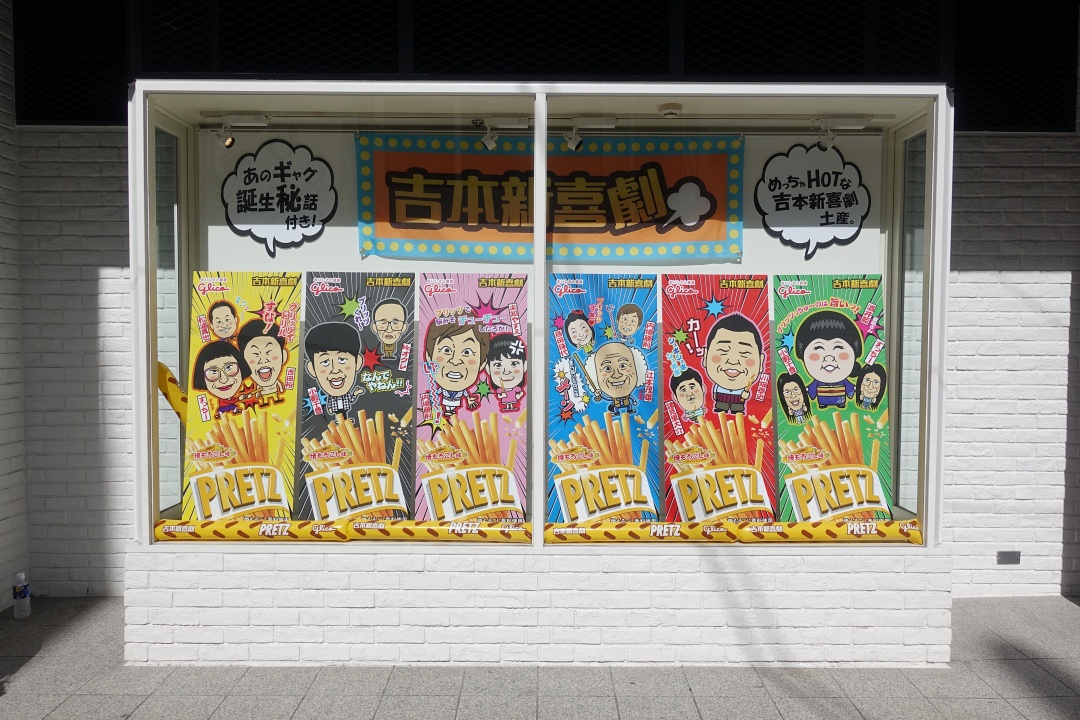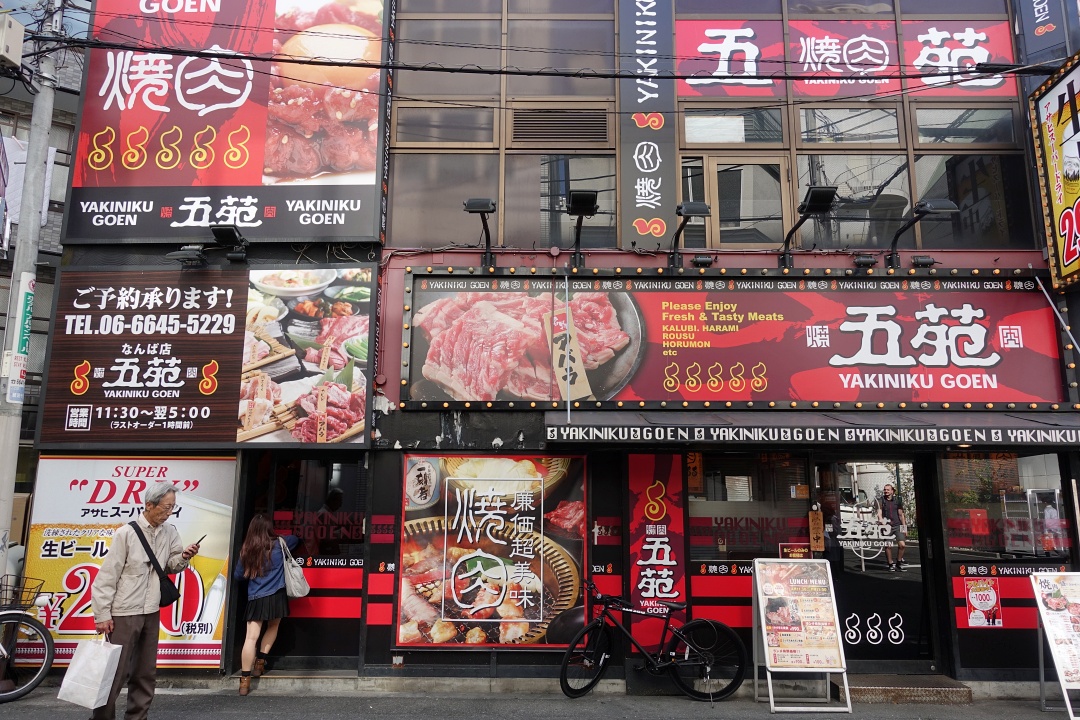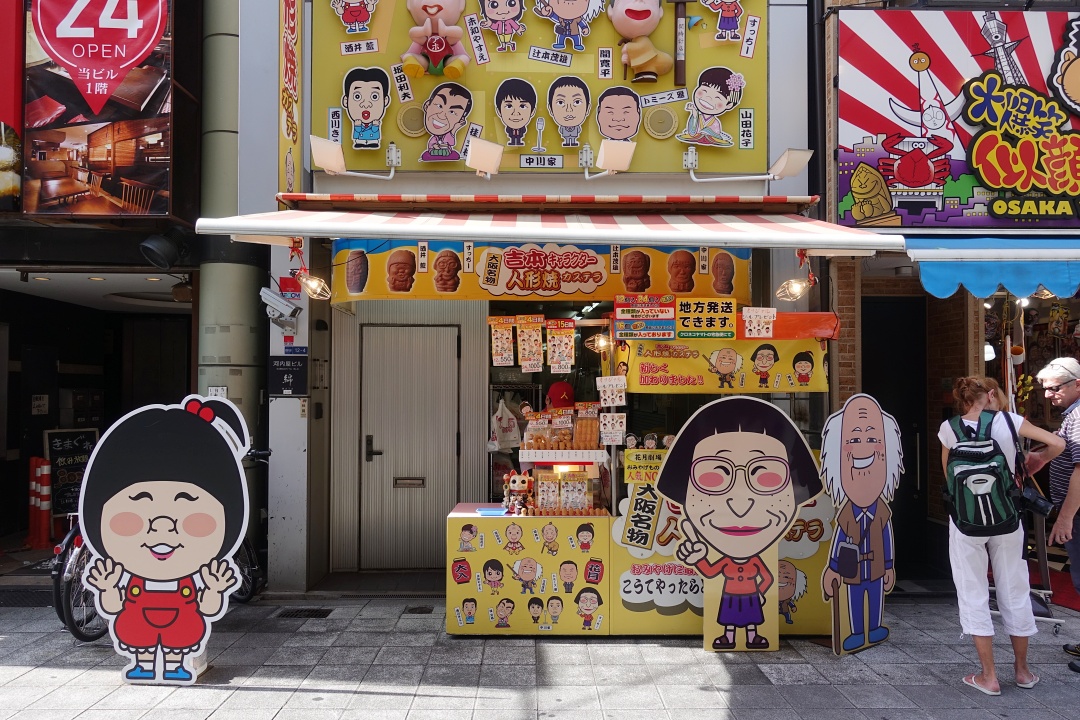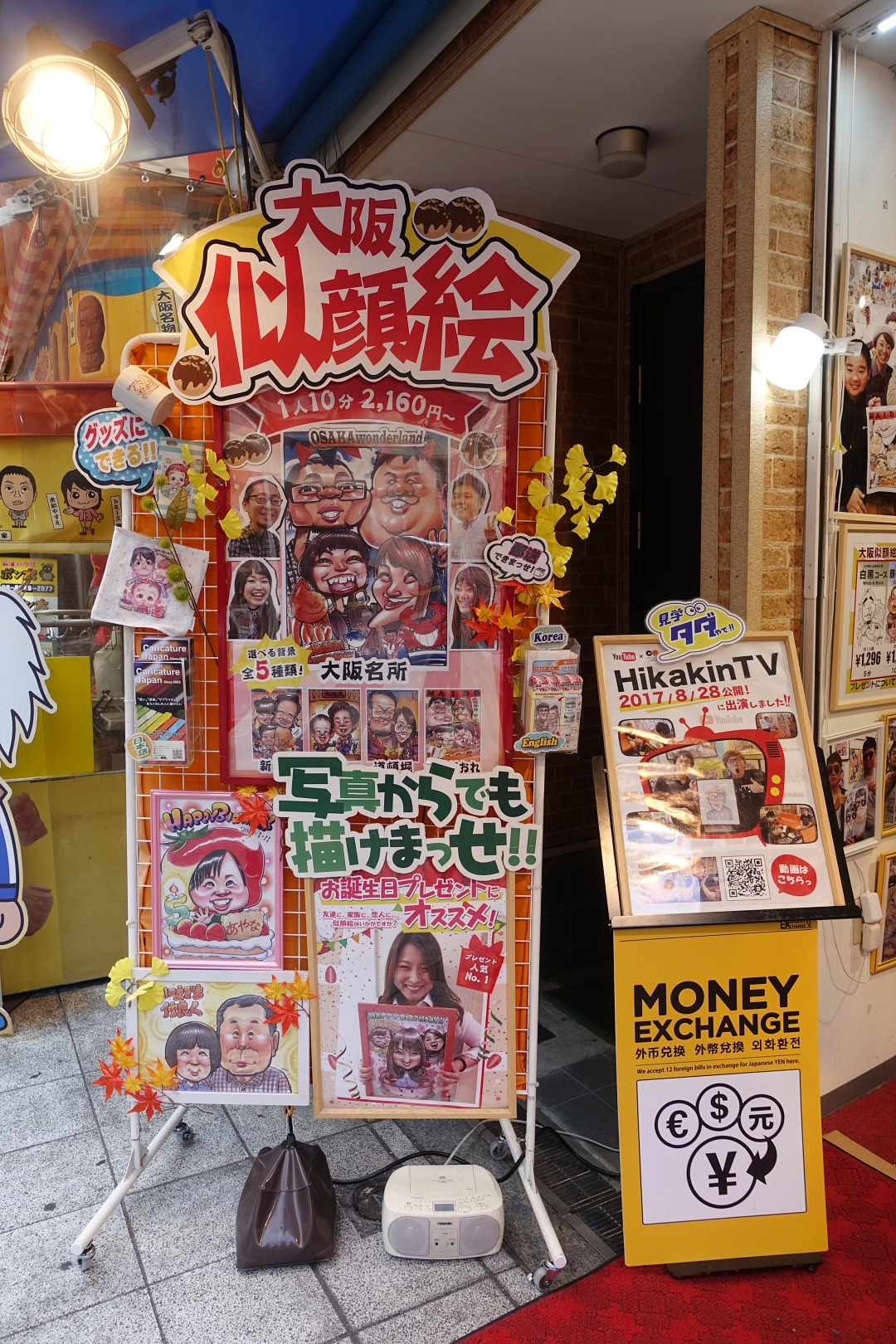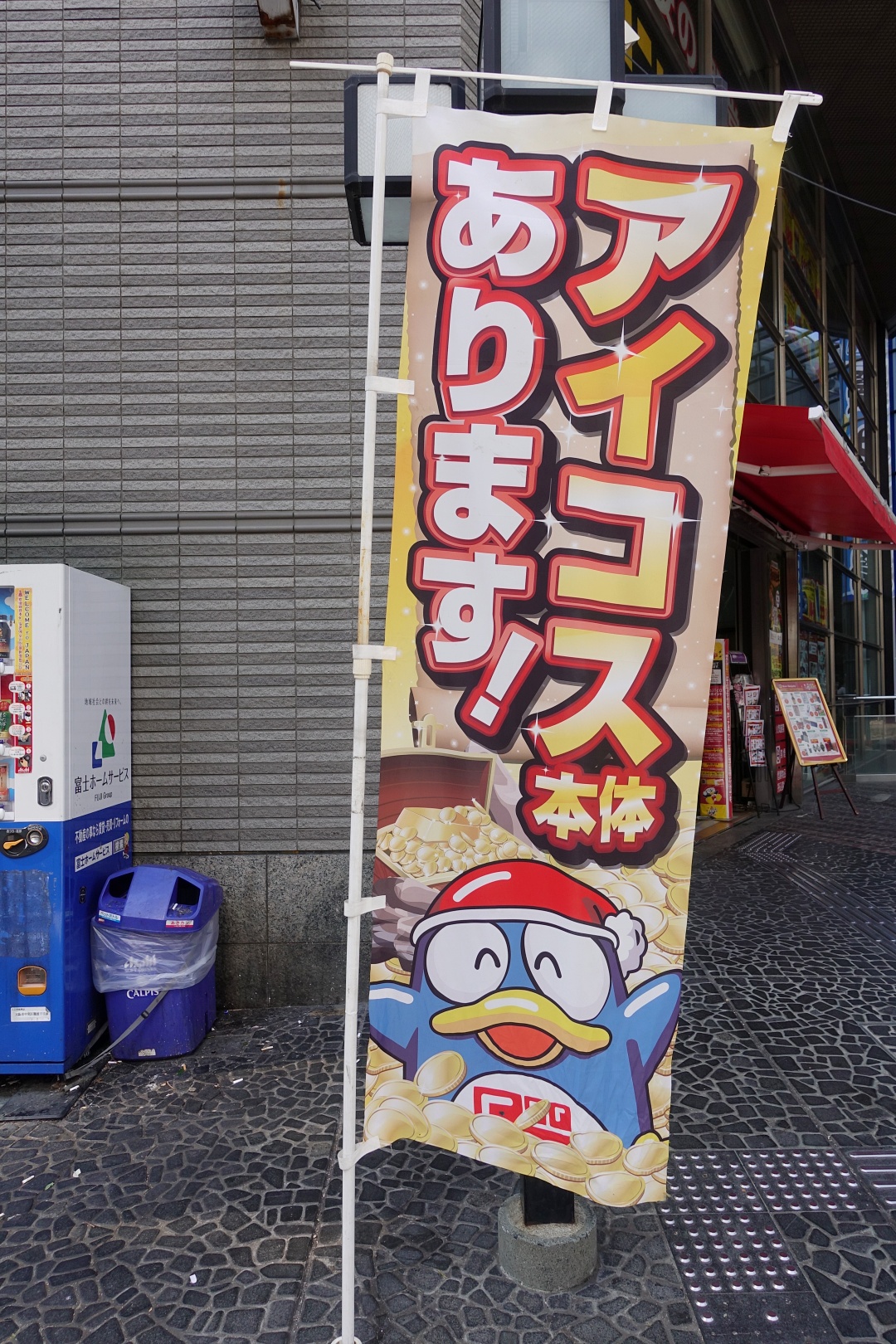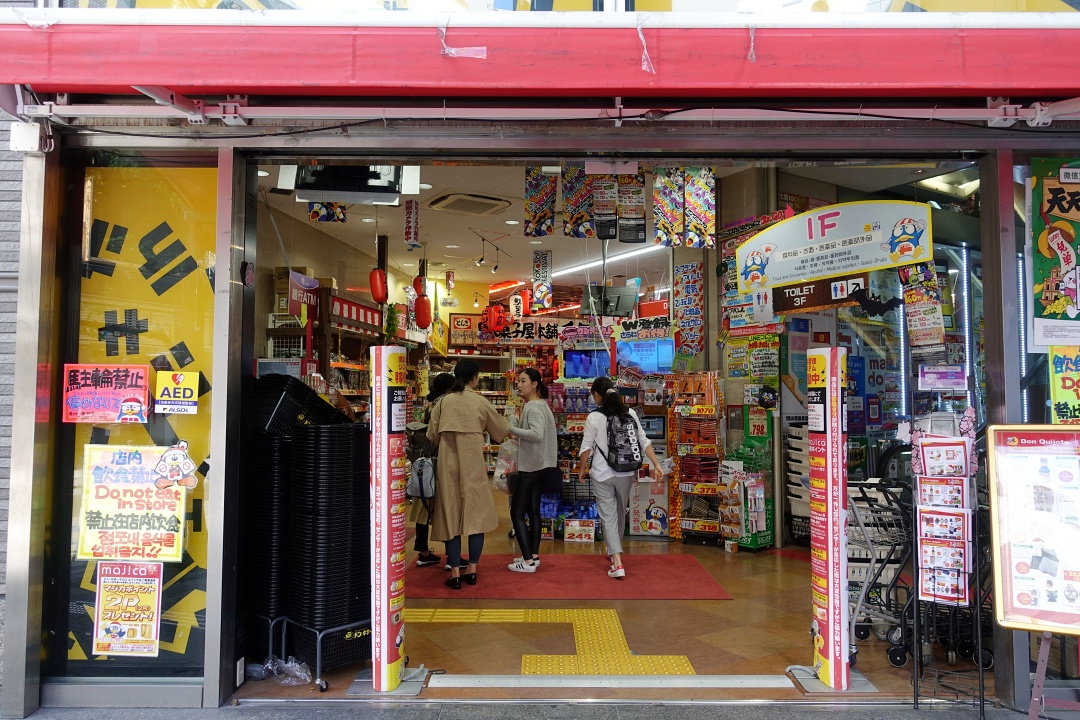 It was nice that there were quite a number of eateries and shops within walking distance from the hotel; we even came across a Don Quijote!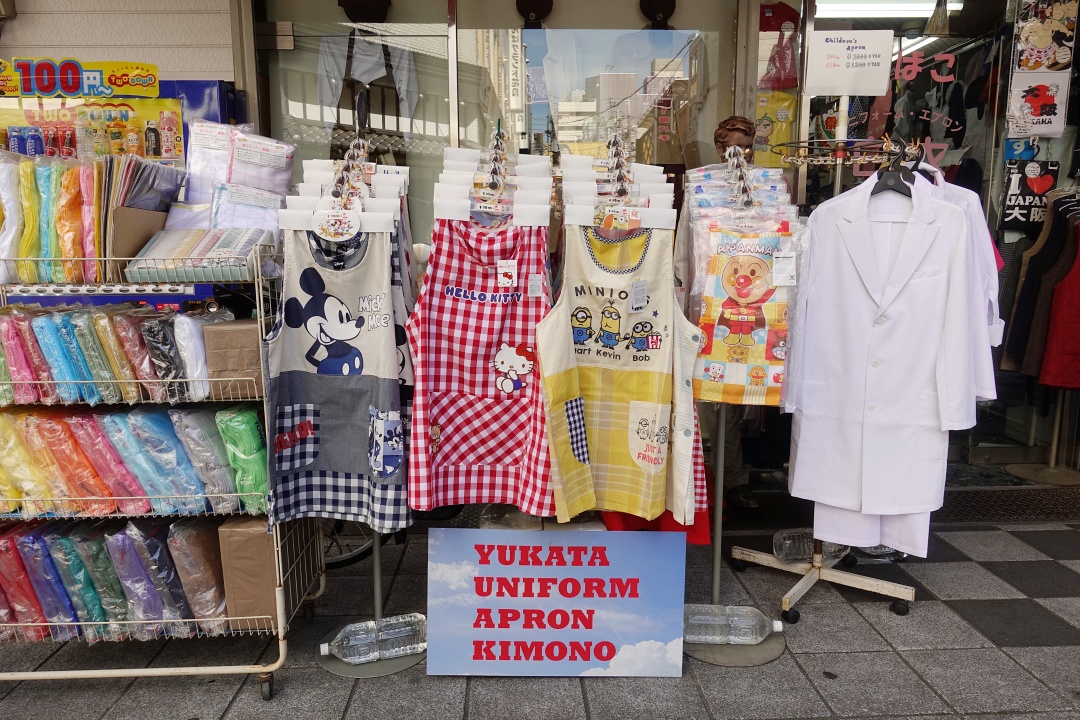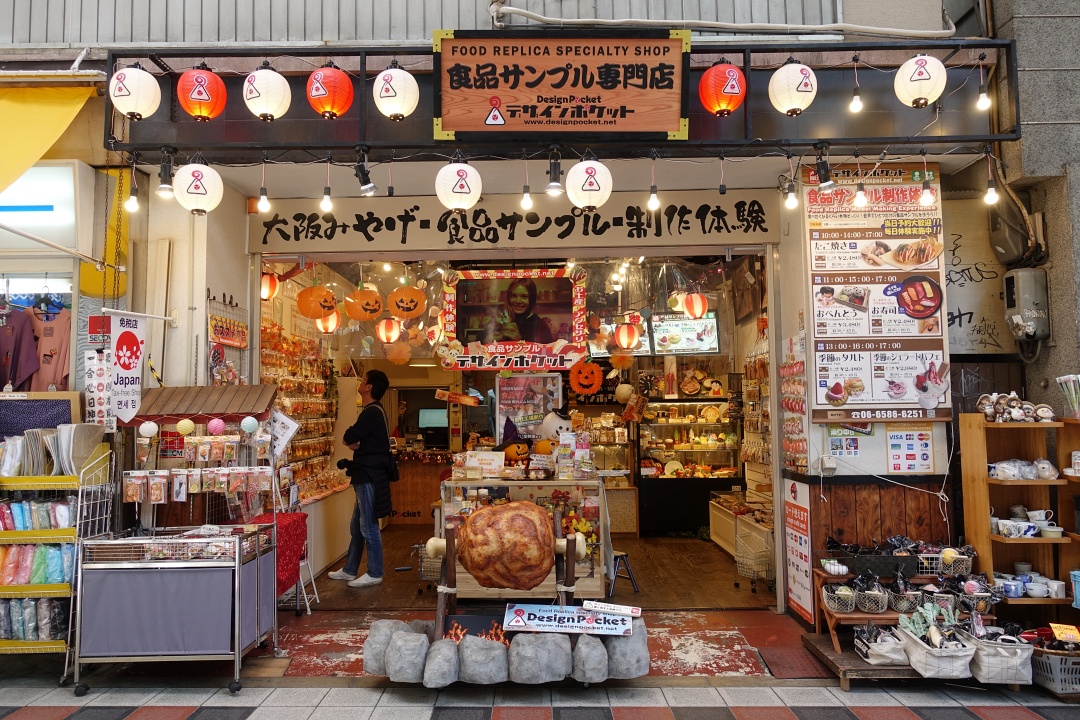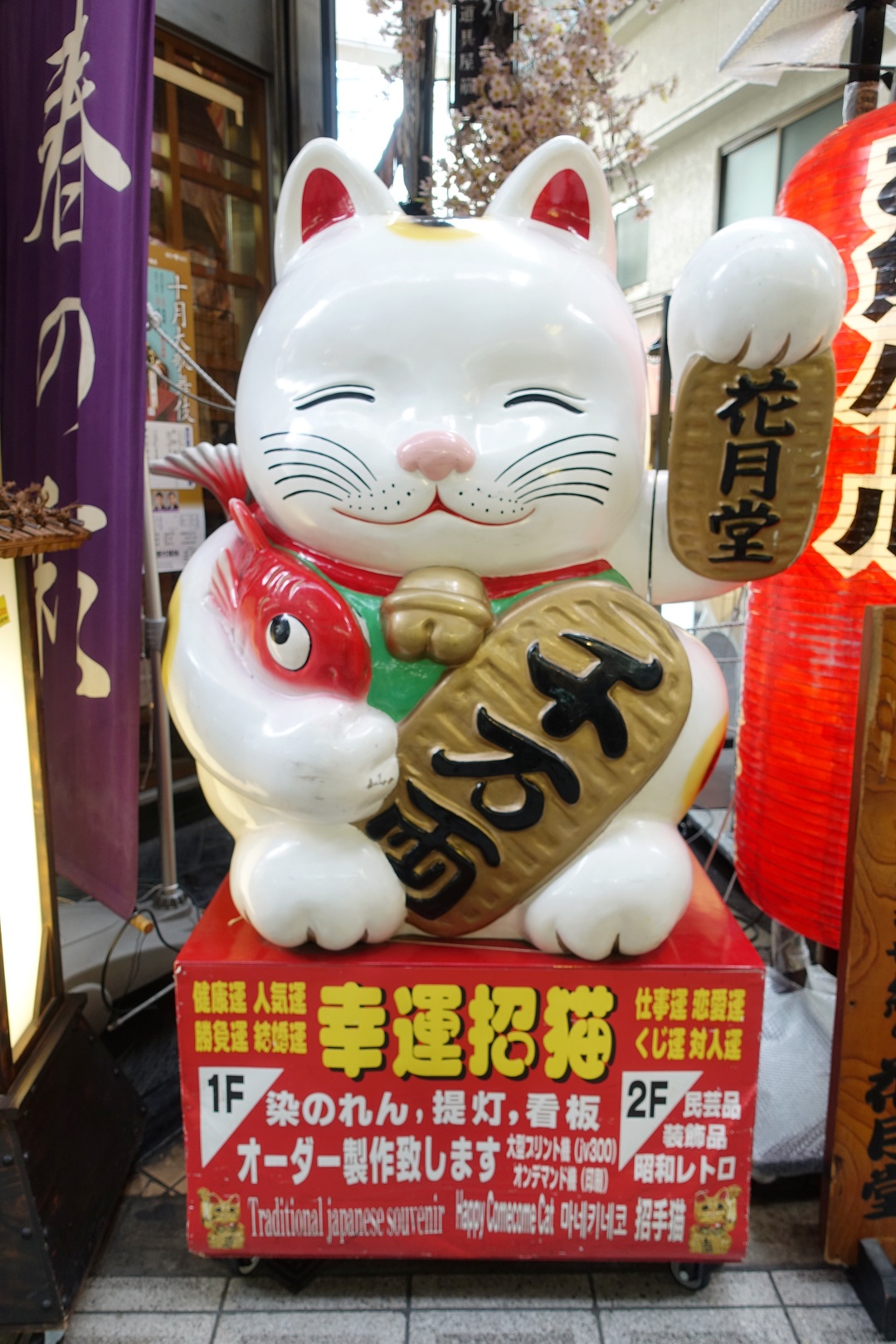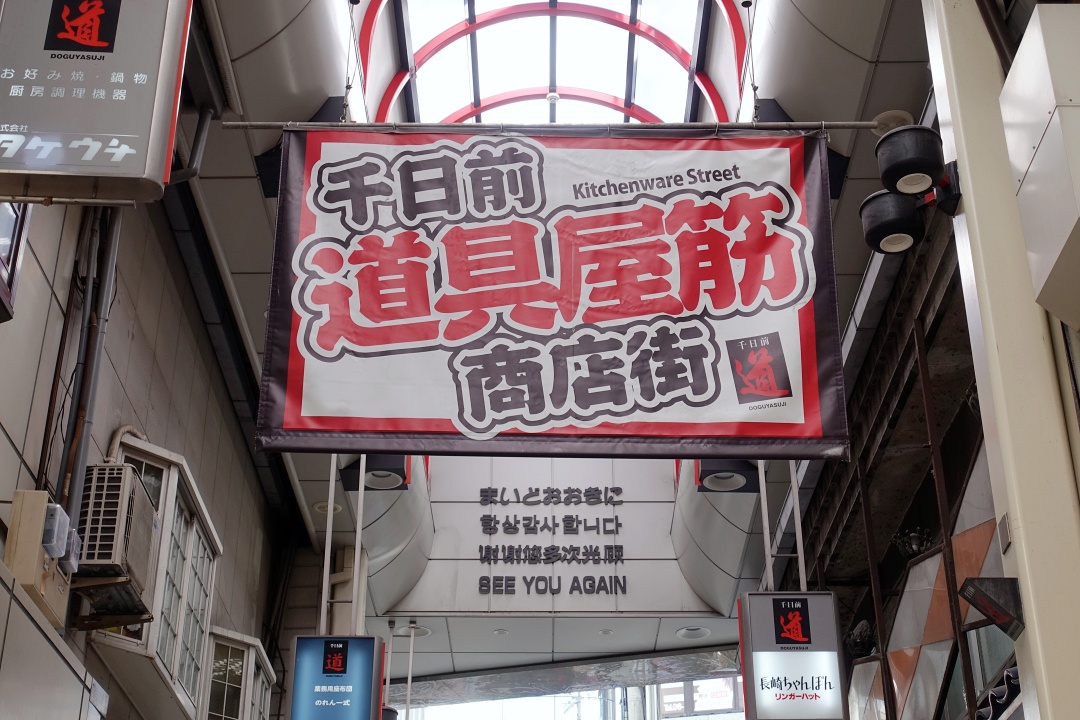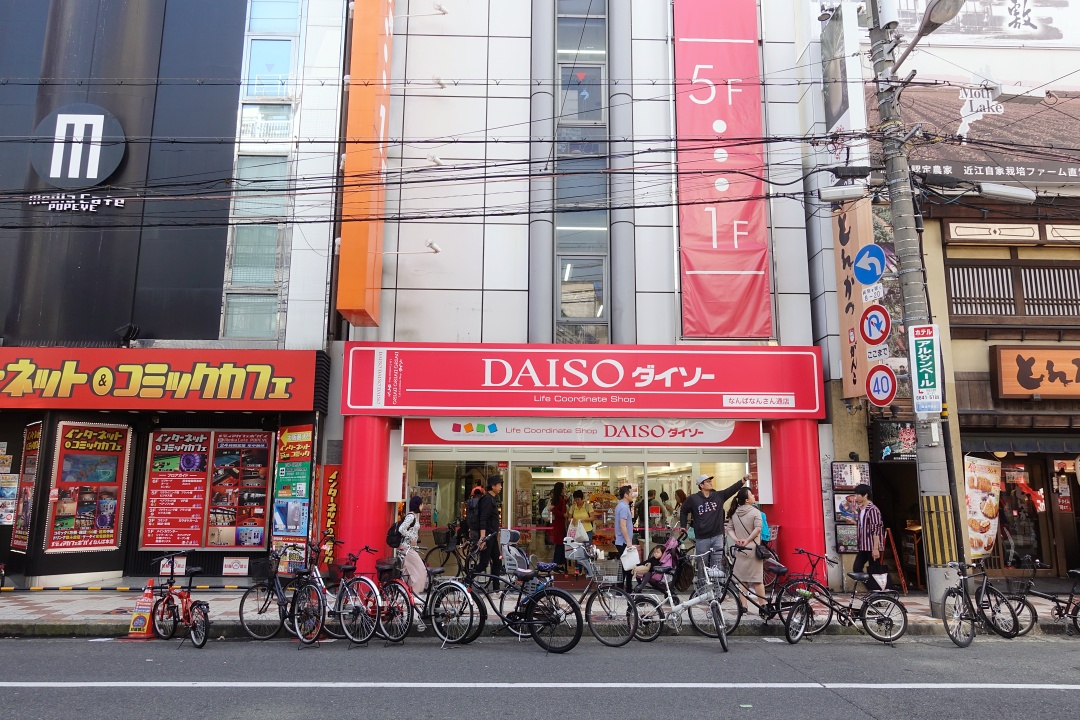 Also spotted a Daiso!
With their items mostly at JPY 100 + tax, it was slightly cheaper as compared to buying in Singapore (SGD 2). However, most of the items available were similar to those found in Singapore, and it doesn't seem to worth the effort (and precious luggage space) to lug them back for that little saving. I think the only time I went into a Daiso in Japan was when I needed to get zip lock bags or vacuum storage bag for packing.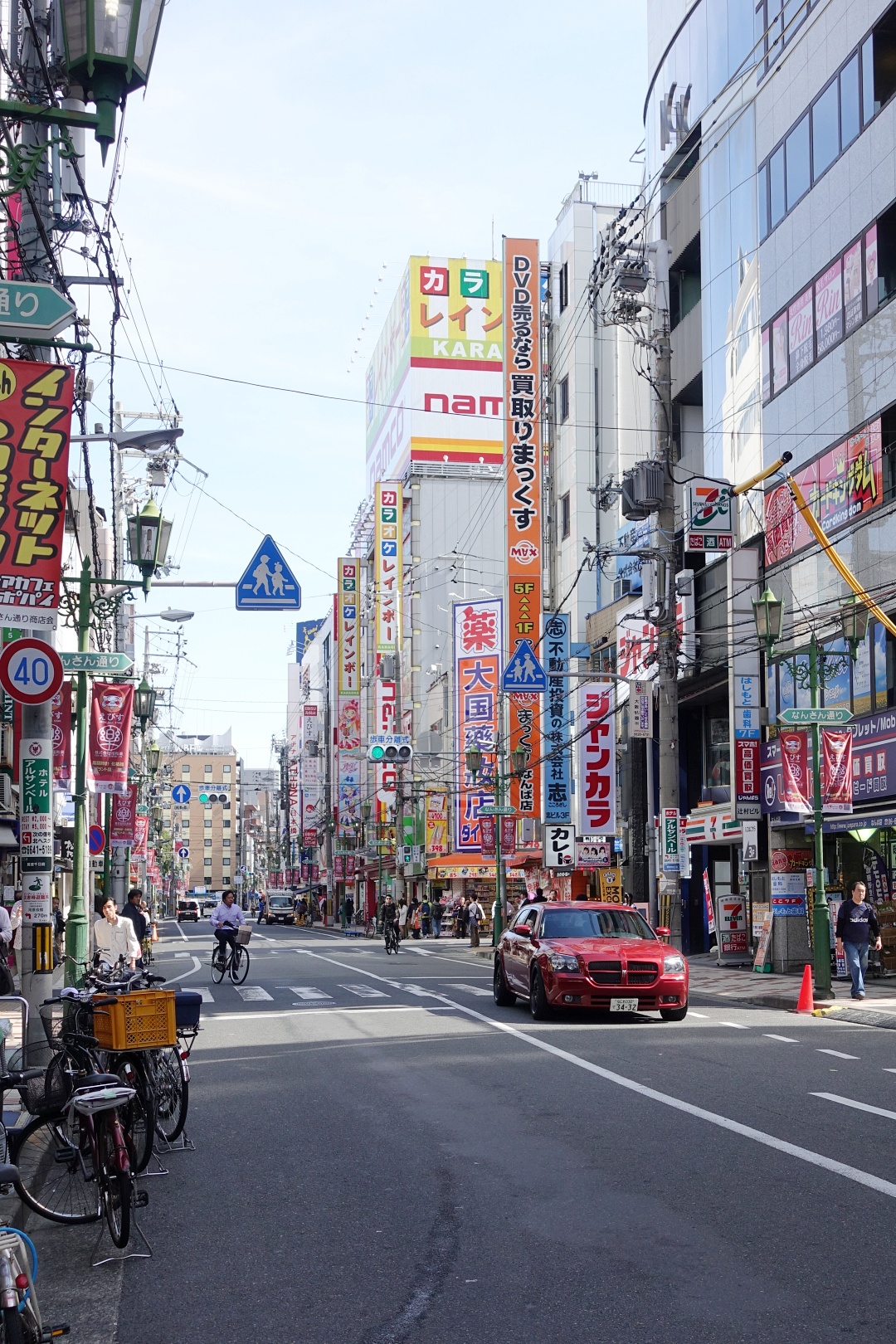 After wandering around, it was time to settle down for lunch.
Matsuya 松屋
Came across Matsuya 松屋 and I recalled having that on the first night when we arrived in Tokyo on our previous trip. The fond memories make me want to have it again for our first meal in Osaka!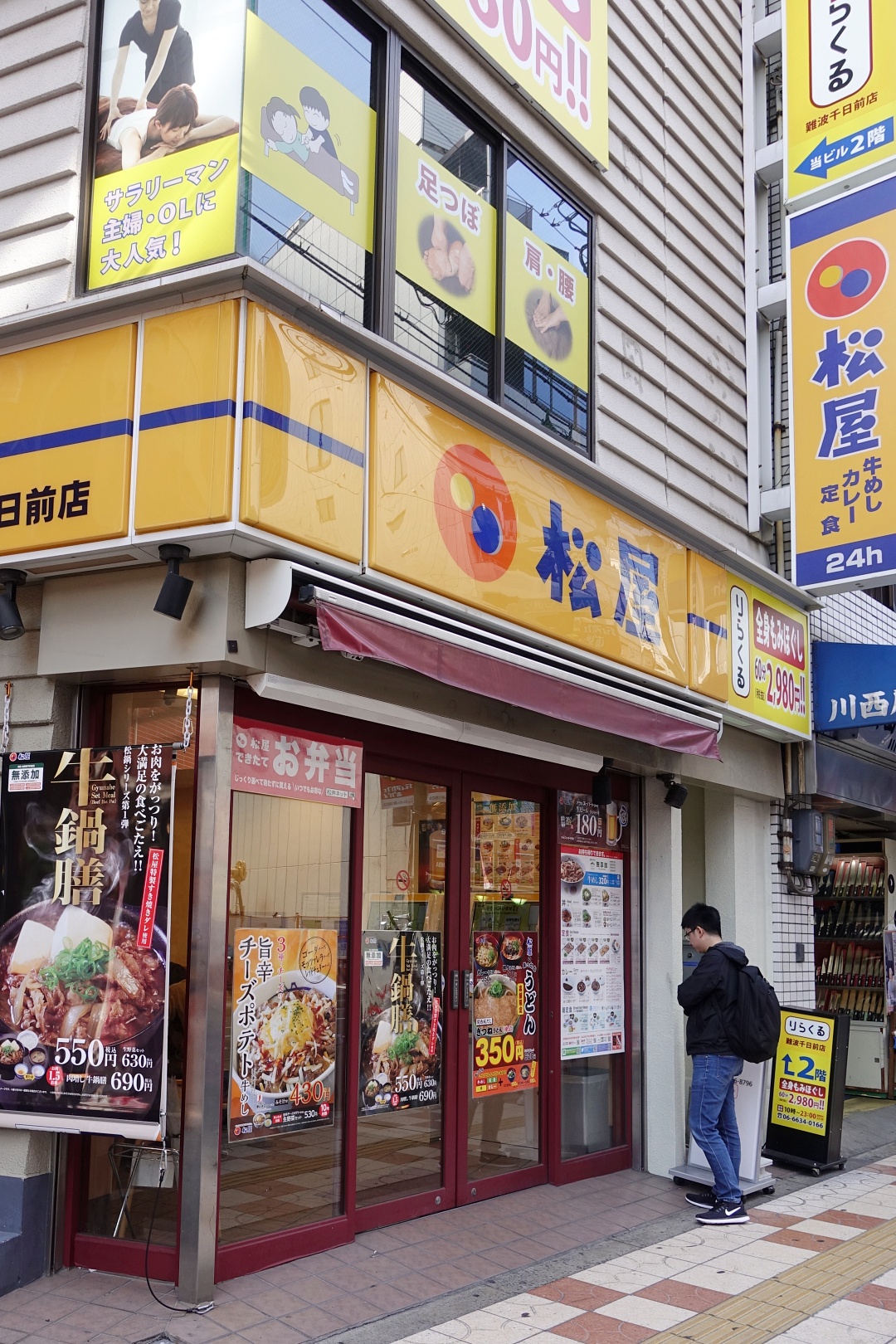 Matsuya is a well established fast-food chain in Japan that is best known for its gyu don – a simple meal of shredded beef and onions served over a bowl of rice. It's somewhat similar to Yoshinoya, and the prices were kept affordable for a quick and fuss-free meal. There were some outlets that operate for 24 hours; hence making it a good dining place in the late night when most eateries were closed.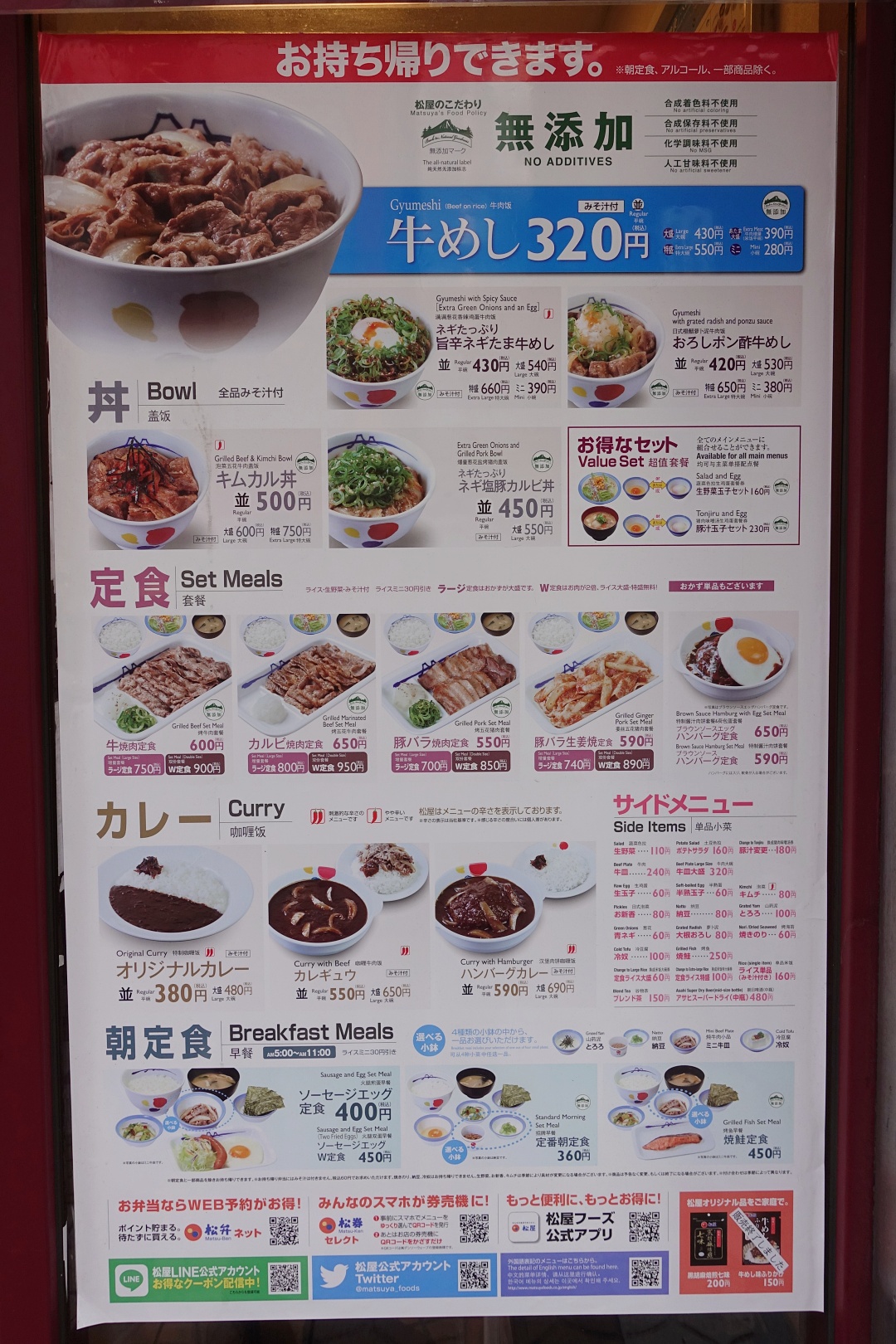 You can either check out the menu outside the shop or went in and browse/order directly from the self-help machine.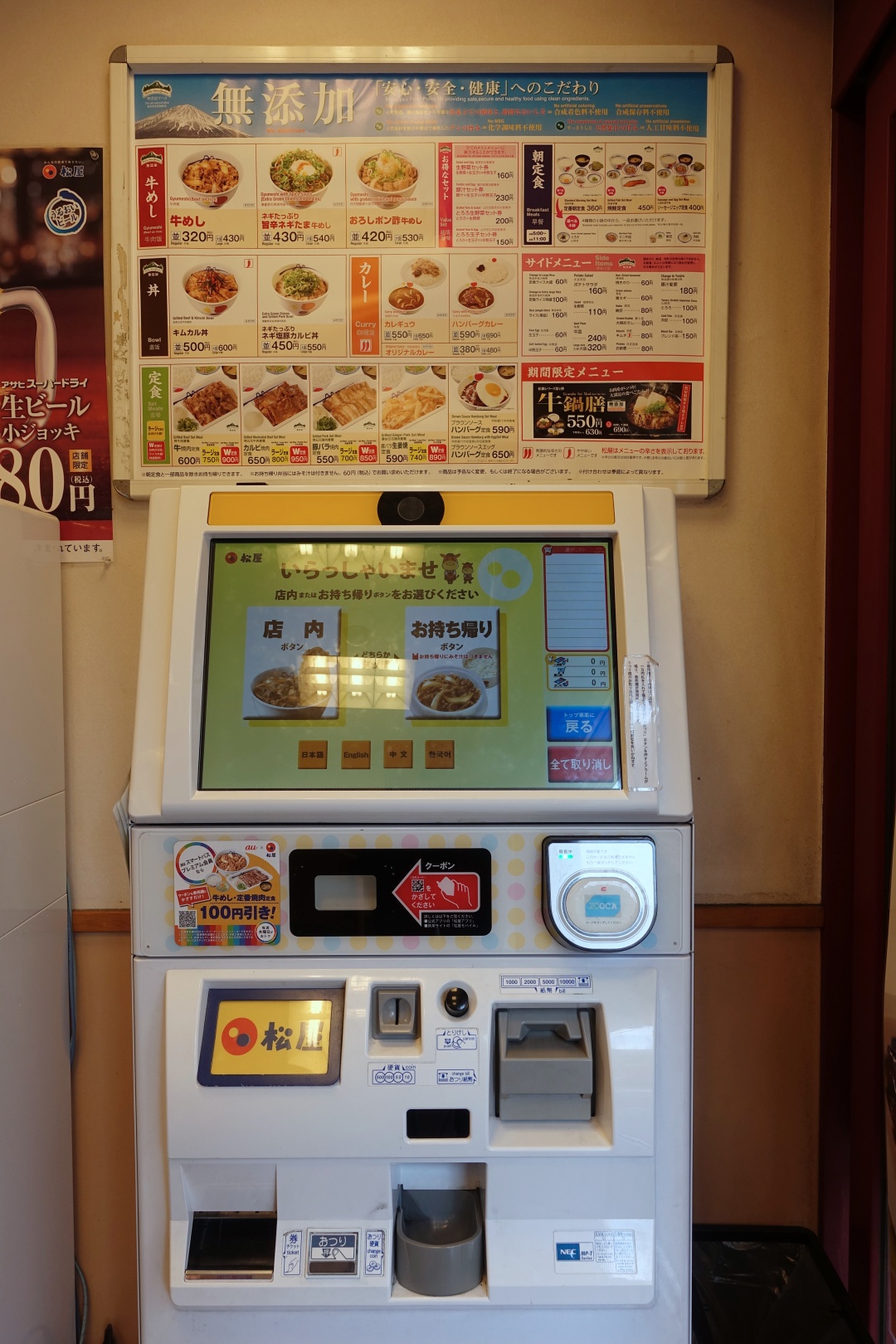 There's Japanese, English, Chinese and Korean language available on the machine, and the ordering was reasonably straightforward. After adding the dishes to the cart, insert your money into the machine and wait for it to dispense the food vouchers. You then find a seat (most offer counter seats) and present the coupons to the staff who will then prep your meal. Ice water, chopsticks and various sauces are available on the table.
We got two gyu don (one regular and one with extra meat), an extra bowl of miso soup and a soft-boiled egg. Paid JPY 830 (slightly over SGD 10) for our meal.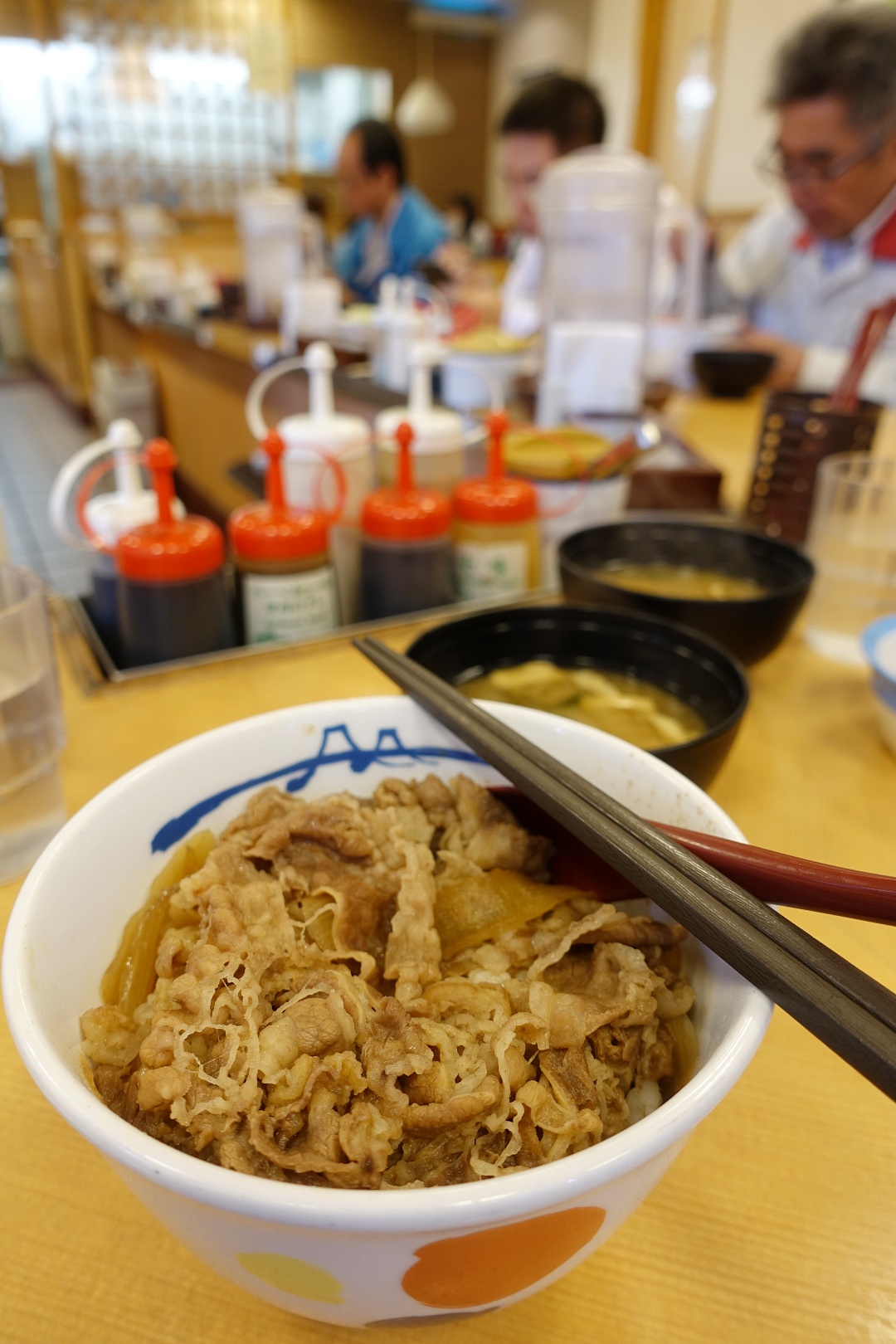 Each regular gyu don (JPY 320) came with a bowl of miso soup. You can also add on an additional bowl of miso soup for JPY 60!
I feel that a regular bowl was a good size for me. But there are always options to add on more meat or order a smaller size if you're not too hungry.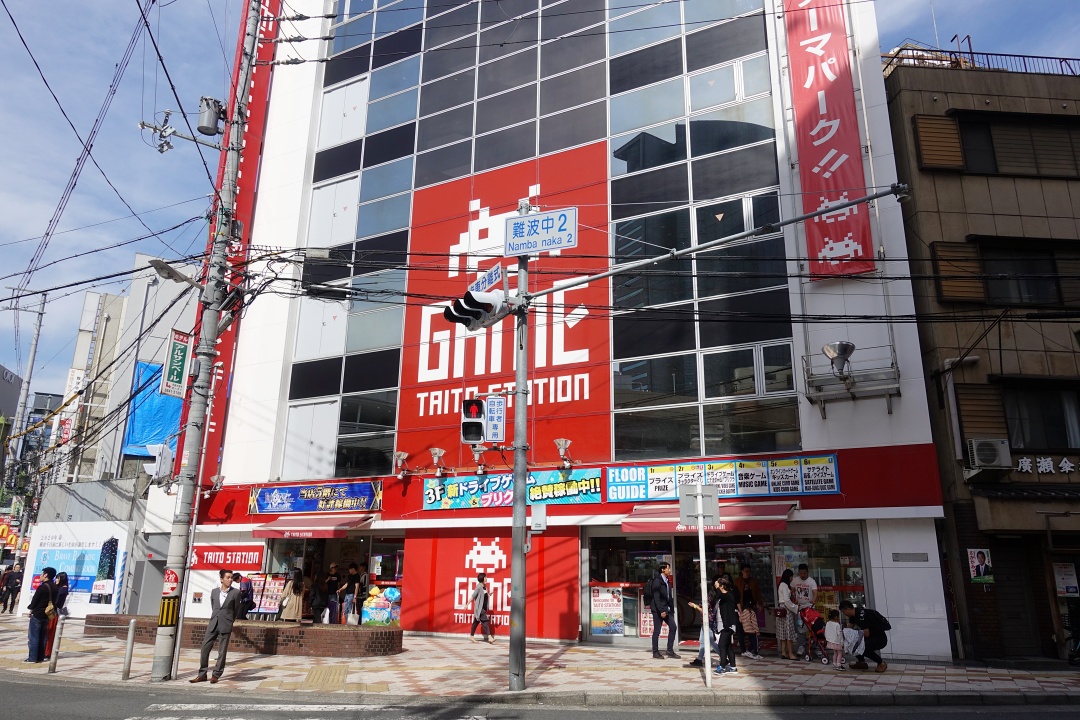 We continued to roam around the vicinity after we left Matsuya, and even went into one arcade.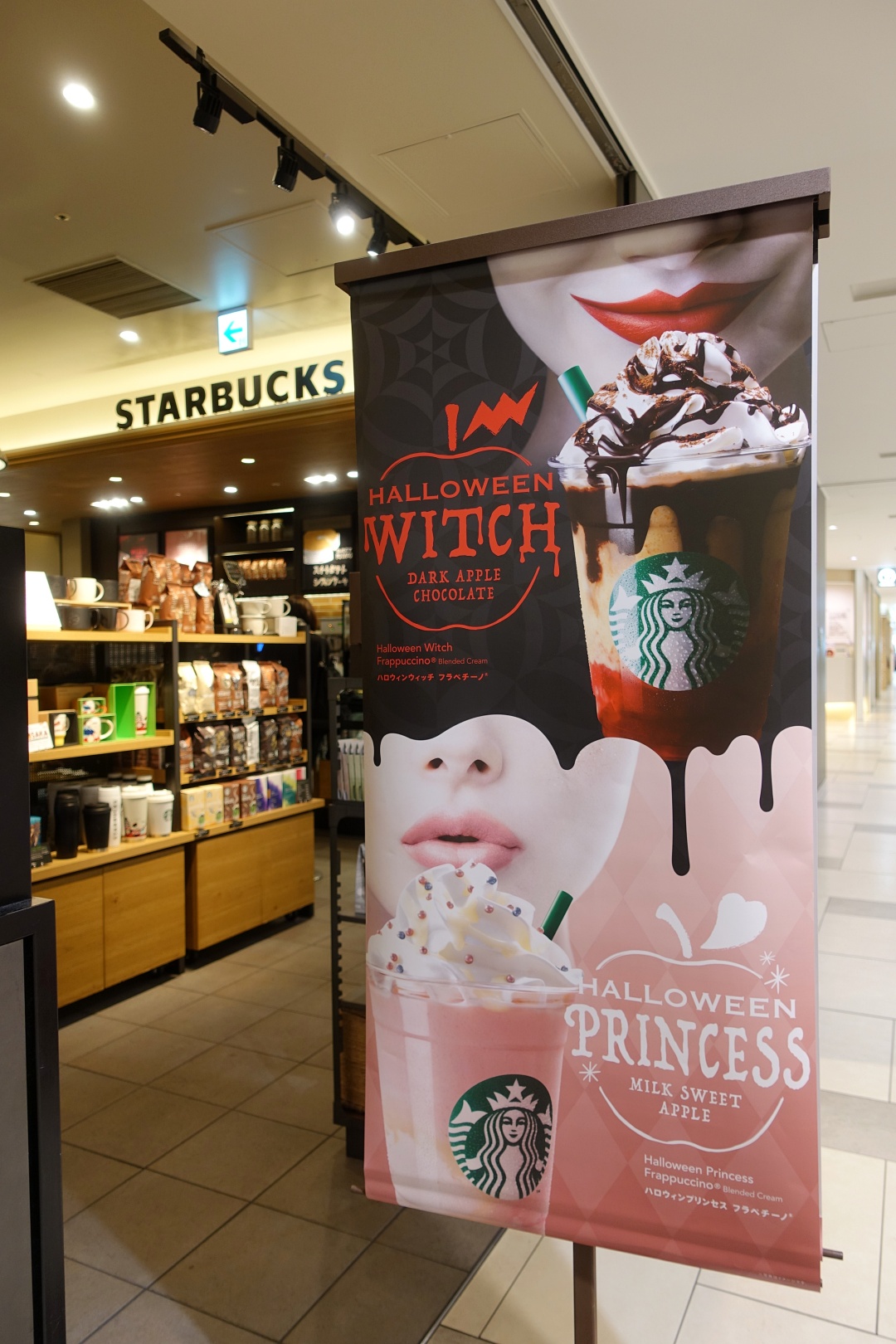 Eventually, we settled down at a Starbucks that we found inside a shopping mall (I believed it was Namba City). By then, we were simply waiting for 15:00 to check-in to our hotel.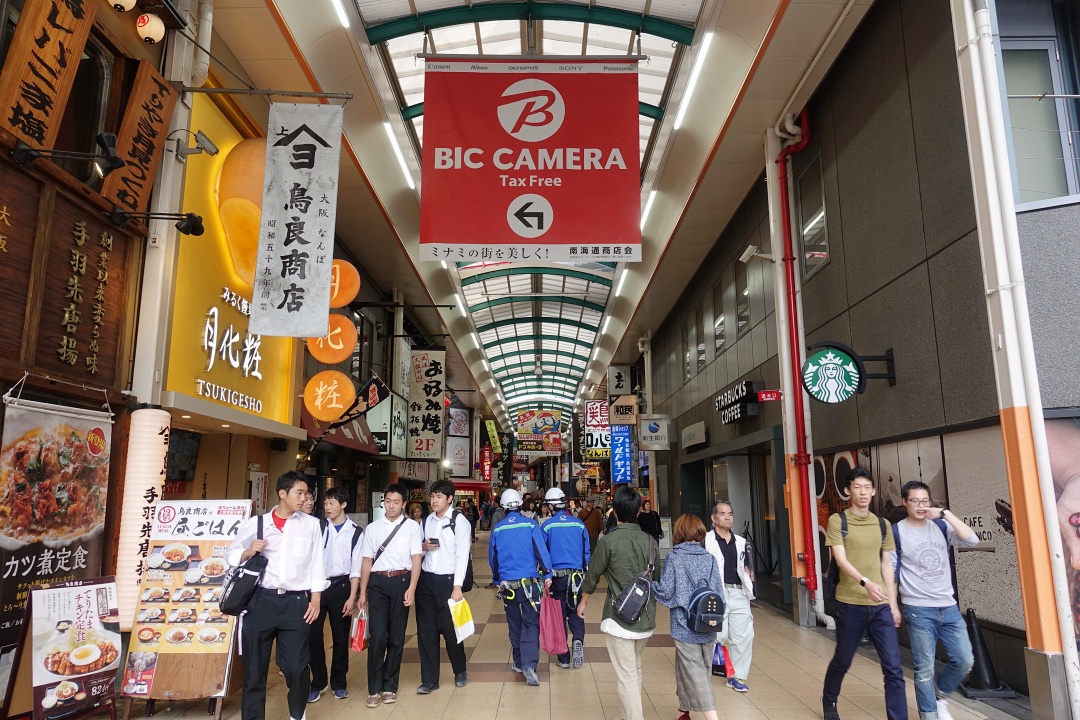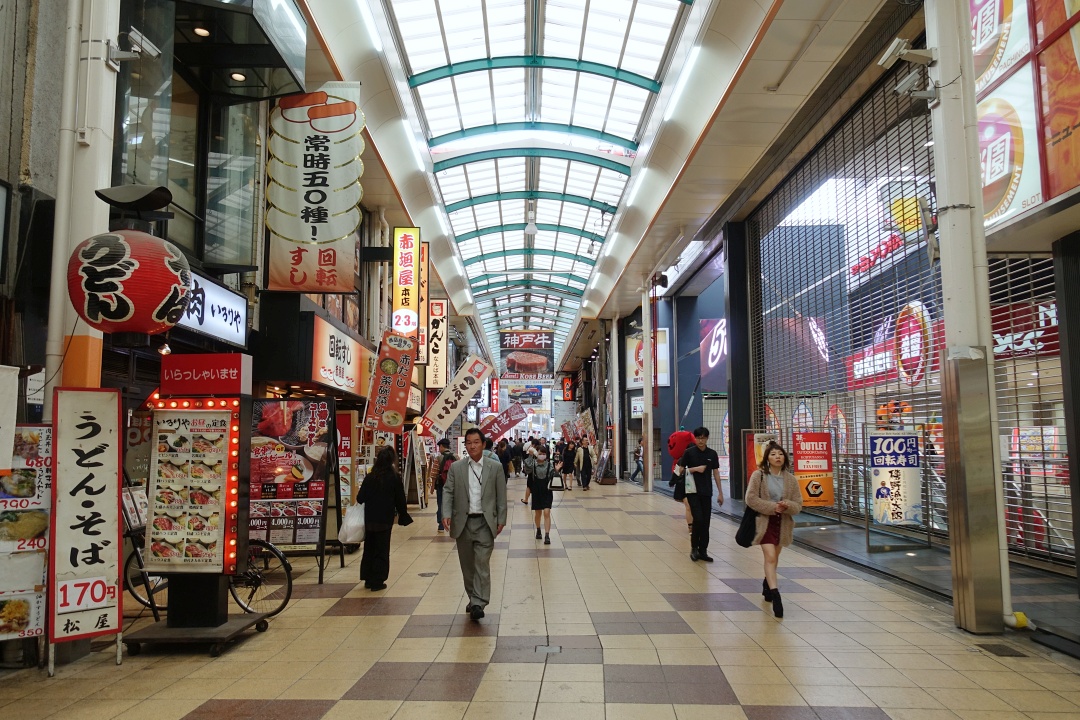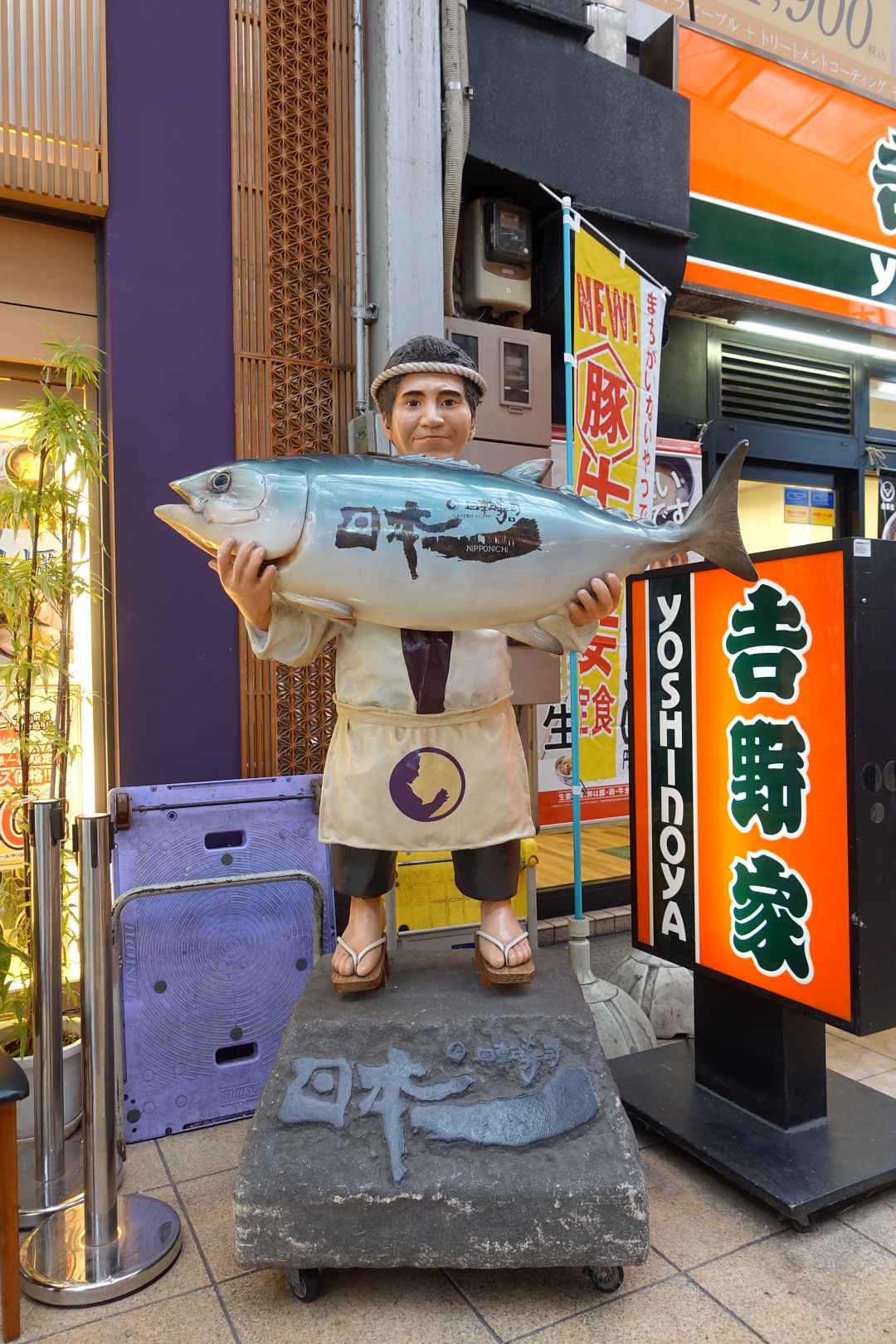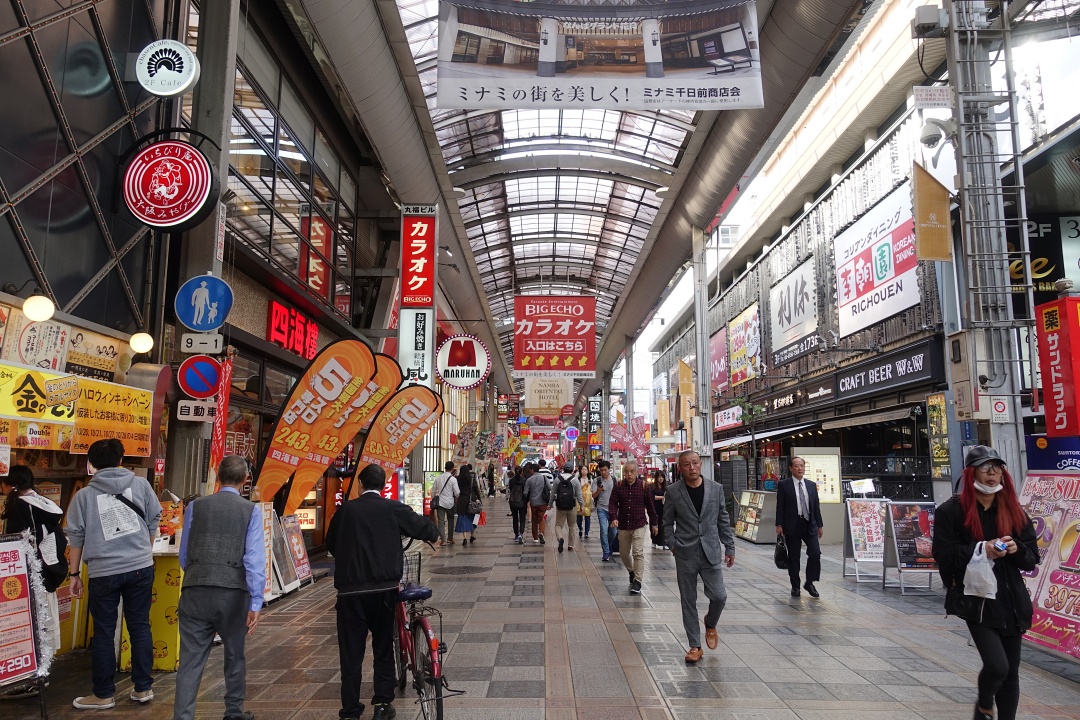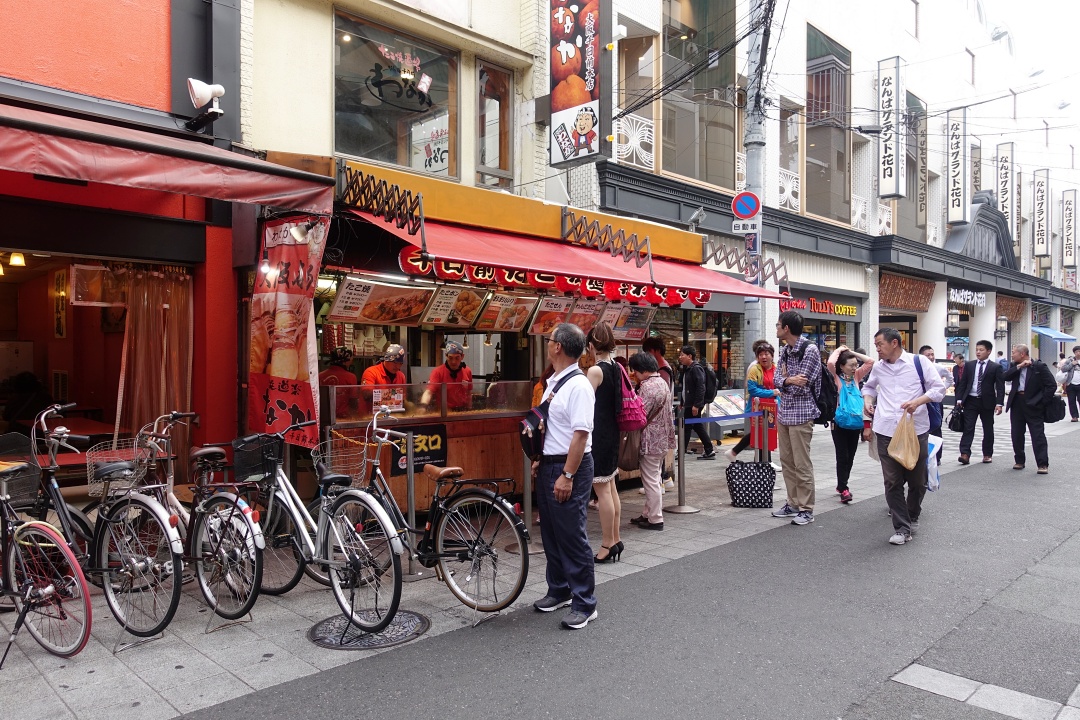 While making our way back to the hotel, we came across a takoyaki stall, and knowing that takoyaki originated from Osaka, we decided to get one serving to share.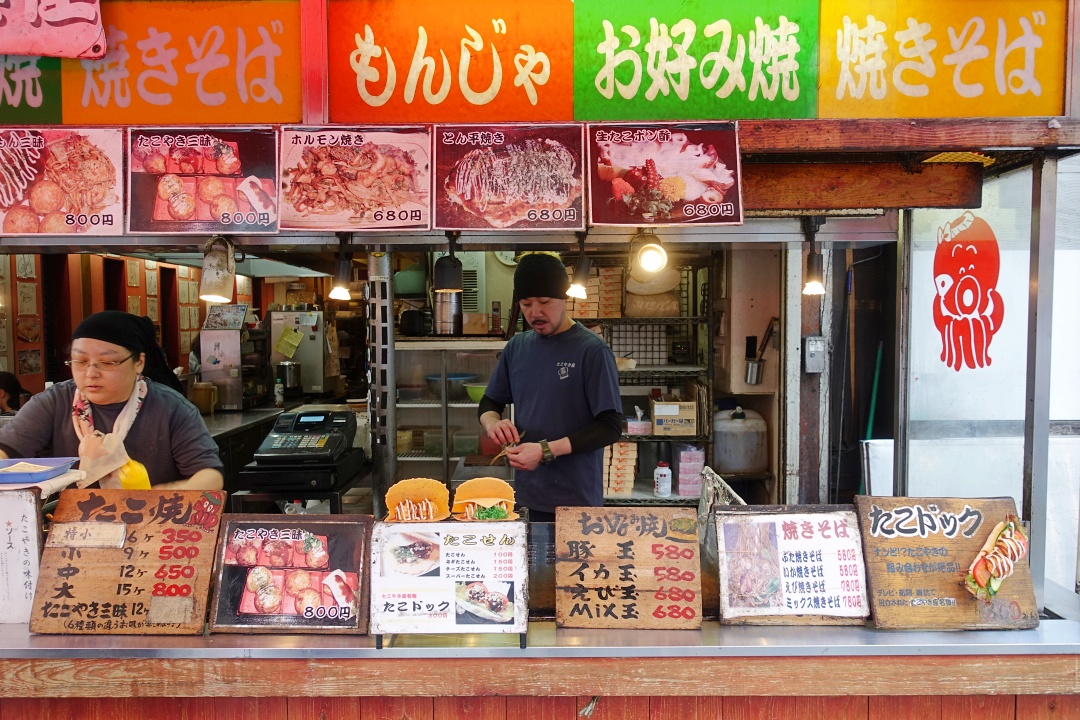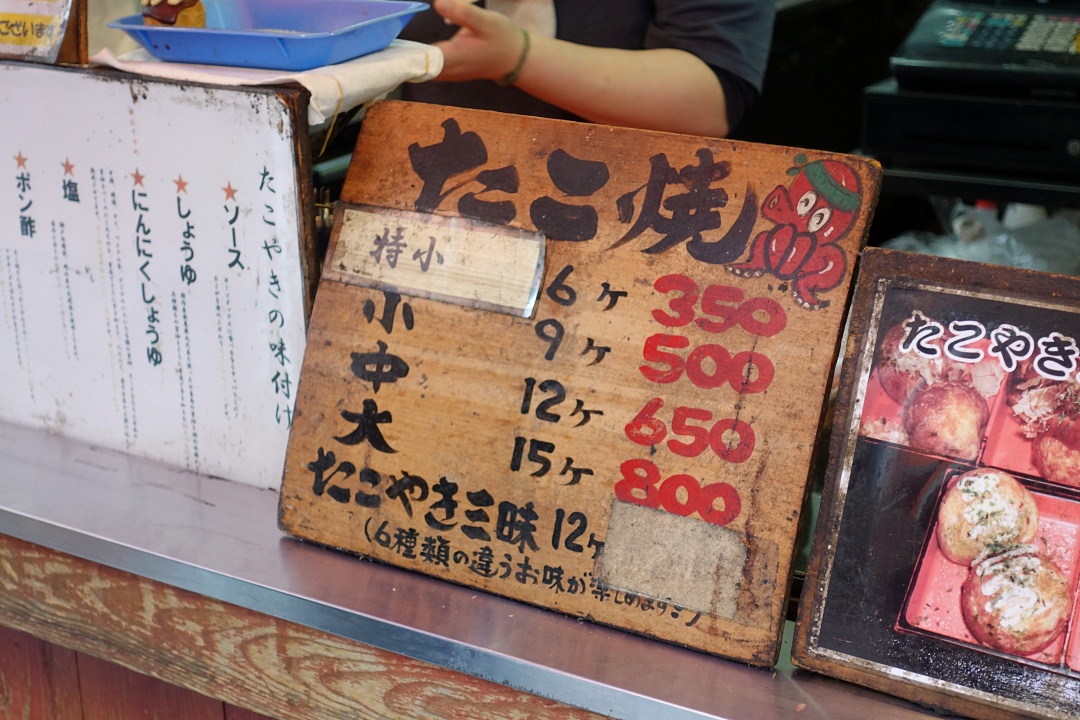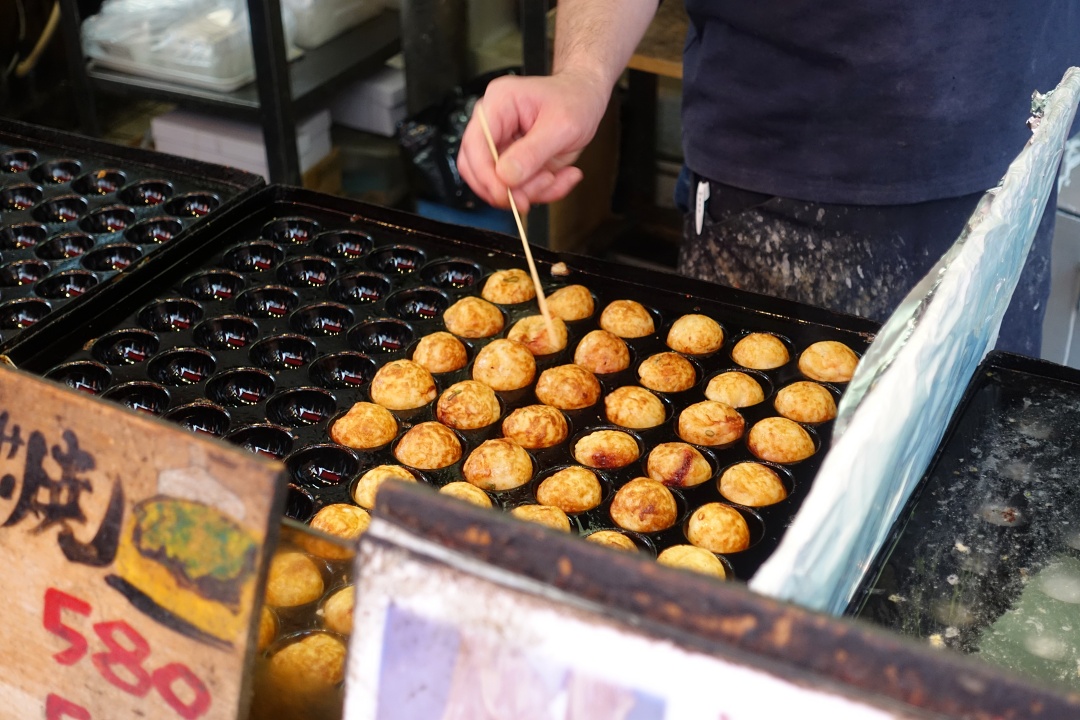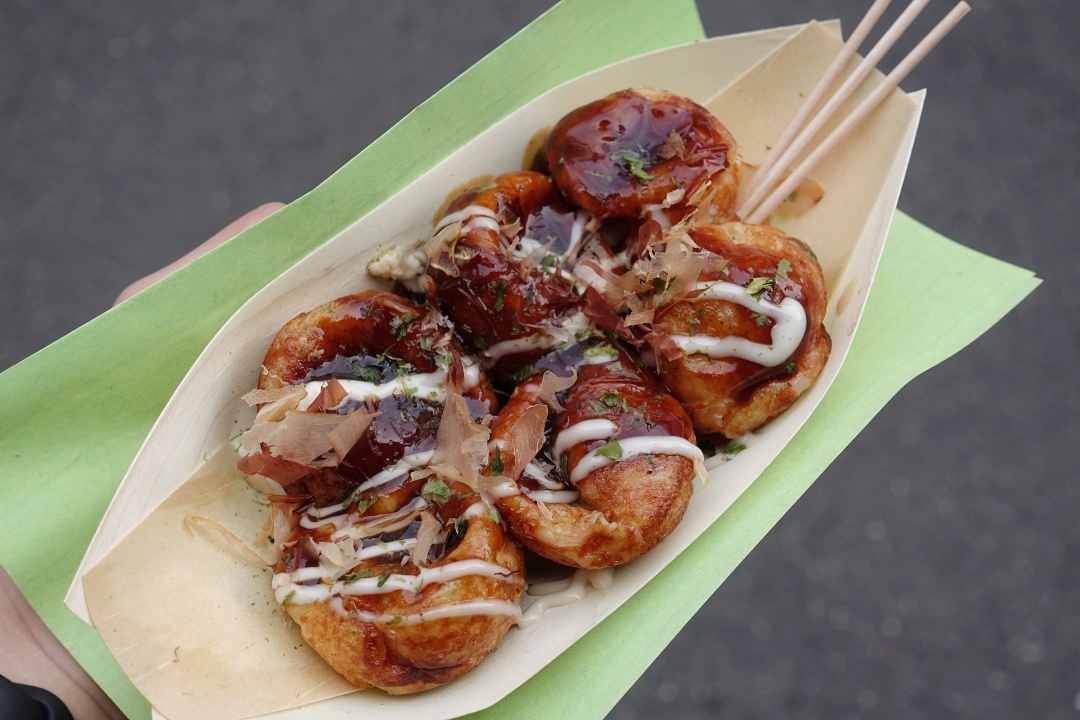 We got six pieces for JPY 350 (SGD 4.40).
After having takoyaki in Japan, it's hard to go back to those available in Singapore. It gutted me when Takopachi and Gindaco pulled out of Singapore, and now the most common place to get takoyaki is Wow Tako. But the takoyaki from Wow Tako is nowhere comparable to those crispy yet gooey tako balls from Japan!
APA Namba Ekihigashi Hotel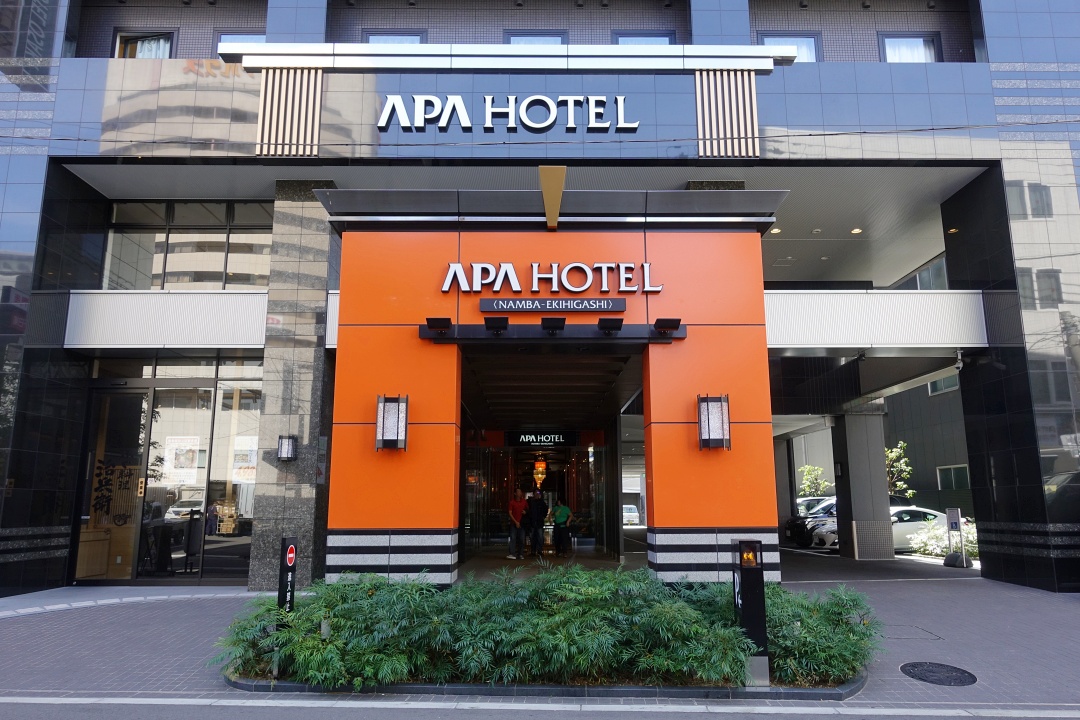 Finally got to check-in to our hotel! For this eight-day trip, the Husband booked three nights at APA Namba Ekihigashi Hotel. We had previously stayed in APA Hotel when we visited Tokyo. While the room was incredibly small, it seems like APA Hotel was the most accessible (they have multiple hotels in various locations) and affordable options when we were looking for accommodation. (Some APA Hotel could get fairly expensive due to its location or during peak seasons. As such, do conduct some research before booking.)
Aside from the tiny room that doesn't offer much walking space, our stay was relatively okay. The location of the hotel was fairly convenient, considering there were eateries and convenient store within walking distance.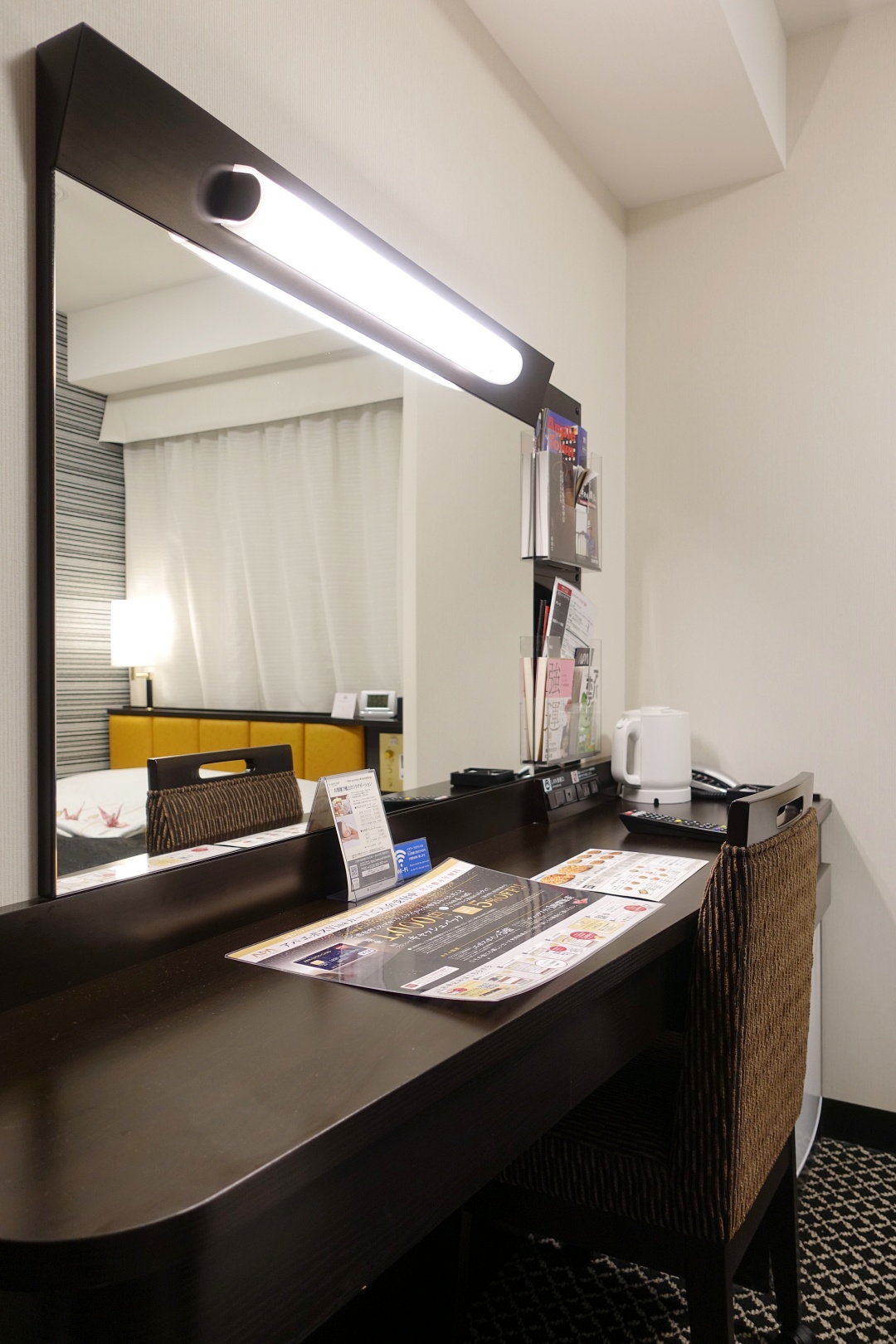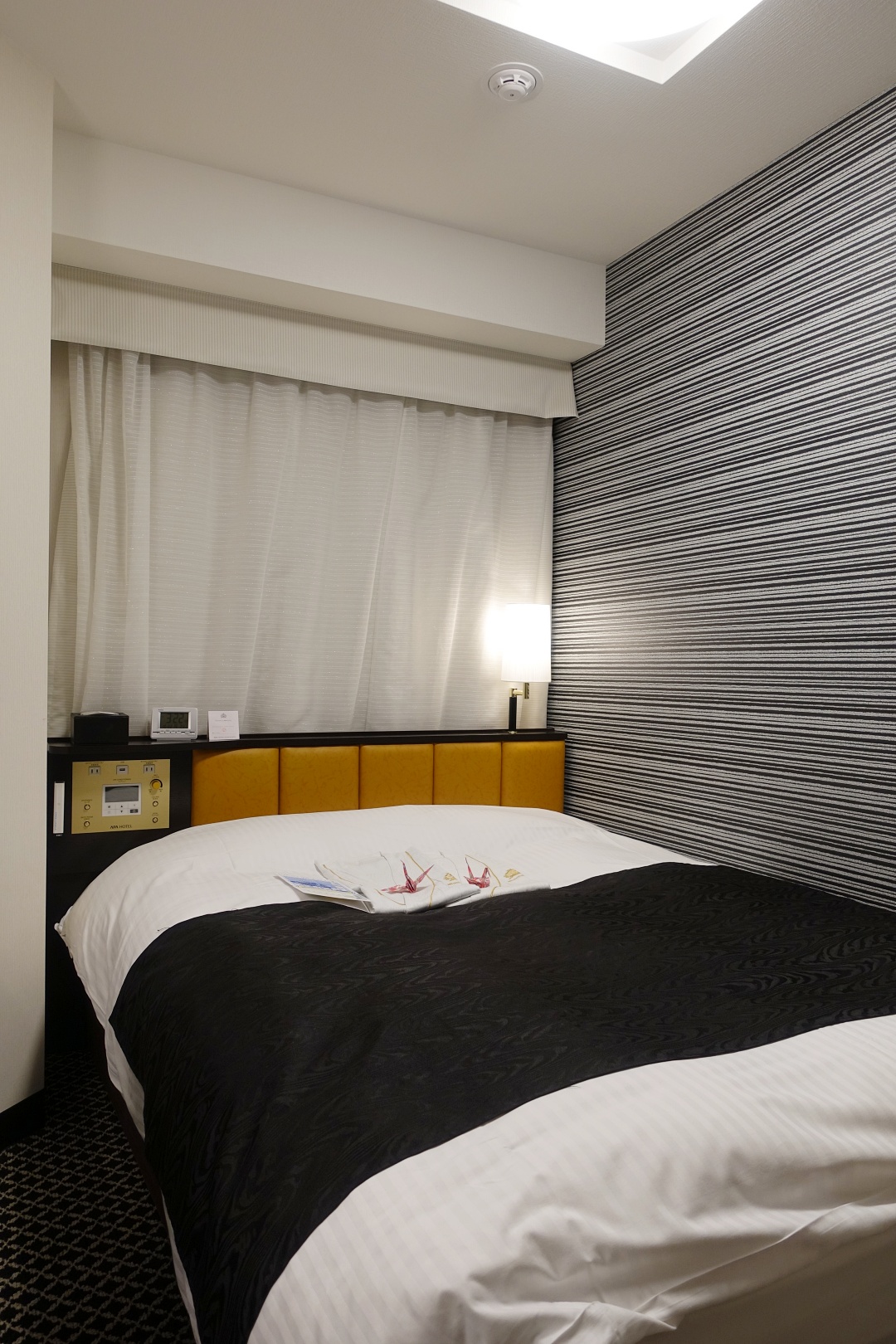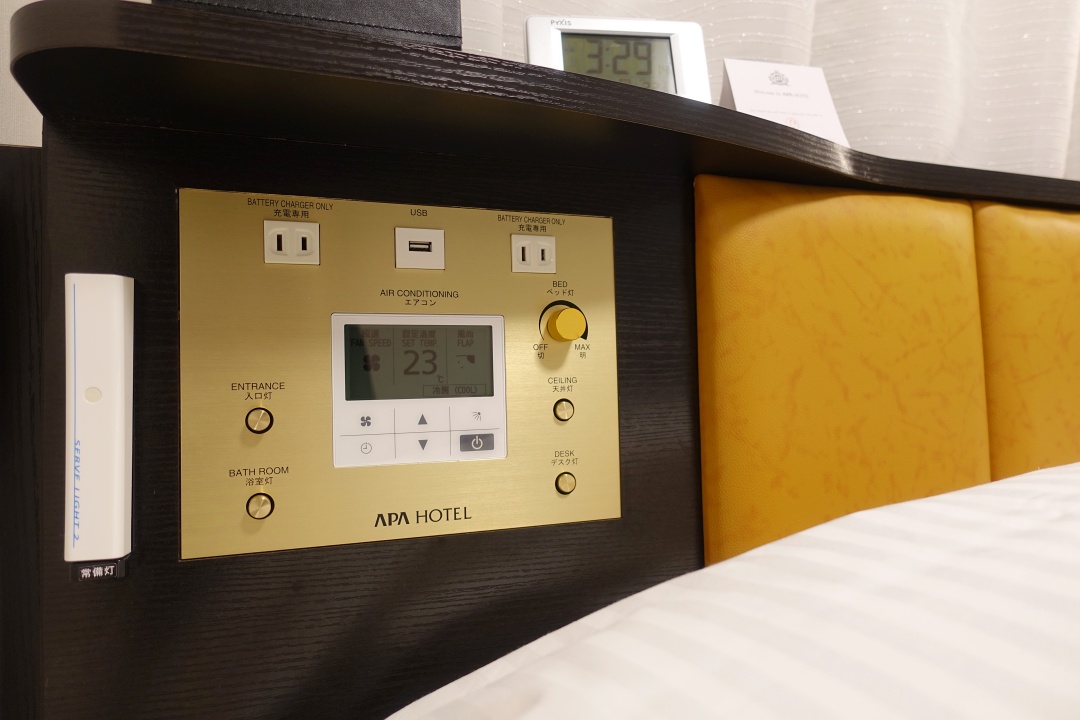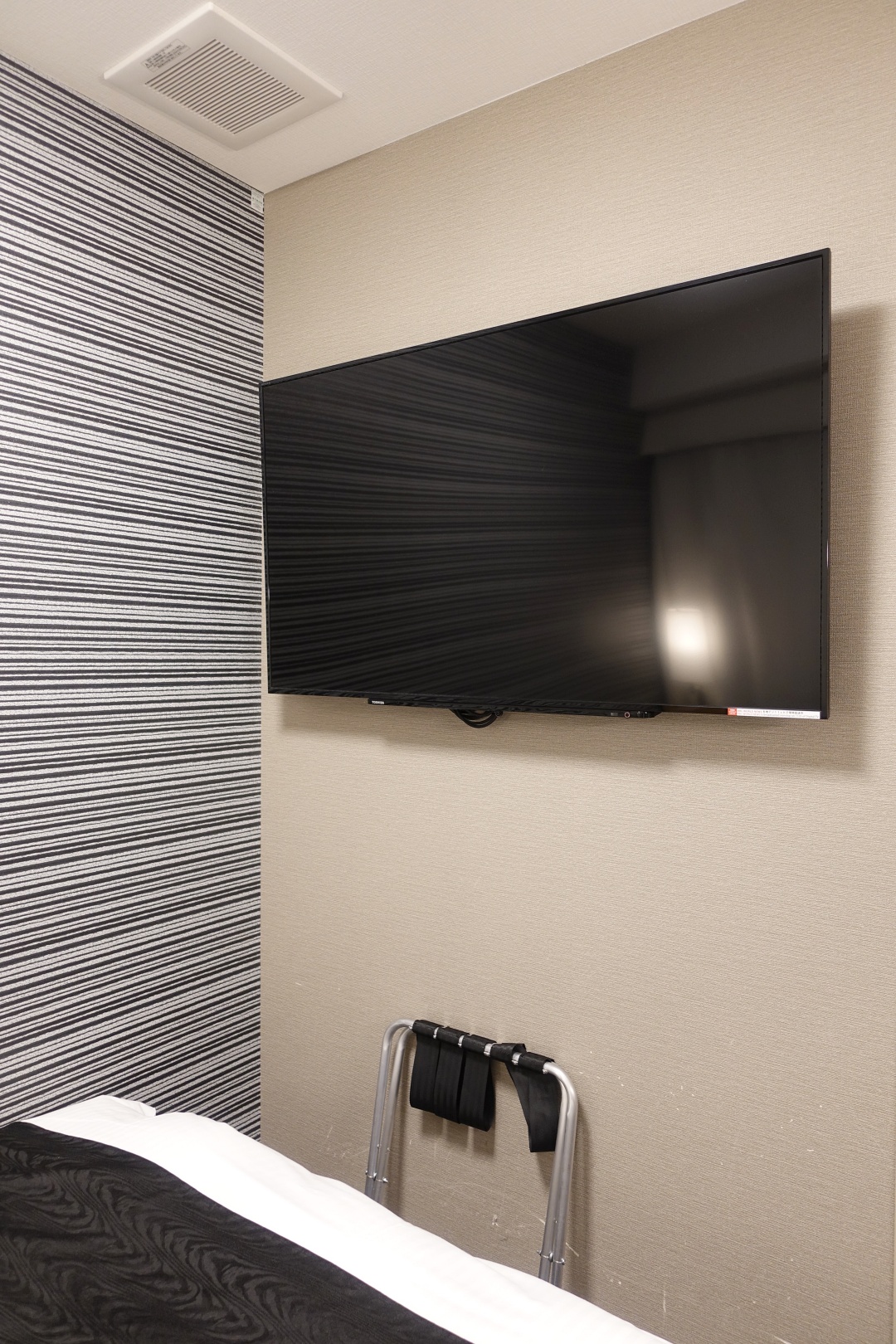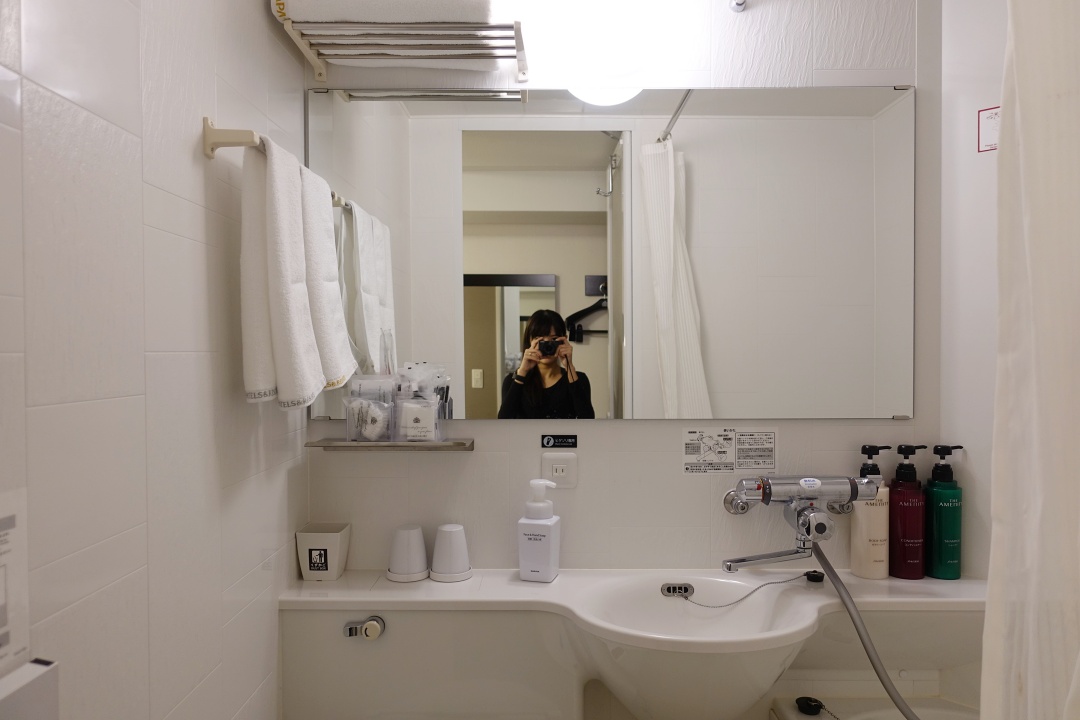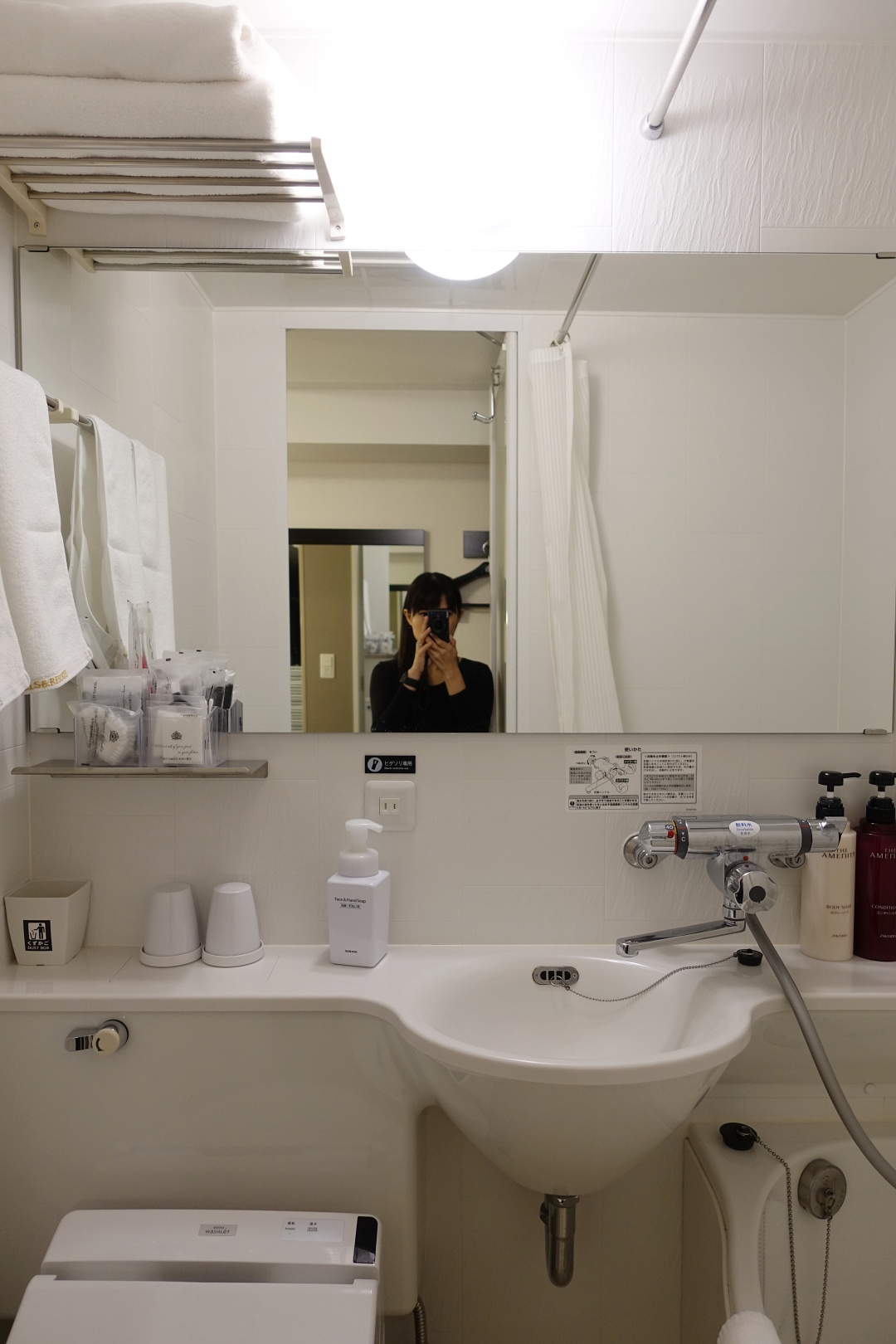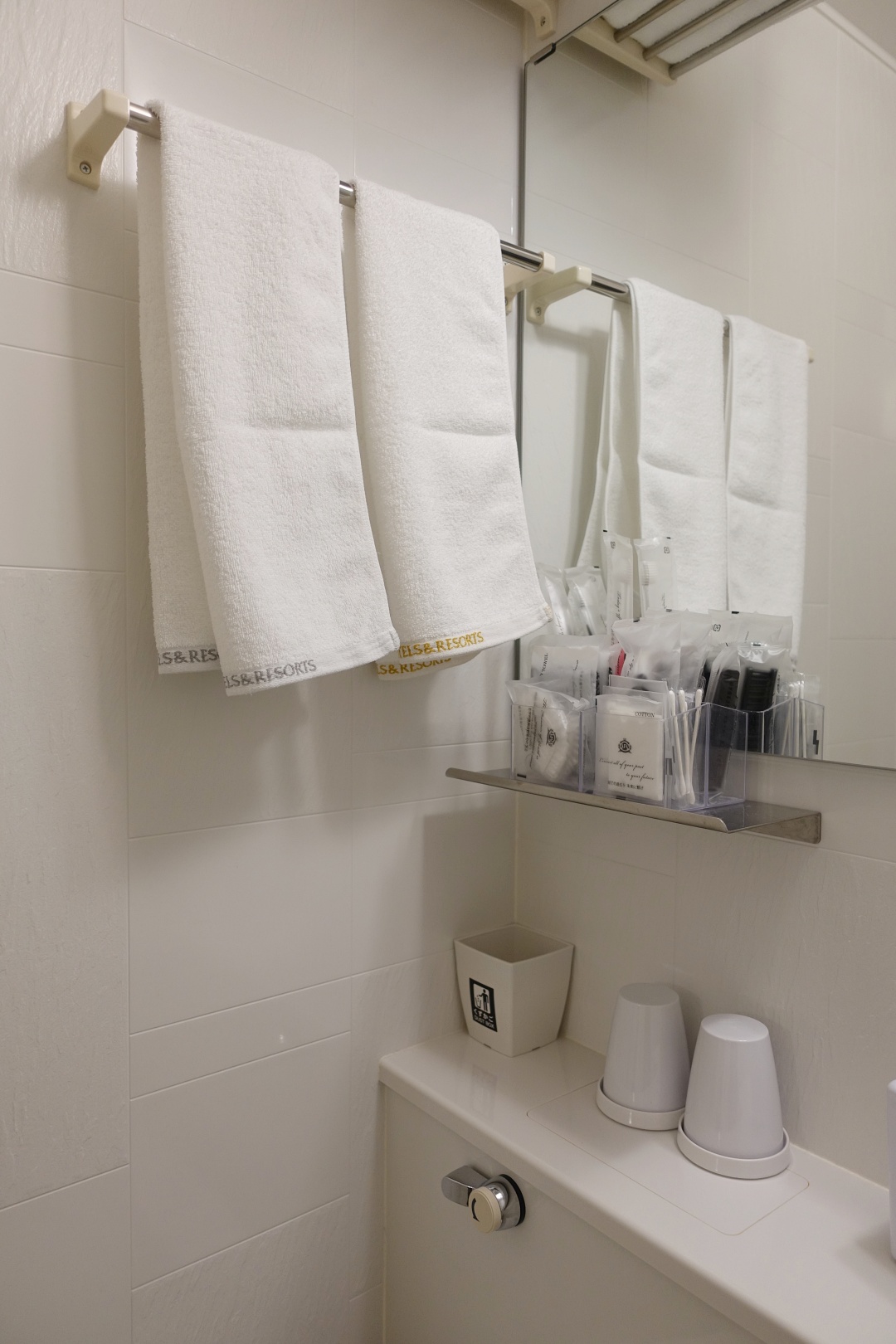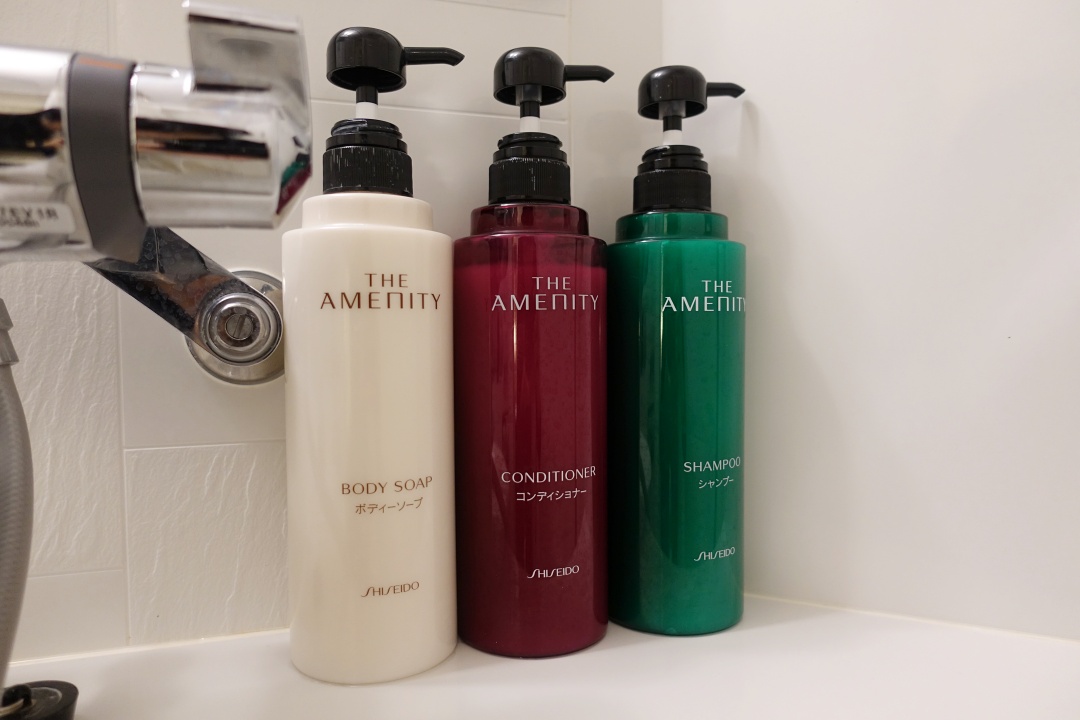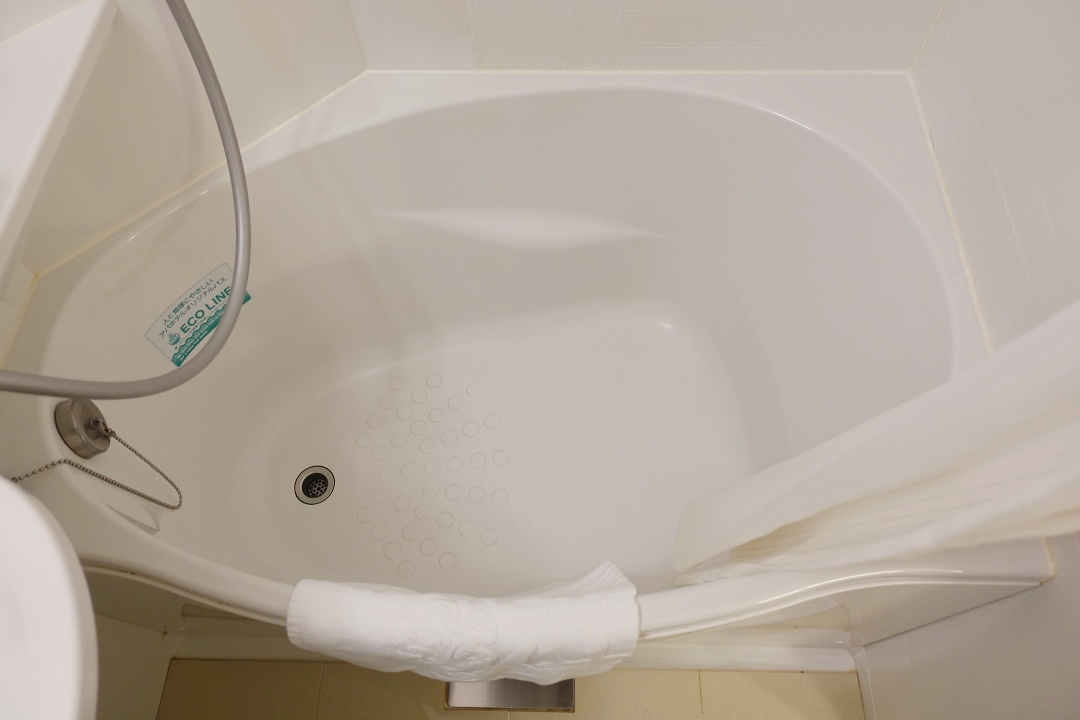 A typical Japanese bathroom that comes with an automatic toilet, a small sink and a bathtub. I love how hotels in Japan alway offer a considerate amount of toiletries. For one, I never had to bring shampoo, conditioner and shower gel because those provided were good enough. (Most of the time, the hand soap also double up as a facial soap.)
---
Took a short rest at the hotel (since we had a red-eye flight) and only went out for dinner at around 19:00 – 20:00.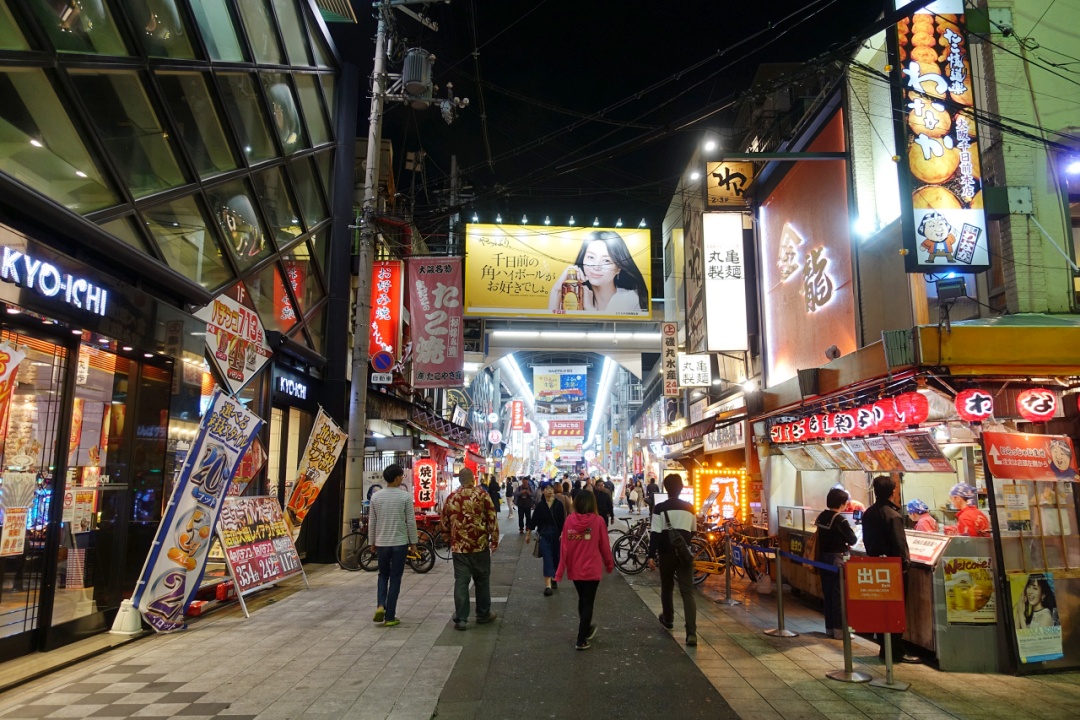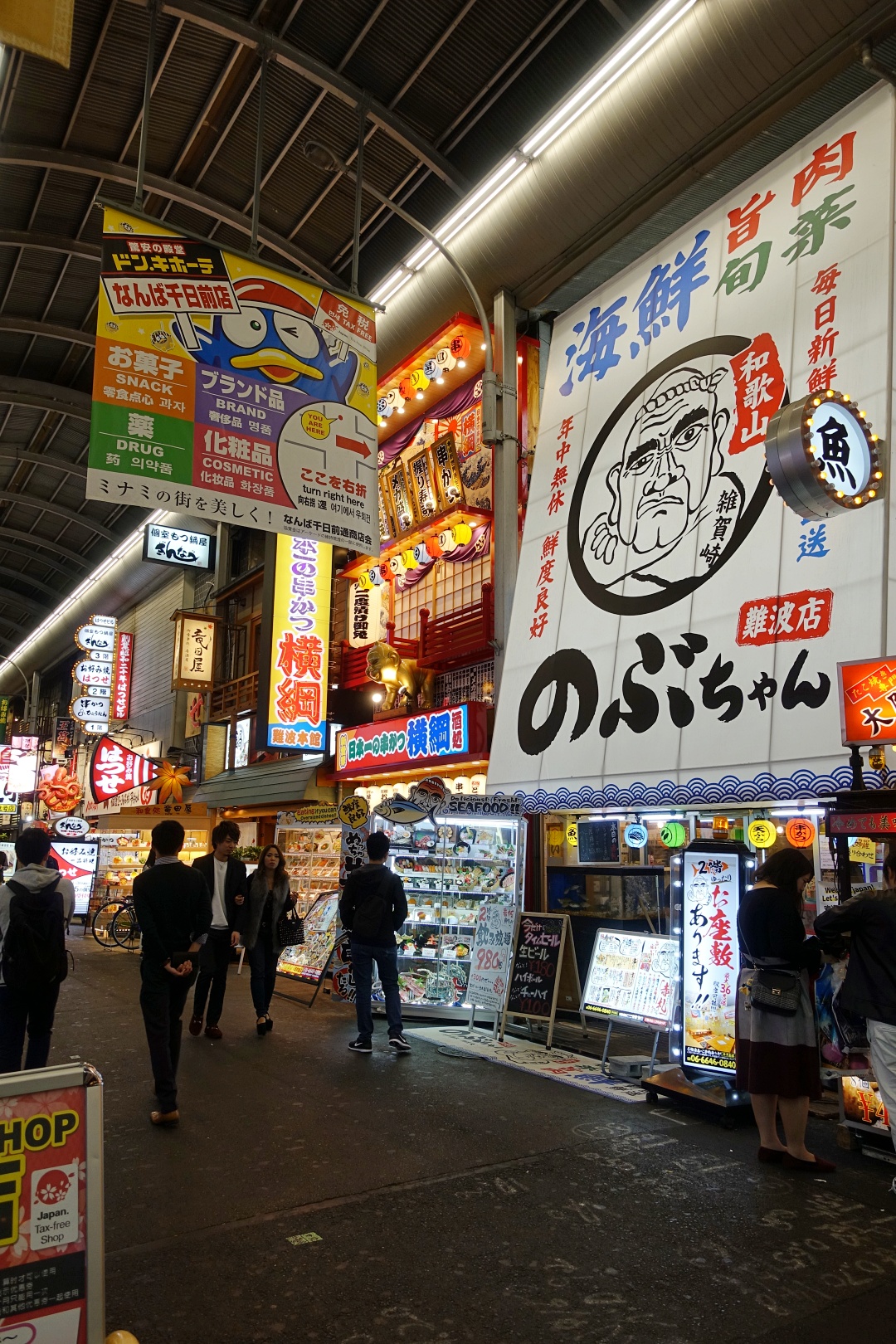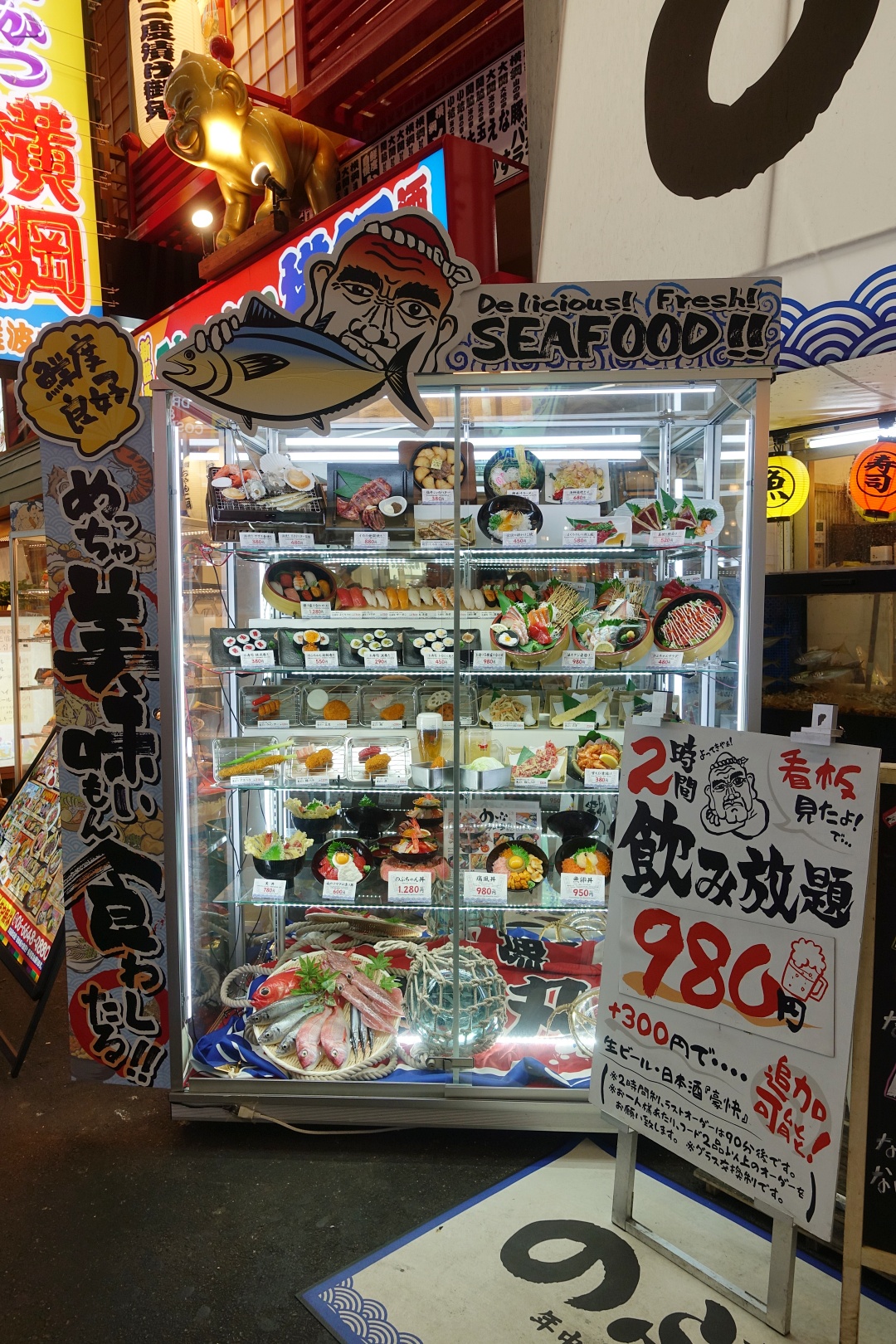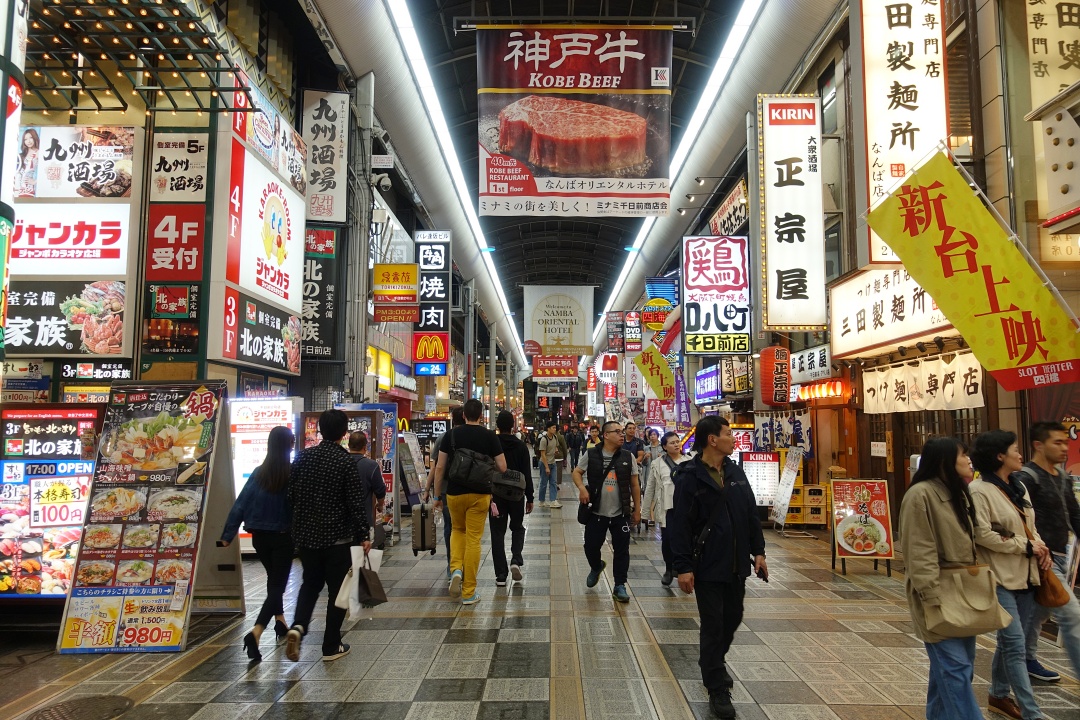 There were so many restaurants and sushi bars available in the area that we had a hard time picking one. We eventually settled for a sushi place that offers sushi at JPY 130 + tax/plate.
Kaiten-Sushi Nipponichi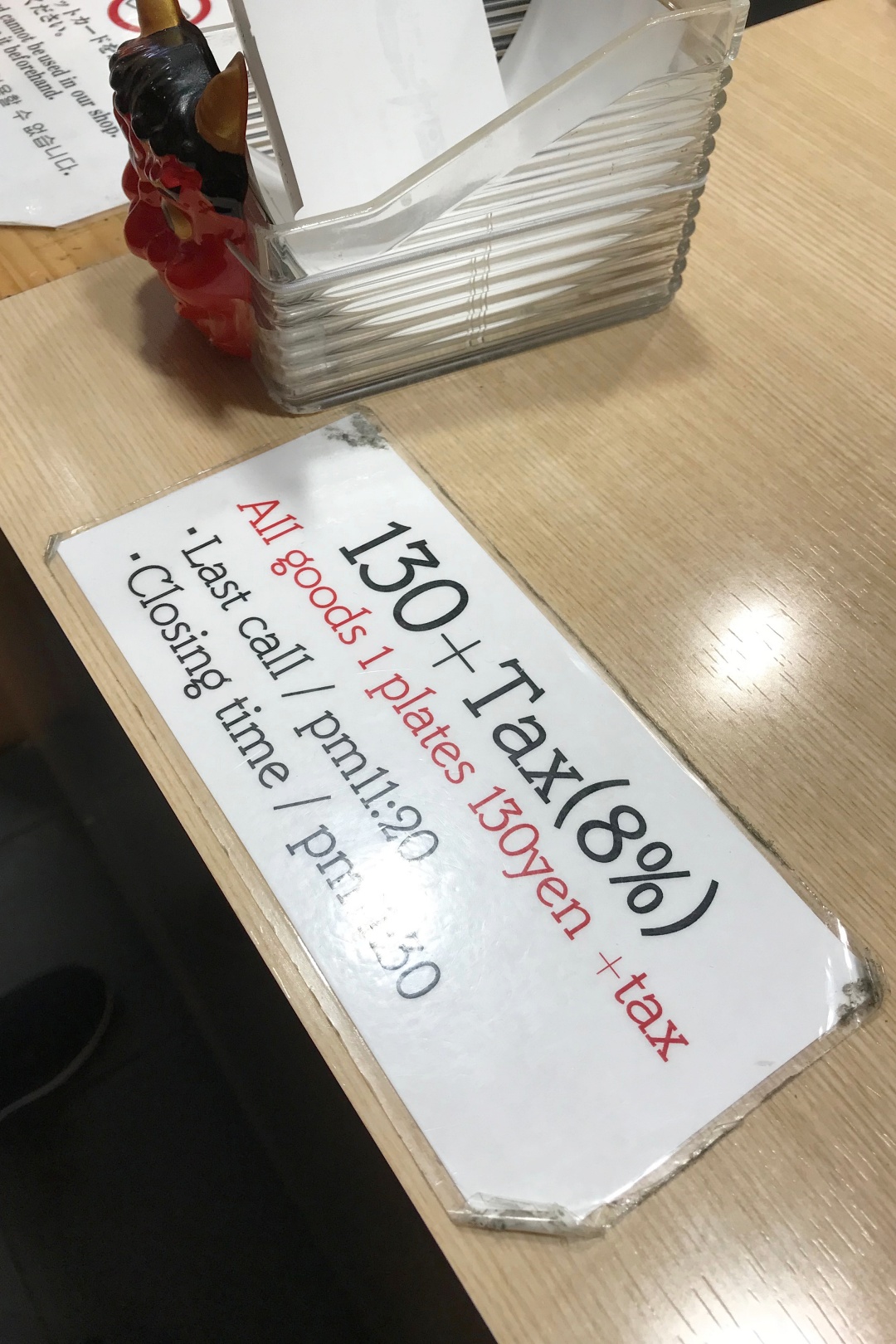 📍Kaiten-Sushi Nipponichi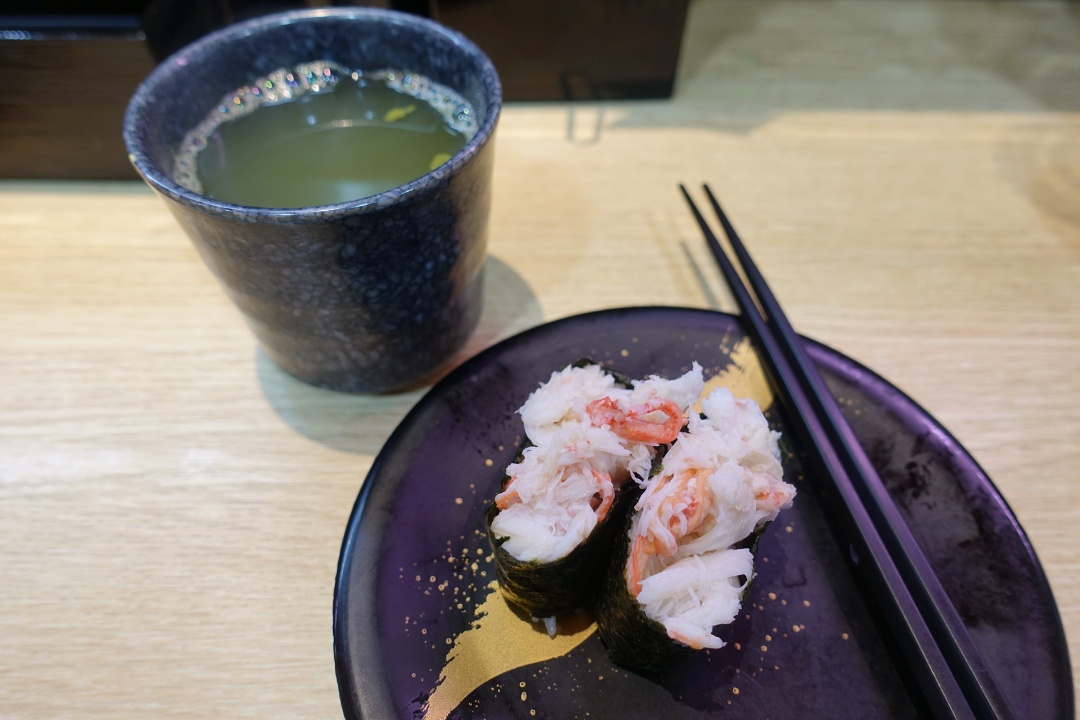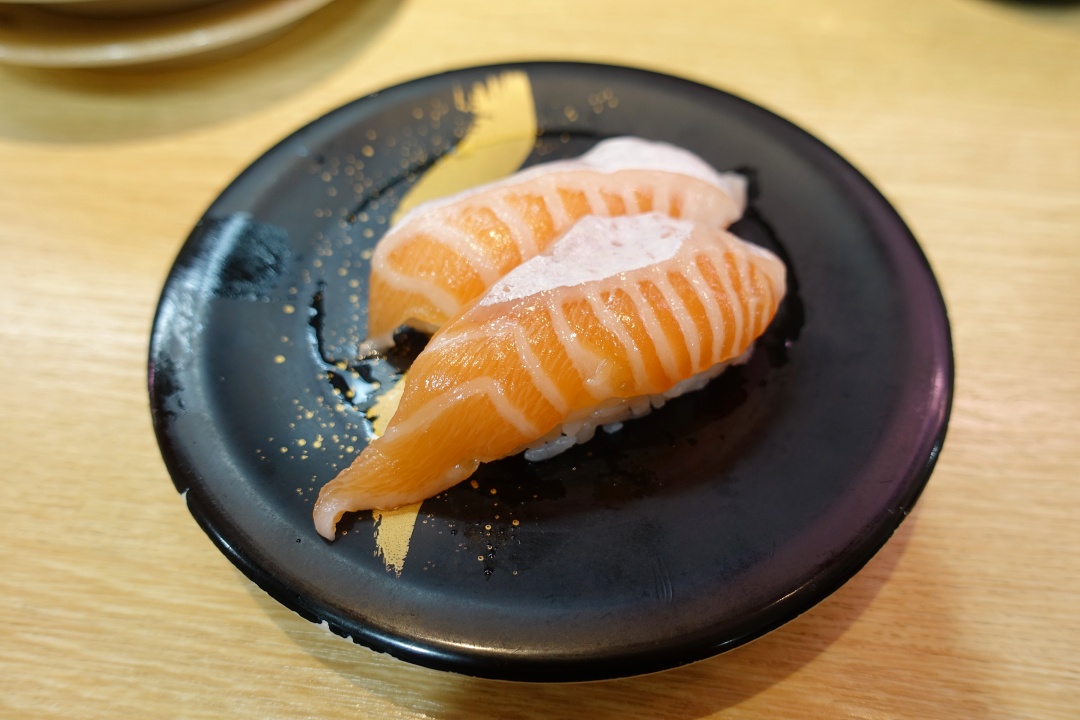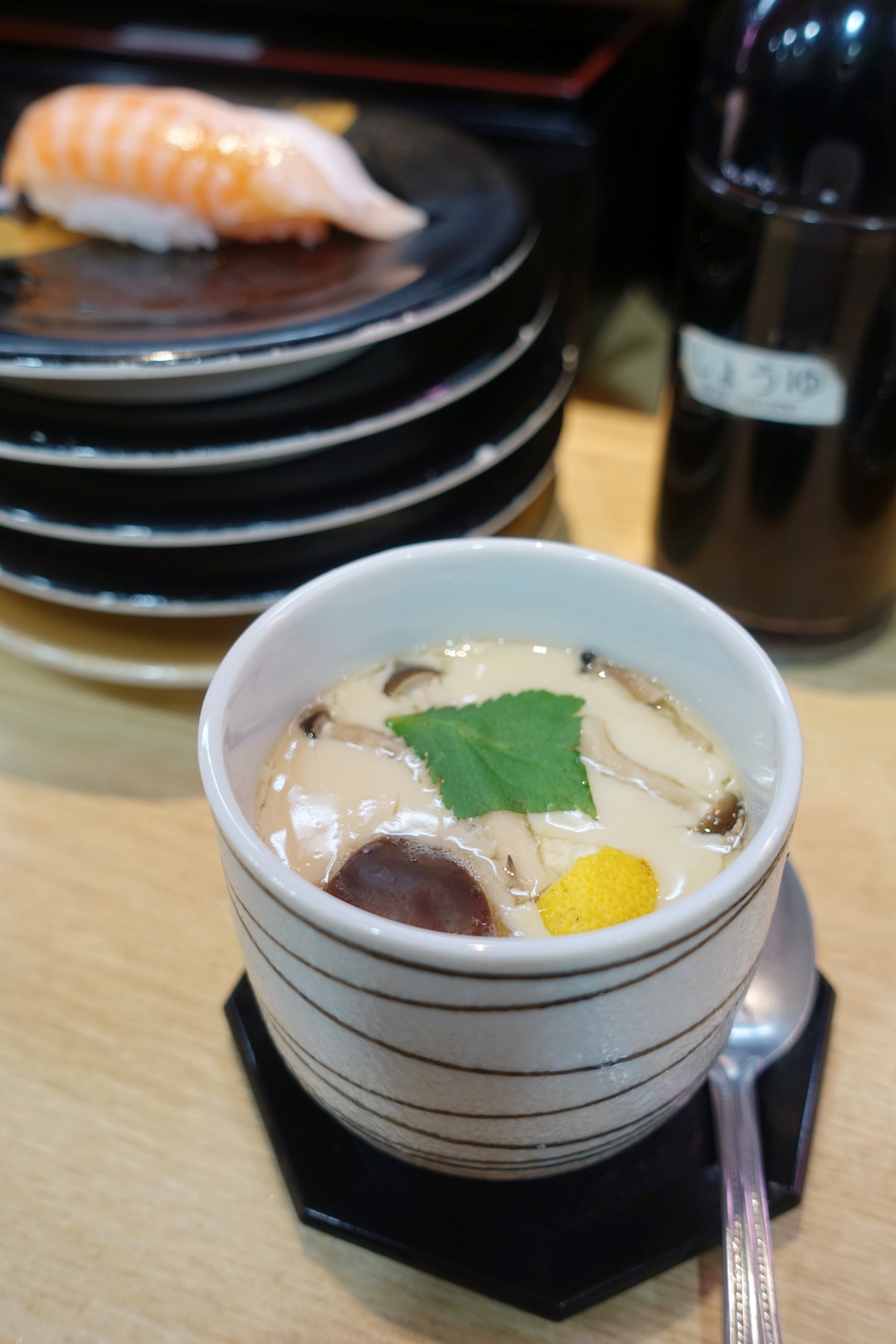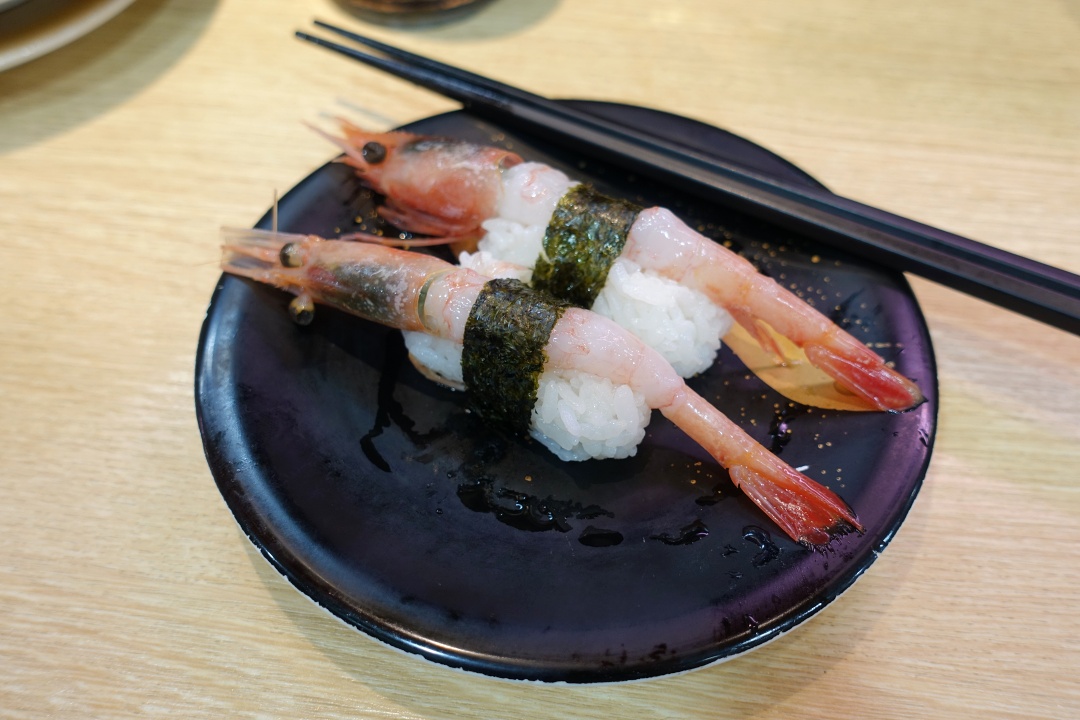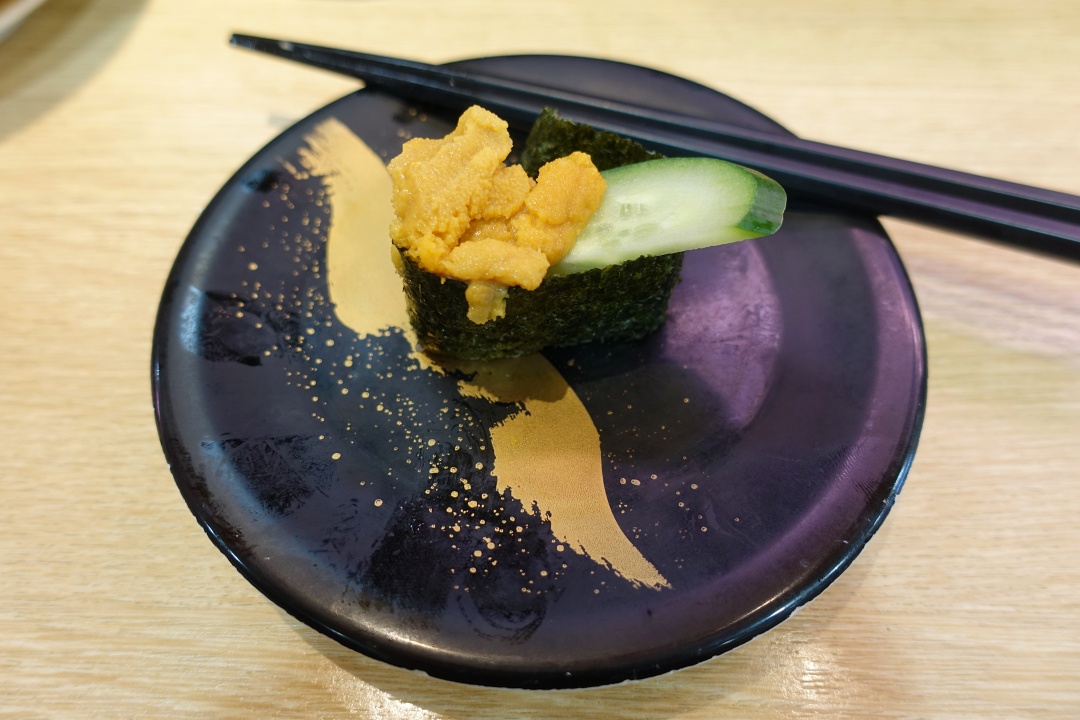 It was my first time having sea urchin sushi and it was bad. I need to find a proper restaurant the next time when I want to have sea urchin. Apparently, I should be able to taste the freshness of the sea, and not have it feels as if it came from sewage.
Aside from the sea urchin sushi, the other sushi tasted reasonably average. Not a place I would recommend. But for the price (JPY 130 + tax/plate), I think it's justifiable. We paid JPY 2,052 for our meal at Kaiten-Sushi Nipponichi.
Kaiten-Sushi Nipponichi
Address: 12-41 Nanbasennichimae, Chuo Ward, Osaka, 542-0075, Japan
Opening Hours: Daily, 10:30 – 23:30
Round 1 Stadium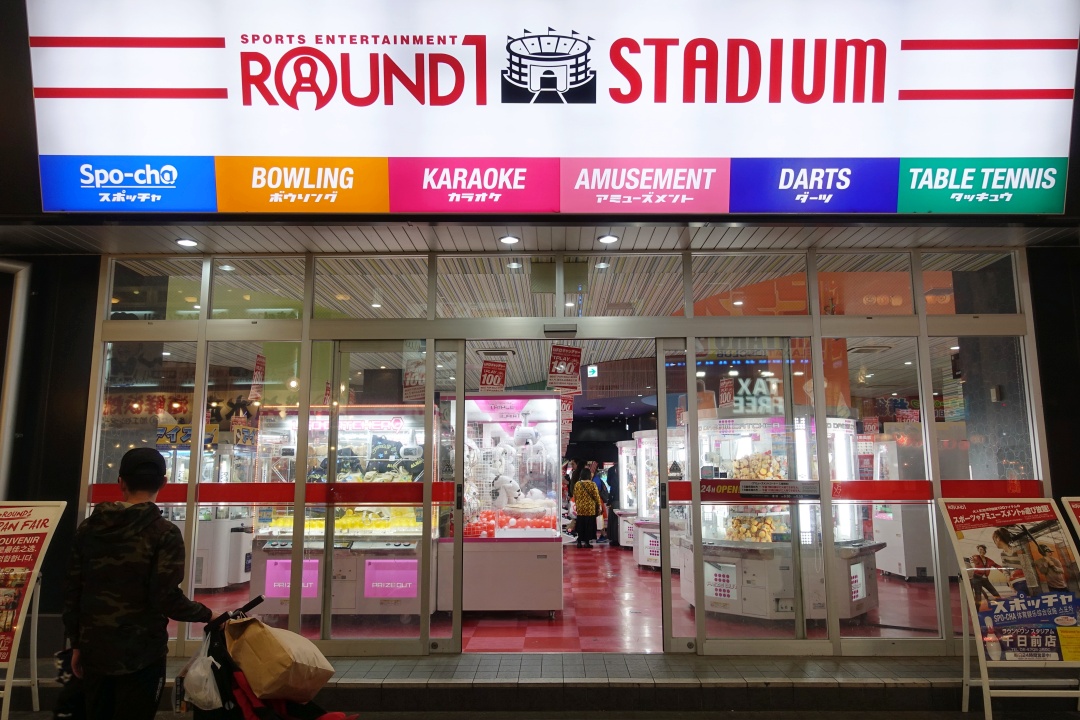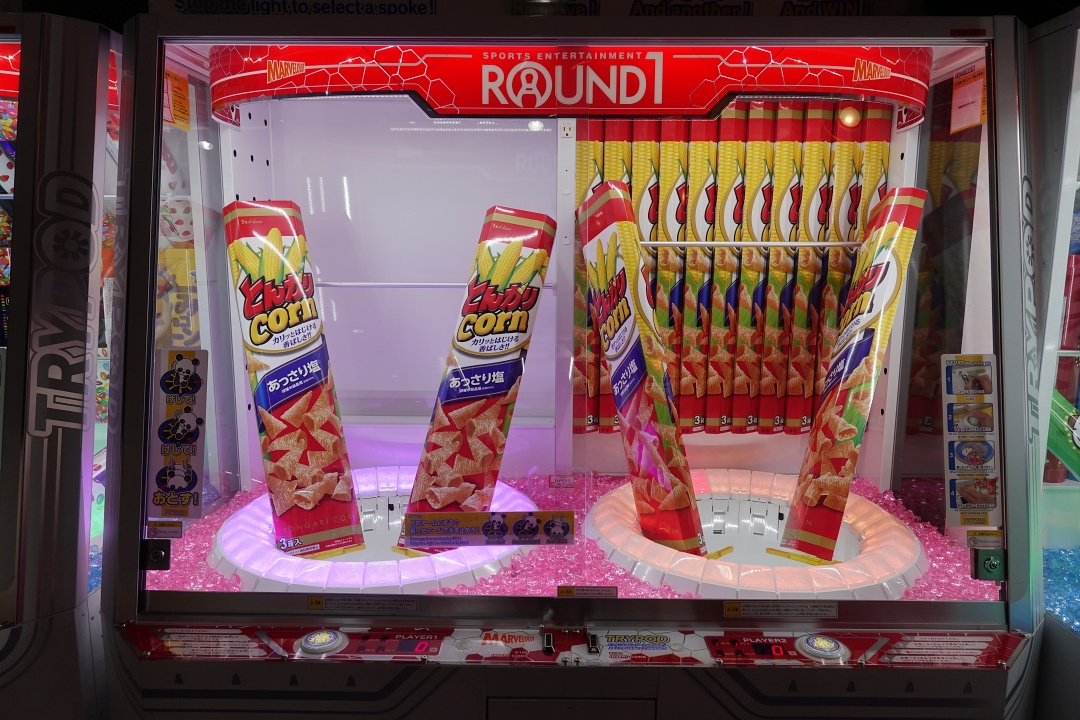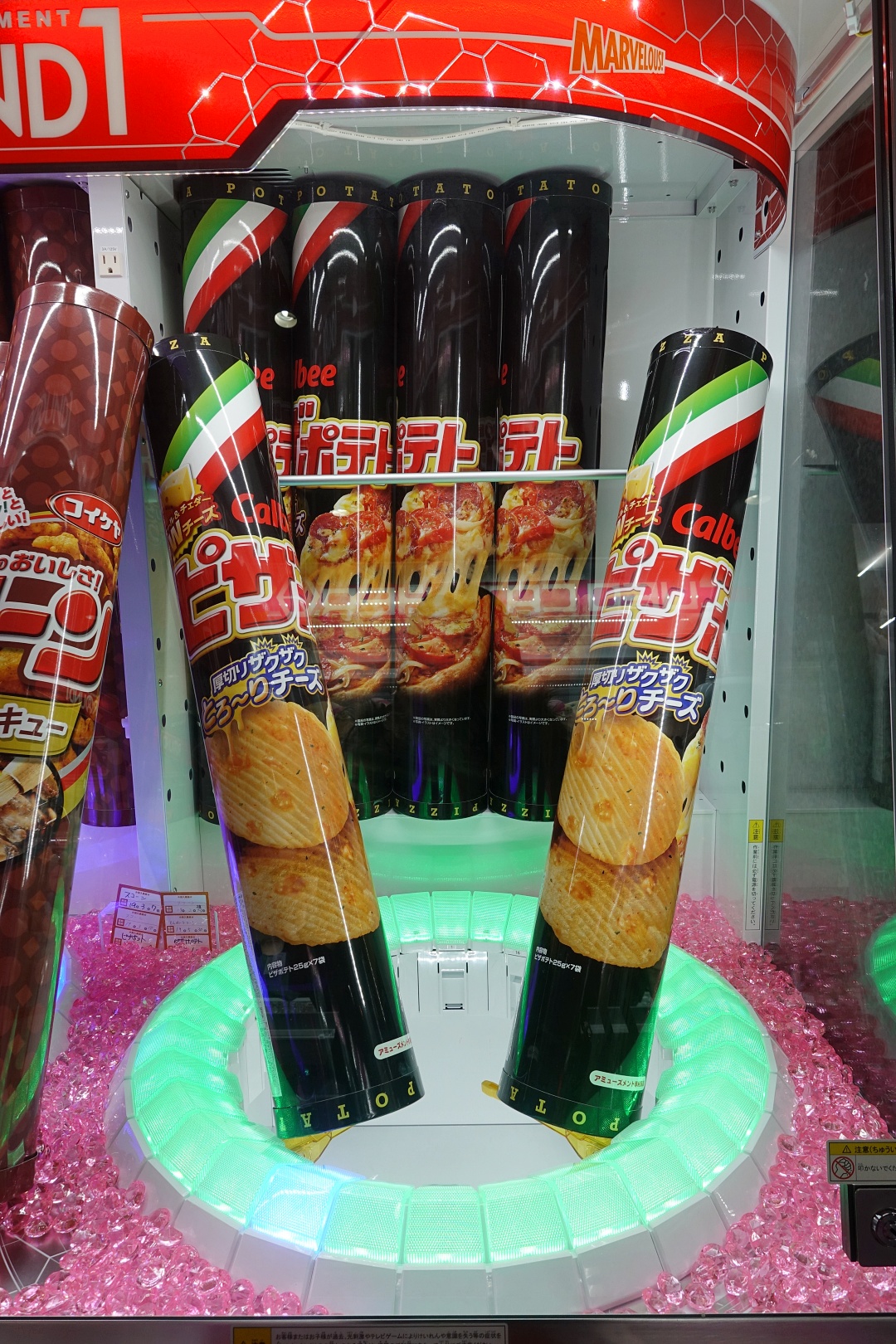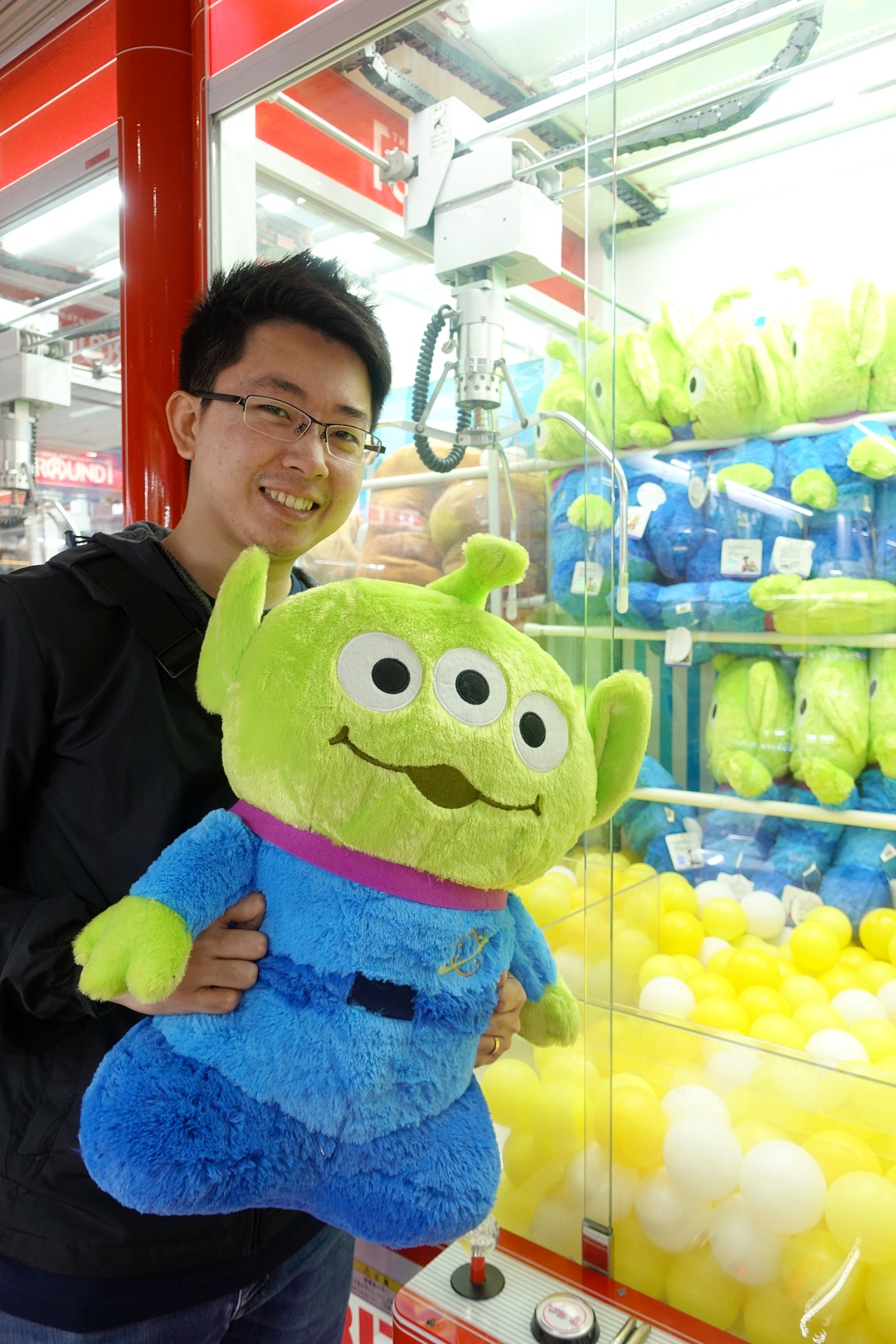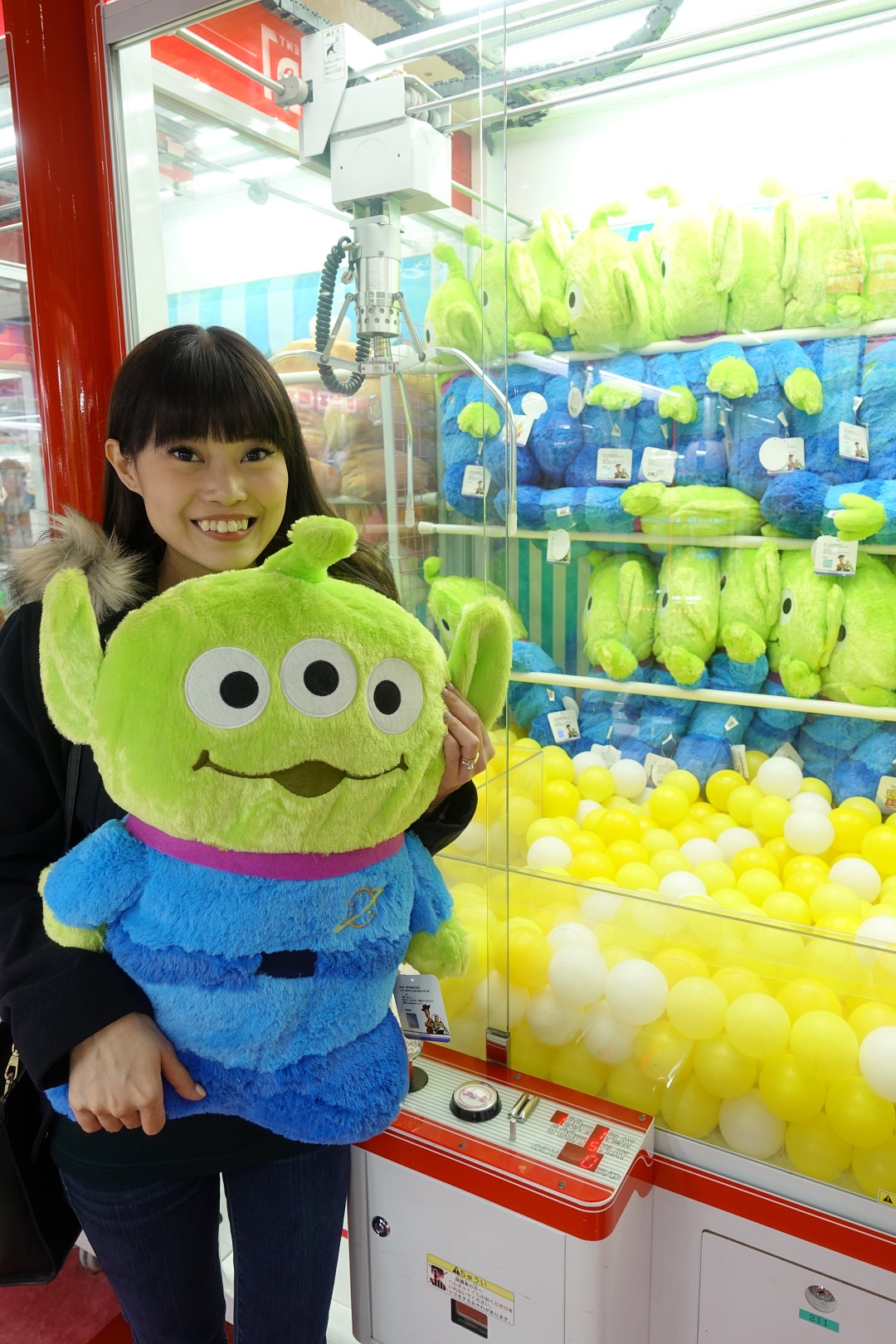 Spent a significant amount of time and money at Round 1 arcade after having our dinner. But at least we managed to get my favourite three-eye alien?
Taking into account the number of plushes we got the last time we went to Tokyo, I really tried to restrict the Husband from spending too much time/money at the arcades in Osaka. Successfully stopped him from playing in the afternoon, but everything went out of the window when we saw the Alien plush that night. Still, I/we tried only to get those plush/figurines that we like and not just play for the sake of wanting to play.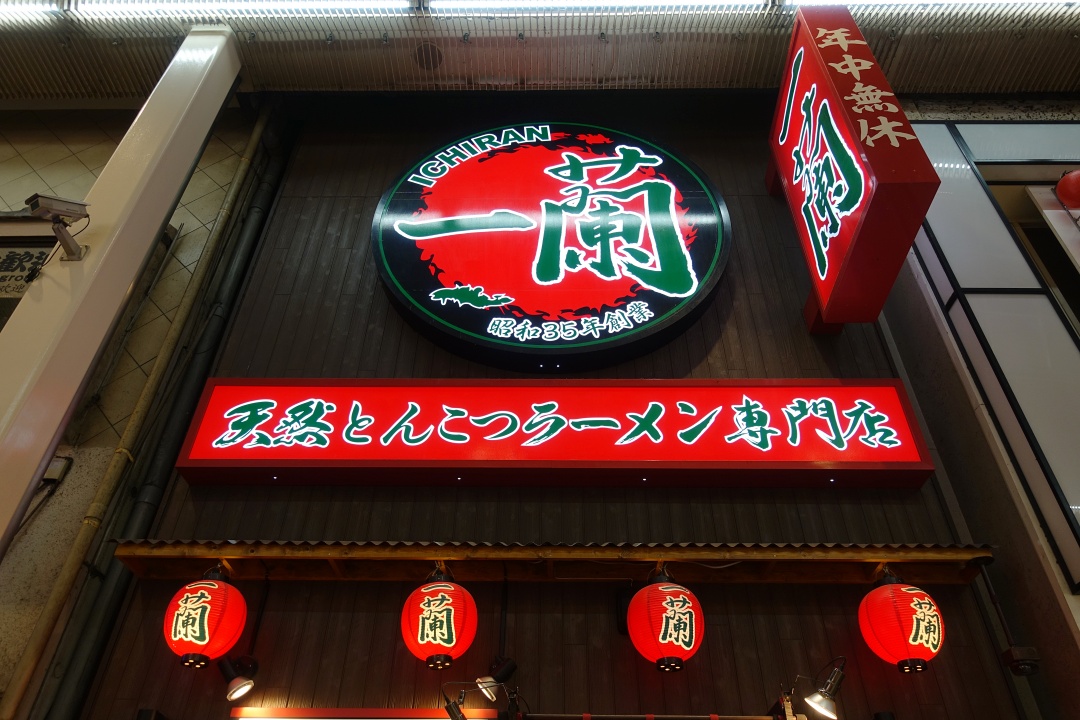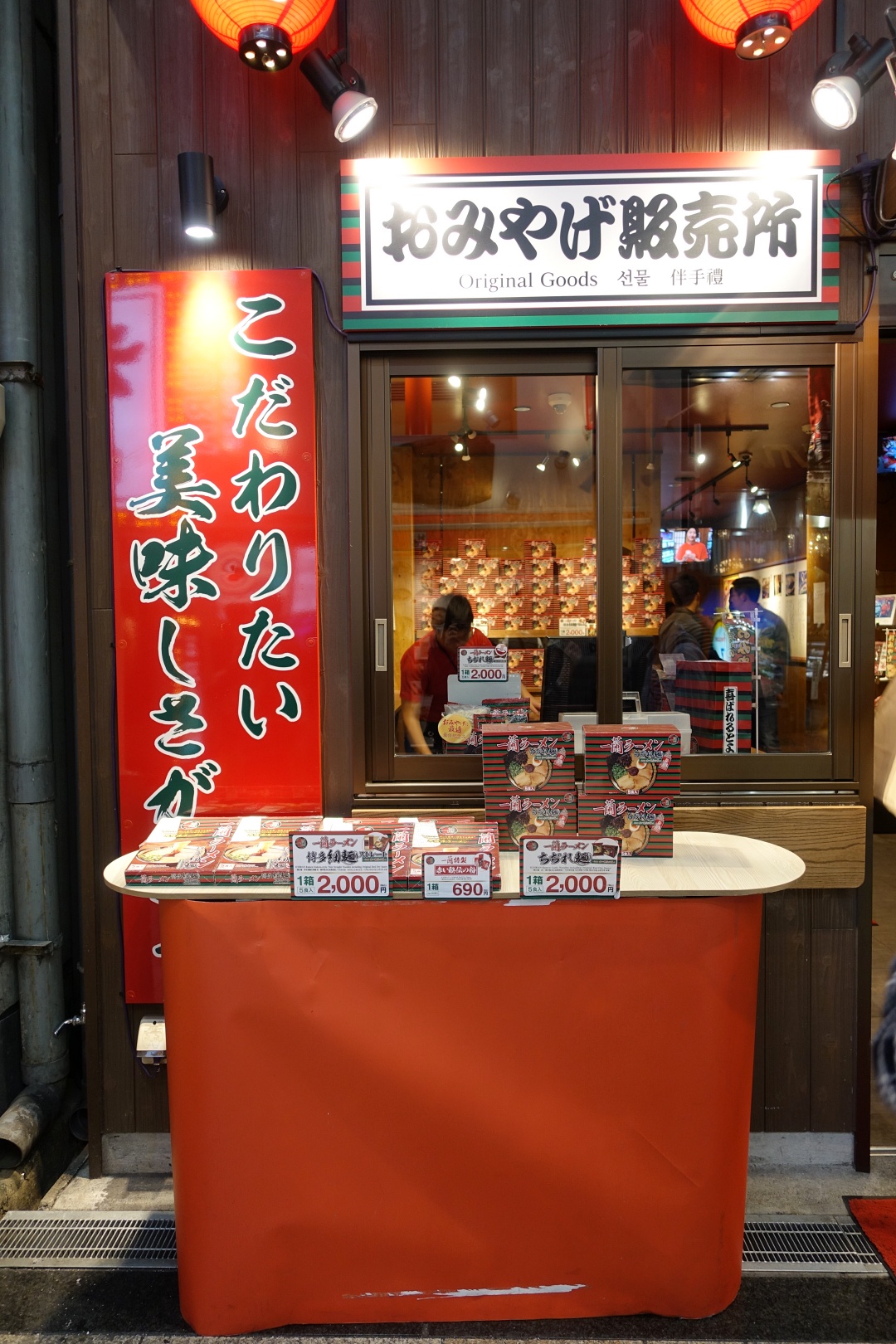 Chance upon Ichiran Ramen. However, we didn't have any appetite for another bowl of noodles after having sushi. Told ourselves we had plenty of time to come back again while we were in Japan.
Dotonbori
Finally came to the heart of Osaka – the Dotonbori area!
To be honest, even after being there, I'm still unsure which area/street fall under "Dotonbori". I suppose anywhere near the running Glico Man sign? As I mentioned earlier, our trip to Osaka went in a flash, and I hardly knew the places I went.
According to Google Map, it takes approximately ten minutes by foot to get from APA Namba Ekihigashi Hotel to Dotonbori.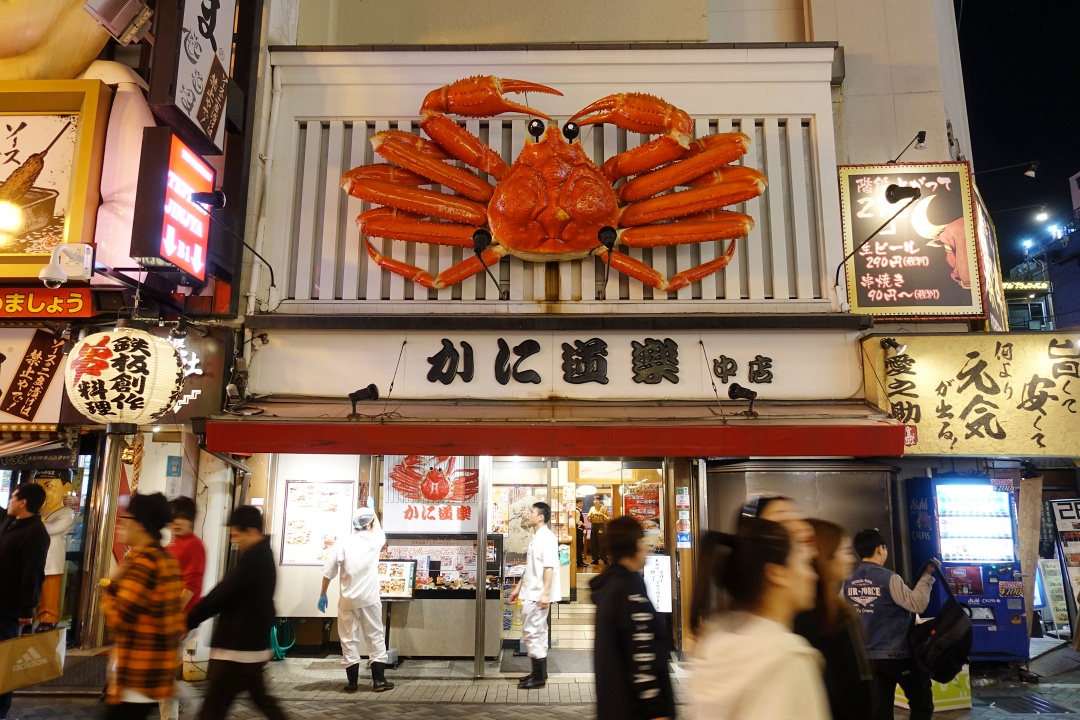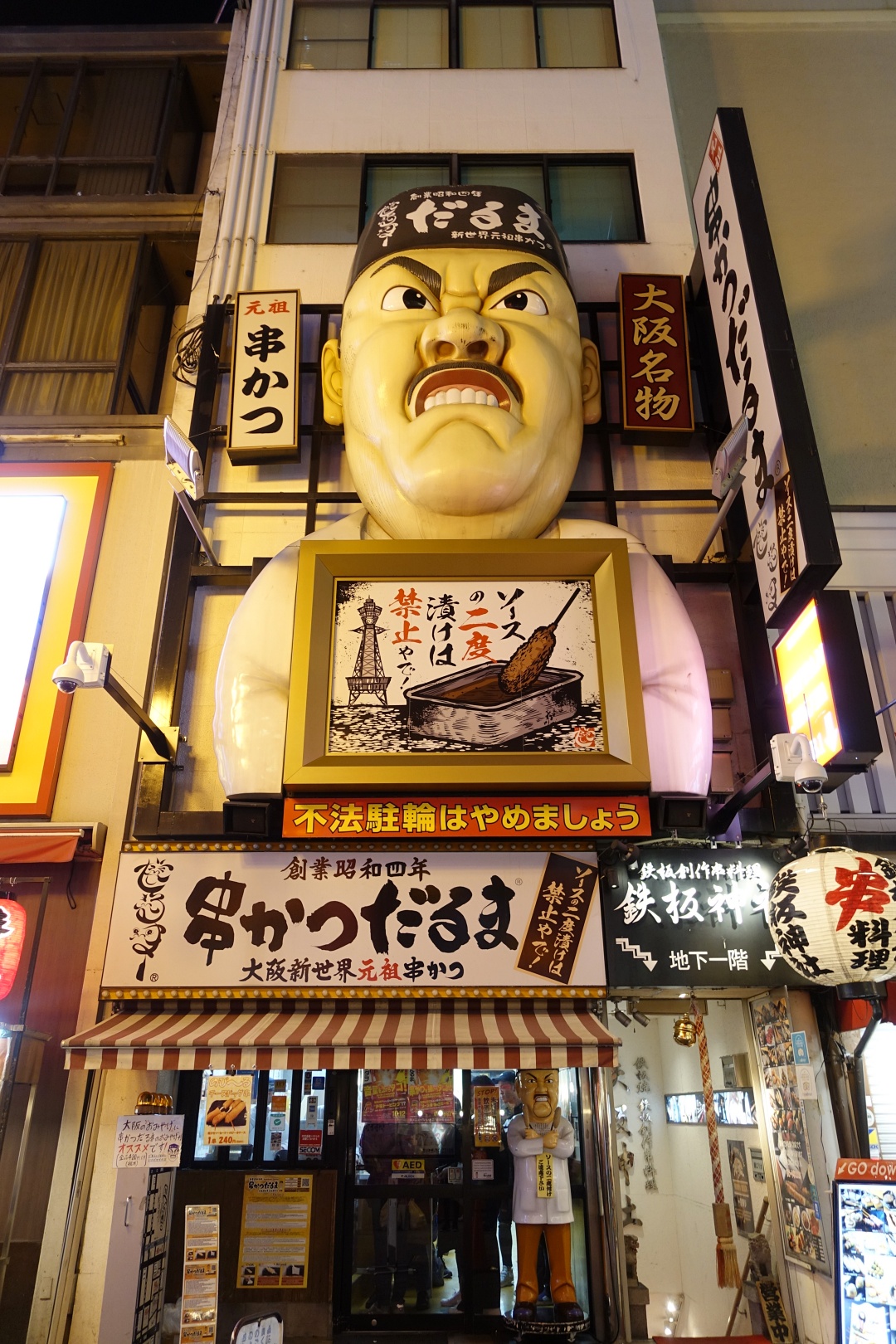 📍Kushikatsu Daruma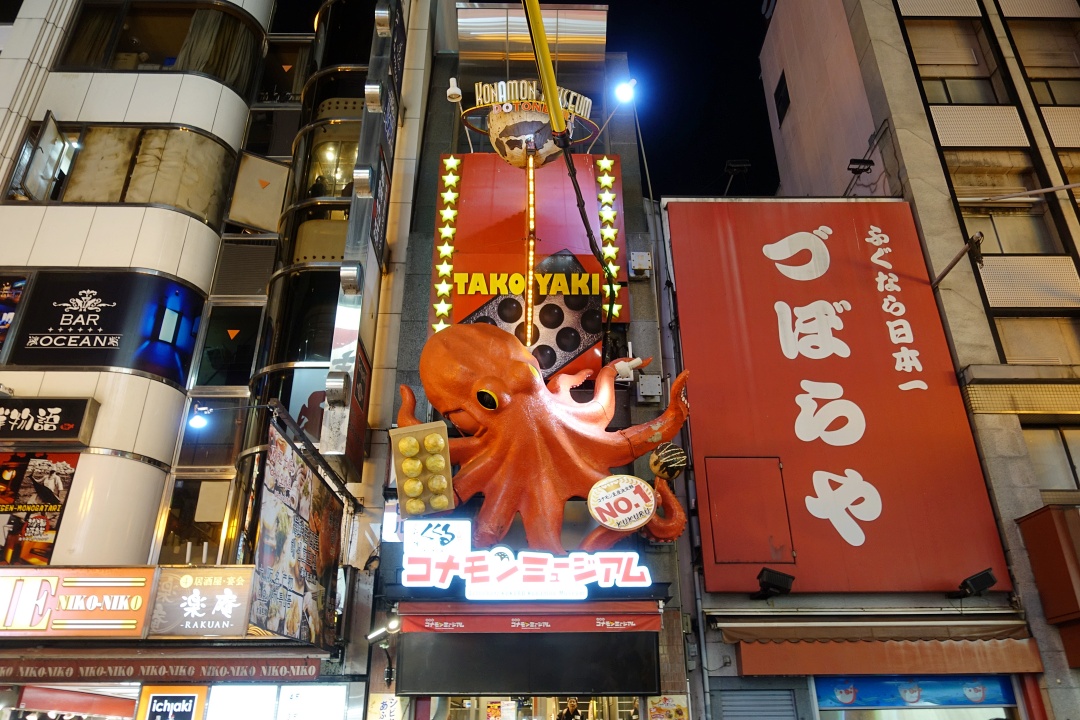 📍Dotonbori KUKURU Konamon Museum
Aside from getting takoyaki on the first floor, there is apparently a museum on the second floor, and you get to make takoyaki samples on the third floor. Wow!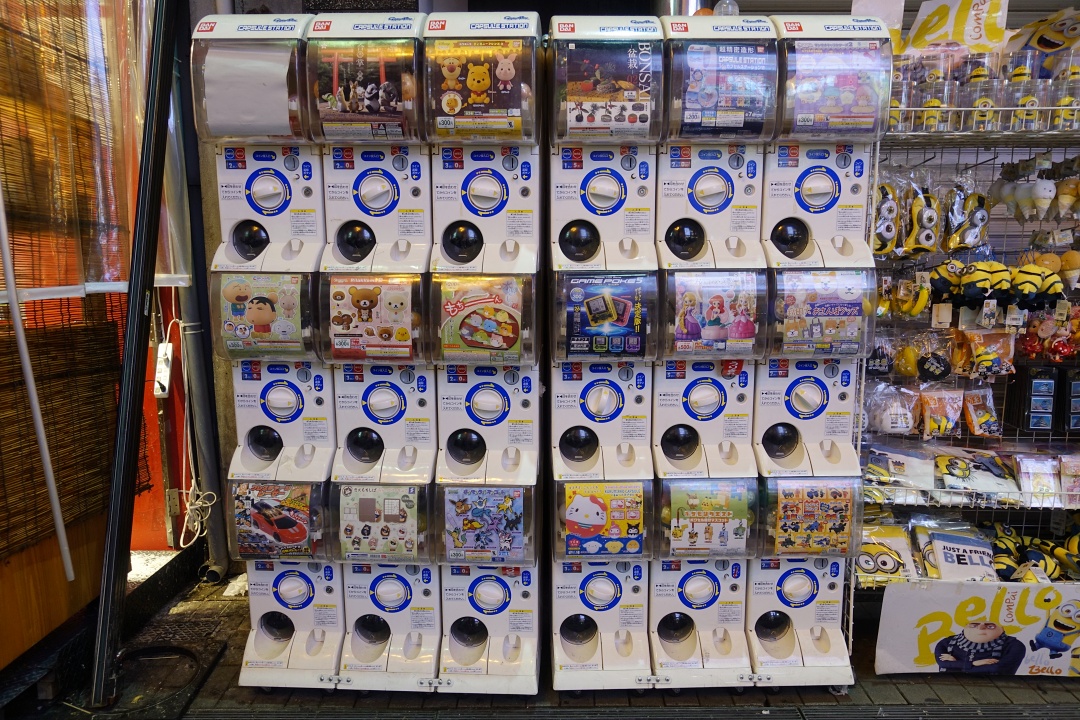 I love how gacha machines can be easily seen/found on the streets in Japan. It always worth checking out because you never knew if there will be any special or past season gacha available in one of those machines.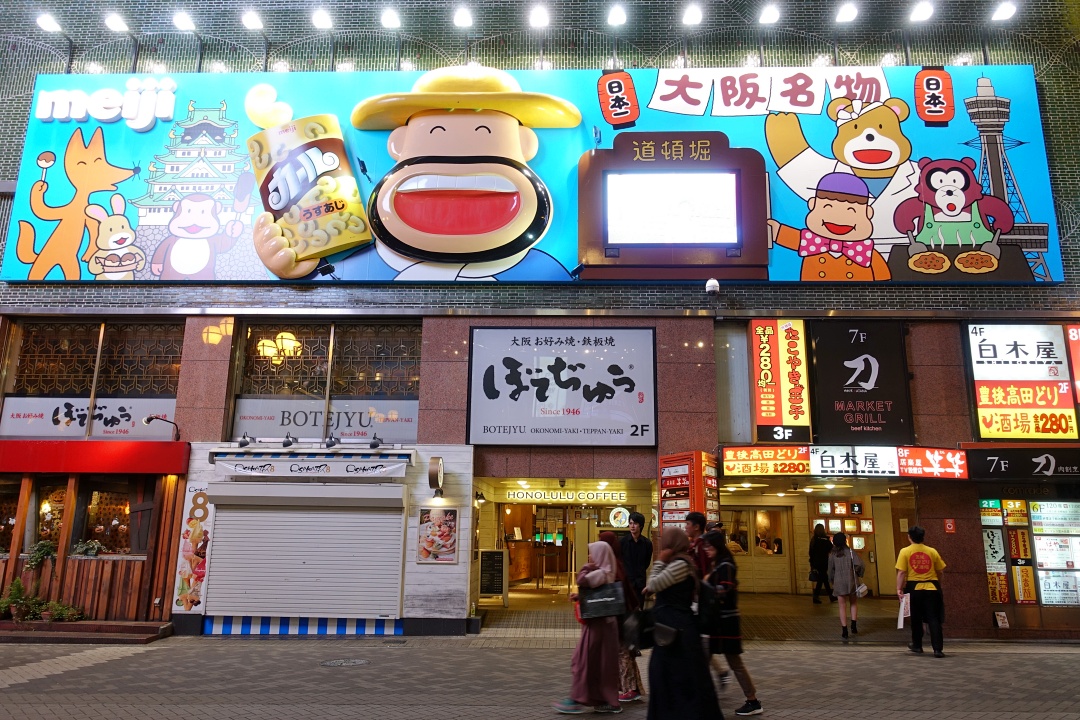 Major love for the massive 3D signboards and brightly lited street in this area!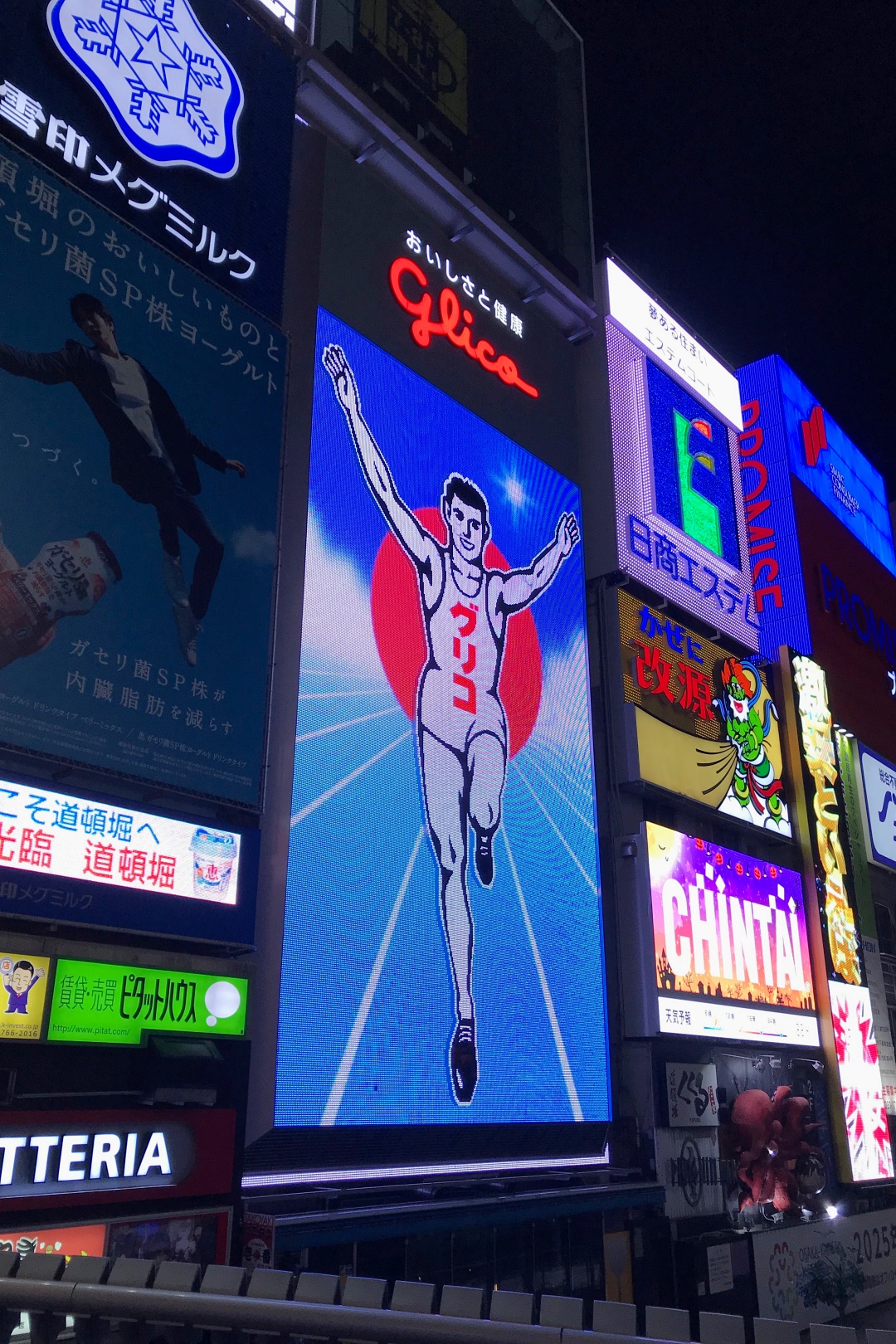 📍Glico's Running Man Signboard
And at last, we made our way to the Glico Man sign! It was such a symbol of the city, so of course, we had to go there for a photo.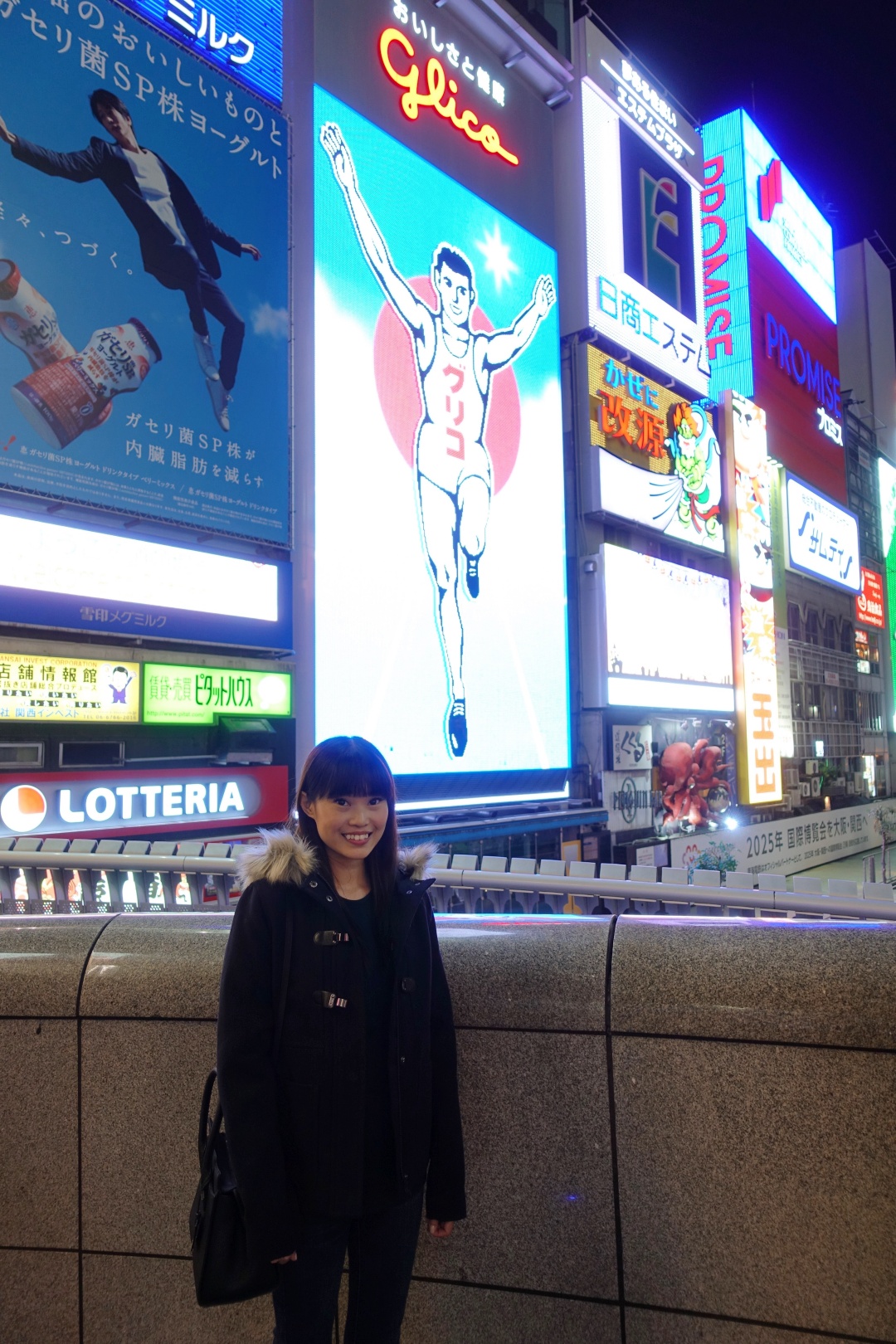 Seem like a trip to Osaka is only completed with a photo here.
The number of people around this area is no joke and we had to literally fight for a spot to take a picture!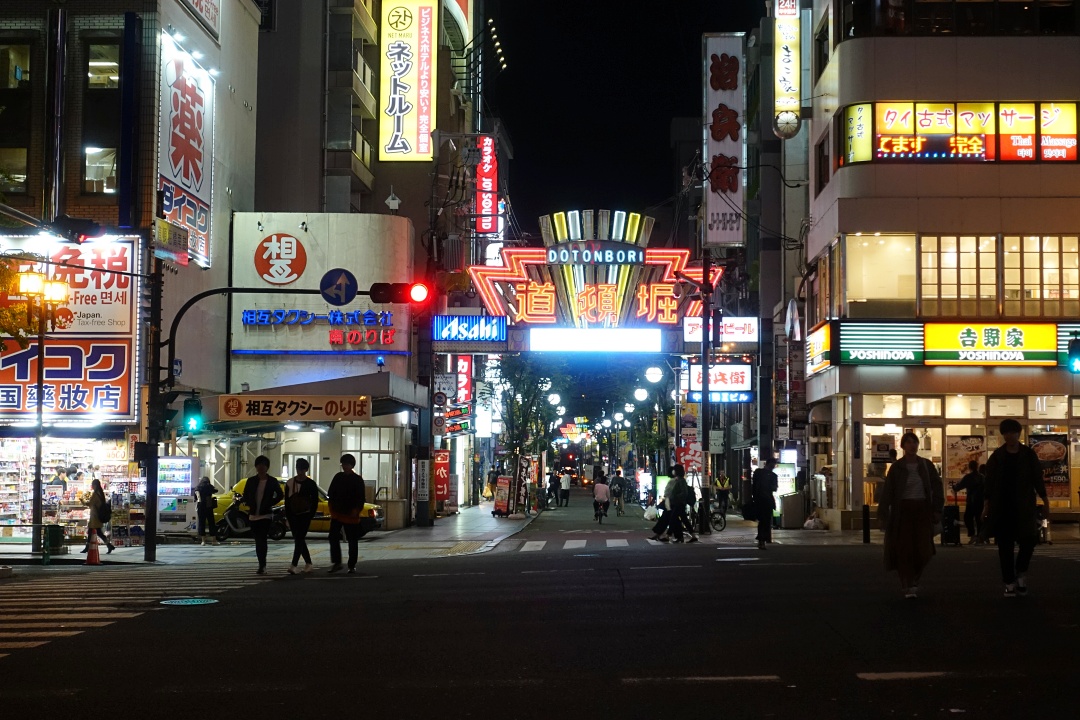 Namba Don Quijote
Our final stop for the day was to Don Quijote!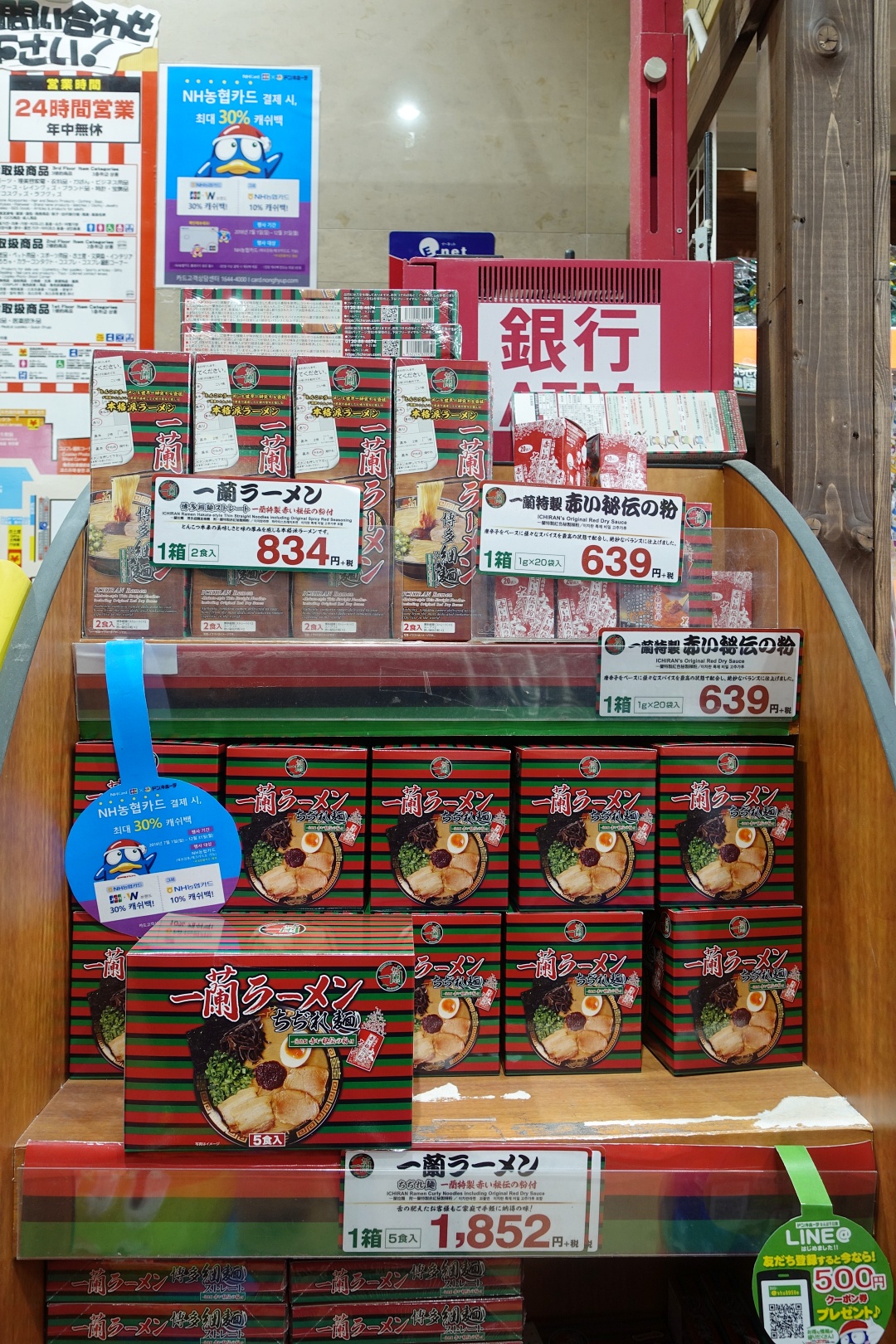 Upon walking in, we were immediately greeted by these boxes of instant Ichiran Ramen.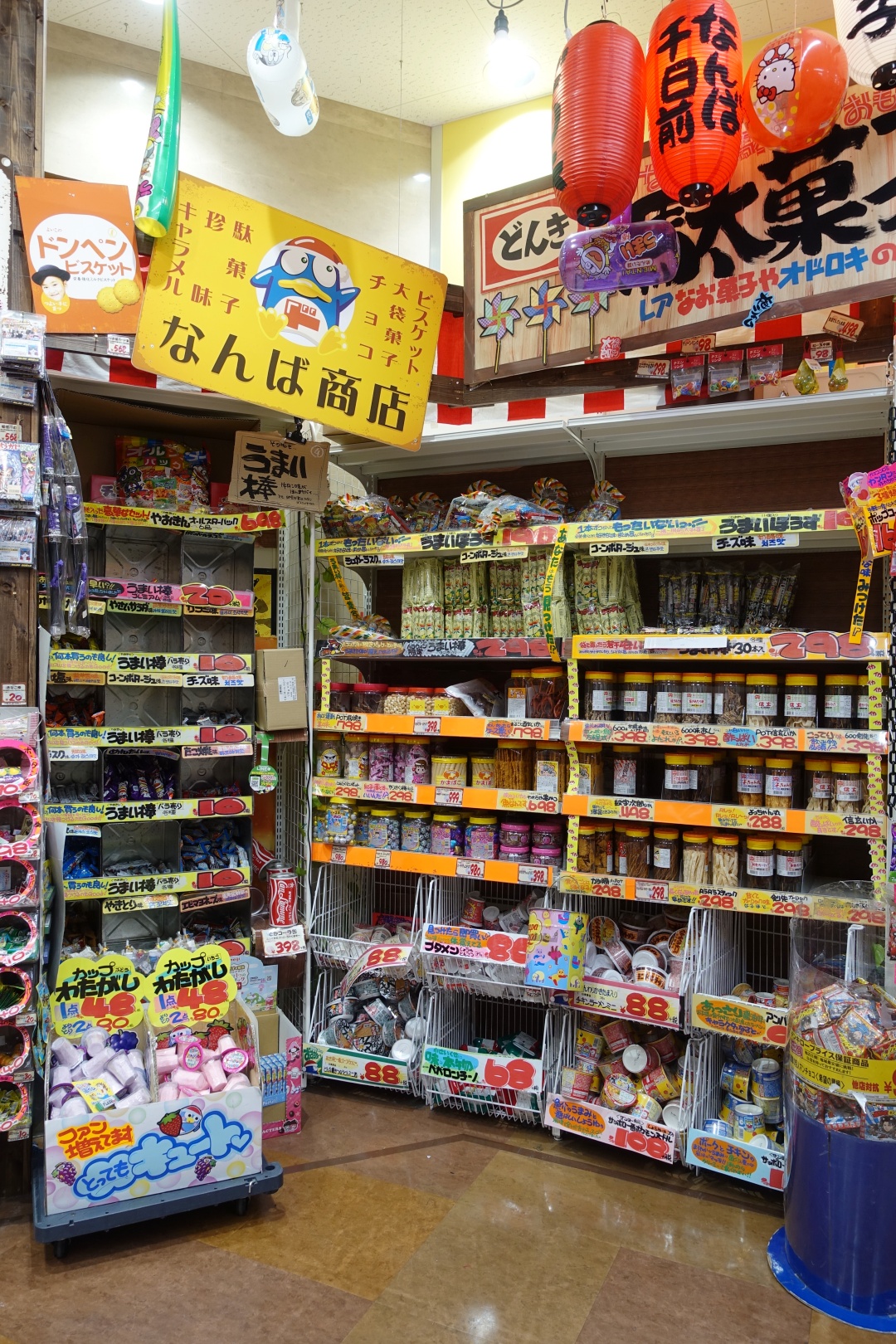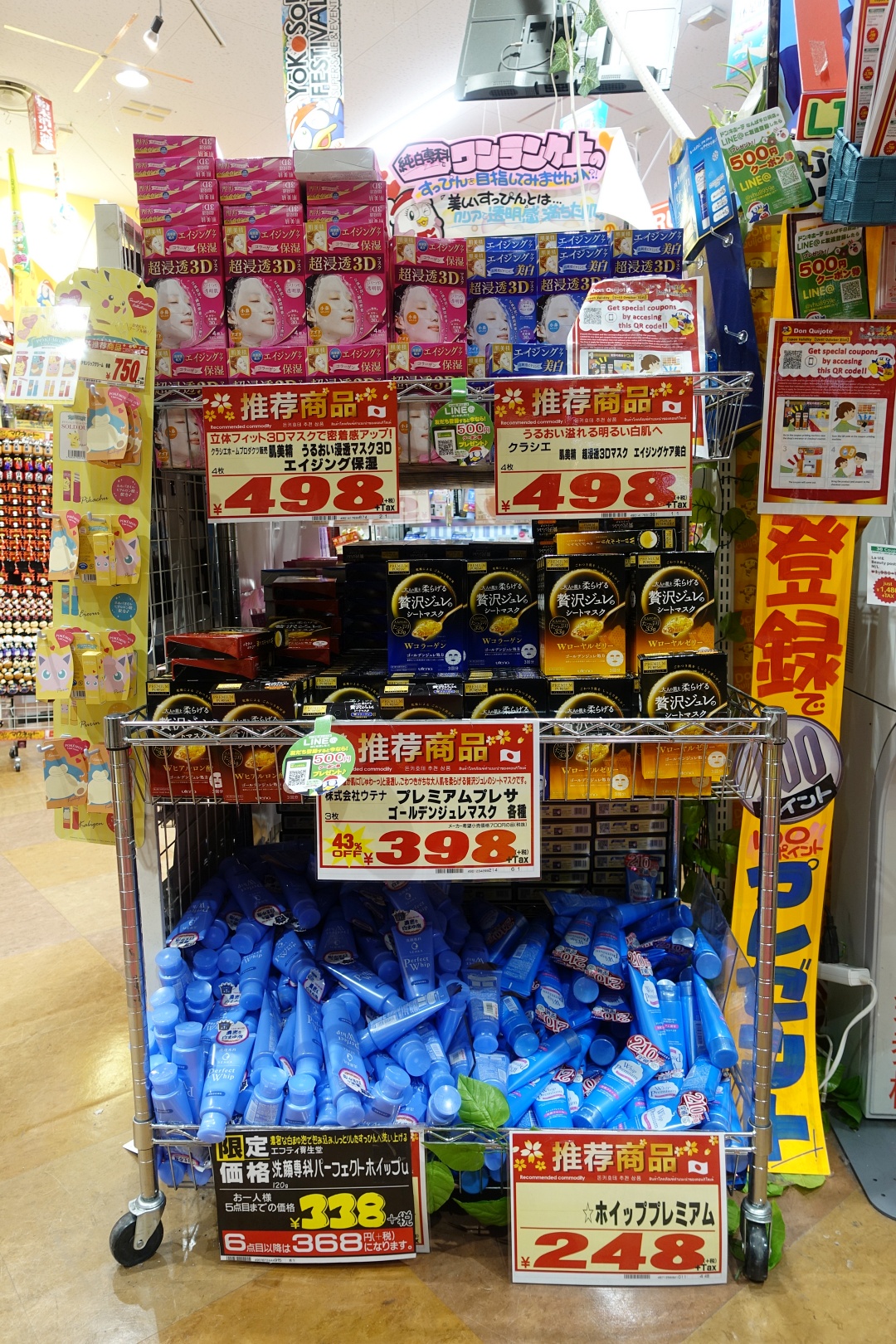 Retailing at SGD 16.90/box for the UTENA Premium Puresa Golden Jelly Mask 3's, they were only JPY 398 + tax at Don Quijote!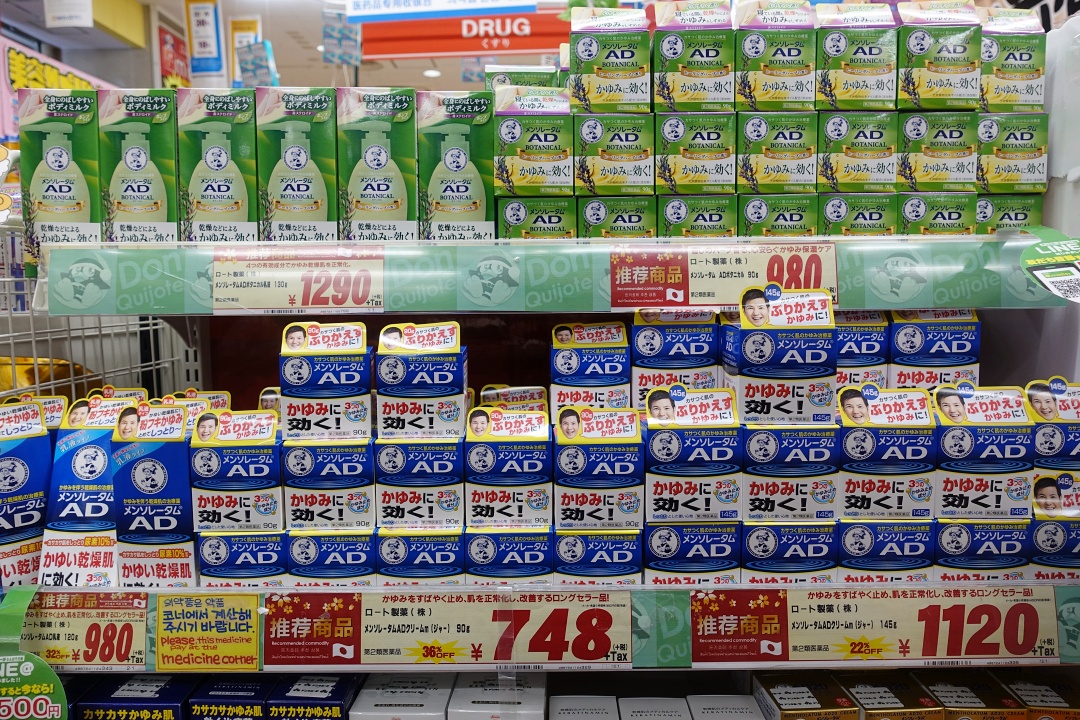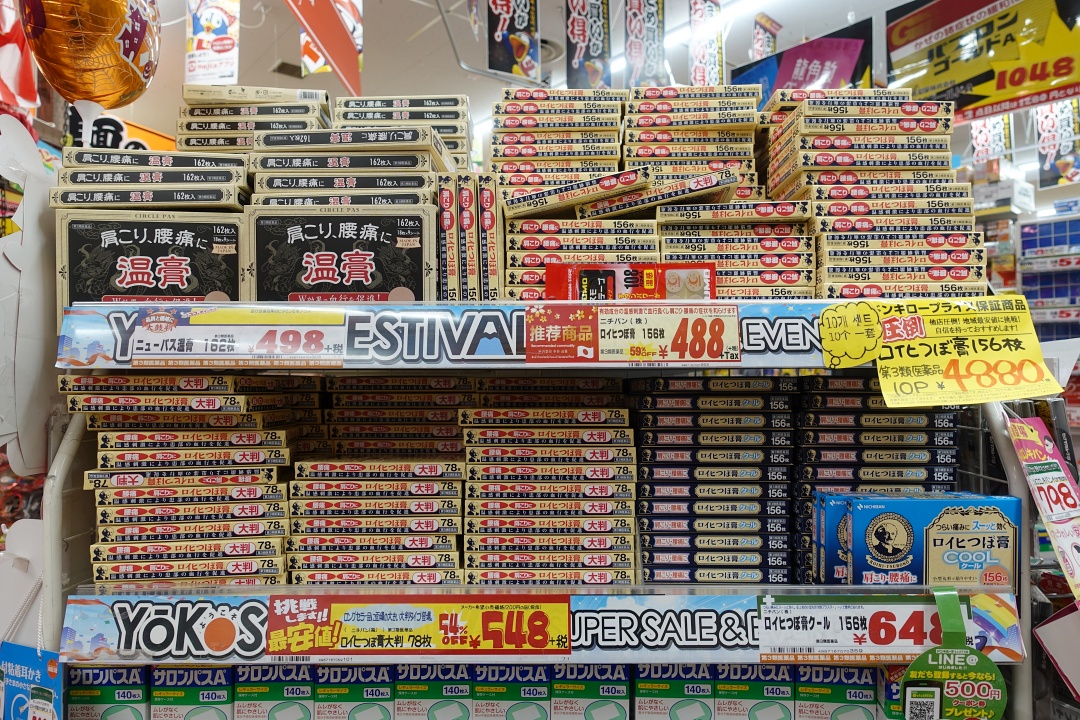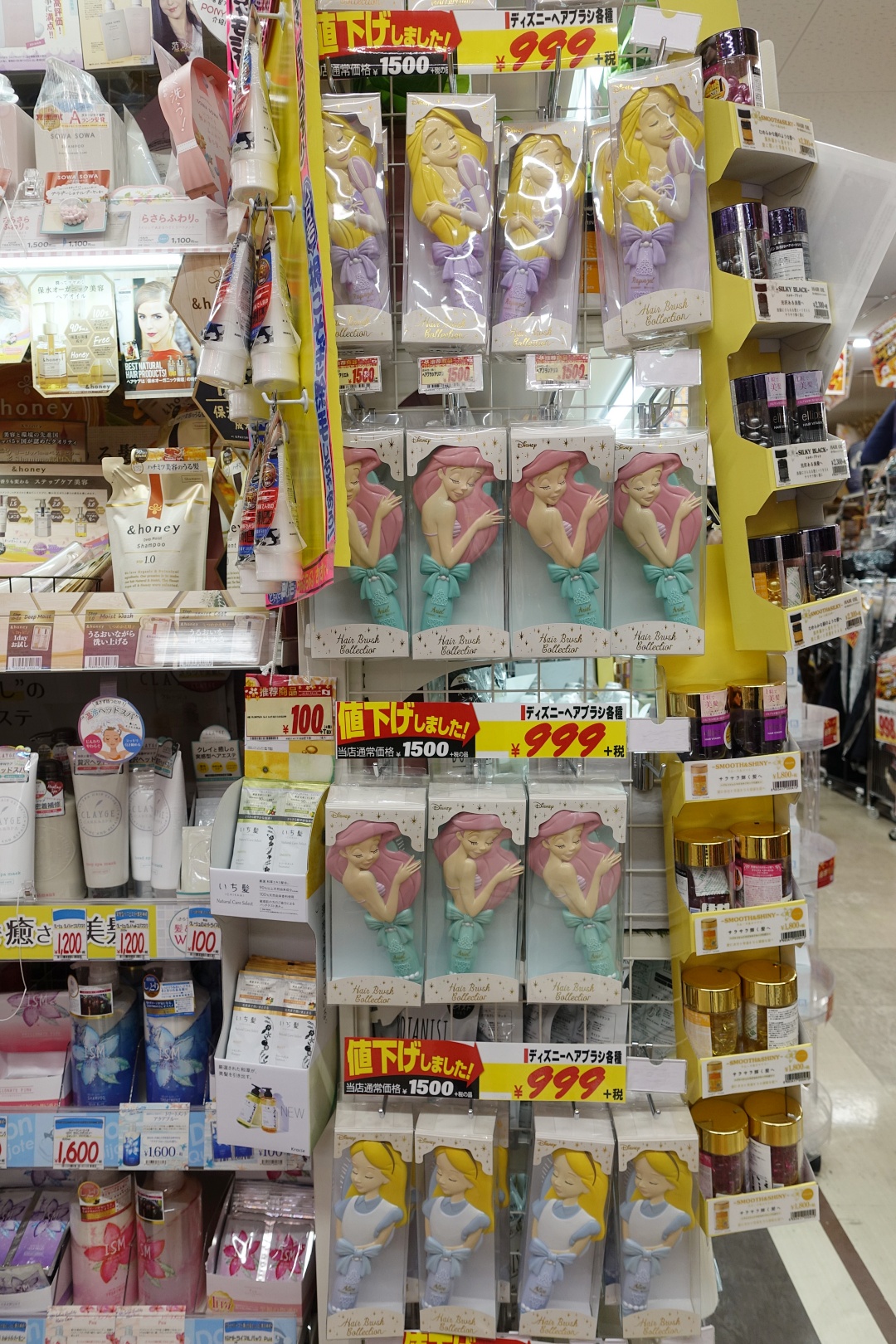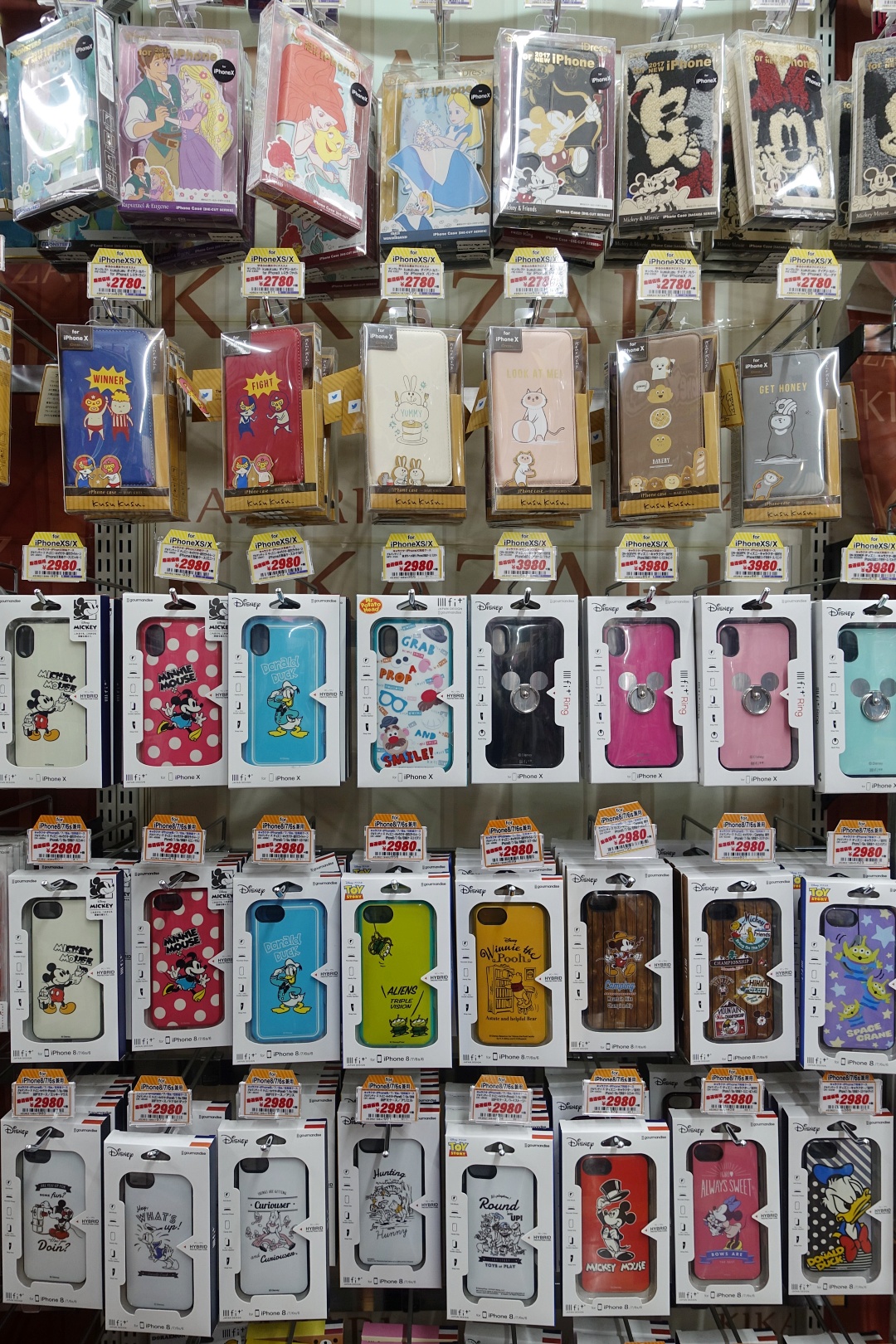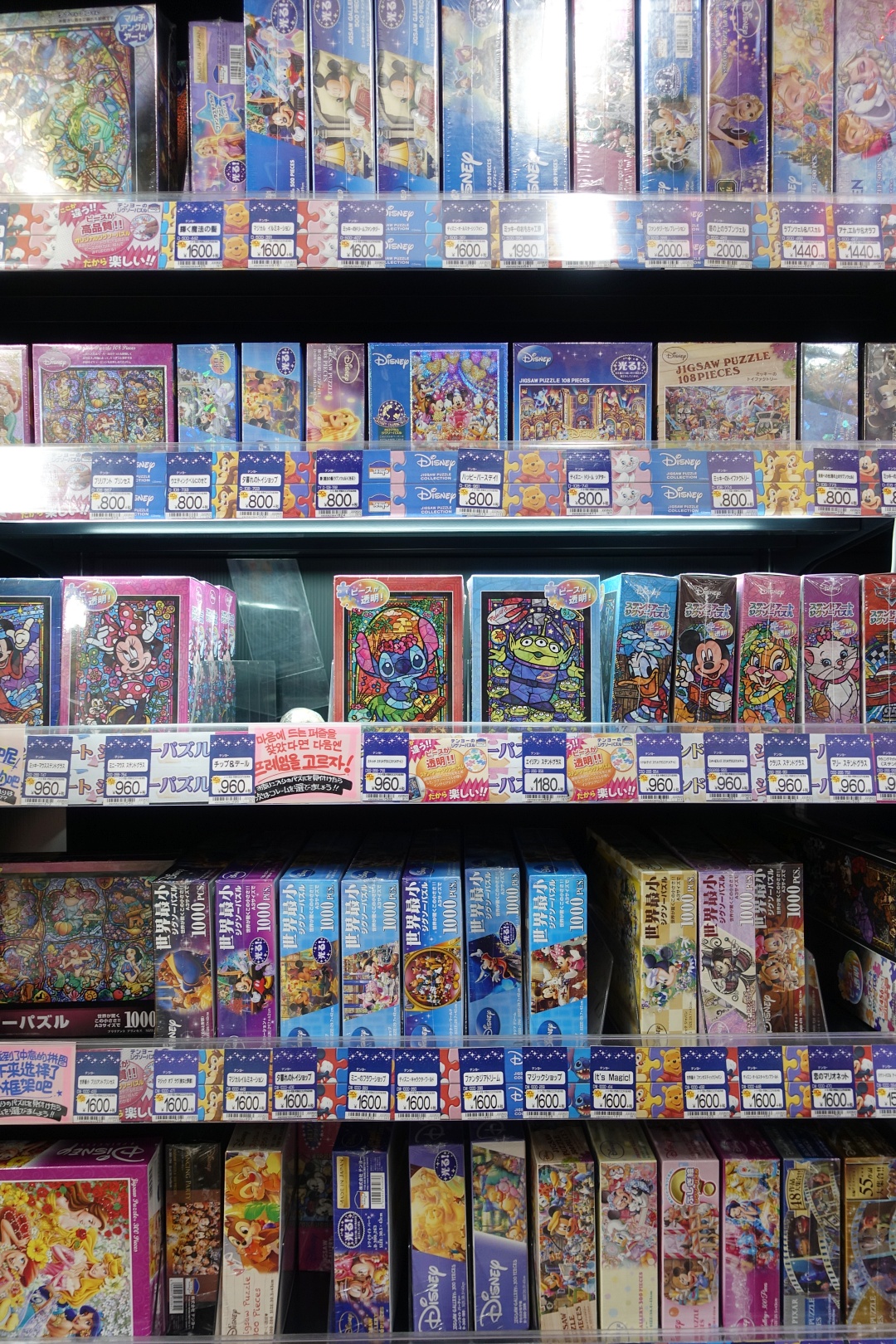 I'm always amazed at the selection of (Disney) puzzels in Japan! Even though we had some of these in Singapore, the range is never as impressive as those in Japan. (If you love these, definitely check out Yodobashi Camera. They have an insane collection of puzzles over there!)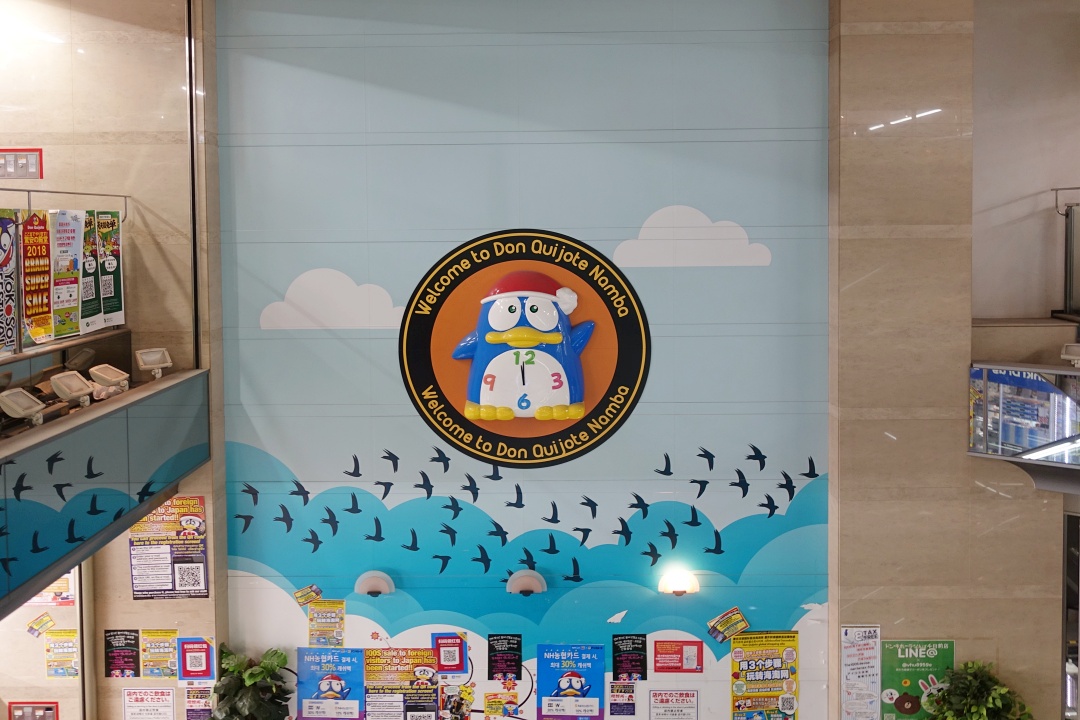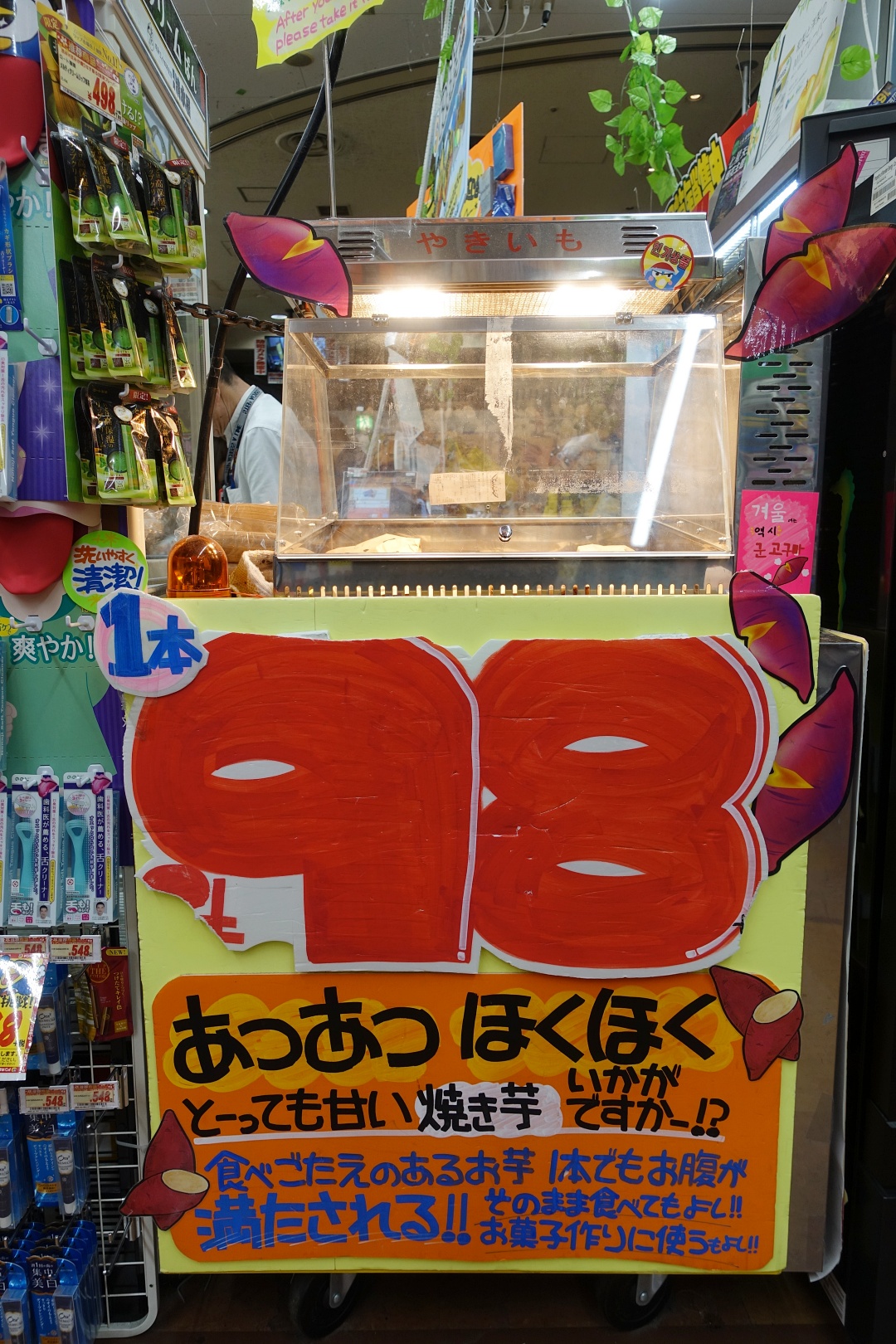 While waiting to make our payment, I saw the popular baked sweet potato that everyone was crazy about at Don Don Donki in Singapore. At that time, I had yet to try the ones sold at Don Don Donki as I was always put off by the long queue. As such, I decided to get one to try.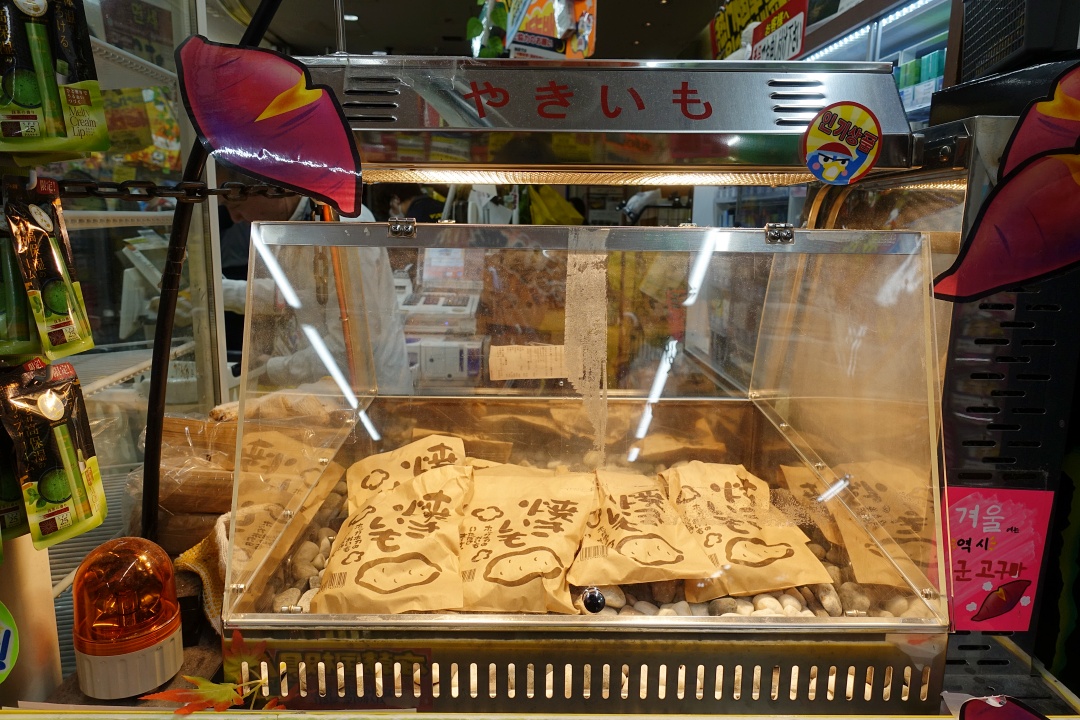 Sold at JPY 98 for one.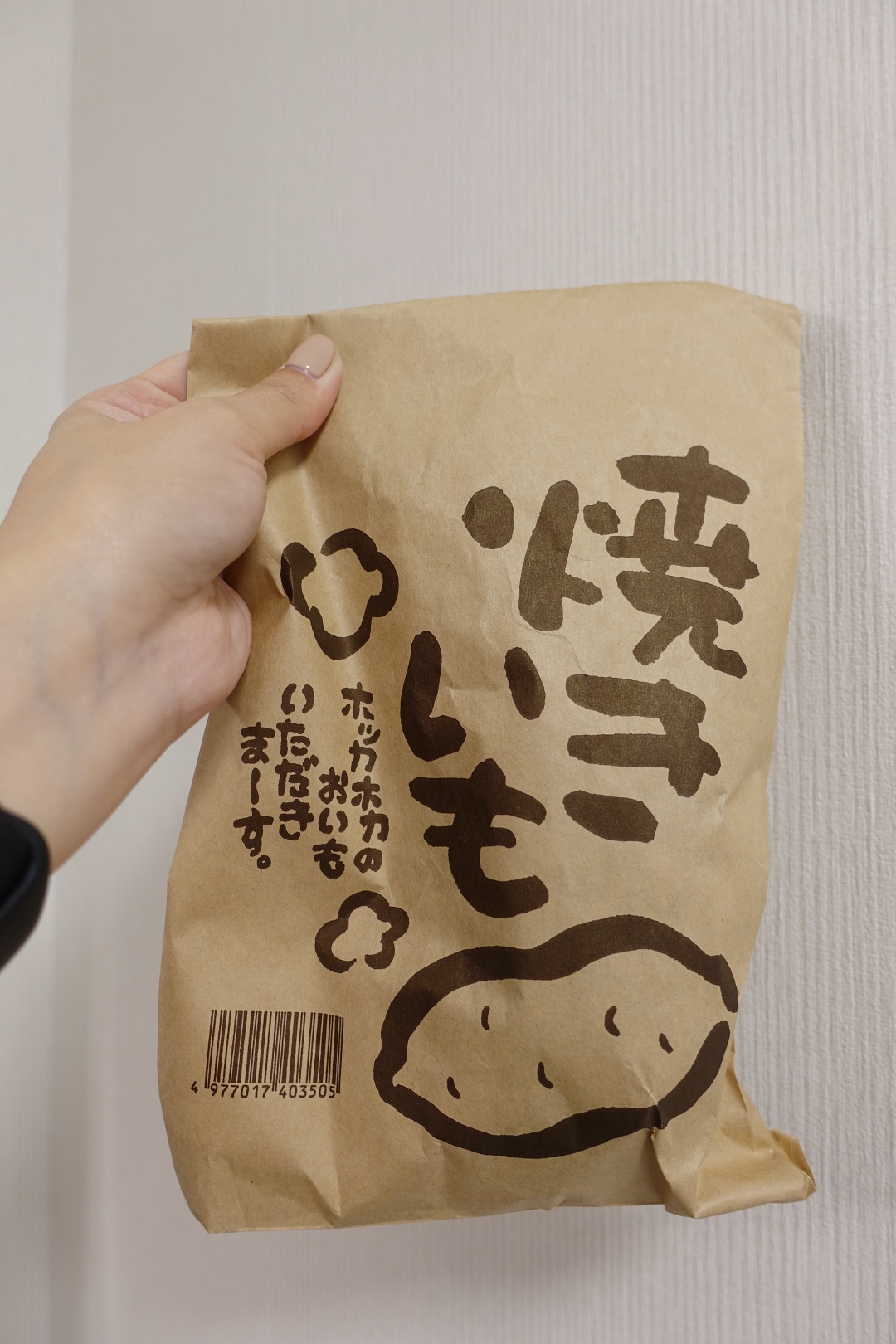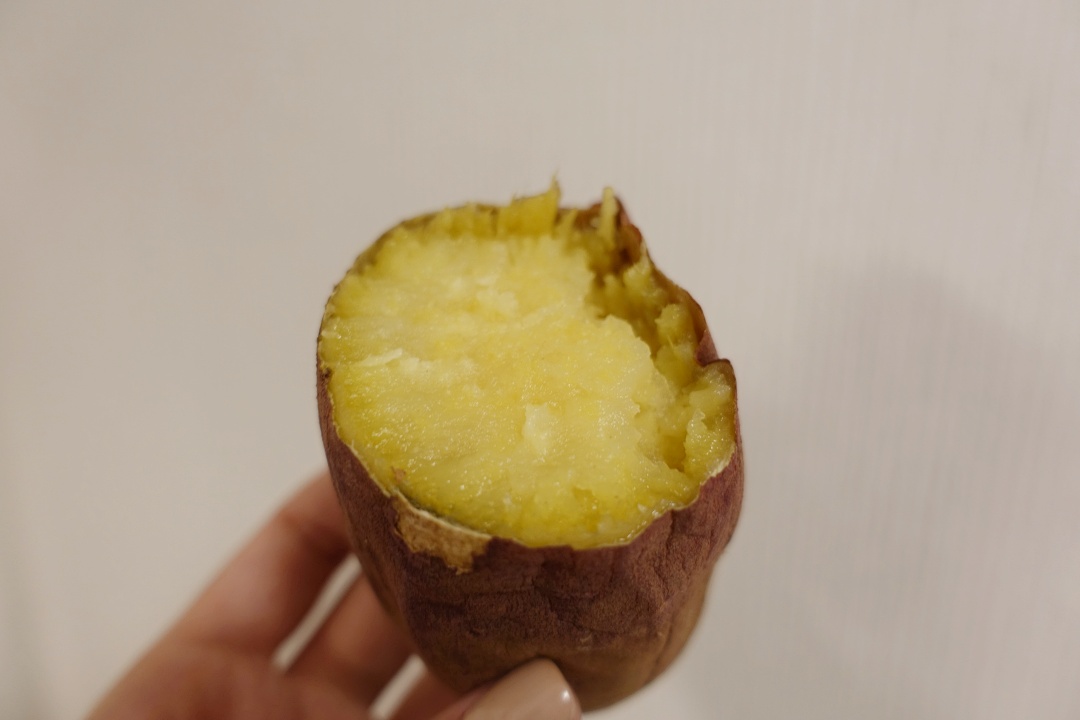 I brought it back to have it at the hotel. And while it smells great and was soft and sweet, I don't think it warrants a queue for this. Would only get it if I didn't have to line up for it.
Glad we were able to try it in Osaka without having to queue for it specially.