After a relatively good night sleep at Andaz Singapore, I woke up the following morning at around 07:00. We only closed one of the blinds the night before, so we got the morning lights streaming into our room. No doubt a lovely way to wake up!
Hopped into the shower and got ready to start the day. I think the Husband only woke up at around 08:00 when I was almost ready.
At around 08:30, we went down to level 25 to have our breakfast. Breakfast is available daily from 06:30 – 10:30 at Alley on 25. After getting our room number, one of the servers bought us to our table, meanwhile showing us the different sections available for breakfast.
Breakfast | Alley on 25
There are four main sections for breakfast. At the front, there is the cereals, pastry and salad section; followed by an area for coffee, tea and juices. Then there is the Eggs Station where we can not only order eggs, but also pick up some ready-cooked dishes (veg, fried noodles, carrot cake, and western selections like hashbrowns, sausages, baked beans, etc.) And lastly, right at the back is the Asian Breakfast station that offers Nasi Lemak, Porridge and Noodles Soup.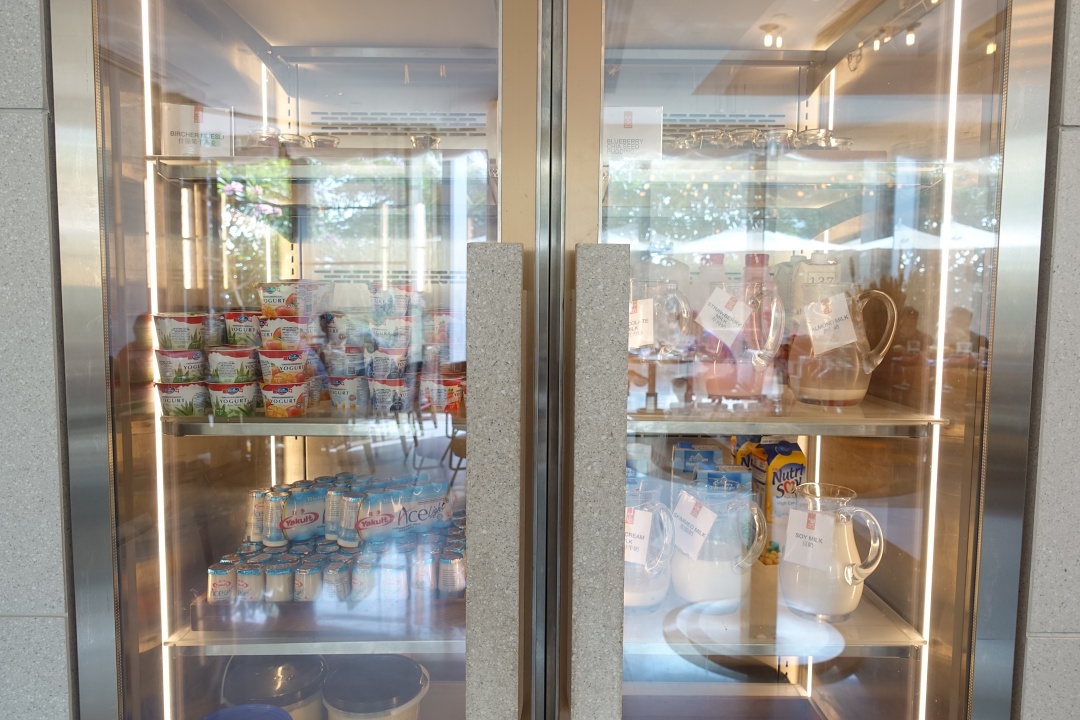 Muesli, Chia Seed Pudding, Yoghurt, Yakult, Favour Milk and Soy Milk. So surprise to see Nutrisoy.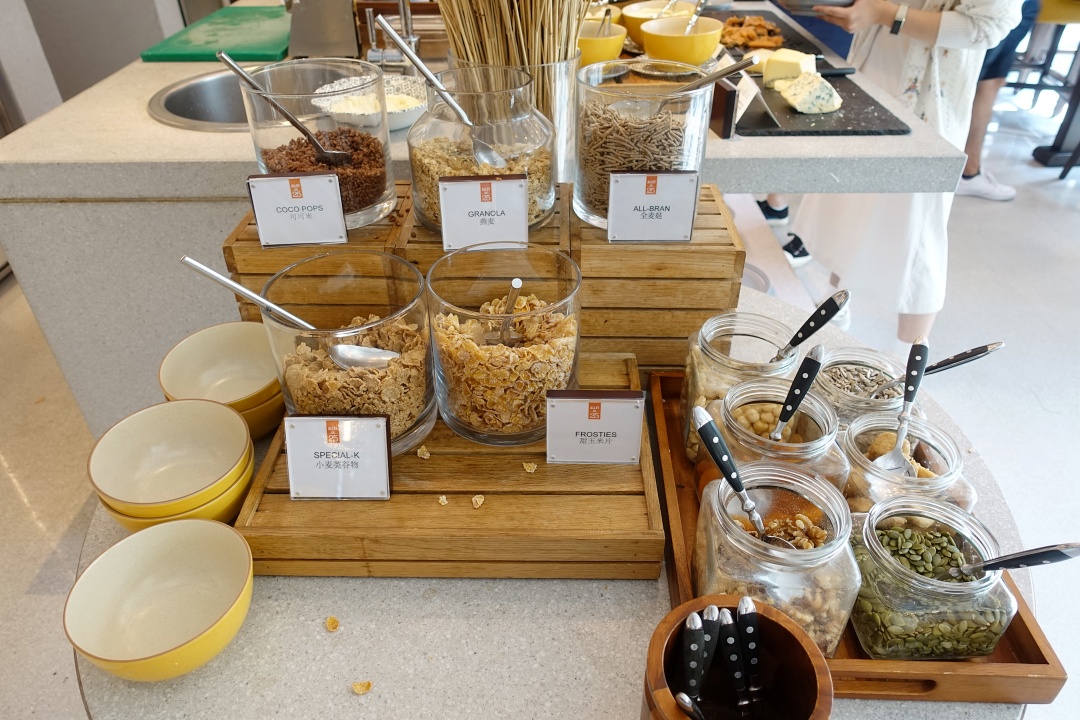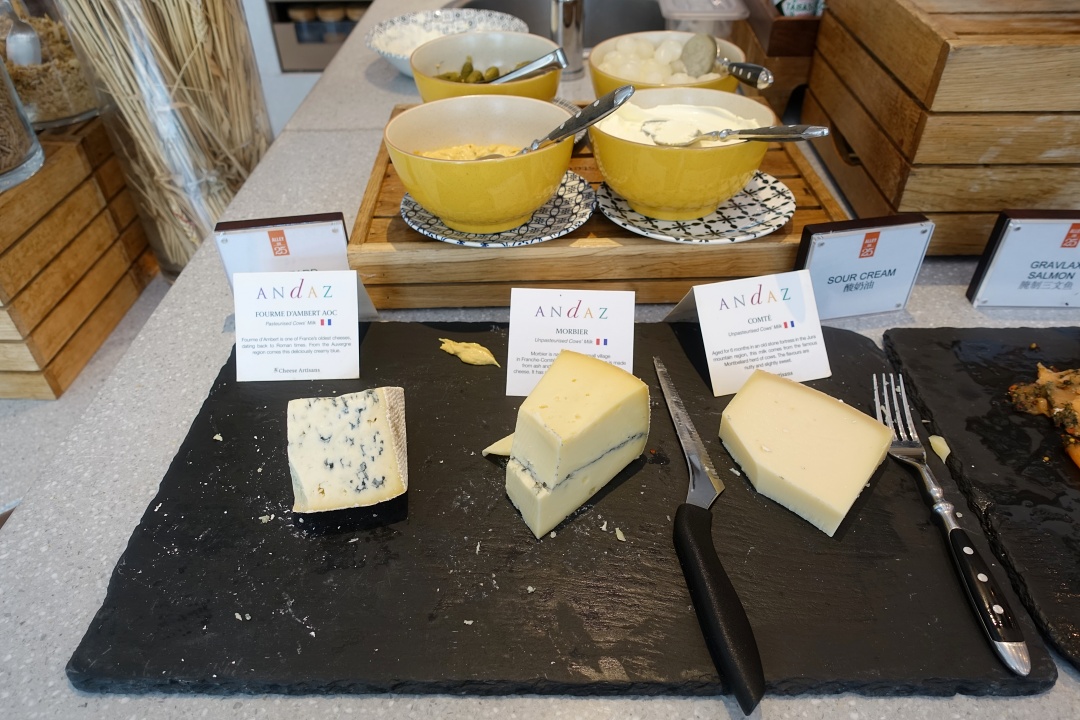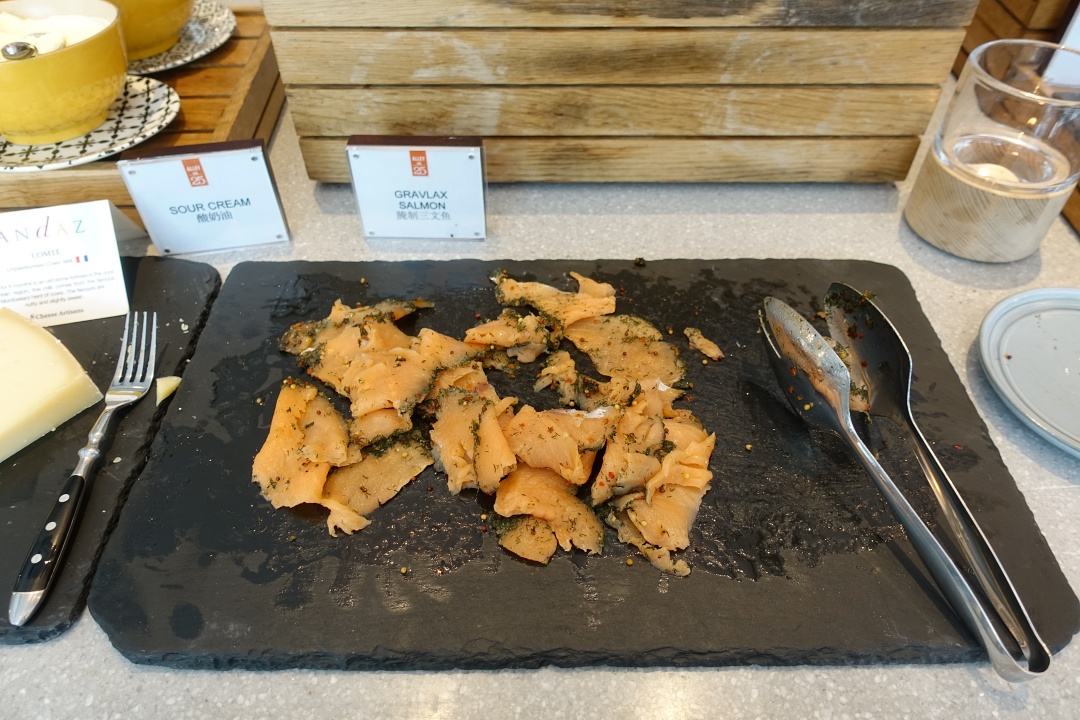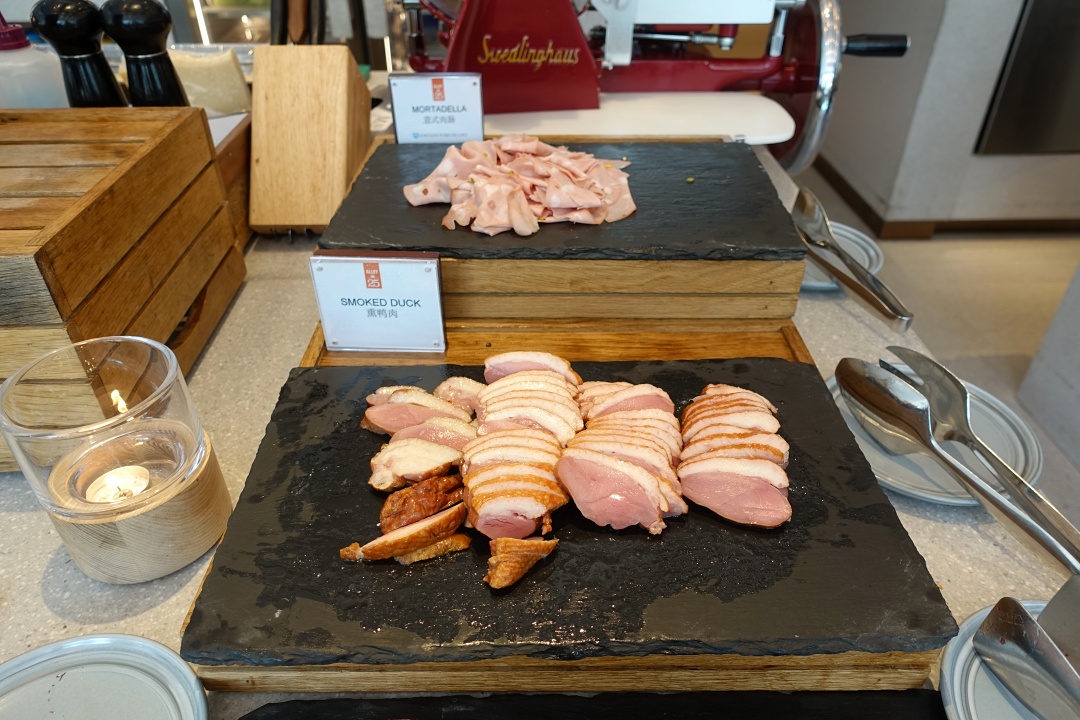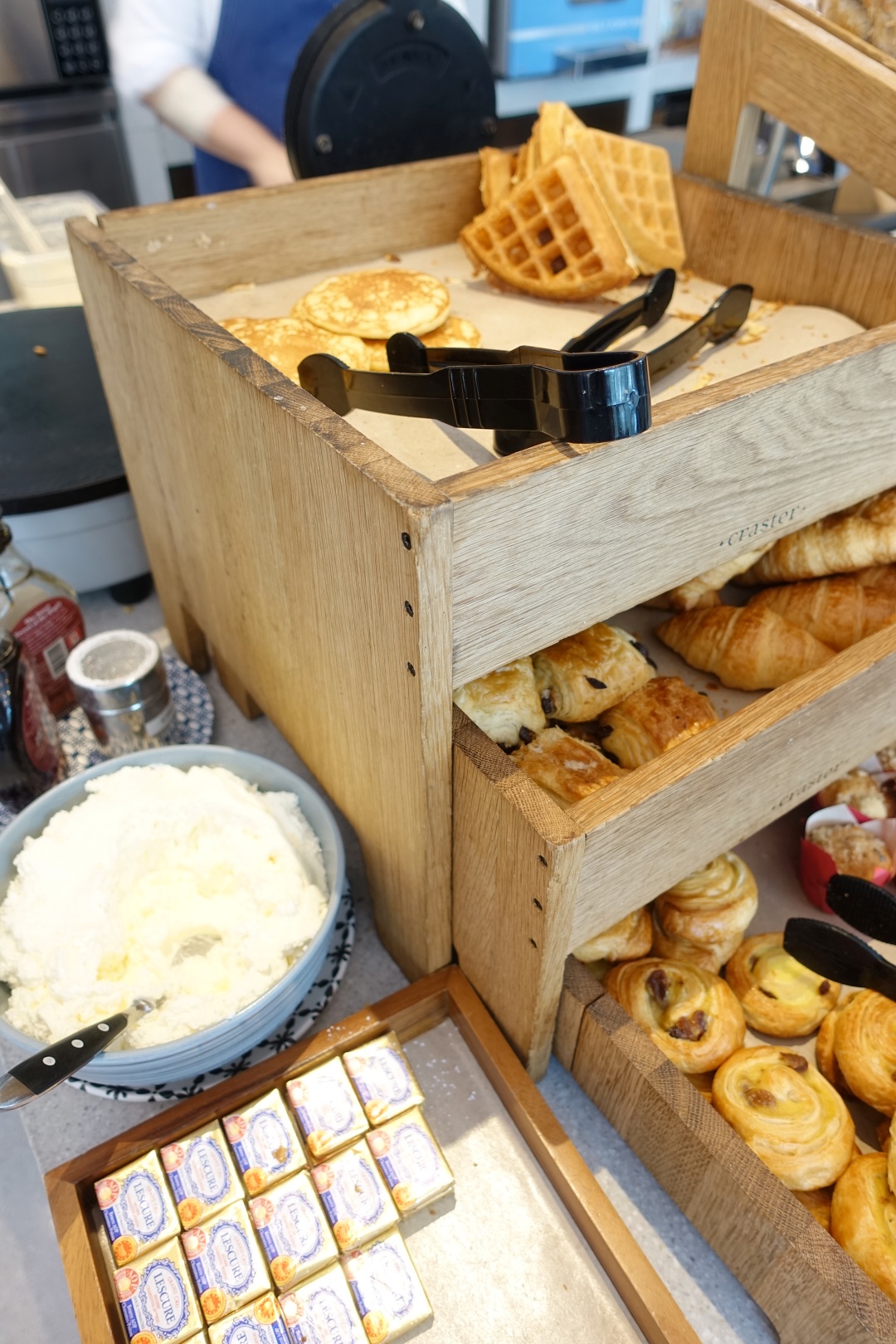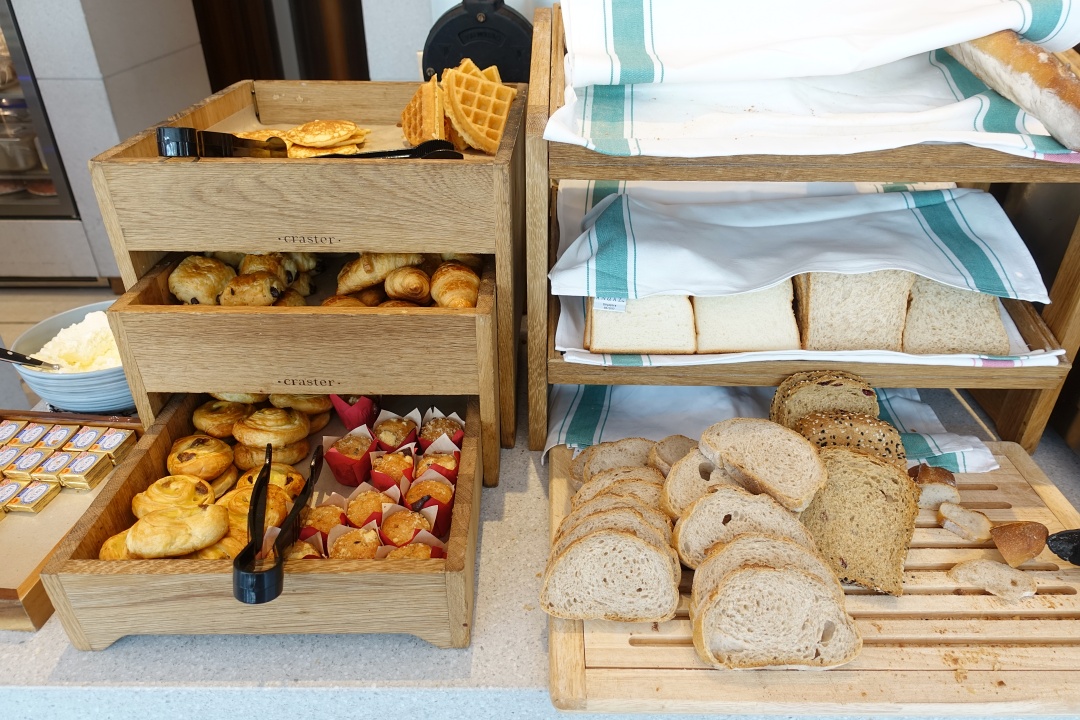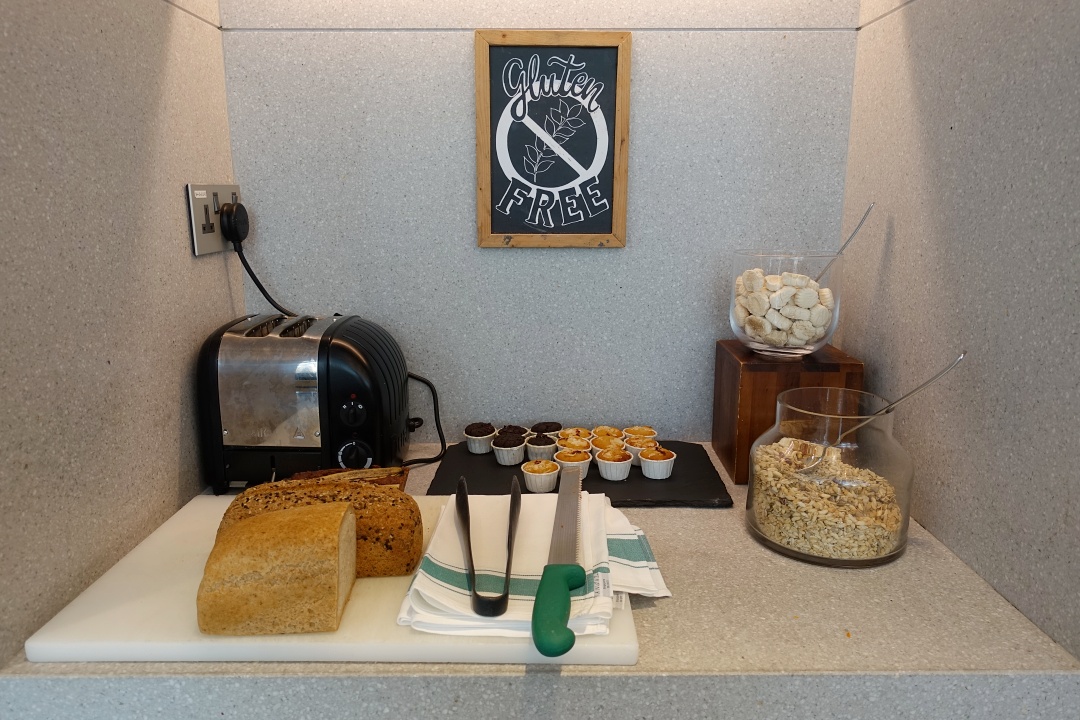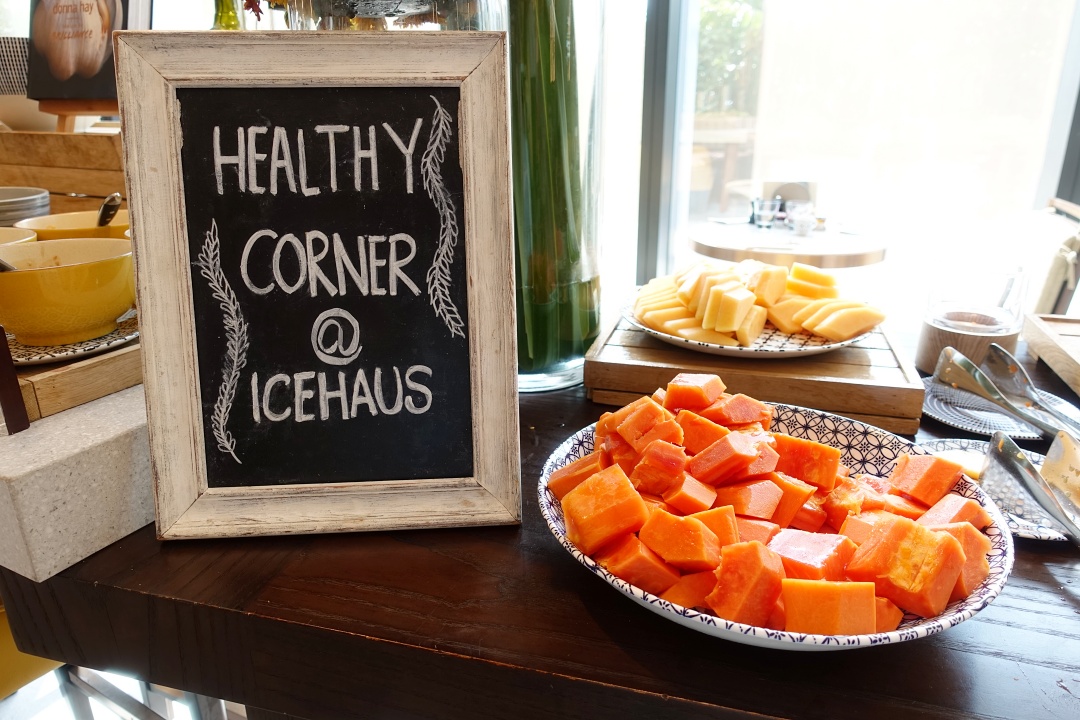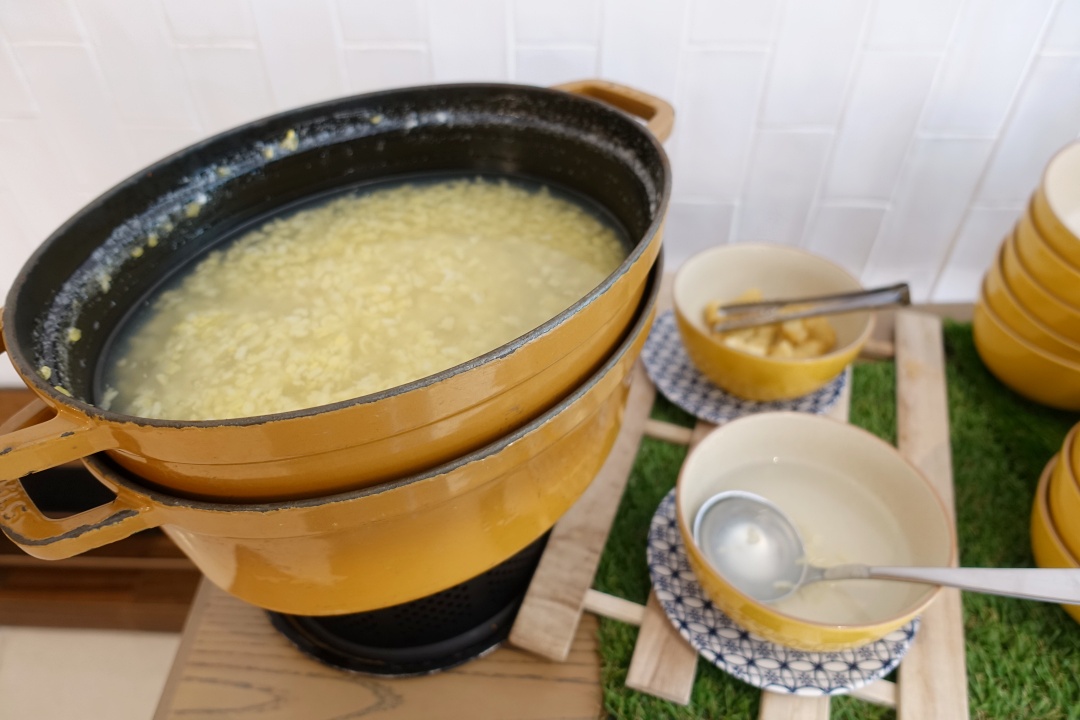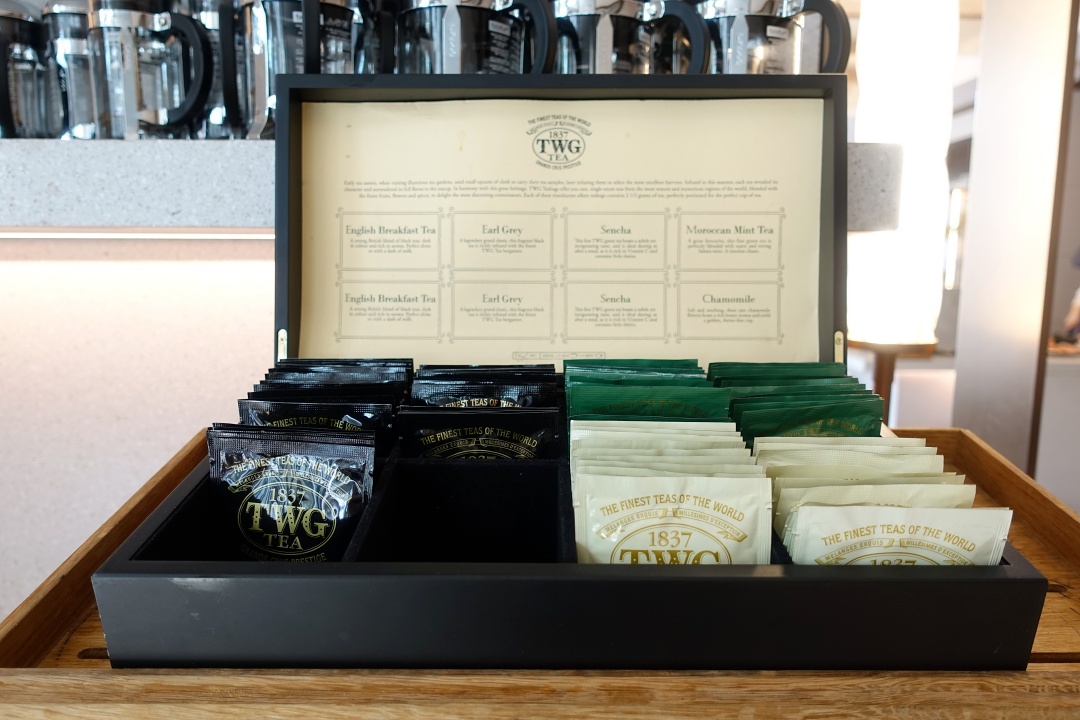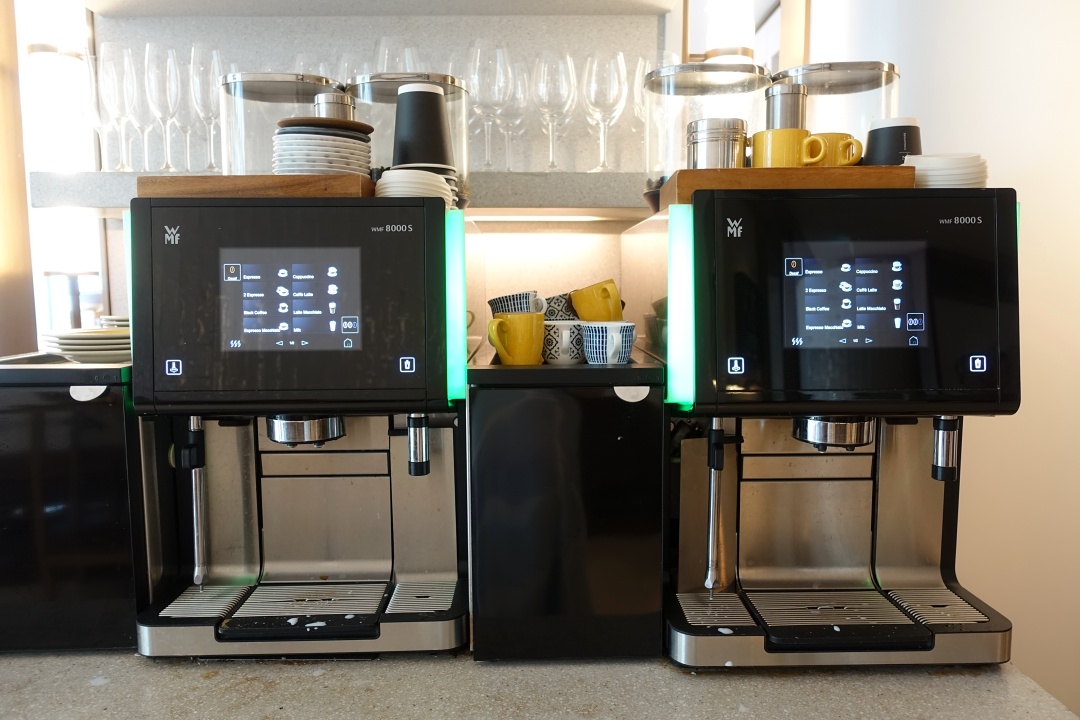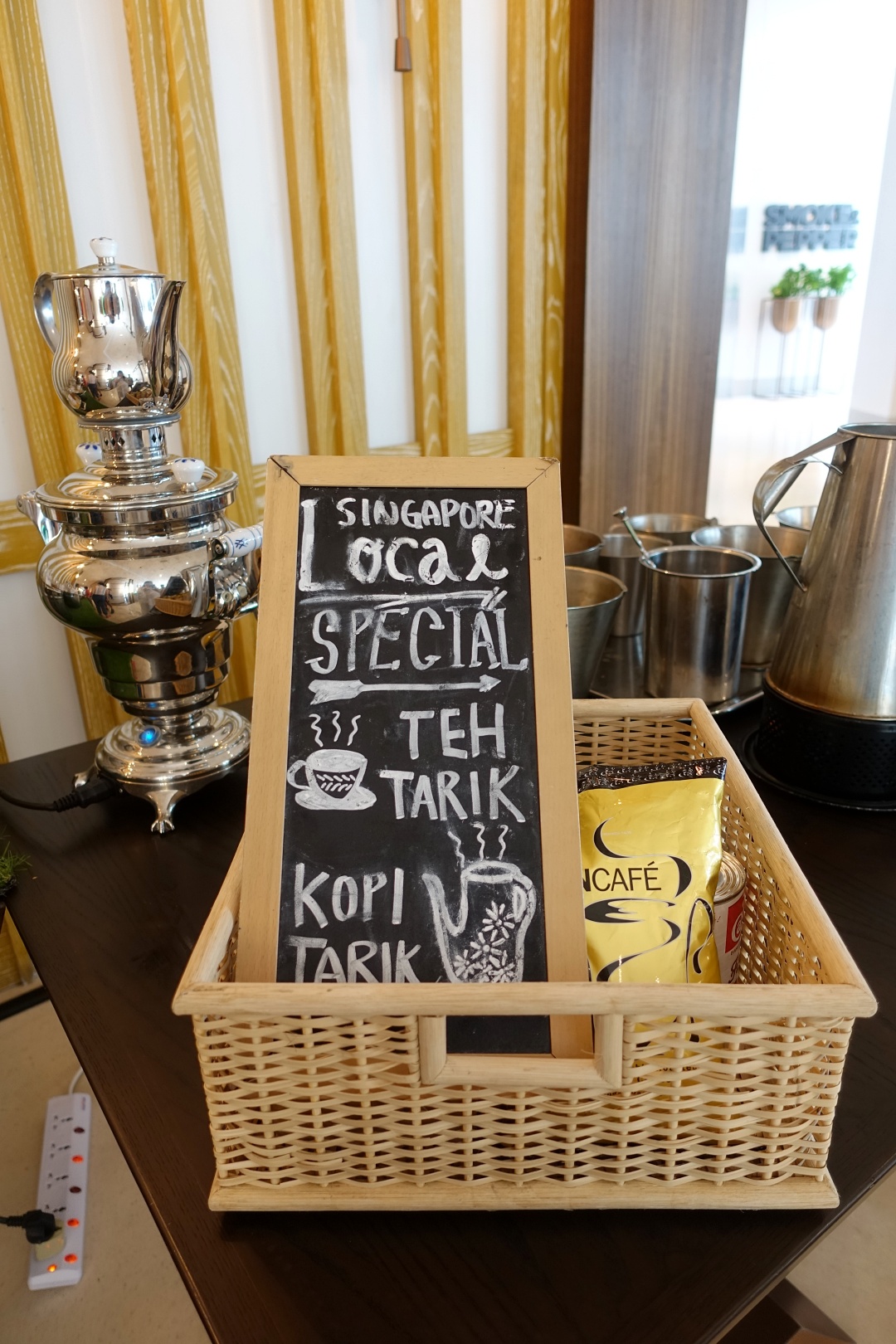 Aside from the coffee station that offers freshly made Kopi Tarik (and Teh Tarik), the restaurant also has at least three coffee machines. I think the Husband must have tried three to four cups of coffee that morning; while I'm fine having just one cup of Teh Tarik and Nutrisoy.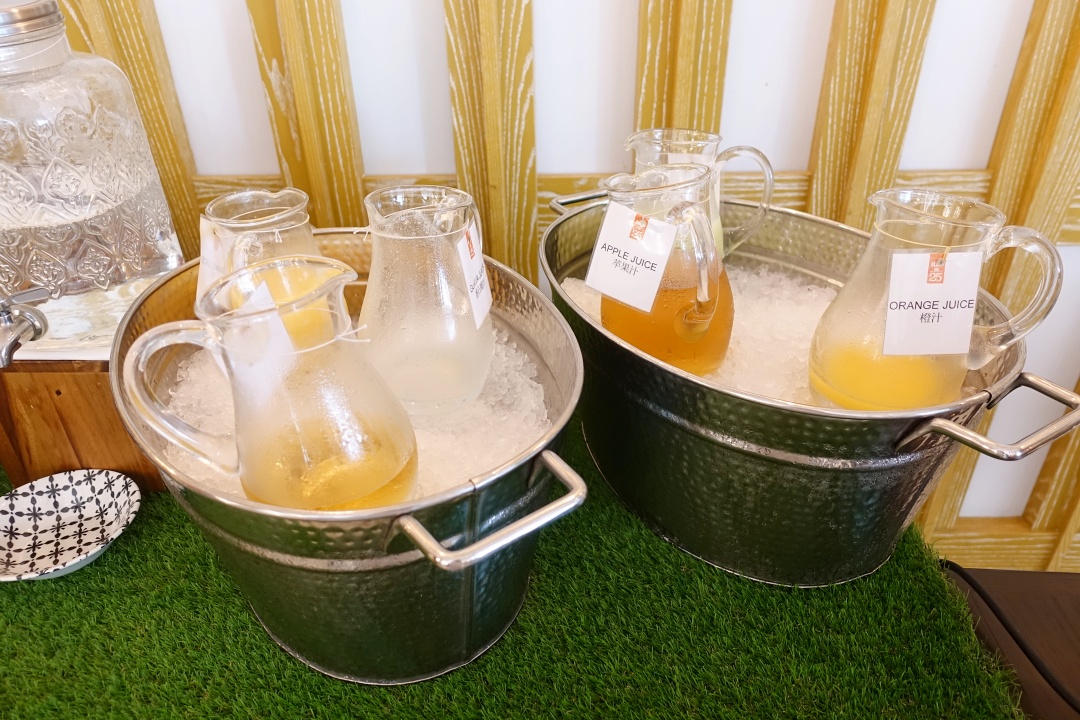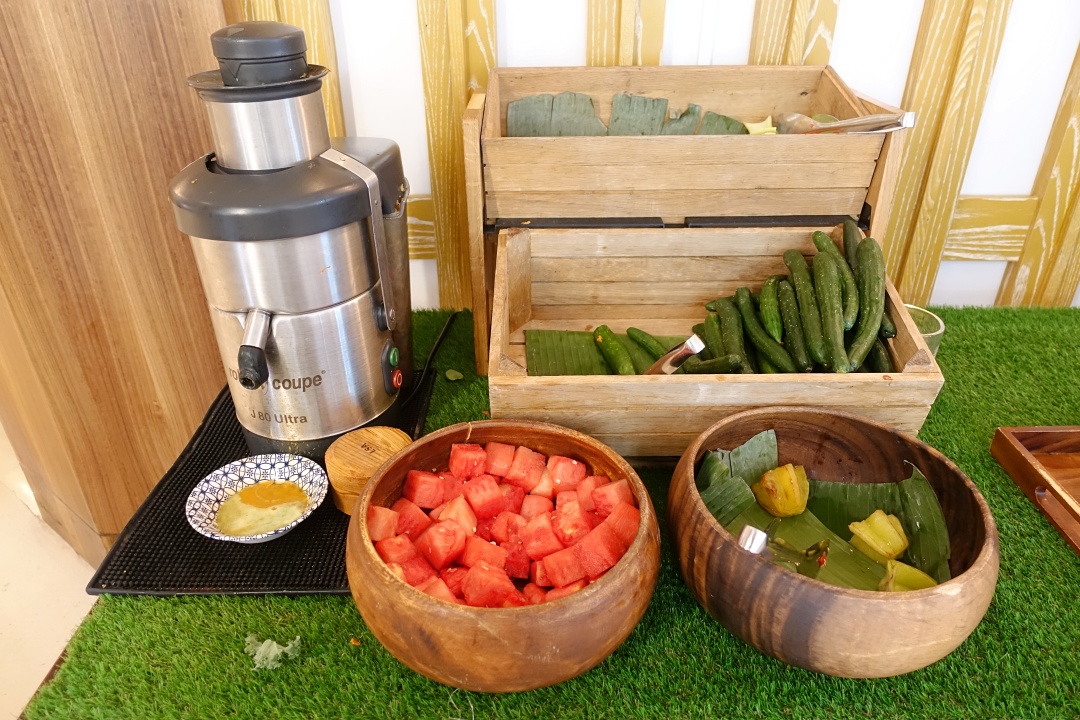 There's also a juicer where we can prepare our own fresh fruit juice.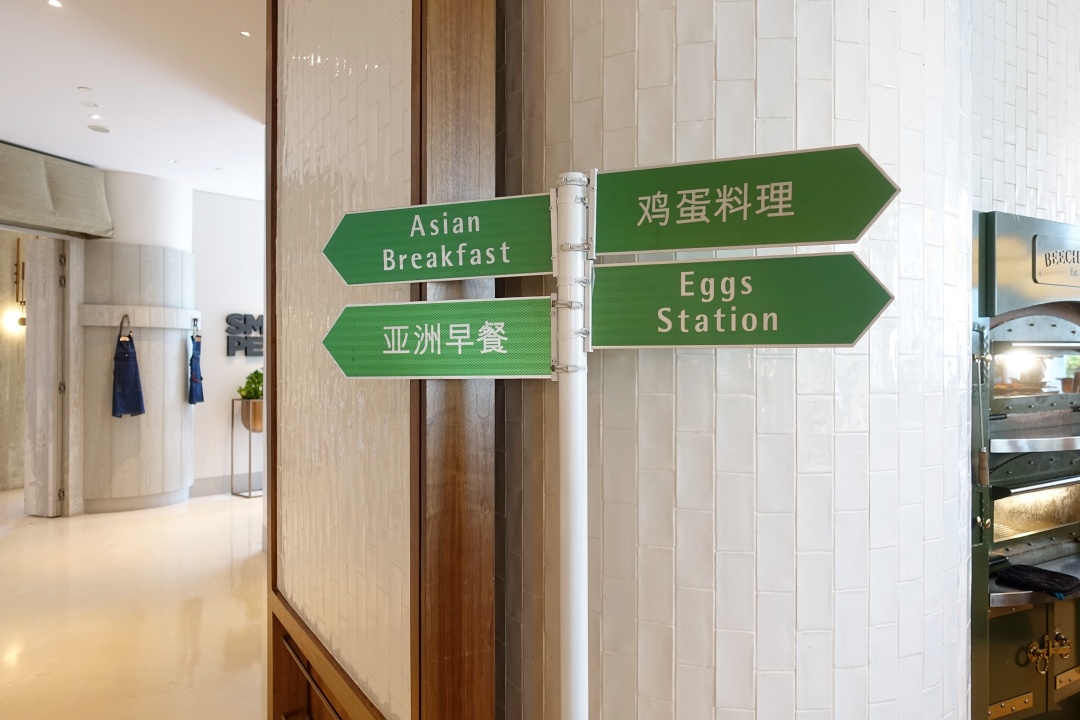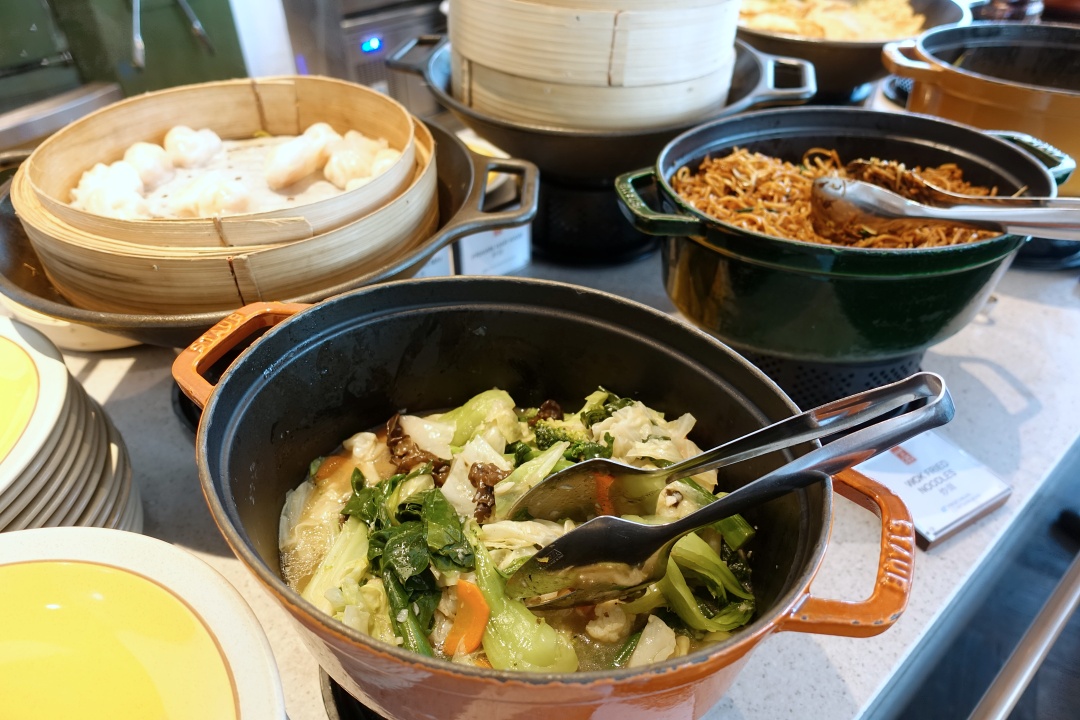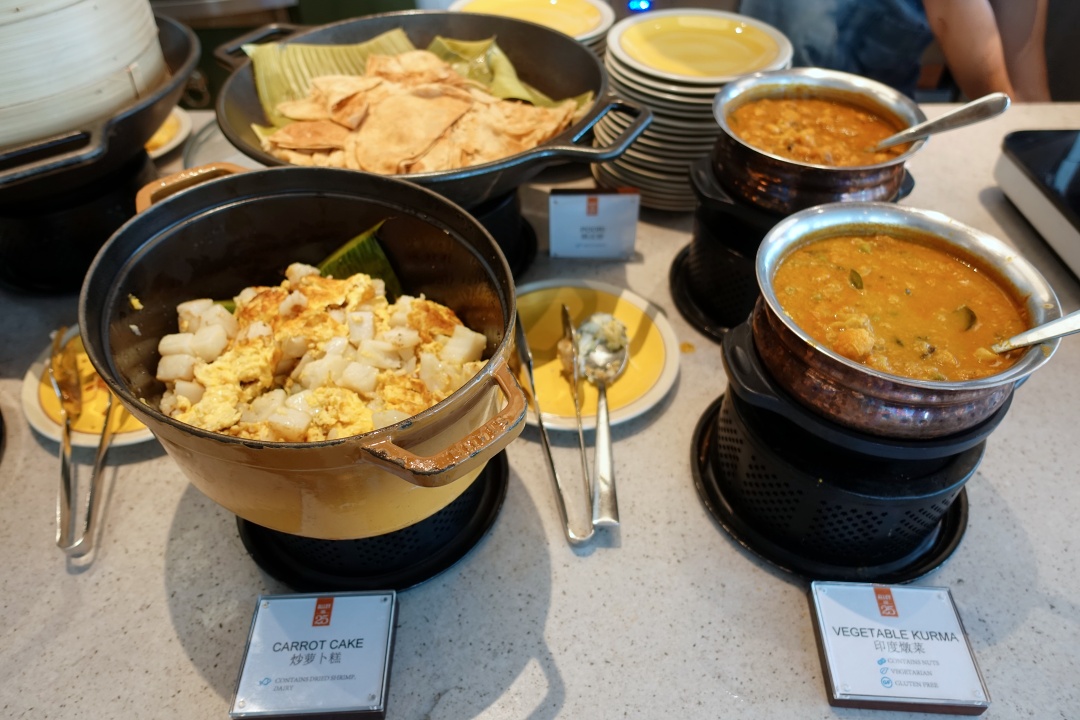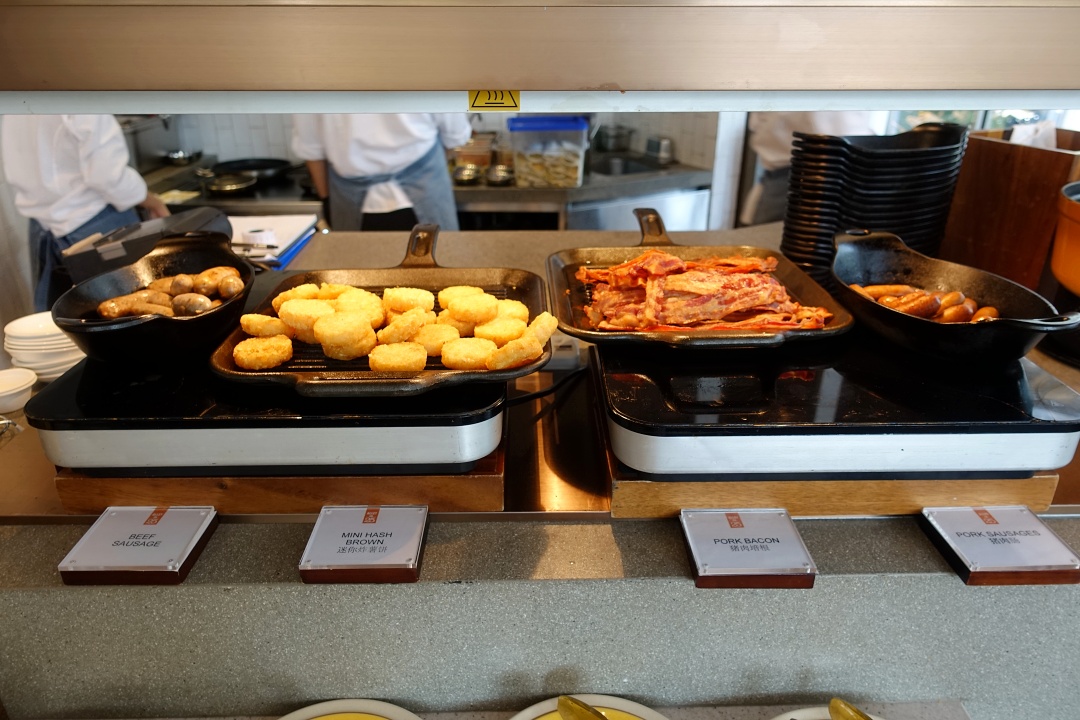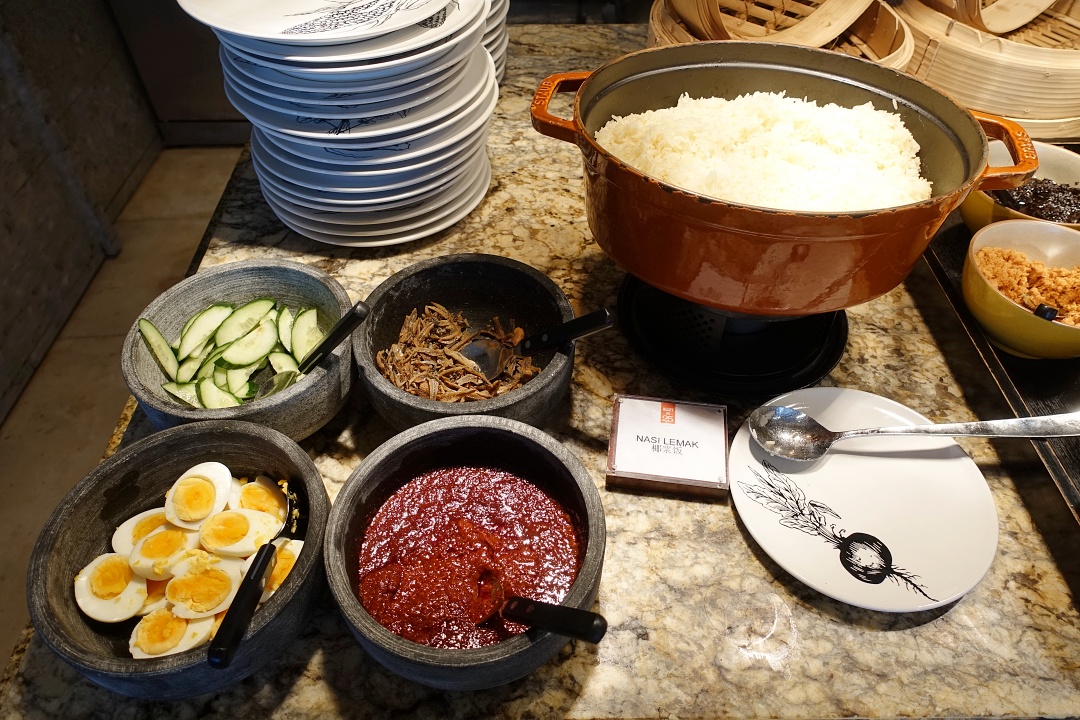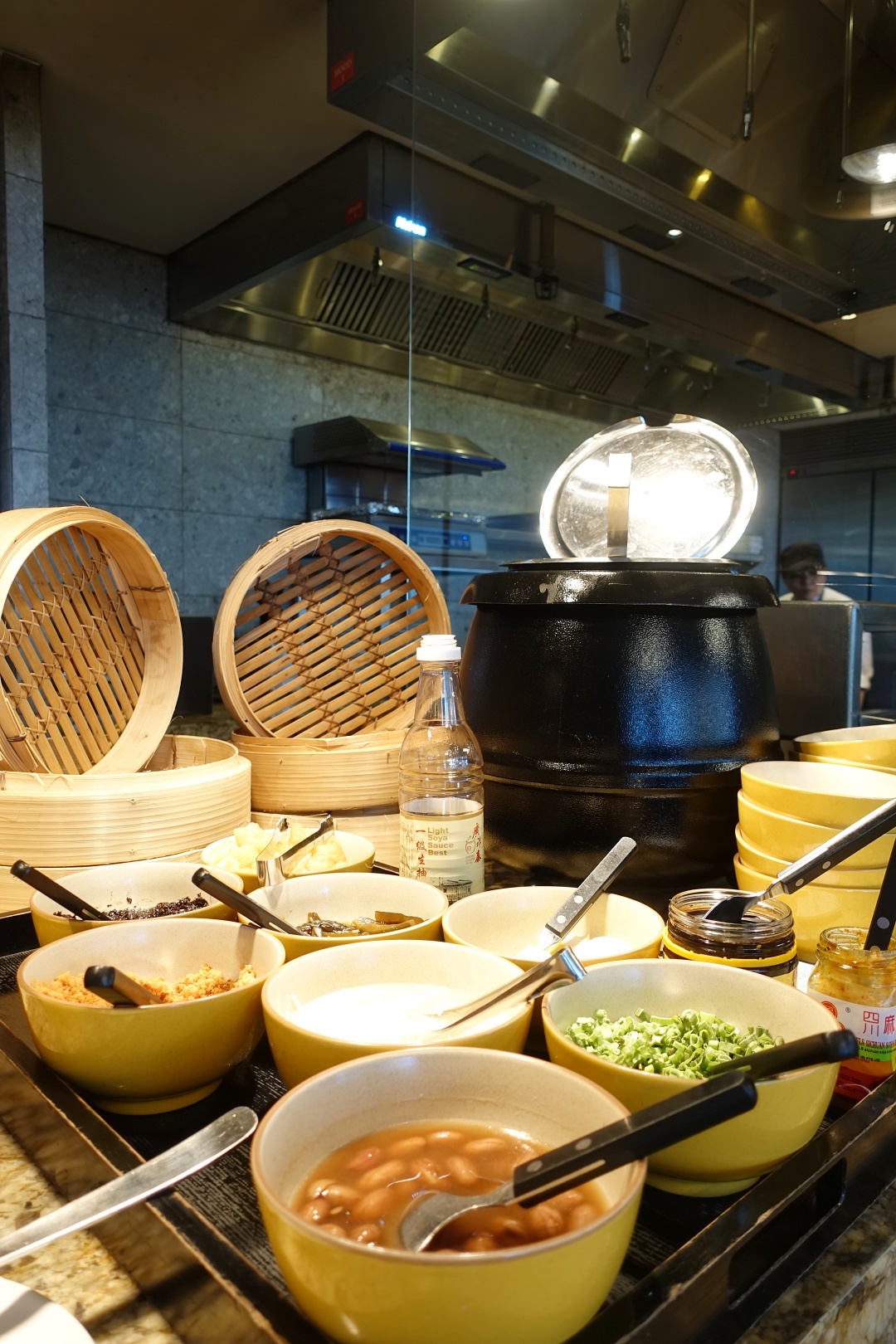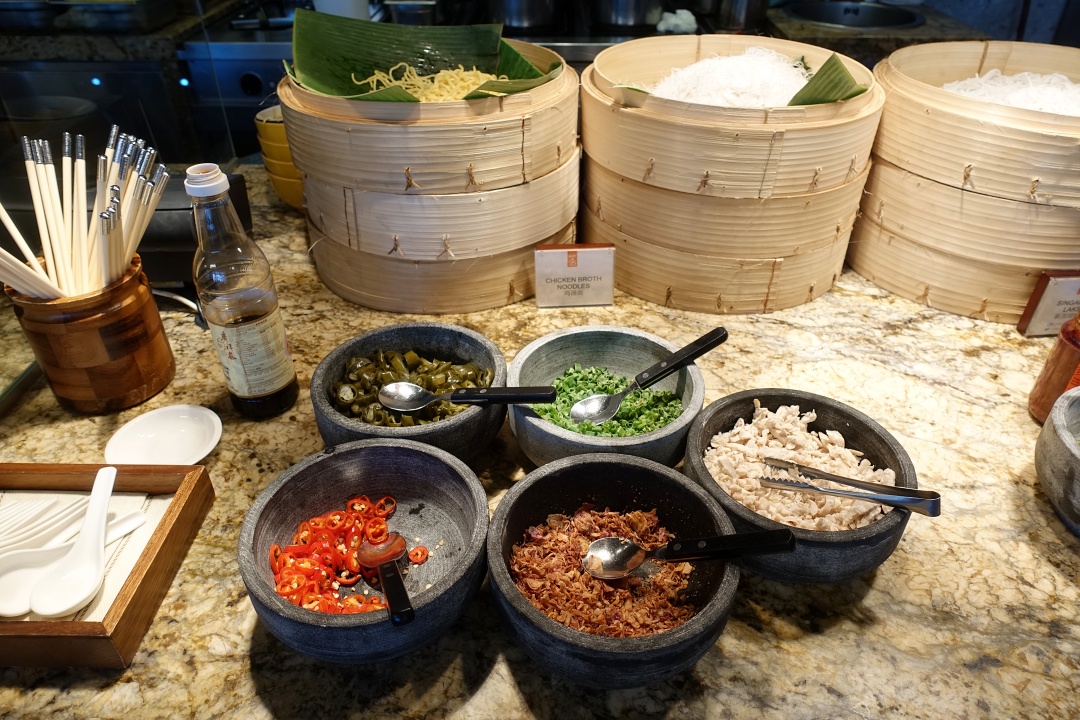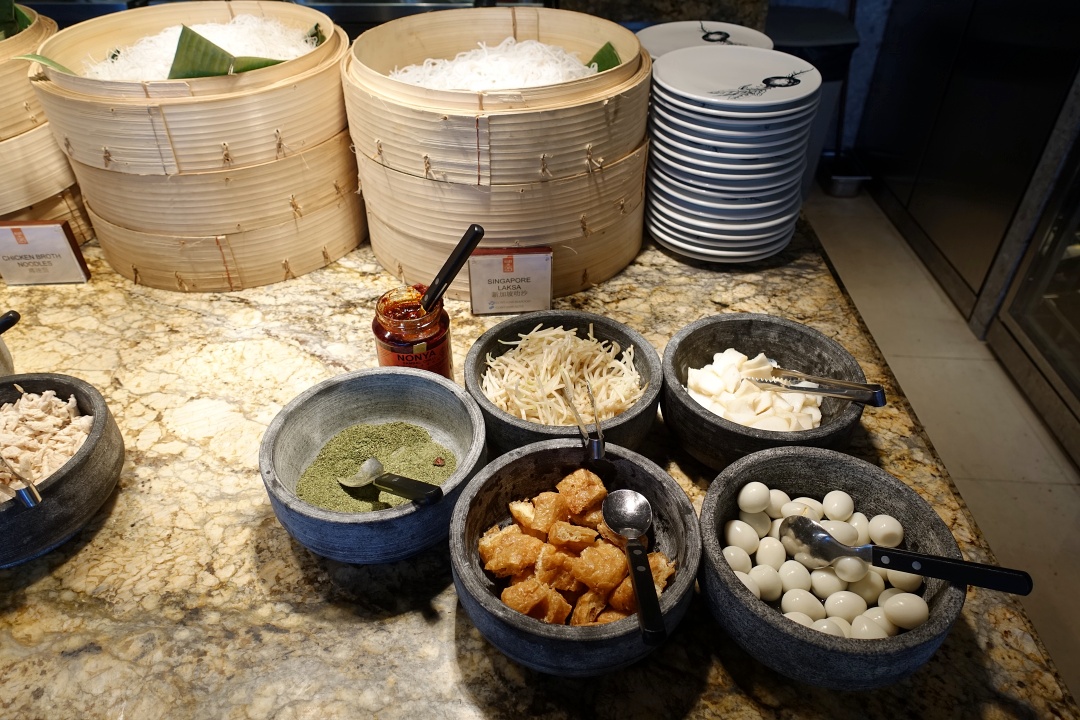 At first glance, it did seems like there were a lot of options for breakfast. But when we went around picking up the dishes, we realised that there wasn't much that appeals to us. The ones that we did pick up also didn't taste as good as we hope. Like none of the food I ate was considered nice? They were at most, average.
Overall, we were just not impressed with their offering.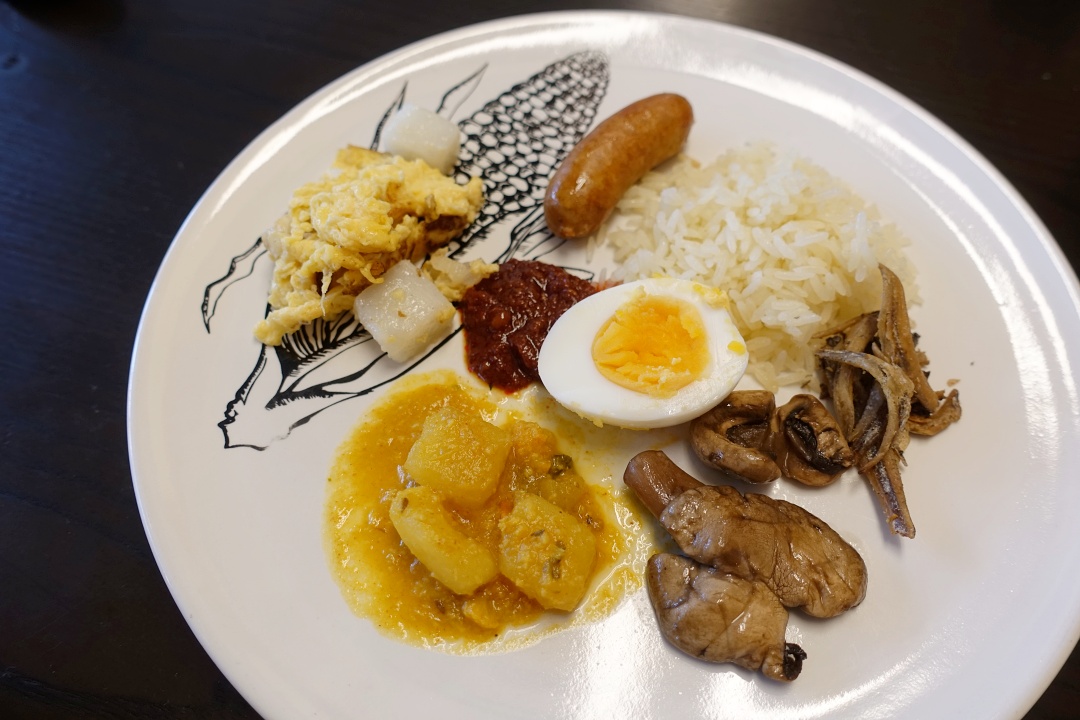 Since we got a table right next to the rice/noodles station, my first plate consists of some Nasi Lemak, carrot cake, potato and mushroom.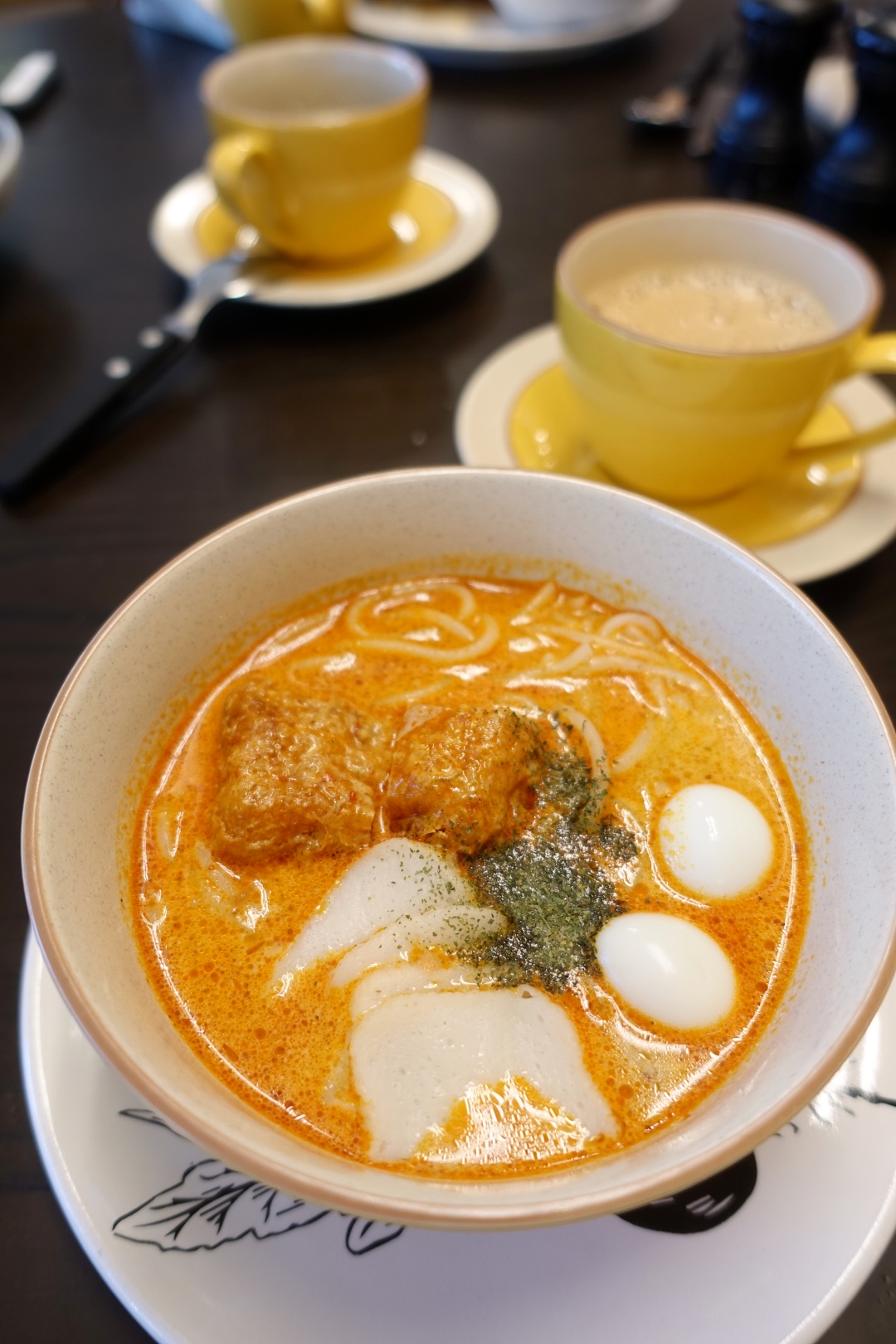 Subsequently, I also got a bowl of Laksa. The staff will help to cook the noodles and add on the gravy, while I get to add in the ingredients afterwards.
I find the Laksa okay, but it appeared to be a little too spicy for the Husband.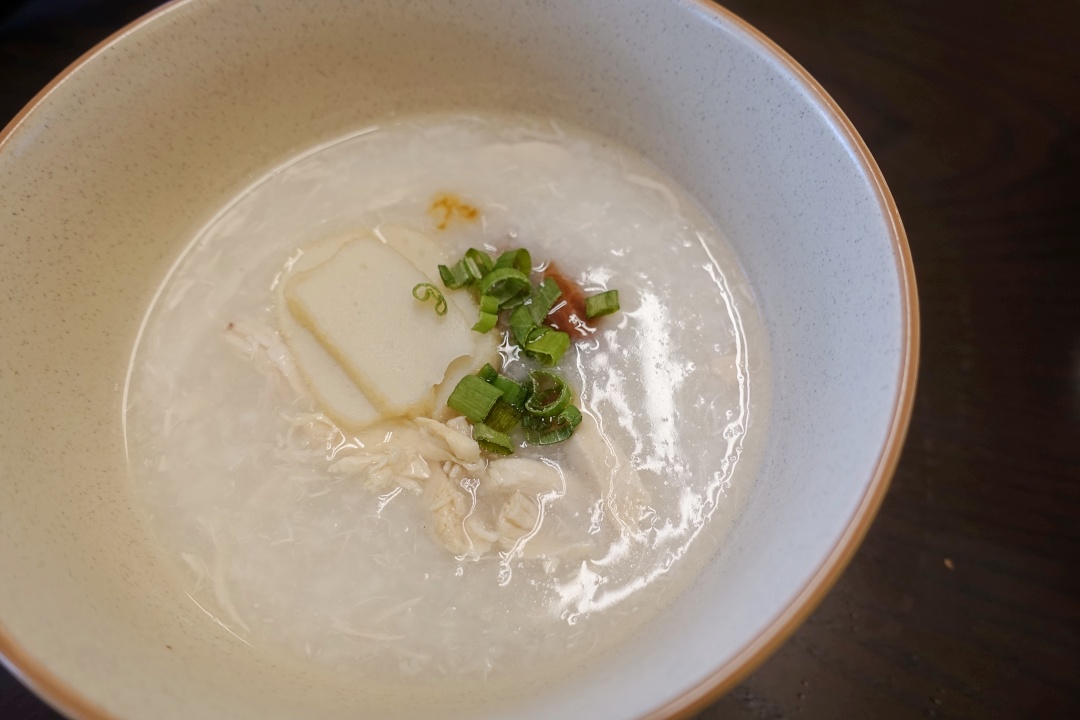 So disappointed with the porridge I had. It was, at best, lukewarm. I would very much prefer my porridge/soup to be served hot.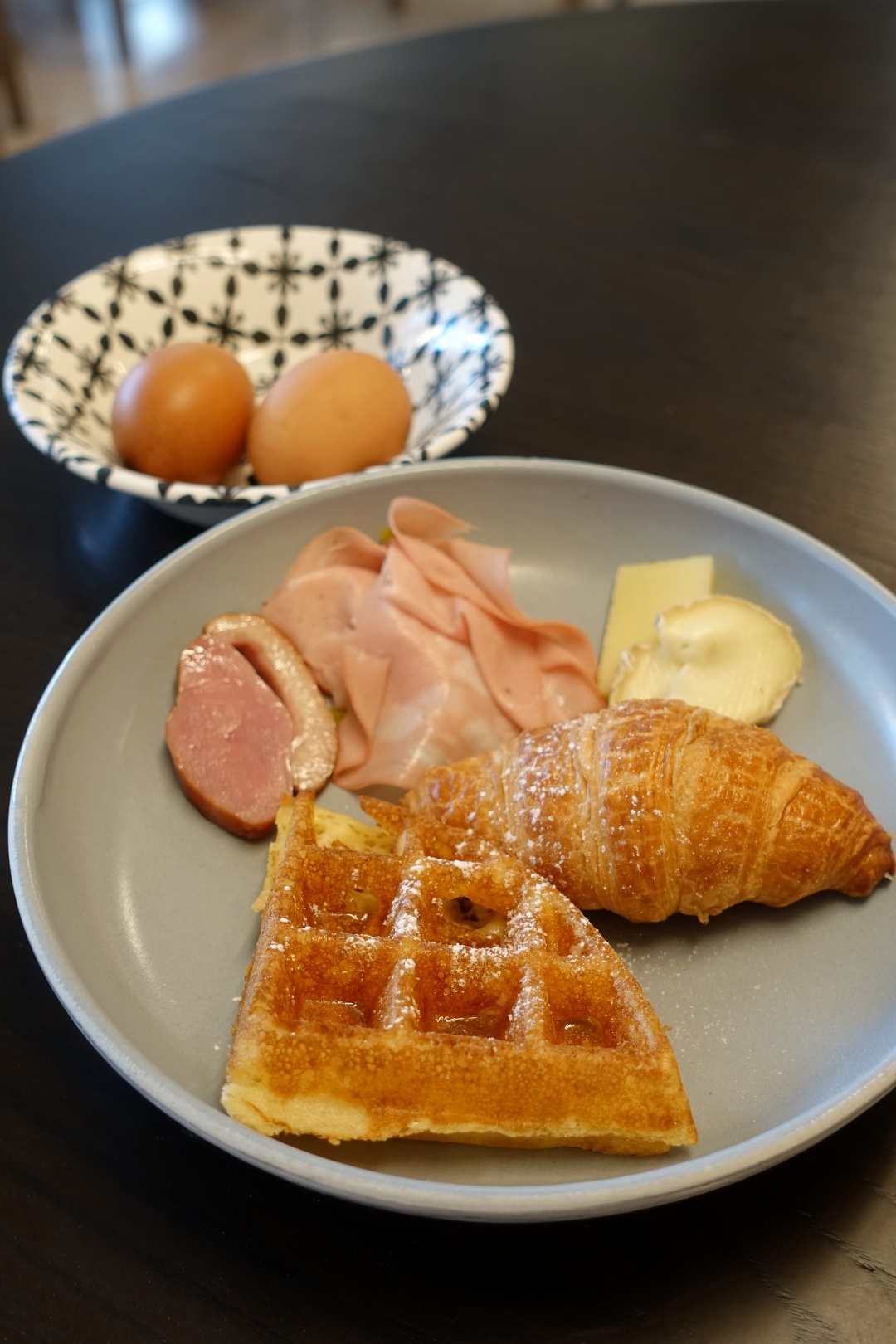 Waffle, croissant, ham and soft boiled eggs for the Husband.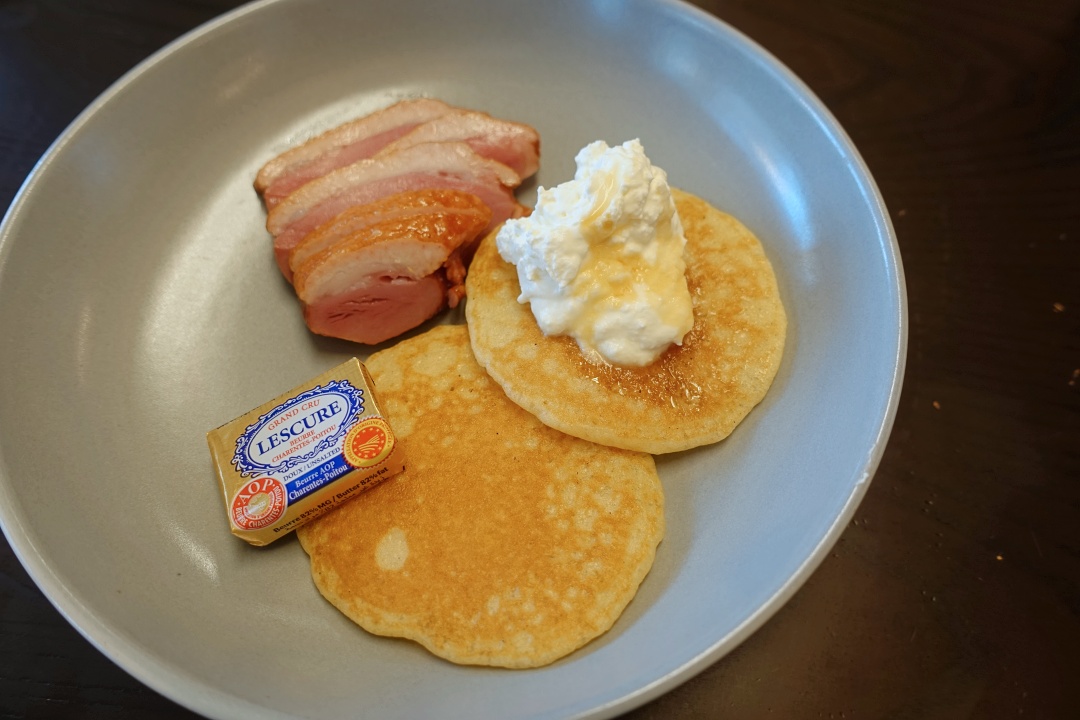 For me, one of the nicer food was the pancake. I like that the restaurant offer cream, maple syrup, honey and butter. The cream and maple syrup really helps to elevate the otherwise simple pancake.
I also got the smoked duck after the Husband had it and told me it was nice.
---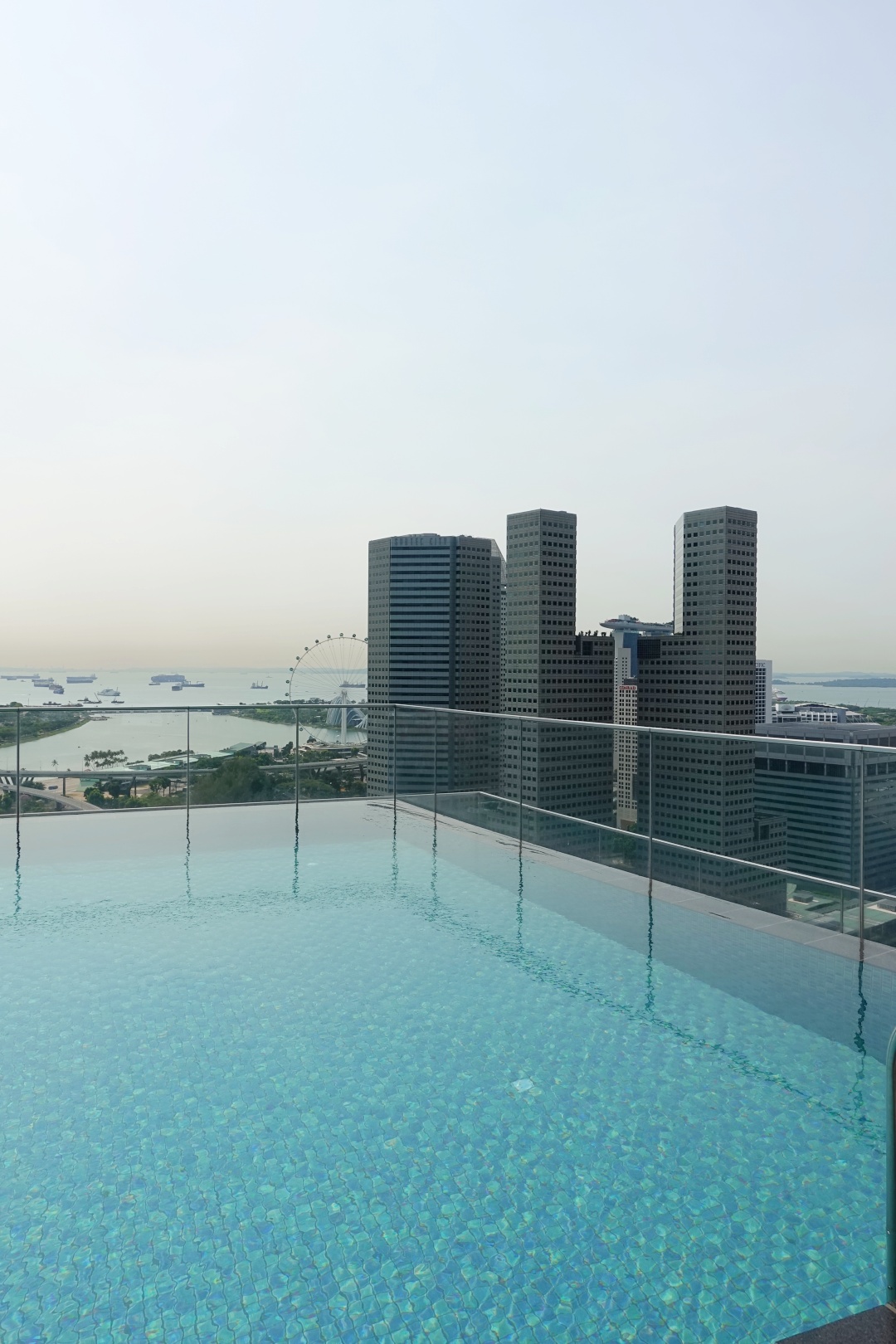 Went to check out the outdoor infinity pool (also on level 25) after having our breakfast. Didn't get to snap a photo of the sunbeds as there were quite a handful of guests hanging around the area.
To be honest, the rooftop pool looks a lot more beautiful on photo on Andaz Singapore's website than it did in real life. Perhaps because there were quite many guests at the pool area and the pool wasn't that big, to begin with; hence, it kind of fell short from expectation.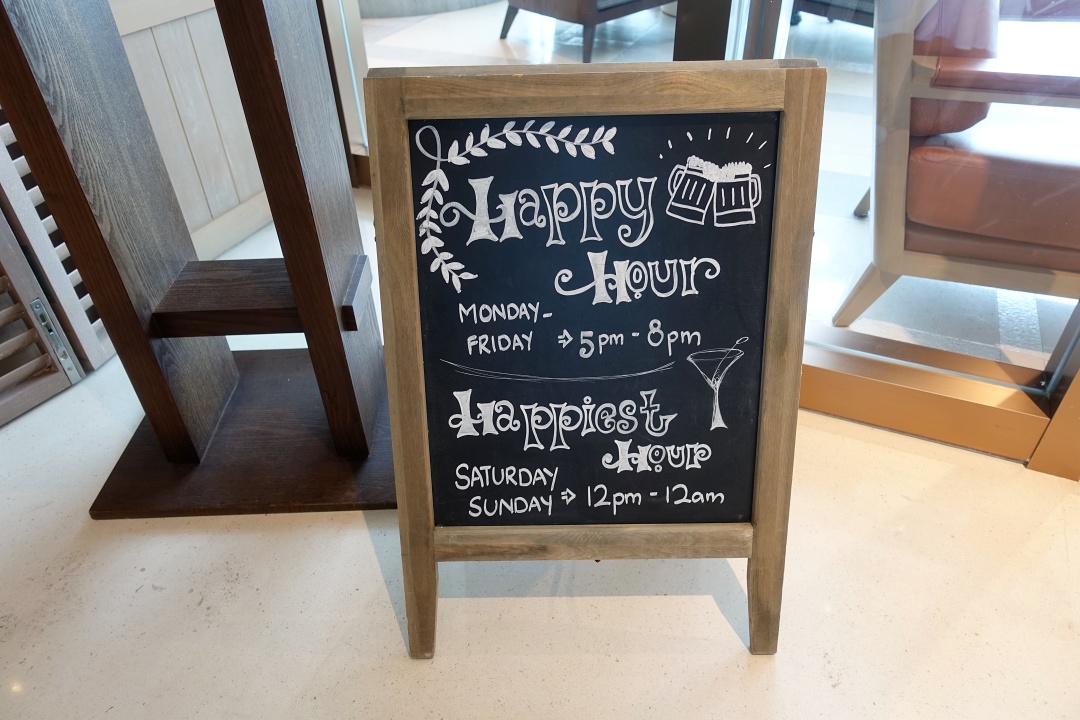 Happy Hour at Bar Square.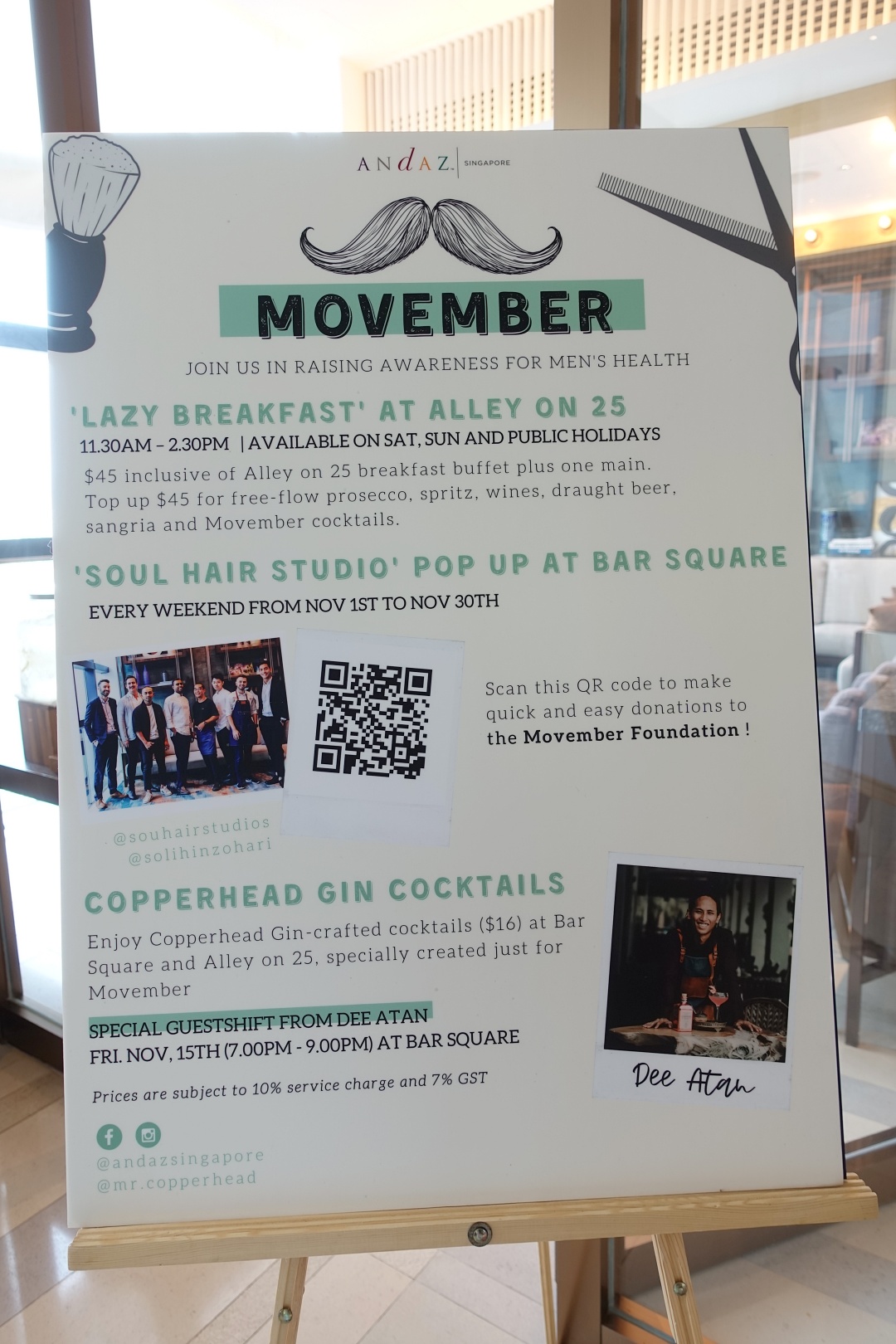 The Husband almost wanted to try out the 'Soul Hair Studio' Pop Up at Bar Square, where one can get a shave or trim by making a donation on their website. There's no minimum amount to donate per se, so it's up to the individual on how much they wanted to put in for charity. All funds collected from the event will be donated to the Movember charity.
In the end, he didn't want to wash and re-style his hair, so he decided to give it a miss. We checked with one of the F&B staff and apparently the pop-up is taking place every weekend (in November) from noon to around 14:00.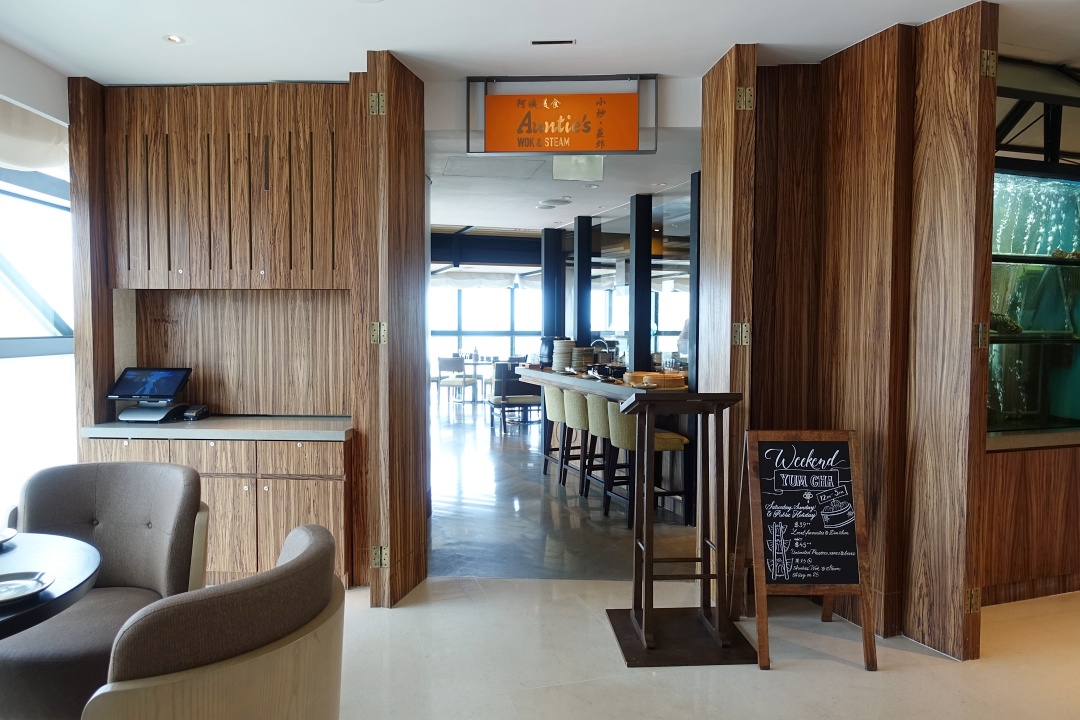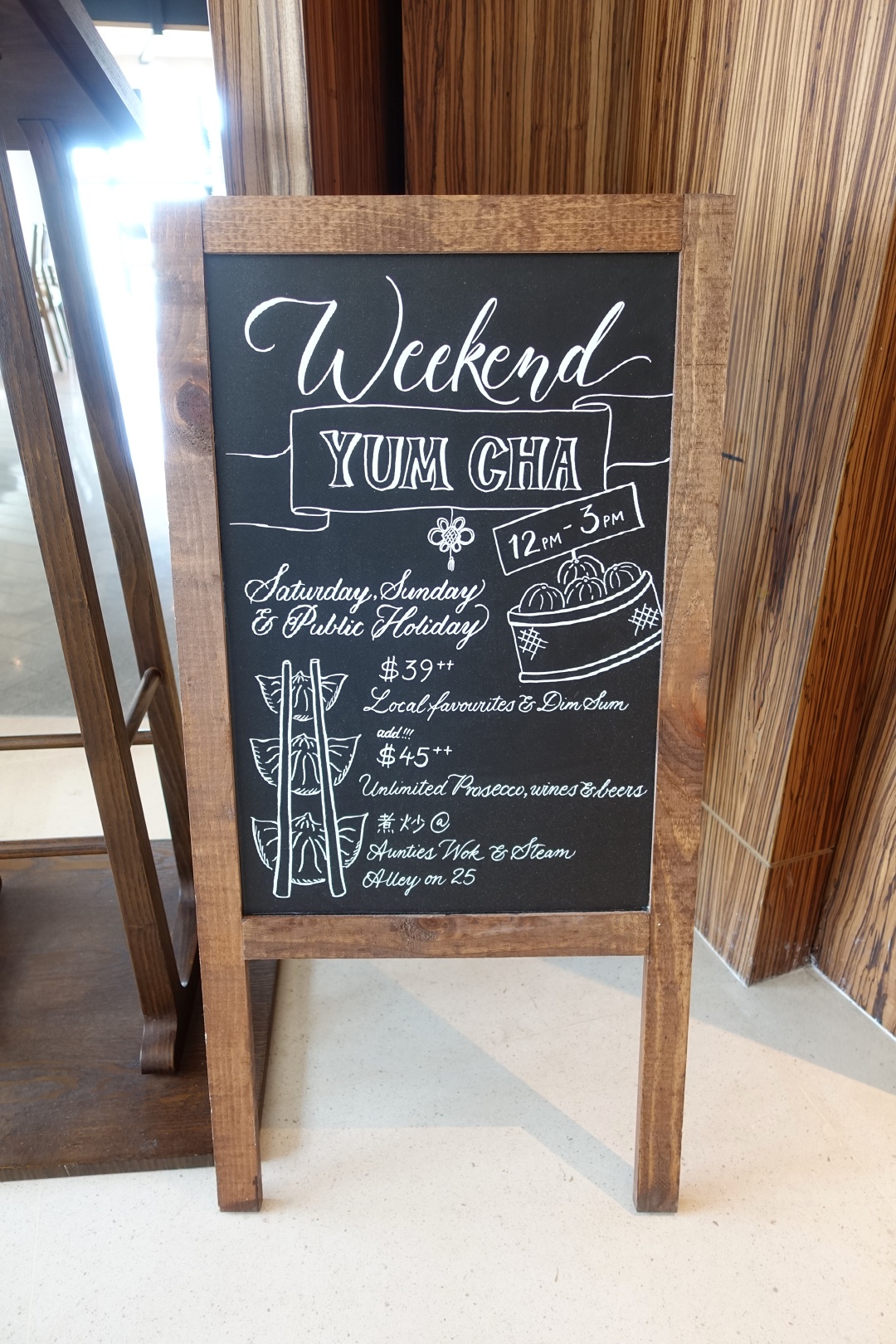 Weekend Yum Cha happening from 12:00 – 15:00 at Auntie's Wok and Steam on level 25.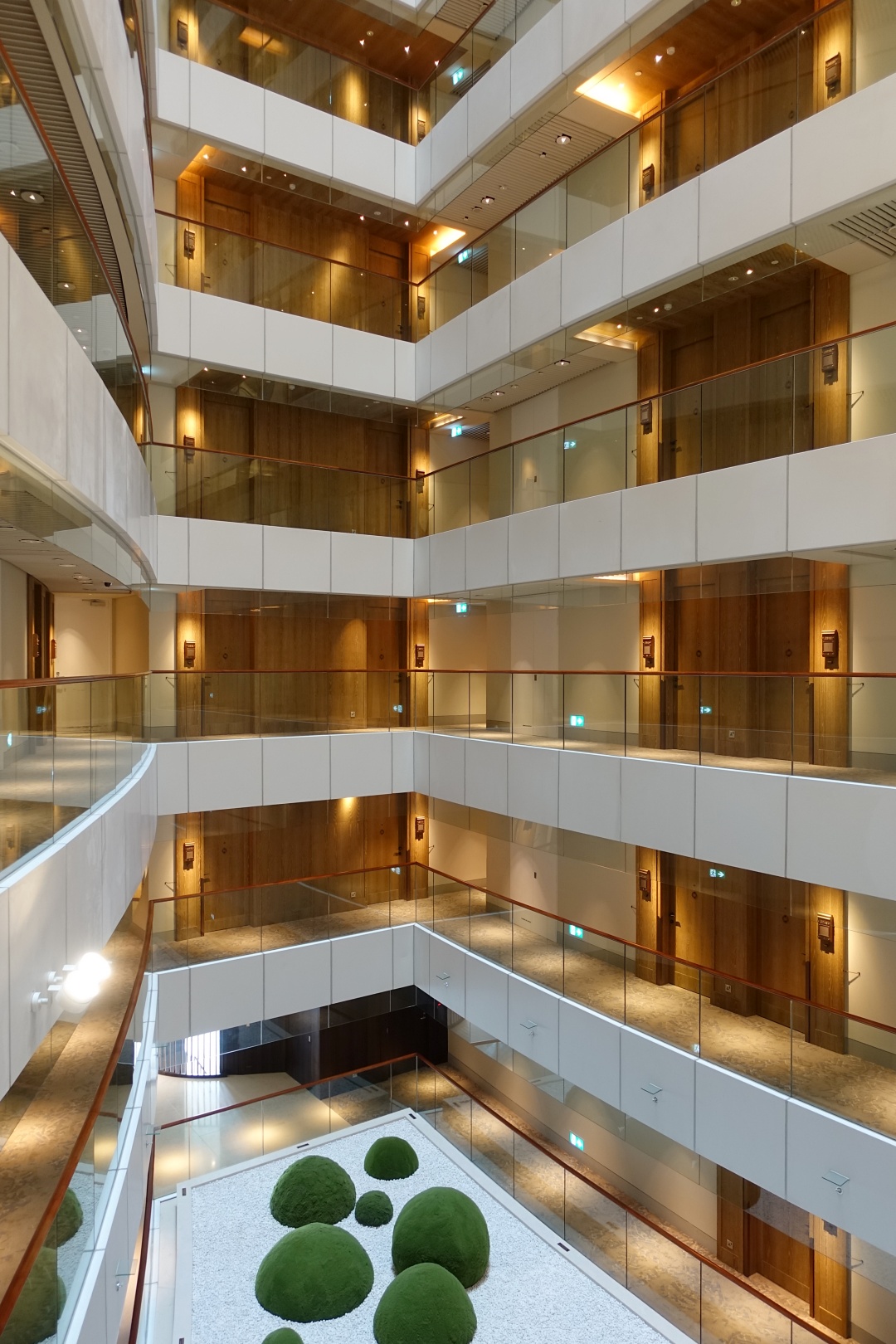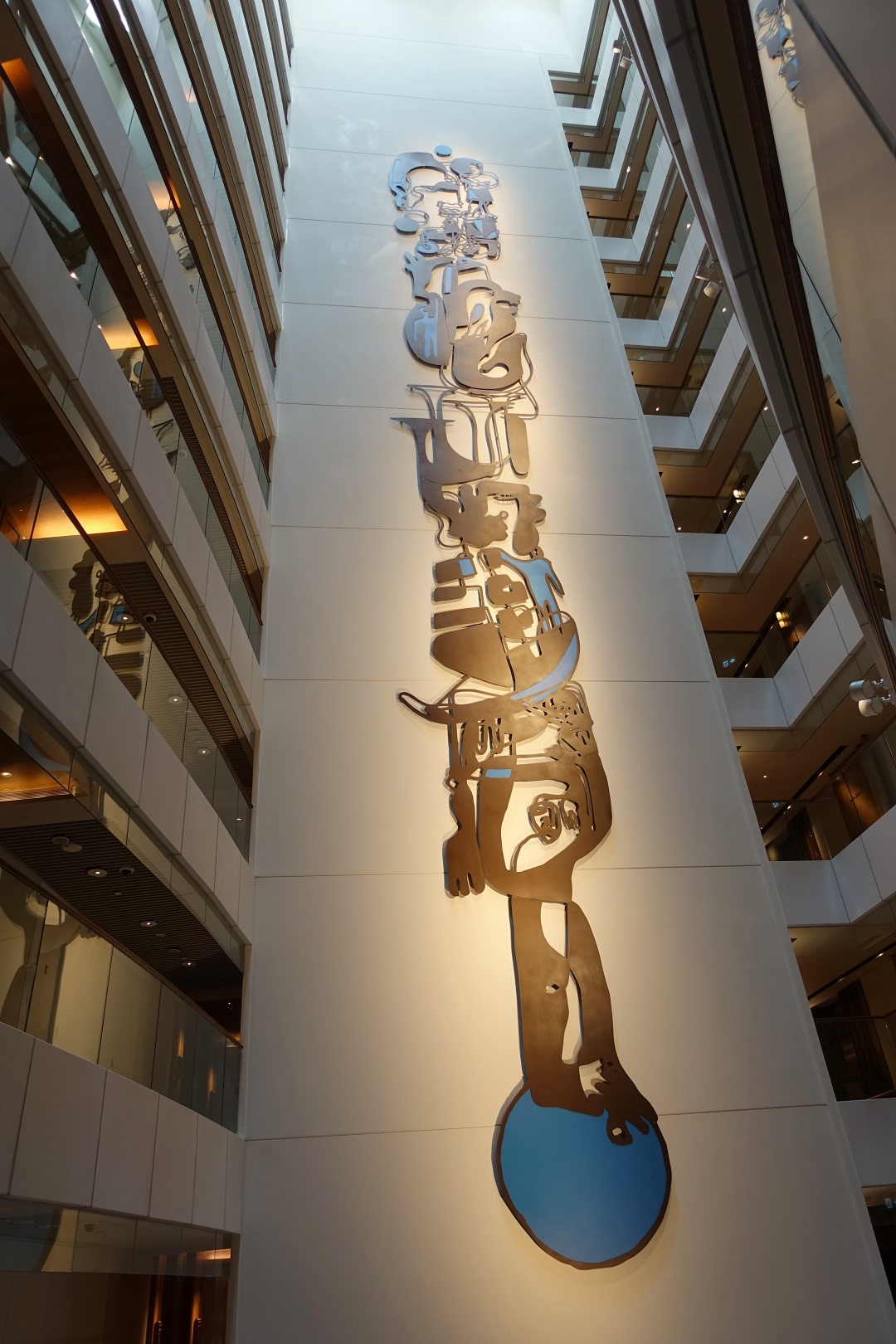 Made our way back to our room, only to realise that the staff was doing housekeeping. As such, we decided to go down to the basement level to see what shops they have in the building.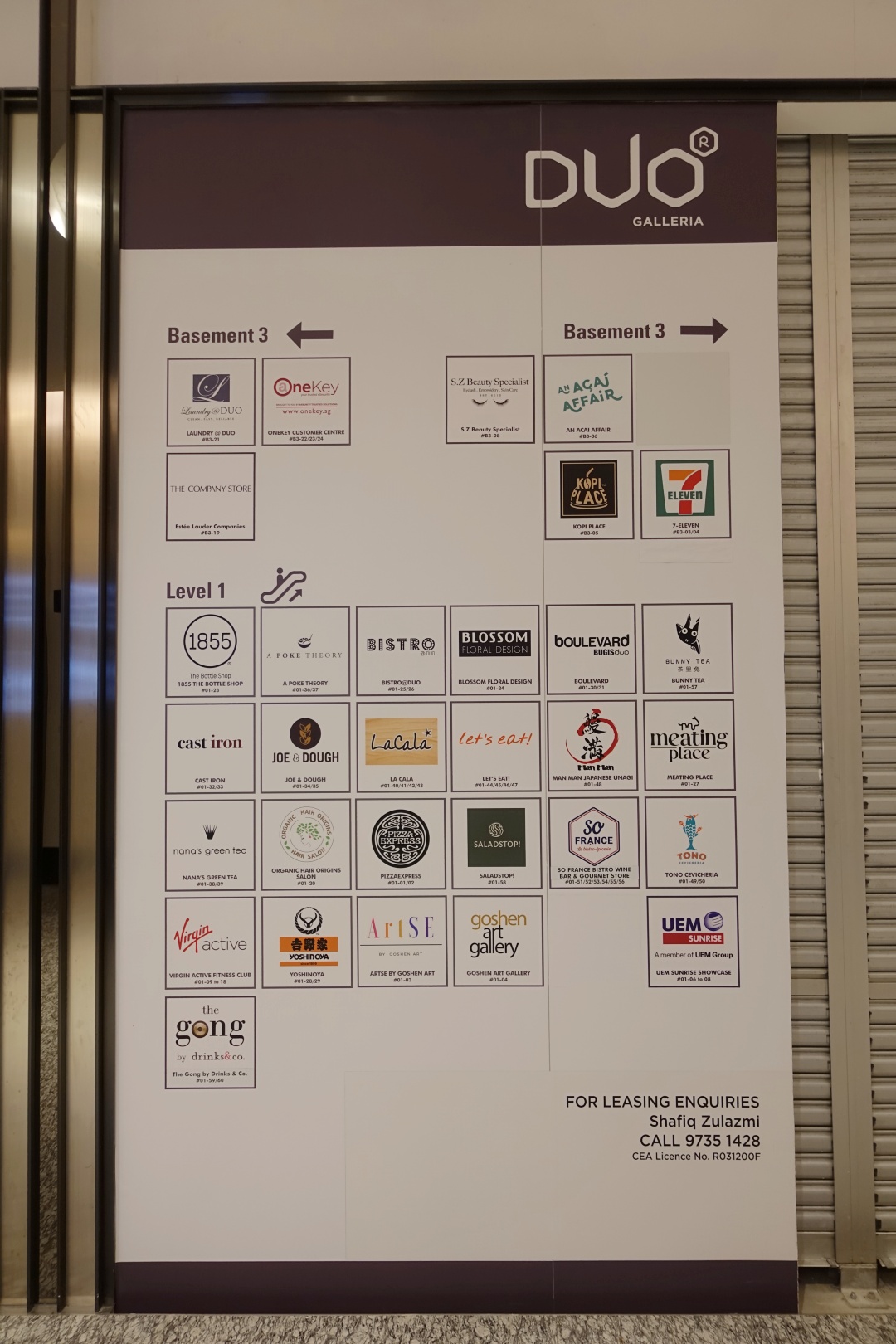 Most of the shops at Basement 3 were closed on weekends; 7-Eleven was open though. Didn't know there was a 7-Eleven, else we might have come to buy a lighter the night before.
The basement is also connected to Bugis MRT Station, making it convenient and accessible for both locals and tourists!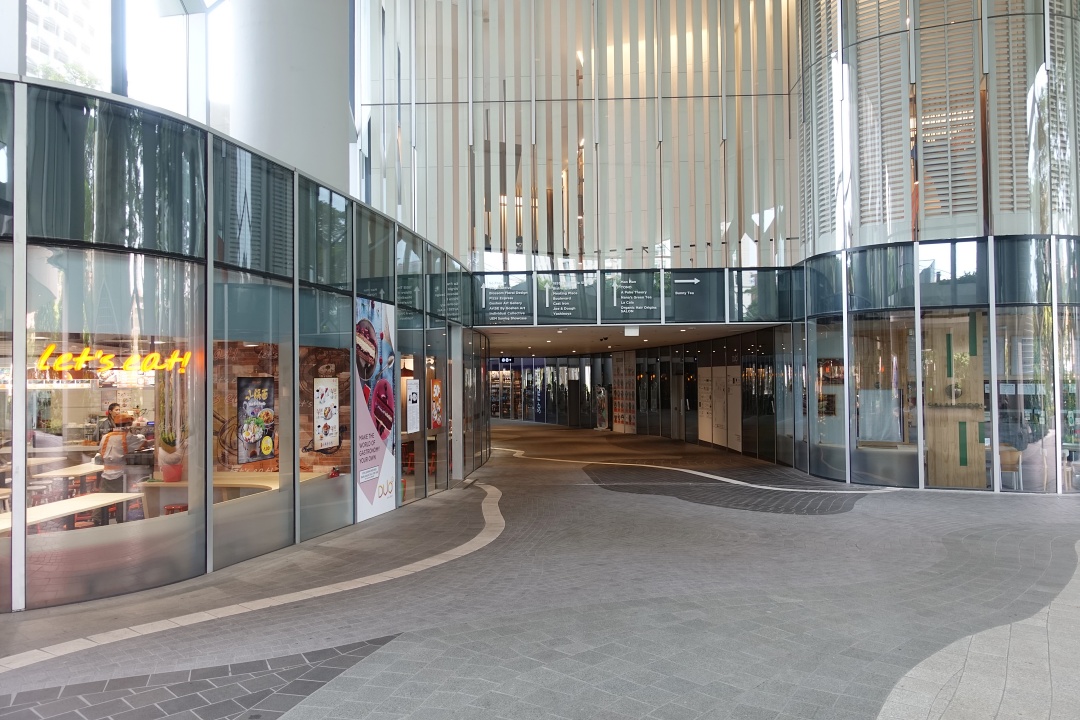 Went back to the hotel; as we weren't sure if our room was ready, we went to check out the rooftop on level 39.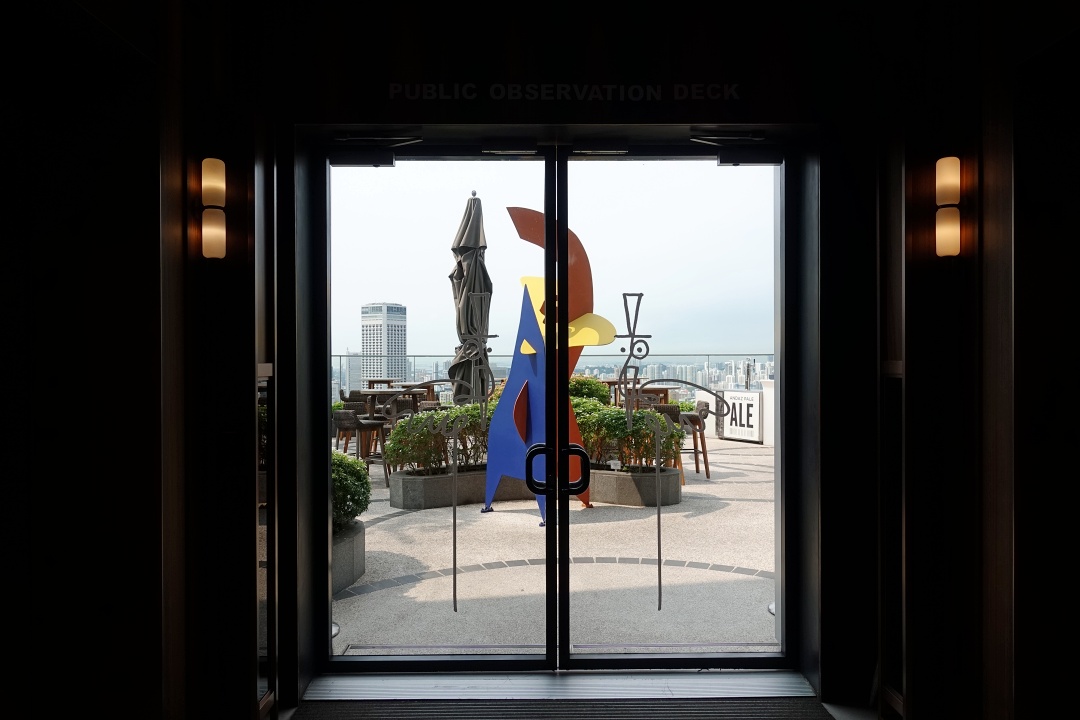 The rooftop also houses Mr Stork, a destination bar providing 360-degree views of the city. But since we were there some time in the late morning, the bar was yet to open.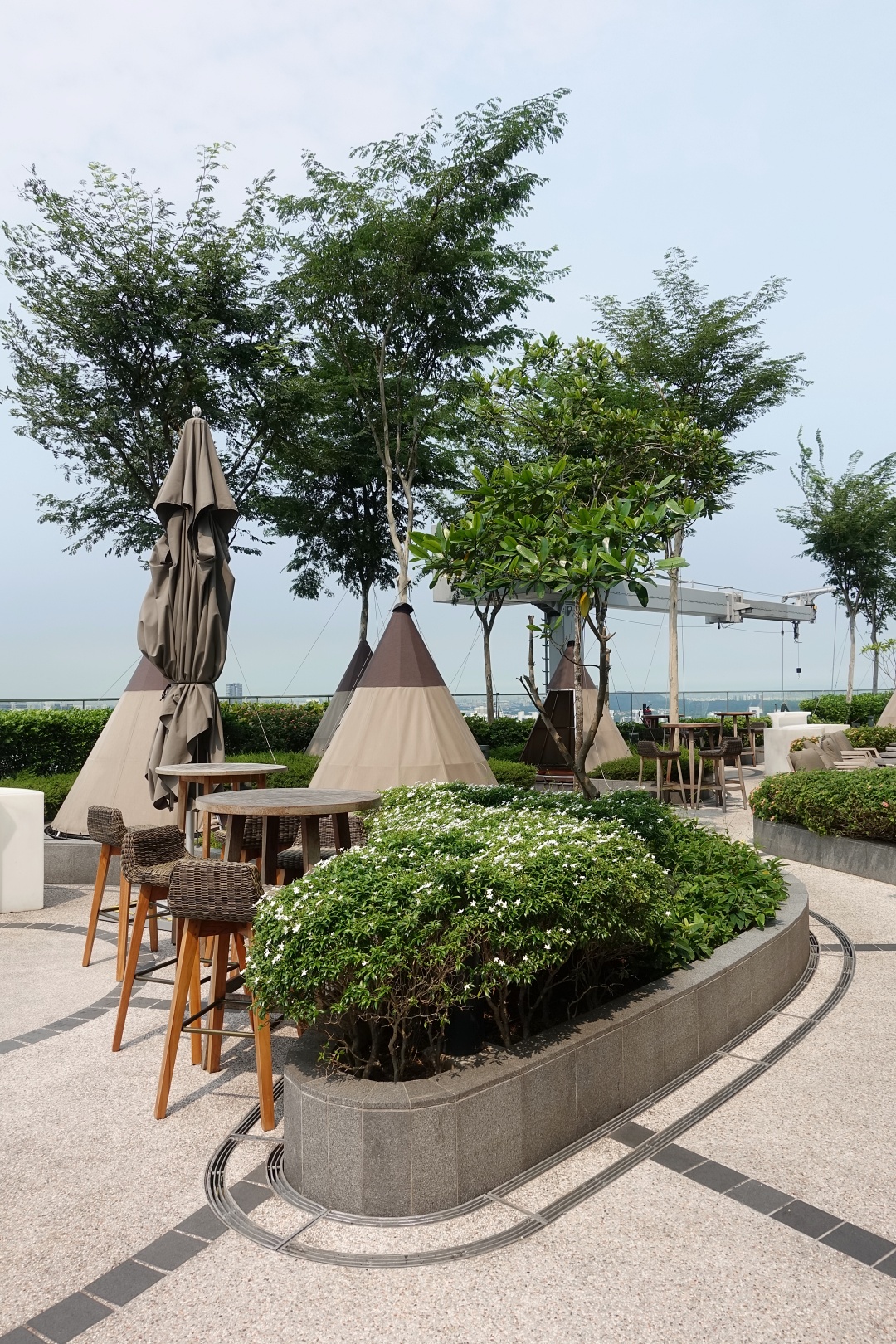 Came across the teepee huts, which, according to the Husband, was quite iconic to Andaz Singapore. Apparently, a lot of people came up here to take their Instagram photos.
The place didn't look that special in day-time, but I'm guessing it looks beautiful in the evening.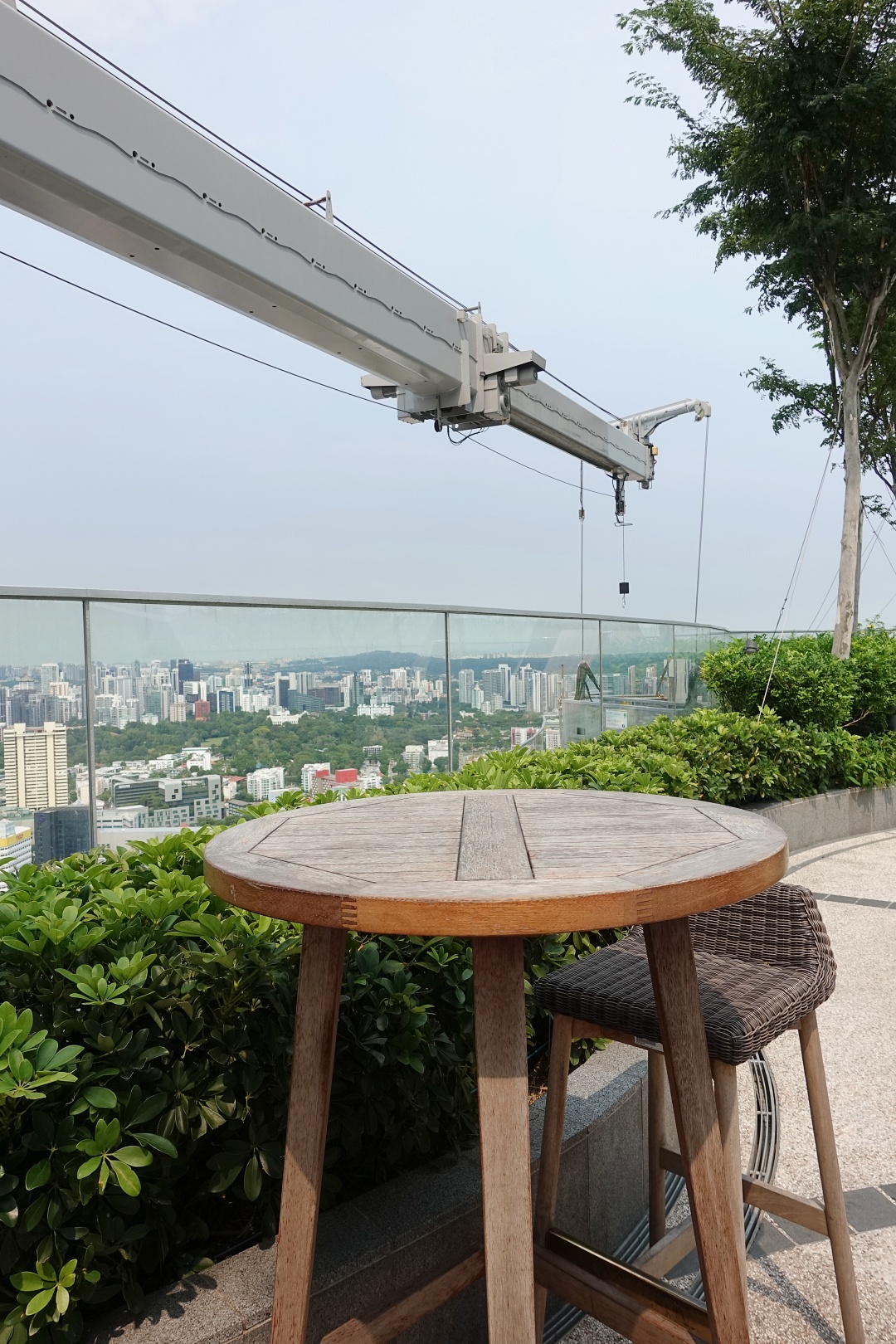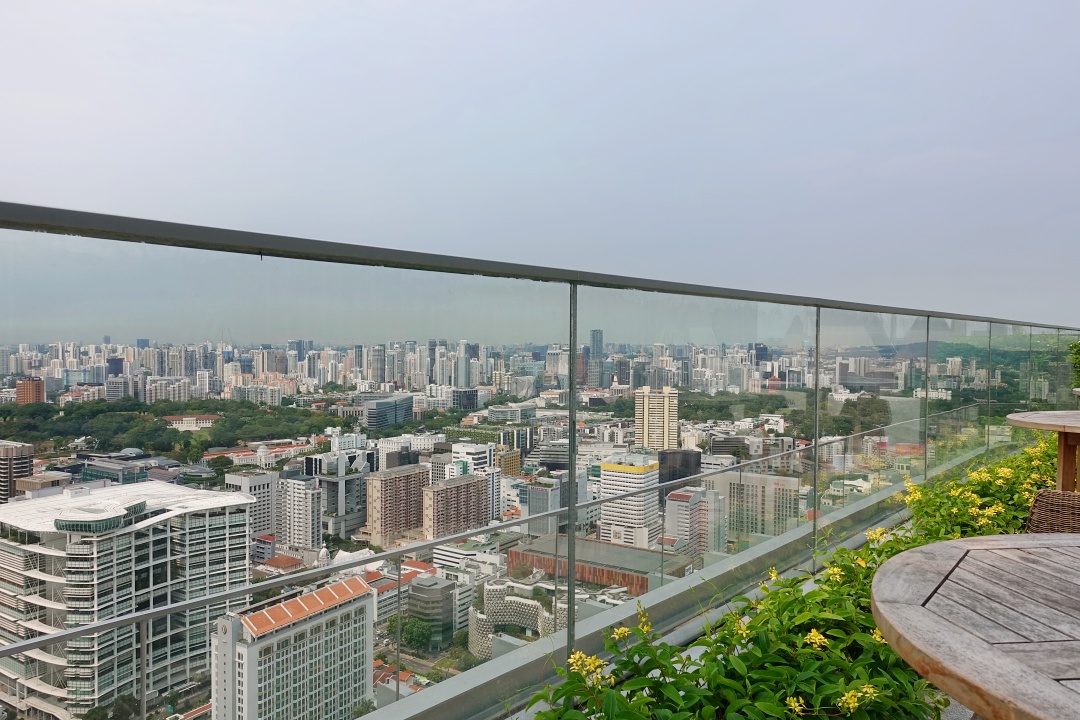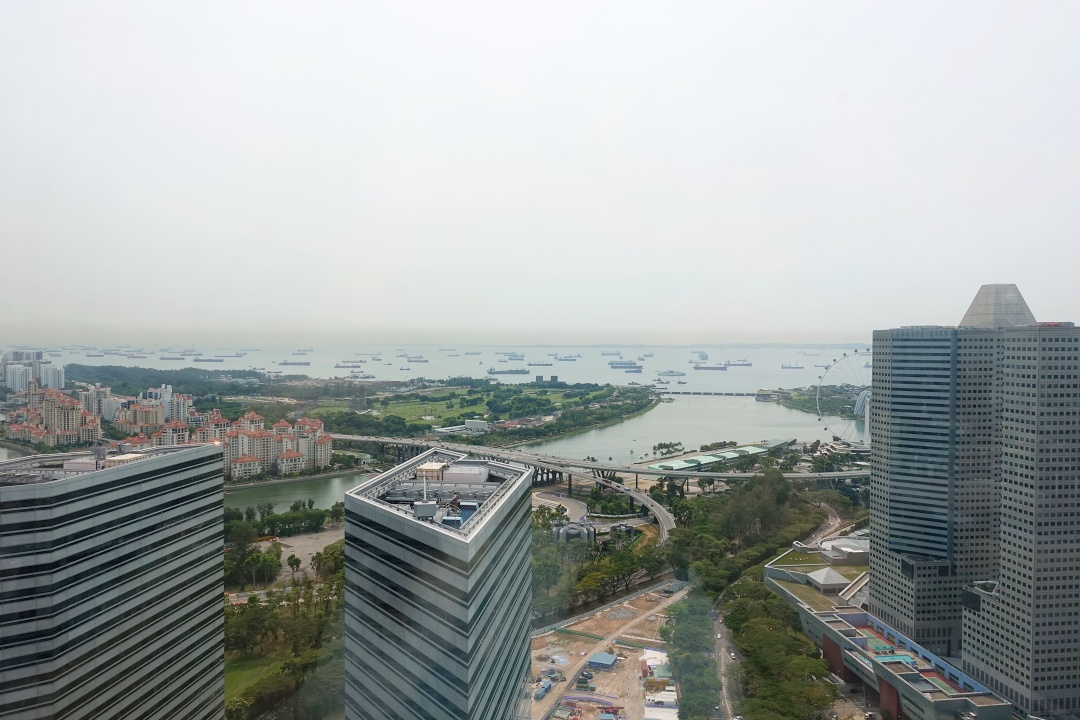 I'm guessing this is the view we get if we've booked a room with Bay View?
We ended up spending the rest of our afternoon in our room until around 16:00 when we decided to head out for lunch. We briefly considered going to Auntie's Wok and Steam. But seeing that we didn't have an excellent breakfast, I wasn't sure if I want to have my lunch at the hotel. In the end, I suggest going to Somerset to have sushi. I recalled coming across a recommendation for Sushi Shiki Hanamaru at Orchard Central, so I was keen to give it a try.
Sushi Shiki Hanamaru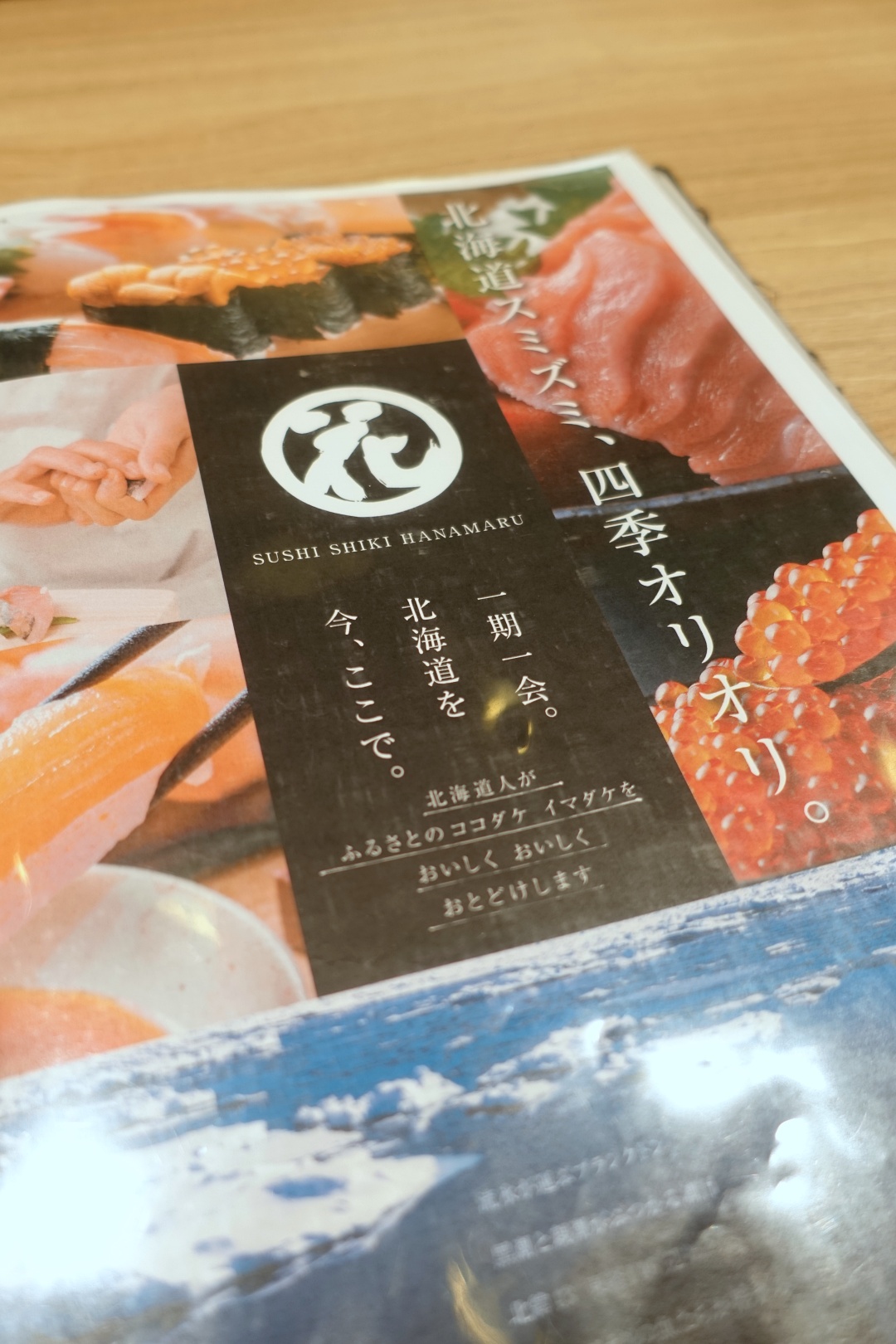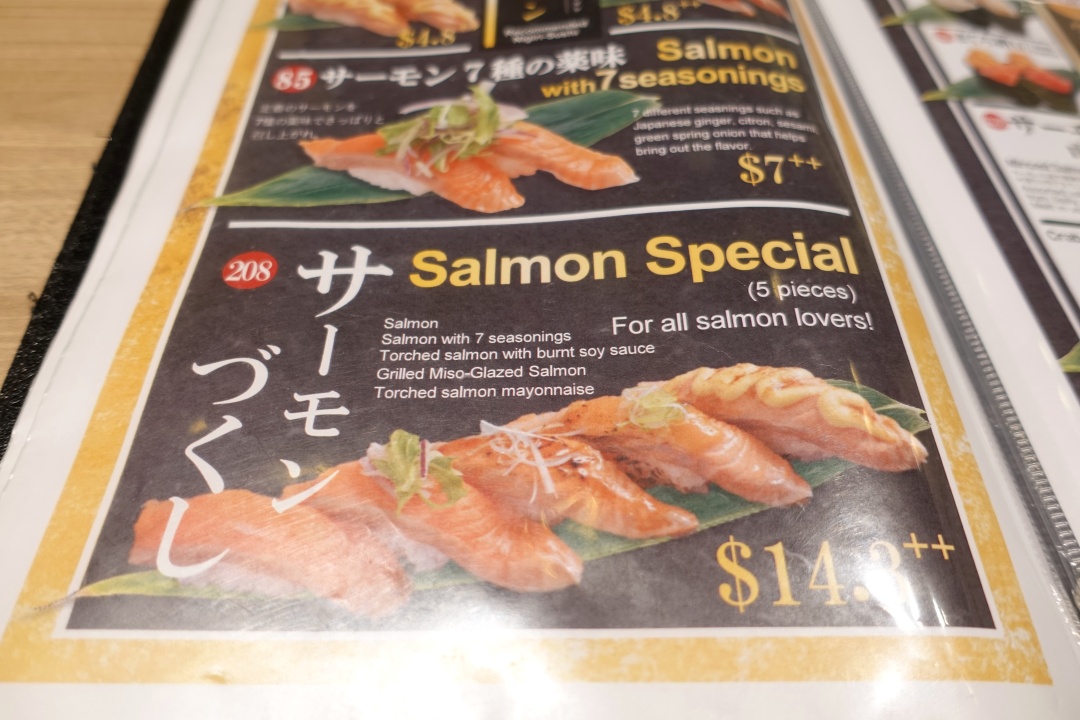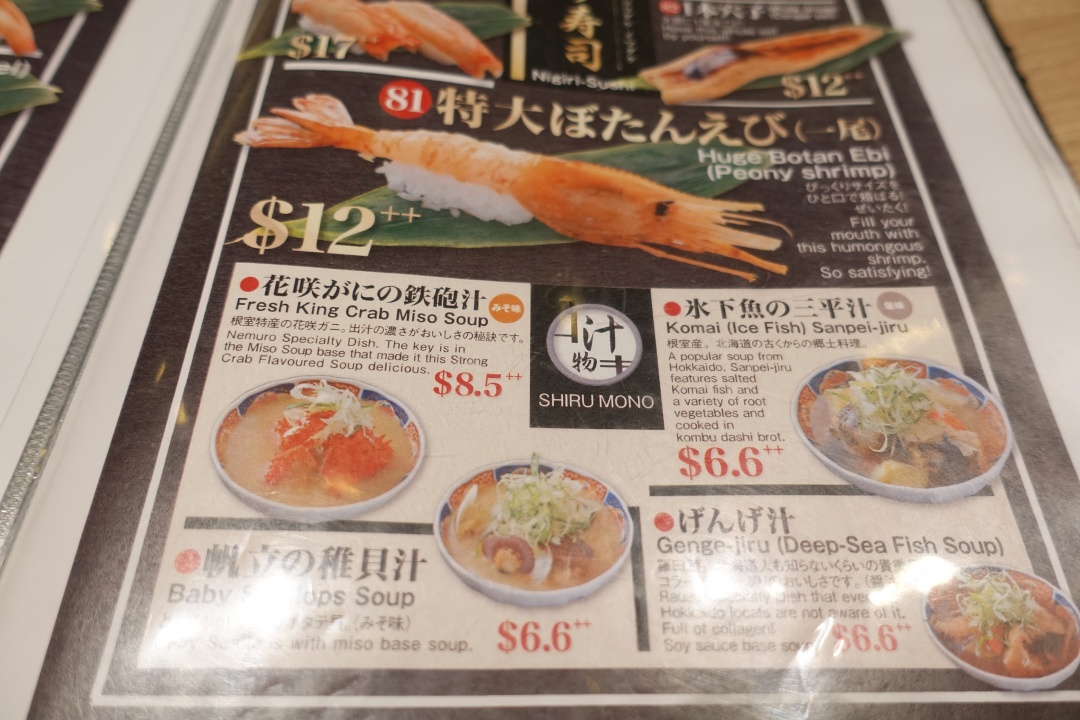 I had a hard time deciding what to order. Since it was nearing dinner time, I didn't want to overeat and ended up not having an appetite for dinner.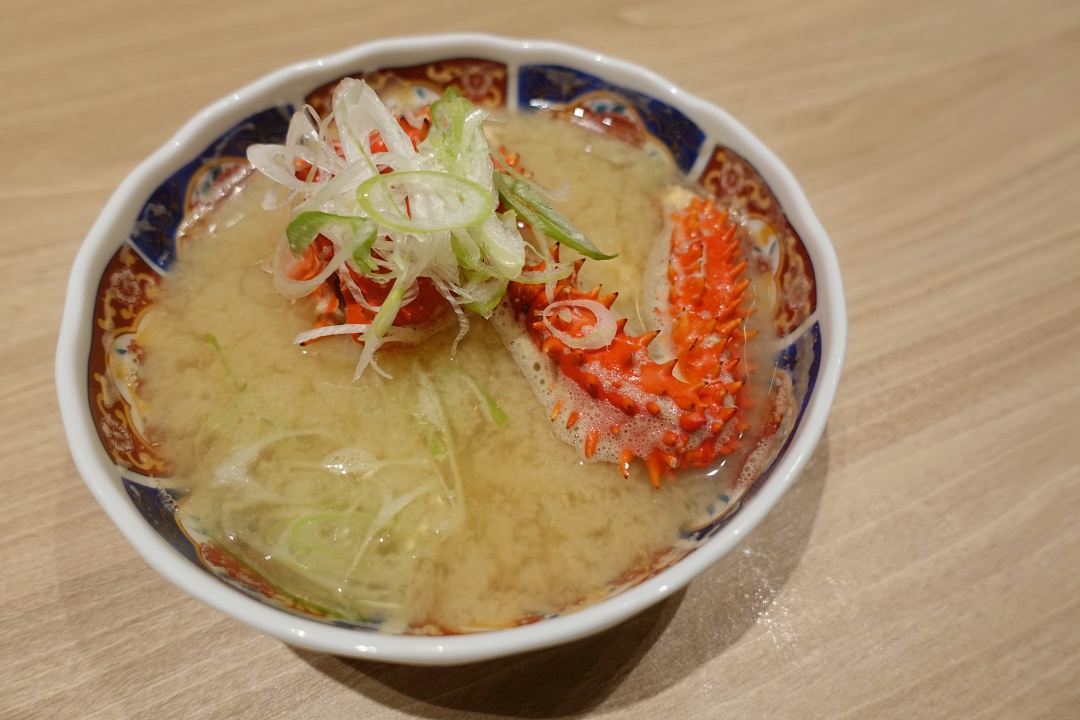 We started with a Fresh King Crab Miso Soup (SGD 8.50). A miso soup base that comes with a strong crab flavour. For the sake of trying, I had a sip of it. The soup has a distinct seafood/crab flavour, which was different from the usual miso soup. However, I didn't like it enough; hence, the Husband gets to enjoy the rest of it.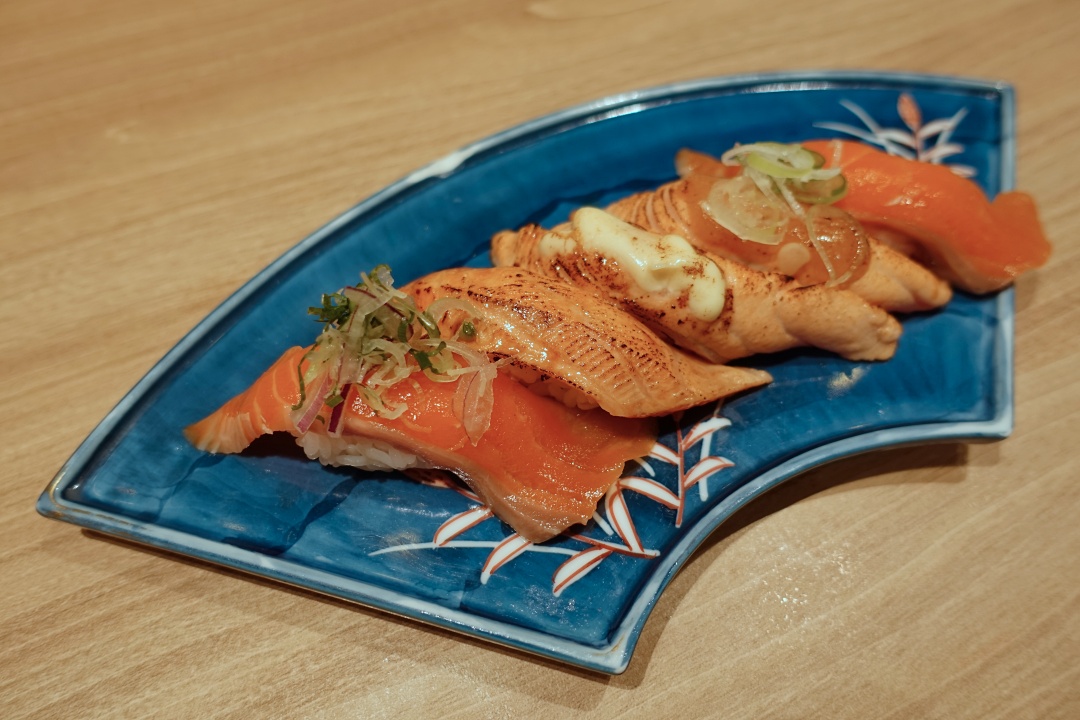 Coming up next, we had the Salmon Special (SGD 14.30). Consist of five pieces, there's the usual Raw Salmon, Salmon with 7 Seasonings, Torched Salmon with Burnt Soy Sauce, Grilled Miso-Glazed Salmon and Torched Salmon Mayonnaise.
For the price, I think it's worthwhile to get this set. Salmon were all very fresh.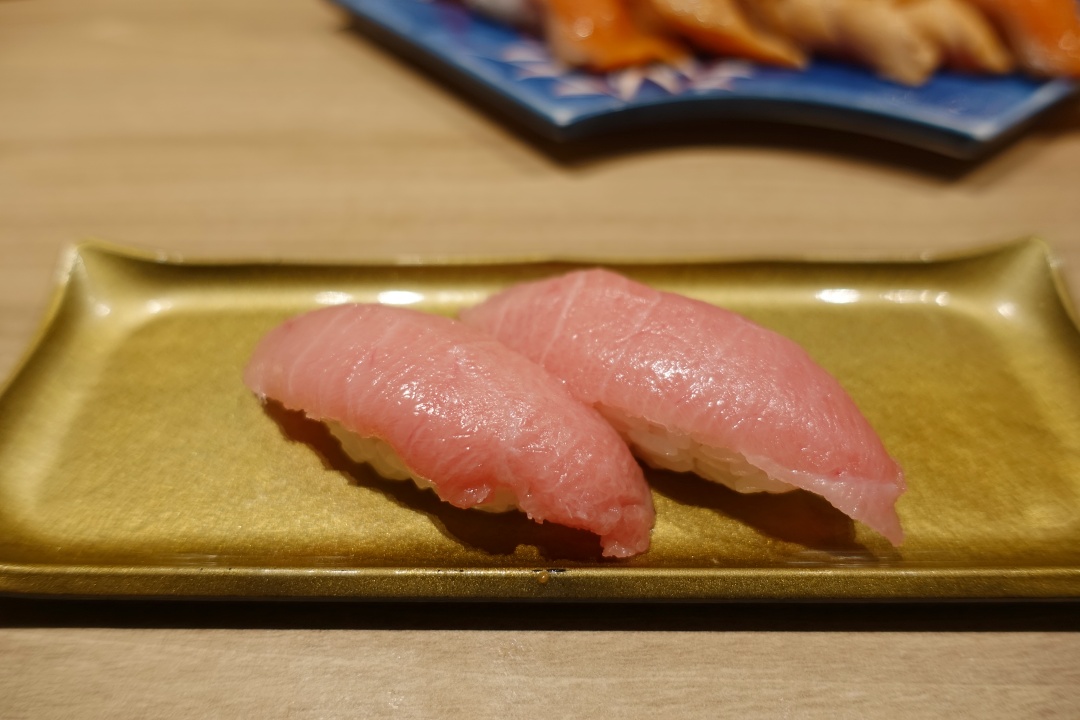 Then there's the Ootoro (the fattiest Tuna) priced at SGD 12 for two pieces. I was expecting a melt-in-your-mouth texture, but the Husband said that didn't happen.
I got a Torched Salmon Roll (SGD 20.50). Comes with avocado, cream cheese and a generous amount of mayonnaise on torched salmon; it was really yummy.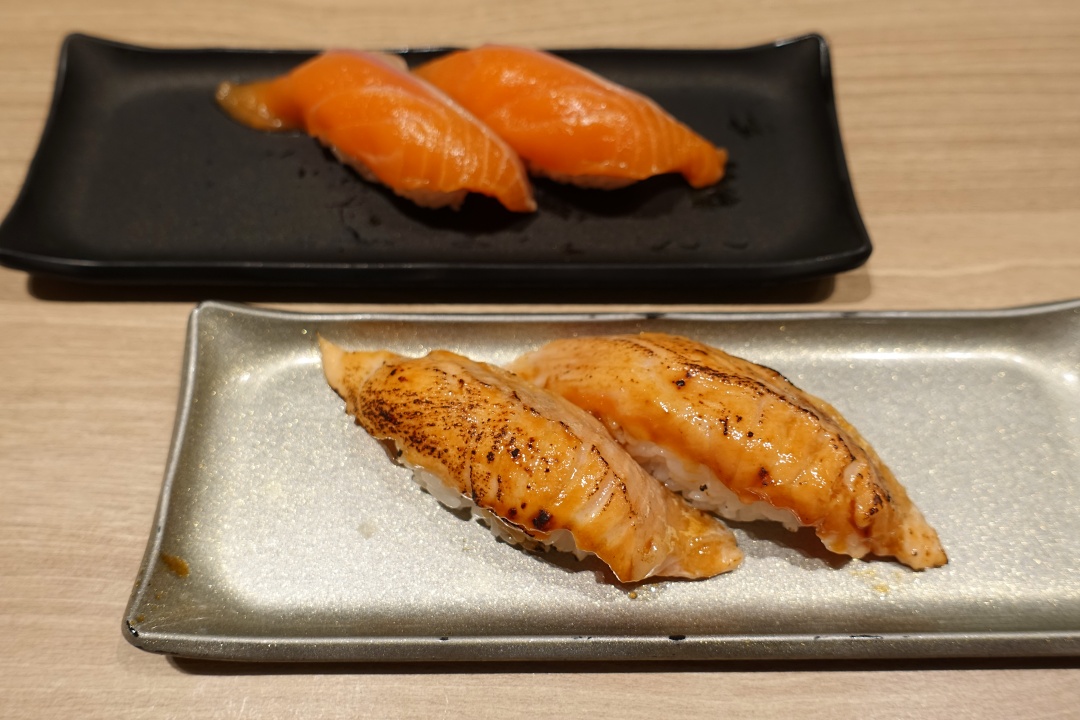 Lastly, we also had a plate of Salmon (SGD 4.80) and a plate of Torched Salmon with Burnt Soy Sauce (SGD 7). The Husband also got a Chawanmushi (SGD 7) which I didn't snap a picture.
Overall, I enjoyed our lunch at Sushi Shiki Hanamaru, and I wish I had eaten more sushi. I thought the sushi was really fresh and yummy and comparable to those I had in Japan. (Seeing that it been a while since I last had sushi, I might have been biased.) The restaurant is most likely one of the better ones in Singapore, and I look forward to being back. Price for their sushi starts from SGD 4.80++ for two pieces, and while it may not be the most affordable options, I still think it's worth it. (We paid close to SGD 90 after tax and service charge.)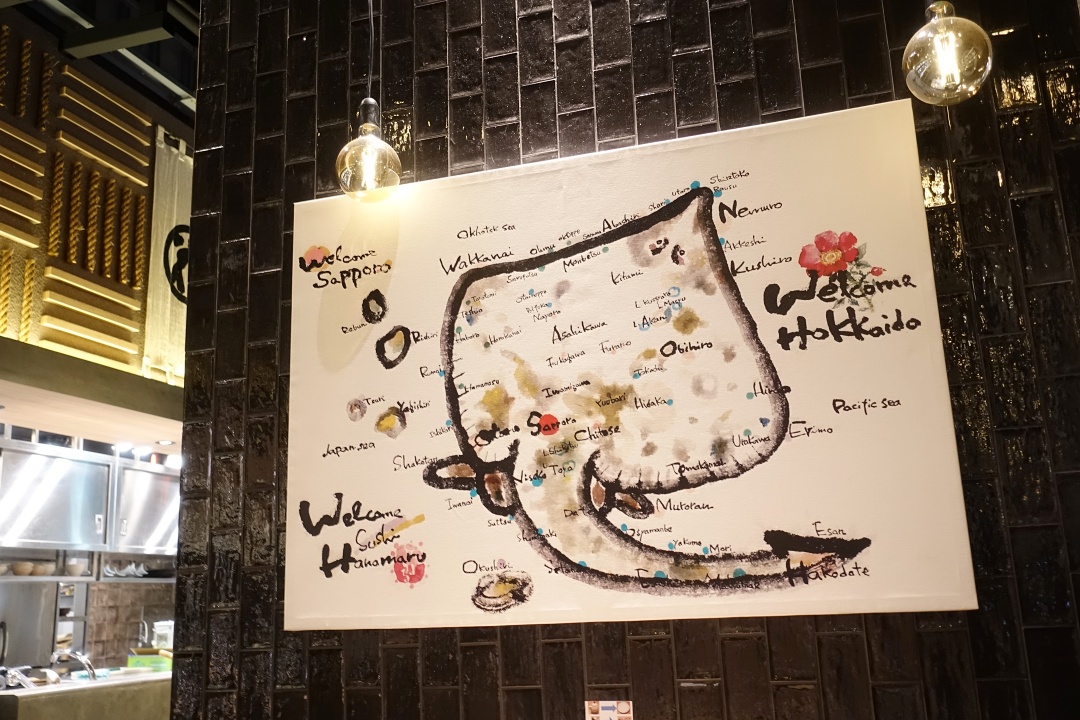 Sushi Shiki Hanamaru
181 Orchard Road, #B2-11/29/44/48 Orchard Central Hokkaido Marche, Singapore 238896 >> Opposite Don Don Donki
Tel: +65 6509 8541
Opening Hours: Daily, 11:00 – 22:00
---
After lunch, we went to get some cakes before heading back to the hotel. The plan was to go to the pool but seeing that it was quite crowded at 18:30, we gave it a pass.
At 20:00, we made our way up to level 38 to have dinner at 665°F steakhouse.
665°F
We didn't make a reservation but was able to get a table immediately upon arrival. The restaurant was a lot smaller than I had expected.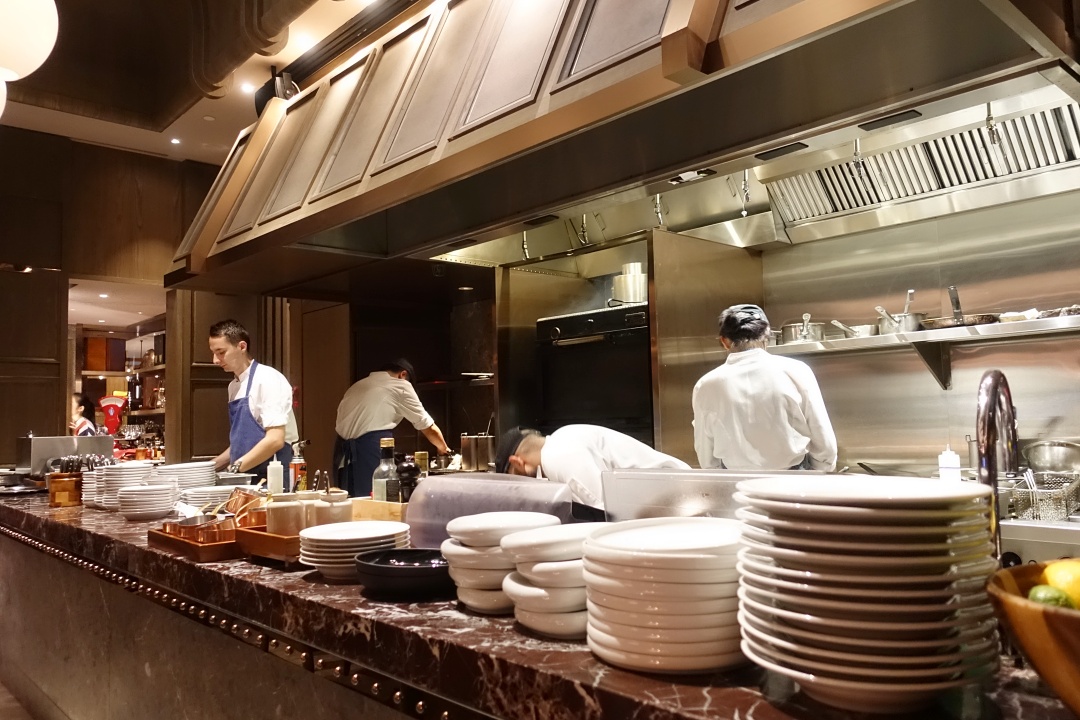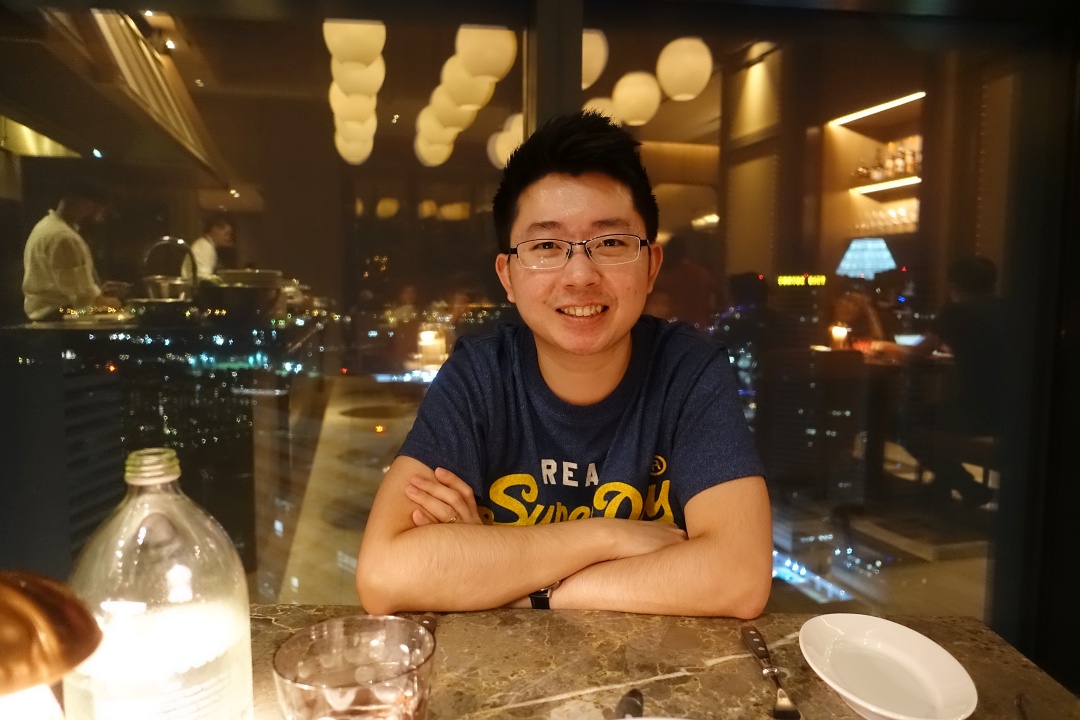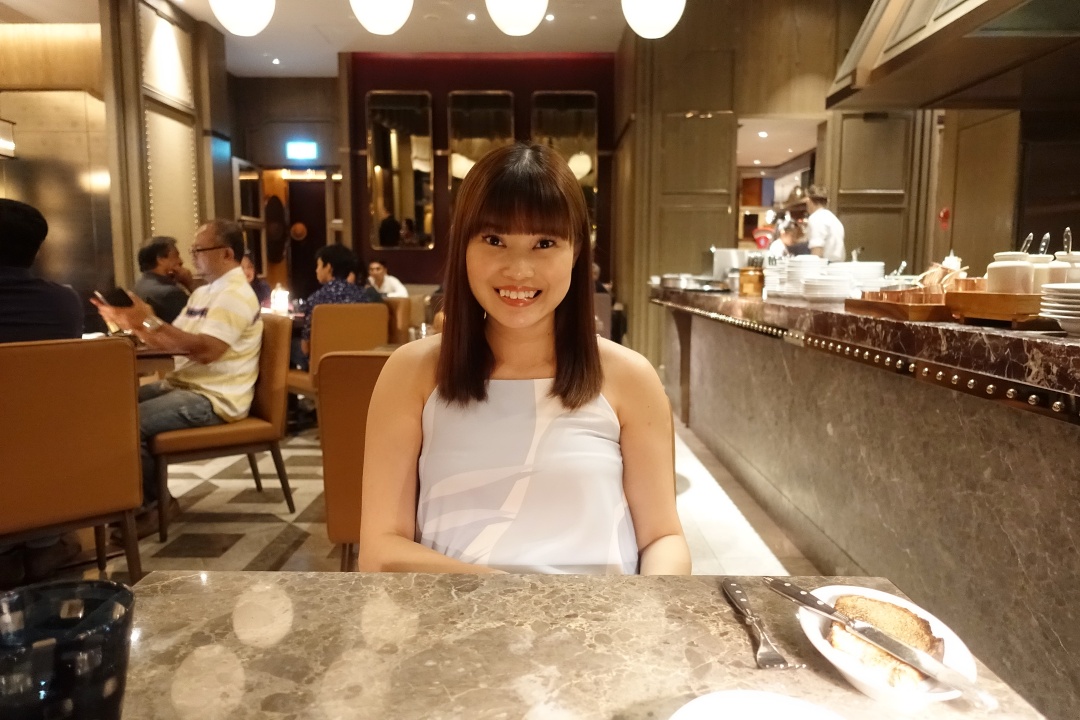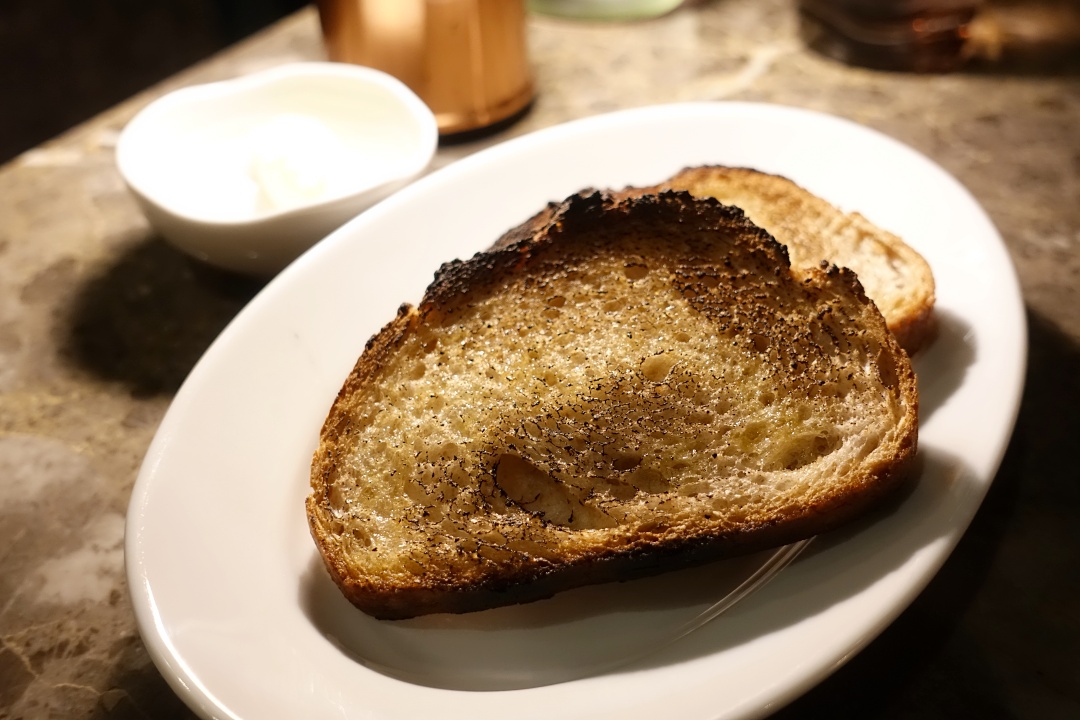 Not sure if you can tell from the photo, but the complimentary bread we got was burnt at the top.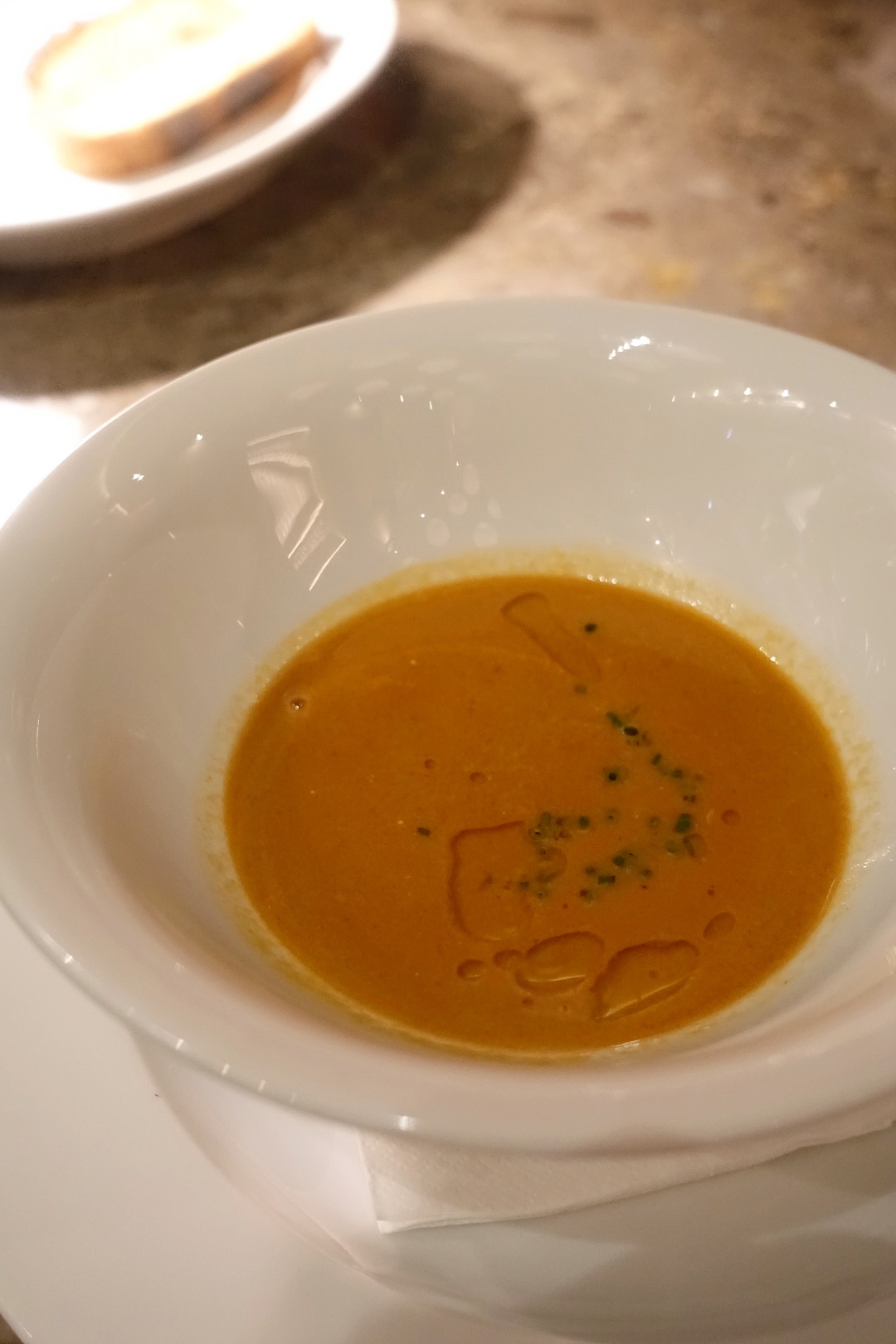 The Husband ordered a Lobster Bisque (SGD 25); not sure why, but they separate it into two portions, so we ended up each having a bowl. I'm not a fan of Lobster Bisque, so again, I only had a taste of it, before passing the entire bowl to the Husband.
I believed we waited quite a while (maybe around 40 minutes?) before we got our mains.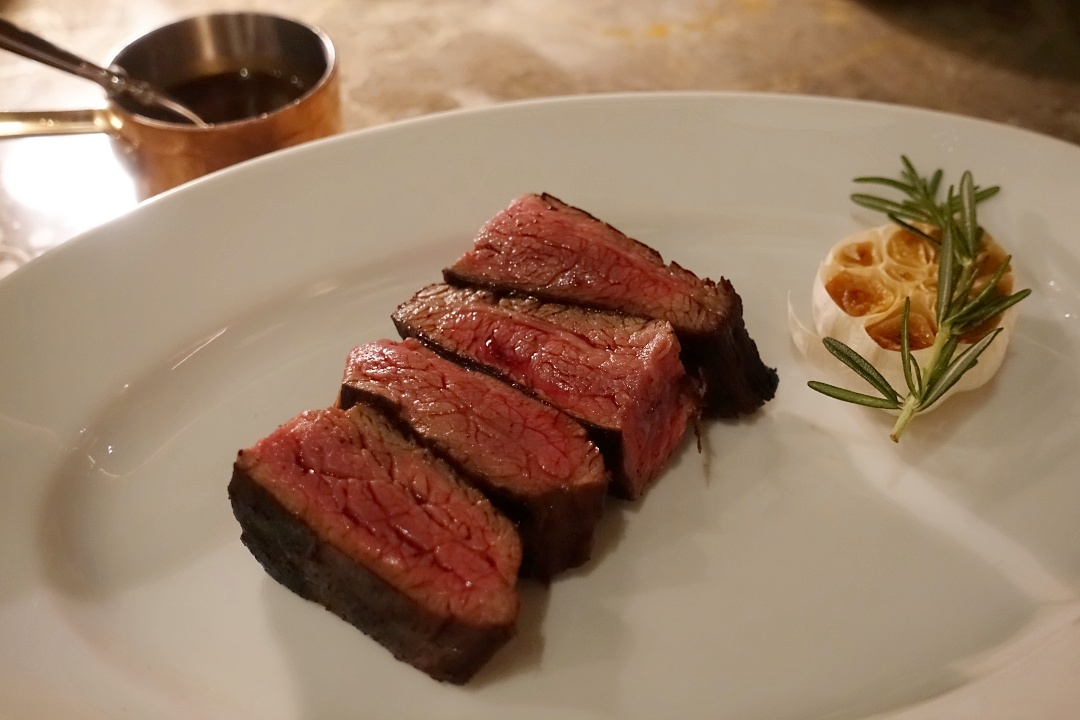 The Husband got the Wagyu Flank Steak, 210g (SGD 62),
while I had the Tenderloin, 200g (SGD 58).
For the sauce, we get to choose from Chimichurri, Béarnaise, Green peppercorn, Mushroom and Salsa Verde. Decided to go with the safest choice – Mushroom.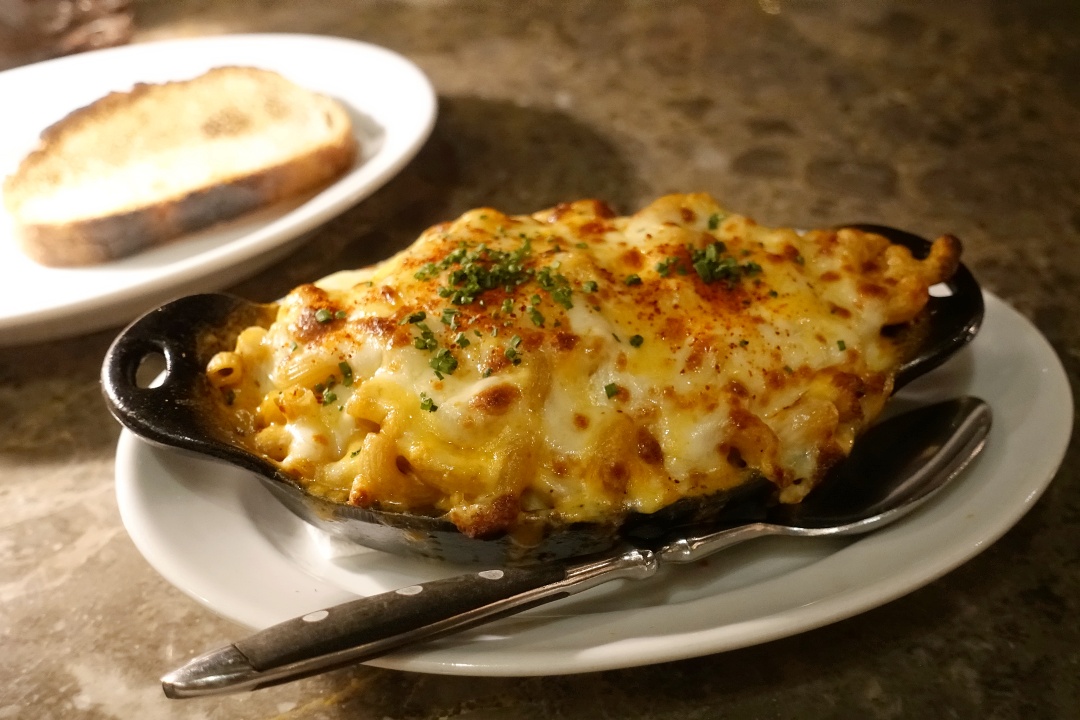 We also ordered a Mac & Cheese with add-on Lobster (SGD 15 + 20) for sharing.
On the menu, the Mac & Cheese was listed as Sides, so we were surprised to get such a big portion. After finishing the steak, we could hardly finish half of the Mac & Cheese.
All in all, I felt that dinner was quite disappointing. I ordered well done for the Tenderloin, and the surface was slightly charred. The steak also wasn't as juicy as I hope. For the price, I think we can have better steak elsewhere.
Our total bill came up to SGD 220, after-tax.
Bar Square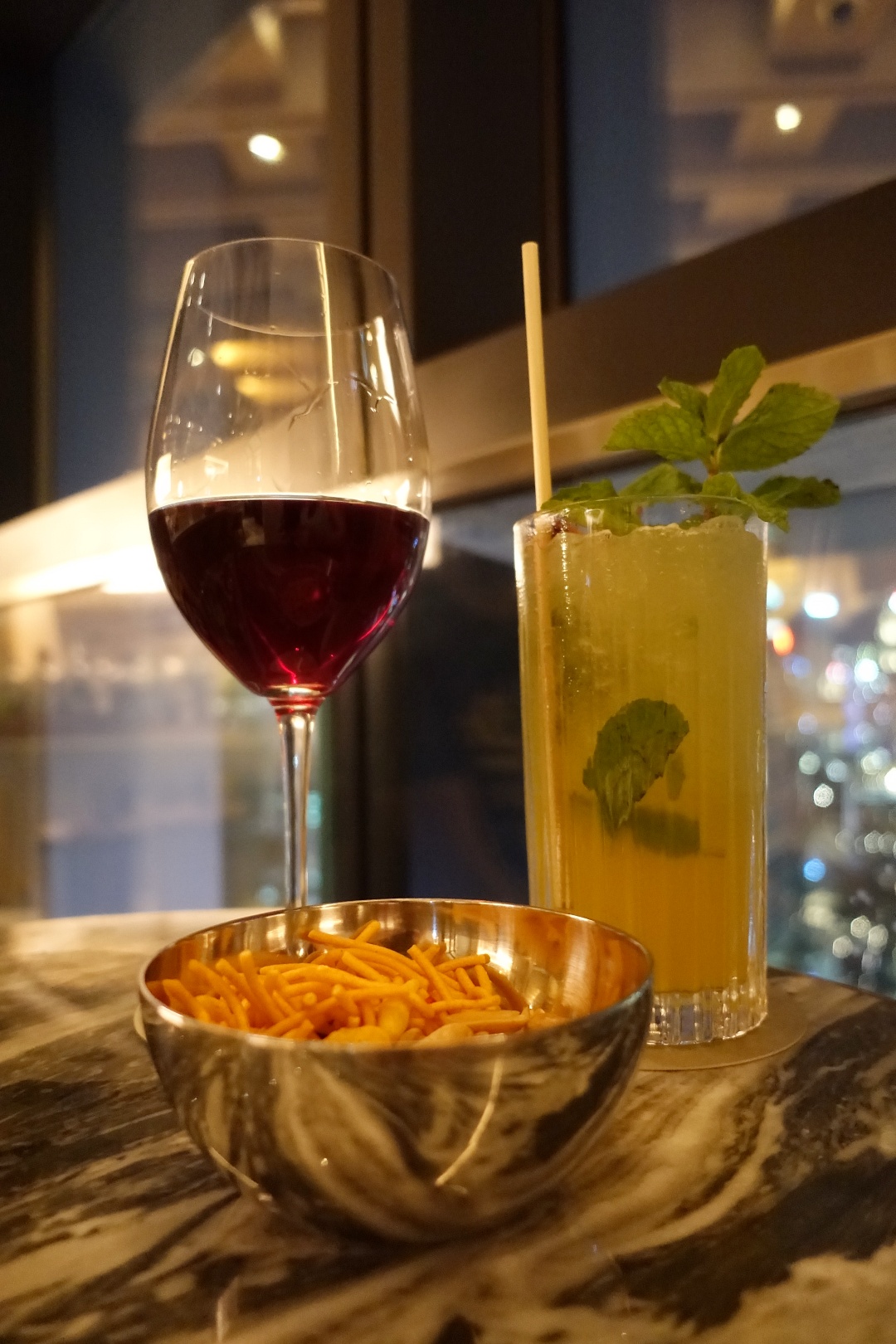 After dinner, we decided to head down to Bar Square to redeem our two complimentary drinks. The Husband got a glass of wine, while I got a passionfruit mocktail.
I only saw a limited selection of mocktails on the menu, but it turns out, the bartender can tailor one base on your liking/preference.
The Husband and I ended up sending an hour or so at the Bar Square, just talking about our lives and plans for the (foreseeable) future. I'm not someone who plans very far ahead since things are so unpredictable; I am so unpredictable. Hence, I don't see the point to set goals that are too far from the present.
Still, it's good that we talk about what's the plan for the company and what's his plan is in terms of future career path. To be honest, I wasn't that worried (for him) because I always feel like he's someone who knows exactly what he wants (to achieve). The only problem with him is that he had too many grand plans and things on his plate that I never understand how he's going to manage. While he constantly shares them with me and asks for my opinion, I leave it to him to make the final decision. I even told him that my biggest role as a wife, is to keep him grounded (and occasionally nag/scold him when necessary). I asked what then is his greatest gift for me as a husband, and guess what he said?
Patience.
---
The following morning (Monday), we woke up relatively late at around 09:00. Initially thought we could hit the pool in the morning, but guess we value our sleep more. Anyway, the weather wasn't that fantastic either, and it looks like the haze was back?
Quickly wash up and went down to have breakfast at Alley on 25 at 09:30.
I was hoping that a good breakfast will help to fuel up my day! But I supposed we didn't have one since I ended up sleeping my afternoon away.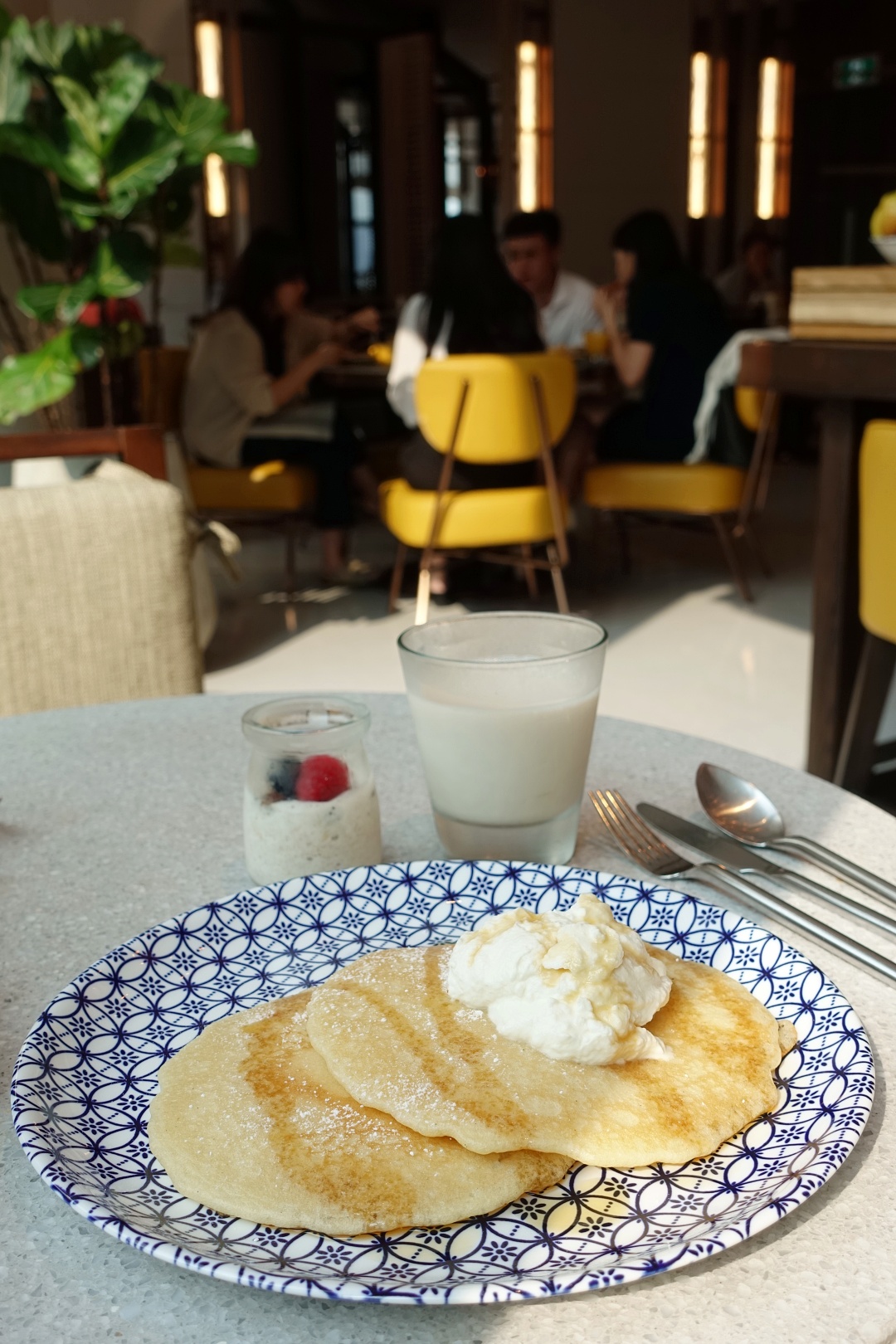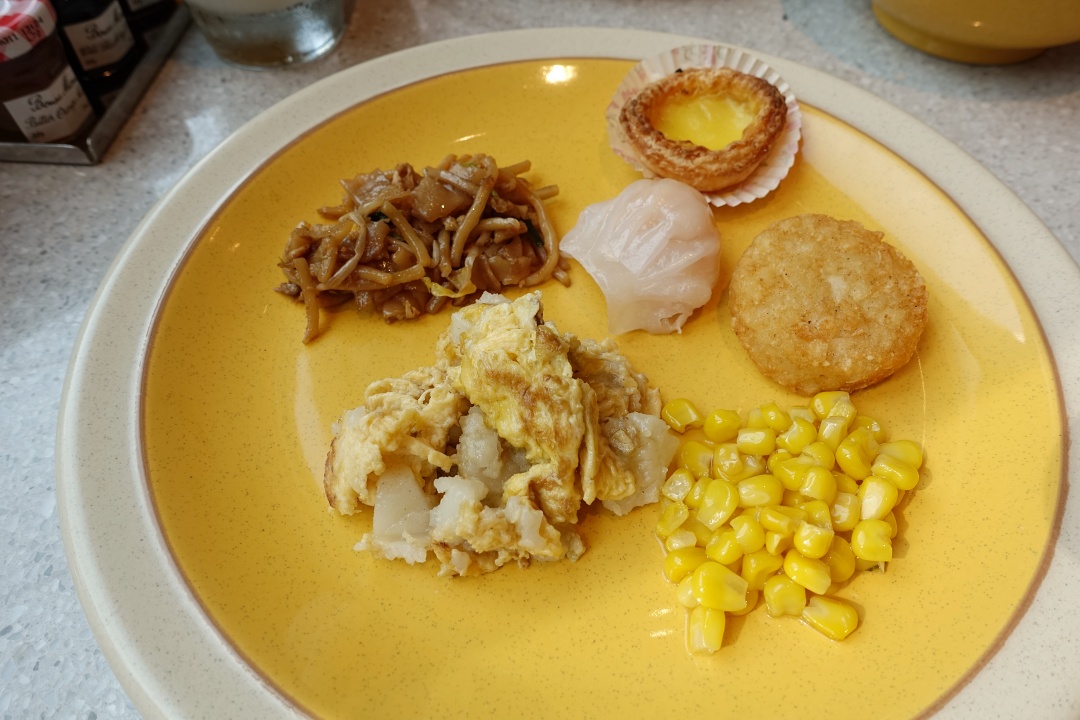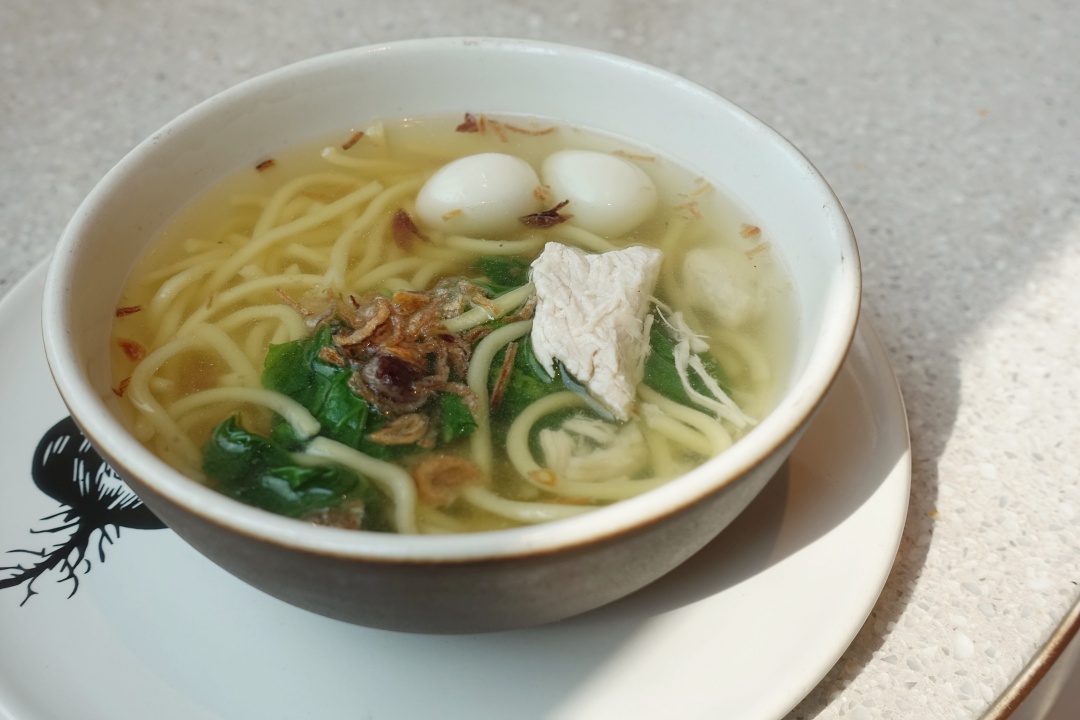 The breakfast selection was pretty much the same as the day before. The restaurant did seem to be a little less crowded, so we supposed most guests had checked out on Sunday.
I had two pancakes with cream and maple sauce, a plate of assorted dishes (fried noodles, carrot cake, etc.), an egg + cheese omelette and a bowl of vermicelli noodle soup. To finish my meal, I also make use of the juicer and make myself a glass of green apple + starfruit juice.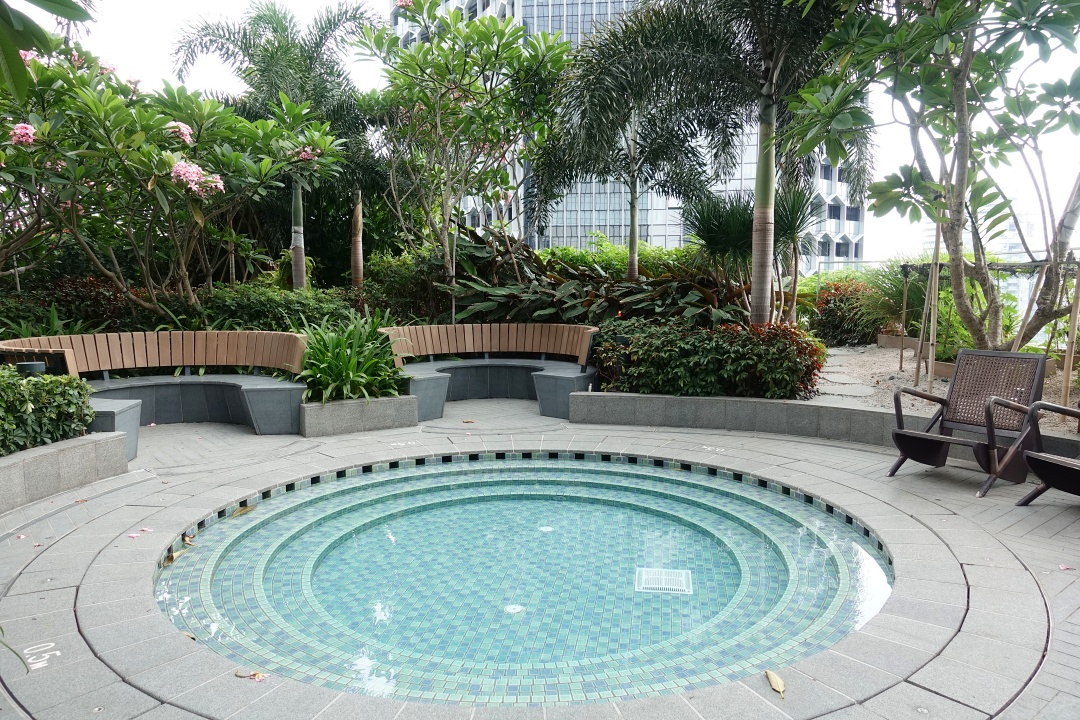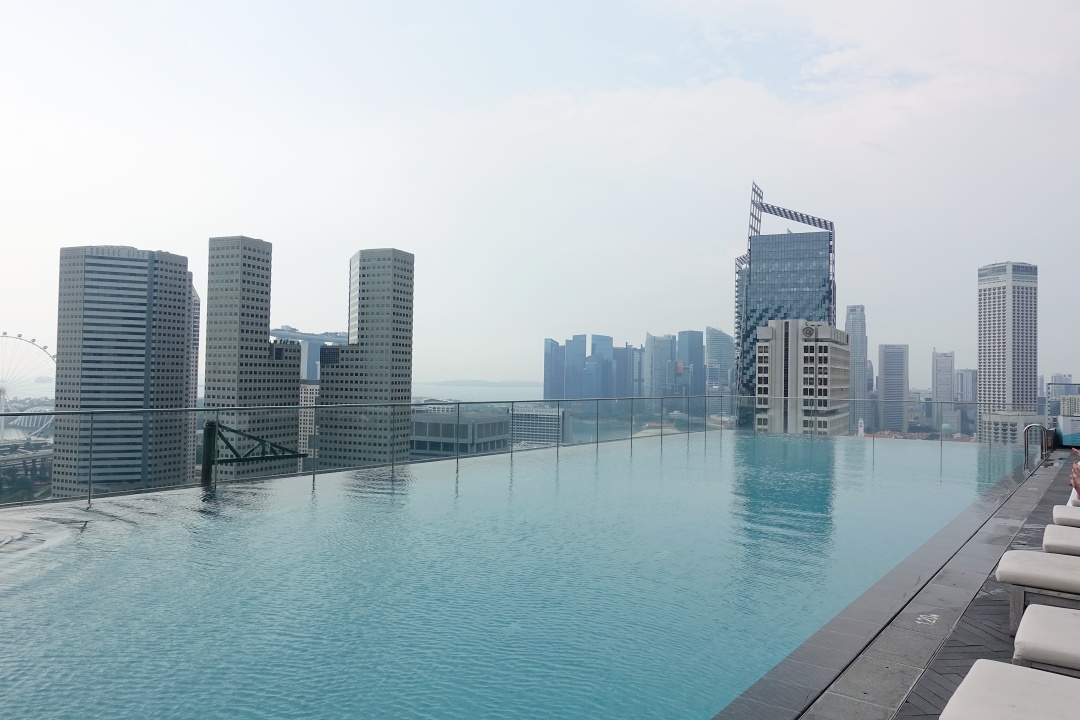 Went to check out the pool again and this time around managed to see the kids pool. (It was hidden at one corner at the back.) Come to think of it; I don't think I saw that many kids at Andaz Singapore? I guess it's not exactly a kid's friendly hotel.
After our brief exploration, we went back to our room to finish up our packing and proceed to check-out at noon.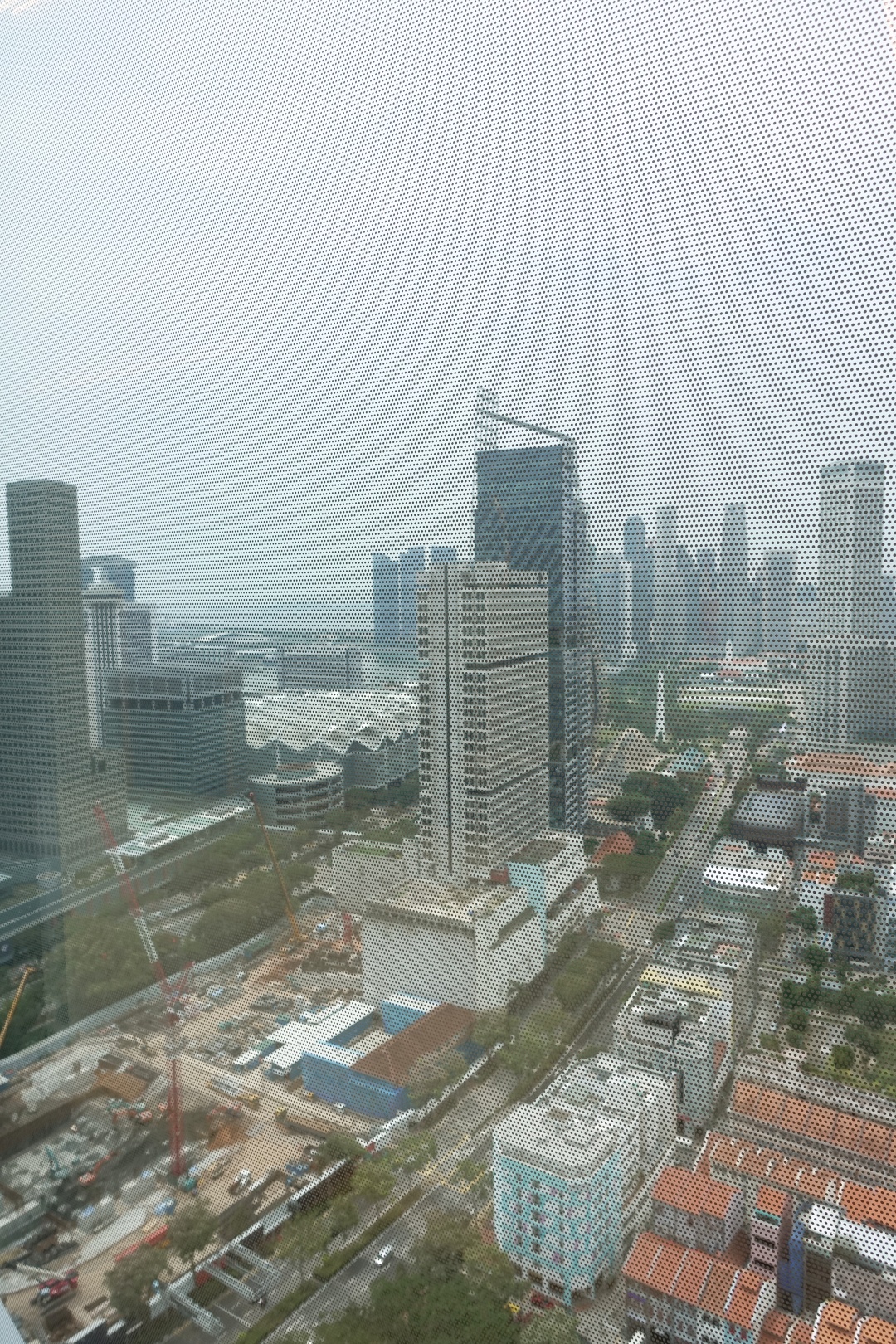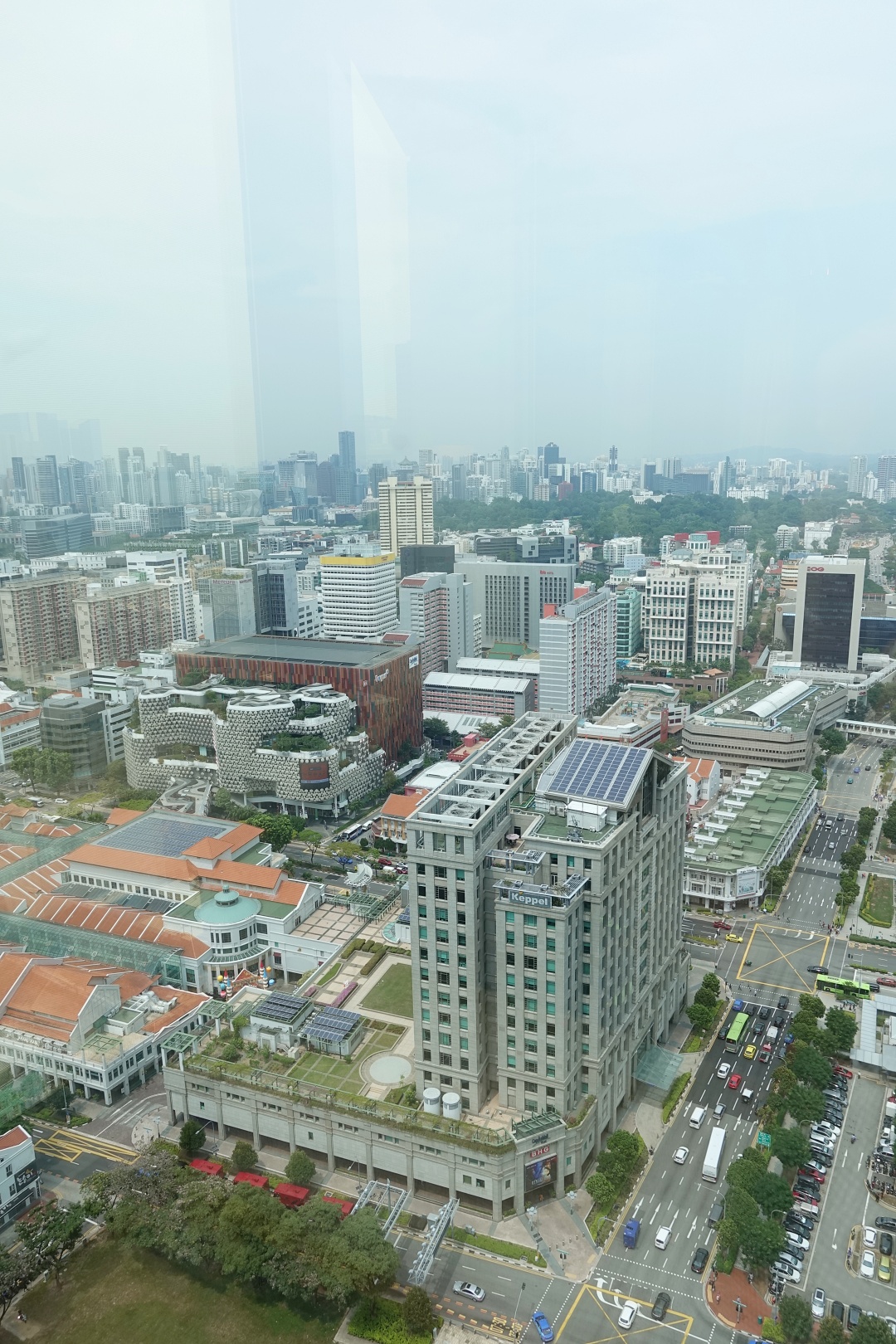 One last look at Singapore's skyline before we left.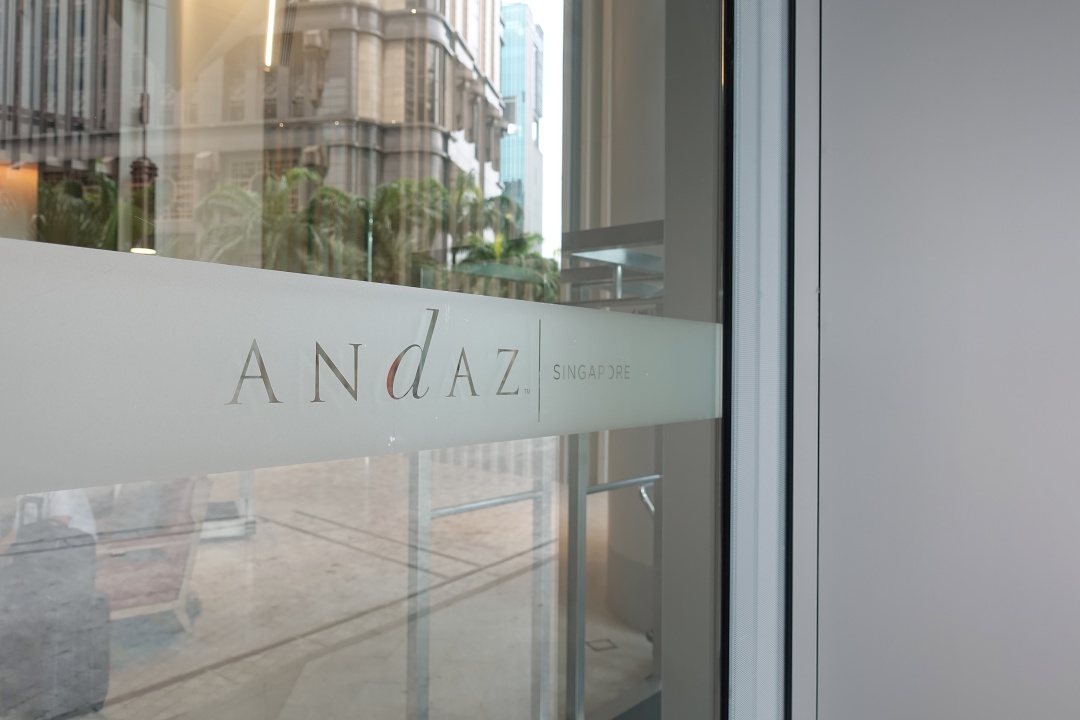 Overall, I had a pretty relaxing stay at Andaz Singapore. I remember waking up on Sunday morning, feeling like I was indeed on holiday. It kind of brings back the same feeling I felt when I was in Bali. Told the Husband that I didn't even feel that way when we were in Japan!
That being said, I do feel that Andaz Singapore fell a little short of expectation. Perhaps because Andaz Singapore is a concept by Hyatt, and Alila Hotels and Resorts is now also part of Hyatt; I may have subconsciously associate both together. (Well, I know it wasn't fair, considering Alila only joined Hyatt in June this year.)
The Husband and I briefly chat about this, and we came to realise that when hotels (chain) mentioned that they're different from other hotels, we used to think that's what they say. To us, every (*-star) hotel is the same. You expect a certain level of service and comfort when it's a 4-star or 5-star hotel. The more you pay, the higher the level of service you expect to receive. But as guests, sometimes we can really feel the difference between the hotels. The simple act of going the extra mile does play a part and can often make a difference.
Back to Andaz Singapore. The Husband was somewhat disappointed on two occasions. First, we called the front desk and asked to borrow a lighter for my birthday candle. It took them a while to send a staff over to our room and to our surprise, the lighter could only be temporary loaned to us. I thought I heard it wrong. But when we requested the staff to leave the lighter with us for thirty minutes (as we needed time to set up the cake), his reply was for us to call again when we need the lighter, and they will bring it over to us. His reason? The lighter belongs to someone (a staff, perhaps?) and is not a hotel's property.
In the end, the staff left with the lighter and we didn't call them again to ask for one.
The second disappointing incident was when we asked the front desk regarding the Movember campaign. The Husband considered getting a haircut and wanted to find out more details; hence, we approached a staff at the front desk, hoping to find out more. Said staff mentioned that she wasn't sure, and told us to approach her colleague from the F&B department instead. The Husband was disappointed because the nearest F&B member was merely a few steps away from the front desk. So instead of getting us to ask, he figured that said staff from the front desk could offer to do that and came back to us with the details.
Eventually, we just walked over to one of the F&B members and asked for the details.
Well, that was two less-than-pleasant experience during our 3D2N stay. We just felt that the service could have been better to improve the overall experience of our stay.
Since I'm always excited to try out other hotels, I don't think we'll consider going back to Andaz Singapore anytime soon.