Came back from my birthday's staycation at Andaz Singapore on Monday and I thought I would quickly do a post on that before I start on my Osaka's travelogue!
For my birthday this year, the Husband and I didn't plan for any overseas trip. Mainly because we just came back from Tokyo less than a month ago, and also because the Husband had been/will be travelling quite a fair bit this month for work.
So since we are in Singapore, we decided to go for a staycation instead! I believe the last time we did one was for Valentine's last year.
It took me a week or two before I finally decided on Andaz Singapore for my birthday's staycation. My initial plan was to return to The Fullerton Hotel Singapore as I really enjoyed our stay and their breakfast selection when we stayed there after our wedding in 2017. We wanted to book two nights, and there was quite a significant difference in terms of price for the first and second night. It didn't feel appealing to pay almost double the amount for the second night. Hence, I decided to continue to look around for other potential hotels.
I was very close to booking InterContinental Singapore, as I thought the room looks lovely on photos. Being right next to Bugis Junction, the location was also very accessible. However, on the very last minute, I decided to go with Andaz Singapore instead.
The reason for choosing Andaz Singapore was mainly because it was a relatively new hotel. (Went there once when we were looking for wedding venue early last year and the Husband had also been there for an event.) The hotel has quite a high rating and fantastic reviews online, so I figured it was worth a try. Being a 5-star hotel under the Hyatt group, I also felt a certain level of assurance on their service and overall comfort on the stay.
Since my birthday fell on a Saturday, we decided to book our stay for 9 and 10 November, and check-out on 11 November (Monday). Booked the stay through hotels.com and it was slightly over SGD 1000 for two nights, inclusive of breakfast.
Andaz Singapore
Check-in time was at 15:00, but the Husband and I only left our house at 15:00 and reached Andaz Singapore at 15:40.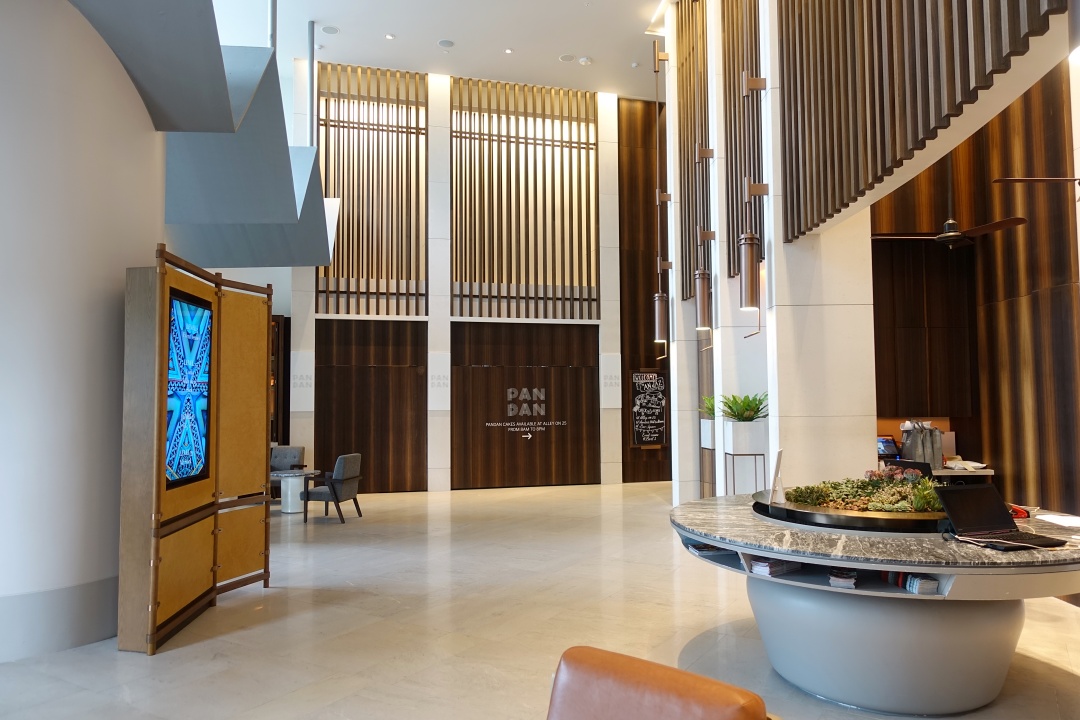 After alighting at the hotel entrance on level 2, we took the lift up to the hotel's lobby located on level 25. Waited a while for an available counter, and after checking-in, we got the keys to our room on level 28.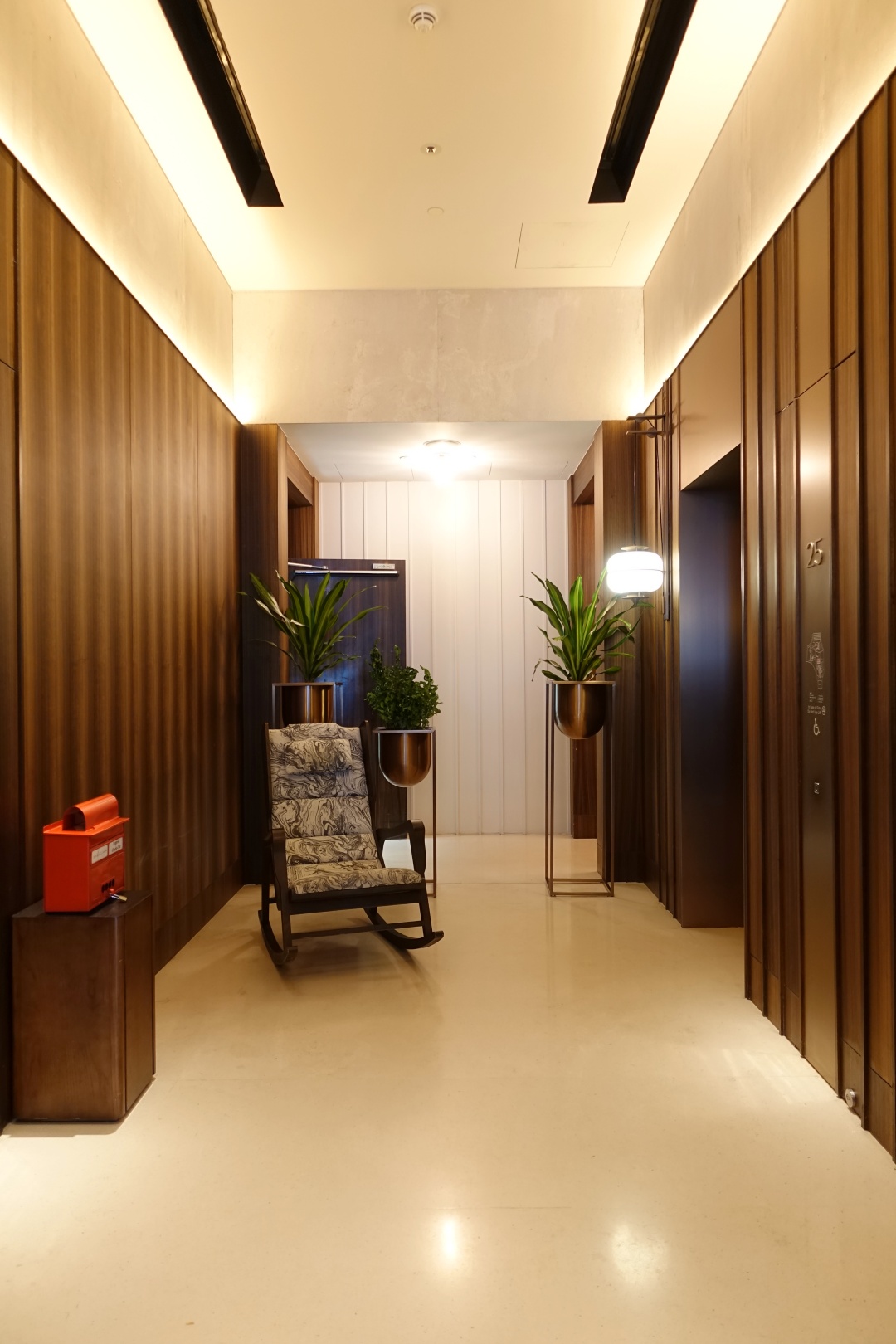 Andaz Singapore has two sets of lifts. One goes from the basement to the hotel lobby and restaurant, while the other provides access from the hotel lobby (level 25) to the guest rooms and restaurant. The latter will require a keycard to access the lift.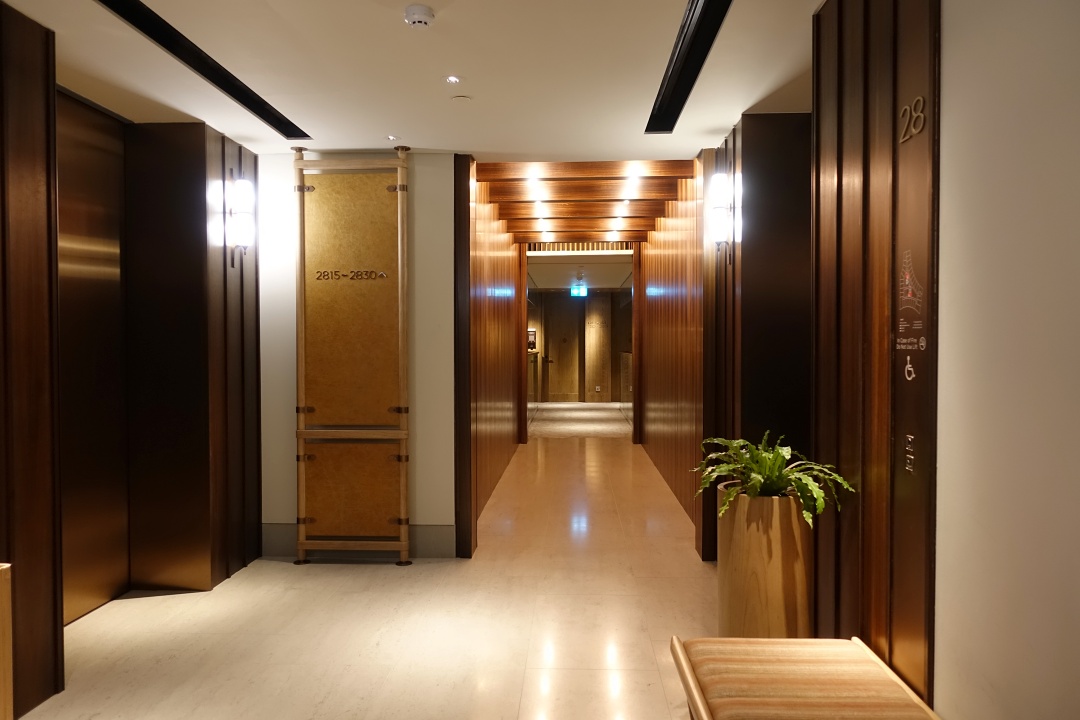 Deluxe Room, 1 King Bed with City View
Since it was a birthday staycation, I decided to splurge a little on the Deluxe Room, 1 King Bed with City View. At 42 sq m (452 sq ft), the room was slightly bigger than the 1 King Bed (38 sq m).
Walking in from the door, we had the wardrobe area on the left, and minibar on the right.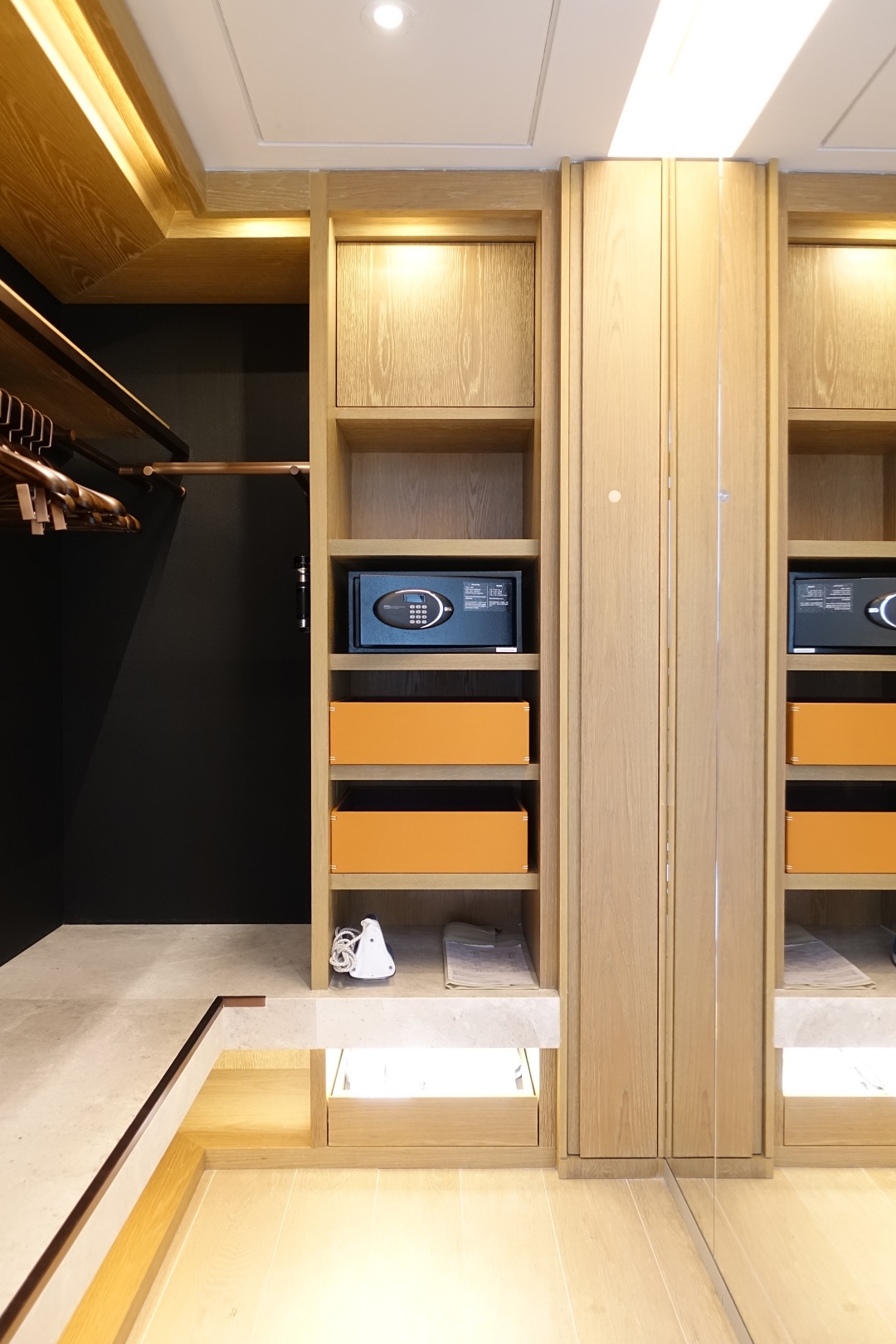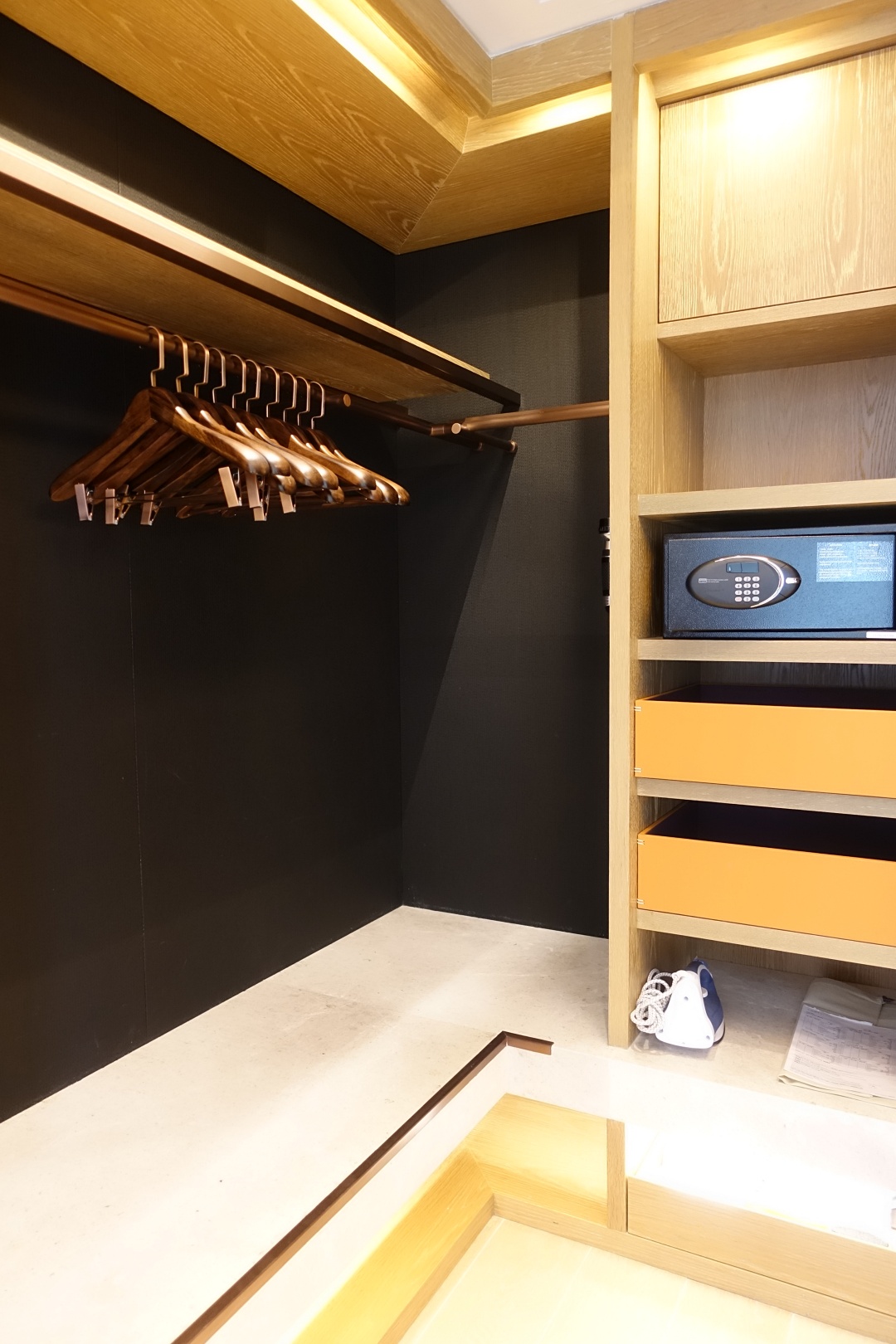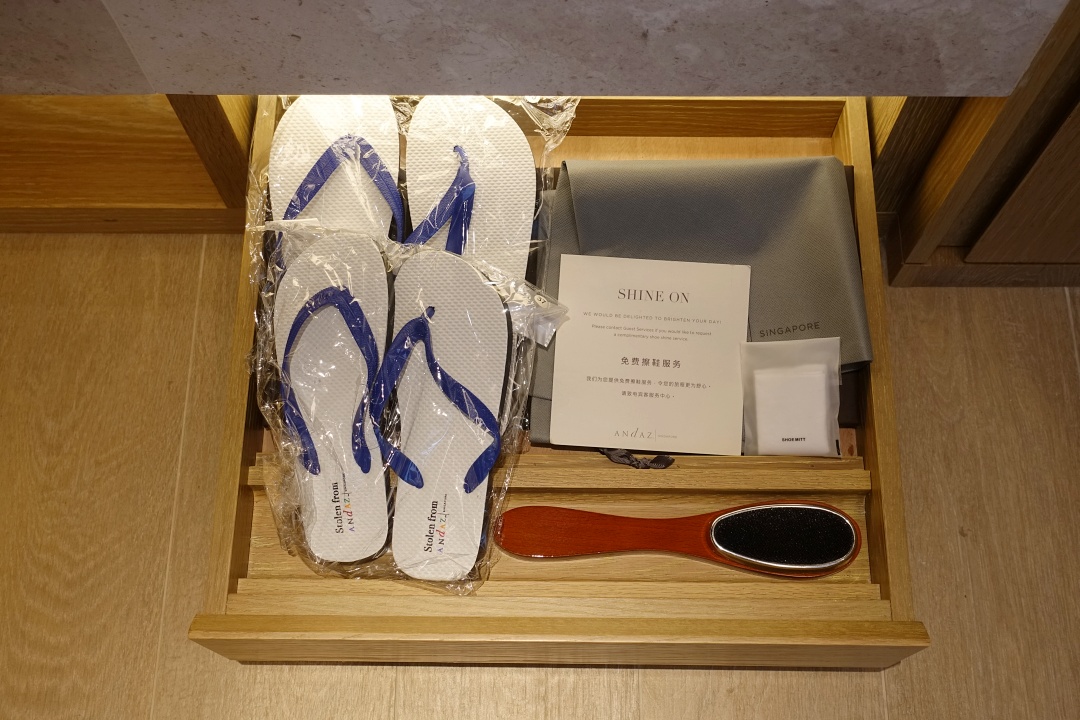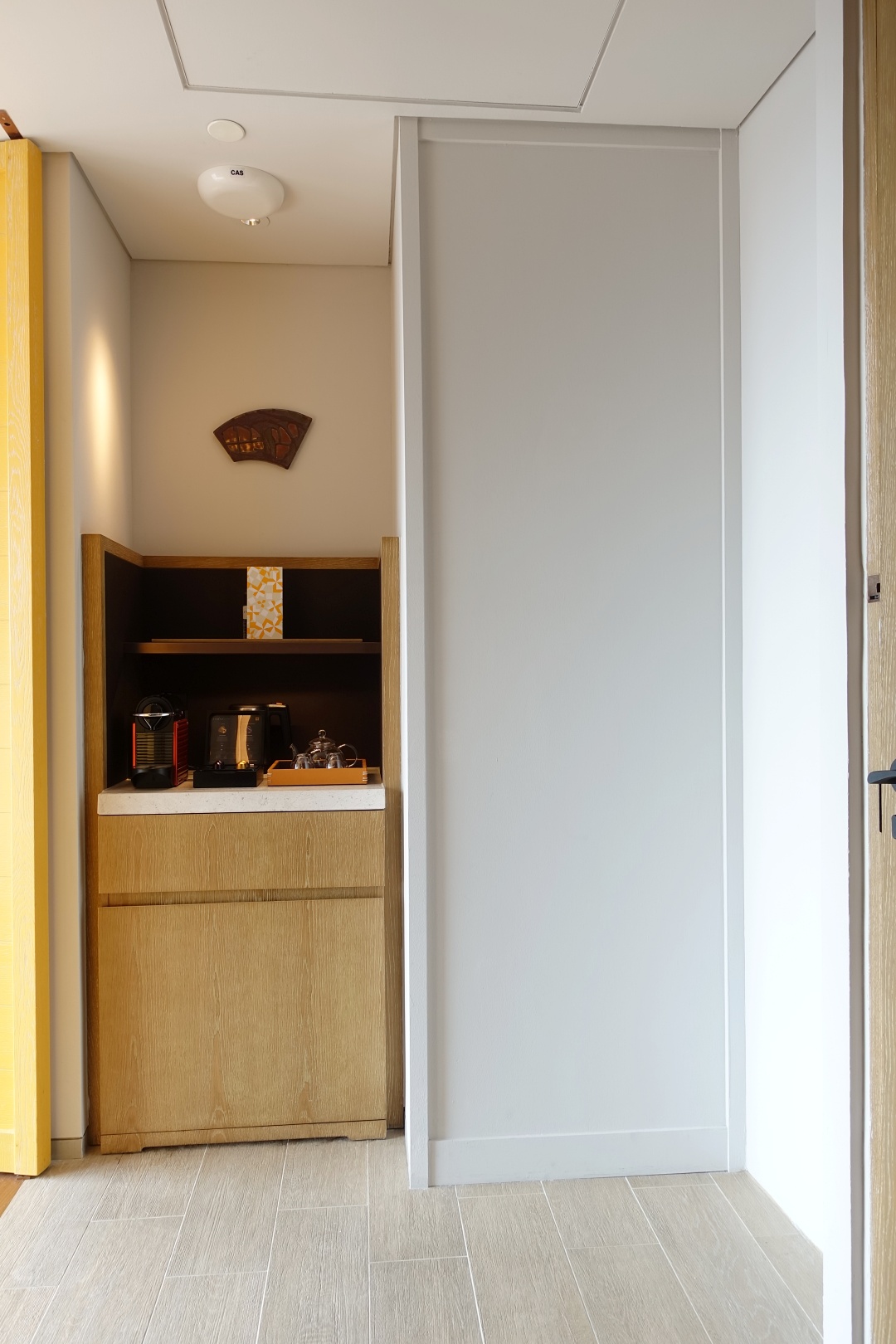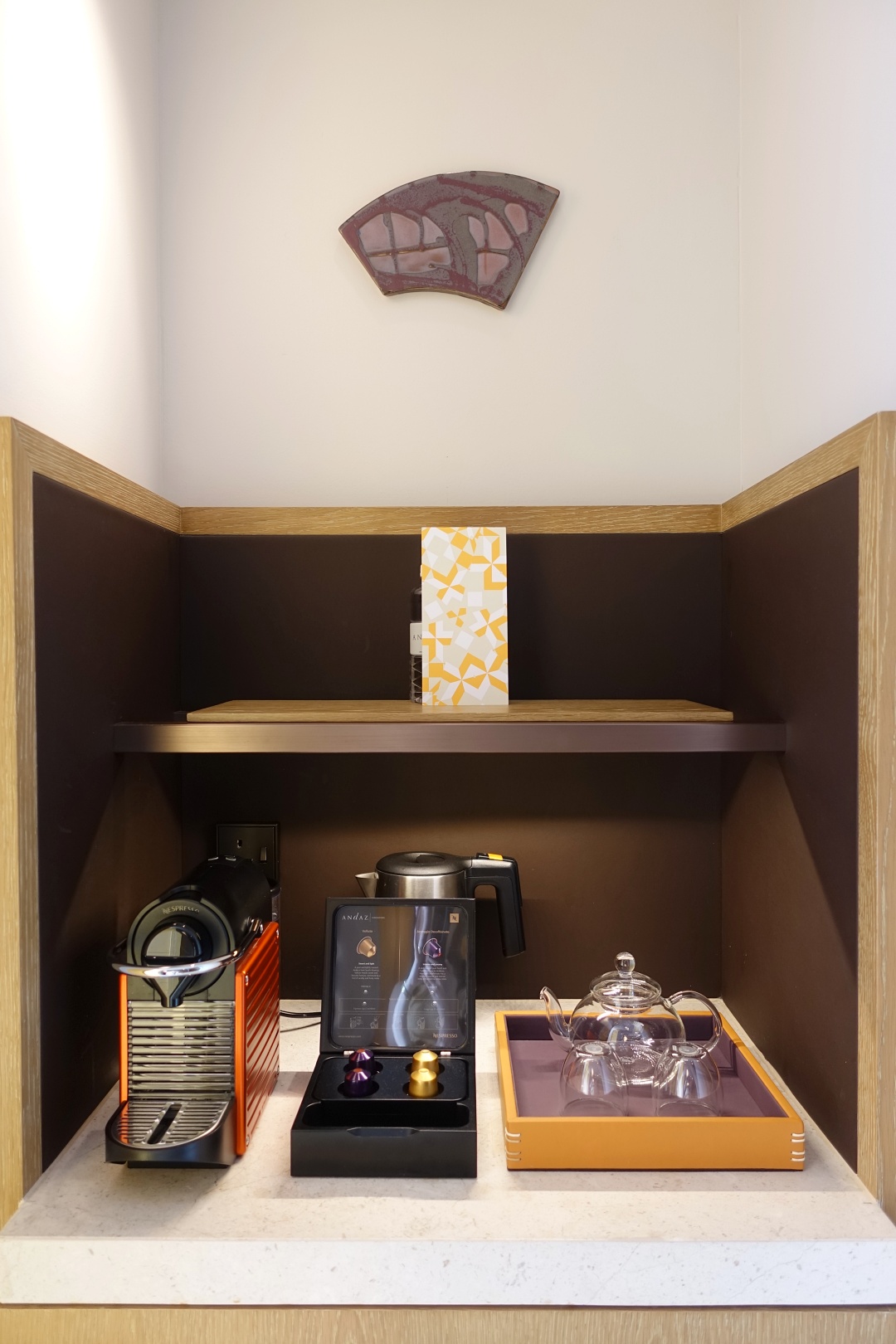 A Nespresso coffeemaker, together with complimentary coffee capsules.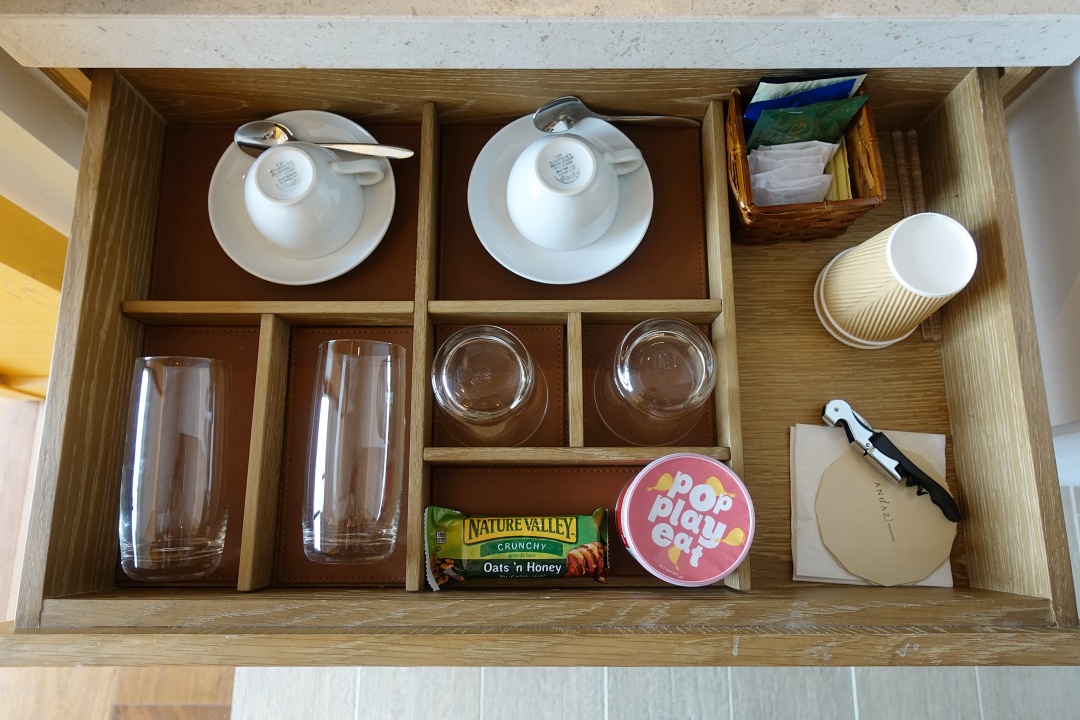 Beneath it was the cups and glasses, and a minibar with snacks, non-alcoholic and alcoholic drinks.
Everything in the minibar was complimentary. Items will also be replenished once per day.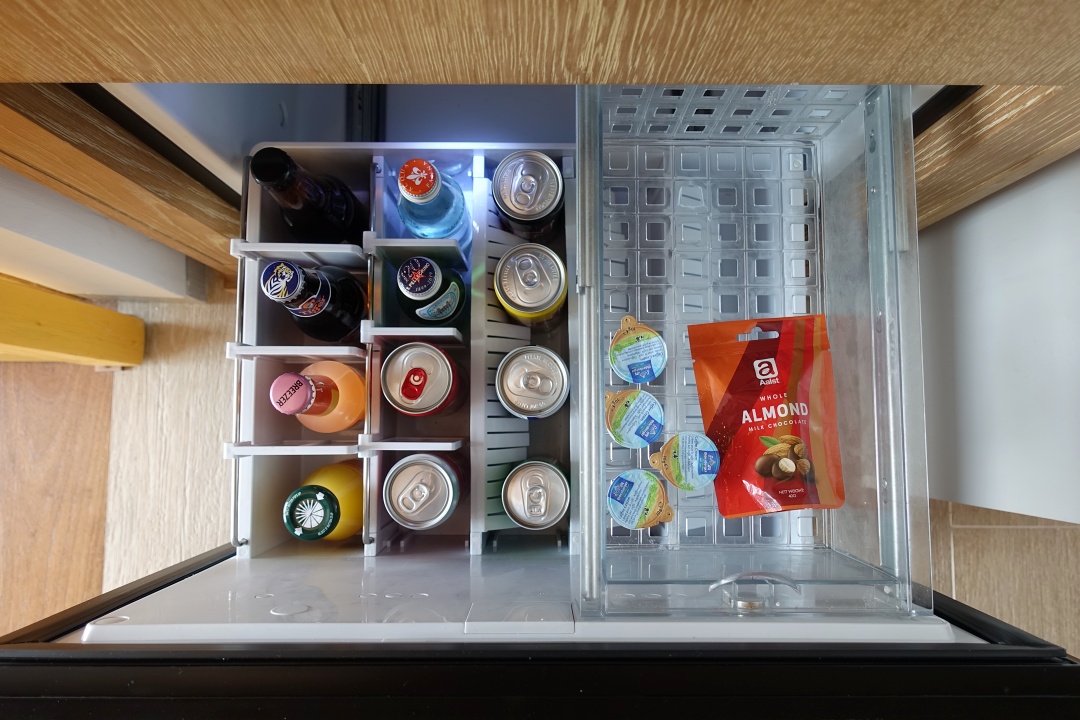 Moving past the two wooden yellow doors, there were the bed and living area.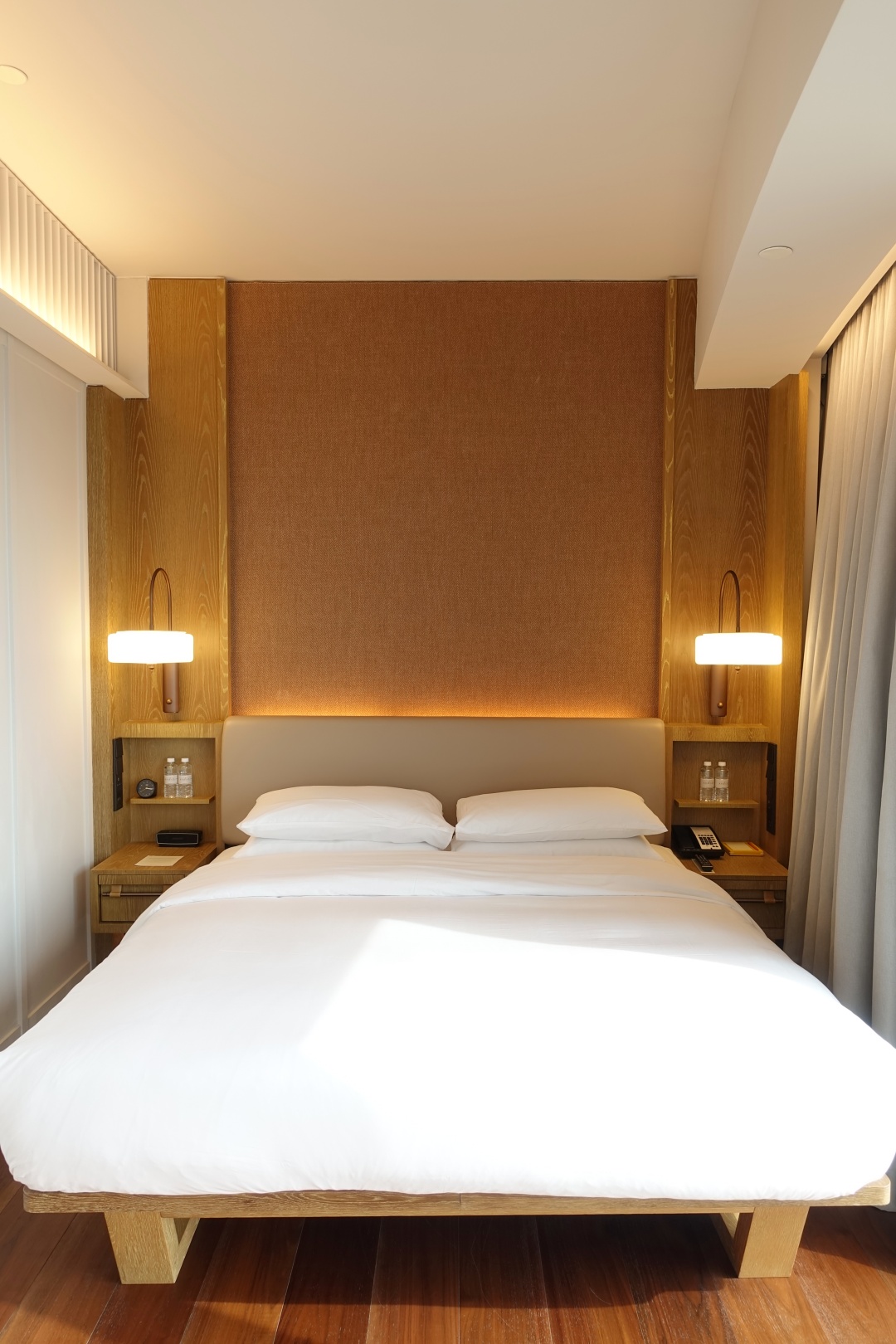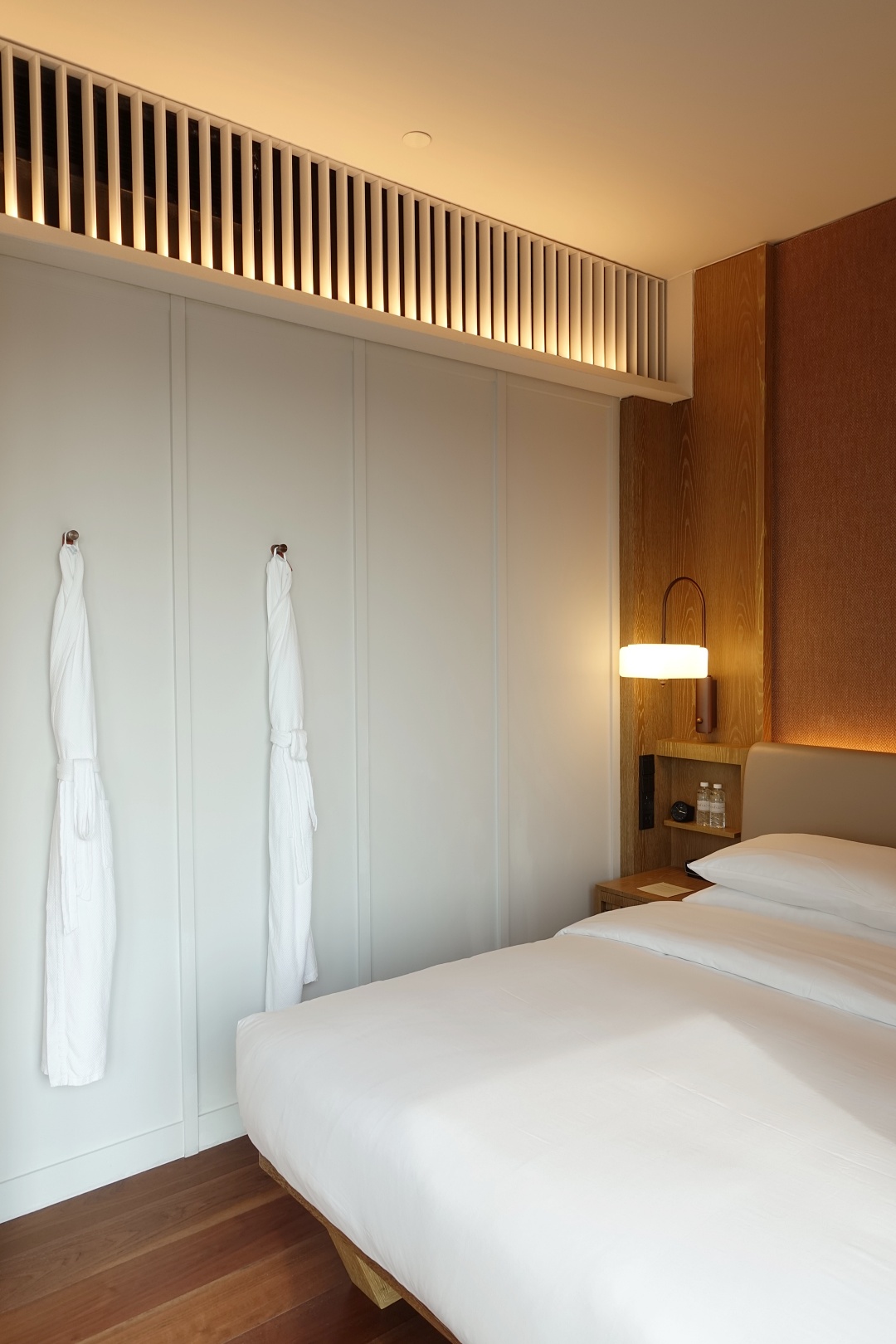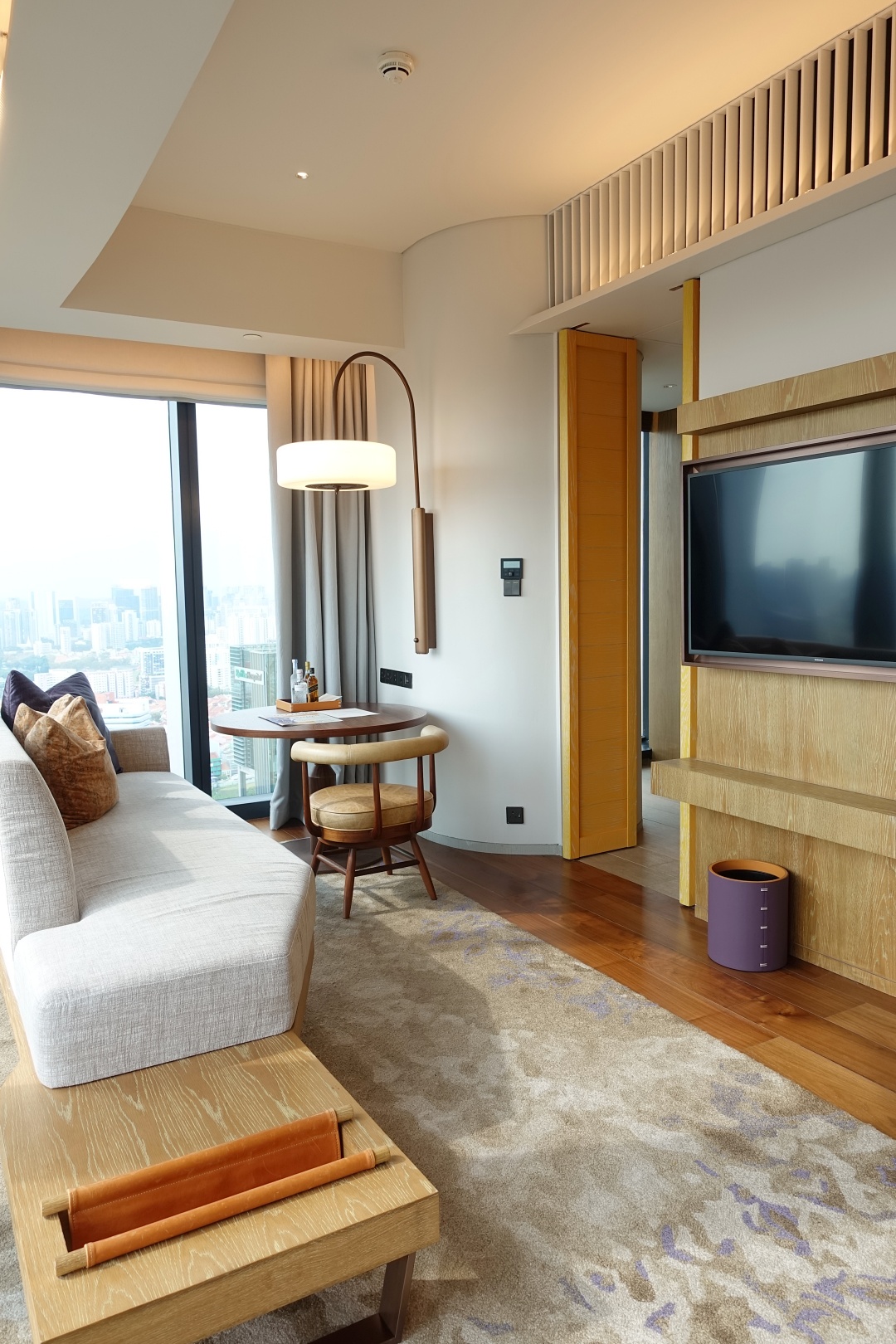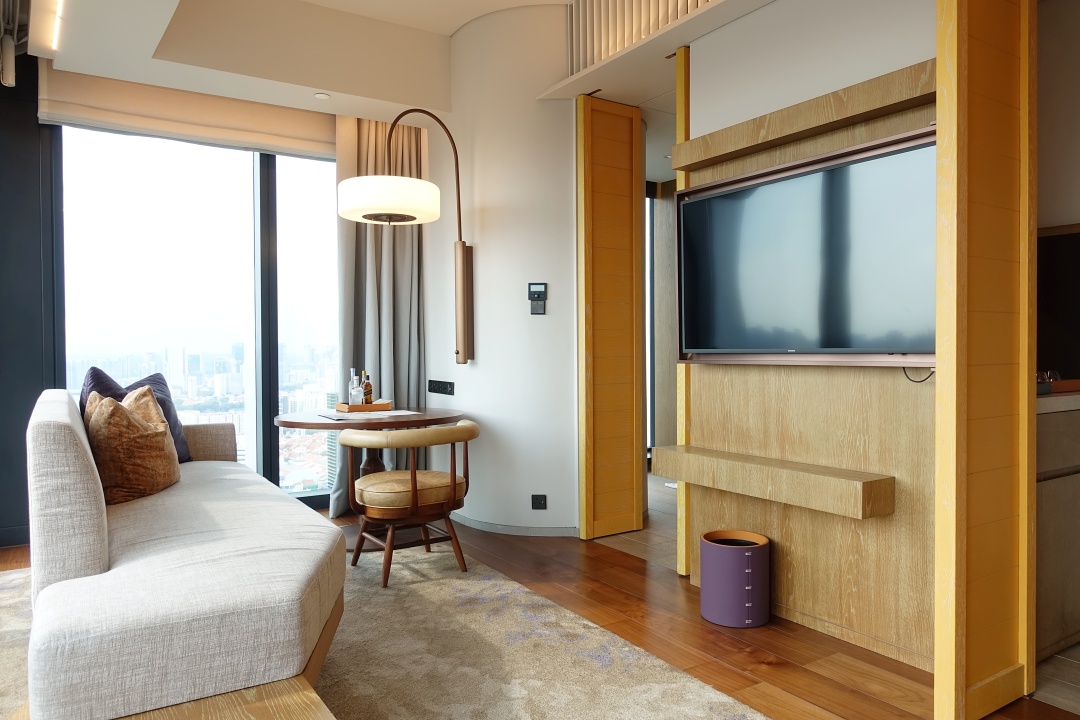 The use of wood and yellow tone makes the room feel welcoming. At the same time, the choice of lighting and furniture give it a contemporary look.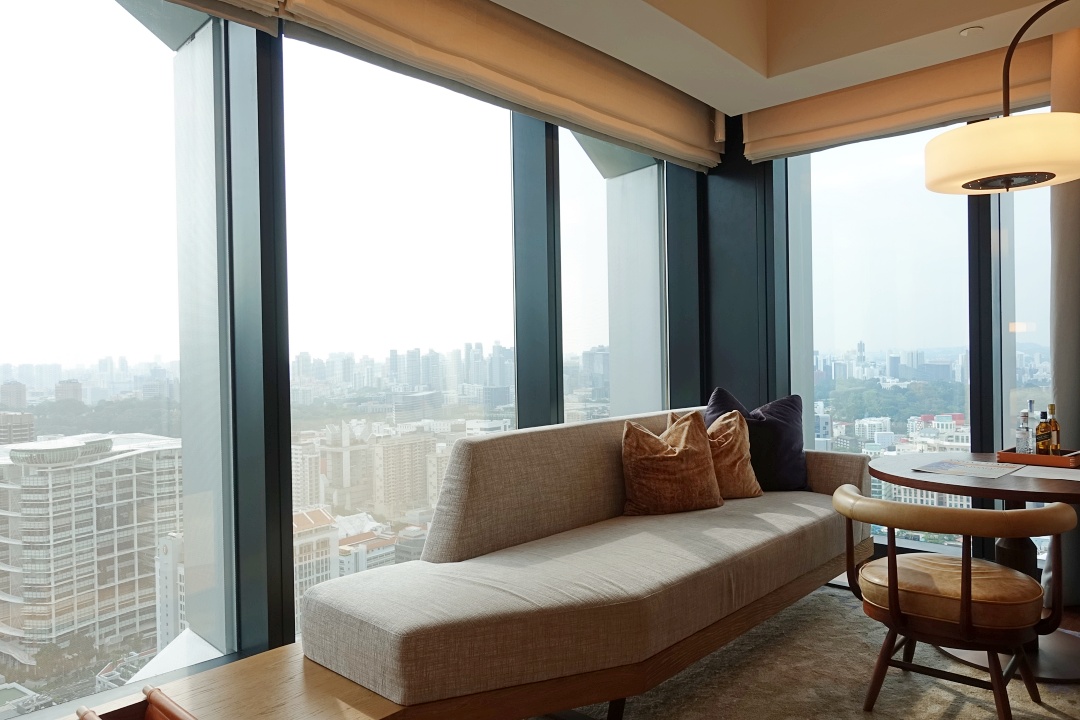 I love that the room comes with floor-to-ceiling windows overlooking the Singapore's skyline. We got a clear view of the surrounding area, from Little India to Bugis Junction, Suntec City and even a peek of the Marina Bay.
At the touch of a button, the blinds will automatically be drawn.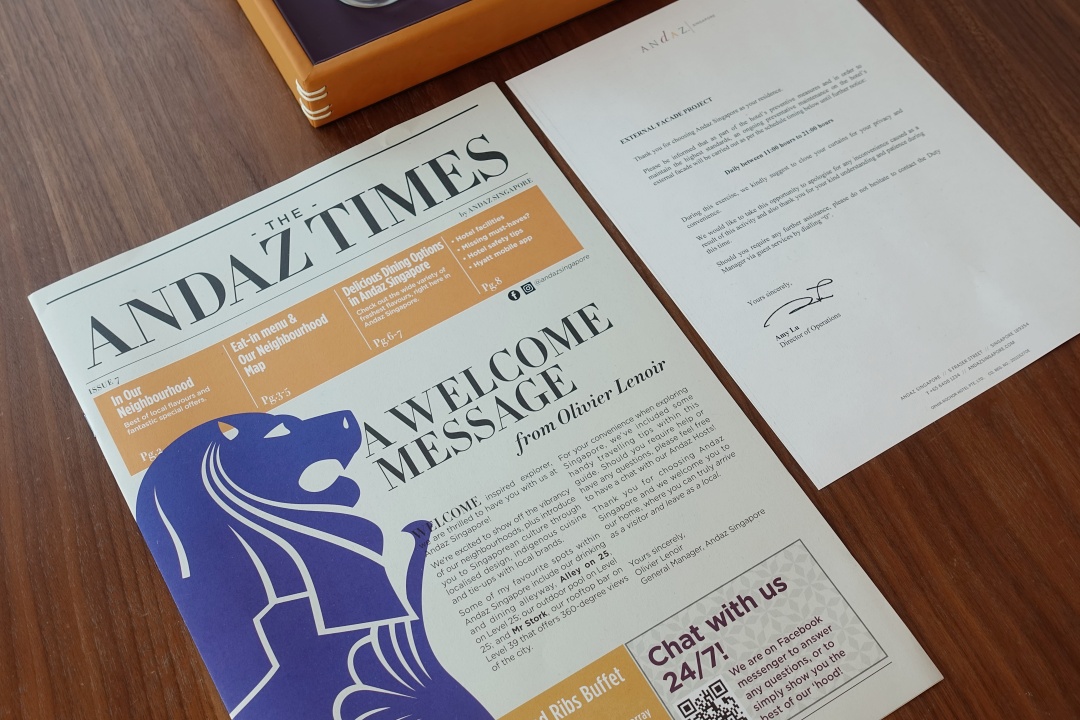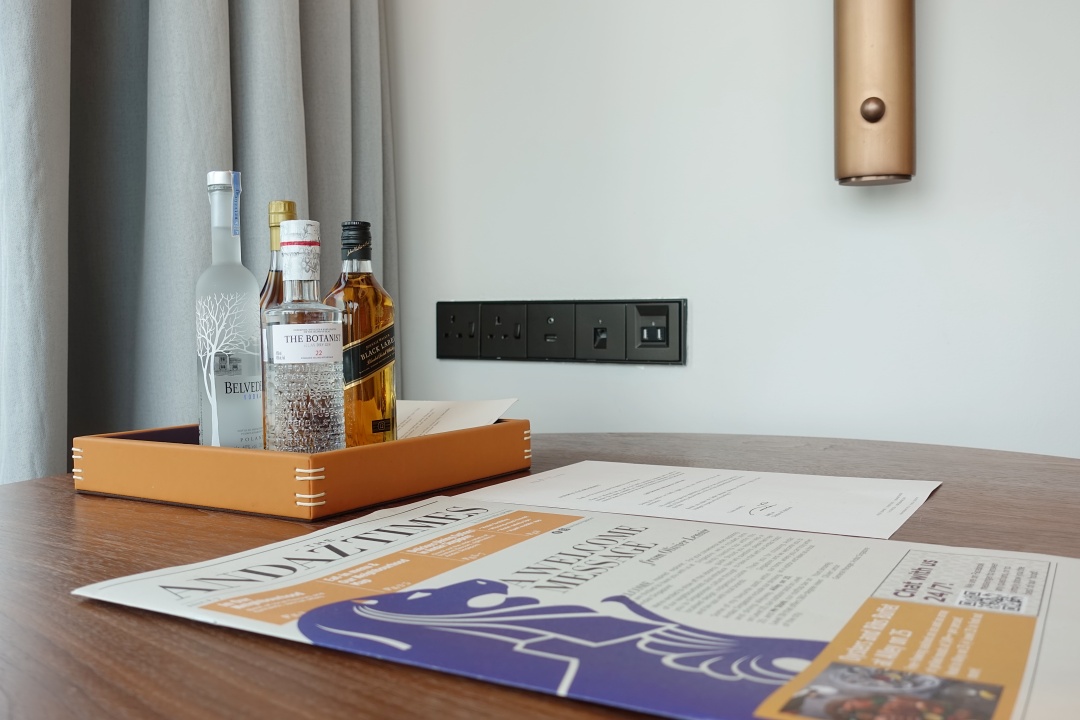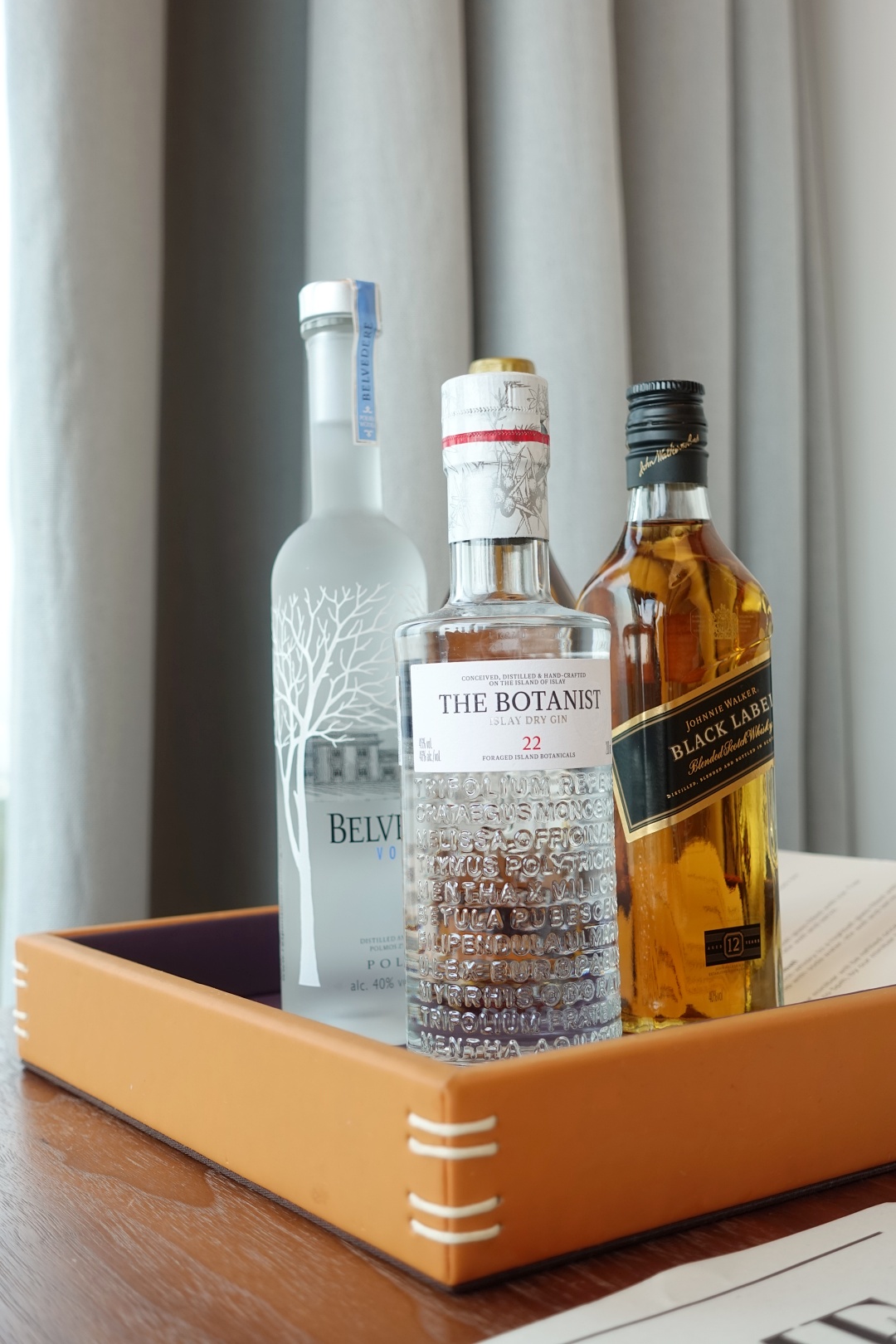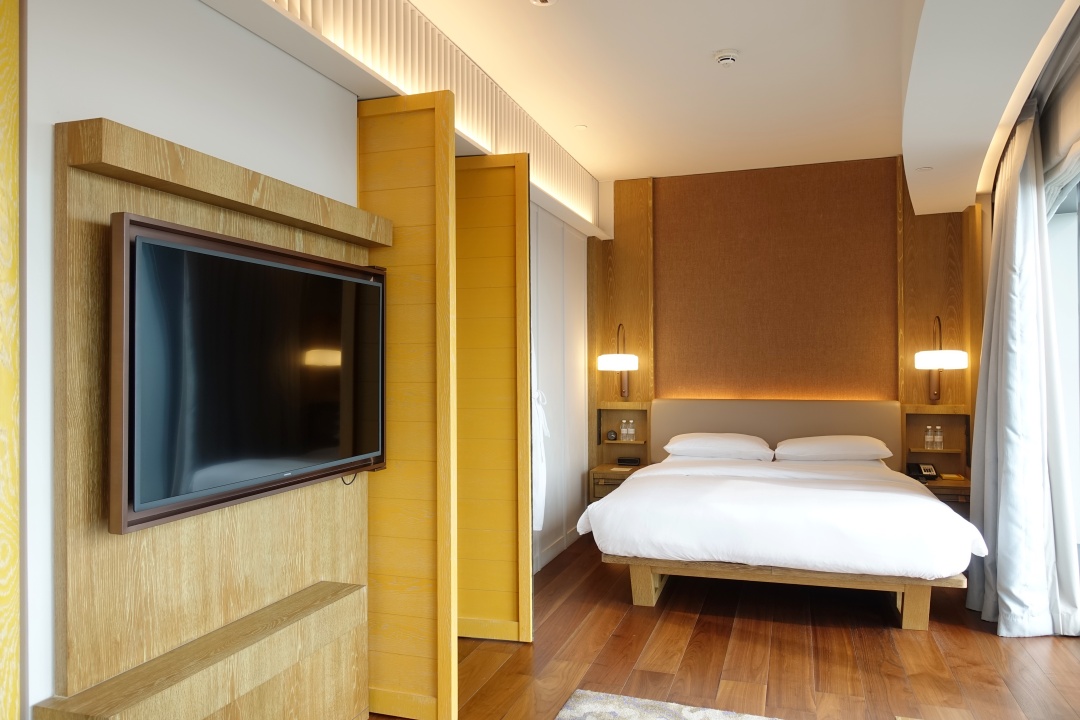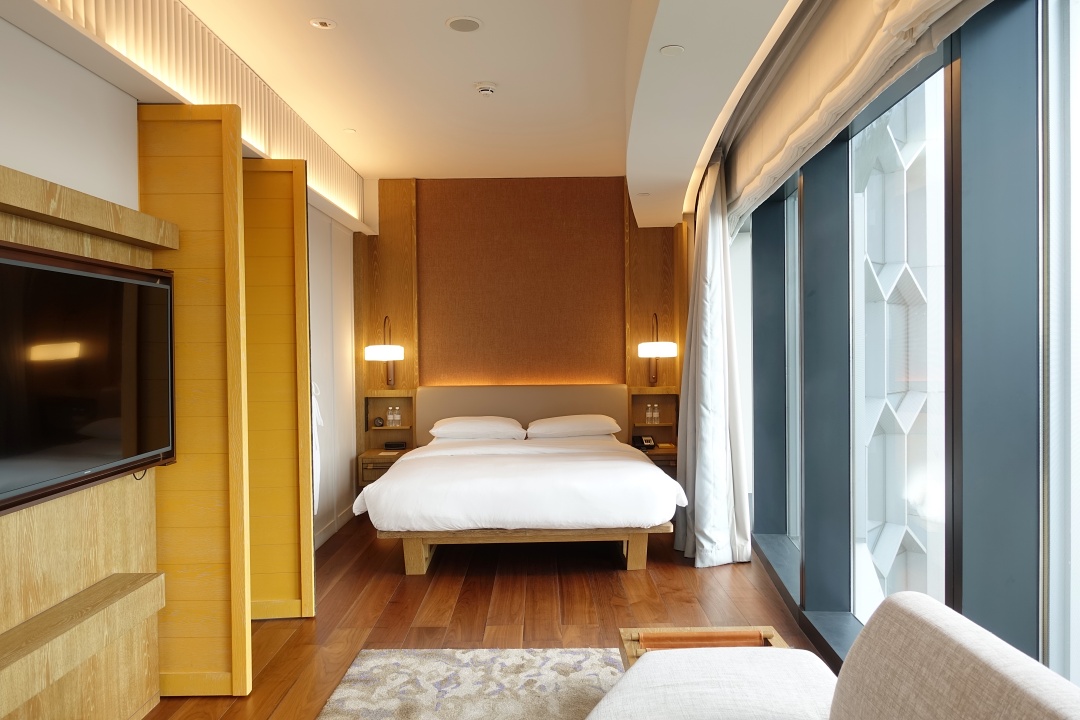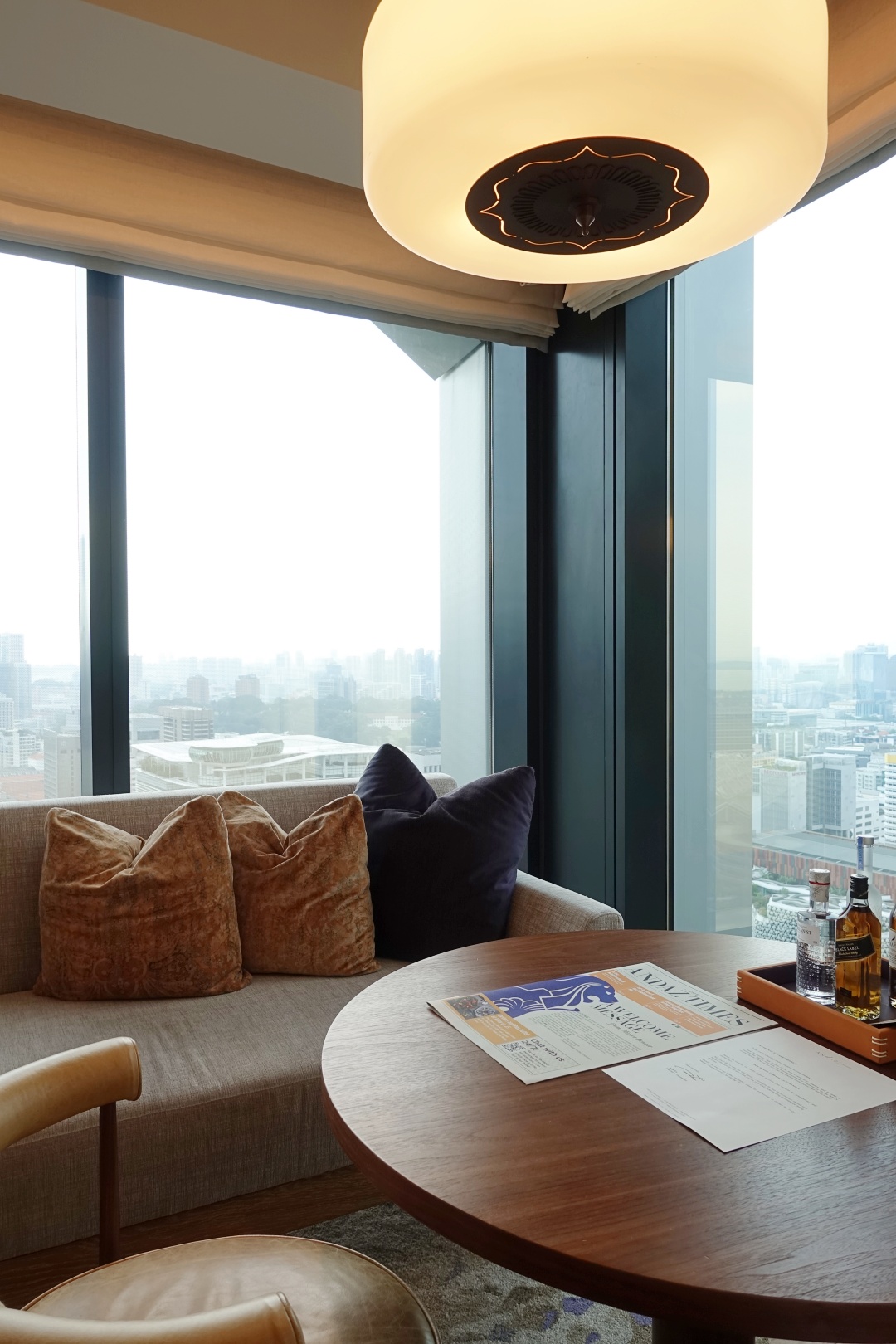 On to the bathroom…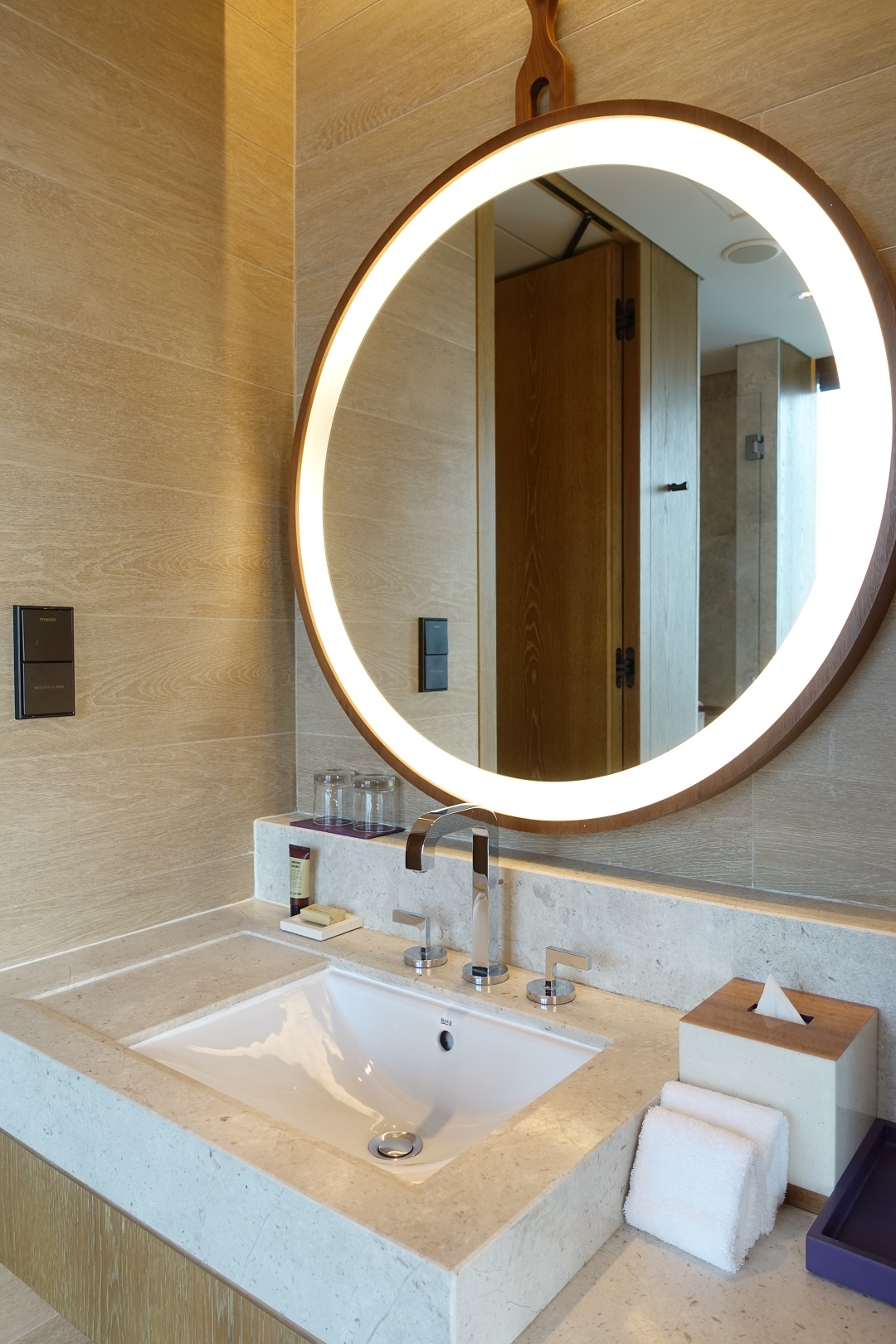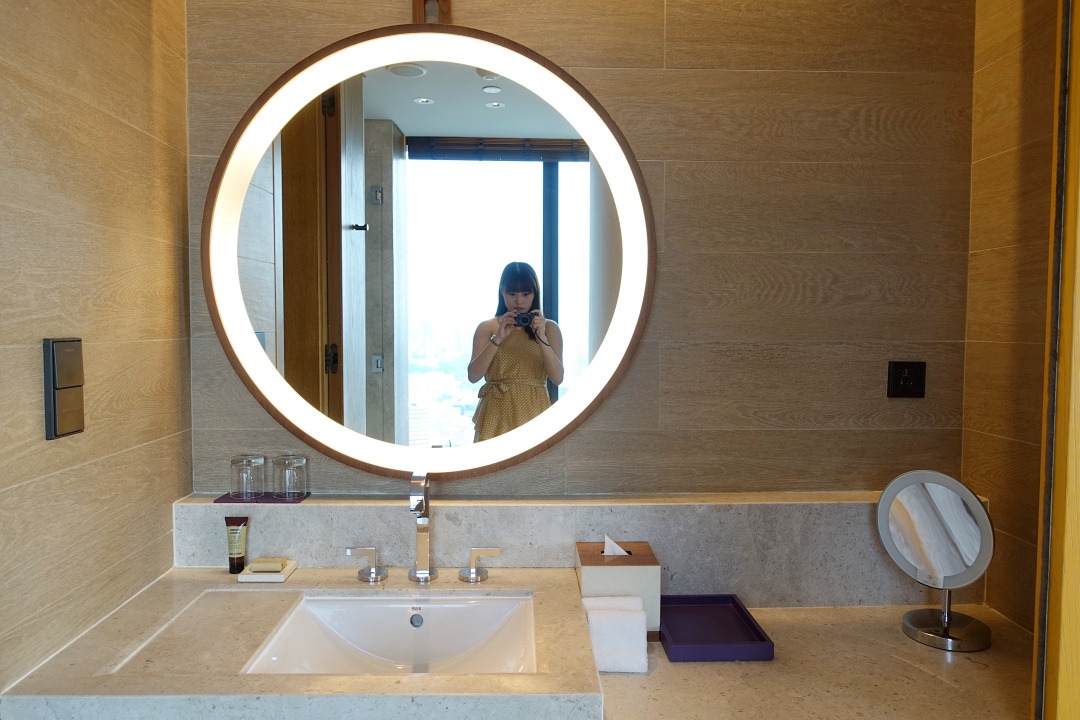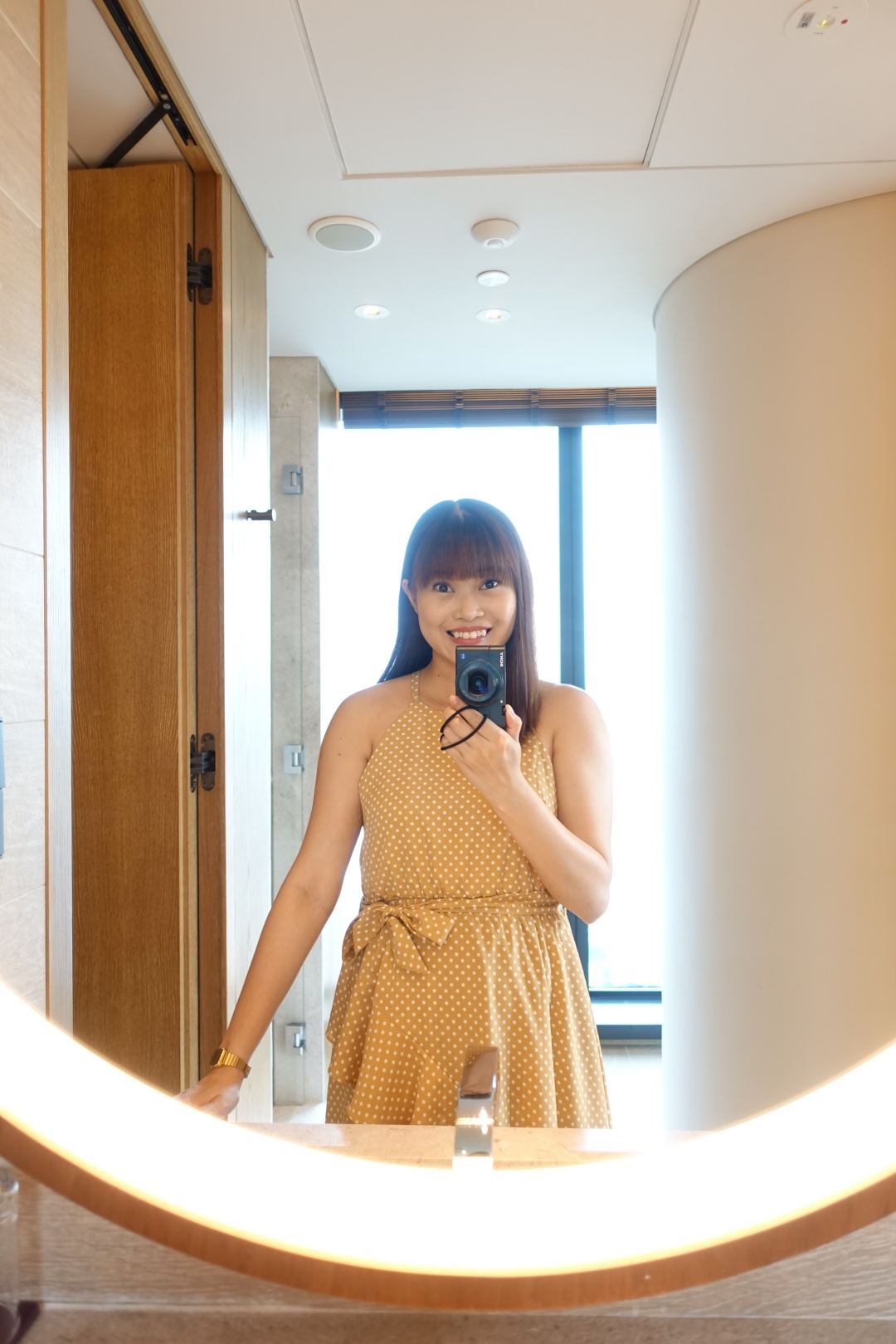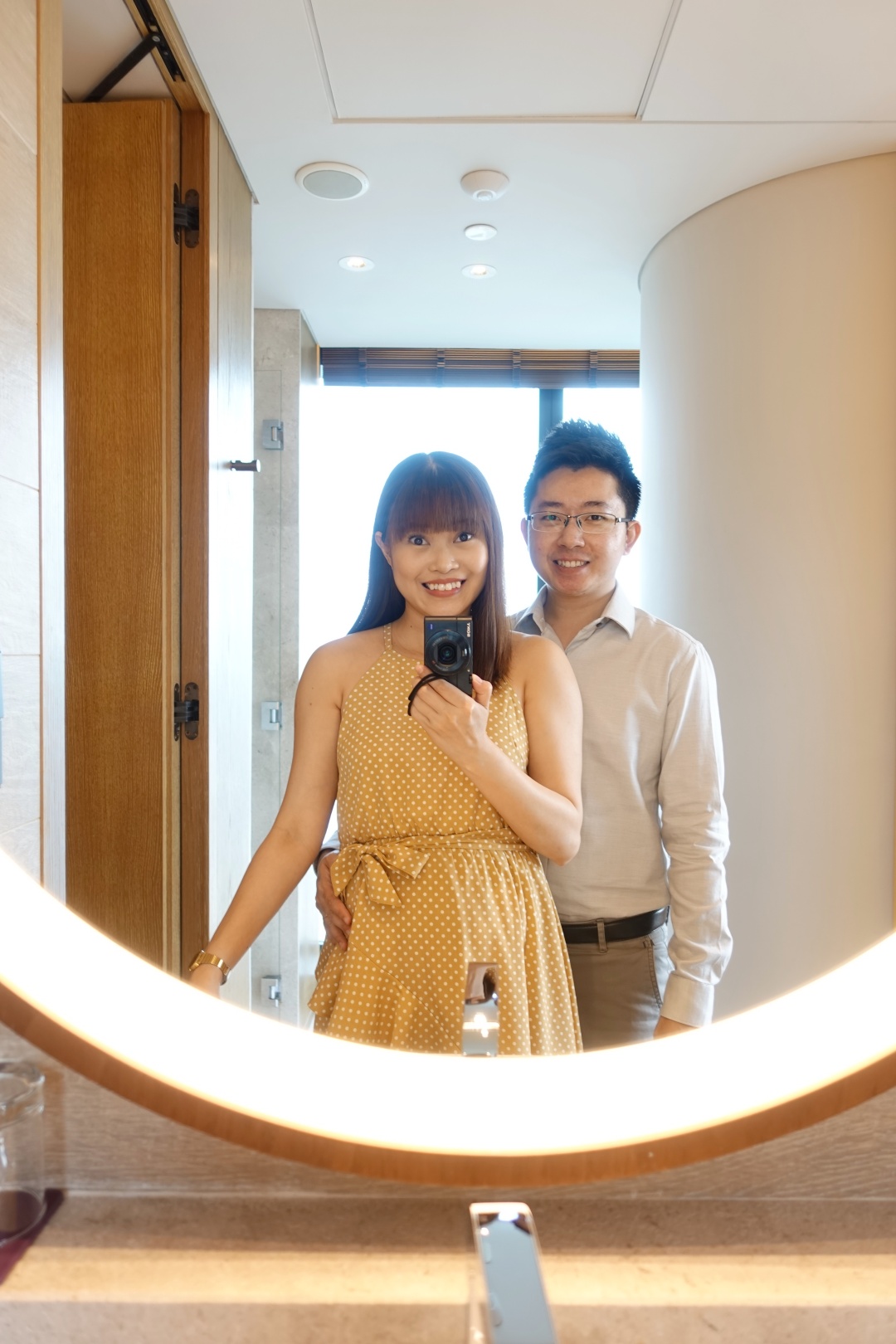 Pull the Husband over for a quick wefie!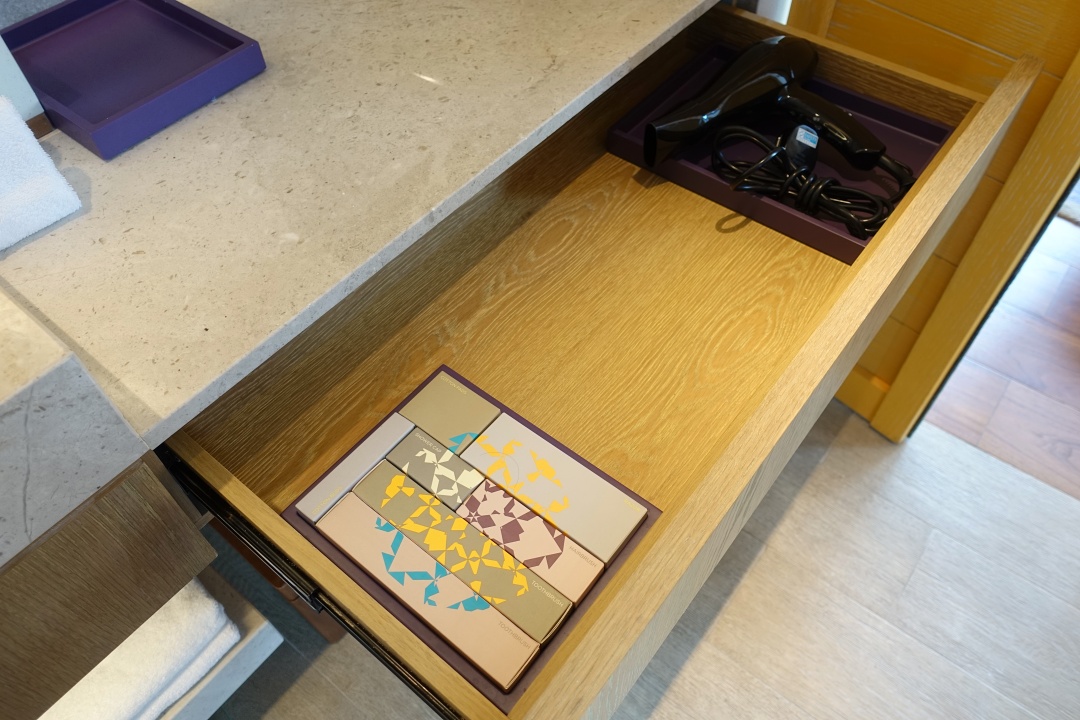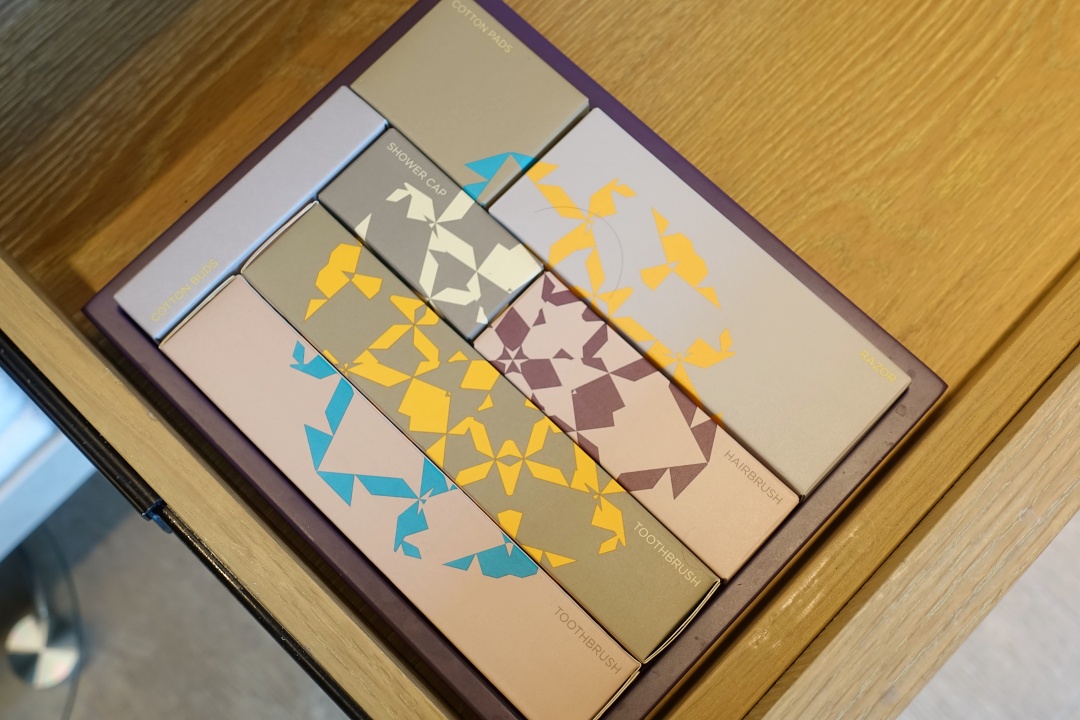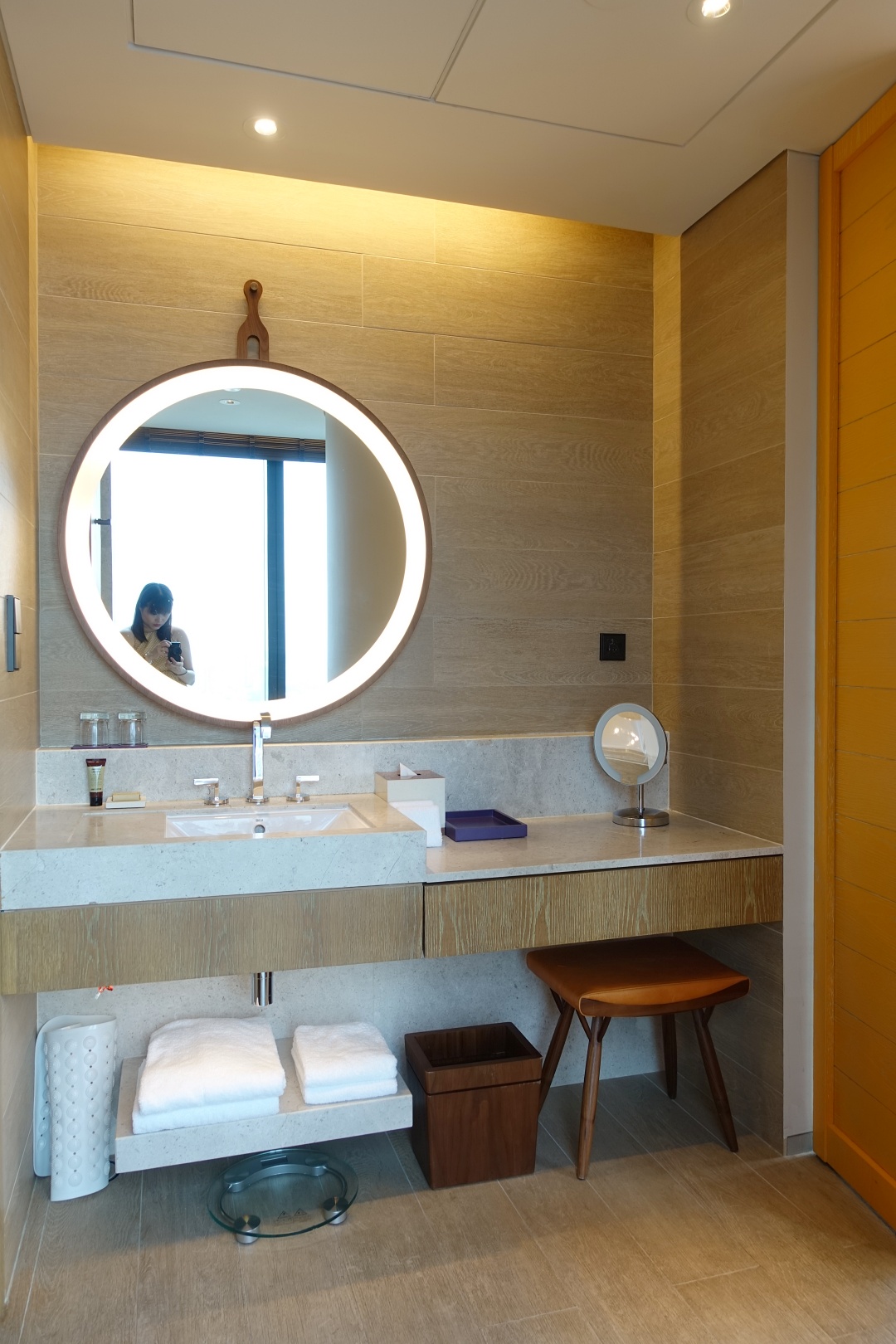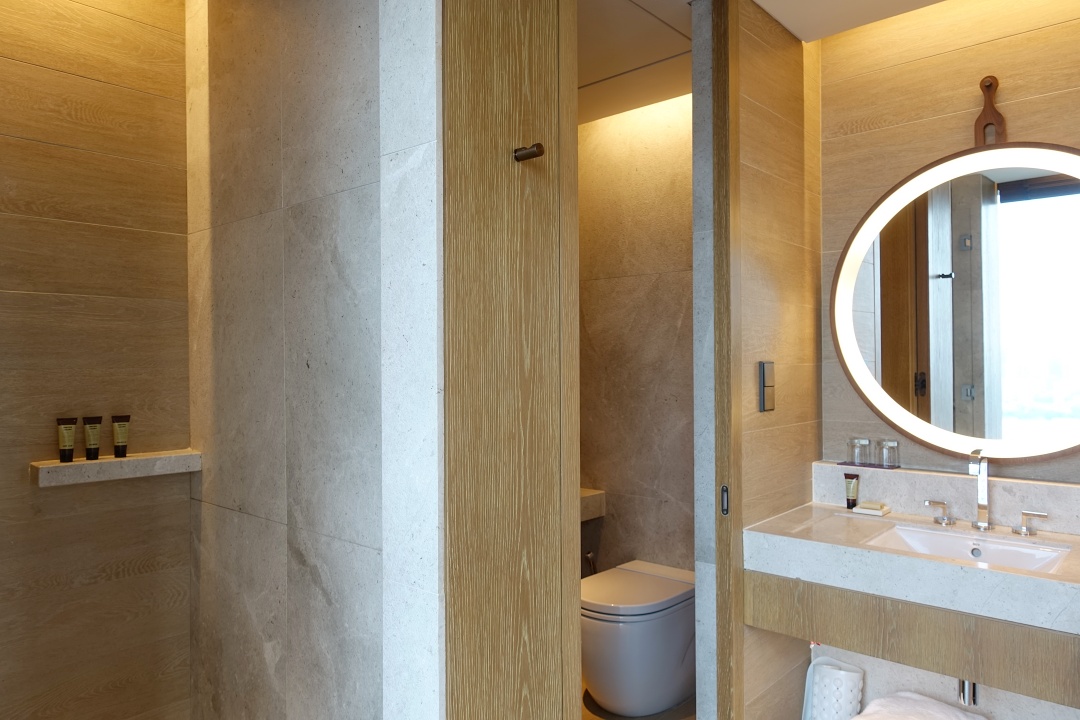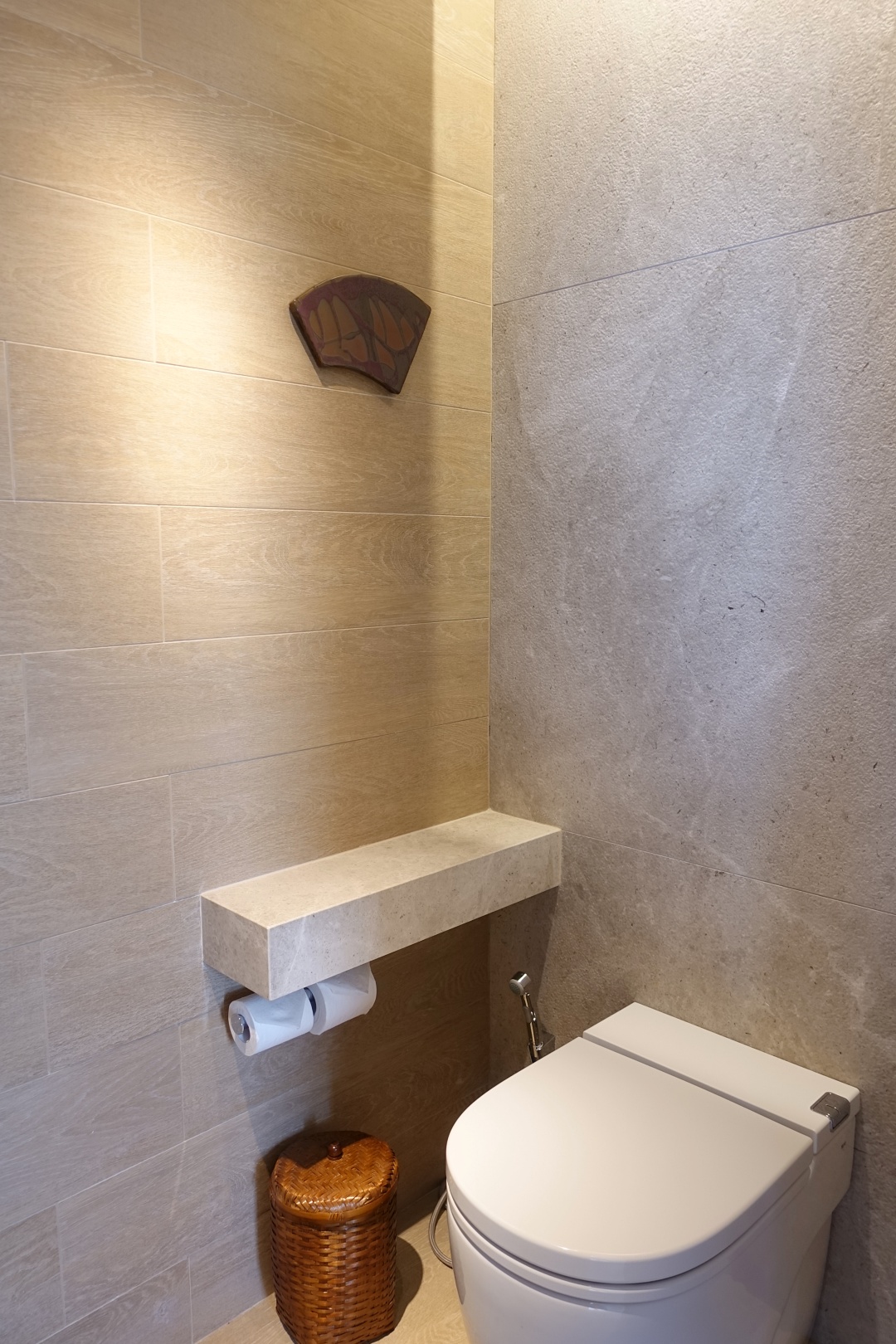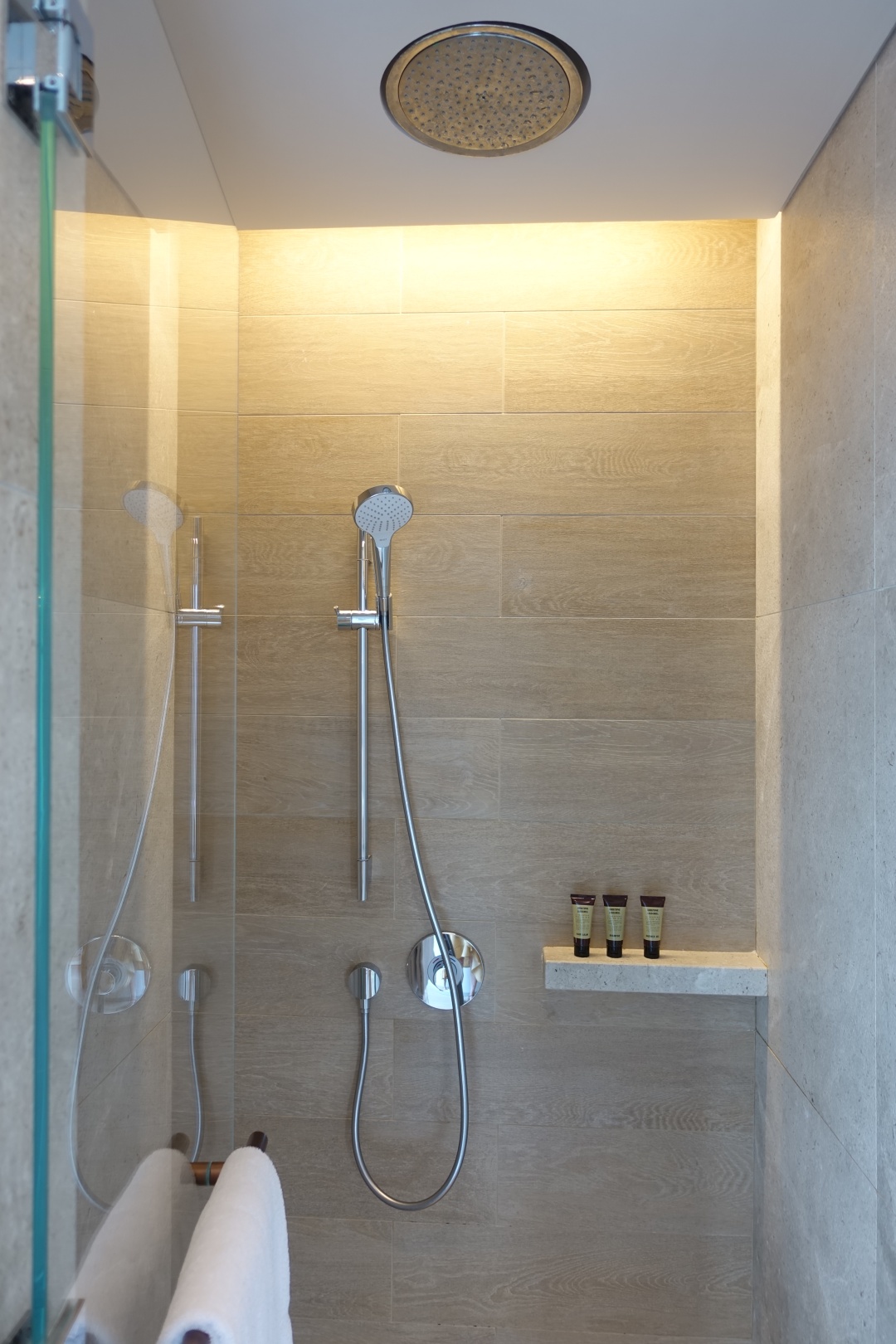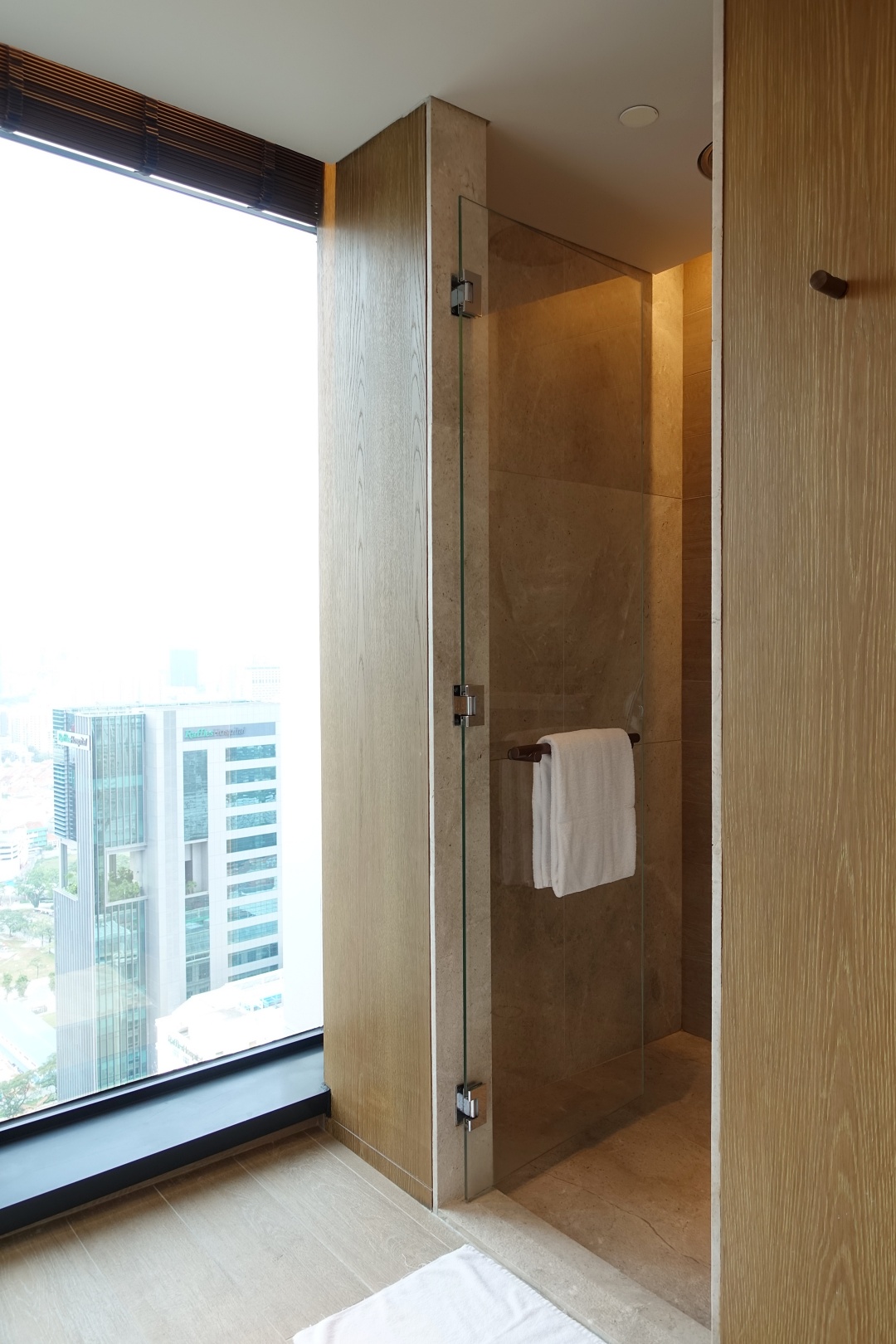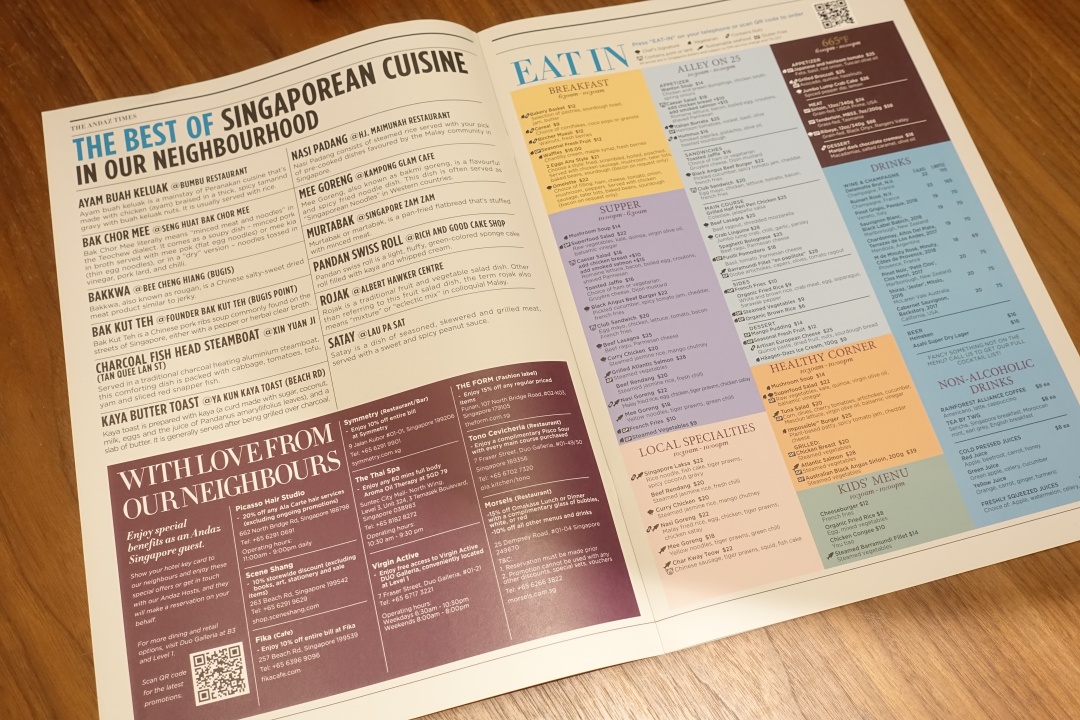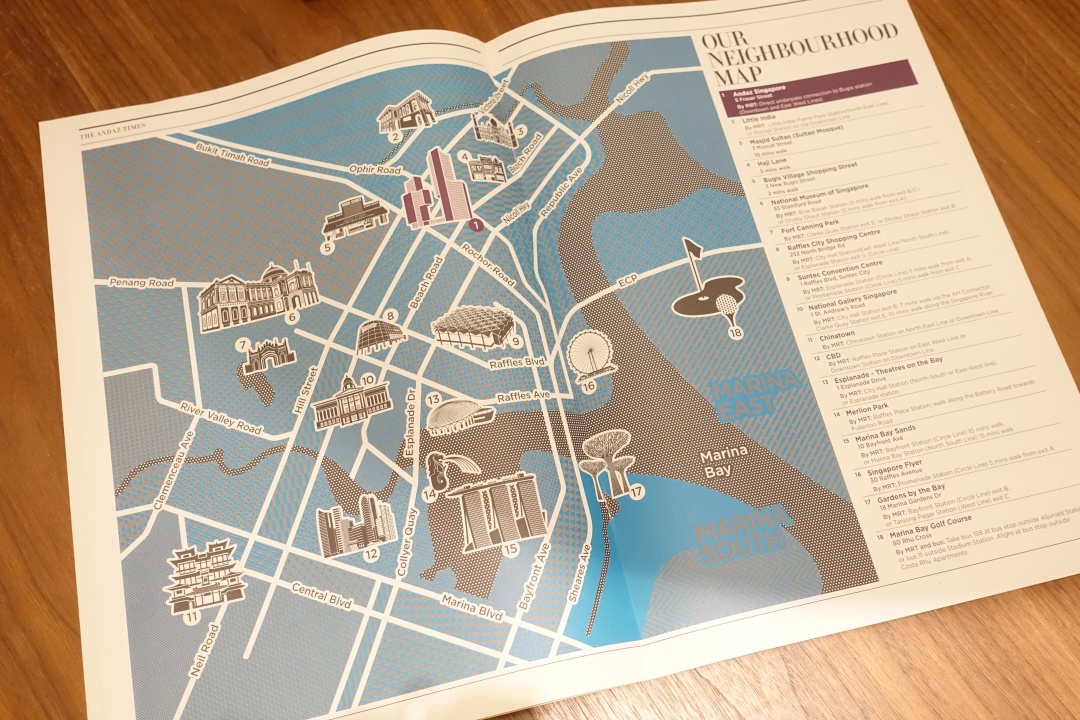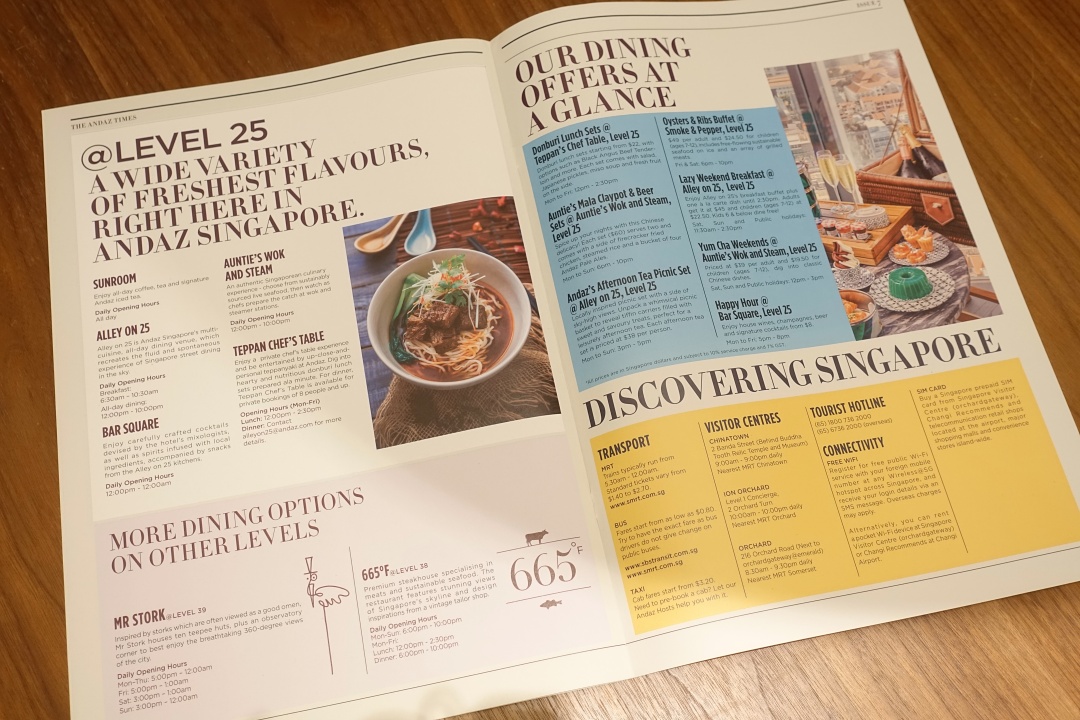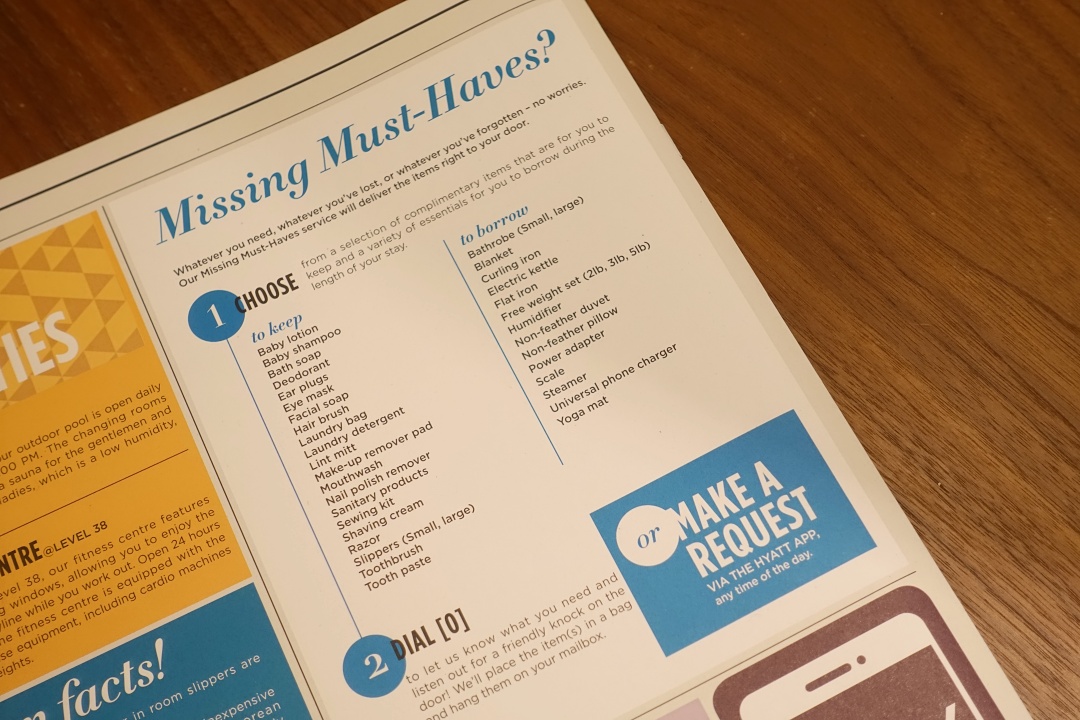 Done with the photos, I was just relaxing on the sofa looking at The Andaz Times. A very informative letter with all the information one may need for their stay; it includes a map of the neighbourhood, famous Singaporean dishes nearby, menu for their in-room dining, operating hours of their restaurants, etc.
It even tell you what are the items/essentials you can borrow during your stay. I almost wanted to ask for their non-feather pillow because I can hardly sleep well with soft pillows!
---
At around 17:30, it was time to head out! We had a 19:00 dinner reservation at Golden Peony Restaurant, and I wanted to go out early to Millenia Walk to get a screen protector for my new camera.
Couldn't find what I want at Millenia Walk, and since it was still early, we decided to cross over to Suntec City. Not being able to find what I was looking for, we gave up and went and got coffee instead.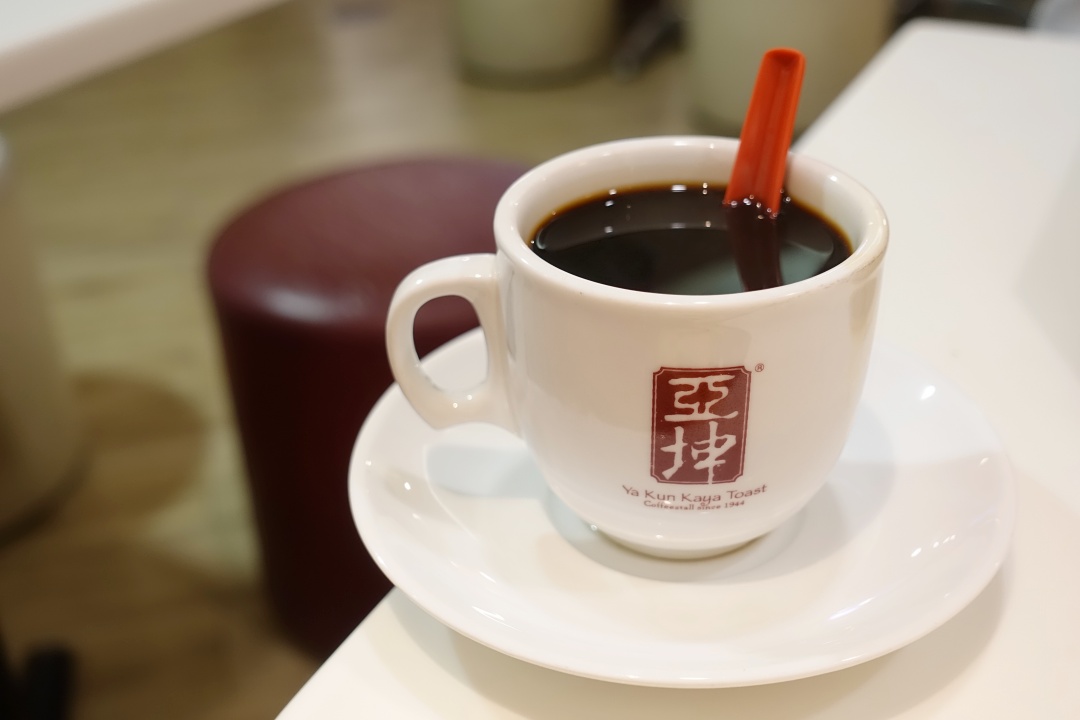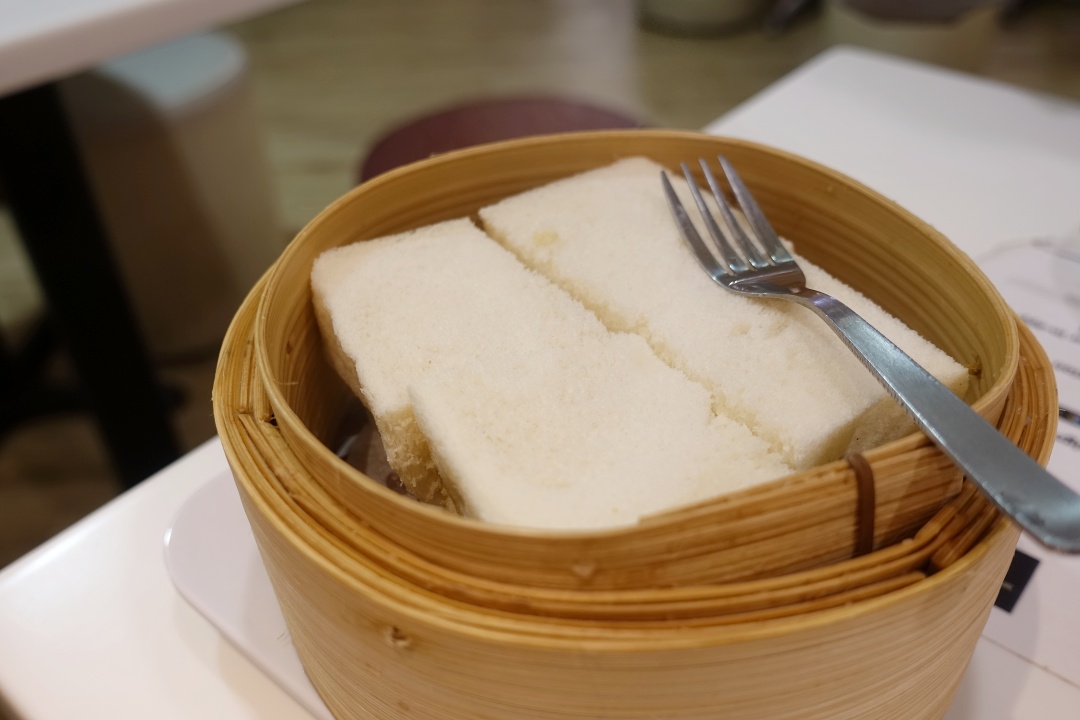 After having a quick bite at Ya Kun, we walked over to Pandora. The Husband bought me a Pandora charm when he was in Thailand, but it wasn't what I wanted. So to ensure he get the right one this time around, he brought me along to Pandora to get it. I ended up getting two charms – an Olaf and a Flounder (from The Little Mermaid).
Golden Peony Restaurant
Finally made our way to Conrad Centennial Singapore at 19:00 for our dinner.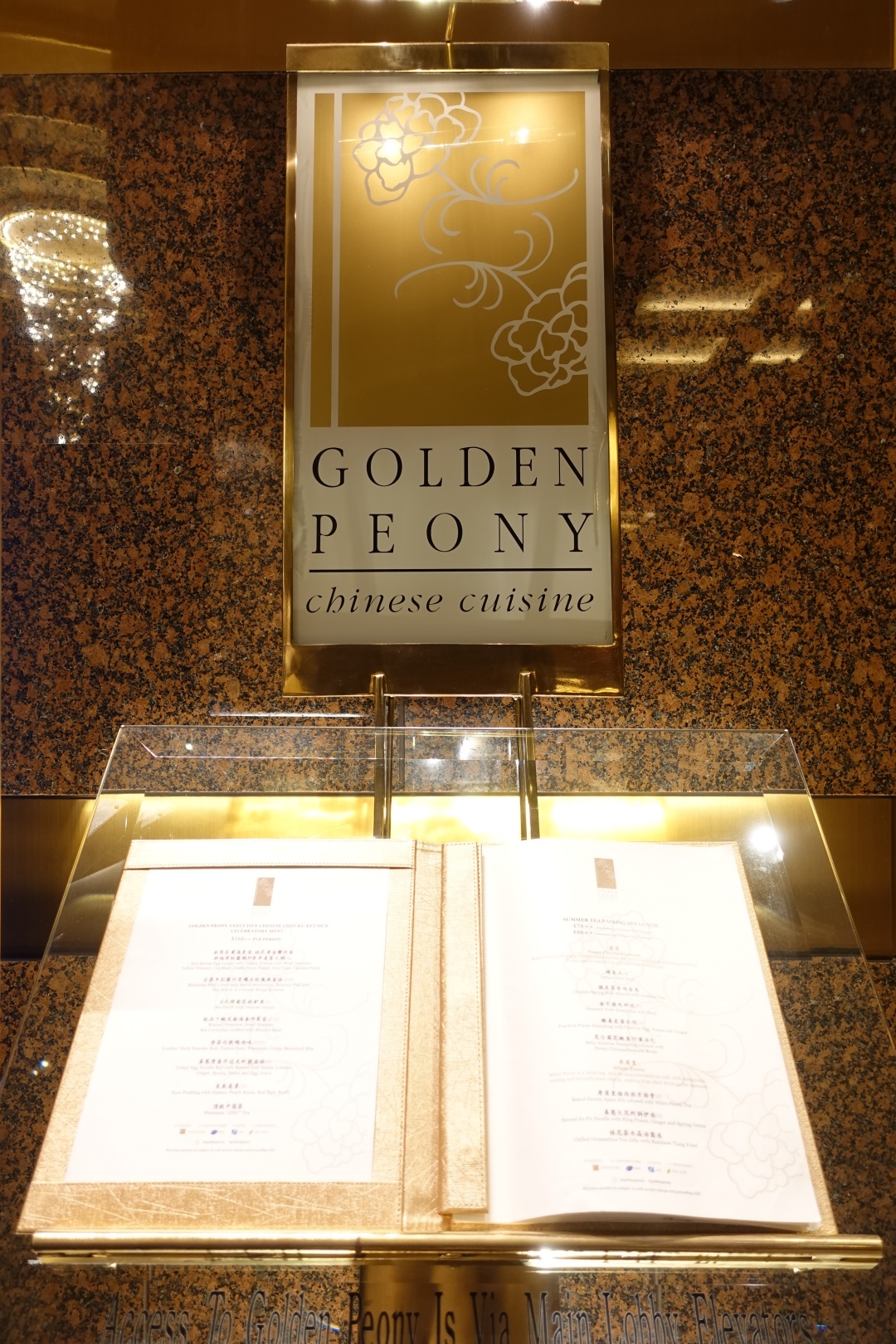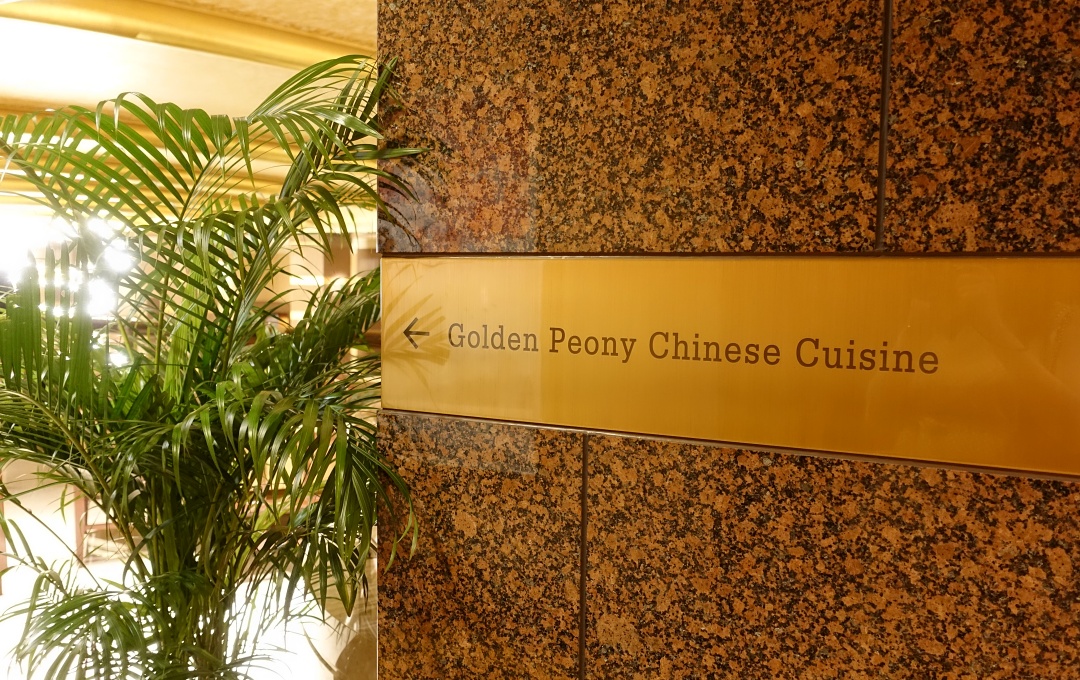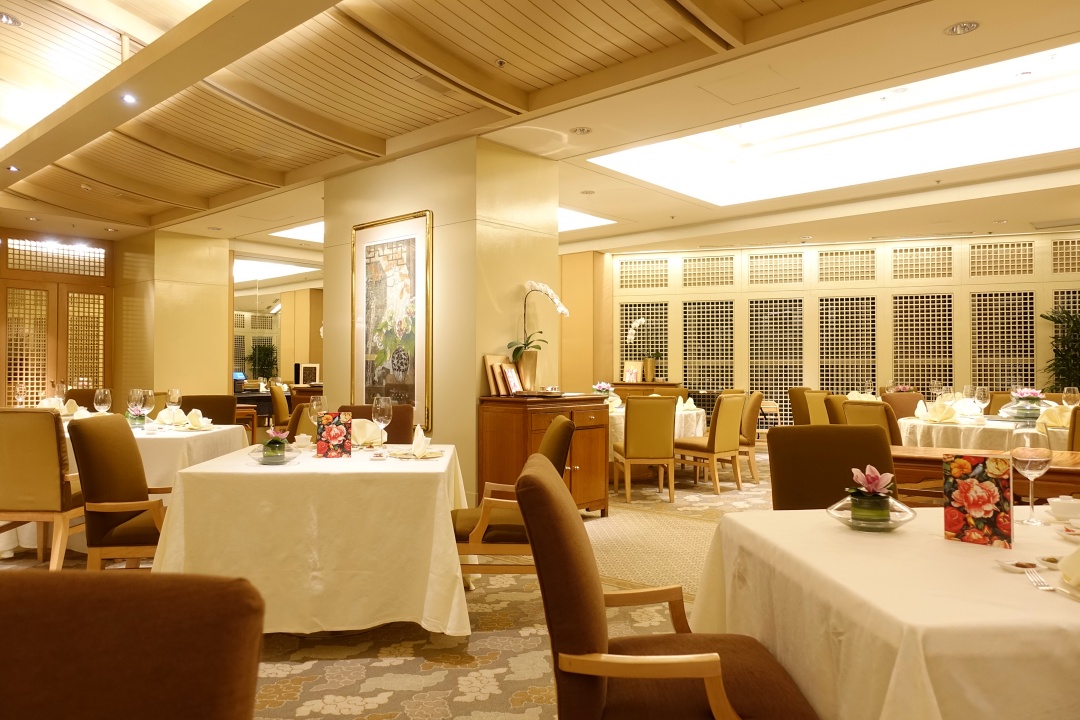 When we arrived at the restaurant, there was only one other group of diners. It was only until about 20:00, when more people started coming in for dinner.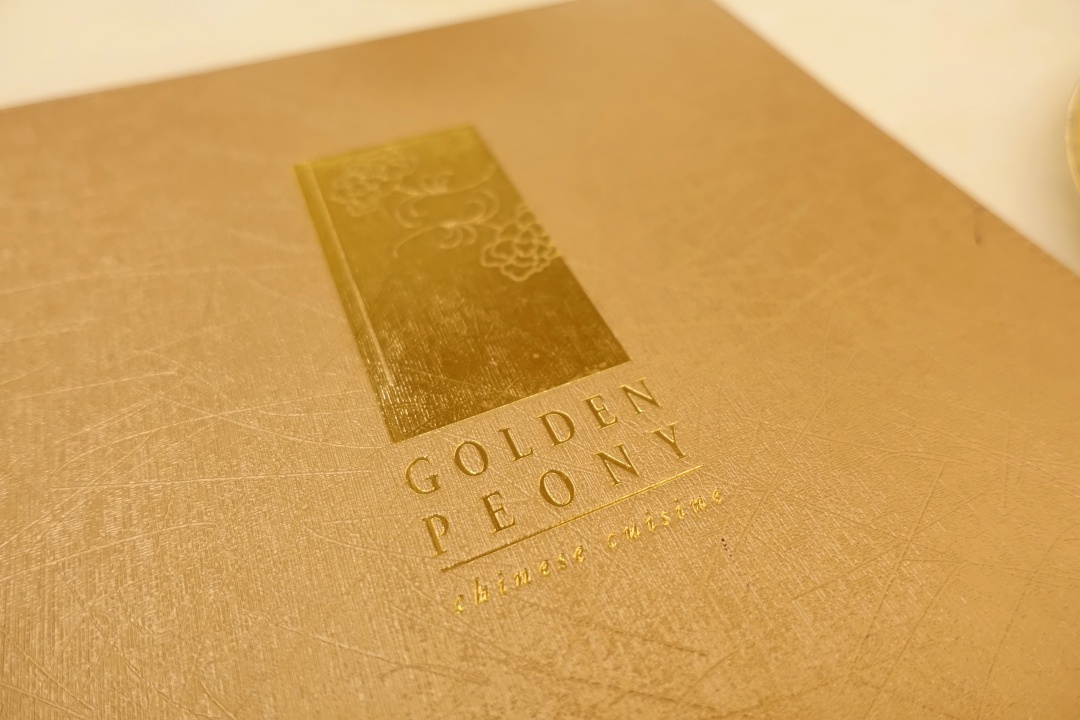 After looking through the menu, the Husband and I decided to go for the set dinner just because it was easier that way as compared to ordering separate dishes for sharing. I believe there were three different sets available that we were considering. In the end, we decided to take up the Autumn Tea Pairing Set Dinner at SGD 110++.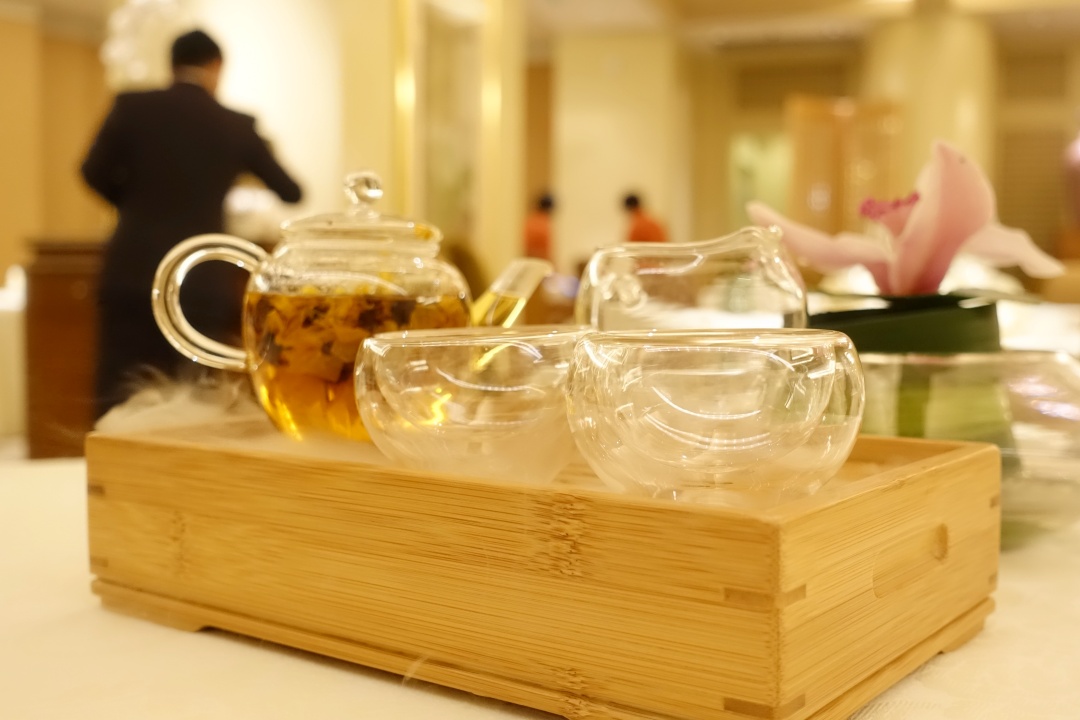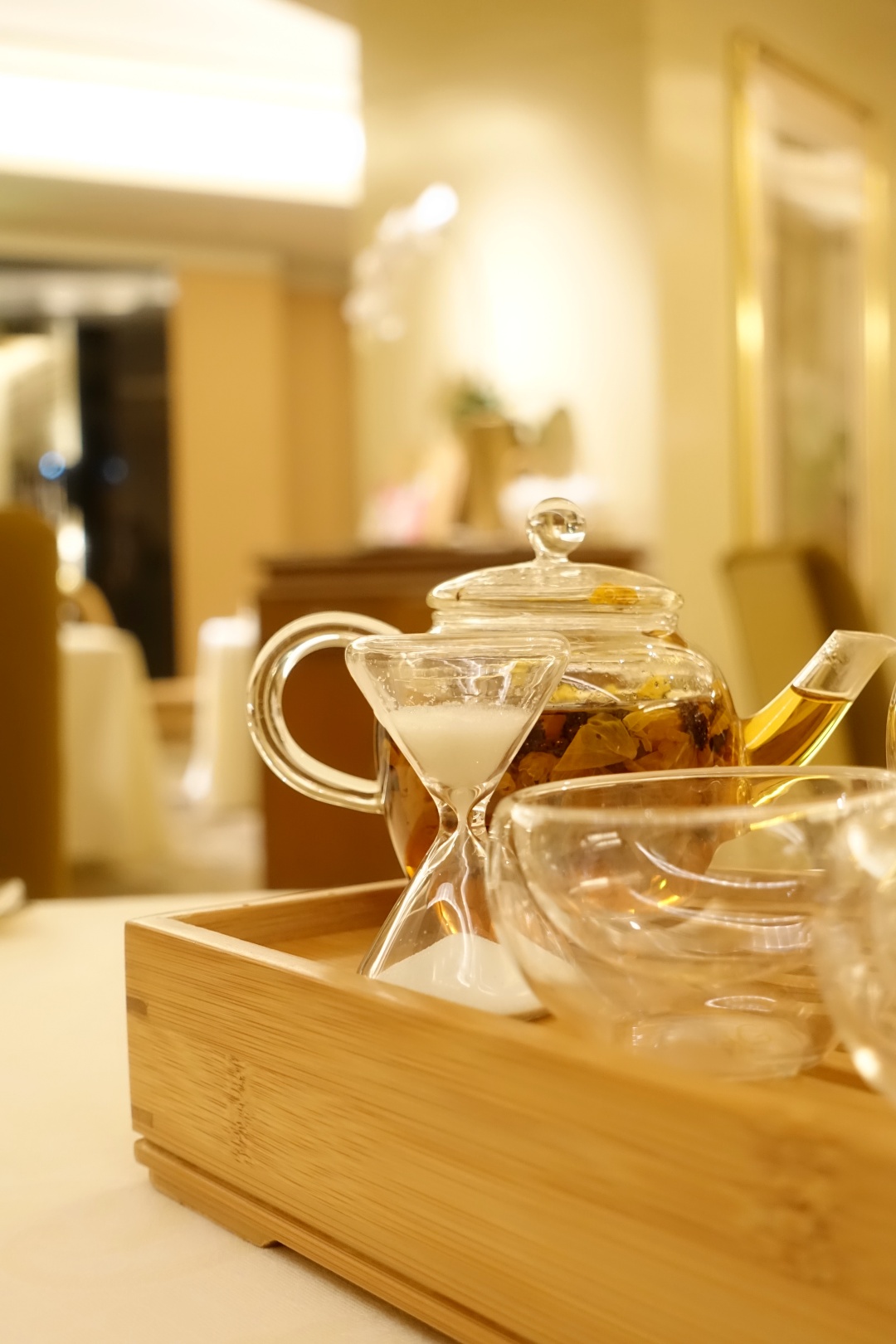 Started off our dinner with a pot of Peony Chrysanthemum Tea.
Was told to wait for three minutes to let the tea steep and they brought us a small hourglass which tells us exactly when the three minutes was up.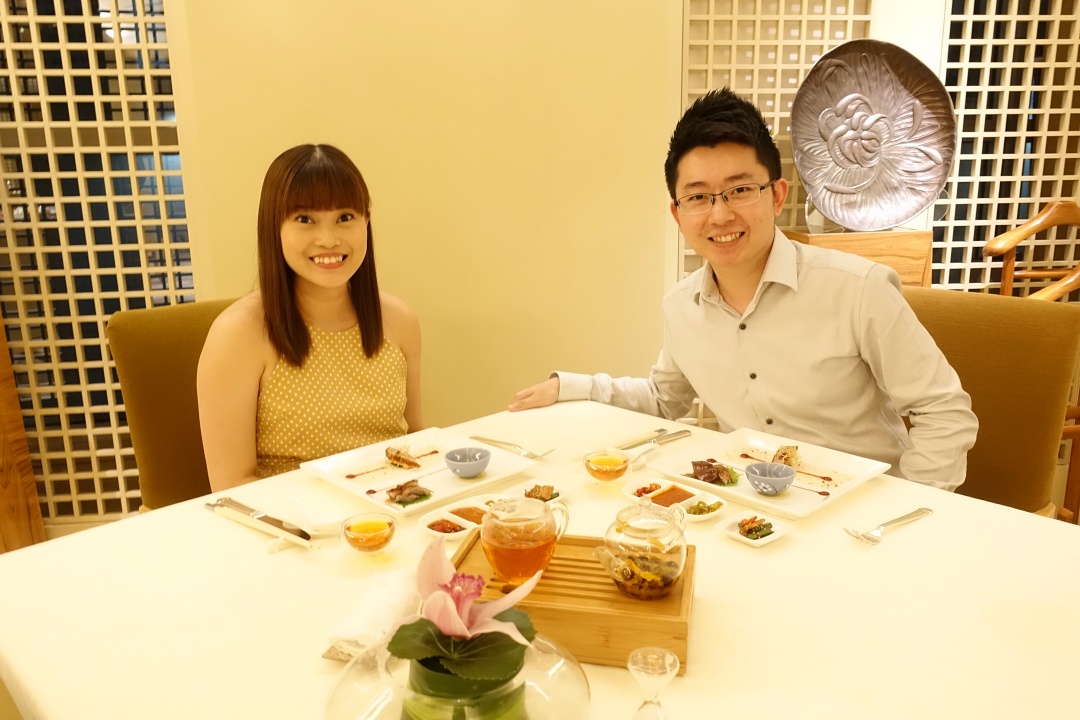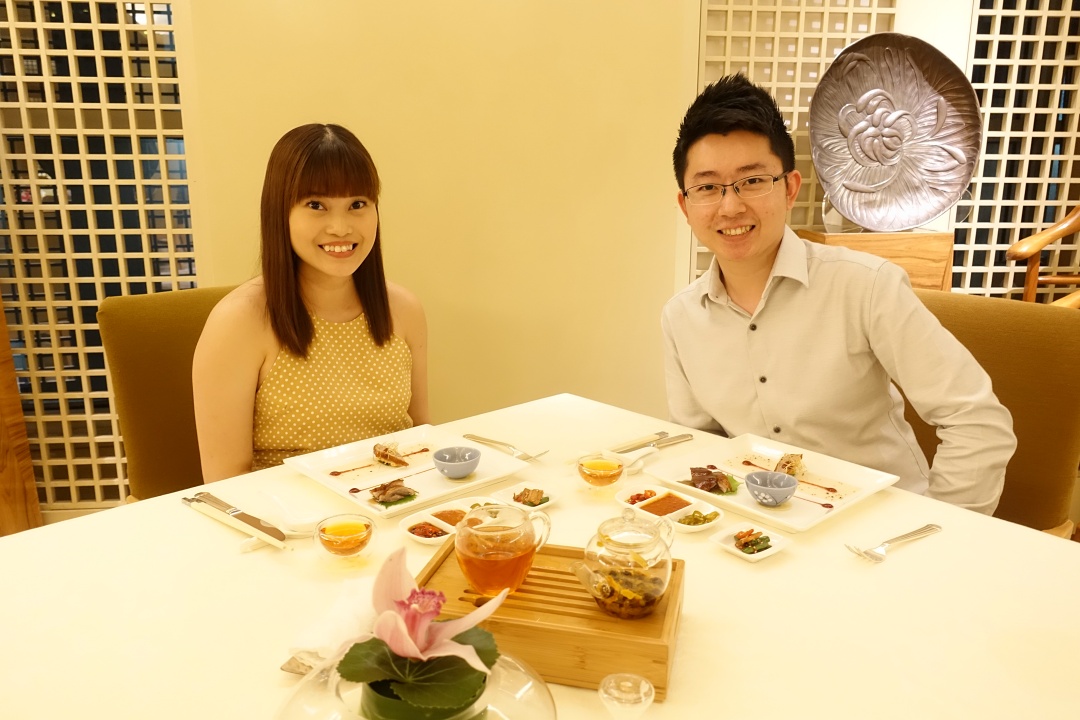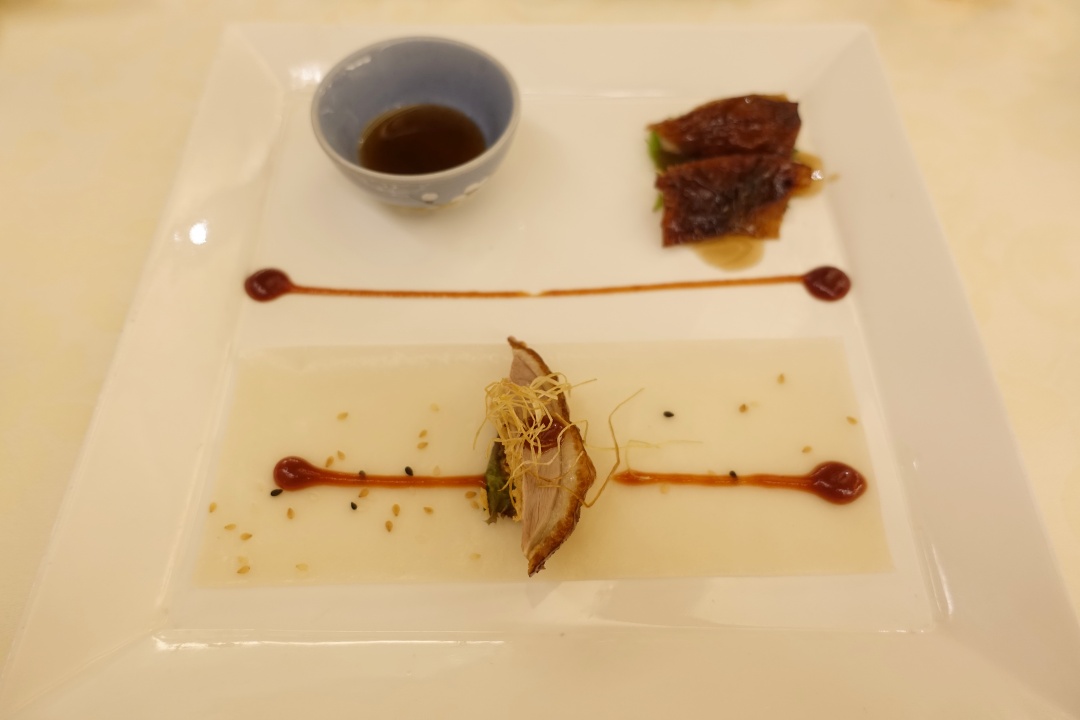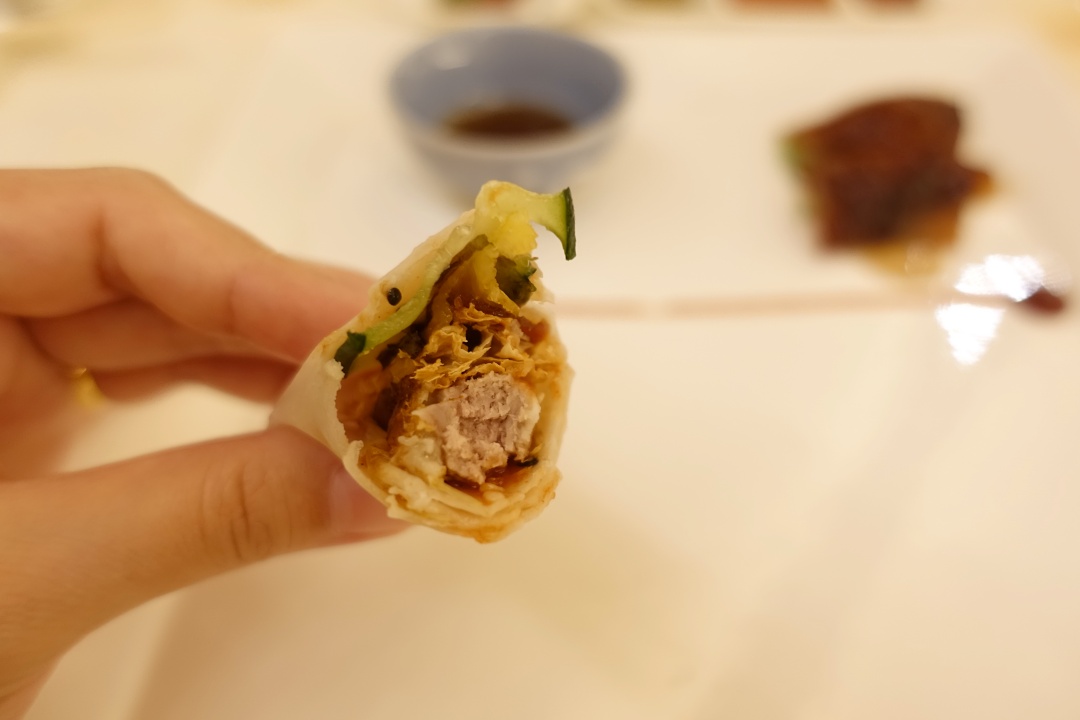 For our first dish, we had the London' Duck Pancake Roll that comes with Parma Ham, Pineapple and Crispy Beancurd Skin.
It doesn't look like much, but the beancurd skin does provide a good crunch. I enjoyed eating mine with the provided sauce and chilli.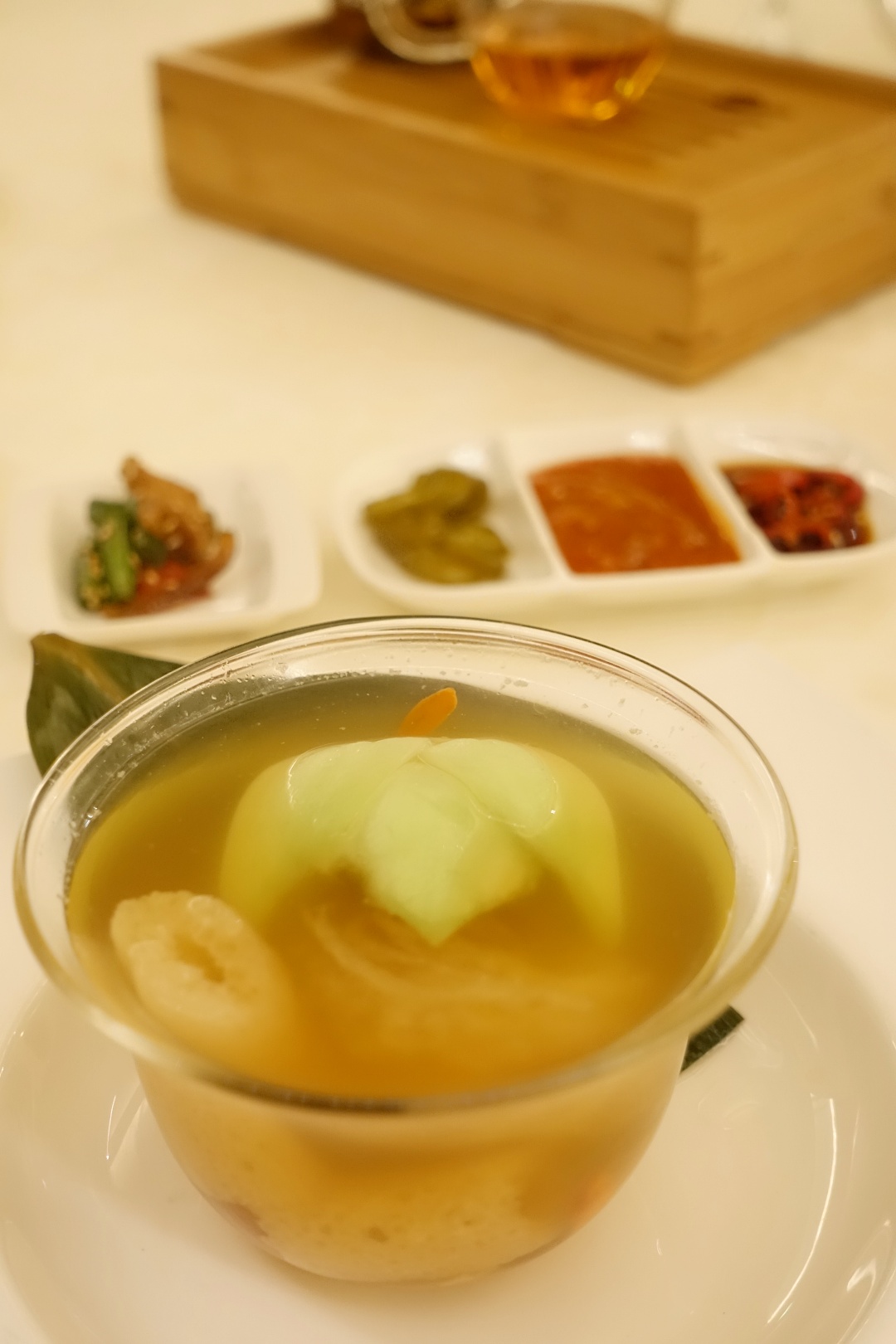 Next, we have the Blooming Bird's Nest that comes with Bamboo Pith and Peony Chrysanthemum Broth.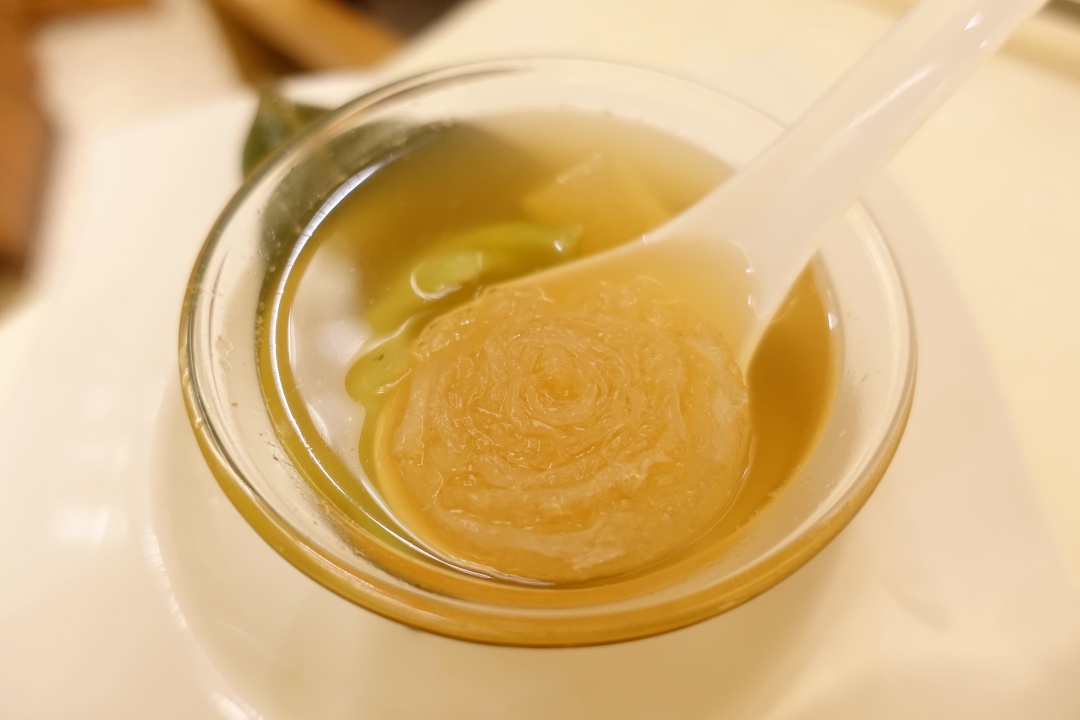 One entire block of bird's nest.
What I was most looking forward to for such dinner is usually the soup. Nothing beats a bowl of warm, comforting soup packed with lots of nourishing ingredients.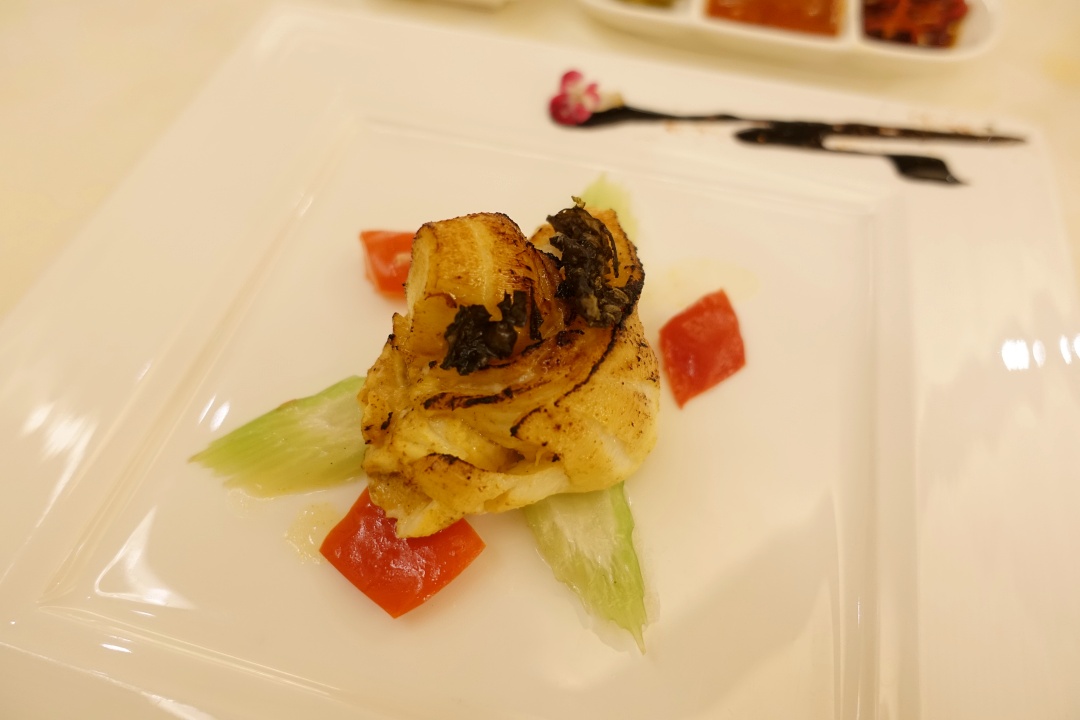 Followed after the soup, we had the Baked Sea Perch infused with Jasmine Pearls. Not really sure about the Jasmine Pearls; I like that the fish was very soft and it has a slight grilled flavour.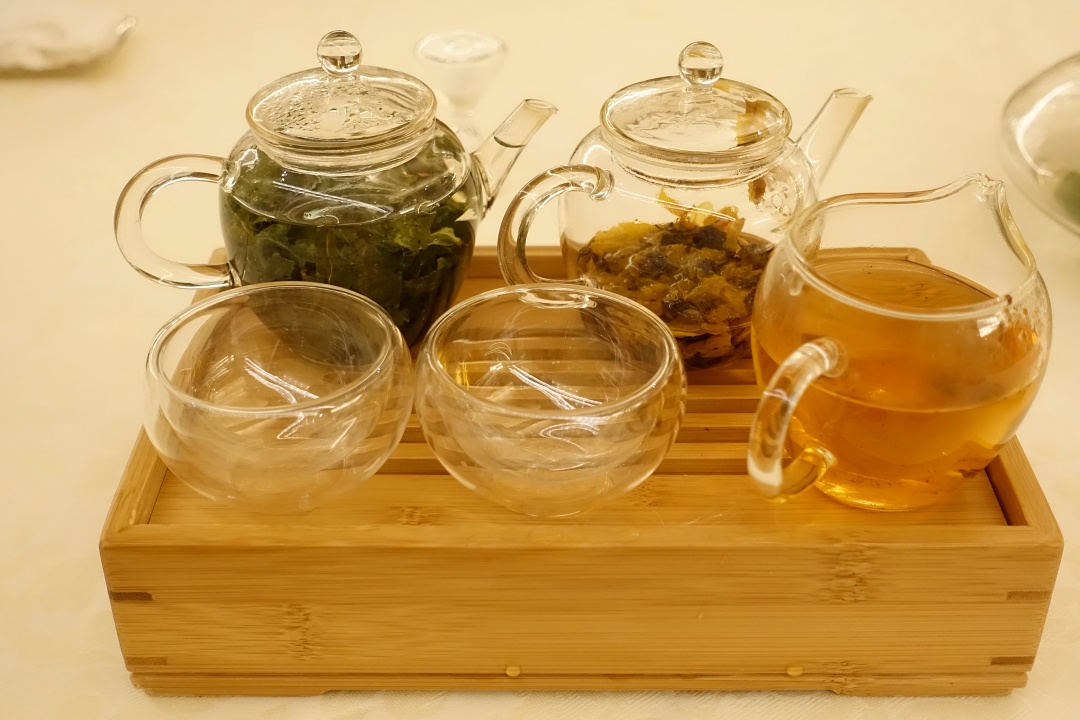 Then it was time to switch tea. Got served with a new pot of Tie Guan Yin.
Personally, I like the Tie Guan Yin more than the Chrysanthemum. The Husband, on the other hand, prefers the Chrysanthemum.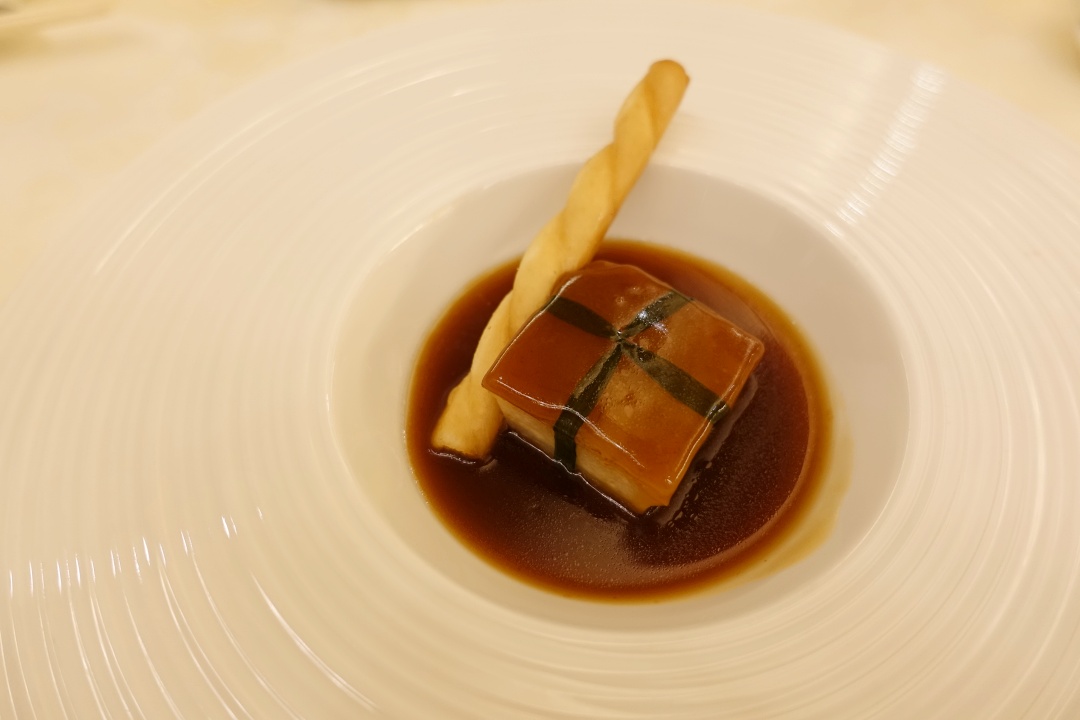 Moving on to the next dish, we had the Braised 'Dong Po' Pork Belly served with a Crispy Breadstick.
While the sauce was good and the pork belly was very tender, I didn't like it that much due to the thick layer of fat on the meat. It was a little too much for me.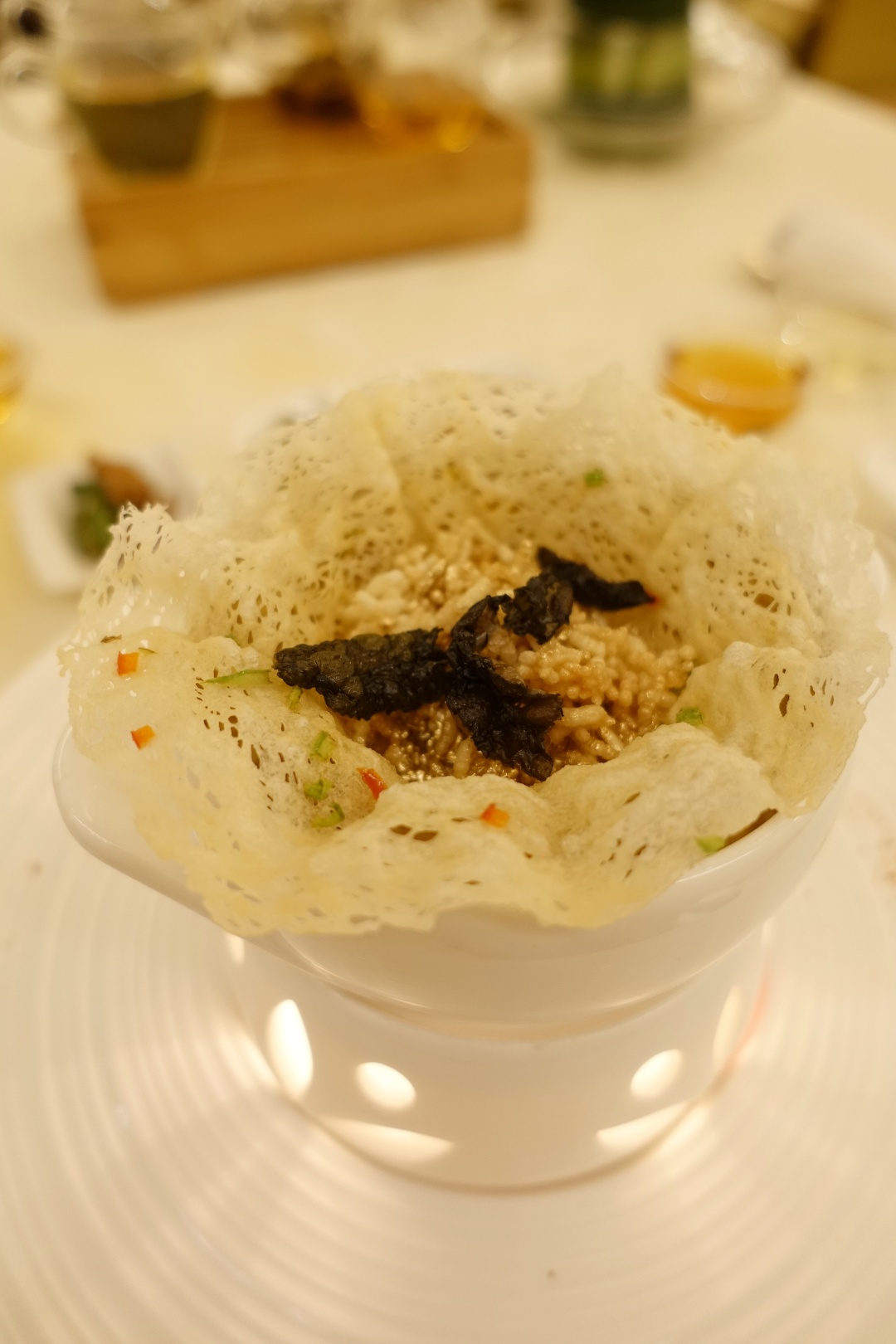 Next, we had the "Bi Luo Chun" Fragrant Poached Rice with Lobster. The presentation of the dish was great! The candle below helps to ensure that the rice remains hot throughout.
We both had high hope for this dish, but it turned out to be my/our least favourite. The flavour just wasn't as strong as I would like and I didn't like that they have the crispy rice mixed with the poached rice.
Before moving to our final course, which was the dessert, the Husband asked for the menu again and decided to order an abalone for each of us. To be honest, I was getting quite full by then. But since he wanted to try out the abalone, I let him get one for me too. We ordered two different ones so that we could try and decide which was better.
We decided to go for the Braised '2-Head' Premium Abalone in Oyster Sauce (SGD 78)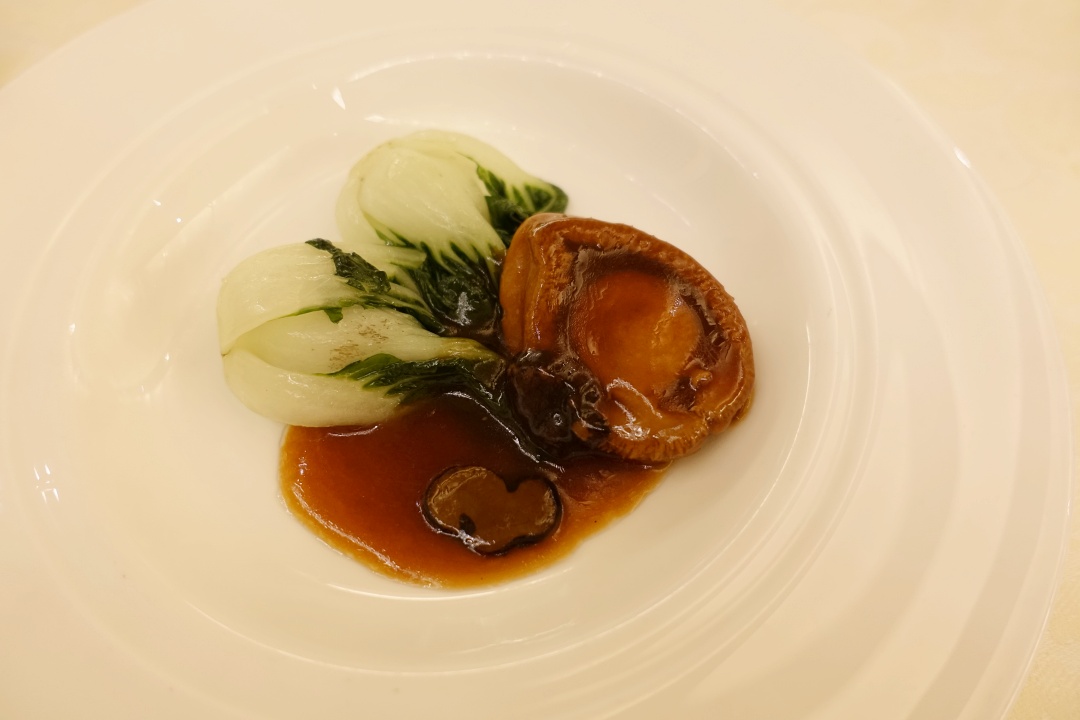 and the Braised '5-Head' Premium South African Abalone with Black Truffle (SGD 58).
I preferred the latter more, mainly because of the black truffle. Aside from that, both didn't taste much different to me in terms of bite.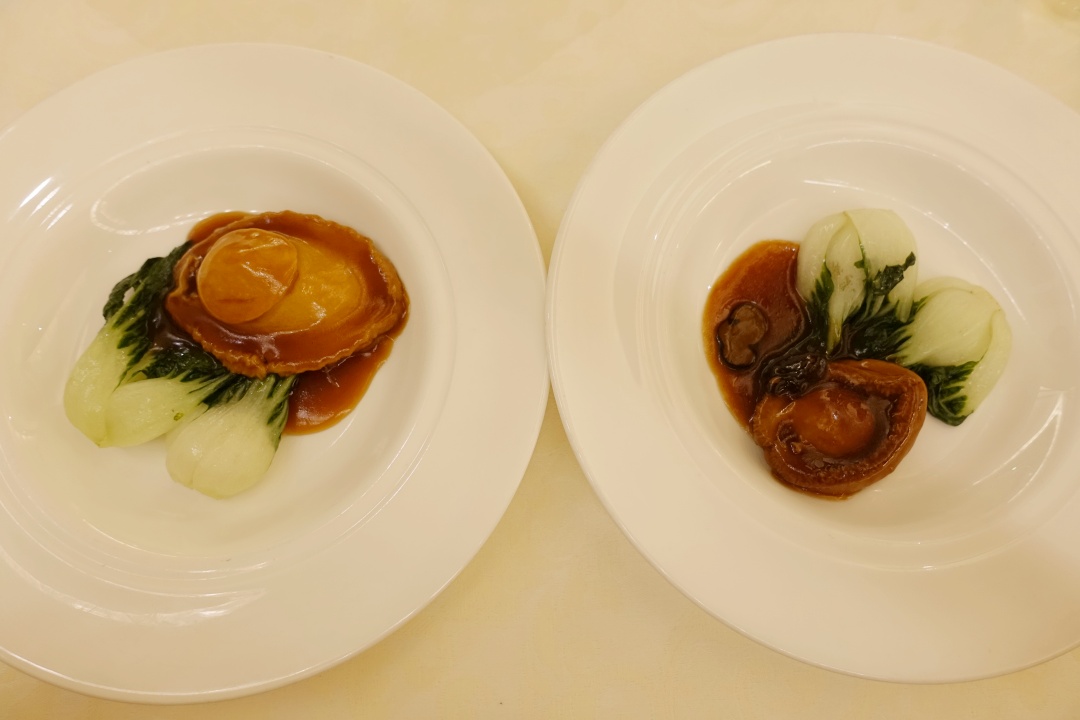 To have a better comparison of the size difference of the two abalone, here's a picture of the two plates side by side. The '2-Head' Premium Abalone is noticeably bigger than the '5-Head' Premium South African Abalone.
Lastly, to end off our meal, we had the Soya Pudding with Bird's Nest. It comes with Peach Resin, Logan and Red Date Broth.
Not a fan of the dessert; I hardly touch the soya pudding.
Overall, it was a relatively good meal since we really enjoyed the first few dishes. Seeing that our total bill came up to around SGD 420, I asked the Husband if he prefers this or Tóng Lè. (I think the last time we went to Tóng Lè Private Dining, our bill came up to almost SGD 500?)
The Husband thinks that Tóng Lè offers more fusion dishes, while the ones at Golden Peony are what you get at a typical Chinese restaurant. It was tough to pick between the two, but I think I might have preferred Tóng Lè. Not only the food is good, but you also get an excellent panoramic view of the Marina Bay waterfront on their revolving tower. For roughly the same amount, I think I'm more willing to spend for a dining experience at Tóng Lè.
---
Can't believe we spent 2.5 hours on dinner. By the time we left, it was almost 21:30. Quickly took some pictures outside the restaurant and at the spiral staircase before we left.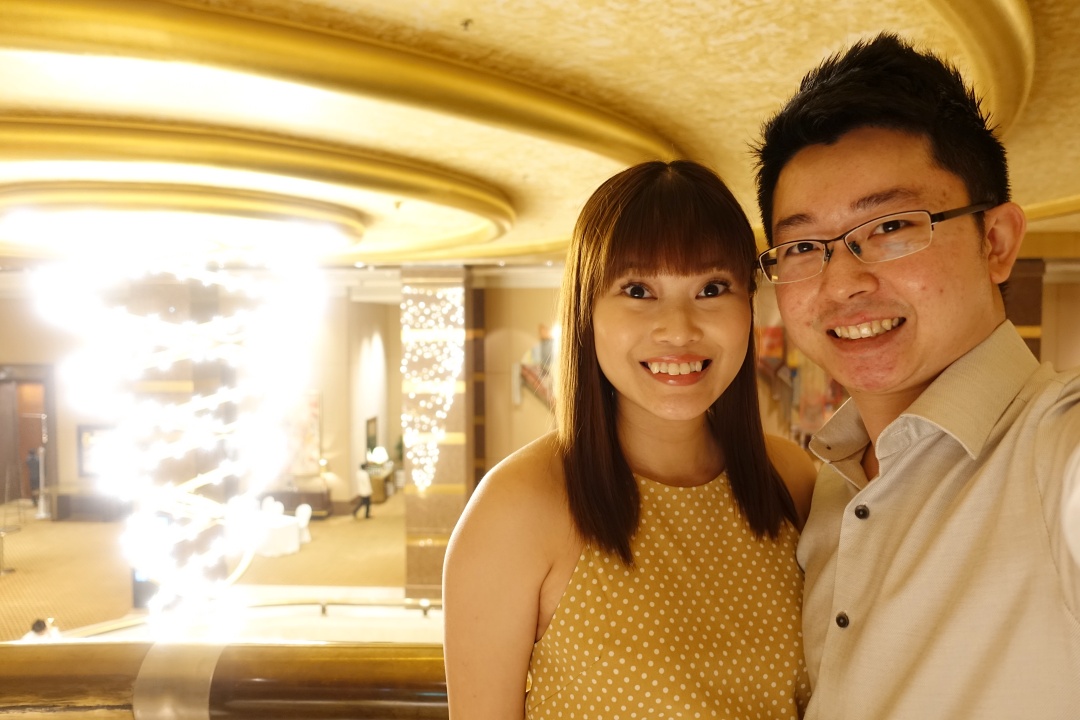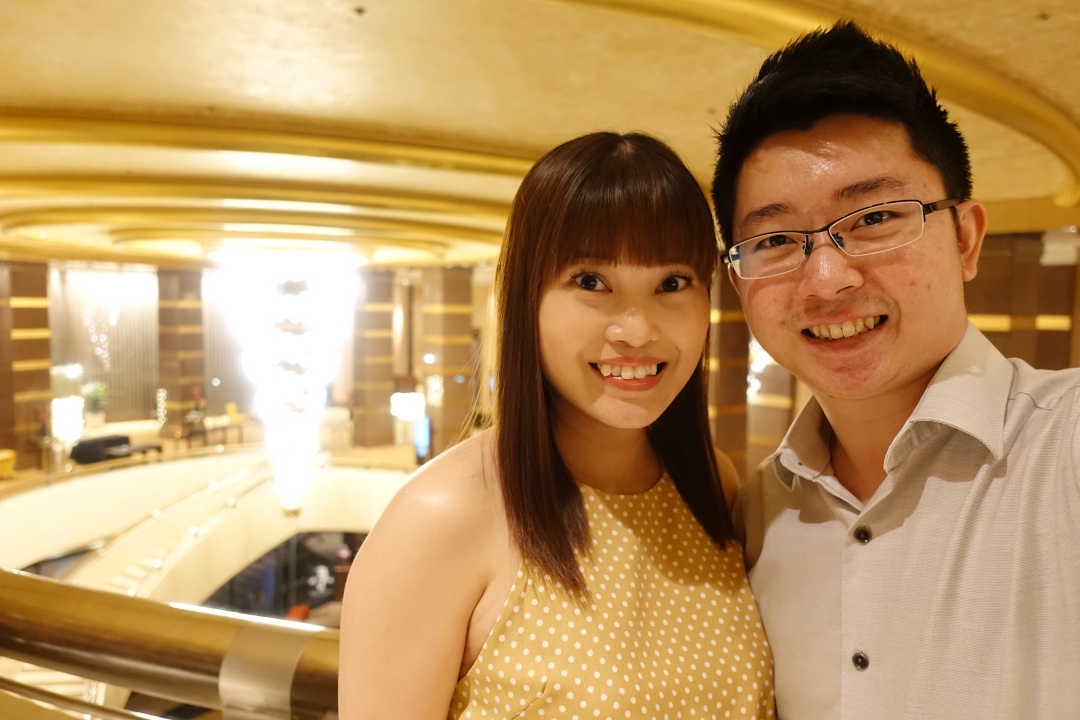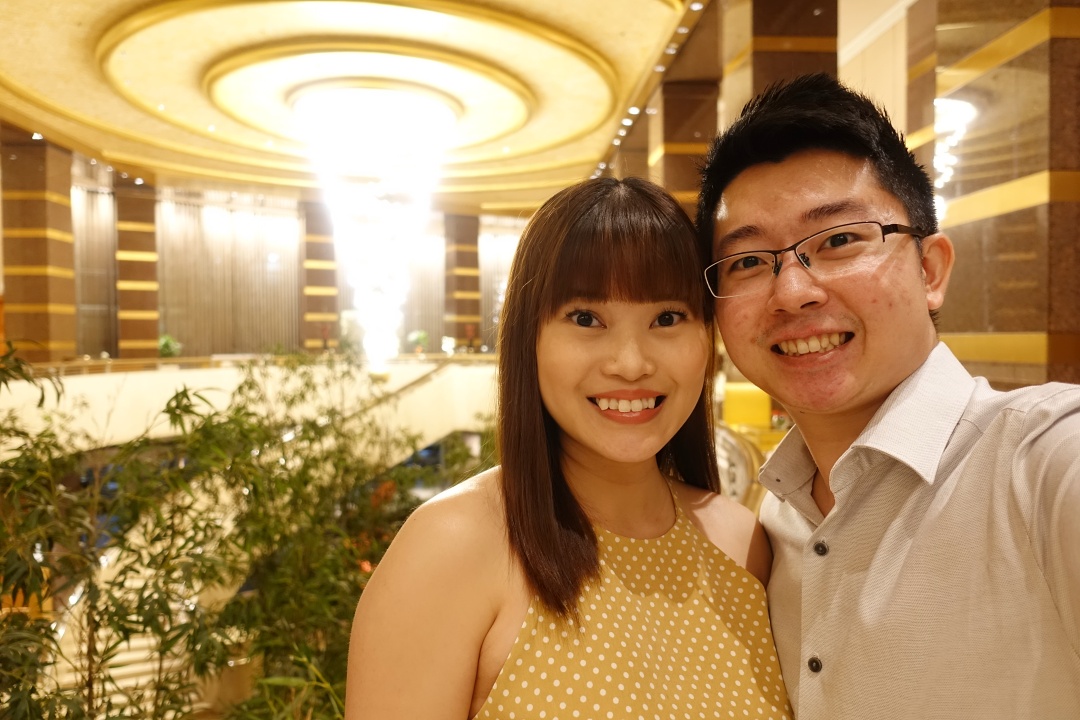 Trying to find a right angle to take our pictures but the light fixture still turned out looking overexposed.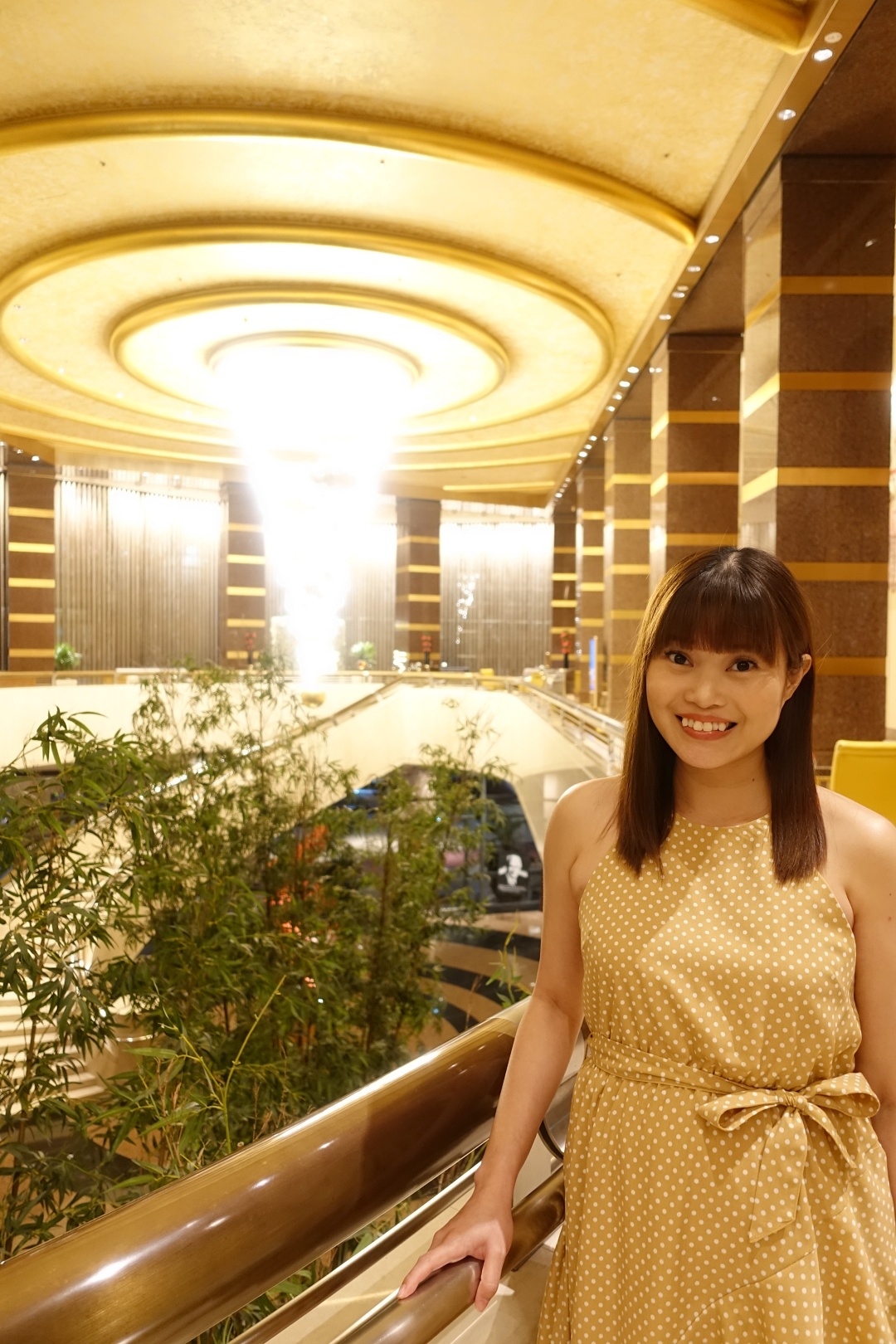 Outfit of the day was this Merryl Polka Dot Dress in Caramel from Hollyhoque. I am still thinking if I like it enough to buy it in another colour.
Leaving Conrad, we made a quick stop at Millenia Walk as the Husband insist on getting me a cake. (Andaz Singapore originally offered to provide a cake for my birthday, but somehow it became two complimentary vouchers for cocktails at Bar Square.)
We ended up buying a small one from Antoinette.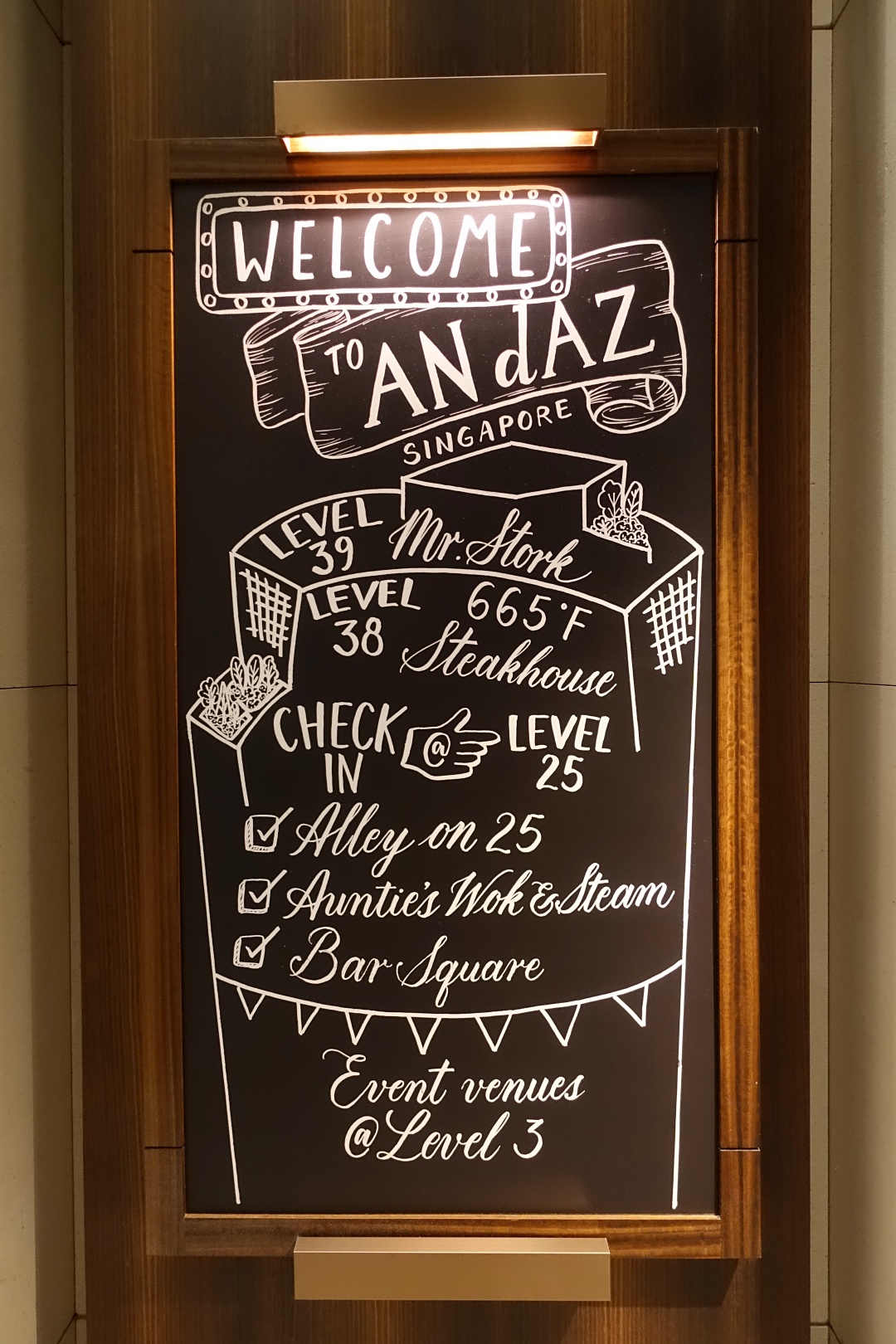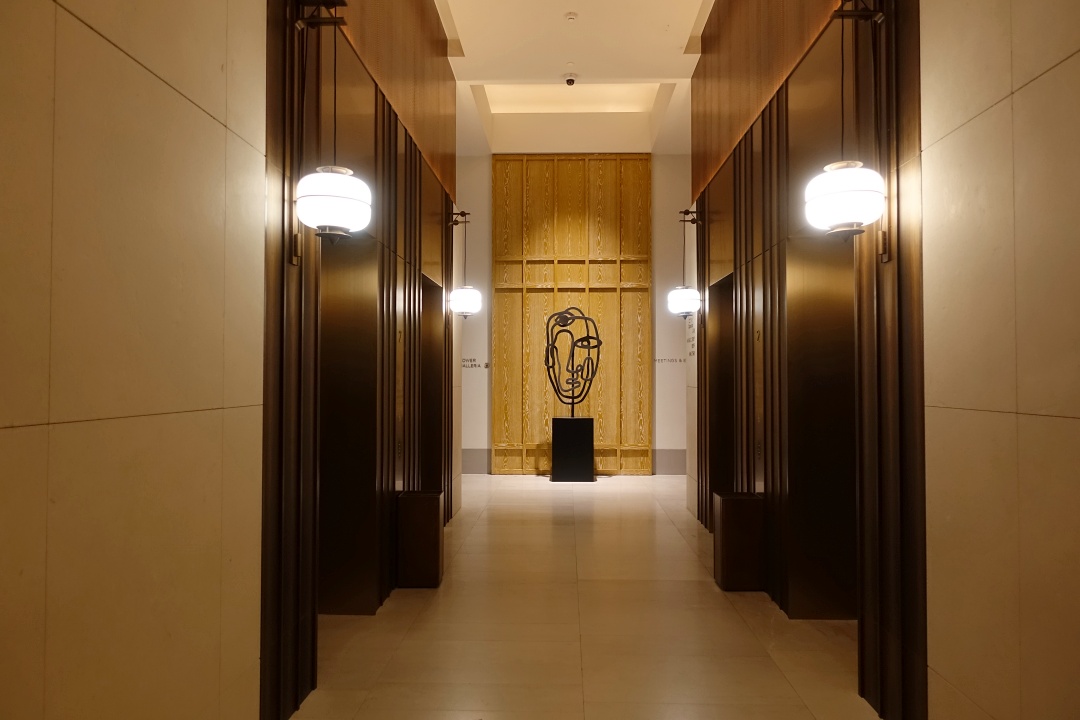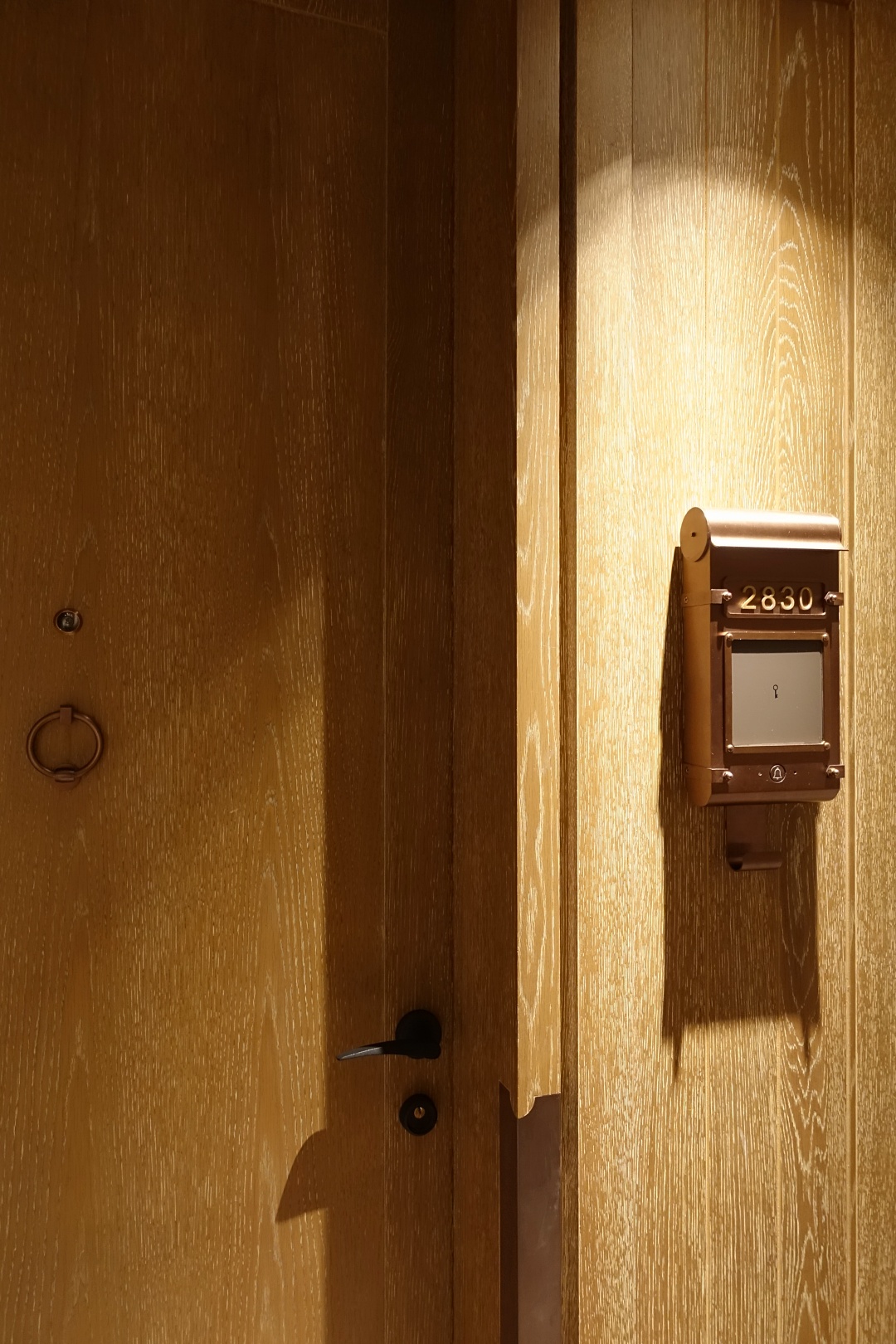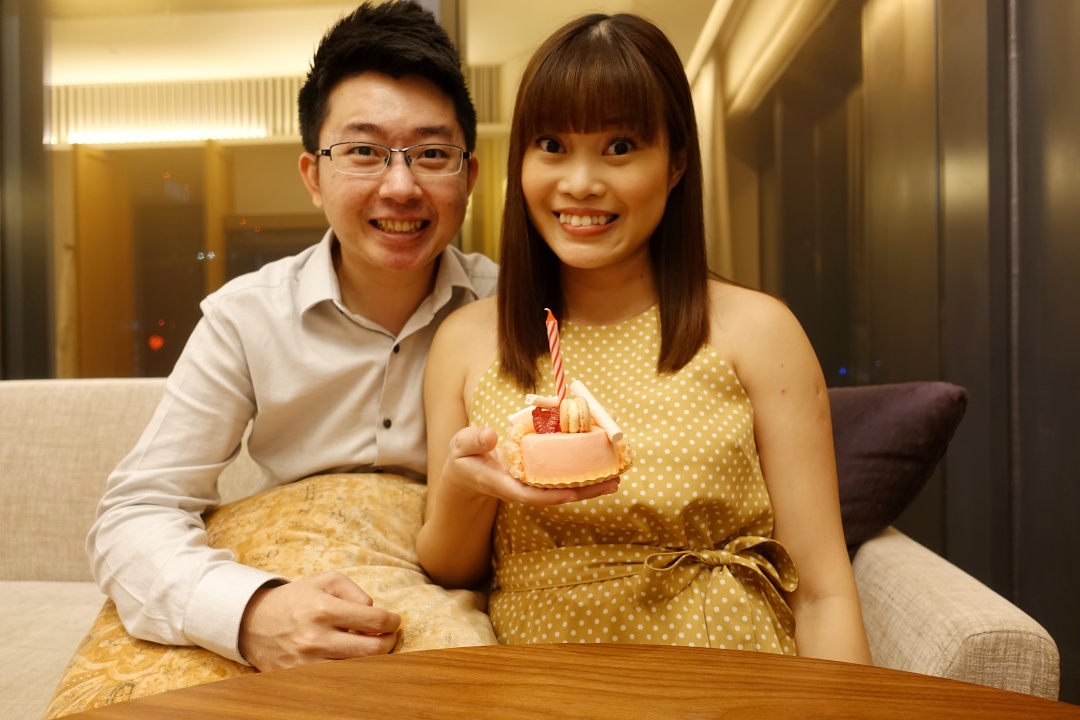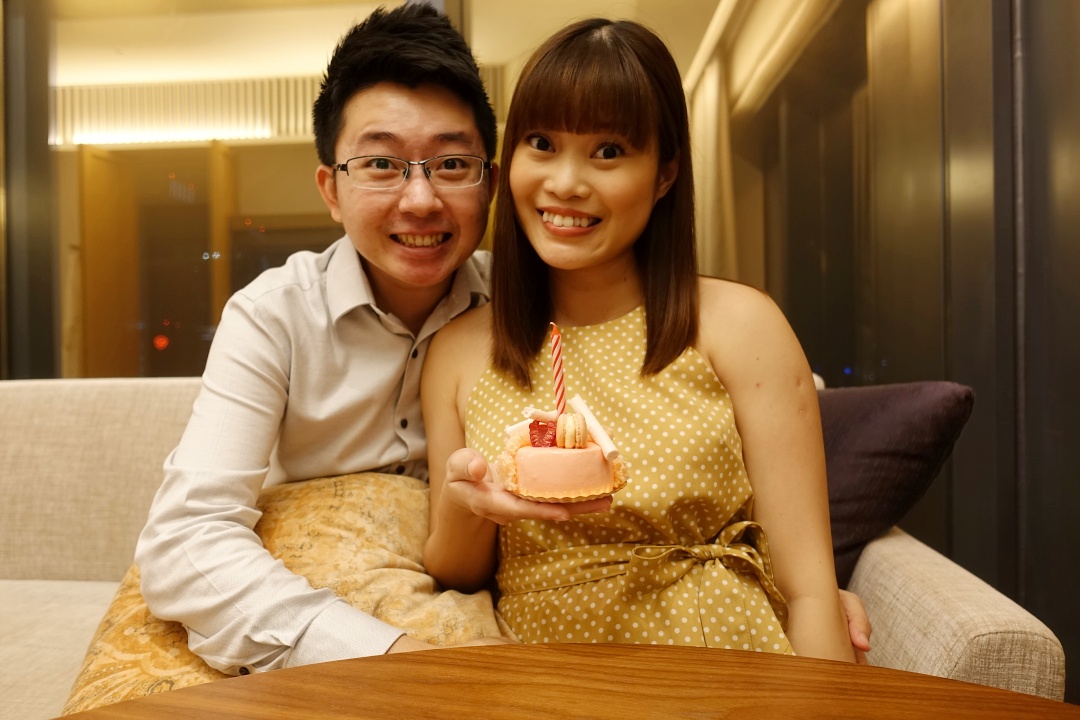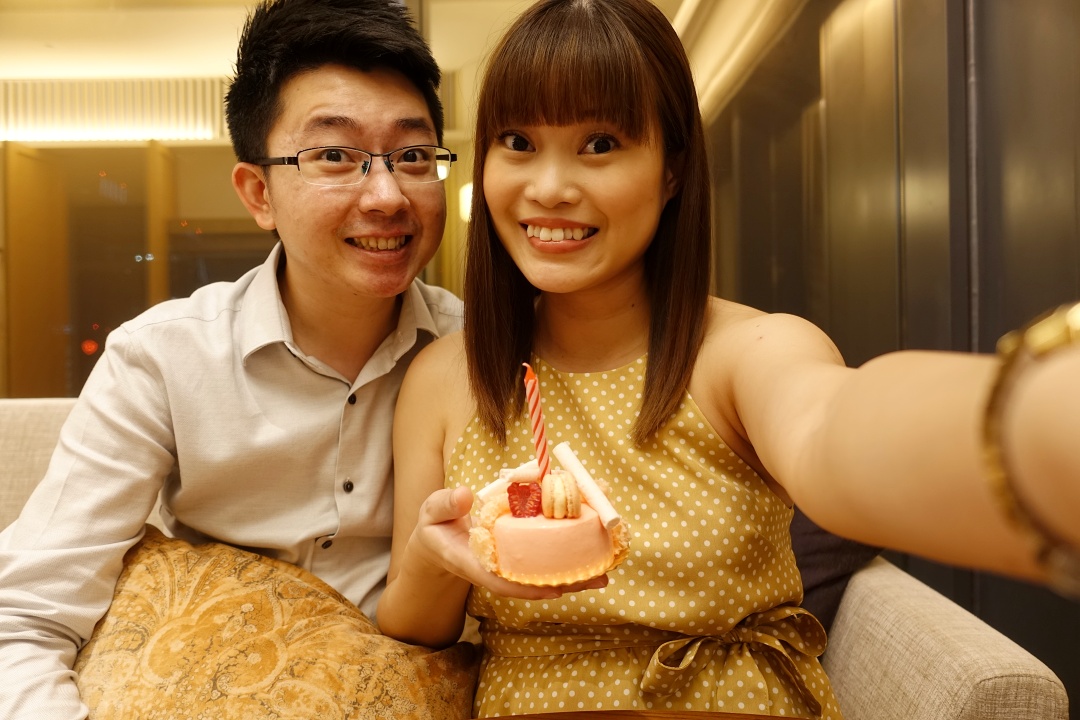 Took some photos with the birthday cake for a sweet ending to my 30th birthday celebration!
---
I think my feeling for this year is almost the same as the year before. I realised that as I get older, I no longer long for a big birthday celebration or party. (Those usually took up a lot of energy, and I think I'm too old for that.) Neither do I look forward to receiving presents. All I wanted was a simple and low-key celebration. A nice dinner with my loved ones will do. Of course, having a surprise is always lovely. But without that, life still goes on as usual.
At 30, I'm really contented with what I have and where I am right now.