To be honest, I wasn't planning on doing this post as I thought I would do a short sum up when I do my subsequent posting on my review on wedding vendors. However, as I was sorting out my pictures, I came across those I had of my bridal makeup trial with Lush Looks Hair and Makeup. So I figured I might as well do a post on it.
I found Xin Er (makeup artist behind Lush Looks Hair and Makeup) online and decided to send her an email to enquire on her pricing for actual day bridal makeup and hairstyling. Before contacting her, I've only reached out to two other makeup artists. As such, I wanted to put it out there that it's hard for me to pinpoint whether the rates offered by Lush Looks Hair and Makeup were below/average/above the industry.
While I've no exact clue on what's the average rate for bridal makeup and hairstyling, I've received a quote that was over a thousand dollars for actual day makeup and hairstyling.
Essentially, I'm looking for:
1 session of trial makeup and hairstyling.
1 session of makeup and hairstyling in the morning of the actual day.
1 session of makeup and hairstyling in the evening of the actual day.
2nd march-in touch up makeup and hair change.
I understand some makeup artist also offer/include basic touch up for the groom (on the actual day). But I'm certain the Husband can very well take care of his look and hairstyling, hence I was not looking out for that.
After contacting Lush Looks Hair and Makeup, Xin Er promptly sent over her rate card, and in there, she had listed out all the packages and pricing. (I won't be sharing her rates as I'm uncertain if there had been any adjustments since it has been a year I engaged her service. If you're interested in engaging Lush Looks Hair and Makeup for your photoshoot or wedding day, it will be best if you contact Xin Er directly.) I find her prices to be reasonable, and the price point was what I was comfortable to pay for my bridal look. As such, I decided to engage her service and signed up for the Opulence Package.
The Opulence Package include:
1 trial session (Makeup and hair – up to 3 different hairstyles. *Hairstyling to be removed at the end of the trial.)
1 session of makeup and hairstyling in the morning of the actual day.
1 session of makeup and hairstyling before solemnisation (or in my case, before my wedding banquet/first march-in.)
1 change of hairstyling before first/second march-in.
To secure the booking, I first made a 50% deposit. The balance 50% is payable in cash on the actual day of service delivery. (As I needed her to come over before 07:00 on my actual day, there was also an Early Morning Surcharge.) Right after confirmation, we arranged to have the makeup trial on 10 September 2018. It was the same day as my food tasting session at Conrad Centennial Singapore, and I planned to head over for dinner after the trial session.
Prior to the meet-up, she also asked me to send over any looks or hairstyle that I like so I went and sent her two pictures I found on Pinterest for bridal hairstyles. For the makeup, I told her I wanted one that makes me look fresh and 有精神.
---
Fast forward to the day of my bridal makeup trial; we arranged to meet up at her place in Yishun at 15:00. I've expected the session to take around three hours, which will leave me just enough time to head over to Conrad for my food tasting.
Before I arrived, Xin Er sent me a text to ask if I'm okay with having a dog around. Told her it's okay for me (since I also have a dog at home). Her dog was really obedient and calm when I arrived at her place.
We promptly started our trial with one makeup look, followed by three bridal hairstyles. Xin Er began the session by first letting me inhale some lavender essential oil which aids me to relax. Then she went on to prime and concealed the pimple that popped up on my nose before moving on to trim my eyebrows (which I've never done before). She also advised me to either go for a facial or to exfoliate my skin before the wedding day.
In addition to giving me a slightly thicker brow, she went with a combination of peach, pink and brown for the eyeshadow, followed by applying mascara, fake lashes, eyeliner and eyelid tapes to even out my double eyelids and made them more prominent. She asked if I prefer a more winged eyeliner or just one with a slight wing; I decided to go for the latter.
For foundation, she used the Ultra HD Foundation from Make Up For Ever, followed by the Metallic Strobe Lighting Palette from Hourglass for the highlights. She also did some slight contour on the side of my nose and jawline.
For brusher, she used one from Tarte; and for my lips a lip palette from Bobby Brown if I'm not mistaken.
As Xin Er was doing my makeup, she asked what I do for a living. While I'm okay to share what I do (my job), I got a little uncomfortable as the conversation progress, especially when she started asking questions on my personal life – work, school, age, etc. I get that she might be curious when she asked me about my job, and I told her that I'm helping in my Husband's business. But I find it very tiring having to explain myself to someone who I've only met for the first time. The questions posed to me were more than what I was comfortable in sharing.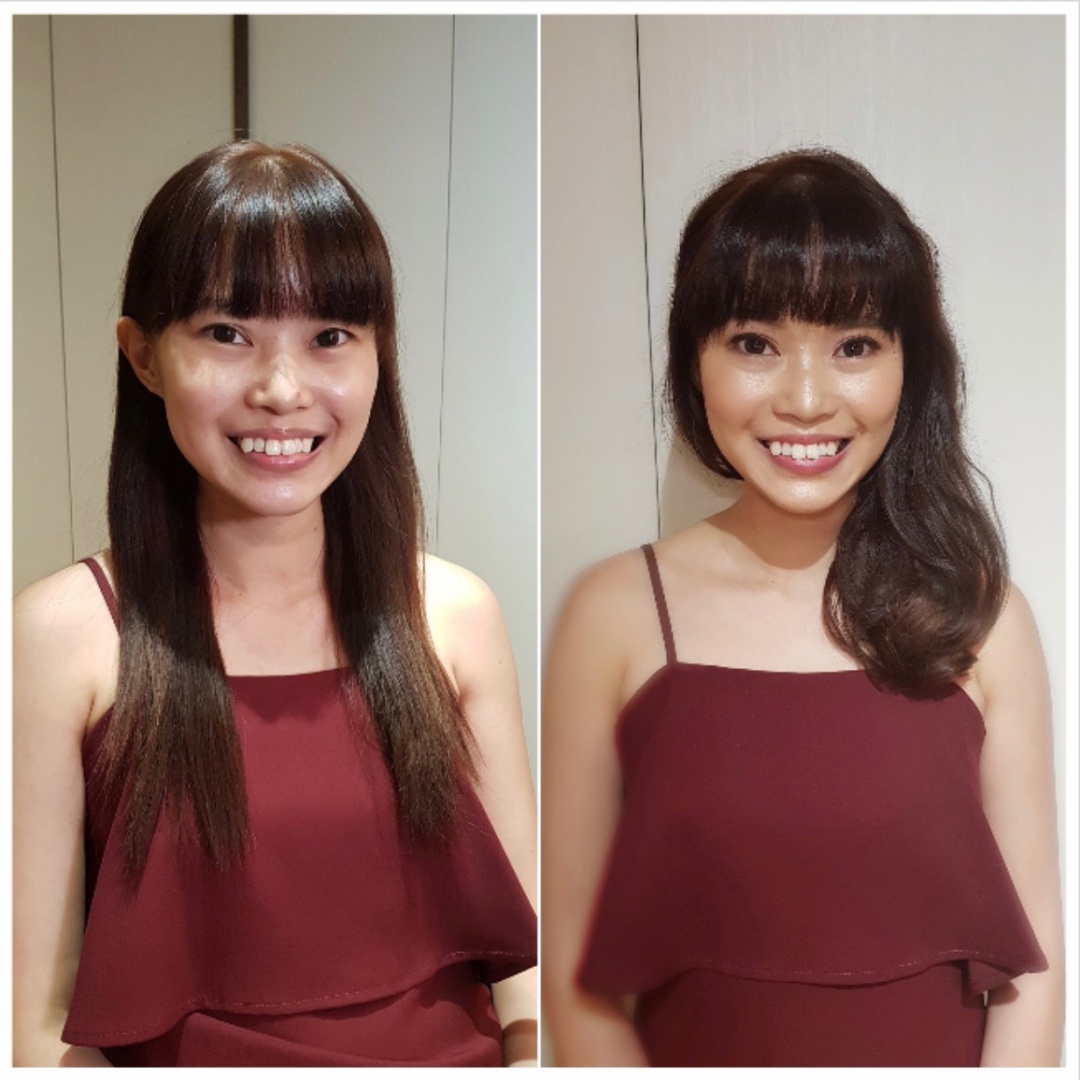 Here's the before and after.
Overall, aside from the slightly thicker eyebrows (which I'm not used to), I thought she put on a little too much highlight on my nose. For concealing of my dark circles, I felt that she could go in with more concealer under my eyes.
While I get that bridal makeup needs to be heavier so that it's more visible on camera/photo, I find the final look to be a little too dark and heavy on me. I'm not sure if it's due to the lighting in the room, but I certainly didn't feel like the makeup made me look fresh. In fact, it was quite the opposite. While I wouldn't say I hate the look, I didn't love it either.
---
Moving on to the three bridal hairstyles, she did a side-swept, a low chignon and a higher up-do for me. As I have relatively fine hair, she had to put in more effort/time to set my hair so that we can achieve the volume that was needed for the hairstyles.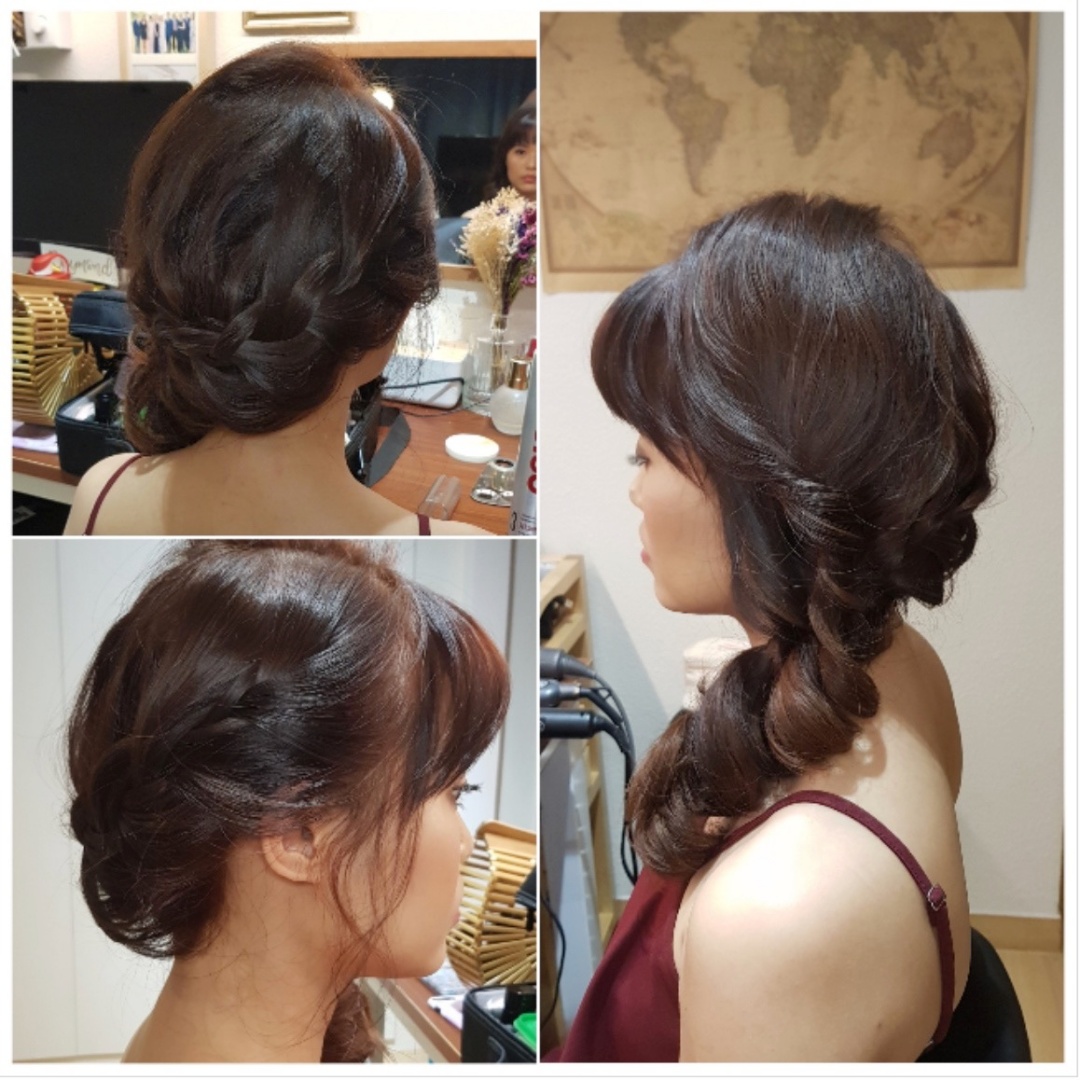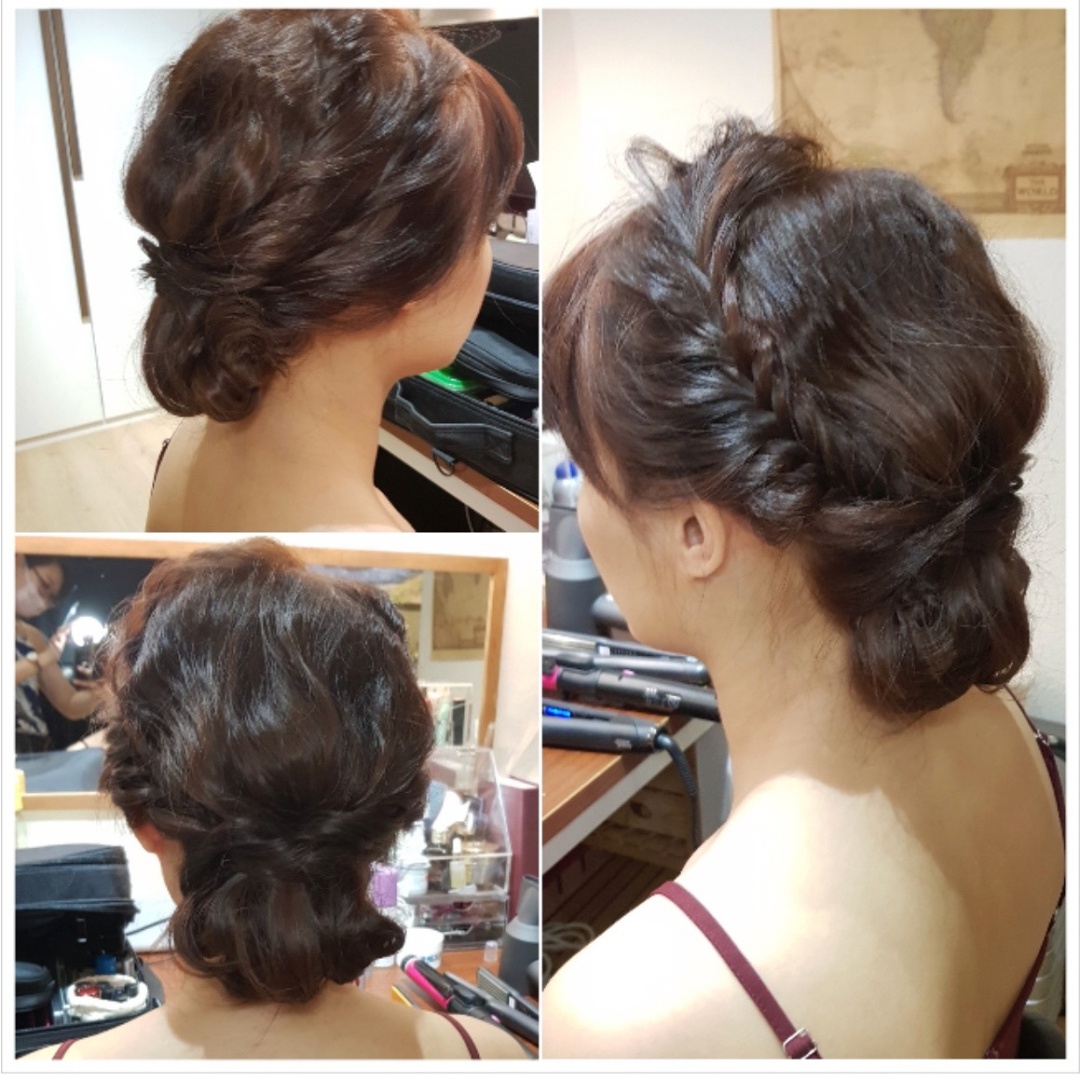 The low chignon was done based on the reference photo I sent over earlier on. Xin Er did fishtail braid for me on the side, but after looking at it, I told her I would prefer Dutch braid instead.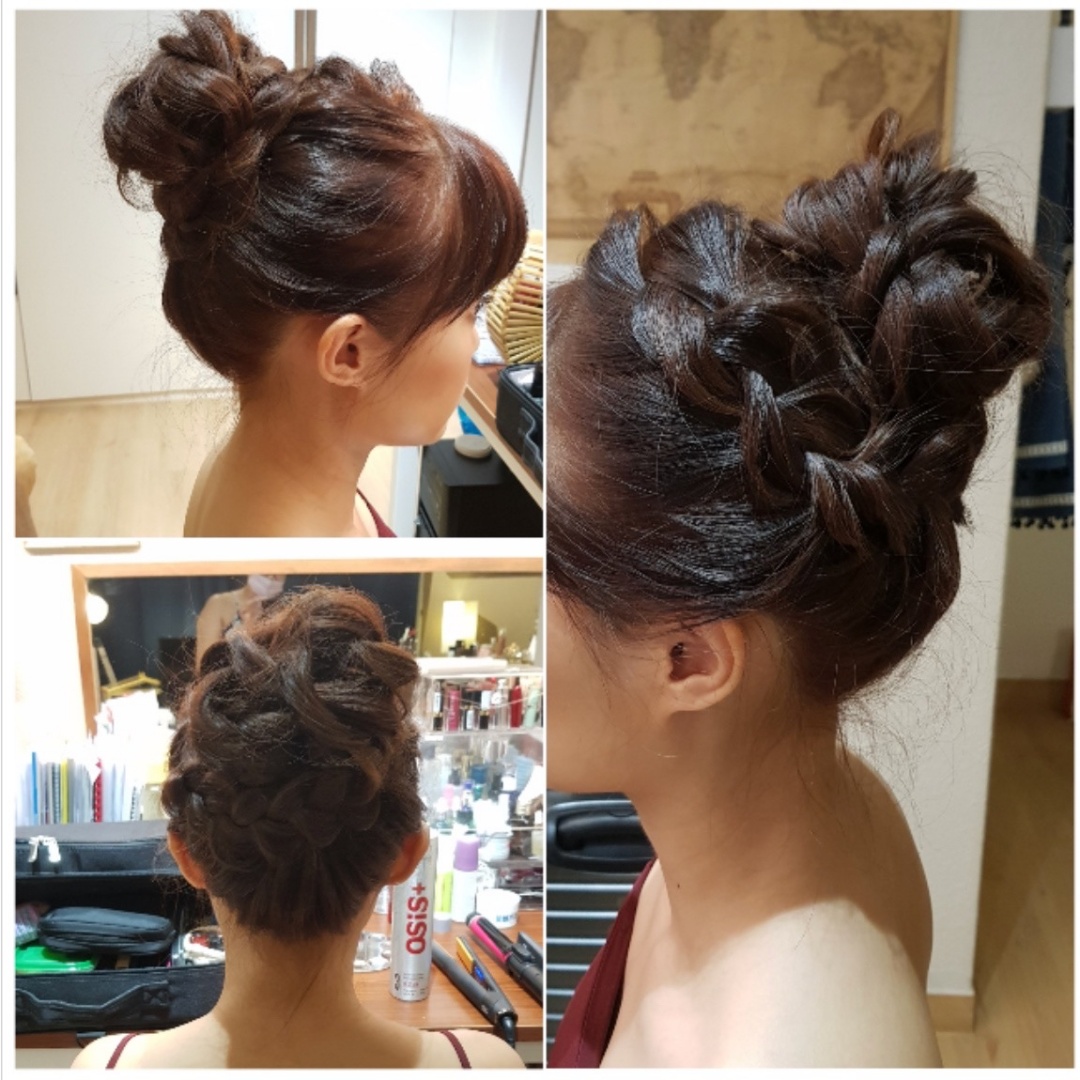 The last hairstyle we tried was a high up-do, which I've planned to do for my AD morning hairstyle.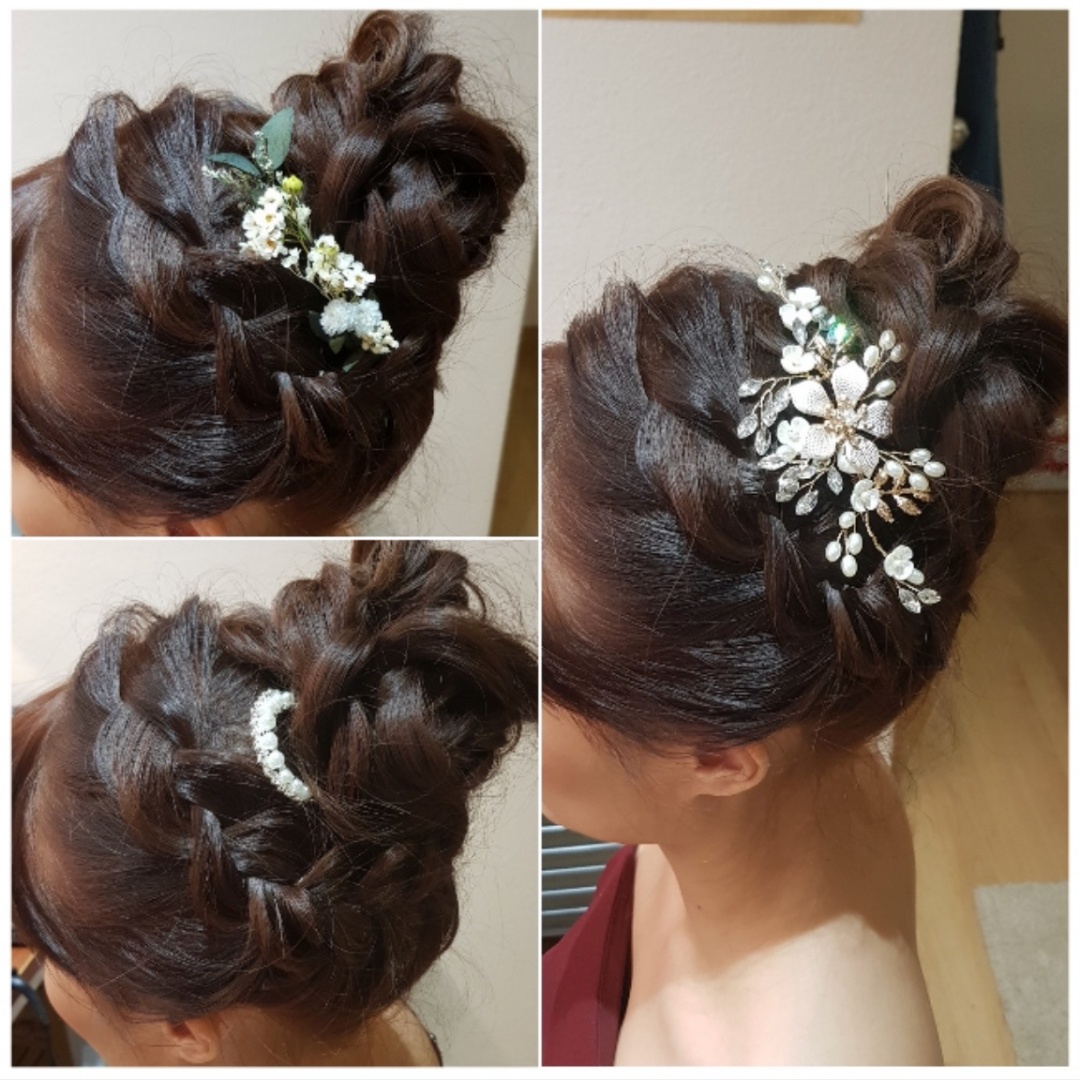 Having done with the last look, she then went and pick up a couple of hair accessories for me to try on. I believed her preference was to use the preserved flowers, but as I've no intention to use any florals for my bridal hairstyle, I prefer to stick to the metal flower pieces instead.
Though I agree that the dried flowers look nice on the hair, I don't think it suits the wedding. I will have gone for it if I'm having a garden wedding. But since the venue was a hotel and had nothing to do with nature, I didn't think it was suitable.
To be honest, I didn't fell in love with all the three hairstyles. I supposed I was okay with them, but I know I'm not in love with them.
Based on the outlook of what I'll be wearing on my wedding, we decided to go with a high up-do for the morning, a low chignon for the first march-in and a side-swept for the final look.
---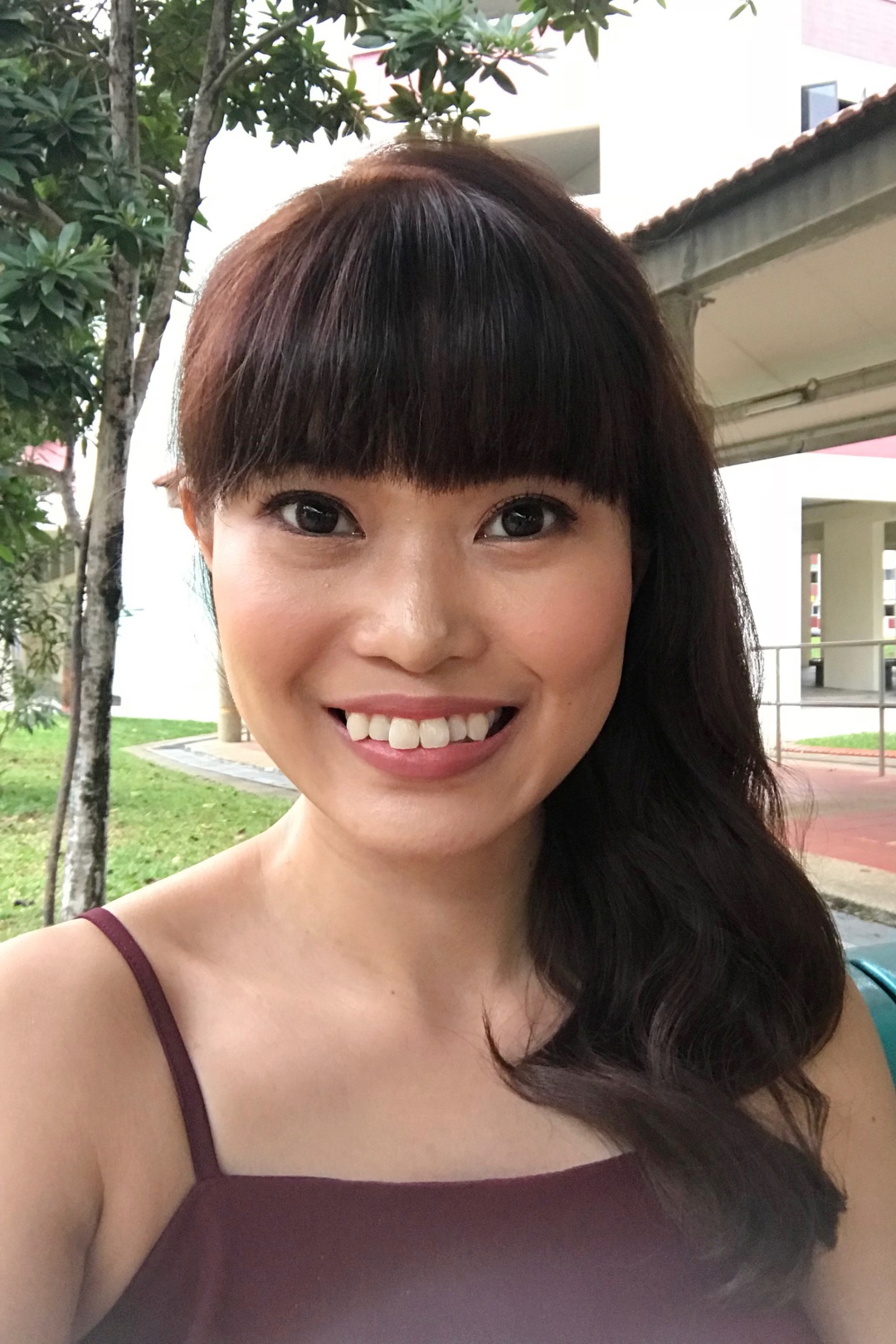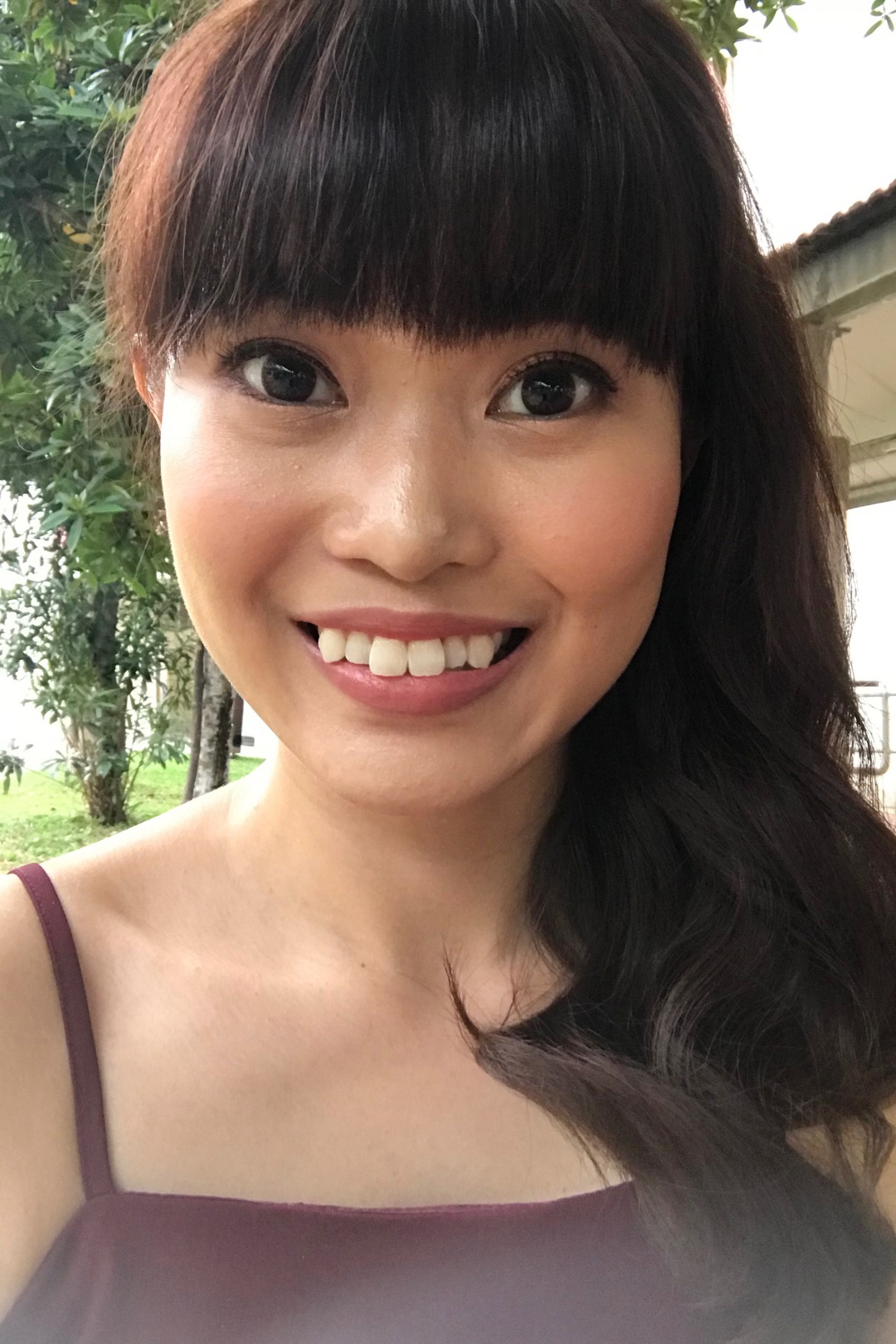 Took some pictures after I left her place and while waiting for my Grab car to arrive. The resolution of the photo didn't turn out that great as I shot them using the front camera on my phone.
---
And that, was my experience/review for the bridal makeup trial with Xin Er from Lush Looks Hair and Makeup. (Will be sharing my actual day looks and hairstyles in my upcoming blog post.)
Check out her Instagram and Facebook page for more pictures of her work. And if you would like to engage her service, you can reach out to her via email.