Can't believe it's just two days to the new year! Is it just me or does it seems like December is passing way too fast? Before the year-end, I figured I would do a quick post on my recent Christmas staycation at Conrad Centennial Singapore!
Since it was the festive season, the Husband and I decided and arranged to have half-day at the office on Christmas Eve, followed by having lunch with our team. We actually slept pretty late the night before, and the Husband had to wake up at 07:30 because he arranged to do breakfast with them at 09:00. I, on the other hand, only woke up at close to 11:00 and went to meet them at Plaza Singapura at 13:00.
It seems like every restaurant had a queue during lunch hour. Went to check out the newly opened Five Guys, and as expected, there was a snaking queue outside the store. In the end, I suggest having Nando's since it's a proper restaurant and has ample seats.
Nando's Singapore
This was my second time at Nando's. In fact, I only tried it recently for the first time with the Husband at the NEX outlet.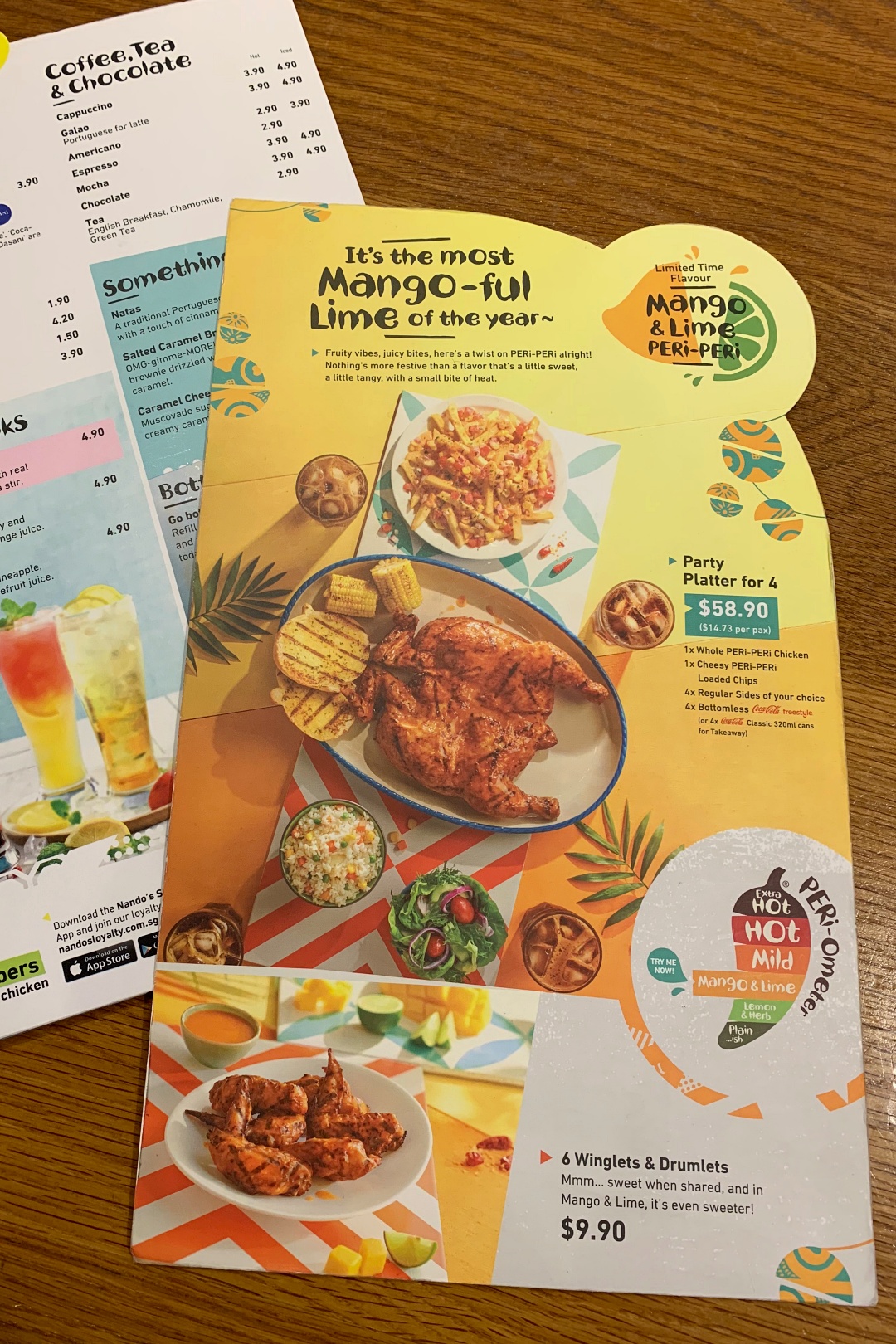 At first glance, Nando seems to have quite an extensive menu. But on a closer look, I realised a bulk of their items actually consist of their signature Peri-Peri Chicken.
Since there were five of us, we eventually decided to order a Party Platter for 4 and a Cheesy Garlic Pita for sharing and had a main each. I was trying my best to cut down on carbs, so I went for the Caesar Salad, while the others all had the Peri-Peri Chicken as their mains. Having a salad didn't turn out to be as healthy as I thought since it was pretty much drenched with salad dressing.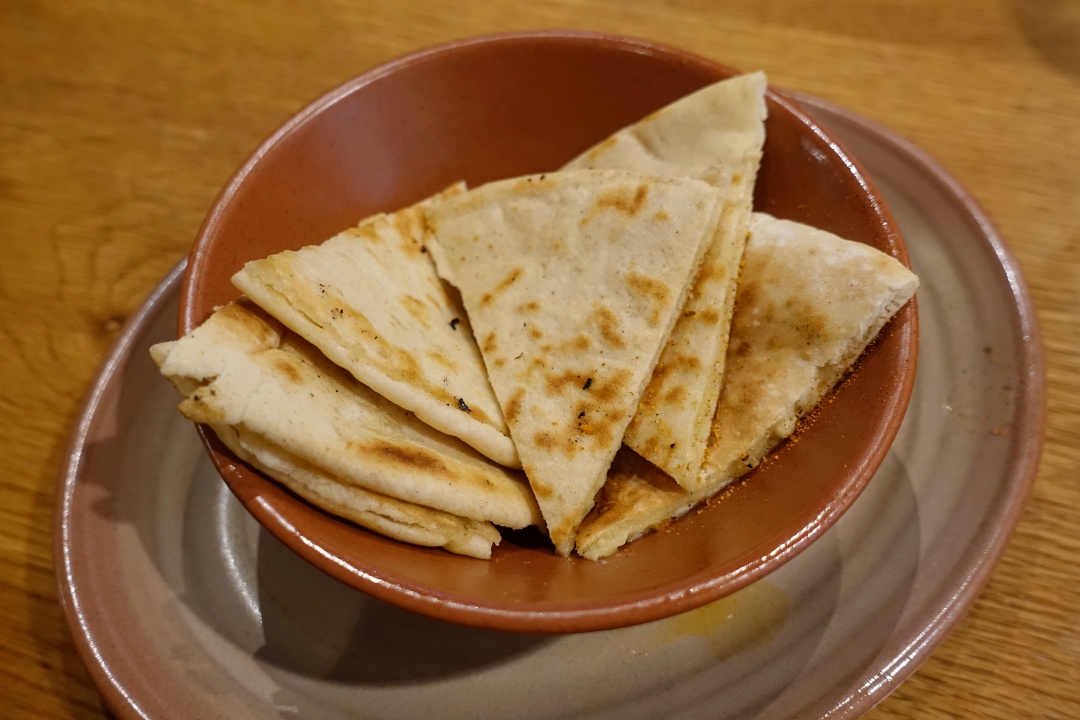 Cheesy Garlic Pita (SGD 3.90). Didn't turn out anywhere near cheesy, but surprisingly, I quite like it because of the garlic.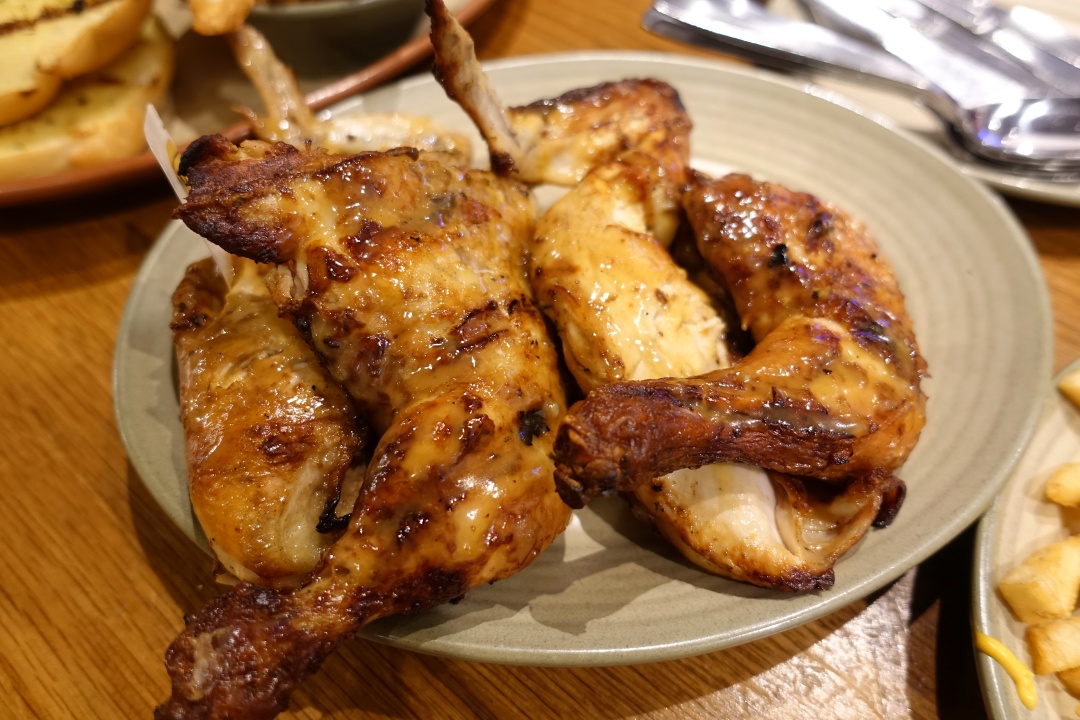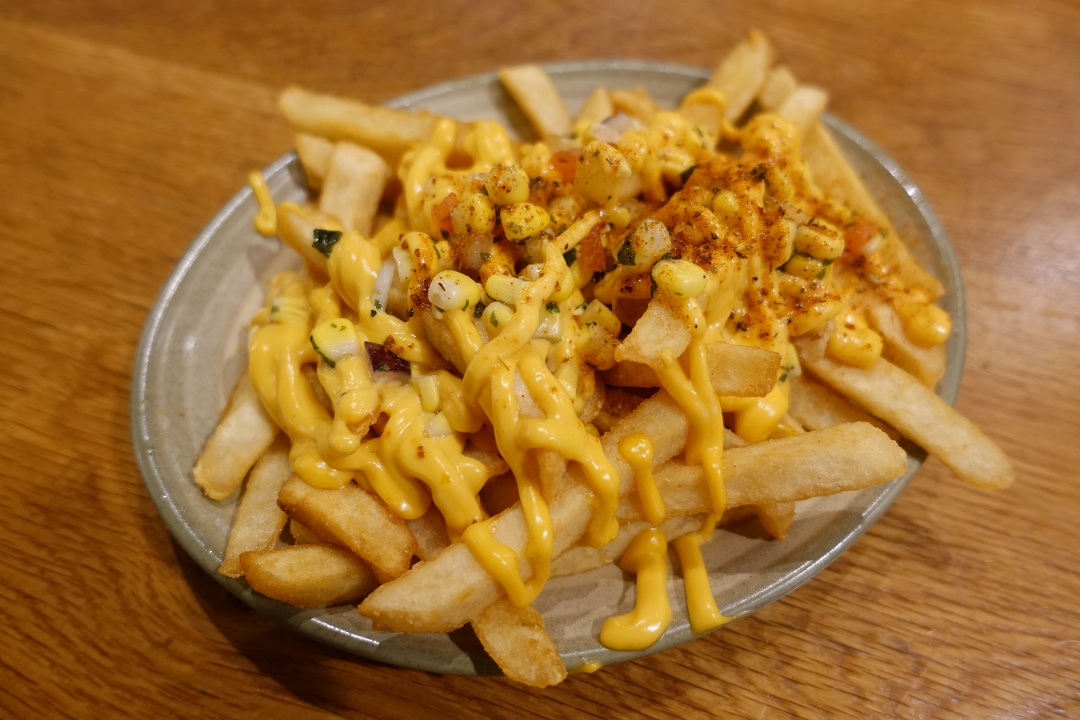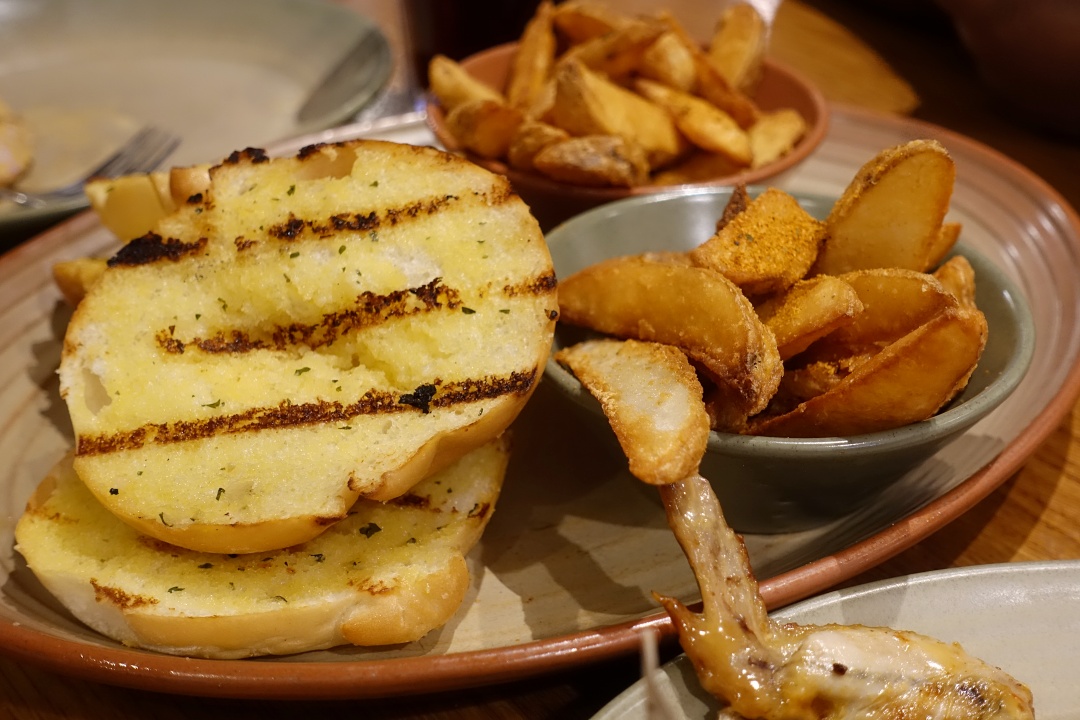 The Party Platter for 4 (SGD 58.90) comes with one whole Peri-Peri Chicken, one Cheesy Peri-Peri Loaded Chips, four regular sides and four bottomless drinks. For ease of sharing, we went with two servings of Garlic Bread and two servings of Peri-Peri Wedges.
The menu was advertising the Mango & Lime Peri-Peri flavour, so I thought that was the default/standard flavour for the chicken. It turns out; we could actually select the flavour for it. Eventually decided to stick to the Mango & Lime since that was available for a limited time only. However, it turns out not tasting anything like mango or lime. The taste was alright, just that there was no hint of mango/lime. It'll be a good alternative for those who can't take spicy and like something different from the usual plain…ish flavour.
As much as I want to cut down on carbs, the Cheesy Peri-Peri Loaded Chips was so addictive that I just kept reaching for it. The same goes for the Peri-Peri Wedges.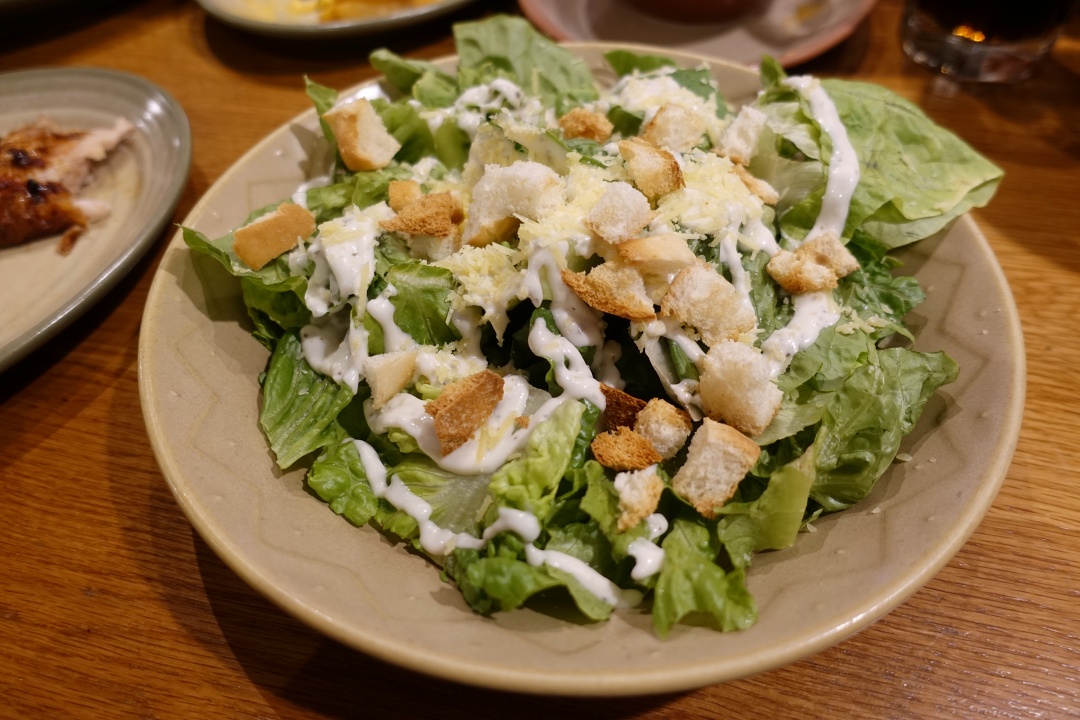 A big portion of Caesar Salad (SGD 7.90).
I went without the additional chicken for the salad since we already had a whole chicken from the platter. Nothing much to say about the salad, except I will probably ask for less dressing or separate dressing the next time.
Lunch took longer than I expected, and by the time we were done eating, it was already 15:00. The Husband and I then set off for our Christmas Staycation at Conrad Centennial Singapore.
The reason we went with Conrad for our Christmas staycation was that we wanted to utilise the points we earned previously from hosting our wedding banquet at Conrad Centennial Singapore. The Husband mentioned that the points are expiring soon in coming February; so since we were planning to do a Christmas staycation, we thought we might as well use the points to redeem a room.
In the end, we still had to pay around SGD 215 for the hotel's breakfast and taxes incurred for our stay.
Conrad Centennial Singapore
It was nearly 15:30 when we arrived at Conrad Centennial Singapore.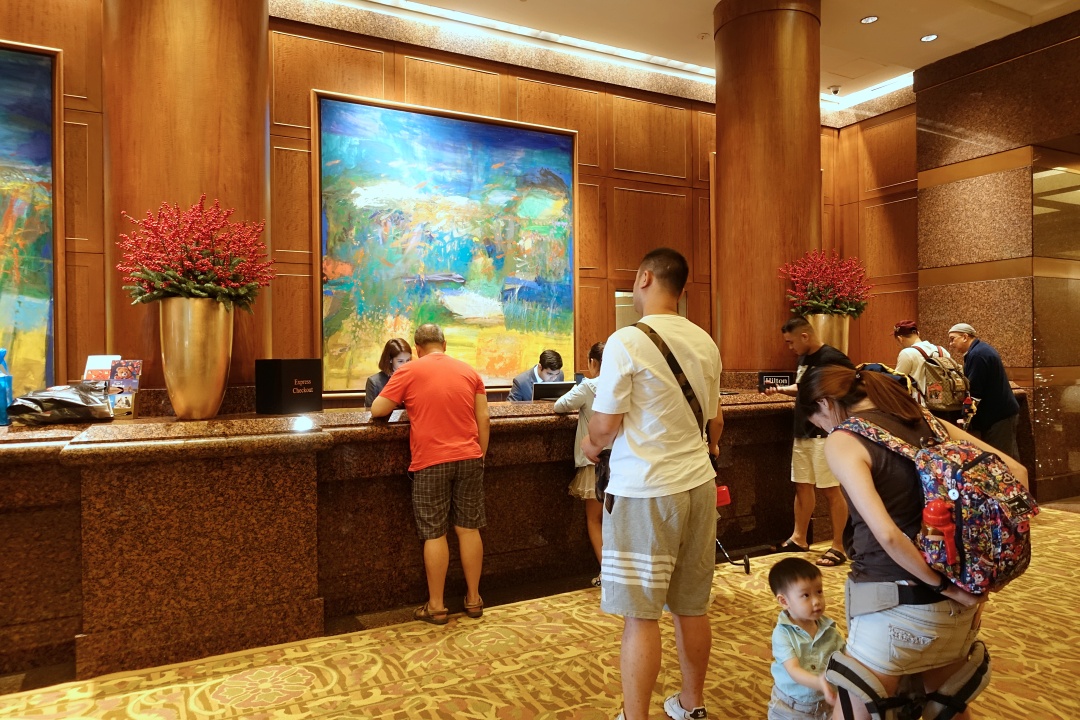 Check-in took us a while. The front desk lady offered us the option to either have a corner room or one that is nearer to the lift and initially, the Husband opted for the latter. But in the end, he decided to go for the corner room so that we won't be disturbed by the people walking to and fro the lift area. I would have chosen the corner room too because corner room tends to be bigger?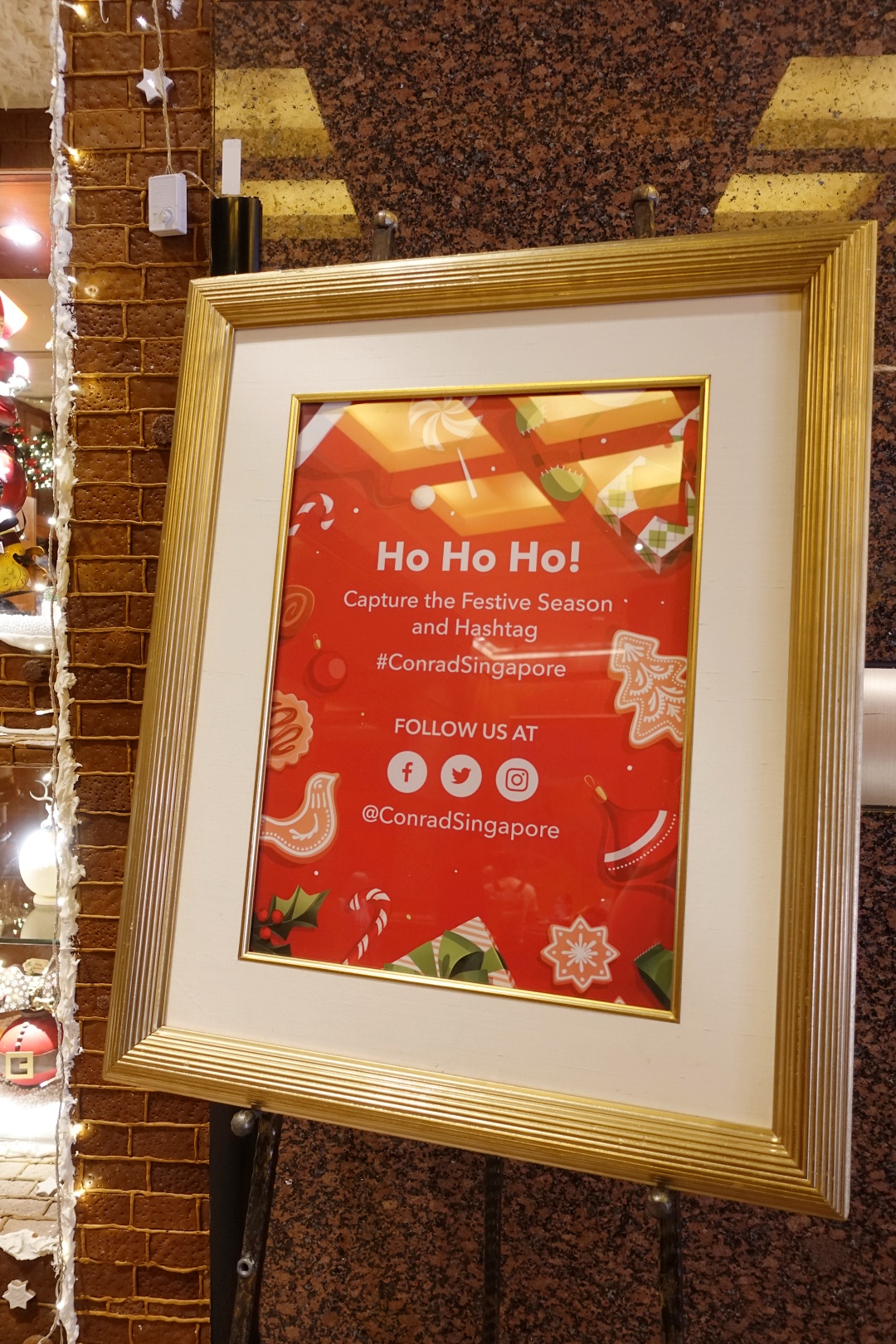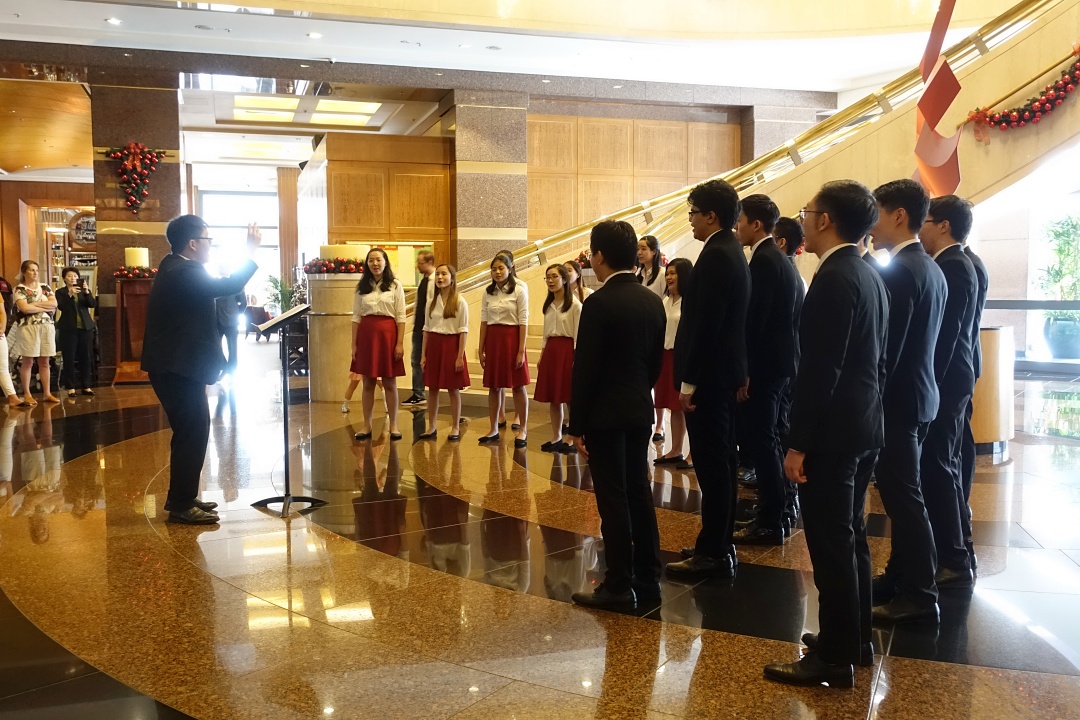 Happened to witness the Christmas carols by TheNUSChoir while waiting to do our check-in.
Deluxe King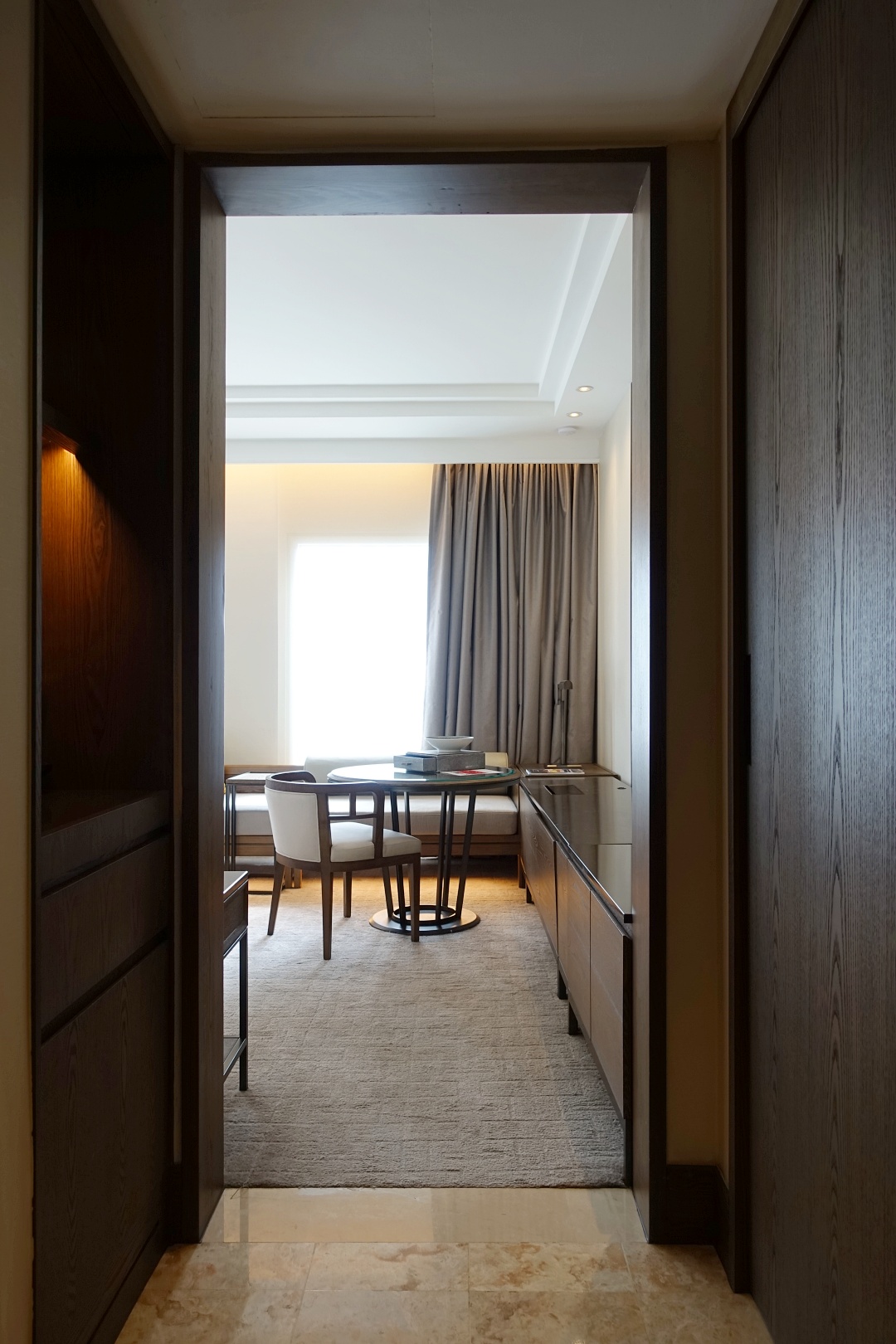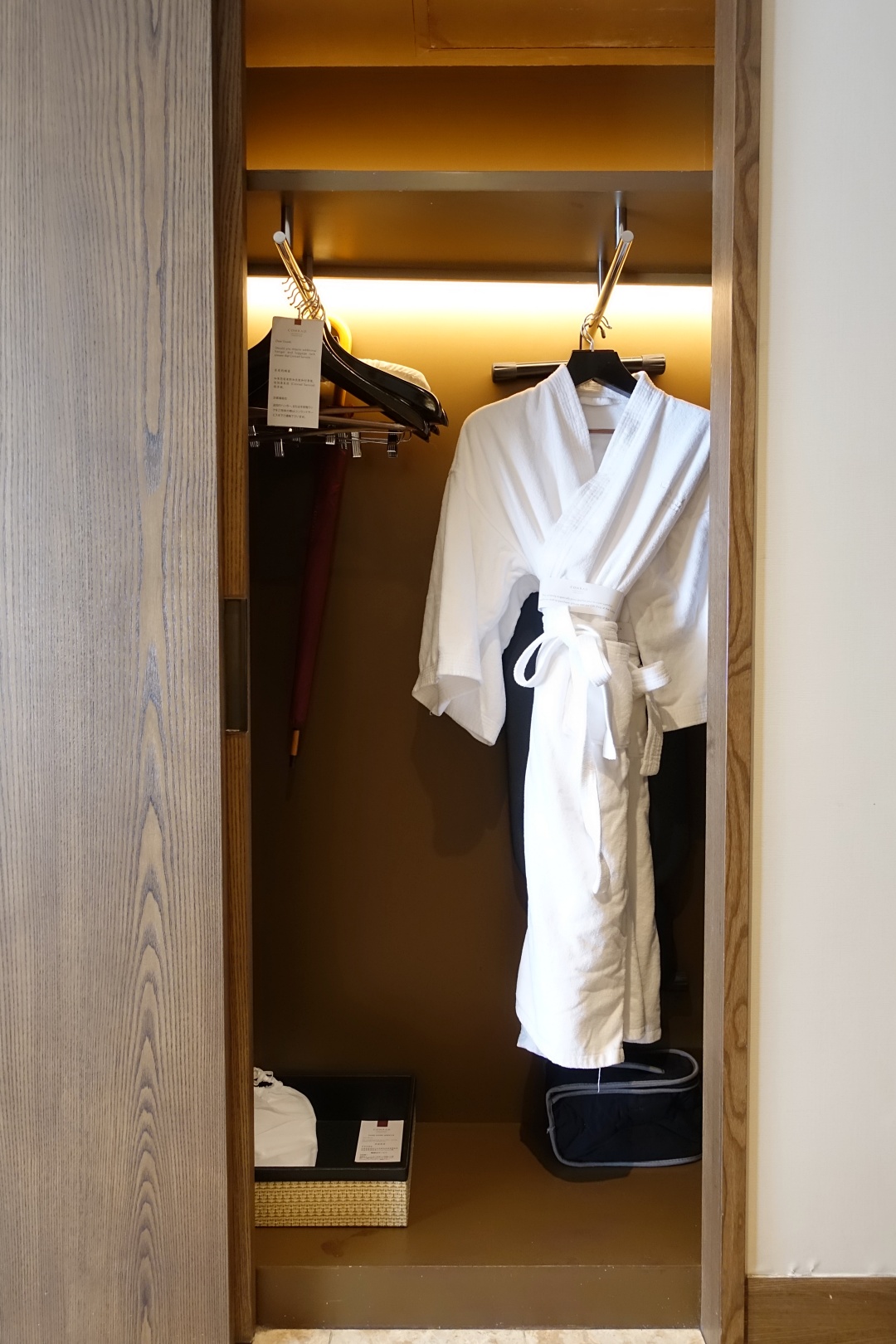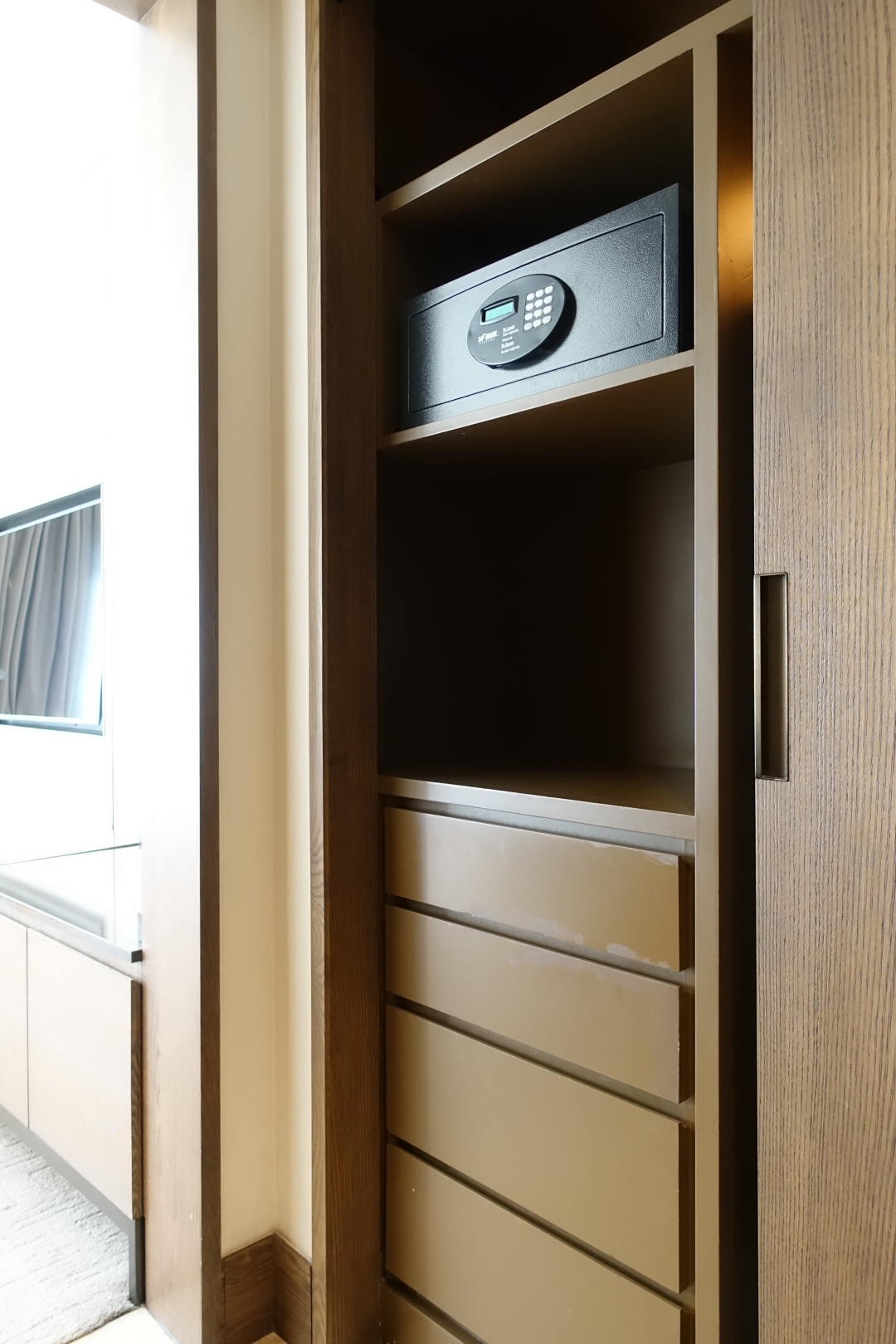 Walking in from the door, there is the wardrobe on the right, and bathroom on the left.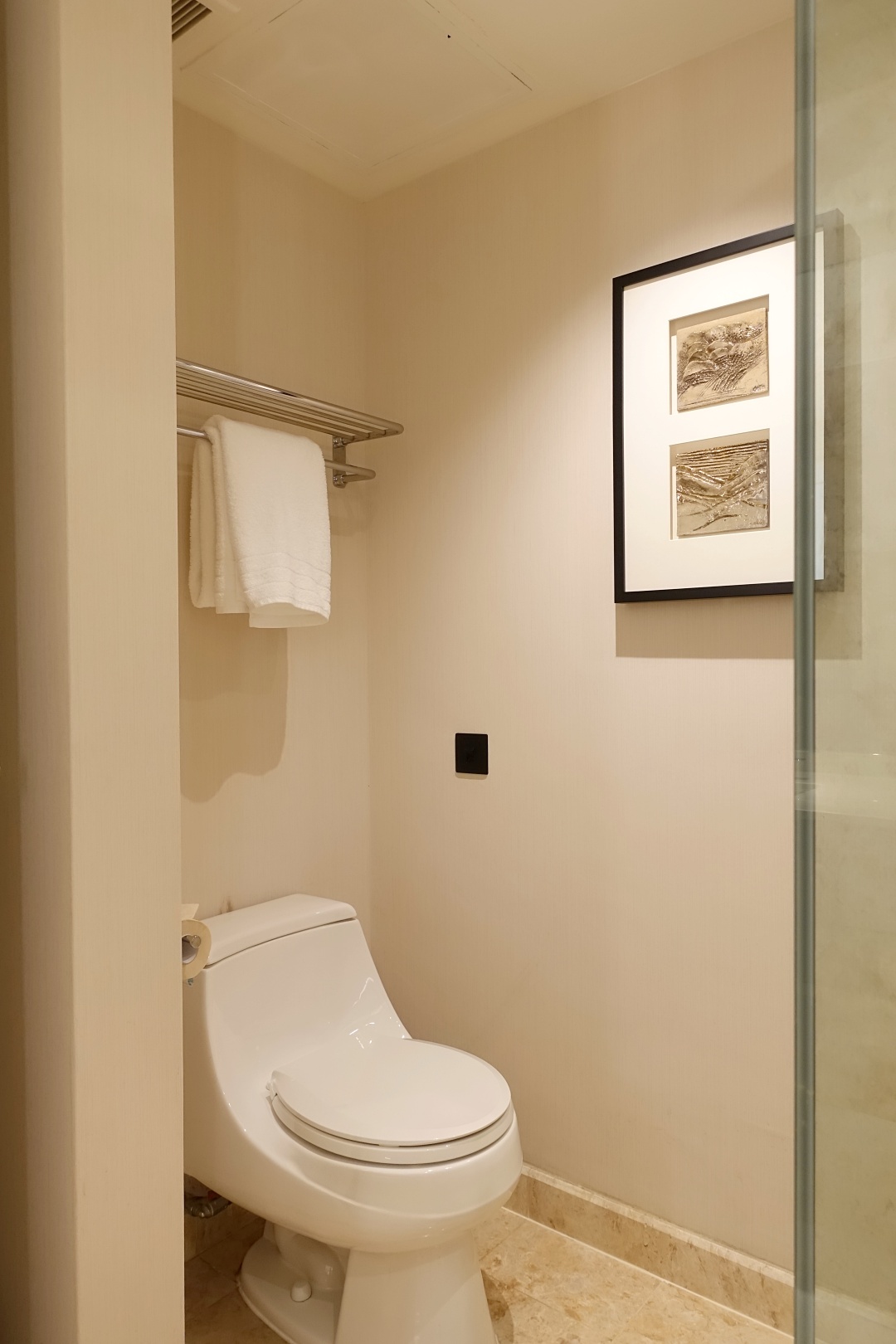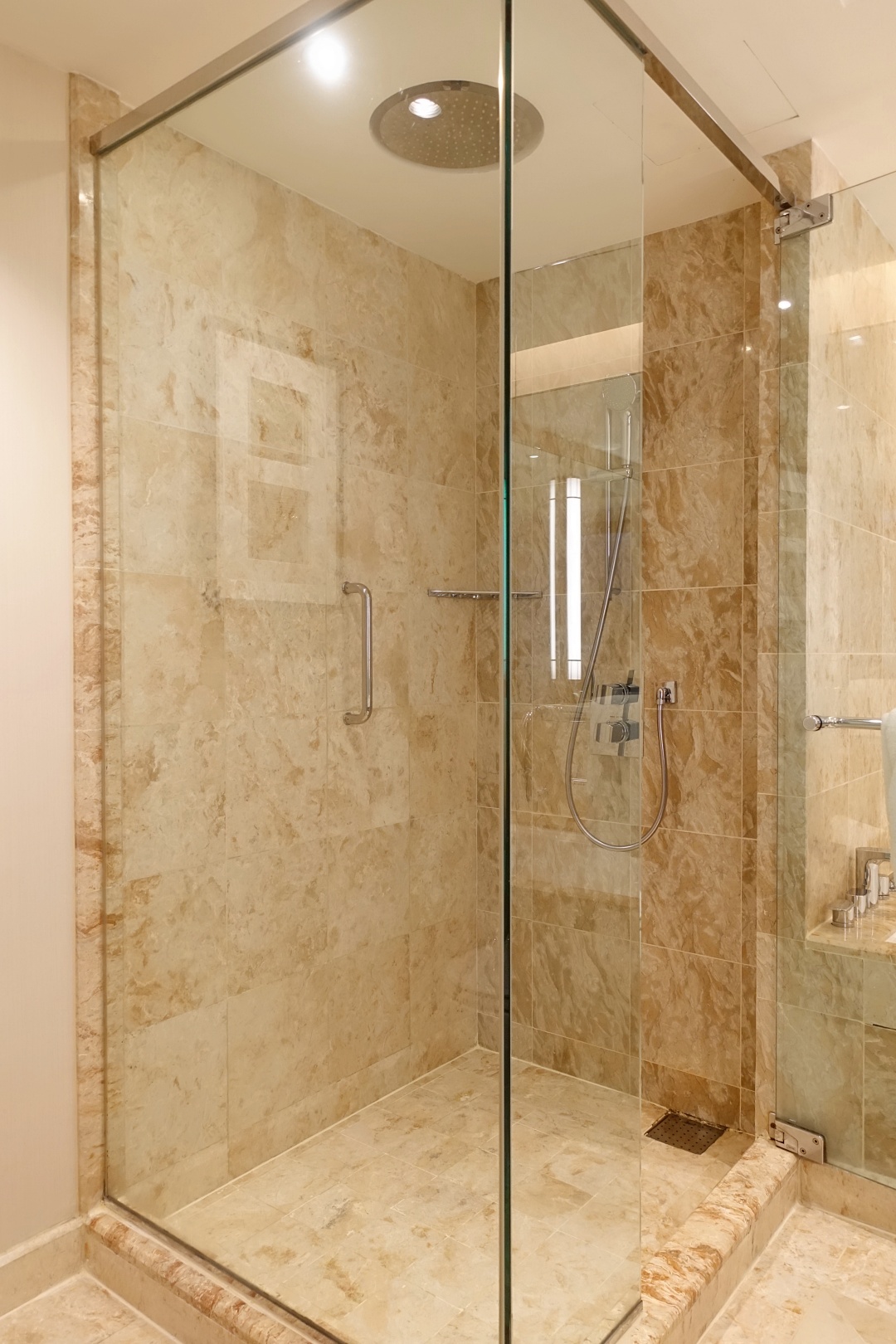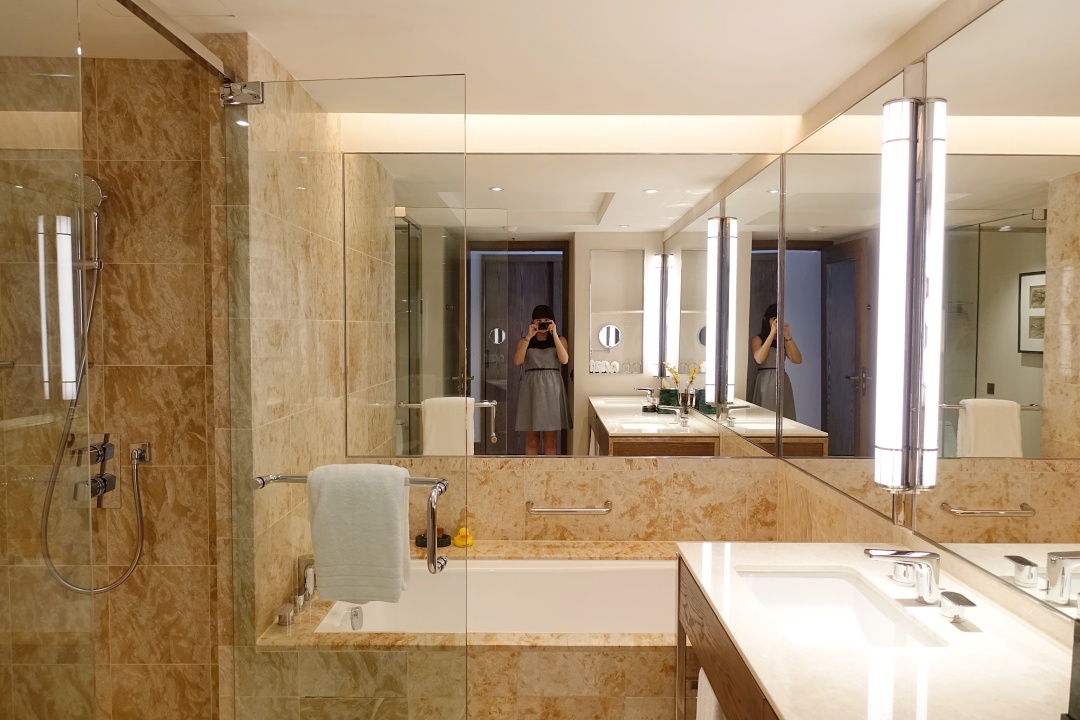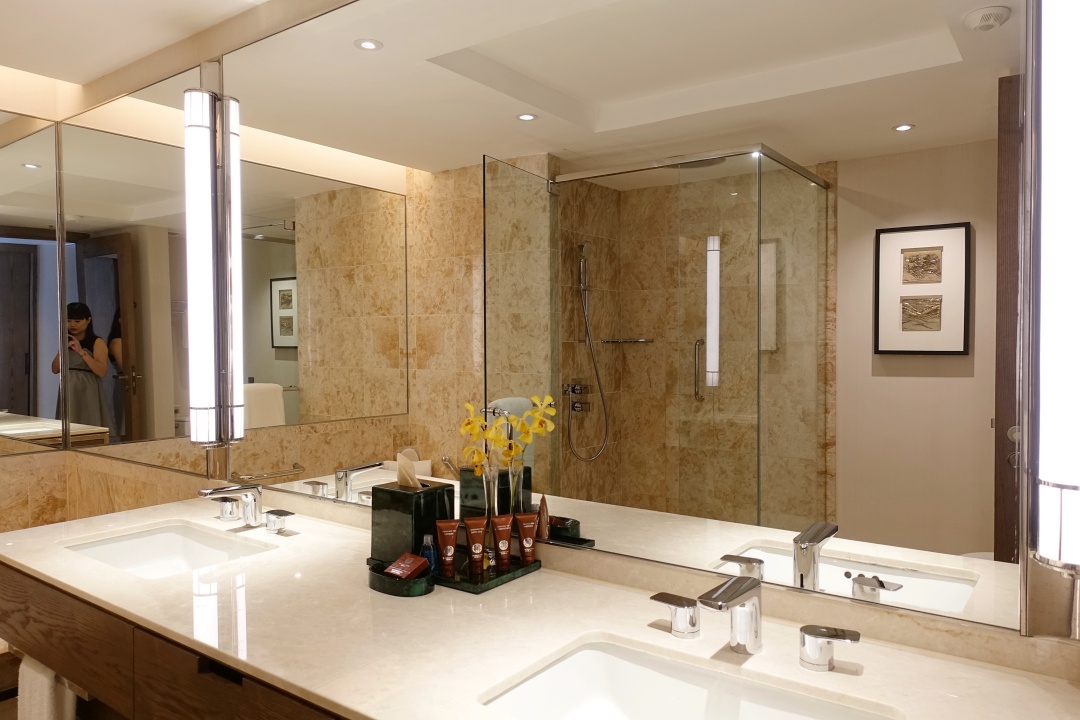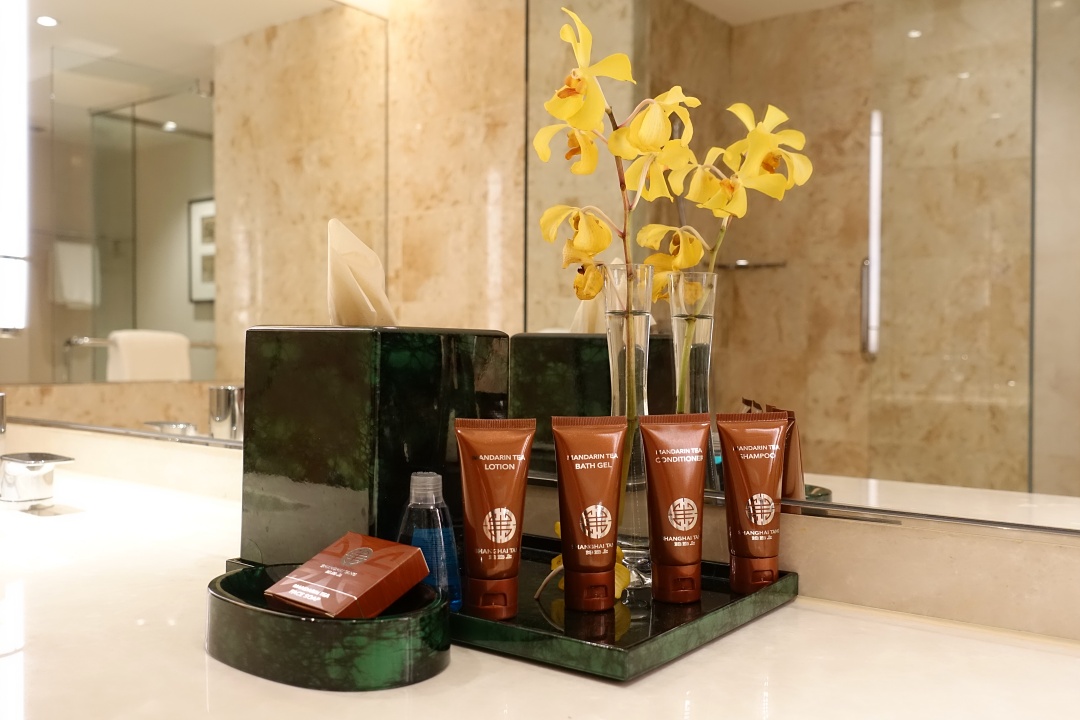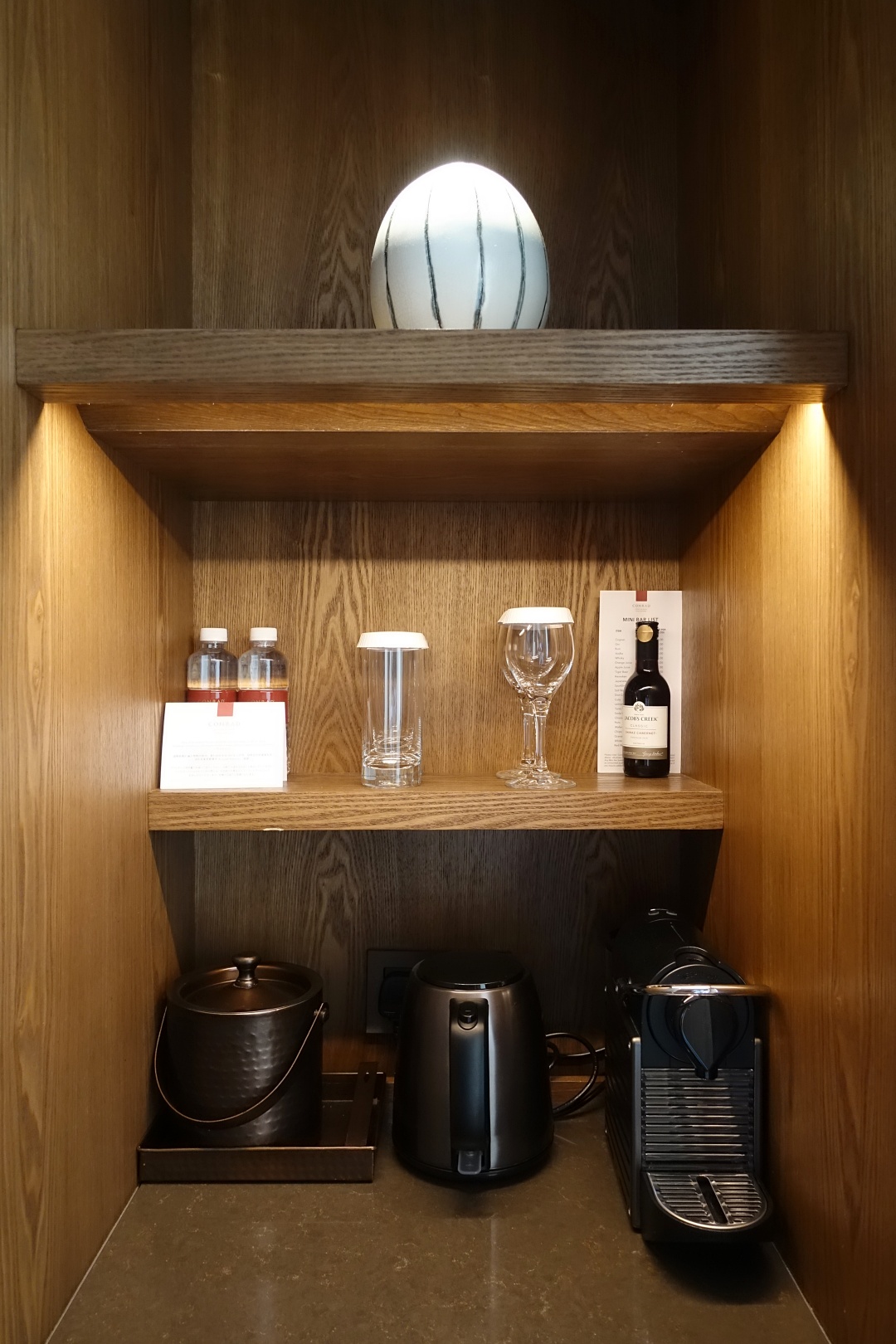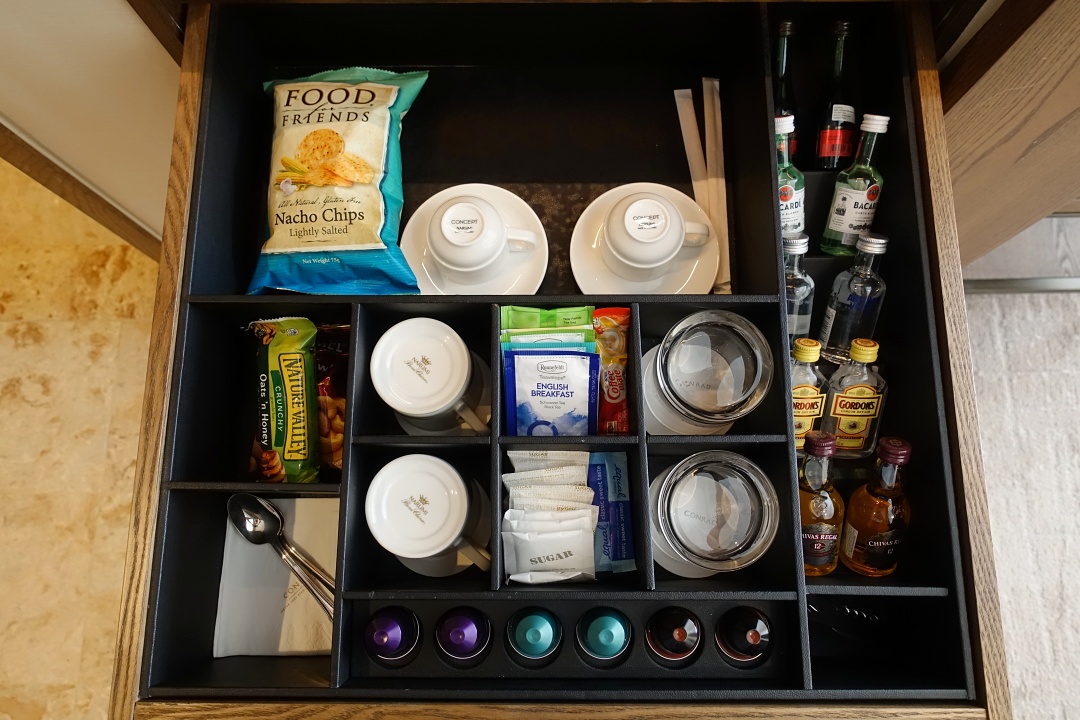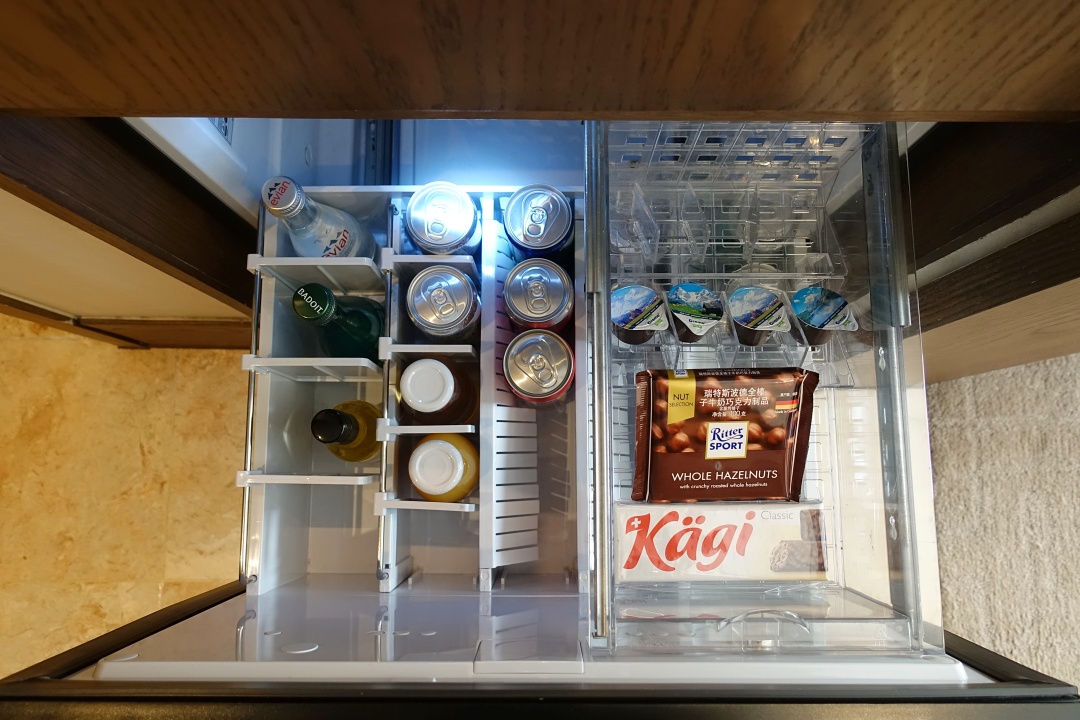 A well-stocked minibar and a Nespresso coffee machine.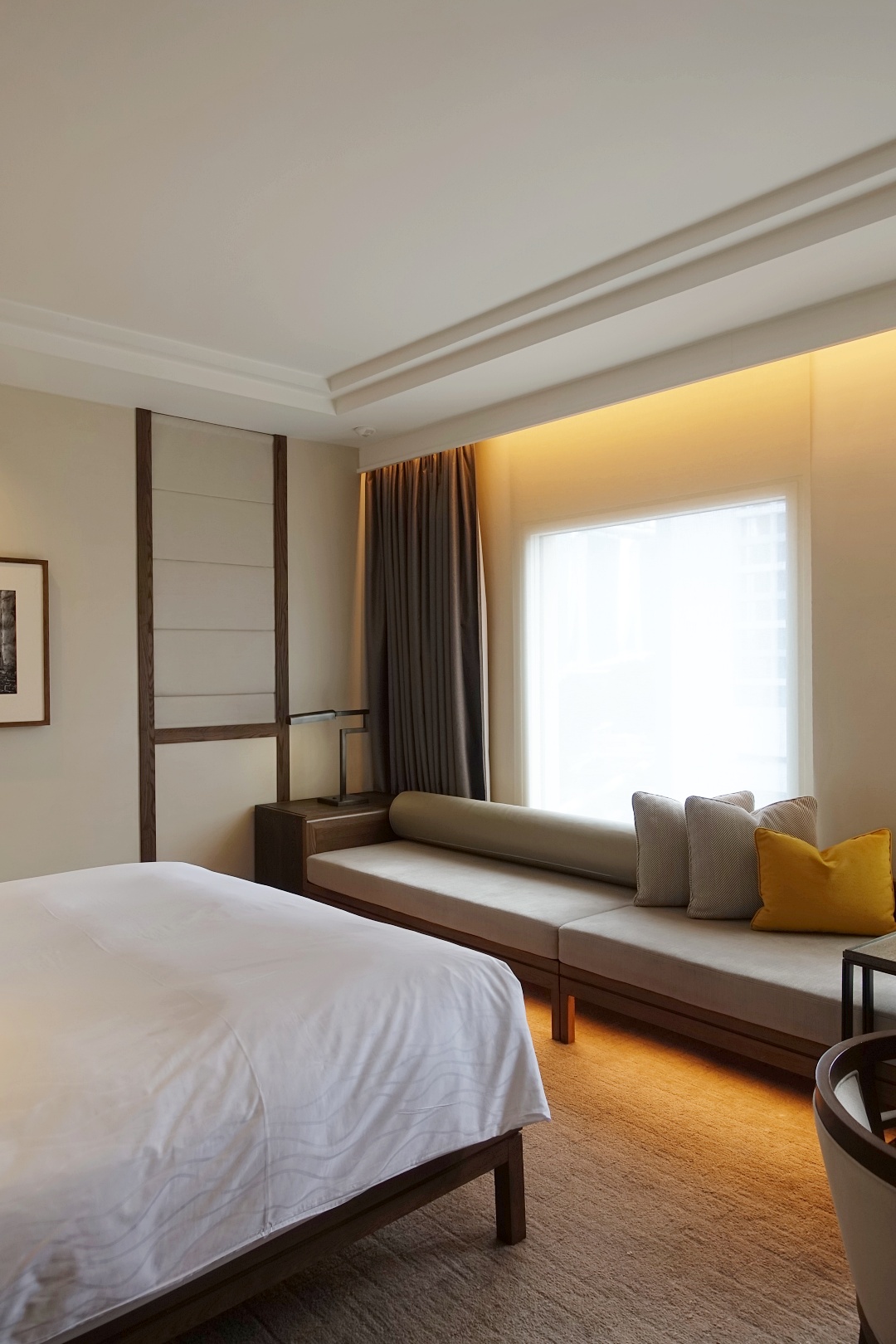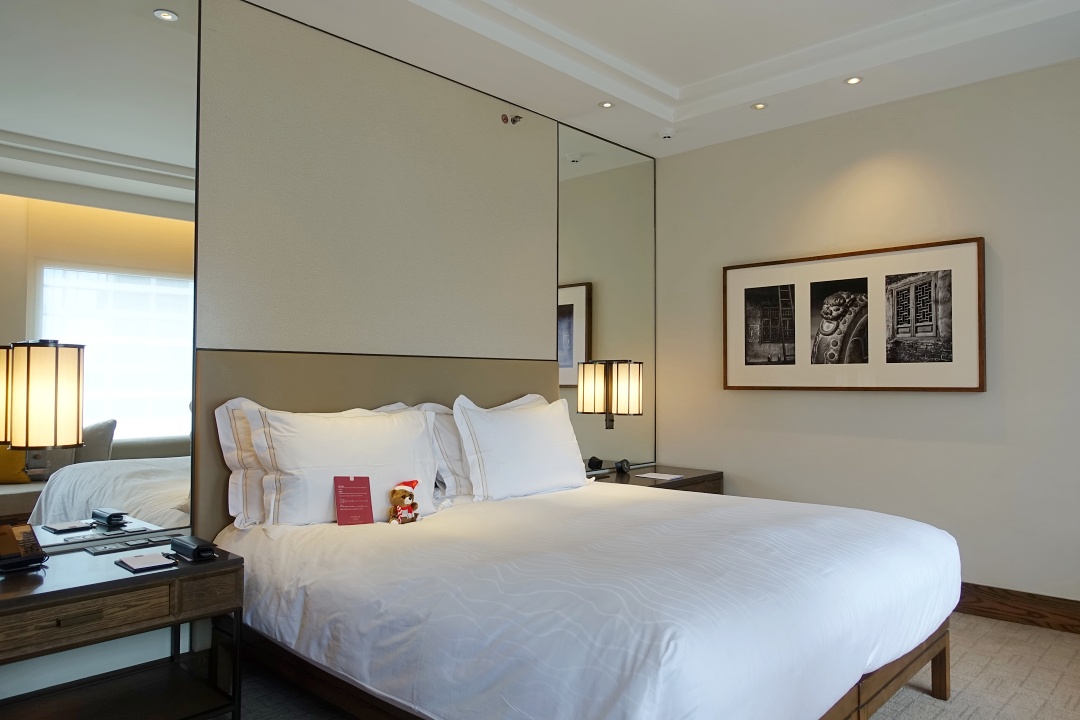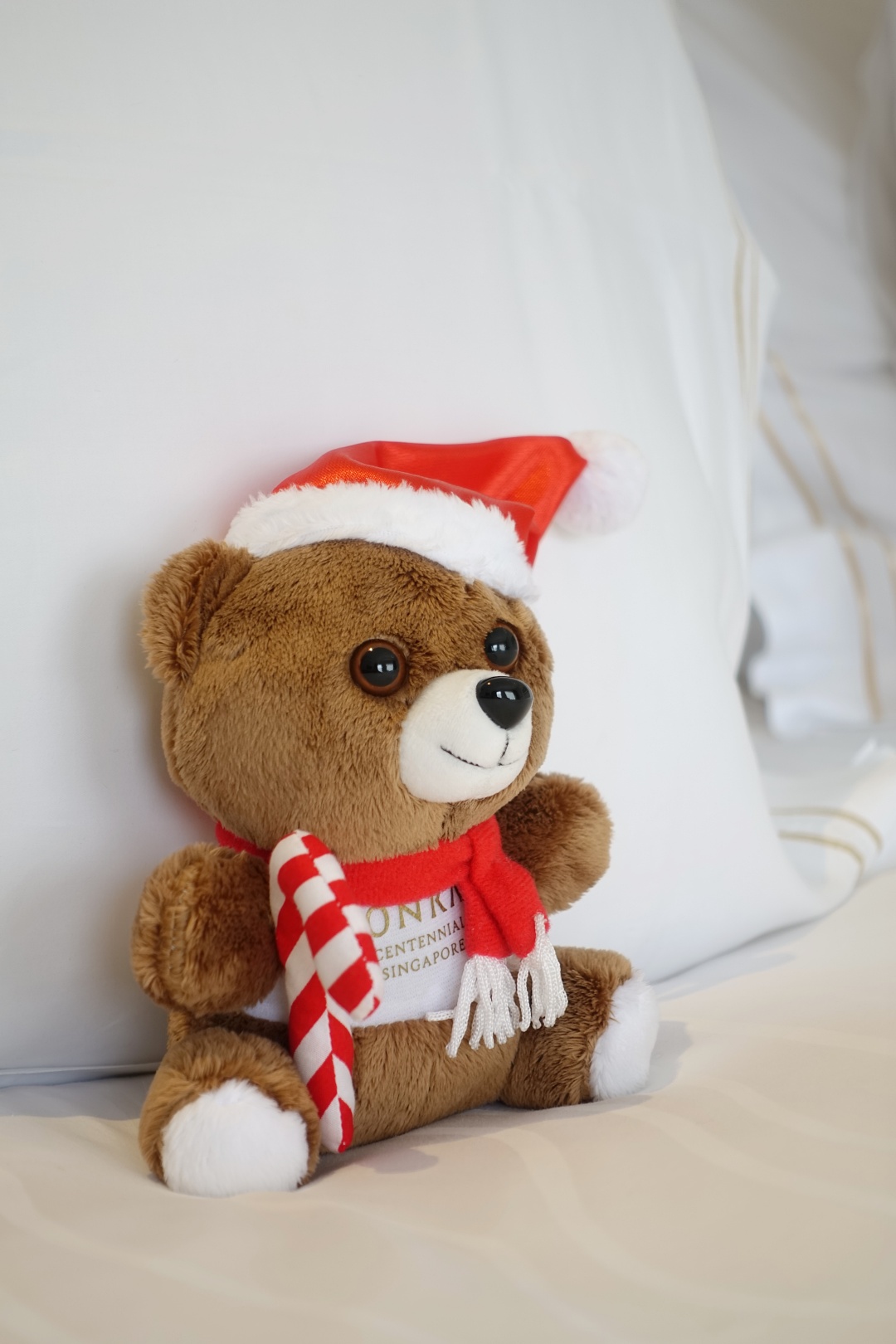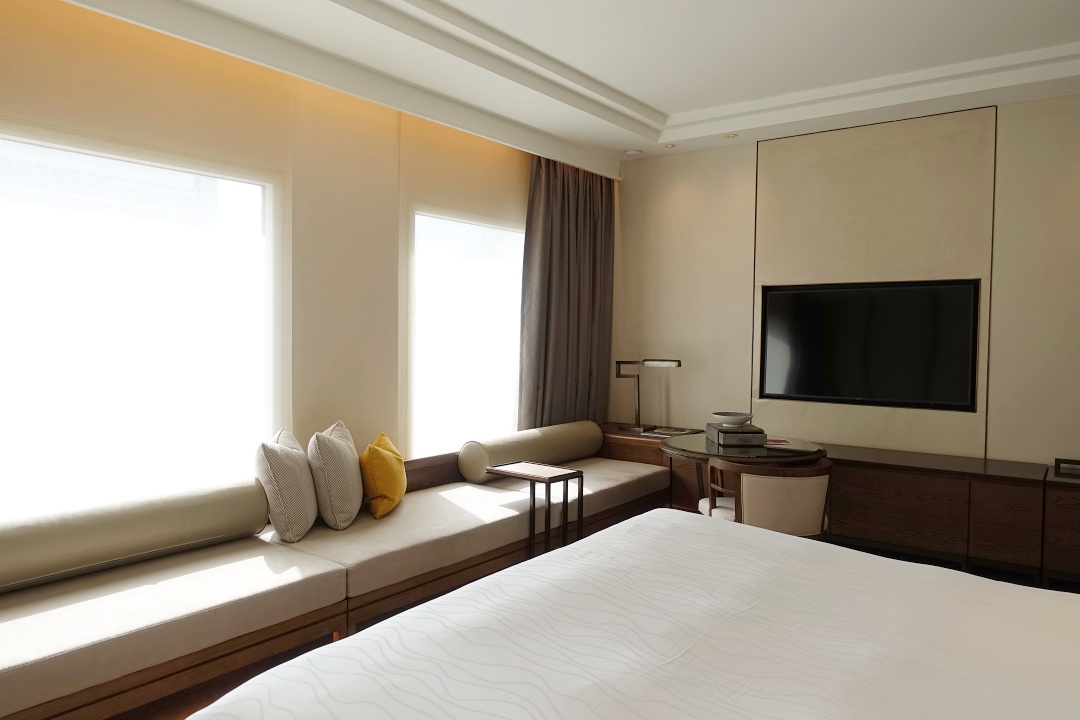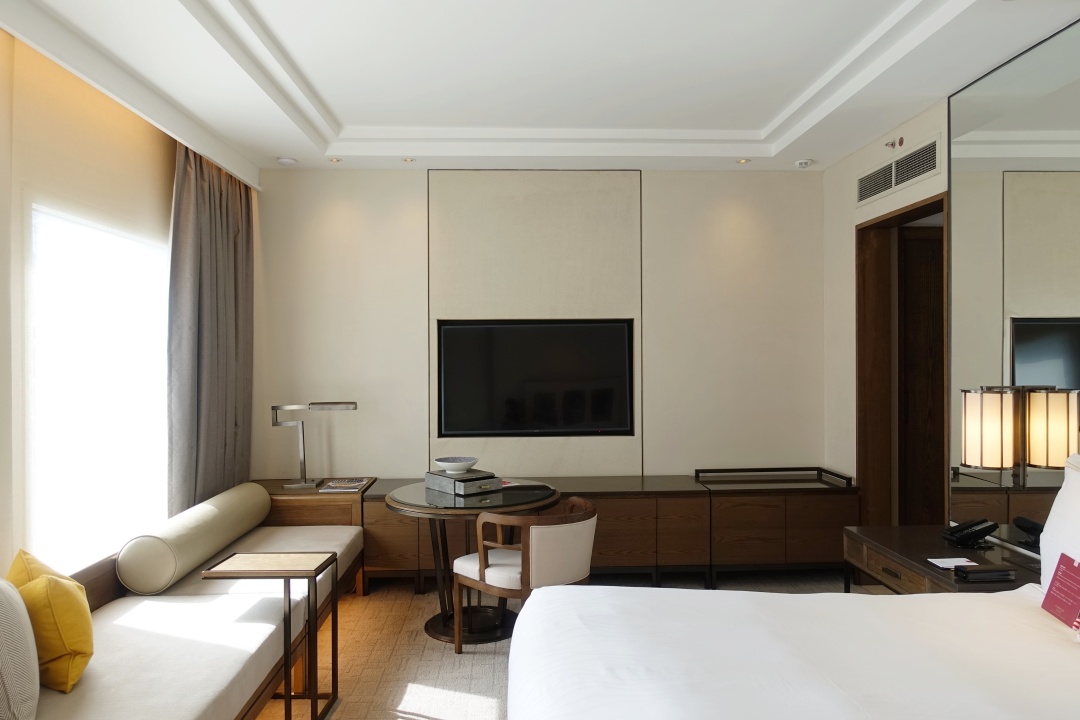 I remember when I was looking for a hotel for my birthday staycation, I suggested coming to Conrad, and it got rejected by the Husband because he thought the standard room wasn't outstanding. (Different story for the Conrad President Suite that we got to stay in for our wedding.) 
Turns out; it wasn't too bad? I really like the simple overall layout, without too many excessive furniture. Plus point for having big windows and a lengthy window sofa! The spacious marble bathroom with double vanity sink, large bathtub and separate shower stall with rain shower was also something I've missed since our previous stay!
Simply put, the room was a lot nicer than I've expected.
---
After settling down, we decided to take a nap; since the Husband didn't sleep much the night before and we didn't plan to go anywhere in the afternoon. What supposed to be an hour nap, turns out to be two hours, and we only woke up at 18:30. Freshen up a little, before we head out for dinner at 19:30.
Conrad Centennial Singapore does Christmas Eve Dinner at Oscar's restaurant with price starting from SGD 178++ per adult. I wasn't planning to pay that much for dinner, especially since I'm trying to cut down on the amount I eat. (The fear of excessive weight gain.)
Without knowing what to have for dinner, we decided to walk over to Millenia Walk. I happened to see Antoinette and wanted to take a look at their menu because I remember seeing there's a Boba Pancake and I've been telling the Husband we should have that for brunch someday. In the end, we figured why not have our dinner there instead, since there were tables available.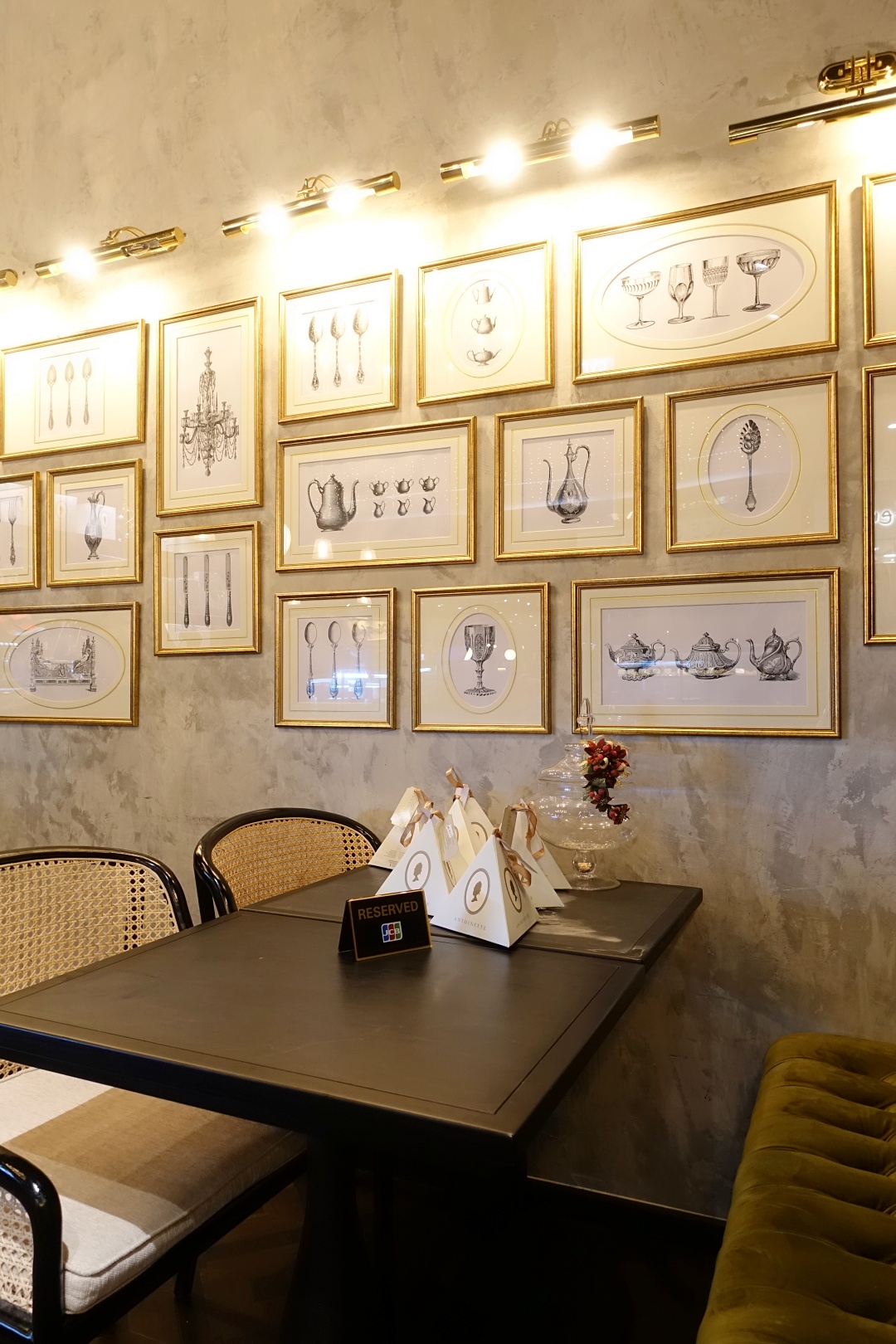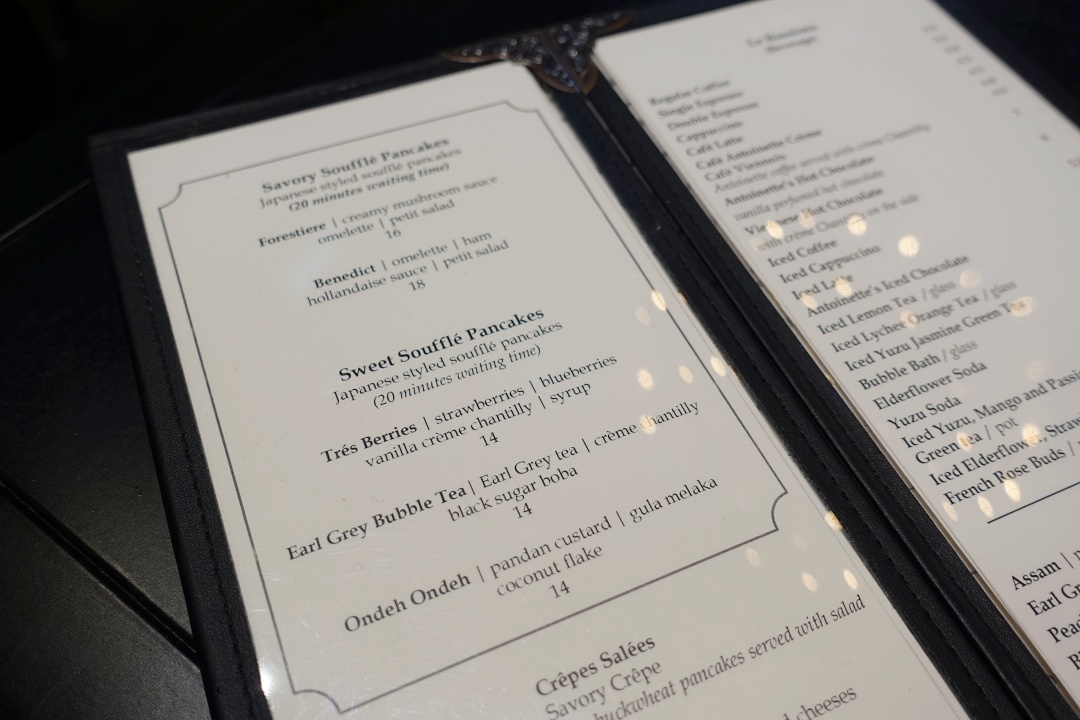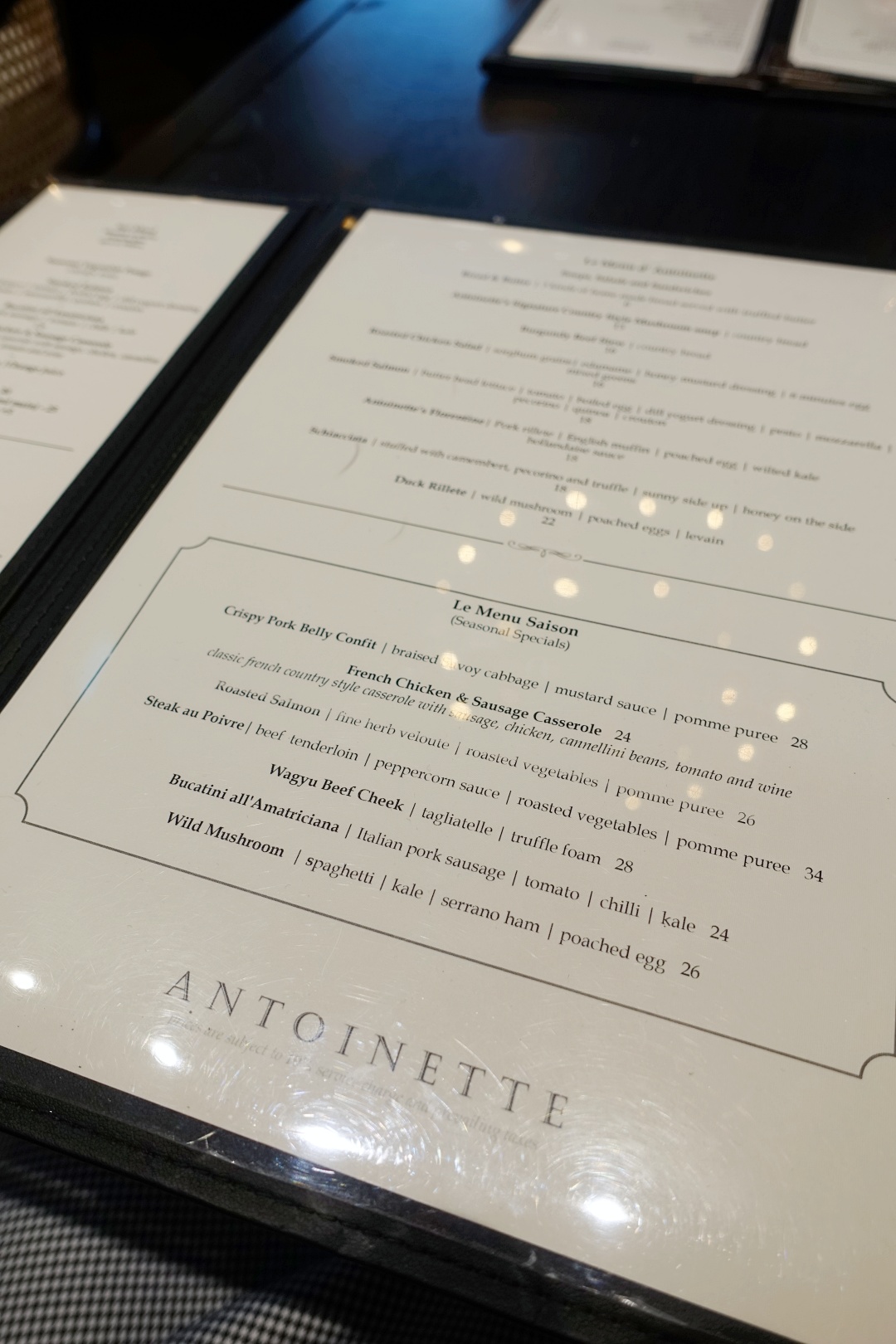 Didn't order the Boba Pancake simply because I thought it's weird to have pancake for dinner. In the end, we both got the Wagyu Beef Cheek that comes with tagliatelle pasta and truffle foam.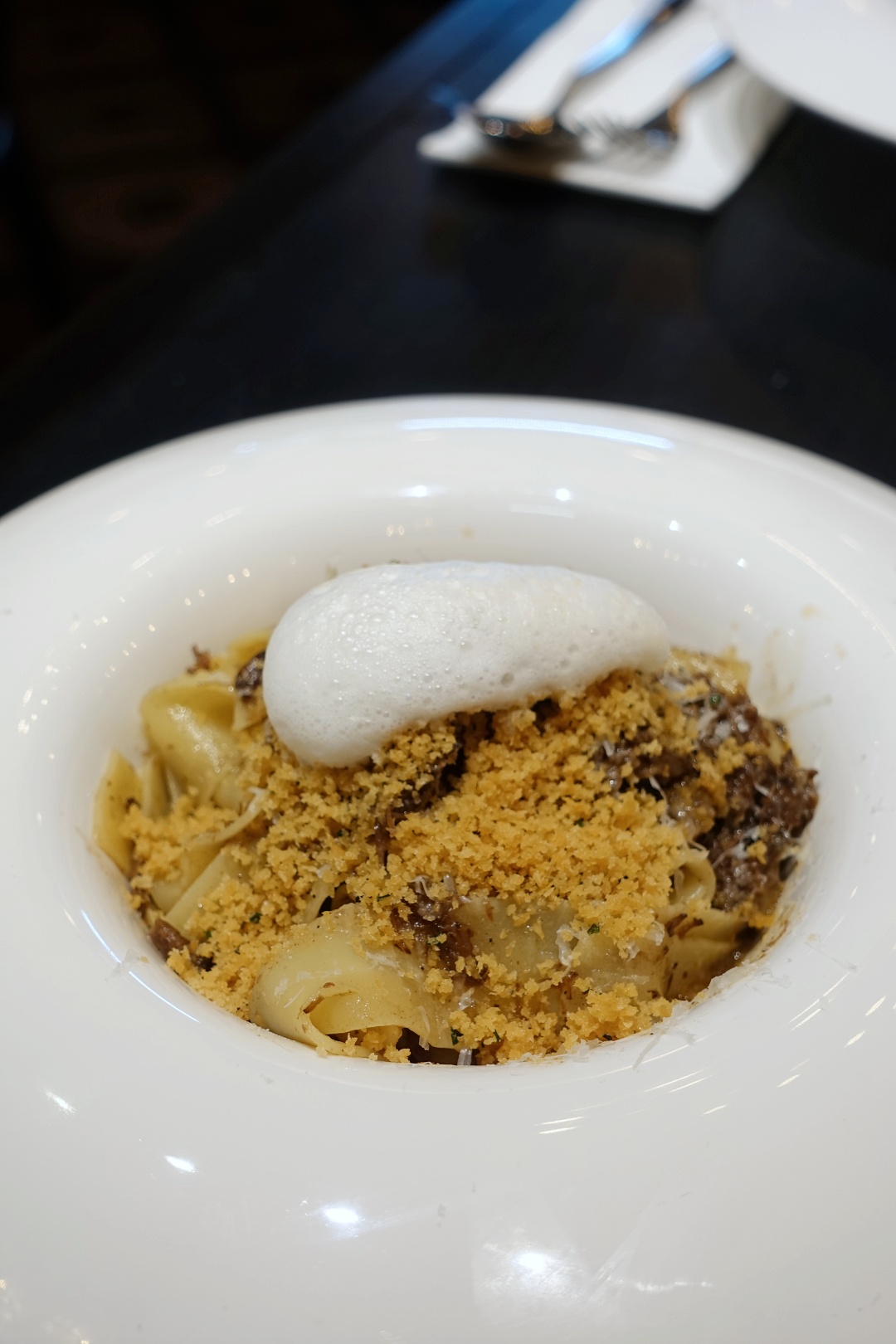 While there's a generous amount of beef, I thought the dish lacks flavour. It was also a little watery at the bottom of the bowl, but I guess that helps to keep the pasta moist/prevent it from being overly dry.
Overall, the dish didn't turn out to be as delicious as I hope and I can't help but to feel a little disappointed.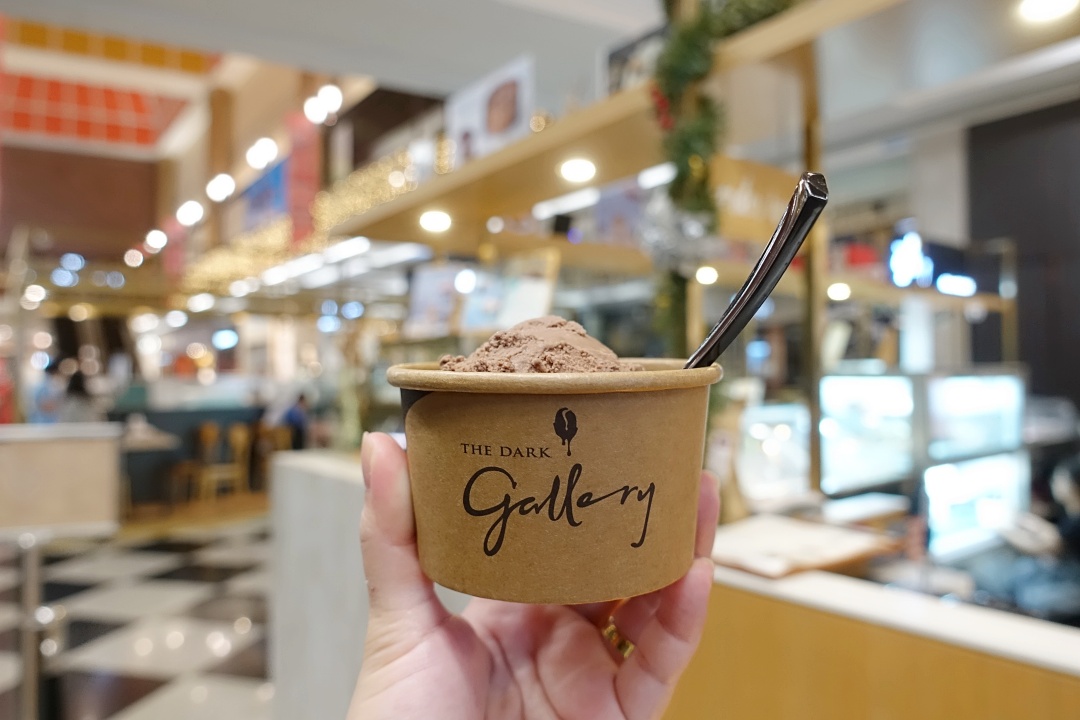 After dinner dessert: one scoop of milk chocolate ice cream from The Dark Gallery.
Spent the rest of our evening roaming the nearby malls and eventually ended up at Suntec City. Spent some time at the arcade and went to get McDonald's before returning to the hotel. I think we were back at around 22:30?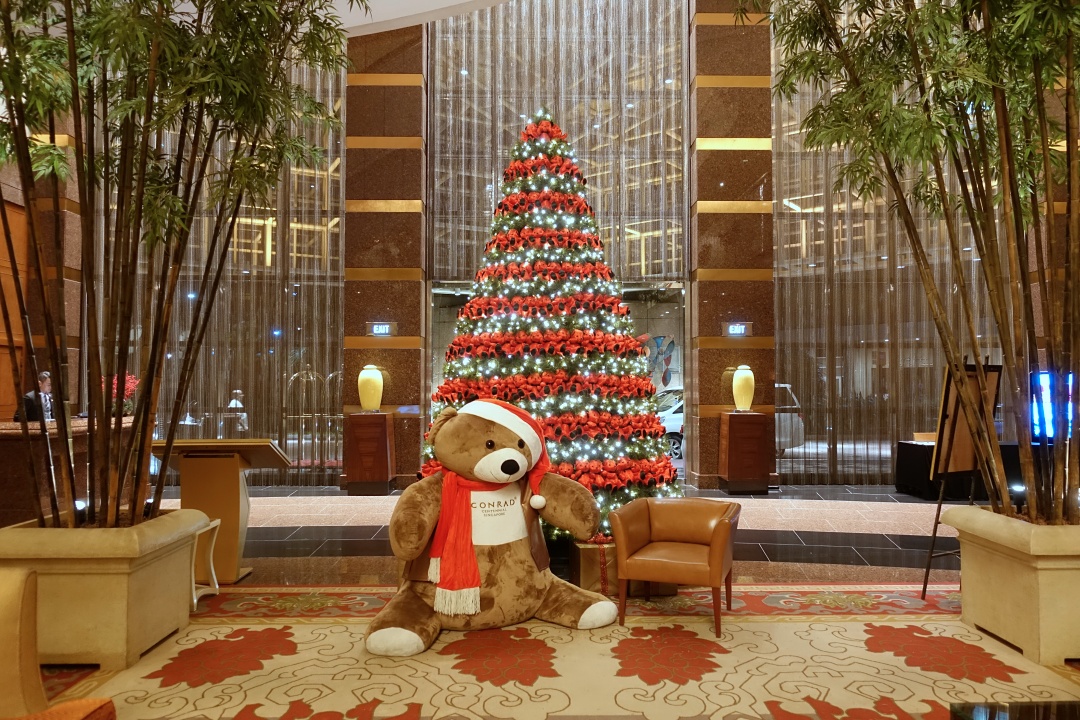 That was basically how we spent our Christmas Eve this year. It seems like a long time ago, even though it was just last year when we were in Berlin celebrating Christmas! I really miss going to the Christmas markets in Europe. The Christmas vibes in Singapore just weren't as strong as compared to Europe/US.
---
Managed to wake up in time for the hotel's breakfast the following morning (Christmas Day) even though I only went to bed at 06:00. After the Husband fell asleep at slightly pass midnight, I tried to sleep too but somehow just couldn't. I think it has to do with the two hours nap I took in the evening.
So instead of scrolling mindlessly on my phone while I was in bed, I decided to pull out my laptop and edit pictures for a blog post. I ended up spending hours on that and only went to bed in the morning. Set the alarm for 07:30 and 08:00, but I just couldn't peel myself off the bed when the alarm goes off. The Husband actually woke before I do; which is rare, because I'm usually up before him whenever we were on a holiday/staycation.
Eventually woke up at around 08:40 and went and got ready for breakfast. Breakfast is available from 06:00 to 10:30 at Oscar's restaurant at level 1.
Reached the restaurant at slightly pass 09:00 with a queue waiting for tables. But luckily for us, we managed to get a table for two fairly quickly.
Oscar's Restaurant | Breakfast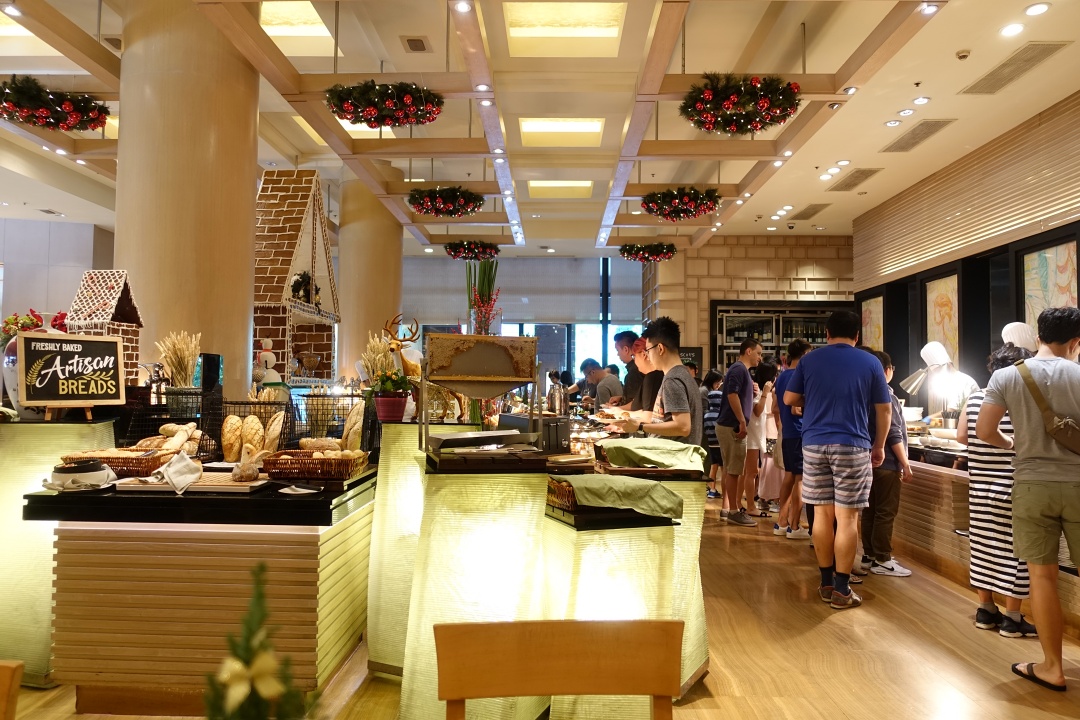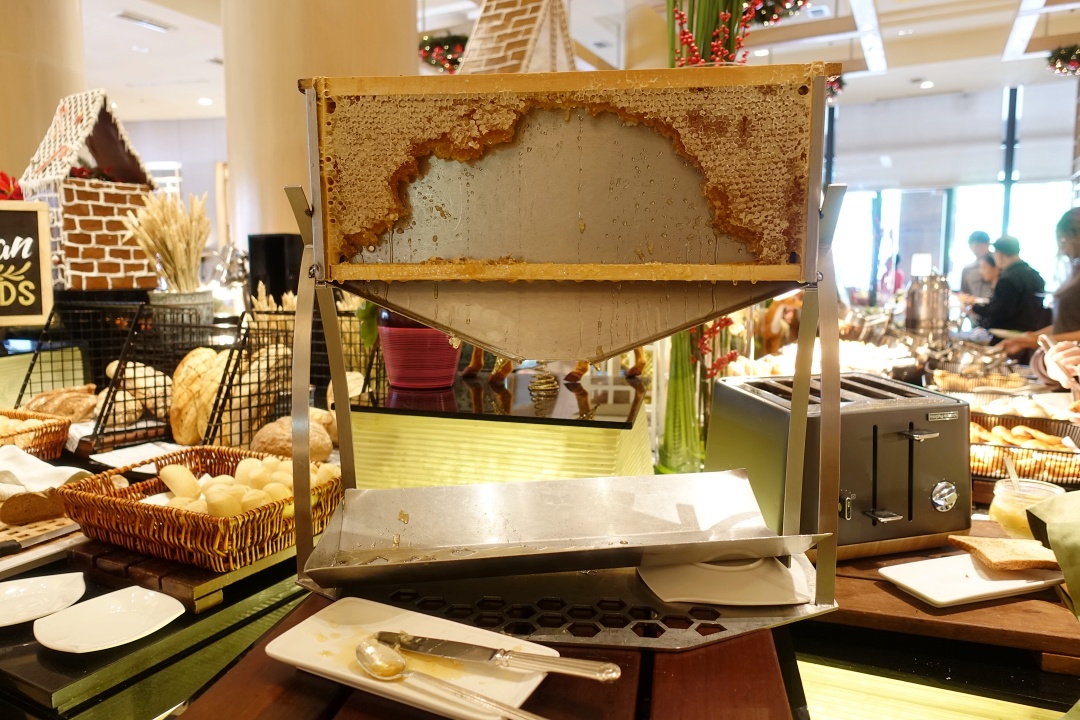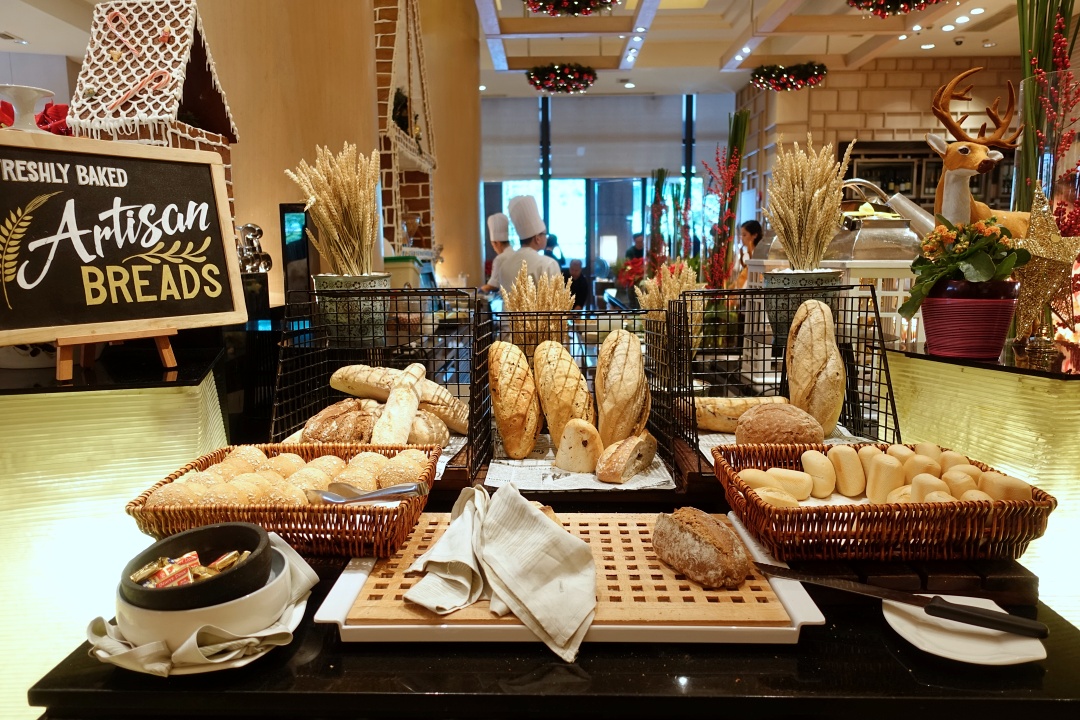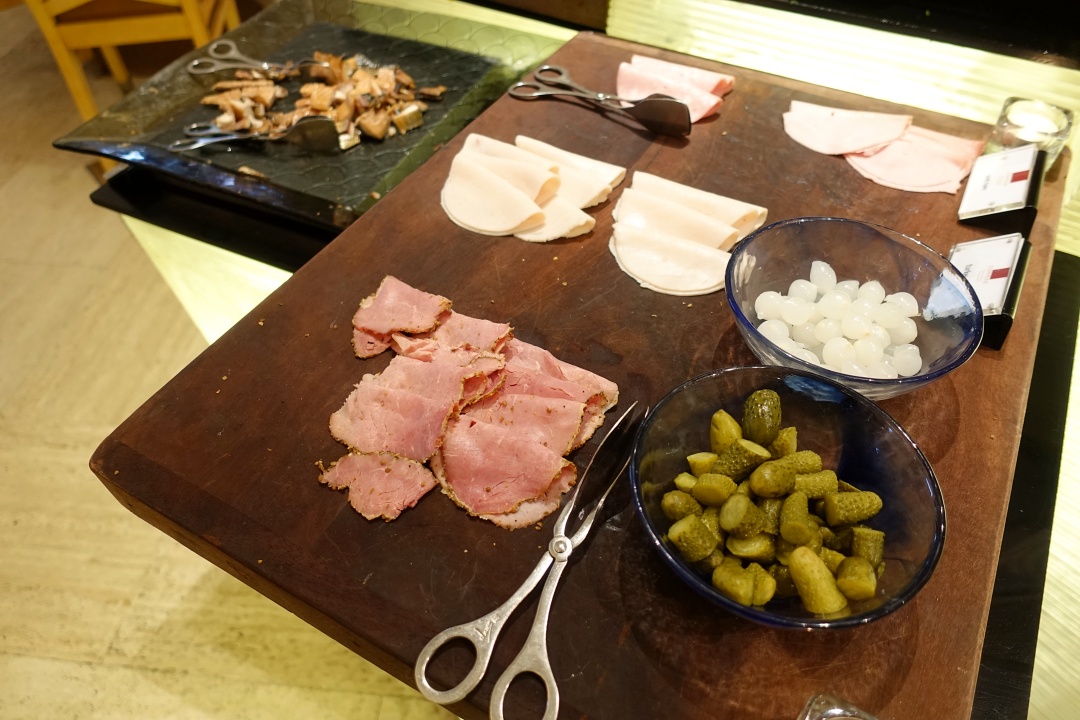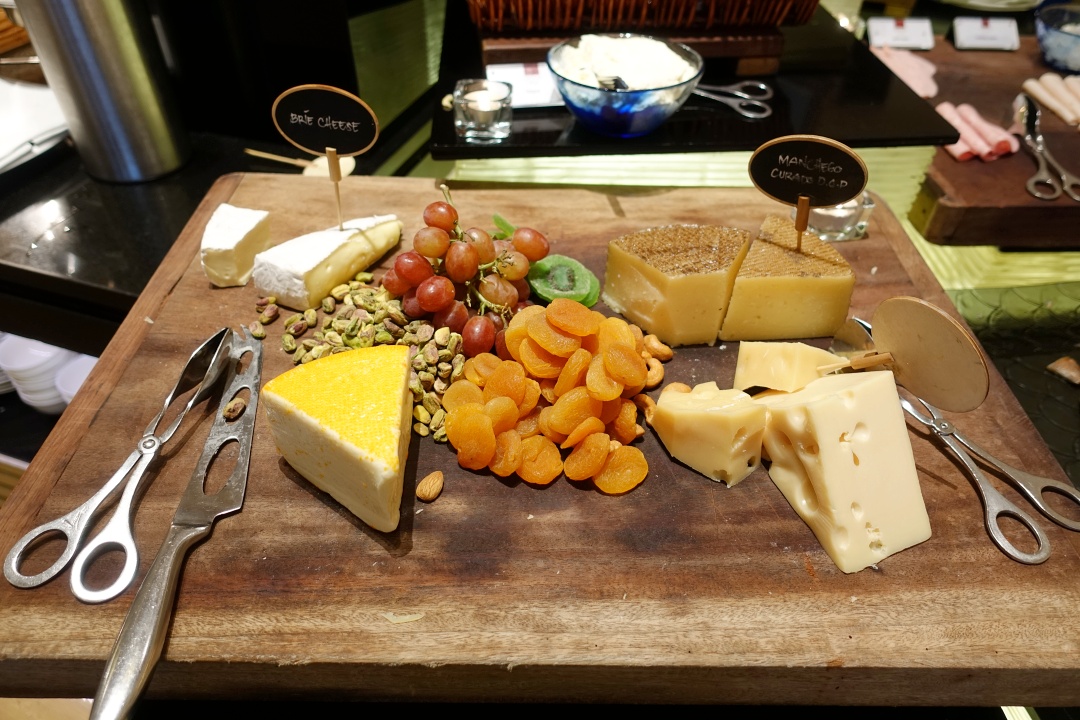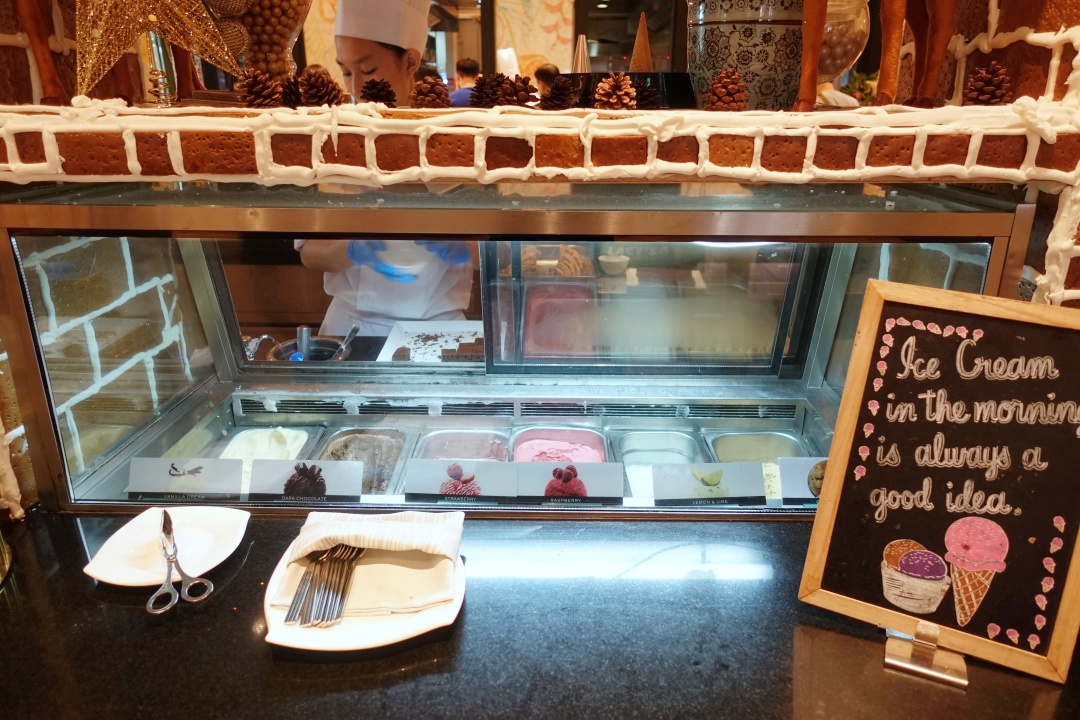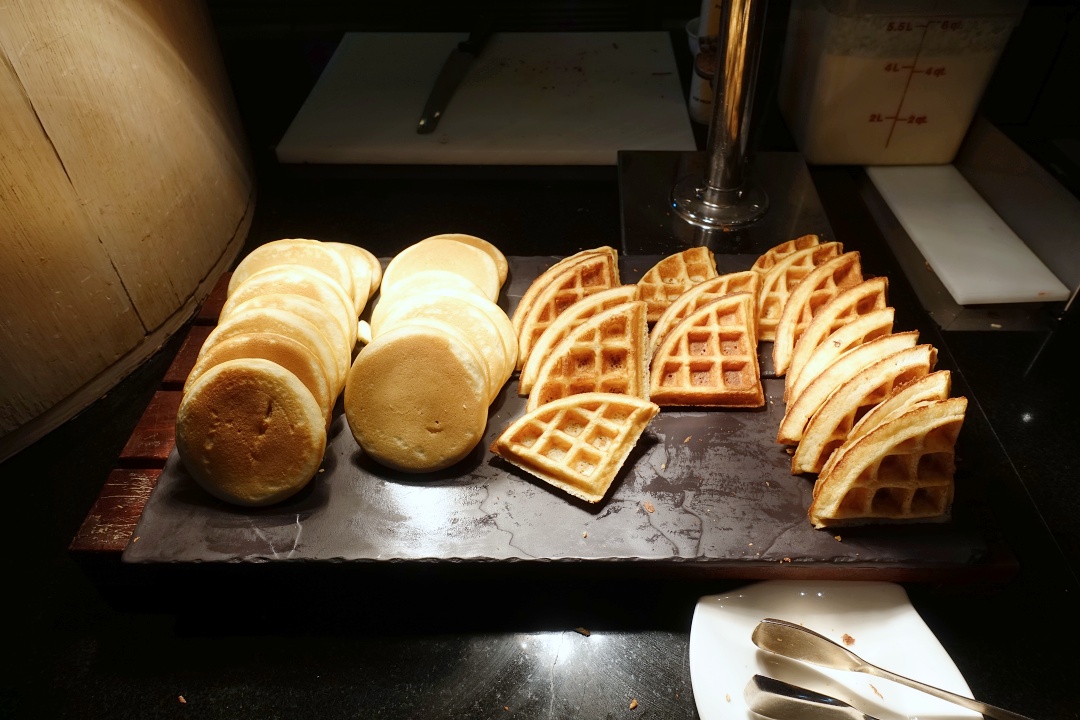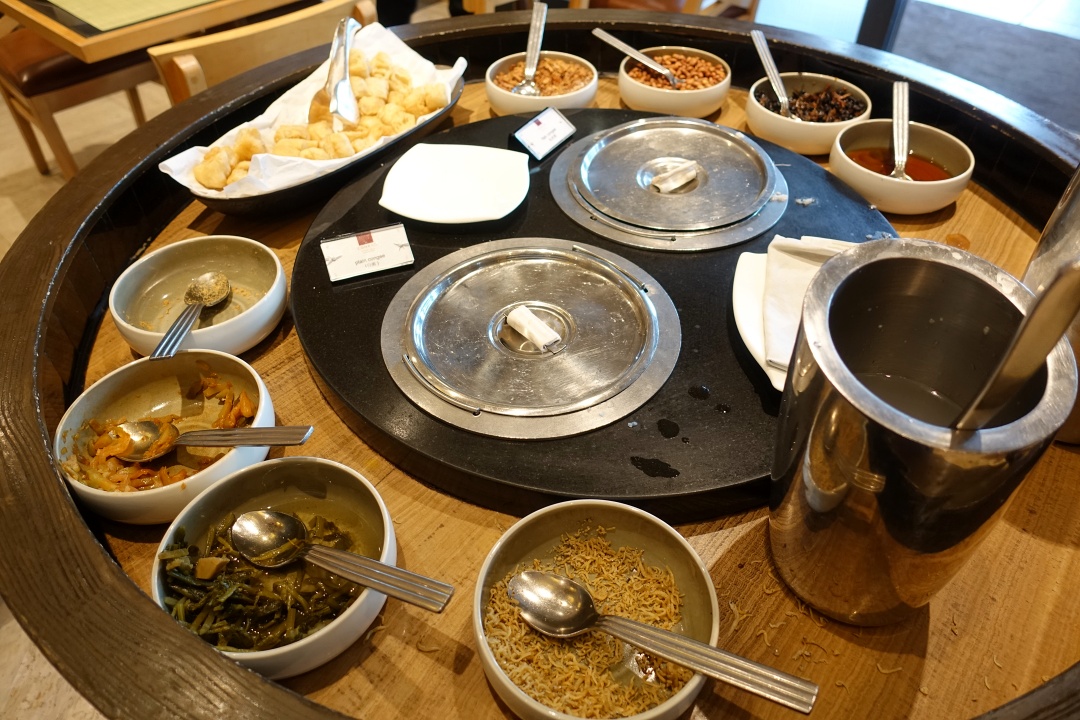 Plain congee and fish congee, with assorted condiments.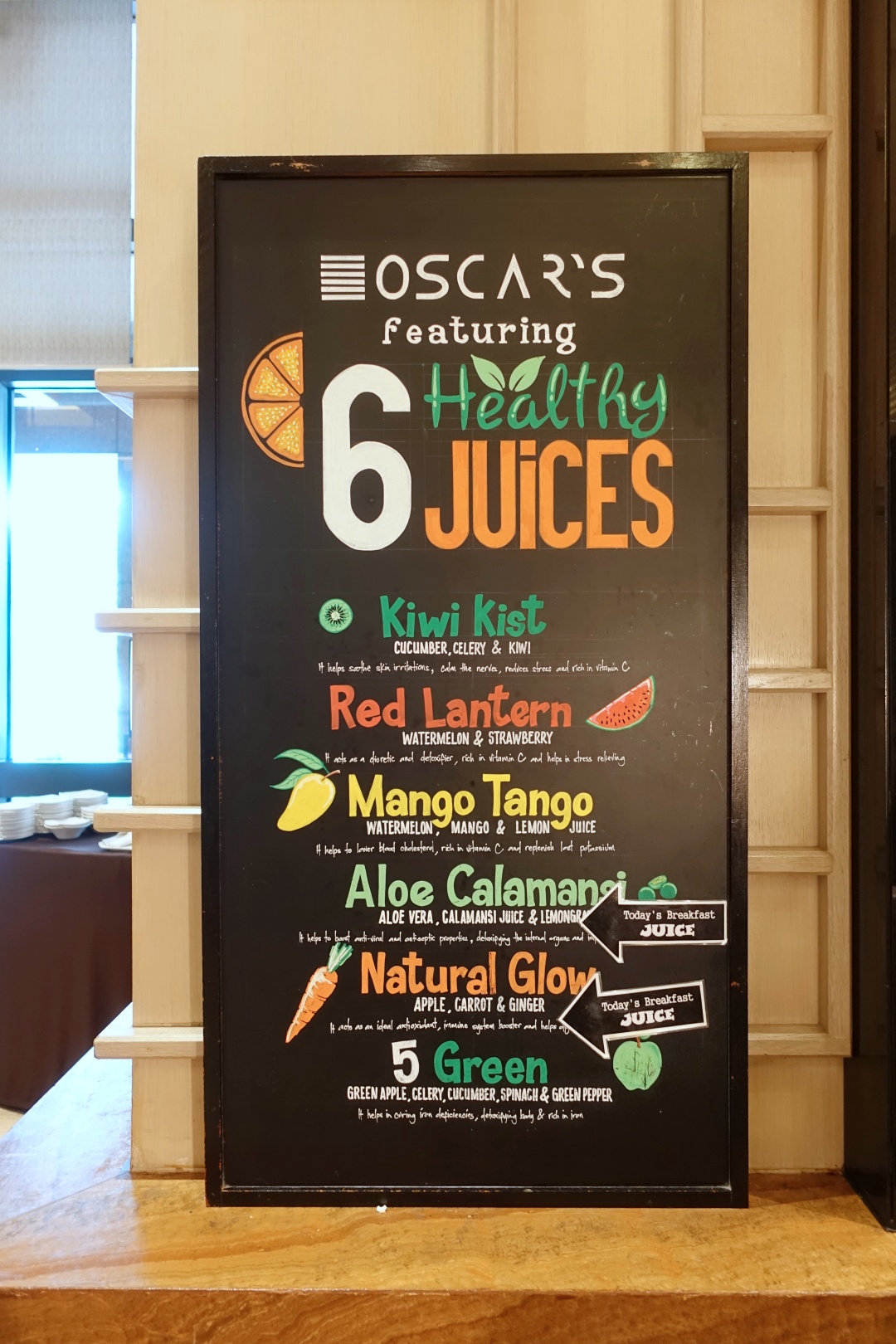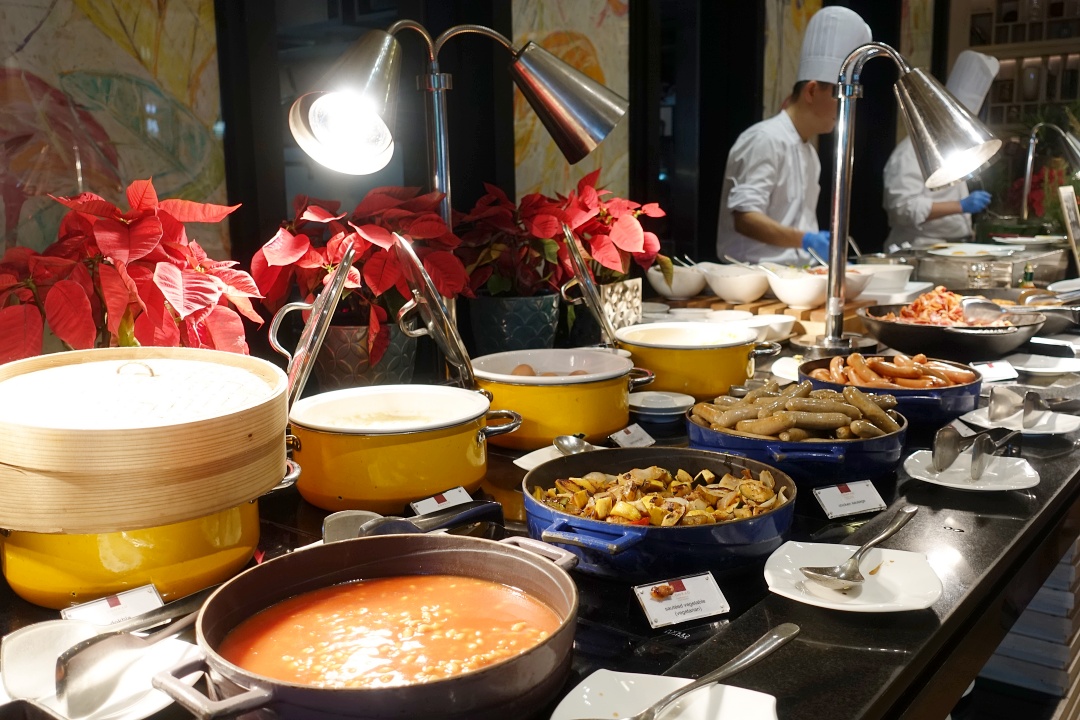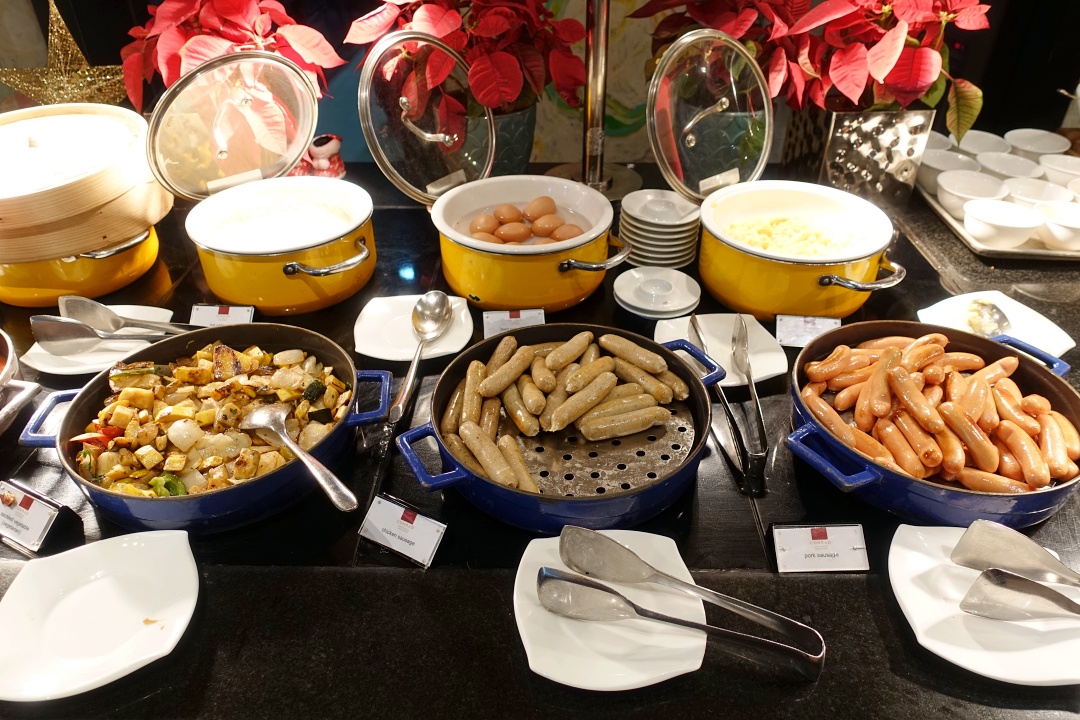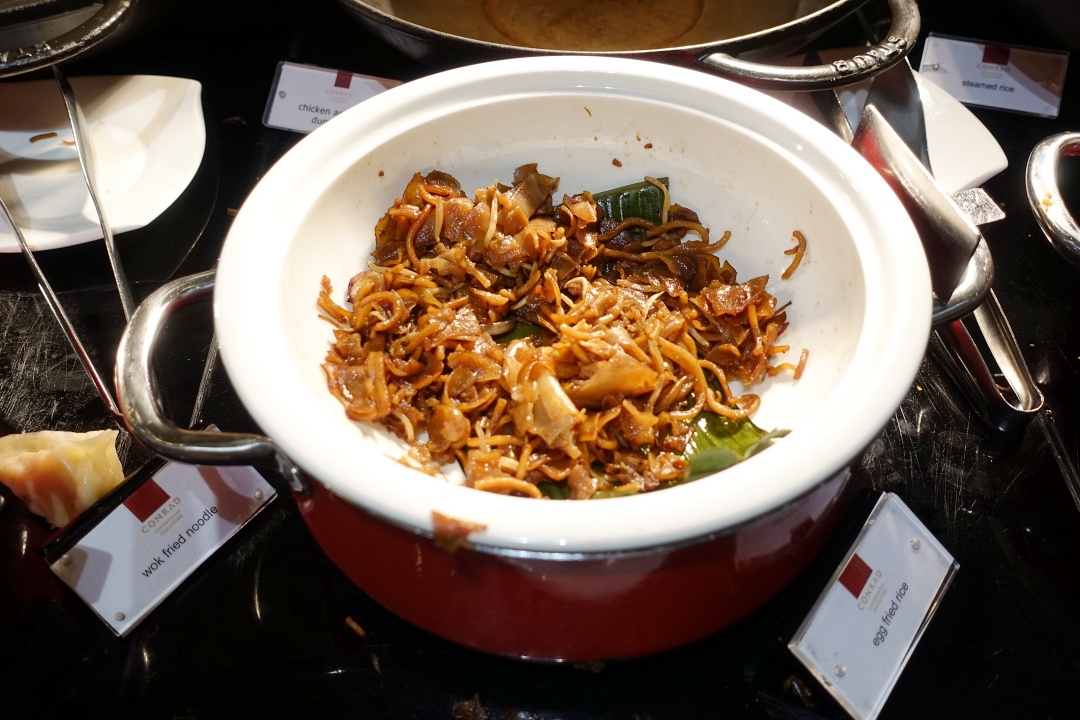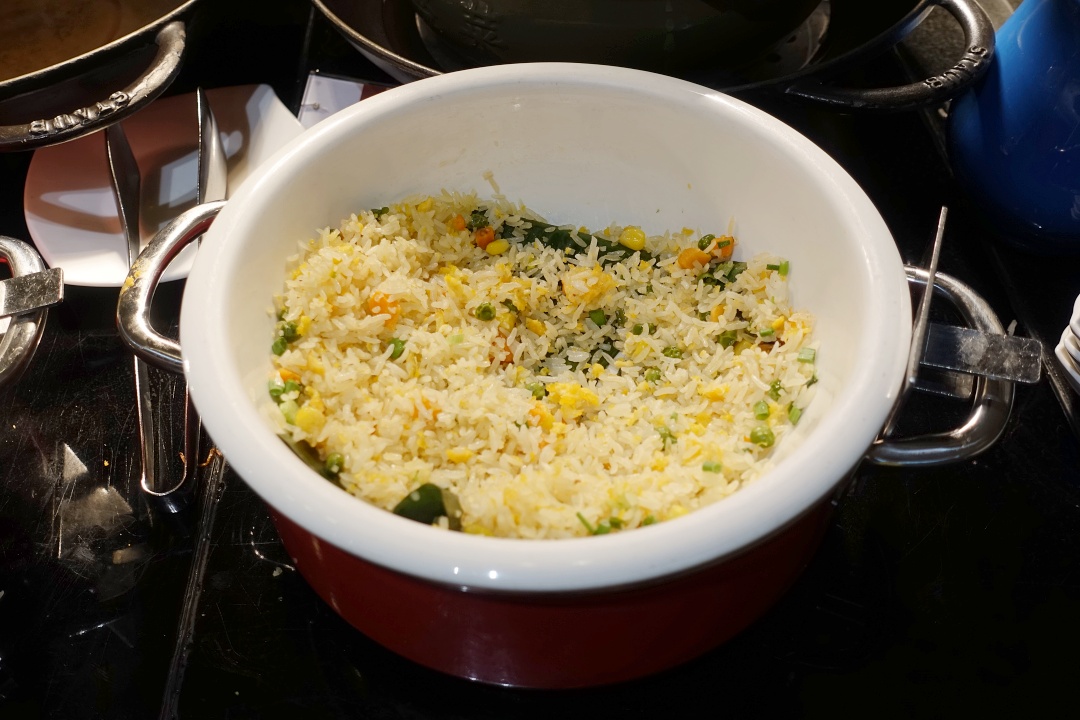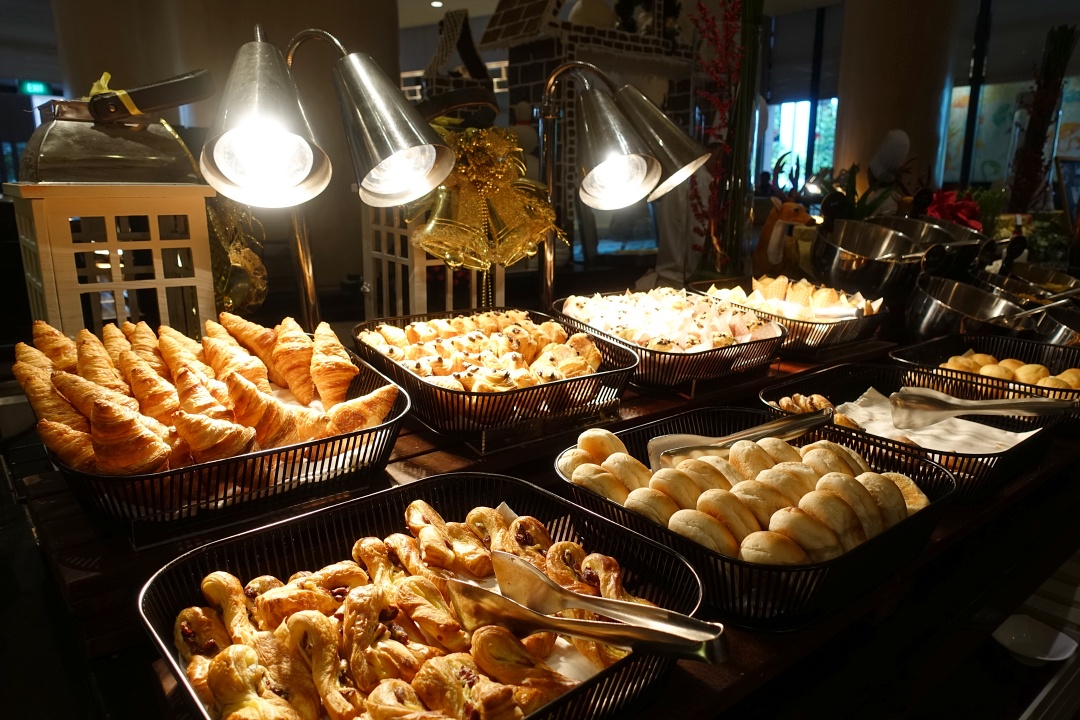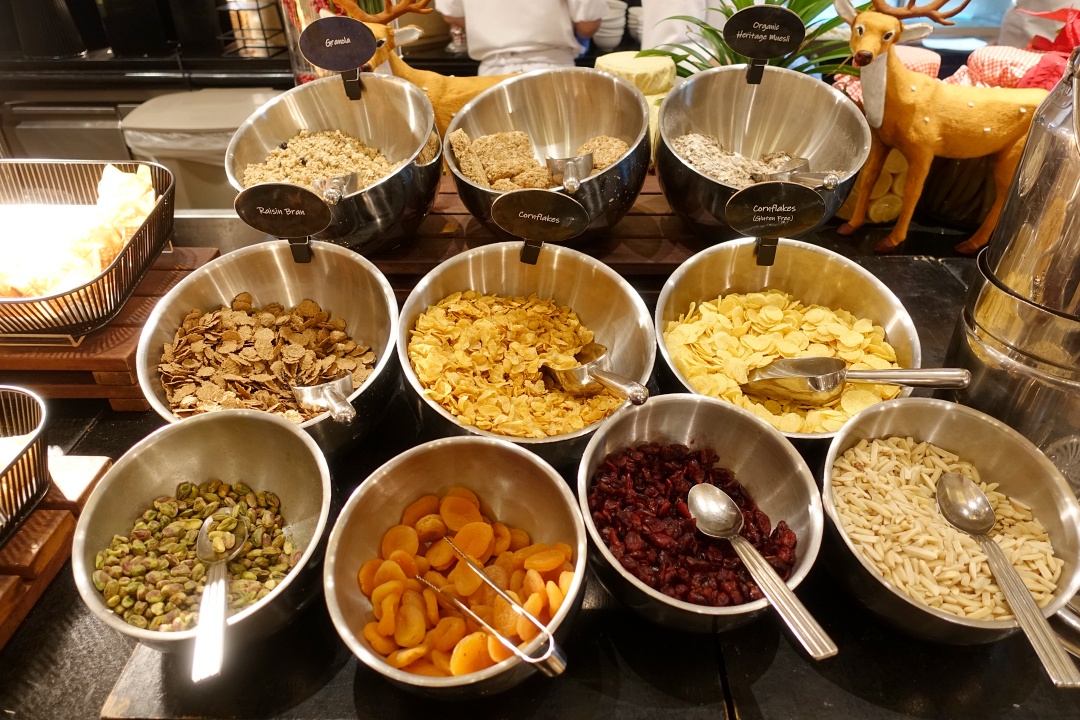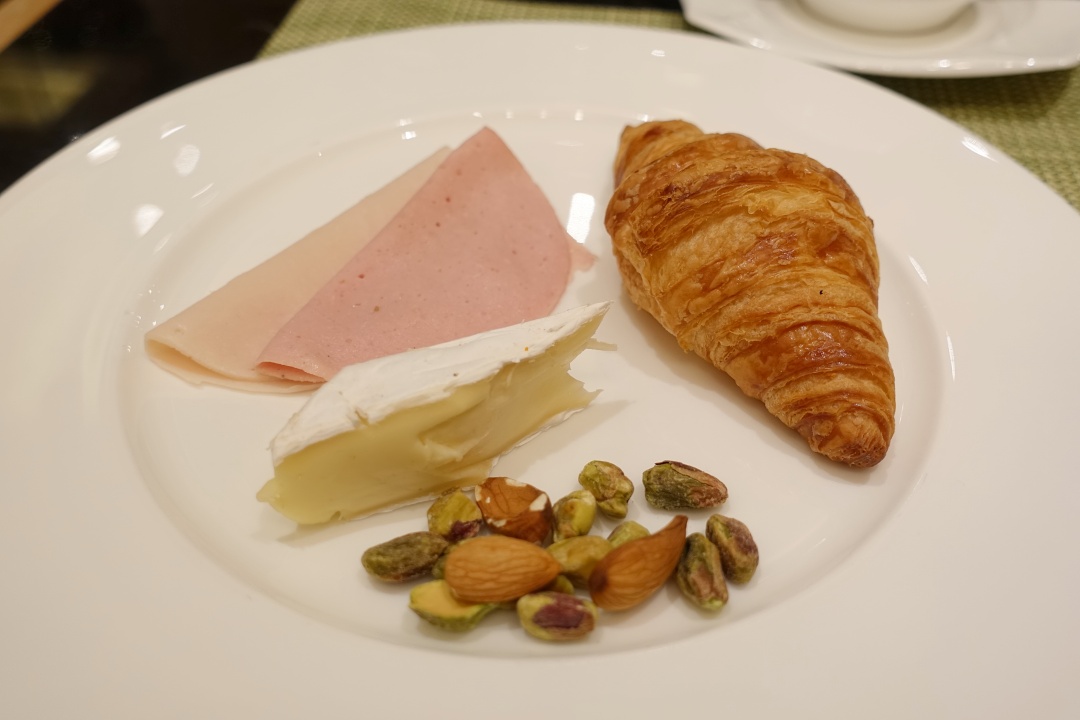 I believed my love for brie cheese started from our previous stay at Conrad Centennial Singapore; so even though I was not supposed to have it, I couldn't resist and ended up getting a small chunk to go with the croissant. The Husband tried to stop me but didn't succeed. I did feel a little guilty after he called me out, so I ended up not finishing the entire block.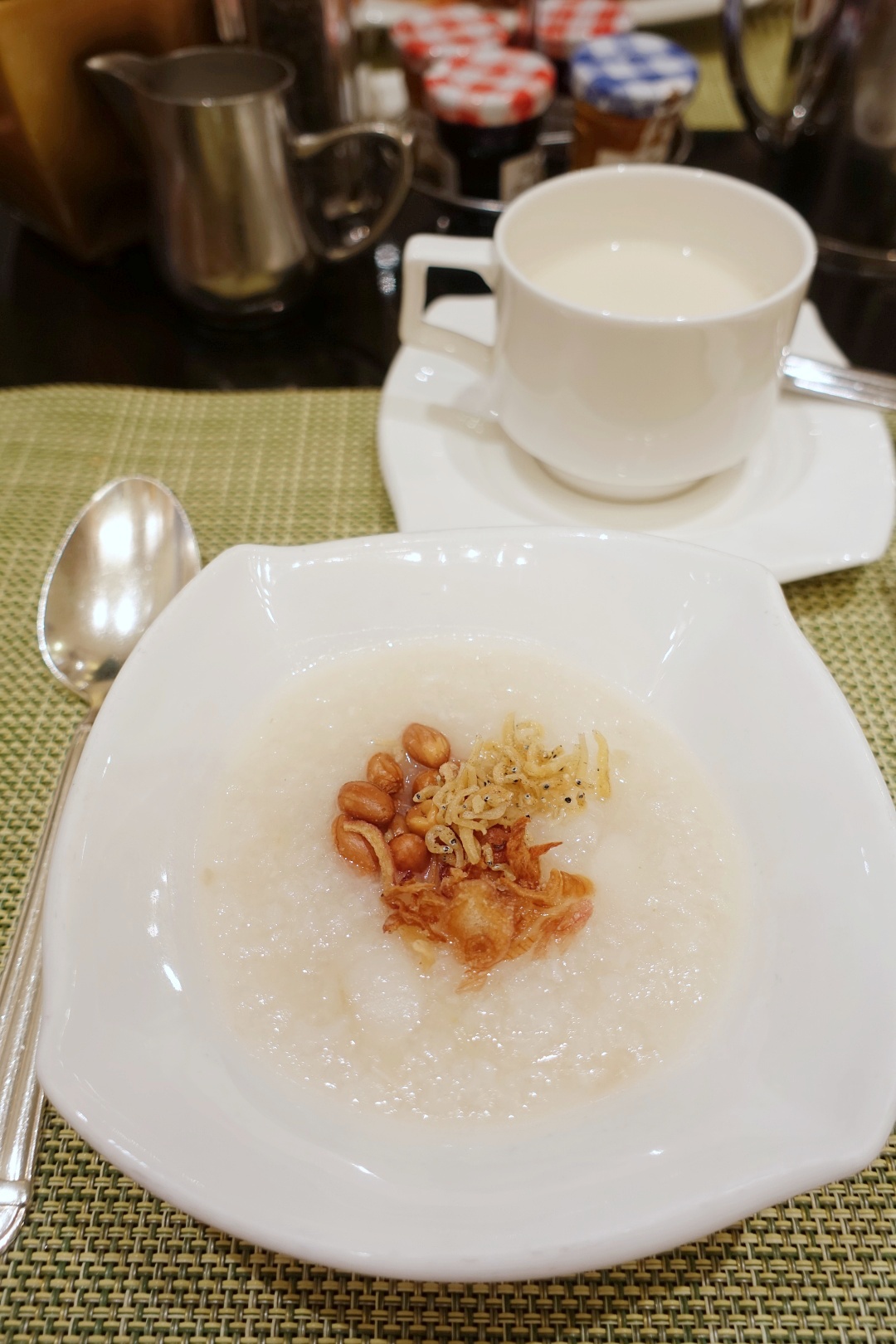 The fish congee was good!
Despite not having a terrific breakfast spread, I'm happy that at least all the food I tried suits my tastebud. I don't think I will enjoy food that is too plain or tasteless, so I'm glad the one we had in Conrad tasted otherwise.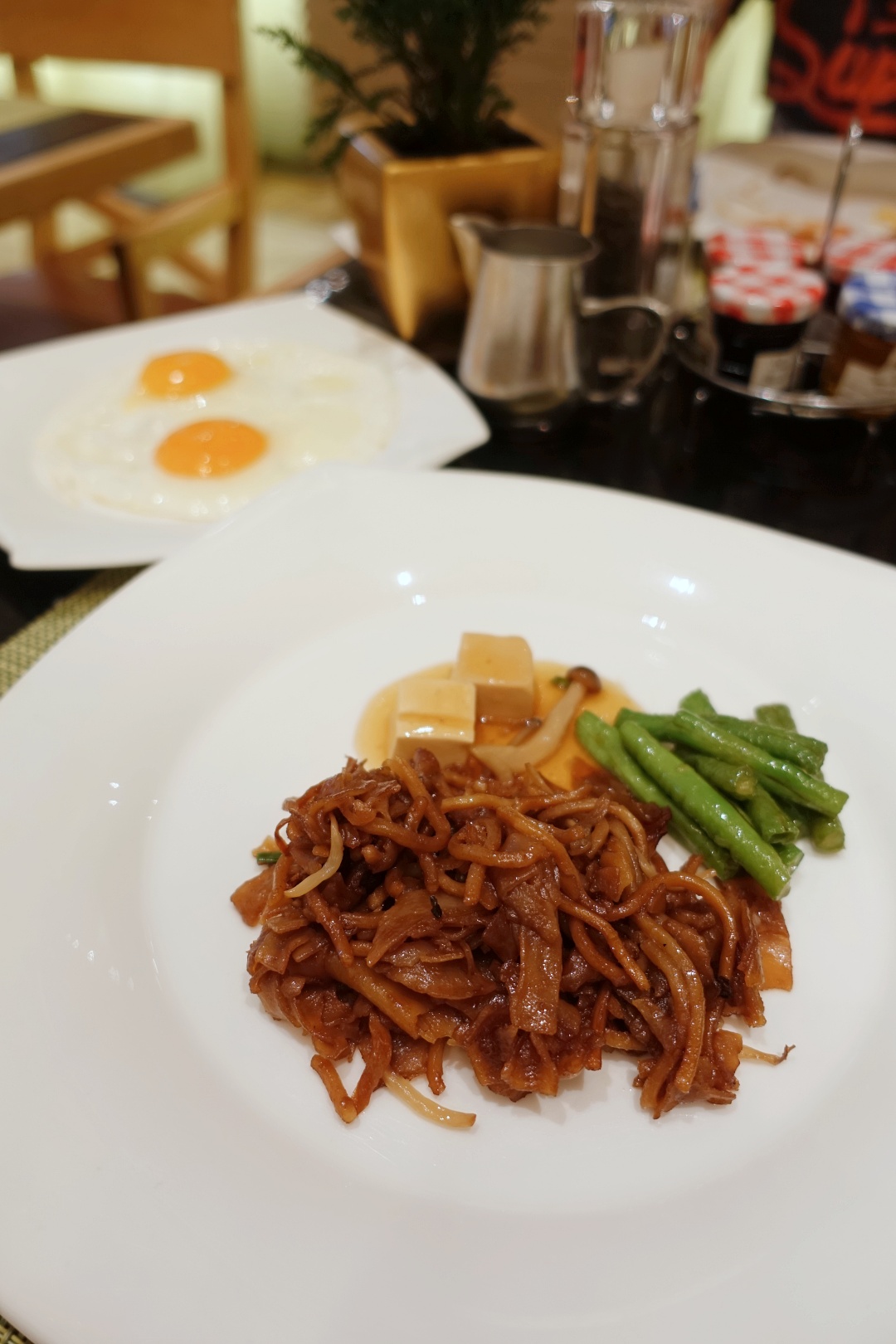 Enjoyed having the sunny-side-up with the fried noodles. Such a simple yet perfect pairing!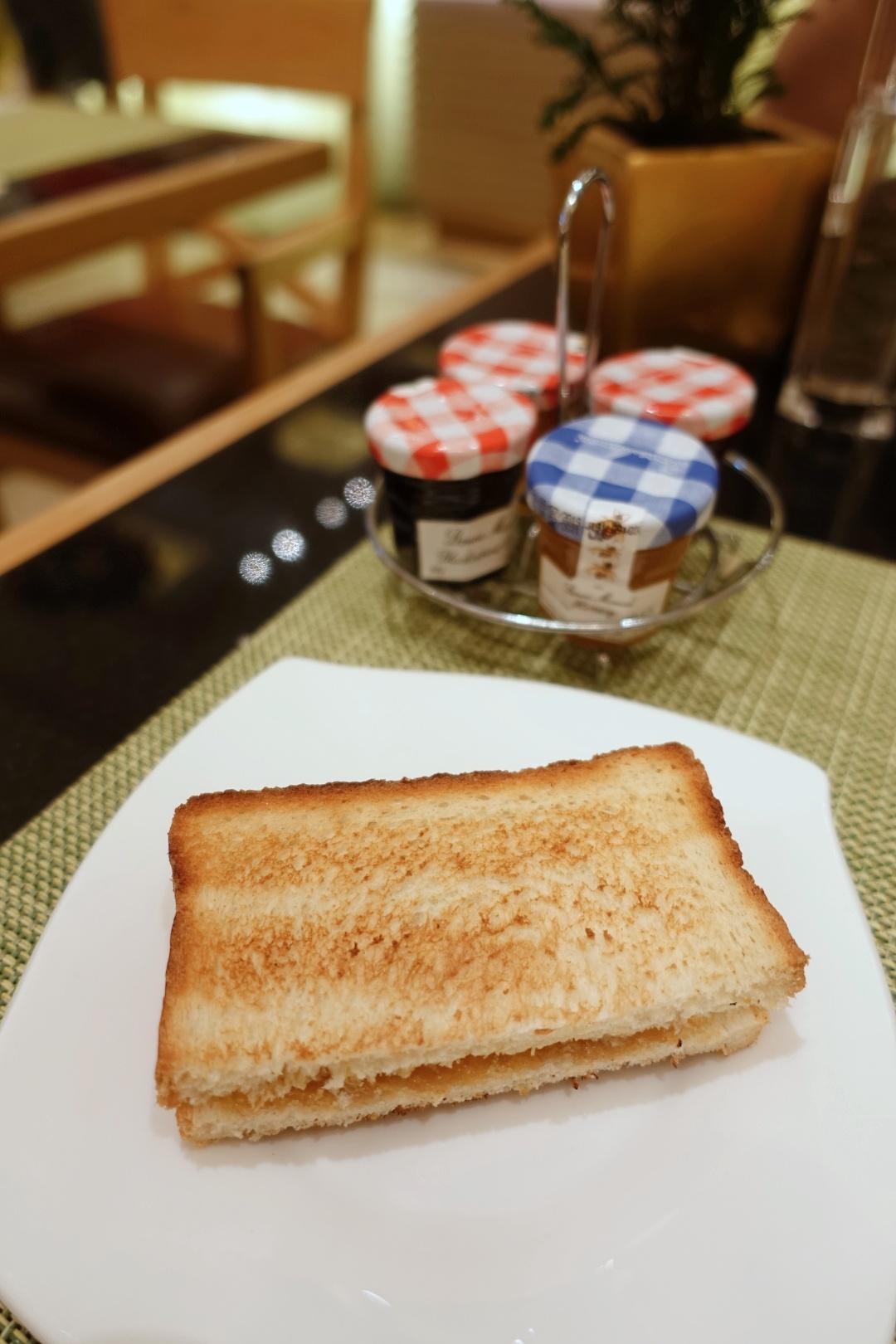 Also got myself a kaya and butter toast. This was prepared by the staff, so I didn't even have to toast the bread/add on the kaya spread.
Overall, I had an enjoyable breakfast. I was hoping to see something special for Christmas morning, but it appears to be the usual breakfast spread? I thought the selections were okay and the food tastes good. However, the Husband didn't seem to be impressed. Still, I'm pleased that at least the breakfast was better as compared to the one we had at Andaz.
We ate till around 10:00 or slightly passed 10:00, before heading back to our room to chill while waiting for check-out at noon. I ended up taking a nap from 11:00 till 11:40.
View from our hotel's room. Didn't get to check out the pool this time around, since we were only there for one night. On one hand, I enjoy going for a one night staycation because we get to pack light for our stay/didn't have to worry too much about forgetting something. But on the other hand, the downside to that is that we really can't do much for a one night stay, especially if we've plans to head out of the hotel in the day.
If I'm honest, I do sometimes find it quite a waste of money going for a staycation in Singapore, especially since now we're staying together/have our place. But, I supposed when you need a break and can't find the time to go on an overseas trip, a staycation is probably the best thing that comes next. Still, we tried to only go on a staycation for special occasions.
---
Left Conrad Centennial Singapore at noon and made our way over to Orchard as the Husband wanted to get me two more Christmas presents. I already knew one of the presents, since we've been shopping/looking at it before Christmas.
It was a cashmere scarf from Burberry, and the reason the Husband wanted to gift that to me was that the weather had turned chilly lately, and a scarf will be a good for days when I don't want to bring a jacket. To be honest, I was quite surprised that he would think of that? It was a lovely gesture, especially since I wasn't considering buying a scarf for myself.
After getting the first present from Paragon, the Husband left me alone at Starbucks and went and got me the second present. I've no clue what that's, and I figured it is better I don't ask and spoil my own surprise.
Sneaky Husband went and came back shortly after and we made our way home right after that.
---
I'm thrilled we got to have a Christmas tree at home this year. I remembering wanting one last year when we first moved in, but we didn't get it as we were away on Christmas and it doesn't make sense to set up a tree at home while not being home during the festive season.
I really hope to set up a Christmas tree this year since we didn't have plans to travel. Plus, I think it's lovely to have one at home so that we could soak in the Christmas vibe.
However, the thing is, if we're getting a tree, I want a big one that is at least 1.8 m tall. Make it clear to the Husband that it's either a big tree or no tree at all.
I believed we only got down to shop for a Christmas tree at end-November/early-December? I would love to do it earlier, but somehow that didn't happen. For a brief moment, I did consider getting a real tree. But the problem is I don't know what I'm going to do with it after Christmas especially if the tree was of a substantial size. Like how do I go about getting rid of the tree?
In the end, we figured it's just easier to get a fake tree that we can reuse for years down the road. After agreeing on getting an artificial tree, we still spend quite a while before finally getting one. Mainly because I wanted to make sure we get one that we love instead of just buying any tree we saw. After looking around, we eventually got ours from Tangs. I initially thought we would get one that's 1.8 m, but when we were looking at it at the mall, 1.8 m didn't seem to be that tall. So we decided to go for the next size, which is a 2.1 m tree.
I think the Husband kind of regret after we set up the tree in the middle of the living/dining room because of how huge it looks in our tiny apartment. I think it looks better once I shifted the tree to a corner.
I really love the tree and how impressive it looks. (Clearly, I've no regret getting a 2.1 m Christmas tree.) Glad that we didn't get one that is taller than 2.1 m because it would have hit the ceiling.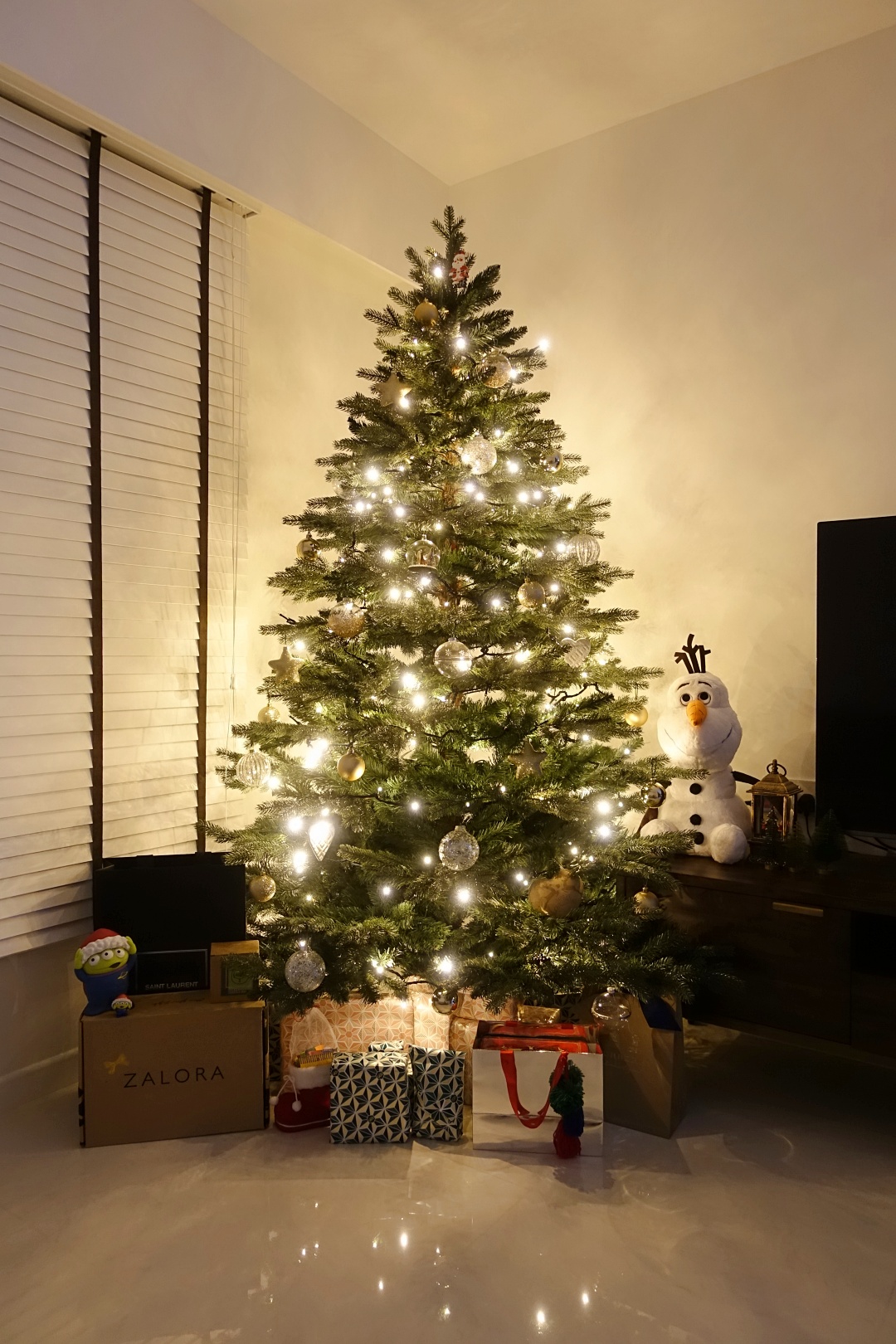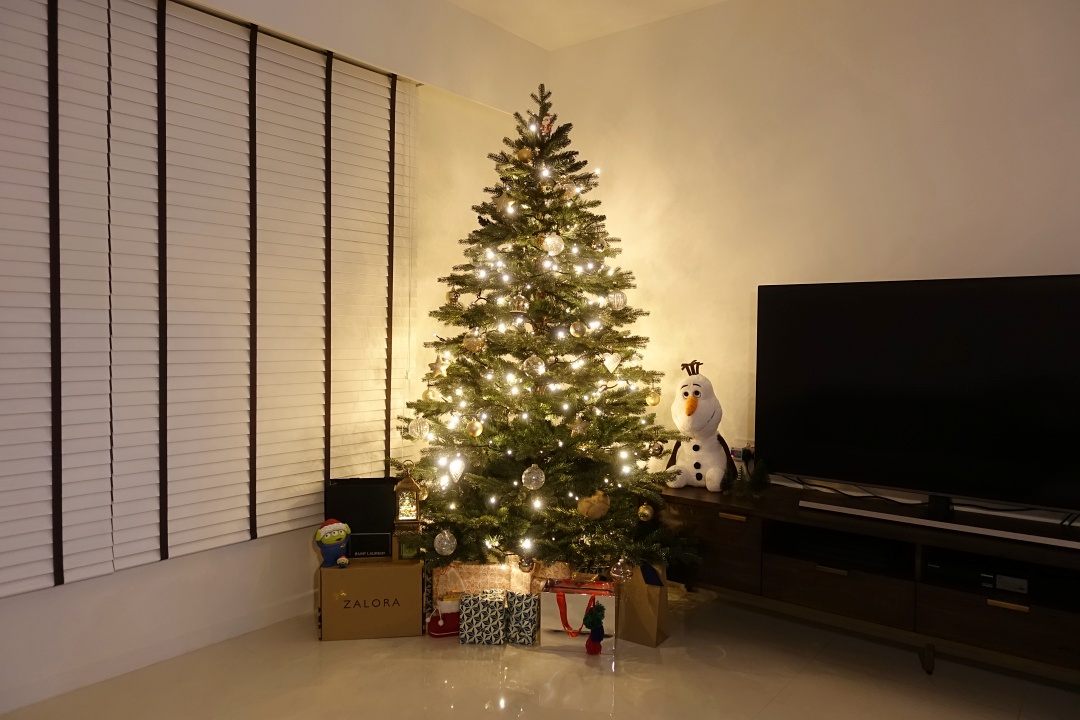 Quickly snapped some photos before midnight to commemorate our first Christmas at #kaixinnest!
The twinkle lights definitely look better after switching off the main lights in the living room. The tree didn't come with any lights, so we bought and uses three boxes of twinkle lights for the entire tree.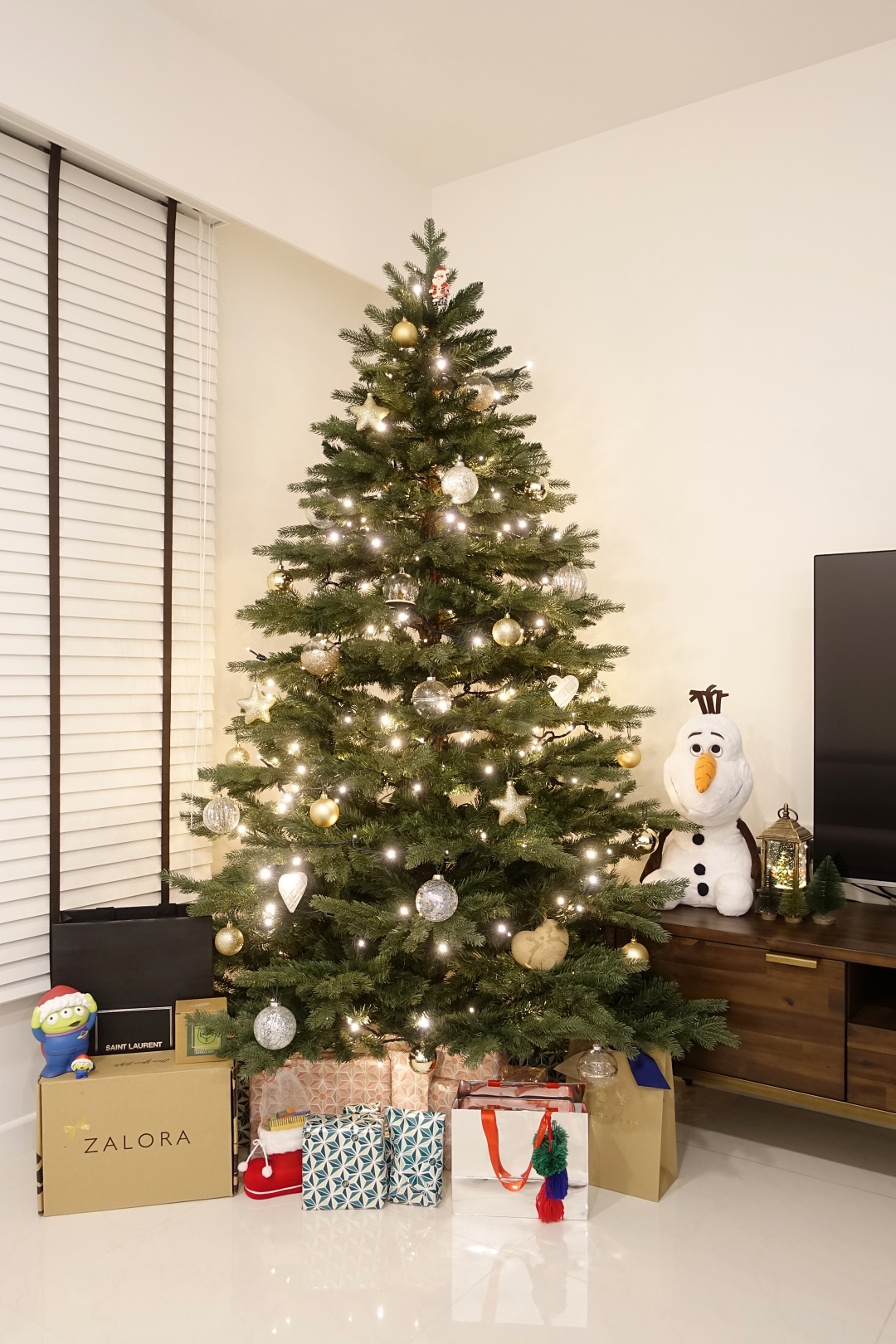 Here's a better look at the decorations on the tree.
I decided to go with a white, silver and gold theme for our tree and we did end up spending quite some time looking for suitable ornaments. We managed to get most of our baubles from Bed Bath N' Table eventually, and a handful from Tangs and IKEA (mostly the gold ones).
Also, I had a hard time trying to find the right way to fluff up my tree, and this is probably the best I can do.
I really want to keep it simple, so I only had the Christmas tree, the small Christmas lamp (that I got last year), and three small Christmas tree decor set up in the house. (In short, the living room is the only place that has the Christmas decoration. I just can't have decorations scattered around the house.)
Oh, I also placed Olaf next to the tree since I thought it fits the theme.
---
What I Got For Christmas 2019
Procrastinated for the entire day and only started unwrapping my first present under the tree at close to midnight on Christmas Day.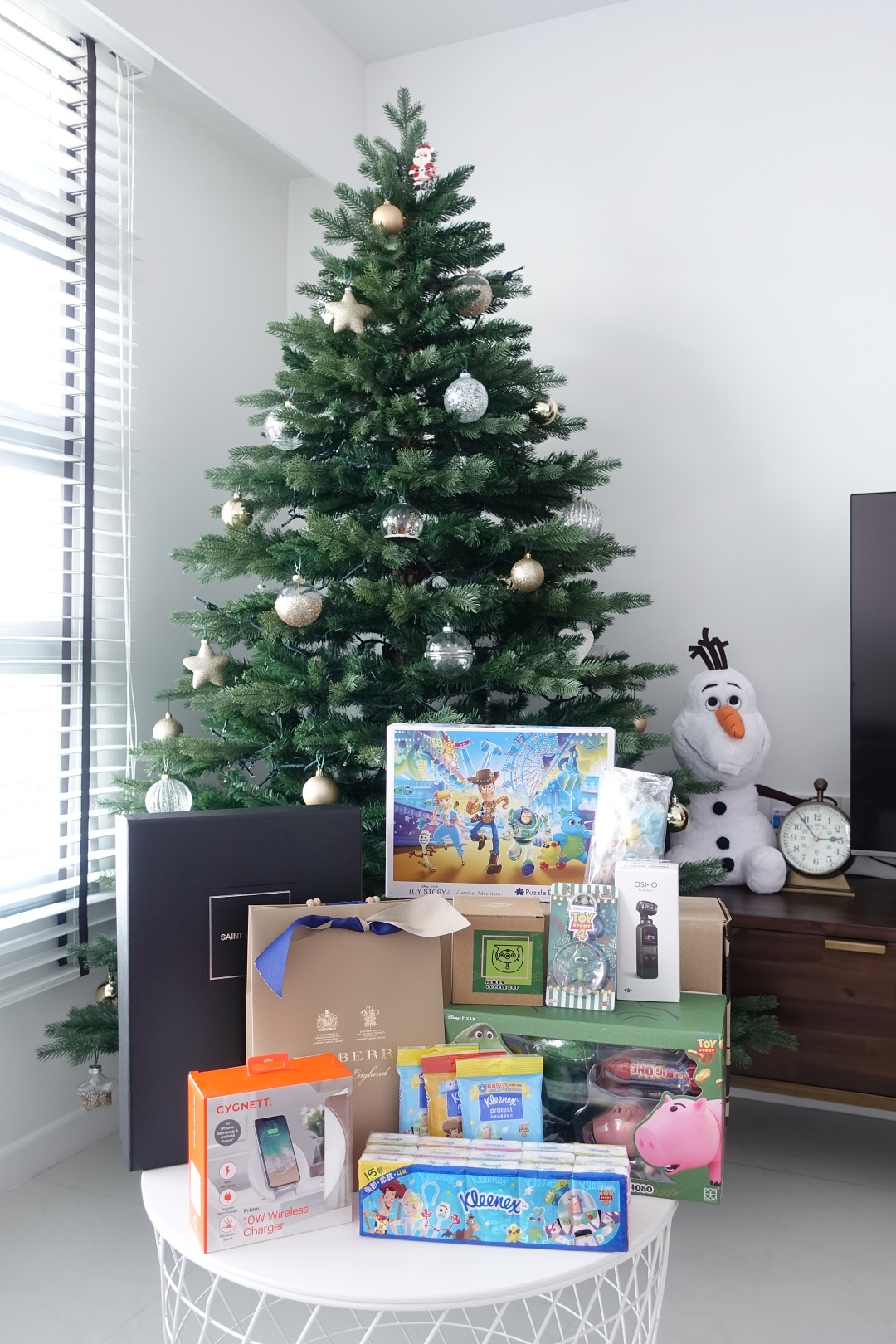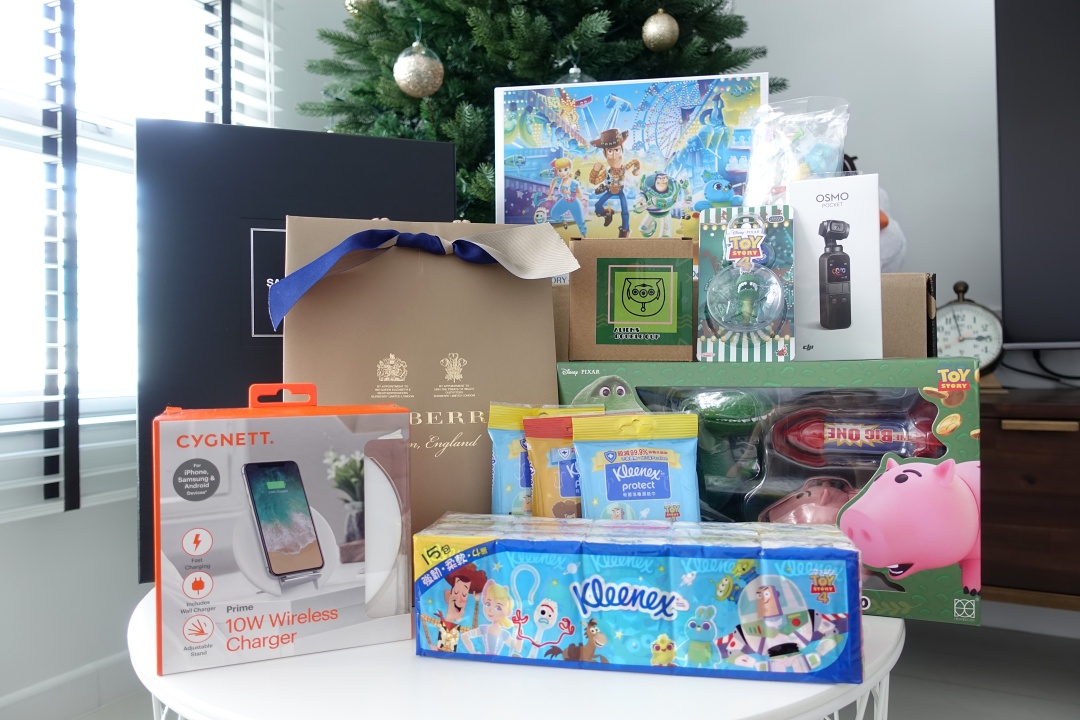 Decided to take pictures of the presents the following morning.
My main Christmas gift from him this year was a handbag and the scarf he got for me on Christmas Day. The second (and third) present he sneakily got for me that day was an OSMO Pocket and a wireless charger for my iPhone. Other presents on the table are mostly gifts he got when he was in Hong Kong earlier this month, plus presents from my sister.
The Kleenex tissue and wet wipes are a joke. And there was also this pack of Toy Story gachapon that he steals from my toy room. He was hiding in my toy room packing the last few Christmas gifts, and when he saw my stack of new, unopened gachapons, he figured he would trick me by wrapping one of those as my Christmas present.
I also bought it and thought he got me gachapons for Christmas; then I realised they were mine.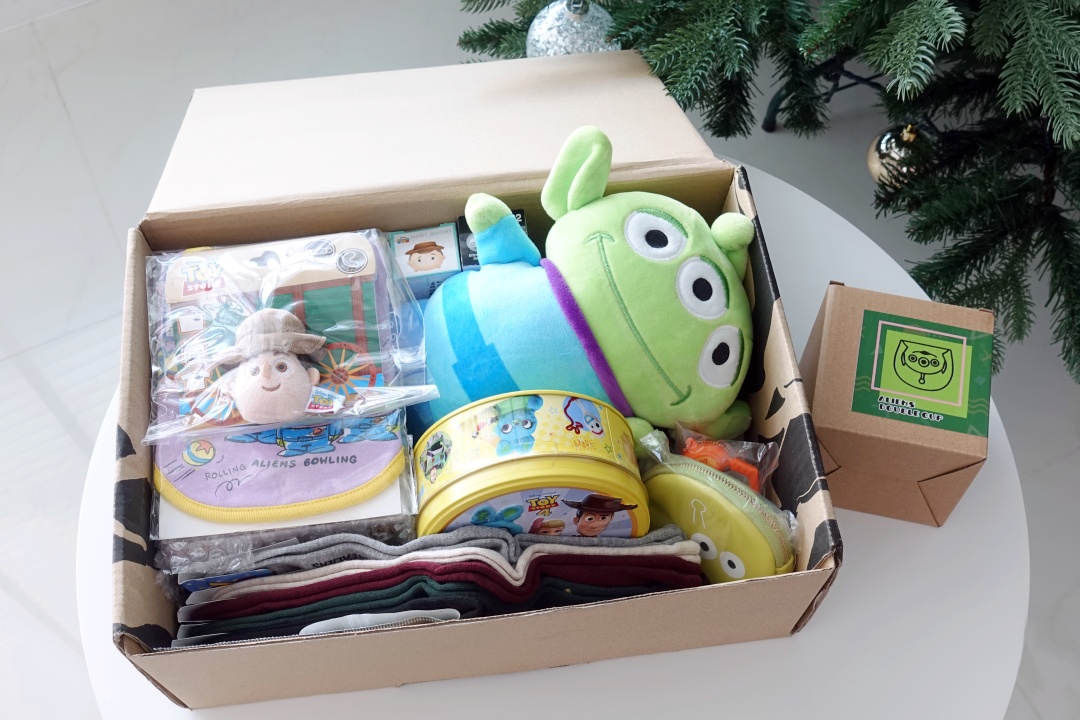 Touched that my sister curated a special Toy Story theme gift box for me this Christmas. She knew that I love Toy Story and inside the box are things that's Toy Story related.
There are socks, an iPhone case, a tin of cookies, a coin pouch, an Alien mug (on top of the glass mug placed outside the box), an Alien plush, two TAKARA TOMY cars, a reusable shopping bag and more. The amount of thoughts she put into it; I love them.
I'm truly very blessed and spoiled this Christmas!
I hope all of you had a wonderful Christmas/holiday too. Spreading lots of love and joy to you this festive season!