As the title goes, I'm excited to finally share about my gowns selection and final fitting experience with The Gown Warehouse!
This post was way overdue. But while deciding whether to do this post, I thought to myself that I would really like to document down the experience. Plus, I thought it would be fun to share some behind the scene photos on all the gowns I've tried. Some I love, some not so much.
---
Having set our wedding date on 19 October 2018, I only started actively looking at bridal studios in early-July (about four months before my wedding). Based on my understanding, most couples start their wedding prep as early as a year or two before their wedding. However, seeing that I have already done my prewedding photoshoot and solemnisation, I didn't feel compelled to rush into finding my wedding gowns. I would say all our preparation only started less than six months before the wedding.
I'm very grateful that the Husband took it upon him to research on bridal studios and help to fix for appointments. I supposed, generally, the bride tends to be the one that research and source for the wedding gowns. But I totally left it to the Husband to make the arrangement and went for the meeting when he told me.
Before visiting The Gown Warehouse, we have spoken to three bridal studios (and visited two of them). I'm really glad that we eventually decided to go with The Gown Warehouse. Aside from loving both my gowns, I think the service we received from the start to the end was commendable. (This is coming from someone who had an unpleasant experience with the other two bridal studios we visited. >> I will touch on those in a later blog post when I share about my wedding vendors. )
21 July 2018 | First Visit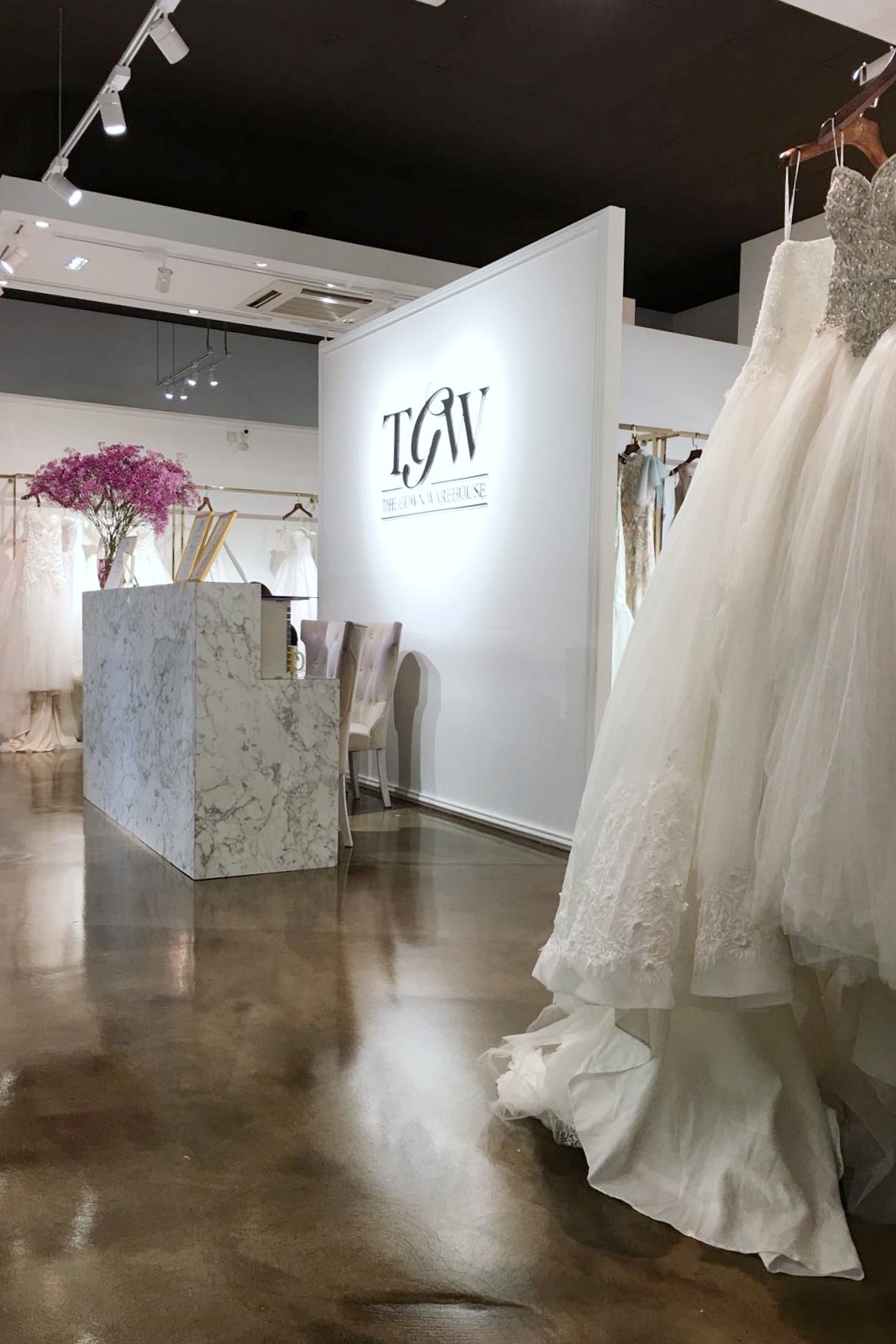 Our first visit to The Gown Warehouse was on 21 July 2018. It was a Saturday afternoon, and the shop was packed with customers. (If I'm not mistaken, that particular weekend also coincides with an on-going wedding fair.)
Our appointment was with Charie, and I had a fairly good first impression of her as she was really cheery and friendly. Being our first visit, she went through with us their packages before we proceed to look at the gowns.
Gowns Only Package
SGD 1388 Nett – Comes with 1 wedding gown and 1 evening gown.
or
SGD 1988 Nett – Comes with 2 wedding gown (one for PW & one for AD) and 2 evening gown (one for PW & one for AD).
Gowns + Bridal Makeup / Hairstyling
SGD 1688 Nett – 1 wedding gown, 1 evening gown and wedding day bridal makeup and hairstyling (one look).
SGD 2288 Nett – 1 weddding gown, 1 evening gown, 1 traditional Kua/tea dress, 2 rental men suit, wedding day bridal makeup and hairstyling (two looks).
*All above rentals are for off the rack wedding / evening gown. Excluding Anabelleunice collection. (For Anabelleunice collection, there will be a top-up of SGD 500 required for each dress.)
*Comes with complimentary:
loan of necklace and earrings set
loan of veil
loan of hairpiece
alterations on all selected gowns
dry cleaning on all selected gowns
1-hour wedding dance class by Dancer's Dream Studio
*As it was the same week as the wedding fair, The Gown Warehouse was also running a promotion whereby we could get SGD 400 off the package (any of the above) if we signed with them that week.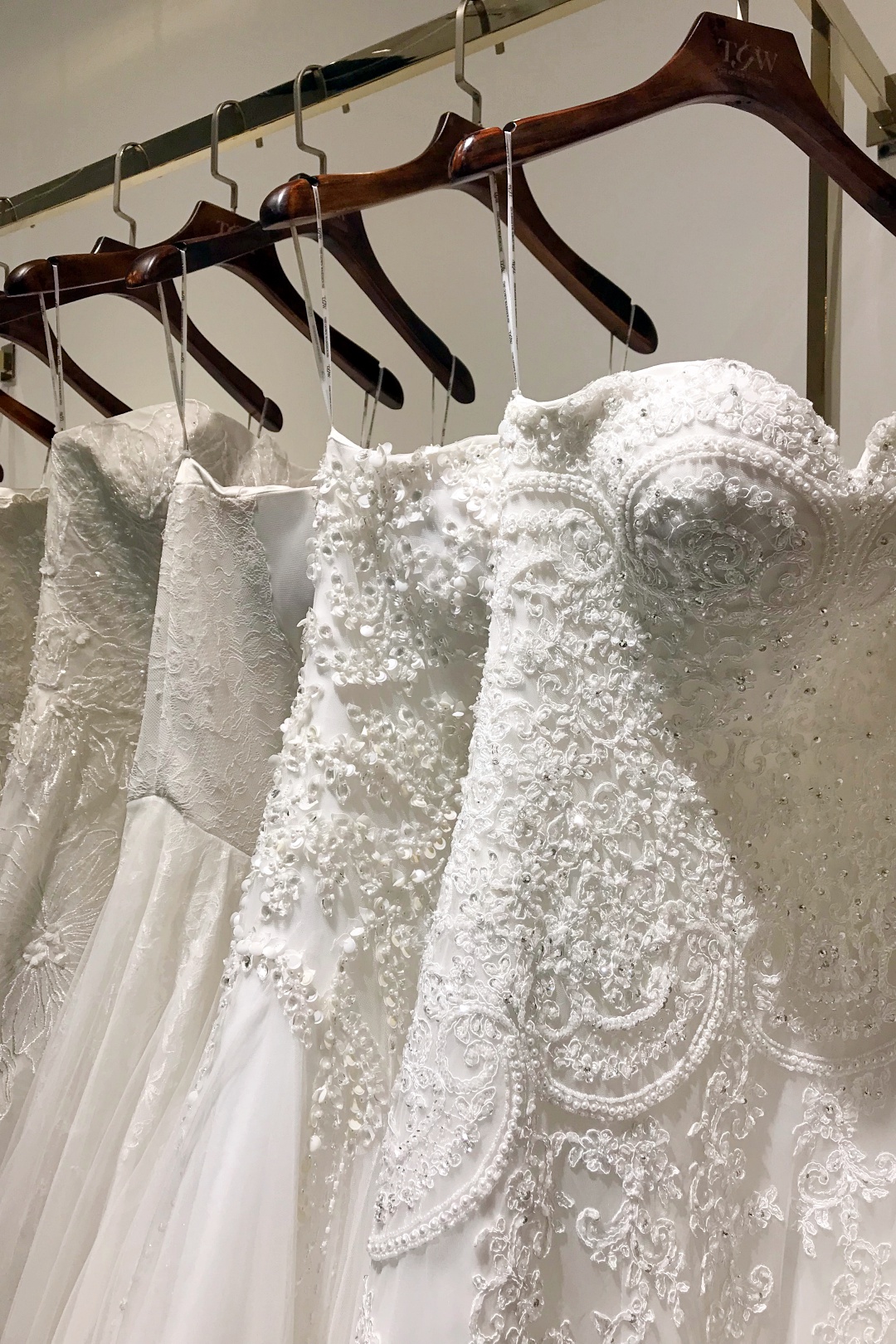 After going through with us the different packages available, we then proceed to look at the gowns. I wasn't sure if I would be trying any of the dresses prior to our appointment. But as I was looking at their selection of gowns, Charie told me to pick out the ones I would like to try. That's how I ended up trying five wedding gowns and five evening gowns that afternoon.
To be honest, I've no idea what types of gowns suits me/or what I want. The only silhouettes I know of are Ball Gown, A-Line and Mermaid. I'm pretty open to suggestions/recommendations as I read somewhere that we should always try out different silhouettes even when we think we might not suit them.
With the help of Charie, we picked up a couple of different ones.
I'm delighted that they allow me to take pictures openly.
I understand that not every bridal studio is comfortable with customers taking pictures while trying the gowns. But I think it's essential to have some pictures? Because by the time I put on the third gown, I've likely forgotten how the first gown looks like on me. Hence, I find it useful to have pictures as reference.
Wedding Gown 1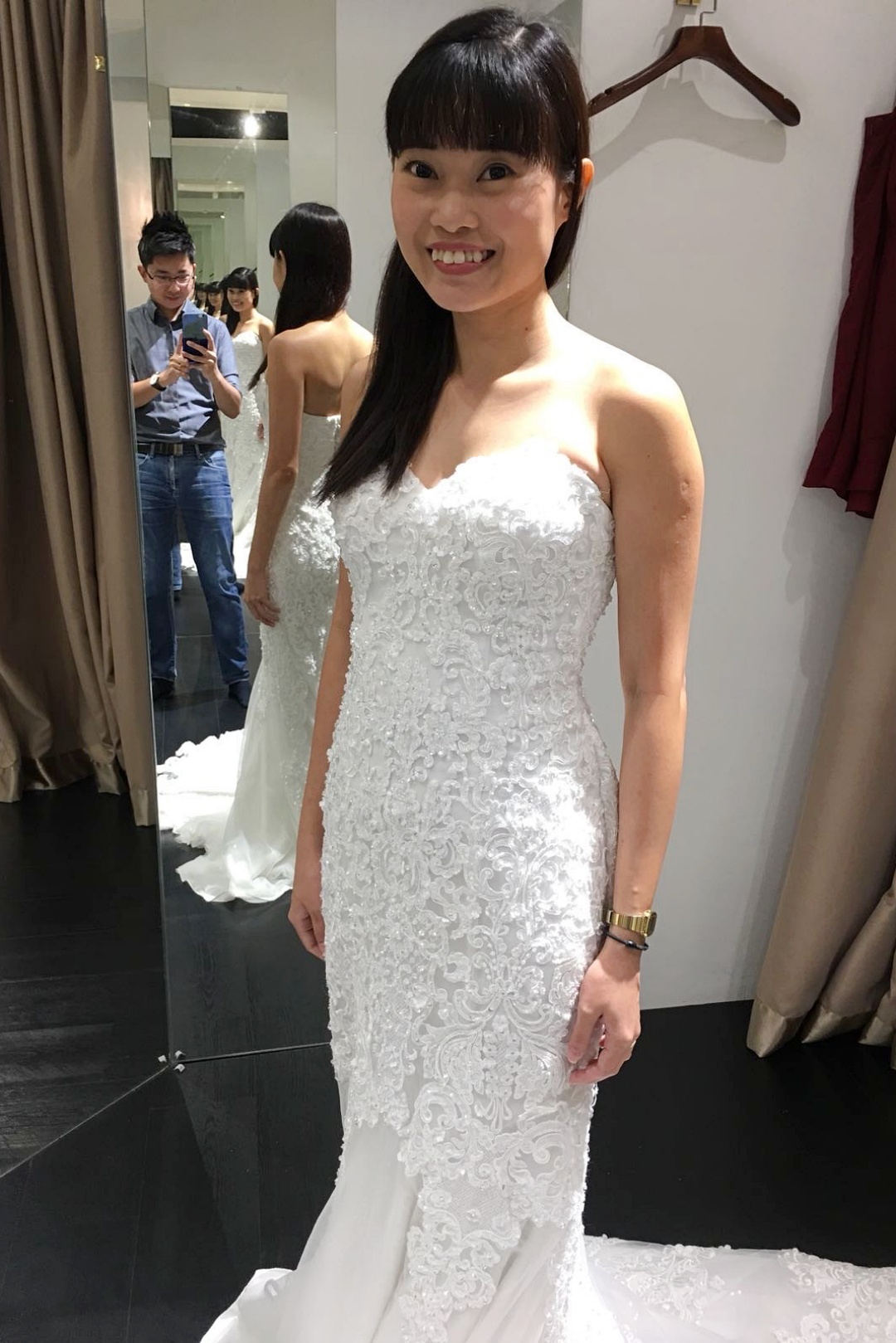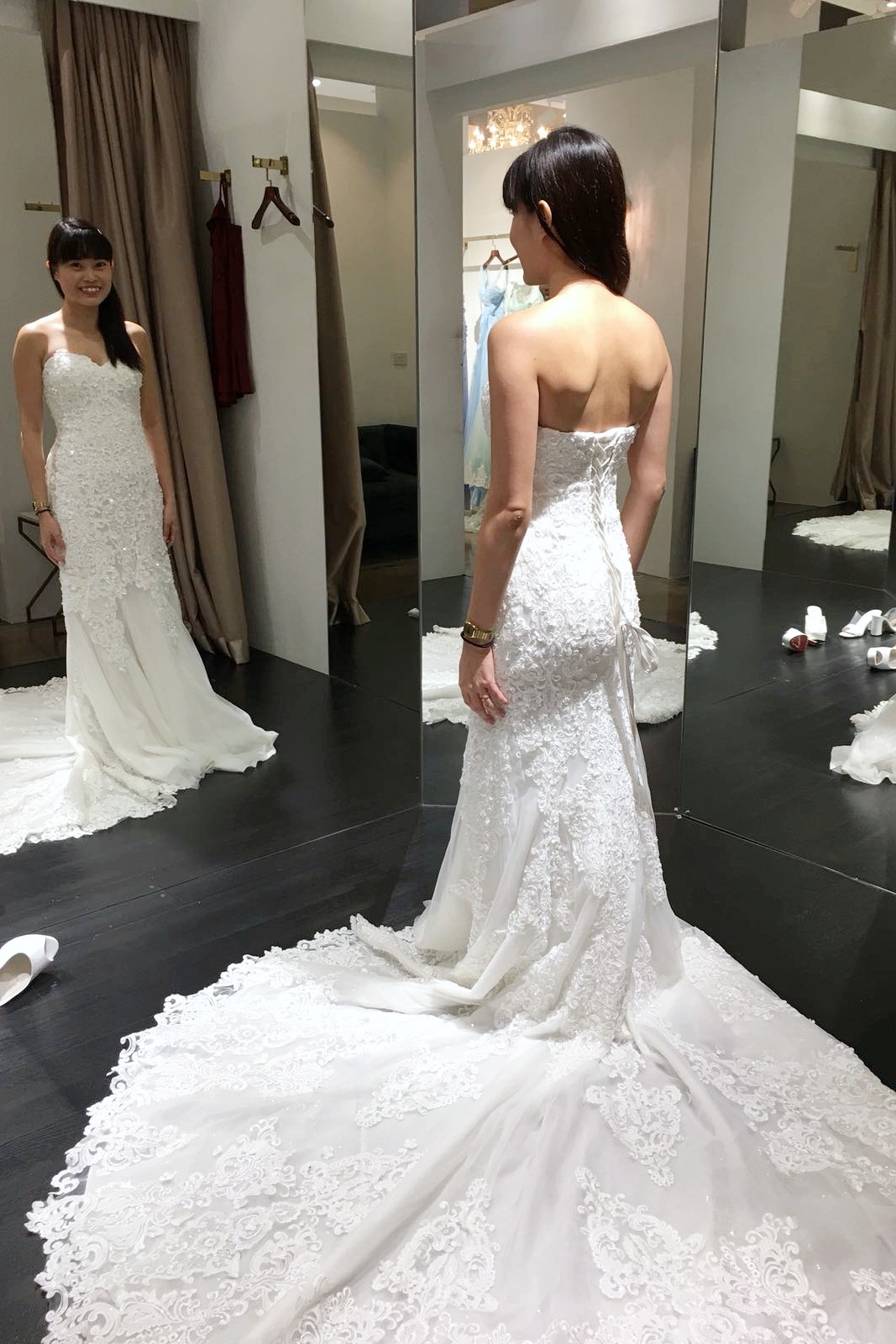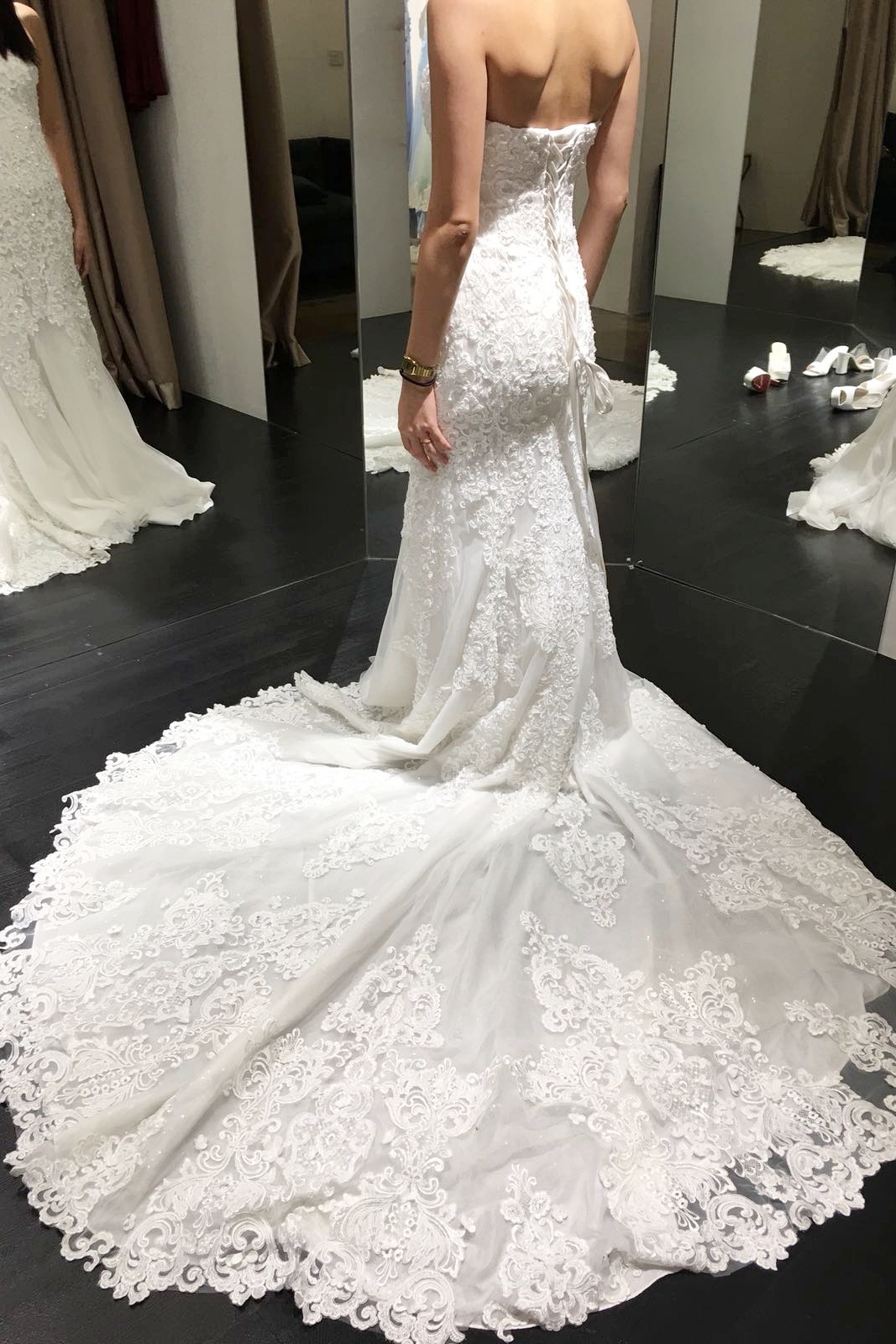 Wedding Gown 2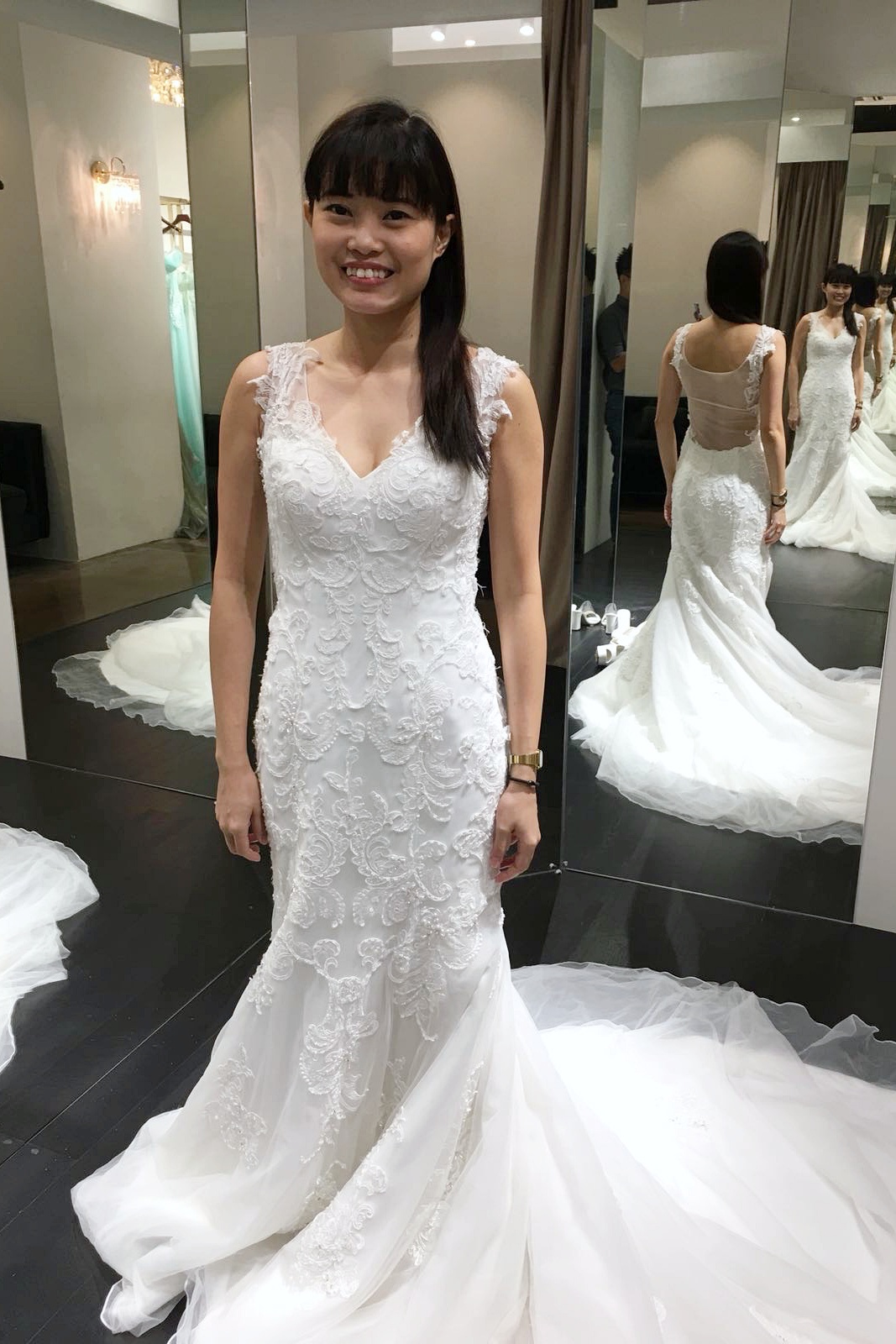 I'm not a fan of the v-neckline and how its emphasis on my broad shoulder. The back also looks weird.
Wedding Gown 3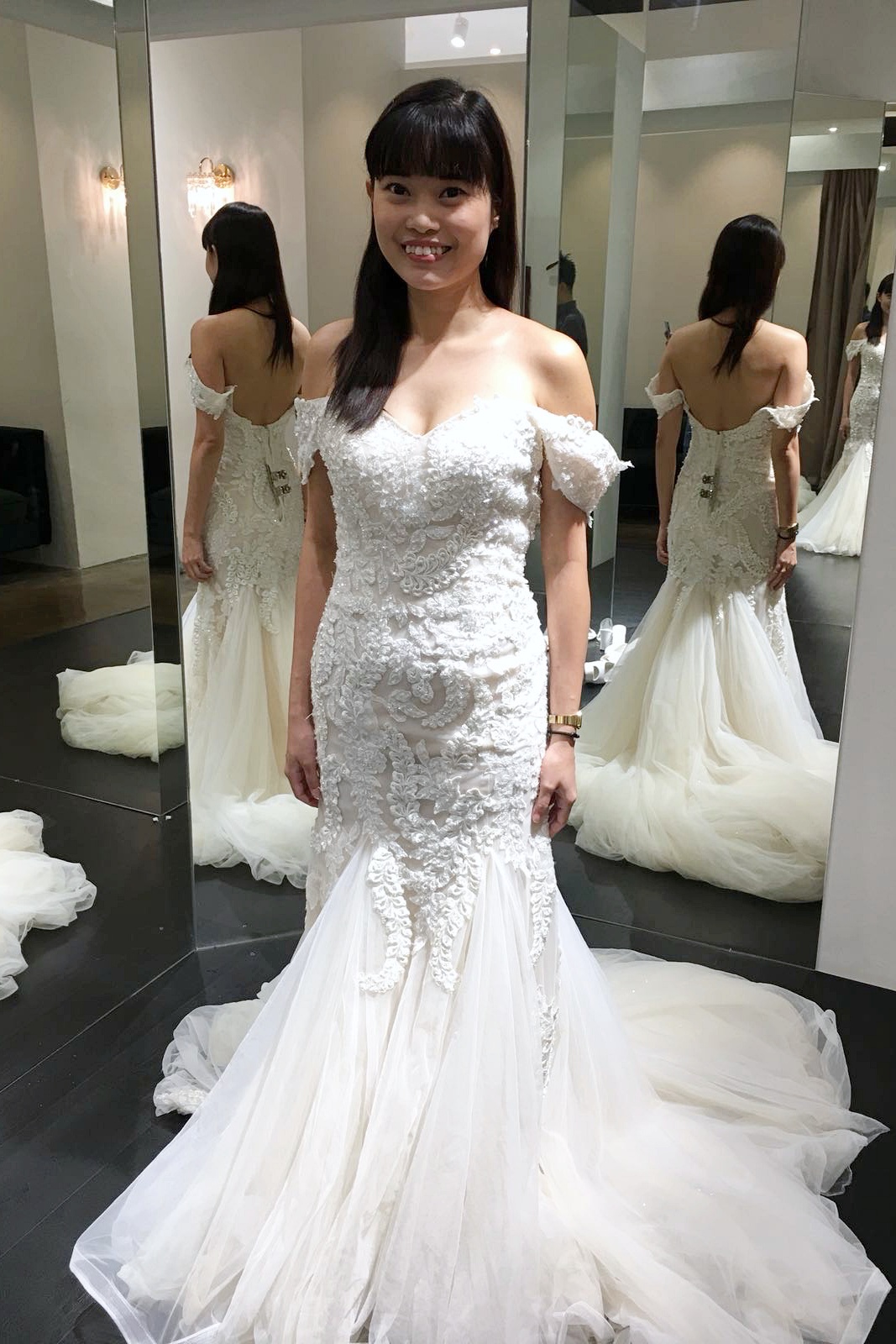 Don't like the sleeves.
Wedding Gown 4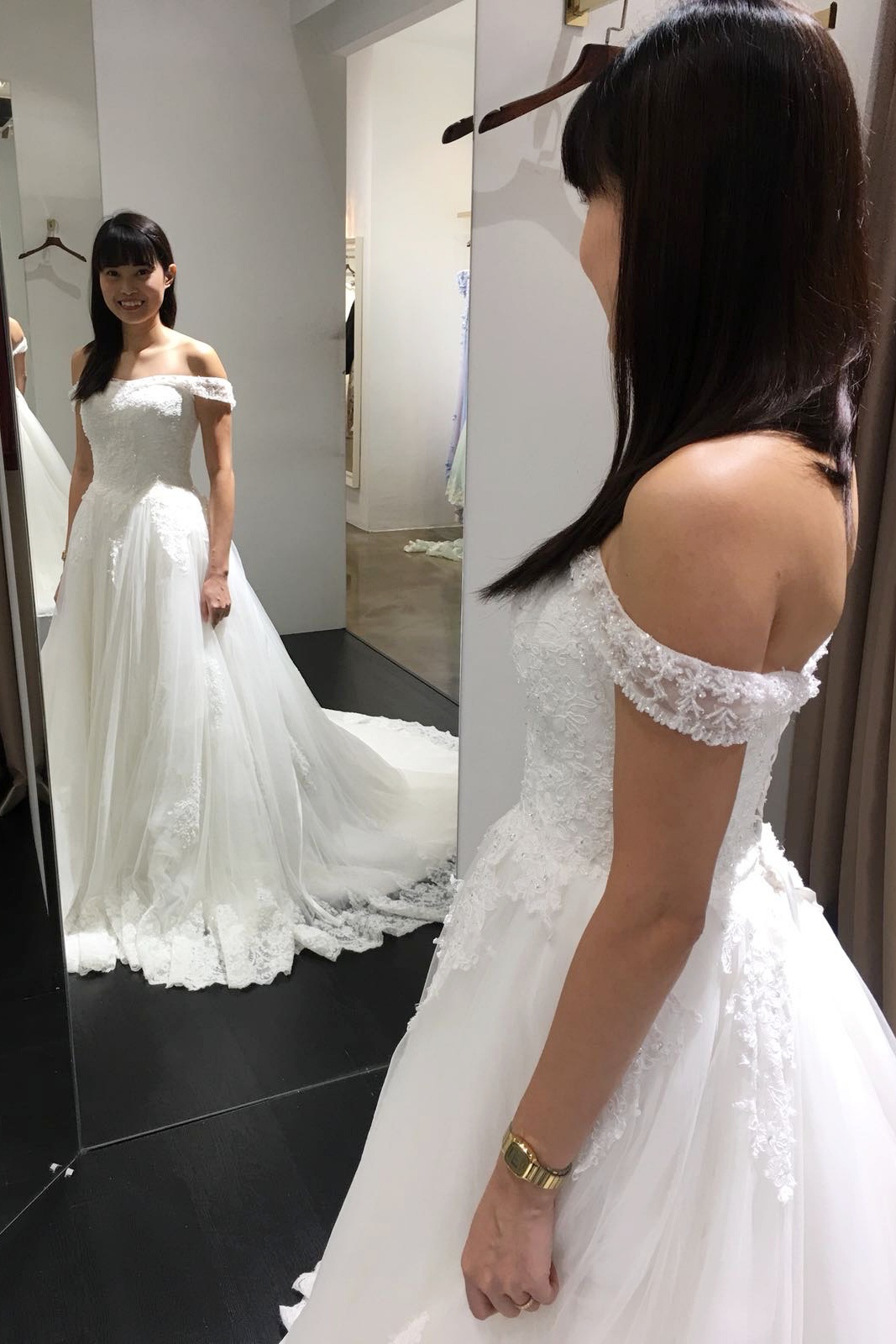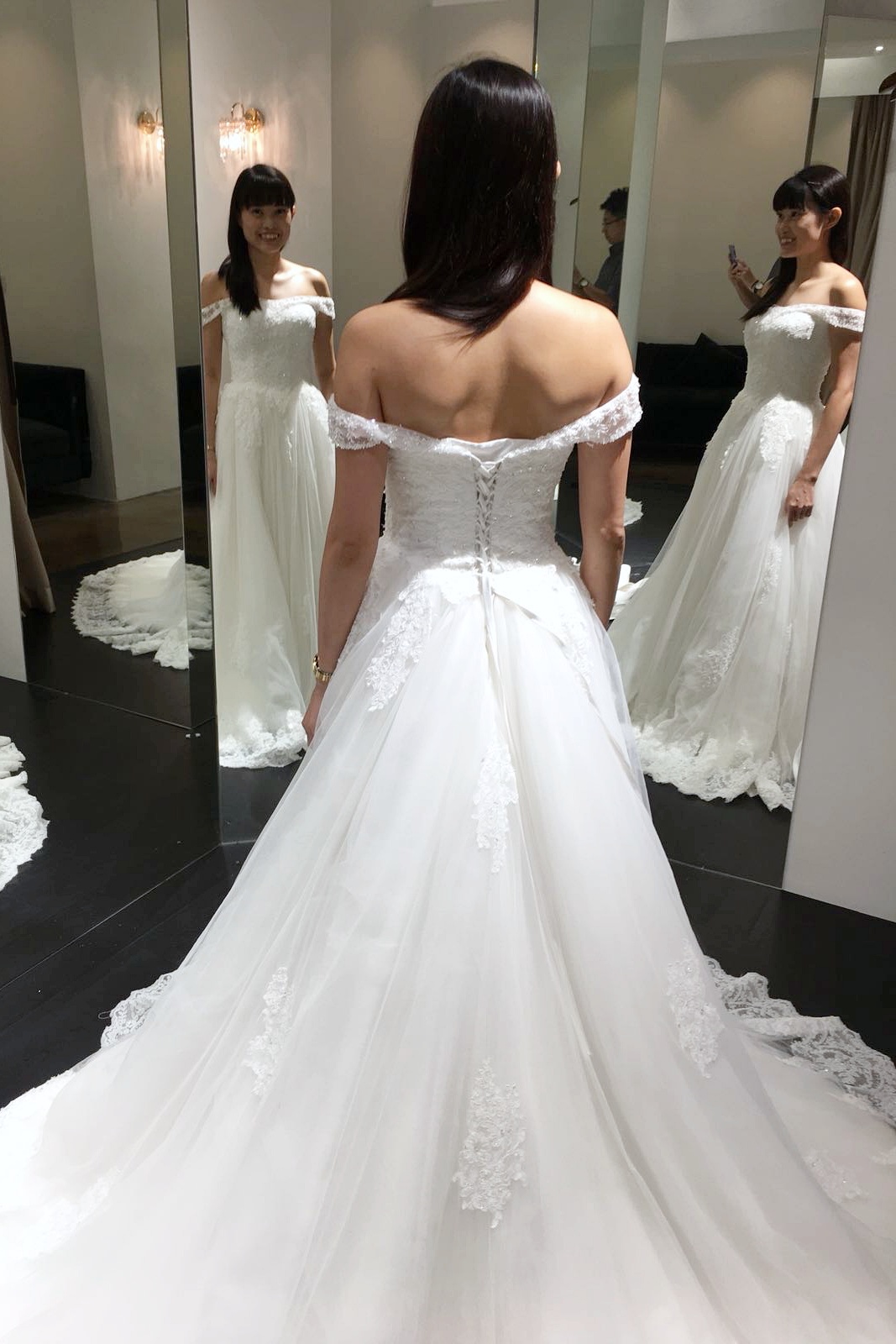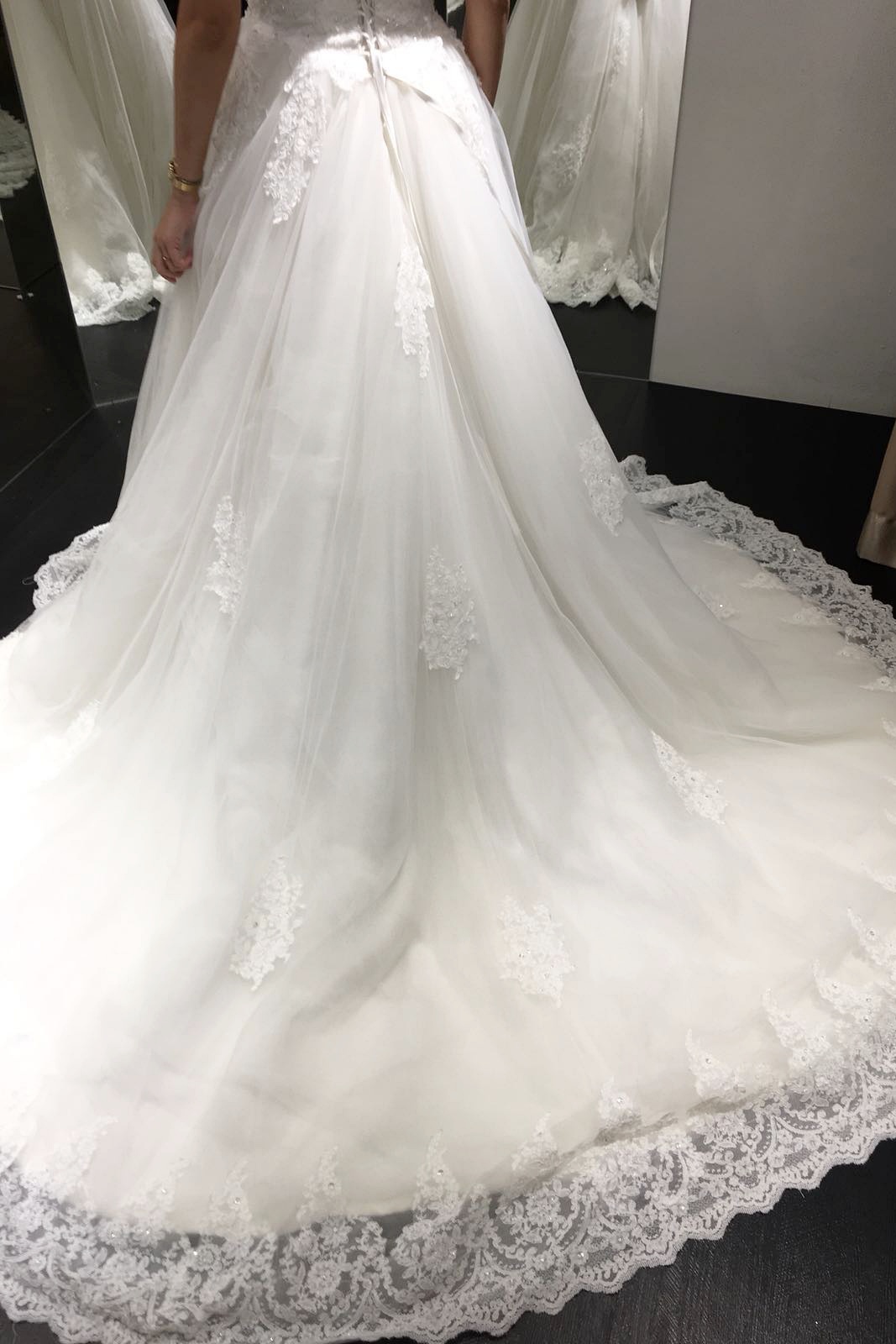 Love the beadings on the body and sleeves. The lace used on the bottom of the train was also beautiful. However, I didn't fancy the patches of lace used around the skirt.
Wedding Gown 5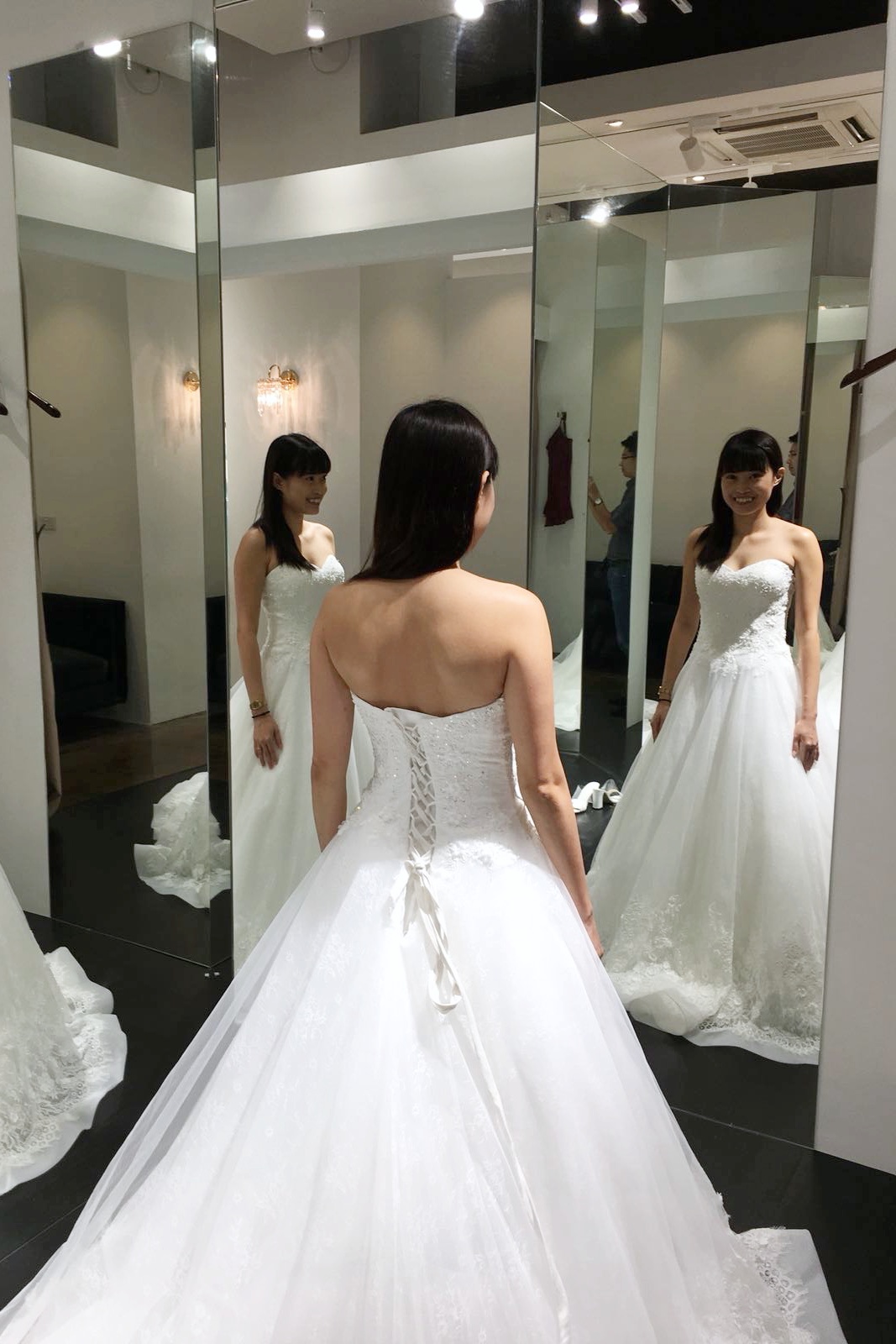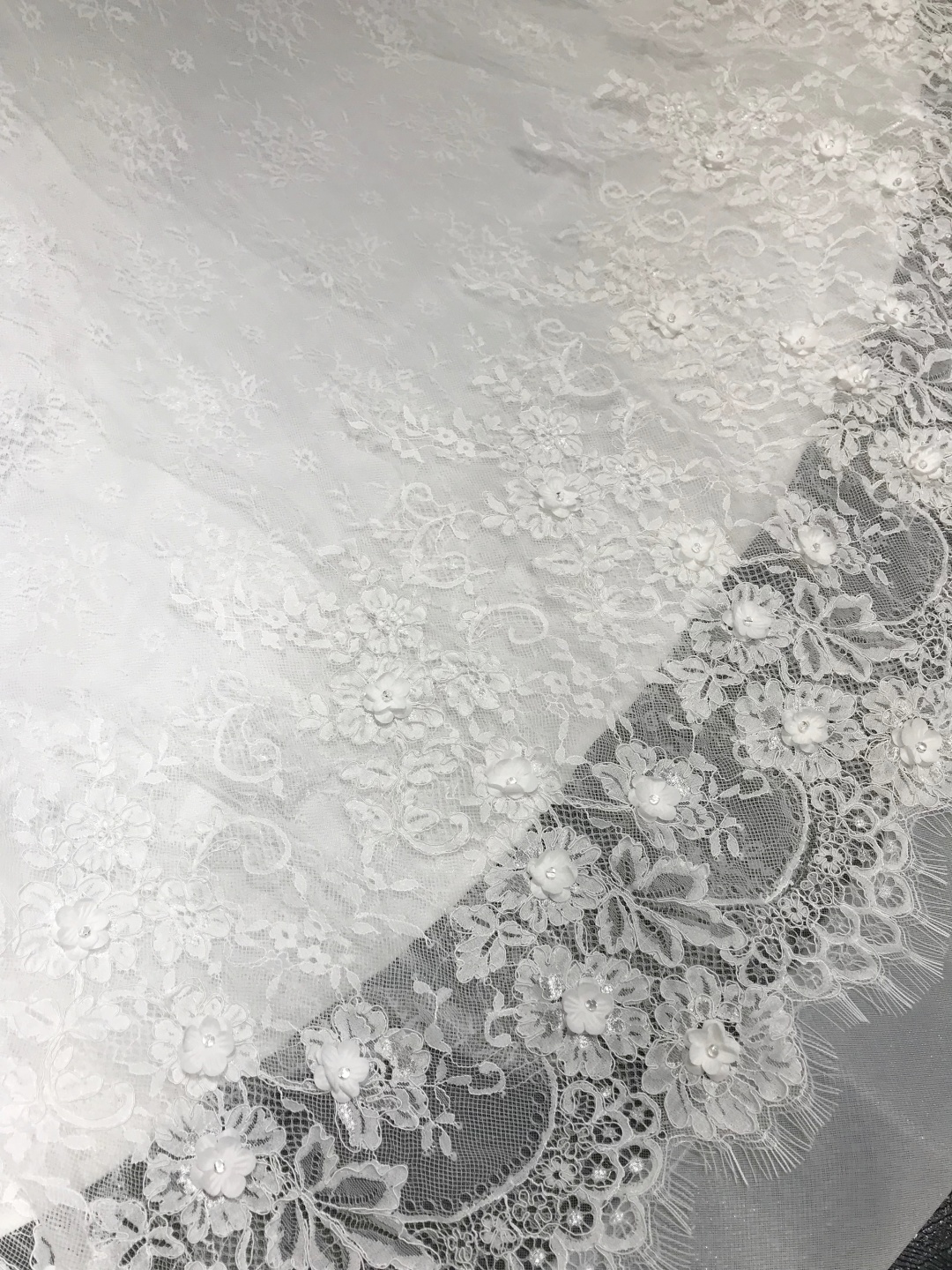 This is undoubtedly my favourite of the five wedding gowns I tried. The lace used was beautiful, and I like how pouffy the dress looks.
---
After trying on five wedding gowns, we then went and picked up a couple of evening gowns.
Evening Gown 1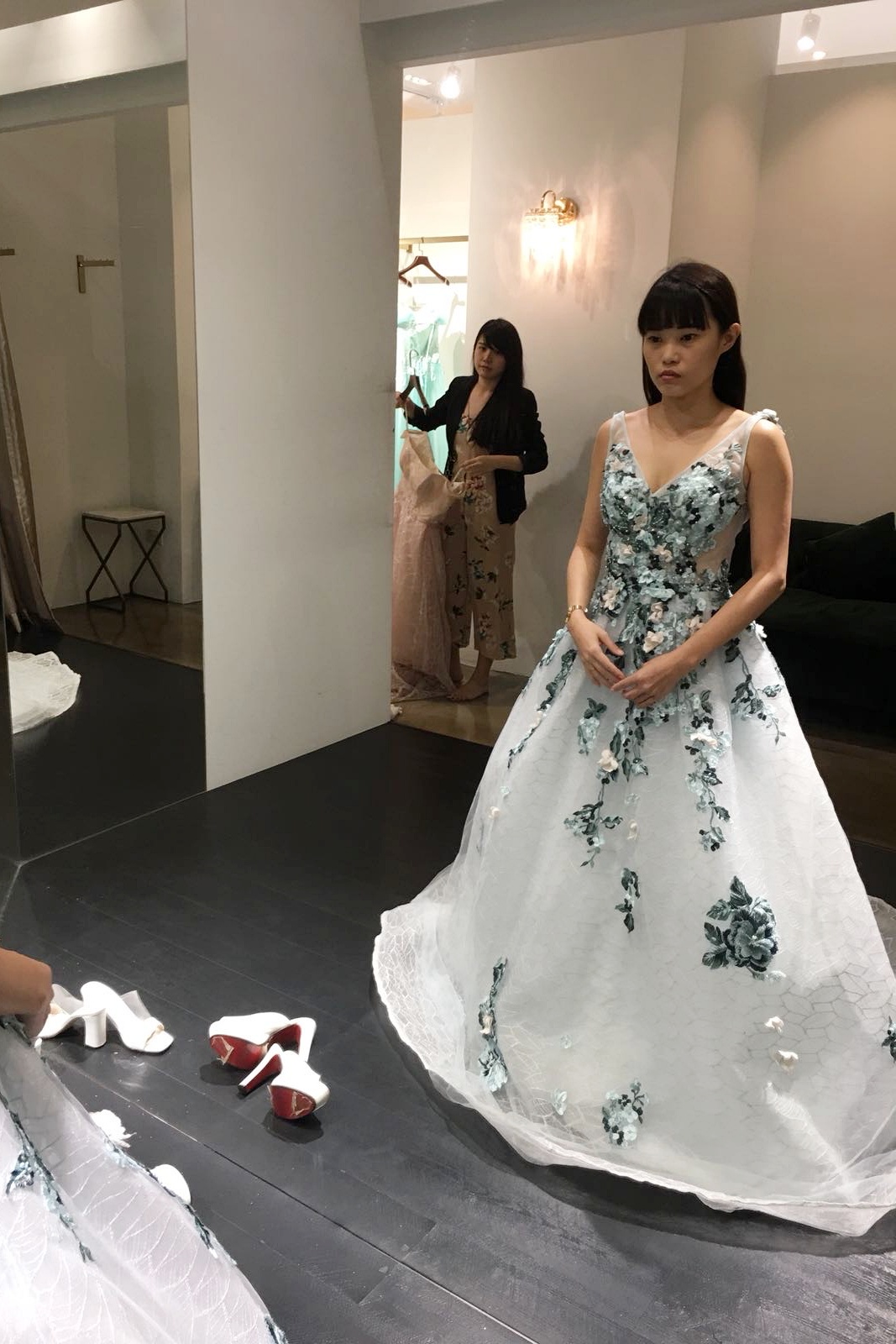 The first evening gown I tried. Again, not liking the v-neckline, and also how stiff the bottom of the dress looks.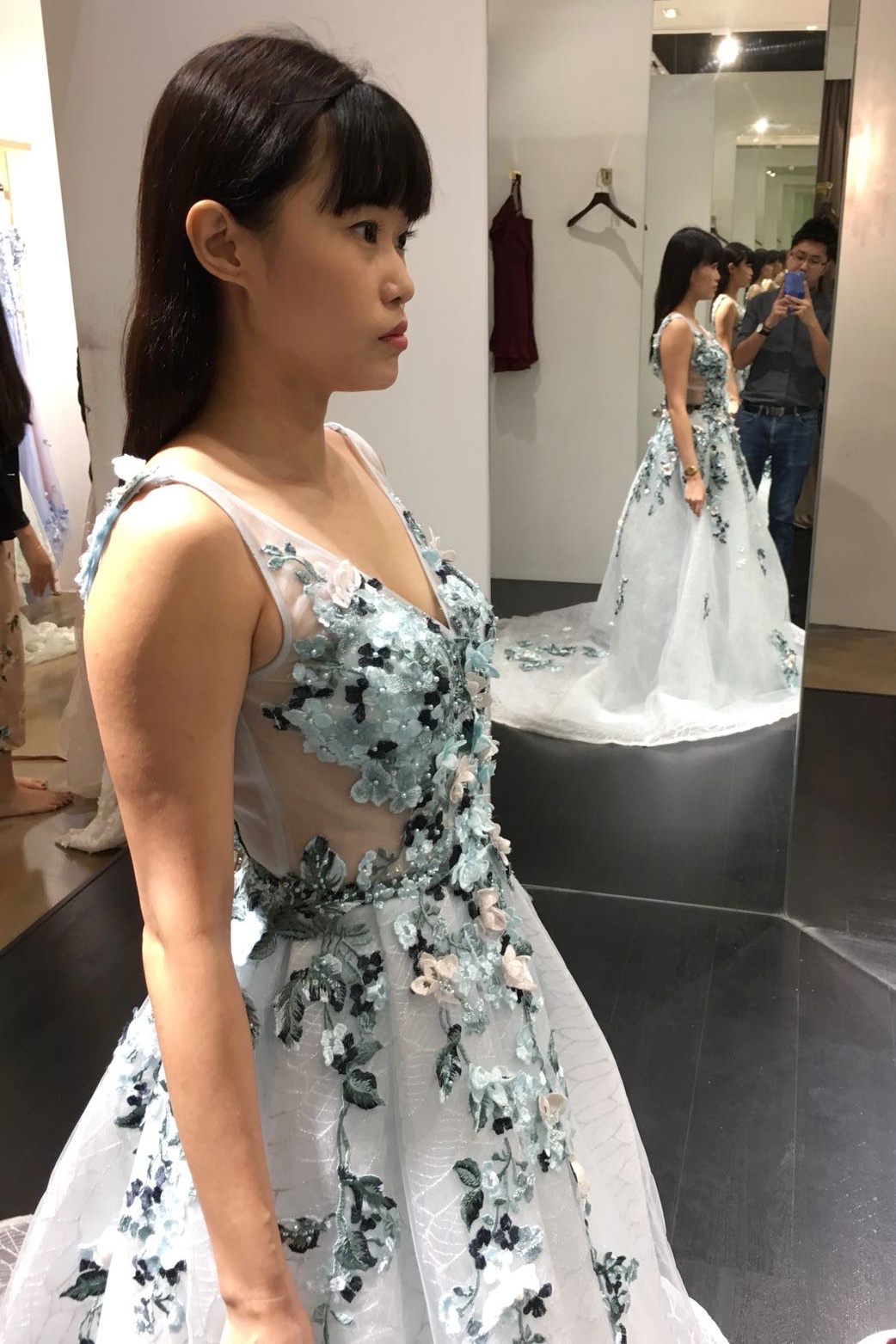 Evening Gown 2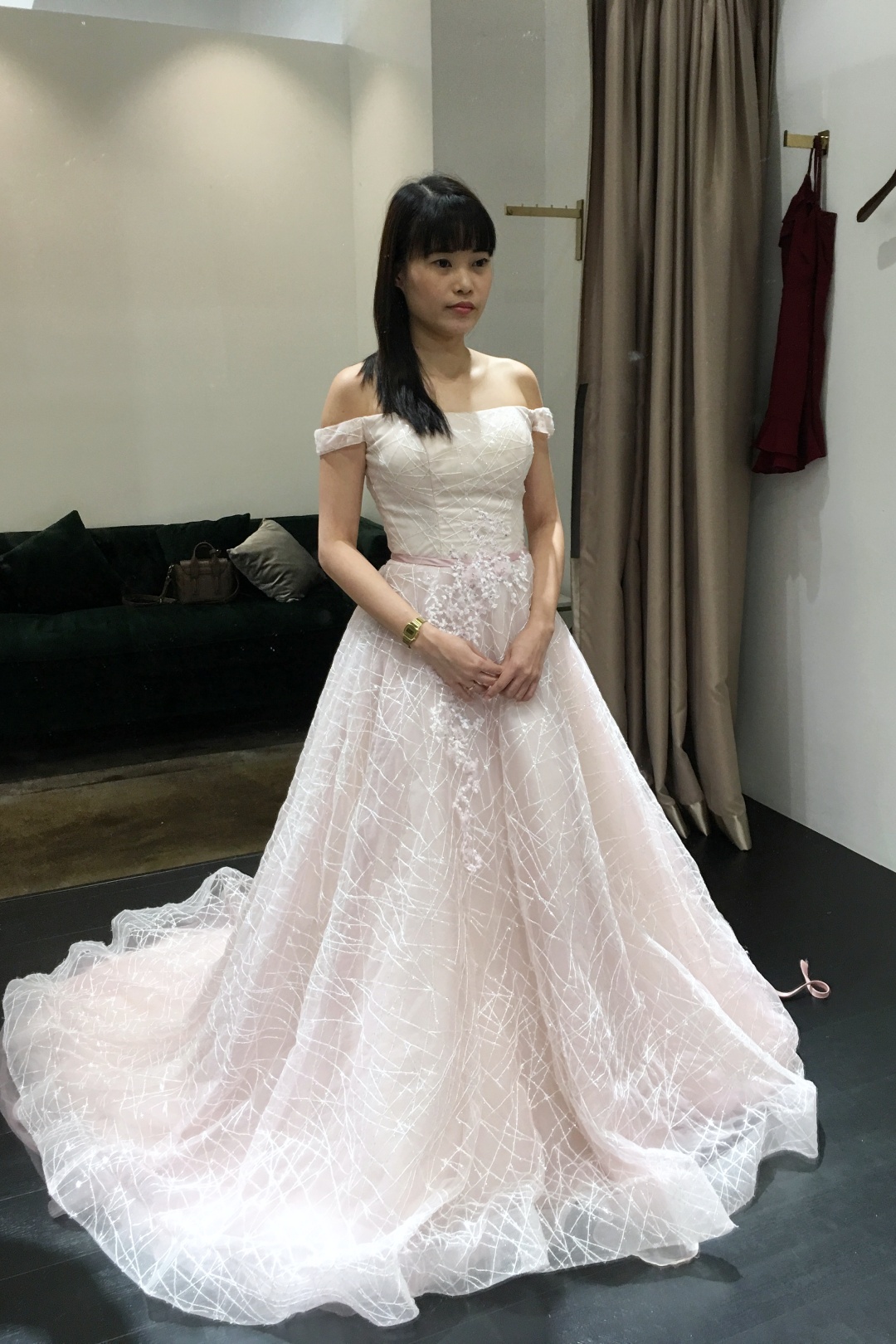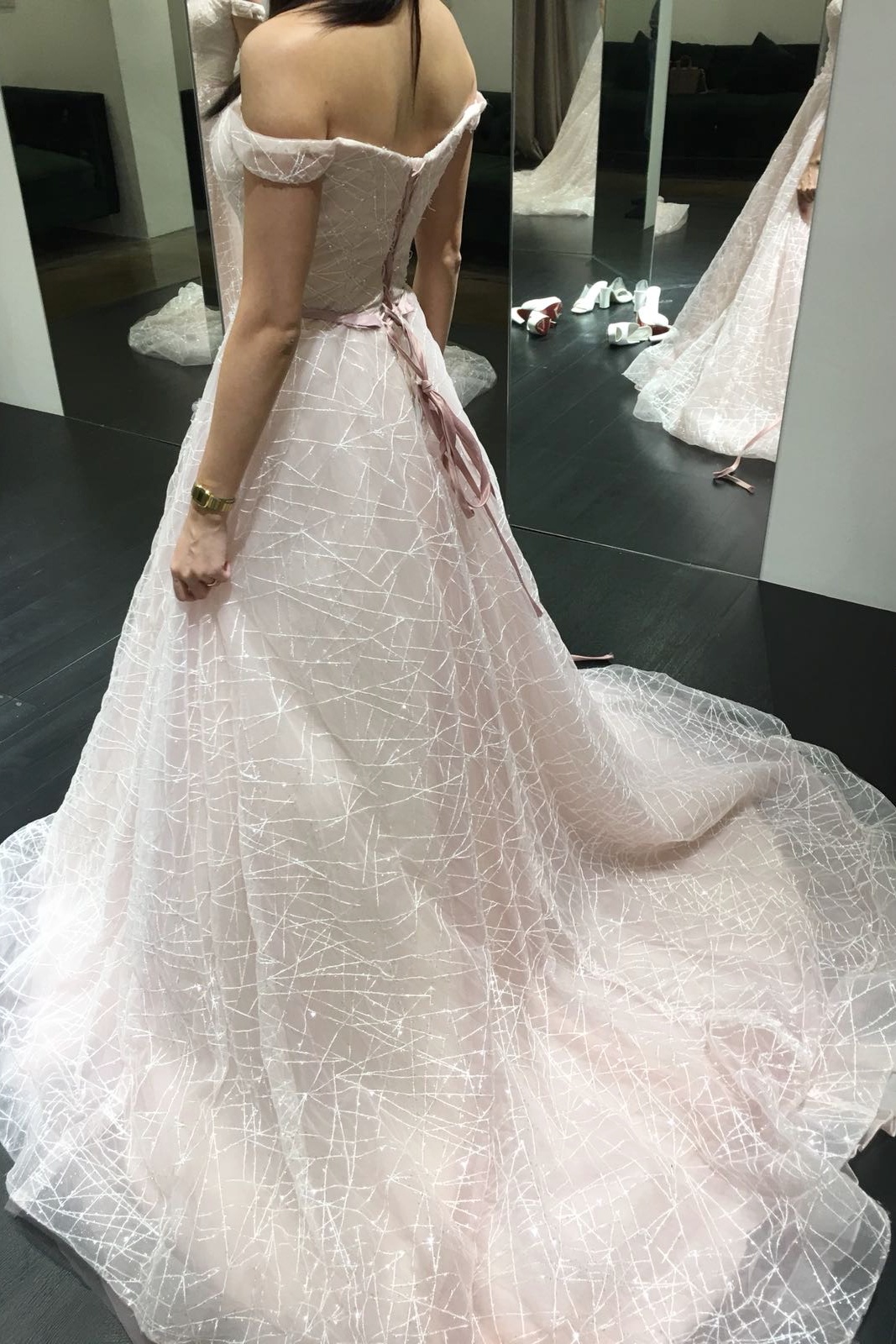 I'm worried that the light pink will appears washout under strong lights.
Since I'll be wearing a white gown for my first march in and an evening gown for the second march in; to have better contrast, it's recommended to pick a stronger colour for my evening gown.
Evening Gown 3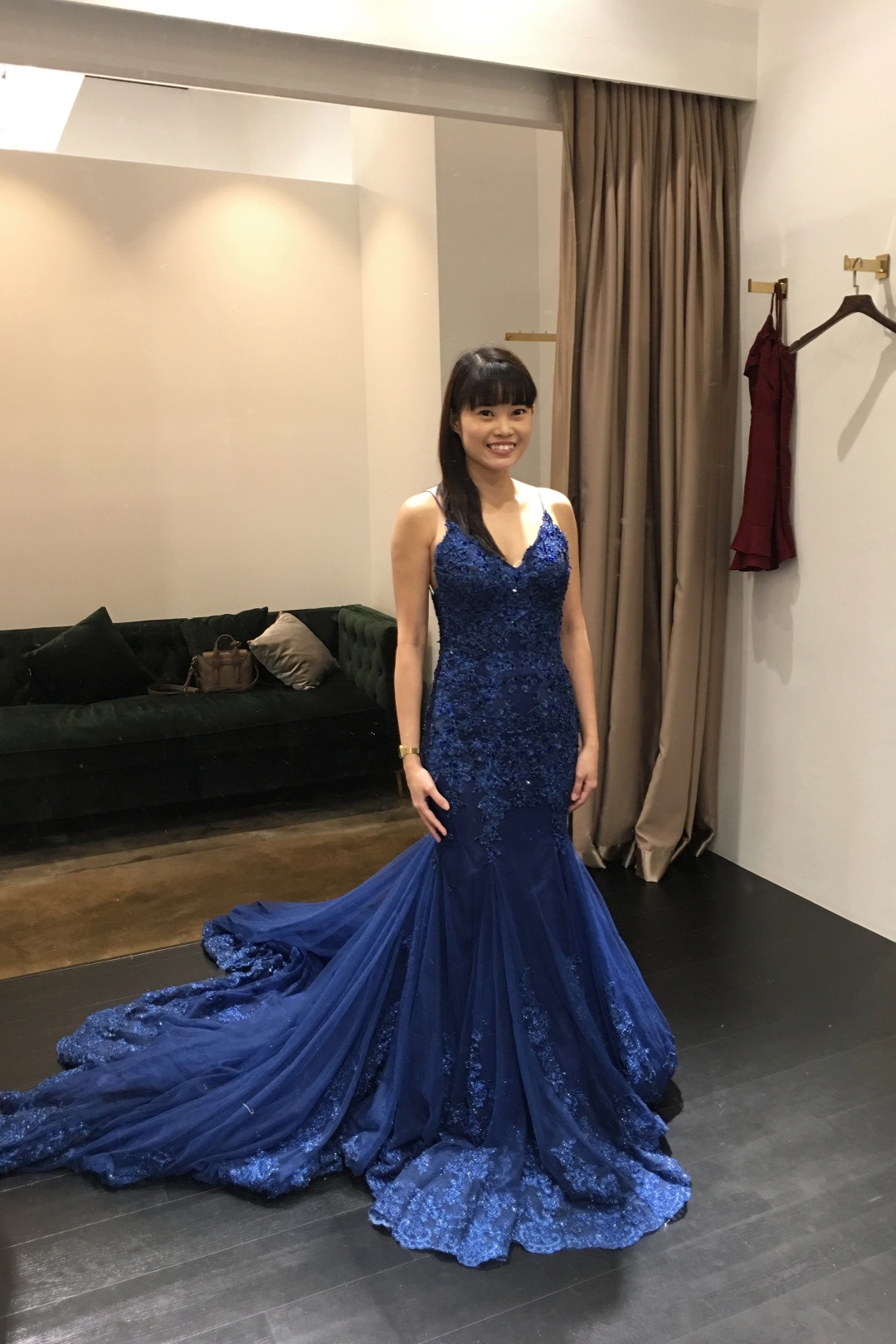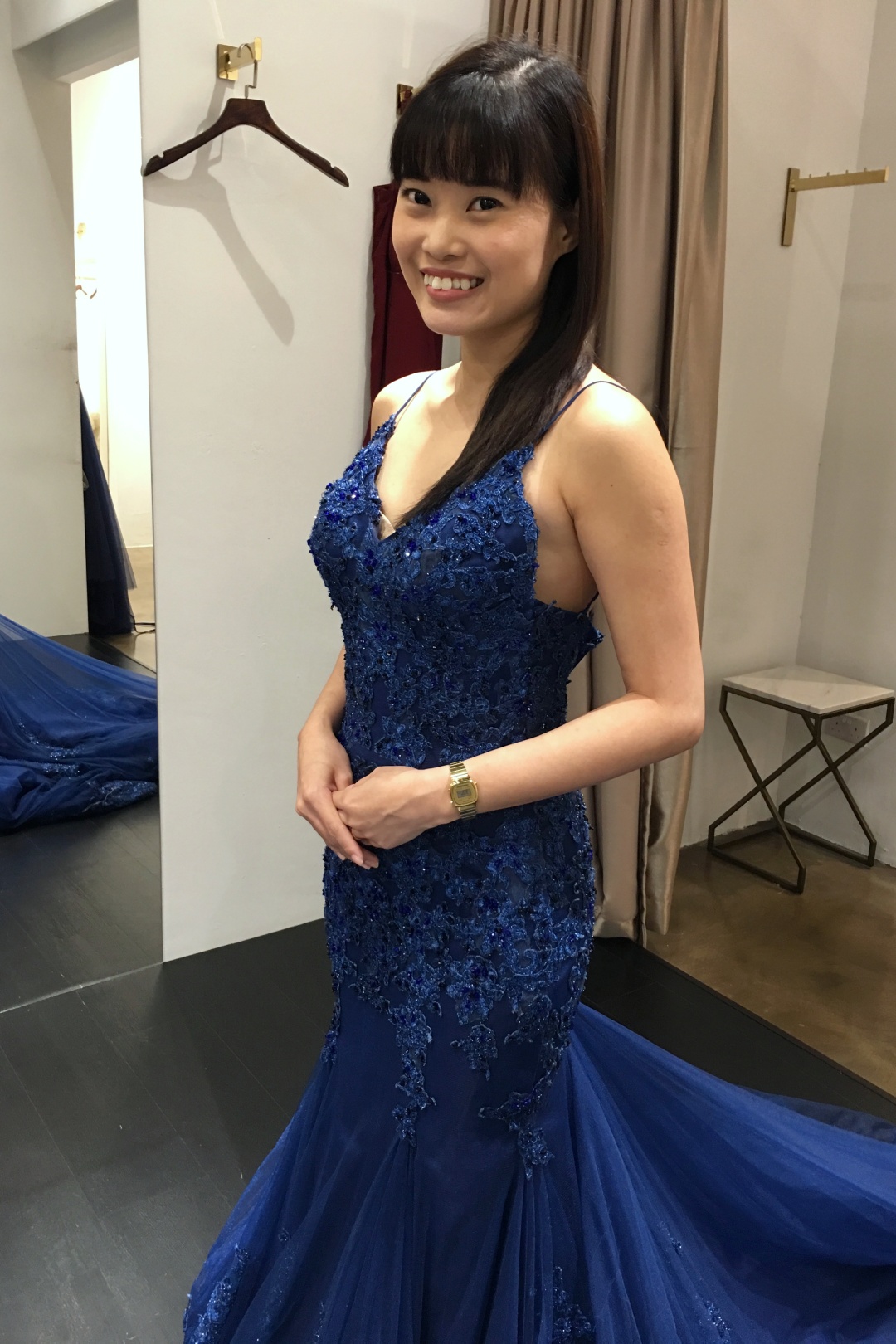 Aside from the neckline, I quite like this dress. The blue was stunning.
Evening Gown 4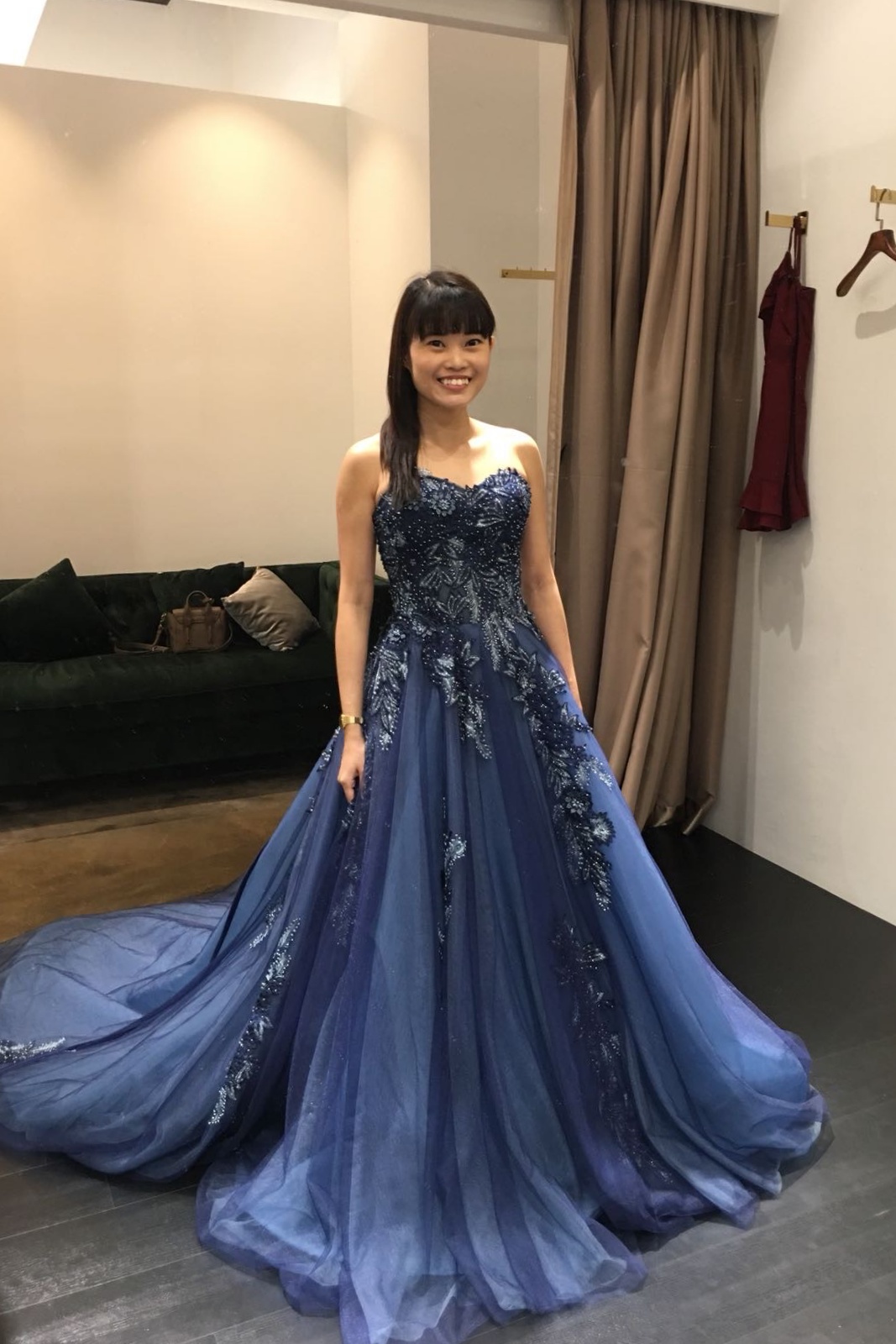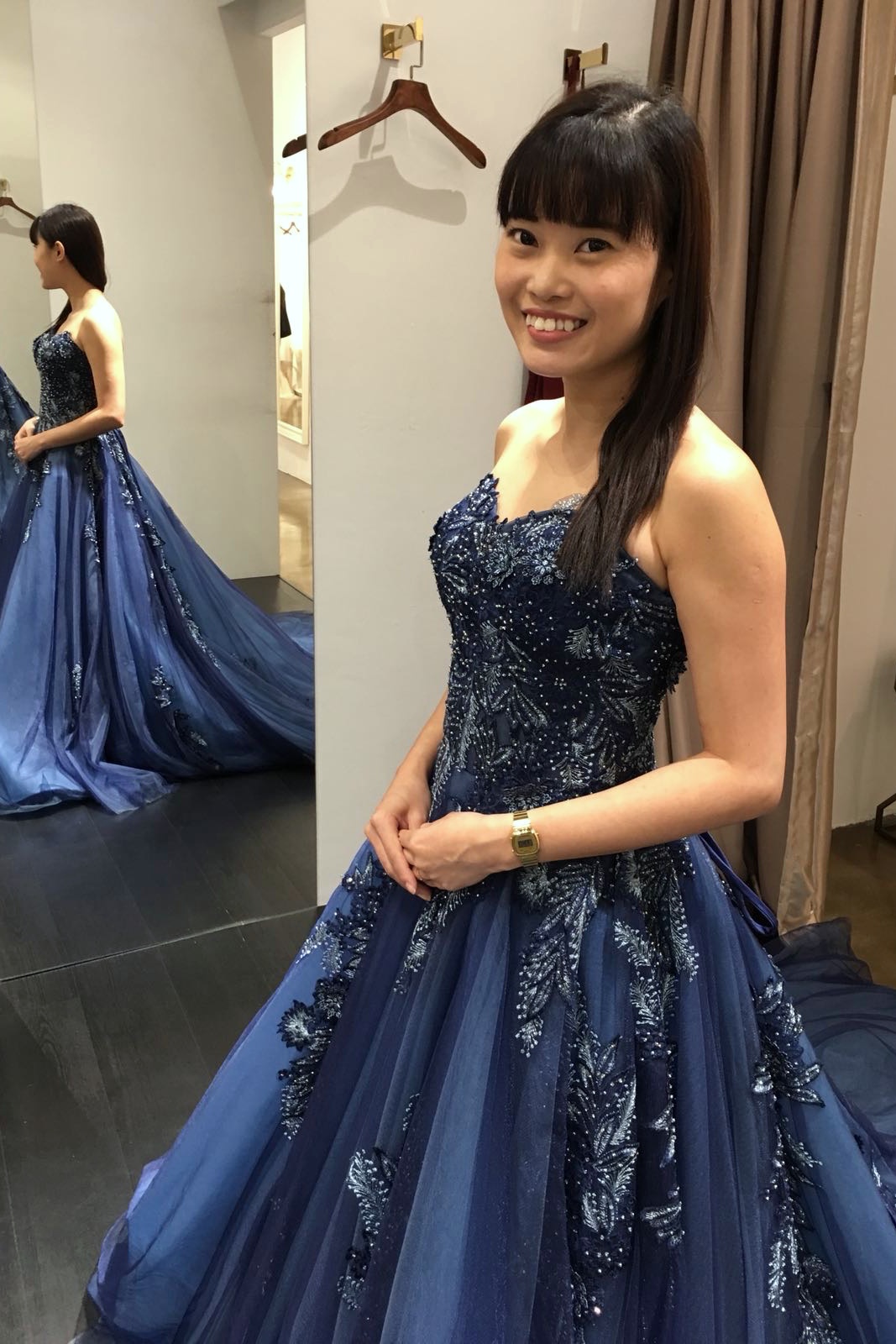 Love the details on this dress too. However, I had to remind myself not to choose a ball gown if I'm already wearing one for my wedding dress. Ideally, I would prefer two different silhouettes for my wedding and evening gowns.
Evening Gown 5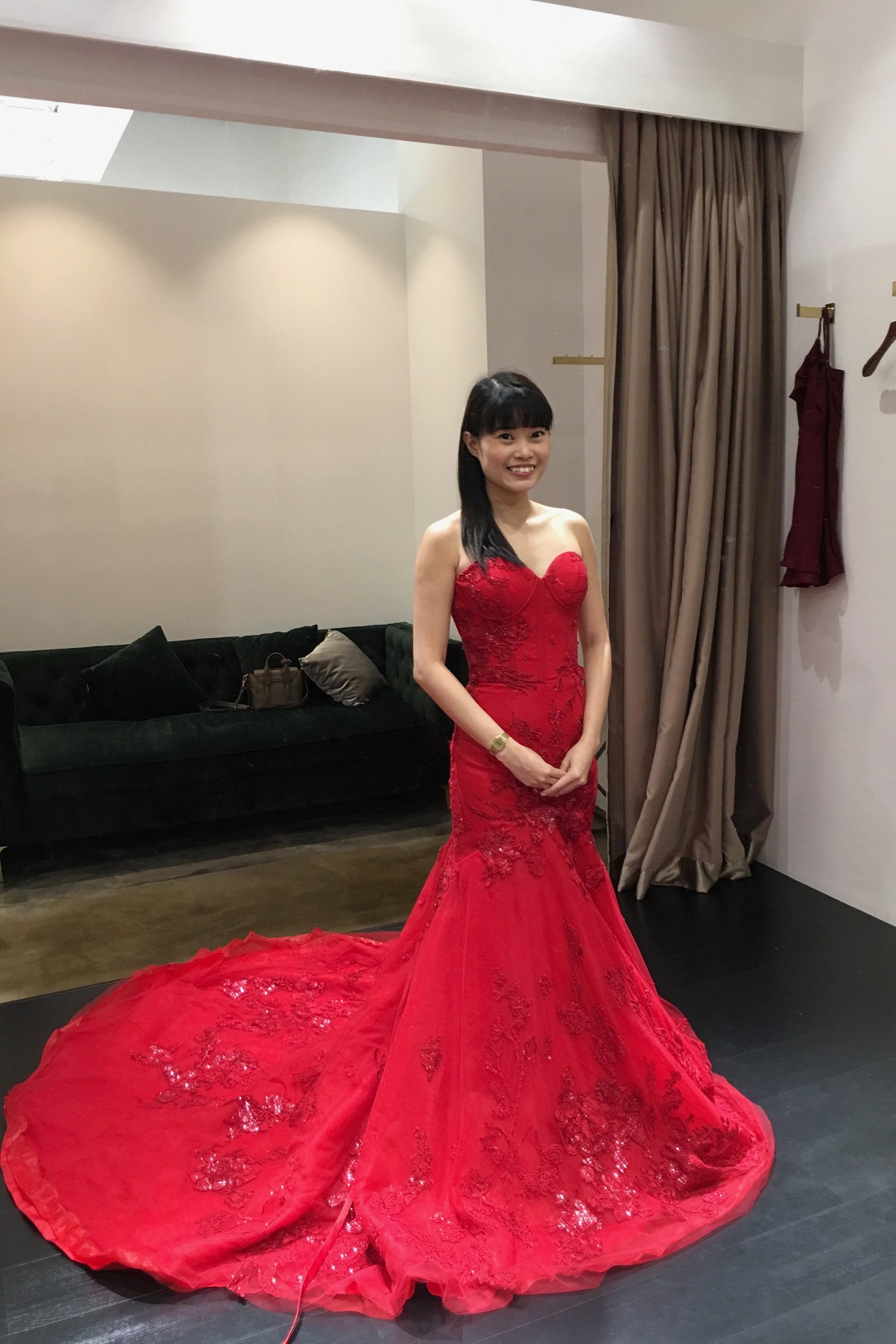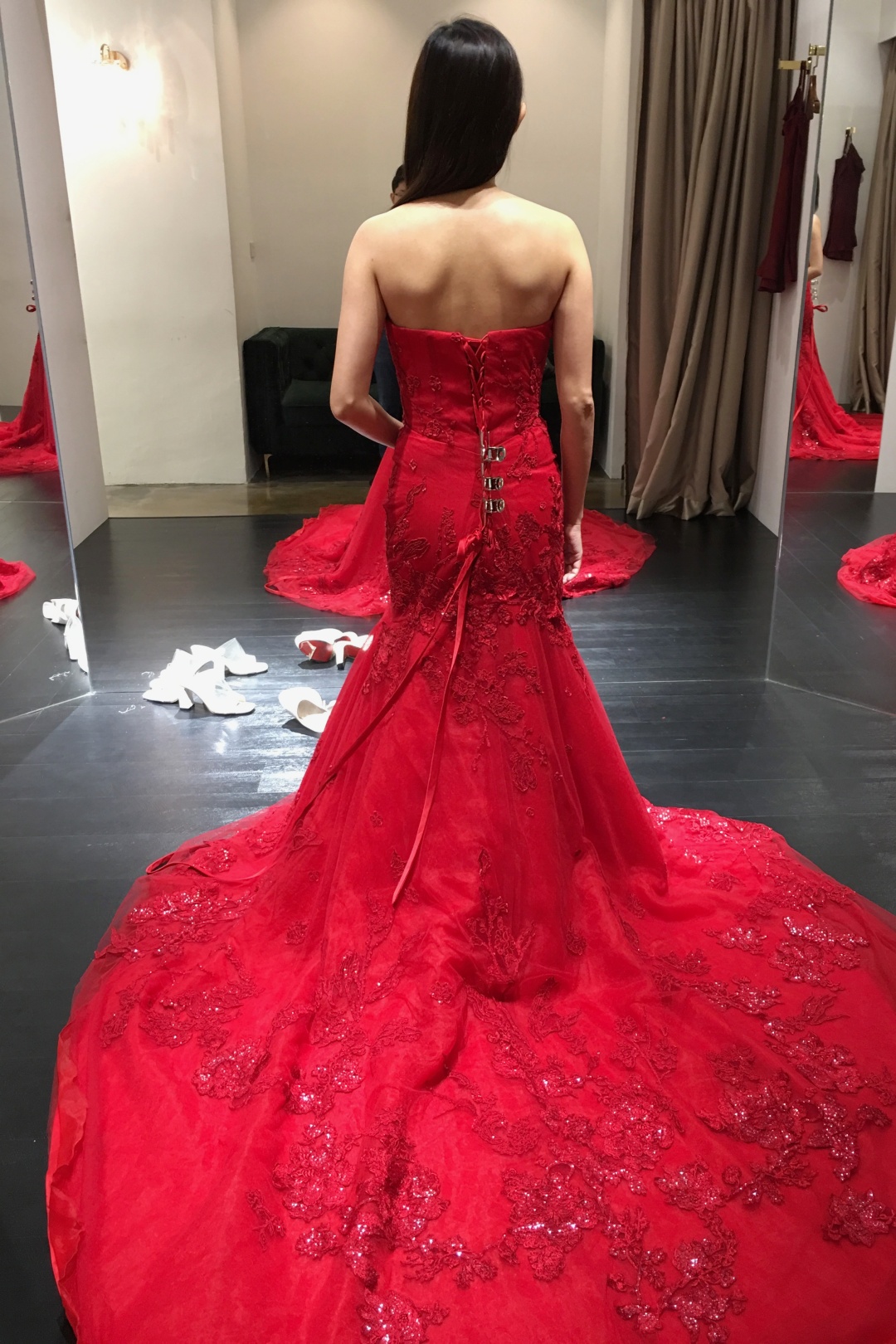 I love how bright the red looks! However, I'm not a fan of the design on the body.
---
After trying on both the wedding and evening gowns, I asked Charie if they have any traditional Chinese Kua available. She then went and picked out two for me to try.
Traditional Kua 1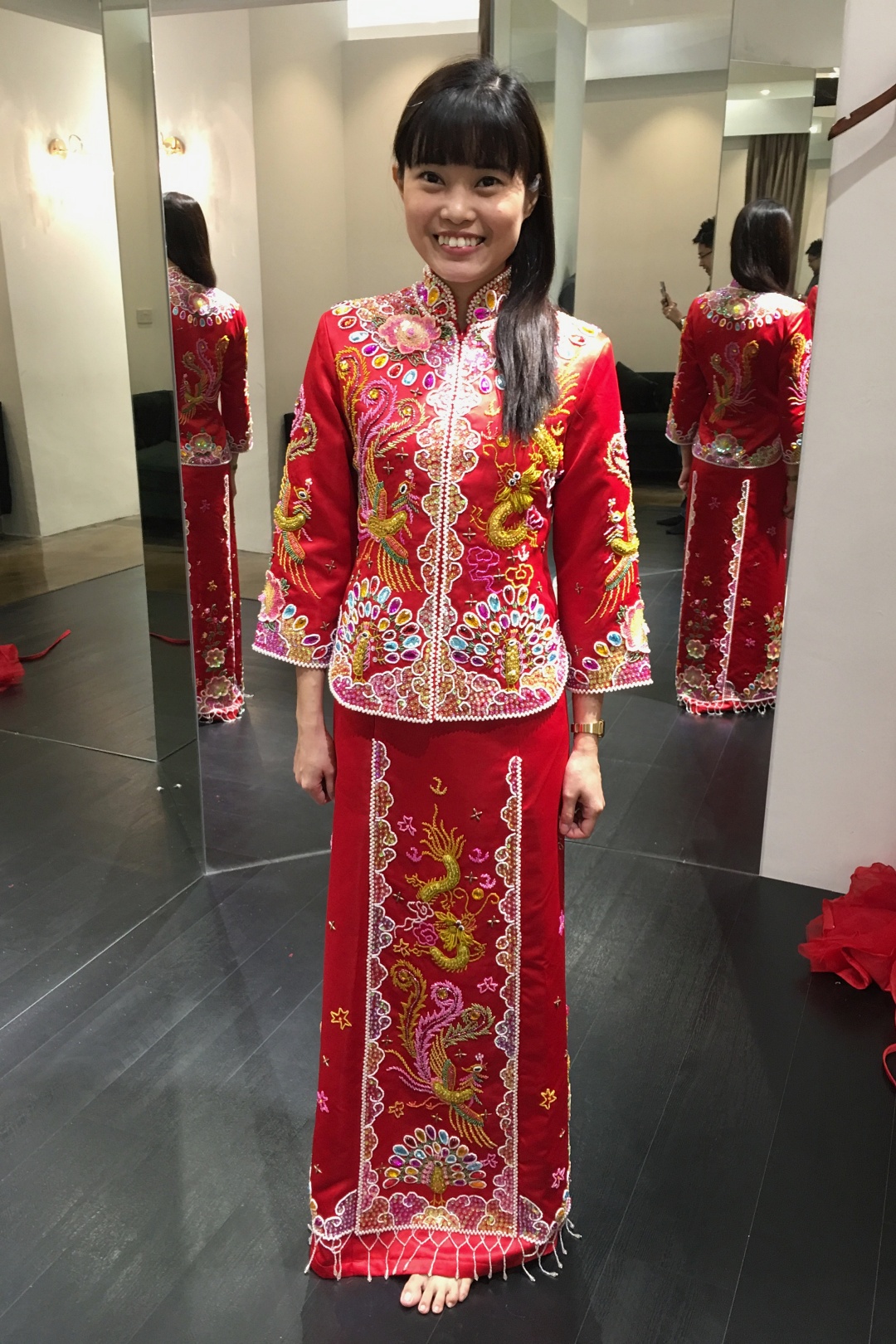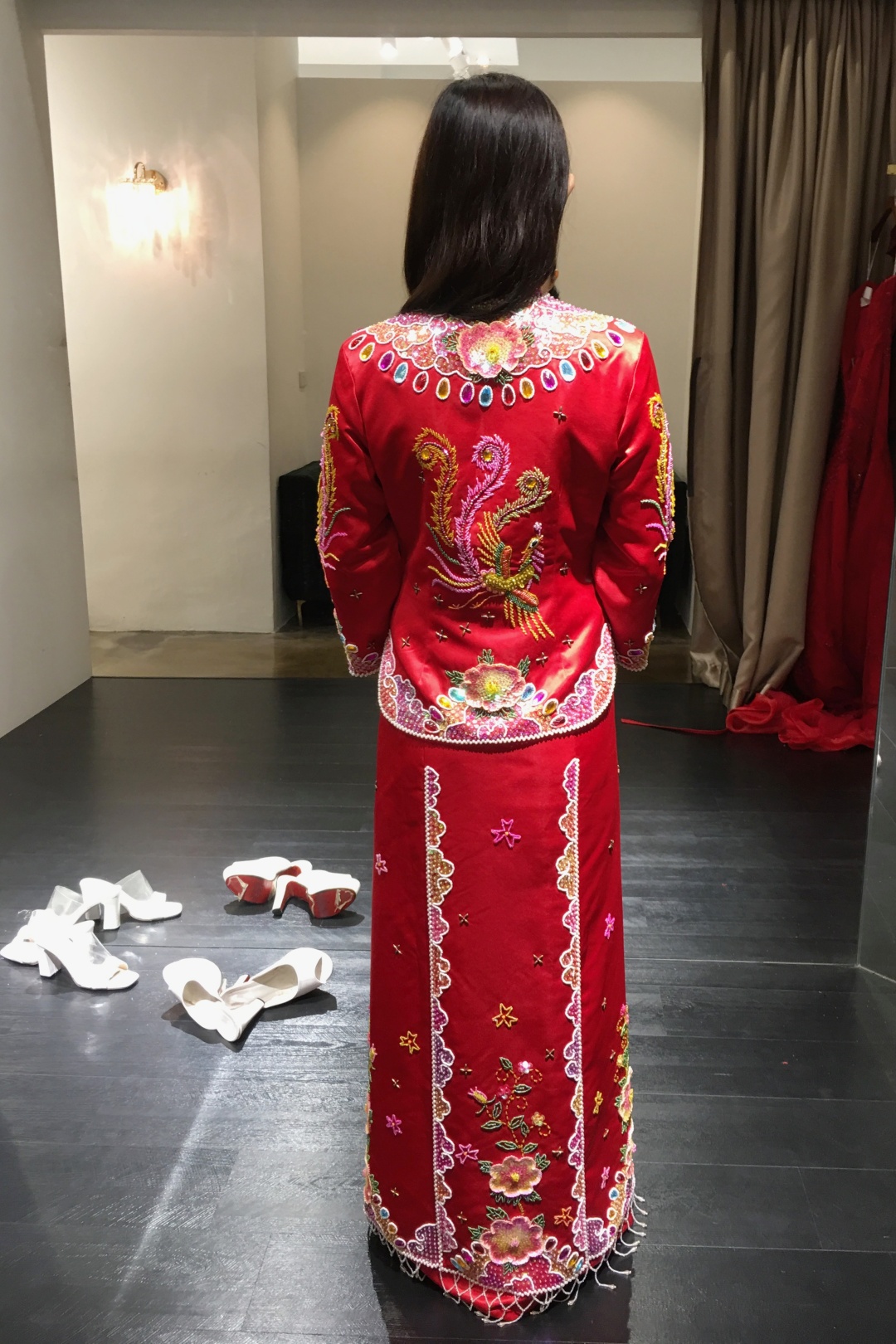 Traditional Kua 2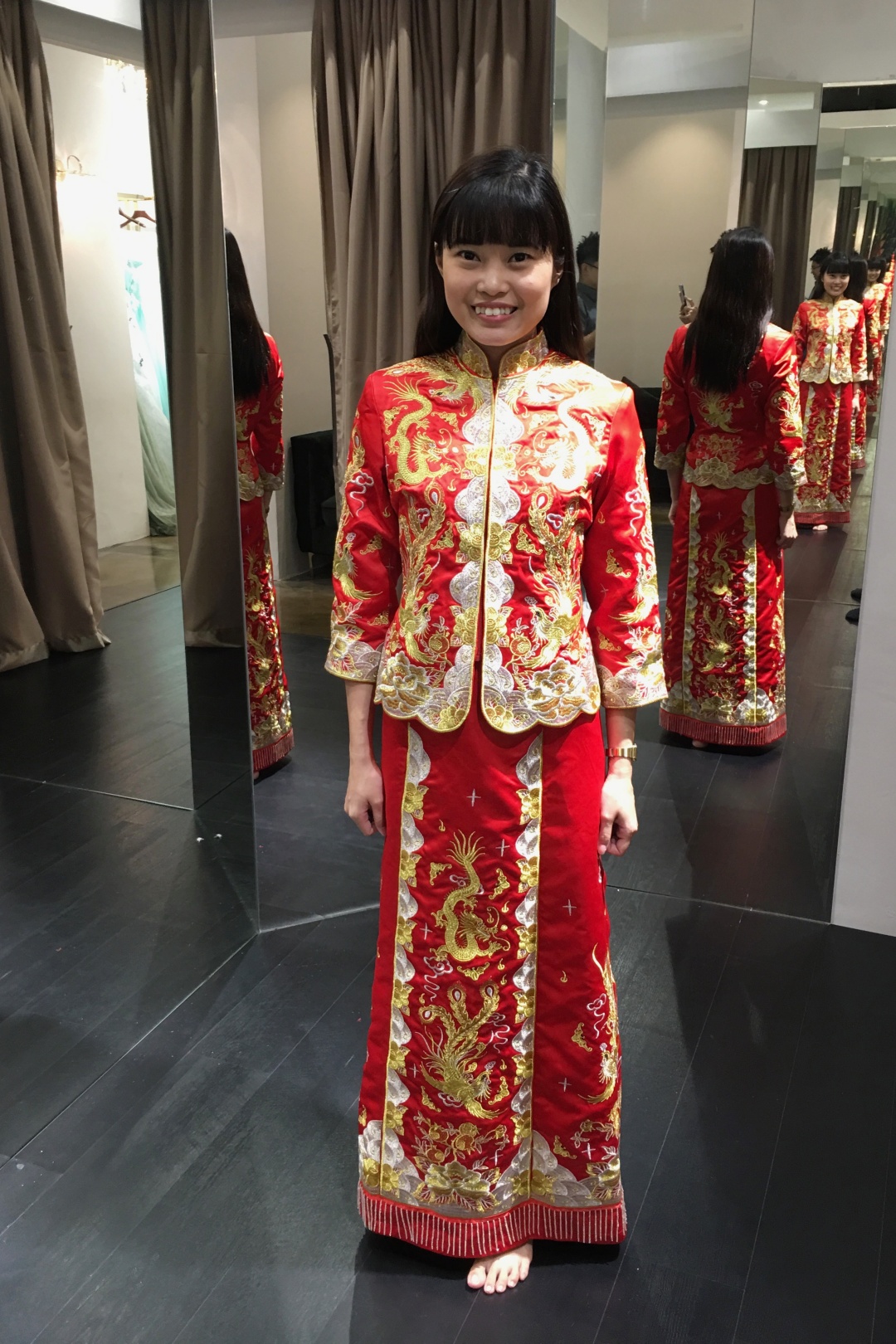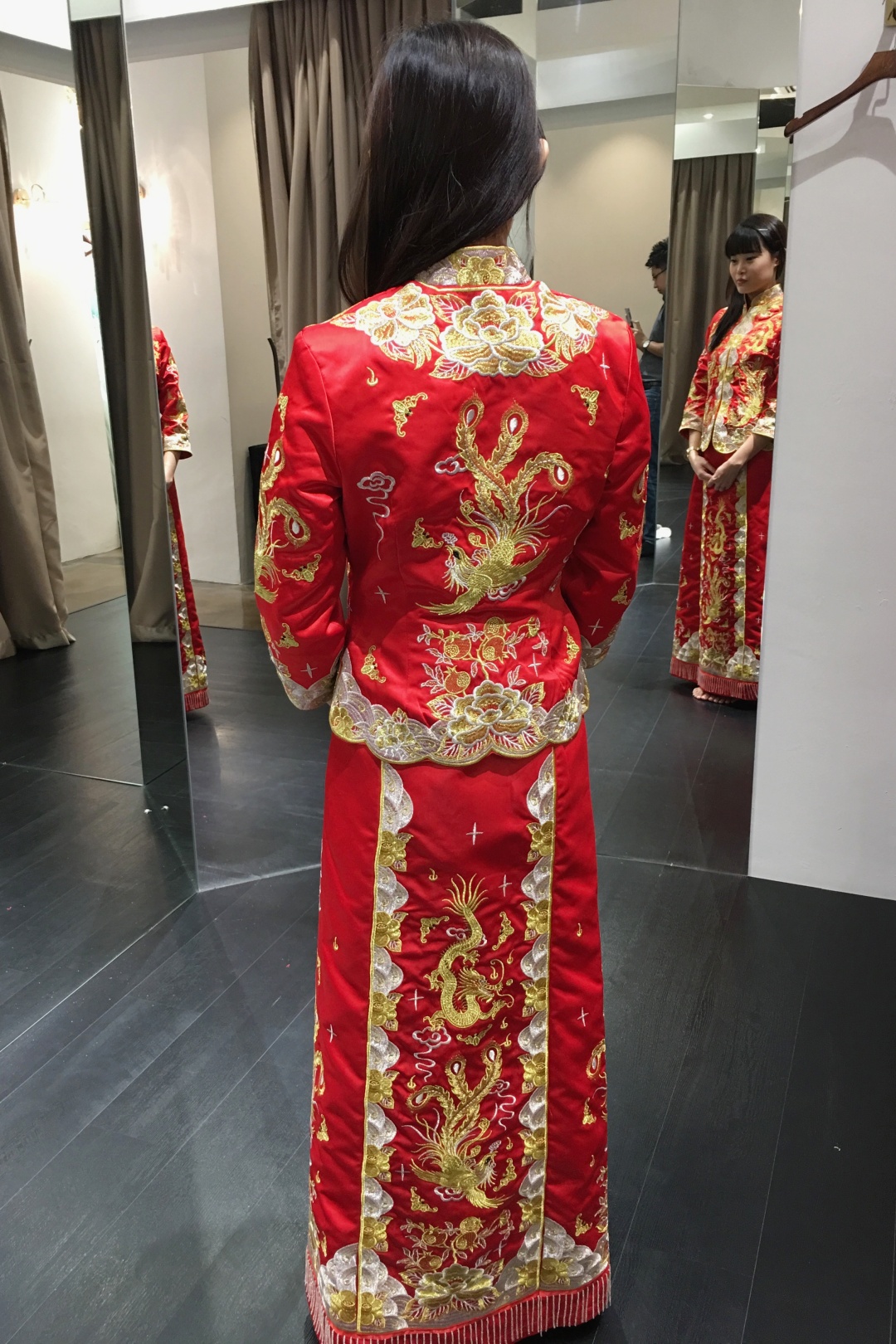 With the use of colourful embellishments, the first one had a slightly modern twist to an otherwise traditional-looking Kua. However, between the two, I would most likely go for the second one instead.
---
Having tried the dresses, we told Charie we would need some time to think about it and will text her if we had any further questions. She was very nice and understanding about it; never once show any unhappiness or tried to have us sign the package that very day. This is the first time I left a bridal studio without feeling stress about the experience of being persuaded into signing a package. In a way, The service we had received that day at The Gown Warehouse really stood out to me.
22 July 2018 | Confirmation
The following day, I decided to send Charie a text to clarify on a few questions and after getting her reply, the Husband and I decided to head down that afternoon to sign the package.
Payment wise, we were supposed to pay 50% upon confirmation/signing of the agreement, 30% during the day of the fitting and the remaining 20% during collection. (Subsequently, we also have to put in a security deposit during the day of collection.) But somehow, they mistakenly charged us the full sum on the day we signed the contract; and we only realised after we left the bridal studio.
24 July 2018 | Third Visit
Having signed our package on 22 July, we made a trip back to The Gown Warehouse two days later to try on more gowns. The Husband was late from his meeting, so I actually went down first and had him join me later.
This time around, we started with the evening gowns, before moving on to the wedding gowns. Since the Husband wasn't there, Charie offered to help me to take pictures on her phone; which she later sent them to me through Whatsapp.
Evening Gown 6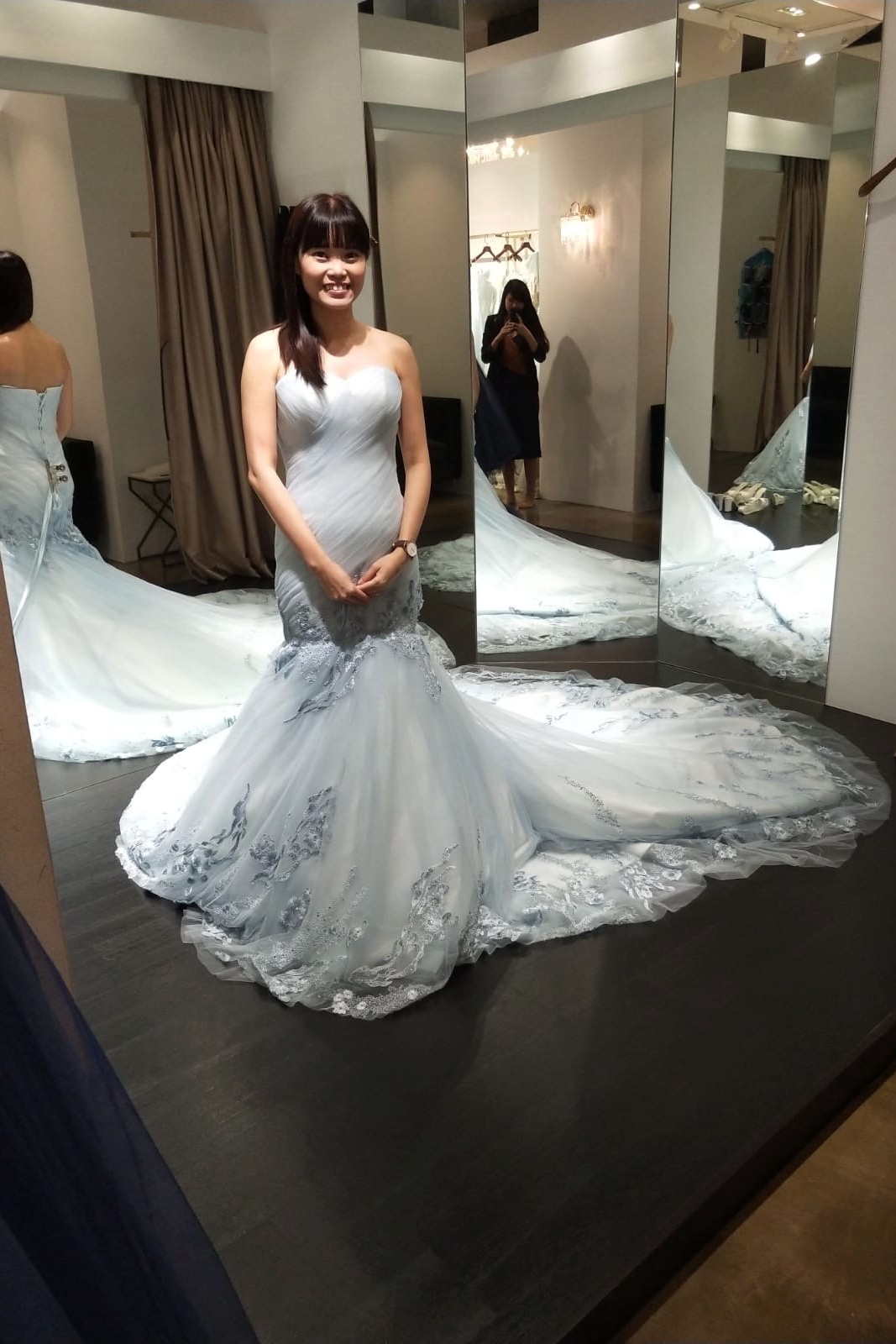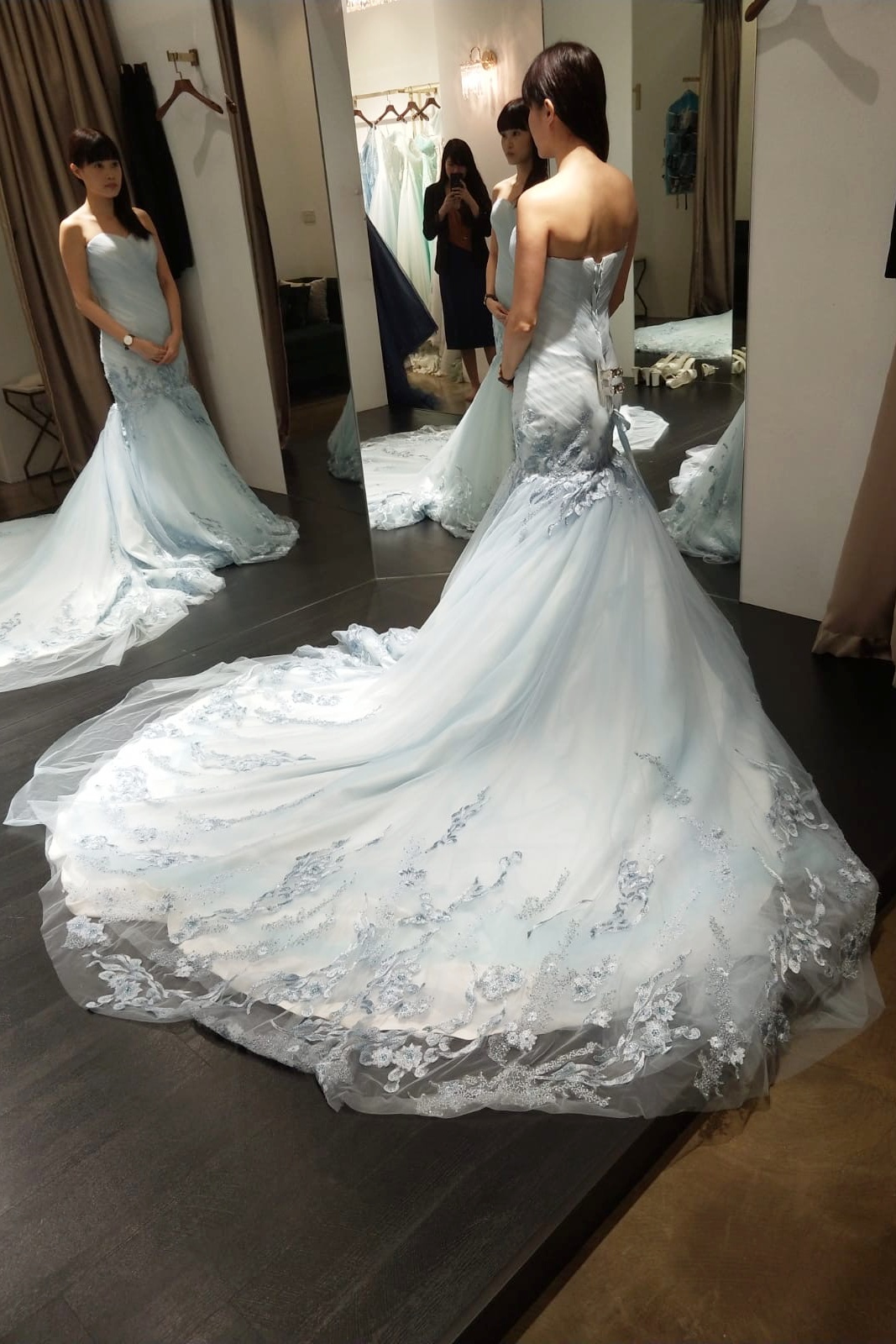 I really love this light blue mermaid gown, but it was unfortunate that it wasn't available on my wedding date. (As I picked out dresses to try, Charie will inform me which ones are available/unavailable on my wedding date.) I still went ahead to try this gown, thinking that if I love it enough, I can perhaps rent it for a photoshoot. Needless to say, I forgot all about it after the wedding.
Evening Gown 7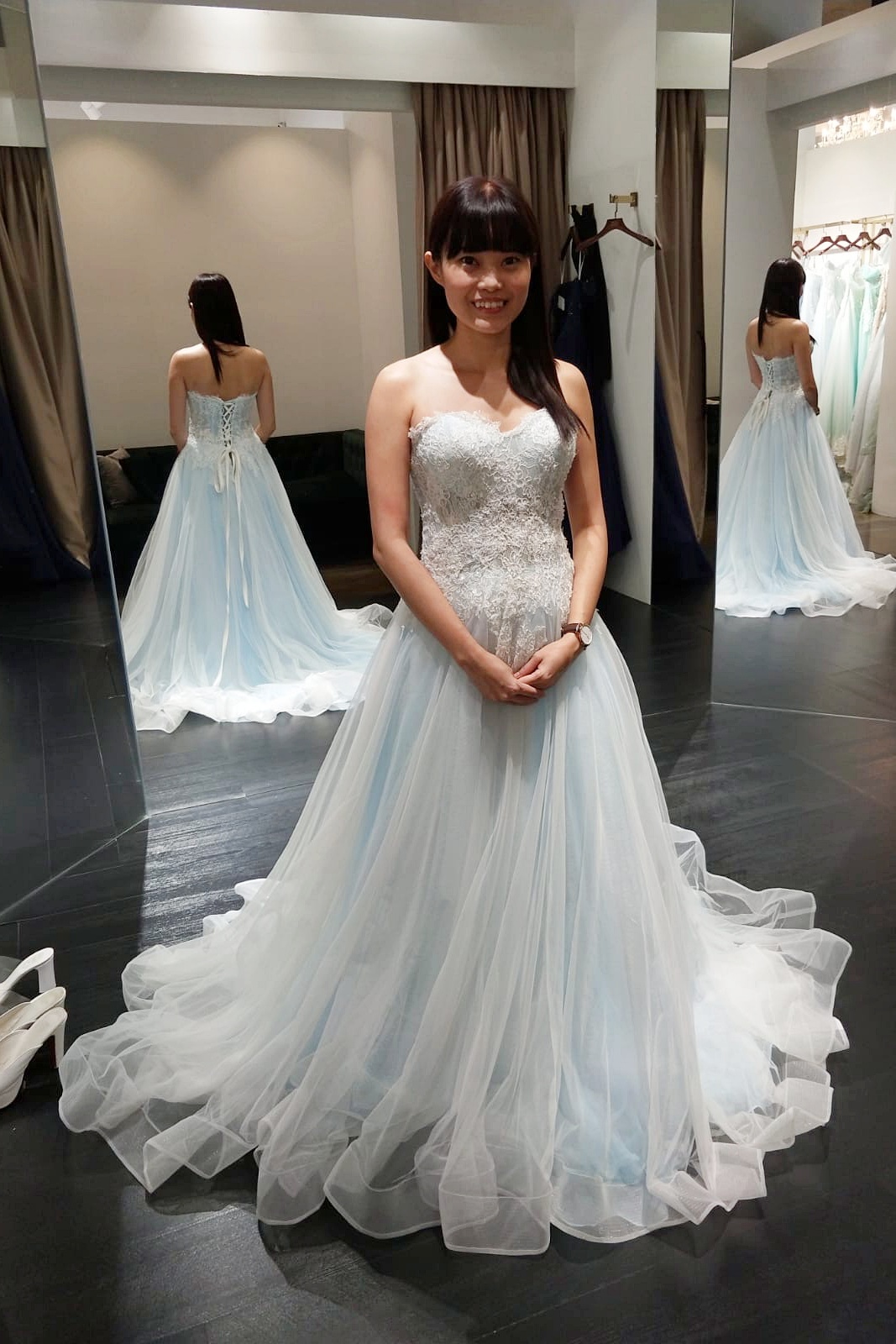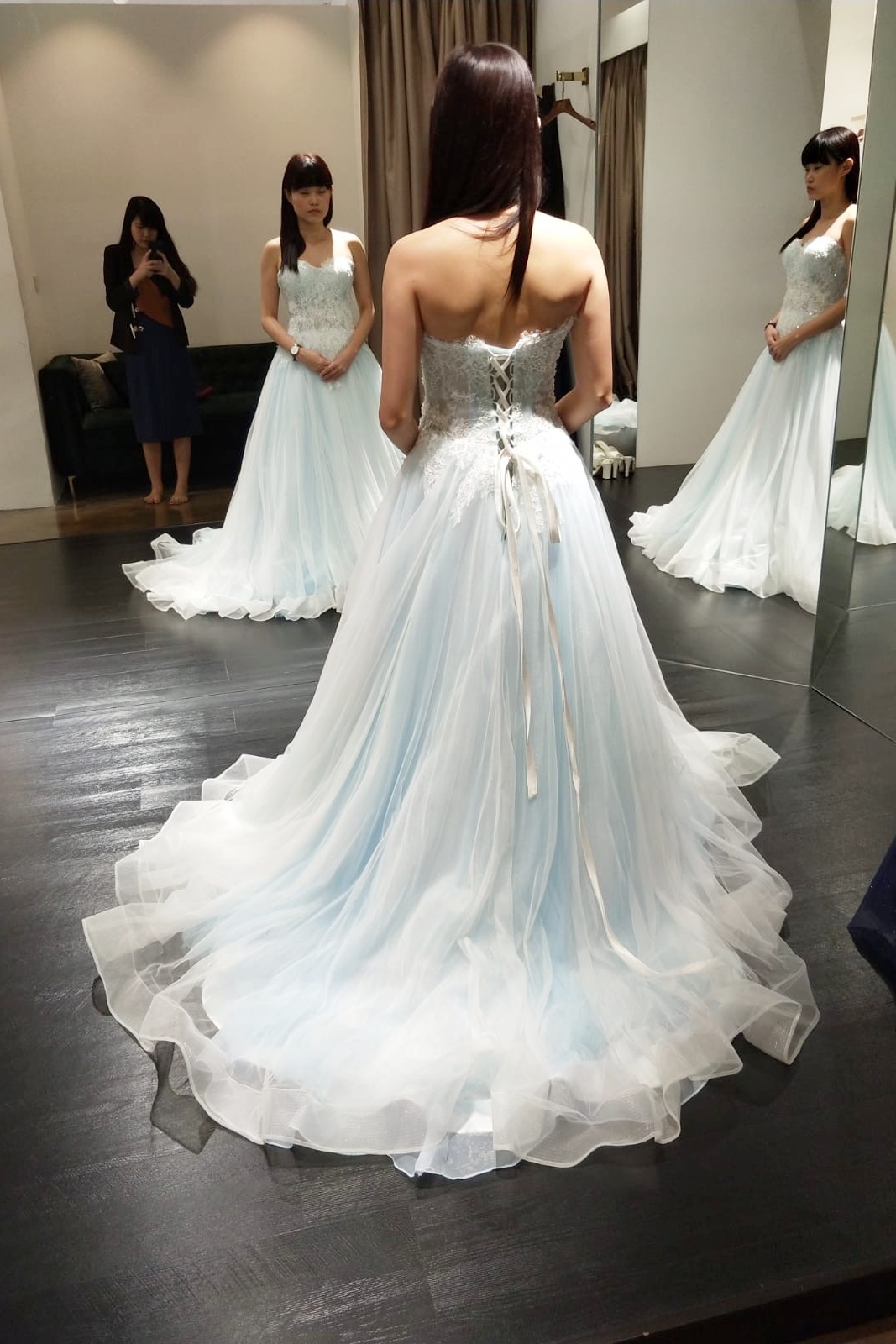 Another light blue evening gown. Though I didn't love it as much as the one before, the colour does make the dress look very dreamy. I think light colour evening gowns are beautiful. But the concern of it looking washout in photos does make me think twice when it comes to selecting it for the wedding.
Evening Gown 8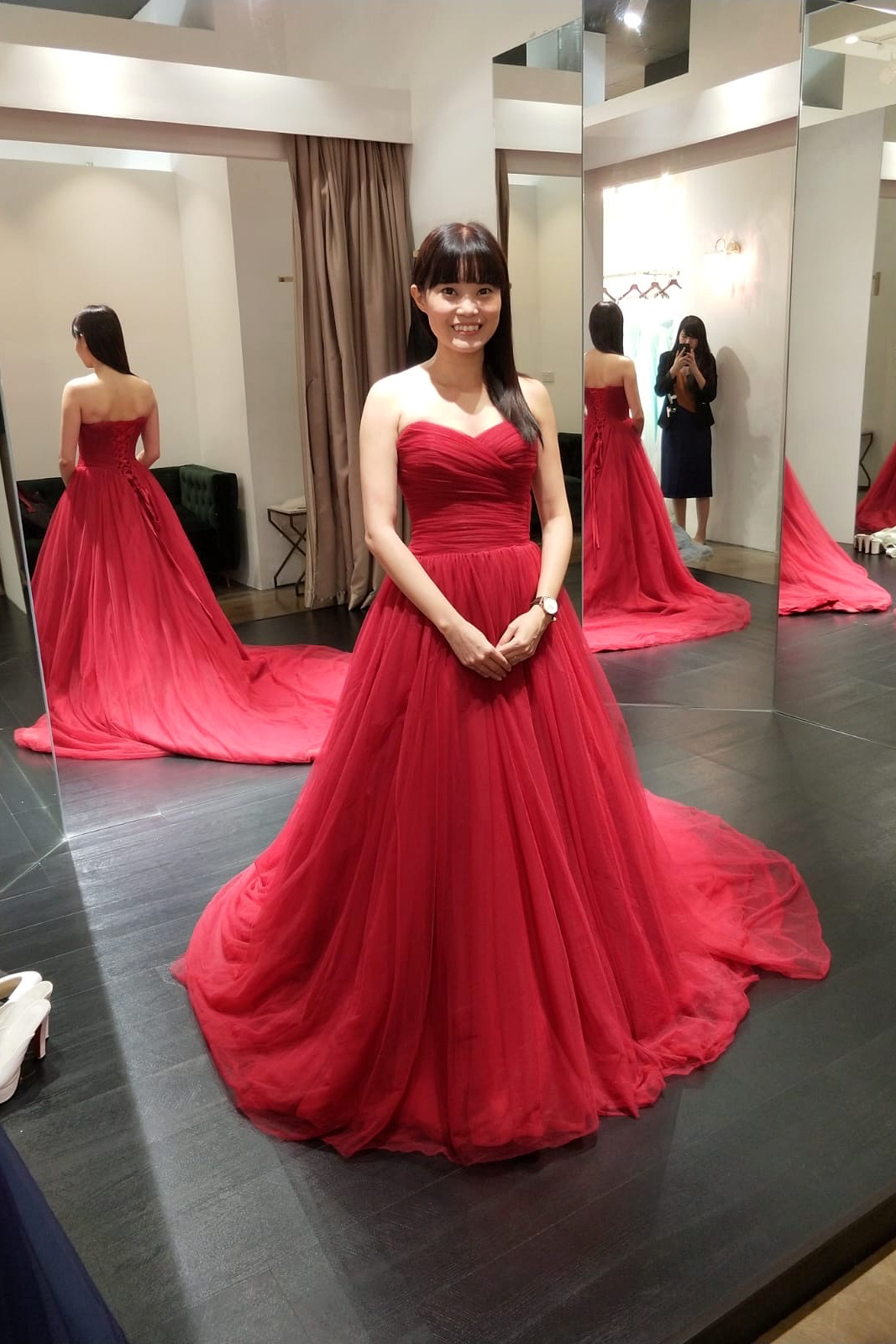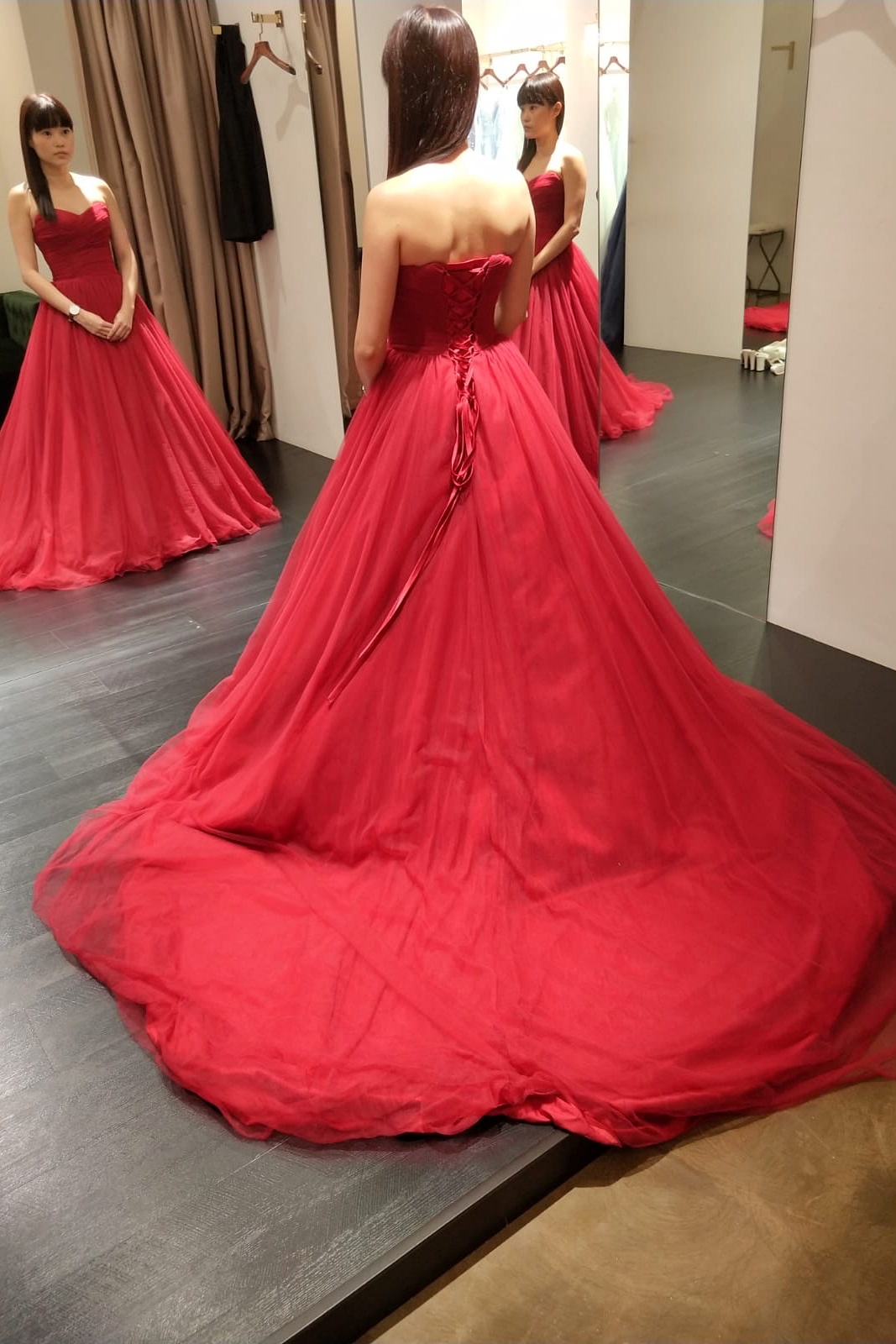 Despite being a stunning red, I find this dress too simple looking. It will be nicer if there are some bling or embellishments.
Evening Gown 9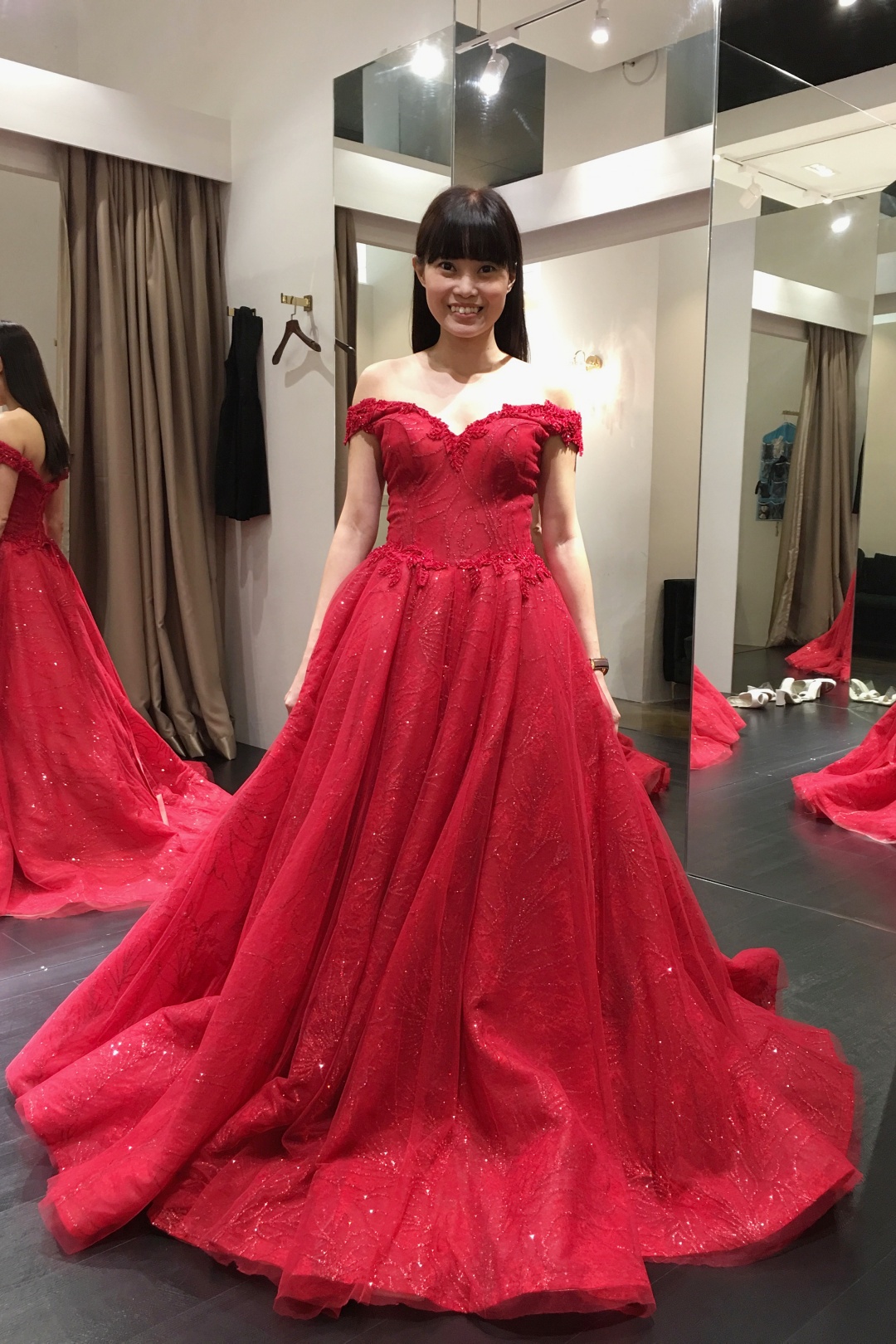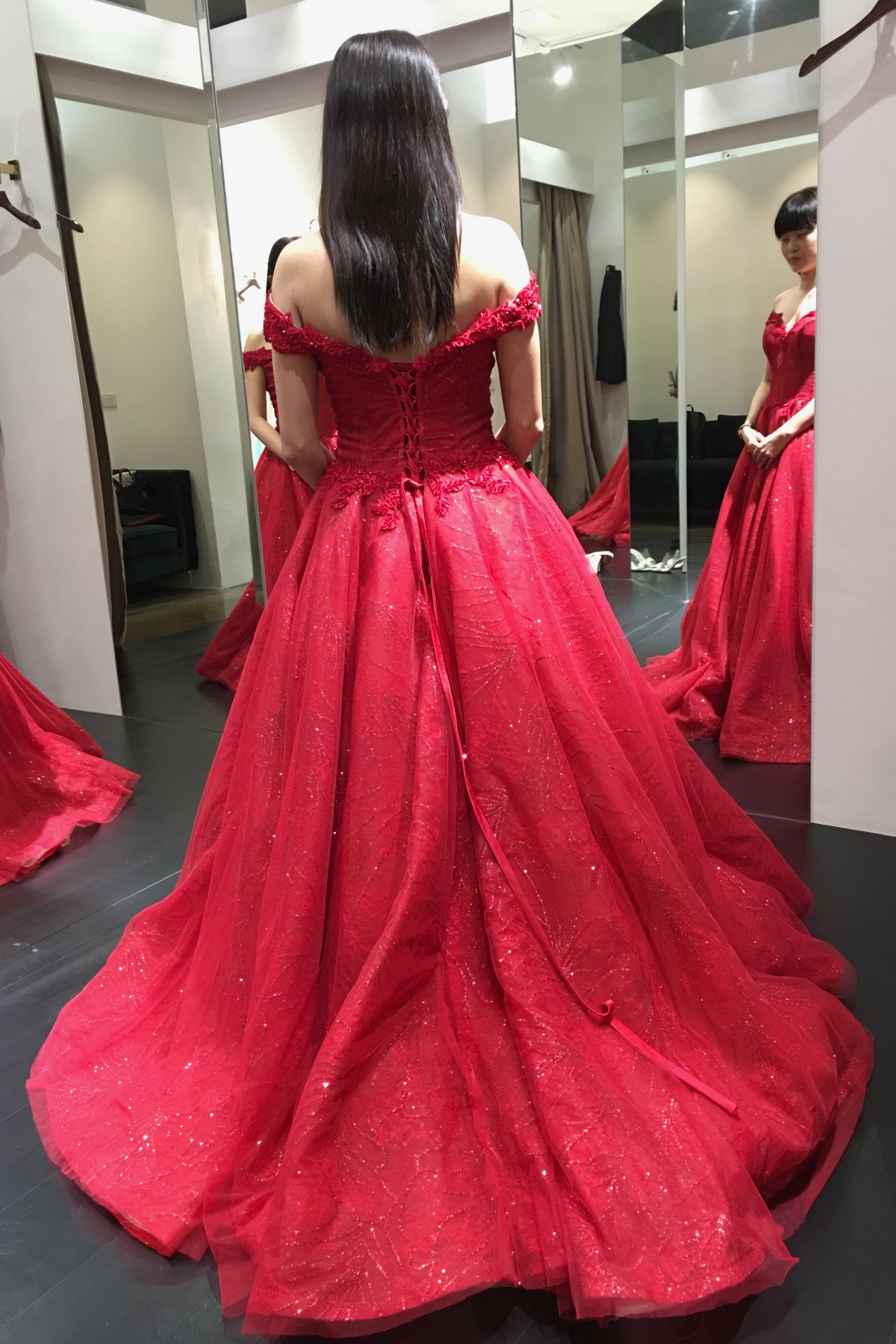 Nope. The dress just looks way too bulky.
Evening Gown 10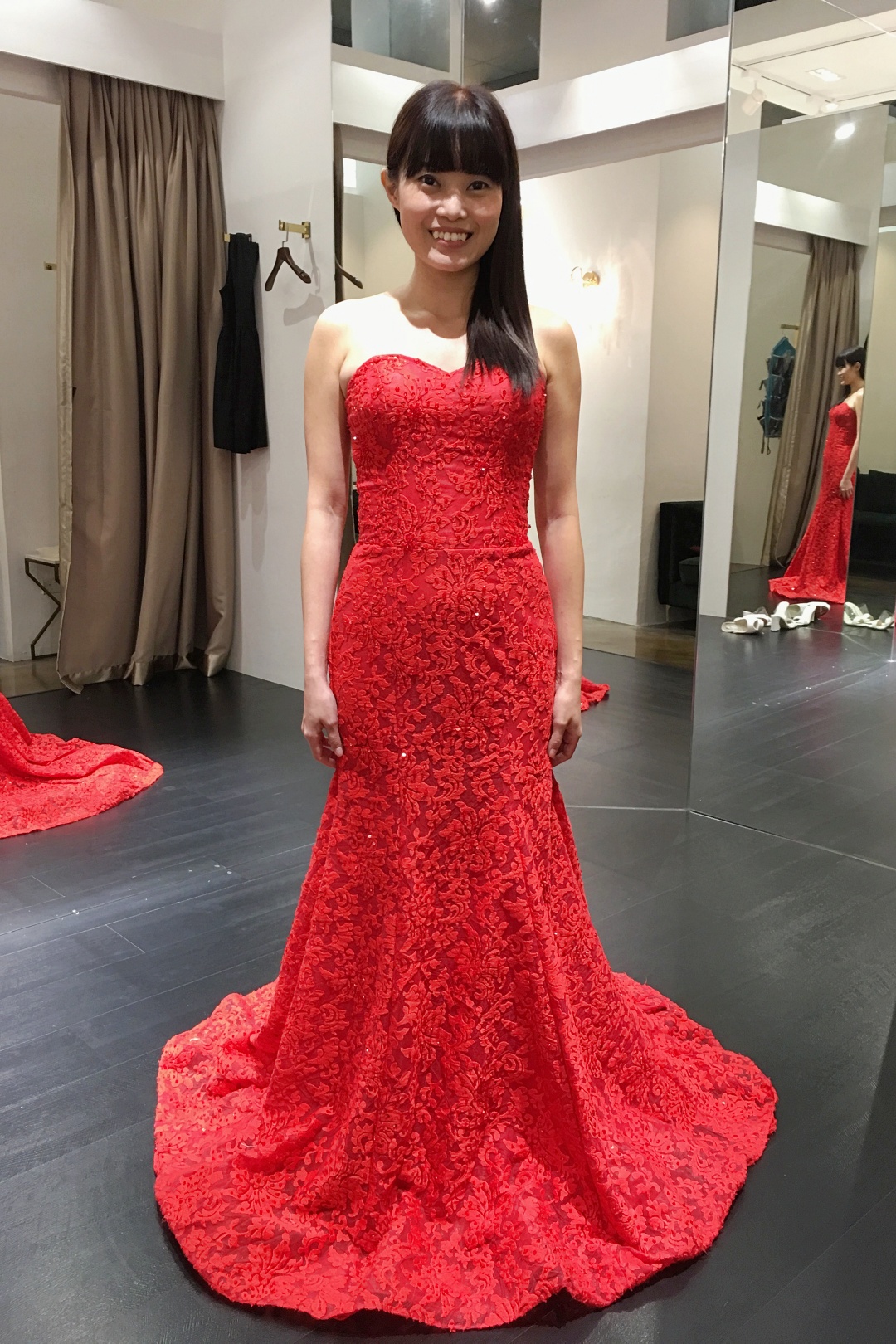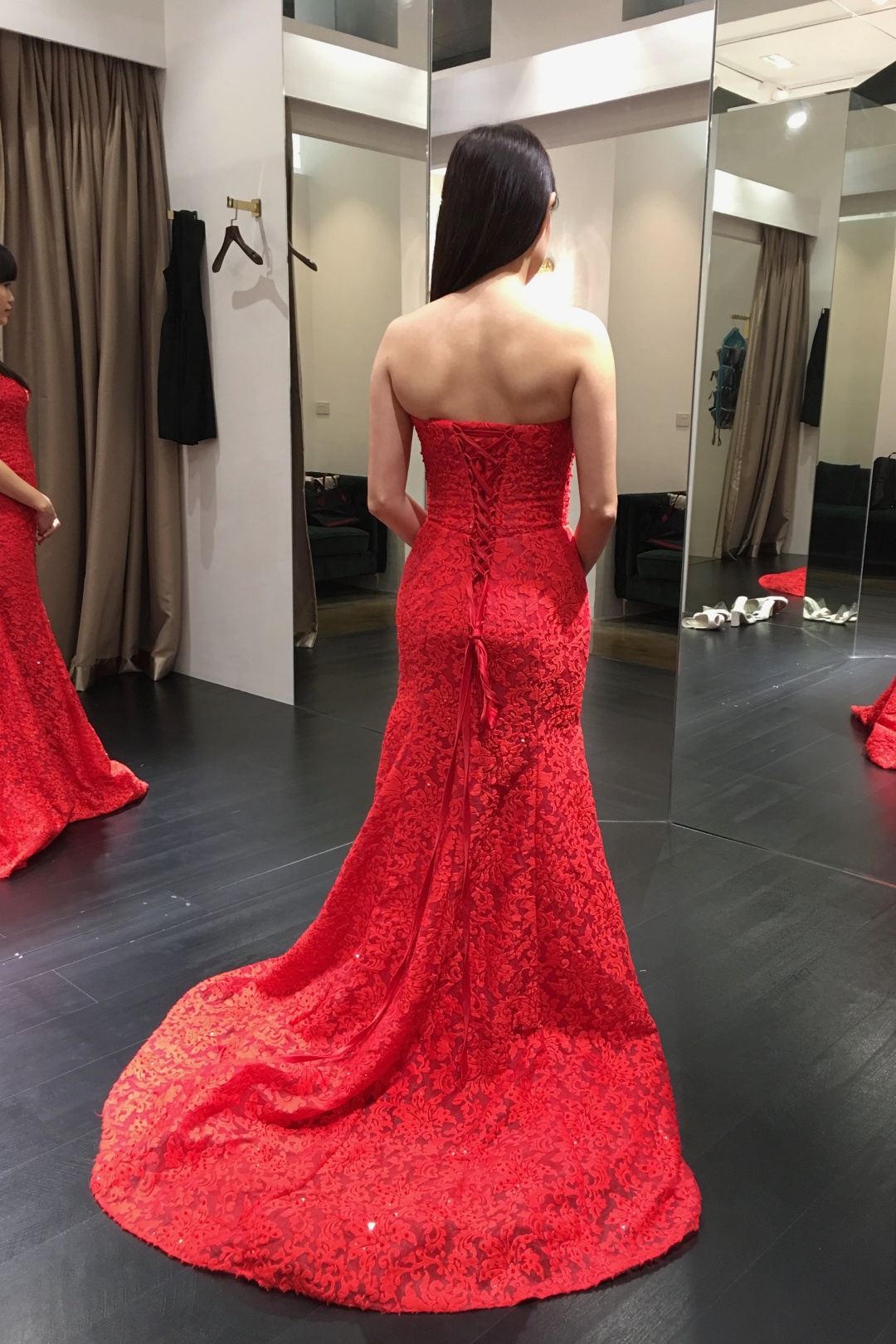 Again, it looks too simple, even though it was a full lace dress.
Evening Gown 11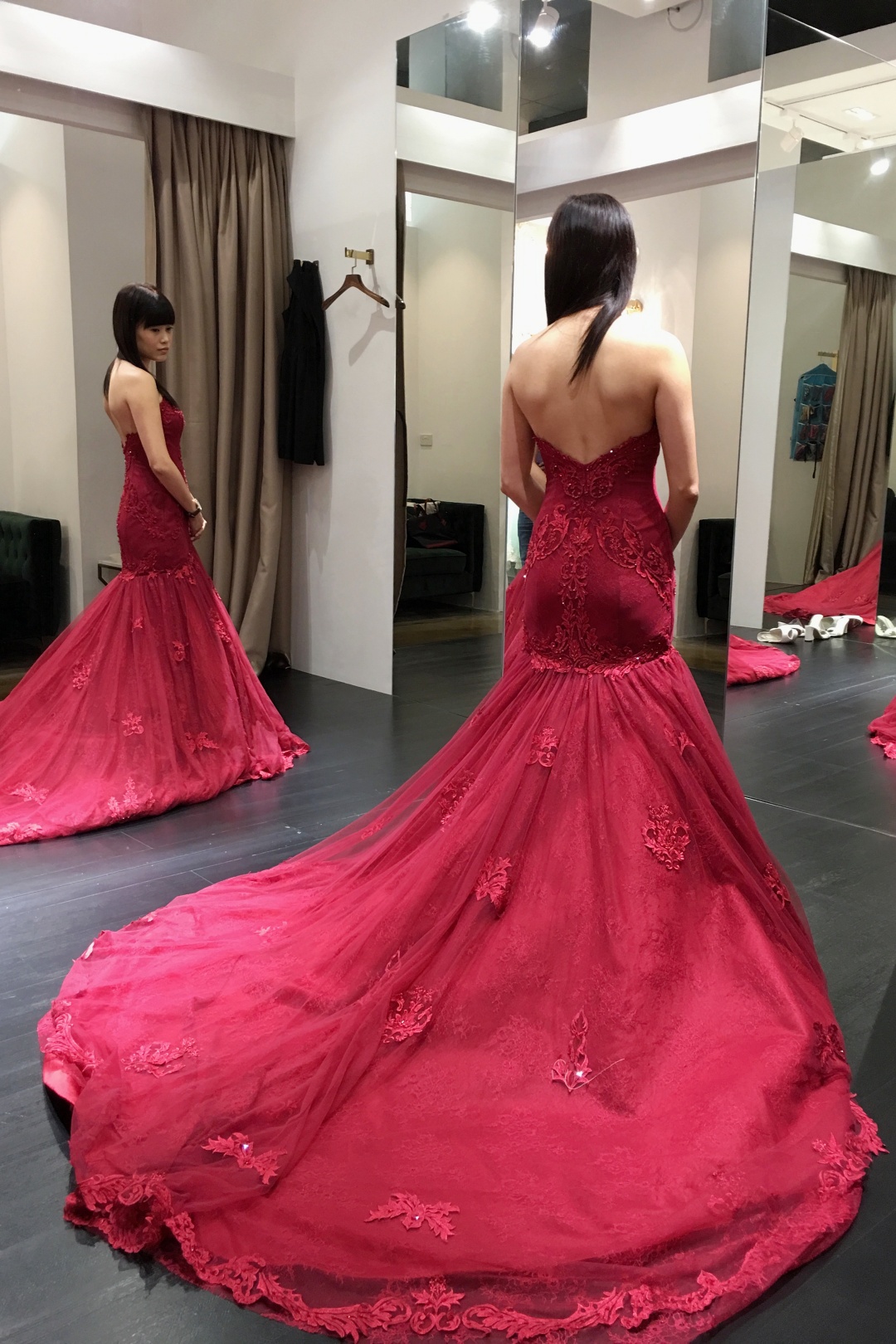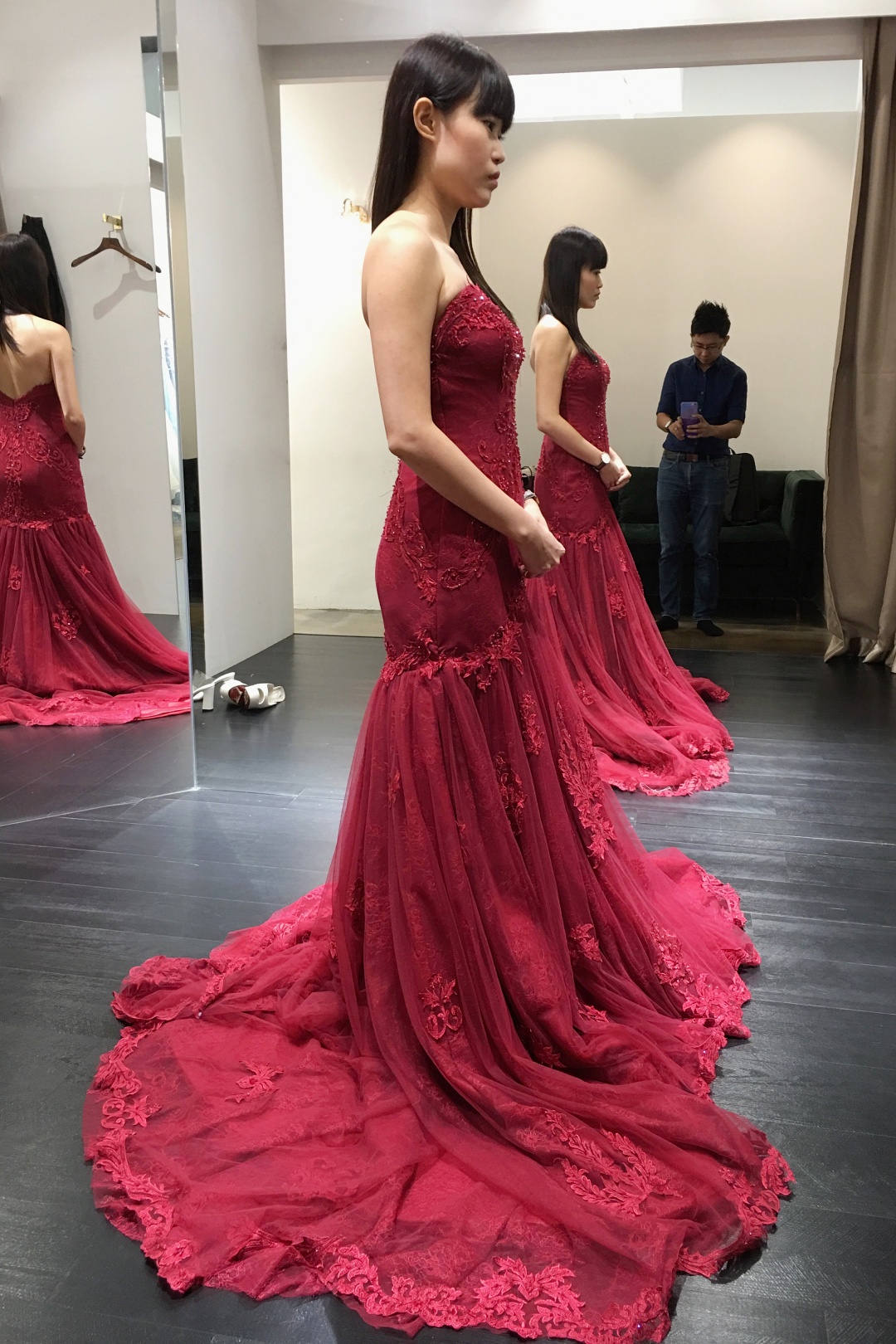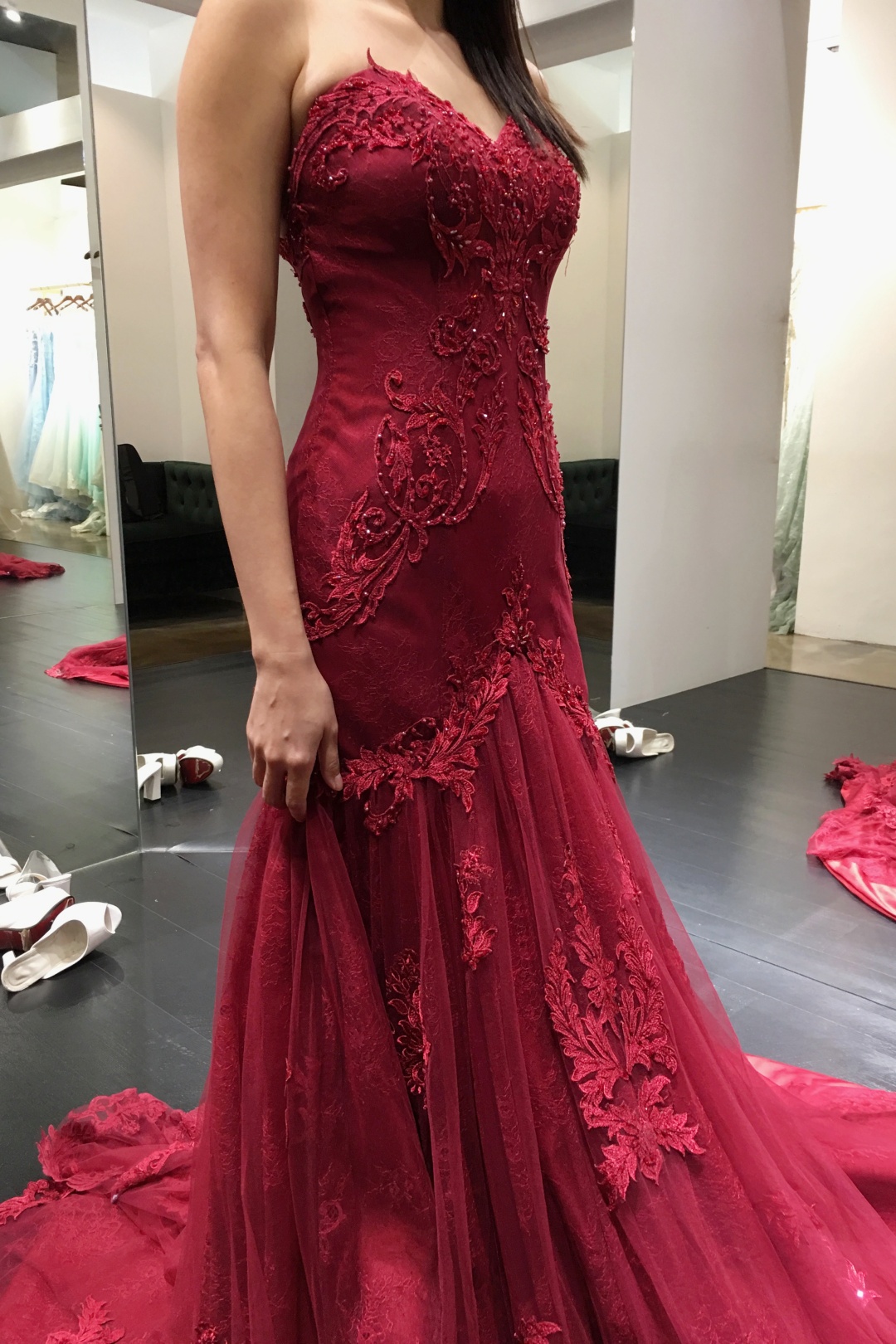 I love this – both the details at the front and the slight low cut at the back. Compared to the other red evening gowns I've tried, the colour of this dress was slightly darker. However, it wasn't dull, and I'm sure it will look fine under the light.
Evening Gown 12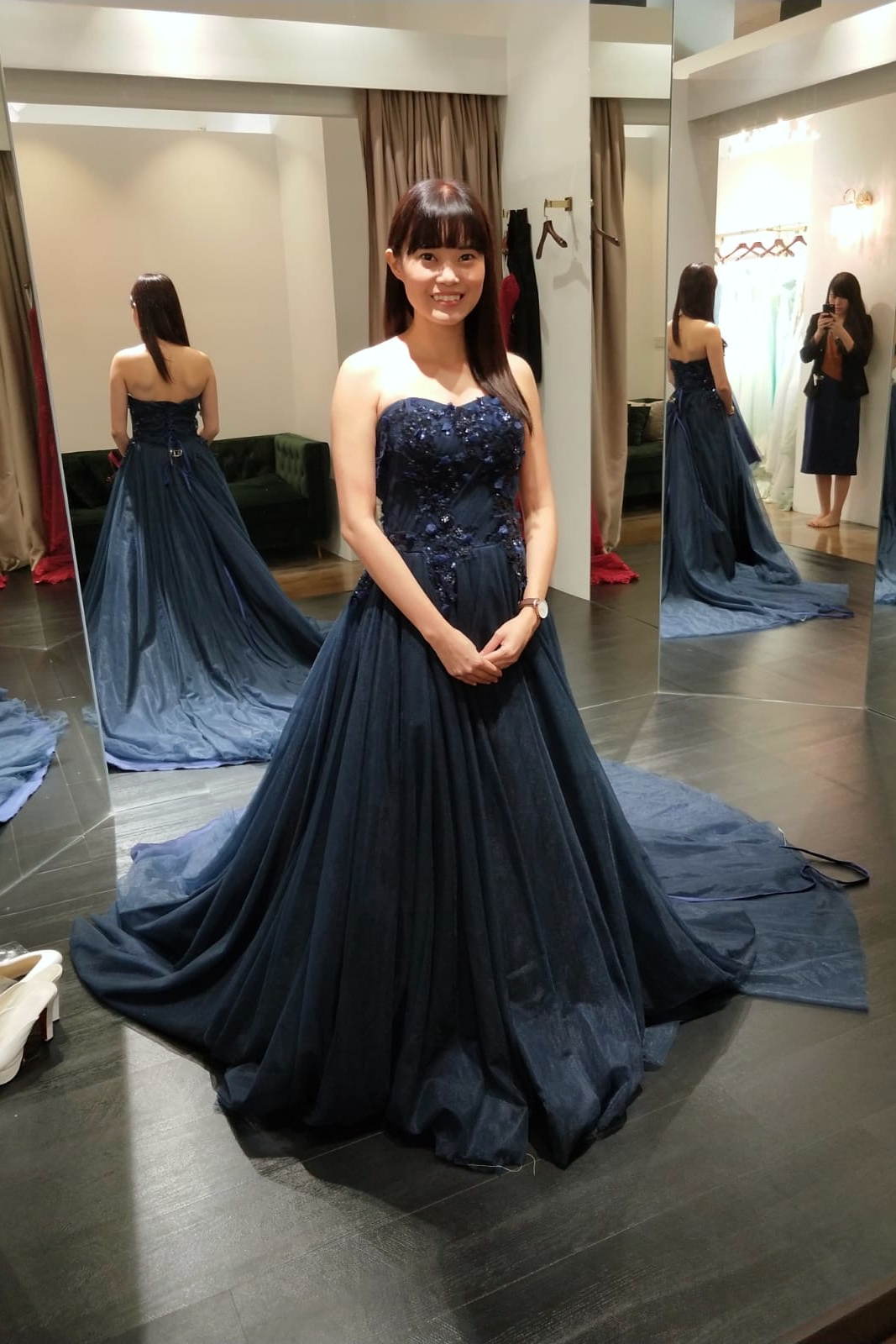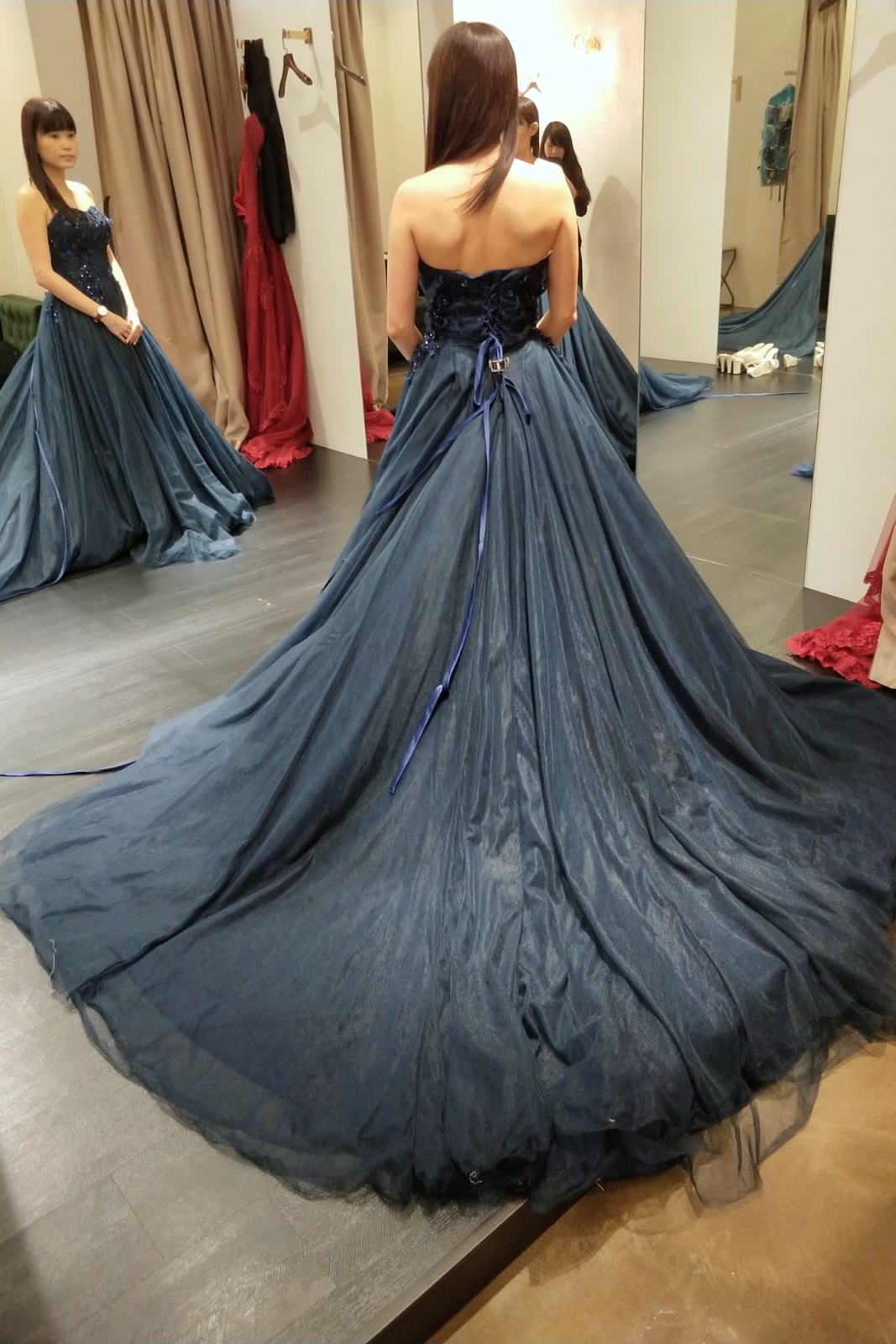 Evening Gown 13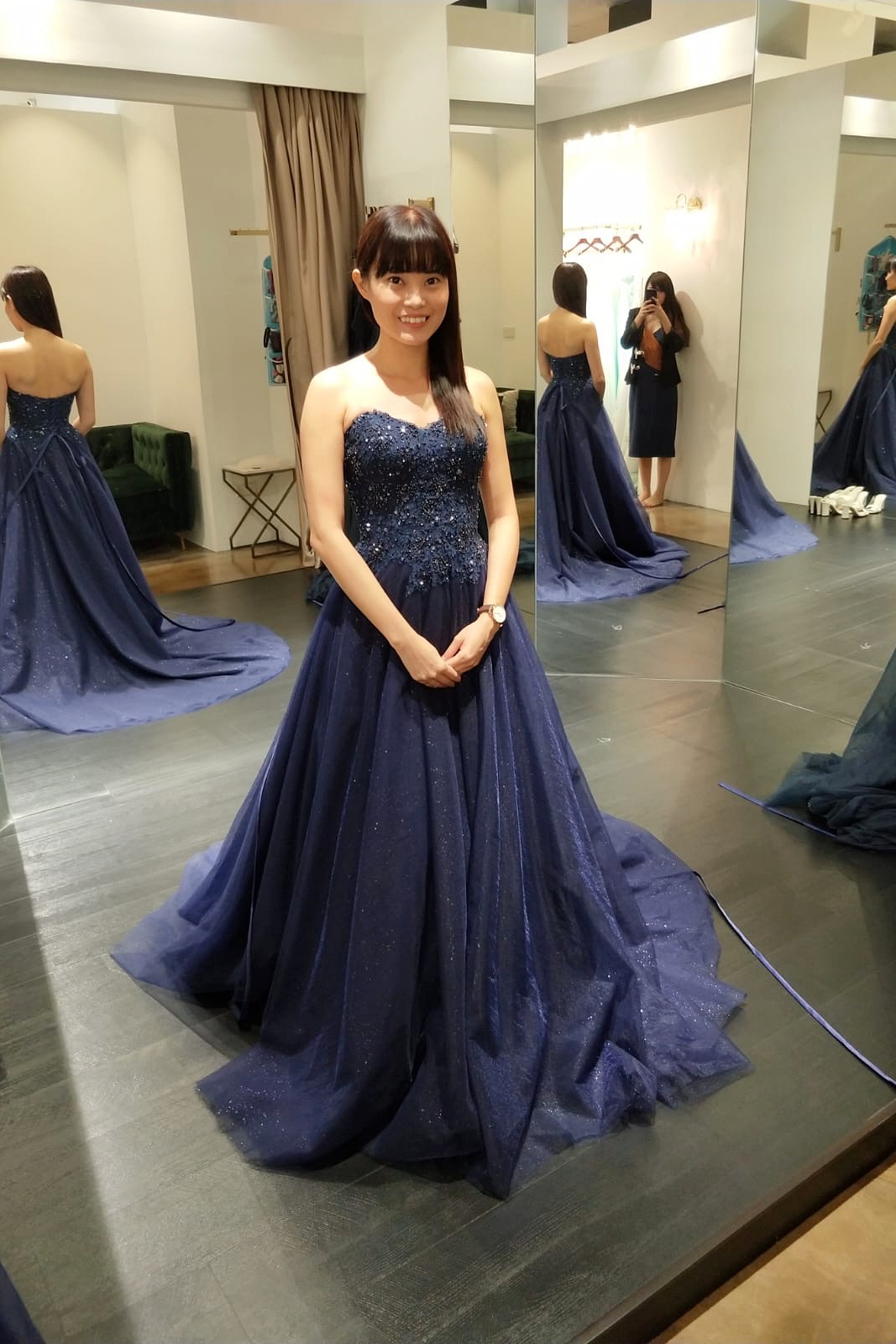 Compare this to the previous dress (evening gown 12); I certainly prefer this more. This dress was a lot nicer that the other due to the beadings and fabric of the skirt.
Evening Gown 14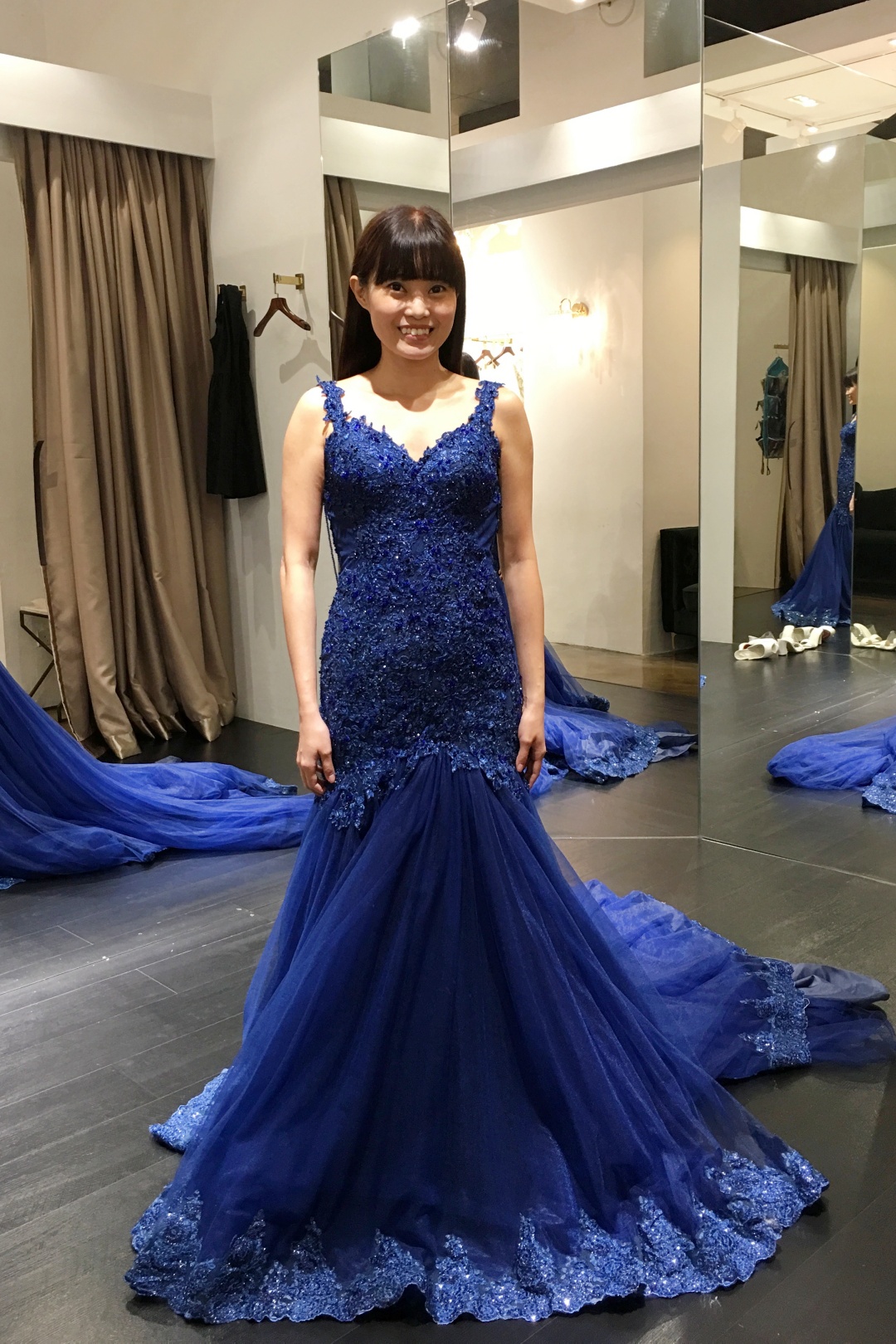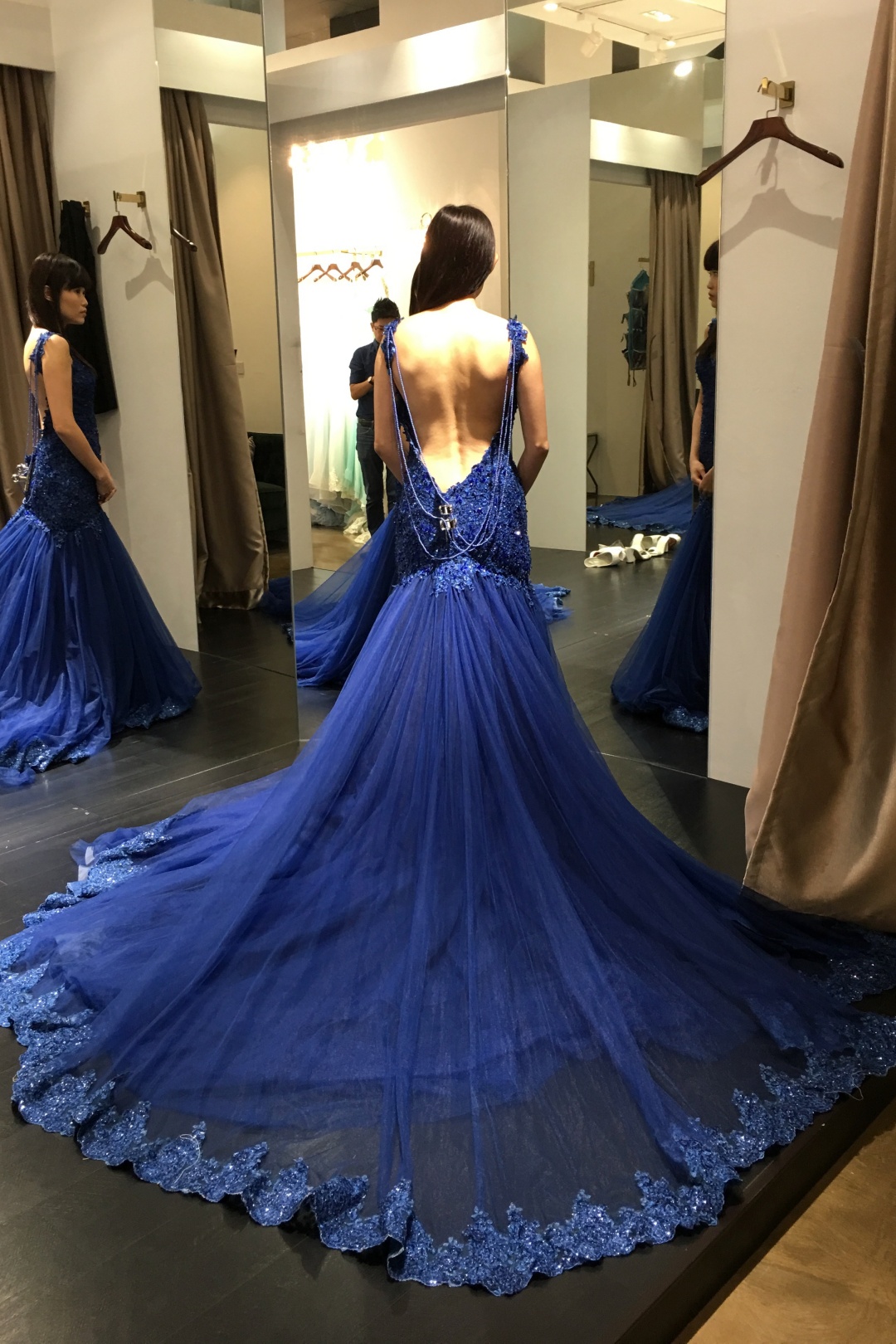 The moment I showed my mum a picture of the back of this dress, she immediately told me not to pick this one. Thankfully, I didn't like the front of the dress; hence, this dress didn't make it into my list of considerations.
Evening Gown 15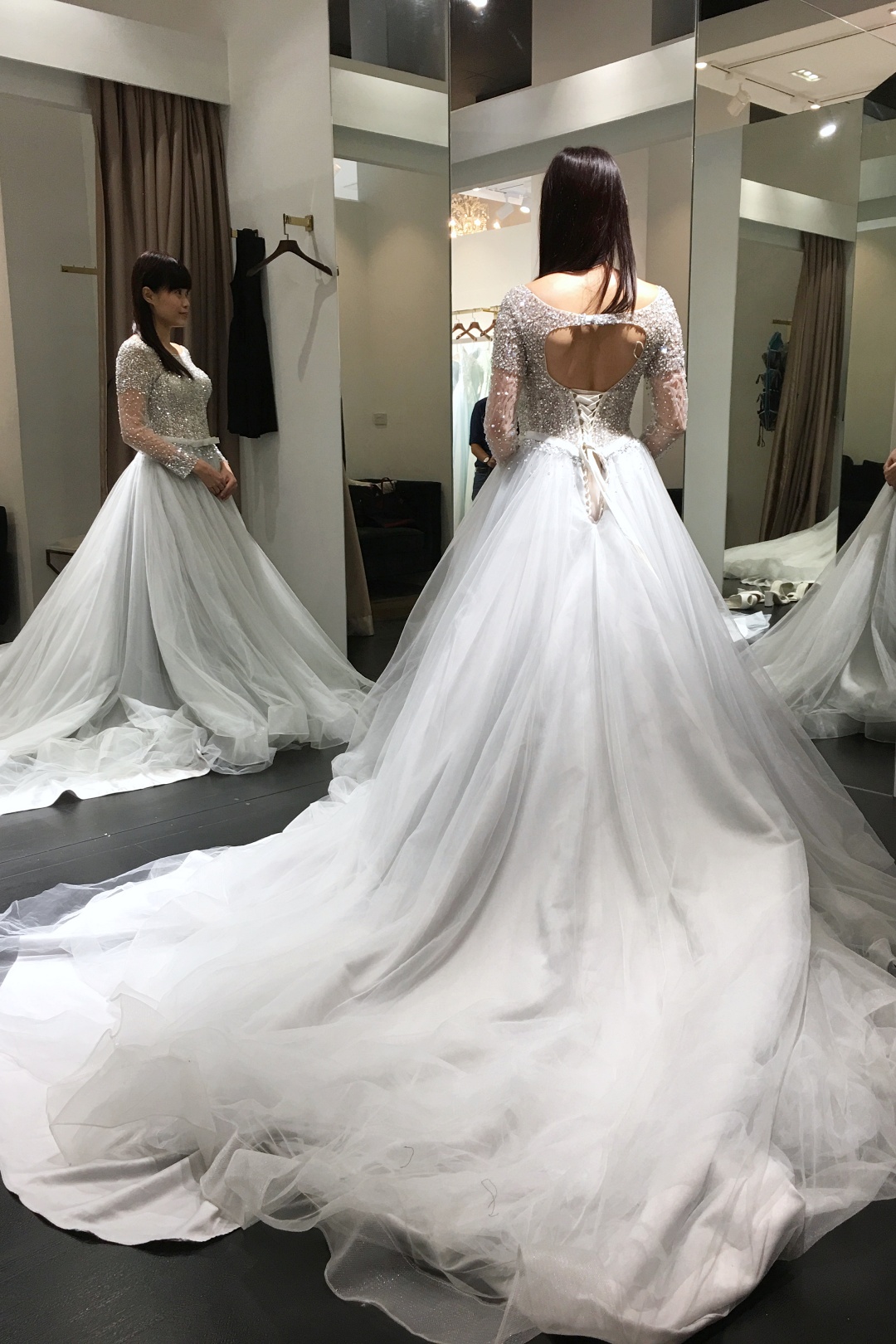 I have asked to try this dress solely because of how shiny it looks on the rack. But sadly, I didn't like how the sleeves look once I put it on.
Evening Gown 16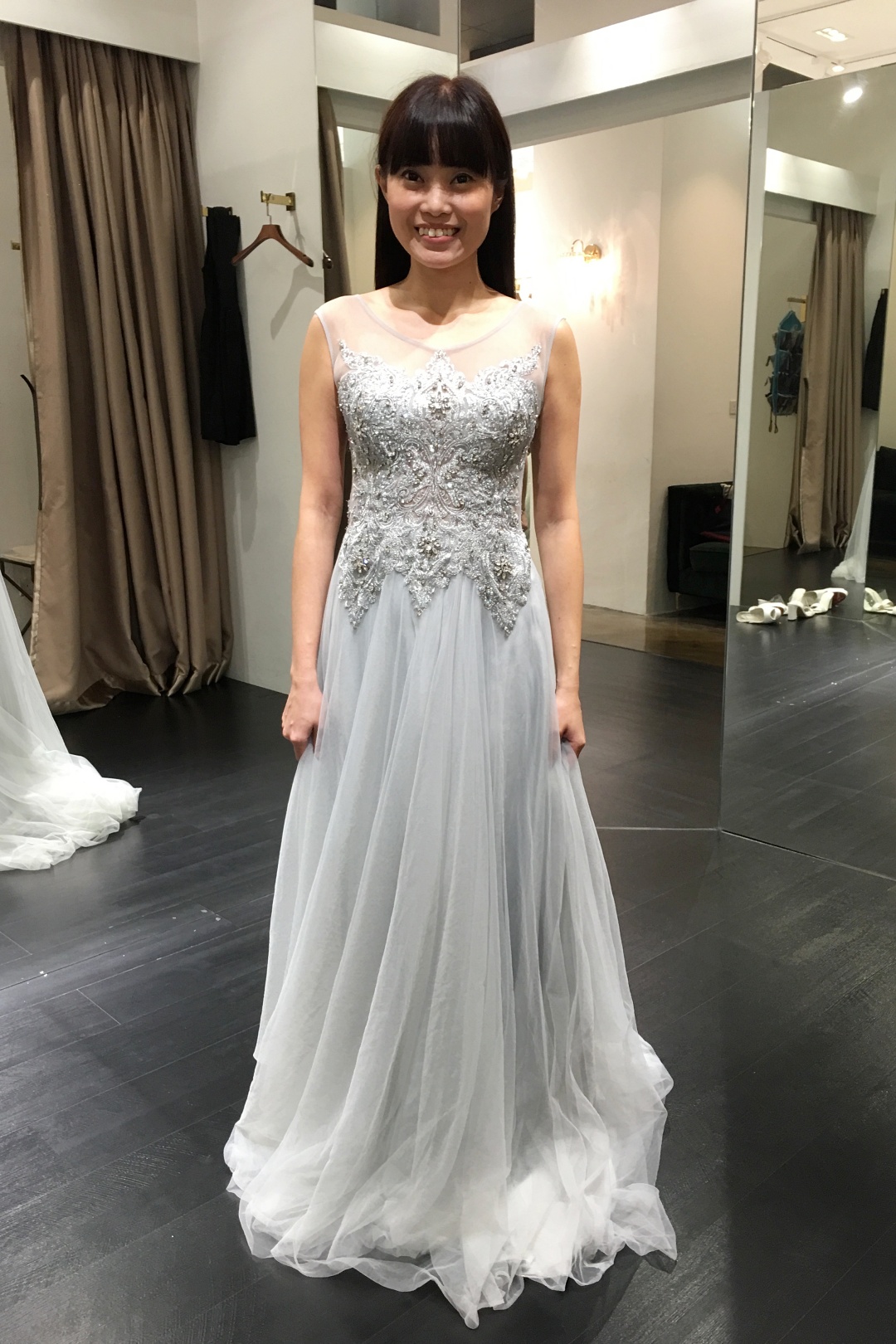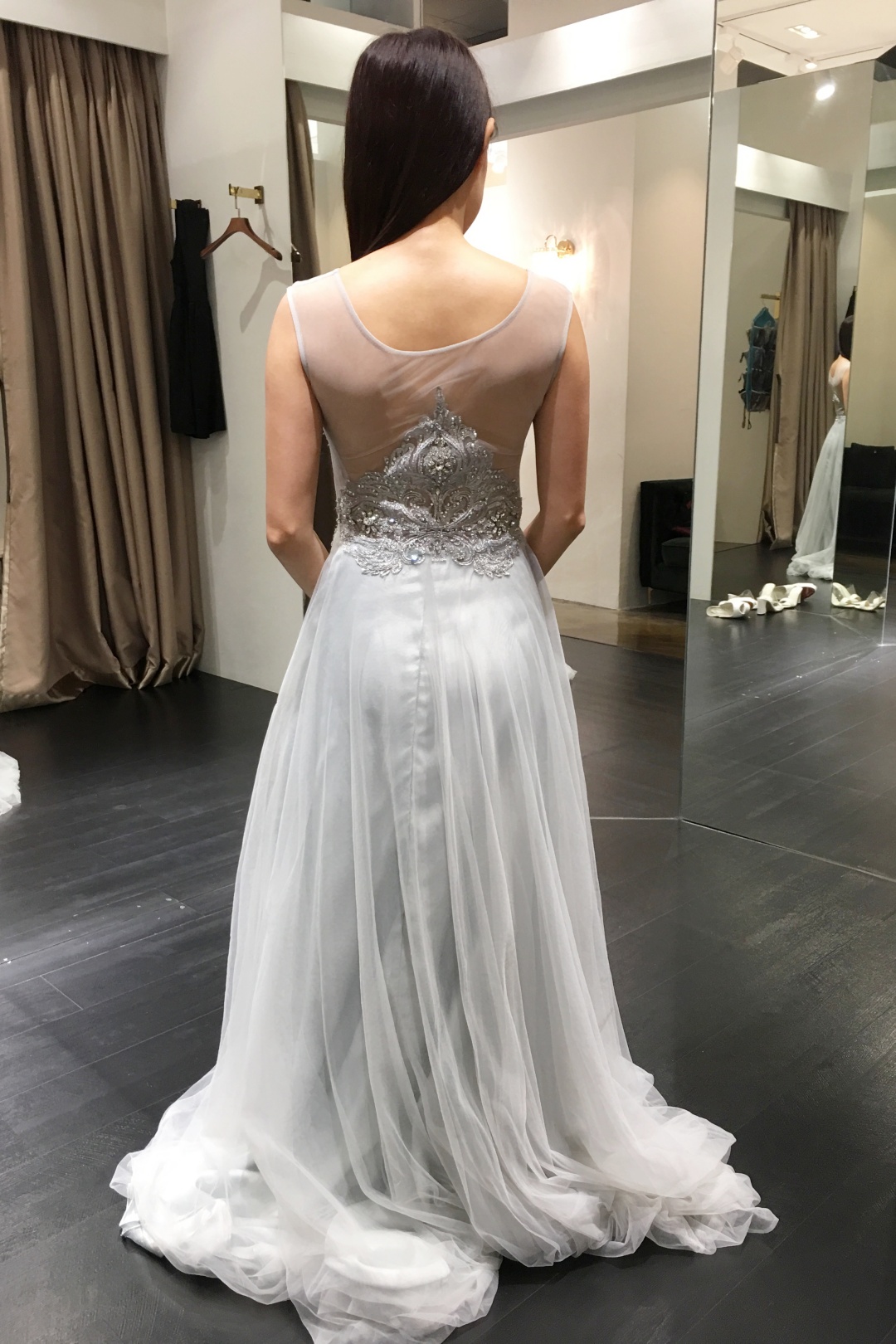 This one too. I didn't like how I look from the front and the back.
---
Wedding Gown 5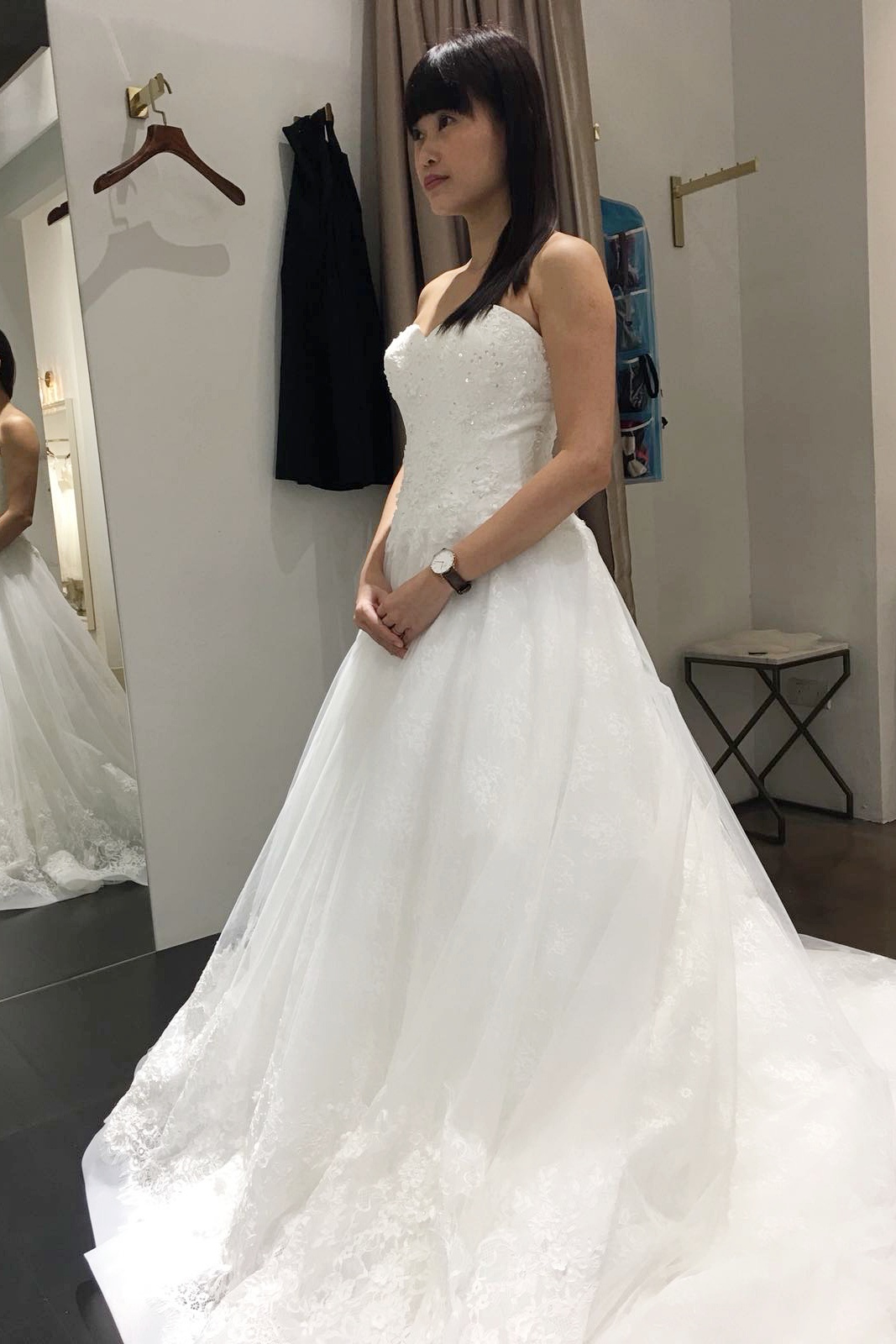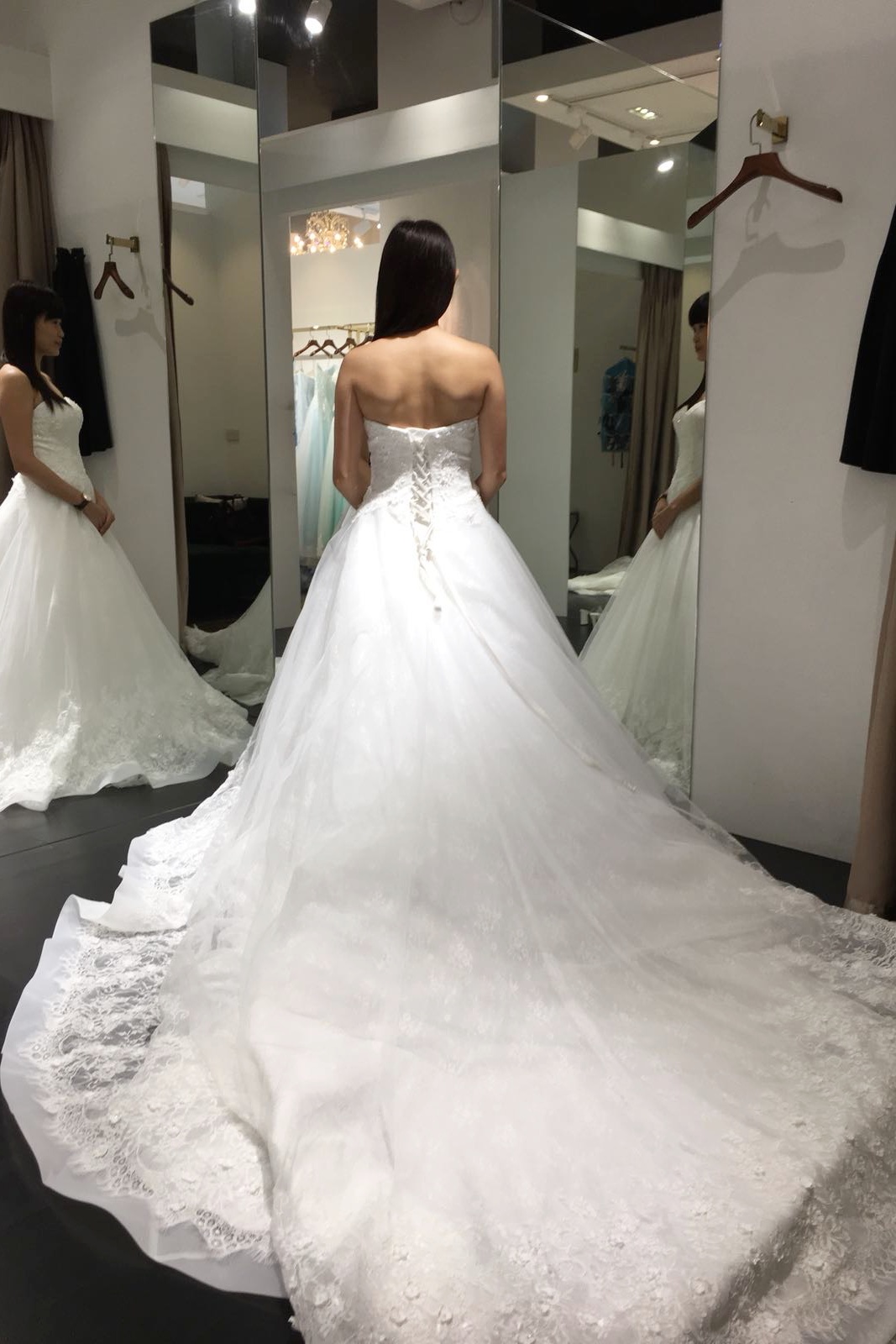 Moving on to wedding gowns! It's not difficult to tell that I really love this dress since I asked to try it again. Still can't get over how pretty the lace looks on the train.
Wedding Gown 6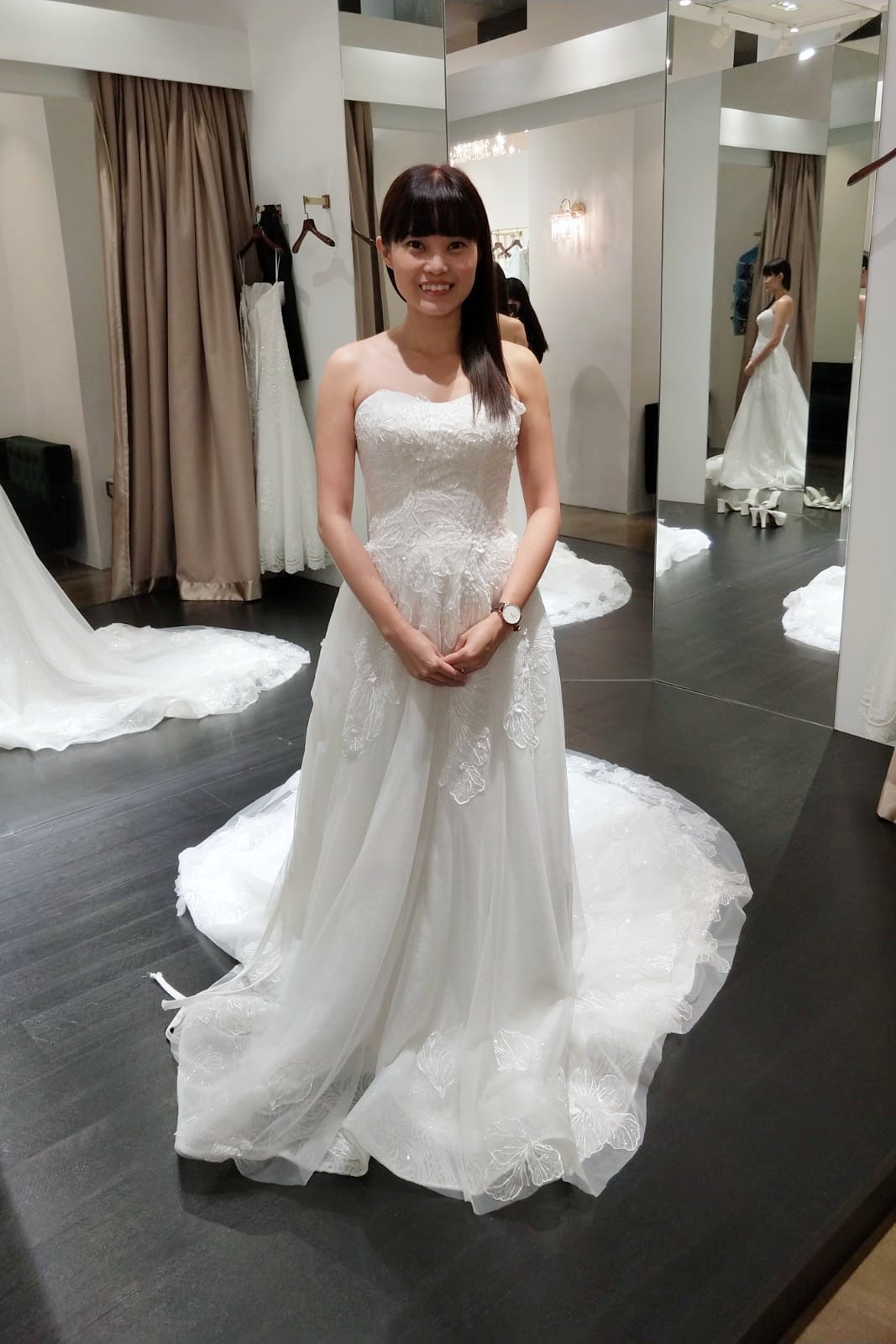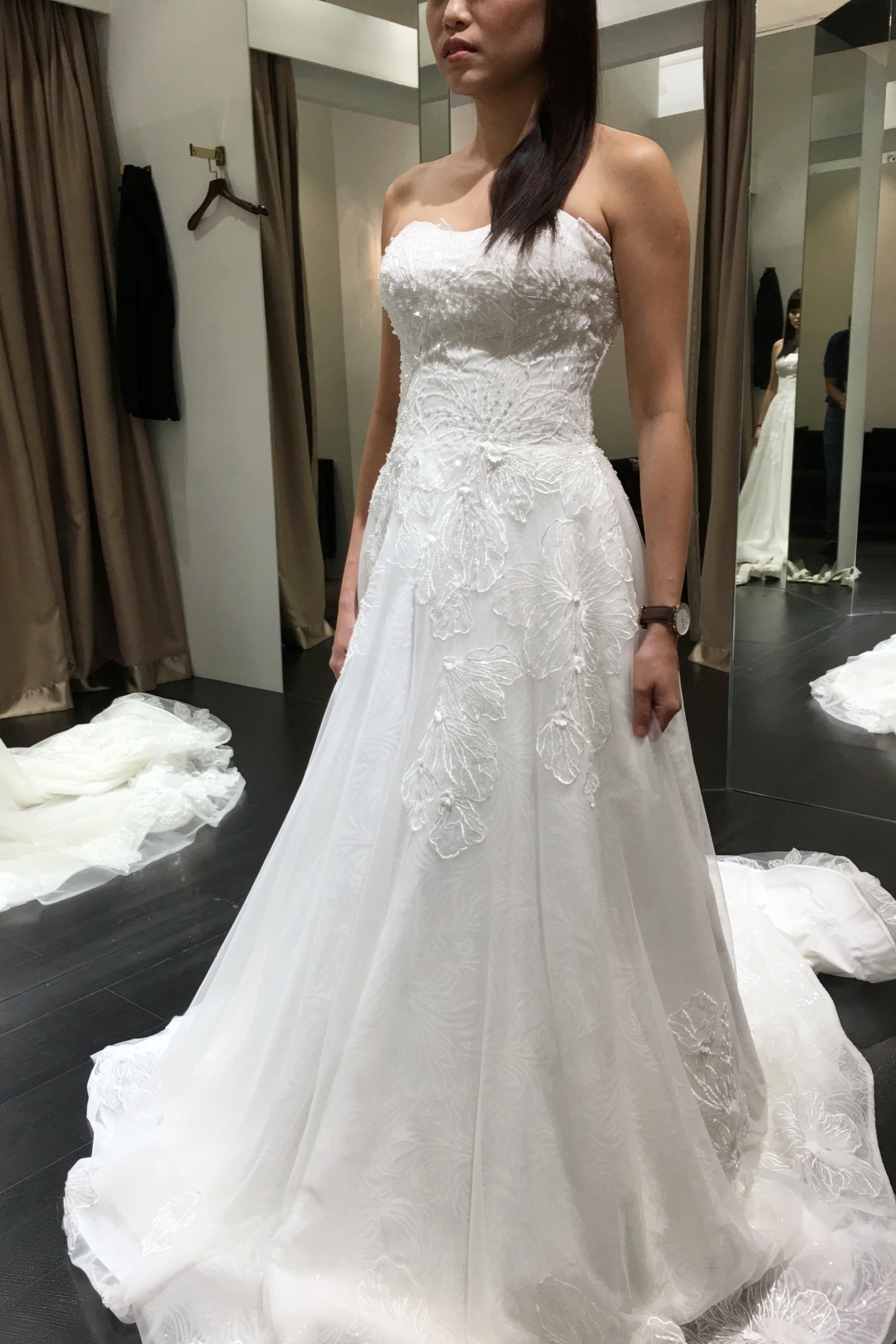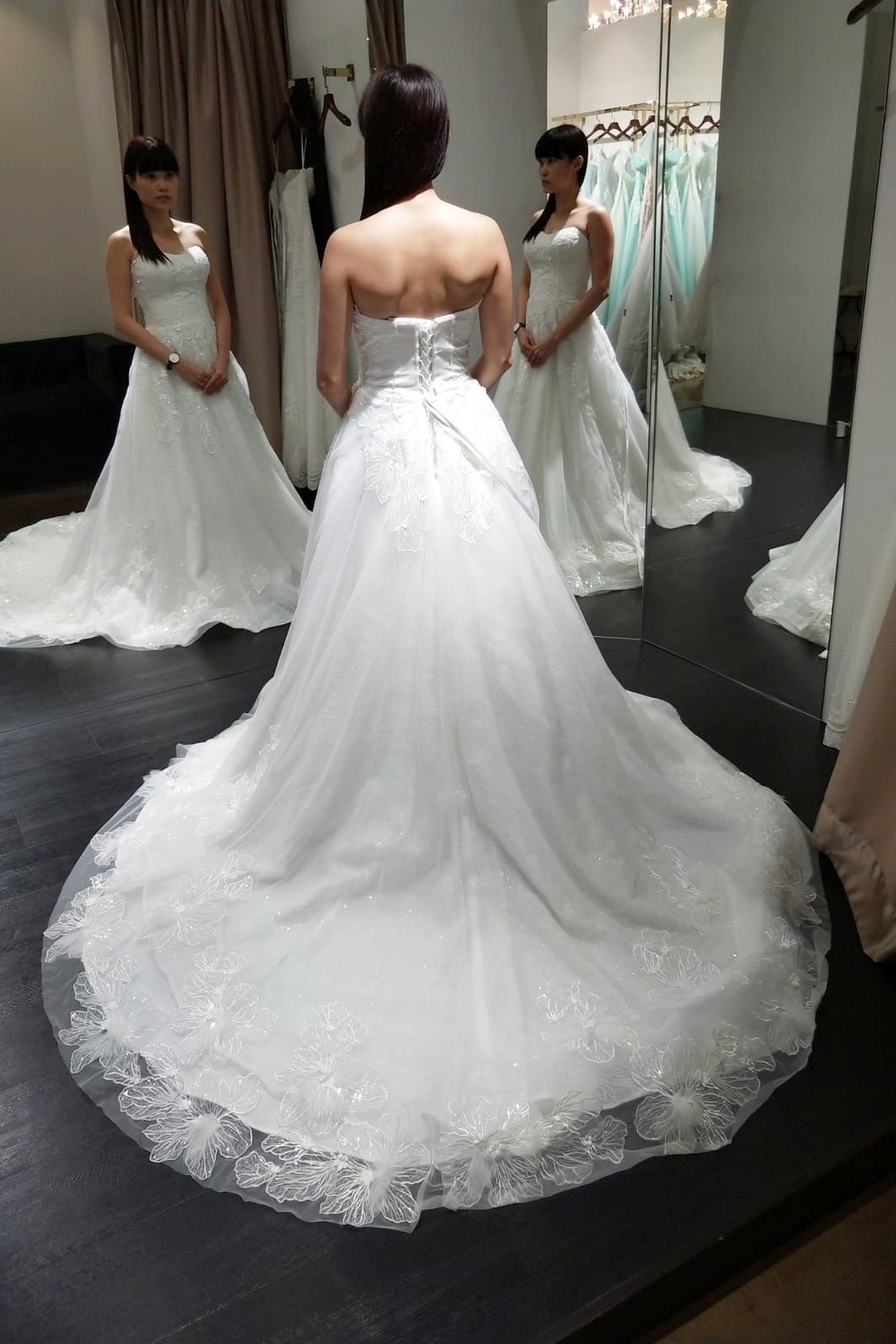 I really love the beadings on this dress and most importantly, how light it was. This was probably the lightest wedding gowns I've tried.
Wedding Gown 7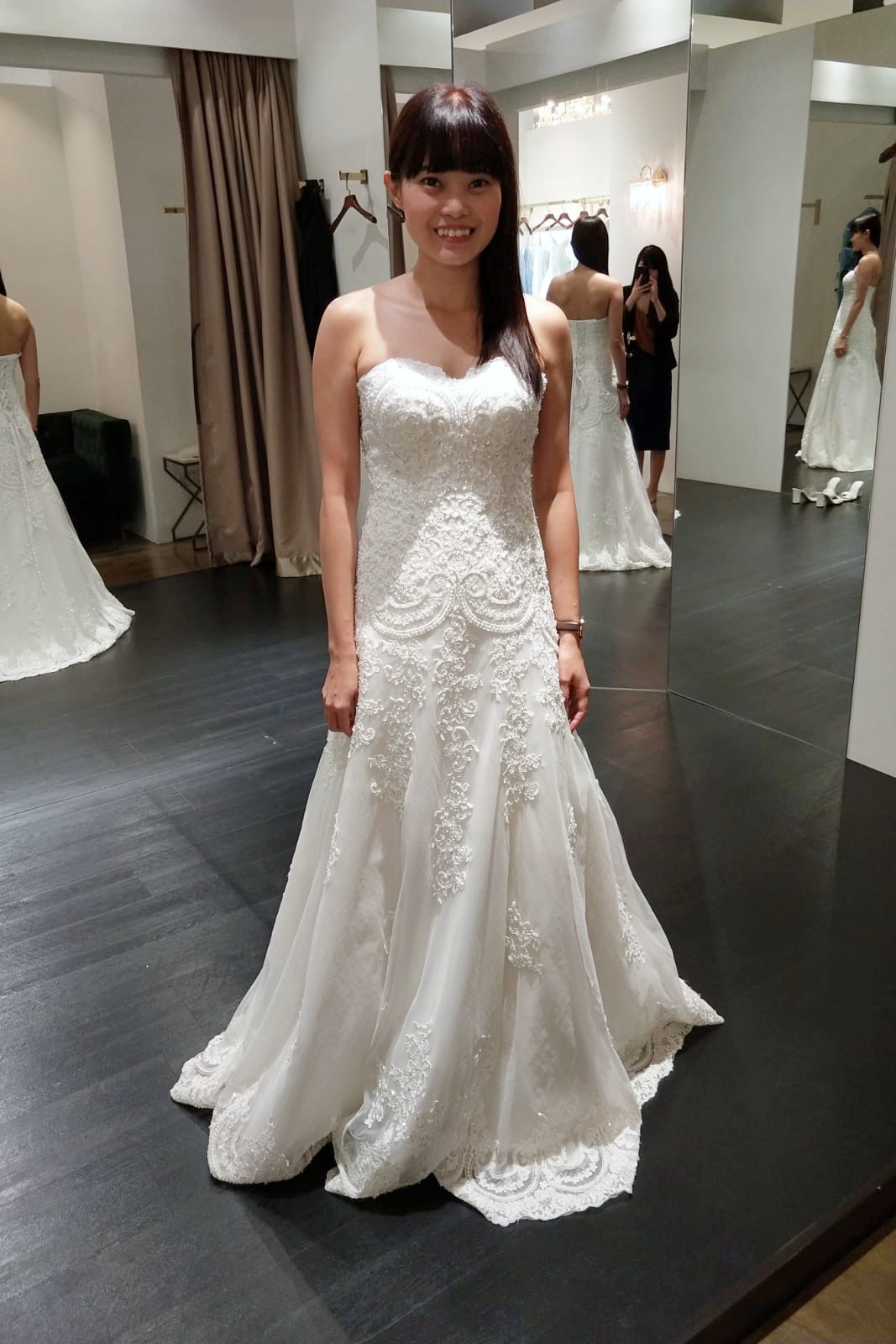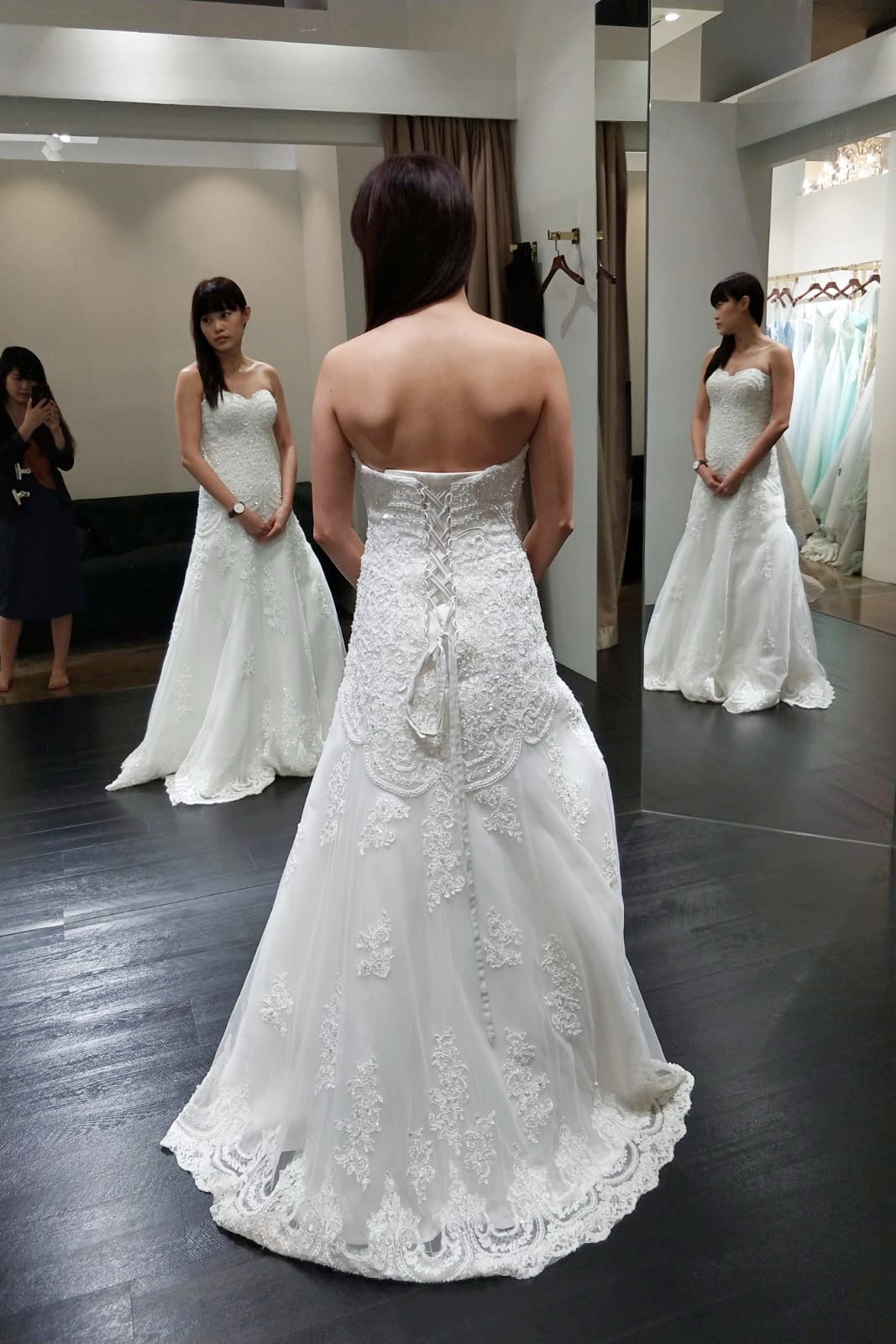 The intricate design and beadings on this dress were beautiful, but the shape of the dress just didn't call out to me.
Wedding Gown 8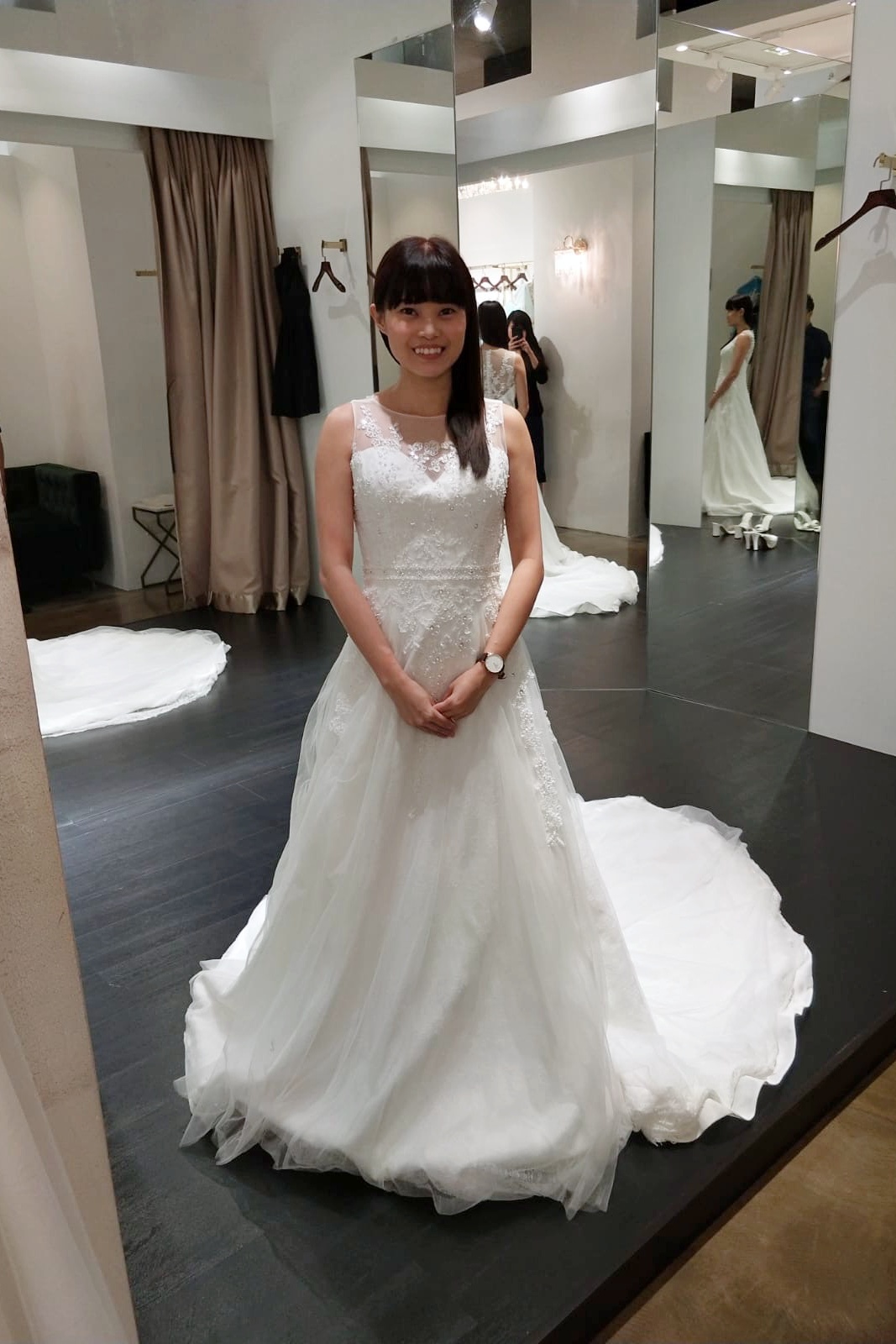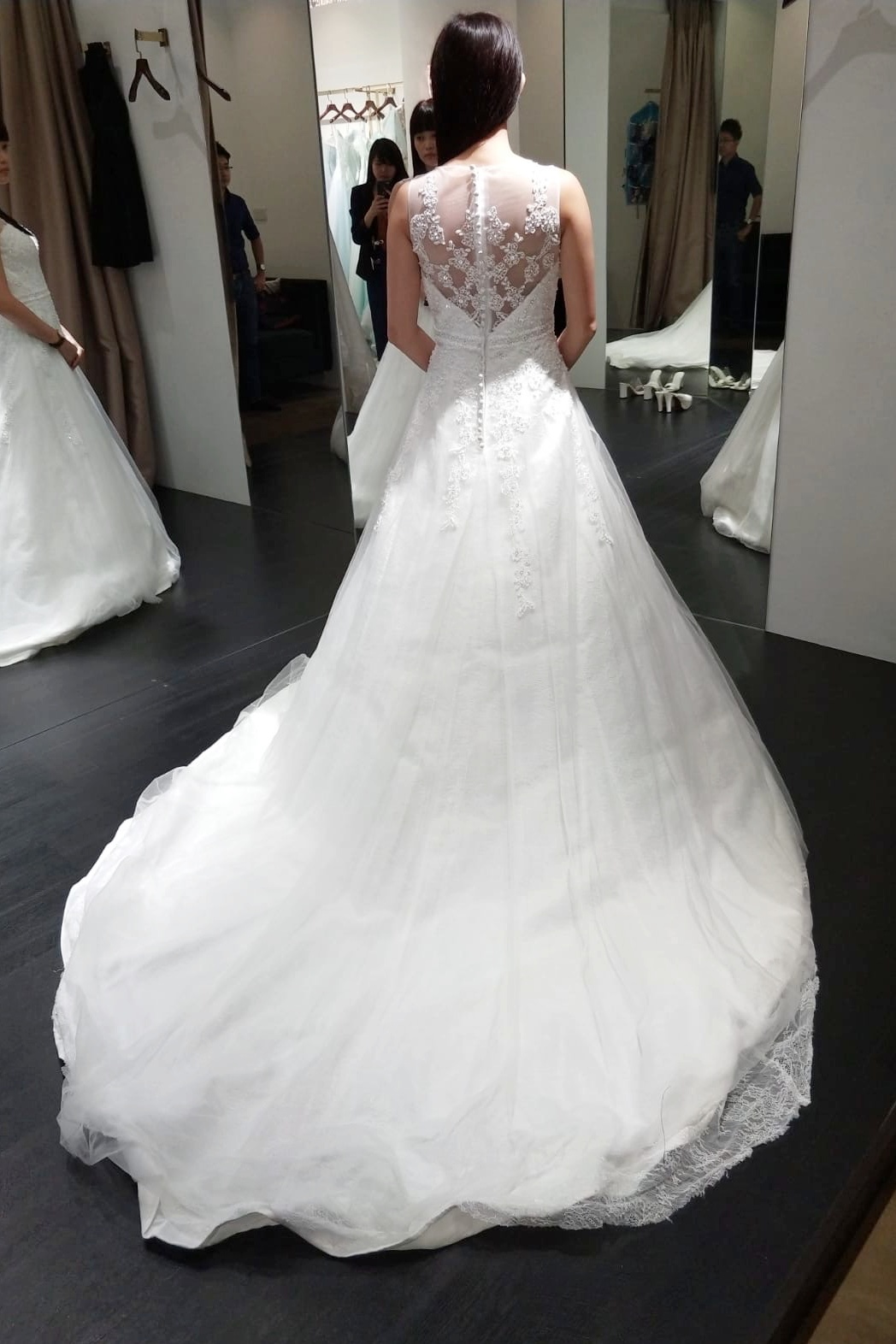 Wedding Gown 9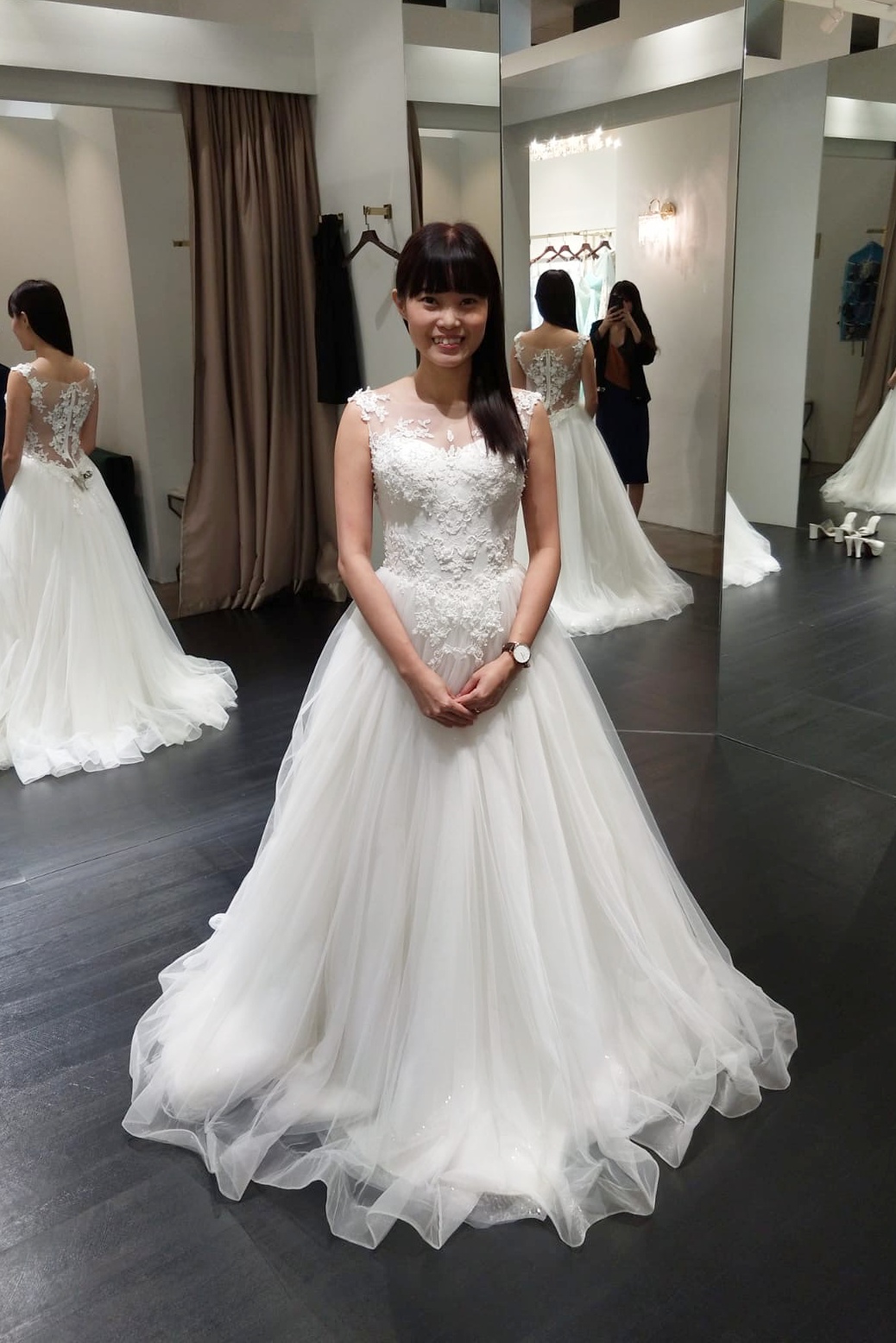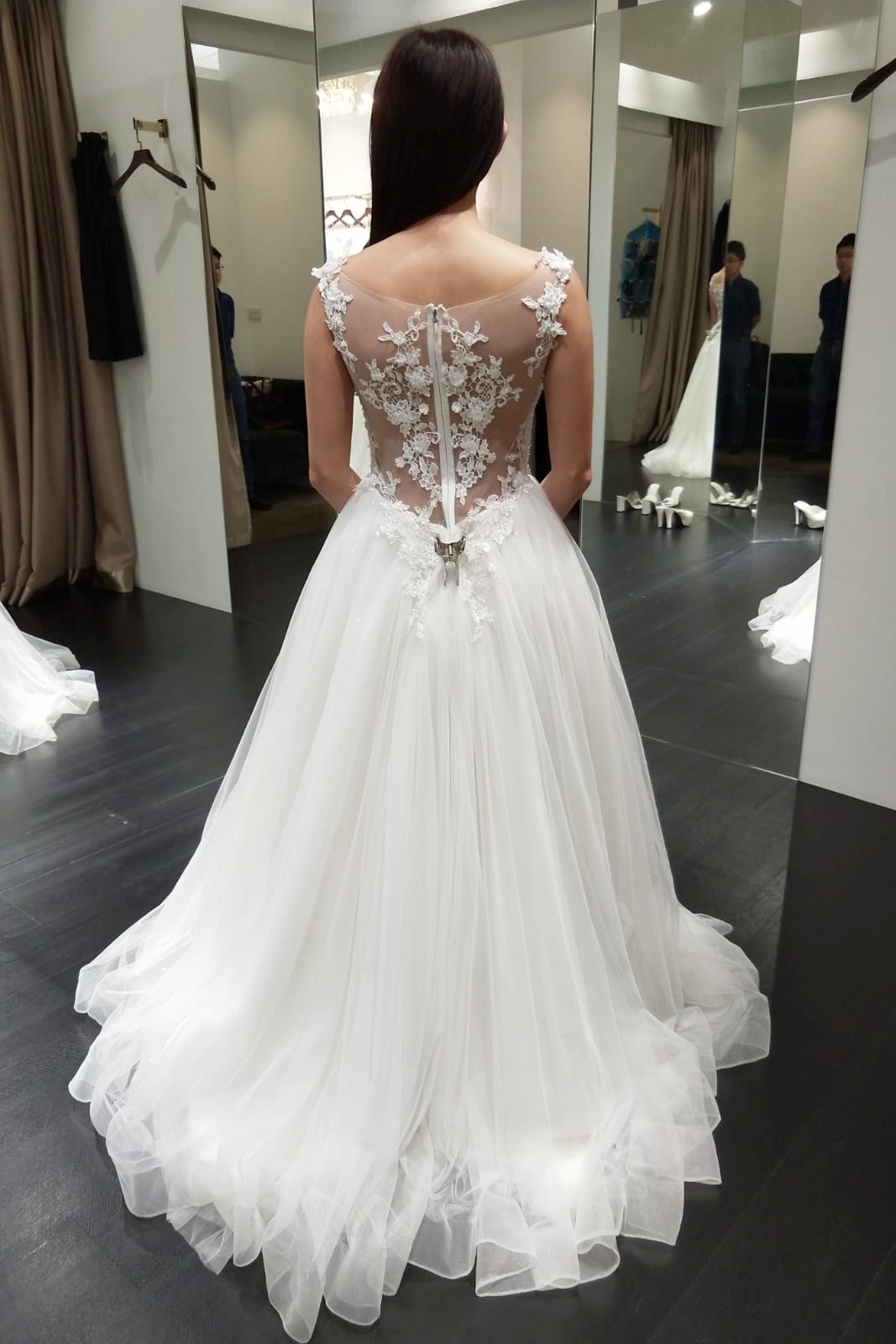 Wedding Gown 10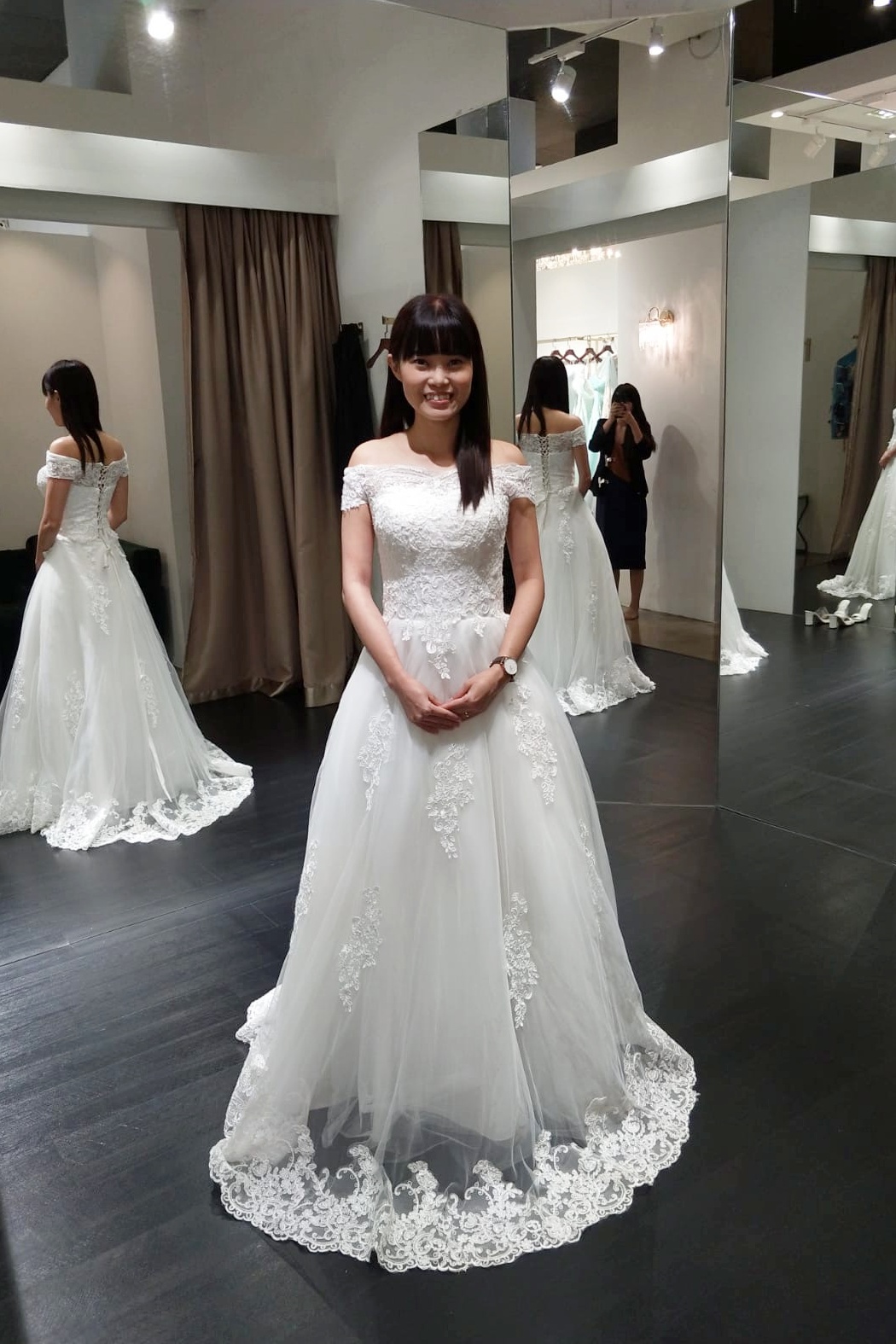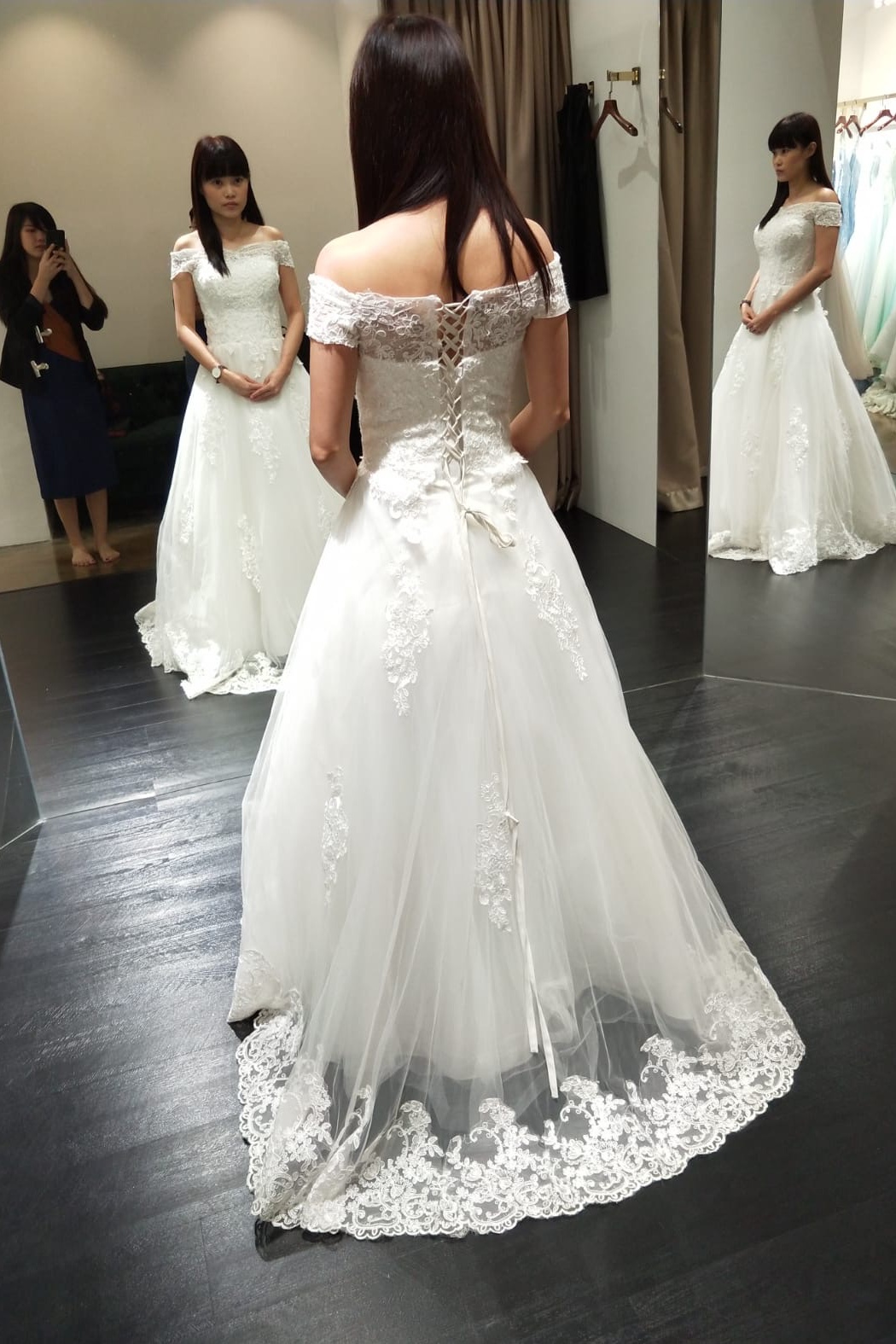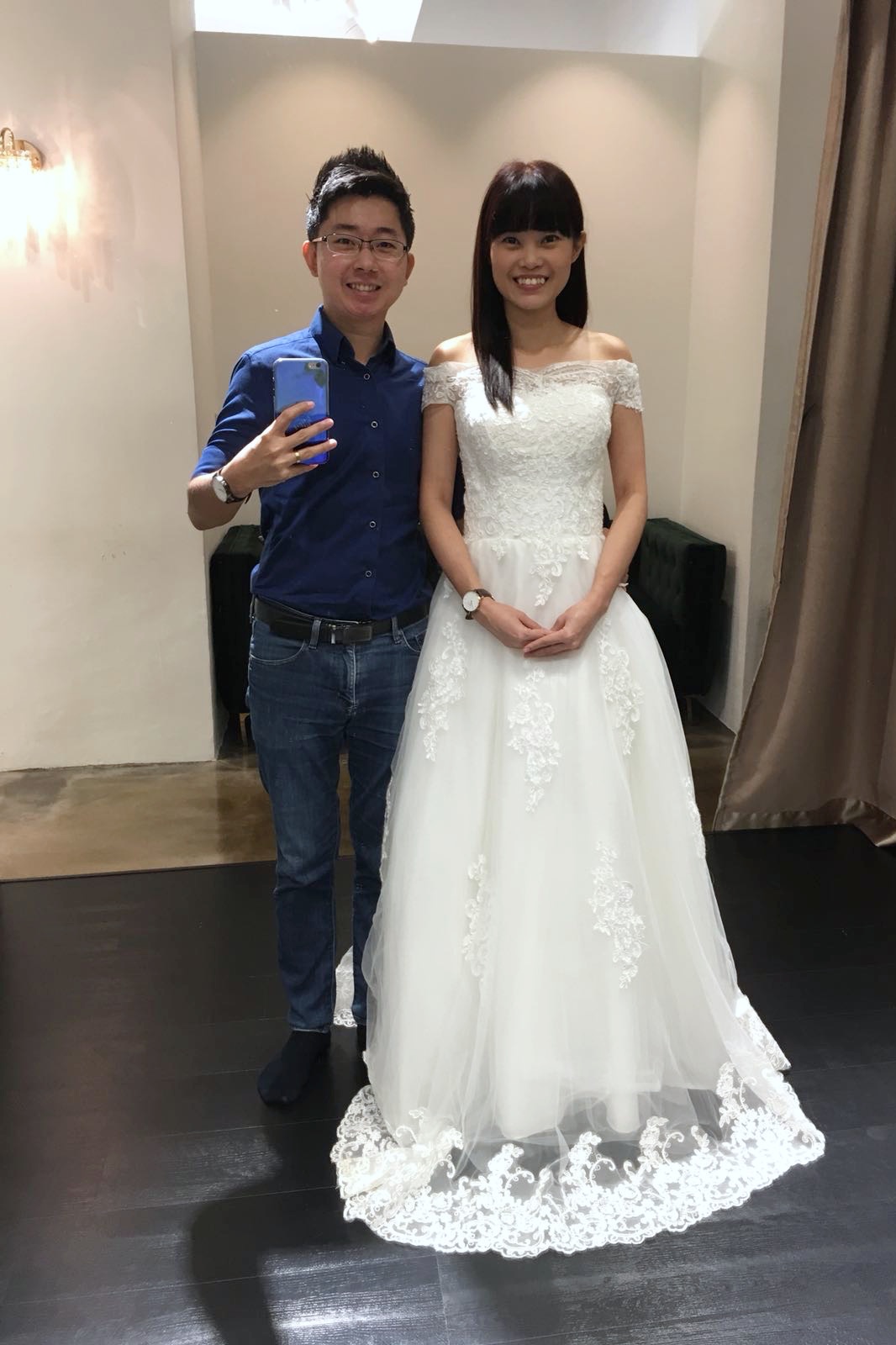 Finally a dress that seems to make my shoulder and arms look narrower, rather than emphasising on my broad shoulder.
Wedding Gown 11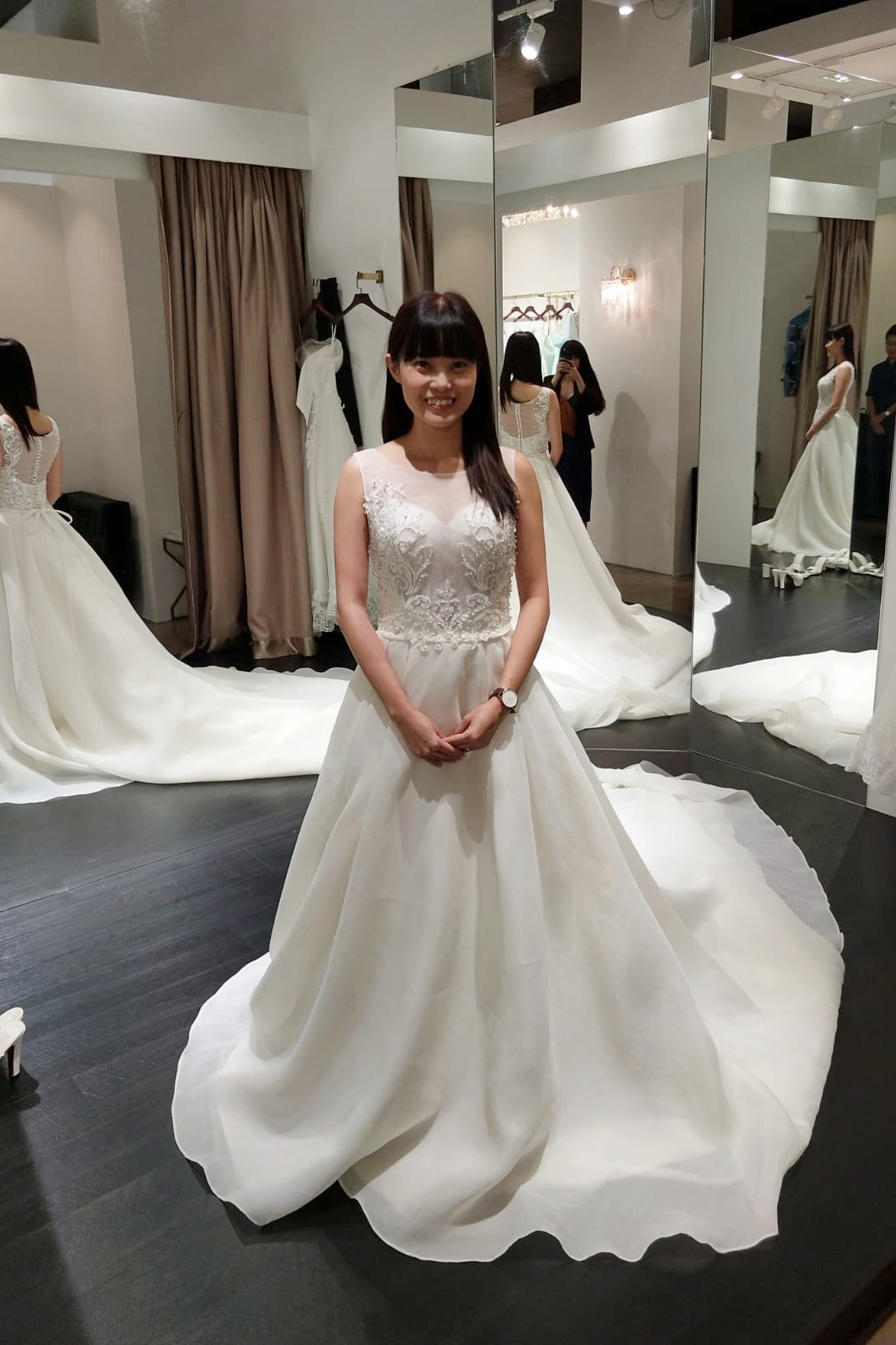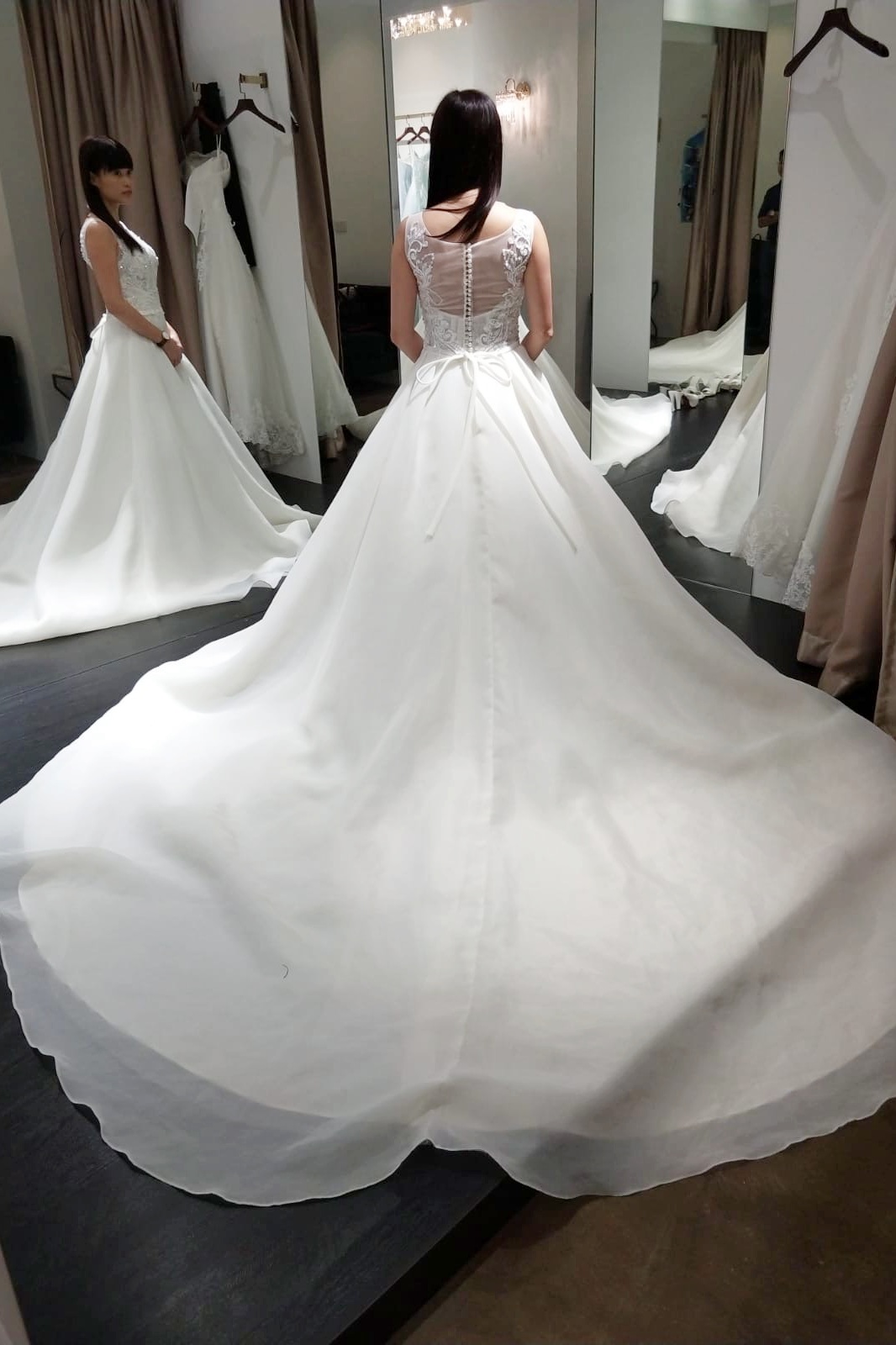 Even though the bottom of this dress was kept simple, somehow, I really like this gown too. I thought the dress looks really elegant from the front. The row of buttons at the back also reminds me of the dress I wore for my solemnisation.
---
At the end of our session, I decided to shortlist Wedding Gown 5 and Evening Gown 11. By that, it means that Charie will (soft book) set aside both gowns for my actual day. Meanwhile, I'm still free to make appointments should I wish to try out more dresses before the final fitting.
Right from the beginning, I was told that there was no restriction on how many appointments I can make before the final fitting.
12 September 2018 | Final Fitting
Fast forward to 12 September, just slightly more than a month to my wedding; I returned to The Gown Warehouse for my final fitting. This time around, I told the Husband not to come along to my fitting, and instead got my sisters to accompany me for my appointment.
I think it was good to have my sisters join me because they are probably the few who wouldn't hesitate to reveal their thoughts and share their sincere opinions on how I look.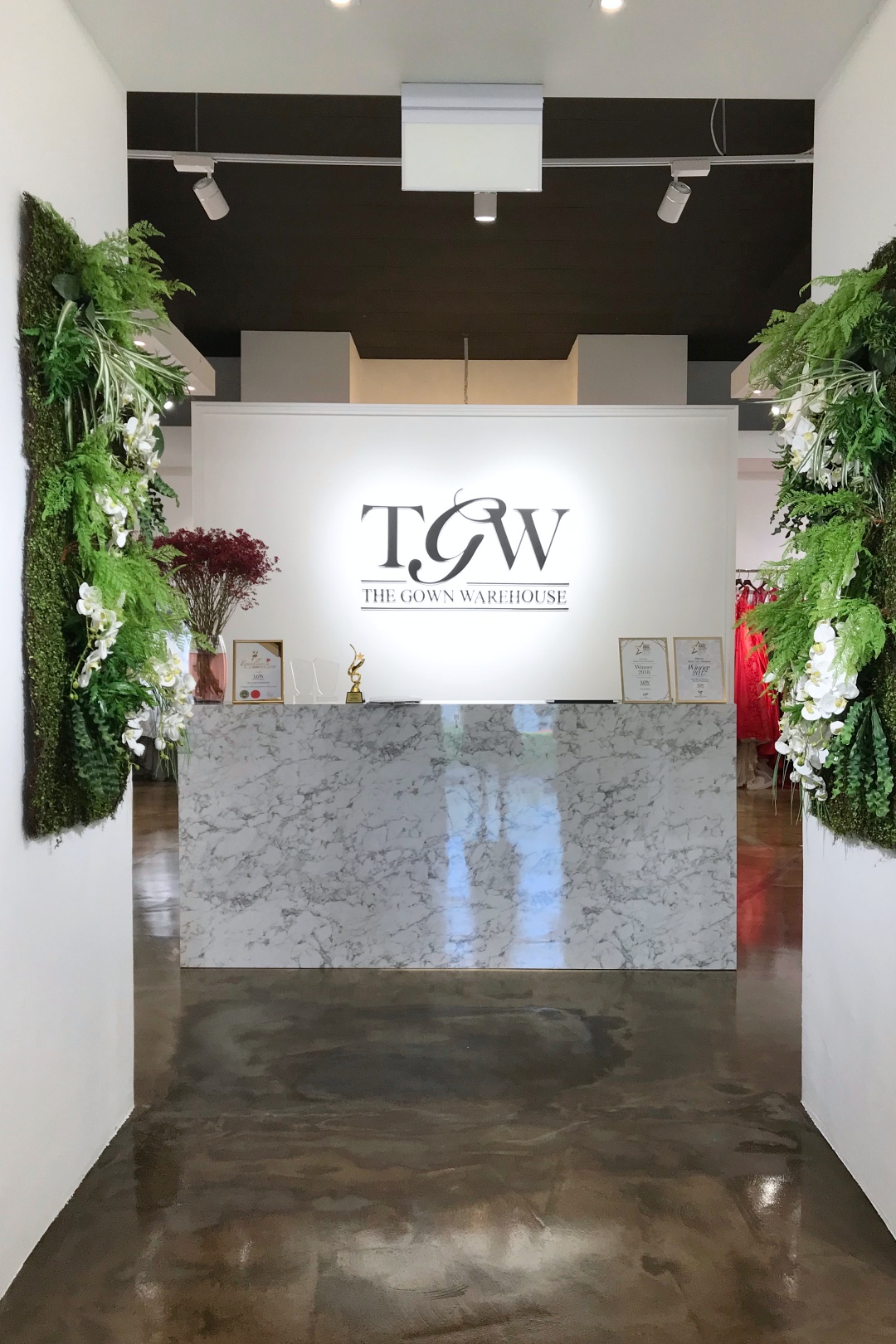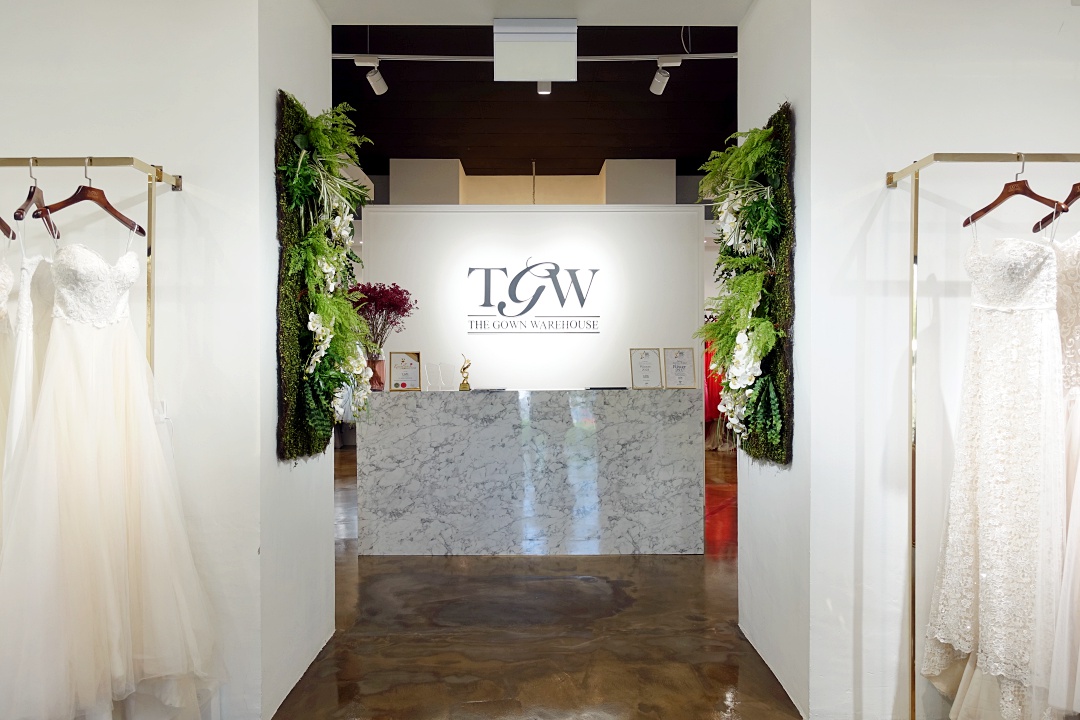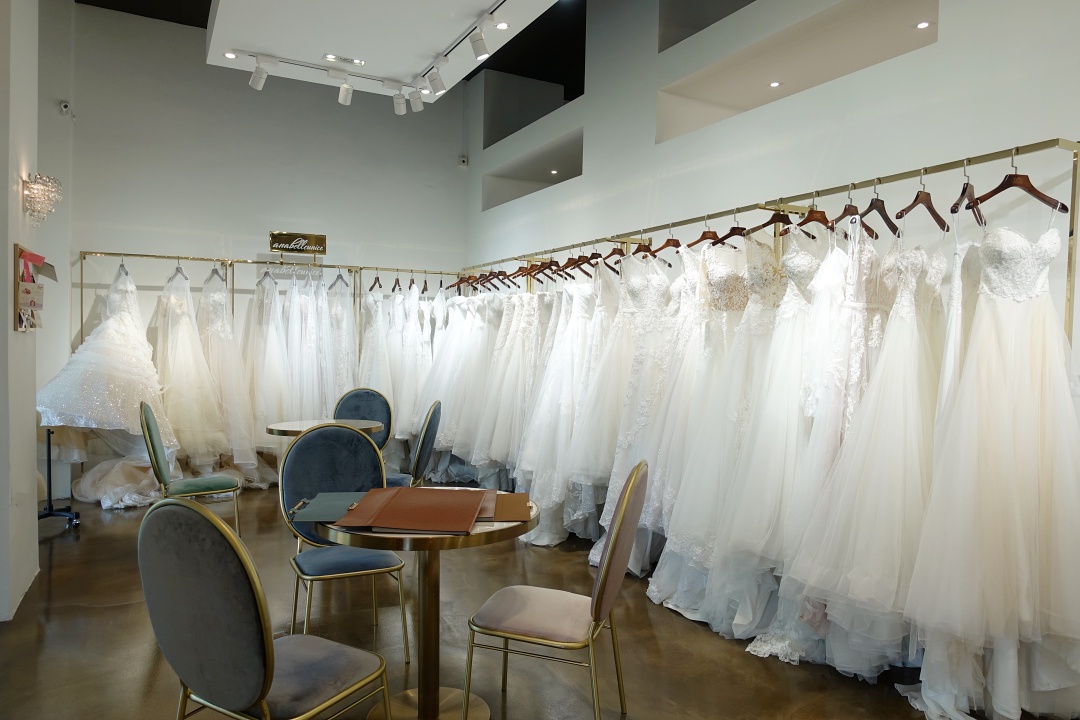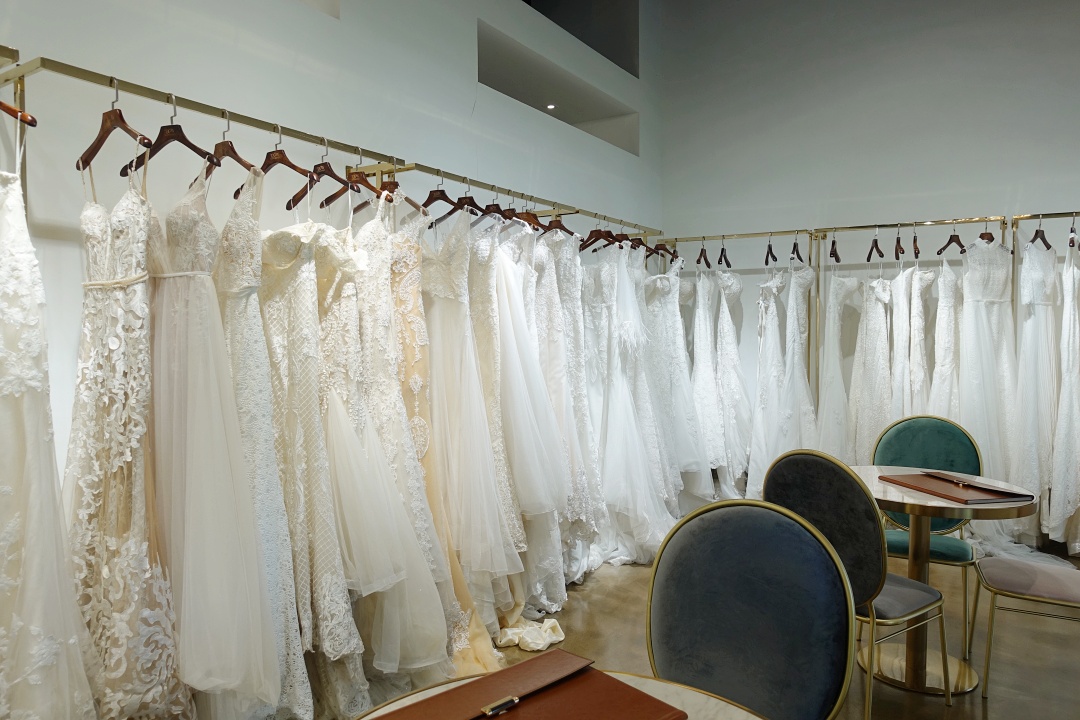 To get started, I decided to try on the three wedding gowns (out of all I had tried thus far) that I really love and wouldn't mind wearing on my wedding day.
Wedding Gown 11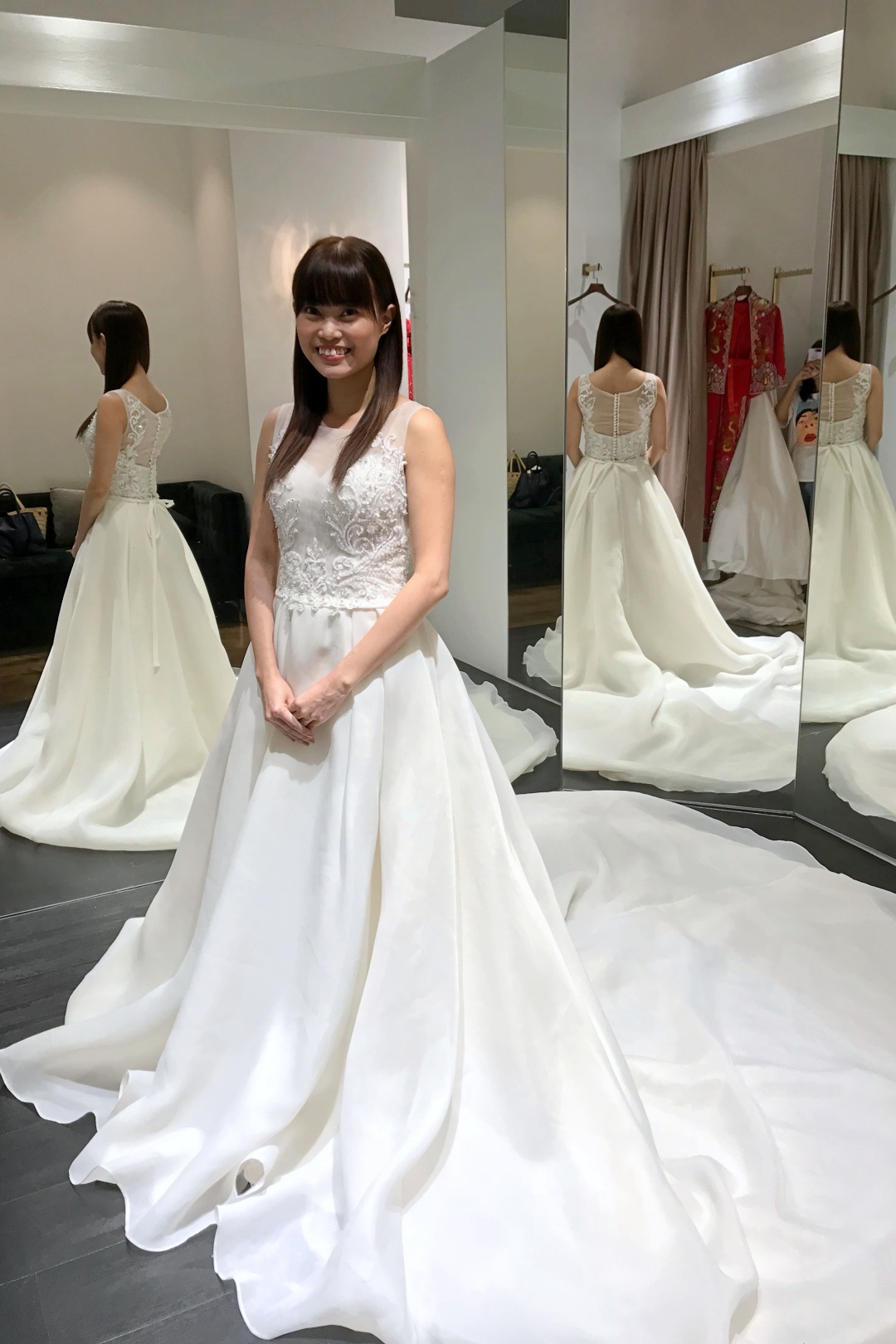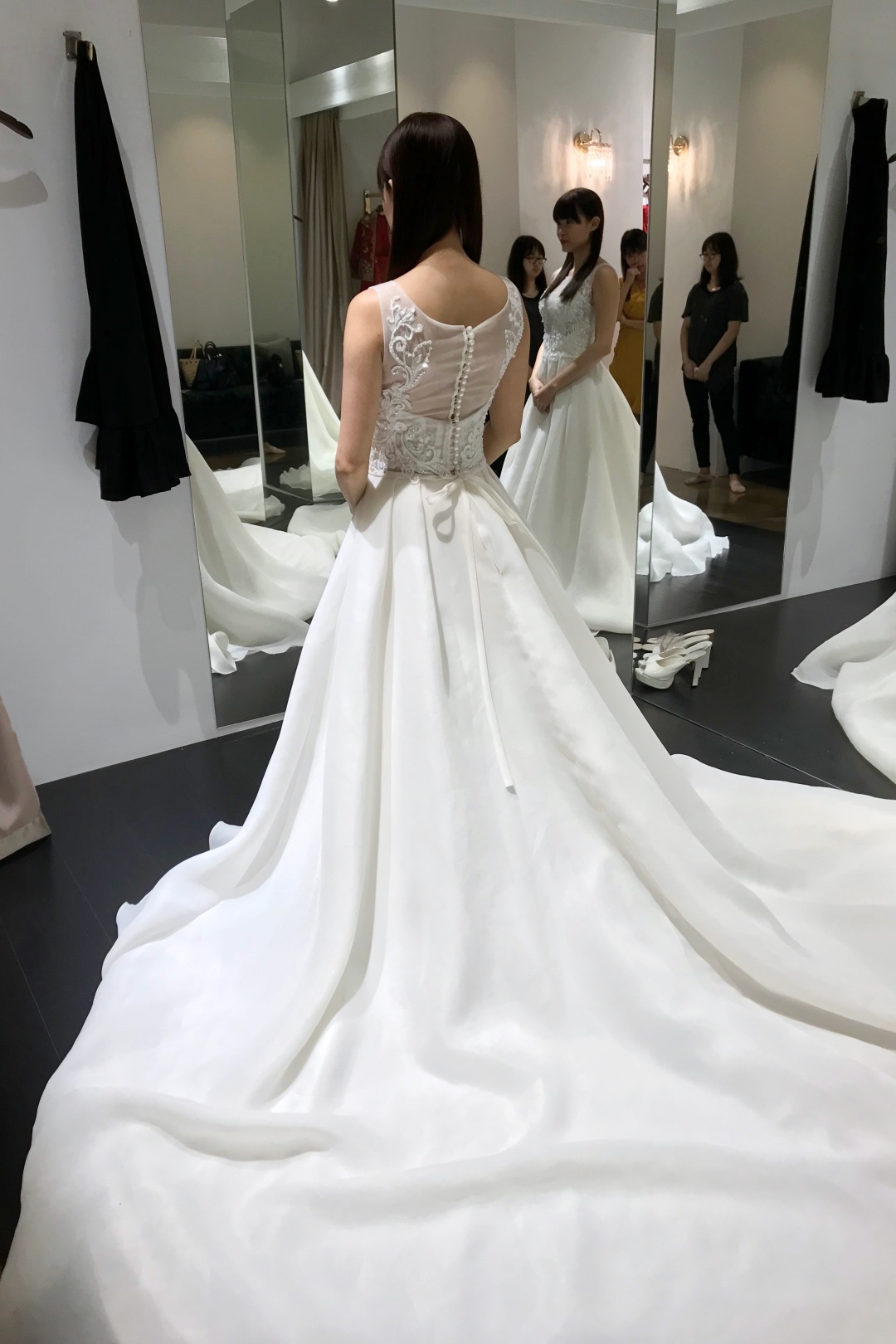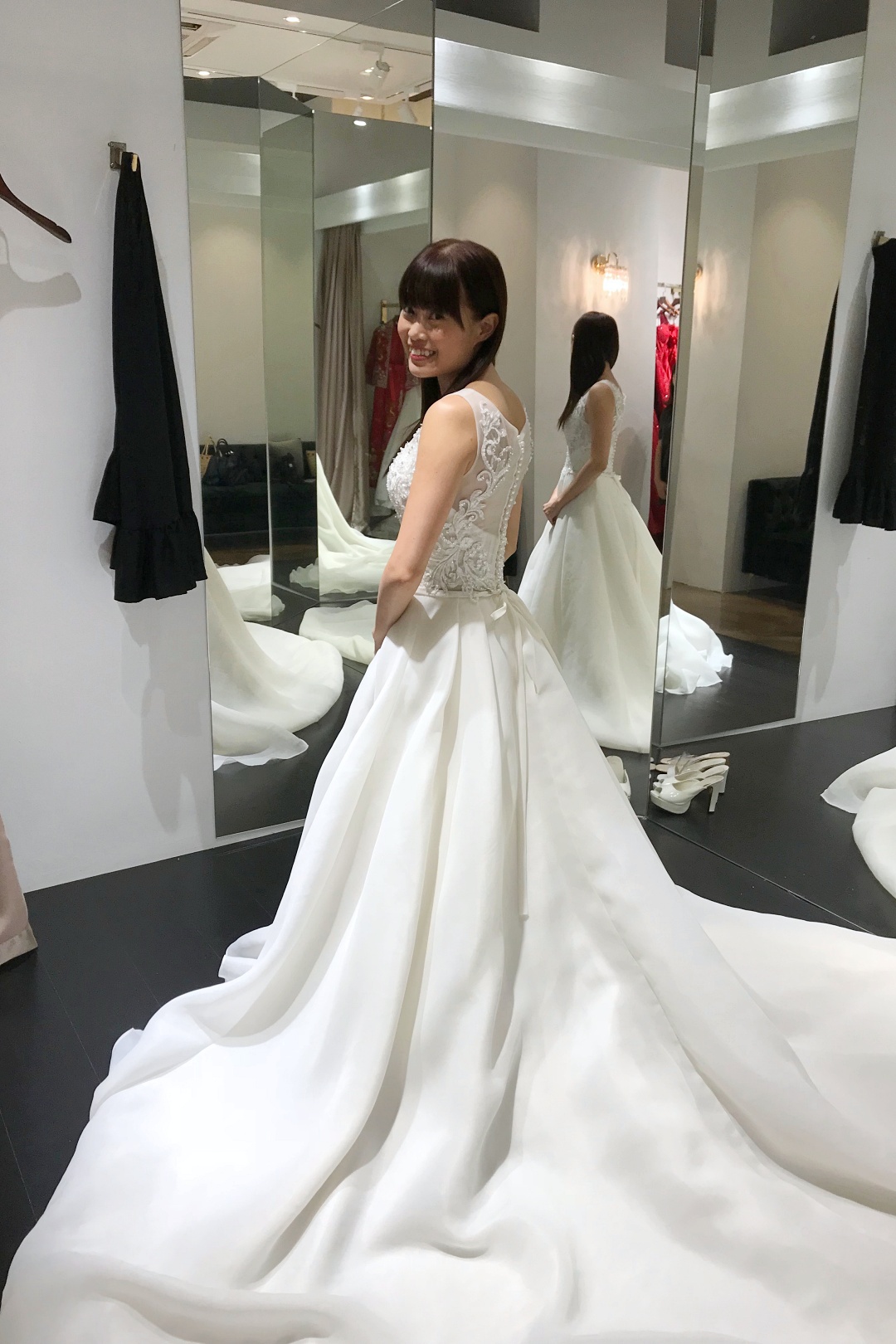 Wedding Gown 5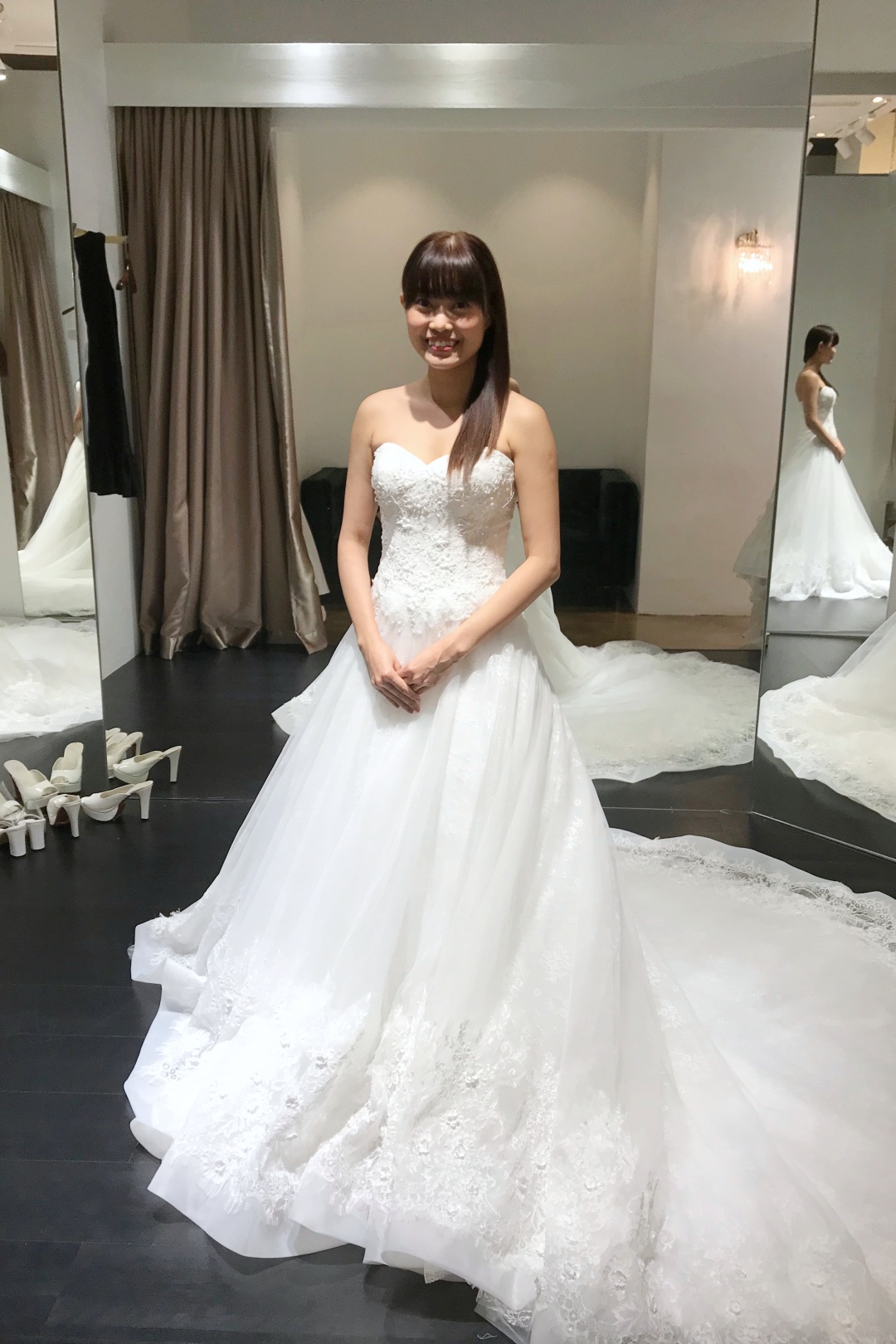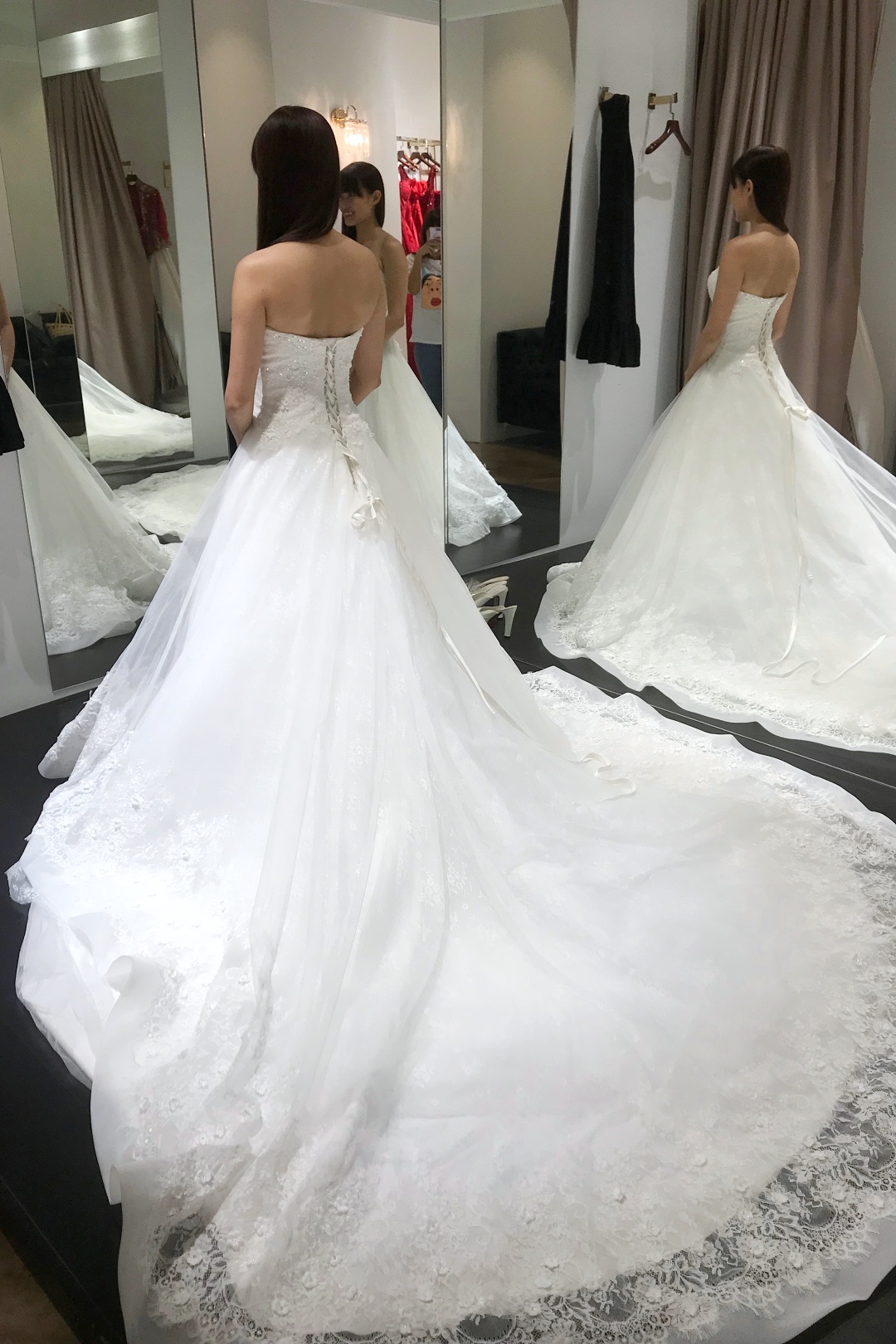 Wedding Gown 6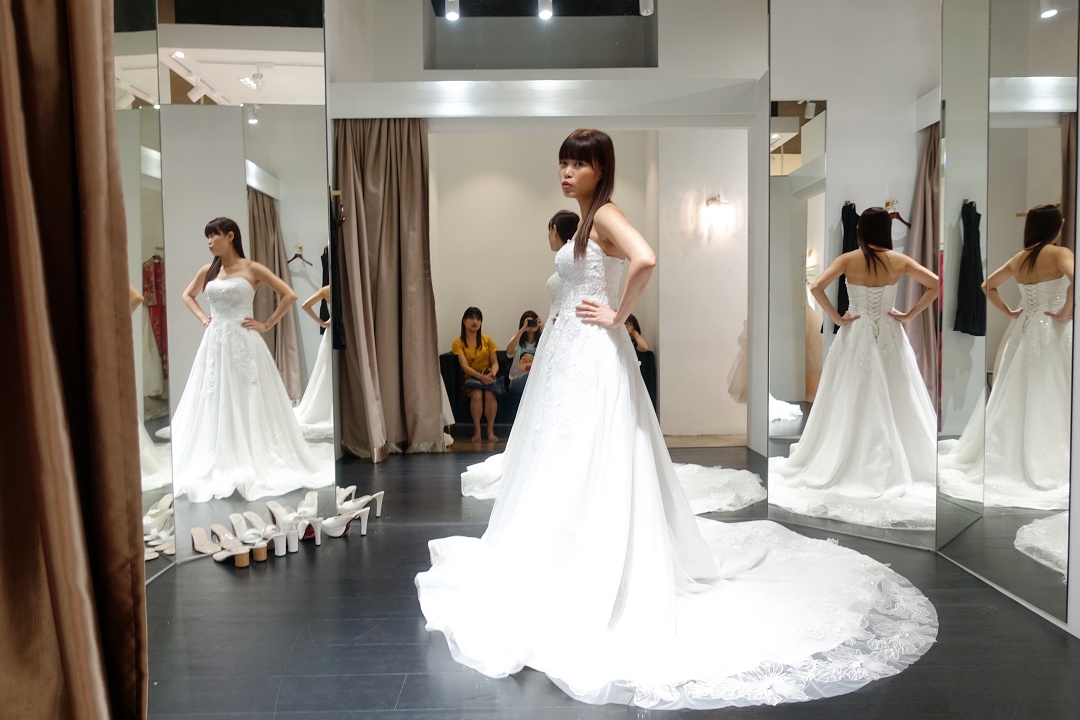 This is me trying to get them to focus and help me to decide.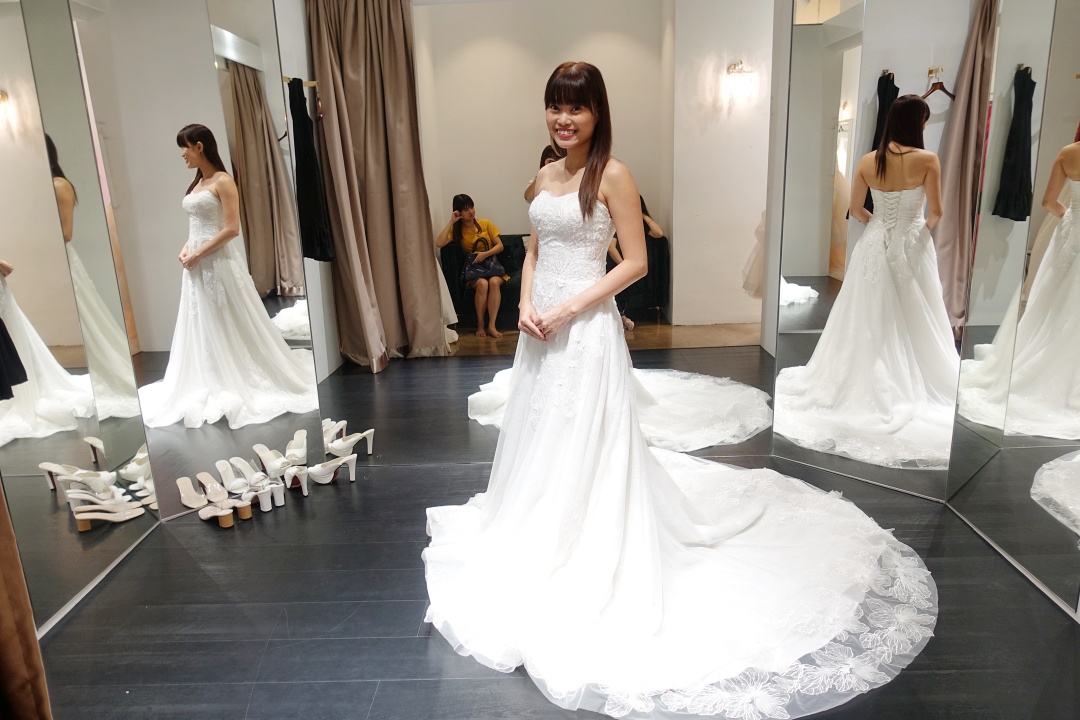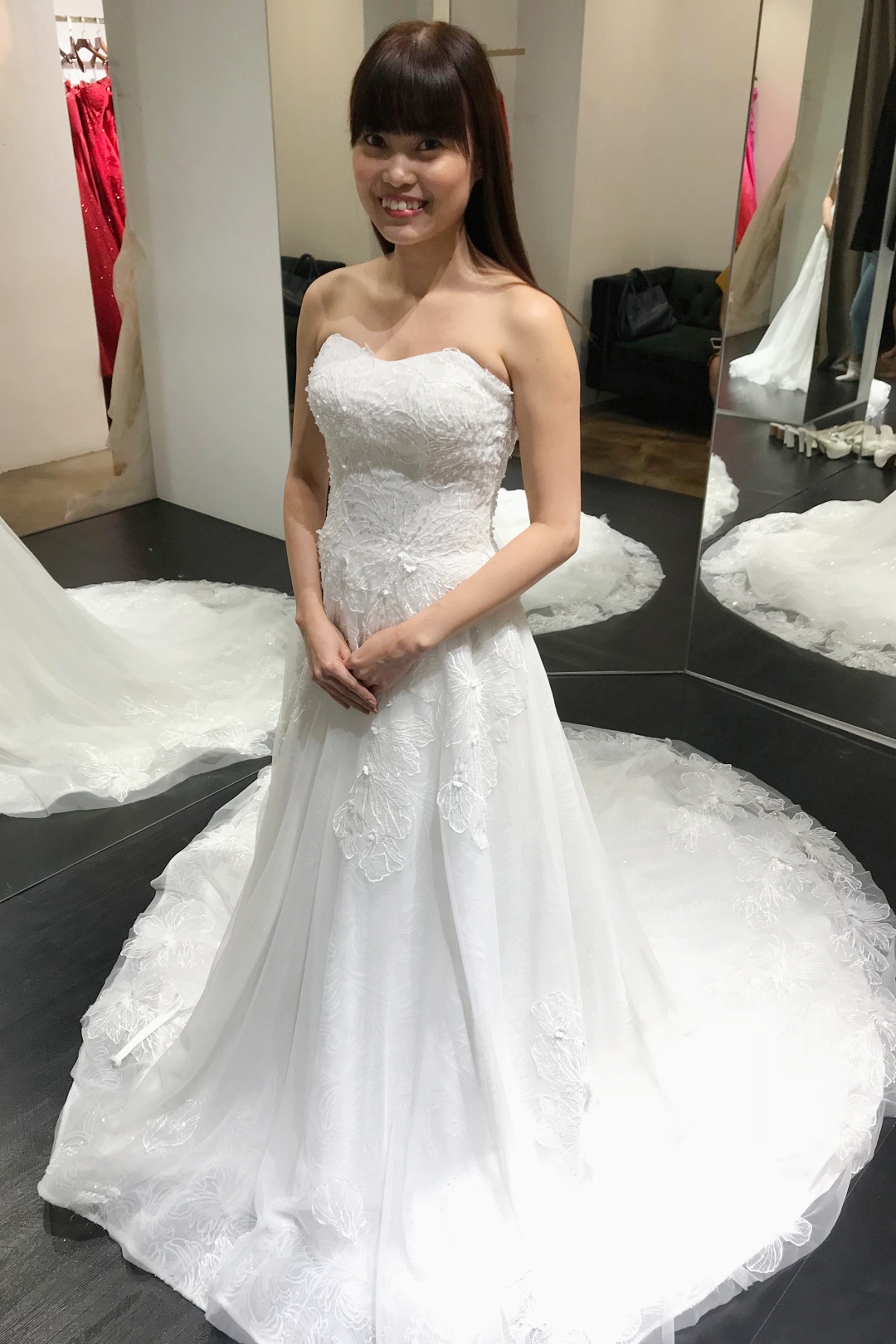 I think my elder sister really love the beadings on this dress!
I love it too. But somewhere inside me tells me that this wasn't the ball gown I was looking for – I wanted something more pouffy!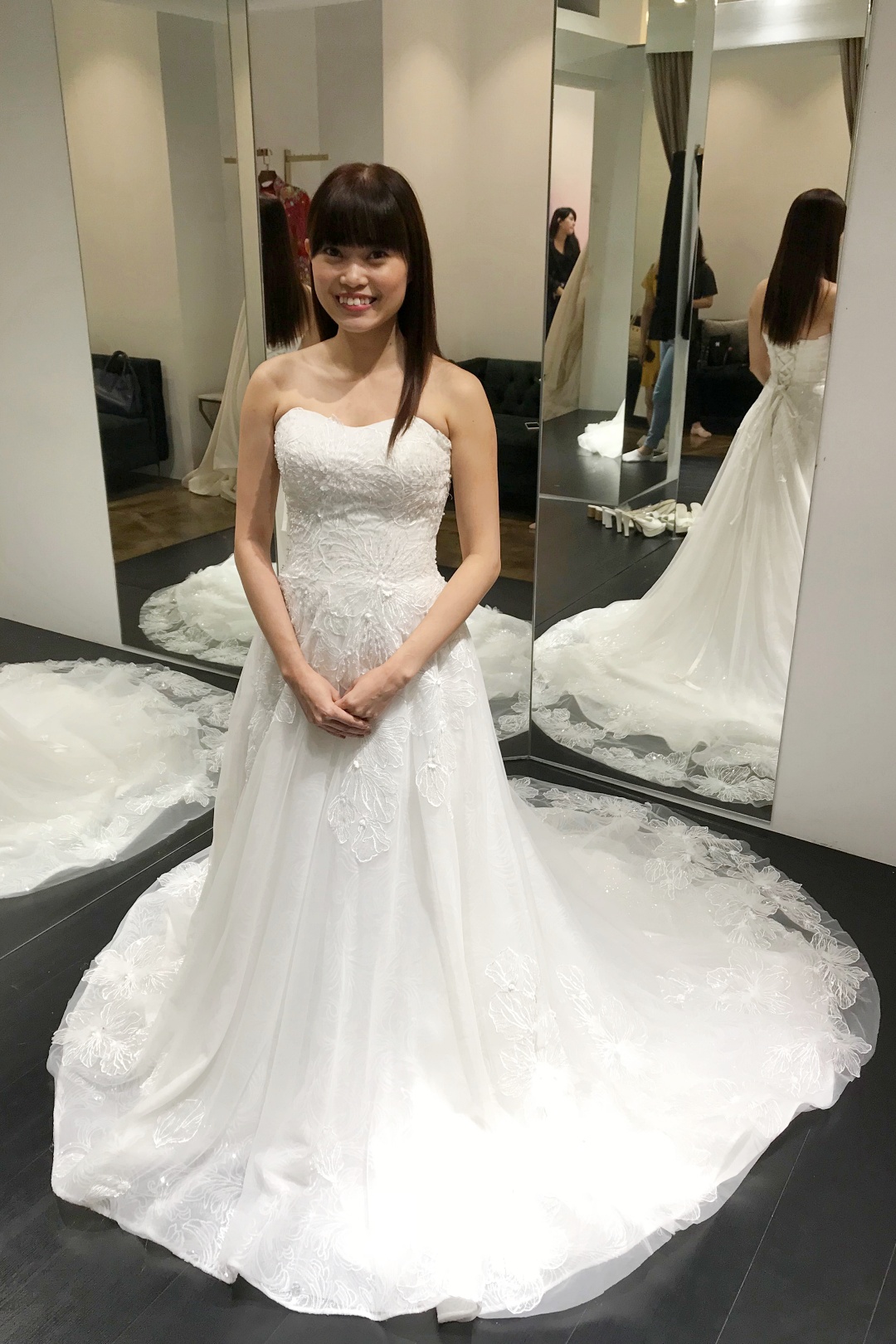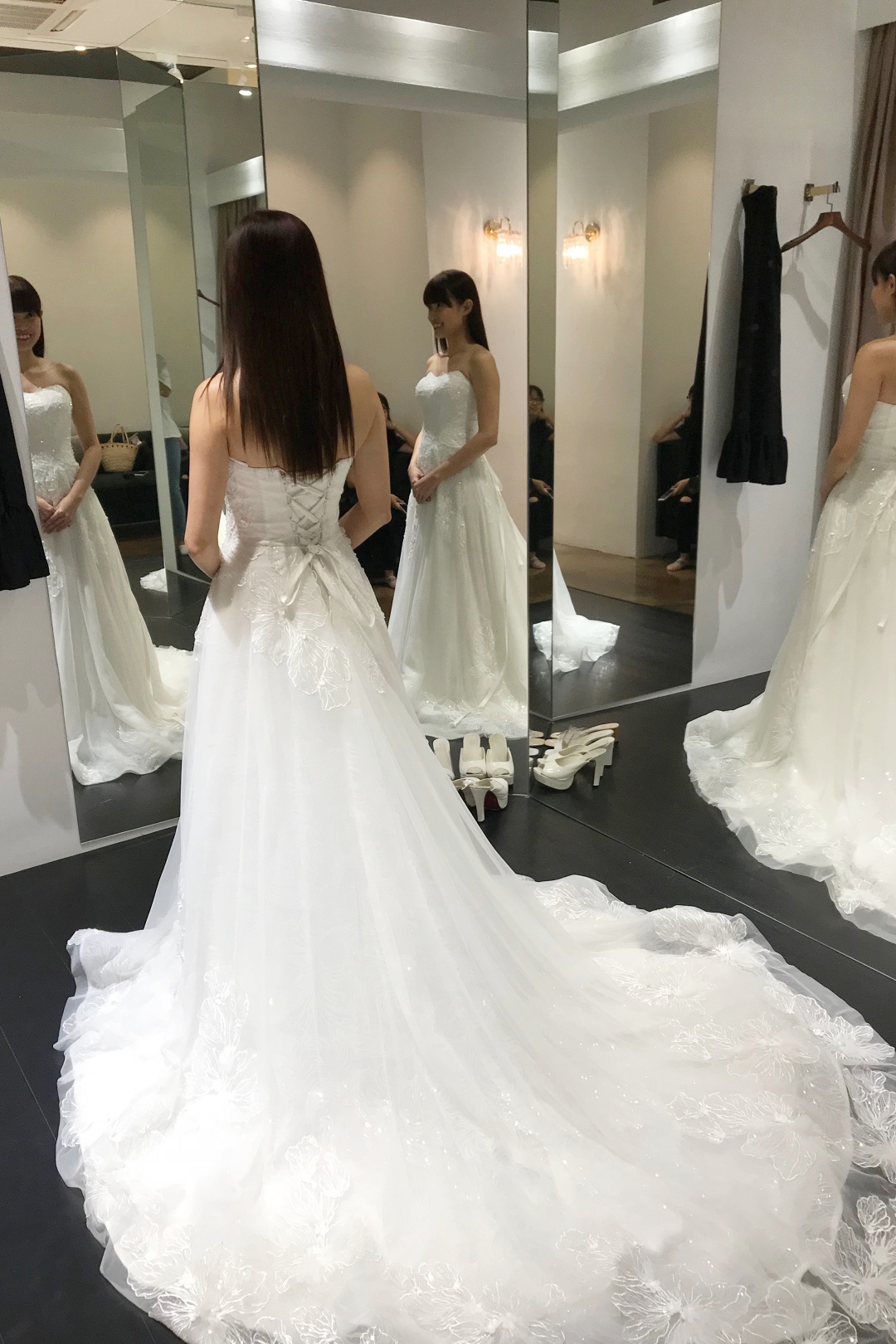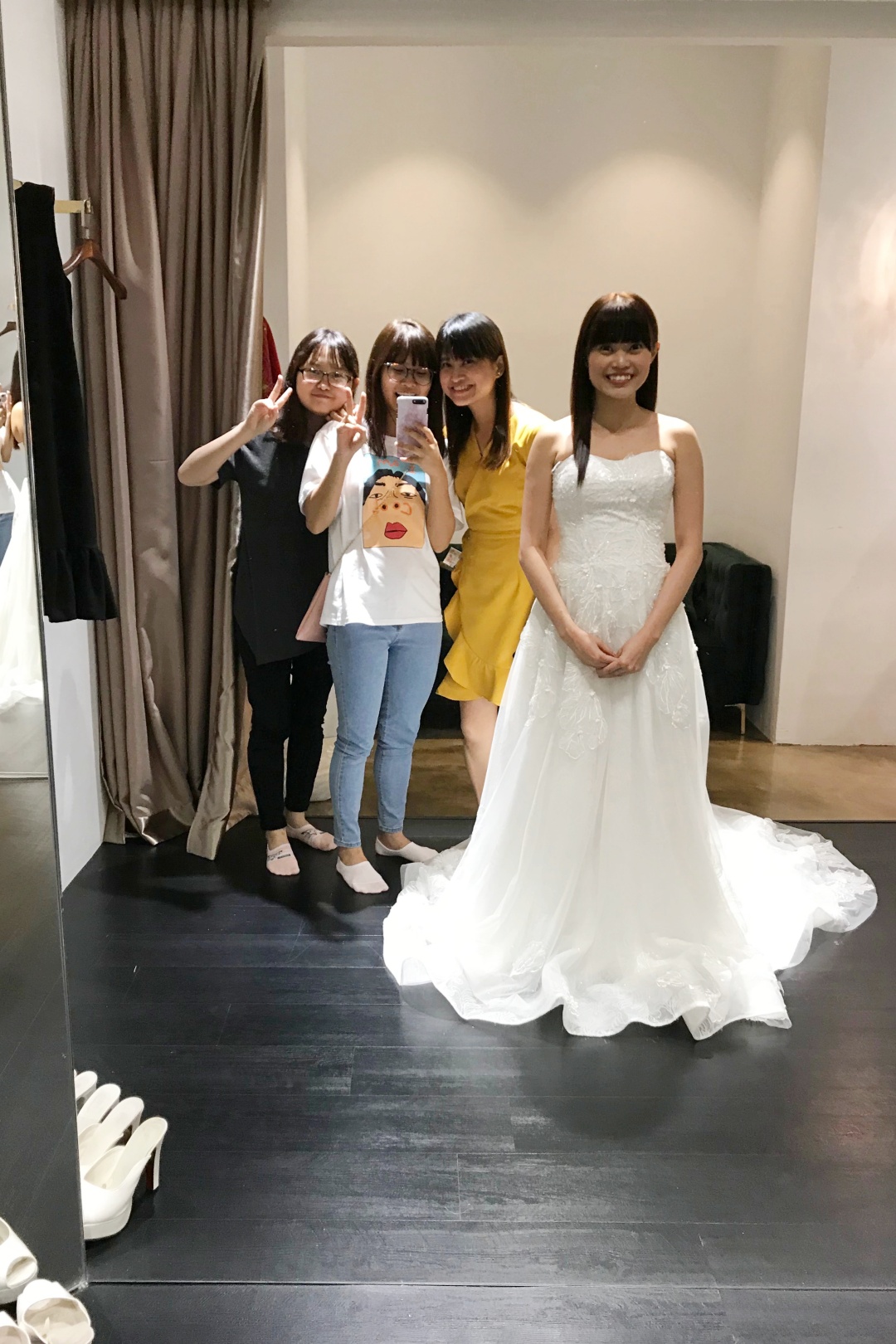 After trying the three wedding gowns, we then went around the studio picking out more dresses to try on.
Wedding Gown 12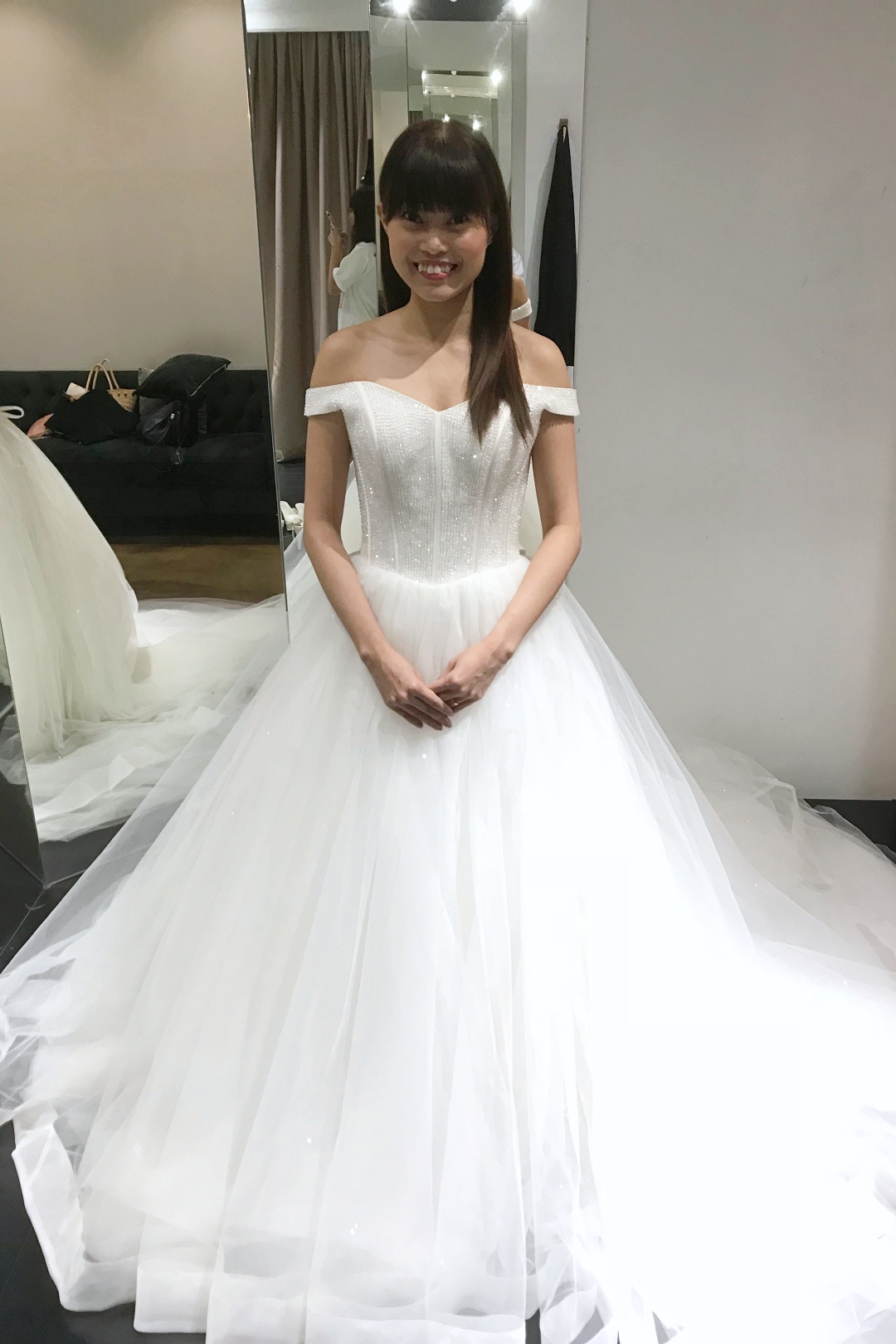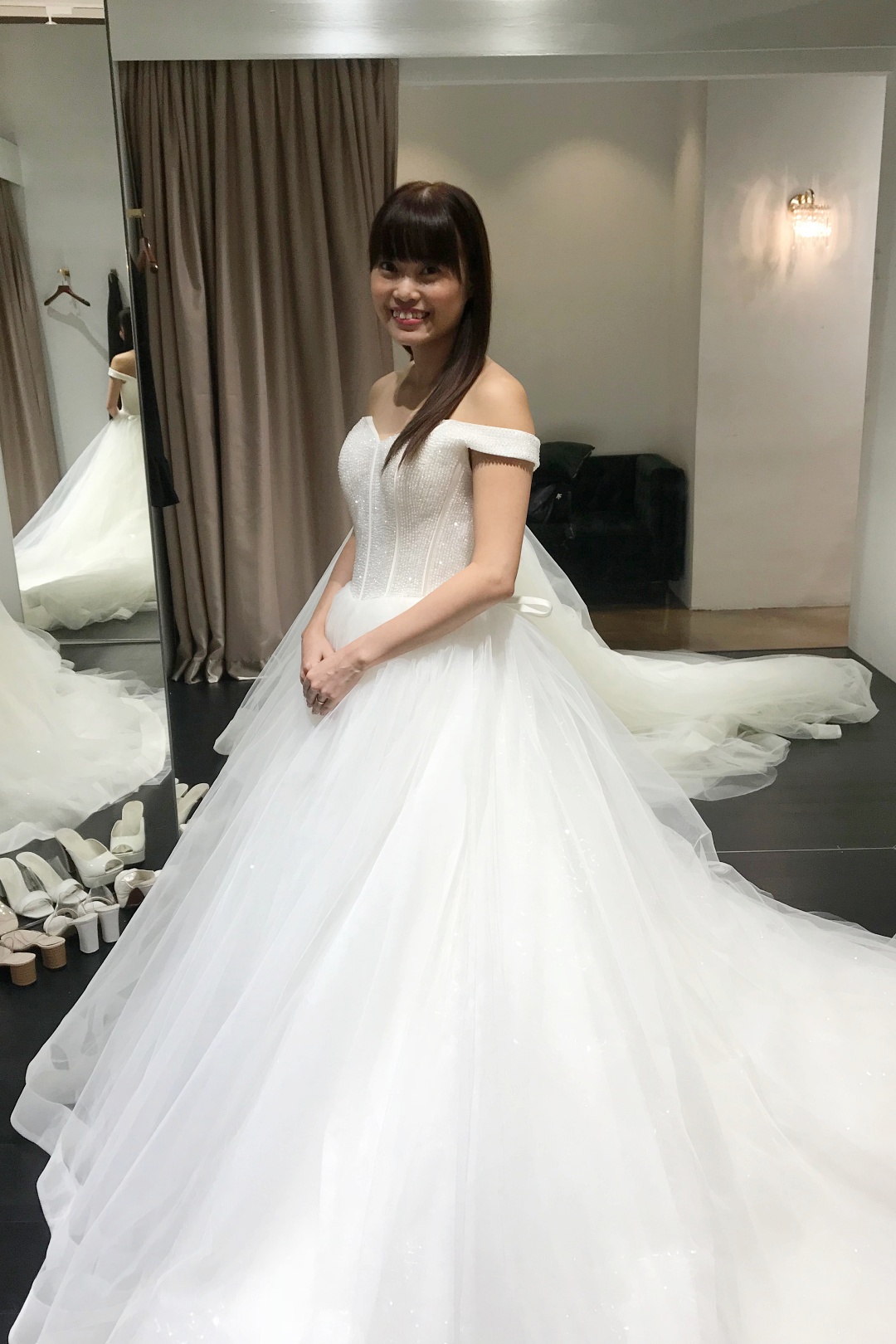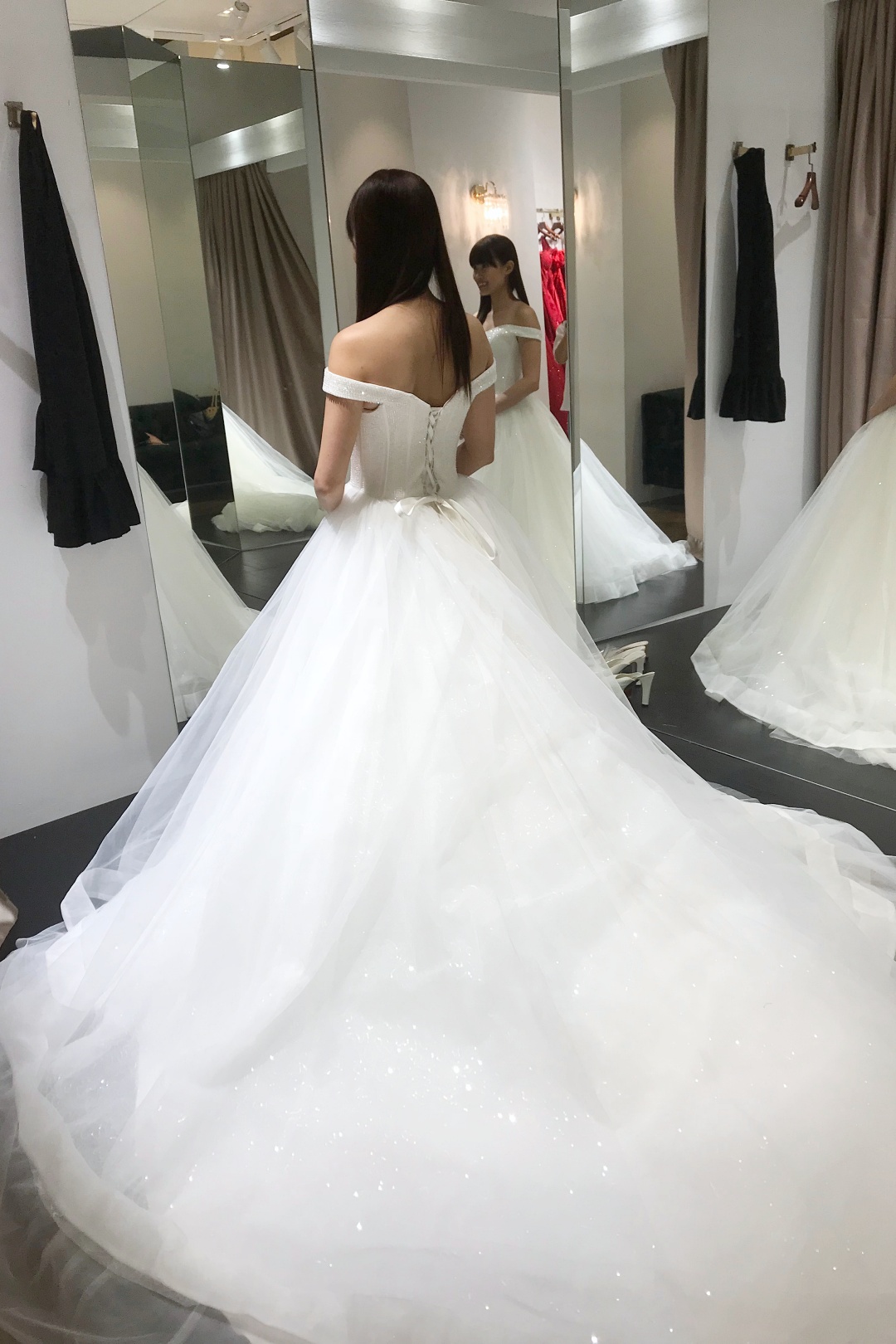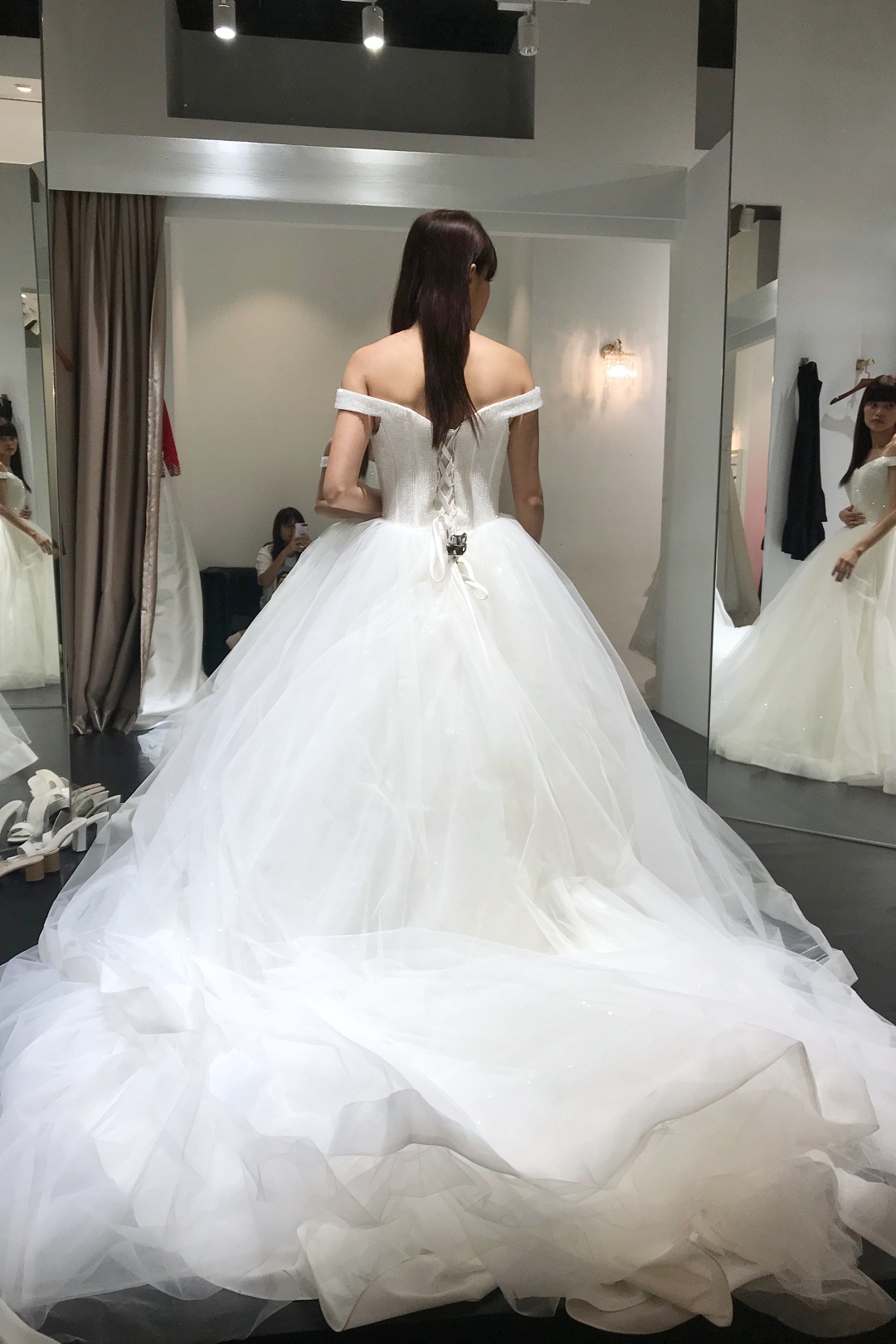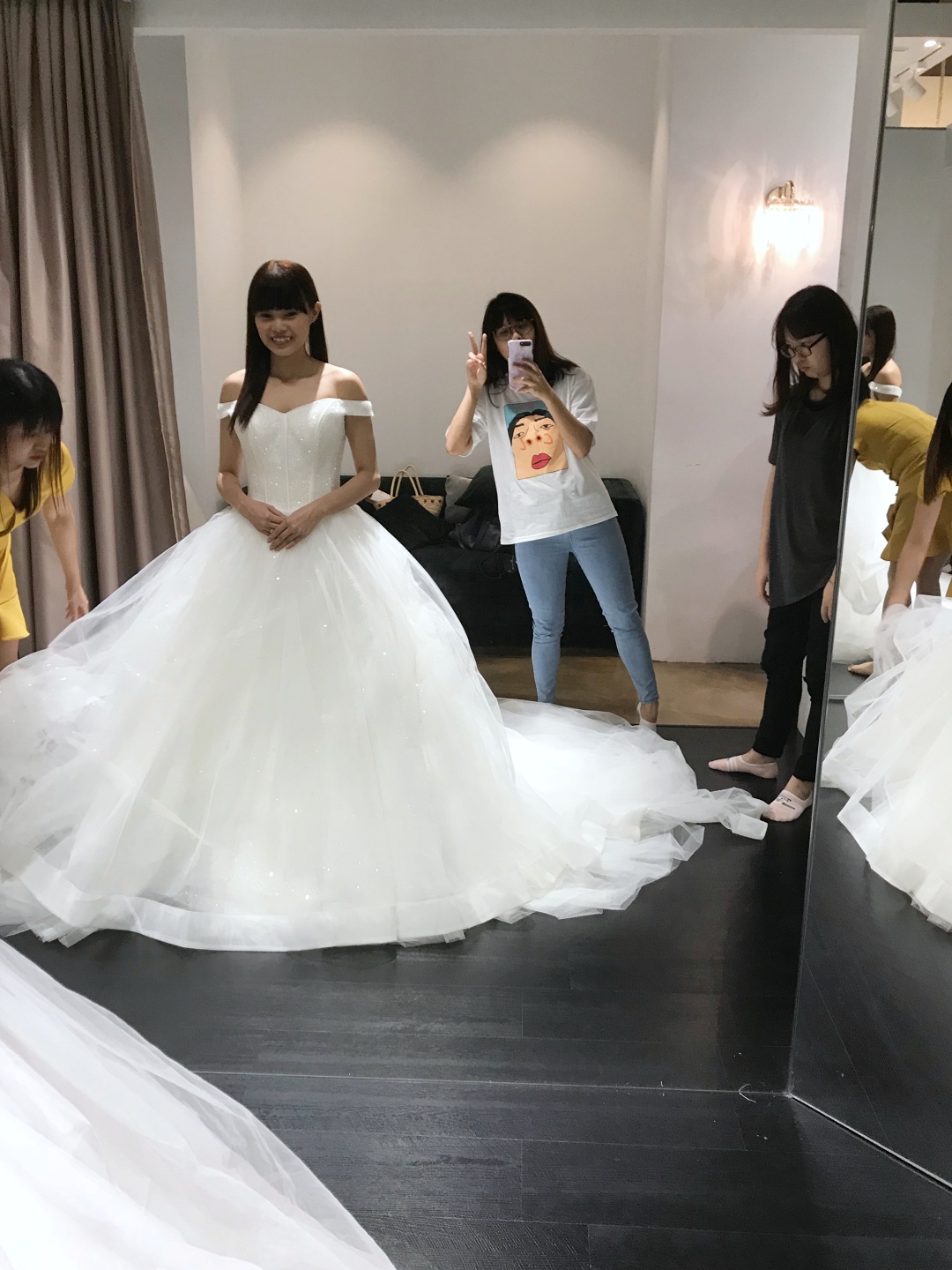 First up was this dress that my sister picked out. It was massive, and I love how pouffy the bottom looks. No doubt a full-on ball gown!
Wedding Gown 13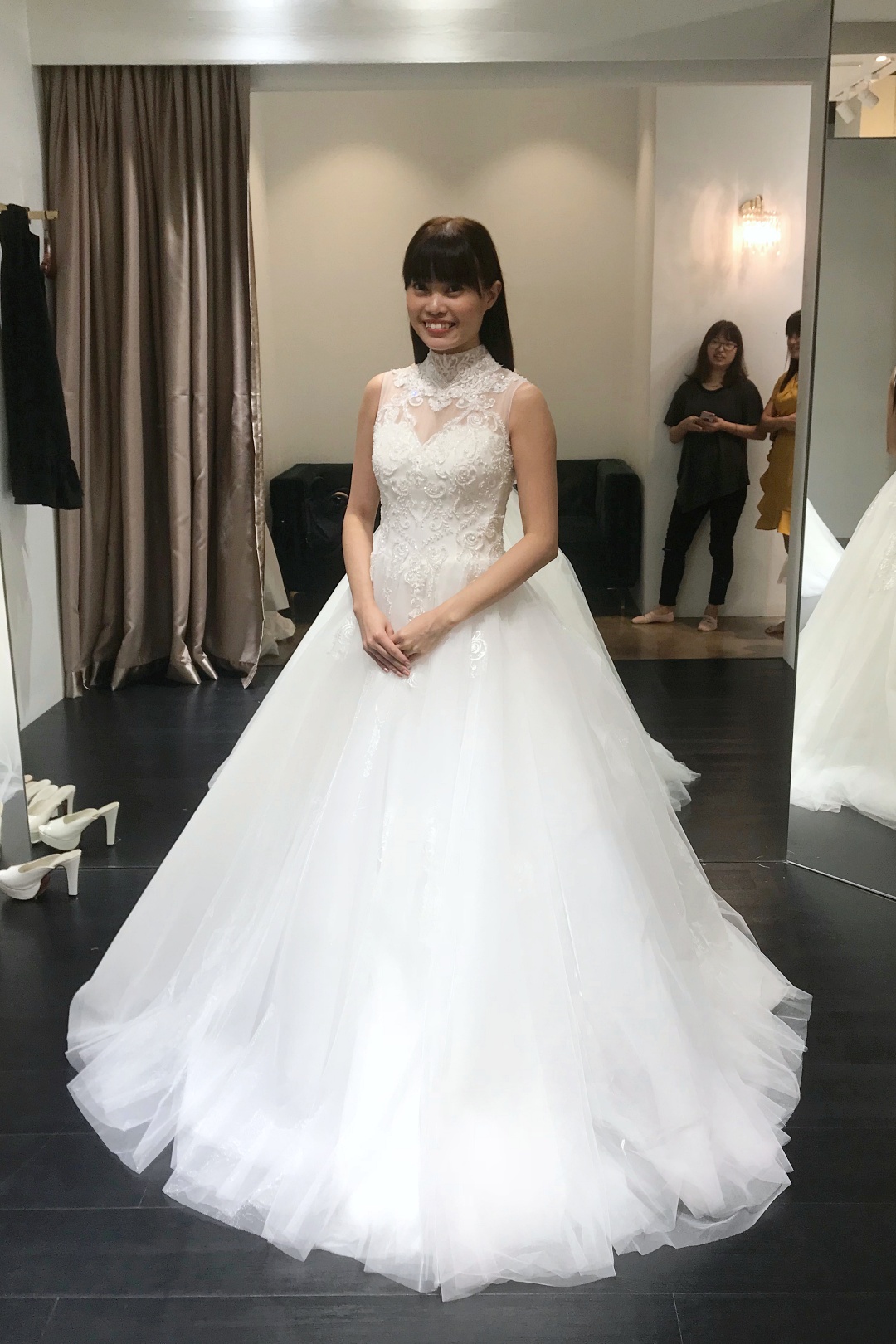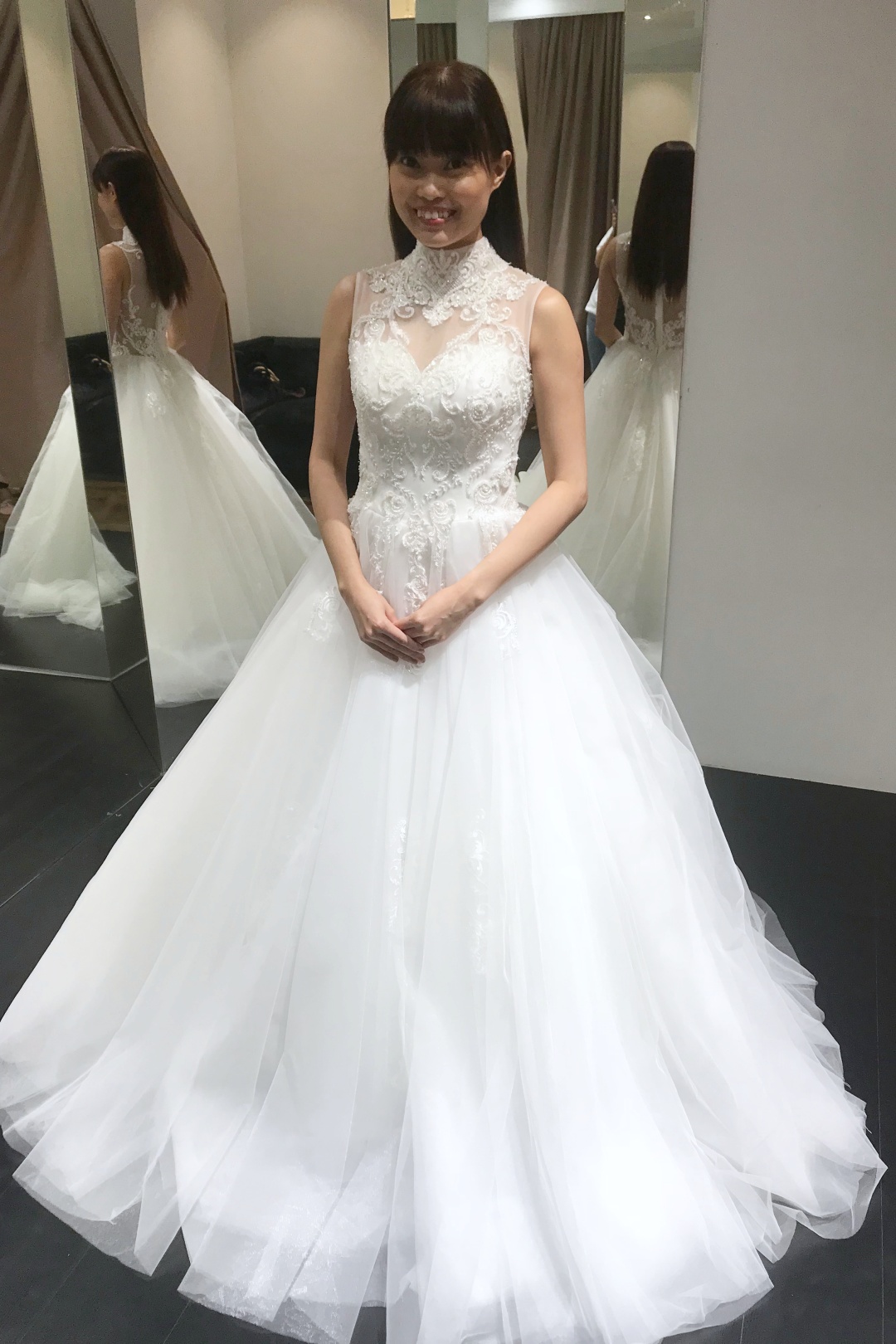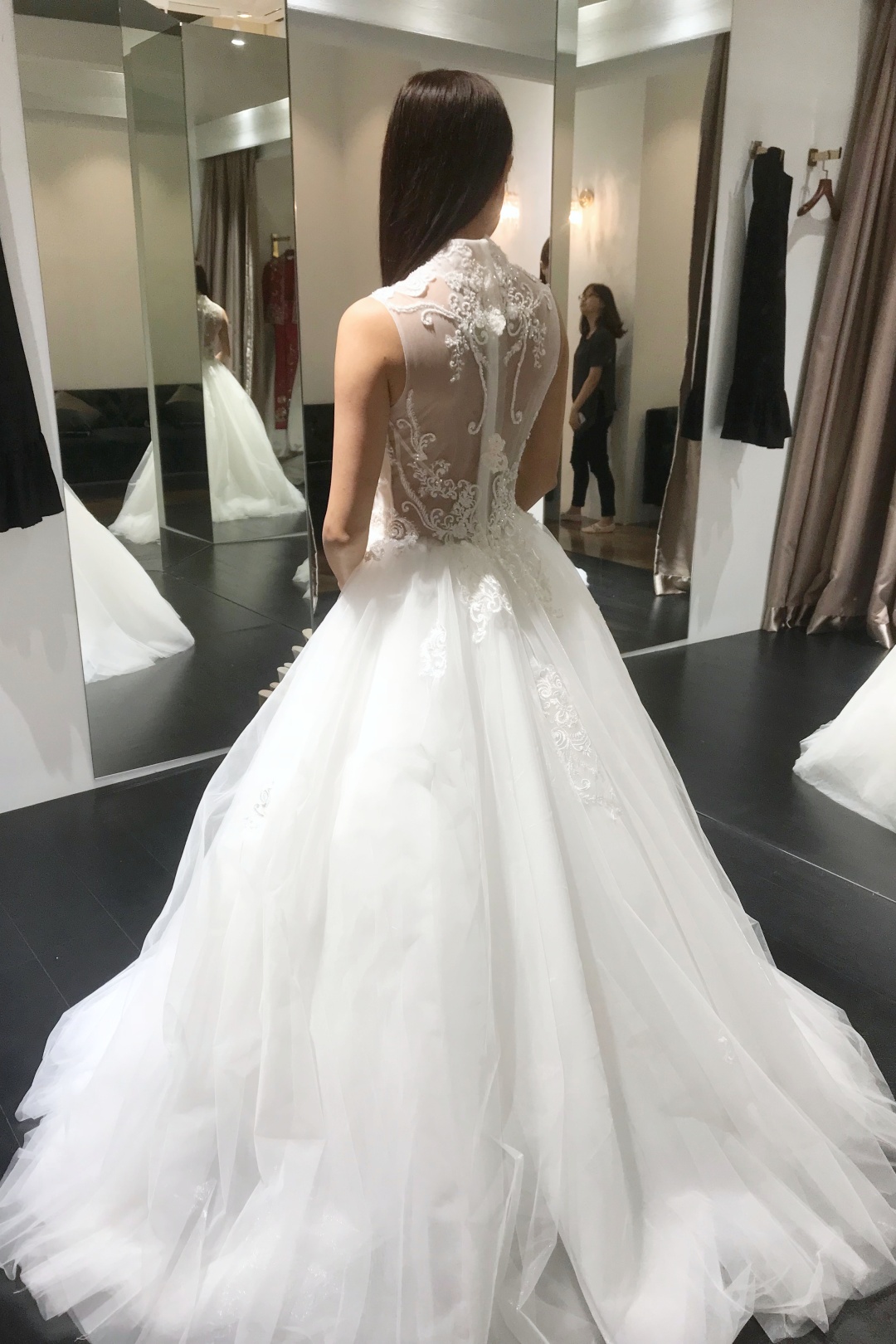 For a change, I decided to try on a gown with a high neckline. Surprisingly, it didn't turn out as bad as I thought.
Wedding Gown 14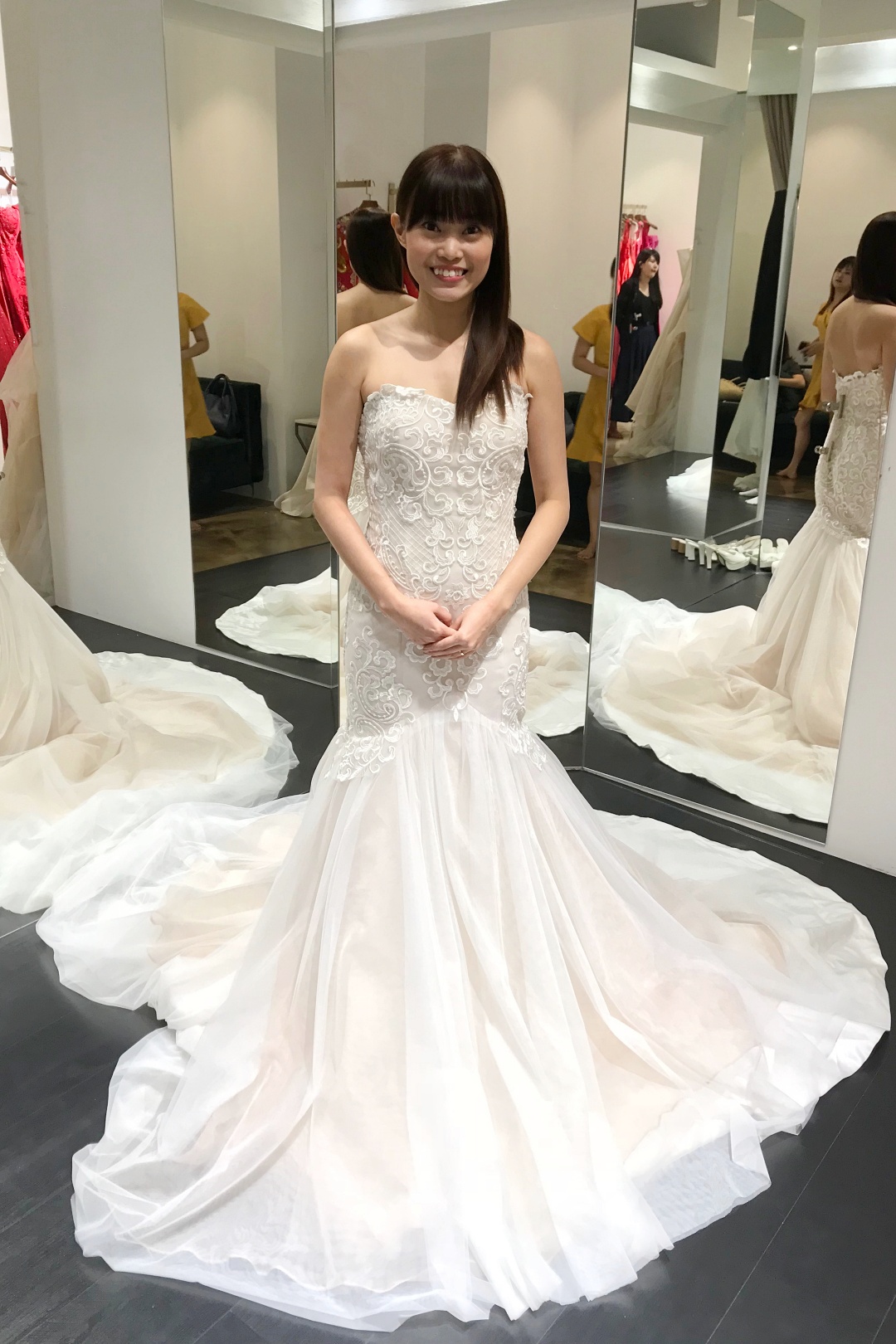 I love the design, but it would have been better if this dress has some blings. Also important to note that this dress was leaning towards beige/cream instead of pure white.
Wedding Gown 15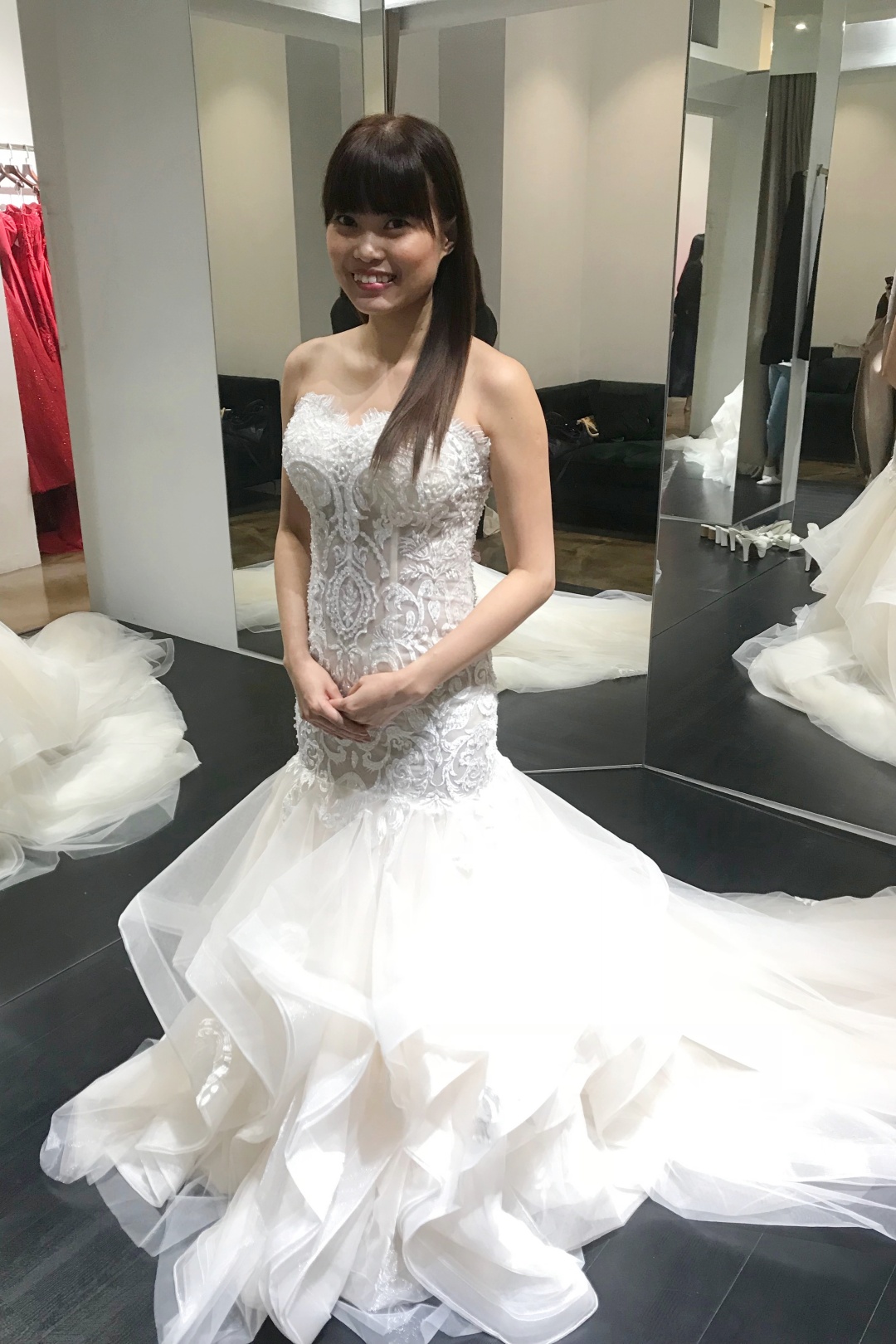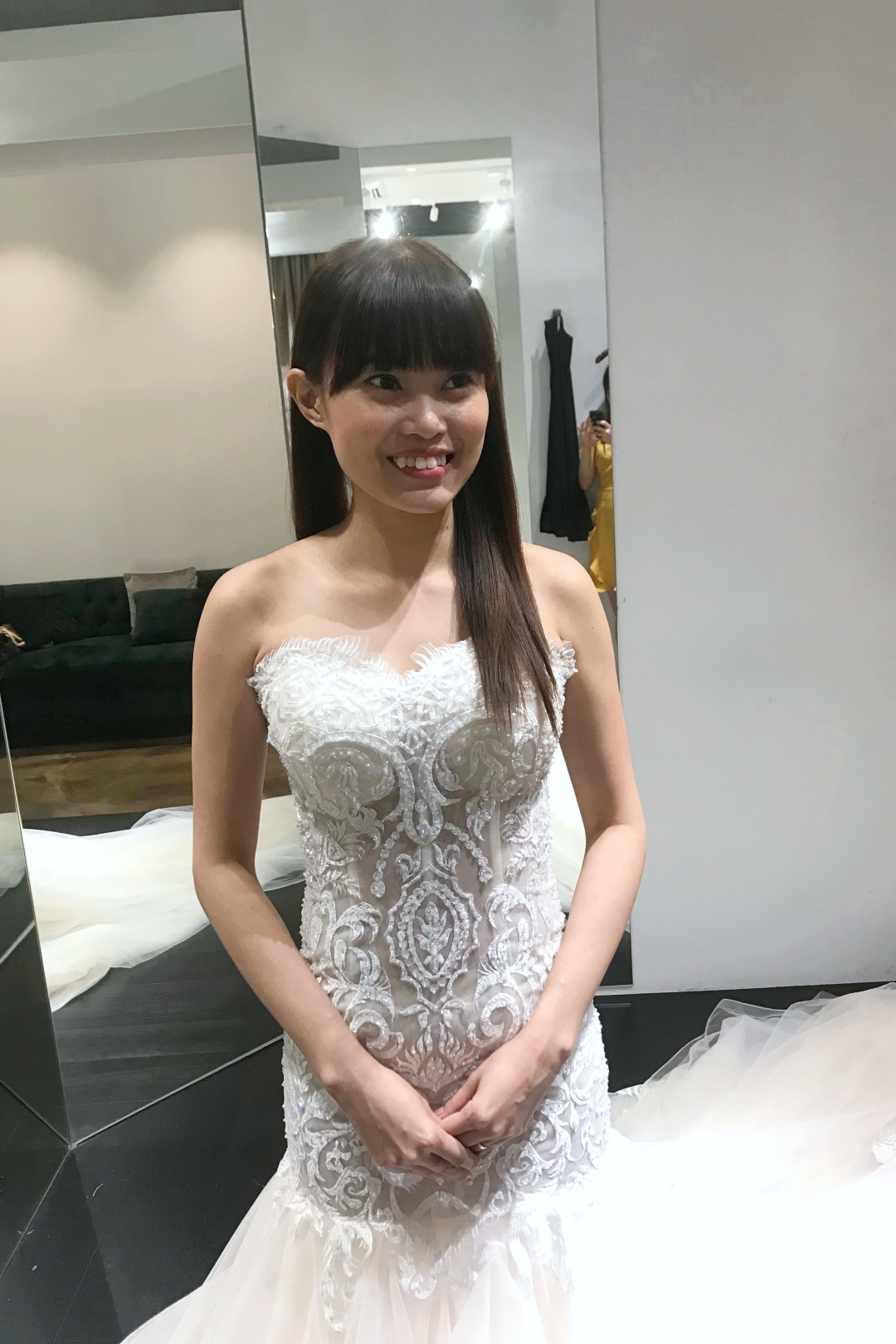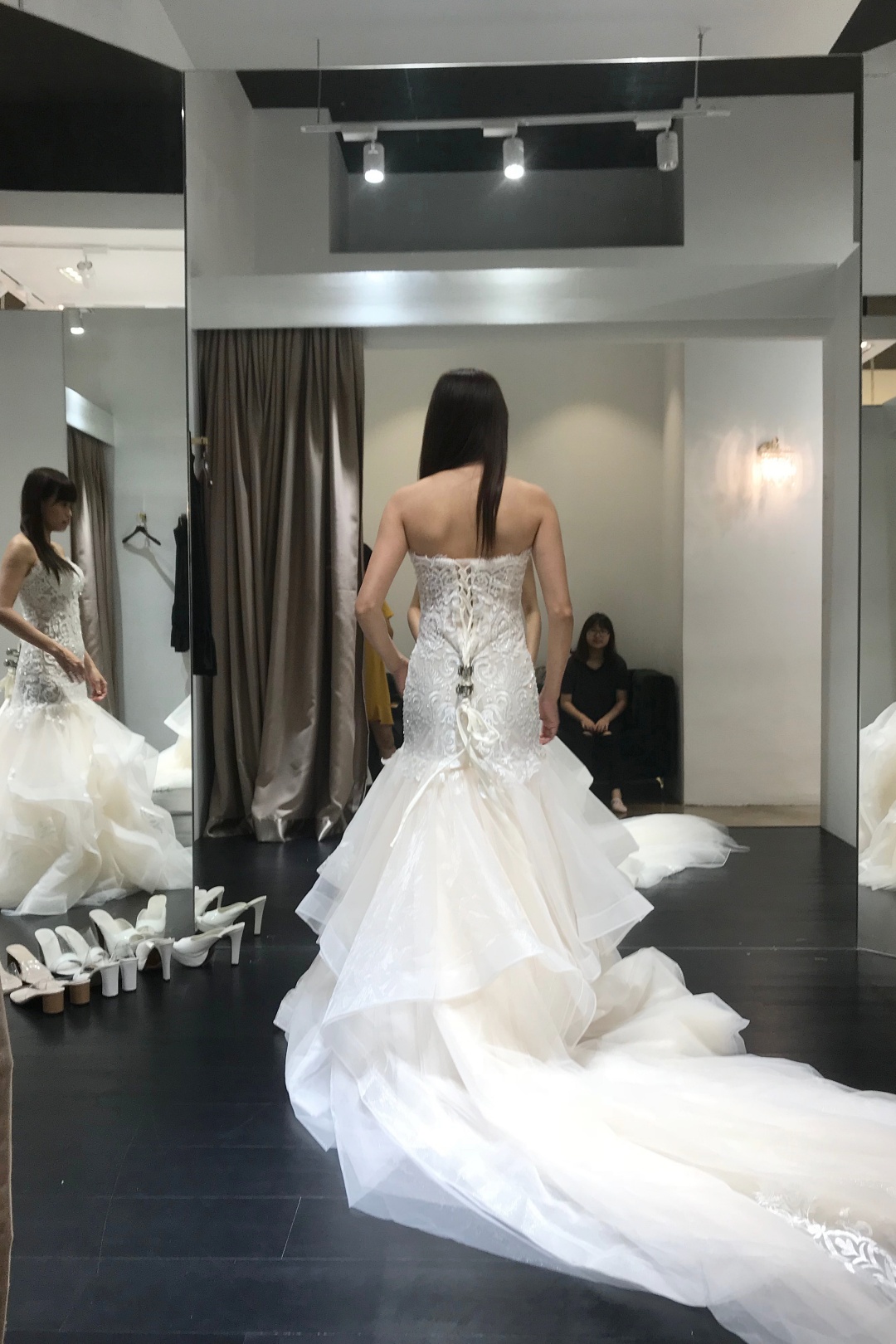 ---
(Re-try) Wedding Gown 6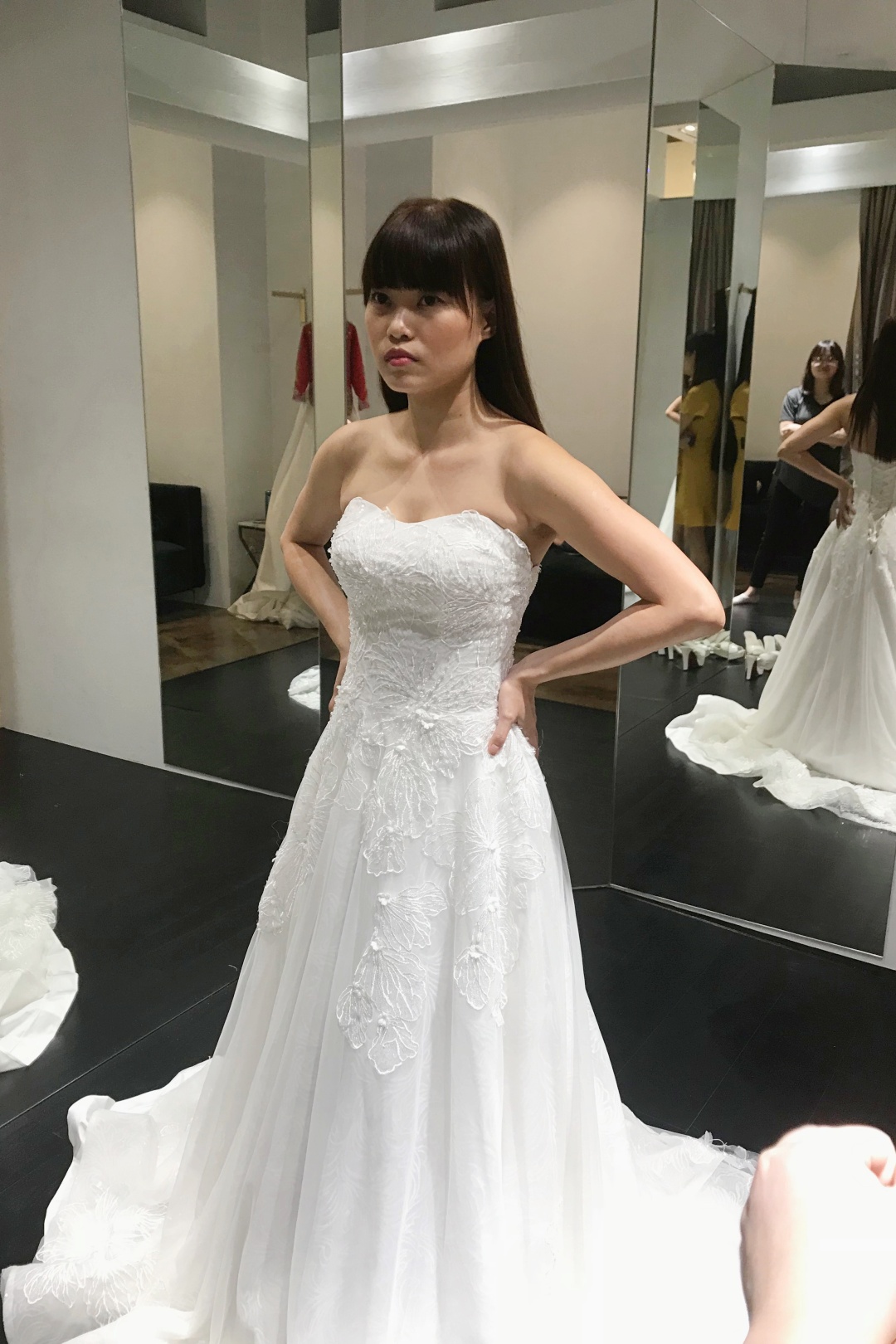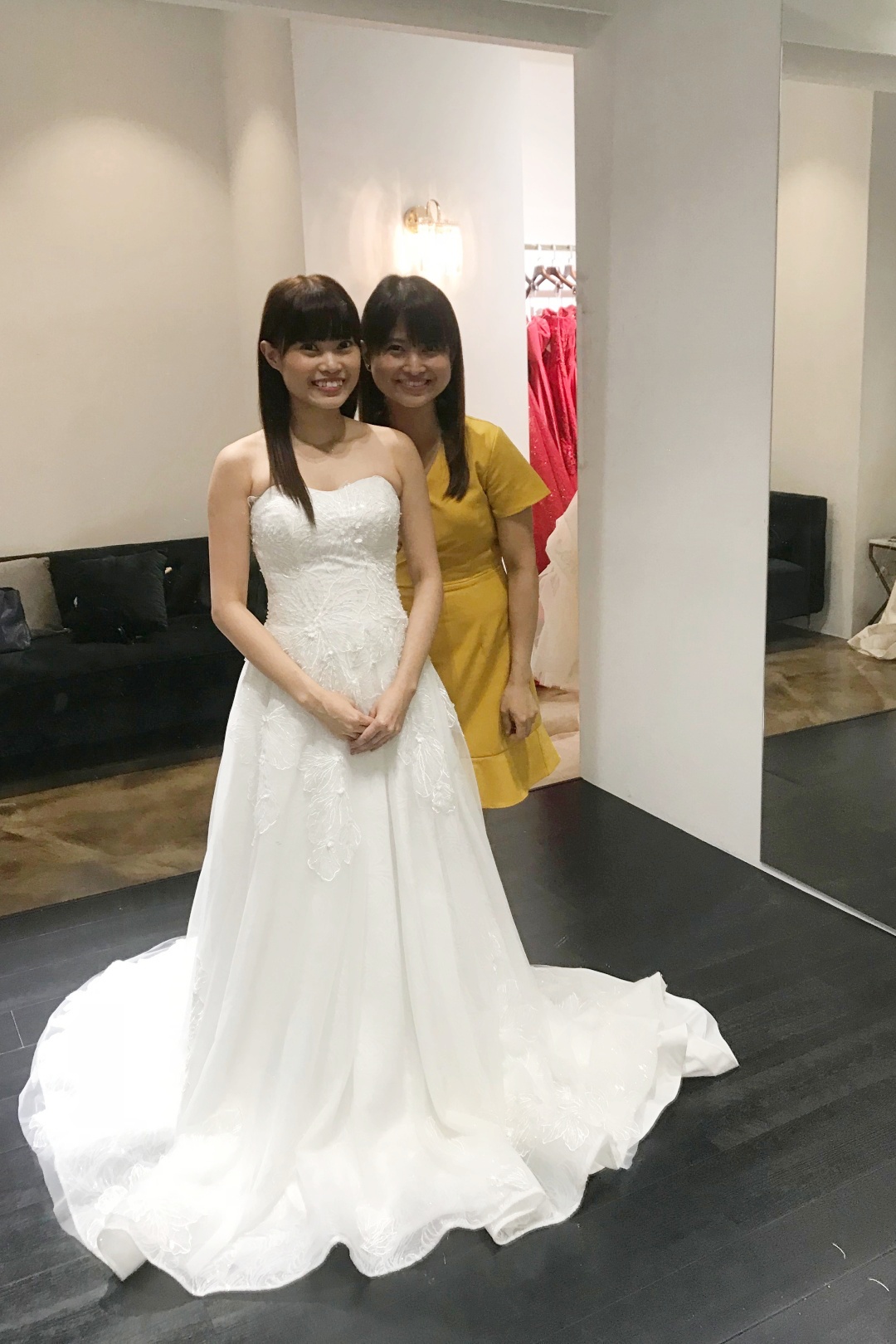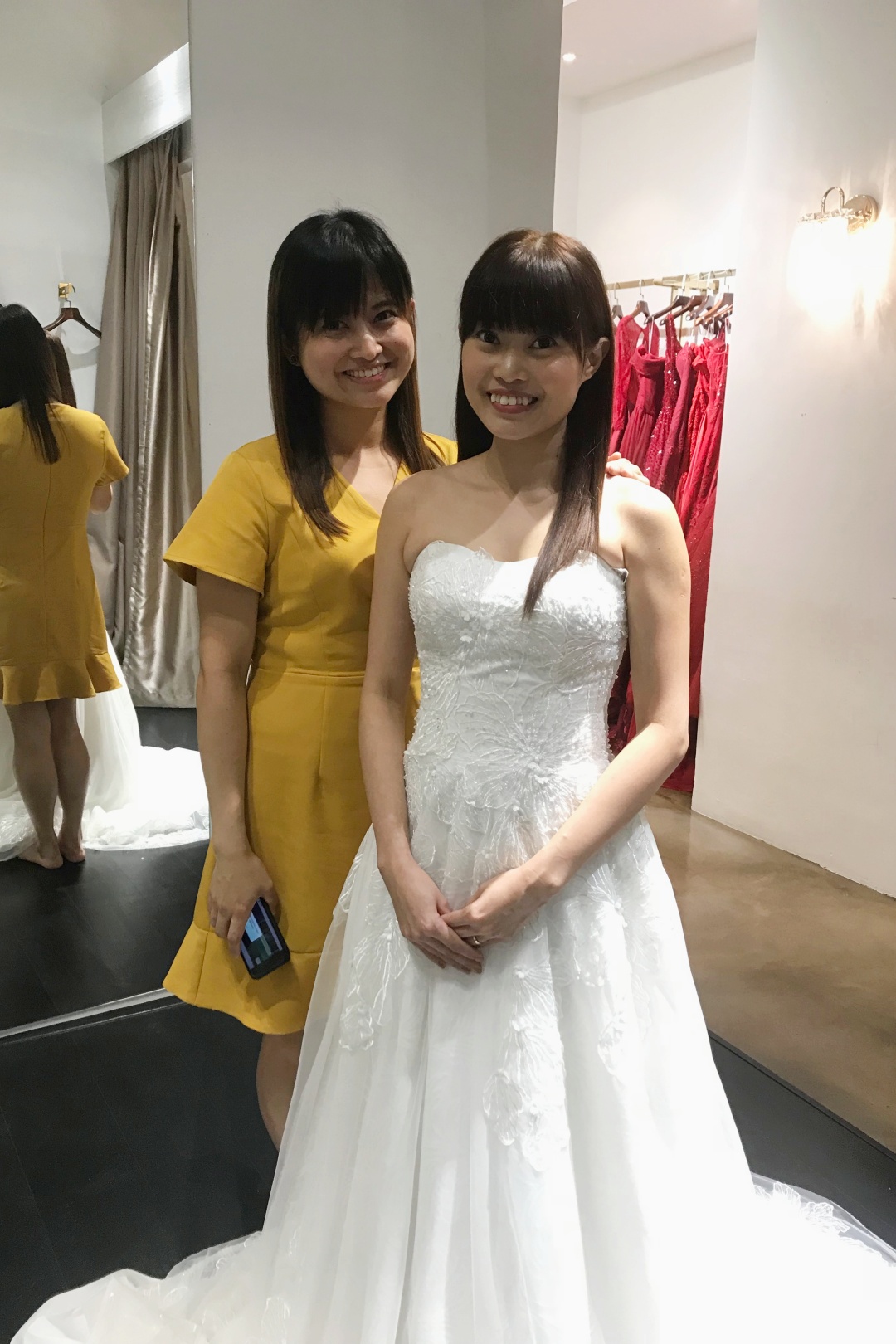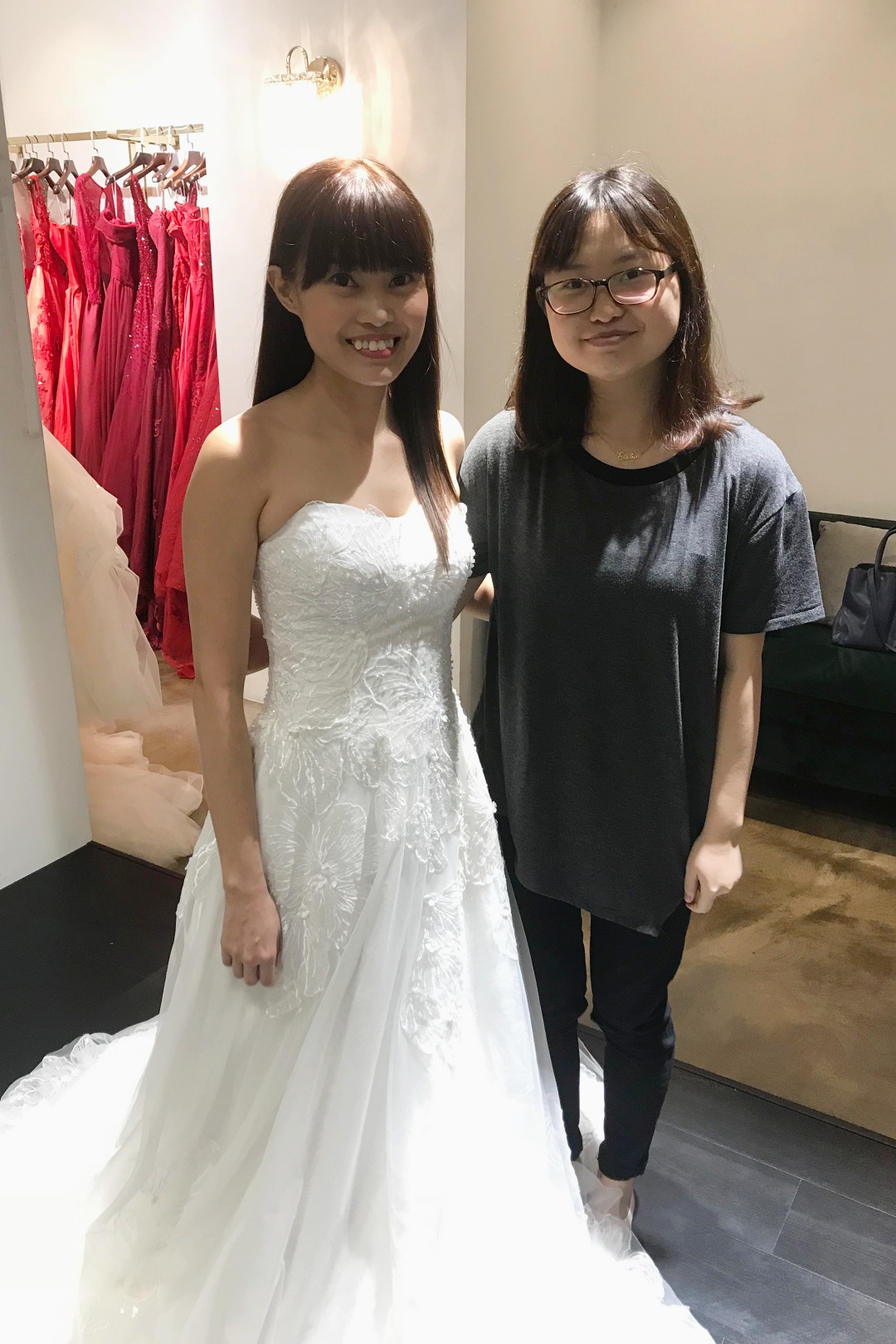 (Re-Try) Wedding Gown 12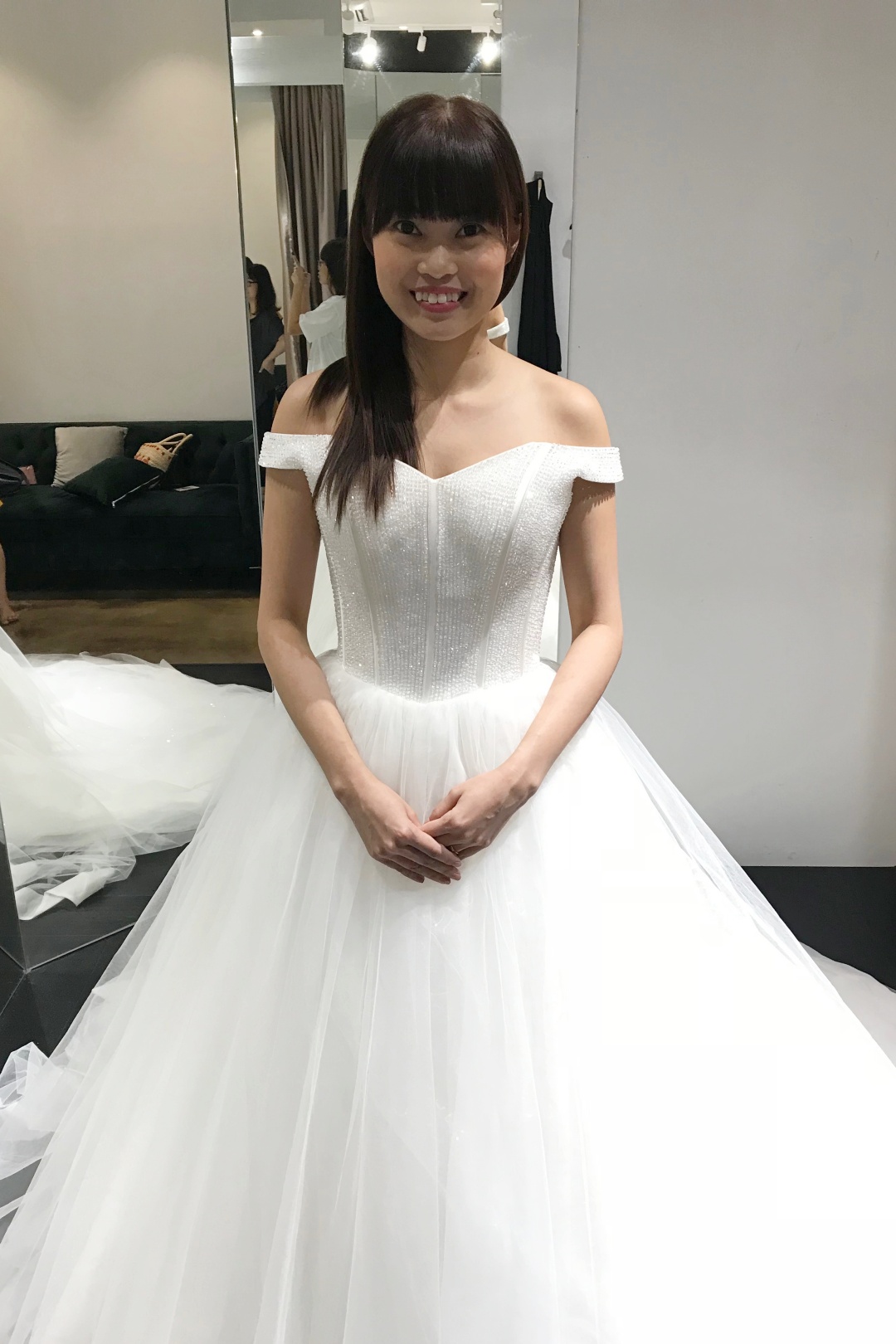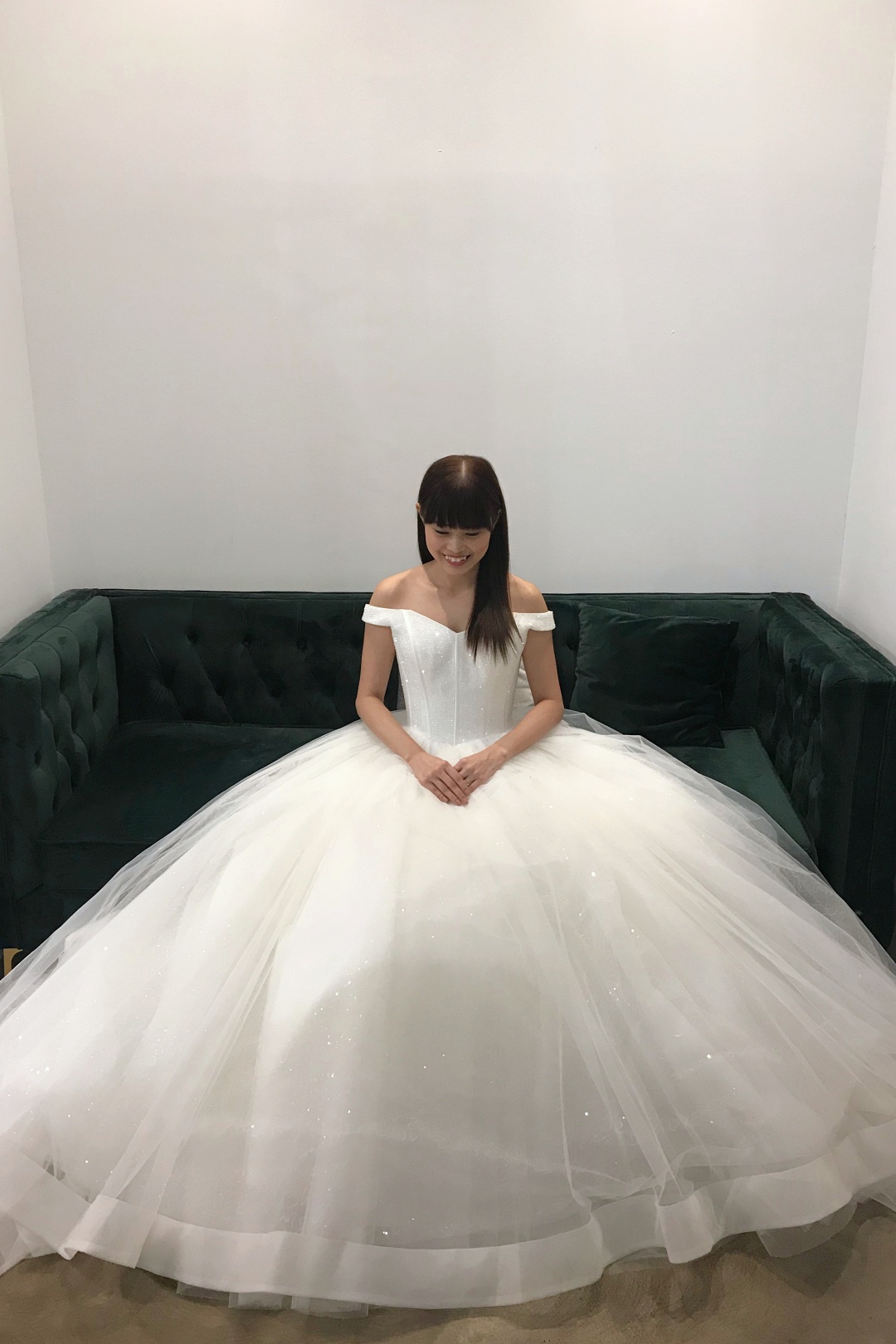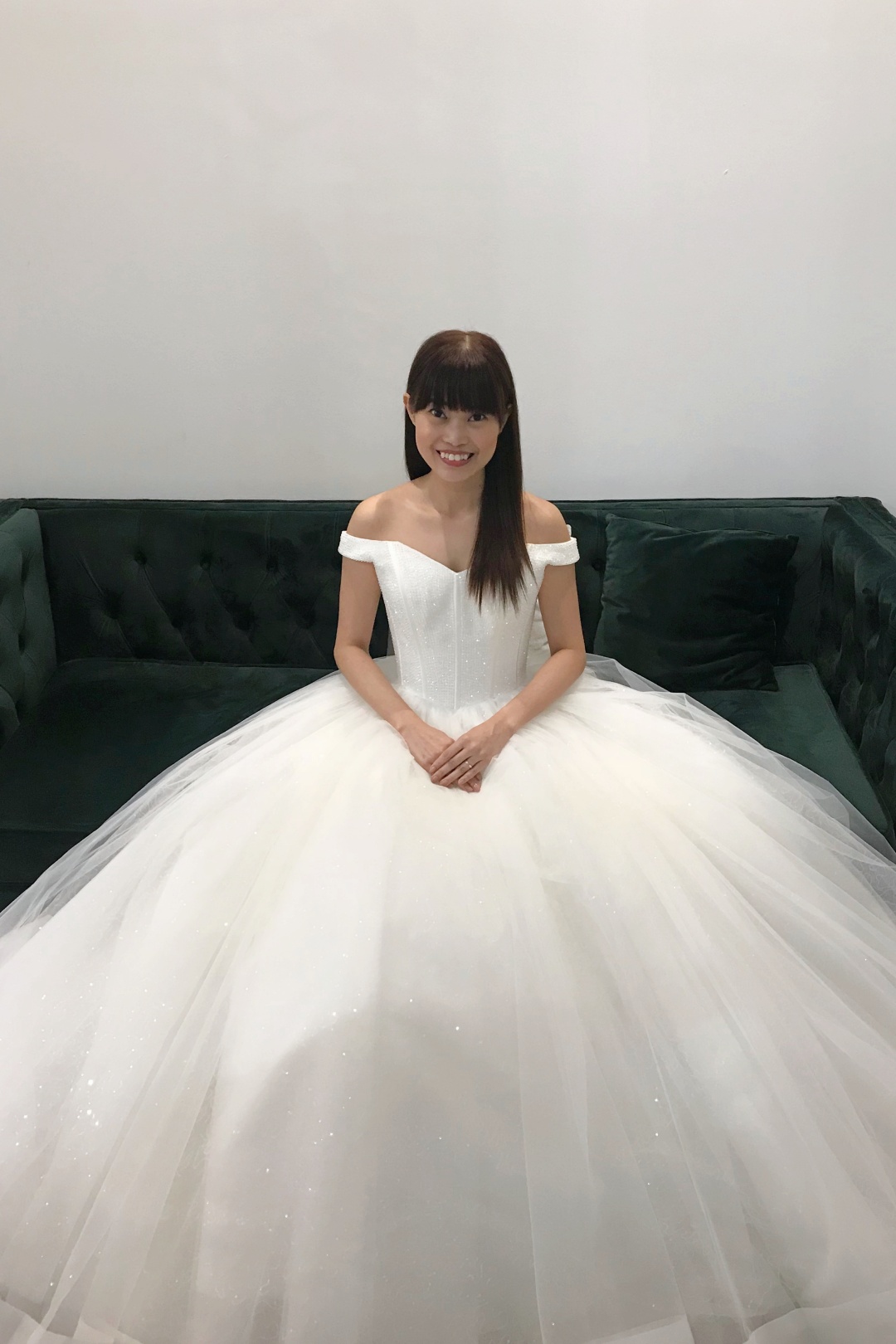 Supposedly, the final fitting was for me to confirm on my earlier selection and get the seamstress to do the fitting. I came thinking that I would pick Wedding Gown 5 and wasn't expecting myself to choose anything out of those that I've tried. But in the end, I surprised myself by selecting Wedding Gown 12 (Off Shoulder Crystal Corset Bodice Ballgown from the Jewel Adore Bridal Gown Collection) as my wedding dress. The dress that I've only tried on that very afternoon.
It's hard to explain. Somehow I just love how I/the dress looks the moment I put it on. It was like my Cinderella moment. Even though there wasn't any lace or design (aside from the blings) to speak of, as compared to the other ones I've tried, I fell in love with how pouffy the ball gown was.
A small part of me was also happy to choose a dress that the Husband had yet to see me in.
(Re-try) Evening Gown 11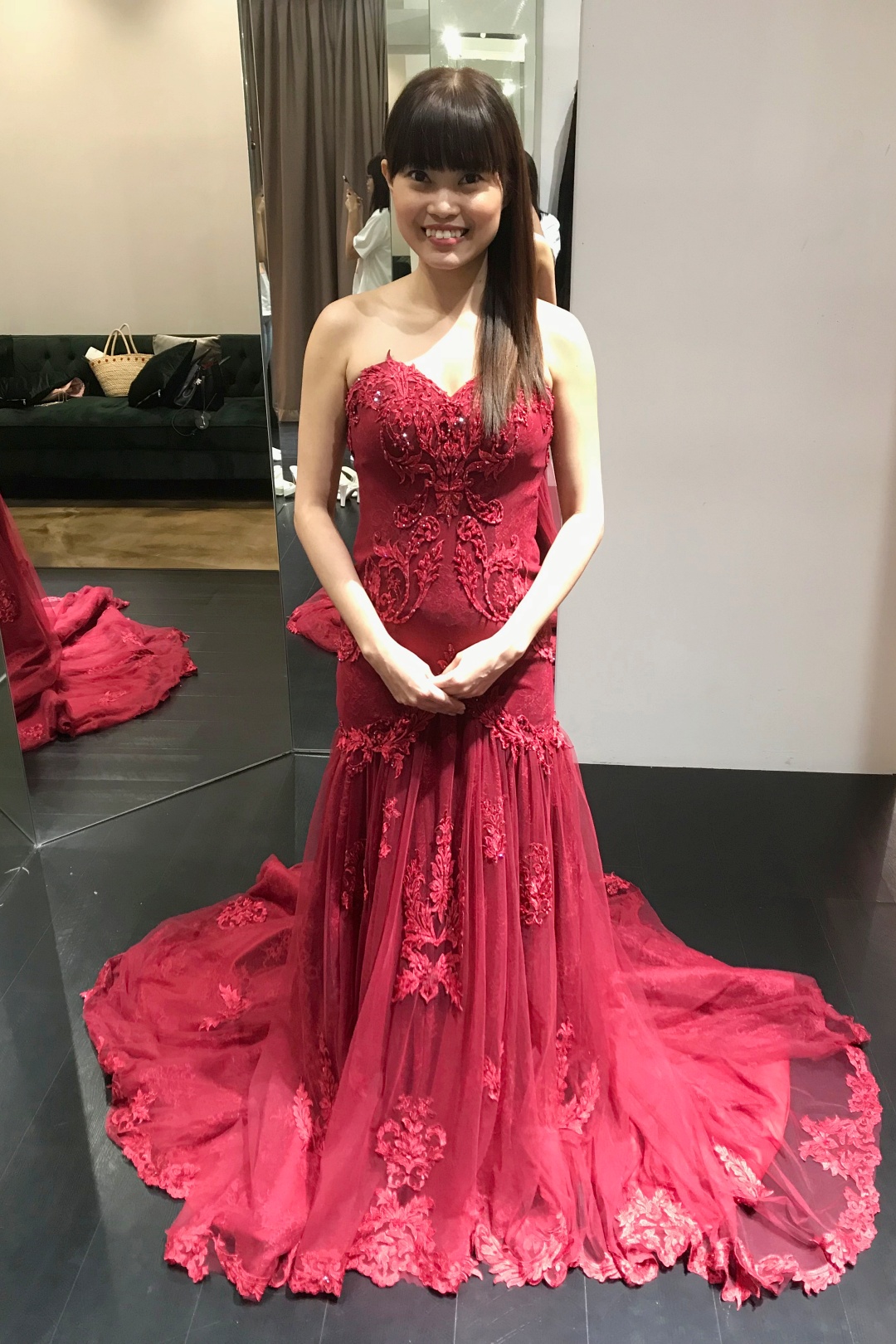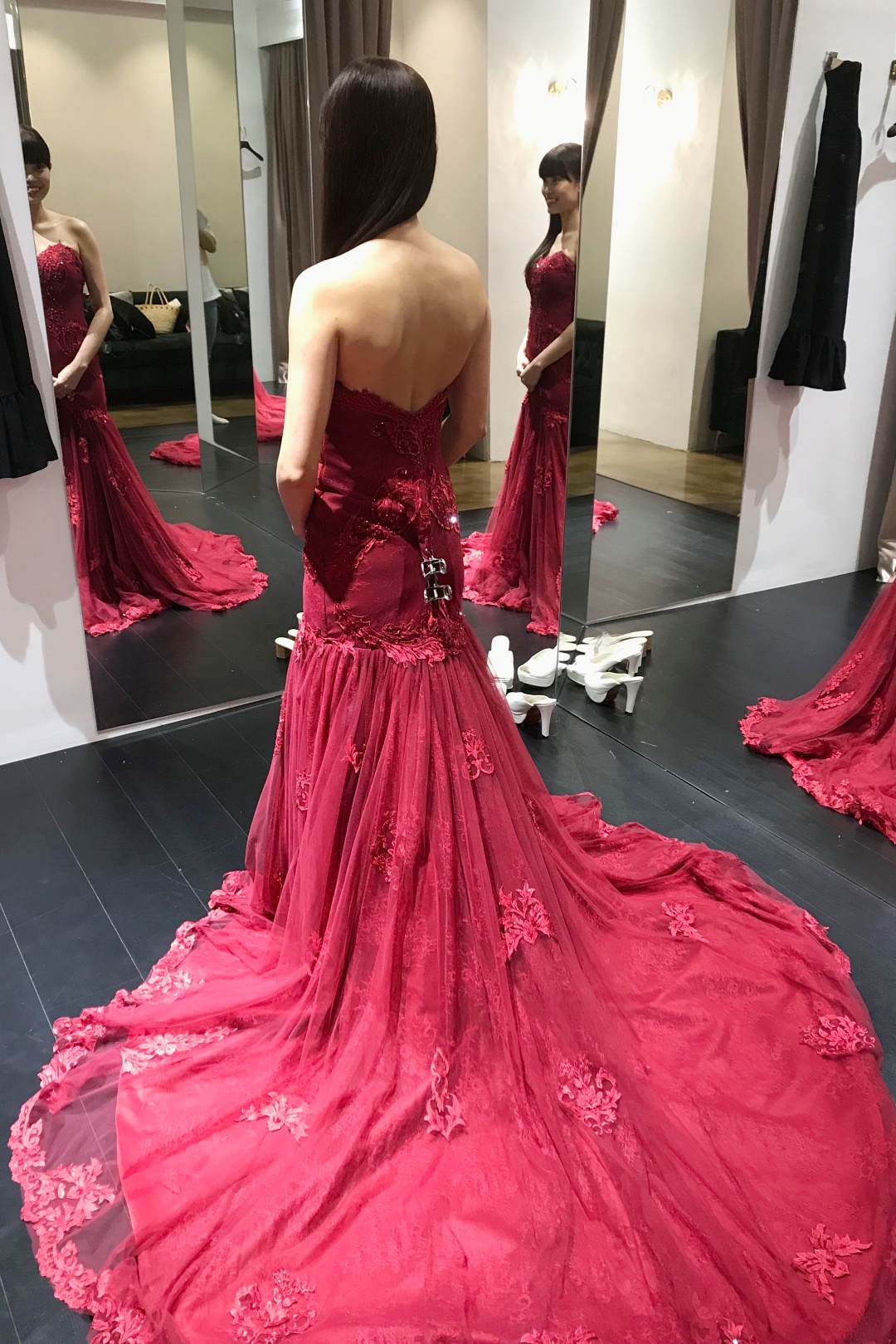 (Re-try) Evening Gown 13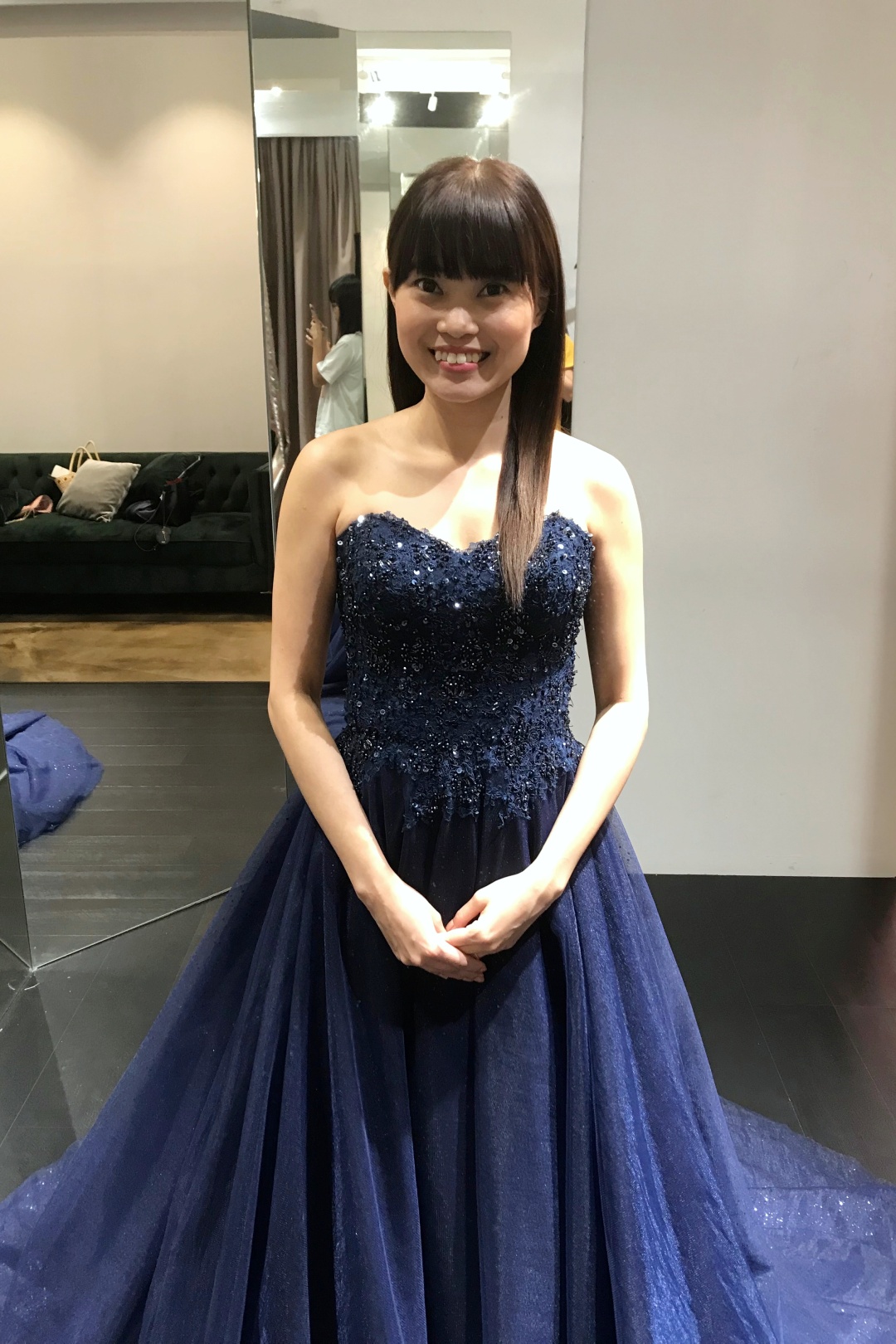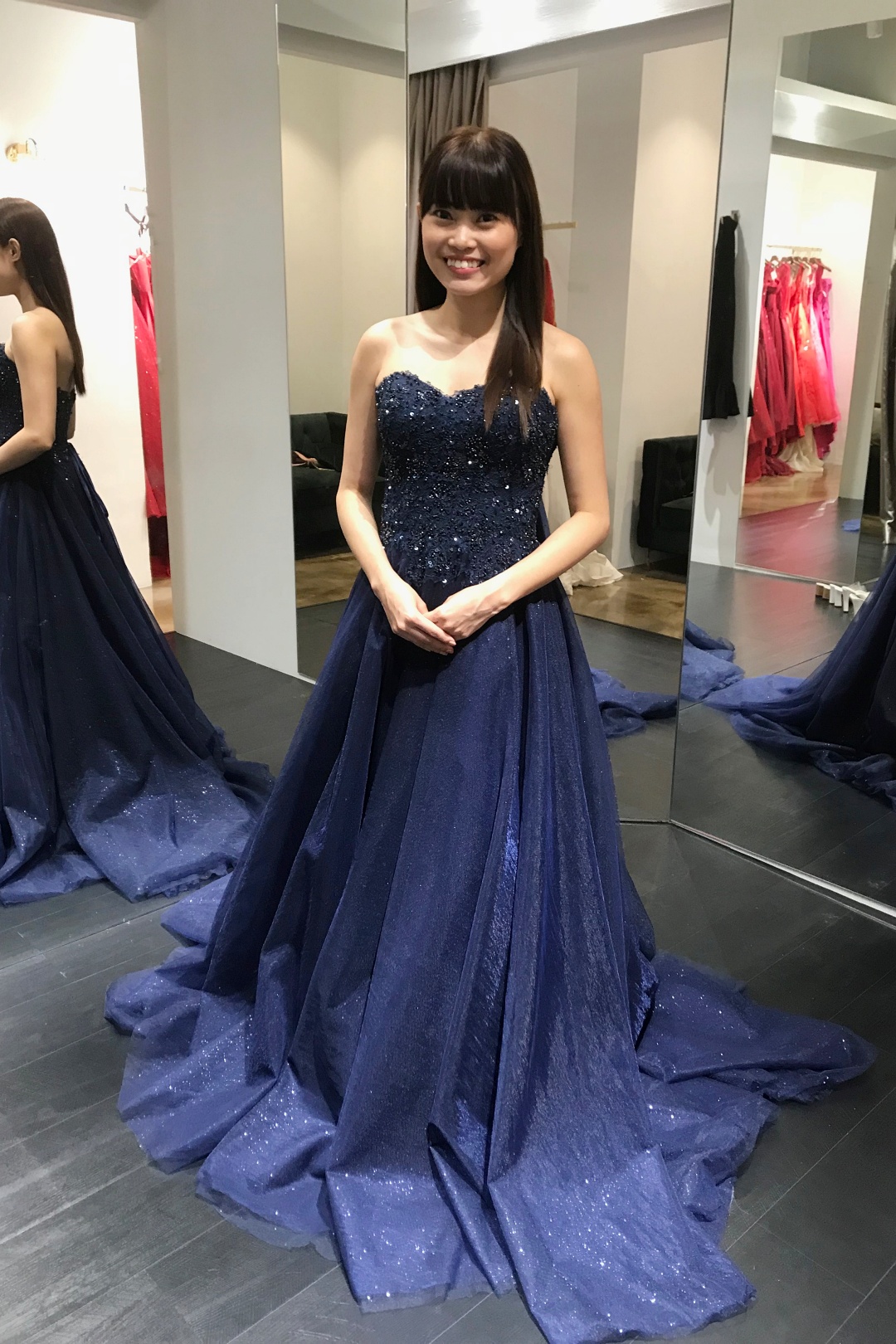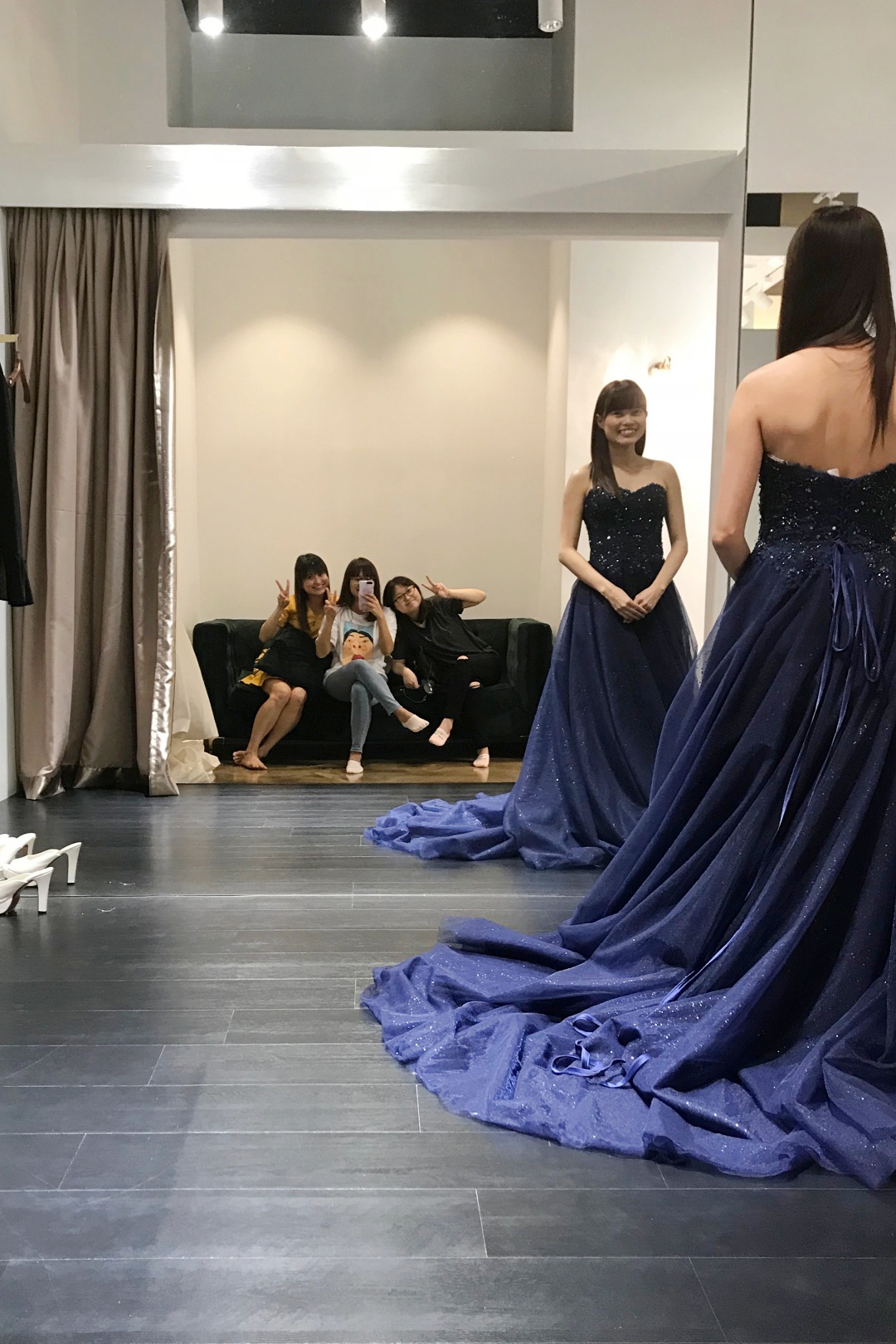 As for the evening gown, I re-try Evening Gown 11 (which I've previously shortlisted) and Evening Gown 13.
At that moment, I was still contemplating whether to go for a red or a blue evening gown. I'm okay with either. (But if you had asked me at the very beginning I would tell you I didn't want a red evening gown. My reason being I will be wearing a Kua on my wedding day, so ideally I wouldn't want to wear red again.)
In the end, I still decided to go ahead with the red evening gown. Part of it was because the silhouette of the blue gown looks similar to my white gown, but mostly because I really love the design of the red gown.
Once I finally finalised on my decision, Charie then gets the seamstress to come in to do the fitting.
17 October 2018 | Collection
My collection was on 17 October, two days before my wedding. I can't exactly remember, but I believe I only selected the accompany jewellery, hairpiece and veil on the day of my collection. In total, I collected one wedding gown, one evening gown, one veil, two can can, two necklace, two earrings and three hairpiece that day.
Charie packed everything up for me, and fortunately, I was able to manage to carry them on my own. I also made a security deposit on the day of the collection and payment can be made either via cash or cheque.
I believe the dateline to return the items was within three days after the wedding.
---
It took me 3 visits and after trying 15 wedding gowns and 16 evening gowns to finally decide on the dresses for my wedding day!
Overall, I had a really enjoyable and pleasant experience with The Gown Warehouse; especially with the help from Charie.
For a start, I truly felt that the price for rental of their gowns/packages was relatively affordable compared to the other bridal studios that we came across.
As for their dresses, I find that they have quite an extensive selection for their wedding (white) gowns. Even when excluding the Anabelleunice collection, I think there is still an incredible selection. For evening gowns, the choice is not as vast as the white gown. Especially when you exclude the colours and style that you dislike, there probably isn't a pool of dresses to choose from. However, I think it was still reasonably easy to find a few dresses that I like.
So, if you are looking for an affordable bridal studio, that does not practice hard-selling to their customer; I honestly think that it was worthwhile to book an appointment / pay a visit to The Gown Warehouse. I believe they also have a referral program, so do quote my name upon signing up! Last but not least, I highly recommend that you look for Charie while you were there. I find it comfortable to chat with her, and overall had a pleasant experience with her.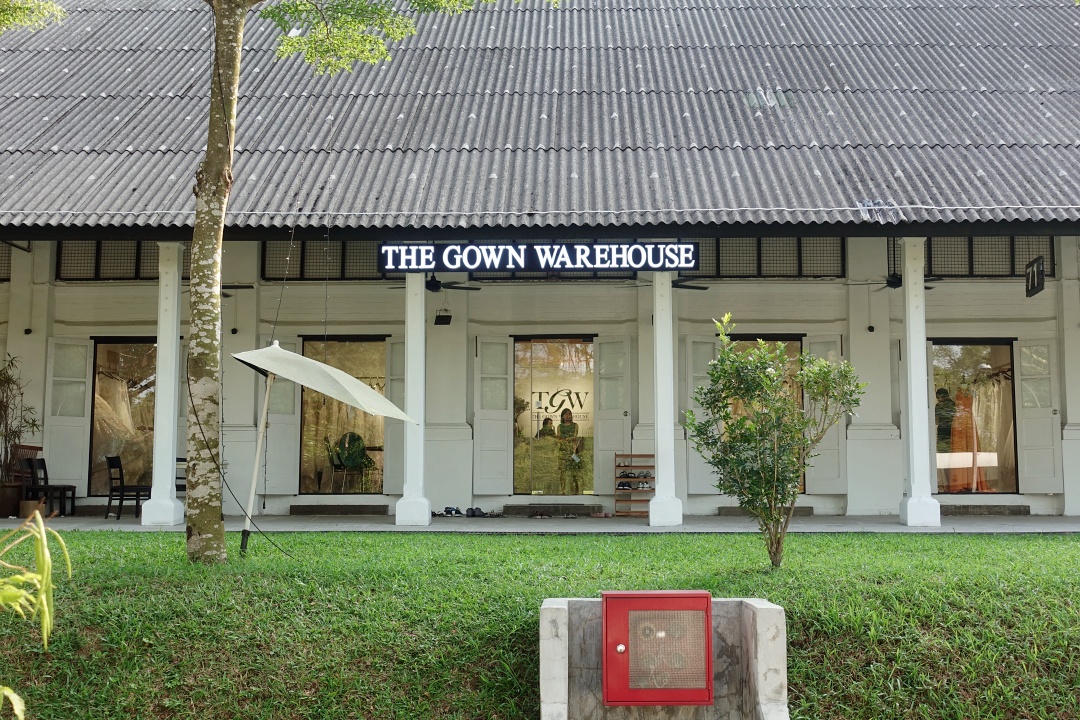 The Gown Warehouse
Address: 71 Loewen Road, #01-02, Singapore 248847
Tel: +65 6734 3998
Email: contact@thegownwarehouse.com
Website: https://www.thegownwarehouse.com