Finally getting down to do a review on my wedding vendors. Note that the review below is solely based on my personal opinion and experience. I think a lot of times, the experience and services one receive may vary, largely depends on one chemistry with the vendors. As such, what I've personally experienced and received may be different from others.
Fortunately, most of the wedding vendors I worked with for my wedding were mostly a hit (instead of miss). I'm glad that wasn't any major hiccups/unhappiness that happened, so that was undoubtedly a huge relief.
Wedding Invites – American Wedding Treasures
I started liaising with the hotel's official wedding card designer and printer, and began drafting our wedding invites in early July. (Around 3.5 months before the wedding.)
Since the Husband and I weren't very particular about our wedding invites, we were fine to go ahead with the proposed wedding card vendor; instead of sourcing and engaging other printers.
Our coordinator (from Conrad Centennial Singapore) had sent us pictures of the wedding cards for our review, and all we needed to do then was to pick one of the available designs. Once we roughly have an idea of which design we wanted, we then contacted the proposed vendor (American Wedding Treasures) separately to discuss the artwork for the card inserts.
There were two steps to the printing process.
The first step is to decide on the design, type of printing, and ink colour.
American Wedding Treasures offers three different types of printing.
1) Regular flat printing – single colour ink.
2) Hotstamping – metallic gold/silver/copper foil (shinny, glittery).
3) Heat Emboss – raised lettering in a single colour.
The second step is to decide on the format/layout/font and fill out the printing detail form.
Together with the prices for the printing, I'm glad that the vendor sent us quite a few designs/variations of the inserts. It really helps us to figure out what we like/dislike.
Our hotel offers complimentary invitations cards for 70% of our confirmed attendance. Exclude printing charges. So on our end, we will need to pay for the printing cost, additional inserts and cards (should we require more than 70% of our confirmed attendance).
We ended up printing quite a few extra inserts, partly to prep for writing errors and partly because we were expecting quite a number of guests coming as individuals. (Thus having to give out more cards.) It's really more of a better-play-safe-than-be-sorry mentality, especially when the vendor doesn't recommend us to reprint since the minimum reprinting cost is SGD 120.
Upon confirming the format/layout of the inserts, they then sent over a draft for proofreading before proceeding to print. Proofing usually takes one to two weeks. And once confirmed, it will take about two weeks to print.
We managed to liaise everything through email, and we only went down to the shop for the collection once the wedding invitations were ready for collection.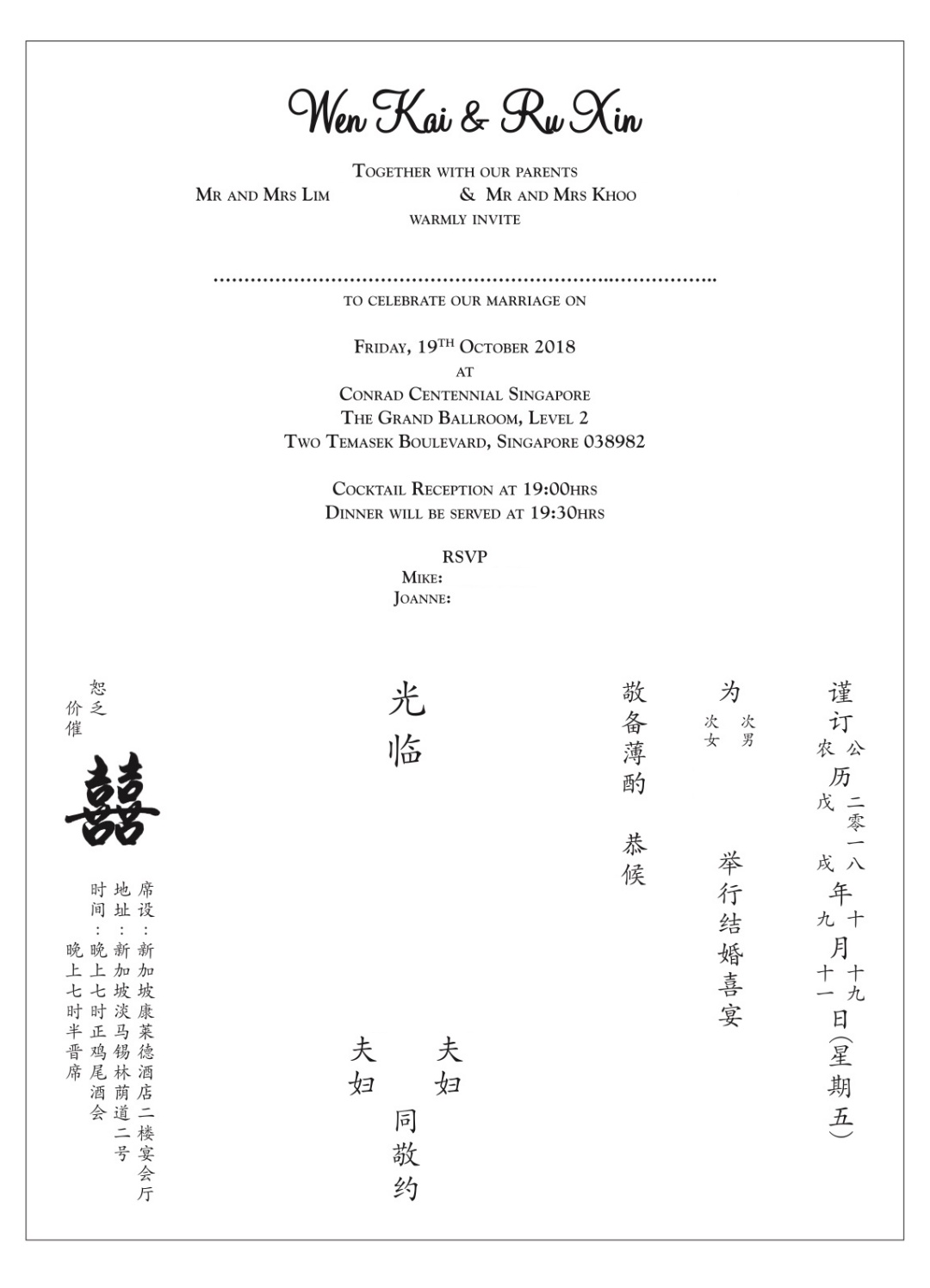 Here's a look at our final insert. (For privacy reason, I've removed our names and our parents' name.) Selected the most simple design with no fancy drawings/cartoon and we ultimately decided to go with regular flat printing in gold ink.
It took around one month for us to finalise on the design and quantity required, and another two weeks for the printing. Overall, it was a good experience working with American Wedding Treasures, and they had been very patient in answering my questions and offering recommendations.
Bridal Bouquet & Groom's Boutonniere – O'hara Weddings by Windflower Florist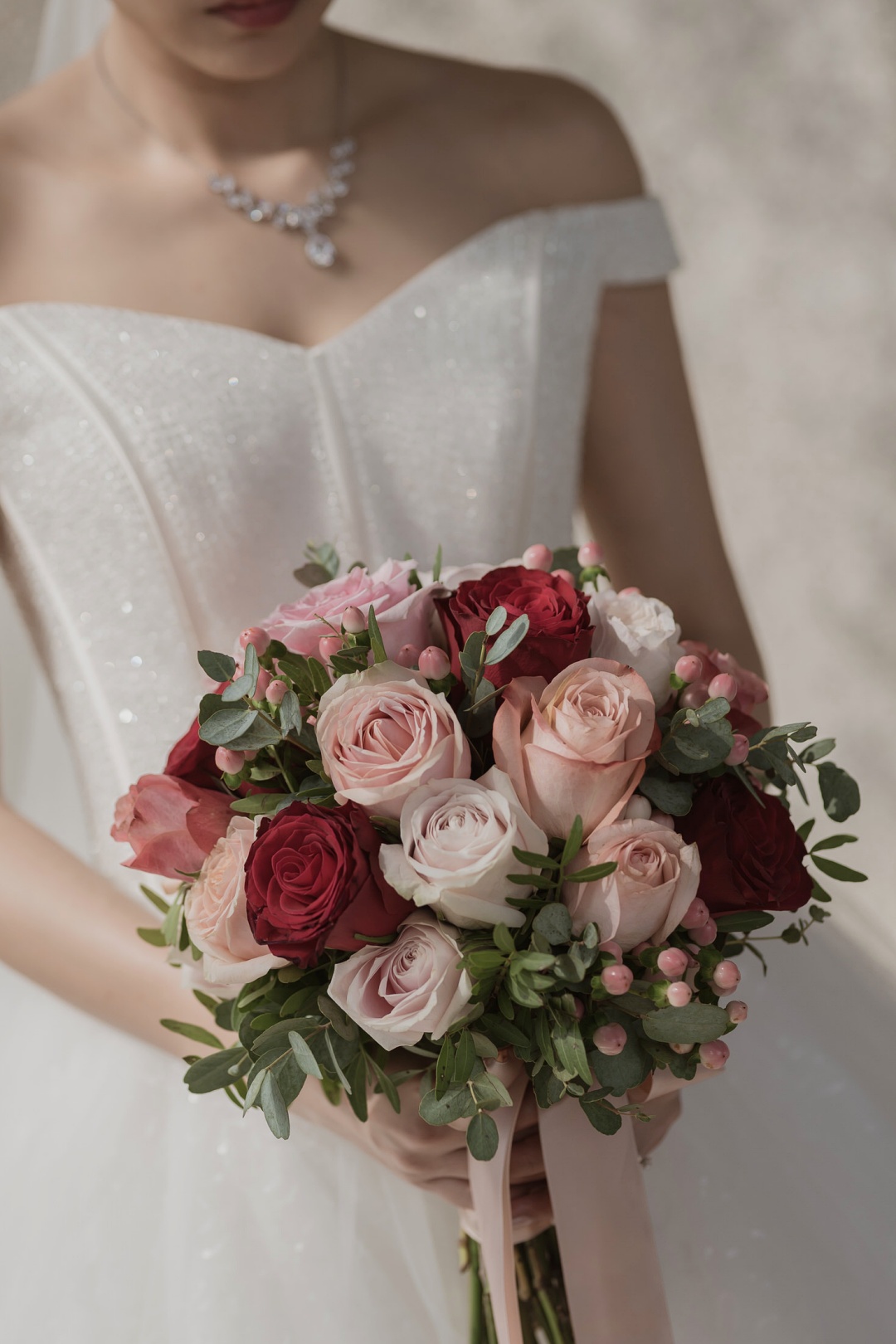 Very happy with my bridal bouquet from O'hara Weddings by Windflower Florist. I first emailed them a photo I found on their Instagram to ask for a quote for a bouquet of that size (23 – 26cm W) before subsequently sent them a picture I found on Pinterest to let them know the kind of flowers and colour scheme I wanted.
As peonies are seasonal and not available in October, they propose a mix of Keira Garden Rose, Emotion Kenya Rose, red and pink roses, with hypericum berries and foliages. I'm glad the flowers (SGD 175) turn out similar to what I've envisioned. To match the wedding, I decided to go with satin ribbon instead of twine for the flowers.
Besides the bouquet, I also ordered matching Groom's Boutonniere (SGD 15) and four Parents' Boutonniere (SGD 10 each), all with satin ribbon.
Self-collection is available at their office, but we decided to have them deliver to the Husband's place the night before the wedding at an additional SGD 10 charge.
Wedding Gowns – The Gown Warehouse
Read: Review: The Gown Warehouse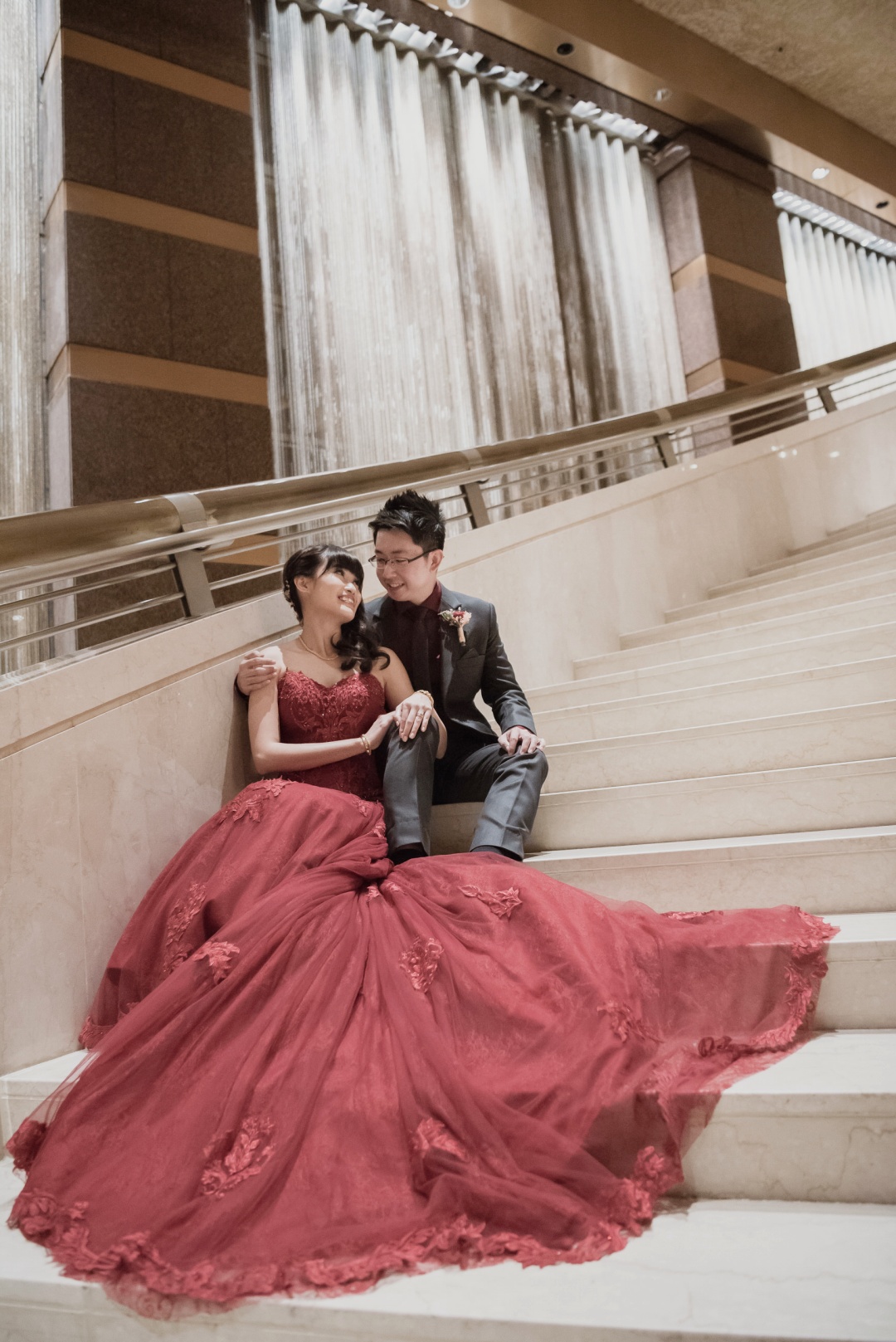 If you have read my entry from a few posts back, you already know that I eventually went with The Gown Warehouse for my wedding white gown and evening gown. I've nothing but praises for them, and I'm pleased to have chosen them as my wedding gown vendor. I personally find the price for their rental of gowns/packages to be very reasonable/affordable, and the services received from the start (even before we signed the package) to the end was very pleasant. You can refer to my earlier post for my more in-depth review and experience, so I shall not go into details.
However, I do want to share a little about the other two bridal shops that I went to, prior to signing my package with The Gown Warehouse.
Dream Wedding
Dream Wedding was the first bridal boutique the Husband and I visited when we first started looking for wedding gowns. The Husband arranged for a meeting, and we went down on a Wednesday night at their boutique in Woodlands Close. Our appointment was at 20:00, and I believed we were their last customers for that day.
Upon arriving, we were welcomed by two staff, one of which was the Founder/Chief Wedding Stylist, Ivy Chin.
Dream Wedding has this slogan – "One Groom Can Only Sign 1 Package for 1 Bride in this Lifetime! (一生只给一人的幸福)" and that was highlighted to us during our conversations.
After briefly going through their packages and showing us a few of their gowns on the rack, Ivy asked if I would like to try on any of the dresses. Being my first visit to a bridal bouquet, I was no doubt tempted to try on some gowns, even if that means we had to pay for the try-on.
No photos were allowed. However, Ivy offered to help me take some pictures on her phone so that I could see how the dresses look like on screen. The entire trying of gowns process was fairly pleasant until the discussion that came after the try-on.
Being our first visit, and them being the first bridal boutique we went to, we didn't want to commit/sign the package that day. The Husband and I both agreed that we needed more time to decide (and consider our options) before we sign on any package.
They kept trying to sell us their package, and when we told them we needed more time to consider, Ivy then suggests we take up a rental for one of their dresses. We stood our ground and didn't agree (even if it just one dress). The service we got from Ivy was a complete turn around upon hearing our decision. Till date, I still vividly remember her saying "那就没什么话好说的" (there's nothing much left to say), before packing up the things on the table and sending us to the door.
To be honest, I was shocked to receive such service from someone working in this line of work. While they did spend the past 2 – 2.5 hours talking to us, it was not necessary to call for that statement. After all, all we were saying was that we needed more time to consider. We didn't outright say no and instead repeatedly told them we needed more time to consider.
Having such a bad experience towards the end of our meeting had left a bad taste in our mouth. Right after paying SGD 30 for the try-on, we stepped out of the boutique, and I immediately told the Husband that the experience was so awful that I would never consider them. (Even though I did like one of their red gowns.)
I suppose no one is a fan of hard selling. As such, I will certainly not recommend Dream Wedding to anyone looking for the rental of wedding gowns.
Dream Wedding has a rating of 4.7 out of 5 on their Facebook page, and from what I read, most of the reviews came from brides who had engaged their service.
I hope Ivy had deleted all my photos on her phone after we left, but I guess I would never know if she did.
Gown Forestry & Co.
The other bridal boutique we went to was Gown Forestry & Co. (located at Suntec City, Level 2).
I'm very sorry to have put the Husband through this – sitting in the shop for two hours as I was the one suggesting we go in to have a look. Whenever we passed by the shop, there was always this gentleman standing outside the shop promoting the gown/wedding package. So once evening as we were walking down, we got approached by this guy, and I thought there was no harm going in to look around.
Upon sitting down, one lady (can't remember her name, but she seems to be one of the in-charge) came to us and began to ask us some questions (i.e. when is the wedding, etc.) before showing us their package.
To be honest, the main reason that we went in was that they have quite an impressive showcase of wedding gowns at their shop front. As such, I was curious to take a look at their selections. However, after a few glances on the rack, I knew they didn't have what I want. While their ballgown does look beautiful, they also seemed over the top to me. I also wasn't fond of their evening gowns. (After a quick search on Taobao, I managed to find a dress similar to the one they had.)
Anyway, since none of the gowns was calling out to me, we were reluctant to sign any package. We then spent the next hour or so trying to escape from the shop as the lady just wouldn't give up and kept wanting us to reconsider. Her way of doing that was to keep bringing out more gowns to show us. When we said we needed some time alone to talk about it, she then made an excuse to the washroom and told us to use that time to discuss.
Long story short, we were only able to leave the shop when we told her we would come back again the following day. She asked for our phone number and promptly arranged an appointment for us. Needless to say, we didn't go back.
Wedding Suits – Alex's Fashion (Bangkok)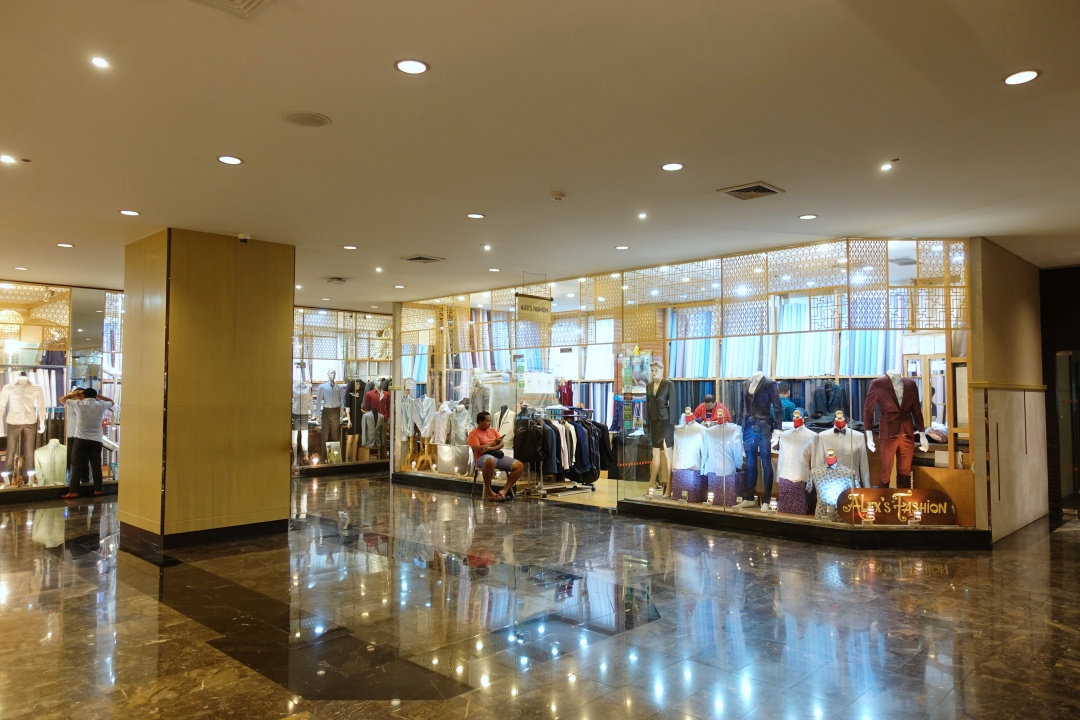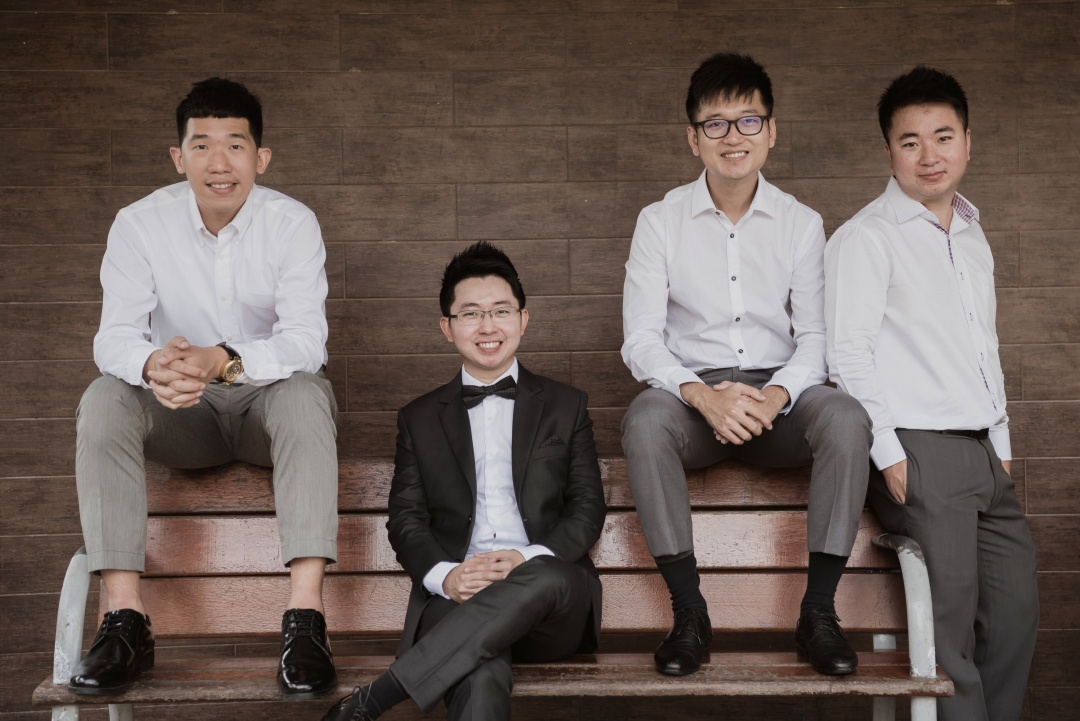 For the Husband's wedding attire, we tailored two suits from Alex's Fashion (on level 3 of Amari Watergate Bangkok) on our earlier trip to Bangkok before the wedding. It was our second visit to Alex's Fashion, and for the price and quality, we were fairly satisfied with the two suits.
Can't remember exactly, but the Husband paid THB 14,375 for two suits and a few shirts.
Bridal Makeup & Hairdo – Lush Looks Hair & Makeup
Read: Bridal Makeup Trial with Lush Looks Hair and Makeup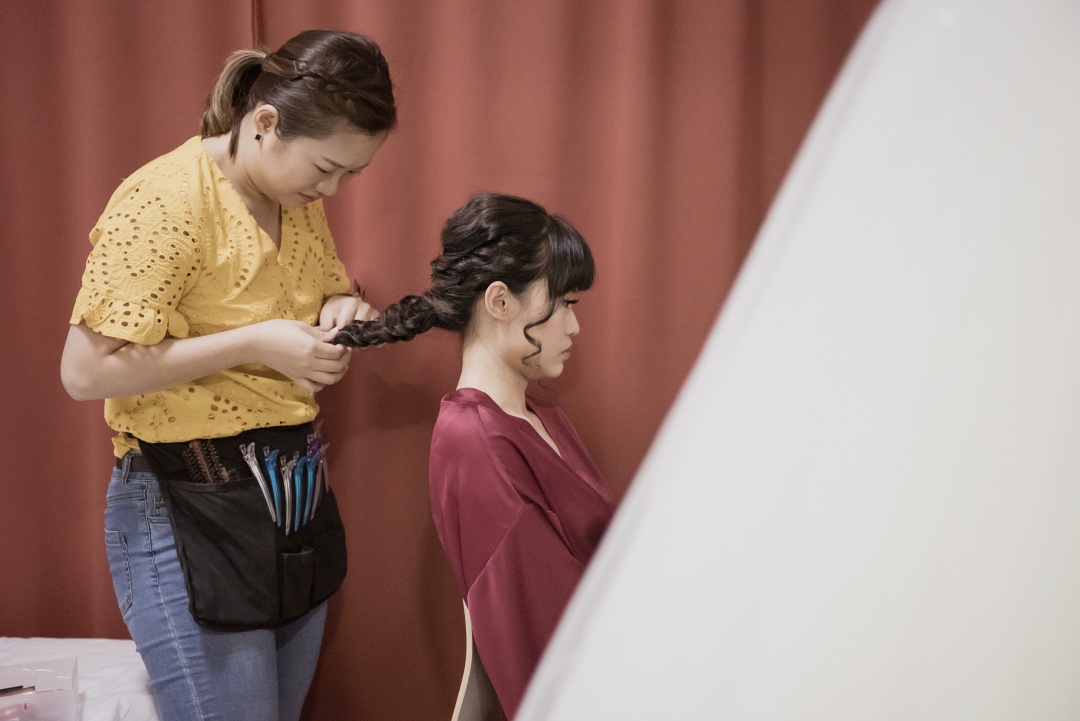 Again, not going into details since I've already shared my experience on the bridal trial session with Lush Looks Hair and Makeup in my earlier post.
As much as the trial didn't turn out to be extremely pleasant (with all the asking of personal questions), I still like to thank Xin Er for helping out on my wedding day. It was also very sweet of her to leave me a personal note and a face mask after my wedding.
If I'm being honest, I didn't fell in love with my bridal makeup. But I think part of the reason was that I didn't rest well the days leading up to the wedding, so I looked extra tired on my wedding day. Evidently, even a full face of makeup can't save me!
Do check out Xin Er's profile because I know that she had been continuously bushing up her skills and she does have a lovely portfolio.
Mum's Makeup & Hairdo – Tang Yong Hair & Makeup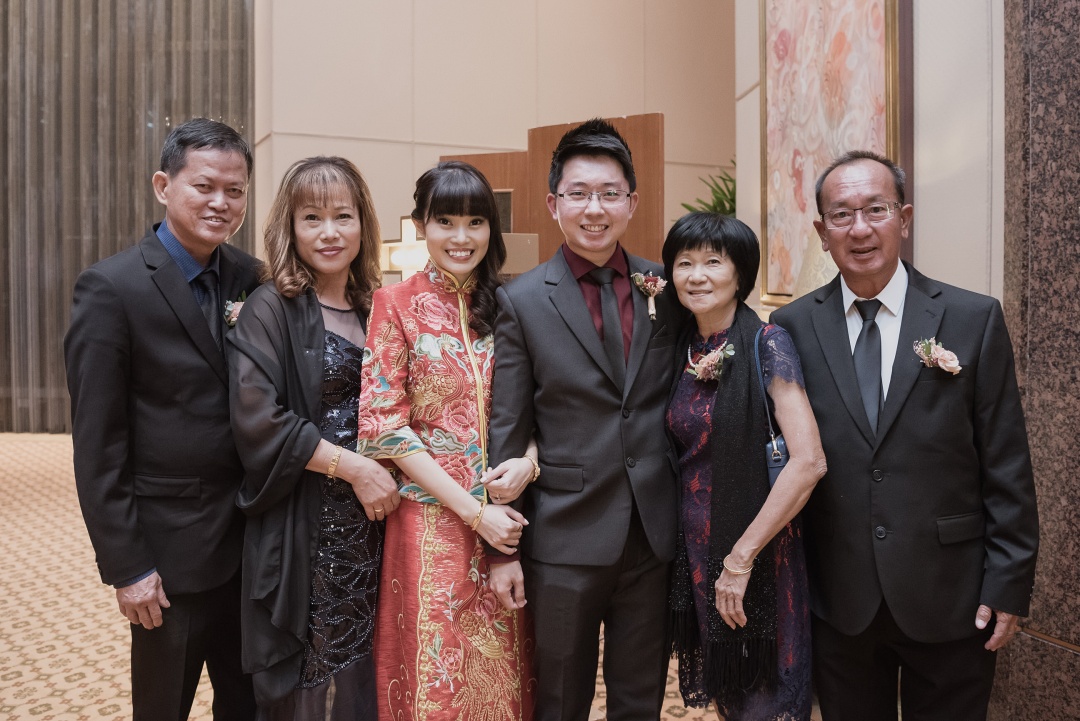 The recommendation for Tang Yong Hair & Makeup came from one of my sister's colleague. I first contacted Valerie through email and WhatsApp about a month before my wedding to ask for the availability and rates for Mother's Makeup & Hairdo.
Got a reply from her promply through WhatsApp; with both her rate and the rate of her team. Her charge was SGD 250 per pax; for TangYong Team, it was SGD 160 for one pax and SGD 130 for two pax and above. Price assuming makeup starts after 07:00 and include false lashes and transport.
Eventually, I decided to engage her team to do both my mother-in-law and my mum's makeup and hairdo for my wedding banquet. On the day of my wedding, Mu En was assigned to do both mums' makeup, and I think she did a good job in making both mums look good and natural.
Wedding Photography & Videography – A Merry Moment
Read:
My Wedding Day – Morning Ceremony | Fetching the Bride
My Wedding Day – Morning Tea Ceremony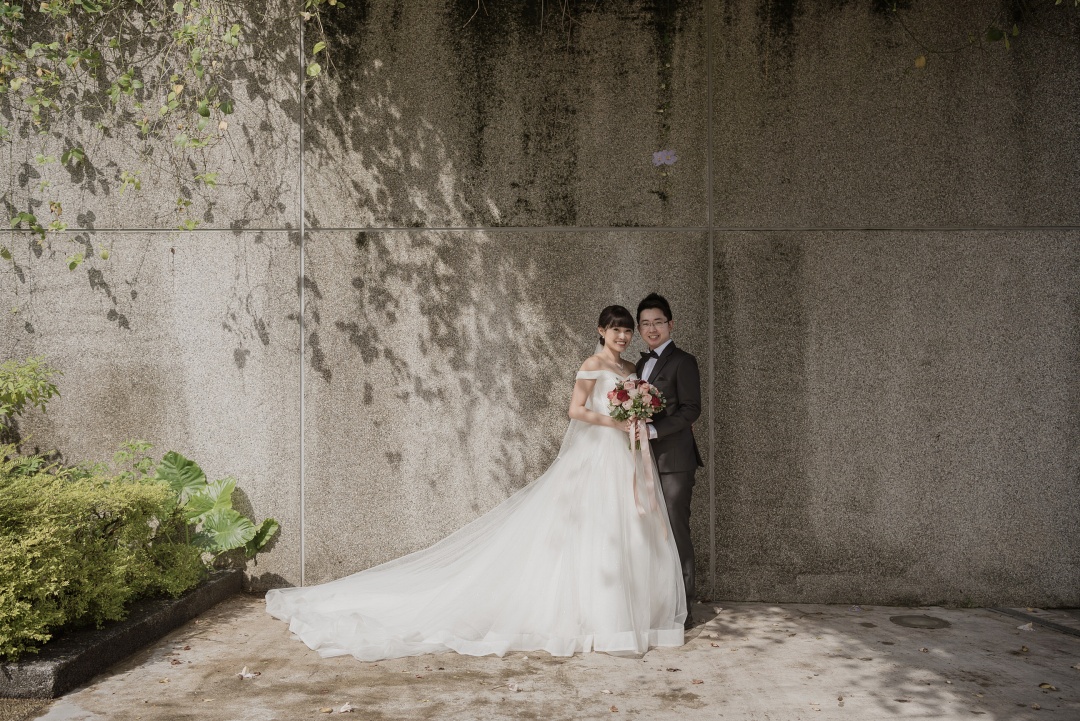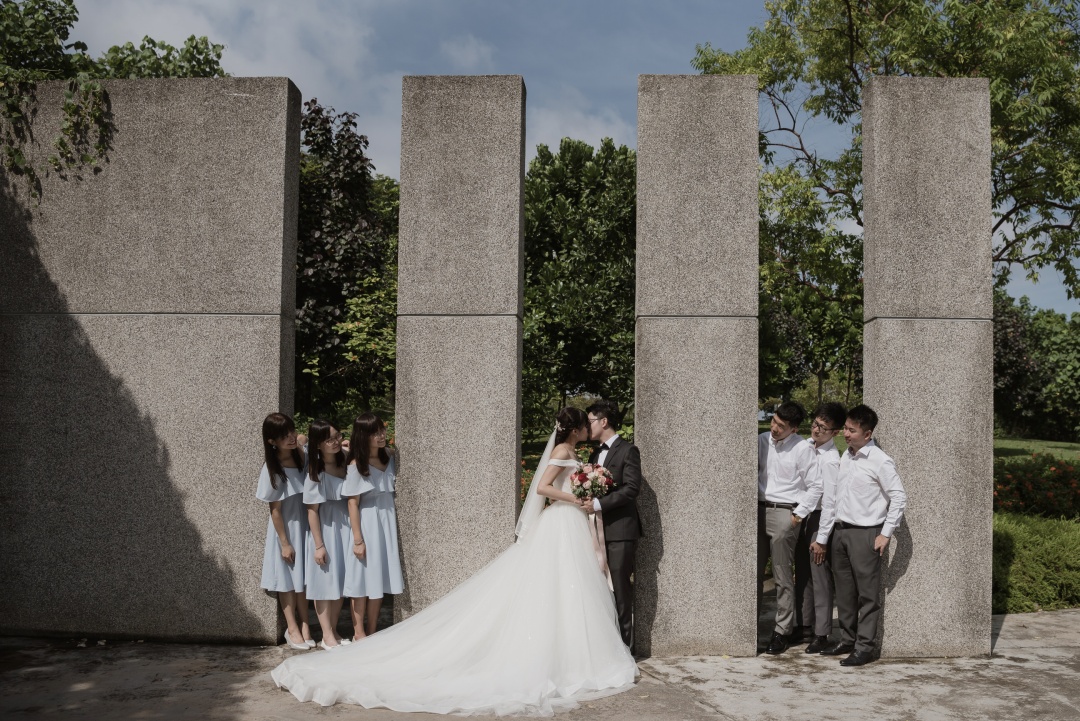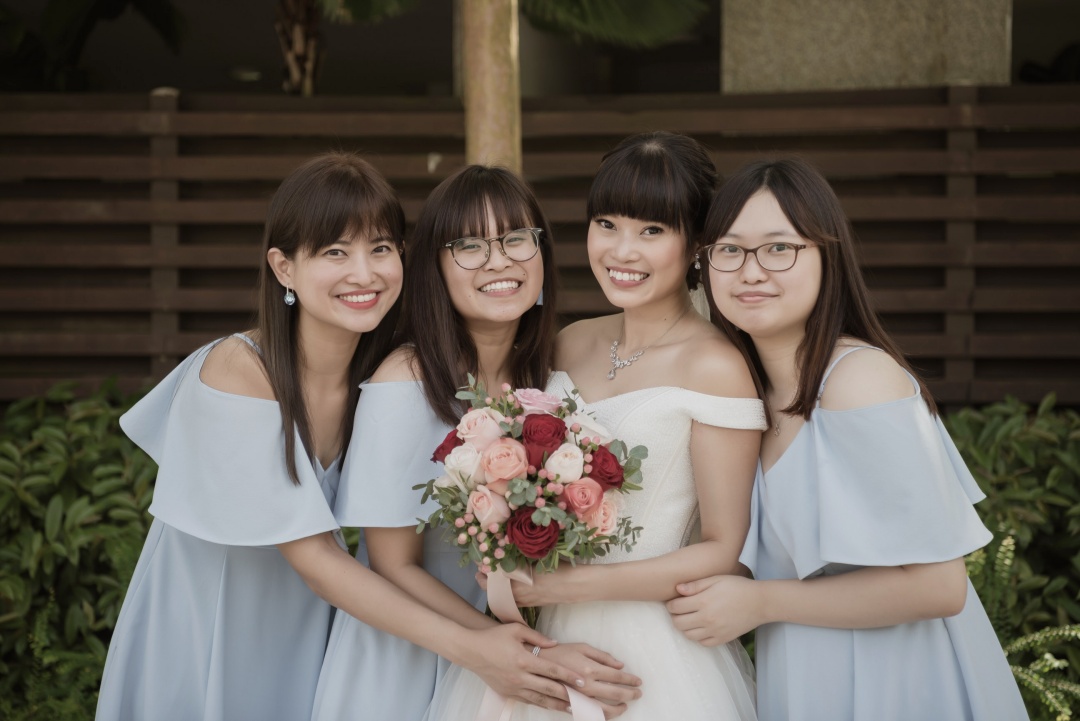 Wedding Photography and Videography was one of the main concerns when it comes to wedding planning. Mainly because there were so many wedding photographers and videographers in the market, and it's tough to pick one that would suit our preference and budget.
It was the beginning of September (around 1.5 months before the wedding) when we started actively looking around at all the brands out there. I eventually came upon A Merry Moment, and sent in an enquiry on 22 Sep to ask for their availability and rates.
After exchanging a few messages, we arranged for a meetup on the following day to have a discussion. We were fairly certain we would like to engage both Petrina and Leon from A Merry Moment for both photography and videography on our wedding day after our meetup.
Personally, I am leaning more towards a brand that offers both wedding photography and videography. I think it aids in communication when the photographer and videographer know each other and that it's easier for them to coordinate on the wedding day. They would also have a better understanding of their style of shooting, and ideally, allowing them to work harmoniously around one another (instead of stepping on each other toes). As such, A Merry Moment seems like a good fit.
It was a breeze communicating with Petrina (through emails and WhatsApp), and she's always prompt in her reply. She also helped to come up with a draft schedule for our wedding day, which really helps us to have a better idea of the flow for our wedding day.
After several editing, our finalised plan was:
05:00: Arrival of MUA & Morning Prep begins (2.5 hours before the Groom arrives)
06:30: Arrival of PG & VG
07:30: Arrival of Groom (no gatecrash)
07:40: Enter Bride's house + 酸甜苦辣 + photos
08:15: Leave Bride's house
08:45: Photoshoot at another location
09:15: Photoshoot ends
09:45: Arrive at Groom's house + tangyuan + tea ceremony
10:15: Leave Groom's house
10:45: Arrive at Bride's house
11:30: End of the morning session (PG/VG Leaves)
BREAK
19:00: Pre-dinner cocktails & PG/VG arrives
20:00: Commence of the dinner banquet
21:15: 2nd march-in & Highlights video to be played
20:00: VG leaves
23:00: Dinner ends & PG leaves
To sum up, it was 9 hours of photography with Petrina and 8 hours of videography with Leon.
But as you know, our schedule didn't exactly go according to plan. Hence, we did end up paying for an additional hour of photography and videography.
Payment wise, we paid 75% upon confirmation and signing of the contract with A Merry Moment and made the remaining 25% payment right after the photos and video were ready. (For us, that was around 6 to 7 weeks after our wedding.) After making the balance payment, our pictures and videos were delivered in a thumb drive in a beautiful wooden box via a courier service. (It was nice that Petrina sent over five edited images a day after a wedding, so we could have a small preview while waiting for the rest of the pictures.)
Overall, we had an enjoyable experience working with both Petrina and Leon from A Merry Moment! They were both a great help on our wedding day, and we were glad to have chosen them.
Photo wise, I just wish there were a few shots of our cocktail reception (i.e. dessert buffet, photo album table, etc.) and a full shot of the ballroom. But I suppose you get some and you miss some.
You probably have already seen the work from Petrina in my past entries, but if you would like to view the video from Leon, here's a link to my Cinematic Highlights – https://youtu.be/xAqCzdwmqMM
Photo Booth – Uniquebooth.sg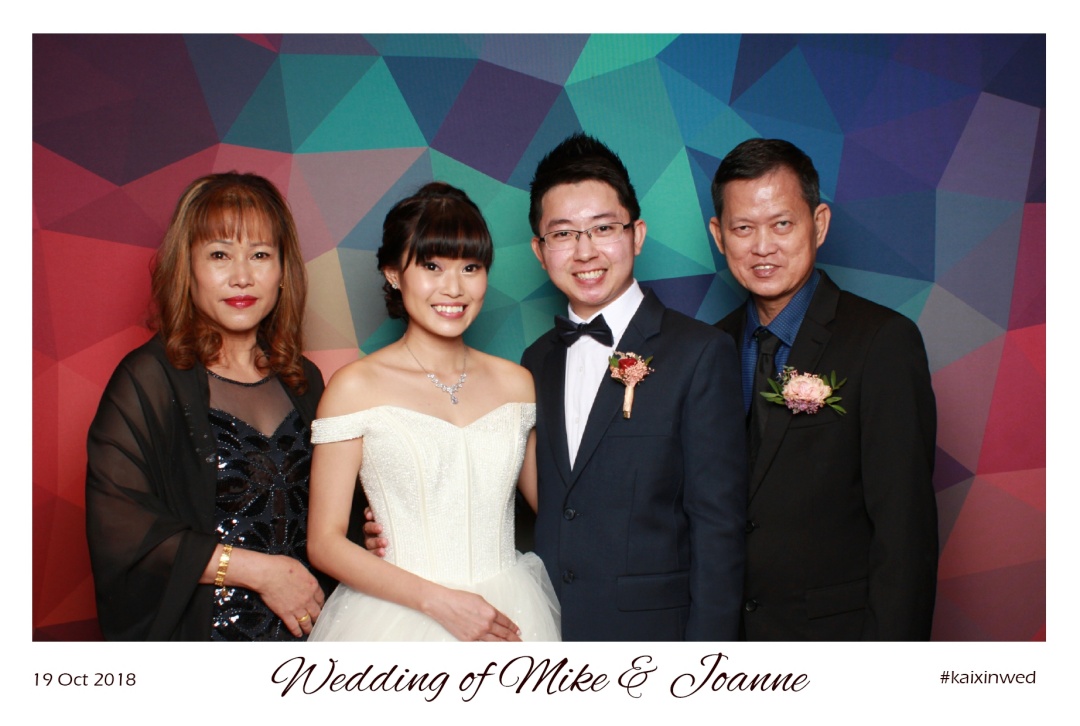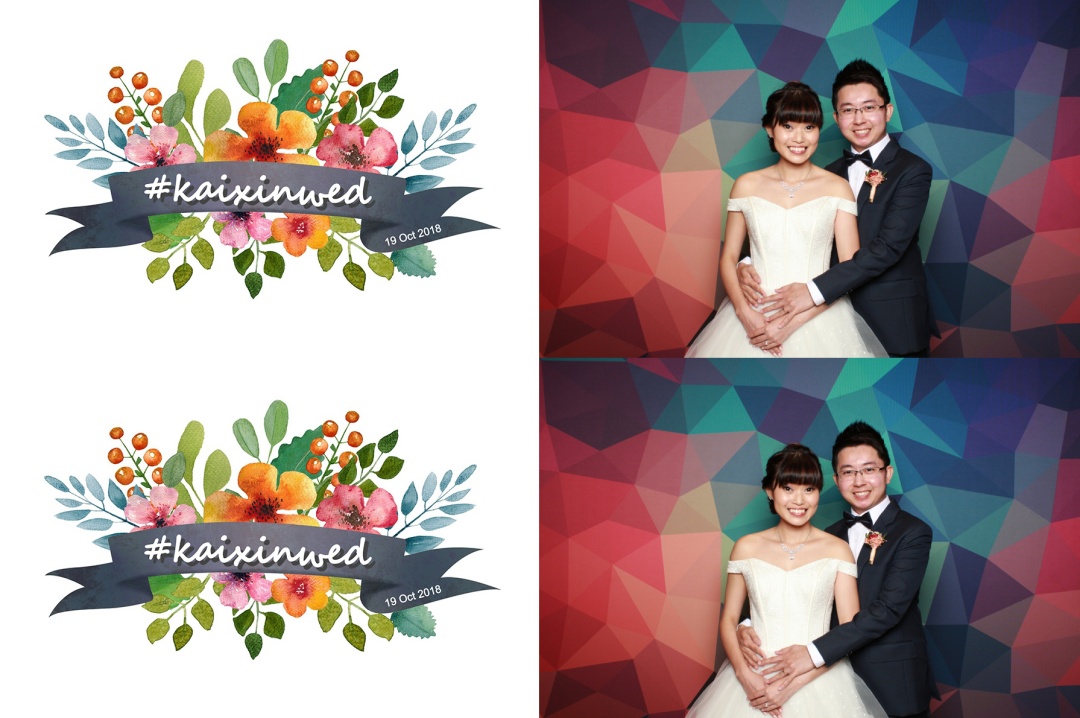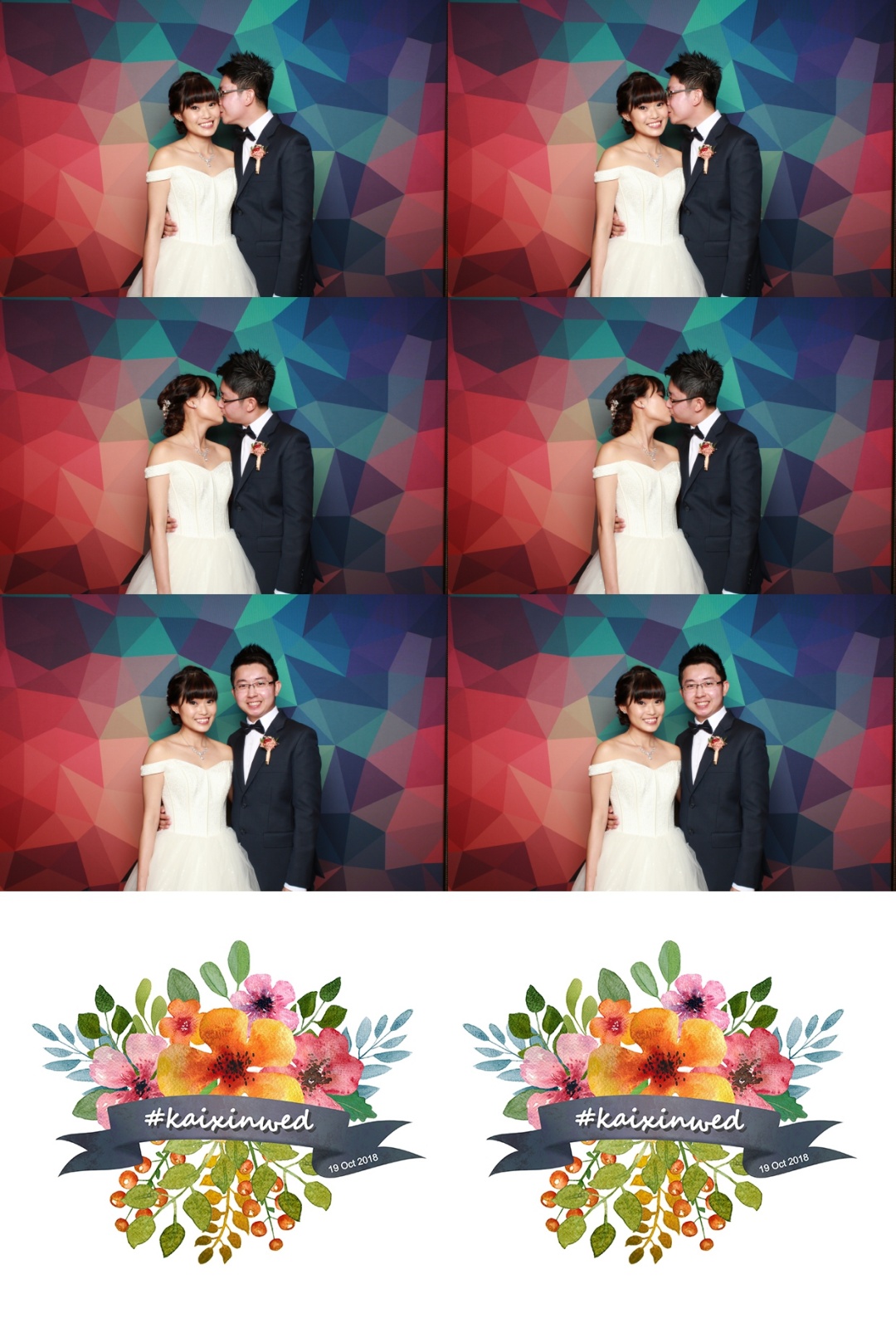 Looked around for brands that offer photo booths, before finally decided on Uniquebooth.sg. Two main reasons made me chose them – Price was reasonable (SGD 500 for up to two hours coverage), and I really love one of their backdrops (i.e. Dark Pastel). In addition, I like that they offer three printout sizes. Our guests can choose from 4R, wallet size and filmstrips prints/video. All the photos and videos were also available for online viewing and download after the event.
I contacted them via the contact form on their website at the end of August and got a reply from the Founder/Managing Director a week later (10 September). I'm surprised that he offered to send over hardcopy sample of their products. However, that took them a week before mailing out the samples.
Upon receiving the samples (20 September), I then sent in an email to ask for confirmation of their availability on my wedding day plus the availability of the backdrop I wanted. I specifically told them that I would like to proceed with the booking if it's available. It then took them two weeks to get back to my email (4 October). It was on 9 October (10 days before the wedding), before they sent over the agreement contract.
(Up till then, I was always prompt in my respond whenever I got an email from them.) However, I was so overwhelmed with all the wedding preparations that having a photo booth wasn't even sitting at the top of my priorities. I totally skipped their email and only replied to them with the signed contract on 16 October.
(We did connect via WhatsApp too since the beginning of October as I was hoping it will aid in our communication.) So after making the full payment and sending the signed contact over on 16 October, I was then informed (via WhatsApp) that the backdrop I wanted was unavailable. I can't even explain how disappointed and furious I was at that moment. The last time I checked in with them on 4 October, they mentioned that the backdrop I wanted was available. There was no mentioning of the backdrop thereafter. And when he sent over the contact on 9 October, I just naturally assumed that the backdrop I requested was available/reserved for us.
Even if the backdrop was taken after 4 or 9 October, I think it's only reasonable that they drop me a message, to inform me that the design I wanted was unavailable and to ask for my confirmation.
I was angry because that was the backdrop I wanted right from the beginning and one of the main reason I selected them. I wasn't even looking at the other designs since I was fairly certain of what I want. So for them to come back to me after I made the payment/signed the contract and told me the backdrop was unavailable, was a huge disappointment. I couldn't even cancel the deal (nor did I ask to cancel) since I had already made the full payment. I did, however, clearly made known to them about having to think about it (to pick another design).
They then told me to let them know early because apparently, two other couples had yet to confirm their backdrop. Hence, they could help me to book first once I've decided.
After looking through their website, I then got back to them three hours later to ask if one of their premium backdrops was available. I knew we had to pay an additional SGD 150 for the premium backdrop. But by then, all I wanted was to pick one that I genuinely like, instead of choosing one for the sake of it.
But guess what; they told me only standard backdrops were available. I can't even top-up to premium backdrop even if I wanted to. (It was truly disappointment followed by disappointment.) Got the Husband to pick a design (standard backdrop) and I told them that it was very disappointing to hear. Their reply? "All booking is first come first serve."
Really? That's how they handle customer service/service recovery for a disappointed customer? Not only was there no apologies given, but they also made it sound like it was my fault for not confirming earlier. (Maybe it's too much of me to expect them to drop me a text when the backdrop I requested was taken.)
Surely, they can do better!
Backdrops aside, I didn't get them to do up any artwork for the 4R, wallet size and filmstrips prints. Instead, I chose to send over an existing artwork that I got on hand. For the 4R photo, I also chose one with a white border and asked for simple texts below the picture. By then, I was so tired of communicating with them. (Remember, it was three days before the wedding.)
A week after the wedding, they texted me the link to view the photos/videos online. I asked if it was possible to lock the album, which they then get me to send them a password I like to use. Sent the password over, and up till today, the album was still public and available for viewing on their website. Guess they have completely missed my message of wanting to lock the album. I didn't even want to continue liaising with them and decided to let that be.
Overall, while the photo quality of the printout was acceptable, I had a difficult time working with them. Emails appeared to take them a week or two to reply. Bottom line, we paid for a service that I wasn't satisfied and wouldn't recommend.
Wedding Venue – Conrad Centennial Singapore
Read: My Wedding Day – Dinner Banquet at Conrad Centennial Singapore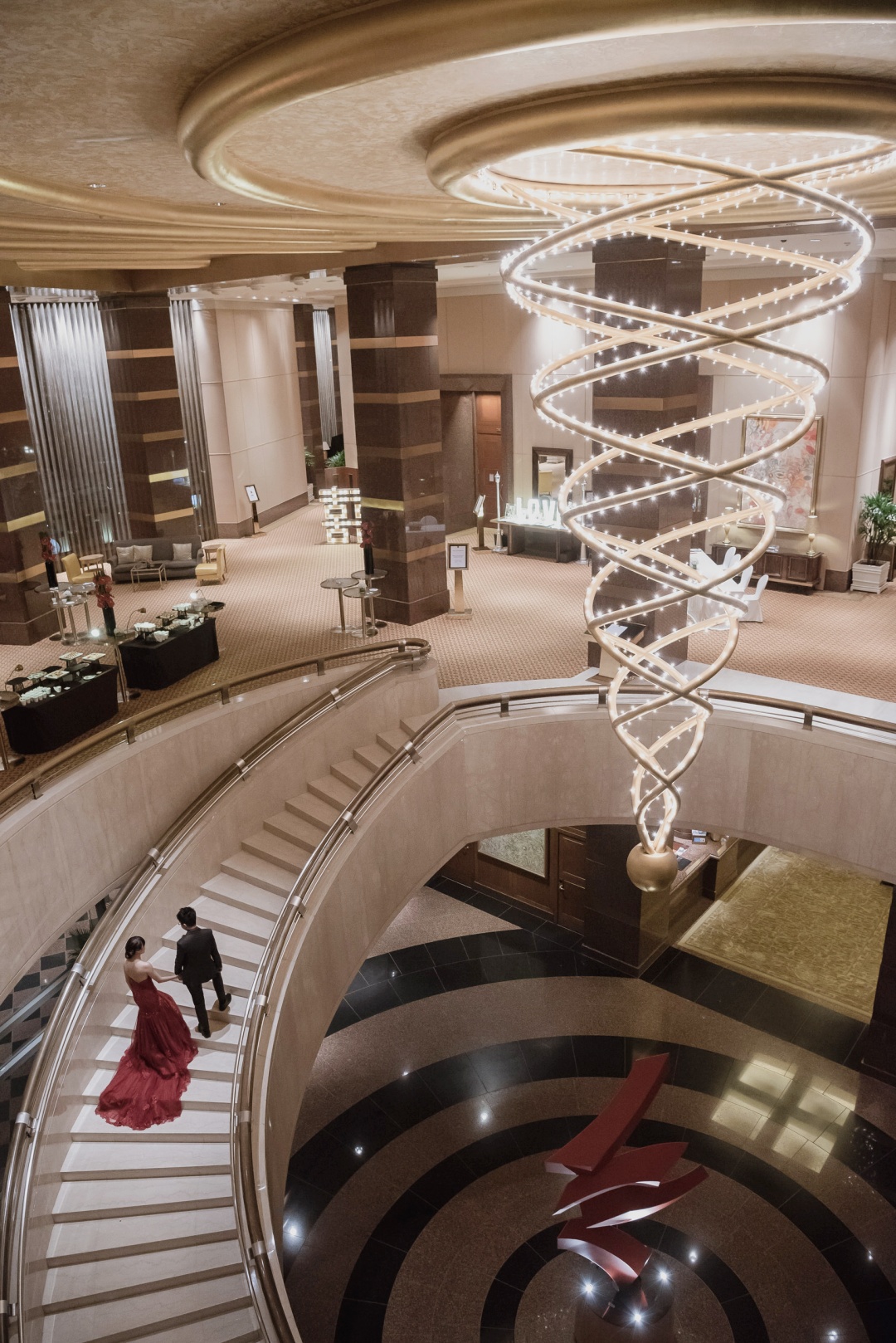 If you've read my earlier post on Wedding Venues in Singapore 2018/2019, you would know that Conrad Centennial Singapore was the 11th hotel (out of 16) we viewed when we were looking for a wedding venue in Singapore to host our Chinese wedding banquet.
We didn't take up our top choice (Sofitel Singapore City Centre) due to the minimum number of tables required and the estimated total cost. At that time, Conrad Centennial Singapore was the other one that we love and was considering. We eventually decided to go with the latter since we like the ambience of the hotel, the layout of the ballroom, and the fact that we managed to score quite a good package and perks.
In addition to what was offered in their wedding package, we managed to ask for:
Cash rebates off the final banquet bill
Complimentary eight platters of canapes to be served during the cocktail reception.
Free flow of beer for three hours
Waiver of corkage charge for all duty paid wines (750ml bottles), (instead of only hard liquors).
Complimentary parking for 30% (instead of 20%) of our guaranteed attendance.
Complimentary usage of a function room (maximum 40 persons) for Solemnisation/Tea Ceremony before the dinner banquet.
Extension of Helper's Room to an overnight stay, inclusive of breakfast for two.
Complimentary 2nd night stay in Honeymoon Suite, inclusive of breakfast for two.
Right from the start, our contact person was Fiona (Senior Sales Manager of Weddings), and we had been liaising with her throughout our wedding planning. Upon signing of the agreement, we made an initial deposit of SGD 6000. The remaining balance was then settled upon checking-out of the hotel through credit card.
Leading up to our wedding day, we did make a few changes with the hotel; including adjusting our final table counts, adding an extra dish to the 8-course dinner, an additional dessert table and purchasing of extra bottles of wine. I felt that Conrad Centennial Singapore was quite flexible in terms of their offering. When we had to make the adjustment to lower our final table counts, they were quick in offering suggestions such as upgrading the menu or purchasing more alcohols.
Everything was arranged smoothly with Fiona through emails and WhatsApp. (I believe we only arranged and met up once in late-September to finalised some details.)
On the day of our wedding, we also had a pleasant experience working with the Banquet Manager (Mohd Aripin). Everything was well taken care of right from the moment we arrived at the hotel, till the check-out. The assigned Conrad Suite was also vast and luxurious, and we certainly had a wonderful time staying there right after the wedding.
Overall, the Husband and I were pleased to have chosen Conrad Centennial Singapore as our wedding venue! I can finally see why there is nothing but praises when others talk about holding a wedding at Conrad. Food was of standard, and most importantly, the service was great. Definitely recommend this hotel to those looking for a wedding venue in Singapore!
---
And there, you have my review on my wedding vendors! I believed I managed to cover everything/everyone?
I'm so glad to have completed this blog post and put an end to his chapter. Managed to come up with a handful of posts on my wedding (preparations) and I hope others find them helpful.