Read:
My Wedding Day – Morning Ceremony | Fetching the Bride
My Wedding Day – Morning Tea Ceremony
Left my parents' place and reached Conrad Centennial Singapore at around 14:30.
Our wedding coordinator had kindly arranged for someone to meet us at the hotel lobby. And upon meeting them, we took the lift straight to our bridal suite located on level 30 (the second-highest floor of the building).
We were very fortunate to have gotten the biggest bridal suite at Conrad Centennial Singapore. At 143 sq. m./1539 sq. ft, the Conrad President Suite was massive! Comes with a separate bedroom, living and dining areas, as well as a pantry, powder room, walk-in wardrobe and luxurious marble bathroom with large bathtub and separate glass shower.
I managed to quickly get a few shots of the bridal suite before I got busy for the second half of our day!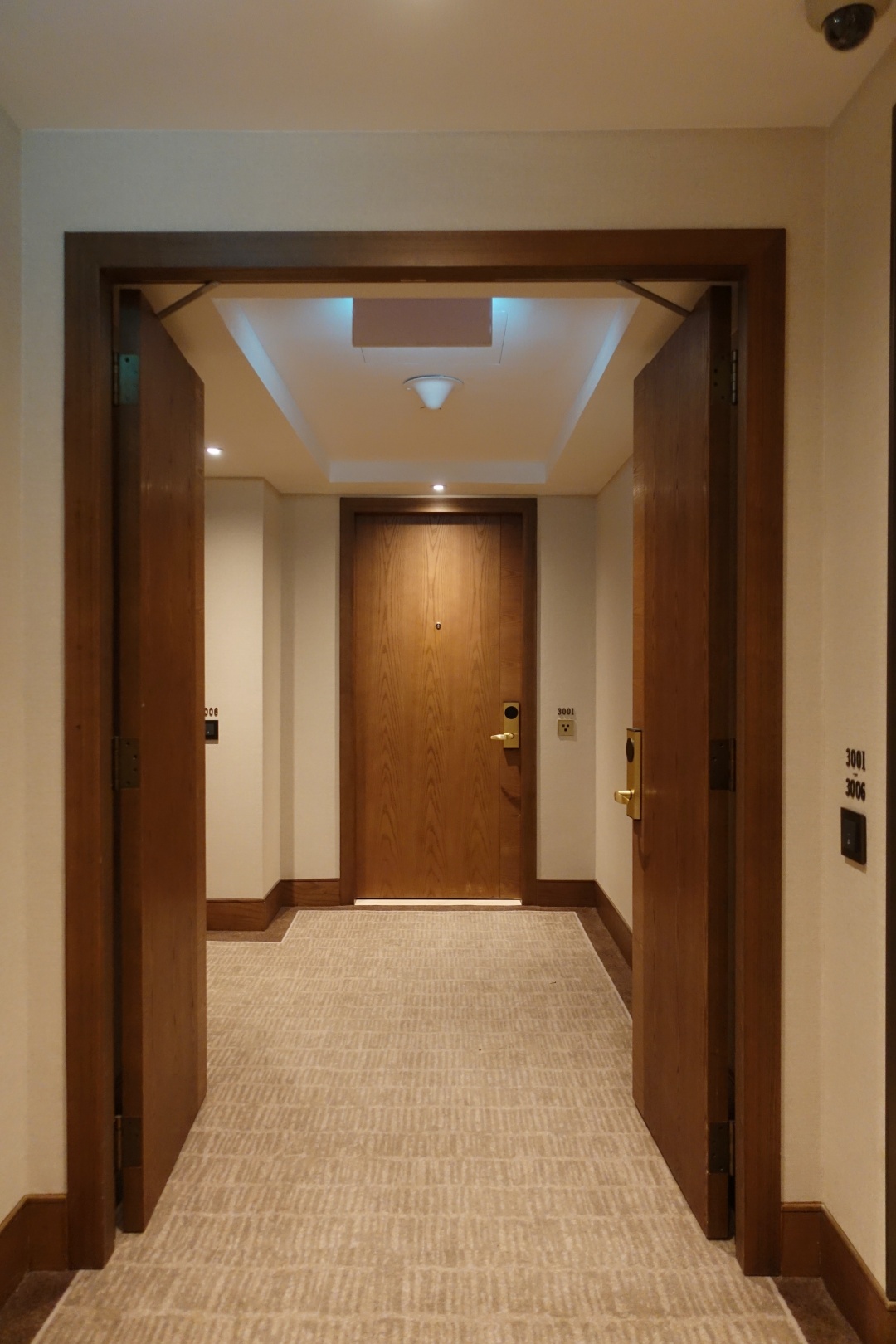 Entrance to the Conrad President Suite.
Behind the main door, there were two separate doors; one leading to the bridal suite and the other (on the left) opens up to the Helper's room (Deluxe Room).
I thought it was really convenient to have both rooms located side by side. You can simply close the main door and open up both the Helper's room and Bridal suites for your wedding entourage to move between easily. On the other hand, as each room comes with sperate keycards, you can also close the doors to have privacy for both.
Quite pleased that we requested and got the extension of the Helper's room from 15:00 to 20:00 to overnight stay (inclusive of breakfast for two). We ended up offering the room to my in-laws so that they could stay over after the event.
Conrad President Suite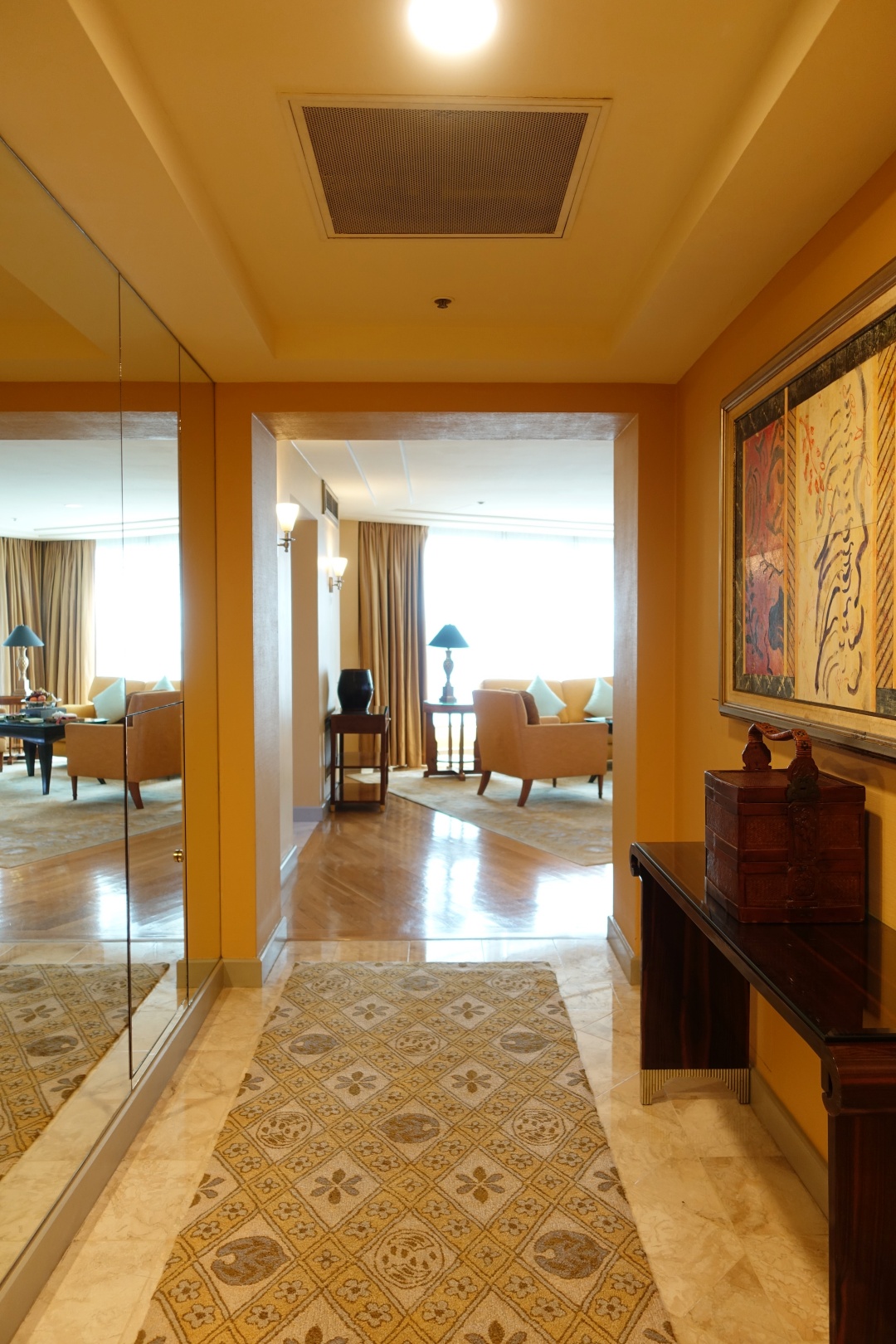 Upon entering the door, we have the walkway (with a full-length mirror on the left) that leads to the main living area.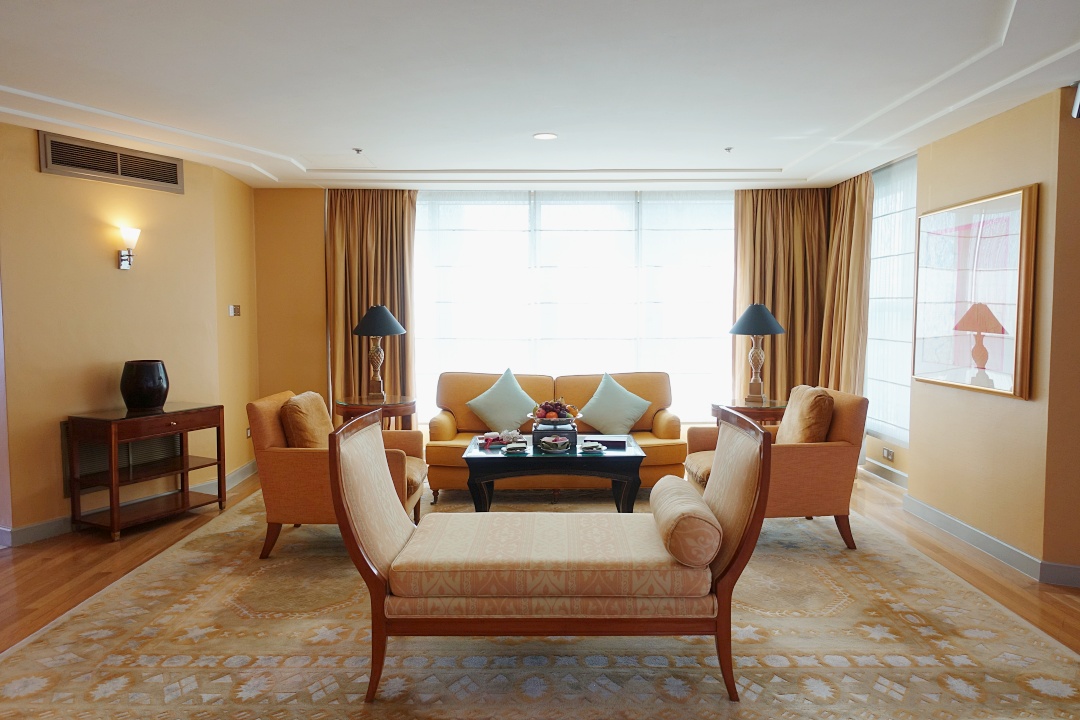 Living area.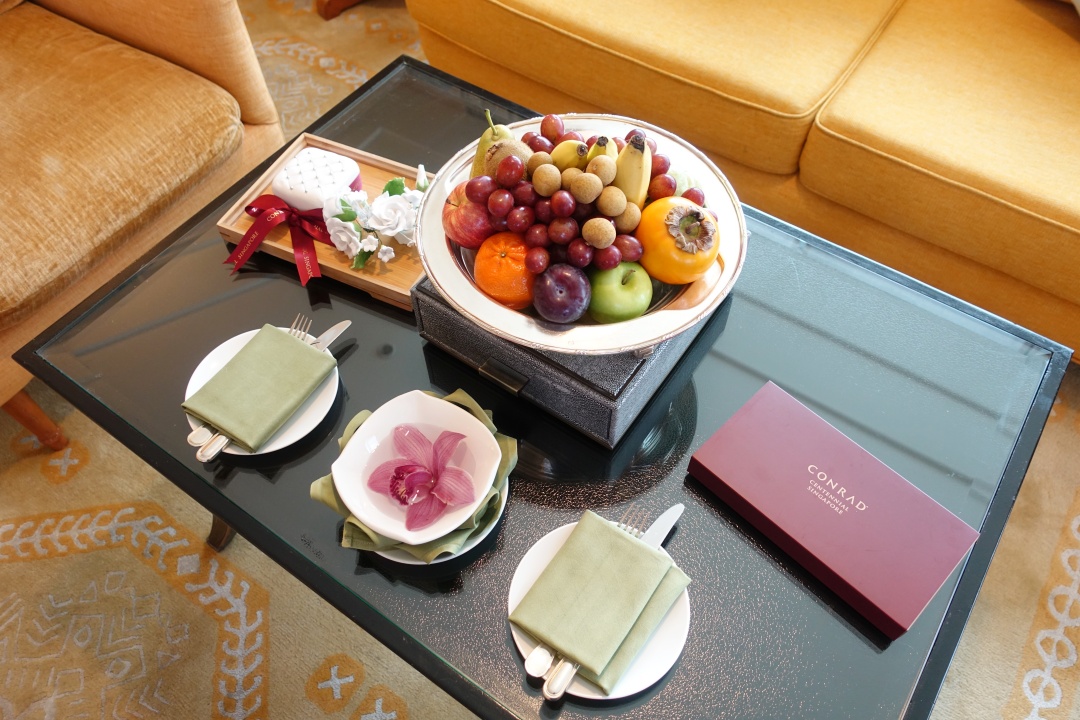 A table of cake, fresh fruits and chocolate truffles.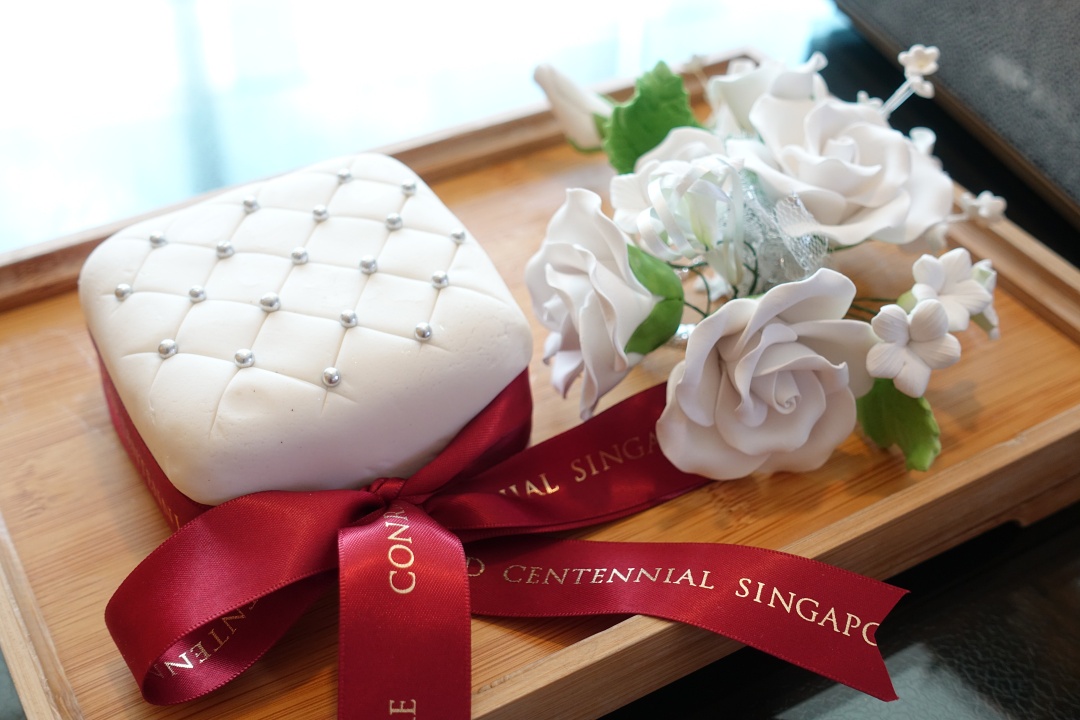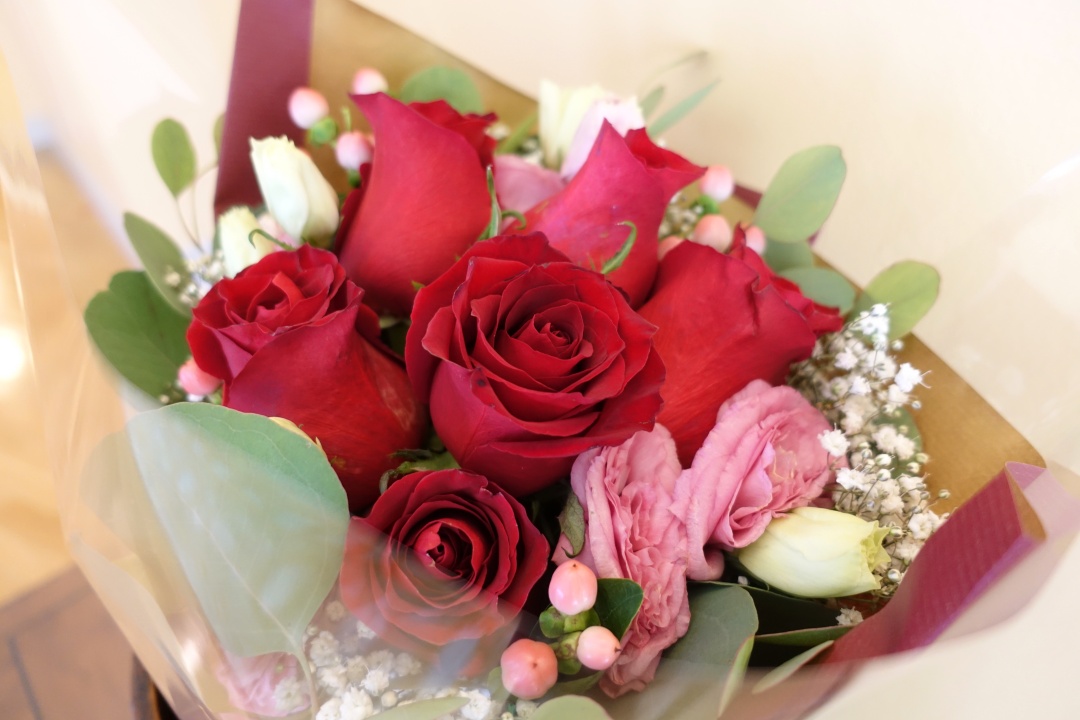 And here's the bouquet that was given to me upon our arrival.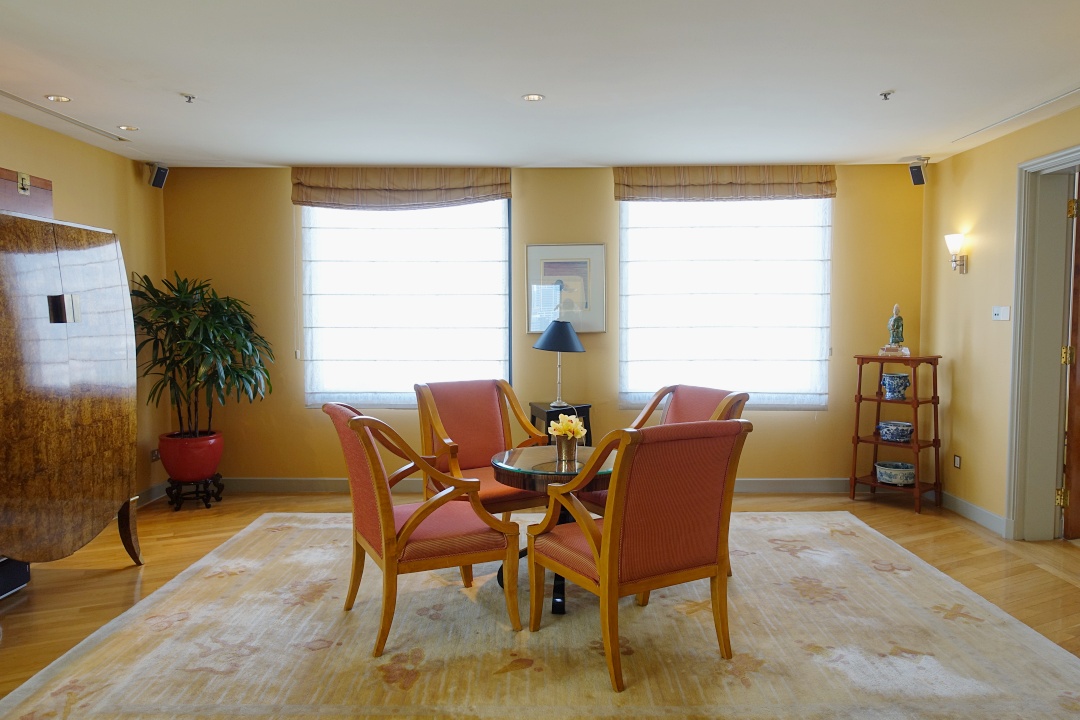 Next to the living area was a small dining area.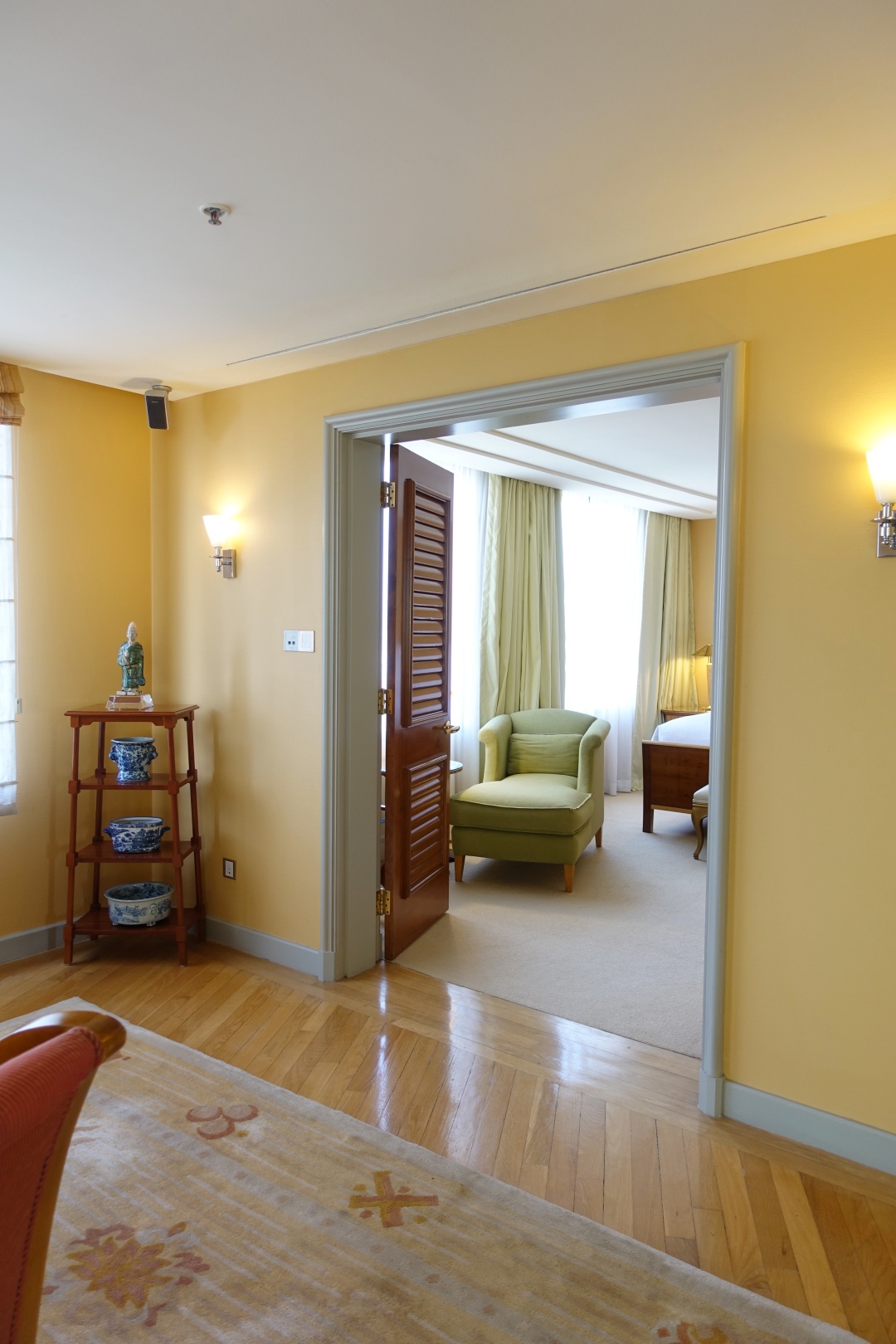 And over to the right was the entrance to the bedroom.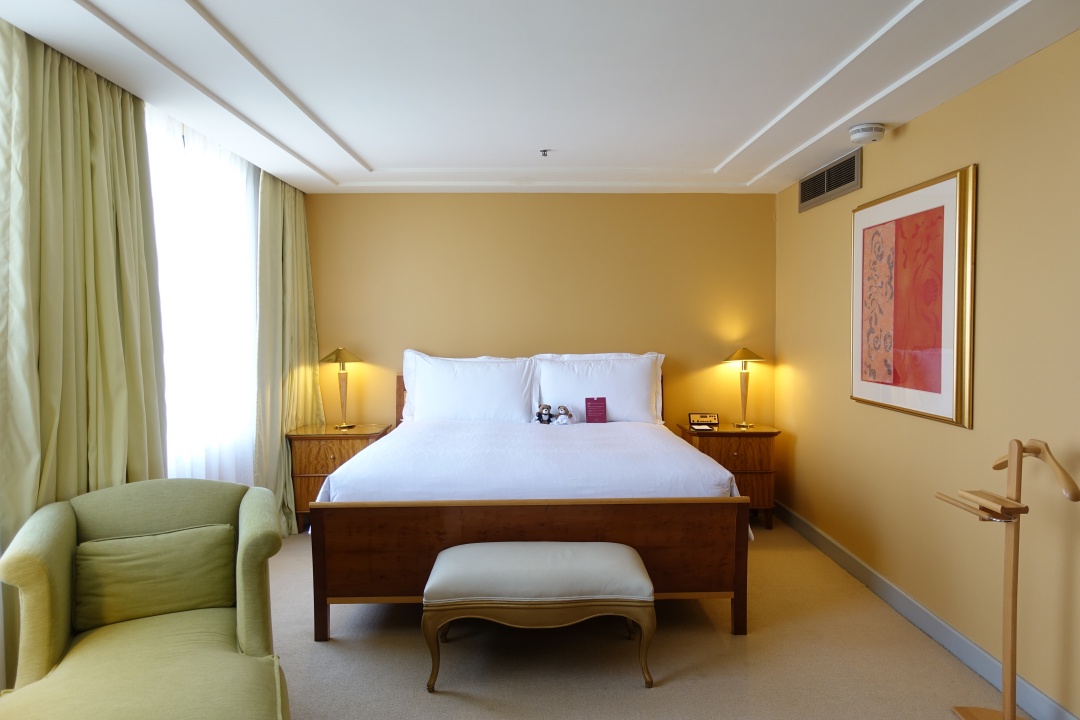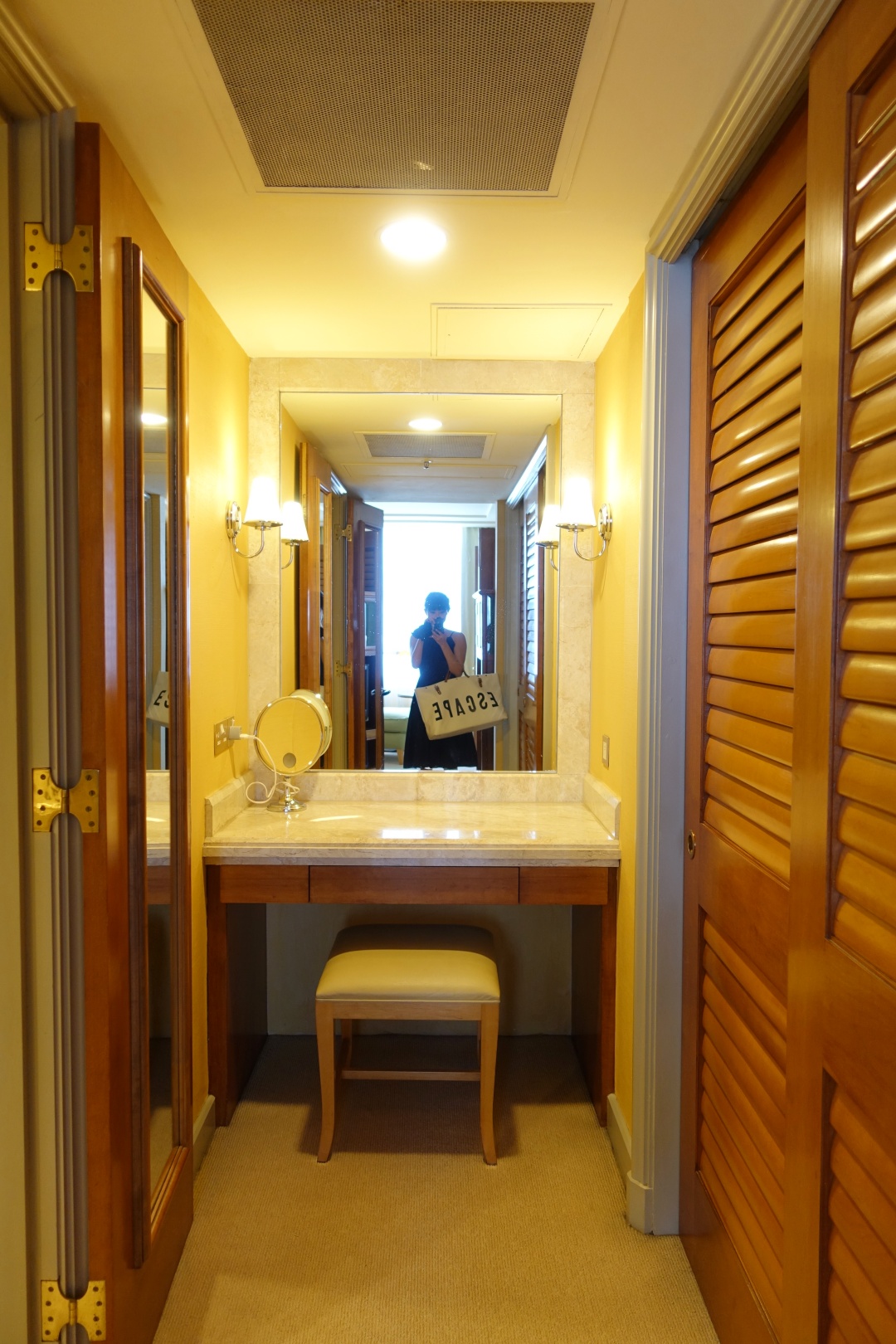 Attached to the bedroom was a vanity area, with the wardrobe on the right.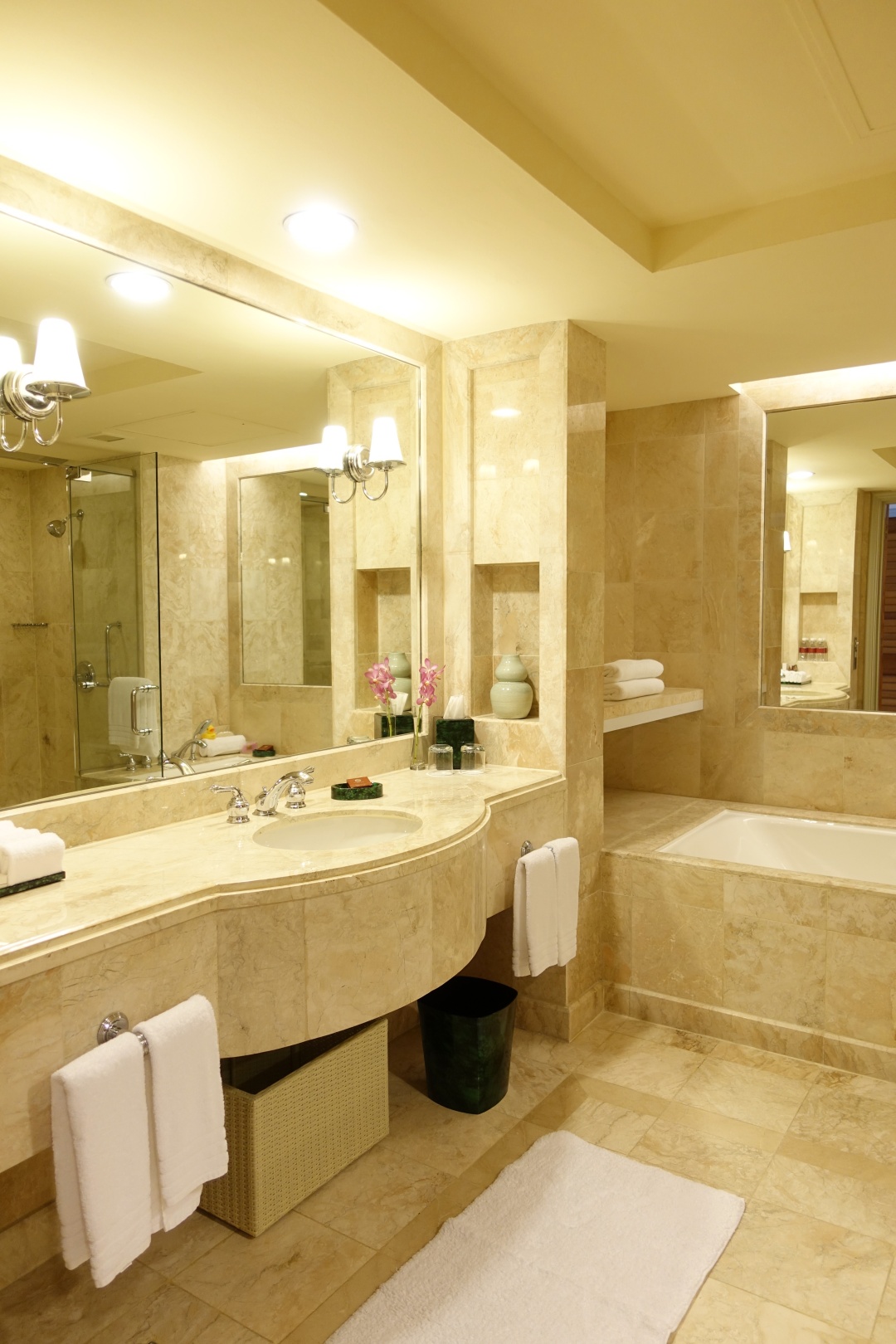 And to the left is the luxurious marble bathroom with a bathtub and separate shower.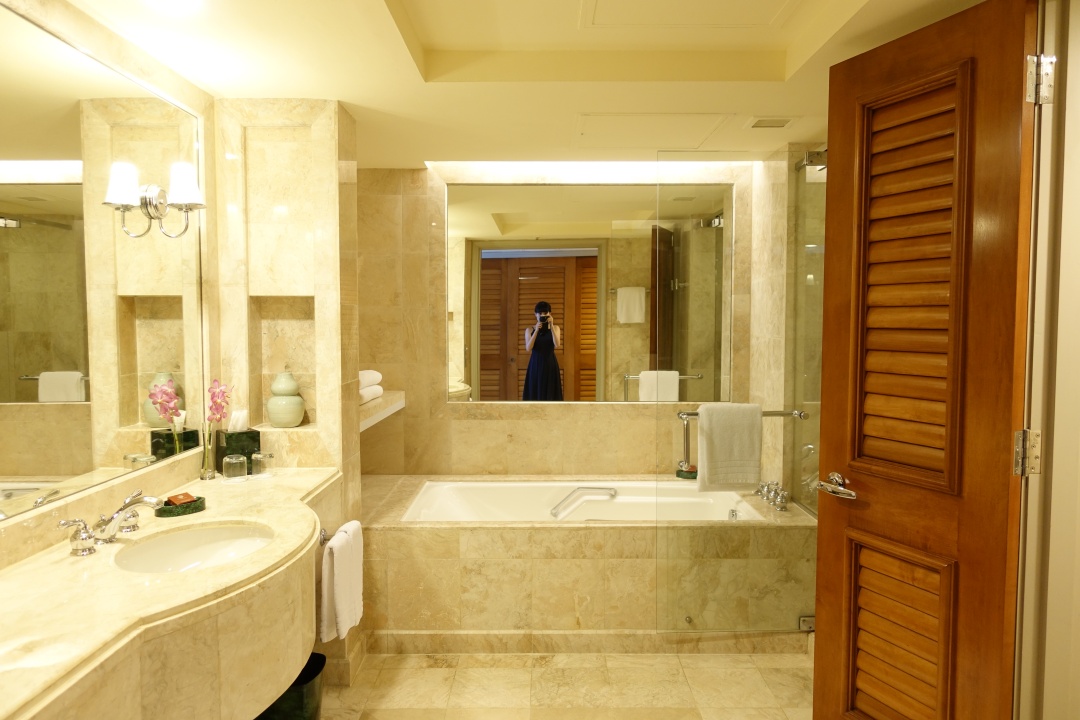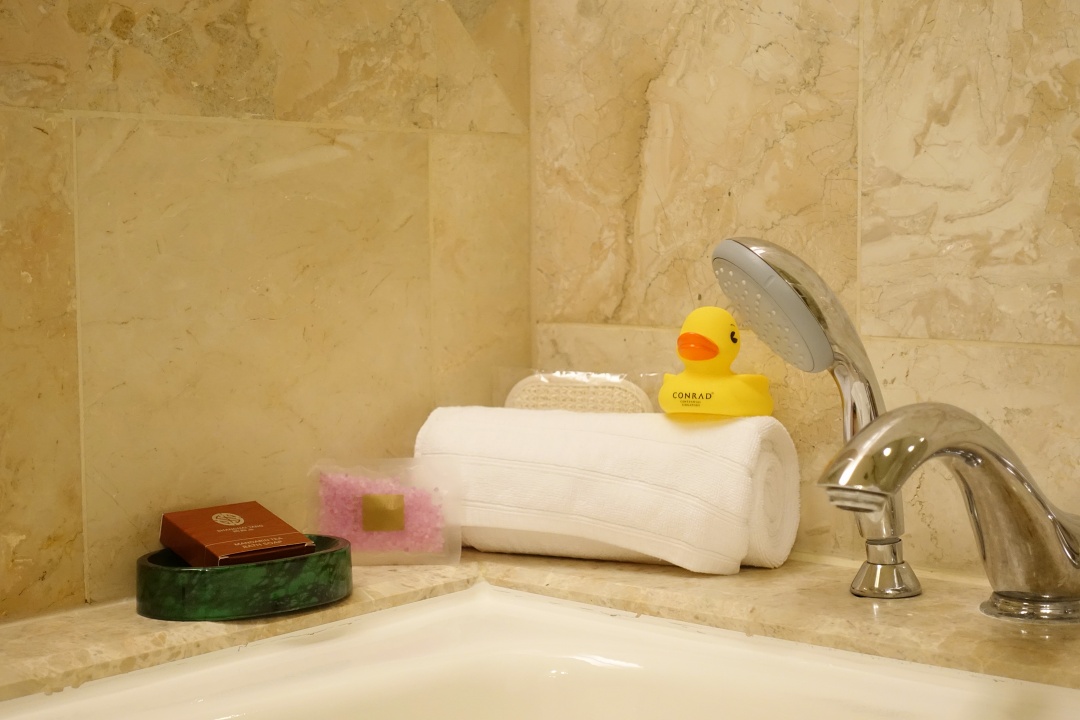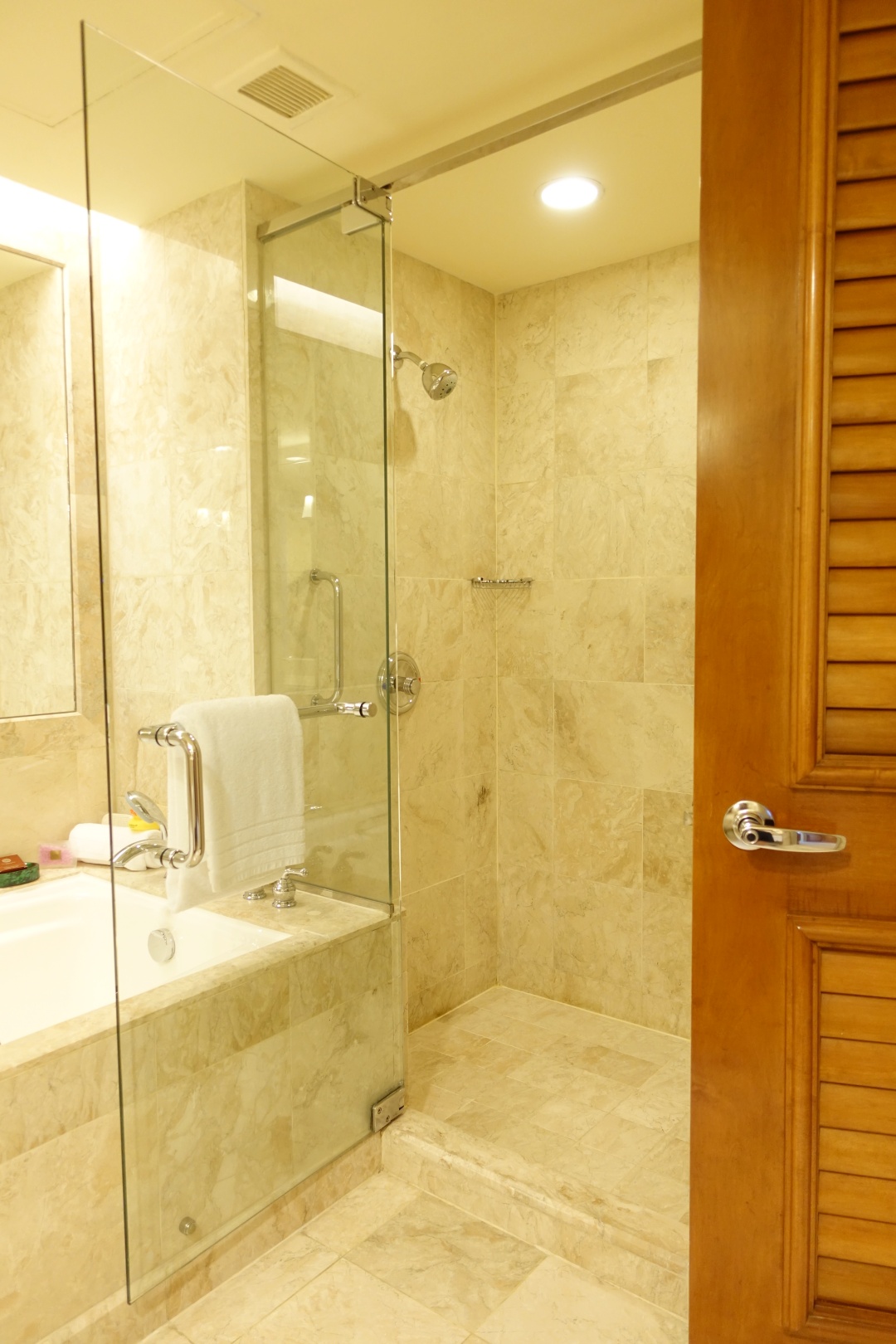 And moving back to the living area…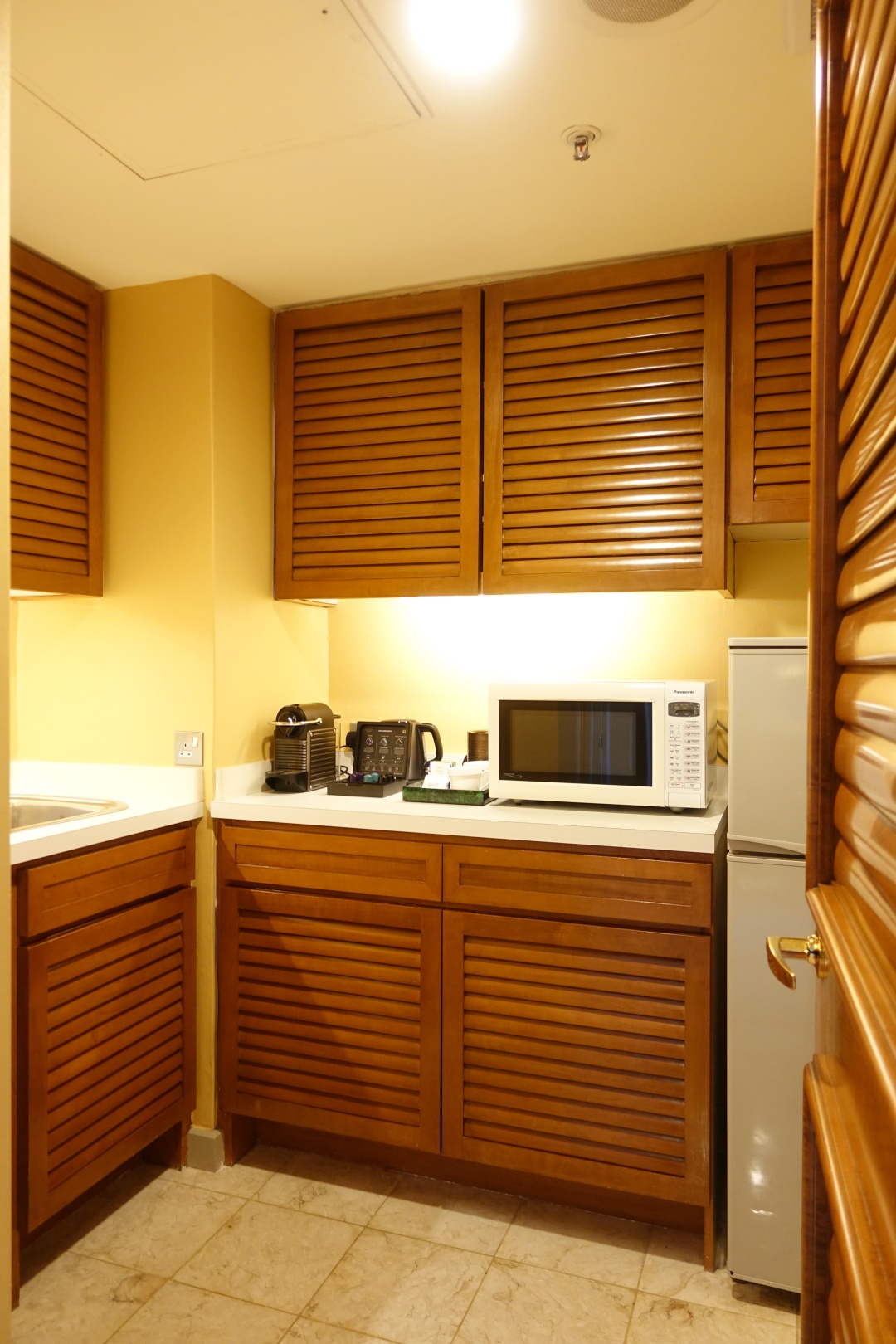 Turning left from the entrance walkway, there is a functional pantry with a fridge, microwave, Nespresso coffee machine and sink.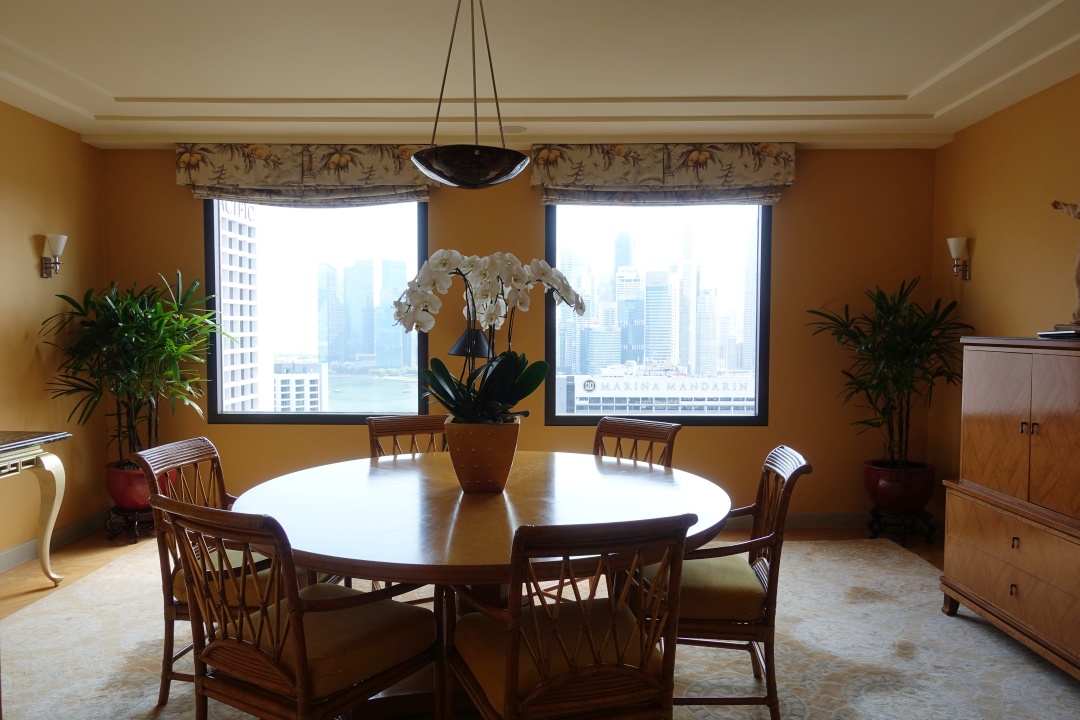 The main dining area.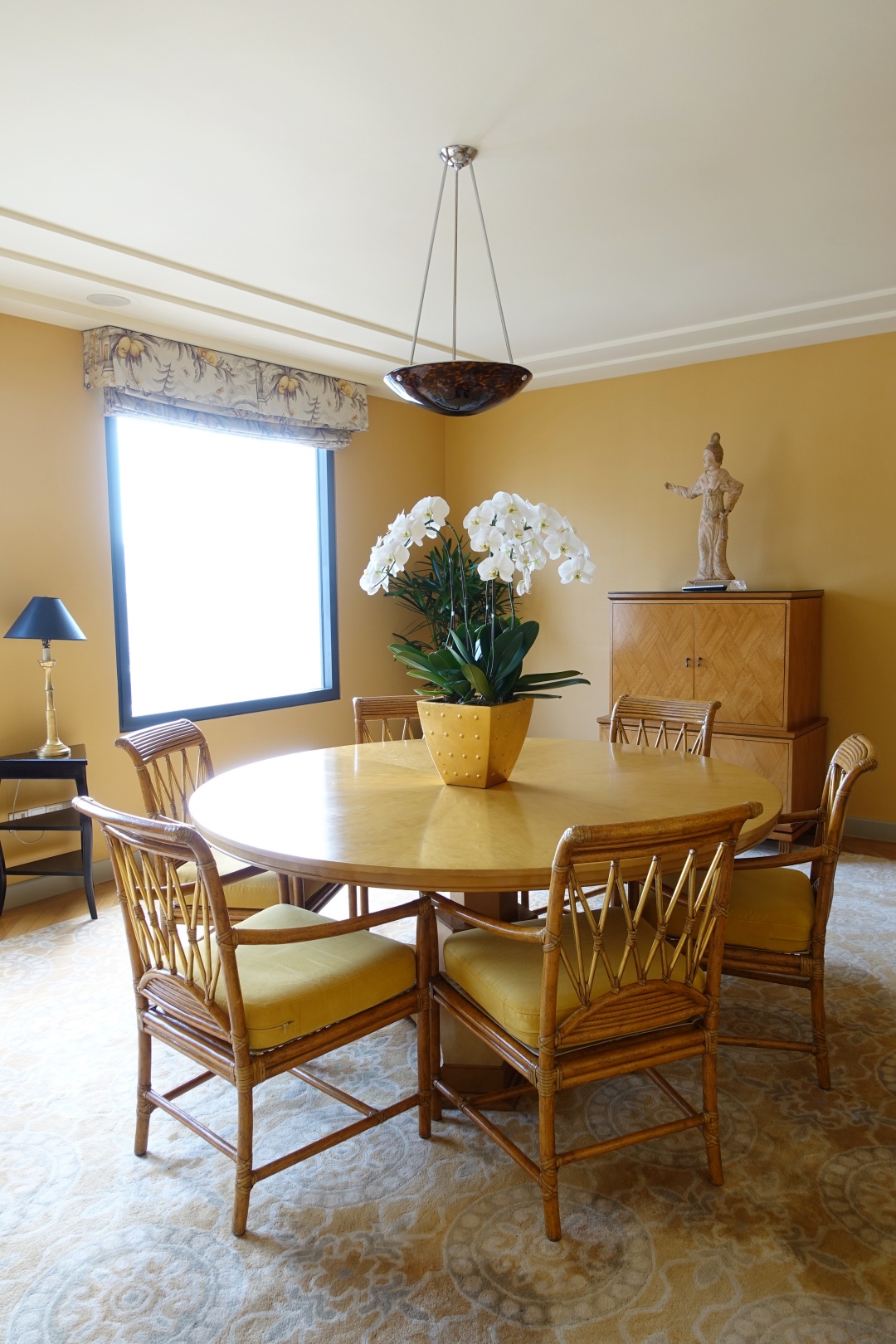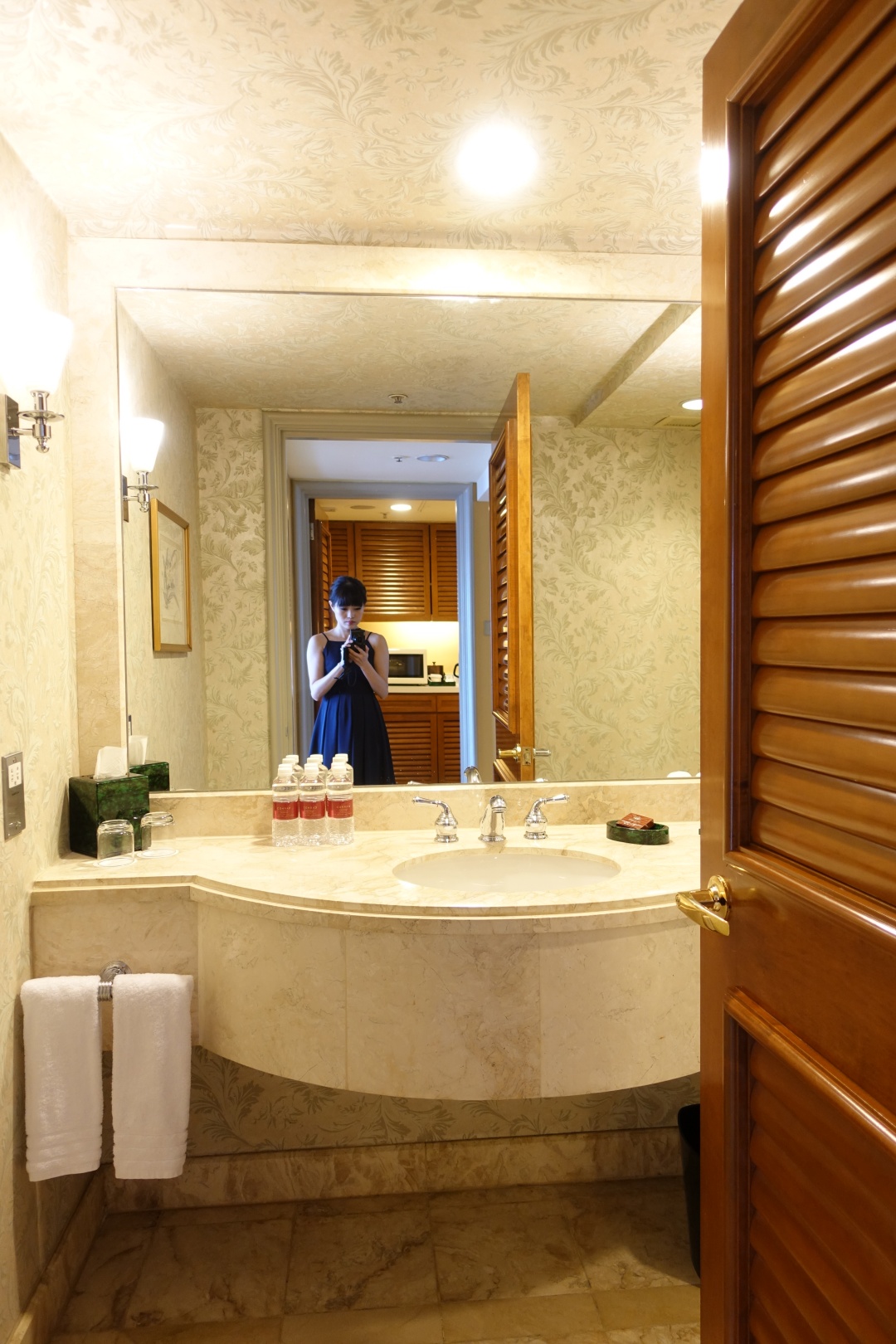 And a guest bathroom.
---
It was time to unpack and get ready for the night.
At around 15:30, they brought up our complimentary in-room dining, but we were too occupied to sit down to have our meal. My makeup artist, Xin Er (from Lush Looks Hair and Makeup) came over at 16:15, and we immediately got down to work on my evening look.
At this time, my in-laws had also arrived at the hotel. The Husband promptly got them to rest in their room, while waiting for the makeup artist to arrive at 16:30. For mum's makeup and hairdo, I arranged for a makeup artist (from Tangyong team) to come over to the hotel. The plan was to have my mother-in-law starts her makeup at 16:30, while my mum did hers at 17:30; so that they can be done by 18:30 and head down for the cocktail reception at 19:00.
Everything happened in a blur right after I started on my makeup and hairdo. I was in the bedroom, so I had no idea who came or what was happening outside.
By 18:00, the Husband had changed into his suit and had to go down to meet up with the banquet manager to do the AV testing and briefing. We didn't get to do the AV testing before our wedding day as the ballroom was unavailable.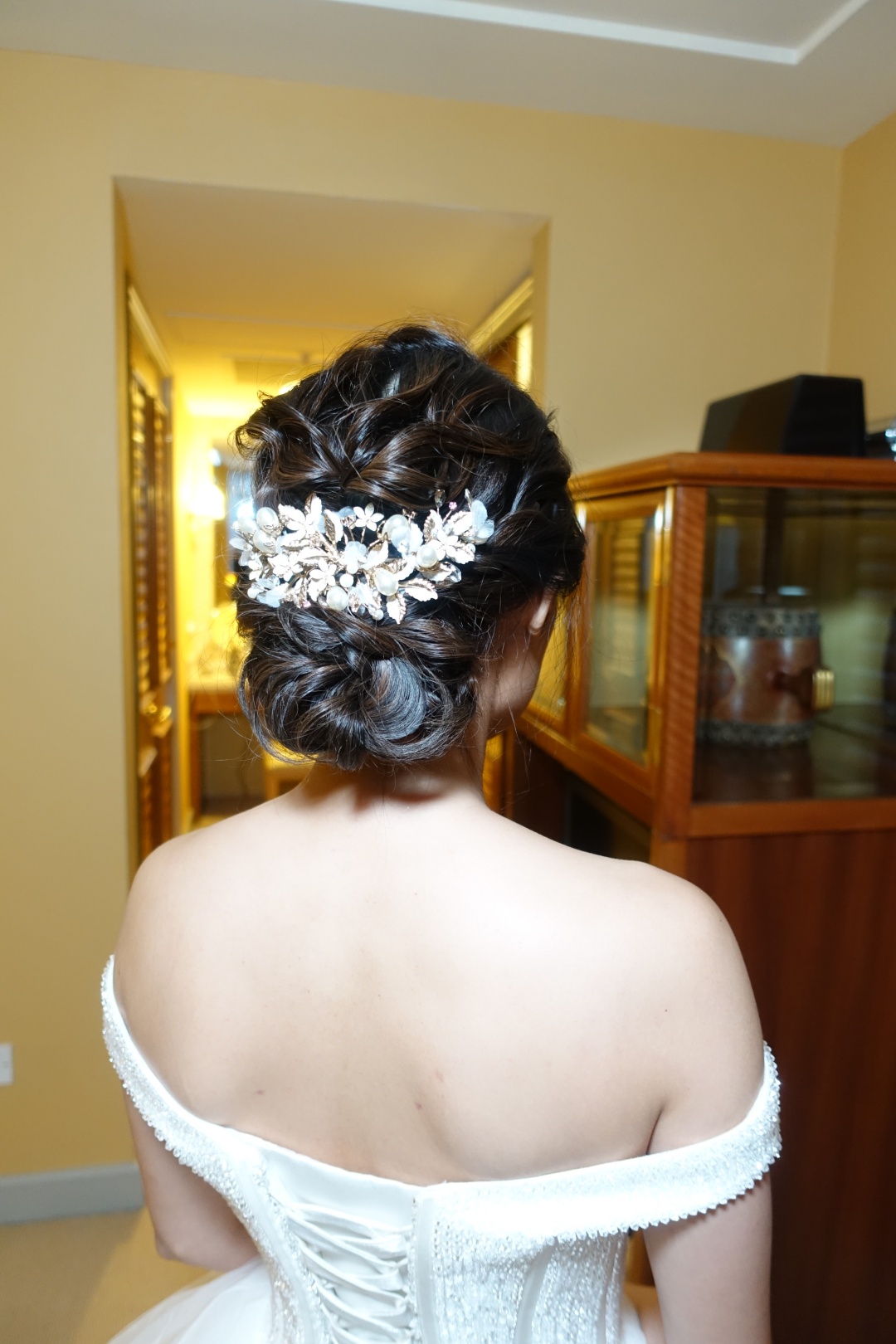 I believed it was around 19:00 or slightly passed 19:00 when I finally got ready and went down to the Grand Ballroom at level 2. Saw my videographer right outside the banquet hall and briefly check with him on the cinematic highlights (video from that morning). He told me the video would be ready after our first march-in as he wanted to include clips of our first march-in in that video.
Wedding Dinner Banquet at Conrad Centennial Singapore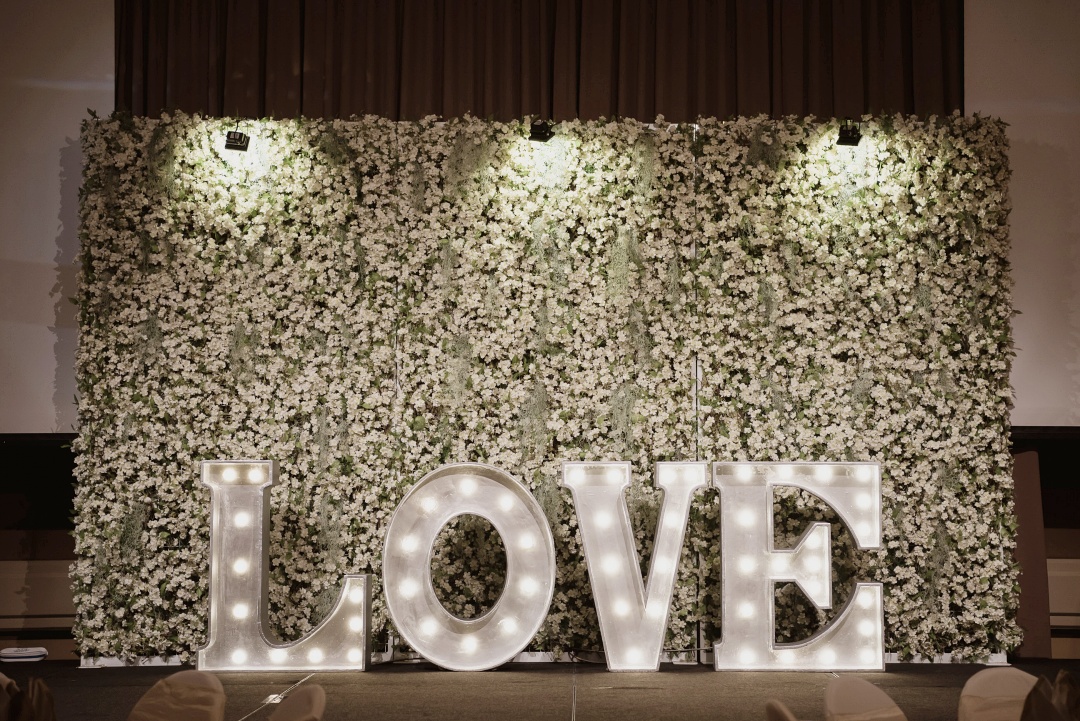 For our wedding decorations/flowers, we decided to go with white baby's breath with hydrangeas. The hotel also offered us two big props. One of which was the LOVE signage that we placed on the stage and the other was the Chinese character 囍 that we put outside the banquet hall/reception area. There was also a smaller LOVE signage that we placed on the photo album table.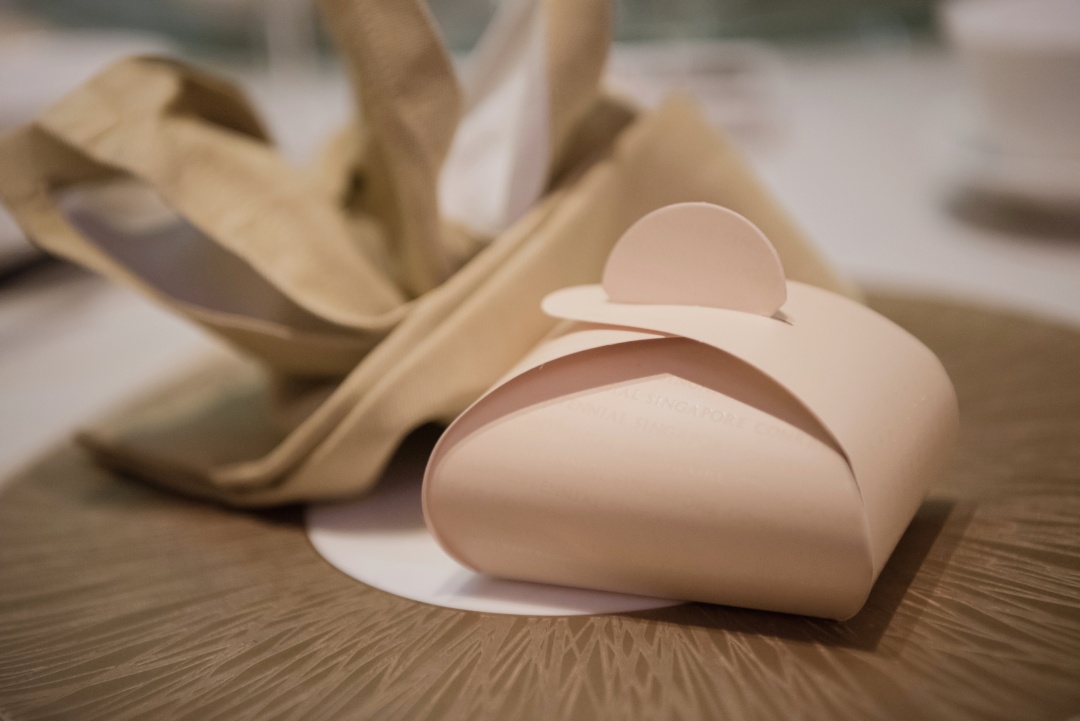 For wedding flavours, we chose to go with the alternate of chocolates and mini fruit cake. (Another option provided was the signature Conrad teddy bears, which we didn't select.)
For the table cloth, we went with gold for the two VIP tables and ivory for the guest tables.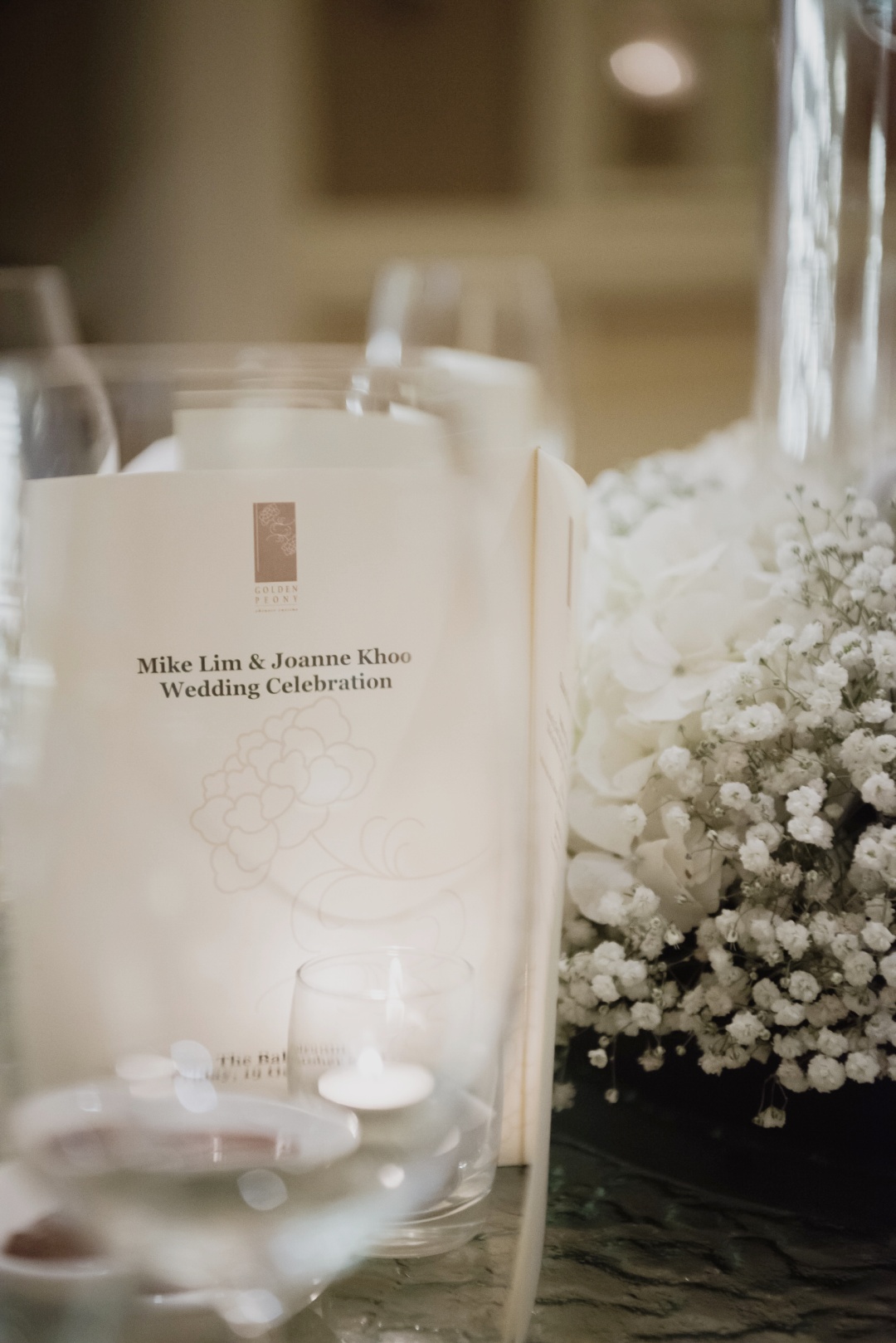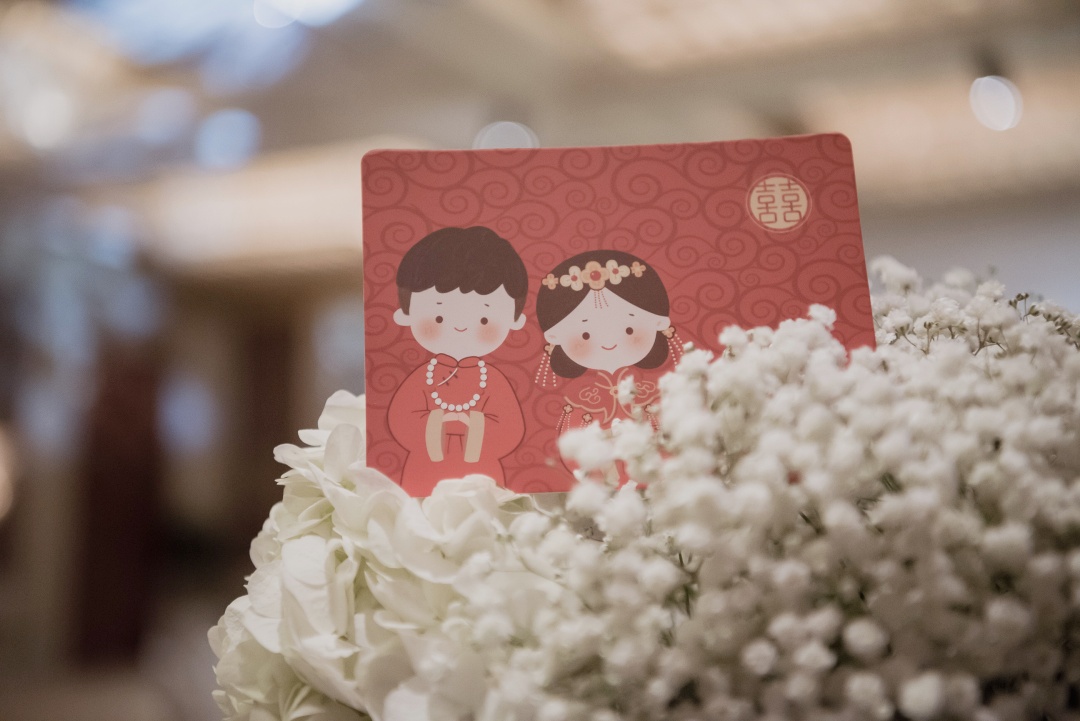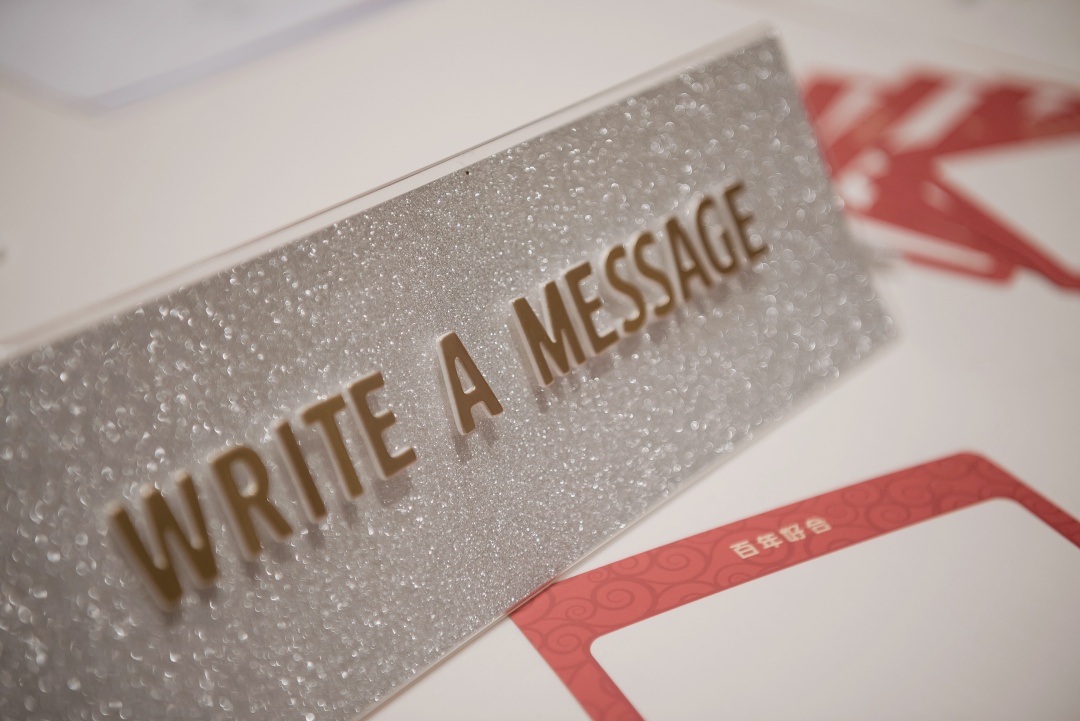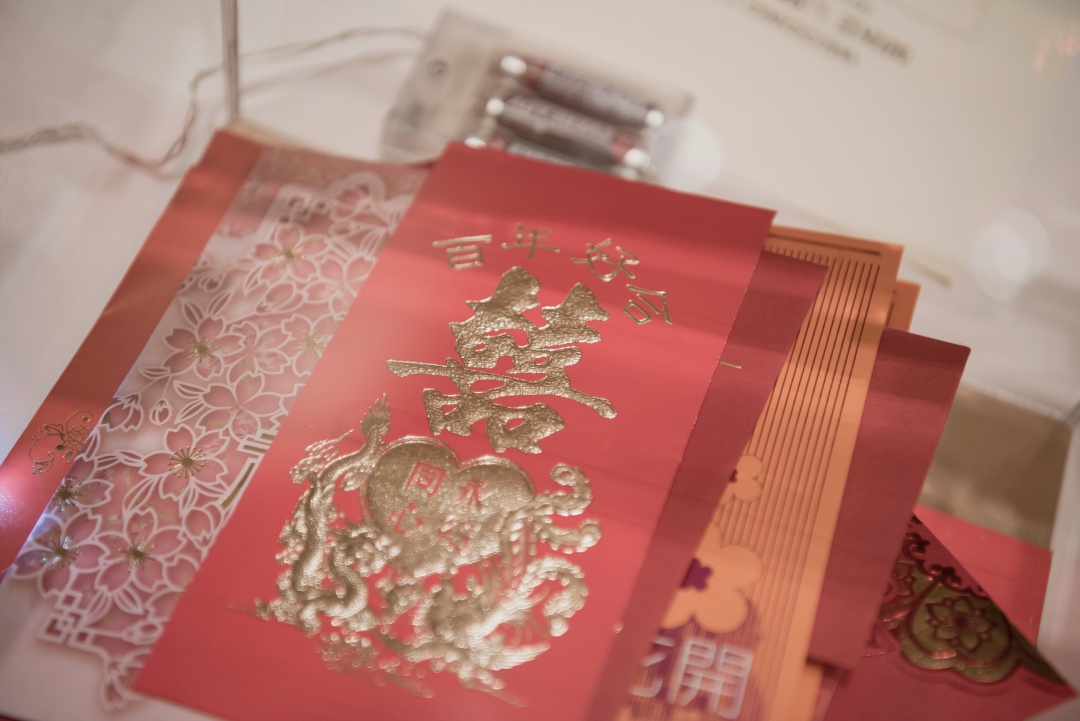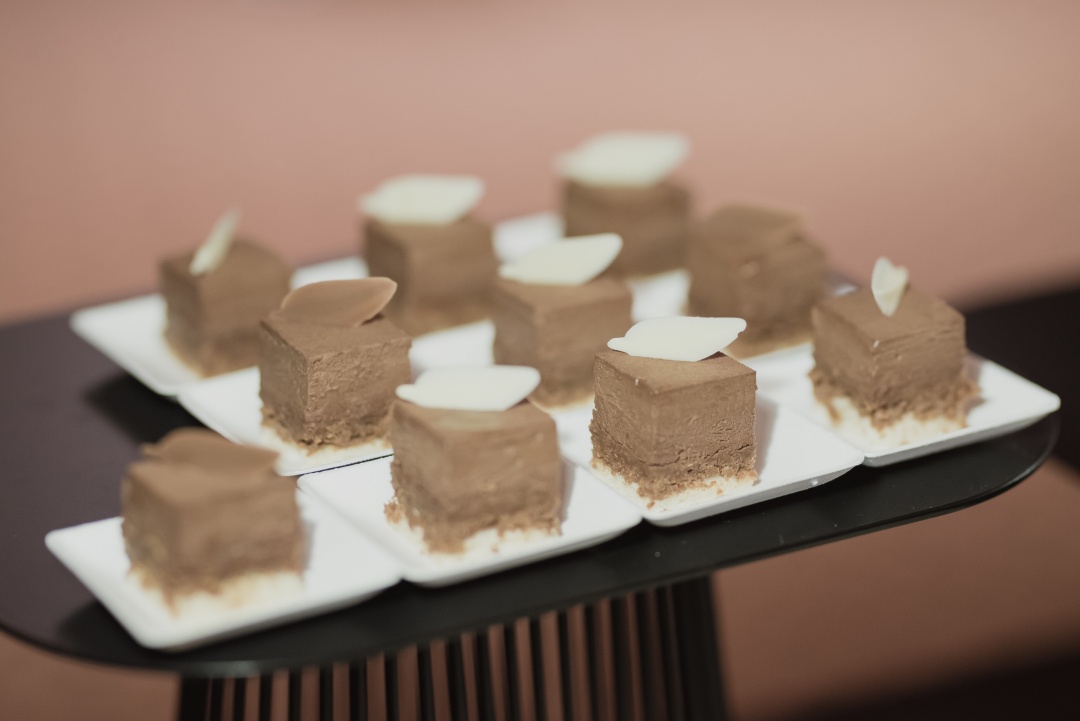 Aside from the eight platters of complimentary canapes provided by the hotel, we had also prepared a dessert buffet for our guests.
It includes:
Crushed Lemon & Meringue Tartlet
Strawberry Champagne Mousse
Chocolate Royal Hazelnut Crunch
Traditional Kueh Lapis
Pistachio Cream Brulee
Chilled Oriental Mango Pudding
Sadly, I didn't get to walk anywhere near to the dessert buffet. While I didn't get to eat any of the desserts, I certainly hope they are good, and our guests enjoyed them. We had also decided to start serving wine during cocktail receptions since we bought extra bottles from the hotel.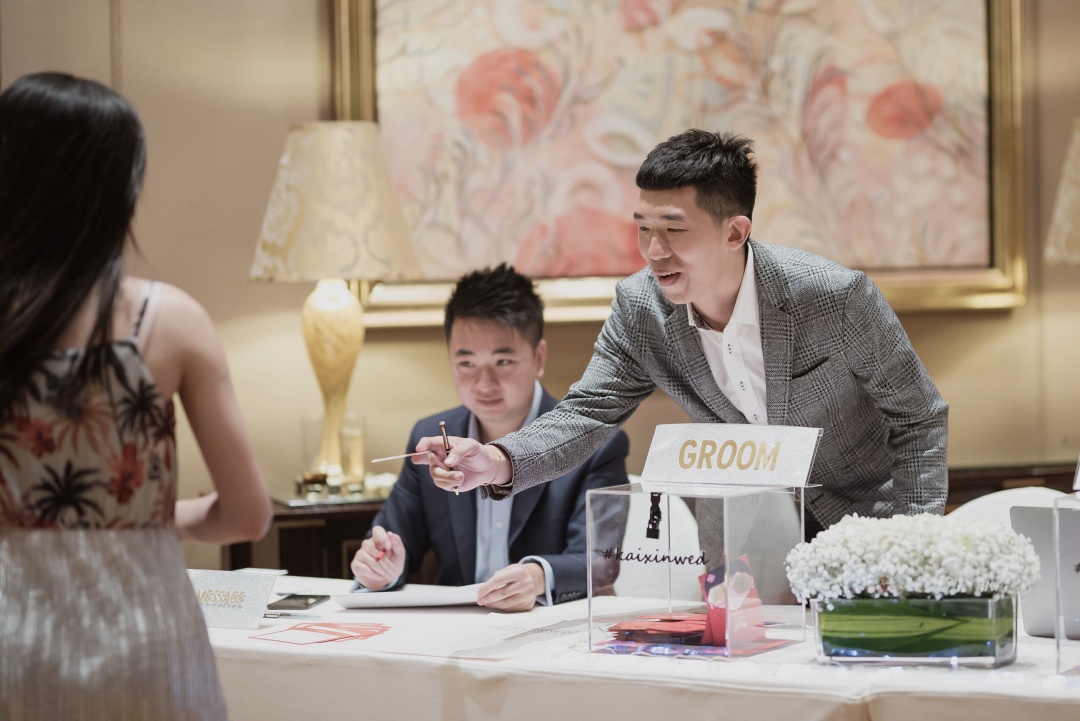 The reception area started to get more crowded as our guests begin to arrive. Took some time to say hi and mingle with our guests; half of the time, the Husband was nowhere near me as he was chatting with the guests.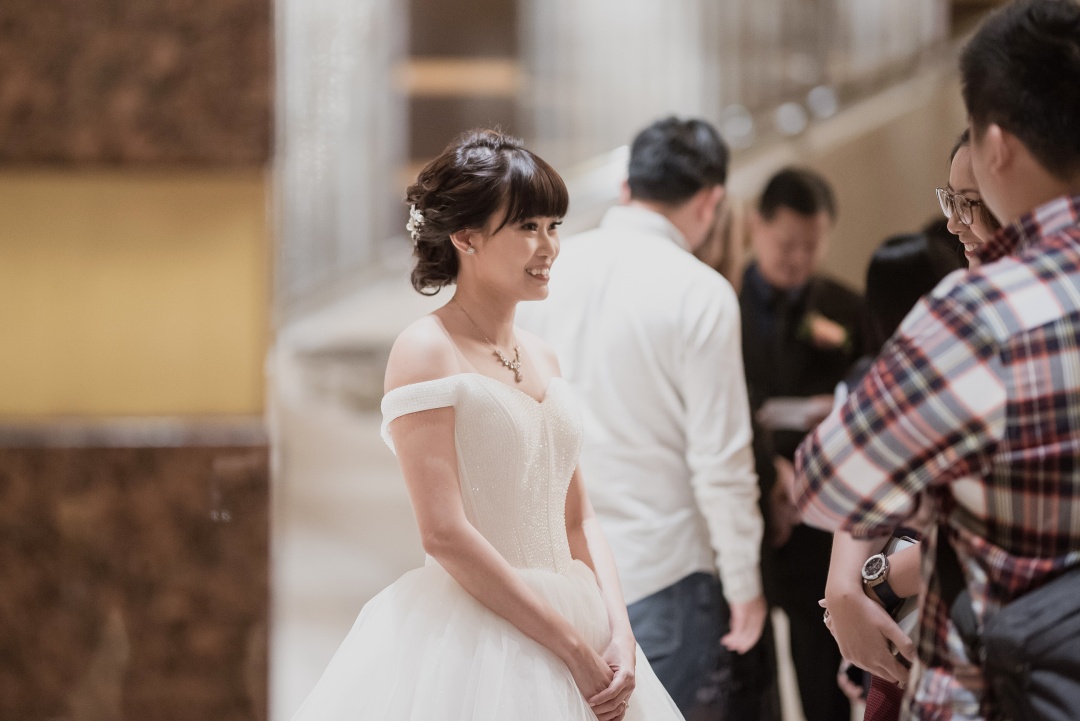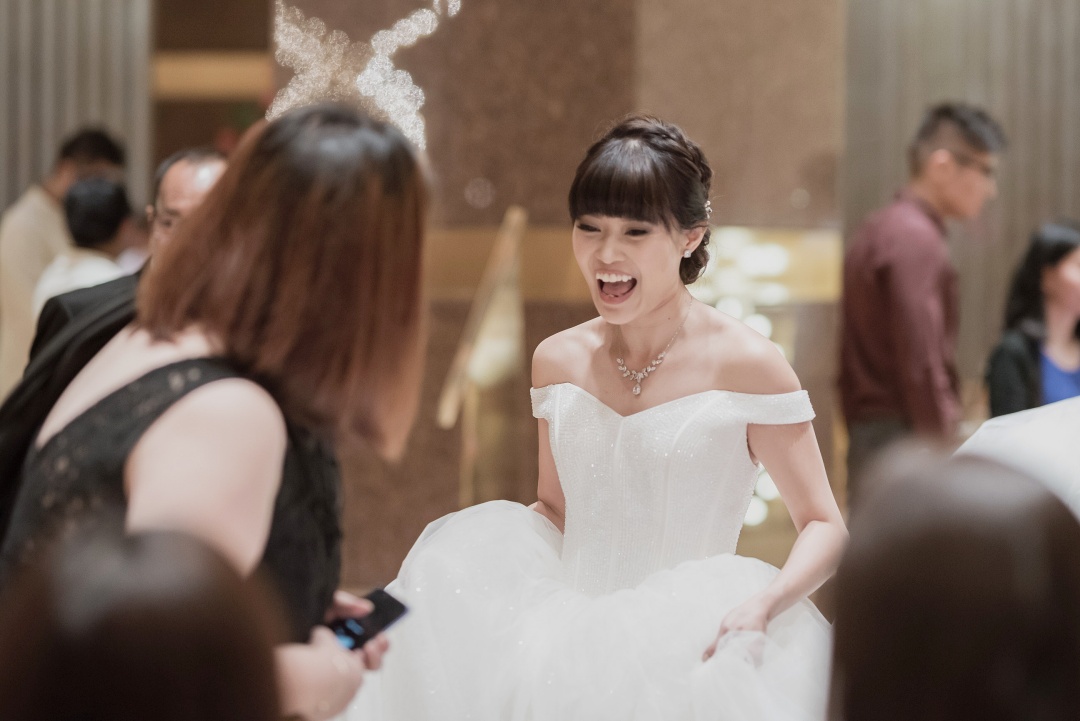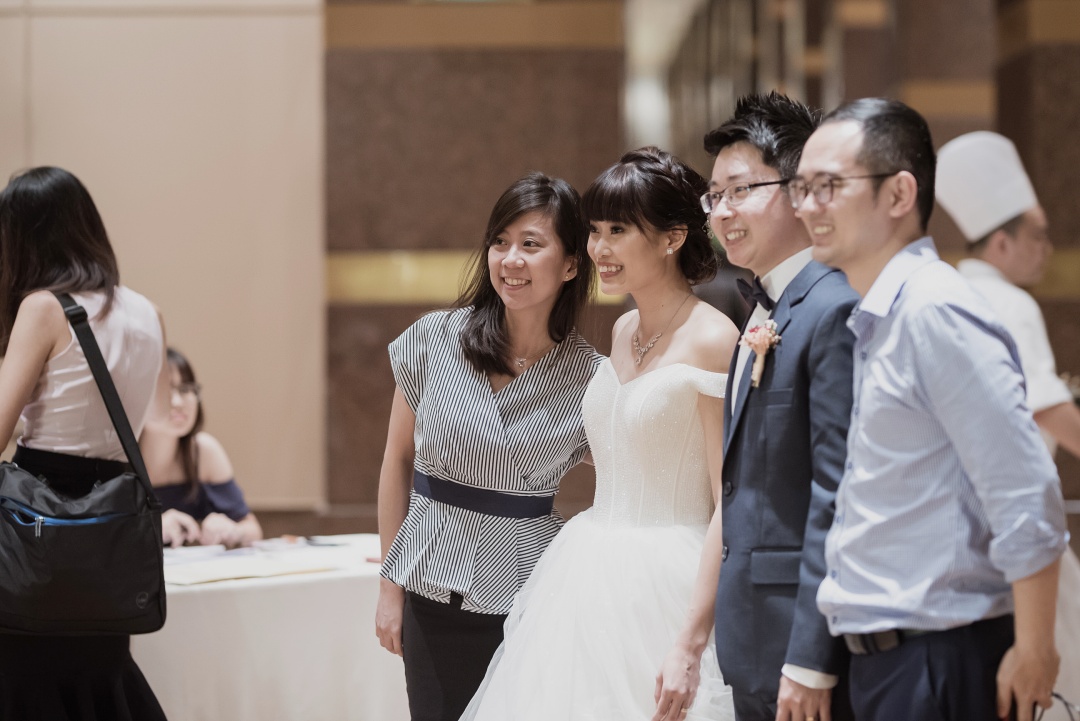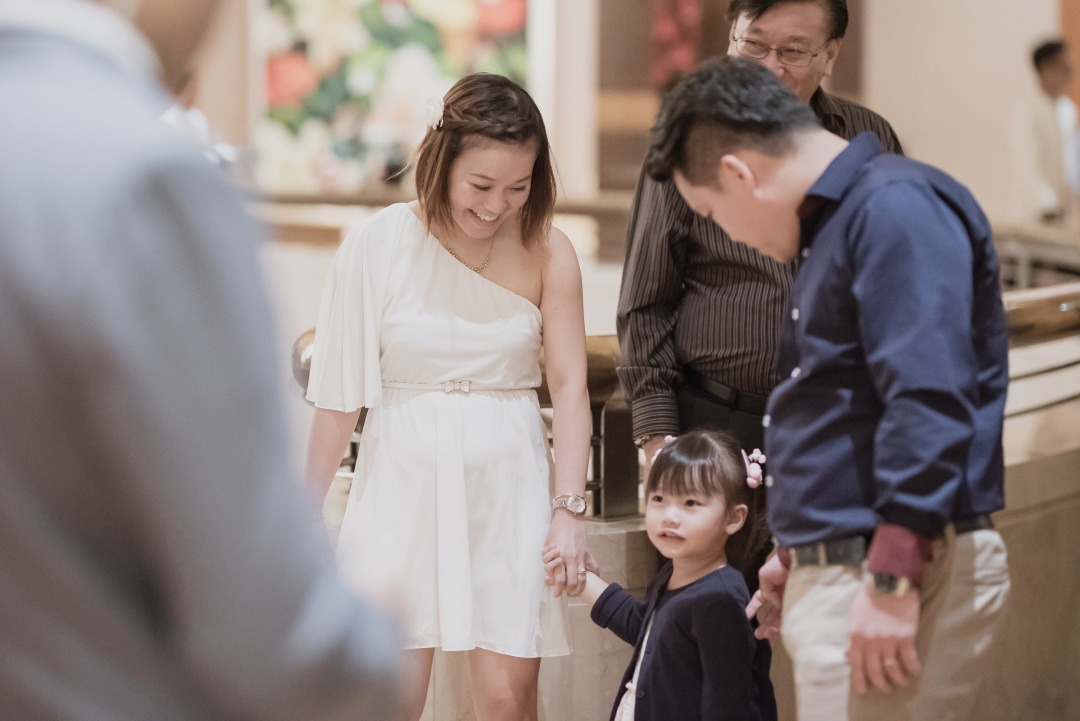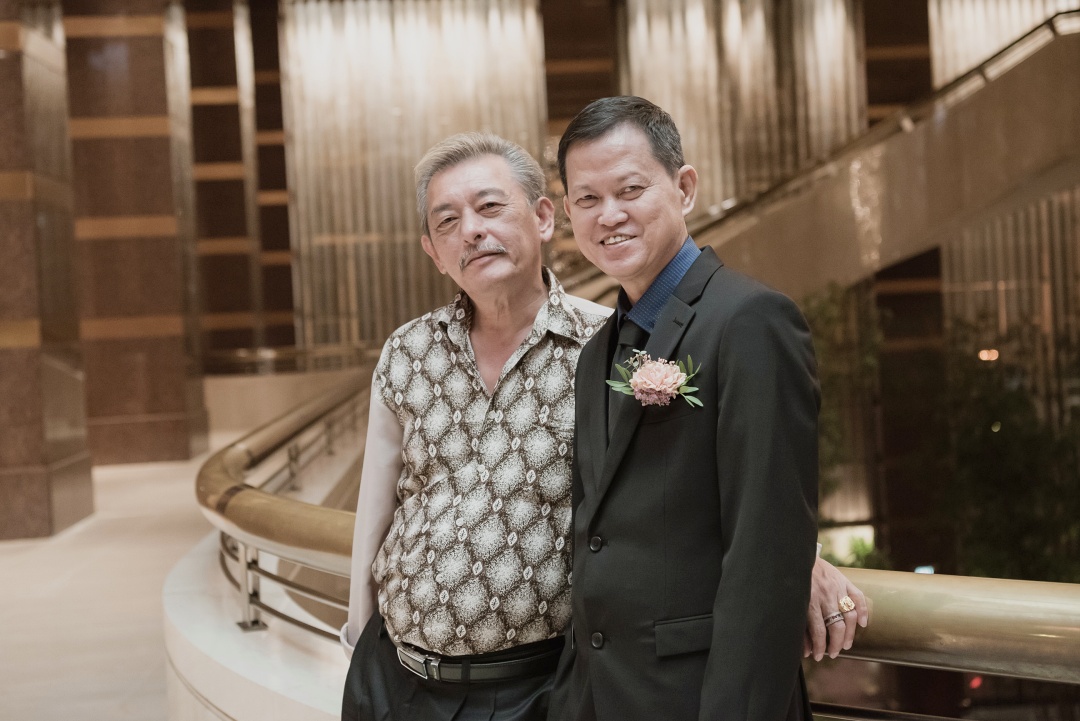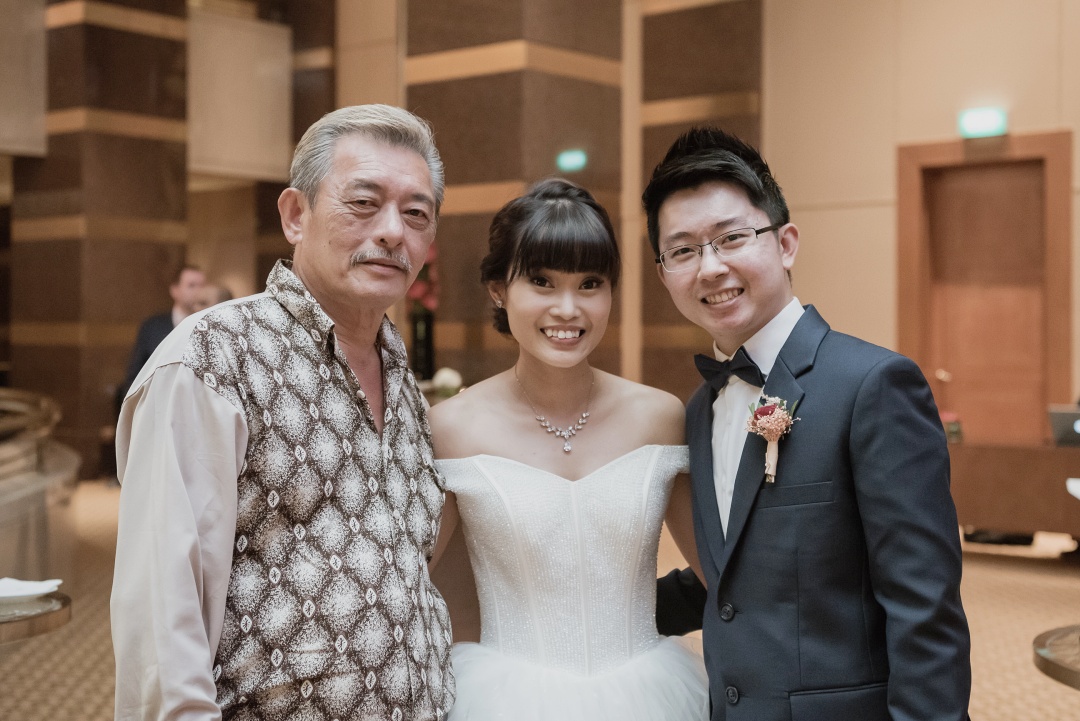 We eventually caught each other and took a few shots with some of our guests before we went over to the photo booth.
Other than having a dessert table, I thought it would be fun to have a photo booth for our guests to take some pictures before the commence of the dinner. For that, we engaged Uniquebooth.sg. One thing I like about Uniquebooth.sg is that they offer three printout sizes. Our guests can choose from 4R, wallet size and filmstrips prints/video. All the photos and videos were also available for online viewing and download after the event.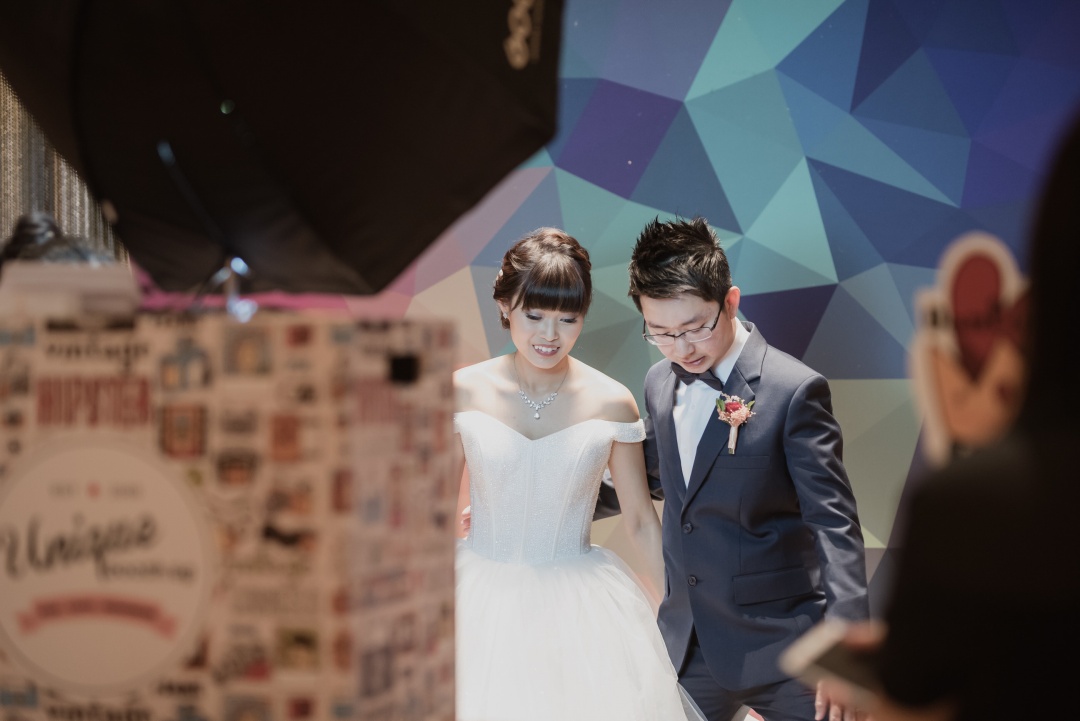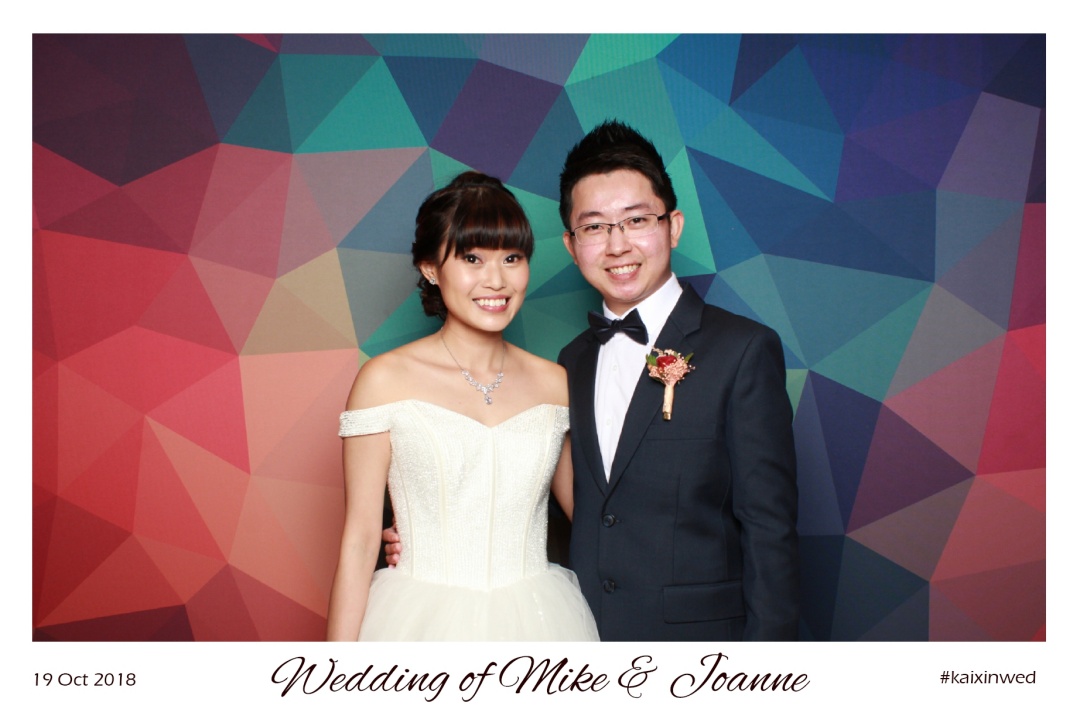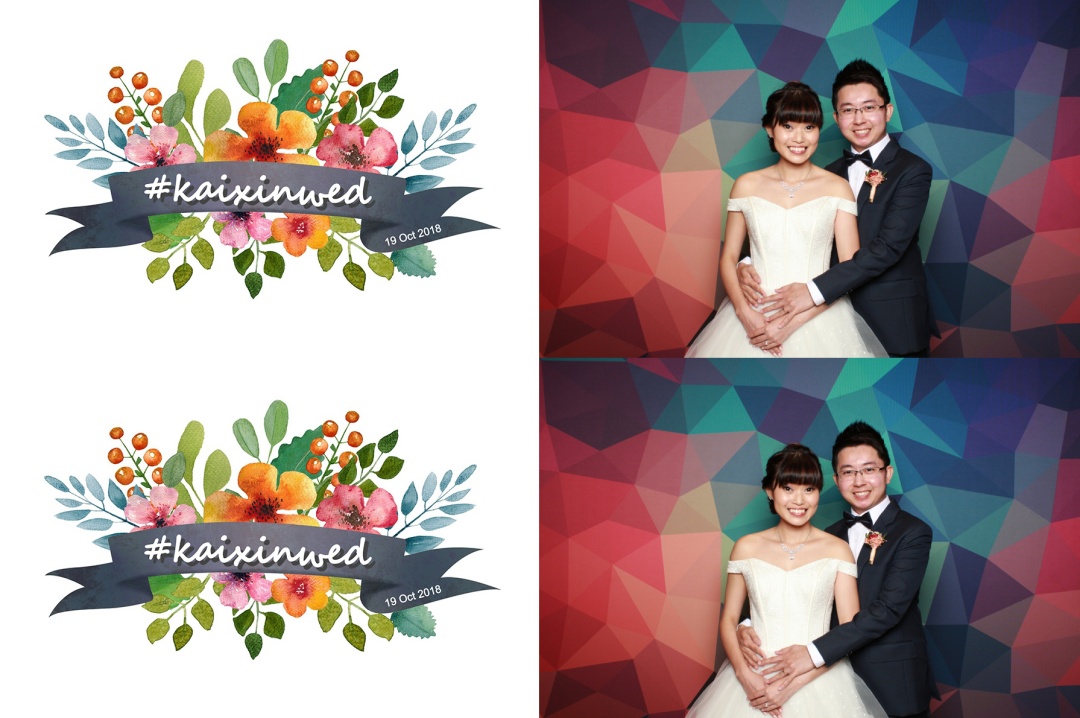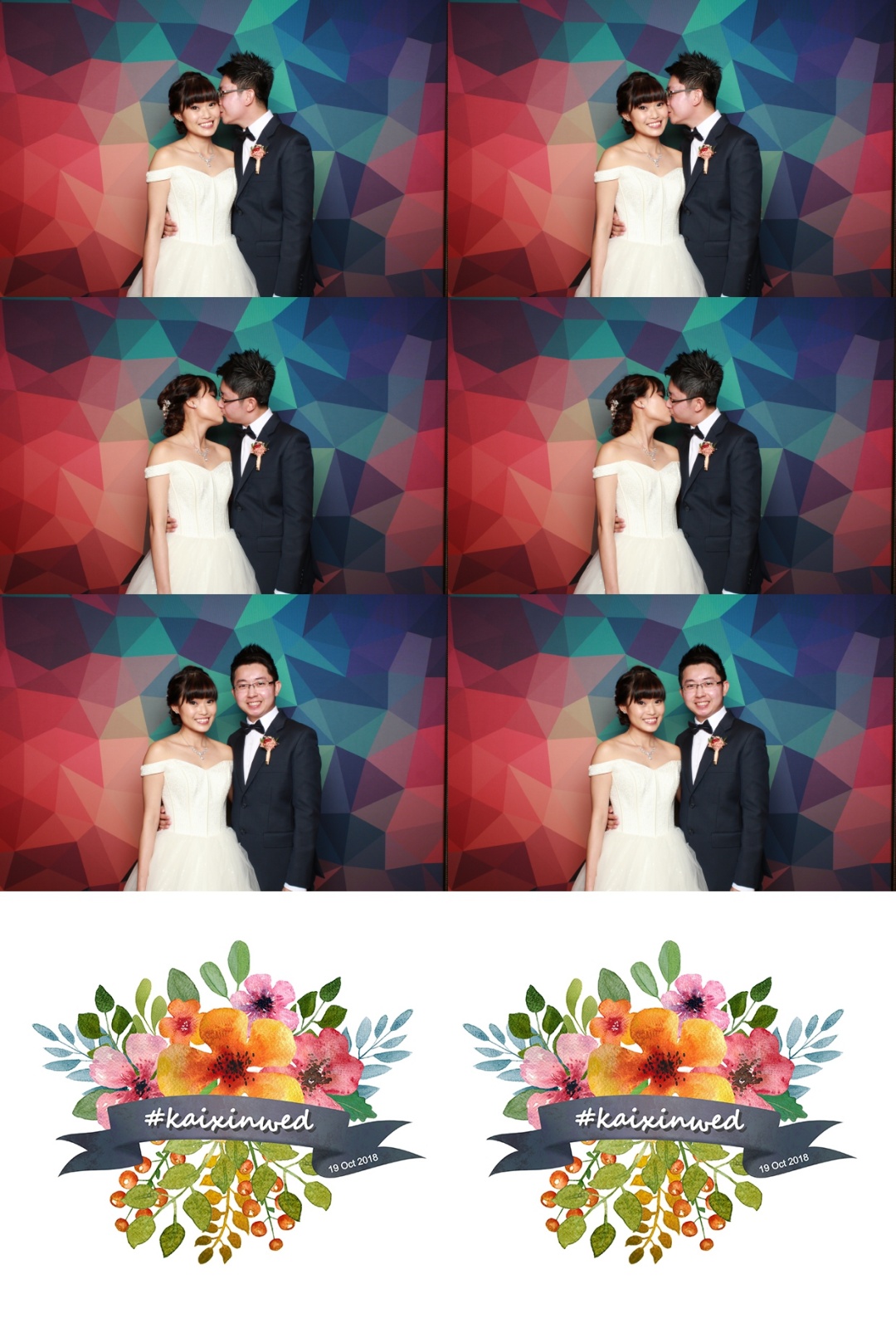 While we were at the photo booth, our guests start to ask us for a photo together. I was so caught up with it that the Husband had to literally pull me away and told me to get ready for our first march-in.
We also met with a small hiccup, when an entire table of guests my mum invited didn't show up. What happened was my mum had arranged for a bus to pick up her friends and drop them at Conrad Centennial Singapore. Somehow, the driver couldn't find her way to the hotel, which resulted in a massive delay. My mum was panicking, and the same goes for her friends on the bus. Thankfully, the group managed to make it at the eleventh hour, right before our first march-in.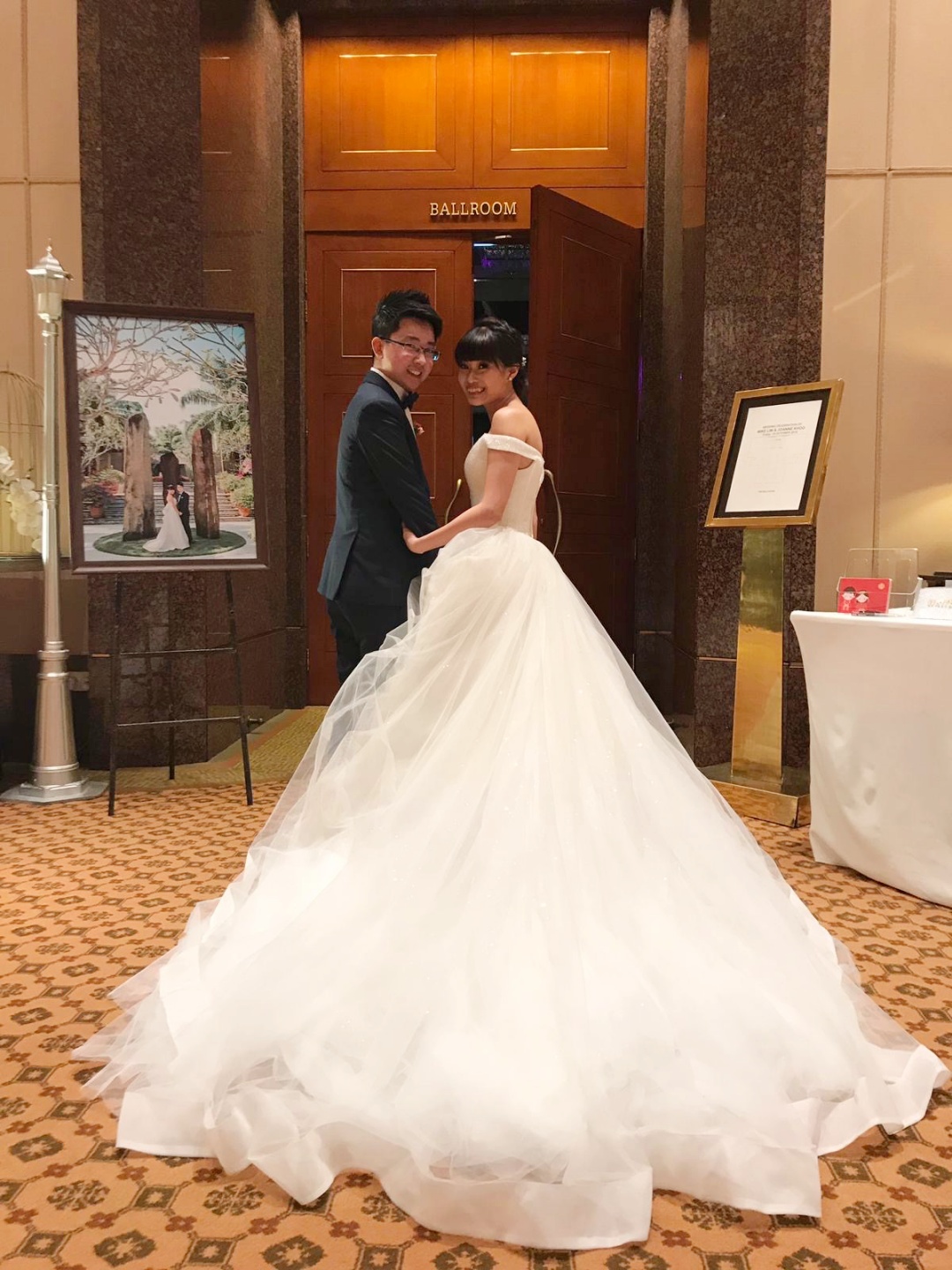 Thanks to my elder sister for staying outside to help us take pictures, while we waited for the cue to go in for our first march-in. The song we picked for our first march-in was Beautiful in White.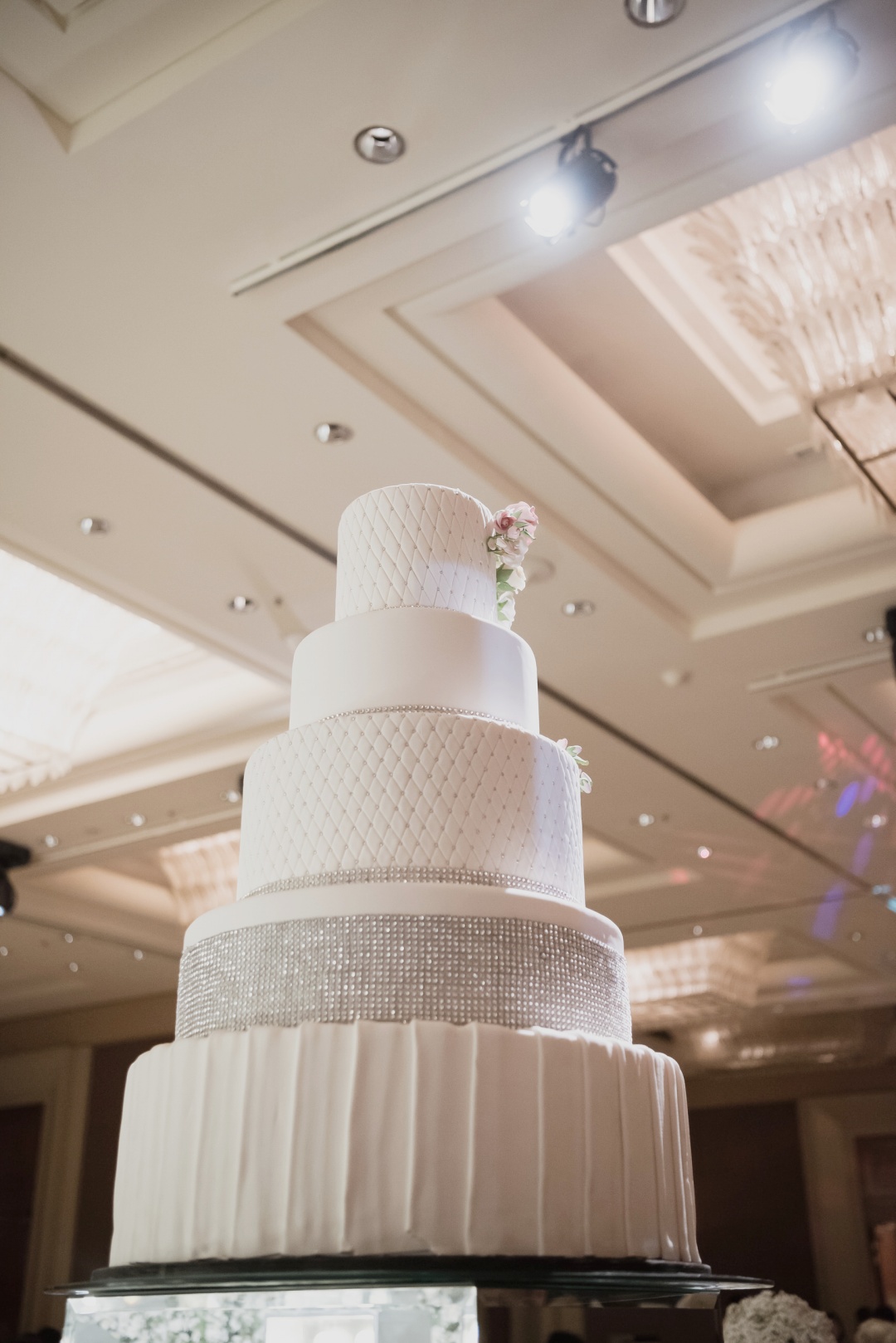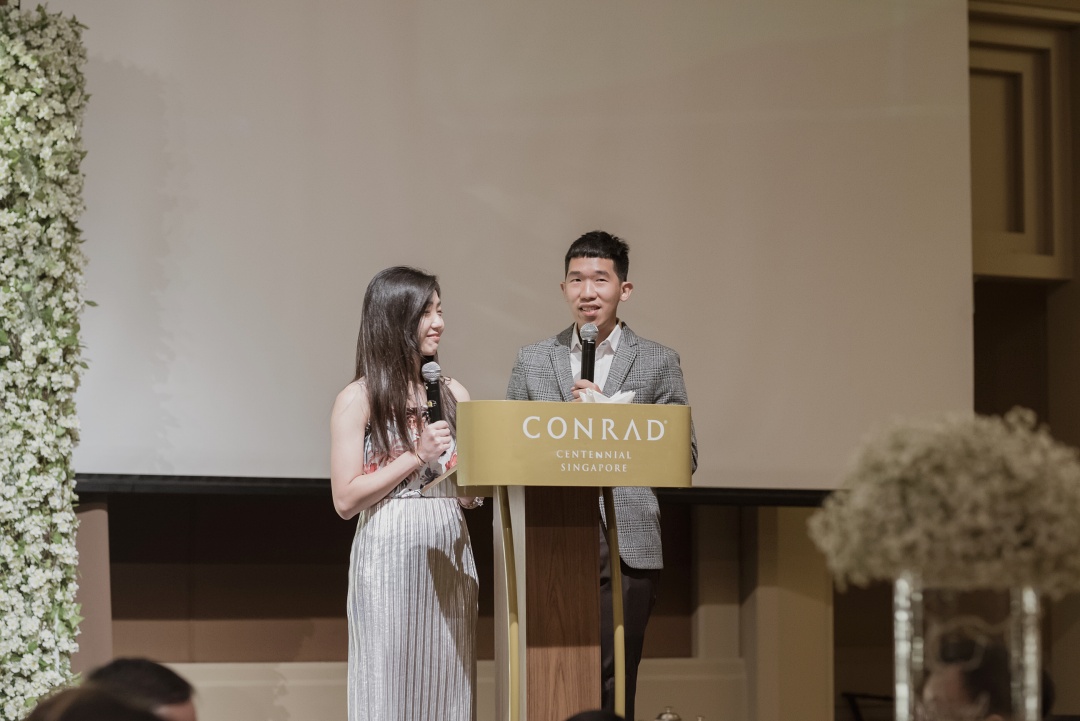 A huge thank you to XF and Delia for readily agree to be our emcees for the night.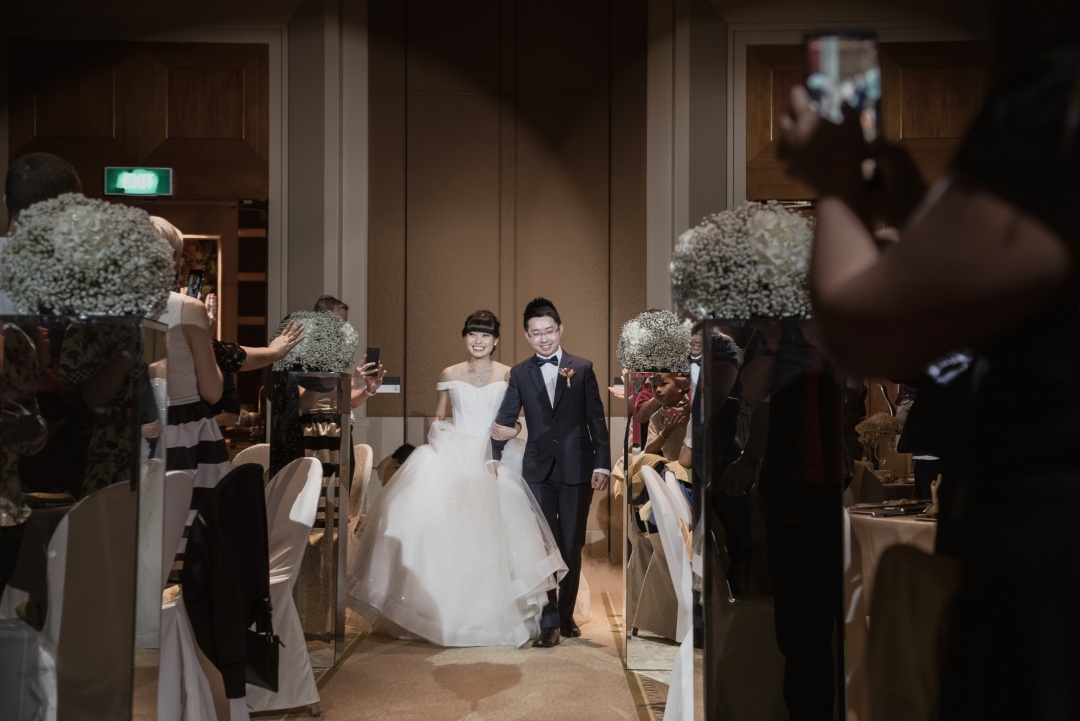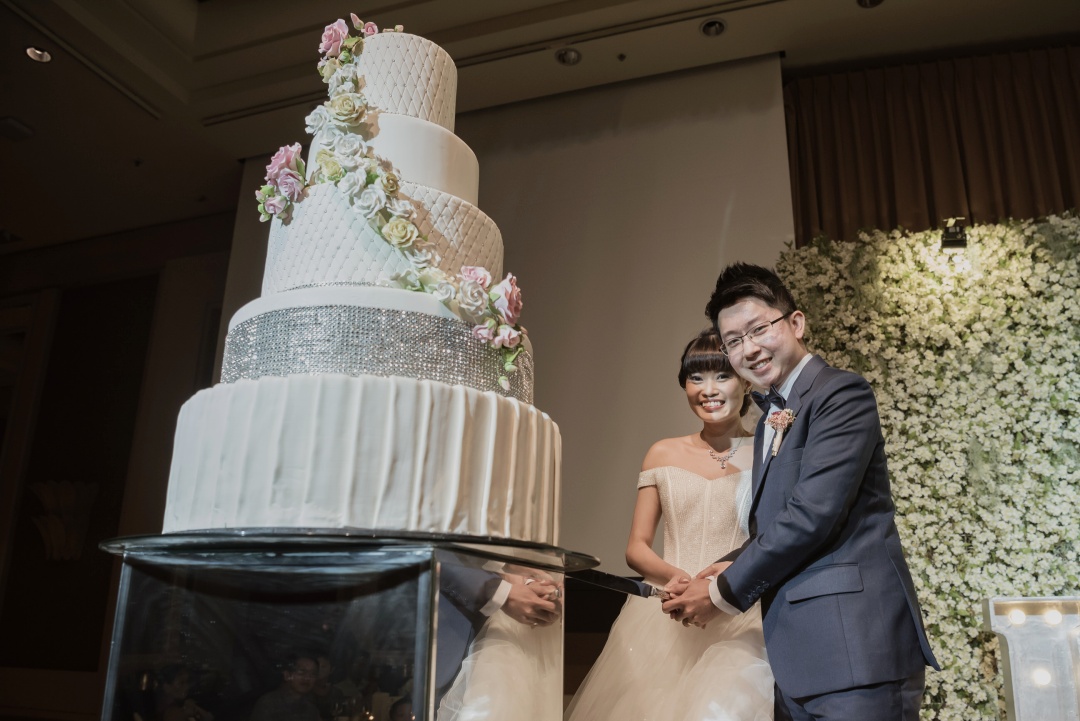 After a quick and straightforward cake cutting on stage, we went down to sit at the VIP table with my in-laws to have our first course. Unlike some hotels that offer a mix of a dummy and real cake, Conrad Centennial Singapore uses a full 5-tier dummy cake. Our wedding coordinator told us the concern was that the colour might be off if they use a mix of a dummy and real cake.
While we didn't have a real wedding cake on stage, a 2-kg Chocolate Royal Hazelnut Crunch Cake was delivered to our bridal suite right after our banquet.
For our first course, the Happiness Platter, we had a combination of Suckling Pig, Vietnamese Spring Roll, Sliced Drunken Chicken, Chilled Sea Whelk in Thai Sauce and Sea Jelly with XO Chilli Sauce. That was the only dish we had that night as I had to head back to the bridal suite to change into my evening gown and second hairdo. The Husband also went up to change into his other suit.
Met up with Xin Er (makeup artist) right outside the ballroom and proceeded back to our room. Again, everything happened in a flash, and we were soon back to level 2 again for our second march-in.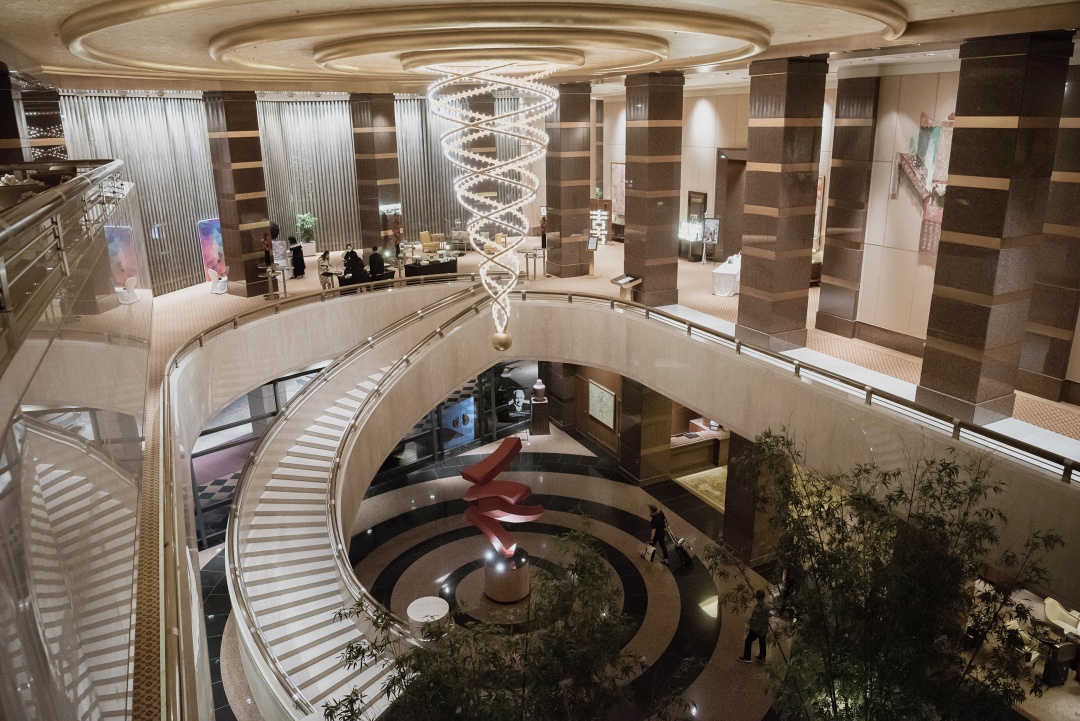 As we had some time before the second march-in, we met up with Petrina and Leon (photographer and videographer) to take some shots outside the ballroom. I had told Petrina before the wedding that if possible, I would like to have some shots taken at the hotel (at the staircase/reception area).
I'm glad that we managed to get a handful of shots to remember the moment.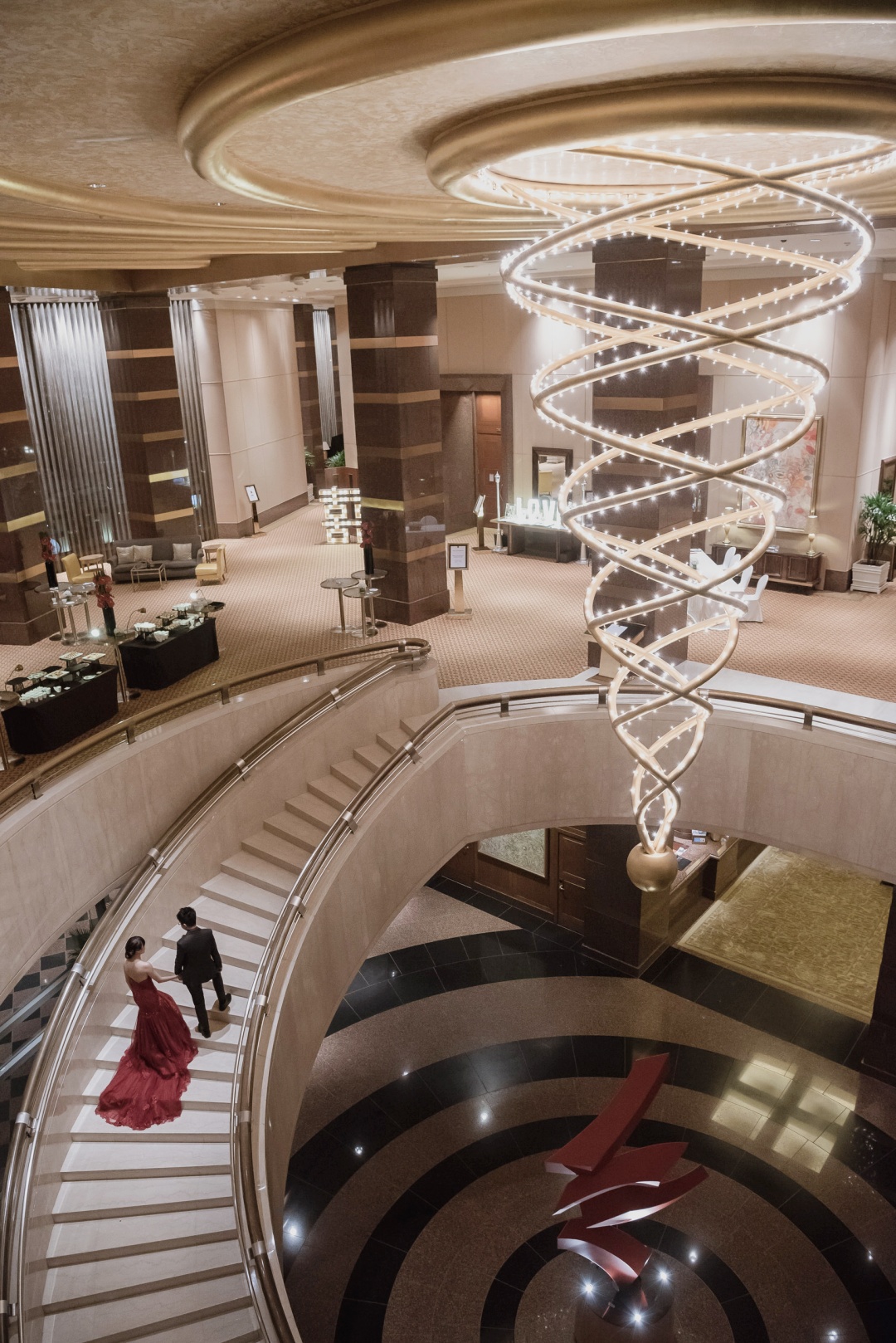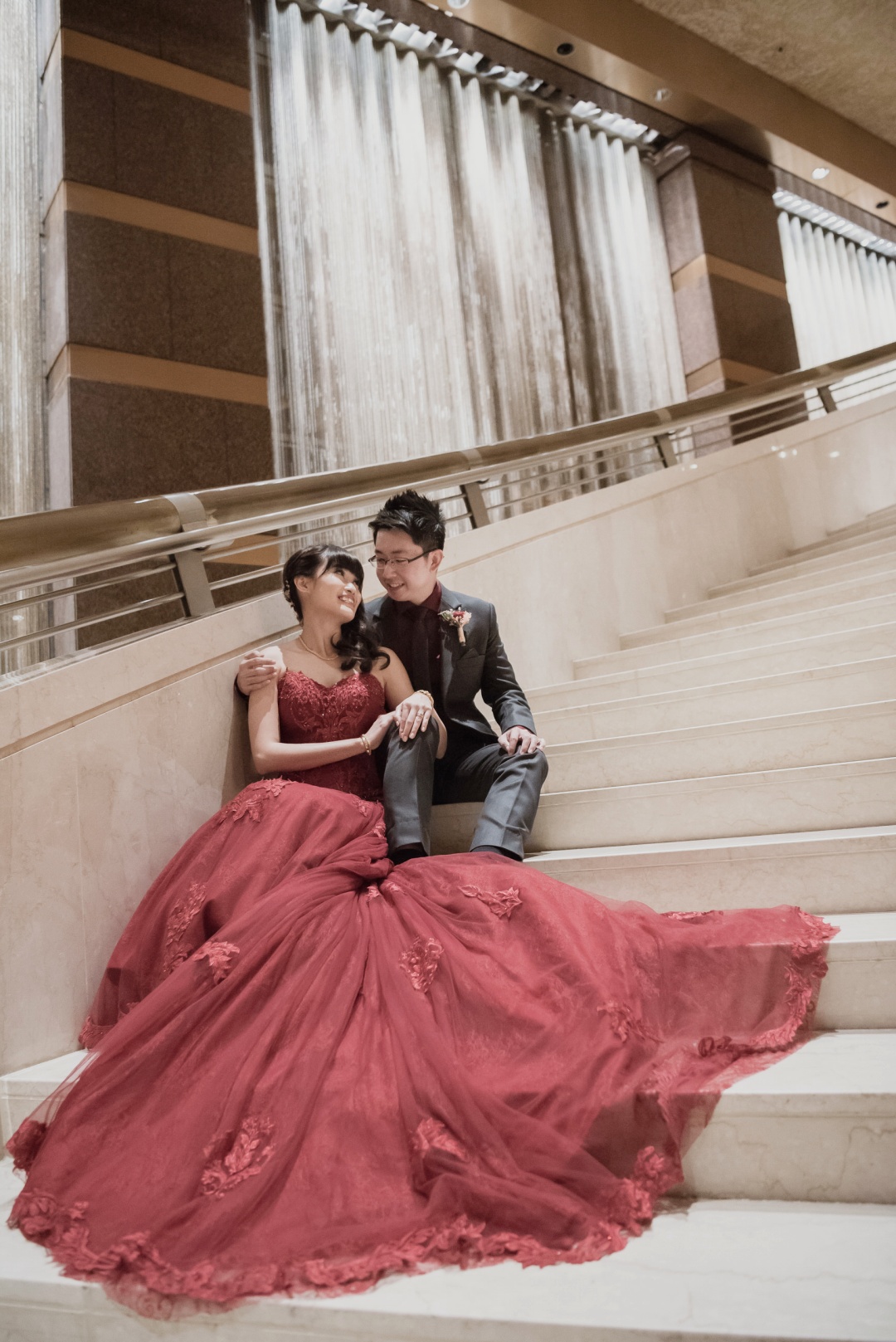 Evening gown from The Gown Warehouse.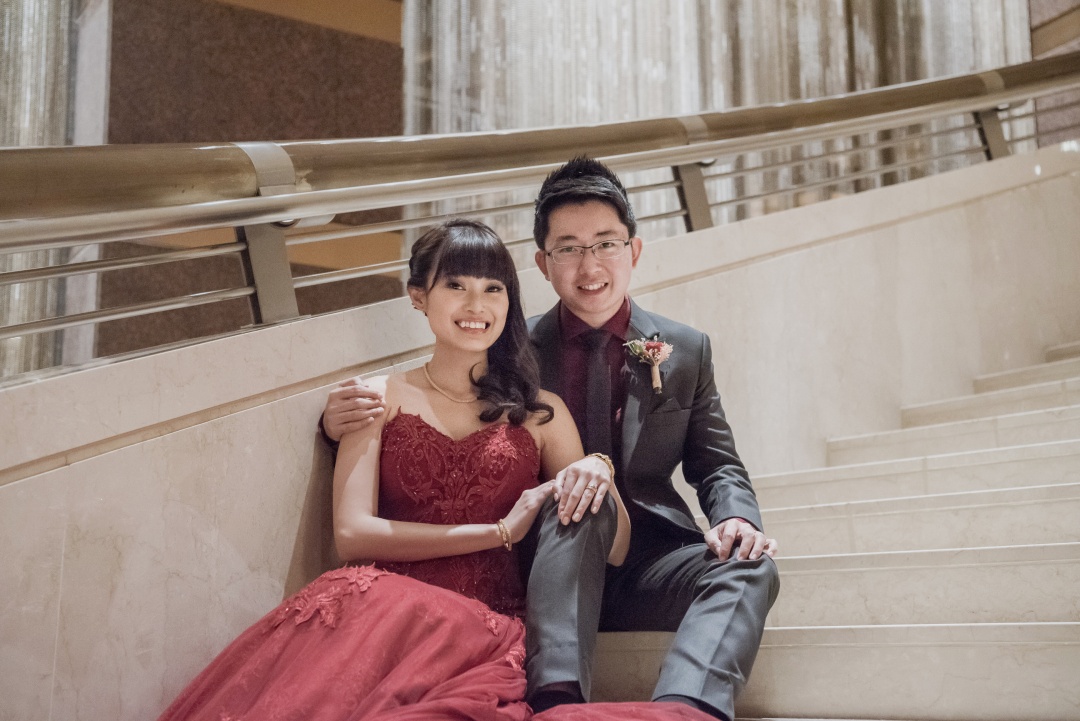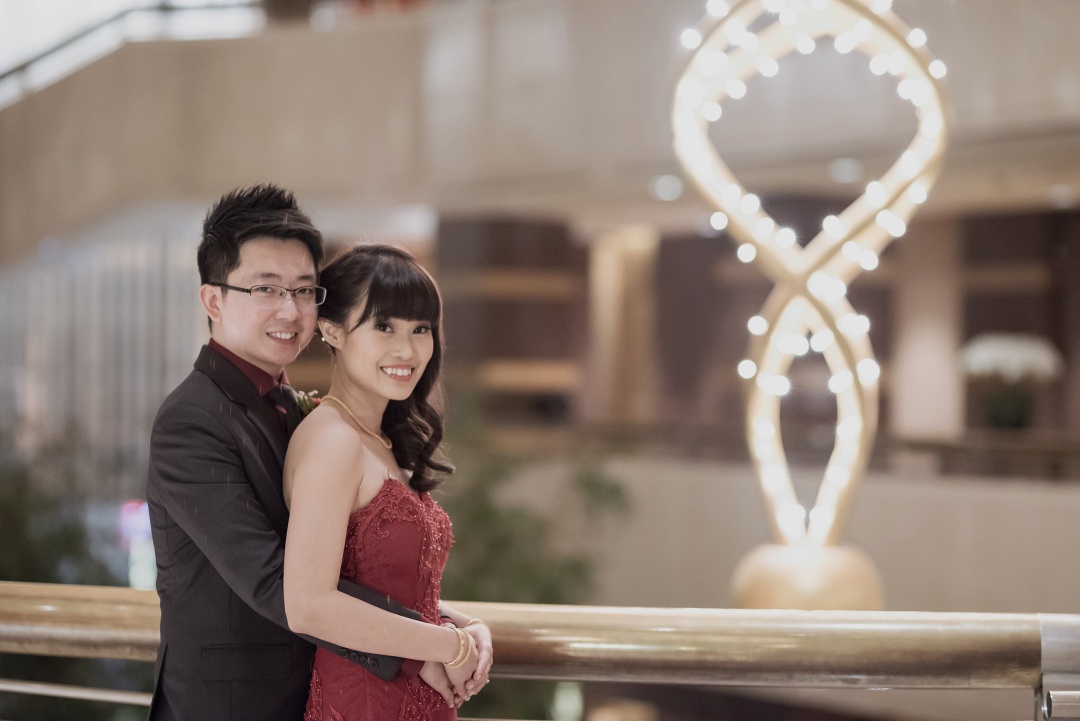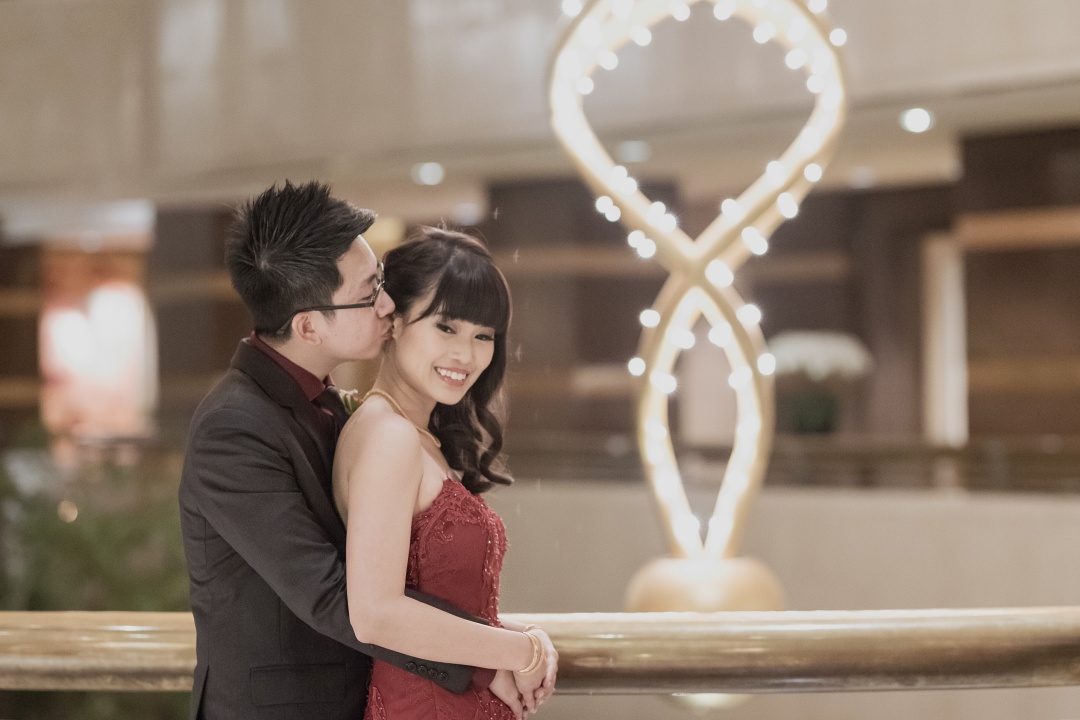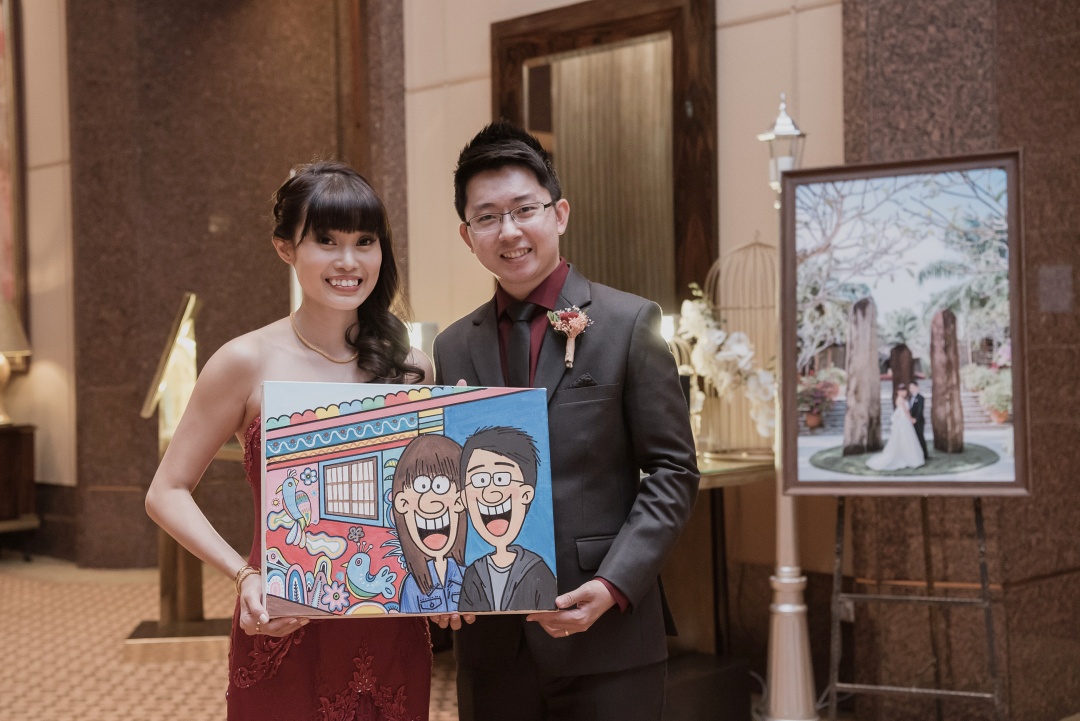 As part of our wedding gift, my elder sister hand-painted a picture for us. The picture was based on a photo we took in our previous Taiwan trip at Rainbow Village, which she found on my Instagram.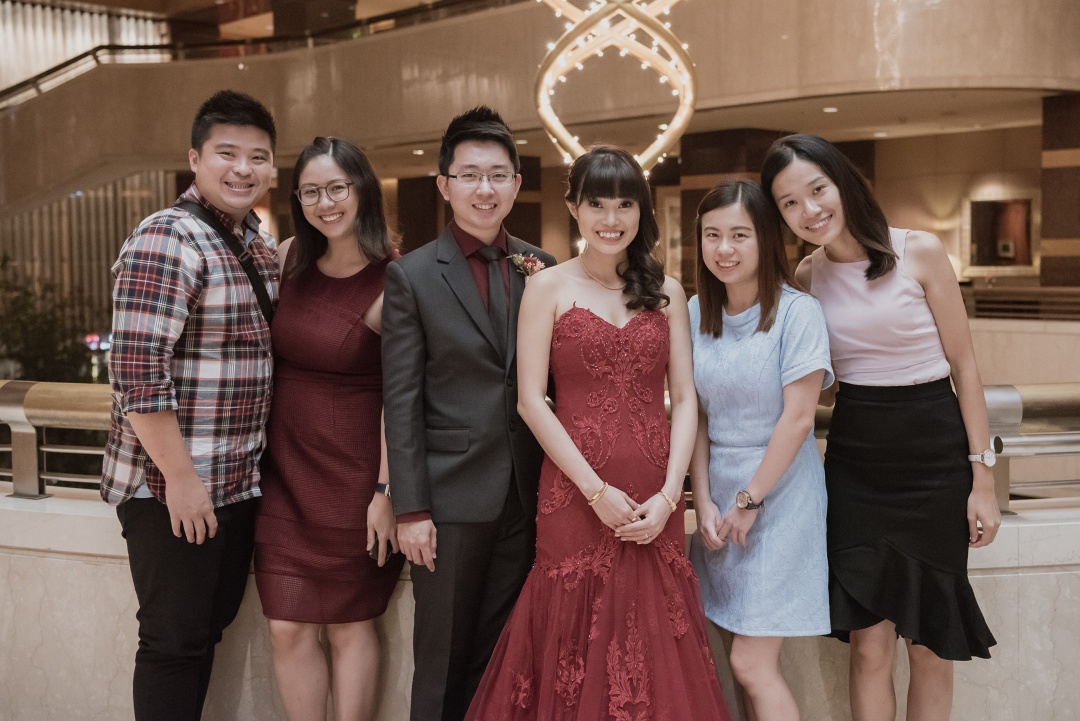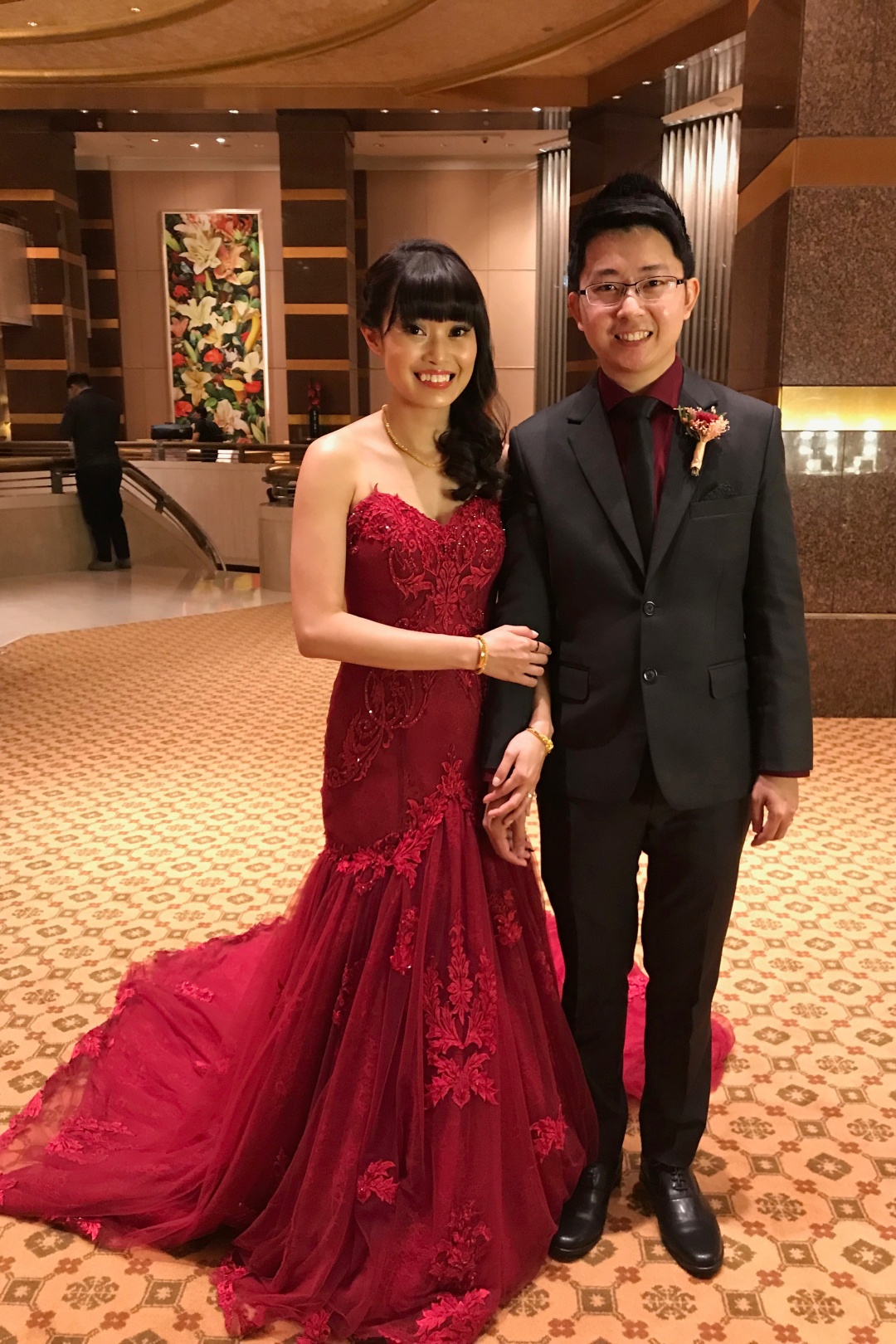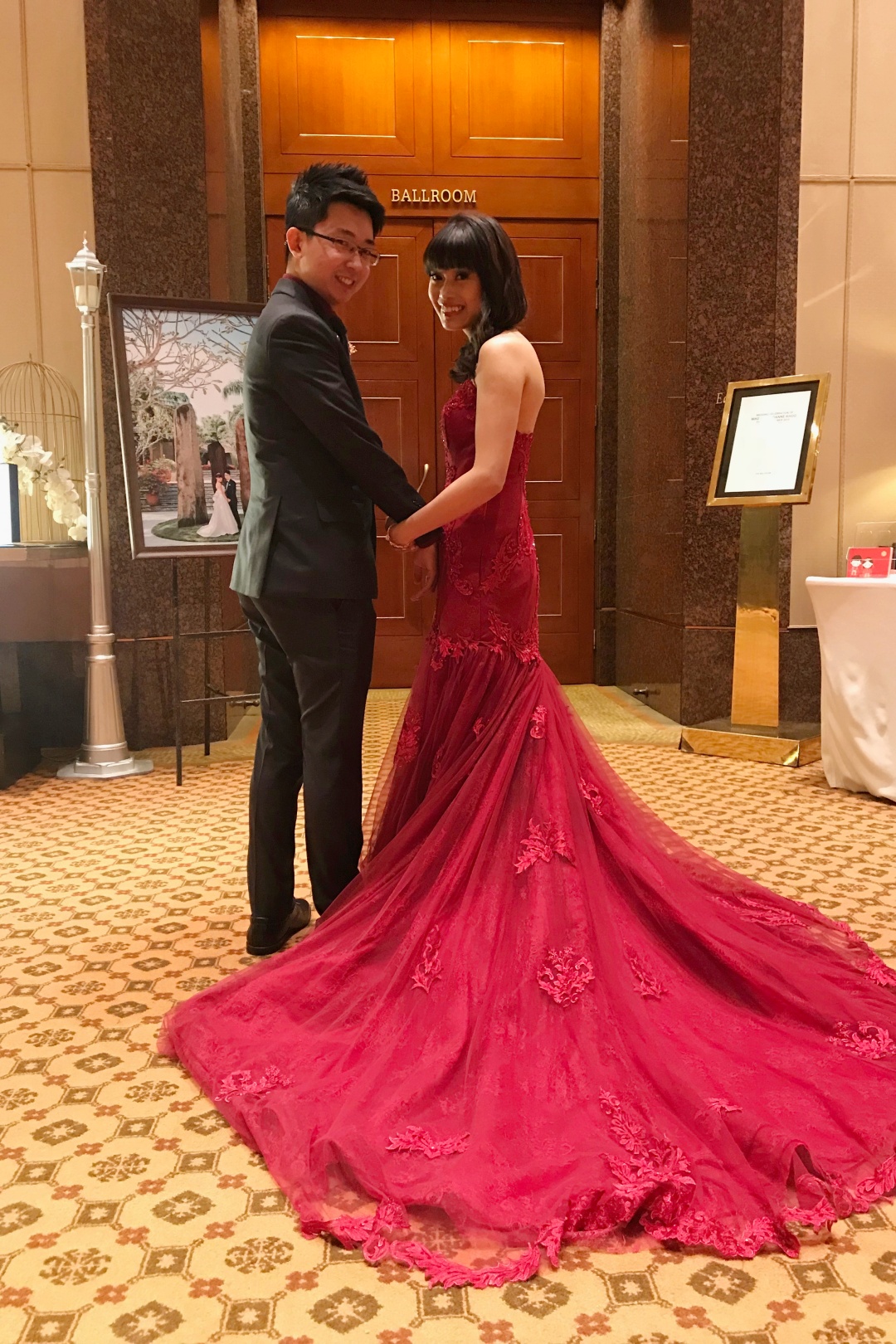 While the cinematic highlights was playing on screen in the ballroom, we were standing by outside the door for our second march-in. Chose to use Perfect as our song for the second march-in.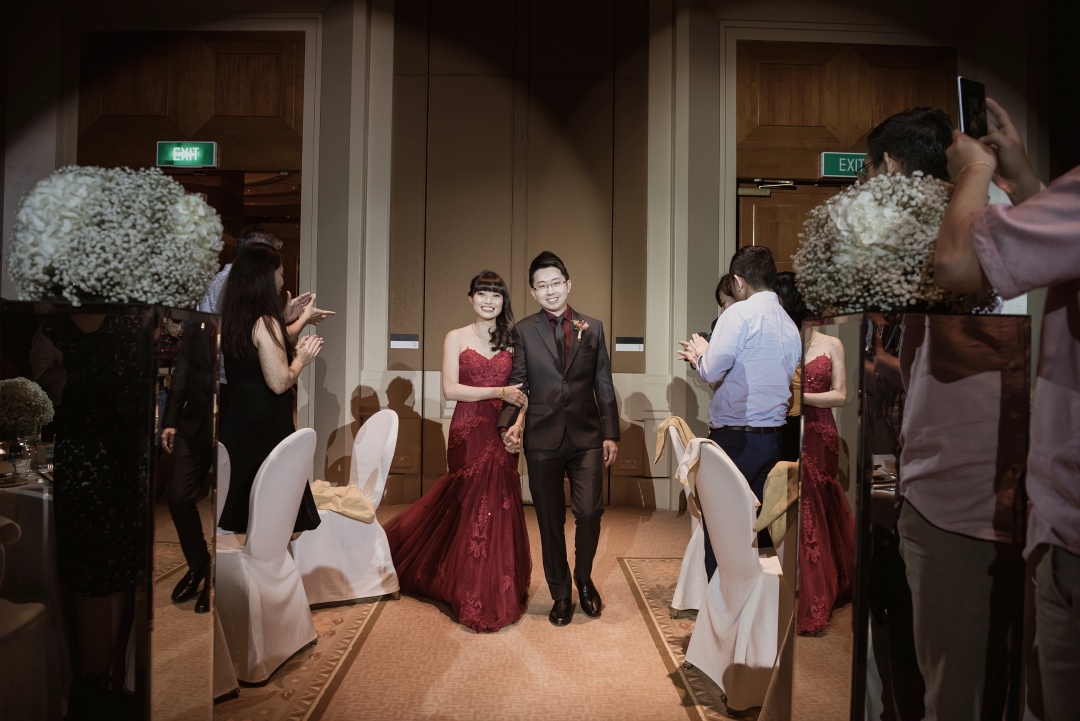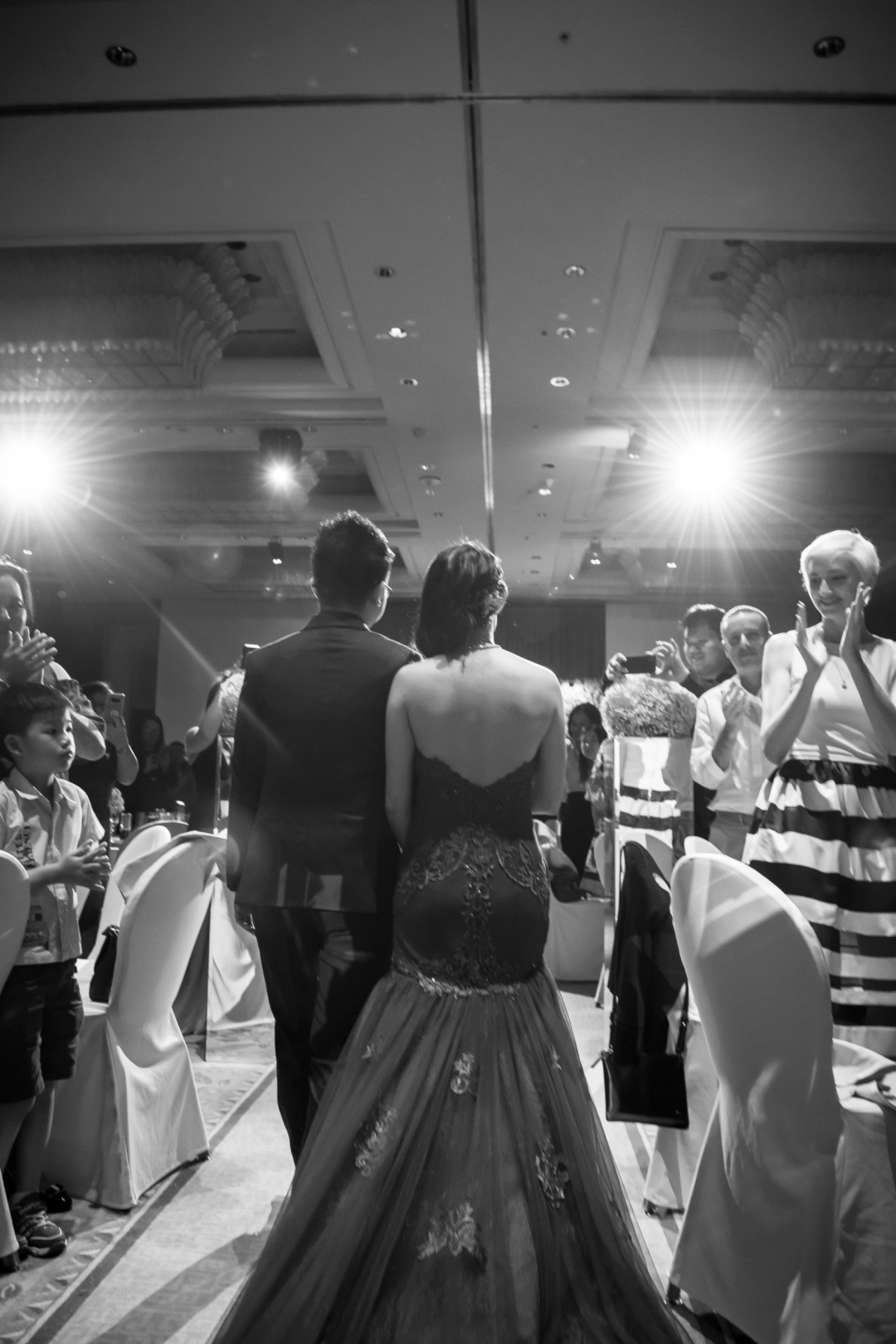 Love the slight low-back of my evening gown.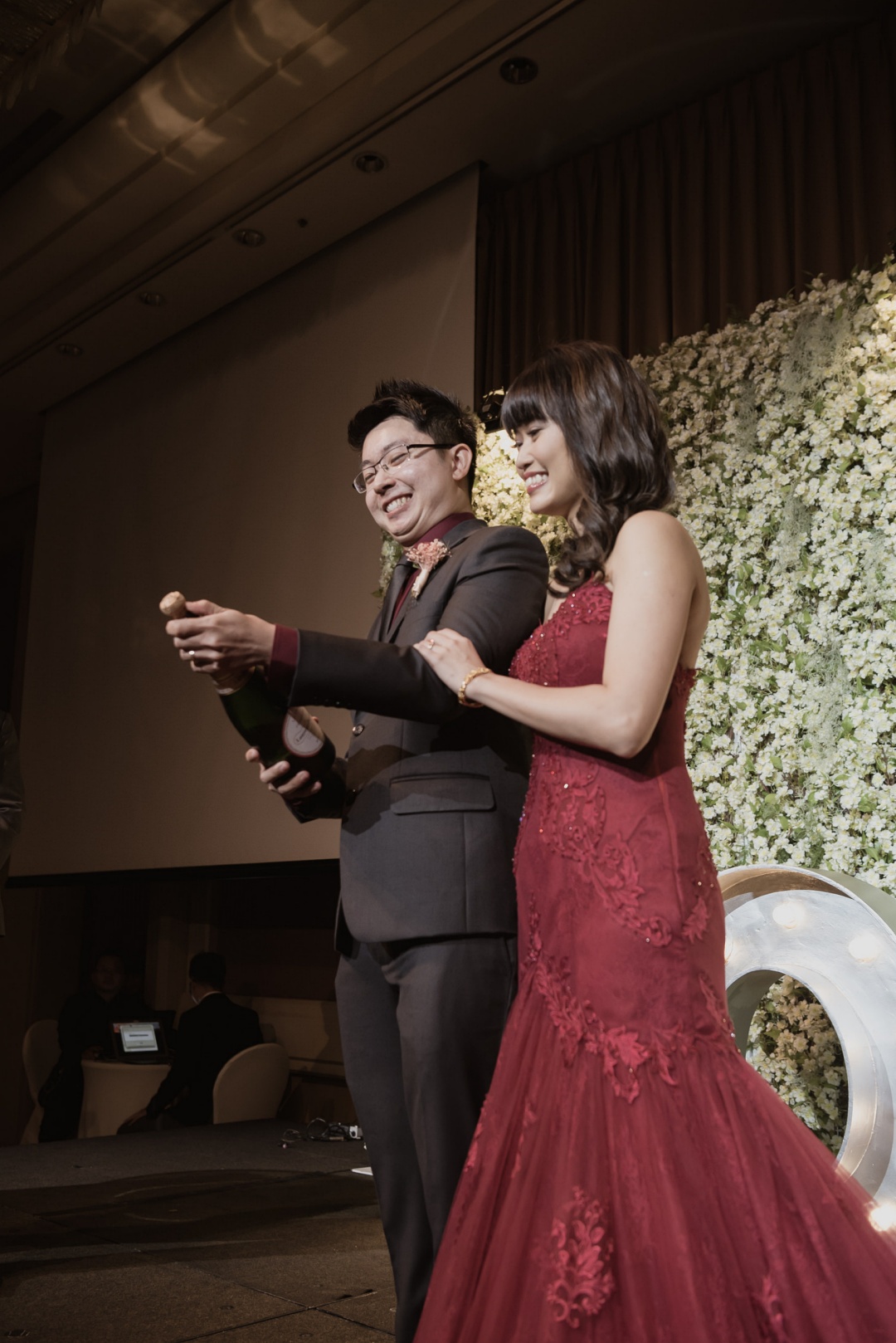 Went up to the stage for the popping of the champagne bottle and champagne pouring, followed by getting our family to join us on stage for the toasting.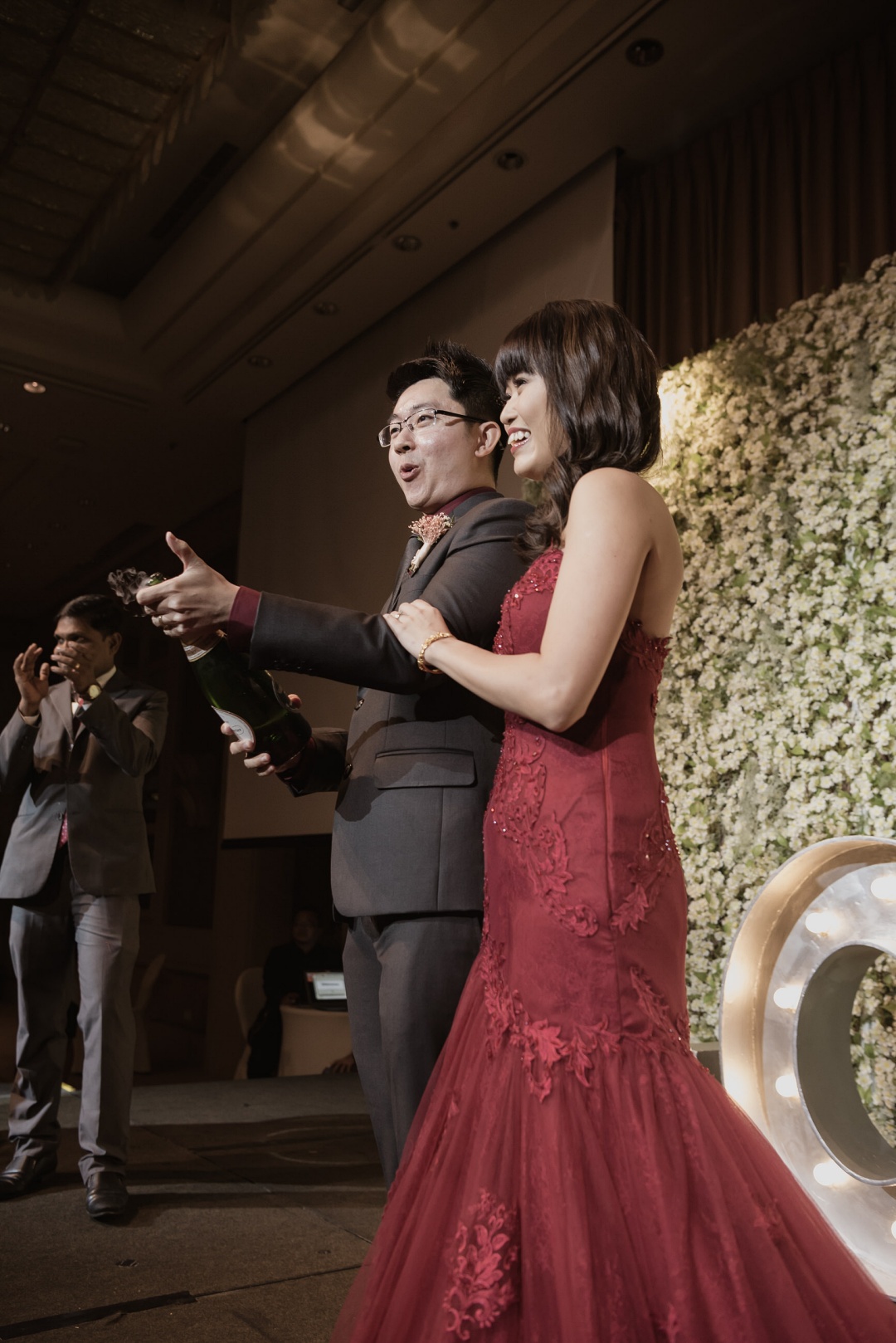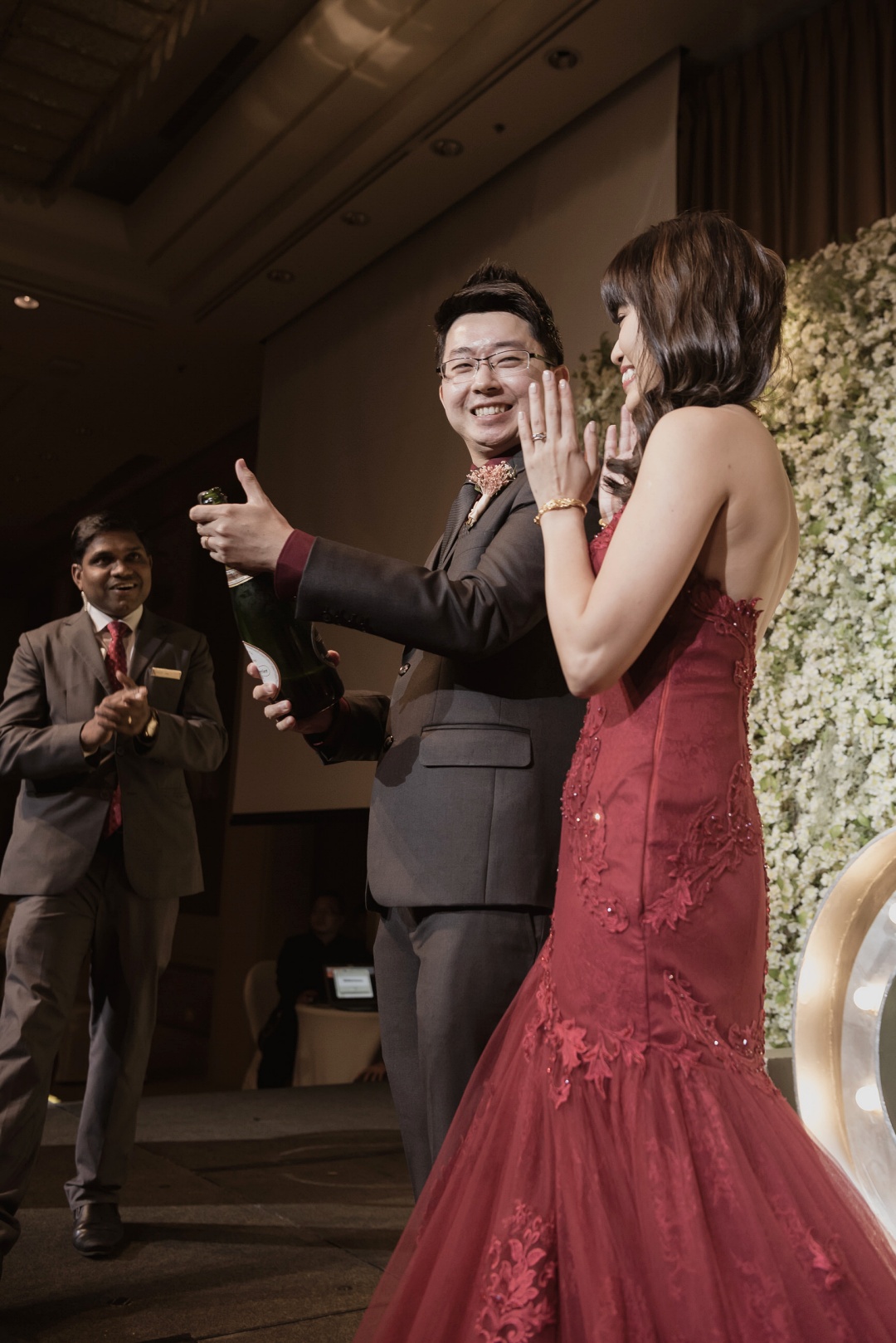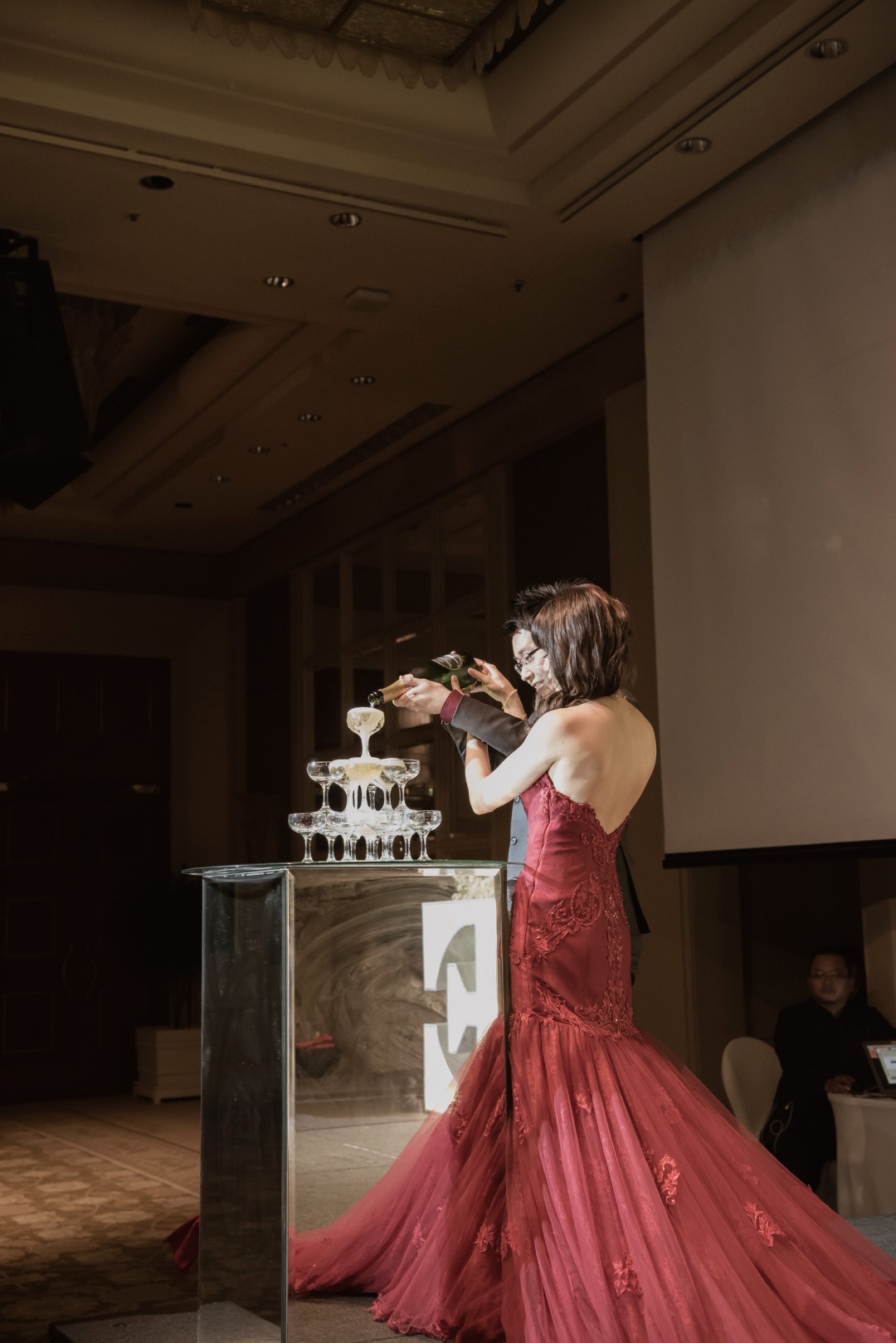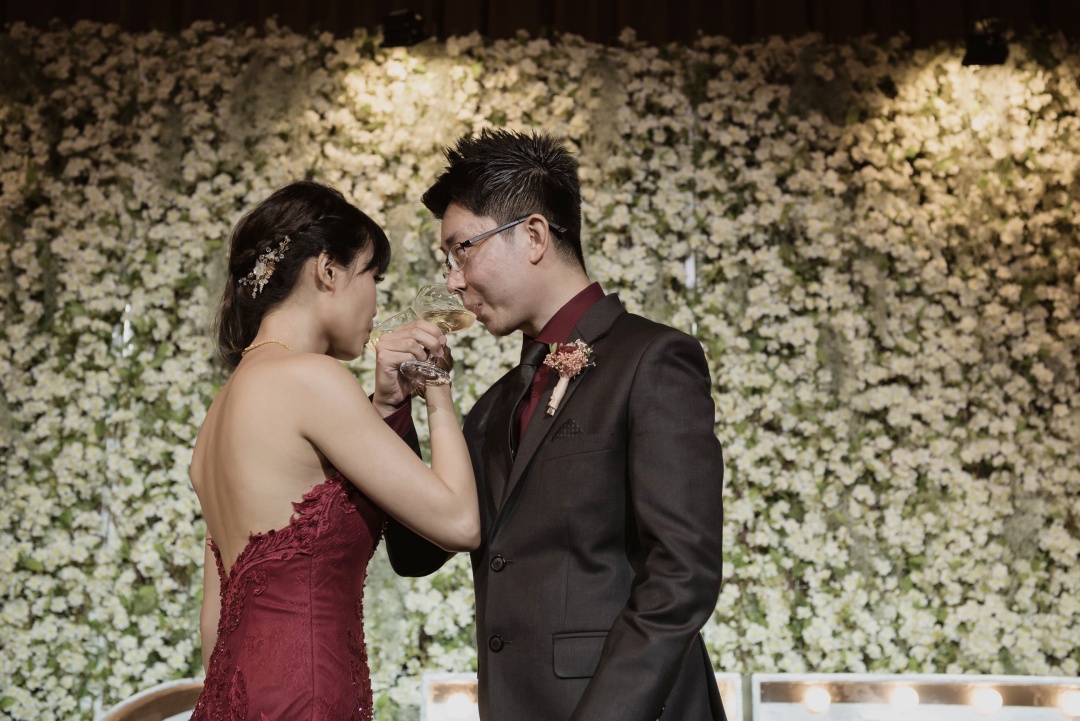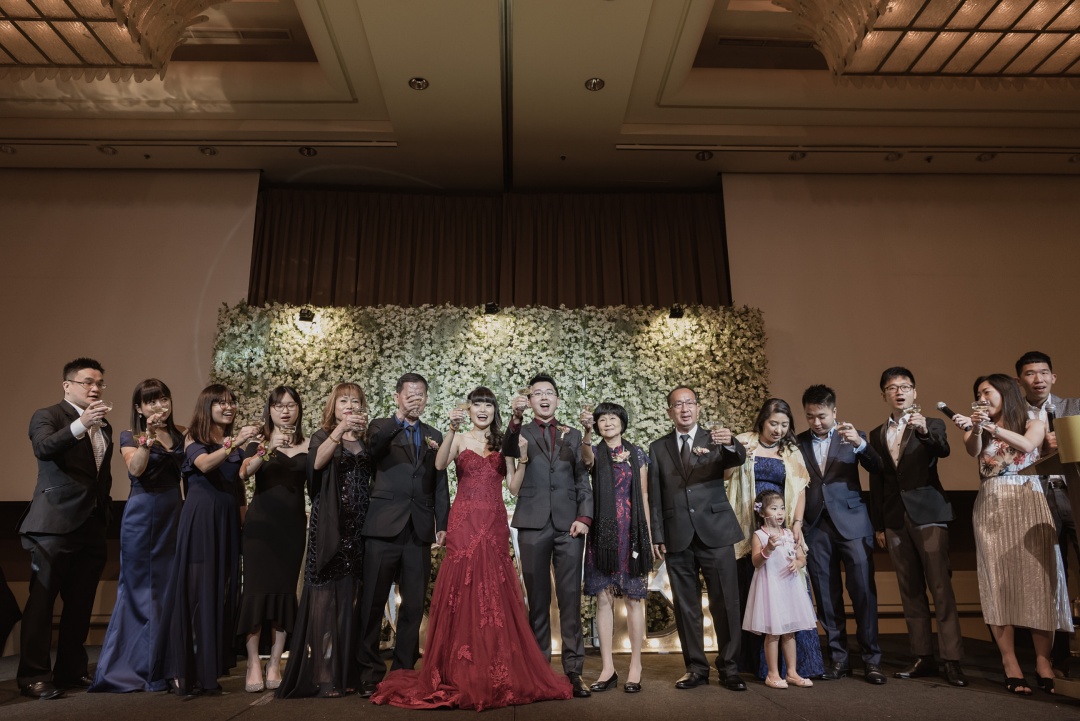 We then stayed on stage and had our thank you speech. This might be the most nerve-wracking moment for me as I didn't have time to prepare a script for what I'm going to say. I'm not sure if the Husband did, but he certainly did a far better job than I did. Mine was all over the place.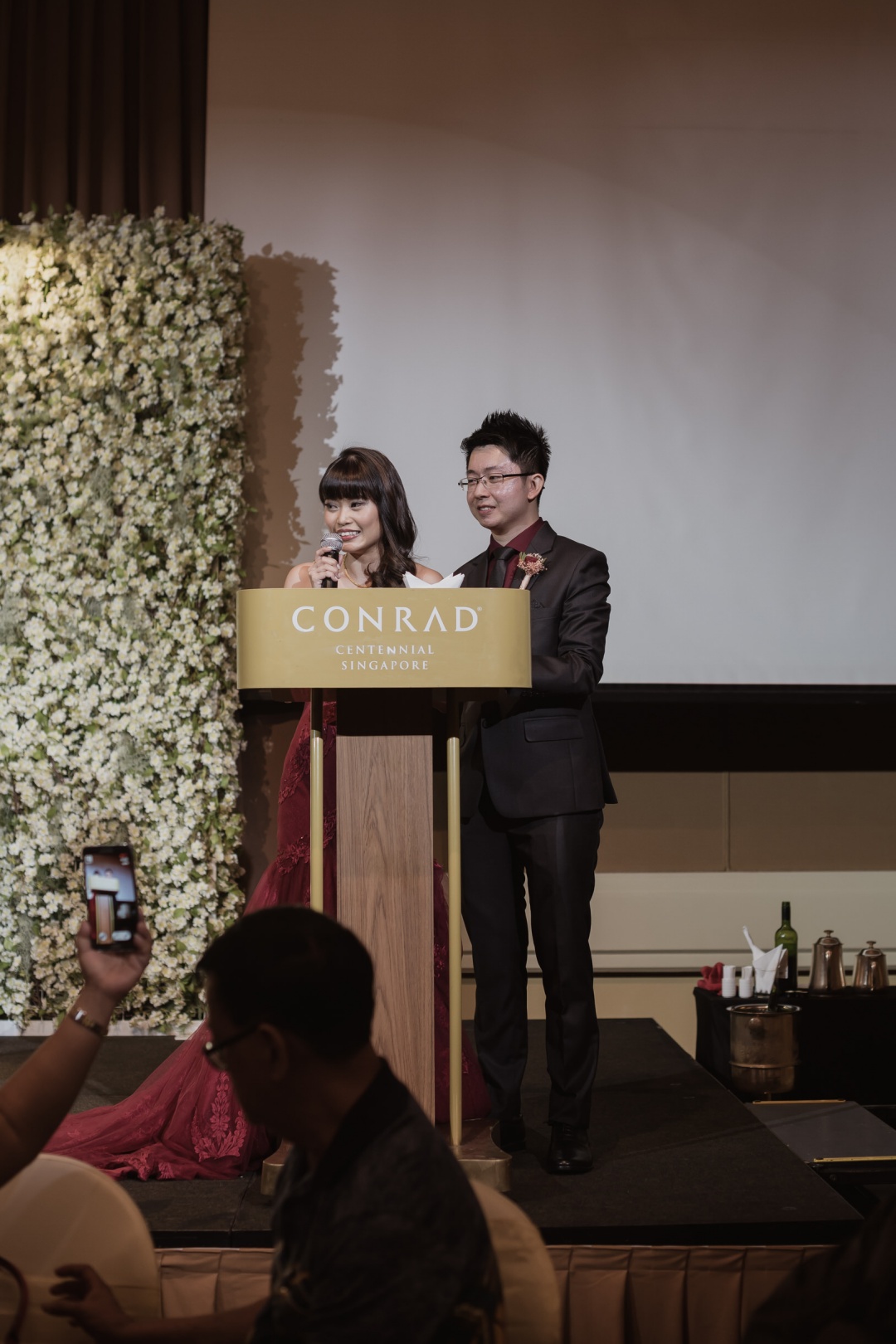 Having done with our speech, we then went down for the table-to-table toasting/photography. By then, we also ended our videography session with Leon (from A Merry Moment). Since it was just us taking pictures with our guests, we didn't think it was necessary to have our videographer stay on for that.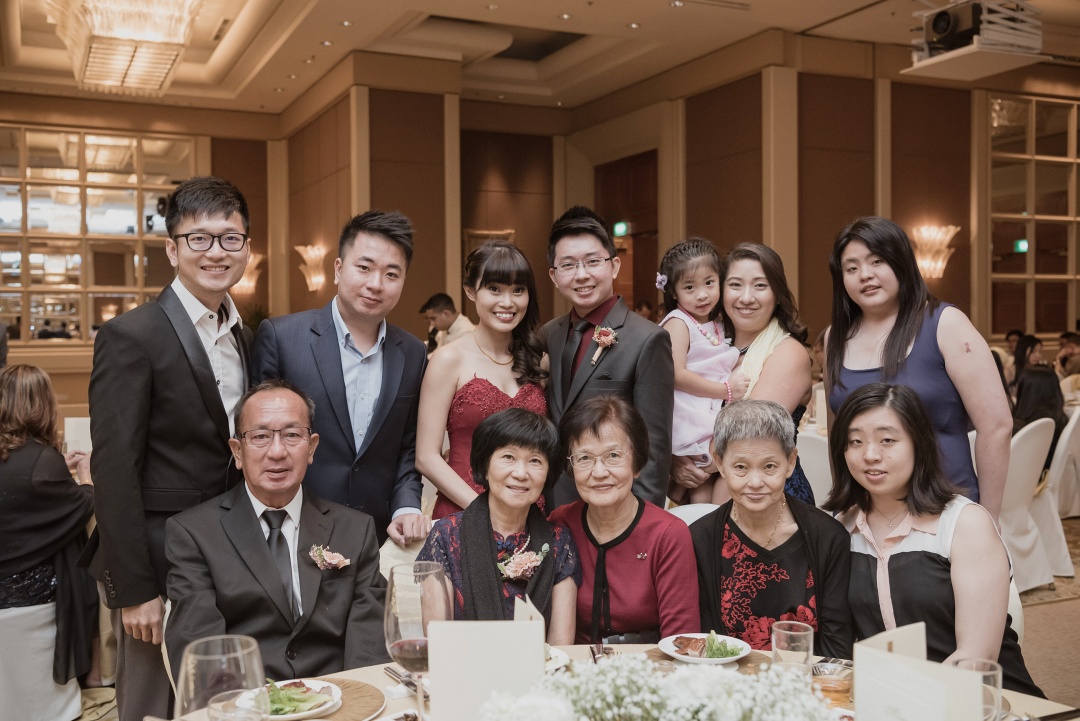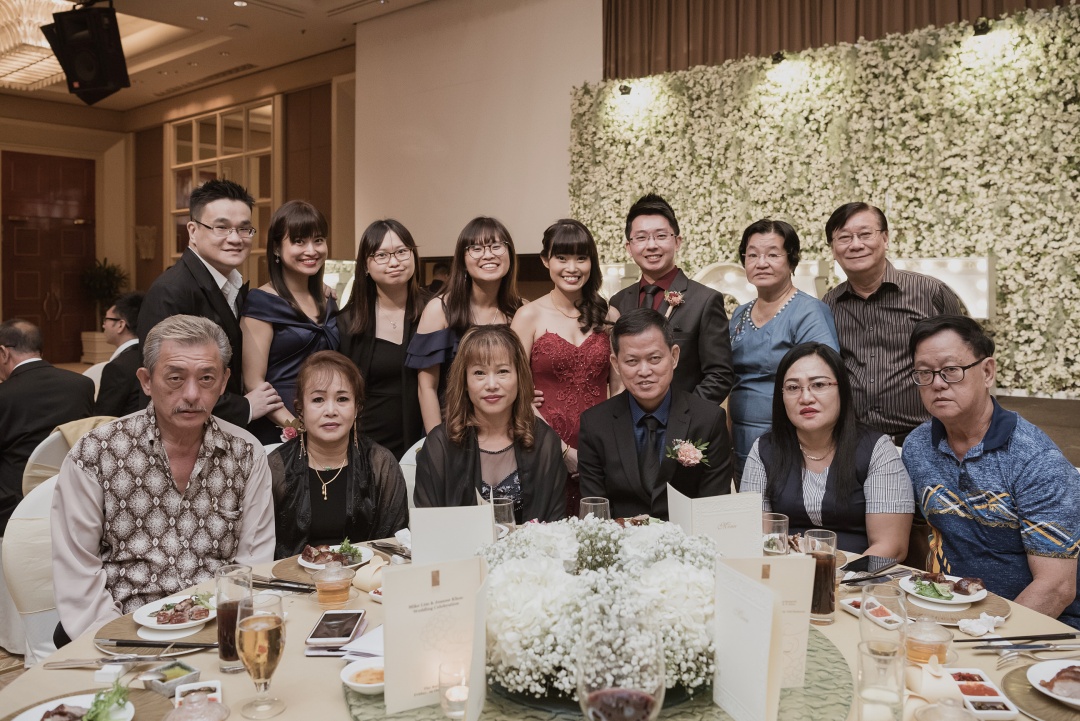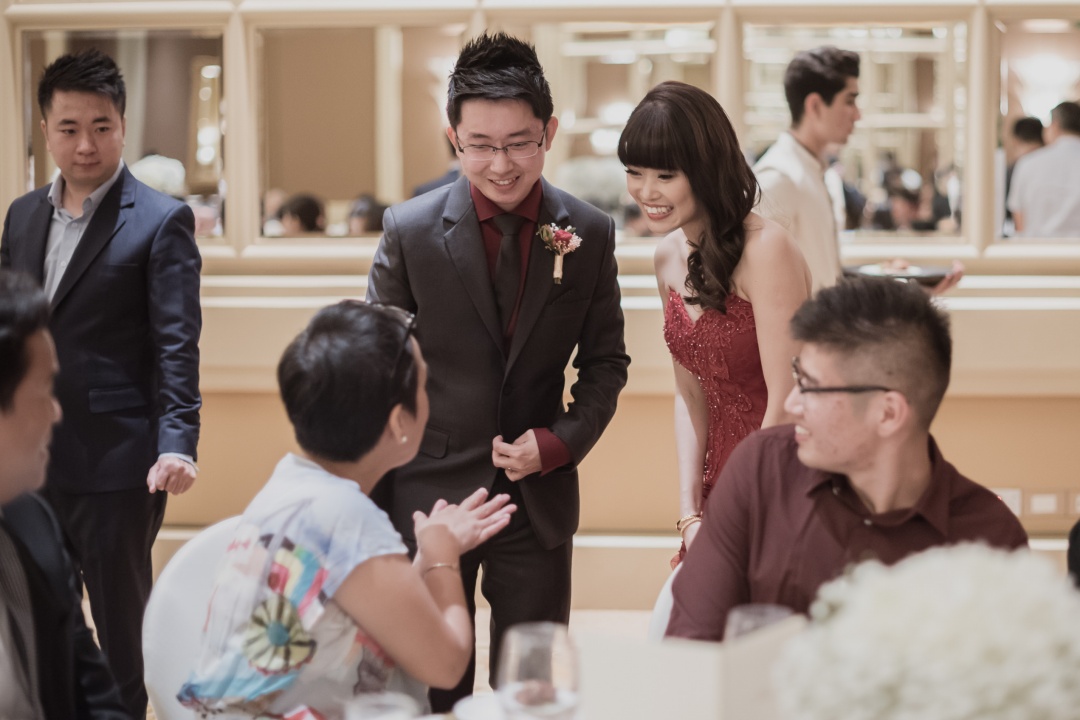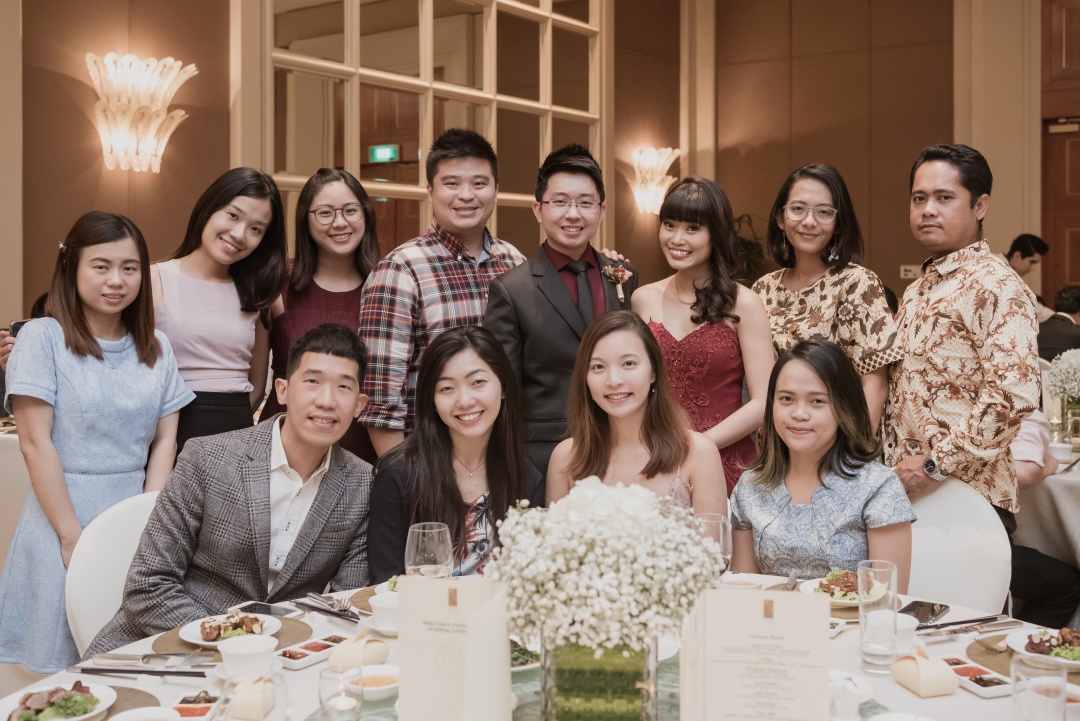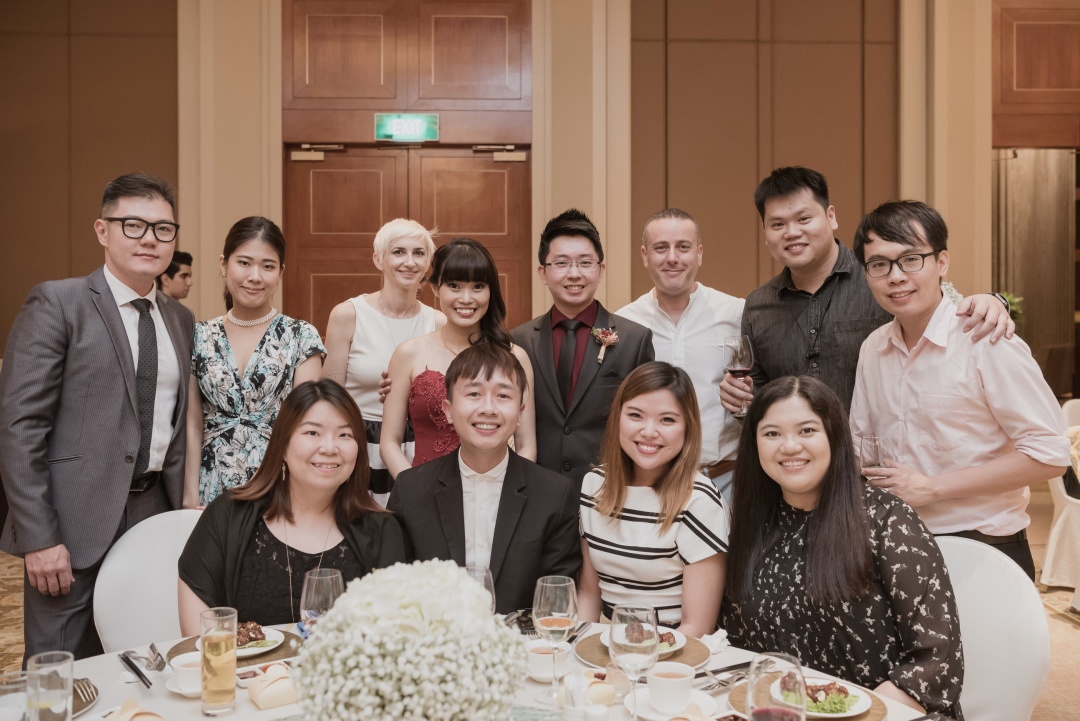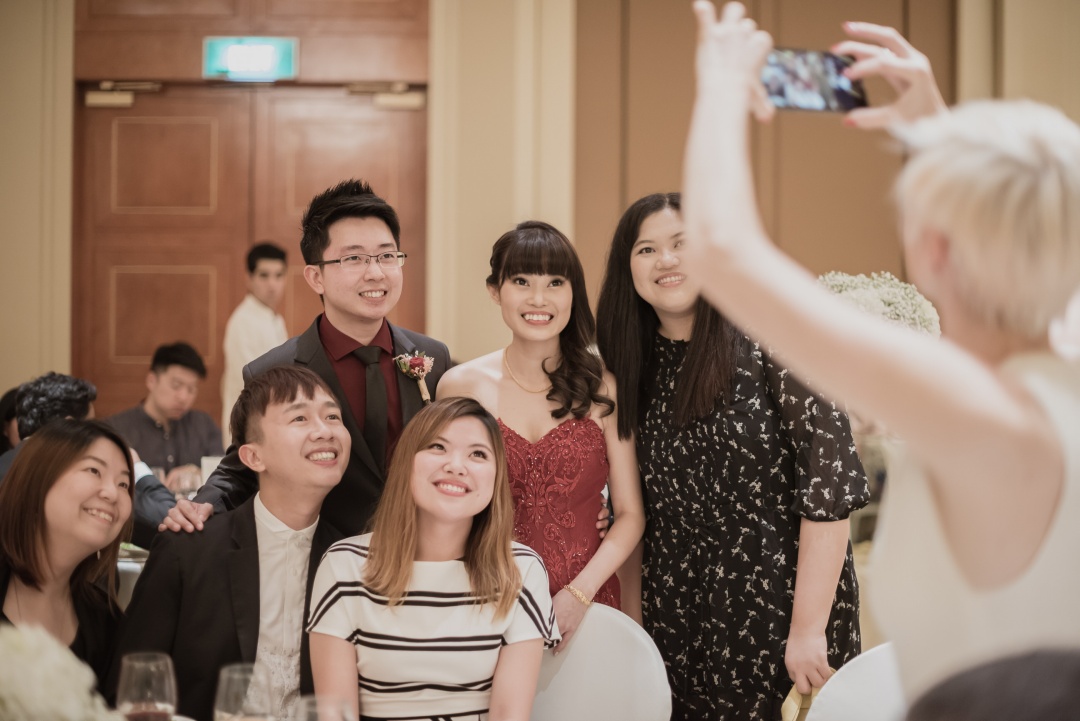 After completing all the table shots, I then had to rush upstairs to change into my traditional Chinese Kua. While some bride may choose to be in their evening gown; I decided to wear my Kua for the guest send-off at the door.
Managed to have time to take pictures with my sisters, cousins and friends after I returned.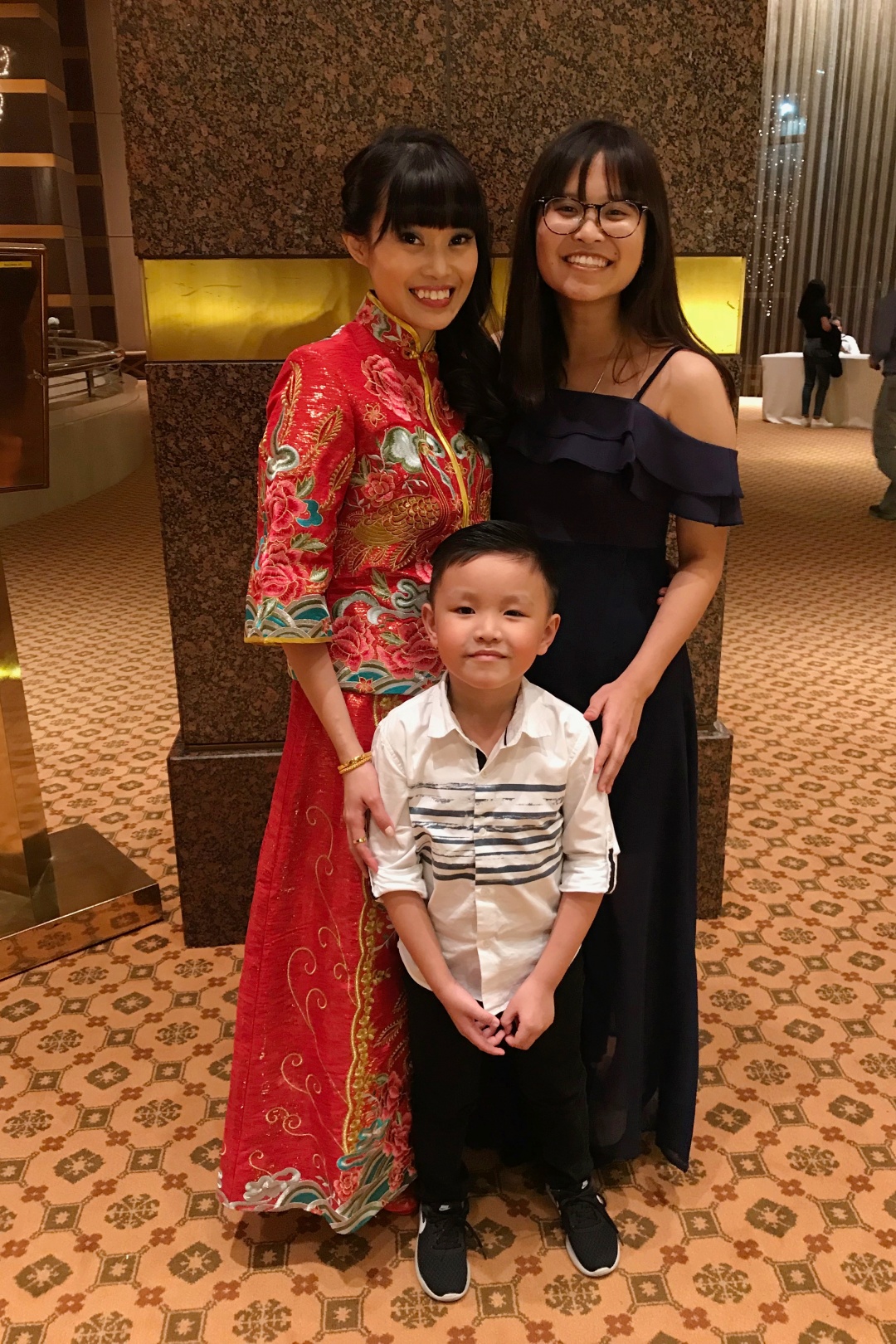 With my younger sister.
And I even managed to have a picture with my dad too. Like the Husband, my mum was occupied/busy chatting with her guests in the ballroom. In the end, I had to pull the two of them out to get ready at the door.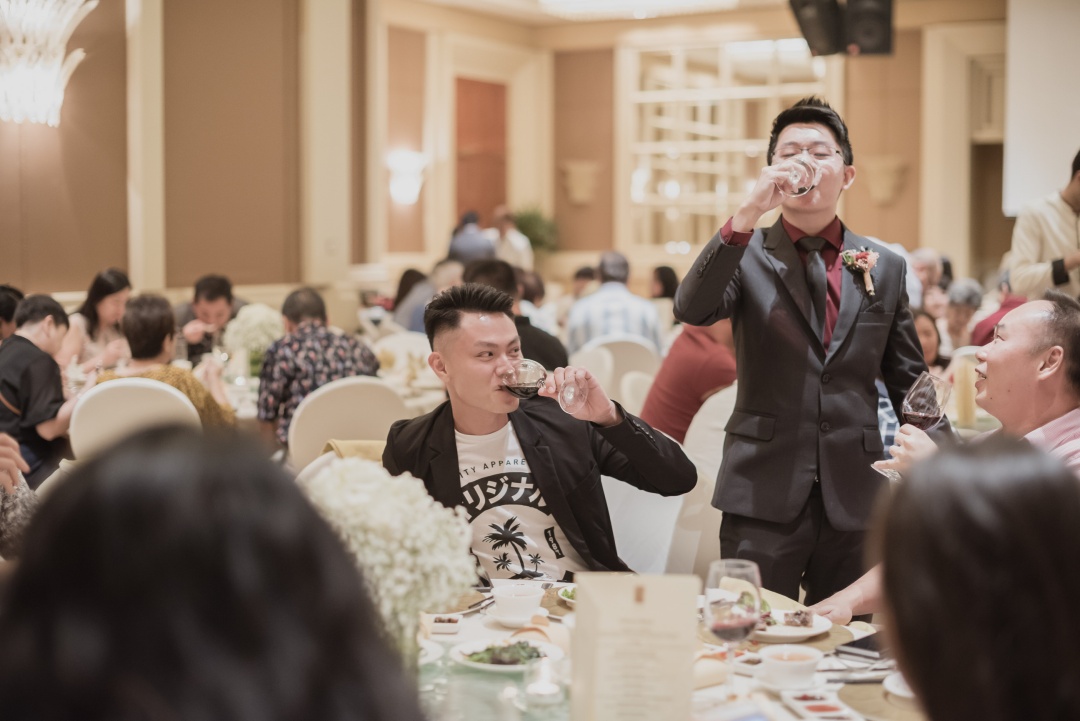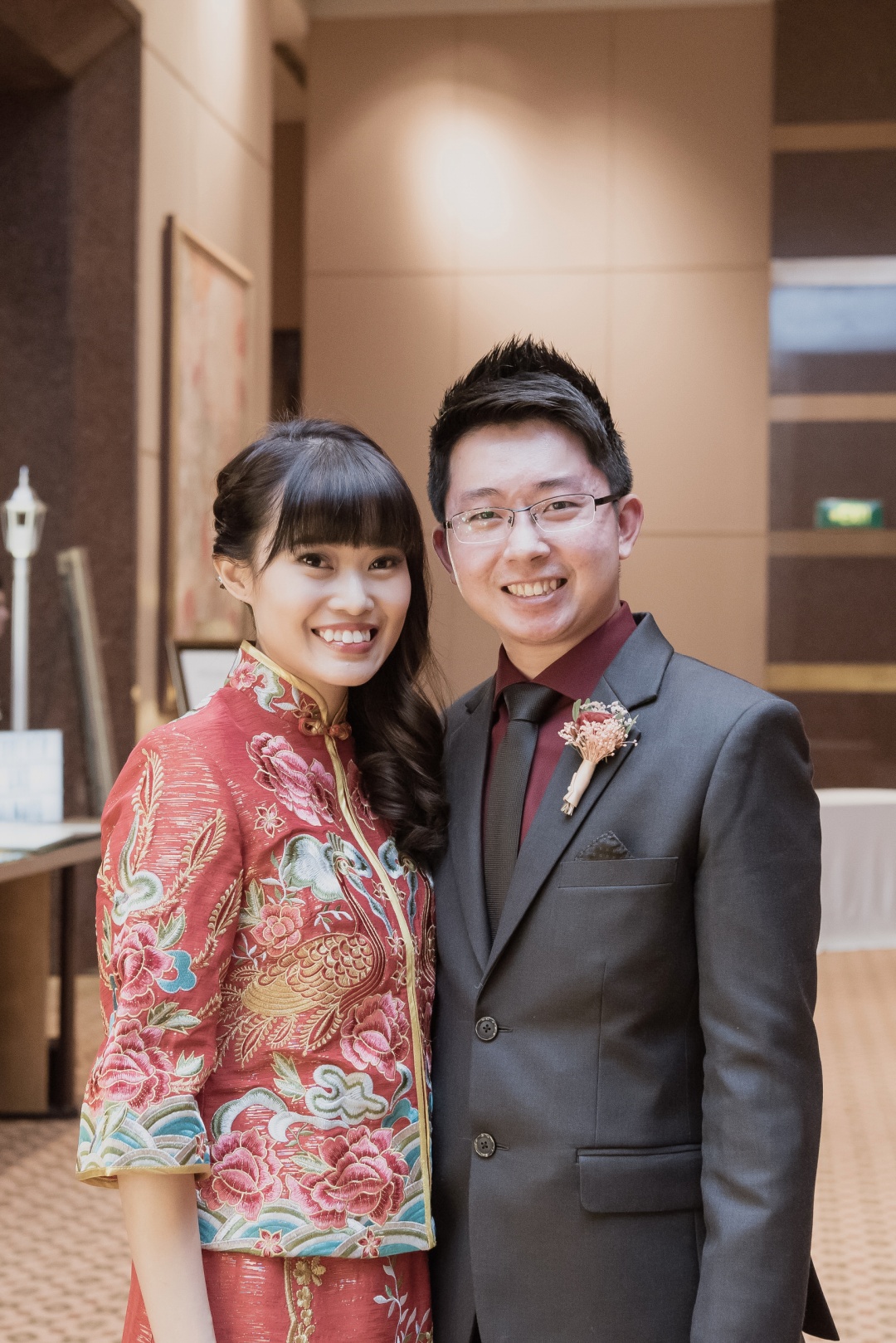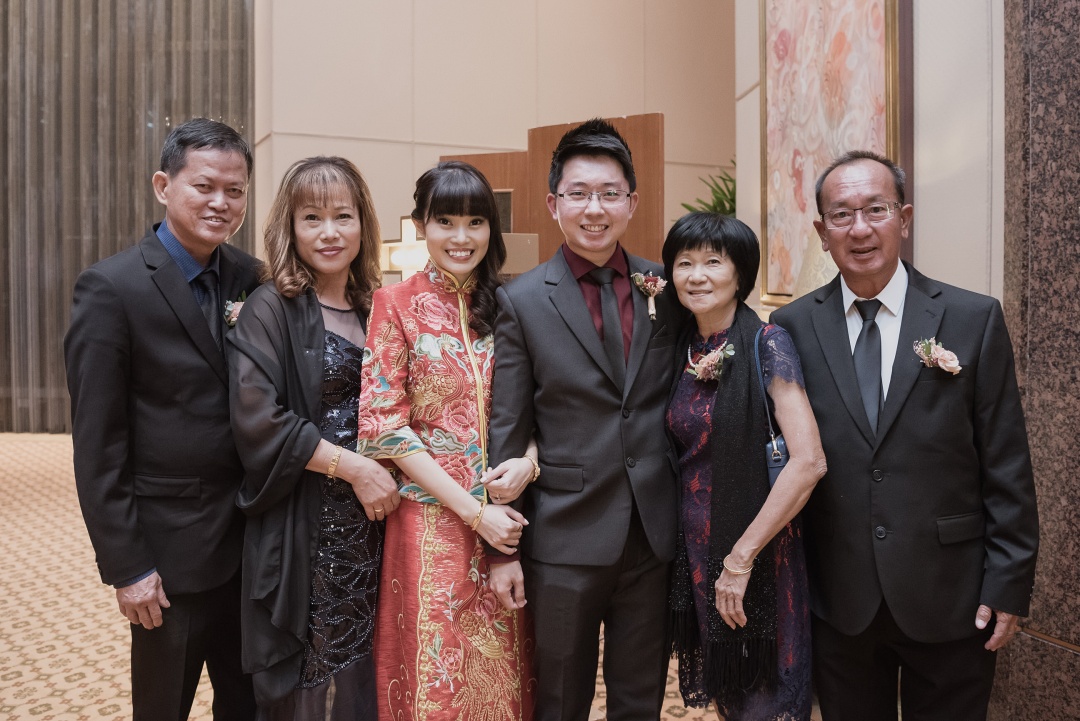 Is like having a huge load lifted off my chest once the dinner ended! It had been such a long and tedious day from 05:00 to 23:00. (And for me, the day seems to be extra long since I didn't sleep the night before the wedding.) But as everyone said, everything happened so quickly that before you knew it, the day was over. All there were left at the end of the night were memories, photos and videos for keepsake.
In some ways, I'm glad we had the wedding banquet; mainly because I get to doll up and wear a beautiful white wedding ballgown and evening gown. Something I didn't get to do during our pre-wedding shoot.
A big thank you for everyone who took time off and sacrificed their precious Friday night to attend our wedding. I certainly hope they enjoyed the night; from the dessert buffet to the photo booth and the 9-course Chinese dinner.
Right after signing off the bill with the banquet manager and wrapping things up at level 2, we headed back to our bridal suite. Bid goodbye to my family, and I'm thankful that they offered to help me bring some of my stuff back.
We had such a long day that after washing up, we didn't even feel like having our dinner. (The hotel had sent up the other eight courses that we didn't have that night, together with our wedding cake.) All we wanted then was to sleep and leave everything else to the next day.