At last, I'm FINALLY going to write about my wedding day!
How times flies. Has it really been a year?
So much effort and money poured into that one-day event! In a blink of an eye, the wedding was done and dusted, and it had since been a year.
I'm not sure if I've mentioned it before. But right at the beginning, even before our solemnisation, I had said countless times to the Husband that I didn't want/was okay to do without a wedding banquet. To be honest, it wasn't that significant to me, whether if we host one or not; although I know that our parents will certainly want us to have one. The Husband always felt that I would regret it someday if we didn't have a wedding banquet, and he wasn't going to let that happen. So, somehow, in the end, we agreed to have one. (I honestly can't remember how that happened.)
Aside from picking out the wedding date and securing the venue, there was so much preparation work for the event – From selecting my gowns to choosing the wedding invites, the food, deciding who to invite and planning the sitting arrangements. It honestly surprises me that we managed to pull it through, with minimum help.
As much as I'm a somewhat chilled bride, all these preparation and liaising do take up time and required lots of effort. (Thankful that the Husband was quite hands-on and did help out quite a bit for the entire wedding planning!) All in all, I think we managed to get most things done and prepared. Perhaps the only exception was our/my wedding speech? I'm glad that we managed to get through the day with no significant hiccups.
My day started as early as 05:00 with bridal makeup and hairdo.
Prior to our wedding day, I came up with a brief timeline of our day, starting with bridal makeup and hairdo at 05:00, followed by having the PG and VG to arrive at my place at 06:30, and The Husband and groomsmen to arrive at 07:30. We didn't have any auspicious timing that we need to adhere to, so I just roughly work out the event and time according to what I think is best for us. Having a timeline is crucial so that your makeup artist, PG and VG knows what time to arrive. You also need to know what time for the caterer to arrive if you're preparing breakfast for your guests.
I didn't sleep a wink the night before the wedding.
It wasn't because I was nervous or excited; it's just that I've so many things to settle that I didn't have time to sleep! Can you believe that we were packing and shipping stuff to our new house at midnight on our wedding day? The Husband was also running around, trying to settle the car decor. Because apparently, the driver we engaged wasn't able to stick the decoration onto the car.
Unlike me, I believe the Husband did manage to catch some rest that night. I decided that I would rather not sleep and tie up all the loose ends.
My makeup artist, Xin Er (from Lush Looks Hair and Makeup), came right on time. And when it was all quiet, and everyone was fast asleep, we get down to doing my bridal makeup and hairdo.
For my morning look, I told her I would like to have either a bun or chignon; and we went with a chignon in the end.
The photos below were taken by Petrina (from A Merry Moment) after she arrived at 06:30. (Both my PG and VG arrived together, since they are partners/from the same brand.)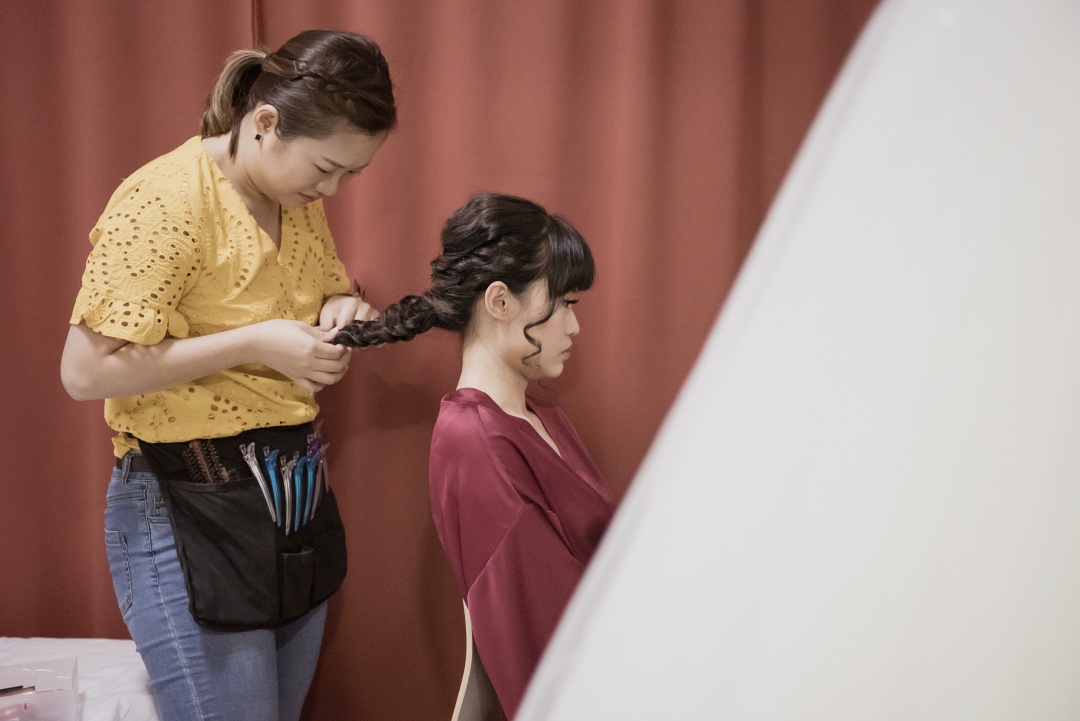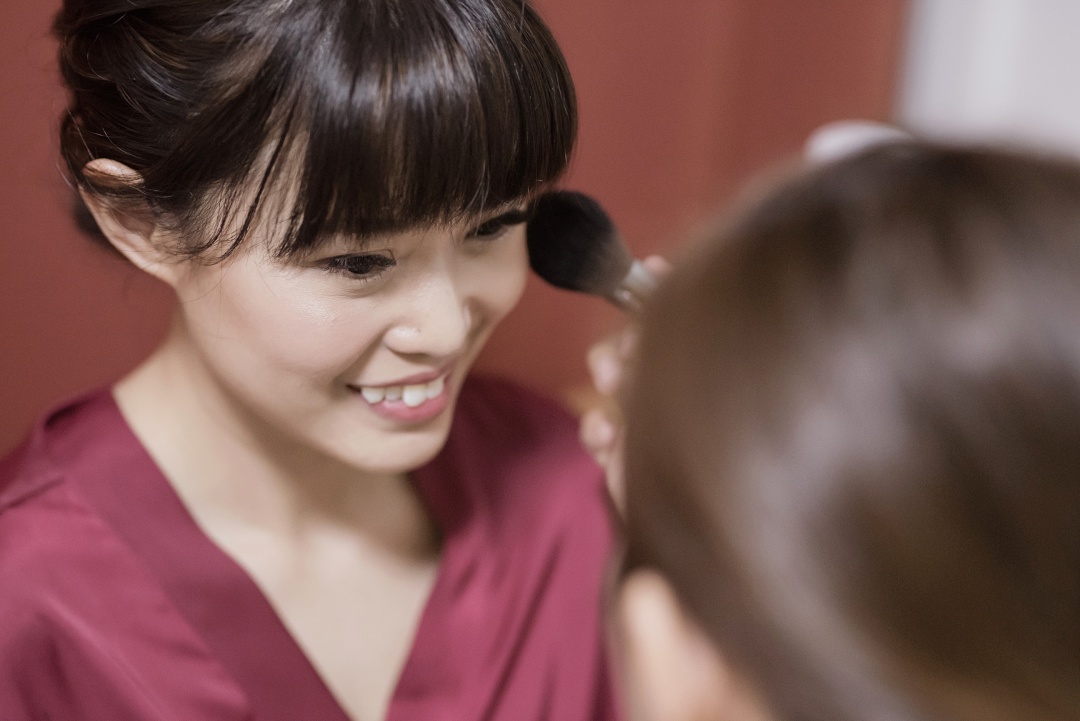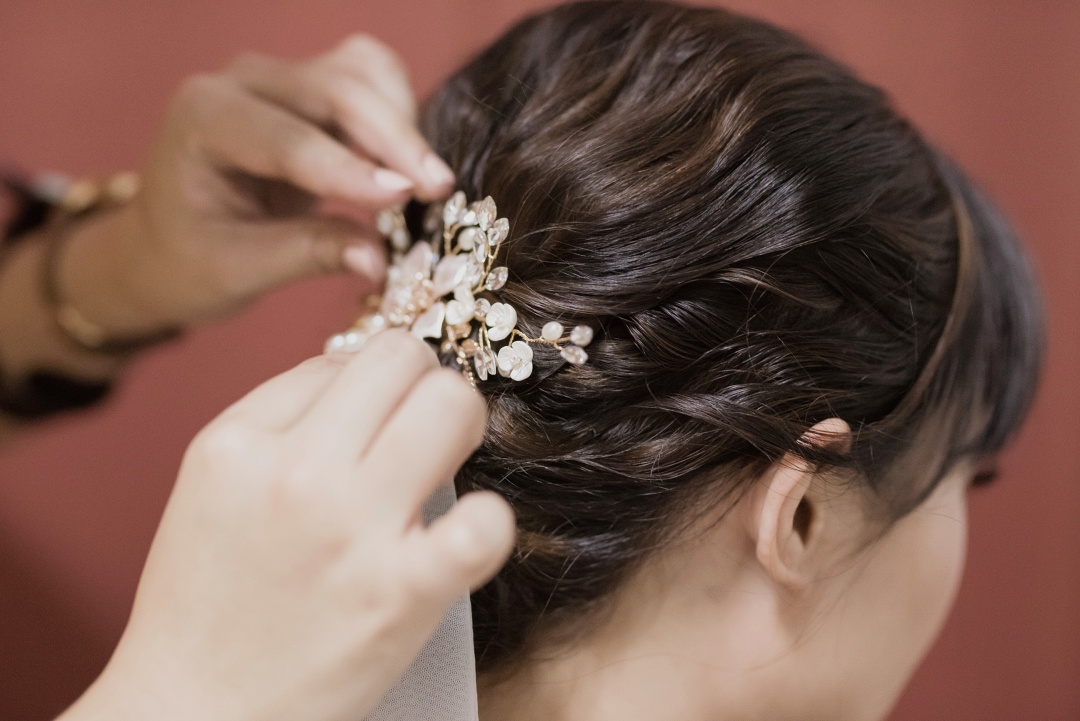 While I was getting my makeup done; one by one, everyone in the family starts to wake up and got into their respective roles for the day.
I didn't ask any of my girlfriends to be my bridesmaids; instead, I wanted and got my sisters to be my bridesmaids. This was my plan all along. I think it was nice to get my sisters involved. And because I have three sisters and the Husband have two brothers, he got one of his best friend to be his groomsman.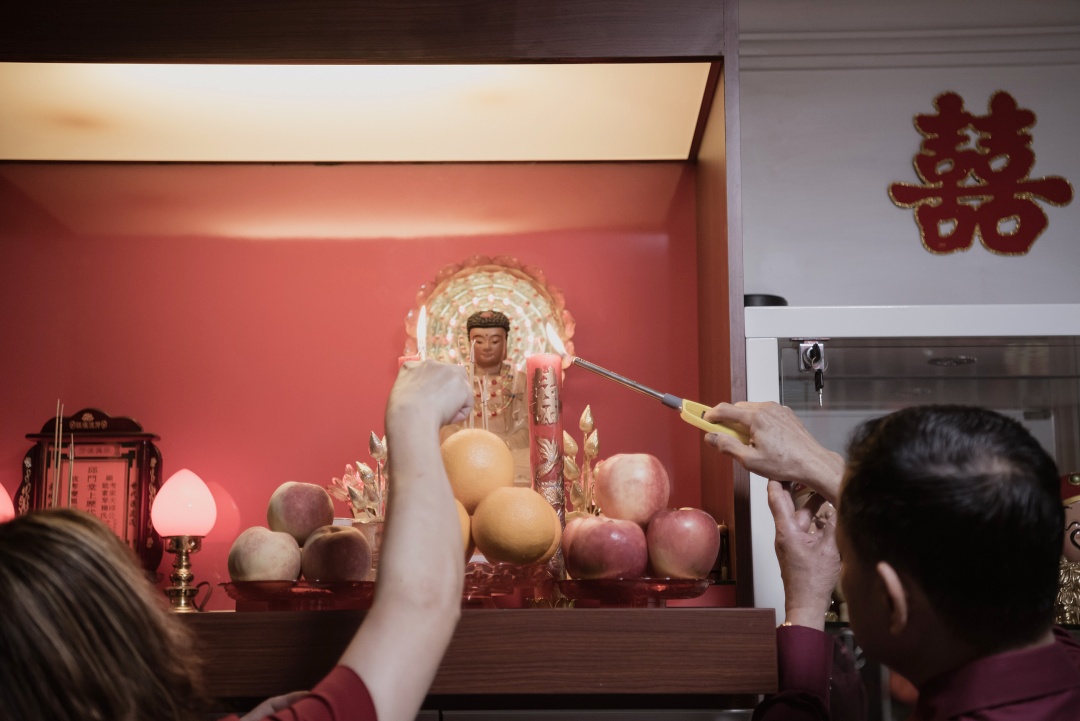 My parents had to light up the dragon and phoenix candles at the same time as my in-laws. Hence, I had to text the Husband to ensure that both families light the candles at the same time.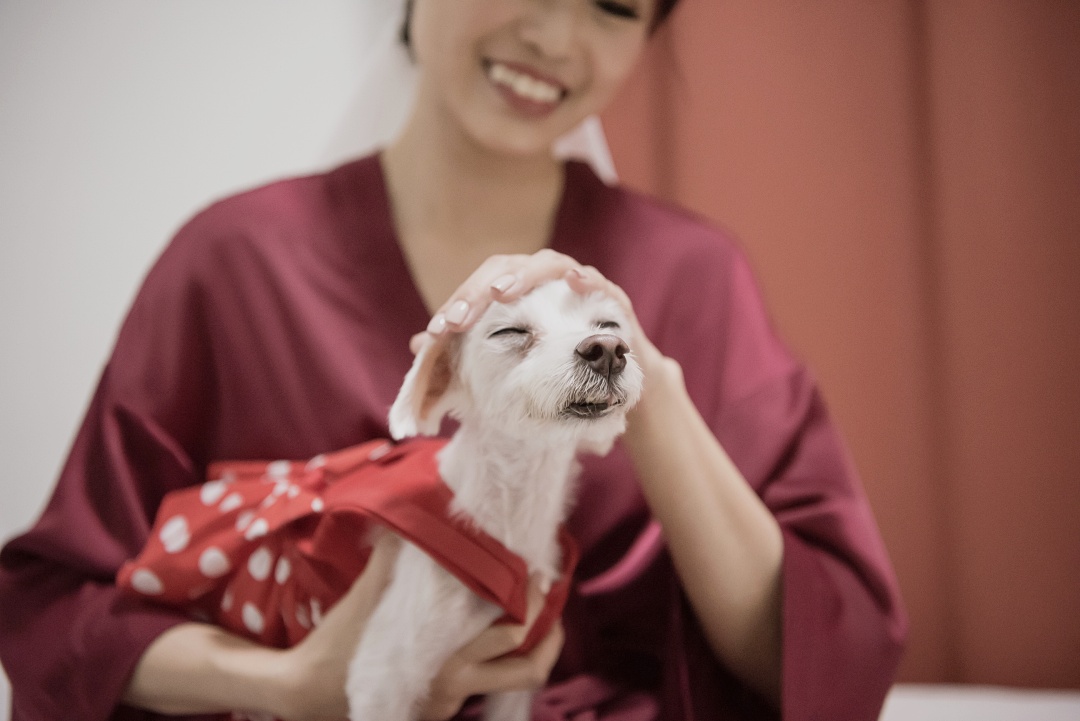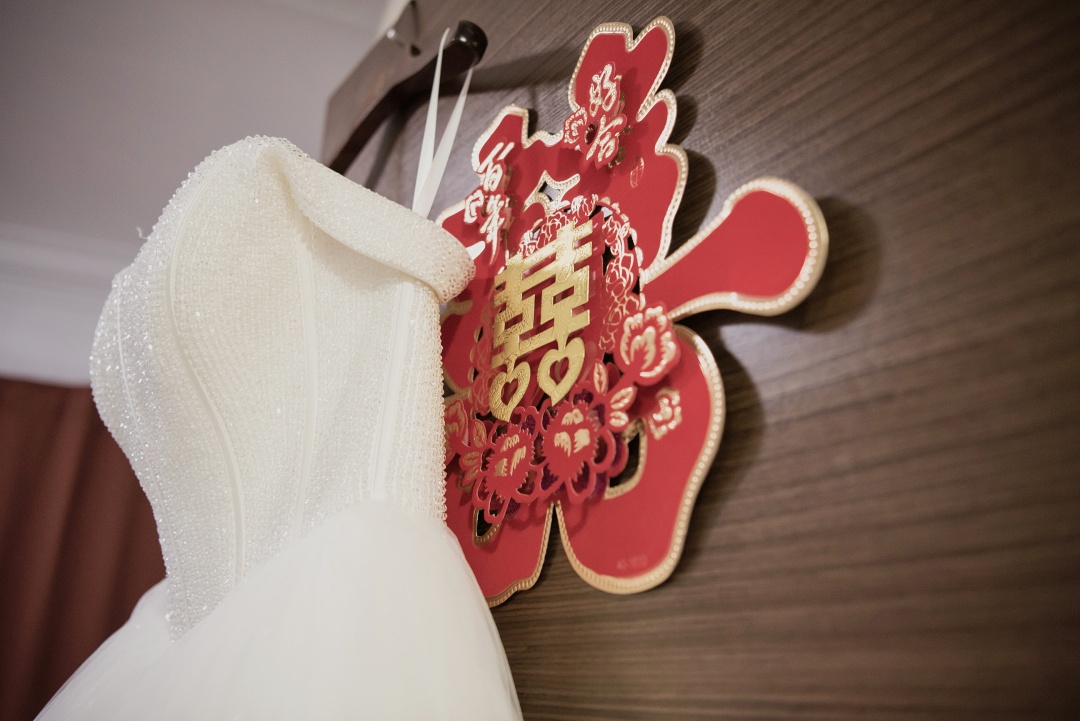 Wedding gown from The Gown Warehouse.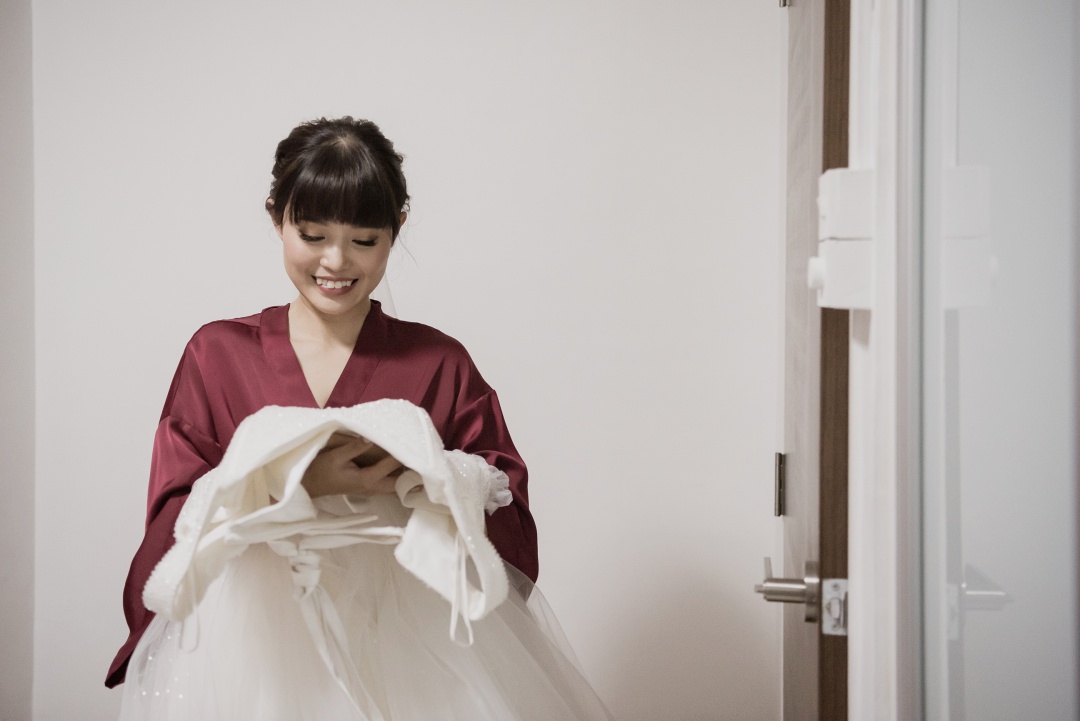 While this was ongoing in my room..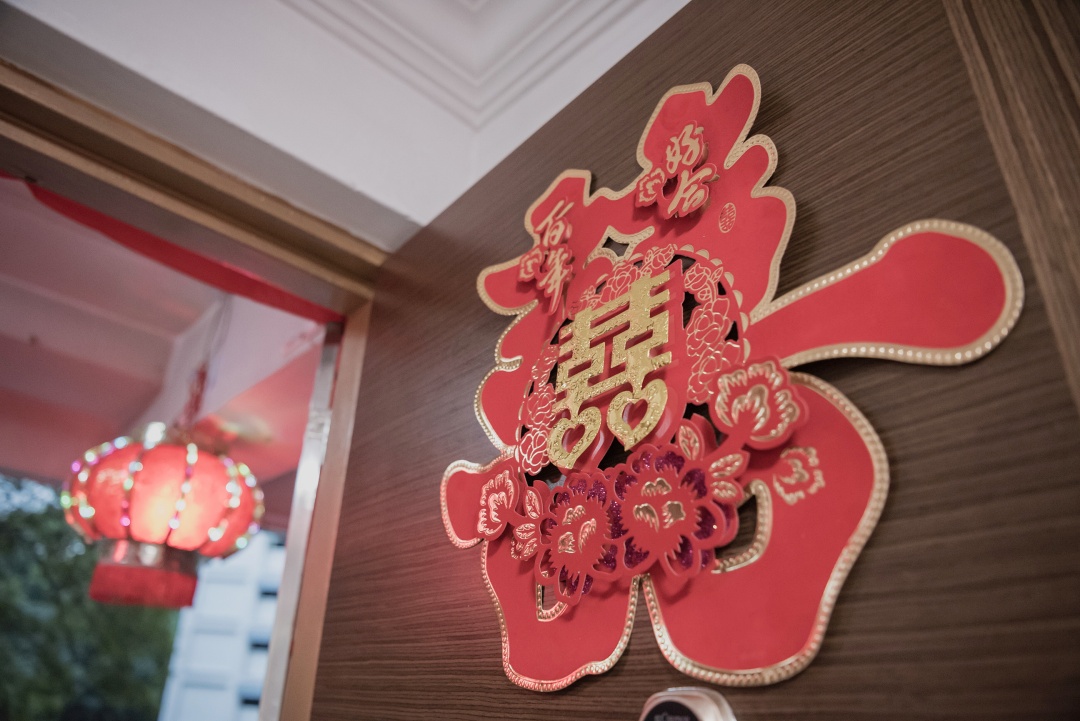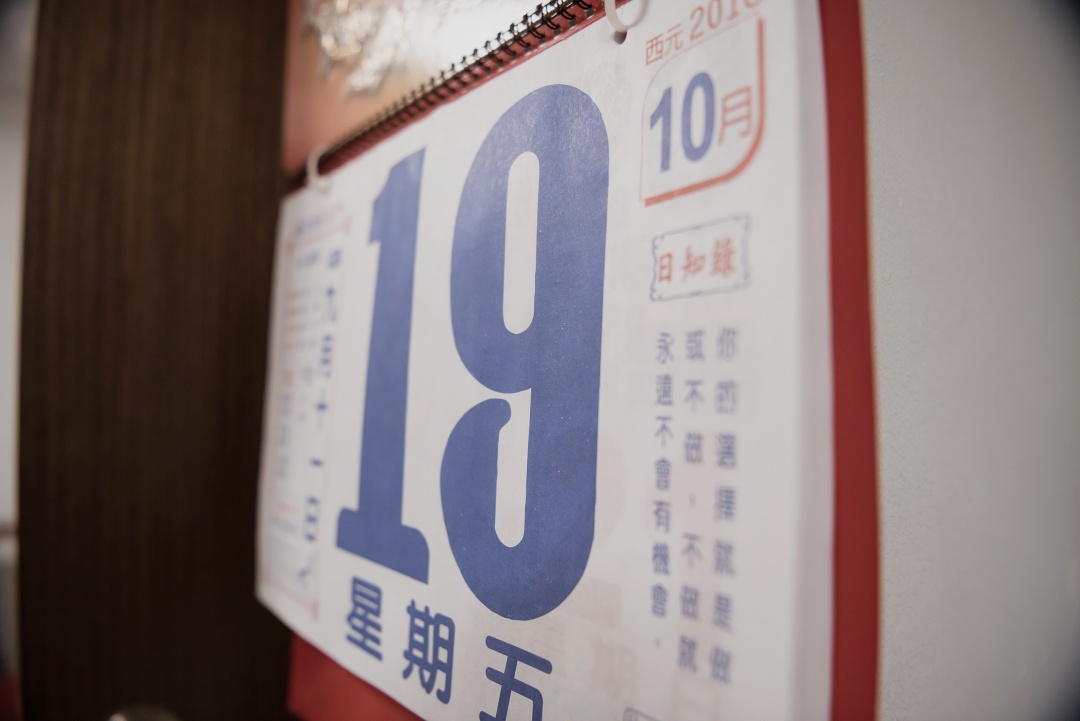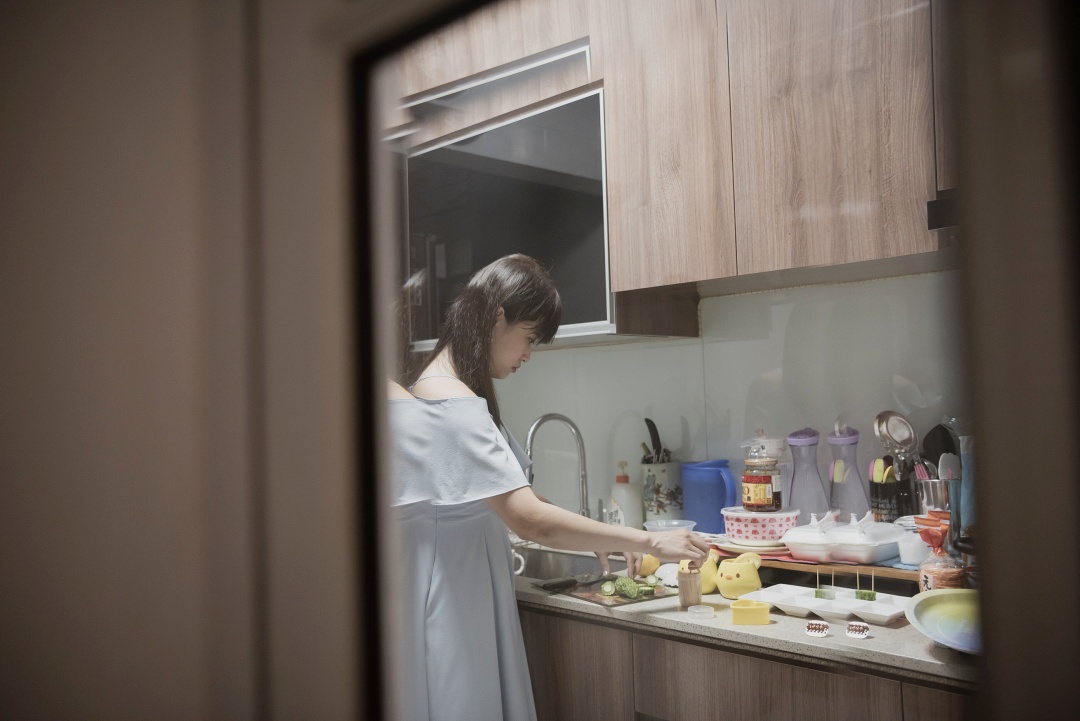 Over in the kitchen, my elder sister had come over and was busy preparing the 酸, 甜, 苦, 辣.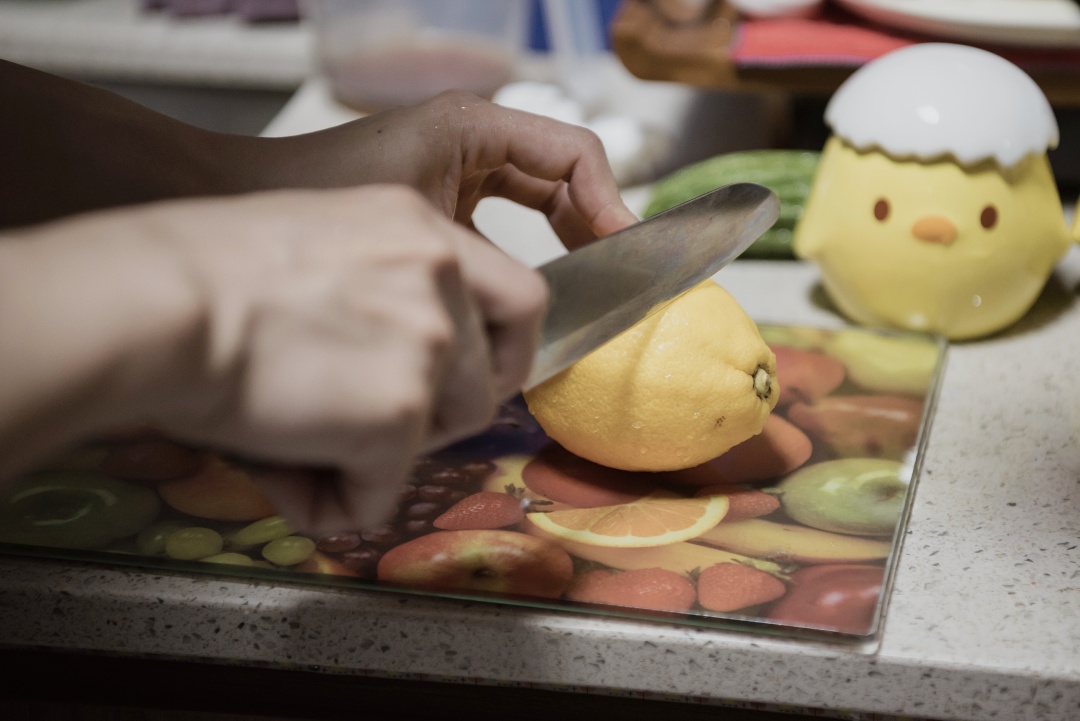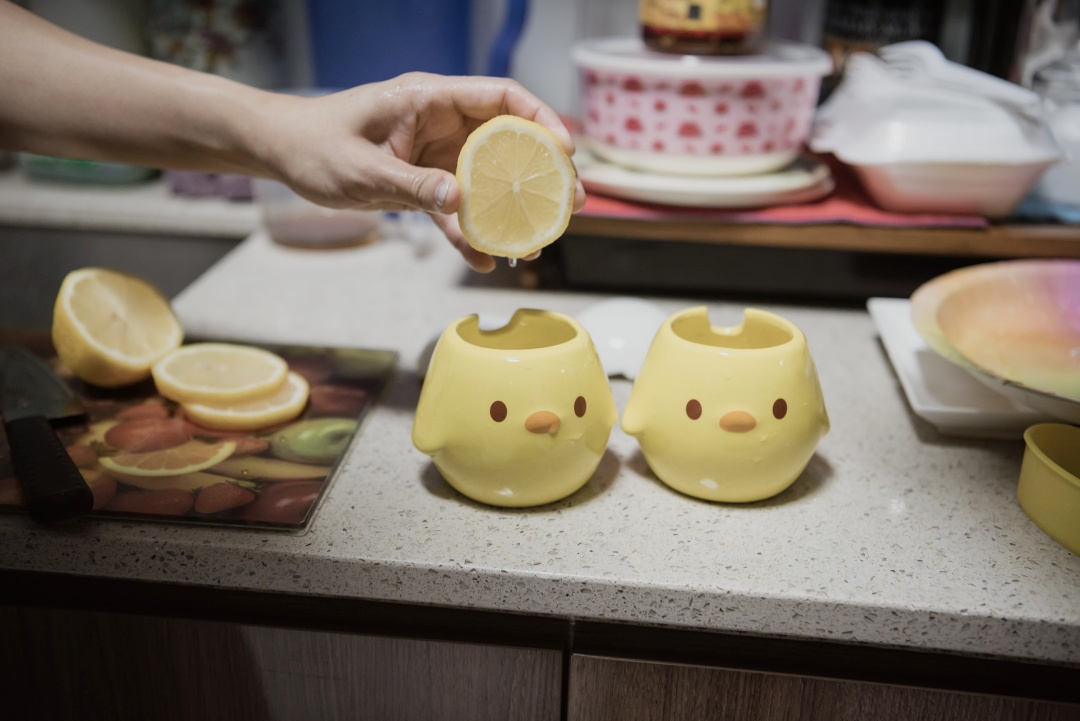 Lemon to add a slight hint of sourness to the drinks.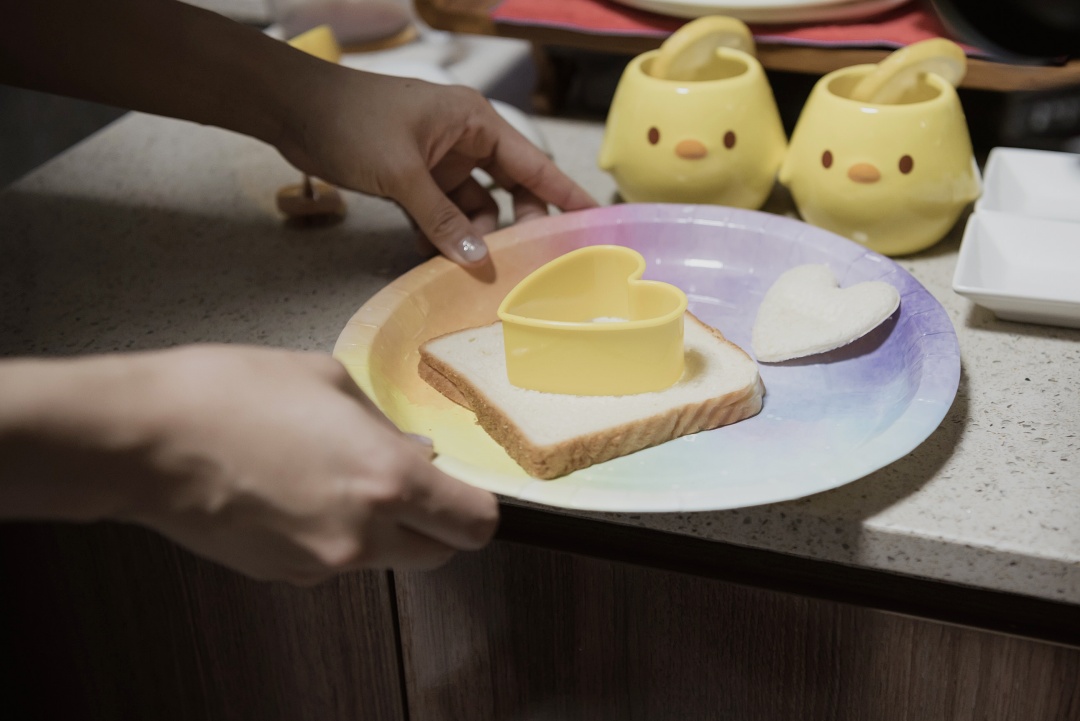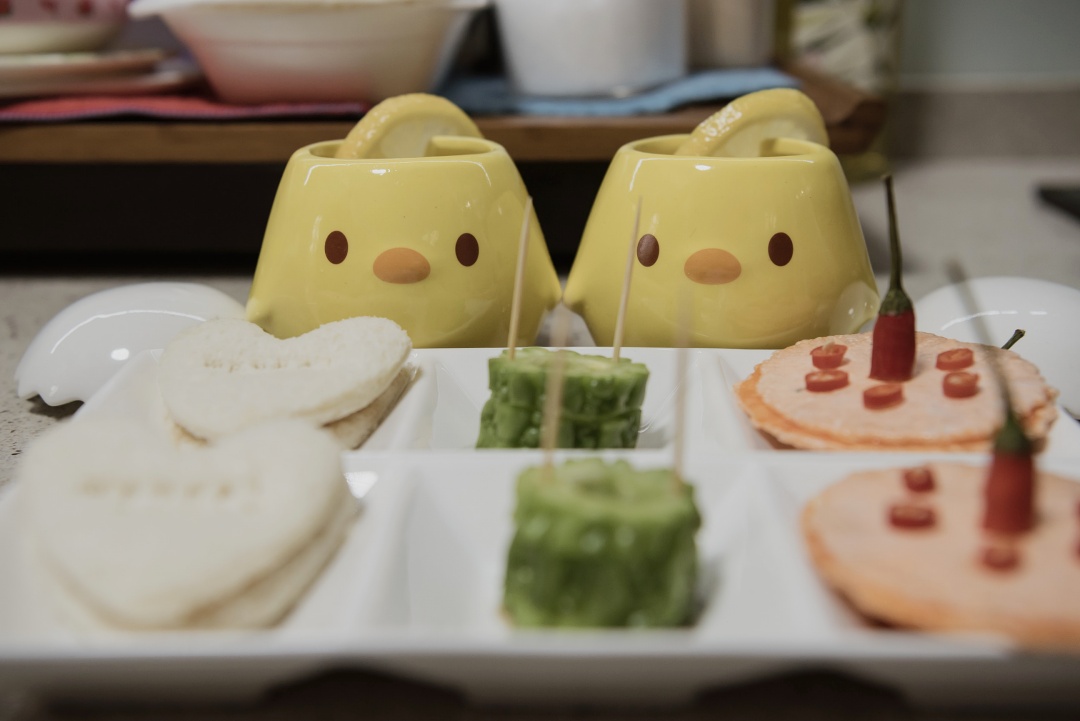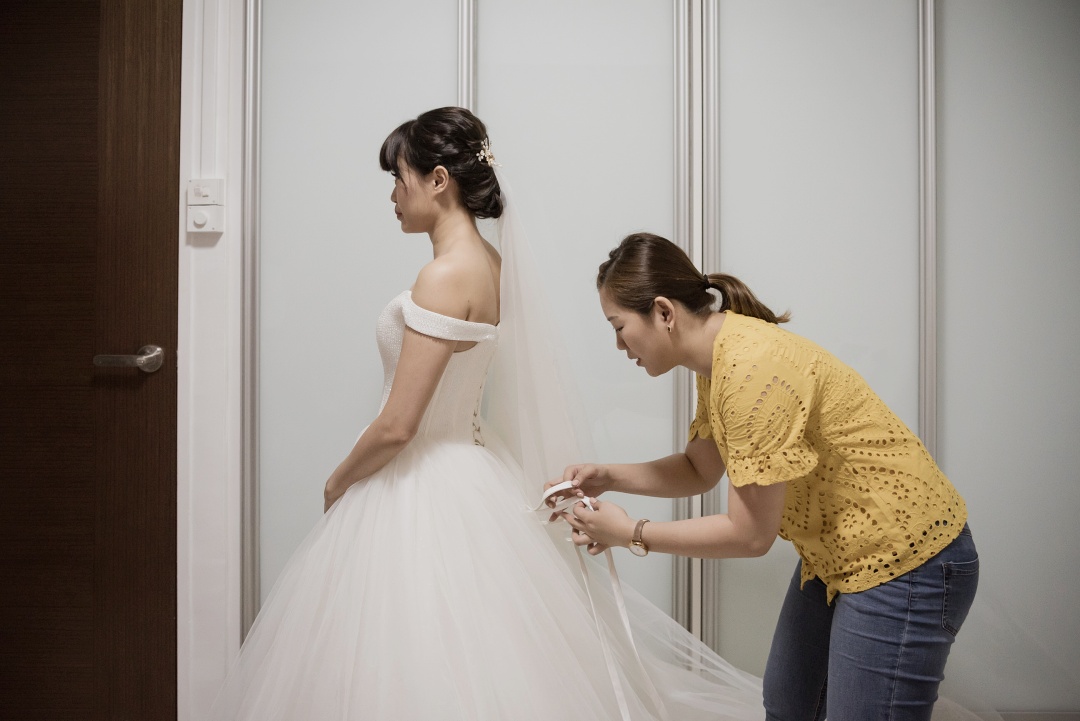 I'm very grateful to have Xin Er help me with my wedding gown.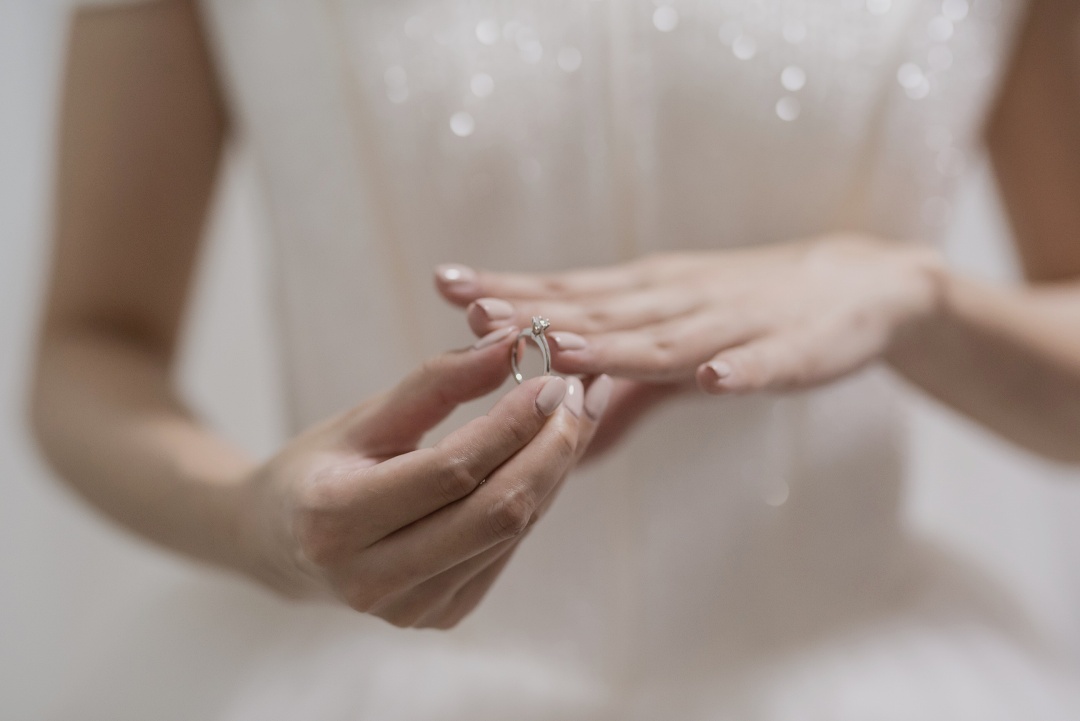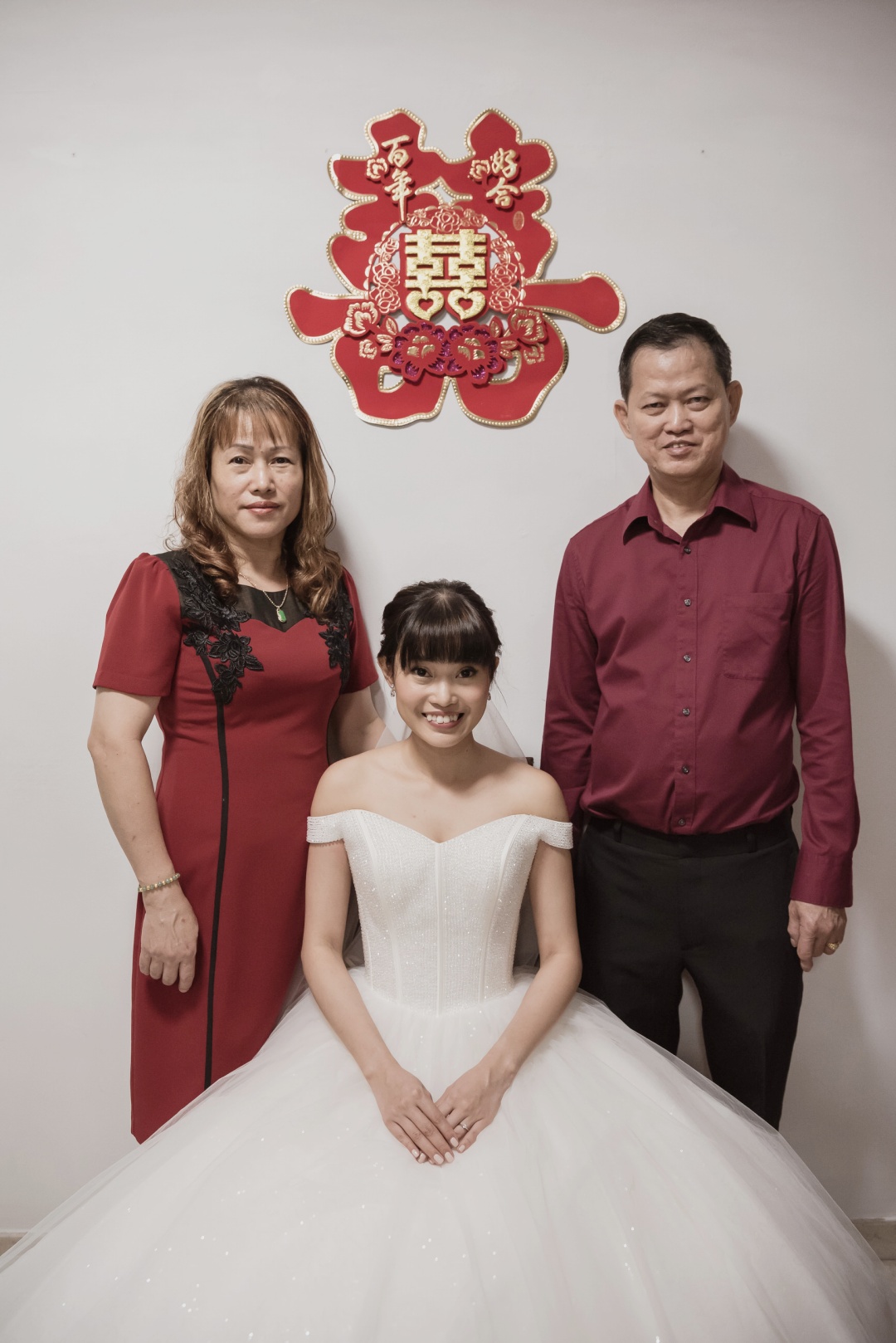 Having put on my gown, I then went out to the living room so that my parents can help me with the wedding veil. I really like how puffy my dress look!
(Xin Er left shortly after, and we arranged to meet again at 16:15 at the hotel for my evening makeup and hair.)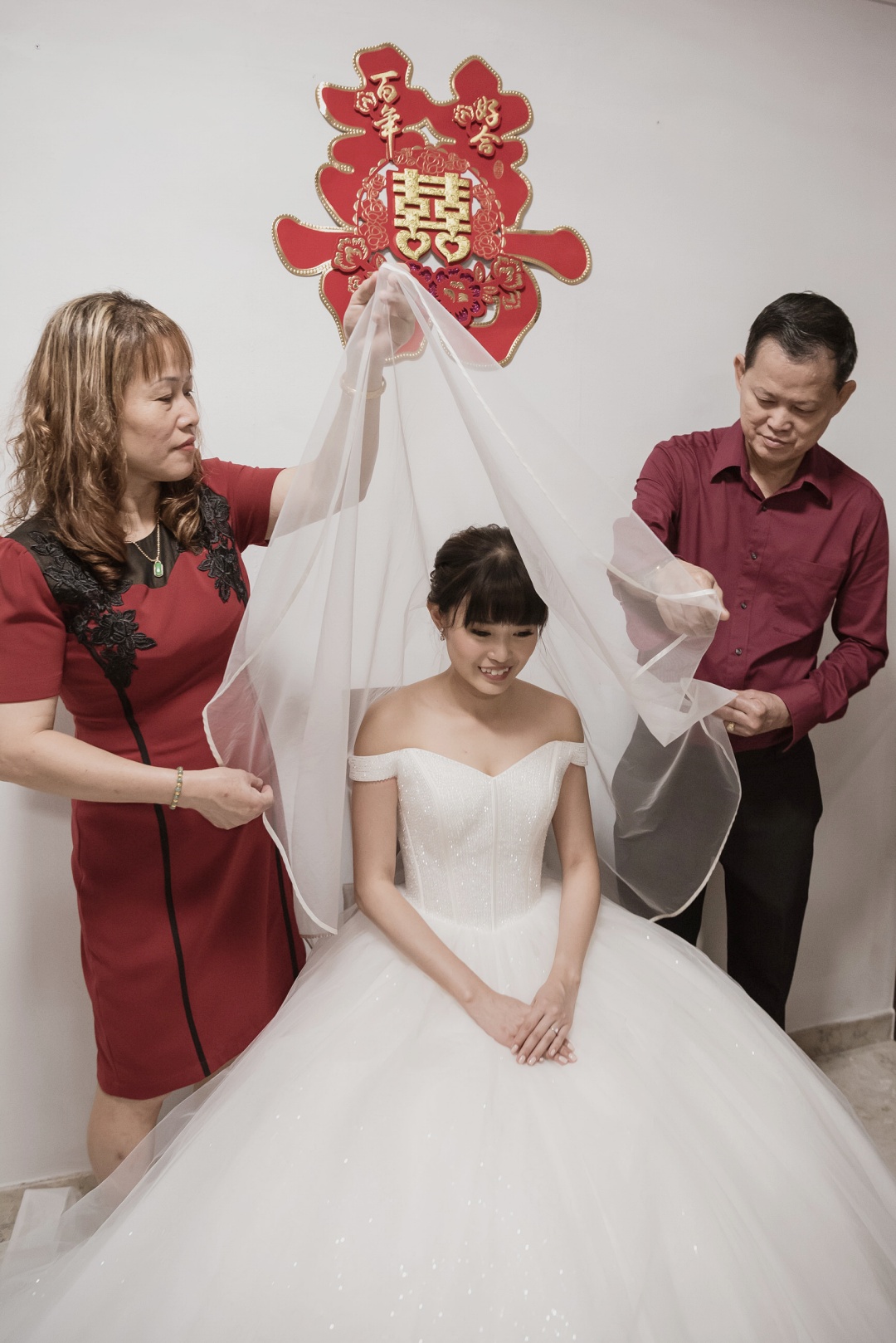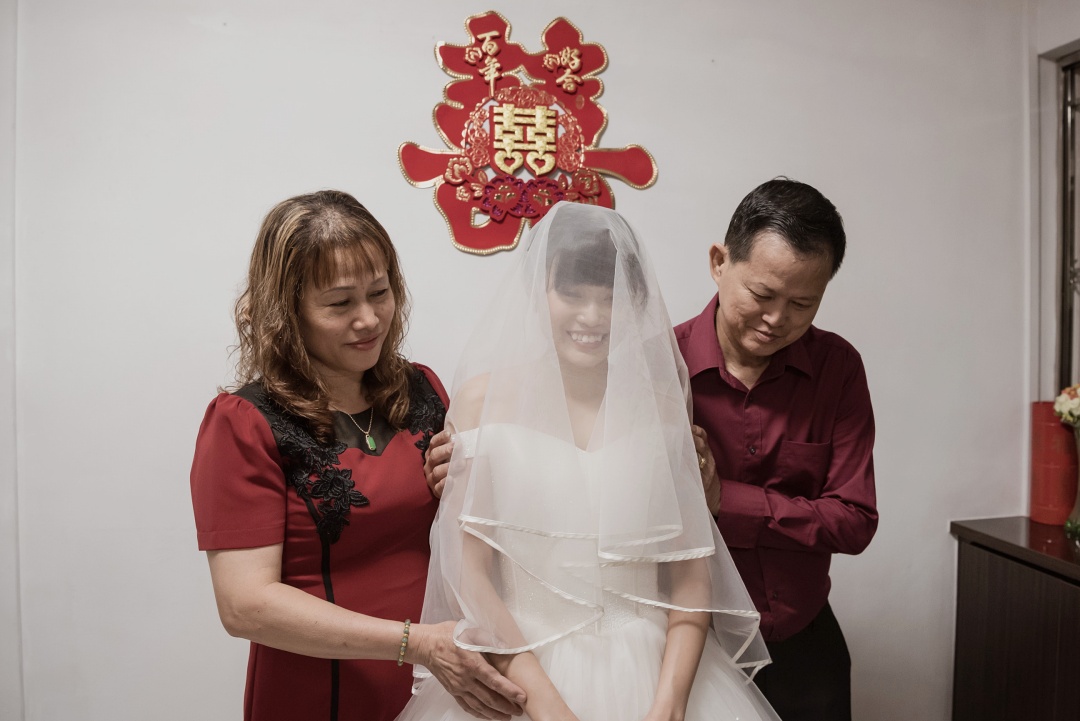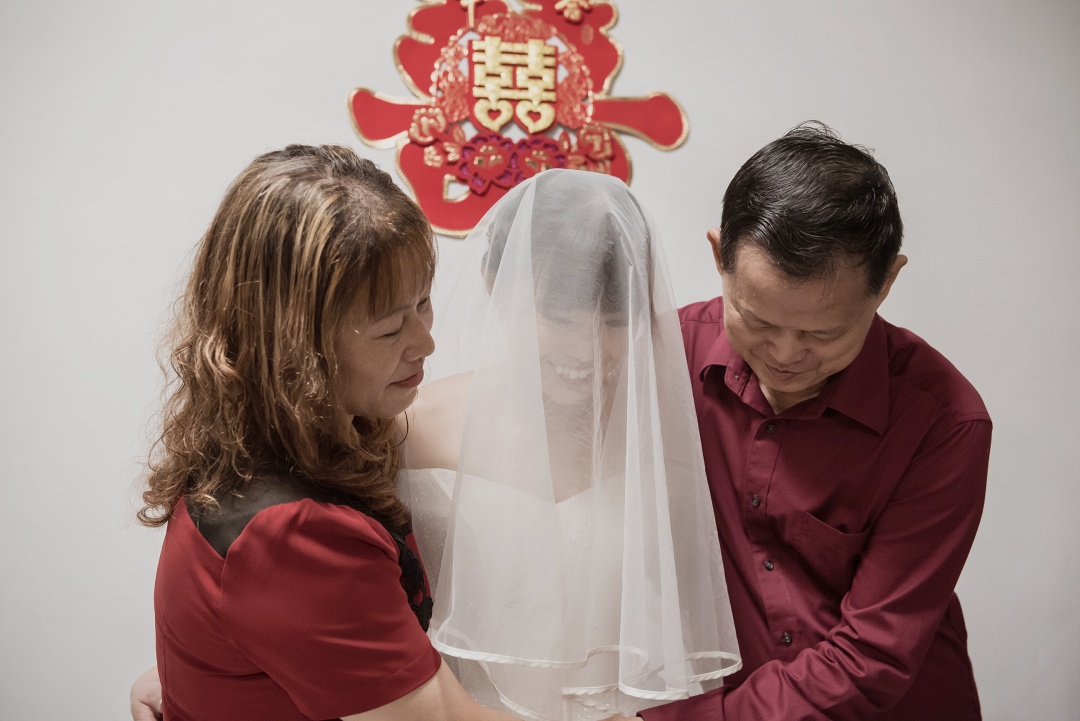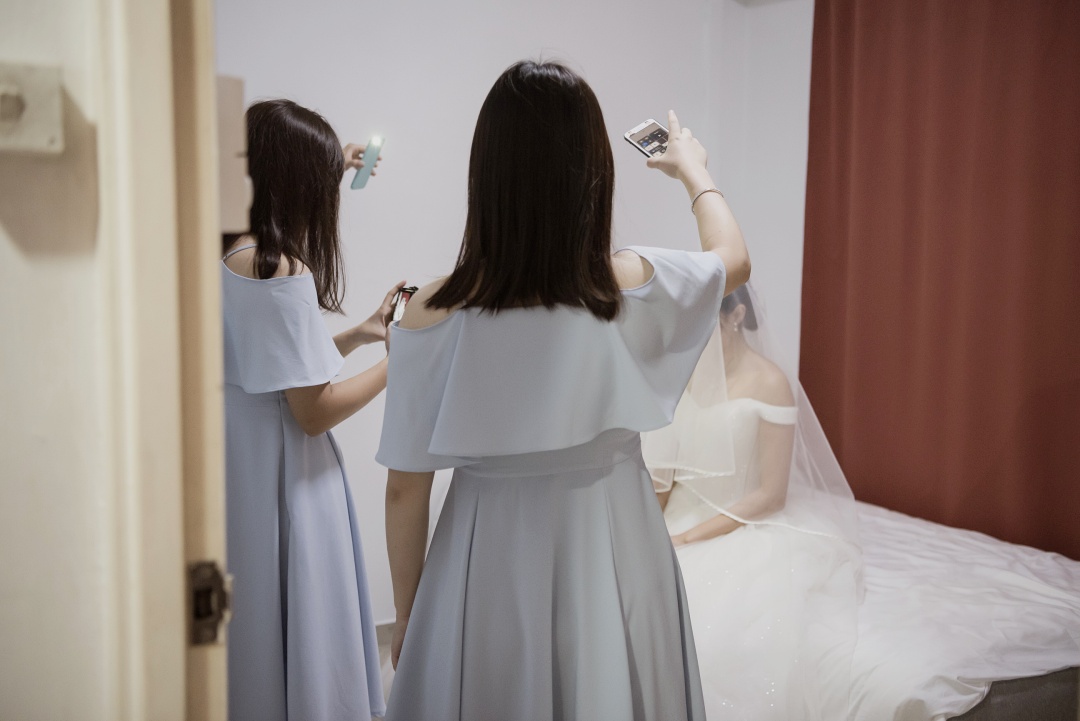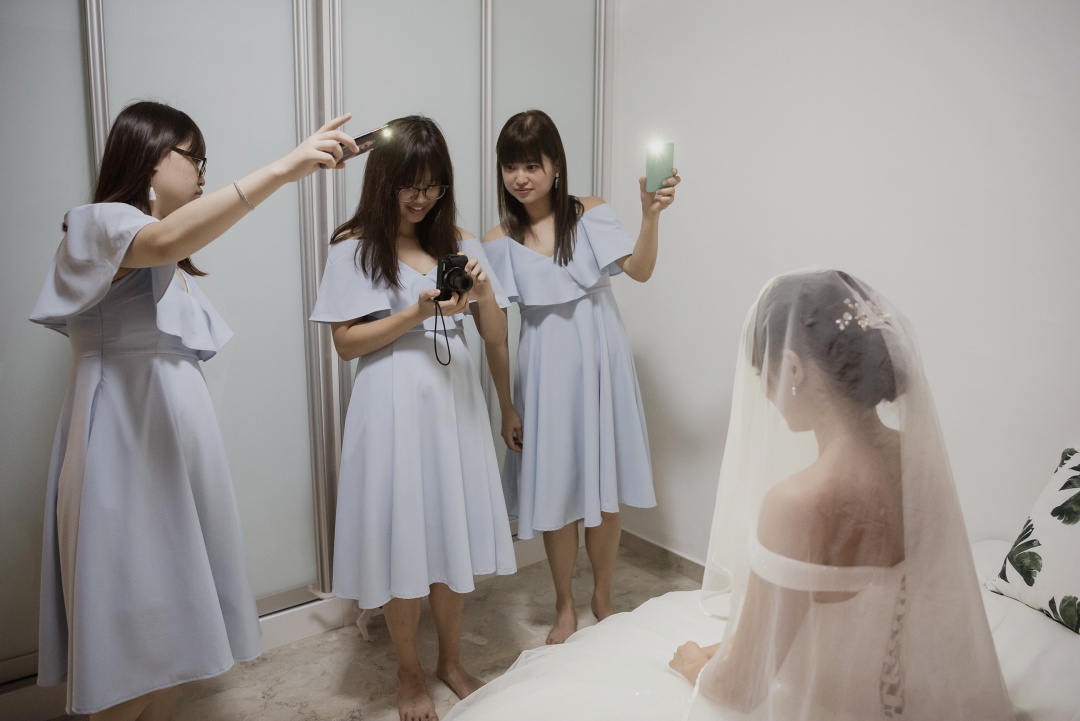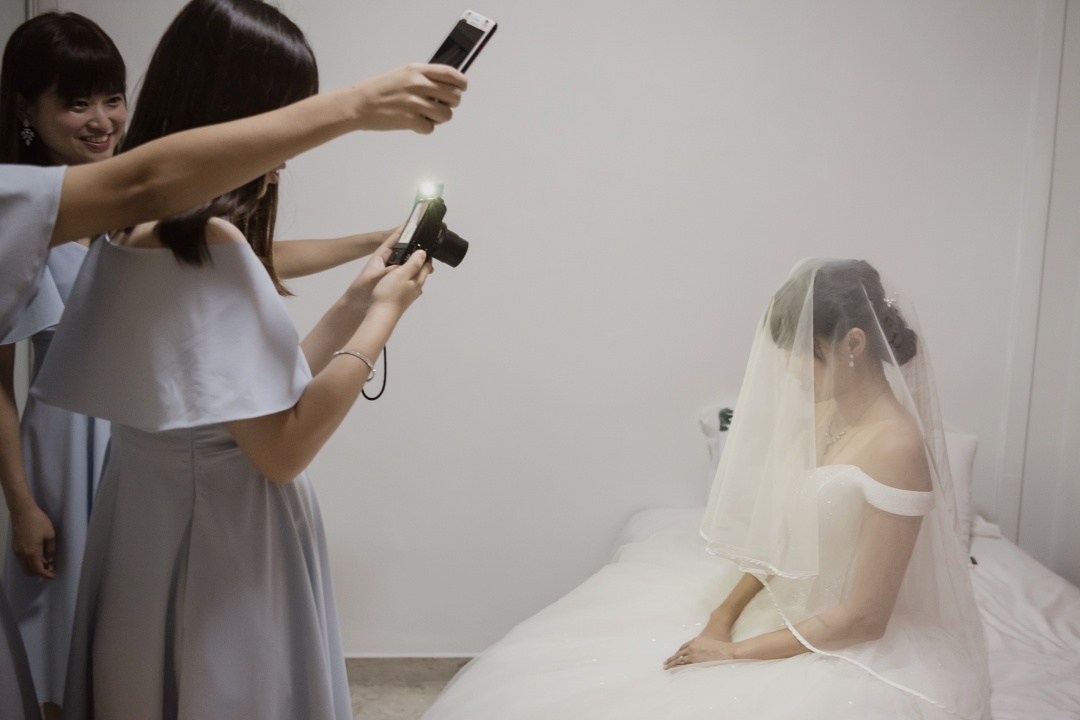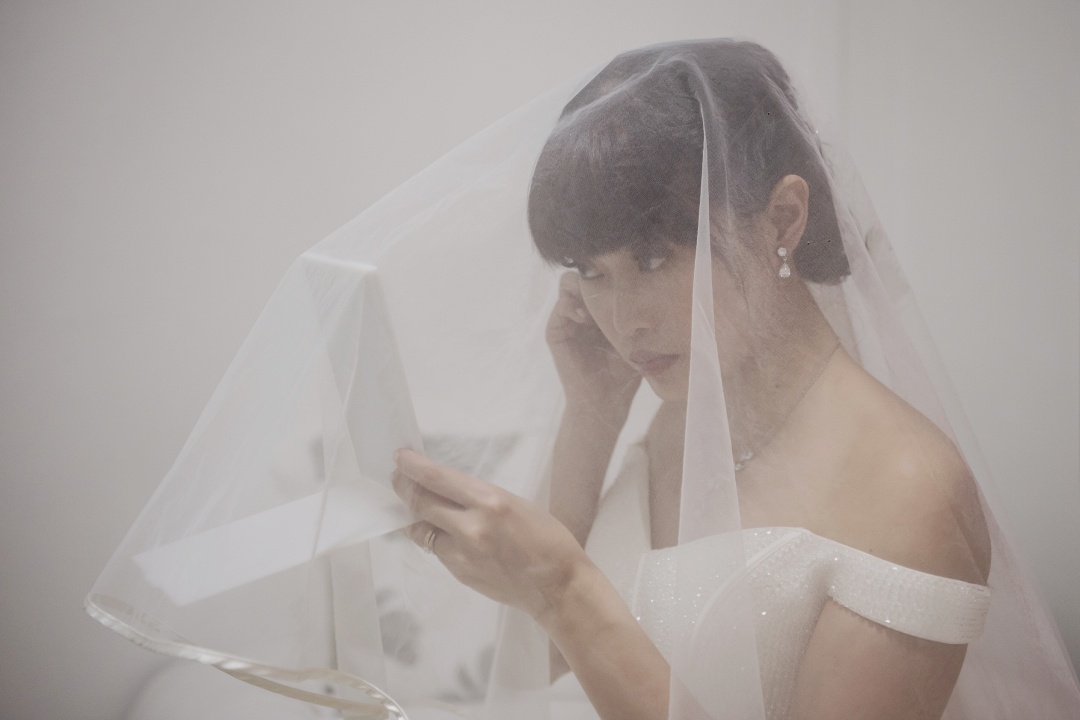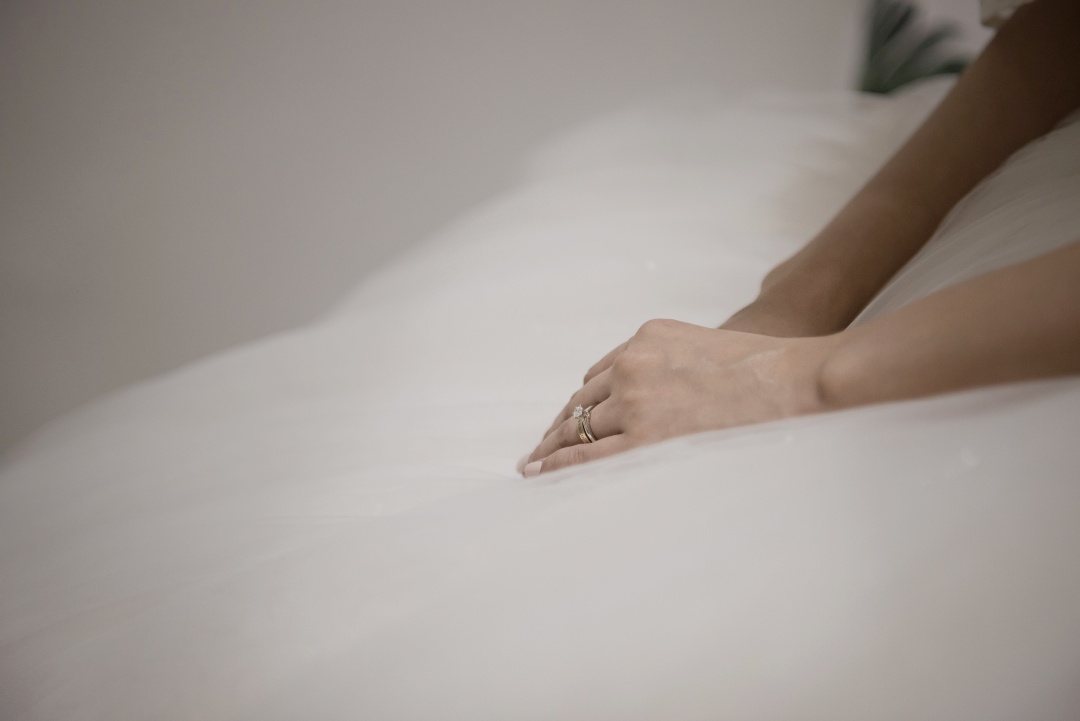 Then I'm back to my room, where I waited patiently for the Husband to arrive.
According to the plan, the Husband and groomsmen were to arrive at 07:30. When I texted the Husband at 06:45, he told me his estimated time of arrival was between 07:45 to 08:00. However, there was a major delay on his end due to an accident on the expressway.
While waiting for him, I suddenly felt sick/lightheaded. For a brief moment, I thought I wouldn't be well enough to go through the entire morning ceremony. It was a terrifying feeling since I've never expected something like this could/would happen. I suppose it had to do with the fact that I didn't sleep the night before, I didn't have breakfast, (and my dress might be a little too tight)! In the end, I had to get one sister to make me a hot drink and another sister to loosen my dress.
The PG/VG's assistant was initially waiting in the room with me for the arrival of the groom. (By then, both Petrina and Leon (videographer) had already gone downstairs to wait for the arrival of the bridal car.) Ended up, he had to leave the room so that I could properly rest. Thankfully, I felt much better afterwards. God knows how it would be like if I really fell too sick to continue with my day.
The Husband and groomsmen finally arrived at close to 09:00. 1.5 hours later than plan.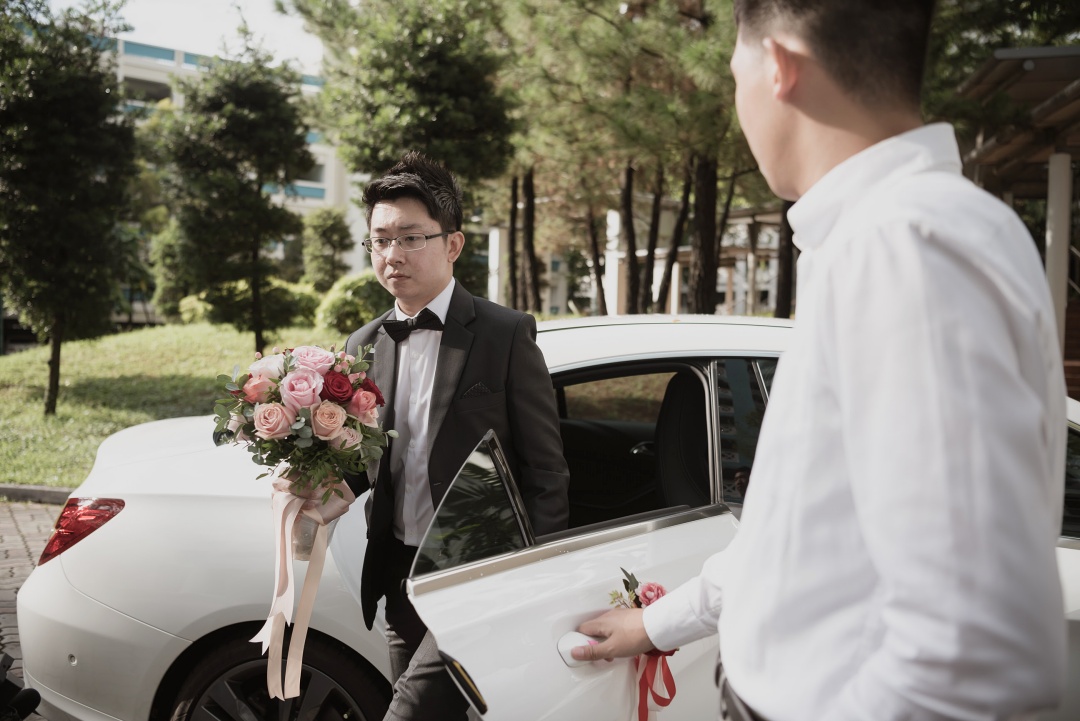 Tradition has it that the groom must wait in the car for a younger male member of the bride's family to open the bridal car door. Initially, I did consider getting my nephew to do it. But on second thought I didn't want him to skip school for that, so I decided to do away with it.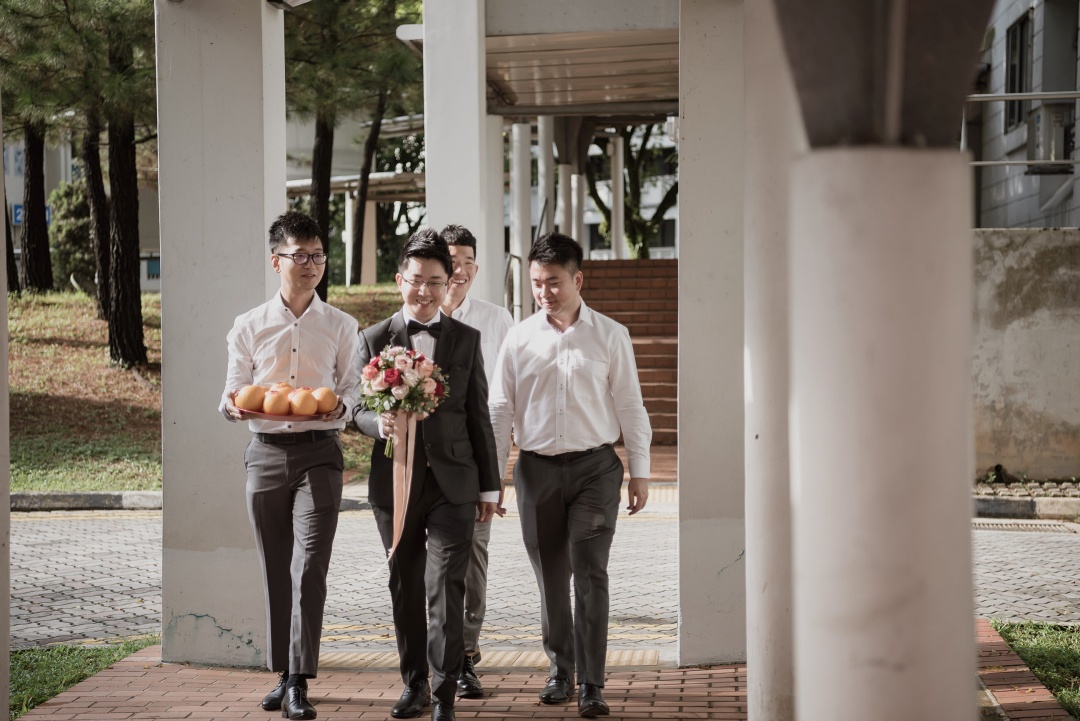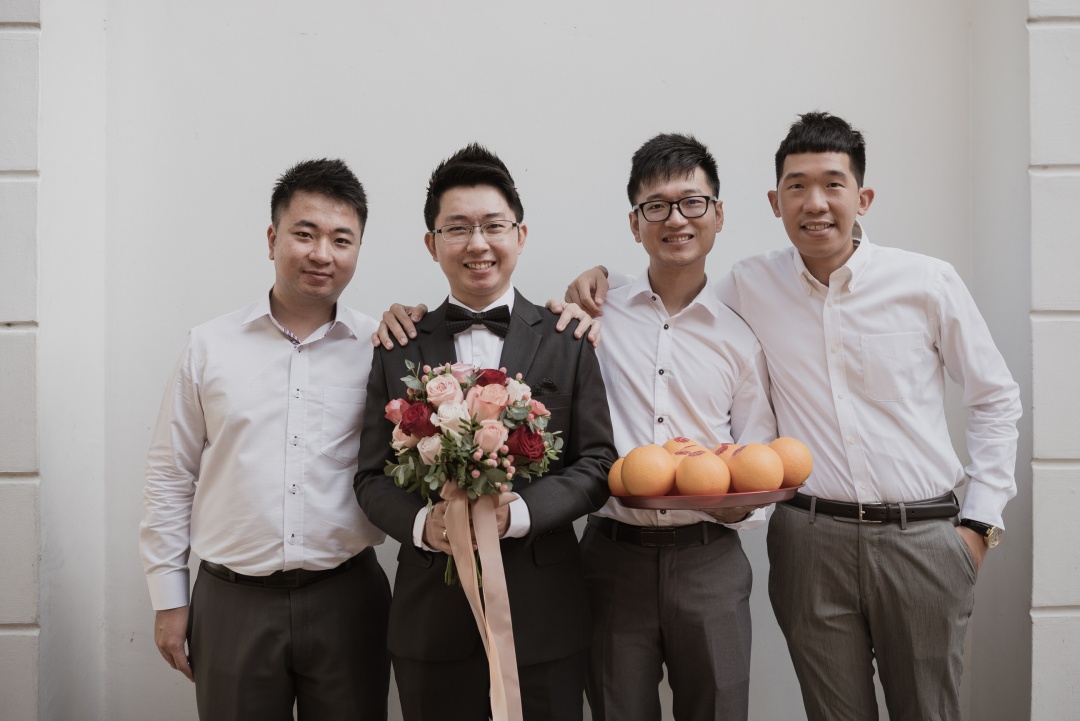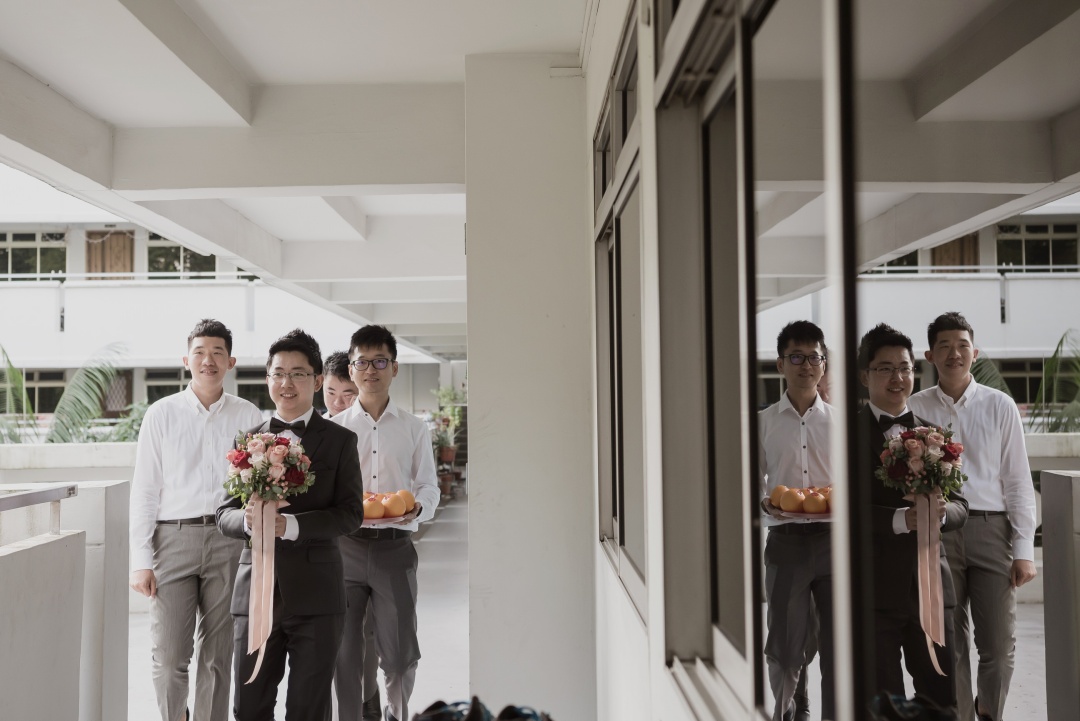 All along, I knew I never wanted to have any games/gate crash on my wedding day. I didn't like the idea of having the groom and groomsmen to sweat, eat spicy food, and go through different "obstacles", just to get through the door. As such, we didn't have those "fun games" that morning.
The Husband was, no doubt, pleased about that. However, I don't think he truly believes me. The night before, he was telling me that he didn't prepare any hong baos for the bridesmaids and reconfirmed with me that there will be no gate crash. I guess he was worried that I would pull some stunts and surprised him with a gate crash.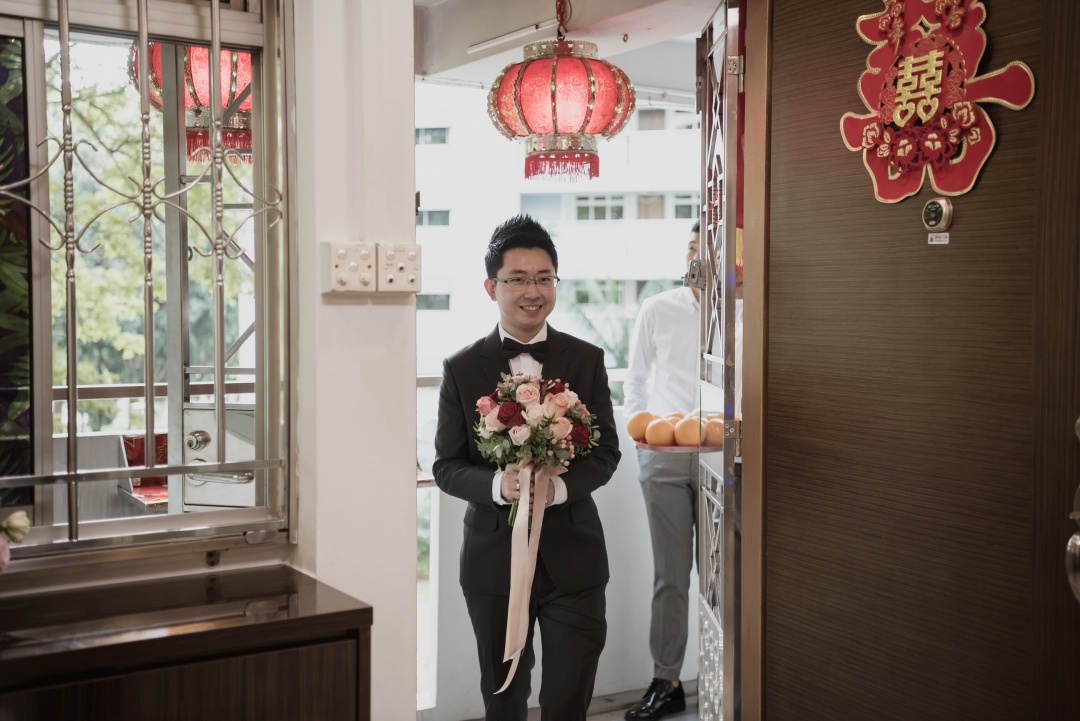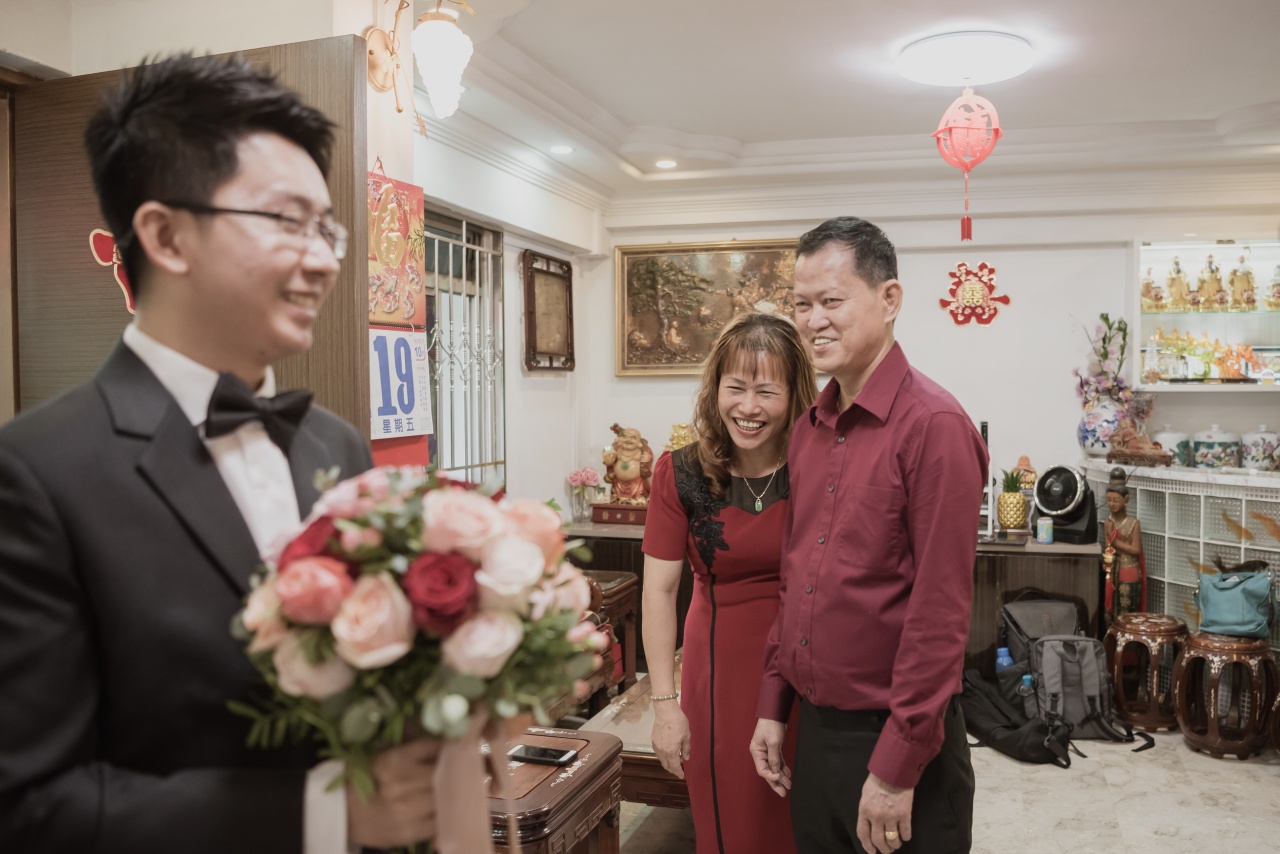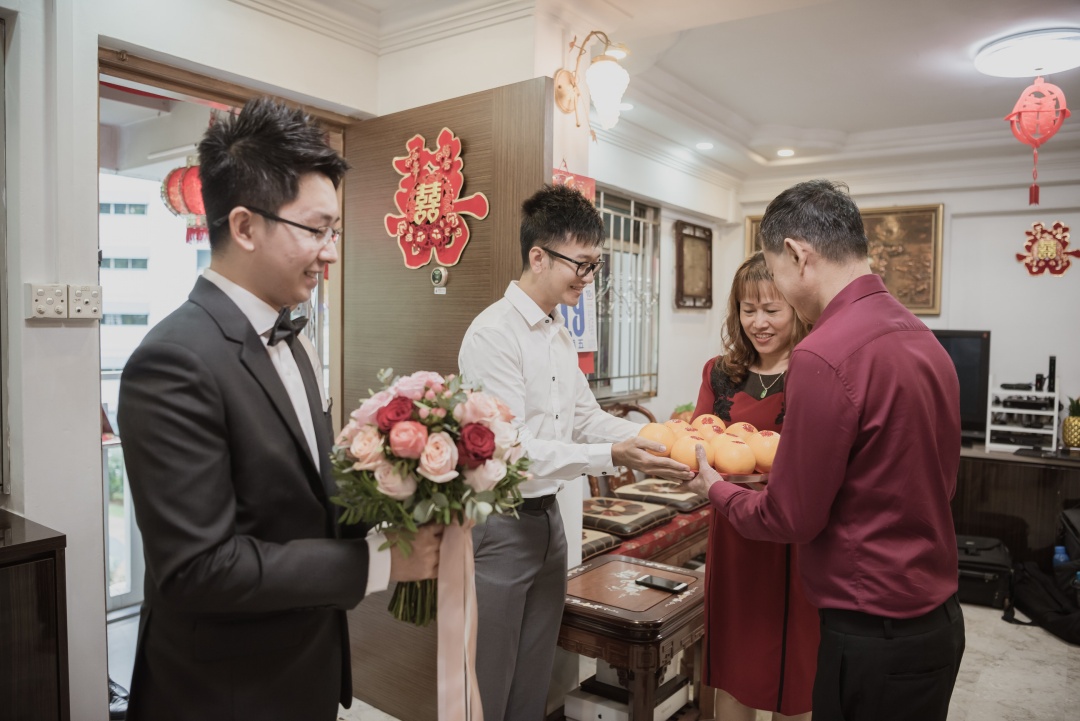 Giving the mandarin oranges to my parents. We do away with the pig trotters since we already had that for our Betrothal Gift Exchange.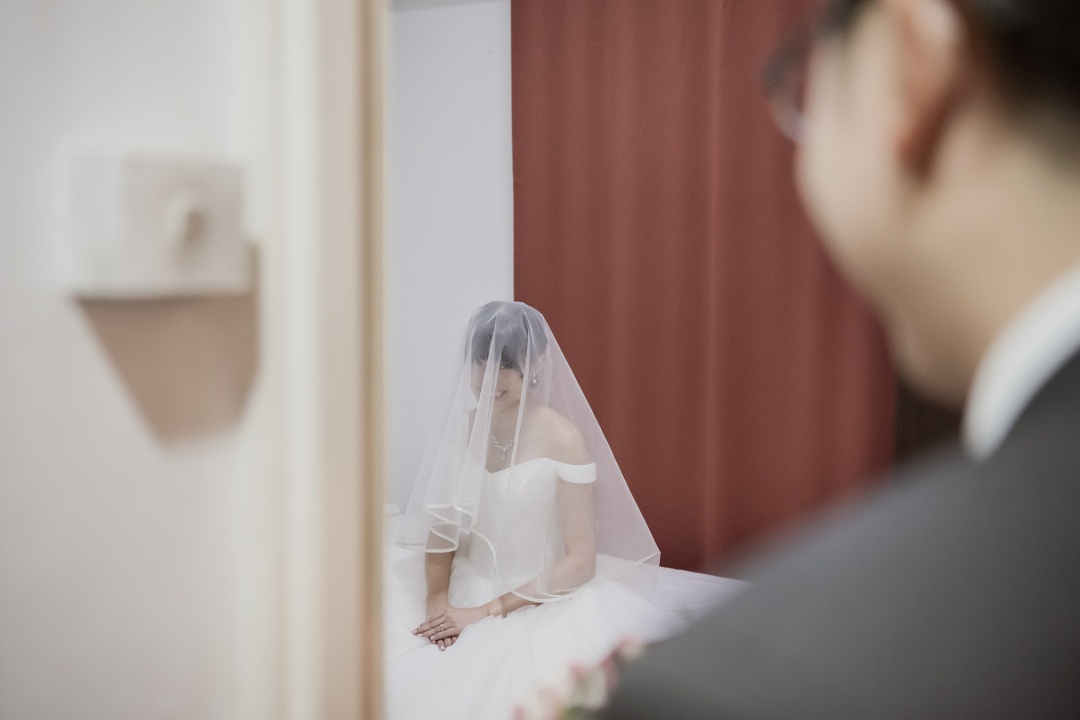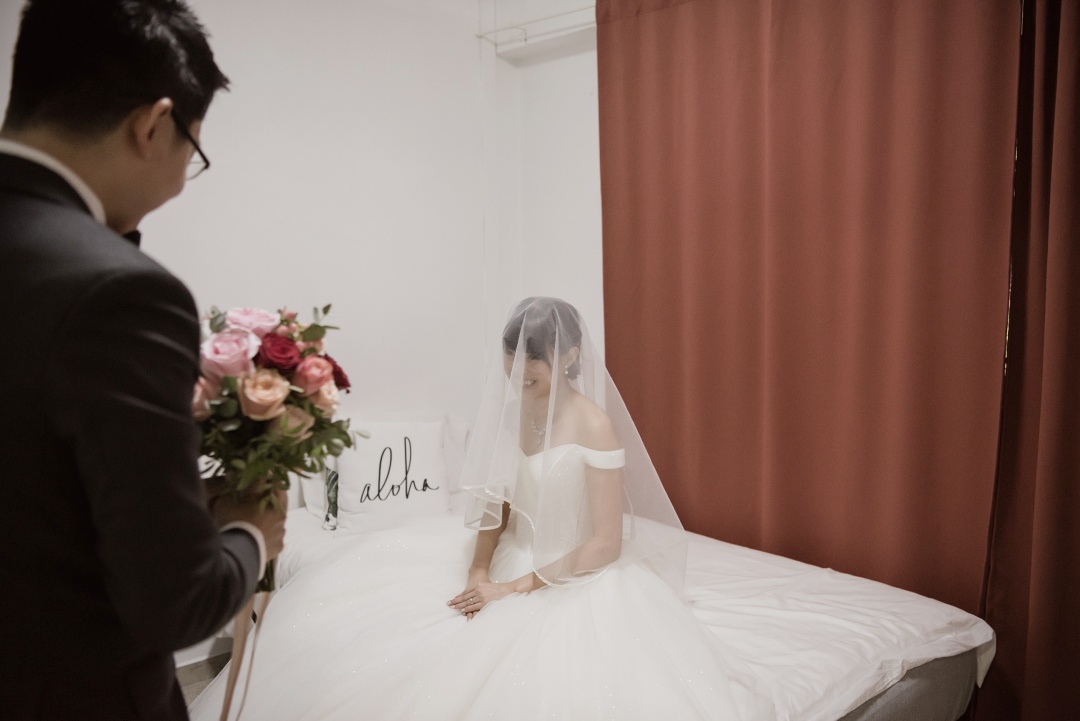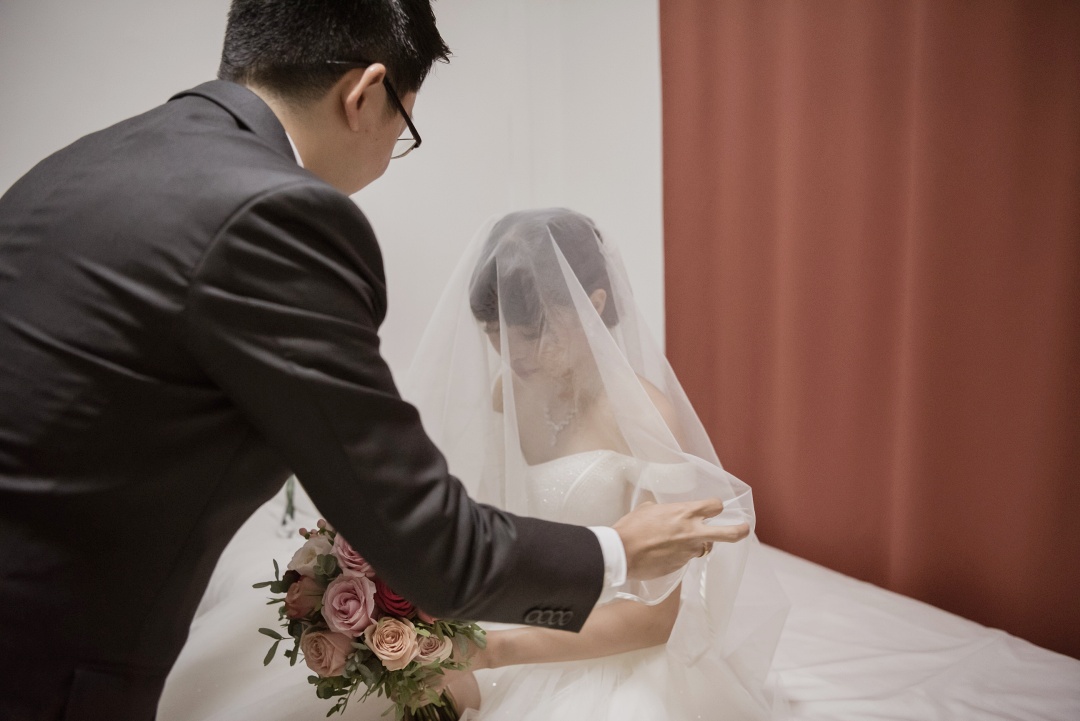 I teared up the moment I saw him entering.
Perhaps because I was feeling under the weather while waiting for him, so it was a huge relief when I finally saw him walking in. But mostly, I think it was the flashbacks from the past eleven years that made me cry.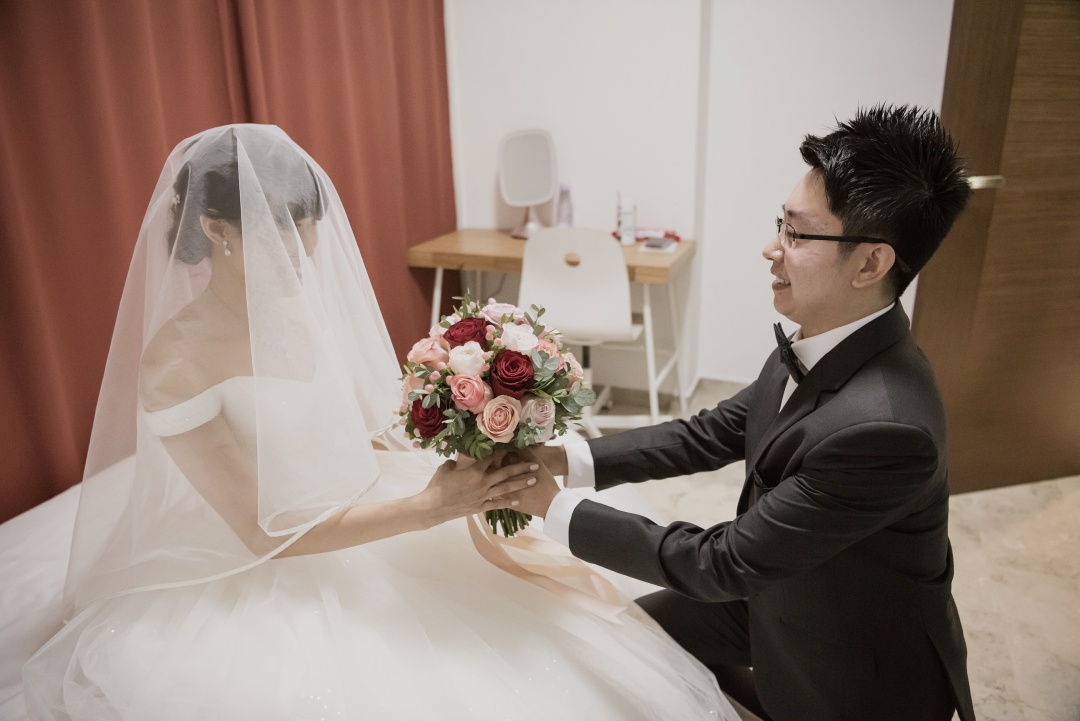 Bridal bouquet from O'hara Weddings.
The Husband actually sent me a picture of the bouquet the night before and got a scolding from me. I wanted to see it on my wedding day and not before my wedding day. But what done is done. Even when he deleted the photo, I have still already seen it.
Anyway, I'm so glad the flowers turned out exactly as I requested!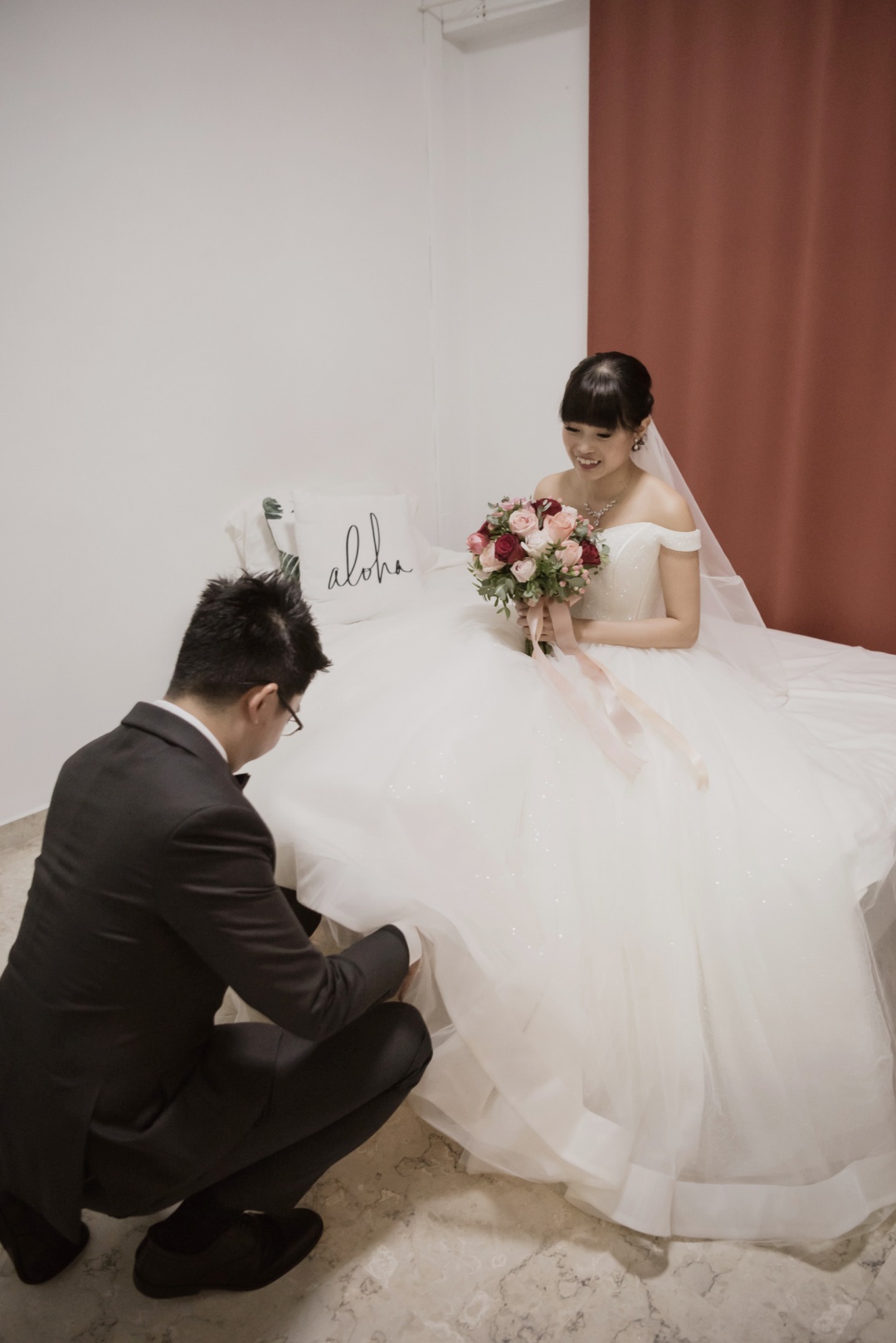 My Cinderella moment.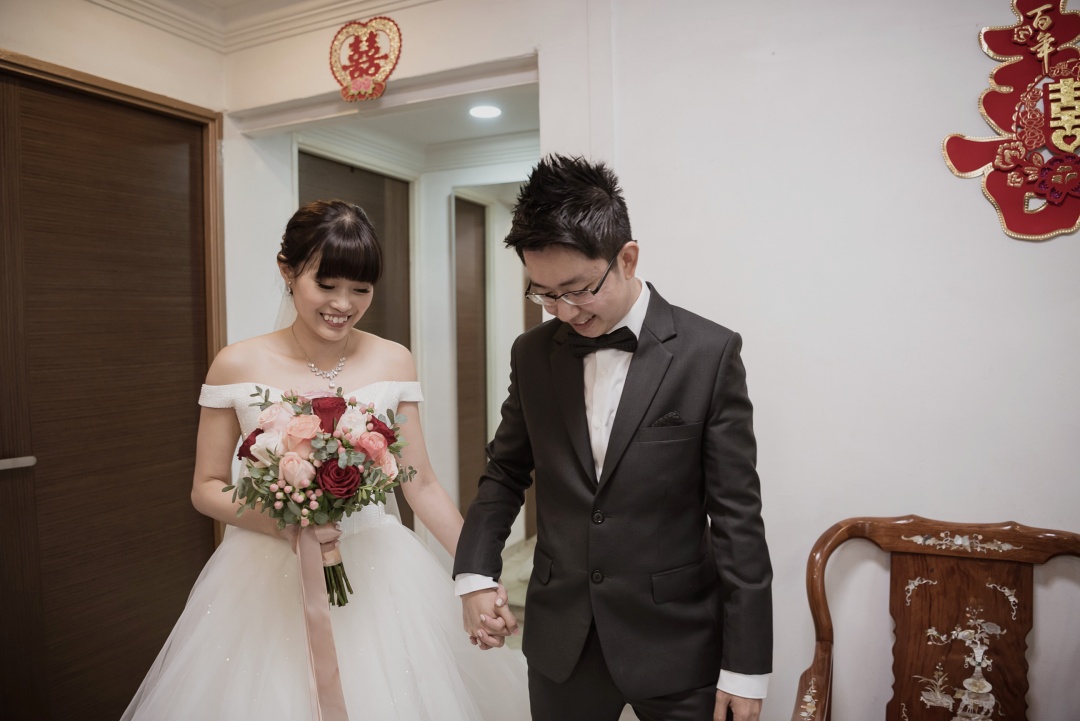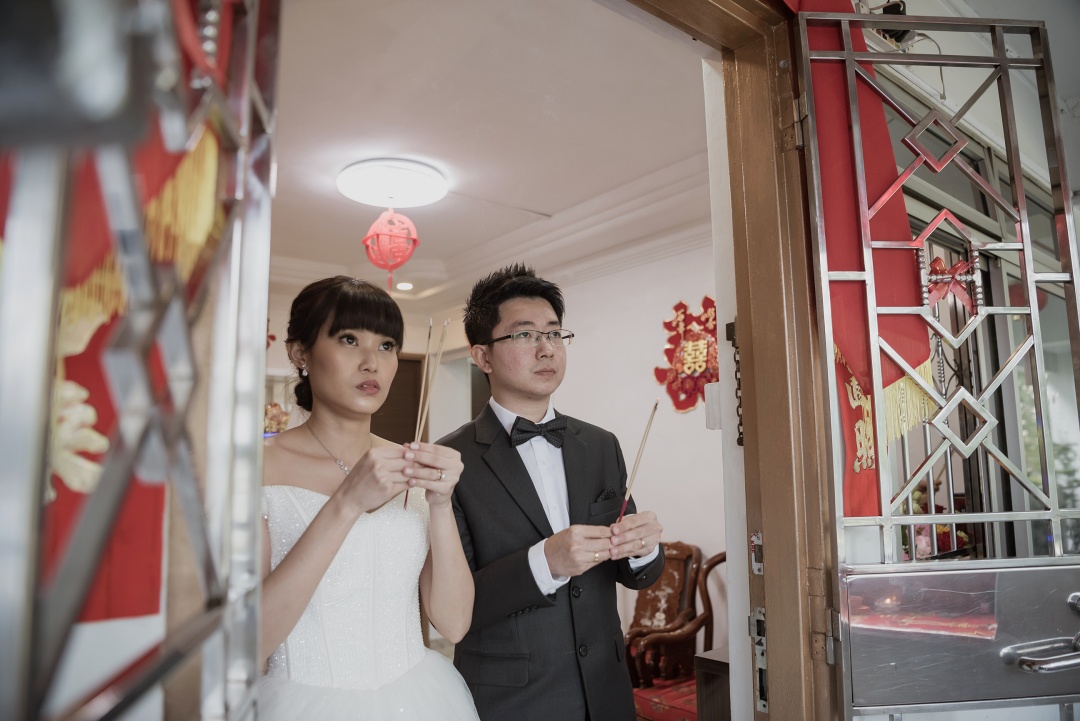 Coming out from my room, we then proceed to pray to heaven and earth, as well as my ancestors.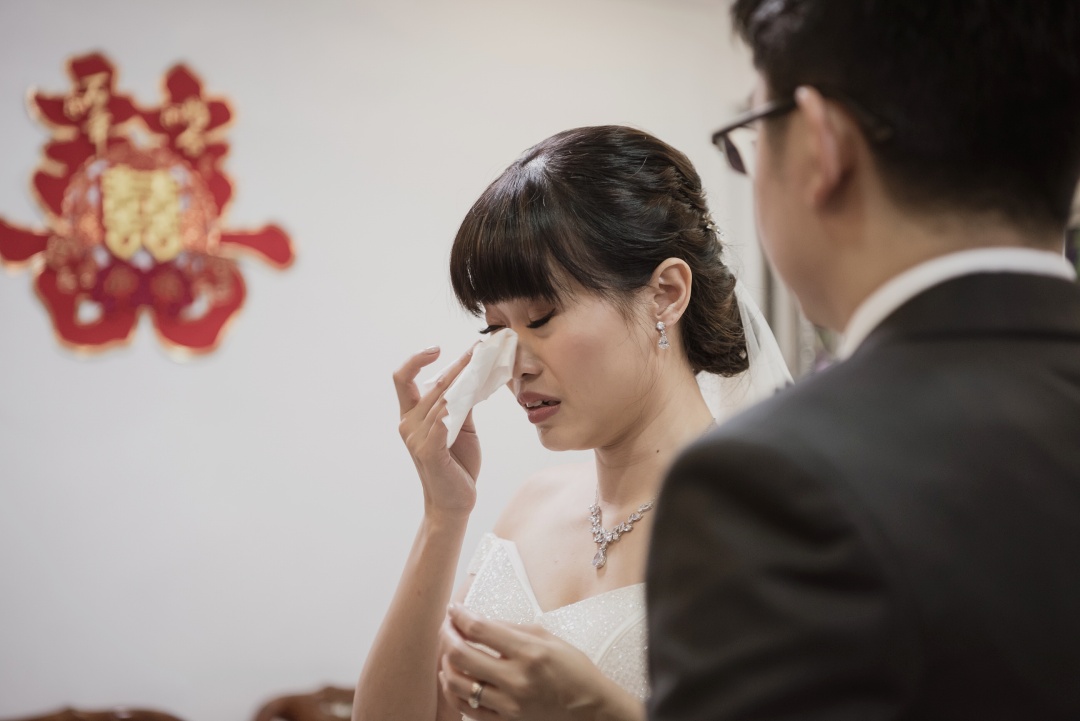 The second time I cried was right when I was praying to my grandparents and uncle. I broke into tears the moment I thought of my uncle. The fact that he couldn't be there physically at my wedding was just heart-wrenching, and my tears just streamed down uncontrollably.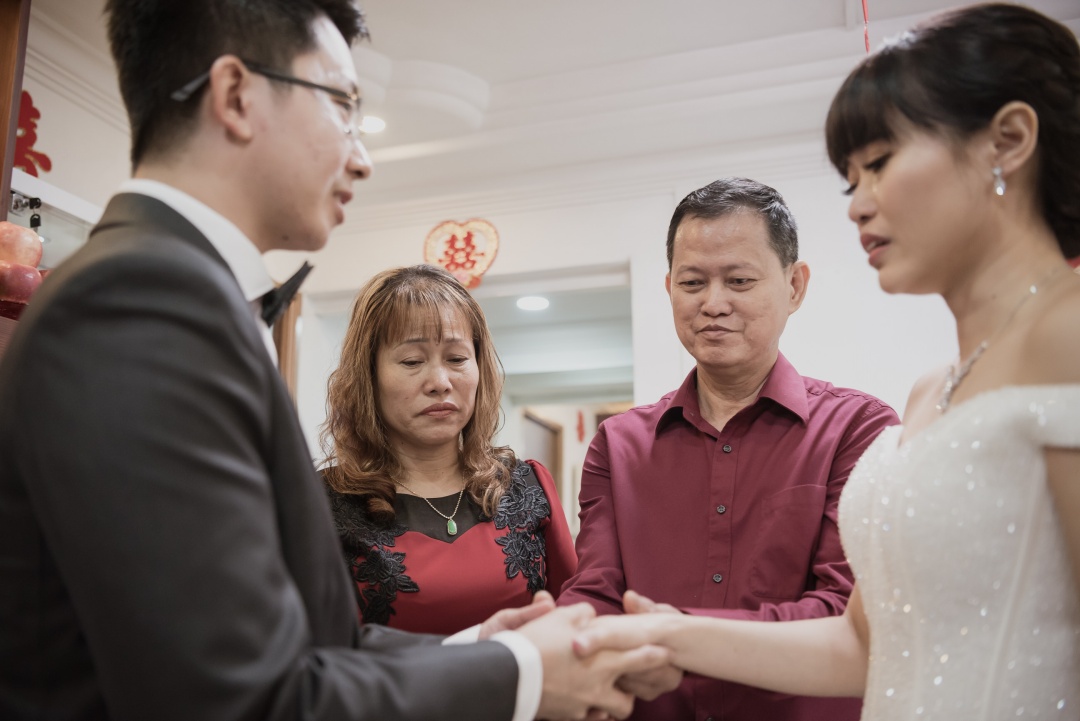 Shortly after, I teared up again for the third time when my parents passed my hands over to the Husband. I thanked my parents for raising me, and I remember my dad telling me "脾气要改". I was feeling sad; knowing that after that day, I would be leaving the house I grew up in. Is like I've suddenly grown up overnight and is now being married off.
The truth is, I didn't felt this strongly during my solemnisation. Because perhaps back then, I knew I would still be staying with my parents until our house is ready. And now that the house is ready, it's time for me to move out.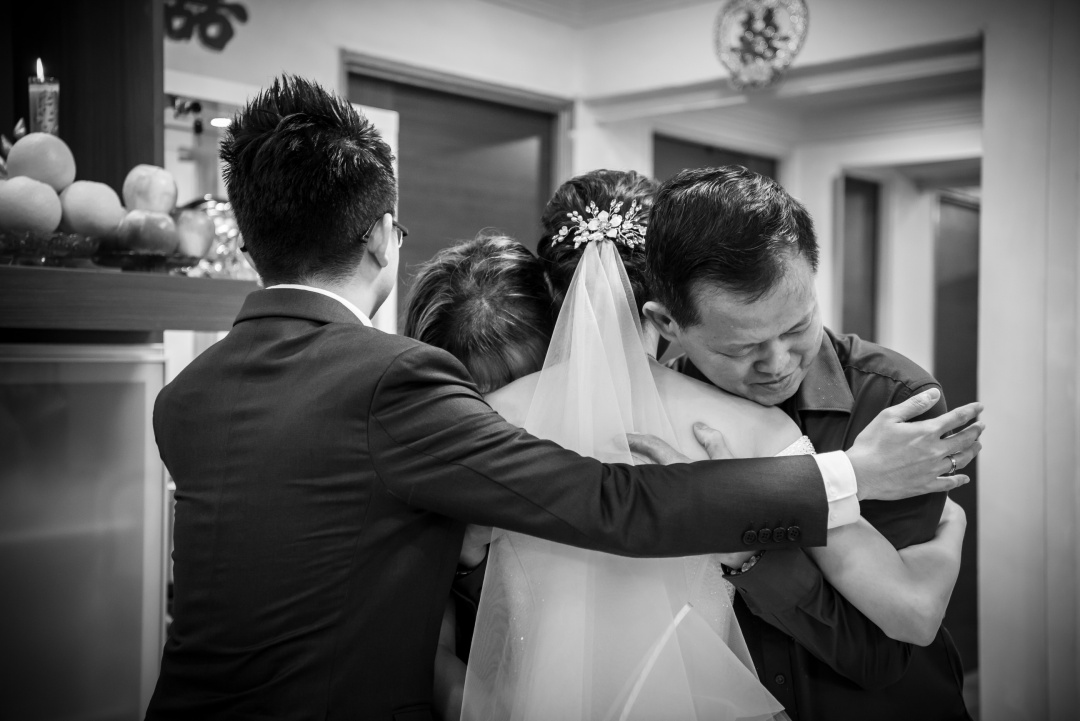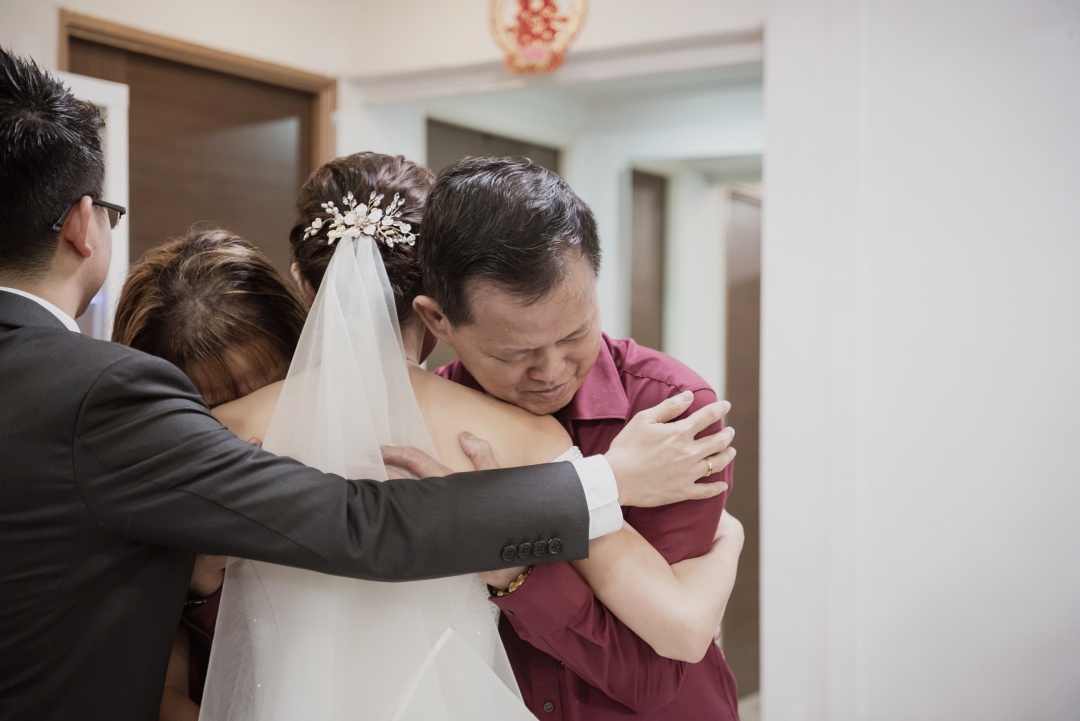 酸,甜,苦,辣.
While we did do away with the gate crashing, one thing I insist on is to do 酸甜苦辣! I wanted to have that because I like the meaning of it and what it signified. And I was prepared to do it together with the Husband as I believe this is what a couple (not just the Husband) had to go through.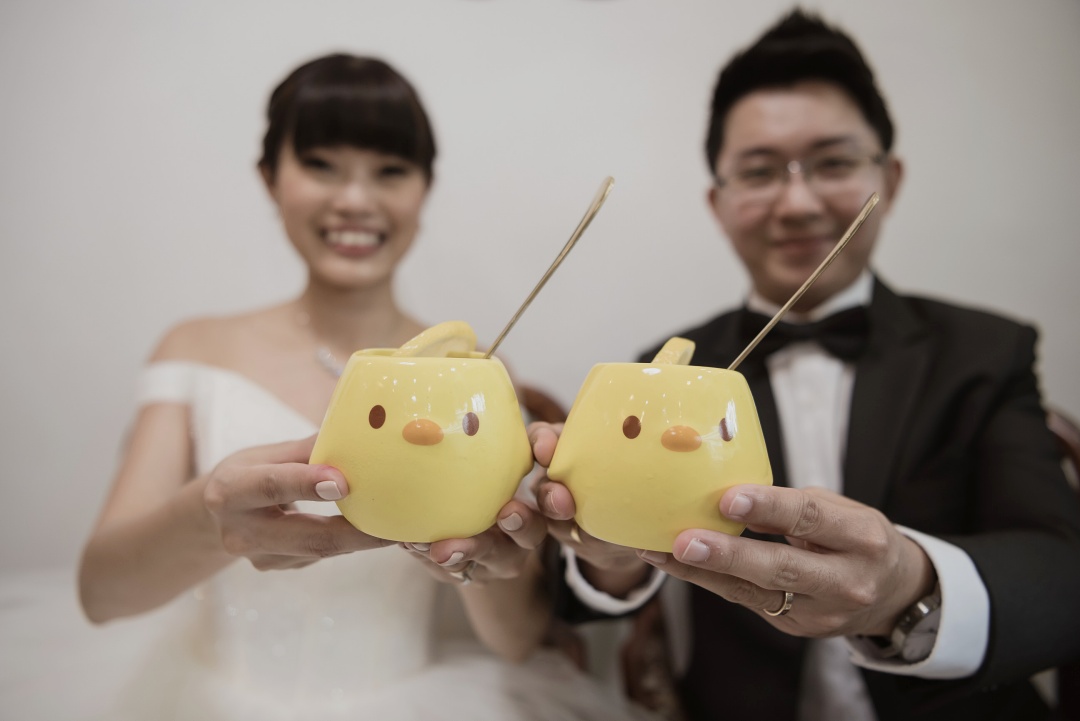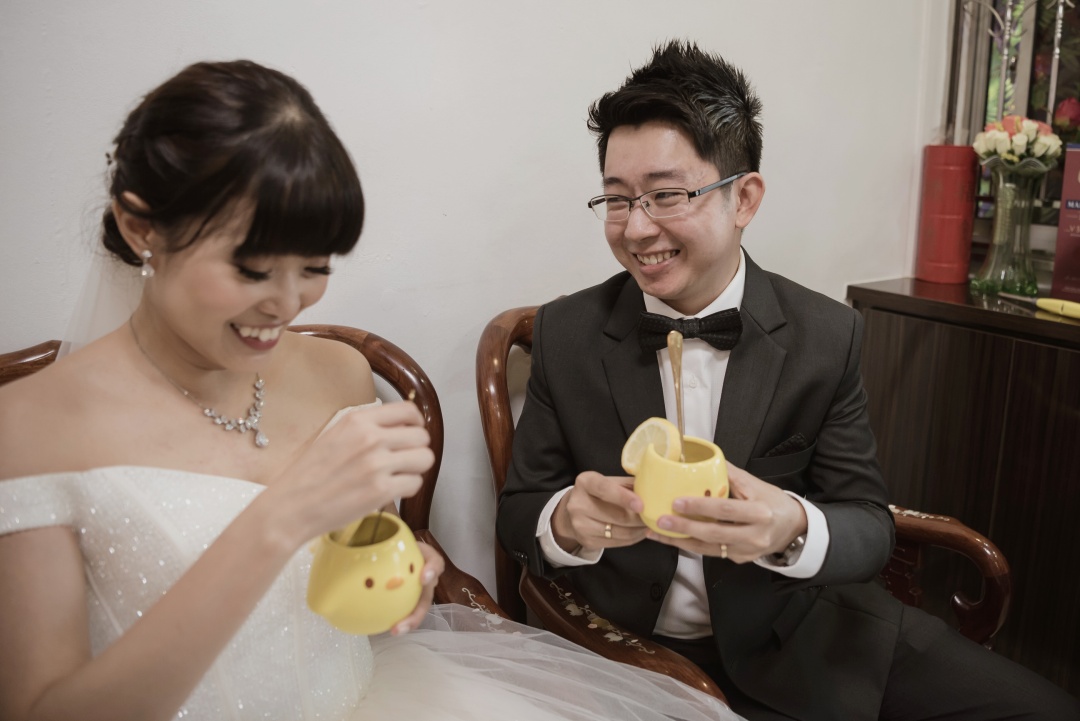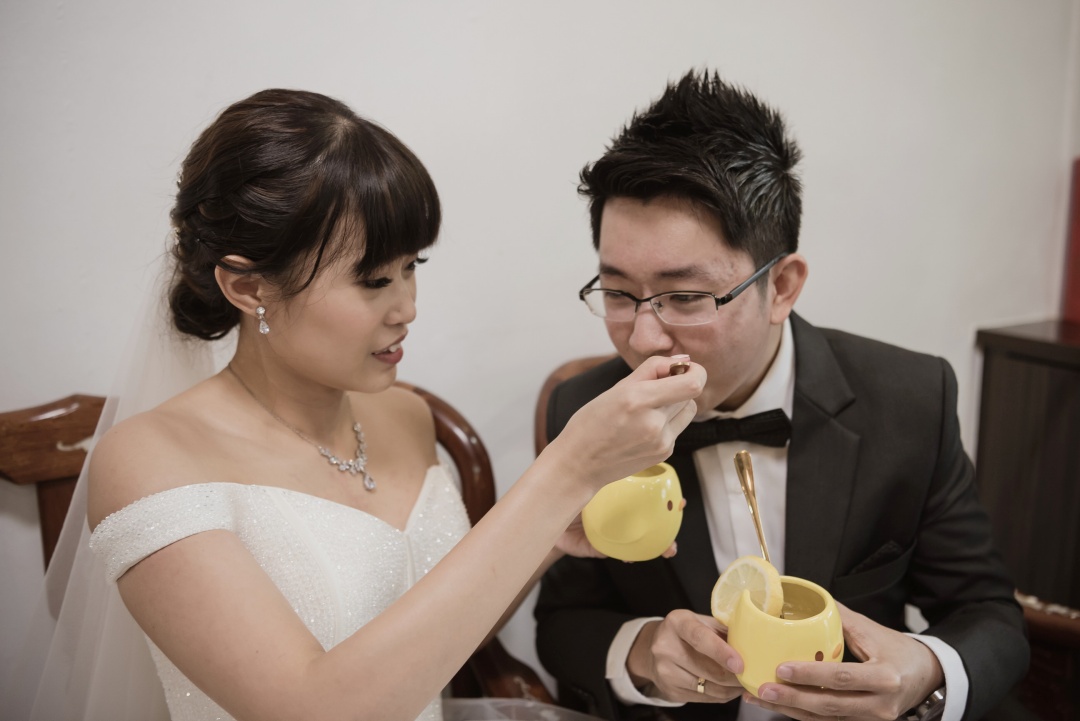 For 酸 (sour), we had lemon water with aloe vera.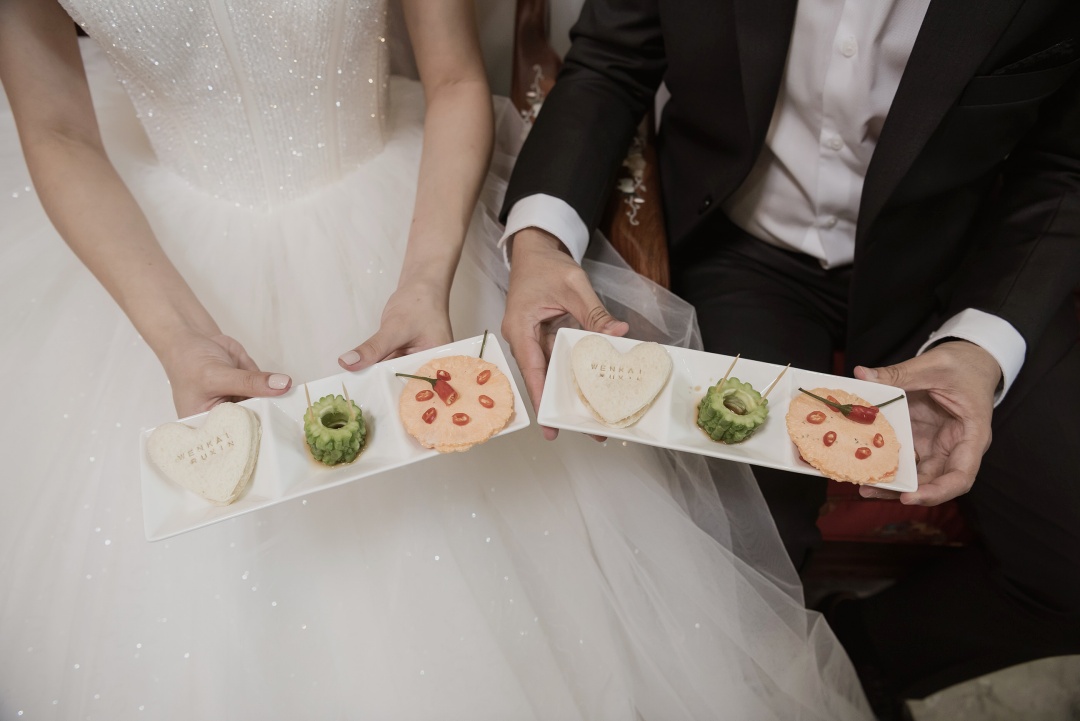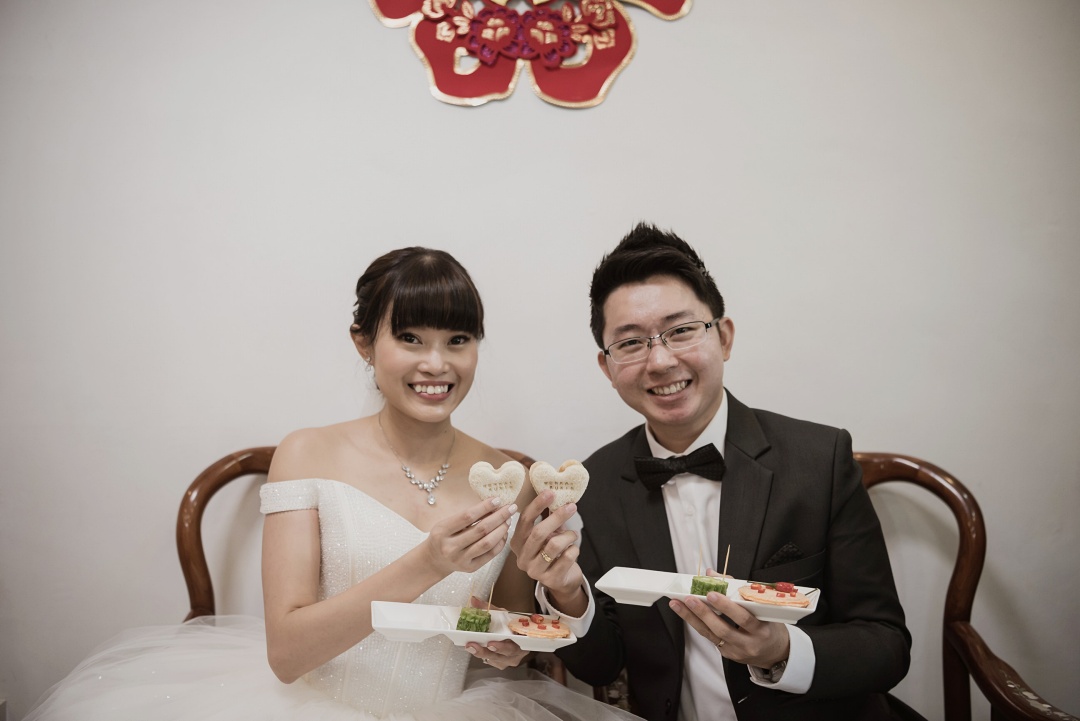 And for 甜 (sweet), we had bread with brown sugar and maple syrup. So cute that my sister made us heart-shaped bread with our names on it.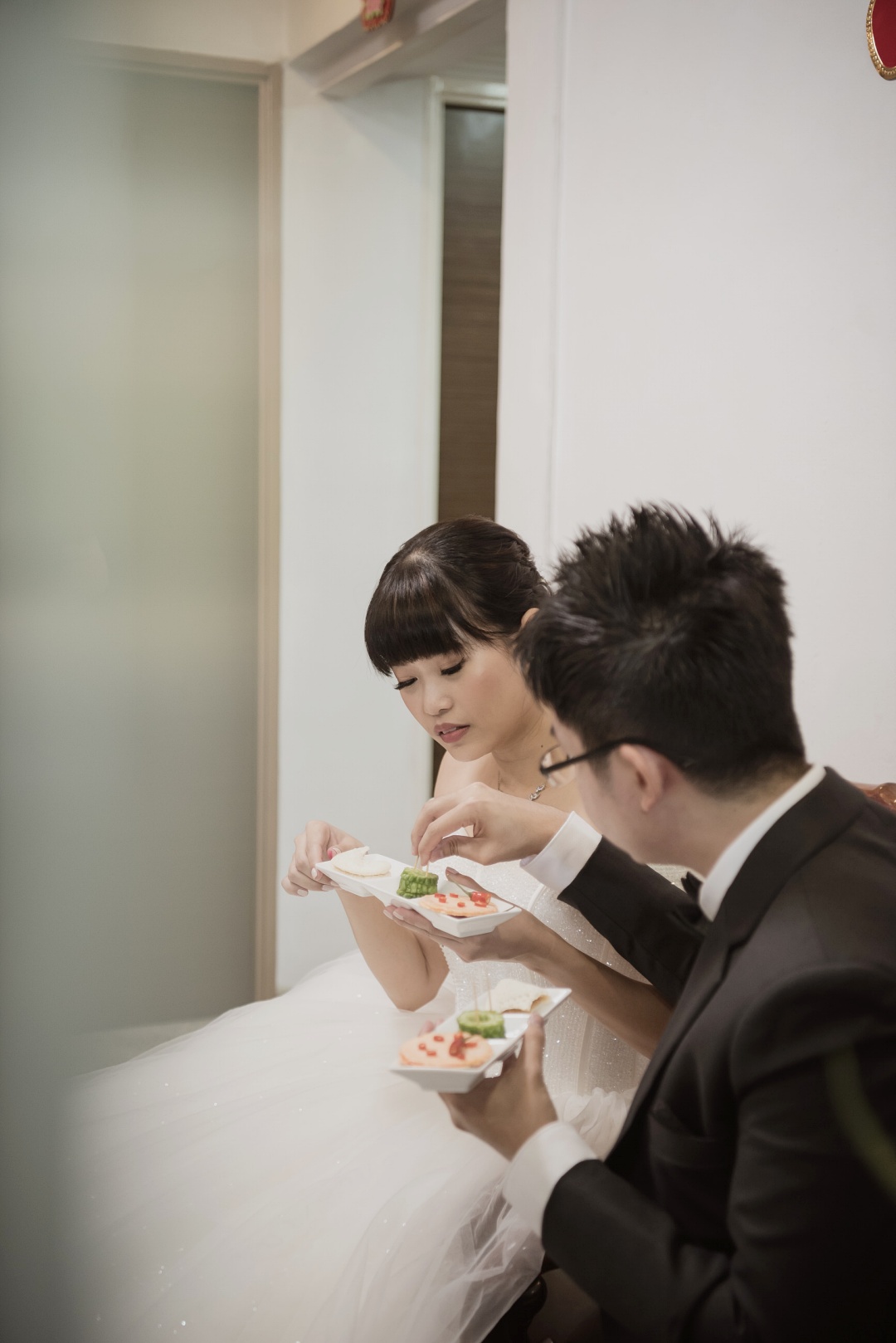 When it comes to 苦 (bitter), my sister prepared three slices of bitter gourd for each of us.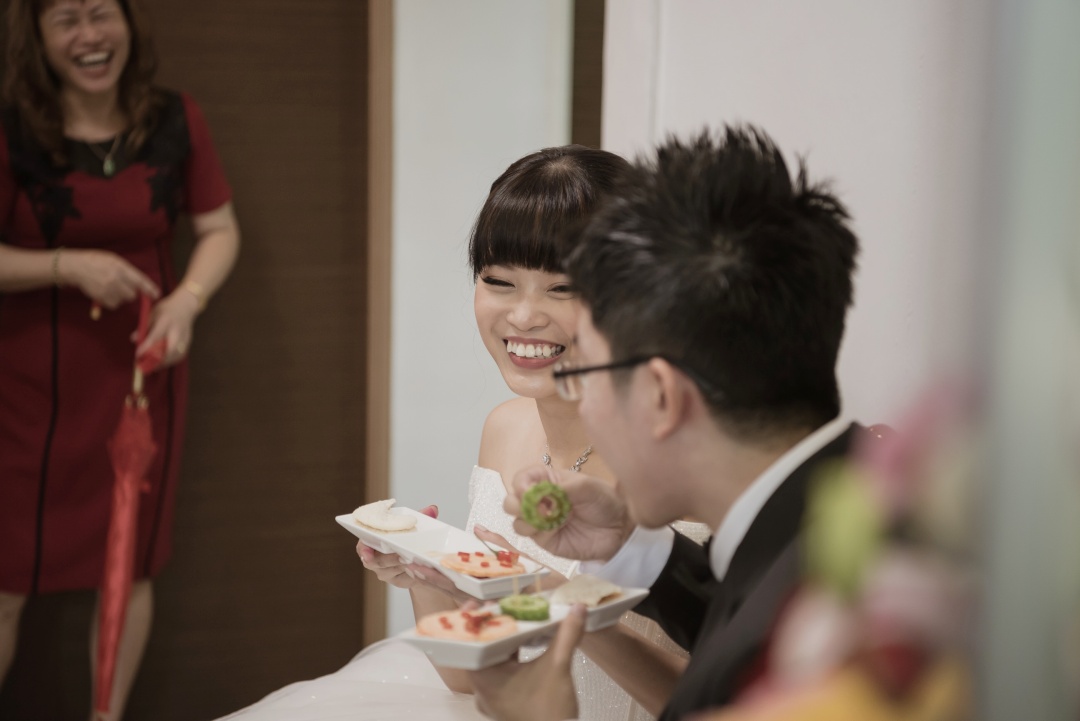 We didn't plan this, but the Husband straight away took away the bitter gourd on my plate and stuffed the entire piece into his mouth. But not before saying he's going to take (eat) away all the bitterness for me.
That was very sweet of him.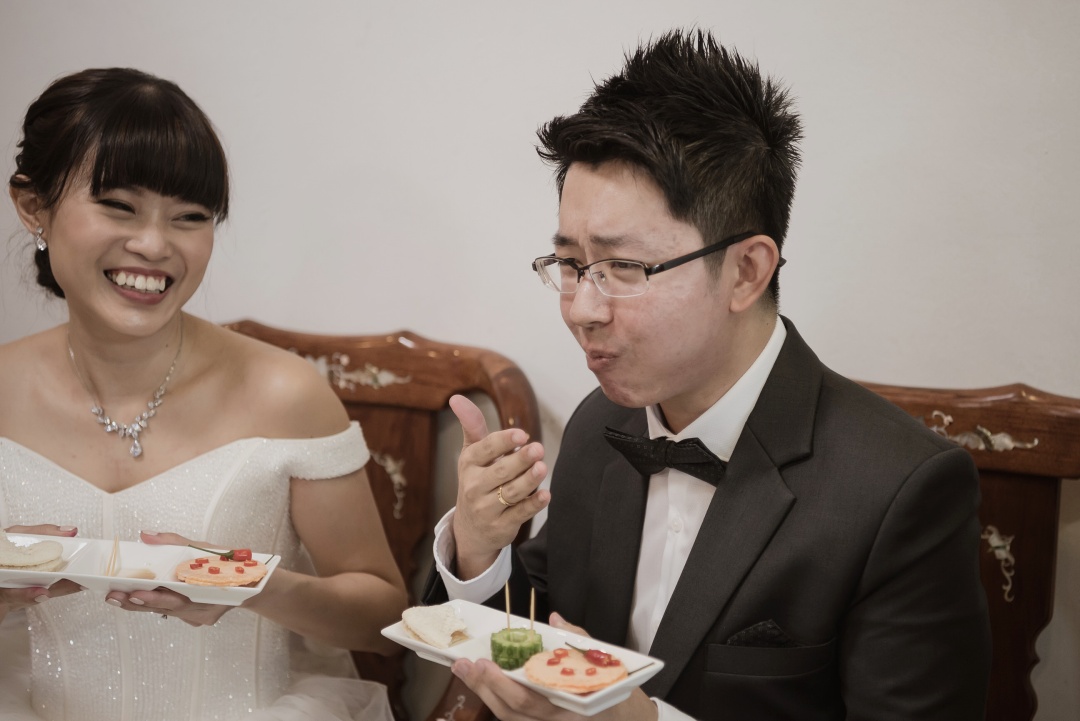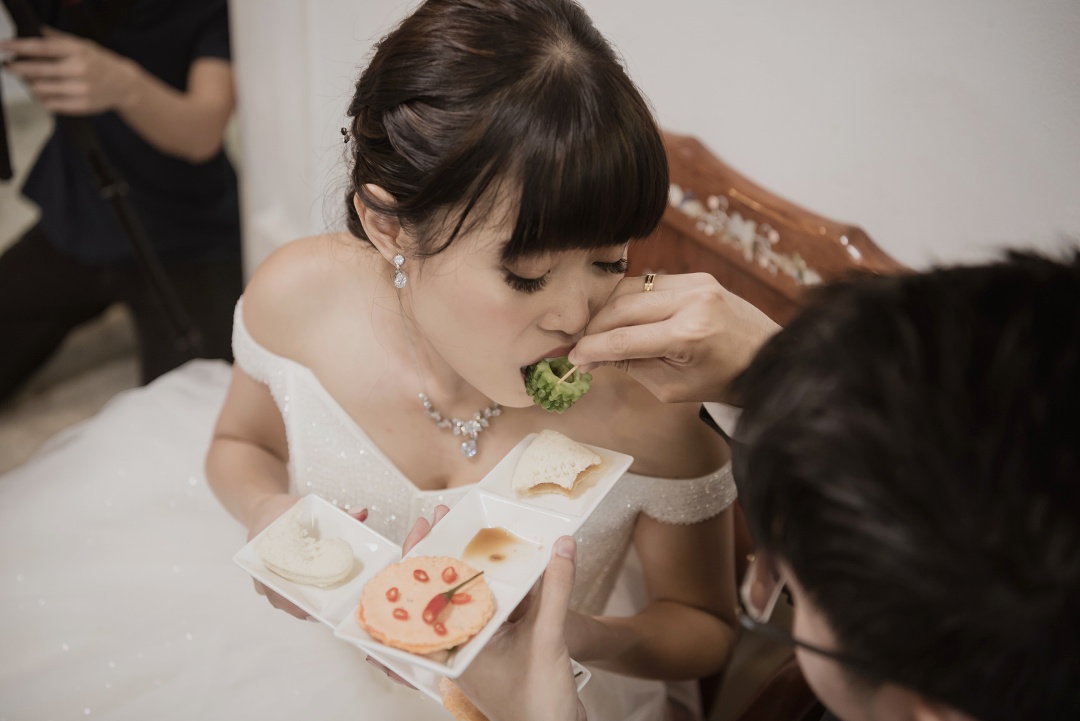 I did take a bite after that and he finished the rest of them.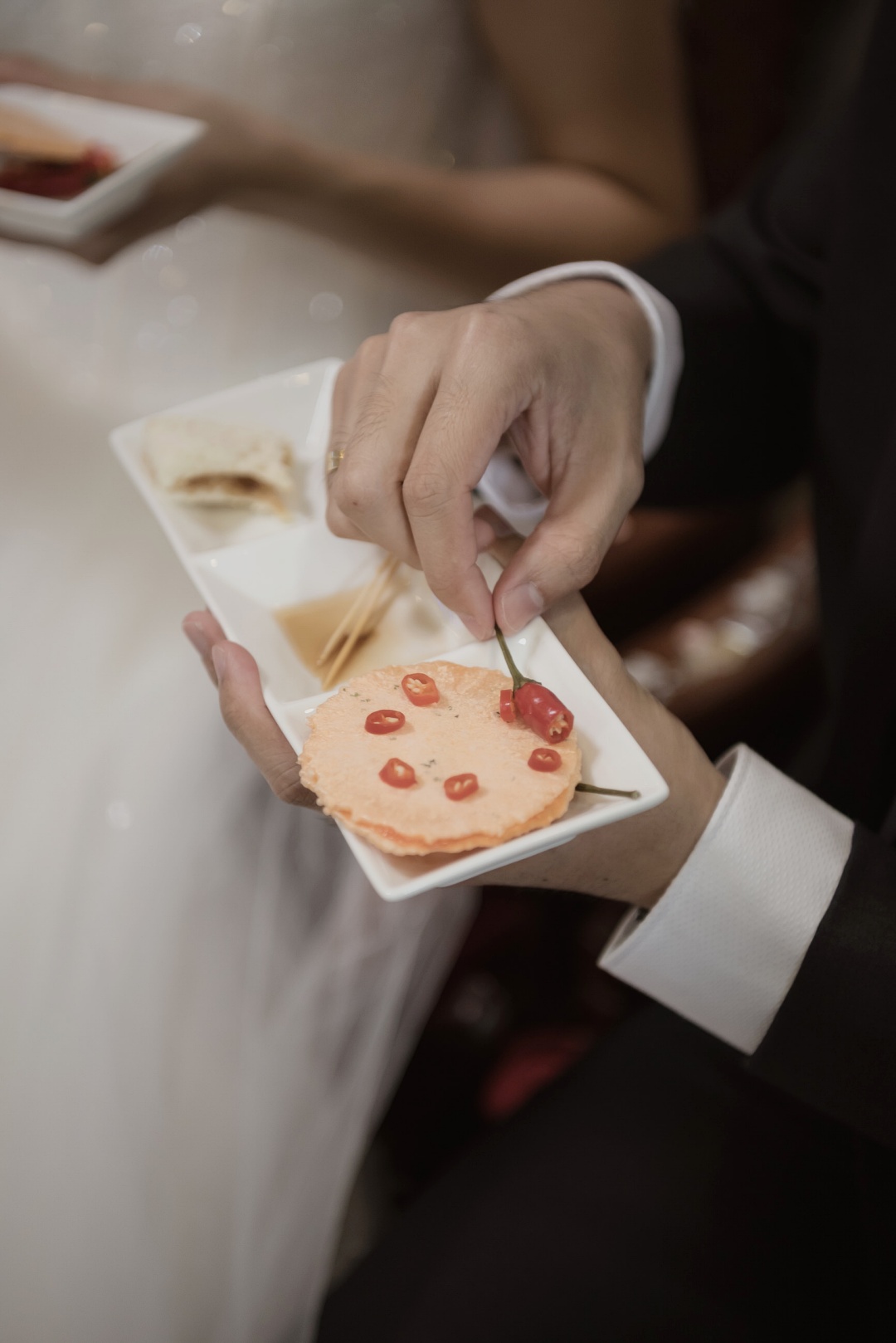 Lastly, for 辣 (spicy), we had crackers with garlic chilli sauce. My sister made it really easy for the Husband who doesn't take spicy! I think it's also good this way. At least his face doesn't turn red from the spiciness.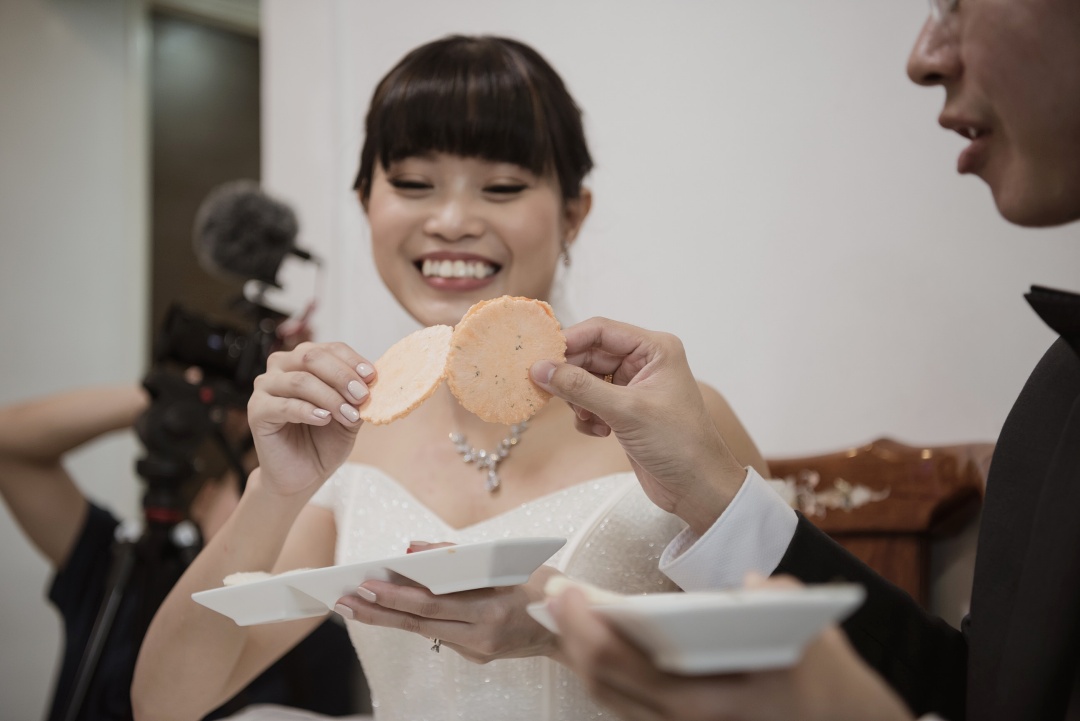 Cheers!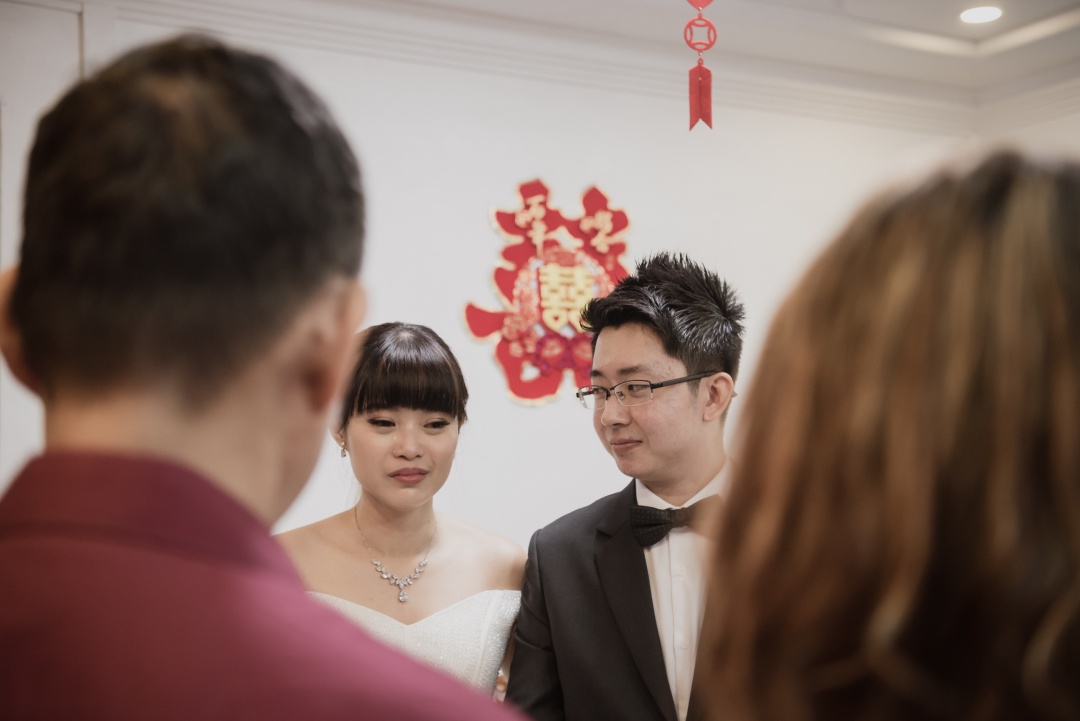 And the fourth time I cried was right before we left the house.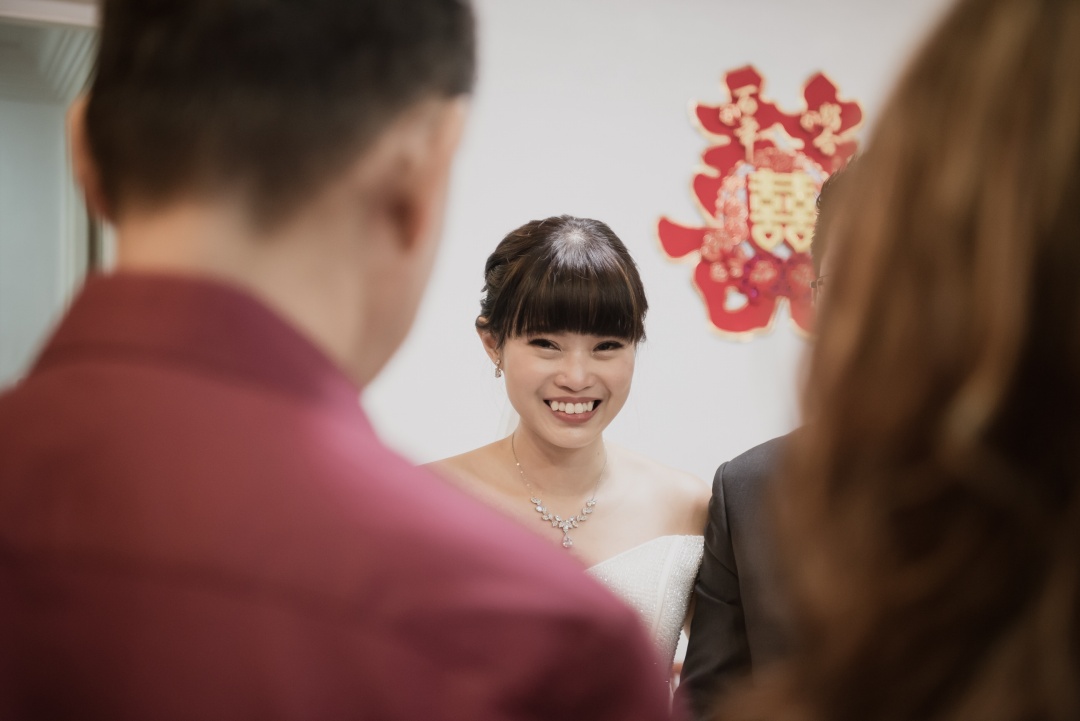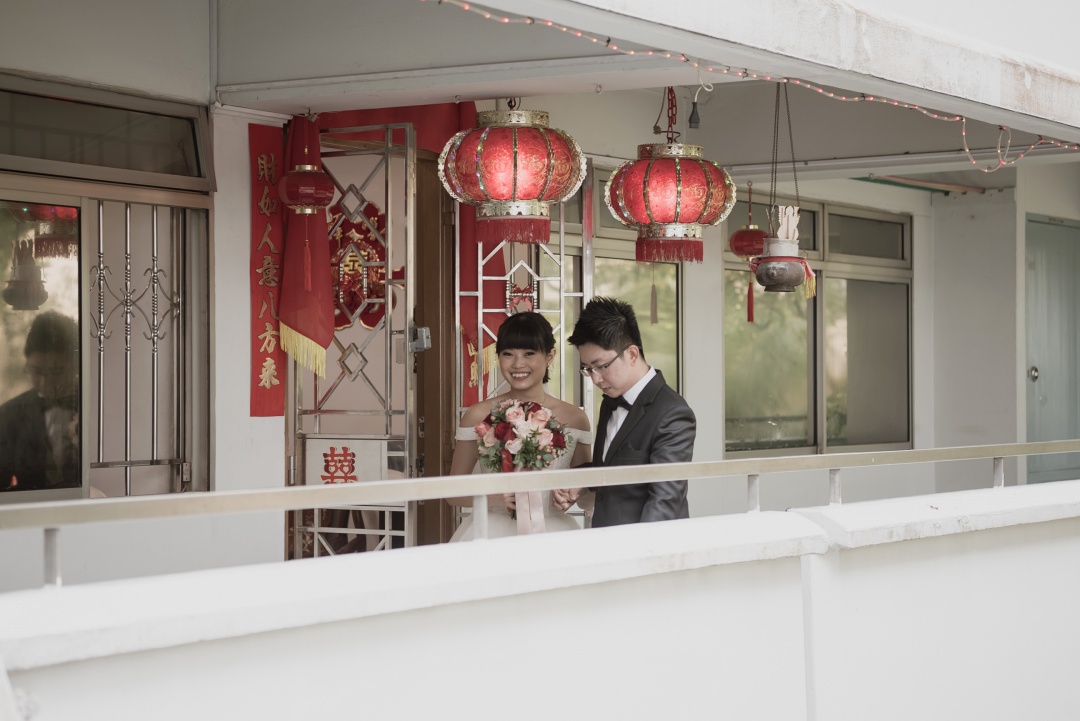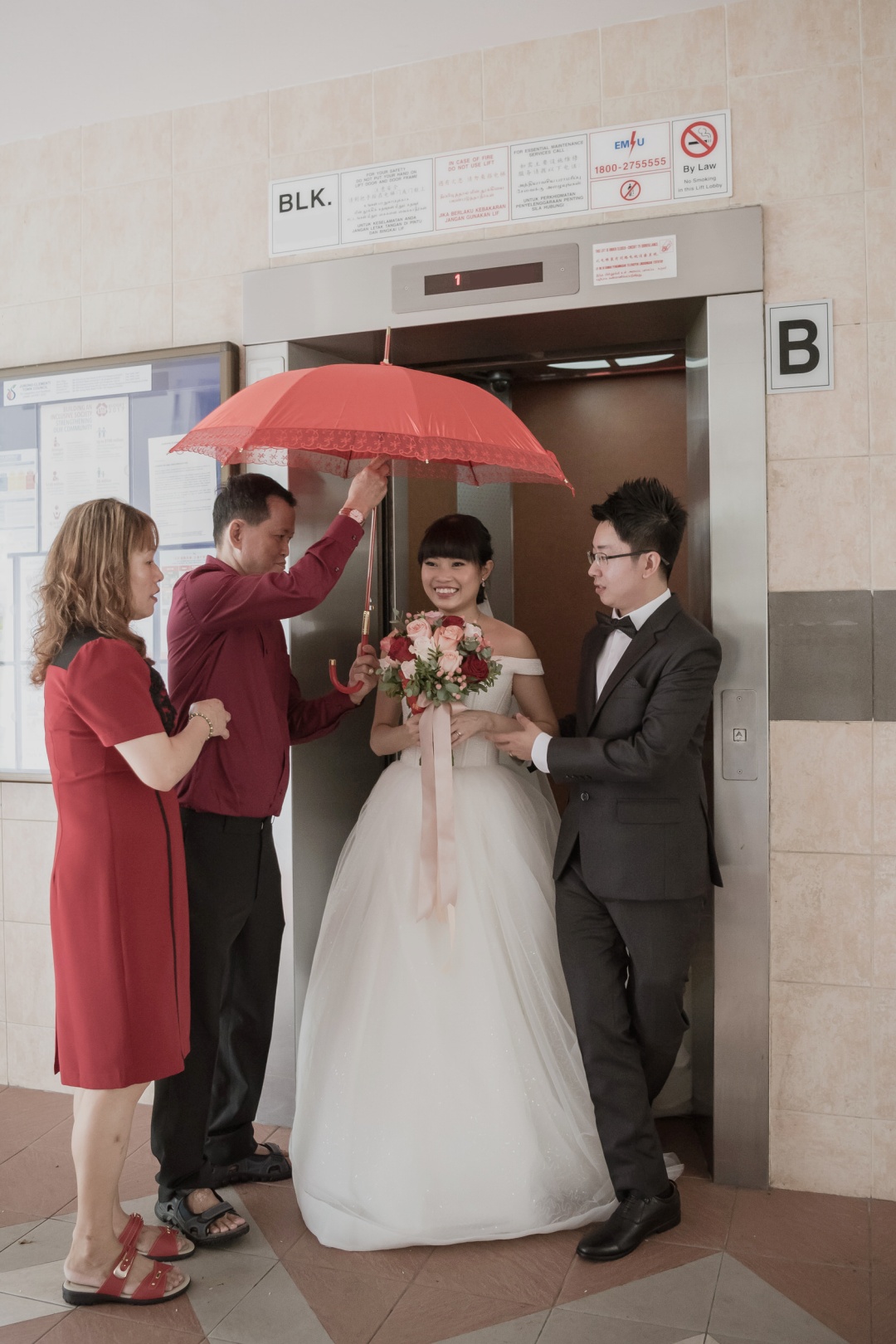 My dad had to shelter me with a red umbrella the moment I stepped out of the lift; whereas my mum had to sprinkle some rice grains on to the umbrella.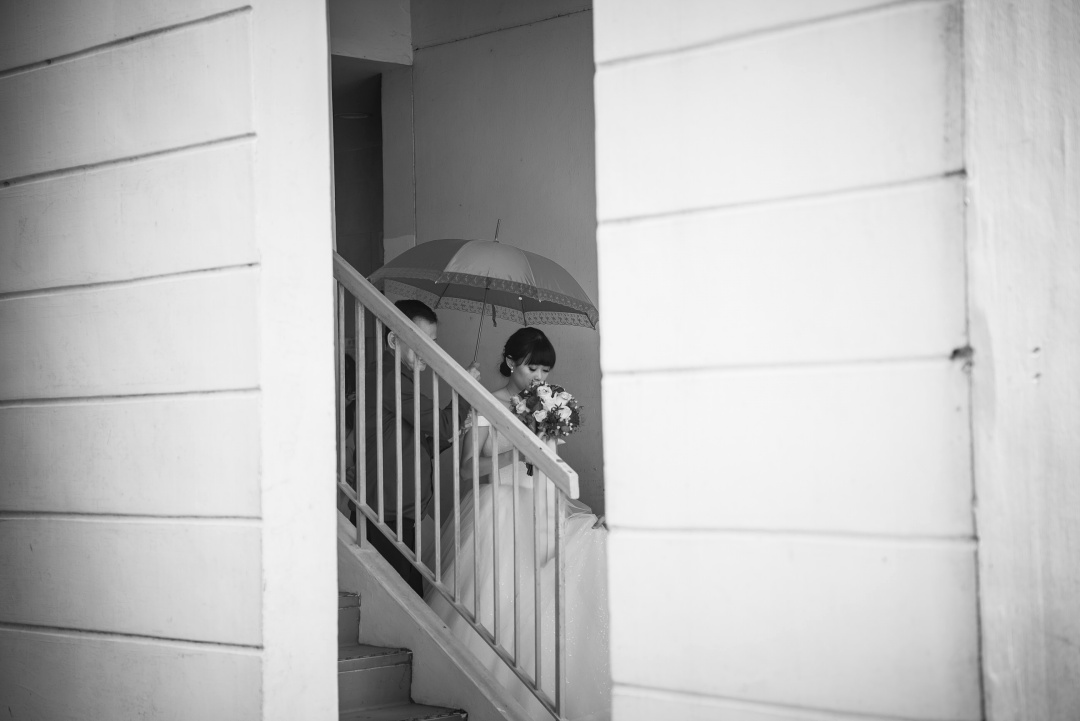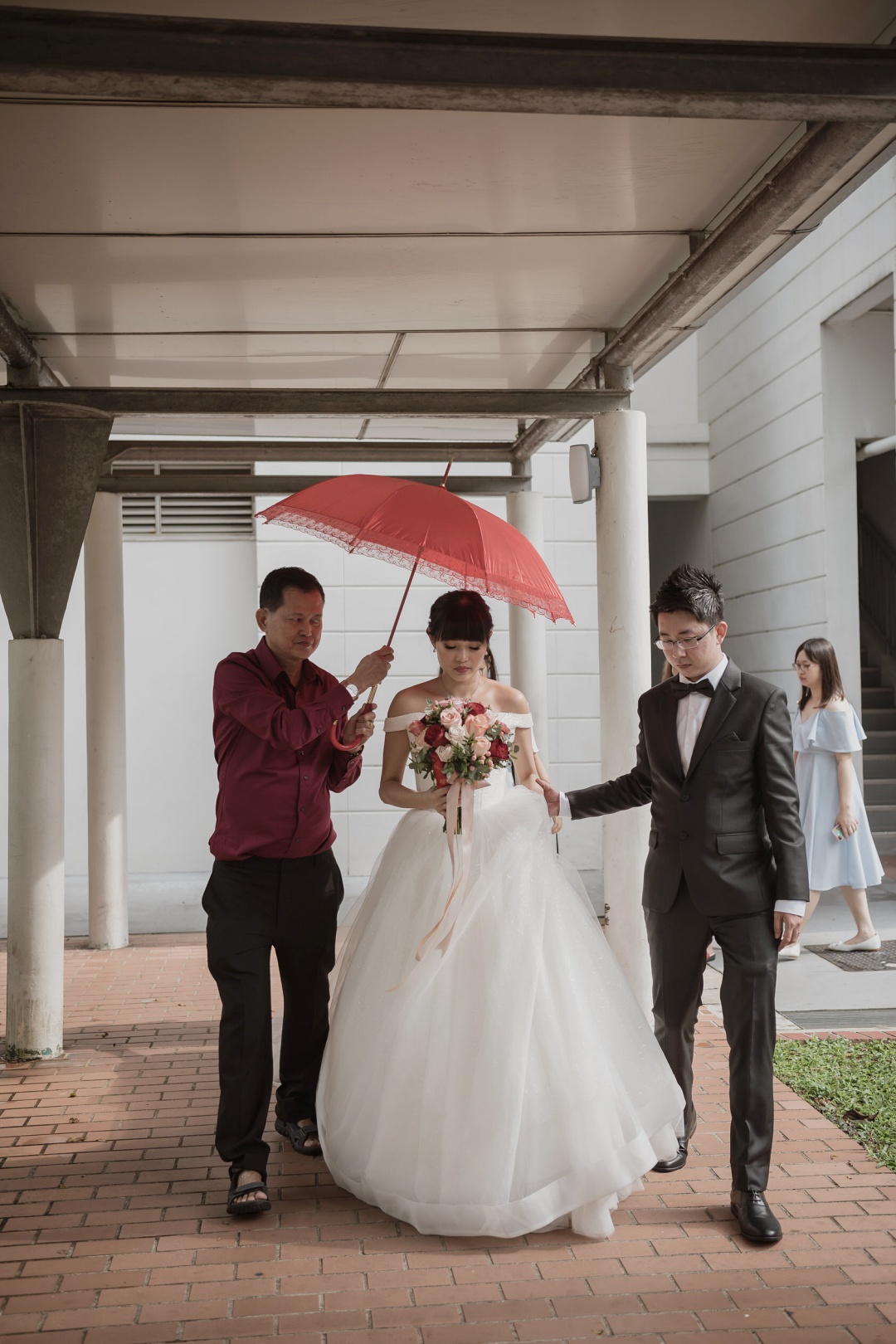 Being sheltered until I get into the car.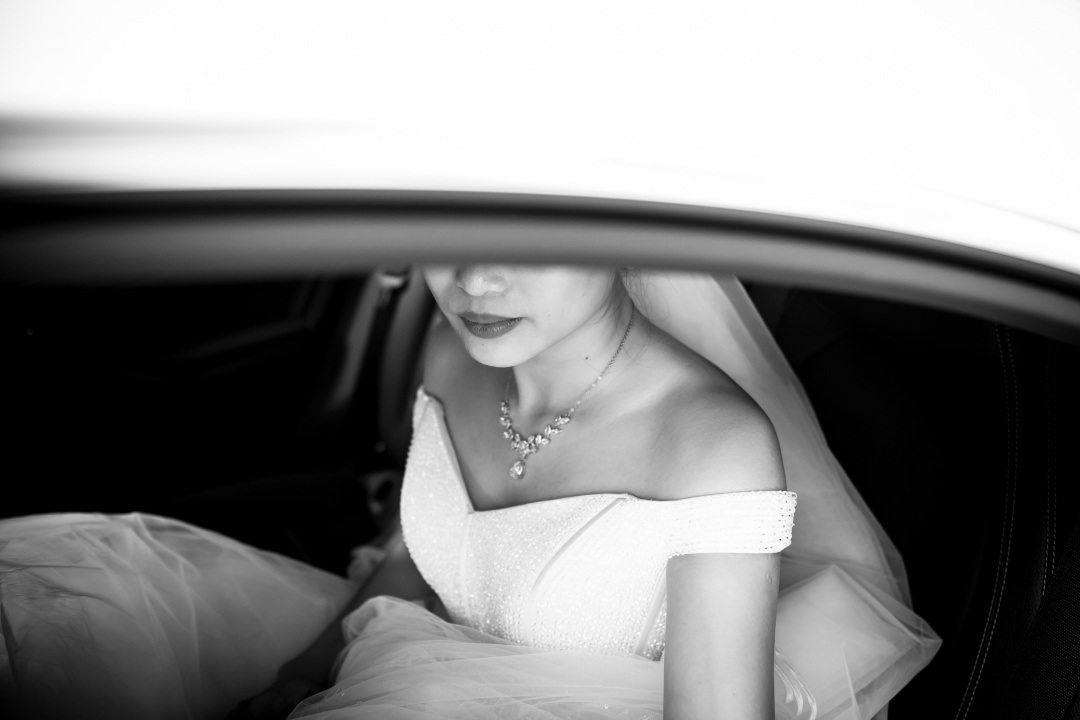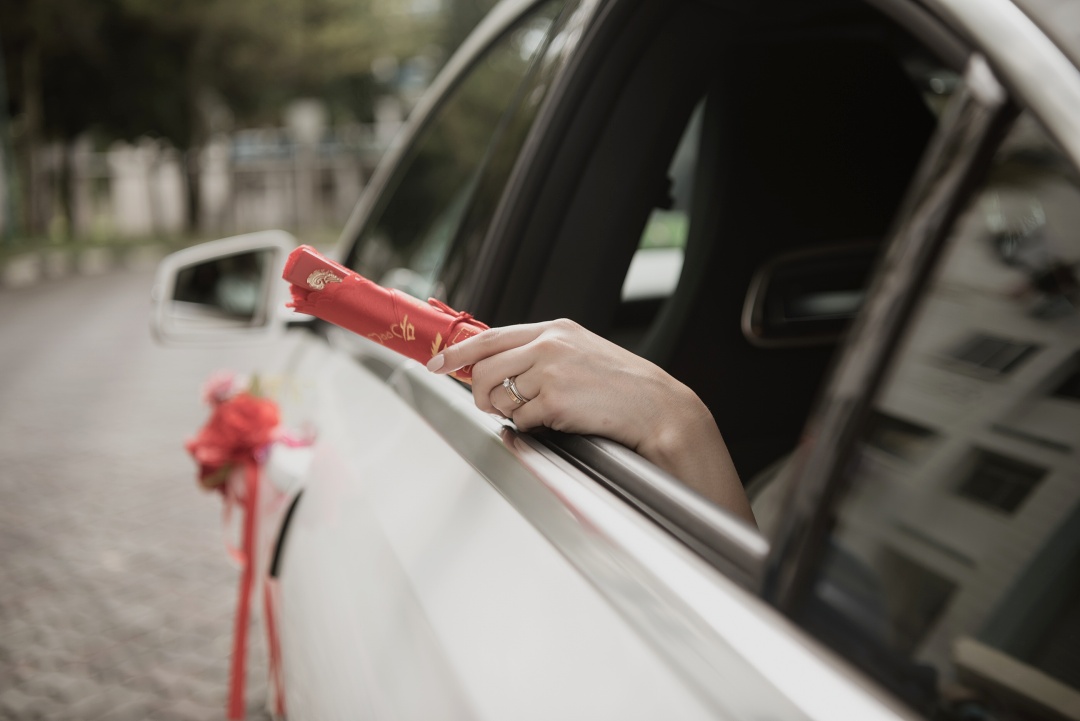 As the car drove off, I had to drop the umbrella through the window and never turn my head back.
---
Will continue with the second part of the morning ceremony in my next post.