Photoshoot
Right after leaving my parents' place, we drove over to Woodlands Waterfront Park for our outdoor shoot. By then, we were way behind schedule.
Petrina and Leon initially suggest we skip the photoshoot. However, it was in our plan to have a mini photoshoot with the bridesmaids and groomsmen, so the Husband decided to go ahead with it. (Even though that means we had to pay for the extra hour of photography and videography.)
So thankful that the weather was all bright and sunny, after the rain.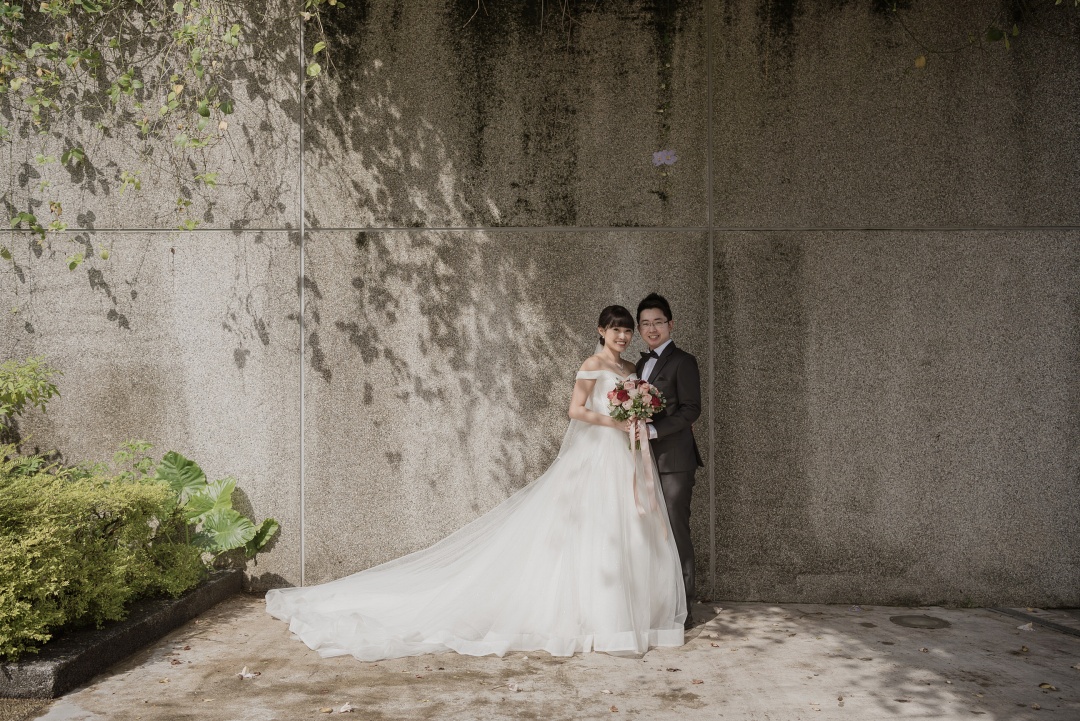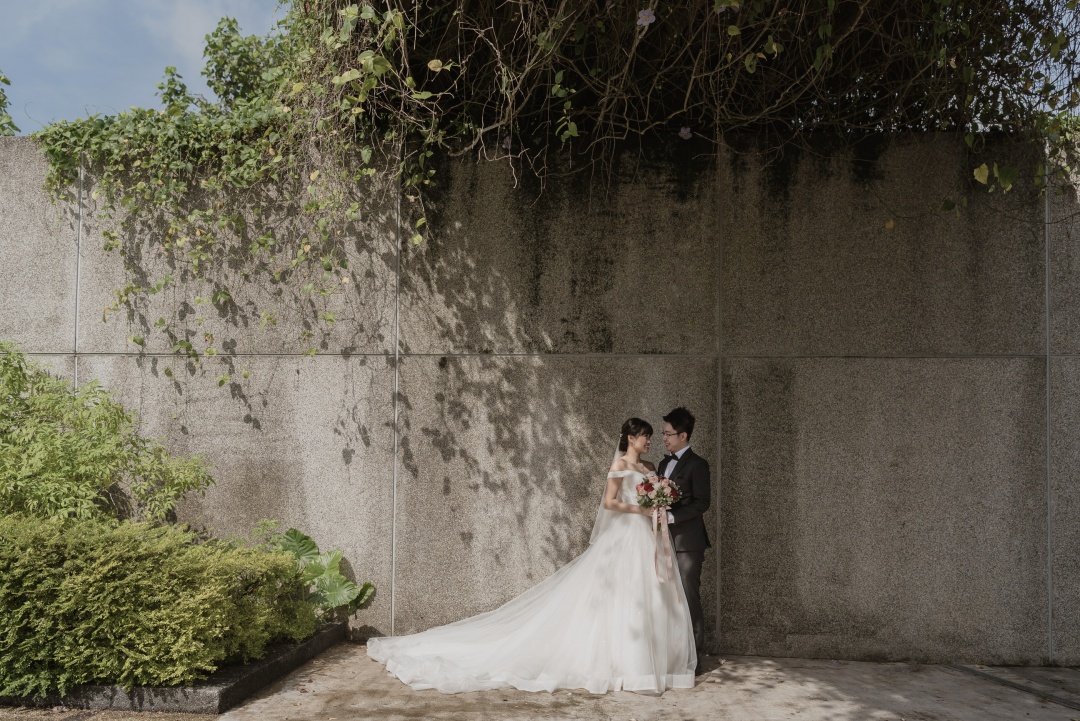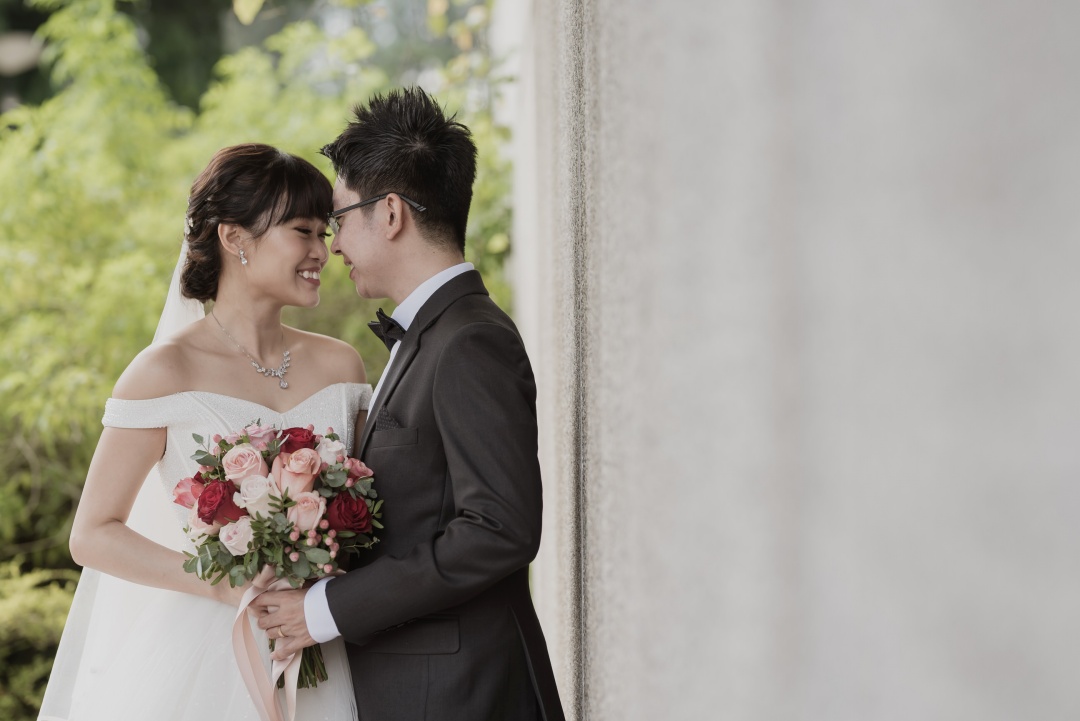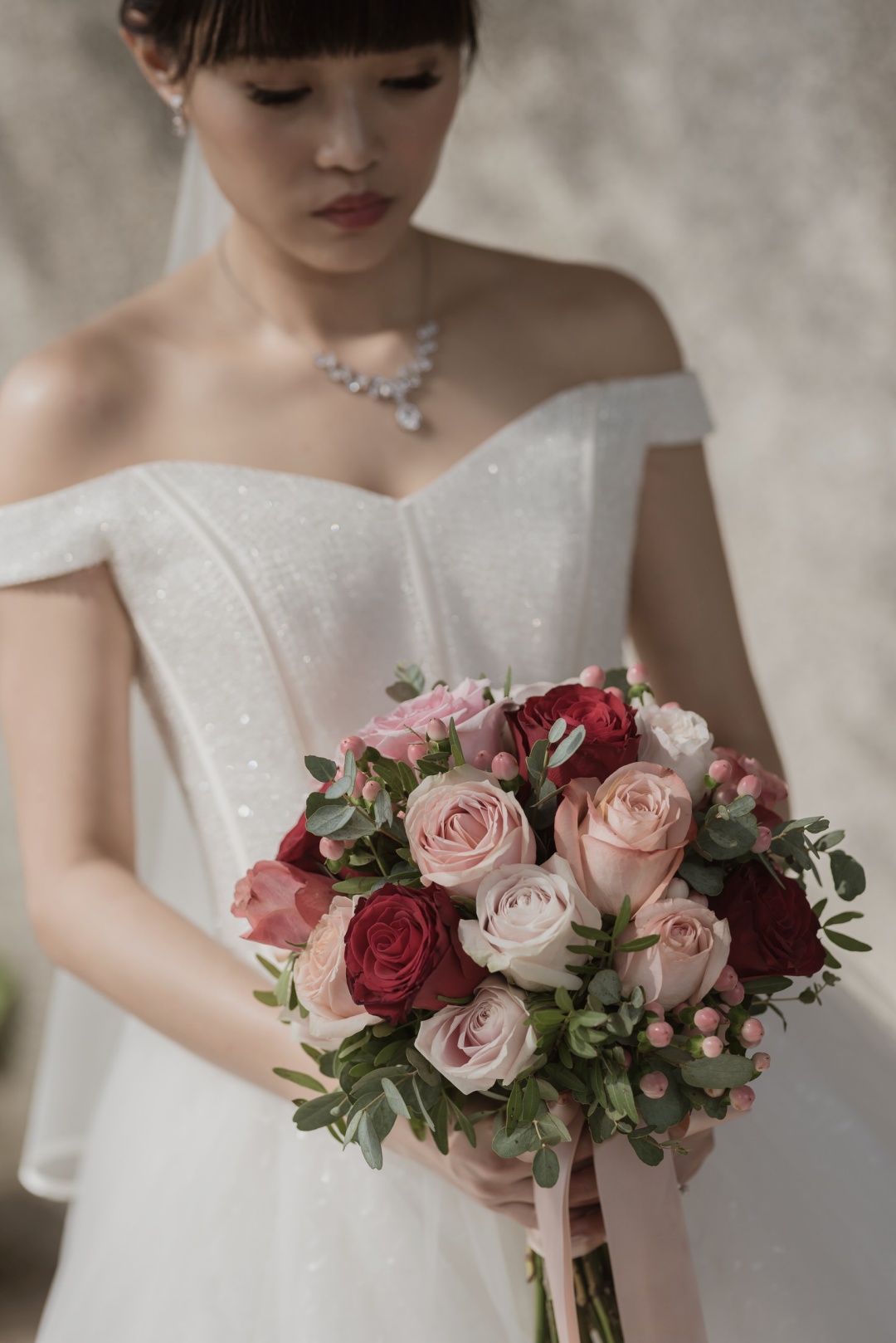 I really love my round bridal bouquet from O'hara Weddings!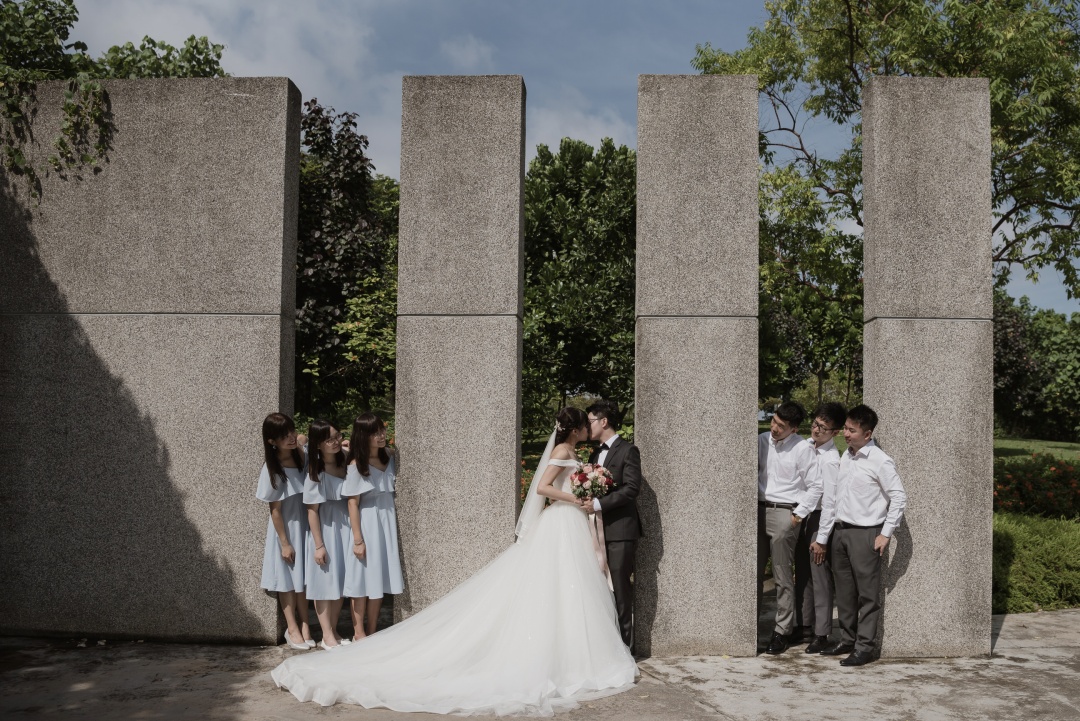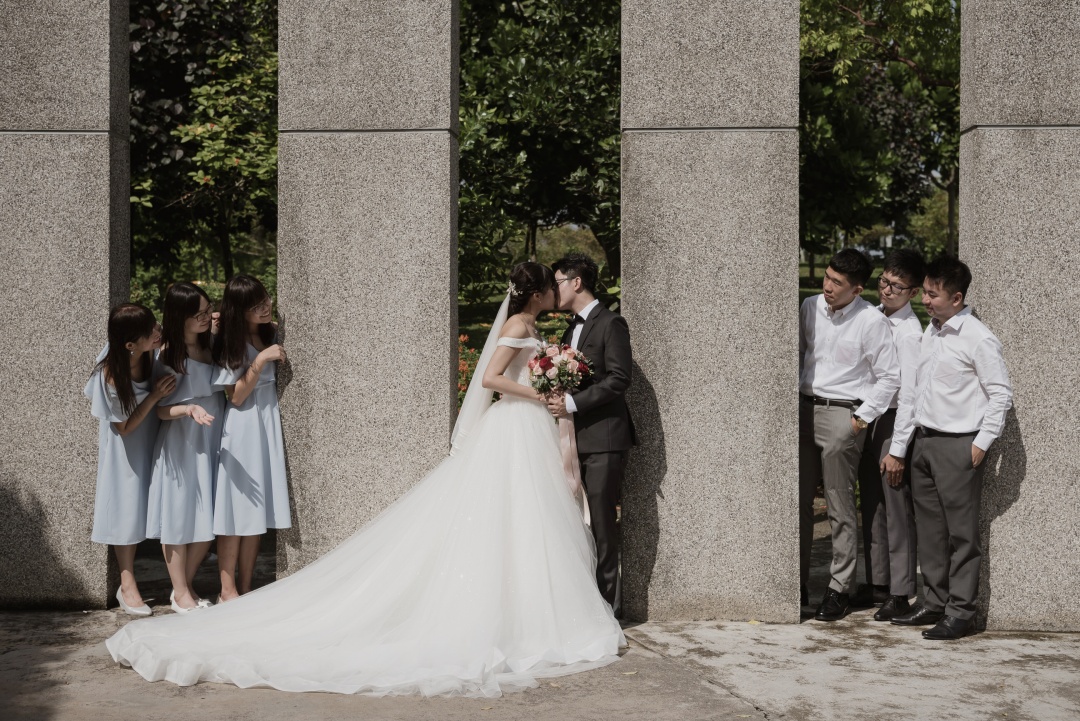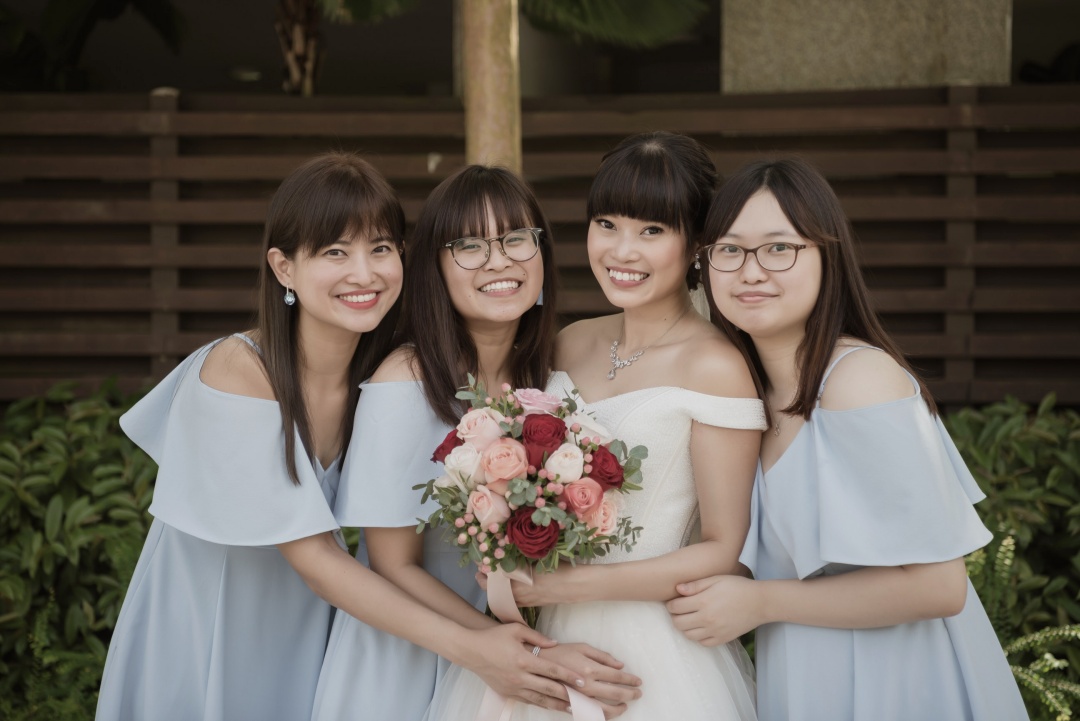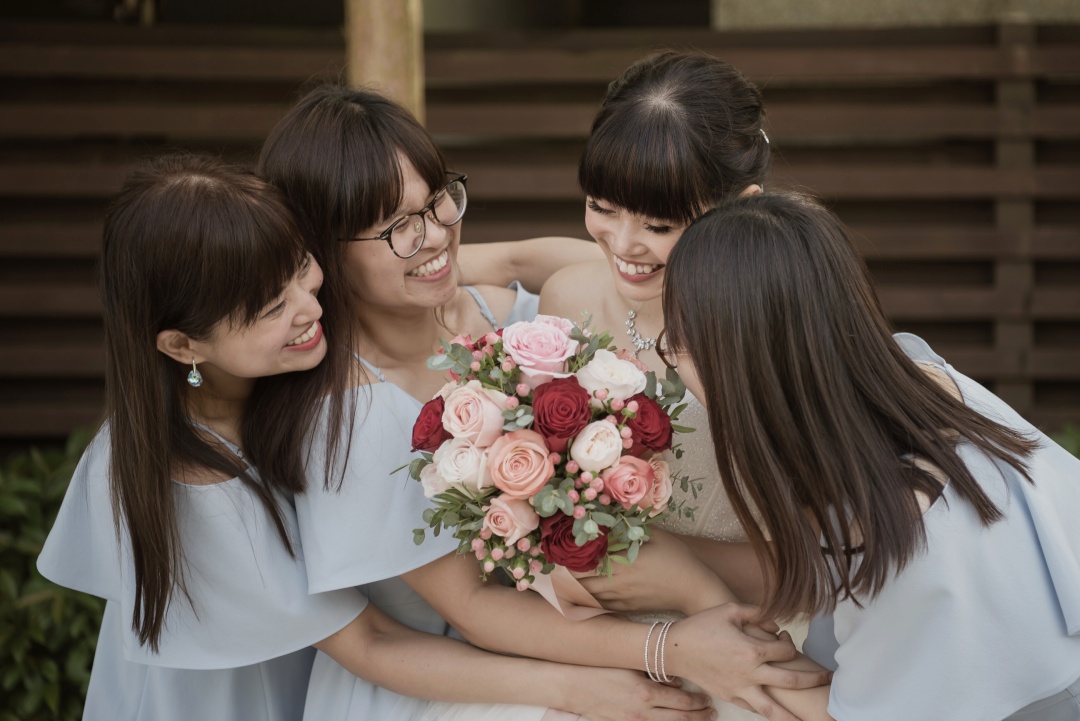 Bridesmaids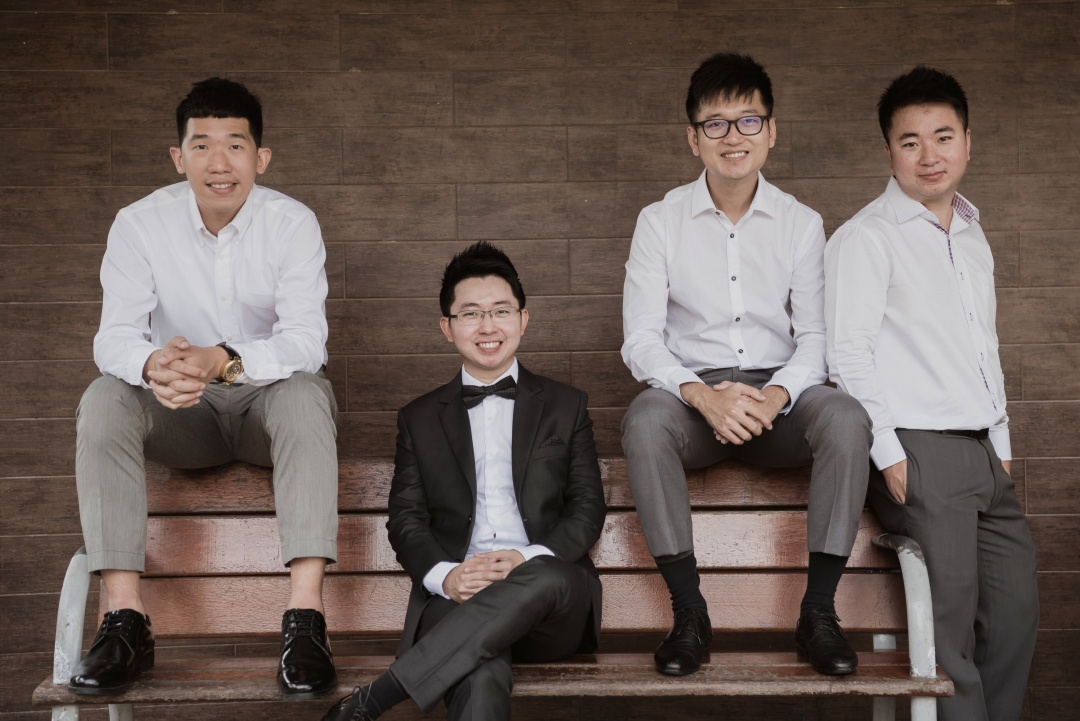 and Groomsmen.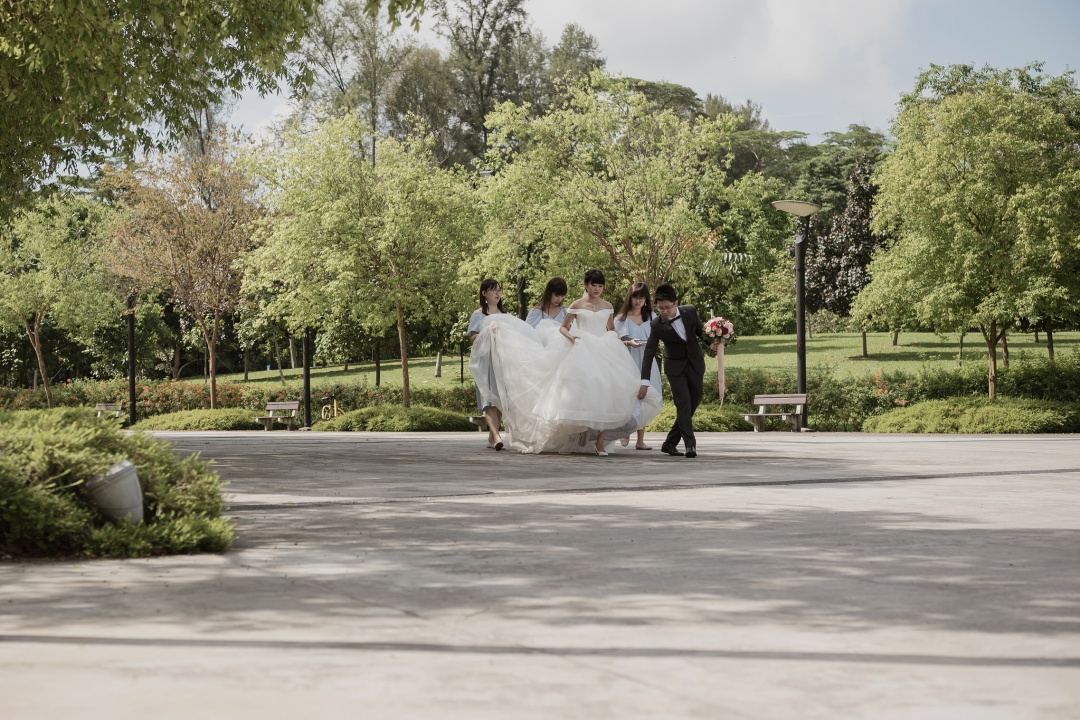 Need all the help I can get to make sure I won't trip and fall.
Somehow the can-can I was wearing was giving me a problem when I walk. I kept stepping on it as I walk and I was so worried I would trip and fall. (Same issue with the small can-can I was wearing that night with my evening gown, so I think I might have worn it too low. I didn't have this problem when I worn them during my final fitting though.)
Fortunately, nothing major happened because of that, and I didn't fall.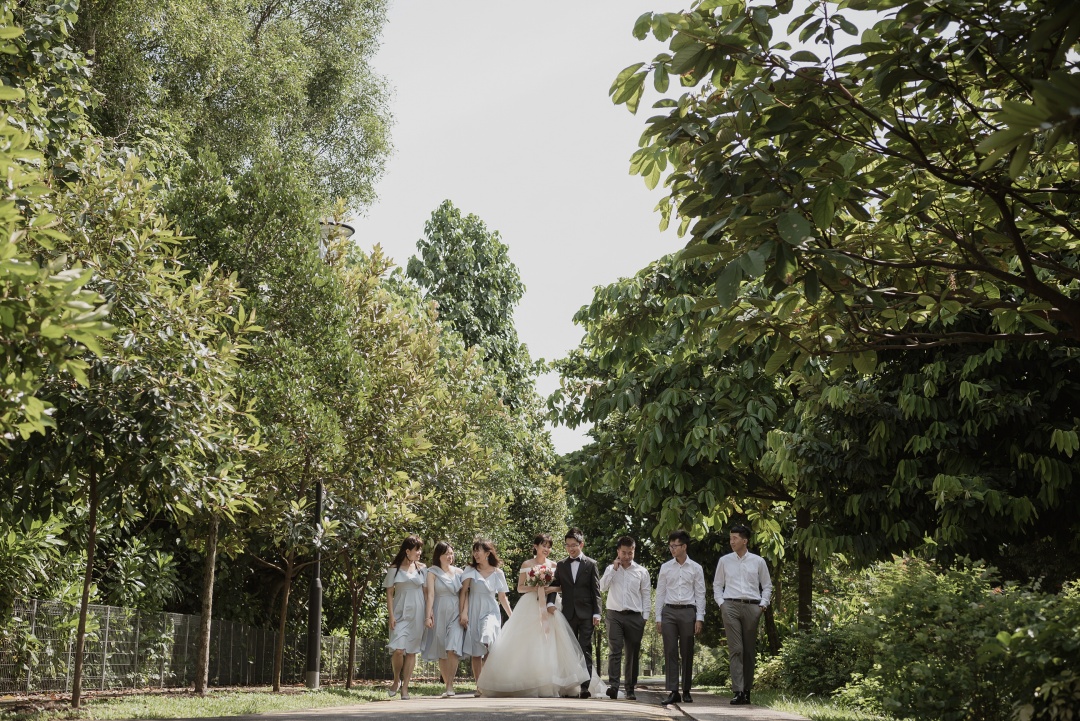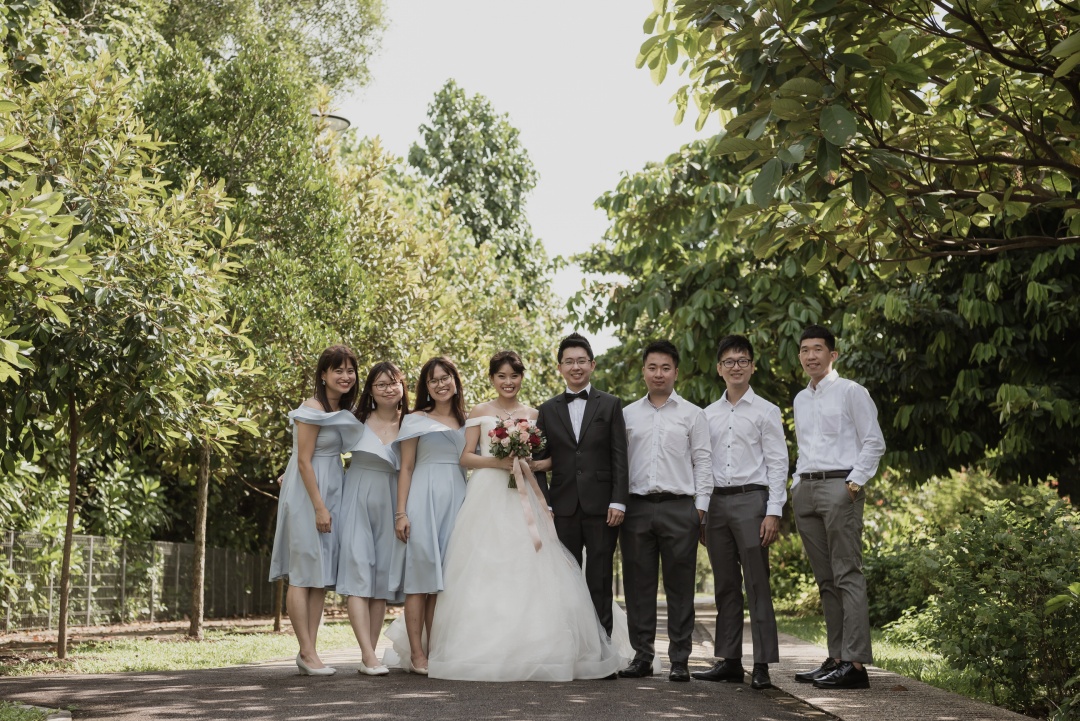 Because we were behind schedule, we didn't stay long at the park. Just took a few photos and wrapped up our photoshoot.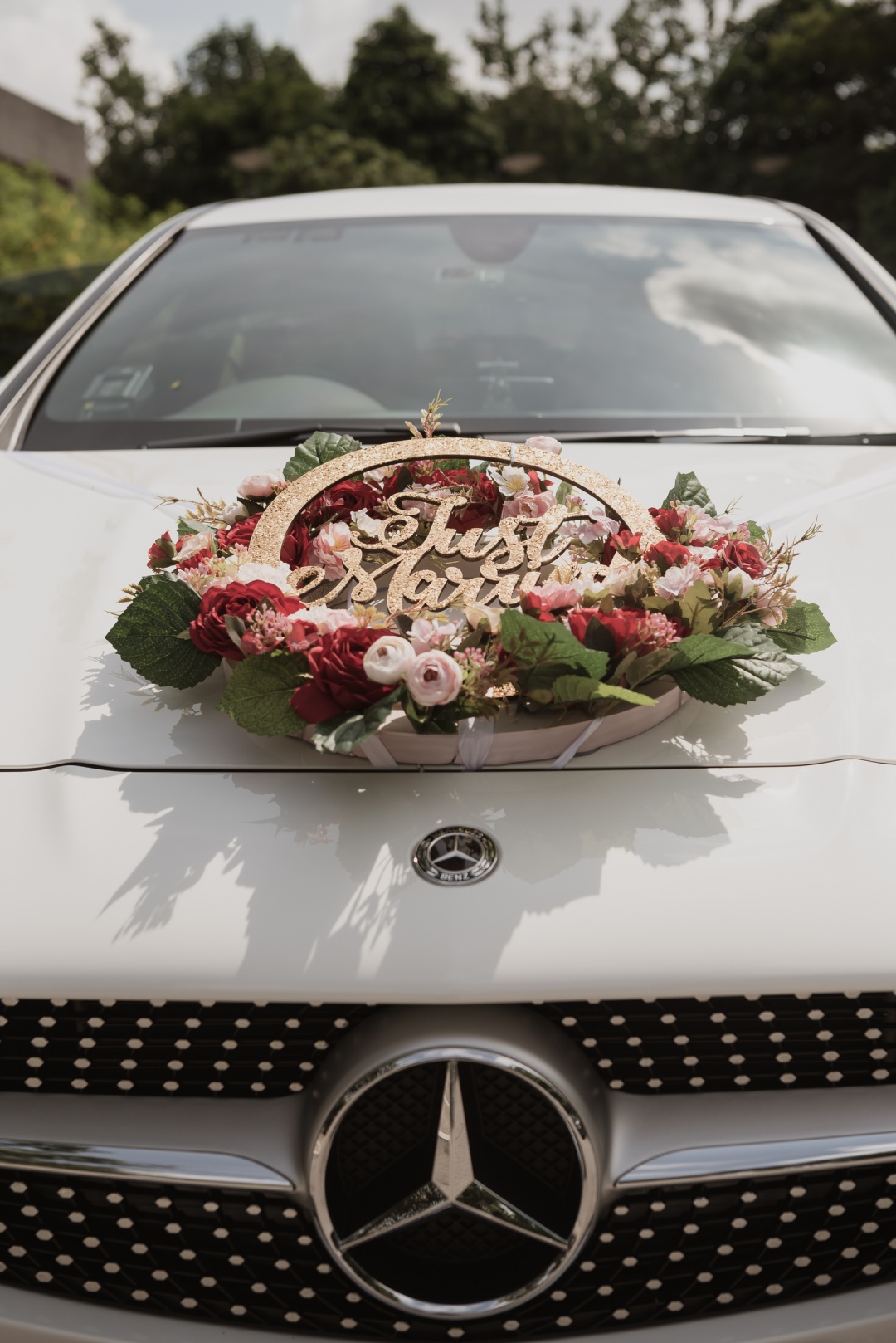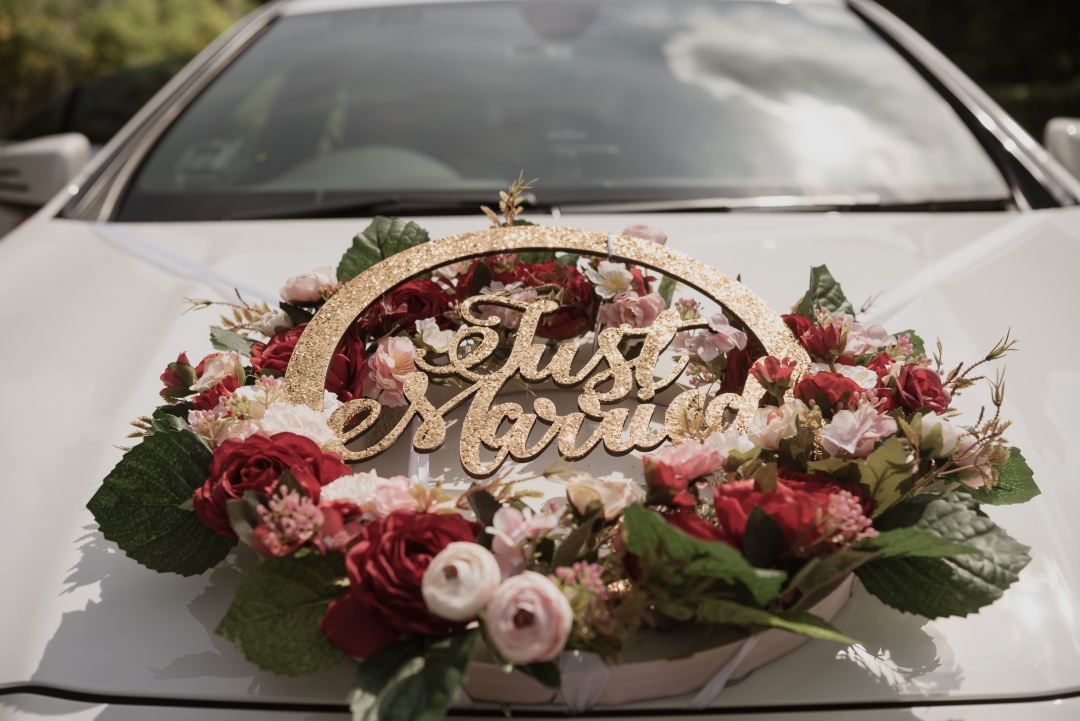 The car decor that was causing us to have a slight panic-attack the night before! Feeling much relief that the driver managed to figure a way to stick it onto the front hood.
I think it look rather lovely on photos! I'm glad that I decided to sprinkle gold glitters around the wooden rim and letters, instead of keeping them in their original shade.
We only reached my in-laws' place at close to 11:00 when our original plan was to arrive at 09:45.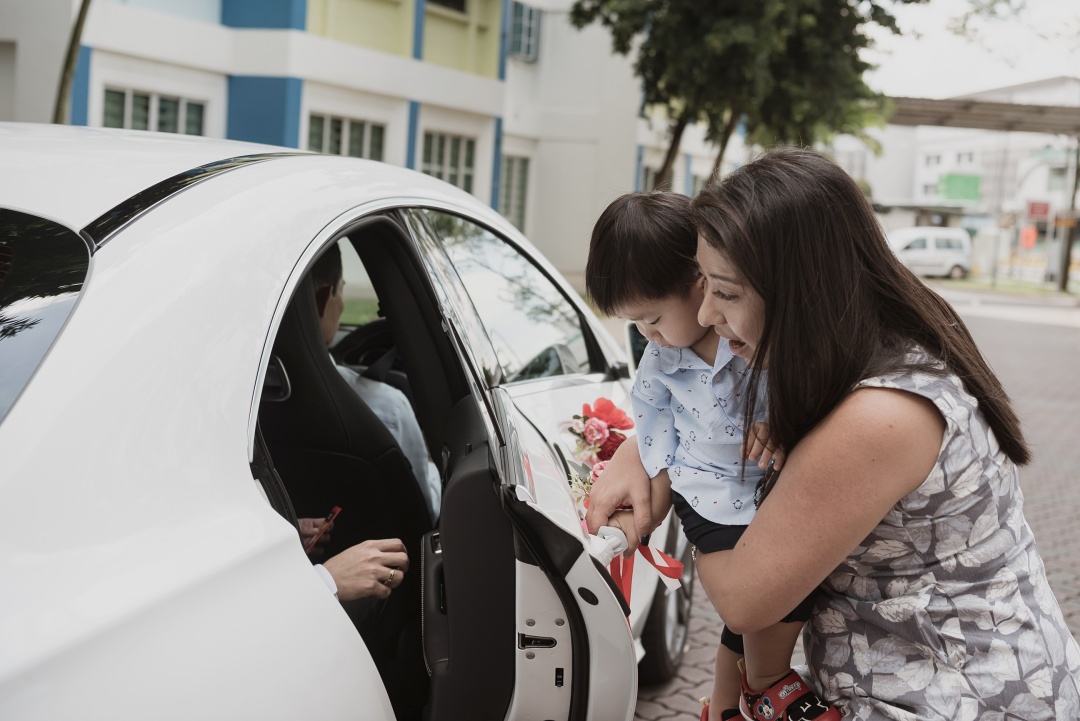 Here's our nephew (with my sister-in-law) opening the car door for the Husband.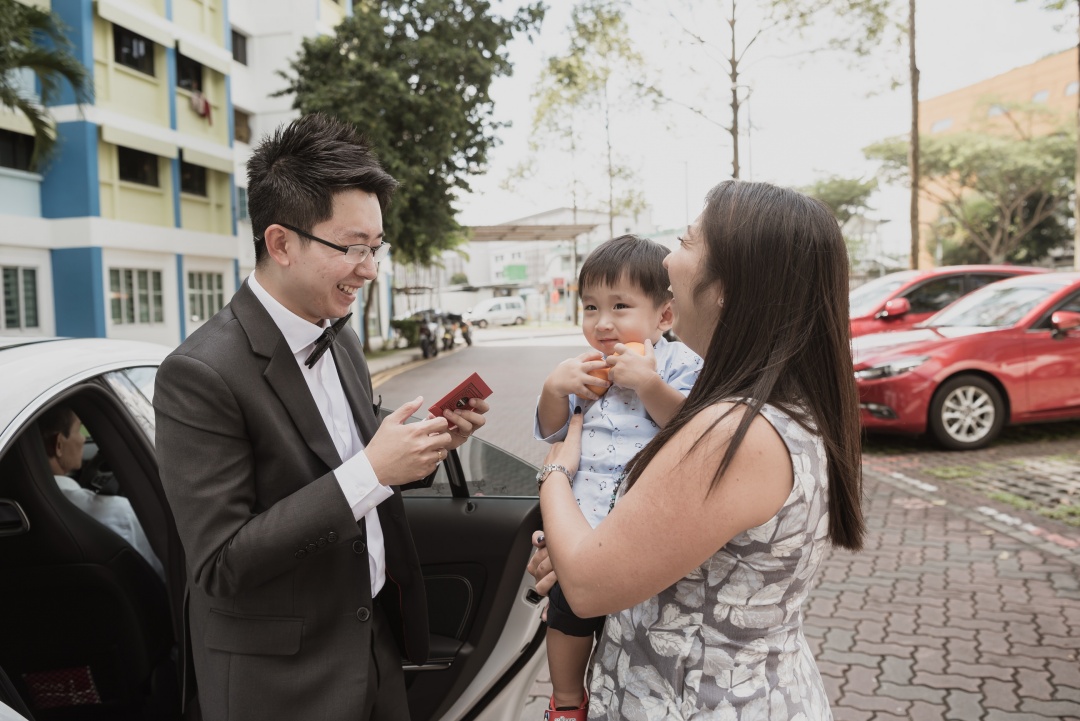 Took the Husband quite a while to persuade the nephew to exchange his oranges with the hong bao.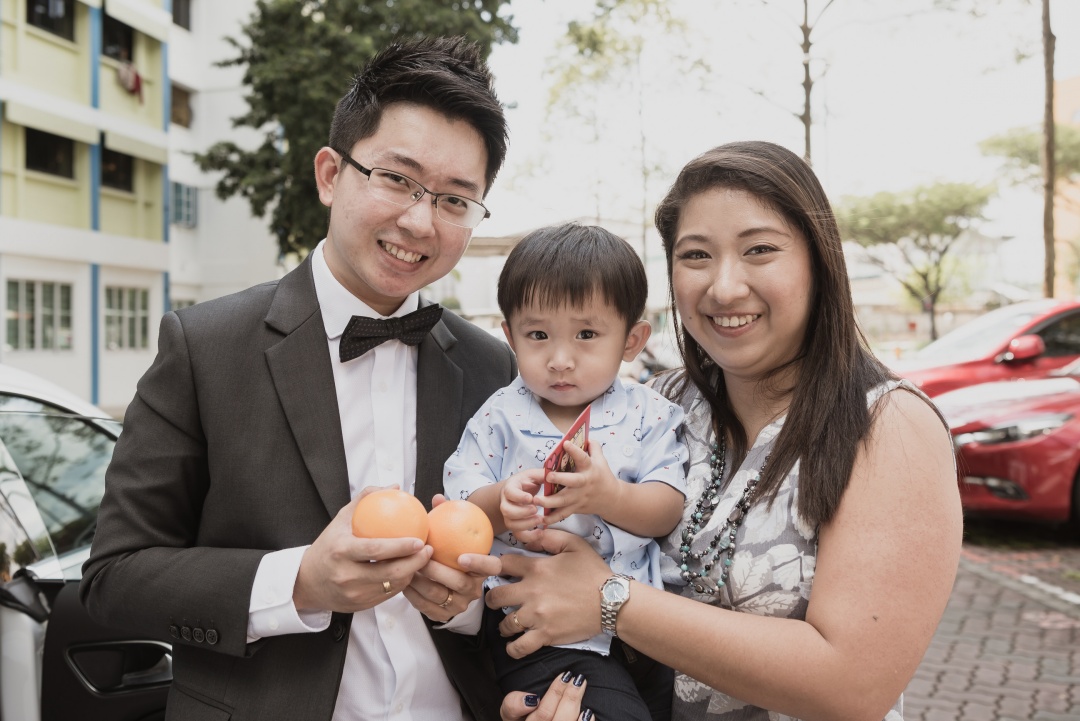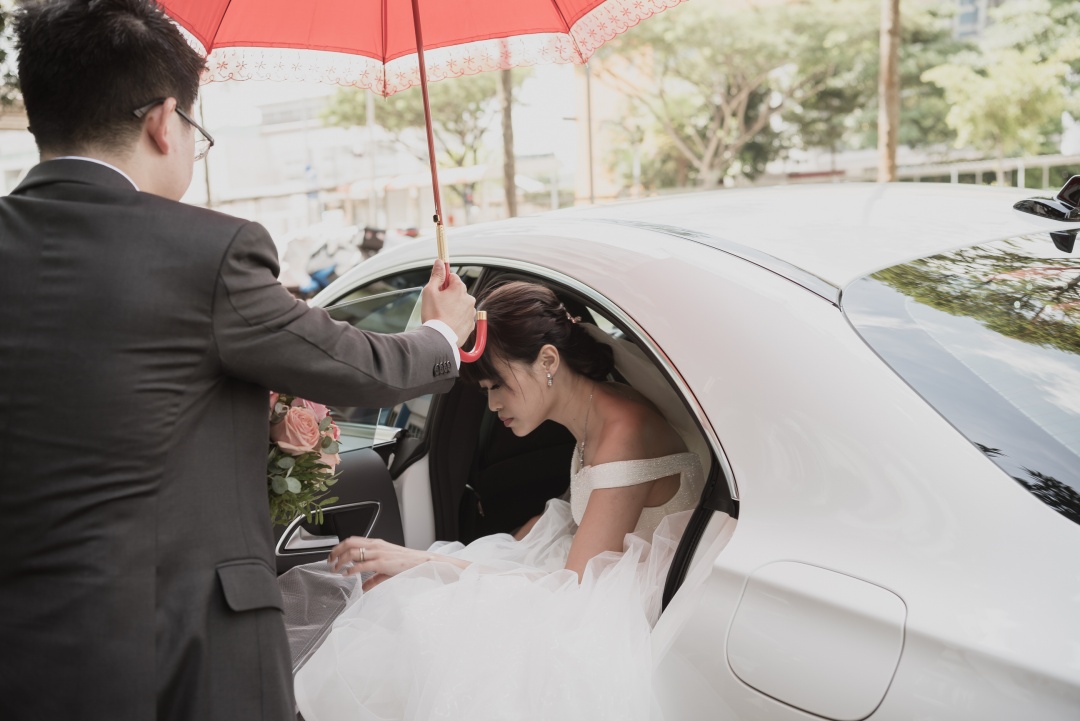 This time around, it was the Husband's turn to shelter me with the red umbrella.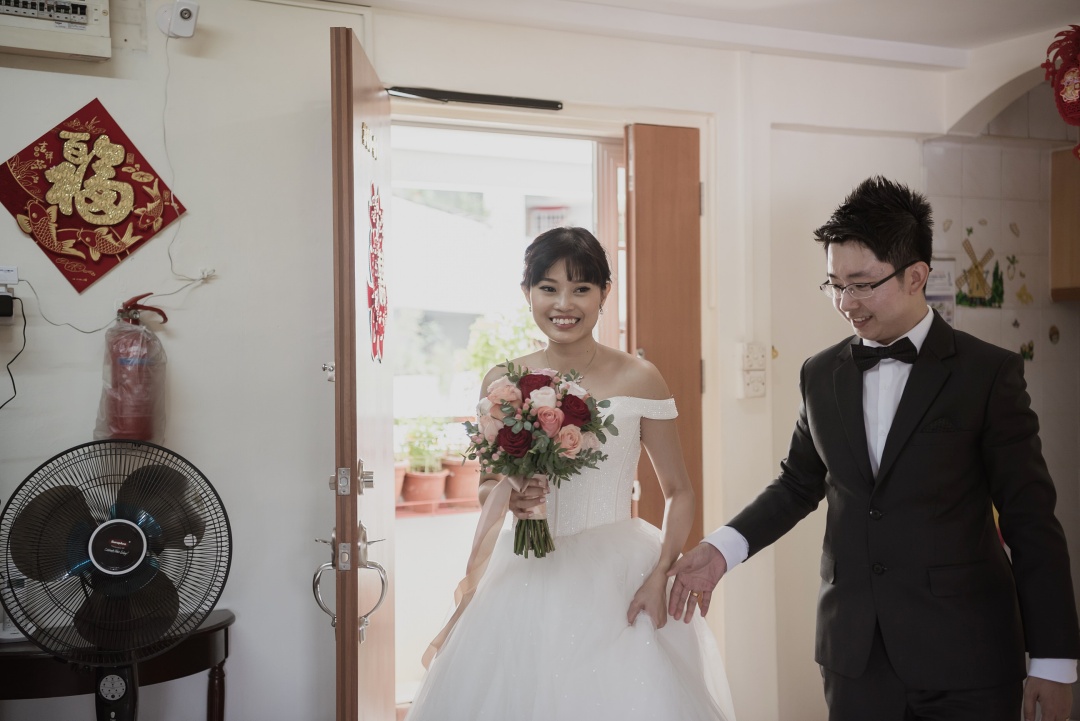 Tradition has it that everyone (especially the groom's parents) had to hide in the room when the groom return with the bride. We also had to head straight to the bedroom right after we enter the house.
This is possibly the only time where I could enter without removing my shoes. Because according to the customary, we should not remove our shoes throughout the morning ceremony.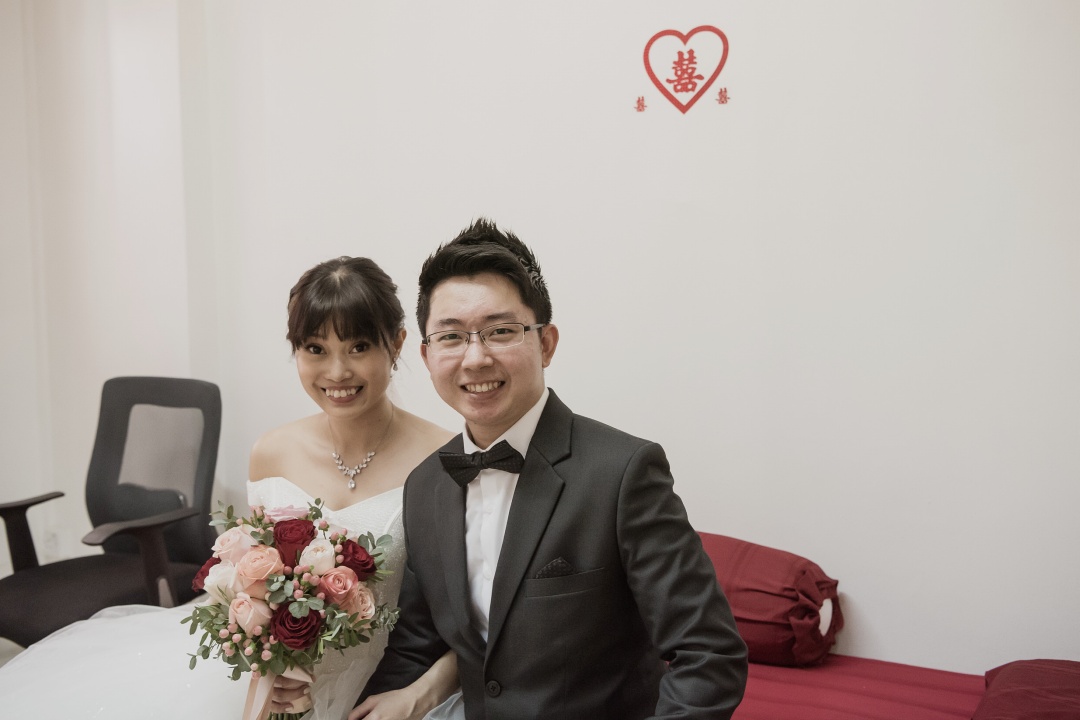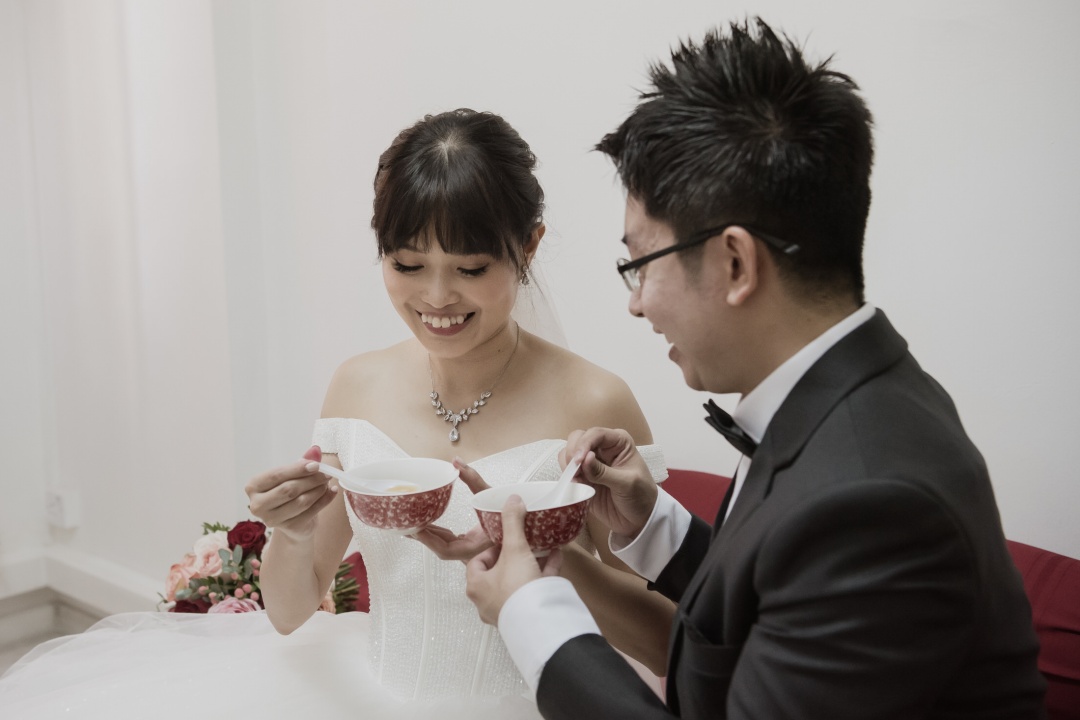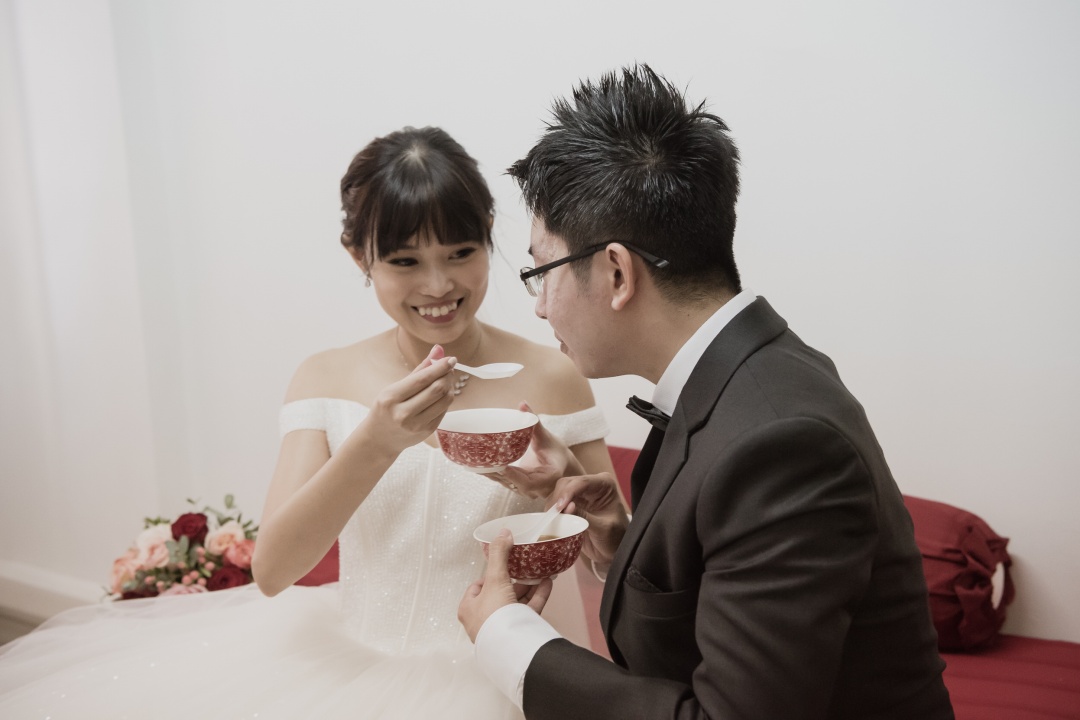 Eating, or rather feeding each other with tang yuan/glutinous rice balls. Tang yuan is said to represent perfection because it is round, and the sweetness from this traditional dessert is supposed to bring happiness to the newlyweds.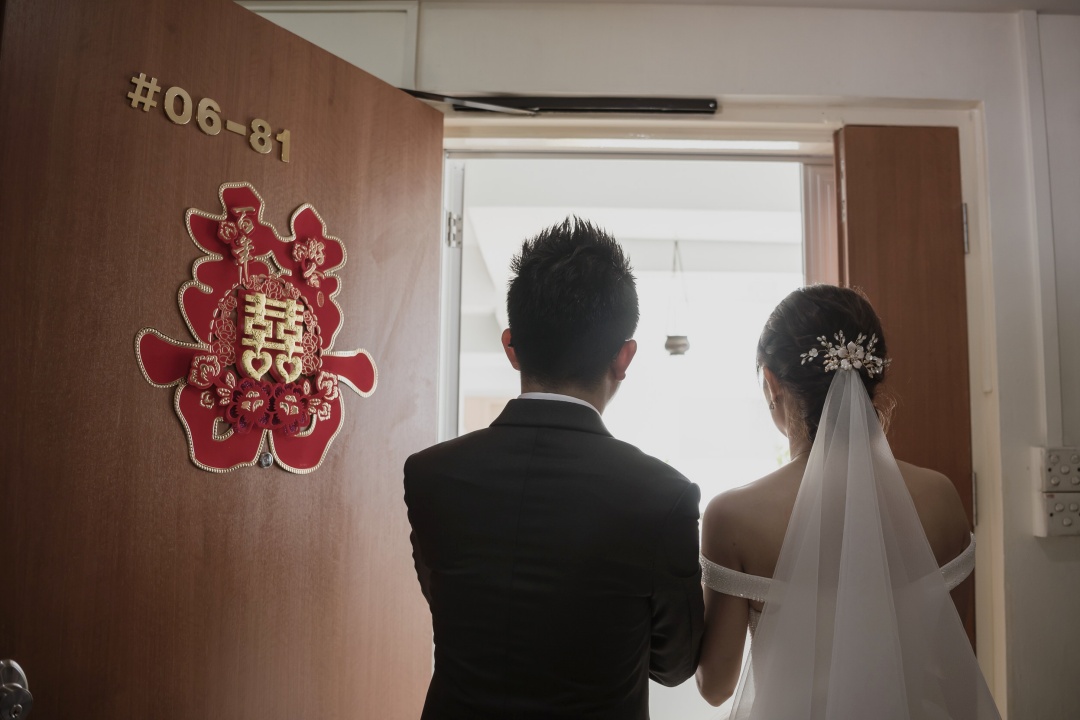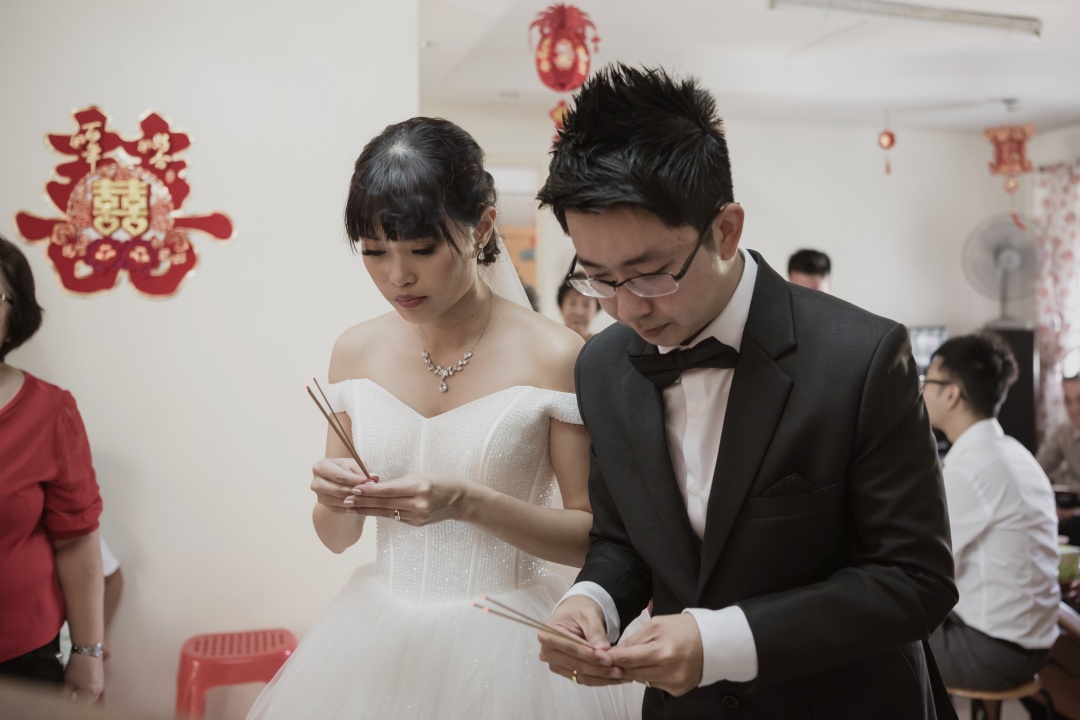 Praying to heaven and earth, as well as his ancestors.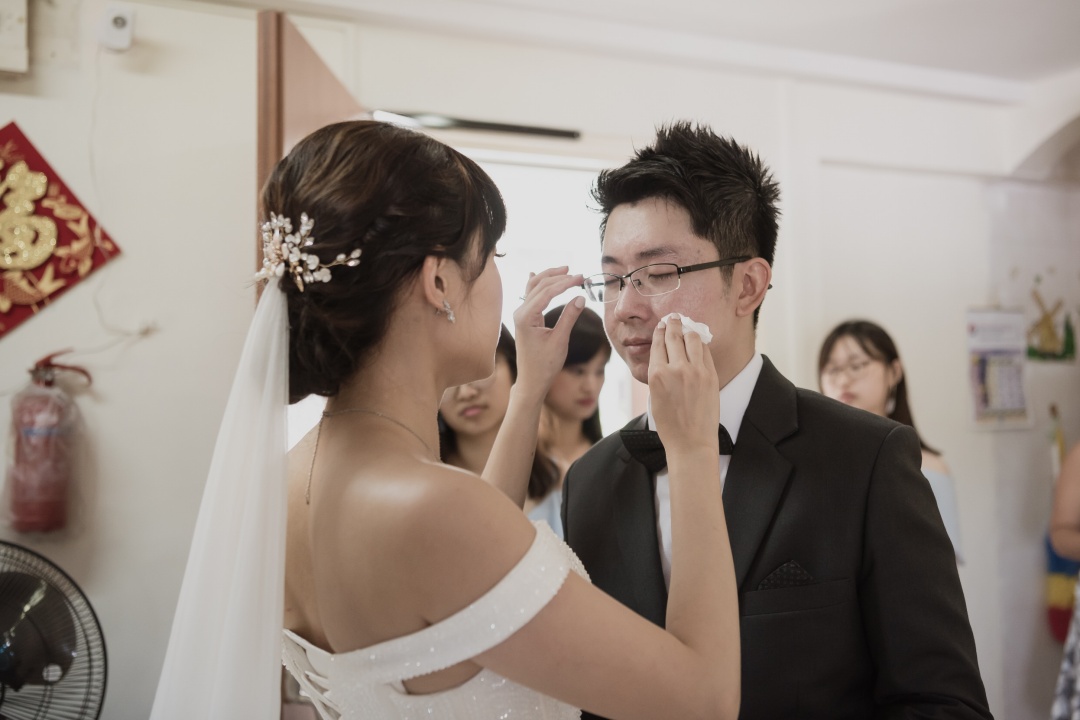 Tea Ceremony at my In-laws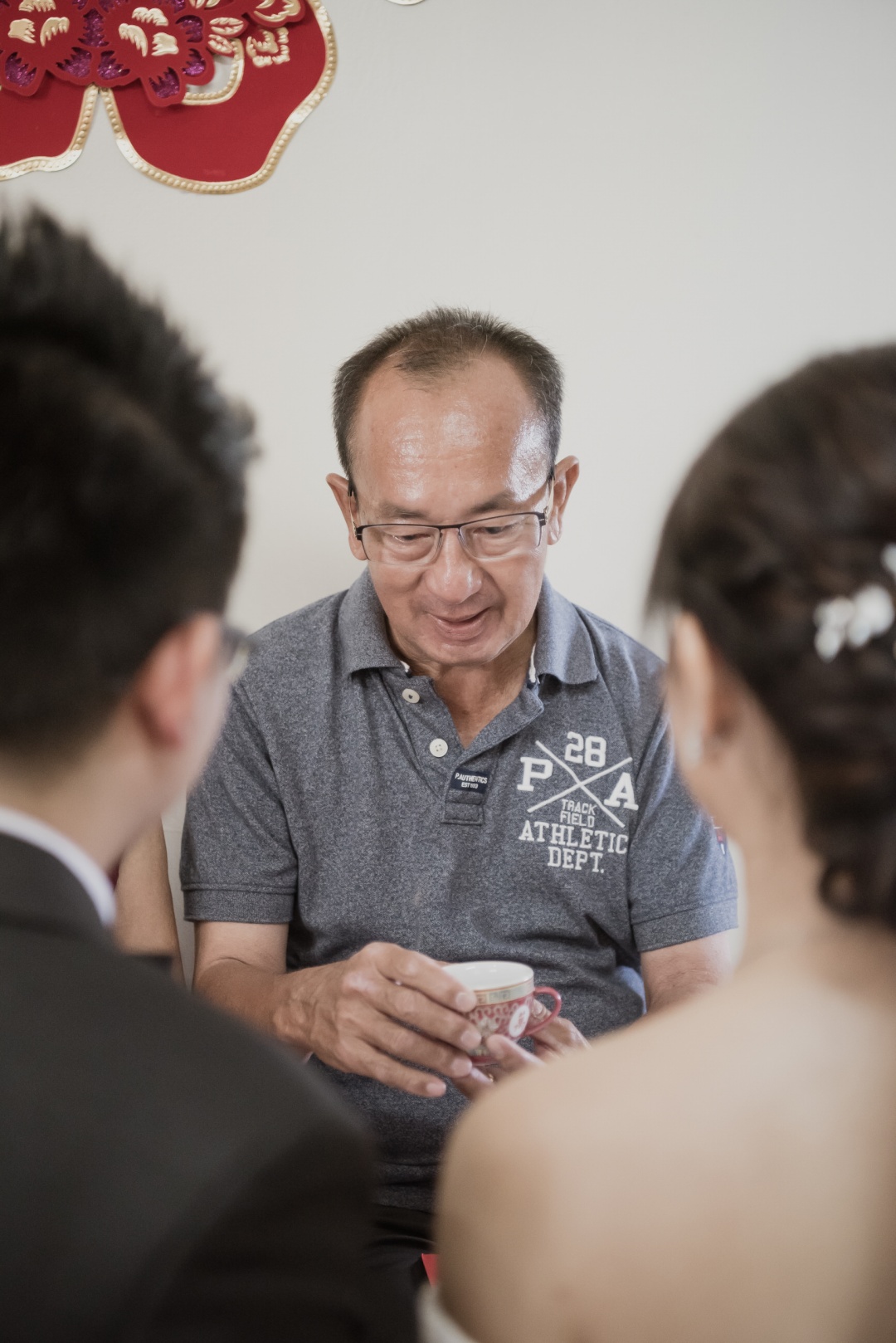 We decided to kneel for our parents while serving them tea, and stand while serving tea to our elders/relatives.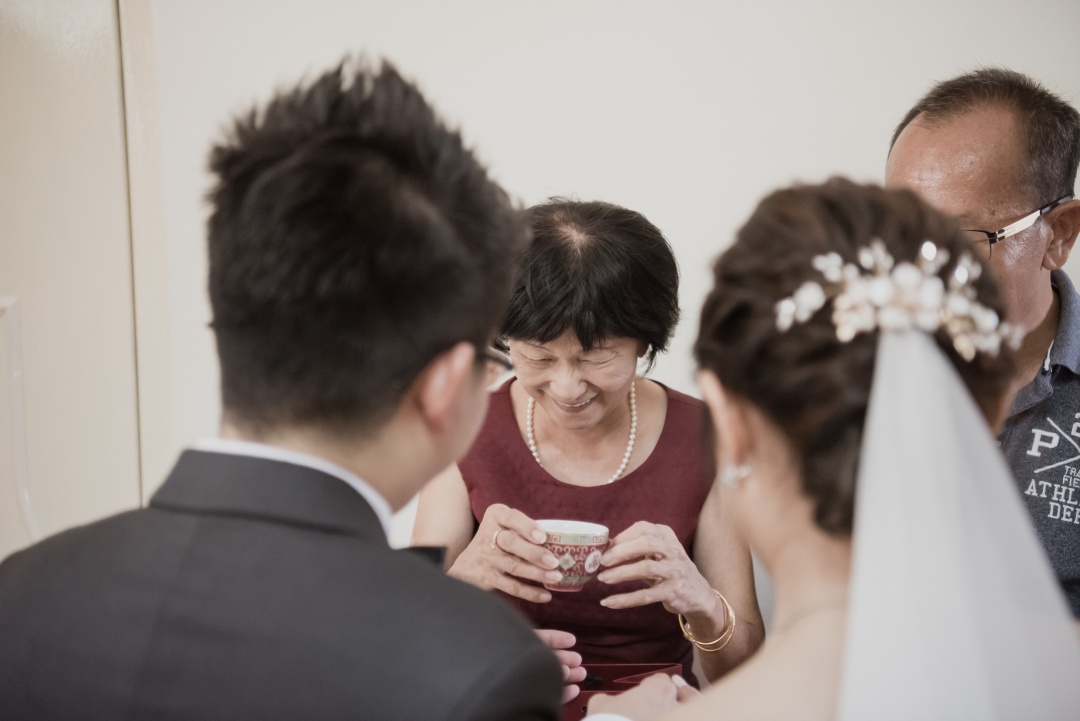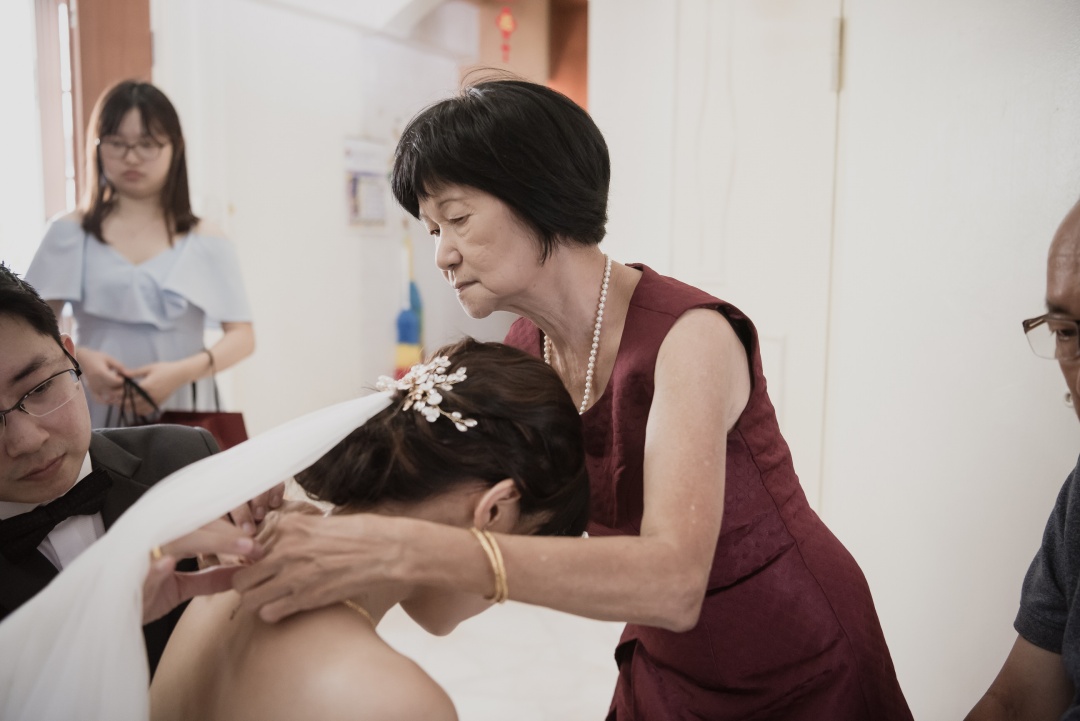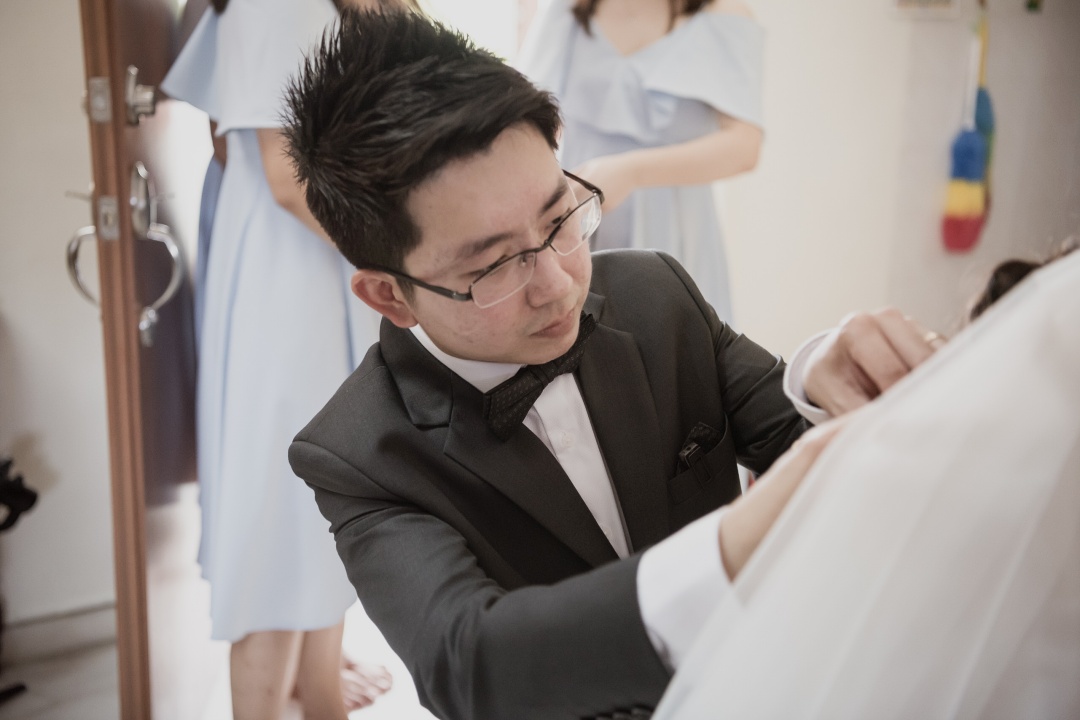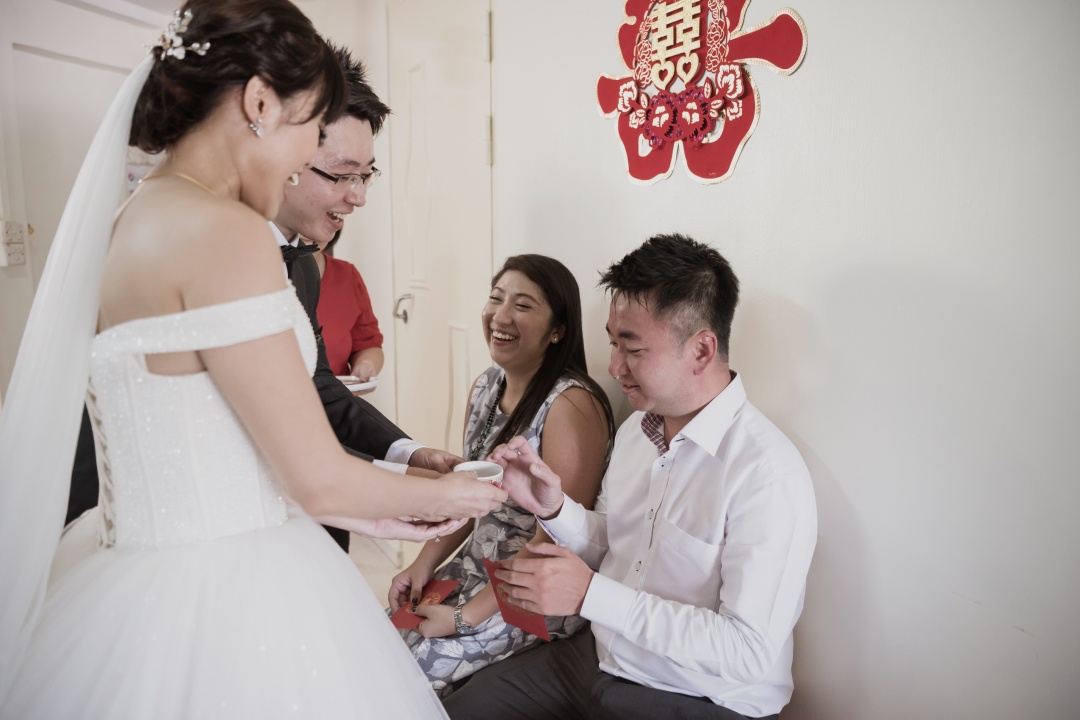 Serving tea to his brother and sister-in-law.
And finally, it was our turn to sit and have tea served to us by his younger brother. Funny how the Husband asks his brother to kneel because he said that was the only time he could get him to do that.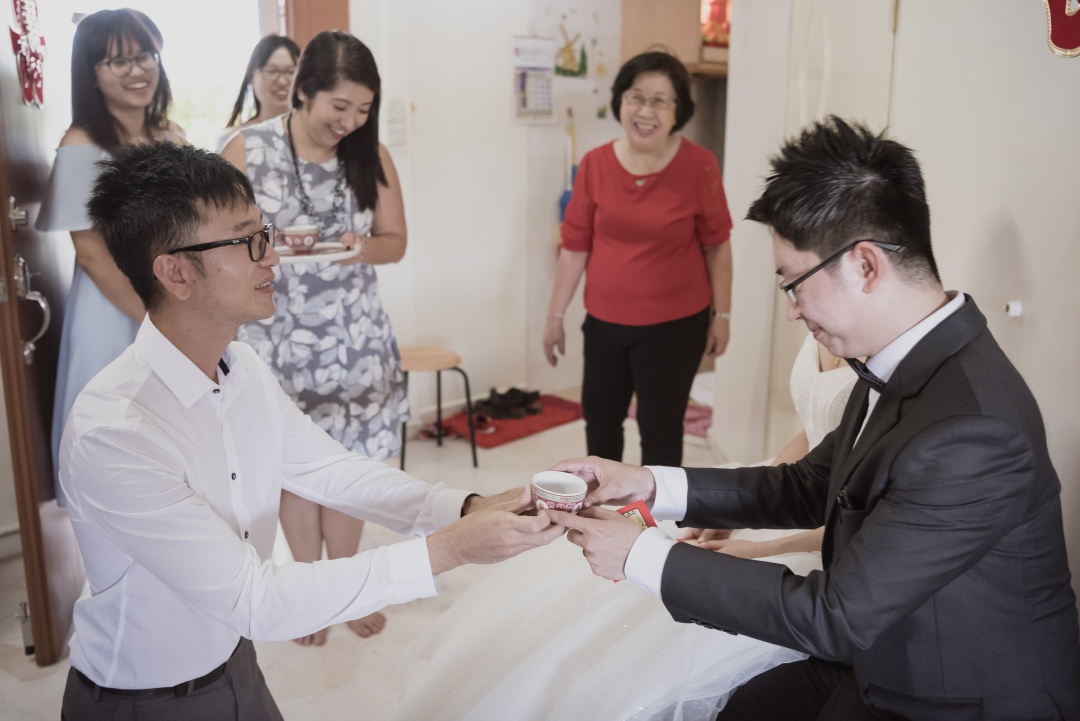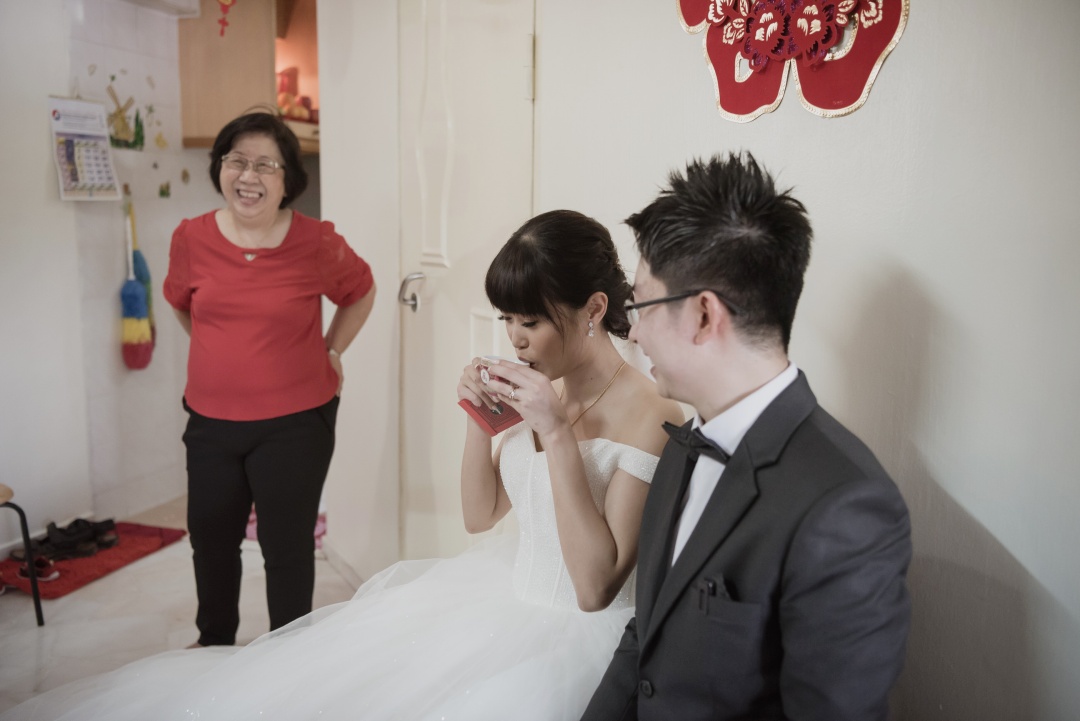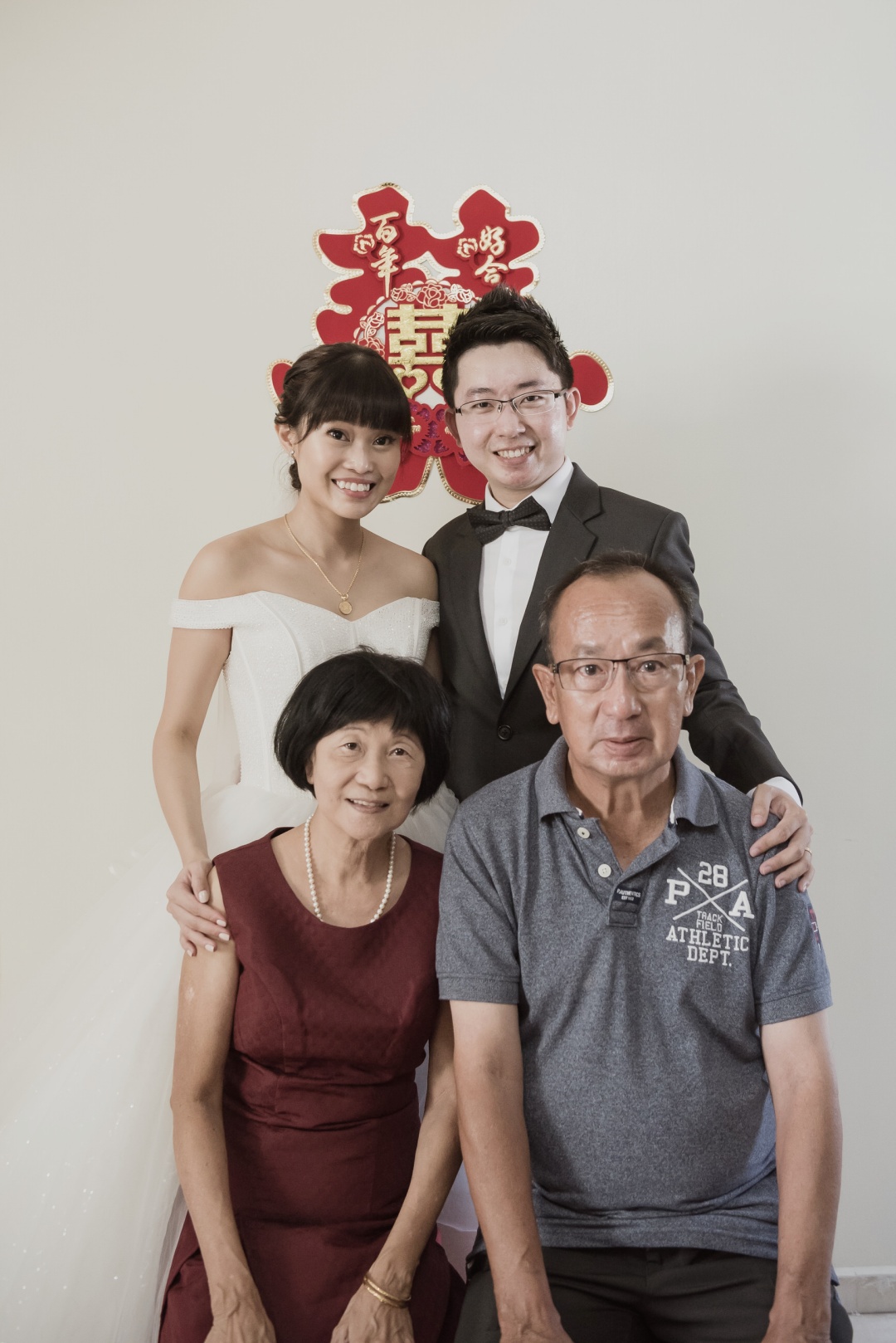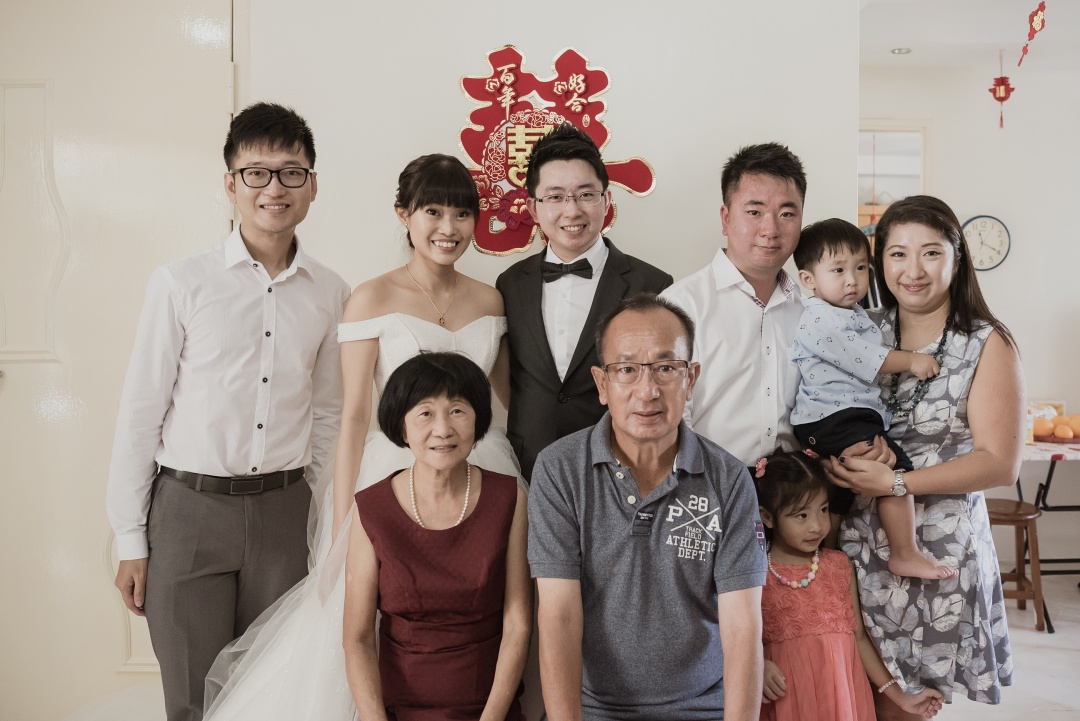 Concluded our first round of tea ceremony with photos with the family and relatives.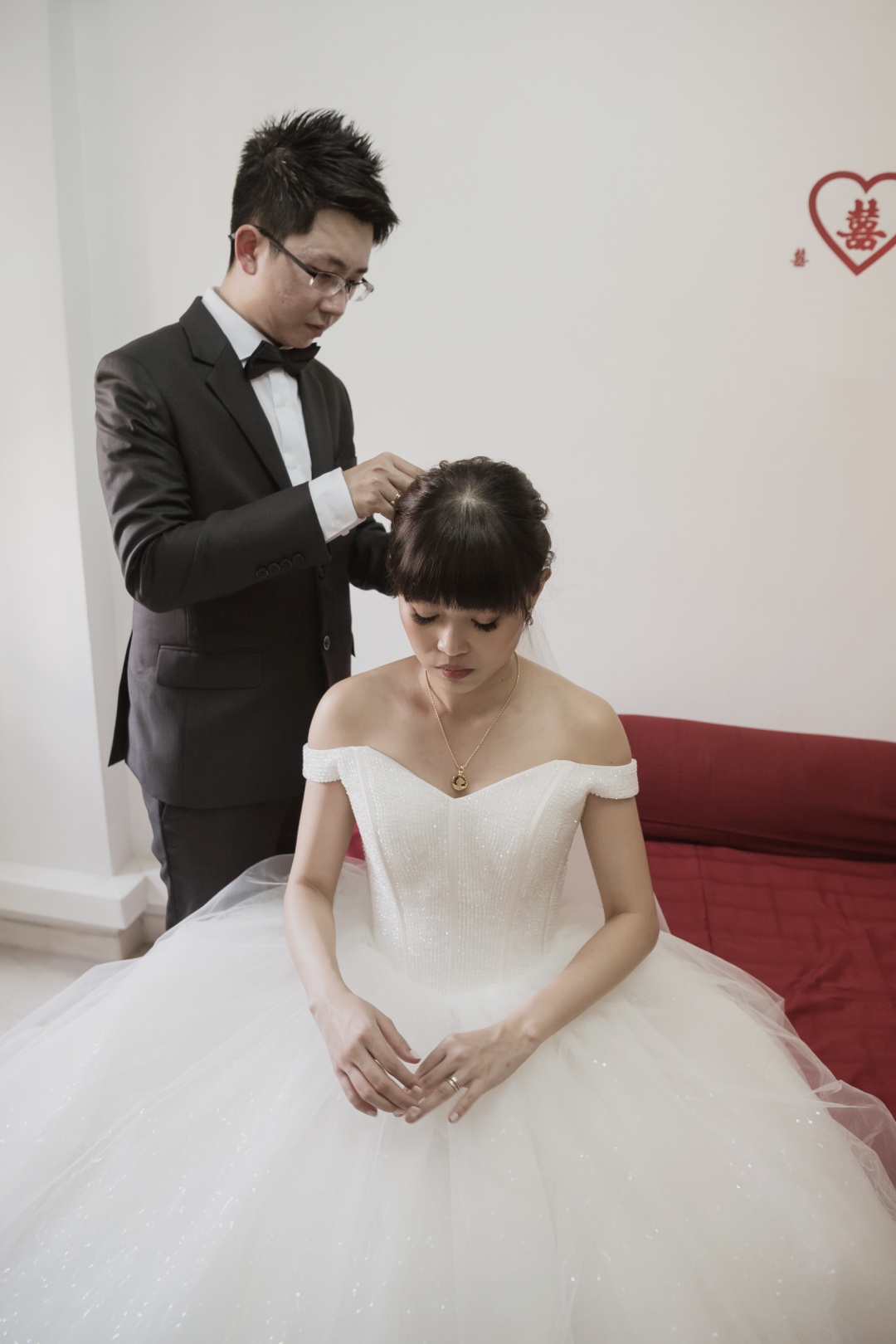 Thereafter, the Husband helped me to remove my wedding veil, and I had to change into my traditional Chinese Kua. I was told to bring along the gold jewellery (Si Dian Jin) that the Husband gifted to me during our Betrothal Gift Exchange and worn them with my Kua as I return to my place.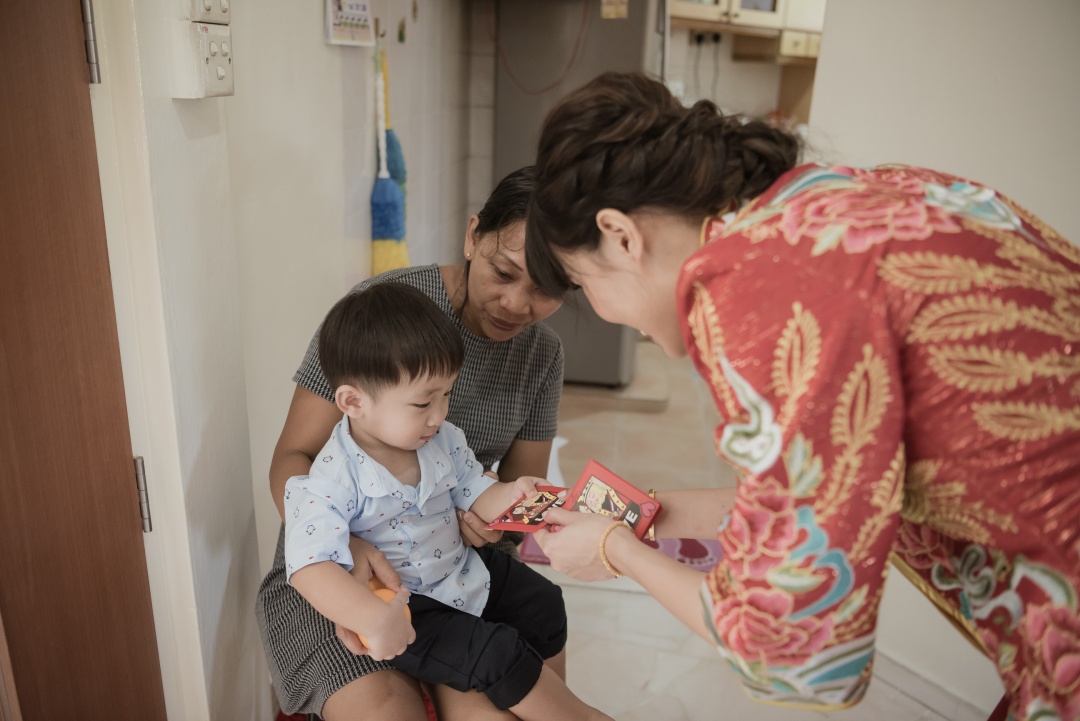 The last thing to do before leaving was to give out hong baos to all the kids in the house.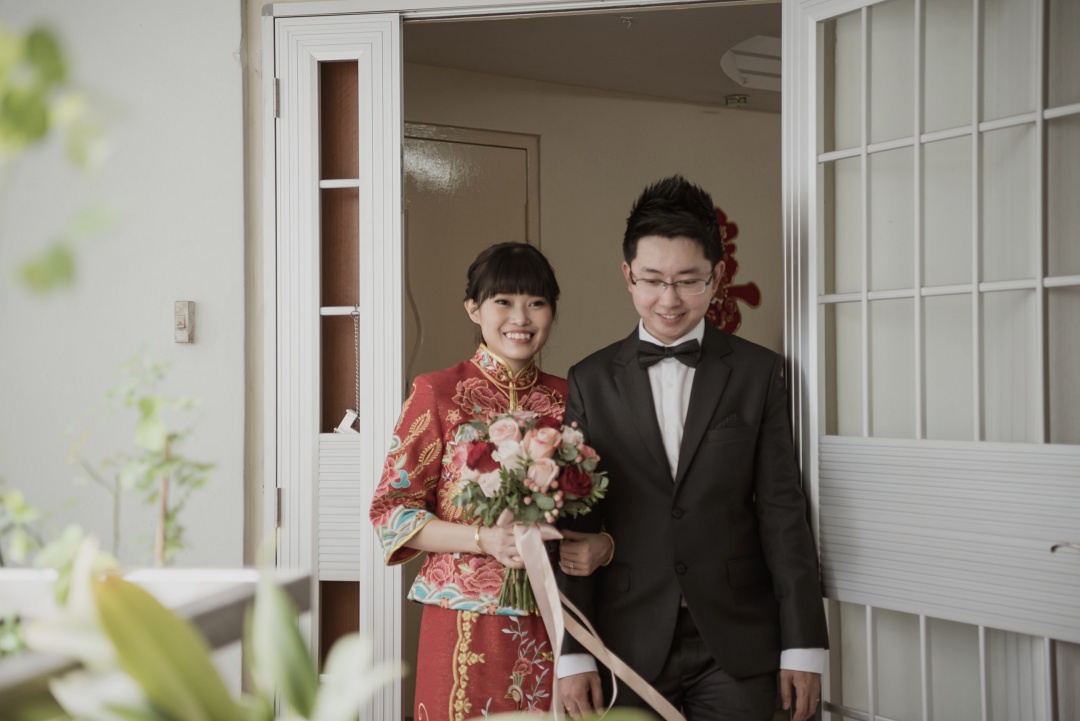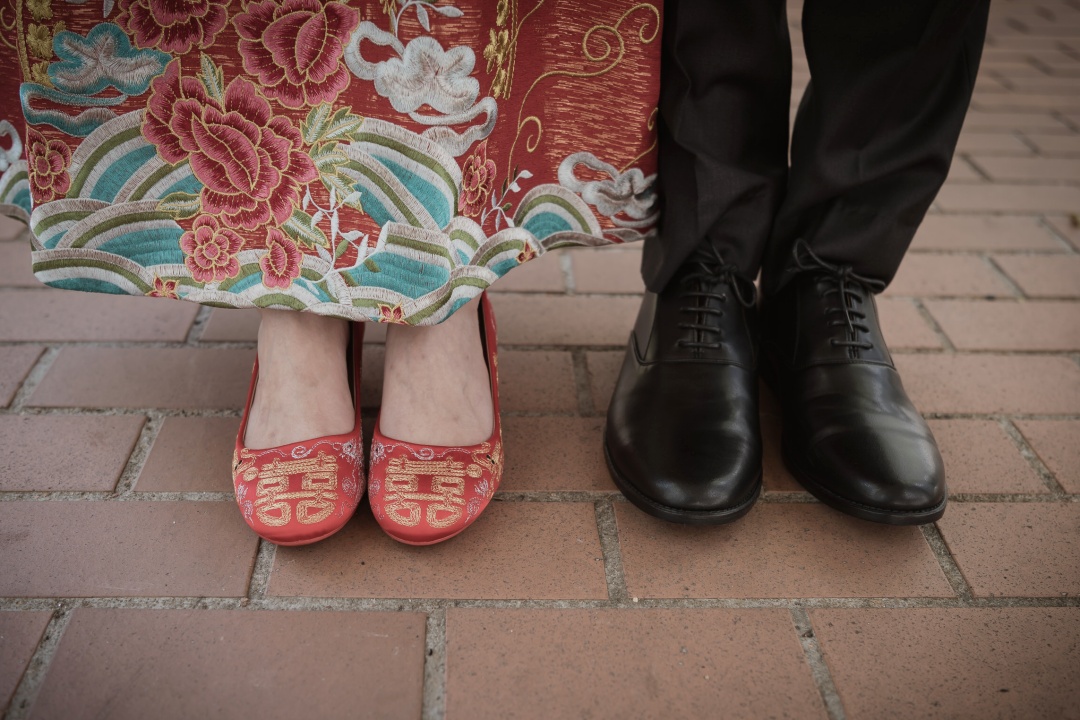 We arrived back at my place at 12:30.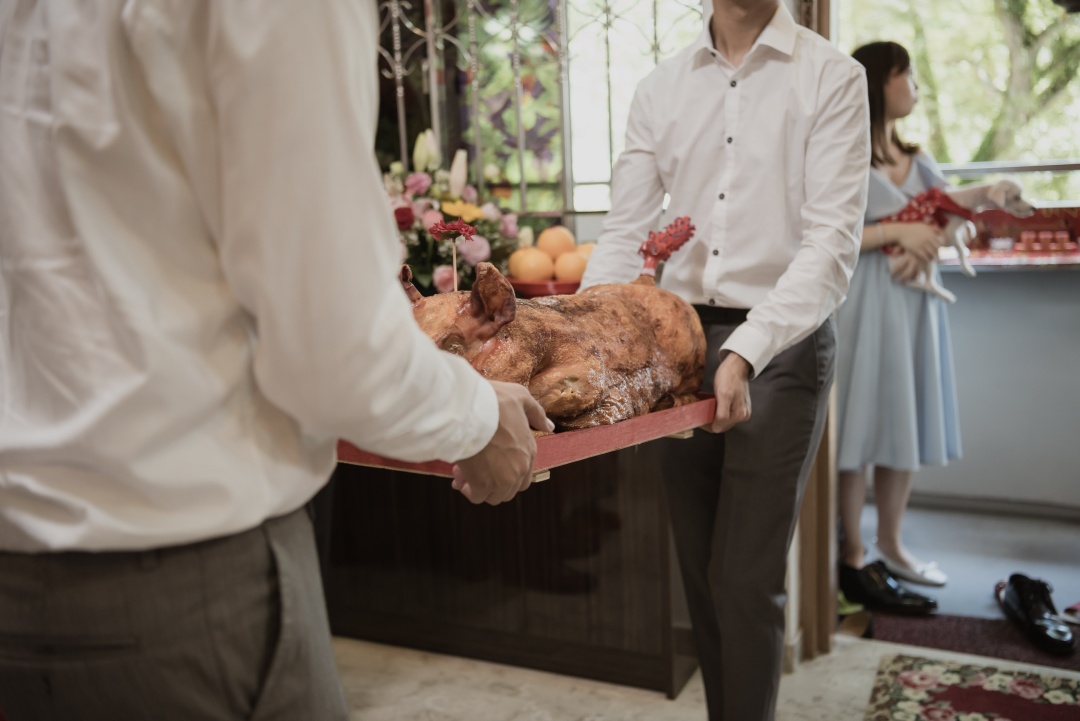 Coming back with us was the roast pig that the Husband got for my family. According to the customary, the bride's family are to keep the pig's body and return the pig's head and legs to the groom. The bride's family will then distribute the roast pork to their close relatives after the tea ceremony.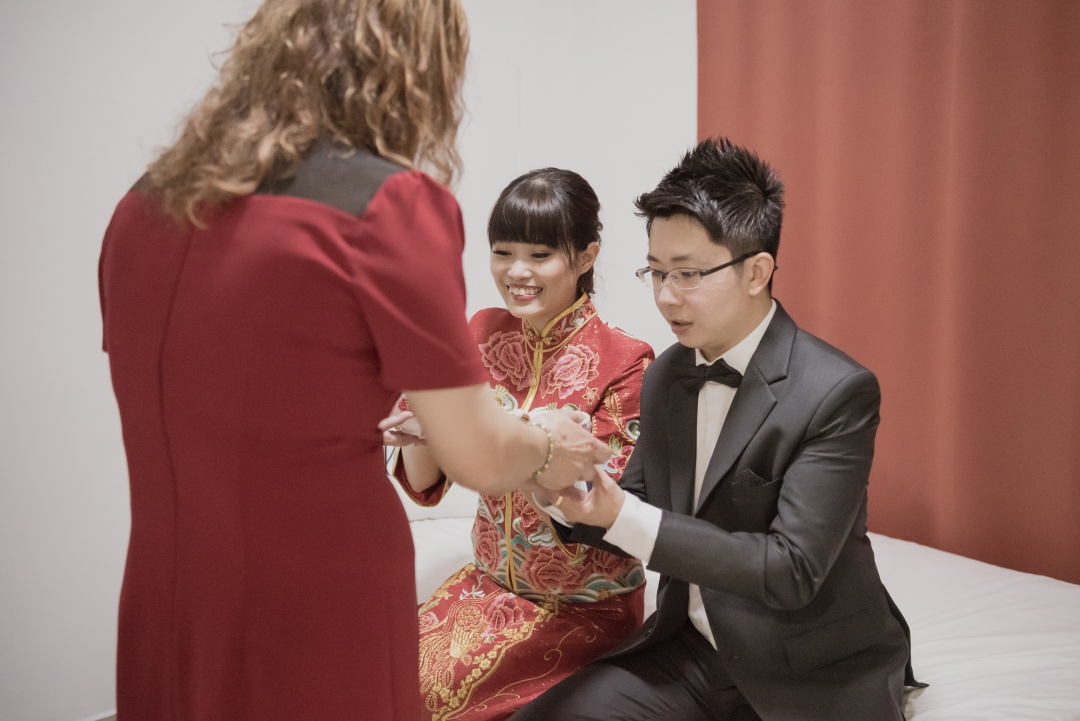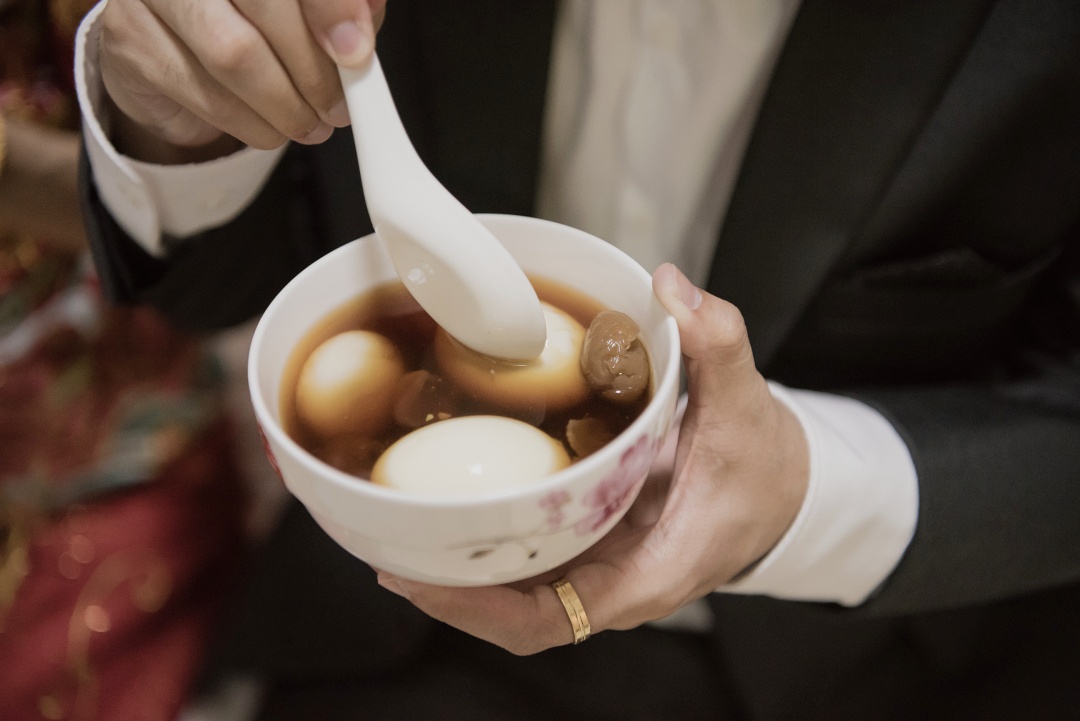 Instead of tang yuan, my mum prepared hard-boiled eggs for us when we returned.
Tea Ceremony at my Parents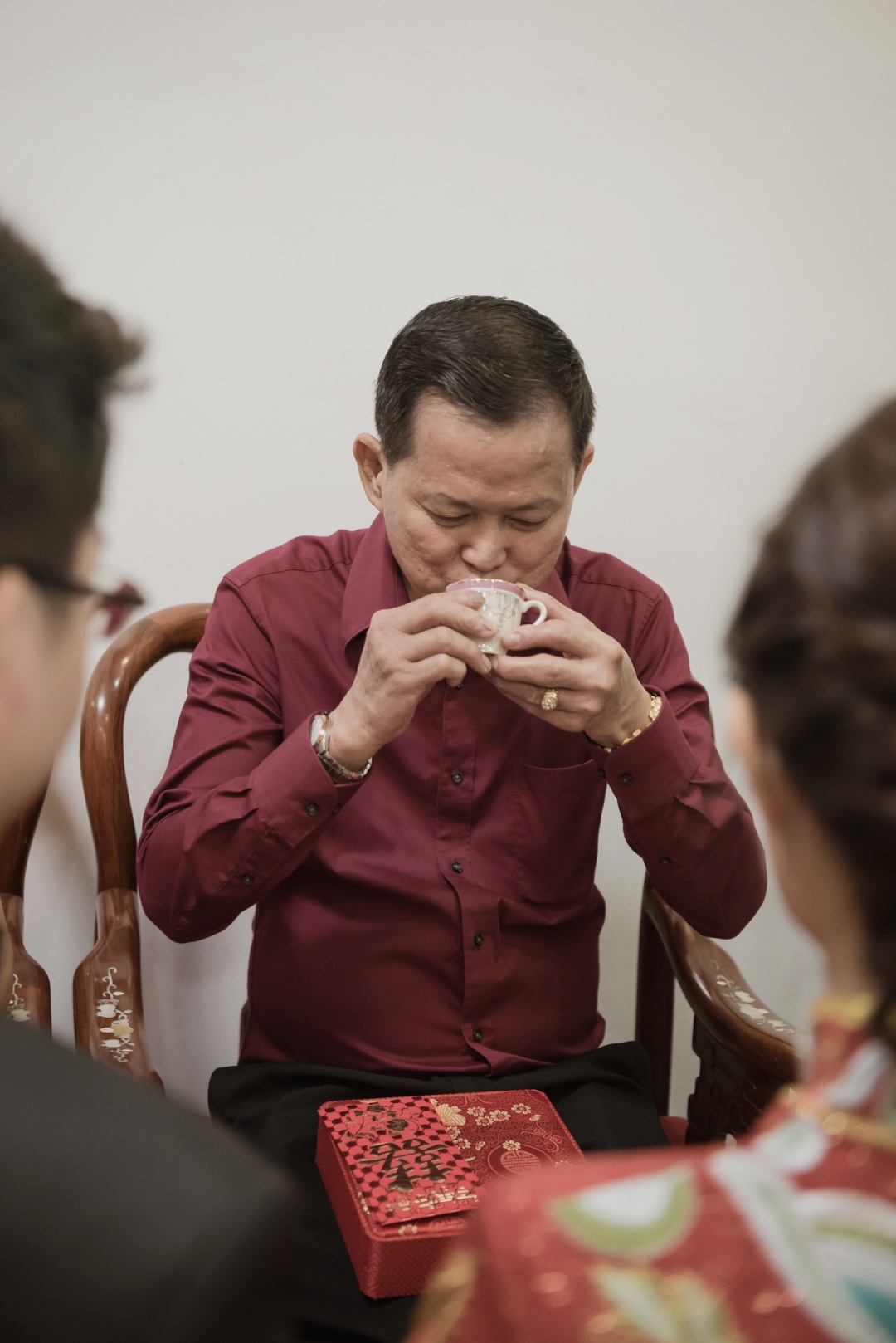 We kneel while serving tea to my parents (and godmother), even though my mum kept saying we didn't have to do that.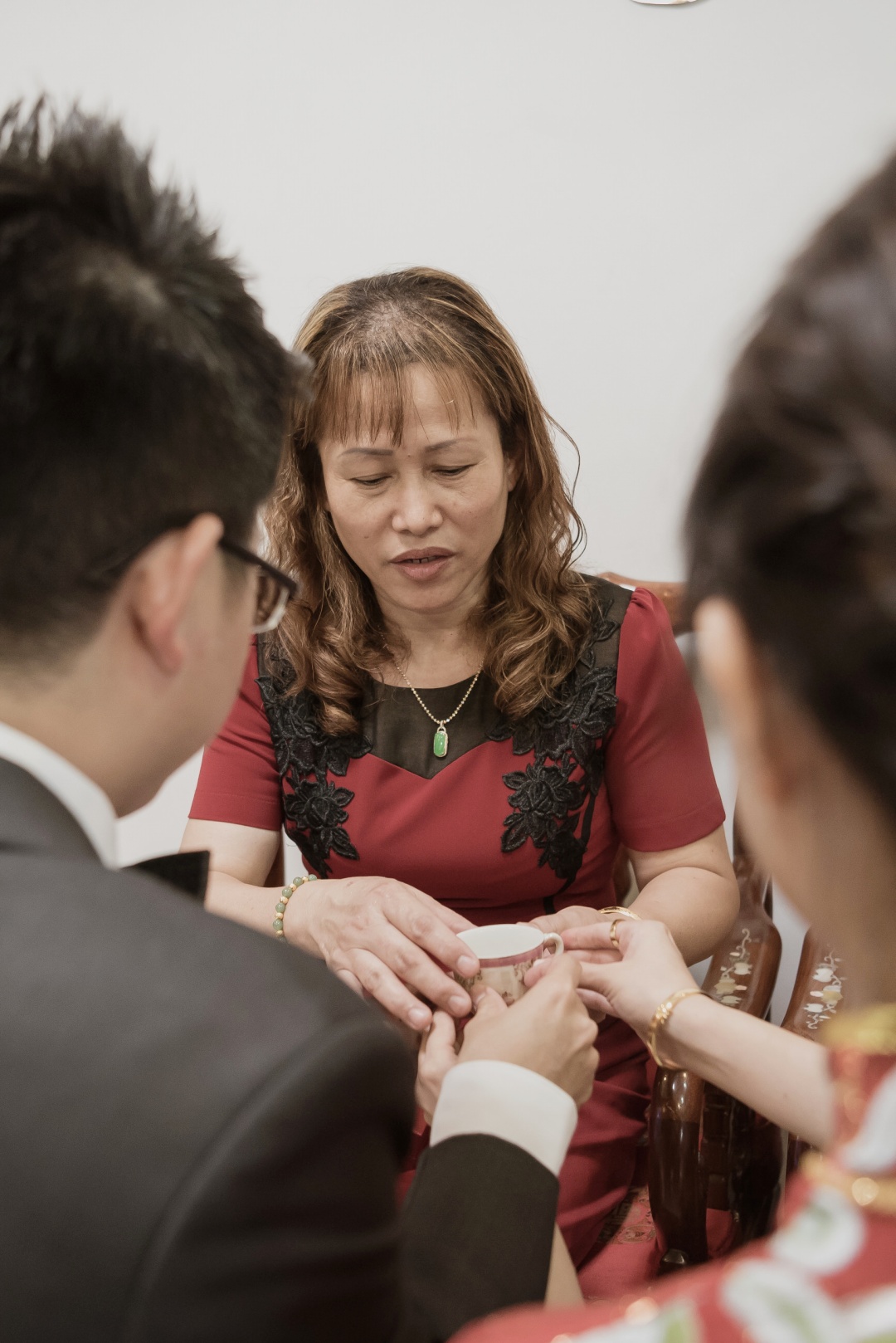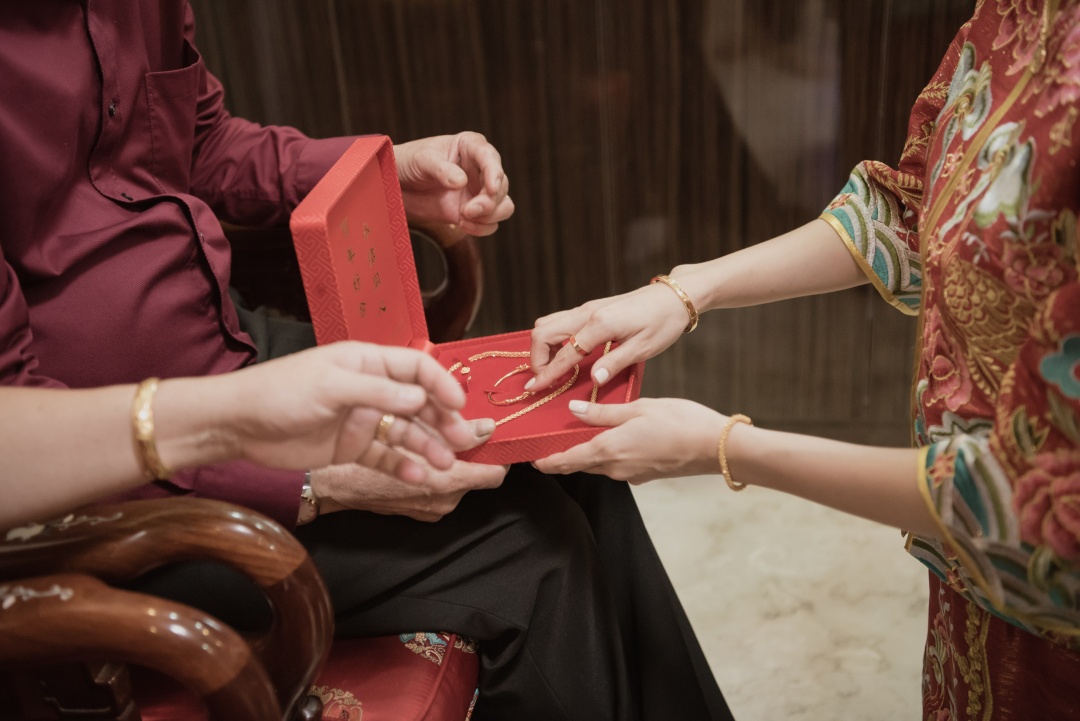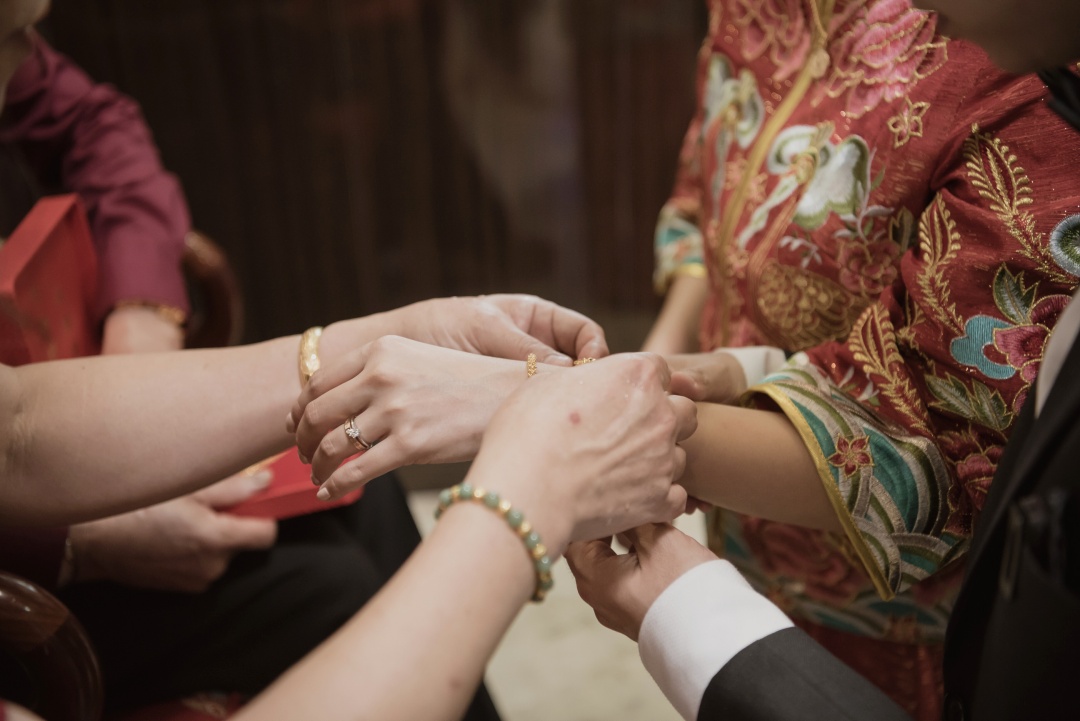 Putting on the gold jewellery (Si Dian Jin) gifted to me by my dad.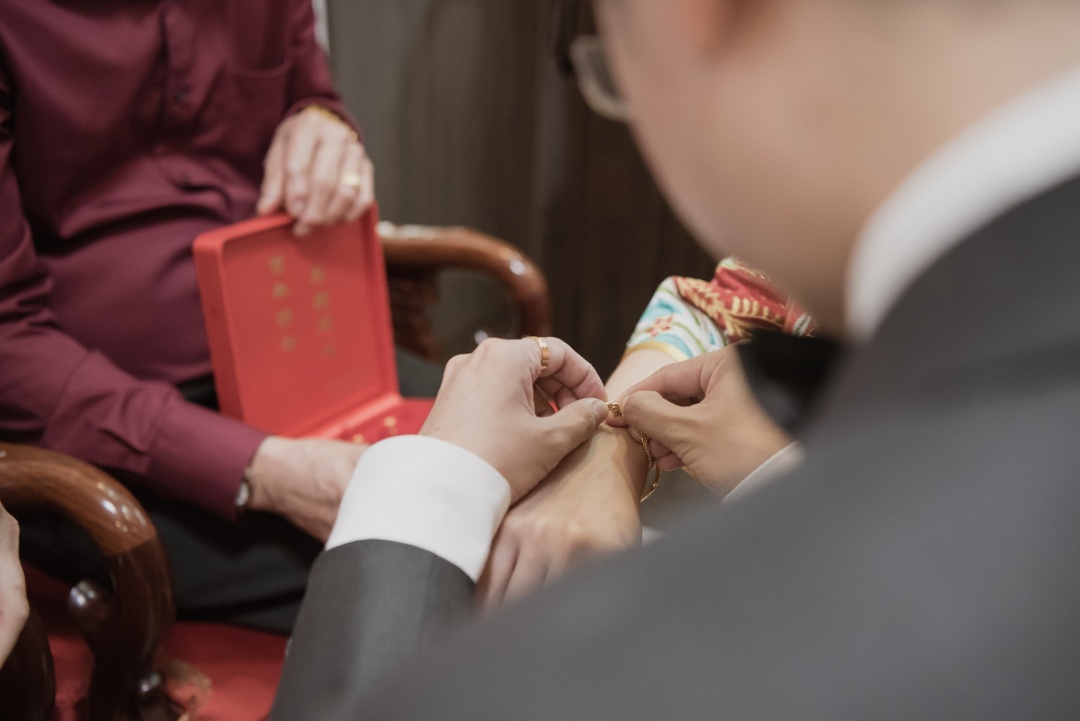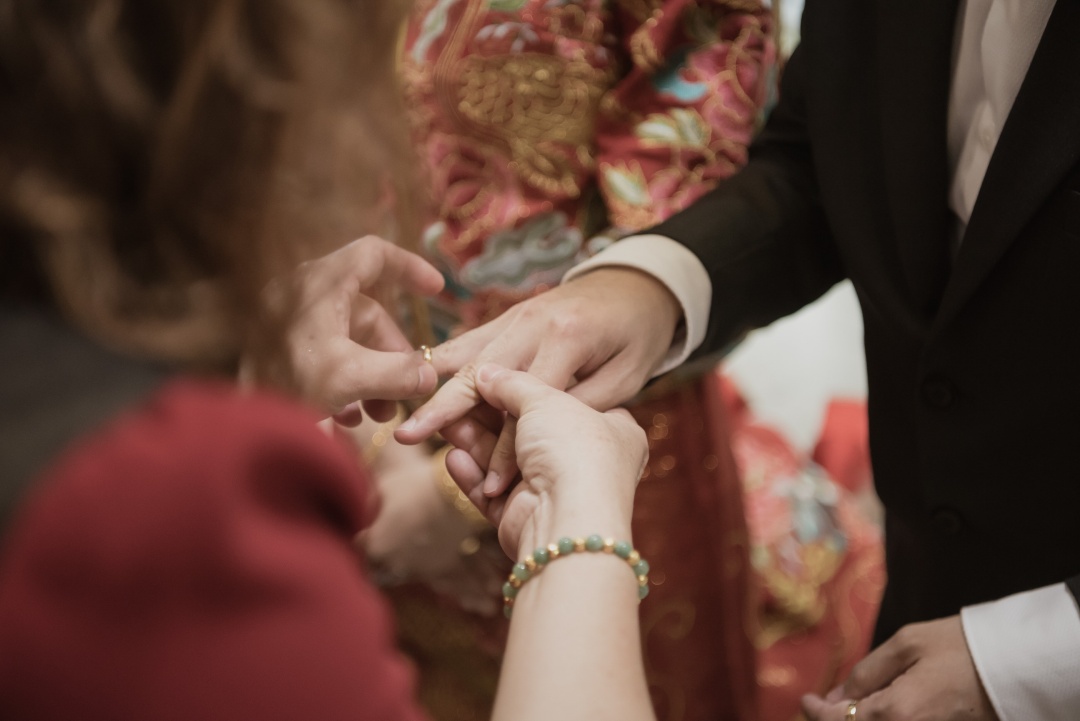 And gold ring from my mum.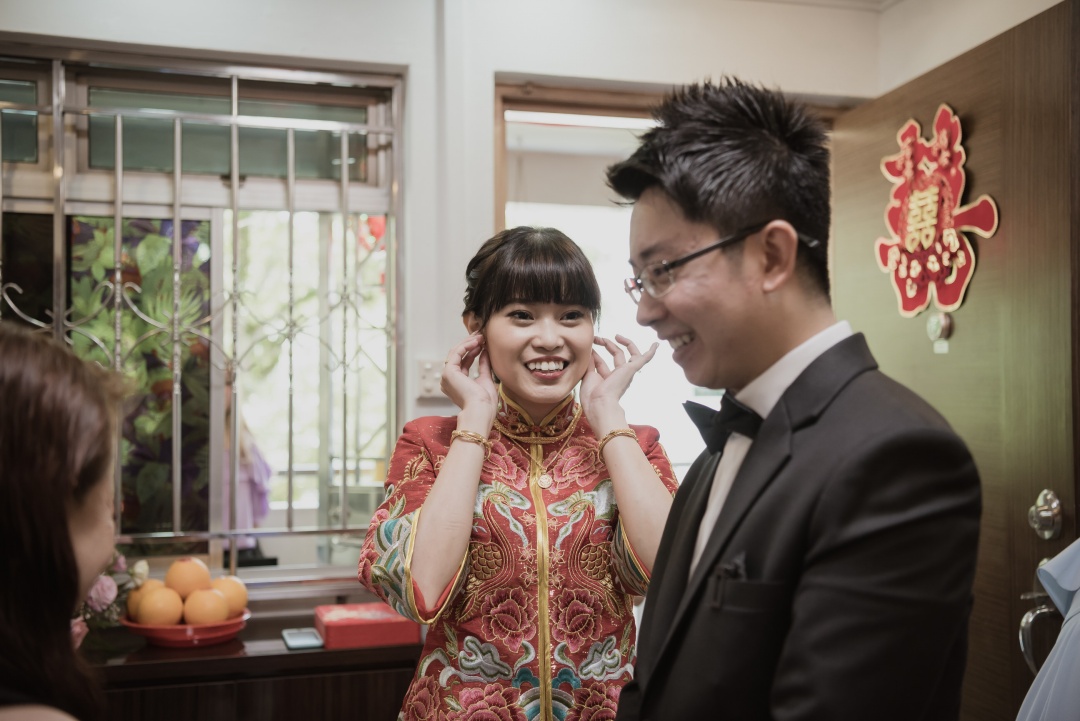 Don't even know why there was this picture. But I think the photo was taken right after we figured out how to wear the earrings.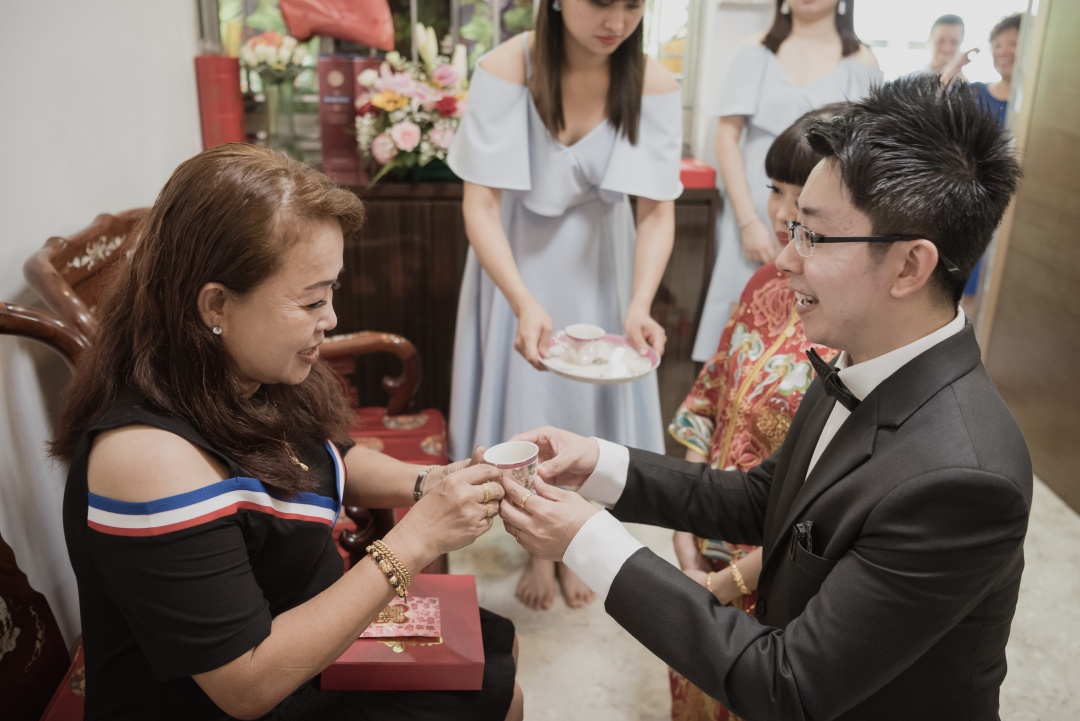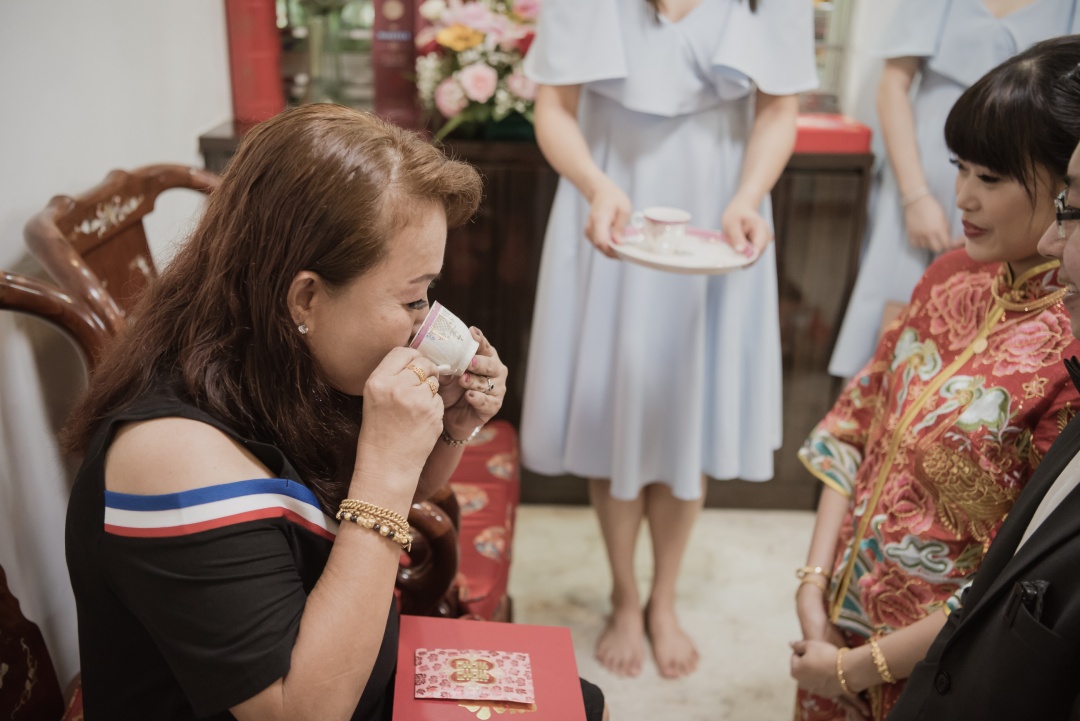 Serving tea to my godmother, who was my mum's elder sister. I've been her goddaughter for as long as I could remember, and she had been treating me like her own all these years.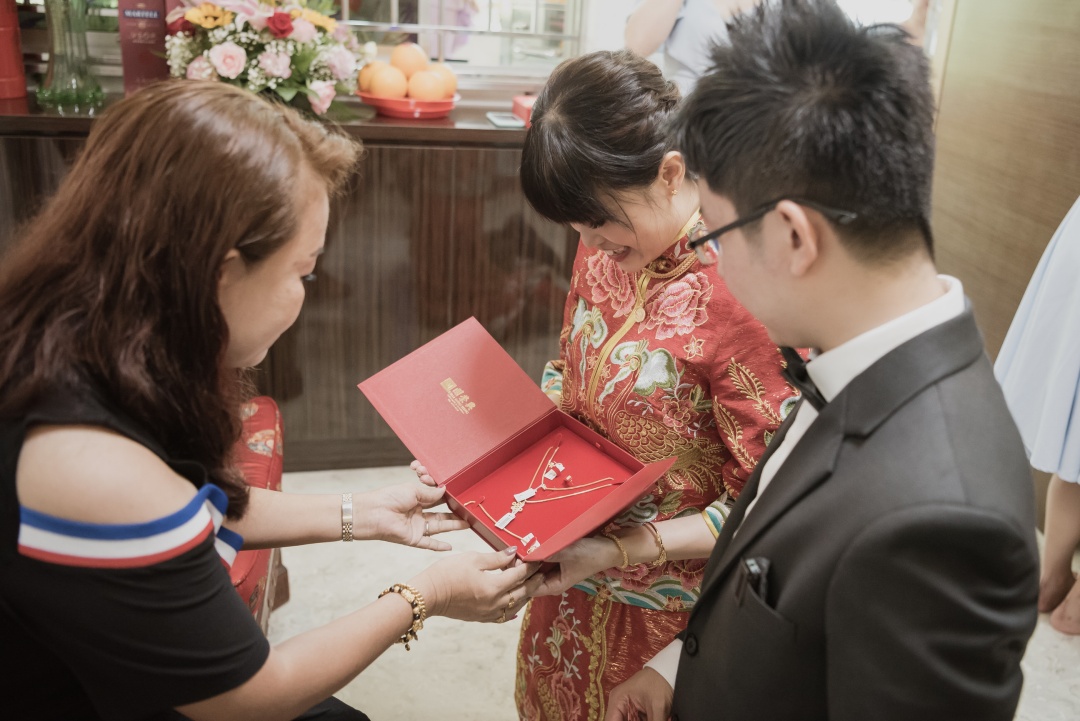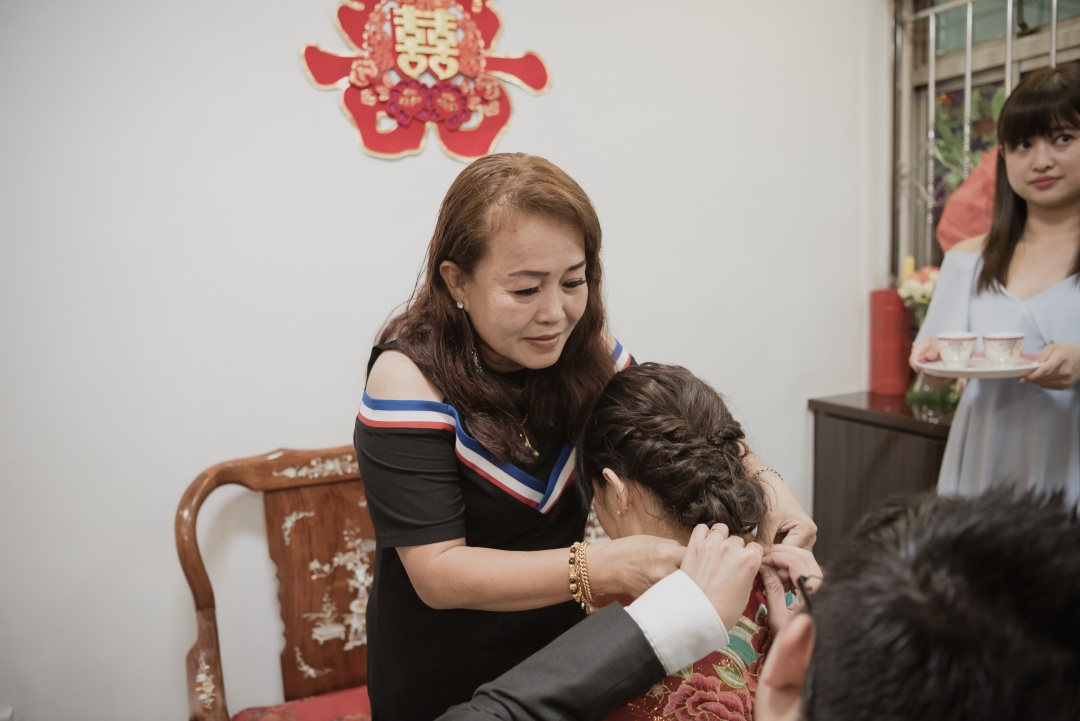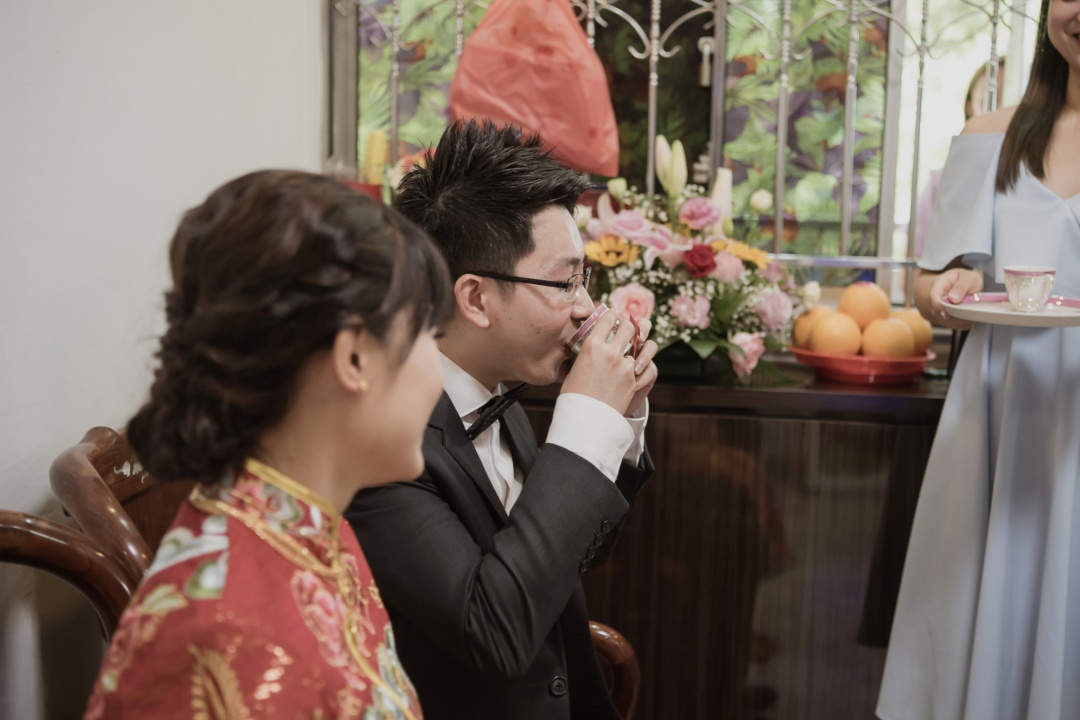 We got to sit down again while waiting for my two younger sisters to serve us tea.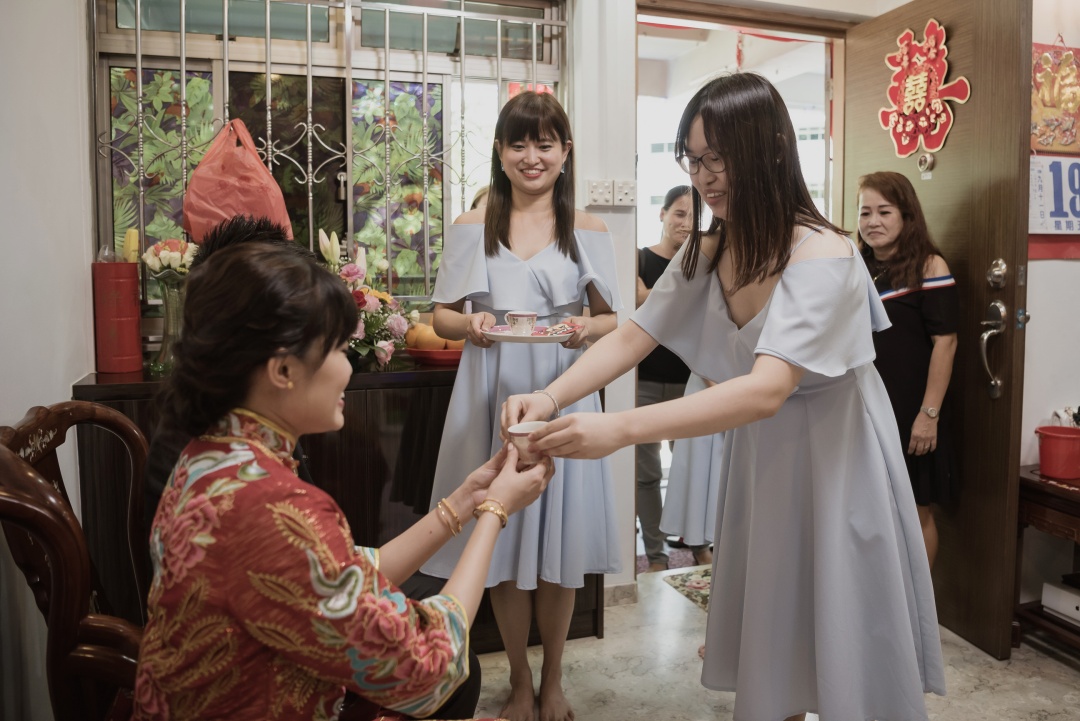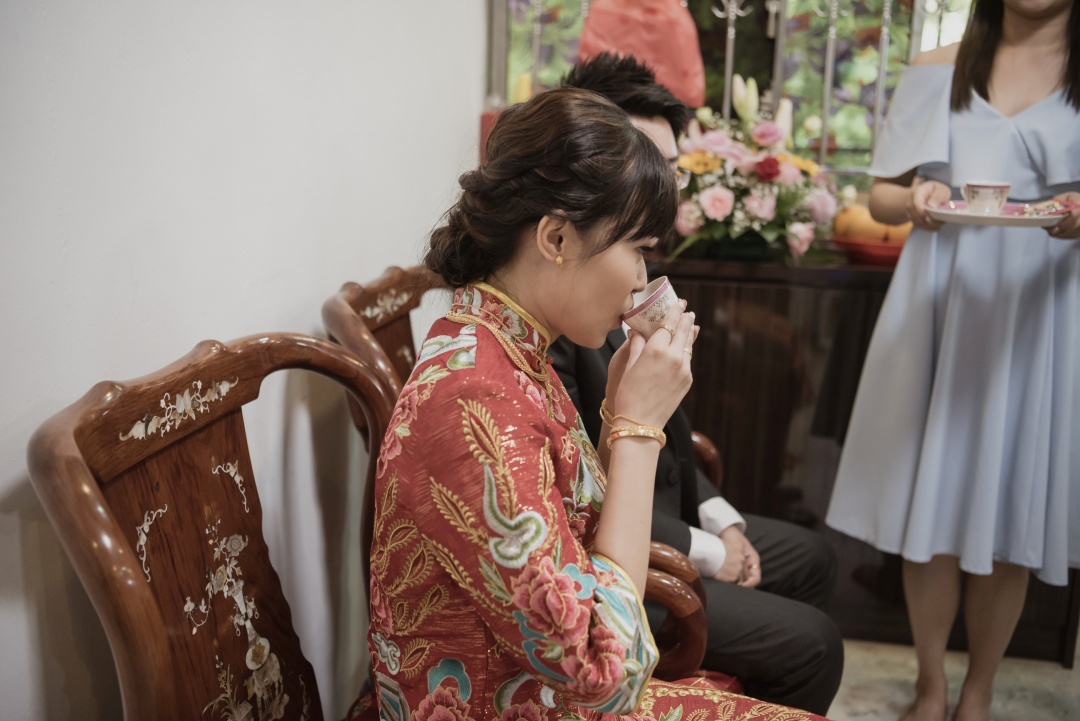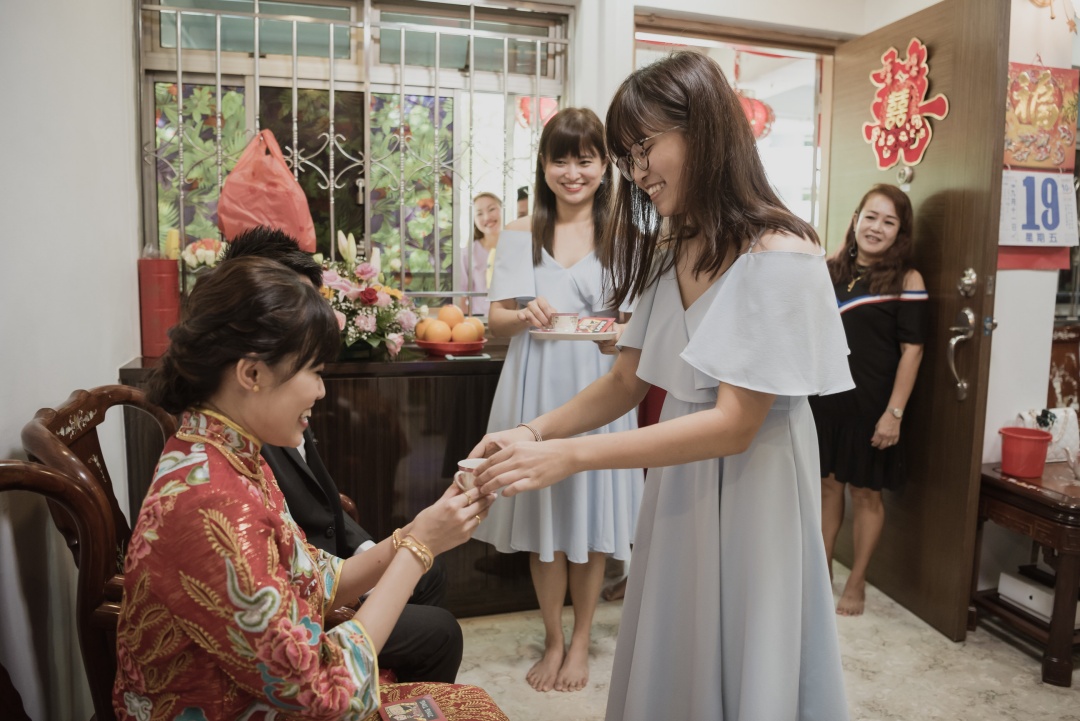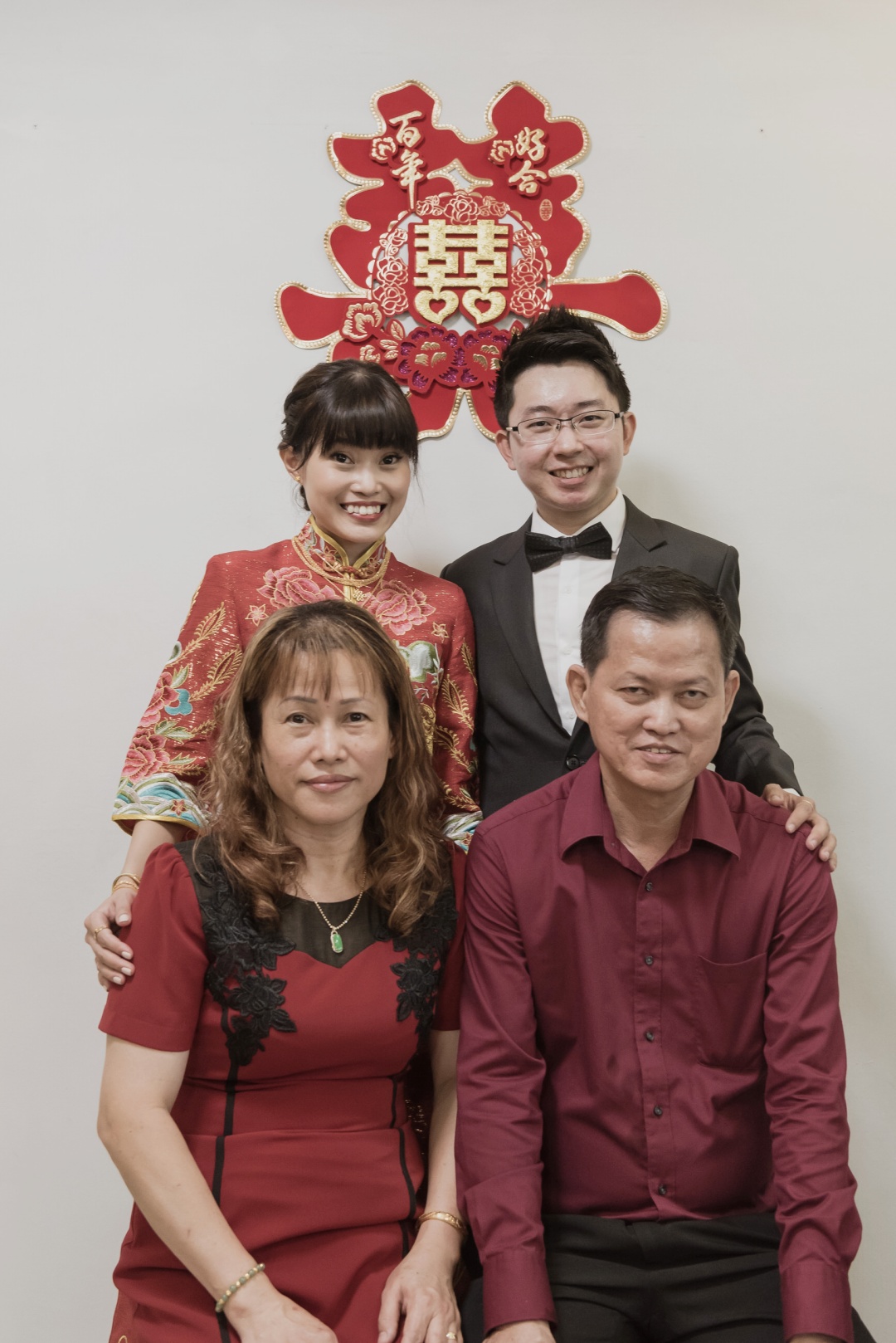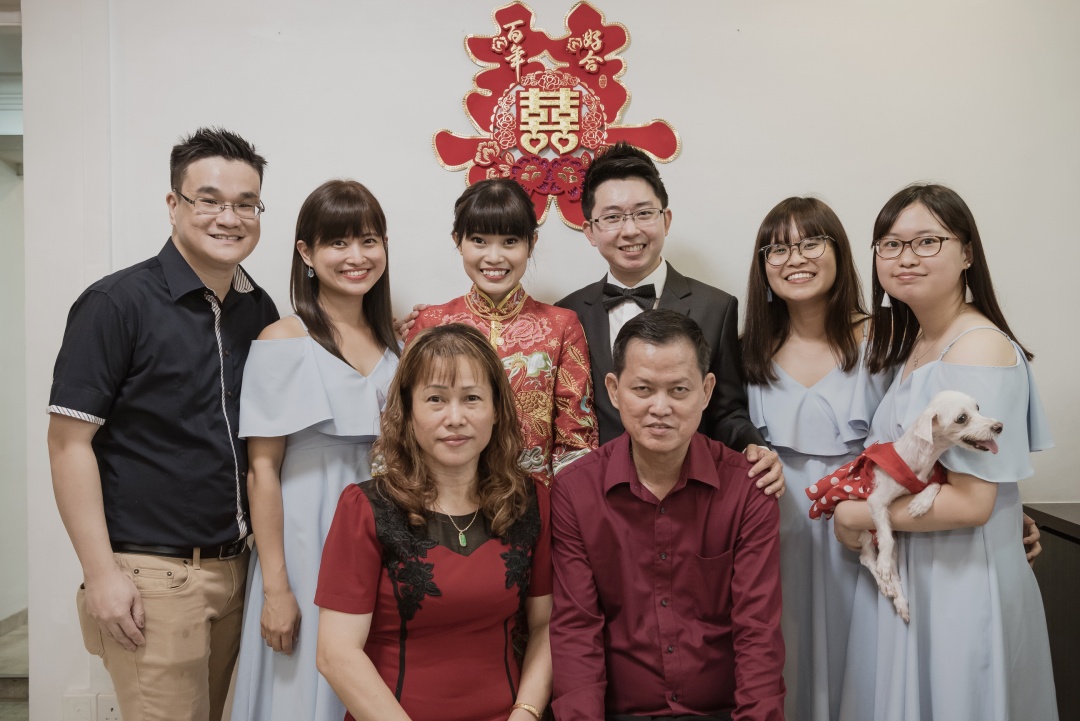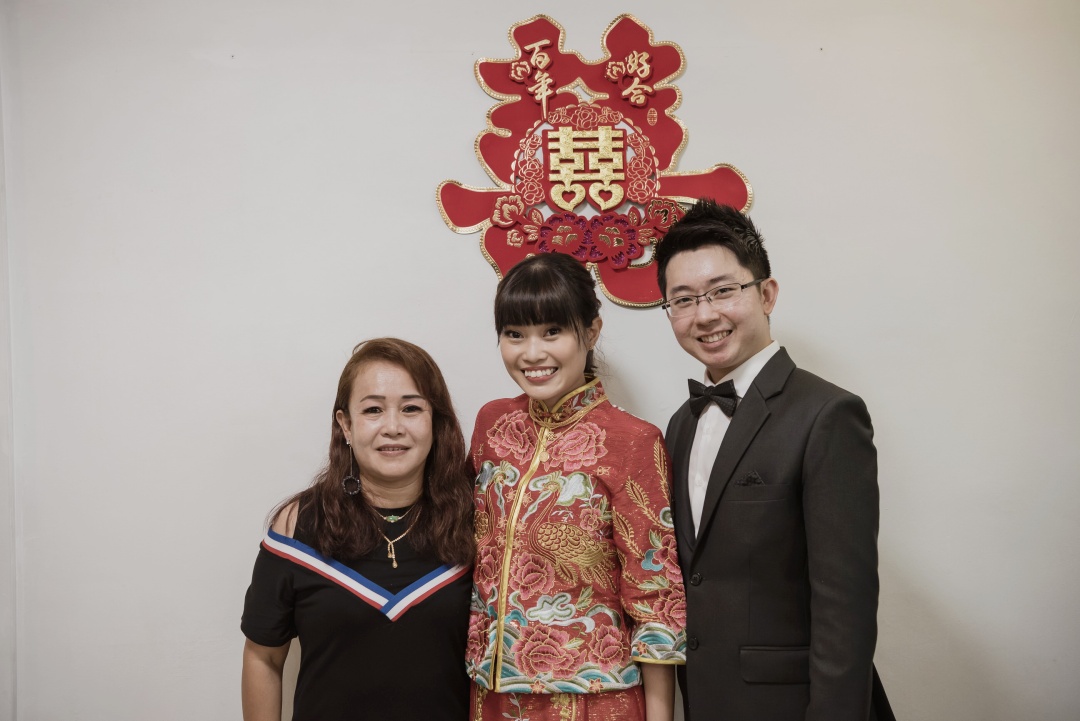 I'm surprised we only took half an hour from the time we reached my place till we finished the tea ceremony.
Petrina and Leon left at 12:55, and they suggest to reach slightly later at 19:20 that evening for our dinner banquet. It was very nice for them to propose that so that we could keep the overtime to one hour.
After all our guests left, we continued to stay for a while more so that I could finish packing my belongings to bring to the hotel. I was so busy the entire day that I didn't have time to eat/touch the buffet we catered from Stamford Catering. In the end, my mum packed some food for me to bring over to the hotel.
I believed we only reached Conrad Centennial Singapore at around 14:30?
---
Will continue in my next post on our second half of the wedding/dinner banquet at Conrad Centennial Singapore.