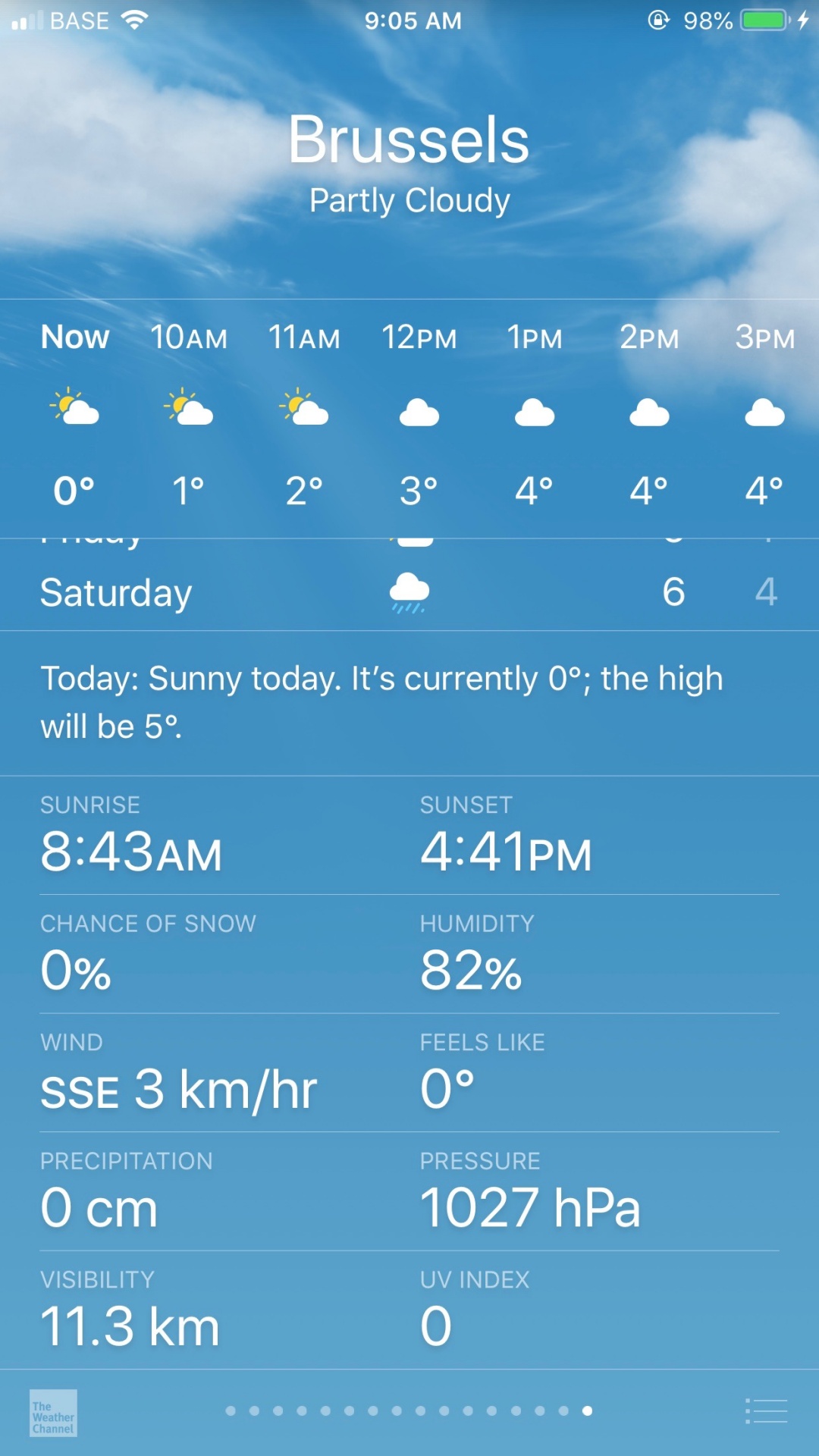 Waking up to another cold morning in Brussels, Belgium!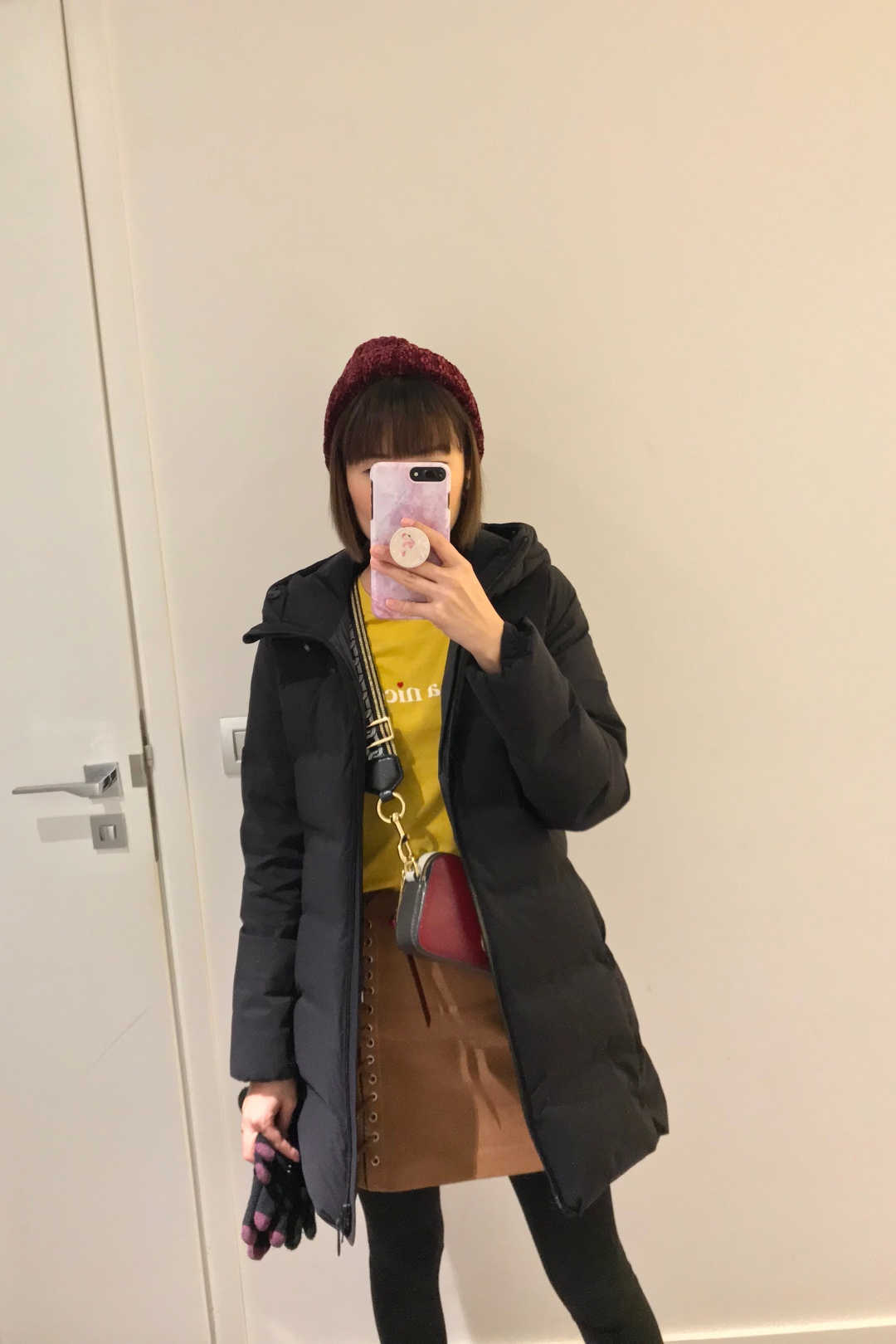 Outfit of the day! All ready to go sightseeing and checking out the landmarks in Brussels.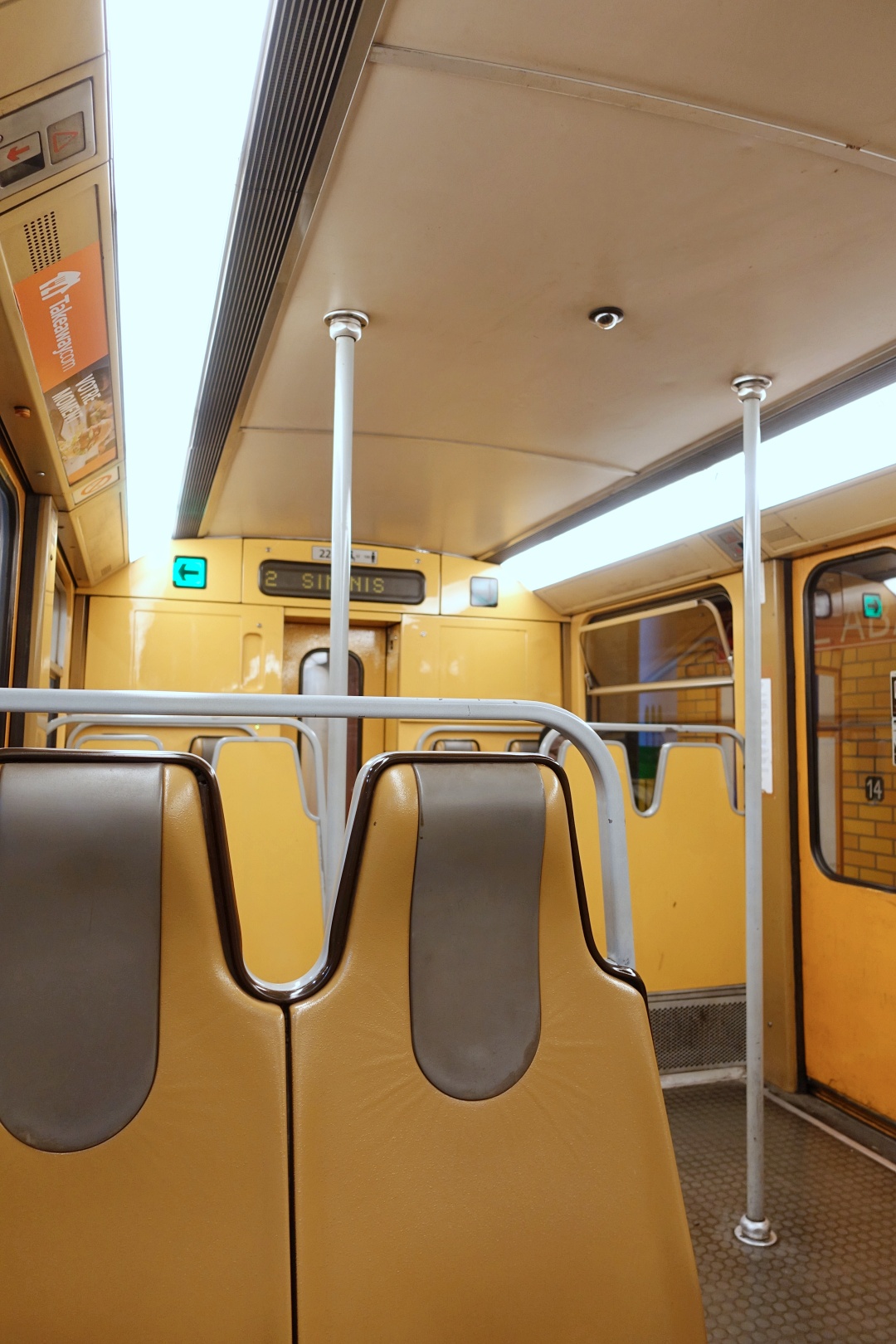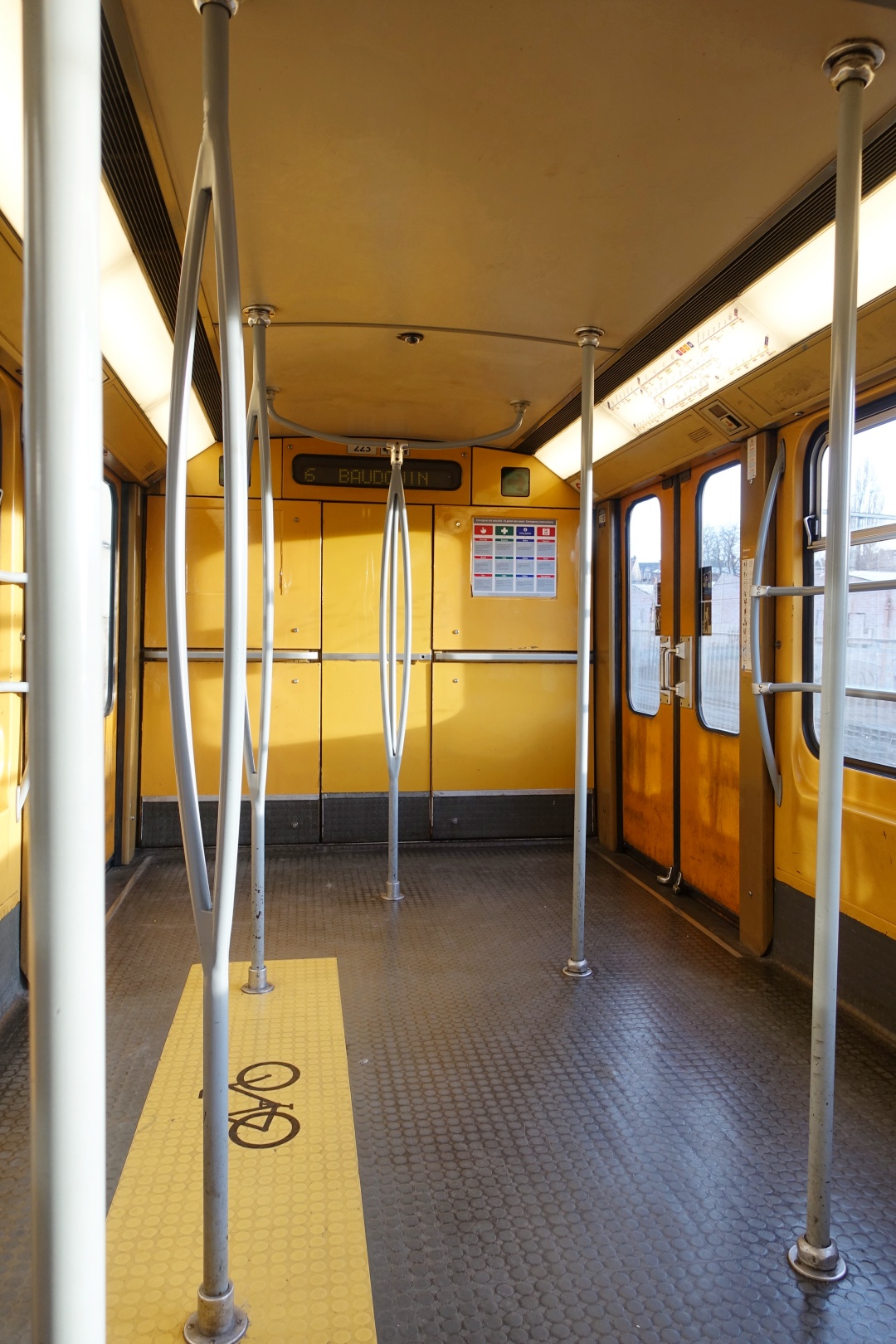 Took a train to Heizel Station to visit the Atomium.
The Atomium is a 5 minute walk (300m) from the Heizel Metro Station, Mini-Europe and the ADAM – Brussels Design Museum.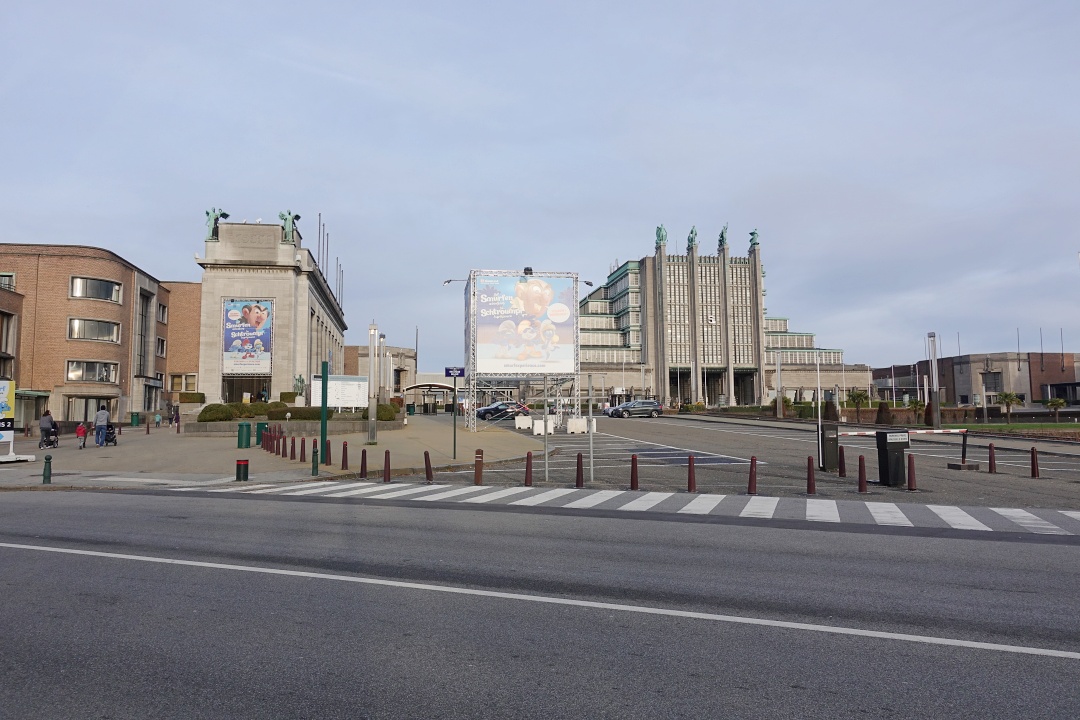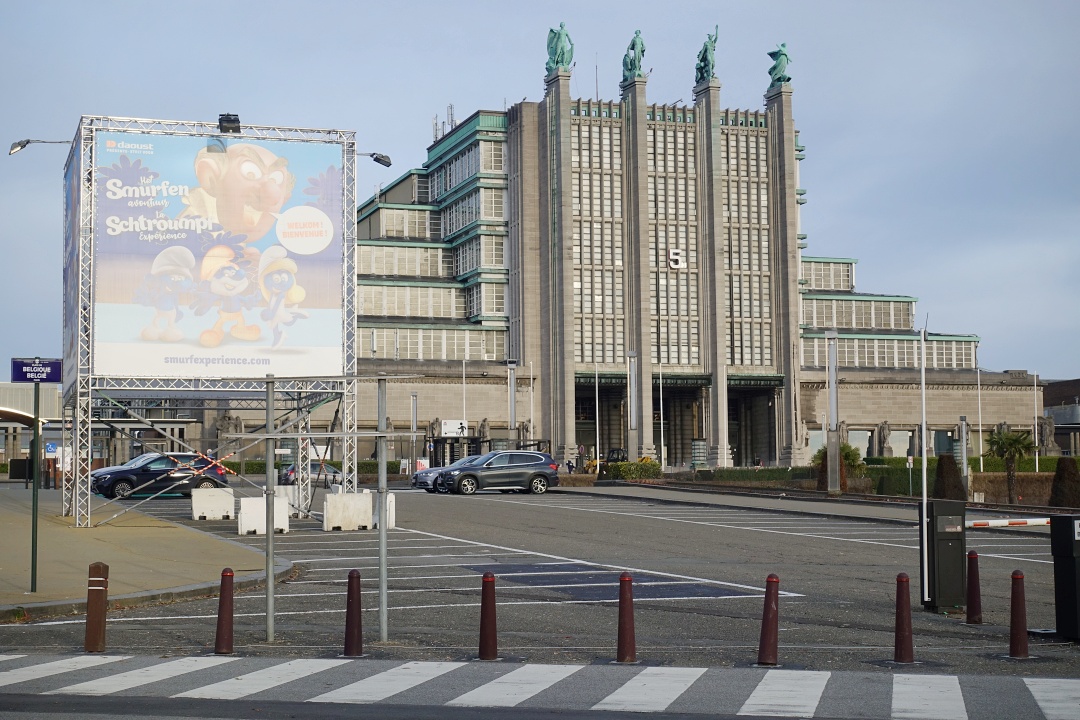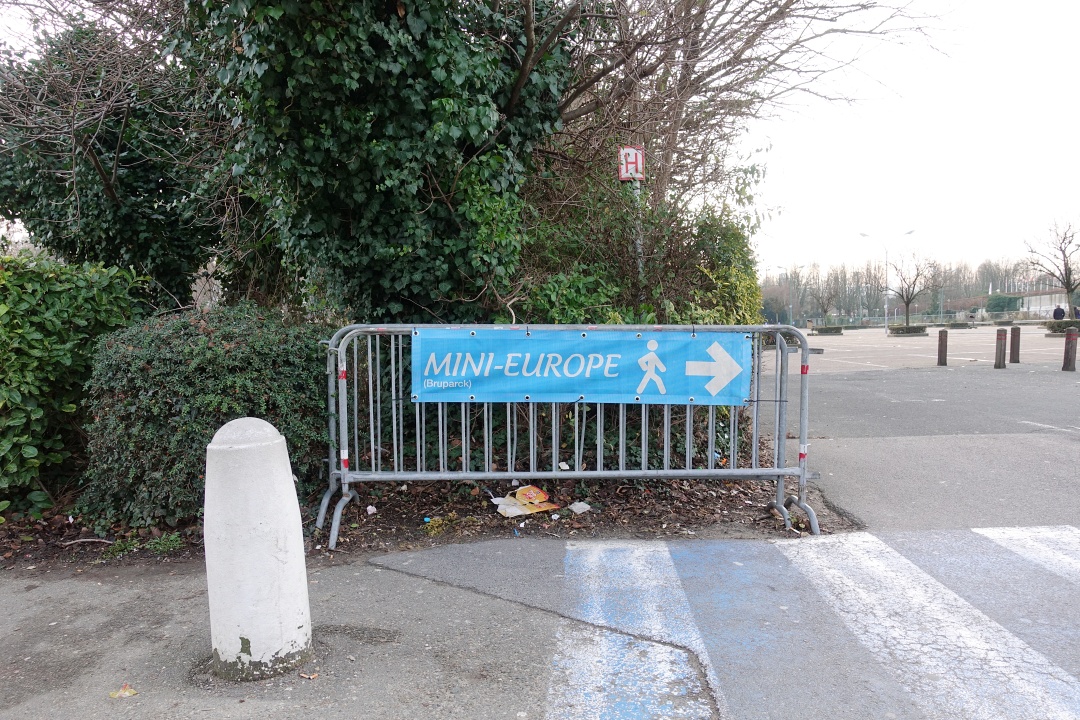 Atomium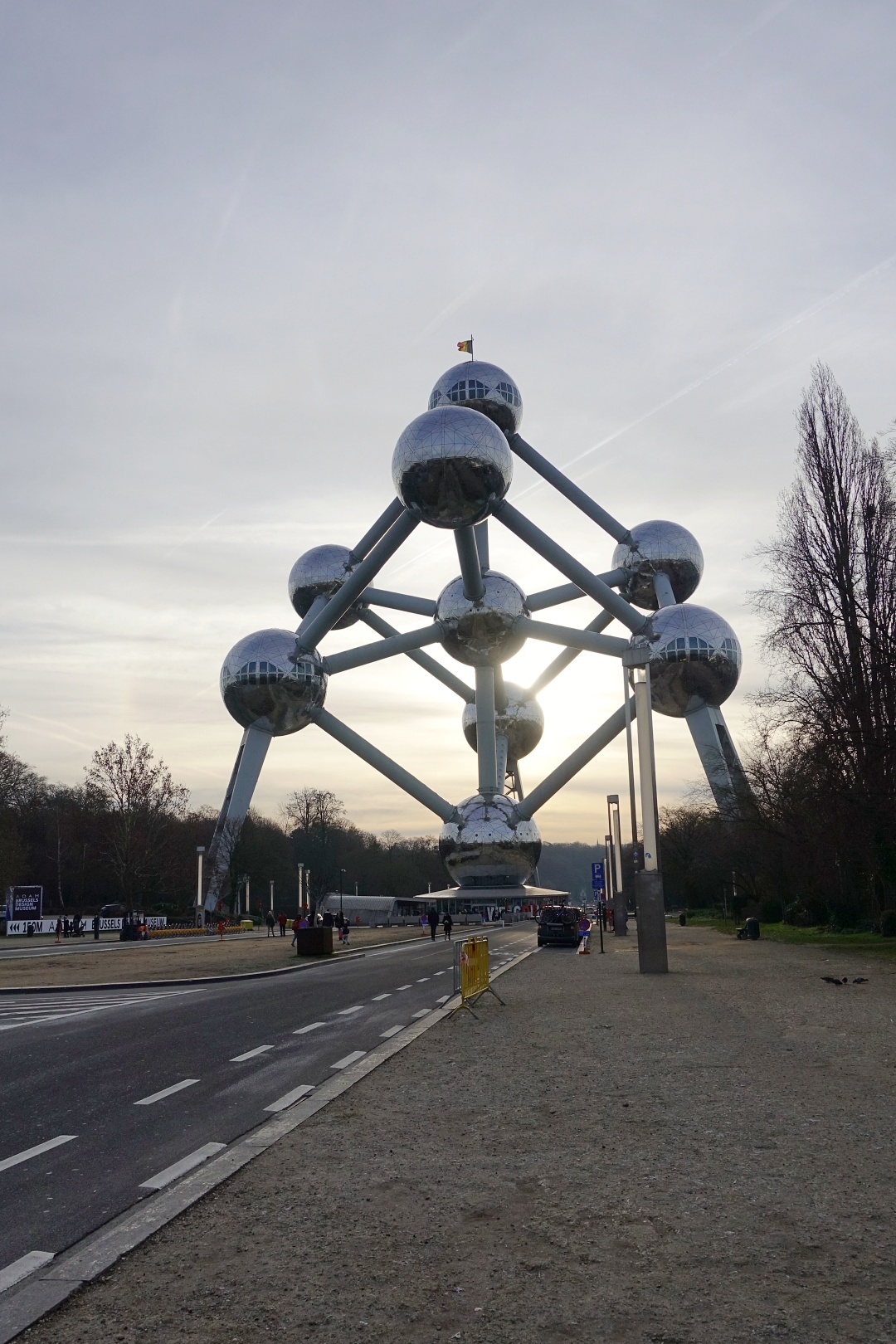 Known as the symbol of Brussels, the Atomium celebrated its 60th anniversary in 2018. Constructed for the 1958 Brussels World's Fair (Expo 58), the Atomium served as the iconic, landmark building for the event. This one of its kind structure represents an iron crystal magnified 165 billion times. Standing at 102m, it's connected with nine stainless steel clad spheres with a diameter of 18m.
The place is open daily from 10:00 to 18:00 (last entry at 17:30).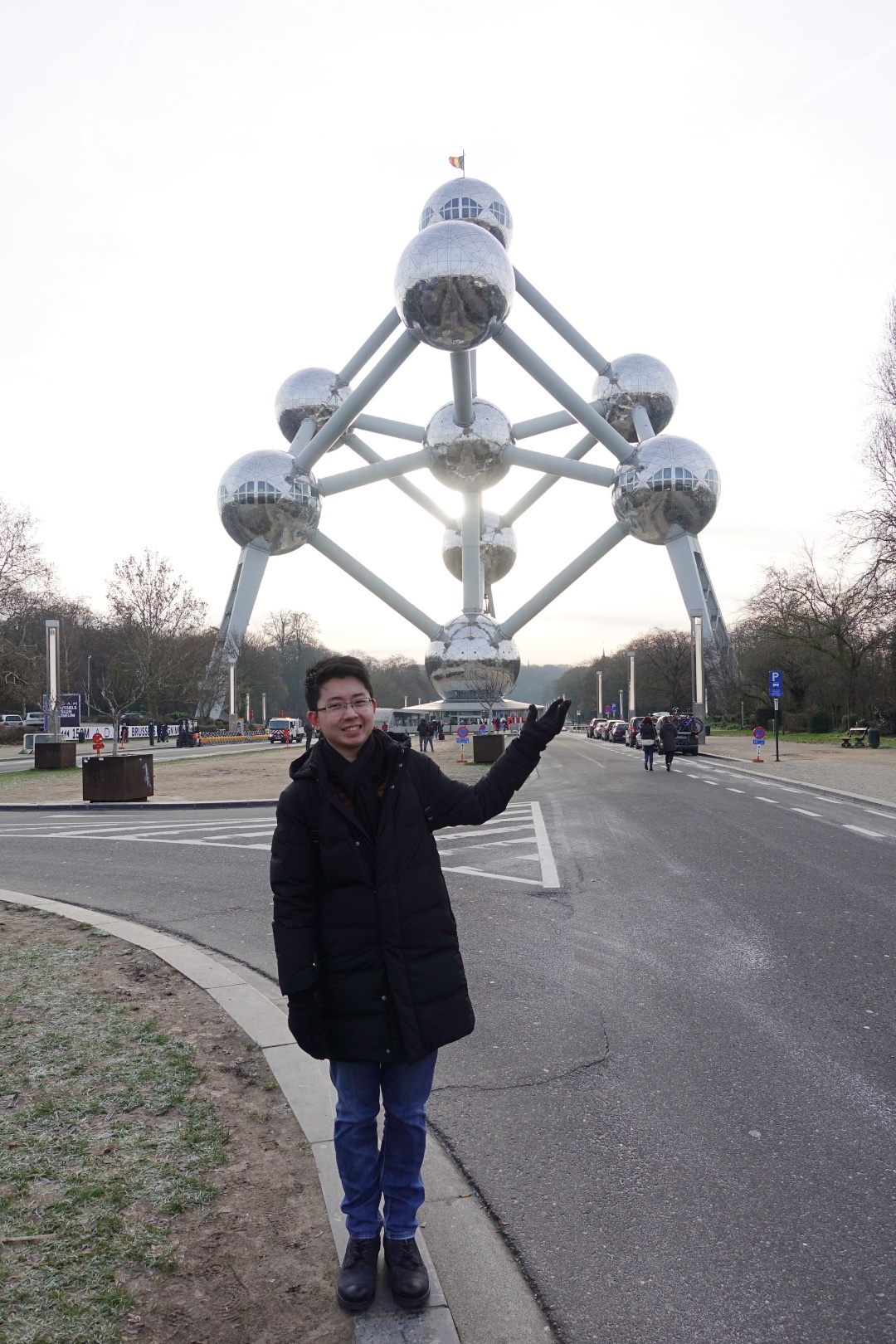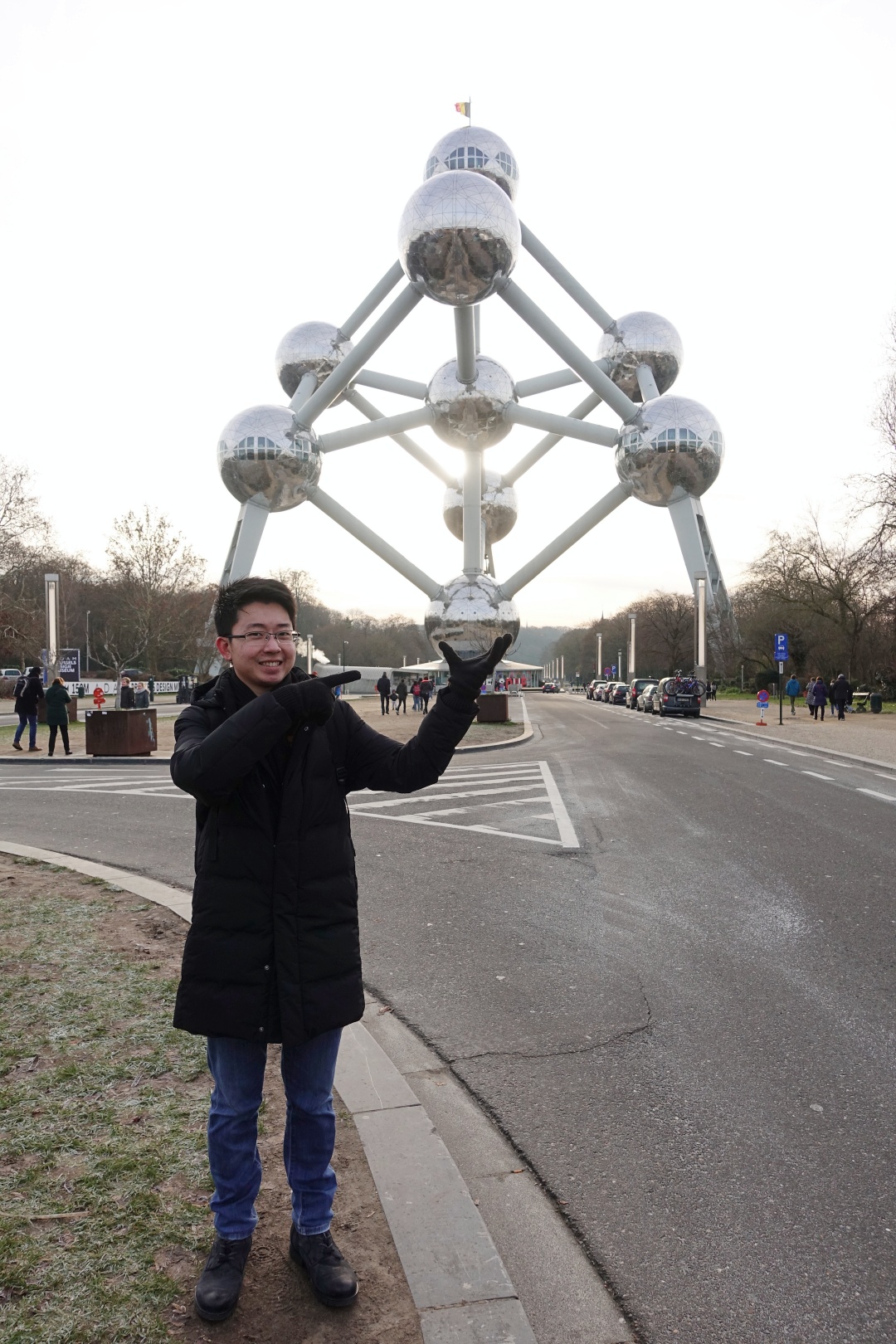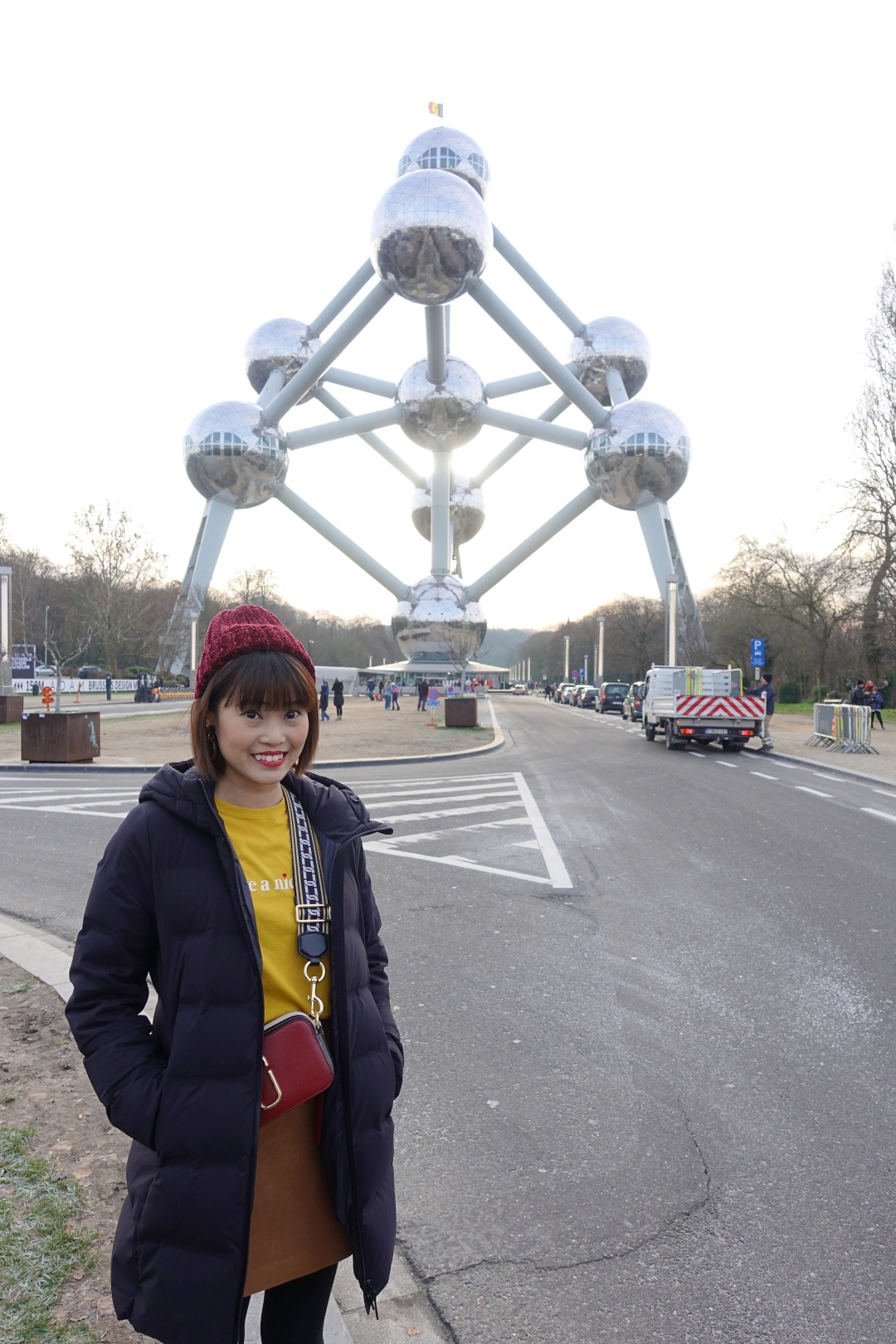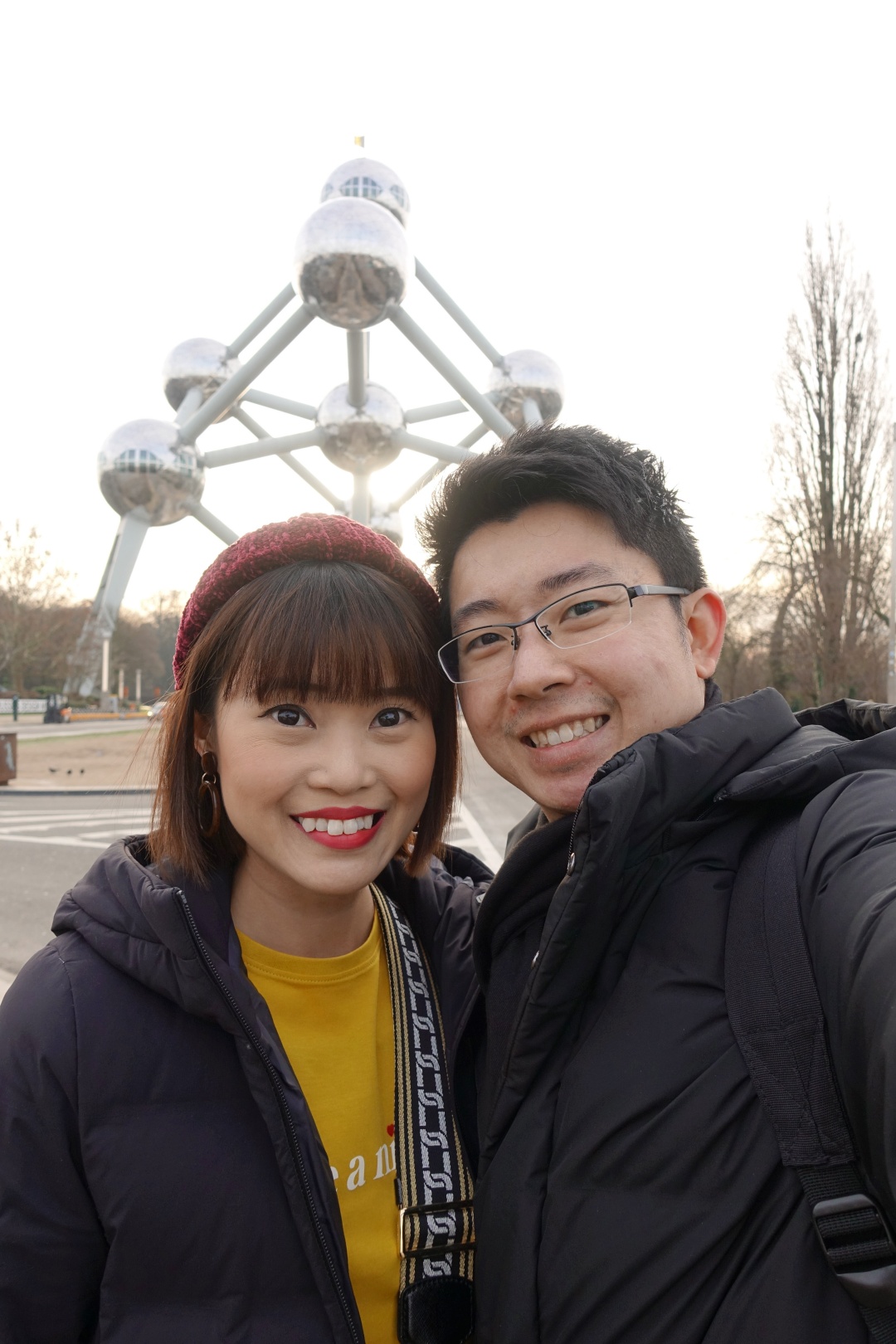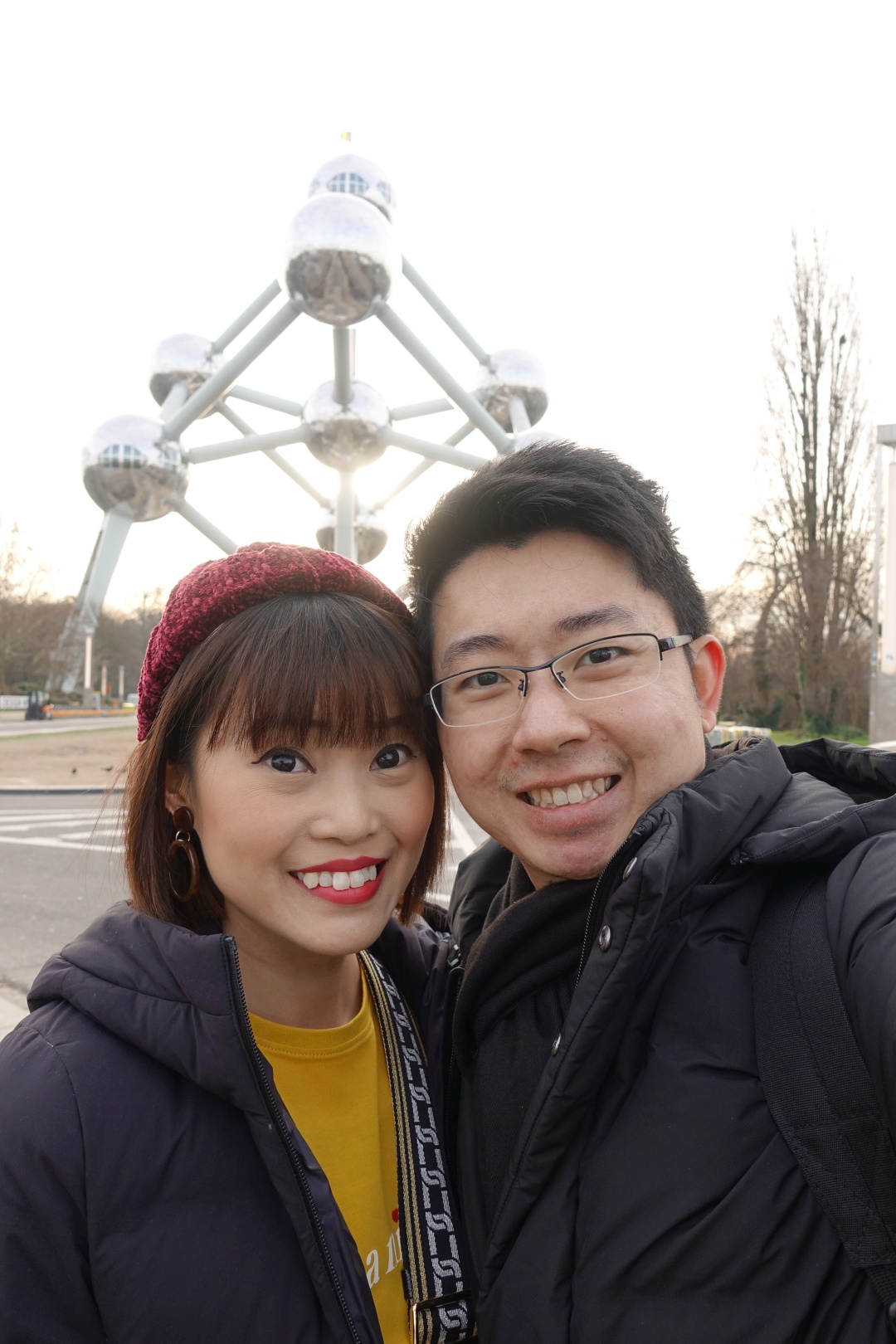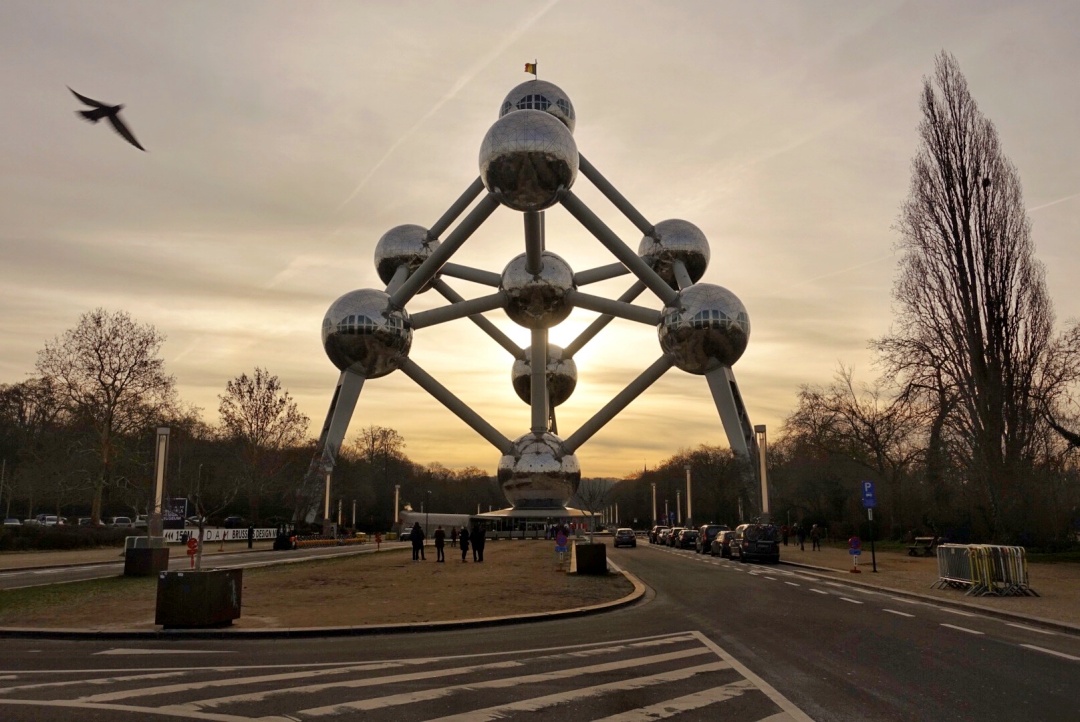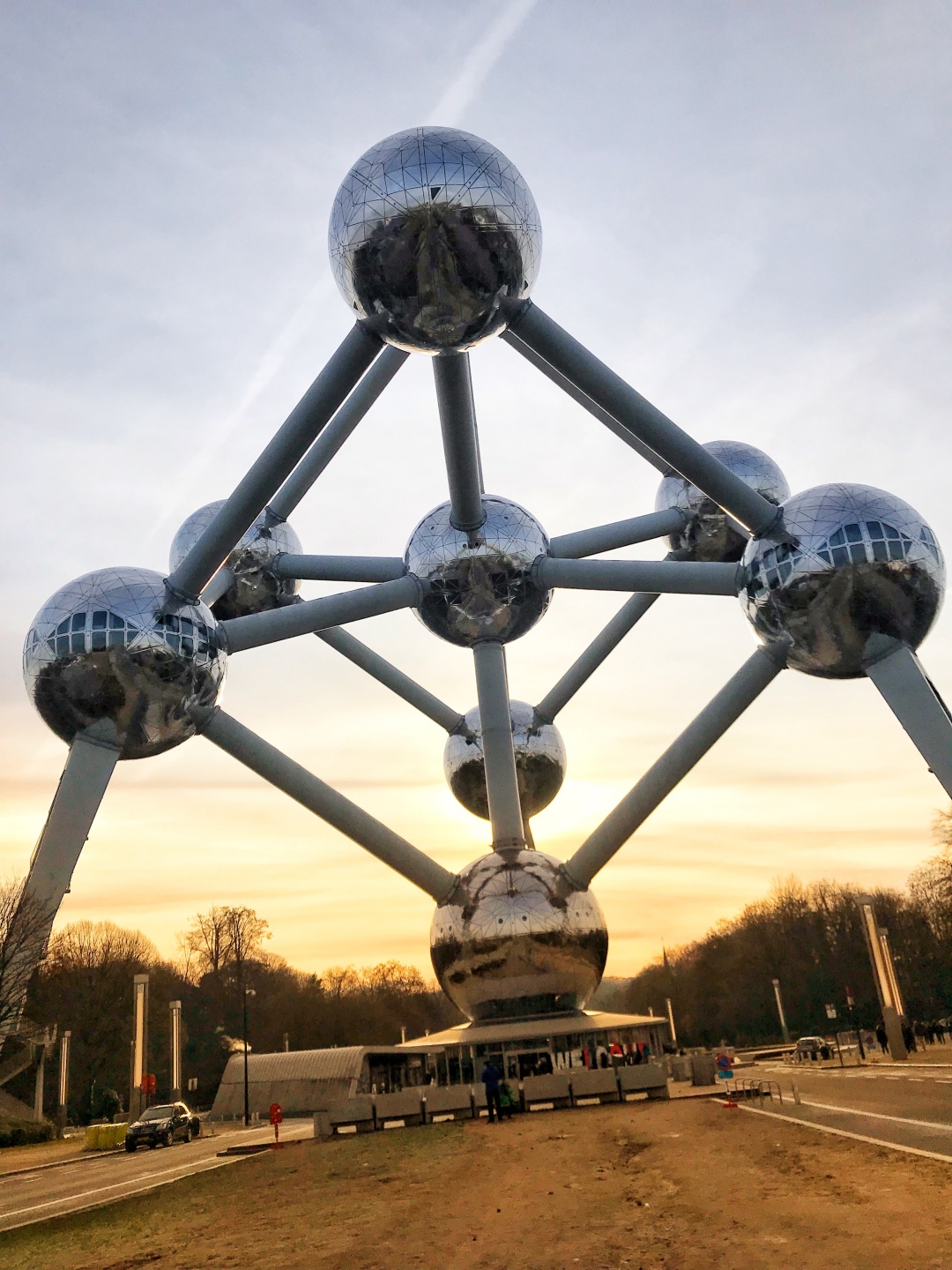 It's really an impressive structure, especially when you see it up close.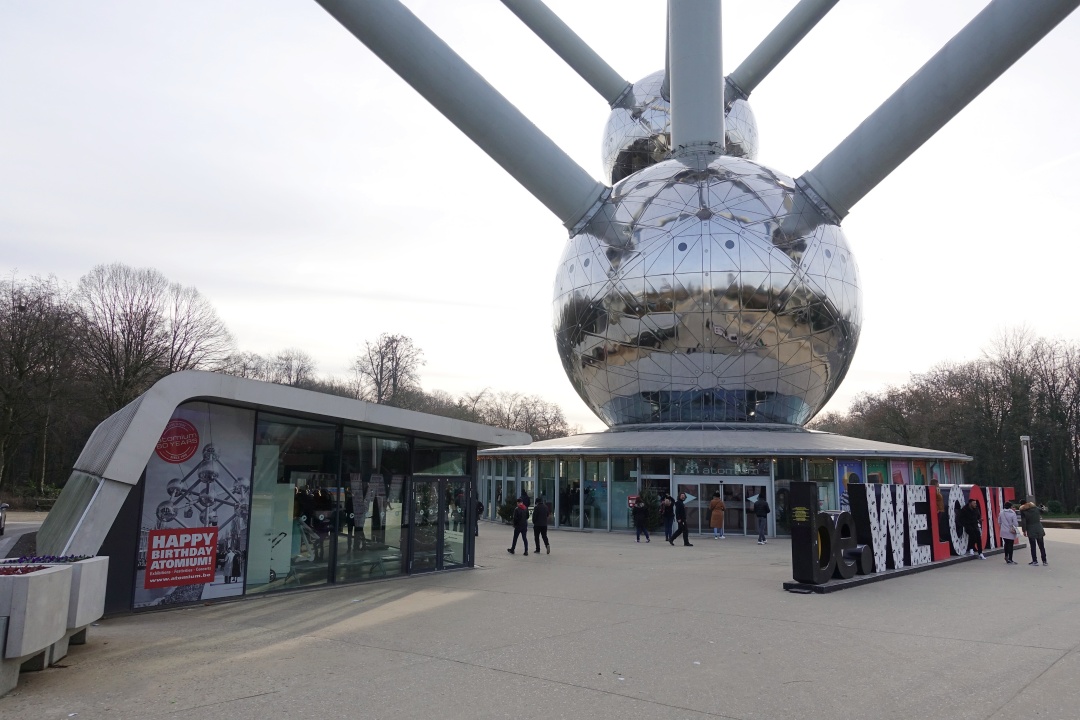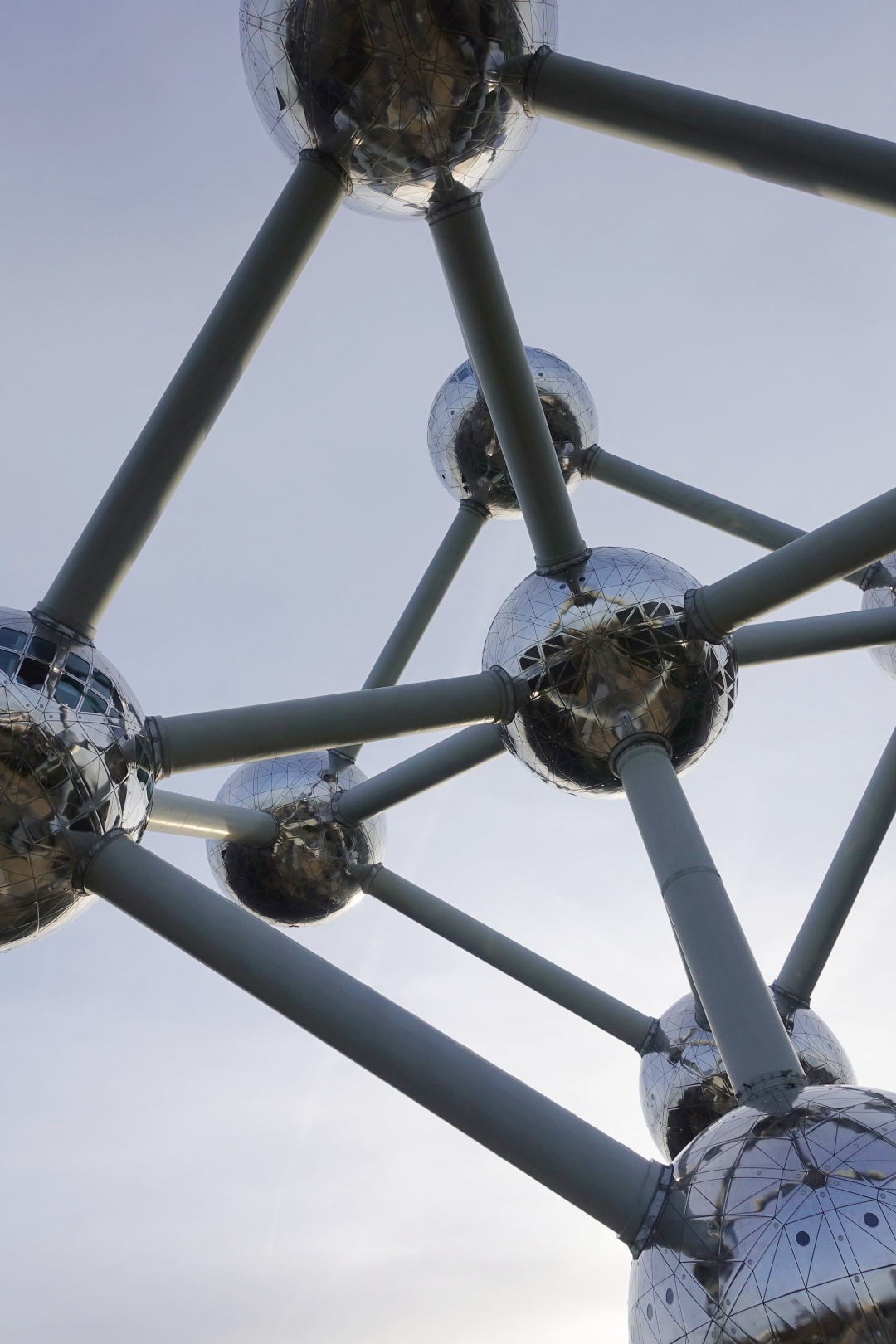 Proceeded to get our tickets. Each adult ticket is priced at €15.
Smurfs and the Atomium both celebrated their 60th birthday in 2018; hence there was the Smurf picture up on the screen.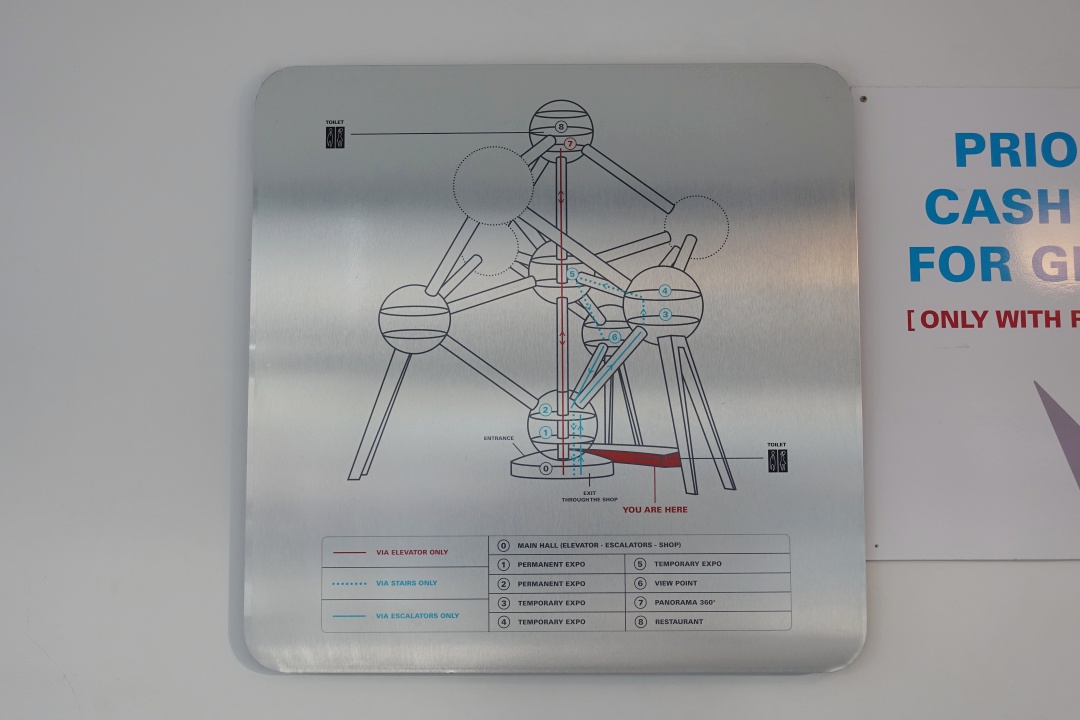 There were two parts to the visit. Part 1 was to depart from the ground floor and take the elevator to The Panorama (level 7). Whereas part 2 was to depart from the ground floor and access the exhibitions (level 1 to 6) via escalators and stairs.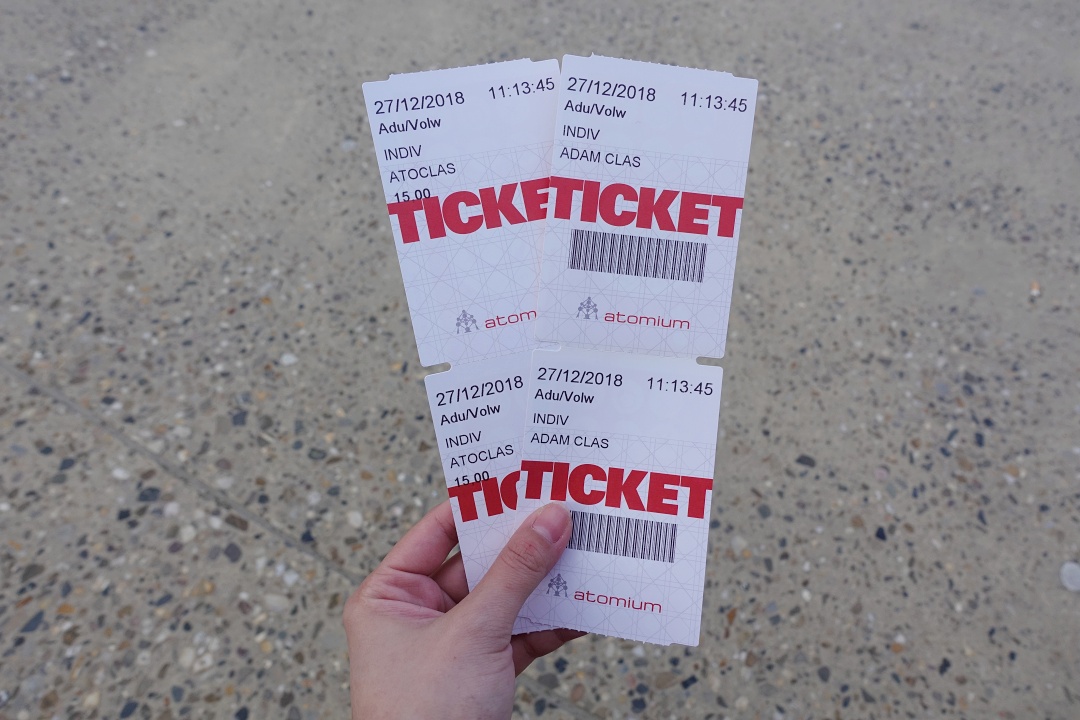 We started our visit by taking the elevator from the ground floor to level 7, where we could get a stunning 360° view over Brussels.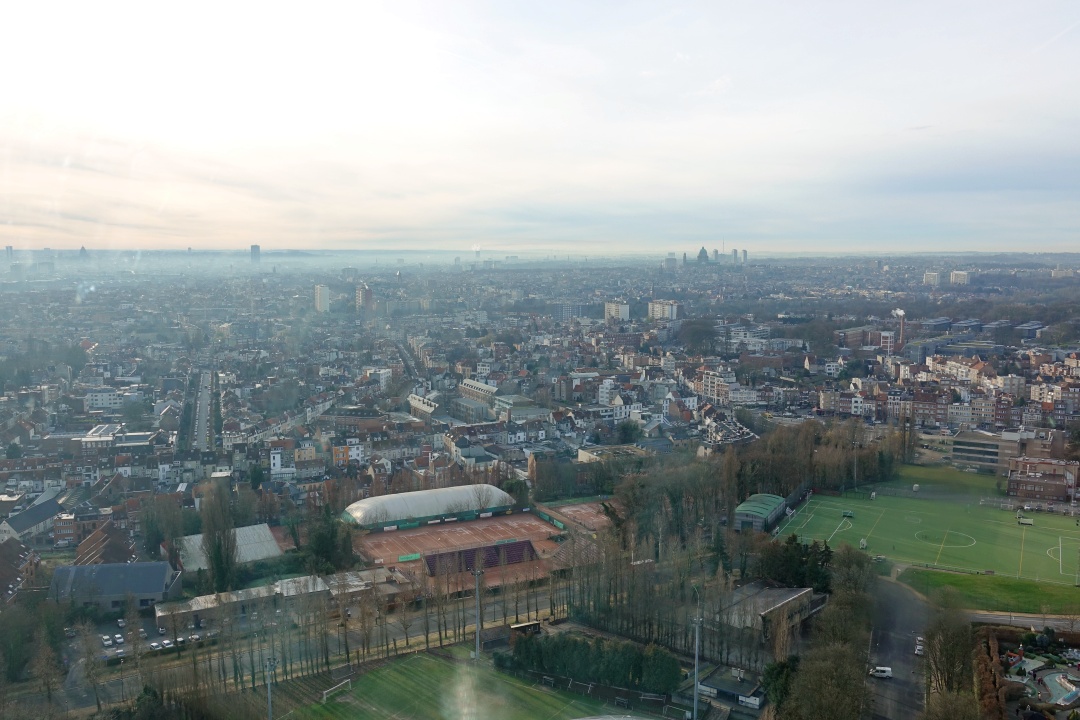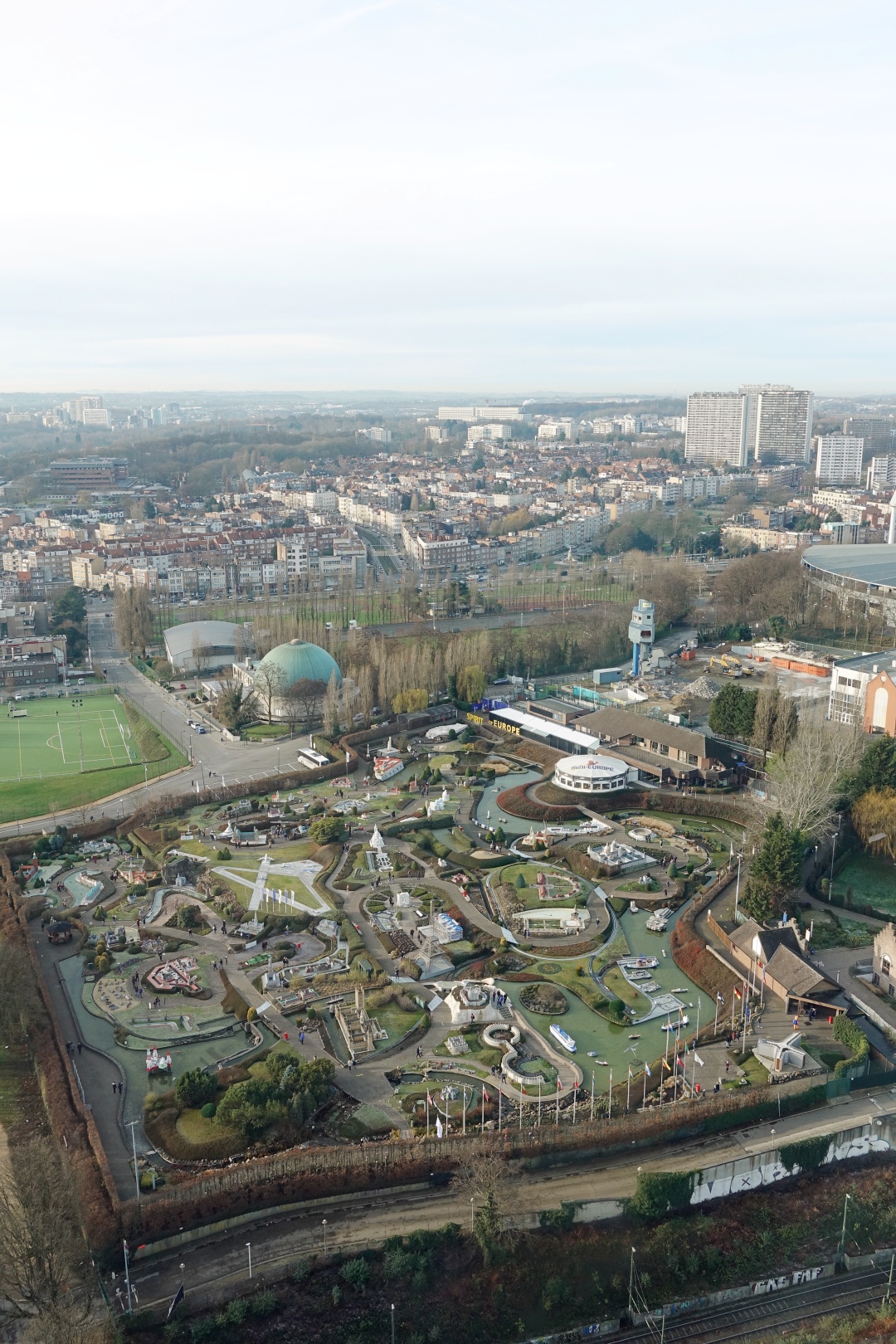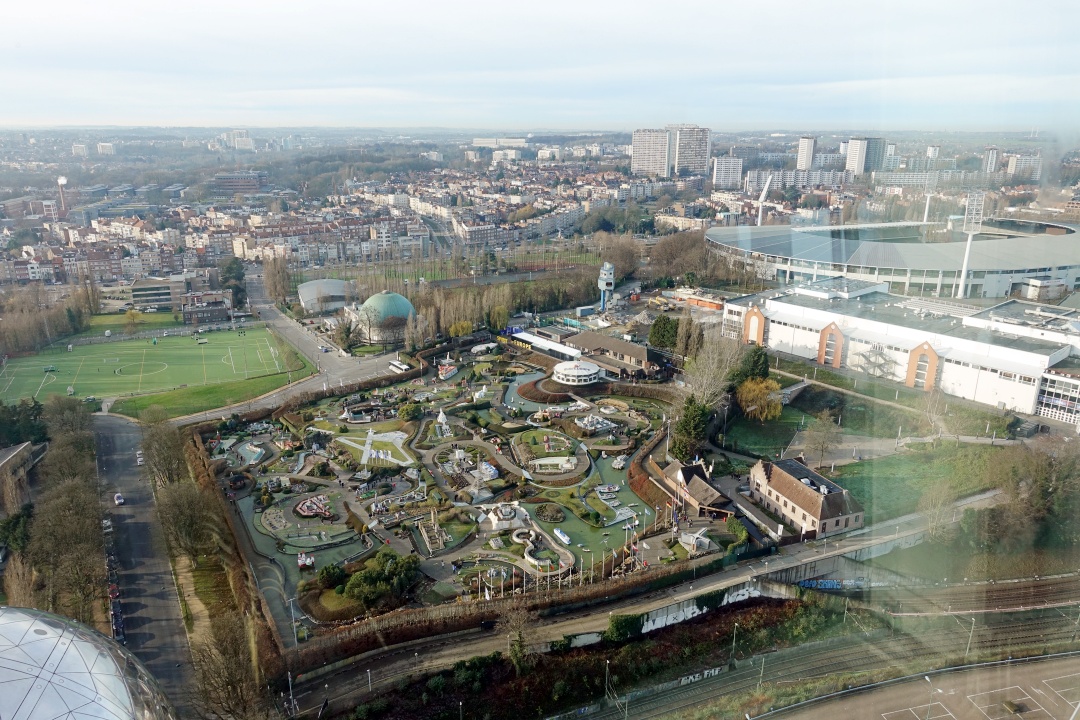 We didn't plan to visit Mini-Europe, even though it was located at the foot of the Atomium. But we managed to catch a glimpse of it from the top.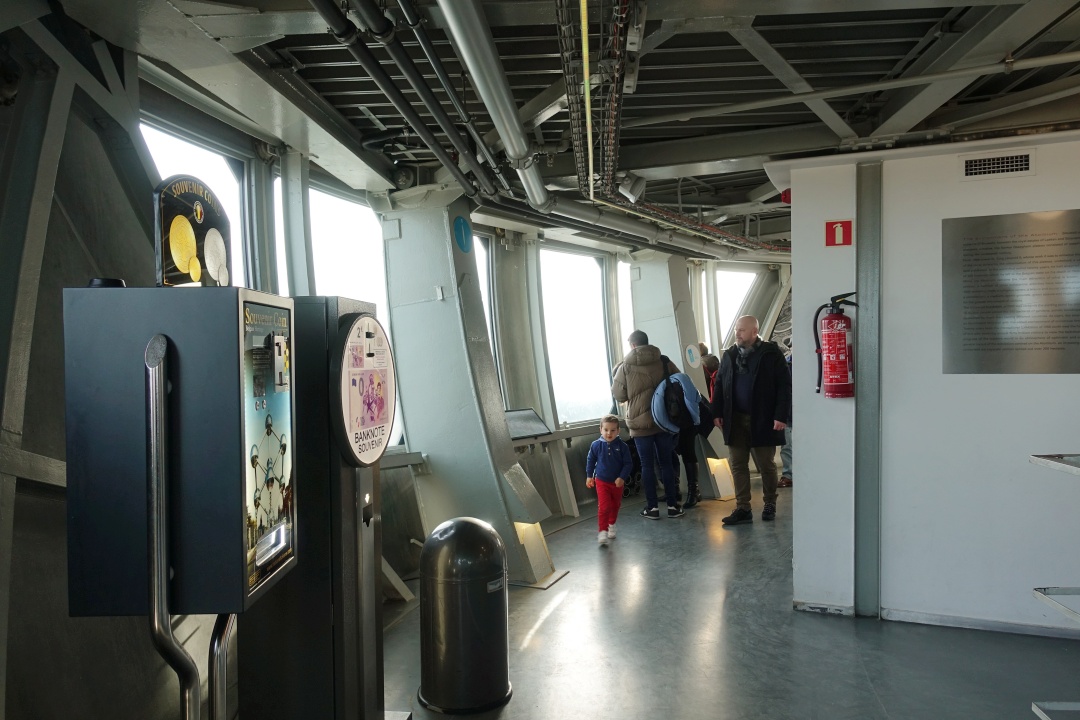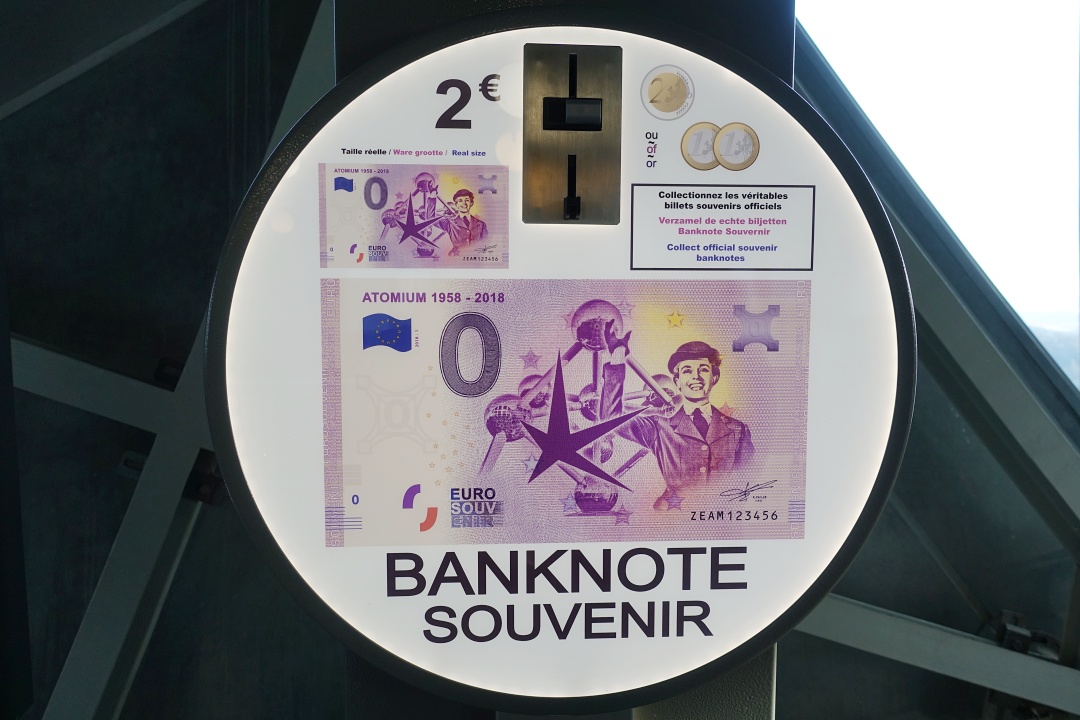 We paid €2 to get one of this souvenir banknote which worth €0 in monetary value.
After checking out the view from level 7, we took the elevator down to the ground floor. And from there took the escalator to level 1. Level 1 and 2 consists of permanent exhibitions that explain the 60 years history of the Atomium, whereas level 3 and 4 consists of temporary exhibitions. We managed to check out the temporary digital installation which was only available from 22 September 2018 to 5 May 2019.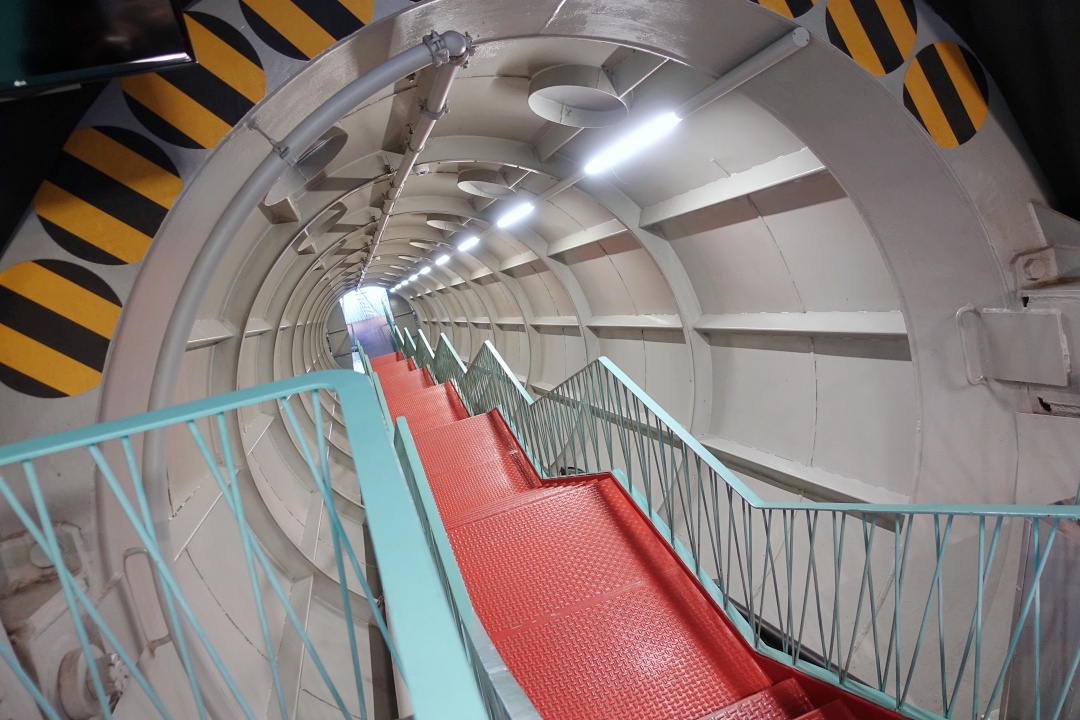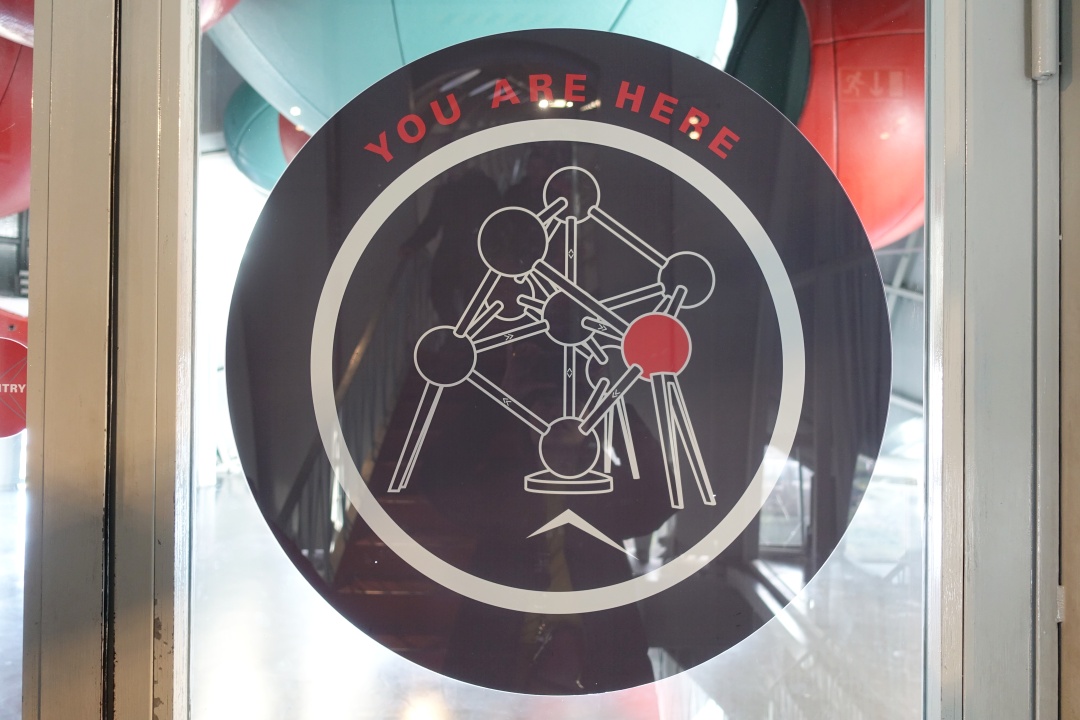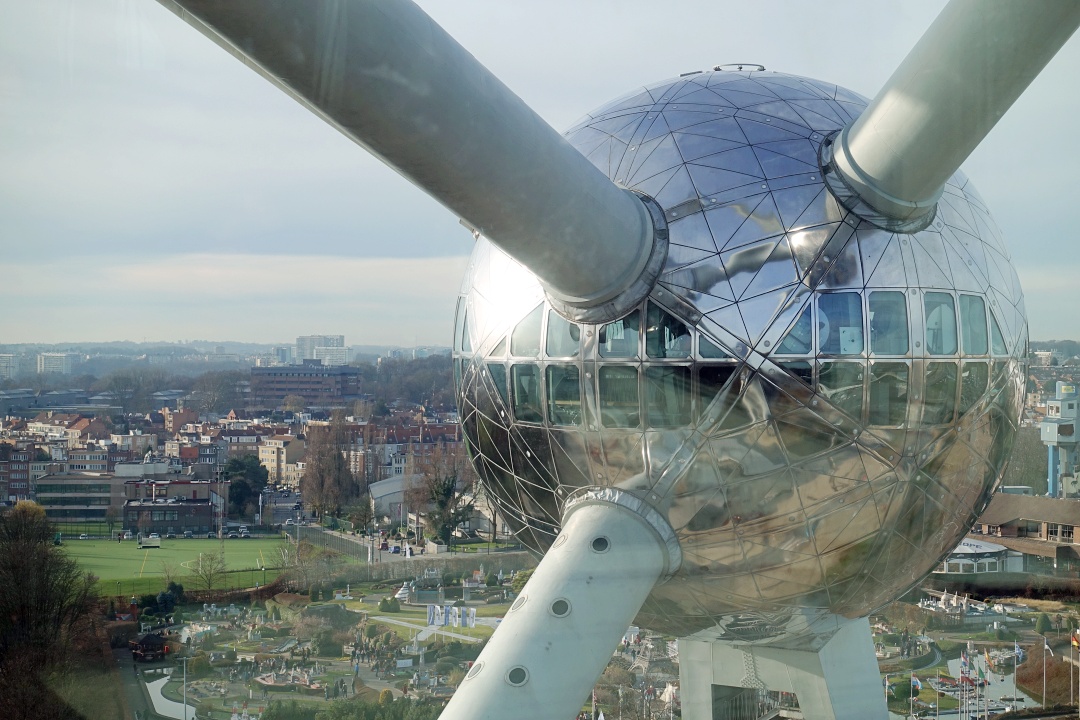 I believed we spent roughly an hour combing through the exhibitions and going up and down the different levels. Since it's such an iconic symbol of Brussels, I do think it's worth a visit if it's your first time visiting Brussels. It's interesting to know about the history behind this impressive structure – like how the Atomium wasn't intended to survive beyond the 1958 World's Fair. But let's be honest here – I hardly remember much after I left the exhibition. The Atomium is somewhere I would like to go once and probably won't revisit.
---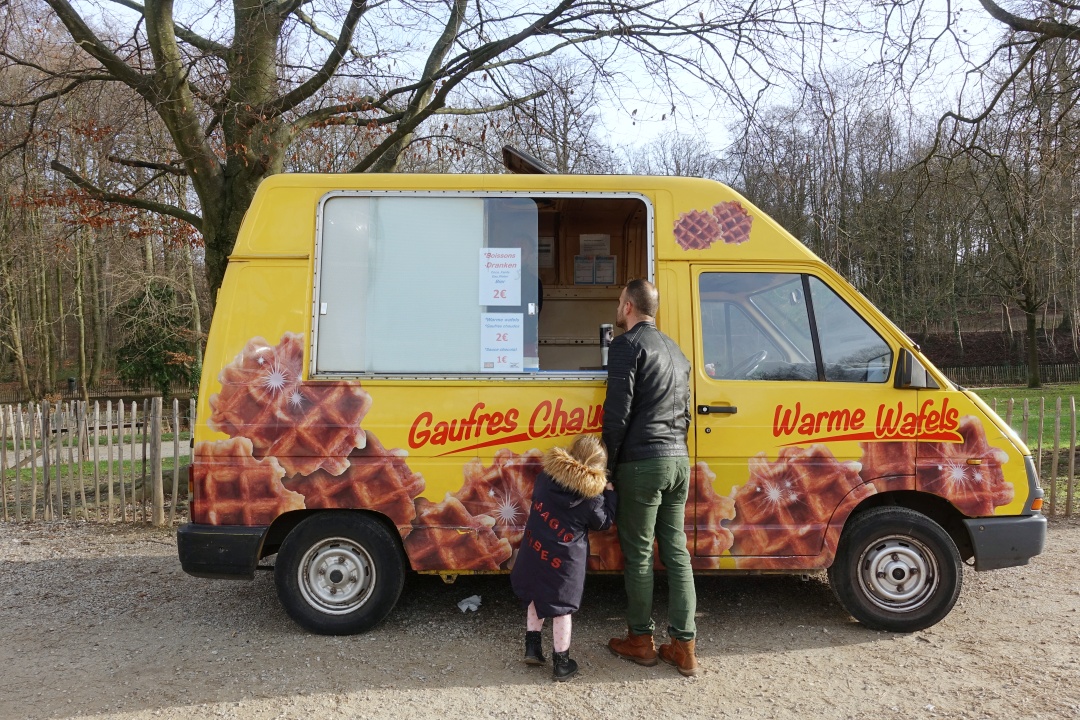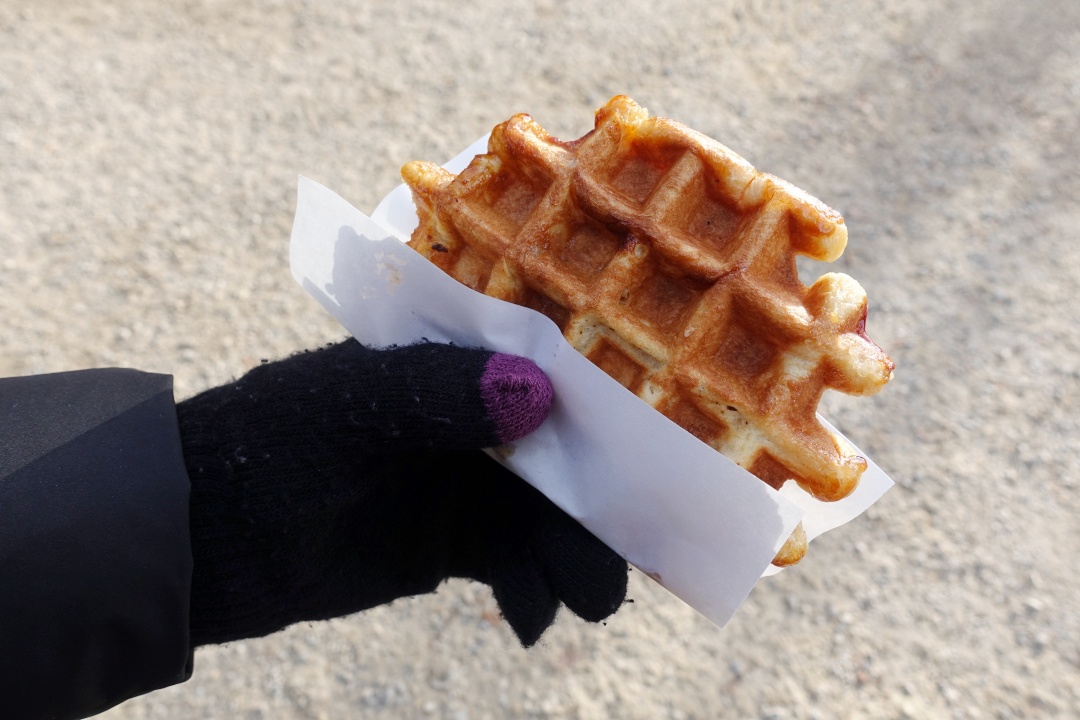 Leaving the Atomium, we came across a van selling waffles and needless to say, we had to get one. It was especially comforting to eat a warm waffle in such cold weather.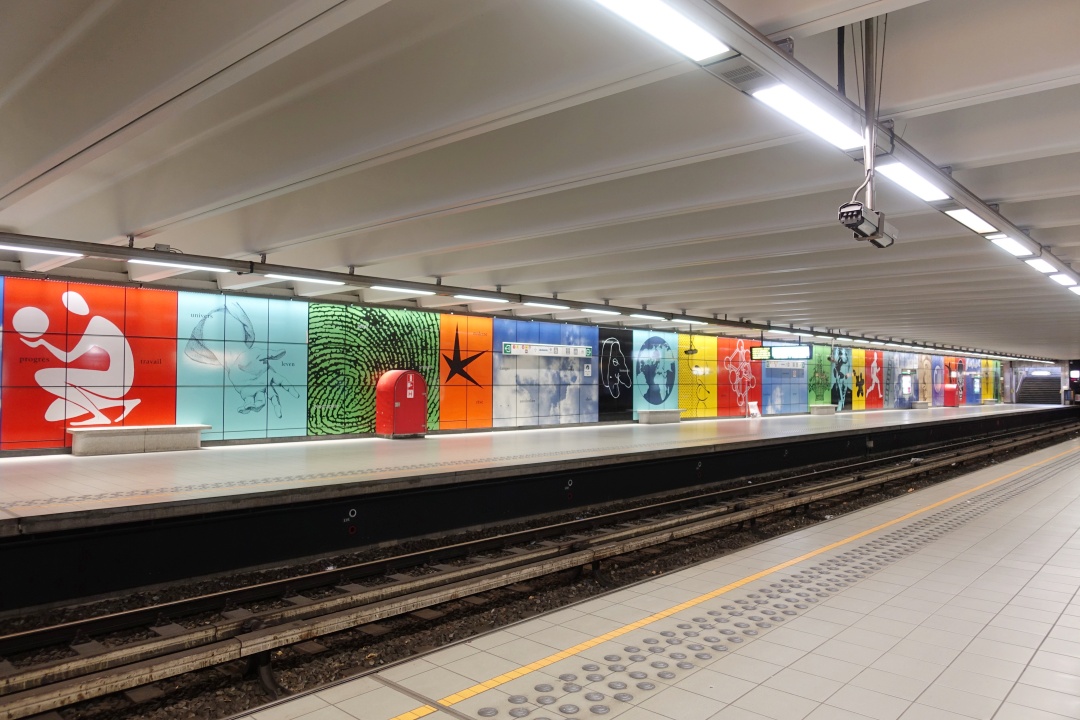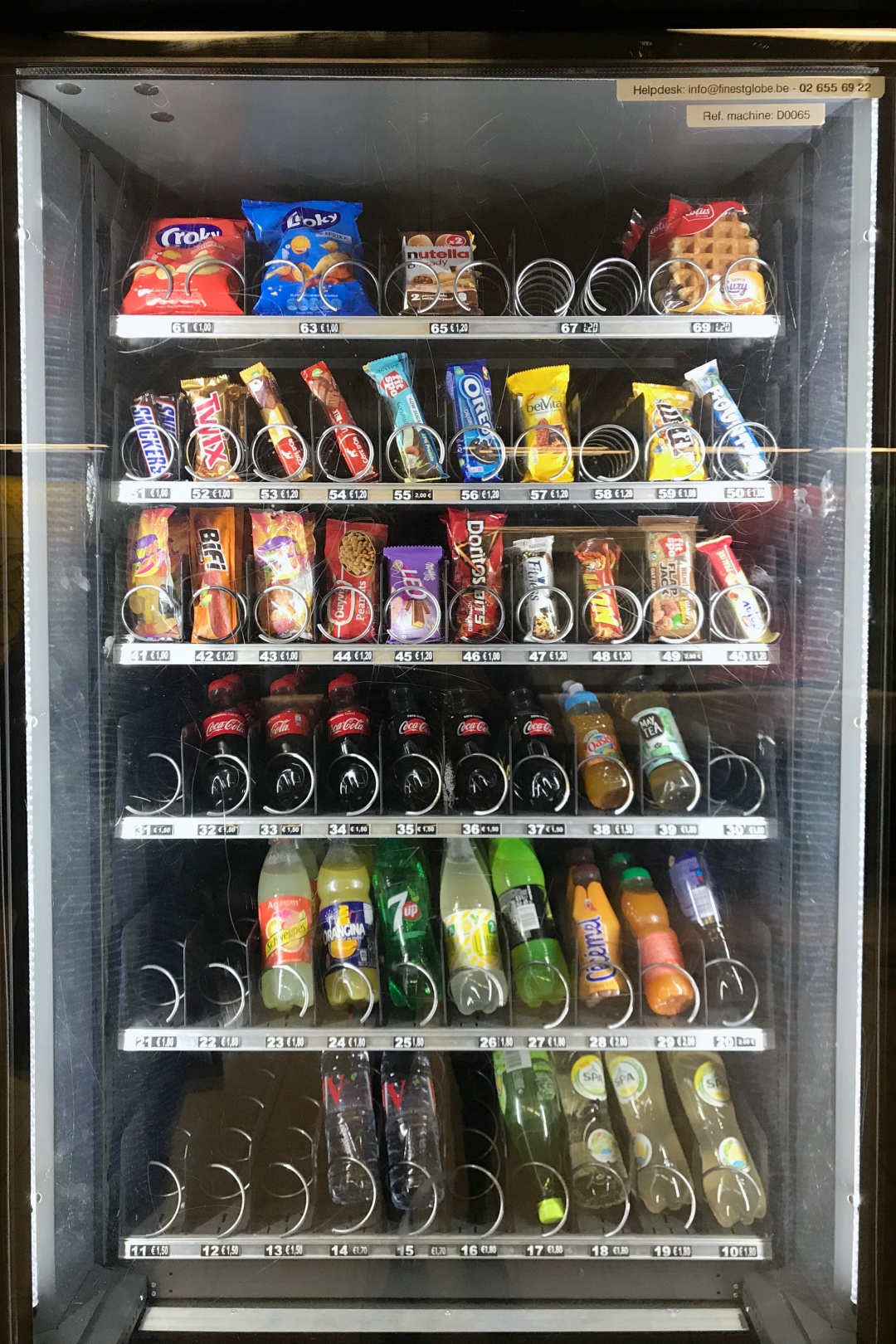 Came across a vending machine at the metro station and I ended up getting a pack of the Doritos Bits (€1).
I wish we had this in Singapore because it's such a convenient (and less sinful) way of snacking due to the small packet. I love it so much that I ended up getting more from the supermarket. Kept them in our bags and it's a perfect snack during long train rides.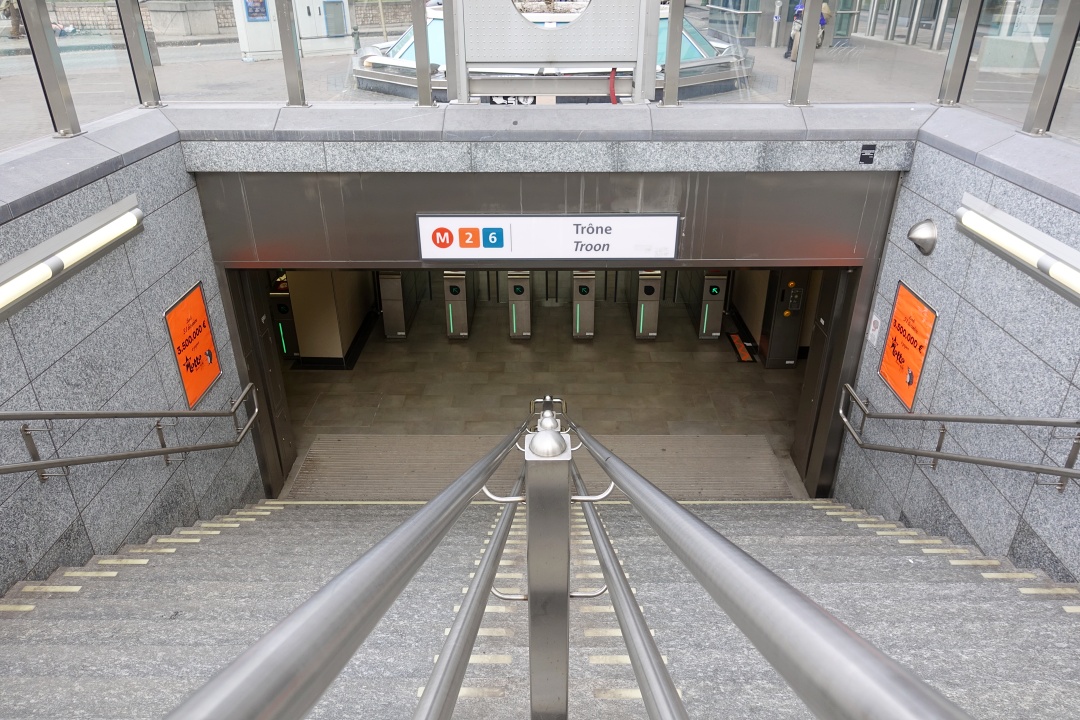 Took the metro to Troon Station! Once again, I was just blindly following the Husband, as he led me to check out the landmarks in Brussels.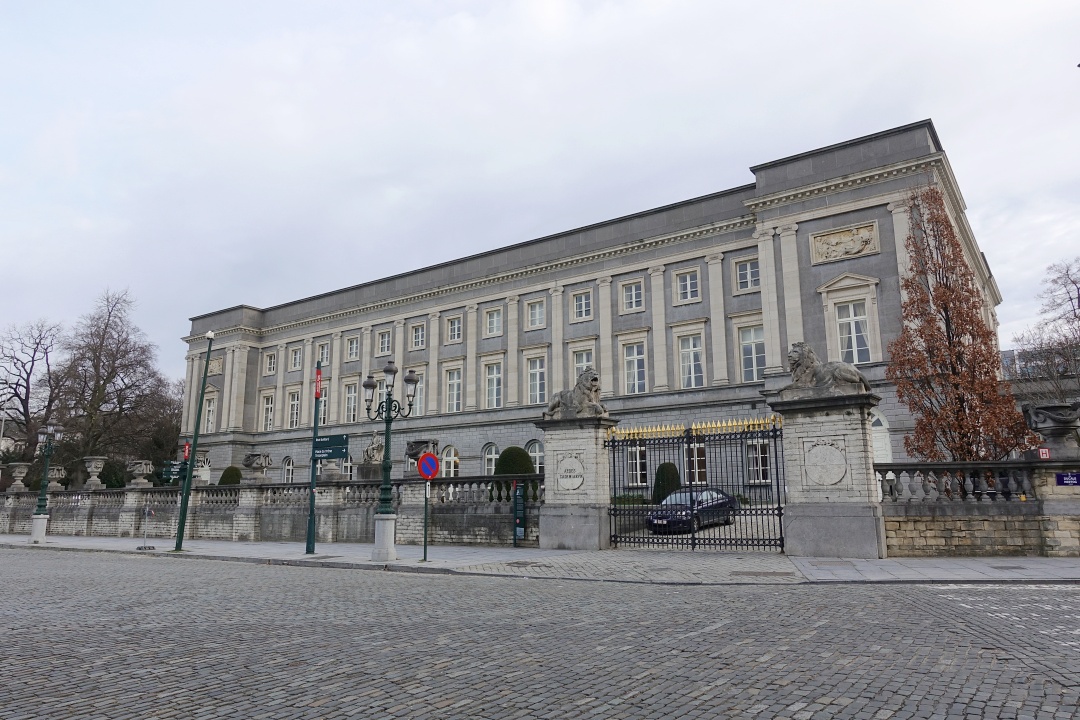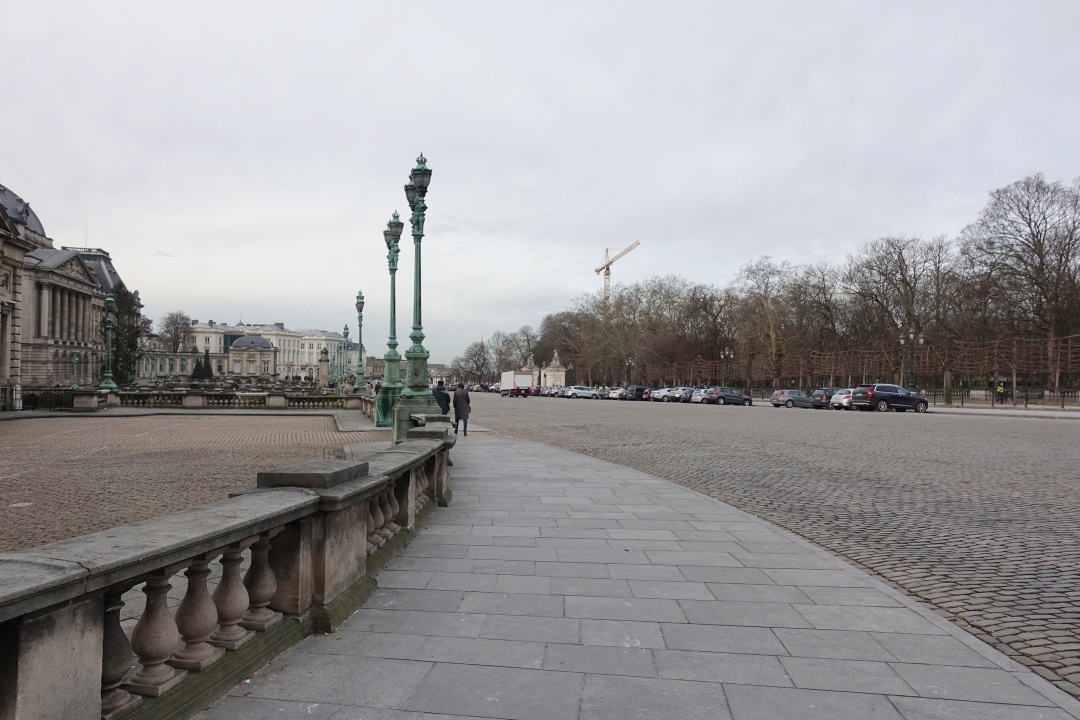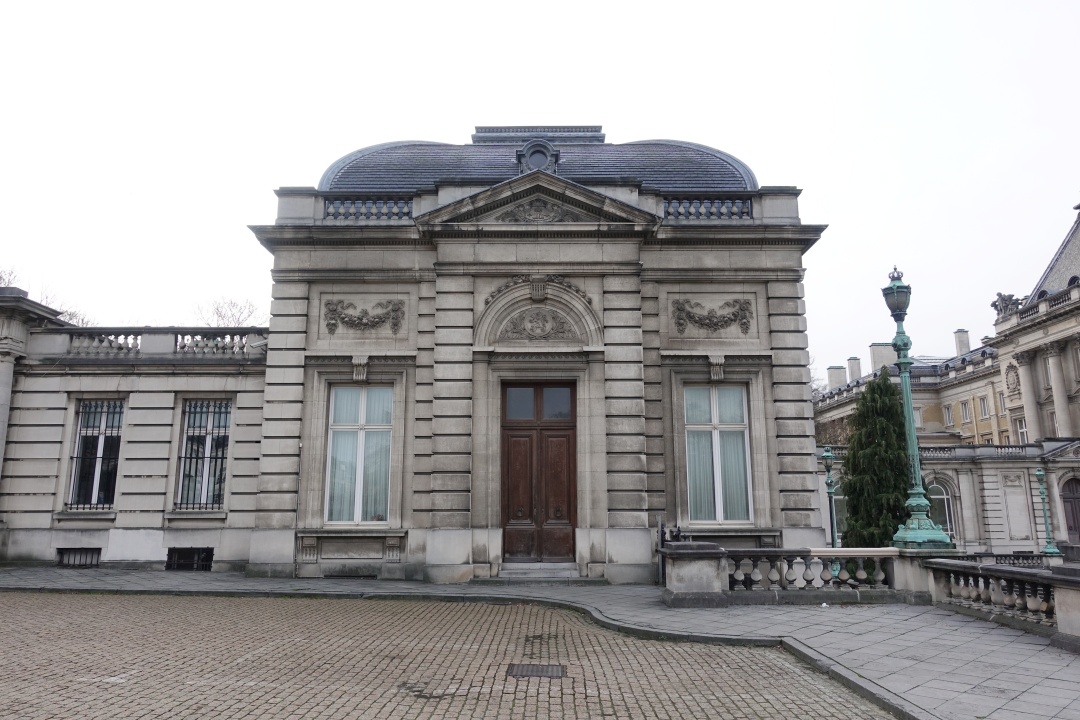 Royal Palace of Brussels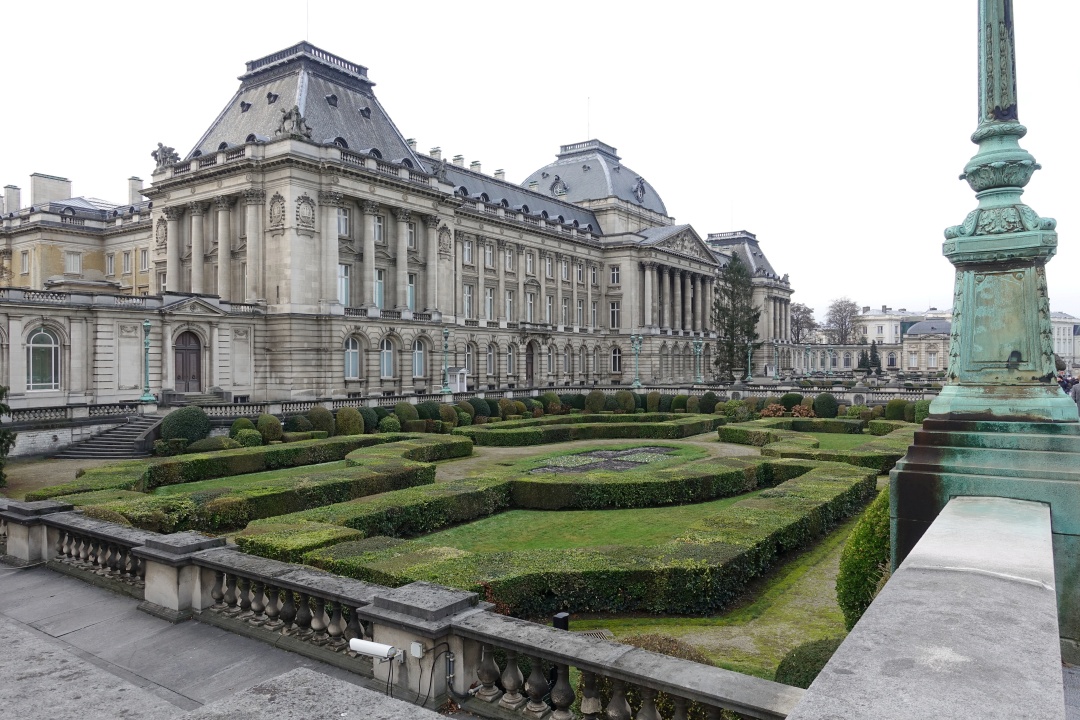 After an approximately 5-minute walk away from Troon Station, we came across the Royal Palace of Brussels.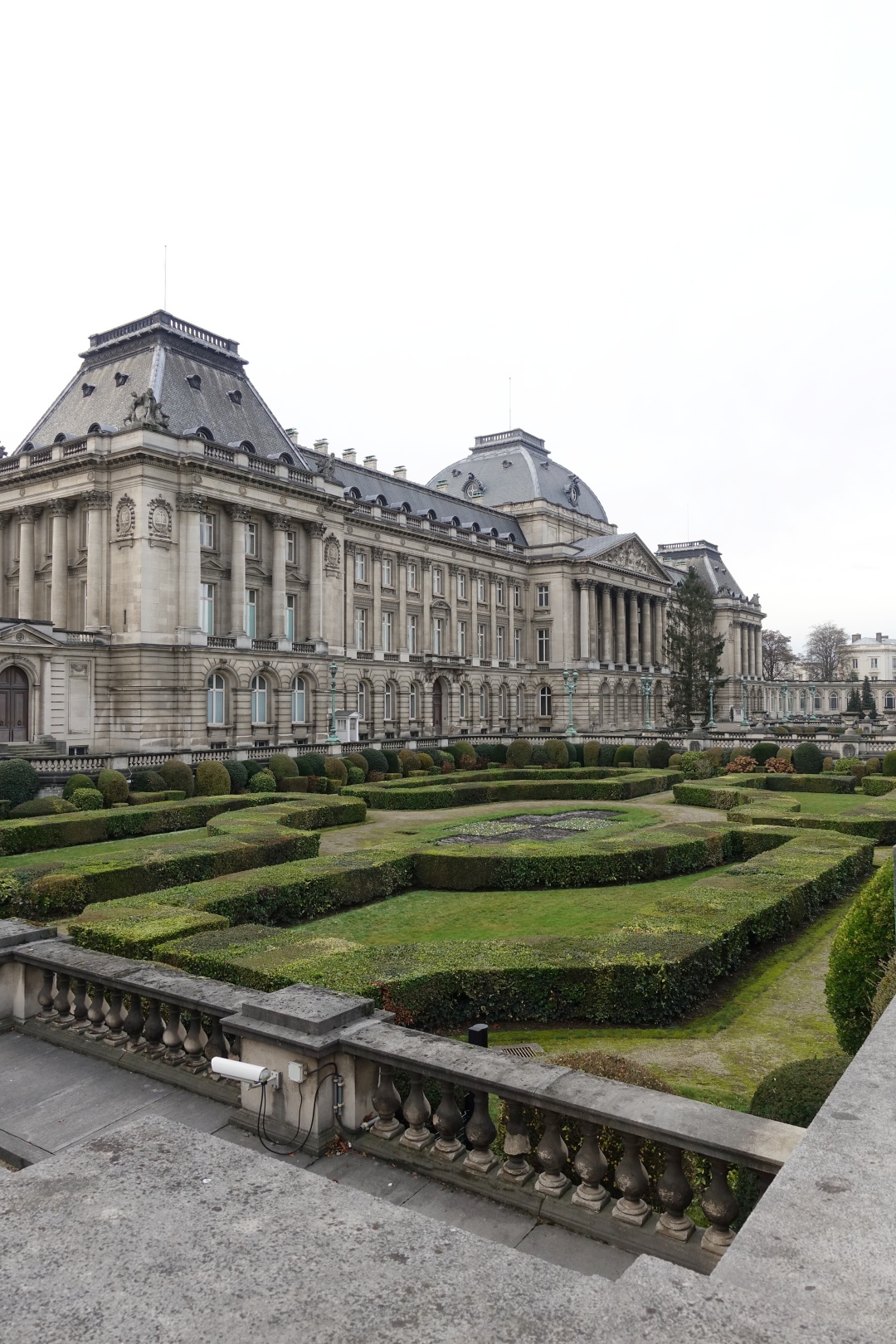 Visit of the Royal Palace is apparently possible during the summer and entry is free of charge. Since we weren't there during the summer, we didn't get to go inside. We simply walk along the facade, took a few photos and continue our way down the road.
The facade of the Royal Palace of Brussels is supposedly 50% longer than that of Buckingham Palace, but its floor area is less than half of Buckingham Palace's floor area.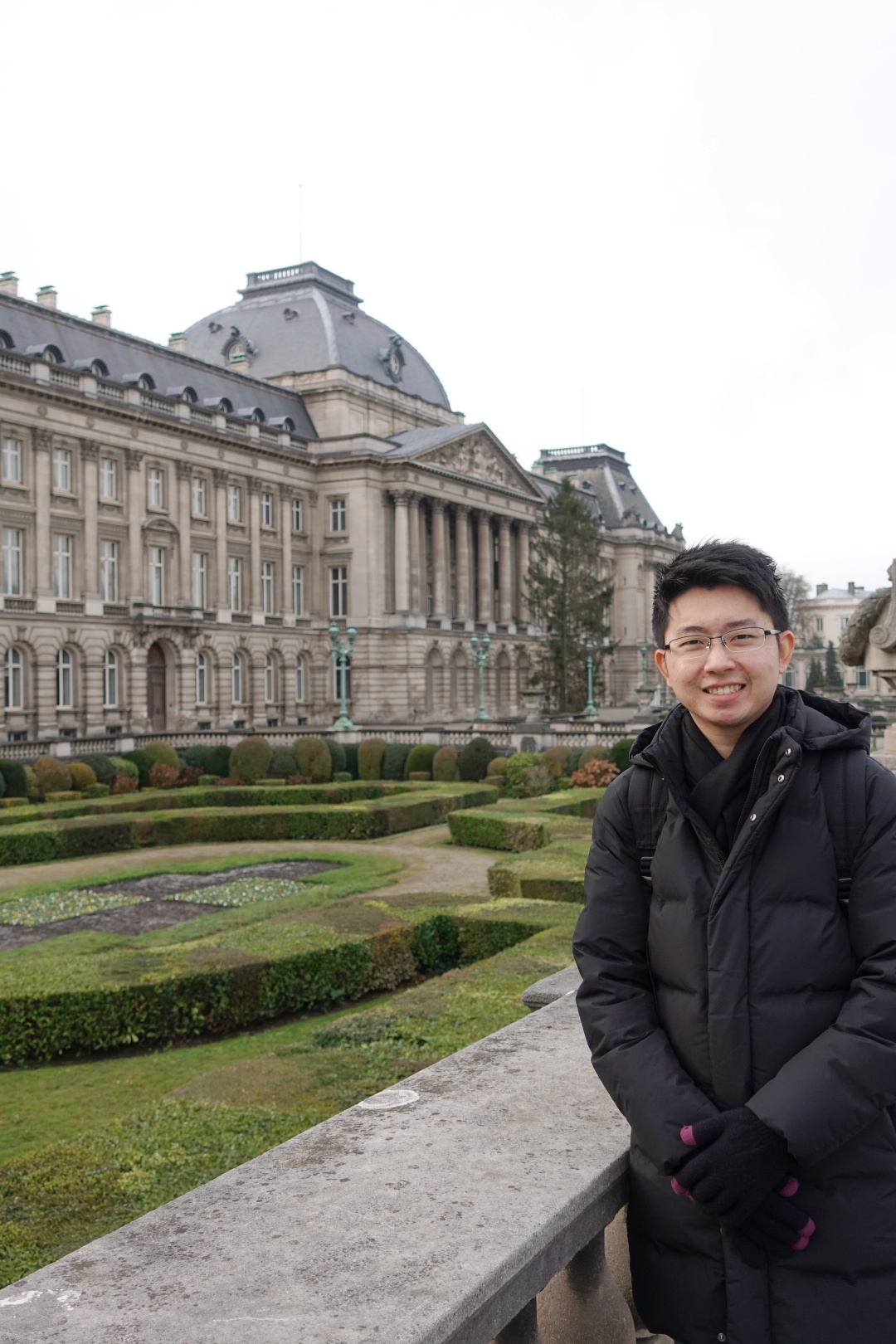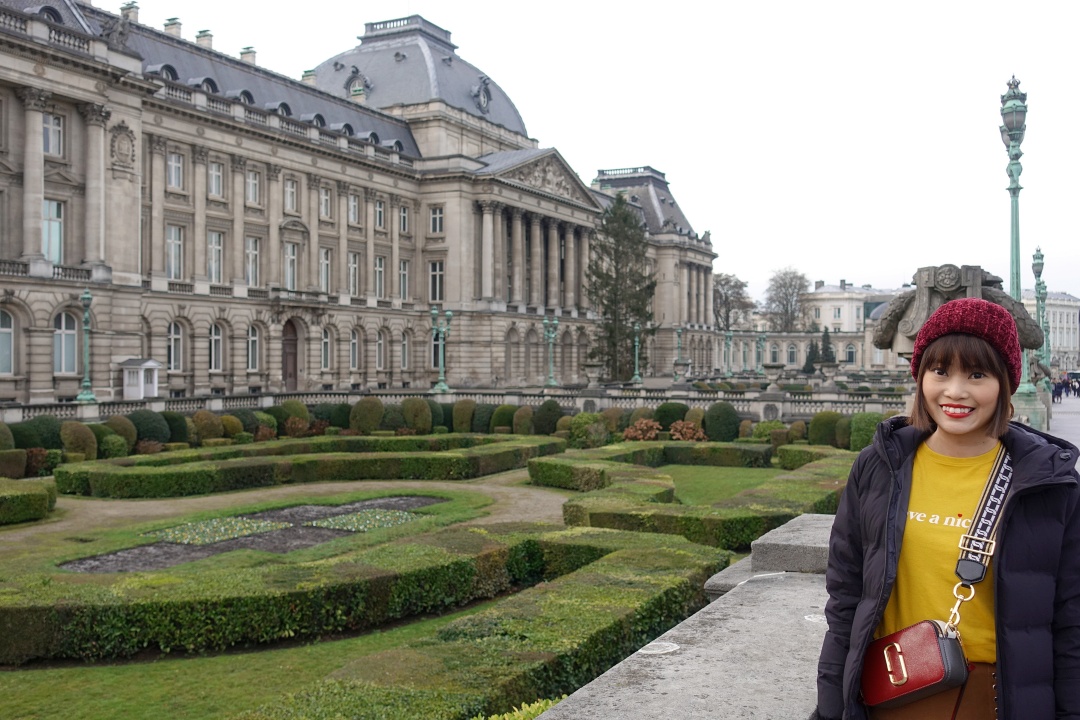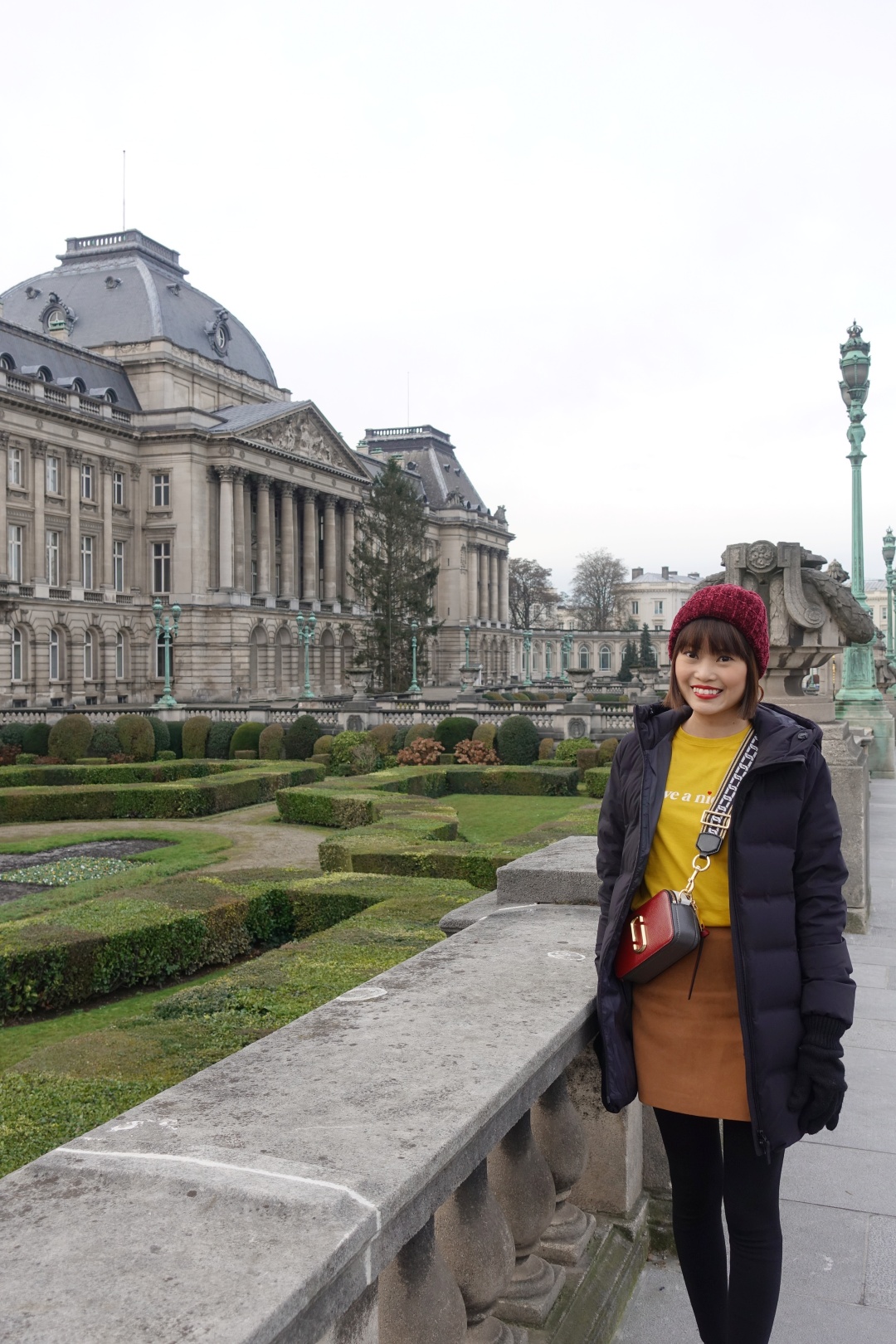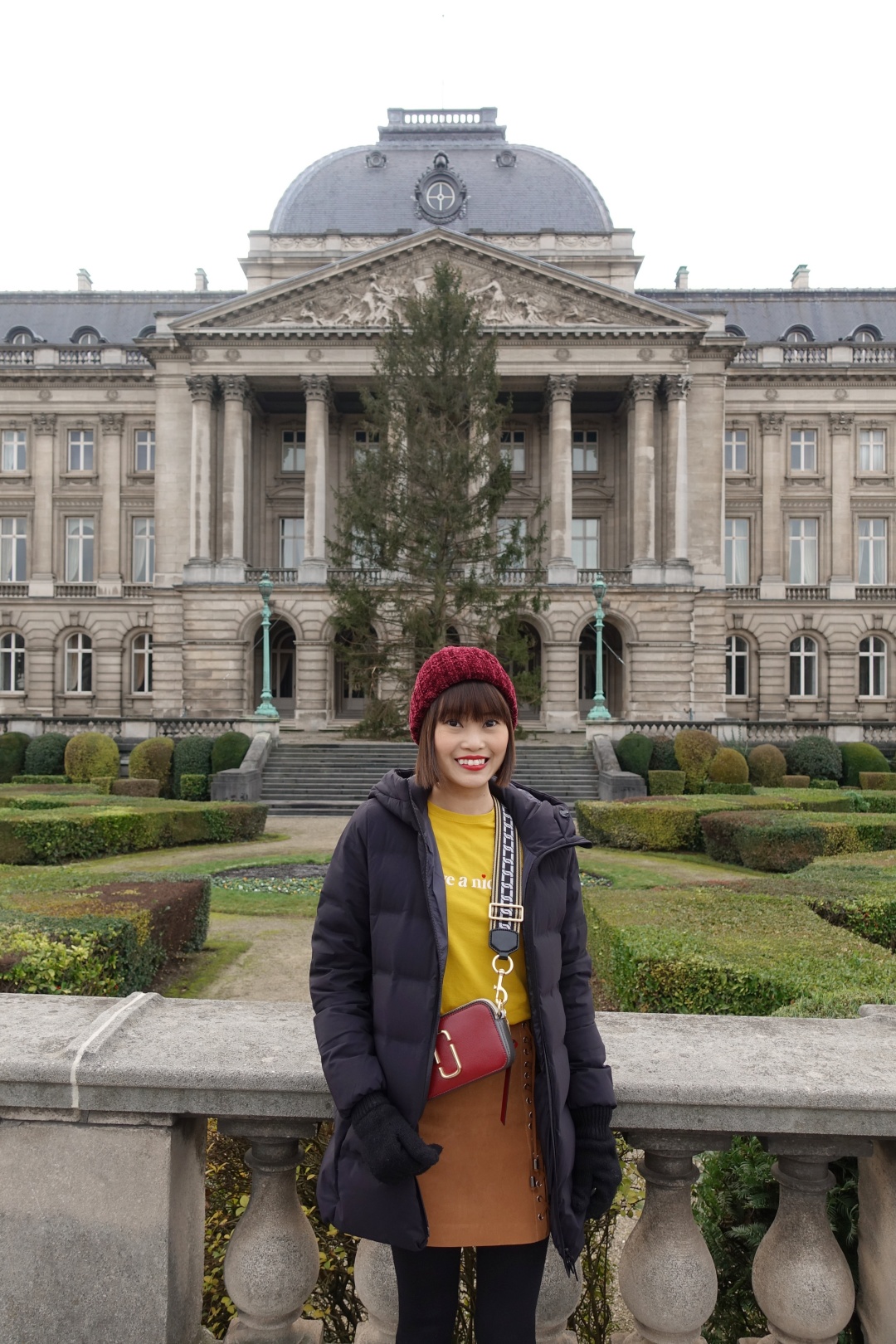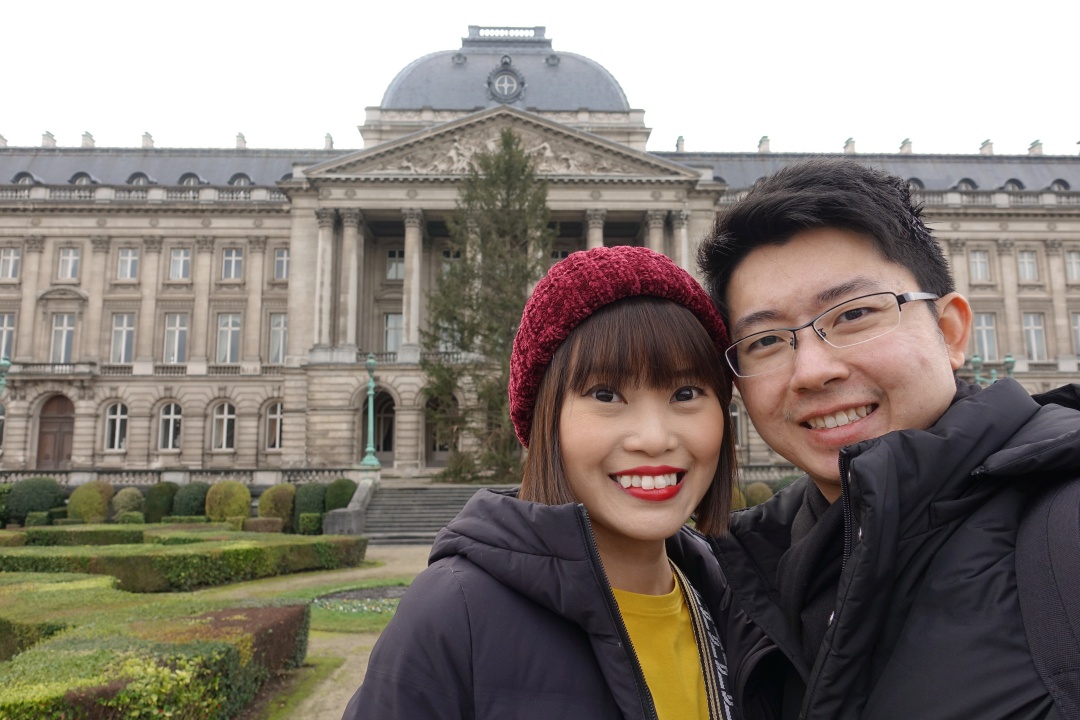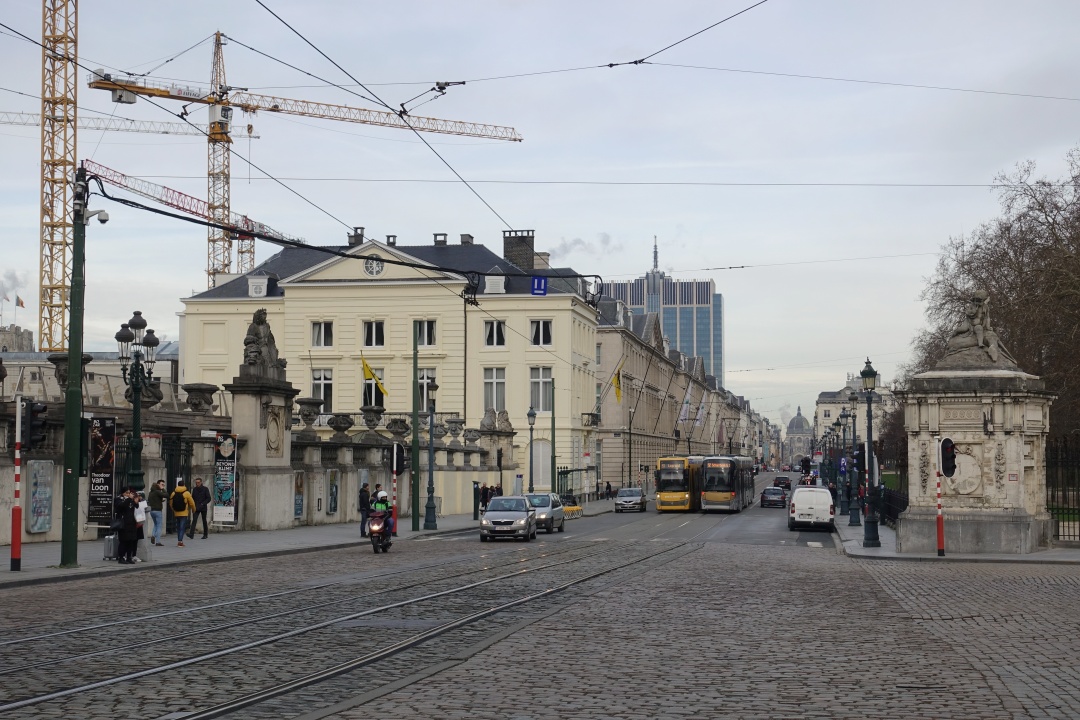 Place Royale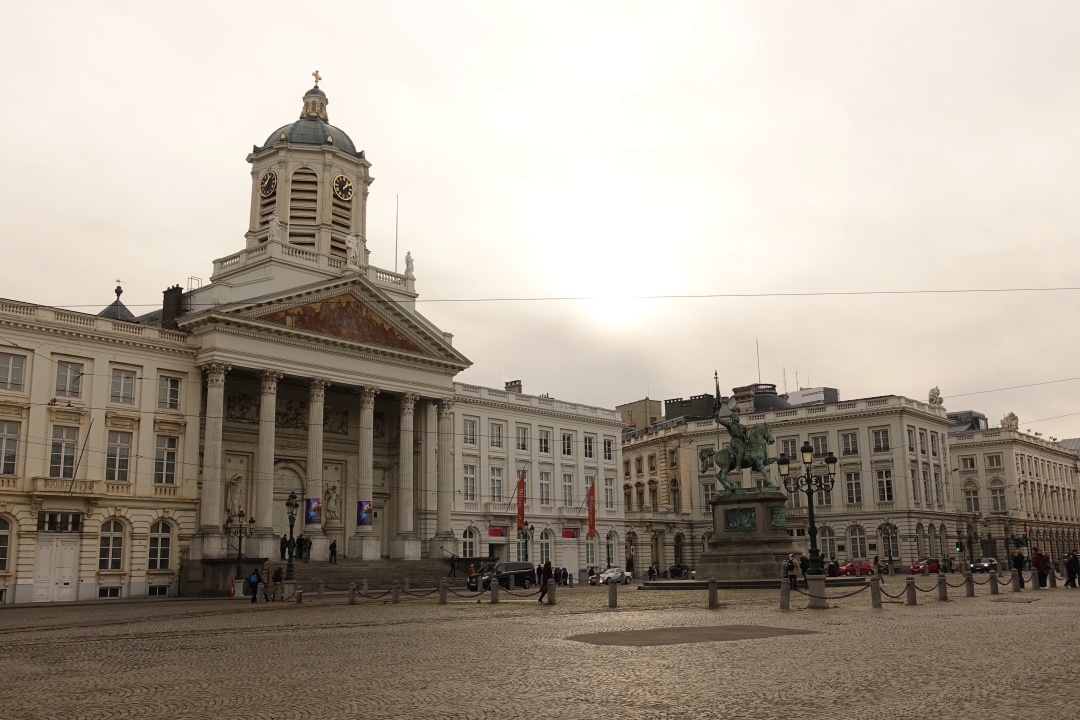 Not far from the Royal Palace of Brussels is Place Royale / Koningsplein.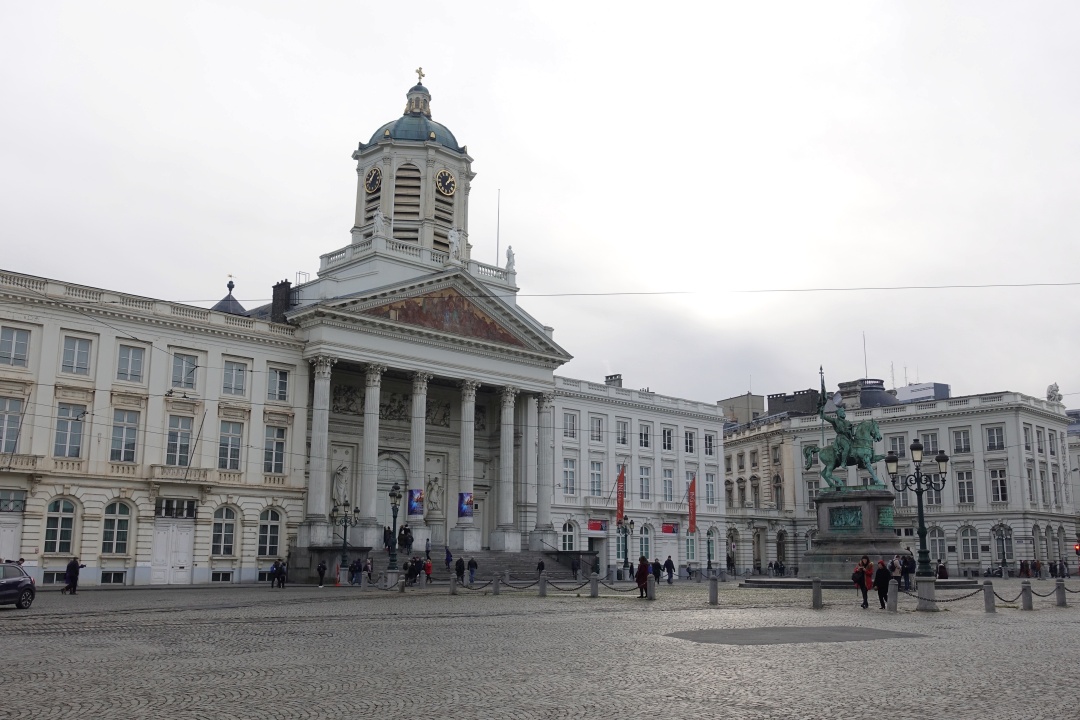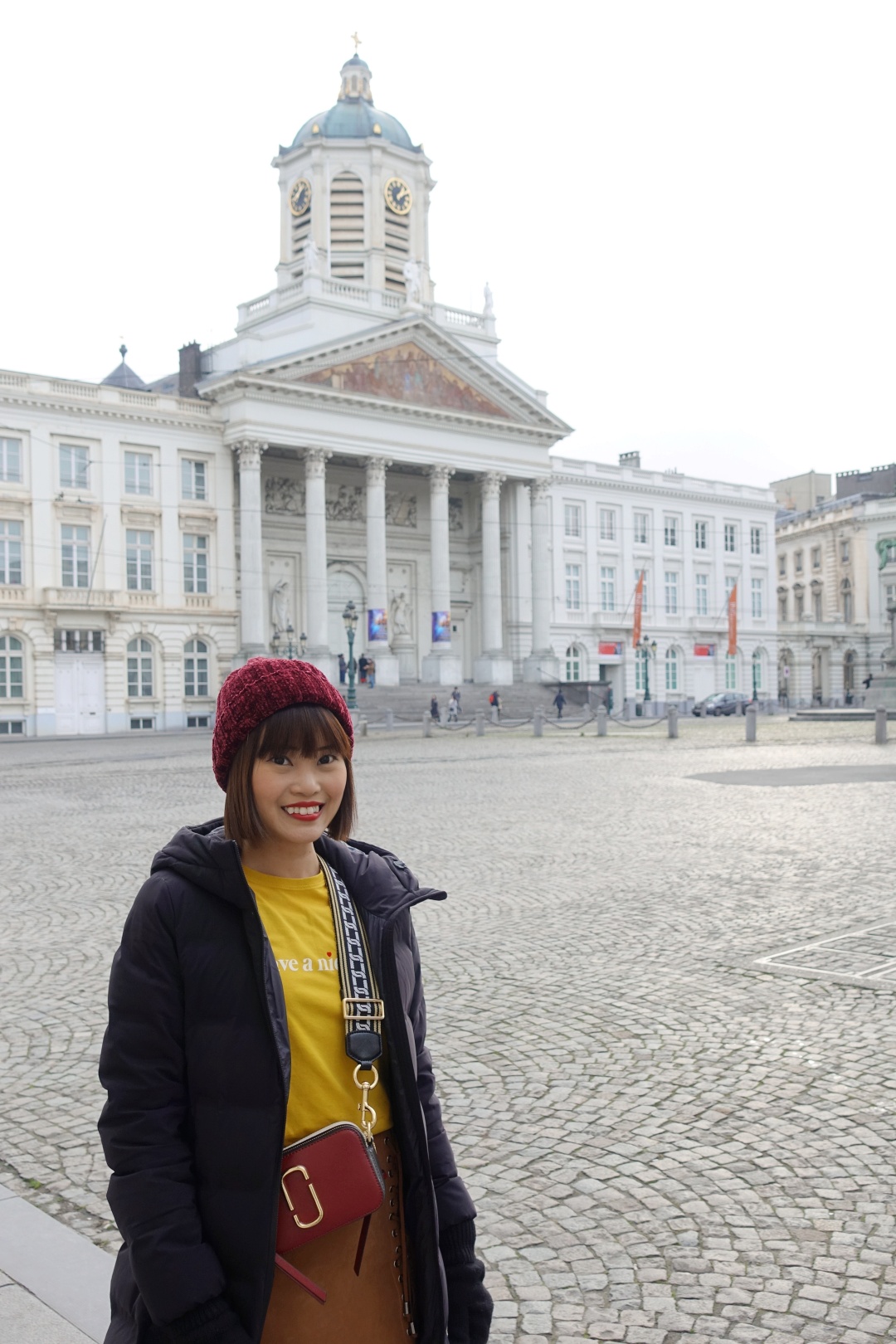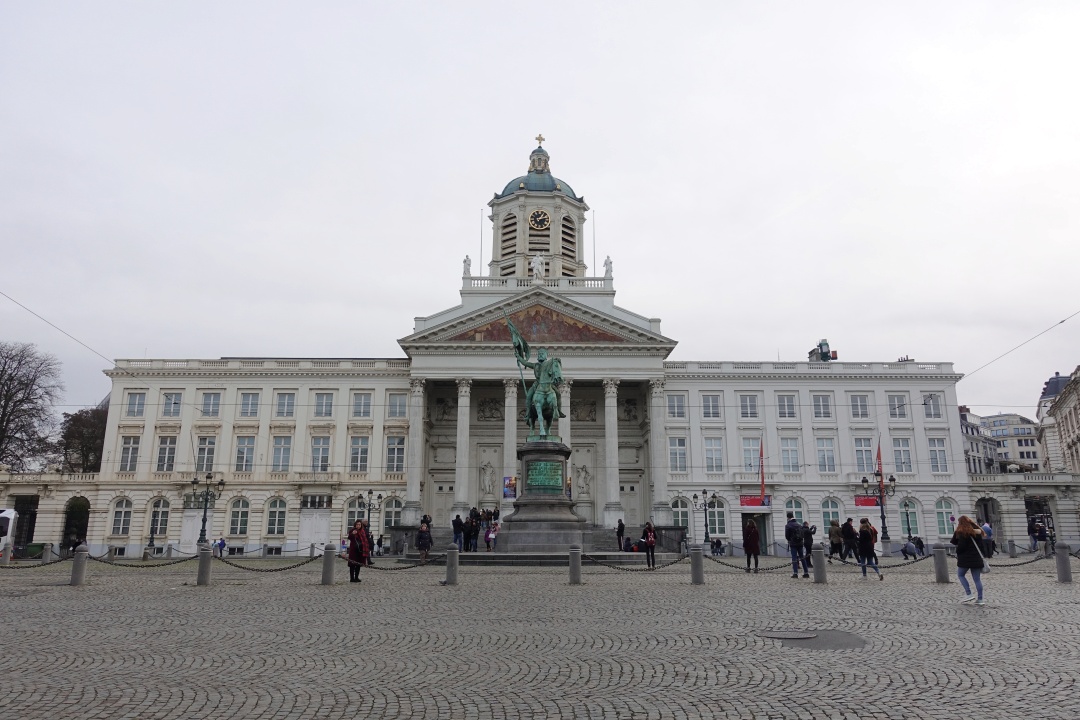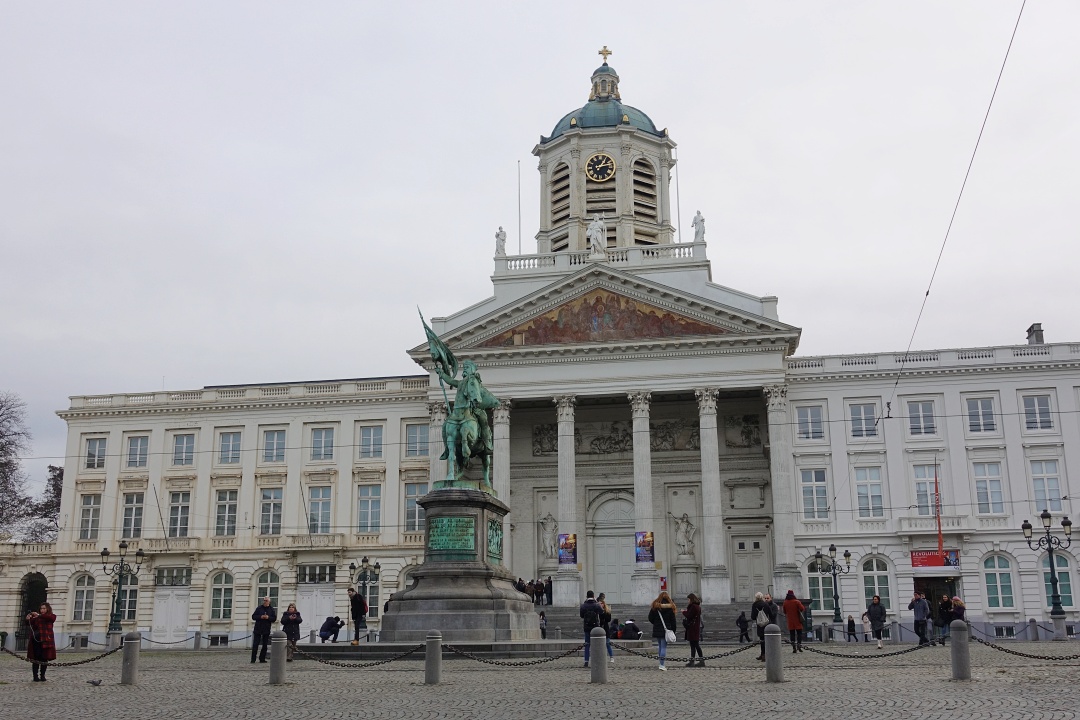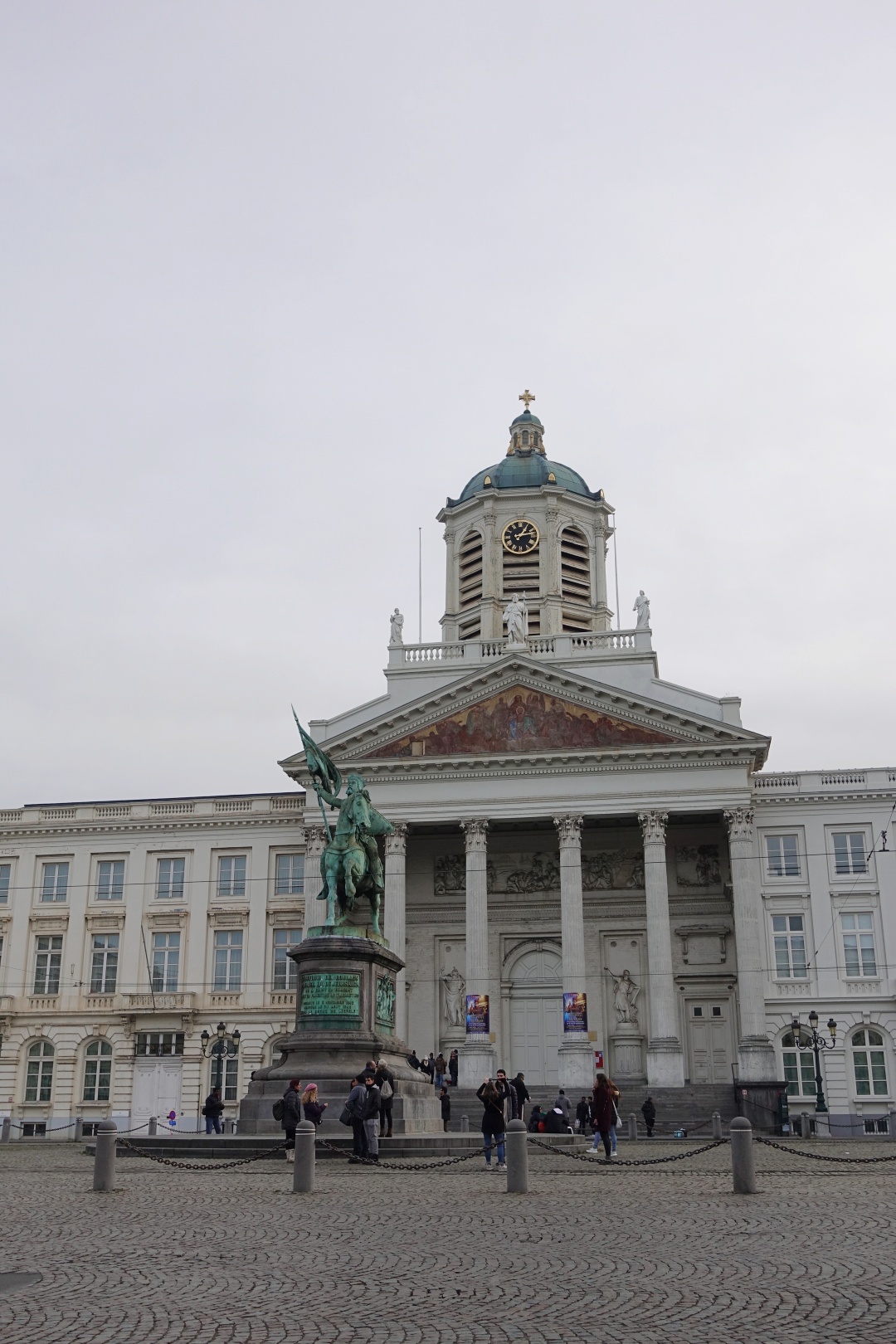 Yet another beautiful building.
Old England
A few steps away from Place Royale, we came across Old England, a Musical Instruments Museum.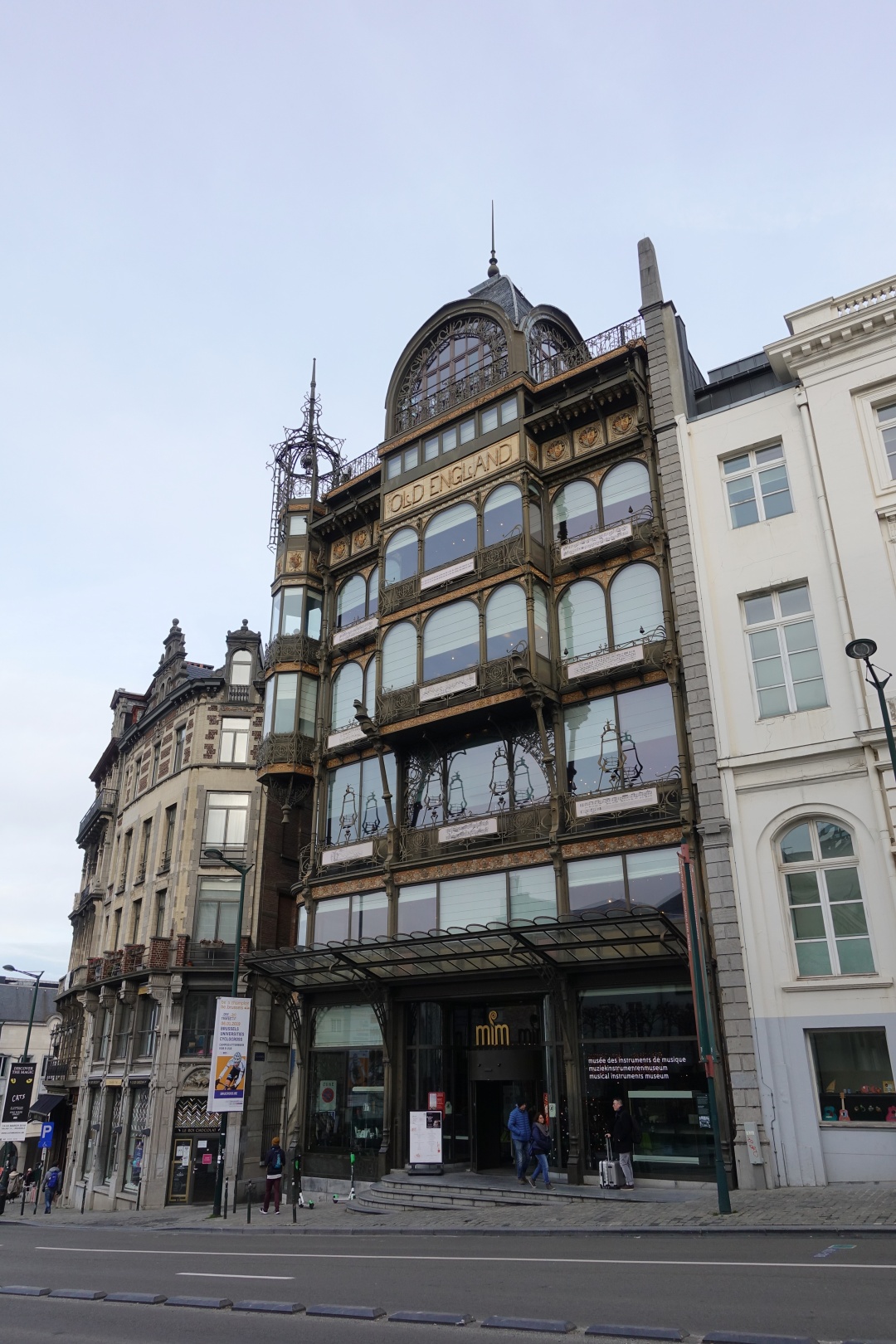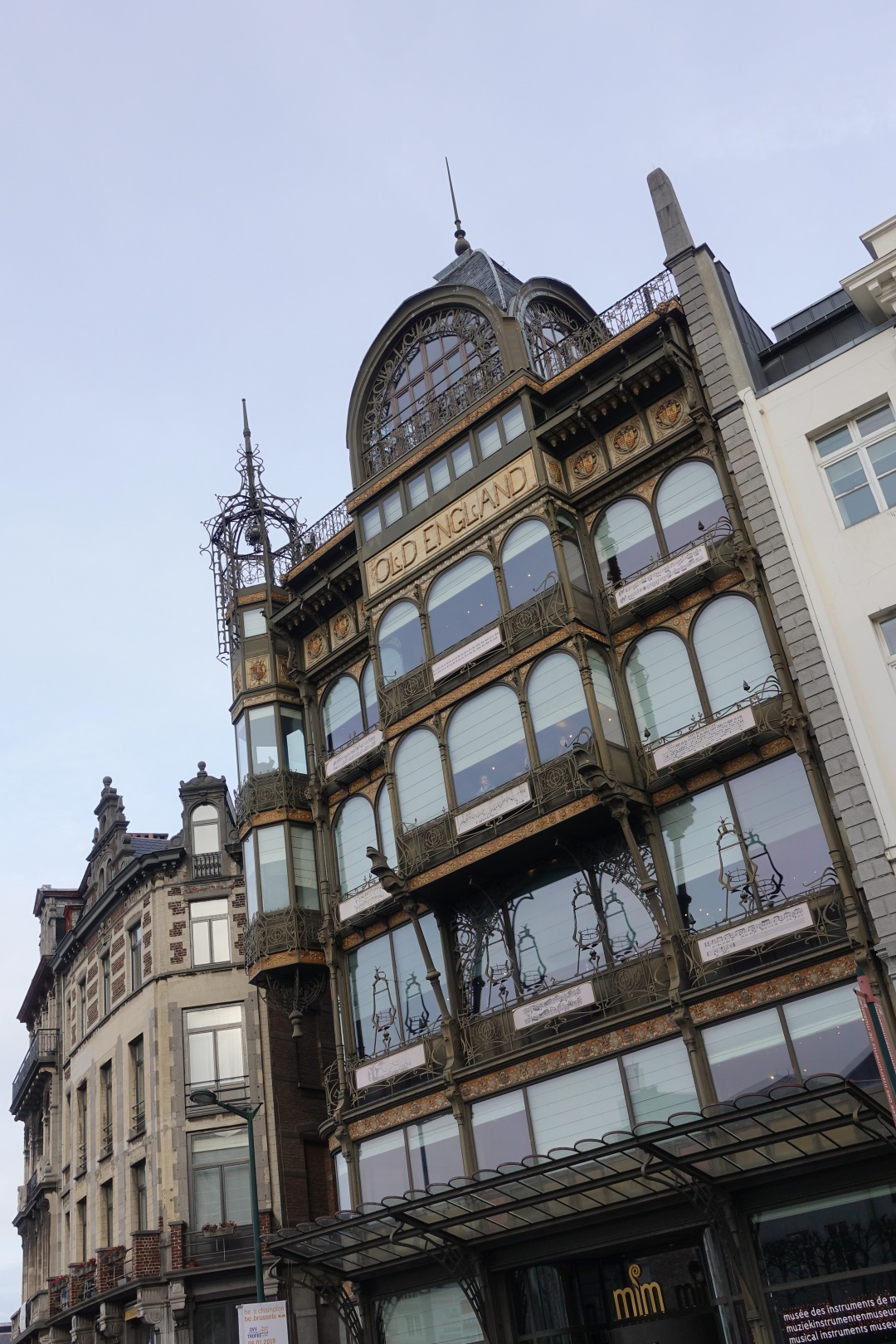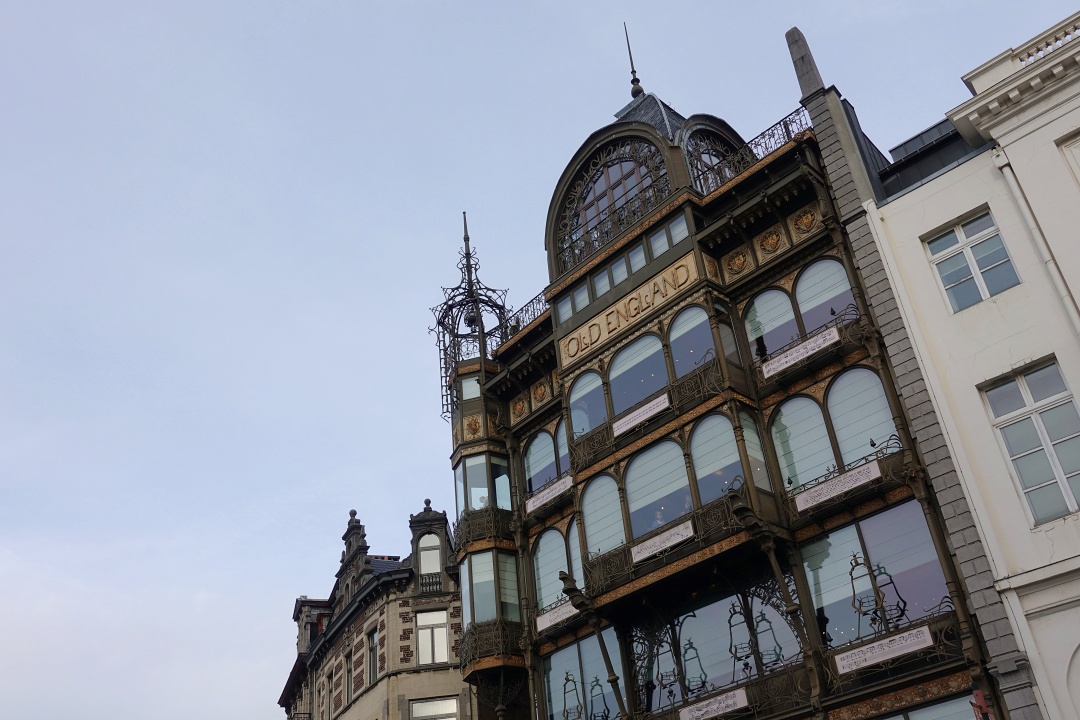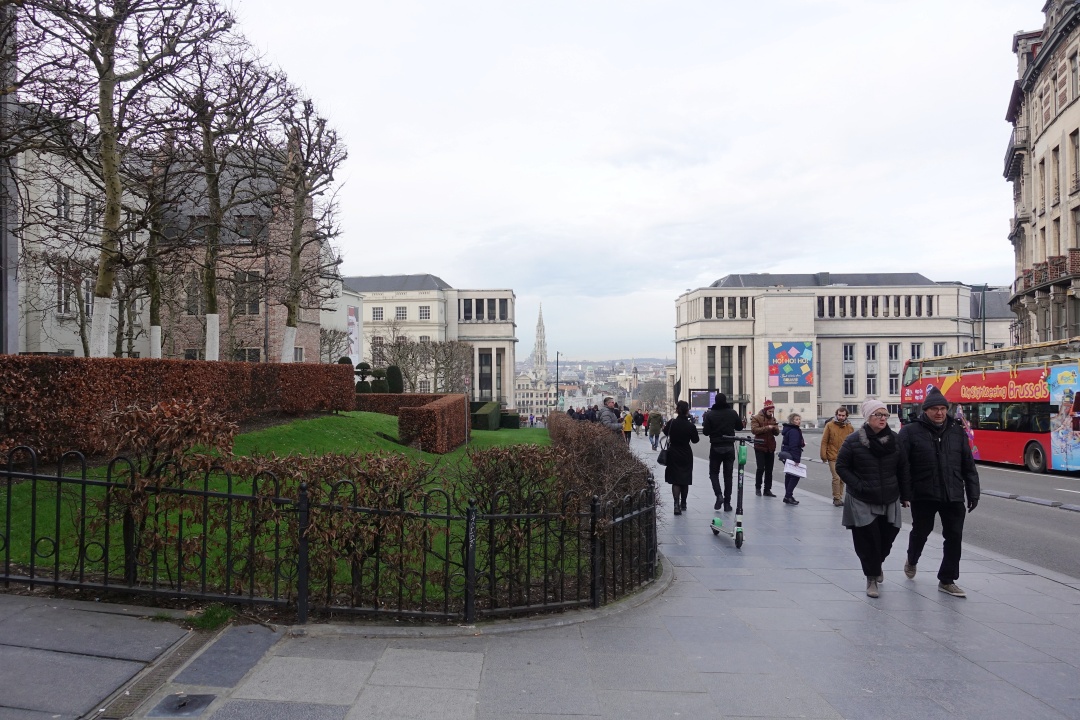 After all this sightseeing, it's finally time to do some shopping!
The Husband has a list of chocolatiers he would like to go, so I ended up following him to all these different shops in the city. Thankfully, they were all located nearby, or in the same area, so we could quickly check them off our list. I think we went to at least three or four shops that afternoon?
We also came across Godiva chocolates, but the Husband forbids me to buy any of those. He told me not to be silly and buy something that is readily available in Singapore. Well, since he already said that, what else can I say?
It seems like the best gift you can get in Brussels is Belgium chocolates. We ended up buying quite a few back to Singapore. Some were meant for our consumption, while others were gifts for family, friends and colleagues. The irony is that we hardly touch on those that we bought for ourselves once we returned home.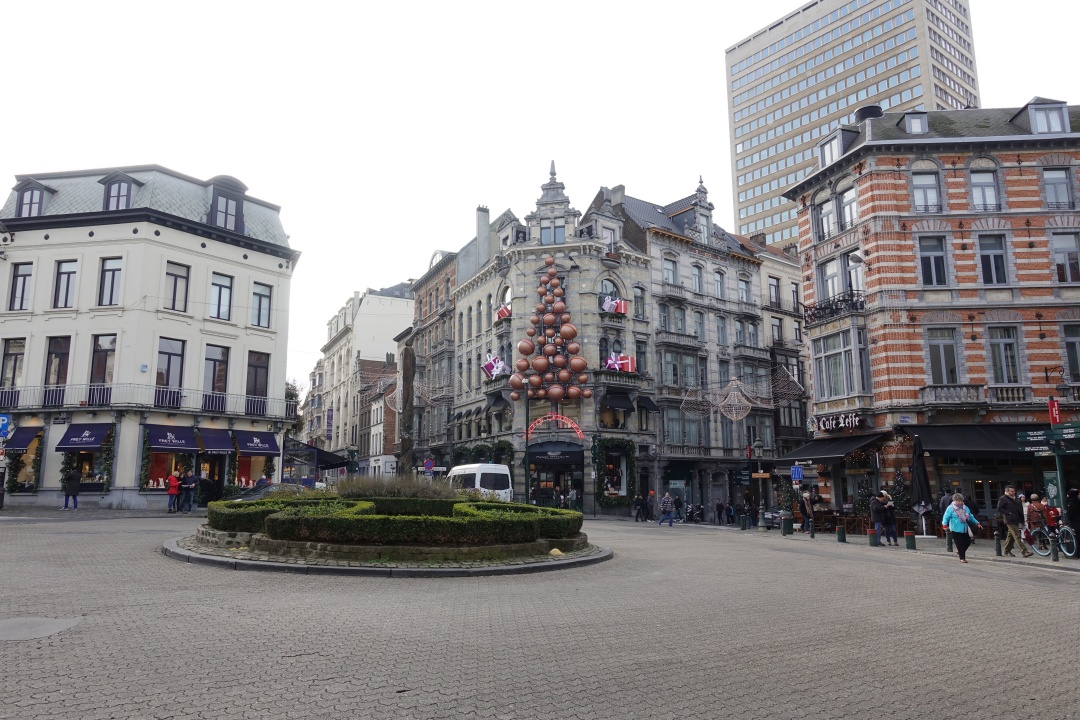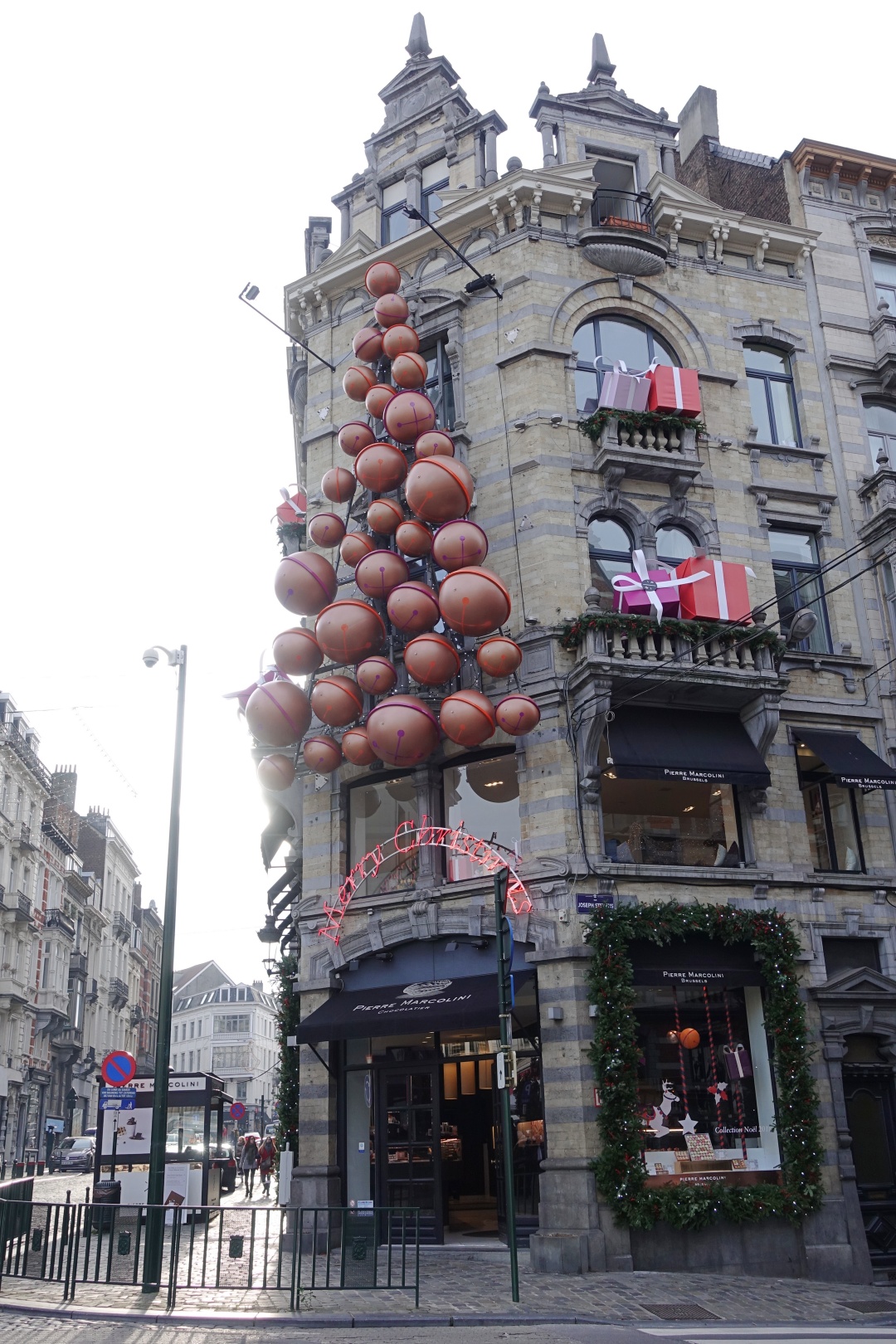 📍Pierre Marcolini
Can't remember which was the first shop we went, but Pierre Marcolini was our second stop.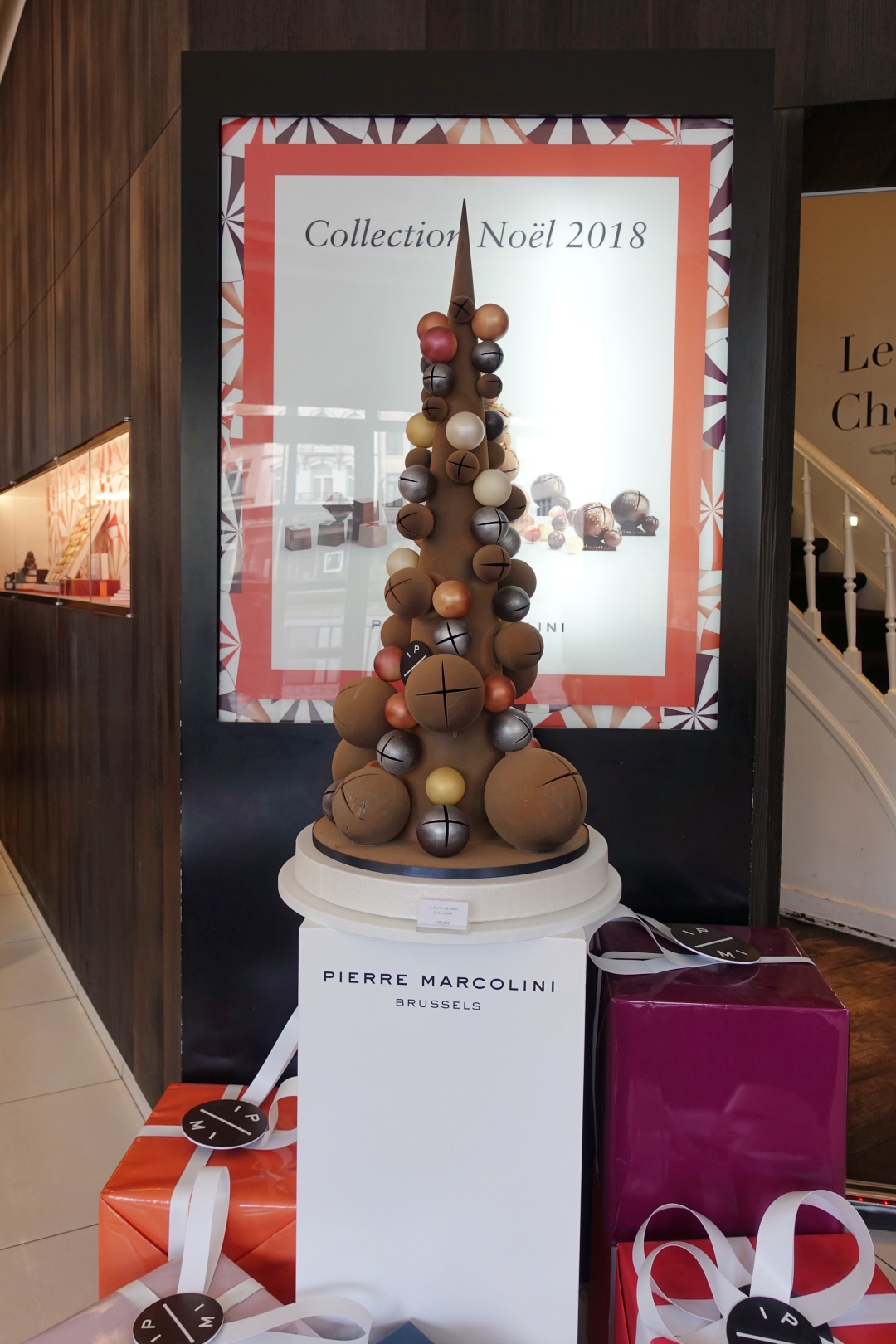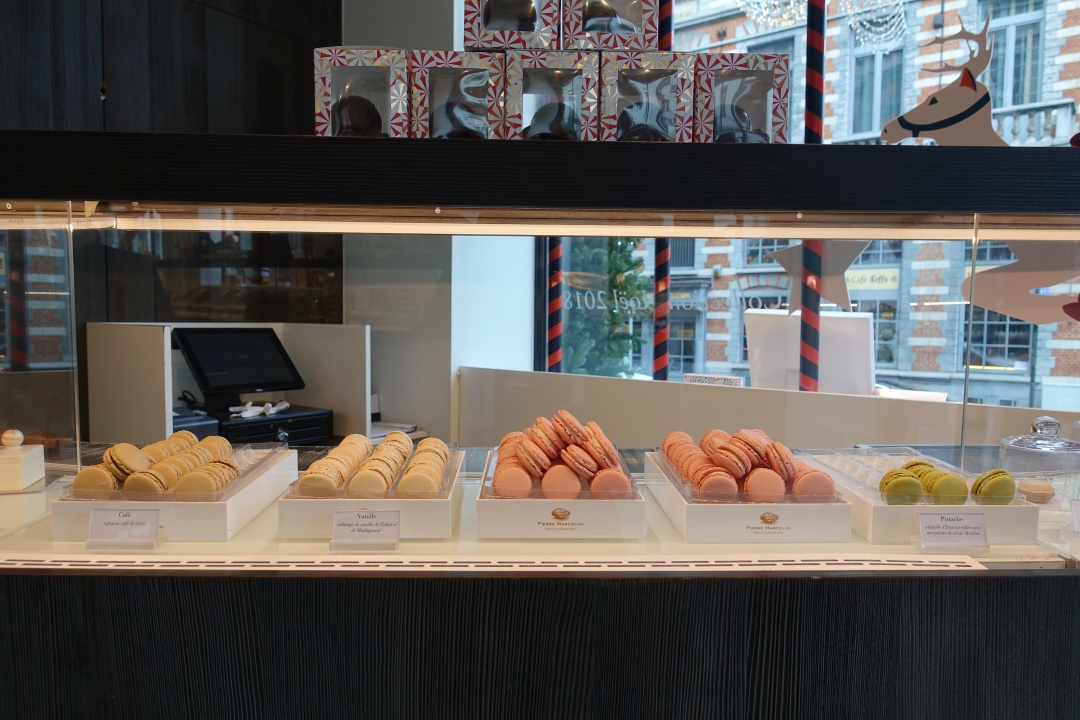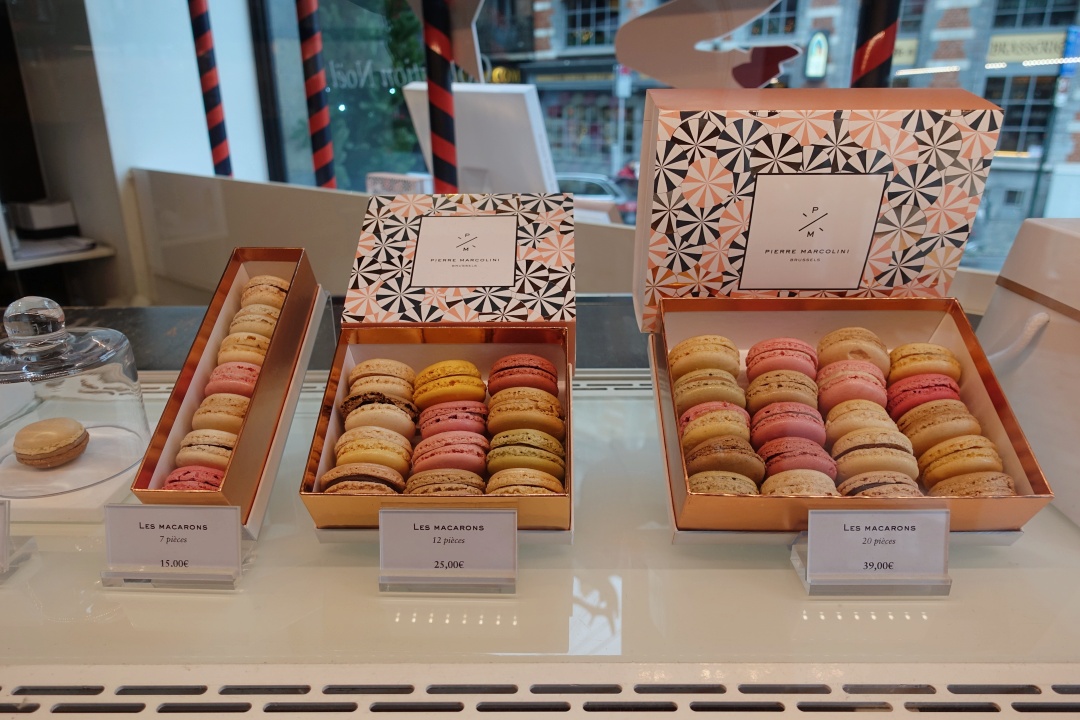 Aside from chocolates, they also have these pretty looking macarons. I was tempted to get some but was put off by the price.
Come to think of it; they work out to be about the same price as Pierre Hermé macarons? So rightfully if I'm willing to pay that much for one macaron from Pierre Hermé, I shouldn't mind paying the same amount for this.
(While the Husband was busy buying bars of chocolates, there I was contemplating on these macarons!) Guess, I just wasn't craving macarons at that time to give in to my temptation.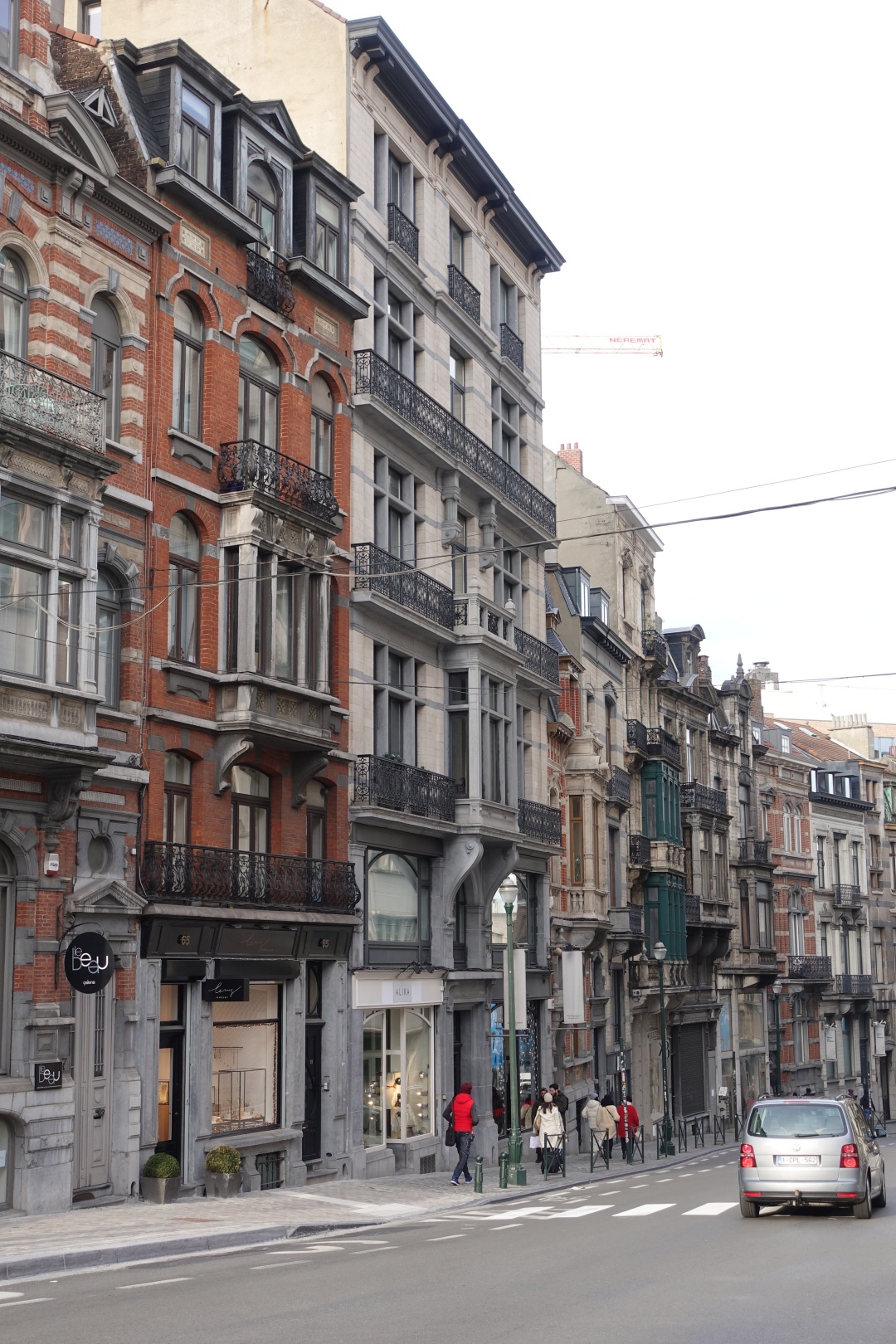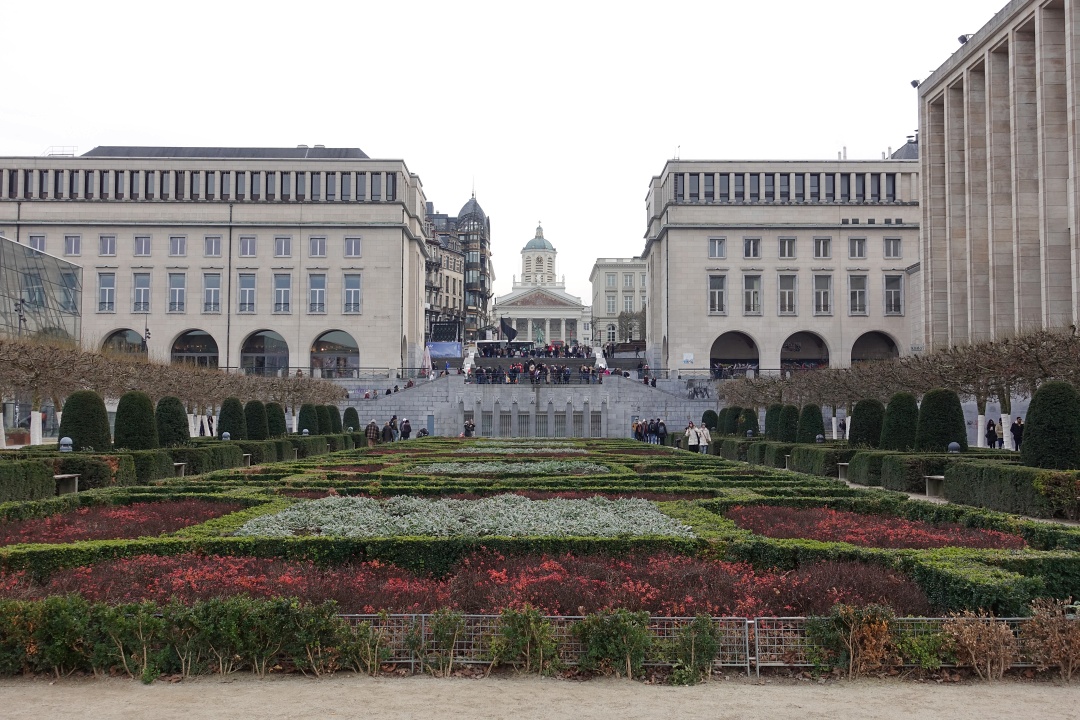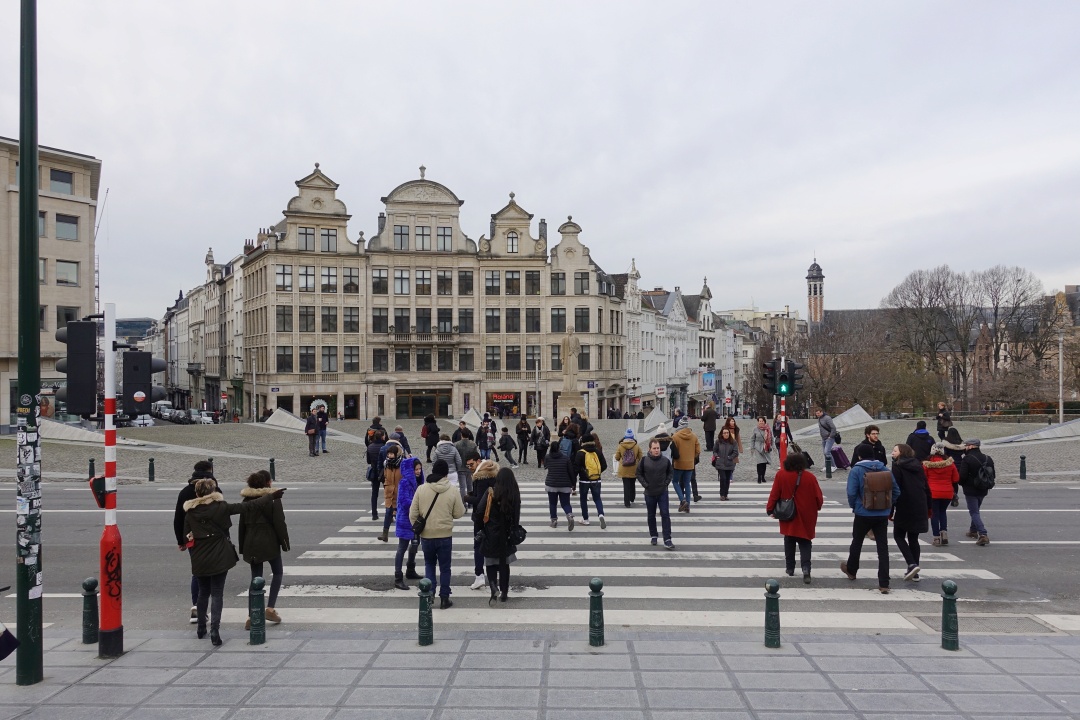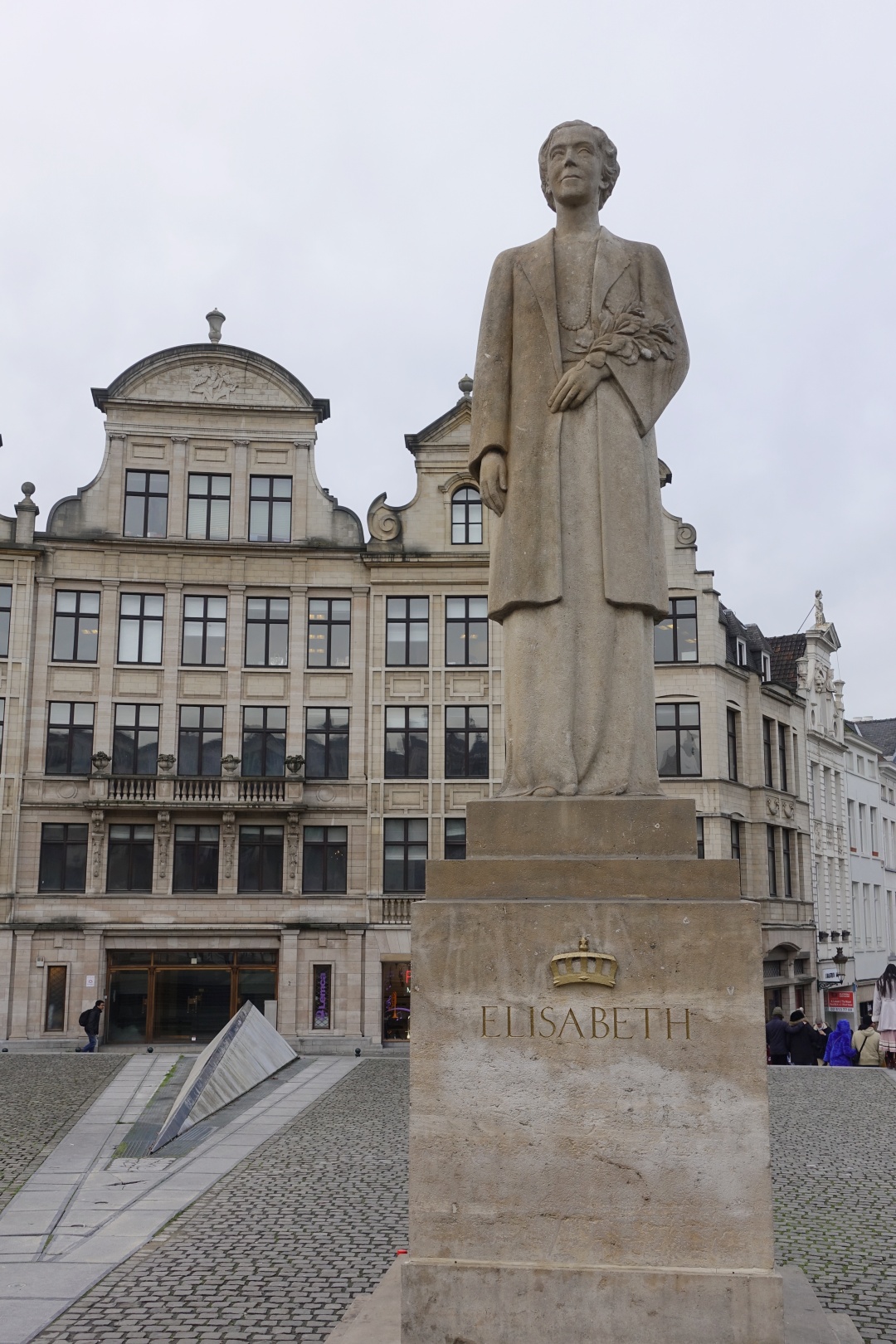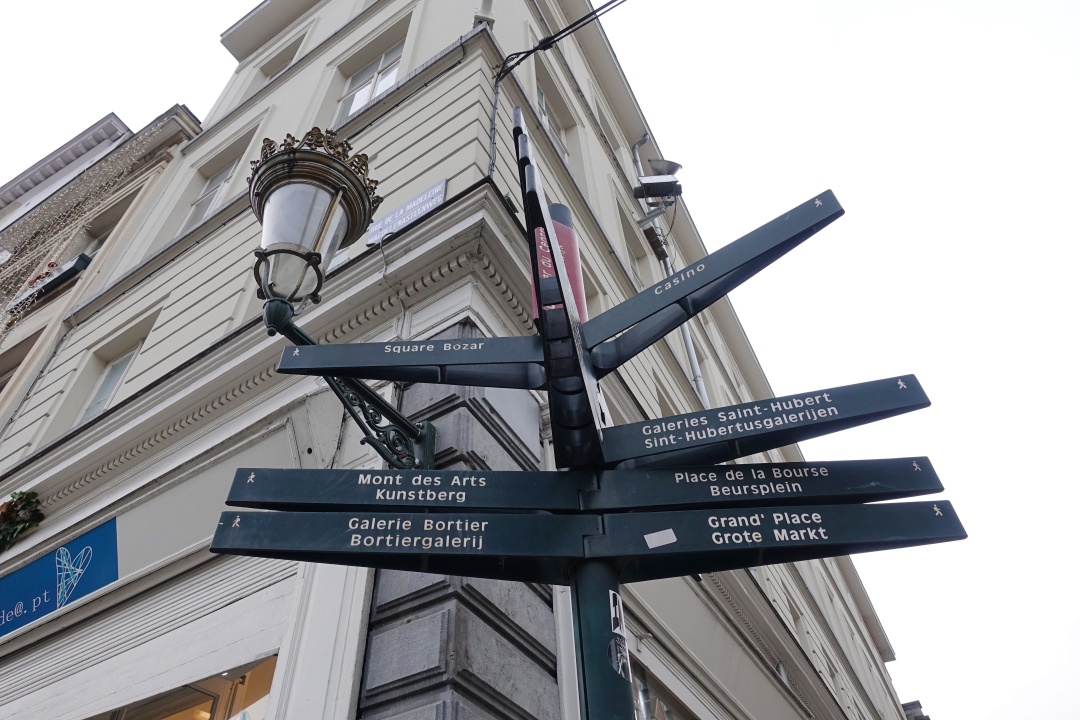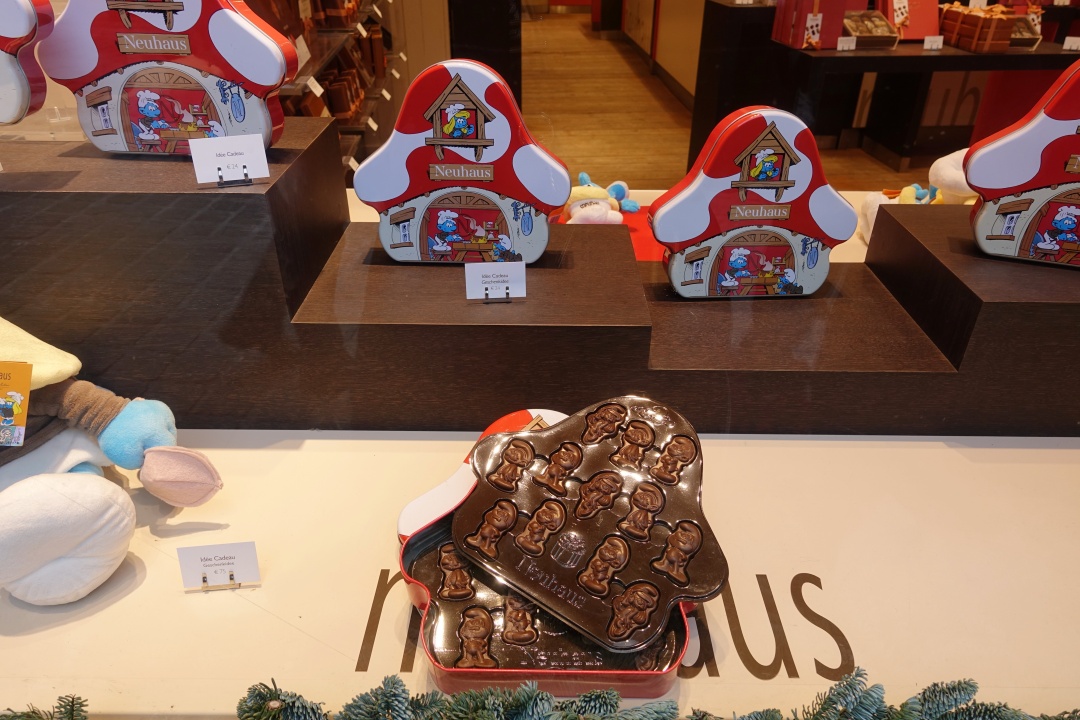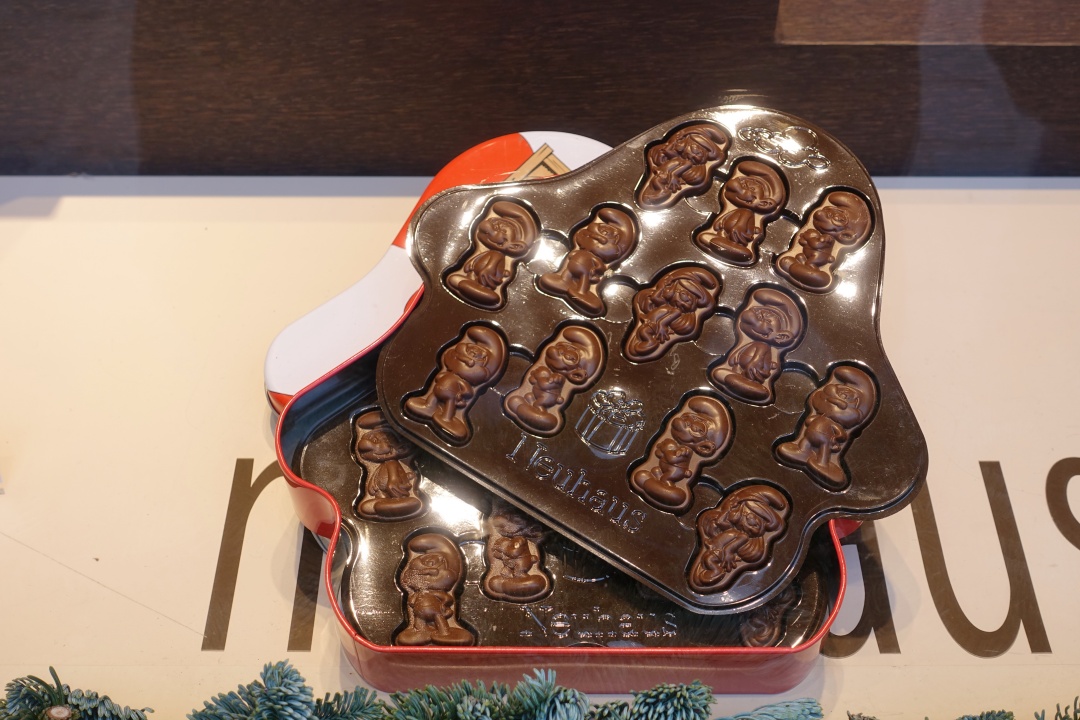 One of the other shops we went to was Neuhaus, and the first thing I noticed was these cute Smurf chocolates on their window display.
I bought some chocolates from here for my family, and my sister actually texted me the other day and told me the chocolate was very nice.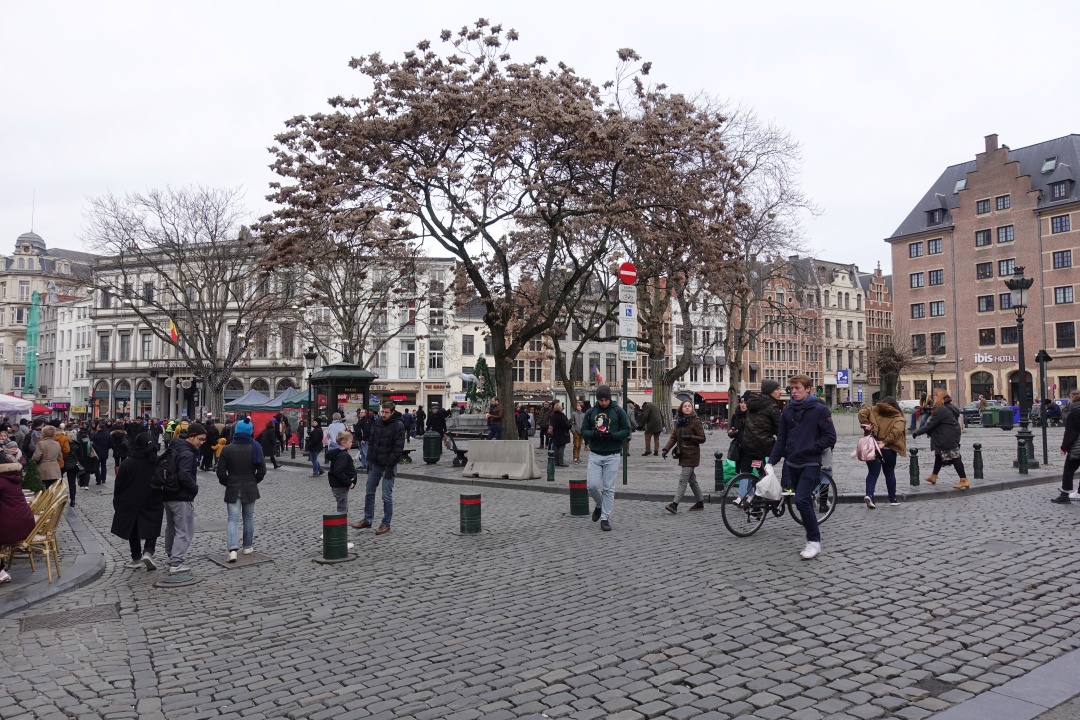 Done with our shopping, we then made our way to Grand Place (Grote Markt), where the Town Hall of the City of Brussels was.
Town Hall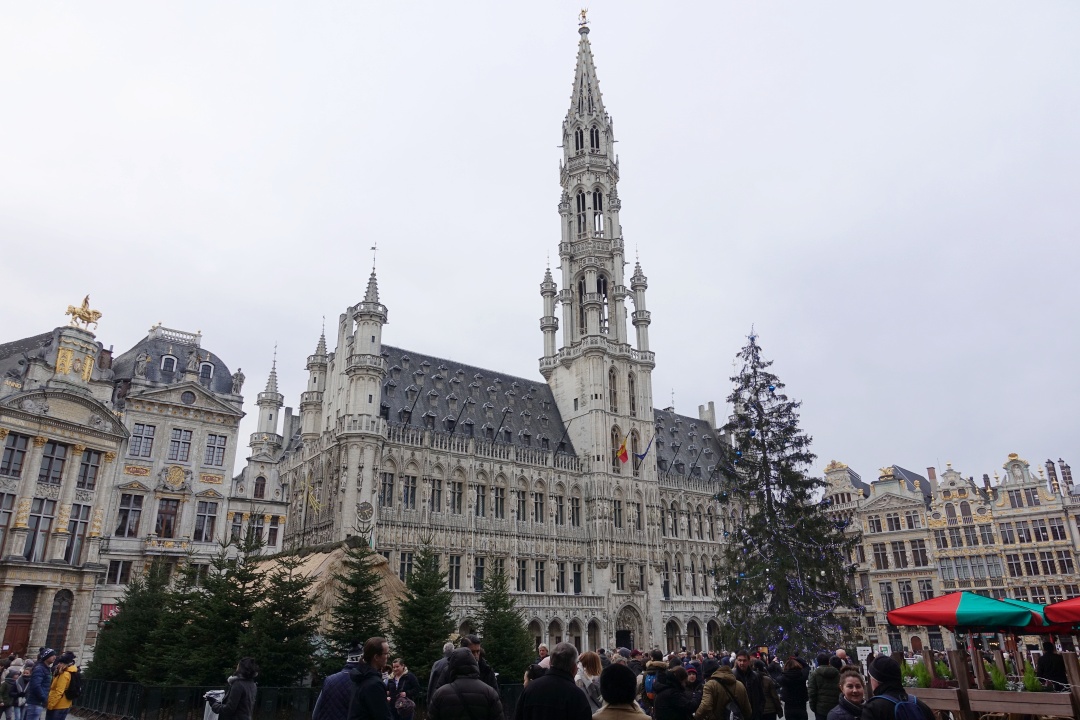 Located on the famous Grand Place in Brussels, Belgium, opposite the Brussels City Museum, the Town Hall is a magnificent Gothic building from the Middle Ages. The oldest part of the present Town Hall was said to be built in 1420.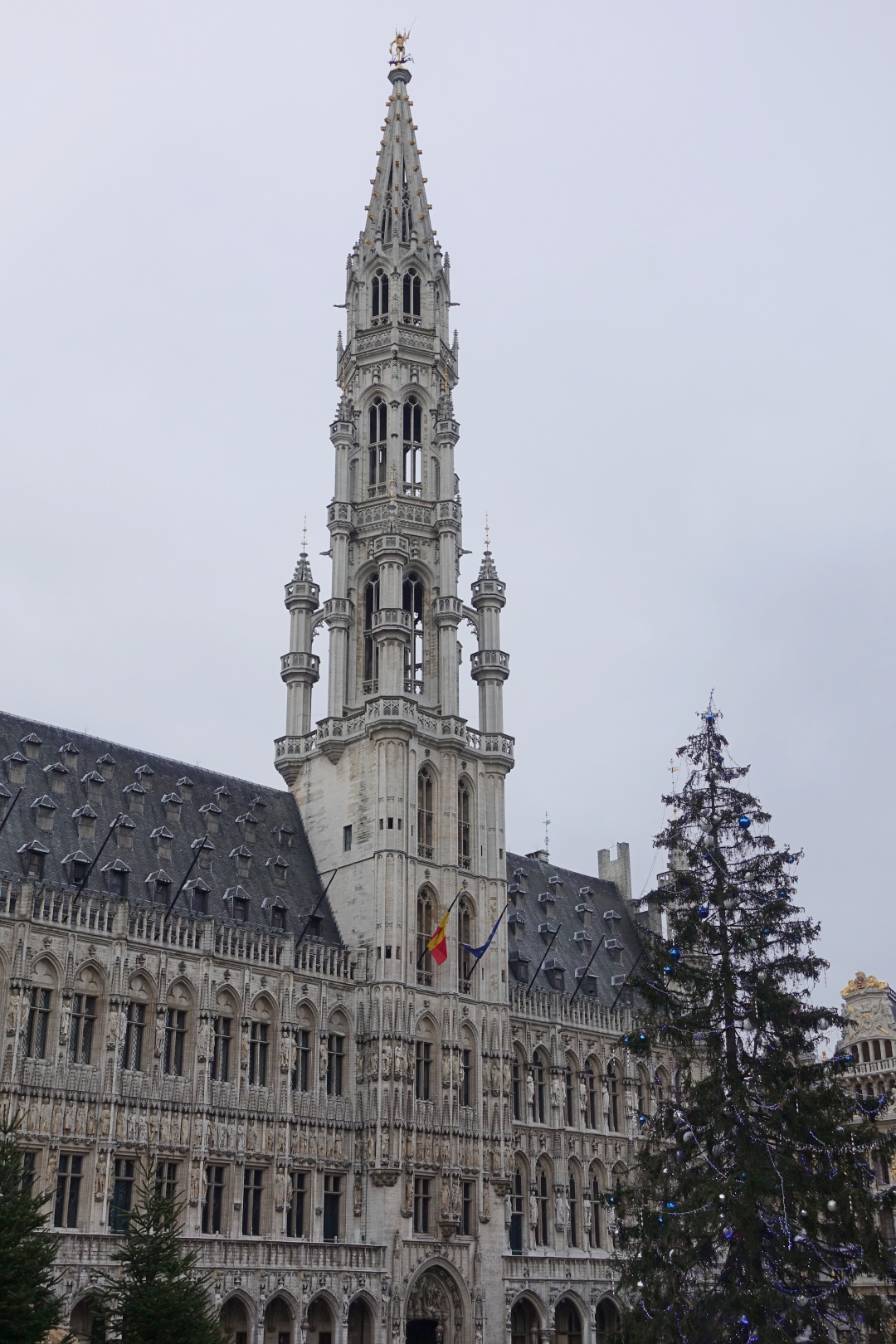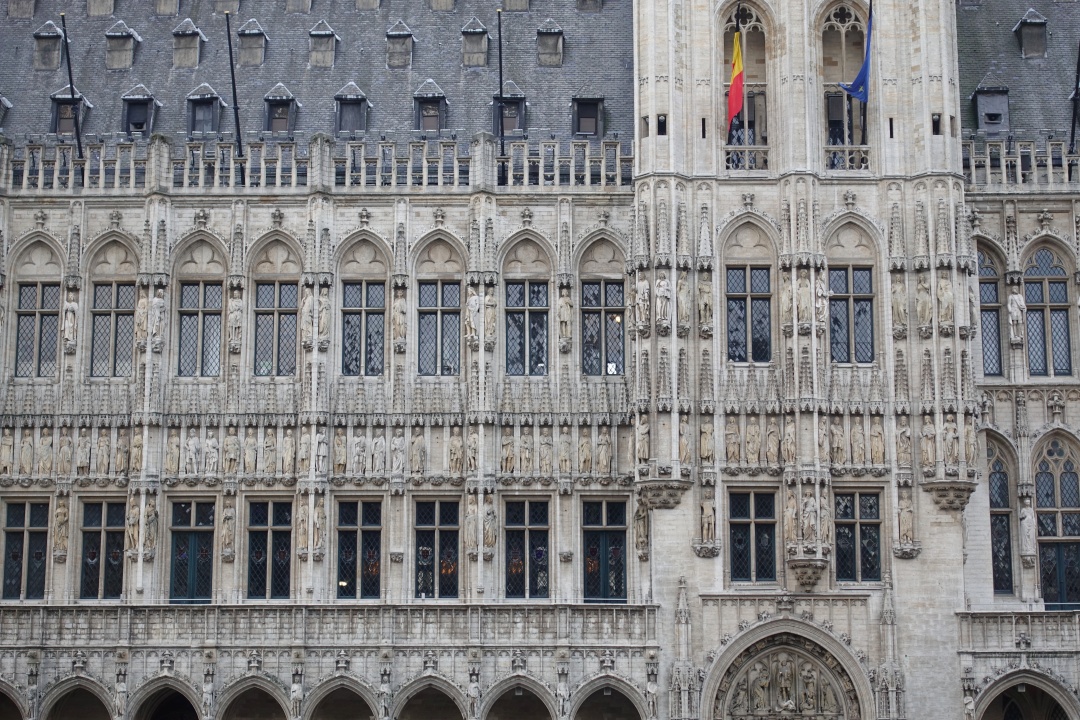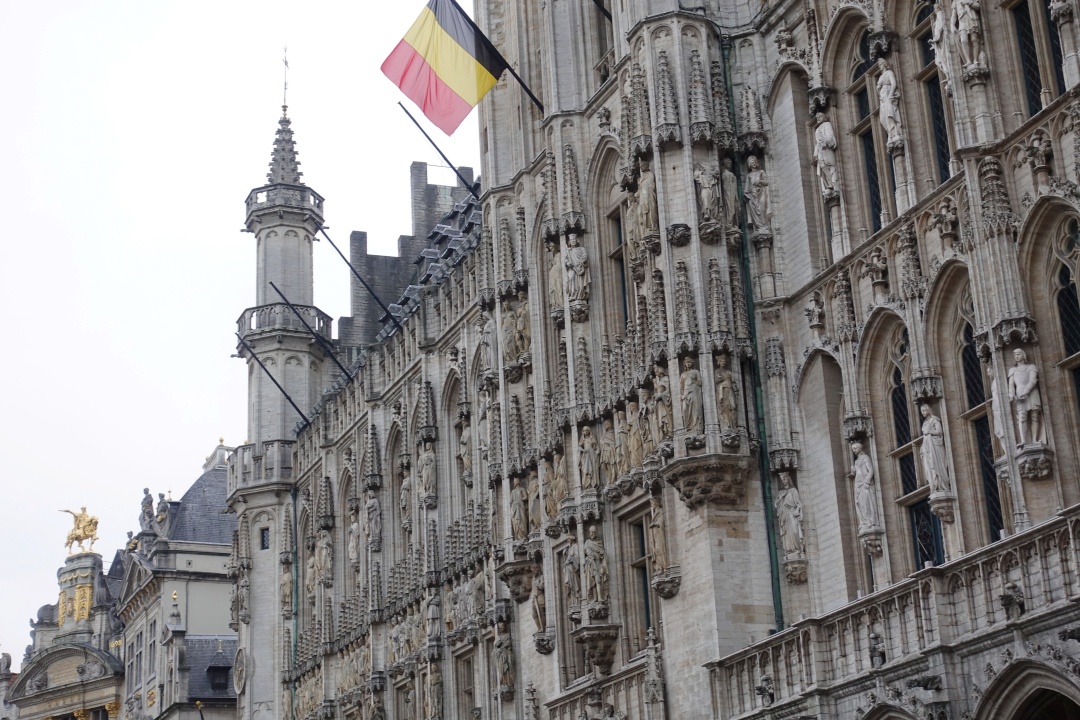 How can one not to be in awe when standing below such a spectacular building? In fact, one of the reasons that made me want to come to Brussels was seeing a picture of the Town Hall before our trip and I knew I would like to see it in person.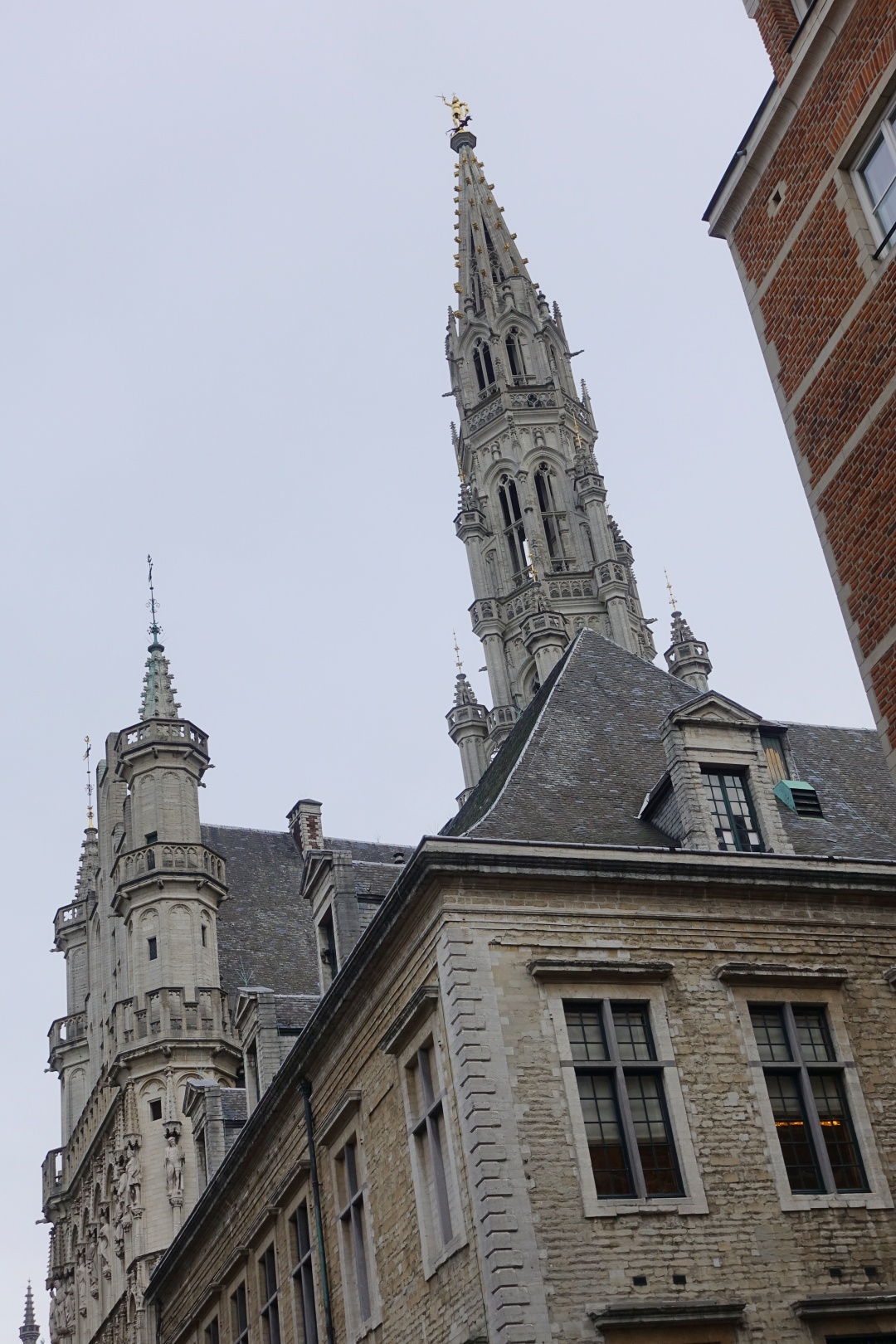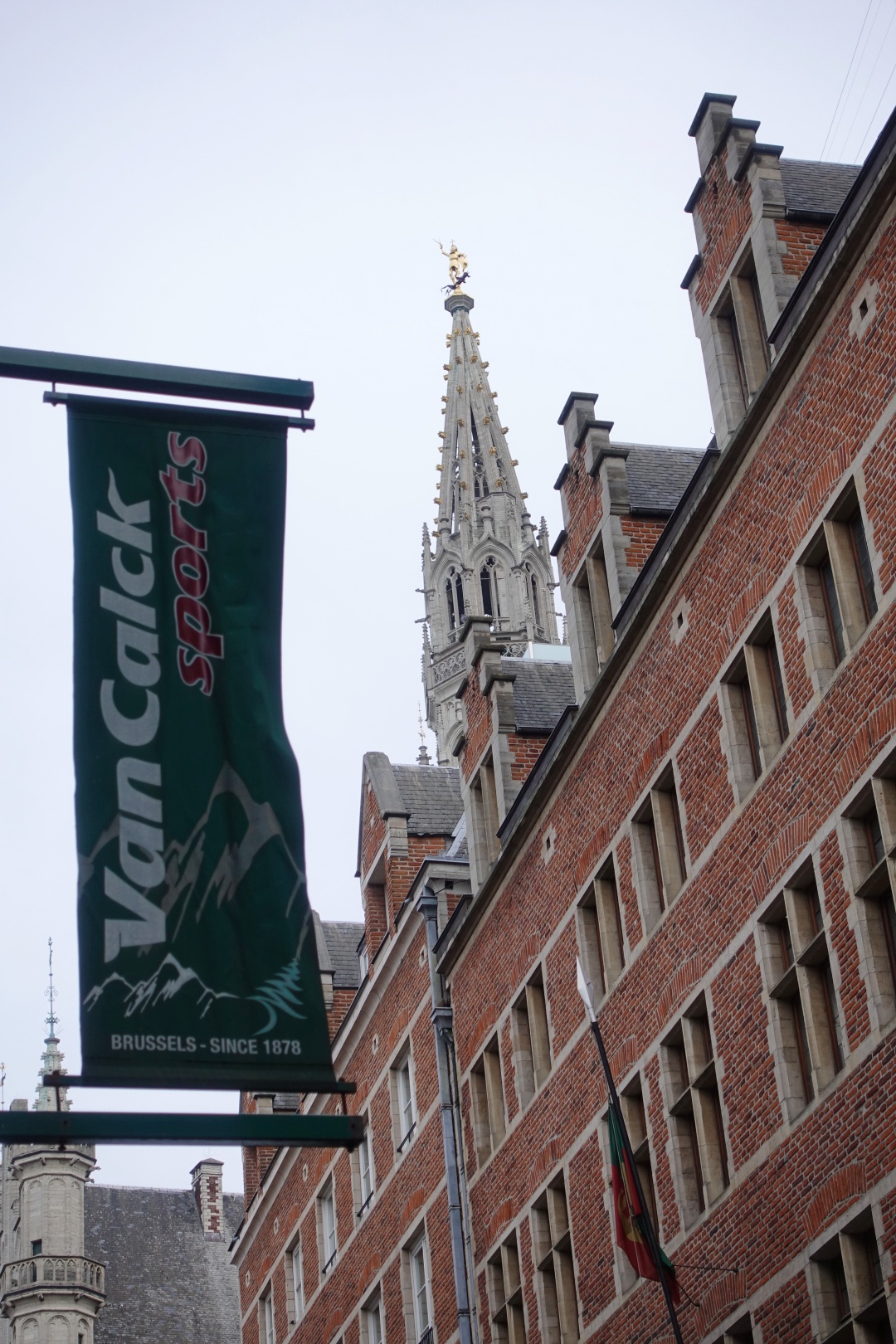 Manneken Pis
Leaving Grand Place, we went to check out the Manneken Pis bronze fountain sculpture, which is another one of the city's landmarks. The statue is situated just five minutes' walk from the Grand Place, at the junction of Rue de l'Étuve and Rue du Chêne.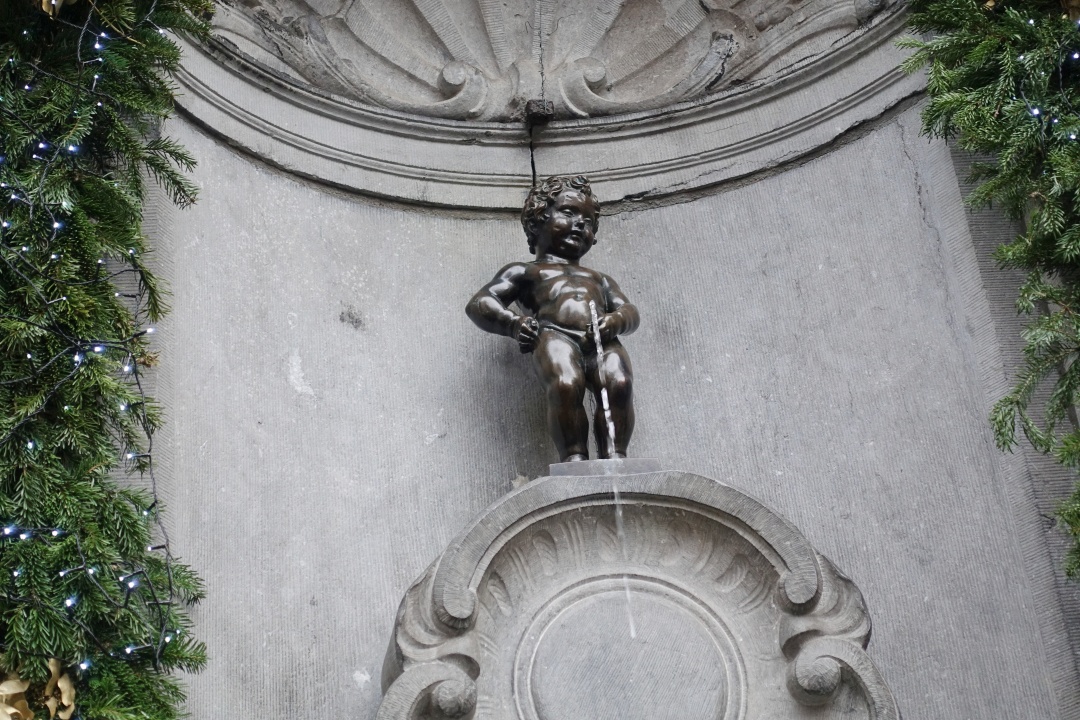 I'm sure many have known or seen photos of this iconic 17th-century bronze statue, depicting a naked little boy urinating into the fountain's basin. It's easily one of the best-known symbols of Brussels, and most visiting Brussels would have come across souvenirs (magnets, t-shirts, etc.) that has his picture on it.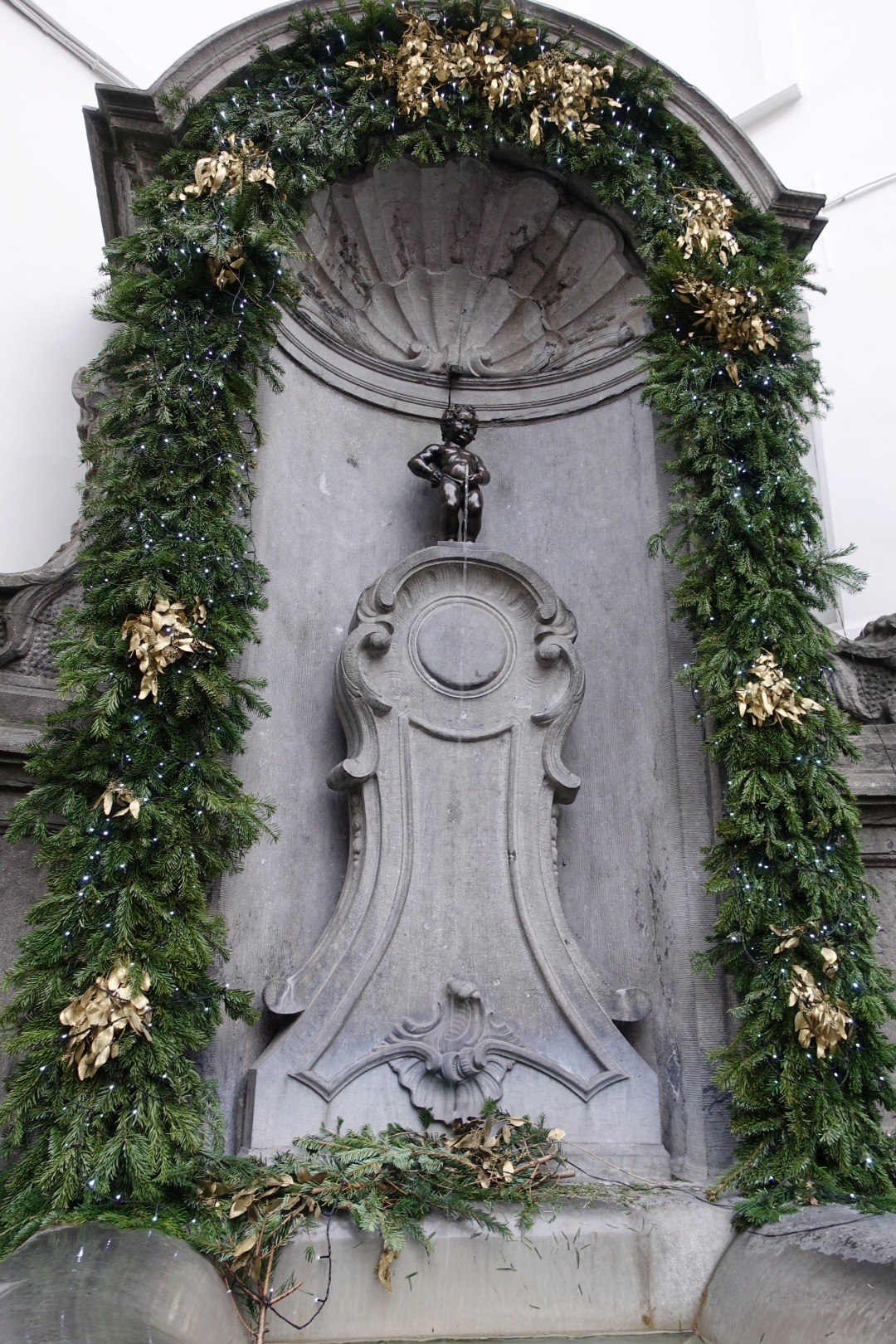 The present statue is a replica which dates from 1965, with the original kept in the Brussels City Museum (located on the Grand Place, opposite the Town Hall).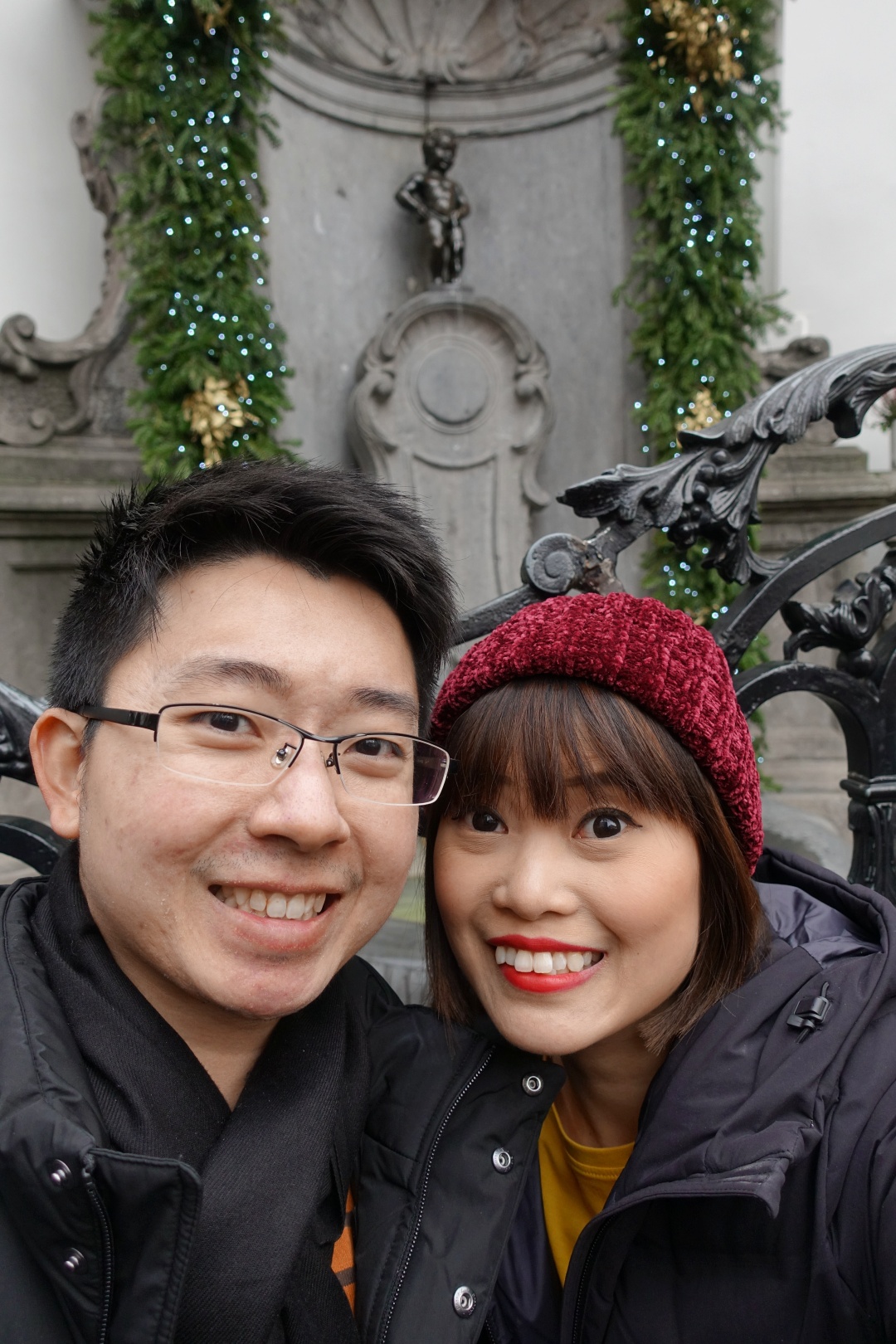 I'm not sure if you can tell how small the statue was from the above picture. At 61 cm (24 in), it's evidently a tiny statue standing above the fountain.
Manneken Pis wasn't dressed in any costume when we went, but he's usually dressed in costume during festivals. Apparently, he has an impressive wardrobe consists of around one thousand different outfits!
After visiting Manneken Pis, the Husband insists we went to check out the other two similar statues – Jeanneke-Pis and Het Zinneke.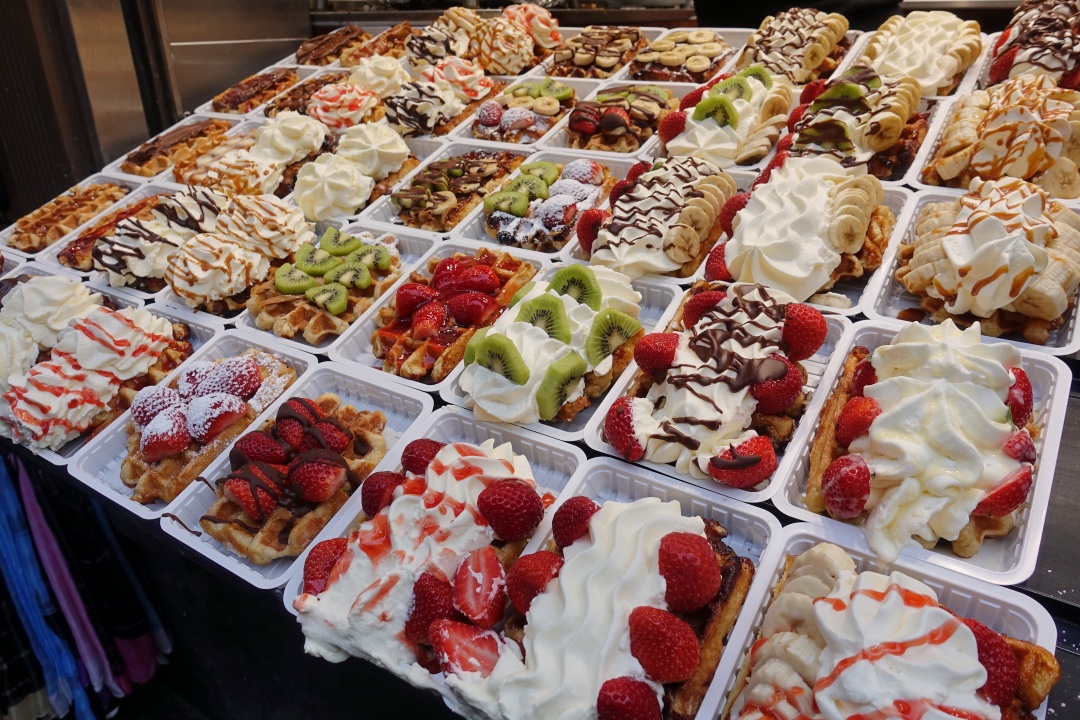 While on our way to Het Zinneke, we got stopped by the sight of yummy-looking Belgium Waffles.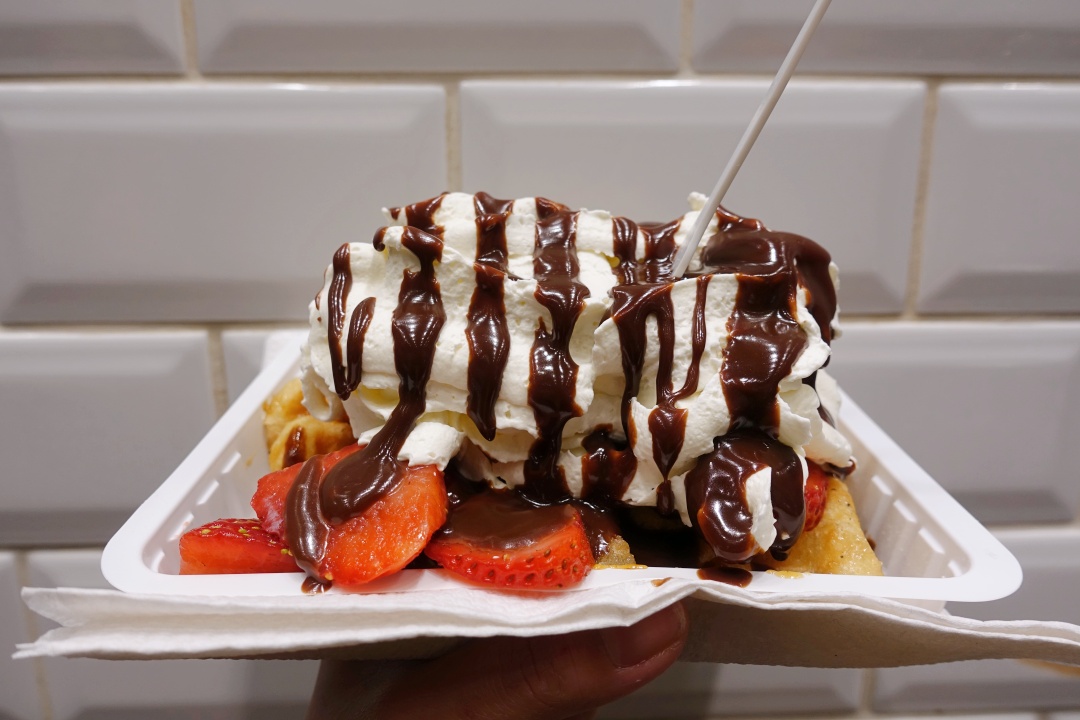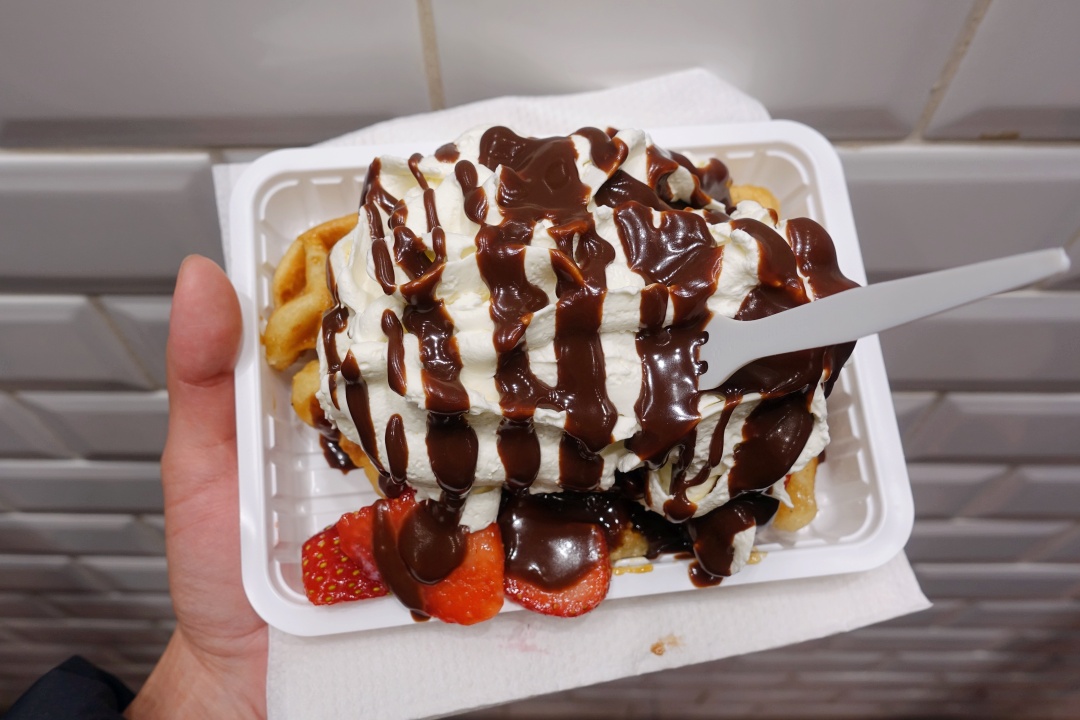 I couldn't resist the sight of freshly made waffle with fresh cream and sliced strawberries, so I promptly went into the shop and got myself one. The Husband wasn't a fan of cream nor strawberries, so I pretty much get to indulge the whole waffle alone.
Like what others said, calories don't count when you're on holiday!
Het Zinneke
We eventually found our way to Het Zinneke.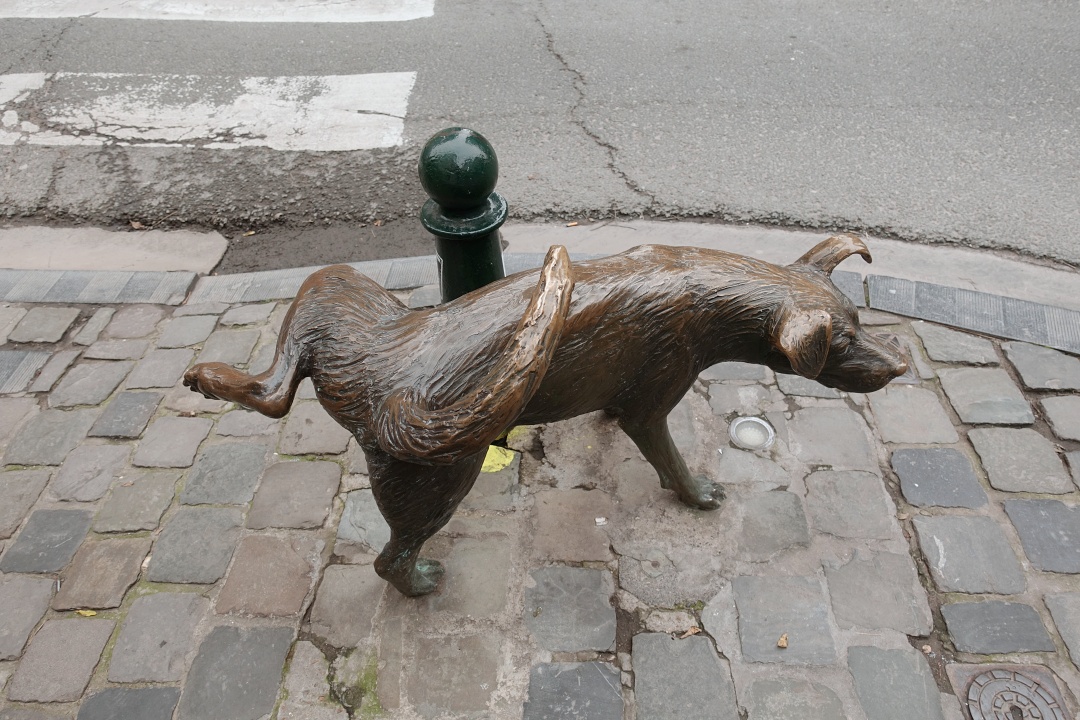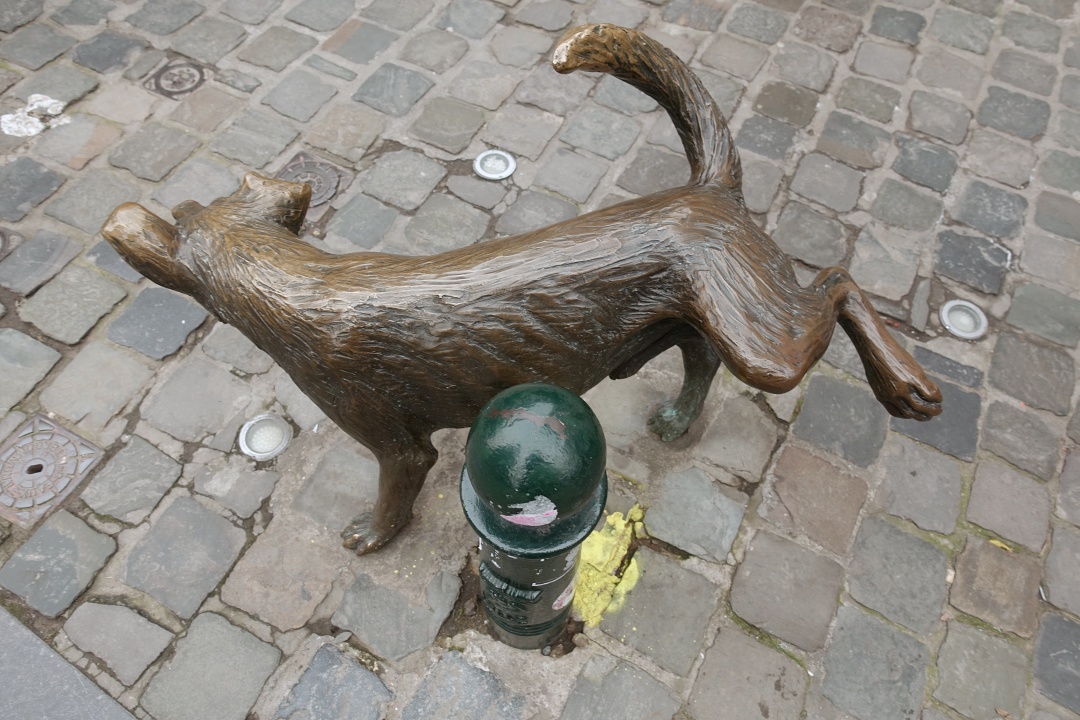 Unlike the Manneken Pis that was enclosed behind steel gates, the Het Zinneke was left in the open, at the junction of Rue des Chartreux and Rue du Vieux-Marché-aux-Grains.
Despite being a bronze sculpture located at the side of the road, the Het Zinneke statue still managed to gather a small crowd (though not as much as Manneken Pis) went we were there. We pretty much had to wait in line to take a picture with it.
If we didn't know better, we probably wouldn't even take notice of this statue if we were strolling down the road.
Jeanneke-Pis
And finally, we made it to Jeanneke-Pis, the feminine interpretation of Manneken Pis.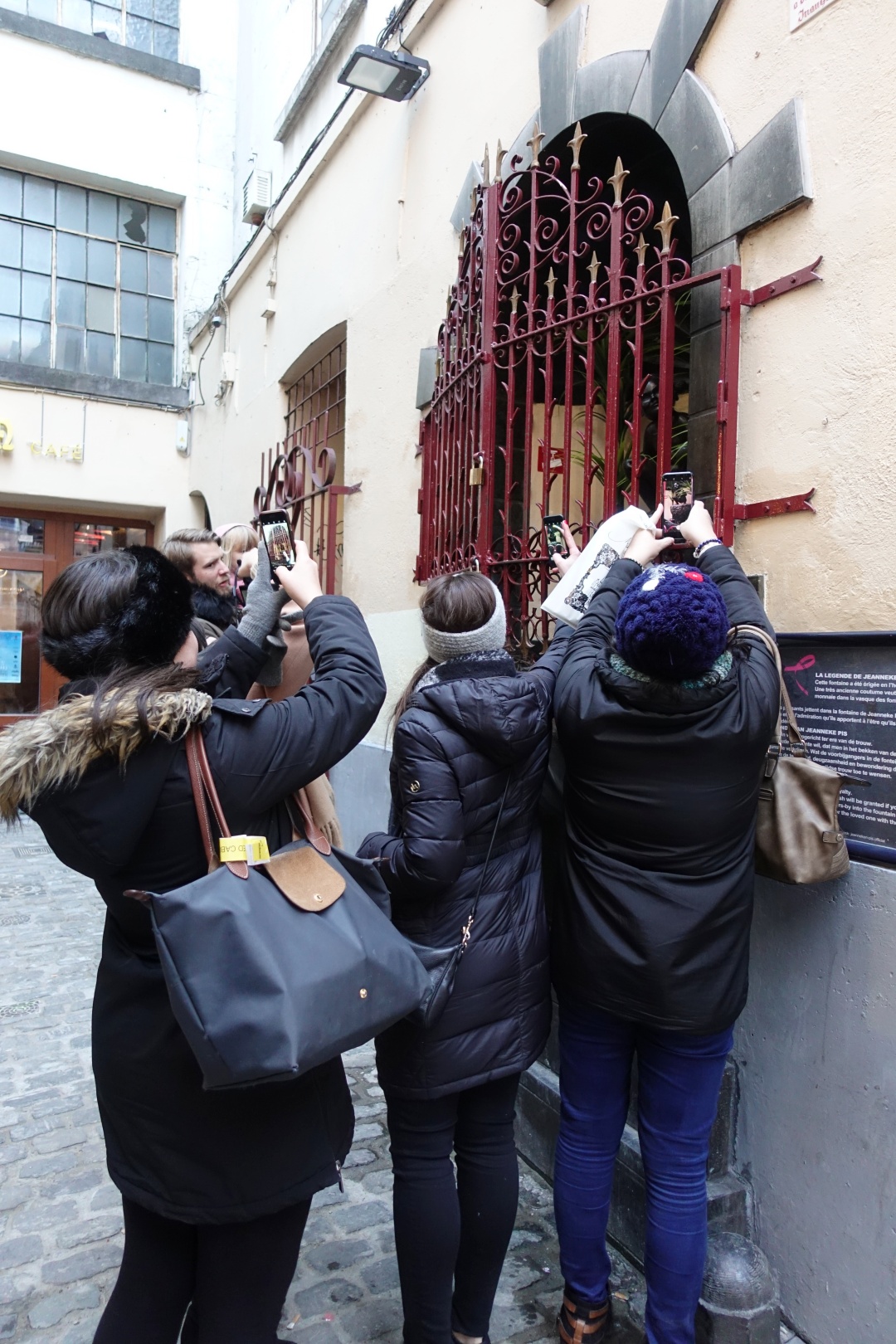 Located behind red iron bars, the Jeanneke-Pis statue is 50 cm (20 in) tall. It depicts a little girl with her hair in short pigtails, squatting and urinating on a blue-grey limestone base.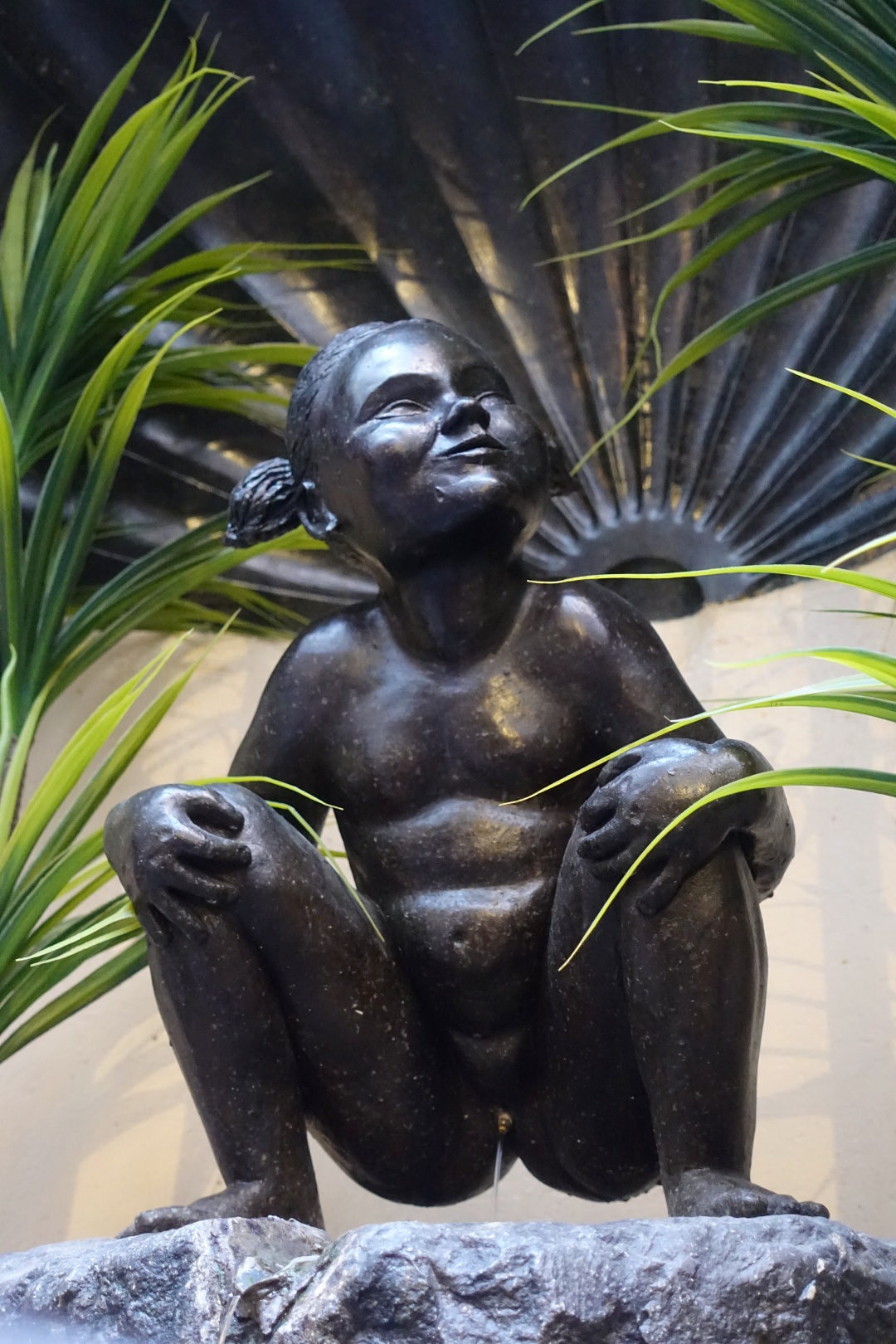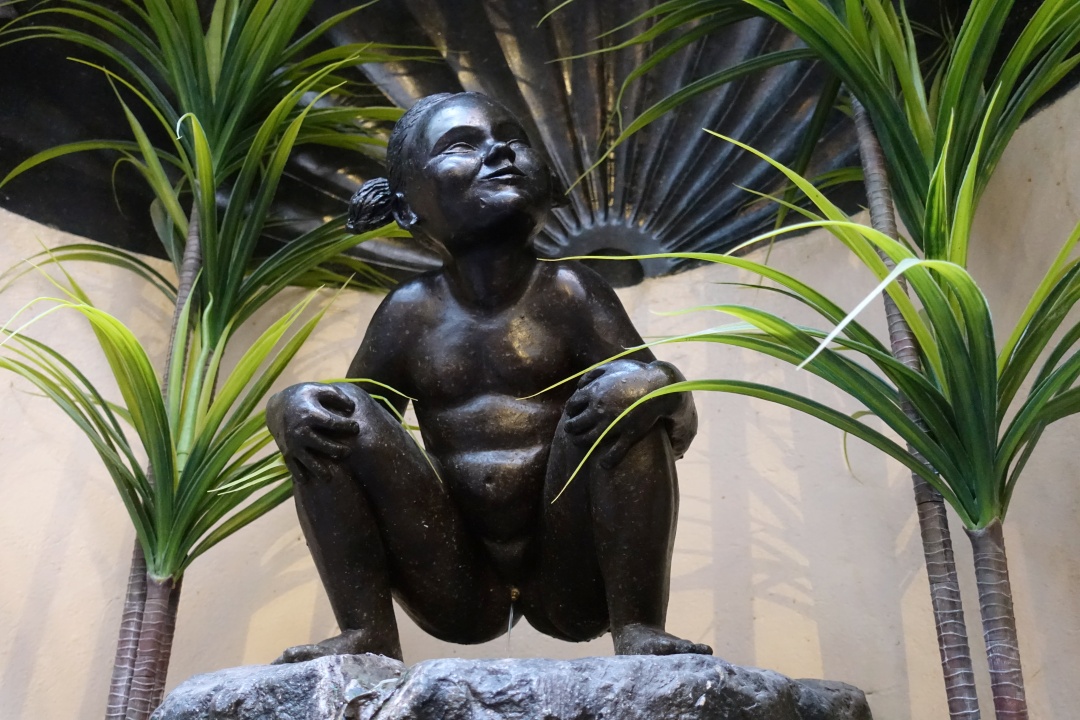 The coins that are thrown into the fountain is said to go towards a cancer research charity.
Christmas Market
Later that afternoon, we returned to the Christmas market that we went the night before. (In front of Brussels Stock Exchange.) We reached there at around 17:00, right before the sky turned dark; hence we were able to comb through the stalls probably this time.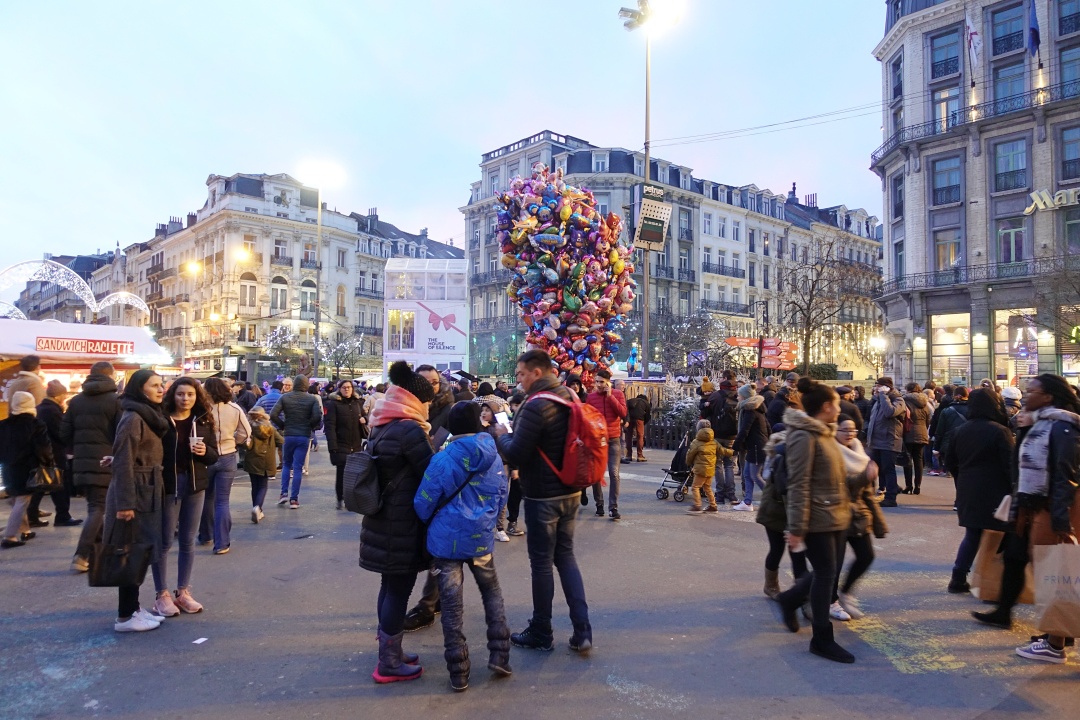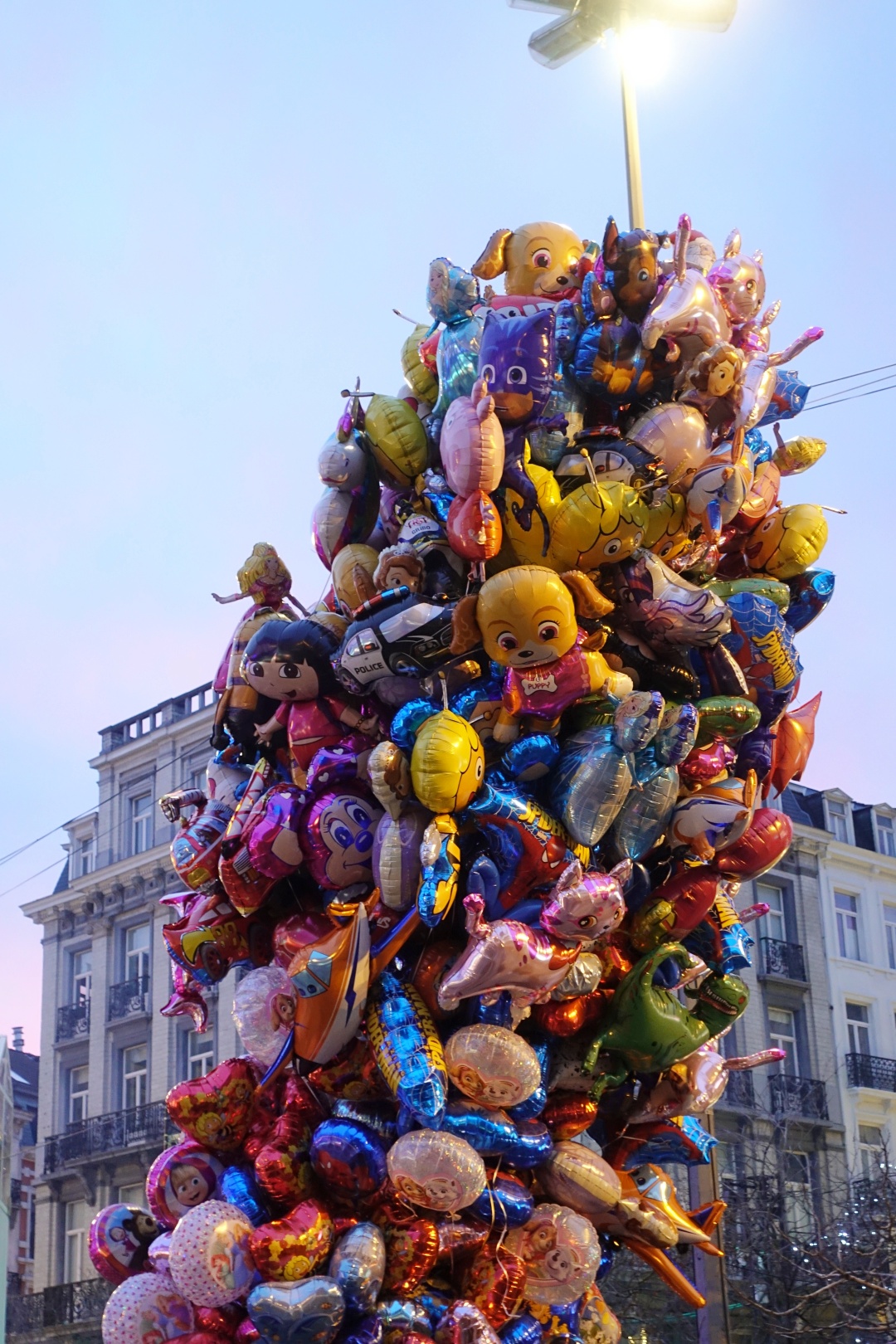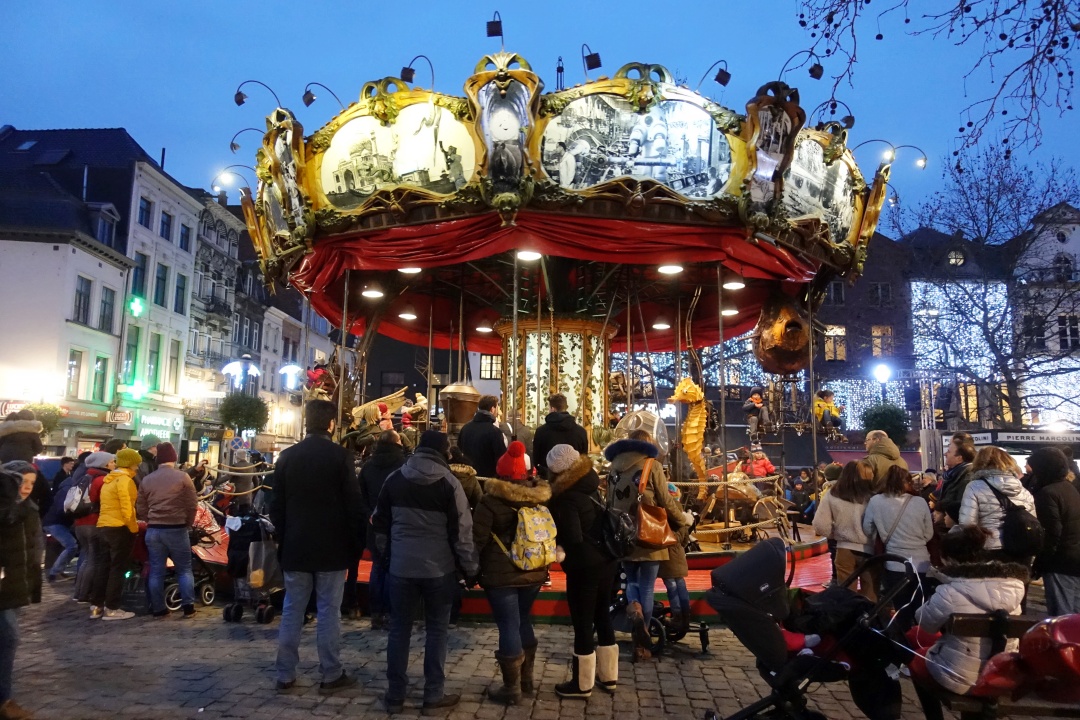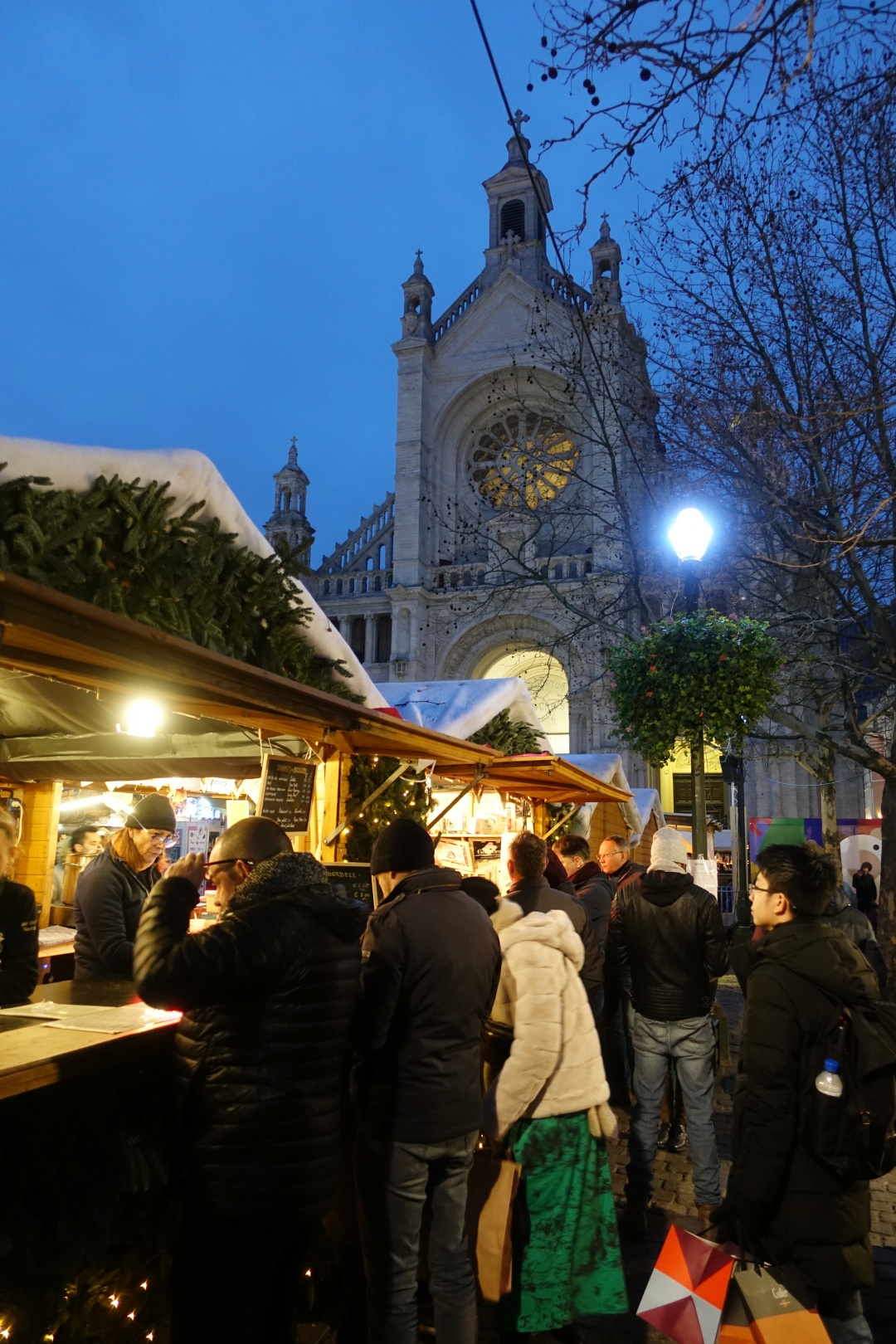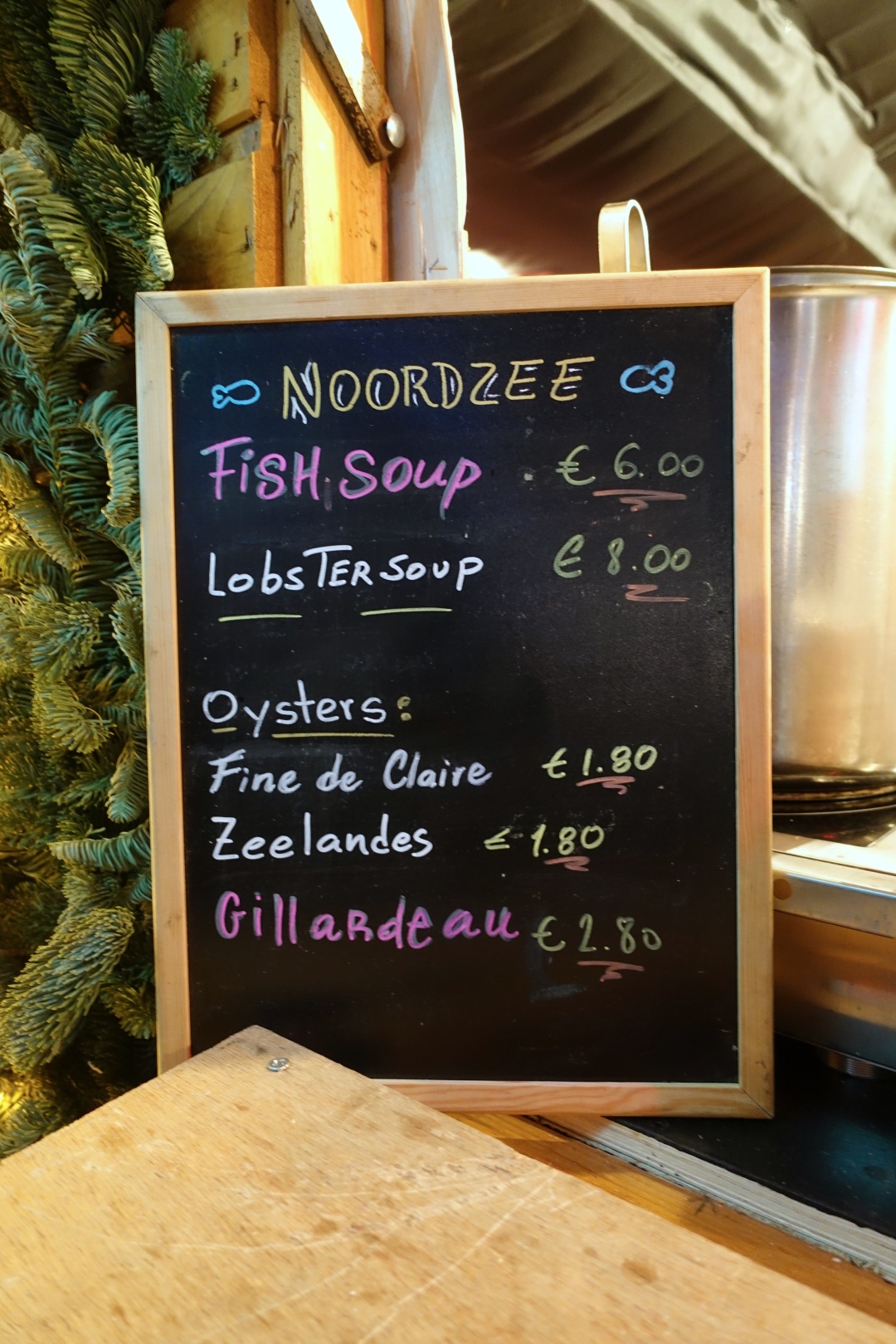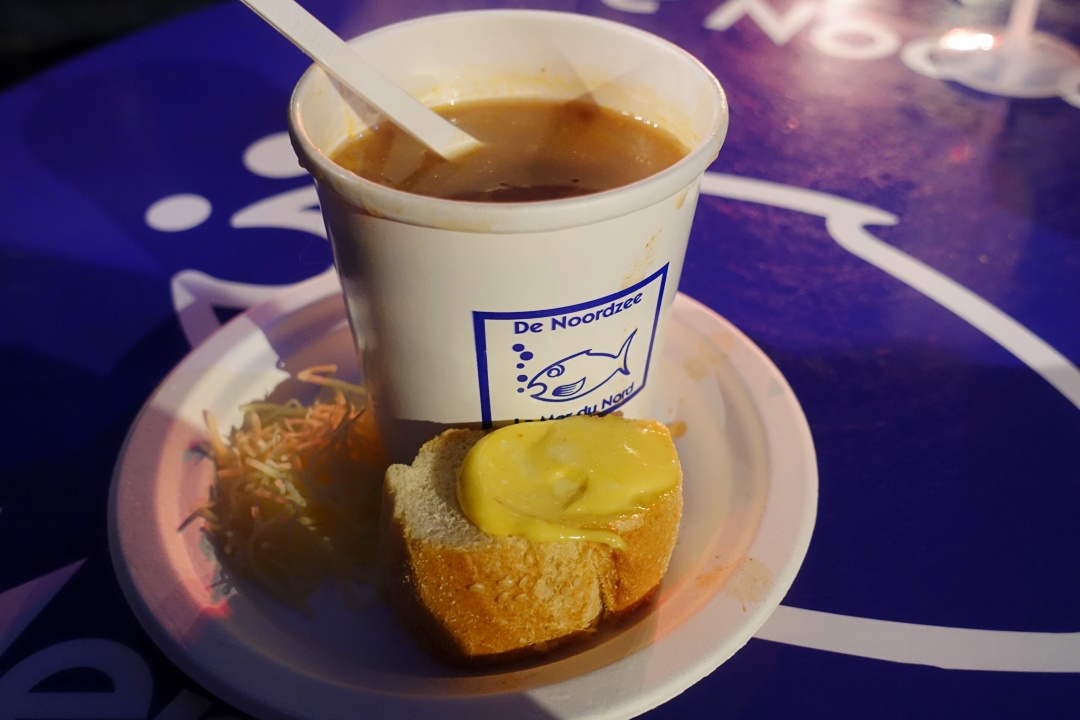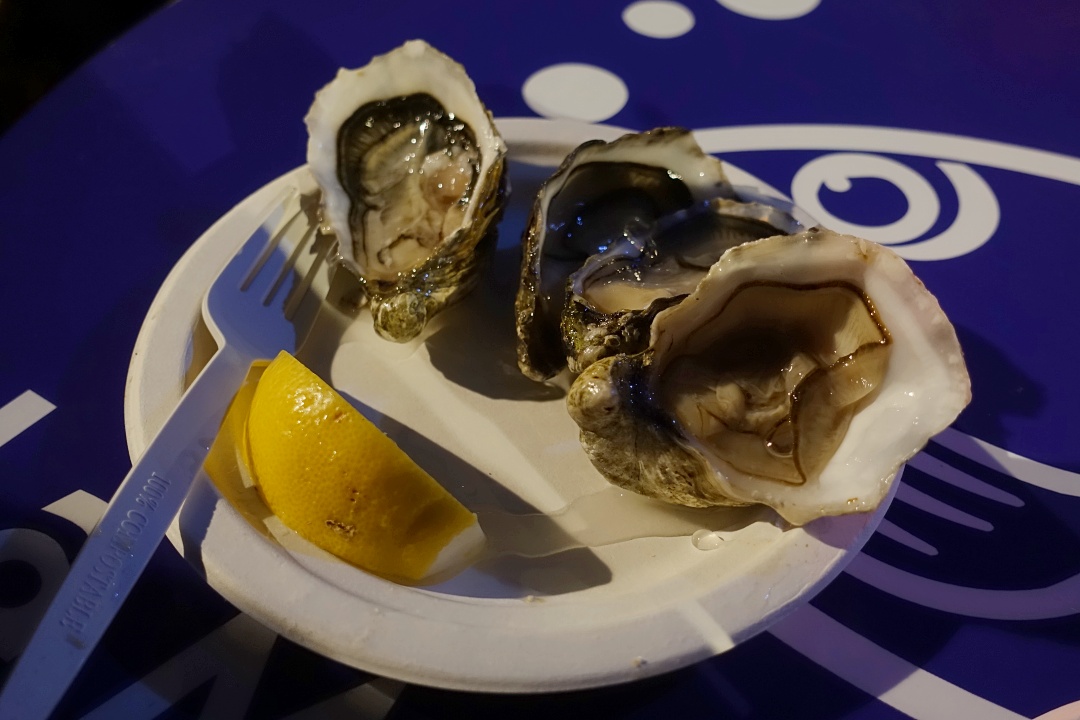 Trying to find food at the Christmas market and I ended up with a fish soup, while the Husband got some fresh oysters.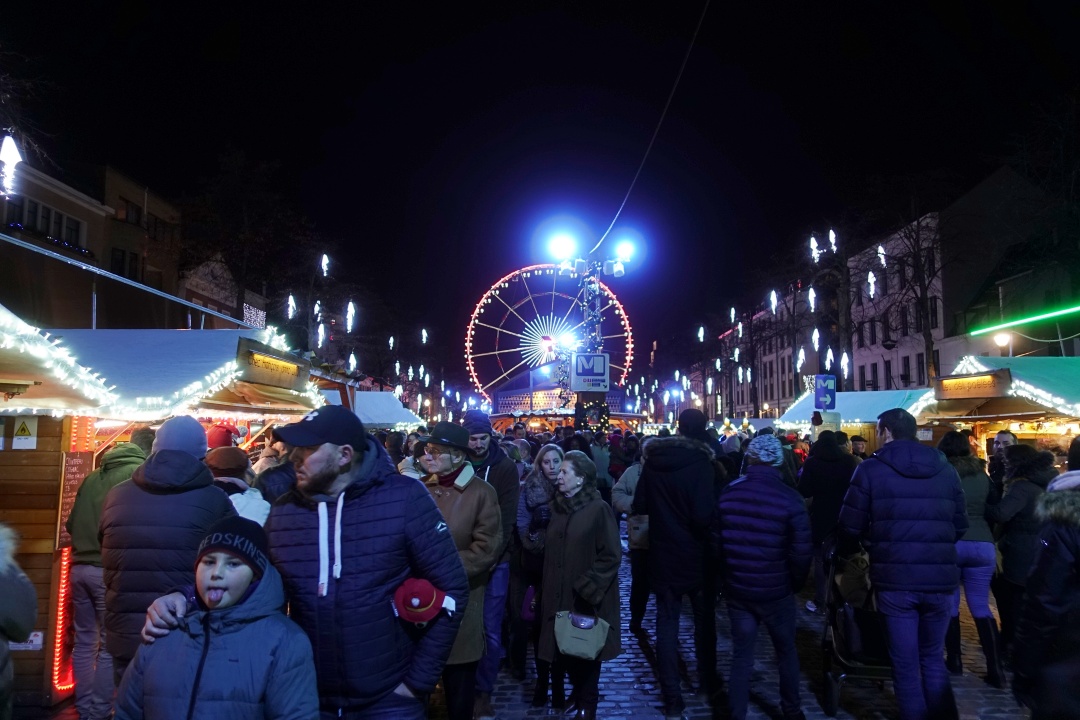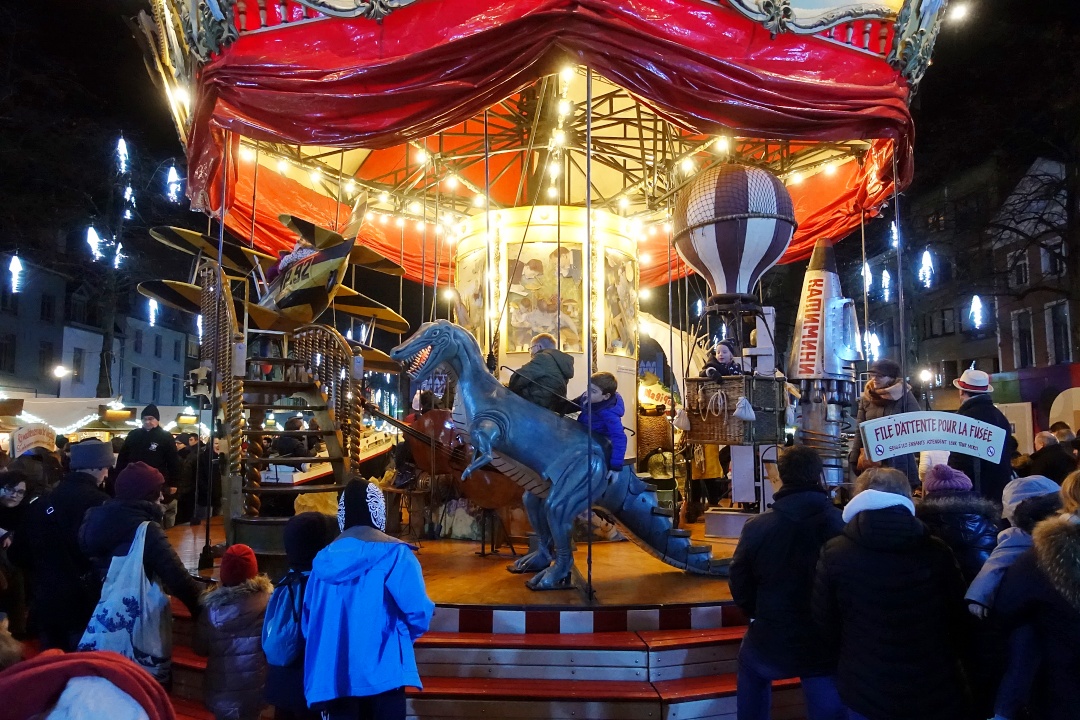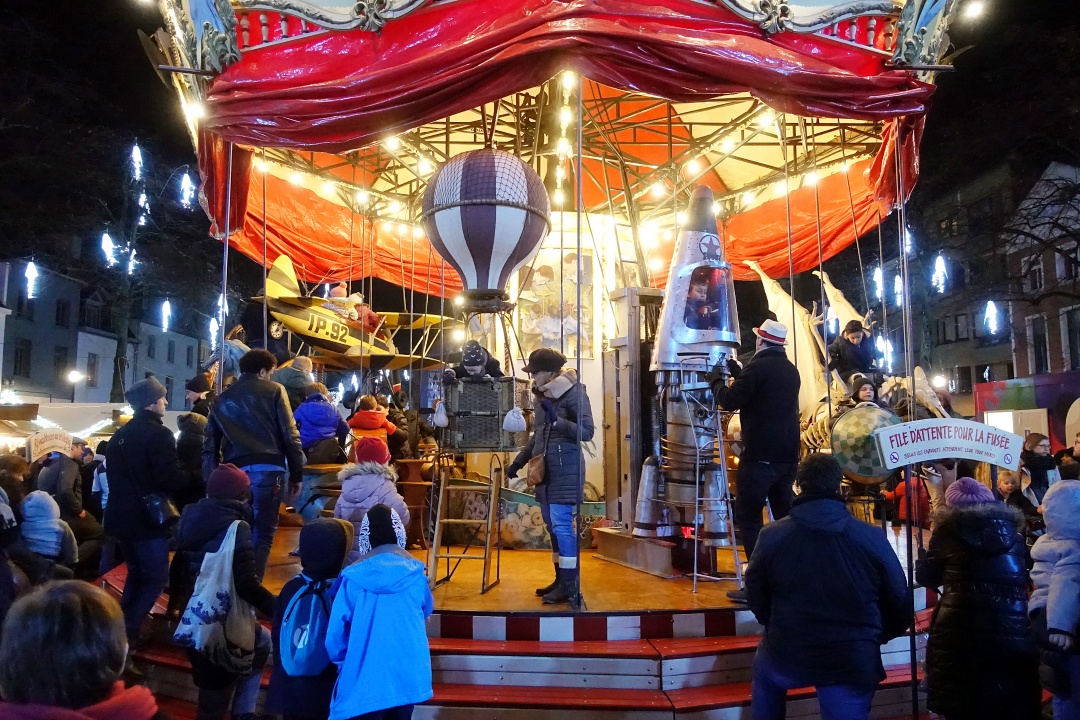 Came across what I thought was one of the most special carousels I've ever seen. This one here has a dinosaur, ship, aeroplane, hot air balloon, rocket and more.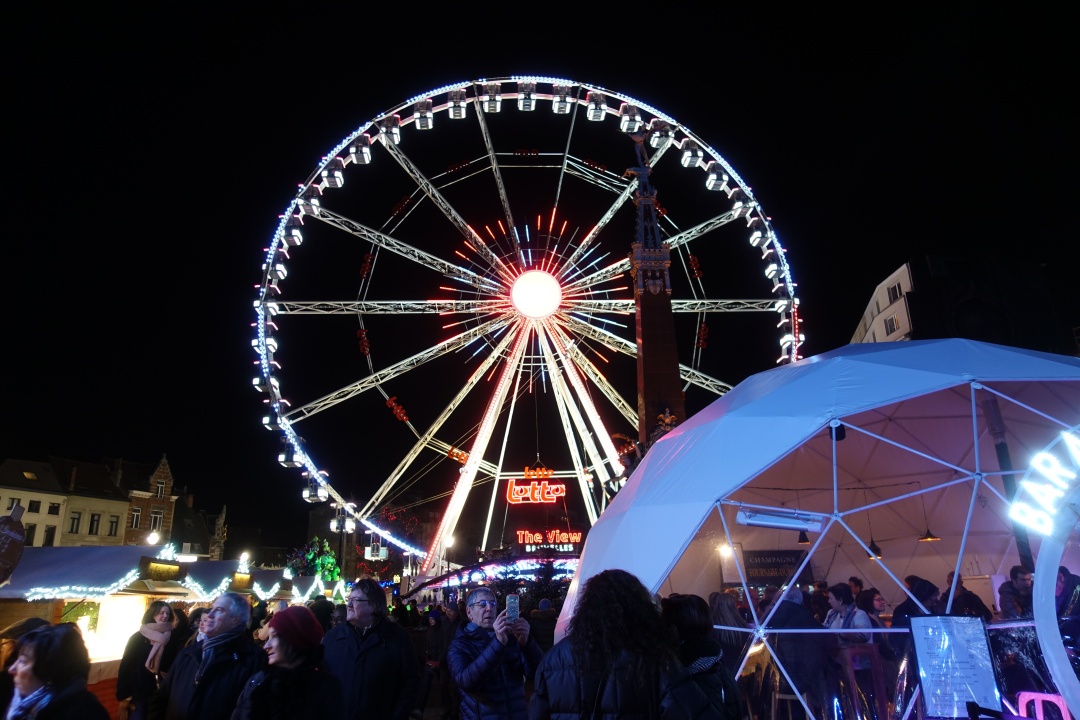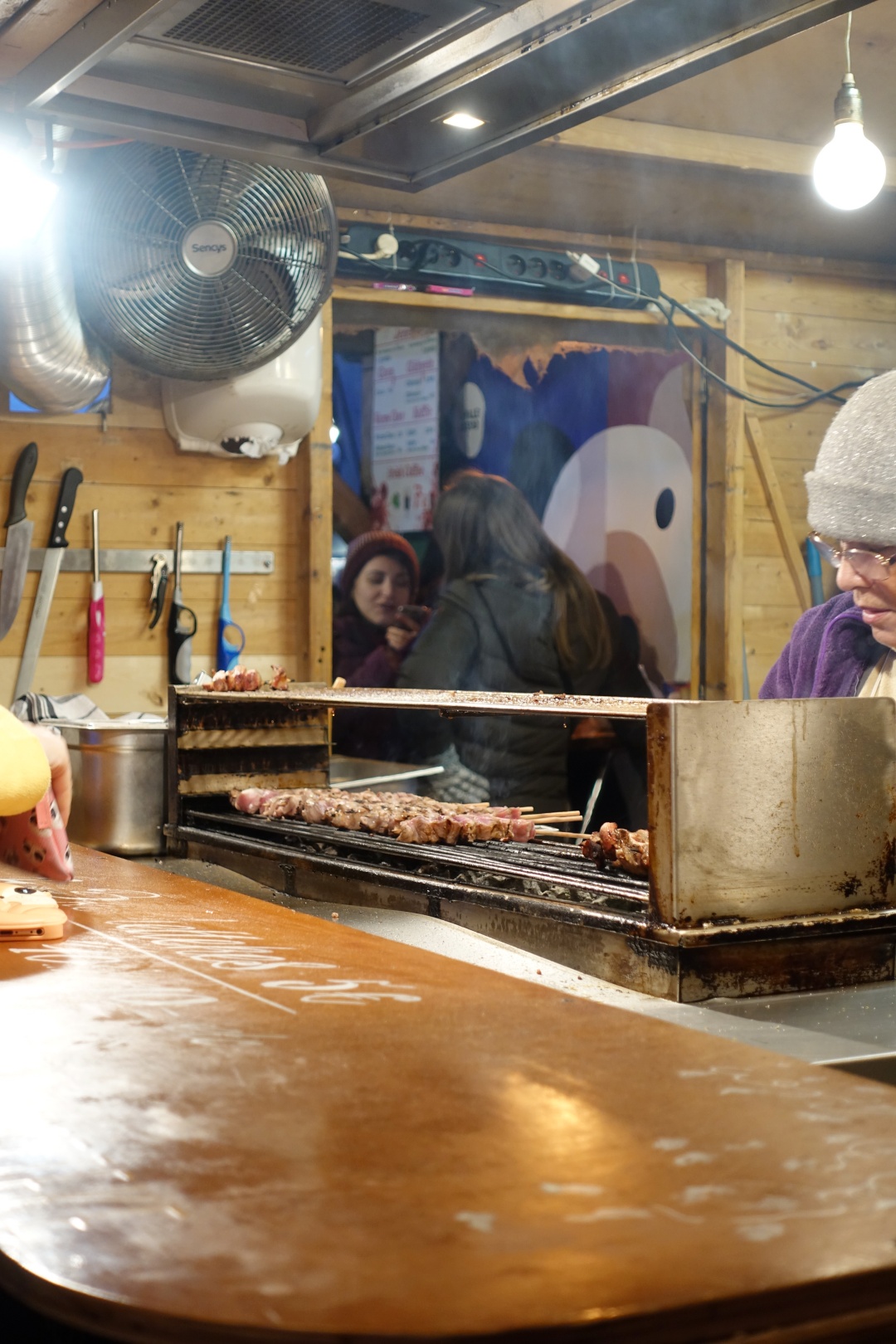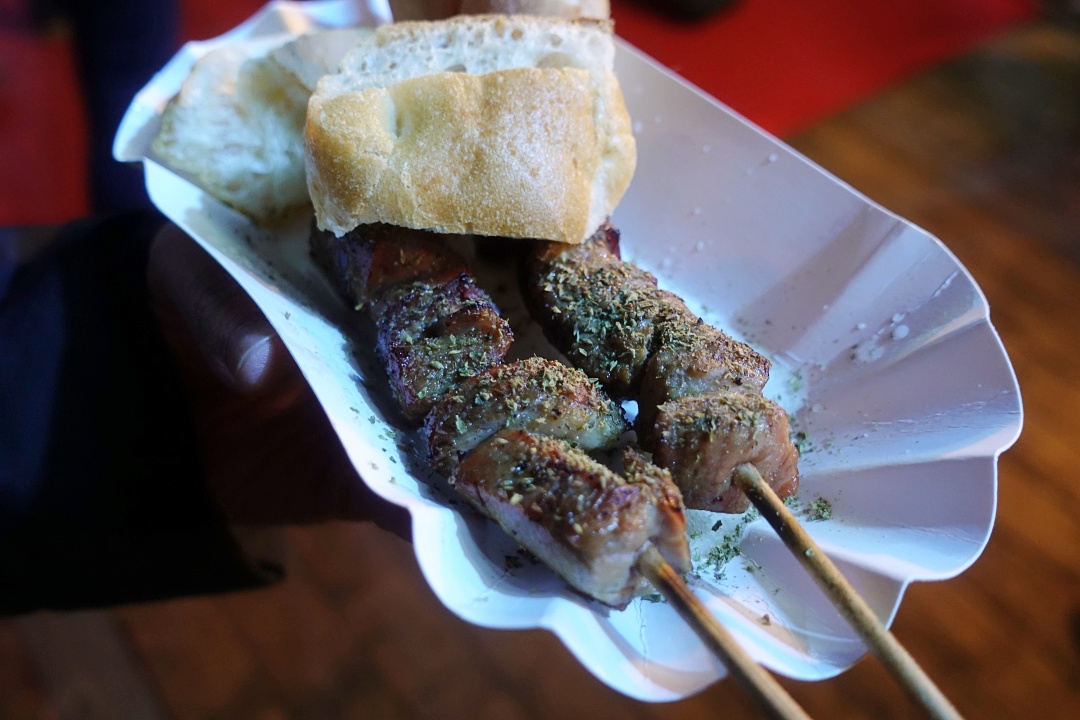 We went and got more food, including these grilled meat skewers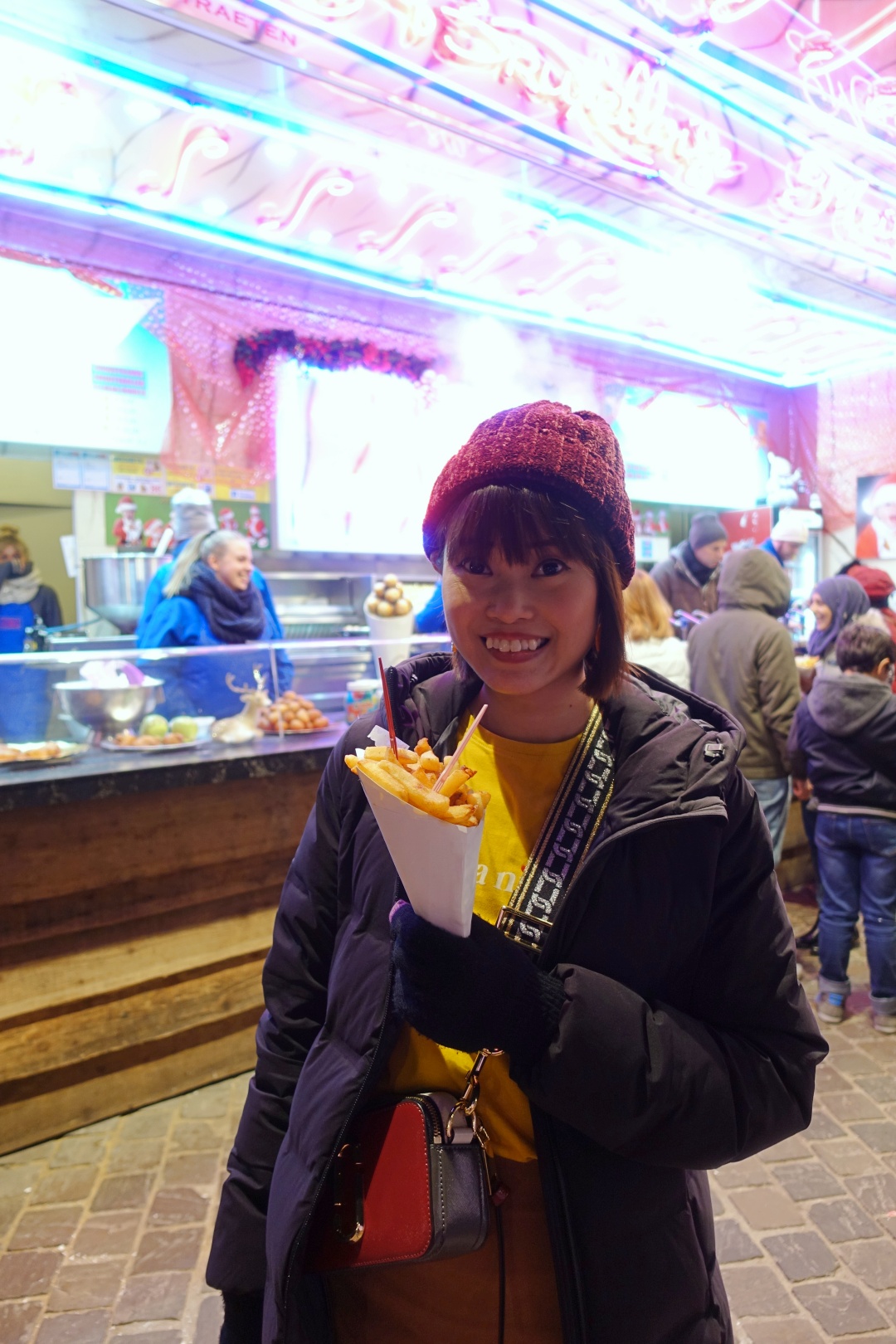 and fries drizzled in cheese sauce!
---
Made it back to the hotel before 20:00, and as we were still hungry, we ended up calling for McDelivery!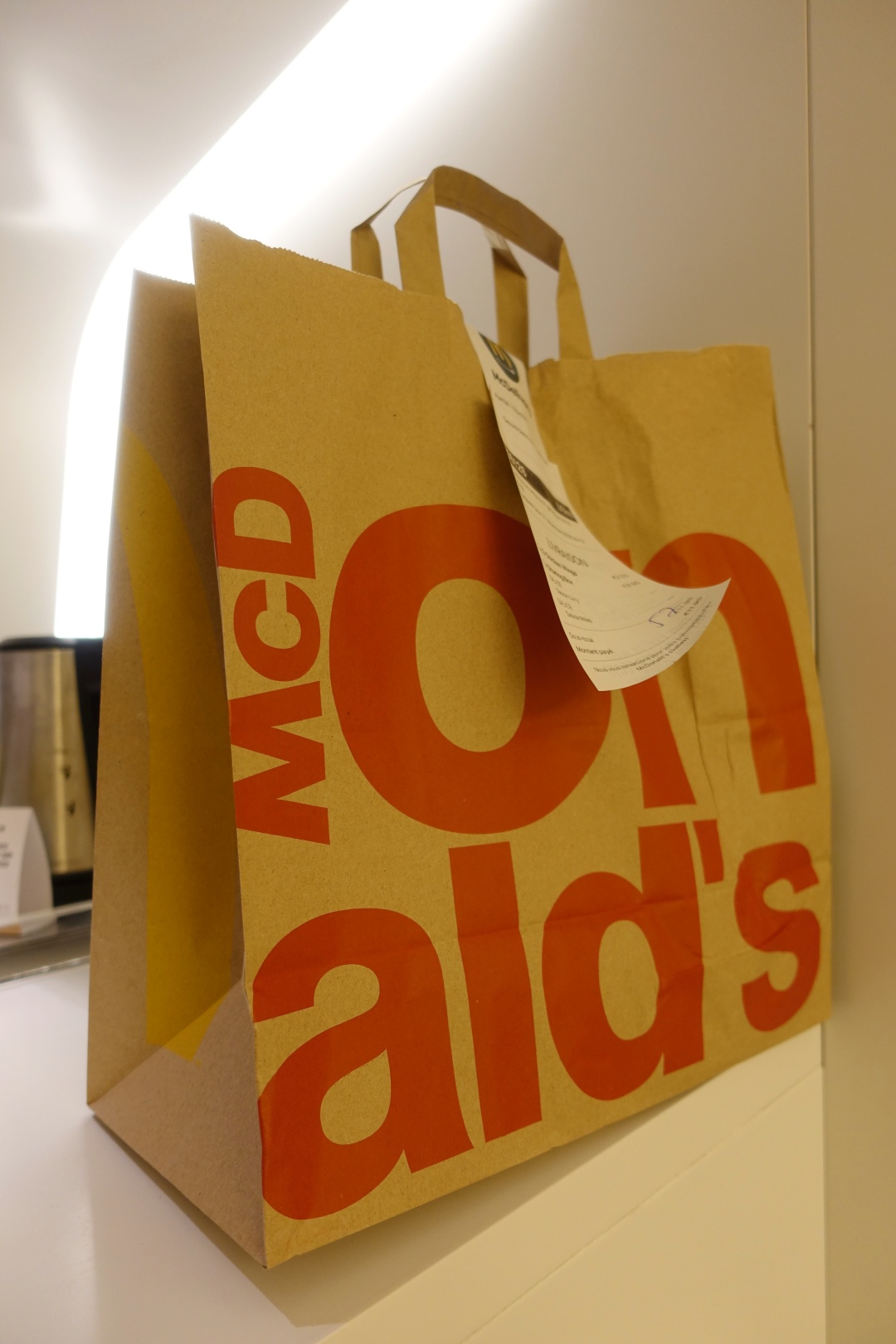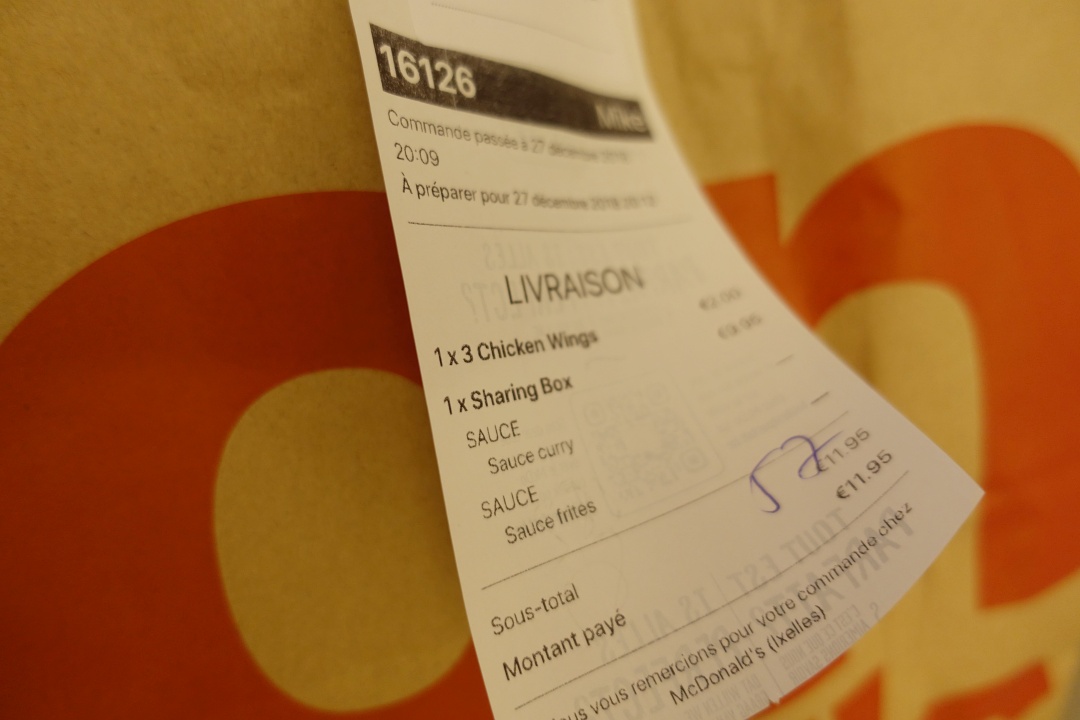 Having checked out a few of the city's landmarks, I would think we had a rather fruitful day. And with that, we were ready to leave Brussels the following day and head to London! I was really excited and looking forward to going to London! As such, we decided we would spend five days in London before we head over to our final destination of this trip – Paris.