Still trying my best to clear my overdue travelogue, starting with my honeymoon trip to Europe.
---
Aside from going on a short trip to Osaka for our minimoon, the Husband and I finally went on a proper honeymoon in December 2018. Decided to spend three weeks in Europe from 17 December 2018 to 6 January 2019 and we managed to cover quite a few places – Milan, Venice, Prague, Dresden, Berlin, Brussels, London and Paris.
I've always wanted to go to Europe, especially after our proposal trip to Santorini and Rome in 2016, and honeymoon seems like a good reason/opportunity for us to do so. I was really excited and looking forward to the trip, partly because we were travelling during the festive seasons. The thought of going to Europe to celebrate Christmas really excites me, and needless to say, I'm all hyped up to go on this trip.
Despite being our honeymoon, the trip was, as always, planned on the eleventh hour. Aside from booking our flights to Milan, Italy, we didn't have a concrete plan of where we were heading next. I believe our initial idea was to head to either Rome or Prague after visiting Milan. (I would love to revisit Rome!) But we ended up heading to Venice instead.
16 Dec – SIN to MXP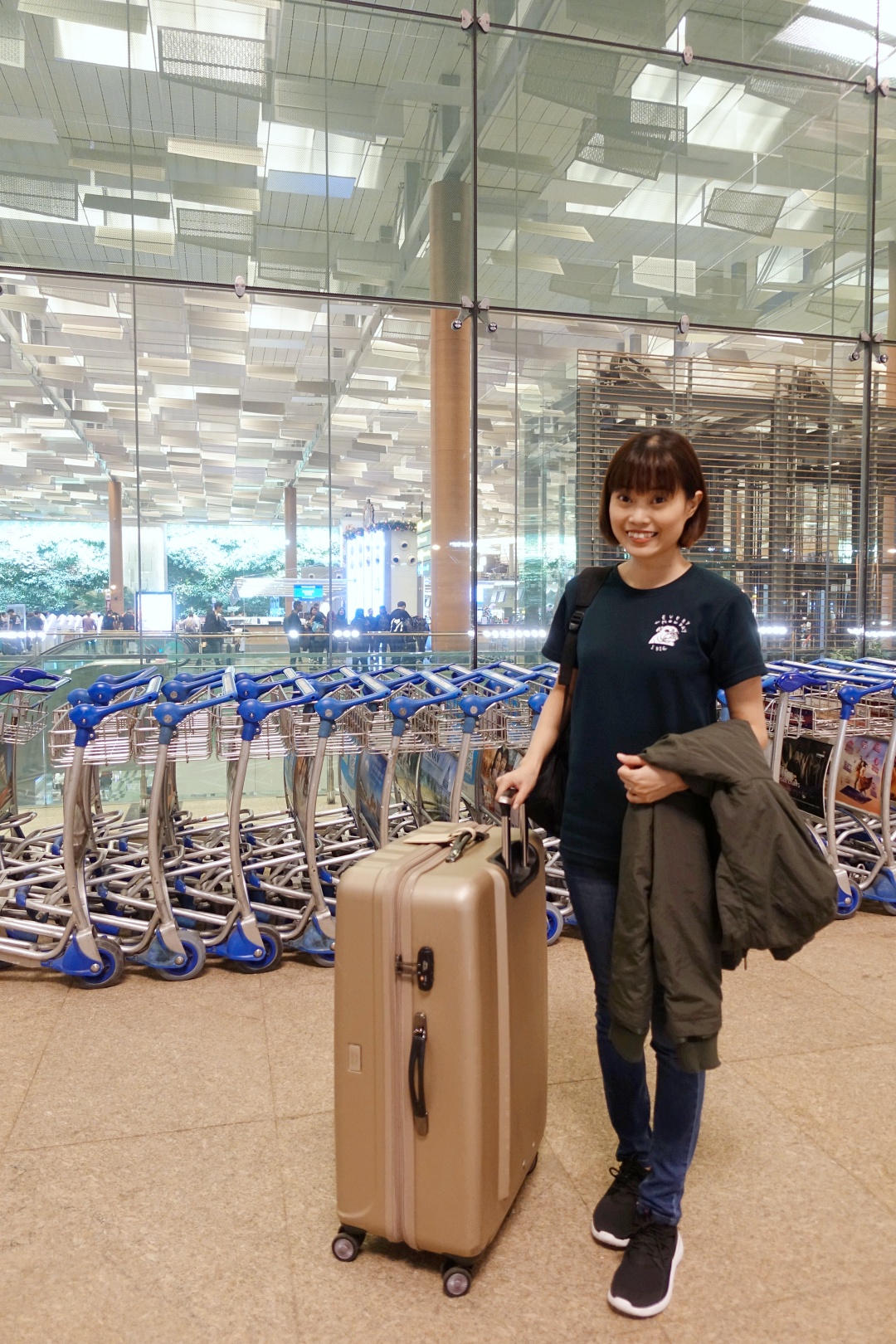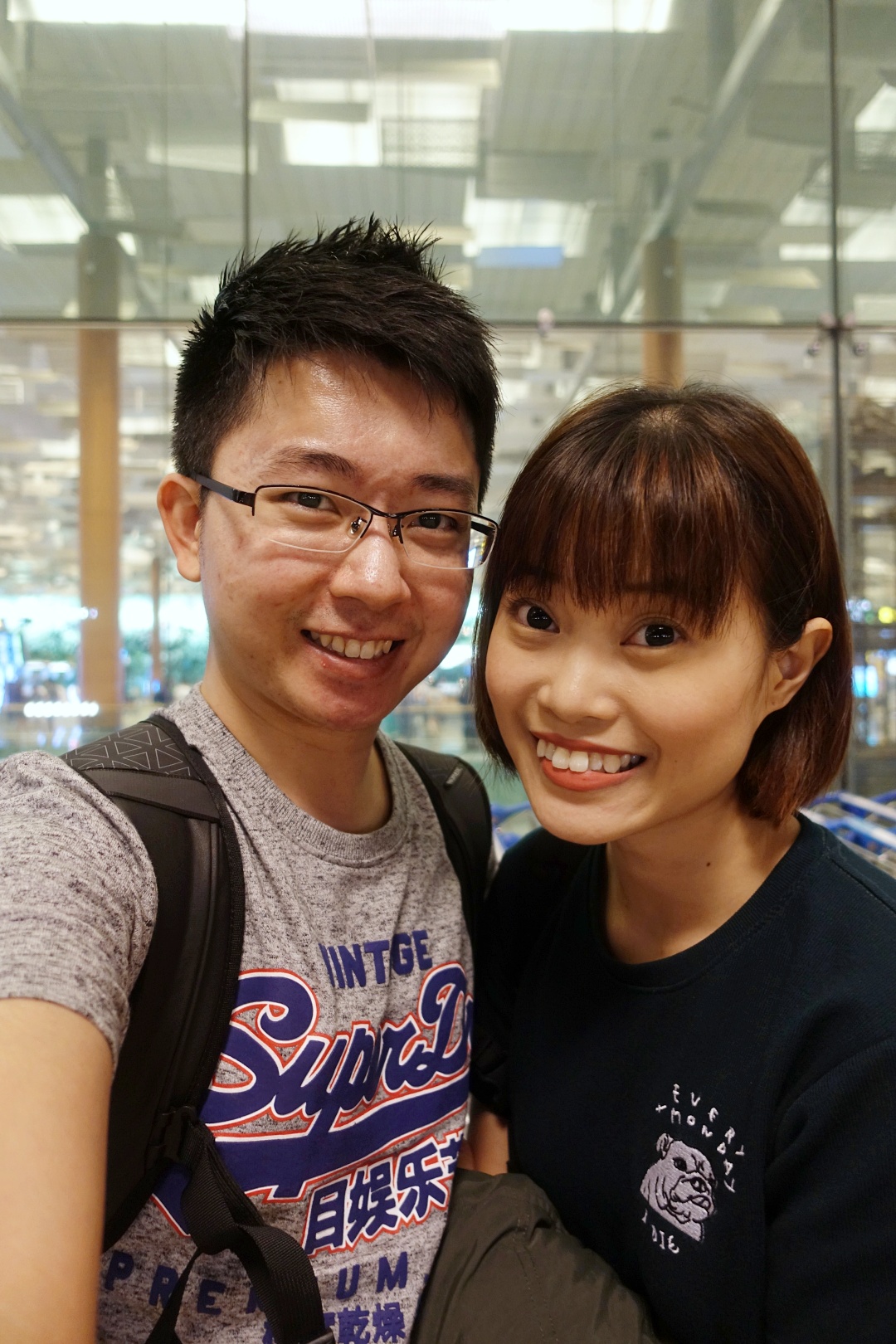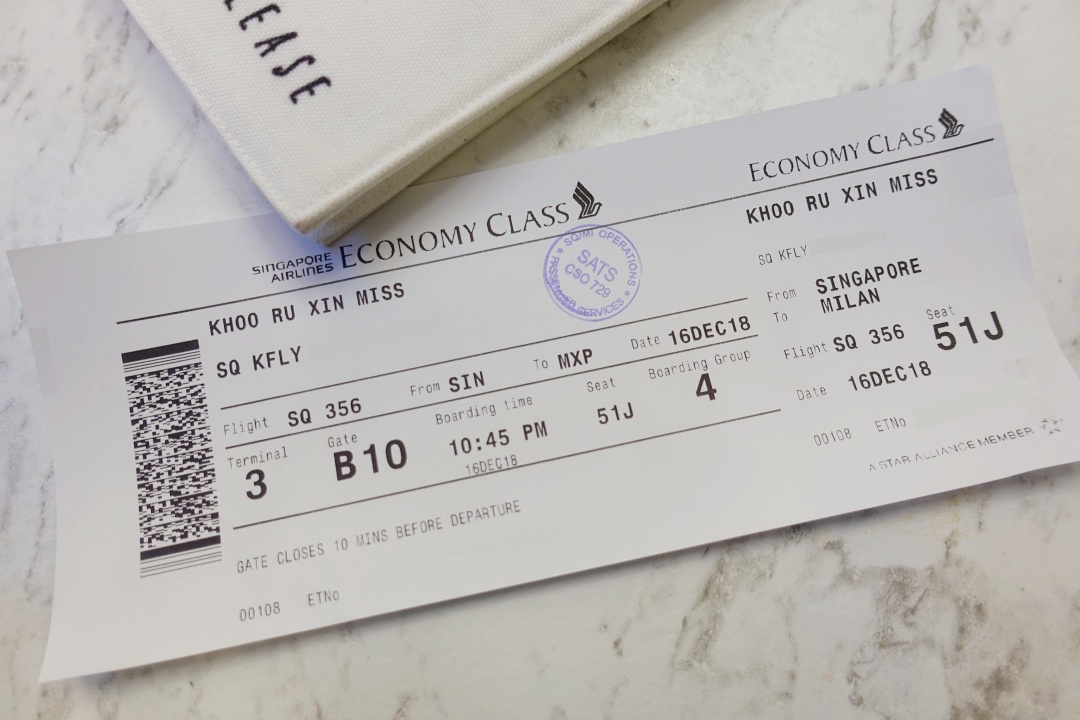 Reached Changi Airport at about 21:30. Our flight from Singapore to Milan was at 23:45 (on 16 December) with an estimated flying time of approximately 13 hours 10 minutes.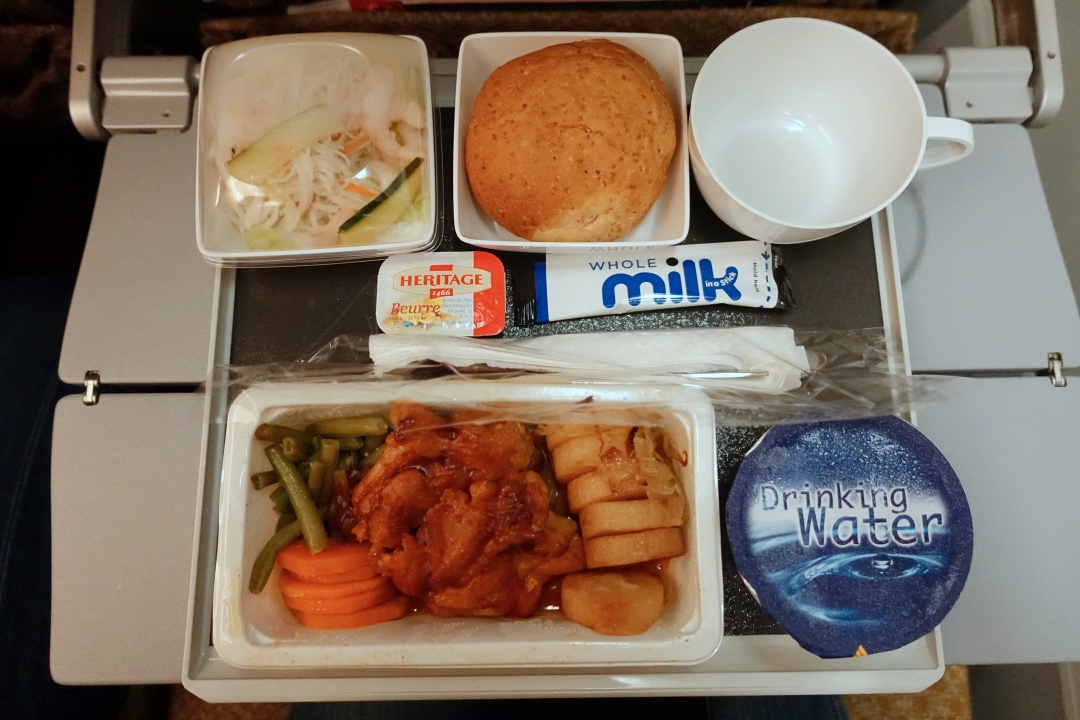 During the flight, we had two meals – supper and breakfast. For supper, we both got the Roasted Honey Peppercorn Marinated Chicken, with Shrimp with Soya Vermicelli as Appetiser.
Subsequently, we were also offered a small bun/burger before having our breakfast.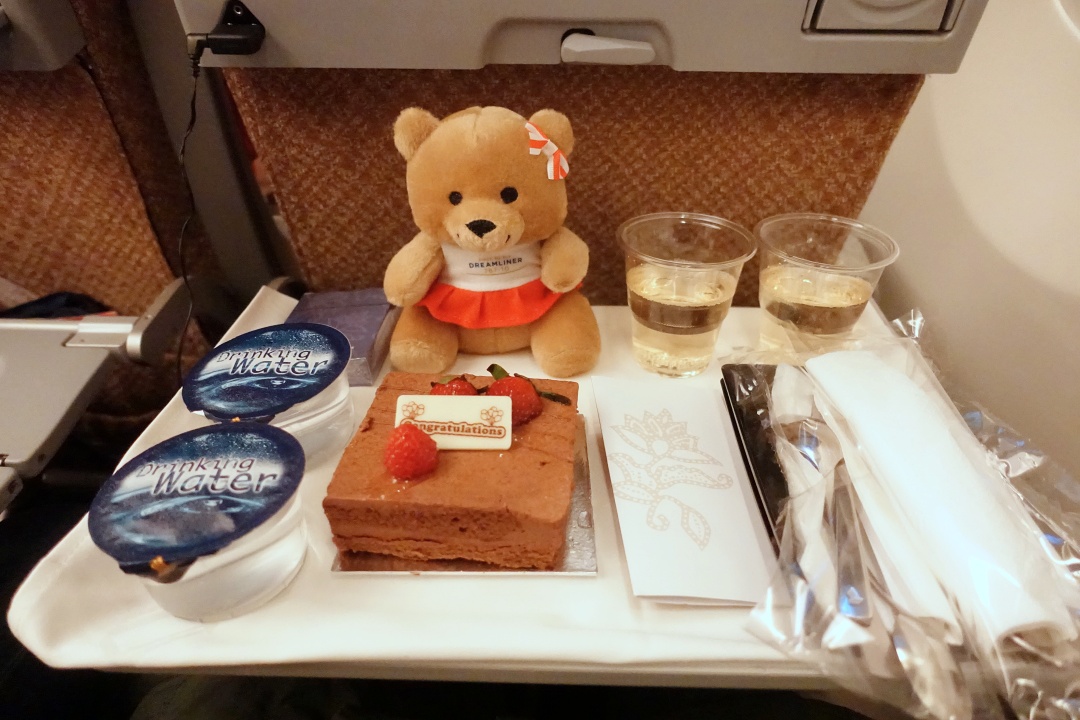 Between our meals, I also got a surprise from the crew when they brought out a cake for us in celebration for our honeymoon. Something similar happened back when we fly with SIA to Korea for my birthday. Apparently, you can submit a request for them to prepare something special by messaging them on Facebook and mentioning the occasion.
It usually requires 24 hours for them to process request like this and for travellers going for their honeymoon, they would prepare a honey cake for them. But because the Husband put in a last-minute request, we got a chocolate cake instead. Aside from gifting us the cake, the flight attendant also offered us champagne which was such a really lovely gesture.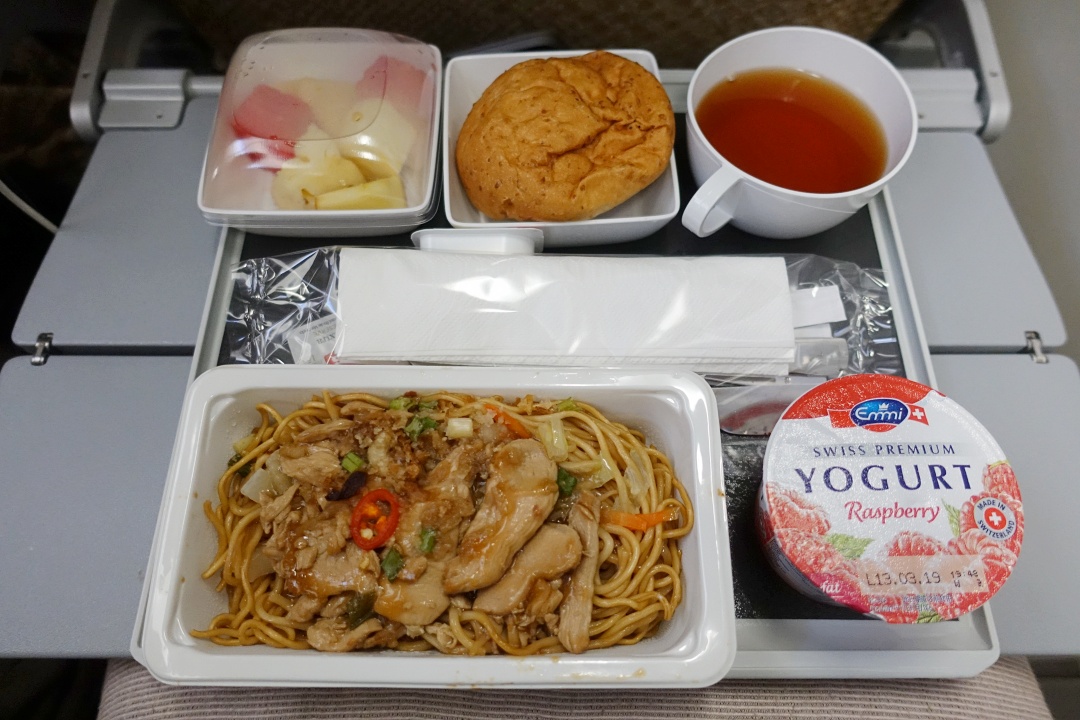 For breakfast, it was Stir-fried Egg Noodles with Chicken, Chinese Chives and Cabbage.
Overall, we had a relatively smooth journey except for that few moments when we met with turbulence. I managed to catch three movies, in addition to the meals and occasional napping in-between.
Milan, Italy
After being in the air for 13 hours, we finally arrived in Milan, Italy at 06:00 on 17 December. Coming out from the aircraft, we had to board a shuttle to get to the airport. It was apparently -1 degree outside, and I was freezing. I never had experience temperature that was this cold before, and I was also undoubtedly underdressed with just a top, outerwear and jeans.
From where we alighted, it was a short walk to get to immigration. Thankful that there wasn't a line, so it didn't take us long to clear immigration.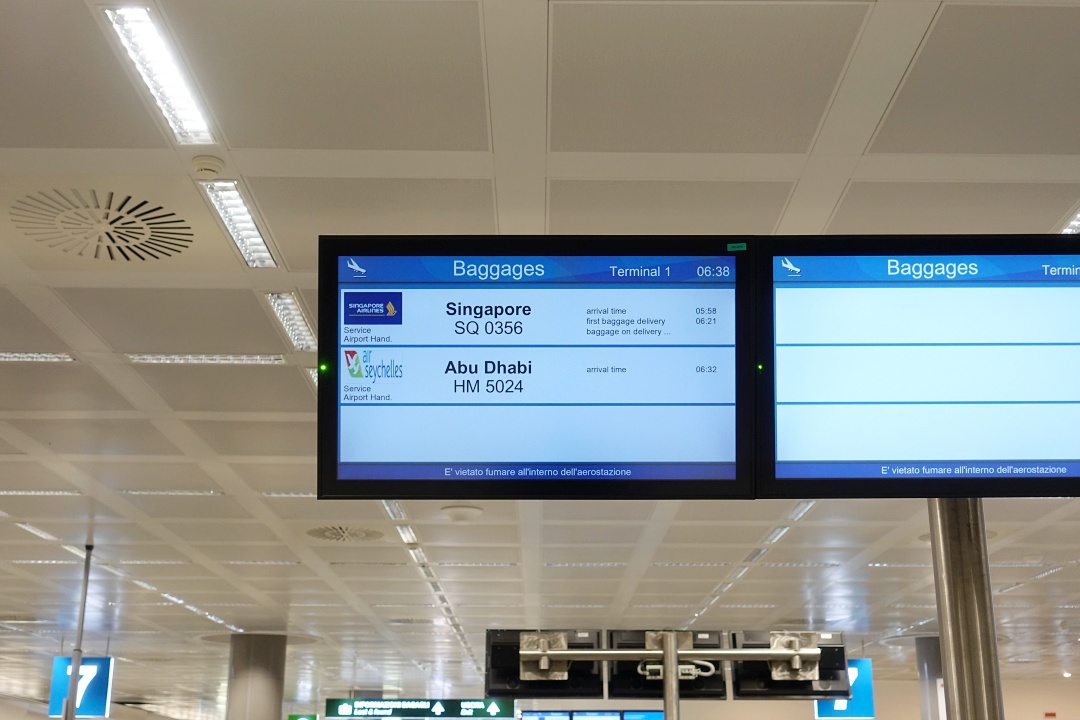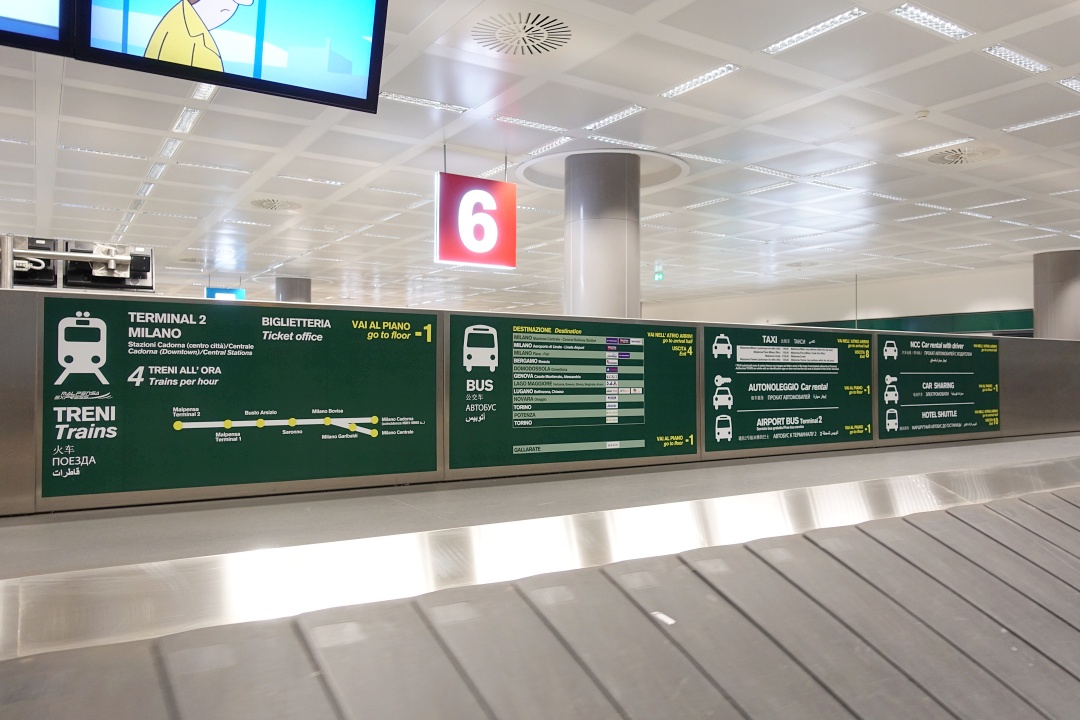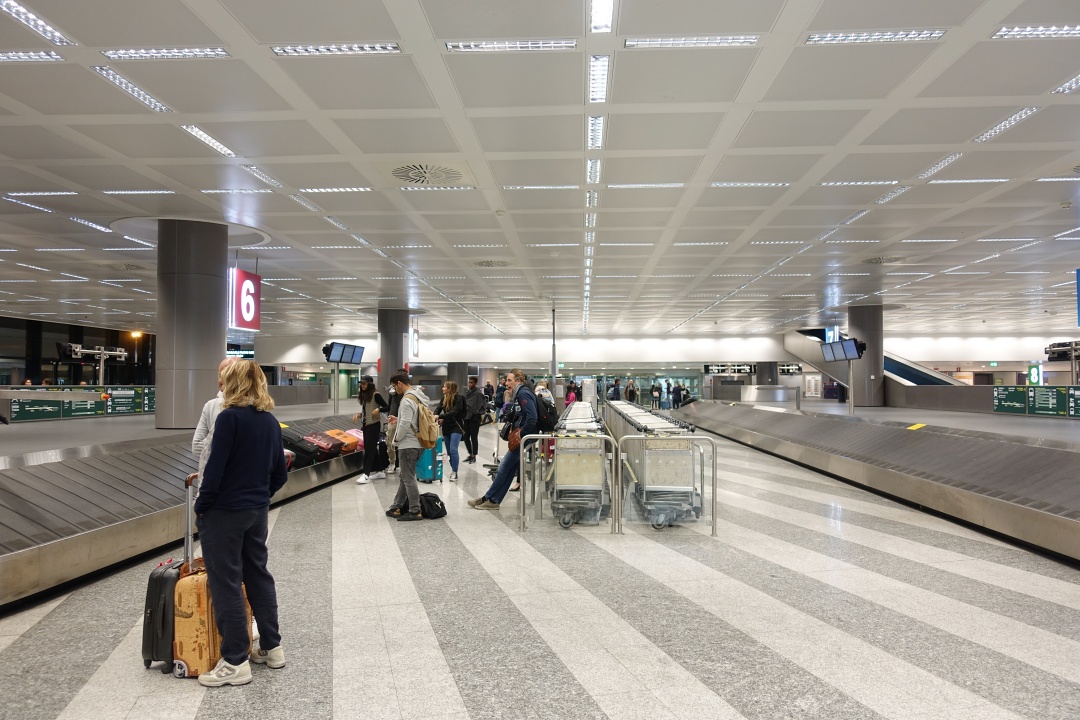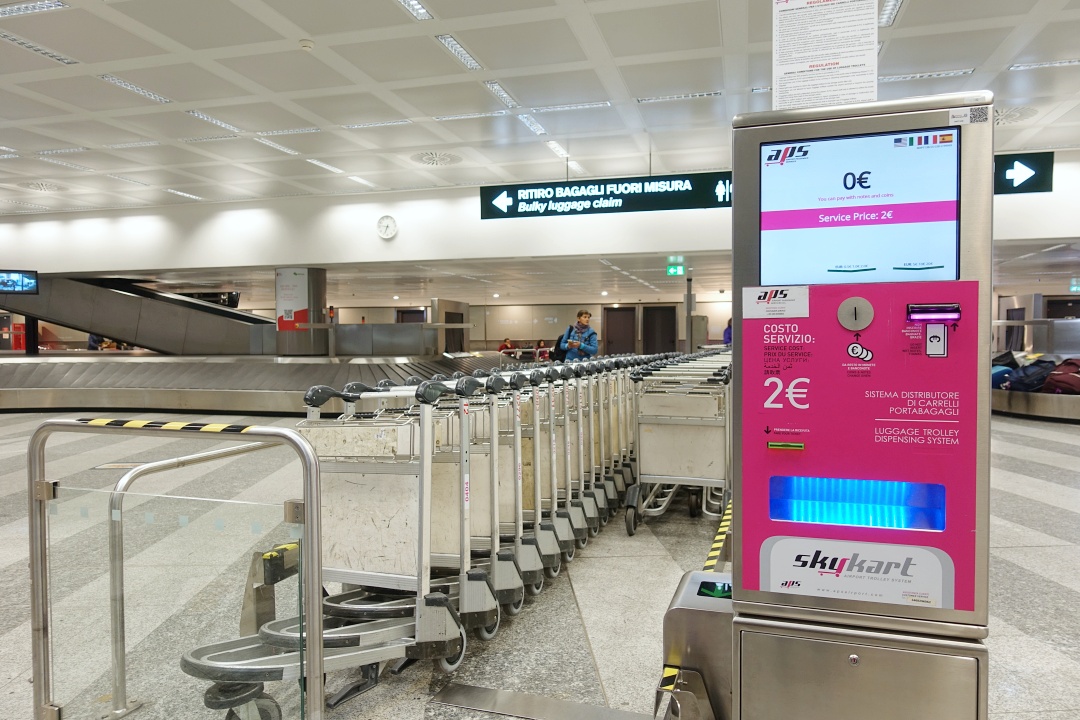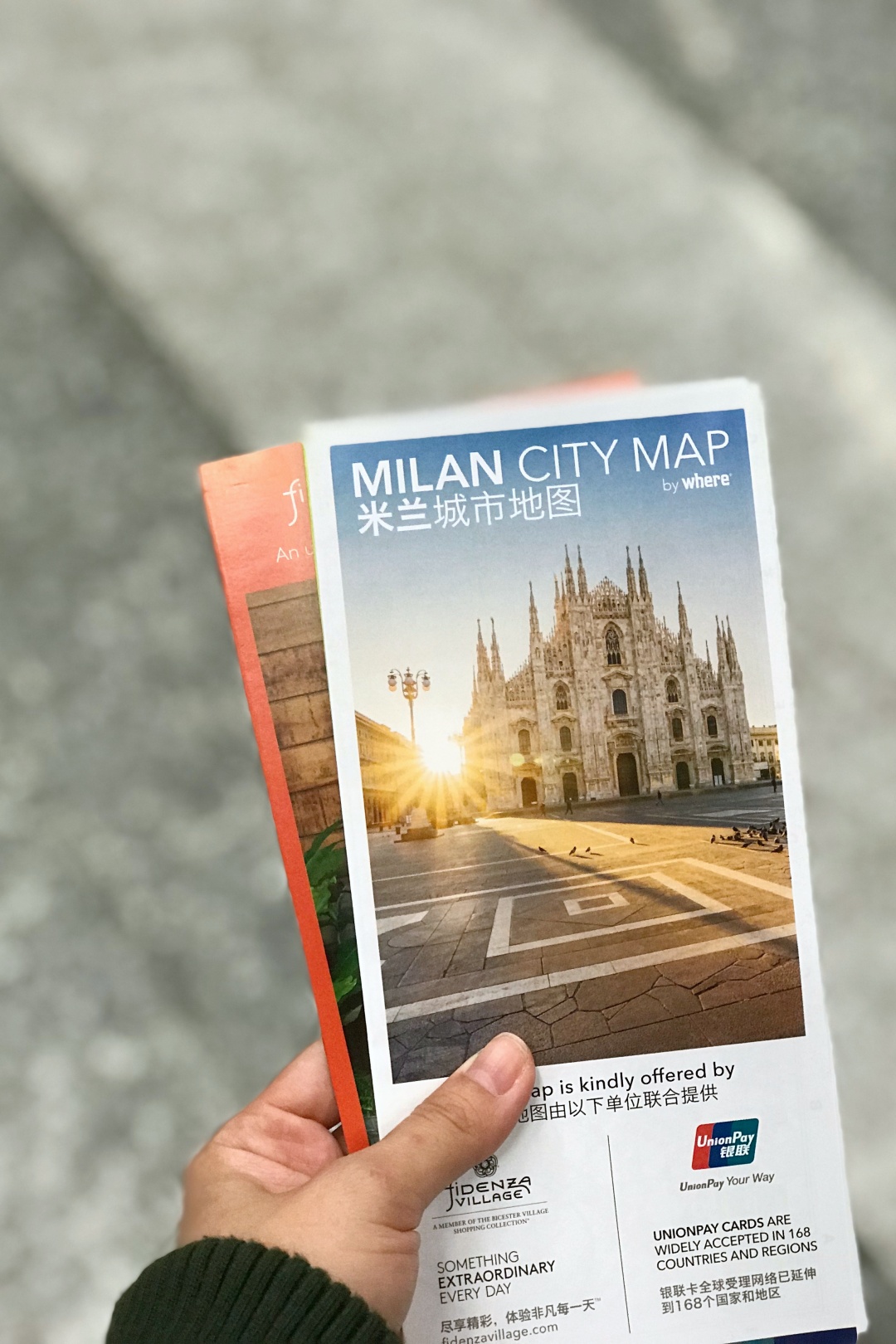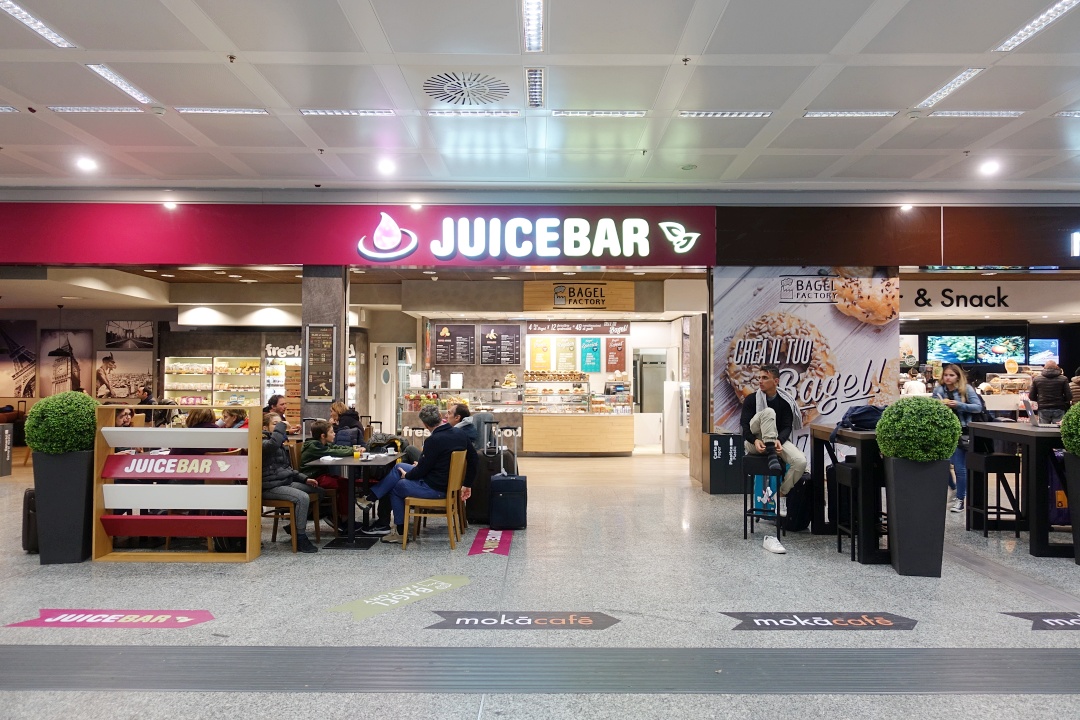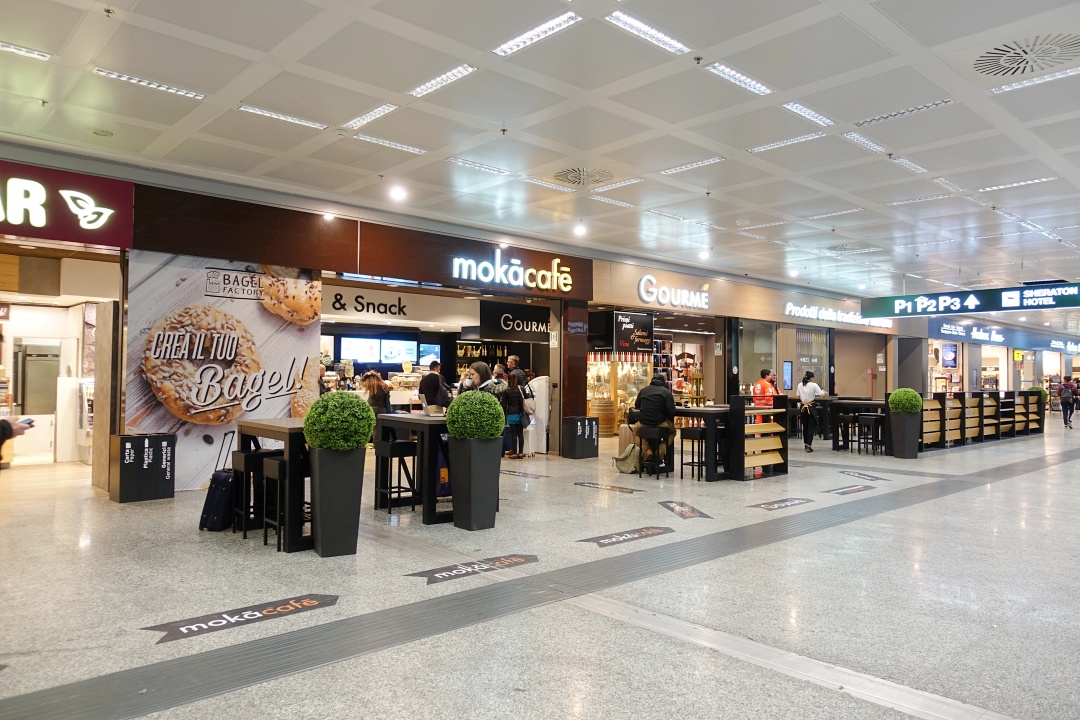 After collecting our luggage, we headed out to the arrival hall and found some seats for the Husband to clear some work.
Since the official check-in time for our hotel was at 12:30, I figured he might as well do some work before we board the train to the city centre. We stayed at the airport till around 08:00 before making our way down to board the train.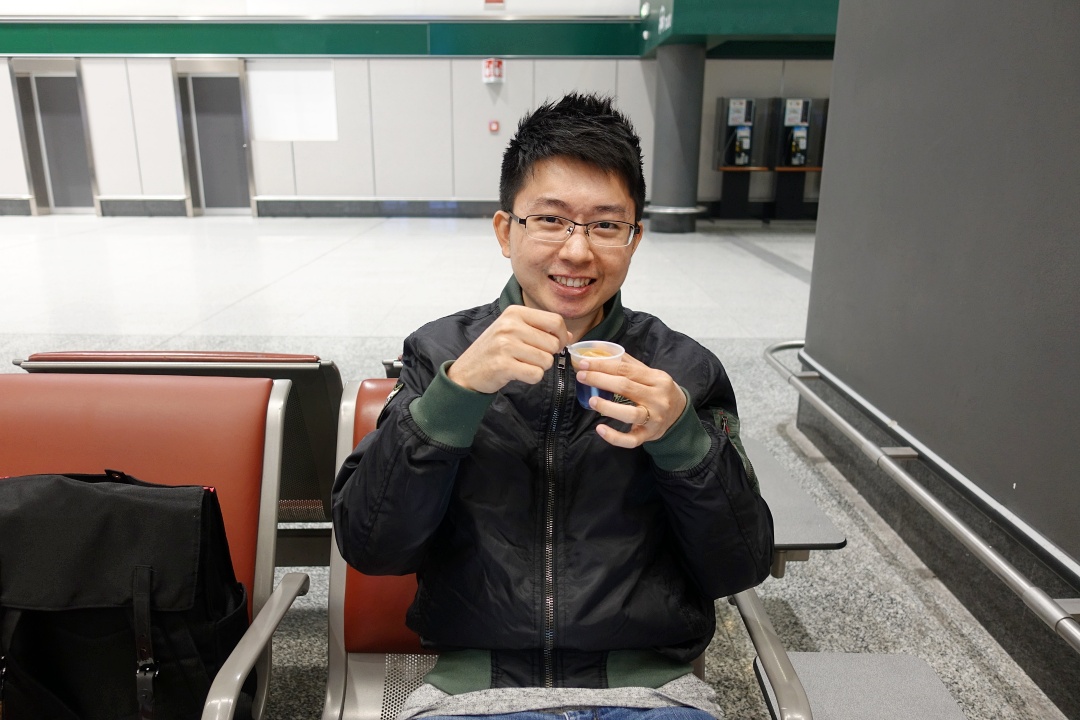 Got him a tiny cup of coffee from the vending machine.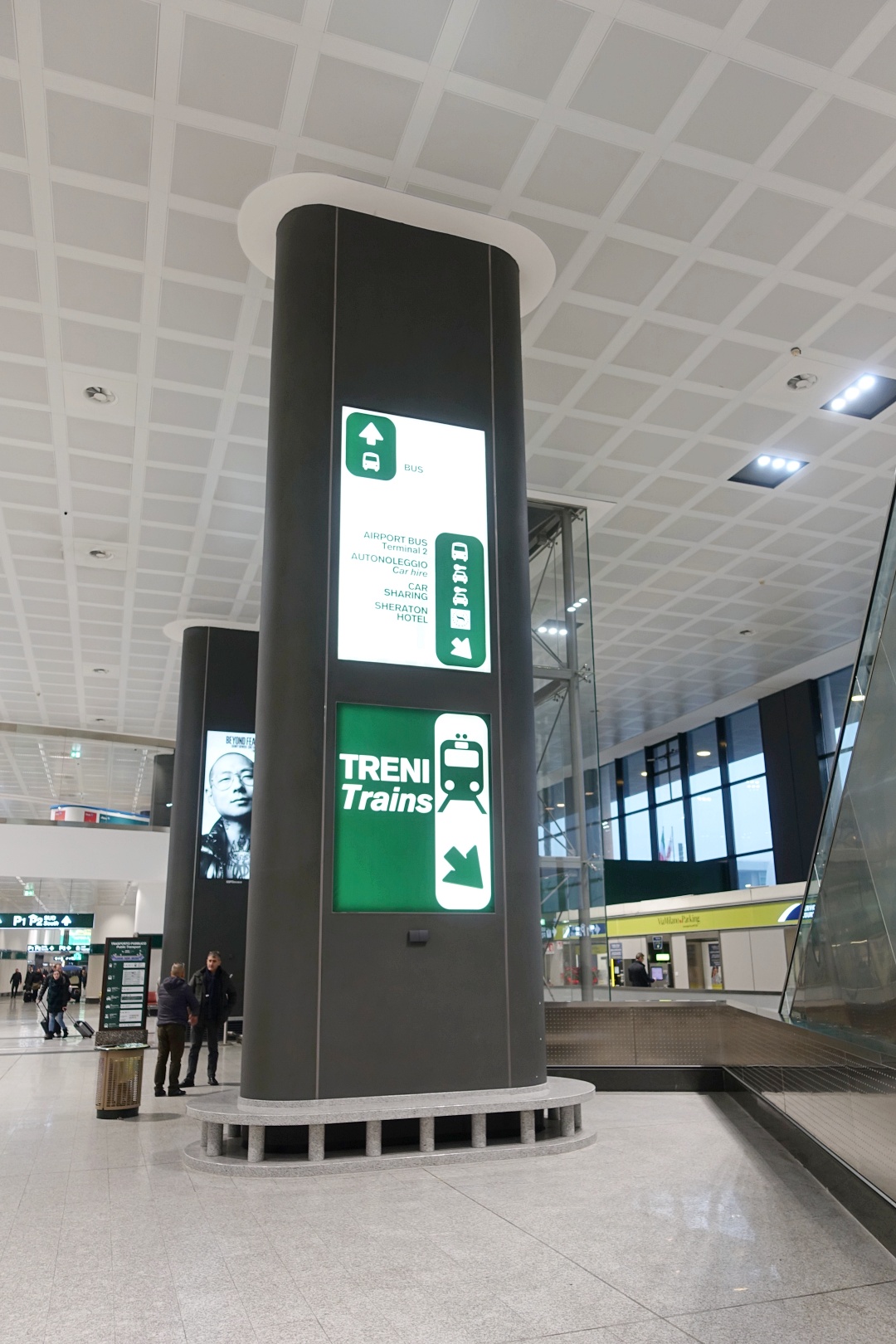 There are several ways to get to the city centre, but based on my research, most suggest taking the train from Malpensa Airport Terminal 1 Basement 1. There was clear signage around, so it was reasonably easy to find our way there.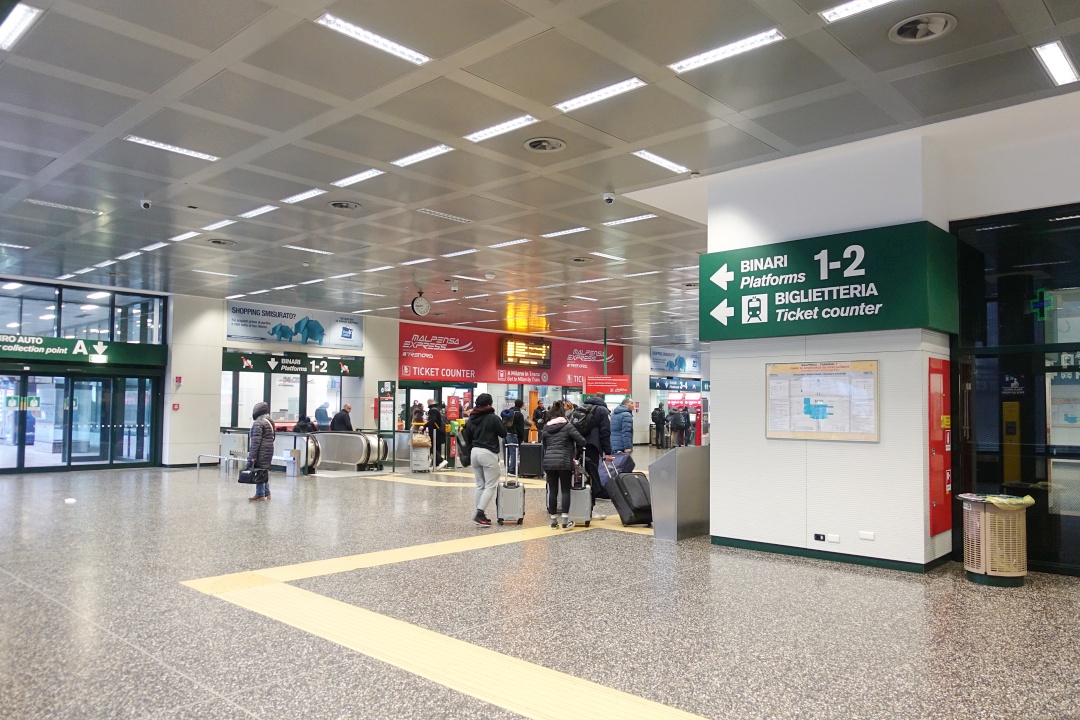 We promptly got our tickets from Malpensa Express Ticket Counter. Each ticket cost €13 and can be purchased either via the counter or the ticket machine. We had to buy ours at the desk as we needed to break down our bigger notes. For two tickets, the biggest bill the ticket machine accepts is €50.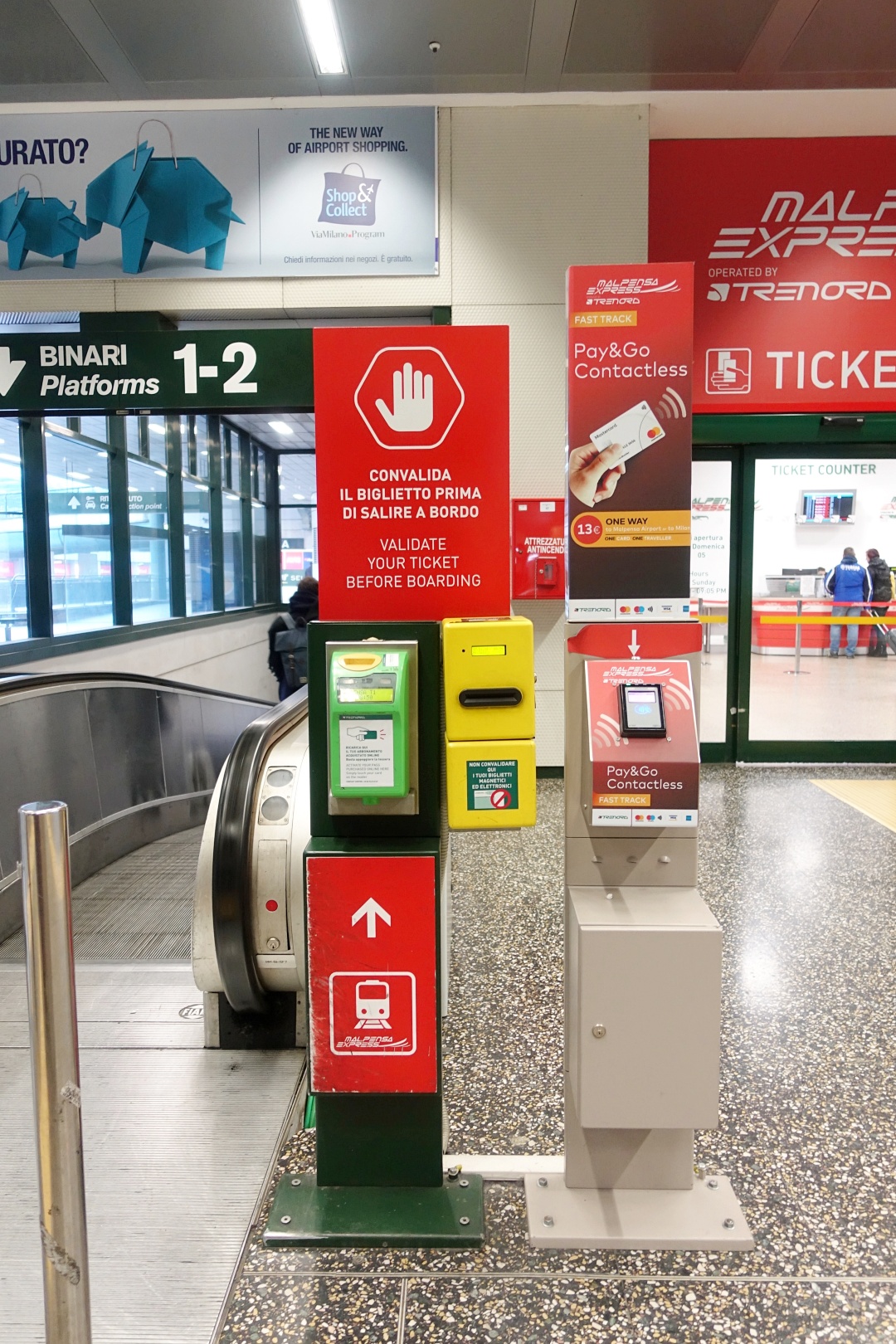 We nearly missed this. Apparently, we had to validate our ticket before we took the escalator down to the platform.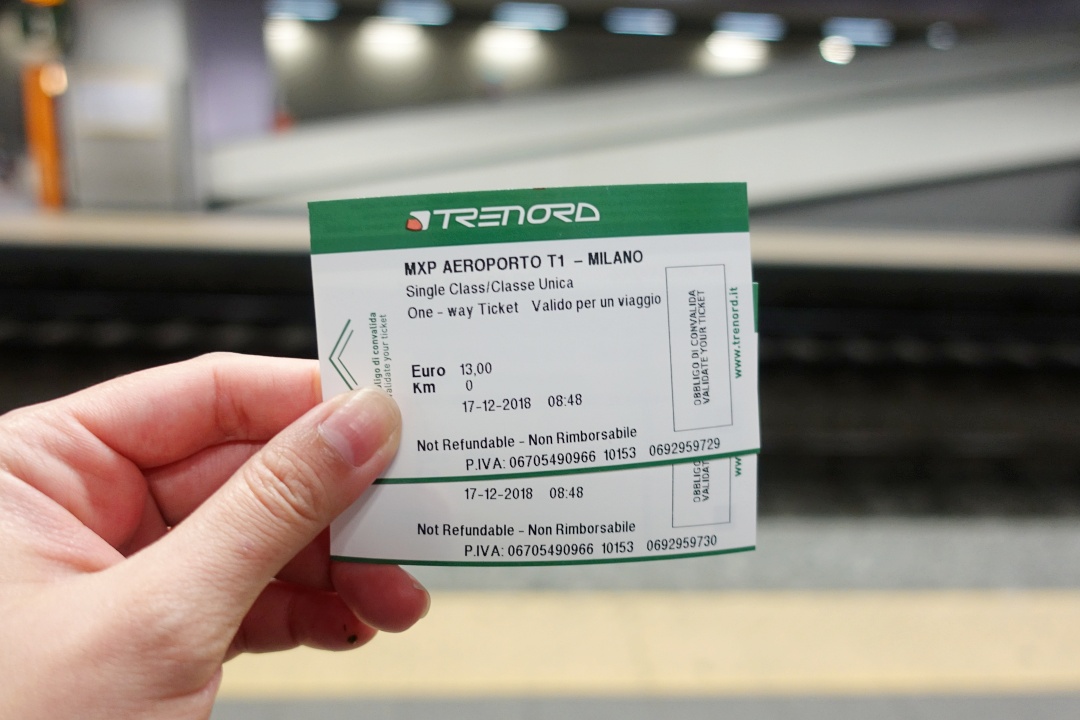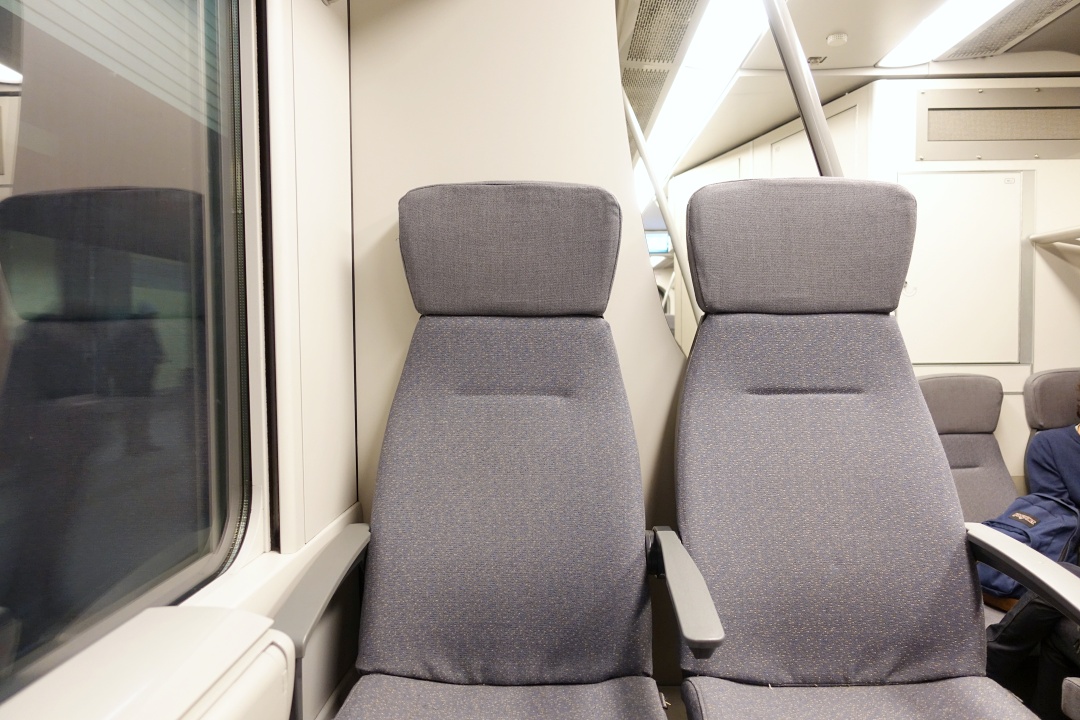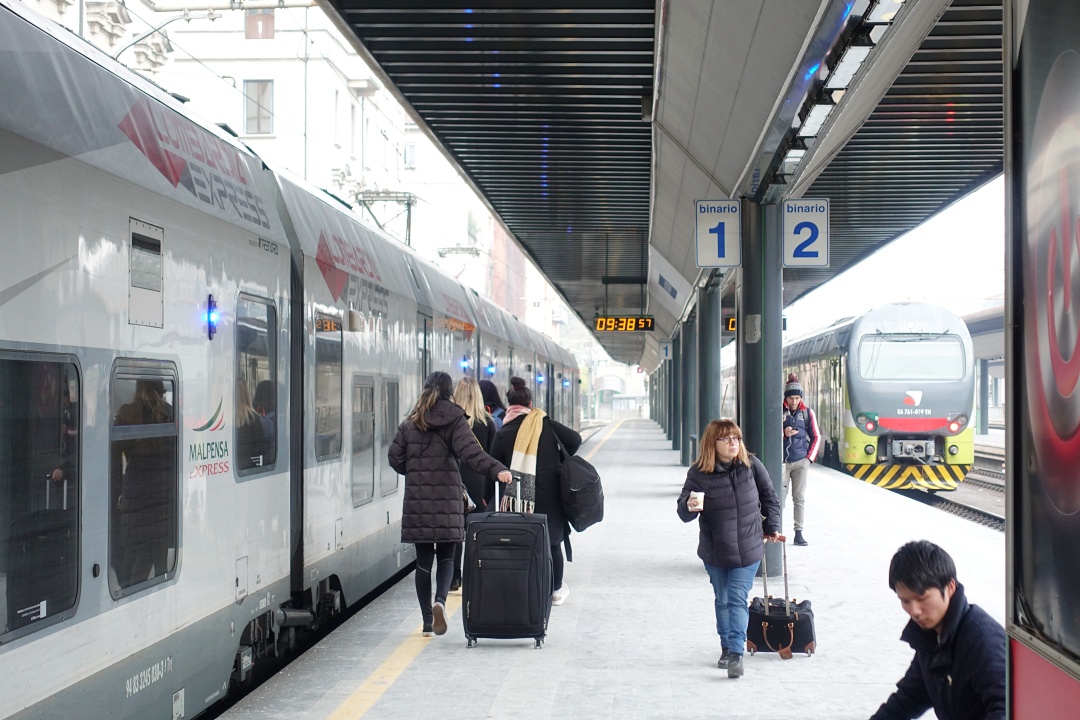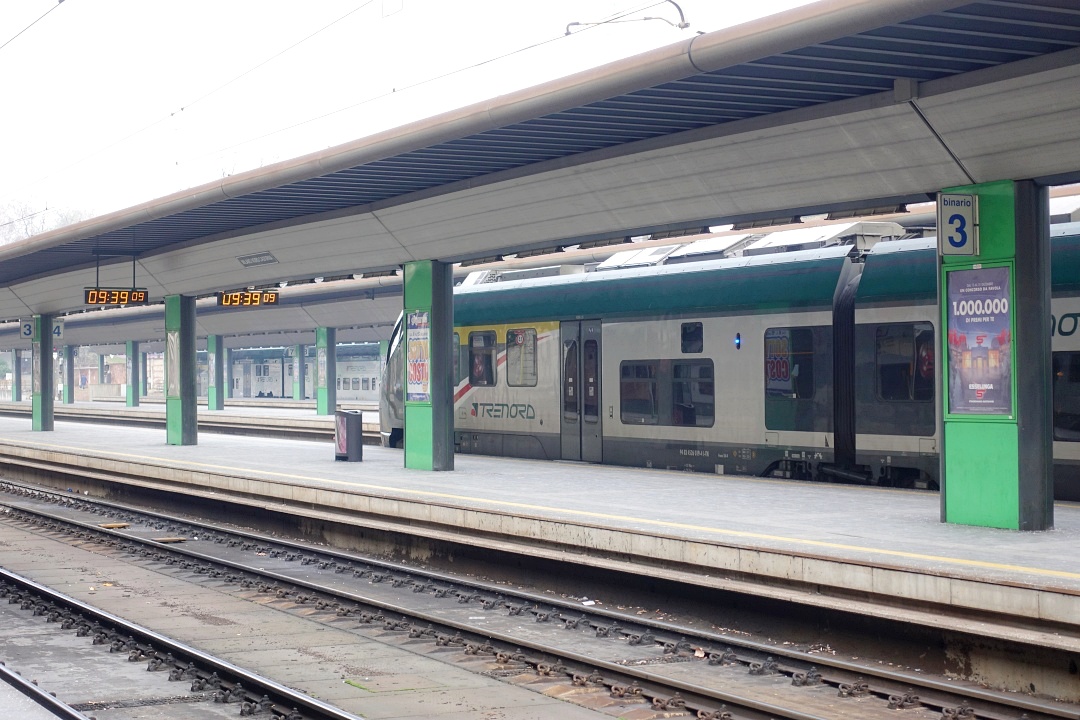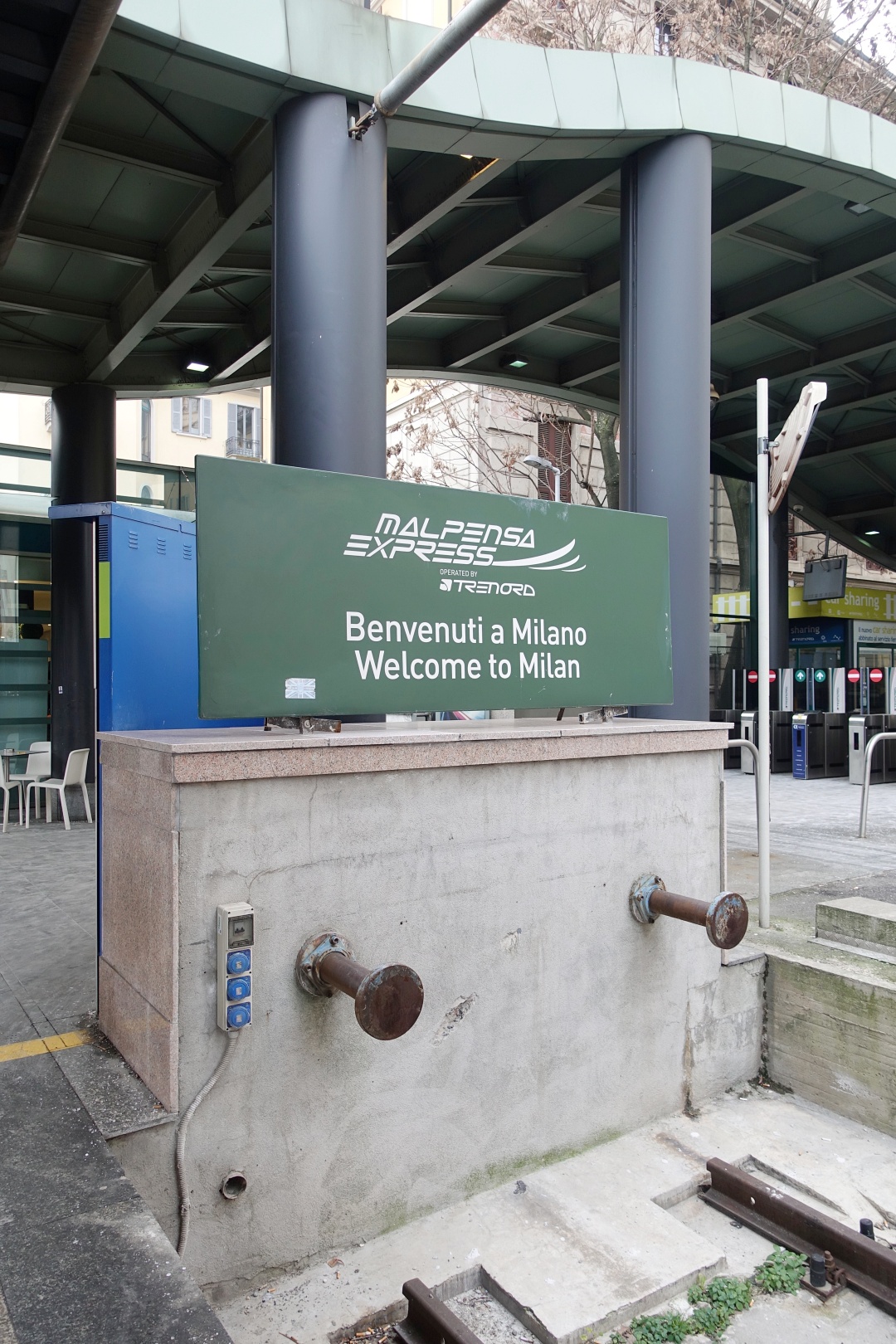 The journey from Malpensa Airport Terminal 1 to Milano Cadorna took approximately 50 minutes. At Milano Cadorna, we had to exit the station to get to the other platform to board the Metro to Cairoli Castello.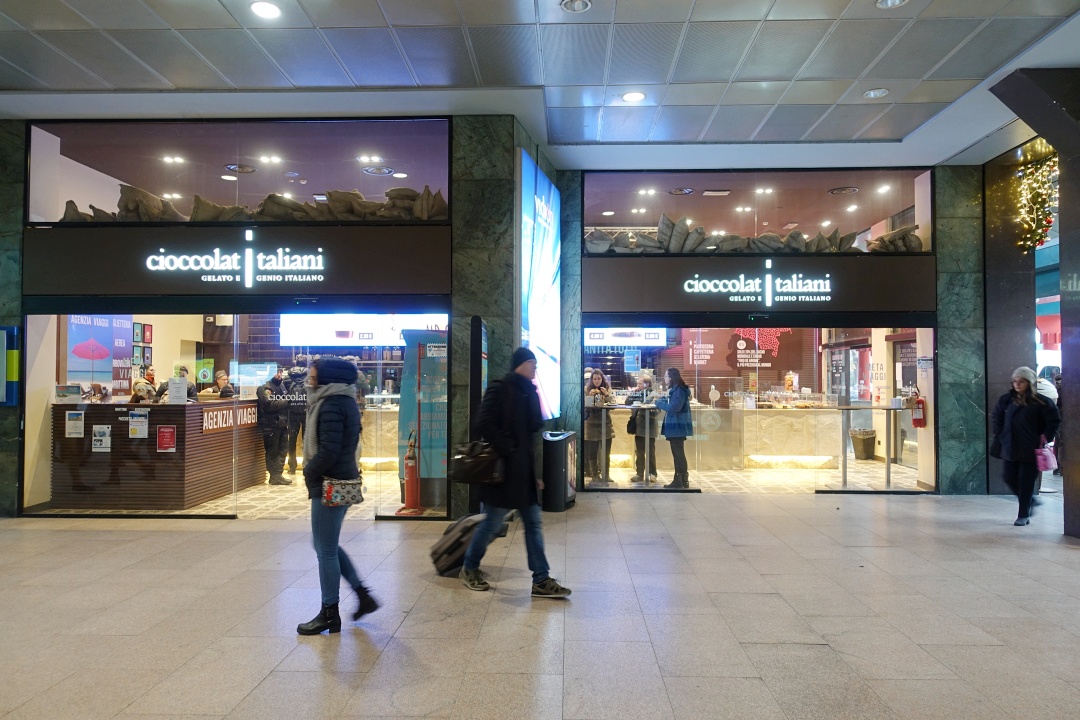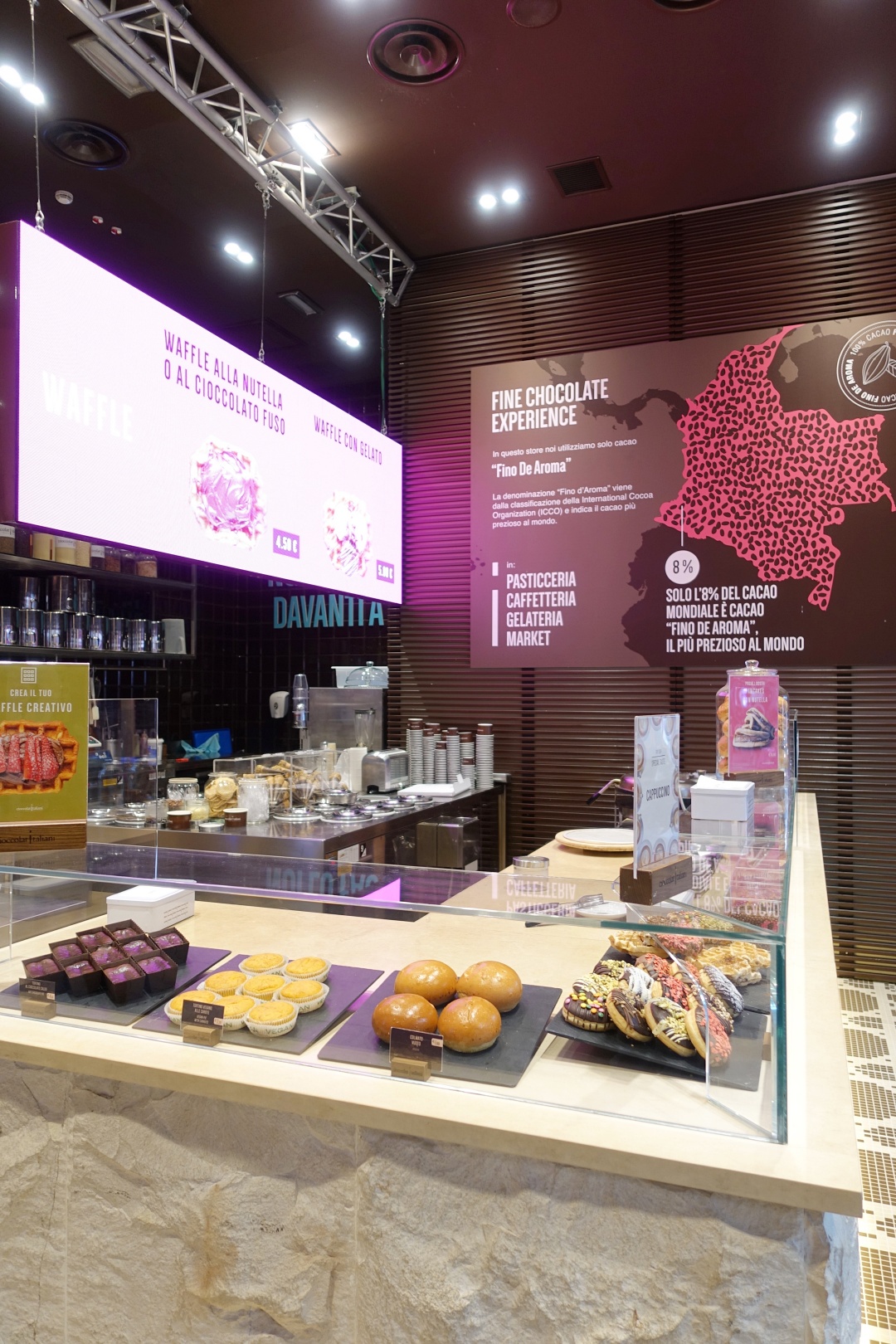 While heading to the Metro station, we passed some shops, including Cioccolati Italiani. The Husband wanted to get a pastry, and while I wasn't keen at first, I asked him to get me one for later. He ended up with two Nutella croissant, and we decided to eat it on the spot. The croissant was €1.60 each, and it was so yummy!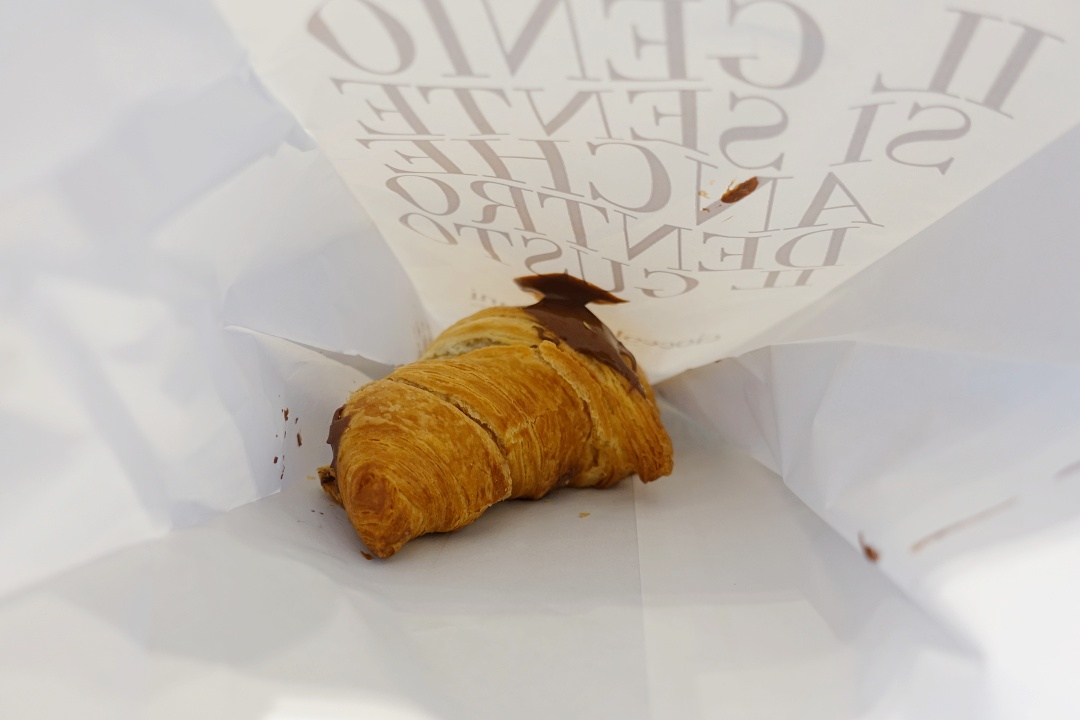 I thought the Nutella was merely those drizzle on top of the croissant, so imagine my surprise when I bite into it, and that was Nutella boozing out! The entire croissant was filled with Nutella, and it was such a sinful pleasure. The only downside is that it did get quite messy and I ended up with Nutella on my jeans.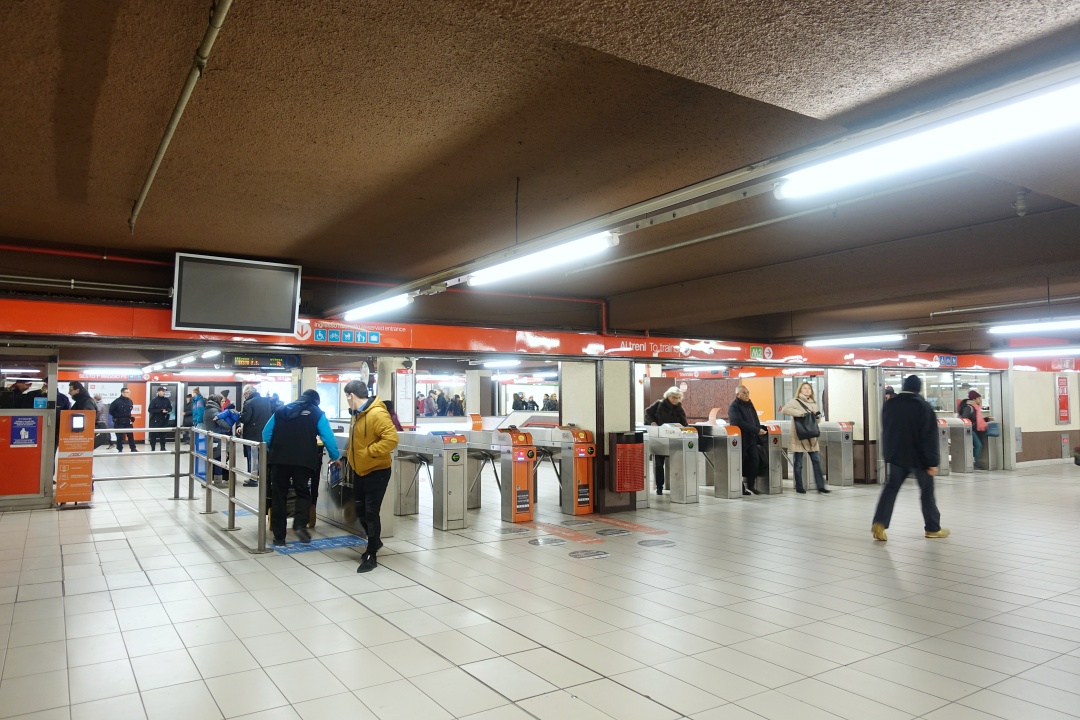 After a brief stop at Cioccolati Italiani, we made our way over to the Metro station. To get to Cairoli Castello, we each purchased a ticket at €1.50. We probably could have walked there since It was merely one station away. But with the weather being so cold and our two luggage, the train was the way to go!
Arriving at Cairoli Castello, it took us a while to figure out our way to our hotel located at Via Rovello 3. We didn't have mobile data, so we had to rely on a physical map to get our bearing.
London Hotel
Named the London Hotel, we arrived at the hotel at 10:30, and surprisingly managed to check-in right away. So thankful for that because I was freezing! Coupled with the lack of sleep, I really wanted to lie down and take a power nap.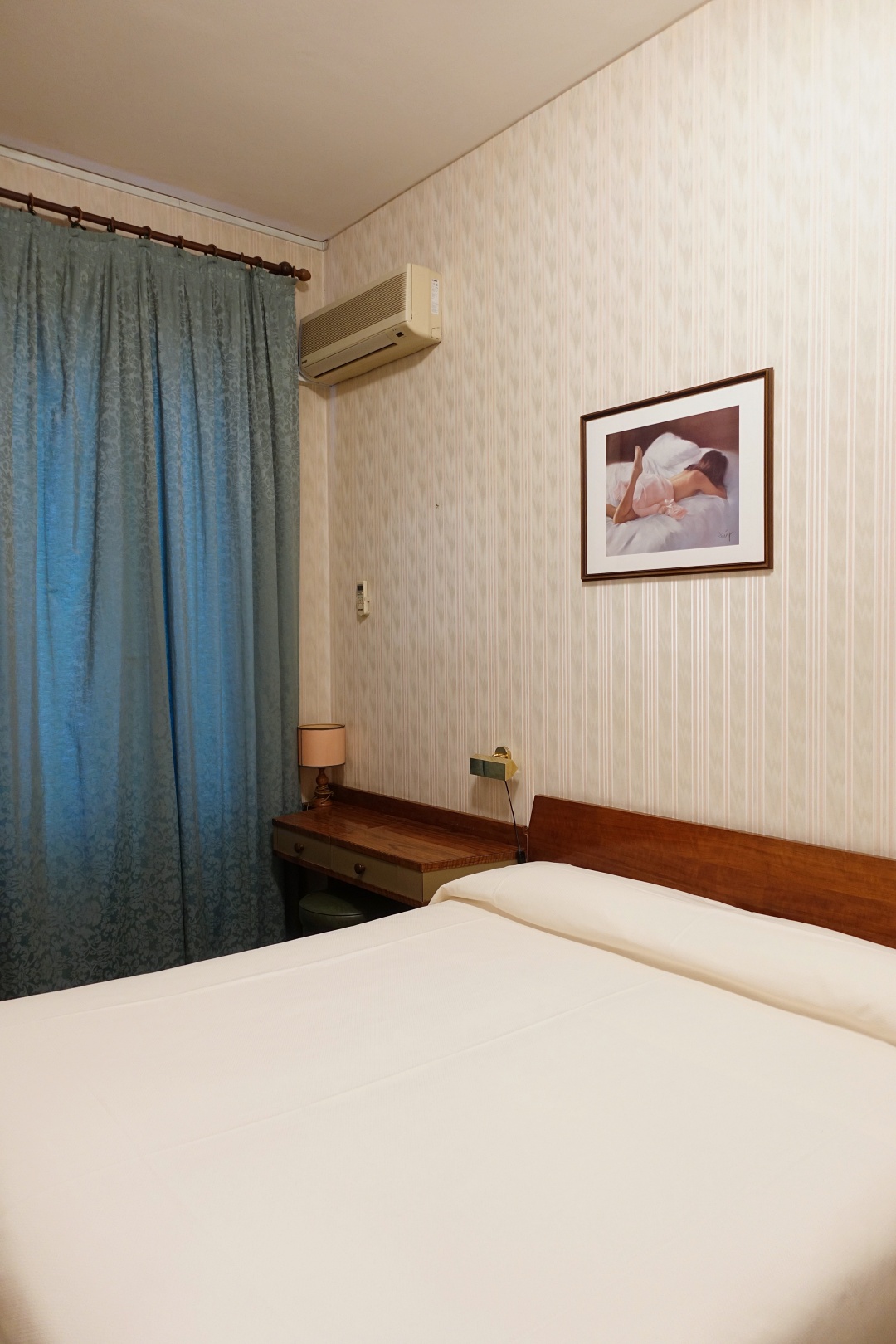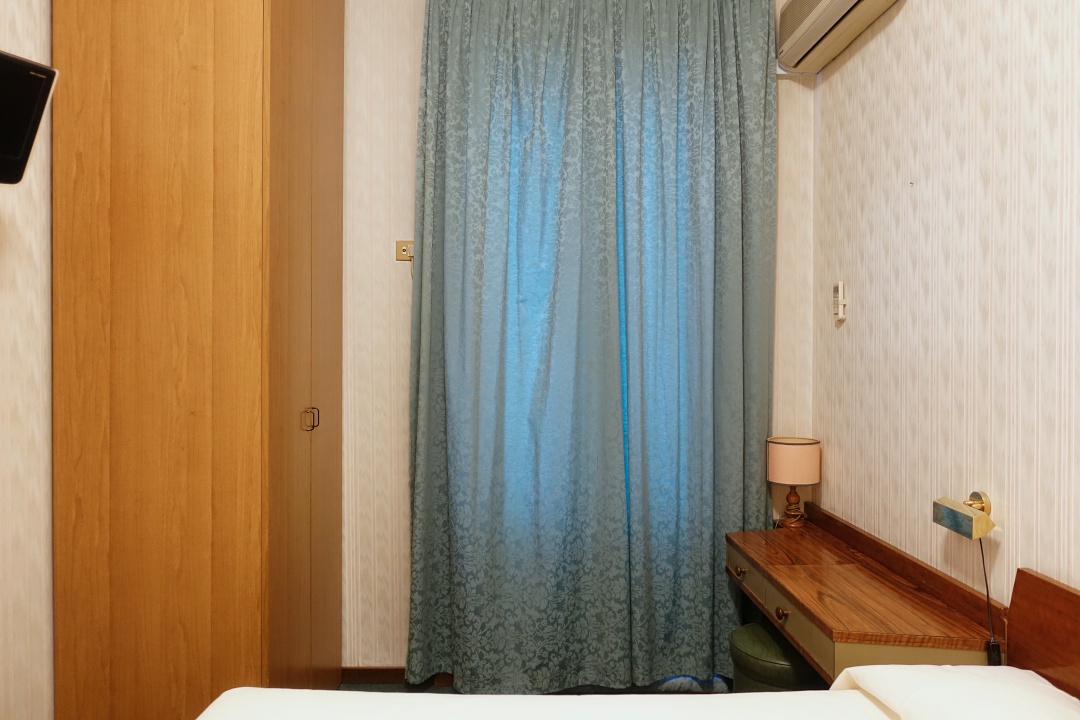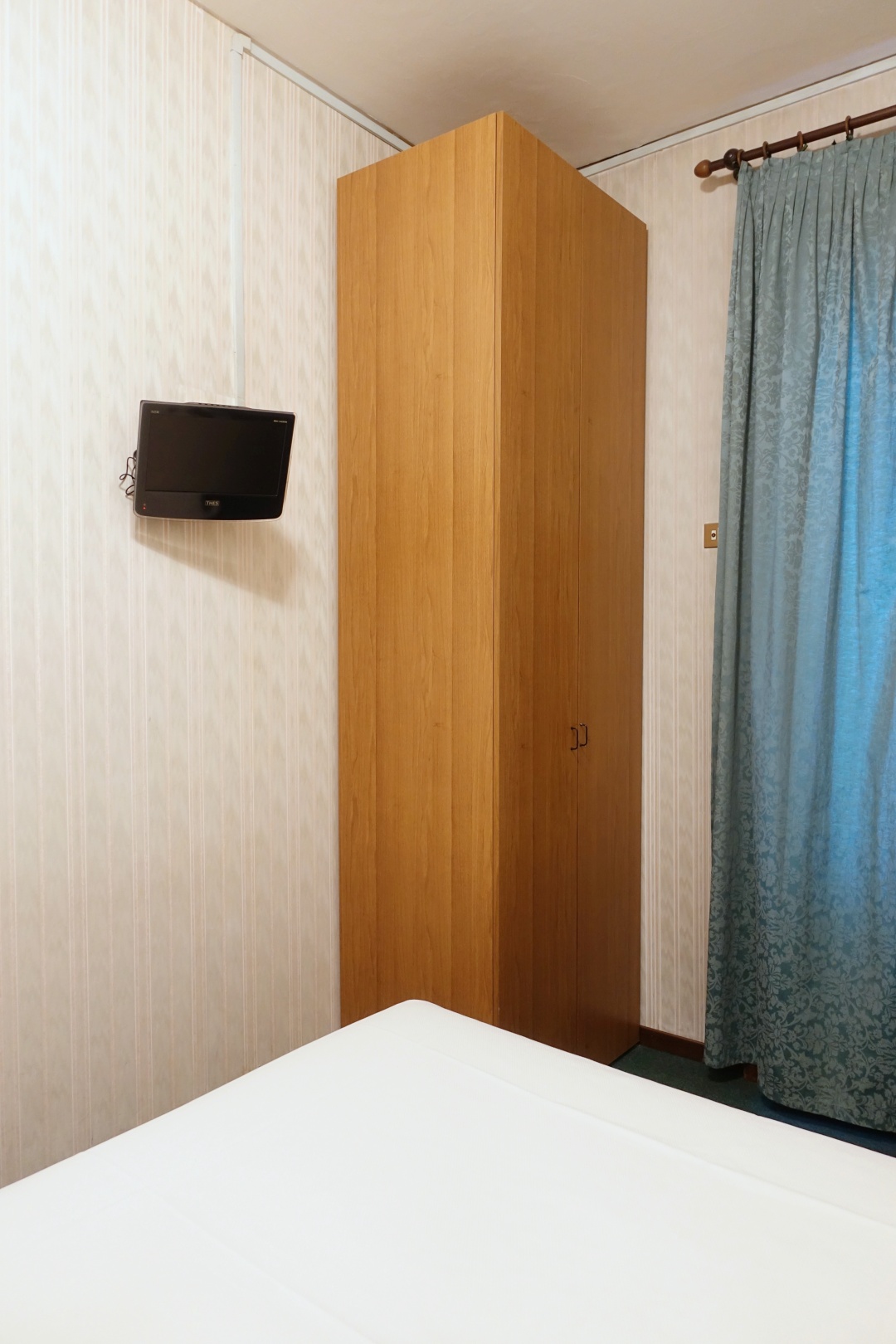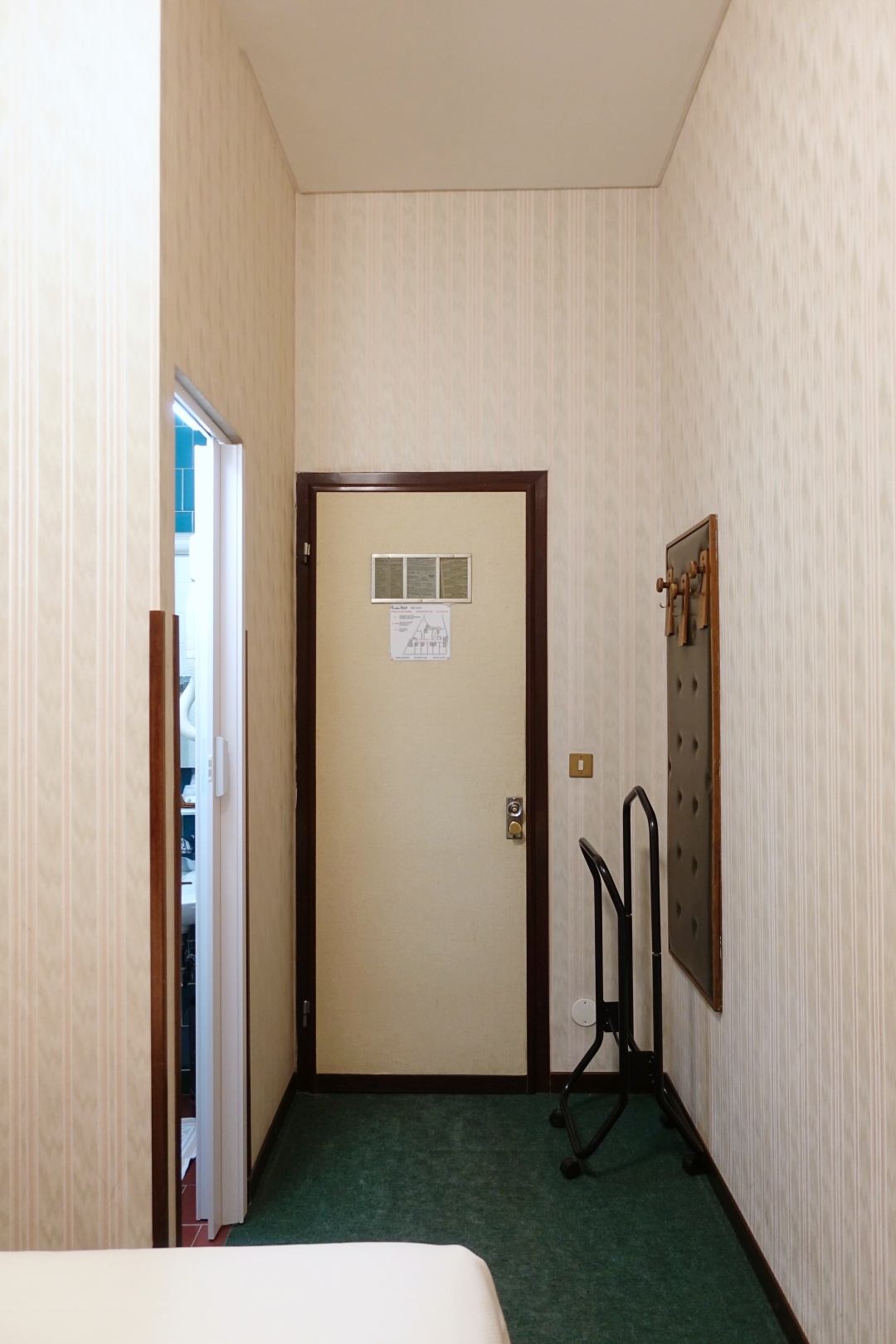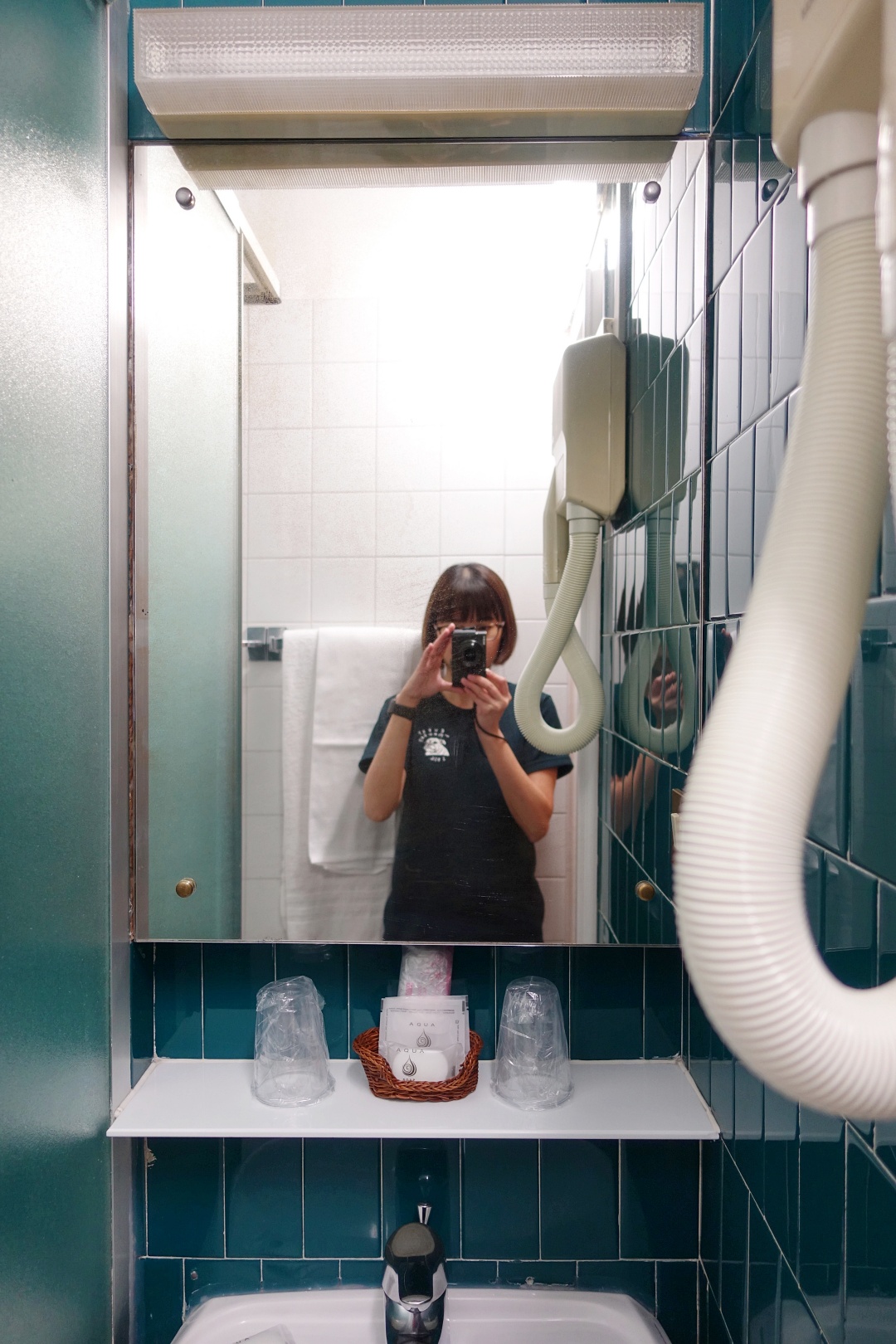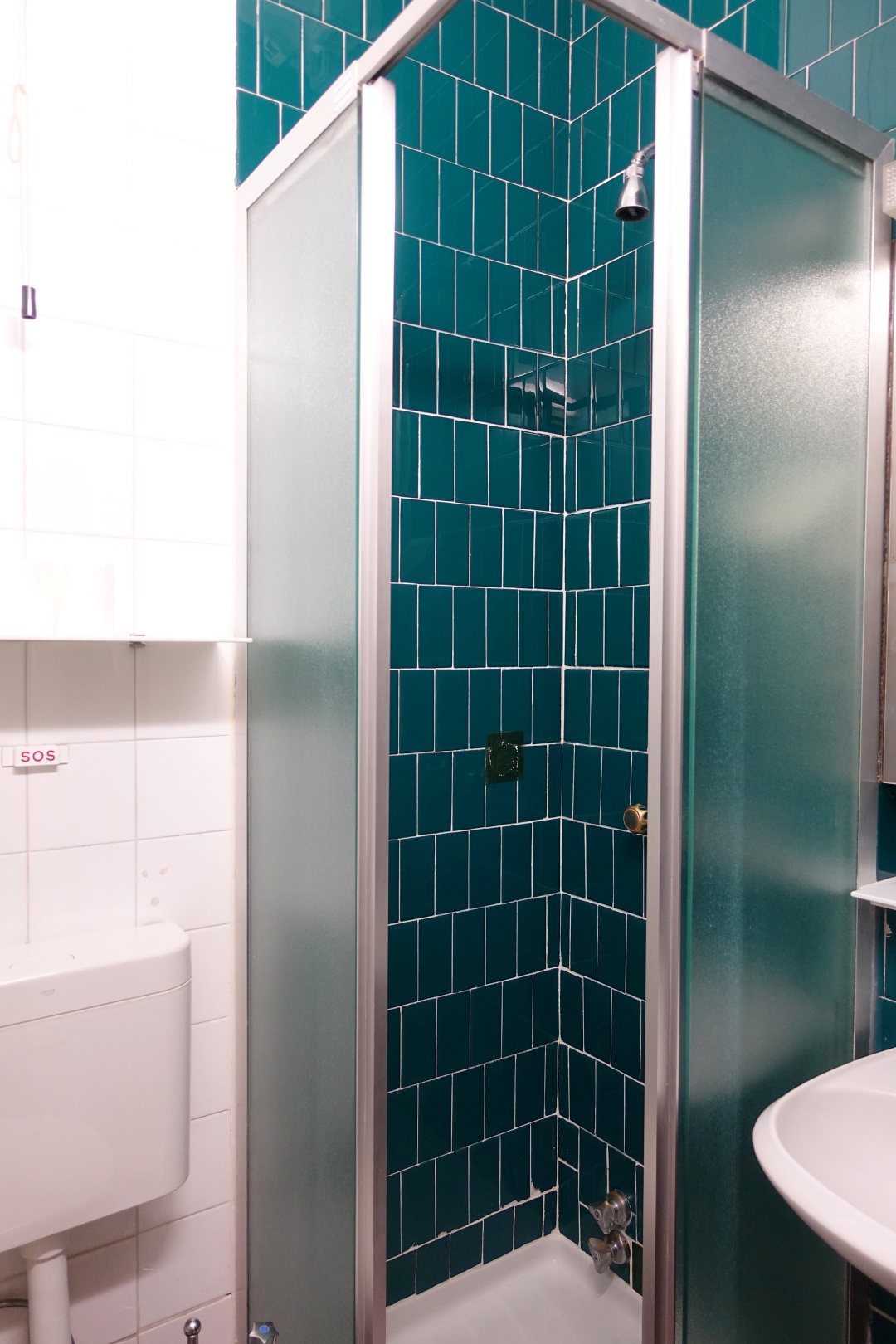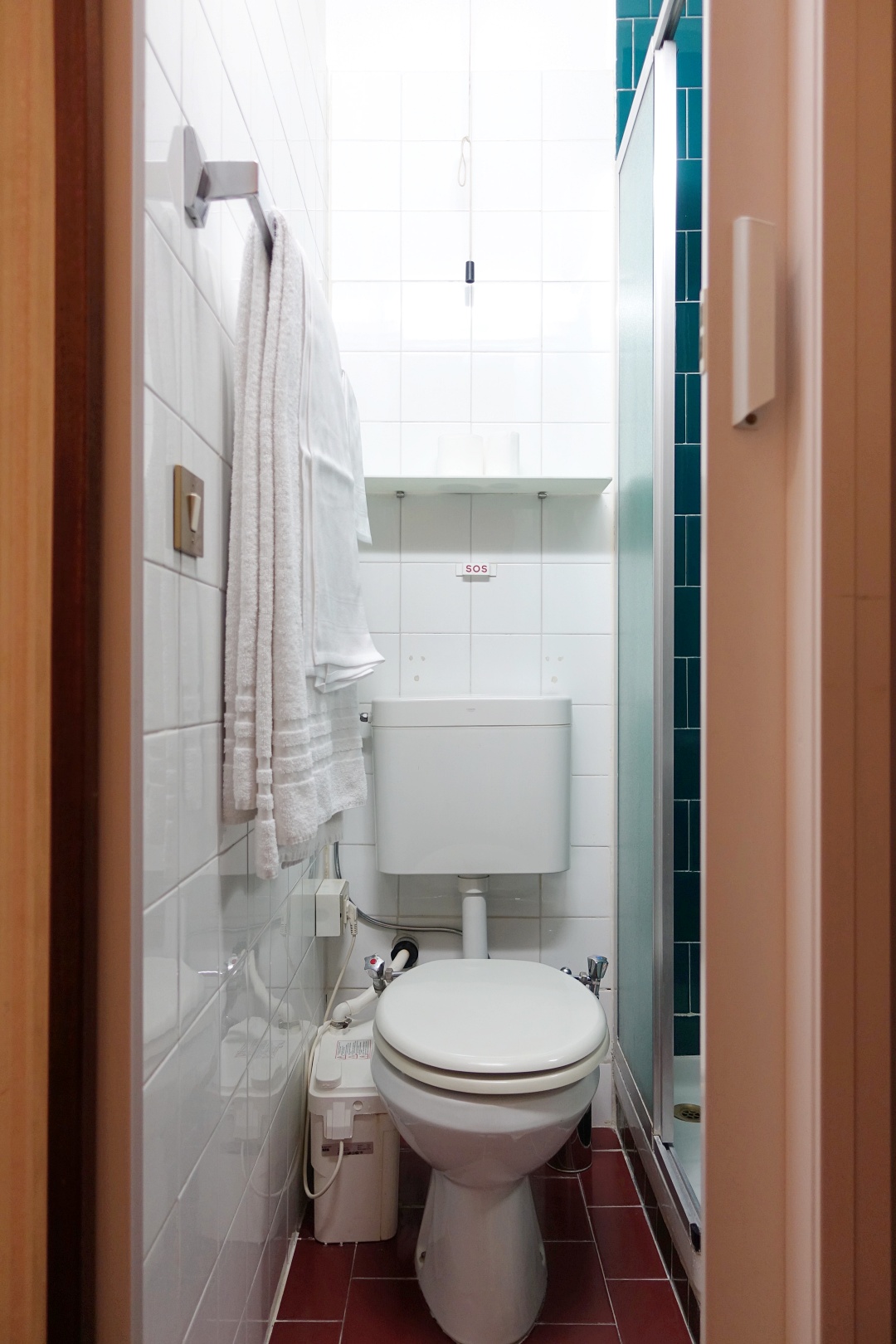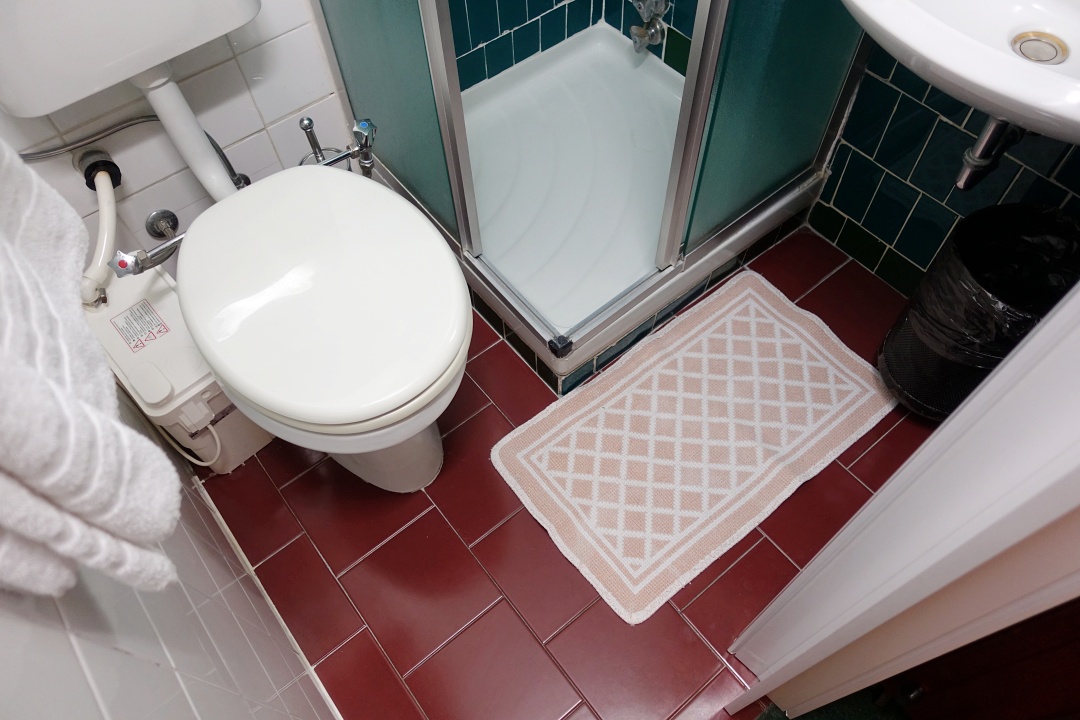 We booked the Standard Double Room, which comes with a double bed. The room wasn't very spacious, likewise for the toilet. However, it was considered relatively clean and comfortable for our 2-night stay. It was a 2-star hotel, so we weren't expecting much. The reason I picked this hotel was mainly due to the price and its location (0.5 km to city centre).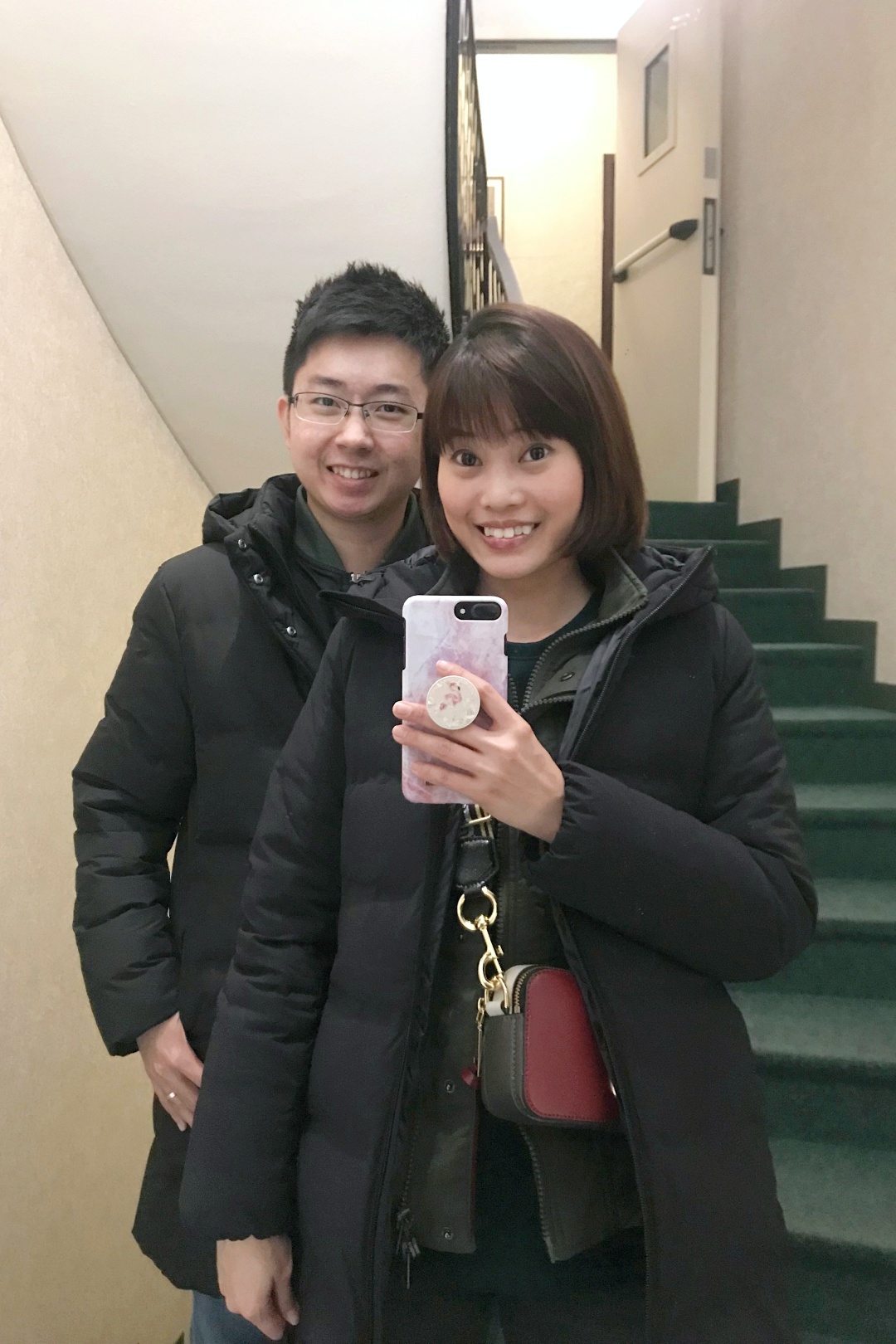 Planned to take a 2-hour nap, but it ended up being a 3-hour nap instead. Woke up at around 14:00, got ready with warmer clothing and went out to explore the street!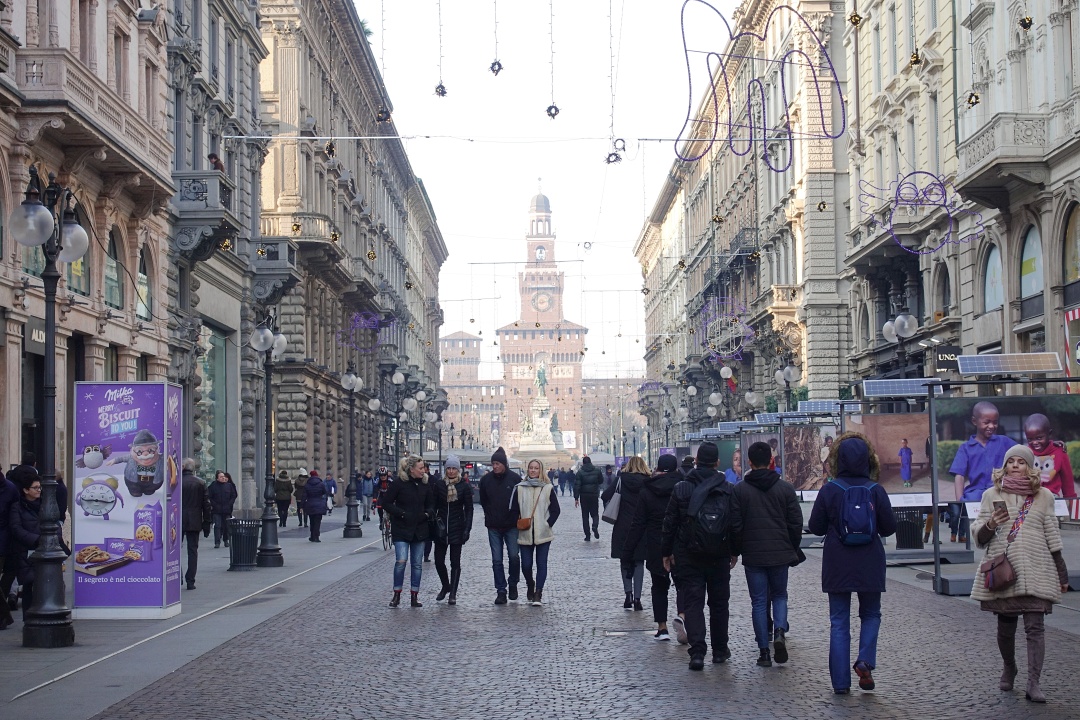 📍Via Dante
We walked around the vicinity and realised there were quite a handful of shops nearby. We managed to spot Aldo, Bata, Sephora, Foot Locker, Moleskin, Swarovski, etc. The Husband was looking to get a pair of boots, so we went to check out Aldo and Bata. Prices were surprisingly quite reasonable.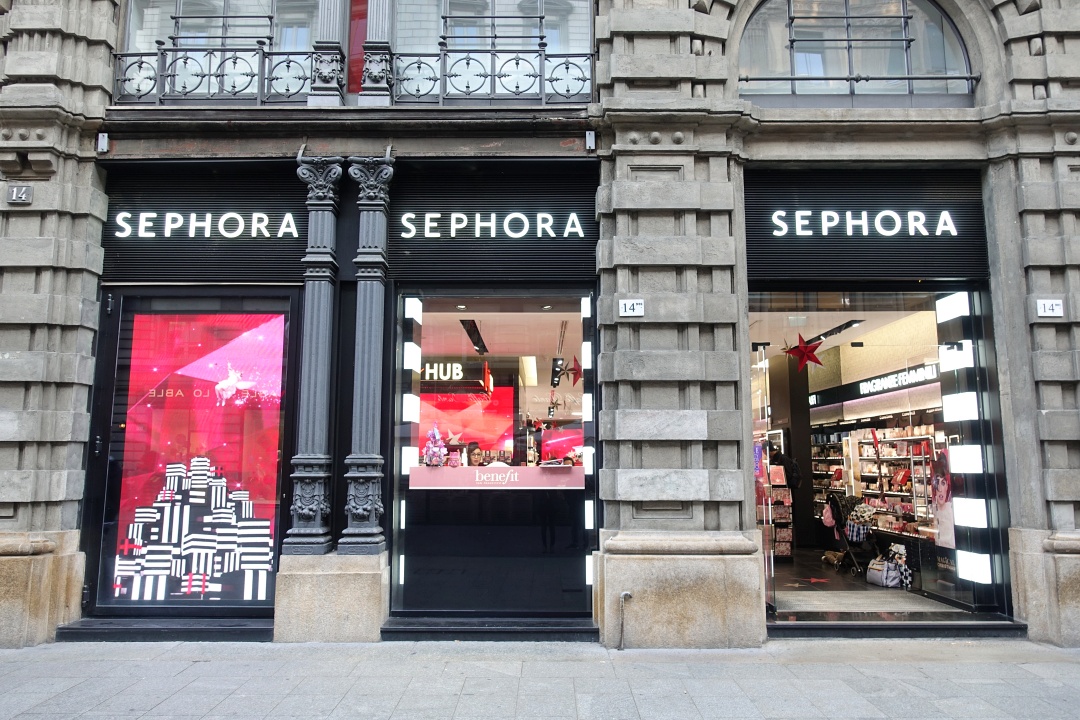 I also went into Sephora but walked out empty-handed since the majority of items were available in Singapore, plus the prices weren't that much of a difference.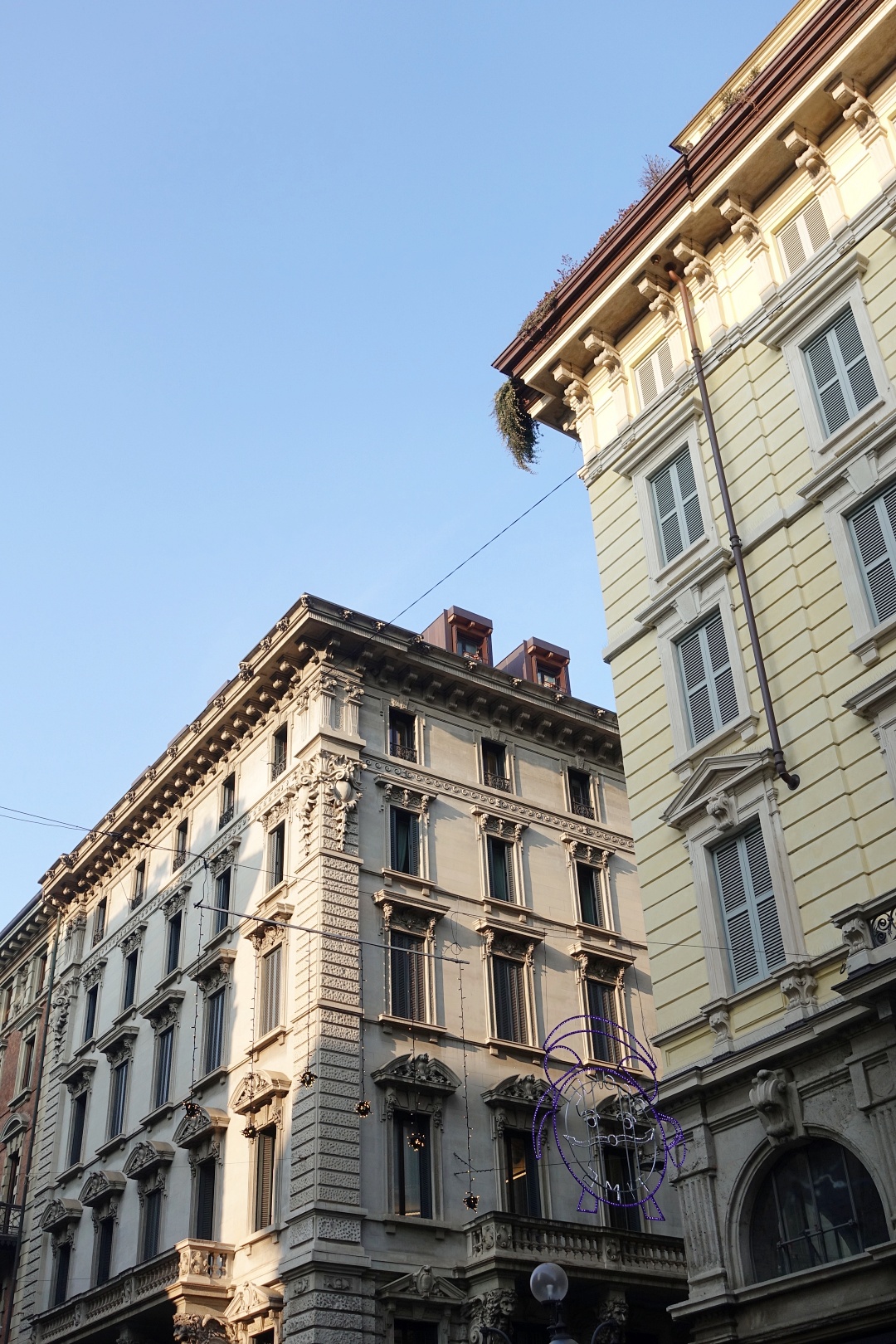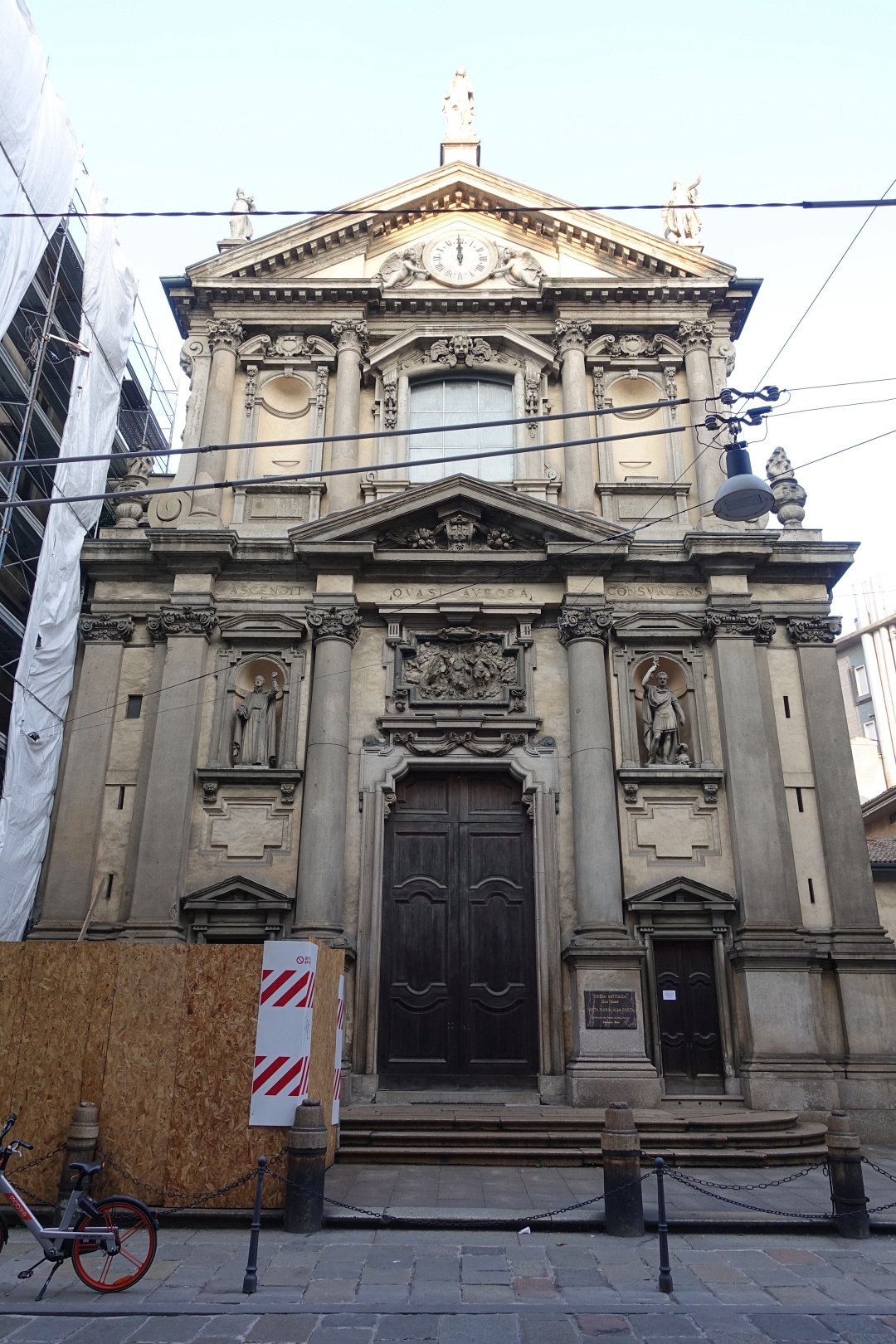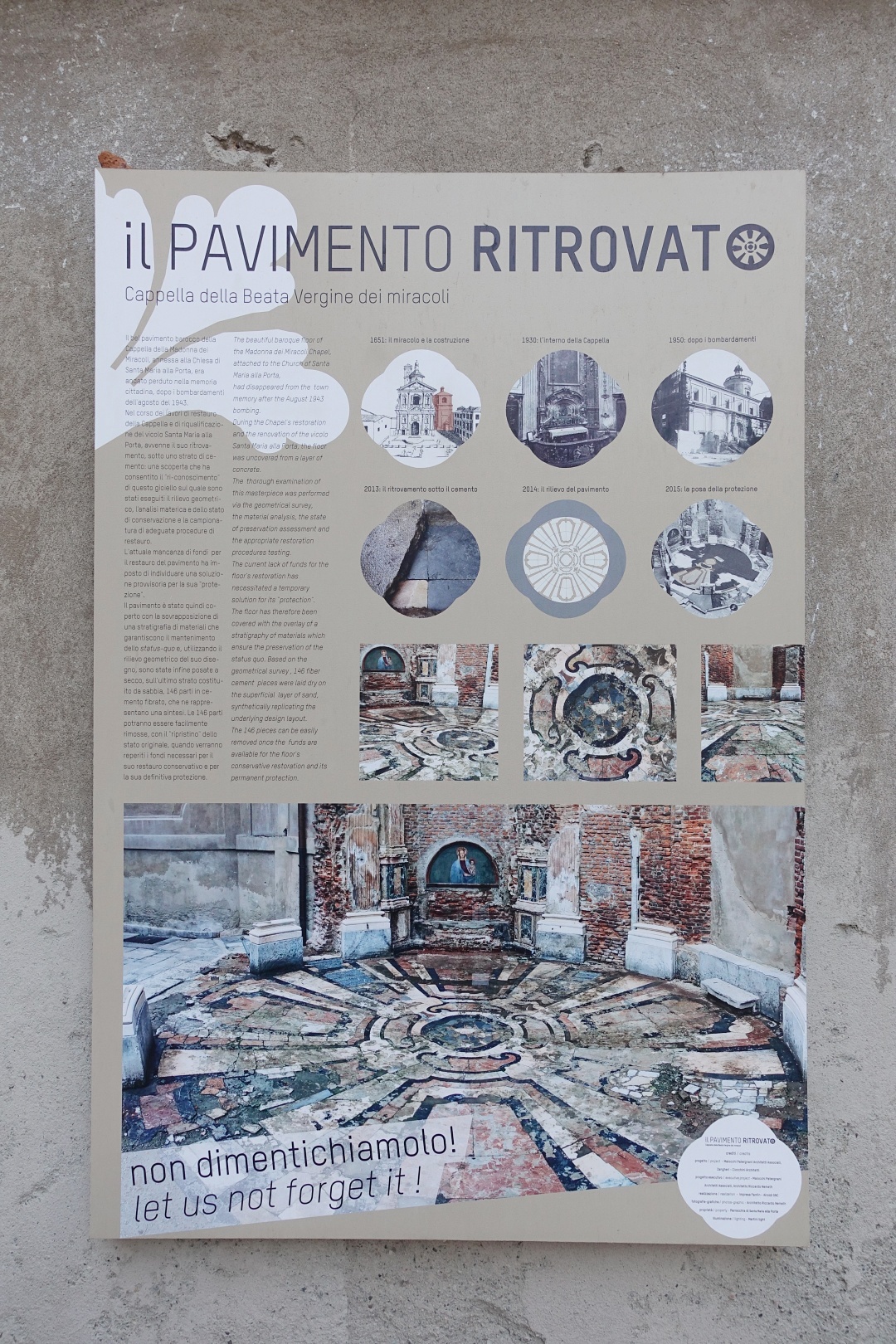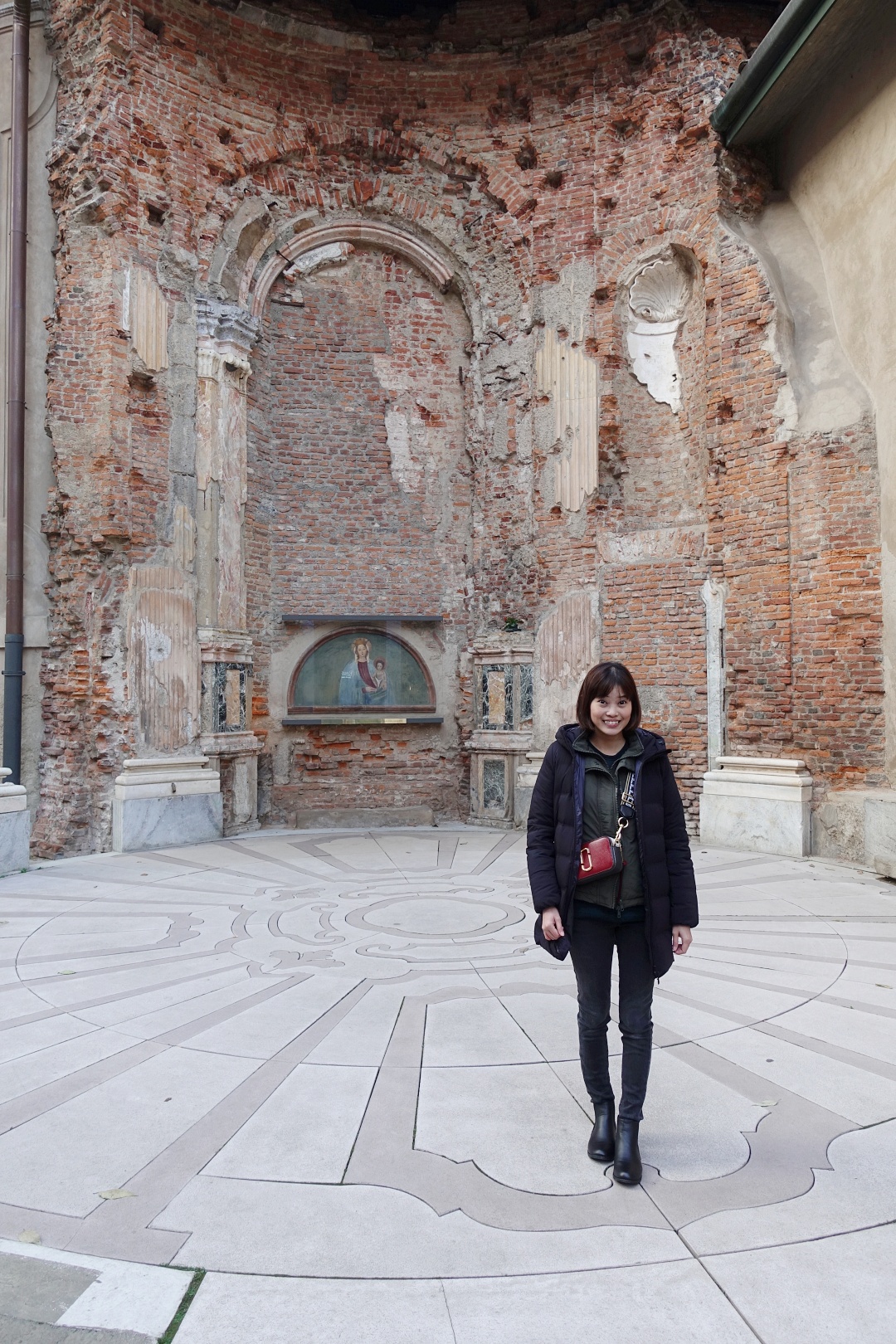 📍il pavimento ritrovato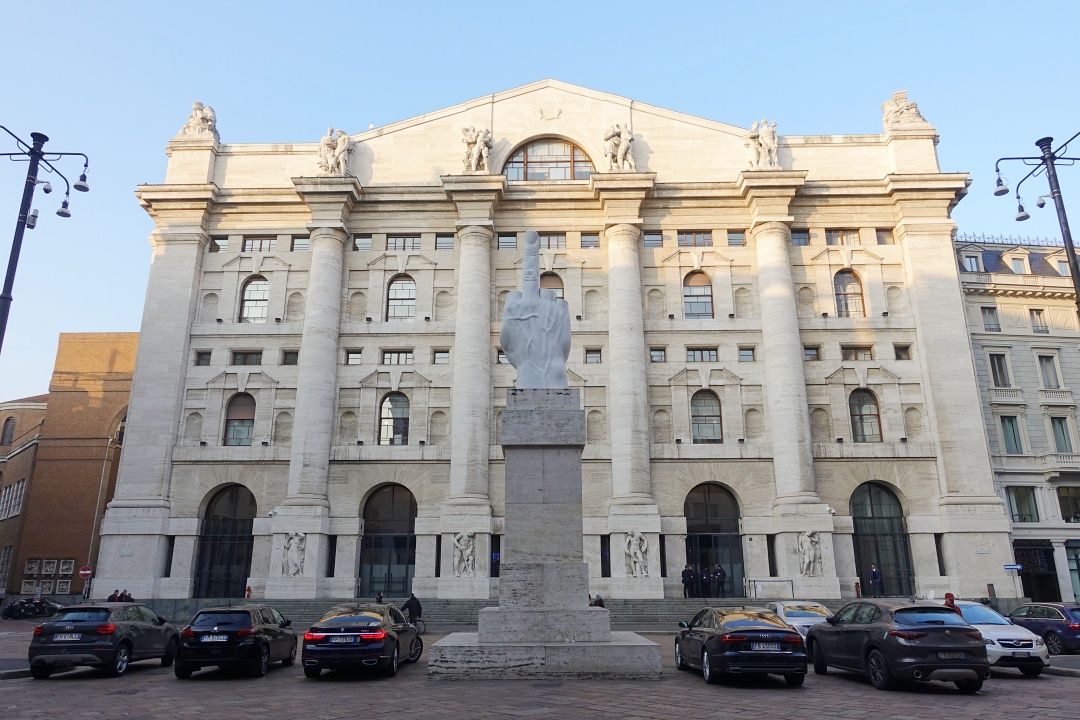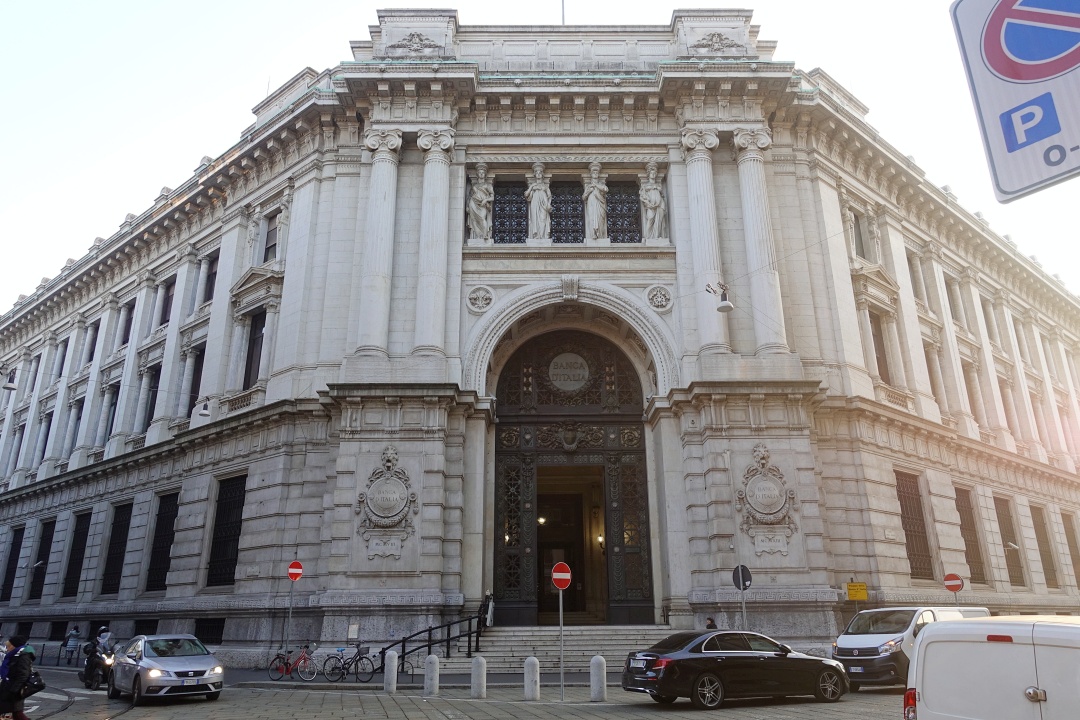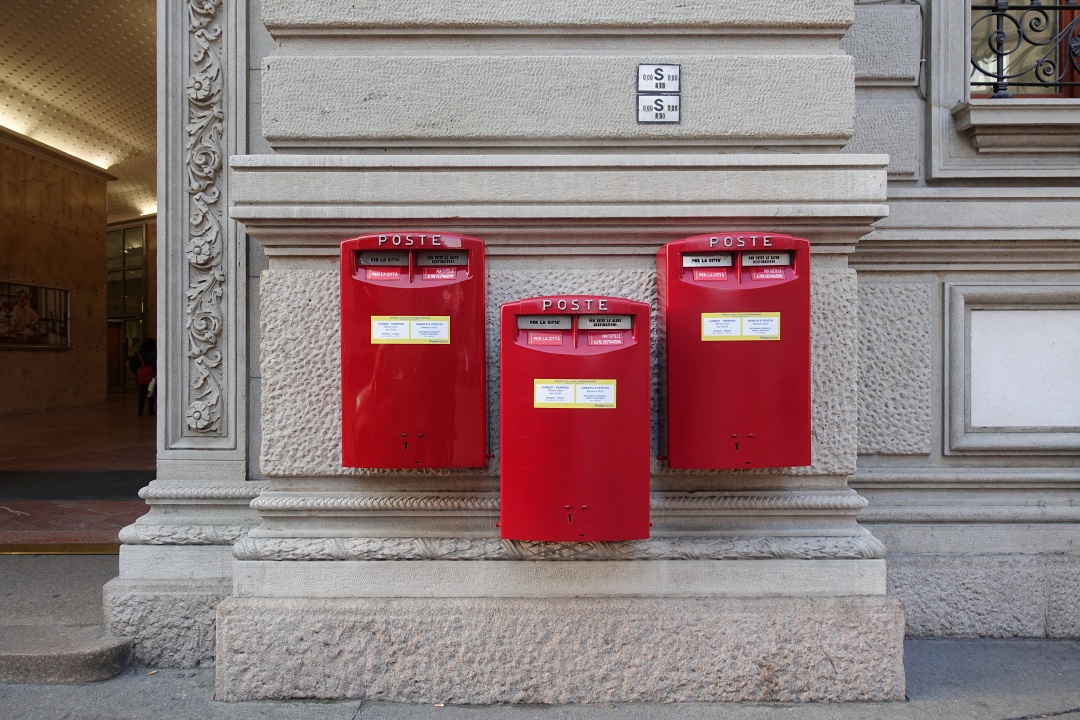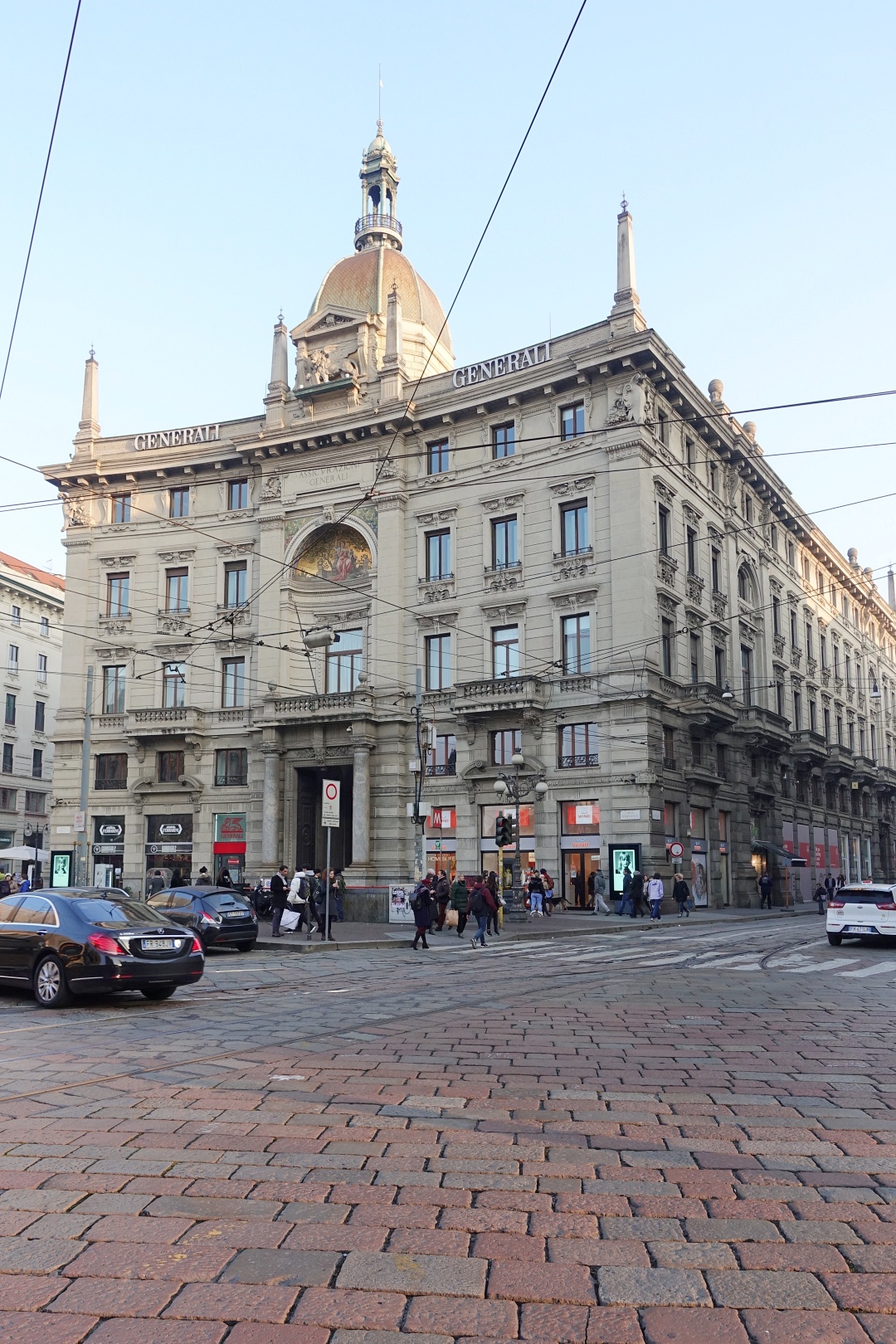 Starbucks Reserve Roastery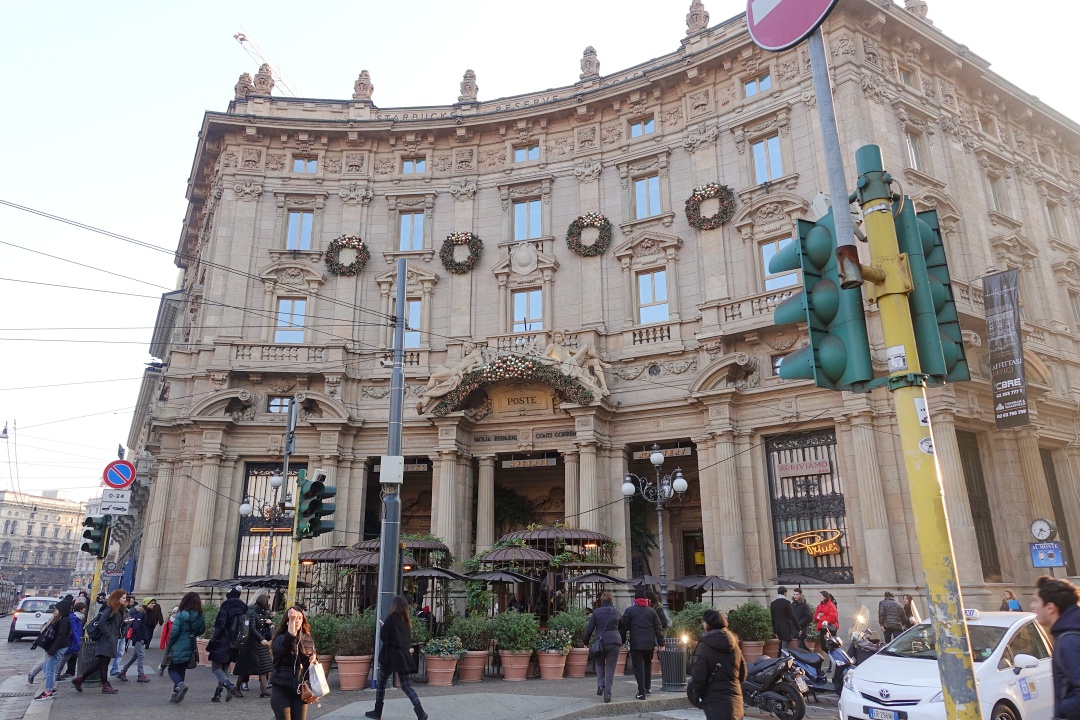 📍Milano Roastery
We continued wandering around and eventually stumbled upon Starbucks Reserve Roastery. The Husband was so excited to head inside as there was only a handful of Starbucks Reserve Roastery in the world and this one had just opened in September 2018.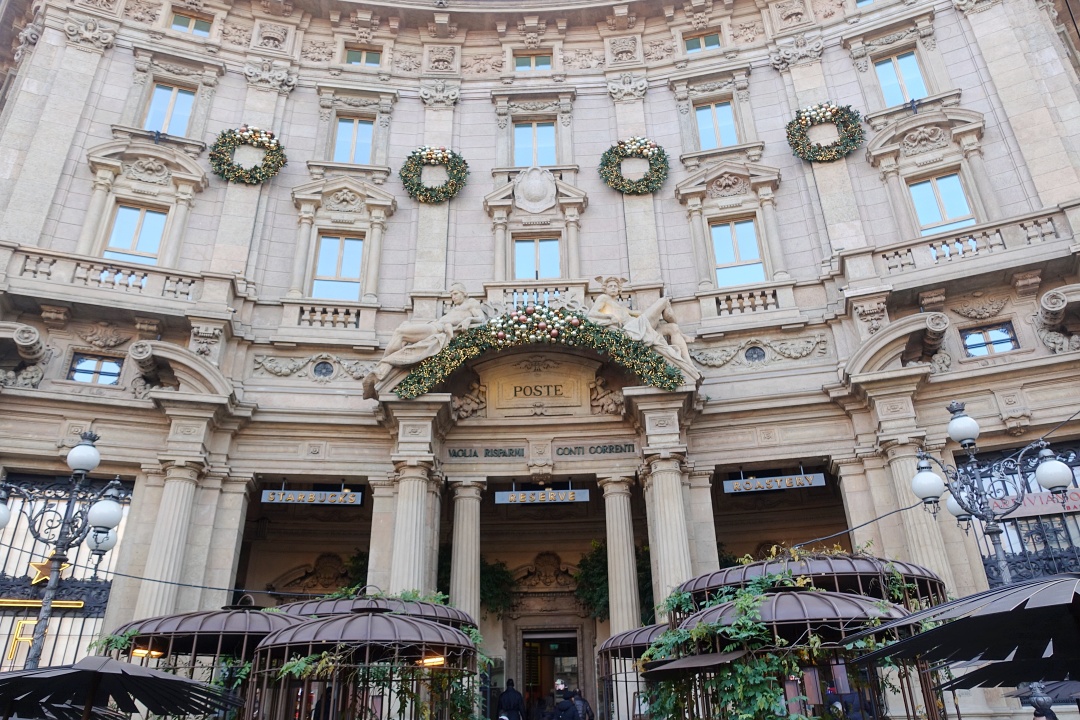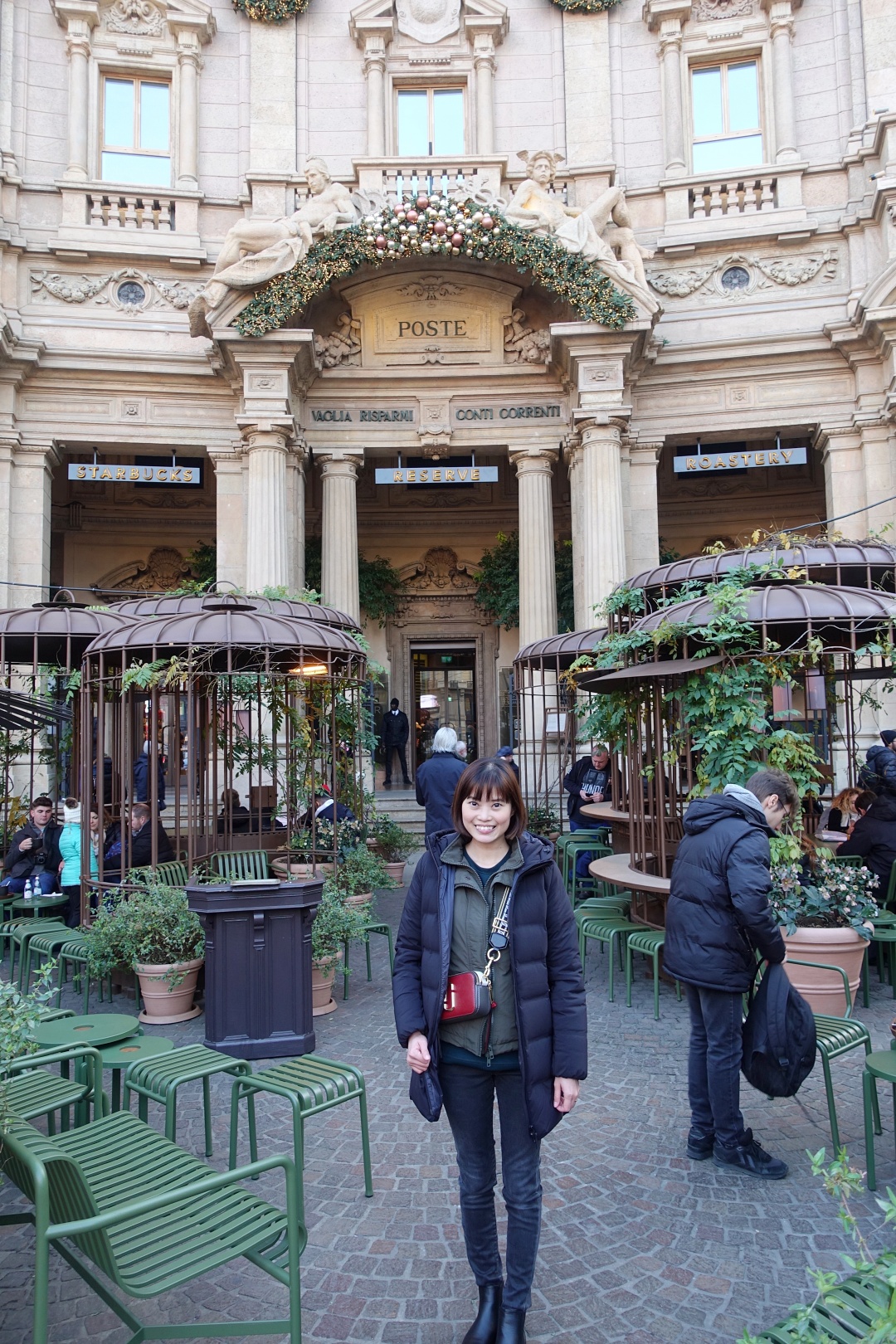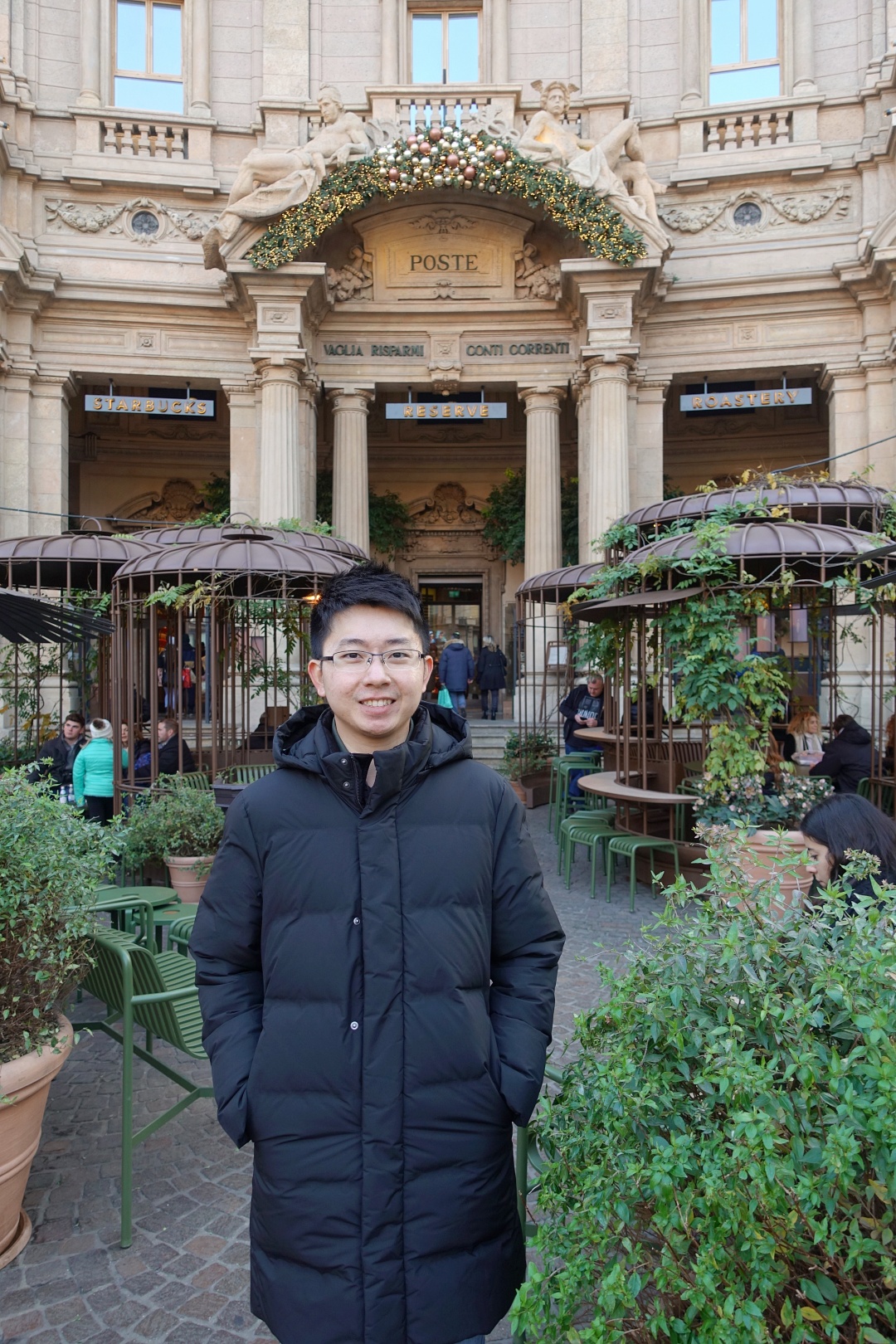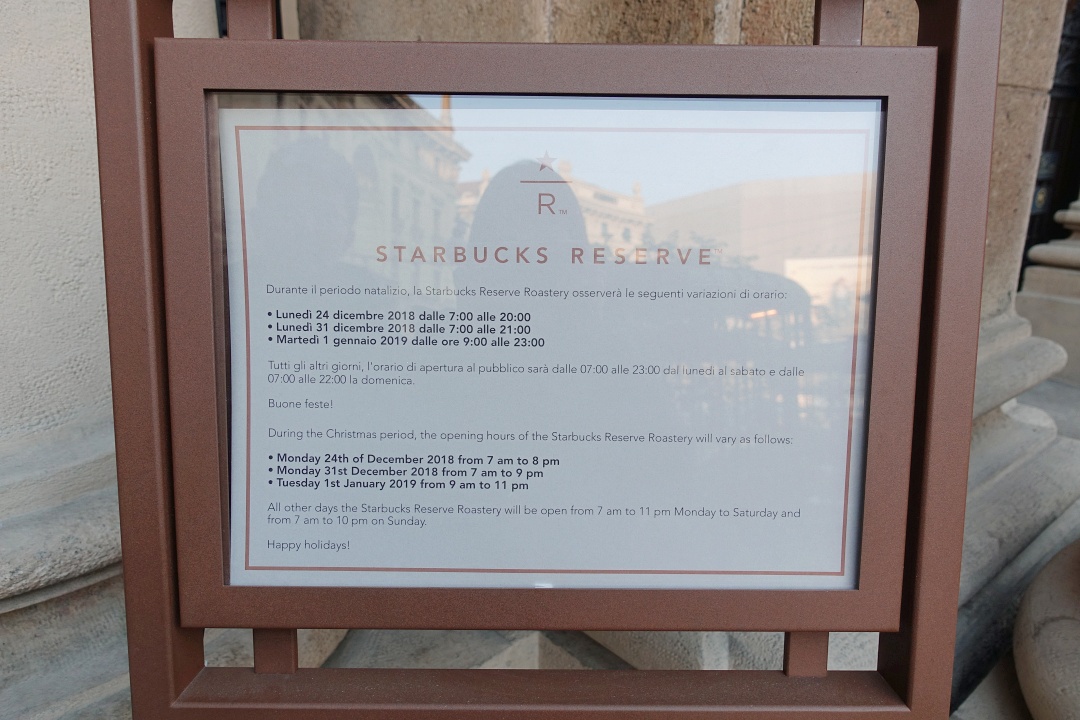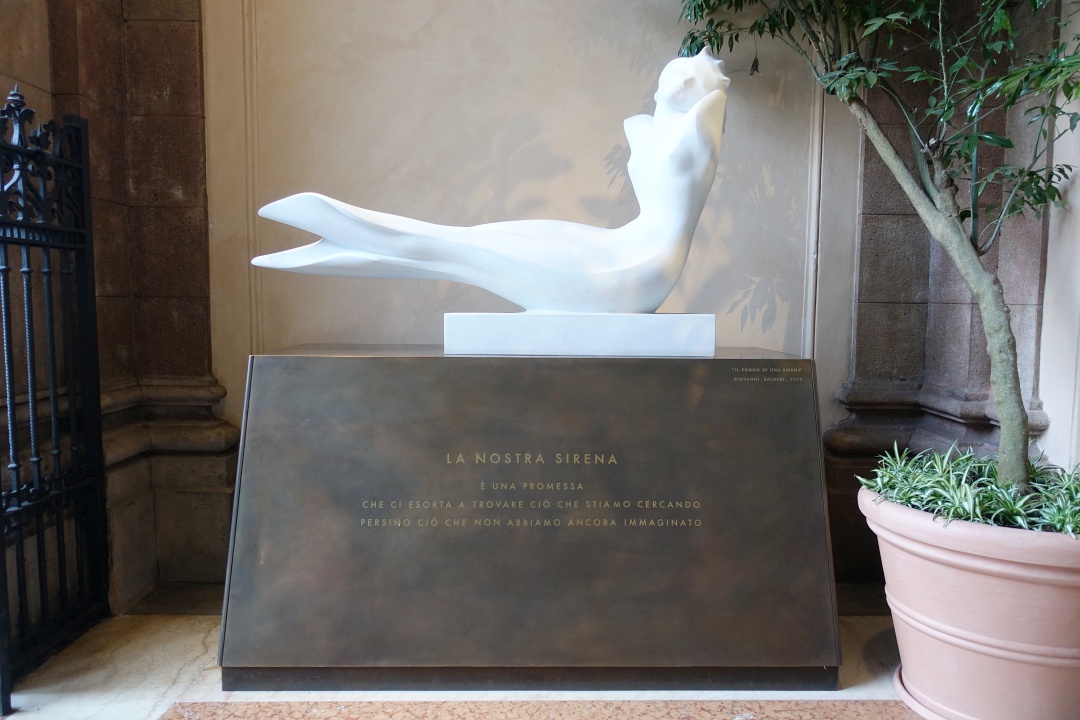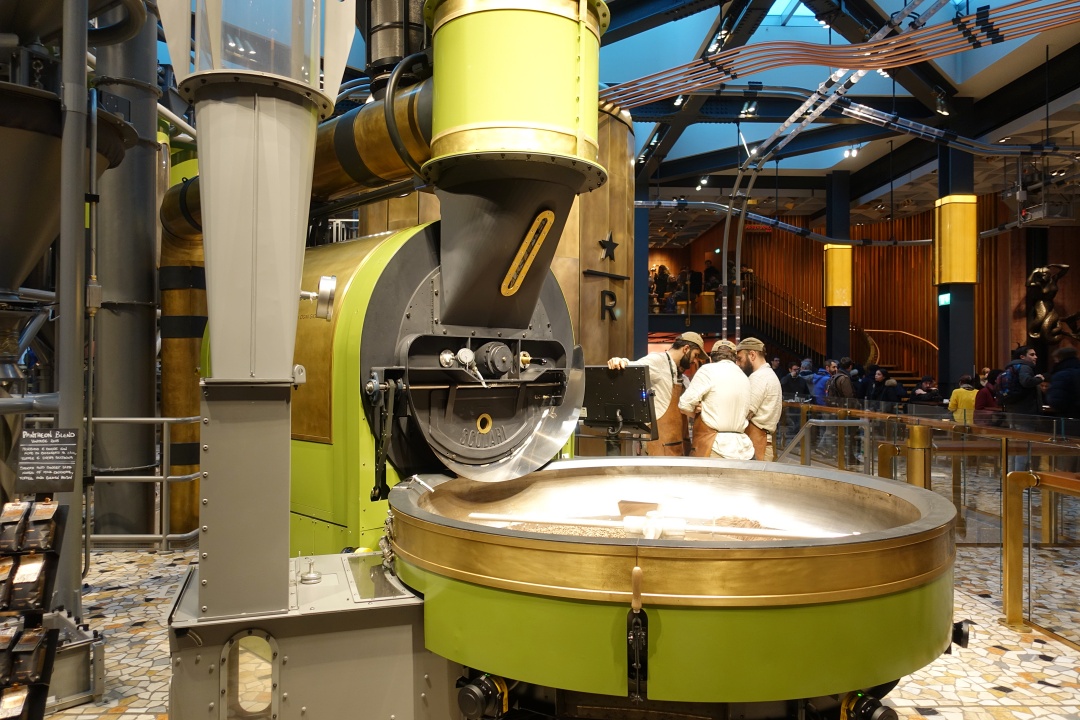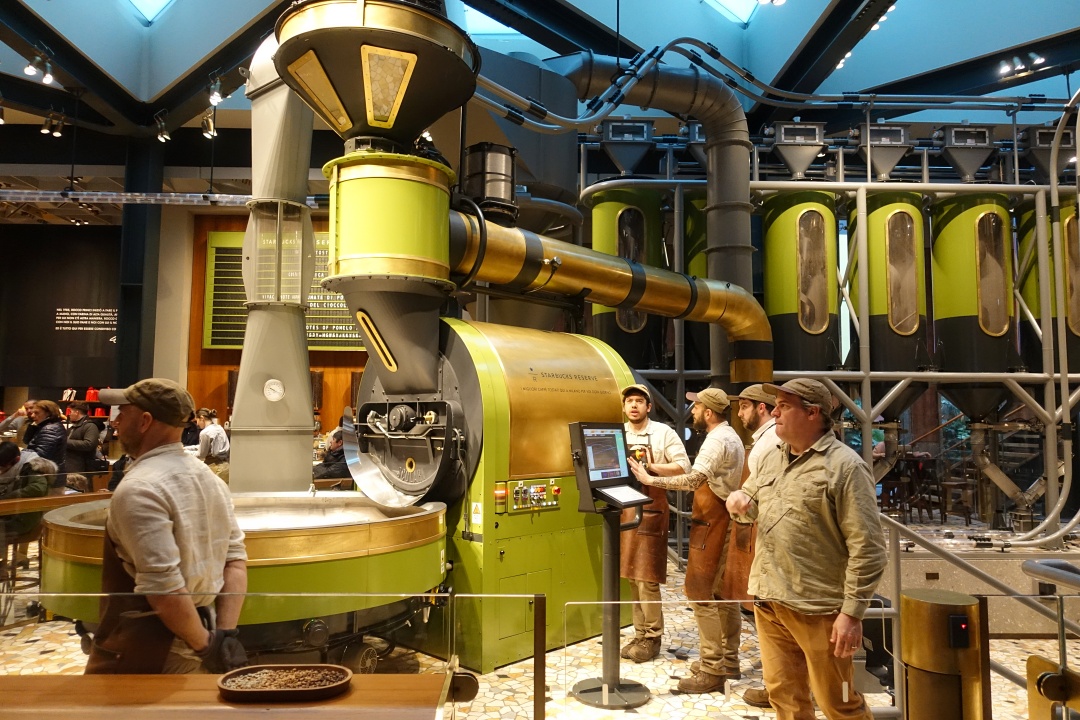 I was really impressed by the scale of the roastery. Everything seems so interesting to us since it was our first time stepping into a Starbucks Reserve.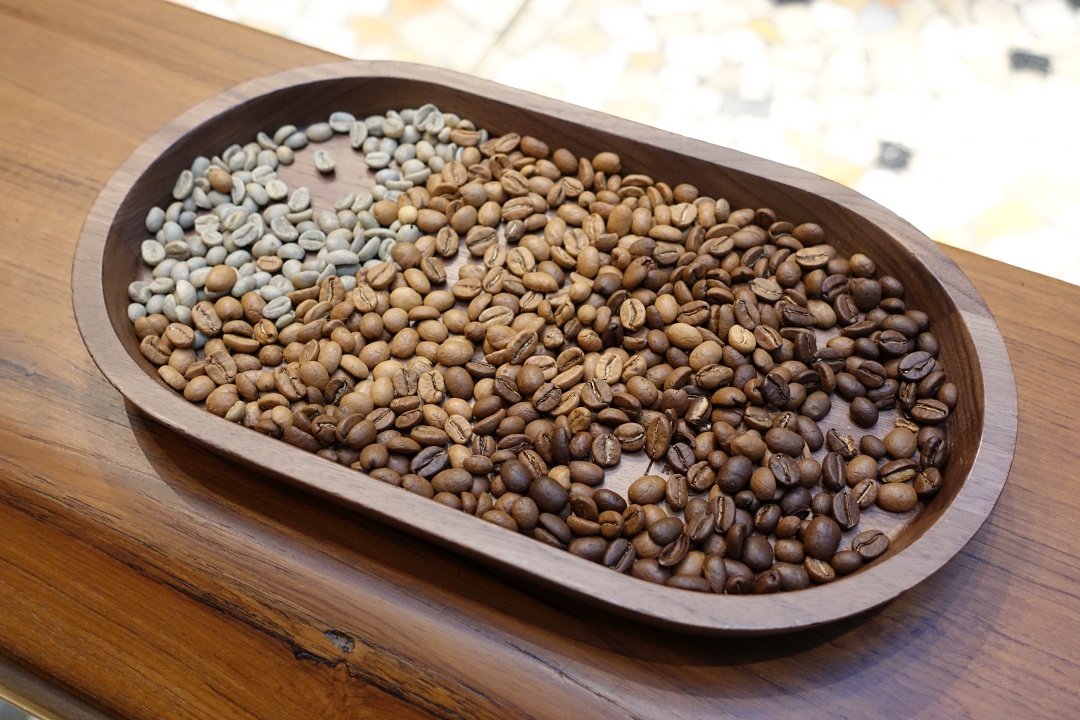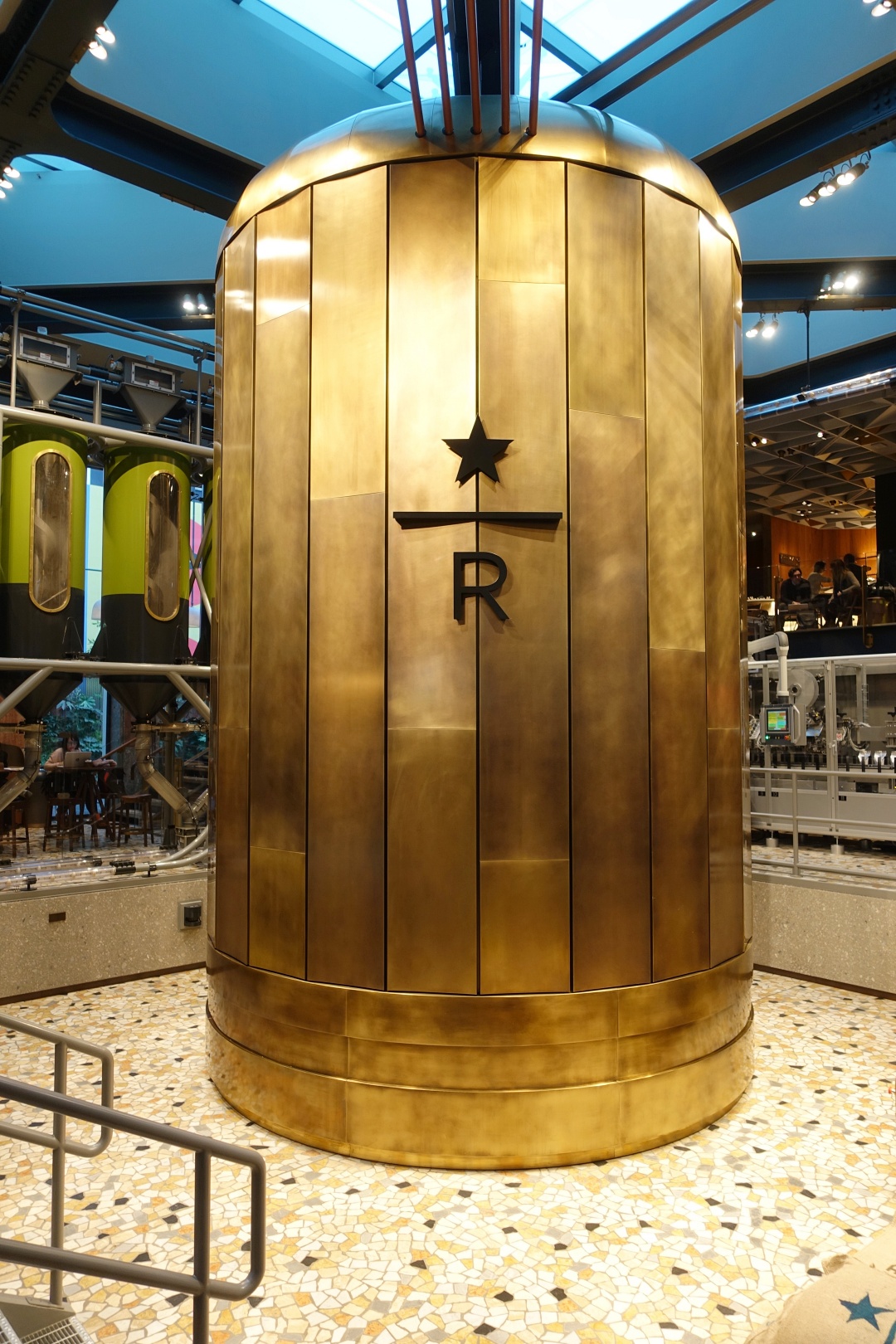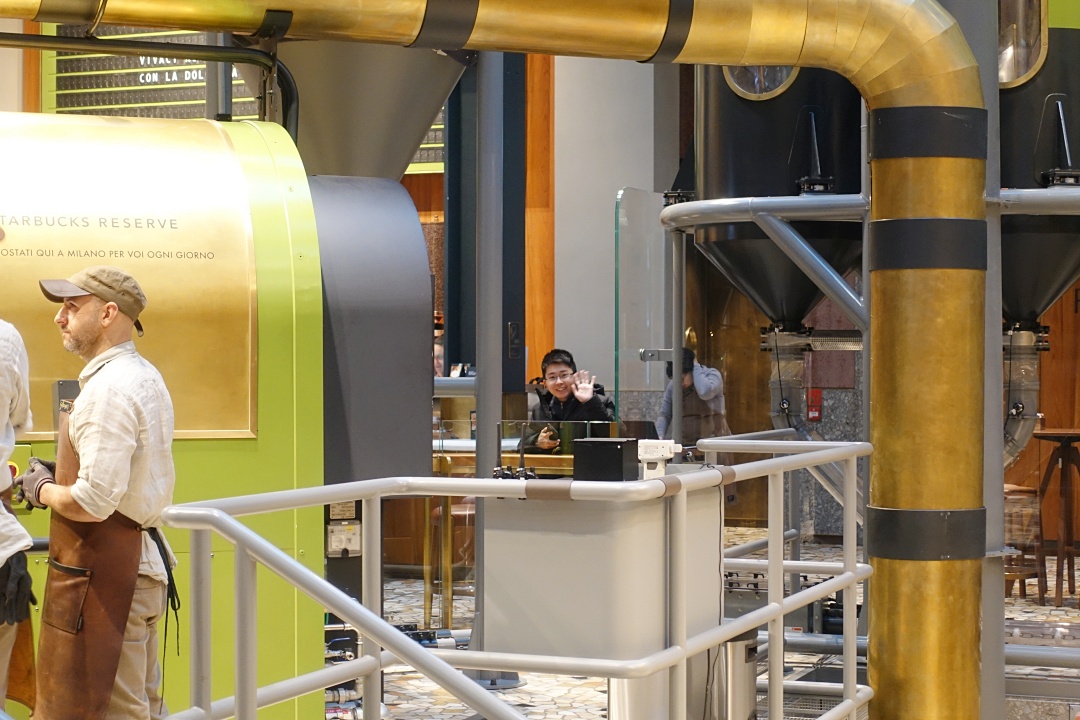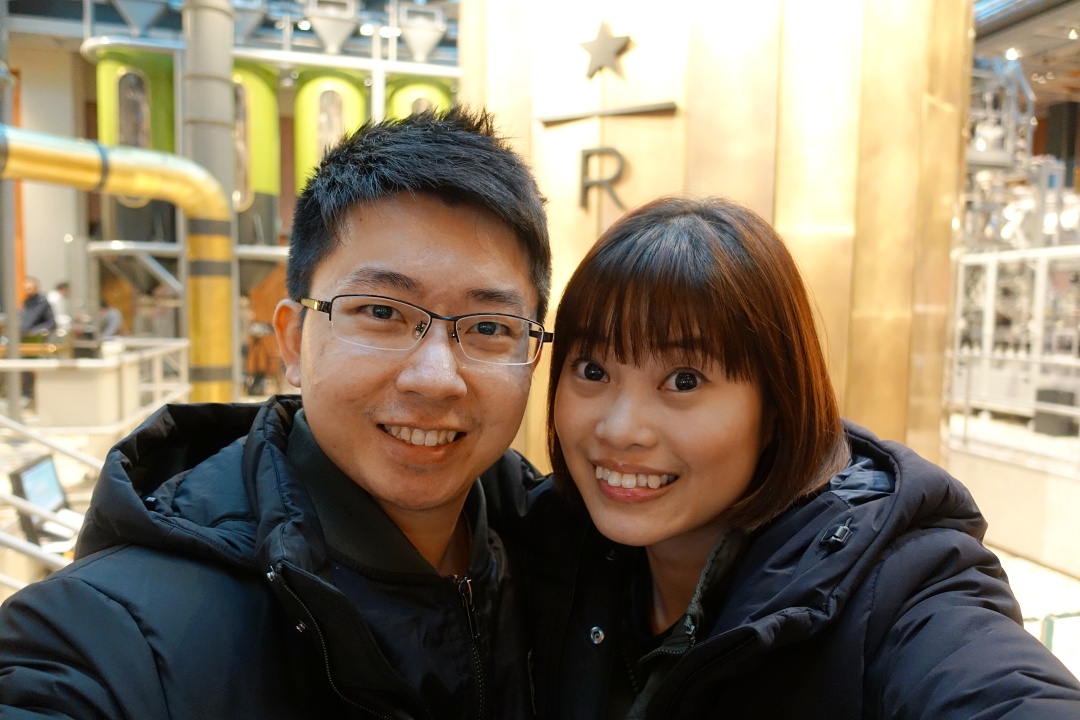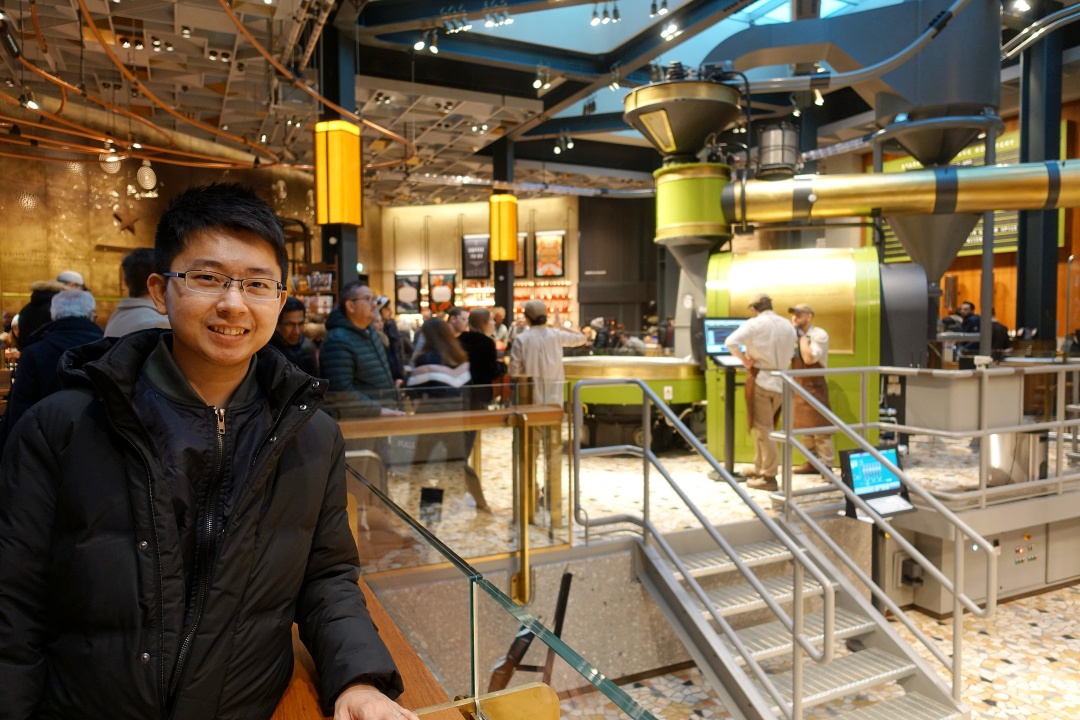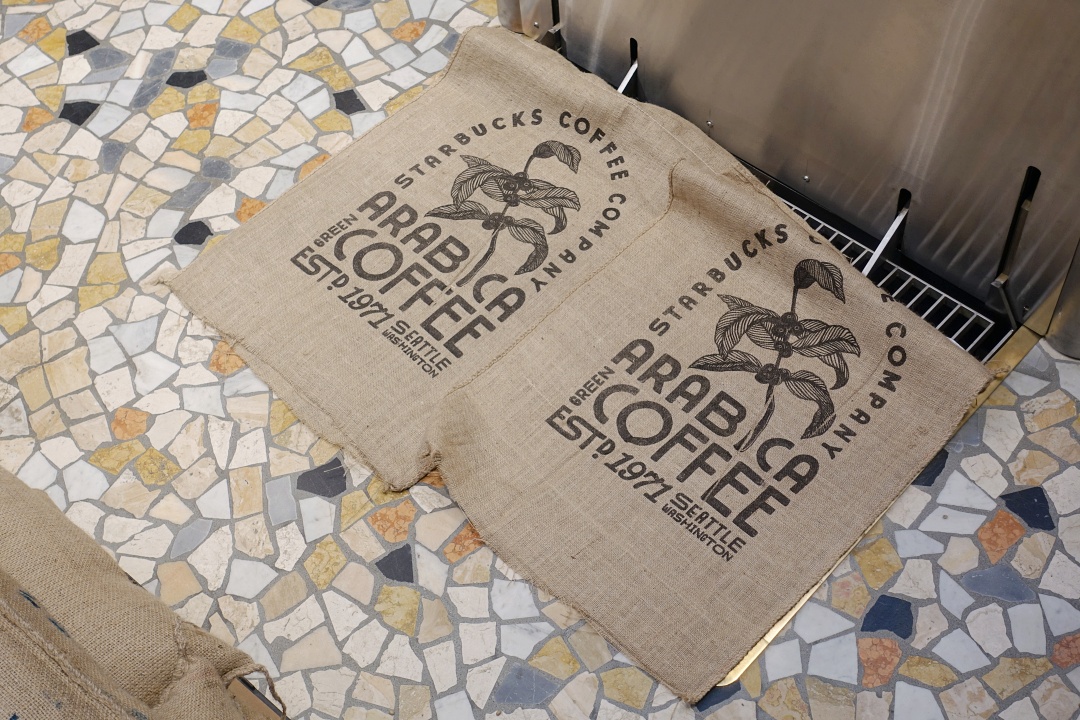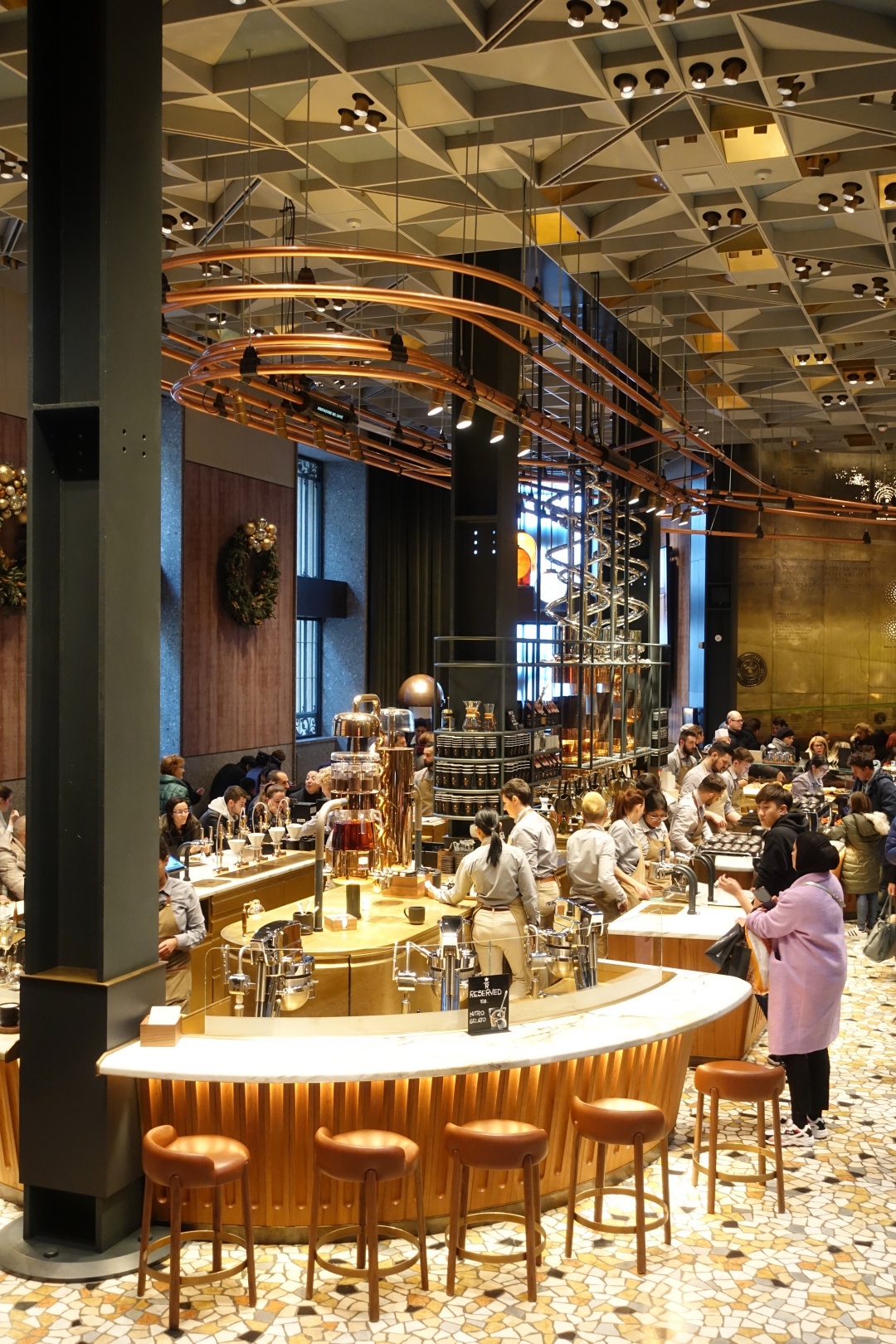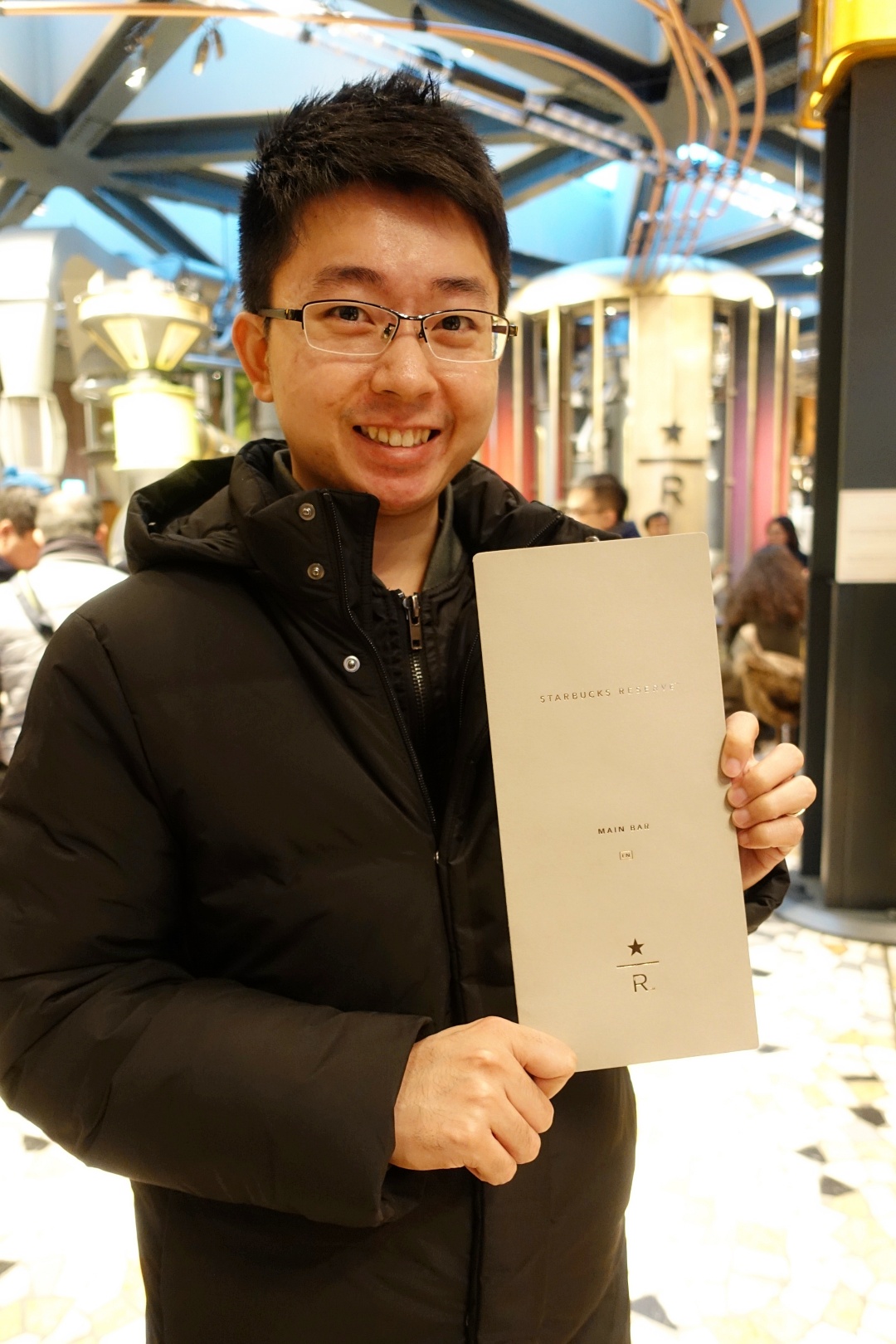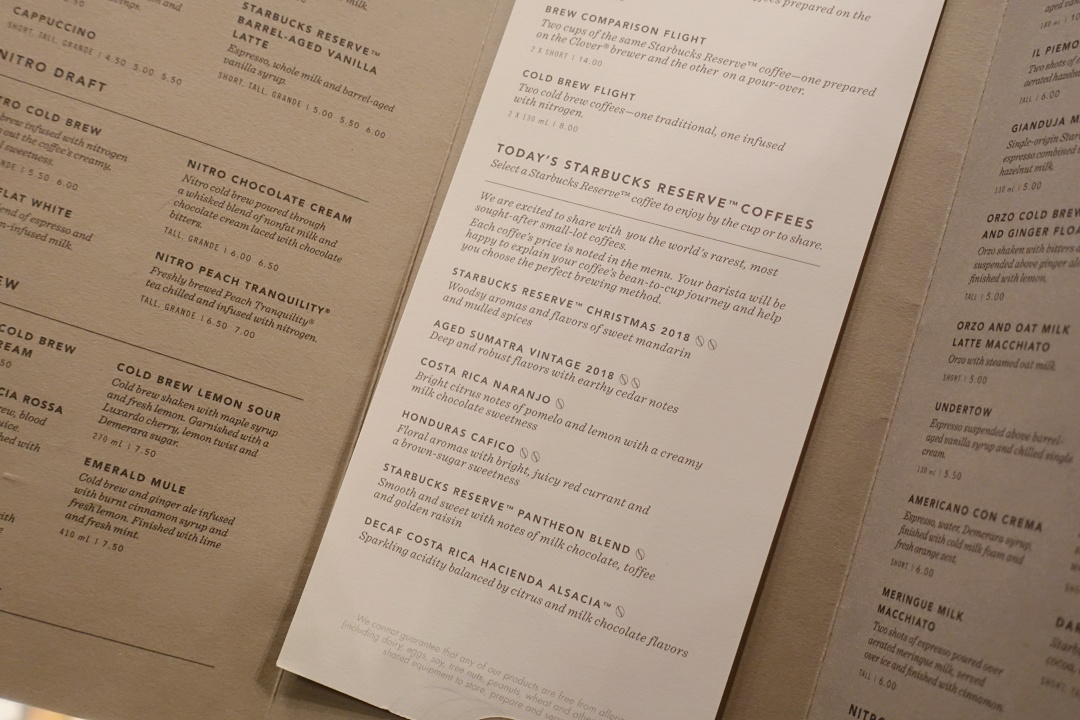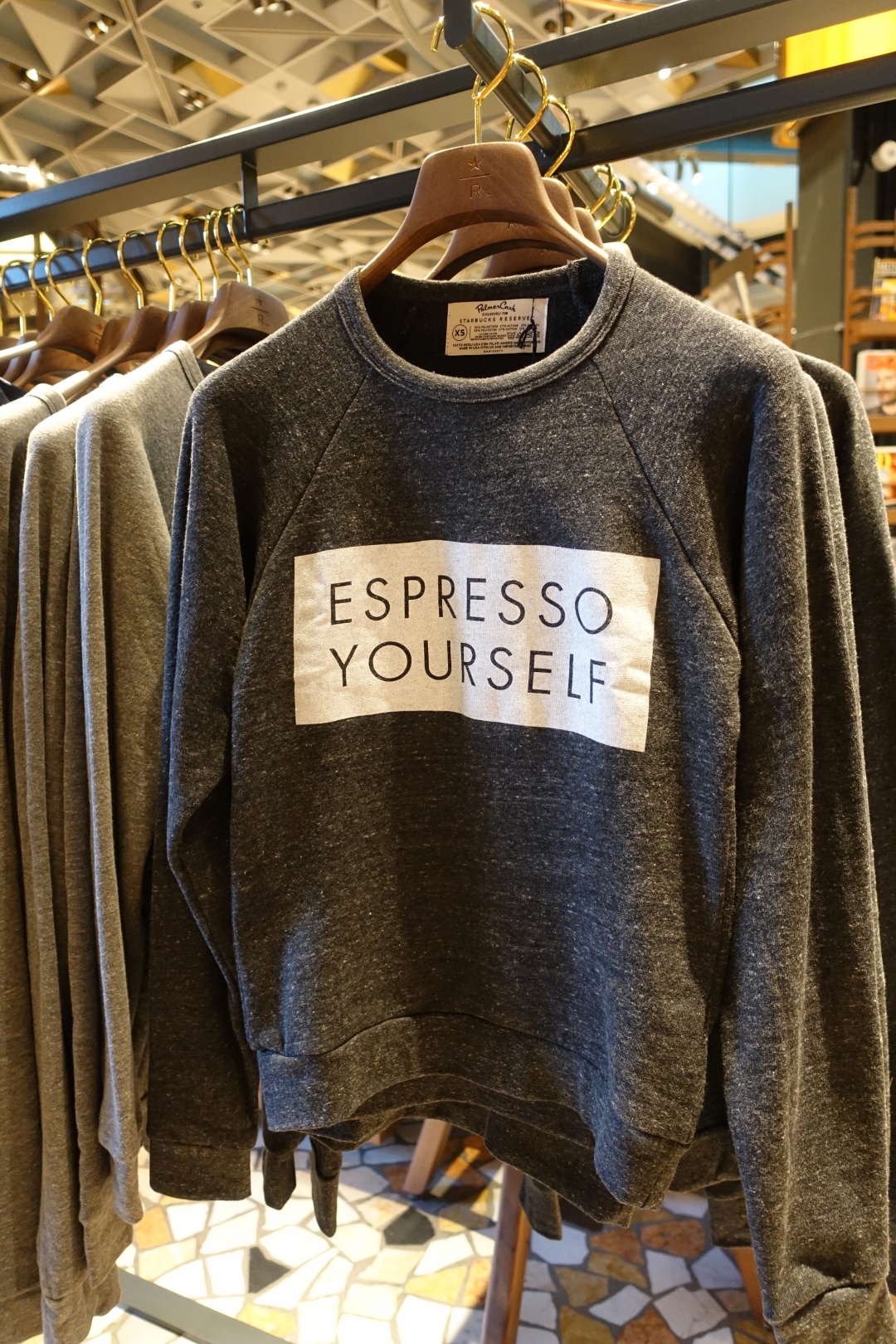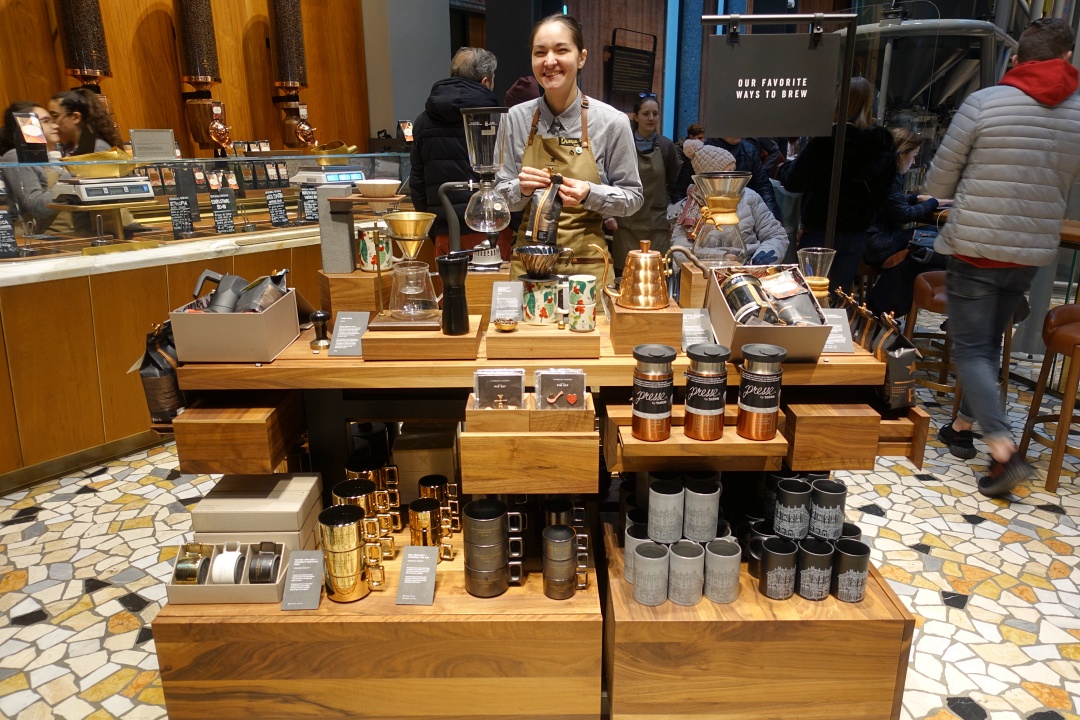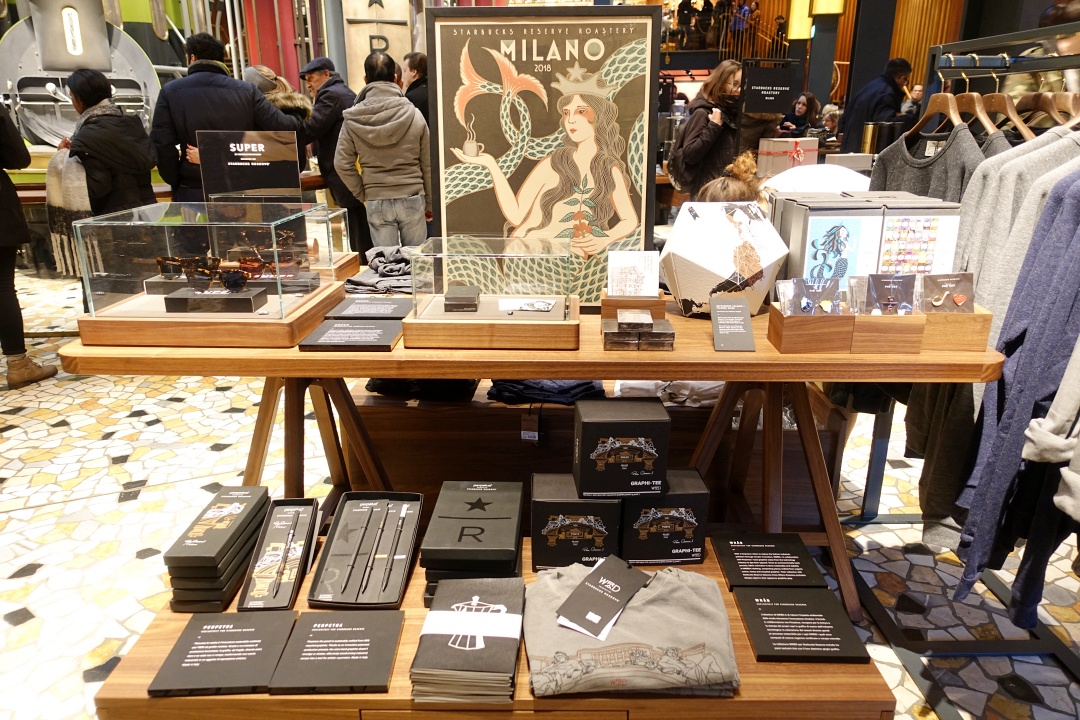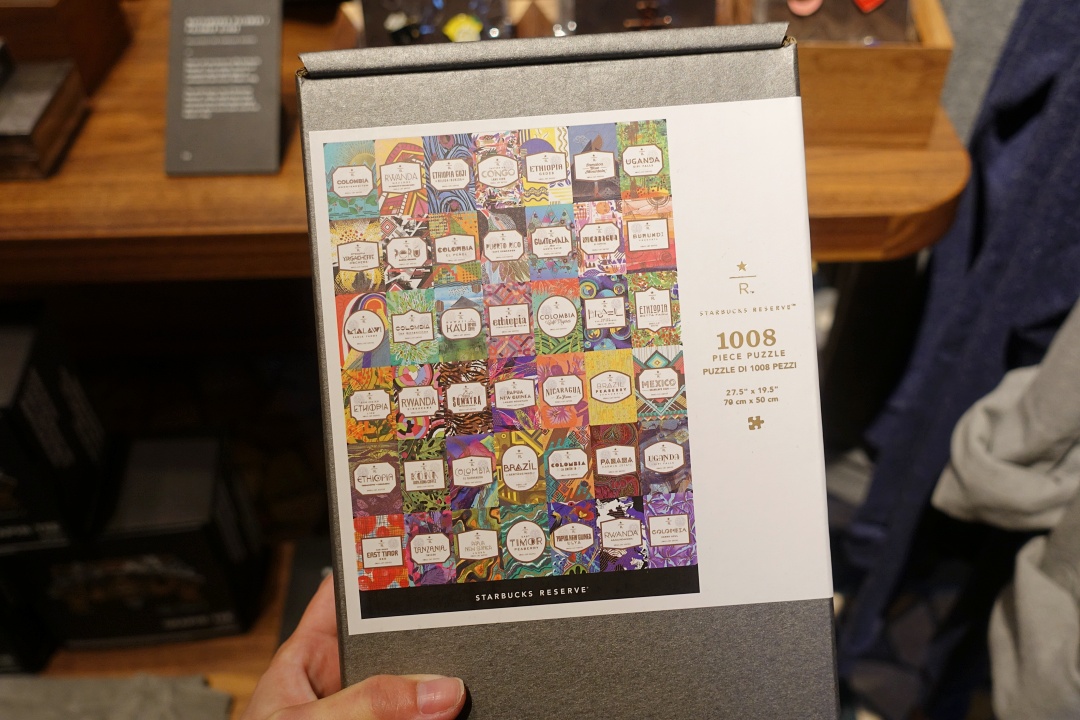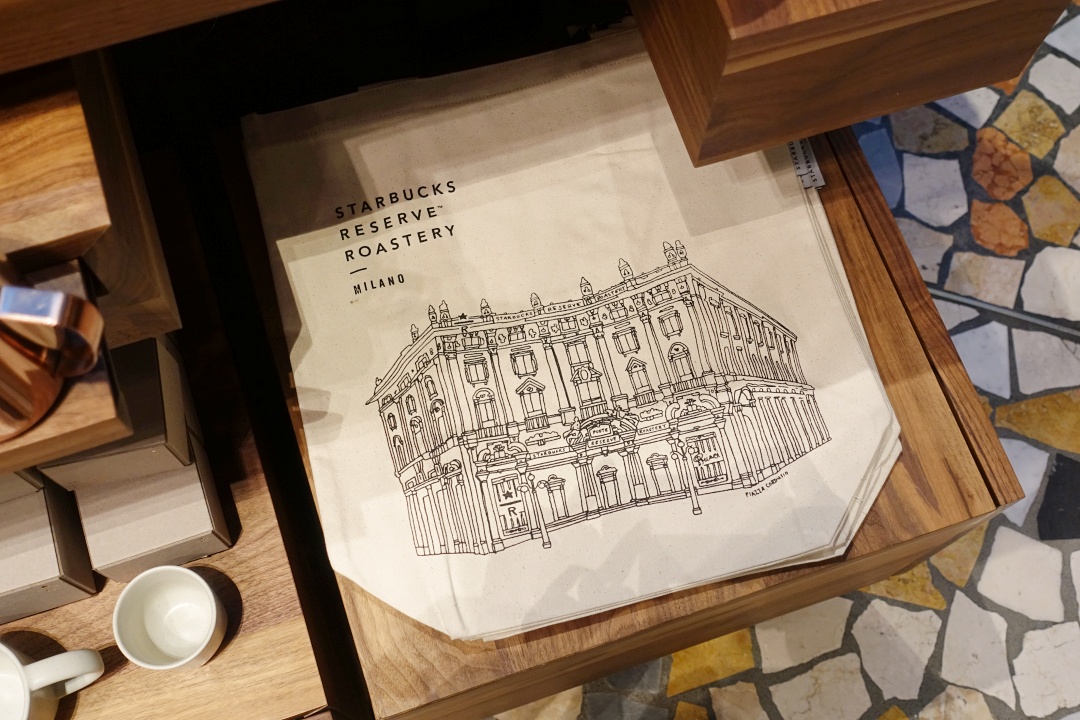 Even the merchandise they carry was different and way more unique than the usuals.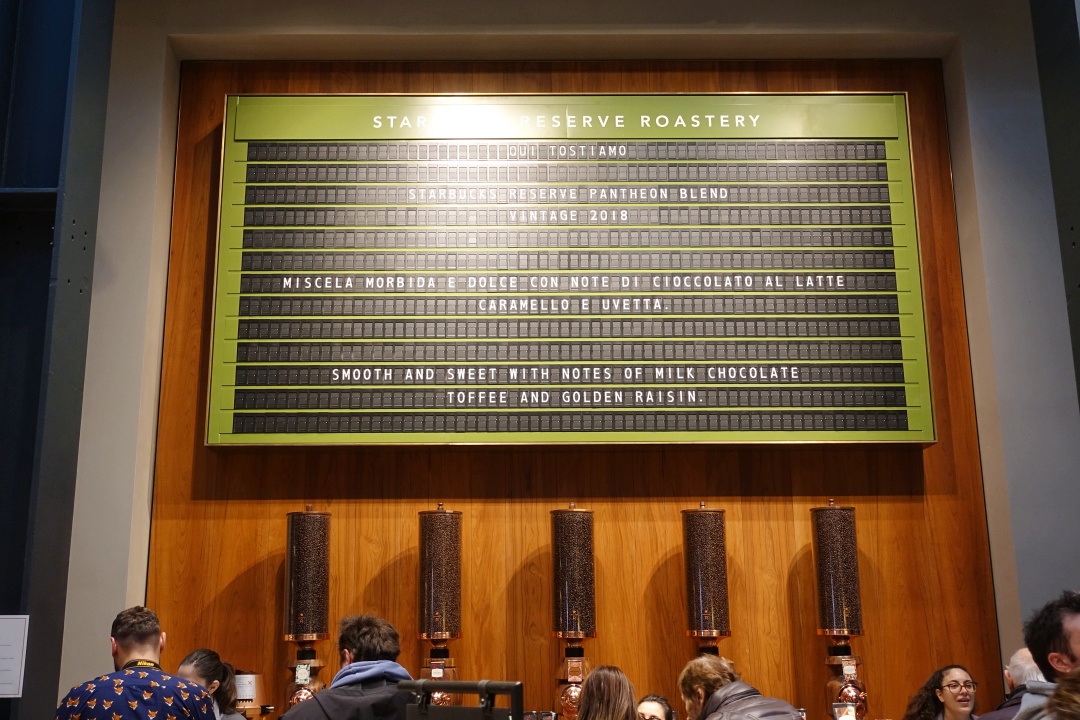 We didn't end up getting anything that day but made a plan to come back again before we leave Milan.
Leaving Starbucks, we continued walking down the street and ultimately ended up at KFC for lunch.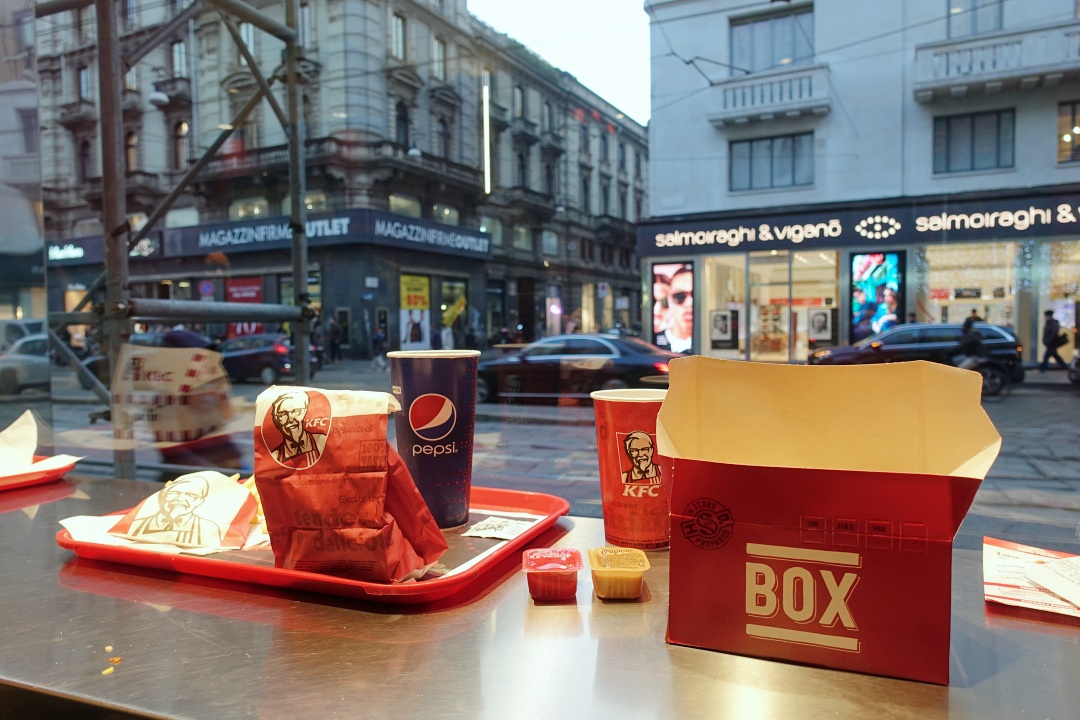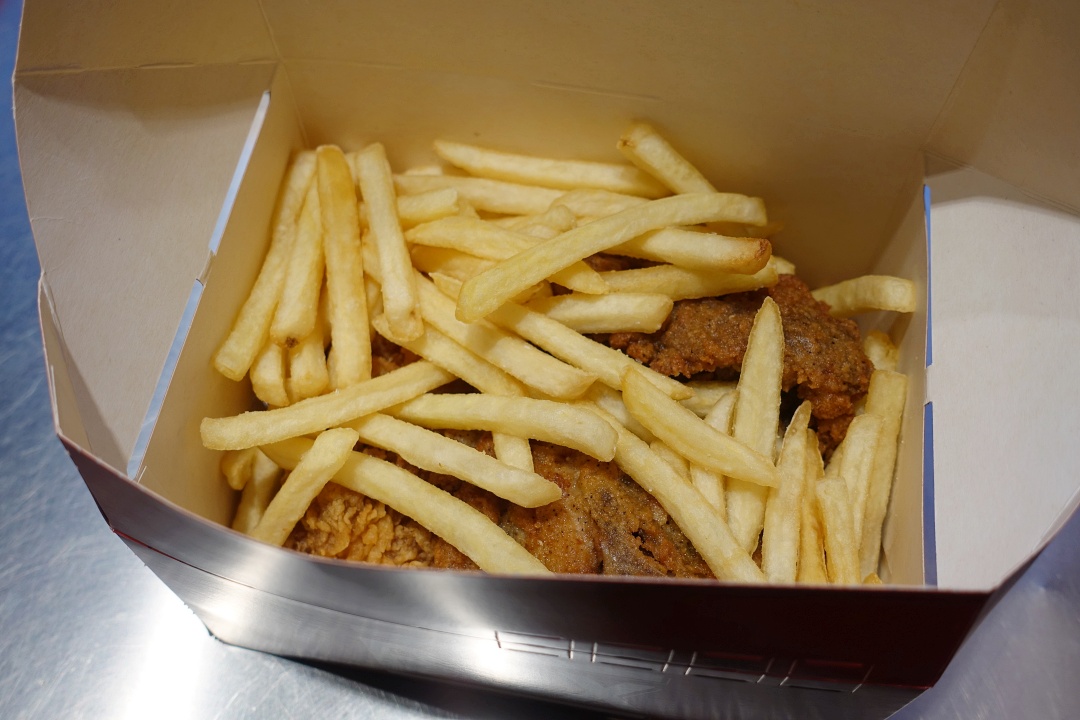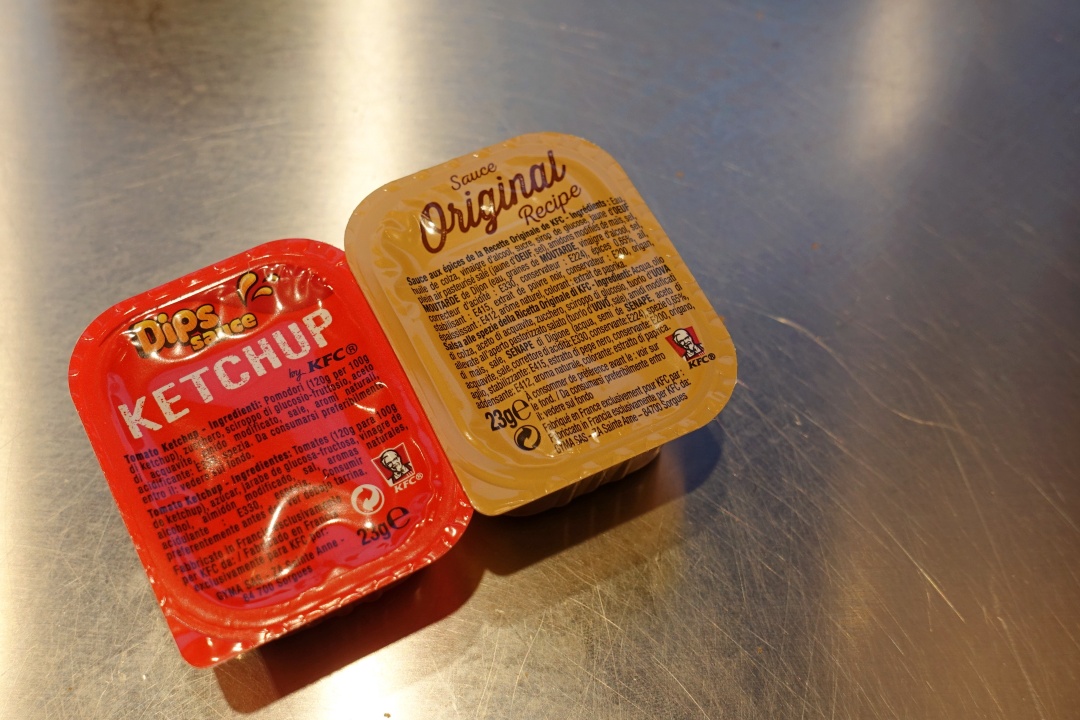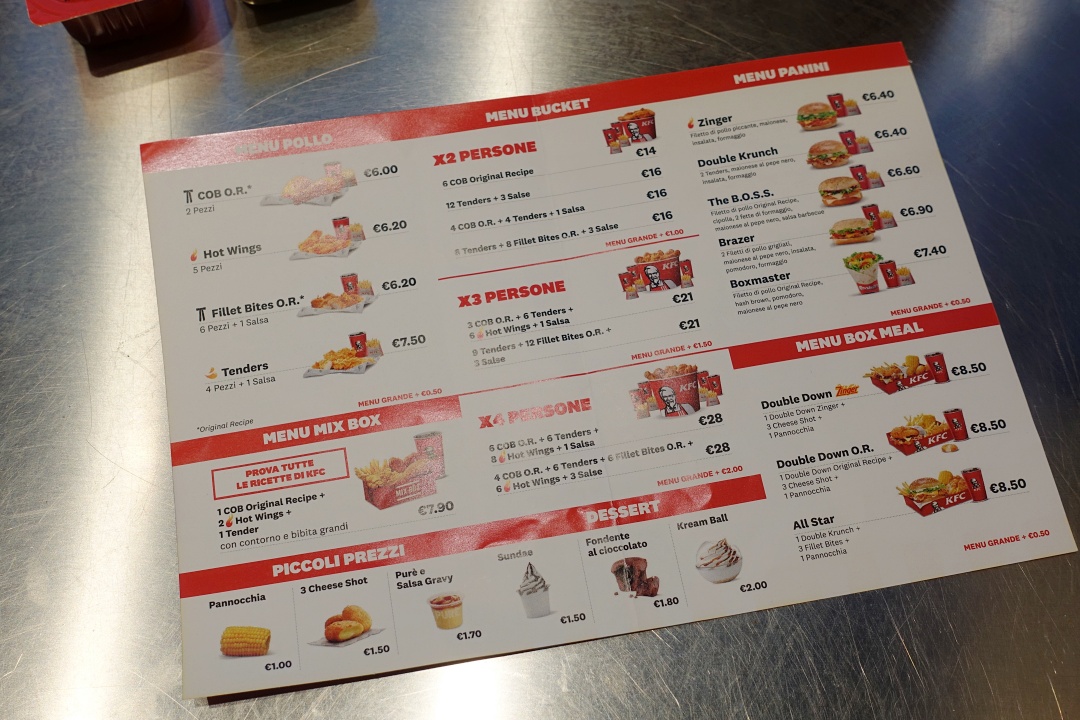 By the time we left KFC, the sky was almost dark. We then promptly made our way over to Milan Cathedral. I'm glad that everything was within walking distance, so there was no need for us to take public transport.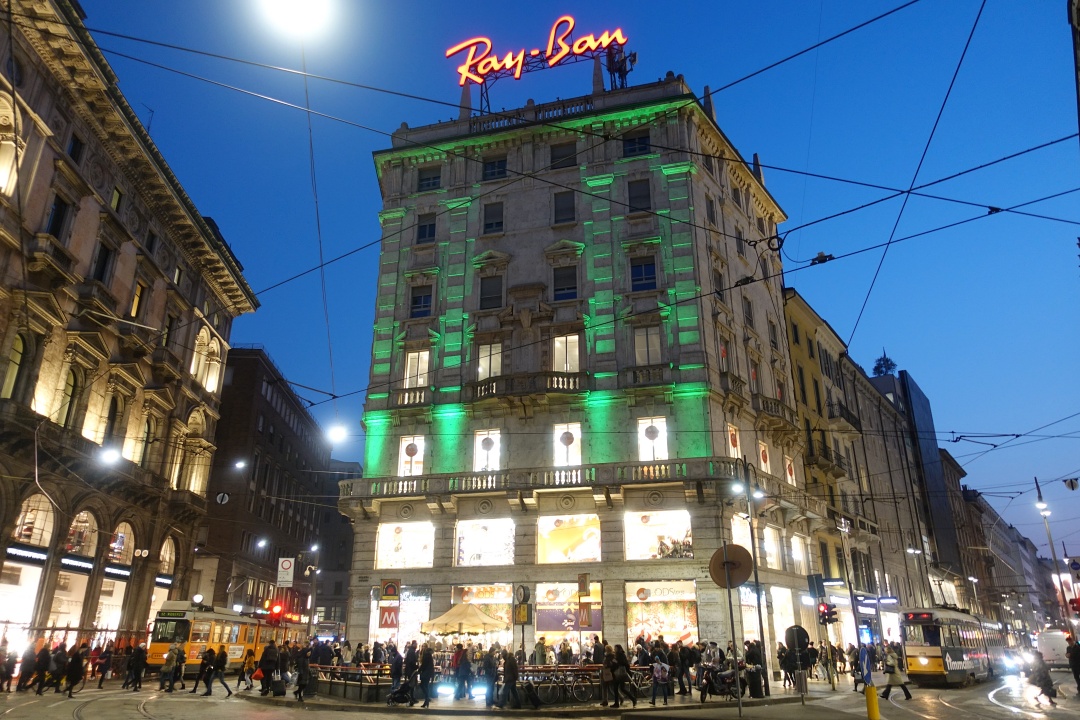 Milan Cathedral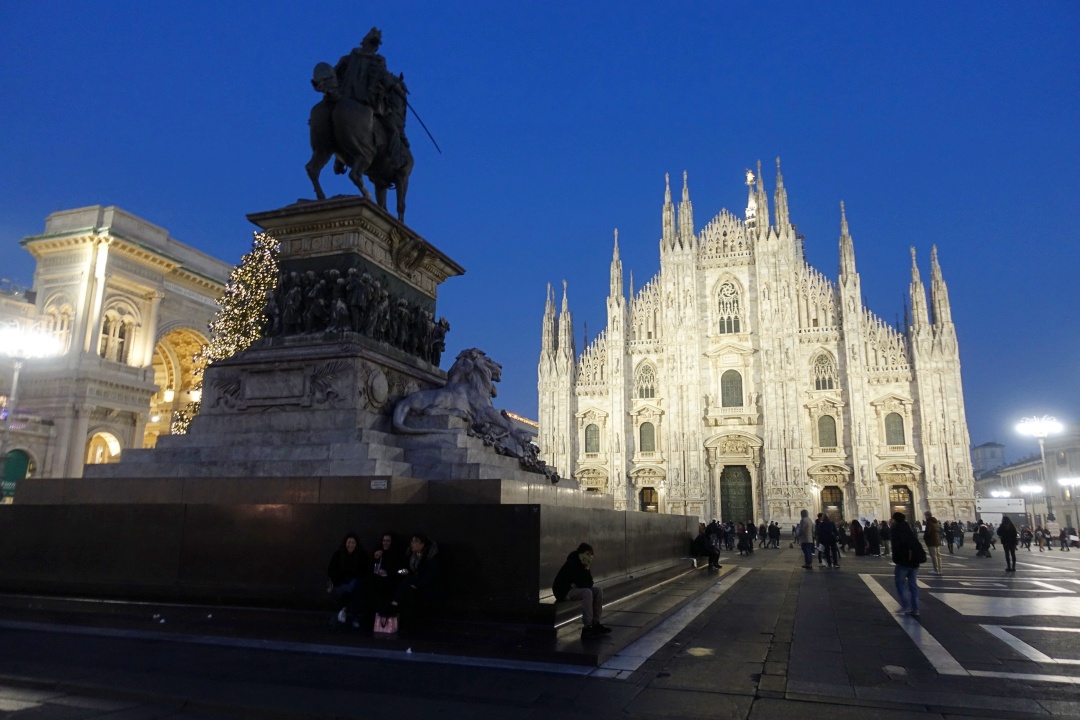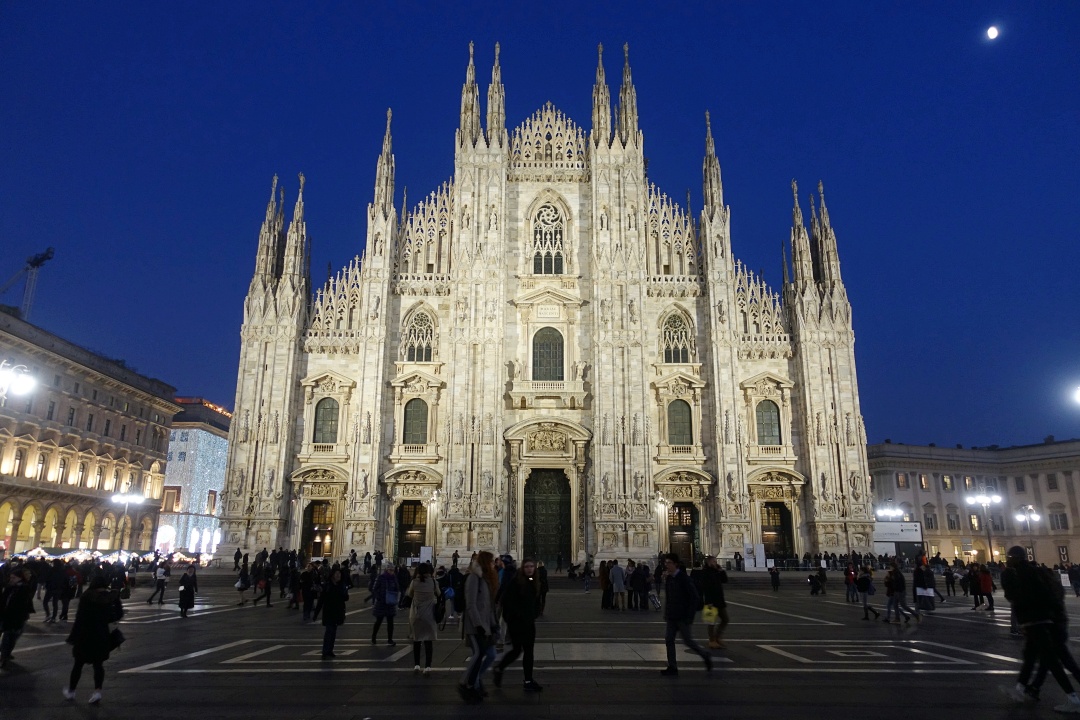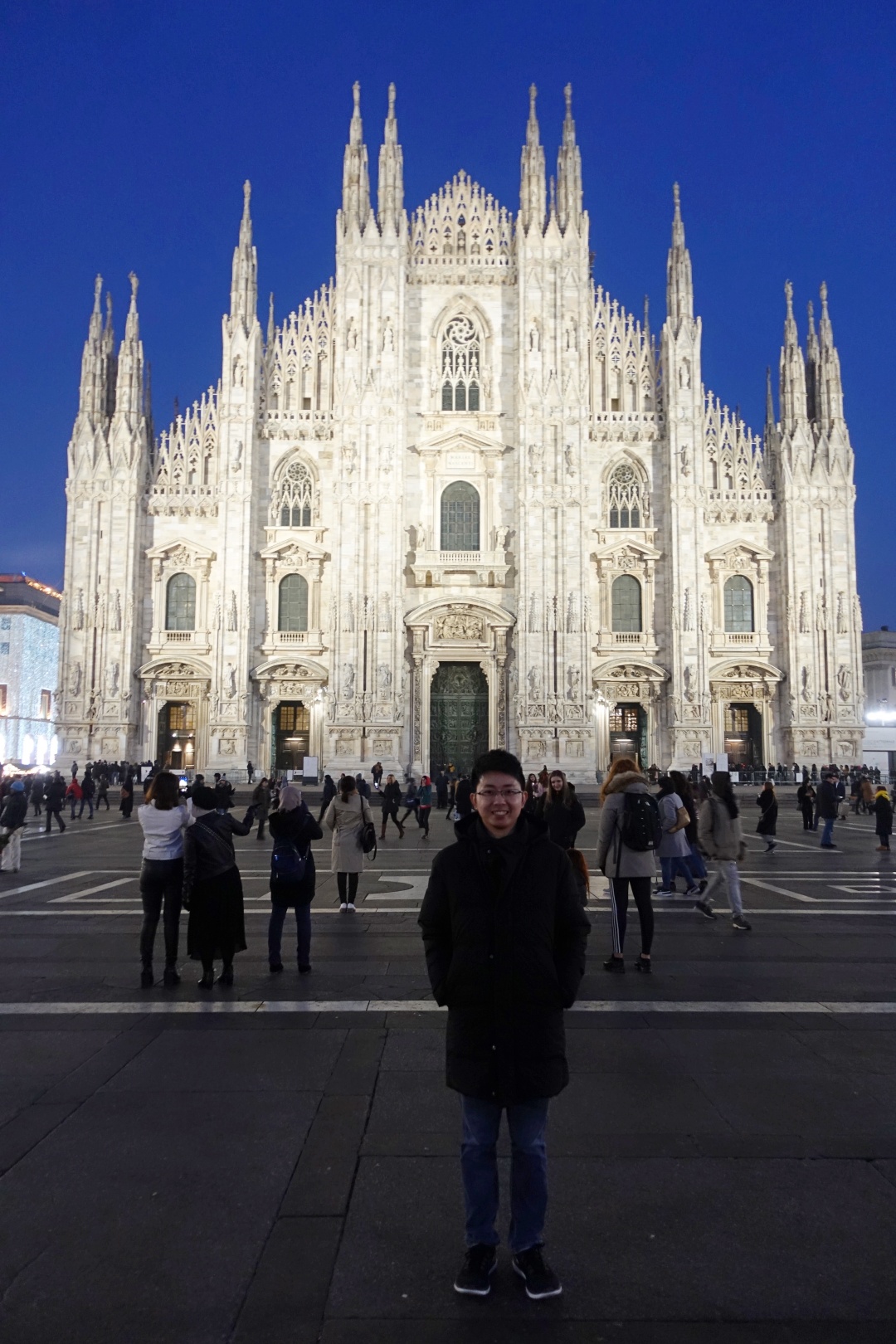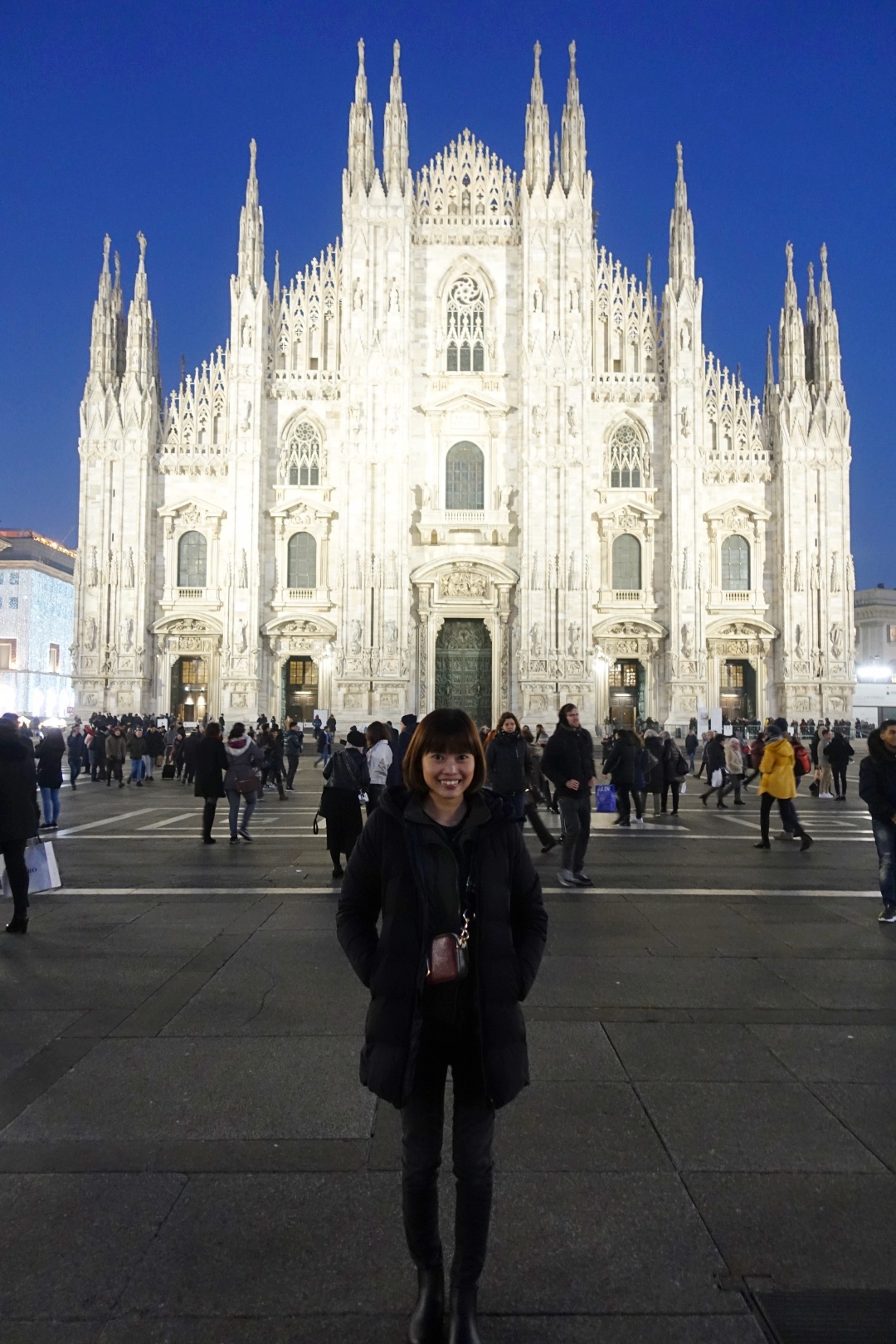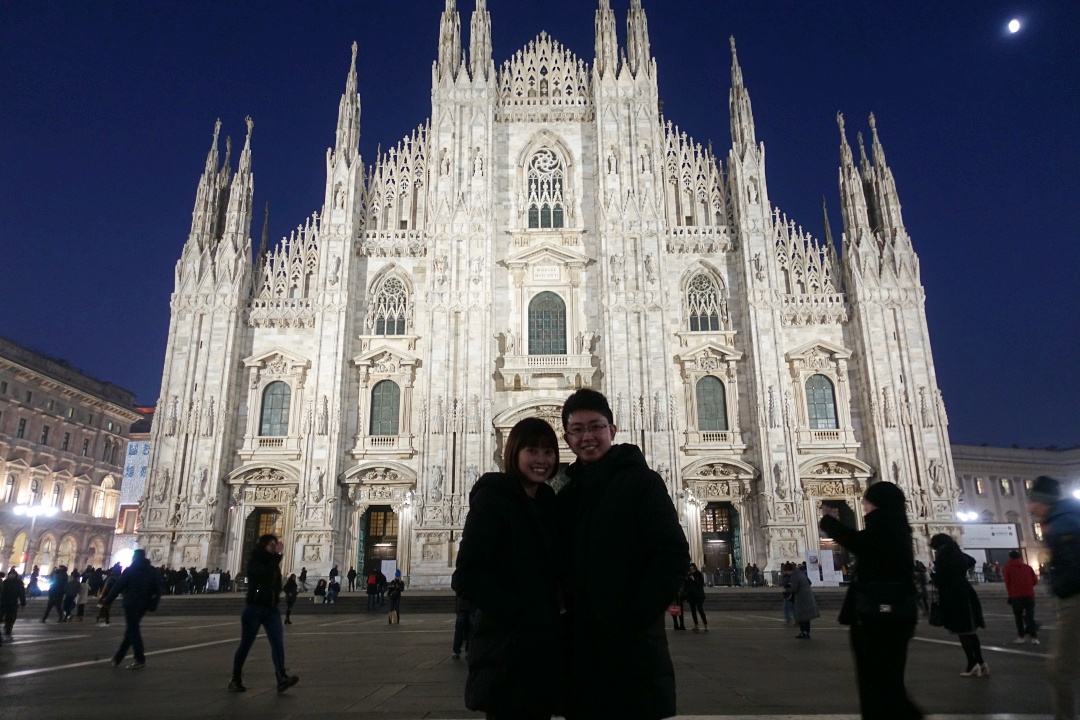 Got someone to help us with a picture outside the cathedral.
Milan Cathedral was truly stunning and beautiful! I would have spammed a lot of photos if only the weather weren't that cold. Unfortunately, it was freezing, and my hands were trembling went I press down the shuttle.
Figured this wouldn't work; since I saw there was an H&M nearby, I suggest making a run there to shop for gloves. The thing is, I did bring along gloves. It's just that mine was too thick, which made it difficult to hold on to something or take pictures while wearing them. So I decided to get new ones and ended up with gloves, a beanie and a scarf! Thankfully, prices were reasonably affordable, and these items lasted me well throughout the entire trip.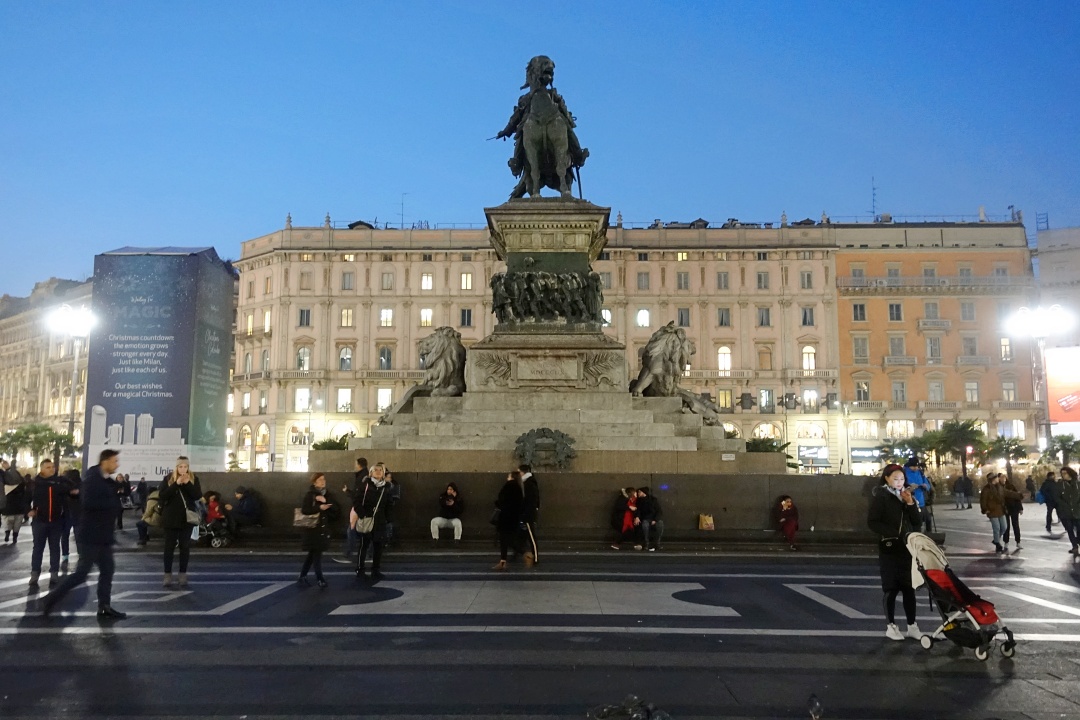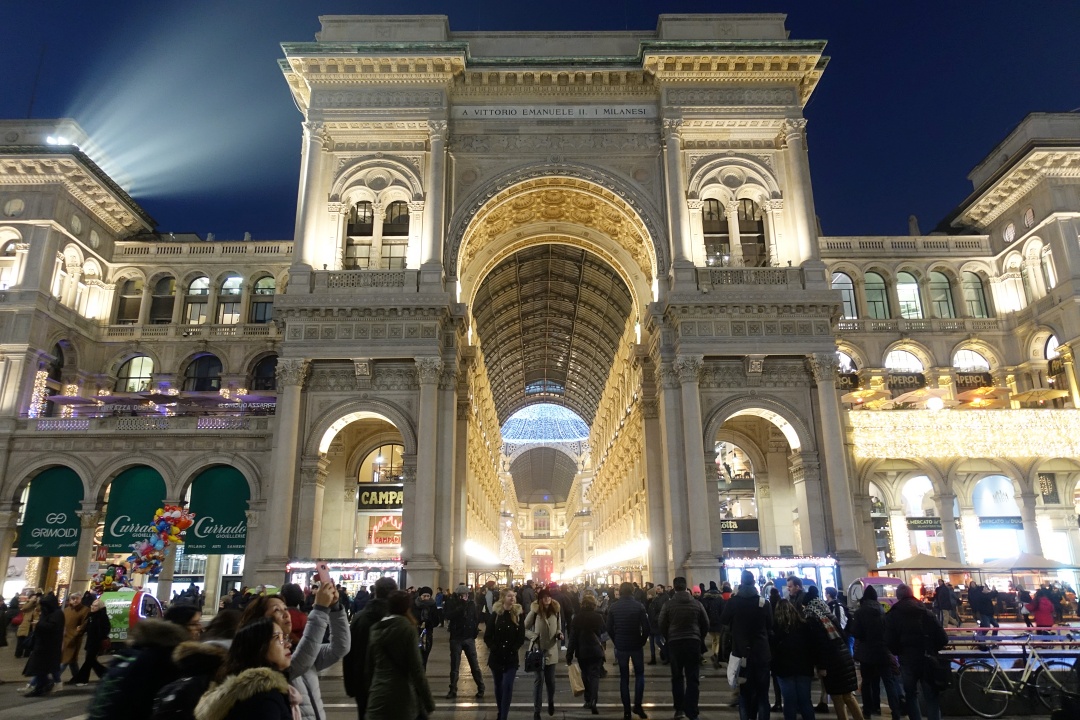 Christmas Market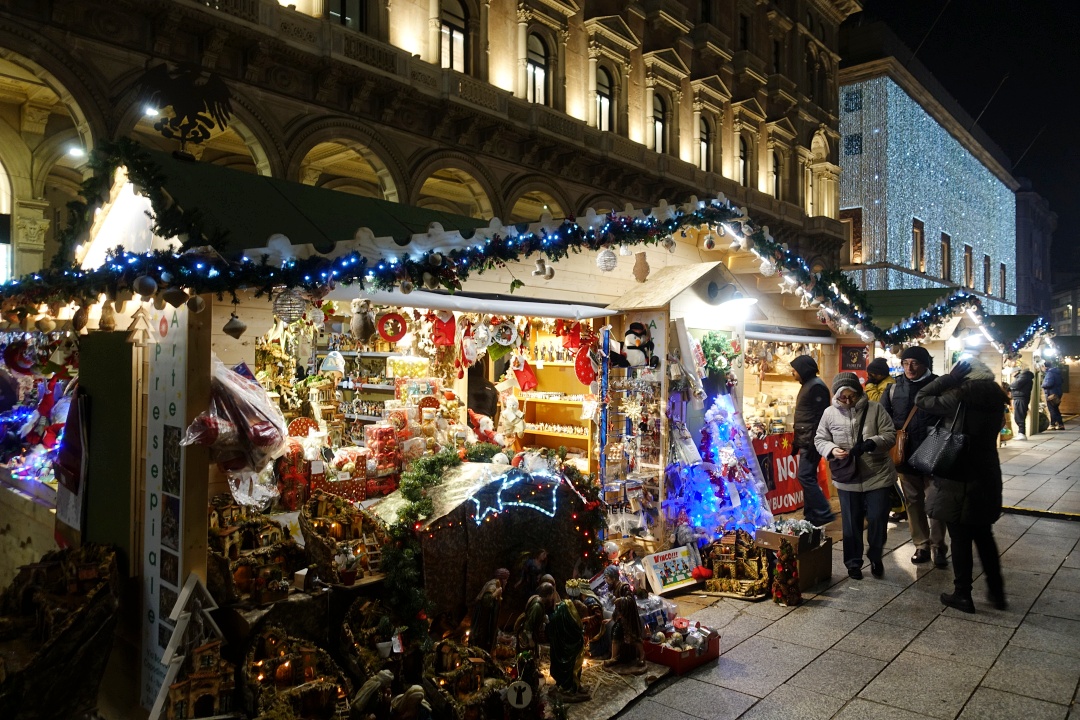 Armed with new gloves and hat, it was time to explore the Christmas Market at Piazza Duomo!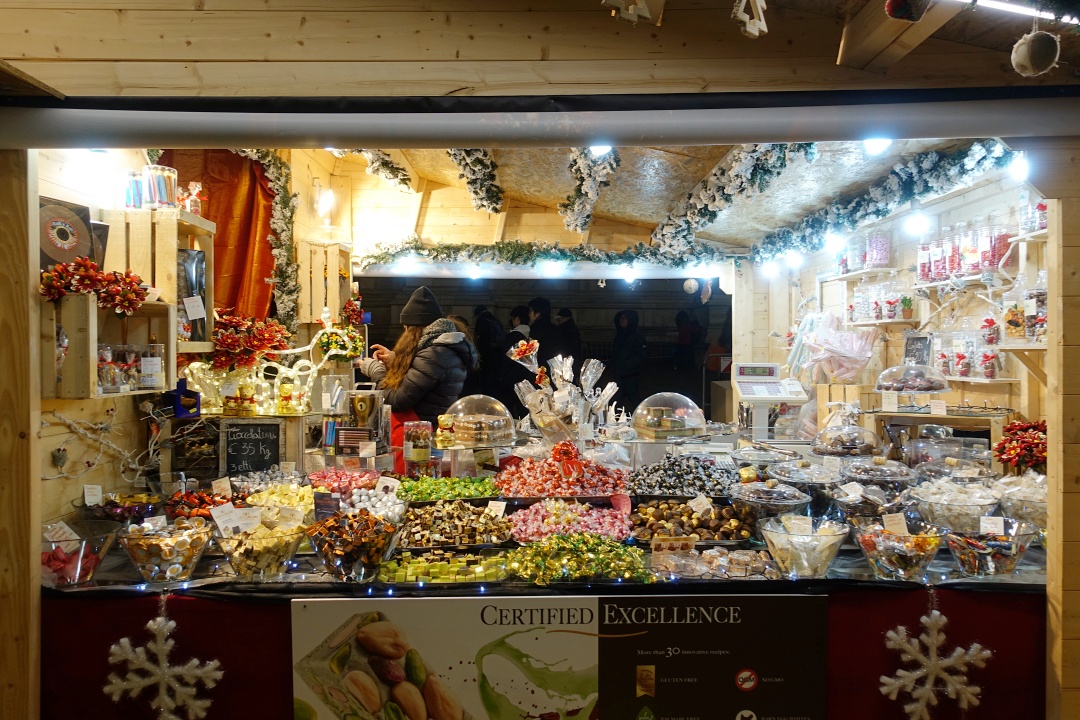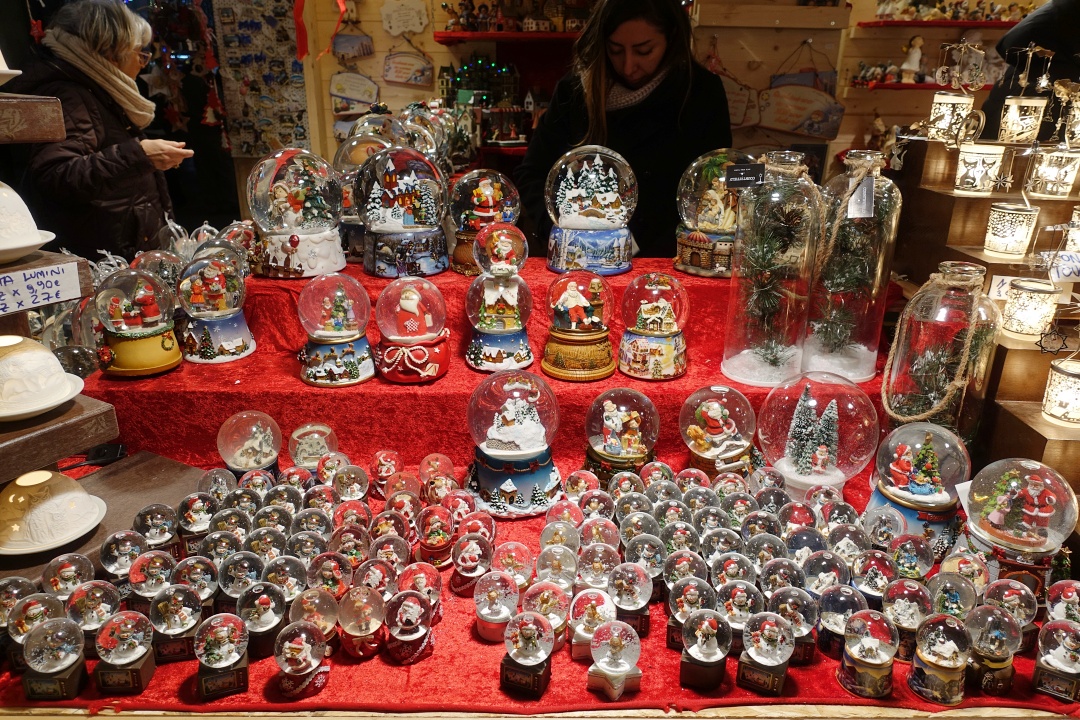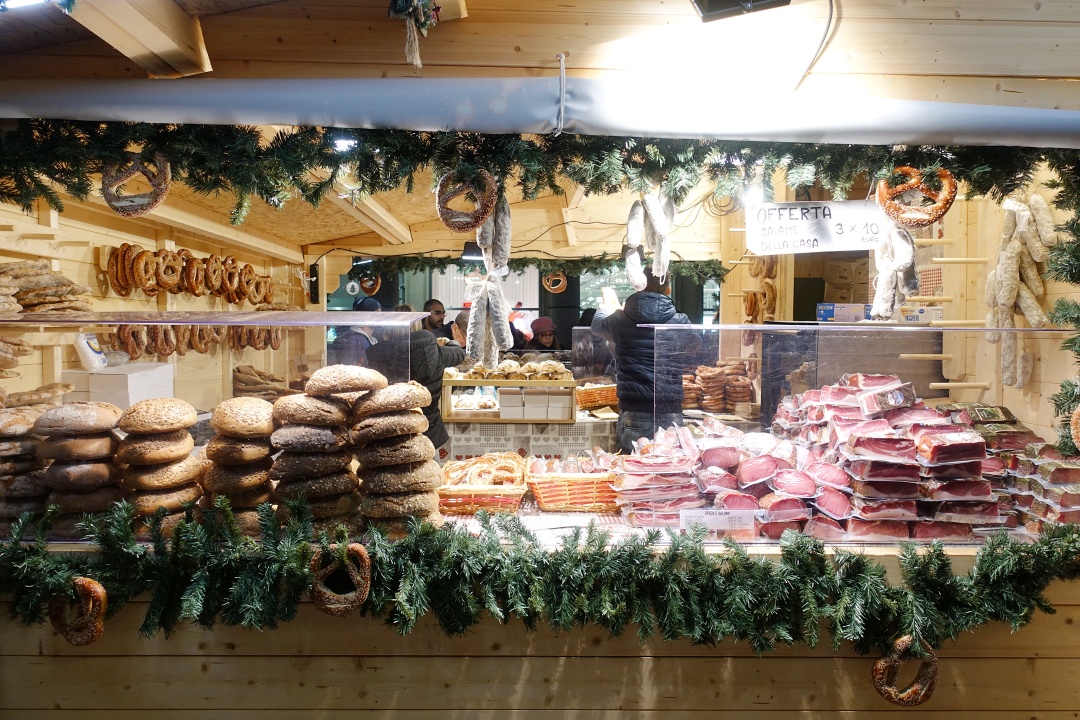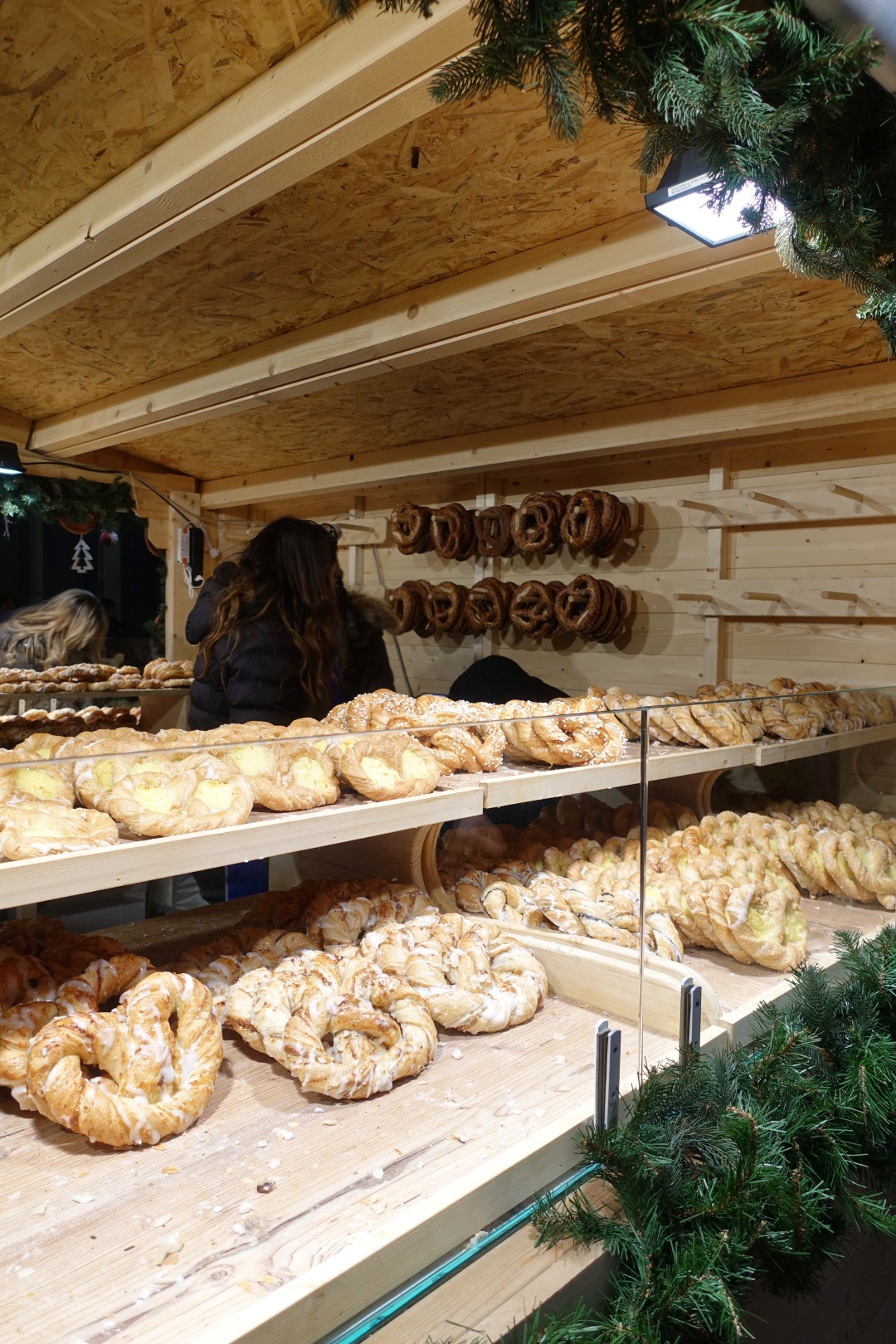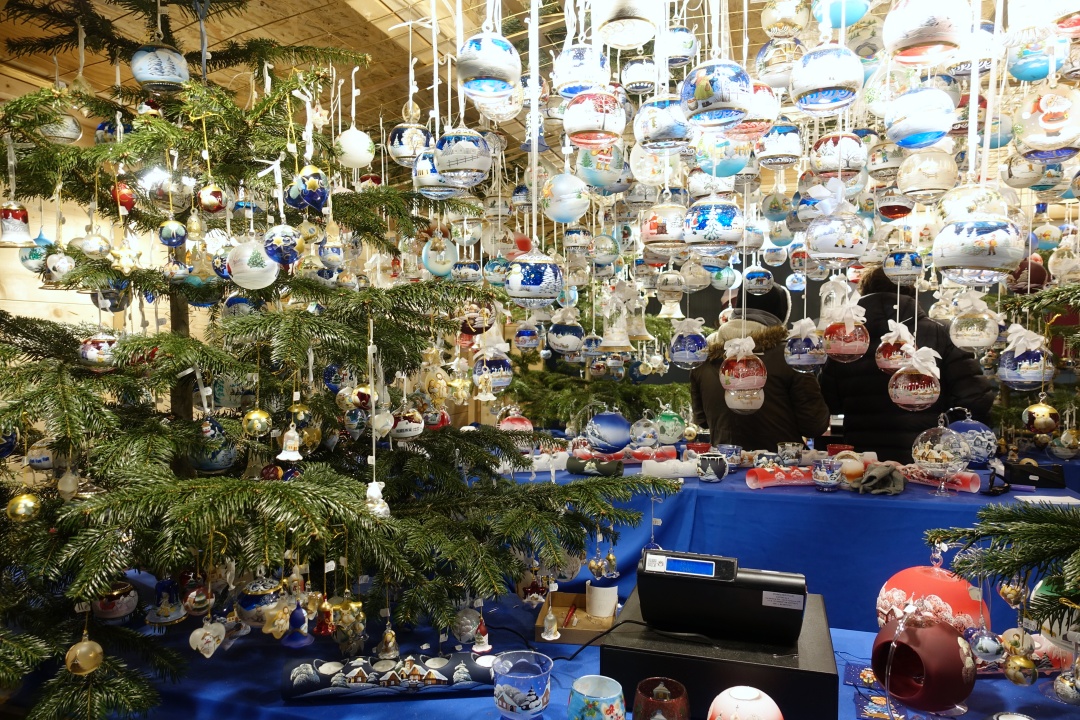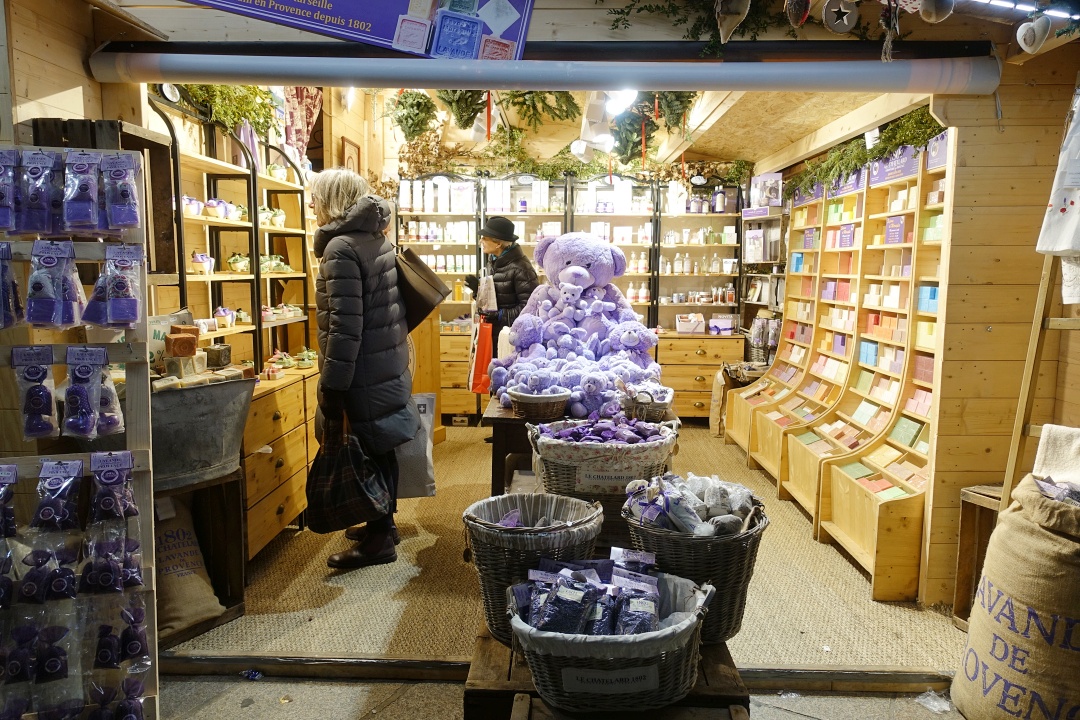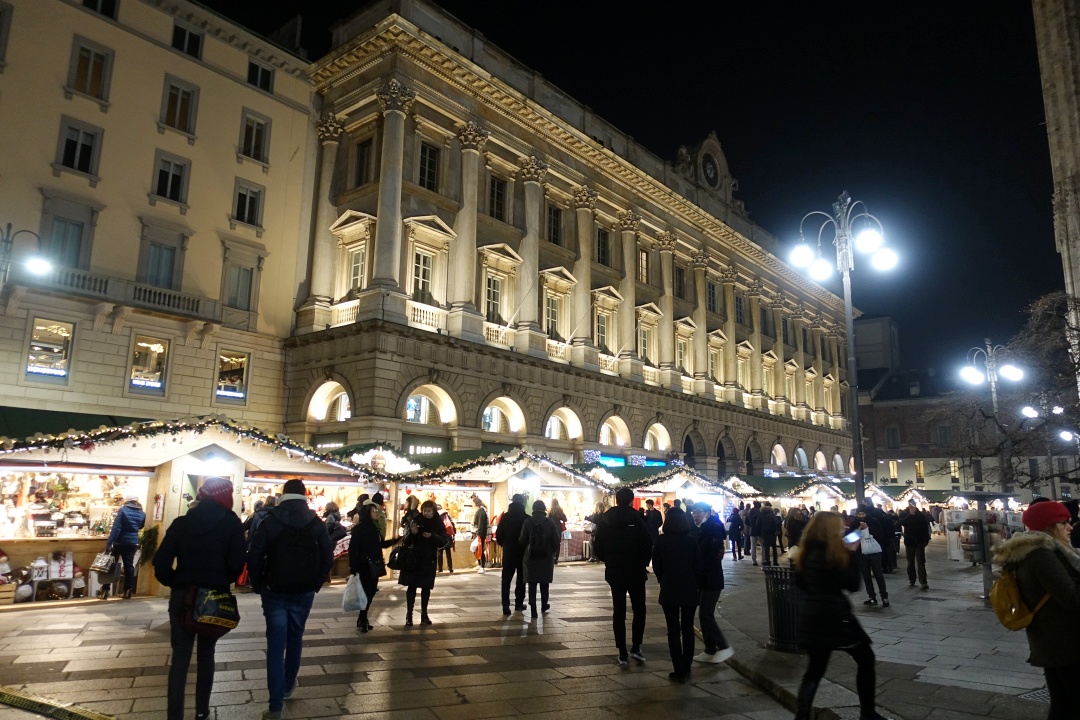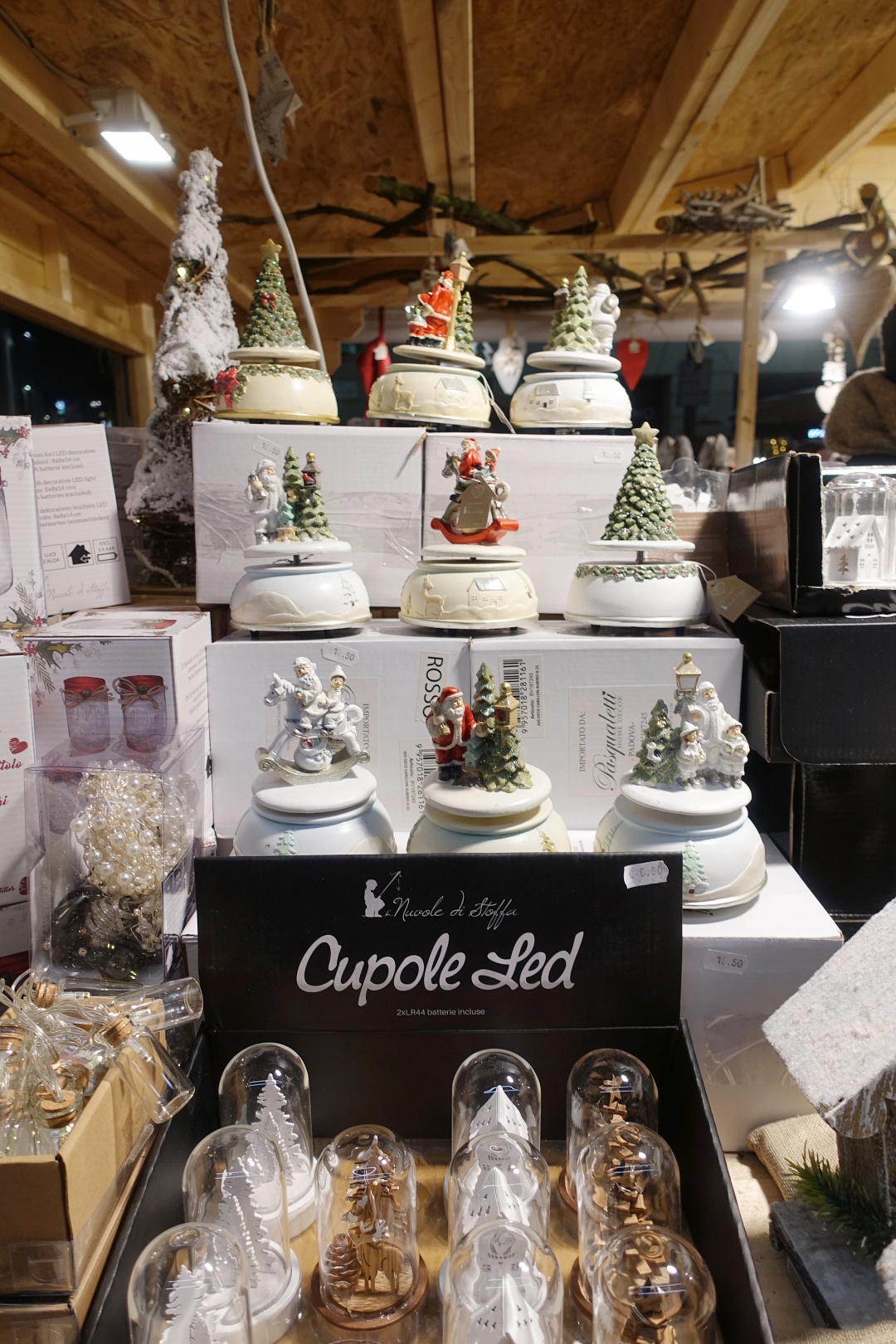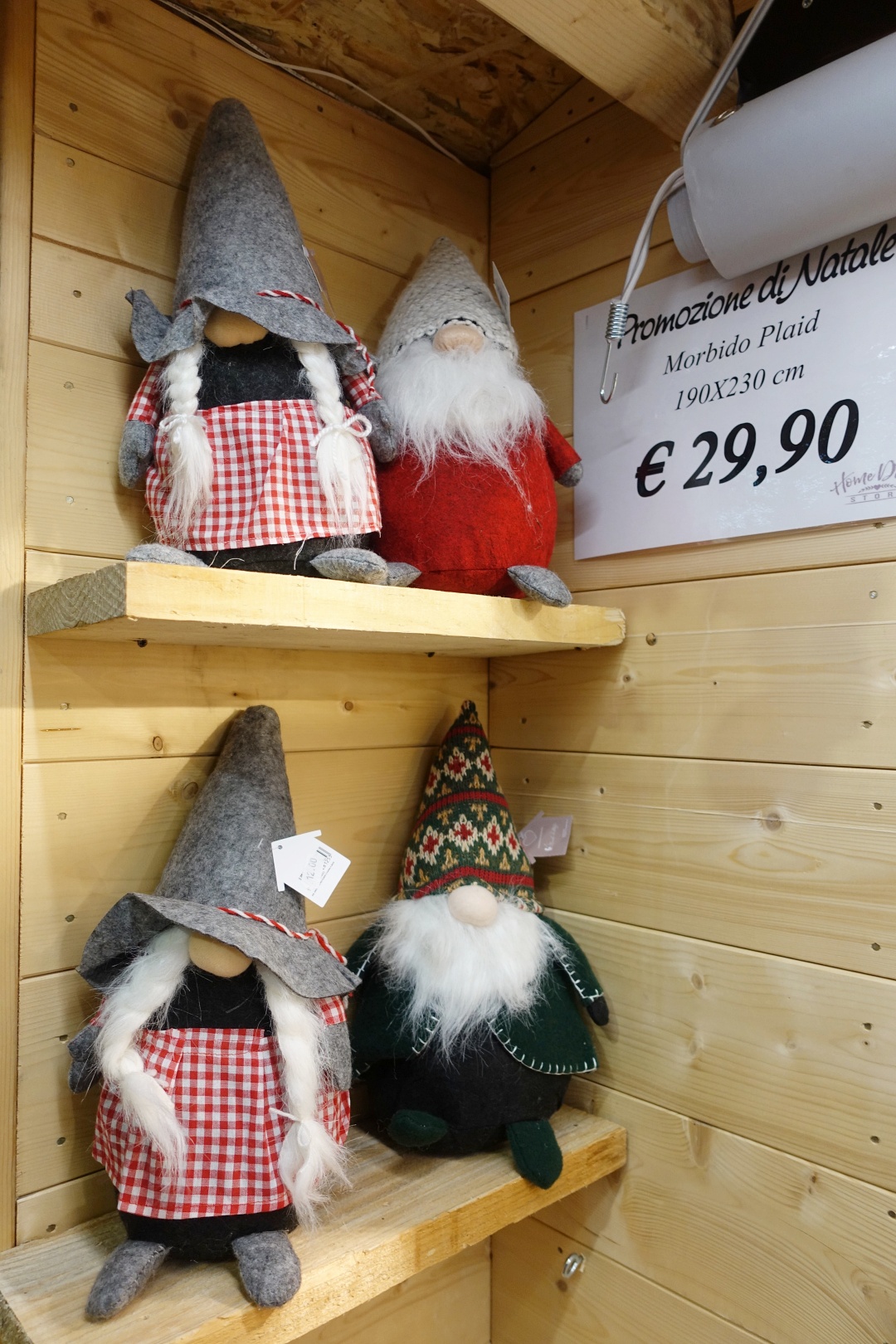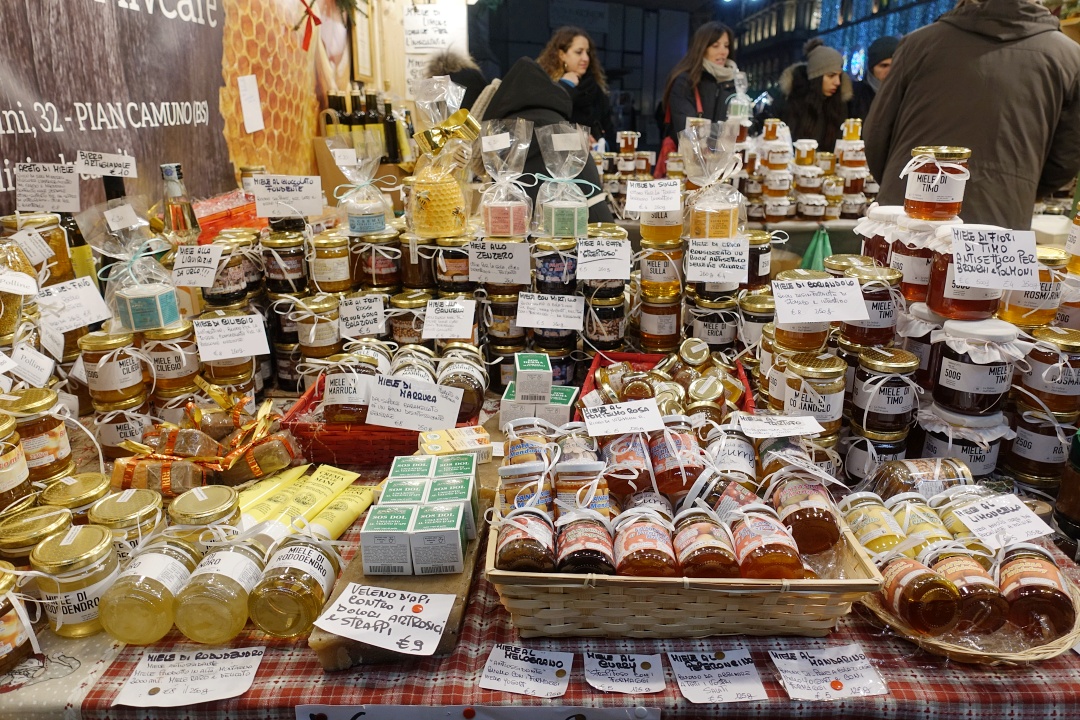 It was my first time spending Christmas in Europe, and the whole atmosphere and experience were just so different. It was so interesting checking out the booths and seeing what the things available for sale were. While I didn't end getting anything, it was a truly enjoyable experience.
The Disney Store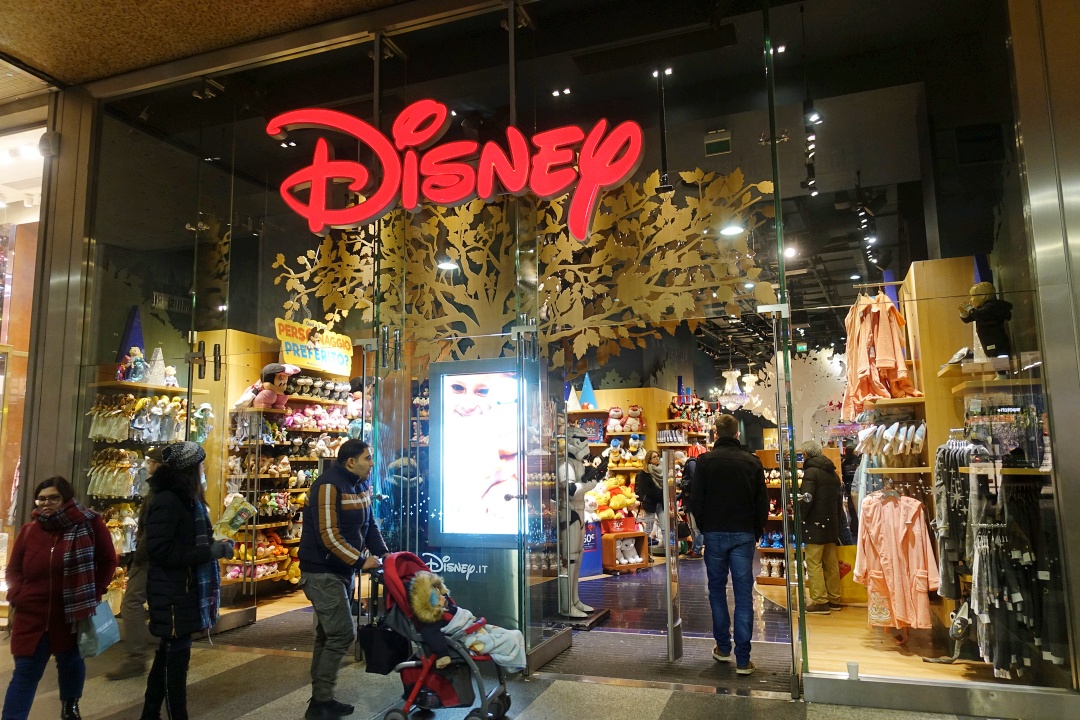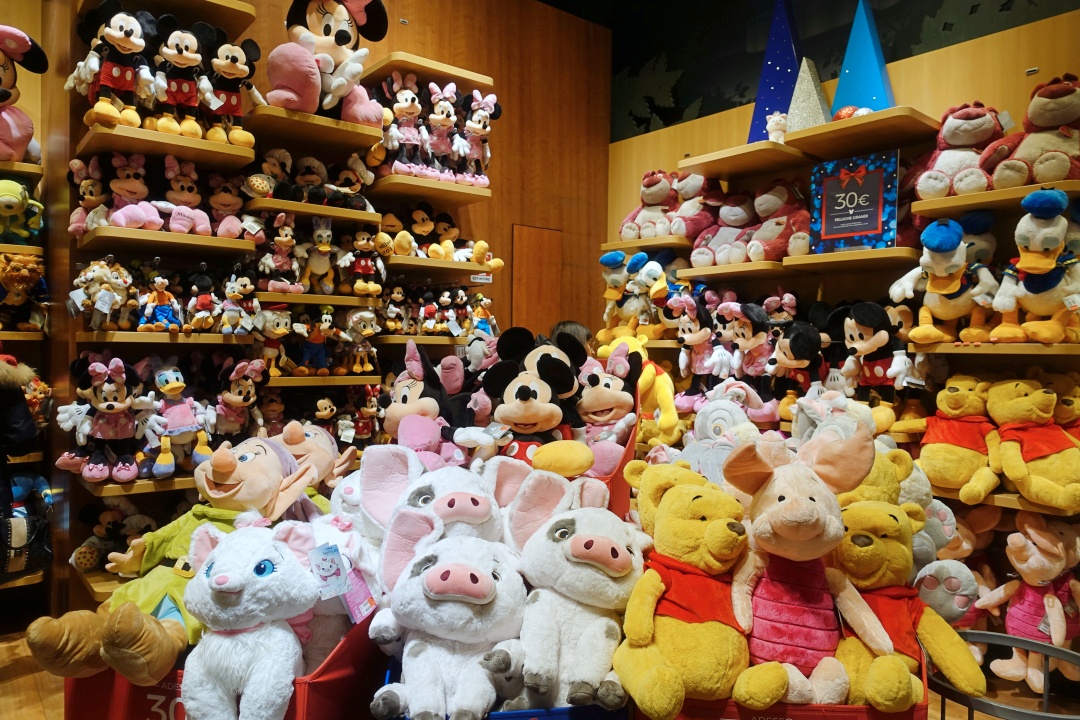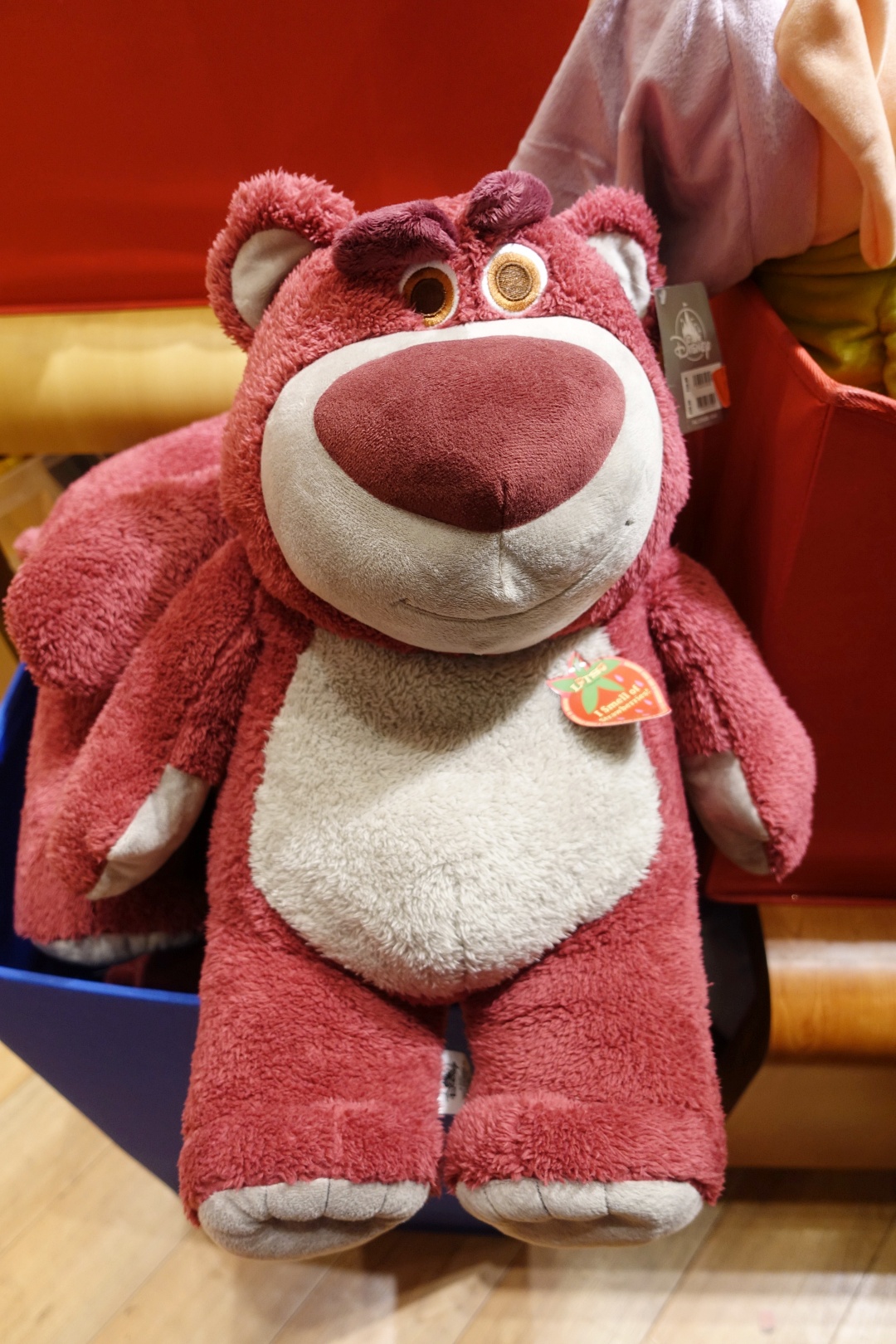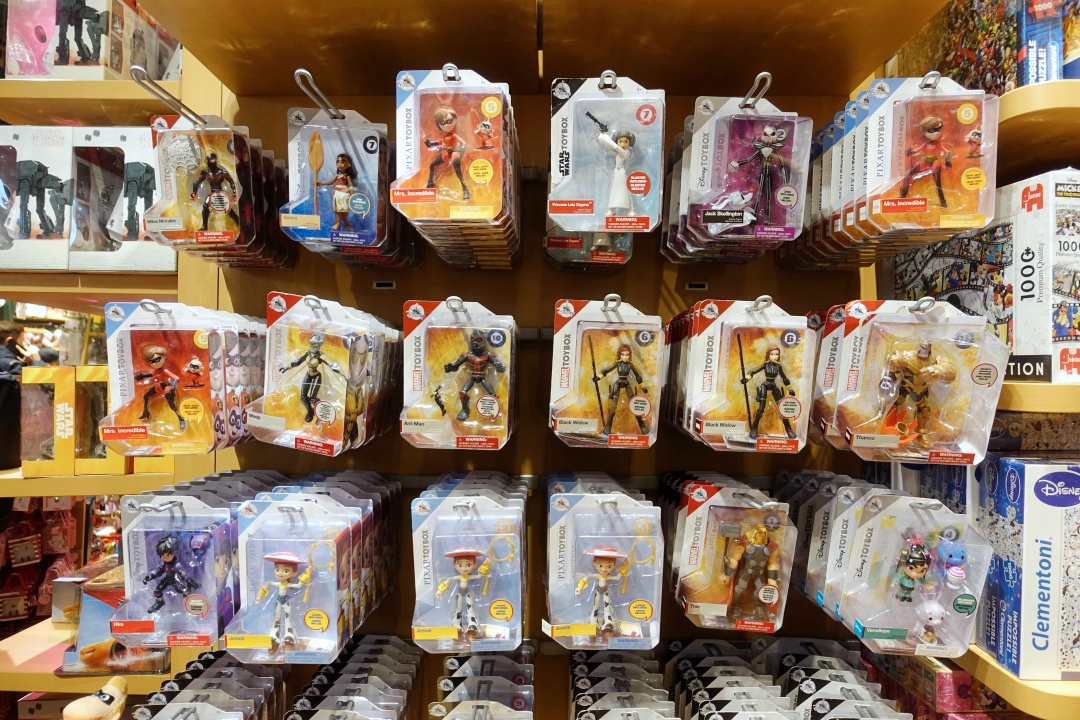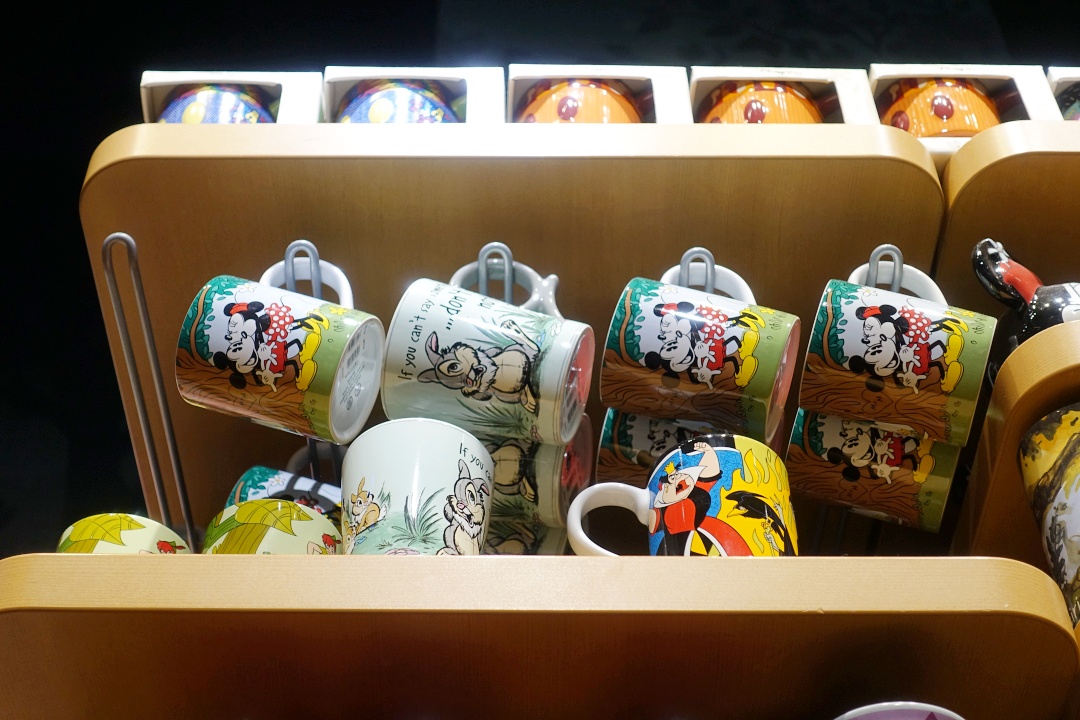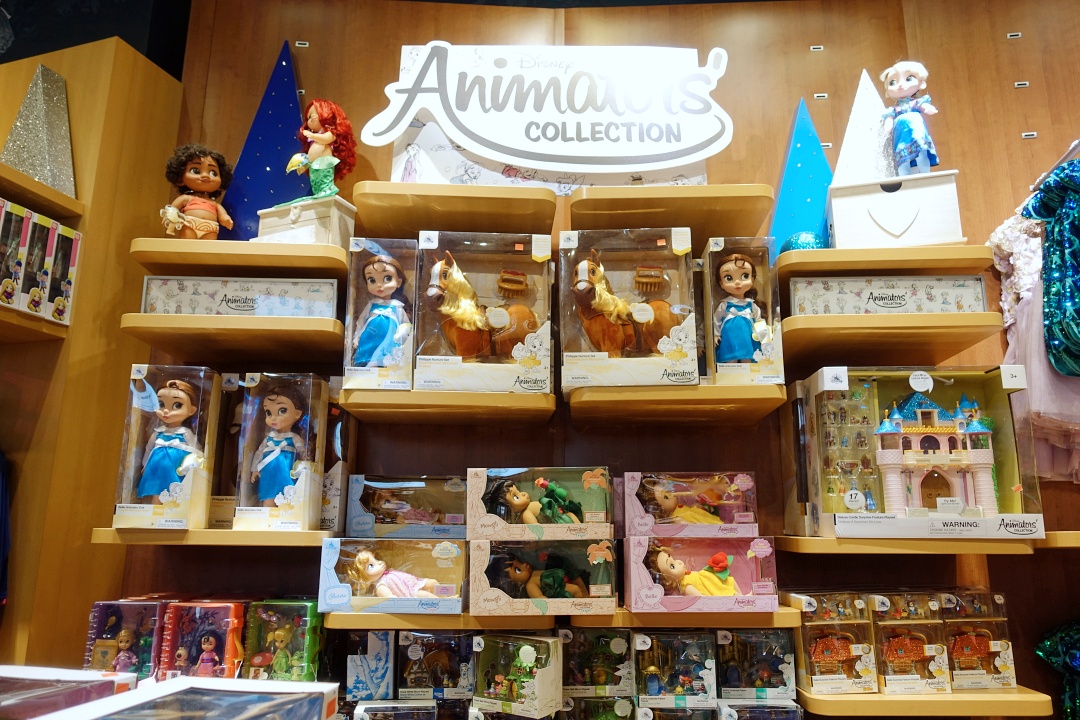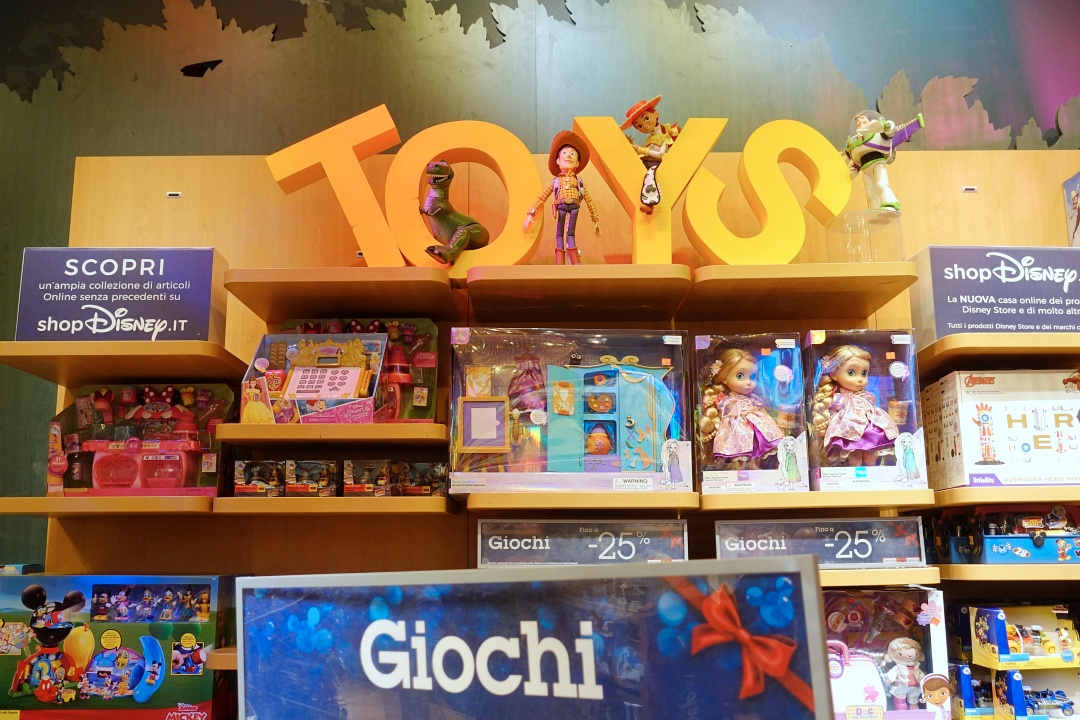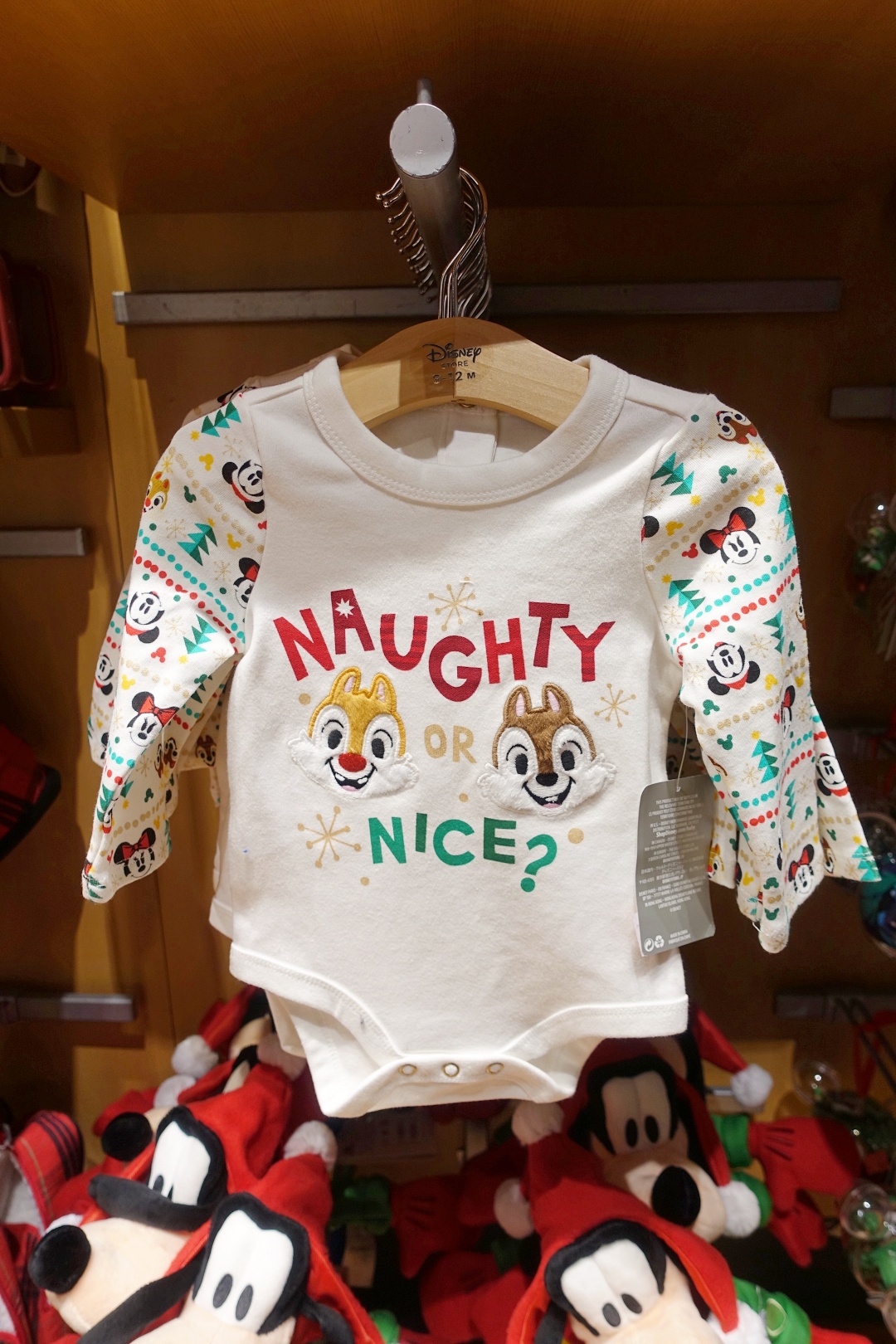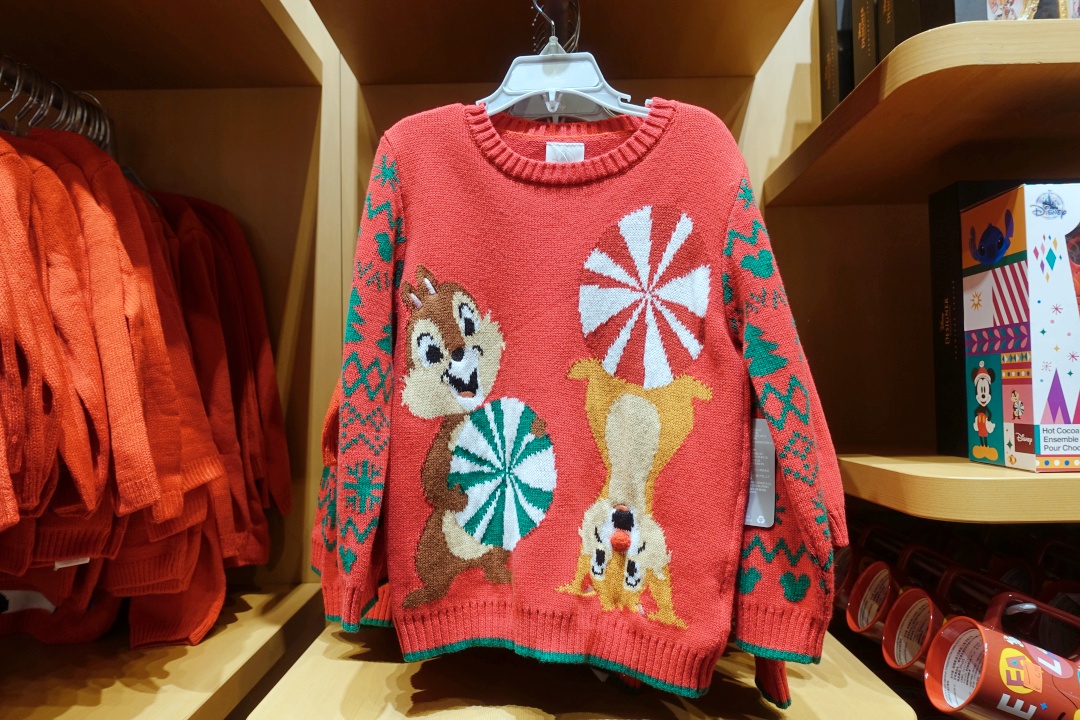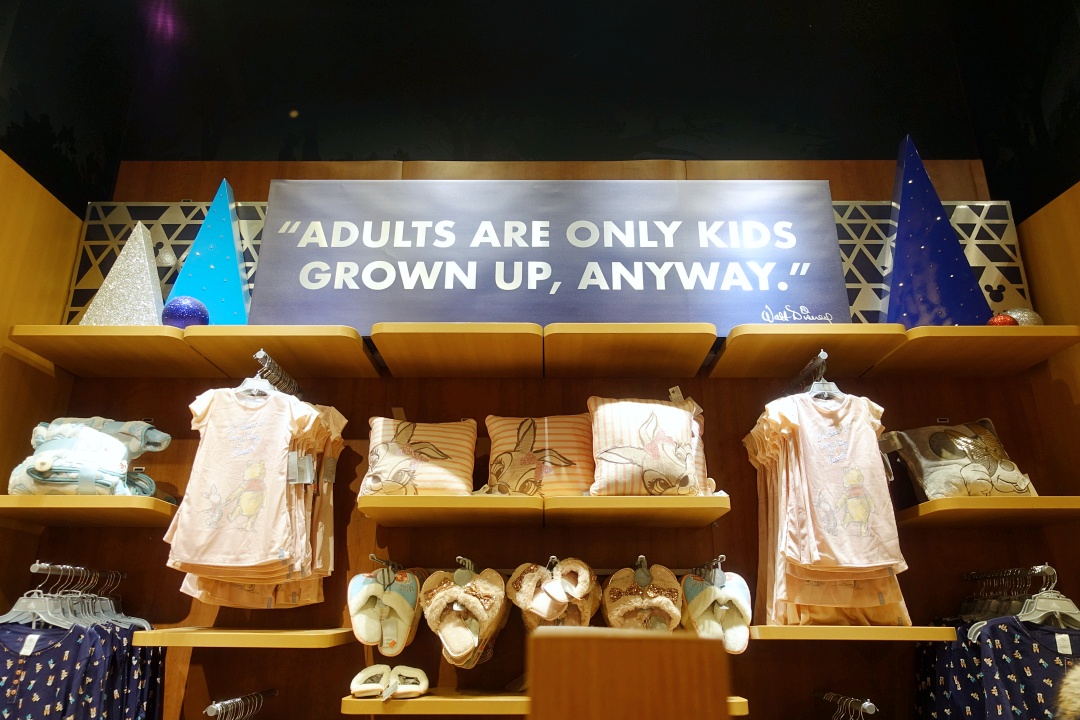 Stumbled upon a Disney Store so needless to say, I've to go inside! I recalled going to the Disney Store in Rome, and it was somewhat disappointing. The one in Milan was slightly better, even though I didn't end up getting anything from there. I supposed I had done my fair share of Disney shopping in Japan, so there wasn't anything I like to get in Milan.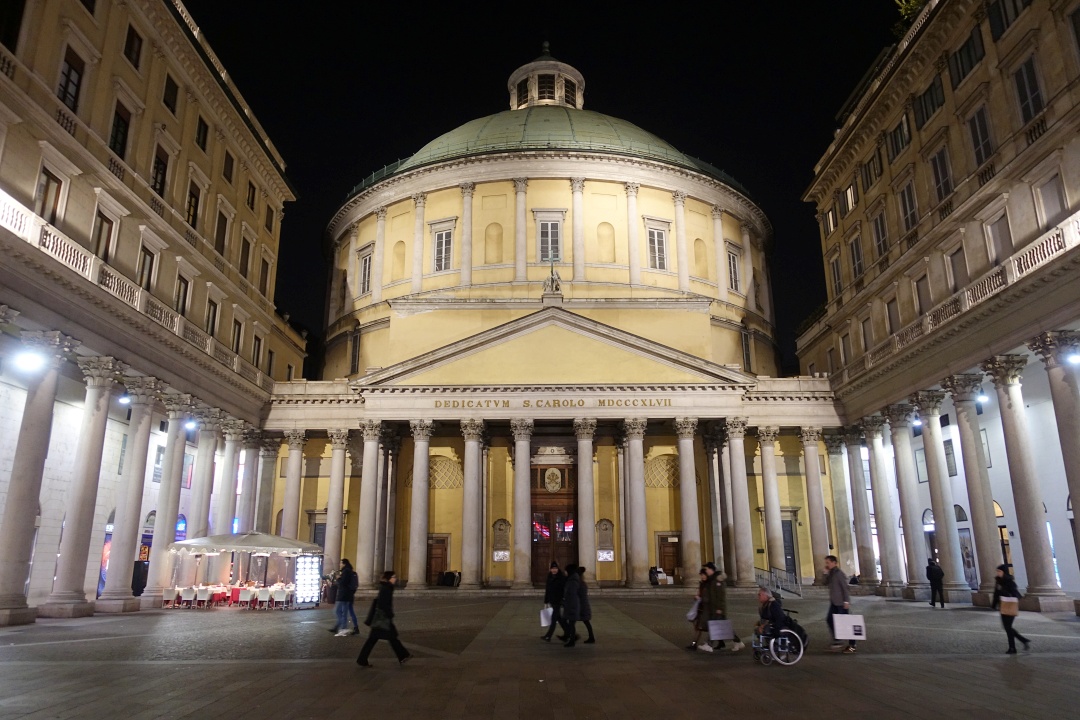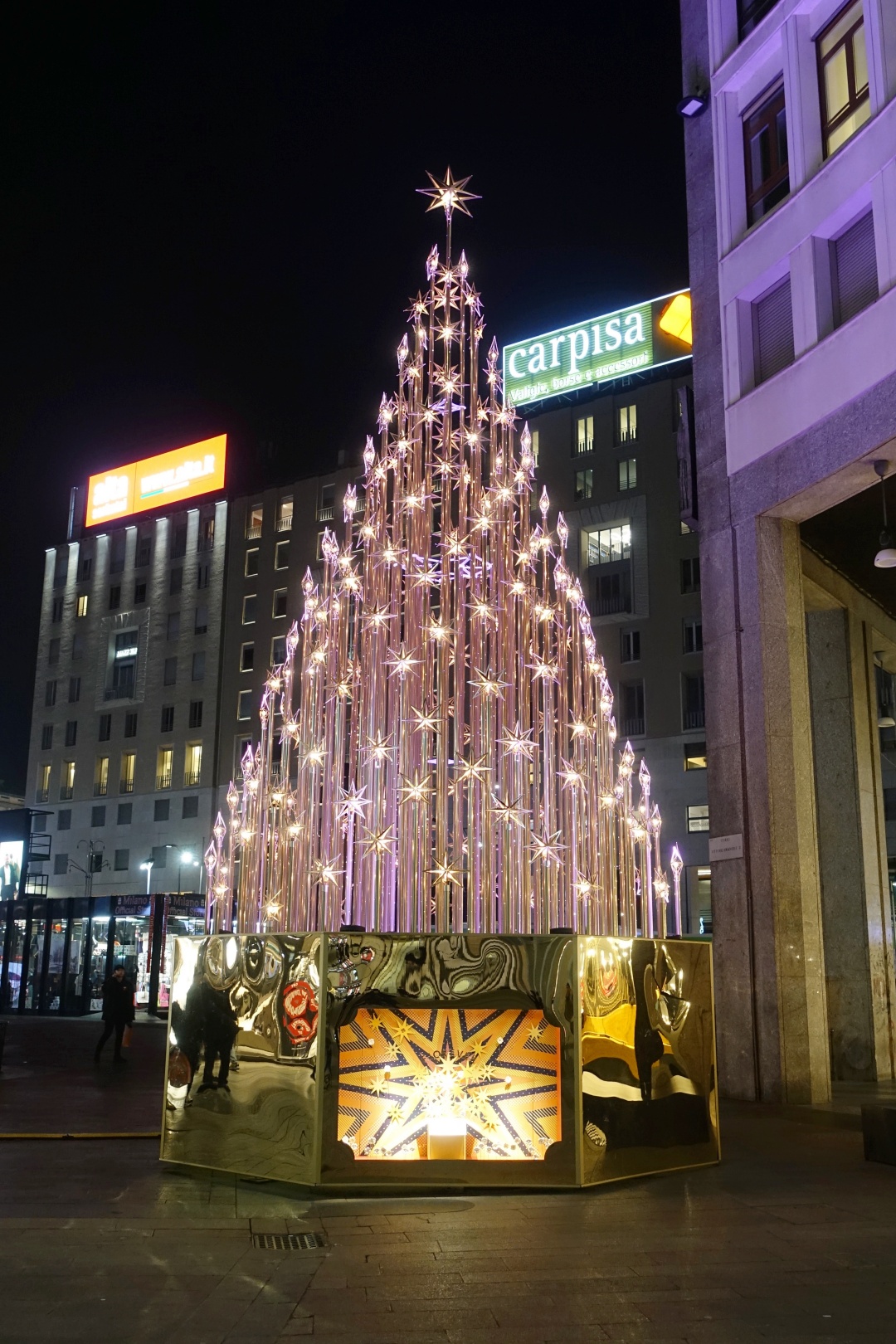 We subsequently also came across Urban Outfitters, but the store was closing when we arrived; hence we didn't get to go inside. We did, however, go into & Another Stories, but the things there didn't appeal to me. Lots of clothing, with a section for makeup and accessories.
Seeing that some of the shops were closing, we decided to make our way back to the hotel and call it a night.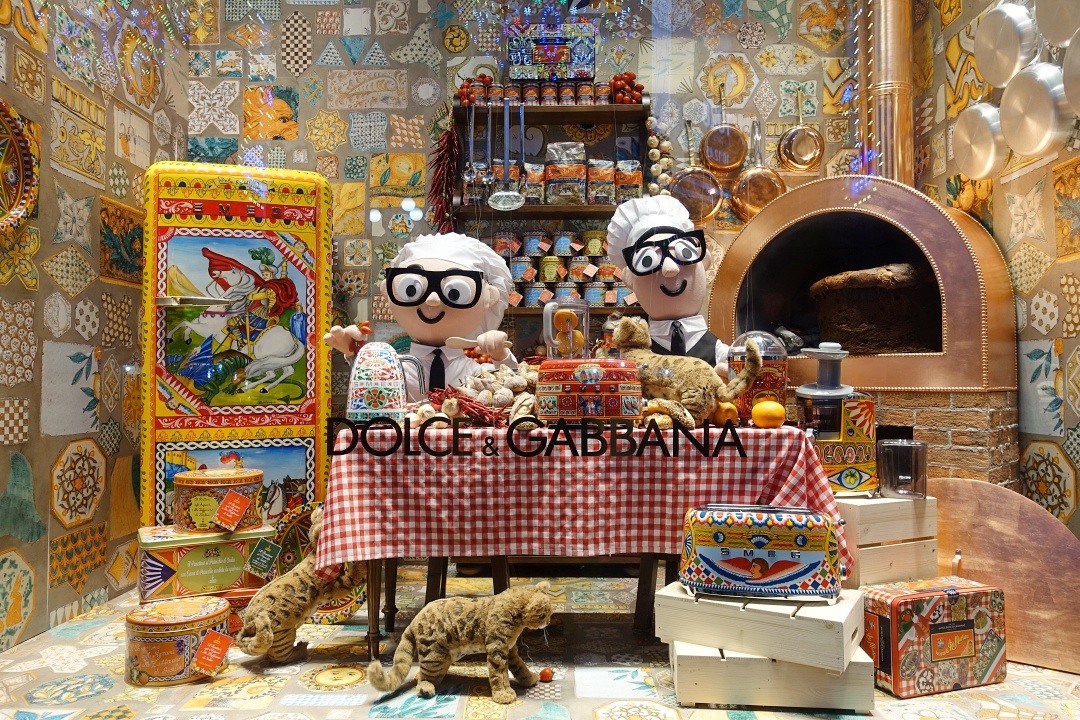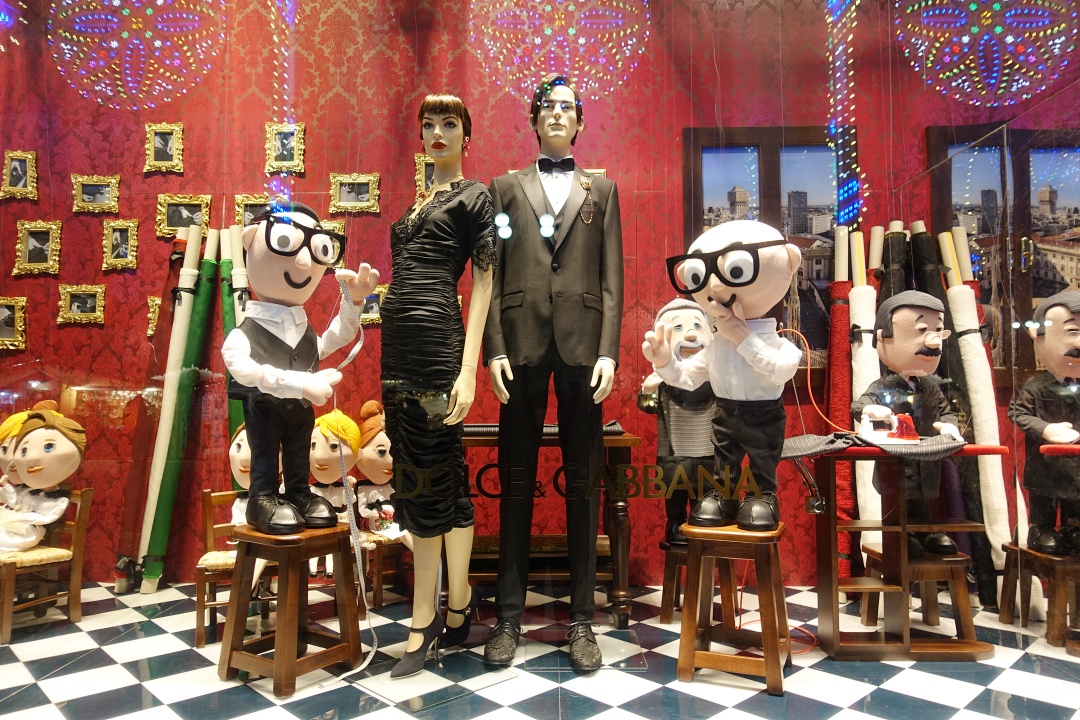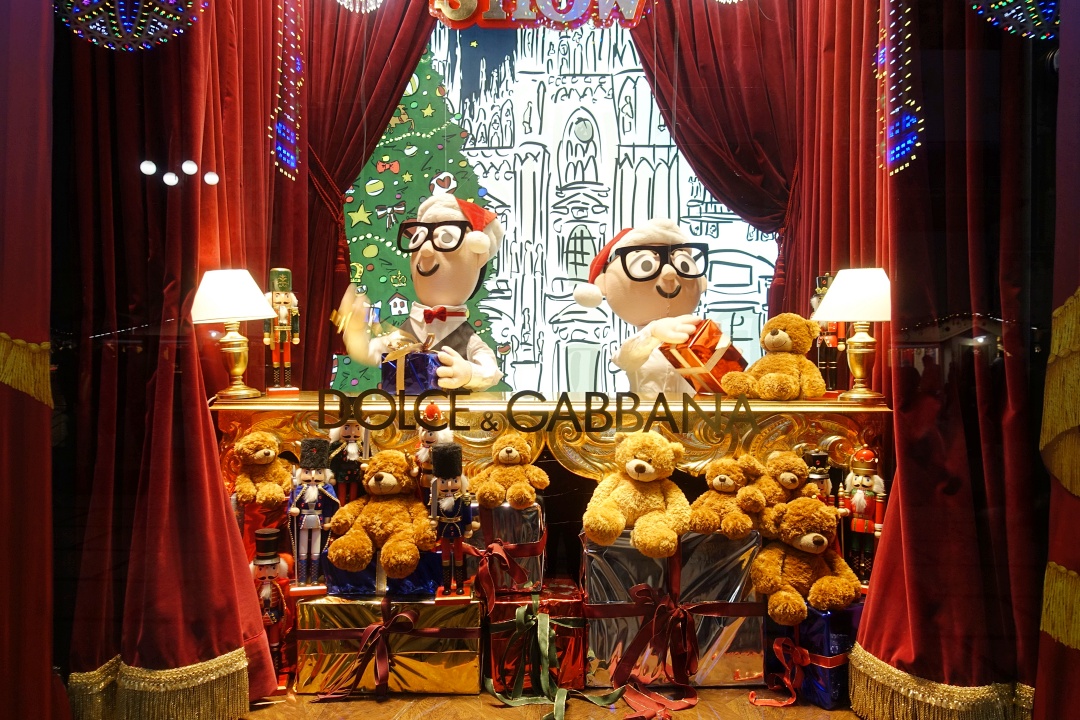 Came across these beautiful window displays while making our way back. It seems like every corner was filled with Christmasy vibe.
Before leaving Piazza Duomo, we also made a quick stop at Galleria Vittorio Emanuele II. It was too late to explore, so we pretty much just snapped some pictures and left.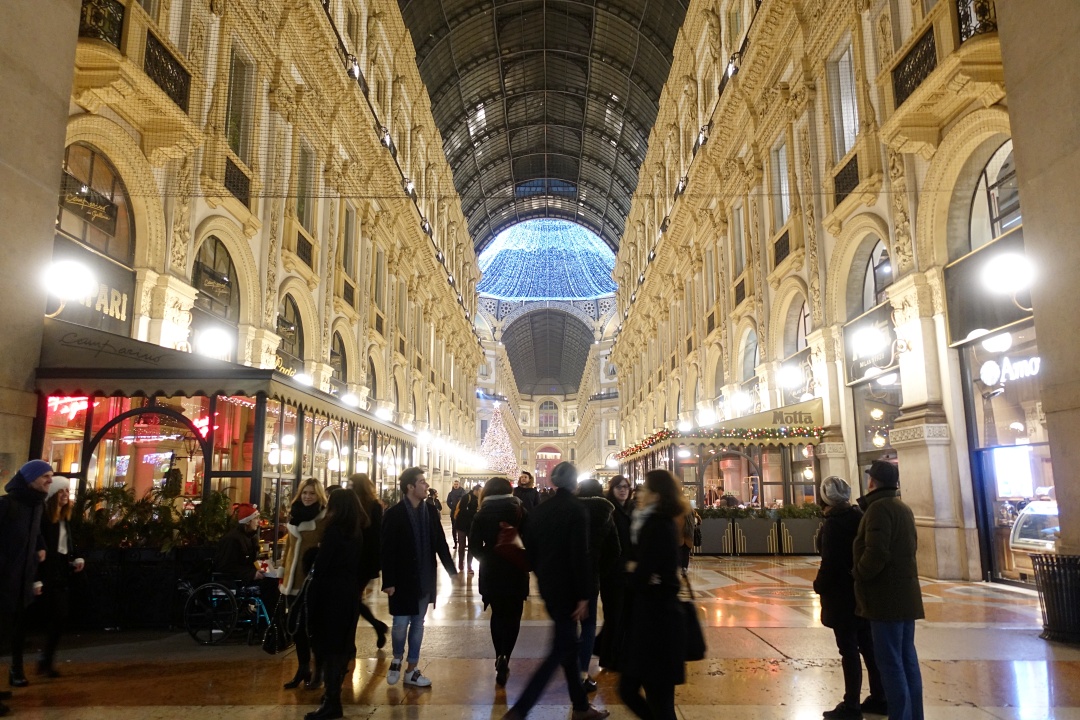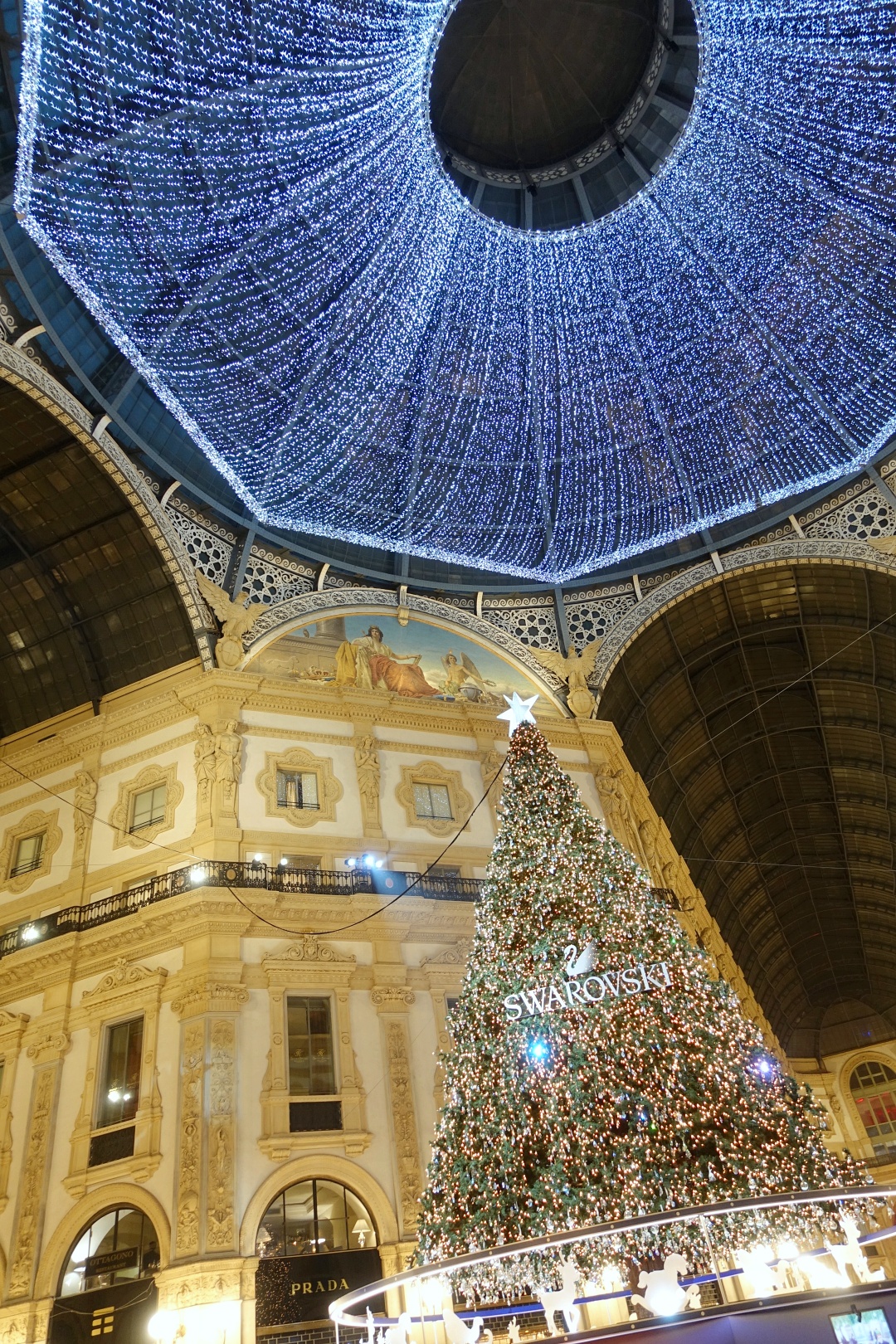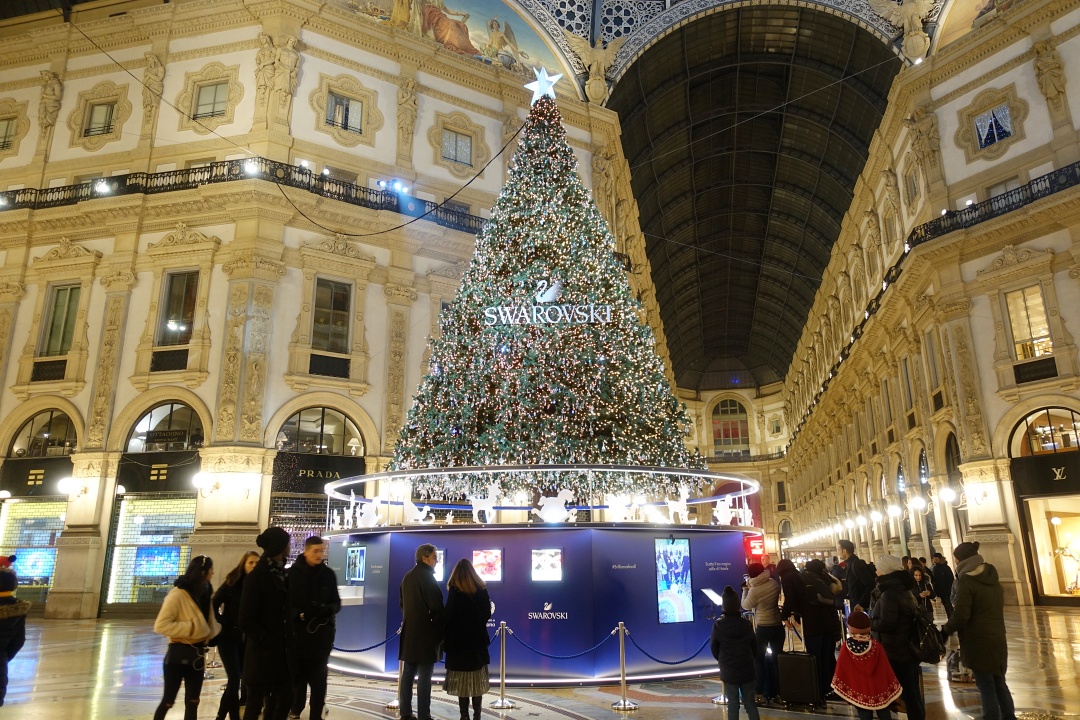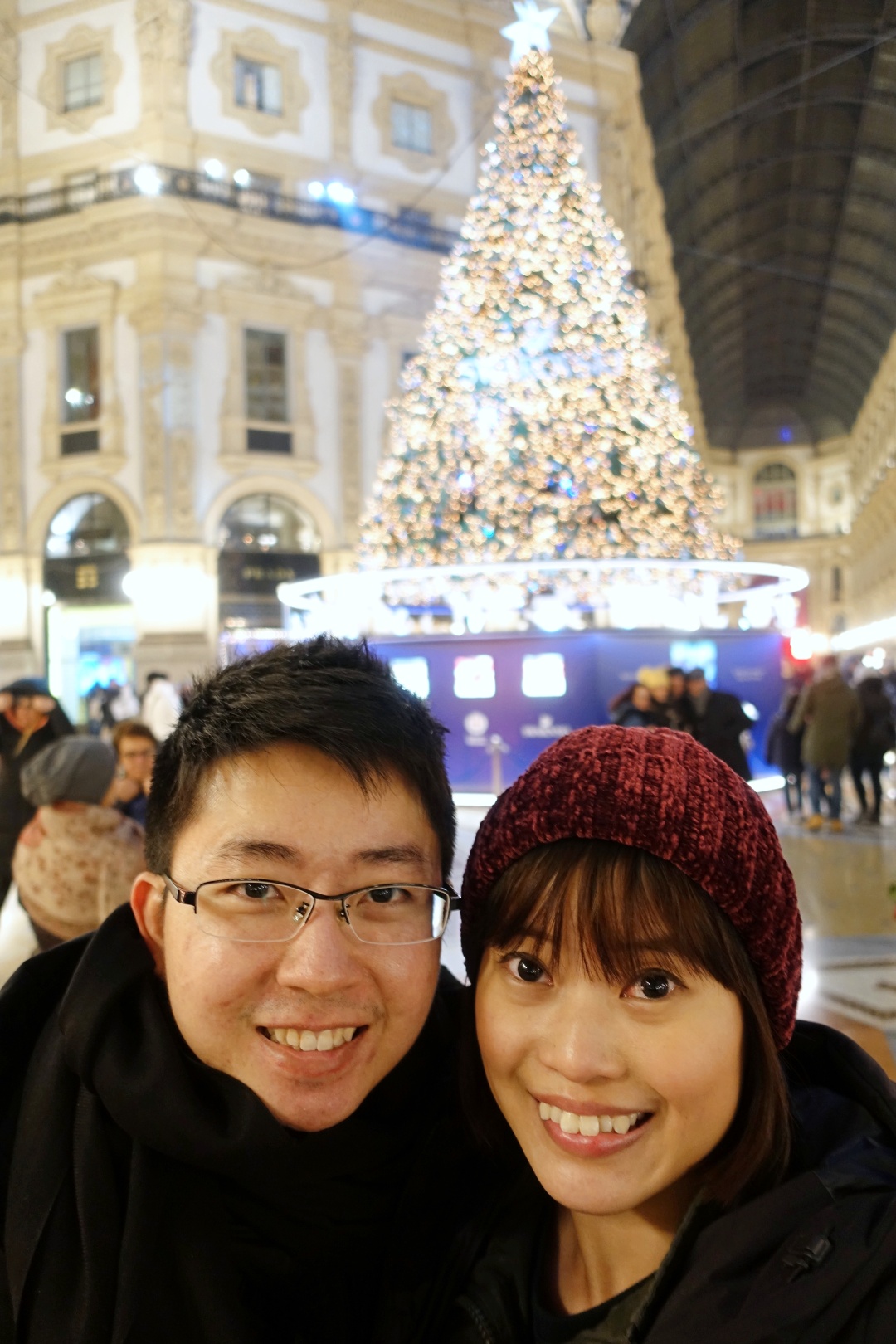 ---
We also happened to pass by McDonald's while on our way back and decided to quickly get some water and food back to the hotel. The location of our hotel was great, and we managed to walk back to the hotel without any trouble.
Reached the hotel at around 21:00 and I was ready to call it a night! It was quite an eye-opening first day in Milan. The weather was relatively cold throughout the day, and I was afraid we would fall ill in that weather! Despite being wrapped up in three layers, I could still felt the cold. And while it does get more comfortable walking inside the store, I was worried that the difference in temperature would ultimately make me fall sick.