Woke up bright and early because we had made a booking to have breakfast with the Disney Characters!
Our reservation was at 08:15 and breakfast was over at the Plaza Gardens Restaurant at Disneyland Paris. As such, the plan was to head out before 08:00 to take the shuttle service, so that we would make it on time for our breakfast.
Needless to say, I was really excited that morning. It was nice enough that we get to stay in a Disney's hotel, and I would never have thought that in addition to that, we would get to dine with the characters.
Everything was going according to plan, right till the moment when we were waiting for the shuttle bus. The Husband suddenly felt ill and vomited. Got him to take a rest, and we only board the subsequent shuttle bus when he was sure he was well enough to travel.
I believed we either made it just in time or slightly pass 08:15 when we arrived at the Plaza Gardens Restaurant at Disneyland Paris.
Disneyland Paris
Breakfast with Disney Characters
There were two seating times for Breakfast with Disney Characters; one at 08:15 and the second session at 09:45. A valid Disney Park ticket is required to access this restaurant and for the early seating times at 08:15, Extra Magic Time access is needed.
Plaza Gardens Restaurant
The restaurant was almost fully packed when we arrived. After verifying our reservation at the entrance, we were led to a table that was further in the restaurant. The crew told us to help ourselves to the American buffet, and the Disney characters will be making their rounds over to the tables shortly.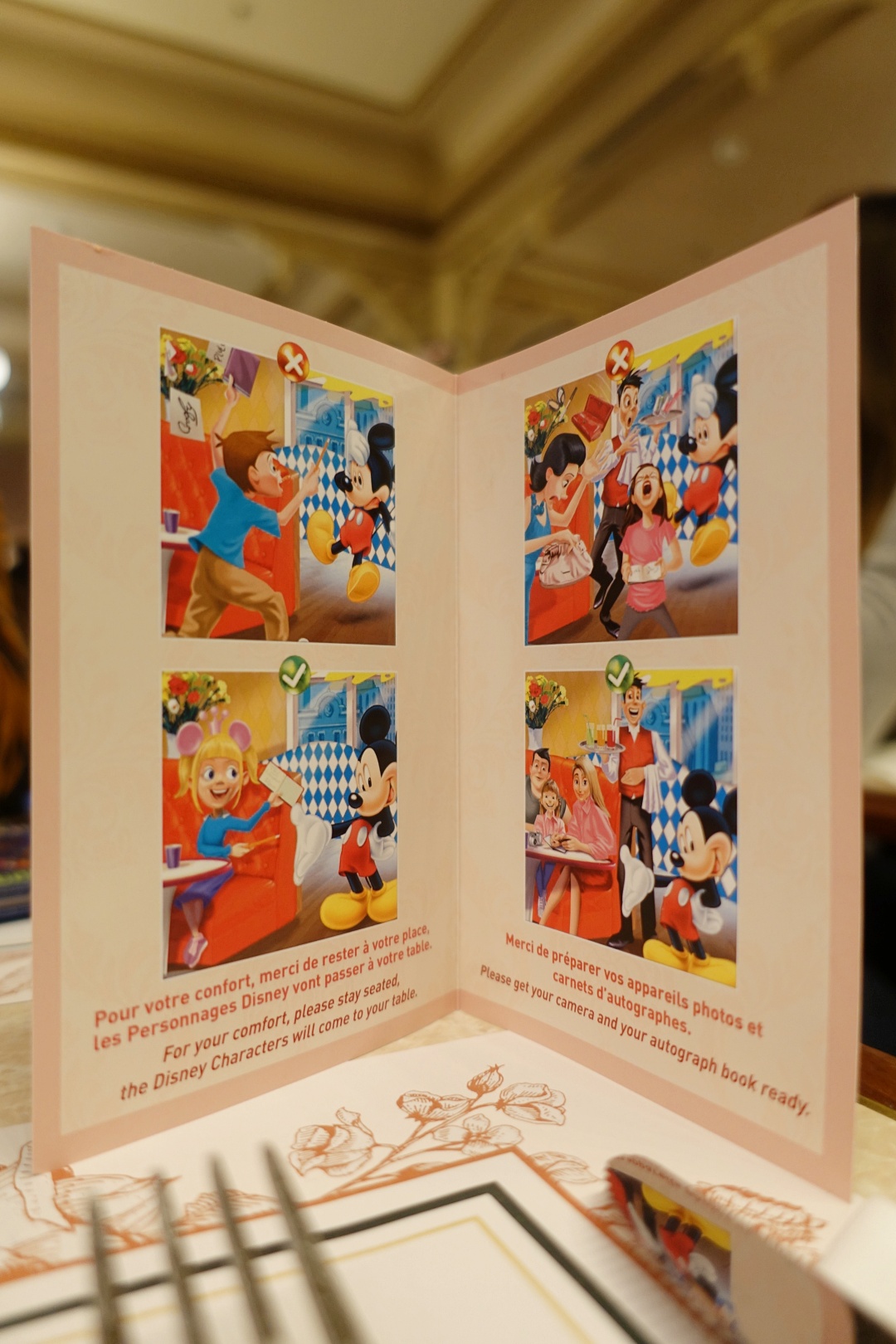 There's a placement card on the table to tell you the dos and don'ts when it comes to meeting the characters.
It didn't take long before we met our first Disney character – Mickey Mouse!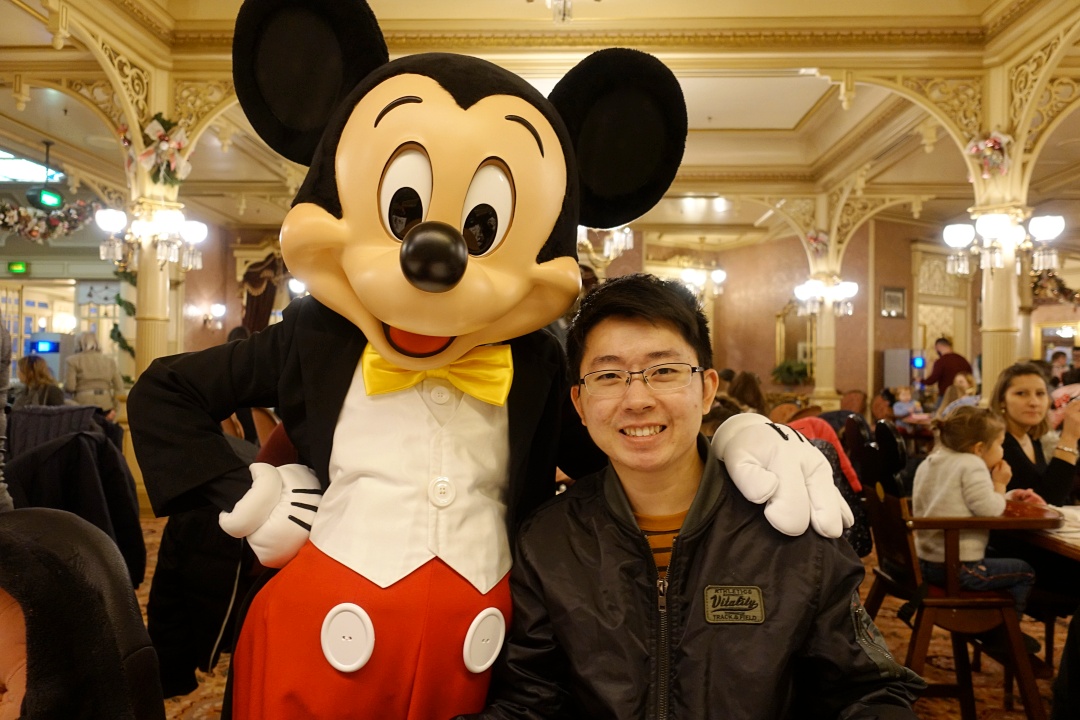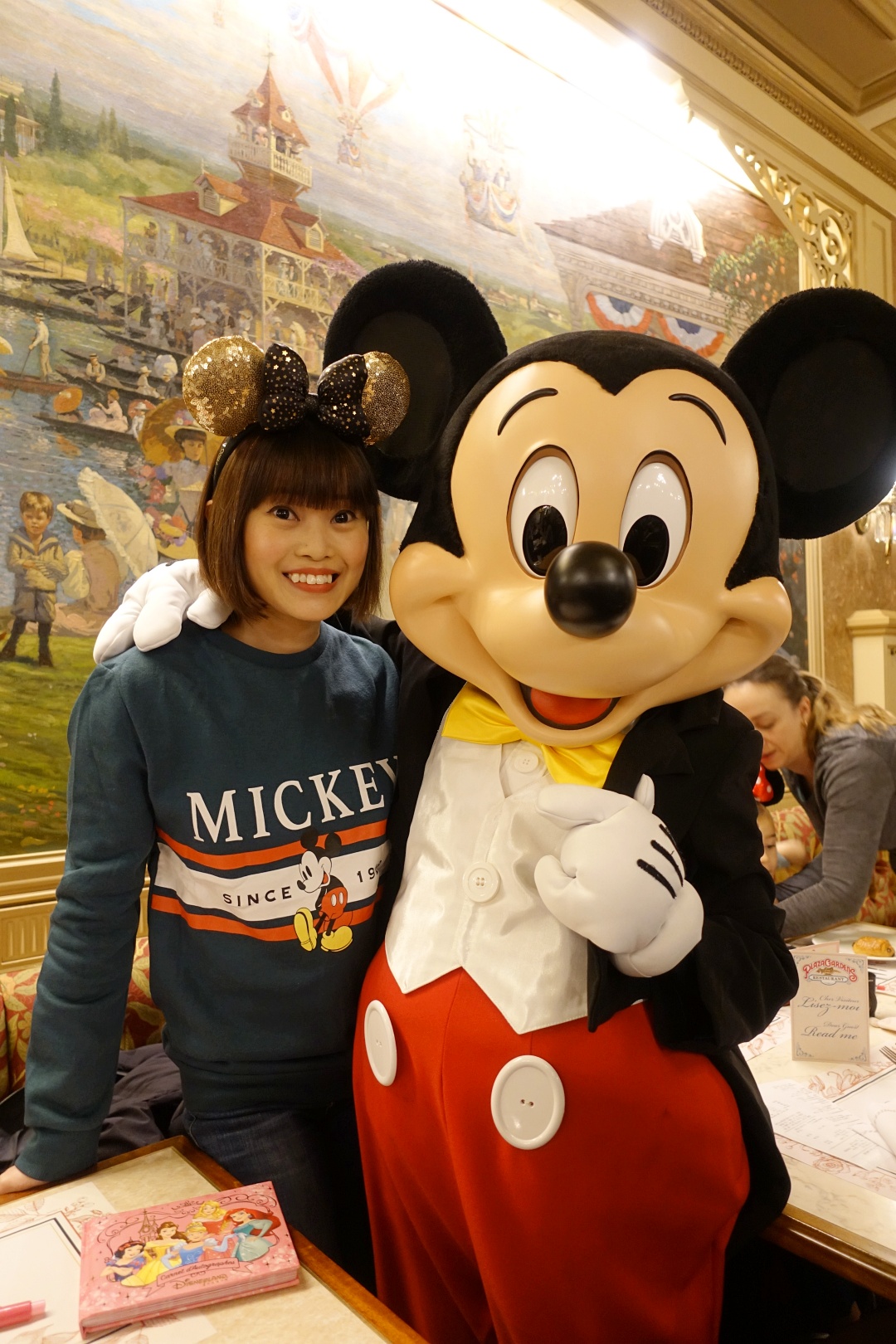 I'm surprised that there was no crew tagged to the Disney characters, and the character was simply walking from table to table on their own. It puzzles me how they remember which table they have been to/which table they need to go.
After our encounter with Mickey Mouse, I quickly went over to the breakfast counter to pick up some food.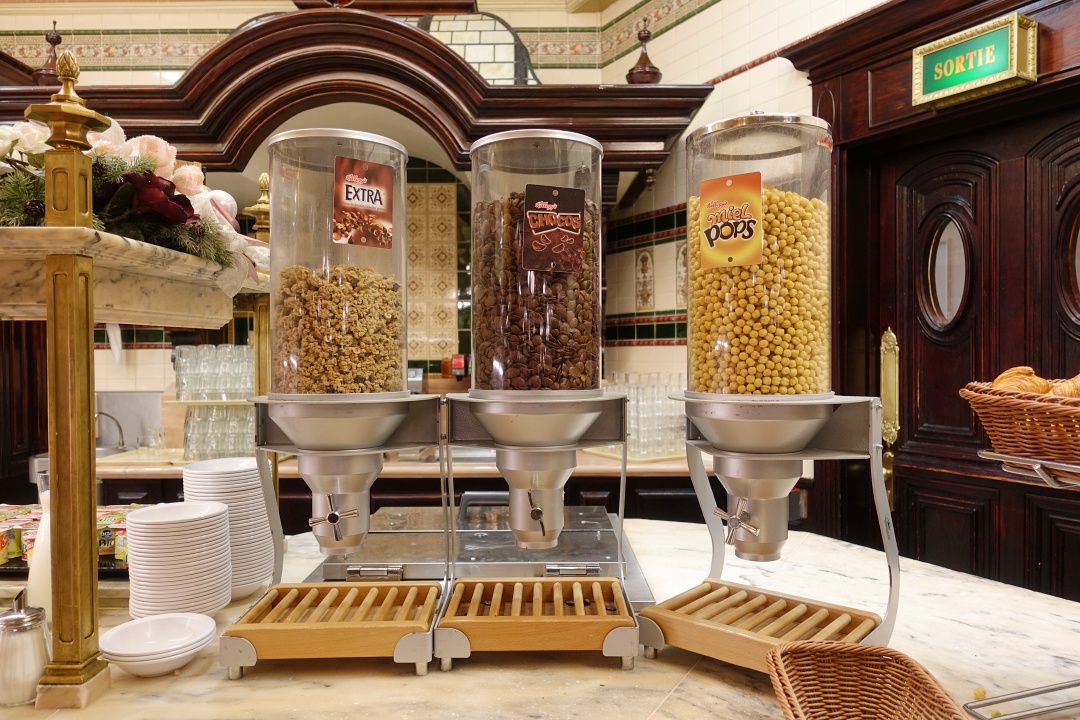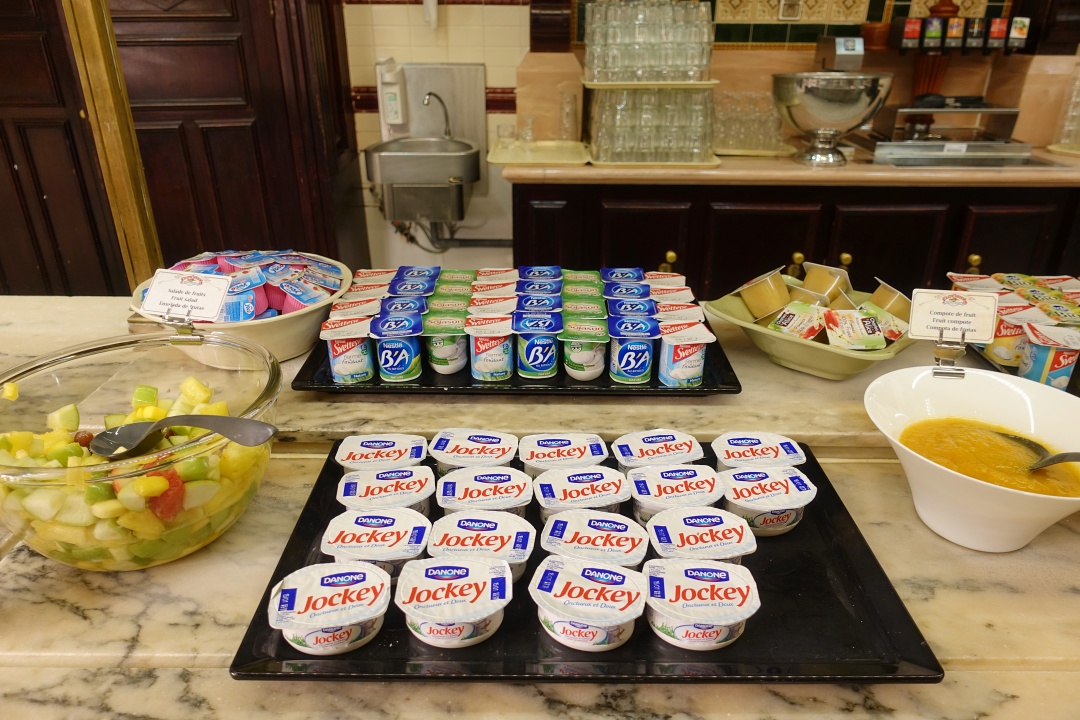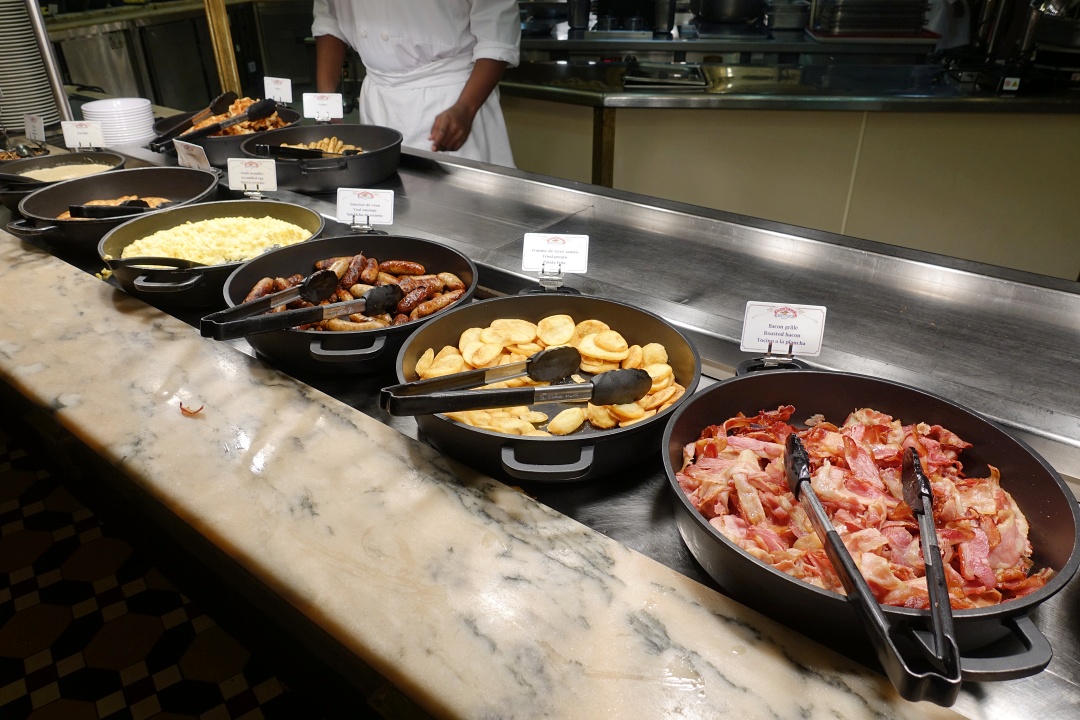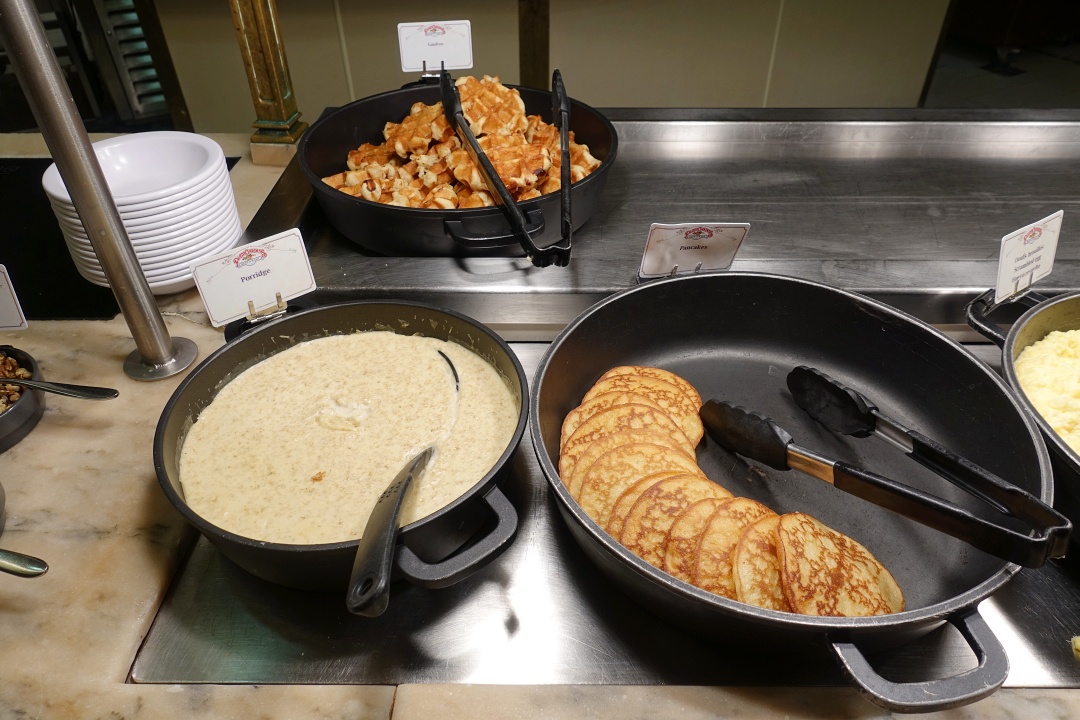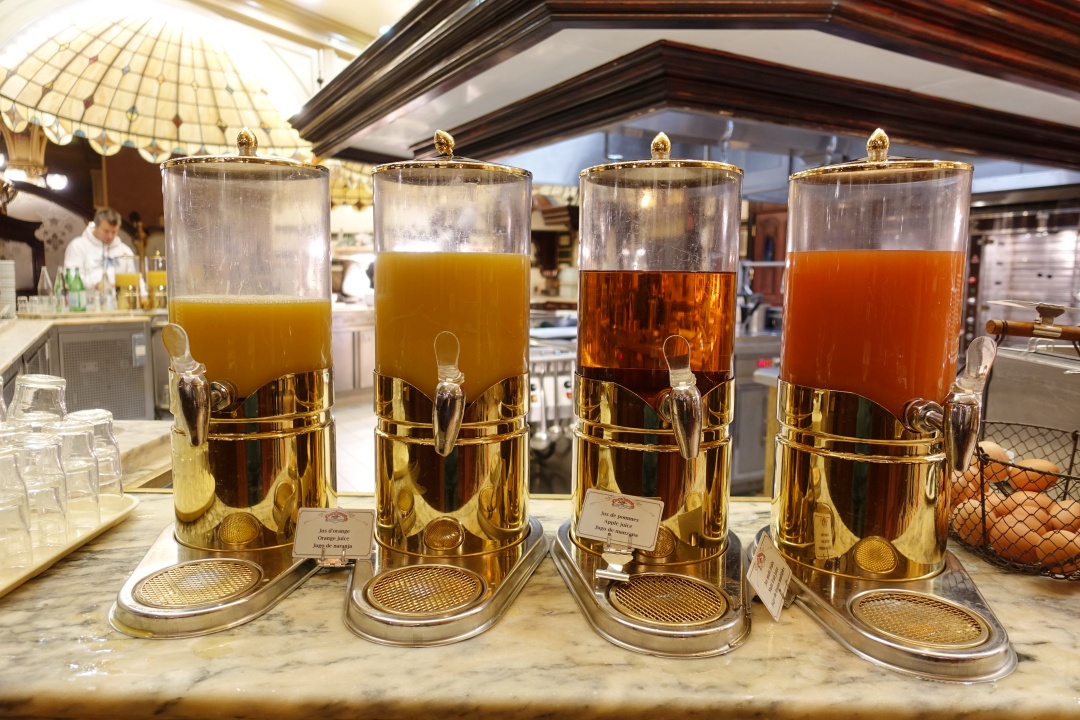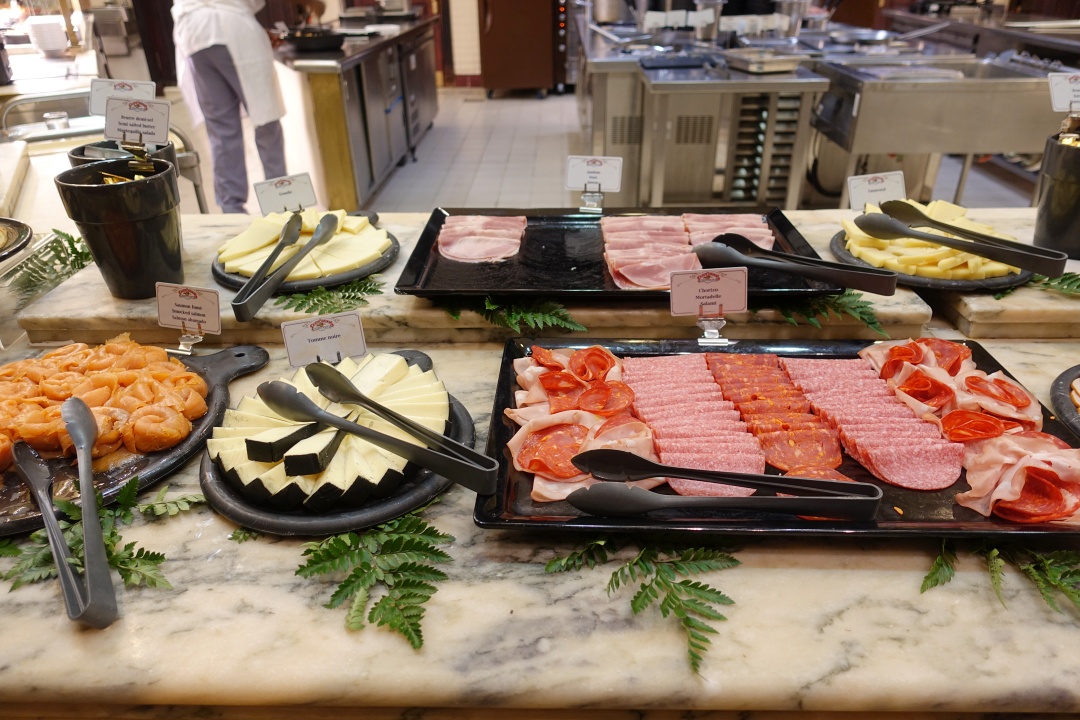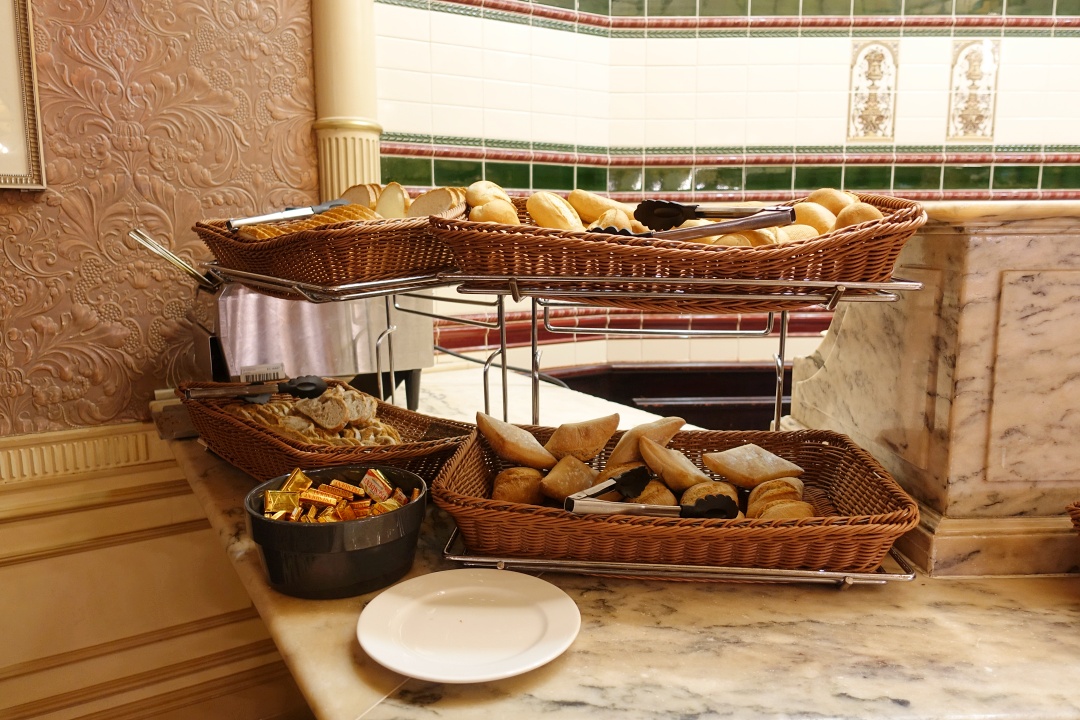 Comparing to the usual buffet breakfast we get in Asia's hotels, the American buffet selections at Plaza Gardens Restaurant fell short. You can still find the basic like cereals, yoghurts, sausages, beans, waffles, pancakes and other pastries. But that's about it.
That said, I can look past the selections for breakfast since we were mainly there to meet the Disney characters up-close, instead of being there for breakfast.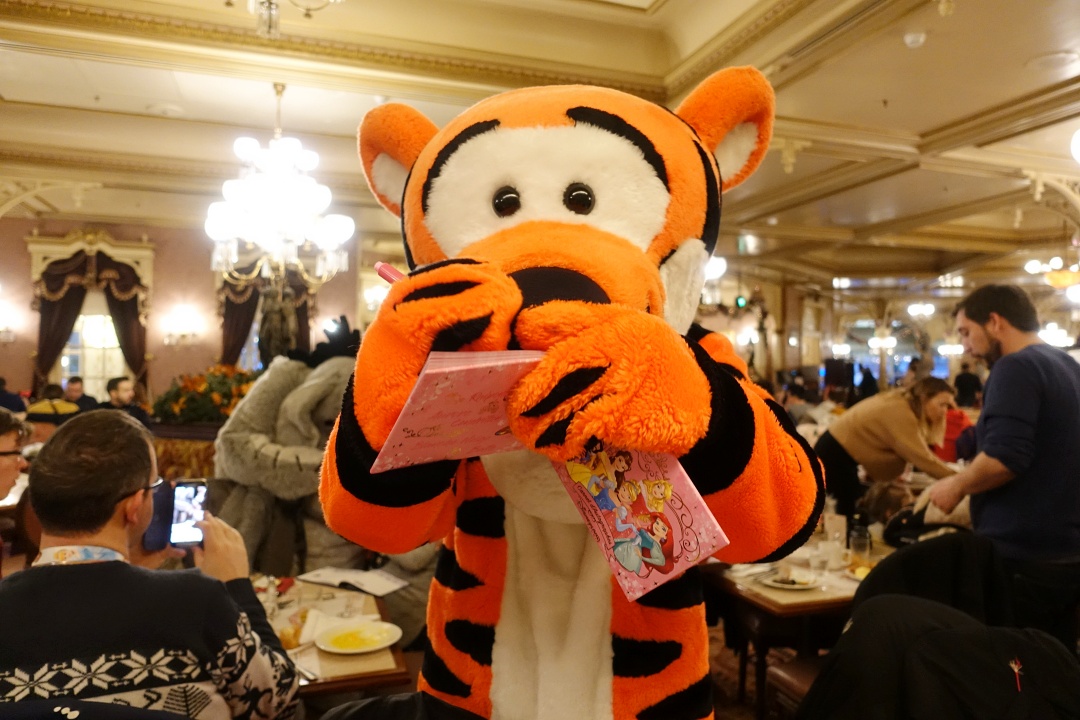 Soon, we got our second guest at our table – Tigger!
Got him (and all the other characters) to sign our autograph books.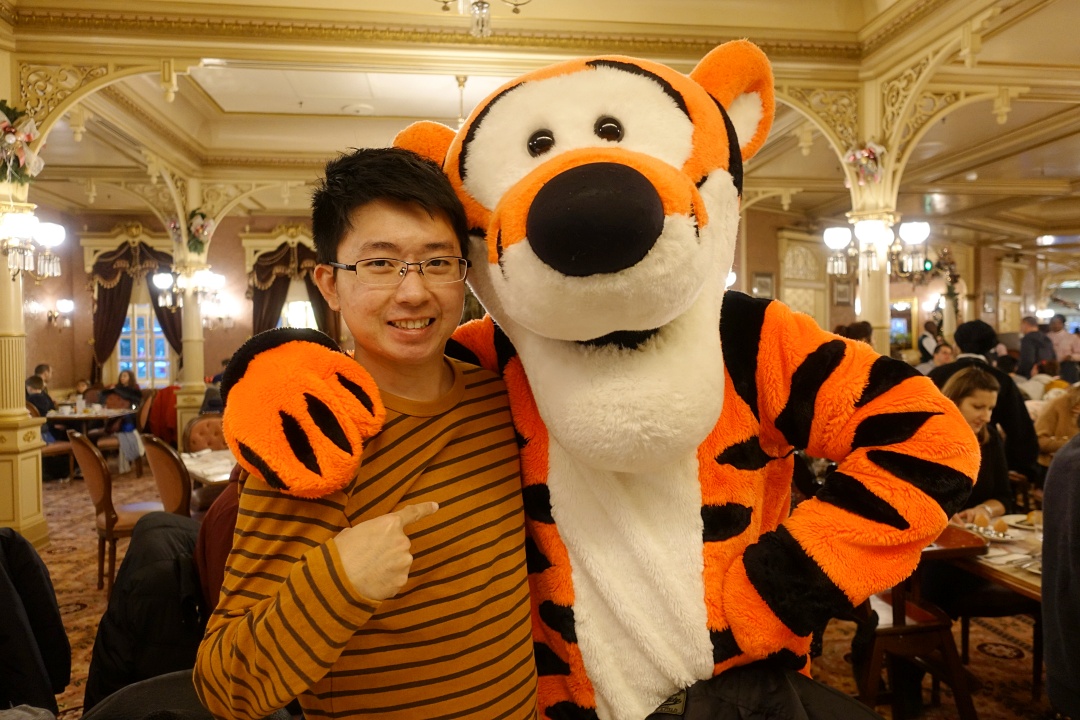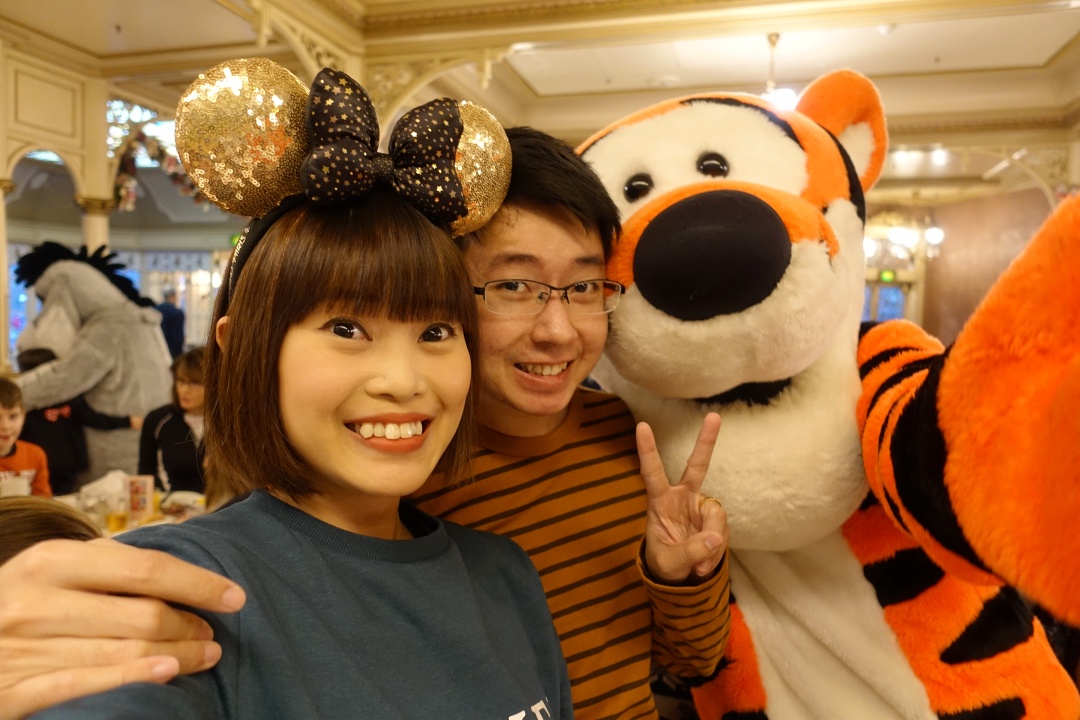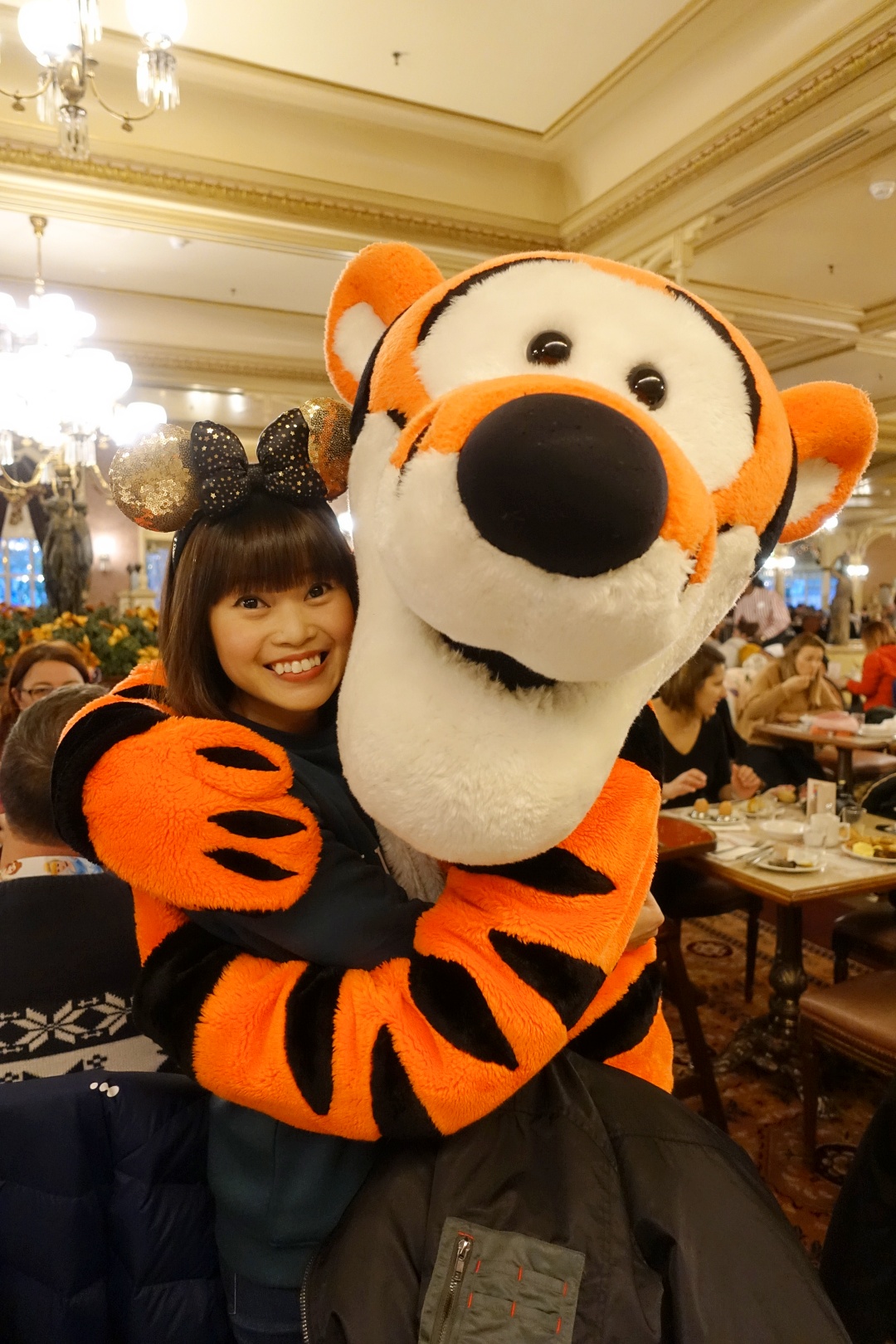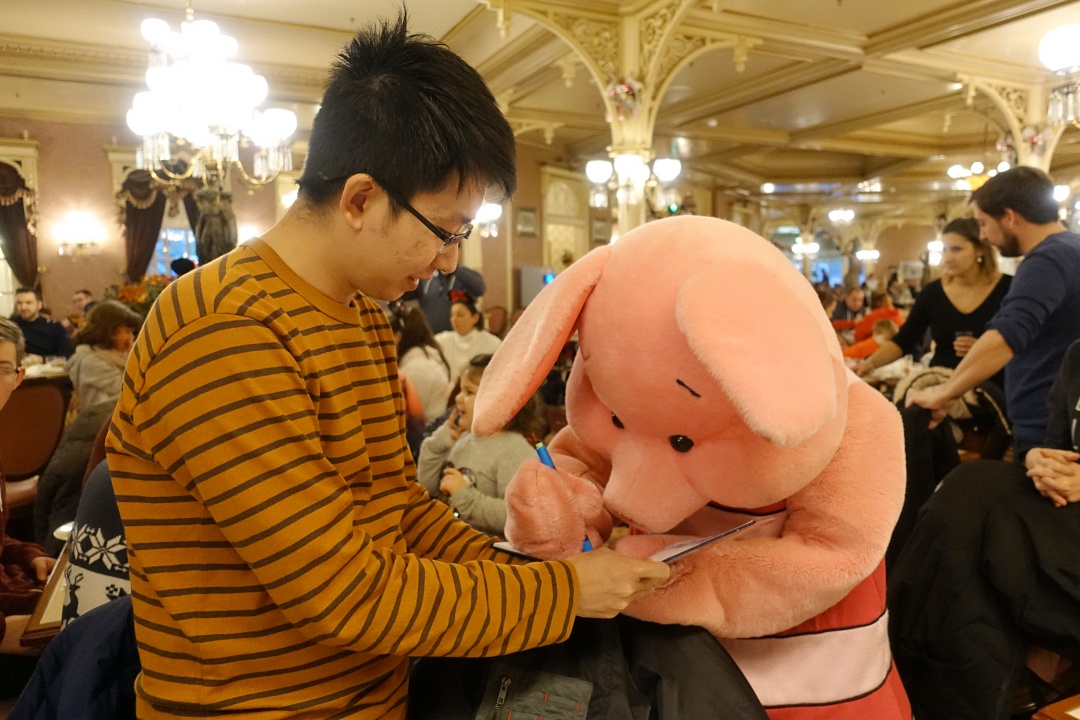 We also met Piglet.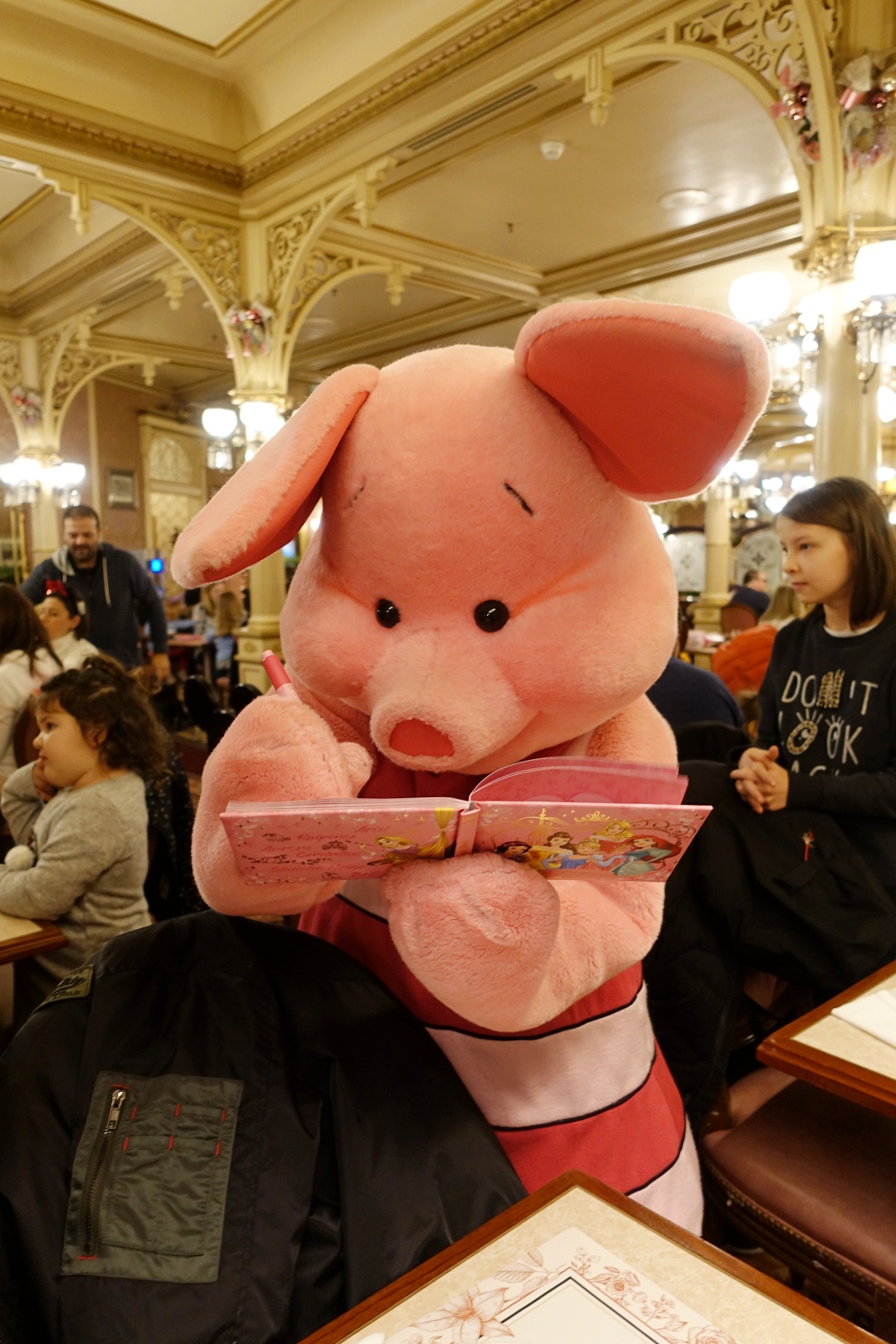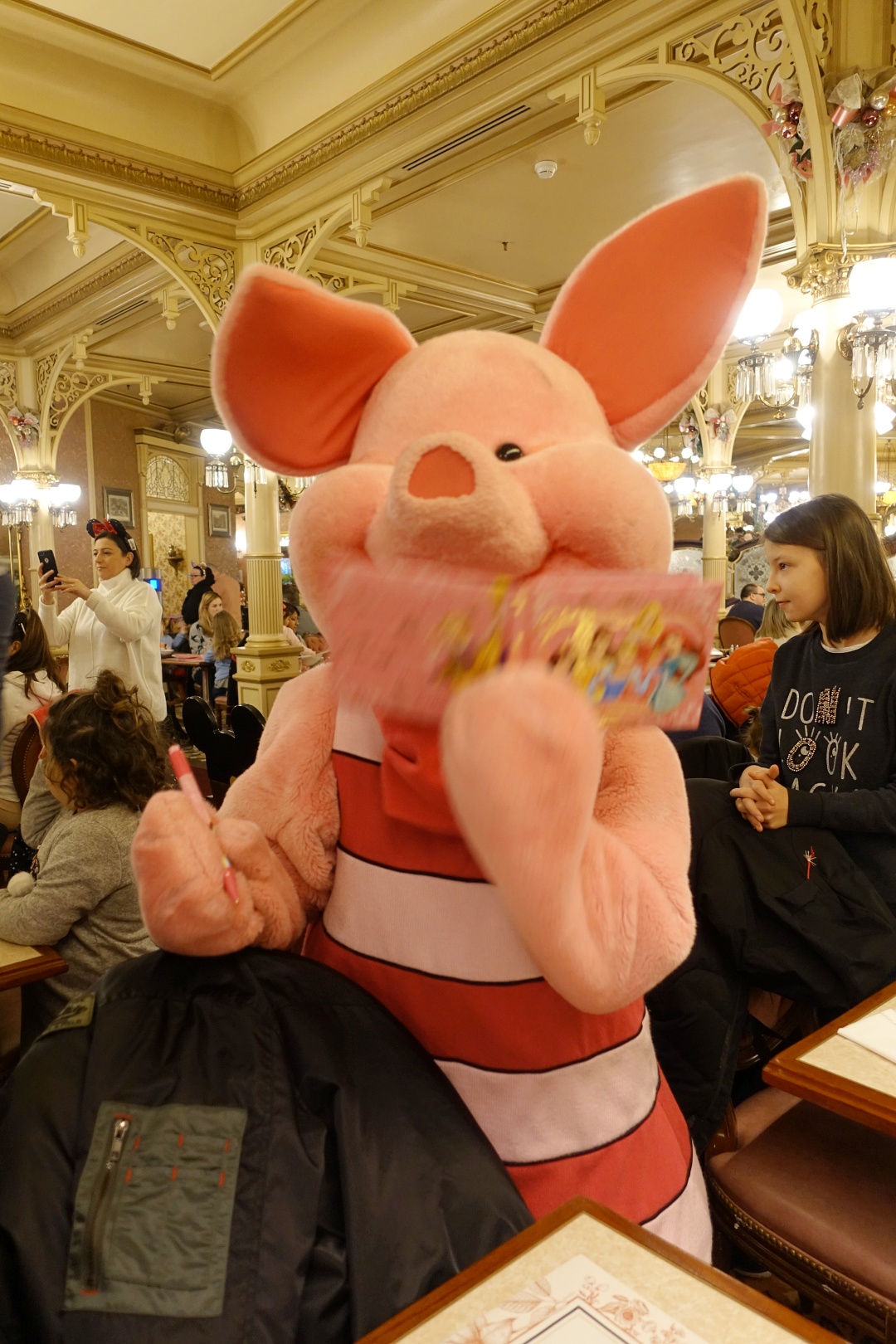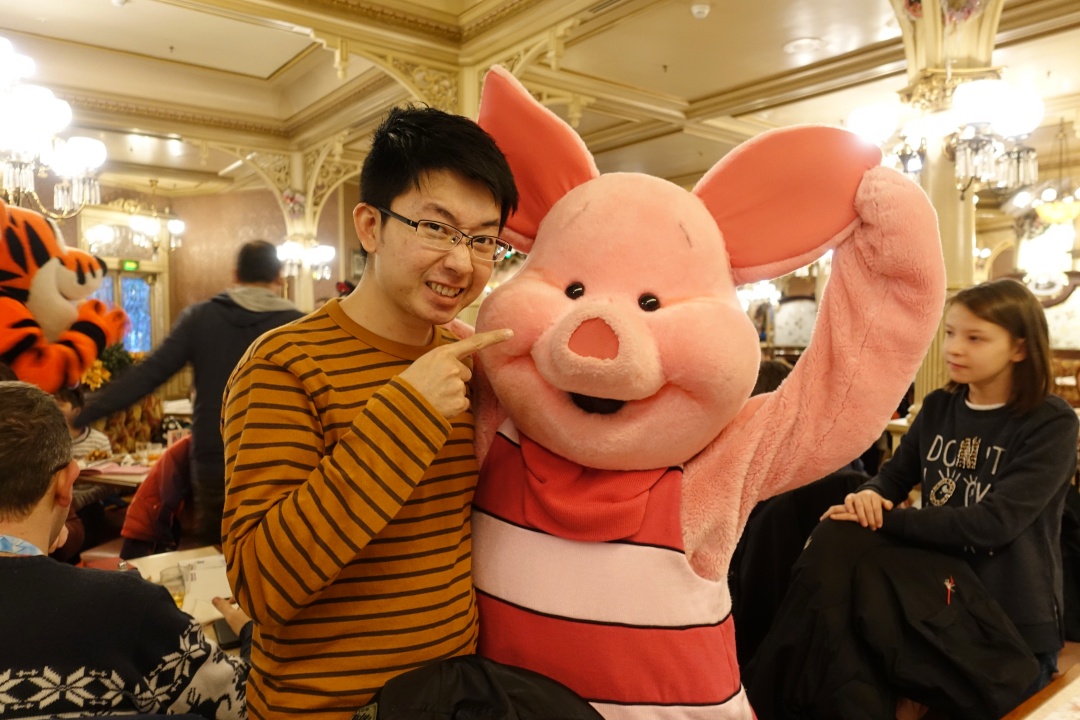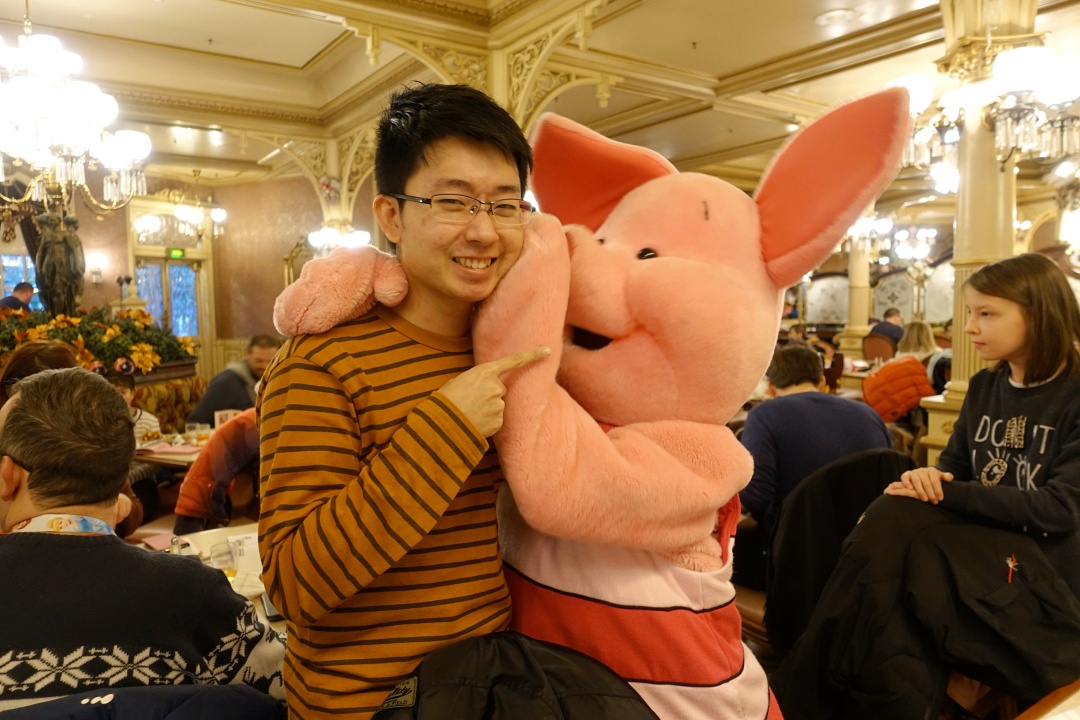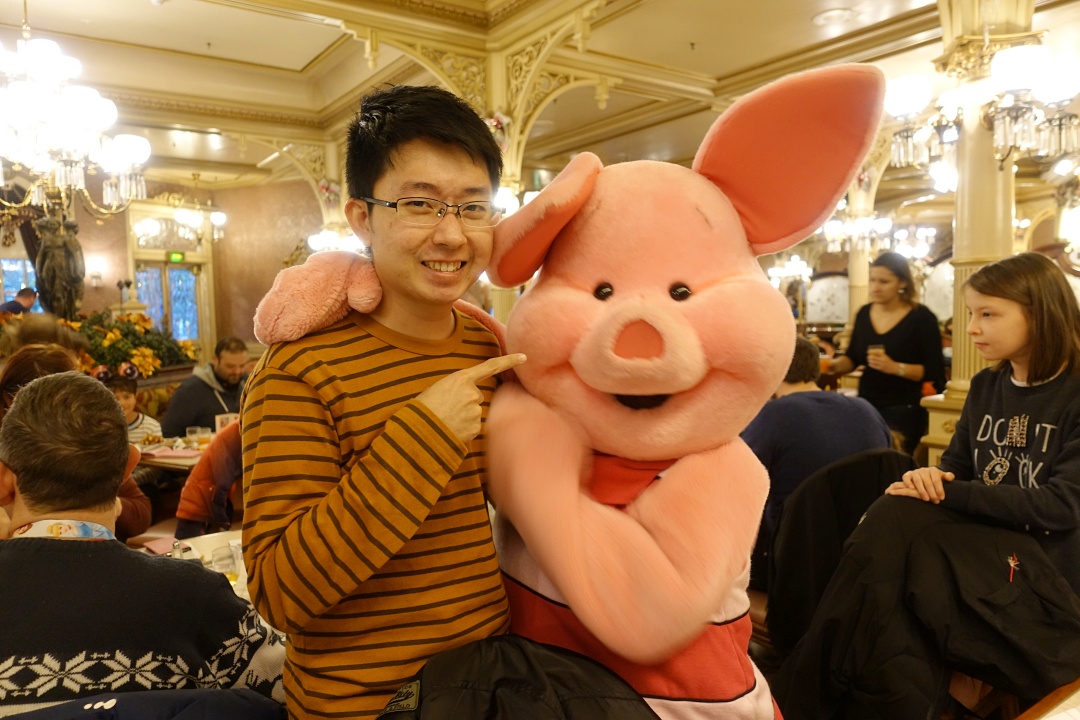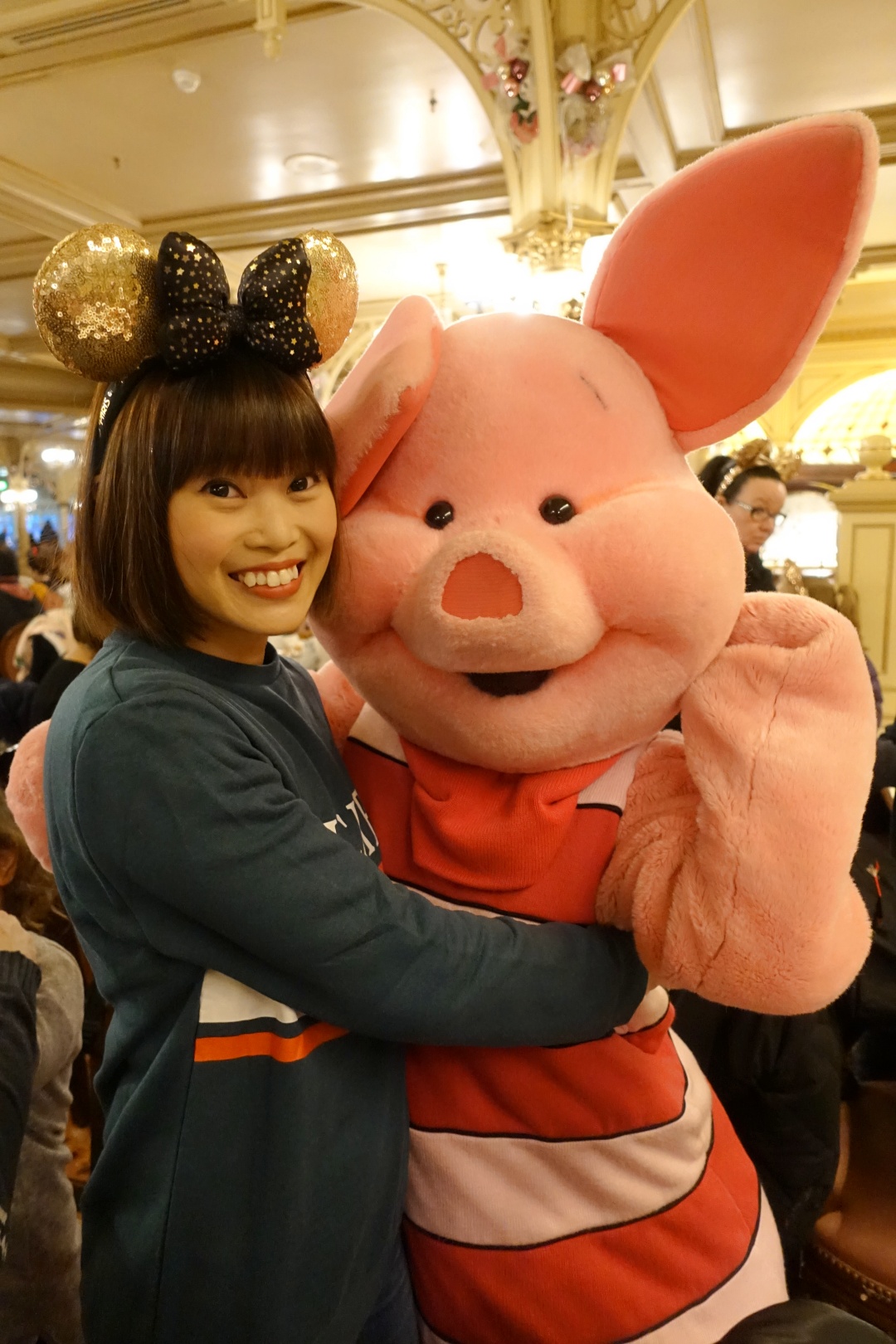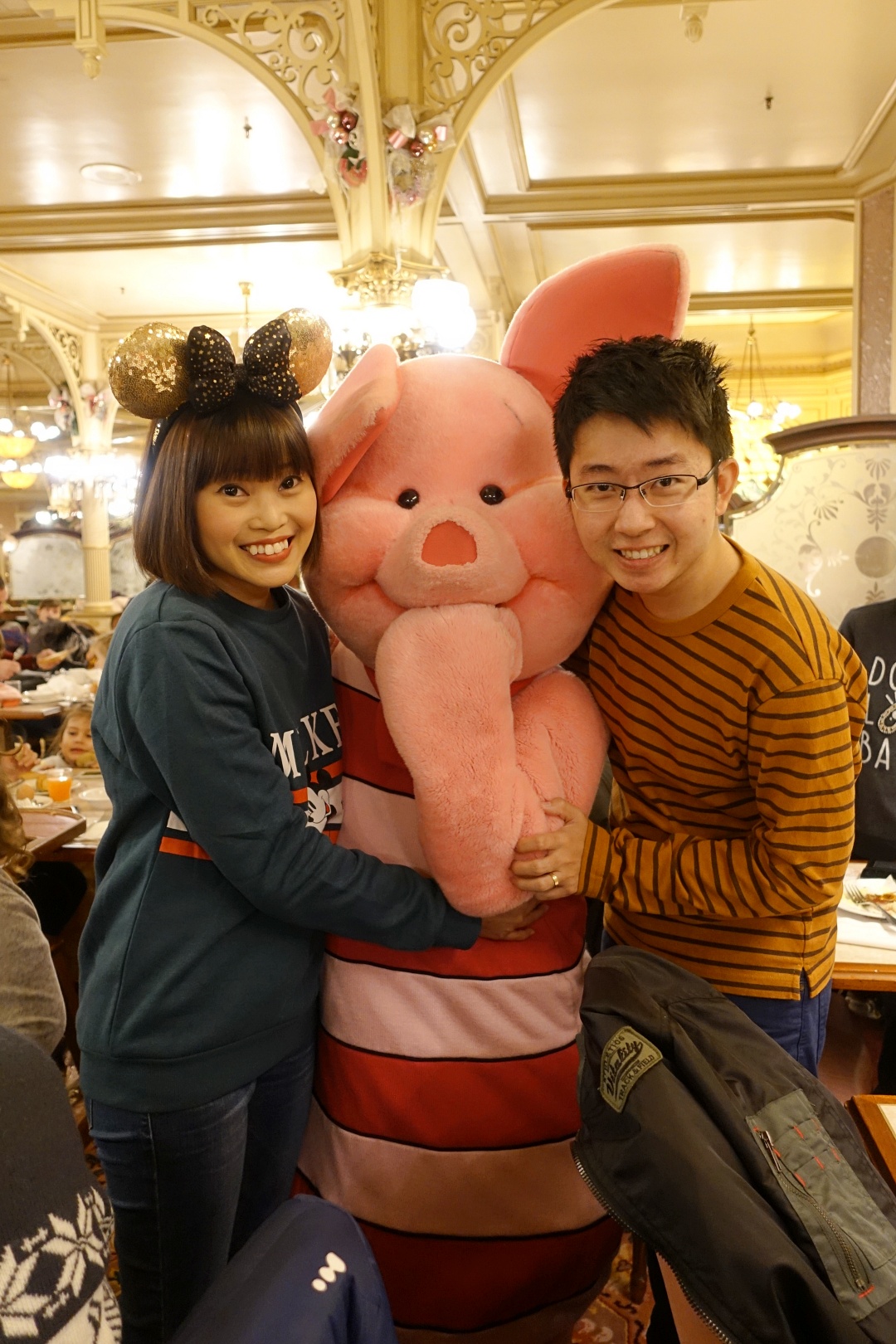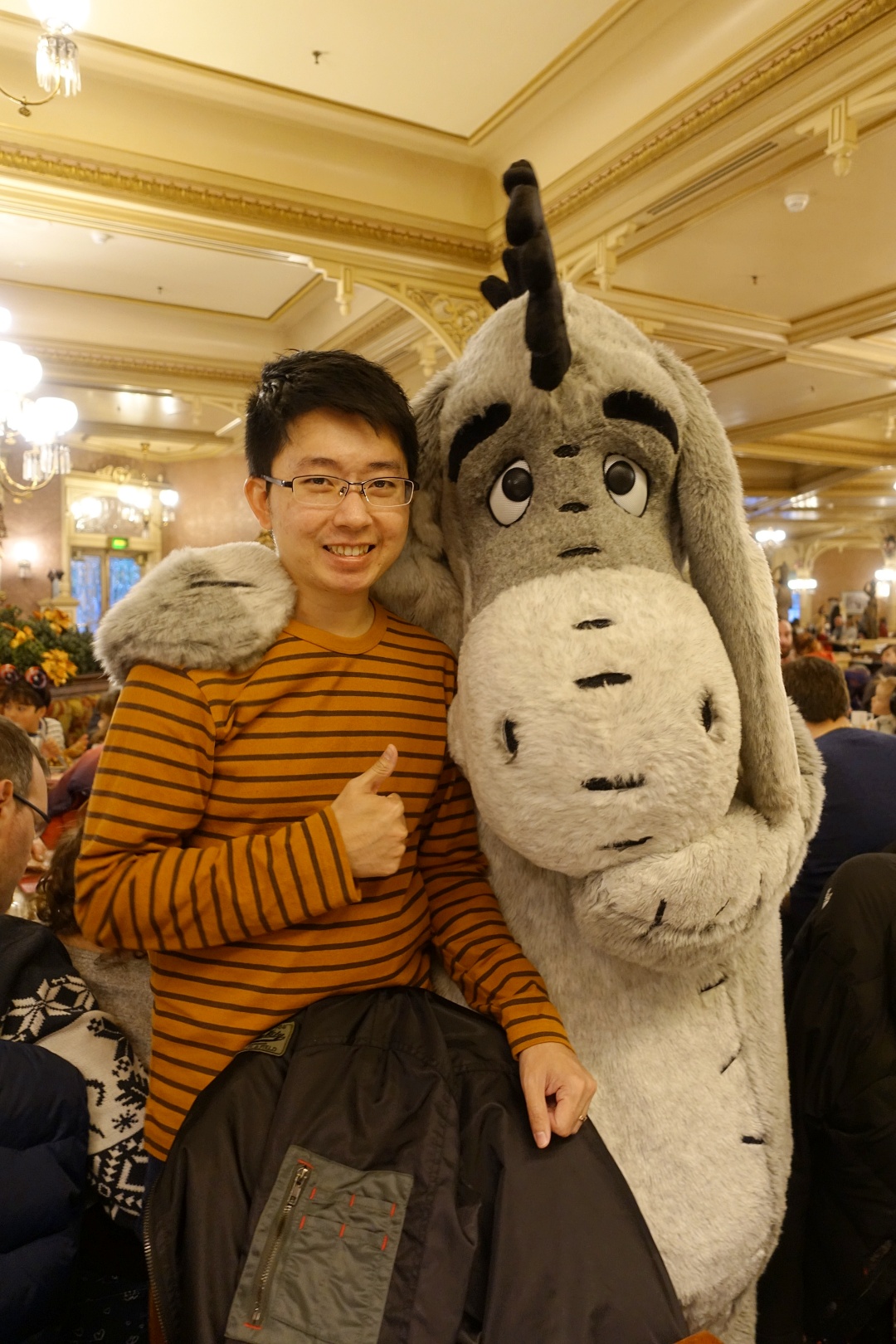 And subsequently, Eeyore!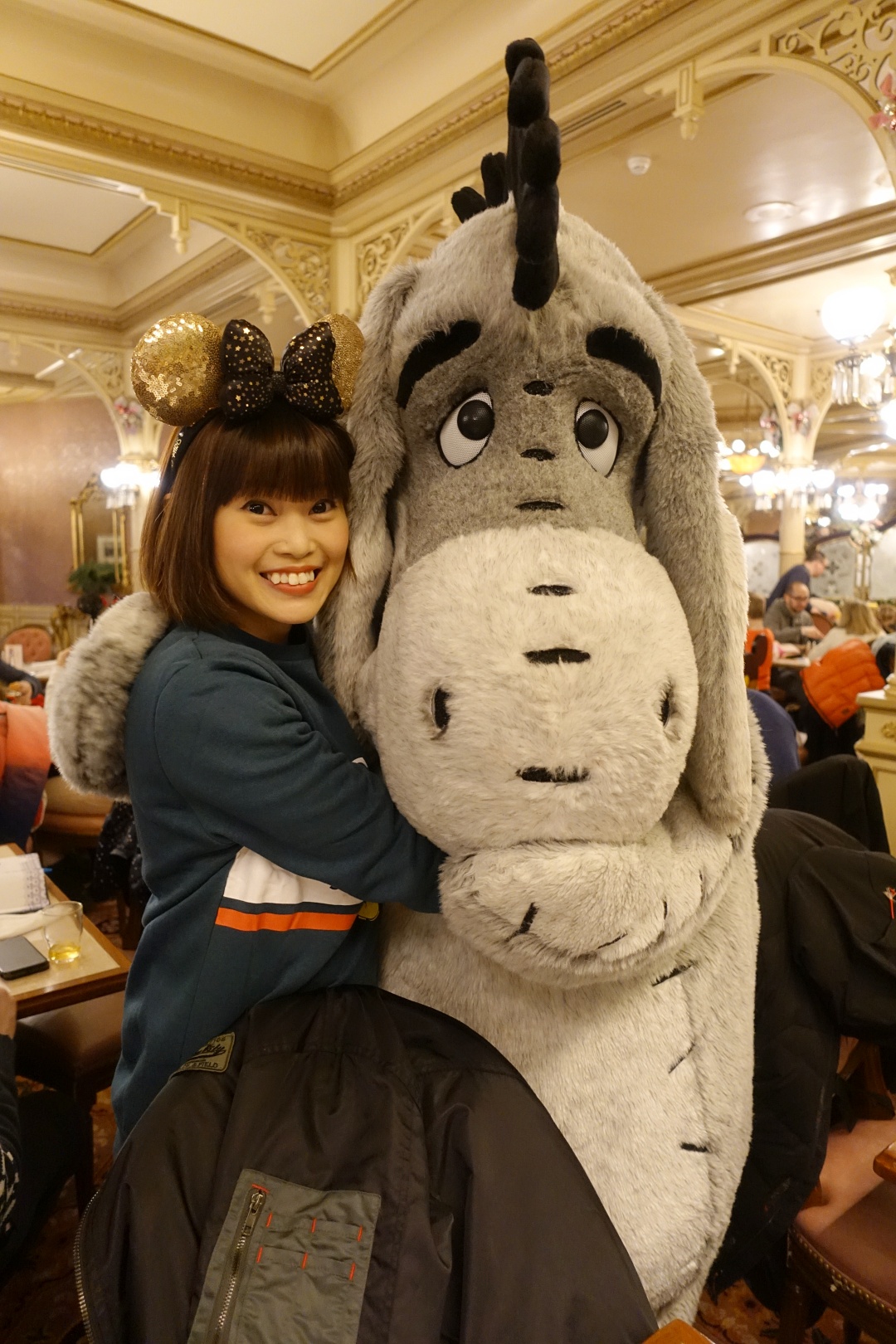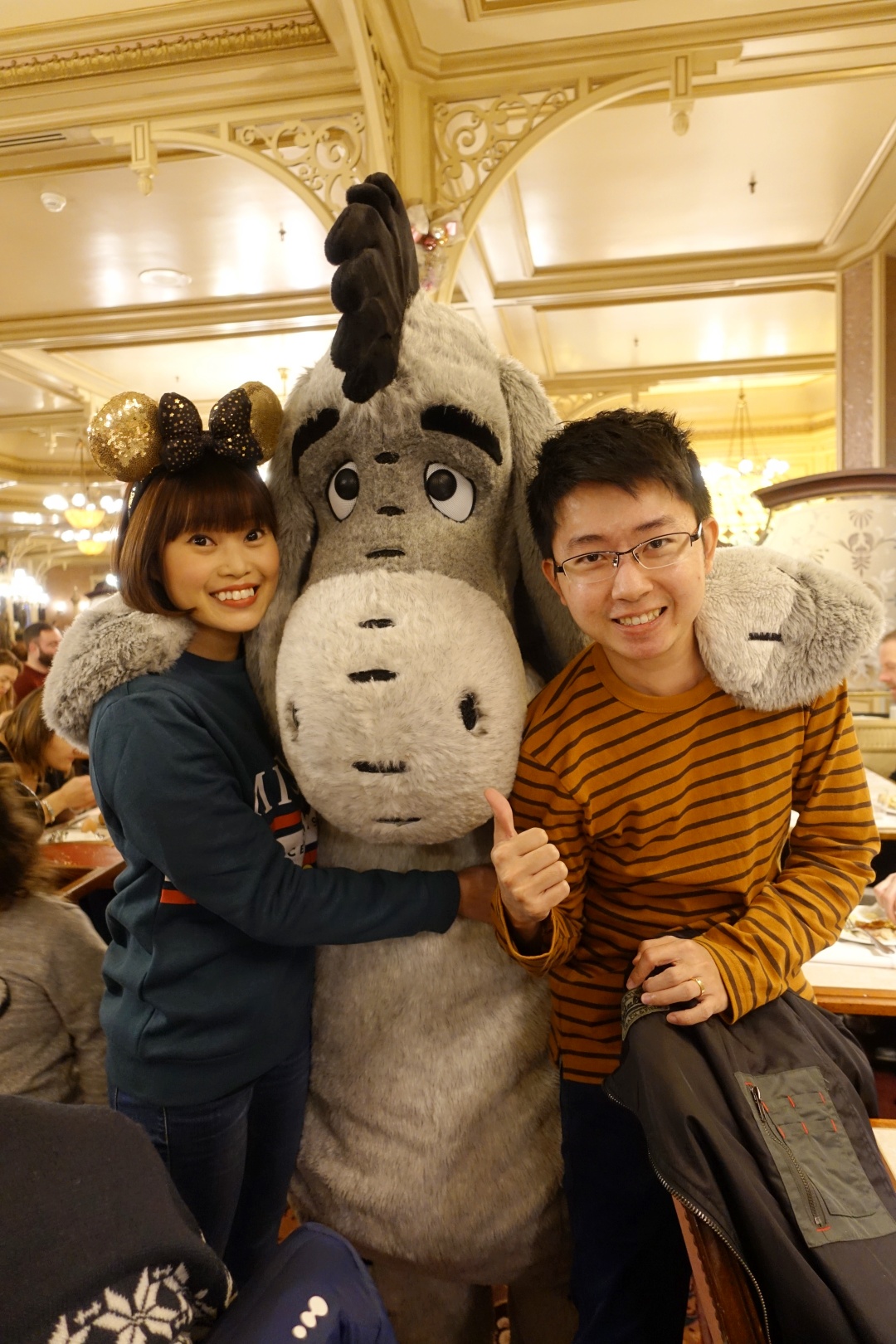 Since there was no crew walking with the characters, we had to either help each other to take pictures, try to squeeze together and snap a wefie, or ask for help from nearby diners. Thankfully, we had a kind lady (and her two kids) sitted next to our table, and we ended up taking turns to help each other with the photographs. That was how the Husband and I managed to have pictures together with the characters.
I'm not sure how many characters one should meet for an opportunity like this, but we (only) got to meet four Disney characters that morning. I was okay with that since we managed to take a few pictures with each character.
After meeting the characters, diners near us were starting to make their way out. Most seem to have already finished their breakfast, whereas we had yet to start having ours. I'm not sure how they managed that. I found it hard to concentrate on eating when the characters were walking around, and we have to get our camera and autograph book ready.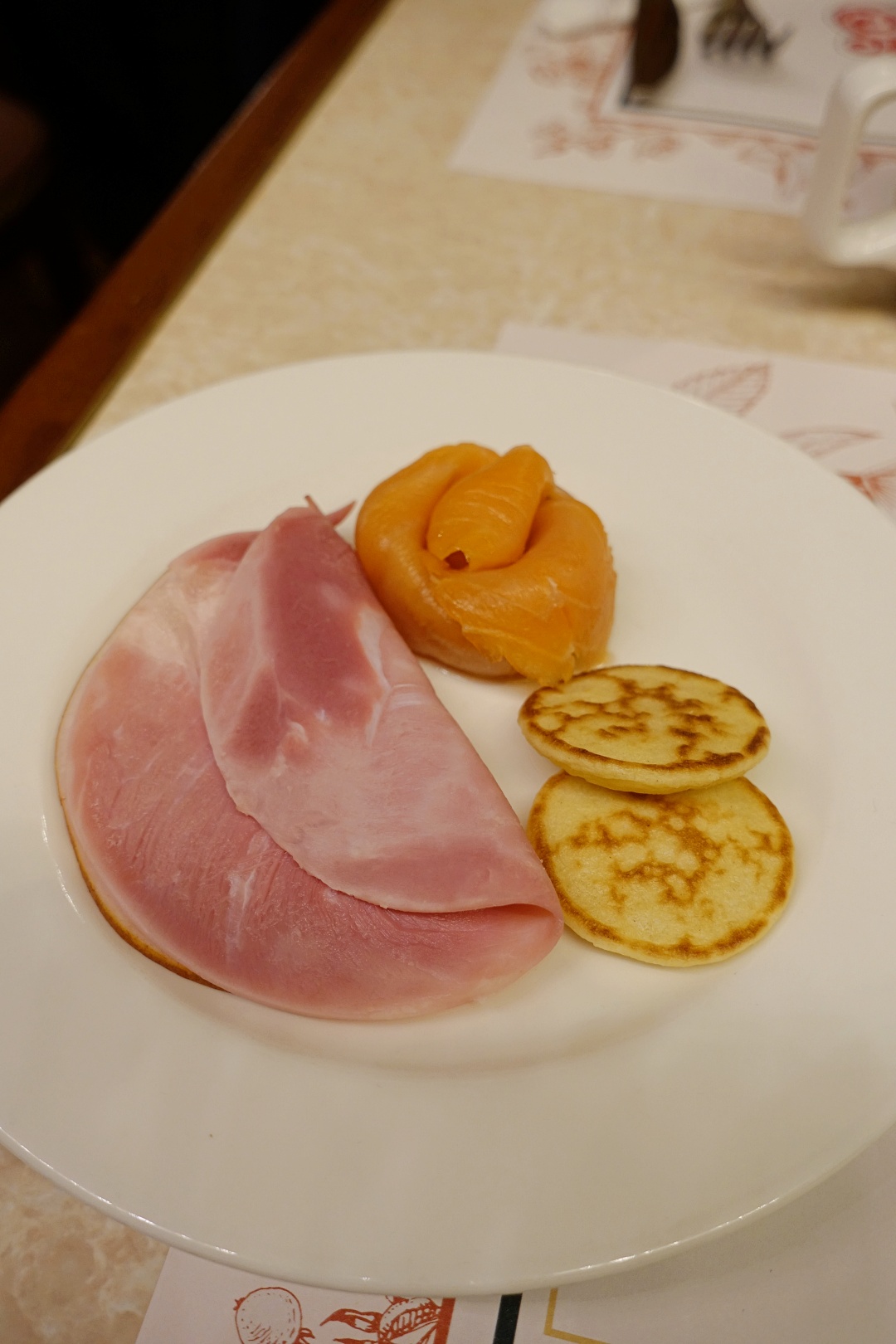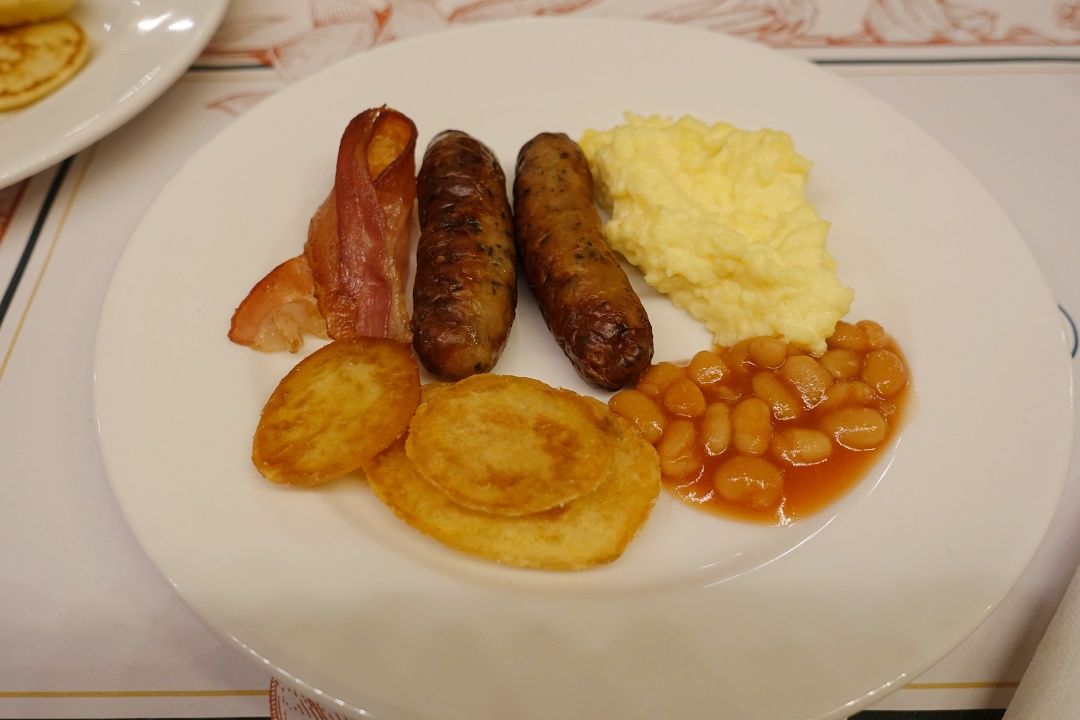 Quickly gobbled down our food and made our way out of the restaurant at 09:30.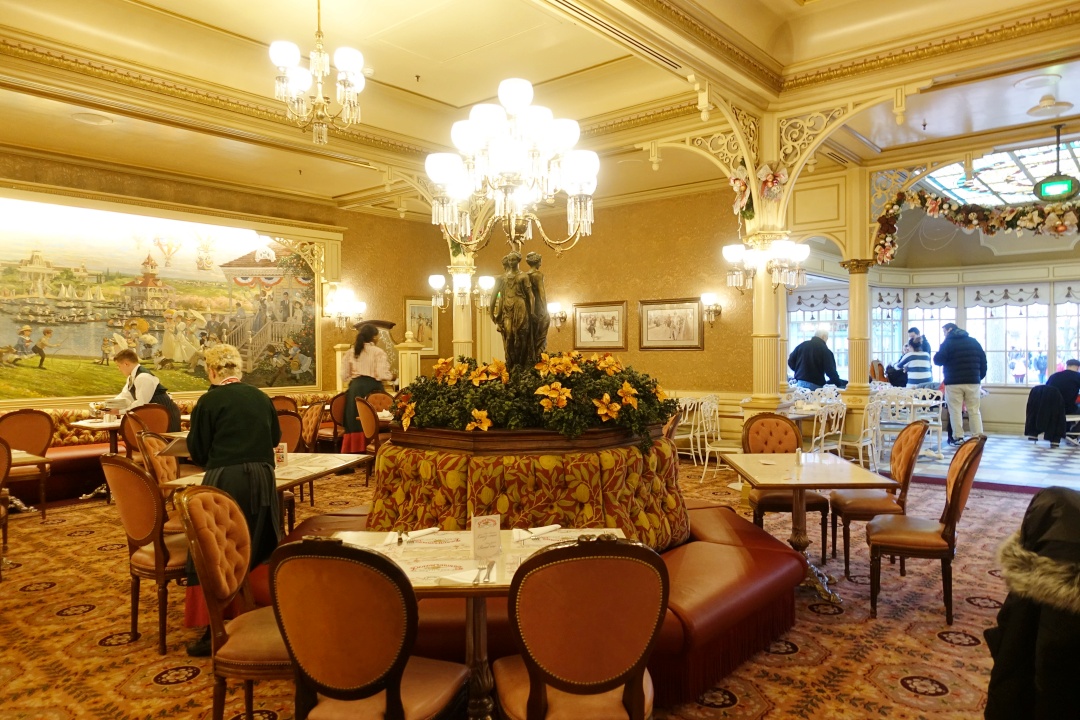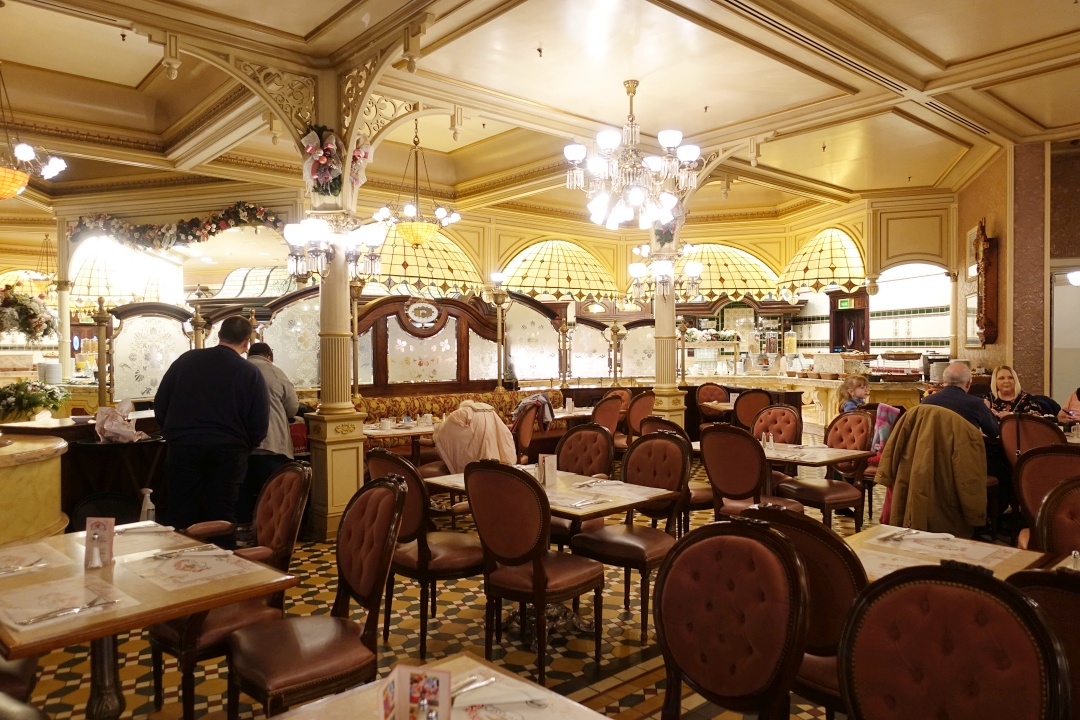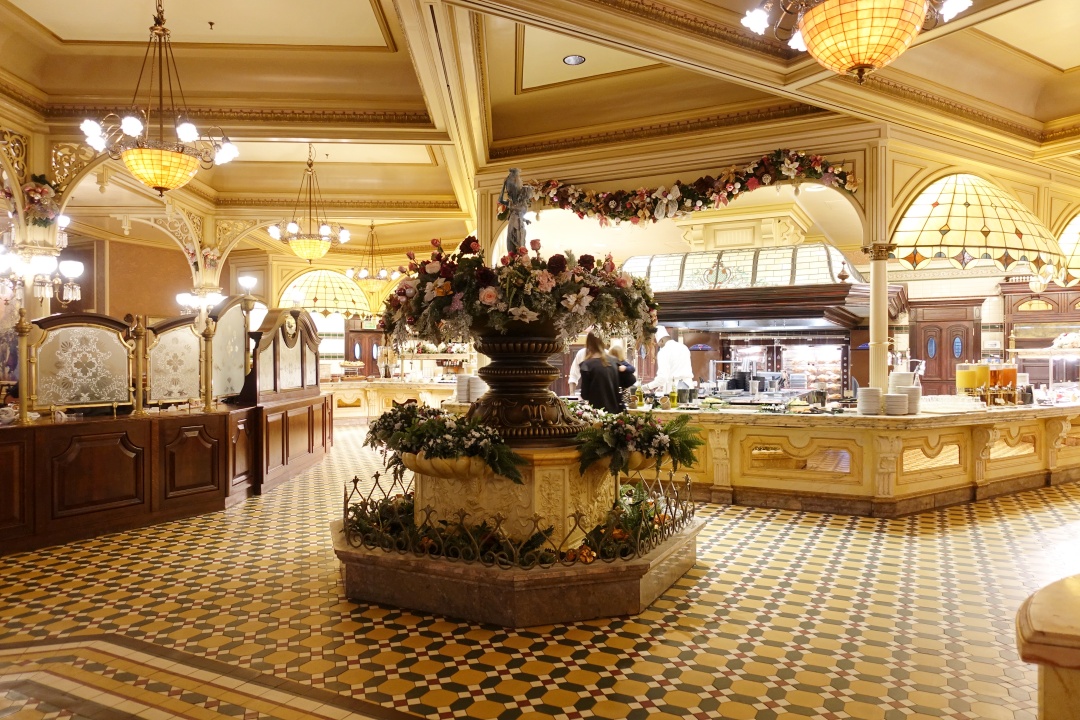 Back then, I didn't know there was a second session at 09:45. I supposed that explains why the crew was working to clear the restaurant.
---
The Plaza Gardens Restaurant was situated near to the Central Plaza, at the right end corner of Main Street U.S.A, near to Discoveryland. The Husband was still not feeling well after breakfast, so he found a bench near the Central Plaza and told me to explore the park on my own.
It was still considered early, and the park was relatively empty since it only opens at 09:00/10:00. As such, I decided to make use of the opportunity to quickly snap some pictures around the Central Plaza, in front of the Sleeping Beauty Castle, before I head into the shops.
Central Plaza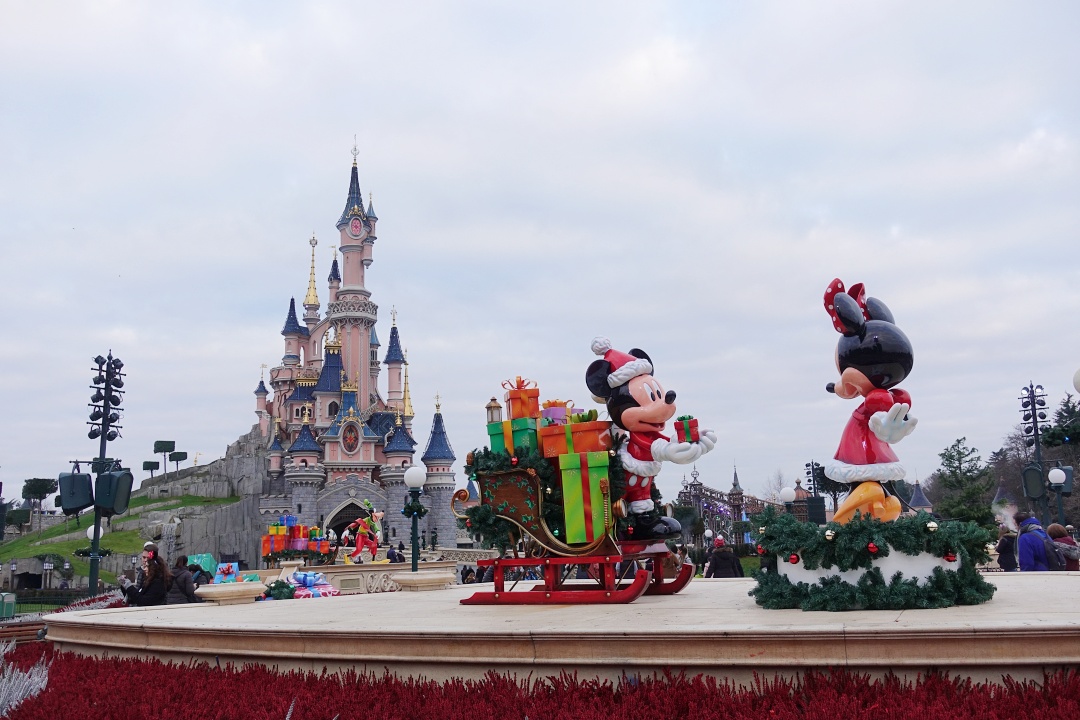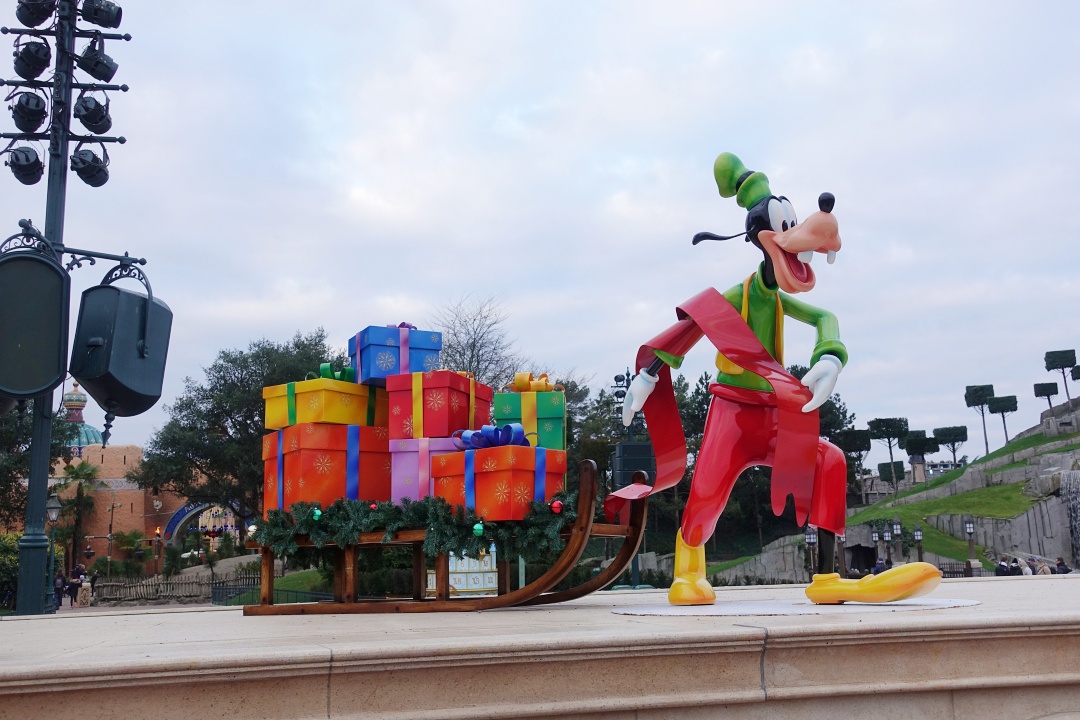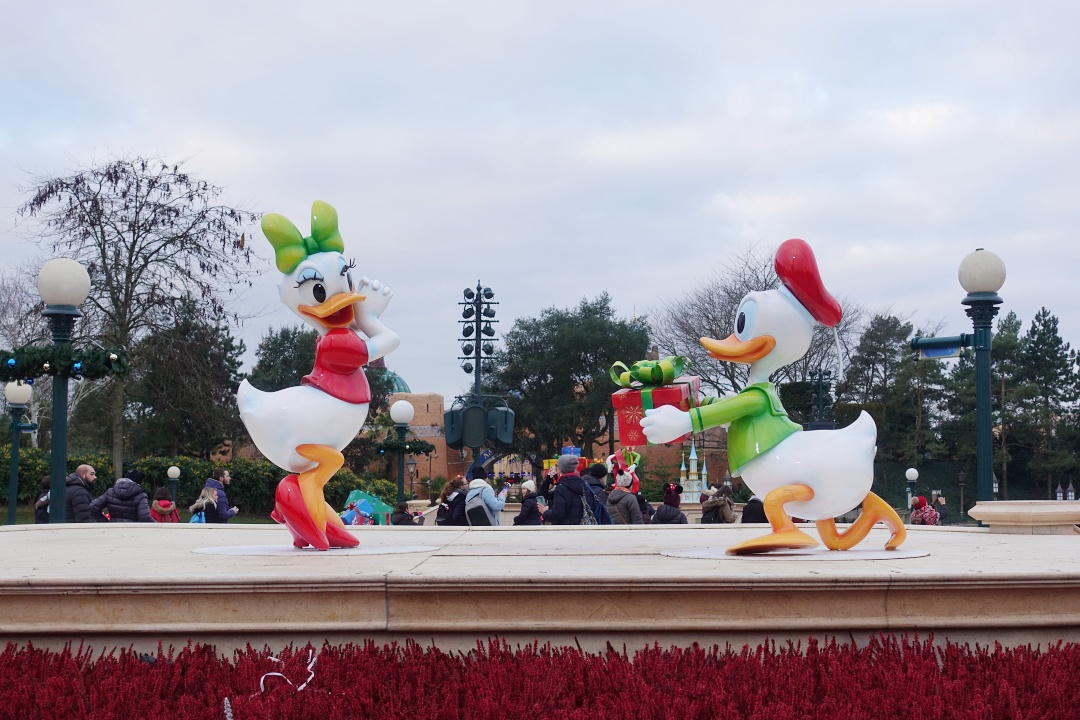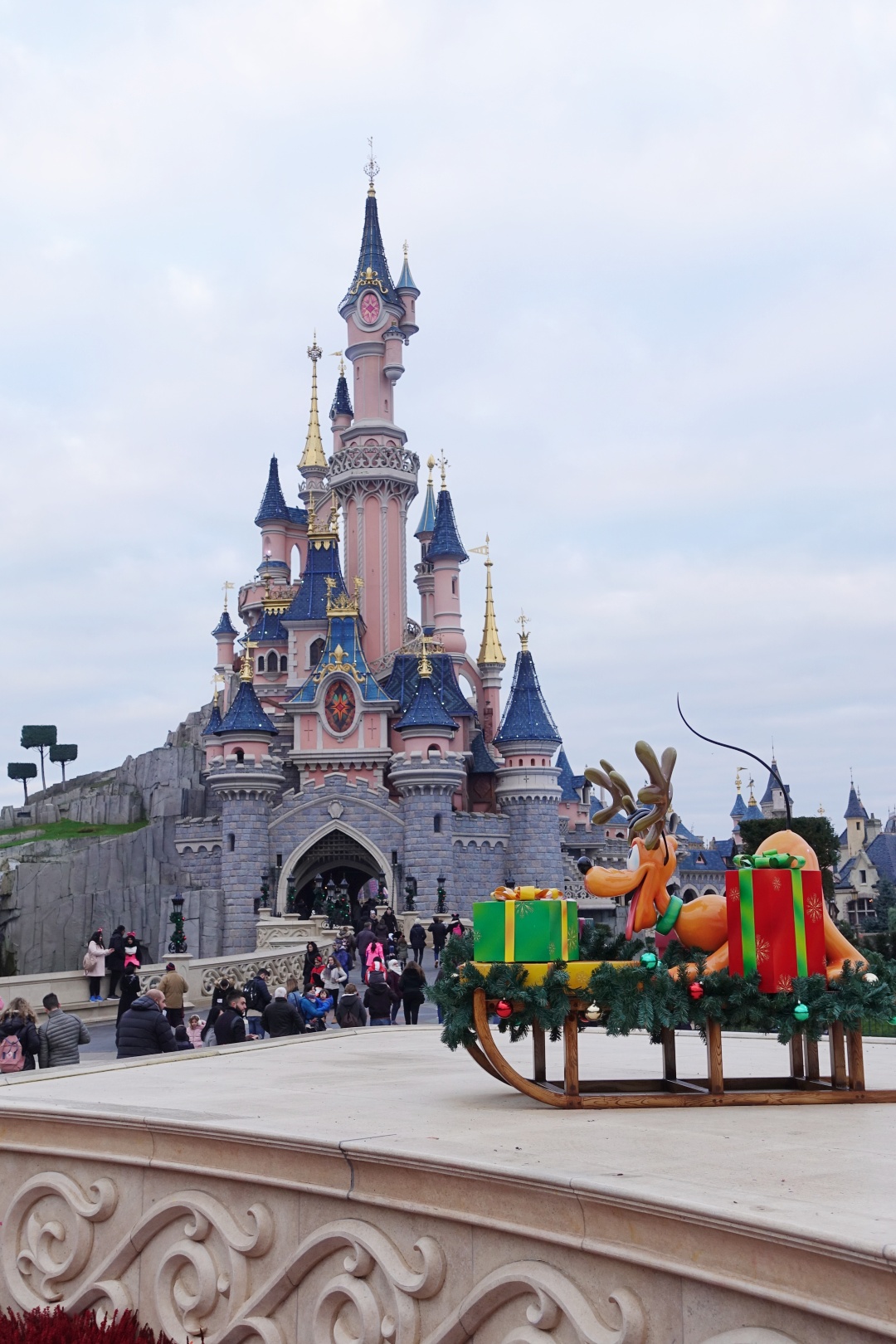 Sleeping Beauty Castle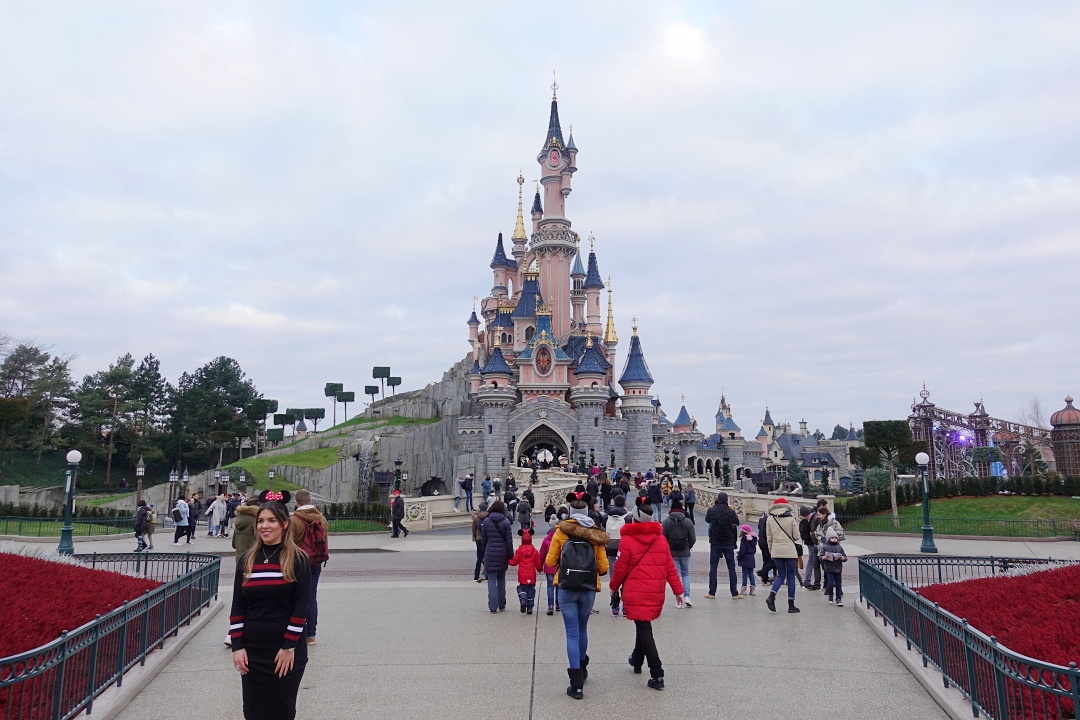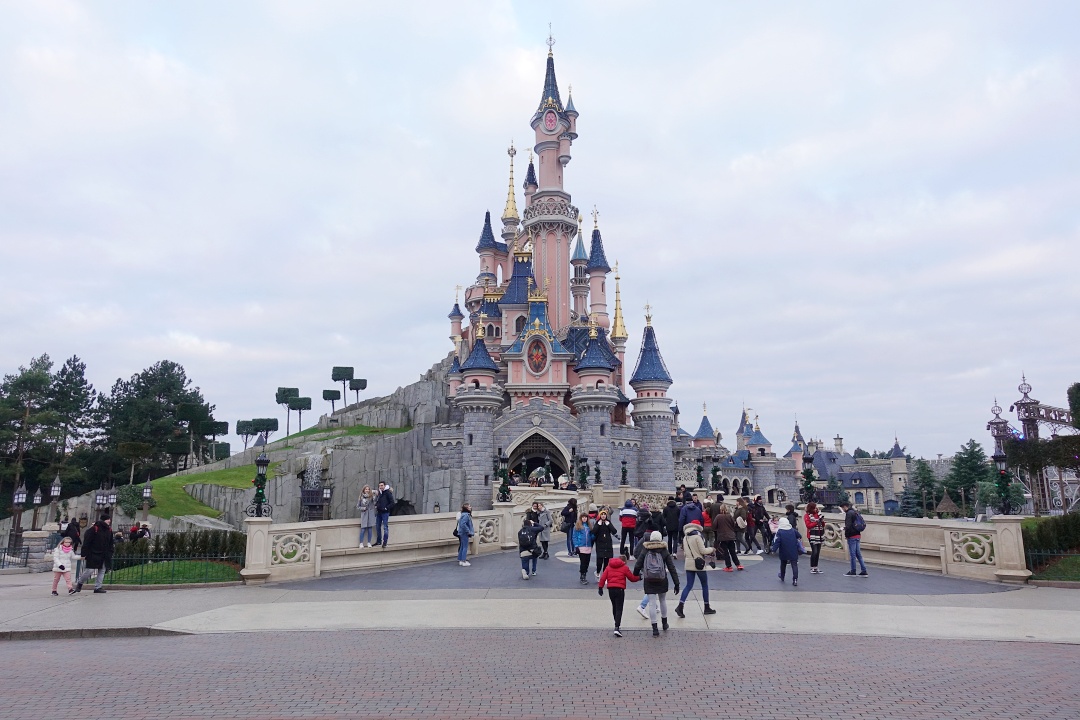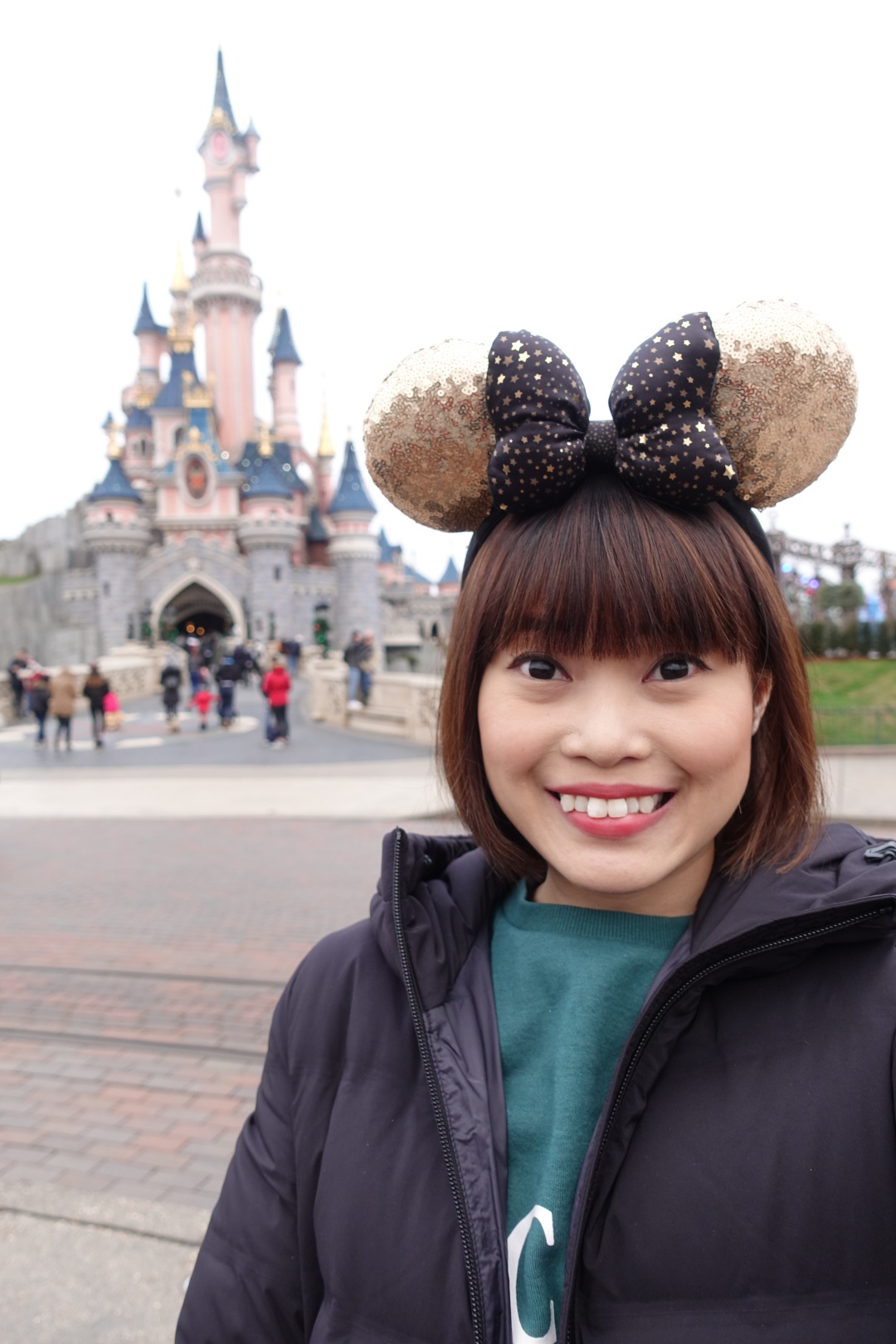 No one to help me with pictures, so I had to make do with a selfie.
Having done with the outdoor pictures, I then went into one of the shops nearby. Starting with Disney & Co at Main Street U.S.A.
Disney & Co.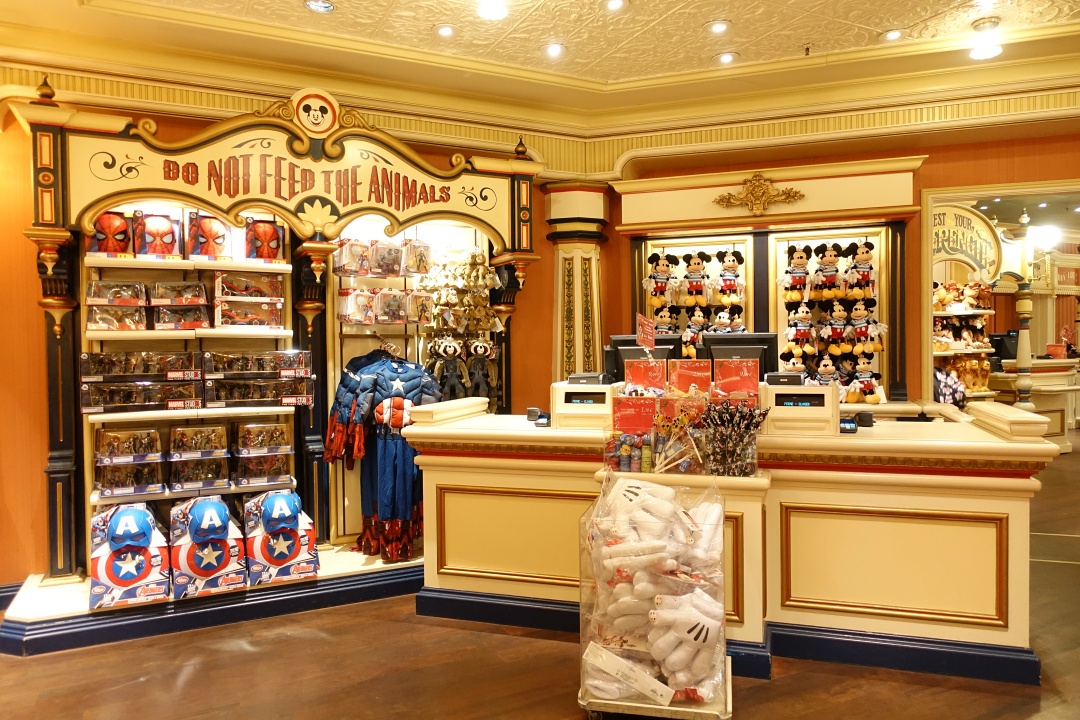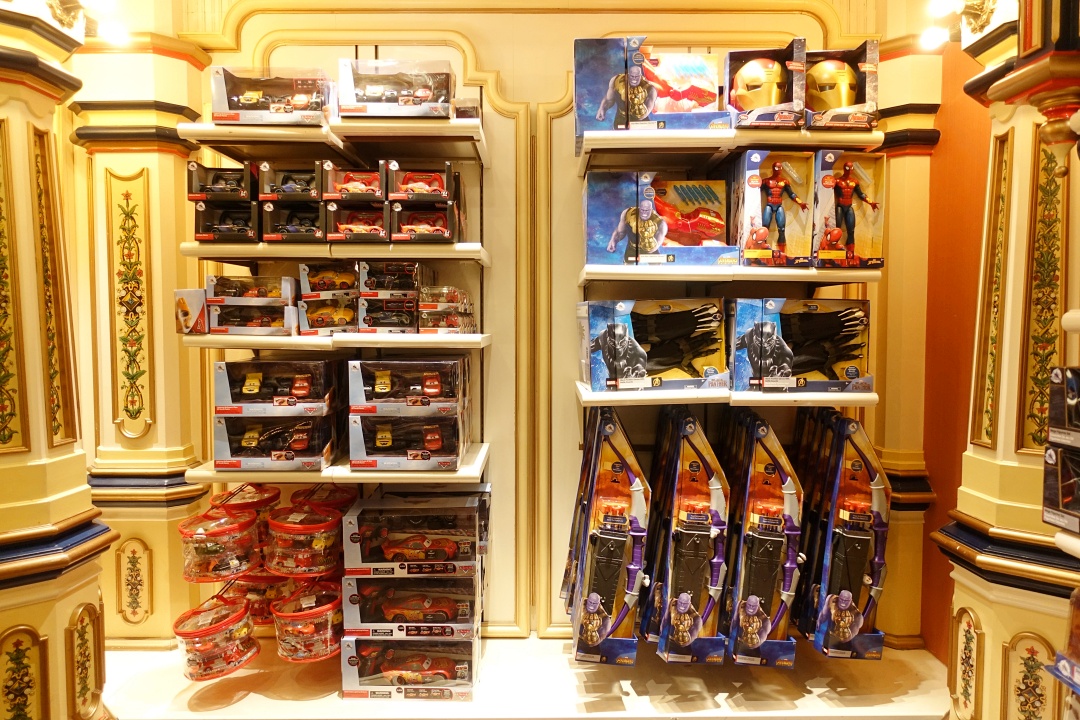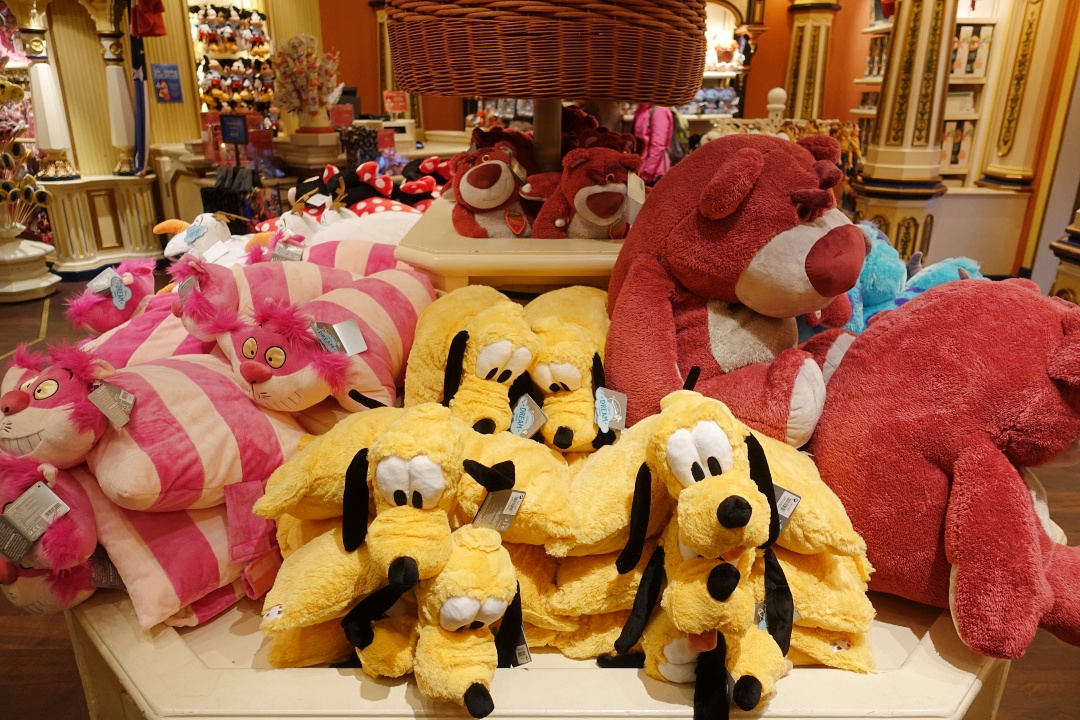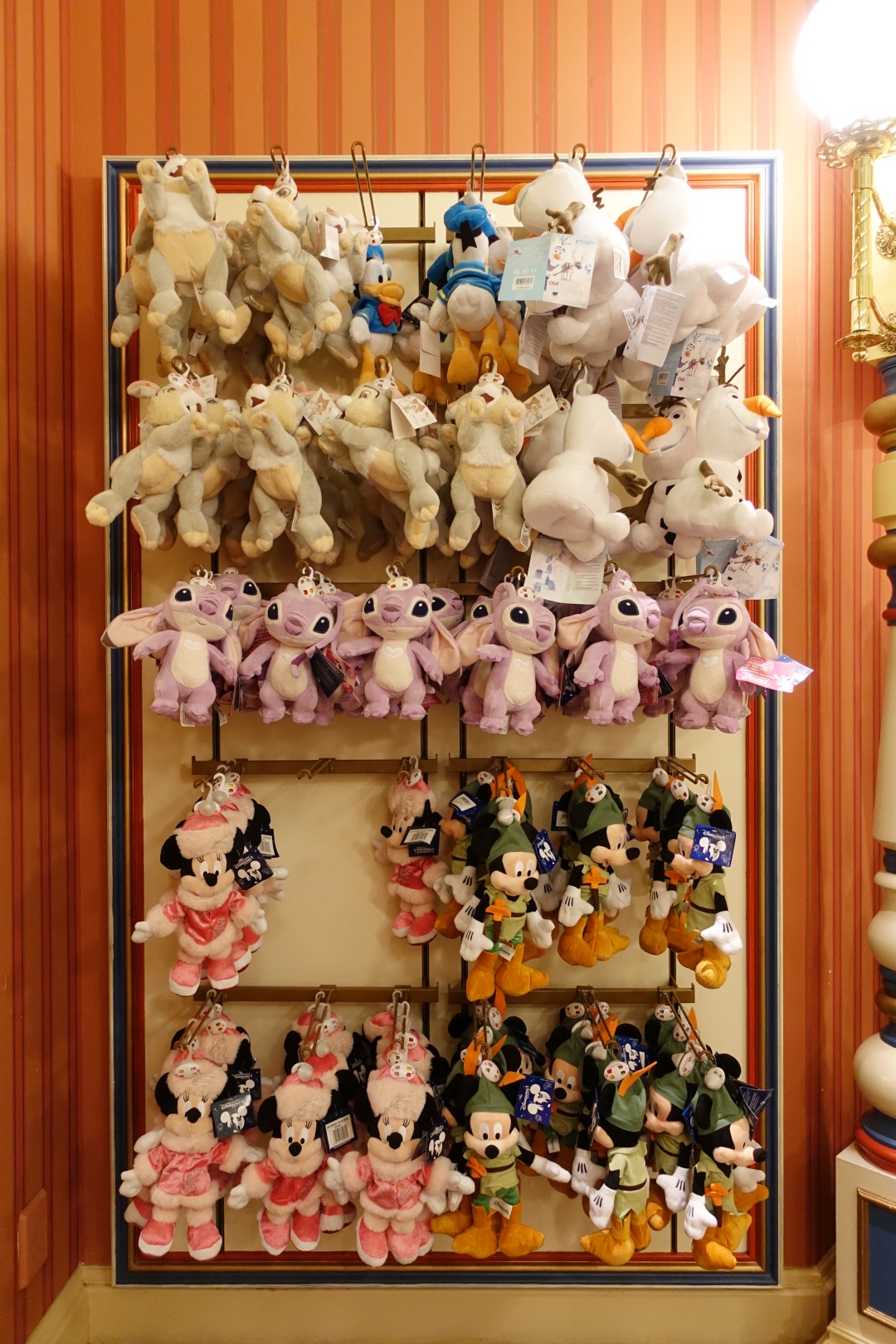 Lilly's Boutique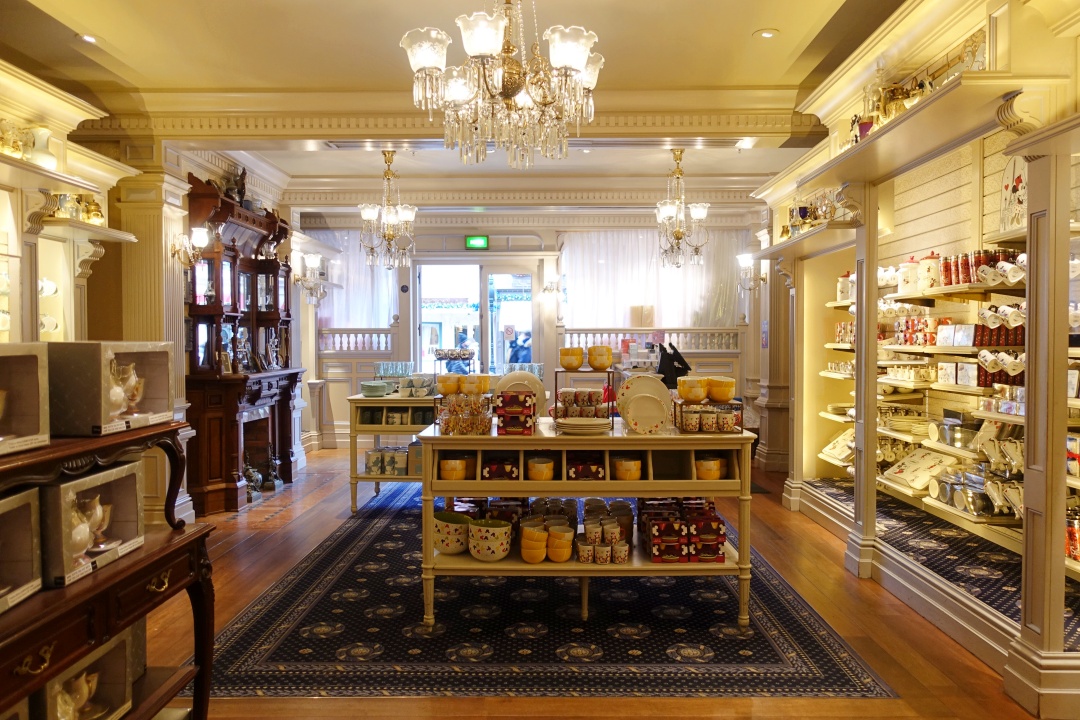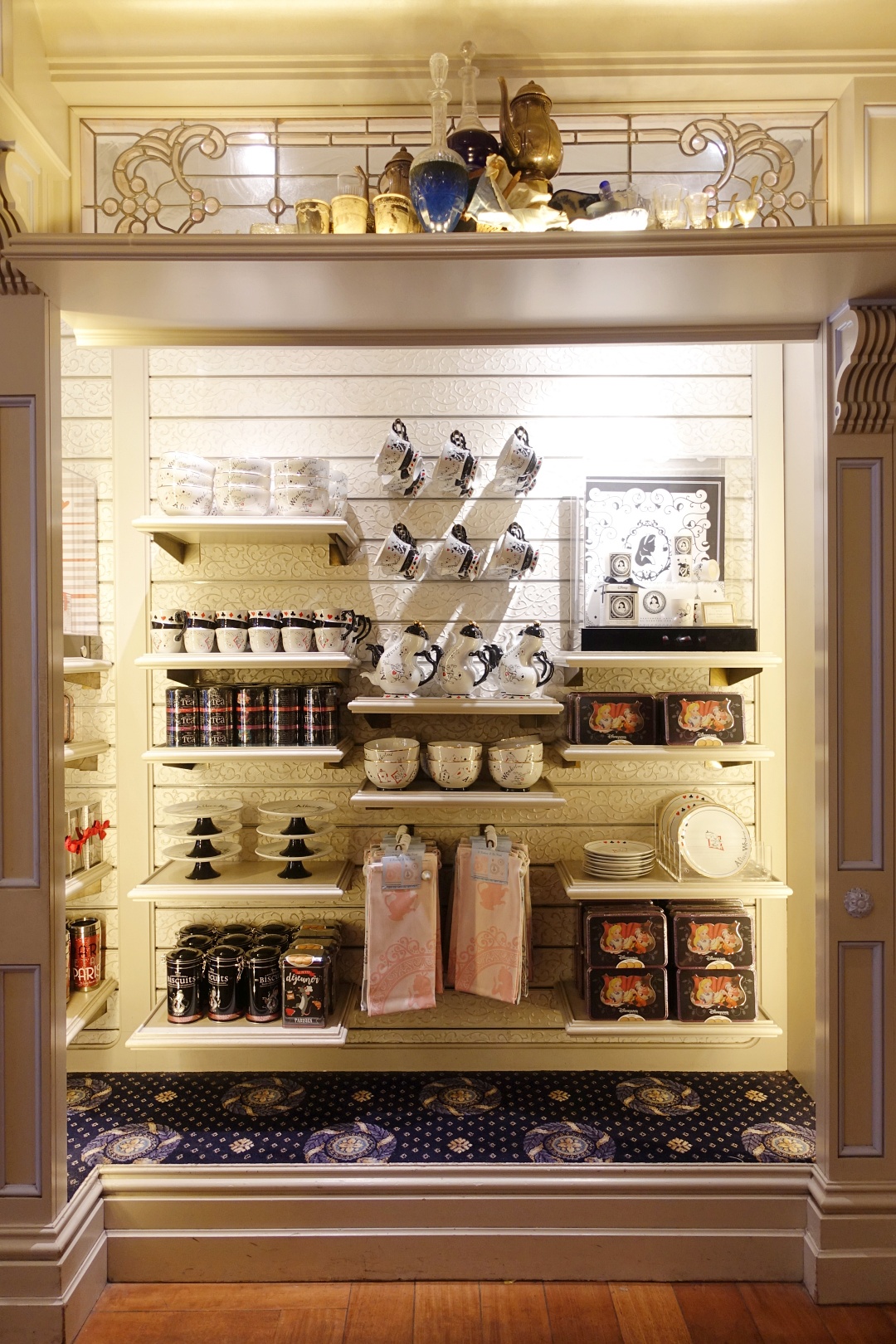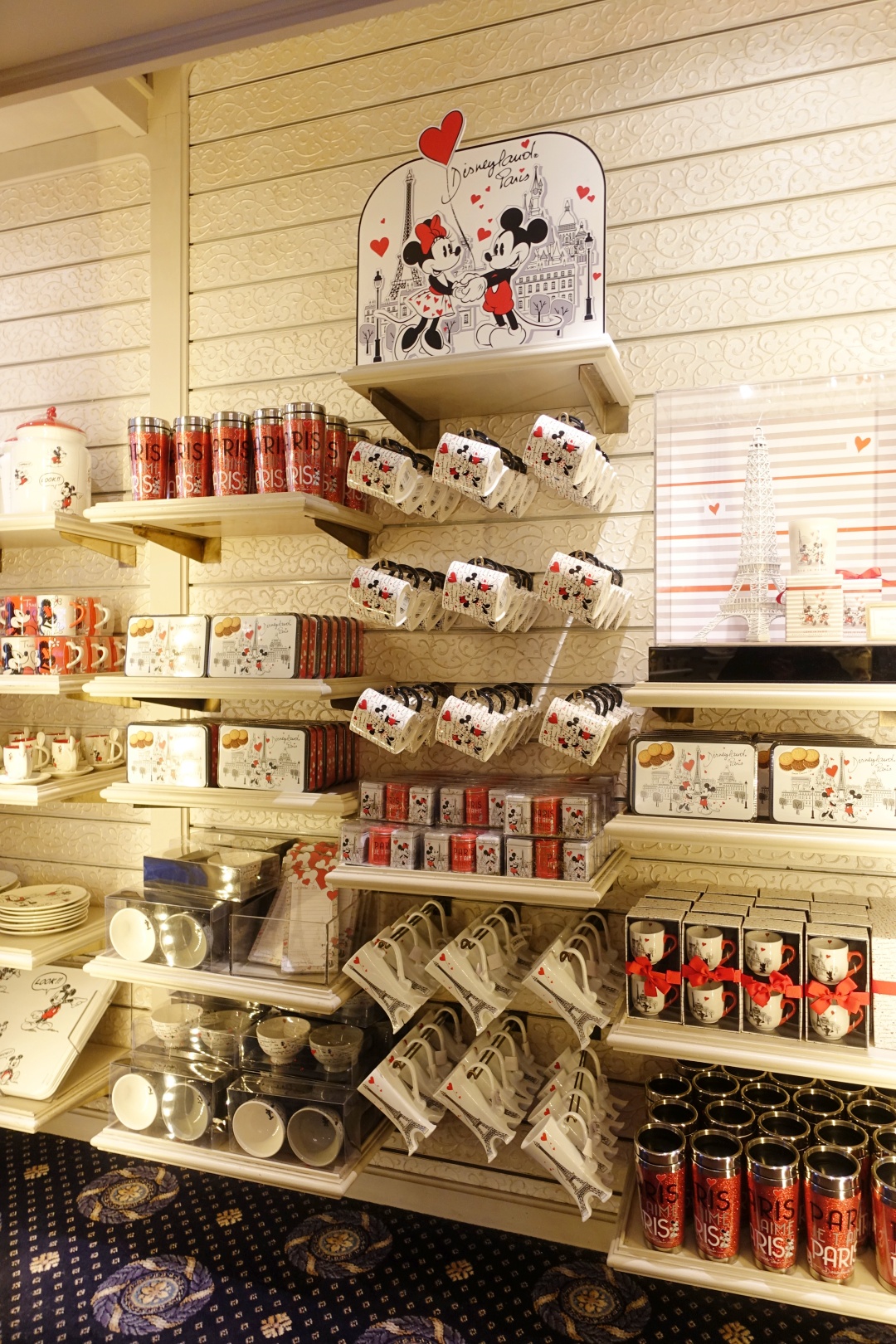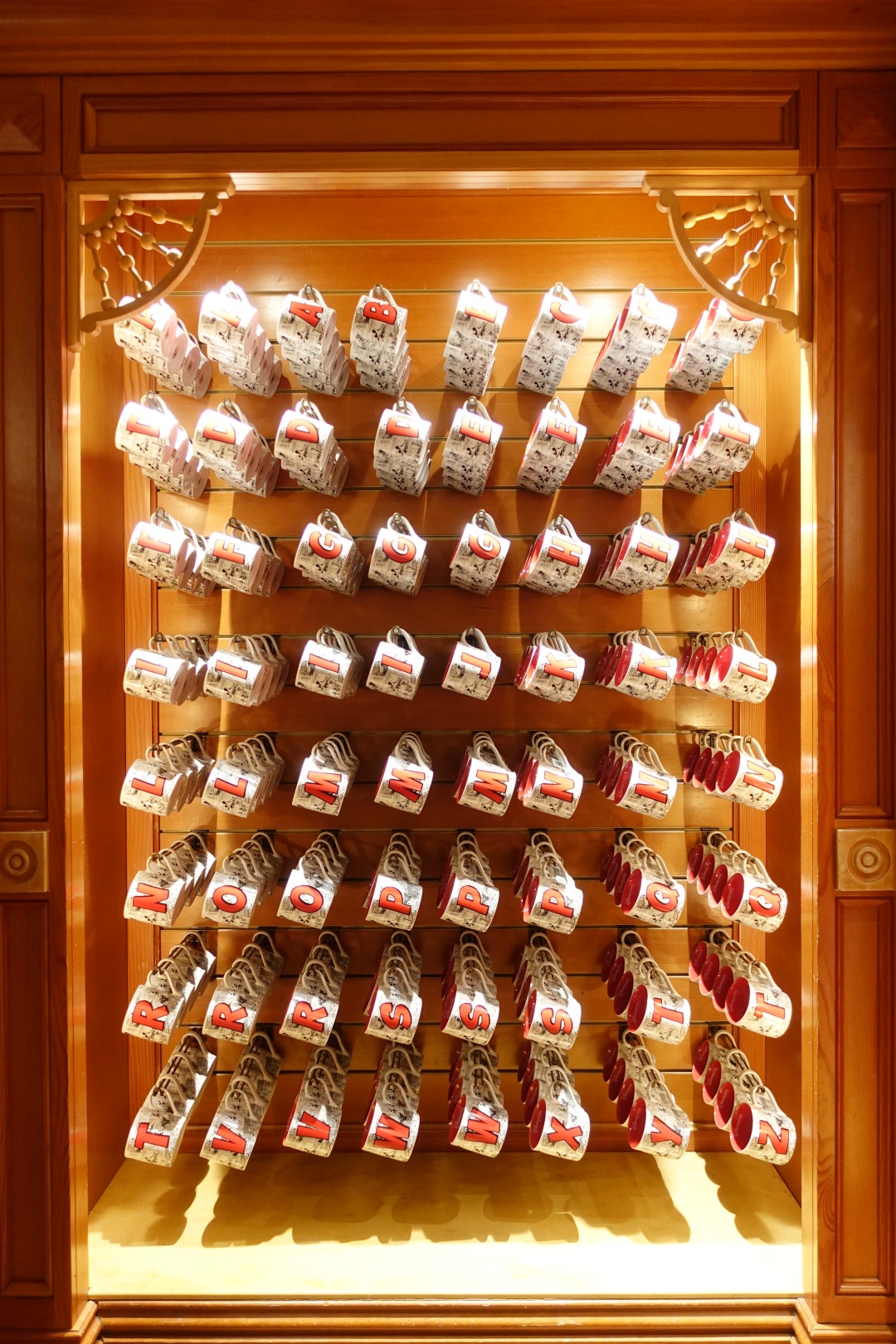 I really enjoy the peacefulness and how empty the shops were in the morning. I guessed most guests had gone to check out the rides/obtain fast pass for their favourite attractions. Both the Husband and I weren't a fan of playing the attractions (especially not when he was sick); I'm satisfied with just walking around the park, taking pictures and doing some shopping.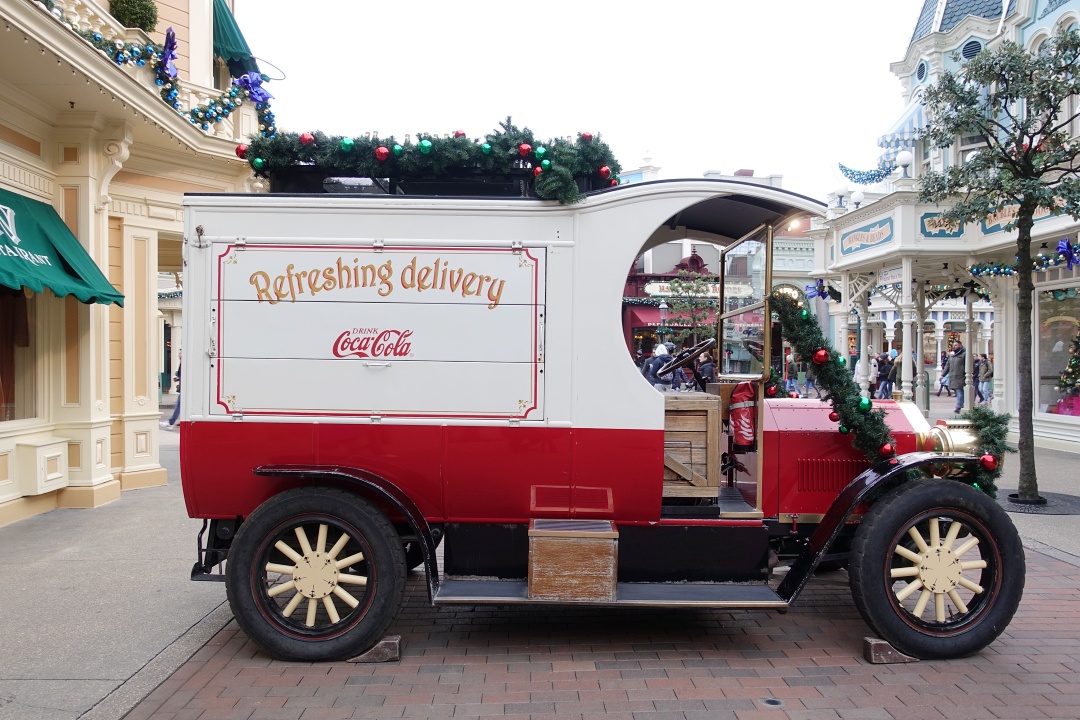 Emporium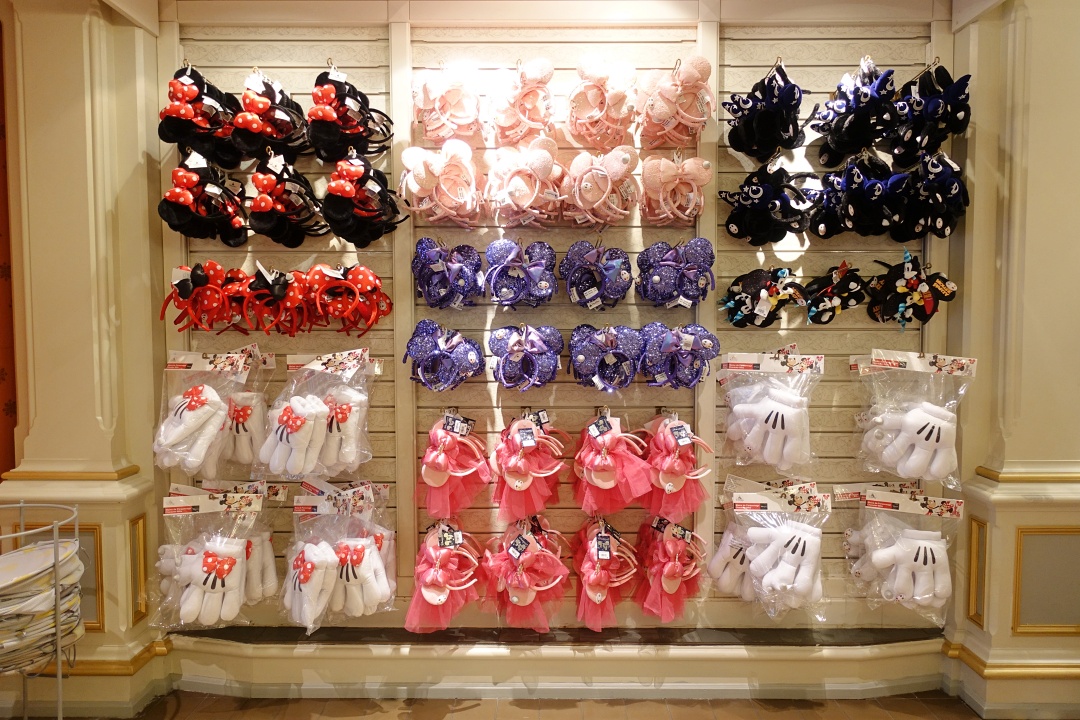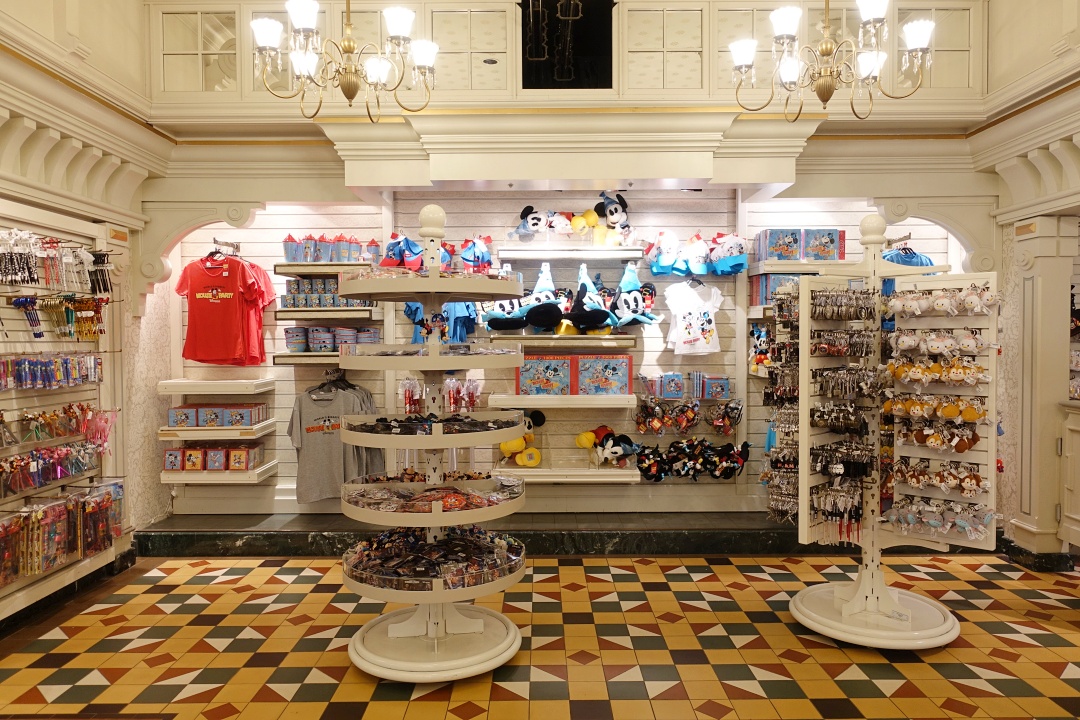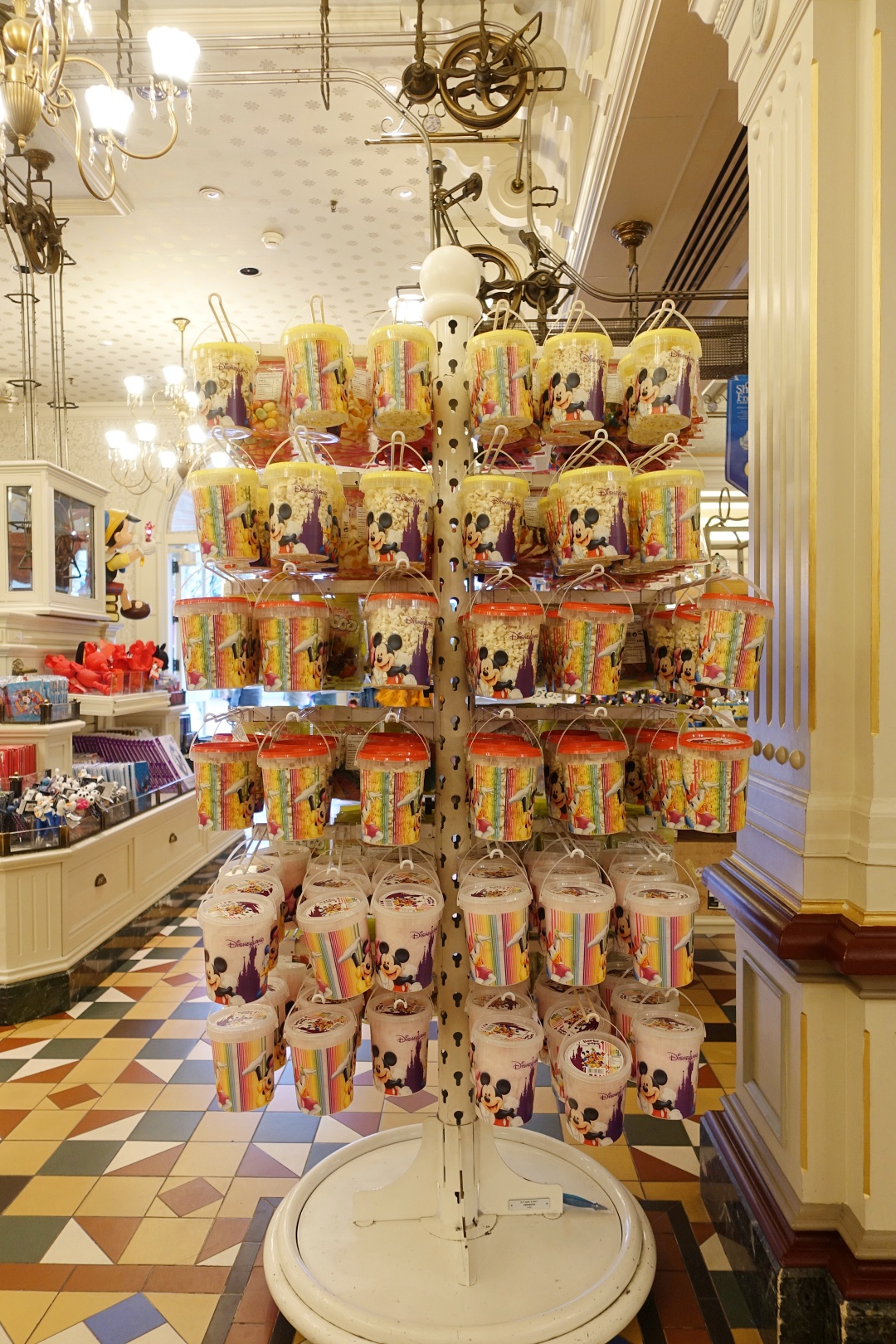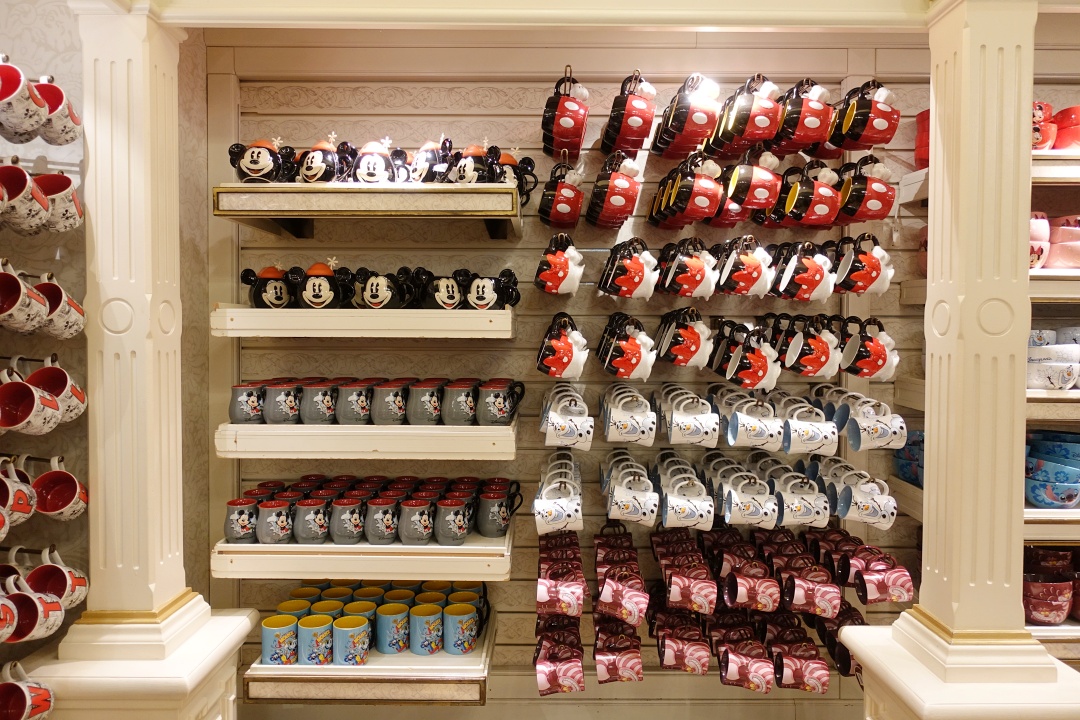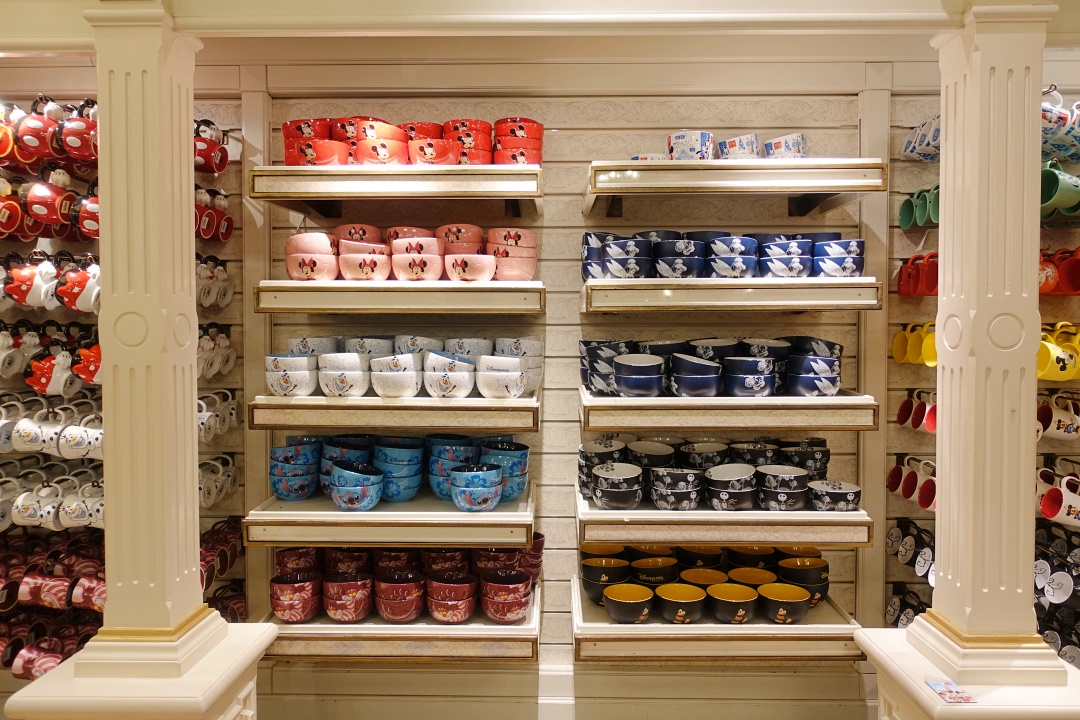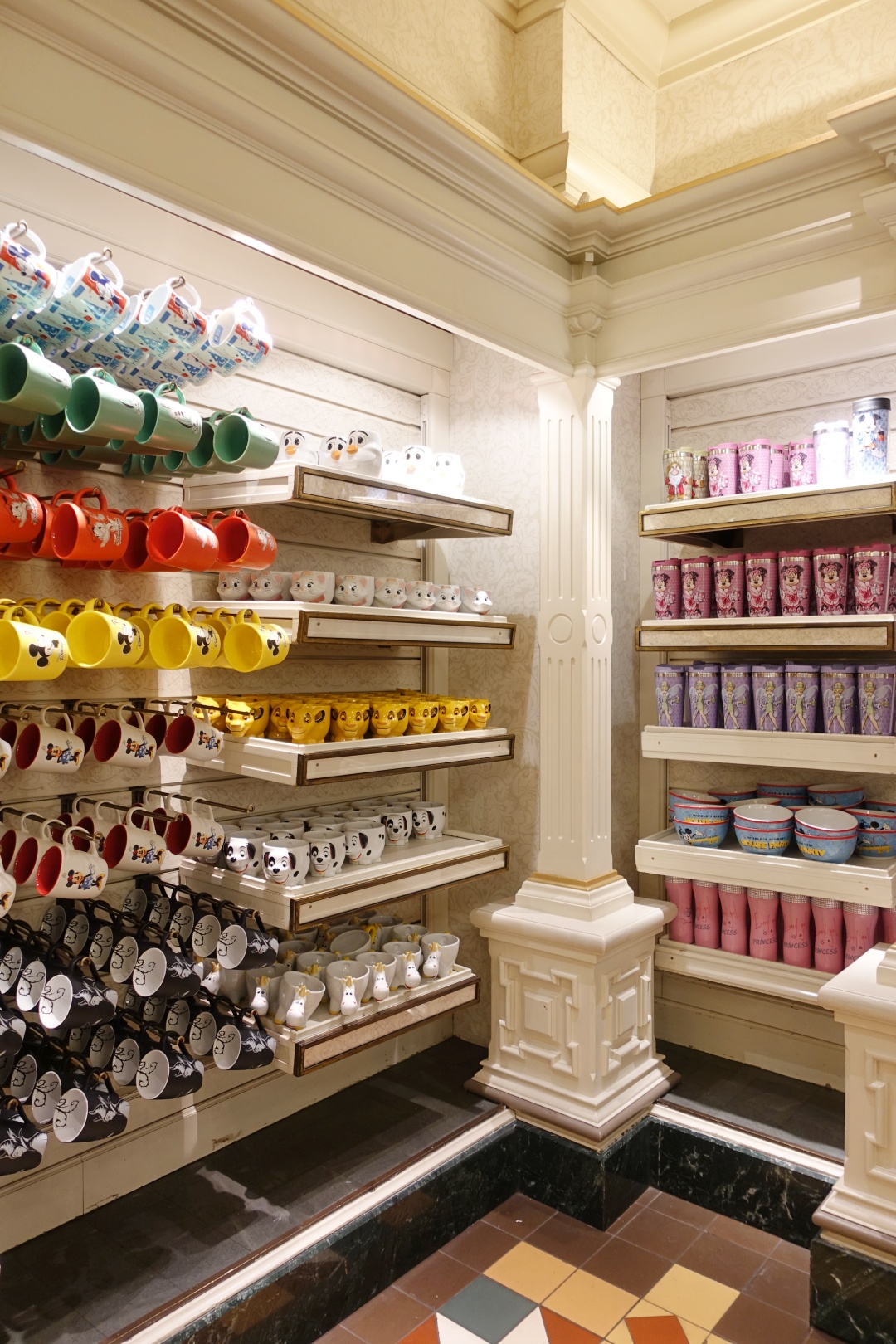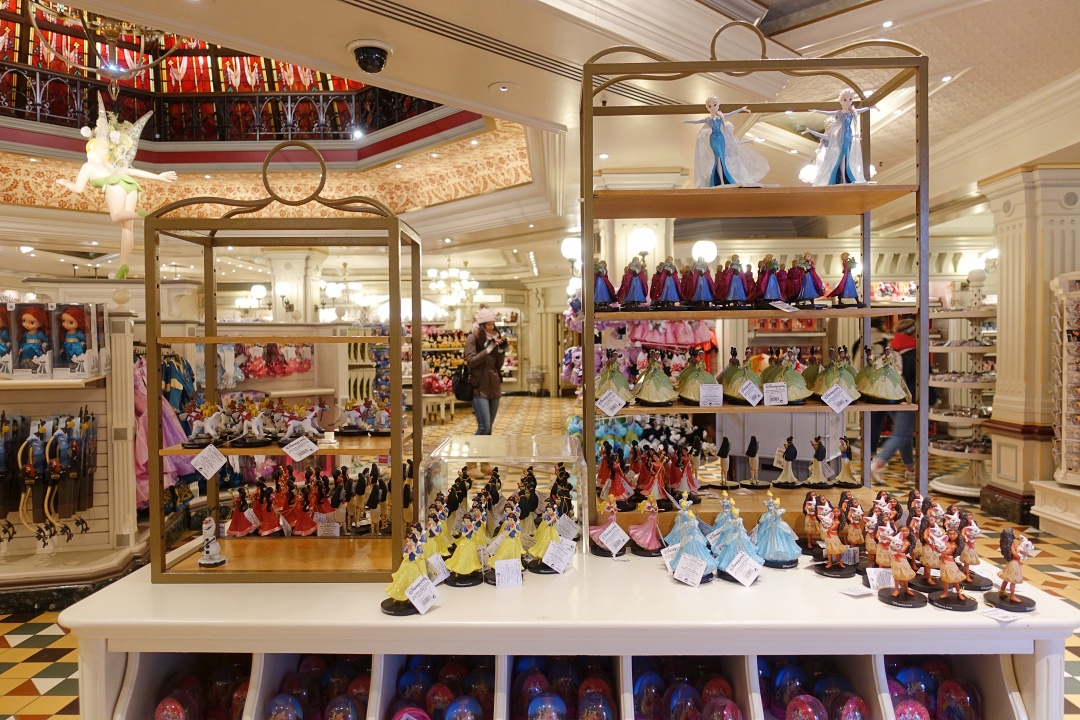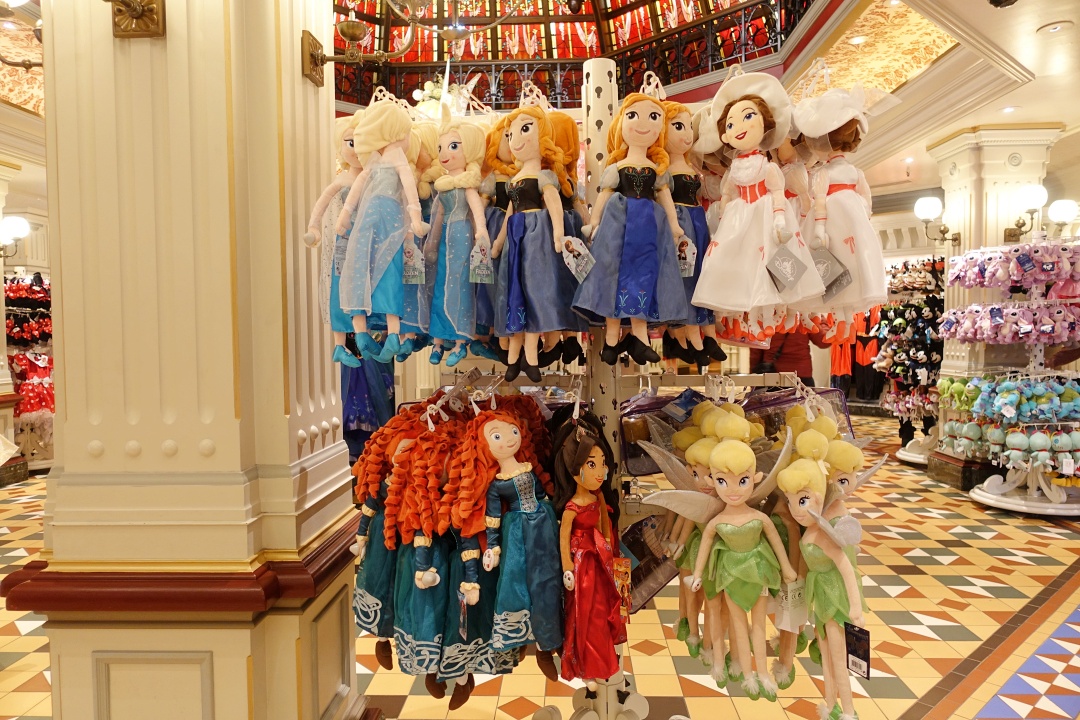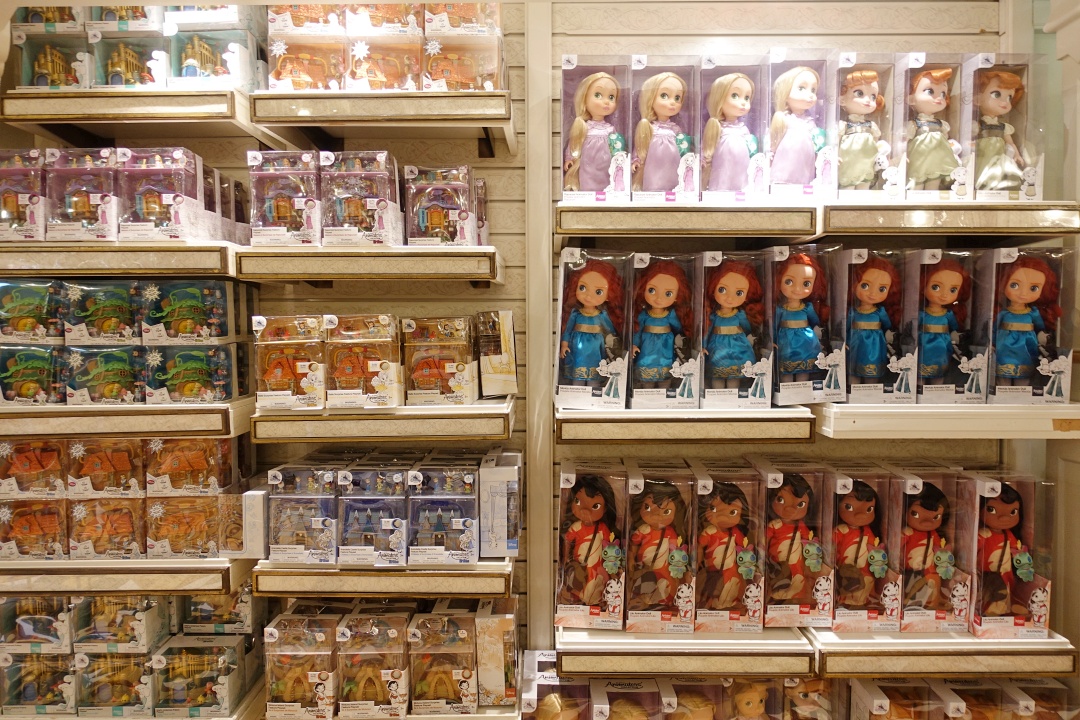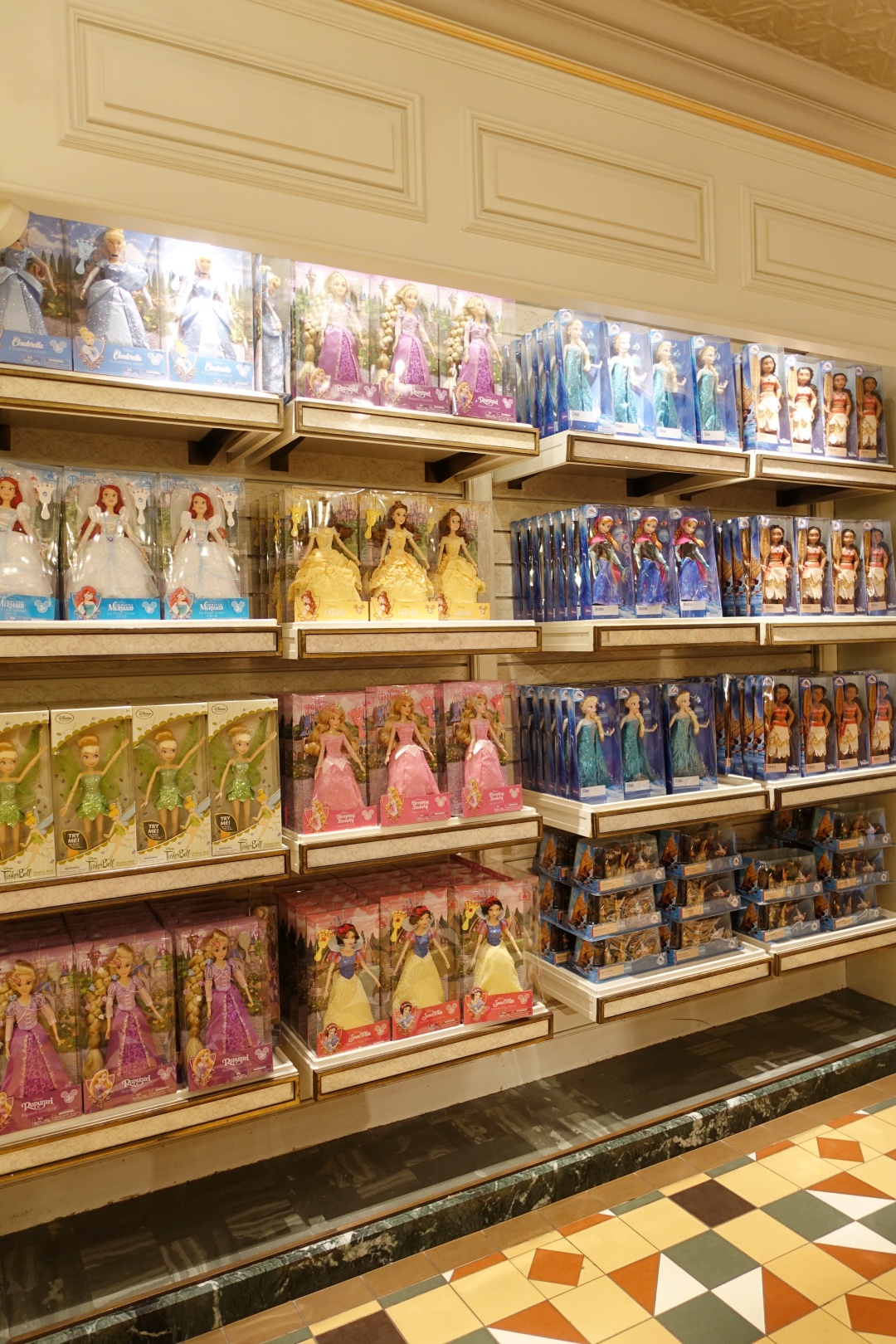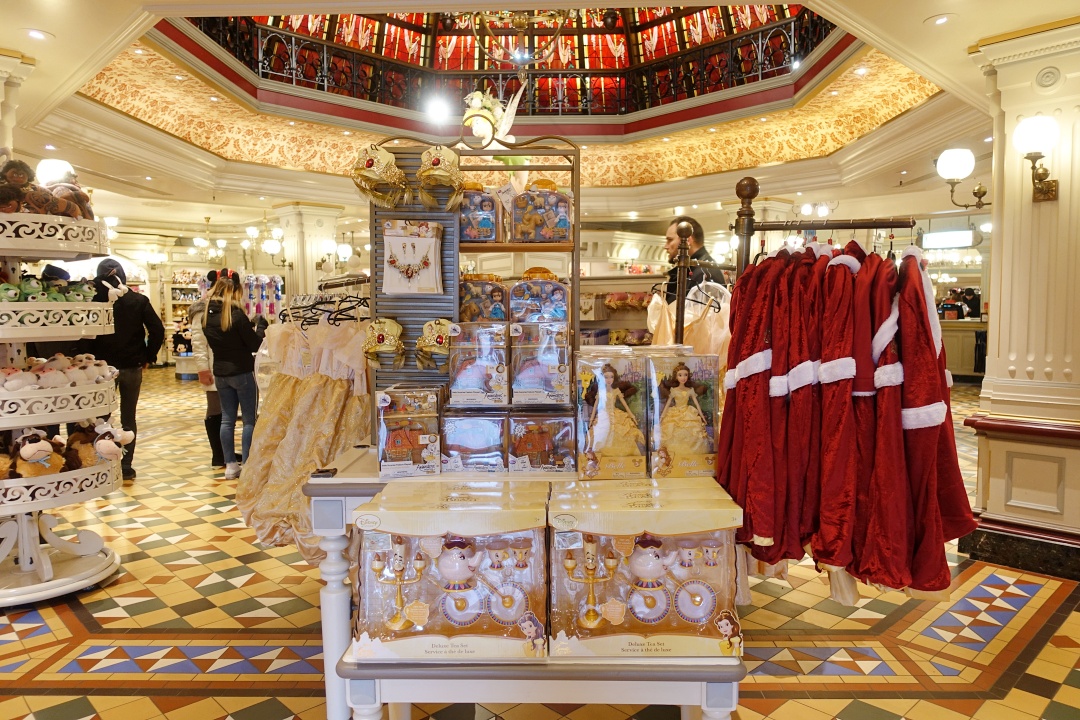 The Husband came looking for me when I was almost done walking around the Emporium store. We exited Emporium and saw that Marie was doing her Meet 'n' Greet. Quickly went over to join in the queue and had our pictures taken with Marie.
Meet 'n' Greet – Marie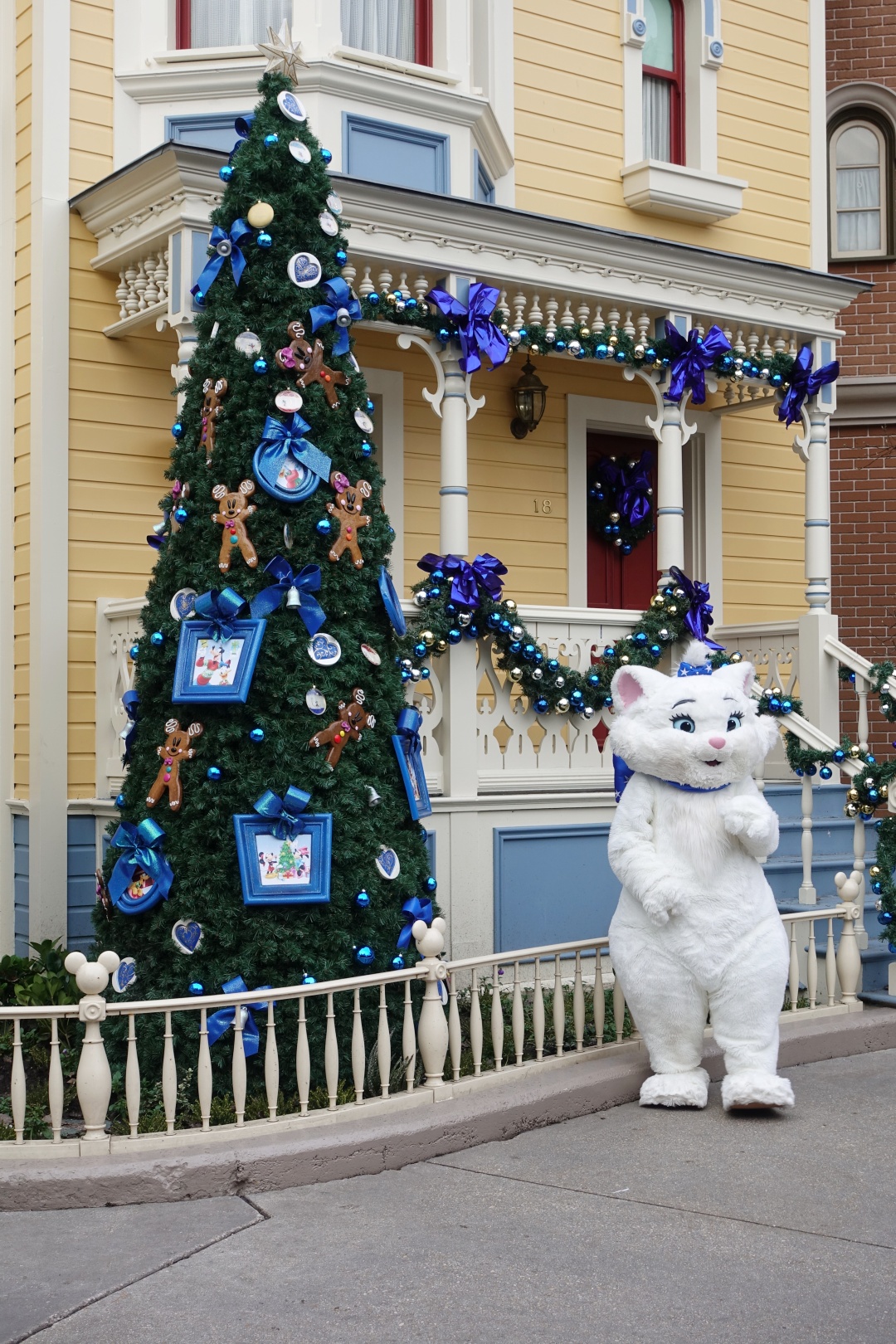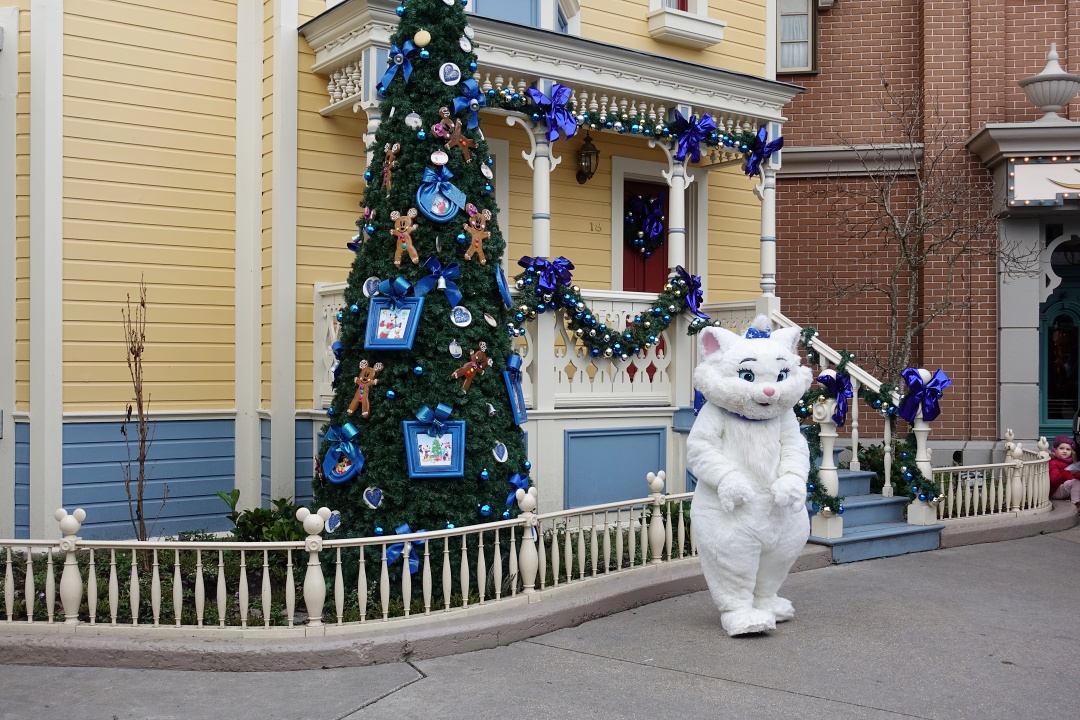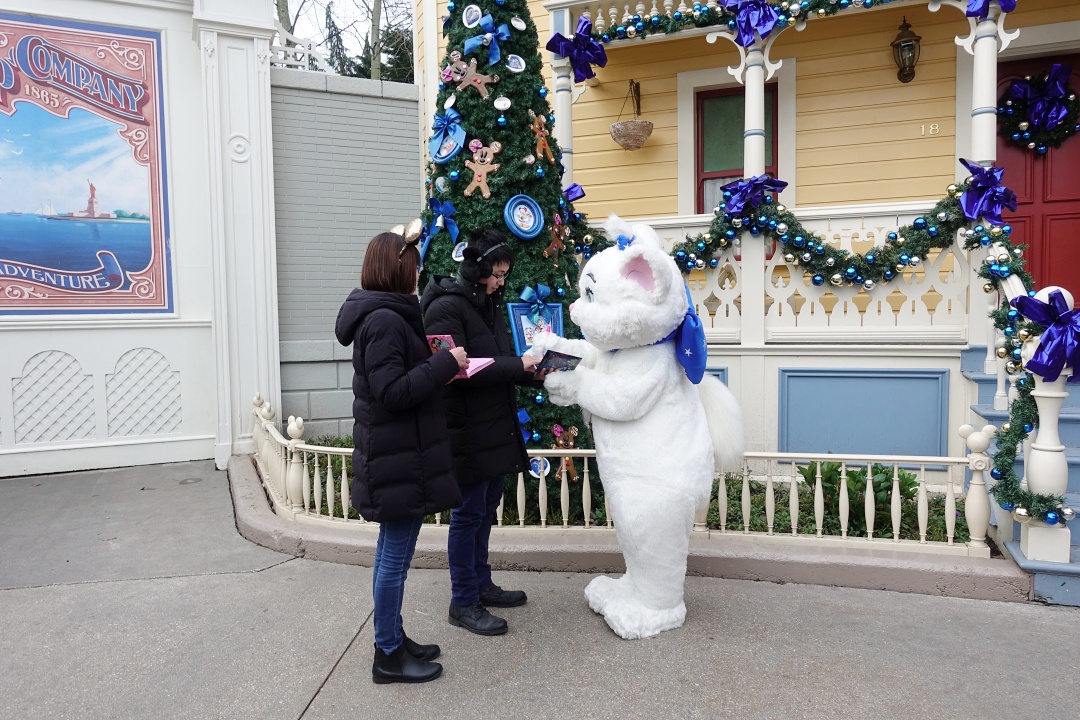 Getting her to sign our autograph albums.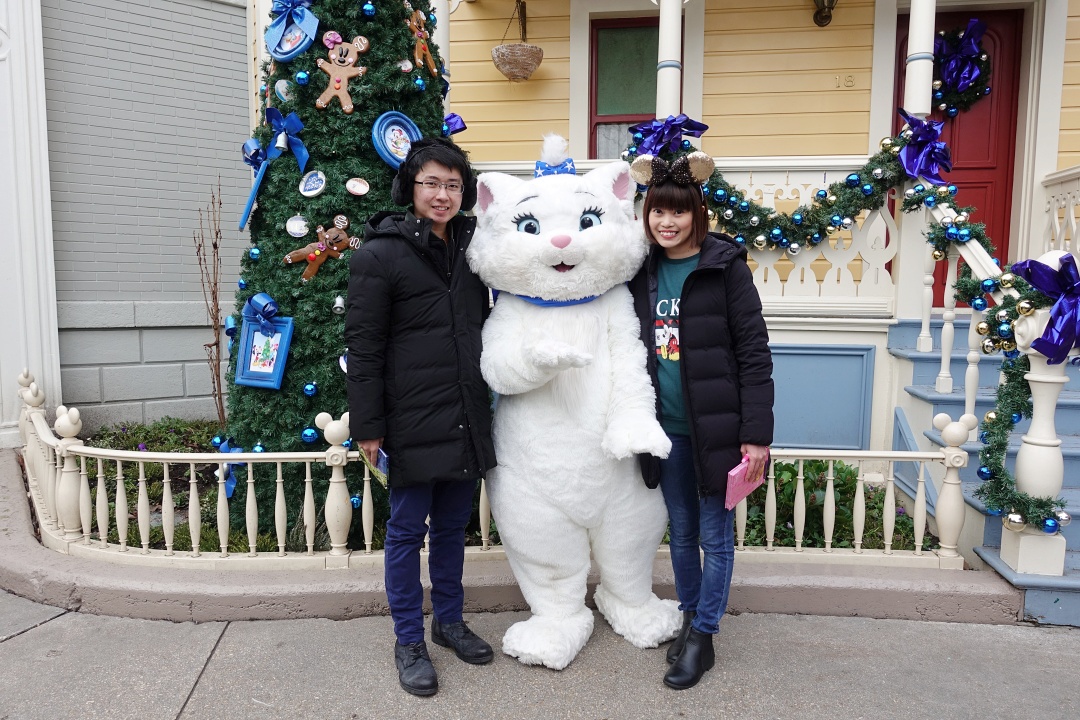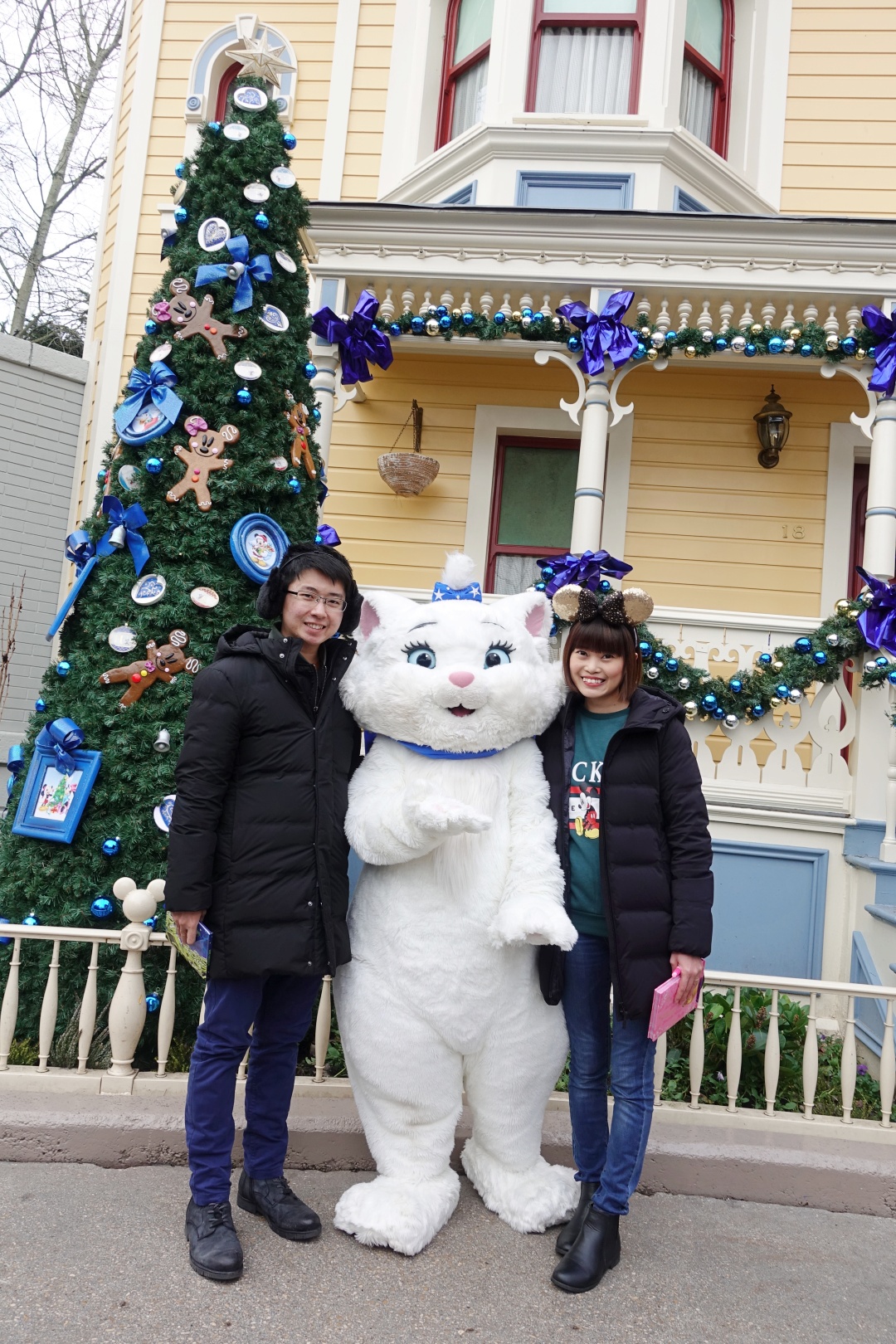 It was around 10:30 when we finished the Meet 'n' Greet. Since the Husband wasn't feeling well, we figured it was best to return to the hotel for him to take proper rest. We could always come out again later when he felt better.
At times like this, I'm glad that we had purchased three days admission to Disneyland Paris and Walt Disney Studios, where we have ample time to explore the parks, instead of having to rush from one place to the other.
---
Got him to go down for a nap, and I ended up falling asleep too; we only went out again at around 15:00.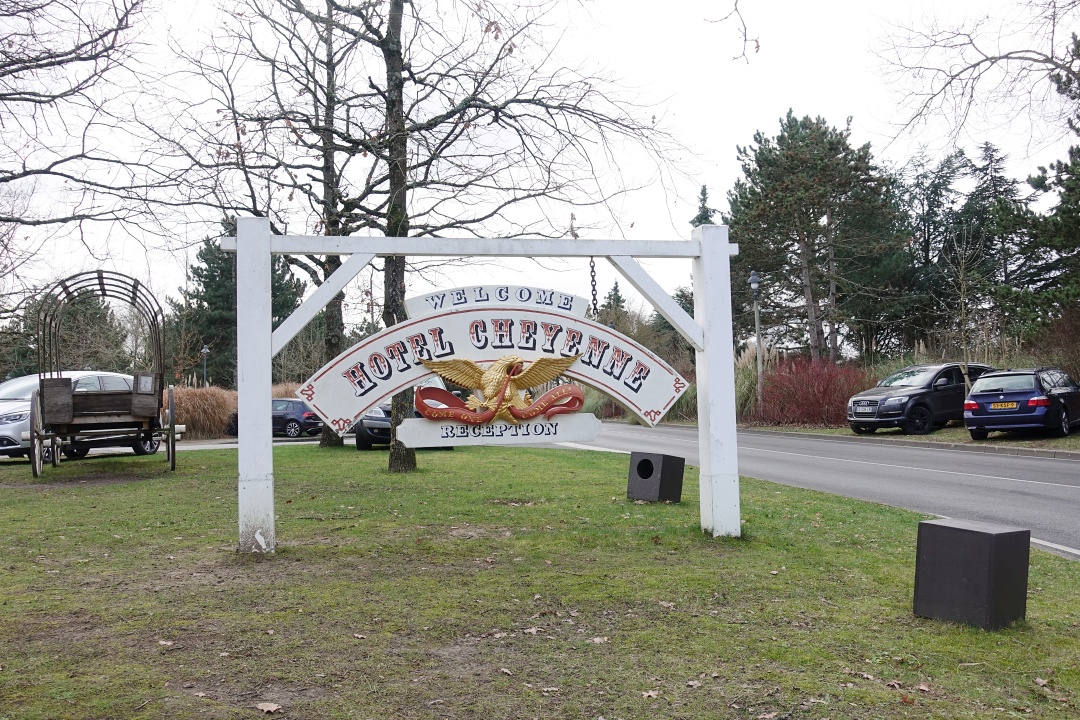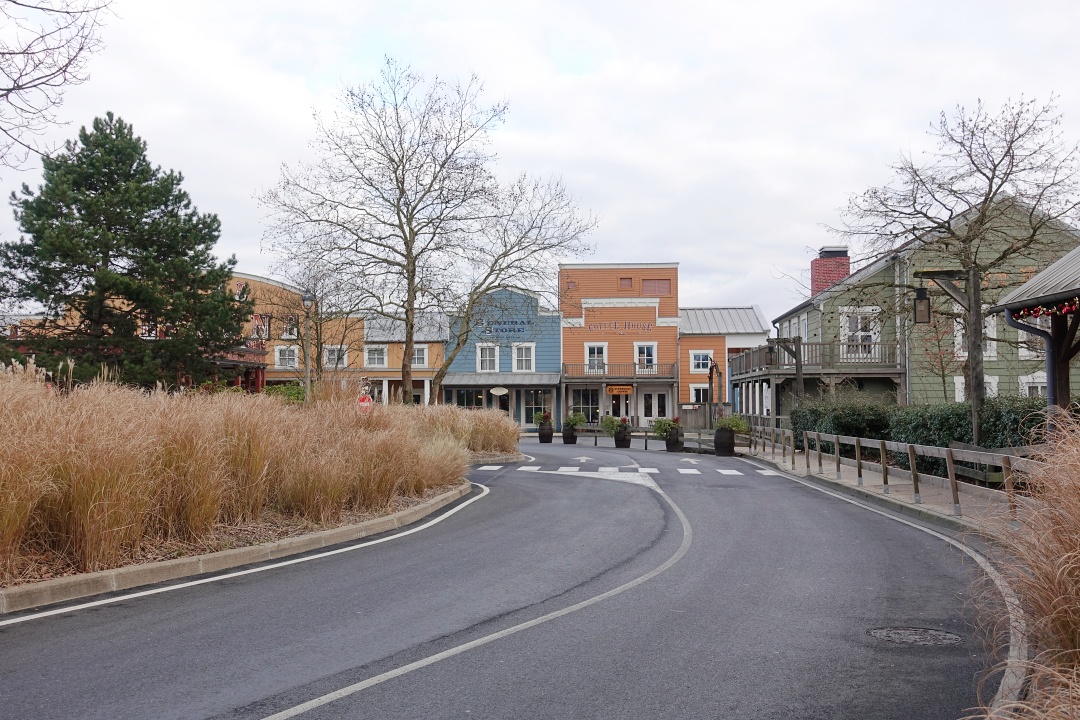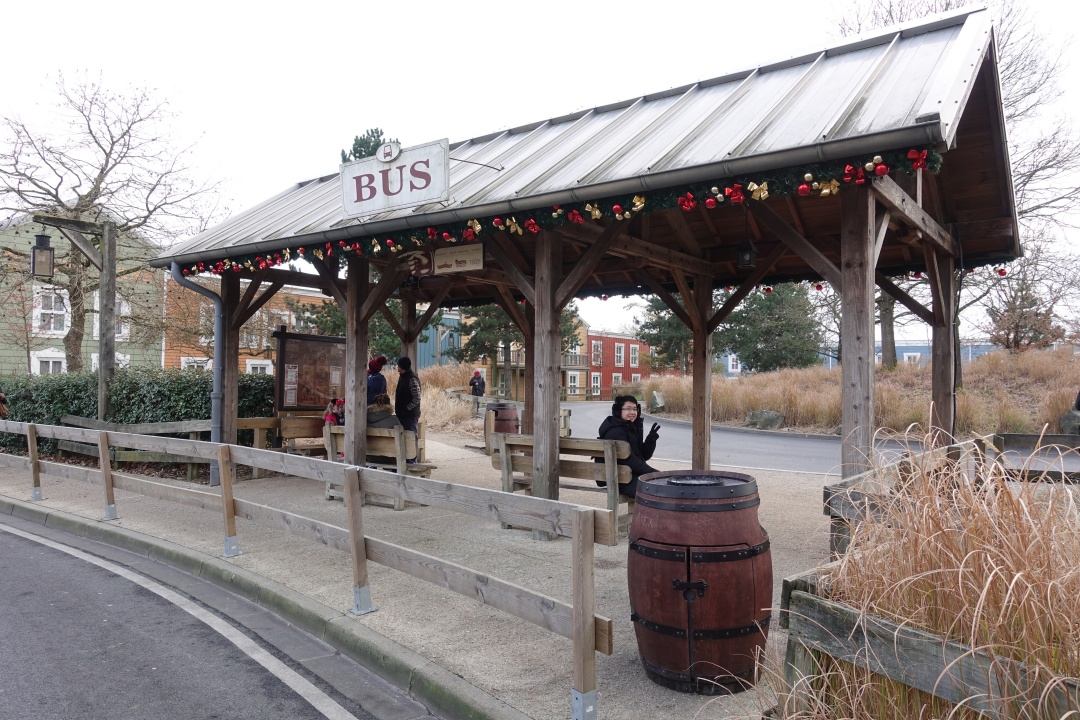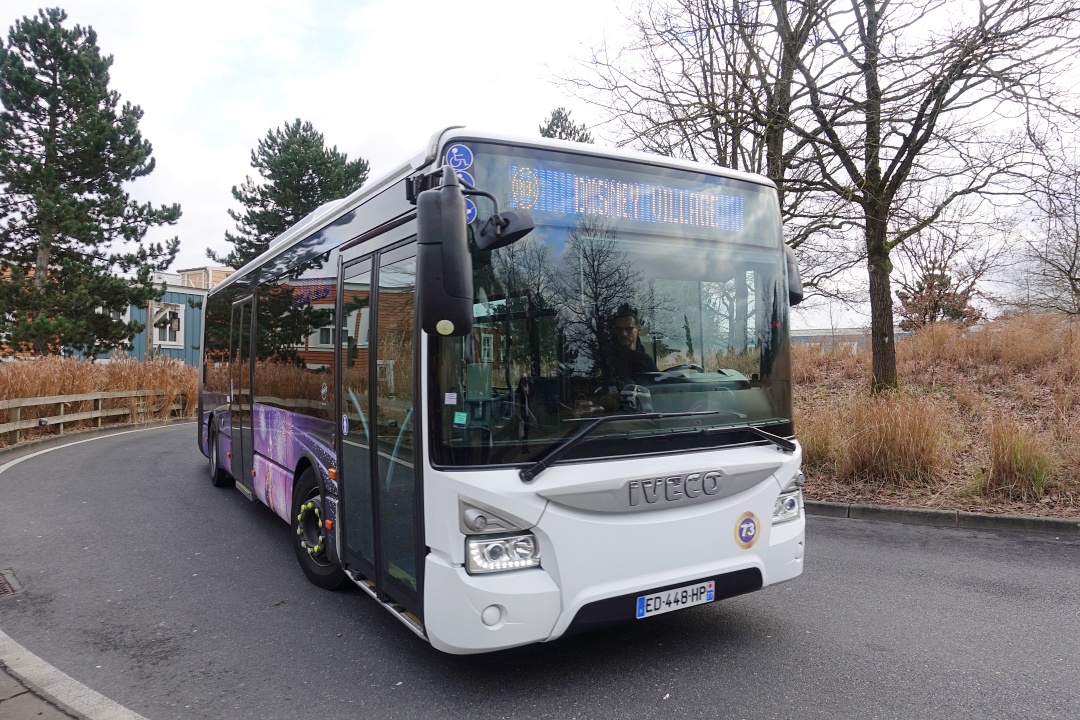 The complimentary shuttle service to the Disney Parks and Disney Village is available from 06:30 to 23:30, and I'm pleased that they have quite a high frequency for the buses throughout the day. The weather was lovely (and cold) at the time of our visit (January); the place was just very peaceful and serene, making the wait more enjoyable.
---
Walt Disney Studios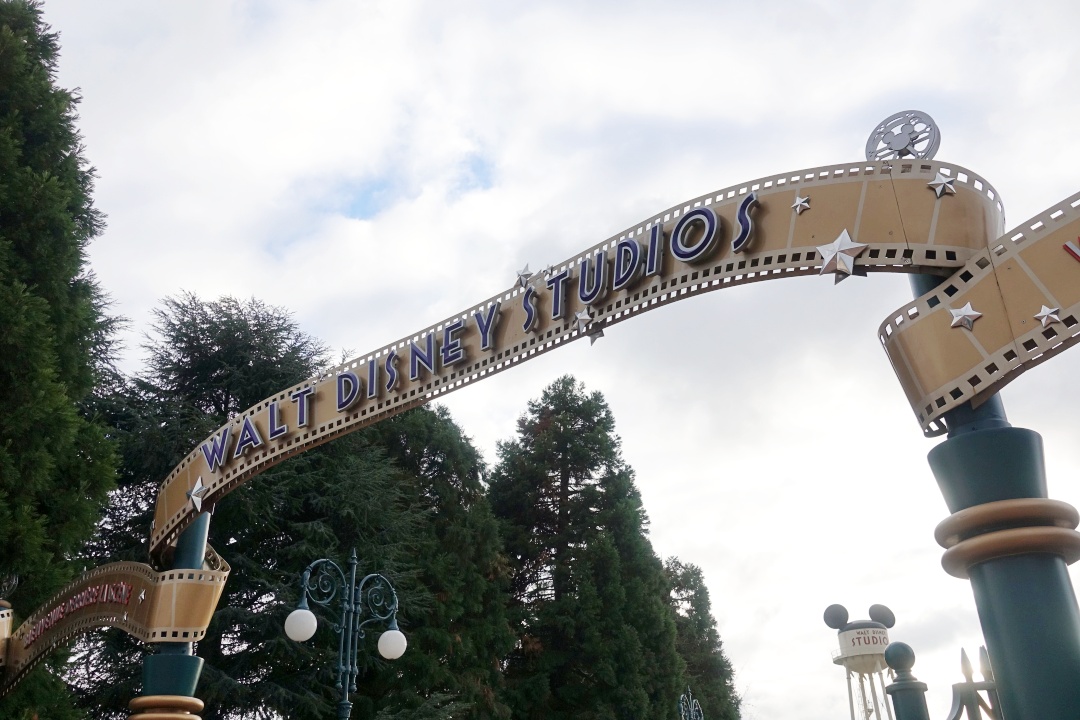 Arrived at Walt Disney Studios at 15:30!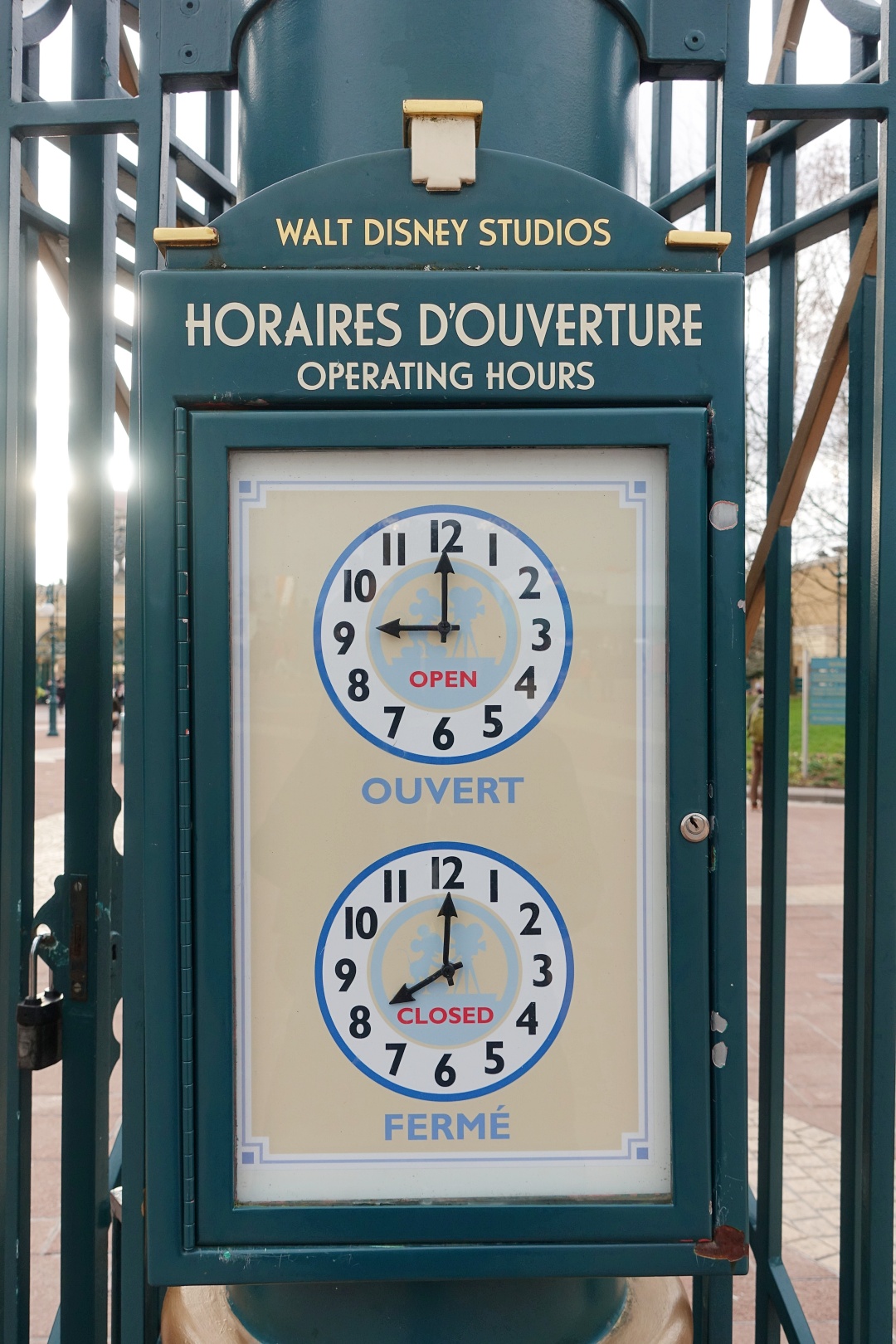 Operating hours for the park varies. On the day of our visit, it was from 09:00 to 20:00. Walt Disney Studios Park seems to also close earlier than Disneyland Park.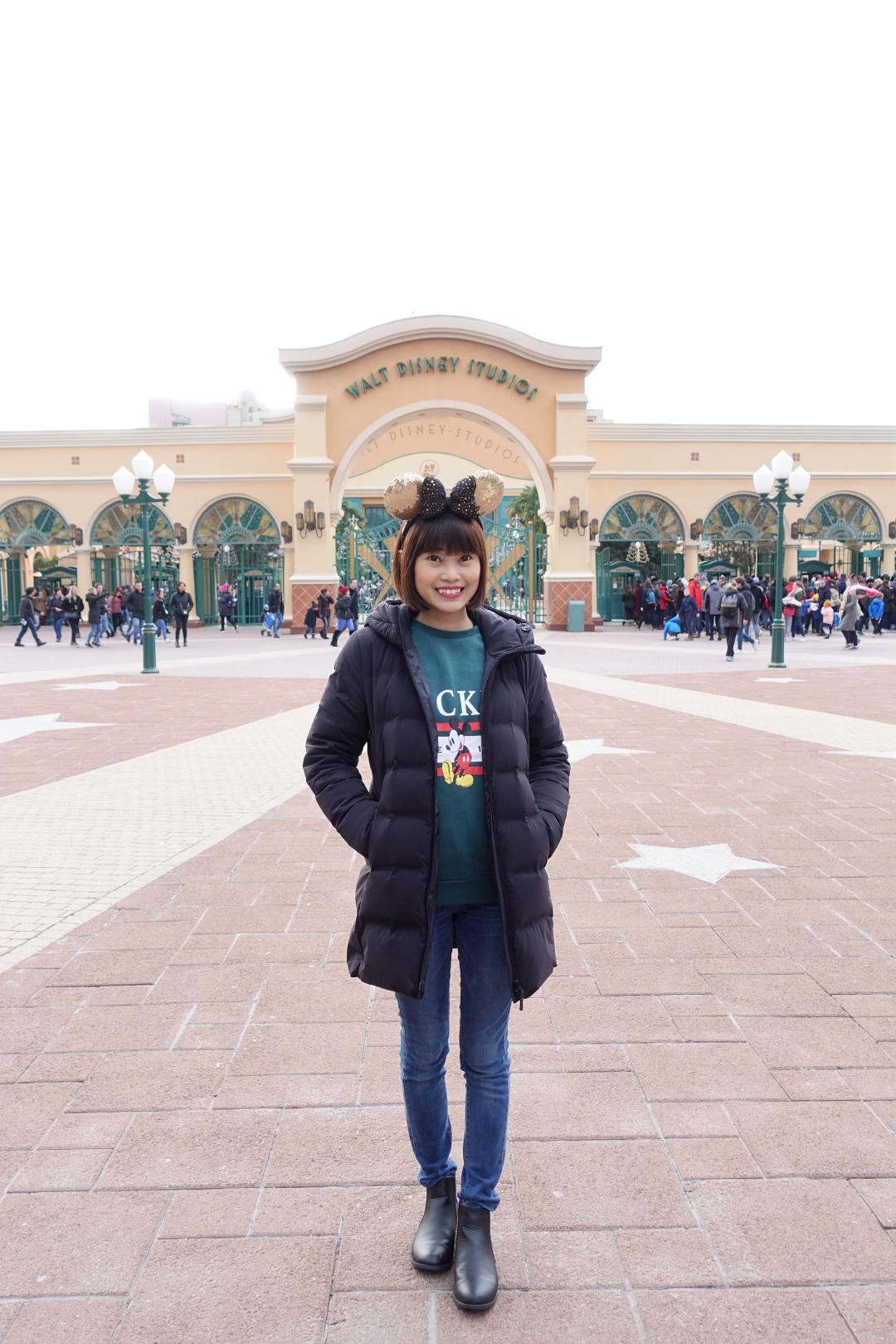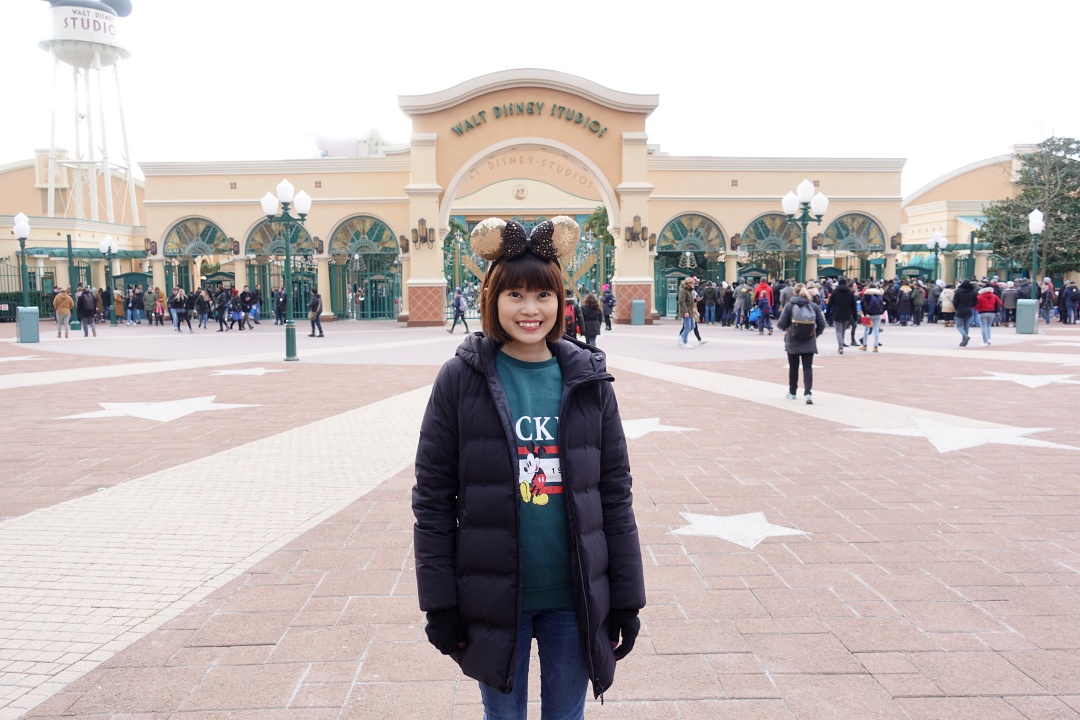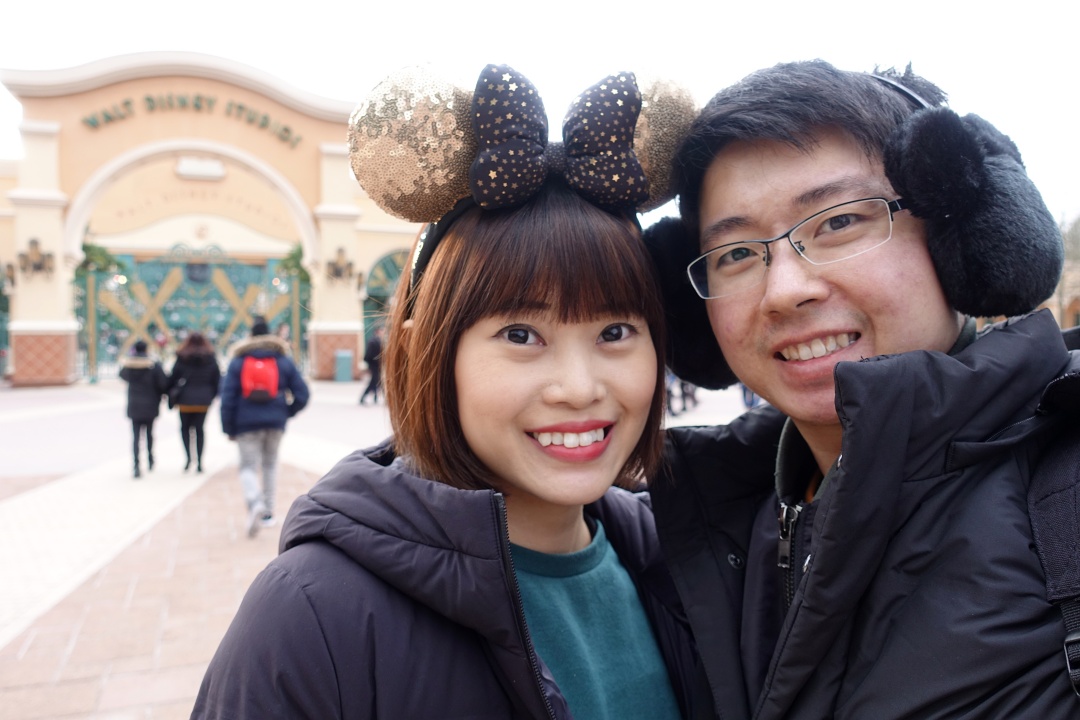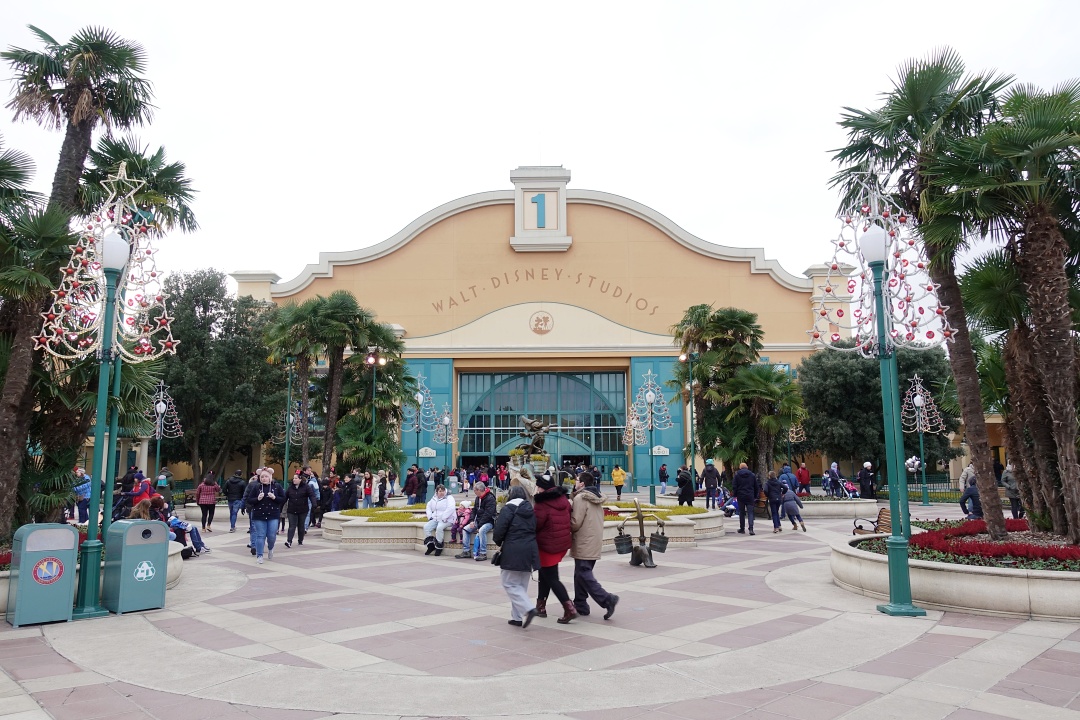 Meet 'n' Greet – Goofy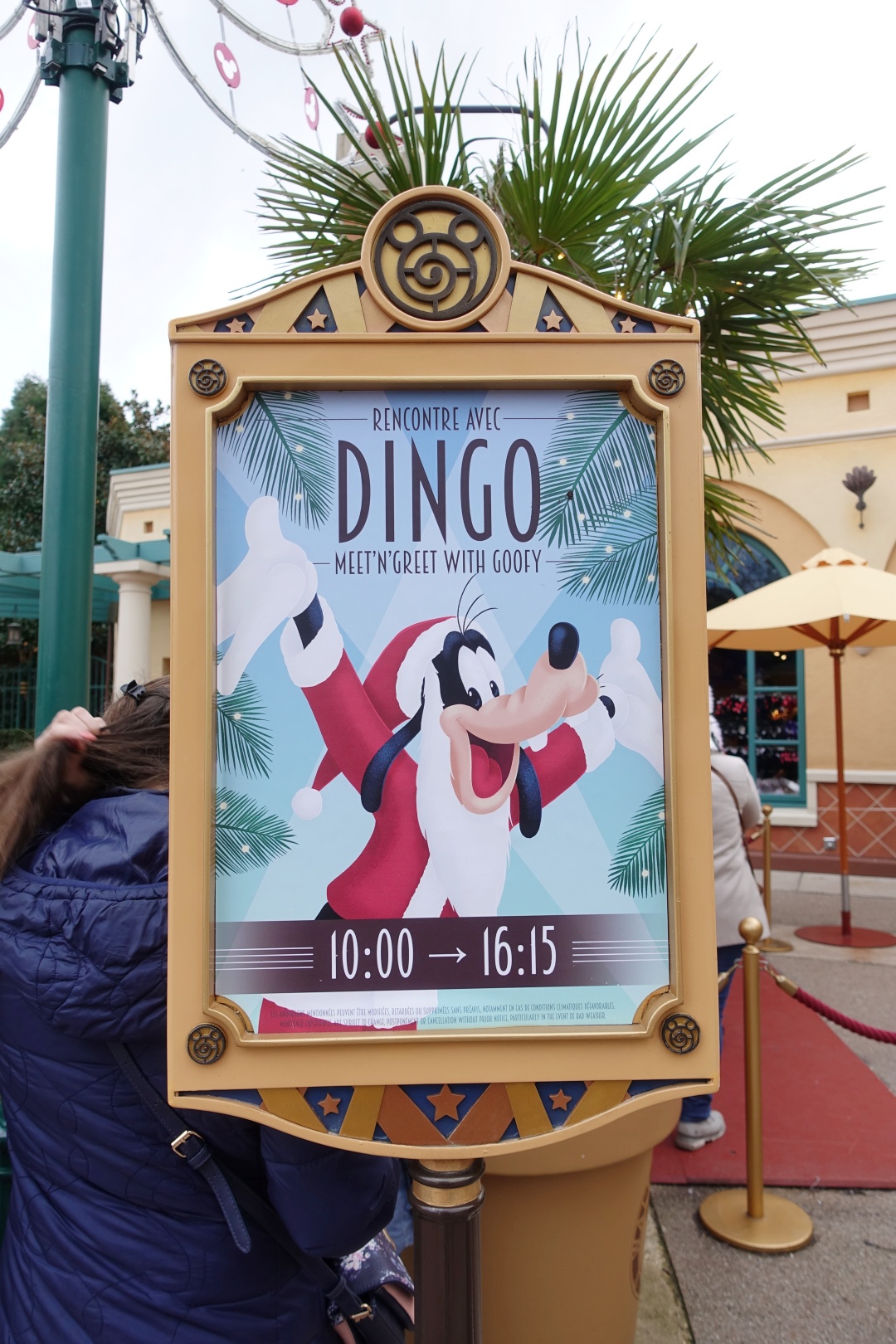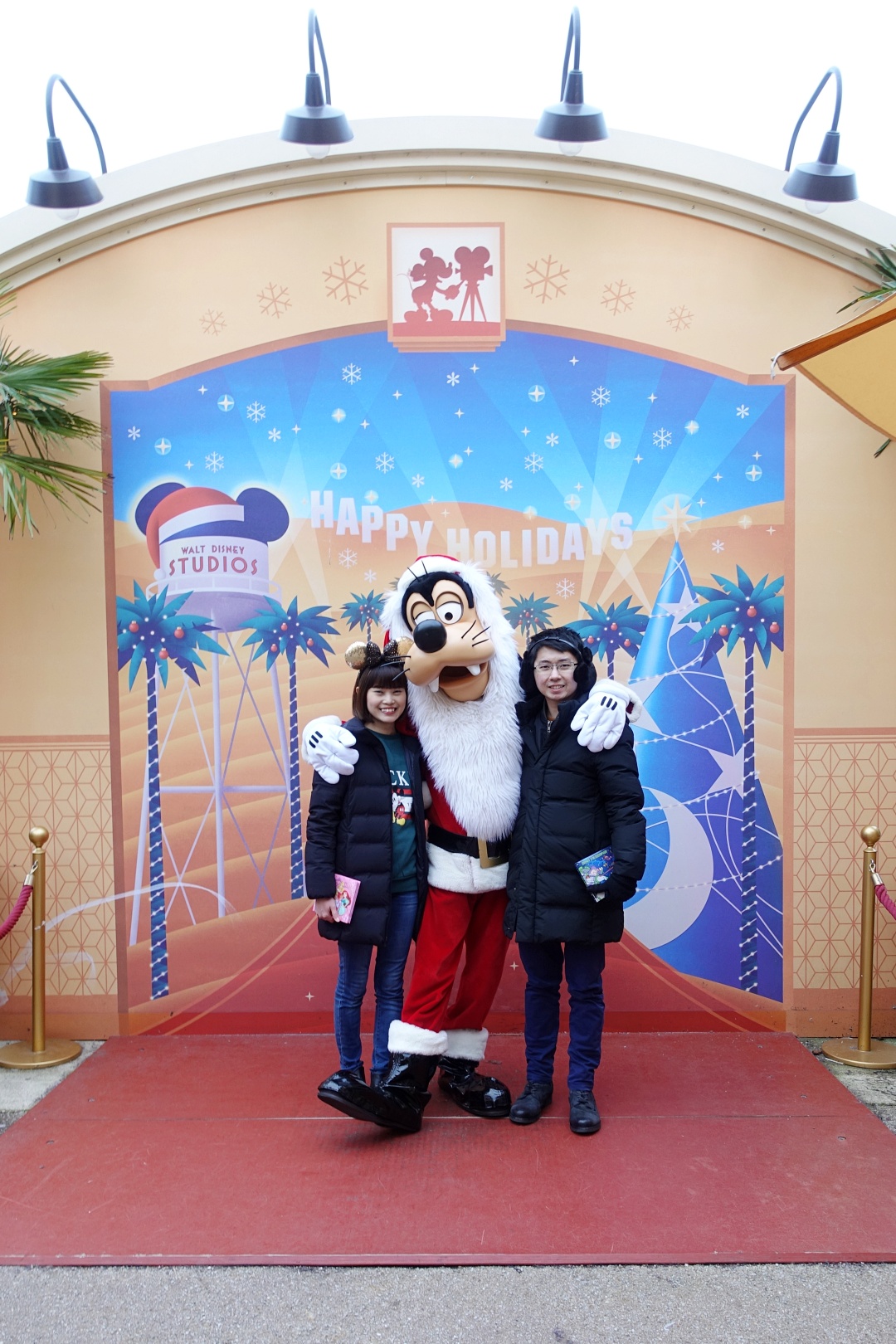 We queued for a good 30 minutes before we finally got two pictures with Goofy. The photo-taking happened before we were even ready, and as a result, I had my eyes closed on both photographs. Such a bummer!
---
After the Meet 'n' Greet, we found a restaurant nearby and settled down for lunch. I realised there weren't as many restaurants in Walt Disney Studios Park as compared to Disneyland Park. I believed there was only five in Walt Disney Studios? (The other option would be to head over to Disney Village.)
We had a simple meal at Restaurant en Coulisse over at the Front Lot, where we had some nuggets, fries and two drinks. We didn't ate much, but the meal still costed us close to €21.
Les Tapis Volants – Flying Carpets Over Agrabah
Having done eating, we then went over to Toon Studio and joined the queue for Les Tapis Volants – Flying Carpets Over Agrabah.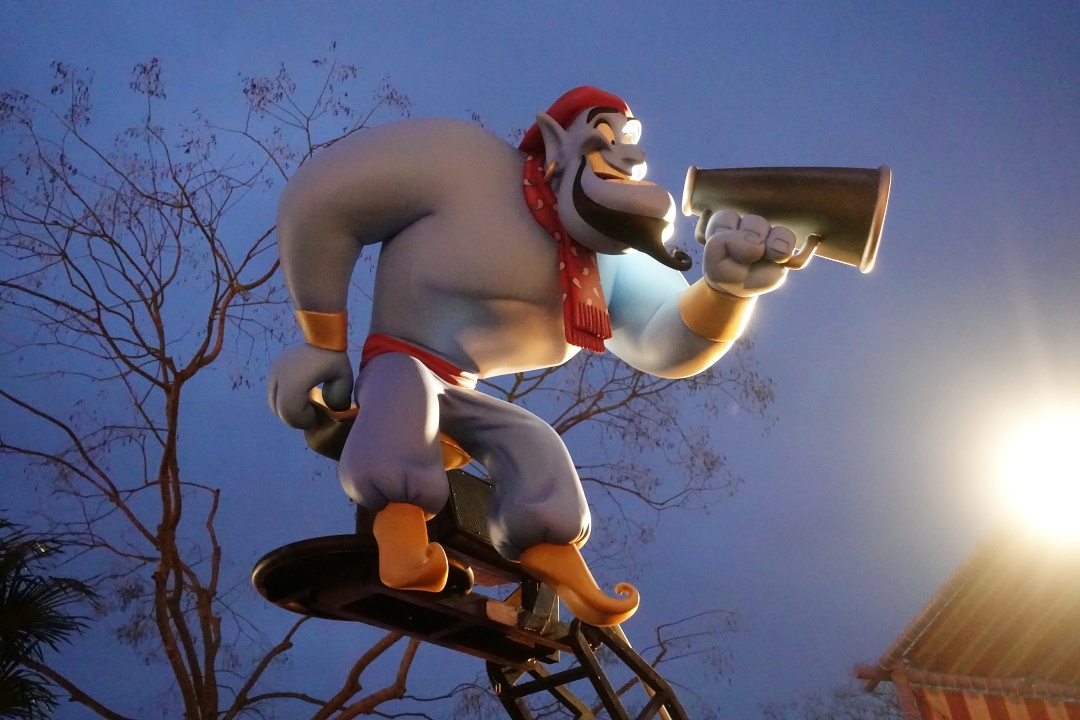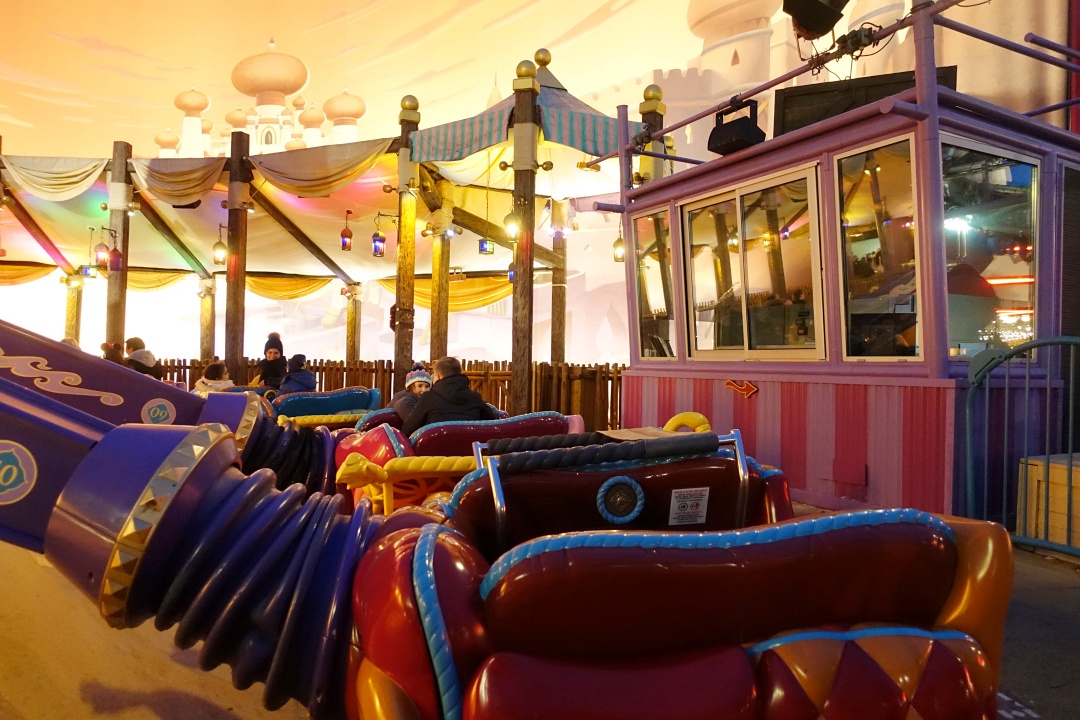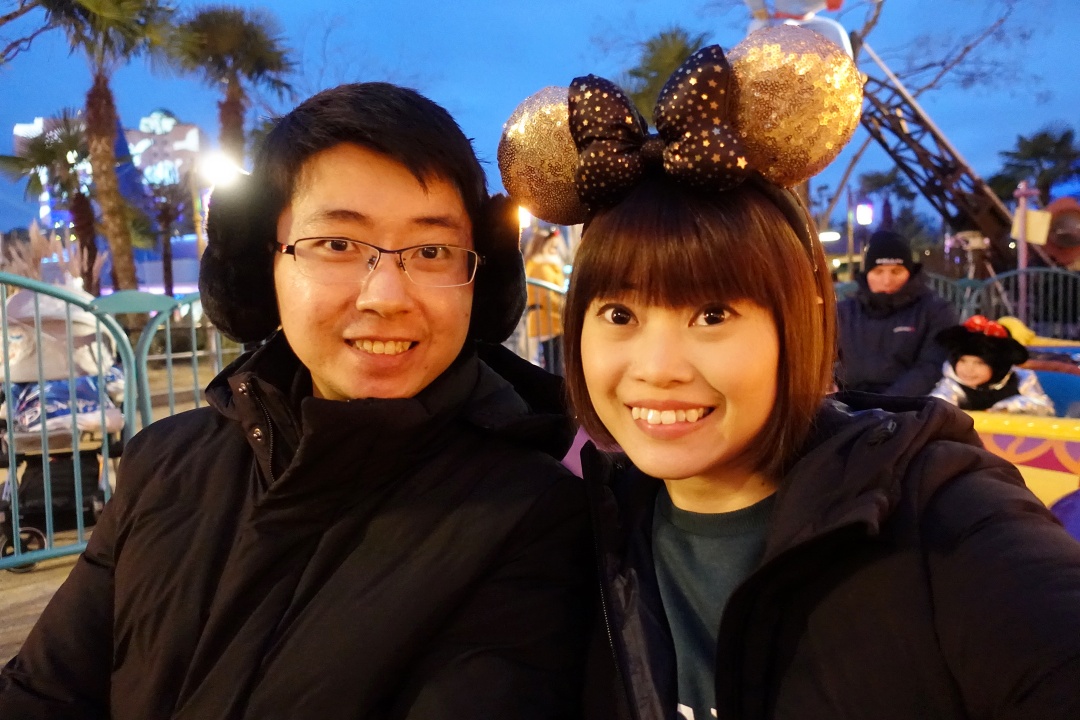 Such a simple but fun ride for both kids and adults! There is a joystick that we could use to command our carpet to climb higher, dive lower and tilt backwards and forwards.
Cars Quatre Roues Rallye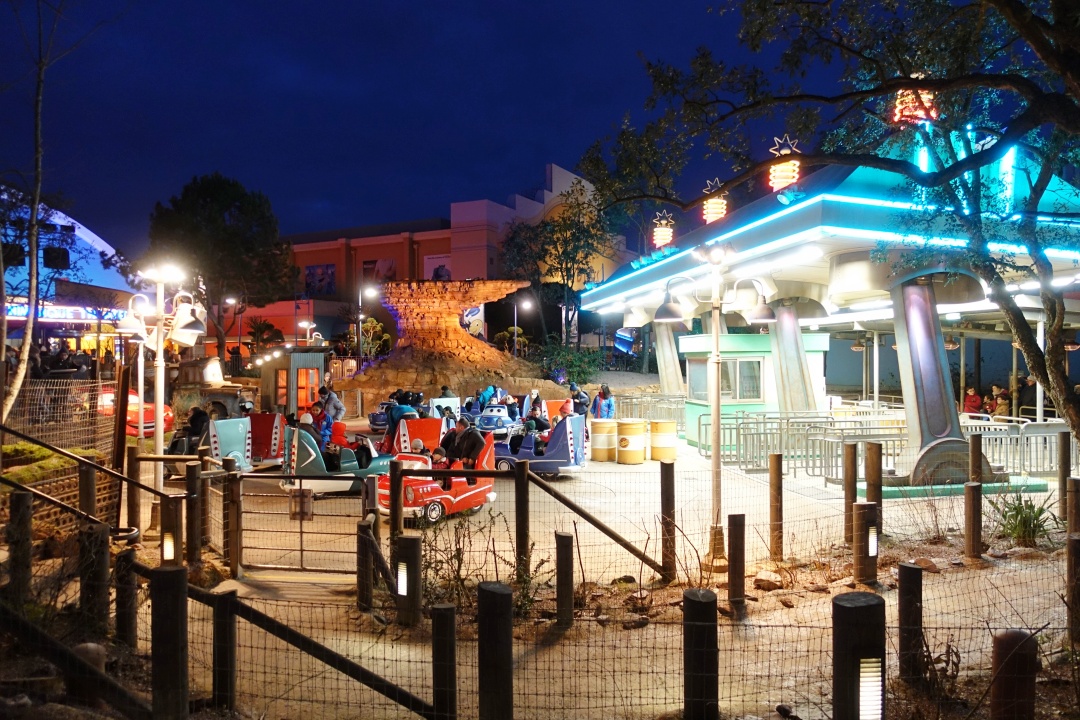 Right across Les Tapis Volants – Flying Carpets Over Agrabah was Cars Quatre roues Rallye, another kids friendly ride!
Promptly made our way over to Toy Story Playland, the zone where I was most excited and looking forward to!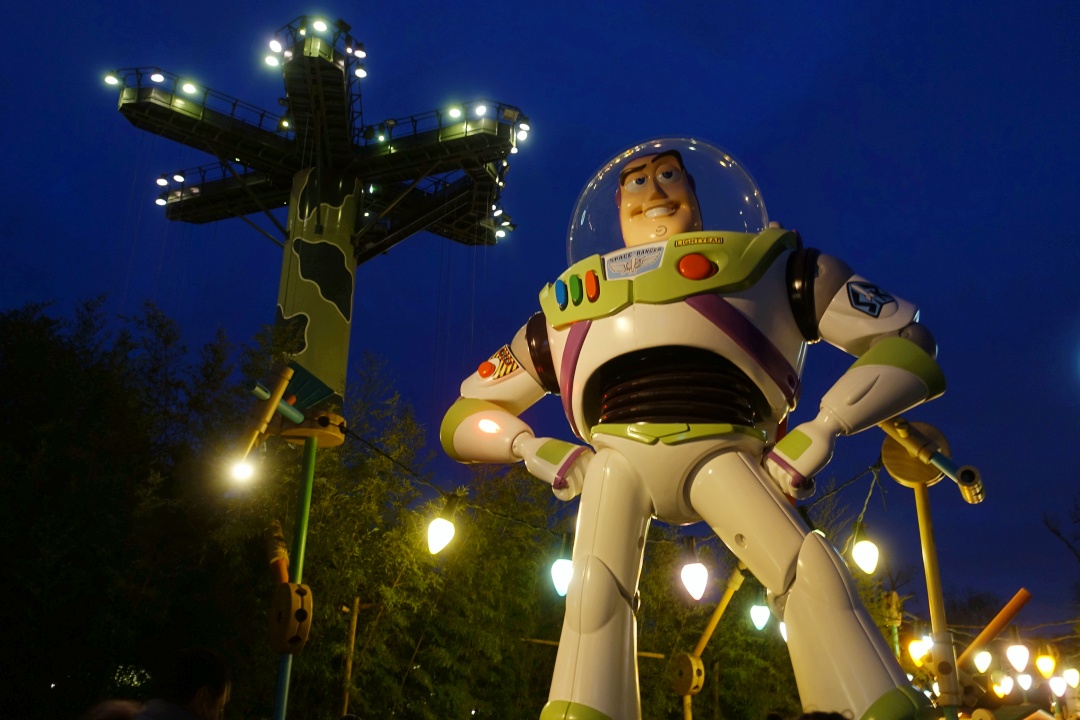 The first thing we noticed was this gigantic Buzz Lightyear figure standing at the entrance to Toy Story Playland.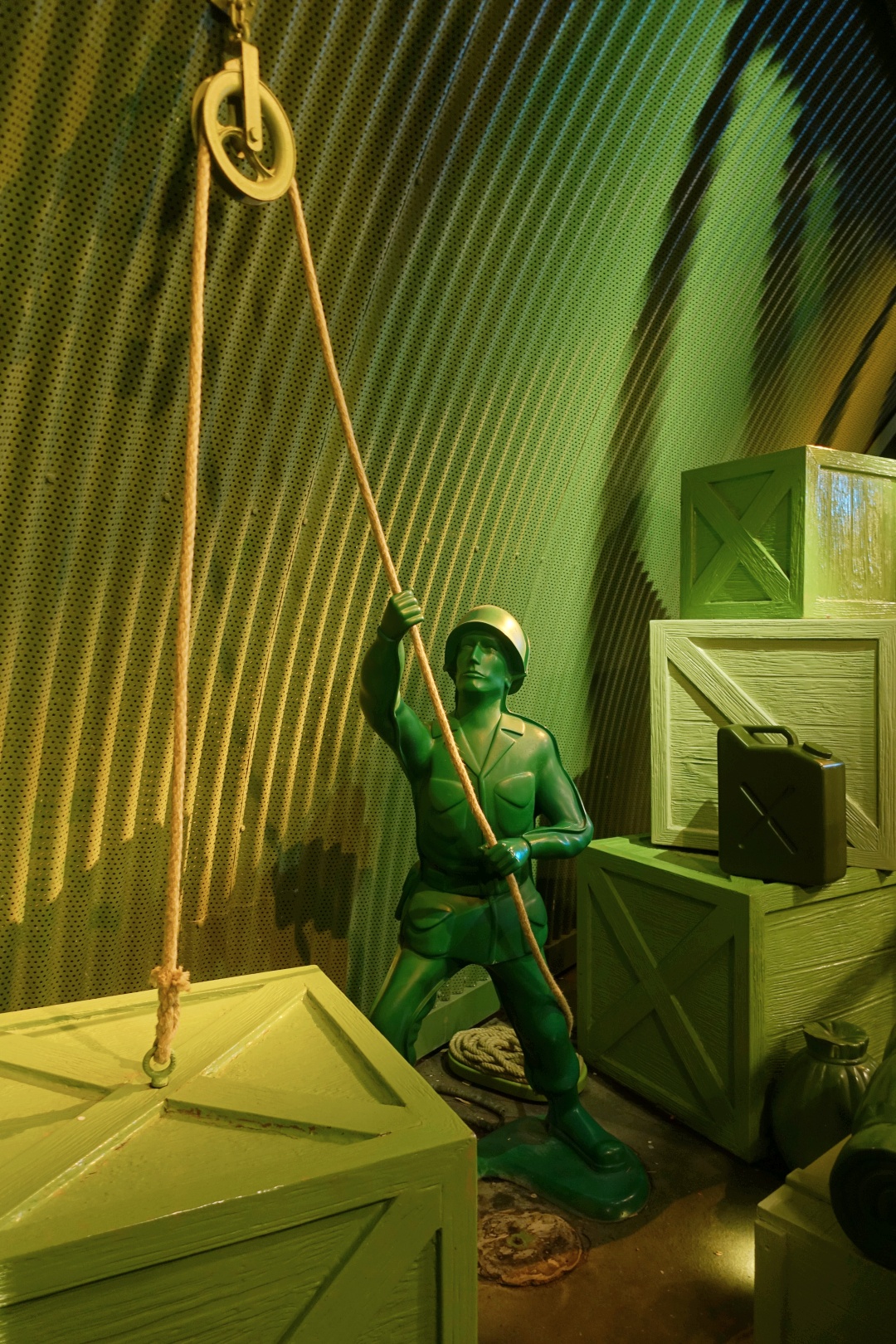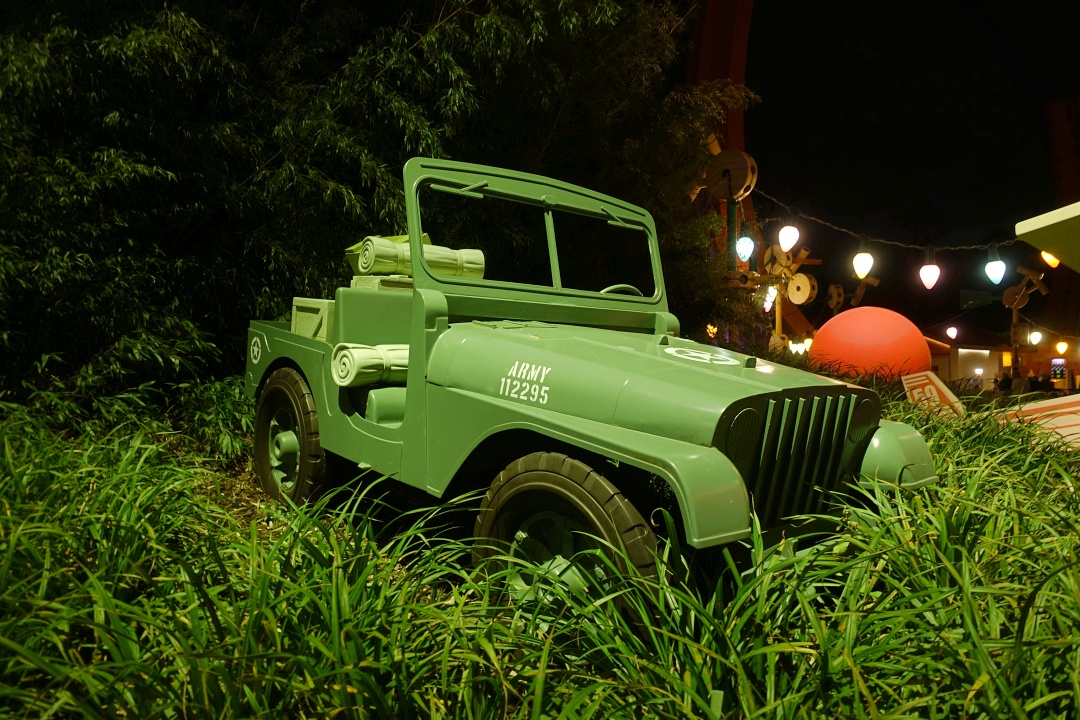 All the three attractions at Toy Story Playland was identical to the ones at Hong Kong Disneyland. There's Toy Soldiers Parachute Drop, Slinky Dog Zigzag Spin and RC Racer.
Leaving Toy Story Playland, we then return to Toon Studio. Went into Chez Marianne (Souvenirs de Paris), which was a shop next to the Ratatouille attraction.
Chez Marianne (Souvenirs de Paris)
Over here, you can find a range of delectable French sweets and memorabilia from beloved Disney Pixar film Ratatouille.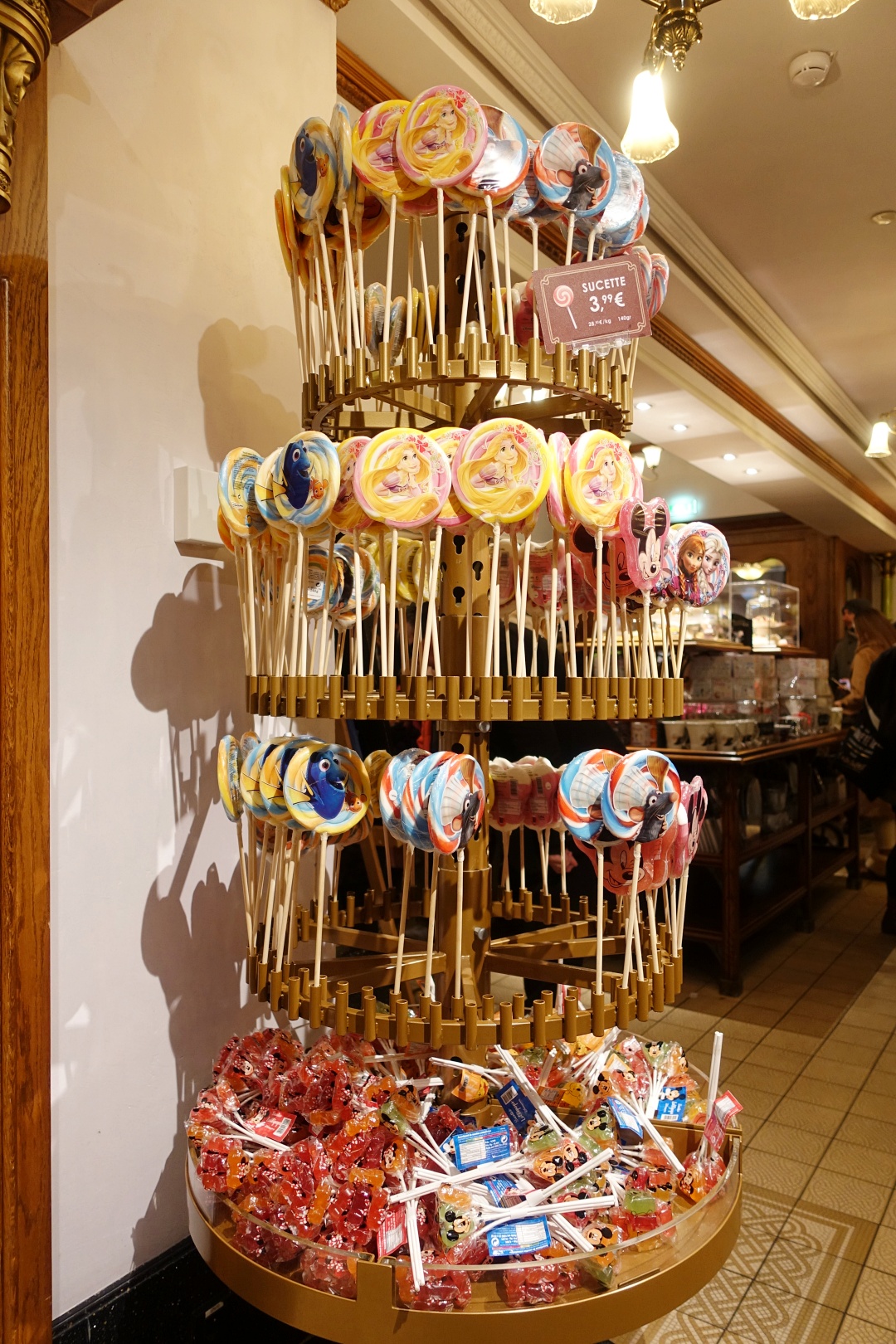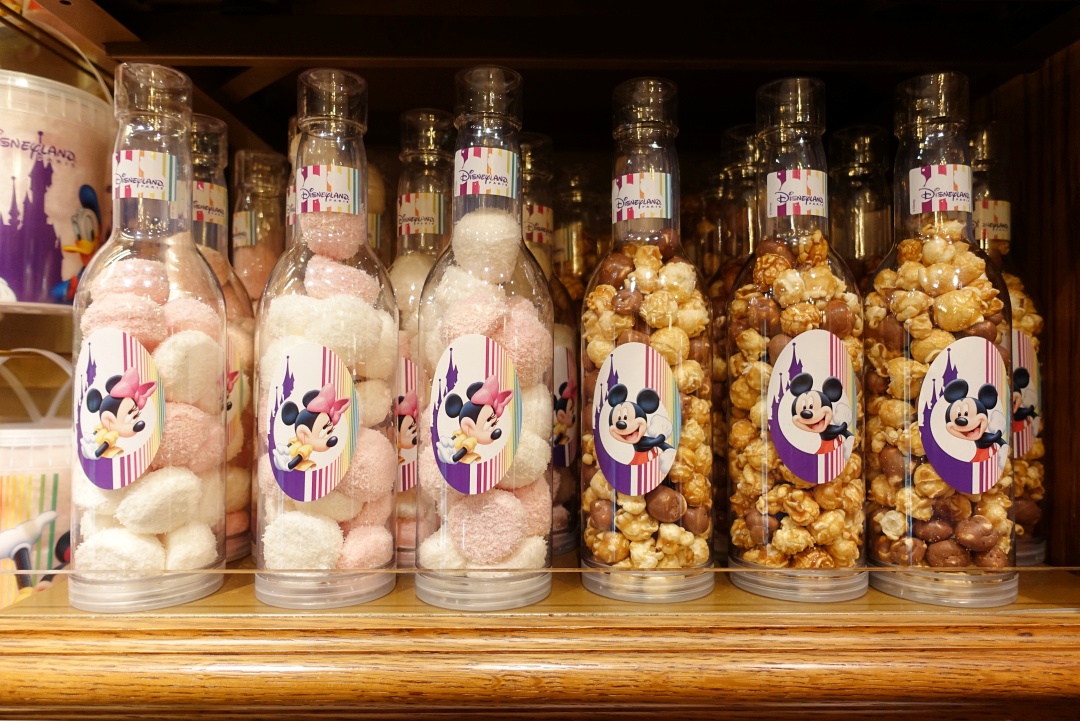 Spotted a huge bottle of popcorns!
Instead of getting popcorns, we got cotton candy. I saw someone eating it that afternoon while we were queuing to take pictures with Goofy and the way the kids eat the cotton candy make me want to have some too!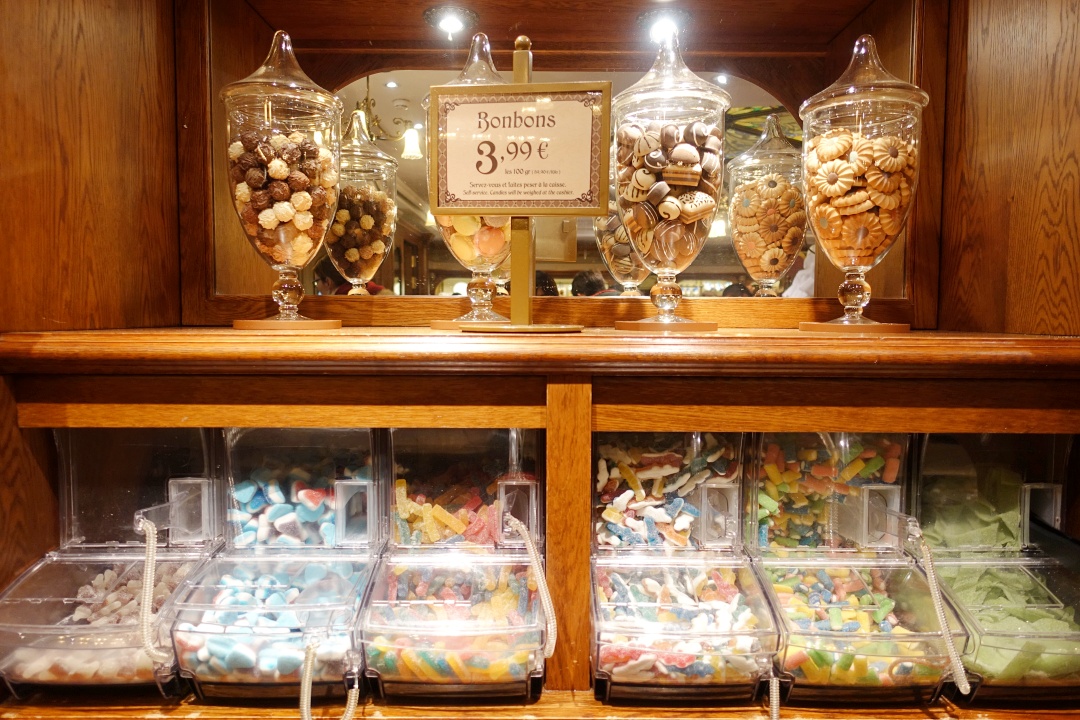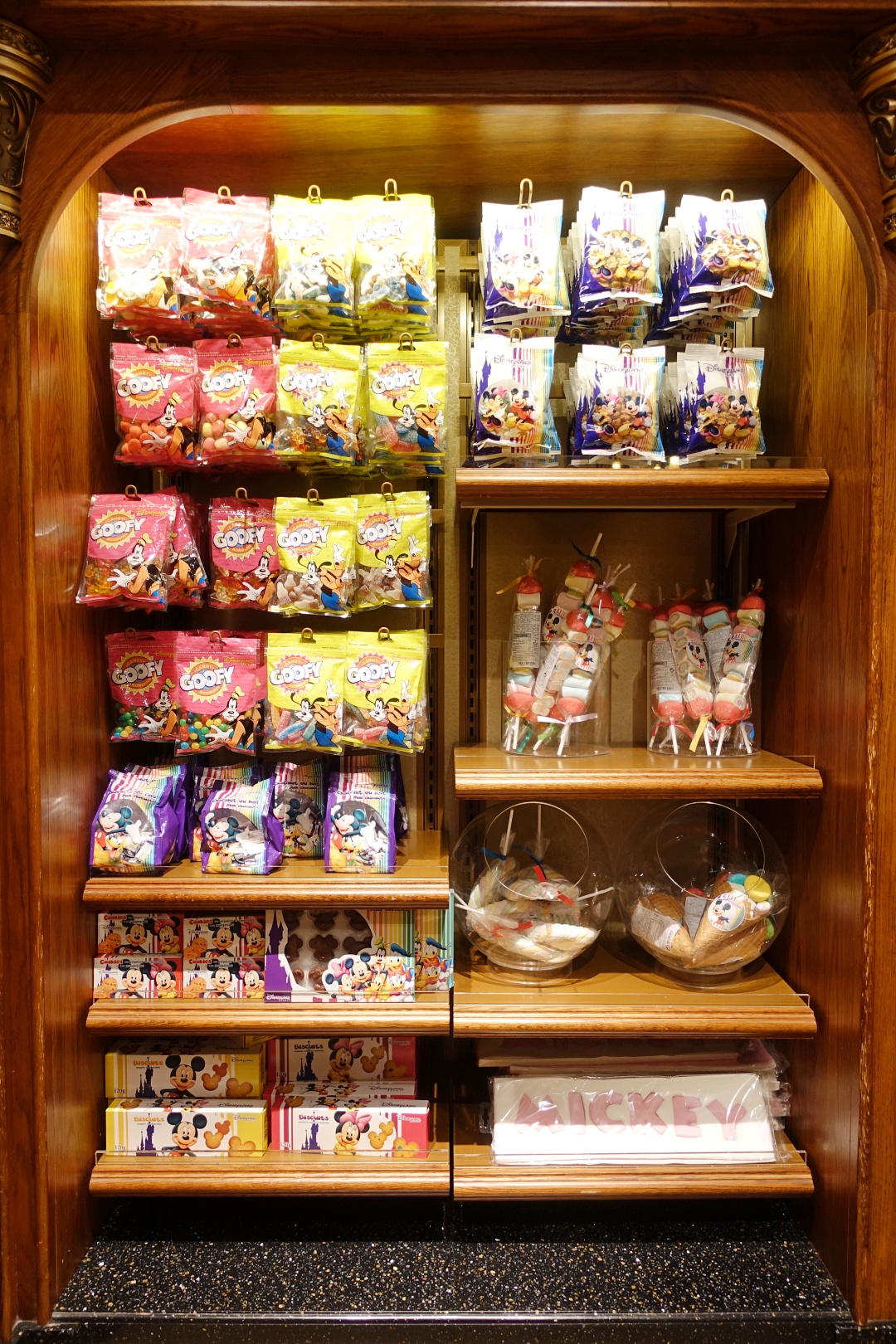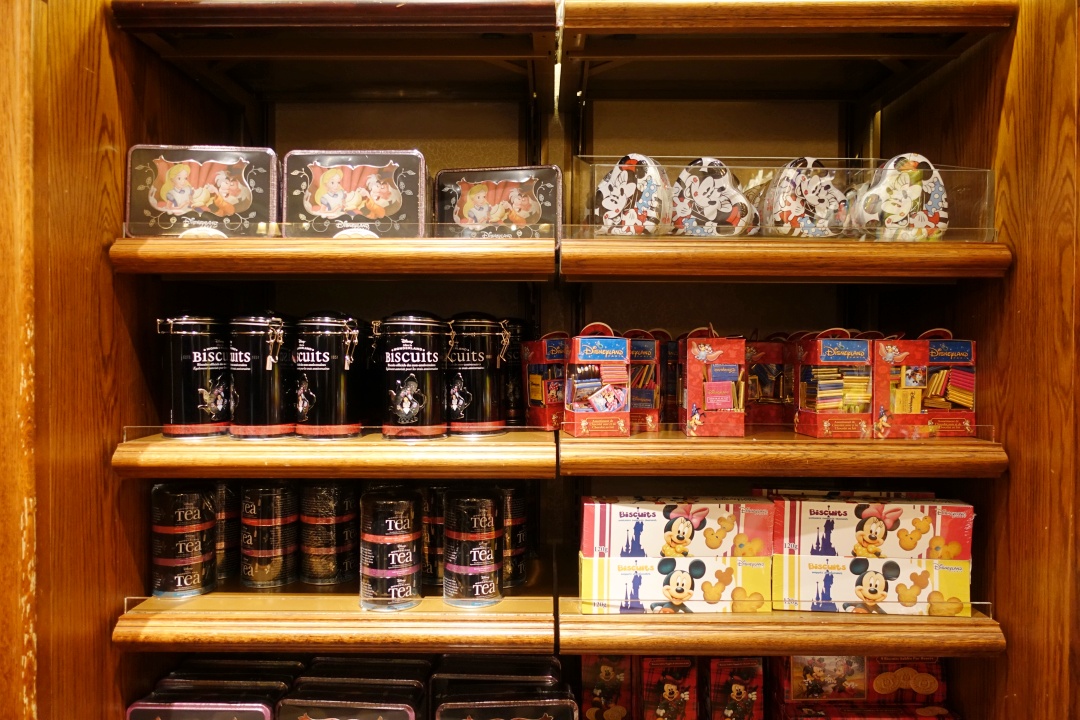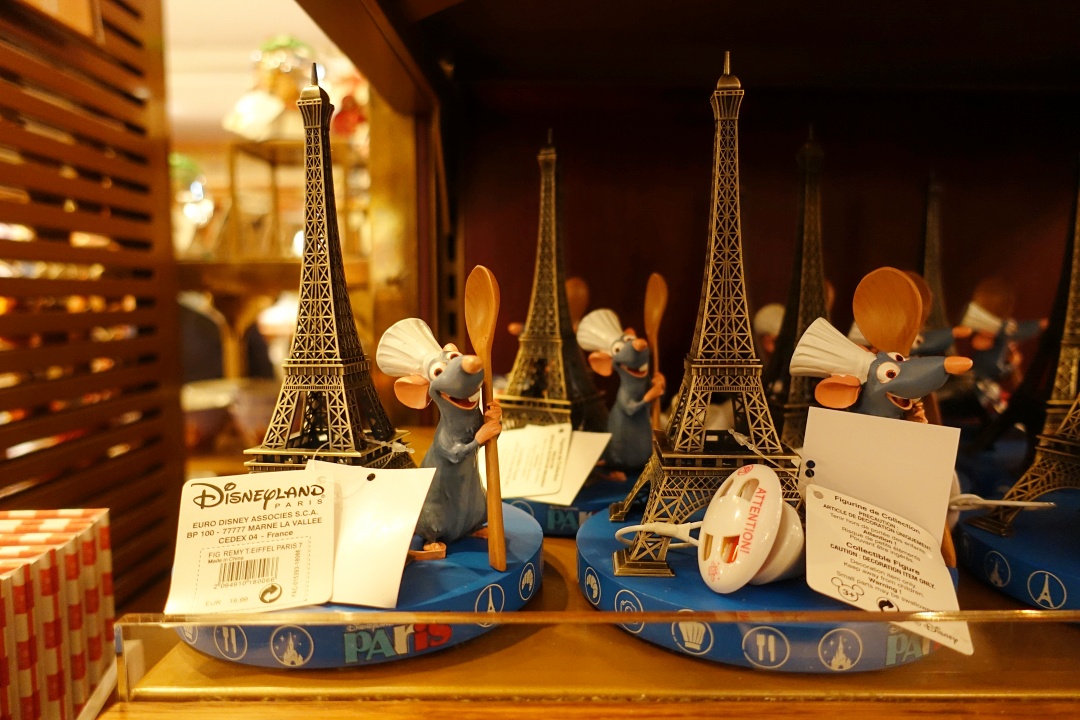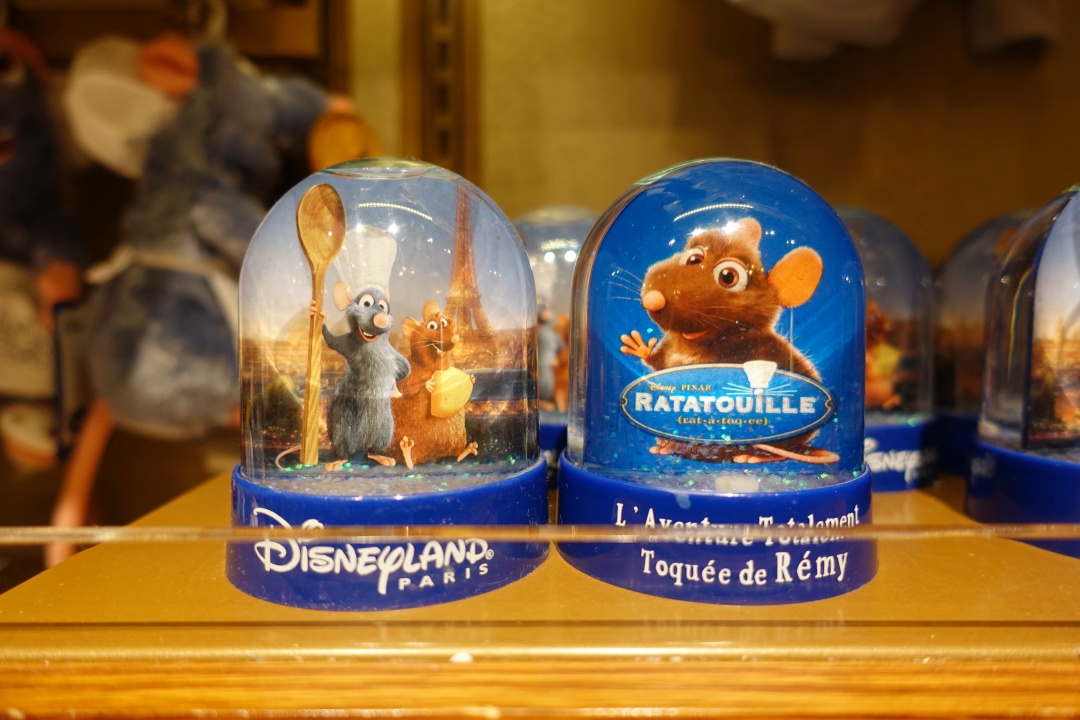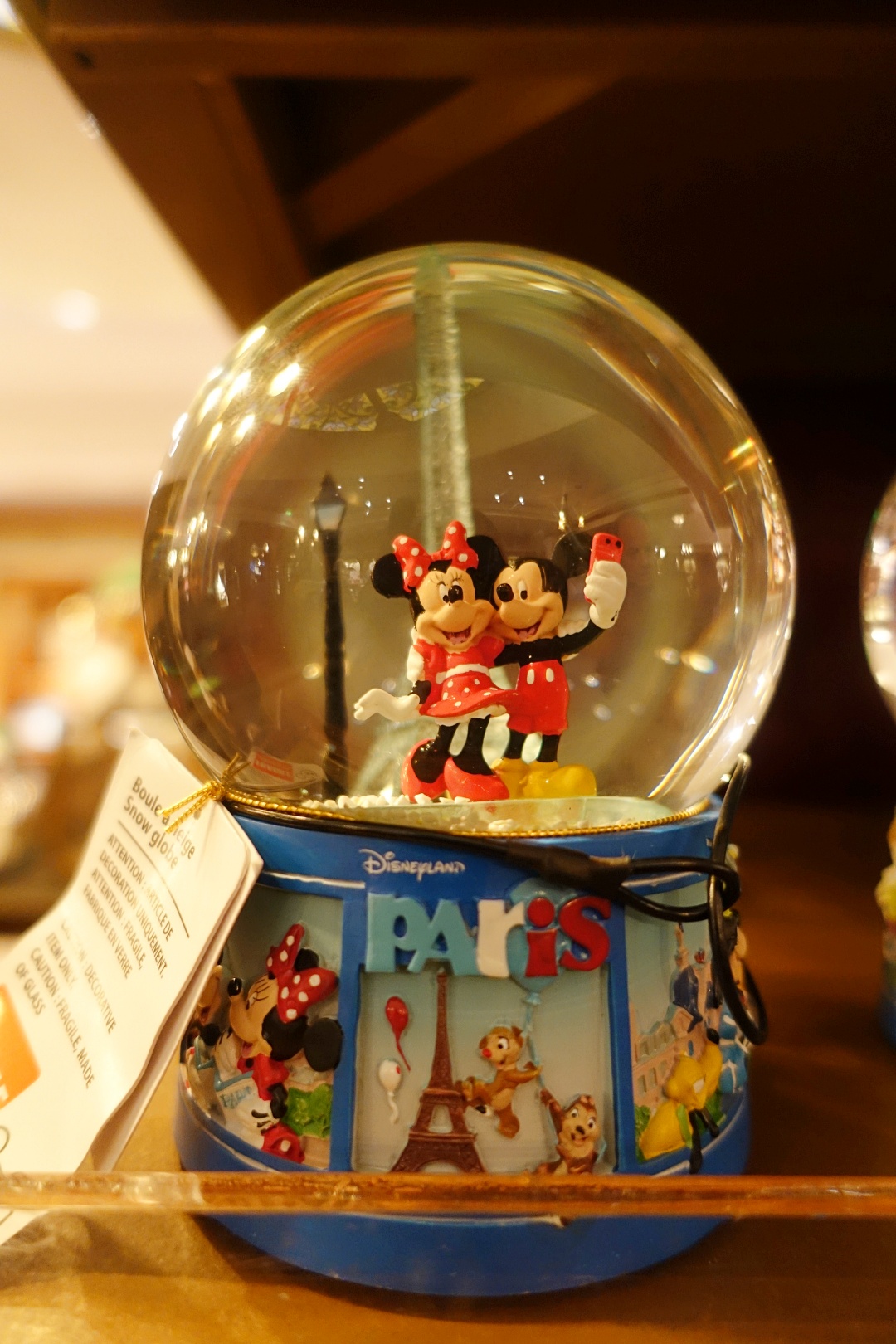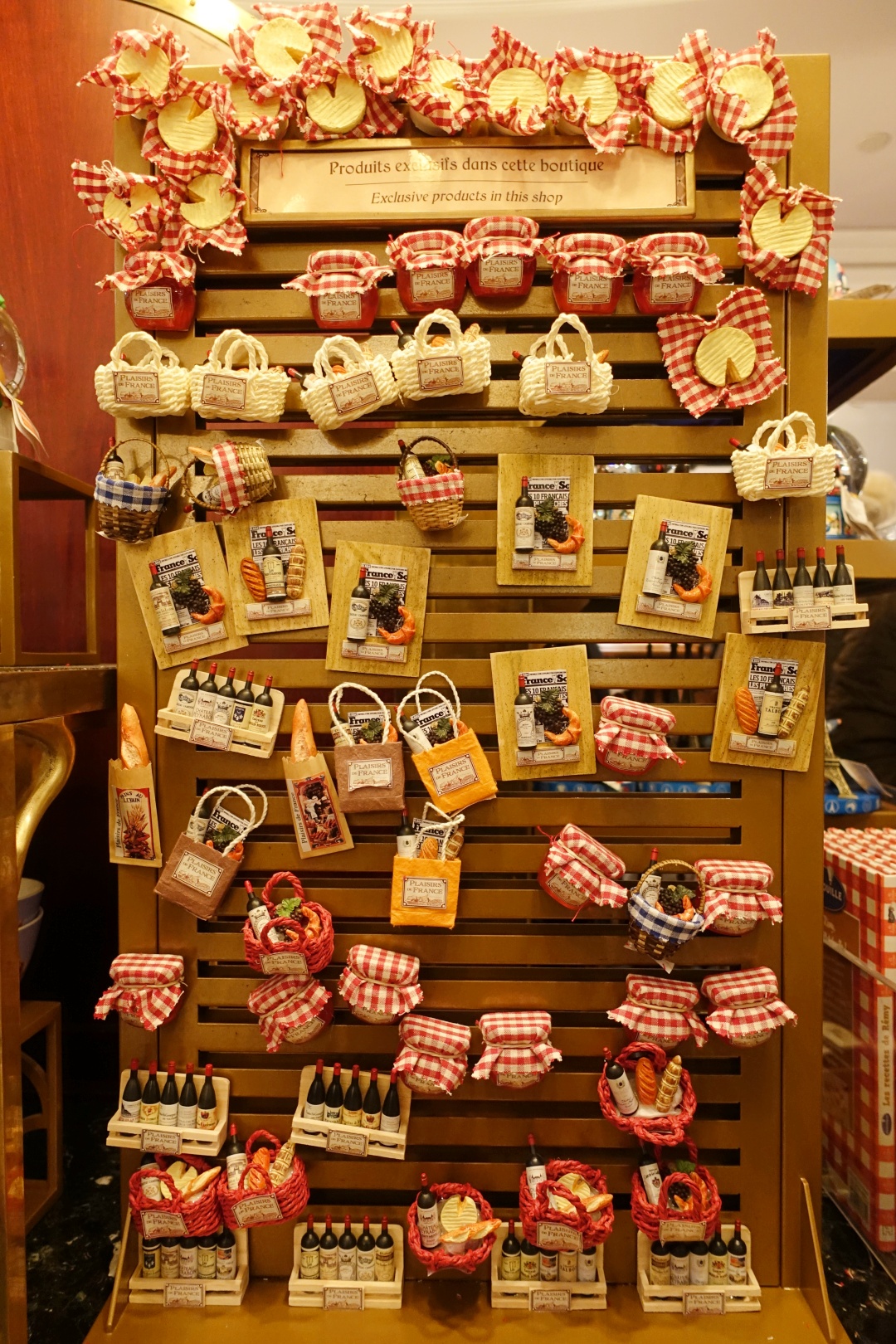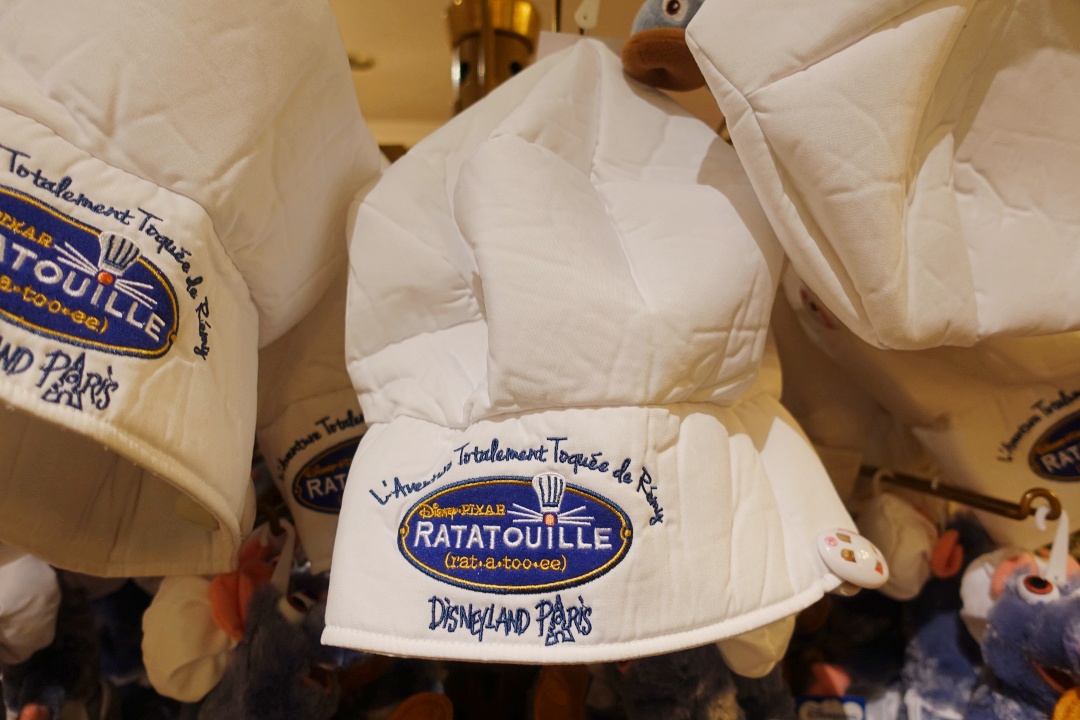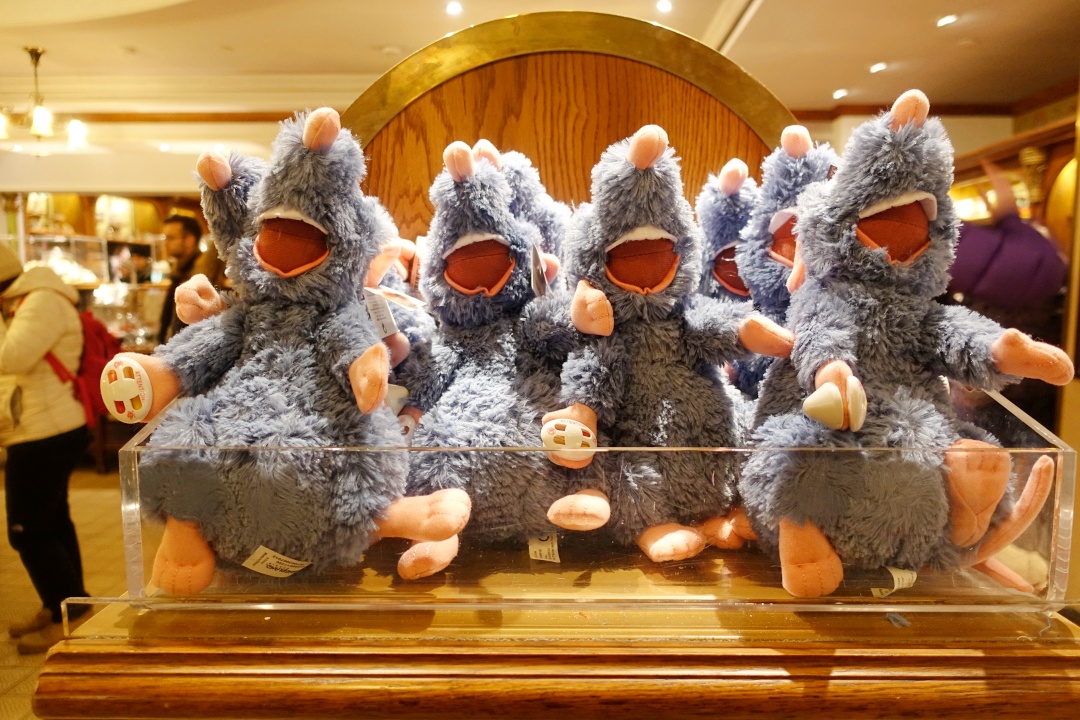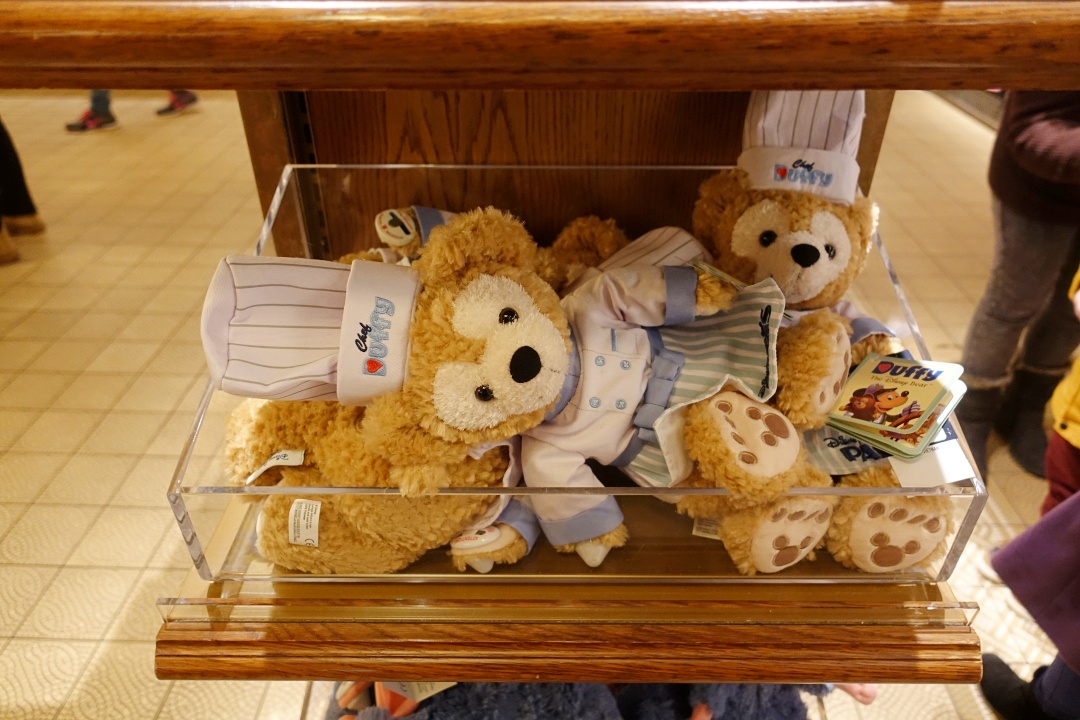 I almost squealed with delight when I spotted Duffy! Unfortunately, the Husband happened to go to the washroom, so I had to try to contain my excitement. I was so excited to show it to him. That was the first Duffy merchandise we saw thus far, and I honestly wasn't expecting to find Duffy in Europe.
How adorable is Chef Duffy in his while and blue uniform! Needless to say, I bought one back with me.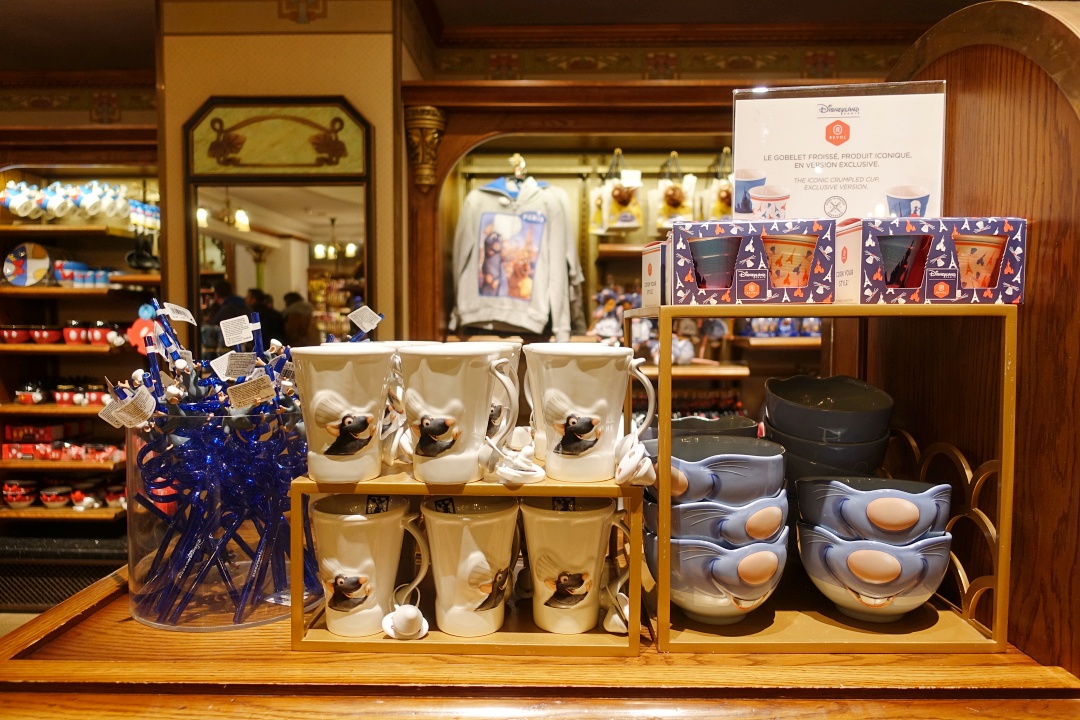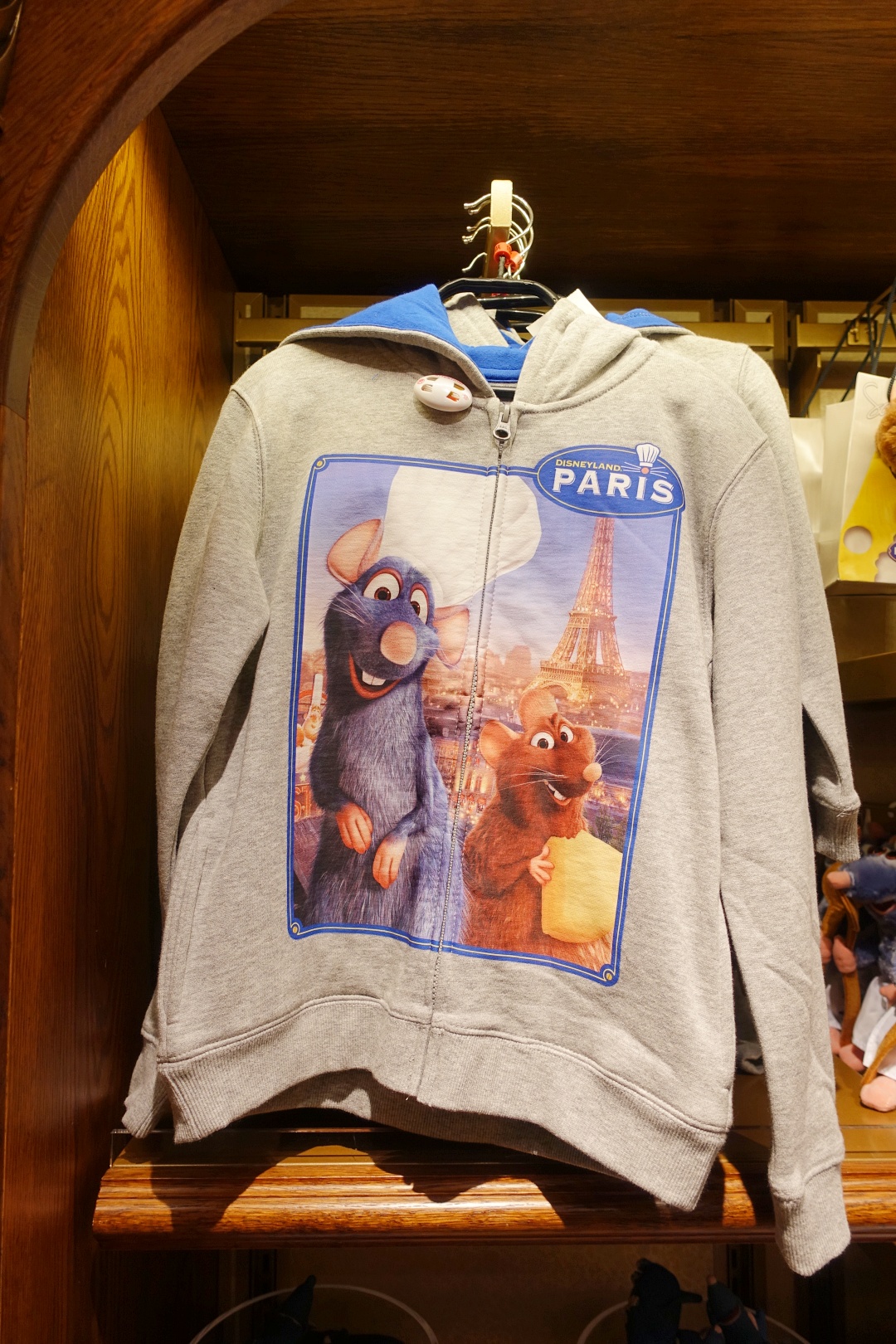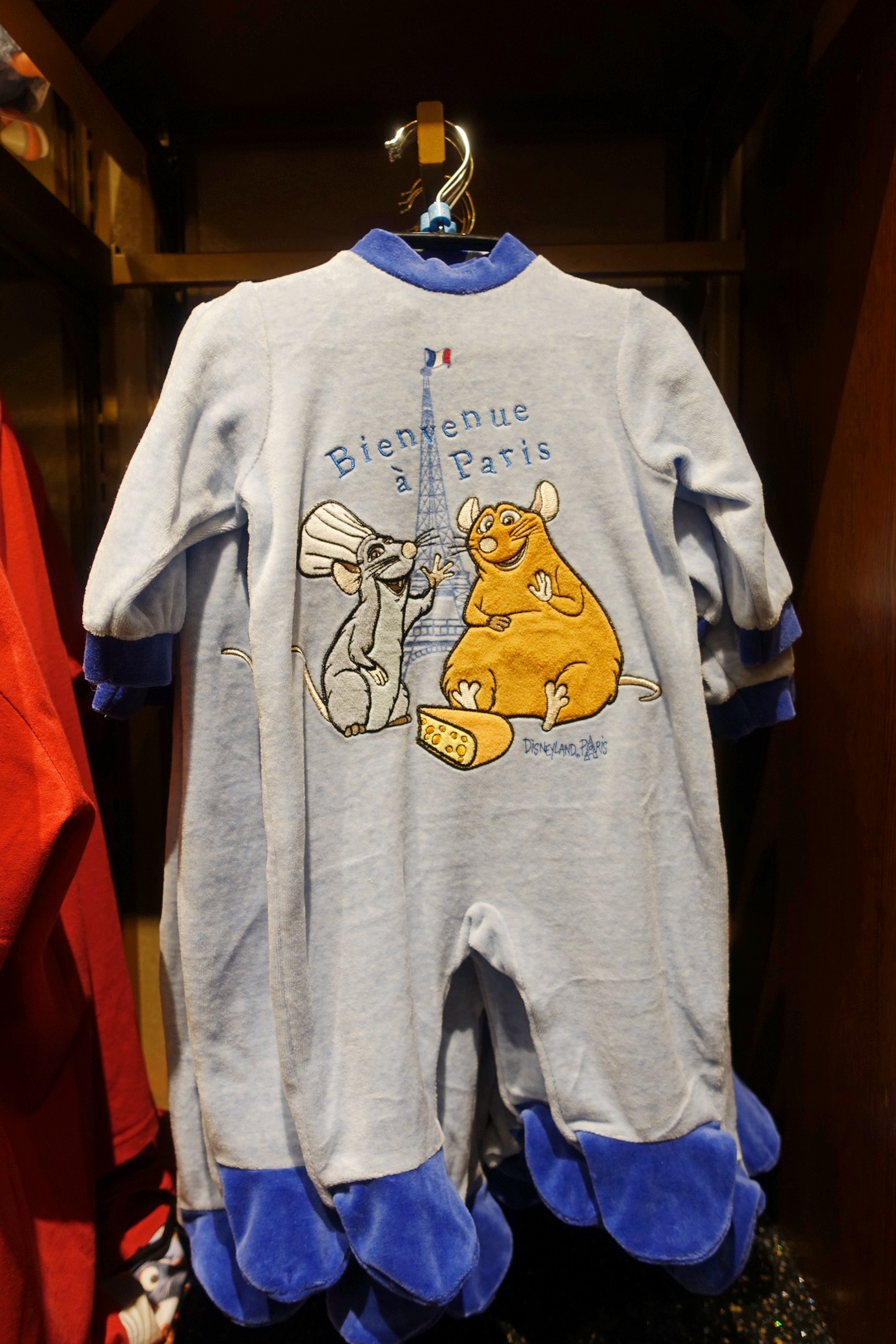 ---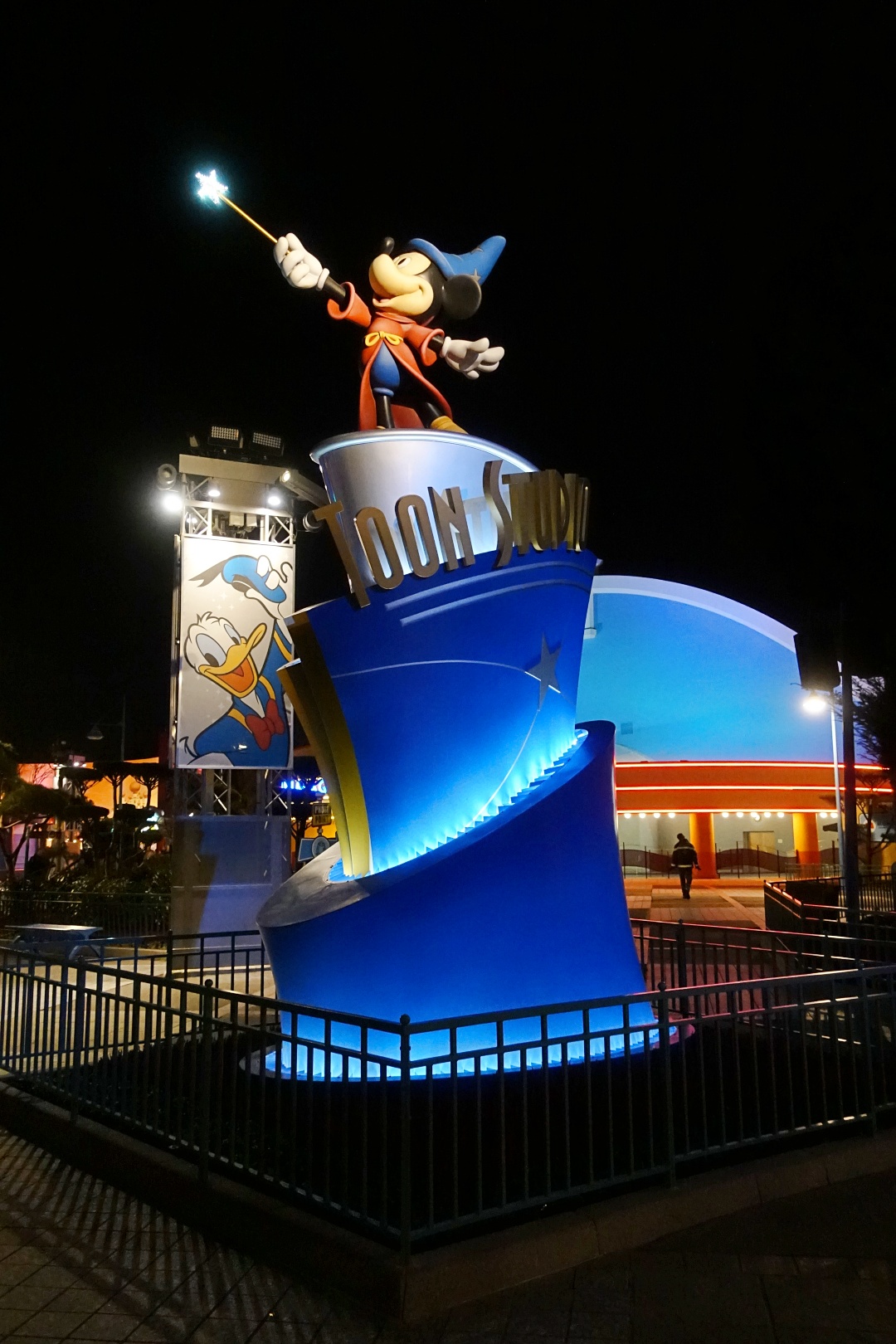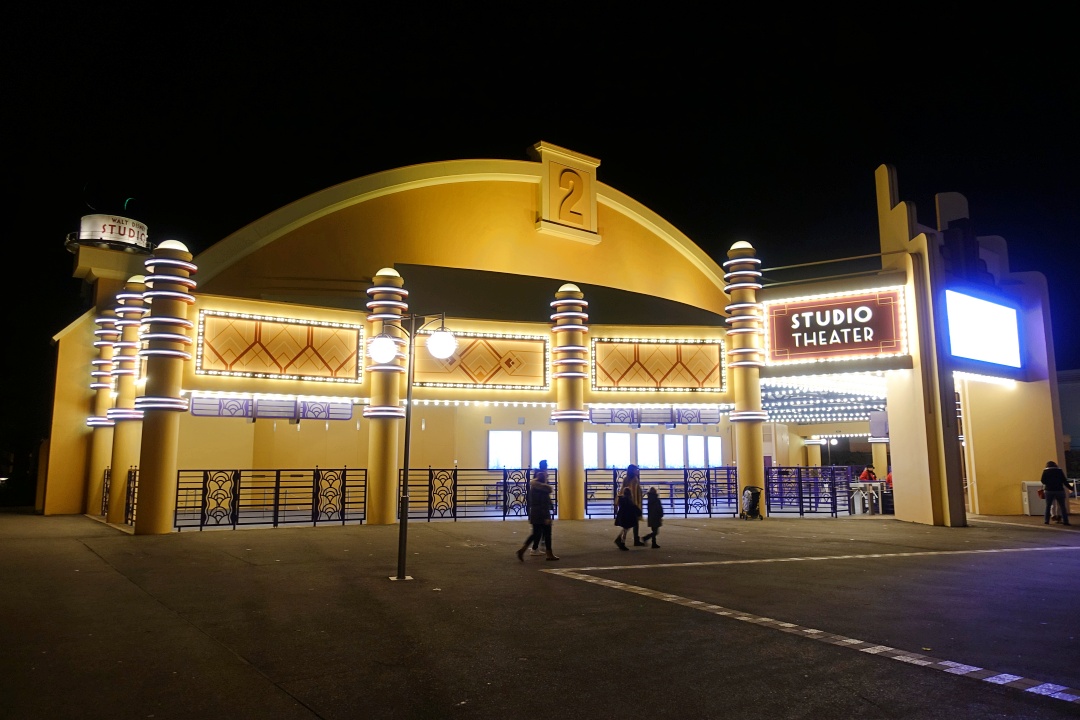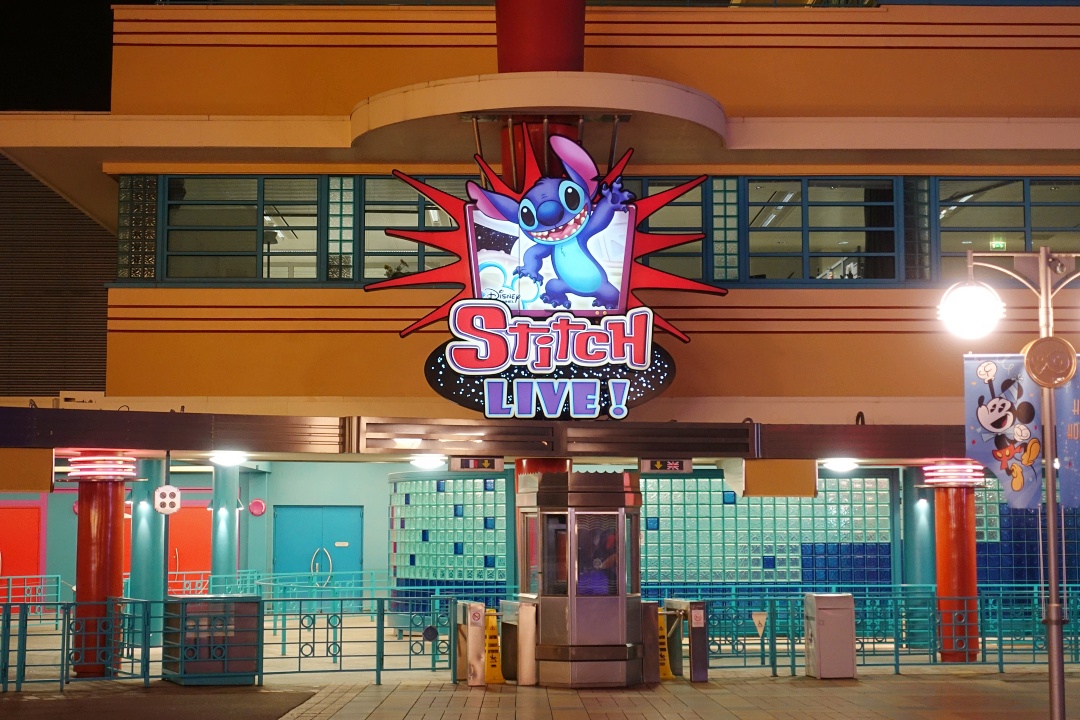 ---
Les Légendes d'Hollywood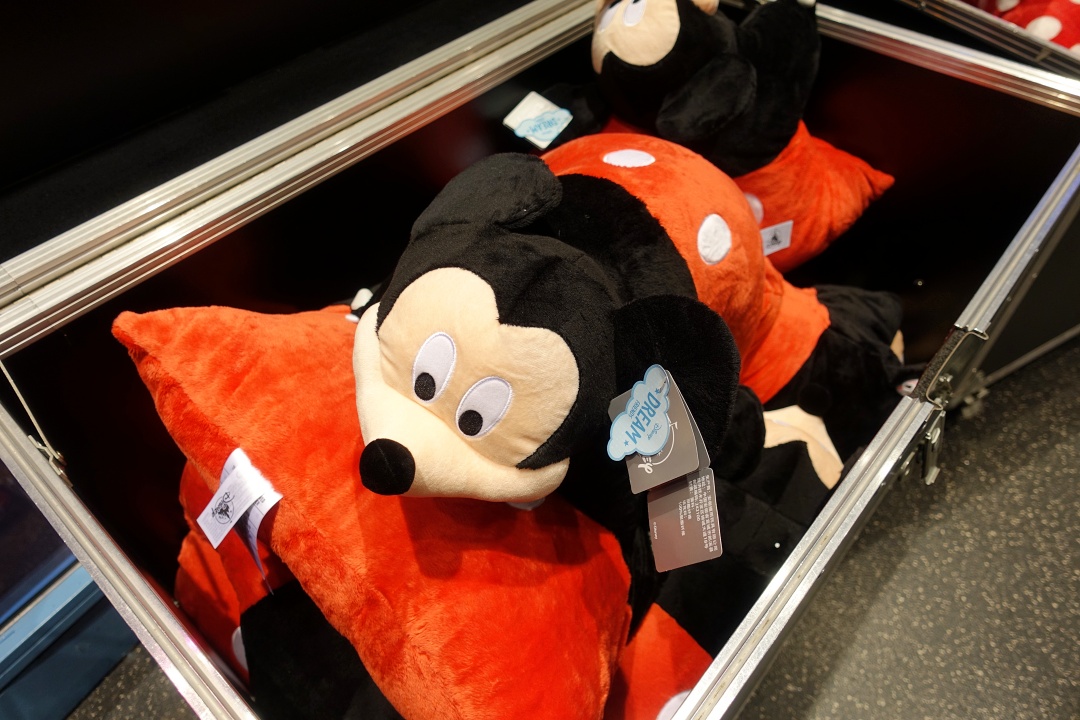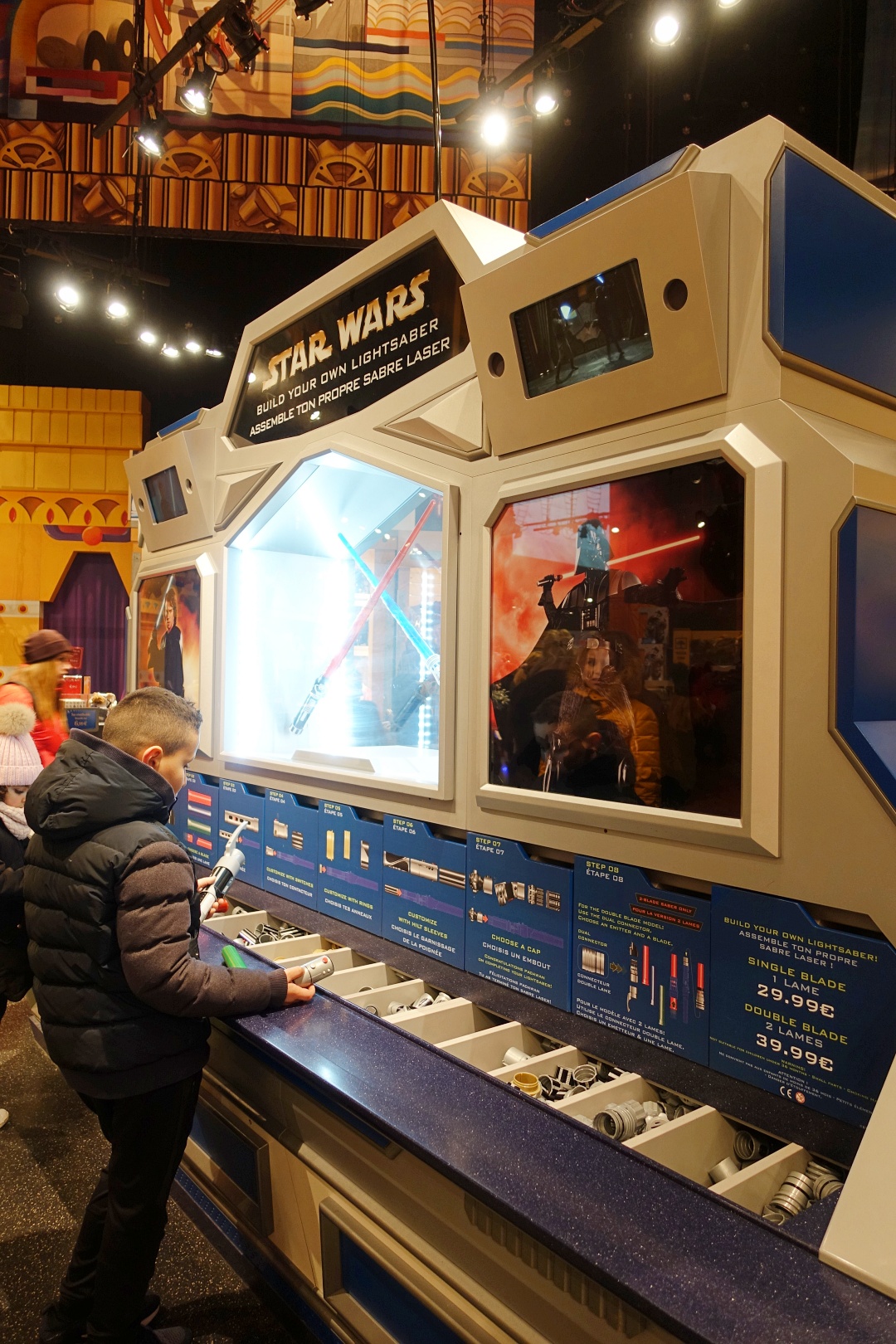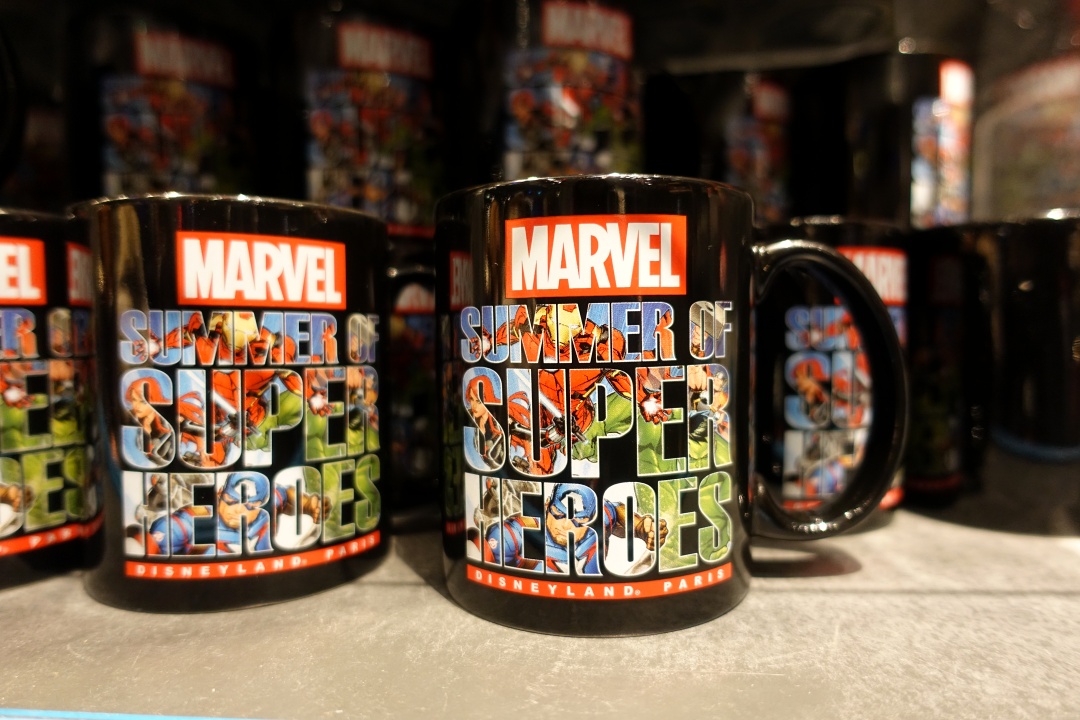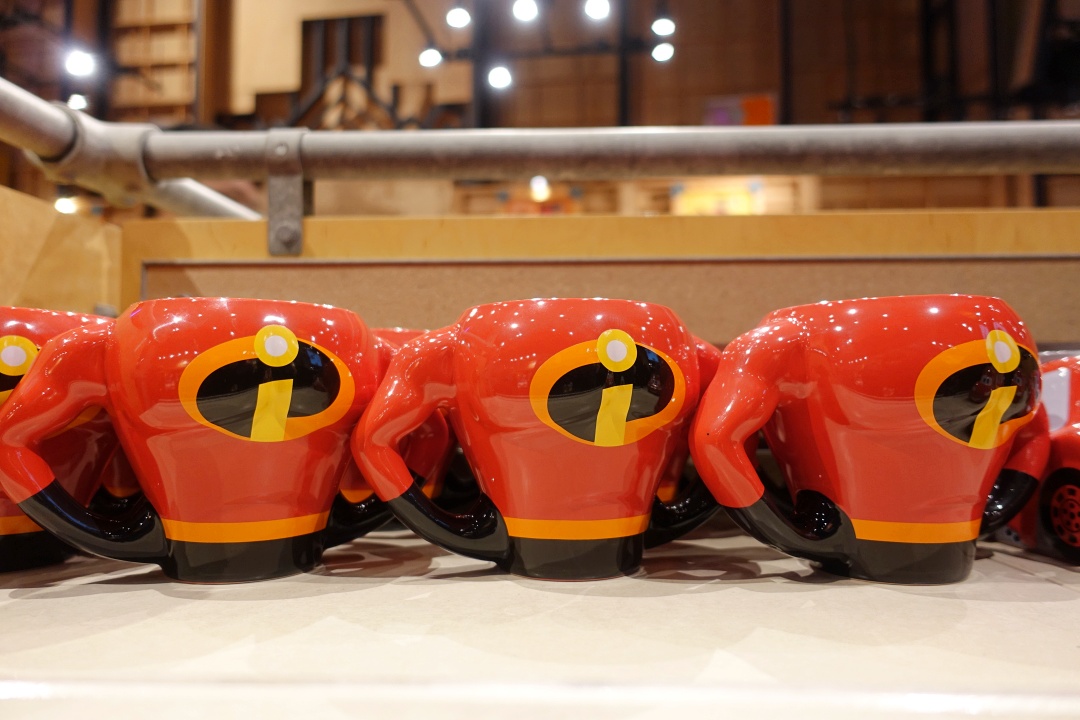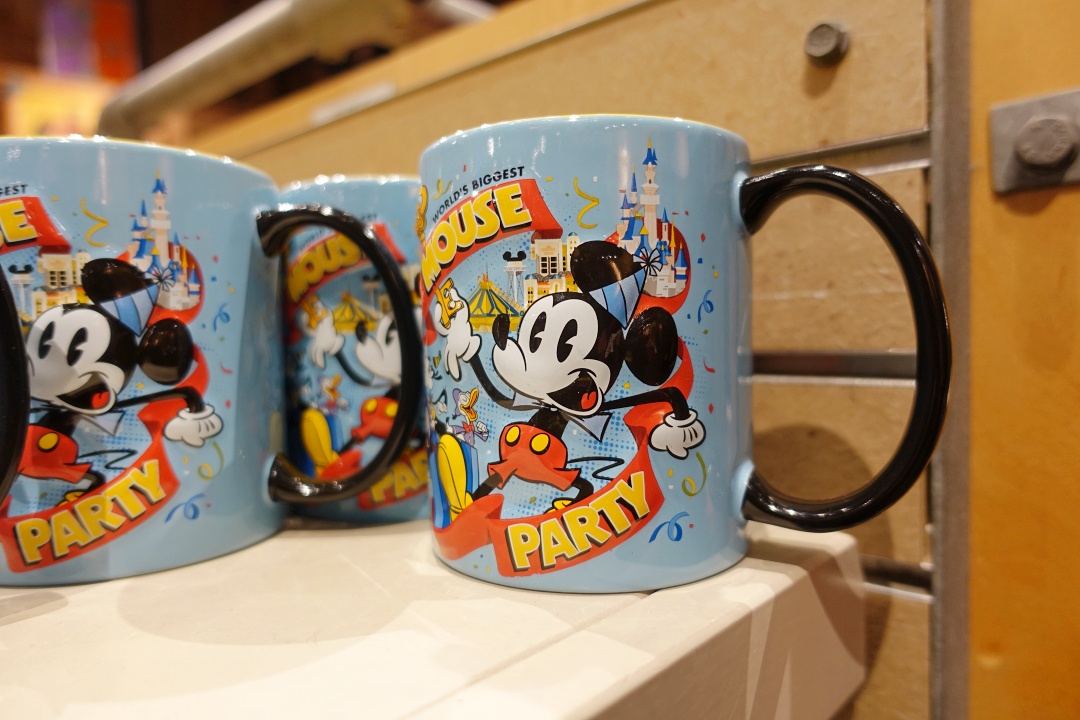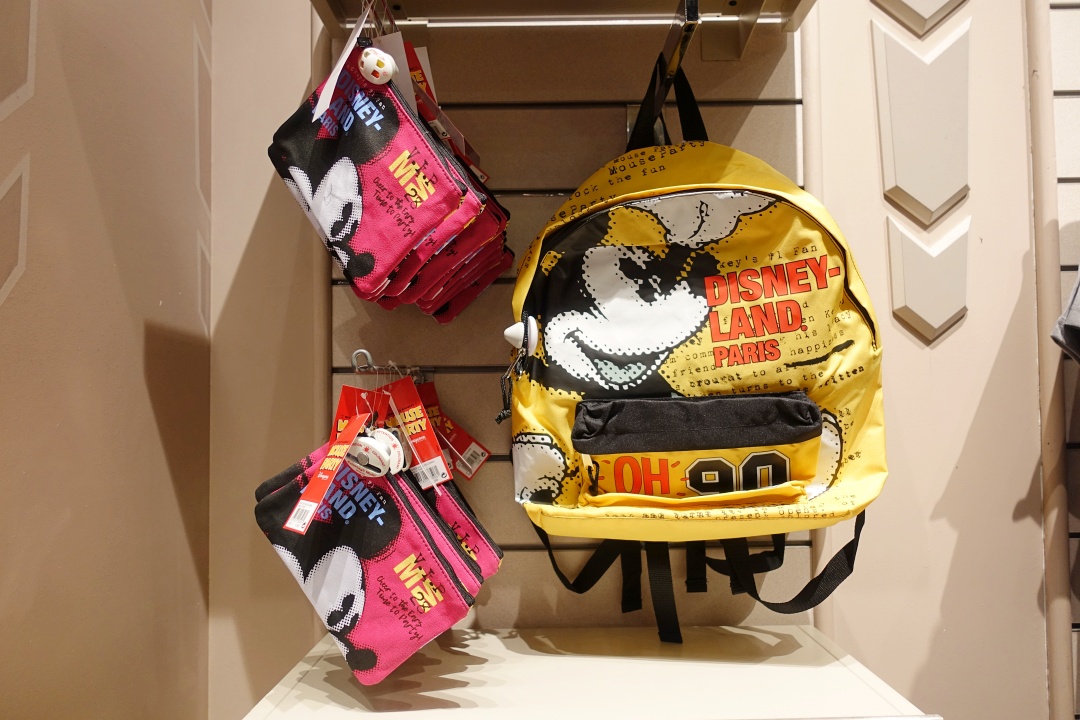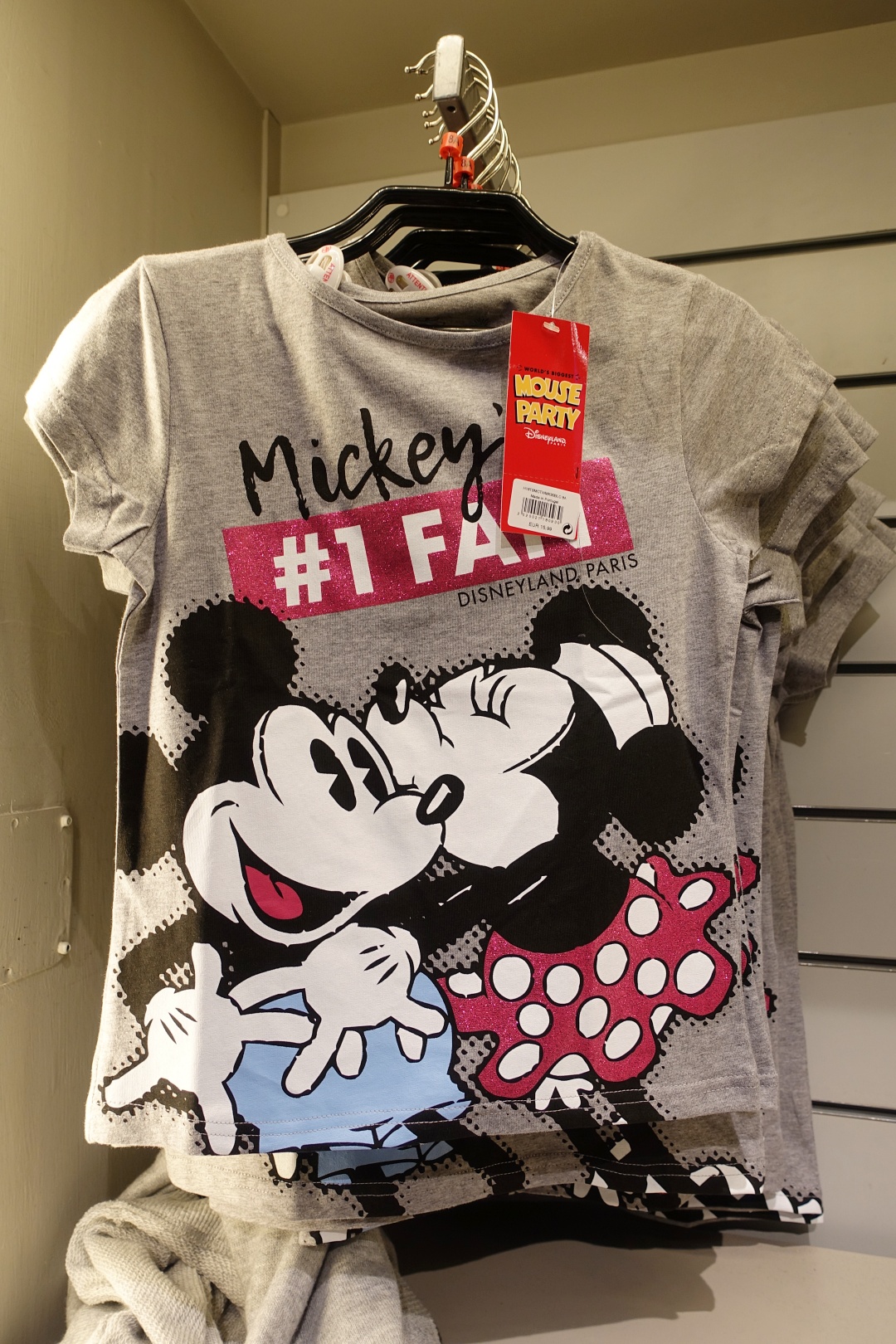 Goofy's Incredible Christmas
Leaving Toon Studio, we continued to walk around and do some shopping, while waiting for the Goofy's Incredible Christmas night-time show at 20:00. It was the final show happening at park closing time, and a lot of guests were gathering around the Production Courtyard waiting to catch the show.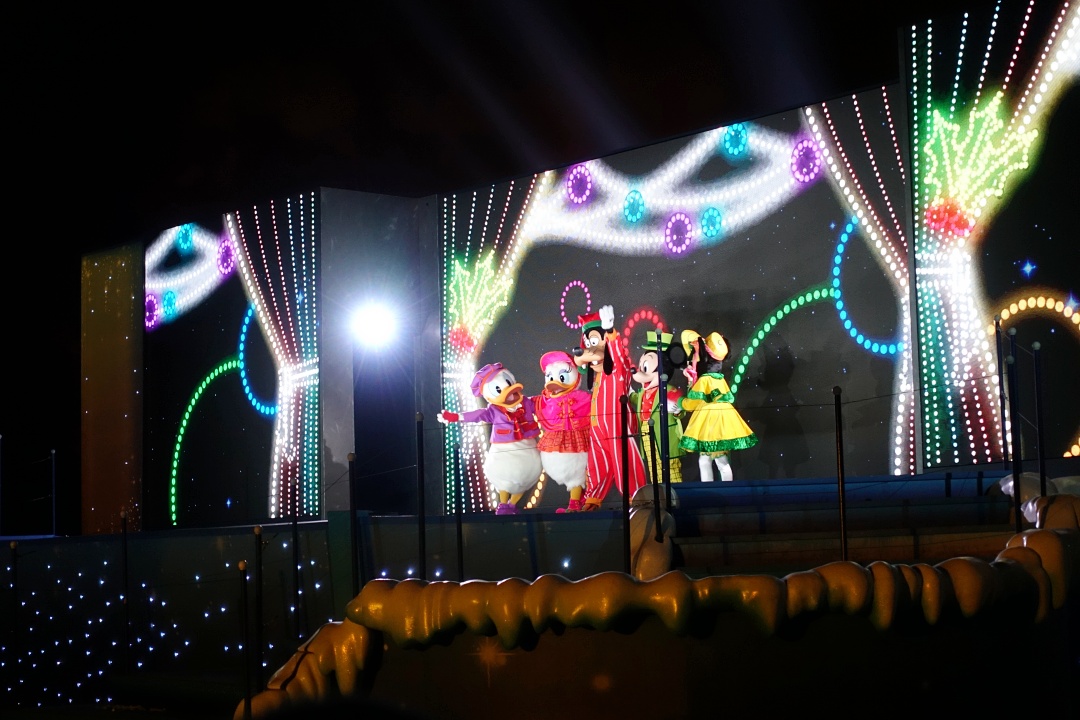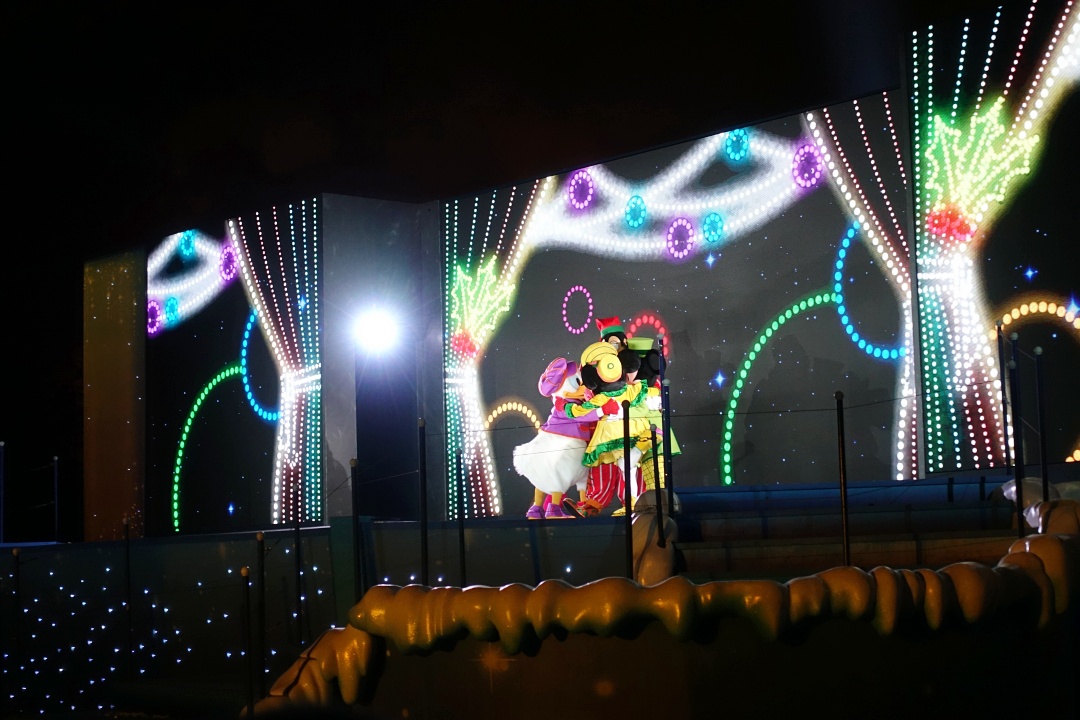 It turned out to be a stage show with beloved Disney characters like Mickey, Minnie, Donald Duck, Daisy, Goofy and a special appearance of Santa. I thought the show was alright; it wasn't particularly entertaining. More suitable for the kids, I guess?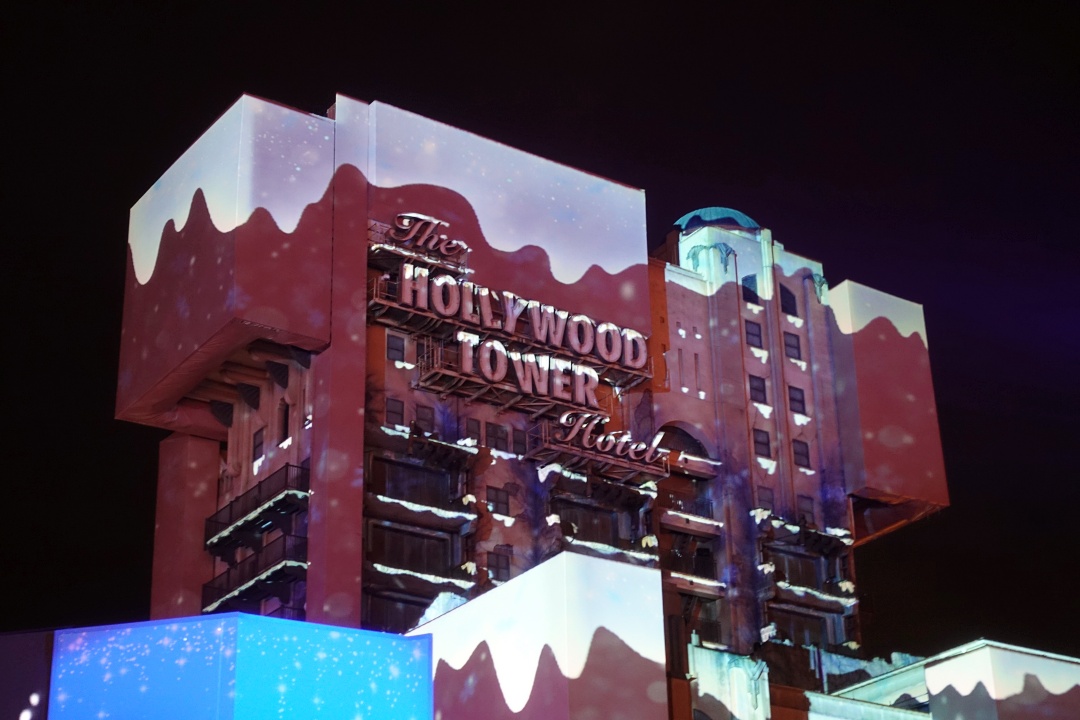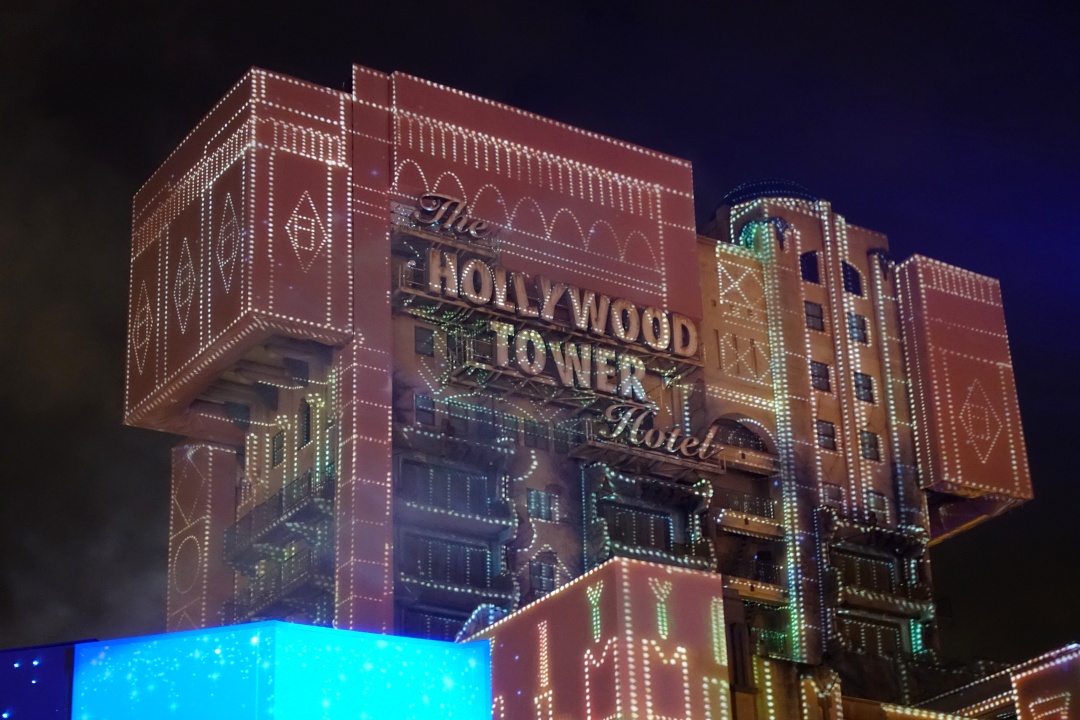 The park was considered closed right after the show, and it was time for us to leave Walt Disney Studios Park. It was around 20:15/20:30, and we decided to make our way over to Disney Village.
Disney Village
Disney Store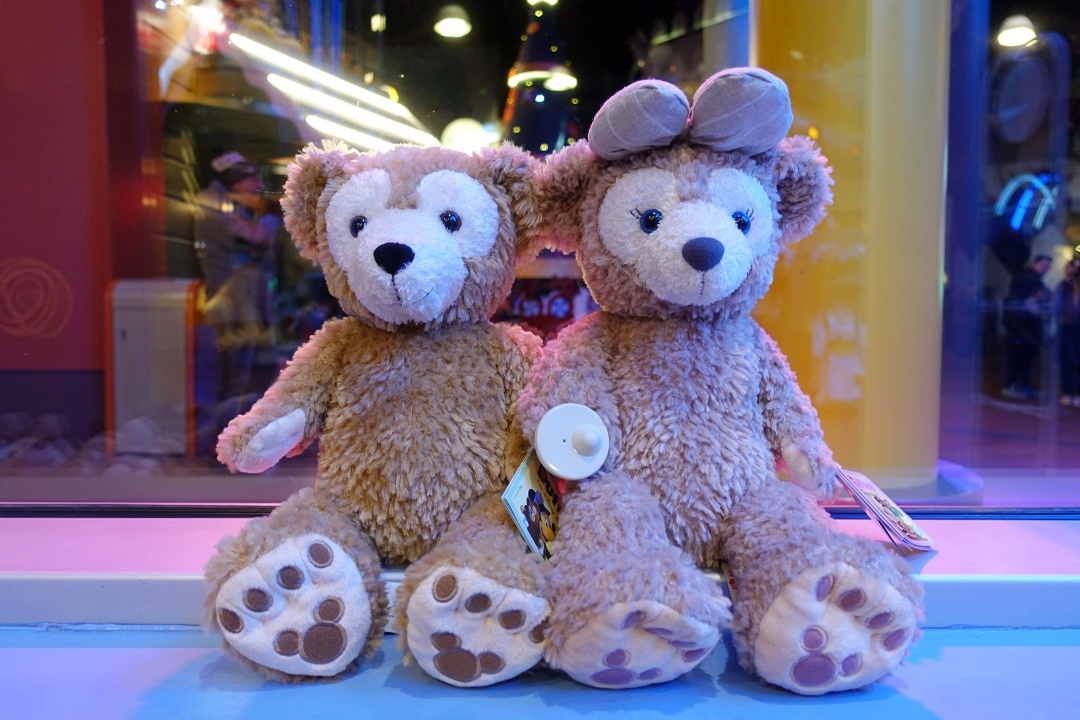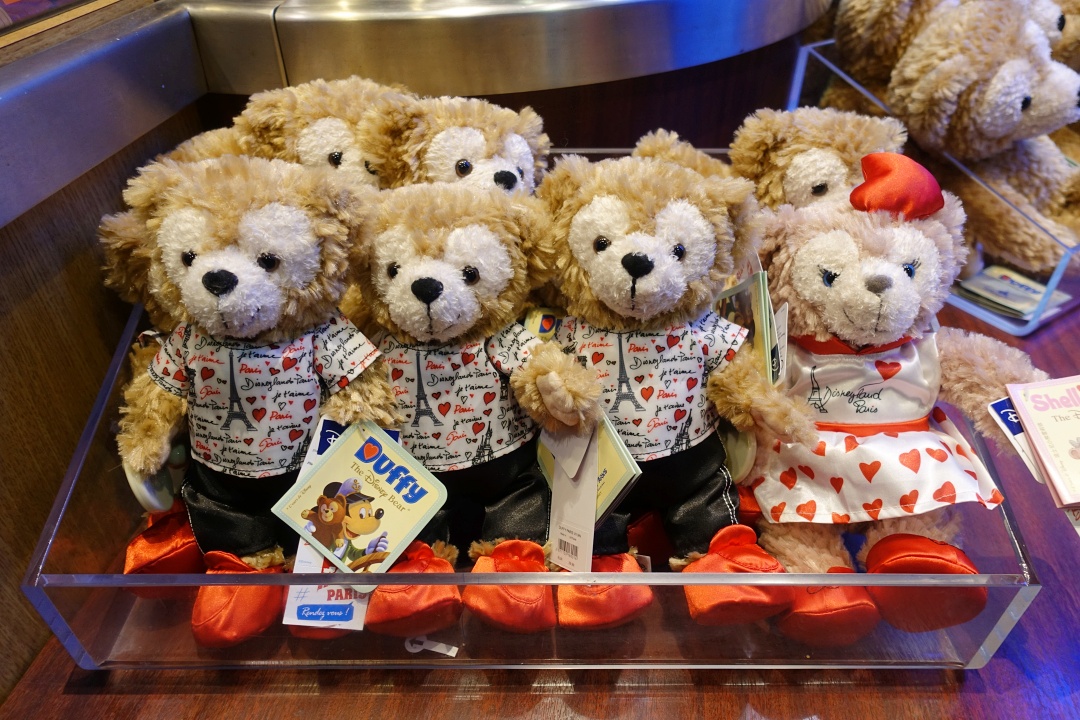 Spotted a couple more Duffy (and Shelliemay) plushes at Disney Store but none of which was as cute as the one I bought earlier on.
The Disney Gallery
After Disney Store, we went over to The Disney Gallery, which was just a few shops down the street. Here you can find an assortment of Disney artwork and collectables.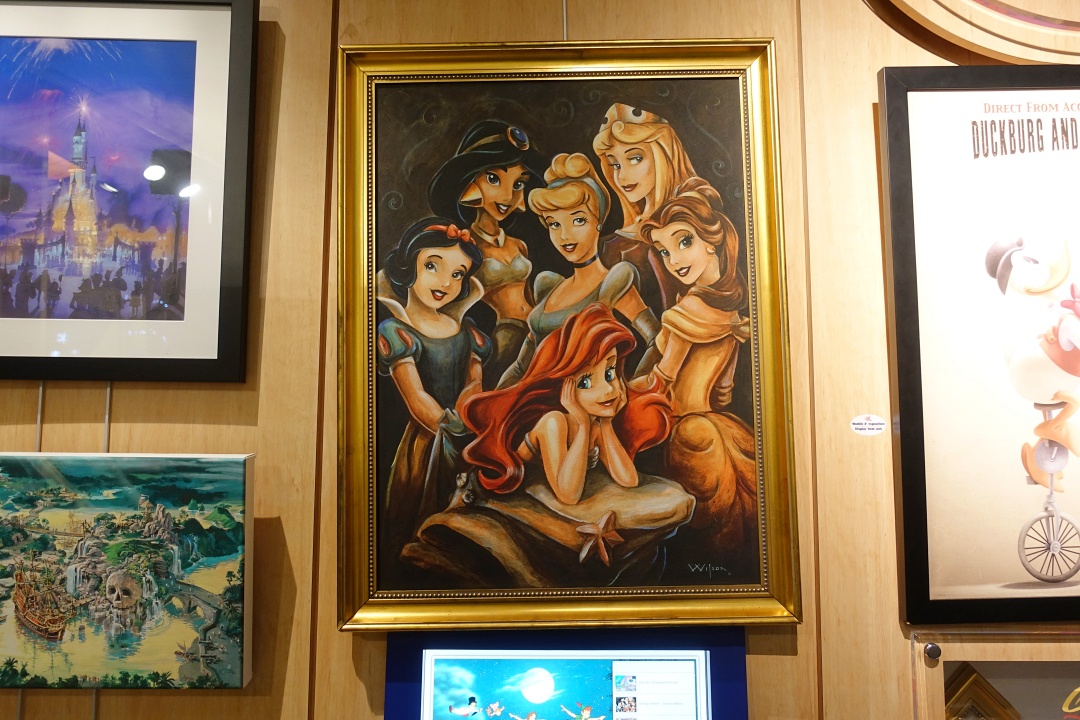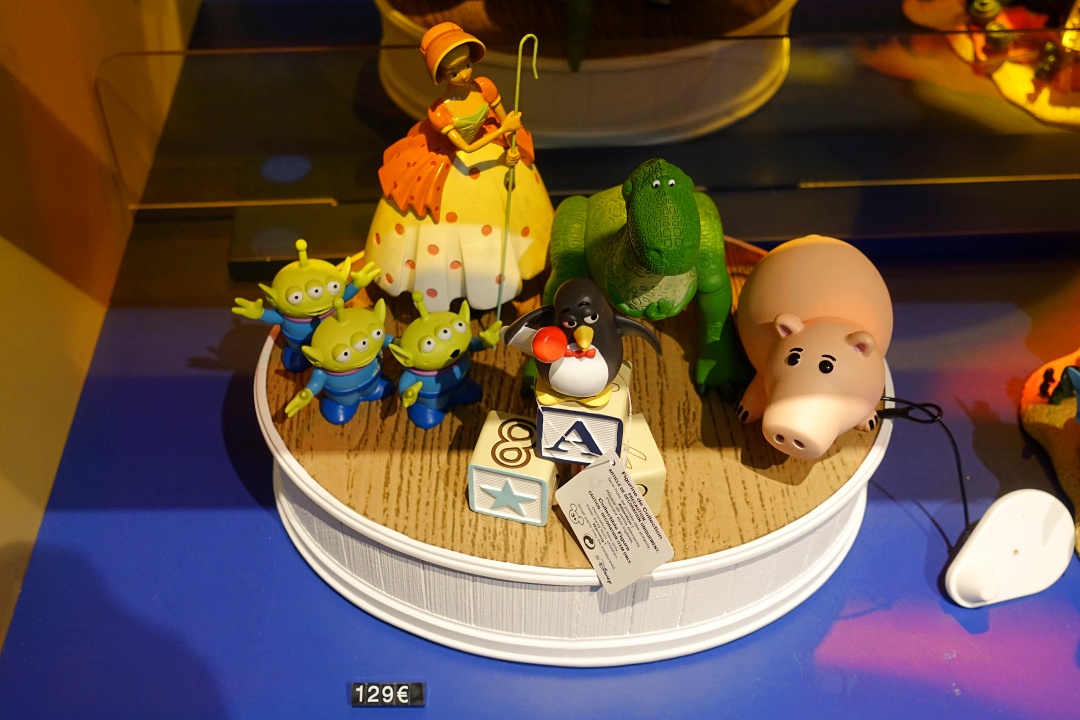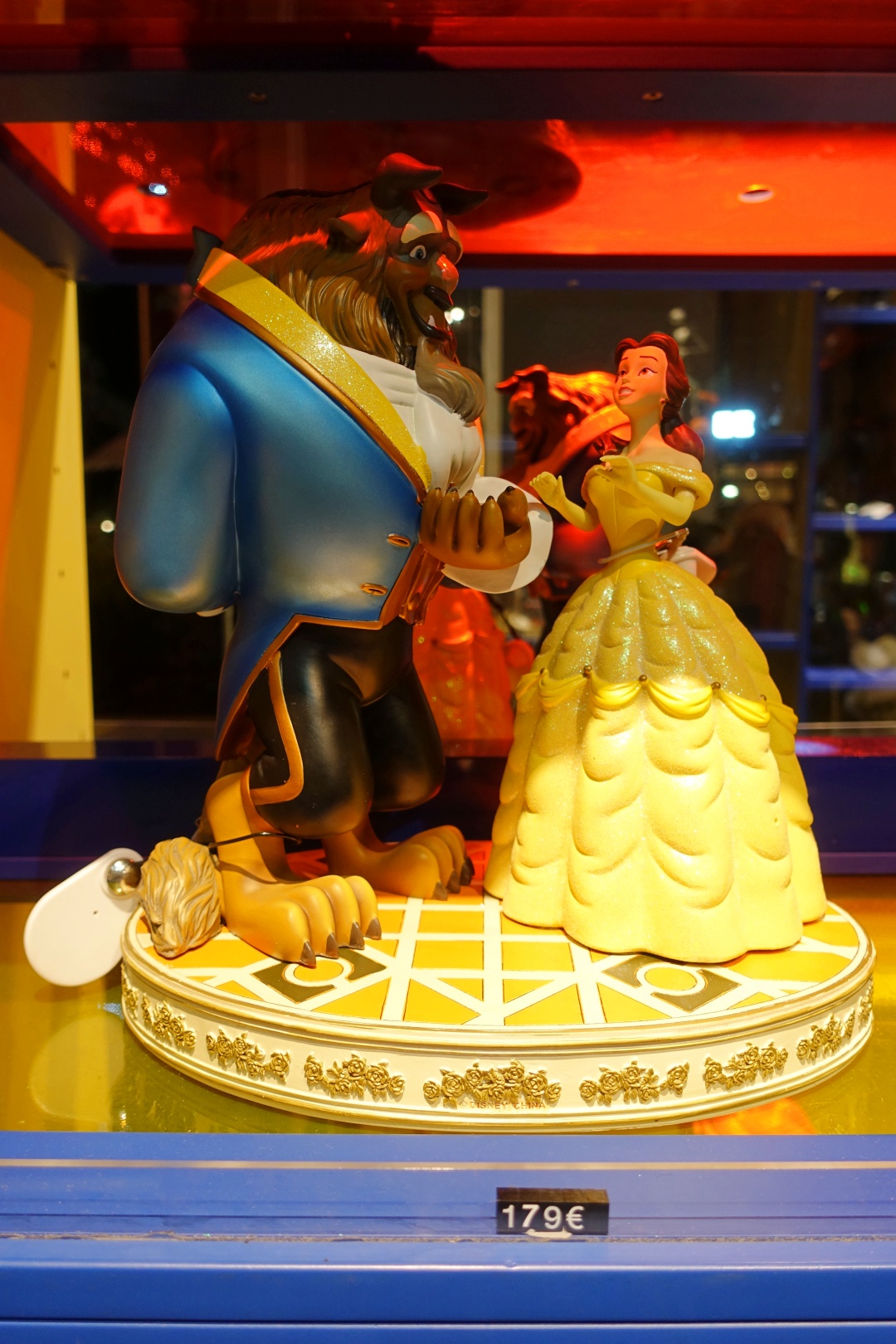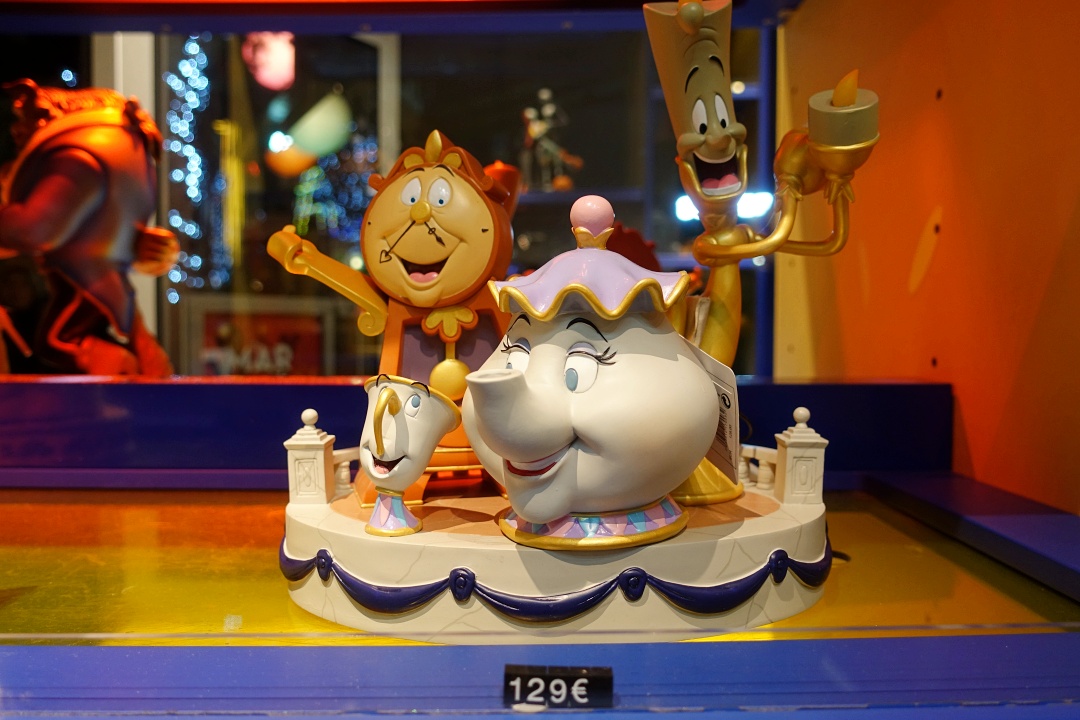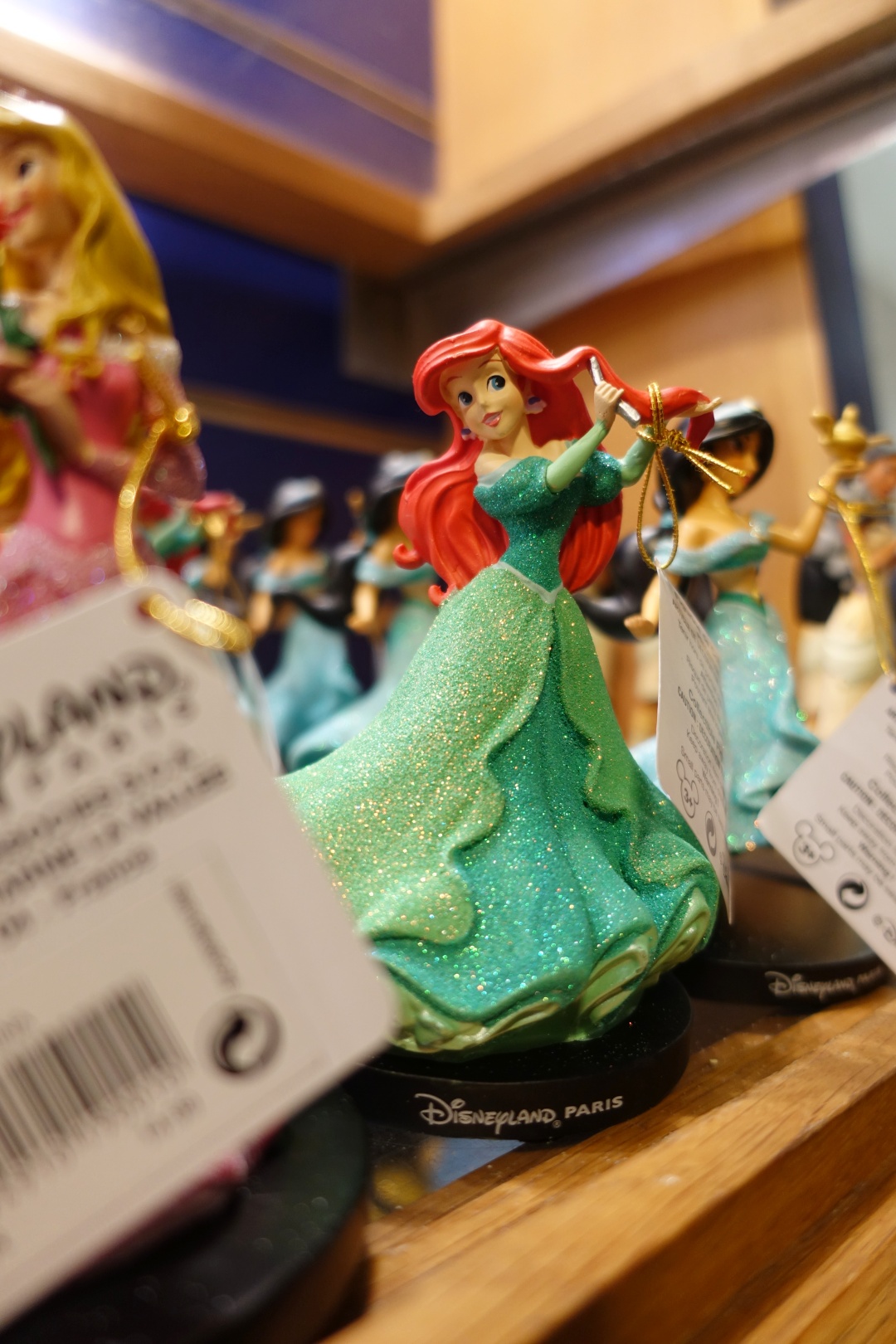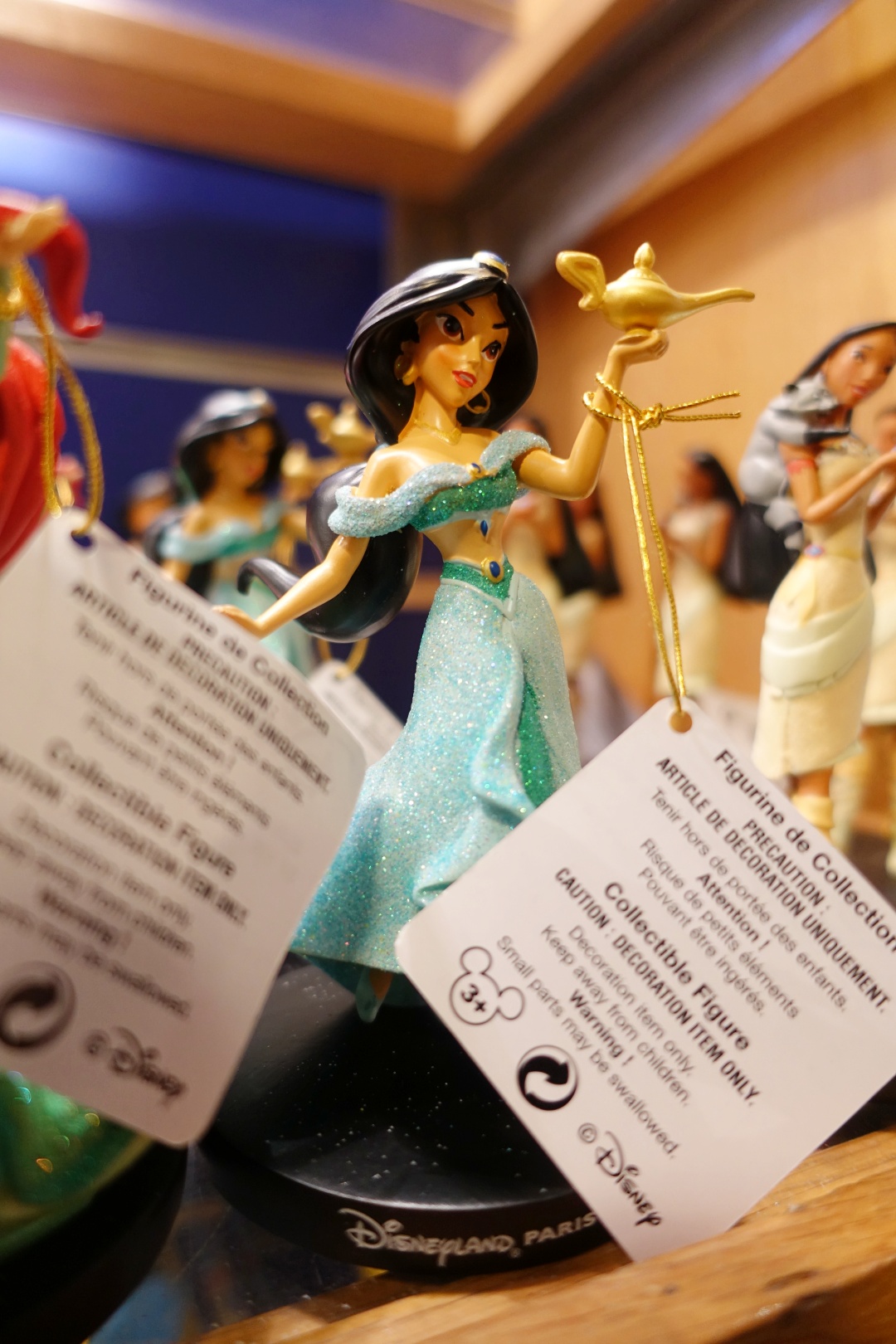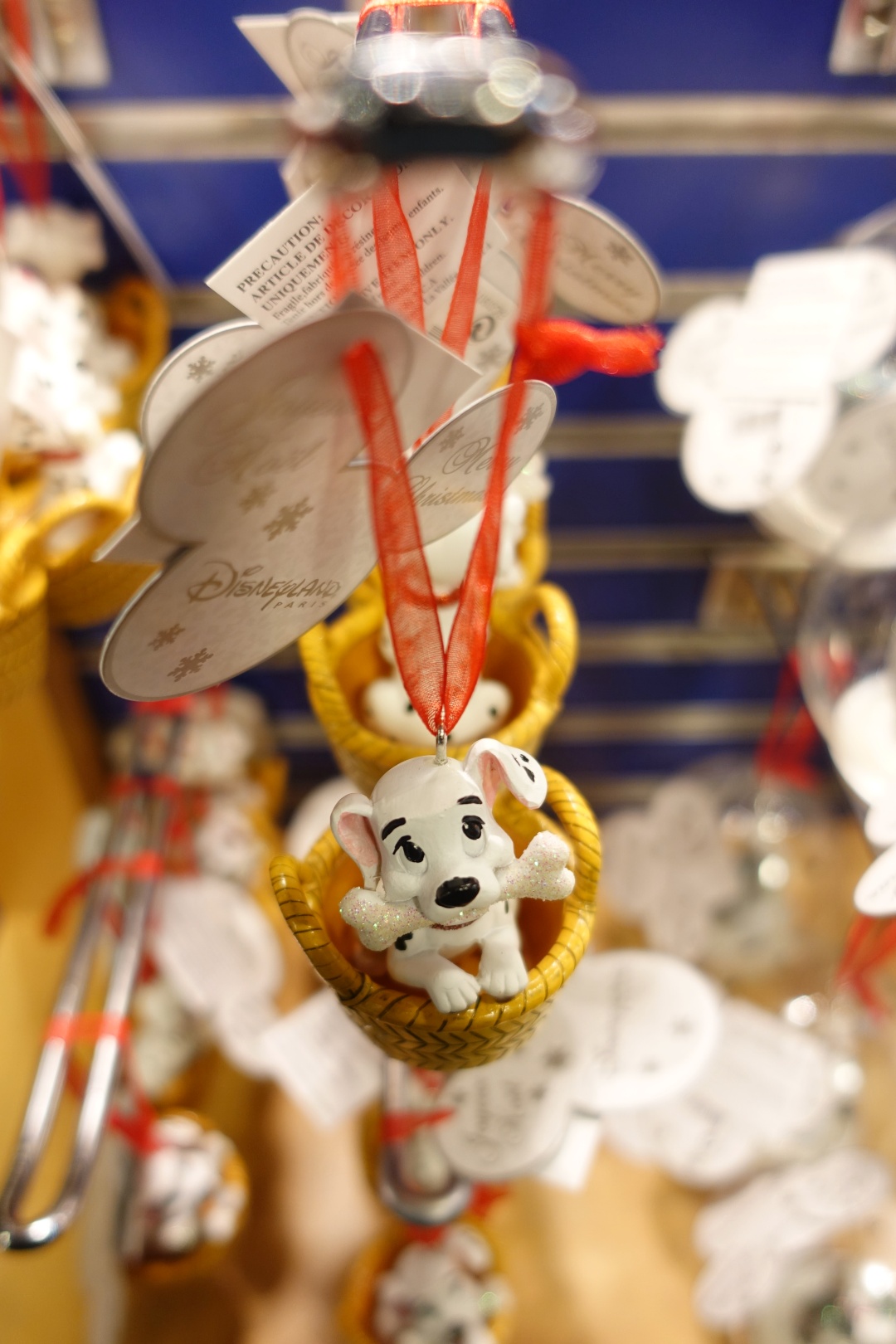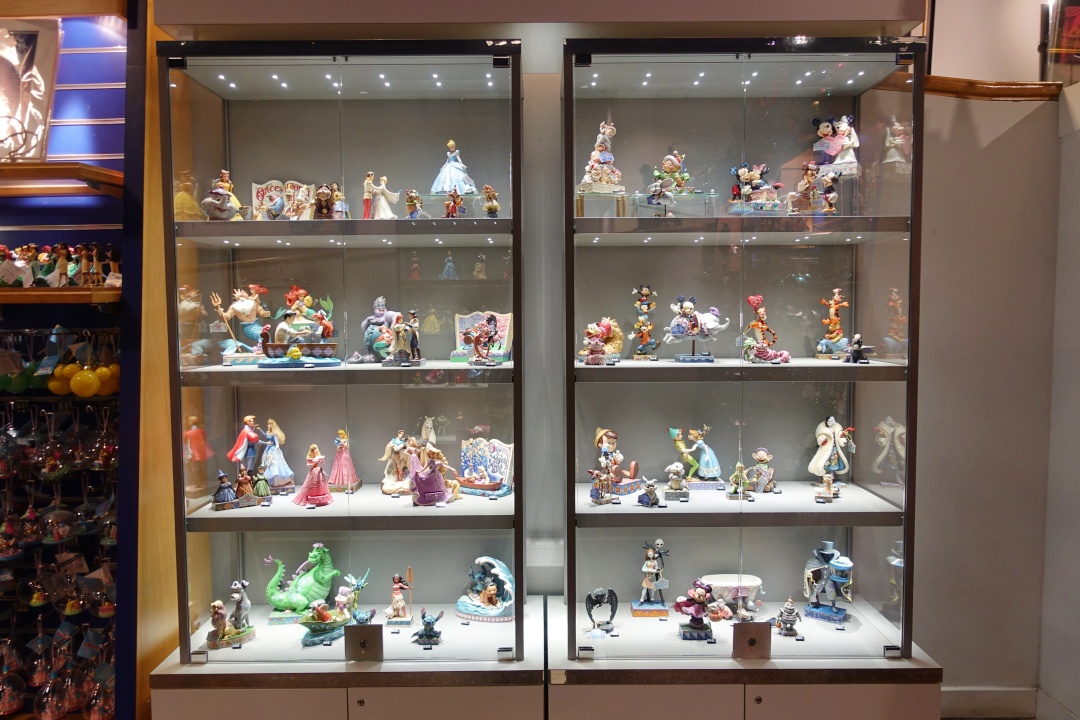 Spotted a cabinet full of Disney Traditions collectible figurines designed by Jim Shore.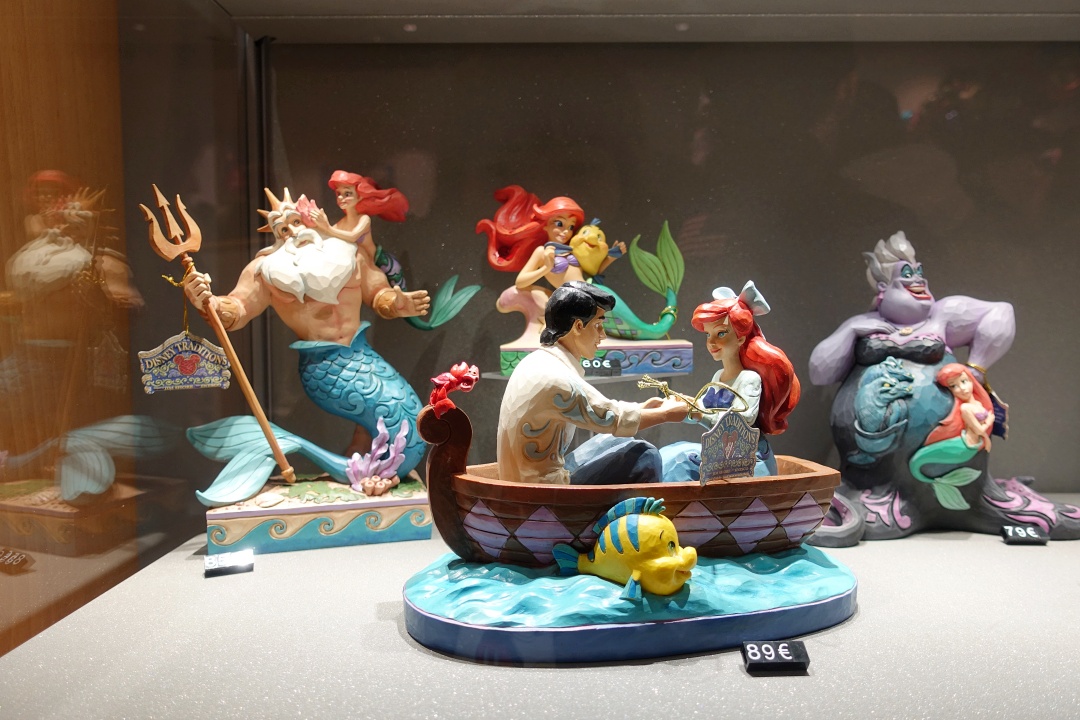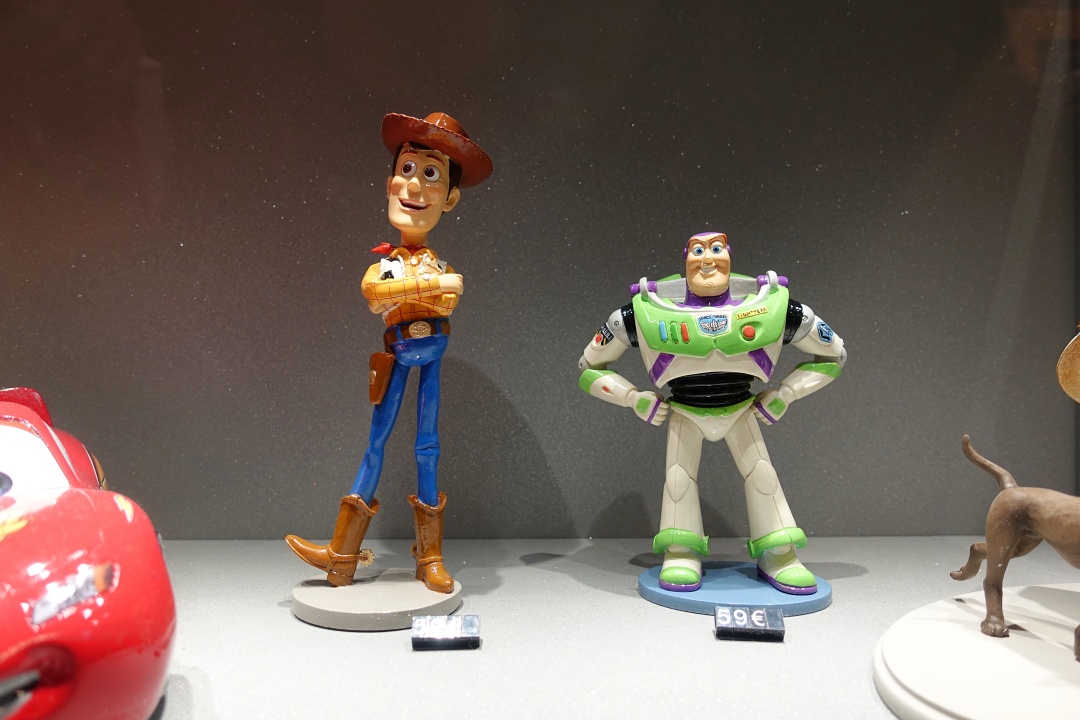 Having walked around the shop, we decided to pick up two items; which was the Woody and Buzz Lightyear figure seen above. I fell in love the moment I laid my eyes on them (Woody > Buzz); the Husband thought they were beautiful too. They were for sale at €59 each, which I thought was a reasonable price.
However, I was a little reluctant to get them as I'm concern about how I'm going to bring them back safely to Singapore. In the end, the Husband decided to get them first and worry about how to bring them back when the time comes.
(Thankfully, they suffered no damage in their styrofoam box and arrived safely back to Singapore. Till date, I've only seen a shop in Singapore selling the Buzz Lightyear figure. No sight of Woody yet, which make me glad that we decided to get them in Paris.)
The LEGO Store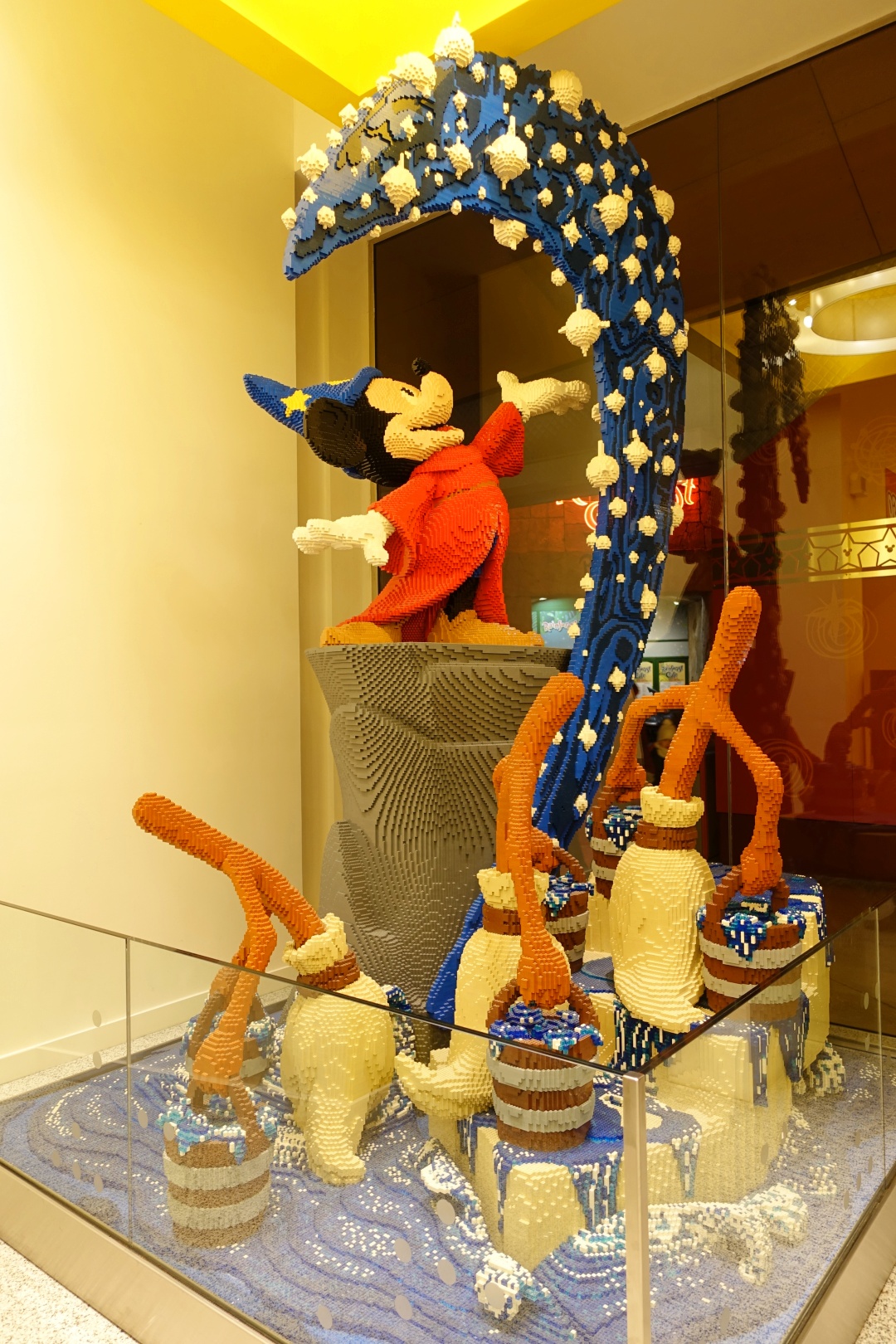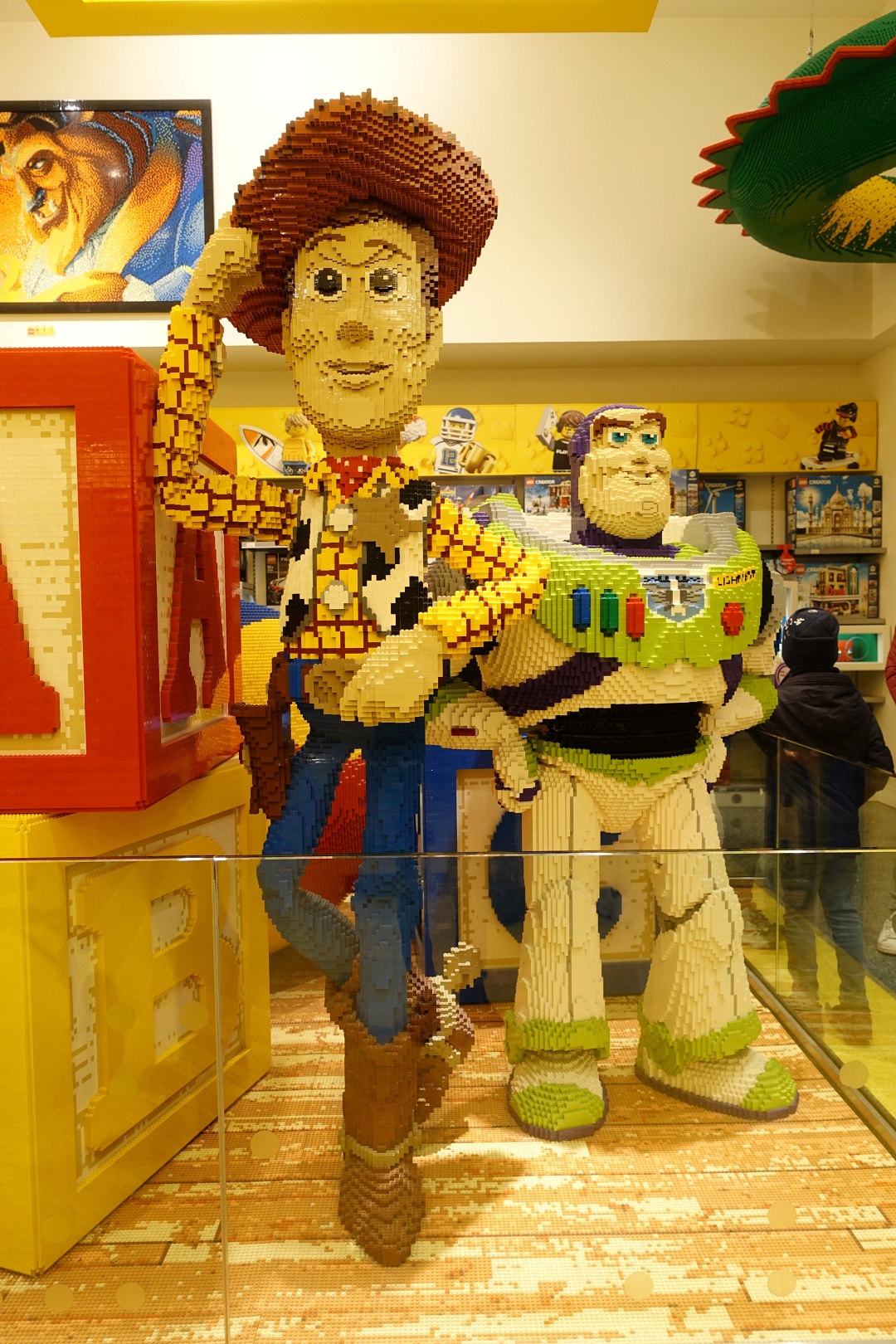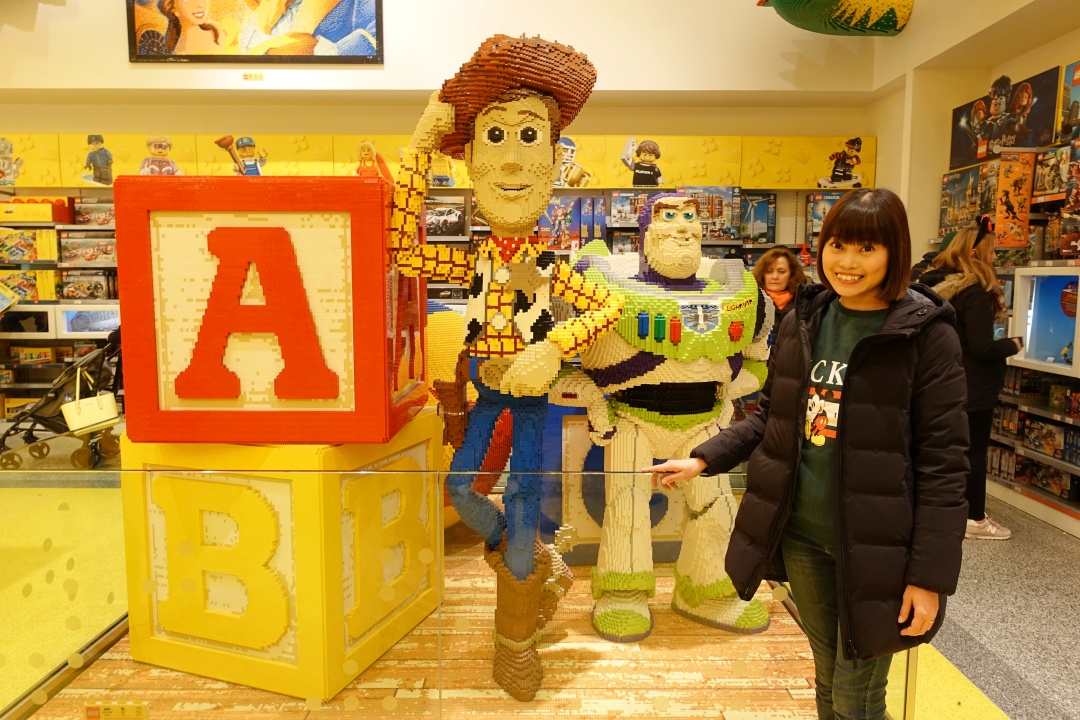 Woody and Buzz constructed entirely out of LEGO bricks.
Disney Fashion Junior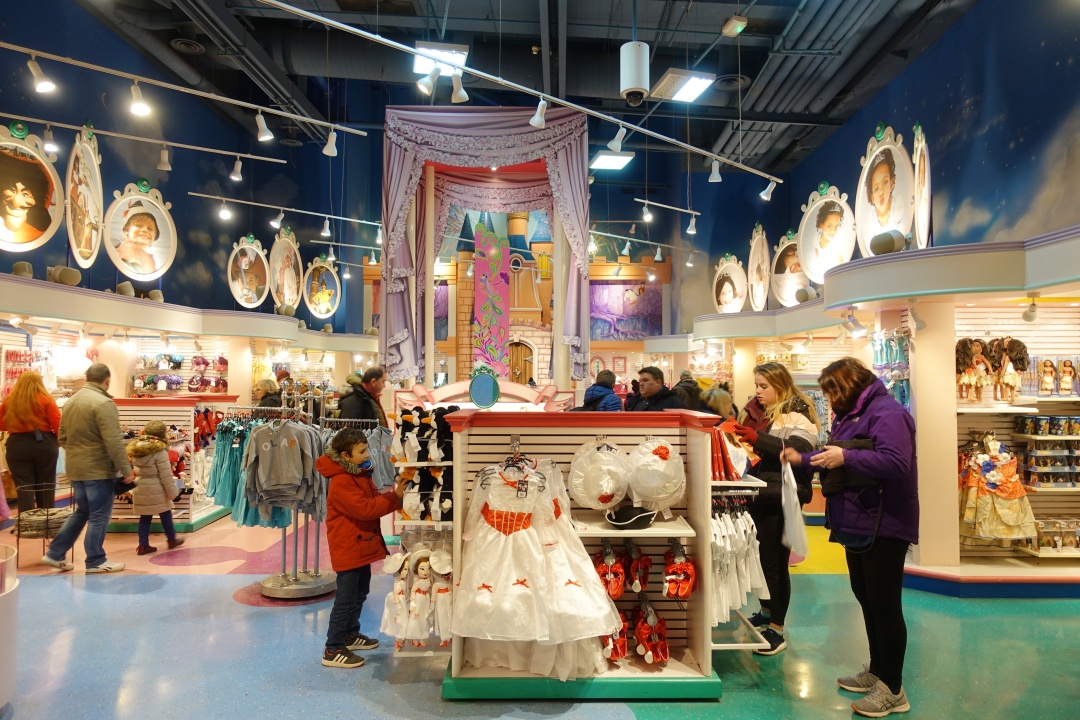 PanoraMagique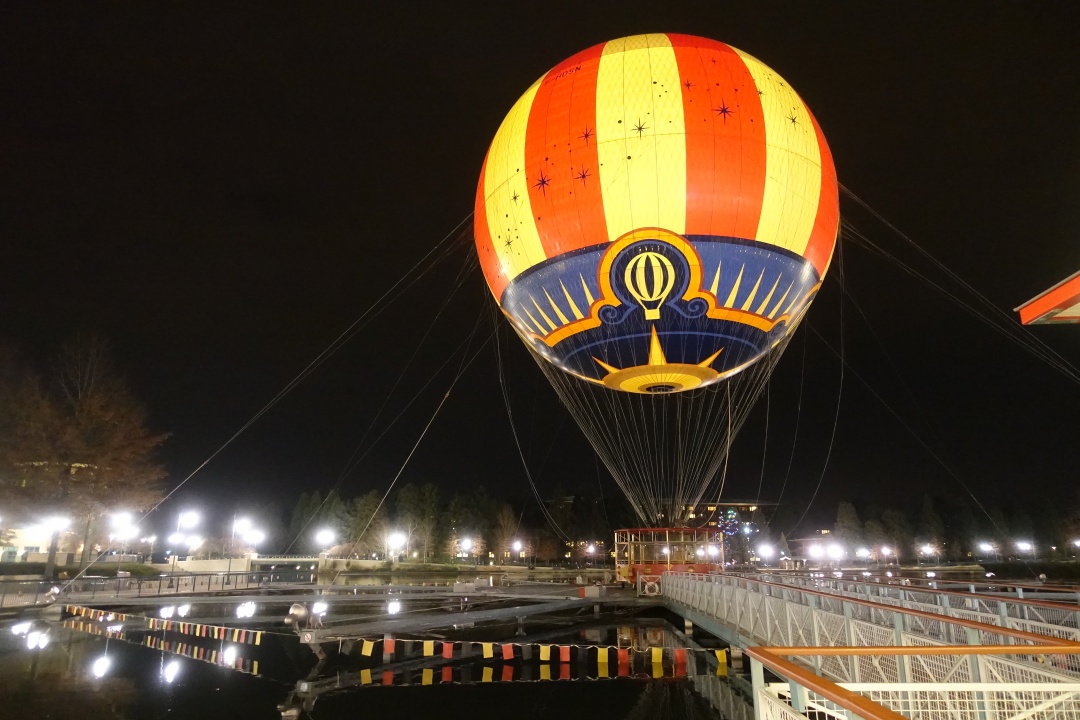 Happened to come across this gigantic hot air balloon (PanoraMagique) on Lake Disney at the far end of Disney Village. The ticketing counter appeared to be closed when we were there, but I managed to spot the price — € 12 for adult and €6 for children between 3 to 11 years old.
The PanoraMagique can take up to 30 guests at a time (depending on weather conditions) and offer visitors the chance to enjoy a 6-minute ride filled with unrivalled 360º views over Disneyland Paris. It was a pity that it was closed, else it would have been quite magical to try it.
---
Disneyland Paris
Made our way into Disneyland Paris at around 09:40 to catch the last two shows for the day – Celebrate! 90 years of Mickey and Disney Illuminations (presented by PANDORA).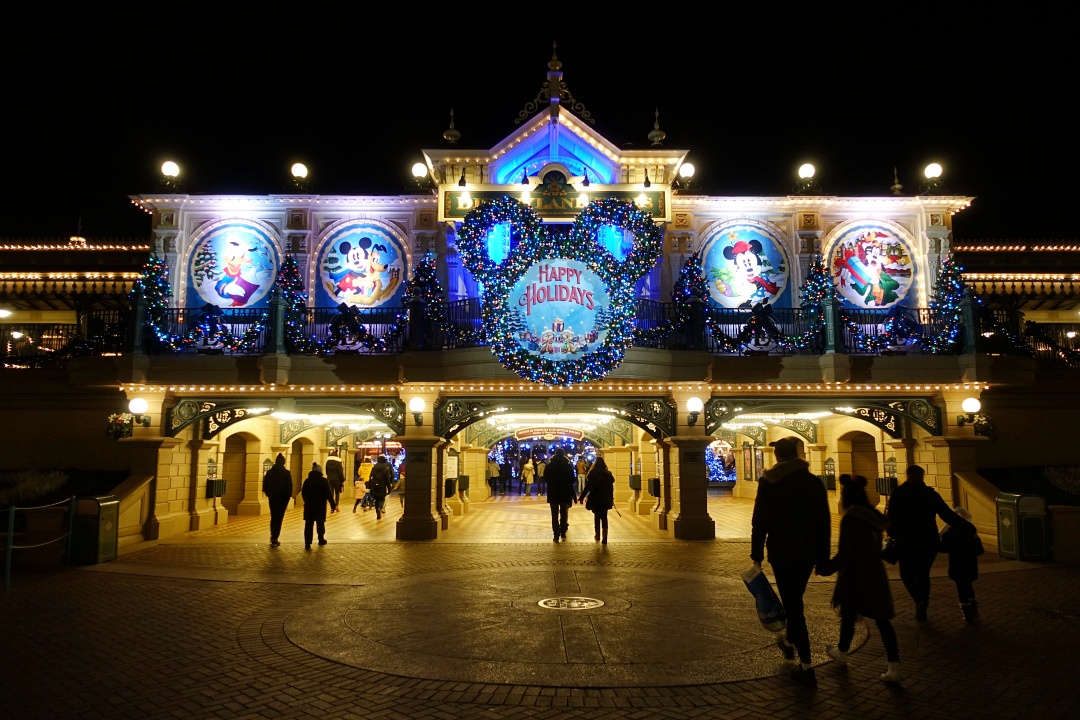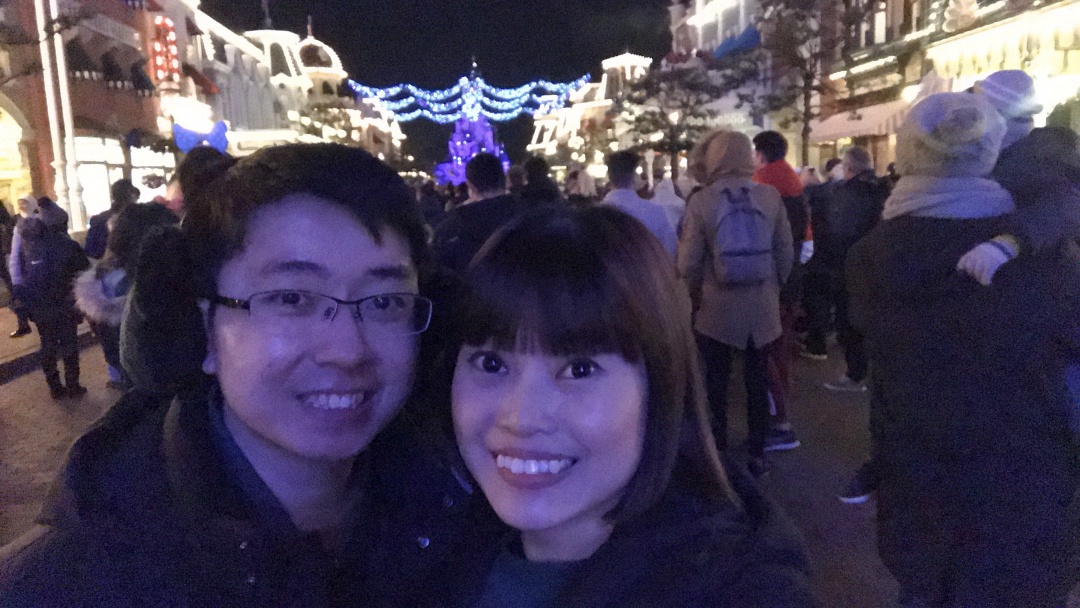 Crowding around Main Street U.S.A. while we wait for the start of the show. We didn't see the point to squeeze to the front (Central Plaza), so we stay put at the other end of Main Street U.S.A. (near to Emporium). This way, it was also easier for us when the times come to leave the park.
Because we were standing so far behind, I didn't end up doing any filming. I have no recollection of the show, so I'm not even sure if we actually caught the show?