Throwback to four weeks ago when we brought Tyler to his first haircut.
Despite the Chinese tradition, we didn't shave his head when he turned 1-month. We briefly consider cutting his hair and make it into a baby hairbrush (胎毛笔) when he was close to 1-month, but eventually gave up on that idea. Subsequently, we did trim away some of his hair at the back when he was 8-week old as it was getting a little too long and we thought it might cause him to sweat more when the weather is hot.
But aside from that, we have no intention to cut his hair. At least not until I started noticing his hair loss at 2~3 months. It began with him pulling out his hair (at the spot right above his right ear). Then, I started noticing tiny hairs in his cot every morning (probably due to his sleeping position / rubbing his head when he turns). It got so bad that I consistently found tiny hair on his face or around his neck. I supposed it didn't bother him as much as it does to me. So I figured enough is enough, and it's time we bring him for a haircut!
It happened that Tyler had to go for vaccination on the day he turned 4-month, so we decided we would bring him for his haircut right after.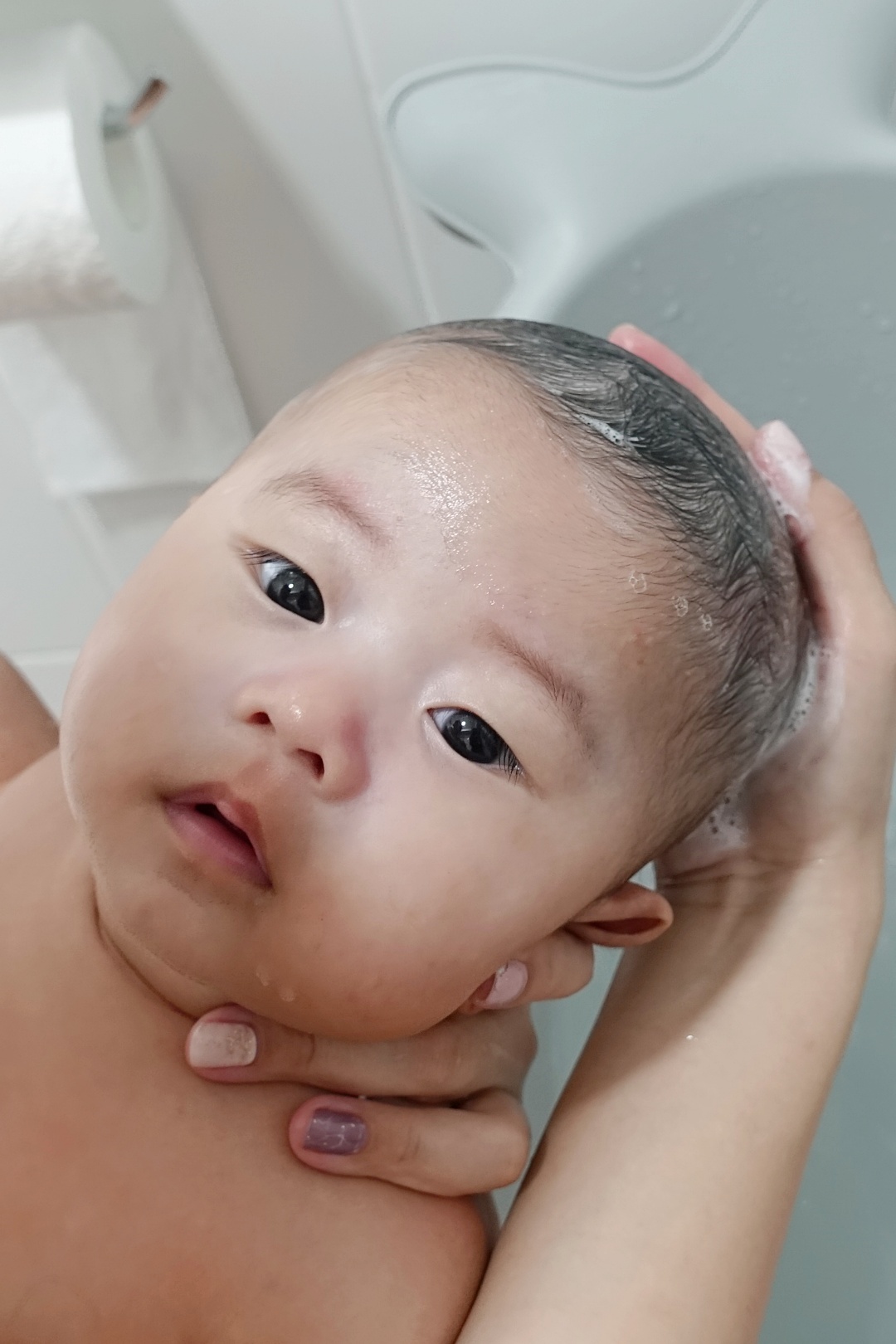 Gave him a quick shower before we went out that morning. I will miss shampooing his head.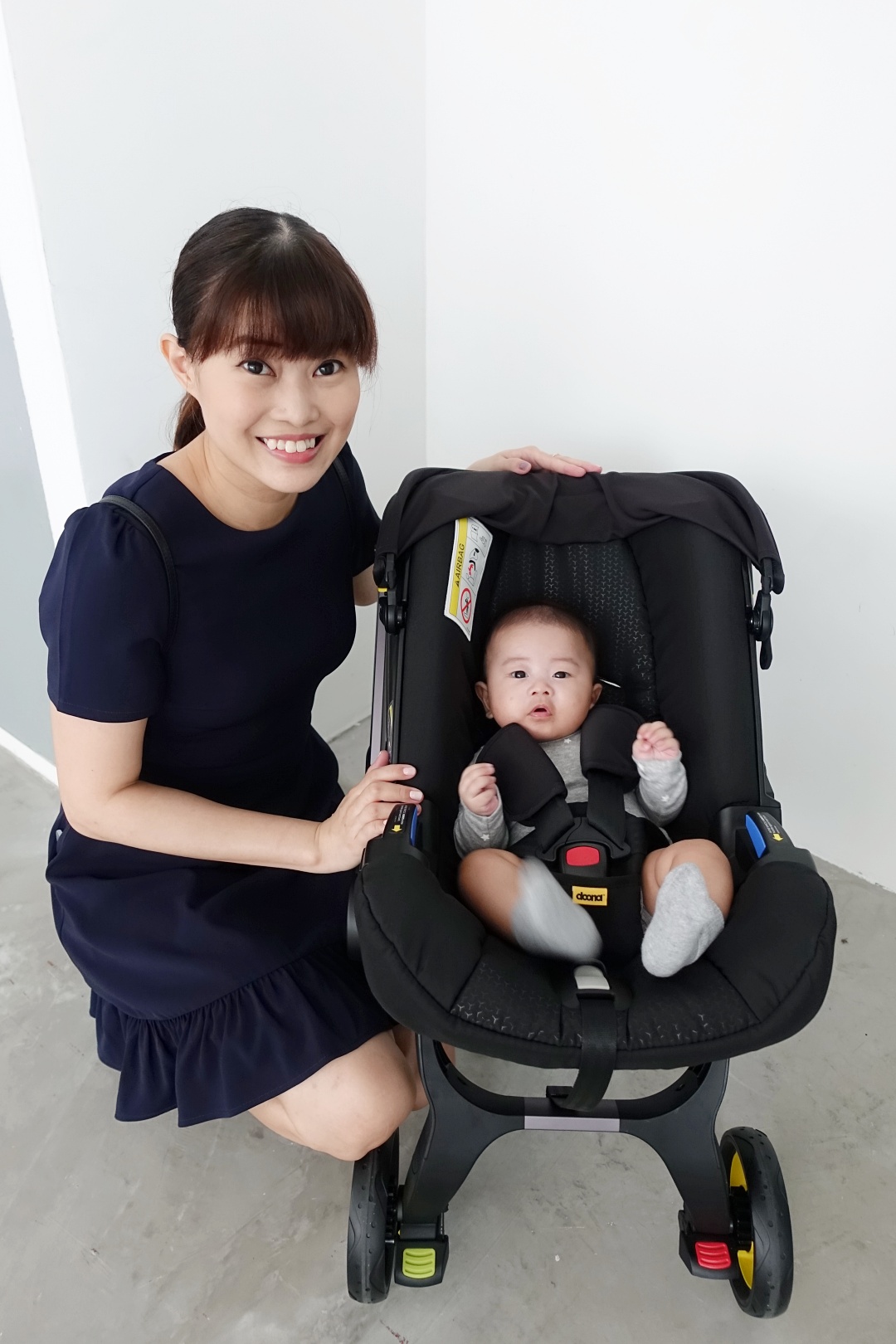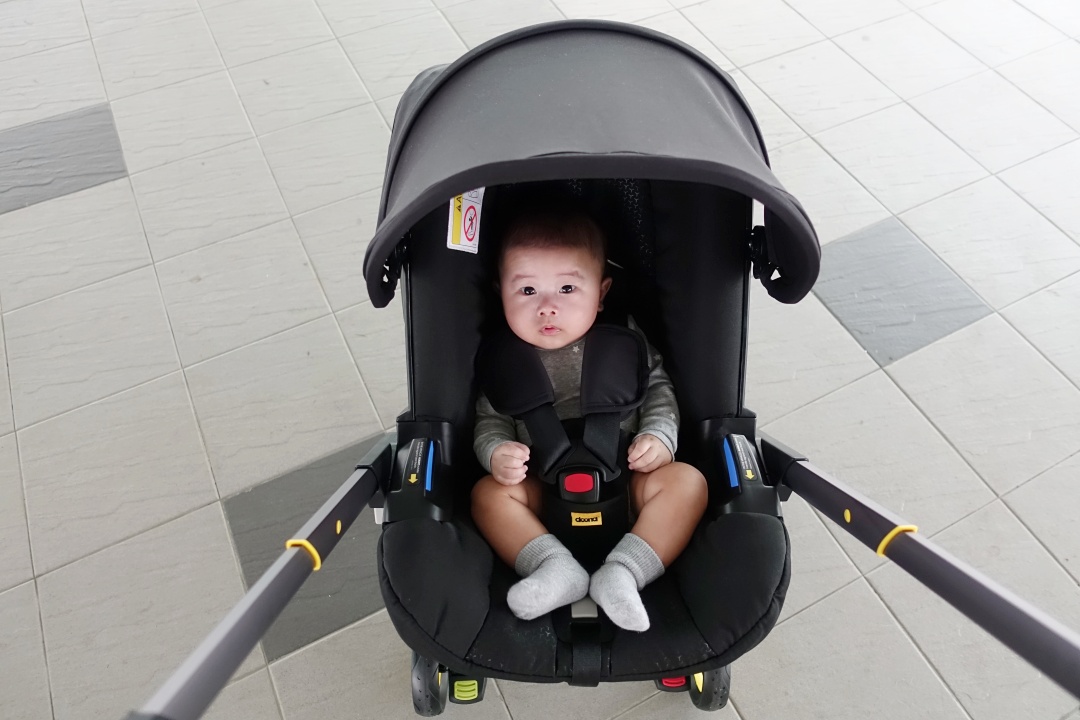 After his visit to the PD, we went over to Vivo City. The Husband usually had his haircut at LA Barbershop (at Vivo City), and they had earlier on opened a concept store specially for the little ones. It was the first place that came to my mind after we decided to bring Tyler for a haircut.
LA Kids Cowboy
Vivo City #02-96, Singapore 098585.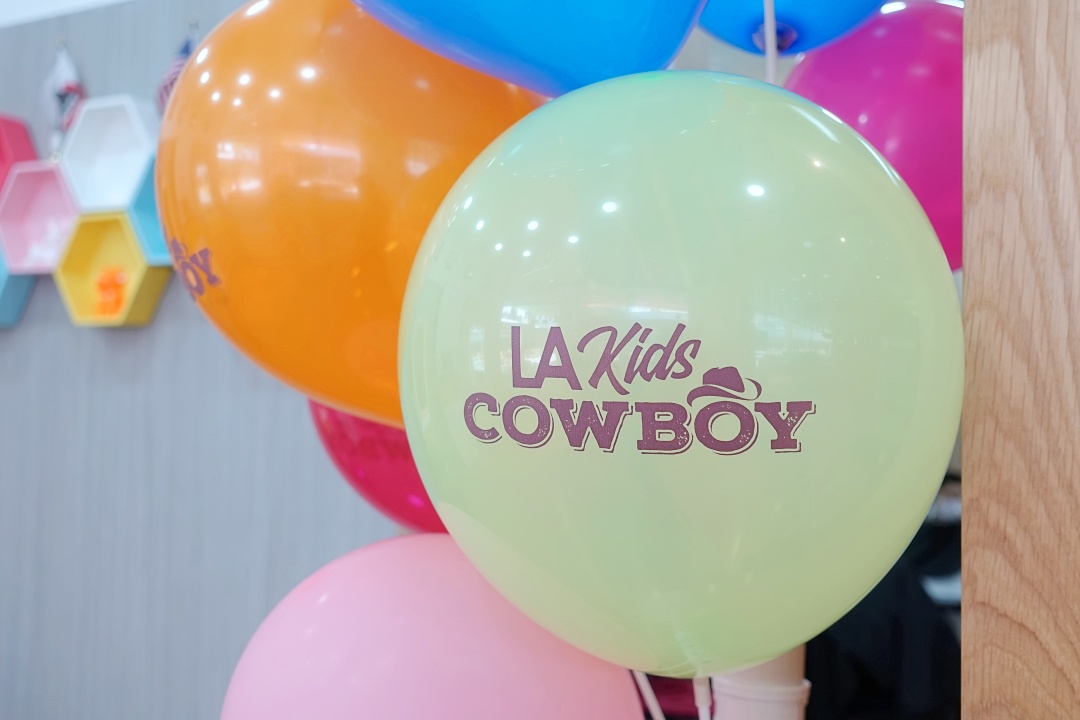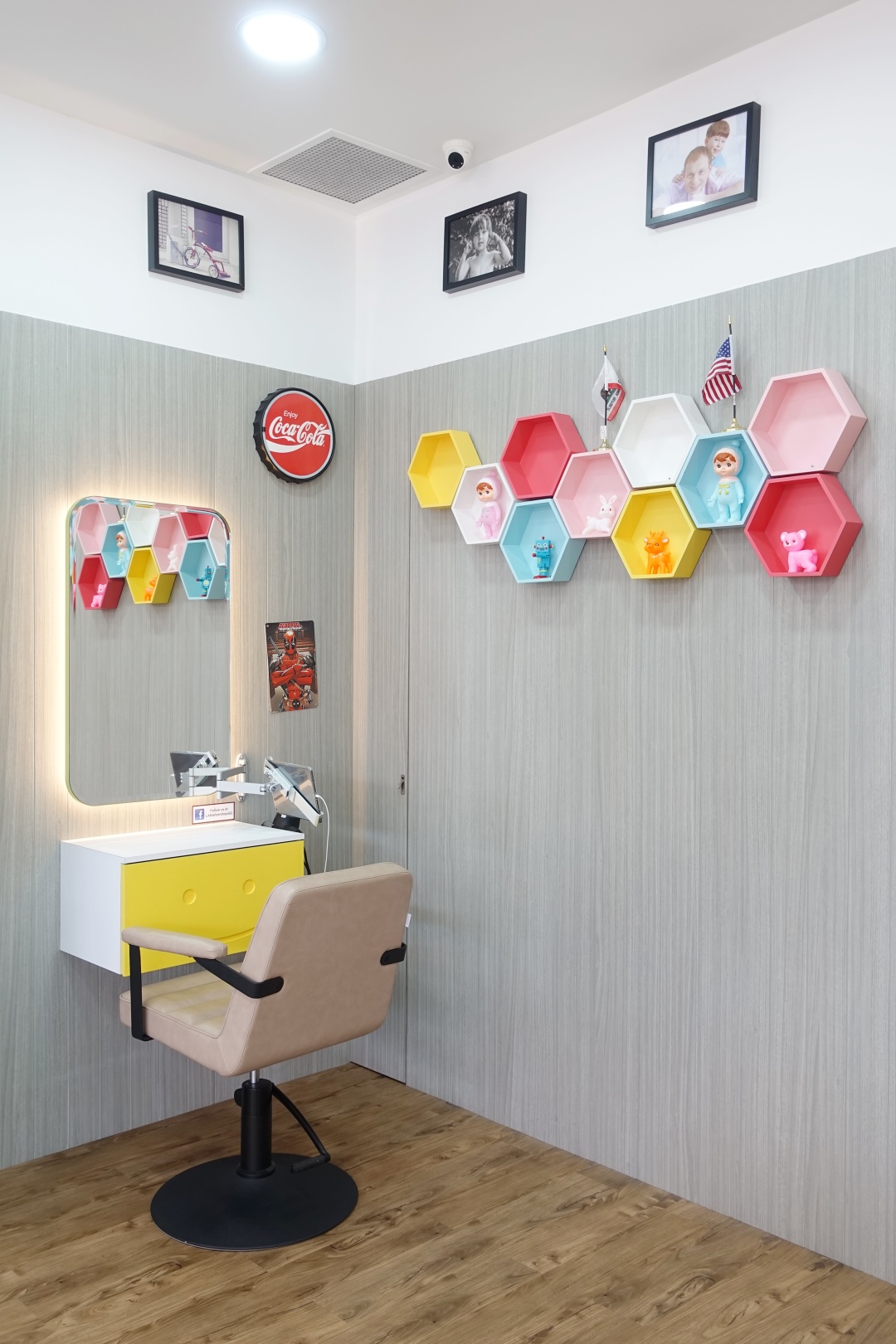 We tried booking for an appointment prior to our visit but was informed that they don't take reservation and we can merely walk-in on the day.
Lucky for us, there was only one customer when we arrived at 13:30 (on a Monday).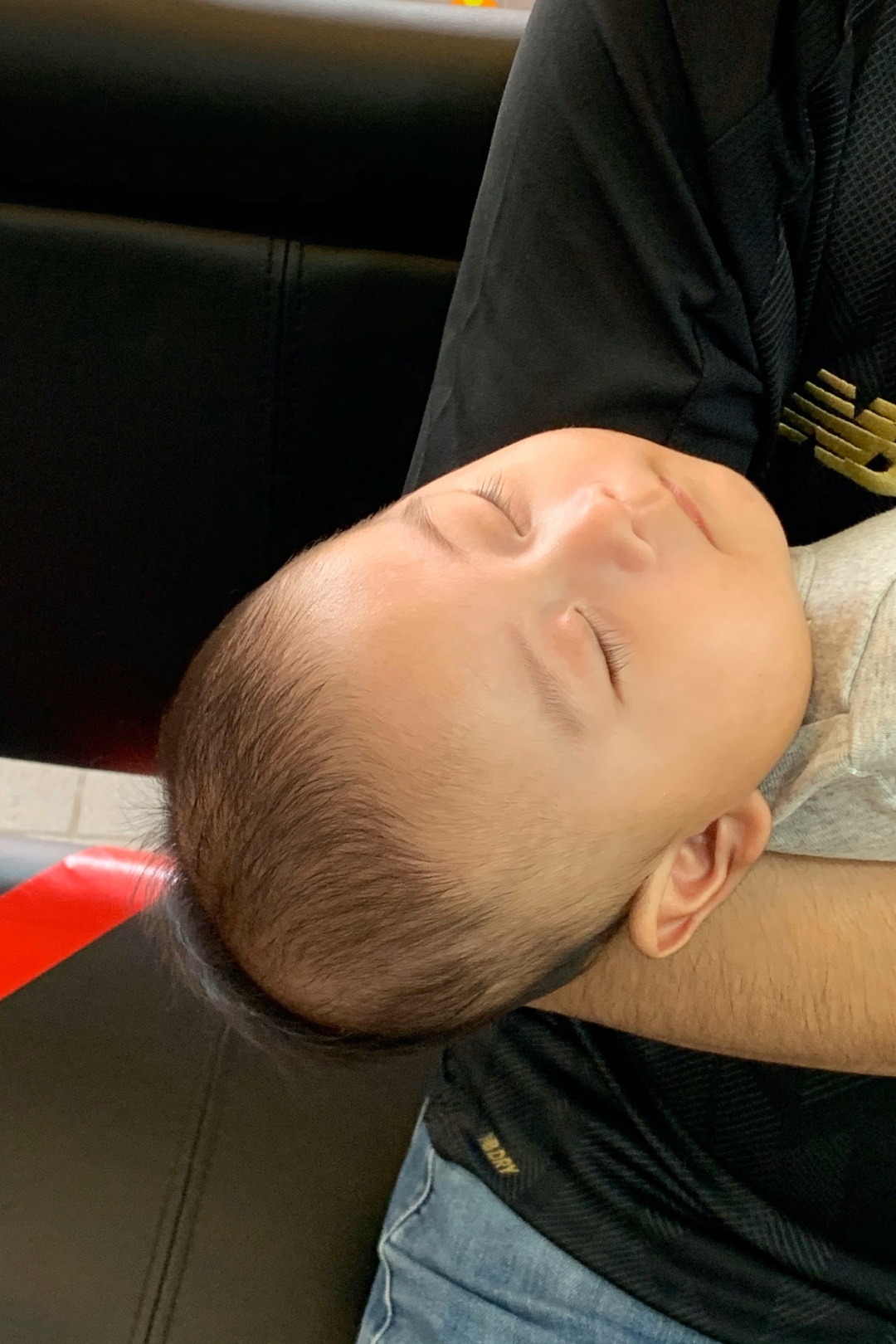 I purposely put him down for his nap before we went over because I thought it would be easier to handle a sleeping baby than a crying baby. However, he woke up right before his turn.
I supposed it doesn't make much difference in the end, since the barber told us to place him in an upright position.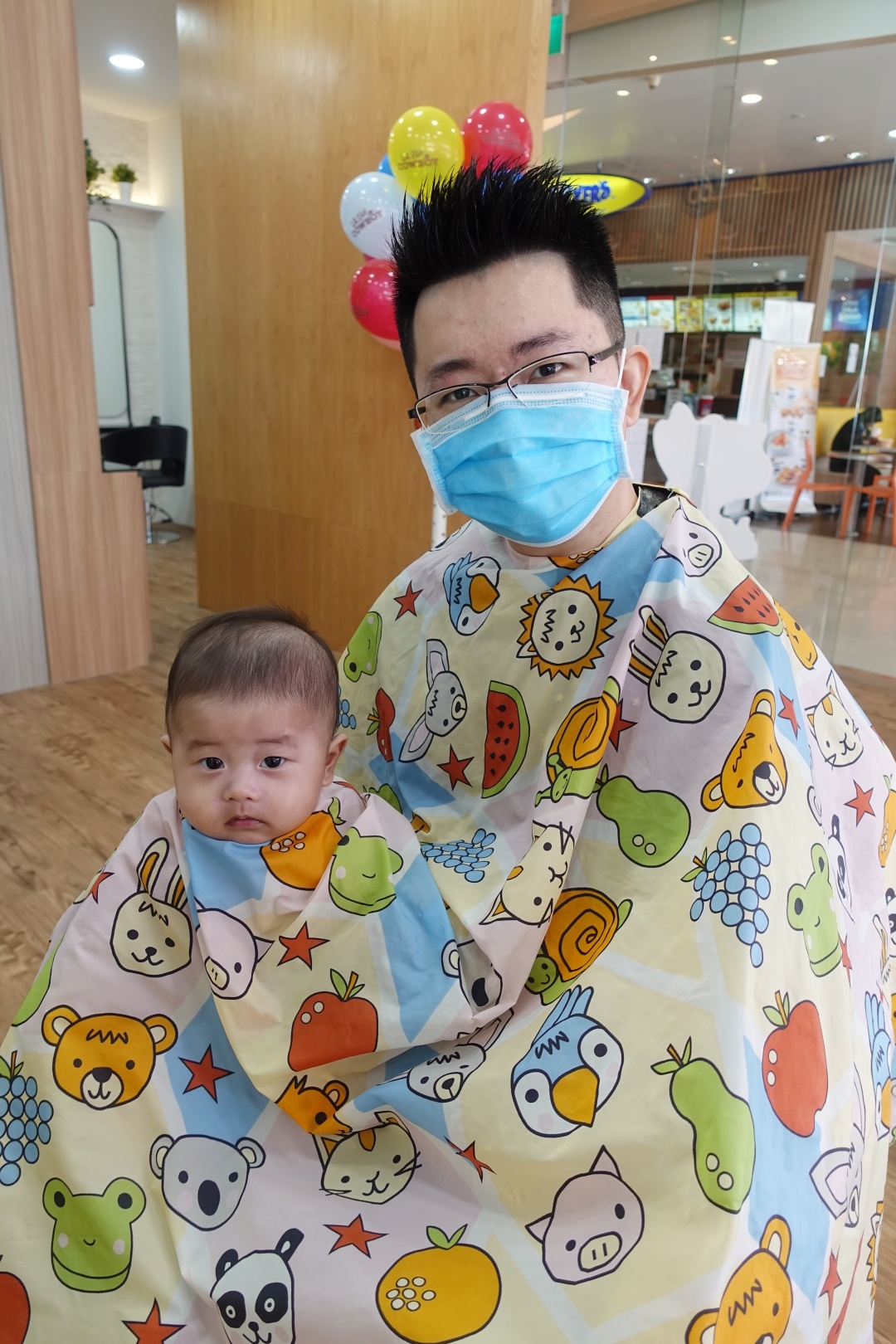 Got the Husband to carry him as I wanted to film the haircutting process.
He looks so adorable and silly in the hairdressing cape! The cape is infant/toddler friendly and helps to prevent fallen hair from being stuck on the parent's clothing. It's essentially one huge piece of cloth that covers both the parent and the child.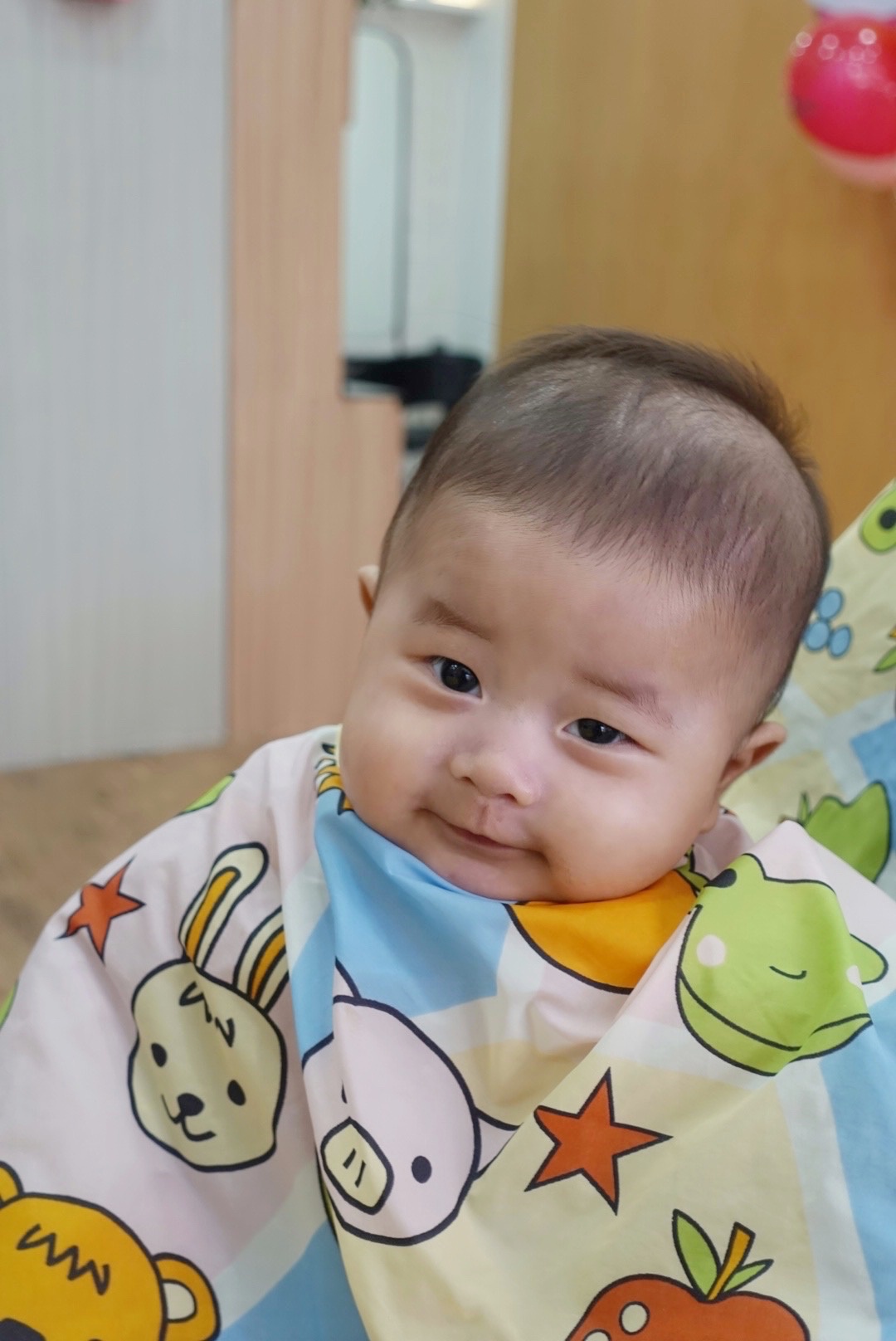 He was still smiling and oblivious of what's about to happen.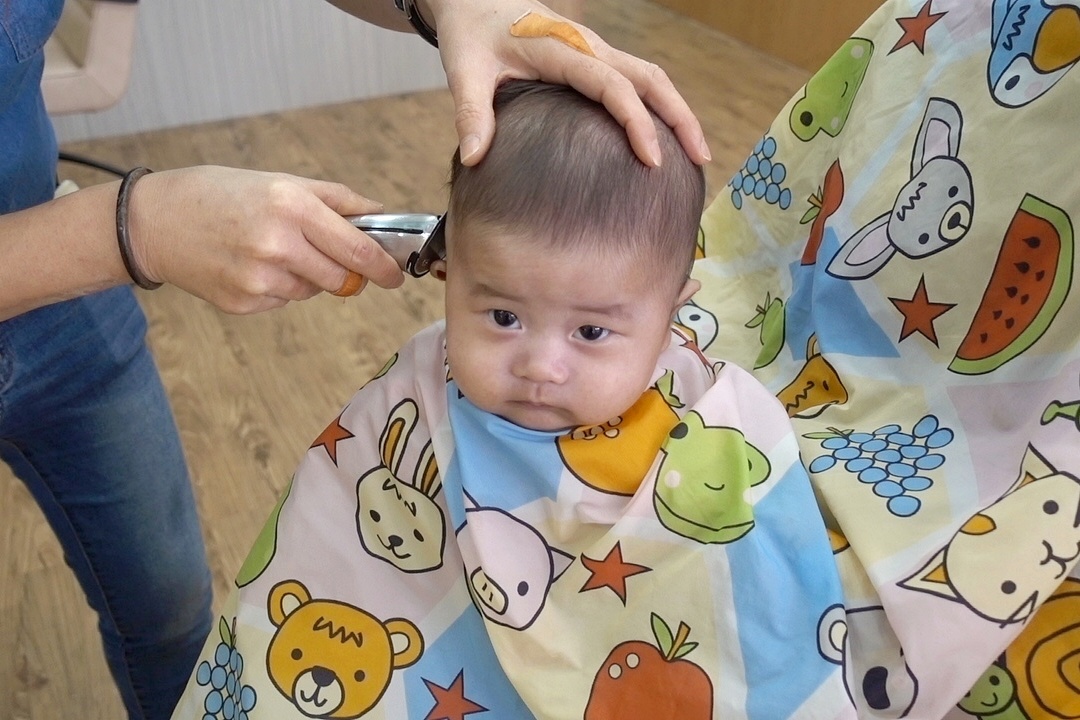 And here we go, starting from the right…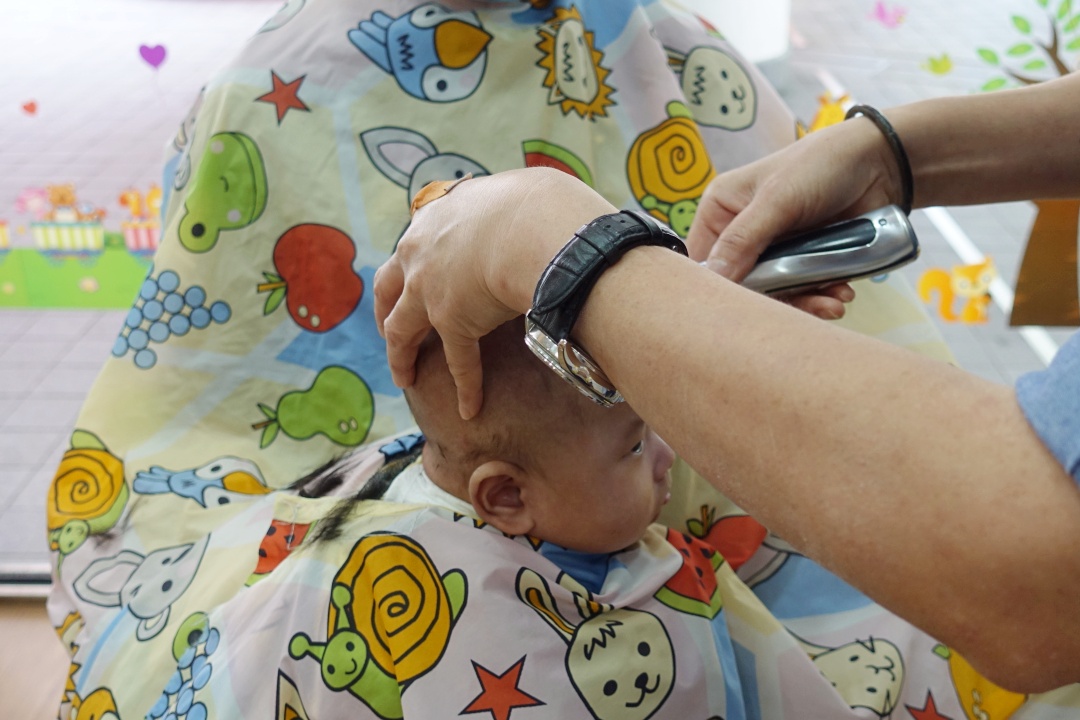 By the way, we chose to shave entirely instead of giving him a trim. Since his hair was already falling out, it was best to shave completely so that he can have proper and healthy growth of hair.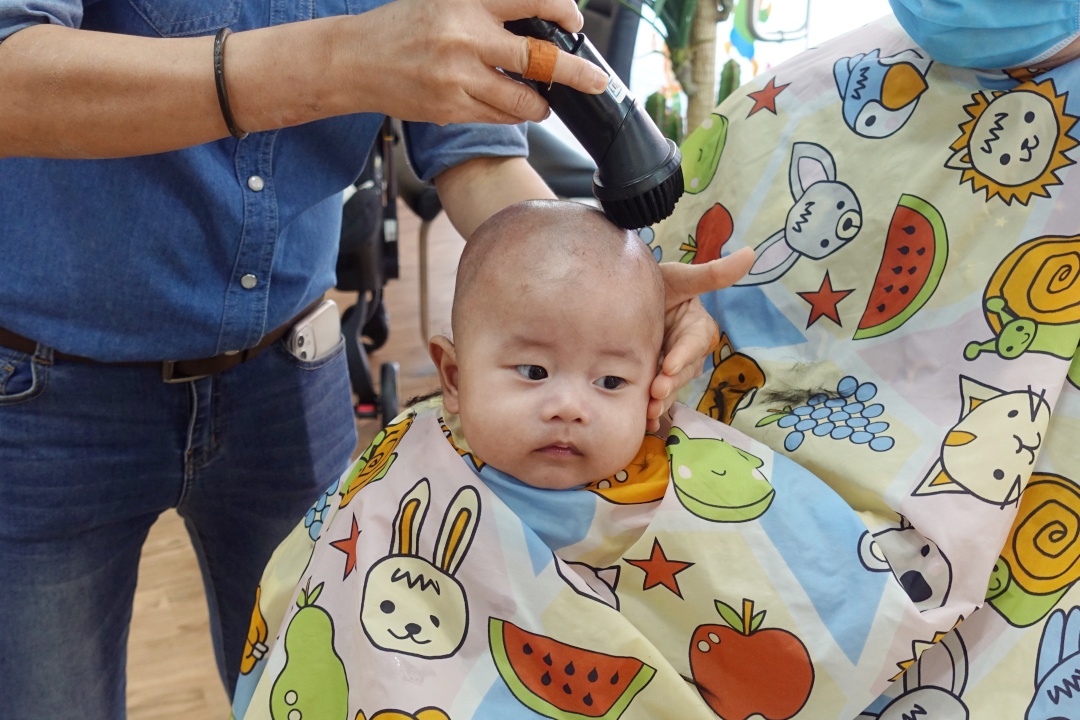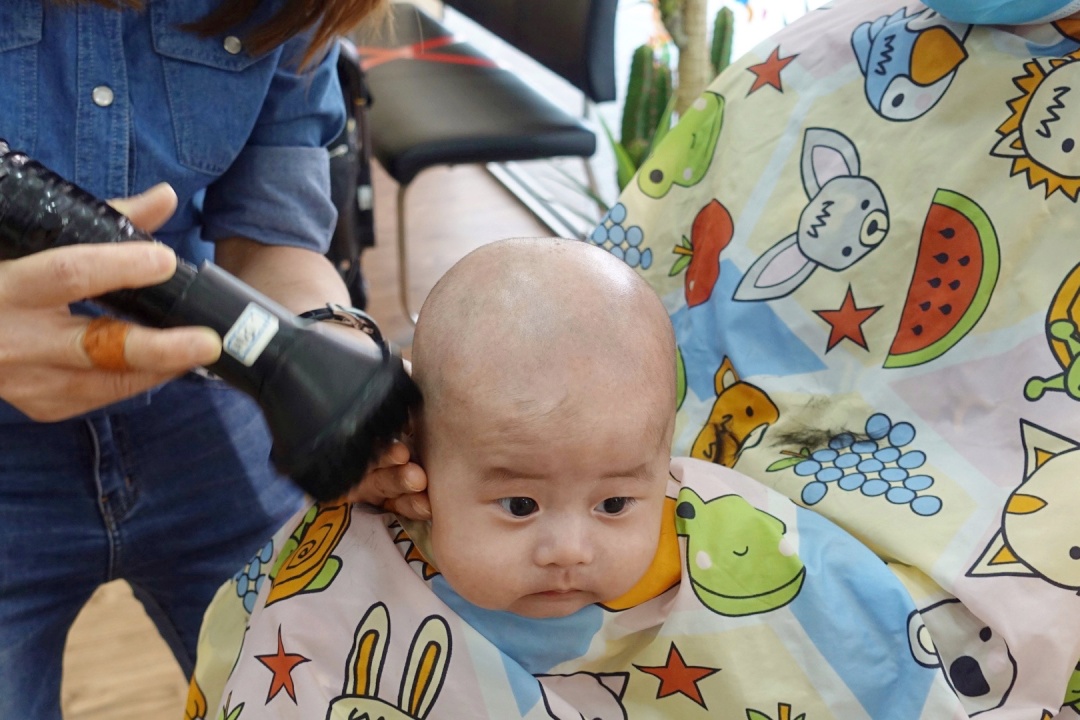 I'm surprised that he was relatively calm throughout the process. Only started fussing a little towards the end, so I've to distract him by continuously talking to him.
He's probably too young to understand what's happening.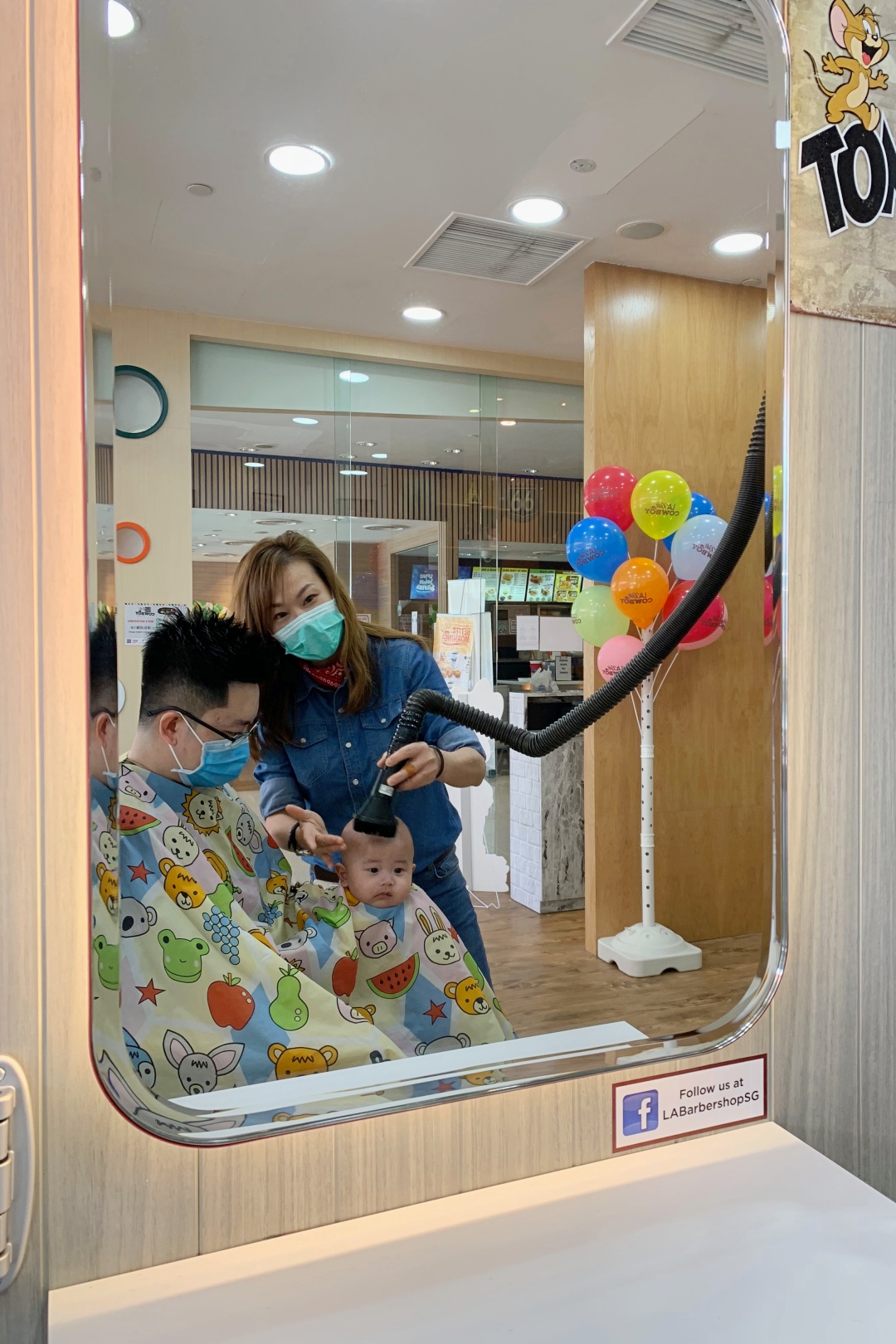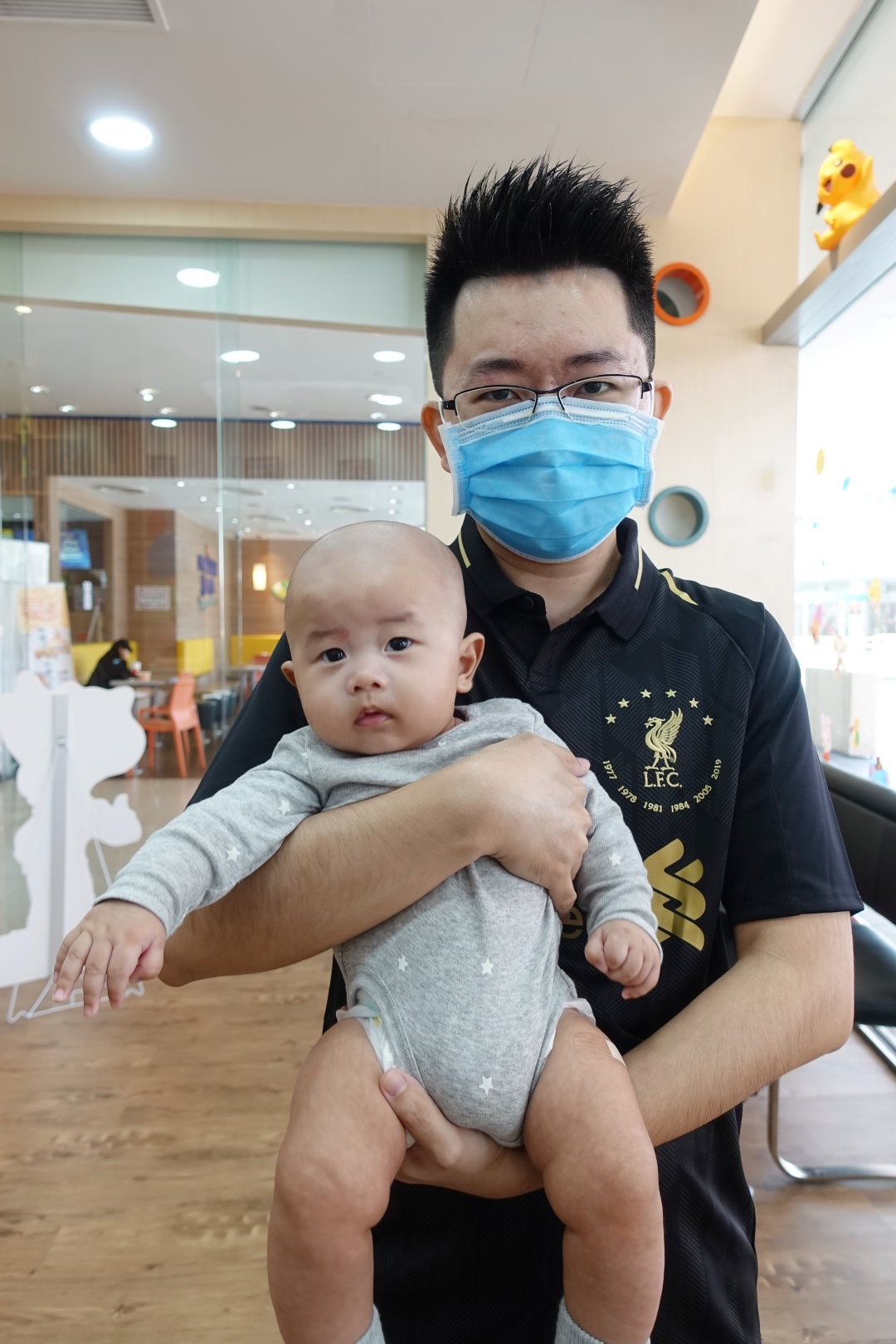 And we are done! The entire process only took about 10 – 15 minutes.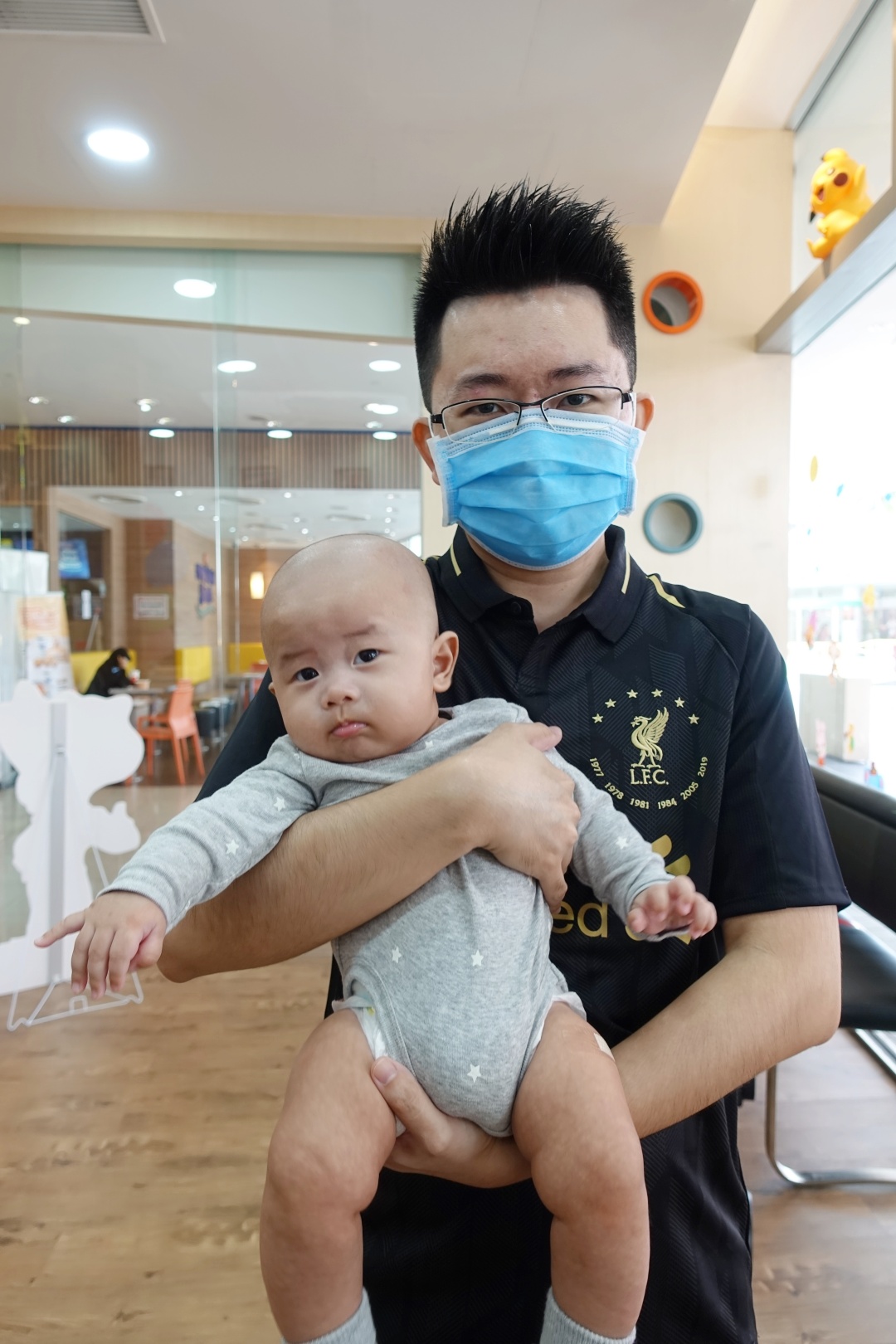 Paid $28 for his haircut.
---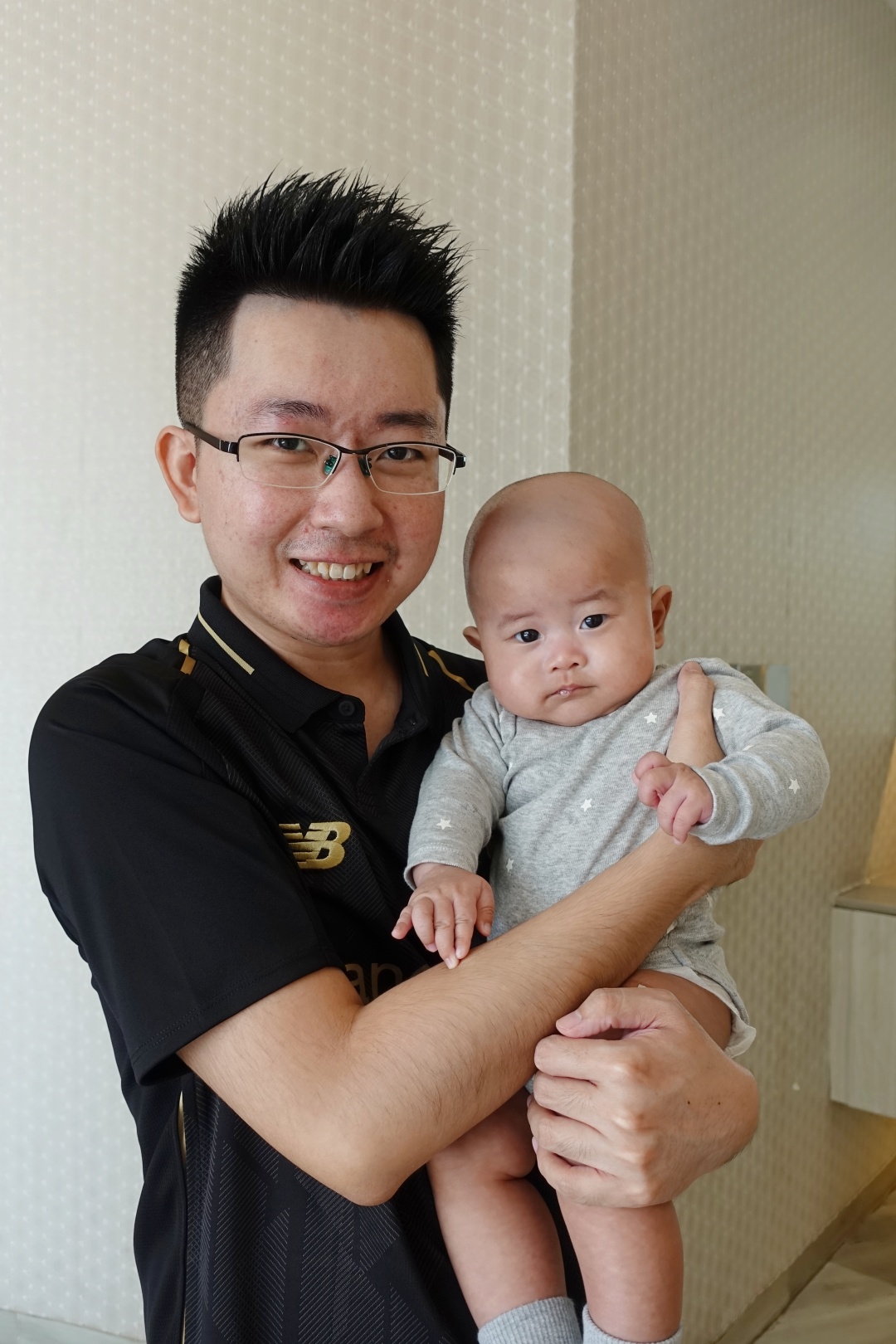 I've to say I really like the Baby Room located near the Play Court at Vivo City! (We discovered the room as it was next to LA Kids Cowboy.) The place was spacious, luxurious, and a total step up from the other nursing rooms around the mall. I particularly like that they have a couple of individual (lockable) breastfeeding rooms, with an armchair, table and electrical points. It has a very relaxing atmosphere which is perfect for soothing a crying baby.
The place was empty when we were there; hence we were able to take down our mask briefly for some pictures.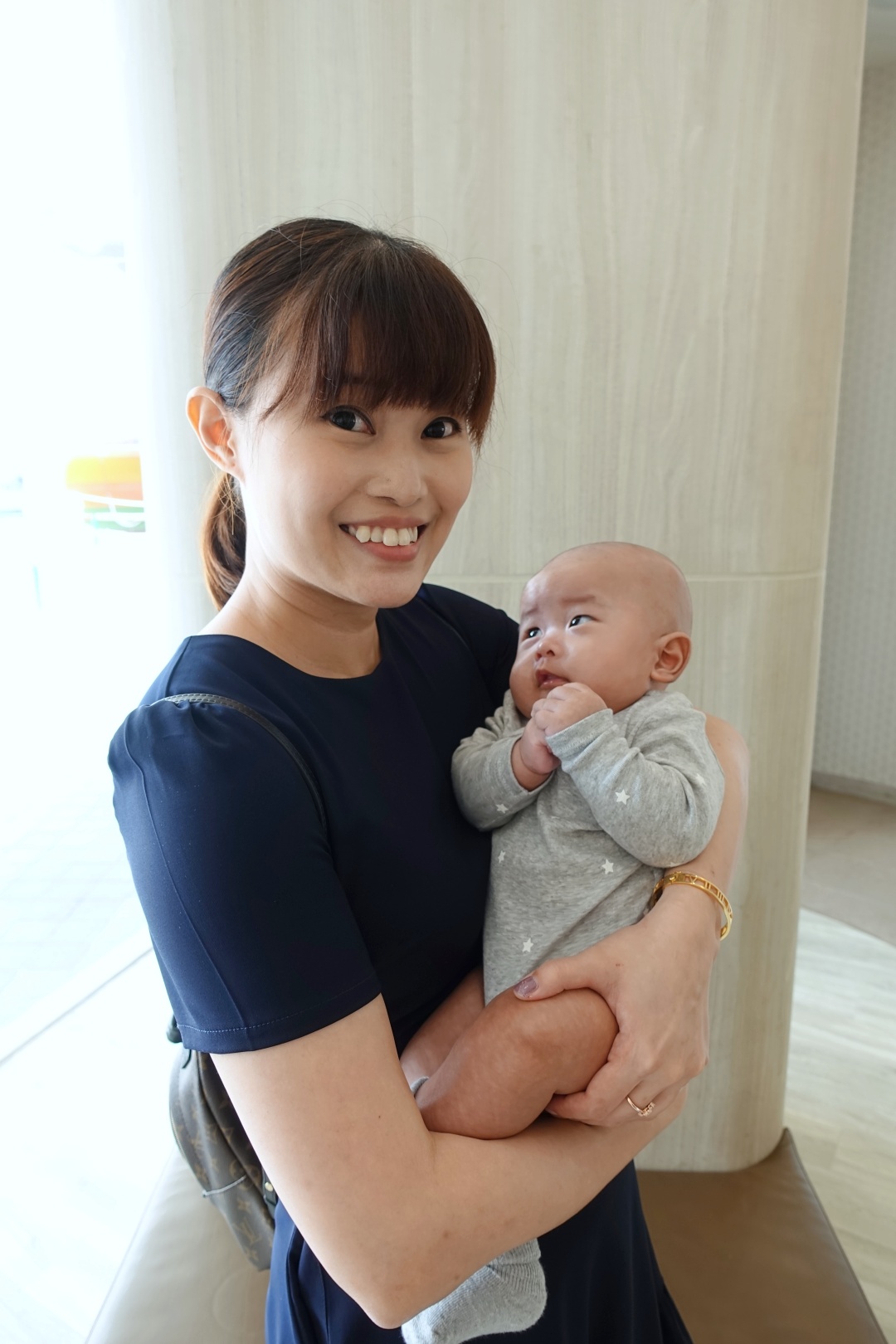 The way you looked at me; my heart just melted into a puddle.
After the photos, I managed to put Tyler down for his nap again. The Husband suggests we go for lunch since the Baby was asleep. I've originally wanted to do takeaway and have our lunch at home.
We ended up going to Carl's Jr.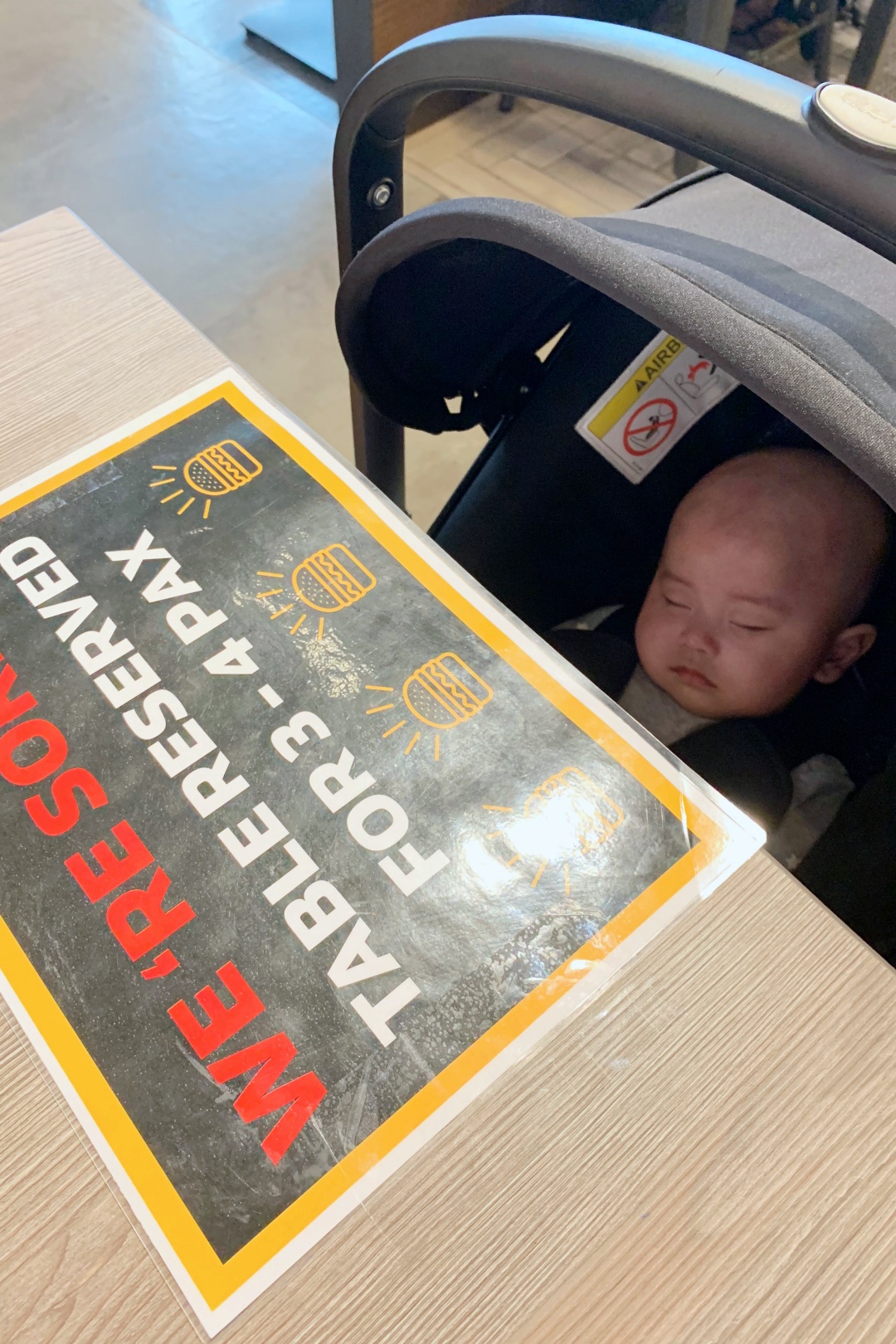 The sign of the table says "Table reserved for 3 – 4 pax". Not long ago, it was just the two of us dining out in the mall. However, from now onwards, it's going to be three of us.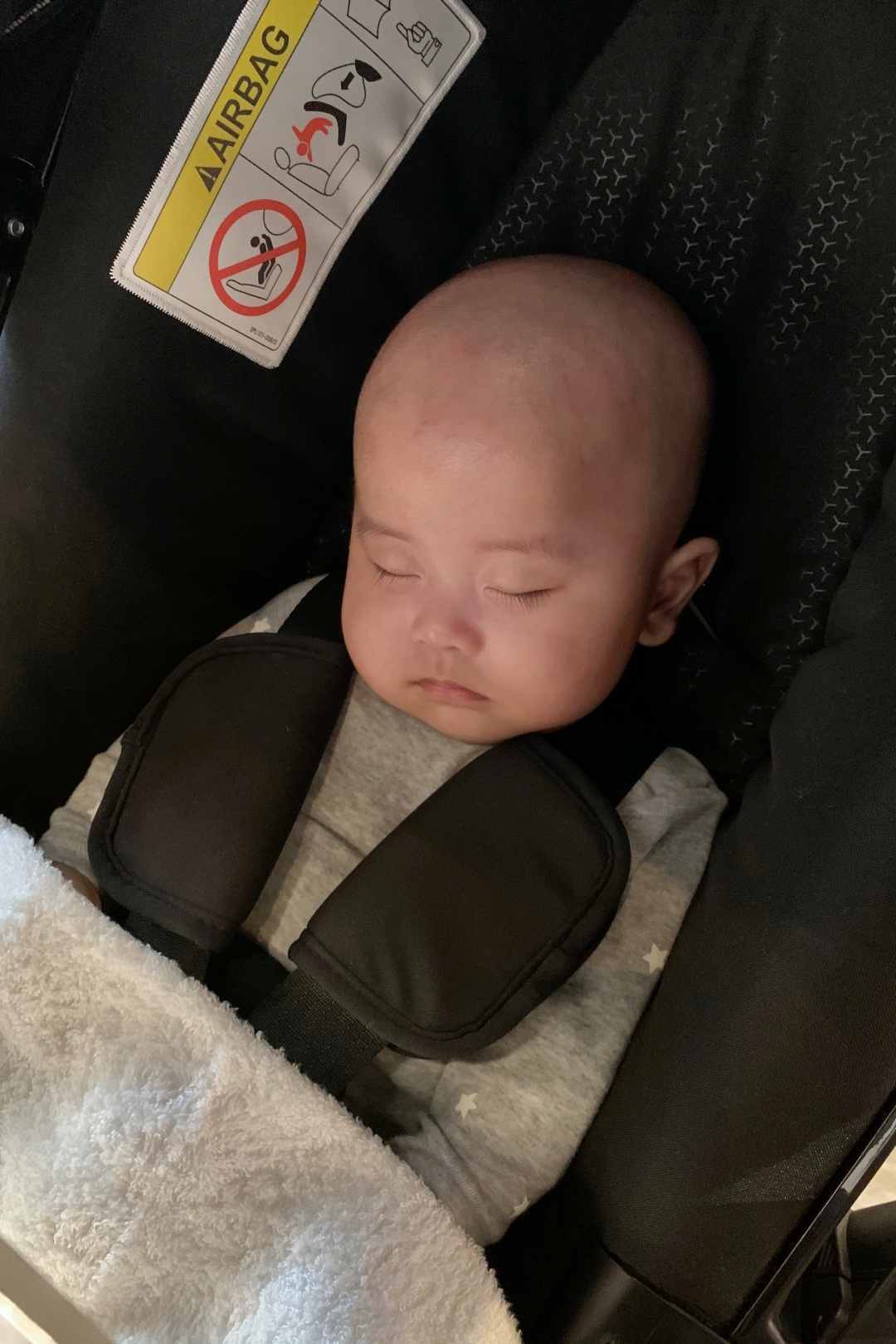 I don't think it's super comfortable to sleep in the stroller since there's only one fixed height and we can't decline the seat. But he still seems to be able to fall asleep naturally in the stroller. (Although most of the time I will carry him till be fell asleep before putting him in.)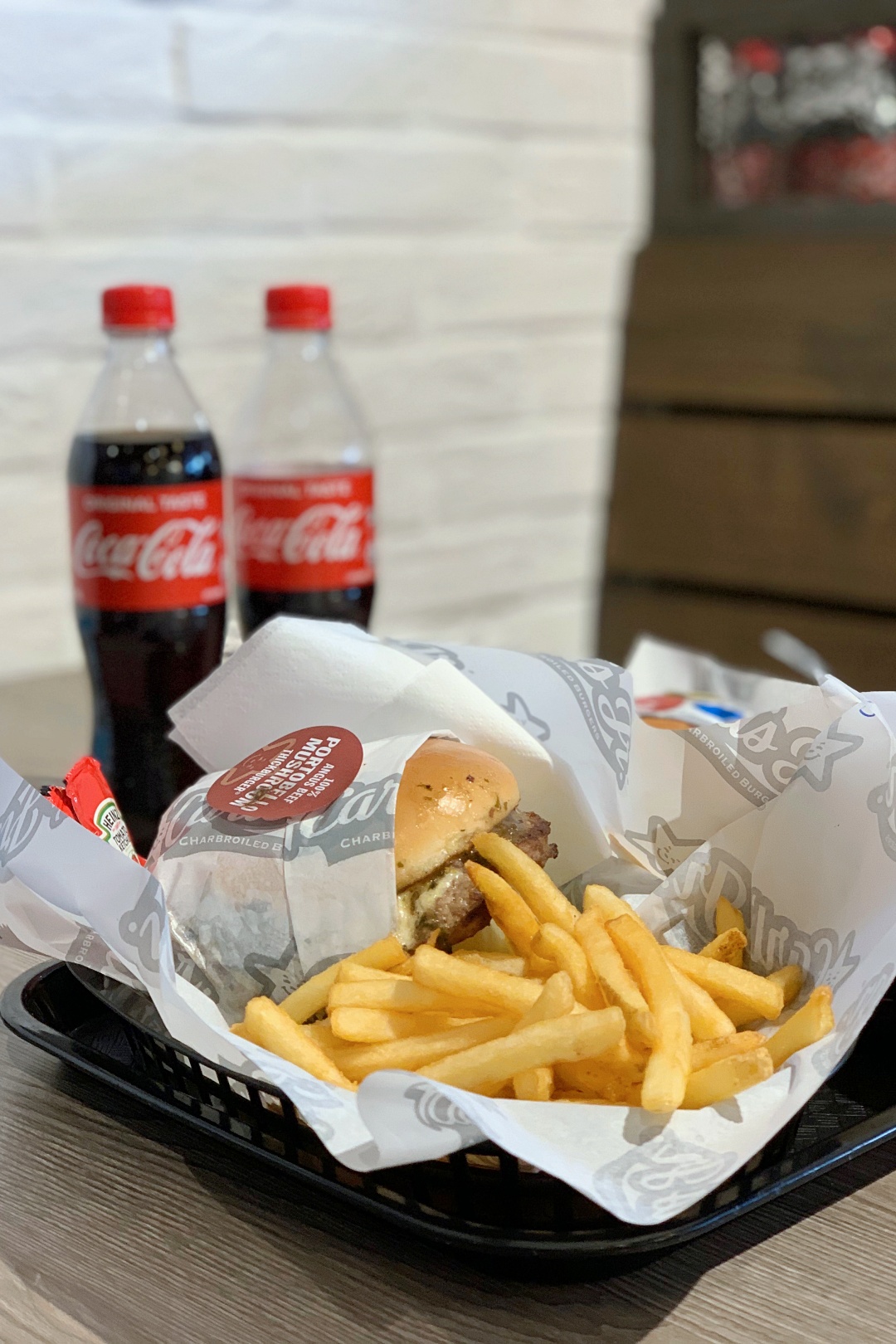 It was nice that we finally get to dine in the mall. I believed the last time we had our meal outside was at McDonald's after we brought Tyler for his vaccination. That was before the Circuit Breaker kicks in.
Such a strange feeling to be dining out again, especially with all the safe distancing measures put in place and tables are further apart.
Tyler did wake up briefly when we were halfway through our meal, but he fell back asleep shortly after. We had come to realise that he was always more sleepy after his vaccination.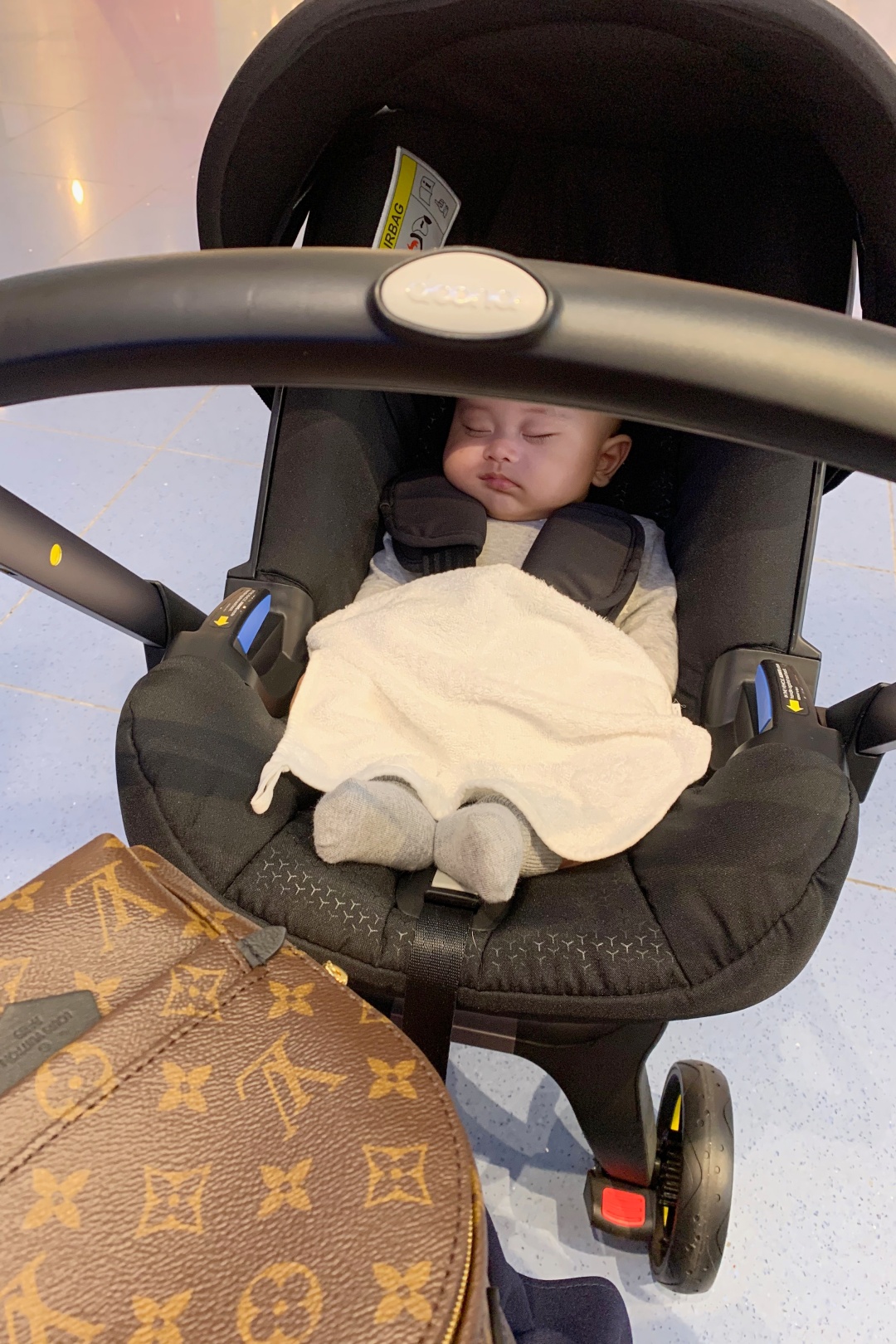 After our meal at Carl's Jr, I was waiting somewhere in the mall while the Husband ran off to charge his phone at the complimentary charging points and took a call. I decided to take a photo and send it to my family to let them know that Tyler had his haircut. However, I deliberately took one without showing his hair to keep up the suspense.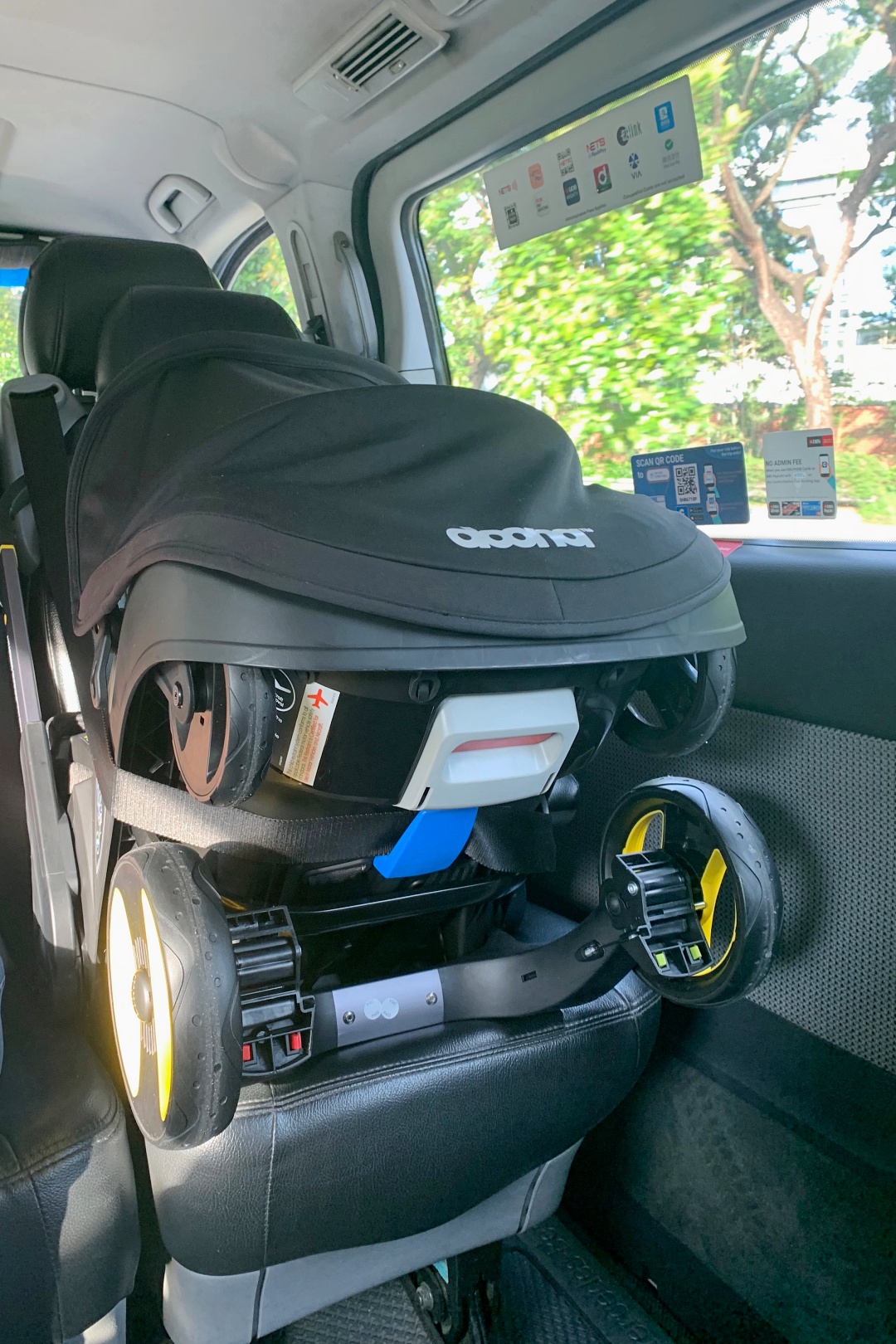 Called for a taxi to get us home and we got assigned a Maxi Cab. First time in a Maxi Cab with the Donna Infant Car Seat Stroller and I can, at last, take a picture of how we secure the car seat in the vehicle with the seat belt.
It has been 3 / 4 months since we started using the Donna Infant Car Seat Stroller and I really like it a lot. A good investment for parents like us who need the function of both a car seat and a stroller.
---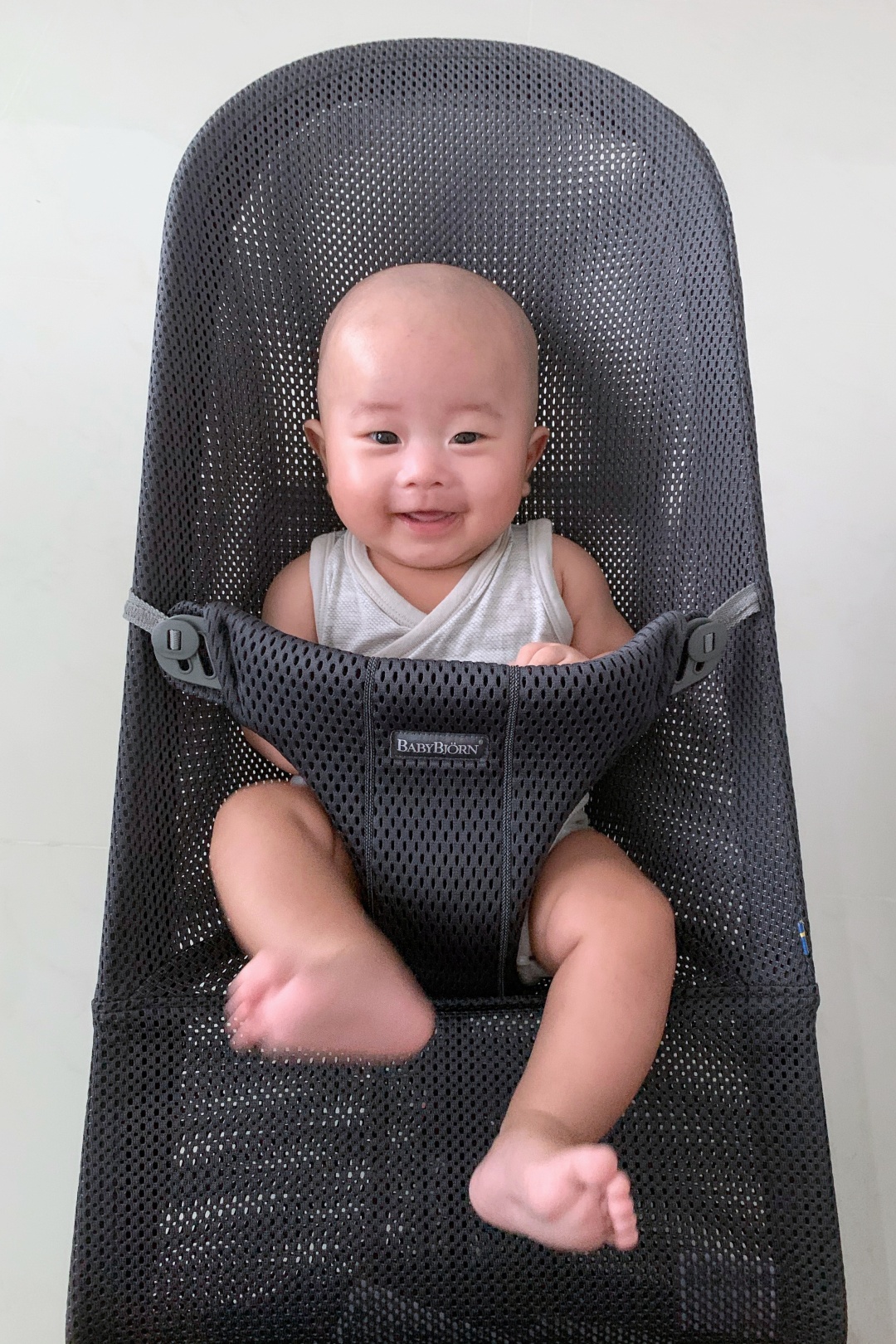 Got home, and I managed to take a photo of smiley Tyler after changing him and putting him in his bouncer. Every time I look at him, I can't help but laugh. Where did my baby go? He looked so different without his hair.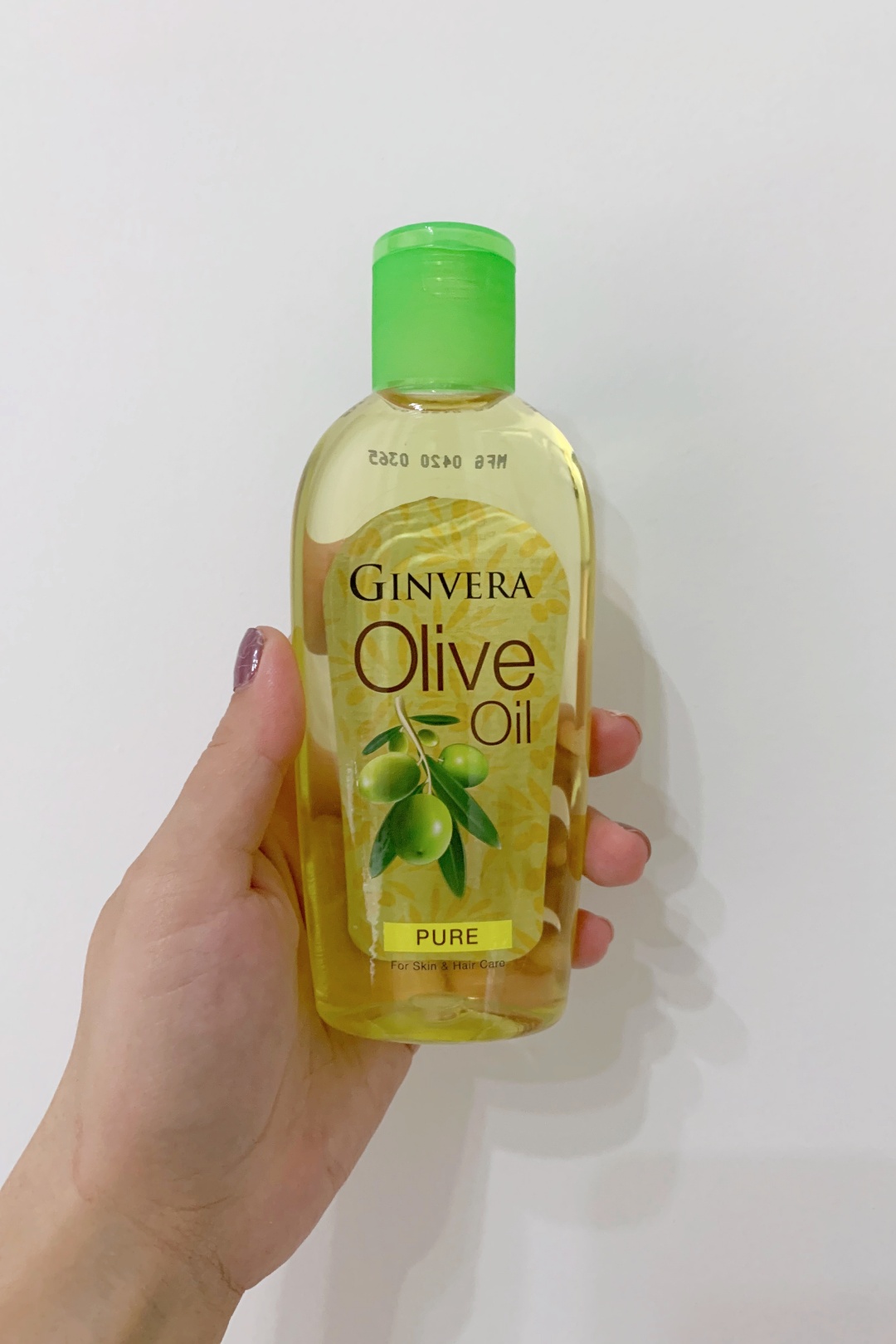 Before coming home, I purposely dropped by the drugstore to get a bottle of olive oil. My mission was for Tyler to grow out his hair as fast as possible. In this case, olive oil is essential as it supposedly helps to promote healthier and stronger hair.
I'm pleased that his hair has been growing well so far. A little uneven, but at least he's no longer bald.