Life has been so busy since the arrival of Baby Tyler.
There are many things I wanted to share – the pregnancy, birth story, how life is after the baby's arrival, confinement meals, etc. But unfortunately, it has been difficult for me to find time to sit down, open my laptop and write.
We didn't engage any help during confinement, so it was just the Husband, and I taking turns to care for Tyler during this period. Among all the things I've to handle, from feeding to diaper change, carrying/coaxing him to sleep, working, cooking, tidying the house, and updating the blog, the latter definitely fall at the bottom of the list. That said, I would still love to write as much as possible so that I could look back at it in the future. Time is fleeting, and so is my memory. So before I forget, it's crucial that I start writing.
For a start, let me share some pictures taken on Tyler's full month, which took place two Sundays ago.
---
In light of the current situation for COVID-19, we weren't able to throw a full-blown full month celebration for Tyler. It's such a sensitive time, and I don't think people are comfortable to gather together. (That was before the newly implemented Circuit Breaker.)
To be honest, I'm not sure if I would host a party in normal circumstances. It has been challenging having so many things on my plate, and the last thing I want is to stress about throwing a party. However, I still wanted to do something for Tyler and us. After all, I had successfully pulled through confinement, and we had survived one month of parenthood!
For a start, we went and ordered some full month packages from Sweetest Moments Singapore to give to our families and relatives. (It has been a Chinese tradition to give out full month packages when the baby turns one month to announce the arrival of the baby.)
Because of COVID-19, the Husband and I agreed it's best we don't bring the baby out, so we seek help from our parents to distribute the cakes. While it's not the best arrangement, that's the only way. For my side, my sisters offered to come down to collect the cakes, so we didn't have to make a trip to my parent's place.
Sweetest Moments Singapore
We had previously used Sweetest Moments for our Guo Da Li (过大礼), so it's a no brainer to get them again for Tyler's full month. I've tried looking for an alternate brand, but it seems like no one does it as beautiful as Sweetest Moments. Compare to those I saw; I really like the selection and presentation/packaging from Sweetest Moments. They have a lovely selection for Baby Full Month Packages with prices starting from SGD 4.90.
Among all the available options, my pick is the Classic Delights (SGD 12.90). Not only does it comes with sweet treats like peach tarts, swiss rolls and mini cupcakes, it also has red eggs, glutinous rice and pointed red tortoise cake, which are such essentials for full-month celebration. According to my mum, we have to give pointed red tortoise cakes when having baby boy, so it's wonderful that Sweetest Moments offer them in their packages.
Aside from getting the full month packages, I also placed an order for a celebration cake. Decided to get one mainly for photo-taking. Instead of finding a separate bakery, I figured it would be easier to get the cake from Sweetest Moments and have everything shipped together. There were a couple of choices and designs, and I just picked my favourite on the website.
Free delivery is available for orders above SGD 200. But for March, they were providing free delivery for minimum purchase of SGD 100. There were two-time slots for delivery; 10:00 – 13:00 and 14:00 – 15:00. We picked the earlier slot, and our order came at around 13:00.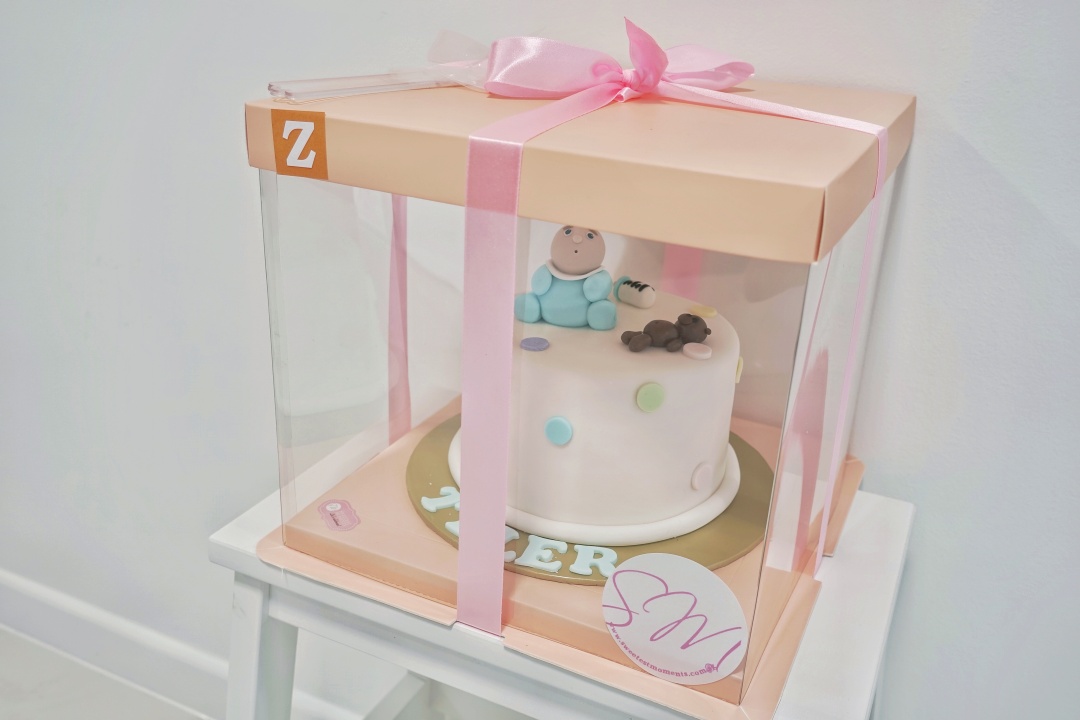 The cake came nicely packed like this. You can choose the flavour and colour of the cake; I went with the Moist Chocolate Cake, and needless to say, picked blue for the fondant.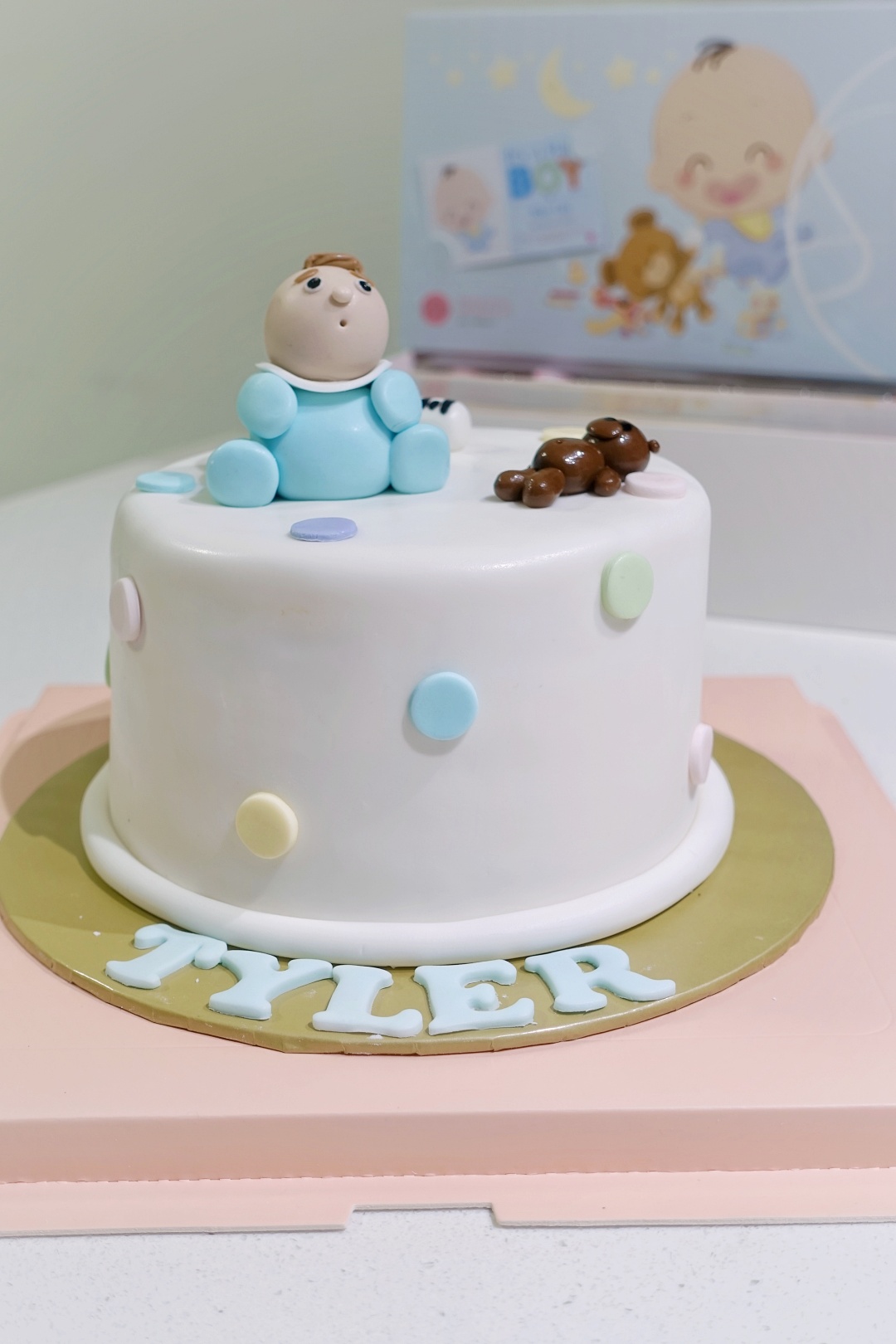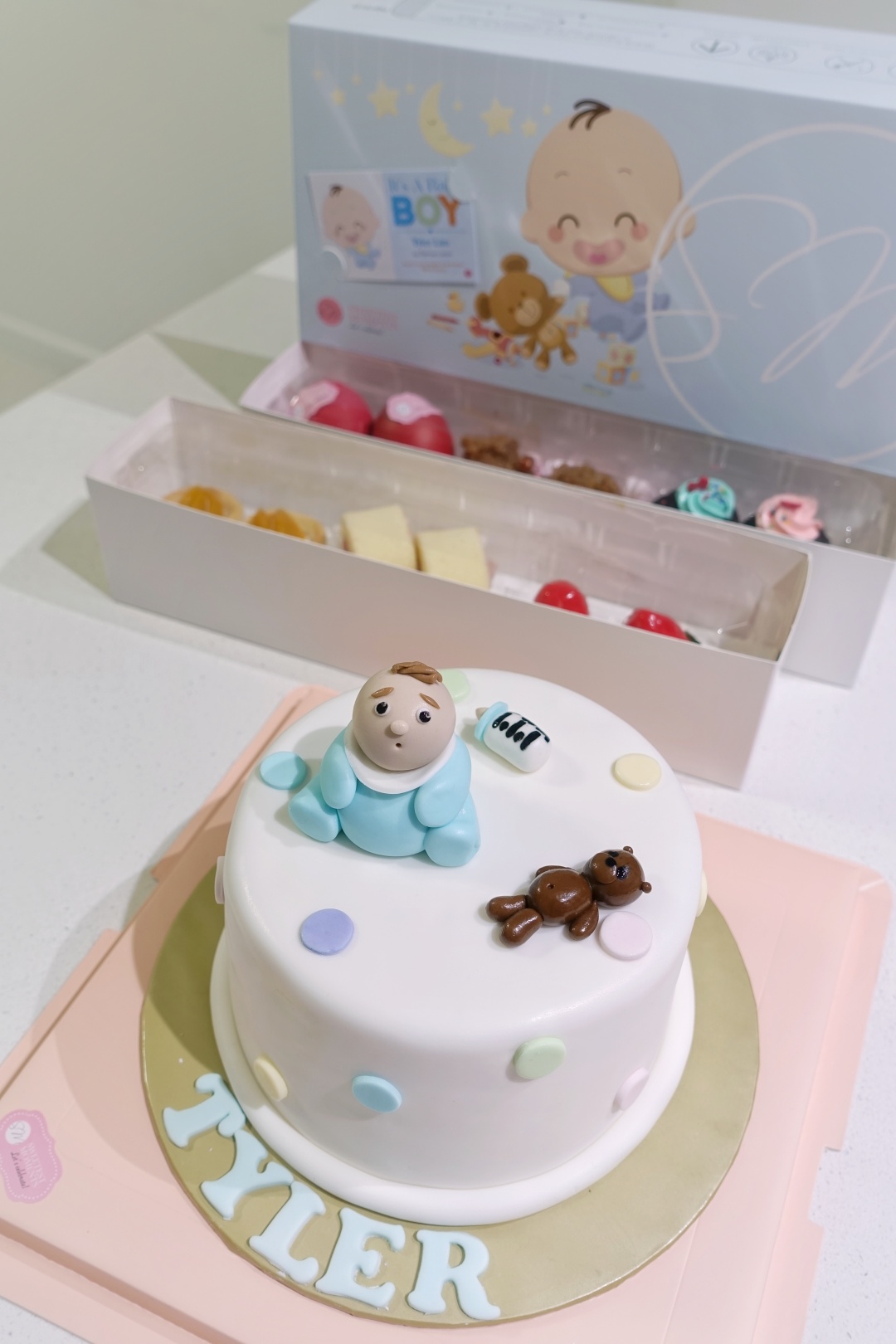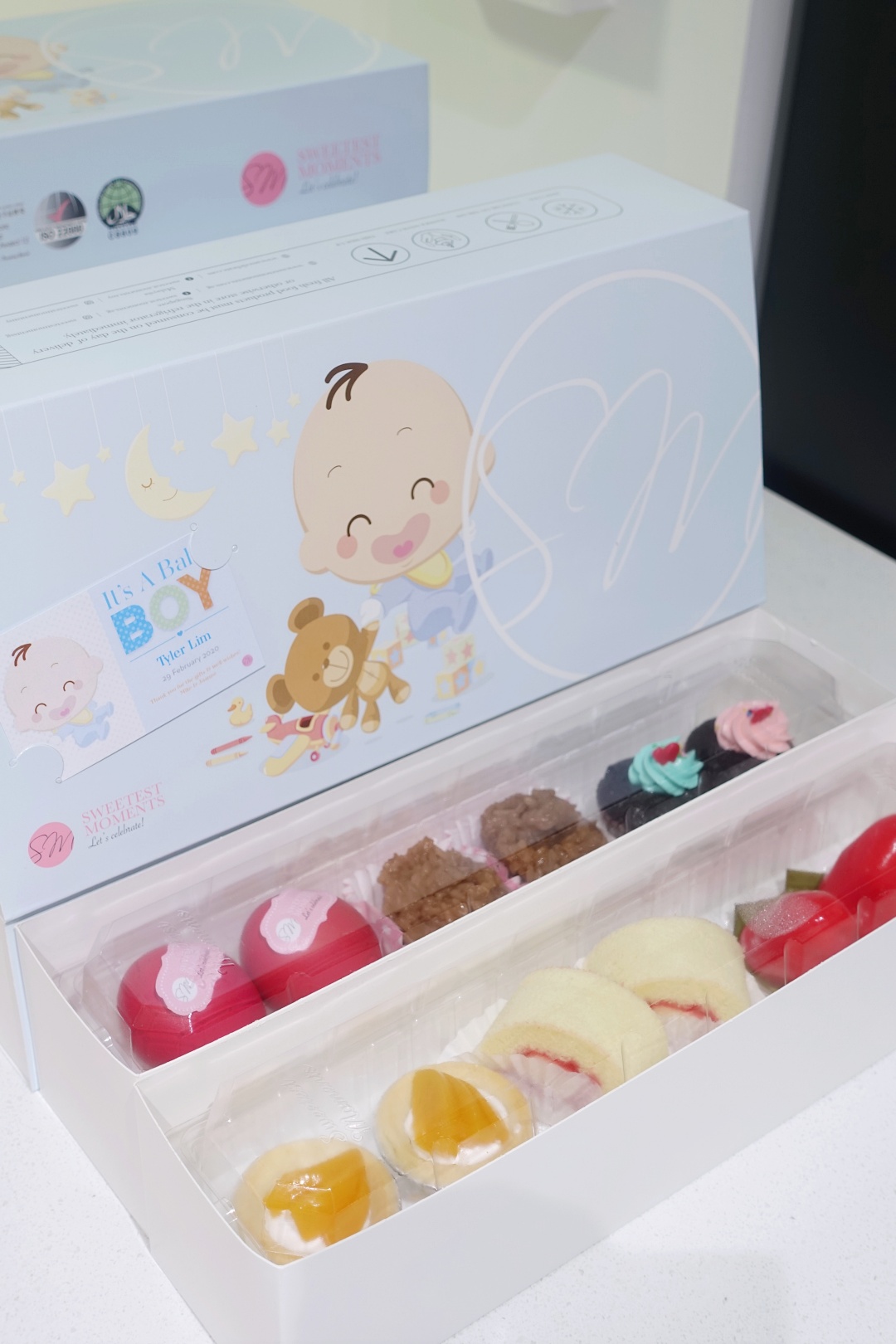 Each box comes with a personalised BabyCard which can be customised to include the baby's photo and details such as name, date of birth, birth weight and height. We decided to keep ours simple with the standard artwork and baby's name and date of birth.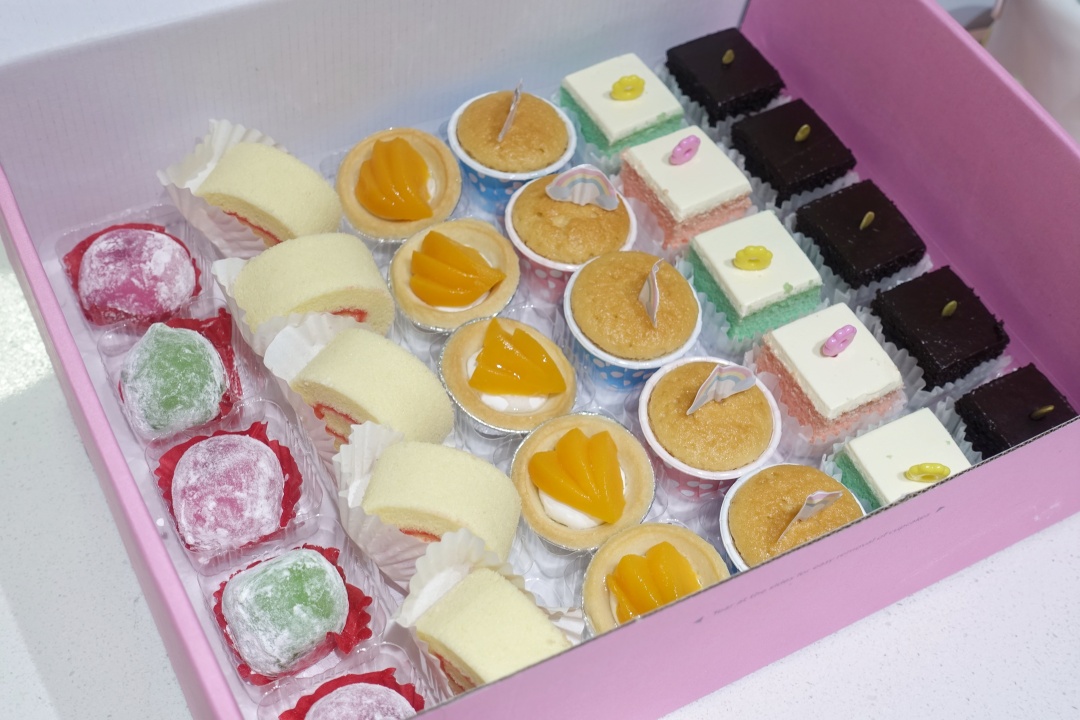 Decided to order a box of the All-Star Treats to bring to the office to share with our team. This set comes with thirty bite-sized pastries with a selection of mochi, swiss rolls, peach tarts, mini muffins, pastel cubes and brownies.
---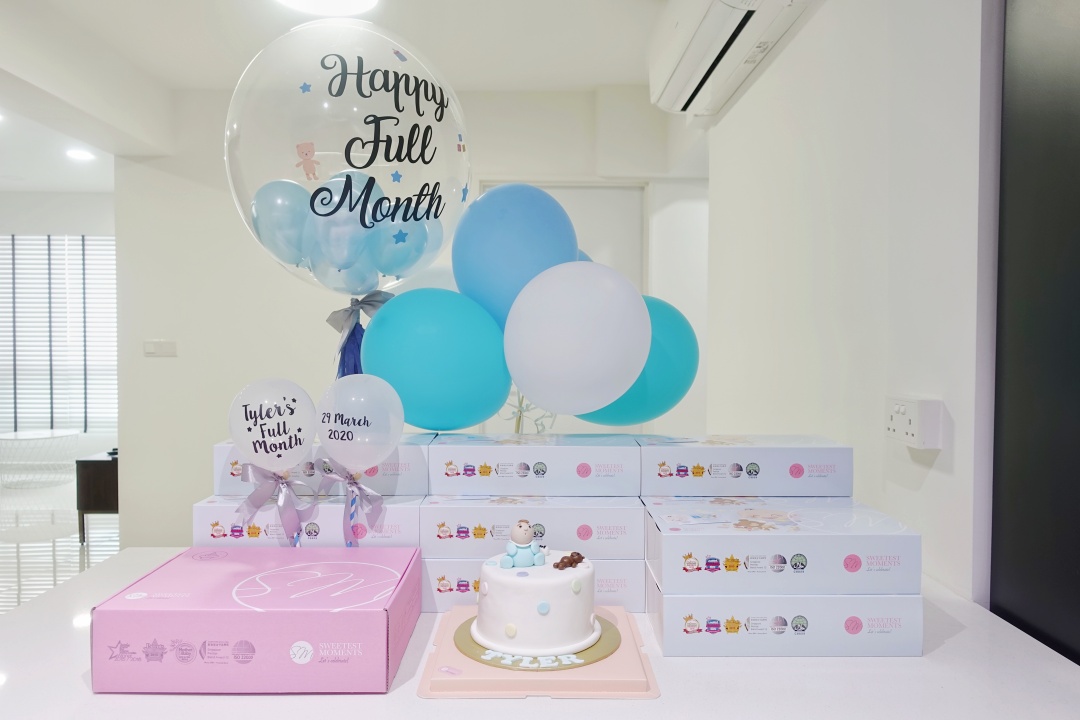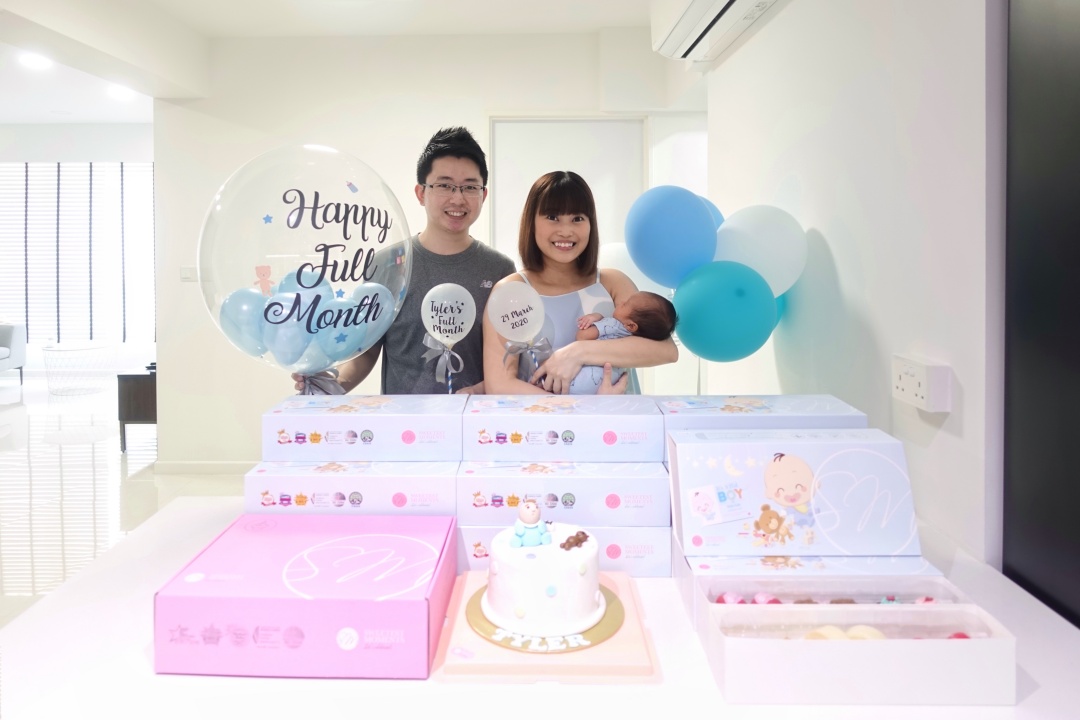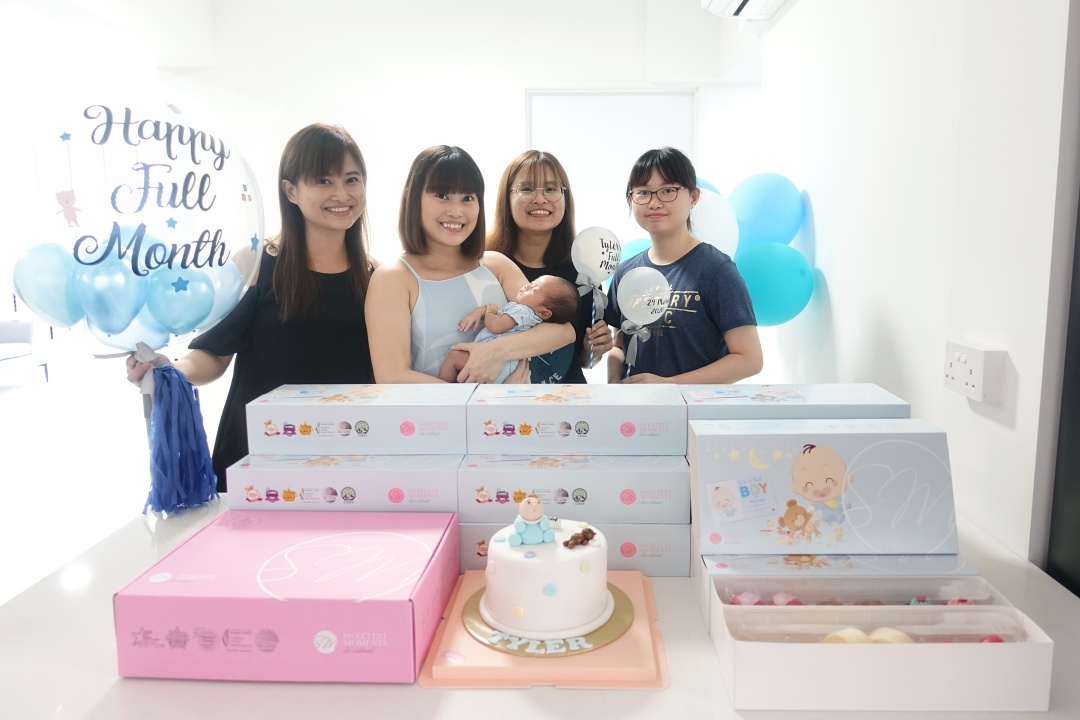 My sisters finally arrived at around 13:30, after going to the mall to pick up presents for Tyler. They each got him something, and it's heartwarming to see their love for him since he was born.
None of them dares to carry him as they just came from the mall, and my dad had explicitly told them not to touch the baby (to minimise contact in light of the coronavirus).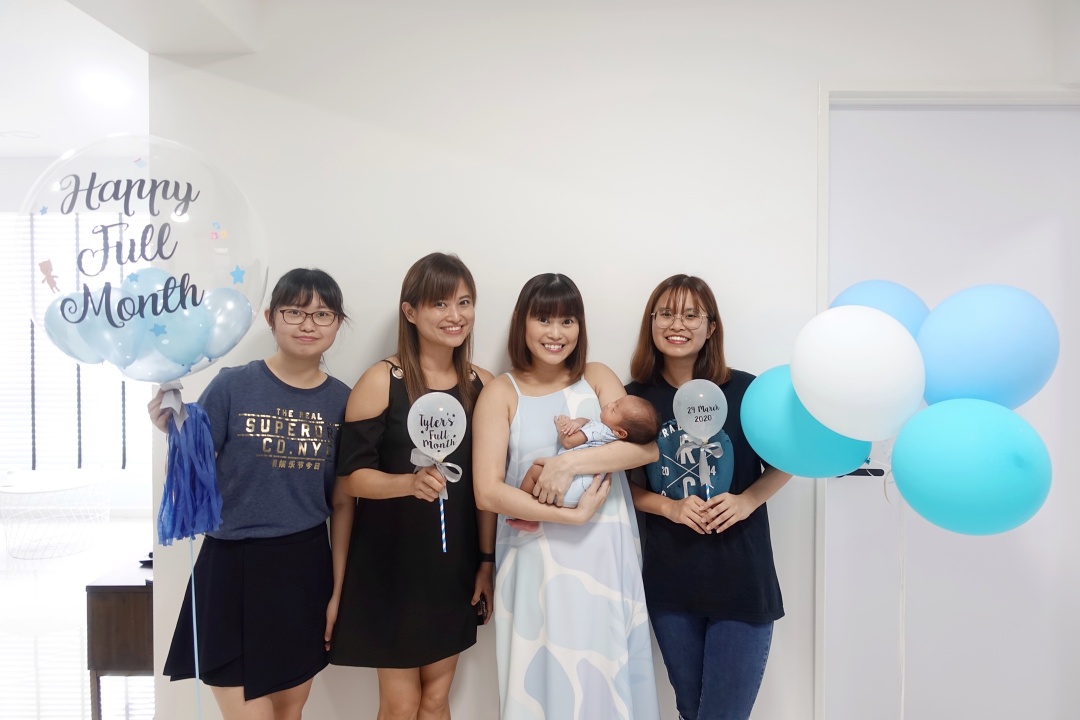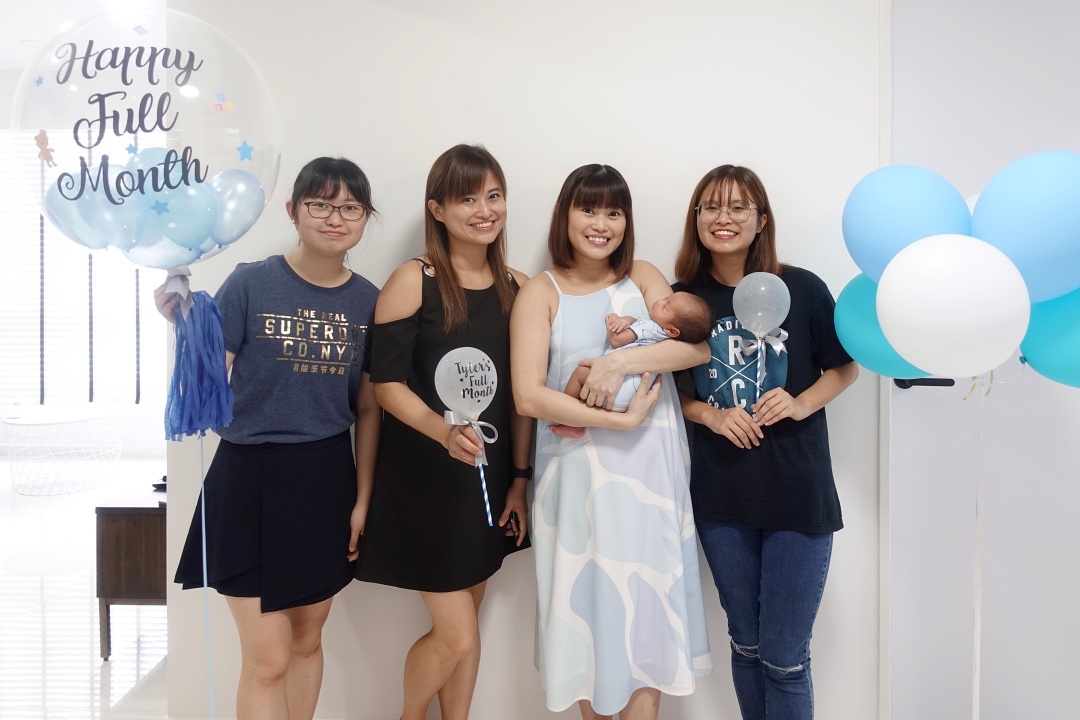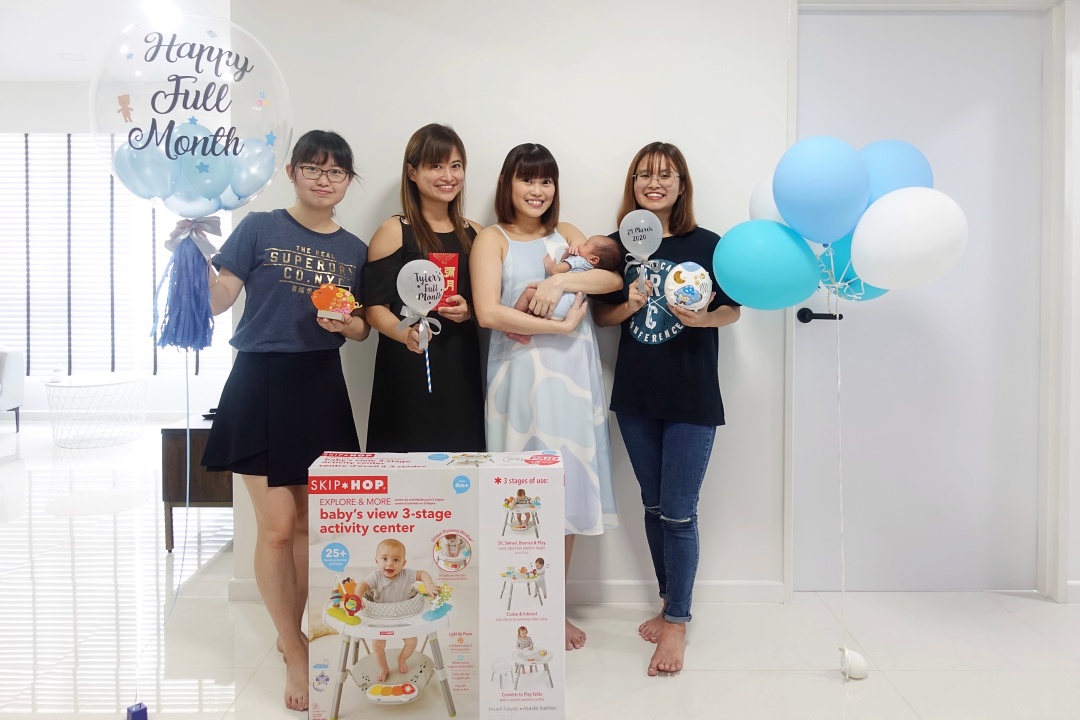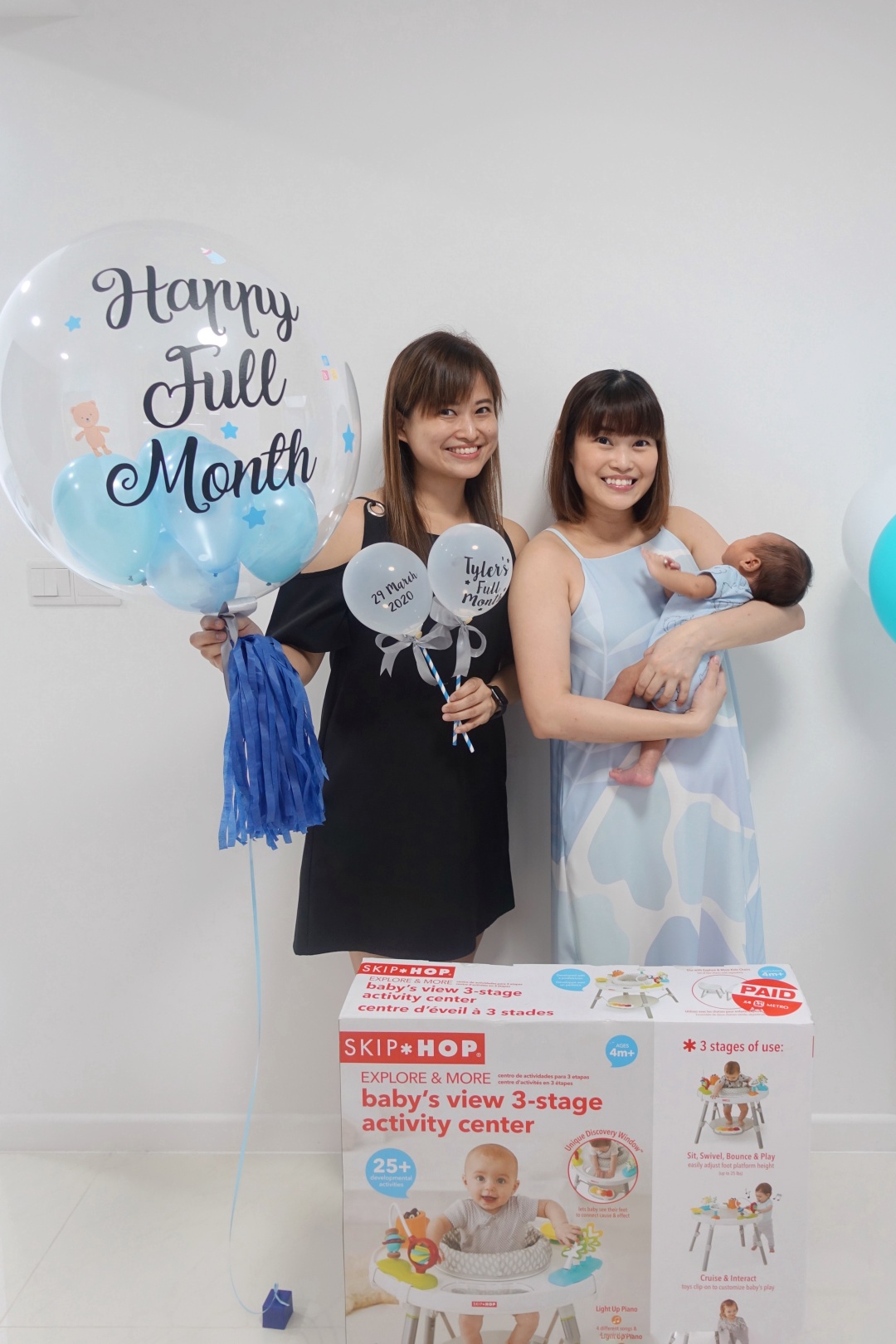 Looking forward to trying out this Skip Hop Activity Center once the baby gets older.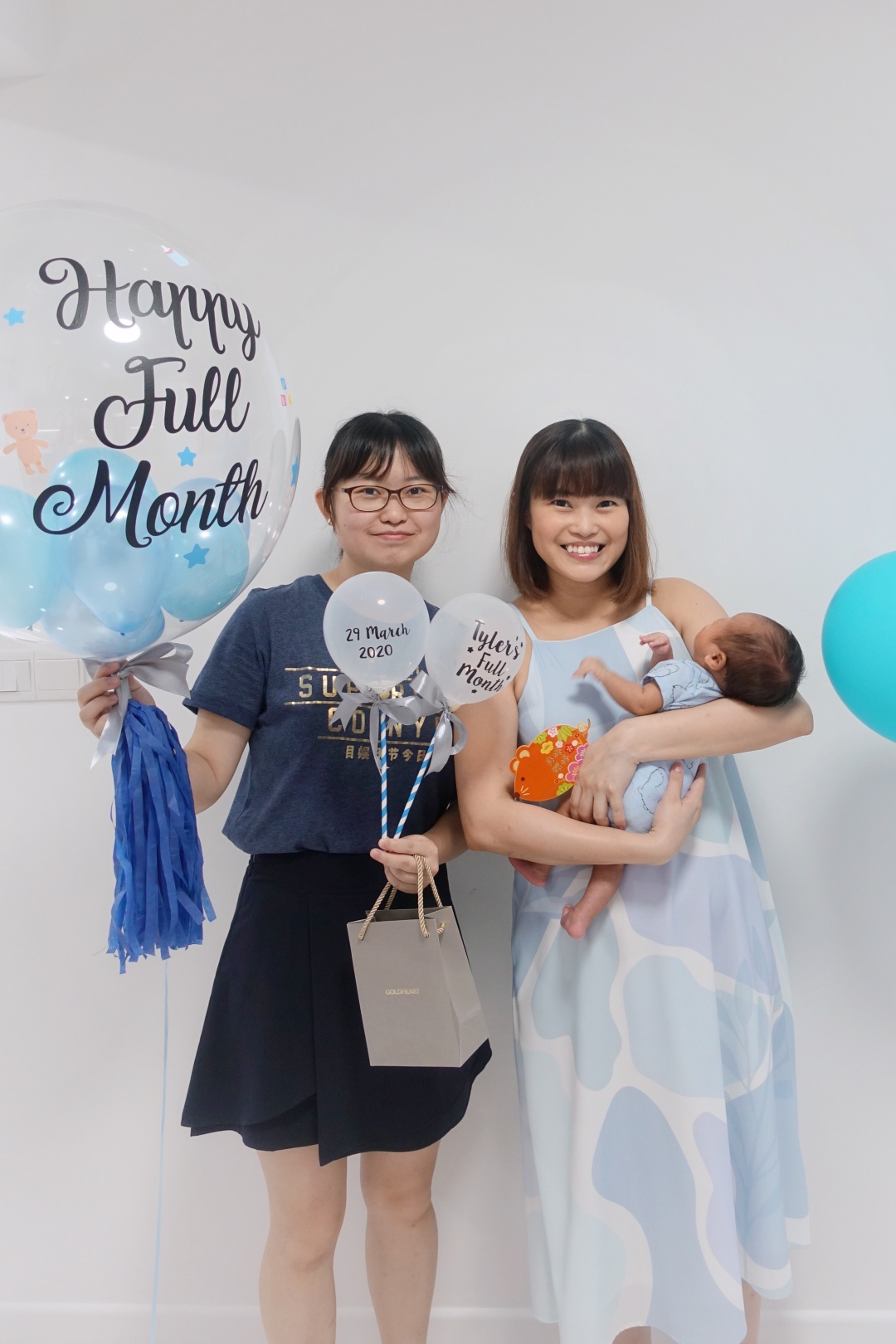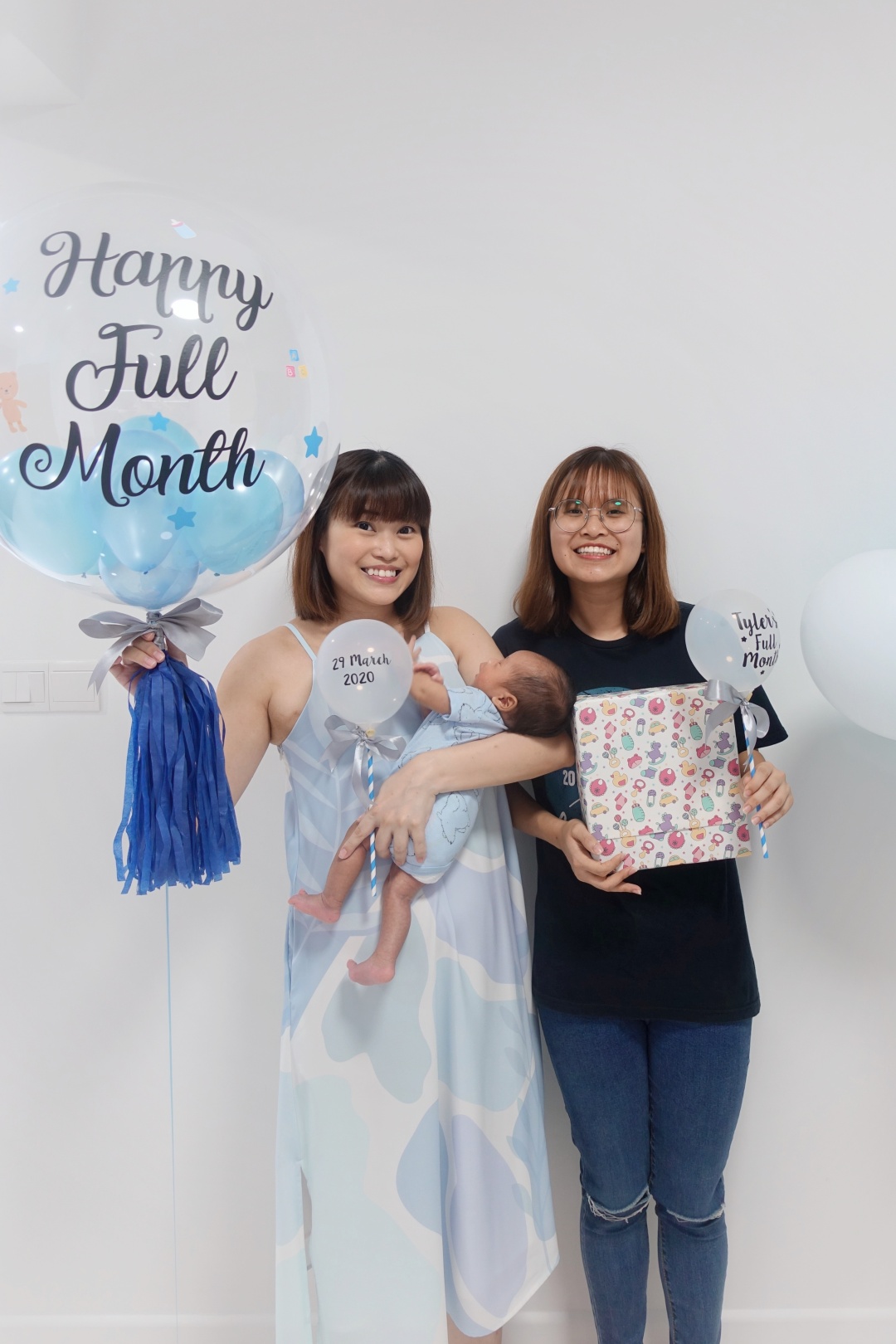 Give Fun Singapore
Aside from getting cakes from Sweetest Moments, I also decided to get some balloons from Give Fun. I previously bought balloons from them for photo taking for my pregnancy announcement, and I really like their selection of helium balloons. Plus, they do delivery, so that's convenient!
Compared to before, I had such a hard time deciding which balloons to get this time around. In the end, I decided to get the 24″ Personalised Crystal Clear Transparent Balloon – Mini Metallic Balloons Filled (21 Colors) together with six 12″ Standard Fashion Color Round Latex Balloons (25 Colors) in three different colours. Right before carting out my order, I decided to add on two of the 5″ Personalised Mini Round Fashion Color Balloon Pop (25 Colors). Colour-wise, I decided to go with transparent, white and a mixture of different shades of blue.
For the 24″ Personalised Crystal Clear Transparent Balloon – Mini Metallic Balloons Filled, there is actually an option to add-on one cluster of balloon at SGD 10 (matching colour of six balloons in a balloon cluster). But as I prefer to pick my colours, I ended up ordering separately.
Both the 24″ Crystal Clear Transparent Balloon and 5″ Mini Balloon Pop allow customisation of text on the balloons. So I decided to have "Happy Full Month" on the 24″ balloon and "Tyler's Full Month" / "29 March 2020" on the balloon pops. For an additional SGD 5, you can opt to have them send you the artwork of the text. I didn't think it was necessary, so I just let them pick the font/design. They actually turned out great; I particularly like the addition of stars and teddy bear next to the text!
According to Give Fun, the 24″ Crystal Clear Transparent Balloon can float in the air for approximately four days while the 12″ Latex Balloons can last for about six to eight hours. My 24″ balloon actually stayed in the air for about a week. Just that the balloon starts to shink as time goes, and it's visible on the sticker wordings.
Delivery for the balloons cost SGD 35, and you can select the time of delivery (30-minutes block) when placing your order. Both times I ordered from Givefun, my balloons arrived right on schedule.
---
As my mum was waiting for the cakes back home, my sisters only stayed for about an hour. After they left, the Husband and I brought Tyler to my in-laws' place as we needed to bring over the cakes and pray to the ancestors.
The day went by in a flash, and I was exhausted at the end of the day. Still, I'm glad we got some pictures taken that day. Someday when the baby gets older, I will show him all the photos.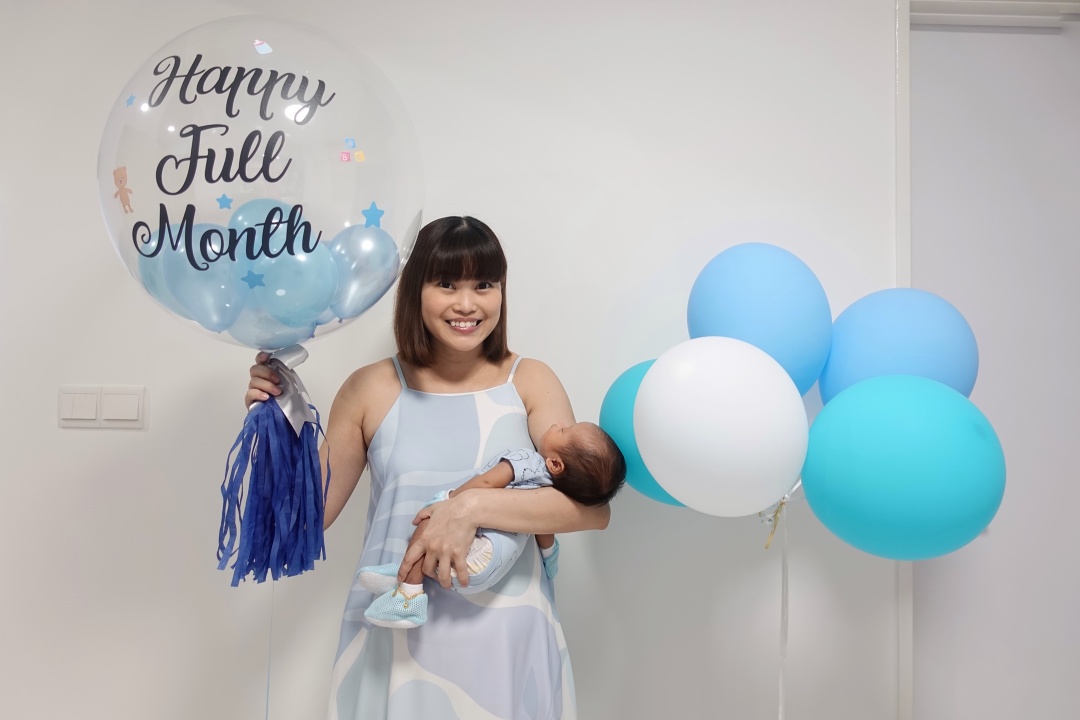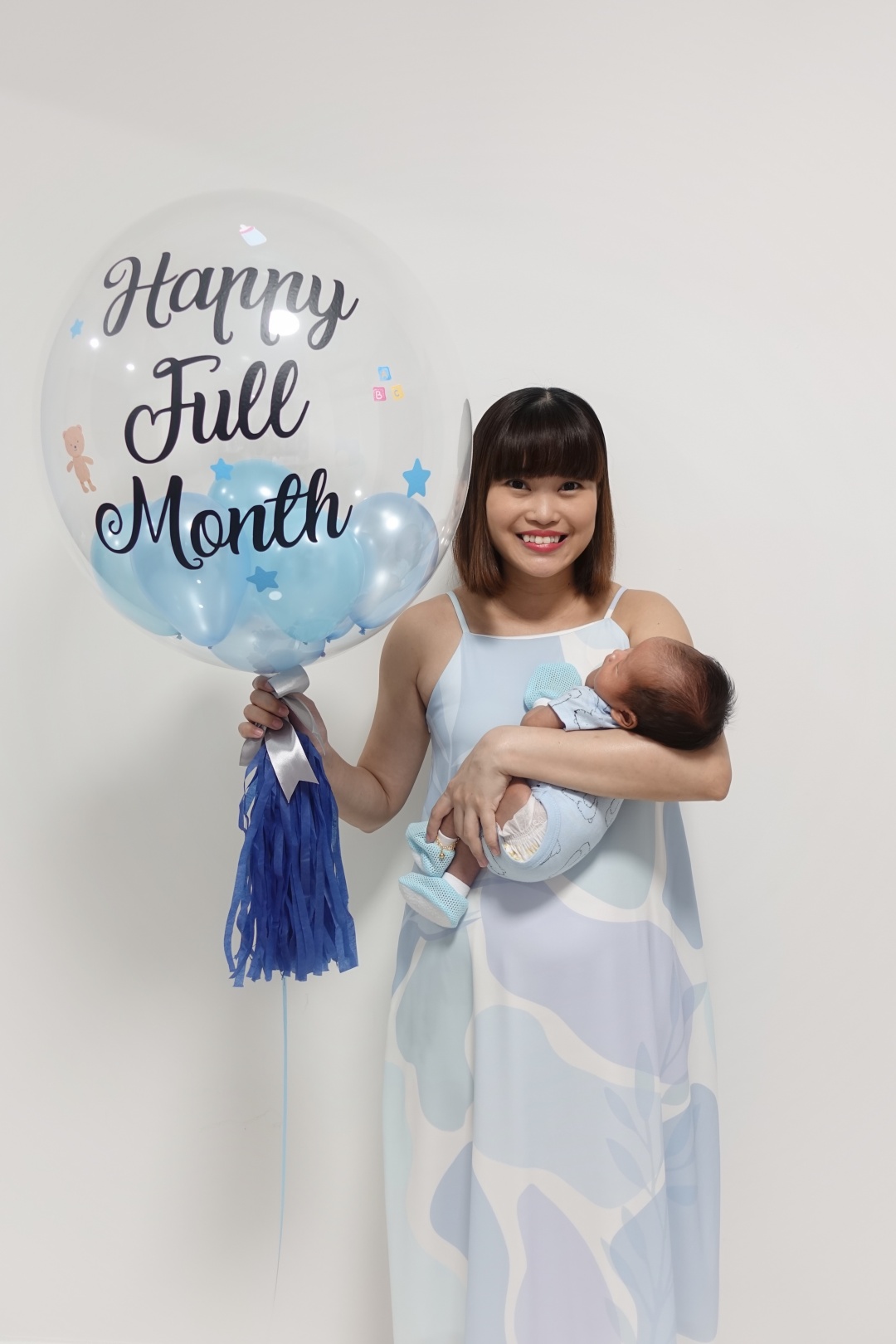 Happy Full Month, Baby Tyler!