Taking a break from writing about my Europe travelogue. Instead, I wanted to do a quick throwback to our Valentine's Day celebration that took place last Friday.
This year marks the 13th Valentine's we spent together (since 2018).
Most people might think that Valentine's Day is a big cliche and it's nothing but a day where companies jerk up prices for flowers, chocolates and whatnot. To be honest, there were some years where I looked at it that way too. Told myself not to look too deep into it or put too much emphasis on the day. (Like what many said, every day can be Valentine's Day as long as your partner treat you right/well.)
Looking back at last year Valentine's Day, aside from him getting me a stalk of rose from the supermarket, we also didn't plan/do anything special.
However, perhaps because this year is very well going to be the last time we get to celebrate Valentine's Day with just the two of us, (before our little lightbulb arrives,) I thought to put in some effort in commemorating this occasion.
Since December, I've been counting down on the number of special events that will take place before the arrival of the Baby – Christmas, New Year, Chinese New Year, my dad's birthday and finally, Valentine's Day. When we finally get to February, I was having such a bittersweet feeling because I knew this is it. Soon our lives are going to change with the new addition to our family.
Don't get me wrong because I'm certainly overjoyed and looking forward to the Baby. But at the same time, I can't help but feel nervous. After all, it has been 12.5 years of just the two of us.
Anyway, I figured I would plan something special for this year Valentine's Day. Since Valentine's falls on a weekday (Friday), I don't suppose the Husband has anything planned. But to be safe, I decided to confirm with him before I went ahead to make a dinner reservation.
Being a work day, there's honestly nothing much I can plan for us aside from going to dinner (and perhaps a movie right after). I believed the last film we caught was in early-December, and since then, we haven't been stepping into the cinema because I don't think I would enjoy sitting still for 2-hour. So, no movie for us; but I figured we could at least have a nice dinner.
I decided to make a reservation at Lawry's, since we had been talking about going there for a while now. For Valentine's, Lawry's offers a special three-night Valentine's Day menu from 13 – 15 February. I was considering making a reservation for Saturday (15 February) since I wasn't sure if the Husband will be working late on Friday. In the end, I decided to keep to Friday, but pushed it to a later time (i.e. 20:30). (It turns out; the Husband was mostly working from home last week, so technically speaking, we could have an early dinner.)
Left our house at 18:30 and head over to Orchard Central as I wanted to do some shopping before dinner. Due to COVID-19, I've been spending most of my time at home; hence, it was welcoming that I finally get to step out.
By 20:00, we were both hungry and ready for dinner. But we just continued to hang around the mall, before walking over to Mandarin Gallery when it was close to 20:30. Up till then, the Husband has no clue where we were having dinner. He thought we were going to Wild Honey since we were there for breakfast not long ago.
Lawry's The Prime Rib
We arrived at Lawry's right on time, but our table wasn't ready yet. So we just sat outside the restaurant while waiting for them to prepare our table. Thankfully, it didn't take long before we were ushered into the restaurant.
In view of Valentine's, the restaurant was decked with helium balloons on the ceiling. And there was also a heart-shaped balloon placed on every table. It appeared to be a full house, with mostly couples and small families.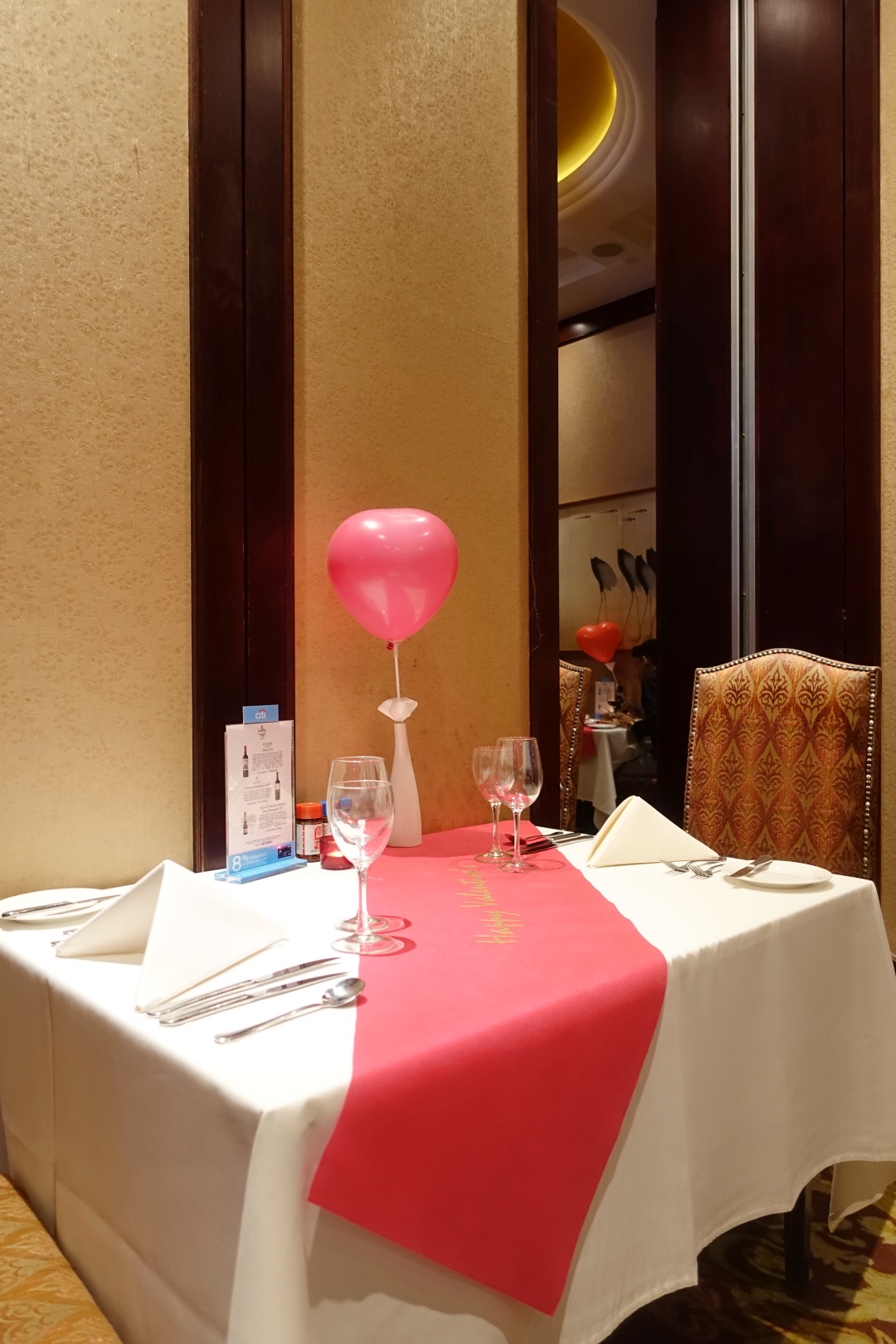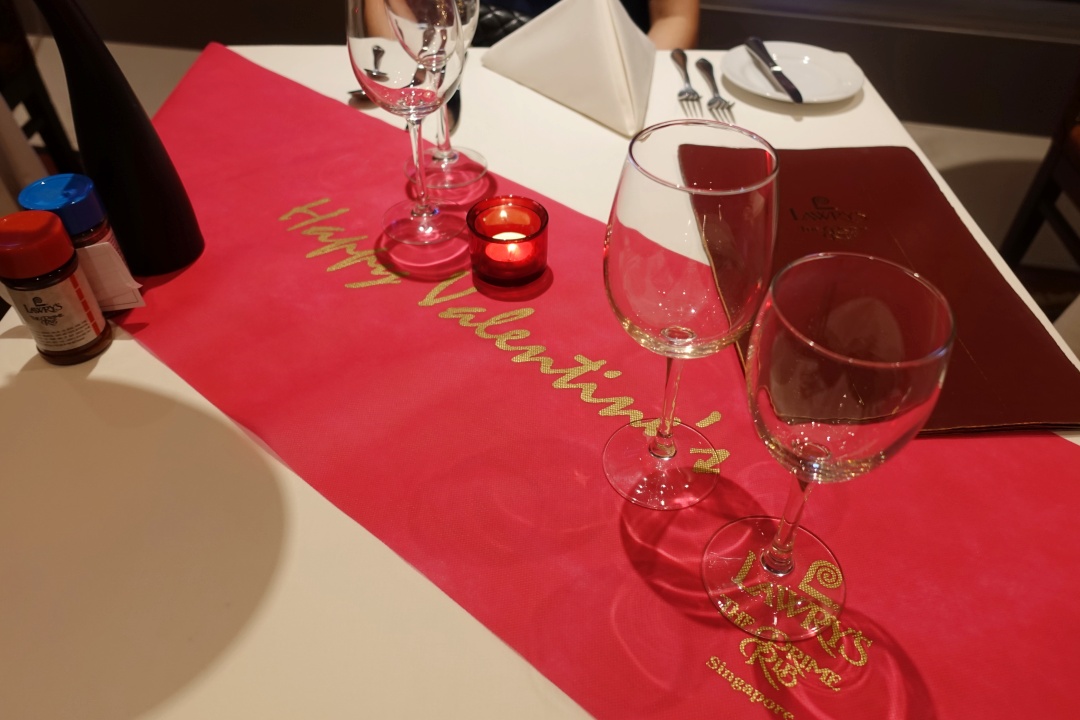 Right after we were seated, a server came over to take our orders for drinks. We asked for still water, and the Husband also got a glass of red wine. Shortly after, we also placed our order for our mains. The restaurant only offers 6-course set menu on Valentine's Day, but we do get to select our main which can either be the Signature Roasted USDA Prime Rib of Beef, or Broiled Atlantic Lobster Tail with Red Mullet Fillet.
I urge the Husband to get the beef, even though he was half considering getting the lobster. Since the restaurant is known for their signature prime rib, I thought he should give that a try. I wanted to get the beef too but decided to go for the lobster so that we could try both.
I thought it was nice that the server mentioned that the seafood might come with some alcohol content and asked if I would like to have them removed.
---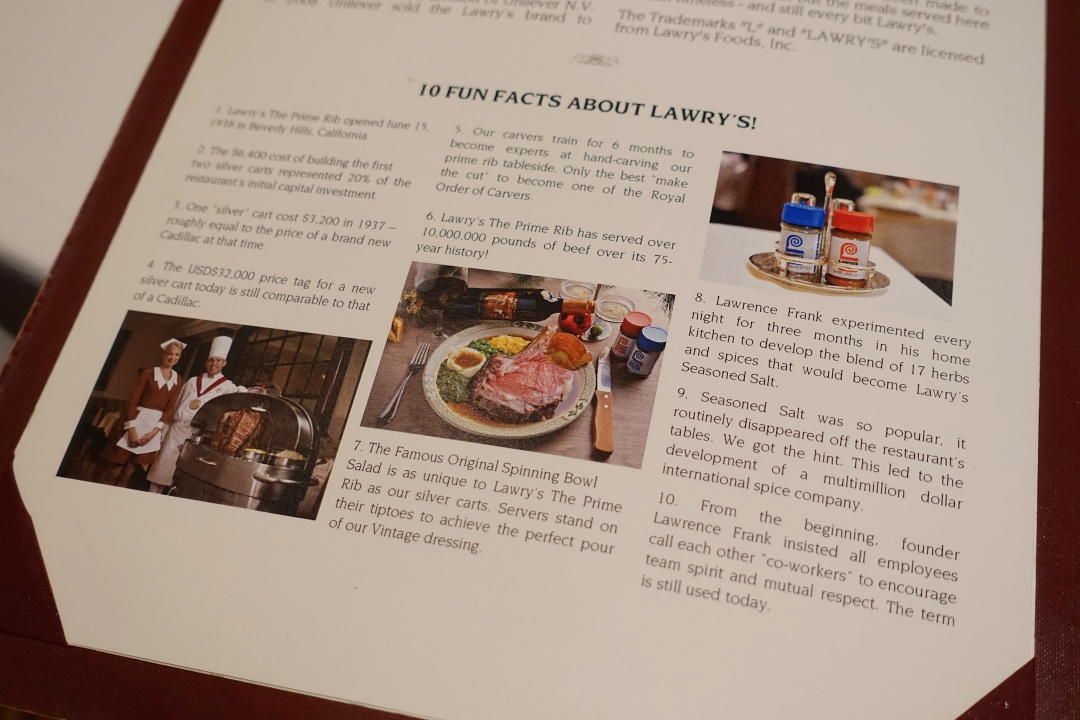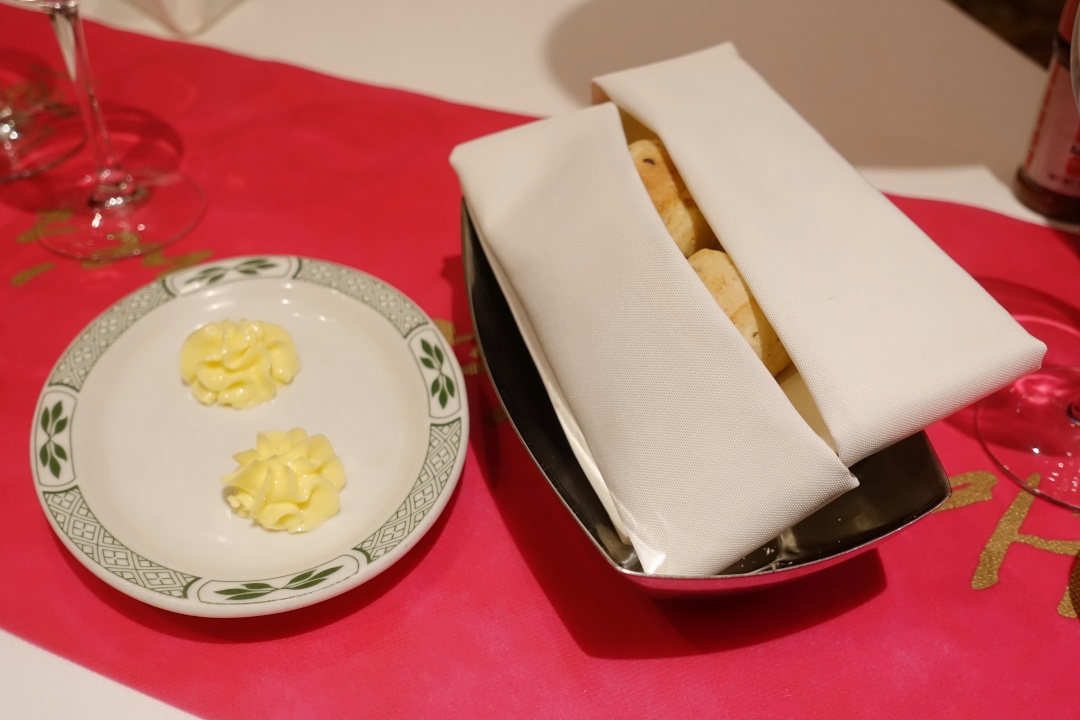 We started our dinner with freshly baked bread rolls (served with butter), followed by having the amuse-bouche as our first-course.
Grilled Hokkaido Scallop, Smoked Salmon and Baby Octopus
Grilled Hokkaido scallop caramelized with lemon, ginger and brown sugar, topped with caviaroli.
Smoked salmon with truffle mayonnaise and a drizzle of extra virgin olive oil.
Baby octopus with homemade sweet and sour sauce, accompanied with green pea purée.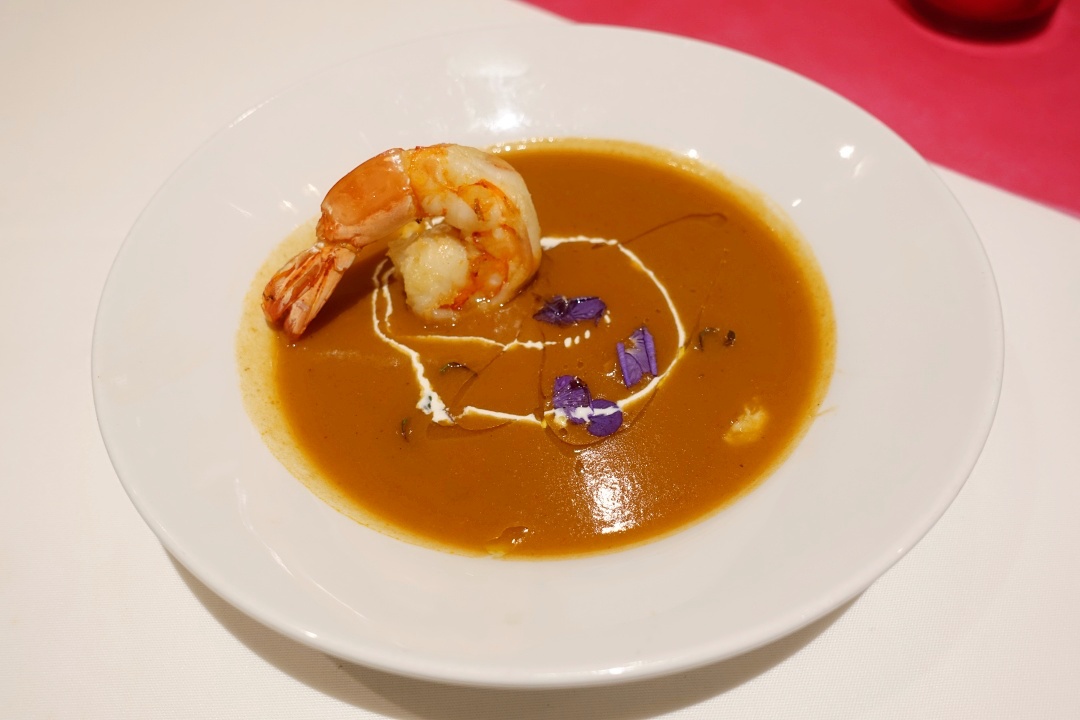 For our second-course, we had the Creamy Crab Bisque with Grilled Tiger Prawn.
Creamy sweet crab bisque and grilled tiger prawn finished with extra virgin olive oil, cream and a drizzle of grand marnier.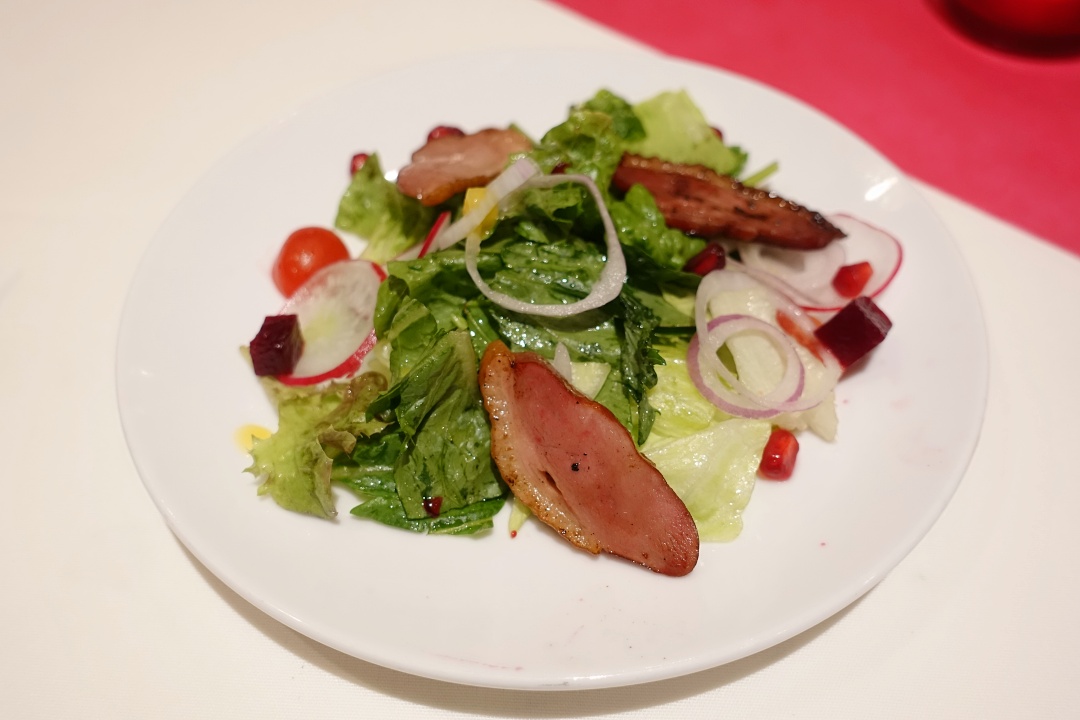 For appetizer, we had the Smoked Duck Breast Salad.
Pan seared smoked duck breast accompanied with diced beetroot and mango, pomegranate, cherry tomatoes, red radish, red onion, mesclun mix and drizzled with balsamic reduction.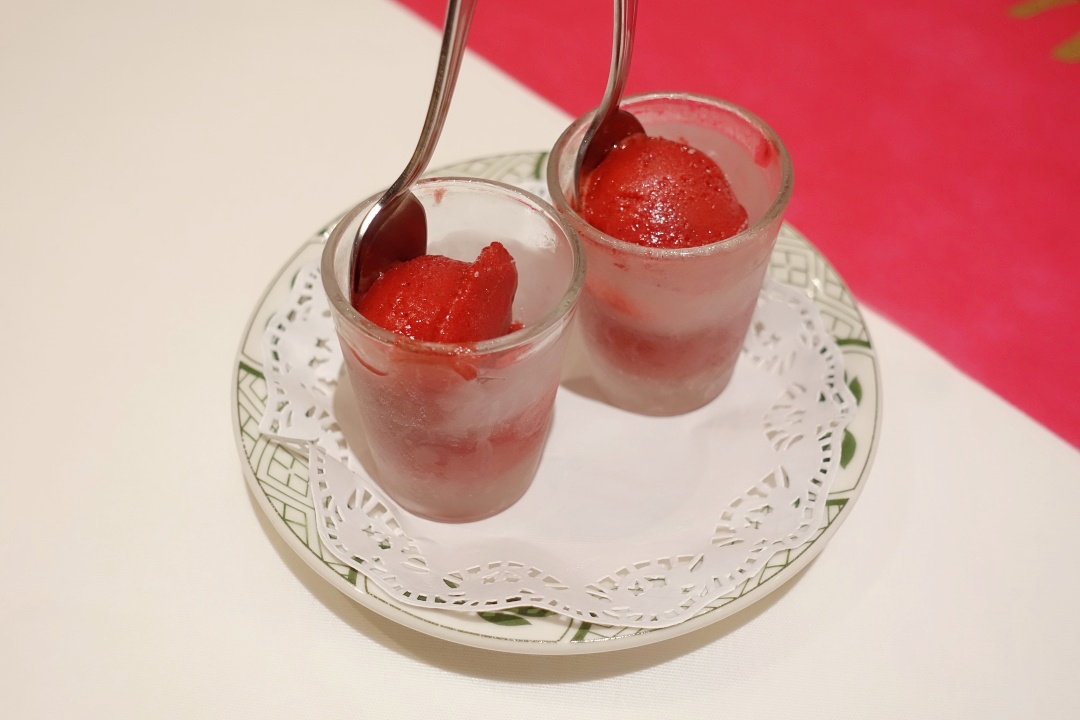 Then we had a refreshing Strawberry Sorbet as a palate cleanser before we moved on to our mains.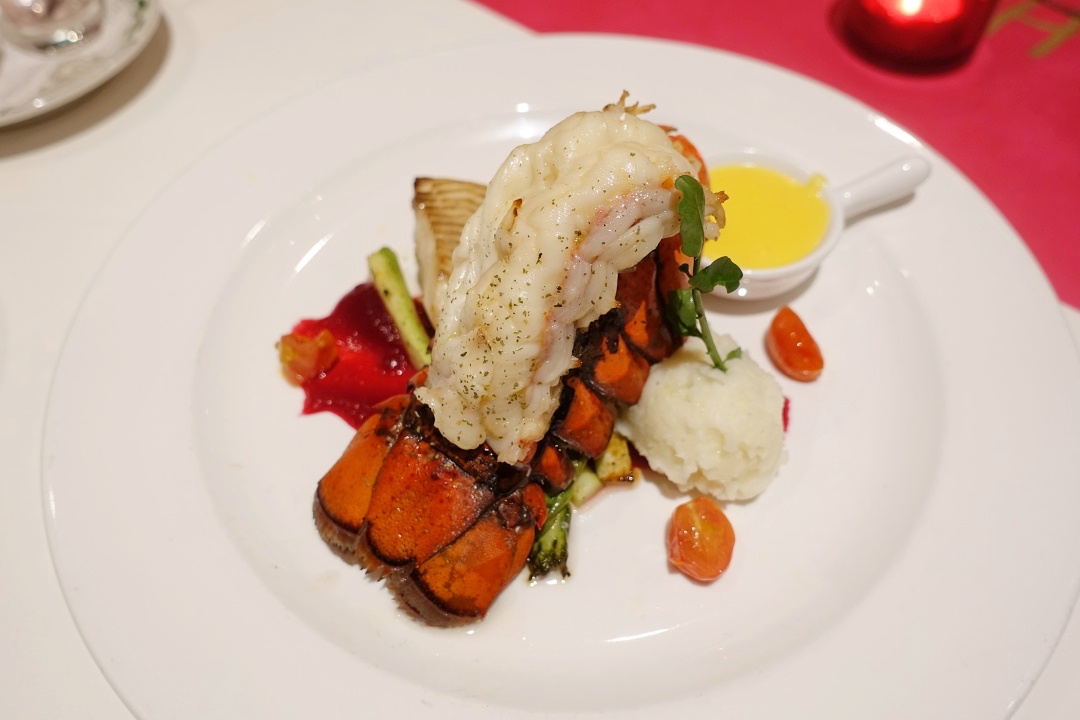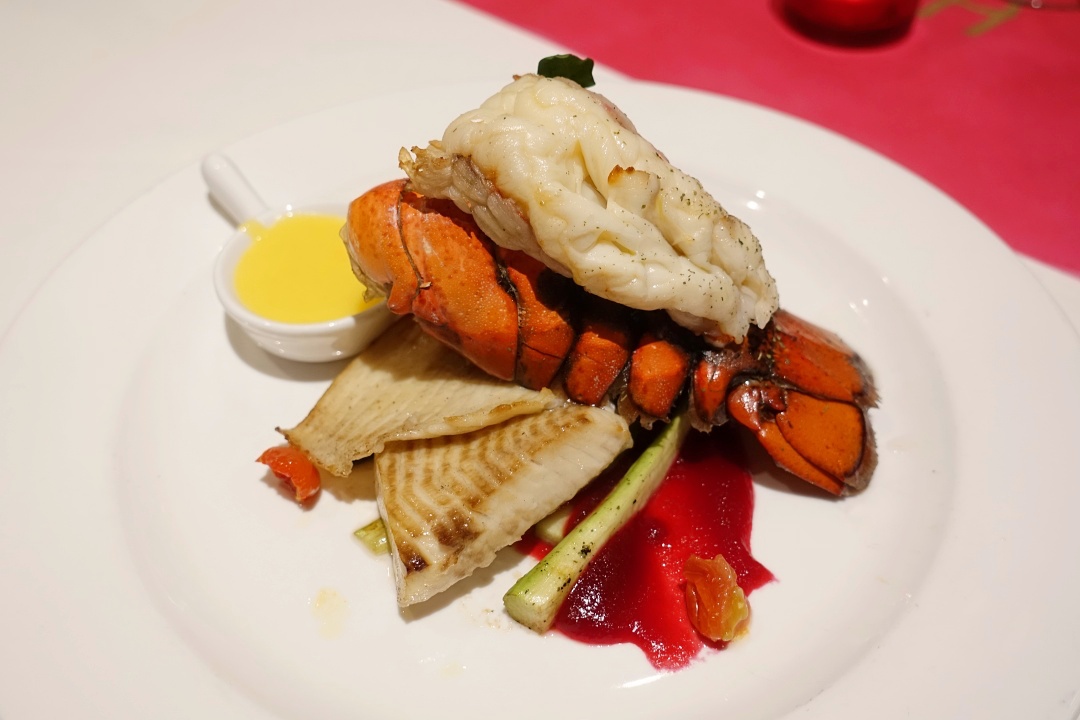 Broiled Atlantic Lobster Tail with Red Mullet Fillet
Broiled Atlantic lobster tail and pan seared red mullet fillet served with grilled asparagus, US Idaho mashed potatoes, cherry tomatoes, homemade beetroot puree and lemon butter sauce.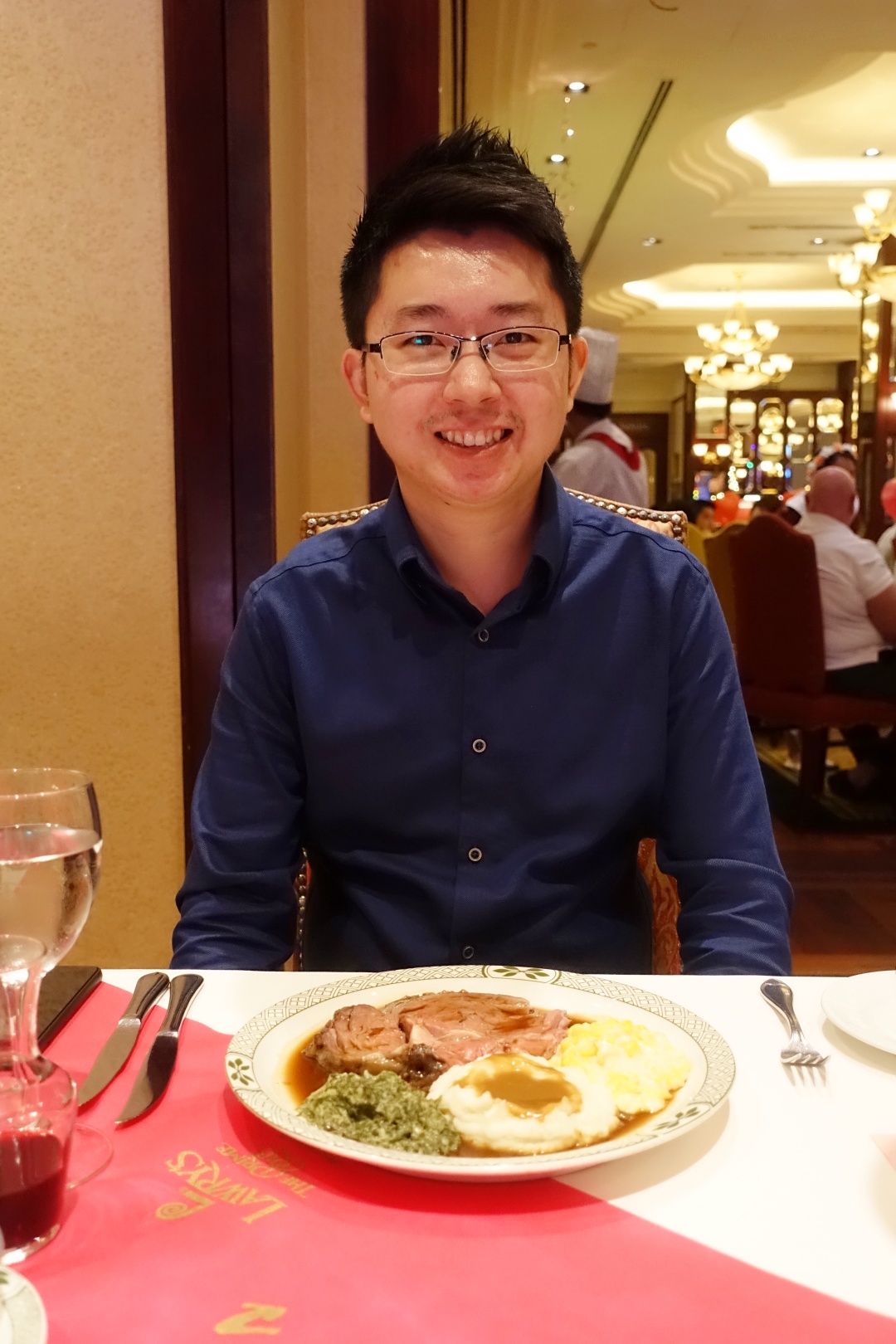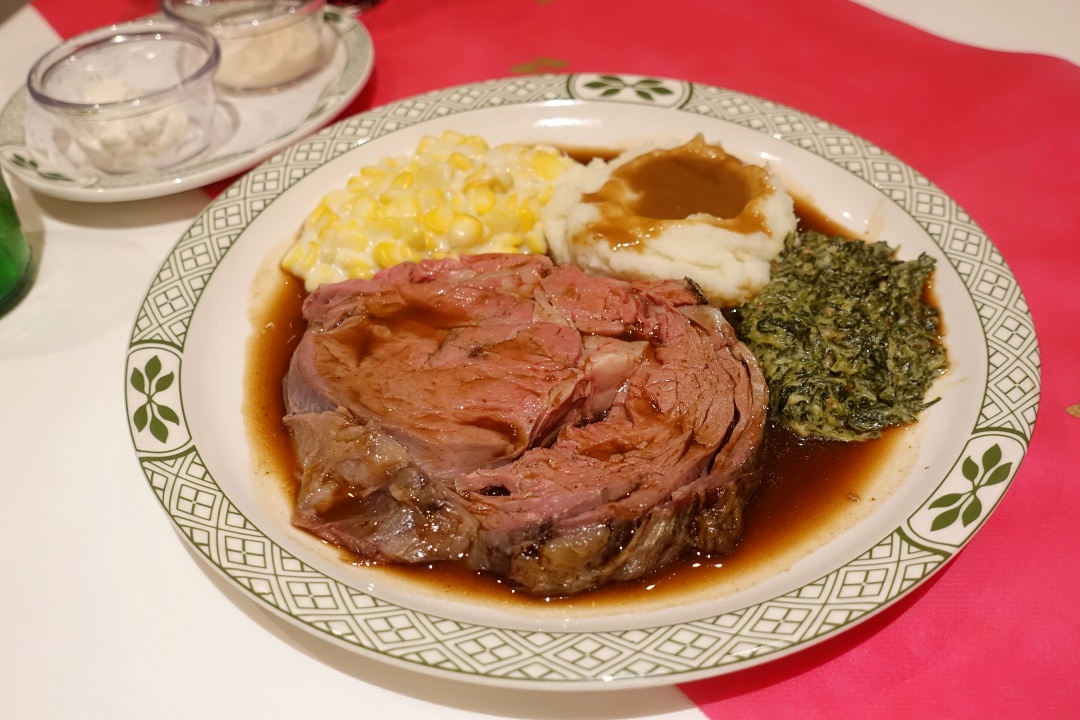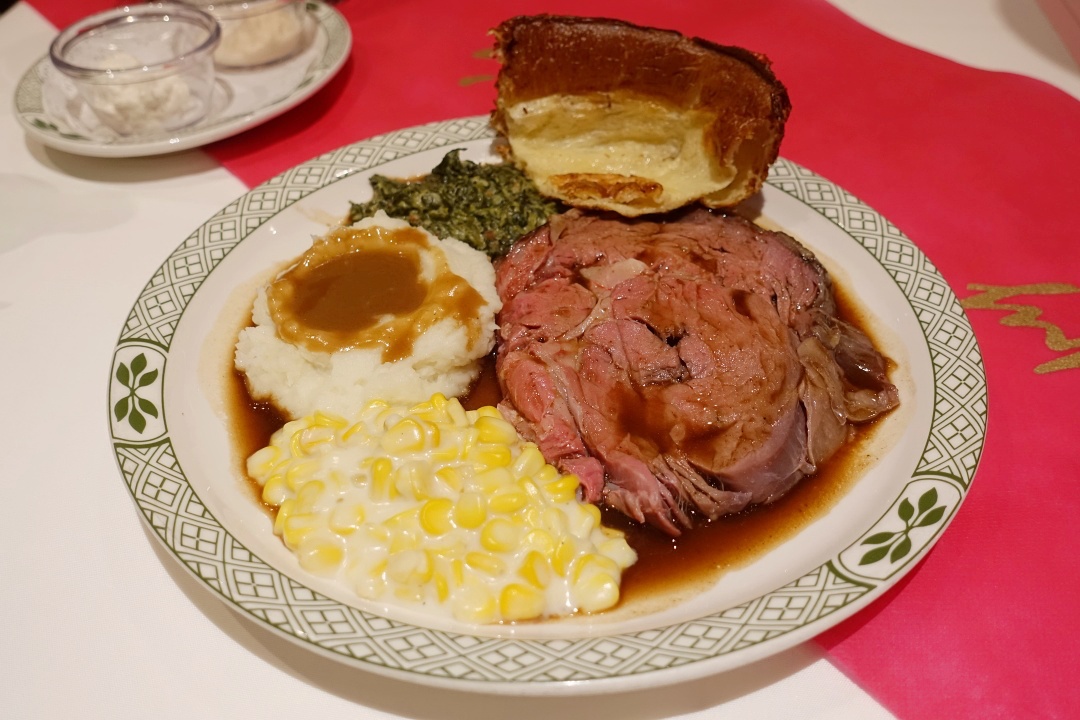 Signature Roasted USDA Prime Rib of Beef
180grams roasted USDA prime rib of beef served with US Idaho mashed potatoes, Yorkshire pudding, whipped cream horseradish and a choice of creamed corn or creamed spinach.
The Husband was asked to pick a side, which can either be the creamed corn or creamed spinach. He chose the creamed spinach, but somehow he was served with the creamed corn instead. He told the server about it, and in the end, they just added the creamed spinach to his plate.
After trying both the corn and spinach, I actually prefer the corn. Somehow the creamed spinach has an aftertaste. I can't quite put my finger to it, but it just tasted odd.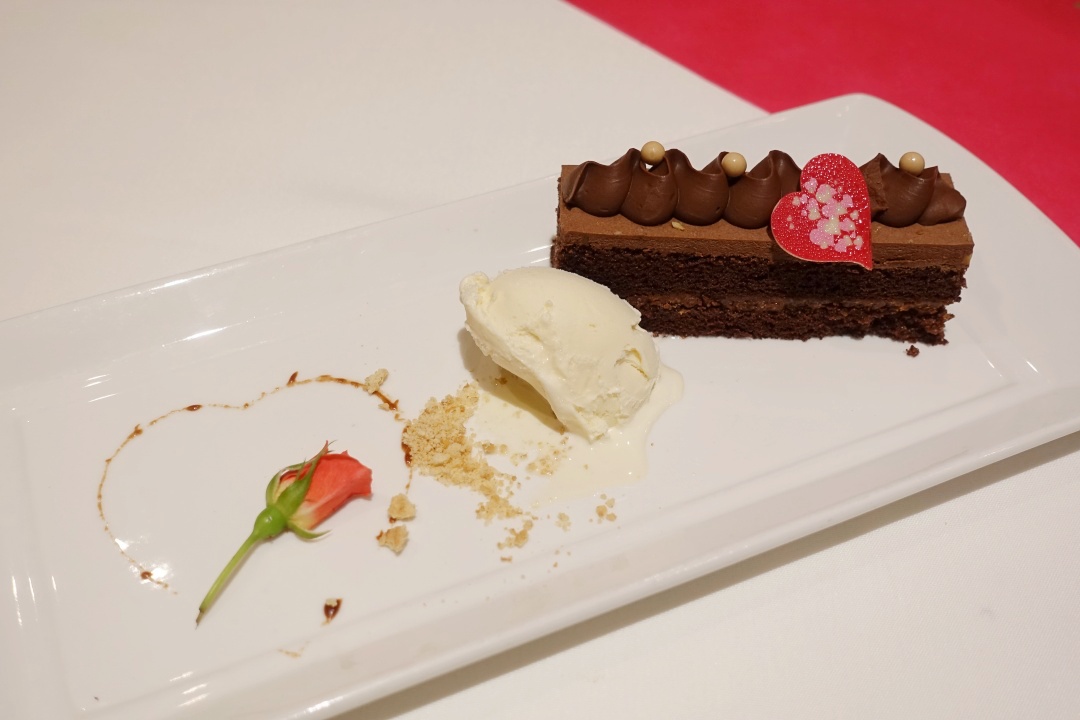 Lastly, to finish our meal, we each had a Chocolate Hazelnut Praline Feuilletine.
An elegant rich and dark chocolate cake layered with a confection of hazelnut praline and lightly crunchy Feuilletine. Served with Häagen-Dazs vanilla ice-cream.
---
Overall, it was a lovely meal, and I enjoyed all the dishes. My favourite is probably the amuse-bouche as I love the different flavours of the scallop, smoked salmon and baby octopus.
I'm not a big lover of soup, so while I finished the crab bisque, I wouldn't say I love it. Surprisingly, the Smoked Duck Breast Salad tasted better than I expected. It was well seasoned/flavourful, and I particularly like the addition of pomegranate.
For my mains, while the lobster and fillet were well cooked, it didn't stand out to me as much as the other dishes; probably because there wasn't much flavour to it – even after dipping it into the lemon butter sauce. Between the seafood and prime rib, I think the latter was a better choice.
And finally for dessert, we each had a generous serving of the chocolate cake, but unfortunately, it was a little too sweet for me/us to finish the entire slice.
As I made an early reservation, we were entitled to 10% off the set menu (excluded drinks), a SGD 50 return dining voucher, plus a complimentary bottle of Freixenet Ice Cava Especial NV (750ml) for takeaway. We also got our picture taken at the restaurant, which the restaurant subsequently emailed the photo to us.
It probably wasn't the best meal we had, to be honest, but it was wonderful that we get to spend time together over a nice dinner.
Initially, I was planning to go for a staycation on Valentine's weekend. But with the recent outbreak of COVID-19, I wasn't sure if that was a good idea. In the end, I decided to play it safe and stay at home. A little sad that we didn't get to do one last staycation before the Baby arrives, but I know it's for the better.